This article on the best beaches in Malta was first published in October 2018 and updated in June 2020.
With the striking beauty of its landscapes complemented by some of the most stunning architecture in the world, Malta has loads to offer for travellers of all inclinations. However, as this list of the best beaches in Malta will prove, this picturesque island really shines is in its beaches – some of the most beautiful in Europe.
While we have written about some of the best beaches of Southeast Asia and Asia like Indonesia, the Philippines, Vietnam, Singapore, Thailand and even Macao, very few places in the world can boast the kind of clear-blue water and year-round pleasant temperatures that Malta does.
So if you're planning a trip to Malta anytime soon, be sure to check out the following beaches, which in our opinion are some of the best that the island has to offer.
Before we get into the details, here's a map of the best beaches in Malta in this list so you can see where they are and plan accordingly:
Maybe you want to go on a vitamin sea marathon and visit all the best beaches in Malta in a day, especially on a road trip across Europe. Or maybe you would rather plan an entire beach week in Malta, spending a day at each. Either way, this list of the best beaches in Malta is all you need for a fabulous vacation.
Make sure to leave some time to explore Malta's heritage too.
Where is Malta
The island of Malta, is a Southern European island country as well as the smallest independent state in the EU. It's located in the center of the Mediterranean, around 93km south of Sicily in Italy. So you can always pop over for some amazing sites like the active volcano of Mount Etna, the various Godfather locations, quaint villages like Taormina or to try some of the best Sicilian food or the wines of Sicily.
An interesting fact about Malta is that due to its size (316 sqkm) and population (400,000 people) it is one of the most densely populated countries in the world. This is similar to other small countries like Singapore, Macau (which is actually a part of China and not a country), Monaco and even the Maldives.
Malta consists of three main island which are Malta, Gozo and Comino. Whereas the main island of Malta, with capital Valletta, is much more built up, Gozo is a bit more rural which makes it somewhat more idyllic and peaceful. Comino is the smallest of the lot and although it could be said that it's the most beautiful, it is becoming increasingly popular with tourists – especially coming over on day tours. So it can be quite packed in season.
The best beaches in Malta
Now that you have a sense of direction we can continue with our list of the 10 best beaches in Malta from the vibrant party beaches to the lesser known desolate stretches of sand and sea.
1. Golden Bay
As the name implies, Golden Bay Beach is characterized by soft golden sand that shimmers in the sunlight, with crystal blue water that makes it look like something out of a painting.
This stretch of beach goes on for miles and, as one of few soft and sandy beaches in Malta, it's a popular option among locals and tourists alike.
Those who prefer smaller and cozier beaches will definitely enjoy the little coves and inlets that are scattered throughout the Golden Bay, as they offer a bit of privacy as you sunbathe and swim in the delicious water.
---
Facilities at Golden Bay: Of course, lifeguards are always in sight to make sure that everyone is safe and swimming only in the designated areas, so it's a pretty safe beach in Malta, perfect for families.
As a Blue Flag beach, Golden Bay has plenty of amenities to offer visitors, including nearby restaurants, wheelchair accessibility, easy parking and access to public transport.
How to get to Golden Bay: The best way to get to Golden Bay is either by car or via the bus. Driving there should be a breeze because there usually isn't too much traffic on the road leading to the bay. Plus, there are buses which travel to Golden Bay from Valletta, Sliema, St. Julian's, St. Paul's Bay, Qawra and Bugibba, so you can access this beach relatively easily no matter where you're staying.
Where to stay near Golden Bay: Speaking of which, the best place to stay if you want to be close to Golden Bay is at the Radisson Blu Hotel which is literally on the cliff's edge facing the ocean which makes the views from the suites are insane!
This five-star hotel is the center of attraction at Golden Bay and features inspired design that incorporates a lot of natural elements, including large palms, a majestic limestone terrace and four swimming pools to retreat to when the beach gets too crowded, which often happens during the weekends.
The hotel also boasts a world-class spa that offers treatment modalities from all over the world, and at US$260 or more per night, you definitely get what you pay for.
2. Għajn Tuffieħa Bay
Għajn Tuffieħa Bay is another good beach in Malta situated quite close to Golden Bay but is smaller and more private in comparison. This might be due to the fact that one has to climb down multiple flights of stairs in order to reach it, which deters a lot of potential visitors.
However, once you get there you realize that this Maltese beach is totally worth slogging it out on all those stairs, because it offers some of the most unique scenery on the entire island.
For one, it has a rustic feel to it on account of its unusually red sand, and it's flanked by majestic cliffs that only add to the beautiful splendor. This is definitely one of the best beaches in Malta.
Għajn Tuffieħa Bay is an ideal option for anyone that's looking for a quieter and more secluded beach to relax in and build up a tan, away from the throngs of other tourists.
Fun fact! Għajn Tuffieħa actually means "apple's eye" in Maltese which is very fitting for this pretty beach in Malta which offers the most breathtaking sunsets in all of the island (no exaggeration!).
---
Facilities at Għajn Tuffieħa Bay: It has a cute little snack bar where you can purchase refreshments and ice cream for the little ones if you're travelling with kids. It also has a great deck and parasols/beach chairs for a small fee, as well a toilet facilities and showers.
How to get to Għajn Tuffieħa Bay: While you can reach Għajn Tuffieħa Bay by car, parking can be difficult, so it is best take a bus instead, and when you get there you'll find beach umbrellas and sunbeds for hire so that you won't have to carry much "equipment" with you.
Where to stay at Għajn Tuffieħa Bay: If you want to enjoy Għajn Tuffieħa Bay up close and personal, consider staying at the Radisson Blue, which is only 0.6km from the beach, or the Xara Palace Relais & Chateaux which is an award-winning five-star boutique hotel that is built into the city of Mdina, with a gorgeous atrium, personalized service, and unparalleled views of the city and ocean horizon.
Rooms start at US$200 per night and it is family friendly with lots of amenities including a stunning swimming pool, gym, spa, restaurant and so much more.
3. Mellieha Bay
Mellieha Bay is one of the most famous beaches in Malta and for good reason.
Not only does it have a long stretch of sand, but it's beautifully shaped, so that the water remains shallow for quite a distance before you reach the waves where it is deeper, making it the ideal option for families travelling with young kids.
It's worth noting that Mellieha Bay's shallow waters are the warmest on the entire island by far, which is saying a lot for a place like Malta that is known for warm sea waters anyway. This makes it an ideal beach in Malta for anyone that wants to travel during the quieter autumn season when there are fewer tourists around.
---
Facilities at Mellieha Bay: As one of the more popular bays, you will find all facilities you need from bars and restaurants to toilets and parasols. Mellieha Bay also offers a lot of exciting water activities for you and your family to enjoy, including water skiing, windsurfing, canoeing, parasailing, kitesurfing, kayaking, and even banana boating!
How to get to Mellieha Bay: Getting to this gorgeous and somewhat secluded beach is super easy when you're travelling by bus, and this should be your preferred choice, unless you're willing to rise with the sun and be the first to arrive, because parking is almost always impossible.
Where to stay at Mellieha Bay: If you're wondering where you should stay in order to fully enjoy the splendor of this magnificent Maltese beach, look no further than the Seabank Resort + Spa.
This stunning, all-inclusive hotel boasts immaculate modern glass finishes and a swimming pool that's recognized as the largest in all of Malta. There's also a gated play area for kids, a spa that offers several treatments, a sauna and steam room, as well as various recreational activities for both kids and adults. A stay at the Seabank Hotel will set you back a measly US$210 per night but you really do get great value for money.
4. Daħlet Qorrot
This beach is the perfect place for wannabe-mermaids who enjoy swimming in the ocean as opposed to swimming pools. It's small, intimate and never gets too crowded.
However, this is one of the rocky beaches in Malta, which means that you probably won't do much lying around and tanning when you're there, and spend more time in the water instead, the beach offers superb snorkeling.
This is just the perfect place to go if you want to unwind, listen to the ocean waves and read a good book or enjoy a nap under the one of the inlets.
You might also sight a few fishermen working on their colorful boats or mending fishing nets here and there. There is also a section of the beach with a ladder for snorkelers who want to get up close and personal with the sea life under the waves.
Daħlet Qorrot has a tiny snack bar that opens only during the summer months, which becomes a great place to just chill out and relax during the winter, and the rugged landscape surrounding it gives off a feeling of absolute peace and serenity. Definitely one of the most peaceful and nicest beaches in Malta.
---
Facilities at Daħlet Qorrot: The only downside to this beach is that it does not have any on-site facilities except for a nearby restroom.
How to get to Daħlet Qorrot: The only way to get there is by private car as no public transport travels there.
Where to stay at Daħlet Qorrot: The closest hotel to Daħlet Qorrot is The Grand Hotel Gozo, which has a spa and indoor pool, a bar, restaurants and rooms that enjoy fabulous views of the Mediterranean sea. The décor is elegant, simple and modern, with refined touches that are distinctly Maltese. Rooms start at US$280 per night.
5. Dwejra Bay
If you're looking for a magical, once-in-a-lifetime ocean experience, then Dwejra Bay is the place to go. This scenic beach in Malta is made up of multiple natural pool formations that were formed by the spontaneous erosion of the natural rock in the area.
Apart from being one of the nicest beaches, Dwejra Bay is well-known for being a scuba diver's paradise as it offers superb snorkeling and diving conditions almost all year round.
In fact, there is always an inflow of divers from all over the world that come to this beach just to enjoy the snorkeling and diving experience, which involves going through spectacular submerged caves and a natural 250ft long sea tunnel that takes you to 80ft beneath the surface.
On the other side is the Inland Sea, a calm and peaceful inlet which is flanked by towering cliffs that make it not only an ideal swimming spot but a stunning destination from which to snap pictures for the 'gram.
Swimmers should also enjoy Dwejra Bay's small natural pools, which are the safest option when compared to the high, rough waves that often plague the deeper sections of this part of the ocean.
---
Facilities at Dwejra Bay: There are restrooms available at this beach, as well as a few cute restaurants, a bar and beach chair rentals.
How to get to Dwejra Bay: There are several ways to reach Dwejra Bay. You can catch the 311 bus from Victoria, take a Gozo taxi, drive there with a hired car or arrive via ferry from the Mgarr Harbor. Regardless of how you get there this top beach in Malta will wow you.
Where to stay in Dwejra Bay: The secluded Kempinski Hotel San Lawrenz Resort is the closest five-star hotel to Dwejra Bay, and it's known for its luxurious modern décor, impeccable service and it features amenities like a massive swimming pool, a legendary spa, several restaurants, bars, a kids club and sprawling suites that offer views of both the ocean and the surrounding countryside. This hotel makes for a truly unforgettable and relaxing stay, and rooms start at US$155 per night.
6. St. George's Beach
If you want a hip vibe and a place to meet new, like-minded people while catching up on your tan, look no further than St. George's beach.
This gorgeous beach is ideally located next to the trendy and exciting St. Julian's (also known as Malta's party capital), and is just a short hop and a skip away from world-class restaurants, bars and nightclubs.
So, patrons get to enjoy unparalleled views of the shimmering sea scape below while sipping on exotic beverages to cool off from the afternoon sun. You could consider this the party beach in Malta.
---
Facilities at St. George's Beach: Apart from the places to party, other amenities at the beach include food and drink stands, beach chair and umbrella rentals, restrooms, watersport gear rental facilities and lifeguards are always on hand to keep watch over everything.
How to get to St. George's Beach: Thanks to St. George's central location, getting there is super easy by car and bus, while those staying at nearby hotels can even walk to the beach!
Where to stay in St. George's Beach: As you can imagine, there are quite a few spectacular hotels and resort located next to St. George's beach, including Corinthia Hotel St George's Bay, with its unabashedly lavish décor and classic design.
Guests here get to enjoy fabulous amenities, such as an indoor gym and pool with full views of the bay down below, a spa center, a sauna and seven outdoor pools to choose from when the beach gets too crowded to swim at. Of course, staying here does not come cheap, but at US$180 per night, you do get what you pay for.
Also nearby is the Marina Hotel Corinthia Beach Resort, which is a bit more contemporary, young and hip in comparison, with five-star rating, impeccable service, stunning modern décor that is minimalist but striking, as well as a private artificial beach that was created just for guests of the hotel to enjoy.
At US$180 per night, it's great for families, as it has amenities for kids as well, including a massive kids' pool that features a 17th-century fortified tower that was actually built by the Knights of St John.
7. Mistra Bay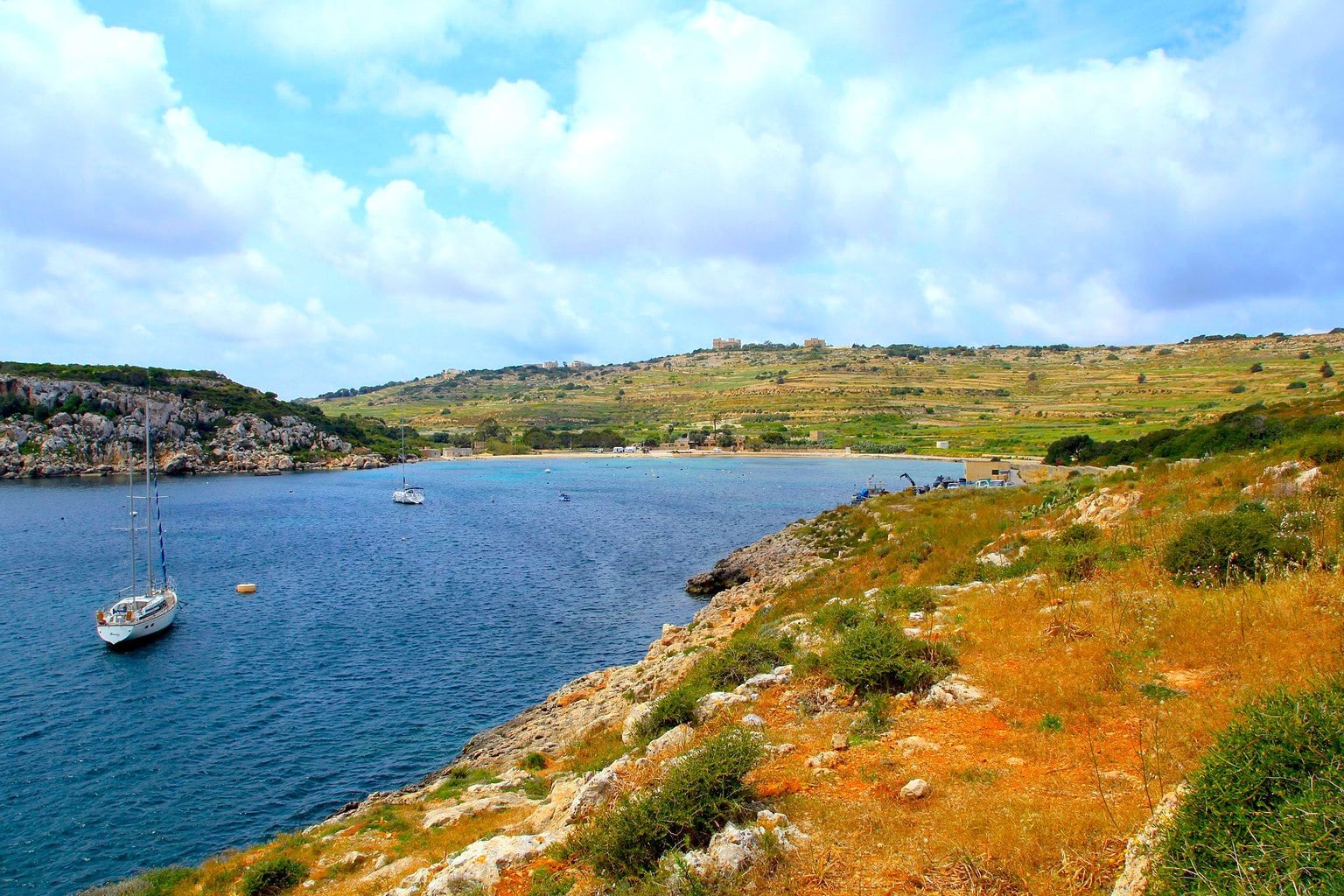 The reclusive and slightly rugged Mistra Bay is quite an interesting beach in that it fuses nature and history in a way that you'll seldom find on a beach anywhere else in the world.
It features a sprinkling of numerous caves along its coast line which were once utilized for various purposes including as a lookout, a fishermen's shelter and as a former burial site.
Plant lovers will be glad to know that there is a small alcove in this beach where numerous plant species thrive and add vibrancy and beauty to the general seascape, whereas the clearly-visible fish pens make for fascinating scenery as well.
It's a great place to collect your thoughts and relax, as the tranquil water and lush sea inlet inspires a real sense of inner peace. And if you'd like to, visit the adjacent hill that has Mistra Battery which is an 18th century coastal fortification. There is also another site viewpoint that has St. Paul's Island in the distance.
---
Facilities at Mistra Bay: While there isn't much development in the area, the beach does offer some basic amenities, including two restaurants for fine and casual dining.
How to get to Mistra Bay: Mistra Bay is so beautiful that even the drive going there is absolutely breathtaking and the only way to reach it is by car because there's no public transport offered in the area. You can however take the public bus to Xemxija bus stop and then take about a 15-20 minute walk to the beach.
Where to stay in Mistra Bay: There is nowhere to stay in in Mistra Bay itself, but the closest town with a few hotels is Bugibba which has a few four star options with infinity pools and views of the ocean. Check out all the places to stay in the area here.
8. Hondoq ir-Rummien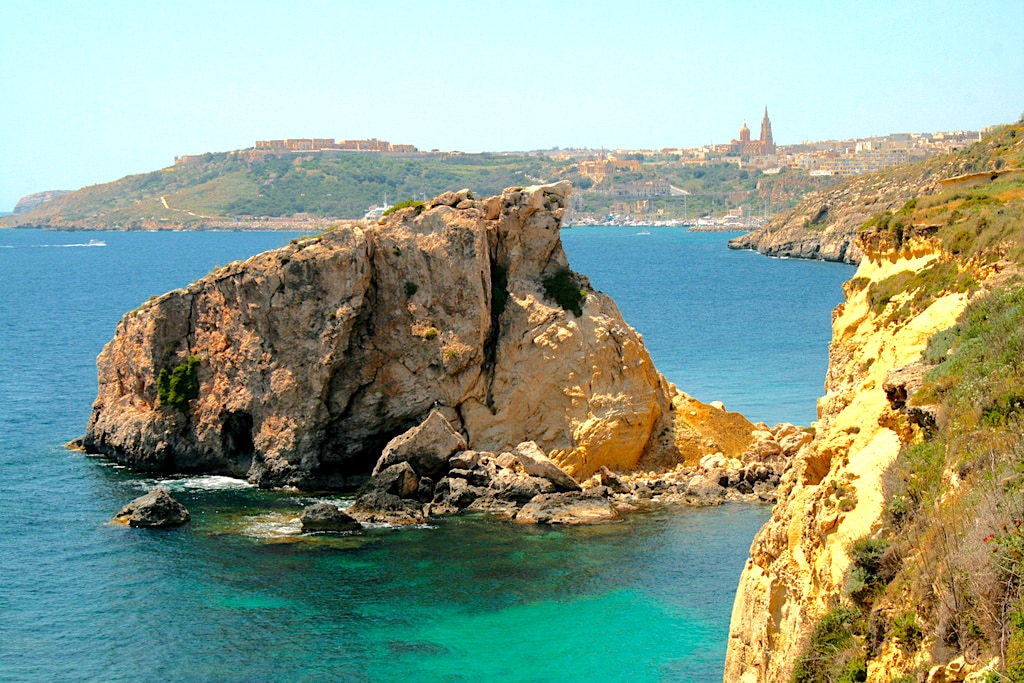 With its white sand and mild, azure blue water, it's no surprise that Hondoq ir-Rummien is a snorkeler's heaven and one of the best sandy beaches in Malta.
It features various tiny caves that enable you to enjoy a stunning view of Comino Island while you're on the water, and because of its height, this beach can only be reached through purposefully created ladders.
The phrase Hondoq ir-Rummien means 'Pomegranate Moat' in Maltese and it is one of the last few places in Malta where you can get an authentic experience of the countryside.
Did we mention that the coastline is sprinkled with ancient natural salt pans? Yep!
Some of these have been in use for centuries and are still being harvested by the same families to this day, albeit only in the summer harvest season. The best times to go are in early spring, and be sure to get there in the morning before it gets packed.
---
The facilities at Hondoq ir-Rummien: The facilities on this Maltese Beach are excellent, and include an outside shower and public toilets, as well as a food kiosk for snacks, ice creams and cold drinks.
Sun loungers and gear for water sports enthusiasts are also available at a nominal fee, and there are plenty of sitting areas to choose from so you can spend a whole day in one of the most beautiful beaches in Malta.
How to get to Hondoq ir-Rummien: The best way to reach Hondoq ir-Rummien is either by bus or via the ferry from Mellieha or Golden Bay. There are also various bus routes that lead to this beach via Victoria, Golden Bay, Café Jubilee and Basillica of Ta'Pinu.
Where to stay in Hondoq ir-Rummien: Just like Daħlet Qorrot, which is about a 15min ride away, the best place to stay is probably The Grand Hotel Gozo, which as mentioned has a spa and indoor pool, a bar, restaurants and rooms that enjoy fabulous views of the Mediterranean sea for around US$280 a night. It's about a 10min drive from the hotel to Hondoq ir-Rummien.
9. Ramla Bay
Ramla Bay is another well-known Maltese beach with stunning crystal-clear water and incredibly soft yellow sand that just makes you want to walk on the beach all evening while watching the sunset.
If you're taking your own car, make sure to stop by Calypso's Cave which is said to have been the legendary abode of the stunning nymph that once stole Odysseus' heart in Homer's epic.
---
Facilities at Ramla Bay: Most tourists frequent this beach for the picturesque amenities that frame the bay, including a bar, café and an ice cream truck which is quite a hit with kids. There is not much on the beach itself other than some public toilets, which are not very well maintained. This should not distract you from visiting the beautiful beach though, as you can always visit one of the cafes quite easily.
How to get to Ramla Bay: Most people prefer to drive by car to Ramla Bay, while others reach it via the bus.
Where to stay in Ramla Bay: If you want to experience Ramla Bay from morning 'till night, book a stay at the sprawling Ramla Bay Resort, an award-winning five-star hotel that really looks the part. Not only is it set on a cliff's edge overlooking the ocean, but it boasts a plethora of amenities including a world-class spa, several restaurants, a sunset lounge, bar, meeting venues, swimming pools, well-appointed suites and so much more.
This resort is luxury at its best and the décor is absolutely stunning! Plus, rooms start from only US$130 per night.
10. Blue Lagoon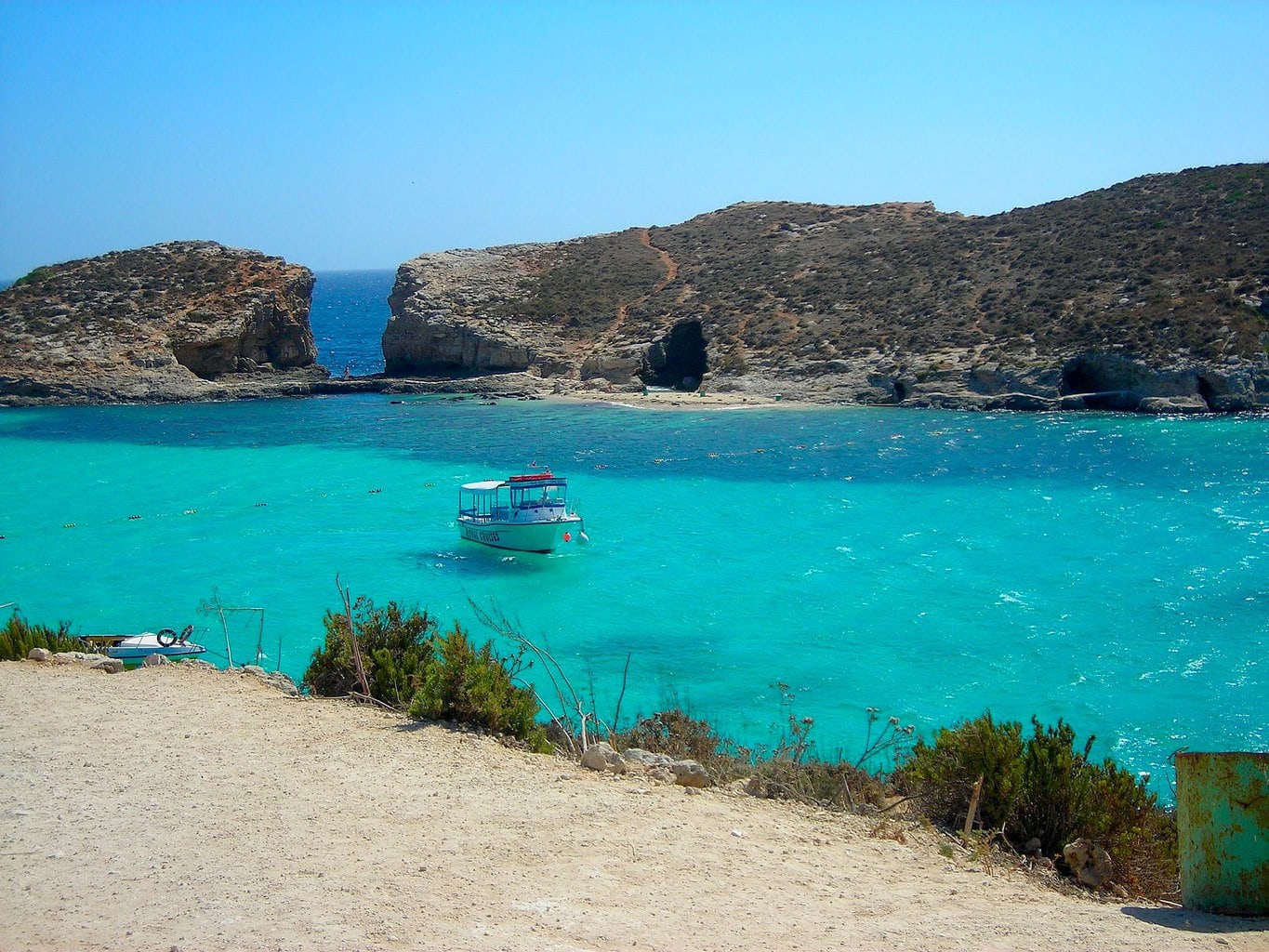 As you may have guessed from the name, Blue Lagoon (not to be confused with the Blue Eye in Albania) has the feel of a private island setting, thanks to its turquoise blue water, soft white sand, and secluded location and it is one of the most famous tourist spots in Malta.
The island only has five permanent residents who share its beauty with the many tourists that visit every day. And with reason, as the Blue Lagoon is known for having one of the most beautiful beaches in Malta.
When you get in the water, you'll notice that there are ropes designating which side of the water you should stay on, and this is to keep swimmers safe from the boats and yachts that also like to frequent this beautiful spot during the peak summer months.
All in all, Blue Lagoon is truly a breathtakingly beautiful spot that is marvelous for swimming, soaking up the sun, snorkeling and scuba diving. When you get there you understand why it is probably the best beach in Malta. Although in recent times it has became a victim of mass tourism due to its beauty. So if you go during a busy time you might be one in a crowd of people trying to hire one of the parasols for quite a steep price.
---
Facilities at Blue Lagoon: If you are feeling peckish, you can get food and drinks from the kiosk or nearby hotel, although it will come at a steep price. As do the parasols and loungers.
How to get to the Blue Lagoon: To reach Blue Lagoon beach, you can either travel by ferry from Gozo or Malta, or take one of the boat taxi operators or boat cruises that are available.
Keep in mind that Comino is a car-free island so your next best bet is to travel by bus. Just make sure to get there early as it tends to get pretty packed by midday.
How to get to Blue Lagoon: There is one option if you'd like to stay on the island of Comino which is aptly named Comino Hotel. The main hotel has two swimming pools if you aren't in the mood for one of the best beaches in Malta. There are also bungalows which are a 10min walk from the main area, or a 2min ride in the complimentary shuttle bus and are more of a rustic stay with spectacular views and a bit more seclusion. You can book your stay at Comino Hotel here.
As you can see, Malta is the perfect sun, sea and sand destination for all travellers, including couples on a romantic getaway, families on vacation, or just adventure enthusiasts looking for the next thrill. There are sandy beaches and rocky ones, there are secluded spots and easily accessible bays. You can party all night and then relax at the beach or get away from it all with just a book.
The best part is that you can visit and enjoy most of these Maltese beaches pretty much all year round, as Malta enjoys 300 years of sunshine each year, and all of them are Blue Flag beaches, well-maintained and clean.
Further reading: See more of the best beaches that the globe has to offer. Travel to Southeast Asia and you'll find some amazing beaches in Vietnam, Thailand, Indonesia, and Singapore. We've also made a list of the best overwater bungalows in Southeast Asia to spur on your wanderlust. There's also articles on the best beaches in Montenegro, Albania, Macau and South Africa for more sand-and-sea inspiration.
This article has been written by Ed Landsik, the founder and editor of Malta Uncovered, a travel guide for curious travelers looking to discover Malta. Ed is a passionate tourist-turned-expat who wants to put Malta on the map as a top holiday destination for travelers all over the world.
Don't forget to Pin this to your Beaches of the World board!