This article on the best beaches in South Africa was last updated in June 2020.
South Africa is known for many things, from its world class wine to its amazing safaris and its delicious foods. With a coastline measuring over 2,500km (1,600 miles) from Namibia to Mozambique, and extending 2 different oceans, some of the best beaches in South Africa are also the best ones in the continent.
The colder waters of the Atlantic coast in the Northern and Western Cape are rougher and wilder, perfect for the rugged outdoor-person and fearless surfers. The Indian Ocean, stretching over the Western and Eastern Cape and KwaZulu Natal coasts, is a calmer choice with warmer waters frequented by holiday-makers in the summer months.
There are fashionable beaches where the hip and trendy hang out, desolate beaches amid nature reserves teeming with wildlife, nude and topless beaches and pristine Blue Flag beaches to get away from it all.
No matter what your reason is for visiting the Rainbow Nation is, whether it be in winter or summer, you should definitely explore its sandy shores. We have compiled a list of the best beaches in South Africa from first-hand experience.
So get your towels, sunscreen and surfboards and have a blast!
Map:
A note on Blue Flag status
The Blue Flag is a certification given when a beach meets the stringent criteria of the Foundation for Environmental Education (FEE). These criteria state that the beach, marina, or sustainable boating tourism operator meet a certain standard of quality, safety, environmental education and information with high environmental and quality standards.
When you enter a Blue Flag beach, you are assured a clean, safe and environmentally friendly environment.
While Spain, Turkey, France and Italy have the highest concentration of Blue Flag beaches (with all countries having 300+), South African blue flag beaches total 45 (in 2019, Source).
The Western Cape holds the highest number of Blue Flag beaches, with a total of 33, with 9 in KZN and 6 in the Eastern Cape. There are also 24 beaches across three provinces that have been awarded Blue Flag 'pilot status' and are working toward full Blue Flag status.
Blue Flag Status beaches (in 2019) will be displayed in the titles below.
Best beaches in Cape Town (including the Overstrand)
Cape Town beaches are by far some of the most picturesque in the country, particularly those at the foot of Table Mountain in the Atlantic Seaboard. They are mostly covered in fine white sand, have large waves and great facilities.
One of Western Cape's claims to fame is that the coastline is split into two separate oceans, the colder Atlantic on the west and the warmer Indian on the East. You can actually visit the place where the two oceans meet at Cape Agulhas.
This means that the water ranges dramatically in temperature throughout the region. The west coast is also wilder, more desert-like and has massively scary waves. The east coast is known to be calmer with longer riding waves. Yet the actual beaches are beautiful no matter where you go.
Cape Town is also known for its terribly strong wind known as the South Easter. Also called the Cape Doctor, as it blows away the smog and other impurities, the South Easter is a necessary evil.
If you look up to Table Mountain's east slope and you see the "table cloth" of clouds, you know the wind will be pumping on the Atlantic Seaboard. This is due to the wind force picking up warm moisture from the False Bay waters and blowing it around the eastern flank of the mountain.
So watch out around the end of August to March where gale force winds have been known to blow at 160km/h! But we like making lemonade from lemons, so drop your surfboards and grab a kite for some kite or windsurfing!
Here is our Essential Guide to Cape Town to combine with your trip!
Llandudno Beach (Blue Flag) & Sandy Bay
Llandudno is the second most expensive suburb in the country by average selling price, after Clifton. The houses on this hilly cove are enormous, beautiful and all have the best views of the ocean. Venture down the hill into the cove known as Logies Bay and you'll find the gorgeous Llandudno Beach one of Cape Town's beaches that is off the beaten path yet easily accessible.
As it's quite far from the city center, and due to minimal parking, Llandudno is a less likely candidate for a hot summer's day. Yet, it is still packed when it's hot.
While the softest powder sand, large granite boulders and millionaire houses make for an epic scene, the water is known to be absolutely freezing here. This won't stop beach goers from having the best time playing beach volleyball and touch rugby.
It is also one of Cape Town's most epic surfing spots, particularly at the Gat to the right, where fearless bodyboarders drop into mammoth waves over the rocks. This is not the place to learn how to surf as the waves can be very heavy and the water is shallow.
While there are a few facilities like a lifeguard station, toilets and showers, there are no shops or restaurants. It is advisable to bring your own snacks and water and you can always hop over the mountain to Hout Bay when you're done to get some world class seafood. Suikerbossie restaurant at the top of the hill is the closest option and has epic views of Hout Bay.
If you are a nudist or just want to bath in your birthday suit, South Africa's most popular nude beach, Sandy Bay, is around the corner. It is about a 30min walk from the Sandy Bay parking lot, so while you can leave your kit at home, do bring hiking shoes and a backpack.
Adventure types should go on a seal diving tour in Hout Bay after their visit to Llandudno. The weekend Bay Harbour Market by the harbour is great for families, or you can visit one of the many fish and chip shops in the area from our personal favorite Fish on the Rocks to Snoekies to The Lookout.
Bloubergstrand & Big Bay
If you want to get the best selfie with Table Mountain, Blouberg is the place to go. This family-friendly coastal residential area is a vibey hotspot for surfing families and kitesurfers.
There are coffee shops, restaurants, and bars littered along the coast of Bloubergstrand. And if you drive a little further you'll reach the hotspot of the West Coast, Big Bay. What used to be a quaint yet popular surfing beach with only a parking lot, cafe and some showers has become an in-vogue property giant called Eden on the Bay.
While the surf is still highly popular with the locals, there is now a mall, restaurants looking over the beach, all facilities, boutique stores and surf rental/lessons shops. The frontline is a good place to start your surfing career and the backline has a wonderful ride for the more experienced surfer. It's probably one of the most popular surfing beaches in Cape Town.
The actual beach is also popular depending on the lower tide. The sand is slightly rougher than the Atlantic Seaboard, but fine enough to relax on. When the water does come up at high tide, there is a large patch of grass to chill on and have a picnic.
Little Bay to the left is another popular cove with local favourite Blue Peter Restaurant and Hotel. To the right of Big Bay are some world-class surf spots including Horse Trails (walkable), Derde Steen and Melkbosstrand (by car, Melkbos is Blue Flag).
Kraalbaai, West Coast National Park
Some of the top beaches in South Africa aren't only along the coast. Many of them can be found in dams, lagoons, and there are even some secret ones on top of Table Mountain. The best lagoon beach in Cape Town has to be Kraalbaai, located within the West Coast National Park.
There is a minor fee to enter the park, but it's a small price to pay for this epic slice of perfect nature. Take a mini safari through the Park where you can spot an array of flora and fauna from Red Hartebeest and Eland to Springbok and Caracals. It's also a popular spot for birding and one of the best places to see the flowers bloom in Spring.
There are walks, day hikes, MTB trails, cottages and, when you reach the lagoon, water sports like kayaking and kite-boarding.
There are toilets and braai facilities overlooking the lagoon, which boasts soft white sand and pristine blue waters reminiscent of the Maldives. This hidden beach in Cape Town is the perfect place to unwind, surrounded by nature, especially if you're not into the large waves of Cape Town's beaches.
Muizenberg (Blue Flag)
Muizenberg beach is probably one of the best known beaches in South Africa. It's wide and expansive, has the perfect beginner's wave for surfing and is surrounded by local eateries, cafes and spectacular views of False Bay. You can also see the famous multi-coloured changing huts along the shore.
It has a similar vibe to Huntington Beach in Orange County, California, that's to say it has a surfer village feel. There are surf stores where you can rent a board or take a lesson and on weekends the ocean looks like it's dotted with ants because there are so many people in the water.
You'll also see bronzed, golden-haired locals riding on skateboards, surfboard in hand, heading to the water near Surfers Corner. It's the best beach in Cape Town to learn how to surf due to the massive shoreline and gentle waves.
As it's in the Indian Ocean, the water is definitely warmer than the Atlantic counterparts, but it can get chilly so a wetsuit is advised for surfers. Hippy-esque Kalk Bay is nearby if you're keen for a nice stroll along boutique shops after your time in the sun. Pop into Kalkys for authentic South African fish and chips.
Clifton 4th (Blue Flag)
Clifton beach is an enclave between Three Anchor Bay and Camps Bay that boasts the most expensive suburb in South Africa by average selling price. The luxurious houses are perched on a cliff that overlooks the bay and will make you feel as if you were in St Tropez. The yachts anchored just offshore on a calm day help to complete the picture.
The beaches are simply named 1st, 2nd, 3rd and 4th, with Moses beach just before Clifton 1st (closer to Bantry Bay side) that is usually washed up in high tide. Clifton Beach is a glamorous topless beach in South Africa where all the most beautiful people from around the world go to get a tan in summer.
While getting to any of the Cliftons involves trekking down and up at least 100 stairs, Clifton 4th is the most popular and crowded as it is the easiest to get to (if you can find a parking). You will find more families at Clifton 4th as it is also a safer option than the others as the waves are milder. If you move along to Clifton 1st beach, the waves start getting a little rougher and the crowd becomes a little hipper (and more topless).
Clifton is also the place to go if the South Easter is pumping as it is the most sheltered beach in Cape Town. There are change rooms, showers and public toilets on 4th and 2nd beach, but food is difficult to come by if you're venturing toward 1st, so it's best to bring your own snacks. While the sand is probably the softest you will ever feel, be warned, the water can be freezing. Even on a boiling hot day, it can be too cold to take a dip. Either way this is the trendiest beach in Cape Town.
It's also one of the two spots to go paragliding over depending on the wind direction and strength. Book a paragliding adventure here.
Safety Tip: Just like anywhere in South Africa, if you are driving, please check that you have left nothing in view on your car seat. Make sure all belongings are in the trunk of your car before departing, even a t-shirt. Stash, don't flash. Also take some coins for car guards, it is customary to "tip" them at least R5 when you return to your car.
Grotto Beach (Blue Flag) & Voelklip Beach, Hermanus
Hermanus has the best land-based whale watching in the world. When the mammoth mammals make their way through the coastline between July and November each year, all you need to do is take a peek toward the ocean and you will see them playing around.
The beaches along this stretch of the Overstrand region are also superb. Voelklip is a smaller, sheltered and more intimate beach in Hermanus with great surf, luxurious B&Bs and beautiful properties surrounding the cove. There is one restaurant nearby called Walker Bay Grill and some toilets and private showers.
Grotto Beach has Blue Flag status and is the better beach to watch the whales from in season. It is a massive beach, both long and wide and stretches for 18kms up to De Kelders. It's a wonderful spot to spend the day with the family as the waves are tame, their are lifeguards in season, there is a playground and there's so much space to pitch an umbrella. It's also a nice place to go fatbiking along the coast.
Popular Dutch restaurant, Dutchies has been there for years and in the summer the sand area opposite turns into a lively beach bar, perfect for sundowners. If you drive a little further to the Klein River Lagoon, there is also a braai area and public toilets. It can get extremely windy on this beach, not so nice for beach bums, but perfect for kiteboarding.
Before or after heading to the beach in Hermanus, you should definitely go winery hopping along the famed Hemel en Aarde wine valley that grows the best Pinoit Noir and Chardonnay in the country (Burgandy style). Book a "Whale and Wines" tour here. A little further on from Hermanus is Gaansbaai, which has some pristine secret beaches in Cape Town like Romansbaai, but is best known for shark diving. You can book your adventure here if you're crazy enough.
Camps Bay (Blue Flag) & Glen Beach
If you ask around, Camps Bay Beach is most probably the most popular beach in South Africa. It is super trendy, tourist friendly and outstandingly photogenic. The luxury boutique hotels and high-class bars coupled with the throngs of tourists and palm trees make Camps Bay beachfront feel more Europe than Africa.
This beach in Cape Town is sandwiched between the towering 12 Apostles mountain range and the glistening Atlantic Ocean. Volleyball players jump among bikini-ready bodies, while surfers make their way to the water.
There are tidal pools for those who can't swim, lifeguards on duty in season, as well as toilets and a supermarket. It gets ridiculously busy on Christmas and New Year's when parking and traffic is a nightmare.
Just over the rocks to the east is Glen Beach, which is more for the locals and surfers, but can be a quieter option on busy days. Nearby Beta Beach in Bakoven is a hidden treasure of a beach in Cape Town that only locals know about.
If you head over to the Waterfront, you can book a marine life kayak tour to see Cape Town from a different perspective. If you're more into chilling and having a sundowner on the ocean, you can always book a marine wildlife tour on a speedboat, or opt for the more luxurious sunset champagne cruise or a private cruise on a chartered yacht.
Boulders Beach
This Cape Town beach is not known for its idyllic postcard perfect scenes or amazing surf, but rather for its cutesy penguin population. Families would want to visit this small patch of sand to see the endangered African penguin up close and personal.
It is also a safe place to swim as the large granite boulders protect the waters from strong currents and wind. Boulders is a great place to stop at for day travelers exploring the Cape Point National Park.
There are a few restaurants nearby and sleepy Simon's Town is a stone's throw away, which is home to the South African Navy's largest naval base.
Here's a fun guided penguin tour of Cape Point to go on if you're interested in learning a bit more about the little critters. Cape Point is also a beautiful option for a day hike.
Best beaches in the Garden Route
The Garden Route officially starts at Mossel Bay and ends at Storms River in the Eastern Cape. It's the place that Capetonians flock to come the December school holidays so it is catered for tourists in season.
Off season, it is still a gorgeous place to visit as it is filled with lush greenery, majestic views for hiking and extreme activities like paragliding. Due to its pristine beauty the locals have dubbed this stretch the "Boom Gordyn" which can be translated into the "Tree Curtain".
The best beaches in the Garden Route are all surrounded by natural beauty with long stretches of soft sand and the best part, the water is warmer than the beaches in Cape Town.
Don't forget to save our complete Guide to the Garden Route if you're planning an adventure up the coast.
Plettenberg Bay (Robberg 5 is Blue Flag)
Plettenberg Bay is a town on the Garden Route popular with South African holiday-makers, particularly at the end of the year.
There are many beaches in the area, but the two most well-known are Robberg 5 and Central Beach. Robberg Beach stretches for roughly 4kms from the Beacon Isle Hotel to the Robberg Nature Reserve, which is a great hike too.
Robberg 5 Beach holds Blue Flag status and is one of the nicest beaches in the Western Cape as it is calm, relaxed, has warm water and is surrounded by beauty. You'll also most likely spot some, or even swim with, wild dolphins.
On the other side of the Beacon Isle Hotel is the other Blue Flag option, Central Beach, which is a vibier choice. There are bars, cafes, restaurants and loads of activities in summer. Plett is also known to be the host for the "Matric Rage Festival" where thousands of recently matriculated students from all over the country flock to let off steam after their final exams.
You can only imagine how raucous the otherwise sleepy town becomes during this period in December. It is therefore advisable to relax on Robberg or head over to any of the other beautiful beaches in the Garden Route during this time. Unless you want to join the party of course!
When the young adults have gone, Central Beach is a wonderful family beach in South Africa with lifeguards and loads of water activities like kayaking. The waves are also quite small if you don't venture towards Lookout Beach.
Similar to Hermanus, Plett is also a great land based whale-watching site to view the Southern Right in the winter months.
See our Guide to the Garden Route for a full itinerary including maps and various routes.
Buffels Bay
For a beautiful Garden Route beach that is quite vibey, but not as chaotic as Plett in season, you should head to Buffels Bay (Buffelsbaai or Buffalo Bay). The main portion of this extremely long beach starts at the parking lot (paid in season for about $1) where there are ablutions, a cafe and a restaurant.
Holiday-makers sit around this area, so it can get quite packed on hot days in December/January. But you can walk anywhere on the 5.5km stretch along the Goukamma Nature reserve, all the way to Brenton-on-Sea (Blue Flag) and place your towel in a more secluded spot.
There is great surfing and you can even spot dolphins in late winter and spring. Just be careful of the jelly fish where the lifeguards will alert you about in season. Here is an in-dept article of jellyfish stings – it's always good to be prepared. We recommend Victoria Bay and Herold's Bay as two more idyllic surfing spots on the Garden Route.
Diaz Beach & Santos Beach (Blue Flag), Mossel Bay
Mossel Bay is the first stop on the Garden Route when coming from Cape Town. It's a small town with a big heart… and five Blue Flag beaches!
Diaz is the biggest beach in Mossel Bay, with soft sand, warm water and great surf. If you wanted to learn how to surf in South Africa apart from Muizenberg, this is the place. There's even a surf school right on the beach, along with restaurants and cafes.
It's a 3km stretch with kiosks selling snacks and sundries, and an indoor heated pool within the water park for the kids, which also has outdoor swimming and waterslides.
Mossel Bay is also famous for its cage shark diving as there is a seal colony nearby. But there's nothing to fear about when swimming, just don't venture too far out.
Santos Beach is the most popular Blue Flag in Mossel Bay and can become quite crowded with local tourists in season, especially with families. There's a quaint little tram, an old Victorian pavilion and braai facilities.
There are also toilets and showers at Santos beach, where you can wash off the salt water after swimming in the calm waters that are ideal for young kids. You can even enjoy this South African beach in winter as it is calm and clean.
Nature's Valley (Blue Flag)
Nature's Valley is our personal pick for the best beach in the Garden Route. It really is off the beaten track, extremely barebones, but absolutely beautiful. Choose to dip in either the warm ocean or the large lagoon near the Grootrivier mouth.
Nature's Valley itself is far away from the crowds of Plett and home to the most serene environment surrounded only by nature. There is only one small cafe and restaurant in the town, so expect peace, quiet and tranquility. It really is the perfect spot for a digital detox.
While Nature's Valley Beach is not very well known, it's biggest claim to fame is that it is the end of the gruelling Otter's Trail. There are other hiking trails though, where you can spot duikers and indigenous fynbos. And if you're into camping, you can stop off for a few nights at De Vasselot campsite where you can also hire a kayak on the lagoon. Drive a bit further to Storms River and there is bungee jumping or kayaking adventures at Tsitsikamma National Park.
Best beaches in the Sunshine Coast and Wild Coast (Eastern Cape)
The Eastern Cape has some of the most beautiful beaches in South Africa. They range from vibey to desolate, but are all lush with thriving nature and covered in the softest white sands.
Crossing the border from the Western Cape, you are instantly hit with the rugged charm of the east with Bloukrans River and one of the highest bungy jumping spots in the world. The stretch from the border to East London is known as the Sunshine Coast, and much like its Australian counterpart it is filled with fantastic golden sand beaches and warm water.
The stretch from East London through Port Alfred and on toward the KwaZulu Natal border is rugged and bursting with wildlife and greenery. It's no wonder they call is the Wild Coast. The "wild" definitely starts to show as you drive further north toward the Transkei where monolithic cliffs tower over the surf below.
Home to the Xhosa tribe and Nelson Mandela, the Eastern Cape is culturally rich if lacking in infrastructure. It is far removed from the European-esque shores of the Mother City, where adventurous hikers, surfers, nature lovers, cyclists and eco-conscious tourists explore the lands and warm waters of the Indian Ocean.
Nahoon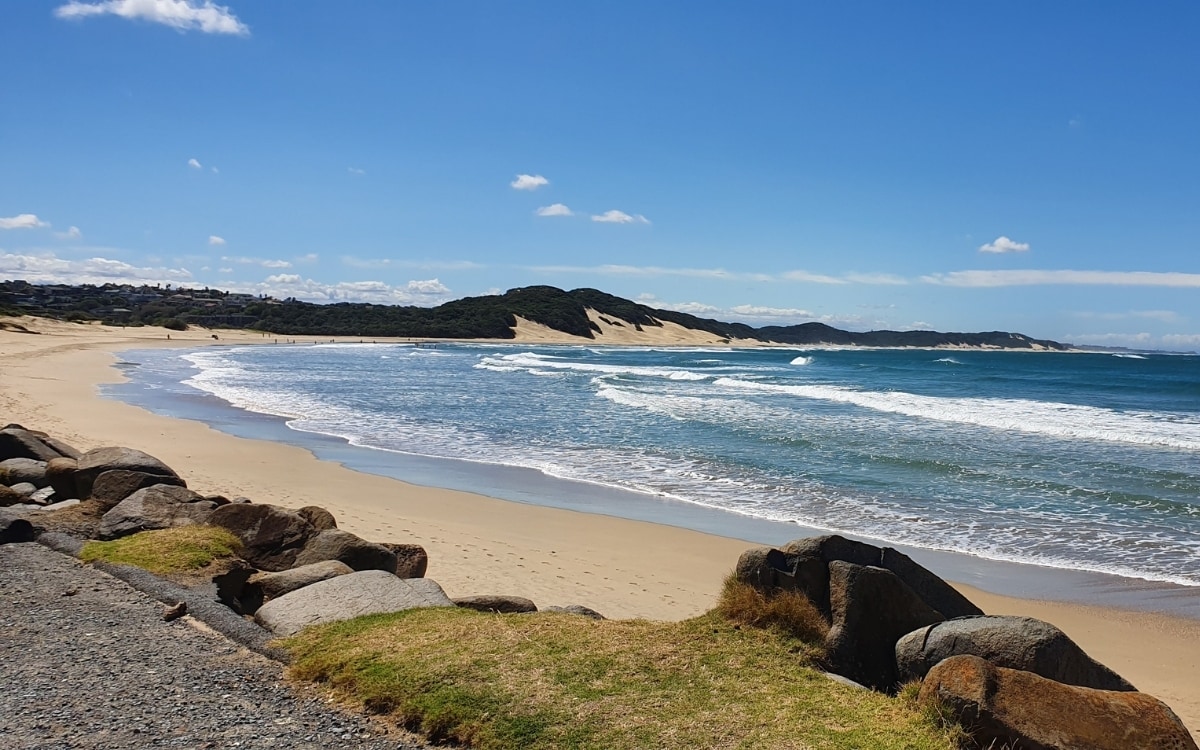 This popular beach in East London is known to have some of the best surf in the region. The scenery is picturesque with high dunes rolling into the soft sands of the long beach. The dunes are also great for sandboarding.
There is a fantastic view point from the elevated boardwalk where you can admire the views below, watch the surf, check out the sunbathing dassies or just take a stroll in nature.
There are lifeguards on duty in season, which makes the waters ultra safe to swim in, go kayaking or even snorkel in Mermaids Pool. There are also two restaurants (Reef Cafe and the Beach Break Cafe) to enjoy a bite to eat as well as public bathrooms.
Morgans Bay
Situated in a charming town of the same name, Morgans Bay Beach is a medium sized beach, stretching just under 2kms, with rolling dunes and warm waters.
Morgans Bay is a resort town that gets packed in December when the lifeguards on duty watch the multitudes of holiday goers swim in the ocean or nearby lagoon.
Morgans Bay Beach comes alive during the festive season when activities include a touch rugby and cricket tournament. The flat sand makes this a perfect spot for any team sport including soccer and even beach tennis. There is also fishing, hiking trails and other activities including kayaking and SUPing in the lagoon.
Kei Mouth
Kei Mouth is the small village just after Morgans Bay. As the gateway to the Transkei region it is slightly more relaxed and a popular spot for fishing. This is a great beach in South Africa to sit back, relax and forget about the worries of daily life as the waters are some of the calmest on the Wild Coast.
Kei Mouth Beach is one of a few beaches in the village, so you are spoilt for choice here. There is also a nice selection of eateries in the village from braais at The Shed to fresh calamari at the Bushpig.
Above the slightly rocky beach is a large golf course with snooker and pool tables, a sports bar and restaurant, as well as braai facilities and outdoor seating at the Kei Mouth Country Club.
There are several sandy beaches, as well as good fishing, horse riding, township tours, a game reserve just outside of town, several easy coastal hikes, a surf spot, ski-boat launch site and several bird watching spots.
The beach isn't only for lapping up the sun, there are also horse-riding adventures, river cruises and bird watching.
Hobie Beach (Blue Flag)
Getting its name from the Hobie Cats that are launched from the ramp, Hobie Beach is a happening area in Nelson Mandela Bay (or NMB, formerly Port Elizabeth). There are trendy restaurants, hotels and a casino all in walking distance from the beach.
The Shark Rock Pier juts out at one end of Hobie Beach and is a symbol of beach life for the city. It's also the perfect place to view the city from a different angle and snap a selfie for Insta. The annual Splash Festival is held on the beach between March and April as a final goodbye to summer.
While there are no facilities on the beach itself, the nearby Boardwalk has plenty of places to stop for a bite to eat and quick bathroom break. There are also plenty of activities and events held at Hobie Beach, from the Ironman competition to the Beach Volleyball and World Boardsailing Championships. So make sure to check if any events are on before you visit this super popular beach in Port Elizabeth.
Gonubie
Only 8kms from East London, Gonubie is a quaint coastal town with a lagoon and beach that share the same name. The scenic beach is found right on the mouth of the river, just as it enters the warm waters of the Indian Ocean.
Gonubie Beach is a wonderful option for families as the picture-perfect beach offers sheltered swimming areas and a walled tidal pool for the kids to play around in. The little ones can also spend hours in the tidal pools picking up shells and exploring the wildlife.
On top of the elevated boardwalk, there are beachfront restaurants, where you can also spot dolphins and whales in season. There are also shaded areas for day trippers wanting a picnic or braai.
Kelly's Beach, Port Alfred (Blue Flag)
This fairly small beach in Port Alfred is a beautiful and clean stretch of pale brown sand and holds Blue Flag status.
Kelly's Beach is one of the best South African beaches for families as there are demarcated swimming areas for parents with young children. The sand area is spacious allowing for kids to roam free and build sandcastles as they please.
The surf is great, with a left and right beach break and there are also boogie board rental services if you're keen for a quick boogie in the water.
Kelly's Beach has excellent facilities with clean restrooms, ecological information boards, and lifeguard services. Beachgoers can also view spectacular sunrises and sunsets from one of the two viewing decks.
Dolphin Beach (Blue Flag) & Supertubes, Jeffreys Bay
Catching waves at Supertubes
Jeffreys Bay, or J-Bay as the locals call it, is the surf capital of South Africa and even the world. The iconic right-hand wave at Supertubes is a surfer's dream as it can run for minutes at a time on good days. It's by far the most popular surf beach in Jeffreys Bay.
Due to its symbol as a surf city you can expect to find several factory stores from major surf brands selling last year's stock at discounted prices. It's also a fantastic place to learn how to surf as there are several surf schools year round, and the water is bath temperature warm.
A mini documentary showcasing the beaches and town of Jeffrey's Bay
The two best beaches in Jeffreys Bay are Supertubes and Dolphin Beach, for different reasons. Supertubes is a surfer's beach. This means that the only reason you would go here is to either catch a wave or watch the surfers do their thing. It is a reef break and generally crowded, so beginners would want stay clear from the waters here.
The facilities at Supertubes are also minimal, with more guest houses and backpacker lodges than anything else.
About 2kms down the road is a larger Blue Flag beach for sunseekers of all types, Dolphin Beach. It's a family's dream due to the soft white sand, small waterpark, beginner's wave, the Shell Museum and year-round dolphin spotting.
The main town is also in walking distance from Dolphin Beach, so you are never too far from bistros, restaurants, shopping and cafes.
Humewood Beach, Port Elizabeth (Blue Flag)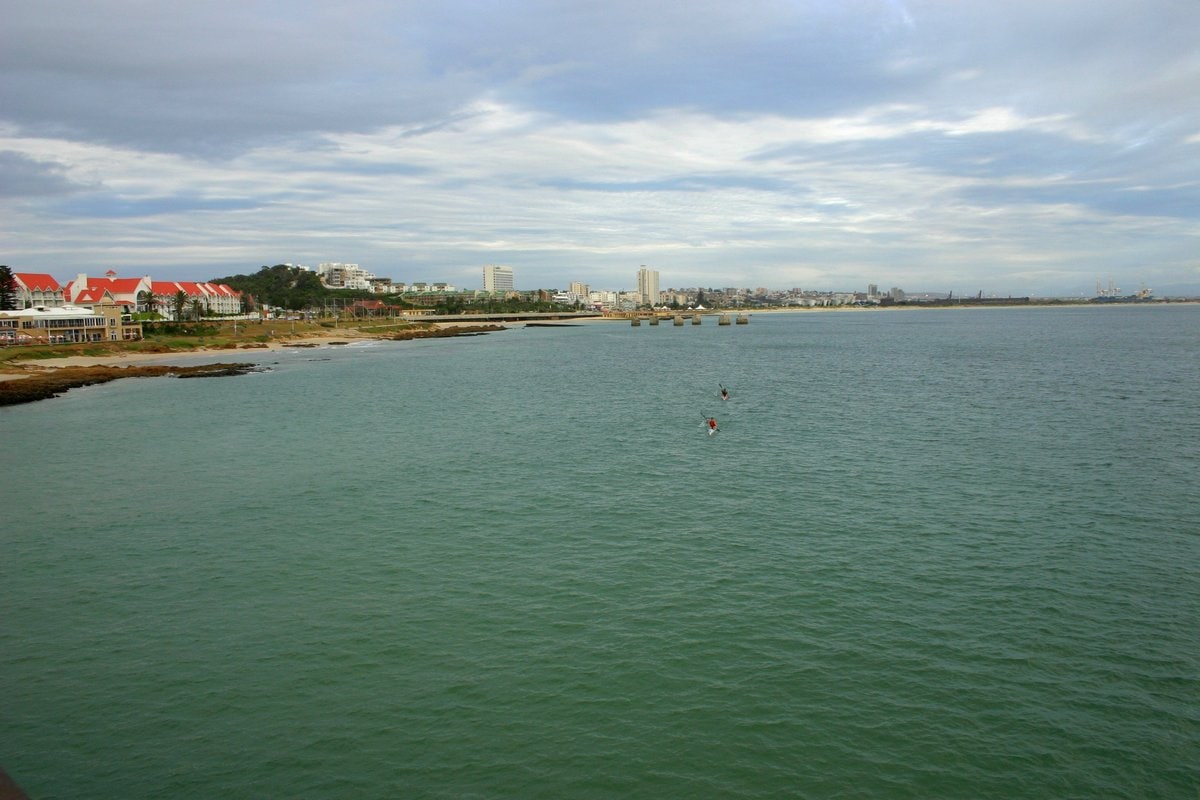 Humewood Beach is the oldest Blue Flag beach in South Africa and has held the title for over 17 years. It's the perfect spot to catch a tan as it's a little calmer than nearby Hobie Beach, both in the water and on the sand, making it one of the best beaches in Port Elizabeth.
There are freshwater showers, lifeguards on duty in season and wheelchairs that have been specifically designed to be pushed onto the sand. Parking is free and ubiquitous, and word-class restaurants dot the area.
It can get quite busy during the summer, but is a great place to come and relax year round.
Remember that Addo Elephant National Park is very close to Port Elizabeth and is an easy day visit that is a must to experience an African Safari if you can't make it to the more popular Kruger National Park. This full-day tour is highly recommended.
Kariega Beach, Kenton-on-Sea (Blue Flag)
Kenton-on-Sea, about 30mins from Port Alfred, is a charming and quiet coastal resort town on the Sunshine Coast. The beach, Kariega, is large and surrounded by natural beauty with tidal rivers, Kariega and Bushmans, on either side.
What makes Kariega different from the rest is its display of uniquely angular sandstone rock formations. These create some interesting coves and rock pools for adventurous beach goers to explore at low tide.
When you're done taking in the sun and when the tide comes up, the coastal path on top of the cliffs provide some amazing viewpoints. It's also a perfect birding spot. There is also a restaurant, Homewoods, right on the beach that is known for its delicious pizzas.
Hole in the Wall, Coffee Bay
The seaside village of Coffee Bay is known to be a backpacker's dream with rustic thatched roof lodges and friendly bars with travelers from all over the world.
Visiting Coffee Bay is like going back in time where things were simpler, slower and calmer. While the main village is easy to get to on a tarred road, it's best to travel this area with a 4×4 as the infrastructure is lacking somewhat.
Yet once you get to the beach, it will all be worth it as it really is one of the best beaches in South Africa for those looking to unwind in the sun with a book. The nature is unparalleled, and the out of the way location promises solitude under the milkwood trees.
One of the main beaches in Coffee Bay is Hole-in-the-Wall or 'esiKhaleni' (the place of sound) in Xhosa. The English name comes from the unique cliff that has a hole in its centre. The Xhosa name is from the sound the waves make when they smash against the rocks.
Best beaches in Durban and KwaZulu-Natal
Moving from Xhosa to Zulu territory, KwaZulu Natal is the place to go if you want to mix a safari into your beach time. The most popular include Hluhluwe-Umfolozi Game Reserve where you can see the big five and the beautiful Isimangaliso Wetlands Park in St Lucia for something a little different and right by the ocean.
Durban is a bustling city popular for its authentic Indian cuisine, world-class surfing, the large mall Gateway Theatre of Shopping, and the Golden Mile promenade.
While the beaches in Dubran and KwaZulu Natal are fairly off the beaten bath and swathed in sub-tropical natural beauty, they do include some of the more trendy beaches in South Africa like Umhlanga and Durban South Beach.
Sodwana Bay
Sodwana Bay National Park is the place to go to get as far away as possible from the city. It's a 4×4 owner's dream and the perfect place to pitch a tent and go camping for the night.
It is a nature lover's playground with activities ranging from the land-based birding, fishing, horse-riding on the beach, quad biking and hiking to water based kitesurfing, scuba diving, snorkelling, spearfishing and of course, surfing.
There are three reefs to explore and even night dive options available. But the best part of visiting Sodwana is the beach. It is a long, unspoiled stretch of powdery white sand fringed by forest. It is also very close to Mozambique, so you can start feeling that tropical vibe.
Sodwana Bay really does have one of the best beaches in South Africa, without a doubt.
Durban, North Beach & South Beach
Durban's North and South beaches are along the same busy strip in the popular coastal city. Daytrippers can hire a bicycle and venture all the way along the Golden Mile boardwalk from uShaka Marine World at the south tip to Moses Mabhida Stadium, built for the Fifa 2010 world cup and now used as a bungee jumping facility when there are no events.
The area is not called the Golden Mile for nothing, as it describes the beautiful golden sands of Durban's best beaches. While both beaches can get extremely packed at any time of the year, North Beach is a bit more chaotic as there is more to do on the boardwalk above including an outdoor skate park, Mini Town (with building replicas at a scale of 1:24), popular surf spot North Pier, the always pumping Joe Cools and various other restaurants and facilities.
Durban's South Beach is where visitors will find uShaka Marine World, the largest aquarium in South Africa. If North Beach in Durban is for partying and activities, South Beach is for chilling on the golden hued sand and having a relaxed swim, as the waters are calmer than its neighbour. If you go on a guided day tour of Durban, this stretch will definitely be one of your many stops. For something a little different, visit a Inyanga or Sangoma (traditional Zulu oracle, diviner or herbalist) for an traditional Zulu experience.
Ballito
Home to the annual Ballito Pro surfing contest and a popular holiday town, Ballito is a scenic cove about 40mins from Durban with many beach options. It is the closest beach near Durban other than Umhlanga.
The stretch starts from Blue Flag Willard Beach, best for swimming and surfing with lifeguards and an offshore shark net, to Salmon Bay, a quieter option and the designated launch site for Ballito's Inflatable Boat Clubhouse.
There is also a hiking trail near Willard Beach that extends from the promenade to Shaka's Rock, with a hole in the cliff that needs to be traversed and is best done at low tide.
Thompson's Bay is your best bet for a swim in the ocean as it is sheltered from the wind and has very calm waters. All beaches mentioned have ablution facilities.
Umhlanga Rocks
Umhlanga is a holiday-maker's paradise as people flock from all over the world to visit it's sandy shores at the end of the year. Umhlanga is an upscale destination with great shopping, a booming multicultural nightlife, fine-dining, luxurious accommodation and of course golden sand beaches near Durban.
The cosmopolitan holiday destination is a scenic beach with a lighthouse, a boardwalk perfect for morning jogs and a whale-bone inspired pier. Feel secure in the warm waters of one of South Africa's safest beaches with lifeguards and offshore shark nets. While parts of the stretch are rocky, there is plenty of space to take a dip.
Cape Vidal
It would be a shame to have a list of the best beaches in South Africa and not include St Lucia and Cape Vidal. It's a magical place where man and nature come together in perfect harmony and is the hub for the Greater St Lucia Wetlands Park.
It's not difficult to spot free roaming hippos and other animals in the nearby Wetlands Park, giving the Cape Vidal Beach and camping area a wilder edge.
This is definitely an adventurer's beach with loads of activities from horse riding to scuba diving. The camping area right by the beach is the perfect place to pitch a tent for a few nights while you take in the beauty of the area. There are also fully equipped log cabins if camping isn't your style but you still want to be surrounded by nature.
Trafalgar Beach, South Coast (Blue Flag)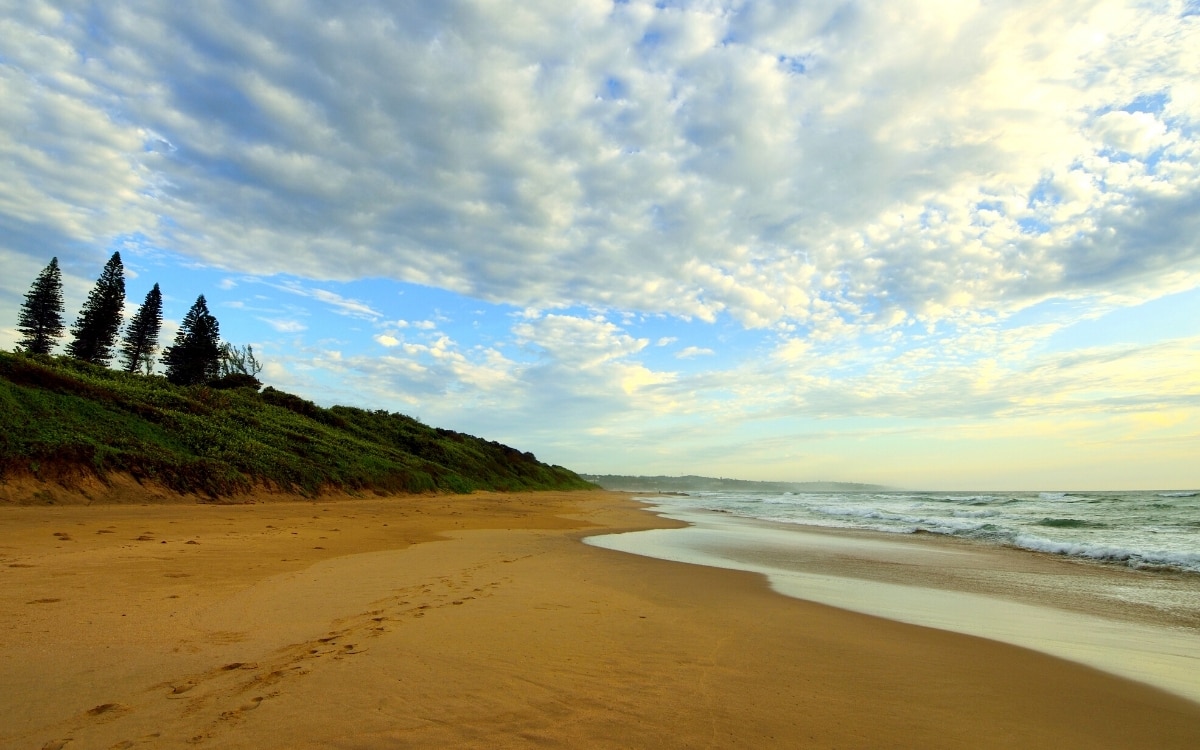 Trafalgar Beach in KwaZulu Natal's South Coast is one of the most interesting places to snorkel in South Africa due to the 90 million year old fossil beds containing shellfish, fish, plants and petrified wood in the protected marine area.
So if you're not catching a tan, fishing or surfing, you'll want to grab your snorkel and head to the ocean, particularly during Spring Tide when the fossils are more visible.
The beach is long and wide and is divided into the main swimming beach and the dog and horse beach. Right at the end of the stretch is South Africa's first official nudist beach at the Mpenjati Nature Reserve (although the "official" title was rescinded in 2017).
Lucien Beach, South Coast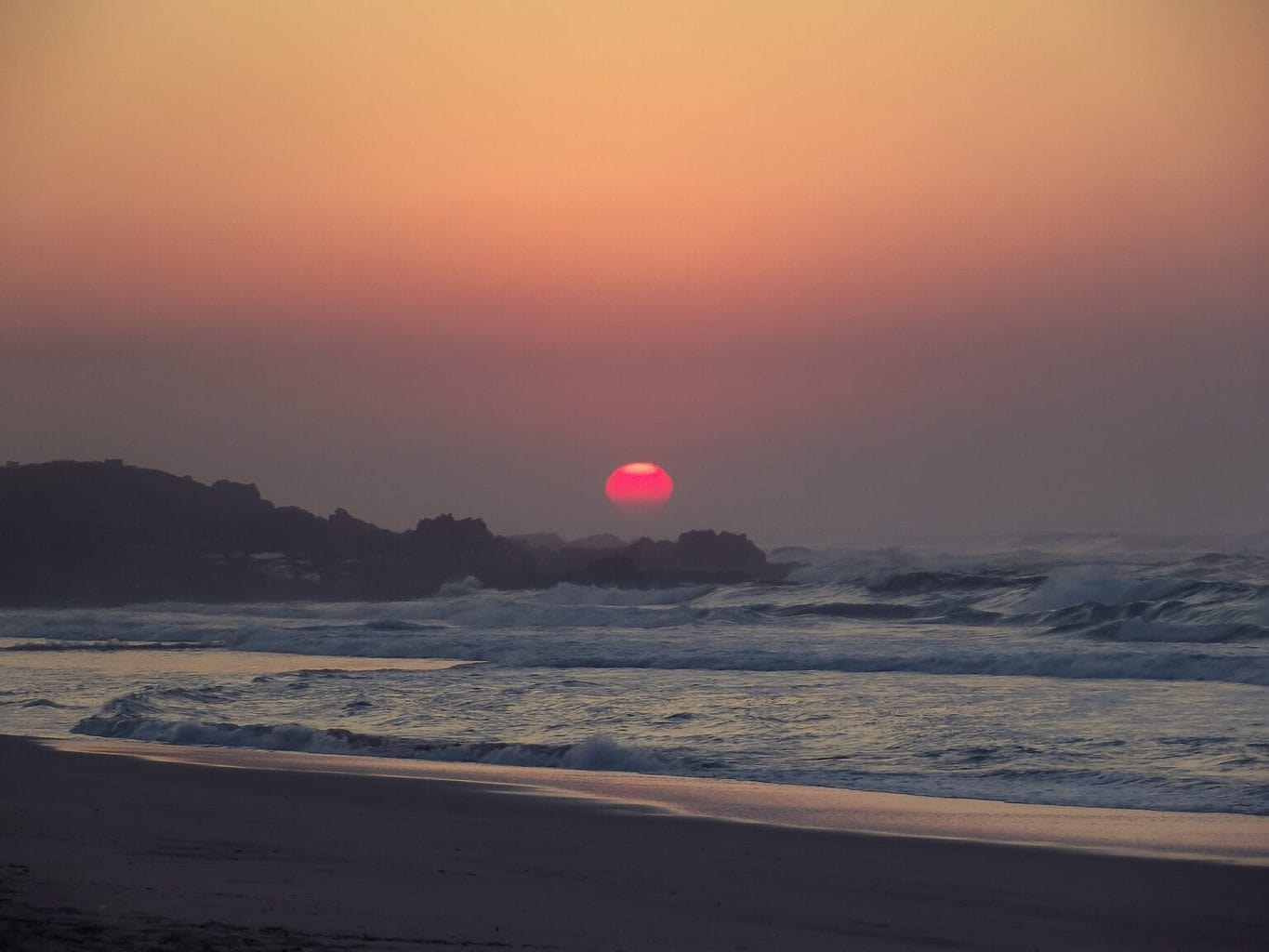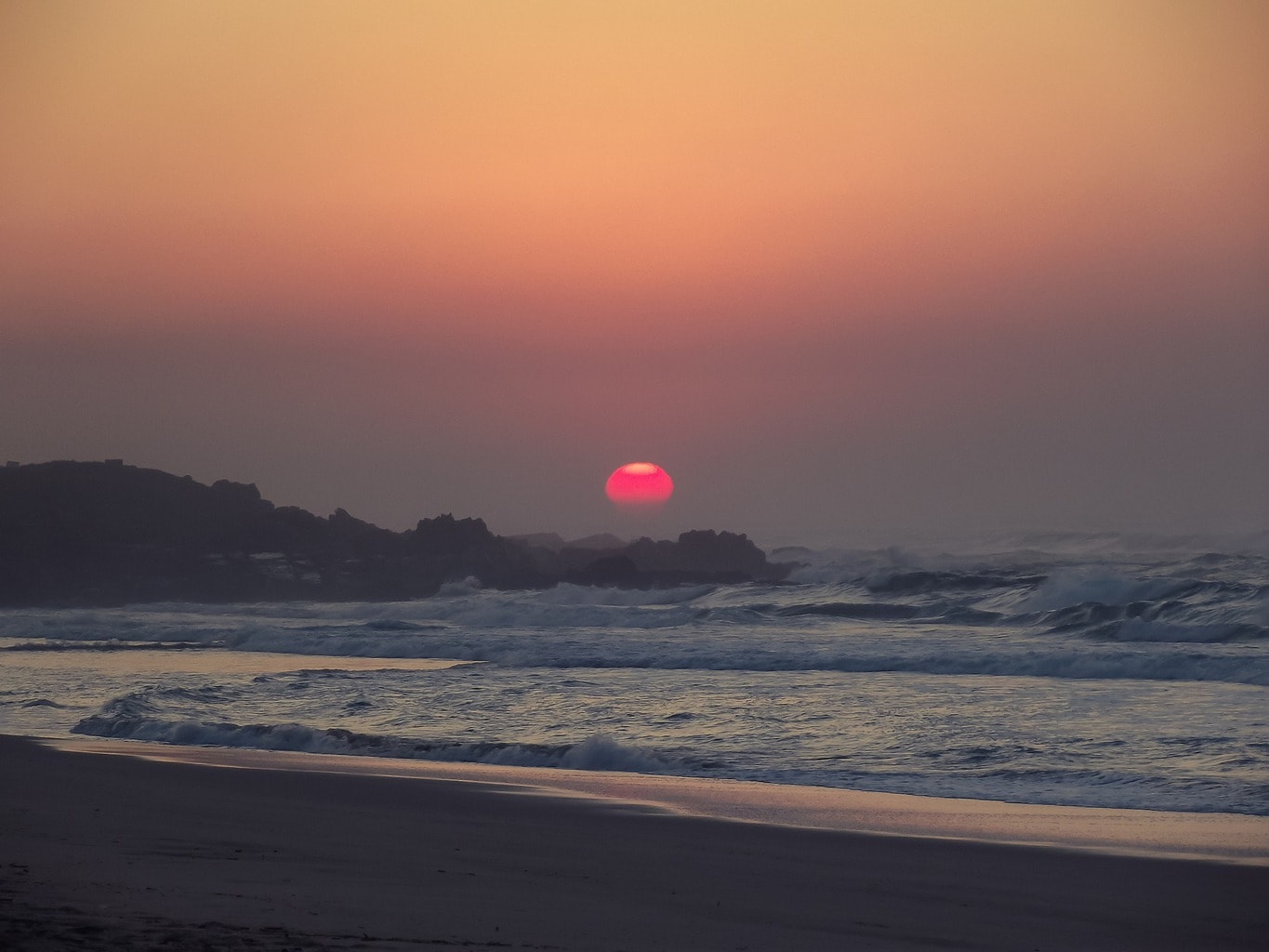 Many holiday-makers flock to the seaside resort town beaches in Margate along KZN's Hibiscus Coast. The best beach in Margate is Blue Flag Lucien Beach as it is clean, less crowded than Margate's main beach, has calm warm waters to swim and various facilities to use.
The steep flight of stairs may deter some, but it's what makes this beach far less congested than the rest. There is also a family-friendly tidal pool that can keep the little ones at bay for several hours.
Other facilities include a small convenience store, lifeguards throughout the year, as well as environmental education programmes through the holiday season. The elevated parking lot makes for great whale-watching in season.
Southport Beach, South Coast (Blue Flag)
Port Shepstone is a quiet coastal town near Margate that lies along the mouth of the largest river on the south coast of KwaZulu-Natal, the Mzimkulu River.
While there are many fabulous beaches to choose from along the coast of Port Shepstone, we've settled on Southport Beach as the best as it holds Blue Flag status.
It is a calm, secluded beach with loads of shady areas among the massive milkwood trees to have a picnic and rock pools to explore. While there may be more popular holiday beaches along the South Coast, Southport is a break away from the raucous commercial picks.
It's perfect for families looking to get away from the hustle and bustle with rock pools and a tidal pool for kids to explore, lifeguards on duty in season and free ablution facilities and parking. There are also a few restaurants and pubs near the beach, and braai facilities.
Marina Beach, South Coast (Blue Flag)
Having been dubbed the "Honolulu of the South Coast", one can only imagine the subtropical beauty and calm atmosphere that Marina Beach exudes. The azure waters make for a perfect swim in the Indian Ocean, with great waves for surfing and prime conditions for hydrofoiling and SUPing.
There is a tidal pool for the youngins to frolic in and there are lifeguards on duty in season. Visitors to Marina beach will find clean and maintained ablutions, free parking, and wheelchair accessible facilities.
The village where Marina Beach is located, Southbroom has a few restaurants and other basic facilities like stores and a petrol station. The Mpenjati Nature Reserve, where one of South Africa's best nude beaches is located, is not far away. It is also a beautiful Nature Reserve to explore. Southbroom also has a fantastic golf course if you want to play a round while your family hits the beach.
Shelly Beach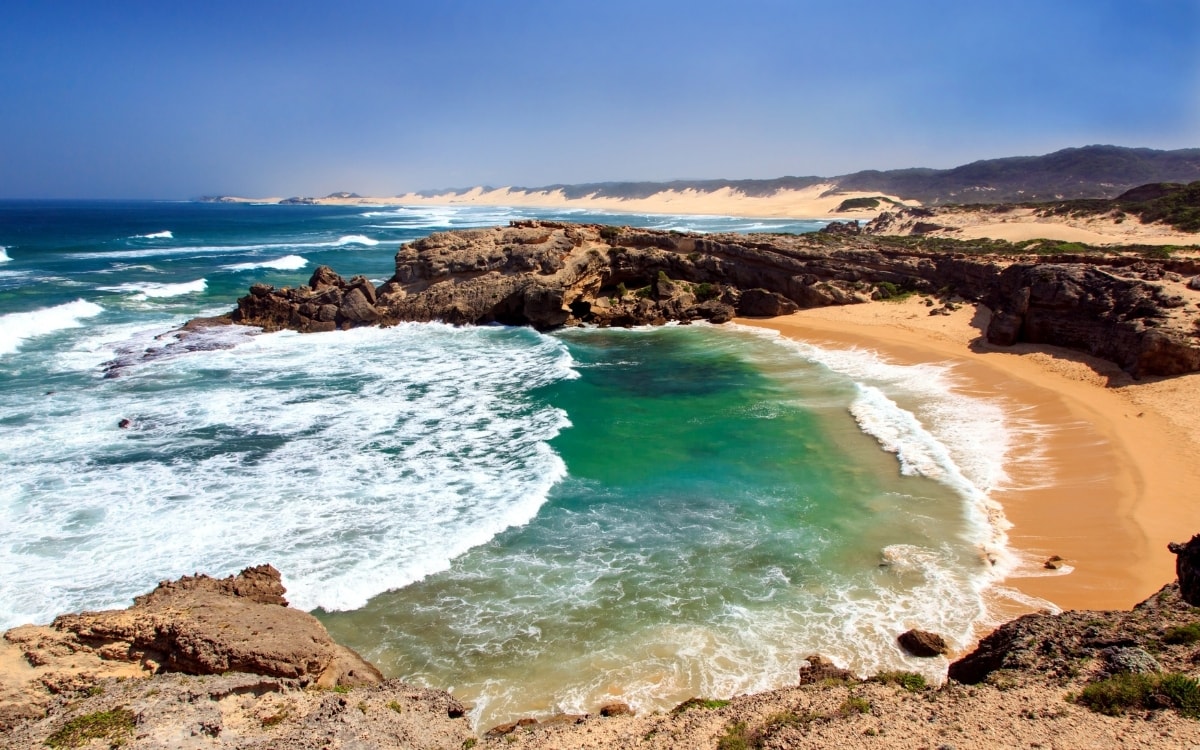 Shelly Beach most likely got its name from the abundant seashells that cover its shores. This makes it one of the funnest beaches in South Africa for the old and young who love exploring the coast, looking for treasures.
There are also numerous tidal pools and lagoons at the beach, so the adventure can continue. Fishing is a popular pastime at Shelly Beach with both rock and surf fishing available and due to this there are various fishing competitions held annually.
Shelly Beach is also home to world-class scuba on the reef about 1,5kms from the beach with large game fish and sharks at Protea Banks a little further out. There are shark nets and life guards in season though, so don't fear if you just want to dip in the water.
Shoppers can rejoice, as the town has the largest mall in Kwazulu Natal, South Coast Mall, as well as Shelly Centre.
Best beaches in the Northern Cape
While it may be South Africa's largest province, the Northern Cape's coastline is by far the smallest of the provinces, at roughly 350kms.
It is also known as the Namakwa Coastal route, and you can expect it to be bare, rugged and more isolated than the rest of the country, similar to the Namibia's Skeleton Coast which it shares a border with. Traveling this part of the country without a 4×4, tent and portable braai would be a shame, as it is an adventurer's dream.
Due to its isolated location, there will most likely be no life guards to watch over you and the facilities will be few to none.
McDougall's Bay, Port Nolloth
McDougall's Bay is about an hour's drive to the Namibian border, making it one of the more remote beaches in South Africa.
The water is absolutely freezing, but this doesn't stop hardcore surfers from jumping in. The temperature can rise in the summer months though. Other activities at the beach include fishing, windsurfing and kayaking.
Port Nolloth, the town where McDougall's is situated has a long history from it's first sightings by Portuguese explorer Bartolomeu Dias, to being a thriving diamond mining town. When you're done on the beach, you can always visit the museum to find out more.
Hondeklip Bay
For a quiet and isolated getaway, head to the quaint fishing and diamond mining town in the Northern Cape. While the beach is nice enough, with dark tan sand and fairly calm water, the reason why you would want to visit is to dine on the local fresh seafood. Visit one of the few restaurants and eat to your heart's content.
Hondeklip Bay is a popular holiday destination for campers and caravaners, but there are also rustic accomodations available. The beach also has a few tidal pools scattered around to keep the young ones busy while you jump into the surf. There are some photogenic shipwrecks to see too.
Kleinzee
Similar to Hondeklip Bay, Kleinzee is a former diamond mining town that is gaining traction as a popular holiday destination.
There is a thriving abalone and oyster industry located at the local dam, if you're into these shelled delicacies. With some amazing shipwrecks to explore on guided tours and a thriving birdlife for birders to peer at, it's best to bring your binoculars.
The beach is undeveloped and a beautiful spot to relax on your own in the sun on the seriously powdery white sand.
Alexander Bay
Alexander Bay is a small coastal town lying along the Orange River and is therefore sharing a border with Namibia. It's definitely the place to go if you're into driving a 4×4 and going on a little "bundu-bash".
Like most of the towns in the area, it was once a thriving mining town, with diamonds and copper. The beach is just like the others mentioned, bare, isolated and beautiful, but what you get here is the entrance to the great Orange River.
Things to know about visiting the beaches in South Africa
Now that you know where to go, there are a few more things to be aware of about the best beaches in South Africa. Here are some more quick tips to know before visiting South Africa's best beaches.
Crime & Safety
South Africa in general is known for its high crime rate, but when people visit South Africa on holiday they automatically resume vacation mode. Even Capetonians visiting Hermanus for the weekend forget that there is ongoing petty crime.
When visiting the beach, make sure that all your belongings are in your eyesight at all times. It is preferable to leave more valuable items at home or hidden in the car's trunk. Yet, if you do take them with you, it's always a good idea to either keep them hidden in a bag and in your sight, or to take turns when going out for a dip.
Petty crime is high, especially in season and on a packed beach. So be cautious of your belongings and the surrounding area.
Protection from the sun
While you may be relaxing on the soft sands of trendy Clifton 4th you may think that you're somewhere in the French Riviera. But you must remember that this is Africa and the sun is very harsh.
It's always preferable to have a UV resistant umbrella with you and remember to slather on the sunscreen at regular intervals. There's nothing worse than starting off your vacation looking like a tomato. Yes it stings, but worse of all, your Insta photos will look terrible!
Currents and Lifeguards
There are usually lifeguards at all the major beaches in season. Yet out of season, you will be on your own. So make sure that you swim with caution.
Some beaches have unassuming riptides that can carry you out to sea in a second and massive waves that can keep you under the water for long periods of time. Be cautious and wary when deciding to go for a dip.
One tip when caught in a riptide where you find yourself being dragged out into the ocean is to first not panic, and second to swim to either side of the current and not into it. Swimming into the current will just tire you out and you will need that strength to swim safely back to shore.
Summer or winter
South Africa has four different seasons and the climate varies depending on which part of the country you are visiting. Summer months are the most packed and with the holiday-makers brings crowds and traffic.
Try visit outside of the Christmas/New Year period as this sees the worst crowds as beachgoers literally come by the busload.
While winter is colder, the beaches are still amazing to visit when the wind is not pumping and the rain has settled. There may even be days in Winter when the weather allows for a dip in the pool. Overall it would be a shame to visit a coastal town and not stop by one of the beaches of South Africa.
If you're traveling the world looking for the best beaches, we've also written about the best beaches in Singapore, Southeast Asia, Thailand, Indonesia, Vietnam, the Philippines, Macau, Montenegro, Malta, California and Albania.
Pin this to your beaches of the world board!