[vc_row][vc_column][vc_column_text]
This article was first published in August 2018 and updated in June 2020
When thinking of Vietnam most people think of the country's heritage and UNESCO sites before they think about the beaches.
The rice paddies, the Sapa mountains, Central Vietnam's Imperial city of Hue, the quaint town of Hoi An, the ancient city of My Son or the UNESCO listed Halong Bay are obvious destinations within Vietnam. If you peruse the brochures at travel agencies, beaches are unlikely to feature. Travelers prefer to combine Vietnam with other countries in Southeast Asia and head to the beaches there.
But Vietnam is eminently a beach destination and has some of the least crowded and most unique beaches in Southeast Asia. The beaches in Vietnam have the added benefit of not being as crowded as in other parts of Southeast Asia, precisely because the country is not as easily identified with the sea.
Like Thailand or Malaysia, the best beaches in Vietnam are a mix between mainland destinations that are easy to reach, like Da Nang, more remote beaches that tend to be still under the radar like Nha Trang, and up-and-coming islands like Phu Quoc, where some of Vietnam's latest luxury resorts are.
So let's take a look at the best beaches in Vietnam to get you going.
Map
Save this map for offline use.
Bai Sao – Sao Beach
Sao Beach is on beautiful Phu Quoc island, just off the south coast of Vietnam. It's one of the most beautiful beaches in Vietnam and certainly the best I've ever been on – fine, pure white sand and absolutely crystal-clear, warm turquoise water. I almost couldn't believe how ludicrously perfect Bai Sao was. It's a long beach and very unspoilt. When I visited, there weren't many people there and I had long stretches of sand completely to myself. There are also a couple of extremely Instagrammable swings placed just beyond the surf.
Sao Beach is around a 30-minute drive from Long Beach, which is probably the most popular area to stay in Phu Quoc, but it's worth the effort. You can also visit Sao Beach as part of a day trip visiting several attractions on the island, which is how I first visited Sao Beach. I wouldn't recommend one of these tours however, because quite a few of the "attractions" were actually tourist traps aimed at selling products to travellers, and I'd rather just have taken a taxi to Sao Beach and had all day to spend there!
---
Location: Phu Quoc
How to get there: The easiest way to get to Sao Beach is to rent a scooter if you have a license – this is one of the best ways to get around Phu Quoc in general. Taxis are also readily available, but unfortunately there isn't much in the way of public transport.
Best for: What makes Sao Beach so spectacular is its bright white sand and clear turquoise water, and you can enjoy that at any time of day.
Facilities: There are a couple of restaurants, and sun loungers for rent. It's a quiet beach though, you won't find a strip of raucous bars here.
Where to stay in Phu Quoc: There has been a recent increase in premium and upscale hotels in Phu Quoc Island. Some of the best include the JW Marriott Emerald Bay Resort & Spa, the colonial inspired Intercontinental Long Beach Resort, La Veranda, the all inclusive spa Fusion Resort and the stunning Premier Village managed by Accor. Check out the best hotels for you on Booking.com | Agoda.
Read more: Find out more about Phu Quoc Island on Temples and Treehouses
Dam Trau – Airport Beach
Dam Trau is a golden sandy beach on Vietnam's Con Son island in the Con Dao archipelago, which thanks to its remoteness has not caught up with the tourist boom of the Thai islands. It's still fairly quiet most of the time, making it one of the greatest beaches in Vietnam to relax, sit back, and sip on a fresh coconut or a cocktail.
The name of the beach comes from its location, right by the airport and from where you can see the landing planes.
---
Location: Con Son island, Con Dao archipelago, East of Vietnam
How to get there: To get to Con Dao: Easiest by plane from Ho Chi Minh City or Can Tho. To get to the beach once you're there: Get your hotel to show you the way to the beach on a map and rent a scooter. Everyone knows this place, and with only a few roads on the island, it's hard to get lost.
Best for: Sunset
Facilities: There are some wooden shack restaurants with toilets at the back of the beach that provide hammocks, beach loungers, drinks and food all day long. A few jet skis are available for rent.
Where to stay in Con Dao: The most fabulous hotel in Con Dao is the Six Senses Con Dao where I have stayed twice. For other alternatives, check out Booking.com | Agoda.
Read more: Take a look at more photos that will make you want to go to Con Dao on the Traveling German blog
Monkey Beach
Cat Ba's Monkey Island has one of my favorite beaches in Vietnam, in fact, it's one of my best in all of Southeast Asia. The crystal clear waters are perfect for an afternoon dip and you can even hike to a nearby viewpoint!
Be careful when visiting or photographing the monkeys here, they are more tame than most and are borderline pets. I didn't see them go after anyone with food except for one guy who fed them. Don't be that guy and you'll love this beach!
---
Location: Cat Ba
How to get there: Bus from Hanoi to Hai Phong port then ferry to Cat Ba and boat transfer to Monkey Island. The best way to enjoy the beach is by booking a night at the Monkey Island Resort and taking their boat from the mainland but don't worry, you can stop by on a day trip too!
Best for: Sunset
Facilities: You'll find one restaurant that serves some delicious coconuts and other refreshments (they have a restroom too).
Where to stay in Cat Ba: Monkey Island Resort is definitely your best bet. Check out the best hotels for you on Booking.com | Agoda.
Read more: Try a romantic getaway in Cat Ba as recommended by Live Travel Teach
Nha trang
Nha Trang's 6km beach is the one of the best city beaches in Vietnam. With picturesque islands in the bay, spearmint blue waters and hot, blonde sands, it's easy to forget this is Southeast Asia and not the Caribbean.
Nha Trang beaches have become very popular tourist destinations over the last ten years, especially with Russian and Chinese groups, but due to the huge size of the beach it's still easy to find your own spot. In fact, early in the day and over lunchtime it seems to be possible to beat the crowds completely!
You will find lots of areas roped off for safe swimming, which keep out the jet-skis and kite surfers, and the facilities are fantastic. I recommend getting up early at least once, and watching the perfect sunrise over the horizon on this popular Vietnamese beach.
---
Location: Nha Trang
How to get there: Nha Trang is around 30km from Cam Ranh Airport, where there are both domestic and international flights. Nha Trang station is only 2km from the city centre, and is well connected to other big destinations in Vietnam.
Best for: Sunrise
Facilities: There are public toilets along the beach, and sun loungers can be rented for around $2. Lots of sellers work their way along the beach with fresh fruit, Vietnamese coffee and other snacks. Numerous bars and restaurants are located on the beach front, some will serve you in their allocated sun loungers. The waves here are low, so not good for surfing, but Nha Trang is famous for diving, and is a great place to learn.
Where to stay in Nha Trang: There are many options on Nha Trang to stay, but if you venture out a bit to Ninh Van Bay, you will find an array of great resorts like the Six Senses or An Lam Retreats. Another two hours away is the most gorgeous spa retreat to be had at the fabulous Amanoi. Closer to the city, you best options include the Intercontinental, the Sheraton, the Evason Ana Mandara or Vinpearl Resort & Spa Long Beach. Check out the best hotels for you on Booking.com | Agoda.
Read more: You can find out more about Nha trang on The Sabbatical Guide or read this 4 days in Nha Trang itinerary
An Bang Beach
On the outskirts of the ancient fairytale town of Hoi An, you will find one of Vietnam's best kept secrets – beautiful An Bang Beach. As you approach the beach, you'll spot rows and rows of the iconic Vietnamese basket boats lining the shore.
Grab a sunbed or head to one of the overlooking beach bars to relax with a drink and a sea-view. There is an increasingly popular and trendy food scene emerging around the An Bang area – if you can tear yourself away from the bright lights of Hoi An Ancient Town for a day, then this is one of the best beaches in Vietnam to be for sunsets, sea-views and seafood.
---
Location: Hoi An
How to get there: An Bang Beach is only 5km from the ancient town of Hoi An and can be easily reached by cycling or taxi. Bikes are very popular to hire in Hoi An, with plenty of local operators offering cheap rates.
Best for: Sunset
Facilities: The beach is lined with restaurants and beach bars, which also have clean toilets that you can use. You can opt to try parasailing or jet-skiing directly from one of the local tour operators on the beach, if you prefer adventure to sunbathing!
Where to stay in Hoi An: As Hoi An is quite small, there are limited choices available in the city itself, two of the best being the Anantara Hoi An and the boutique Little Riverside Hoi An. I stayed at the Banyan Tree Lang Co which has free shuttle services daily to Hoi An and is a great base to explore the area including My Son temple ruins, or the Imperial city of Hue. Or base yourself at any of the other luxury hotels in Central Vietnam. The most premium hotel near Hoi An is The Four Seasons Nam Hai in Hoi An city followed by Vinpearl Nam Hoi An Resort & Villas Nam. Check out more hotel options on Booking.com | Agoda. See my review of Banyan Tree Lang Co.
Read more: You can read more about An Bang beach on Part-Time Passport. The best way to explore the city is on a combined itinerary of Central Vietnam that includes My Son, Hoi An, Hue and Da Nang. Read my perfect 4 days in Central Vietnam.
Lang Co Beach and Canh Duong Beach
If you visit Lang Co Beach out of season, you may think that the town has evacuated as there will most likely be no one there other than the odd fisherman. It's a gorgeous white sand beach halfway between Hue and Hoi An and just above Da Nang. So it's a great beach stop if you're visiting Central Vietnam.
The beach, surrounded by large mountains and Lap An Lagoon, is one of the most photogenic and would be a great stop over to get some Insta snaps. It's a slice of peace and tranquility, away from the bustling cities. While relaxing on the sand is great, the ocean can get quite choppy if the wind pics up, so swimming out into the ocean is best left for the adults.
Beware that the swings are not free photo spots, like the famous ones on the Gili Islands in Indonesia. A local fisherman will approach you asking for money if you decide to use his swing.
About a 25min drive away is Canh Duong Beach where the Banyan Tree Lang Co is located. This is also a great beach to visit in Lang Co and is more filled up with locals camping. It's also an amazing spot for sunsets. This crescent-shaped beach in Chan May Bay is also quite a long stretch of sand, which makes it one of the top beaches in Vietnam to go for a sunrise jog.
---
How to get there: Both beaches are best visited by car, especially if you are traveling between Hoi An an Hue. They are about 1.5 hrs between either city, or about 45mins from Da Nang.
Best for: Relaxing on the sand with a book as there is not much else around.
Facilities: There is a bar/restaurant serving fresh oysters on Lang Co Beach and plenty of restaurants along the main road. There are also some great beach resorts you can pop into
Where to stay in Lang Co: Definitely the top picks are closer to Canh Duong beach with Banyan Tree Lang Co and Angsana Lang Co. There are also some really nice properties closer to Lang Co Beach but not as luxurious. Find more properties on Booking.com
Phan Rang Beach & Ninh Chu Beach
These two beaches in Vietnam share the same bay in Ninh Thuan province and are roughly 4kms apart, so you can walk from the one to the other if you're in for a bike of a trek. Otherwise take a car for roughly 10mins. The area closer to Ninh Chu Beach to the north is more tourist friendly with a range of hotels, resorts and restaurants. The Nai Dam is also to the north. Phan Rang in the south being more isolated, although there are also places to stay and things to eat nearby. It's also the river mouth of the Sông Cái Phan Rang.
The stretch of golden sand is a fantastic break from the otherwise desert-like area that can get very dry and blistering hot. Kids can enjoy the tiny gentle waves lapping up on the sloped sand bank in this gigantic stretch of shore.
---
How to get there: You can get to Ninh Chu either from Ho Chi Minh City or Hanoi via the unified train at either station. After stopping at Thap Cham Station, you can take a take a taxi or rent a car to Ninh Chu.
Best for: A mellow vibe on white sand beaches in a lesser visited tourist destination.
Facilities: All facilities are available, especially at Ninh Chu Beach, as there are many hotels and resorts along the beach as well as restaurants.
Where to stay in Ninh Chu: Possibly the best beach hotels to stay at are Sai Gon Resort in the north and Nomad Ninh Chu Hotel in the south. For other options you can peruse Booking.com | Agoda.
Dai Lanh Beach
You might miss this beauty if you blink while driving on Highway 1, but Dai Lanh Beach really is a gem. It's one of the more rugged beaches in Vietnam for intrepid explorers looking for an authentic and off-the-beaten-path Vietnamese beach. There is a local fishing village at the north end of the 2km stretch, but if you want more peace and quiet, you'd want to venture out to the side on the south or in the centre.
Hop on over to Co Ma Beach and the Hon Gom Sandbar just south of Dai Linh for something truly spectacular.
---
How to get there: Dai Lanh Beach is 85km north of Nha Trang or 40km south of Tuy Hoa, so a bus is your best option if you aren't exploring by motorbike or car.
Best for: Off-the-beaten-path adventures in a local fishing town.
Facilities: There are showers, deck chairs, loungers and wooden benches under the thatched parasols. But visitors do need to pay for use of the facilities as well as a small entrance to the beach when entering through the Tourist Zone bridge. There is also food and drinks available.
Where to stay in Dai Lanh Beach: If you're looking for luxury accommodation, you will not find it here. There are some nice guest houses and Vietnamese mini-hotels though. One of the top picks is Dai Lanh Beach Hotel, a small yet clean cabin right on the beach. You could also rent a 5 person tent and camp on the beach if that's your thing.
My Khe Beach
My Khe Beach (also known as China Beach) in Da Nang rose to fame when Forbes named it one of the most attractive beaches on the planet. Not only is it packed with powder soft sand and a tame azure ocean, it is really pumping with loads of water sports including surfing, snorkeling, and jet-skiing. This Da Nang beach is also super close to the city center (5kms) and therefore really convenient.
The calm waters on the shore will invite swimmers of any age group and the ambience conjures up feelings of Waikiki in Hawaii. The outer waves along the roughly 30km of beach are fantastic for surfers of all experience. This makes it one of the go-to beaches in Vietnam for surfing.
---
How to get there: You can easily take a taxi or ride a scooter or bike from your hotel. It's only 5km from the airport and city center. If you're in Hoi An, it's about a 25km ride.
Best for: Water sports, a resorts feel and if you're an early bird, the sunrise is epic.
Facilities: Loads of restaurants and hotels are nearby and sunbeds are available for rent. There are also surf schools if you want to learn how to ride the waves.
Where to stay in My Khe Beach: There are plenty great places to stay in Da Nang that are close to the beach. Check out where to stay in Da Nang on Booking.com | Agoda
May Rut Island
Right at the very tip of Phu Quoc lies a tiny gorgeous island called May Rut. What the island lacks in infrastructure it makes up with the most idyllic scenery. The entire island is owned by a single family, but it is open to the public and has become quite a popular tourist destination.
This is one of the best beaches in Vietnam for a general relaxed ambience and super fresh seafood. It's a place to fall asleep on a hammock under the swaying palm trees. While snorkeling isn't so great here, you can go on a tour from Phu Quoc to the other smaller islands to see the fishes.
---
How to get there: You can only get here on a day tour from Phu Quoc. Some tours provide overnight camping if you want to rough it out.
Best for: Relaxing on a hammock on a day tour or even camping overnight.
Facilities: There are bathroom facilities, hammocks, small makeshift beach huts and a restaurant.
Where to stay in My Khe Beach: There has been a recent increase in premium and upscale hotels in Phu Quoc Island. Some of the best include the JW Marriott Emerald Bay Resort & Spa, the colonial inspired Intercontinental Long Beach Resort, La Veranda, the all inclusive spa Fusion Resort and the stunning Premier Village managed by Accor. Check out the best hotels for you on Booking.com | Agoda.
Further reading: See more of the best beaches that Southeast Asia has to offer by reading my articles on the best beaches in Thailand, Indonesia, the Philippines, and Singapore. There's also articles on the best beaches in Montenegro, Albania, Malta, Macau and South Africa for some further inspiration.
Pin this article for your next visit to Vietnam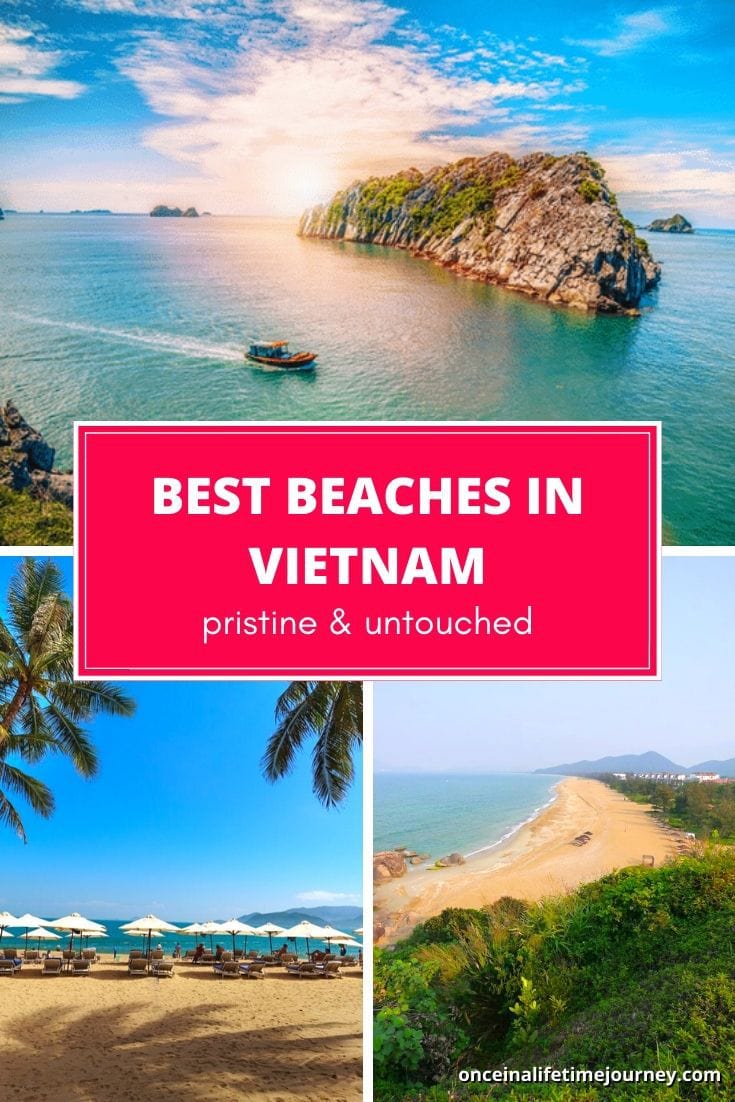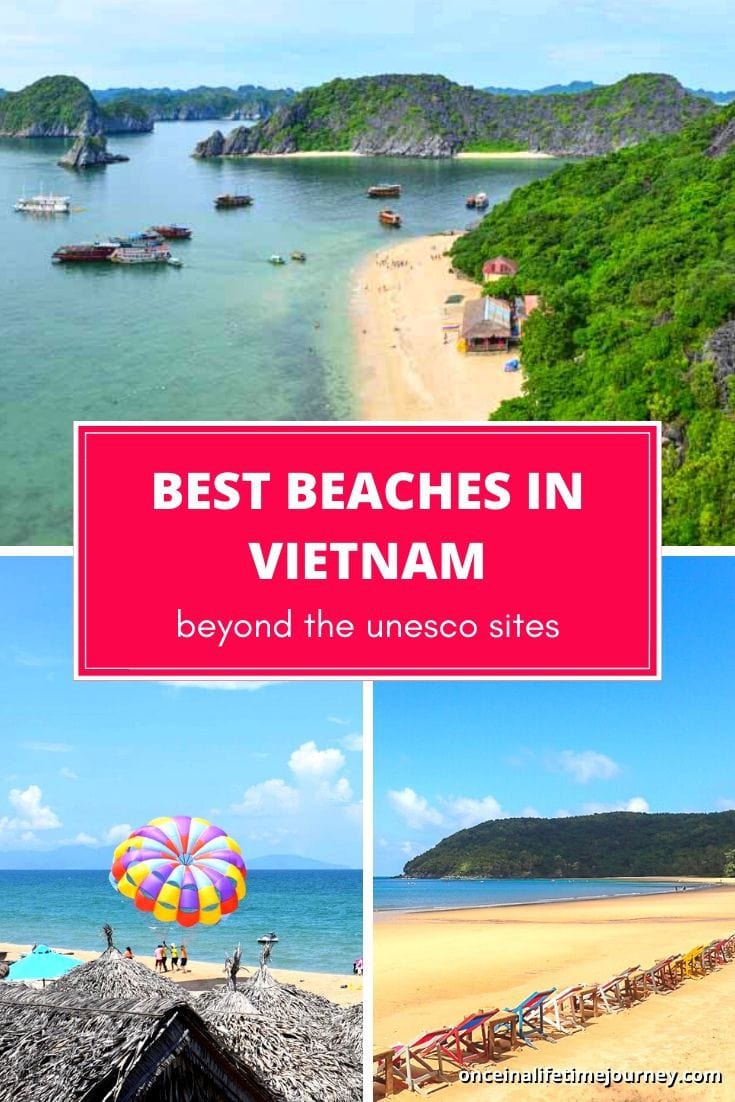 [/vc_column_text][/vc_column][/vc_row]