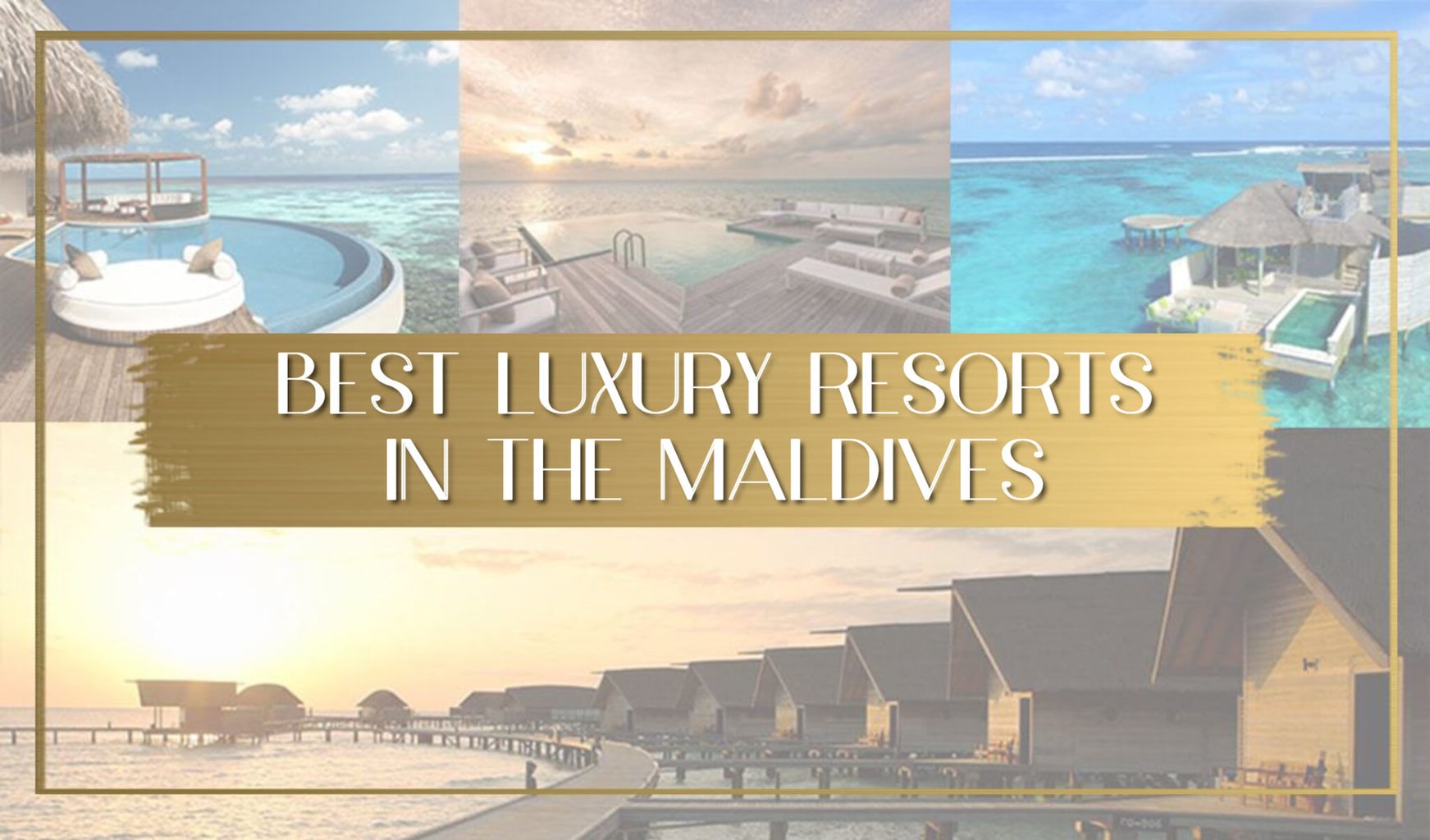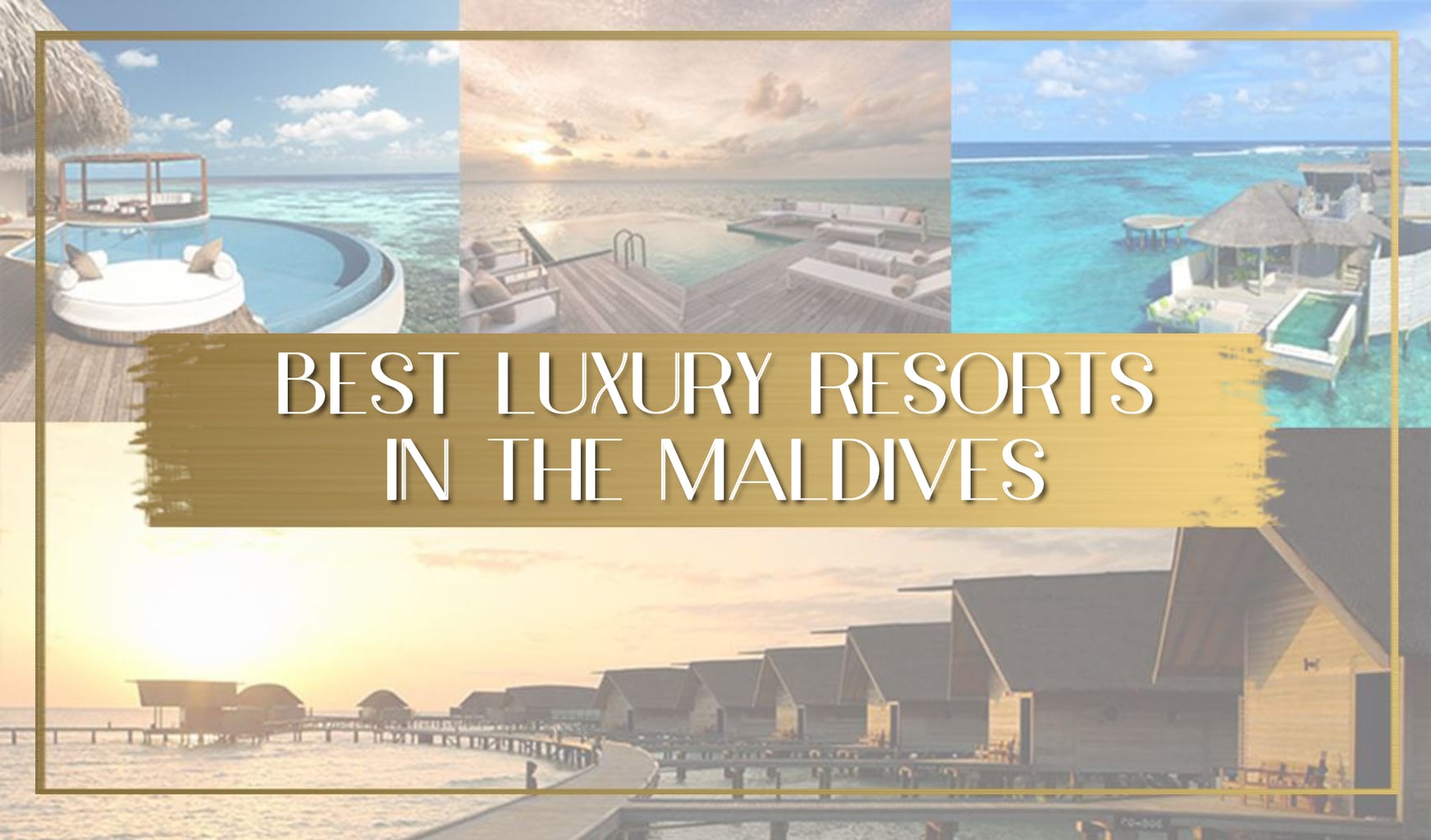 This article was first published in Oct 2014 and updated in May 2018.
The tiny country of the Maldives is a honeymooners' paradise, a hideout for celebrities, the destination for special celebrations and once in a lifetime journeys. And this usually means we are happy to splurge on a luxury 5 star hotel.
For such a small country the number of luxury resorts in the Maldives is overwhelming. Agoda lists over over 450 properties and with so many powdery white sand beaches, azure waters and perfect over water bungalows choosing the best luxury resort in the Maldives for you is a daunting task. After all the effort and small investment required, you do not want your expectations mismatched.
If you're not sure whether to take your honeymoon or luxury getaway to the Maldives or Bora Bora, this article will definitely help you make the decision. If you're set on the idea of the Maldives, then read on for a list of the best properties and Maldives luxury resorts for each type of traveler across the 26 atolls.
1. Best luxury resort in the Maldives for foodies and couples – Conrad Rangali Island
The Conrad Rangali is the ultimate in couple's escape. It is a long standing institution, having opened before the waves of Maldives luxury hotels and boasts a few world's first.
What I truly liked about the resort is that it has perfected the art of pleasing families and couples without compromising the needs of either. The resort caters to families and couples looking to relax by placing them in two separate islands. This is very rare in the Maldives despite being such a no-brainer, as most villas and overwater bungalows in the Maldives are just one island
Water villas at the Conrad Rangali are on the tranquil side of the resort as is the infinity pool and chill out bar where sunset cocktails and canapes are served as the sun goes down to the sound of Ibiza style tunes every evening. This is a child-free area guaranteeing tranquility to guests who are looking for relaxation. Look either side of your bright orange cocoon and you will see only cuddled up couples.
Families can happily enjoy the main island where the larger pool and the activities center are. Kids can snorkel in the house reef or partake in any of the many activities offered.
If you are a foodie, the Conrad Rangali will be heaven for you. Starting with Ithaa, the underwater restaurant and Conrad Rangali's most famous claim to fame. Located 16 feet under water it is a sight to behold. For cheese lovers, the resident Maitre de Fromage has selected 101 of the best cheeses available for pairing with the cellar's 20,000 bottles of wine, the largest selection in the country, located underground on the island.
If cheese and wine are not your definition of decadence, Koko Grill may be. Sunken in the sand and open-air, this live-cooking Japanese-inspired restaurant perfects the art of dining under the stars. Koko Grill is the ultimate in romance. The cellar also organizes wine discovery journeys where the knowledgeable sommelier will share wine pairing menus for a few lucky guests. Did we say this is also under the sand?
Despite this luxury resort was one of the first to open in the Maldives, it is still one of the best 5 star resorts and has nothing to envy any of the new comers. Click here to see what you will experience when dining underwater at Conrad Rangali.
Book your stay now from US$480/night on Booking.com | Agoda | HotelsCombined
2. Best luxury resort in the Maldives for surfers – Six Sense Laamu
The Six Senses Laamu is located at the atoll of the same name and in close distance to one of the best known breaks in the Maldives: Yin and Yang. The break is so close you could almost paddle from your own overwater bungalow. How's that for a 5 star luxury surfing resort? And if you are not an expert, the hotel offers surfing lessons and can take you to a host of breaks to test your skills.
In case your other half does not surf the resort is also an eco-haven following Six Sense philosophy and laid-back atmosphere. The spa is divine as are the over water villas, the diving options and the many activities on offer including Sunset Dolphin Safaris. These creatures are almost a guaranteed sight. Here are several things to do at Six Senses Laamu for active holiday makers.
Being the only resort in its atoll the Six Senses provides insight into the way local Maldivians live in half and full day tours to nearby villages, something which is quite unique among the luxury resorts in the Maldives.
Diving is of course available and the Manta Trust used to be based at the Resort carrying out research and tagging efforts. This meant the mantas were properly tagged and identified and diving there, though requiring serious experience and skill because of the strong currents, almost guarantees manta sightings. One of their regular cleaning stations is only 10min away from the resort by boat.
Both an advantage and a disappointment, the Six Senses Laamu is accessible by scheduled domestic flight. That means that you won't get the chance to board a seaplane but you will be able to stay at the resort till the evening if you have a late night flight as seaplanes can't fly at night but domestic flights can.
The brand's organic focus ensures that you are nourished inside and out. The resort offers Zero Carbon dinners and grows its own vegetables and herbs in the organic garden by Leaf Restaurant. Food at Six Senses is always extraordinary as I have learned by staying at Six Senses Qing Cheng Mountain, Six Senses Zighy Bay, Six Senses Duxton and Six Senses Con Dao.
The Six Senses Laamu did not use to have a common pool when it opened but has now opened one. Go for the overwater villas with pool for the perfect chill out set-up.
Here is my complete review of Six Senses Laamu.
Book your stay now from US$1,100/night on Booking.com | Agoda | HotelsCombined
3. Most exclusive luxury resort in the Maldives – Cheval Blanc
The third resort in the LVMH Moët Hennessy Louis Vuitton incursion into the hospitality world, newcomer Cheval Blanc Randheli, is a minimalist haven of celebrities and the most discerning travelers and attracts a clientele that is looking to be in an exclusive resort only the wealthiest frequent. The brand's savoir-faire is defined as "exclusivity, creativity, art de recevoir" and is present in every corner of this very luxurious resort in the Maldives.
Conceived to cater both to couples and families the resort is a contemporary mix of modern and native materials and design. The French "Art de Recevoire" means that guests are not welcome to their villas but to the "Maison" and their needs are attended to by "Alchemists" whose job is to ensure they return home full of fond memories.
Terribly refined and cultivated this exclusive luxury resort in the Maldives is dotted with unique pieces of art, signature of the Cheval Blanc brand. The air is of sophisticated elegance. White and a light beige palette dominates except for the splashes of color provided by the Dot paintings.
Aside from the common-place Maldivian activities such as diving and snorkeling, the resort has two tennis courts, rare in the Maldives, and a golf simulator. There is also a 3-person submarine and a separate children and teenager center where activities such as kids yoga, kids disco, astronomy lessons and submarine photography safaris are on offer. For avid photographers the resort also offers private seaplane tours.
Fine dining has a new meaning at Cheval Blanc. Le 1947, named after the Chateaux Cheval Blanc's most prestigious and sought-after vintage, is a lesson in refined dining. It serves French fare adapted to Maldivian influences. For that extra romantic dinner, the resort offers a few options. From dinners on floating platforms at sea to beach dinners, moon yoga salutations or private in-villa dining.
When you thought the Maldives could not get any more exclusive, along came Cheval Blanc.
Book your stay now from US$2,100/night on Booking.com | Agoda | HotelsCombined
4. Best resort in the Maldives for barefoot luxury – Soneva Fushi
What screams holiday better than a complimentary selection of 60 ice-cream flavors and chocolates available all day long? Soneva Fushi was one of the first resorts to start this trend now common across the luxury resorts in the Maldives.
But you don't go to Soneva Fushi only for ice cream. The resort is one of the few all-beach villa resorts in the Maldives and also one of the first luxury resorts to open in the country. Starting as the holiday home of owners Sonu and Eva, Soneva Fushi is best known for its true Robinson Crusoe approach to a total laid-back atmosphere. No shoes, no pretences, just understated, intelligent luxury at its best.
All of the Soneva properties are in beautiful surroundings with a great sense of place. Mr/Mrs Friday will tend to your every need and the resort prides itself in butlers knowing what you want even before you do, Aman style. They follow the SLOW LIFE philosophy embracing organic, environmentally friendly and sustainable practices.
The resort is in the Baa Atoll, a part of the Maldives named a UNESCO Biosphere Reserve. The marine life in the Maldives is exquisite no matter where you stay but here it is that extra bit better. Manta rays grace the waters in season (June to November) and even whale sharks can occasionally be spotted.
Villas are large, starting at 250 sqm and going up to almost 2,000 sqm. As opposed to the traditional over water villas pervasive across the country, Soneva Fushi has located all of their accommodations on shore hidden between the plush jungle. Because it is on one of the largest islands in the country guests are offered bicycles to travel to and from their rooms.
Dining options at Soneva Fushi offer fresh and organic ingredients. Breakfast is soulful and plentiful. Enjoy a drink suspended over the beautiful waters, comfortably relaxed on an oversized hammock. All of Soneva Fushi's dining concepts go back to life's simple pleasures. Have we mentioned they have 60 flavors of ice cream and sorbet? Indulge.
See my full review of Soneva Fushi.
Book your stay now from US$1,000/night on Booking.com | Agoda | HotelsCombined
5. Best luxury resort in the Maldives for sea and serenity – Cocoa Island by COMO
Ranked many years as No.1 luxury hotel in the Maldives on Tripadvisor, Cocoa Island is a haven of peace and quietness. Even on fully booked nights the resort has a way to make guests feel as if they had the island to themselves, partially because of its smaller size. The resort only has 33 suites and villas making it one of the best luxury boutique hotels in the Maldives.
What sets Cocoa further apart from the rest of the 5 star hotels in the Maldives is the teeming house reef. Snorkelling off the beach will take you to a real-life marine zoo. You will swim among manta rays, turtles, colorful fish and even young reef sharks. Diving is also exceptional with several dive sites less than 30min away from the resort. You will be able to see large schools of fish, eagle rays, mantas, reef sharks, tunas and schools of giant trevally.
The resort is understated and refrains from any flashiness. Rooms, built with local materials and wood, as with most other properties in the Maldives, are decorated in whites and blues with splashes of red. Dhoni villas resemble the indigenous boat shape.
Dining is simplified with only one restaurant option albeit with a very wide and changing menu. Ufaa, happy in Maldivian, follows the COMO Resorts organic and well being philosophy with a cuisine that maximizes energy.
The Shambala retreat spa has a large hydrotherapy pool from where to while away the stress, if there is any left.
Located close to the airport transfers are by speedboat, faster and more affordable than at other resorts.
Book your stay now from US$1,100/night on Booking.com | Agoda | HotelsCombined
6. Best luxury resort in the Maldives for honeymooners – Gili Lankanfushi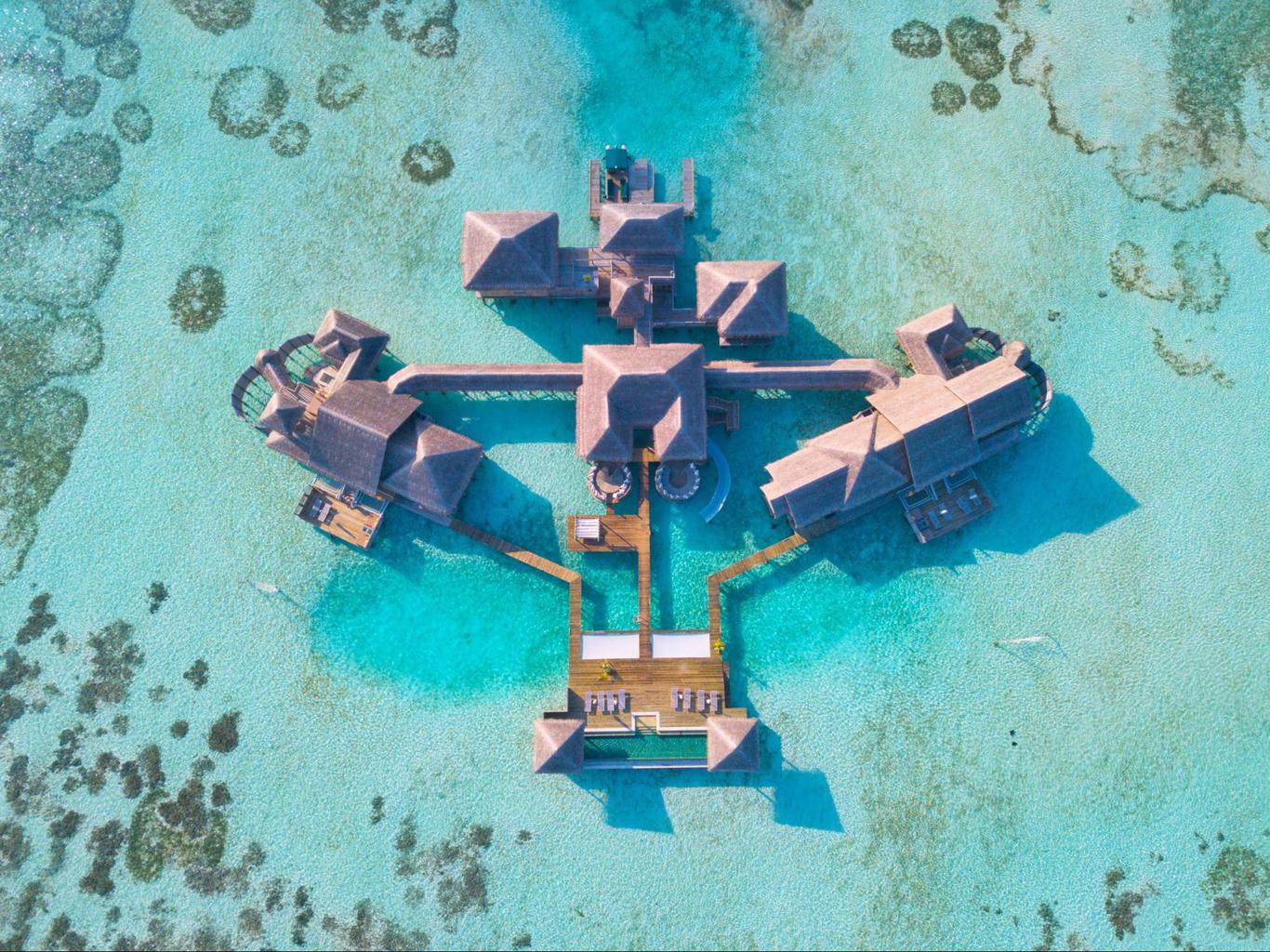 Not only is this our favorite resort in the Maldives, but both TripAdvisor and Conde Nast have given it top accolades, such as the Johansens Awards for Excellence in 2018 and the Best Resort in the Maldives two years running.
Part of Singapore-based HPL Hotels & Resorts (I have stayed at two other of their properties, including Casa del Mar in Langkawi and at The Boathouse Phuket) you can be sure that Gili will provide fantastic service and one of the most romantic vacations you could ask for.
Gili Lankanfushi is one of only a handful of truly luxury resorts in the Maldives that is near Male Airport. Why is this so great? Because it means that you can be in your hotel room in around 20-30 minutes from landing. No delayed seaplanes, just a quick boat ride to paradise. Once you arrive at Gili Lankanfushi, you are transported, quite literally, to another world. After storing your shoes away on the boat ride up, the "No news, No Shoes" barefoot philosophy kicks in.
The resort's philosophy is anchored on its commitment to sustainability. They have banned all plastic on the island, use eco-friendly amenities and products and support marine conservation with efforts like the coral replanting project following the 2016 coral bleaching event.
Gili Lankanfushi is an all-water villa resort, so no matter where you stay, you will be over the water. There are different villa options spread across three jetties, as well as a few standalone Crusoe Villas and the largest standalone overwater villa in the world, the five bedroom Private Reserve.
All villas are spacious, with the smallest, the Villa Suites, starting at 210 sq meters. The bathrooms are semi-open and have great views of the lagoon. Daybeds in the upper floor can be set up to sleep under the stars.
In need of some peace and quiet with your significant other? Look no further than the Crusoe Villas. These are standalone water villas located on a crescent off the tip of Palm Beach are perfect for couples wanting to get away from it all after their big day.
Gili Lankanfushi is also for foodies and romance extends to all the destination dining options. There are various food and wine experiences available and three world-class restaurants, including a fine dining Japanese restaurant By the Sea where you can enjoy a casually refined experience.
The food at Gili is ultra fresh with a large selection of wines and sake to wash down the well presented delectable treats. Romantic and private dining options are the star of the show. Dinners at a sandbank, on a floating platform, on your private villa, on One Palm Island, on a yatch,… you name it, your Gili Lankanfushi 's Mr or Mrs Friday can make it happen.
If you want to stay active, there is great diving and snorkeling nearby, one of the largest lagoons in the Maldives to explore, catamaran sailing lessons, fishing, an open air beach cinema, a gym, free yoga, cultural excursions to nearby villages and of course, the much acclaimed Meera Spa.
See my complete review of Gili Lankanfushi.
Book your stay now from US$2,170/night on Booking.com | Agoda | HotelsCombined
7. Best luxury resort in the Maldives for the most active – One & Only Reethi Rah
One & Only properties around the world are exuberant. Set in exclusive locations around the world the brand truly lived up to its name.
The resort in the Maldives is a yacht ride away from Male. A private yacht, not a speedboat, so you arrive in St. Tropez style.
Shaped like a 6 km wide crab and with 130 villas, the One & Only is much larger than other resorts and so it has a wide choice of activities, accommodation, dining options and places to hide from it all. It is the perfect place for those worried about being bored. You can even splurge on a shopping spree!
There are tennis courts, badminton, petanque and a football pitch. Aside from in-villa pools there is a main pool and a lap pool branching into the ocean. Families looking for a slice of romance can leave their kids in the large kids club where they can acquire a love for arts or pottery. Marine activities include the usual suspects in the Maldives plus turtle, dolphin or shark safaris. Turtles hatch in the island. Reethi Rah does transportation better than anyone. Instead of taking a boat to a nearby deserted island you can charter a seaplane and get dropped in your own piece of paradise. I have created a complete guide to catching seaplanes in the Maldives which you can read here.
Guests can pedal around the island on their bicycles and find the perfect spot to sunbathe or hide.
A gastronomic experience awaits in the many dinner options including under the stars tepanyaki, an excellent Japanese restaurant complete with a sake sommelier and many locations for that particularly romantic meal. The hotel also offer shishas and Hotel Manager and Executive Chef hosted dinners. Champagne and Wine classes are also possible with the Head Sommelier. The hotel grows a lot of its fresh produce in the garden where one of the restaurants is located.
Rooms are spaciously located and the water villas are in groups of 4 at every small island inlay instead of being lined up on long wooden platforms like in most other resorts. There are many a beach in which to take in the sun.
The spa has won many accolades and it goes beyond the usual treatments. You can enjoy a pedicure by renowned Bastien or a family spa treatment where the entire family gets a treat. But book early for that muscle soothing treatment.
The resort conveniently runs 1h ahead of Male time so days feel longer.
Book your stay now from US$6,100/night on Booking.com | Agoda | HotelsCombined
8. Best for over-the-top family luxe – The St. Regis Maldives Vommuli Resort
I am a big fan of the St. Regis brand. From the classier luxury accommodations around the world to the perfect service, it's always a fantastic stay. The property in the Maldives is St. Regis's first on a private island, located about 45mins from Malé International Airport.
On arrival you will be assigned a personal butler who will attend to your every need with mind-reading service. The first thing that will stick out is the design and attention to detail put into the property. All architecture flows seamlessly with the environment where buildings use local design and influences from nature, such as the Whale Bar inspired by the whale shark and the Iridium Spa, by a lobster.
After swimming in the ocean, you can take a lap in your own private pool which come standard with all 77 villas and suites. The modern and immaculately maintained villas include state of the art equipment like iPad room controls and a Bang & Olufsen BeoVision TV. The spacious bathrooms come standard with marble finishings, a freestanding bathtub and a rainforest shower.
While not all rooms are perched over the water, they are all bathed in luxury. The most exquisite option for families or intimate parties of up to 12 people, is the John Jacob Astor Estate, a massive 3 bedroom overwater villa named after the owner. It is loaded with a private gym, cinema room and spa suites that are attached to each of the bedrooms. What's more is that it has three staff quarters, a 92 sqm infinity pool, jacuzzi and two more plunge pools.
For dining options you are spoilt for choice with a selection of 6 different options. Savor tropical gourmet delights at Cargo, Asian cuisine at Oritentale, an underground wine cellar at Decanter, family-friendly feet-in-the-sand pizzeria at Crust, or delicious Italian at Alba.
While the parents relax with Ayurveda treatments and hydro therapy at the over water Iridium Spa, the kids can be kept busy. There is a Children's club, with indoor games at the Socialite Club and water sports galore at the Vommuli Dive and Water Sports Center. Vommuli House is also the largest recreation centre in the Maldives with five different branches. Active teens will love the outdoor tennis and anti-gravity yoga classes.
Book your stay now from US$2,950/night on Booking.com | Agoda | HotelsCombined
9. Best for art-fuelled sophistication – Joali Maldives
The newly opened Joali Maldives (end of 2018) stands apart from its competitors in that it promises an ultra-luxury experience like no other. While other hotels and resorts in the Maldives push the rustic-chic aspect, Joali is more focused on artful sophistication where both aesthetic and functional artworks are scattered around the premises.
The spacious thatched-roof overwater villas are absolutely stunning, made with the highest quality local materials. The Immersive Art aspect of the resort is evident as art pieces line the walls, giving the villas a welcoming and high-end mood. The 27sqm wooden decks each come with an infinity pool.
There are 10 Water Villas which can sleep three people, with a floor space of 240 sqm outside and measure 100sqm inside. One step above are the Luxury Water Villas with a separate living room and a bigger sundeck measuring 108 sqm inside and 280 sqm outside.
The three bedroom Private Ocean Residence are the top of the line, located at the end of the water jetty. It has its own master bedroom, two infinity pools and measures 400 sqm inside and 990 sqm outside. It is quite far from the main island, so you can catch the small motorised boat at any time.
On land you have a choice of the 680sqm Beach Villa surrounded by foliage with direct access to the beach, the slightly larger Luxury Beach Villas, the two Pool Luxury Beach Villas with an additional pool at the back, and the two-storey Private Duplex Beach Residence with four bedrooms coming up to 1,200sqm in total.
The interior is both beautiful and functional, where the pink copper bar comes standard with a blender, a vintage espresso machine, a cocktail mixer, thermos for takeaways and a choice of premium liquor. There is also a wine and a minibar fridge and every single type of glass you could ask for from champagne flutes to wine glasses.
The villas are controlled by an intuitive tablet which is super easy to use and is actually helpful. And when you enter the bathroom, you'll notice the free standing white resin bathtubs surrounded by attractive green Norwegian marble. A hair straightener can also be found next to the his-and-hers sinks with personalised toiletries. Joali's bath products are all vegan, organic and chemical-free.
Another extra touch that makes villas a step above the rest is the choice of two bathrobes, a plush shower bathrobe and a silk kimono by Ardmore.
If you're an experienced Maldives traveler it is important to know that the distance between the villas is long. This means more privacy on your stay in paradise.
The art surrounding the premises is mostly functional, like the Manta Treehouse or the bird swing designed by internationally acclaimed artist Porky Heffer.
Joali Maldives is located on Muravandhoo island, which lies in the Raa Atoll, a less developed part of the country with no other five star options. It is also just north of the UNESCO-listed Baa Atoll. The Raa Atoll is one of the largest and deepest atolls in the Maldives which means marine life galore including mantas. You can also hop on their red submarine to experience "dry snorkelling".
Book your stay now from US$4,659/night on Booking.com | Agoda | HotelsCombined
10. Best for an authentic Maldives escape – Milaidhoo
Part of boutique offering The Small Luxury Hotels of the World Milaidhoo delivers a unique experience in a market saturated with luxury resorts in the Maldives.
The difference is twofold. First, they offer a truly Maldivian focus that is actually quite rare in a country where "international" is the standard. Second, there is an offer of true privacy where drones and selfie sticks are banned, there are no motorised sporting activities and seaplanes land far from the island that is nestled in the UNESCO-protected biosphere of the Baa Atoll.
The Maldivian focus begins with the architecture, where the resort was designed by famous famous Maldivian architect Mohamed Shafeeq known as the mastermind behind other projects such as the Waldorf Astoria Maldives, Kandolhu, Kurumba, Huvafenfushi, Anantara (Dhigu, Veli and Kihavah) and Naladhu.
The local focus continues when dining as Ba'theli Lounge and Restaurant is hosted inside a traditional dhoni wooden boat that is located off shore. There are three boats clustered together, one being the restaurant and the other two being the kitchen and bar.
The food is fine-dining with a focus on modern Maldivian conjured by local celebrity chef Ahmed "Seabass" Sivath. His contemporary take of Maldivian cuisine is original and the first of its kind in the country. There are other and more affordable dining options, like Ocean Restaurant or Shoreline Grill, but due to the uniqueness of this choice, it is not to be missed.
Coming back to the second point mentioned above, you will feel Milaidhoo's take on privacy from the moment you land. Instead of landing near the resort on its pier, the seaplane parks next to a floating jetty in the middle of the ocean. After alighting, you hop onto the resort's luxury motor yacht which is then a short ride to the island's pier.
This promises solitude and serenity as noisy seaplanes do not continuously land and take off right next to the villas. Then there are the villas.
As Milaidhoo was conceived with privacy in mind, it is the perfect escape for couples to spend some relaxing time alone together. It is also strictly adults only. The villas come in two types, overwater and beach, with uber-luxe options the Grand Ocean Residence or the Beach Residences.
The thatched roof villas measure a whopping 245sqm with high ceilings and beautifully coloured fuchsia, red and cyan decor. The walk-in closet adds to the expansive feel of the villas and the custom made furniture gives them a unique touch.
There are floor-to-ceiling windows that promise a perfect view of the ocean, no matter if you're lying in bed or taking a relaxing bath where the glass doors can open onto the deck.
Apart from the cooking classes and Serenity Spa, your activities are mostly water based with great snorkeling and diving and a totally secluded excursion to the nearby sandbank for a private lunch or dinner.
See my full review of Milaidhoo.
Book your stay now from US$1,500/night on Booking.com | Agoda | HotelsCombined
11. Best for eco-friendly lagoon living – Soneva Jani
Soneva Jani has been touted by many as the most exclusive high-end resort in the Maldives, and with good reason. First is the location. Soneva Jani is located on Medhufaru island. This is island forms part of the five-island cluster in the Noonu Atoll. You can expect pristine beaches, emerald waters and lush greenery throughout the grounds.
It lies within a 5.6km lagoon where you could fit roughly 7,000 Olympic sized swimming pools. The waters in the lagoon might be the most mesmerising shade of blue in the entire country. Travel to one of the five islets (three of which are uninhabited) within the lagoon for a taste of secluded castaway beach escape.
The island on which Soneva Jani is located was originally a vegetable farm, and they have kept much of the produce, so you are ensured a fresh, nutritious meal at every sitting.
Just like its sister property Soneva Fushi, you will be assigned your own Mr or Ms Friday, who provide spectacular mind-reading service where all you have to do is think it and it will magically appear.
The overwater villas are exceptional. They are not about flash and glam, but rather support understated lux with open-plan and airy spaces. Staying true to Soneva's eco-friendly philosophy, villas are built with renewal plantation wood.
There are slides leading from the second floor directly into the ocean, floor portholes to view the marine life and the crème de la crème, a retractable roof above the bed to stargaze.
Dining at Soneva Jani is an experience in itself, with strategically placed restaurants spread around the property like So Starstruck which is the first overwater observatory in the Maldives; or So Fresh overlooking the crystal clear waters.
There is also the brand's massive wine collection boasting 50% organic and biodynamic wines all housed in a six-meter glass tower. The chocolate and ice cream parlour are also a delectable treat.
You can also choose a destination dining option on a sandbank or at Zuhair's Beach tucked away in the North Island with custom-made dinners on a private beach.
There is the Labyrinth maze to wander around in, where the concept of time disappears. Cinema Paradiso is the first overwater cinema where guests are provided bluetooth headphones so the noise doesn't bother the turtles.
One of the best excursions is possibly the Astronomy Cruise where guests stargaze in the Middle of the Indian Ocean with the resident Astronomer. There is also guided snorkeling, diving and eco-friendly surfing where the boards are made with recycled materials.
Book your stay now from US$5,000/night on Booking.com | Agoda | HotelsCombined
12. Best resort for guided adventures – Four Seasons Kuda Huraa
If you're not that into the idea of catching a seaplane to your Maldives escape, then Four Seasons Kuda Huraa should be your first pick. It's only a short ride speedboat ride away from the capital of Male but worlds apart.
The first thing you'll notice when entering the island is that the ambience is more like a small village than a glamorous resort. It is charming and sophisticated with understated luxury.
Accommodation at Four Seasons Kuda Huraa offers a choice of overwater bungalows or beach pavilions. The Maldivian thatch complemented with dark oak, wicker and rattan furnishings provide a truly Robinson Crusoe feel.
The private Beach Bungalows come with lap pools that are surrounded by nature and the Water Suites have a perfect infinity pool overlooking the ocean.
The Royal Beach Villa is where the luxury shines. It is a secluded oasis that is planted on its own stretch of private beach. The two -bedroom villa is perfect for families who appreciate isolation. Relax on the private deck before plunging into the large pool or take a swing on the traditional Maldivian undholi.
The resort is definitely child friendly with a great kid's club called Kuda Mas (small fish) and a dedicated pool for the little tots. Children under the age of 12 can also share their parents' room for no additional cost. All menus are also catered for kids. This is a standard at many Four Seasons, like the Lego Kids Lounge and VIP Kids Club at Four Seasons hotel in Seoul.
There are activities galore at Four Seasons Kuda Huraa including guided cave and shipwreck diving, a Marine Discovery Centre with a resident marine biologist, sunset fishing the spa which is set on a separate island and arrived at by a dhoni.
The most unique activity on offer is the seaplane island-hopping surfing adventure. Guided by local experts, guests are chartered to the best waves and most secretive spots in the country. There is also a surf school run by Australian company Tropicsurf.
A tip for staying at Four Seasons Kuda Huraa is that the Half Board is on a dine-around basis, meaning that there are no restrictions between the five different restaurants and lounges.
Book your stay now from US$2,200/night on Booking.com | Agoda | HotelsCombined
Have you been to the Maldives? Have you got any other recommendations?