I have always had a fascination for rare passport stamps. Ever since I started traveling I would collect these little marks of having visited a place and then flip through the passport pages when home. I have also been keeping all the passports for the last 12 years, that is 13 of them, and all the corresponding boarding passes.
But I have not been everywhere (yet!) and there are a lot of passport stamps I am yet to see, some of which are for the least visited places, temporary stamps issued during specific times, like when Lord of the Rings first came out in New Zealand. Or just rare passport stamps that are hard to come by unless you are an intrepid traveler.
Fantastically rare passport stamps from all over the world
Scroll through the amazing list of rare passport stamps compiled with the help of well traveled friends, bloggers, writers, adventurers and all round explorers.
Stamps from Rare Countries
We are talking about countries that very few people visit and which are therefore strange to come across. Curious to know how their stamps look like? I tracked them down from the most intrepid travelers.
1. Angola
"We worked as expats in Luanda for awhile, so we got many of them." – Jorge from traveldrafts
2. Azerbaijan
"This is the tourist visa for the shortest amount of time, you even get a photo and they stamp entry and exit directly on top." – Joan from againstthecompass
You can read more about Azerbaijan in my articles on:
3. Belarus
As Wikipedia puts it, Belarus is known for "Stalinist architecture, grand fortifications and primeval forests." – Jub Bryant from tikitouringkiwi sent us this stamp as proof.
4. Bhutan
Bhutan is a fascinating country which filled me with peace and allowed me to reconnect with myself. The Kingdom in the Clouds is not a cheap place to visit so it receives very few travelers. I have written extensively about my travels to Bhutan which you can here in several articles:
5. Bonaire
"The rare passport stamps from the Dutch Caribbean island of Bonaire, showing a pink flamingo, the island's signature bird." – Catherine Benoit from The Go Fever
6. Cuba
"The coolest rare passport stamps come from Cuba and it's hot pink! As an American traveling to Cuba they never stamp your passport in Cuba BUT since my blog is Getting Stamped it would be a sin not to get stamped. When passing through immigration they stamped a piece a paper put in my passport but I insisted on the stamp in my passport. The agent was very confused and shocked, she even asked me like three times 'are you sure you want a Cuba stamp in your passport?' It's my favorite stamp!" – Hannah from GettingStamped
7. Democratic Republic of the Congo (DRC)
This is a place which very few get to see and, given my memories and experience, I can see how. Although I will admit that I would like to return and conquer the Congo River, my memories are reduced to my colleagues catching an amoeba that ate one third of their liver and sent them packing to hospital for weeks; the immigration officer at the airport breaking my passport by detaching the pages from the cover then giving me trouble to get through; the security person at the airport trying to steal things off my suitcase in the control "Can I take this for my daughter"; and the morning we got out of the hotel only to find a line of Kalashnikov wielding soldiers pointing at the hotel's entrance. Fair to say my short time in the country was rather unusual. At least I got one of the rare passport stamps they dish out.
8. Eritrea
"Eritrea – where the camel features just as heavily on their official documents as it did on the front lines in the war for Independence." – Stephen from monkboughtlunch
9. Fiji
The exotic island country of Fiji, one of the gateways into the South Pacific and a great place to explore island life, Pacific culture and dive with sharks! There are also some gorgeous island hotels like the Castaway Island Resort or Outrigger Fiji Beach Resort.
10. Iraq
"My entry into Iraq was a bit anti-climactic. I flew direct from Dubai to Erbil, the capital of Kurdistan. The plane touched down at the new airport. I proceeded to immigration and within moments I handed my passport over to the official. With a hasty look and a quick smile, I received my rare passport stamp, and I ambled into Iraq." – Ric from globalgaz
11. Kyrgyzstan
"It was quite easy to get this rare passport stamp because it's visa free for the Singaporean passport. I crossed from Kazakhstan to Kyrgyzstan via the land border and it was at the Kazakh side that something eventful happened. The customs guard tried to get a bribe from me. He held on to my passport and wanted my watch, but I stood my ground for half an hour while others just streamed past. Finally he knew that I wasn't going to relent and shook my hand to say that we're friends before returning my passport." – my friend Donovan
If you're from a country that can easily get into Kyrgyzstan, you may need help obtaining a visa from a professional agency. You can always get some much needed assistance online by clicking here: evisa.express/en/kyrgyzstan.
12. Lesotho
"Entering the Kingdom of Lesotho, a landlocked country completely surrounded by South Africa." – Elaine & David from The whole world is a playground
13. Mali
"One of the least visited (and dare we say, dangerous) countries in West Africa, the desert land of Mali" – João from Nomad Revelations
14. Mauritius
The country of the now extinguished dodo bird is a beautiful rugged, mountainous and honey-moon filled island that evokes tropical and exotic images of swaying palm trees, ylang ylang and vanilla.
15. Mongolia
Mongolia is the land of legendary warrior Ghengis Khan is the world's least populated country and it is made of vast steppes and deserts. Fascinating as it is expansive.
16. North Sudan
Before South Sudan received its independence I spent a few months working in Khartoum, the capital of the north. Although this is a Shariah Law, dry, Islamic country I always felt welcome and free to do as I pleased. There was no alcohol but there was always delicious fresh watermelon juice available.
17. Paraguay
The funny sounding country in South America (if you are a Spanish speaker) has been visited and contributed by the lovely Stefan and Sébastien from Nomadic boys
18. Samoa
One of my favourite Pacific islands was Samoa. Friendly, relaxed and they even hang free bananas on bus stops for people to enjoy.
19. San Marino
"You can get your San Marino passport stamp at the top of the foothill next to the cable cart located within the tourism information office. The stamp will cost you €5 to process. Still one of my favourite stamps as its unique with a hologram sticker attached to it. Very awesome indeed! Here's a video of me getting the rare passport stamp!" – Dave from Travel Dave UK
20. St. Martin (Guadeloupe) and St Pierre et Miquelon
Did you ever hear about these two tiny islands? They are both French territories. St. Martin is an island in the northeast Caribbean Sea. St Pierre et Miquelon is a French archipelago south of Canada's Newfoundland & north-east of Nova Scotia. Stamp provided by Dave from baldpacker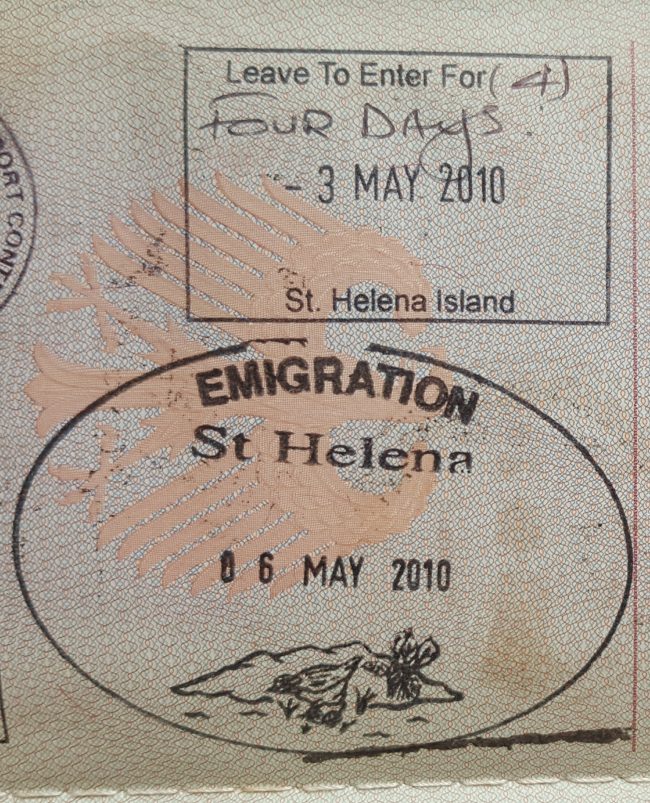 21. St Helena
The visit to St. Helena was a stop-over when sailing a yacht from Abidjan (Ivory Cost) to Cape Town (South Africa). Saint Helena is a volcanic tropical island in the South Atlantic Ocean, 4,000 kilometers east of Brazil and 2,000 kilometers west of Angola. Rare passport stamps provided by Rainer Gessner
22. Syria
No longer visited by anyone other than war journalists or NGO personnel, I have fond memories of Syria. I visited right after Ramadan, during the holidays of Eid that mark the end of the holy month of fasting and was mesmerized by the beauty of its heritage and the history from Babylonian times. I keep hoping that the country returns to peace real soon.
23. Vanuatu
The country where you can dive the largest wreck (The President' ship), walkup to an active volcano rim, explore islands and get lots in completely remote parts of the Pacific. Vanuatu, including the beautiful Efate Island is more accessible and visited by Aussies and Kiwis but still a paradise like no other.
24. Venezuela
A country that is all too often associated with drug cartels and violence but which will hopefully return to normality soon. Check out their Caribbean islands, to die for. Rare passport stamps provided by Maya from Travel with the smile
25. Yemen
Like Syria, nobody visits Yemen today. I hope that the beautiful and irreplaceable architecture of Sana'a, the capital, listed as a UNESCO World Heritage Site, will still stand when conflict and war finally leave this fragile country.
Stamps from disputed territories
26. Kosovo
"I was participating in a road rally known as the Caucasian Challenge which began in Budapest and ended in Yerevan. One of the countries I traveled through was Kosovo a partially recognized country. While not an exciting stamp, it was somewhat of a humorous crossing. A simple shack served as the immigration center. I could see the official struggling with his computer. I ended up twisting my body through the partially open window and typing my information into his computer. I was met with a smile and allowed to enter Kosovo." – Rare passport stamps provided by Ric from Global Gaz
27. Nagorno–Karabakh
"I have visited this unrecognized de facto country which is sandwiched between Armenia and Azerbaijan twice. The only way to reach Nagorno-Karabakh is via a land crossing from Armenia. The visa process is a bit backwards. You cross the border into NK and a guard will write your name in a giant registry. Once you arrive in the capital of Stepanakert you must visit the Ministry of Foreign Affairs where you will purchase your visa which you will need to show when you exit the country." – Rare passport stamps provided by Ric from Global Gaz
28. Simferopol (Crimea)
"Our stamp from Simferopol while it was still part of Ukraine, before the Crimea war." – Rare passport stamps provided by Robson from Love and road
29. Somaliland
"Another de facto country unrecognized by the UN, Somaliland. The "safe" part of Somalia. A common place to attain the Somaliland visa is at the Somaliland Mission in Addis Ababa. After touching down in Addis Ababa I headed to a residential area of the capital and found a large house which served as the Mission. After filling out a form, giving a couple of photos, and providing some money, I was rewarded with my visa after an hour's wait." – Ric from Global Gaz
Here are some articles you can read about Somaliland to find out more about the country:
Funny stamps
30. Easter Island
"This stamp is from Rano Raraku volcanic crater, part of Rapa Nui National Park. This is the location where Moai statues were carved from the rock. The stamp is given to anybody who wishes to have it in their passport, it's in no way obligatory." – Rare passport stamps provided by Veronika from Travel Geekery
31. Iran
"In Iran, female travelers need to wear a head scarf for their tourist visa picture. However, if the guys at the desk are feeling lazy, this is what your visa will look like instead." – Rare passport stamps provided by Liam from Rucksack Ramblings
32. One Foot Island (Cook Islands)
The tiny One Foot Island, in the Cook Islands, is almost as small as the name indicates although it does not come from its size but rather a legend of a tragic past. A fun stamp to add to your collection.
33. Pakistan
"A Pakistan entry stamp… and a Pakistan exit stamp very deliberately stamped over by a (petty) Indian customs official, in case you needed more proof of tensions between the two countries." – Rare passport stamps provided by Alex from lostwithpurpose
34. Palau
One of the most interesting and stunning of the North Pacific countries is Palau, a heaven for divers from all over the world. Don't forget to swim in jellyfish infested lake. Don't worry, they don't sting.
35. Saudi Arabia
Getting into Saudi Arabia as a woman is not a walk in the park. When I was living in Dubai, the Saudi embassy used to have a sign that read "Business Women cannot get visas" and they followed that to a T. Unless you were traveling with a male companion you were not allowed in. Not that I would have ever liked to go. Out of principle, I never want to visit, but the rules have now relaxed and I have a friend who has been going there for business for a while. Of course, you still have to cover head to toe and follow a host of other ridiculous rules but visas are now granted. Stamp provided by my friend Anna.
36. Seychelles
Don't you just love the Coco de mer on the stamp? Cory from You could travel
37. Republic of Whangamomona (New Zealand)
The independent republic is a town located in the heart of New Zealand's North Island. Mostly a joke than a real thing, the republic had many presidents, that never got invited to any international summits. This may have to do with the fact that they were mostly Goats, Sheep or Turtles. Get your passport stamp at the hotel when passing through. Rare passport stamps provided by Robin & Laura – from Backpackerguide.NZ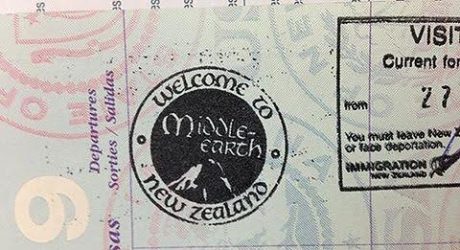 38. Middle Earth (New Zealand promotional entry stamp)
"To celebrate the release of The Hobbit – An Unexpected Journey visitors to New Zealand received this unique stamp onto their passport. This was the legal entry stamp to New Zealand for almost 12 months!"- Rare passport stamps provided by Robin & Laura from BackpackerGuide.NZ
Stamps from the least visited countries in the world
These really are the top least visited countries in the world. Had you ever even heard about the Comoros? Check out their even rarer stamp below.
39. Afghanistan
"A rare Afghanistan tourist visa, with entry and exit stamps on top." – Rare passport stamps provided by Sebastiaan from Lost with purpose
40. Comoros
I bet you never heard of Comoros and don't know where to place it on a map. Stamp by Gabriela from gabrielahereandthere
41. Djibouti
One of the most interesting and rich countries I have ever visited with the highest density of weird and fantastic landscapes like Lake Abbe and Lake Assal. There are some interesting facts you can learn about Djibouti and will provide many reasons to visit. Here are some things to do in Djibouti to get you enticed to visit.
42. East Timor (Timor-Leste)
The former Portuguese colony went through years of civil war until final independence from both the European country and neighbouring Indonesia. As a result, it is hardly visited, hard to get to and expensive to fly into. Once inside, you can enjoy wonderful diving, adventurous road trips and completely deserted beaches. An unknown gem at the farther East of Indonesia.
43. Federated States of Micronesia (Chuuk and Yap)
In my quest for places nobody visits I went to both Chuuk and Yap some of the most far flung islands in the Pacific. I loved them, although one fact about the Federated States of Micronesia is that there are less sandy beaches than you'd suspect. Chuuk has some of the world's best wreck diving sites which you can read all about in my article on Chuuk's best wreck diving.
44. Libya
The only country in the world at the moment with officially closed doors to tourism since 2015, so this stamp is from my friend and ex-colleague Carlos who got it from working there a while back.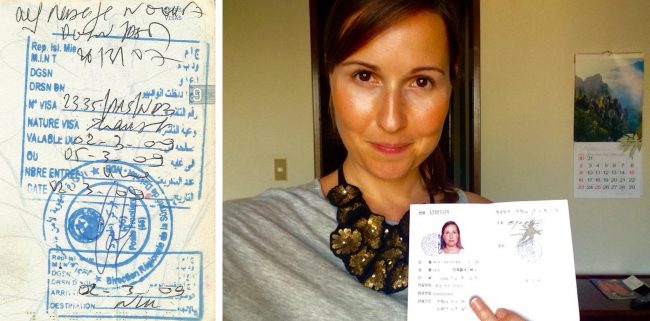 45. Mauritiana
An undiscovered desert country of nomads and mud houses that hides the beauty of the Sahara. Rare passport stamps provided by João from Nomad Revelations
46. North Korea
North Korea is a country which very few get to visit. Secluded, secretive and idolising of the Great Leader. If you want to visit, it is very easy to do so. Just get in touch with one of the agencies which organise tours and they will do it all for you. The visa is a separate paper though, and you only very briefly hold it in your hands until you have to give it to the guide in the country who will keep it for the duration of your trip, return it to you upon exit for you to give it back to the immigration officer. Inside, there is a time capsule of a world that has remained in the 1950s.
47. Sierra Leone
A country with a capital named the same way as Gabon but in different language and which is known for having terrifying airport transfer. The ride from the airport into town used to be done by helicopter but the aircrafts regularly crashed, according to former clients of mine. Best to take a boat if you do visit!
48. Solomon Islands
Another truly unexplored country in the Pacific with stunning beaches completely devoid of any tourism and fantastic diving opportunities. And no, there are no more cannibals.
49. South Sudan
"Above the oval shaped stamp is another stamp from South Sudan that you get after registering into the country, something you have to do within 72 hours of arrival. Having a stamp from the newest country in the world is pretty cool!" – Rare passport stamps provided by Nathan Coverdale from Always a friday
50. Tonga
One word: Swimming with humpback whales. Ok, maybe four words but still, the most amazing experience ever. There are also a few great things to do in Nuku'alofa, Tonga's capital.
Stamps from places with special interests
51. Antarctica research stations
"We got these stamps from the Russian and Chilean scientific research stations on Antarctica's King Georgia Island, where we also saw three kinds of Penguins. Amazing day!" – Rare passport stamps provided by Bret Love & Mary Gabbett from Green Global Travel
52. Beagle Channel
"The stamp is from the Beagle Channel, a strait in the extreme Southern tip of Argentina." – Rare passport stamps provided by Gábor from surfingtheplanet
53. Camino de Santiago
"Camino de Santiago, which I have walked twice . Once from St Jean Pied de Port and the second time from Lisbon. I have attached 2 photos – one of an interesting page from the 'Passport' I carried on the Camino Frances and had stamped daily in order to prove I had walked the whole way. The other is of an unusual stamp which I got from one of the Albergues on the Camino Portuguese – the Albergue host made the stamp with wax and a specially made seal." – Joanne Karcz from Travel with Joanne
54. Falkland Islands
A much remote island off the coast of Argentina that has very limited direct flights. Stamp from Dave from baldpacker
55. Francigena
"As in the well-known St.James' Way, via Francigena offers its pilgrims a passport to fill with stamps in every town you cross towards Rome. If you love great food, Italian villages and walking, what are you waiting for?" – Rare passport stamps provided by Inma from A World to Travel
56. Galapagos
"Accessible only by plane from Ecuador, the incredible Galapagos Islands offer unrivalled biodiversity, and remarkable experiences with terrestrial and marine wildlife. On arrival at the airport, you are given the option of getting a 'Galapagos National Park' passport stamp to remember your trip." – Rare passport stamps provided by Anastasia from galivantgirl
57. Gibraltar
"Gibraltar is a British Overseas Territory on the southern tip of Spain. I took a flight from London to Gibraltar, and at immigration I got a stamp in my Australian passport. The passport stamp has the airport code of GIB shaped like Gibraltar's famous landmark, The Rock of Gibraltar." – Rare passport stamps provided by James from nomadicnotes
58. The Great Wall research station
"This is a stamp from The Great Wall Station, a Chinese research station located on King George Island in the South Shetlands Islands, Antarctica." – Rare passport stamps provided by Shara Johnson of SKJ Travel
59. Haiti, Port-of-Prince
From the beautiful yet battered island of Haiti. Stamp provided by Dave from baldpacker
60. Lake Titicaca
"I got this stamp while touring the Uros Islands on Lake Titicaca in Peru." Rare passport stamps provided by Brianne from A Traveling Life
61. Machu Picchu
"The stamp was obtained on my visit to the Inca ruins of Machu Picchu in 2009." – Rare passport stamps provided by Michelle from Cheeky Passports
62. Nazca, Peru
"When visiting Peru, flying over the mysterious, ancient Nazca lines is considered a must, aside from hiking to Machu Picchu. Don't forget to have your passport stamped with this at the small airport just before you board your flight!" – Rare passport stamps provided by Aleah of Solitary Wanderer
63. Norfolk Island
"As of 1 July 2016, travelling from Australia to South Pacific hot spot Norfolk Island became a domestic trip, so this stamp has historic value for now, but watch this space – the Norfolk Island People for Democracy are appealing against Australian rule to the United Nations!" – Rare passport stamps provided by Red Nomad OZ (aka Marion Halliday) from RedzAustralia
64. South Georgia, King Edward Point
Another remote and hard to reach place in the souther seas. Stamp provided by Dave from baldpacker
65. United Nations
"I was invited to the United Nations as a Champions for Humanity Ambassador in 2016. It was an honor to be included in this project. When you visit the UN Building, go downstairs to the post office and get your passport stamped." – Rare passport stamps provided by Lisa Niver from We Said Go Travel
66. Ushuaia
From Argentinian Patagonia with love from my friend Laura.
Unusual Crossings
67. Carabineros de Chile
"This is the stamp from a Chilean Carabineros station in Coyhaique, a small place in Patagonia. The reason why it's rare is that it's not an official border crossing, just a police station! We were overlanding in Patagonia and got lost – from Argentina, we ended up in Chile! We discovered when we found this police station, and they were kind enough to stamp our passport to welcome us into Chile. Right next to this stamp you can see the 'official' Chilean stamp in red." – Rare passport stamps provided by Margherita from The Crowded Planet
68. Kelebia
"Kelebia, a village in Bacs-Kiskun county, in southern Hungary. We were on a train (see the cute train on the stamp) from Budapest to Belgrade in Serbia when the train was stopped for passport checks prior to crossing the border." – Rare passport stamps provided by Lyn from A hole in my shoe
69. Slovakia by train
"I snapped up this Slovakian passport stamp during my first backpacking trip back in the early 2000s. I was inter-railing through Eastern Europe with two friends. We were woken up by some mean looking border control men as we attempted to get some kip on the train after a few too many absinthes in Prague!" – Rare passport stamps provided by Gemma from Two Scots Abroad
Pin this to your #raretravels Pinterest board.