This article was last updated in June 2020.
The Democratic People Republic of Korea, is a fascinating country, not least because it has been isolated from the world since signing of the Korean Armistice Agreement in 1953 and has become, largely, self-reliant, and this makes for some really interesting facts about North Korea.
In a world where interconnection, globalization and the lack of borders has created a society where news travel fast and innovations are quickly copied and spread, North Korea's detachment is a sample of what would have happened if progress never arrived.
Despite being a relatively secretive country, and one of the least visited countries in the world, several articles have been written about the country and photos are available online.
However, no amount of research can prepare you for the trip. I read countless articles, went through what is possibly all of the available photo series online, yet reality surpassed my imagination because there are things that simply can't be explained but must be lived.
What is more, there were things that I could only fully grasp after I came back and went through the notes, the recordings, the videos and the photos. In every shot, I saw something I had not seen when on the ground.
The days were so intense that I felt bombarded by an overwhelming amount of information, like spending 13h a day in a Museum with a guide going through every detail.
These are some of the things that surprised me most.
Facts about North Korea: Isolated since the 50s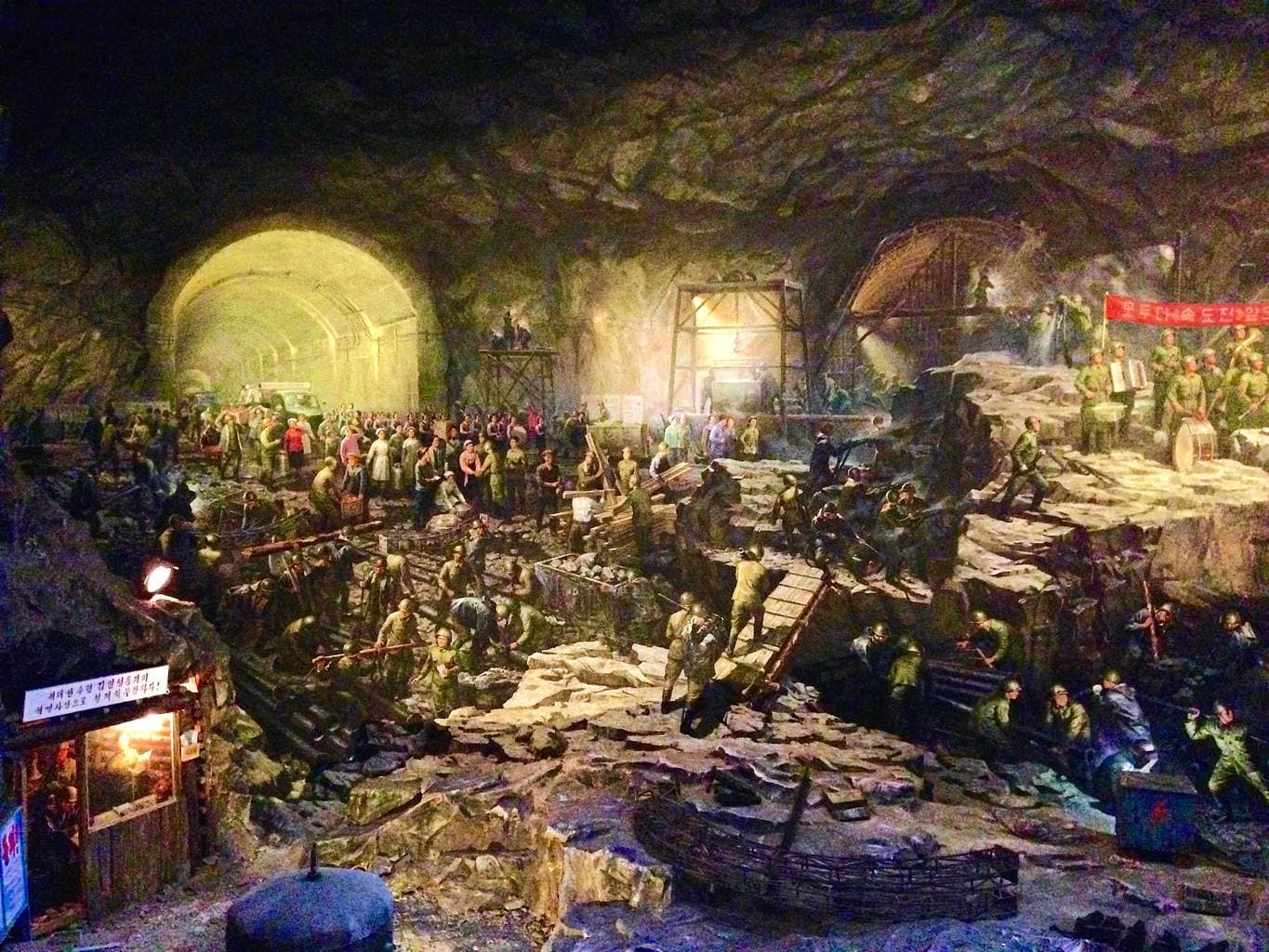 One of the most well known facts about North Korea is that the country has been isolated and self-sufficient since the end of the Korean War (although it never officially ended, another interesting North Korea fact). As a result, it all feels like time stood still.
This closure to the outside world is amplified by the fact that the country tries to produce most of the things internally and imports little, mostly from allies like Russia or China. International trade has brought development to most countries, you produce what you have a competitive advantage in and buy the rest.
If that didn't exist? You would have the situation in North Korea: lack of some basic things you can't produce efficiently (or at all), inefficiencies and wastage, etc. Add to that the lack of access to information to learn about latest developments and the limited education. As a result, you get slow progress.
The metro of Pyongyang, which you can learn about at the Metro Museum, is a great example. The Great Leader is the one that guided everyone, including the engineers, into the construction of this massive undertaking, which took years to complete.
Interesting facts about North Korea: Shop till you drop
Before the trip, we were told that we could buy some souvenirs but that we would not need a lot of money because everything was included. North Korea is, after all, a socialist country where free trade is illegal so, why would shops exist?
In reality there were lots of opportunities to spend our hard earned money on kitsch souvenirs and other not so kitsch things. North Korea is isolated, true, but most of the international brands have made it into the country.
There was Chivas and Coca-Cola. I could buy Tim Tam and Butter Cookies. There were propaganda posters, postcards, stamps and books to buy and unscheduled activities we could join, like an evening at the Fun Fair, the Circus or even a football match.
There were also several microbreweries to stop for a drink. Between my friend and I we spent around $300, primarily on propaganda books, posters and on sending postcards home. And they arrived!
Cool facts about North Korea: There is fun to be had
I had imagined the country to be dull, grey and boring with not a lot in the way of entertainment but was positively surprised. These were things that were never shown in all the photo essays that can be found online but they certainly existed.
Koreans love karaoke, and at every meal, the TV was turned on with songs and Korean karaoke lyrics. At the School Children's Palace, we were able to attend a proper children's talent show complete with fabulous singing and dancing.
Another unexpected fact about North Korea: There are amusement parks too, and they are packed. The Fun Fair was crowded and at 9pm, there were lines of locals queuing to get on the rides.
The beach was also packed with children and adults having fun in the water. We spotted a water park through the trees on one of our nature walks and there were several locals enjoying the coolness.
In the playgrounds and parks scattered around Pyongyang, children were being children. They were loud, their clothes were untidy and they were running around playing football.
Spontaneous outbursts of fun were everywhere and I had never seen such images in any of the write-ups. One afternoon, as we were taking a walk in one of the parks, we heard the sound of music and singing coming from a pagoda. A group of local men and women were singing, playing the drums and dancing.
It did not take long before one of the ladies pulled me in. I found myself dancing to the clapping of the audience with the lady holding my hands and showing me true Korean moves. There were also several groups of men playing volleyball.
North Koreans were not the dull, constrained and restricted people media had us believe. At least not all the time.
Unexpected fact about North Korea: You can photograph and record almost freely
One of the most well known facts about North Korea is the country's obsession with control.
We had been warned, repeatedly, that photography was restricted. We would be better off asking before taking any shots and I had even read that photos could not be taken from a moving vehicle.
The list of scenes that could not be photographed extended for pages, according to other bloggers and writers. They always mentioned the restrictions in photographing things or people that may not portray North Korea in the best way, like soldiers taking a break, unfinished construction sites, locals not dressed appropriately, etc.
The reality?
In six days I took over 2,000 photos and recorded almost 100 Gb worth of video. I was snapping away every 30secs and recording otherwise. The only times when I was advised against taking a photo was when we approached a military post, but that is the case in most countries.
I had to leave my camera outside at the War Museum and at the Mausoleum, but I had freedom to shoot otherwise.
The caveat?
We were not allowed to stop by the side of the road to take photos making it hard to take a clear shot in the potholed roads. However, on the last night, I got the chance to have a quick pit stop at the main square to take photos of the Liberation Day rehearsals.
Our guides never warned me against taking shots of bridges or construction sites, things that we were told we could not photograph. There were times when the guide thought I would not be allowed to take photos but when re-confirming with the local guides at the site, they were happy for me to do so. I also took a large amount of selfies, with the guides at each site and with soldiers at the DMZ.
Facts about North Korea: Your stuff be searched on arrival and departure
Your belongings and everything you bring into North Korea will be searched, this includes your phone and laptop and any other electronics, as well as your luggage. There is a list of forbidden items you can't bring like religious books.
However, the guards checking our electronics were so unused to technology that it was hard to them to find their ways around the laptop and it would have been easy to hide any doubtful materials. Though I would never recommend you do that.
On your way out, your belongings will be checked again to make sure you are not taking anything you are not supposed to, like currency or banned photographs.
Interesting facts about North Korea: There are MacBooks and Coca-Cola
It used to be said that North Korea was the only place one could not find Coca-Cola together with Cuba because of the US sanctions. Those days are gone and that North Korea fact does not hold true anymore. I had Coke without problems, even if that was illegal.
Despite the embargo, commonplace American and European food brands are somewhat easily available, if you have cash. The desk in Kim Jong Il's train carriage at the Mausoleum had a MacBook. French and Chilean wine was available on the supermarket shelves.
The Windows XP logo was bouncing on the computer screens at the Library. It is true however, that several things are simply not available, like camera memory cards or fresh produce not grown up locally, but there was an awful lot of generally known international brands.
Strange facts about North Korea: Friendly soldiers
There are 1,000,000 soldiers in North Korea and 800,000 reservists making this the 4th largest army in the world. Soldiers are everywhere. They are easily recognizable by their khaki uniforms and red stars but they do not carry guns, except for the ones at the road checkpoints.
We interacted with soldiers at the DMZ and the Concrete Wall and, through the translations of our guide, we had regular conversations about our country, the weather and our jobs with them. The soldiers were smiley and interested to hear our opinions.
Since they heard that my friend had been to the DMZ in the South, they were happy that he had heard both sides and would now be able to, "Make up his mind". At the concrete wall we even joked with the Colonel that escorted us.
The soldier at the War Museum was happy to joke with me and we took several selfies with soldiers in these three places. Surprisingly, the soldiers were the friendliest Koreans we talked to, how is that for an unexpected fact about North Korea?
I am not sure what would have happened if we had asked "difficult" questions but I had the feeling that we could have perfectly had a respectful and open discussion on delicate topics too. After all, they have all of the standard answers rehearsed and ready.
Unique fact about North Korea: It has the only captive US ship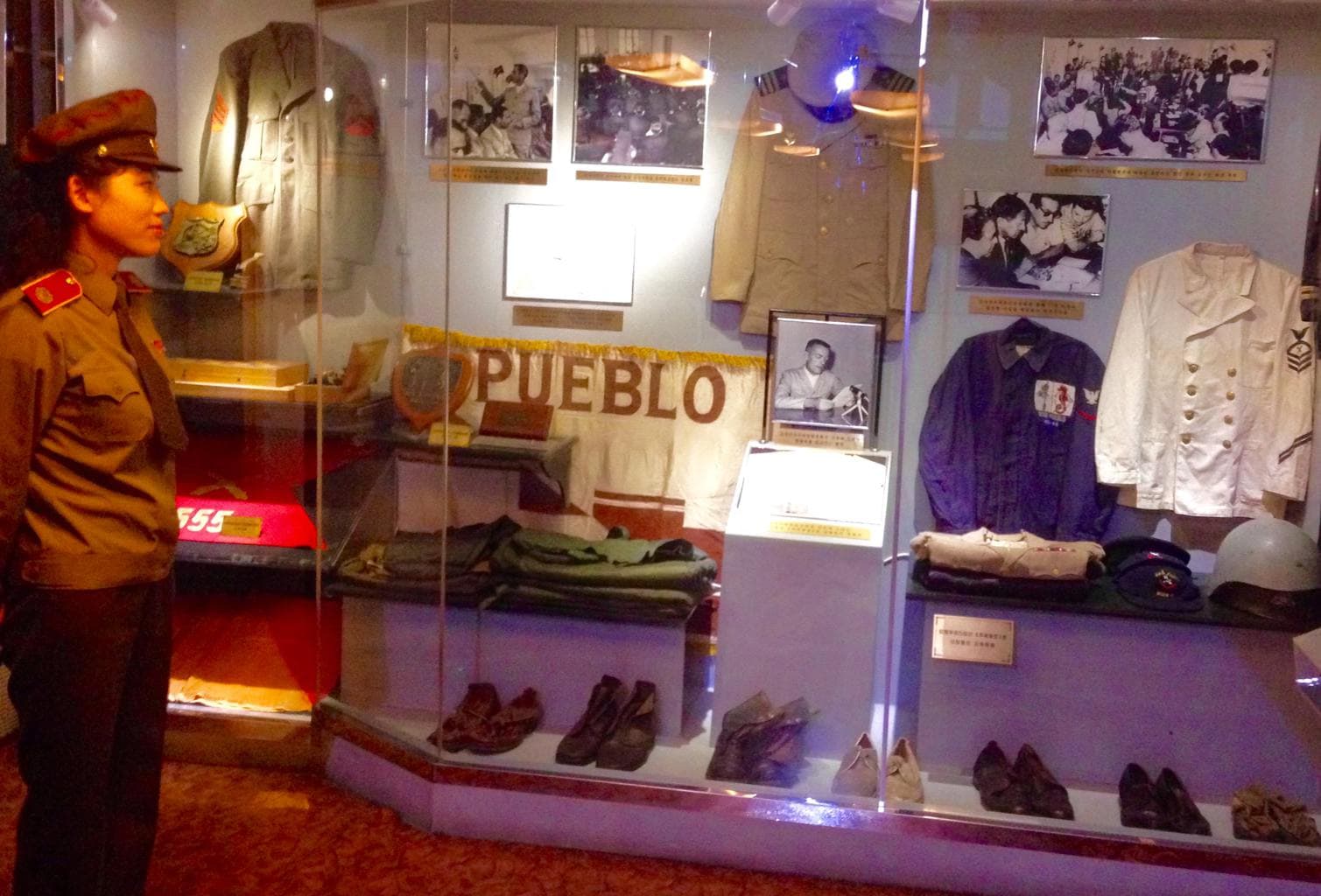 In 1968, in the midst of the Cold War, North Korea attacked and captured USS Pueblo, a US research and spy submarine off its coast, tortured its prisoners, made them apologise and finally released them after almost a year in what is considered one of the US most shameful military debacles, and North Korea knows and exploits this.
USS Pueblo remains a commissioned US ship and as such, the only captive military vessel under enemy hands. The submarine has been turned into a Museum which can be visited in what is one of the most carefully crafted propaganda machines of the regime.
Visitors must watch a 15min video at the beginning of the visit which is one of the most incredible tools of propaganda I saw in my entire visit and which refers to the US as Imperialist Aggressors and North Koreans as defenceless victims.
The BBC made a documentary of the incident in its 50th anniversary which you can watch here. To read the US version head over to this website. And for a more balanced historical assessment, read this.
Shocking fact about North Korea: Highly polluted air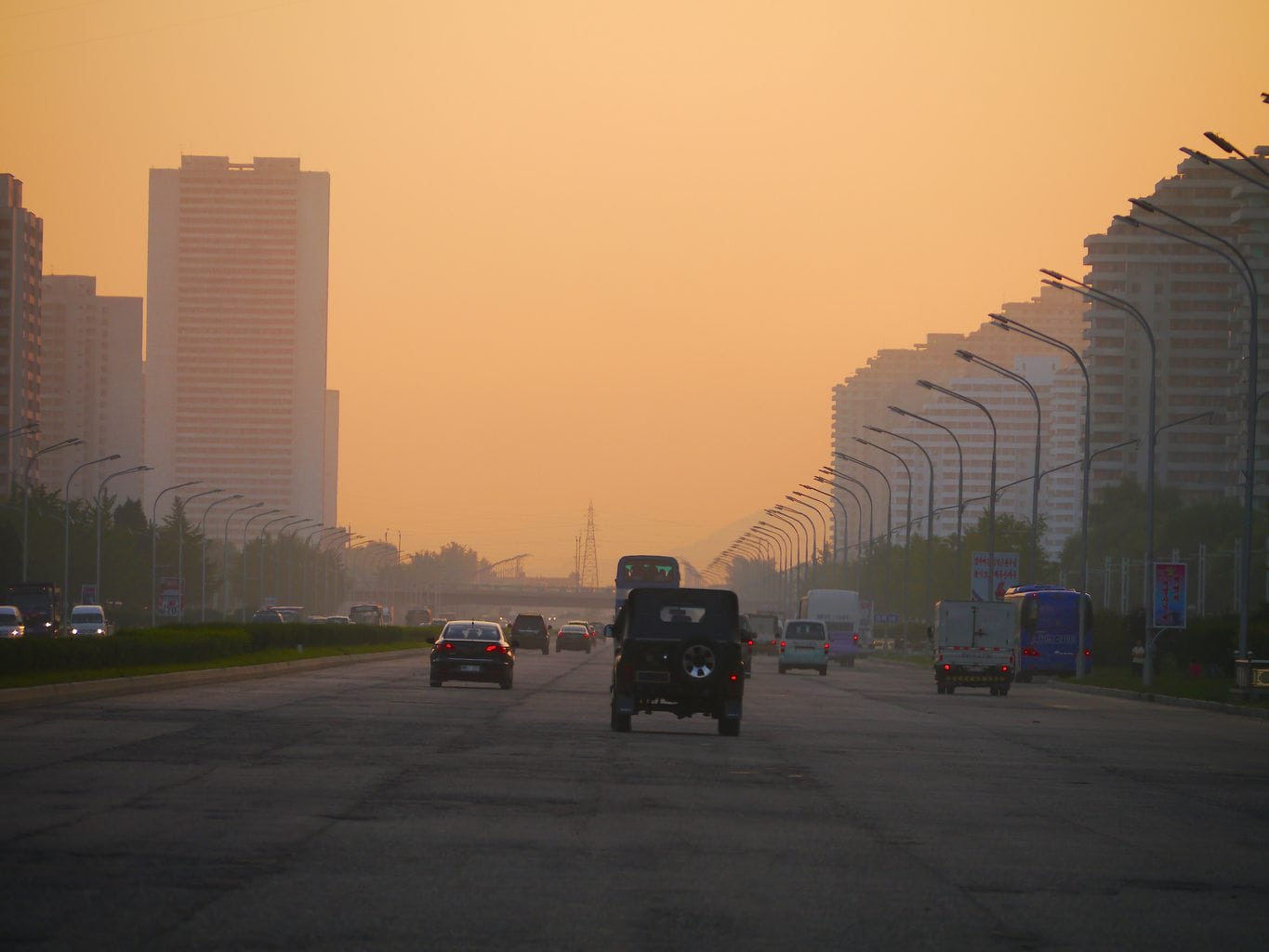 Despite being one of the least developed countries in the world, North Korea's use of coal cause its air to be heavily polluted. This is one of the most unexpected facts about North Korea.
Given how limited industrialization there is, I was expecting the air to be clean but was shocked with strong haze in Pyongyang which made the air constantly polluted. The WHO estimates that the country has 89 pollution-related deaths for every 100,000 people. For reference, this is more than China and India which have some of the world's most polluted cities.
Unusual facts about North Korea: Plenty of mobile phones, but no internet
As an ex telecoms consultant, I knew that North Korea was one of the last countries to launch 3G and the one with the lowest mobile phone penetration. The most shocking fact about North Korea is that they still don't have internet access.
What surprised me was how many people have jumped on the communication wagon despite the lack of internet. Internet launched on mobile in 2014 but is still not accessible to most, even tourism companies have one email address for the entire company. The only sites available are local and government-controlled.
Our guides did not know what internet was, but they were on the phone all the time, reporting our whereabouts and checking on our next appointment with the "Big Orwellian Brother".
In the streets, I saw people talking on the phone while riding bikes and scooters. I even saw soldiers texting. However, there still is no roaming so your phone will only work at the DMZ, where you can pick the South Korean signal up.
We tried to buy a SIM card to send international text messages, but it was a catch 22 because we needed the passport to register and our passports were taken as soon as we arrived so, after trying to get them back temporarily so we could buy it three times, we gave up.
Later, I realised that the SIM cards tourists can buy cannot send SMS so are only useful to make phone calls.
Facts about North Korea: Hard to reach, but not the hardest
There are a few countries that can only be reached from another one.
Think about all the tiny places that are encircled by another country and don't have an airport like Swaziland, Lesotho, Monaco or the Vatican. Or those which have only a couple of weekly flights like Kiribati, Tuvalu or Nauru.
North Korea can only be reached via Russia and China, in turn countries which are hard to get visas for (although China does now have the 72h transit visa that facilitates the connection significantly).
There are flights from a couple of Chinese cities with Koryo Airlines but the easiest is Beijing. From Russia, one can fly from Vladivostok, a pretty isolated city in itself. For a more scenic ride, take the train from Beijing.
Unique fact about North Korea: No stamp on your passport
Like Israel, North Korea is the only other country that will not stamp your passport but rather a separate paper which you keep with you until arrival.
Our visas were processed by the travel agency and handed to us in Beijing so we could carry them with us in the flight. We used them to get into North Korea and the guides took them when we checked in into the hotel, together with our passports.
We got both back on the last day, ready to go through immigration again and hand them back to the officers. Our passports had no mark of the visit.
Facts about North Korea: Tourists cannot walk alone
Although it is not hard to get there and you can easily get a visa (see next section), foreigners cannot walk around the country freely and need to do so accompanied at all times. This makes it a very unique place to visit and is one of the weirdest facts about North Korea, but it is not the only one, Turkmenistan also requires you to visit on an organised tour.
But visiting with a tour does not just mean that independent travel is not allowed, it also means that you will have two guides no matter the size of your tour. If there are more than 20 people, there will be more guides.
Once the guides drop you at your designated hotel in the evening (there are only a couple fo foreigners), you won't be allowed to leave until you are picked up the next morning. And I highly recommend you don't go around exploring the hotel either, except for the restaurant, shop and other obvious places, or looking for the infamous 5th floor.
Surprising fact about North Korea: Easy to organize
One of the most misunderstood fact about North Korea is how easy it is to visit.
The most common questions I've got is "But how?"
North Korea is hard to reach in the sense of isolation because of a lack of international transport connectivity. You first need to get to Beijing or Vladivostok to get there, and they both require visas that are a pain or expensive to get, or downright difficult in the case of Russia.
In the case of most tourists, Beijing is the way as this is where the tour companies catering to Westerners are. That means you will have to get a double Chinese visa because you have to spend a night in China to get the brief from the travel agency before you board. Or avail from the Chinese transit visa program.
However, once you overcome this hurdle, getting a visa and organizing a trip to North Korea is very easy. It only required an email exchange with the travel agency and a few basic papers like our passports and a photo, all sent via email. There are two main agencies to use, Koryo Tours and Young Pioneers, both organise private and group tours.
The visa application needed to be submitted four weeks in advance and was dependent on our itinerary. We had to close that before our paperwork could be processed. Our passports were never taken for visa processing.
We also had to sign a couple of documents for the protection of the agency. One stated that we would not do anything we were not supposed to. The other recognized that we were not journalists. The travel agency could get their license revoked (like in 1997 for nice months) if we were secretly entering as tourists but were indeed journalists.
Journalist visas could be obtained, but I suspect they would take much longer and would be subject to much more scrutiny. The acknowledgement paper accepted personal travel blogs and only forbid me from entering as a contracted writer or journalist.
I promptly disclosed my blog's address and this made it to the guides, who knew the name of my blog, albeit they thought it was a travel company and I suspect they never saw it on the internet, since they don't have access to it. The only people who would have a hard time to get in are South Koreans, who are not allowed.
Fact about North Korea: Americans can't visit
Since the 2017 death of a student, Americans are forbidden by their country to visit North Korea and this ban was extended in the summer of 2019 to August 31, 2020 where the ban will be looked at again.
"They are arrogant and ignorant and too young to care about the war. They don't care about anything", concluded about Americans in despise our guide, even before that incident.
It is the only country that the US has banned its citizens from going to, Cuba can be visited under certain circumstances.
At the same time, if you have visited North Korea, as a non-American, you are no longer eligible for the ESTA visa-waiver program and will need to apply for a regular visa, go through an interview and pay a fee.
Important fact about North Korea: No proselytizing
One of the most important facts to remember in North Korea is that proselytism is one of the most serious offences and we were repeatedly warned against this.
In the past, few people have got into trouble for leaving Bibles behind, or for trying to get them in. All books you bring in are checked at customs control. We were not religious, so talk about religion would have been unusual for me and my friend.
However, religious references are a form of speech in Spanish or English. Every time I sneezed, there was no "Bless you" from the guides. When I said it to them, I received silence back. I asked the guide what they said when someone sneezed, "Nothing, we say nothing".
Religion in North Korea has been replaced by a personality cult towards Kim Il Song, the Eternal President, and Marshall Kim Jong Un. The ideology closest to a religion is the Juche Idea. Created by the President and the basis for the North Korean calendar, which starts to count on the year of his birth, Juche literally means "subject" and the entire concept revolves around self-reliance and putting Men at the center of the universe.
There were no churches or mosques, with the exception of an Orthodox church used by the "Russian embassy people," as our guide pointed out.
Surprisingly, Freedom of religion is a tenet of the Korean constitution, although the country is atheist, talk about a contradictory North Korean fact.
Our guide pointed at the traditional religion, Ch'ondo, that rose in importance in the 19th century, as the religion Koreans follow, privately, and which does not necessarily have full political support. But the personality cult and reverence towards the Leaders has eliminated any historical values.
Today, proselytism is a sure way to get you into prison and images of Religious groups trying to drop Christian pamphlets from balloons are an unreal example of what it's like to spread the gospel in this part of the world.
Quirky fact about North Korea: Modern and luxury cars
I'm sure that before you read this article you expected facts about North Korea to include things that showed the country is backwards. So did I. Until one evening when we came out of the hotel and saw a brand new Mercedes Benz SUV.
Elsewhere, cars did not look dated or broken down, DPRK is not the Cuba I visited in 2001. North Korea still trades with Russia and China. Cars from both these countries, Europe and even Japan, were seen in the streets.
They were not owned by regular Koreans, they cannot afford the $10,00 price of an average car on their meagre $100-200 a month, but companies (and diplomats) do indeed drive modern cars.
Peculiar fact about North Korea: Limited choice
Remember the 28 approved haircuts that North Koreans can sport? That applies to clothing too.
This was expected of a place that produces most of its light industry products in-country but the uniformity of dress styles and clothes in North Korea was hard to grasp in real life.
Women dressed in pencil skirts, knee long, and with short or long sleeve shirts in standard colors. Patterns were rare, as were bright colors, reserved for the beach. Children were almost always dressed in their uniforms, with navy blue trousers, white shirts and red scarves that make the Young Pioneers uniform.
Men wore long trousers with white or blue shirts. Seeing so many people so homogeneously dressed is unthinkable in today's consumer society. In North Korea, it is the norm and this is one of the most surprising facts about North Korea to someone who comes from the over commercialised West.
Facts about North Korea: City-wide megaphones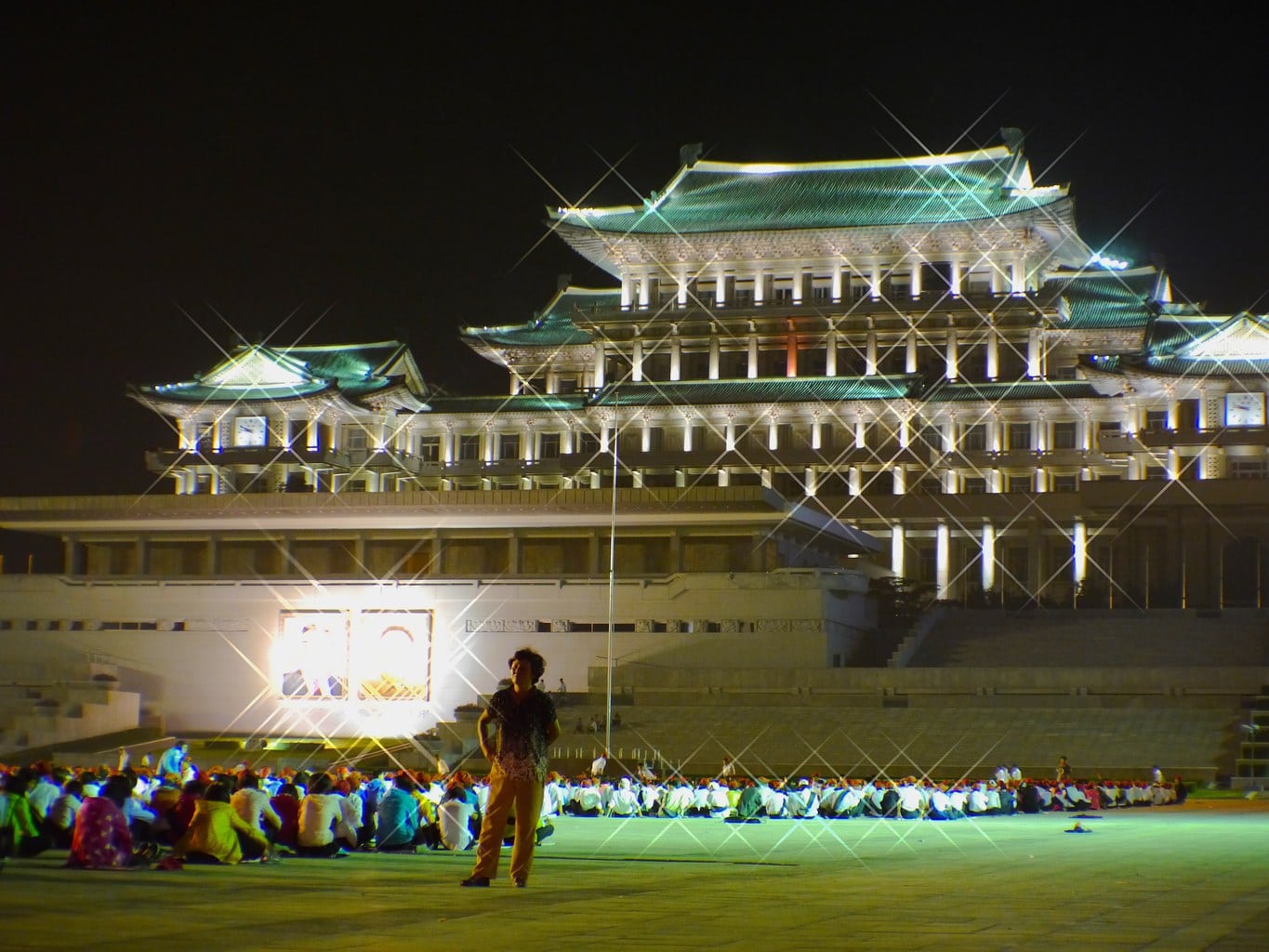 It was 5am on the first morning and I was still shifting on my hard Korean mattress. I had difficulties sleeping because of the information avalanche my brain was trying to process and because the beds and pillows were terribly uncomfortable.
Suddenly, I heard music. At first I was not sure where it was coming from. It was still dark outside and I couldn't imagine we would have too many neighbors in the empty hotel. I got up to look through the window into the darkness of the city.
Pyongyang had no streetlights and, even the floodlights that illuminated the photos of the Leaders on every façade were off at such hour. I looked through the window and saw someone walking with a torch in the streets below and a person in his room, with the light on, in the building across from the hotel.
Paranoia kicked-in and I found myself wondering if he was spying on us. After all, pretty much every other light in every other building across the city was off. This was not a fact about North Korea that I had expected.
The following day, our guide confirmed that the music was indeed played across Pyongyang every day at 5am, 9am, noon, 5pm, 9pm and midnight. Orwell's 1984 came to mind.
Facts about North Korea: Rural areas feel medieval
It is hard to imagine all the ramifications of long-term isolation until you arrive in the countryside where all the facts about North Korea become more obvious than anywhere else.
Pyongyang is frozen in the 50s, but the rural areas feel like going back to medieval times. Peasants work the land with their bare hands and very rudimentary tools. Ox-carts plough the fields and the population carries the produce on their backs or, the lucky ones, on the back of their bicycles. If you want to know more, read my other piece on my thoughts around the Hermit Country.
Unexpected facts about North Korea: BBC World and Al Jazeera
We were not going to bother turning on the TV in North Korea, expecting that it would show propagandistic programs in Korean and the pervasive karaoke lines, but we were surprised to find BBC World and Al Jazeera on.
I also happened to be there on the week of the celebration of the 70th Anniversary of the end of the Japanese Struggle and of World War II and the BBC was uncensored, openly broadcasting all the Japanese leader's speeches.
The announcement of the execution of the DPRK's Vice-Premier in May 2015 was also played on the news on the day of our departure.
For a country that is so closed off and which has regularly been referred to as being covered with a "mosquito net", the easily availability of foreign independent news channels was a very strange North Korean fact.
We could not help but wonder if it had been a mistake, forgotten behind after the visit of a foreign official. As we watched, it felt as if we were doing something wrong.
Facts about North Korea: The Leader is modest
Everyone will have seen the propaganda billboards and the various photos of Kim Il Song and Kim Jong Il across the city. The country is big on personality cult, but that is exclusively aimed at the Eternal President and Marshall Kim Jong Il.
Where is the current Leader?
He features nowhere on official sites. His photo is not included, his name not mentioned. At every visit, when the number of times that each Leader has visited the site was recited, Kim Jong Un was never mentioned.
"Why is the current Leader never mentioned or appearing on photographs?", I asked the guide on the last day. She had heard that one before because this is one of the most unusual facts about North Korea.
"Because he is very modest and does not like to be photographed". And the answer ended there.
We could not be sure of the real reason but he sure featured on every newspaper providing "Guidance on 'so and so' industry" not looking very shy.
Strange fact about North Korea: Interchangeable use of various currencies but the Won
One of the strangest facts about North Korea is the difficulty to get local money. You cannot get your hands on local Won but can interchangeably use Euro, USD and Chinese Yuan at any point. Often times, you will receive your change in a different currency to your payment.
They seemed to prefer Euro the most but were always accepting of all three. Getting Won out of the country is illegal and we certainly never saw the currency anywhere.
Facts about North Korea: Fertile land but famine
North Korea makes the news every year due to famine and starvation threatening the lives of many people. In the 90s, 3 million people are thought to have died when the communist rationing system collapsed.
We expected the countryside to look arid, dry and barren. Instead, we found it to be 80% covered in mountains with various rivers and streams cutting through. We drove through lakes, valleys and gorges and all we could see was farmland stretching as far as the eye could see.
However, looks can be misleading.
Famine and starvation lurks over North Korea every year, due to poor rains, and low availability of arable land (20% of the territory), on which the country depends. Lack of international trade because of sanctions and limited mechanization leading to low yields do not help.
Fun fact about North Korea: Microbreweries galore
Think that North Koreans don't drink? Think twice.
Soju is well known for being the world's most sold liquor and the drink favored by the South who are known for drinking you hard under the table. They may get red cheeks, as my former Korean flat mate used to point out, but they surely know how to drink.
One of the best things to do in Seoul is to have dinner with a Korean friend to experience this culture and dig into all the delicious South Korean food. And North Korea was no exception.
With rice and barley grown locally, microbreweries sprouted in the recent years. Pretty much every bar or hotel makes its own small bulk production. We had scheduled two visits to two different micro-breweries and they were pleasant surprises, even to someone who doesn't drink beer.
This is probably one of the most unexpected facts about North Korea, I bet you didn't expect microbreweries in Pyongyang!
Fact about North Korea: Customer-serviced oriented
This was the hardest element of the trip to anticipate and certainly a fact about North Korea that I knew well but couldn't not know how I would feel about.
I did not know if the guides would be serious, fun, easy-going or officious and I was positively surprised by their warm if serious personalities.
Towards the end of the trip they opened up more, but they remained soft-spoken and polite. We did not ask compromising or difficult questions and were largely well behaved, something which surely helped make them feel more at ease.
With time, they gave us more space, although we were escorted at all times, and we progressively entered their lives a bit more. Contrary to other people's experiences, ours was that of a well-trained tour guide. They fell asleep in the car journeys as much as we did and were helpful and willing to adapt the trip to our taste.
We were asked, repeatedly, if we were happy and if we were enjoying the trip. "Our company has told us that you paid a lot of money for this trip so we need to make sure you have the best time". This was a sentence that stayed with me and which surprised me, for customer service I had assumed, was something North Korea would not worry about.
When, half way through the Metro Museum I looked clearly sleepy and bored to death, my guide subtly asked the resident guide at the Museum to cut the visit short – I was not interested and had had enough. "You will find the School Children's Palace much more fun", she added when we left the Museum.
These and other impressions are some of the intangible parts of a visit to North Korea, the unwritten facts that will vary from person to person.
Essential fact about North Korea: You are watched, even if nobody is looking
There is no denying that one of the best known facts about visiting North Korea is that you will be watched, at all time.
A large part of the feeling of being watched could be due to the media images portrayed in the West but I found myself constantly looking around for cameras or people spying on us. In the lift, in our hotel room, in the bathroom, even in the streets, I would unconsciously look around searching for that person stalking us.
The reality was much simpler. Yes, there were cameras in all public places and in the lift. We could not find them in the room, but I am sure we were being watched and heard there too. We were careful about what we said, just in case.
Above all, the Big Brother was of the more obvious type: Our guides. They were not listening over our shoulders, but I did find myself trying to hide my phone from the guide when I wrote all of my thoughts and notes, and they sat behind us in the van for the entire journey.
The guide called someone every time we got back into the van, sometimes, half way through a long journey. We never asked who she talked to and we did not speak Korean, but it was obvious that she was providing an update on our whereabouts, reporting on how everything was going.
The fact that my friend and I spoke English between ourselves did not provide any privacy and the guide was sitting right next to use, so everything we said was surely monitored. We stayed quiet and did not discuss anything during the day. When in our hotel room, we stayed mostly out of deep discussions. We were slightly scared and concerned during the whole trip.
But, in fact, only once did the surveillance feeling become a reality.
We were at the birth place of the late President Kim Il Song, when I saw a group of small children, perfectly dressed in the cutest of outfits, taking a photo with the background of the President's house. As with most of the other important sites, there was somebody ready to snap photos of those without a camera to sell them.
There were even steps for people to pose properly in various locations and this was one of them. The children, little as they were, took long to line up and get ready for the shot so the teachers kept having to re-arrange them.
I waited and waited to take the shot and I must have taken longer than they considered safe because as the time passed, a Party member drew closer and closer to me. I did not see him, for I was concentrated on the spectacle in front of me and my eyes were on the camera's objective. But my friend saw the situation unravel.
The Party member was really close to me when one of the guides saw what was happening and came over, standing by my side. This all happened in the space of a few minutes and, once the guide was next to me, clearly indicating that they were our escorts and we were not alone, the Officer withdrew. I took my photo and we moved on.
Later on, as we walked through the forest, my friend shared the story with me. I had not noticed anything, but I was sure that we would be in similar situations again and that there was someone watching over us and the guides throughout the trip.
Why do you think they always staff two guides who have never met before plus a driver no matter the group size?
It is meant to ensure independence and reduce the risk of defection or of denouncement of the Regime as they both watch over each other as well as watching you.
Unforeseen fact about North Korea: UNESCO listed sites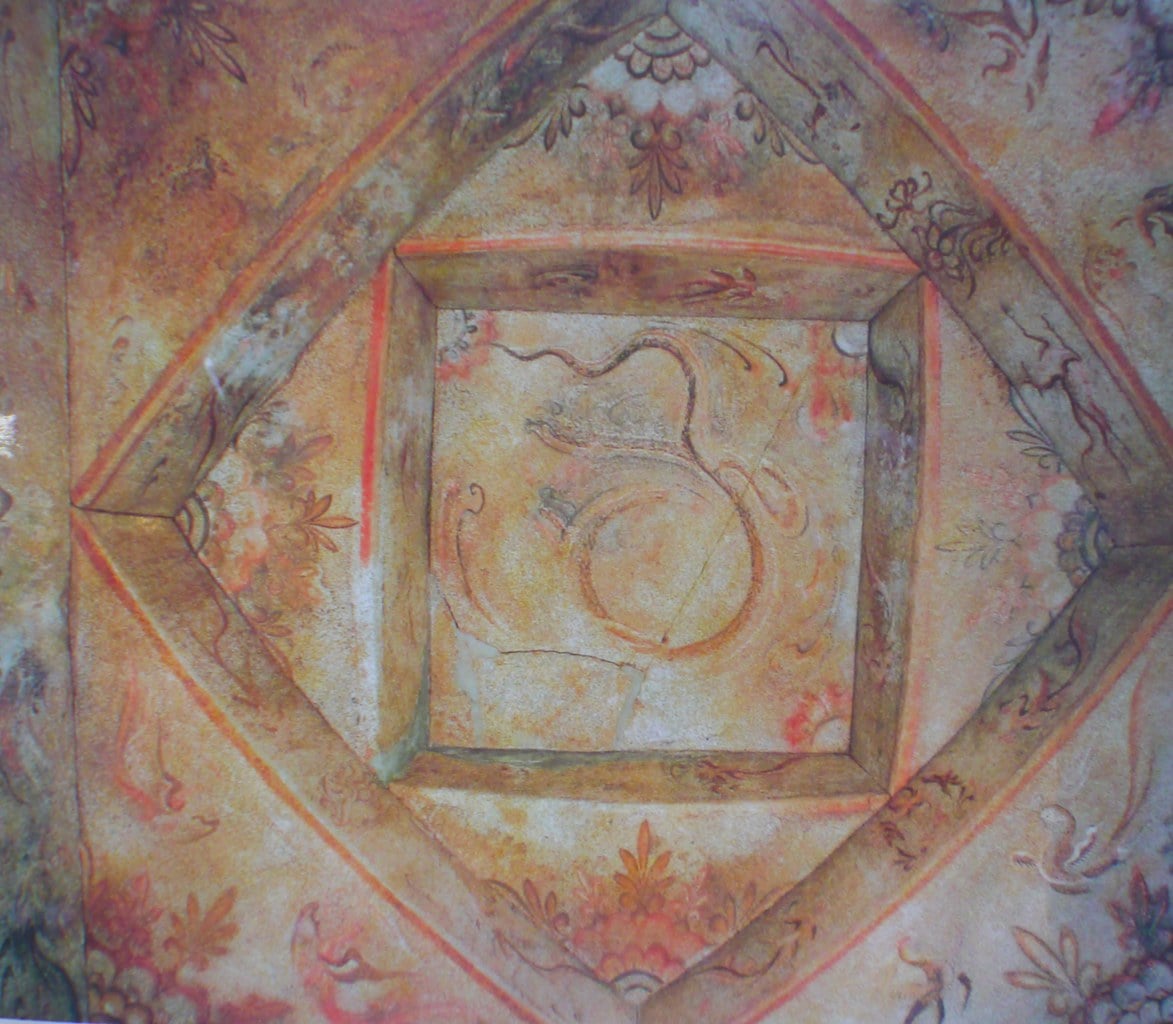 Most people do not consider the DPRK a cultural hub.
However, aside from the various man-made, Socialist and personality-cult related sites, the country also has two UNESCO listed sites, the Koguryo Tombs and the Complex and relics of Kaesong. We visited both and, although they are not as documented as they could be, they were both very interesting representations of the country's heritage.
Whereas Kaesong is almost a guaranteed stop in every trip, for it is on the way to the DMZ which features is almost every North Korean itinerary, the Koguryo Tombs are so remote and off-beat that the guard told us he had not seen any Westerner in a decade.
Our travel agency told us that they had only recently opened them to the public and our guides had never been. In fact, the driver got lost on the way there. Well worth the visit for the stunning wall paintings inside the tombs.
Facts about North Korea: Food, abundant food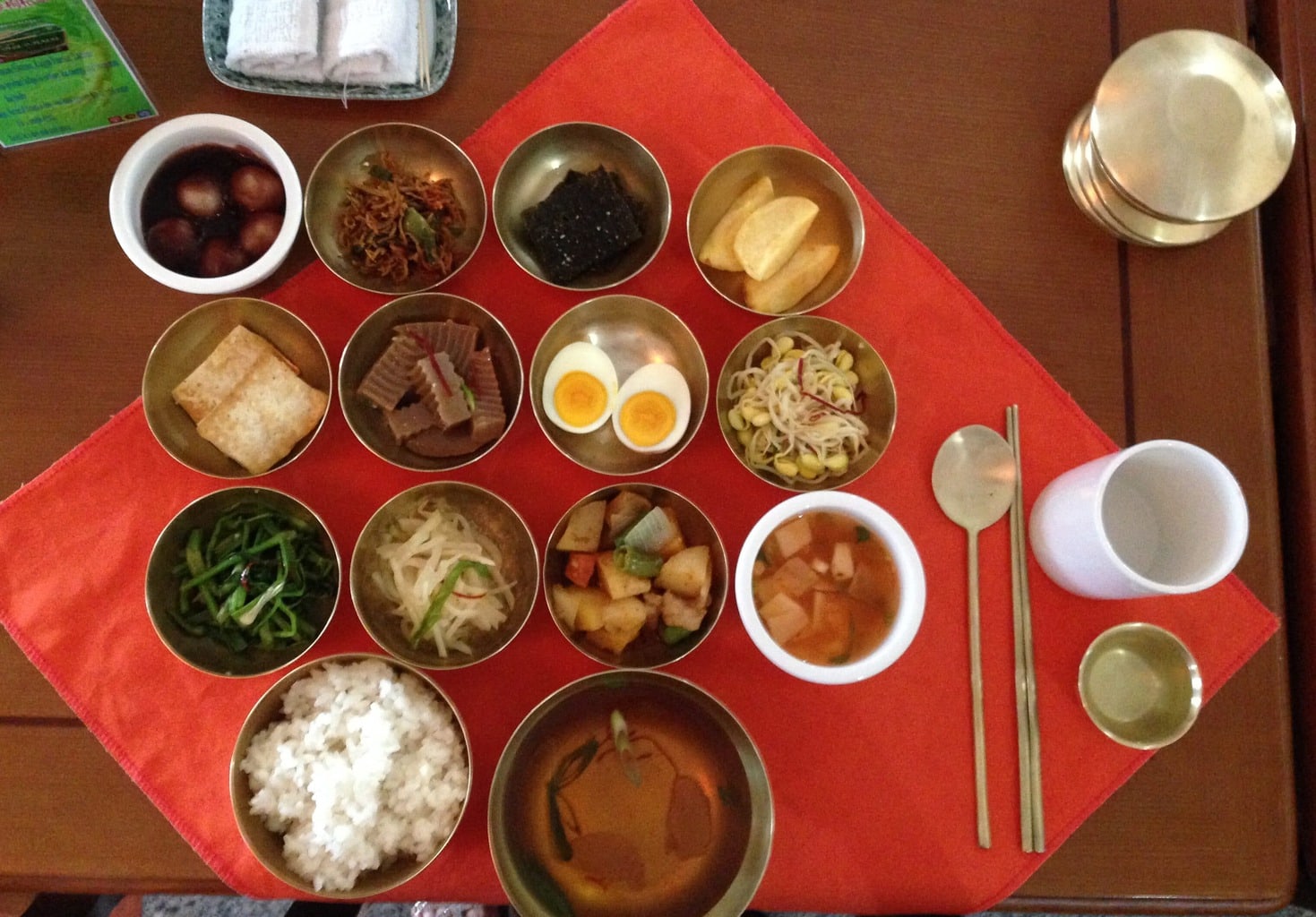 North Korea is sadly known for the famine that killed north of half a million people in the 90s. Fears of such events repeating every year are reverberating in the international media.
At the same time, a shocking fact about North Korea is the enormous amount of food that is wasted after a meal, on tourists that is. Most likely because of the abundant side dishes which is also a staple in South Korean food.
There was no way we would ever be able to finish the large amounts of Korean food that was provided, there was simply twice as much every time. However, this is expected as Koreans will make sure that there is always enough food and so, if you were to finish it all, they would worry that they didn't provide enough.
Elements of propaganda and staging a lack of food scarcity could also play a role but, most likely, it is the cultural values of hospitality that are so common in other cultures too.
Fact about North Korea: There is only one Korea, split into two by the DMZ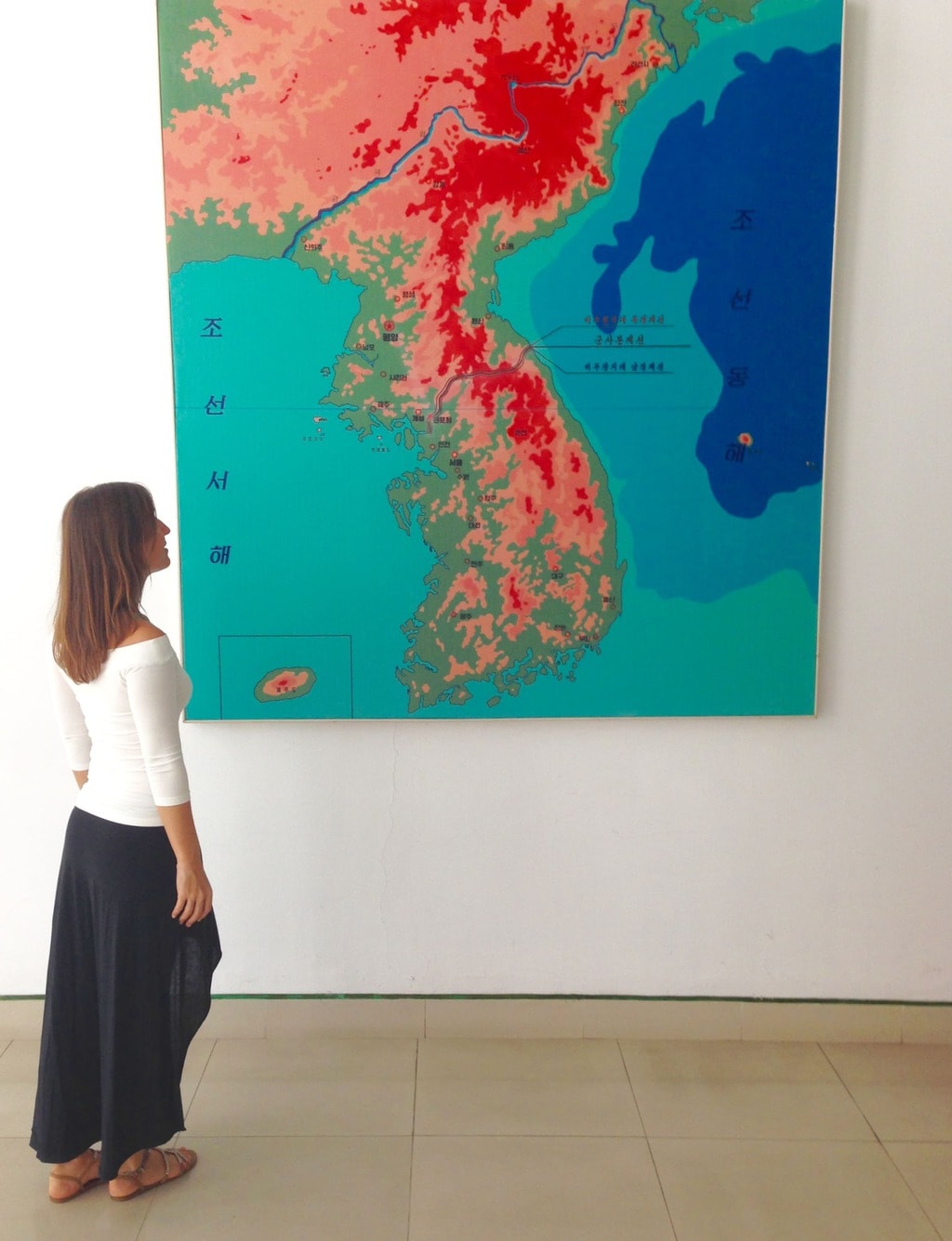 One of the most interesting facts about North Korea was that it does not exist as such within the country. To the locals, North Korea is just Korea. In the DPRK, the official name of the country is simply Korea. In their minds, and certainly in their maps and materials, the country appears as one.
There is no border or separation, to them, there is not South and North Korea, both countries are simply Korea. Perhaps strange, but always observed by the guides and by any materials we saw. We were not to ever refer to the country as North Korea, we could however say, the Northern part of Korea.
However, north and south are divided by the Demilitarised Zone (DMZ) on 38th parallel and have been since the end of the war. This no man's land surrounding the Military Demarcation Line (MDL) is the official border between the two countries, and the world's most heavily militarised border despite its name.
A buffer zone of 4km, 2km on each side of the MDL, was set as part of the Armistice Agreement after the end of the war.
Inside the DMZ there are two inhabited villages, one on each side. We saw farmers ploughing the fields, cows grazing and a general sense of countryside peace, as we drove through the only road in and out of the Armistice rooms from North Korea.
Odd fact about North Korea: It keeps changing its time
On Liberation Day in 2015, aka 15th August, North Korea changed its time to a new time zone, sandwiched between Japan and China, 30min ahead of most of Asia and 30min behind Japan. This is North Korea's unique time zone only prevailed in the country until 2018 when North Korea and South Korea got closer and North Korea decided to chance the clocks back again.
Fact about North Korea: You need to bow at the embalmed Great Leader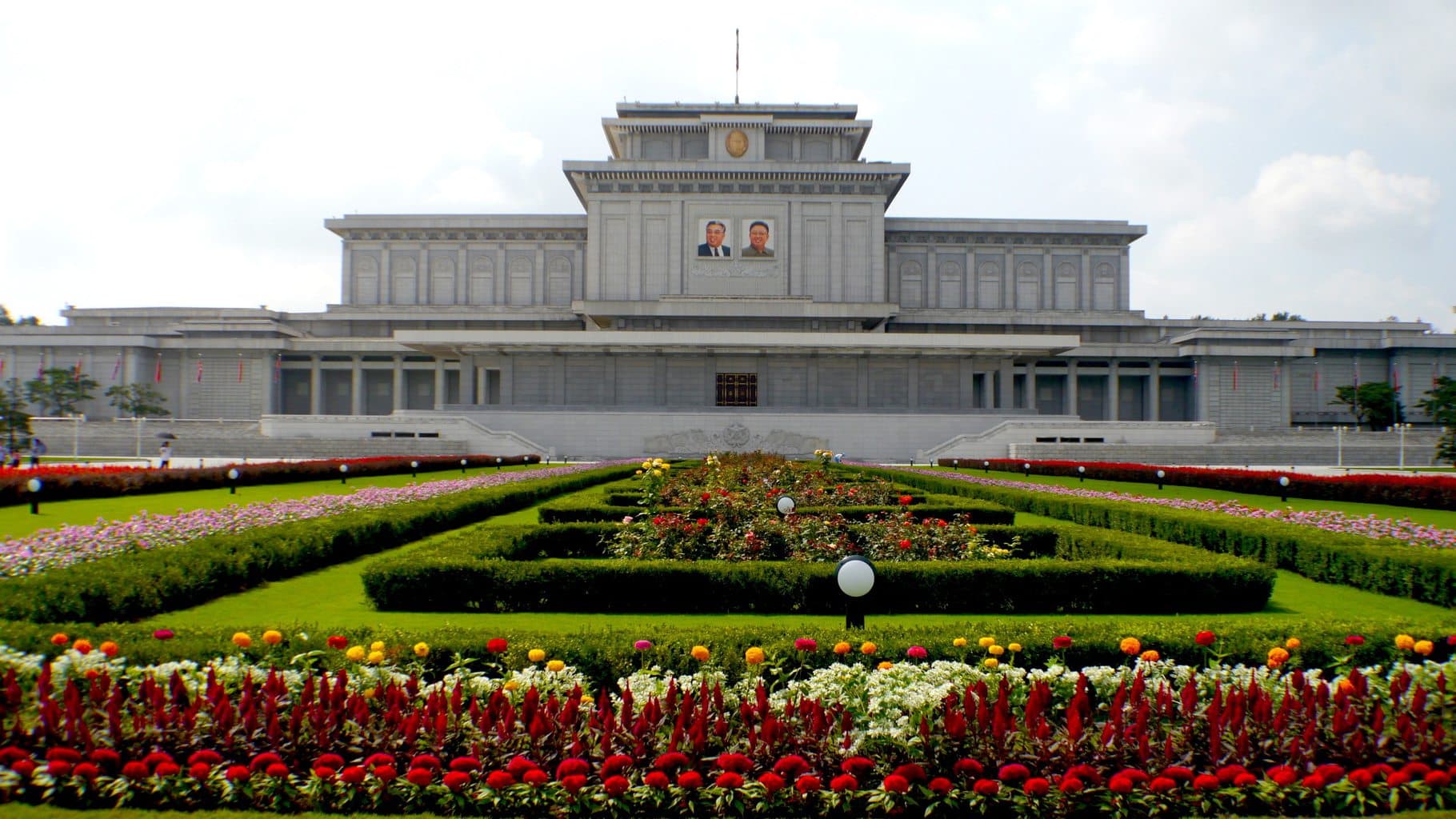 Regardless if you organise a tour to North Korea on your own or you join a group there is a common fact about North Korea that pervades: You will have to pay your respects to the Great Leader at the Kumsusan Palace of The Sun.
Visits are organised on specific days when the palace is open, and you will have to dress up, so make sure you pack the appropriate outfit. For men, that means ideally a suit, you would embarrass your guide if you don't and I got specific recommendations from mine to dress in a specific way. Jackets are recommended, also because the AC is cracked up.
The Palace contains Kim Il Sung's mausoleum to whom you will have to pay your respects and bow to. Ushered by a combination of party members all in black and soldiers in dress uniform, we joined the queue in the red darkened chamber with the elevated glass sarcophagus containing the preserved body of Kim Il Sung in the centre. We had to bow to it at each of its four sides.
After that came Kim Jung Il's mausoleum.
Further reading: We have written many other articles on facts about certain countries, so read on if you want some great trivia.
Don't forget to Pin this to your North Korea board!