Most people don't consider American Samoa for their vacation, despite it is the farthest place you can go from mainland US without a passport. This is a shame because there are a lot of things to do on the islands and the American Samoa National Park is one of the most incredible and unique in the country, of all the 58 national parks the US has.
It is largely untouched, pristine and you are most likely going to be the only one there. So I hope this guide will convince you to visit American Samoa, get that rare passport stamp and go on to explore everything it has to offer.
Where is American Samoa
American Samoa is made of a small group of five volcanic islands in the South Pacific, half way between Hawaii (3,200km away) and New Zealand (4,100km away). It is the farthest and only inhabited US territory south of the Equator. It is so remote that it can only be reached from Honolulu on a 5h flight, or from Samoa, another very remote place, on a 20min flight that takes you back an entire day, a you cross the date line. Here is a map of American Samoa so you can see where it is.
So where is American Samoa? In a place far from anything.
Fun facts about American Samoa
American Samoa has many a claims to fame. As you would expect, somewhere so remote and far removed should be very unique and peculiar and that is precisely what a vacation to American Samoa feels like: unique. As a result of this uniqueness, there are also a lot of fun and interesting facts which will hopefully make you want to organize a vacation to American Samoa next.
American Samoa citizenship
Perhaps one of the most unique features of American Samoa, is its political status. A lot of people do not know that American Samoa is not a country, nor is it a US state. And it is also not the same as Samoa, an independent country nearby with whom it shares cultural background and heritage (see next point for that).
So, are American Samoan US citizens then?
The short answer is no, but they have a US passport and so are US nationals. How is that possible? Continue reading.
American Samoa belongs to the US but is not a part of it, that is, its population are US nationals but not citizens. So they do not have the right to vote nor are they subject to the US constitution or federal tax system. Nonetheless, the islands have the highest rate of enlistment in the US Army, which is considered a valuable employment alternative to the tuna canning industry, the other relevant source of income for these remote islands.
This situation is unique to American Samoa and partly shared with four other permanently inhabited unincorporated US territories. The US is made of 50 states, the District of Columbia and 17 territories only five of which are inhabited. These are Puerto Rico, Guam (a destination which I highly recommend!), the Mariana Islands, the US Virgin Islands and American Samoa.
All the inhabitants of these five states are US nationals and all but American Samoans also become citizens at birth. American Samoans do not, and despite this has been challenged in the courts a few times, the verdict always failed to recognise American Samoans' citizenship which can only be obtained through a lengthy naturalisation process.
Oldest Polynesian culture
American Samoa is considered the oldest Polynesian culture, and its history dates back 3,000 years ago from the first migrant who came from Southeast Asia and landed on Papua New Guinea and then from there they colonised the Pacific. Yet it is also one of the most developed countries in the Pacific thanks to its ties to the US, which brought cars, infrastructure development and fast food chains. It is interesting to walk around American Samoa, especially if you are coming from other countries in the Pacific where development is behind and live is more simple.
High obesity
American Samoans have the highest rate of obesity in the world, as much as 94% is considered overweight and Hawaiian Airlines even started to weight their passengers before boarding to ensure proper plane weight distribution. After two months traveling the Pacific, I was shocked to arrive in American Samoa and suddenly see plenty of SUVs and two MacDonald's in a country of only 55,000 people. The traditions and heritage that is very much alive in other south Pacific islands like Tonga, Solomon Islands or Vanuatu have given way to the wrong kind of development. Life is far more sedentary too as unemployment is high and there is little to no agricultural land to work.
The last place for the sun to set
In 2011, Samoa decided to change its time and move to the other side of the International Date Line to be on the same day as the rest of the Pacific countries an leap a day forward. This change effectively turned the islands from the last place where the sun rises every day to the first place for the sun to set, thereby erasing the 29th of December 2011 from its calendar.
American Samoa, only 100km away, remained on the other side of the International Date Line and became the last place for the sun to set every day. Today, American Samoa time is 4h behind Los Angeles, 7h behind New York and 1h behind Hawaii.
Anecdotally, because of the move and the proximity between the two islands, flying the 20mins between Pago Pago in American Samoa and Apia in Samoa means landing on a different day completely but only 20min later. The best way to enjoy your birthday, your new year's day or your special occasion twice!
Rainiest part of the world
American Samoa is one of the rainiest places in the world. Although the summer months are meant to be drier, it still rains almost every day and low clouds permanently linger on Rainmaker Mountain and the surrounding hills above the capital of Pago Pago. Rainmaker Mountain, above the harbour, traps water and provides the highest amount of rainfall of any other harbour in the world. The views from above are dramatic. The islands have national parks with lush rainforests and fluffy beaches.
The weather is humid and hot, which helps make the country look even more mystical and bright green. Parks cover most of the island and white sand beaches coexist with black sand and rocky bays. The volcanic nature of the islands paired with the green of its rain forests makes the beaches and bays of American Samoa look like emerald clear waters against a dark seabed which contrasts beautifully with the lush parks. This is what makes a vacation to American Samoa so special.
One of the least visited places in the world
Despite American Samoa is relatively developed and part of the US, it receives very few tourists. If it was a country it would be far down the least in my ranking of the least visited countries in the world.
International arrivals, at 5,000 per year, are negligible and the tourism infrastructure is entirely locally owned without any of the international brands in sight. Trying to find Fagatele Bay, I came across the Tourism Office and walked in. The lady there had not seen a tourist in a few days and was so happy that I was visiting. She was also so surprised I was traveling alone, that she offered to come with me in my rental car and show me around. She pointed at the turn off point for Fagatele Bay, drove with me to Turtle and Shark point, showed me the Eastern point on the island and shared many stories about the country.
What to expect on your American Samoa vacation
Let's take a look at a scanned version of the paper map of American Samoa that I got there so you can get an idea about how the island looks like before we explore what to do in American Samoa.
Of the five islands that make American Samoa, the largest is called Tutuila and is volcanic, rocky and made of high peaks. Aunu'u is a small sandy beach at the bottom east of the main island and is the best beach getaway in American Samoa. The National Park of American Samoa occupies a large section in the north of the main island.The remaining three islands are not on this map as they are far removed and pretty far from Tutuila.
As you can see from the map, there are roads that circumvent Tutuila plus a couple of roads going inland to the mountains. The best way to explore American Samoa is to rent a car. There are public buses that cover the roads but most of the sights are remote and not easy to reach so you would need a lot of time if you were to explore without a car. So rent a 4×4 and then follow this list to plan your American Samoa vacation.
Despite its small size, American Samoa is a very diverse island. There are high peaks and one of the deepest and largest natural harbours in the world so there will be something for anyone loving the outdoors. I have marked all the main tourist spots on American Samoa in the following map.
But, what is it like to visit American Samoa? Imagine a small island made of tall jagged mountains, sharp cliffs, wild waves, low clouds, friendly locals and high population density, not because there are a lot of people living there, the population is only around 50,000, but because the majority of them live on the shoreline where the land is flat and most of the island is uninhabited.
Unlike Samoa, American Samoans do not live in local fale houses without walls but in modern homes. They do not travel by public transportation, bicycle or on foot but in massive pick-up trucks and they do not eat local cassava and other vegetables, but MacDonald's. In a lot of ways, American Samoa is like a more rustic and raw version of Hawaii. Similar landscapes and heritage, but different level of tourism development and, therefore, wealth.
Best things to do during you American Samoa vacation
Given the extremes and variety, it comes as no surprise that there is a lot to see and do in American Samoa. Let me share some of the best activities and sightseeing places from the time I spent there.
As I mentioned before, the best way to discover it all and to see most of the places on the list is to rent a ca, otherwise, your vacation may be quite limited. As American Samoa does not have the sort of beach resorts you can find in Hawaii or alike, getting out and exploring is the essential.
1. Tisa's Barefoot Bar & Grill
Tisa's Barefoot Bar & Grill is a great rustic beach bar to enjoy lovely tropical cocktails on wood carved chairs and tables just above the sand on Alega Beach. The beach there is pretty and Tisa rents a couple of fales (traditional Samoan wall-less huts) on the beach. Don't expect electricity, TV or even doors, but you will sleep with the sound of the waves.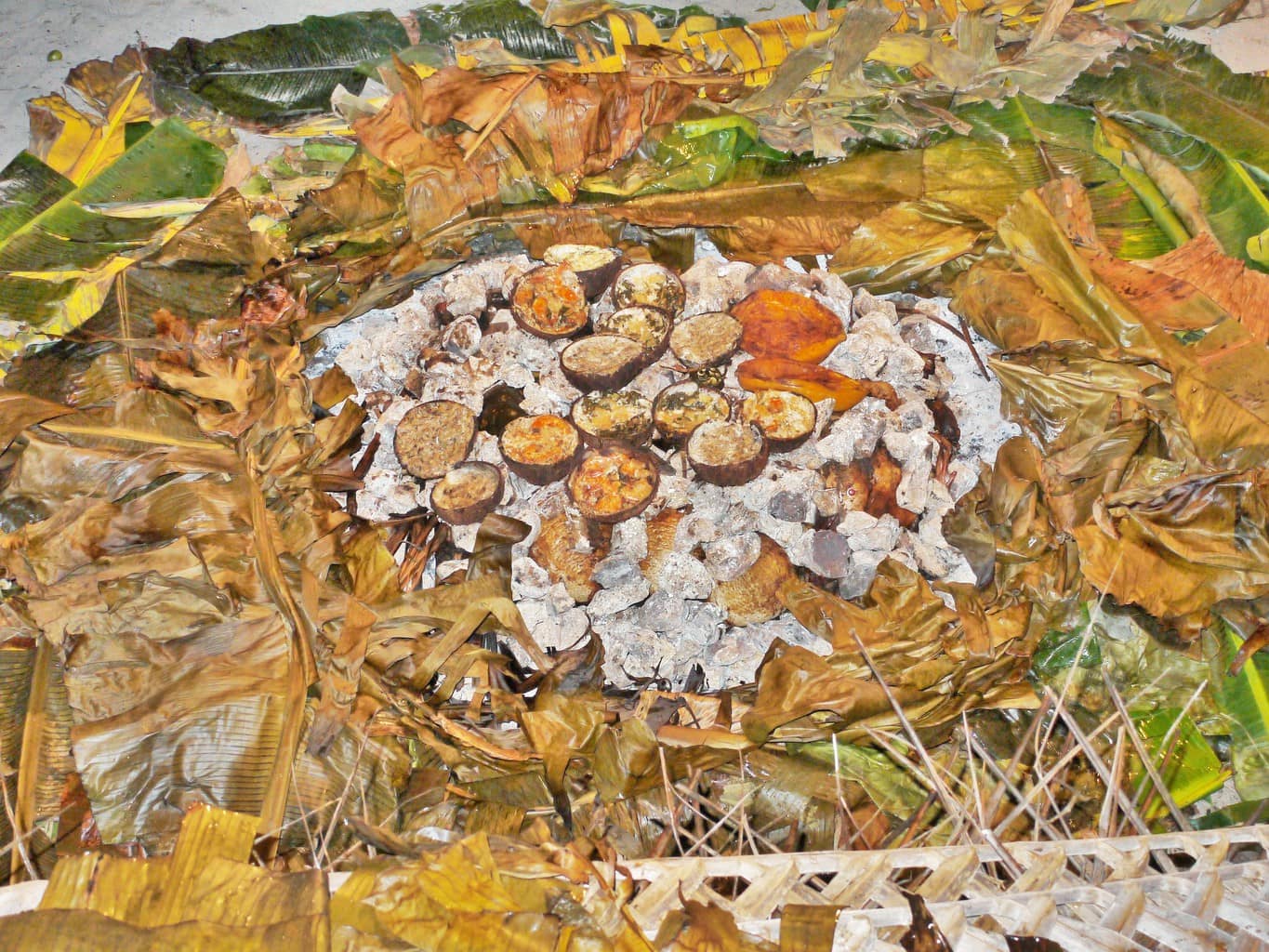 Although Tisa's is always a good idea, it is particularly good at sunset and on Wednesday night when Tisa prepares a traditional Umu (earth oven) and you can eat real Samoan food with your hands on a communal table from banana leaves. Samoan food is hard to find otherwise as locals favour fast food, so this is your best bet. Tisa's Barefoot Bar is indeed best enjoyed barefoot. You can also explore the beach and go snorkelling since Tisa has been protecting the marine life and working on conservation efforts since the 80s.
2. Two Dollar Beach
Some of the most famous beaches in Samoa are around the area where Tisa's and Avaio Beach (also known as $2 beach) are. Here you need to pay the $2 entrance fee to use the beach, but it is quite pretty and has golden sand. It's motto says it all "You don't have to die to go to Heaven".
There is a stretch of green grass before the sand so you can also come for a picnic. The $2 beach is possibly one of the most developed beach in American Samoa with tidal pools, bathrooms, showers, sun beds and a bar. The beach also has apartments for short term accommodation.
3. National Park of American Samoa
The National Park of American Samoa is the only US national park south of the Equator and it is an incredible place to go hiking. There are many trails you can follow in varying degrees of difficulty and the park's management has materials you can get marking the trails. There are also exhibits at the beginning of the trails and at major points of interest providing information on the vegetation, the flora and fauna at each spot.
Visit the Office of the National Park of American Samoa in Ottoville first to get tips on what to see and handy maps. They will be very helpful as they get very few visitors. This is the address:
National Park of American Samoa
MHJ Building, 2nd Floor
Pago Pago, AS 96799
4. Visit the world's largest tuna packing factory
Pago Pago's most visible feature is Starkist, the largest tuna packing factory in the world, sending a thousand containers a month to the US with canned tuna. The entire area around the town smells of fish and walking past the factory involves closing your nose. It may be a bit of a hit and miss, but if you are visiting and show real interest, I have been told you could request for a tour and they may be amenable to it. When else will you be so close to such a huge tuna plant?
5. Surfing in American Samoa
When I was in Samoa, the local diving team told me that they would head out to American Samoa just for the surf. With the sharp volcanic mountains and the rough seas, American Samoa is a great place for surf and big waves. There is however nobody surfing and almost no surf infrastructure, so you will most likely have to bring your own equipment. But I did see large waves making for awesome surf.
6. Go to church
Sundays in the Pacific are best spent in church. A lot of activities and private businesses are closed on Sunday as it is forbidden to work. The last day of the week is entirely devoted to going to church and spending it eating with family. And church is an elaborate affair with long sermons, lots of singing, colourful hats and great feasts.
You do not have to be Christian to enjoy or to join so consider it a cultural experience, get dressed up and head to your nearest church.
7. Pola Island Trail
This is the easiest trail to follow in American Samoa, mostly because it is very short 200m at most, and the path is largely flat, you can even cover it in flip flops.
Drive down the main road past Vatia Village and continue onto the trail. When you cannot proceed further, park the car and walk the last few meters to a rocky beach with crashing waves and fantastic views. Again, you will be alone. It is a good idea to bring some food for a picnic as the beach is made of pebbles and there is no sand so it is easy to find a place to sit and watch the waves come and go. The view to the left on the arched volcanic rocks is beautiful too.
8. Tia Seu Lupe
One of American Samoa's star mounds, Tia Seu Lupe is an ancient archaeological star-shaped pyramid like structure. The star mounds are ritual structures and can be found across Polynesia, the most famous of which is in Samoa and can only be reached by hacking through the jungle.
The mound is made of several raised platforms built with stone and were historically used to catch pigeons. The village chiefs would sit inside huts built on top of the mounds and compete with one another to see who could catch more pigeons. The villagers would watch in what could go on for days. Tia Seu Lupe is located near the Catholic cathedral in Tafuna.
9. Fagatele Bay National Marine Sanctuary
Fagatele Bay National Marine Sanctuary is a submerged volcano lake in American Samoa and a great place to see turtles, whale sharks, sharks and giant clams, as well as corals and fish of all types. It is thought to hold the richest marine diversity of all the National Marine Sanctuaries in the US and it is the only tropical reef.
The land surrounding Fagatele Bay belongs to the Fuimaono family who has lived near the bay's slopes for thousands of years. You will need to get permission from the family's caretaker, who lives by the fenced entrance, Mr. Asuemu Fuimaono.
Finding the turn to the Bay is quite hard as the sign is on the main road but often hidden. You might have to drive around a few times to find it. Beware, the drive past the fence might be a bit tough when is rains, as it is very muddy and slippery. You need to bring a 4×4. Park the car and go down to the beach through the steep path. You are almost surely going to be by yourself. There are no facilities there so bring your snorkel, mask and fins and head out into the ocean.
10. Aunu'u island
Aunu'u is a tiny volcanic island 1.2 miles southeast of Tutuila. Parts of the island can be walked over a couple of hours and there is only one road around. Some parts are inaccessible and will require proper trekking shoes.
Go on a hike/walk around the island which may take a couple of hours. Don't miss the blowholes and the quick sands, quite an interesting sight. There is no other way around than by foot. The white sand beach in front of the pier and the village is the finest and prettiest you will see in American Samoa which is an otherwise volcanic island. You can get to Aunu'u on a quick boat ride from the small pier on Tutuila and you can take the public island bus to get to the pier so this is one of the few excursions you can do without a car.
11. Palagi beach
This is a fine stretch of golden sand beach with palm trees falling over the water and not a single tourist in sight. Palagi beach is as Polynesian as a beach can be. Rustic, authentic and peaceful. Bring a coconut with you or simply have a siesta on a perfectly shaped palm tree trunk. Always good to remember that the locals don't sunbathe and that they usually get into the water with clothes on so dress modestly.
12. Be the last in the world to see the sun set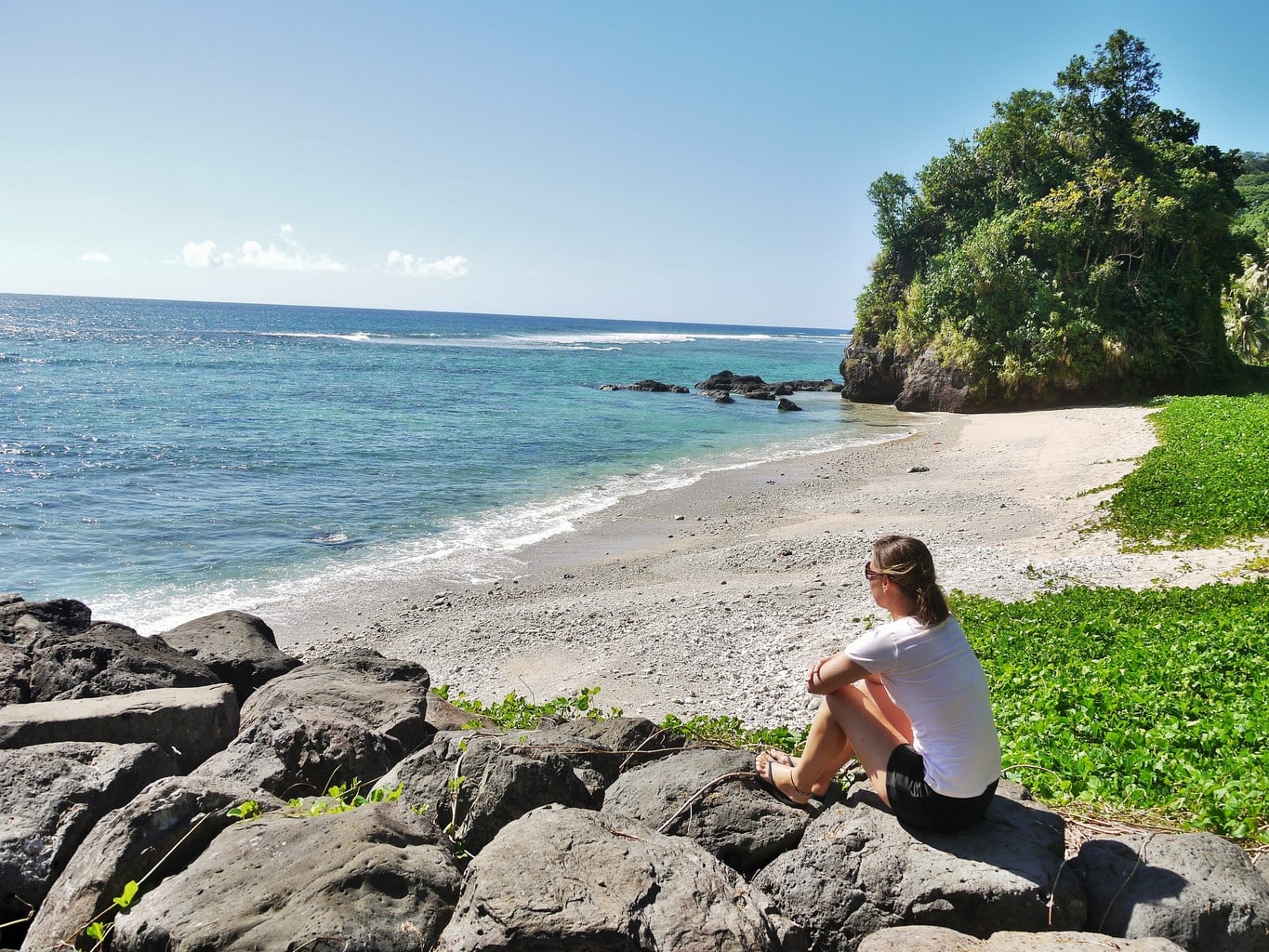 As the last place where the sun sets every day, American Samoa is a romantic paradise. The beach below Poloa, after the winding road that snakes through the jungle past Amanave and Palagi Beach, is the last place in the world where you can see the sun set every day and the farthest west you can go.
The beach is pretty much deserted and the effects of the 2009 tsunami that killed 200 and destroyed a large part of the island are still visible. You can see the temporary aid tents provided by the US Government and cars and houses that were destroyed by the fierce waters. Sit down on the rocky beach with a drink and enjoy the sunset.
13. Turtle and Shark Site
"The legend says that during a time of famine, a grandmother and granddaughter were rejected by their families as they were too burdensome. Desperate, they threw themselves into the ocean to cast their fates upon the whimsy of the life-giving sea. Transformed through magic into a turtle and shark, the grandmother and granddaughter sought out a new home. Long did they travel and many times were they turned away until they arrived on the shores of Vaitogi."
"Defined by high cliffs and a rough coastline, the inhospitable shores were inhabited by a compassionate and generous people, and the old woman and her granddaughter, transformed back into their human form. They were welcomed, fed and made this village their new home. Moved by the unexpected generosity, the old woman agreed, but she still heard the call of the sea as well.
Unable to stay on land, she informed her hosts that she and her granddaughter must return to the sea, where they would make the village waters their permanent home. She gave the villagers a song to sing from the rocks and a promised that when they sang the song she and her granddaughter would come."
When I was there with my new found friend from the tourism office, she called the locals to come sing for us. And to my incredible and skeptical surprise, as the song went on and on and more villagers joined in, I started to feel like I was in the middle of a bewitching.
Imagine my face struck with amazement when I saw first the turtle and then the shark appear on the surface. The locals looked at me and smiled. It was quite a moment. And they did it just to show me.
14. Ofu and Ta'u
I mentioned earlier that American Samoa is made of five islands yet I have only mentioned two, Tutuila and Aunu'u. The remaining three islands are incredibly remote and hard to reach. Ofu, Olosega and Ta'u are white sand beaches with incredibly pretty surroundings and so remote that it might be impossible to get there.
Ofu is connected to Pago Pago via irregular weekly flights and to Olosega by a bridge but to get to Ta'u you will need to get a local fisherman to take you there.
How to get to American Samoa
American Samoa is probably the last undiscovered paradise in the South Pacific. Its remote location and the limited international flight connections have kept it away from tourism already deployed in Fiji or Vanuatu. Reaching Pago Pago Airport involves flights via other remote parts of the world like Hawaii or Samoa.
There are currently flights only from Apia and Honolulu with Hawaiian Airlines or Samoa Airlines. While the majority of the US visitors come via Hawaii, Pacific islanders, Samoans and local American Samoans living in Australia and New Zealand make their way on the tiny propeller planes that weigh you before going in and have no individual seats.
I ended up next to a very large woman who was taking 3/4 of the seat while only half of my body was on the seat and the other half hanging over the aisle.
Best hotels in American Samoa
American Samoa accommodation options are pretty limited as there aren't that many places to stay on Tutuila but here are the best resorts in American Samoa for your vacation.
Sadie's by the Sea
This is where I stayed on my vacation to American Samoa. It was a pleasant hotel resort by the sea, as the name indicates, with a motel style of design – rows of rooms all facing out on a two-storey building. This is the best hotel on American Samoa and has everything you will need for your trip including a swimming pool and teh beach just a few steps away.
There is a restaurant and bar which serves American food and some local dishes. Sadie's by the Sea is also centrally located in Pago Pago which is quite convenient for exploring the island and visiting all the must see places in American Samoa. This is the top resort in American Samoa.
Check rates and availability on Agoda
The Sadie Thompson Inn
Sadie Thompson Inn is an institution and one of the best known hotels in American Samoa mostly because it is the scene of the book Rain by W. Somerset Maugham's. The hotel was built almost a century ago and it still conserves this old fashioned South Pacific look with wooden walls, thick carpets and dated furniture.
It is not so much a luxuriously appointed or particularly amazing place to stay in American Samoa but it is an historical one and a real experience. Even if you do not stay here, the restaurant is a well-worth place to eat.
Check rates and availability on Agoda
Tradewinds Hotel
Tradewinds Hotel is a typical 3 star tropical hotel on an island. It is perfectly comfortable and has everything you will need plus a pool, a restaurant, a bar and a golf course. It is popular with business travelers as it is close to the airport but since you do need a car to get around in American Samoa anyway, you can easily base yourself here.
Check rates and availability on Agoda
Turtle and Shark Lodge
Turtle and shark lodge is located in Vaitogi Hills, above Larson's Cove, in one of the most scenic parts of American Samoa and with nearby blow holes constantly spitting sea water. In season, between August to November, you can also see whale sharks from the balcony.
The lodge gets the name from the legend that I mentioned before because the site where the shark and turtle come to the surface is on the way to the lodge. Expect comfortable rooms with a lodge feel to them and the most dramatic location.
Le Falepule
I arrived at Le Falepule following a recommendation from a paper Lonely Planet guide which sang its glory and they were so right. I had no booking so I simply got there and hoped for a free room but there was a conference in town and almost all hotels were booked so I had to leave the verandah, the incredible views over the bay below and the true South Pacific feel behind. If you are coming to American Samoa this is the best hotel to stay.
Le Falepule has no website so you can either show up and hope for availability like I did or call to book +1 684 633 5264.