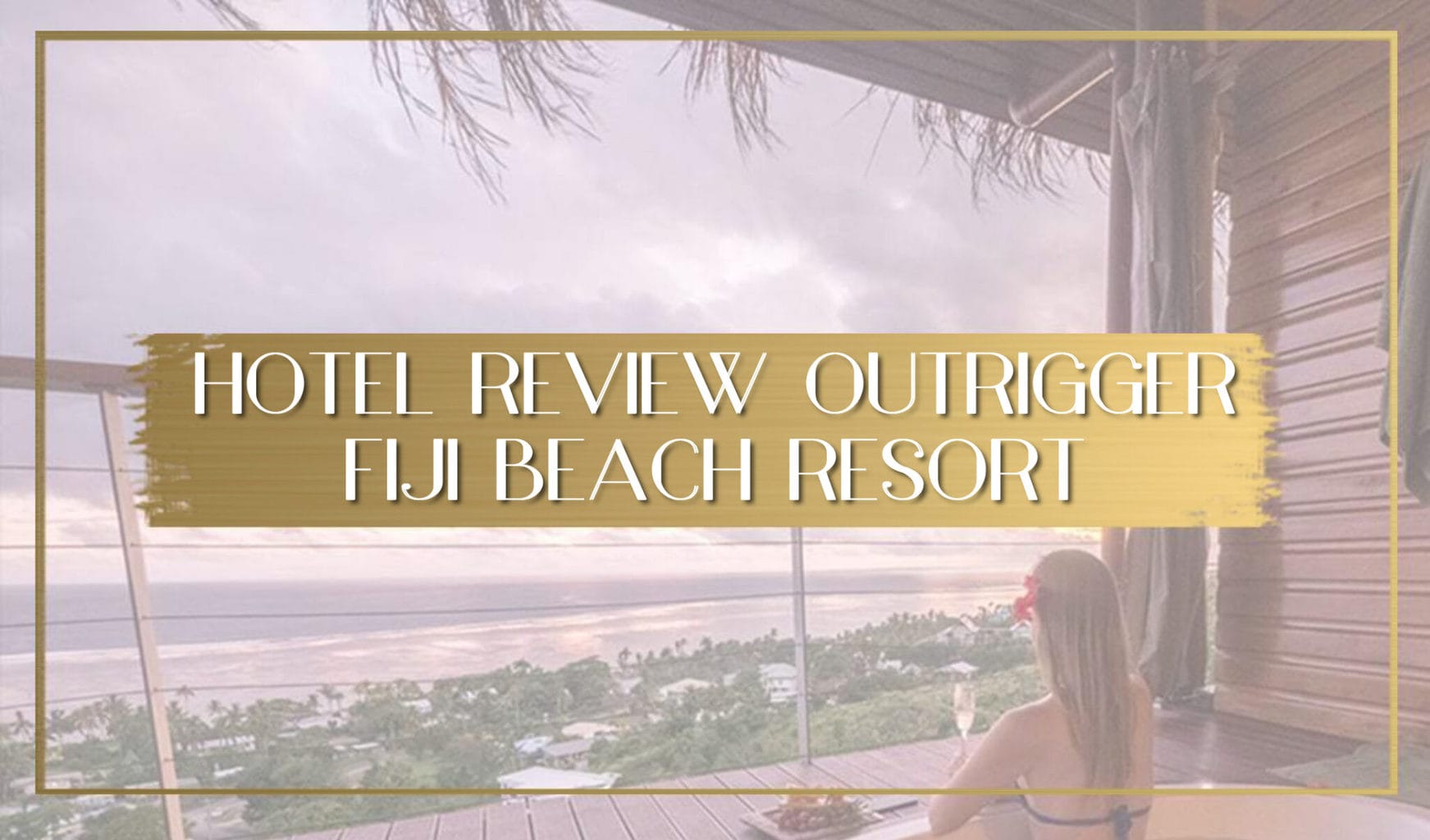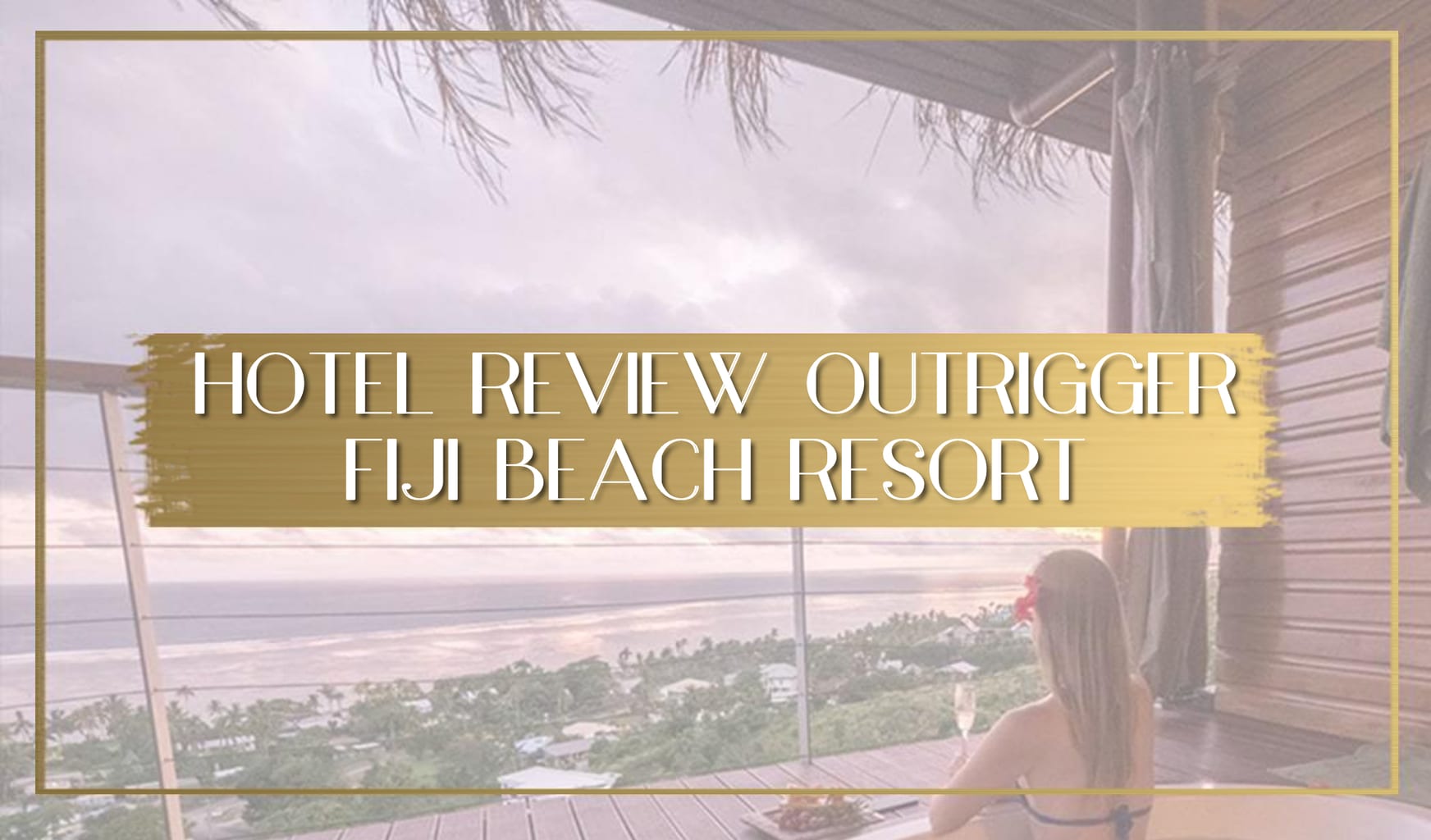 I was a guest of Outrigger Hotels & Resorts but all opinions are, as always, my own and honest.
Outrigger Fiji Beach Resort is the hotel brand's beach resort in the Coral Coast of Fiji, about an hour's drive south of Nadi International Airport in a primarily local part of the island with no other resort nearby.
This is a sprawling resort by the beach with 250 rooms split into the first building in the property which is down by the sea, the main building up on the hill and a few individual traditional Fijian bures (thatched huts) in garden- and beach-side locations.
Because of its large size, there are numerous activities available that cater to every guest and its location on the main island of Viti Levu also gives ample opportunities to explore Fijian culture and partake in many activities.
I stayed at Outrigger Fiji Beach Resort for four days and this is my review of the property, its service and facilities.
Outrigger Fiji Beach Resort history
While Outrigger Fiji Beach Resort is fully owned and operated by the island resort brand Outrigger Hotels & Resorts since 2015, it used to be a dairy farm called the Reef Estate and you can still see some cows roaming freely in the surrounding areas.
The local farmers sold the property to a pair of Australian and New Zealander investors who converted it into the Reef Resort in the mid-60s, one of the first resorts to open in the popular Coral Coast.
Reef Resort developed and expanded several times, adding more rooms and infrastructure and it was finally sold to Mr. Geoffrey Shaw in 1989. Mr. Shaw, who also owned sister property Castaway Island, renovated it and managed it for a decade before selling a participation to Outrigger Hotels & Resorts.
Jointly, they developed the resort to its current state with around 250 rooms and bures and all its facilities. Outrigger Hotels & Resorts also started to manage the property under its brand name, Outrigger Reef Fiji which reopened for business in 2000 in the current structure.
Outrigger Reef Fiji was later renamed Outrigger on the Lagoon, Fiji, a name which you can still find on some online resources. The brand finally acquired 100% ownership of the resort in 2015 and changed the name to Outrigger Fiji Beach Resort in line with its beachfront location strategy.
Arrival and check-in at Outrigger Fiji Beach Resort
As mentioned, the resort is about an hour's drive away from Nadi International Airport and because we were coming from the sister property, Castaway Island, we disembarked from the ferry at Denarau Marina and were picked up by the resort van.
The drive is scenic and passes through several hilly areas, green tropical forests and even rivers. It is a very different feel from Castaway Island and the Mamanuca Islands which are very popular destinations for visitors to Fiji.
The Coral Coast, where Outrigger Fiji Beach Resort is located, is a long stretch of coast protected by a reef and with only a handful of resorts quite spread out between Fijian villages and towns.
Arrival at the resort was quite special. The guards at the entrance greet every car passing by with a very loud and elongated "Bula!" in a way that inevitably makes you smile every time. It is as if they were trying to outdo each other every time and it gives a warm touch to the property.
The resort entrance is at the top of the hill where the main building is, and about four stories above the beach and main resort area. That means that when you walk into the reception area you have incredible views over the resort and ocean below.
Check in was swift and accompanied by a cold towel and a drink, and we were quickly given the key cards and shown to a golf cart that took us to our Plantation bure room where our butler walked us through how everything worked and we were soon on our way to lunch.
The rooms at Outrigger Fiji Beach Resort
Outrigger Fiji Beach Resort has a few different room types. The entry level rooms are standard hotel rooms with a Fijian feel and can either have resort or ocean views. These rooms are split between the main reception buildings and the original building by the beach and are very good value.
The main building also hosts the one bedroom suites which have two rooms, one living room and one bedroom and can accommodate up to two adults and three children.
Each of the rooms has a balcony with chairs and because of their location in a building, they offer quite a lot of privacy when you are inside.
The most interesting accommodation options are the bures which are spread across the green tropical gardens. There are a few categories for the bures depending on their location, from the Plantation Bures at the back all the way to the Beach Bures in front of the sea which are the most premium accommodation and perfect for couples looking for some seclusion. There is also a family plantation bure that links two bures via a shared living room area. I stayed at a Plantation Bure.
Each bure has its own verandah, two sun loungers on the grass in front of it and a hammock to chill and read. The beach bures have quite a lot of private garden space in front and because of their location, no other guest will be walking in that area whereas the plantation bures are in the middle of the resort so there is thoroughfare traffic of other guests and even some golf buggies depending on which one you choose.
All bures, as well as the oceanview rooms and suites, have dedicated Talai butlers shared among the various same category bures. Talai Burtlers are ready to help unpack and iron clothes or help organise any excursions. They also bring afternoon champagne and canapes and night caps with a small sweet treat and a shot of liquor changing every evening.
Inside, all the rooms are comfortable and have everything you need. The main bedroom area is at the front while the bathroom is at the back. The space is pretty large and can easily accommodate extra beds for 2 children in the form of a double sofa bed. There is also a small table and a TV set and closet space to hang your clothes.
The decoration inside is the same as at Castaway Island and comes with Fijian accents and the bures are designed with a prominent tapa ceiling covered with the traditional Fijian cloth in earth colours and geometric shapes.
As welcome gifts we were given environmentally friendly bags to use during our time in Fiji to avoid getting the local plastic bags and there were a pair of sarongs, Fiji style, available in the room.
In terms of in-room amenities, all rooms rooms have coffee and tea making facilities, irons and ironing boards, bathroom amenities such as soap, conditioner, shampoo and shower gel and beach towels. There is also a fully stocked minibar fridge which can be filled with snacks and drinks from the resort's shops.
Dining at Outrigger Fiji Beach Resort
Dining at Outrigger Fiji offers quite a lot of options. As the majority of the guests stay for a longer time, there is a need to have more choices so as not to get bored. You could of course go out of the resort as well, but this is unlikely since taxis are not so readily available and there aren't that many good choices around anyway. So the resort has to cater to everyone, families and couples, and provide must variety.
As a result, there are several restaurants on site. The majority of them are located around the main pool area and then there is a sunset beach bar, a tapas and cocktail bar above Bebe Spa on top of the hill and an adults-only lounge.
For breakfast there are two options, the adults-only Vahavu Bistrot as well as the main Vale Ni Kana family-friendly buffet restaurant. If you are not with children, I highly recommend the lounge. The main restaurant is filled with families while the lounge is peaceful, quiet and has a good a la carte menu.
I tried them both and settled for the lounge. The a la carte menu has all the usual suspects and the staff are quite accommodating so they can also prepare something your way. There are eggs, pancakes, continental options, fruits, pastries and even hearty options that are almost a meal.
For lunch there are a few options. You can go to the beach Sundowner Bar & Grill for international options, grilled meats and fish and pizza right above the ocean, or stay by the main pool area for a choice of buffet or a casual poolside Asian-inspired meal at Baravi Restaurant. Vahavu Bistrot continues to be open for lunch and has some great dishes prepared fresh. The swim up bar in the adults-only pool is also open.
At dinner time the Vale Ni Kana is a themed buffet option with a changing cuisine type every night from Italian to Mexican or Asian. Sundowner is a good option to enjoy the sea breeze. The main pool restaurant is the most laid back, with beer bucket offers and a really casual ambience for families.
For dinner two additional venues are open. The refined Ivi restaurant where you need to dress up and only adults are allowed, or Kalokalo bar, a tapas sunset bar which has stunning views over the ocean and the sunset. I highly recommend pre-dinner and snacks at Kalokalo every evening. Ivi is a fine dining version of Pacific and Fijian inspired food with lots of appealing dishes. I very much enjoyed its atmosphere and the more romantic and elegant setting. I would have dinner there every night if I ever visit again.
Lastly, there are two other dining options. There is a cafe by the reception which sells sandwiches, pastries and coffee to go and a bar called Vakavanua Lounge adjacent to the main restaurant where tapas and drinks are available.
The cafe is a great option if you are heading out for the day and want some packed lunch or if you just want to get some work done with a cup of coffee and amazing views as there are a couple of laptops there to use. Vakavanua is similar to Kalokalo and serves drinks with small tapas. This is also where the cocktail classes and demonstrations are held.
As you can see, the dining options at Outrigger Fiji are definitively varied in choice and refinement. I am not a big fan of buffets so Sundowner, Kalokalo, the Vahavu Bistrot and Ivi were my dining choices.
The resort also has a long list of cocktails across all restaurants and the staff are always ready to blend you a drink with an umbrella, a fruit slice and a cherry for that extra tropical feel. You can also pick a fresh coconut from the coconut stall by the main pool.
The wine list is also pretty decent with lots of wine options at reasonable prices for such a remote location. You could find quite a few of the best Australian labels on offer so that your meal does not end up accompanied with poor wine.
The facilities at Outrigger Fiji Beach Resort
The resort is large enough to have several pools, a kids club, a well equipped gym, tennis courts several shops and various other facilities. This is a proper resort with anything you would need for a long holiday and dozens of daily activities for everyone, from couples to toddlers, kids and teenagers.
Let's start with the pools. There are two pools at Outrigger Fiji, one of them is adults-only and children are not allowed while the other one is family central. The kids' pool has shallower areas for the smaller kids, and deeper parts for the older ones. It has a snaking river looking area which is more contained and a large space where kids can play.
Sun loungers are located all around the pool, so vigilant parents can keep an eye on their children and there are plenty of floaties and other toys for them to play with. Here, kids play with new friends and parents help each other keep an eye on everyone. If you are a couple, this is not the place where you will want to be because it is noisy and chaotic.
The adults-only pool by Vahavu Bistrot is off-limits to children and has a swim up bar and a lounge area where breakfast and lunch is served from an a la carte menu. This is the perfect place for adults and couples to mingle or to have some private relaxation. Because this pool is quite far from the rest of the resort facilities and just next to the gym and tennis courts, it is genuinely peaceful. There are sun loungers, double sun beds and comfy sofas in shaded areas.
On land, Outrigger Fiji Beach Resort also has a well-equipped gym with a trainer and two tennis courts. You can also learn to play golf at the resort's small green. Kids will have the best time at the kids club which is staffed all day until 9pm and has lots of planned activities, games and excursions changing daily.
Parents can also book a meimei nanny service for the very affordable fee of FJD350 (roughly USD175) for the minimum four days and have up to eight hours of nanny help every day so they can enjoy couple's dinner time or some quietness during the day. The resort tries to allocate the same nanny for the duration of the stay so the kids can have a point of reference. This is a very popular service and one of the main reasons parents choose Outrigger Fiji Beach Resort.
If you realise that you forgot something at home chances are you will find it at the resort. There are 5 floors of shops to buy souvenirs, clothes, Outrigger branded items, food, snacks, drinks, handicrafts, etc. There is also a tour desk to book any excursions to explore Fiji.
For guests staying longer or wishing to pack light there is a laundromat service where you can wash and dry your clothes for $2 per load with tokens purchased from the stores. We did it and it was quite a convenient way to get fresh clean clothes at a very affordable rate. There is also a more personalised laundry service available if you want the clothes to be ironed as well.
Because the resort hosts almost a wedding every day of the year outside of the rainy season, there is a fully staffed salon and plenty of hen party pampering options.
The Bebe Spa at Outrigger Fiji Beach Resort
One of the best things to do at Outrigger Fiji Beach Resort is spending some time at the Bebe Spa, the nicest location for a spa I have ever seen.
The spa is located on Vakalomalagi Hill, meaning Heavenly Hill in the local language, right above the resort, and has breathtaking views over the resort below, the ocean and the sunset. This is also where the resort's chapel is located for those same dramatic views.
The Bebe Spa has been awarded many accolades and has eight rooms with outdoor verandahs and sunken baths for amazing treatments. The spa uses products from the local Pure Fiji brand, which makes excellent products especially those using coconut oil, as well as the all-natural Pevonia Botanica.
There is a main reception area with an outdoor terrace where you can relax before or after the treatment so make sure to plan for enough time afterwards to relax and enjoy the view.
The spa menu features all the typical massages plus an extensive choice of facials, wraps, scrubs, hand and feet treatments, and couples massages. I highly recommend booking the signature Romantic Discovery package which includes a milk bath in the very comfortable outdoor balcony sunken bathtubs with champagne, chocolate dipped fruits and the best views. The bath is followed by a massage of your choice.
If you are booking a spa treatment then make sure to book it before sunset so you are up there for when the sun sets, the colors of the sky are dramatic.
Activities at Outrigger Fiji Beach Resort
You could easily spend a week at Outrigger Fiji and never run out of things to do. The resort organises daily schedules of things to do from cooking demonstrations to cocktail workshops, from tshirt dying to grass skirt making.
There are cultural days with fire walkers, traditional dancers and lovo underground oven feasts washed down with cava and plenty of activities suitable for teenagers as well as adults, from coconut bowling to football and the fun crab or frog racing.
In fact, these local cultural experiences are a signature of Outrigger Hotels & Resorts anywhere around the world and something that I found quite appealing as I much prefer to stay somewhere where the local culture is preserved and shared with the guests.
Outrigger Hotels & Resorts has cultural appreciation activities at all their properties with local dancers, traditional customs and days devoted to the local way of life. There are also sunset ceremonies at all the resorts where specific activities take place. In Fiji, that included lighting the torches by the pool.
The activities schedule is the same every week and split by day so, if you are spending a week there as most guests do, then you will have something new every day. There were in fact a few of the activities I wanted to participate in, like making the local Fijian kokoda dish, or a tropical rum workshop. Every day, there are activities more suitable for kids, teenagers as well as adults.
Teenager activities, something which is less common at most properties, include things like spear-making, Sand Dunes adventures, Fort tours, hikes, etc. although they are not entirely free, they are charged at a nominal value.
As the resort is on the beach, water sports and equipment are available free of charge. You can go stand up paddle boarding or kayaking in the shallow waters of the reef or even swim at high tide.
Excursions from Outrigger Fiji Beach Resort
As Outrigger Fiji Beach Resort is on the main island of Viti Levu and on the southern Coral Coast, there are a lot of day excursions you can go on that could keep you occupied for days on end. There are things for all levels of interest, from nature, adventure and culture to water sports and even golf.
For surfers, there are a few surf breaks nearby as Fiji is one of the best places to surf in the world. Another adventure Fiji is known for is diving. Diving with sharks in particular is available about 45min from the resort. I got PADI certified in Fiji, Taveuni island to be precise, and it was one of the most incredible experiences. Taveuni is the soft coral capital of the world and that means entire walls of incredibly bright and colorful corals and the richest marine life.
Another excursion I would particularly recommend is the Thursday community school visit. Rather than just taking you to see Outrigger Hotels & Resorts charitable work, the hotel invites you to participate.
You will spend the morning visiting the school, chatting to the children and the teachers and then helping build whatever is in order. In my case it was the new teacher quarters. We spent an hour putting cement and bricks on the walls of the new building together with the construction team. It was hard work in the blazing sun I can tell you, and we ended up pretty dirty afterwards. But it was very rewarding.
Outrigger Fiji Beach Resort started building a local school in 2014 and the number of children has just increased to over 120 since. The school has been expanding to include more grades and hire more teachers and now is the largest in the area.
The project is jointly managed with the local villages and the parents are very involved both in the construction as well as the day to day management. The mums take care of cooking the children's food, the parents help build it in team efforts and everything is very communally driven.
During our chat with the children and the teachers we were told the interaction with foreigners has been very beneficial for the kids who get an hour a week to practice English with new people and gain self-confidence.
If you want to explore the cultural side of Fiji, here are other excursions you could go on while staying at Outrigger Fiji Beach Resort. The advantage of the Coral Coast is that you are near a lot of Fiji's villages so you can learn more about this beautiful country.
One of the best things to do in Fiji, and possible as a day trip from Outrigger Fiji Beach Resort although more convenient from sister resort Castaway Island, is Cloud9. It is the floating pizza bar in the middle of the ocean with live DJs and good enough for Julia Roberts and her family, who I saw there when I visited.
Near the resort there are also adventure excursions like white water rafting, trekking, hiking and other more active endeavors. Check out these day excursions for more island hopping options.
The service at Outrigger Fiji Beach Resort
One of the most important elements to consider when choosing a resort you will be spending a significant amount of time at is the service. I find Fijians to be very welcoming and hospitable, it goes with the culture and it even starts on your Fiji Airways flight.
The entire staff at Outrigger Fiji Beach Resort were very kind and friendly and they were incredibly nice and helpful. In cases of emergency is when these things are most obvious and sadly, I had one of these happen to me while staying there.
I ate something for lunch which I had a vile reaction to, a sort of allergy and I started to turn purple. It started with some headache and then went into temperature and my face and upper body started to go red and purple. I have never had an allergic reaction before so I was not sure what would happen next and I had no antihistamine or the like so we decided to go to the reception and ask to see a doctor.
The resort has a doctor visiting every day for an hour in the morning but this happened after lunch so she was not there. The staff were very kind and contacted the doctor at her clinic to see if she was free. As she wasn't available, they reached out to the hospital in the nearest town to make sure it was open and when all cleared, organised a taxi and one of the butlers to go with us to the hospital.
It all ended up as nothing too major, as the medication soon had its effect and in 2-3 hours I was back to normal color, albeit a bit drowsy from it. Yet it went to show that they were able to quickly and effectively solve the situation and help me feel better. Sending the butler with us was also a nice touch and helpful in getting a taxi back and talking to the hospital staff.
Outrigger Fiji Beach Resort review – The verdict
This was my first time staying at an Outrigger Hotels & Resorts property and I was not sure what to expect from the famous Hawaii based island resort brand. I now have a good appreciation for a family-run hospitality business of such size that has managed to maintain a very friendly and familiar spirit despite its size.
Outrigger Hotels & Resorts has really mastered a cozy atmosphere even at a large resort. You do not feel like you are one of many guests because the staff remember your name and always make you feel welcome, like you are part of the family.
On the last night of a guest's stay, there is a farewell song sang by the staff who will find out where the guests are having dinner and bid them farewell with a traditional Fijian song and music. I found this heart-warming and so do the guests, some of which end up with tears in their eyes, especially the children who had a meimei.
The resort is not the usual private luxury resort I stay at but I did enjoy my time there and thought it was really good value for money, so a great option for those who want a happening vacation where they can meet others and enjoy plenty of activities.
The type of guests that are best catered for at Outrigger Fiji Beach Resort are families. For families, this is a fantastic choice. Parents can relax, children can have an amazing time and everything is perfectly thought out for a fabulous family vacation.
If you visit Fiji with your children, the combination of a stay at both Outrigger Fiji Beach Resort and Castaway island is probably the best way to explore both sides of Fiji, the island getaway form and the main island life, culture and adventures. A week long vacation will give you a fantastic Fijian getaway and make sure you return recharged and ready to go back to work.