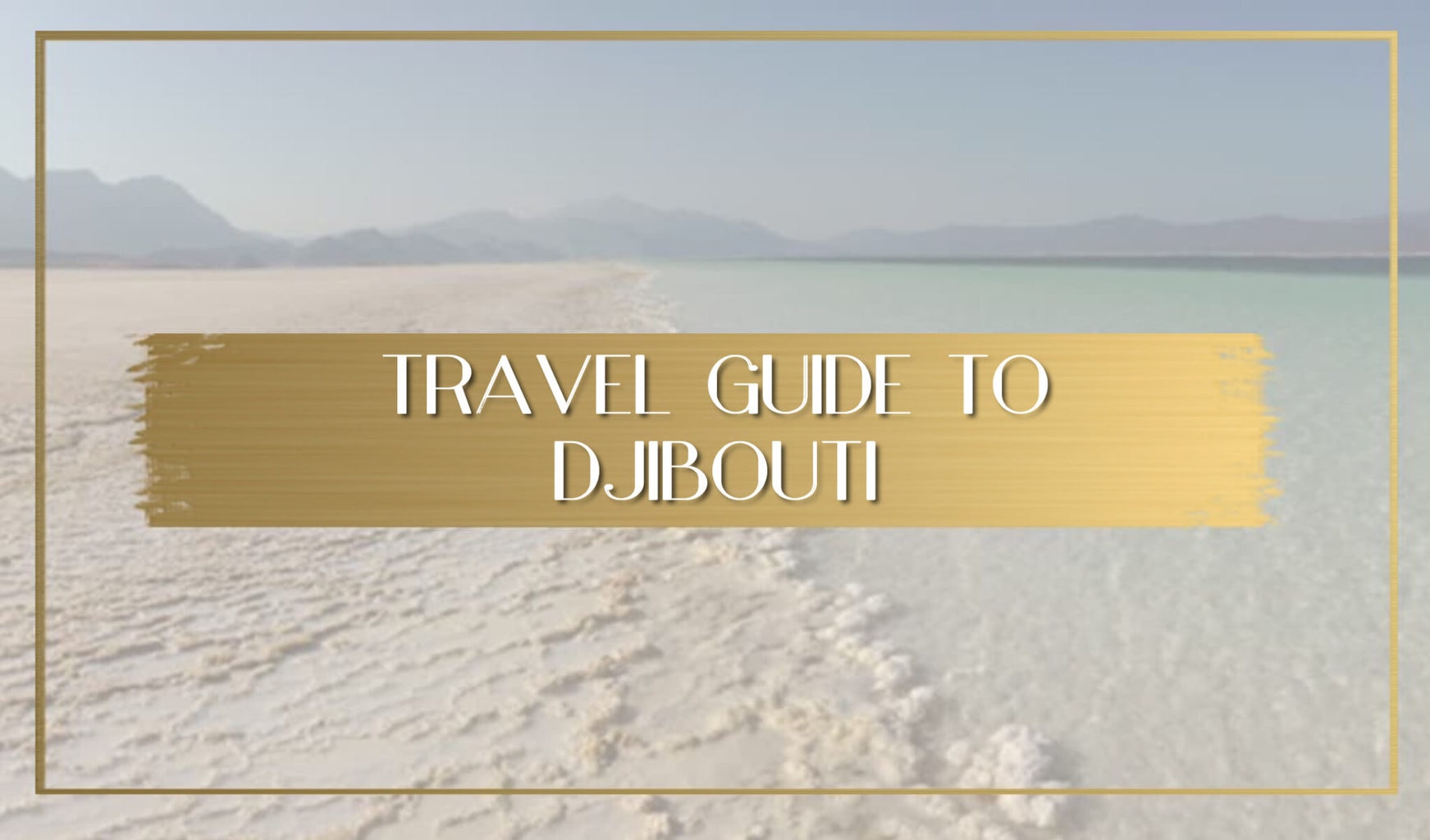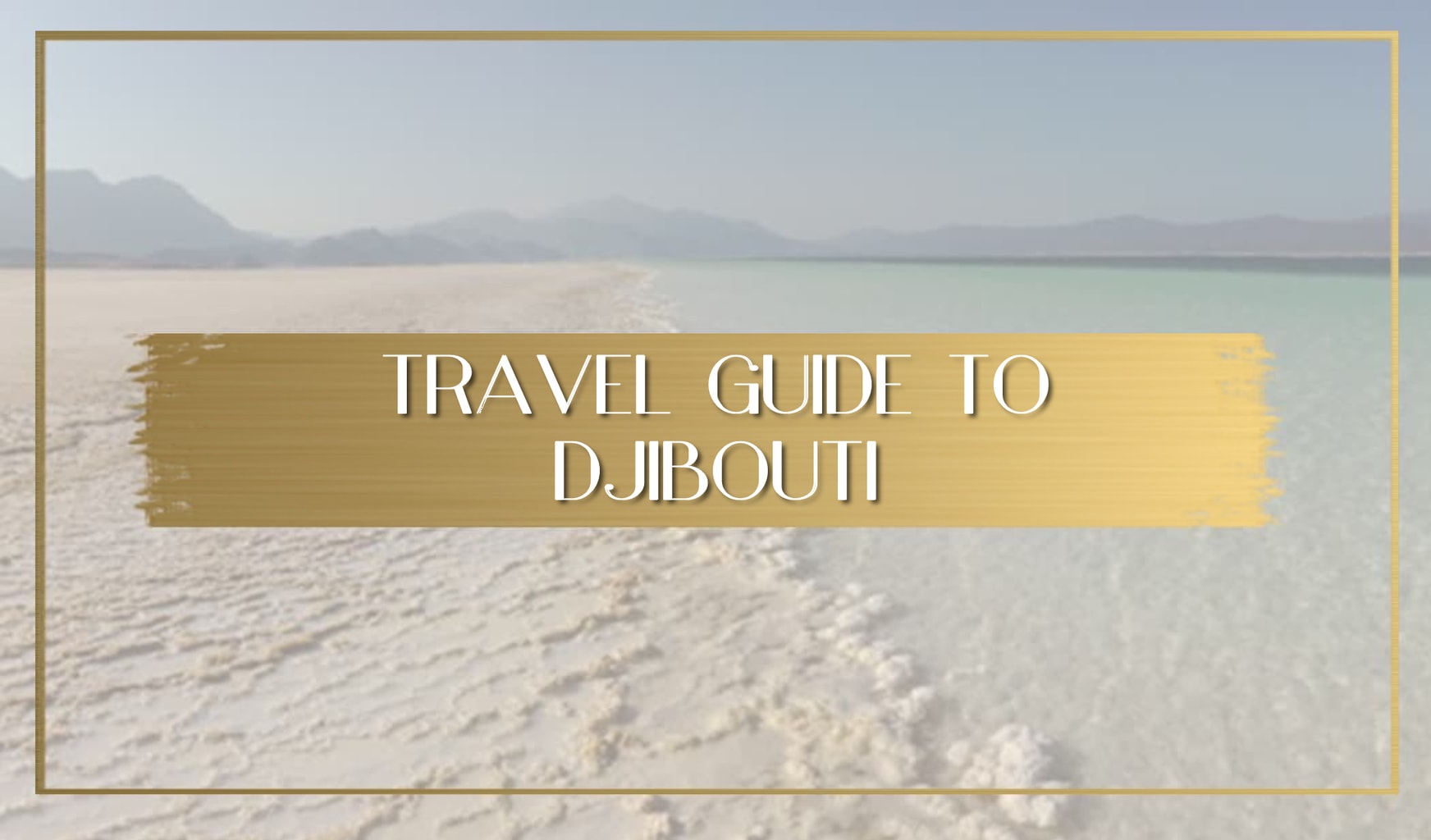 This post was first written in 2015 and updated in 2018.
Looking for things to do in Djibouti but don't know where to start? Tourism in Djibouti is scarce but the country has so many tourist attractions it is a shame not more people visit. Let me help you plan your trip with this guide which also includes a 4 day itinerary and a list of all the attractions in Djibouti that you cannot miss. Ready to discover this much unknown country featured in the Least Visited Countries in the World? Follow me for an awesome trip to the Horn of Africa and get that super rare passport stamp.
Where is Djibouti
When I mention Djibouti as one of my most favorite places the usual answer I get is, "where is Djibouti?"
Most people cannot locate it on a map, they can't even tell what continent it is in. So let's start there.
Djibouti is located in the Horn of Africa, sandwiched between Ethiopia, Somaliland and Eritrea and facing the Gulf of Aden. Below is a map of Djibouti showing where it is.
The most remarkable part of Djibouti's past is its French colonial times which left an imprint in the country and its language. If you speak French, you will be in luck as English is not widely spoken. The French acquired the colony then named French Somalia, as a strategic point of passage via the Suez Canal and through an agreement signed by the Issa Somali and the Afar Sultans who inhabited the area.
Djibouti was a french colony from the 19th century until 1977 when the country voted for independence after having voted no to joining Somalia. Independence was finally granted after several referendums. Every time, the Issa Somali would vote for independence with the final intent of joining Somali and the Afar would vote to say with France.
Civil War ensured independence when the party in government declared it was the sole legal government party. Peace was finally signed in 1994.
Since 2001, Djibouti has become a safe and secure military base for most powers, especially for the US and its Camp Lemonnier, a United States Naval Expeditionary Base and the country's only permanent base in Africa. Japan also opened a base around the same time. There is military presence from several other countries like Sweden, Germany and Spain.
Check out my post on Fun facts about Djibouti for a few more fascinating things about the country.
Things to do in Djibouti
Djibouti is a very small country but the roads are limited so you may find yourself driving cross-country on the desert sand following a GPS or relying on your driver's sixth sense. Tourism in Djibouti is definitively of the adventure type.
But before we set off, here's a map of Djibouti with all the main tourist sites and places of interest marked. There are not really a lot of cities in Djibouti so the map does not have a lot of names marked.
Explore the Capital of Djibouti, Djibouti City
One of the best things to do in Djibouti is exploring the capital of the same name. The city is not large and it may take you at most an hour to walk all the interesting quarters. You should visit the European and the Arab quarters both of which are adjacent.
The city's European Quarter is a mix of French colonialism and moorish architecture and it is one of Djibouti's landmark area. Expect to feel like at a run-down version of Morocco. Buildings are colorful and would have been stunning at their time but they look forgotten. I felt similarly to when in Cuba.
People sit on the streets, chat, enjoy tea, chew qat and simply see the world go by. Streets are narrow and there is little motorized traffic. Life seems to go by slowly in this part of town. There are a variety of stores open selling all sorts of items, don't expect any international brand.
If you follow the noise of the traffic you will eventually reach Place Mahmoud Harbi or Place Rimbaud where the city's most iconic building, and Djibouti's most important landmark is: the mosque. The sound of the call to prayer is also a good reference to follow if you are wandering the streets at that time. The large square looks more like a combination of a bus station and an open market. It is the border between the European and the African Quarters.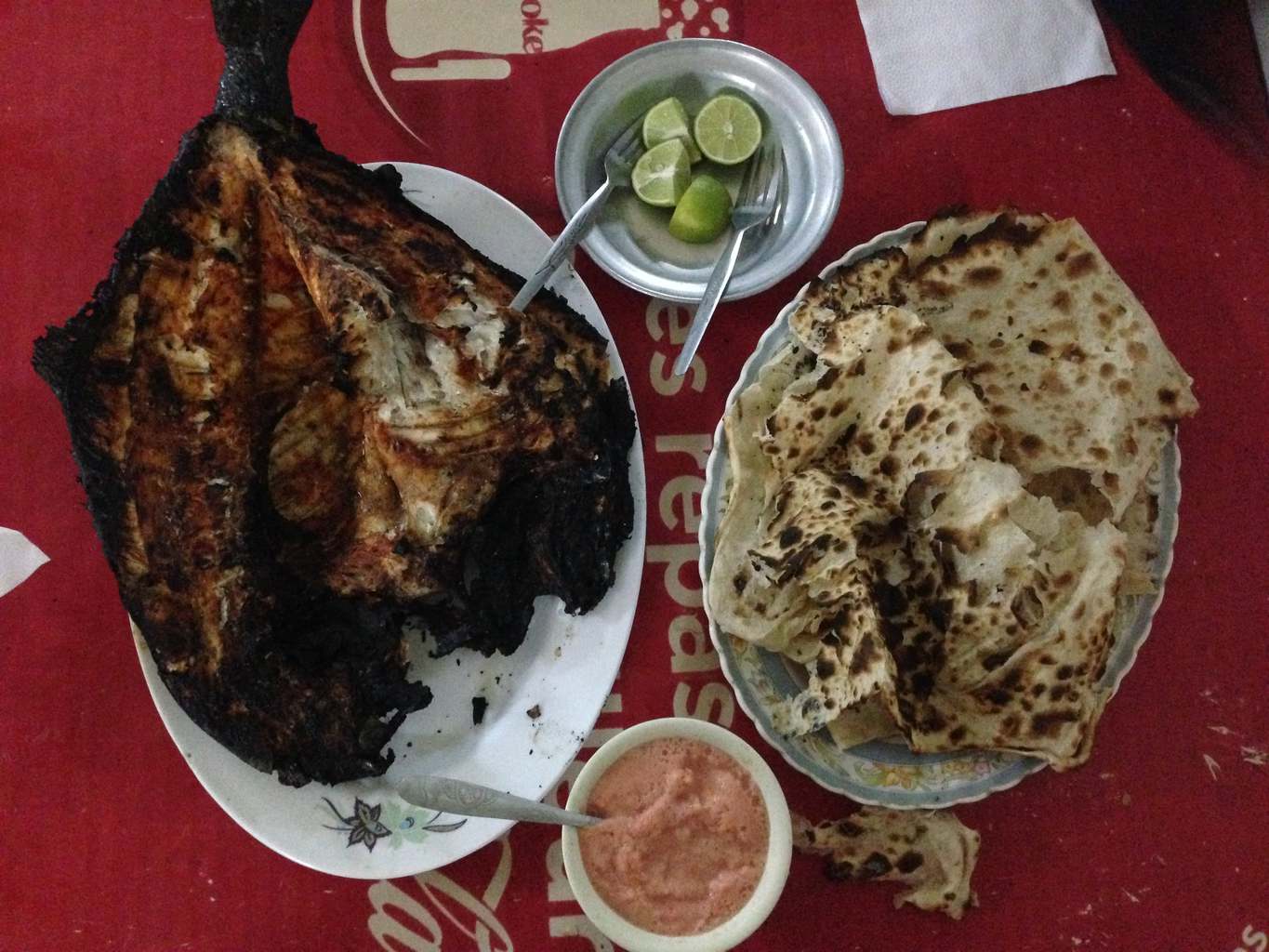 The African Quarter is a large sprawl of tin-roofed huts lined up on barren and chaotic streets. Goats and children room freely in equal measure and the streets have barely any public lighting relying instead on the light in people's homes.
The streets used to be paved but have now been covered by layer after layer of dust and you can no longer see the pavement. I found an old photo from a few decades before that showed how the square and the quarter used to look and it gave a good idea as to the level of abandonment. The nature of the desert had taken over.
Alie Sabieh
Ali Sabieh is a town half way from Djibouti to Lake Abbe so it makes for a good lunch spot. The town has has one of the largest Qat markets in Djibouti and is the last pit stop to buy water or any other provisions. If you ever wanted to get up and close to qat or even buy some, this is the place. But I warn you, it is pretty disgusting.
This is a relatively solid town, the country's second largest, with a few facilities, schools and the main railway station. Years ago, the railway used to connect Addis Ababa with Djibouti. I was told that the government stopped fixing the rails and trains because this way there is a local thriving business to transport everything by truck into port. However, trains have started to run again and one can travel from Addis Ababa to Djibouti by rail.
Ali Sabieh is remarkably run-down with the dusty, grey-brown-red colors of this part of Africa dominating the landscapes. It has its own charm if you look closely but I could not imagine spending any time here.
There is a refugee camp manned by the UN and a few NGOs. The sun is unforgiving without any shade to protect yourself from. From up the hill where the telecoms tower is you will get sweeping views of the entire area as far as the eye can see. By the railway, local kids play football using the rails as seats. I see a few Barca t-shirts around. Look up the mountain for the emblem of Djibouti carved on its face.
Moucha Island
Only a 30min ride on relatively calm waters, this coral islands on the Gulf of Tadjoura provides a relatively quiet beach with limited facilities, people and plenty of turquoise water. There are officially only 20 inhabitants but locals are known to come visit in the summer months.
An Ethiopian company is building a beach club on the island which may attract some visitors. On the day I was there, we saw a few Asian tourists disembark from a boat and leave shortly after. Walk across the island on crusty sand that looks like it has been baked in the oven. Be sure to wear shoes, the sand will get extremely hot very early in the morning. On one side of the island you can sail through mangroves on your motorboat.
Tour the island to the Beach Resort on the other side and you can relax on the sun beds and umbrellas. Most likely you will have it all to yourself. If you see a relatively larger sail boat it may be that of Spanish national, Vincent, the only live aboard dive boat in the country.
Lake abbe
Lake Abbe is a salt lake at the confluence of three Earth crusts pulling away. It is fed by the Awash River and surrounded by extinct volcanoes and depressions. Geologically speaking, it is a marvel and the set of the creation of a new ocean. The three plates pulling apart have created a thin crust that will eventually break and separate the Horn of Africa into its own island. Lake Abbe is part of this and is connected to other 5 lakes. It is a fascinating story.
The most recognisable elements of the Lake Abbe are the chimneys which were created when the Ethiopian government decided to build a damn which slowly drain the lake on their side. Without the water, the mangroves were covered by limestone and bacteria. The steam coming out of the chimneys comes from the underground hot springs.
The bacteria that inhabit the lake have helped grow a steady population of worms, which attract pink flamingos. In the early morning, just after sunrise, we walk for an hour through the slippery mud and the quick sands to reach the lakeshore and observe these elegant creatures.
Read more about in my in-depth review of Lake Abbe
Lake Assal
Lake Assal is the saltiest lake outside of Antarctica. Temperatures are extremely high with maximums regularly above the 40 Celsius mark. With this heat, the water would have evaporated but the lake is constantly being replenished by underground streams. You can read more about my visit to Lake Assal here.
The lake has all the colors from green, to brown, black, blue and white made of all the chemicals and particulates in the water.
No matter how isolated and detached from civilization this part of the world is, stalls with goods for sale are still available. You will be able to buy items made of salt including goats head bones covered in salt or just Djibouti salt for cooking.

Djibouti's Whale shark diving
If you come to Djibouti between mid-October and February, you will be able to swim with whale sharks on scheduled trips on Friday and Saturday. Check out this video from a CNN Inside Africa program. Try Dolphin Services.
Whale sharks can only be found in some parts of the world and are seasonally spotted when they come to the warmer waters to breed, but are otherwise found in colder waters away from humans. Swimming with them is an exhilarating experience and one of the most incredible wildlife encounters, much like jumping in the open waters of Tonga to swim with humpback whales.
Swimming with whale sharks in Djibouti happens in the open water around 2h drive from Djibouti and you may take breaks between swims to have a picnic on the sand before going back in to try your luck. While finding whale sharks is not guaranteed, you have a good chance of spotting them and swimming with whale sharks in Djibouti is probably a much more peaceful experience as tourism in Djibouti is underdeveloped.
Give khat a try
If you have been to the Yemen you will already have heard about khat, also spelled qat. This plant is chewed there as much as it is chewed in Djibouti, Somalia and some parts of Ethiopia. In Yemen, it is pervasive and life pretty much stops in the afternoon when everybody is mildly high on the effects of khat.
Khat contains an amphetamine component that is made of cause euphoria, loss of appetite and excitement. The plant is banned in most countries and is considered a drug since the World Health Organisation classified it as a drug of abuse in 1980.
While it may be less obvious in Djibouti city, you will have no troubles finding khat in the towns, where the vendors will have stacks of the bright green leafy plant on their wooden stalls and locals will chew it nonstop from after lunch till late at night. The plant is chewed while green and has a truly horrible taste in my opinion 🙂
Try Yemeni fish
Strange but one of Djibouti's best and most famous food hails from Yemen and is a whole fish open up, marinated with spices, flattened up and cooked in a tandoori oven, Indian-style. Here you can see the influences that through the years have left a mark on the country.
The fish is delicious and usually served with a side of spicy tomato sauce to dip it in as it can be quite dry and of course bread which is also conveniently cooked on the tandoor.
Chat with the Western armies
Djibouti is the major army base in Africa for many of the European countries, the US and Japan. While the US has its own separate and inaccessible base and so does the Japanese, most of the personnel from the European armies deployed in the area are actually staying at the luxury hotels.
One of the most interesting things to do in Djibouti is to have a chat with some of them. They are easy to spot and might welcome a chat with some new people. I found it quite funny that the local brand of yogurt in Spain was available at the Kempinski wehre Spanish renoated through the corridors.
Conversely, you might find them to be far less friendly if you try to approach any of the vessels in the port on your way to Moucha Island. We were escorted by a speedboat filled with heavily armed military personnel as we left the port because one of the military vessels from the Spanish army was anchored in port and we came too close to it.
Have a walk around the local port in Djibouti
Djibouti is slated to become a major port in the area. It already is and Chinese investment is only expanding it further. However, the local port where the fishermen have their boats, is a completely different story and provides a genuine and authentic look into local life. This is not a tourist attraction per se or one of the most famous things to do in Djibouti but, in my opinion, it was one of the most interesting visits, despite it wasn't actually an official part of our sightseeing tour of Djibouti but the embarkation point for out excursion to Moucha Island.
It is also rumoured that these fishermen, heavily armed with weapons, are the actual Somali pirates that frighten entire countries. Perhaps an urban legend made up by our guide.
Visit Djibouti's grand canyon
On your way lo Lake Abbe you are likely going to stop for a lookout point into the local version of the grand canyon. I was quite impressed to see it, and although we only could take a look from above, it was quite a stunning landscape, completely barren and rocky, made of the same grey, burgundy and brown of the earth in Djibouti.
Abourma rock art site and Petroglyphs
Djibouti has a recently discovered rock art site which is only accessible on foot and has rock art from Neolithic time. The site is included in the tentative list of UNESCO sites and extends over an area of three kilometres in the rocky mountains of the north of Djibouti. You will need a guide and a 4×4 to access it and should hire one form the local village of Randa, nearby, because that is where most of the local staff helping the French who discovered the site are from.
How long should you spend in Djibouti
Despite there are a few airlines landing in Djibouti, there aren't daily connections from Dubai so the airline schedules and connections from your base are likely to determine how long you will be spending in Djibouti. Spending 4 days in Djibouti makes a lot of sense and is the choice for most travelers, reason why this guide to visiting Djibouti is laid-out for this trip duration.
Although you may think that 4 days is a short period of time to spend in Djibouti, it is enough to get a good feel for the country. If you had longer, say a week, you could also visit the national parks or go diving if you come in the right season for the whale sharks, but otherwise, 4 days is enough time spent in Djibouti to see the all-year-round sights, experience the very surreal capital, visit Moucha Island and see Lake Assal and Lake Abbe, both of which are incredible natural sights.
4 Day itinerary of Djibouti
When planning what to do in Djibouti, you will need some organisation to make sure you can get to the main sites as they are all pretty far from the capital city. So I put together this 4 day itinerary with all the main things to do in Djibouti well planned.
To make the trip happen, you will also need to use a travel agent as traveling independently in Djibouti is practically impossible. I used Bambu Travel and had no issues. Daniel, the owner, even came with us in the car and provided some more insights into the local culture which was interesting.
The company has got some bad reviews on TripAdvisor and alike and I have heard of more than one traveler having bad experiences but the truth is that you are going to a very remote place with very basic infrastructure at times. The company may not be the best but it is probably how things are done. I also did not manage to find an alternative company that was highly recommended by everyone either, it seems they all have their downfalls.
Day 1: Djibouti city
Since most airlines land in the middle of the day you should spend the first night in the capital. This gives you the chance to wander the streets and take in the culture. There are very few sights to tick off but what makes Djibouti city interesting is watching the people, the places and taking it all in. The cultural shock is guaranteed. See my list of things to see in Djibouti City above and spend your first day covering that.
After you have had enough or it is too dark to see where you are walking settle for dinner at Chef Youssuf, you are likely to walk past this local institution known for the Yemeni fish, a dish you have to try. If you can't find it, Google it, and follow the instructions, we managed to get there like that. Or just ask.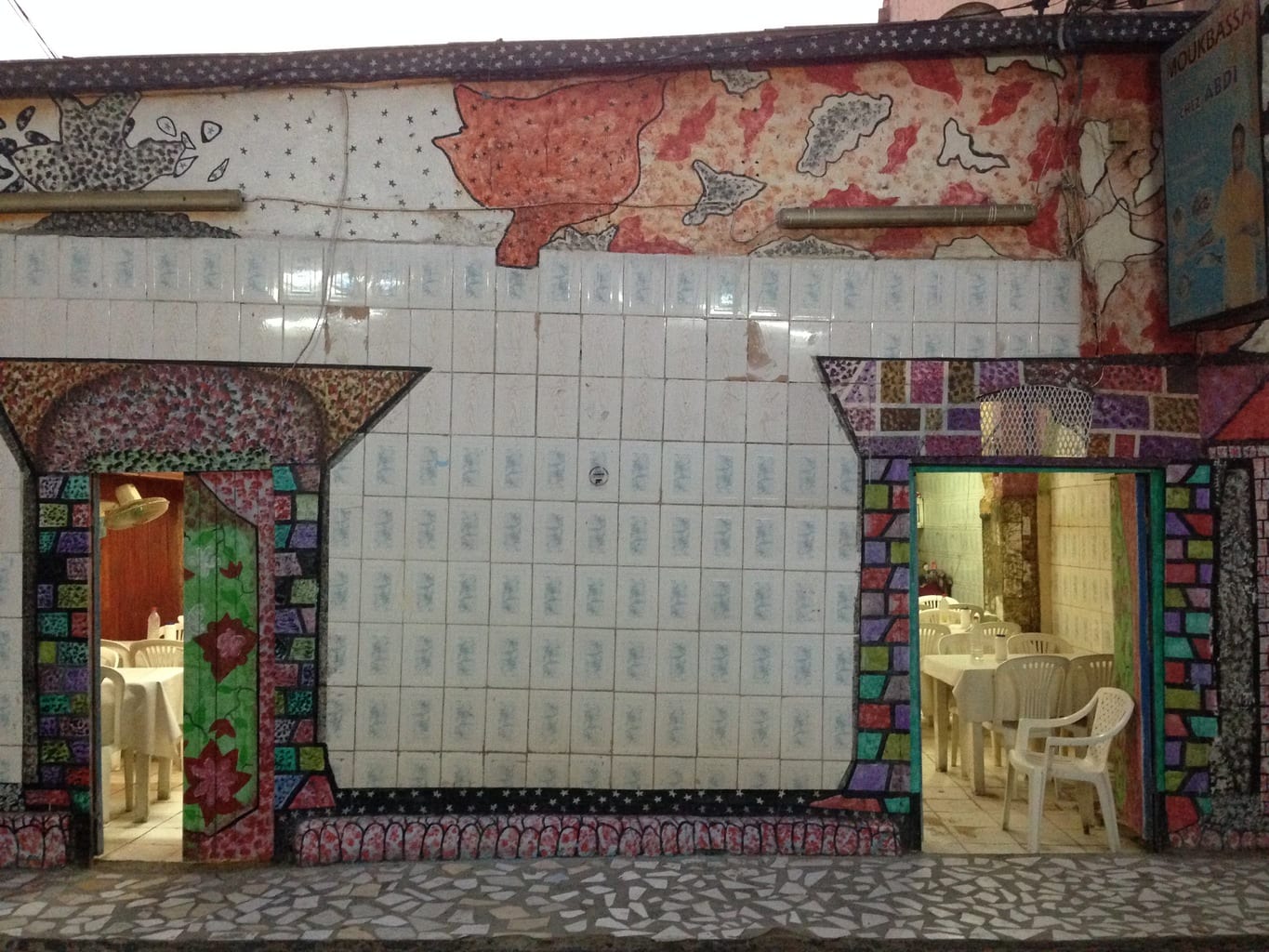 Inside, plastic chairs and corrugated iron walls like the rest of the quarter are the norm. Expect friendly service, even despite the language difficulty. If you speak French you will be in luck. Get the fish, only one because you will get the whole piece and they are large enough to share. The fish is served with a tomato and red pepper refreshing sauce that looks like a mousse and large pieces of fabulous flat bread. Such a simple dish but so well prepared in the tandori oven. Take a peek inside the kitchen, the chef will be happy to show you. To finish off, get one of the pervasive Nutella crepes made with the same bread, they are more a cilinder of rolled up chocolate happiness.
Grabbing a taxi back to your hotel should not be difficult. Just retrace your steps back to the main square and there will be enough traffic to find one. Follow the light.
Day 2 – Desert and Lake Abbe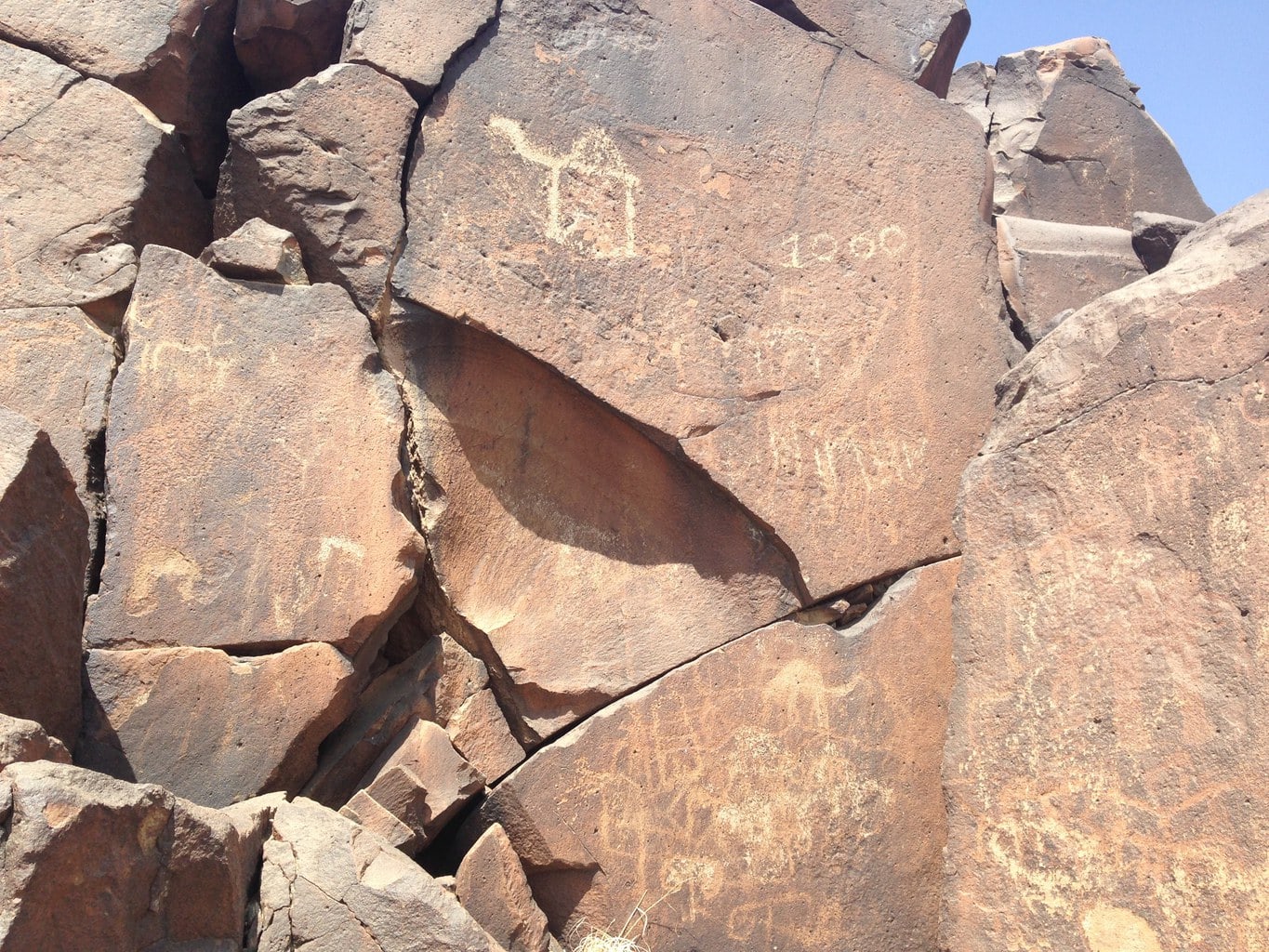 A trip to Djibouti is not complete without one of the most surreal sights you will ever see: Lake Abbe. You cannot get there by public transportation so hire a driver to take you there. The roads will disappear at one point so make sure to get one that knows his way or you will get lost in a desert of smugglers and touareg caravans. Not recommended.
The journey will take about 4-5h with a few stops to see the sights en route.
The first portion will be the most comfortable. The road is paved and has recently been fully repaved until the border with Ethiopia in Ali Sabieh. This road is the main artery and the source of Djibouti's revenue until the new rail line is finalized. Ethiopia has no access to the sea so all their exports go through this road. You will share the pavement with large trucks carrying goods. At either side of the road the desert is overpowering. Expect large sand and dust tornados and the white expanse of nothingness. Little grows and lives in this barren part of the world except for the grubs and acacia trees. Goats can occasionally be seen, they are as resilient as the bushes.
Ask your driver to take you to see some petroglyphs that are inscribed on some rocks in the middle of the desert. You would miss them if the driver didn't know.
At Ali Sabieh you better stop for lunch, there will not be much civilization other than the most basic hut villages after Ali Sabieh and Dikhil.
After Ali Sabieh you will carry on until Dikhil, a real-life oasis. In front of the only tourist restaurant in town there is a small forest and garden with plants and fruit trees. Water comes through from underwater rivers feeding the only vegetables you will see in the entire area. The greenery is as rare as it is beautiful.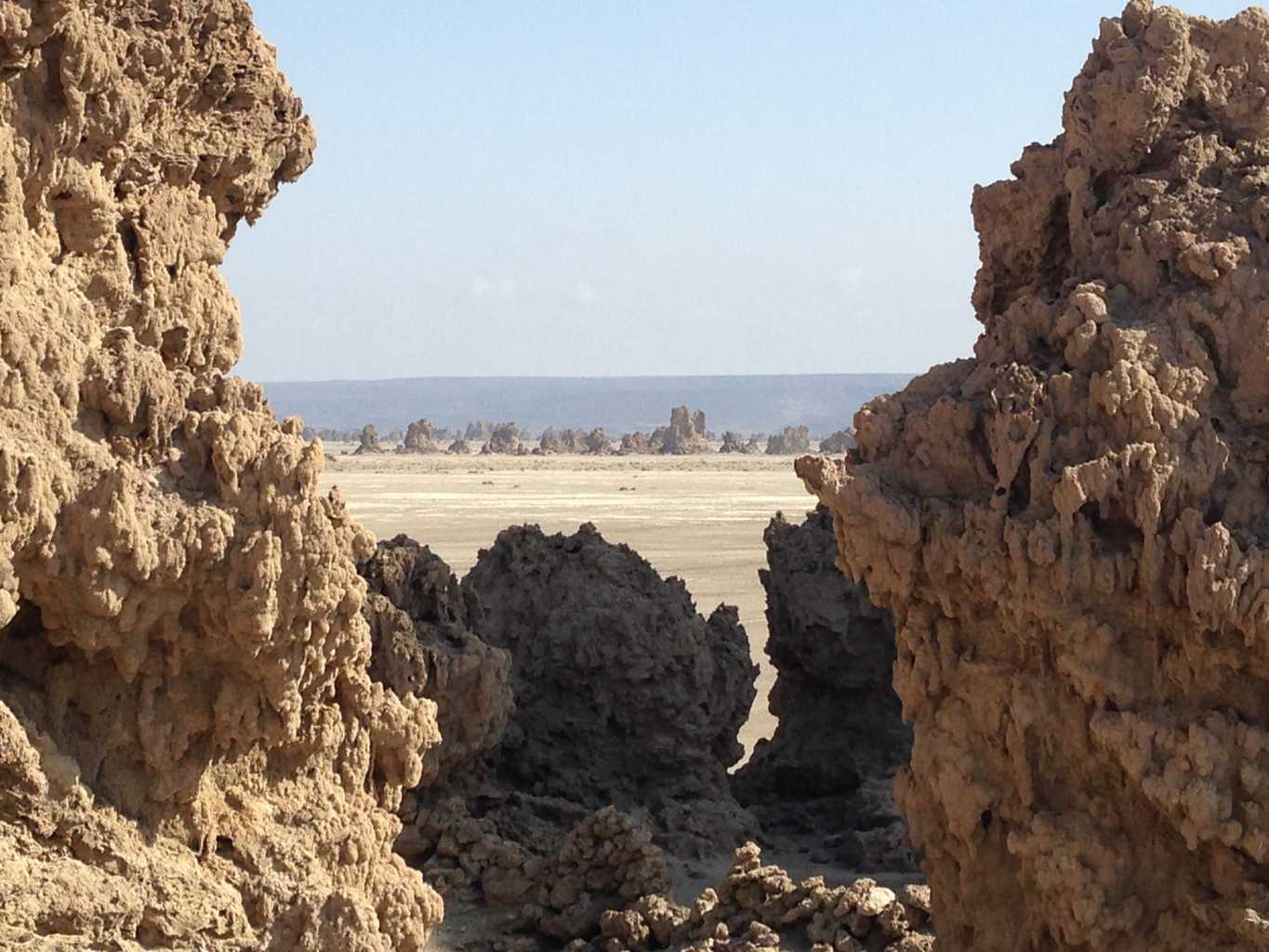 From Dikhil you will be headed into the desert and rocky south. There is nothing for kilometers on end except for the odd nomad carrying goods to and from Ethiopia on camels or even smugglers trying to bring tobacco from Ethiopia. Occasionally you will pass local villages. Extremely basic with huts made of semi-circular structures covered with mats and with rocks at the base preventing animals getting inside. We see large plastic barrels that are lined up by the road. Japanese NGOs fill them with water from time to time. Water is a scarce resource. Every time we stop to chat to a local or nomad we are asked for water. The gold of the desert.
After a few more hours on the most barren of landscapes you will finally climb a small hill on the other side of which lays Lake Abbe. The vision, from the distance, is of a surreal martian landscape. The chimneys can be clearly seen and the steam coming out is expelled into the air. The yellow bushes cover the area and herds of goats and sheep can be seen around.
You can enjoy the area as much as you like until you set up at the camp for dinner. The sunset is one of the most incredible I have ever seen, the sun will linger in the horizon for over an hour. You can read all the details of my visit to the Lake here.
Lake Abbe has a multitude of areas of interest. You can marvel at the hot springs where locals cook their meals, or the chimneys, so delicate they break to the touch. You should be careful when walking around as there are quick sands.
Day 3: Lake Abbe and Lake Assal
In the early morning, after a night's sleep (I wouldn't say a good night's sleep) at the camp, make sure to get up and close with the pink flamingos that will come to feed at the lake shore in the distance.
Lake Abbe used to occupy the entire area that today is filled with chimneys but the building of a dam on the Ethiopian side dried out most of the Djiboutian area leaving the chimneys uncovered. Flamingos still come to feed on the same bacteria that cover the mangroves and created the chimneys. The pink color comes from what they eat.
The closer you get to them the higher the likelihood of getting stuck on the quick sands or the mud.
The area was the set of The Planet of the Apes and you can still see the main backdrop. Ask your guide to show you or Google it.
After you are done, you should drive back, retrace your steps until you reach the paved road and onto Lake Assal.
Lake Assal is the third lowest point on Earth and a salty lake. Its shores are covered with salt that is now extracted on concession by a Chinese Company.
The drive will be long. Expect the exact same landscape as on the way to Lake Abbe. On the way, once you get closer to Lake Assal make sure to stop by the Grand Canyon, a grey and maroon canyon that can be observed almost from the main road. On your way you will be driving along the river and will see a few other islands.
For the brave in you, get in the water and practice your floating poses. Got a newspaper? You may as well read it while sitting back and let the salt play its part. If you do get in the water remember to wear booties as the shore is made of salt crystals that are sharp and painful to step on. And bring a towel and bottled water to rinse yourself, there are absolutely no facilities around and you don't want to have a crust of water all over your body for the one and a half to two hour ride back to town.
Once you have seen enough of this majestic landscape it is time to drive back into Djibouti for one last evening. You may choose to relax at the hotel or you head into town for some Ethiopian food or some more Yemeni fish.
Day 4: Moucha Island
Djibouti is a tiny country with a relatively large coast and a few offshore islands. Diving is possible and you can see whale sharks during the season. But there are also a few islands, the most popular of which is Moucha Island, an easy day trip from the capital city.

Getting out and back into the port to get to Moucha Island is a complex and interesting affair. Your boat captain will have to report to the port authorities to be granted permission to leave and return and if there are any army boats anchored at port, you will be escorted by armed motorboats from the country.
At the port do not miss the opportunity to take a look at the fishermen boats that line the shore. It is said that the Somali pirates that make the international news are nothing more than the fishermen from Somalia, just like these ones, armed with sophisticated weapons.
Chances are your flight will be in the early afternoon so as soon as you are back from Moucha it will be time to pack and go.
If you had longer time I would encourage you to visit the forests in the north and the various other beaches around the city. A week would give enough time for the entire country given that it is not a very large expanse.
How to get there – Airlines flying to Djibouti
Getting to Djibouti is not easy. You can fly from Dubai, from Ethiopia or from the hair-raising Somaliland. Chances are you will arrive from the Emirate's most famous city as it is also the best connected airport. Although there are a few other local, and possibly "doubtful" airlines to fly with, like Dallo or Jubba Airways, the best option is Dubai's low-cost carrier, Fly Dubai, which has a penchant for flying places you need wikipedia to decipher. Think Somaliland, Iraq, Djibouti and all the second and third tier cities in Central Asia and the Middle East.
I found Fly Dubai surprisingly good. Aside from flying from a residual terminal in Dubai that is nothing like the flashy Dubai International Airport I found the airline to be remarkably premium, for a low-cost airline.
Their aircrafts were new and well appointed, and they were the first low-cost airline I've seen who successfully provides entertainment painlessly and hassle-free. You can just use your credit card to swipe and buy one of two movie bundles.

Arriving in Djibouti – Visas and Airport formalities
Landing in Djibouti is a surprise to anyone. I had limited expectations and I did not realize the importance of the country as a military base. From the sky you can already see the lines of military aircrafts, helicopters and other vehicles at the airport tarmac. The desert dusty look does not help either in erasing the feeling that you are landing in Baghdad.
Visas for Djibouti used to be available on arrival, not without putting up a fight and answering a lot of questions while waiting for unknown officials as it is at the discretion of the officials and they make you show all sorts of paperwork including return flights, residency permits wherever you live, your boarding passes, your hotel booking. Typical of many African nations sadly. If you are denied, you are turned back, and that is pretty common as reported by many travelers I know. However, since 2018, there are rumours that visa on arrival will be stopped anytime so it pays to organise one ahead of time. These need to be obtained from a Djiboutian Embassy and not the French Embassy as reported elsewhere. A lot of people get visas from the french Embassies only to be turned away or required to purchase another visa on arrival as they are not considered valid in Djibouti, so don't rely on those, I know of people who were turned away with one of those.
After the interesting landing and immigration arguments to get a visa on arrival, you are out in the country's heat. Since tourists or visitors of any kind are uncommon getting a taxi will not be an issue. Cars are very old, have no AC and look like they are about to die. Yet they will probably run for an additional decade.
Other things to known to plan your trip to Djibouti
Do not bring your drone to Djibouti or you may end up like me, with the drone confiscated and crying and begging the officials to keep it for you. Don't risk it, Djibouti is a military base and they do not like anything that can pose a threat.
This would make a great addition to your #Africa Pinterest board