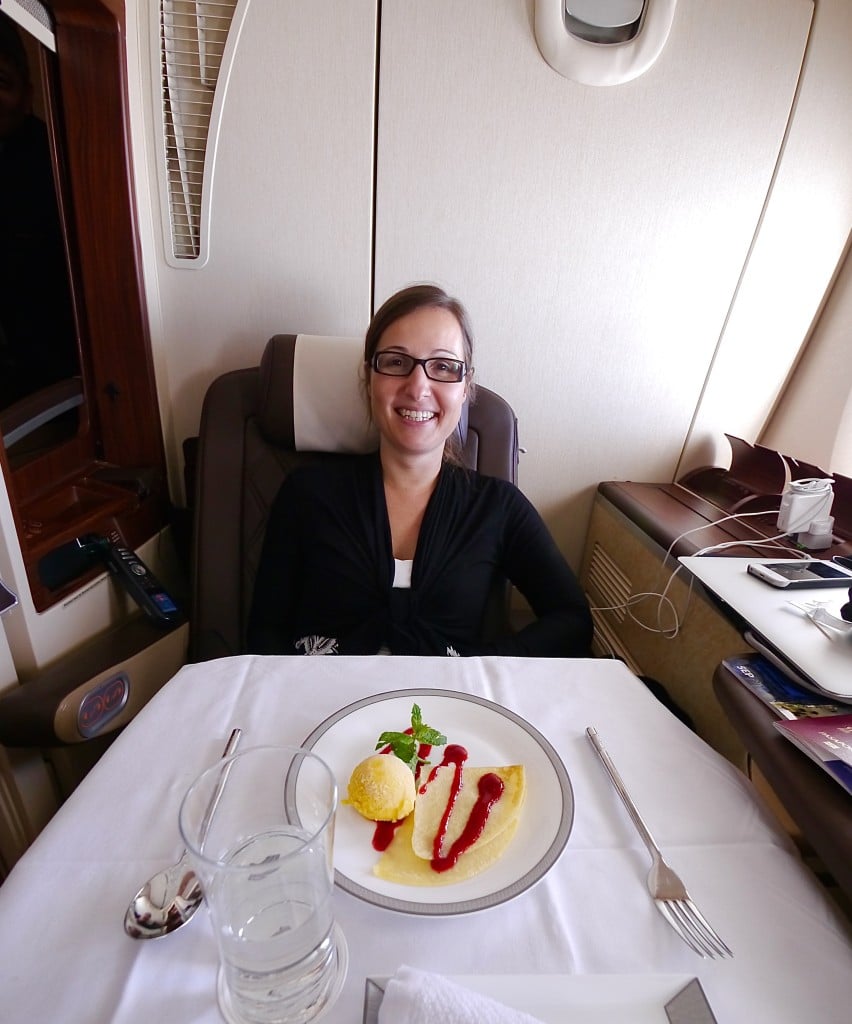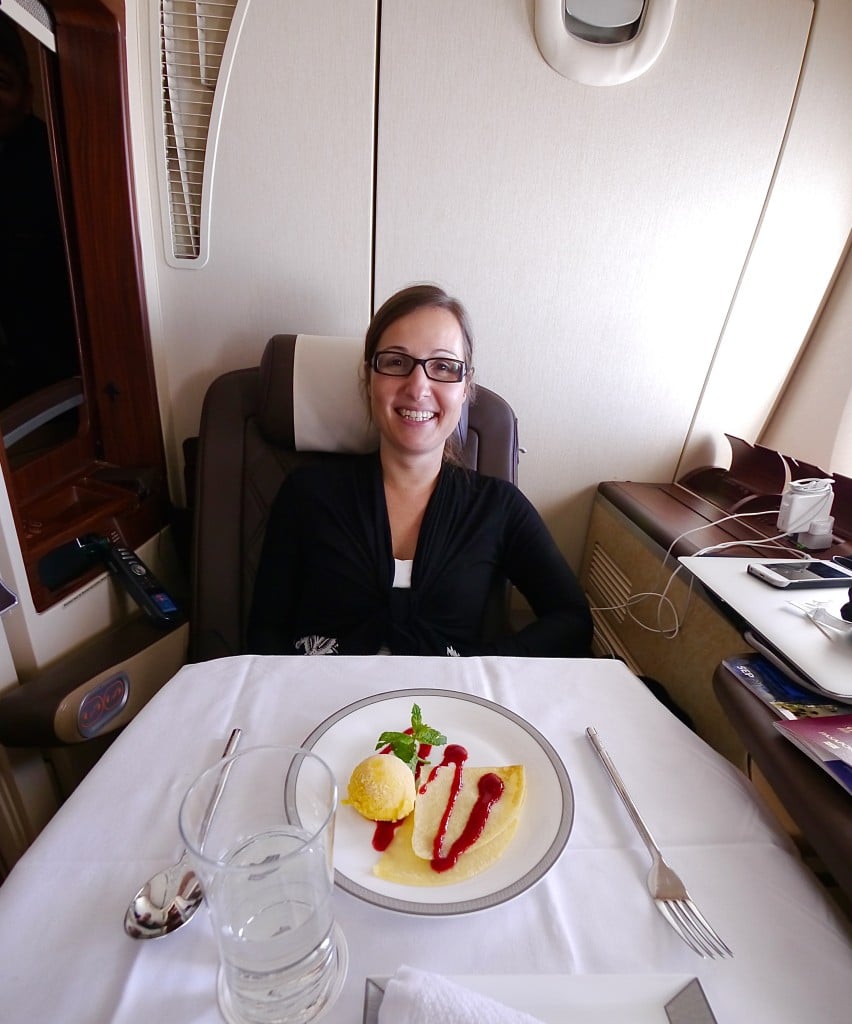 "This will be 140,000 miles, Madam", announced the call center agent as the Customer Services representative at the check-in counter was telling me that he would have to off-load me before I could be upgraded. We had quickly become friends after the 30min we both waited, three phones in hand, trying to reach the Singapore Airlines Call Center for the upgrade. I had never waited for so long to speak to an agent. "It is always the same," he apologized. Since the new IVR was not picking up my loyalty number we were put at the end of the queue.
But I was in a euphoric state of mind so the wait wasn't enough to discourage me. My facebook fan page has just hit 10,000 fans. 10,000! I never thoughts this would happen when I started the blog 19 months prior, so I felt that I had to celebrate this feat in a deserving manner, like upgrading myself to Singapore Airlines Suites on my Singapore to New York City flight.
"Let's do this," I muttered shyly, still trying to fully grasp the fabulous journey ahead. "Alright, Madam, I will need your credit card for the 8,000 miles top-up". After all, I did not have 140,000 miles, but I was only slightly short and I could make it up with a miles purchase. What were $280 for a chance to experience the ultimate in airline luxury – except for Etihad's The Residences?
The Customer Services Representative was as excited as I was. "There is a dedicated Suites and First Class lounge, I will escort you", he eagerly explained after we had completed the incredibly painful upgrade process. He knew that I was not going to miss any stage of the process, from arrival to landing. "I have never flown Suites," I shared with him, a statement which made him, and every other Singapore Airlines staff I encountered, terribly happy to oblige for photos or any other request I had. It was as if I had said, "It is my wedding day today". I was the star of the show.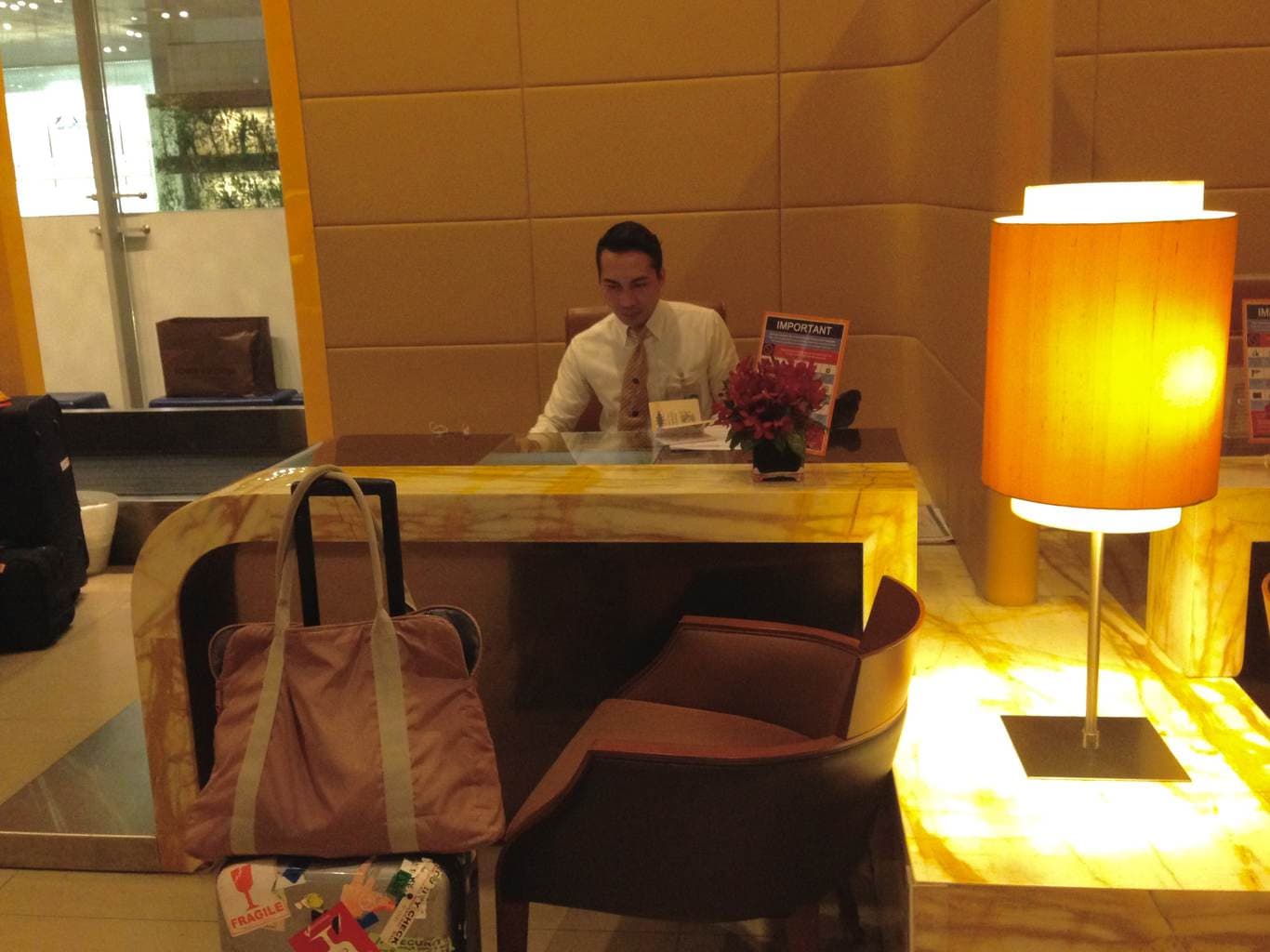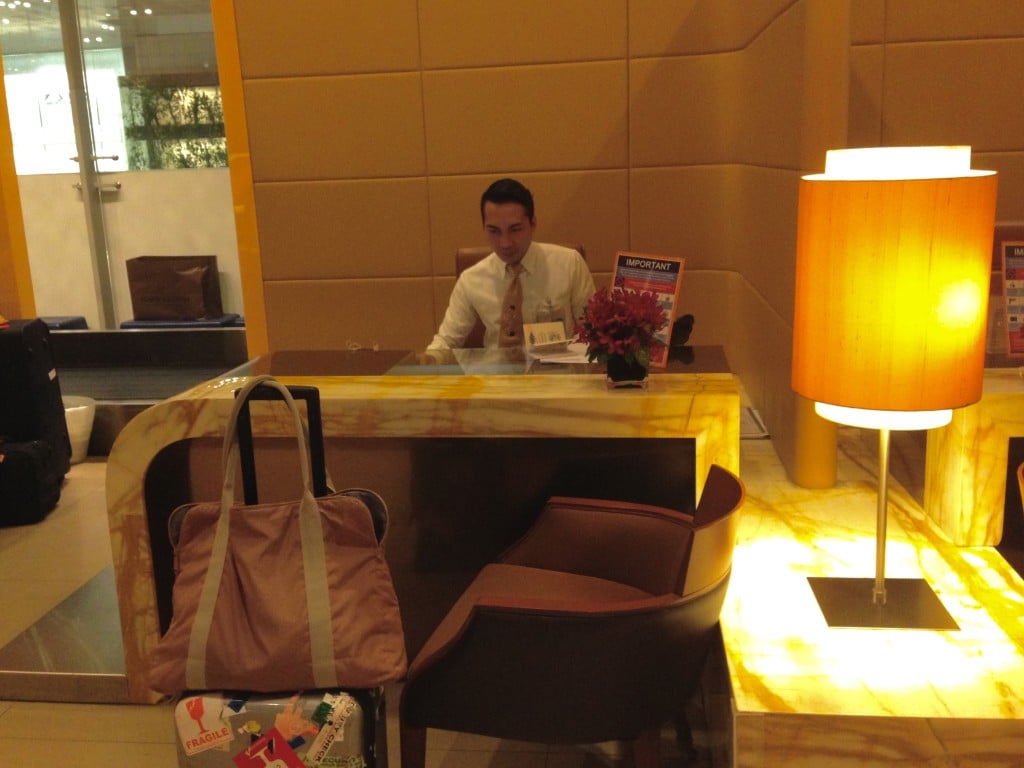 "You can check-in at any desk," happily concluded the Customer Service Representative when we entered the First and Suites Check-in Lounge, "Enjoy!" I sure was going to.
Check-in at Changi Terminal 3 for the long-haul A380 Singapore Airlines First Class bookings happens in a separate lounge that is directly in front of the dedicated immigration counters for First and Suites customers. When you get off the taxi at the terminal the Singapore Airlines staff is ready to help you into the lounge so you barely have to step into the regular passenger area.
As I sat on a plush sofa in front of the check-in staff, three of them to be precise, the solemnity of the entire experience started to show. "Let me give you a personal invitation to The Private Room, Madam," announced the check-in Supervisor. Because the usual cards you get for the regular Business Class Lounge are too vulgar, I presume. She took out a golden ball pen to write my details on the invitation card. "I would like a window seat," I requested, "Of course, you already have one".
The Private Room is an entirely separate lounge for Suites only. It is one level above First Class at the end of a few corridors, tucked away in the Silverkris Lounge area. I had had the chance to see it before, possibly because I flew First Class and I was PPS and somehow managed to make my way through, but that did not take away any of the excitement.
After checking in, a lady escorted me to the dedicated Immigration counter only a few steps away. There was obviously nobody there other than the Immigration Officer. "This is just for Suites and First Class?" I asked the clerk, "Yes," he replied, "So you don't see a lot of people everyday," I insisted. "Not really". No matter how long I live in Singapore for the efficiency in dealing with the Government will never cease to impress me. There were two counters for the dozen passengers who may be flying First or Suites every evening. Incredible.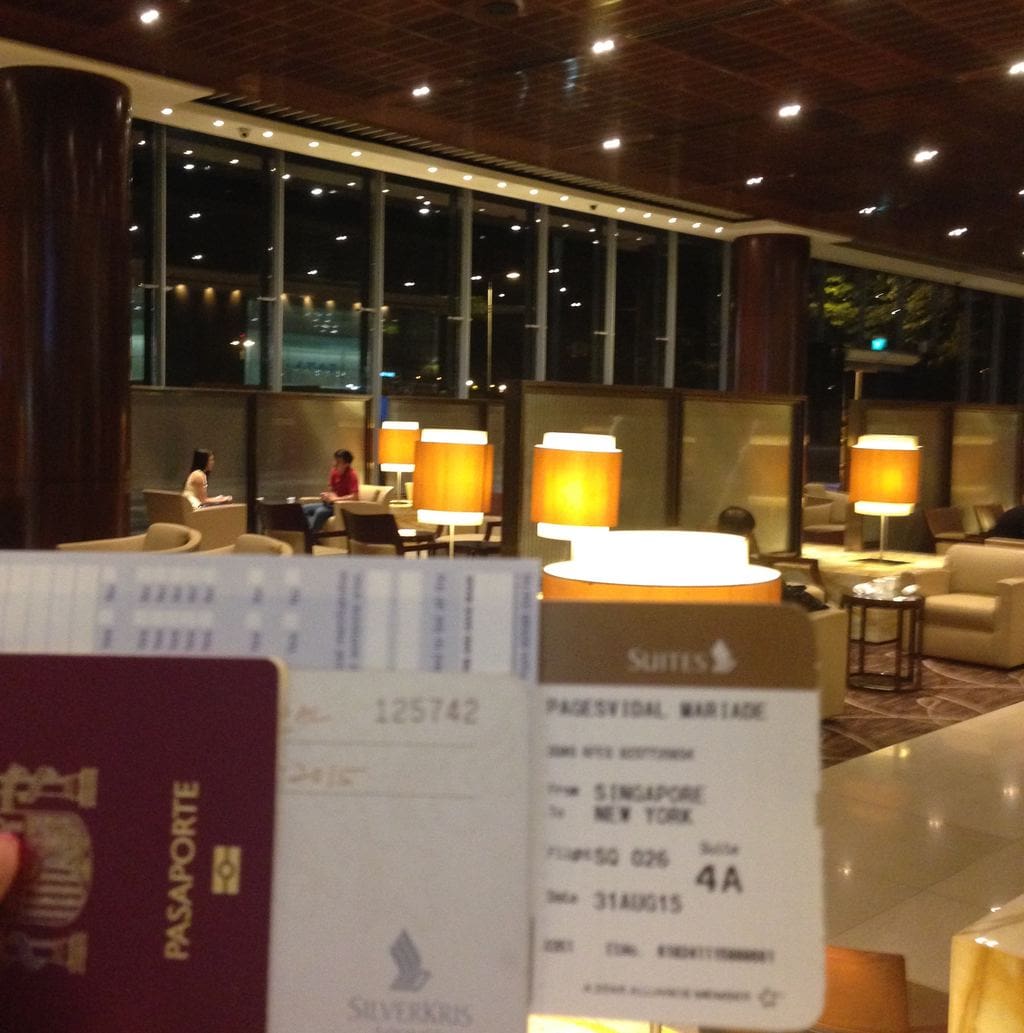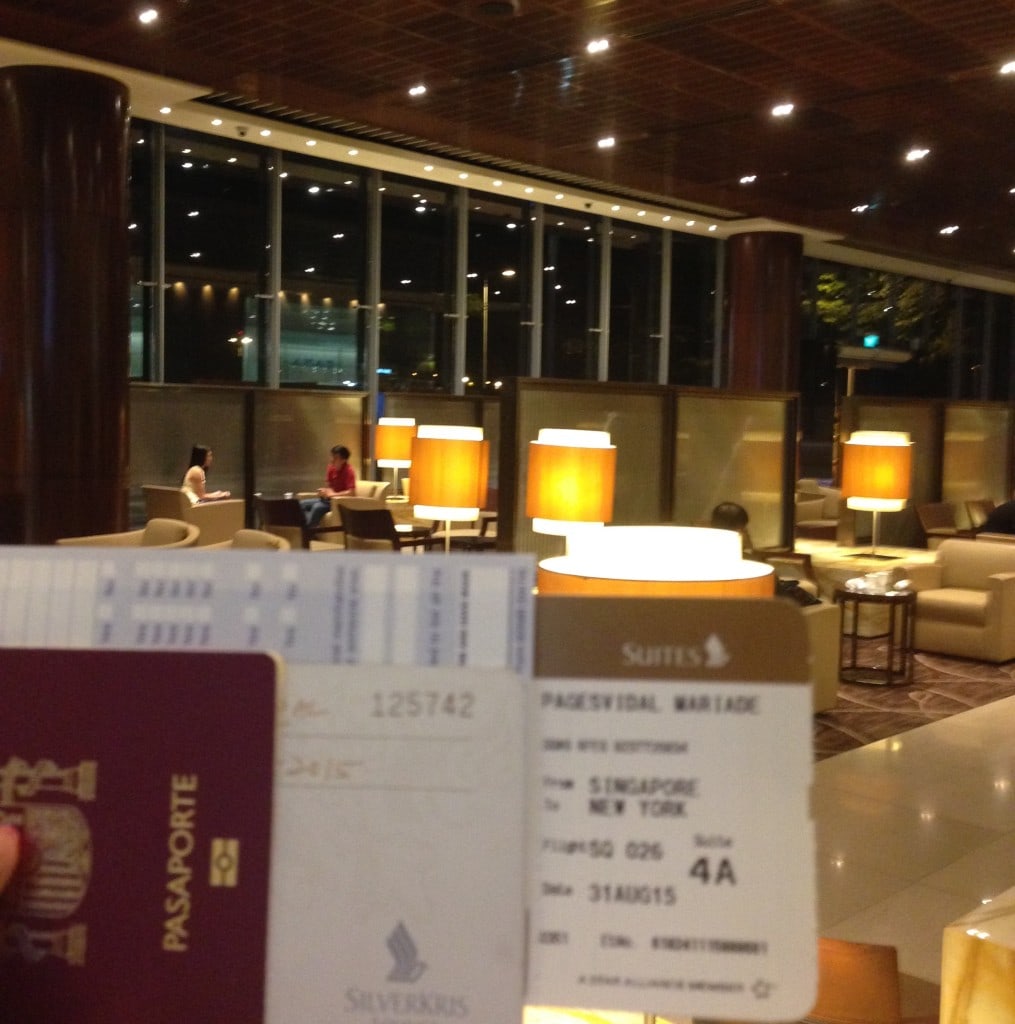 As soon as I had gone through passport control, the stairs to The Private Room were just in front of me. I reckoned that, from arrival to The Private Room, one would not have to walk more than 500 steps. Impressive, especially when you compare it with other extremely inefficient airports. Changi beats them all, anytime.
At the Silverkris Lounge I was immediately spotted, my Golden boarding card shinning bright, and a staff member came to greet me and walk me to The Private Room. It wouldn't be classy to have the premium passengers wandering about the chaos and noise of the Business and First Class lounges. All the proceedings until that point were extremely old-fashioned and designed to make one feel important. The anticipation created by the various staff members that escorted me started to build up. Each of them was pompous and solemn, with an air of importance, as if they were going to show me the treasure room full of gold. I felt as if I was talking to my butler and I lived in a castle. Like a Princess. By the time I walked in the lounge, I had already interacted with at least ten staff members, all smiling politely and all inviting me to a the world of the 1% with an ever so slight bow of the head.
Singapore Airlines Suites: The Private Room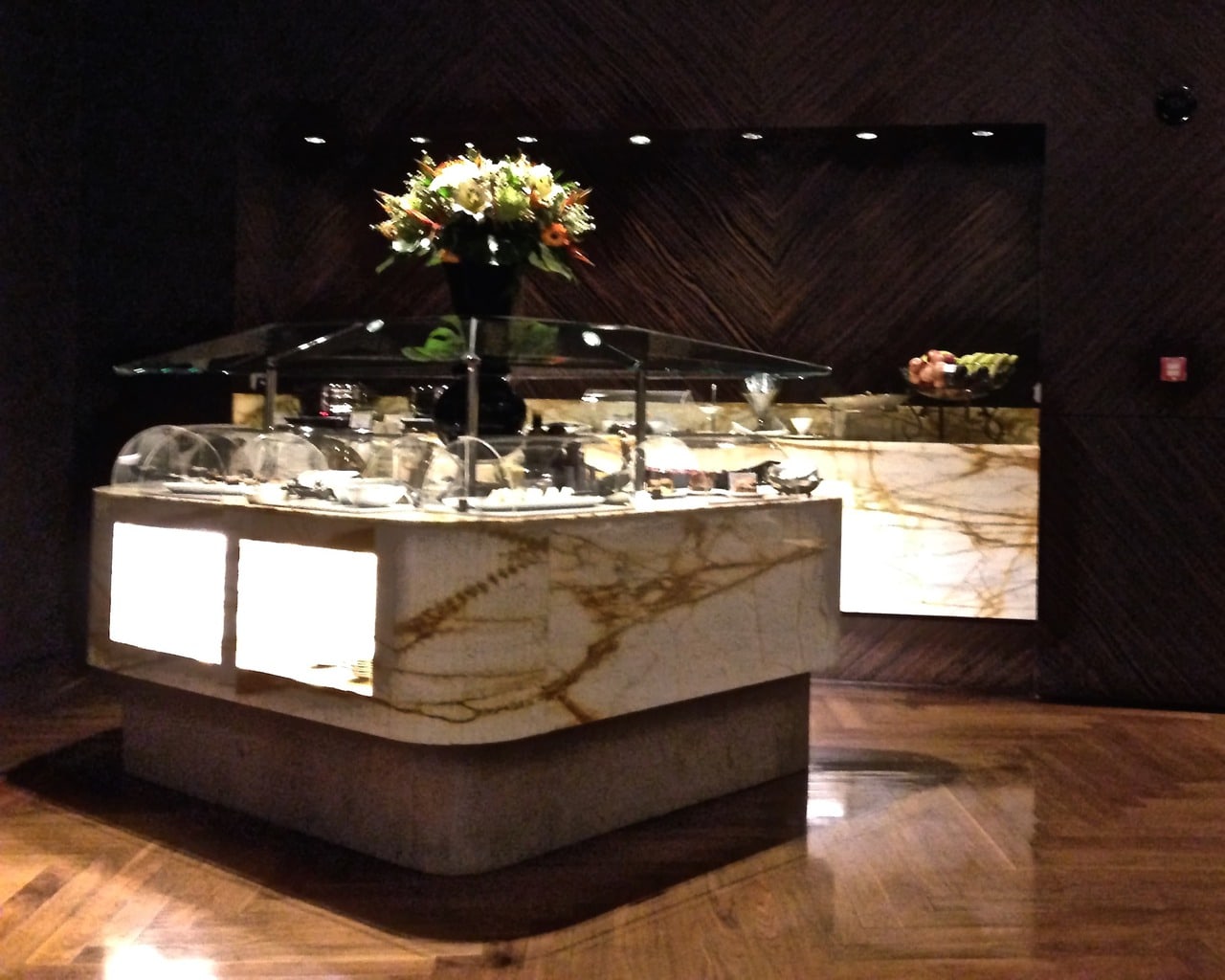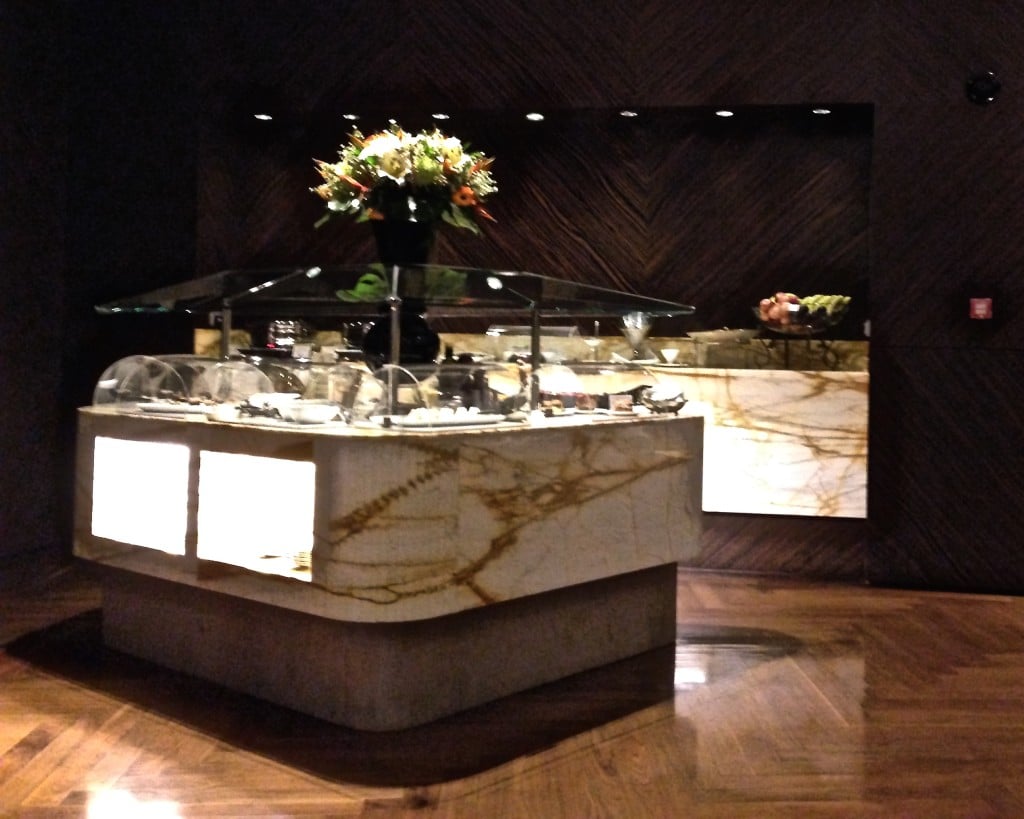 Ski house in the Alps meets Members Club, The Private Room is a spacious and personalized space that feels like stepping into winter. It is made of lines of plush leather sofas with high backs and shelves providing privacy and quietness. Sofas are set apart from each other and by the glass walls overlooking the tarmac. Tall private lamps light the reading areas and bookshelves provide an intimate setting. I felt as if there were going to be fire places to warm up the room, but then I remembered we were in Singapore. The carpets were so thick I had to literally drag my hand carry along the floor.
There was a separate dining area with a sit-down restaurant service, white starched table cloths and fine china. As it was dinner time, I sat down for a treat. Within seconds, Peter, the waiter, came over with the menu. In true Singapore Airlines style and matching the rest of the space, the menus were presented on a hard coffee leather support. There were two menus, one featuring Asian delicacies and another one with Western palate pleasers. As expected, the menu included lobster, champagne and truffles galore. As I couldn't have it any other way, I went for the lobster with a ragout sauce, although I am not actually a lobster fan, but I felt as if I couldn't chose any of the other more mainstream options and had to match the surroundings with an equally premium meal. The Champagne was Piper-Heidsieck Rare Millesime Brut, a $250 per bottle bubbly that paired deliciously with the food and the decor, not to mention my mood. They say wine pairing is as much about the occasion as it is about the food you are drinking it with and the occasion called for a celebration.
Peter had the privilege of taking a few photos of me. I am sure he is still laughing and wondering how I made it there. I was so ecstatically euphoric that he replenished my glass without asking, free-flow of expensive champagne. The rest of the passengers in the dining area were couples in their 50s or 60s who were clearly used to flying First and had deep pockets. They were decked in the usual Louise Vuitton attire and wore expensive branded clothes. The lady in front of me kept looking, smiling at times, probably realizing that this was a first for me and that I was enjoying every minute of it. I couldn't erase my wide grin as I broadcasted my experience minute by minute to my friends via whatsapp. She sure noticed that I was a rookie. Somehow, no matter how many times I fly Business or even First, which I used to take regularly for work, every time feels as exciting and special as the first. It is like walking on the finest most crystalline waters of a remote island. I have been to countless, yet every time I am as happy and eager as a child with a new toy. It just never gets old. Peter noticed this and gave me a feedback form, sure that I would recognize his services as a professional photographer. He wasn't wrong.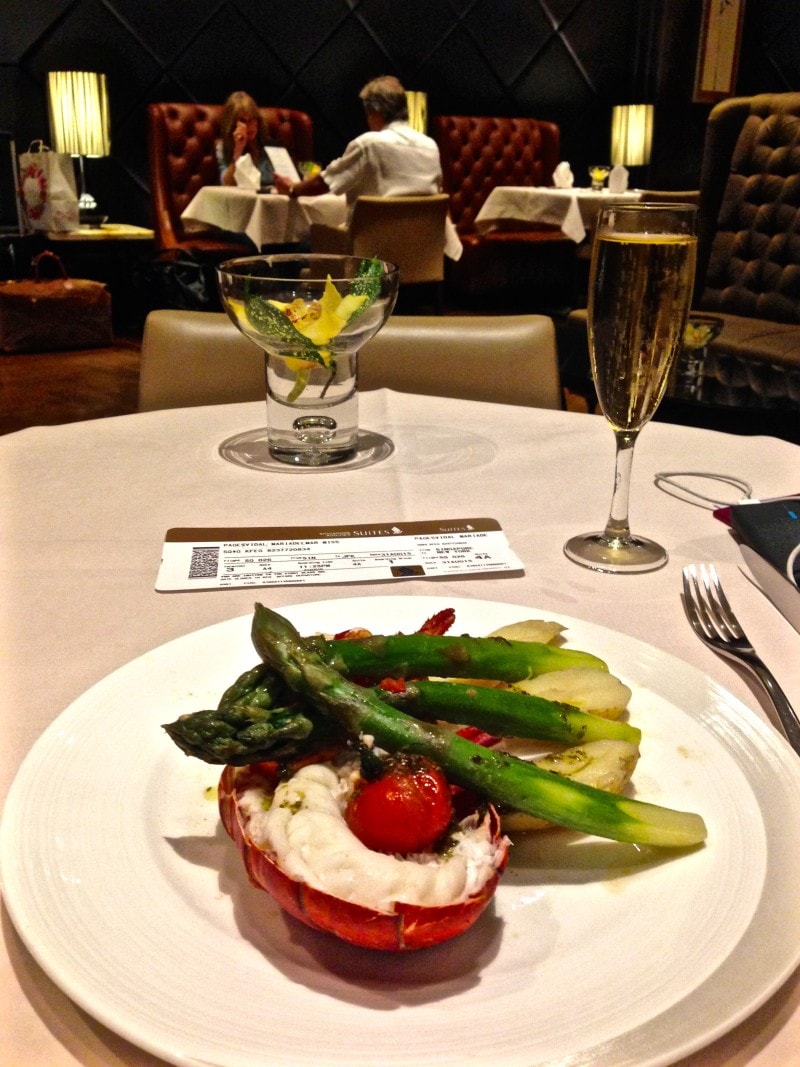 Aside from the made to order food, there was also a small buffet area with some snacks and small cakes of which I had many. I had to try them all, for the sake of this review, of course. I had coffee cream cake, chocolate mousse and chocolate brownie, plus a few truffles and chocolate almond bundles for measure. I was sad to leave when the time arrived, but I knew there was more of the same coming up for the next 23h. For the first time, I was looking forward to being stuck in a small space for an entire day.
Needless to say, no announcements were made in The Private Room and only the noise of adult intelligent conversation and newspaper pages interrupted the silence of the champagne bubbles.
When it was time, I retraced my steps through the maze of marble corridors and thanked the various staff members who wished me a pleasant flight with another little nod of the head. It sure was going to be, no doubt about that. I descended the mechanical stairs and the boarding gate was around the corner. All in all, I reckon I spent a maximum of five minutes between the door of the airport, the lounge and the gate in what must be the most efficient and hassle-free boarding process in the world.
Boarding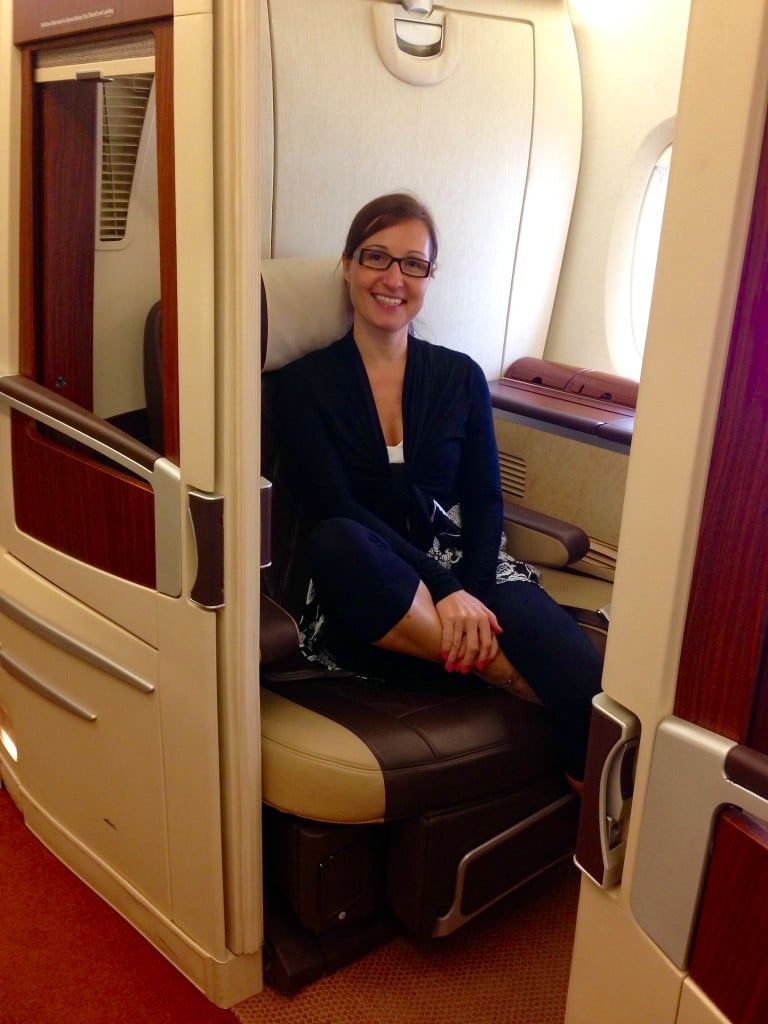 Suites passengers get to board at any time through the dedicate queues. No news here, Business Class is the same, but they also have a dedicated bridge to the front of the plane. By the time I arrived in the plane, I had not seen or interacted with a single passenger who was not in Suites.
The crew came immediately to greet me and escorted me to my suite. There was no overhead compartment in Suites so luggage had to be stored under the footrest or in separate closets. As I only had a carry on, it fit perfectly under the footrest. Needless to say it was probably designed with the standard measurements in mind. My handbag was placed inside a cover so it wouldn't be damaged or stained by the floor, how refined, if only I was carrying my Louis Vuitton and not a cheap (and dirty) practical handbag. I felt slightly self-conscious when she tried to place it in the cover, she must have thought, "Well, no risk of getting it any dirtier than it already is!".
I was the first to board because I wanted to take a few photos before everyone arrived. Once we were all boarded I realized that there were seven passengers in total out of the twelve suites. I Frankfurt, a few passengers got off so only four of us were left. No additional passengers boarded. I counted six crew members, most of which were very senior, sporting the purple or red outfits that denote tenure with Singapore Airlines. That made it an almost 1:1 crew to passenger ratio. Not bad.
In Frankfurt, when I boarded again, with a new crew, I was given the same treatment and attention. The Senior crew member came to introduce himself again and the question around how to pronounce my name was brought up as it usually is on Business or if you are a PPS member. The crew were kind and pointed at the key elements of the suite once more to make sure I knew how to make myself feel at home. Like the Customer Services Representative at check-in, they were excited for me and willing to show me everything there was. They were showing off, in a proud manner that is so rare in today's customer service starved world.

As soon as I sat down in my seat, newspapers and magazines were offered with a drink. I couldn't decide between Krug and Dom Perignon so I joked that I would just get a glass of it to which the crew smiled and played along. From then onwards they knew I was a blogger and that I was documenting everything so we regularly laughed at my constant photo taking. At one point I even climbed on the seat in the Suite next to mine to have the full picture of my seat in the frame. After the two glasses of champagne came along, the Senior Crew member came to share the tasting notes with me and proved that she was able to recognize which glass was which champagne. It felt almost ridiculous to discuss bubble size and color in a plane, with a stewardess.
The Suite and amenities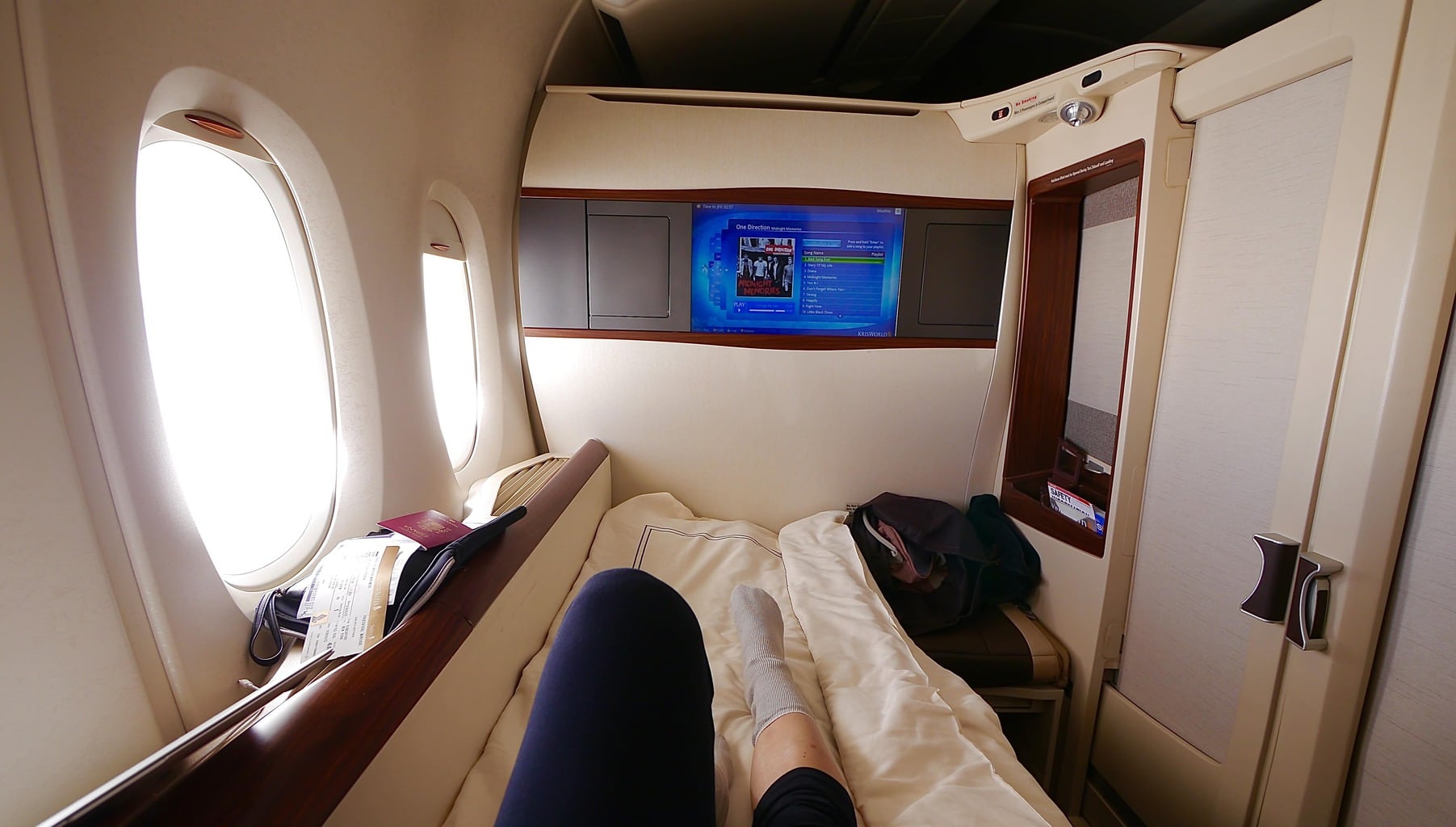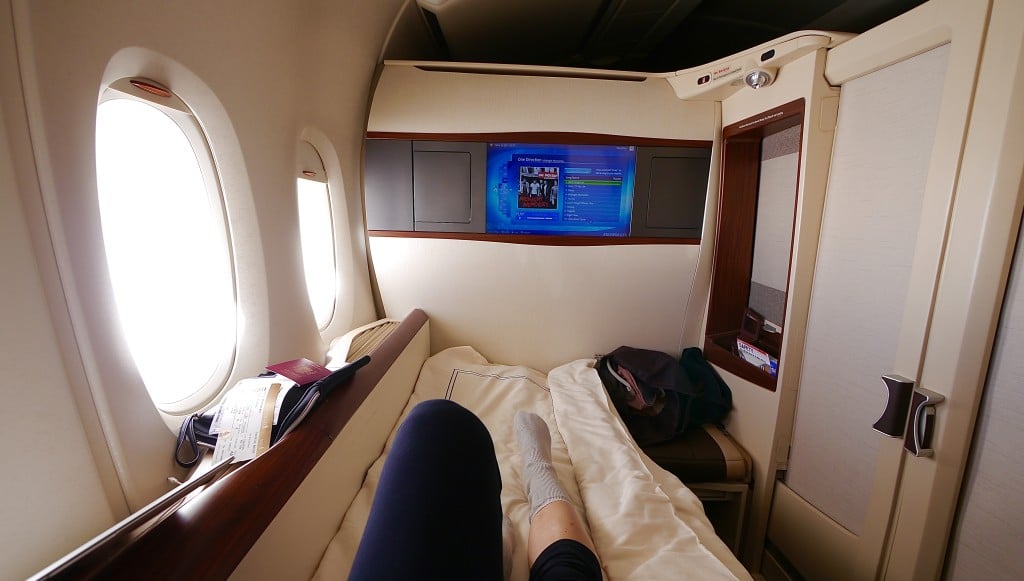 I had flown Emirates suites before so I knew what to expect of such private products but, the Singapore Airlines Suites, for some obscure reason, had a hyped up luxury positioning that I had yet to fully grasp. I was ready to find out.
Singapore Airlines uses only the A380 1x2x1 layout for Suites. With a train–carriage design and the possibility to close the doors to your seating area, privacy is guaranteed. The Singapore Airlines Suites product has the additional option of a double bed for those passengers traveling together. The two middle seats can be joined, the partition brought down and a large double bed made up for two. This is a unique feature on Singapore Airlines that has been much publicized but I have yet to meet or read about someone who has had the privilege of booking one. That being said, most of the passengers I saw at The Private Room were couples. I will not make comments about what one can do inside the double bedroom…
The Suite is designed in tiramisu colors; dark chocolate and cream. The carpet, the seat, the table and the various ledges all came in shades of the same color but in different textures, from leather to plastic to wood.
The space was full of small details and compartments. The leather seat was spacious. The bed went flat and covered the length of the suite, but required the crew to make it up. There was storage space under the table and under the footrest and, when the bed was made up, there was a bedside table with a hard wooden surface to put all my personal items.
The TV was large and could be enjoyed with the branded noise canceling Bose headsets. There were pockets to store my phone, my laptop and my smaller items and two USB ports plus one electricity outlet to charge all electronics. There was even a small bin to place tissues and alike.
I immediately felt at home as I snuggled up in my wool blanket and the three pillows provided. I got soft sleepers, socks, eyeshades and pyjamas to change into. The amenity kit was by Salvatore Ferragamo and came in a pretty black silk handbag that I am sure I will re-use on a night out. Inside were a hand cream, a lip balm, a face washing towel and a small perfume all from the Signorina brand. For toothbrush, toothpaste, shaving cream and razor I could use any of the kits provided in the bathroom. There were two bathrooms for Suites customers so queues were unusual.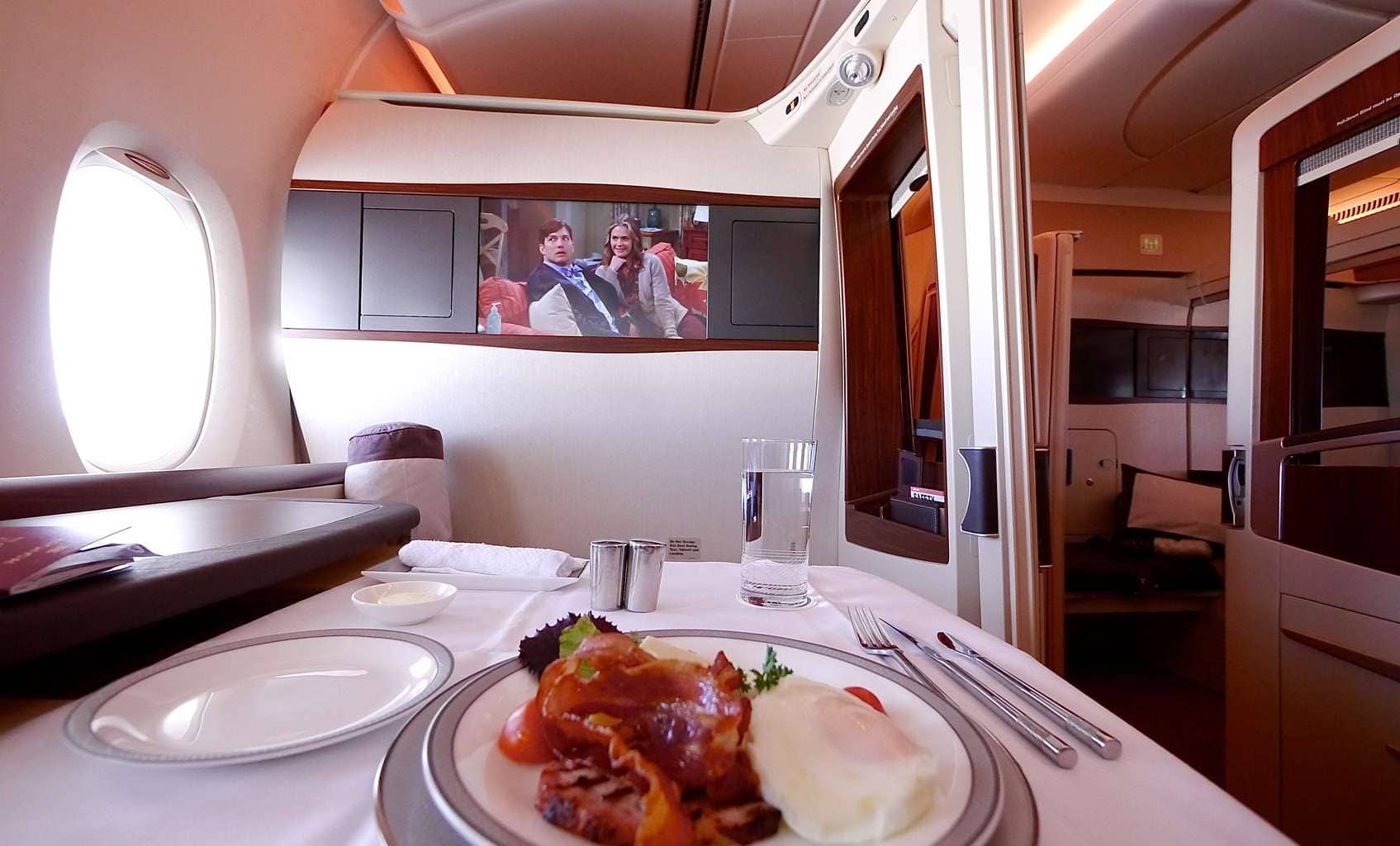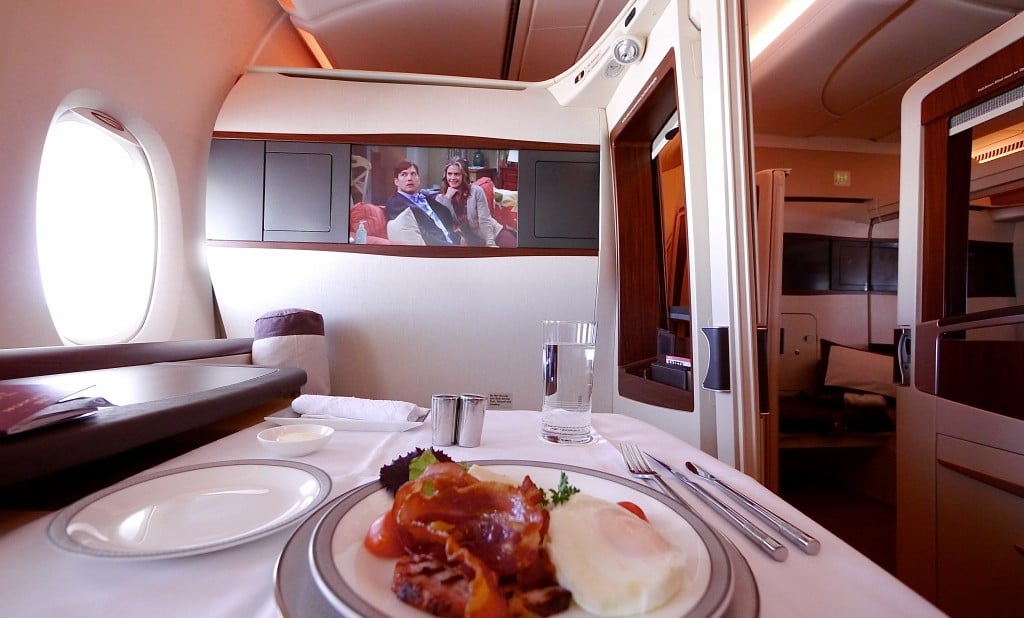 The Table was large enough for two people to enjoy a meal as the footrest could be used as a seat for the extra person.
When I wanted to rest, the crew made the bed up in a few minutes. The seat back folded and the wall behind the seat came down to provide a fully flat bed. A duvet and the three pillows were nicely placed on the bed and when I came back from changing into my pyjamas I had a full fledge hotel room ready for the night.
The meal service
This had to be the most impressive menu I have ever seen on an airplane. The menu had over twenty pages. We were served dinner after take off, refreshments available throughout the night and breakfast before landing in Frankfurt. After taking off from Frankfurt, Brunch was served and a Light lunch was available before landing in New York. I was offered food so many times and I ate so much that, by the end of it, I felt slightly sick and very stuffed. But who could say no to all the fabulously delicious food and the free flow of champagne and wine? I am weak, what can I say.
The menu was not only impressive but also absolutely delicious. I usually am not a fan of Singapore Airlines Business Class food. It tends to be repetitive and taste the same with poorly crafted menus but most importantly, with bland food that often times does not look very appetizing. In this case, my expectations were exceeded in orders of magnitude.
Because 2015 is the 50th Anniversary of Singapore's independence, Singapore Airlines has been running a locally focused menu showcasing the various cuisines of multi-cultural Singapore. The flight to New York featured a Peranakan dish in every meal service paying homage to the Straits culture and heritage of Singapore.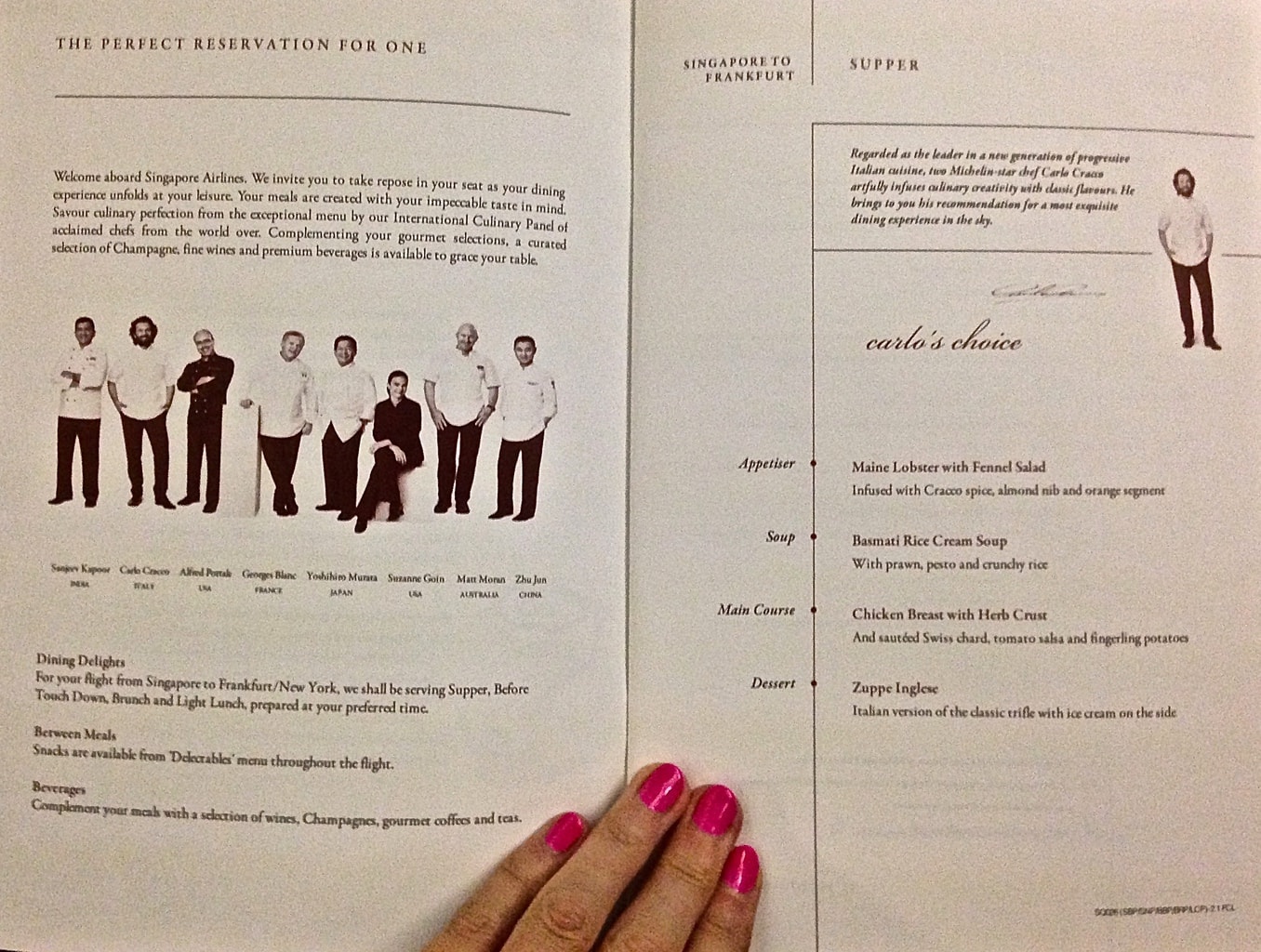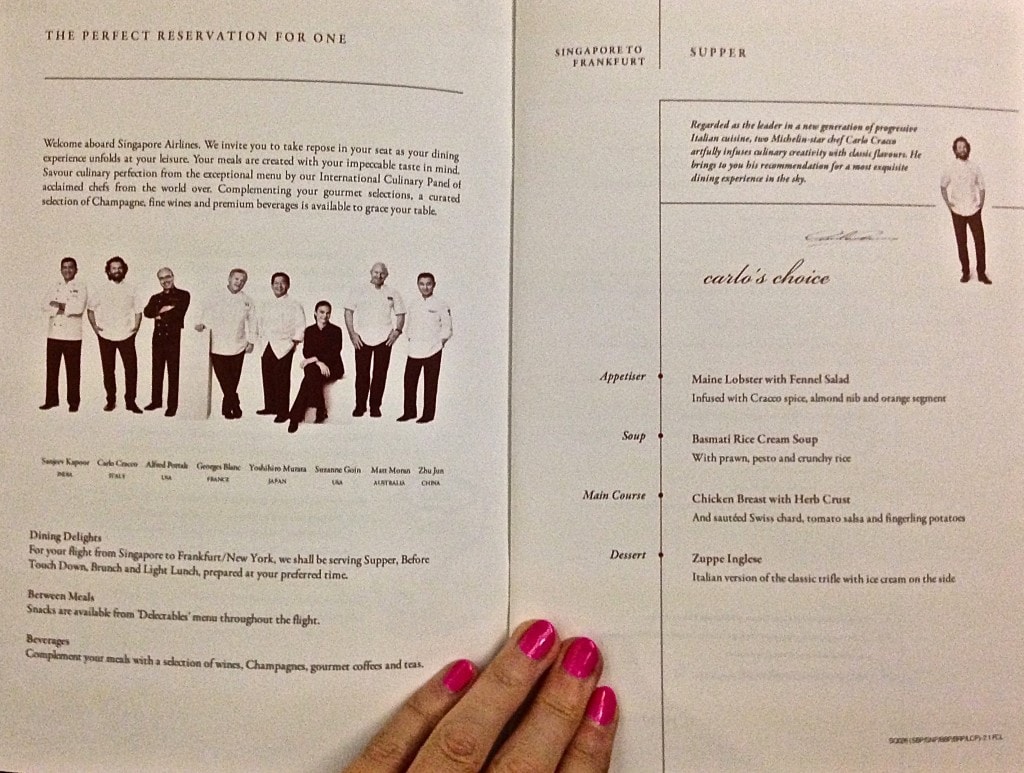 Dinner service to Frankfurt
I could choose between an appetizer of Maine lobster with fennel salad infused with cracco spice, almond nib and orange segment or a Malosso caviar with smoked Balik salmon. Since I already had lobster in The Private Room, I went for the salmon which was absolutely delicious. The salmon was soft and creamy and the salad was a great pairing to the flavors of the salmon. It was a great start to the meal service. The caviar completed my premium meal staples: lobster, champagne and caviar. Result! I could sleep in peace after that.
Following the starter was a Basmati Cream soup, but since this was already my second dinner, I declined despite the insistence of the crew who wanted to make sure I tried everything.
There were four main course options. I went for the Herb encrusted chicken breast which was soft, tender and juicy and was served with sautéed swiss chard, tomato salsa and fingerling potatoes. The other options were a Nonya fish curry, Seared Beef Fillet, Café du paris butter or Chicken and lamb satays. The stewardess, Melanie, suggested that I go for the chicken as it was the chef-recommended option. I did not feel like any of the Asian options as they were too heavy and the beef seemed like a hard-to-digest option for such a long and arduous trip. The chicken was indeed a great recommendation.
For desert there was a Zuppe Inglese, an Italian version of the classic trifle with hazelnut ice cream. It was possibly the weakest link, yet still a yummy one. The ice cream was fabulously rich. As any meal cannot end without the fine dining complements, there was a selection of cheeses and fruits to fill any gaps left. Needless to say, there were none in my stomach. The meal was accompanied by the usual breads. planes are the only place where I eat garlic bread. Not sure why. I will add it to the list of indulgences.
As the next meal service was a breakfast, there was a large selection of "Delectables" available should hunger strike. It didn't, but these were the options. We could savor Nama Udon Noodles, Wanton noodles or Beehon noodles. There were two sandwiches; A Ciabatta with garlic prawns, Lollo rosso and pesto, a Warm sandwich with thai style chicken and tom yum spread or A sandwich with roasted pumpkin, feta cheese and sun dried tomatoes. For lighter snacks, I could nibble on chocolate bars, crisps, nuts, dried fruit, fresh fruit, the cheese selection or butter biscuits. This was all available throughout the flight.
The breakfast service to Frankfurt
Breakfast was a proper affaire. The menu started with fresh orange juice, tomato or apple juice and a selection of premium cut fresh fruits. The mango was soft and sweet, delicious, and there were also blueberries, kiwi and strawberries.
As a main, I went with the Warm waffles with maple syrup, strawberries and mascarpone cream. They were fluffy and light with the right amount of sweetness.
Other options included the Char Siew and wanton noodle soup, the Nasi lemak or the Fresh eggs any style. Assorted breads and pastries we also on offer and I could not resist a buttery croissant, although it was only 4am in Frankfurt. I could also have ordered granola, cornflakes or yogurt but I knew another brunch was awaiting after take off from Frankfurt again.
Brunch service to New York
Brunch was served after take-off with more juice, fresh fruits, pastries and breads plus a choice of Bircher Muesli, which was incredibly creamy and soft, Yogurts or Corn flakes. The main dish offered a choice of Eggs any style, Roasted Beef filet with olive crust, Braised red snapper in oriental Xo sauce or Chicken congee. I opted for the baked eggs that was the closest to poached eggs, the only style, together with sunny side up, they cannot make in the air. Since I had eaten not too long before then, I opted to have brunch slightly later. Needless to say, my wishes were the crew's commands and I could eat or drink anything at any time.
Because it was brunch rather than breakfast, we had a desert option too which featured Mango sorbet ice cream and crepes with raspberry coulis.
Light lunch to New York
Last meal before touchdown in New York was a light lunch. The starter offered a refreshing and light Tian of crabmeat, avocado and mango on a cold gazpacho soup which was just what I needed after so much champagne and food.
The main options included Roasted lamb rack in mint jus, Braised red snapper in Tofu chili sauce or Cajun blackened Chicken in natural jus. I had none of the above as I was absolutely stuffed.
As it couldn't be any other way, the desert topped the flight with Warm chocolate brownie and vanilla ice cream but, by that point, I couldn't take any more food, not even dessert, so I had to pass on the treat. More breads were available.
The rest of the meal service
The most impressive part of the menu was the tea and coffee selection. There were fifteen different types of TWG Teas on offer and six types of coffee origins to choose from. There was a long-list of juices, mocktails, cocktails and liquors of all sorts.
On the champagne selection there were the two classics, Krug Grande Cuvee and 2004 Dom Perignon. Wine options featured three reds and three whites mostly from Germany and France plus Dow's 20 year old Port.
The service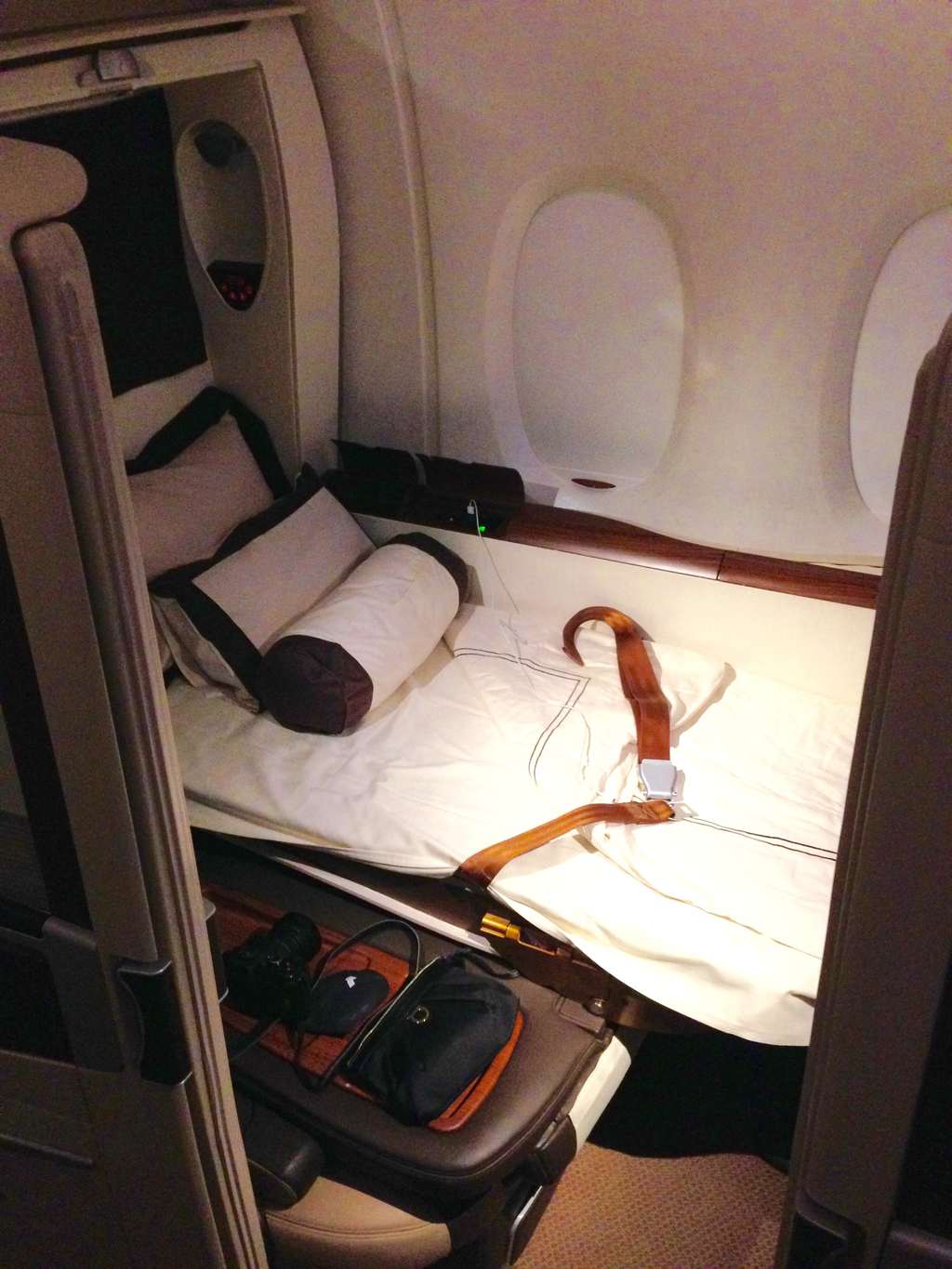 This was without a doubt the most over the top part of the experience. I have flown Business Class and even First Class with several of the famed Asian and Middle Eastern airlines but I will have to admit that this was the most attentive and personal service I have ever experienced.
The crew was checking on me constantly and I never had to buzz the button to call them because I knew that one of them would pass by my suite every few minutes. They were proactive to the point of exhaustion. I was offered food, drinks or anything I wanted numerous times and one of the stewardesses, Janet, even prepared an olive oil and hand cream concoction for me when she saw how dry my hand and leg skin was after so many hours in the air. I asked for a plaster when I got a nail caught up with the table and broke it badly and she brought me a plaster and a piece of tape to hold it in position and allow me to continue typing, as it was the index finger. What was more, the crew proactively offered to take photos of me several times, both crew sets, when they saw that I was trying to take selfies. They were incredibly attentive and aware as if they could read my mind. I even wondered if there were cameras in my Suite that allowed them to know if I ever as little as shifted in my seat and mentally considered the need for anything. I had read about this behavior from other reviews of the Suites service and it was indeed something worth writing home about. The crew's ability to anticipate my needs before I even knew I had them was of the clairvoyant type.
The ratio of crew to passengers also meant that I had a crew member almost entirely devoted to me on both flights, aside from all the rest of the crew. I found the crew to be incredibly genuine, something that was most surprising. I am used to flying Singapore Airlines a lot and I always faulted them for the relatively formal yet slightly cold service. They are always incredibly polite but the formality of their dealings is slightly impersonal, instructed and a little bit stuck up, whereas the Middle Eastern Airlines are always a bit more casual and friendly. The flight to New York was nothing like that. The crew was incredibly friendly and nice and they were proactive and genuinely interested in making sure I had a memorable experience.
The verdict
The Suites cost S$18,000 return from Singapore to New York, that is almost $10,000 more than the Business Class ticket my company bought me and about 10 times more than the Economy Class fare. Although that is the usual ratio between classes on Singapore Airlines, it is a very large amount of money to spend on a flight, even if it is a 24h one. It is a $900 per hour experience or the price of a car in Spain. It is very difficult to make an assessment of whether it was worth it.
Once thing is clear, I could never pay for it unless I was ridiculously rich and, even then, I don't think I could spend such money on something so superficial and then go to bed knowing how much more good I could have done with the money, how I could have paid for a year's education of 60 children in Honduras, which I know from my time there. It may sound like "the right thing to say" or even hypocrite, coming from a luxury travel blogger, but I do view the experience in those terms.
I am not berating those who choose to spend such money, they could be spending much more on charitable or "greater good" things, but since I have limited resources, I doubt I could ever spend this money on a flight. Since I only paid $300 it was a great deal.
If you collect miles, this is one of the best ways to spend them. One way is enough. A return Suites ticket is not only a huge amount of miles but also poses a risk to your well-being – Economy Class on a low-cost airline will feel so horrible after this! I'm glad I am downgrading myself only progressively, returning to Singapore on Business Class before I board my next personal flight, on Air Asia's cheapest fare.
More Business and First Class reviews:
Disclaimer: This article was first published in 2015, prices may have changed. Please check availability and prices on the Singapore Airlines website.