This article was first published in May 2018 and updated in November 2019.
Ethiopian Airlines offers very competitive rates connecting many African airports with Europe and even Asia, especially in Business Class and it has even been declared the Best Airline in Africa. Because it is part of Star Alliance, Ethiopian is also a great way to use when booking a round the world ticket as it serves as a great hub to connect East and West and North and South.
On recent flights from Kigali to Addis Ababa and from Addis Ababa to Dubai, I wanted to experience and review Ethiopian Airlines Business Class and see for myself if the price difference from other alternatives like Emirates, Qatar Airways or Singapore Airlines was reflected in a lower standards of service, older cabins or worse aircrafts.
Curious to see how Ethiopian Airlines Business Class compares to the Middle Eastern or Asian airlines in regional and medium-range destinations? Read more to find out.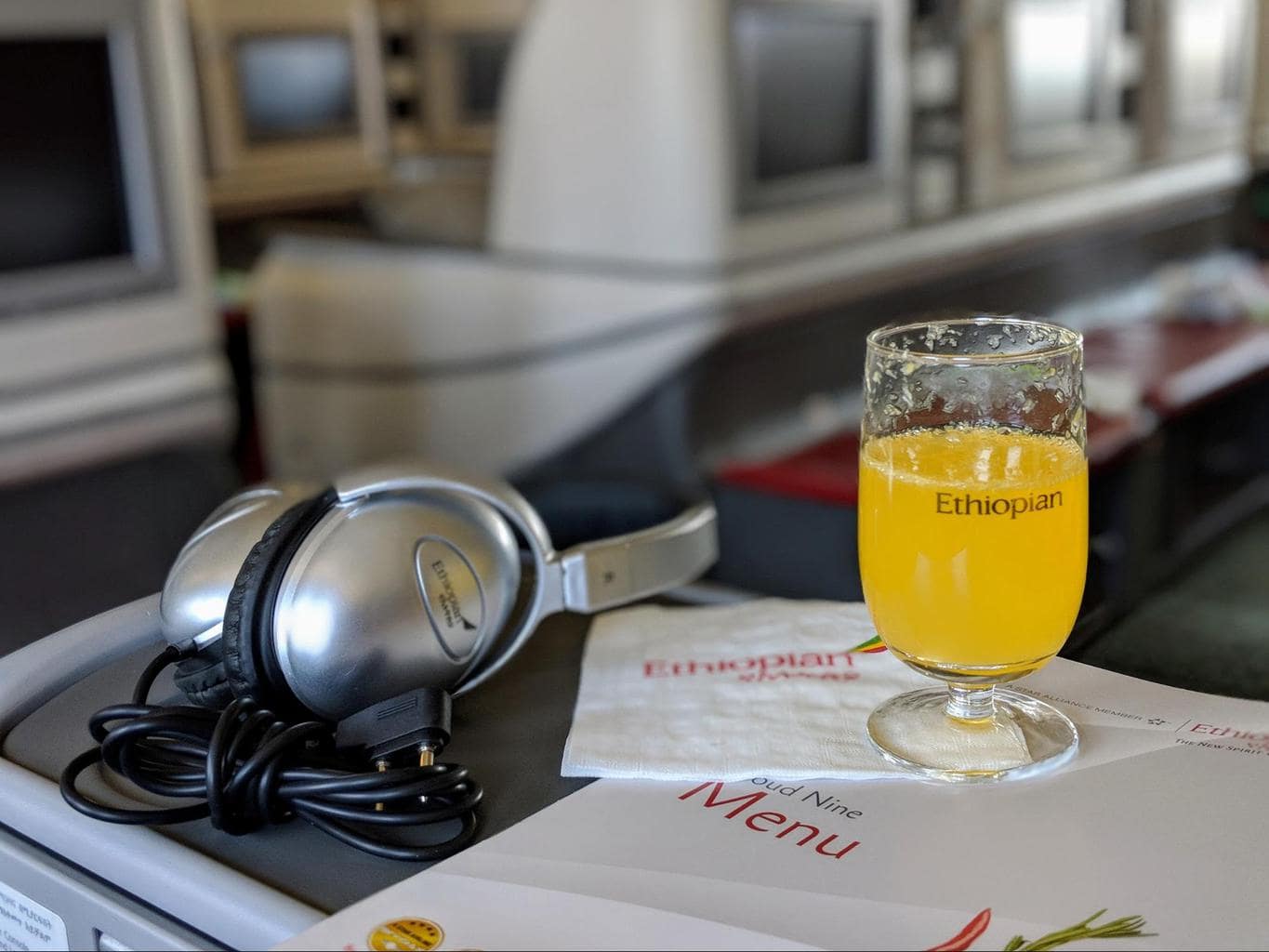 This article reviews Ethiopian Airlines Business Class flights both regionally within Africa as well as to longer haul destinations as I realise that there is a huge difference in the product between the two.
Ethiopian Airlines route map and aircrafts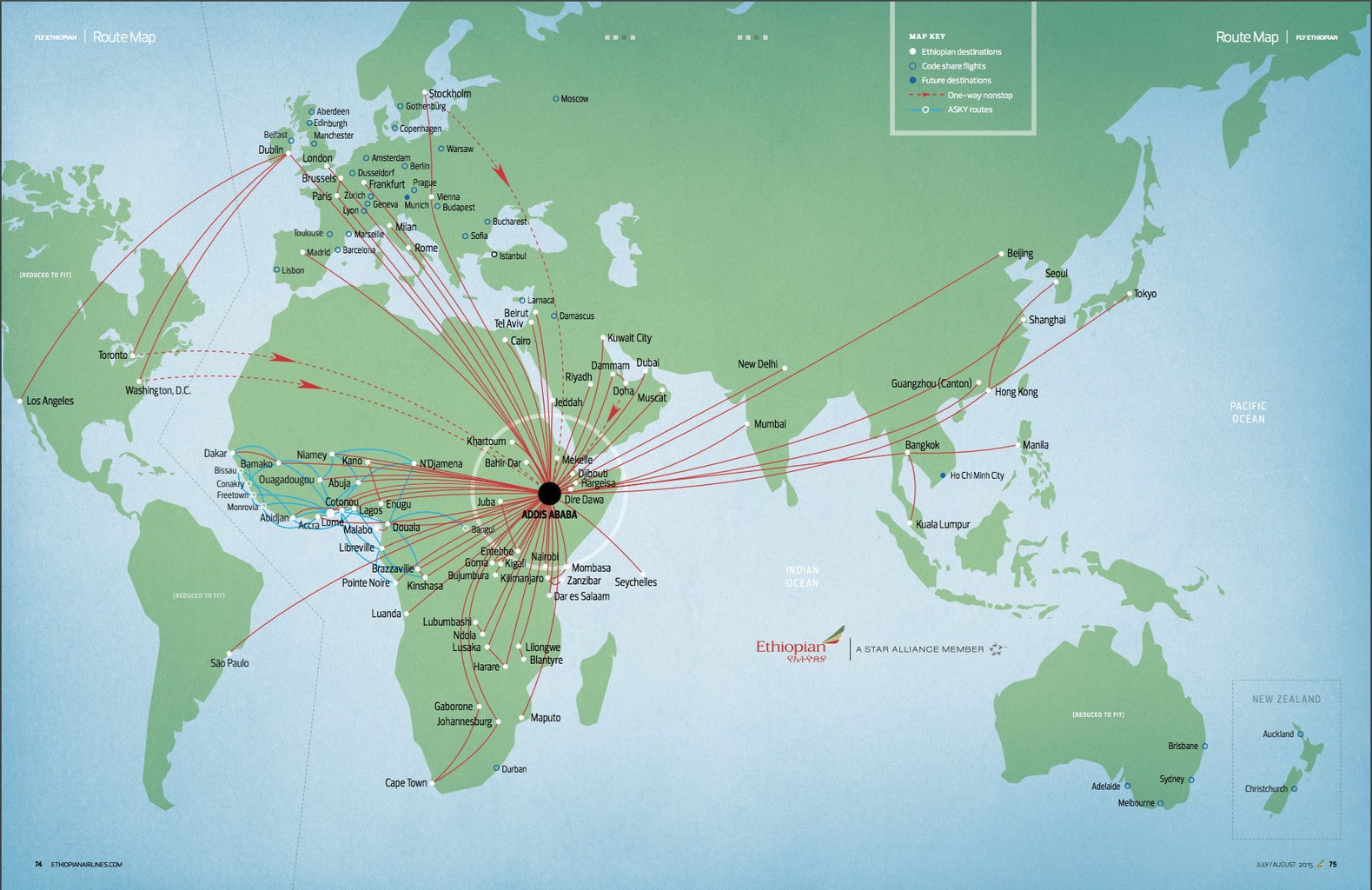 Ethiopian Airlines is the national carrier of Ethiopia. Although the country is not one of the major tourism destinations in Africa, it is one of its major hubs, the other being Nairobi with Kenya Airways and Johannesburg with South African Airways. Other hubs include Casablanca with Maroc Air, a handy connecting airport for French speaking West African countries.
As an airline targeting connecting passengers across Africa, Ethiopian Airlines has managed to attract a lot of interest because of its very affordable rates to reach some of the most remote and least connected destinations.
For example, Ethiopian Airlines flies to 113 international destinations, 61 of which are in Africa and is the only international and reputable airline landing in some airports in Central and Western Africa. It is also part of Star Alliance, making it the preferred choice for many frequent travellers who have miles to spend, as was my case on my recent flights.
The number of miles required to book Ethiopian Airlines in Africa is particularly low, despite some of the connections are rather long involving 2 or 3 flights via Addis. For example, I spent just 35,000 miles for a Business Class flight from Kigali to Bujumbura to Addis and then Dubai which included an overnight layover in Addis at a 4-star hotel and meals.
While the long haul destinations of Ethiopian Airlines are operated by newer aircrafts like Dreamliners, its regional flights are served by really old planes that have seen better days.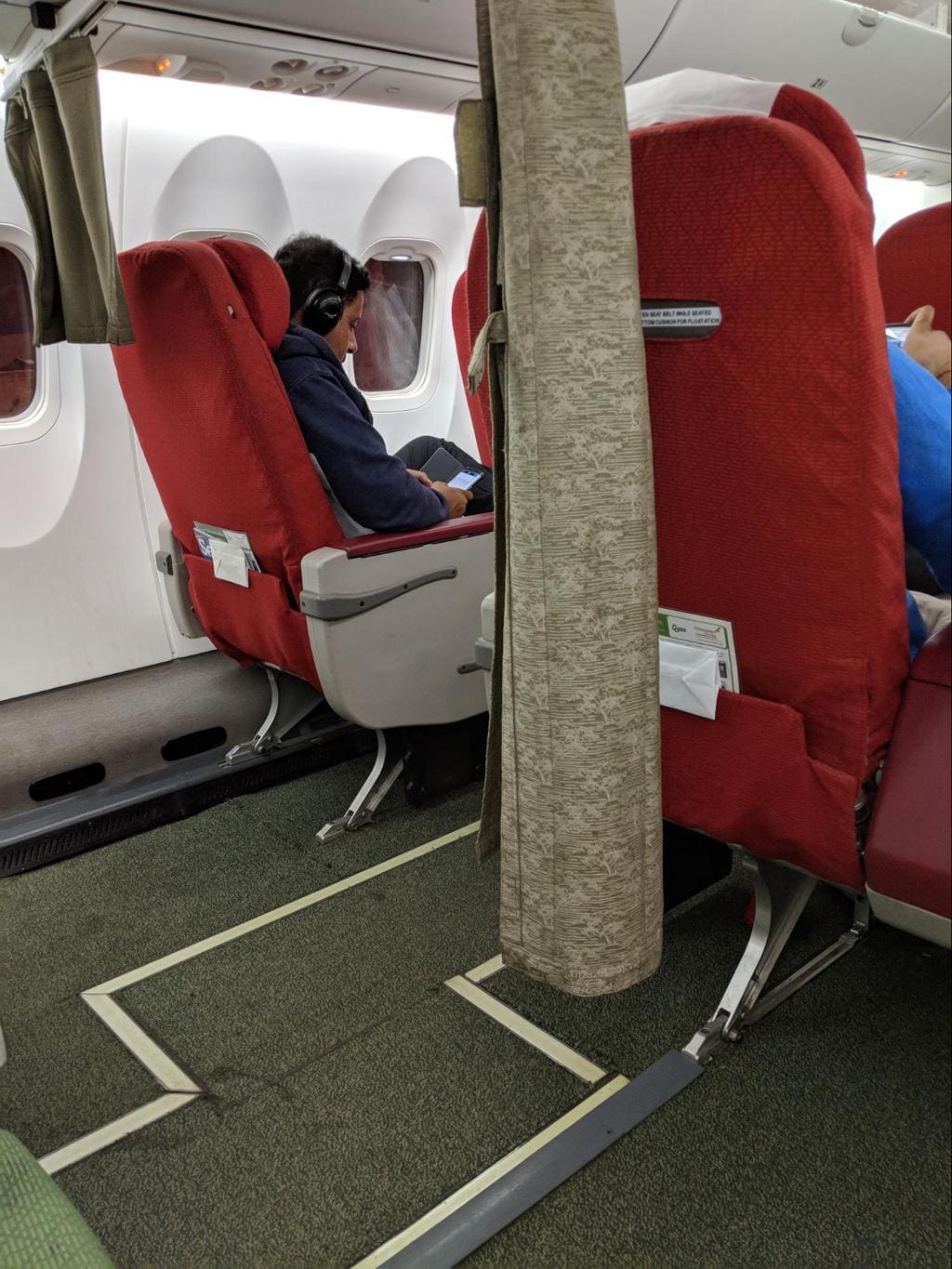 My flight from Hargeisa in Somaliland, to Addis Ababa was on an old Boeing 777-300 plane and my Addis Ababa to Kigali was originally scheduled on one of the oldest propeller aircrafts I have ever seen, an Q400 Bombardier of which the airline still has 21 in its fleet which it uses to serve domestic and regional flights.
The planes were so old and worn out that the seats were no longer red but brown and were clearly not the original ones, with the floor carpet stained and broken, the curtains missmatched and the seats not adapting to the aircraft design. There is little to no competition on many of these routes so Ethiopian Airlines is milking this competitive advantage with some of the worst aircrafts you will find in the continent.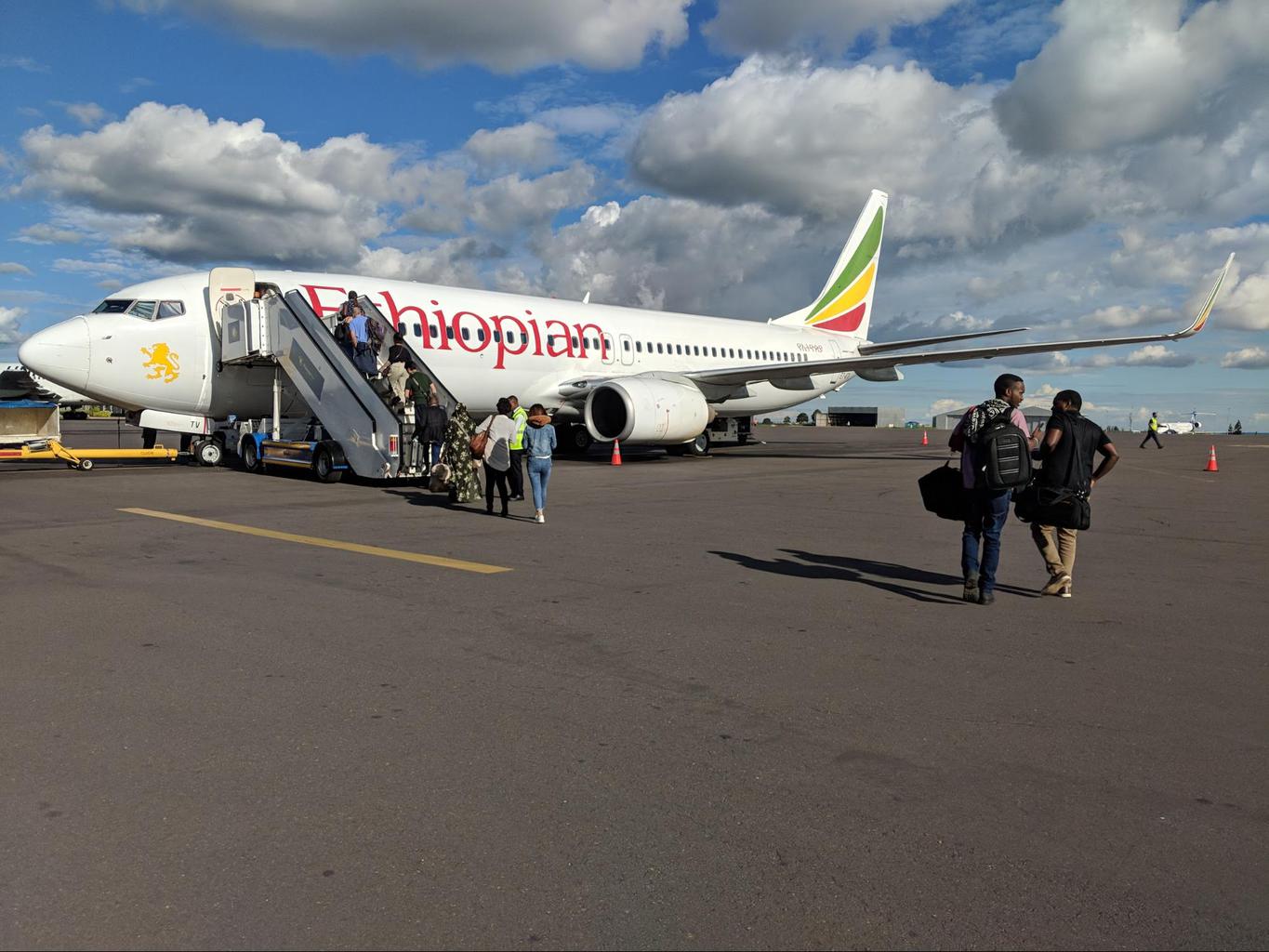 Check in for Ethiopian Airlines Business Class
I checked in on Business Class both in Kigali as well as in Addis Ababa. Ethiopian Airlines has a very segmented approach that is strictly followed by all of its staff.
There are separate check-in queues for Business and Gold/Platinum Star Alliance which are strongly adhered to. I was surprised to see such a process-following approach and strict guidelines. Economy Class passengers were turned away and not allowed to check in if they were not in the right queue, no concessions made. This was consistently applied both in Kigali, in Addis Ababa as well as at the Transfer Desks and lounges.
If you are Star Alliance Gold or Platinum member you will get the same treatment as if you are in Business Class including separate immigration counters, security check queues, fast track lanes and different boarding gates only used by all Business Class passengers. This is convenient as you are on exclusive buses and board in smaller numbers through a dedicated gate.
I found the check-in staff to be particularly conscious of the priority placed on premium passengers and heard the lady at my check in counter in Kigali rush the ticketing office staff when my flight needed to be confirmed insisting "We cannot make the Business Class passenger wait, please hurry up".
When a VIP customer came to check-in and attempted to jump the queue, get in front of me and claim, openly and loudly that he was a "VIP customer", the check-in staff politely advised him that I was a Business Class passenger too and she was trying to make sure everyone was treated according to their class of travel.
I had similar experiences in my 5 flights with Ethiopian Airlines in this trip as I am a Star Alliance Gold member so I was treated like a Business Class passenger in all flights regardless of class of travel. This level of prioritisation, so obviously marked, was quite unique of Ethiopian Airlines and of Africa where queues are often not respected and order is not a common virtue.
Ethiopian Airlines Cloud 9 Business Class lounge at Addis Ababa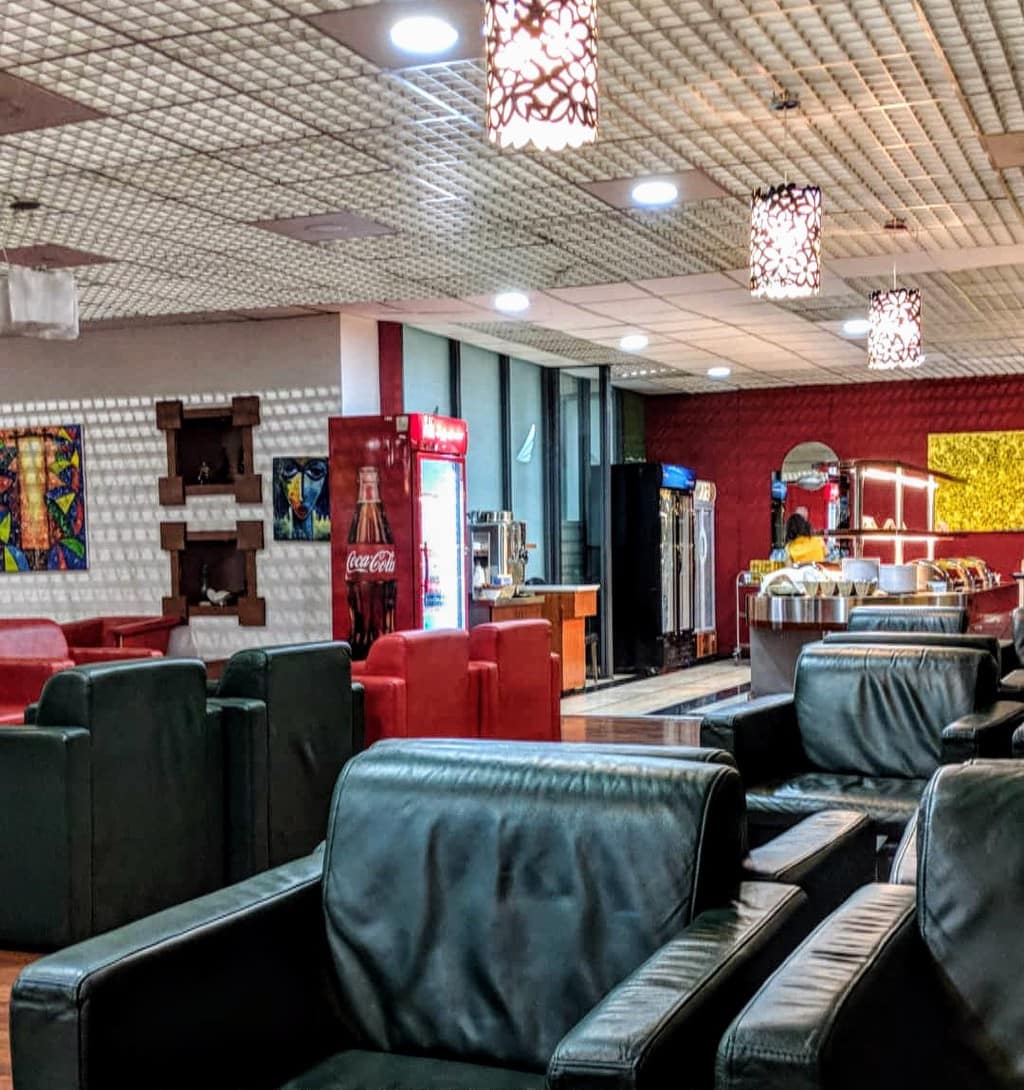 Addis Ababa Bole International Airport is being upgraded and expanded as it has reached capacity. This is obvious any time you fly via the airport where you see all bars and restaurants bursting at the seams, all public spaces with people sitting everywhere and most of the flights parked away from the airport building. This also results in almost guaranteed delays for all flights so plan accordingly.
For premium passengers, there are several lounges at Addis Ababa airport, one for each class of travel and type of passenger. The Cloud 9 lounge caters to Business Class passengers only. There is a separate lounge for Gold Class Star Alliance members and one for Platinum Star Alliance members.
Although there is segregation, all of the lounges look largely the same and serve similar food and drinks. I spent several hours at both the Gold Class lounge as well as at the Cloud 9 Business Class lounge and saw little differences.
The lounges are decorated similarly, in the same tones as the aircrafts in the signature Ethiopian Airlines shades of red, yellow and green that make the company's and the country's flag, and with African accents and decoration. They are not particularly pleasing or inviting and are rather old and clearly worn out. They have all seen better days and are in need of modernization.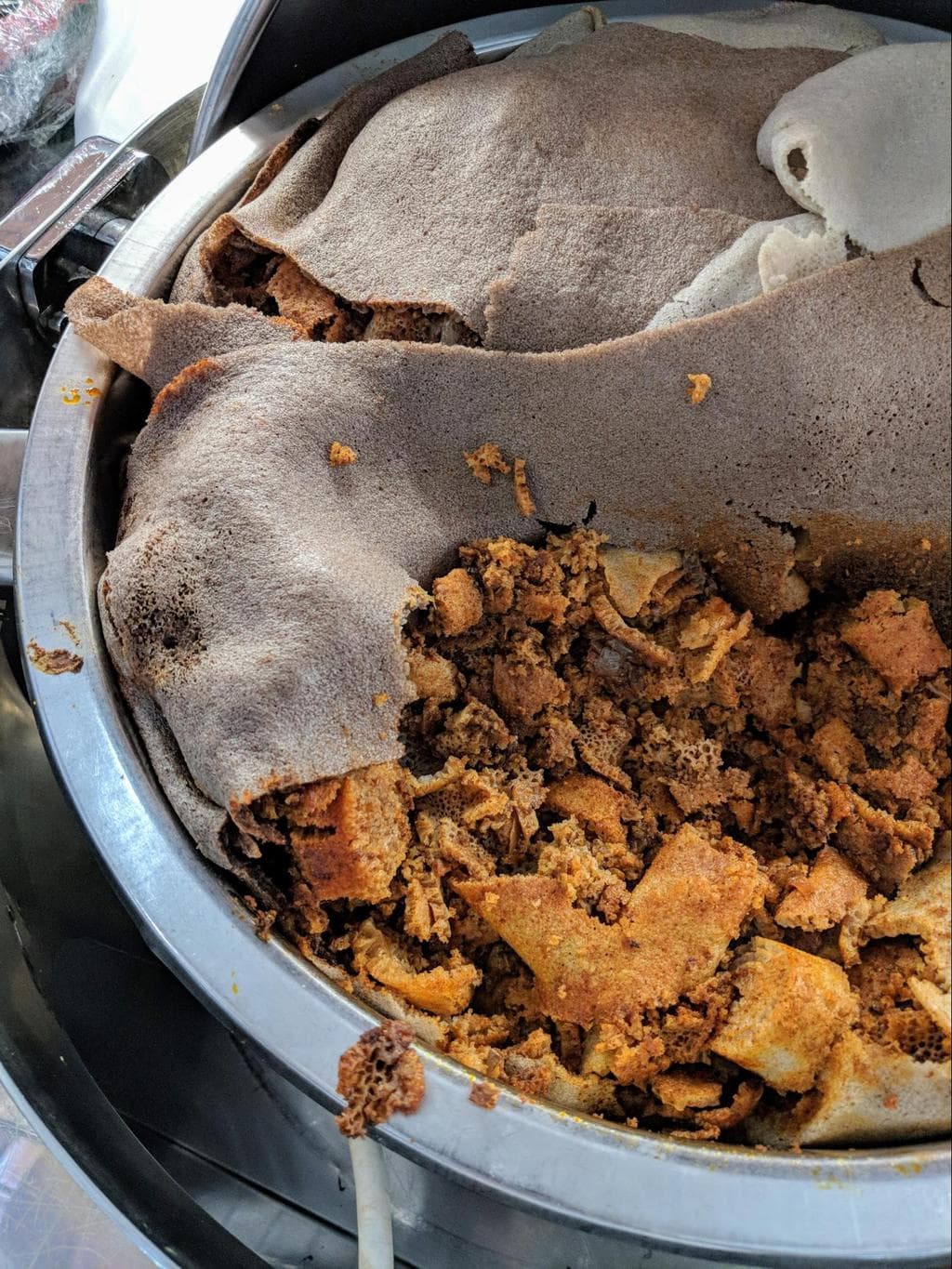 The food selection includes the omnipresent Ethiopian Airlines injera flatbread, some international ubiquitous options like pancakes, croissants, cereals and breads for breakfast and generic rice and meat based dishes otherwise. The food is not particularly good or inviting but the airport does not have a lot more to offer anyway.
The drink selection includes the usual lounge suspects with liquors, local Ethiopian Airlines and international wines and soft drinks. For breakfast there are also fresh fruits.
At the Cloud 9 Business Class lounge in Addis there is a section where a staff dressed in traditional Ethiopian Airlines clothes serves local coffee the traditional way, in clay pots and small cups, sitting down in small chairs with guests. This adds an interesting bit of culture, especially if you are only transiting and not spending any time in Ethiopia.
The sitting arrangement at the lounge is in low red sofas and there are small working areas. Plugs can be found on the walls and the internet password will be provided when you get into the lounge. The internet is not particularly fast and as soon as the lounge became more crowded, the speed dropped to really low levels. The rest of the airport has free WiFi, albeit equally slow.
The Aircraft and seats on Ethiopian Airlines Business Class
I had two completely different experiences flying Ethiopian Airlines in a short-haul regional African flight vs. the long haul flight connecting Addis Ababa to the Middle East, Europe or the US.
This is primarily because the airline uses very different aircrafts and has reserved the newer Dreamlines and A350s for the long haul continental or transatlantic flights where there is competition and the airline plays in the international space.
In the regional flights or even the medium range destinations, Ethiopian Airlines uses rather old aircrafts which are pretty worn out and although spacious and comfortable, they are not at the same level of the modern aircrafts used by other airlines.
Regional Business Class flights on Ethiopian Airlines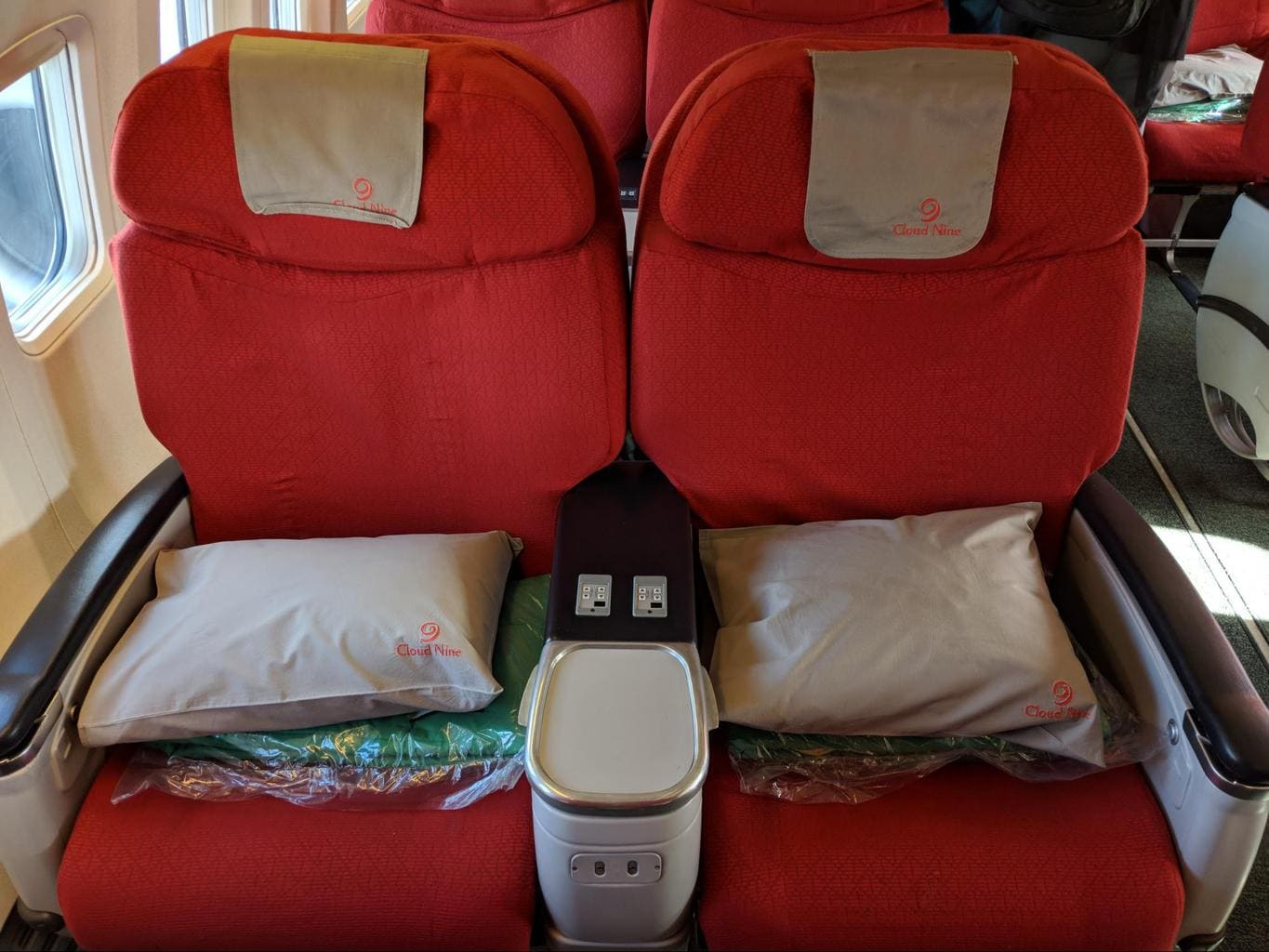 The regional aircrafts used across the shorter-haul African flights of Ethiopian Airlines are really awful. The planes are old, there is no competition and the passengers flying across these destinations are used to it so the airline really seems to not pay any attention to how old or worn out the aircrafts are.
My Hargeisa to Addis Ababa, Addis Ababa to Kigali and Kigali to Addis Ababa planes were all terribly old and there was little point in flying Business Class.
The price difference between Economy and Business Class on Ethiopian Airlines short-haul flights across Africa is not justified. The food and service may be marginally better, but the seats are practically the same and come with not even foot rests or any entertainment, they are just simply a bit wider in size.
With very few exceptions, I would not recommend paying for the difference between Economy and Business on Ethiopian Airlines across Africa, especially if you are a Gold or Platinum member with Star Alliance already, in which case you already get preferential treatment at check in, boarding and immigration which are the only benefits of a Business Class seat.
Long haul Business Class flights on Ethiopian Airlines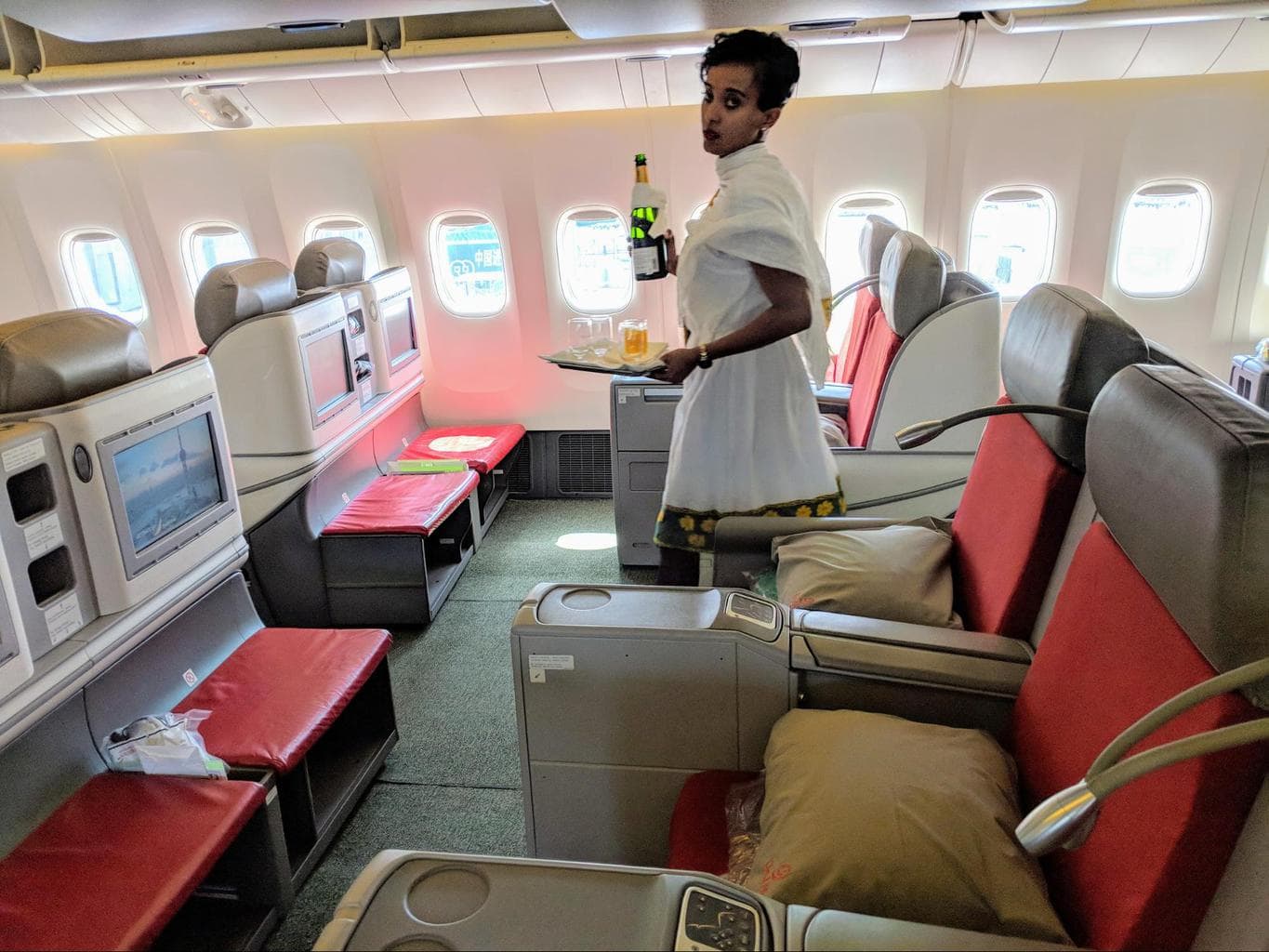 For longer haul flights of more than three or four hours, Ethiopian Airlines uses slightly better aircrafts that recline to the full flat position and make a difference over the Economy Class seats. Here is where the airline experiences more competition and where the better aircrafts are being used.
My Boeing 777-300 was definitely not one of their newest aircrafts as they are favoring Dreamliners and A350s, but they are at least comfortable enough even in their worn out design and fabric. They are also remarkably spacious with lots of space between the seat and the footrest.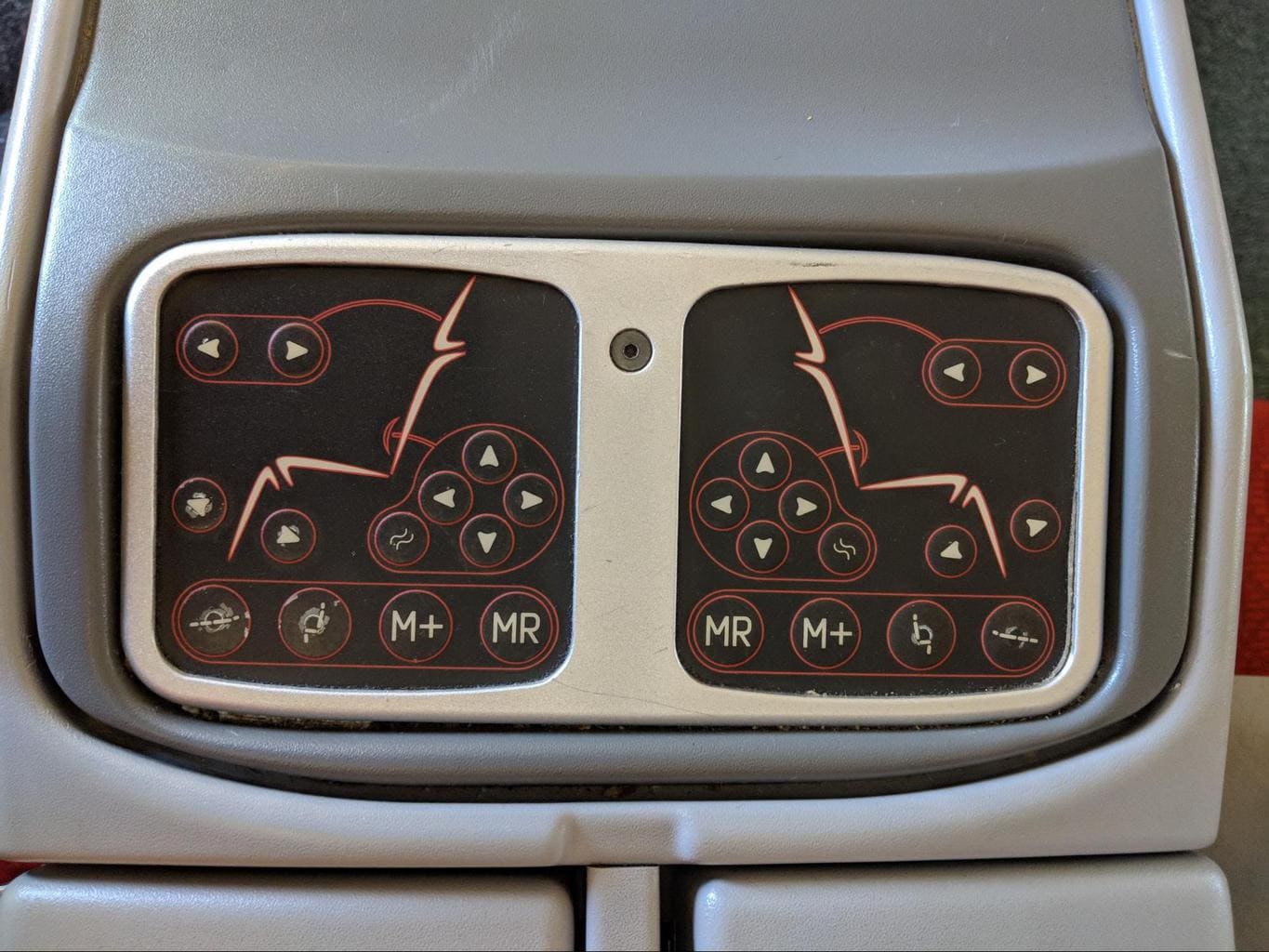 The seat can be extended in various positions and levels with a set of buttons but my seat did not seem to work properly and was only reclining fully in the three positions: sitting up, laying down and halfway.
In that case you can expect more comfortable 2-3-2 layouts, wide screen TVs, thick duvets, plush pillows and amenity kits that you can actually reuse.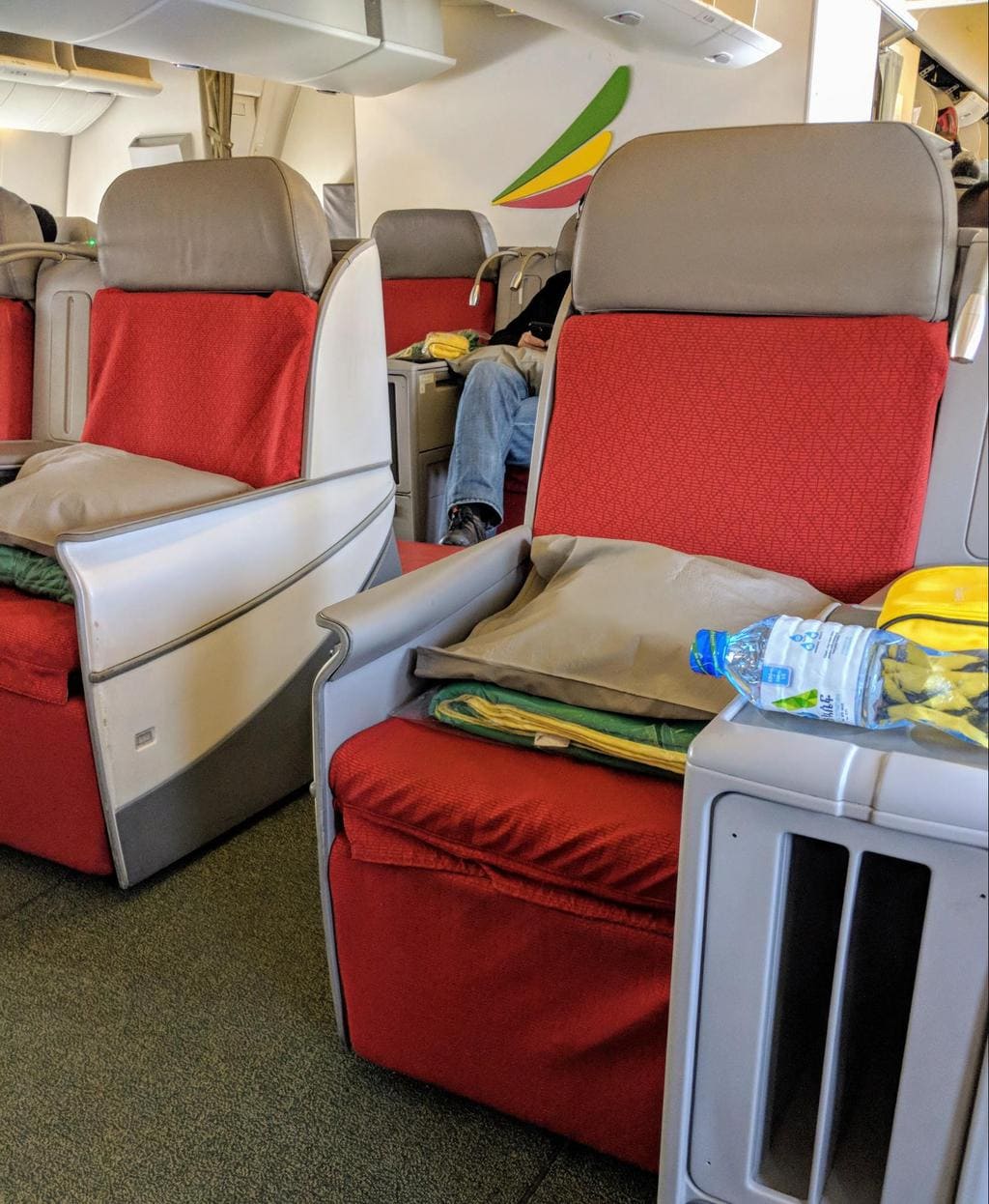 The seats on longer haul Ethiopian Airlines flights are comfortable. They are wide enough that there is space around yourself and they are very long, allowing the taller Ethiopian Airlines passengers to perfectly recline and sleep flat.
In fact, the seats were so long that I did not reach the footrest while reclining unless I went fully flat. This drastically compares with Singapore Airlines Business Class where I can only sleep diagonally or sideways.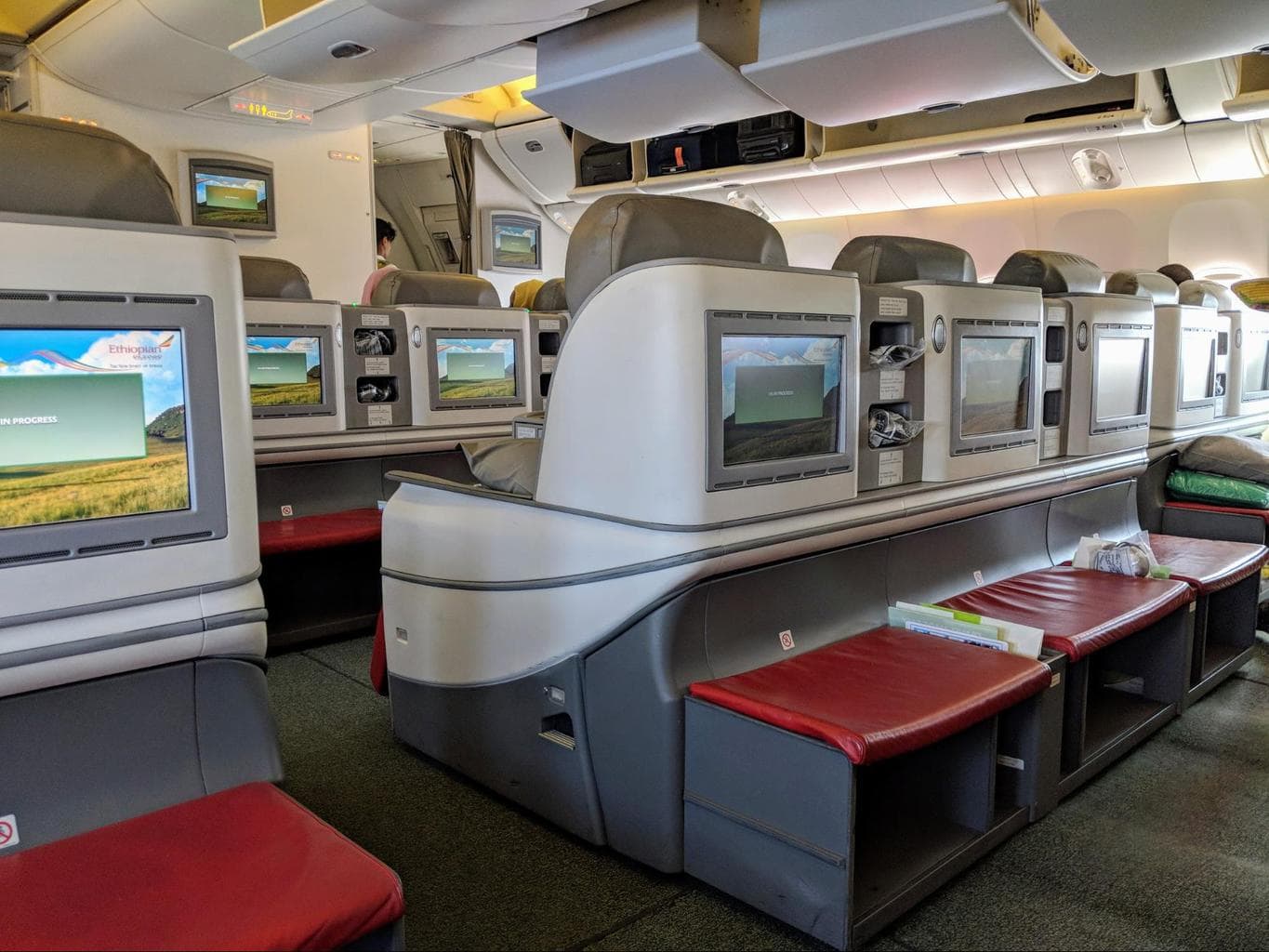 Even in the long haul flights the aircrafts are not the newest or most modern and the safety announcements still remind passengers to switch off calculators and CD players (I cannot remember what decade I stopped using those!) but they are comfortable and have everything you need.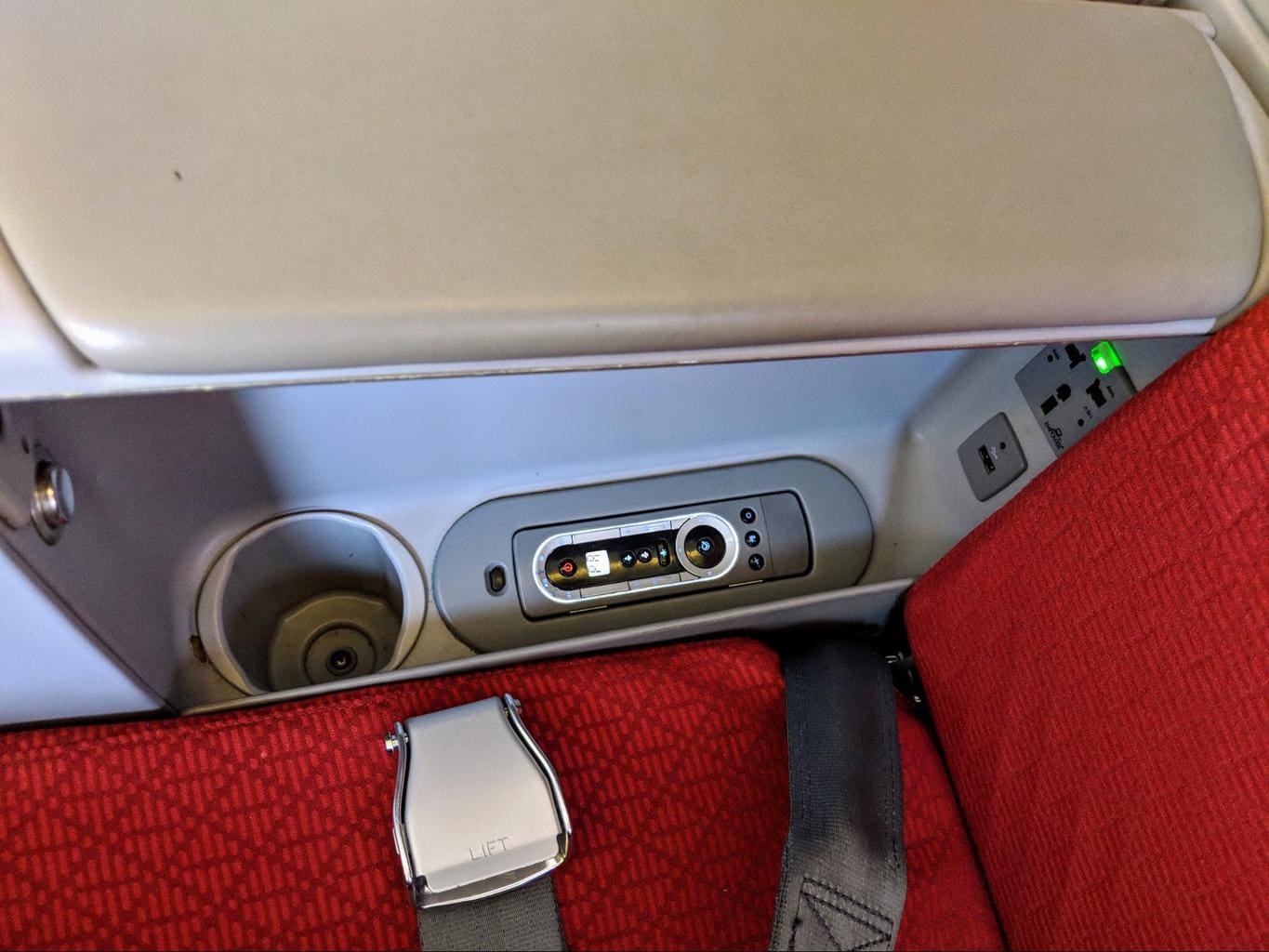 The Business Class seats on Ethiopian Airlines long-haul flights have USB plugs, regular international sockets, a convenient table, noise-cancelling headsets and a well-stocked entertainment system.
There are also a couple of small details that are thoughtful. A small step allows shorter passengers to reach the overhead bins and there is space under the footrest to store personal bags and other items so you can have them handy. The shoe compartment is useful to keep your shoes nearby and clear the clutter and the jacket hook lets you keep your jacket tidied away.
The entertainment system onboard Ethiopian Airlines Business Class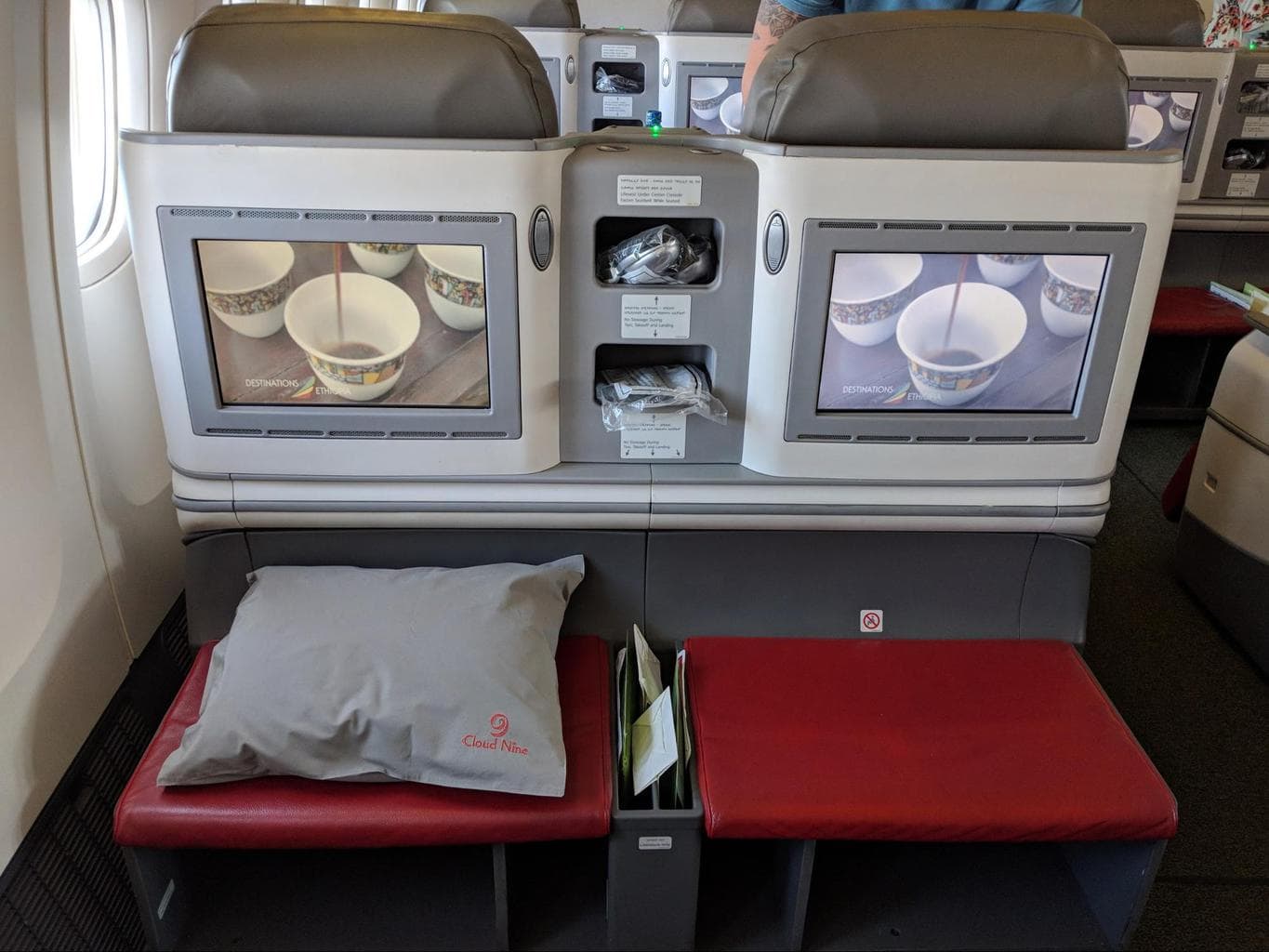 TVs on Business Class are big, though they are also quite far from the seat at more than a meter away. The entertainment system has a selection of newly released movies as well as classics, TV programs, games, music and other. I found the selection adequate.
While it is not Singapore Airlines, Etihad or Emirates, the selection is adequate to keep you busy and entertained for the flight and the noise cancelling headset does a good job of keeping you isolated from whatever goes on in the flight.
The amenity kits on Ethiopian Airlines Business Class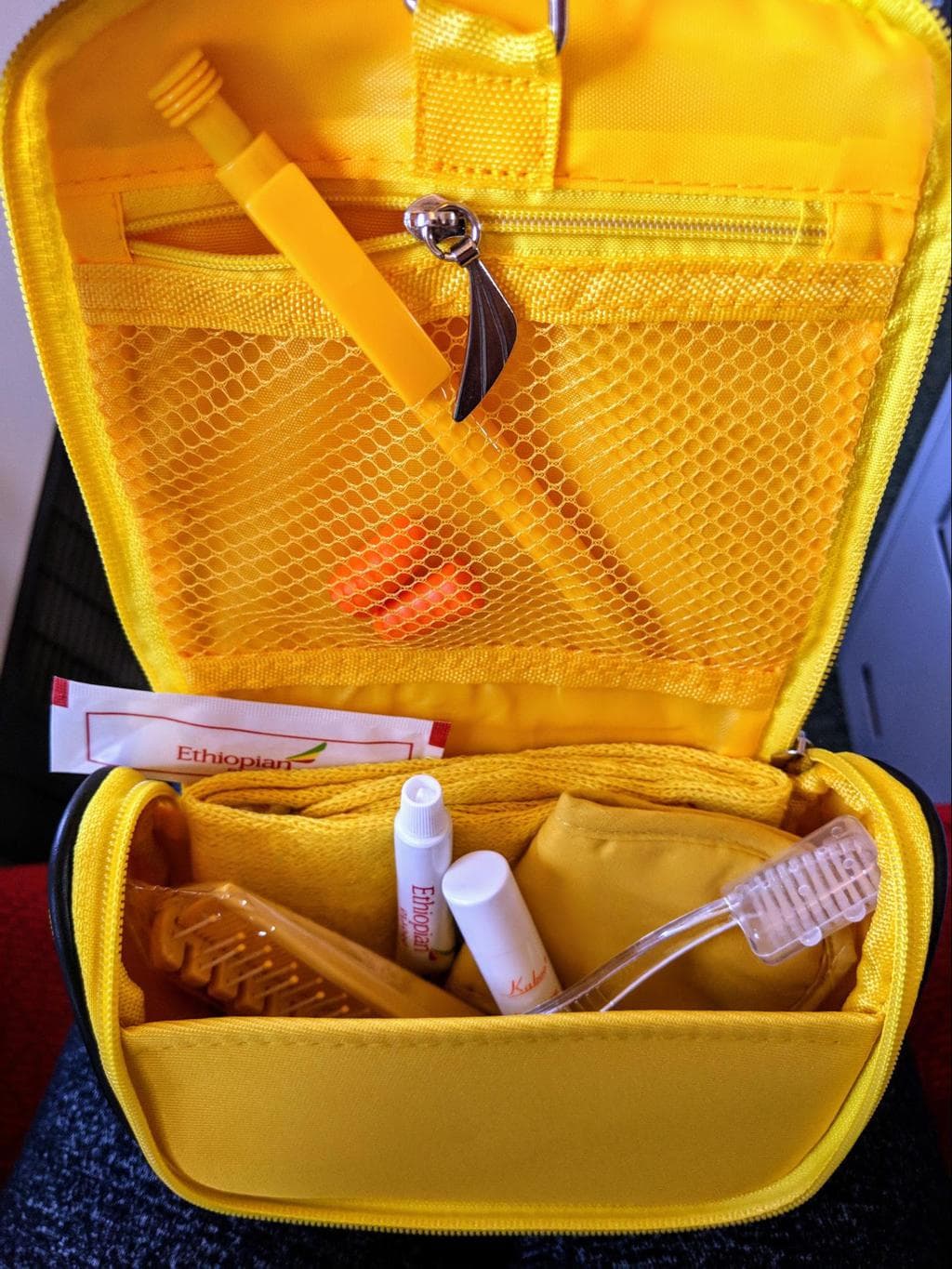 A lot of airlines are trying to differentiate and do something unique with their amenity kits but I found Ethiopian Airlines amenity kits one of the most useful ones. Why?
Because I use a similar type of wash bag for my toiletries so I found Ethiopian Airlines amenity bag really nifty.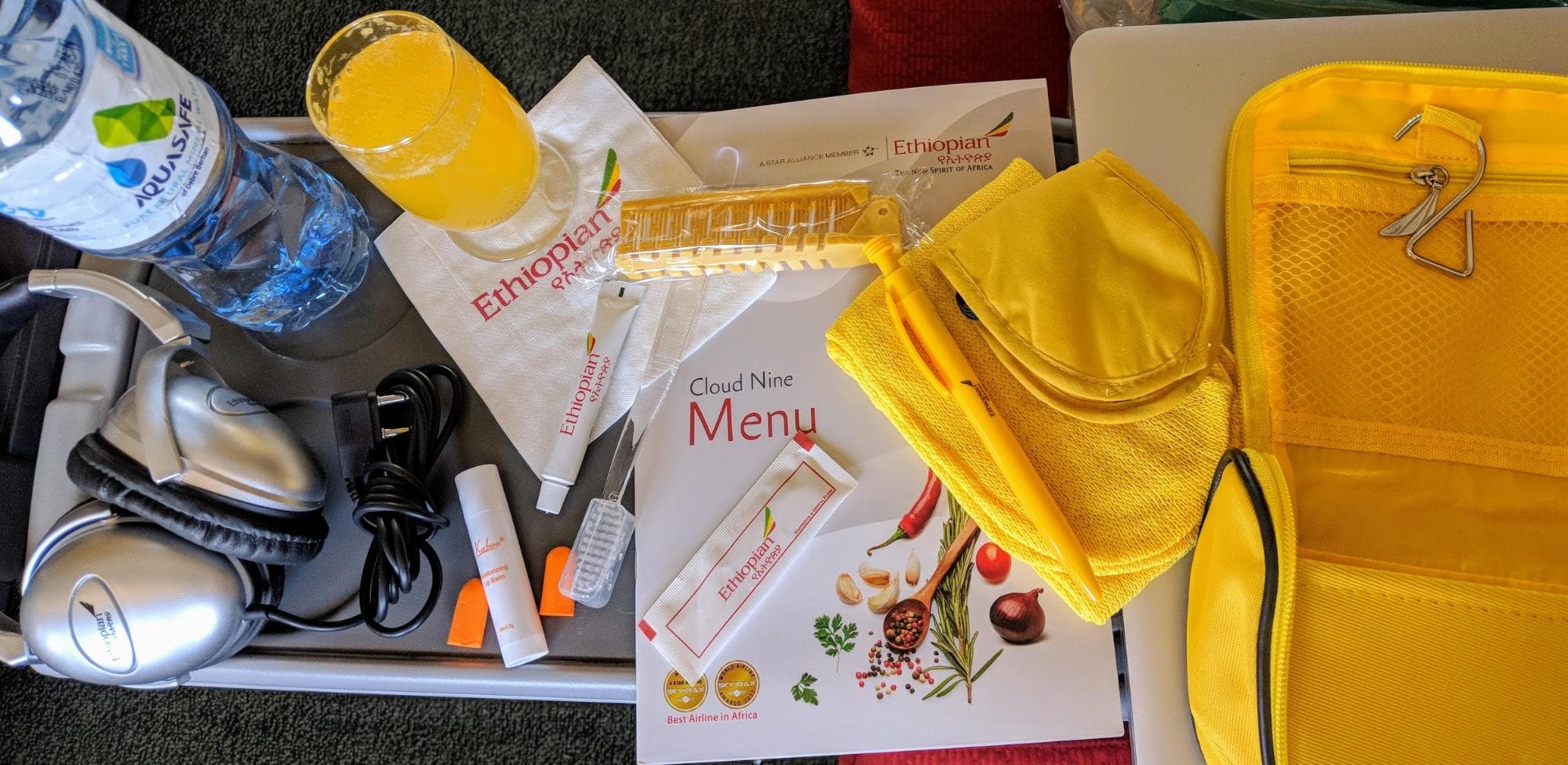 The bag is in the signature bright yellow and comes with a hook to hang it from any bathroom bar. It is filed with the usual amenity kit items designed to make a good night's sleep better, like a toothbrush, toothpaste, socks, eye shades, lip balm, ear plugs, a hair brush and dental floss. Although our flight was less than 4h long, we still got the amenity kits.
The food onboard Ethiopian Airlines Business Class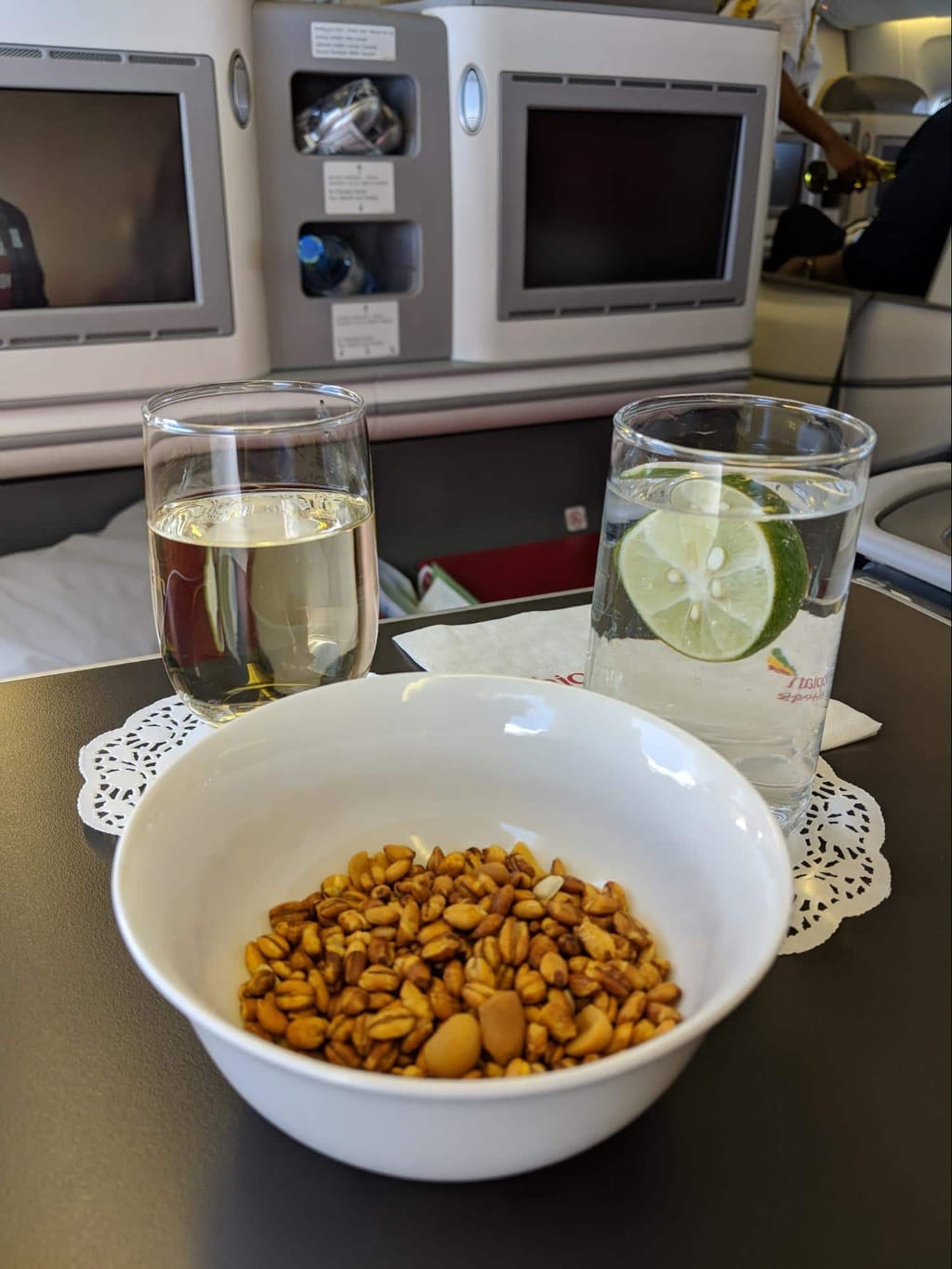 I was expecting the food onboard Ethiopian Airlines to be like last time I flew them years ago: injera-based. I was looking forward to the cultural experience that reminded me of those evenings at Ethiopian Airlines restaurants in Nairobi, when we wanted to have something different.
Although the menu did talk about kolo seeds and injera, injera was not offered on the menu, only talked about as the traditional Ethiopian Airlines food. Kolo was available as a snack served with pre-meal drinks, instead of the traditional accompaniment to world-famous Ethiopian Airlines coffee. But I was only offered it in the long-haul flight not in the shorter one.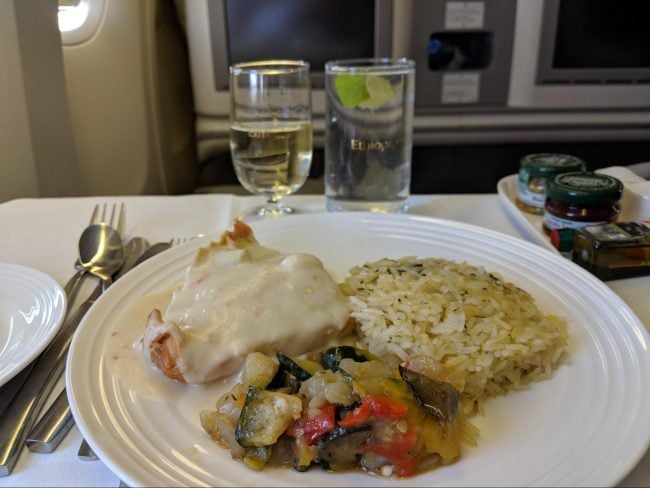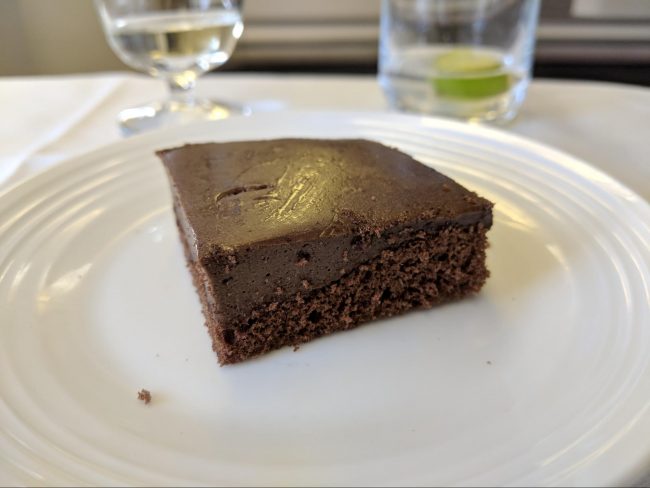 The Business Class menu included two options in the shorter haul flight and four options in the long haul flight with fish, meat and a vegetarian pasta dish always on offer.
In all flight durations, the meal was served with a wide selection of wines, champagne and liquors including two local Ethiopian Airlines wines, a red and a white and some South African alternatives. Ethiopian Airlines champagne or Italian Prosecco completed the wine list.
A large array of teas and coffee options as well as spirits and liquors were also on offer anytime so alcohol was not in short supply. Soft drinks and juices were obviously also available.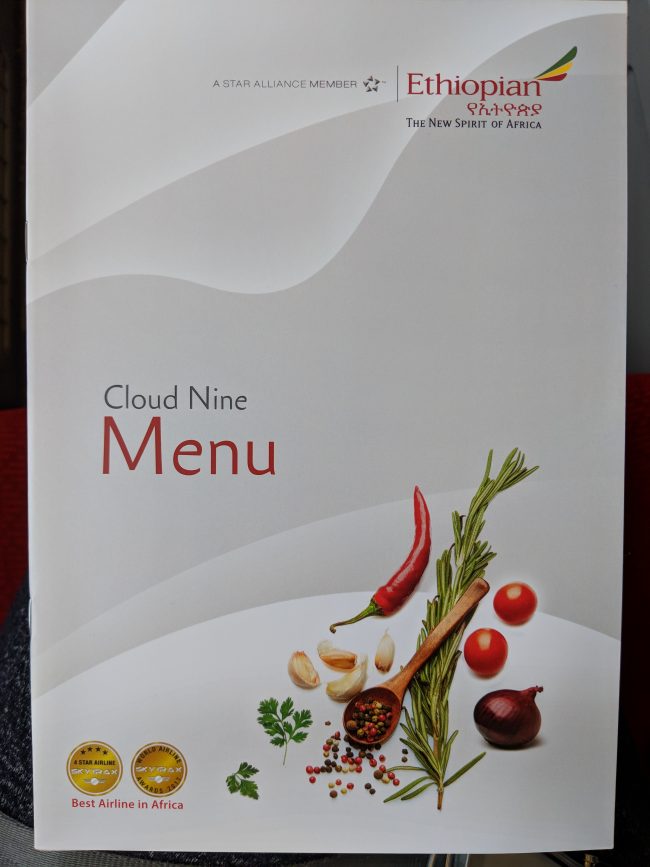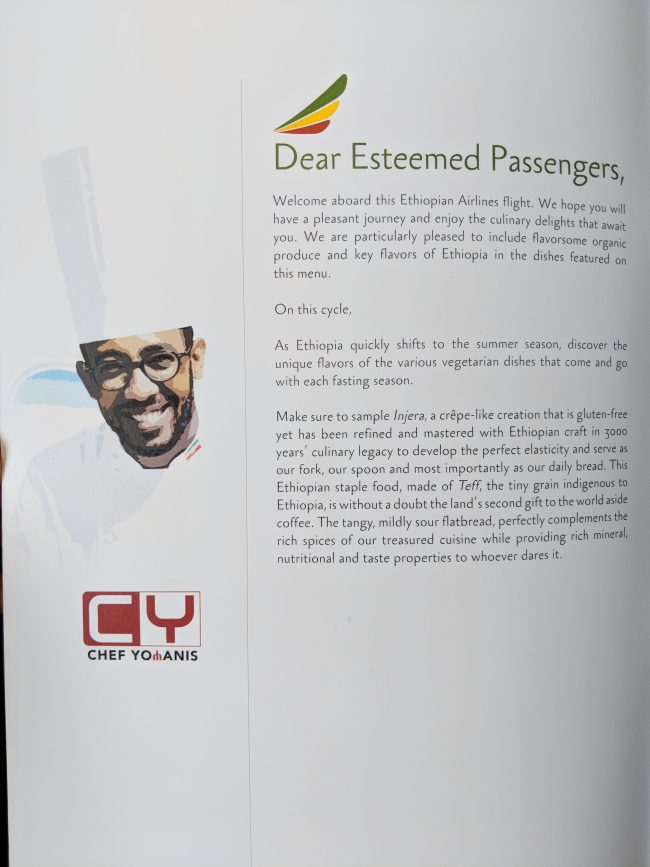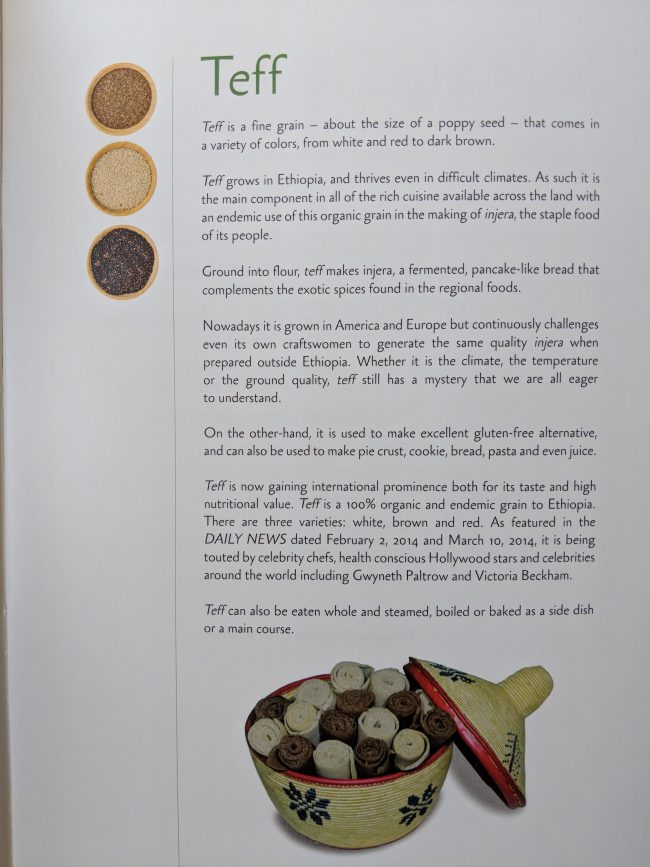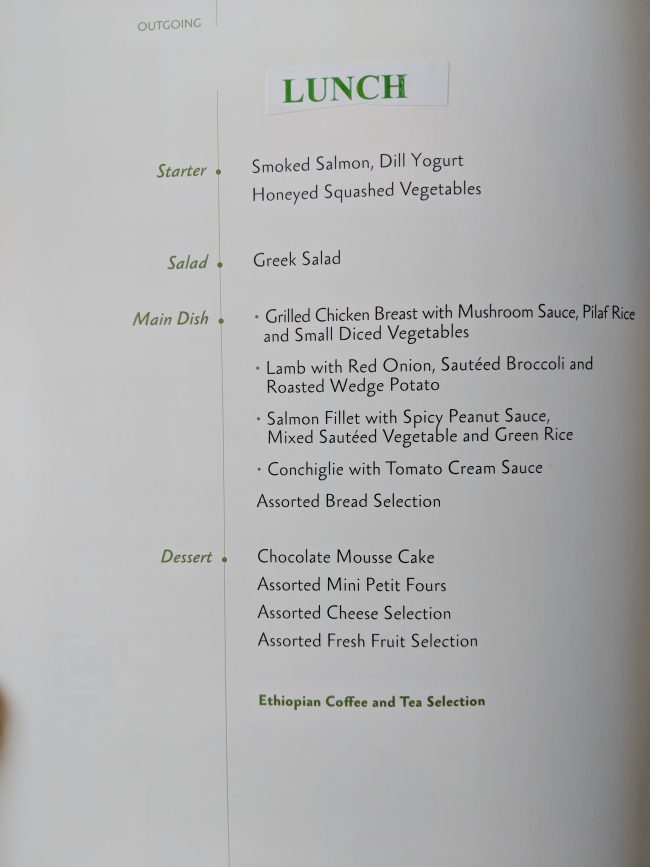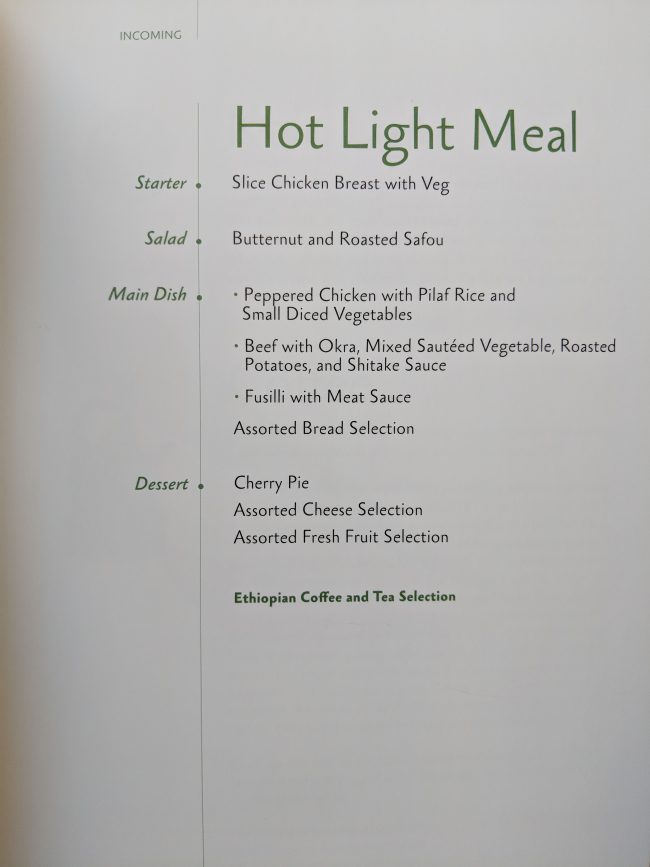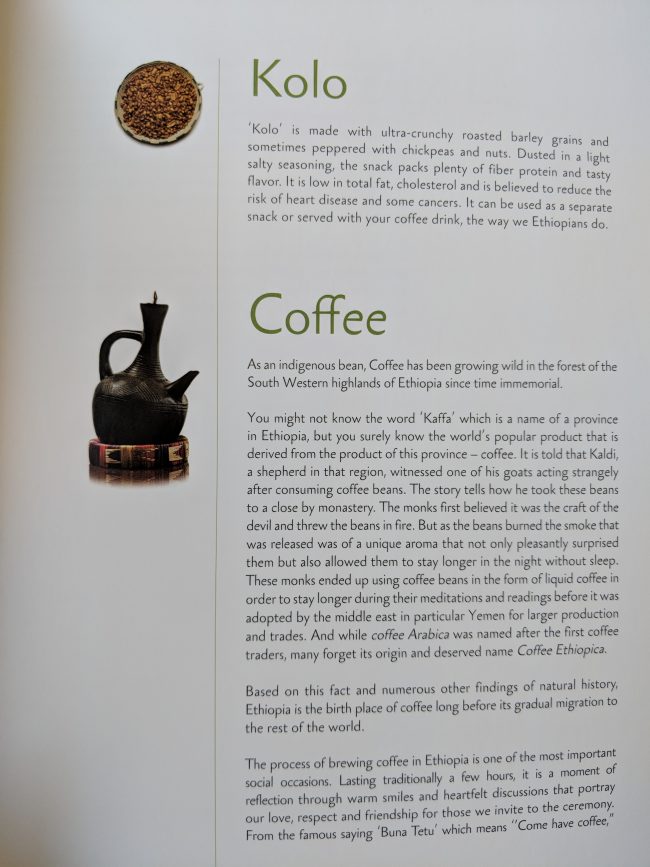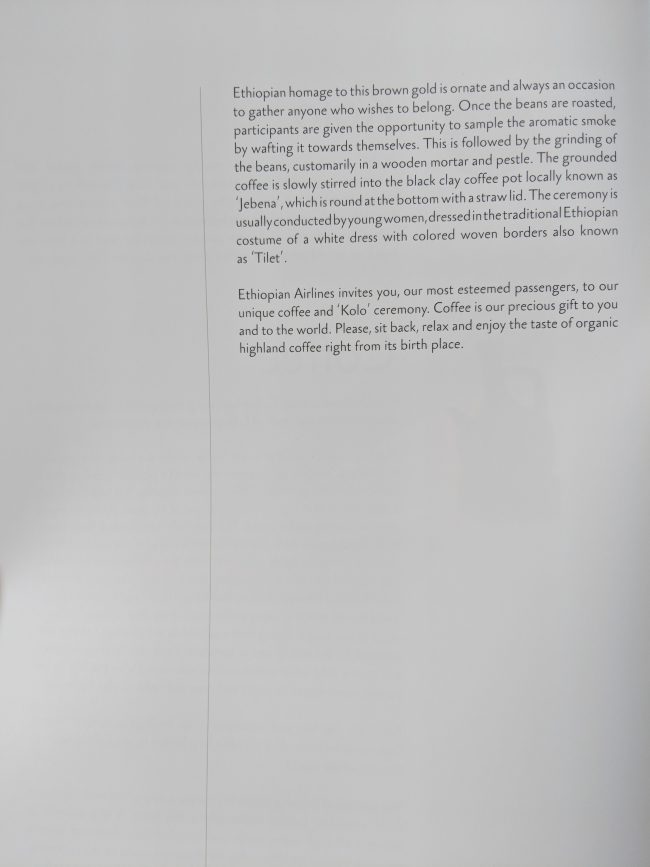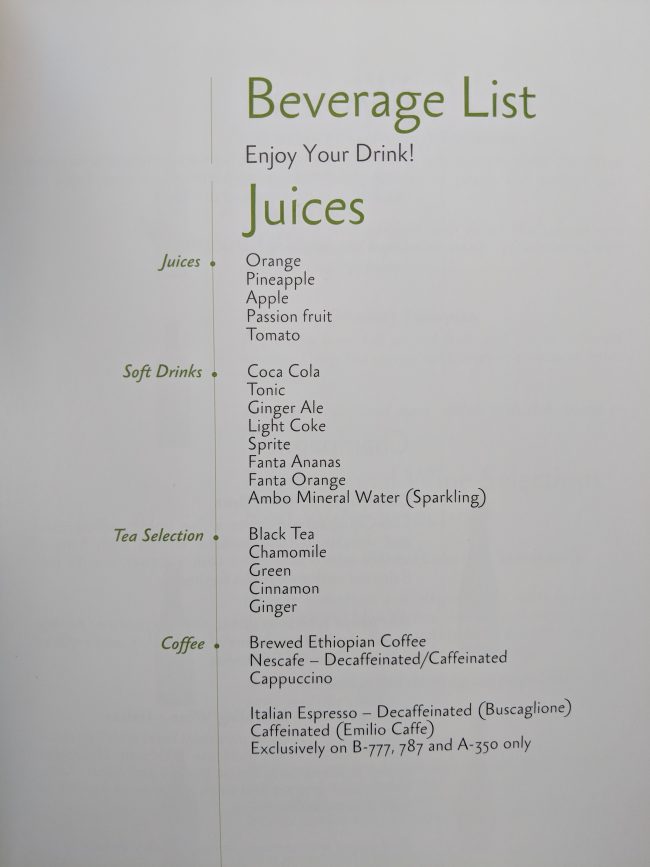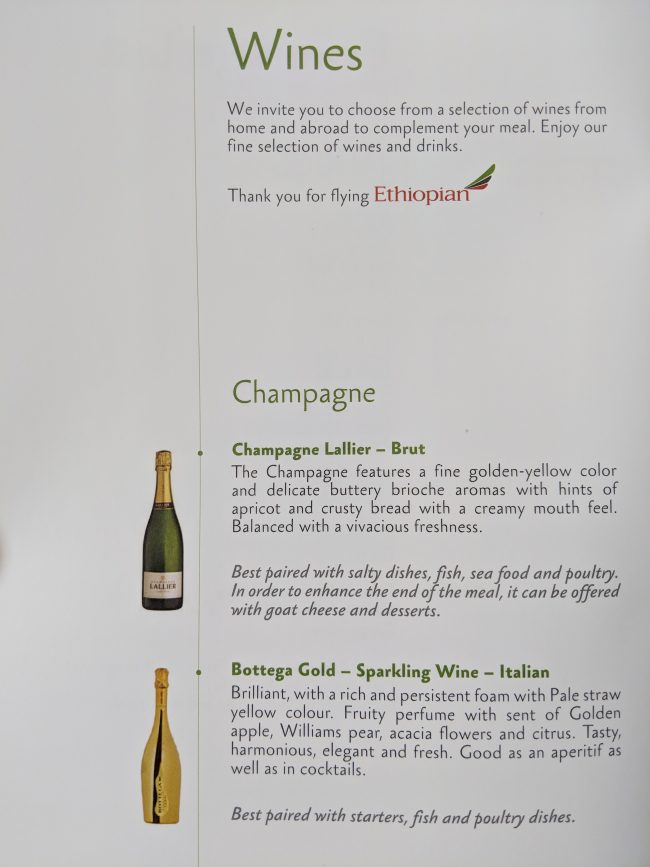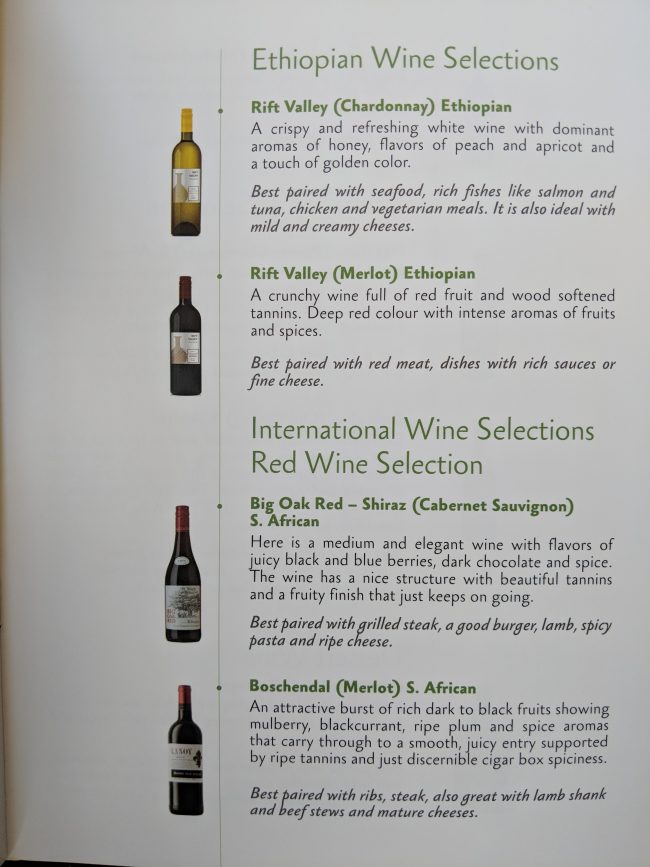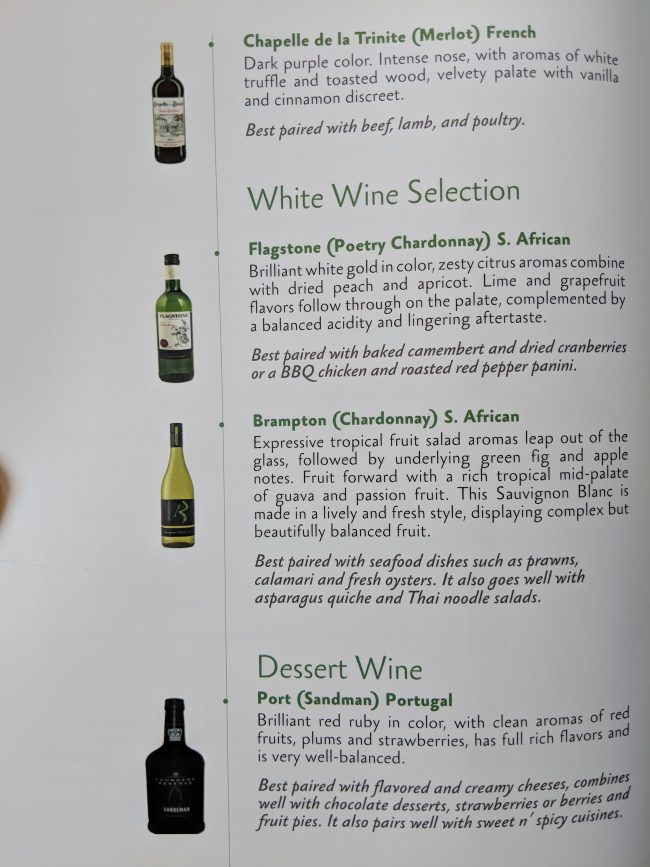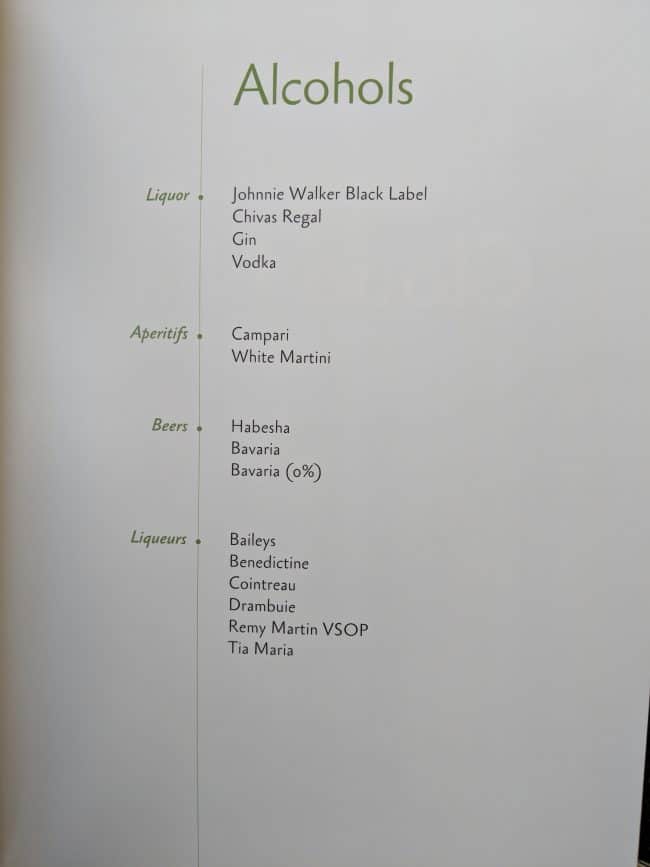 The meal was served with bread buns and came along with all sorts of dressing options: mustard, tomato sauce, mayonnaise, olive oil and vinegar and a tiny bottle of Tabasco. No shortness of dressing for any type of food.
For dessert, cheese and fruit were on offer on top of cake and chocolates. Liquors like Baileys, Tia Maria or Port Wine came out in the dessert trolley.
While the food was not terrible, it was definitely not great either. The beef was full of chewy fat, the salmon was super dry and overcooked, it was not refined nor was it presented with love or care and the dishes seemed to be just thrown together and looked somehow unappetising. It was average when compared to other airlines, though the chocolate cake, despite looking a bit sad alone on the plate, was quite tasty.
The service on Ethiopian Airlines Business Class
I had very missmatched experiences on all four of my flights with Ethiopian Airlines.
I was sitting in the first row of the plane on the short-haul and overheard the staff yelling and discussing the various ins and outs of the flight from Kigali to Bujumbura and Addis Ababa including a poor old lady who was told not to disembark at Bujumbura when in fact she was supposed to.
There were lots of arguments and discussions with the ground staff as passengers were overbooked and people were given boarding passes to seats which did not exist. The experience was far from premium as all the Business Class passengers could hear.
The staff also assured us that they would wait for us on the connecting flights pretty much everyone on the flight had since we were delayed by over an hour, something which not only did the staff not know to be true but which clearly wasn't. As a result of the many delays from the onset, I missed my connection in Addis Ababa and had to spend the night (14h to be precise) in a hotel the airline provided.
Aside from this clear lapse in service, I had a pleasant experience with friendly and helpful staff who were useful and smiling all the time. They were nice and just as you would expect on a Business Class experience. I interacted with the staff less on my shorter flight but they seemed nice enough too.
Ethiopian Airlines on-the-ground experience and logistics is chaotic and delays are commonplace. It was obvious at the transfer desk where the queue of delayed passengers was coming out to the terminal building. There were entire planes of passengers waiting to be helped and given an alternative flight. I know this to be the norm rather than a bad night.
I was lucky because I was Business Class and Star Alliance Gold so I was treated with priority and had to wait very little for my flight rebooking the next day and the voucher for hotel and food. Economy passengers without my luck must have waited for hours in the late night to get this sorted as there were only two counters helping customers and at least 60 people by the time I left the service area.
Ethiopian Airlines stopover free transit hotel
Ethiopian Airlines provides free accommodation in Addis Ababa hotels for all passengers with a connecting time (scheduled) longer than 8h and shorter than 24h or if your flight is delayed and you need to spend that time in Addis.
Some other exceptions and things to consider when determining whether you are eligible for the free transit hotel service from Ethiopian Airlines are as follows:
This only applies if you are transferring from an Ethiopian flight to another and if both flights are international (it is not available if you are flying domestically to Addis then out internationally)
It must also be the shortest connection time, i.e. there cannot be an earlier flight connection option out of Addis
You must be eligible for a transit visa, although there is no visa attached to your passport
The hotel they allocate each passenger is determined by their class of travel. The allocated hotel I had on my way from Hargeisa to Kigali was for an Economy Class seat and it was pretty bad, nothing like the luxury accommodations in Kigali. The internet and the food were so awful that I decided to simply go back to the airport and eat at the lounge and use the airport internet because it was a far better option. The place was quite grimy and incredibly noisy. It was also cold and there was a desk without plugs so the only way for me to work was on the bed using the bedside table lamp socket.
They categorised it as a 4 star hotel but it was more of a 3 star. The food included in the voucher was the buffet style option at the restaurant for lunch which was pretty bad and had been sitting there for hours (and was going to continue to do so for a few more). You are also only given one drink and have to pay for the rest, so if you are spending 8h you will have to spend some money or risk dehydration.
If you are flying Economy via Addis Ababa and they provide you with the free hotel service, consider whether it is worth it for you. If you are not in need of a shower or a bed, and have access to the lounge, I would suggest staying at the airport. If you have no lounge access
On my way back, when the flight was delayed and I was flying Business Class they allocated me a better hotel. Most forums will tell you that the allocated hotel in Addis for Business Class passengers is either the Radisson Blu or the Hilton but in my case I got allocated The Capital Hotel which was decent (better than the one I got when flying in Economy) but probably not as good as the other two.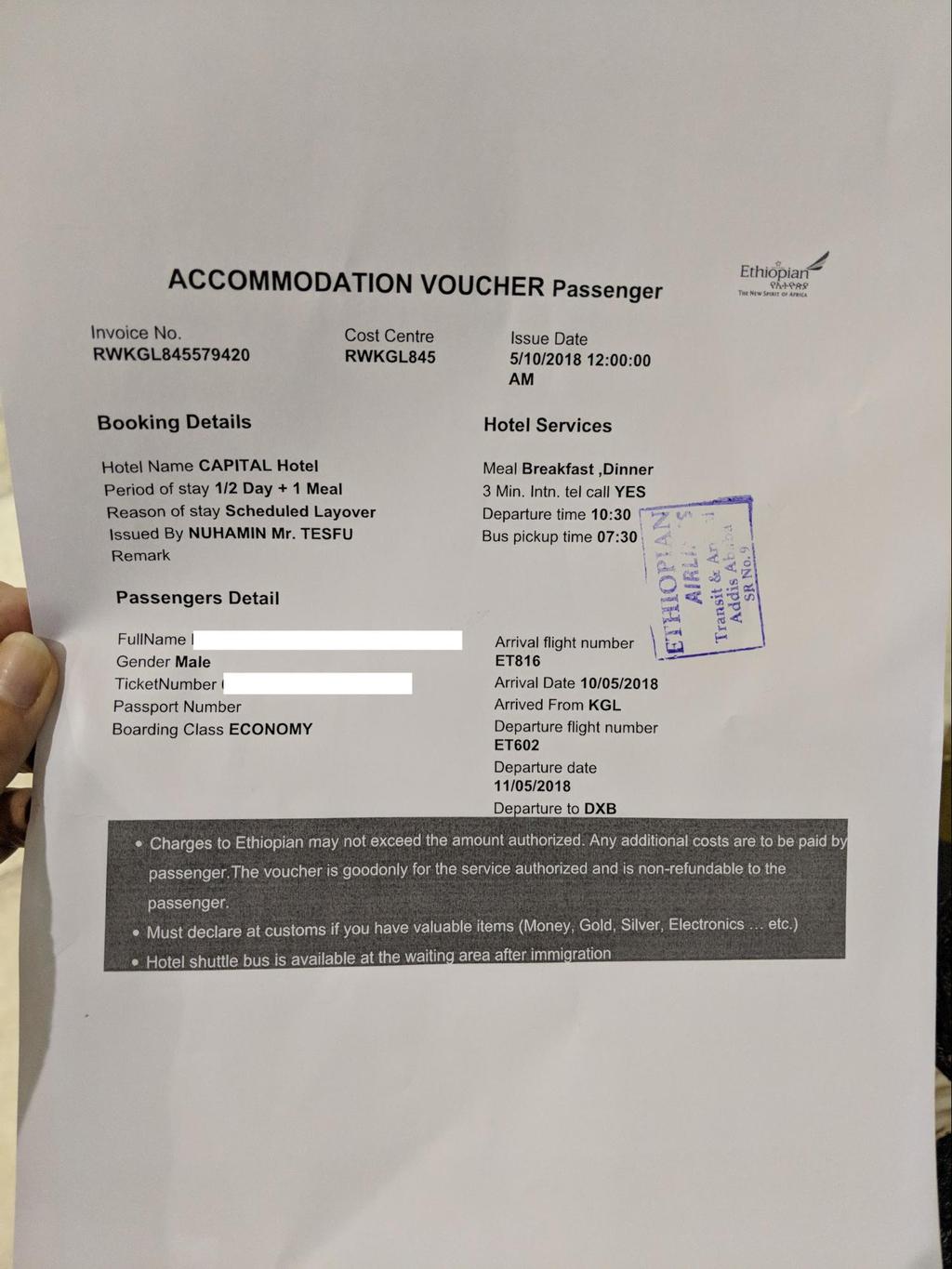 When your stay in Addis is scheduled you are likely going to get the voucher before boarding your plane to Addis Ababa and if you don't you will have to get to the Transfer Desk, on the ground floor at the arrivals hall when you enter the terminal from your bus ride from the plane, and queue. This is the same queue anyone with a delay has to stand in so if there are a lot of delayed flights as was my case, the queues can be super long.
Once you get the voucher, go to immigration and get your passport checked. If you are Gold with Start Alliance or Business, go to the priority queue. Some people have reported getting transit cards. For this I got nothing and it did not matter, with the voucher it was enough, even if the voucher had mistakes like stating the wrong date or my gender.
You will not get any stamp on your passport so there is nothing to prove you were there, yet it did not seem to matter to anyone, also not on the way back into the airport. I thought that was pretty odd.
With voucher and passport, go out to the arrivals are and find the stand for your hotel and the staff who will organise the drop off for you. Both drop off and pick up when you need to return to your airport are included as well.
At the hotel, you will get a room and a voucher for a meal. Make sure to order the right type of food as not everything is included and depending on the hotel you will be pointed at a menu/restaurant or other.
If you are not eligible for the free transit hotel in Addis you can still try your luck at the Transfer Desk and buy a package at one of their hotels. These packages are informal, meaning they may or may not be available, and the price and hotel availability will depend. There have been people reporting various prices for this, from $75 to $135. The rate Ethiopian Airlines will sell you this package is likely far less than the available rate when booking with the hotel so still worth it if you want a hotel room.
Post-flight service
Although the pre-booking, in-flight and connecting experience I had with Ethiopian Airlines was nothing to write home about, I did have an unusual and extraordinary situation which changed my perception of the airline.
At Addis Ababa I spent some time at the Cloud 9 Business Class lounge and forgot my jacket on the seat back. When I landed in Dubai it dawned on me that I left valuable memory cards in my jacket pocket which had all of my gorilla footage from Rwanda. As this is my job, this footage was precious to me.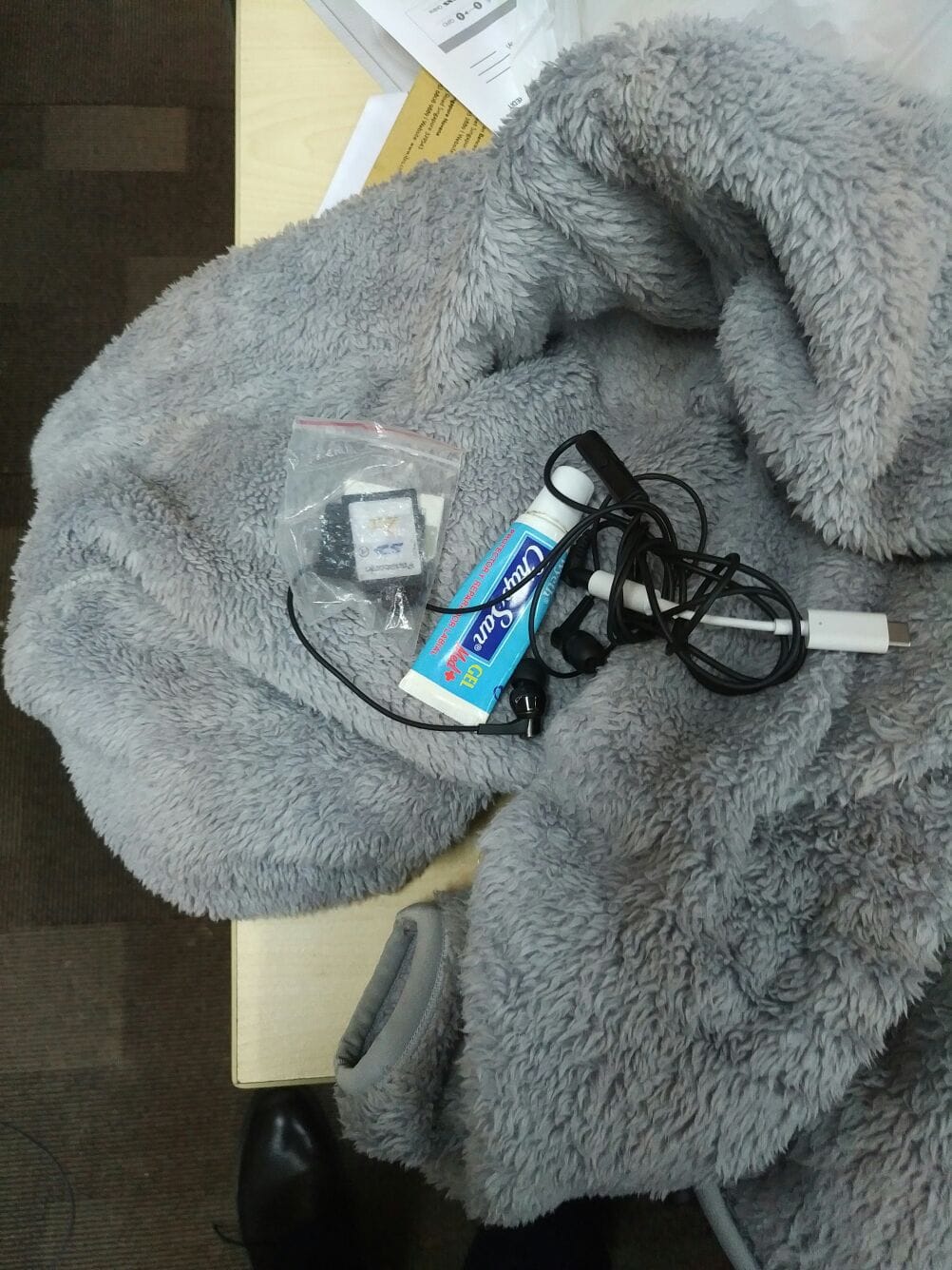 We managed to find the contact number for the lounge's manager and a kind staff member from the lounge gave us his Whatsapp number to coordinate the delivery of my jacket back to Singapore. The jacket traveled on an Ethiopian Airlines flight to Singapore two days later and was delivered to my office, free of charge, on the Monday after my Saturday flight. This was a pretty impressive, hassle free experience and one which I am very grateful for.
Overall experience on Ethiopian Airlines Business Class
While my Ethiopian Airlines experience was nothing like what you can enjoy on Emirates, Qatar, Etihad or Singapore Airlines, the Ethiopian Airlines price advantage on the long haul flights to/from Africa is a good reason to consider them. Their lay-flat beds and the service in Business Class were competitive, even if the aircrafts are some of the oldest I have seen in a while and the food is poorly presented.
Flying Ethiopian Airlines Business Class on their short haul flights in Africa makes no sense and should be avoided. The price difference is hardly justified and if you are a Gold Member with any Star Alliance carrier you will have pretty much the same experience in Economy as in Business because the seats and onboard experience is pretty much the same.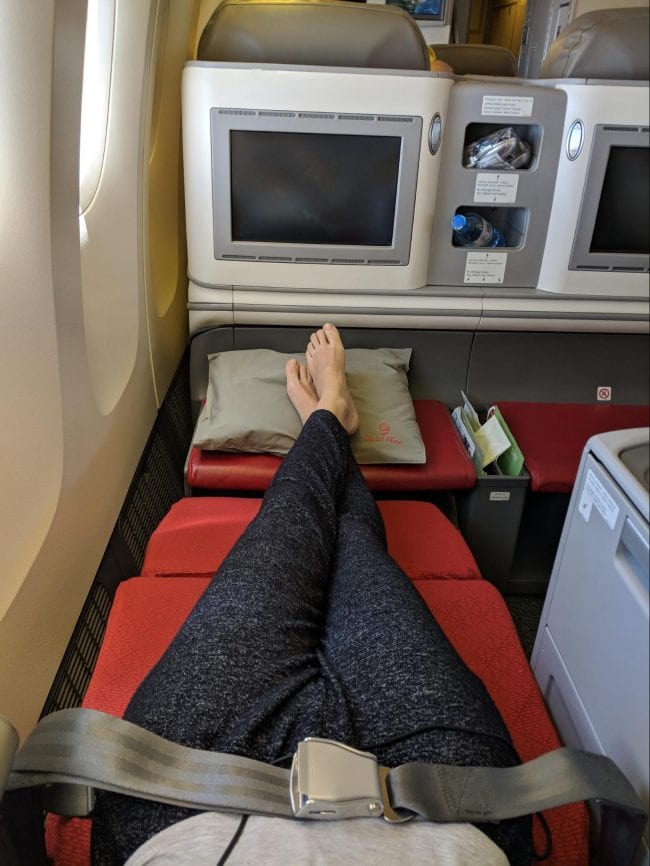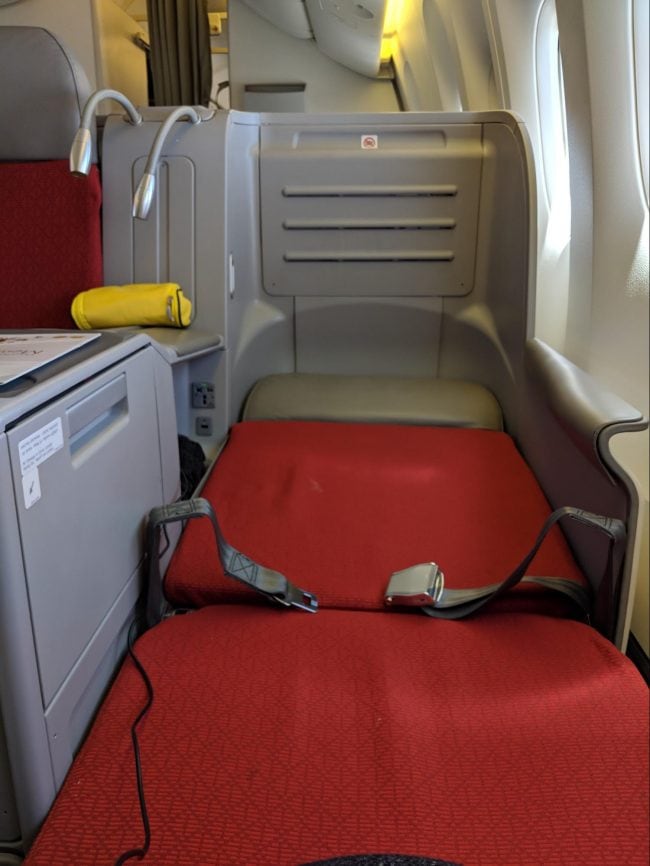 My experience with Ethiopian Airlines was not great. All of my four flights with them were terribly chaotic. All were delayed by an hour or more, and I landed in Kigali more than three hours beyond the scheduled time, at 3,30am. We had all sorts of surreal issues.
There were delays caused by flight attendants arriving late, airplanes being too small to carry the luggage to which we had to be transferred to a new plane, delays from late arrival of planes, from overbooking or people being issued boarding passes for seats which did not exist in the aircraft, etc. I missed a connection, and as a result ended up spending an extra night in Addis Ababa and missing a whole day in Dubai.
All in all, I am not sure how Ethiopian Airlines can be the Best Airline in Africa unless the competition is really poor. Kenya Airways used to be equally chaotic but South African Airlines is historically better than this. Passengers report their long haul Dreamliner flights to be good but I can't see how the in-flight experience compensates for the logistical and organisational issues which are intrinsic to Addis airport and some of the other African destinations the airline flies to. Delays may be acceptable if there are no connection consequences but if you have a tight schedule have a contingency plan.
More Business and First Class reviews: