Times Square, Central Park, Fifth Avenue. All great tourist attractions but what about exploring other alternative and cool things to do in New York City?
After visiting a few times, I though I wanted some of the cheesy Hollywood experiences and also some of the cooler options as well. But I was wrong.
When my friend living in NYC took me to the very spot in Central Park where one of the characters of Gossip Girl (remember the series about all those rich and spoiled girls?) used to go to feed the ducks, (I can't remember the scene either) my dose of Hollywood had been filled, so I was craving something more interesting. And nobody does cool like New York.
The city is the center of creativity, innovation and crazy ideas. Any fun new concepts and cool things to do start in the city that never sleeps. Let it swallow you into the world of La Mafia, crime TV series, fascinating stories, rich cultural heritage, great parks and examples of out-of-the-box thinking in this guide to the fabulous, fun and cool things to do in New York.
Let go of your inhibitions and head to some of the most unusual places by the hand of this alternative guide to New York city. But make sure to get a local SIM card to have internet and stay connected.
Many has been written about the typical tourist spots so I am only going to list truly cool things to do in NYC that you can't find anywhere else, the activities that get you under the skin of the city and shows you its most interesting side.
Nobody does hipster living like cool New York City.
No1. Cool thing to do in New York – Star Gaze in the city
Although no longer a novelty but more of a well-established destination, The High Line always has something to keep one coming back and is an iconic hipster symbol of New York City.
This elevated park built along the old train tracks offers regular music performances, shopping, food, drinks and evenings out in the summer and it is one of the most fun places to go in NYC.
Walk along its entirety for the full experience and make sure to allow for enough time to chill with a book on one of the sun beds along 14th street.
There are cooling water fountains to dip your feet into in the summer months when the city is teaming hot and lots of seasonal activities like Tai Chi, Meditation or Star Gazing. Many of them are free.
The High Line is my favourite part of Manhattan and a reason enough for me to visit the area. The views over the city and across the river are peaceful and a nice reminder that Manhattan is an island.
If you want to learn more about this super original and nice part of the city that feels miles away from the crowded and busy spaces of this ever-busy city, you can join a walking tour.
I recommend the Meatpacking District, Chelsea and The High Line which also takes you around the neighbourhood (a really cool one, my office was here) for an extra dose of hipster.
Or go for one which combines The High Line with Greenwich, which is also a cool area, or a waling tour of The High Line with the Hudson Yards, the newly renovated and uber cool part of Manhattan that has just opened up. Check out all the tours that explore The High Line here, or wander on your own.
No2. Cool thing to do in New York – Watch a piano performance at a park
On Saturday mornings, have a stroll around Washington Square Park for music performances and piano playing, live. Bring a book and a coffee and enjoy the beautiful show.
The piano man as he is amicably known, has been playing on Washington Square for 12 years, he even has his own Wikipedia page and a Facebook profile.
Every morning, Colin Hugins brings his piano all the way from his apartment to the square to play. He drags it across the streets of New York City on wheels and then places it there. He often plays 12h a day.
I thought this was a one off during my trips but it is actually a regular thing, he plays almost every day. How about watching a free piano performance at a park for a fun thing to do in New York City? I told you that New York does this best than any other city.
No3. Cool thing to do in New York – Shop at an alternative market
Wandering around Chelsea Market is one of the most fun things to do in New York City.
This a refurbished warehouse is filled with alternative New York designer shops, clothes stores and lots of bars and restaurants. Come in the evening for a drink following a good dose of retail therapy.
If you'd like to travel around the area with a local to find out all the insider and unknown things, check this food tour of Chelsea Market and the Meatpacking district which does not just cover the history of the area but also samples its food. After the tour ends, you can stay and explore the local Artists and Fleas shop (pictured above).
More information about the market here.
No4. Cool things to do in New York – Learn more about NYC's history
Located by the Williamsburg Bridge, the Tenement Museum provides an insight into the lives of the immigrants who arrived in the US in the 19th Century.
New York was founded by the immigrants who came from Europe at the time and who made the city what it is today. The Tenement Museum will give you a good insight into what went on in the city at the time. A variety of tours are on offer including some of the shops in the area.
You will only be able to visit the museum on a guided tour, which is actually the best why to learn more about the entire American Dream those immigrants were pursuing when they got off the ship.
After (or before) explore the rest of the island and continue your cultural adventure with a private tour that includes visits to other relevant landmarks of the same era like a cruise to the Statue of Liberty and Ellis Island with stories explaining the strong immigrant influence.
Or better yet, join a historical tour of the migrant areas around Lower East Side Manhattan, Chinatown and Little Italy or a more foodie oriented tour of the Lower East Side of Manhattan that focuses on the food (Chinatown, Dutch area, Little Italy) and then visit the Tenement Museum.
More information about the museum here.
No5. Go on an adventure at The Escape Game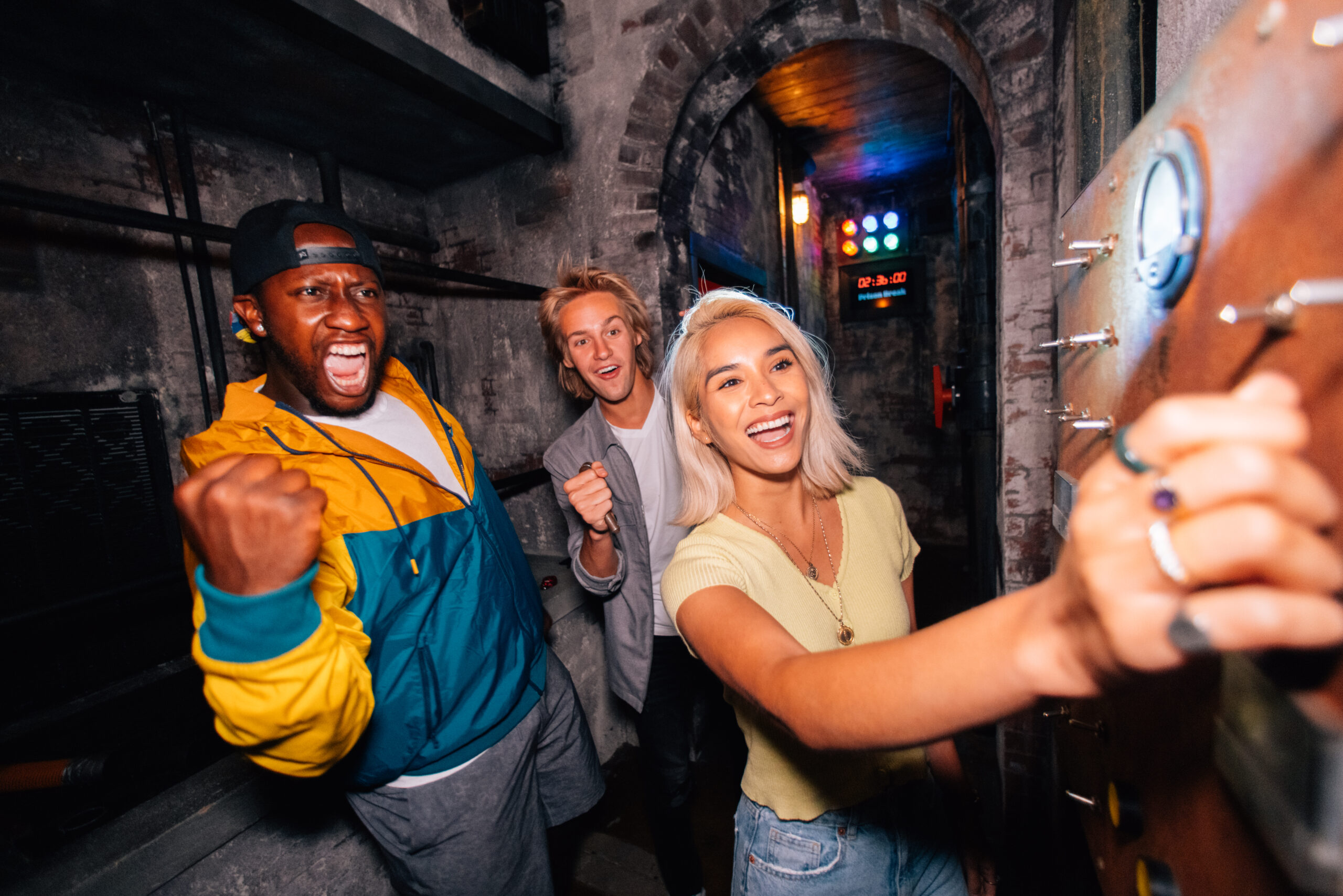 Escape rooms have popped up all over the city but none are as immersive or have better gameplay than The Escape Game. Start out by picking one of their five adventures. You can stop an art thief in The Heist, travel to the wild west in Gold Rush, pass your class before summer break in Playground, go on a secret mission in Special Ops: Mysterious Market, or escape from jail in Prison Break. 
This is one of the best things to do in Midtown Manhattan and you'll completely forget you're in the city! The Escape Game's adventures are built from the ground up by a team of craftsmen, engineers, and game designers so you'll be completely carried away by the story and environments.
No6. Cool thing to do in New York – Party at a Museum
The Rubin Museum of Art is a hidden gem in New York City and the largest collection of Tibetan Art in the world. Come here for a guided tour or a self-guided one.
Better yet. On Friday night, there is live music and free entry after 6pm, is there a better way to enjoy Friday night in the Big Apple? I told you, there are lots of cool things to do in New York City and partying at a museum is definitely one of them.
Art pieces from China, Nepal, Pakistan, India and Bhutan find a home under this Museum, but the focus is on Tibetan culture.
Volunteer guides can be found around ready to provide details on the beautiful works on display. They are passionate and knowledgeable and are there simply to share their knowledge so it is very nice to be able to chat to them.
Here is my complete guide to Tibet if this exhibition ignites your interest. More information about the Rubin Museum here.
No7. Cool thing to do in New York – Hipster for a day
An area dating back to the 17th Century, Williamsburg is today the center of the New York hipster community. Entrepreneurs, artists and creatives are moving to Williamsburg and turning the area into a thriving, flowery and colourful part of the city.
Expect funky cafes, pop-up food markets, alternative New York designer shops and a melting pot of cultures as the previous residents of the area blend in with the new wave of gentrification.
Spend the day at the flea market (on the weekend) and then wander around the main streets for second hand finds, great coffee, brunch, sex shops, record stores, parks (there is even a tiny stretch of beach facing Manhattan), delicious cookies and cupcakes, Brooklyn Brewery tours (always with a queue), and all-round hipster cool New York life.
You may want to catch an independent movie at Nitehawk Cinema top top the day off.
Wandering the streets is the best way to enjoy Williamsburg. If you also want to taste it, the food walking tours of the area are fantastic as they will take you to the small stores that are famous for having contestants from Master Chef and other programs alike. If you want to know what the next foodie craze may be, this is probably the place to see it first.
STAY CONNECTED
No8. Cool thing to do in New York – Shop for green veggies
A pretty market in one of the busiest parts of Mid-Town, Union Square is nice on its own but even better on the four days a week (Monday, Wednesday, Friday and Saturday) when the local farmer's market, Greenmarket, is on.
The stalls in operation every day will vary but the website has all the information including a handy map and even an app you can download to see what producers will be there every day. The site is also updated with severe weather changes.
Expect to buy organic and local food and, even if you are not in for grocery shopping, the general people-watching opportunities are always fun.
Buy some food you can then take to Central Park for a picnic (see the other activities below for opportunities to eat your picnic).
No9. Cool thing to do in New York – Have scones and cotton candy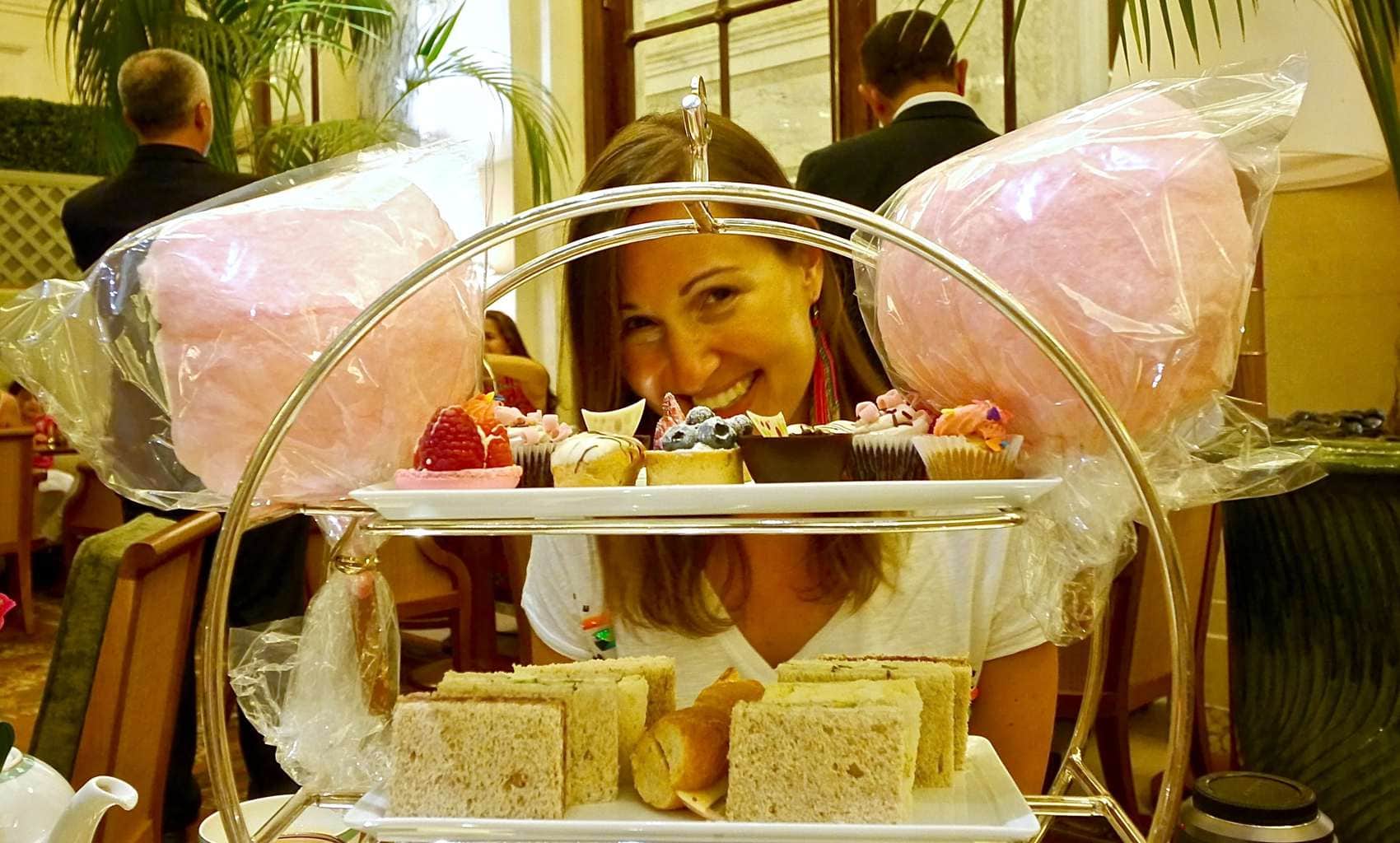 The renovated Palm Court, a New York institution at New York's most emblematic hotel, The Plaza, is the best place for a decadent tea and a dose of opulence.
Have a cocktail, a premium luxury Grand Cuve tea and their fabulous scones, lemon curd and pastries with their afternoon tea set. If you are craving sweets, there is a menu that comes with cotton candy.
For more affordable places to eat in the city, head out to From Lust Till Dawn (formerly Tales from a Fork).
No10. Cool thing to do in New York – Boat in Central Park
Ok, so this may in fact be a touristy thing, and I know I promised not to tell you about those and to focus only on the most fun things to do in New York City, but who can resist a romantic, cheesy boat ride along the lake?
For the romantic take on the park an afternoon paddling along the lakes on Central Park is a regular of the city's rom-com movie scenes. After all, the park is the most filmed location in the world with 305 movies with scenes shot on location including The Avengers, Wall Street, Date Night, Eat, Pray, Love, Bora, Night at the Museum, etc.
Do like Hollywood actors and actresses and pass time in the lush, green surroundings while you savour the goodies you bought at the market. Enter through the Upper West Side and look for the lake.
If you want to make a day out of it with an active take on the city (who would have said it is possible to have a day out in nature in New York City?), you can also rent a bike for 4 hours here.
Not keen on a boat but more on touring all of the park's famous spots? You could feel like Carrie in Sex and the City and ride a horse drawn carriage, or you could join a Central Park pedicab tour and avoid the horse smell, the poop and get a side of humour and history thrown in for good measure.
You can book one for as long or as short as you want and ask to be taken to the spots you want to visit and make stops for photo ops.
And here comes the really fun thing to do in New York City: Take a walking tour with a personal photographer, and get all those super nice photos, perfect for couples and honeymooners!
No11. Cool thing to do in New York – See Times Square at sunrise
This is the city's most visited place regularly tops the list of the most visited landmark in the world so it is hardly a unique or hidden part of New York.
However, I will show you how to do it like nobody has done before.
New York only goes to sleep when the sun comes up. I know because in my jet-lagged Asian clock, I was up at 5am on a number of occasions and found myself wandering the streets, looking for a place to see the sunrise.
And at that time, there is a mix of party goers coming home, drunken people and the earliest of the early risers. Plus some zombie-like tourists with jetlag like me.
Silly me, I thought the High Line would be open (it's a park after all, isn't it?) so I headed there with the hope of seeing the sun come up against the river from its elevated position, only to find the gates closed. So I headed to Times Square.
At that time, the city looks like it has not yet gone to bed but as soon as the first sun rays come up the night life disappears and vampires return to their coffins.
It is the only time of the day when Times Square will be empty and you can have it all to yourself, well worth the early start (or late finishing). A very unique way to see one of the world's most famous landmark and a fun thing to do in NYC if you are jetlag stricken.
Bonus points if you bring a nice outfit and take fun pictures without having to photoshop a million people.
No12. Cool thing to do in New York – Take tango lessons
Every Saturday at 7,30pm there are tango lessons on Central Park. Tango aficionados gather from 6-9pm looking for a partner to practice and they put a show that is one of the coolest things to see in New York City.
If you are game, look for a partner and dance for four songs before swapping to a new partner. Tango music plays in the background usually through speakers. If you are not brave enough to join in, watching is mesmerizing and also a fun thing to do in New York City on a Saturday afternoon.
The video above is proof.
No13. Interesting thing to do in New York – Night Courts
Anybody can go to the Night Courts and hear the judges pass decisions as the proceedings are public.
Just like in the movies and on TV (and those who know me know I LOVE CSI), at the Night Courts you will find those whose cases are dealt that night.
The people sitting at the backbenchers are family members of those being tried others are the policemen escorting them. A truly fascinating evening out watching the American justice system at play. But remember, these are real people and real cases so be mindful and respectful.
No14. Cool thing to do in New York – Learn about Prohibition with a drink
Where there are today Happy Hours there once was Prohibition and New York City felt it more than other parts of the country. Enjoy a drink at one of the many fashionable and awarded cocktail bars in New York City, there are many to choose from.
But if you like your drink with a side story, join a Prohibition tour which tells you more about the history of that era, the speakeasies and today's cocktail culture. Book the tour here.
Learn more about the ingredients, the bar that invented famous cocktails and the art of mixology from expert bartenders. After the tour, you can put everything you learned into practice and continue the night away in the Flatiron District.
No15. Cool thing to do in New York – Pilot a helicopter
What is a more fun thing to do in New York City than to soar to the skies and see the city from above?
You can hire a private helicopter just for you or join a pre-set tour which is a far more affordable option. There are day tours, night tours, some that go all the way to the Liberty Statue, others that fly over the river, either way, a helicopter tour is one of the coolest things to do in NYC.
New York is a fabulous city to see from the sky and there are many ways in which you can do so, below some ideas all of which can be booked for sunset or during the day:
For the coolest New York City attraction, there is even a photography tour which takes you to the skies without the doors! Talk about adrenaline rush.
Or better yet, be a helicopter pilot for the day with this tour which teaches you and let's you take control of, a helicopter.
No16. Cool thing to do in New York – Savour Soul Food
Harlem is a famous New York City borough located in the northern part of Manhattan which was a thriving African American writer and artist community at the turn of the 20th century.
The area started off as a rural Dutch community in the 17th century and flourished as the center of African American culture in the 1910s to 1930s. However, the Great Depression, brought an end to the area's boom and the 60s and 70s were troubled, with riots and the death of Malcom X andMartin Luther King Jr leaving only the poor behind.
Today, Harlem is one of New York City's most colorful neighbourhoods, a foodie destination (fried chicken waffles anyone?) and an eminently proud and heritage-rich part of Manhattan. So a visit is one of most fun things to do in New York City.
And you know what is really cool and also very enlightening? Joining a gospel mass.
Almost every single cuisine is represented in one of the neighbourhoods in New York but if you are looking for a tour with a dash of history and soul, join one of the many tours of Harlem and then stay for lunch at famous soul food queen Sylvia's. Book ahead or wait for long.
Expect buttery biscuits, waffles with bacon, prawns, eggs and fried chicken as representatives of the African and Caribbean cuisine that is famous of the area as you hear and understand more about Harlem's past and rich history.
For a tour that is exclusively focused on the history and Harlem's Renaissance (the 10s-30s period), book this tour which is also pretty affordable, or this one which also includes lunch (you can't visit Harlem and not eat there!).
And if you want something a bit more all-encompassing, choose a tour that starts with mass, followed by some history and ending with some food. Book it here.
I love coming to Harlem every time I am in New York because it has everything and it has character and soul. There is great food, spirituality, music and rich heritage. And there is more pride here than anywhere else in the city.
If you want to have a bit more of soulful experience in this upper side of Manhattan , you can also join a gospel tour on Sunday morning and let the music transport you and get under your skin. Book it here.
STAY CONNECTED
No17. Cool thing to do in New York – See the place where stars are born
Easy to combine this with the previous, Apollo Theater is one of the most famous landmarks in Harlem and it is steeped in history.
The theater first opened in 1914 as an all-white destination, but it closed and reopened in 1934 as a place to showcase African American talent. Billed as the place where "Stars are born and legends are made" (a trade marked slogan), it is where all the artists that would then become famous were discovered.
Although not as well known to tourists, Apollo Theater receives 1,3 million visitors a year and it is a really cool place to visit in New York City, not least because all the famous stars played but because it is a great place to understand African American history.
In order to make the most of your visit and really understand African American culture in New York City and the entire country, I strongly recommend you visit on a tour so that you understand what the walls can't say.
The theater offers tours once or twice daily, depending on the day of the week, and you can book directly with them. If you want to explore more than just the theater, there are a few tours that offer something special and make for a fun thing to do in NYC.
This tour includes Brooklyn, The Bronx, Harlem, Coney Island & Queens during a 5 hour tour which takes you through the diversity of the city. If you're into Hip Hop, see how the cultural phenomenon began with a birthplace of Hip Hop tour through Harlem and the Bronx.
No18. Cool thing to do in New York – Party at daybreak
It may sound crazy but New Yorkers know it best when it comes to working hard and playing hard. Forget getting drunk after work, letting yourself lose before going to the office is the new thing, sans alcohol, so you actually arrive fresh and reenergised, not groggy and exhausted.
Daybreaker organizes early morning parties, from 6am to 9am, where party goers let some steam off before heading to work in a healthy and pure environment.
Put on your fancy gym clothes, your trainers, grab your coconut water and head to one of their venues for an early morning dance party to burn some calories in style. Dance like no one's watching, because the idea is for the participants to encourage each other to be silly and let go.
Daybreaker parties happen across the globe but started in NYC. You will have to check their schedule and location as these vary and have a pop-up component to them. Isn't this a fun thing to do in New York City? Maybe you try it here and then continue back home. More information here.
No19. Cool thing to do in New York – Go on a yacht architecture tour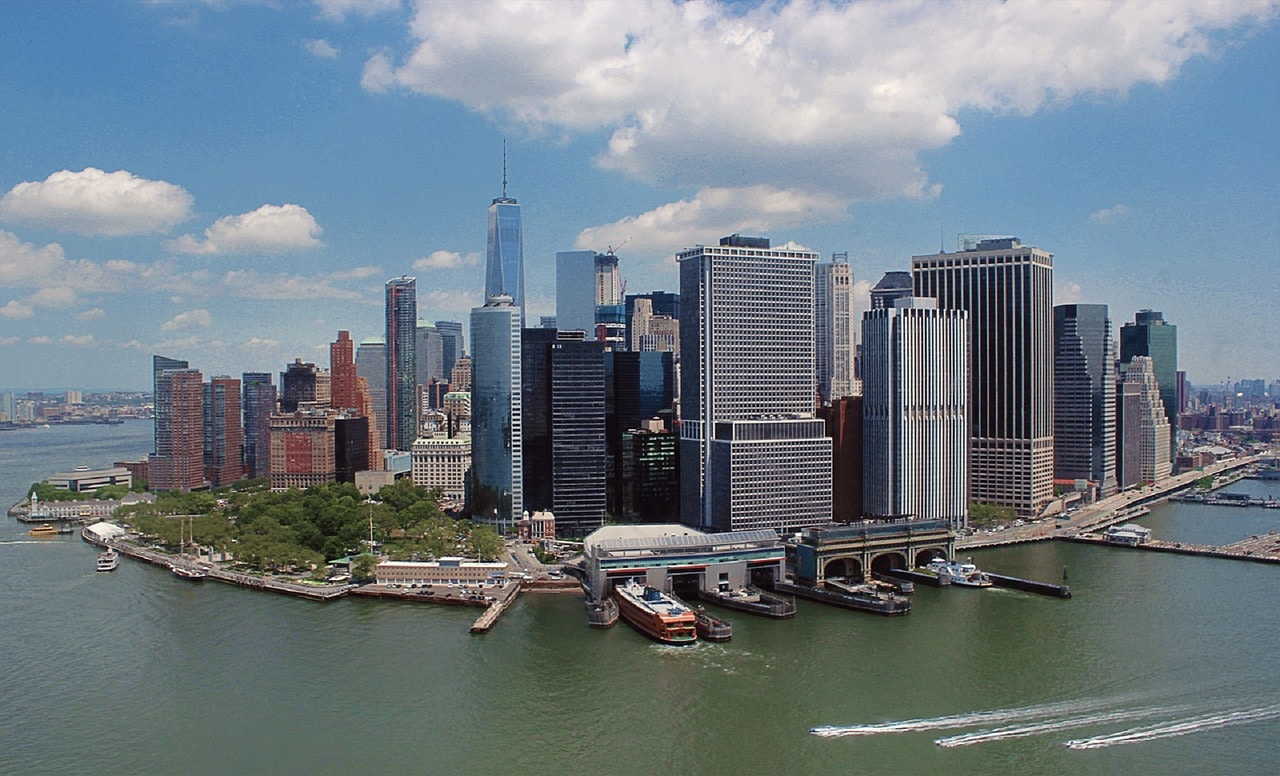 Why not do something a little different and take the official NYC architecture cruise? That is for sure one of the coolest things to do in new York city, because not al tours need to be on a bus or on your feet, NYC is a city you can explore from the water too.
The tour takes you around the island on a 1920s yacht with commentary from members of the American Institute of Architects New York Chapter. From there you will have a unique perspective on Manhattan's skyline and developments. The waterfront is really what has exploded and totally changed in the last decade. New yards, new sea-facing developments, a new skyline, New York is a city that keeps on reinventing itself.
Book the tour here.
No20. Cool thing to do in New York – Listen to jazz from a boat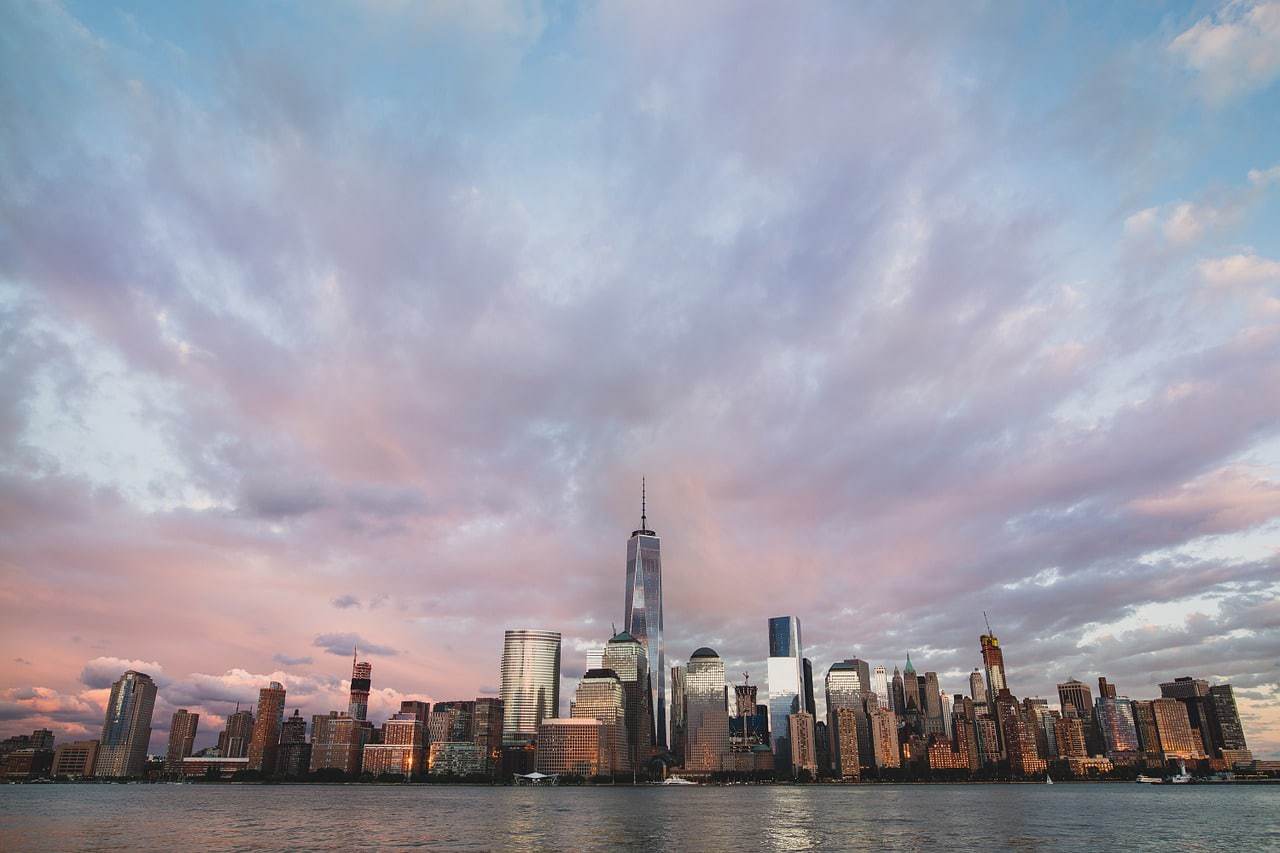 Does anything say indulgence and vacation like listening to live jazz music as the sun sets over Manhattan and the harbour from a boat?
I didn't think so.
This wonderful cruise happens only on Sunday evening, to close the week on the highest note, and takes you on a ride in a 1920s yacht drink in hand. Or this one offers a champagne brunch cruise, head for a siesta after.
No21. Cool thing to do in New York – Explore Wine country
Did you think wine in New York City only exists in a bottle and in your glass? There is a whole wine region to explore outside the city and what better way to take a small break from it than by going on a wine land exploration?
I will not lie, this is not Cape Town wine region or the large vineyards outside of Barcelona but I do love a good time among vines and a tour is a fantastic way to do that, easily, conveniently and without worrying about alcohol levels and driving.
Depending on the day of the week, a tour can takes you to either Long Island or Hudson Valley, two wine regions near New York, where you visit two wineries and get to taste the wines along with cold cuts and cheeses, and some other snacks.
No22. Cool thing to do in New York – Have oysters in a train station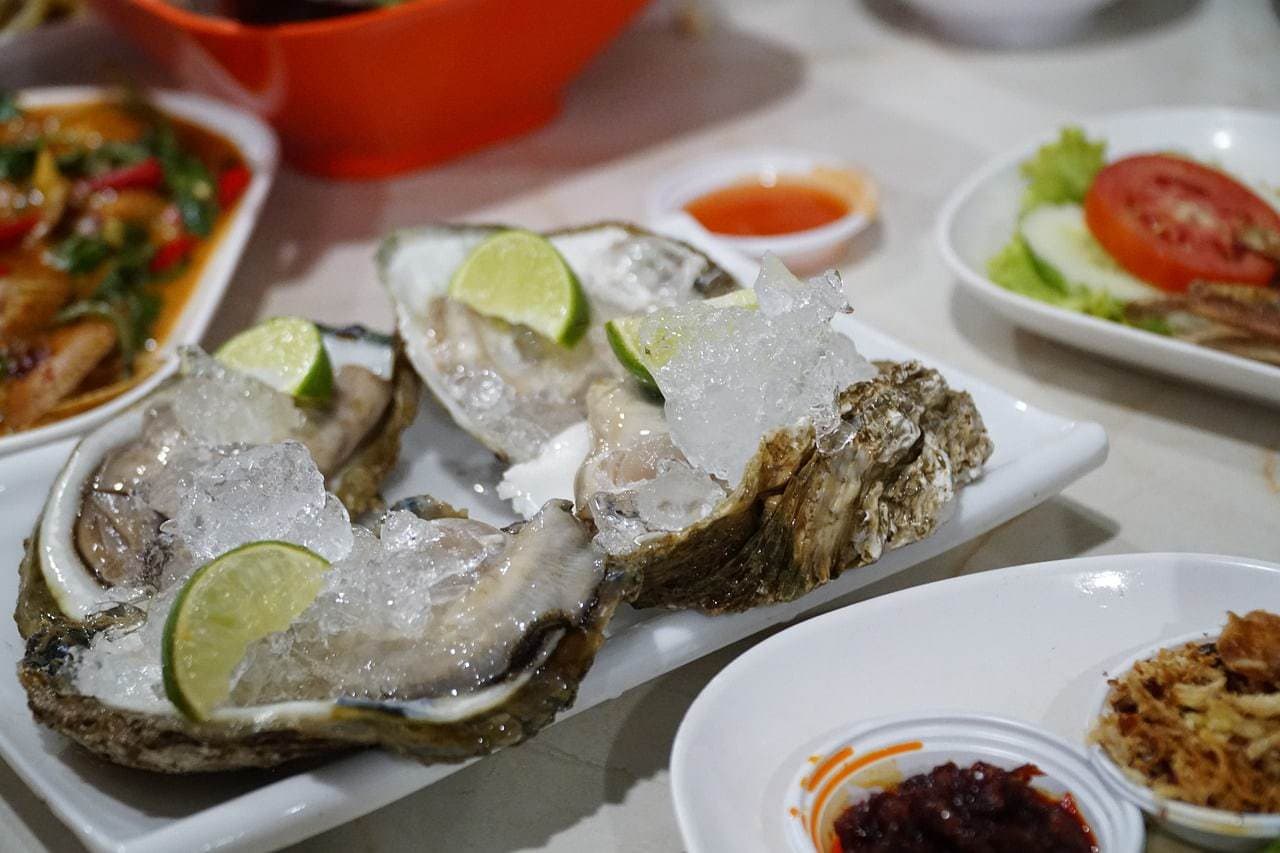 I am not talking about bringing take-away oysters and eating them on the stairs of a grim station. I am talking about fancy seating with great views at Central Station.
The famous New York City landmark featured in so many movies is a great place for people watch. No need for take away sandwiches, for the best companion, order fresh oysters at the Grand Central Oyster Bar while you sip on a glass of bubbly. You can bring other kinds of company, but they may never surpass the fabulousness of these two.
No23. Cool thing to do in New York – Be sex-educated
One of the most fun tings to do in New York City is exploring its many unique, alternative and completely strange museums. There are so many.
Perhaps one of the most useful ones if the Museum of Sex which tells you a bit more about the culture behind sex from all points of view. It is a fun (there's a breast-shaped bouncy castle) and interactive place where you can probably learn a thing or two, maybe even useful in your day to day.
There are guided tours for an extra dose of knowledge and the museum offers bachelorette parties with champagne bottle service at their lounge. More about the museum can be found here. Make sure to visit the Super Fun Land exhibition which explored the hidden life of carnivals and is the bomb.
No24. Cool thing to do in New York – Guzzle down NYC pizza at the oldest establishments
Pizza in the US arrived in New York first by the hand of migrants from Italy. You won't find the deep dish pizza of other places in the US, here is all original style.
It may sound counterintuitive, but eating pizza is one if the most interesting things to do in New York City because of the history the dish has in the city (and the history of Italians in the US), so try it at the oldest pizzerias in the city for a slice of New York heritage.
There are many contenders to the title of the oldest pizzeria in the city, you can watch the video above to learn all about this, and below are a few options.
John's of Bleecker Street is one of New York City's oldest pizzeria opened in 1929 to serve margarita pizza. Another contender for the oldest pizzeria is Lombardi's which opened first as a grocery store in 1897 and as a pizzeria in 1905. They even have the URL for firstpizza.com, how amazing is that?
If you want to be taken places and hear more about the history of pizza by tasting a few slices at 4 different venues, this tour takes you by yellow school bus (the Simpson!) so you make the most of your time.
No25. Cool thing to do in New York – Learn all the magic tricks
Legendary magician and movie star Houdini has his own museum where you can learn all about magic tricks, don't worry, there are only a few spoilers, and you will get to see real magic and Houdini escape from a straight jacket, one of his most famous tricks.
Houdini inspired a lot of movies and many of the magic tricks you now see in Hollywood movies, such as water tanks with magicians tied upside down, are straight from his book. He is one of the most renowned magicians of all time and was originally from New York.
His tomb, in Queens, is also a place of pilgrimage and he is credited with some of the traditions that are now incorporated into Halloween in the US.
More information about the museum can be found here.
STAY CONNECTED
No26. Cool thing to do in New York – Buy at the oldies
You can shop for pretty much anything in New York City but one of the most interesting things to do is shop at the places that were there when Manhattan was not all about the glitz and glam.
The city's oldest apothecary dating back to the 1800s, C.O. Bigelow has become a sought-after natural ingredient personal care store and its products are offered at many of the city's luxury hotels as bathroom amenities.
Buy a pair of hot sunnies at Moscot Eyewear. Behind the hip shops is a humble origin in 1915 as a regular glasses ambulant business.
No27. Cool thing to do in New York – Tour famous movie & TV sets
New York City has been featured in more movies and TV series than any other city in the US, in fact 8 out of the top 10 most popular filming locations in the country are in New York City.
With the recent obsession with visiting the sets of famous movies taking some places by storm (hello, Dubrovnik, New Zealand and Girona), one of the most fun things to do in New York City is to follow in the footsteps of famous actors and actresses along the city's streets, buildings, bars and shops.
Two famous girly TV series, Gossip Girl and Sex and the City were famously filmed in New York City, as was Batman, Marvel's The Avengers, Spiderman and Captain America, The Devil Wears Prada based on the novel of the same name, Gangs of New York, 1980s hits Ghostbusters and Home Alone, the original 1933 King Kong, The Godfather (whose Sicilian locations of Savoca I explored), etc. You get the gist.
You can go explore them on your own if you are a big enough fan and can recognise the backdrops and locations, but for a more convenient and quick option and for commentary and access to studios and alike, join a tour. Below some options:
No28. Cool thing to do in New York – See Wall Street differently
Sometimes the best ways to see a city is through different eyes.
If you are looking for a fun thing to do in New York City that will appeal to geeks, financial advisors, consultants and investment bankers in particular, consider learning about New York City's financial center from the point of view of the Financial Crisis that so hard hit the world and New York City.
Entrepreneurial companies have started to offer Financial Crisis tours that focus on the origins and causes of the crisis so that we do not repeat the same mistakes. You will still visit popular tourist attractions of New York City such as Wall Street or The Stock exchange but will hear about them from a different perspective.
No29. Cool thing to do in New York – Graffiti your way into NYC
New York City is full of grafitti and street art that can be seen for free. You can follow a self-guide tour of the best locations with this guide, or go on a guided tour that tells you more about the artists and the background to each piece.
Or better yet, leave your imprint with a grafitti class where you get to make your own and leave it there for posterity. Now you can tell all your friends to go see it as one of the coolest things to do in New York City! Book the street art grafitti class here.
Alternatively, this one takes place in a studio where you make your own which you can take home so you get a souvenir instead.
Where to stay in the Chelsea, Greenwich, Lower Manhattan Area
The Greenwich Hotel
Owned by Robert de Niro, this is a blend of East and West with art pieces spanning the globe, from Tibet to Morocco in bright colours. A touch of glam in New York's most alternative neighbourhoods.
Book your stay on Booking.com
SoHo Grand
Industrial loft living matching the 70s style in this high ceiling, brick-walled hotel that is stylish and minimalistic.
Book your stay on Booking.com
Where to stay in the Mid Manhattan Area
W New York – Times Square
All of the brand's party feel at the heart of Times Square. This is the hotel that never sleeps. Fun, beautiful people, music and parties.
Book your stay on Booking.com
High Line
A more affordable, masculine and cozy hotel by the High Line which has a casual vibe, a hipster look and rooms that are homey and warm, with their own fireplaces, old books and vintage pieces, including the sink and the tables.
Book your stay on Booking.com
Knickerbocker
Housed in a Beaux-Arts building from 1906 that used to be a hotel, the staff wear the eponymous outfit and add a touch of freshness. The rooms are sober in muted colours and perfectly soundproofed so you see Times Square but not hear it.
Book your stay on Booking.com
NoMad
Its location, north of Madison Square, gave the NoMad its name. Inside, thick leather sofas, dimmed lights, thick velvet and strong drinks set the tone.
Book your stay on Booking.com
Baccarat
The most impressive part of the hotel is the lobby, which has a flamboyant entrance. Marvel at the 2,000 Harcourt glasses that are lit with LED lights sparkling day in and day out. This is a flash hotel with class, if that was ever possible, but modest in the rooms.
Book your stay on Booking.com
Gramercy Park
The hotel with the keys to New York's only private park of the same name, the Gramercy Park offers a modern Renaissance vibe with red and blue and Louise XV chairs.
Book your stay on Booking.com
Where to stay near Central Park
The Surrey
A breath of fresh air, familiarity and simplicity can be expected at The Surrey which rewards the little ones with frog backpacks and parents with an in-room mixologist cart. Location is peaceful, rooms are elegant.
Book your stay on Booking.com
The Mark
Leaving a mark on guests thanks to its focus on wellness and that black and white blocked geometric lobby. The mark is popular with the fashionistas and has its own black and white pedi cabs to take guests around.
Book your stay on Booking.com
The Ritz-Carlton
The sprawling suites come equipped with a fantastic view of Central Park, so the location cannot be beat. Think marble-topped bathrooms, plush large beds and service with a smile.
Book your stay on Booking.com
Park Hyatt
One of the most luxuriously appointed and most over the top hotels in the city, the Park Hyatt occupies the first 25 floors of the One57 skyscraper. Inside, you can relax at the indoor pool while swimming to the underwater music, or let the staff pamper you.
Book your stay on Booking.com
The Mandarin Oriental
The brand with some of the most decadent, mind-reading service that could not bring anything less than perfection, elegance and a touch of the East to the Big Apple.
Book your stay on Booking.com
The Plaza
An institution and the most coveted hotel in Manhattan, The Plaza is right in front of Central Park, on Fifth Avenue, and oozes as much old-world charm and opulence as can be expected with grand chandeliers, generous use of gold and ornate floors, walls and ceilings.
Book your stay on Booking.com
Remember to Pin this post to your #NYC board.