I was invited to review of Lufthansa A380 Business Class experience onboard the relaunched A350 service from Singapore to Munich. This is a review of Lufthansa A380 Business Class from Frankfurt to Singapore for my return leg. All opinions are always honest and my own. This article was first published in October 2018 and updated in October 2019.
I had the opportunity to fly Lufthansa's A380 flights in Business Class on my return from Barcelona to Singapore via Frankfurt. After having flown the new A350 service from Singapore to Munich two weeks prior, I was excited and curious to see how the much larger A380, Lufthansa's flagship aircraft, compared.
Lufthansa has 14 A380 aircrafts in its fleet capable of transporting 509 passengers when full and it is the aircraft used for the long haul and heavily trafficked routes like most of those taking off or landing at Frankfurt Airport.
The new Lufthansa A380
The airline has started to rebrand its A380 aircrafts with the new brand livery and Dream Collection in 2018 and most of the aircrafts covering the Asian routes from Frankfurt already enjoy the new look. This was the case for my Business Class A380 flight from Frankfurt to Singapore. So let's kick off this review of Lufthansa A380 Business Class with arrival and check-in.
Arrival and check-in
I arrived for check-in for my flight from Barcelona to Singapore via Frankfurt at Terminal 2 of Barcelona Airport with plenty of time to spare. And this time was only extended by the swift check-in which was practically immediate.
I had already pre-selected my seats and my only concern was making sure that my suitcase would make it since there were six kilograms of ham inside. But it was all done in a matter of minutes and I was only reminded of the Fast Lane access granted to my Business Class seat, invaluable in peak summer months in Barcelona when the airport queues can be horrendous.
After waving goodbye to my mother I went through the fast lane where there was no queue, and within 15min I was through, Singapore Changi Airport style.
Business Class passengers in Barcelona have all access to one of the two lounges available at the airport. They are both the same and the only difference is the location, one of them being in the non-Schengen area while the other is outside.
The lounges, strangely, do not provide free WiFi but this was not an issue for me because I have my own local SIM and since last year, all European SIM cards have free data roaming within the EU. I like this lounge very much mostly because the food is good. We are in Spain after all, so you can expect small proper sandwiches, pastries, yogurts, fruits, etc. I always enjoy one last Spanish cured meat like ham or fuet (thin sausage) sandwich before taking off and sit on one of the comfy sofas to wait for my flight.
In this case, I also did some last minute shopping. Prices in Spain are so much cheaper than in Singapore and Barcelona Airport is a great shopping destination so I can never resist.
When it was time, I simply went to the gate to board for my flight to Frankfurt which was shorter than 2h. Boarding was made by class of travel with HON members being given priority, then Business Class. The Business Class flight from Barcelona to Frankfurt is fast and service includes a meal and drinks. As this was breakfast time, I got a selection of cold cuts, cheeses, some breads and pastries, juice and coffee.
The lounges in Frankfurt Airport
We continue our review of Lufthansa A380 Business Class with Frankfurt Airport. The airport is big and there is always a fair bit of walking but in this case it did not matter too much to me because I had a 9h connecting wait and a business meeting so my date was waiting for me where we disembarked from the bus that took us from the aircraft to the airport and we headed to the closest lounge.
I was lucky enough that with my Gold status with Star Alliance I could also access any lounge so we walked into the first lounge we saw, which turned out to be a First Class lounge, and the staff at the gate were kind enough to let us both in.
This lounge is large and quite busy through the day with lots of passengers, most of which were on business. At one point I noticed that I was the only person there that was not wearing a suit and also one of very few women. I certainly stood out among the crowd of serious-looking business crowd.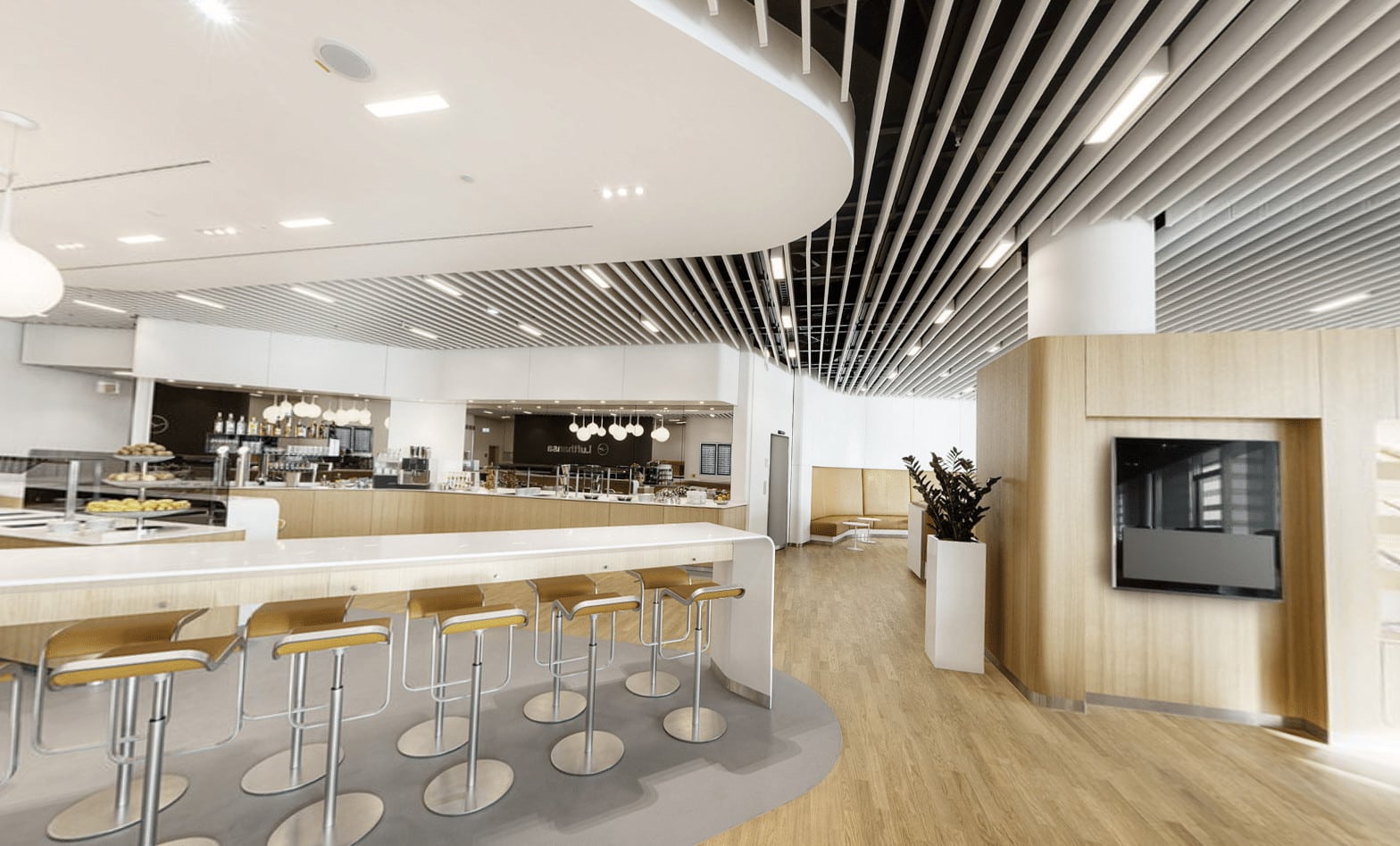 The lounge had a large selection of food available but only a couple of more consistent meals including German favorites. There were cheese pretzels, sausages and also the German version of gnocchi which is eaten topped with veal stew. Tasty, if not the healthiest options. Through the day I enjoyed various drinks, sweet caramelised popcorn, chips, pretzels and even soup. All were quite enjoyable.
If you need to work, the lounge has a few desks available with power points, tables and proper chairs. The relaxation area has semi-flat chairs that face a green foliage wall where you can sleep or listen to music. There are screens showing the main news channels, stools and high tables for a casual sit down or snack and lots of comfortable sofas with power points.
Lufthansa Business Class cabin and seat onboard the A380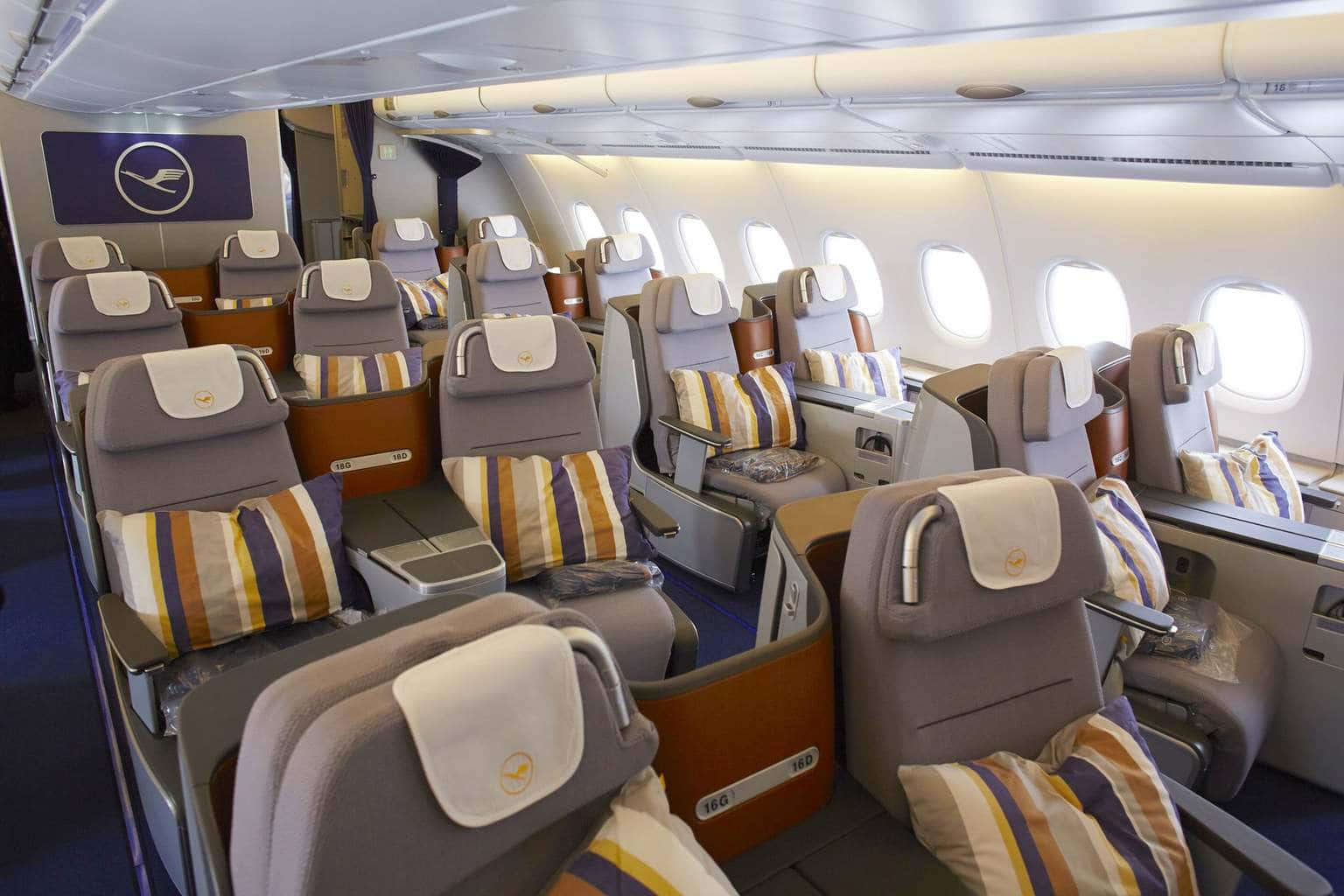 A review of Lufthansa A380 Business Class would not be complete without the seating configuration. The cabin onboard my Lufthansa A380 aircraft had already been fitted with the new brand livery and design elements. It looked very similar to my A350 experience only it was more spacious, as the A380 is a far larger aircraft. Most notably, there was extra storage space next to my window seat with two compartments with lids where I could fit all my electronics. This is practically the only difference between the A350 and A380 from Lufthansa as is the case with other airlines flying both aircrafts.
The cabin is designed in the same 2-2-2 reverse herringbone layout with the seats on the sides facing the windows and away from the alleys for extra privacy and the two middle seats facing each other. I had one of these window seats and it felt quite private even if a stranger was seated next to me.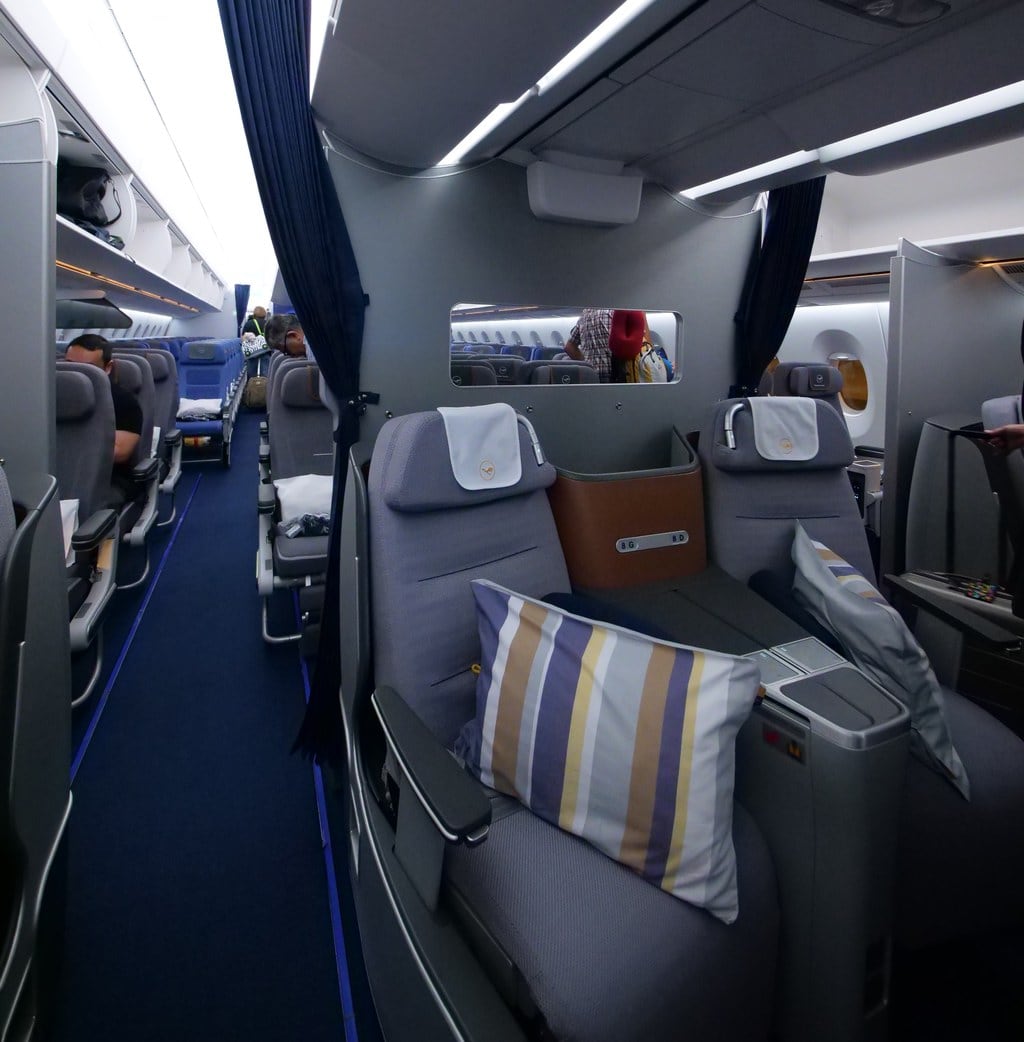 The seats are in the new grey of the brand and have copper accents, striped pillows and navy blue blanket-duvets. I find the new design of the cabins very elegant and modern giving Lufthansa a very professional professional look. They bring the cabin to a much more refined level and a fresh image while keeping them warm and cozy.
If you have read my A350 Business Class review you will know a bit more about Lufthansa's new brand look. But in case you haven't, here is the new color wheel below, the palette changes depending on the cabin but all three cabins feature similar color ranges.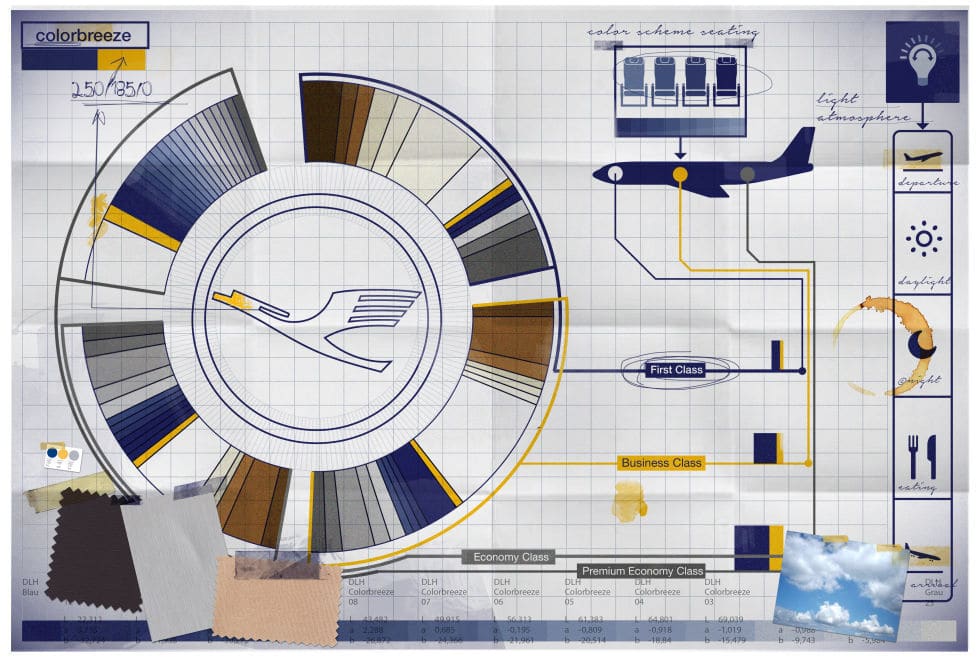 The new colors and brand livery was launched at the beginning of 2018 and meant quite a change from the traditional yellow and navy blue of the brand to a much wider palette and also a more upmarket look with the copper shade. The uniforms of the crew have also been upgraded accordingly and now have the historical Lufthansa yellow only on small details like the neck complements or the tie for the men.
For those in transit between overnight flights, there are showers you can use to freshen up. I did not try them like I did with SWISS at their Arrival lounge in Zurich, but they looked clean and practical.
The A380-800 is the world's largest passenger plane and has a lot more rows in Business Class than the A350. There were 8 First Class open Suites, 78 Business Class seats, 52 Premium Economy seats and 371 Economy seats on Lufthansa A380 making the total number of passengers when the aircraft is full a whooping 509.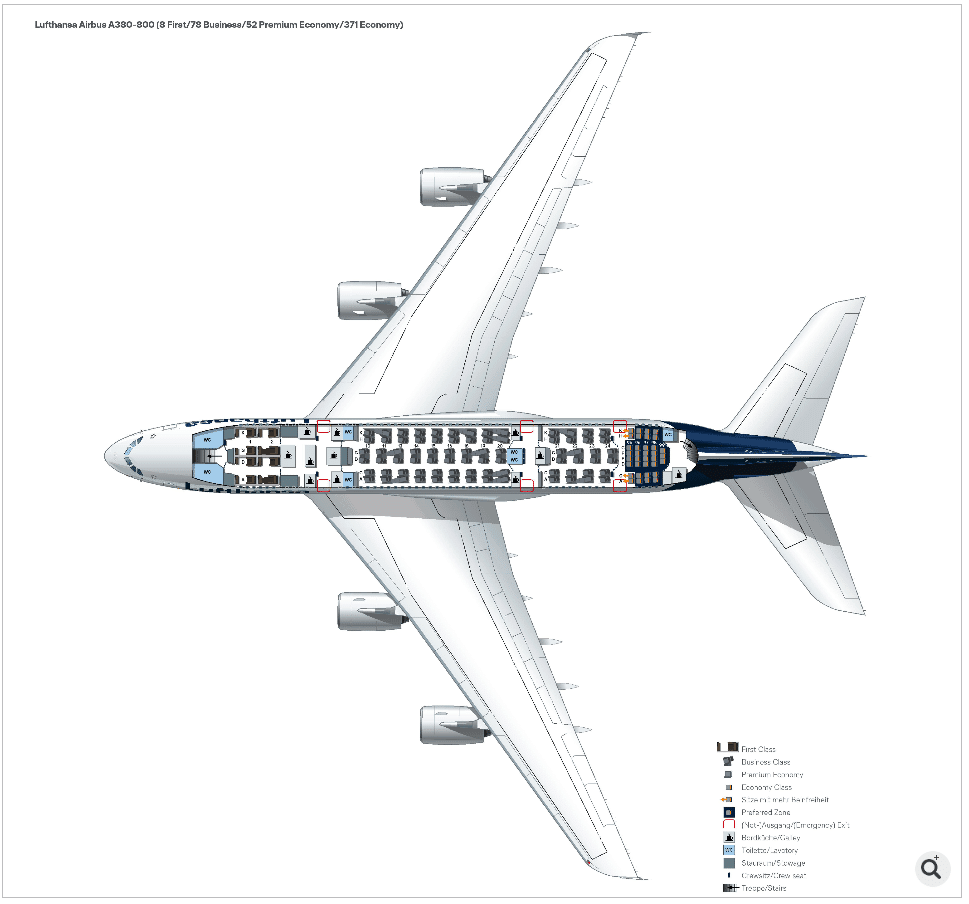 Business Class passengers on Lufthansa A380 occupy the upper deck where there are only five more rows of Economy. As you can imagine, in Business Class the cabin is very large despite the airline having split the 13 rows of Business Class seats between two cabins, one with nine and the other with four rows, separated by the galley.
When I got to my seat, which was on the last row of the first cabin, I looked to the front of the aircraft to a sea of Business Class seats. It was impressive to see, more so because the plane was fully booked.
This is not unique to Lufthansa, Emirates A380-800 also has the same amount of seats and they occupy the entire upper deck minus the four rows of First Class. In contrast Singapore Airlines has just 60 seats, although they are split into two cabins in the upper deck.
The seats on Lufthansa's A380 are the same size as the ones on the A350, 50cm wide and just short of 2m long, but because of the plane's larger size (even on the upper deck), they felt more spacious, especially if you are by the window where the extra storage space between the seat and the window adds a layer of comfort.
Aside from this large storage on the side, there is a smaller compartment by the armrest where the headsets are, another pull-out one under the TV screen and more under the footrest. This gives every passenger plenty of space to put all their belongings.
The seat goes completely flat and can be operated with the sleek electronic controls on the armrest. These controls are fast and intuitive so they are easy to use even if you have never flown Lufthansa before. You can quickly bring your bed down or fold it to have your meal without having to stand up.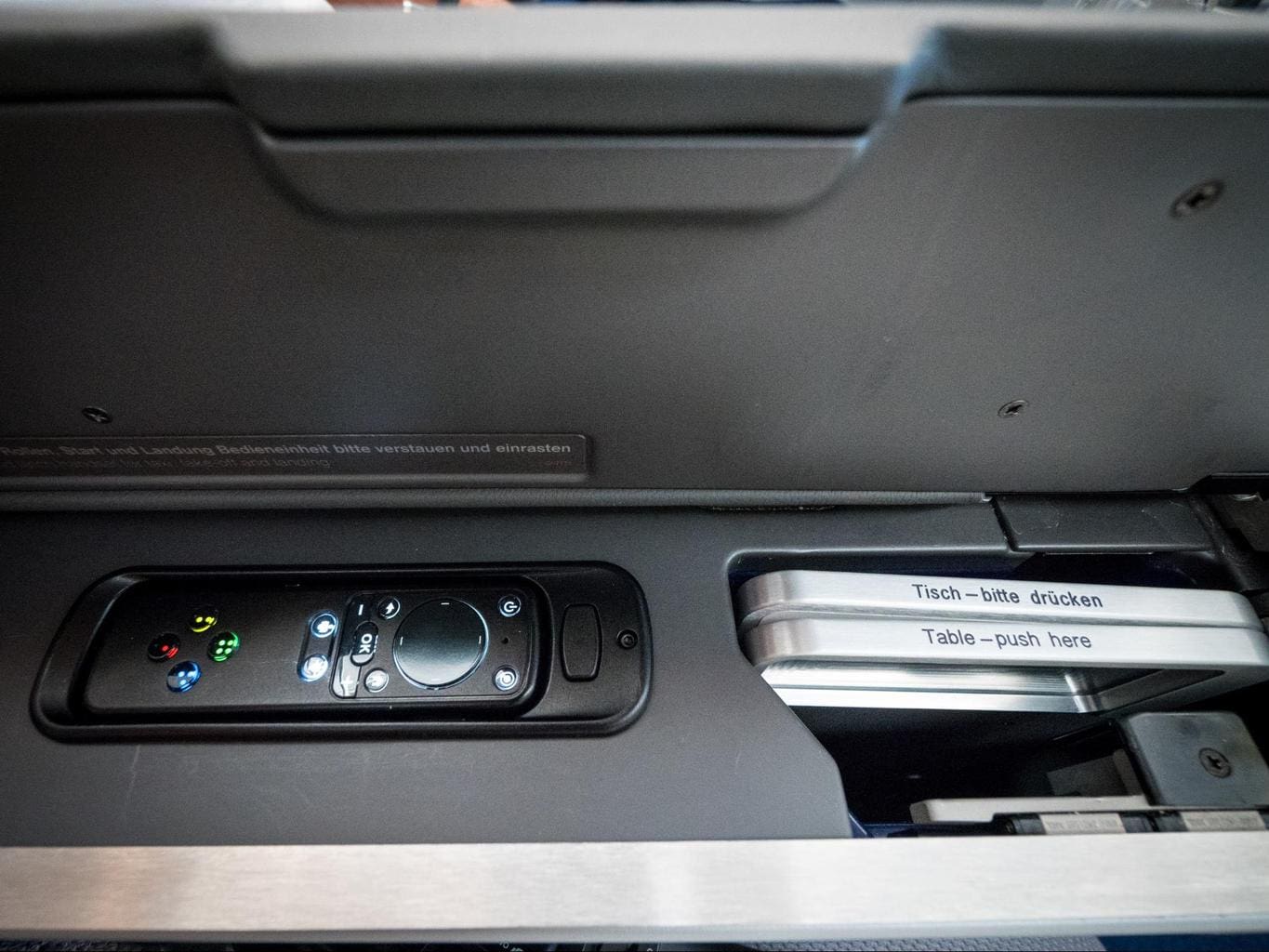 For those who need to work, the foldable table is under the armrest and comes up to a decent size. If you need to type a lot you may need to do like me and place the pillow under the table on your lap to avoid the wiggling. There are also power points near the floor level on the seat arm and a USB charging point under the table.
These are well positioned in a thoughtful location as you are likely to charge your phone in the USB point, and want to keep it close, while the powerpoint is more useful for laptops with long cables which can comfortably rest of the floor.
The entertainment system and WiFi on Lufthansa A380 Business Class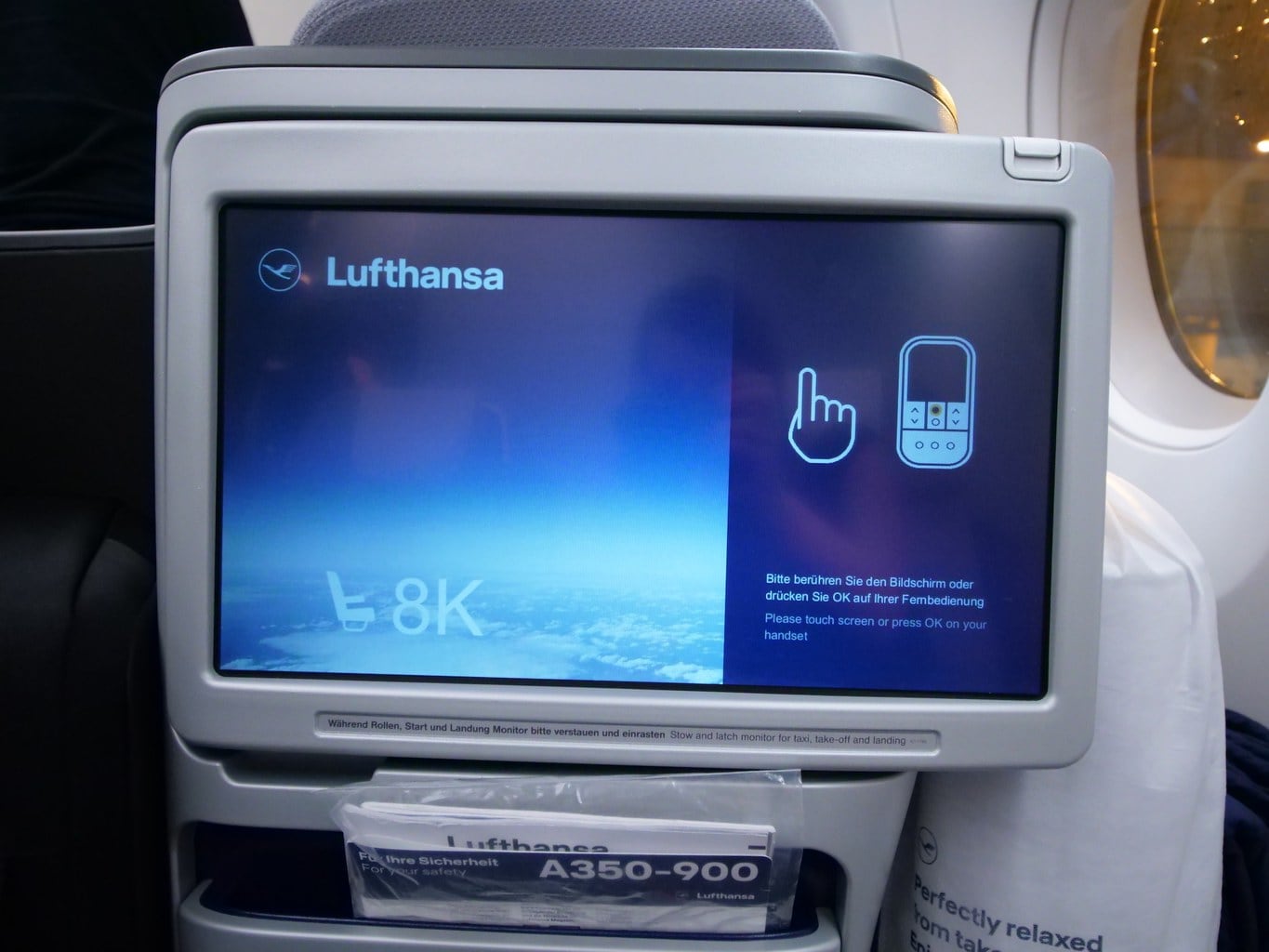 Lufthansa Business Class seats on the A380 had a relatively large screen that could be tilted to face the seat better, same as with the A350 flights. The remote control was easy enough to use, intuitive and sensitive to the touch. And one of the best parts about this review of Lufthansa A380 Business Class is the headsets. They are stored inside their own compartment and attached to the seat to avoid them being stolen, and were proper noise cancelling ones, comfortable to wear and from the professional AKG brand.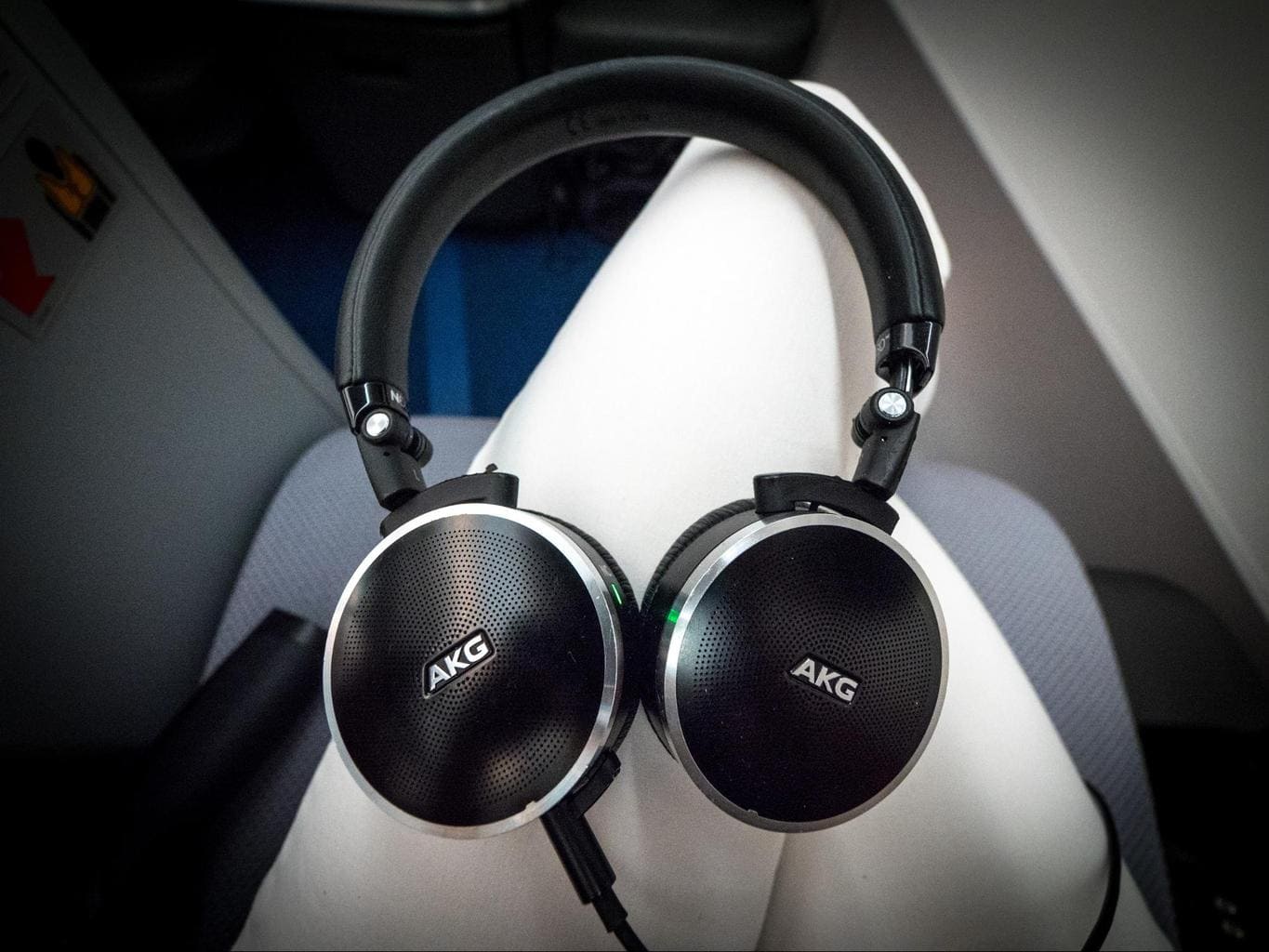 Contrary to other brands, my ears did not hurt at the end of the flight because of the headsets being too tight. There were also quite a lot of movies to watch and TV series to pick from.
As I mentioned in my Lufthansa Business Class A350 review, one of the best parts of Lufthansa's entertainment system is the selection of movies in other European languages, not that common in Middle Eastern or Asian airlines, and a nice treat for those who do not speak English so well.
However, the overall offer was perhaps the weakest points of the experience. You can see what's playing onboard every month here.
I boarded the plane with the view of having dinner and then simply bringing my bed flat for a good night's sleep. On the way out from Singapore, I did not get to enjoy much of the Entertainment System and I found it the lowest point of the experience so I wanted to take some time and browse through it properly on my return.
I sat back and turned it on even before take off. However, my opinion remained the same. While there were quite a lot of options to watch, many of the English movies were old classics rather than new releases. I found the same in the TV shows section.
I spent some time reading the plots of many of the movies, every time waiting quite a bit for the programs to load, and ended up watching one movie only, I cannot even remember which one, while having dinner and then turned it off for the night. When I woke up I watched a couple of TV series I had downloaded from Netflix before landing.
On the other hand, Lufthansa's onboard WiFi service from FlyNet was pretty good, enough even for live Facebook videos or even to stream Netflix.
Prices for FlyNet service on long haul are valid for 24h and cost $19, which is industry standard pricing. You can also buy smaller chunks of one or four hours instead but they are timed continuously and you cannot stop and start again. The only downside to FlyNet is that the service can be unstable.
Aside from movies and other TV shows, Lufthansa Business Class passengers also get the chance to download digital magazines to read onboard. Newspapers will be offered after take off but there is a large selection of magazines in several languages available for download pre-flight via the Lufthansa app which will take you to the eJournals app.
All passengers, even Economy Class, get to download at least one title to read onboard. As a Business Class passenger you actually get 3 titles. Miles & More status members can download even more titles. I downloaded three travel magazines at the lounge.
Amenities for passengers on Lufthansa A380 Business Class
Since July 2018, Lufthansa has a set of three new kits by German functional brand Reisenthel for their Business Class passengers. The amenity kits had to be mentioned in this review of Lufthansa A380 Business Class as they are top notch. On my A380 flight I was given the grocery handbag. These kits are reusable as either a pencil bag, grocery bag or makeup bag, so they are environmentally friendly. Inside, they all contain the same.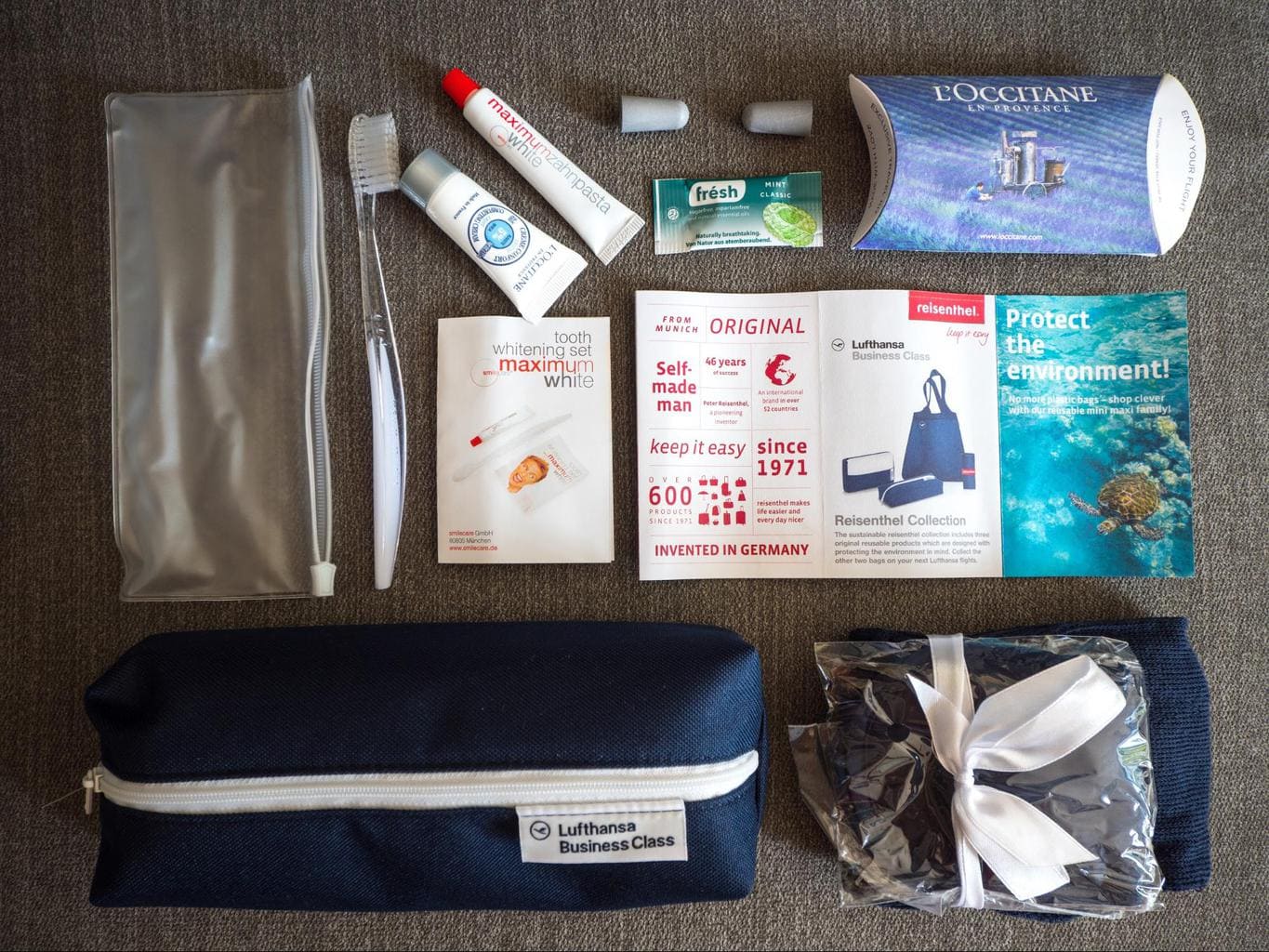 Inside the amenity kit I found a set of cosmetics from the Provence-inspired brand L'Occitane including a premium face cream and a small travel sized hand cream which I have used several times in the past. A dental kit with whitening toothpaste and a toothbrush, a mint, a pair of ear plugs, eye shades, covers for the headsets and a pair of socks.
Business Class passengers also get their own sleepers and a set of items The Dream Collection: a soft and warm blanket-duvet, a large pillow, a non-slip mattress topper and a pyjama shirt from German shirt brand Van Laack. I put my shirt on after dinner, reclined the bed flat, put the mattress topper on, unfolded the blanket and fell asleep in no time.
The duvet was really soft and comfortable, I even woke up a couple of times feeling slightly too hot. And by the time I felt like it was time to get up it was almost breakfast time so fair to say, the Dream Collection helped me dream of angels.
Good to note that the packaging in which the mattress topper, blanket and pyjamas are kept in is made of recyclable paper and not plastic.
Food onboard Lufthansa A380 Business Class
When I got to my seat I was offered a drink and decided to go for a glass of champagne and water. After take off, I enjoyed more water and some warm, toasted, salted almonds.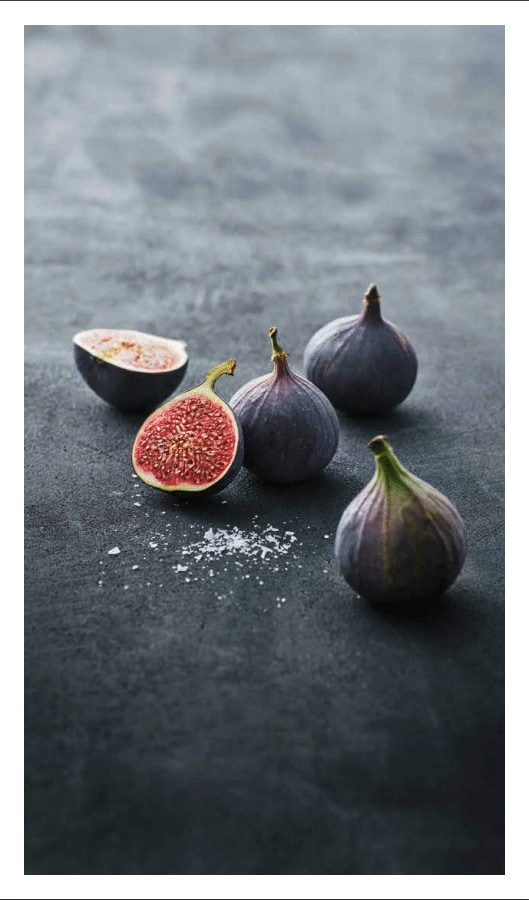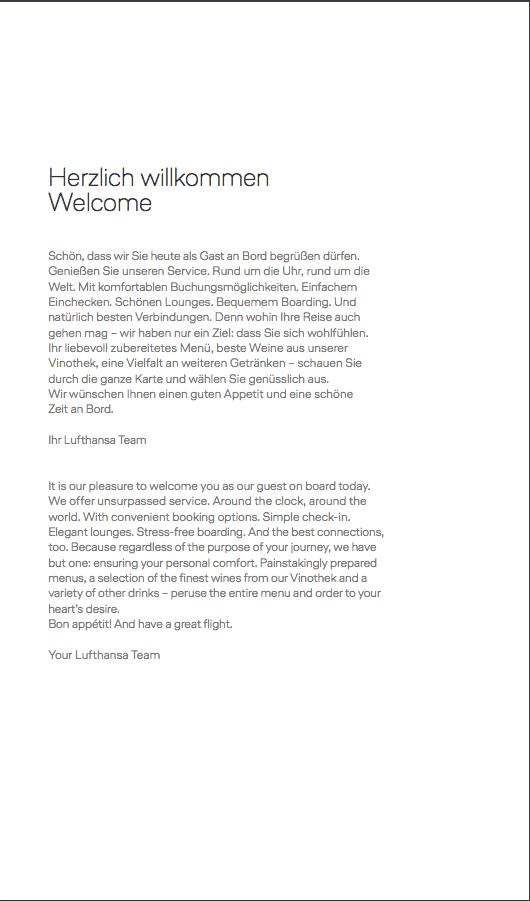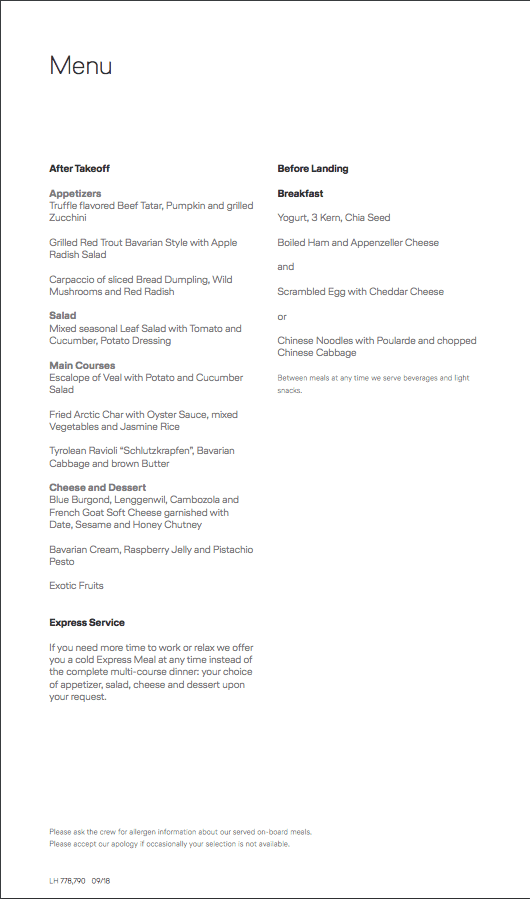 The menu onboard Lufthansa A380 Business Class changes every other month and always features a list of three starters, three mains and three desserts to choose from. Business Class passengers always have a choice of two reds, two whites and one champagne as well as two liqueurs.
A top tip in this review of Lufthansa A380 Business Class is that Lufthansa is one of the few airlines that lets you see what is on the menu prior to the flight by simply entering the flight number and the month here. It does not have a lot of forward looking as you can only see the next two months but it still got me excited about the flight.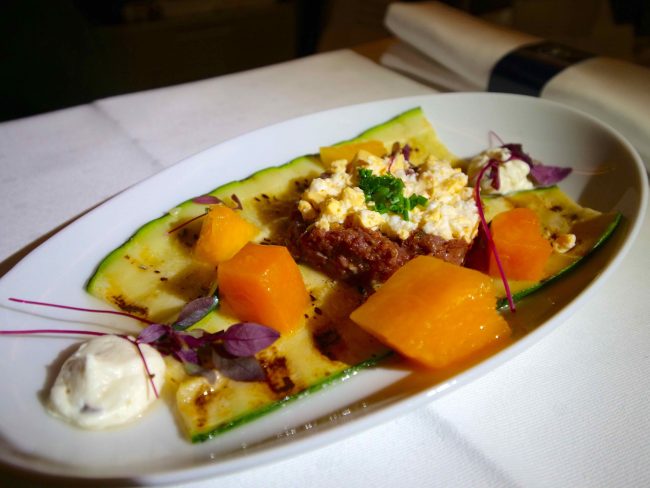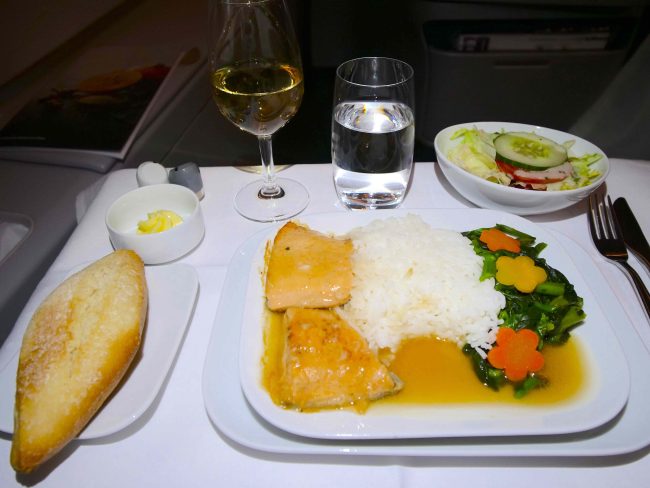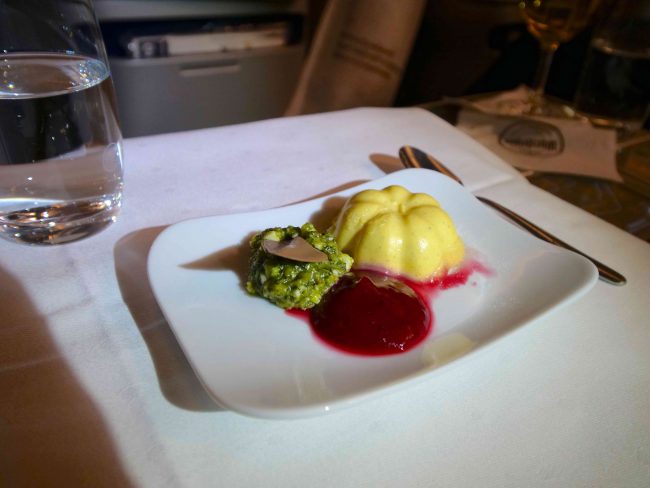 On my flight from Frankfurt to Singapore these were the food choices available.
For starters:
Truffle flavored Beef Tartar, Pumpkin and grilled Zucchini
Grilled Red Trout Bavarian Style with Apple Radish Salad
Carpaccio of sliced Bread Dumpling, Wild Mushrooms and Red Radish
For mains:
Escalope of Veal with Potato and Cucumber Salad
Fried Arctic Char with Oyster Sauce, mixed Vegetables and Jasmine Rice
Tyrolean Ravioli "Schlutzkrapfen", Bavarian Cabbage and brown Butter
I decided to go for the beef tartar and the fried arctic char, a sort of fish, for my main. Both dishes were tasty although after having spent the entire day eating plane food and having access to unlimited lounge food and snacks I was not hungry at all.
Between the starter and the main I was also offered a salad but I was so full that I barely tried it. It was a mixed seasonal leaf salad with tomato, cucumber and potato dressing.
For dessert there were also three options: a cheese platter with blue Burgond, Lenggenwil, Cambozola and French Goat Soft Cheese garnished with dates, sesame and honey chutney, a Bavarian cream with raspberry jelly and pistachio pesto or exotic fruits. I went for the cream which tasted like an Italian vanilla panna cotta and reminded me of the food in Sicily.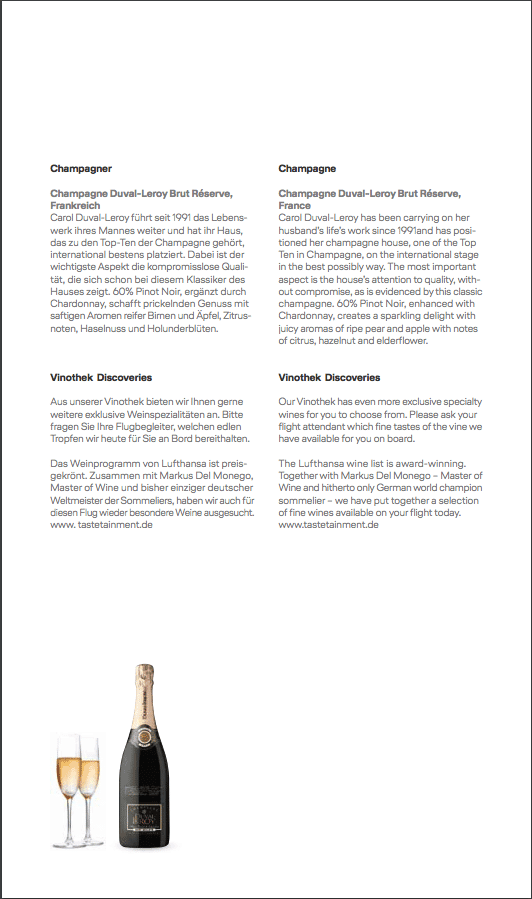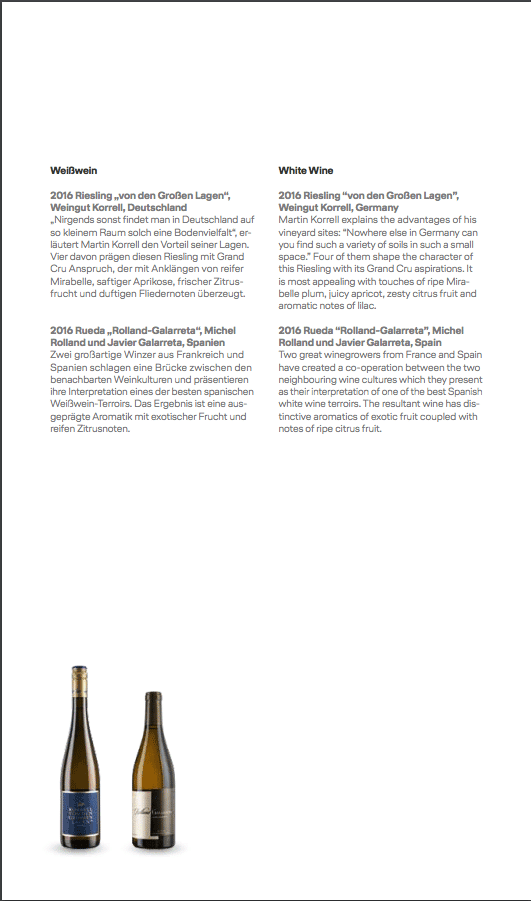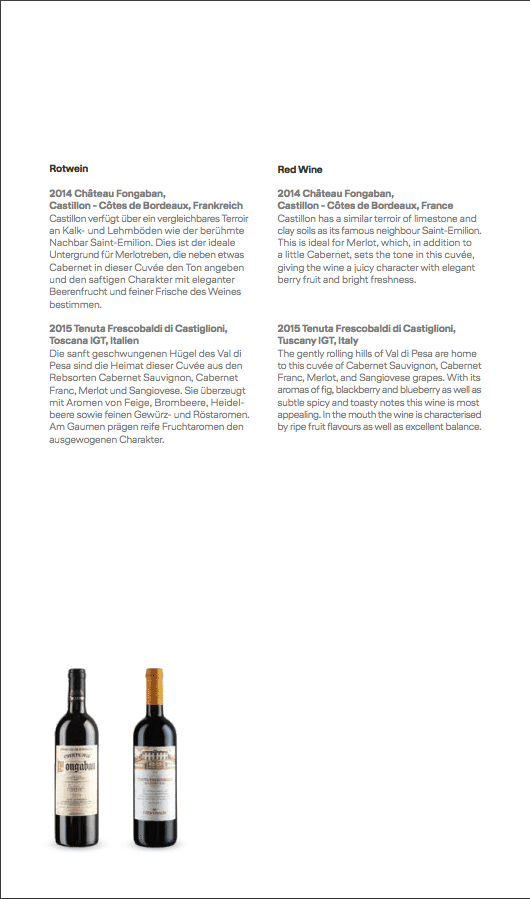 The wine list, in keeping with Lufthansa philosophy, featured one champagne, a French red wine, a German white wine and two international choices one of each type. In this case, the wines were as follows:
Champagne Duval-Leroy Brut Réserve, France
2016 Riesling "von den Großen Lagen", Weingut Korrell, Germany
2016 Rueda "Rolland-Galarreta", Michel Rolland und Javier Galarreta, Spain
2014 Château Fongaban, Castillon – Côtes de Bordeaux, France
2015 Tenuta Frescobaldi di Castiglioni, Tuscany IGT, Italy
I tried the very unique combination of Spanish and French white wine, something I had never seen before, although it was not to my liking.
For breakfast there were two choices of hot meals. Scrambled egg with cheddar cheese or Chinese noodles with poularde and chopped Chinese cabbage. I went for the scrambled eggs although we landed at 4pm so it was more a late lunch / early dinner than a breakfast.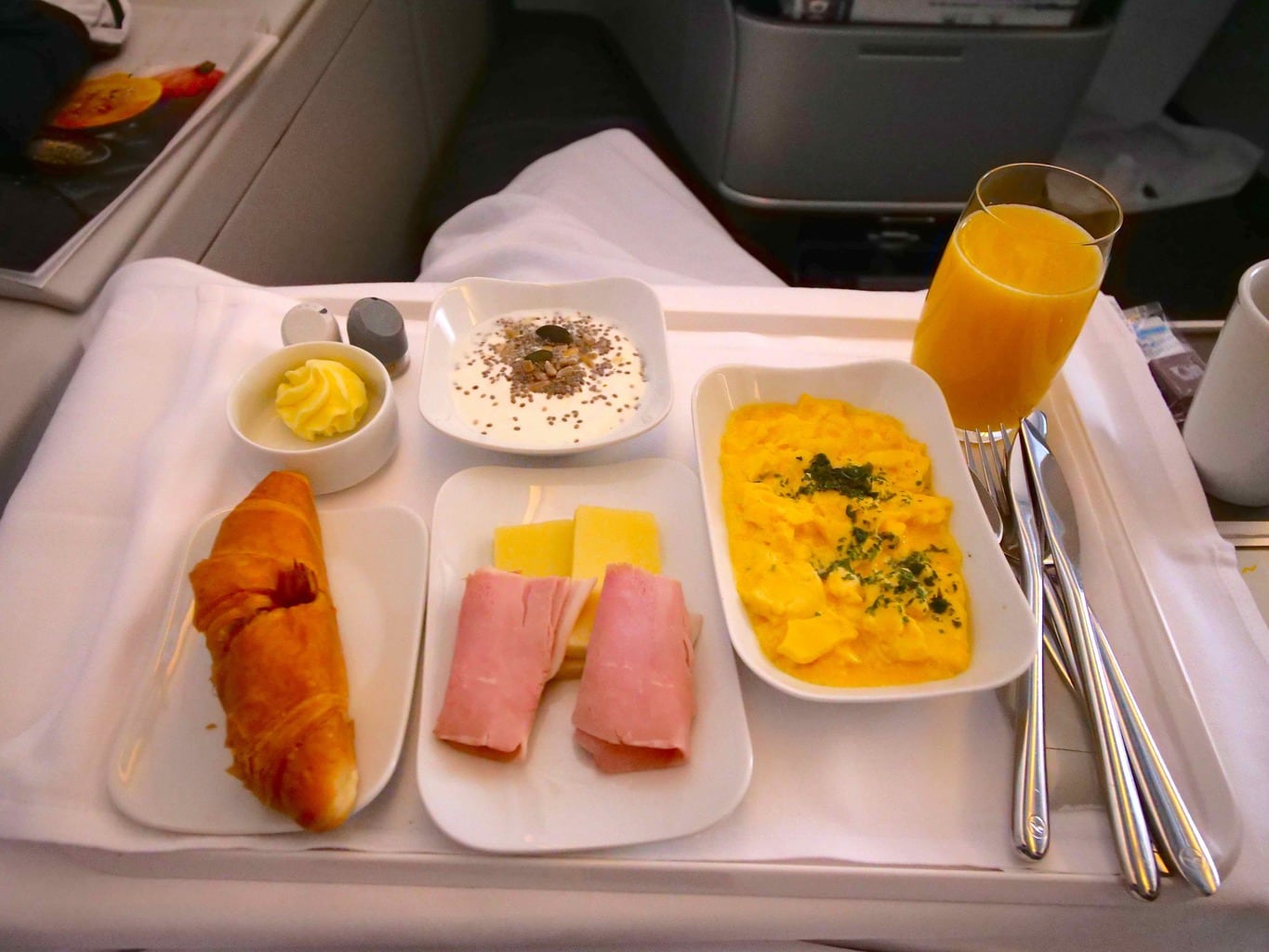 Breakfast came all at once with all the dishes plated in the tray. The eggs were creamy and tasty and the yogurt with chia seeds and fruits was very nice. The orange juice tasted fresh, although they obviously do not squeeze it onboard, and the coffee was quite nice and topped with fresh milk.
I found the meal service onboard Lufthansa A380 Business Class to be of high standards. The crew brings out the dishes and trays individually, rather than in trolleys that clutter the aisles and look more "production line".
The food is good, tastes nice and is abundant. Presentation is nice enough. It is not as elegant and refined as Etihad but I found it much better tasting than Singapore Airlines, I always thought food was an area the airline could do better, if there is nothing else to complain about.
Service onboard Lufthansa A380 Business Class
We continue our review of Lufthansa A380 Business Class with the service. On this flight, I was a regular passenger like the rest and none of the crew members had been alerted that they were being reviewed, as was the case on my Lufthansa A350 Business Class, so I experienced the same level of service as regular passengers.
Although the crew were not as overtly friendly and kind as the one I enjoyed on my Munich flight the person assigned to my seat was very pleasant, friendly and efficient, German stereotype, doing a great job, making sure everything went like clockwork and that both me and my seatmate (a stranger) were well attended to.
I had a small emergency an hour before landing when my nose started to bleed and would not stop, and this went on for the remainder of the flight until I landed and went to the clinic at Changi Airport, and he was kind enough to help me retrieve my luggage and brought me enough tissues to make sure I could stop the bleeding. He even brought me some cold medicine he had because he thought I had a bad cold.
Extra points to him for making me feel taken care of and for providing personal service despite the huge cabin and the many passengers in Business Class.
Review of Lufthansa Business Class on A380 – The verdict
To conclude this review of Lufthansa A380 Business Class, after having experienced Lufthansa A350 Business Class on my way to Barcelona via Munich, I was interested to see how the A380 would compare and I must say that they both were very similar.
I preferred the A380 for the extra window-seat storage space which was very convenient. But the A350 was quieter and cosier, and did indeed help me with jetlag whereas five days after returning, while writing this review, I am still going to bed past 2am and waking up after 10am. Not a big deal as I can work on my own terms, but hardly socially-friendly.
When compared to other airlines, Lufthansa's product is competitive. It offers great food, comfortable lie-flat beds and friendly staff. But it is a bit more dense with a 2-2-2 configuration as opposed to the more common 1-2-1 of other airlines. It did not make any difference to me, especially on the A380 which has extra space on the sides, but is a consideration when comparing with other airlines.
Talking of which. Flying from Europe to Asia there are other carriers to choose from. Most notably, the Middle Eastern Airlines all fly via Dubai, Abu Dhabi or Doha, but their connecting flights from Barcelona are not as frequent and tend to be in the middle of the night. Also, the two segments of 7h each are good when flying in Economy and can't sleep anyway, but disrupt my rest as best case you sleep 4-5h in each leg instead of 8h straight.
Other European airlines like KLM, Air France or British Airways also fly to Asia but some of them use older planes like the Boeing 777 from KLM that covers the route Amsterdam-Singapore-Bali. Air France flight is longer at 13h but their Boeing 777 cocoon seats, the same used by Cathay, offer more privacy. They could be a comparable alternative, but I found the new Lufthansa cabin one of the most elegant out there.
More Business and First Class reviews: