This article was first published in December 2018 and was updated in November 2019.
Earlier in the year I experienced Ethiopian Airlines Business Class on their regional service both from Hargeisa, in Somaliland, to Kigali, in Rwanda and then back from Kigali to Dubai via Addis Ababa on both ways. This time, I got to fly on the Ethiopian Airlines Business Class 787-800 Dreamliner aircraft.
This is a combined review for Ethiopian Business Class on their 787 Dreamliner both older and newer version as I took two long haul flights with the airline, from Singapore to Addis Ababa and then from Addis Ababa to Buenos Aires via São Paulo.
While both flights were on Dreamliner aircrafts, the first one still sported the older seats and livery whereas the later was already on the new interiors and seats, a much improved product from the previous one.
Arrival and check-in for Ethiopian Airlines Business Class
As a Business Class passenger, I checked in on the designated counter at Changi Airport Terminal 2. When I arrived, 3h ahead on my scheduled departure, there were not a lot of passengers checking in and I was quickly through with an invitation to the SATS Premier Lounge.
Ethiopian, like other Star Alliance members, use this lounge for Business Class passengers. Other Alliance members like Lufthansa or SWISS use Singapore Airlines Business Class.
When I arrived, close to midnight, the lounge was quiet and the signature DIY laksa dish that is normally available had already been cleared, a shame as I was looking forward to it when I found out which lounge I was given an invitation for.
SATS Premier lounge is adequate, though the food and drinks selection, at least at that time, was not very inviting. So I just sat down and tried to do some work while fighting to stay awake for my 2,30am departure.
The cabin onboard Ethiopian Airlines Boeing 787 Business Class
The first section of my Singapore to Buenos Aires flight was from Singapore to Addis Ababa on one of the older Ethiopian Dreamliners and I could tell as soon as I walked in.
I stayed at the lounge until boarding then headed to the gate where a mum and her 10 month old baby were trying to go through a security screening. She had so much hand luggage that I offered to help her onto the plane carrying one of her bags.
That means that I boarded through the Economy gate. There is a dedicated Business Class gate at the front for the mere four Business Class rows.
There is no First Class services on the flight and no Premium Economy so the B787 is a two-class aircraft with 24 Business Class seats and 246 Economy Class seats. There are two galleys, one at each side of the Business Class seats.
Ethiopian Business Class on the Boeing 787 is designed on a 2-2-2 either regularly spaced or in reverse herringbone configuration, very similar to Lufthansa's A350 Business Class, in the newer aircraft.
The first row of seats has a wider footrest than any other rows and, on both flights, two seats on the last row were reserved for the cabin crew and curtained off from the rest of the guests.
While the general livery and amenities on both the older and newer cabin designs were pretty similar, the seats is where the two differed the most.
The seats onboard Ethiopian Airlines B787 Business Class
Because I flew on both the older and the newer Boeing 787 Business Class Ethiopian Airlines cabins, I will review the seats separately.
It is important to note that the seats is where the difference between the two cabins lies and while one was very comfortable and great, the other felt quite old and outdated, reminiscent of the regional Business Class service from Ethiopian Airlines I experienced earlier in the year.
Older Ethiopian Airlines Boeing 787 Business Class seats
The older Boeing 787 Business Class design was not very inviting. It looked not only old but also worn out, so much so that the armrest was broken and would not go down when I pressed it. The storage areas around the seat were dirty with bread crumbs, dust and hairs and the plane generally looked old.
The dirt could have come from the previous flight since the aircraft flew from Kuala Lumpur to Singapore before I boarded for Addis Ababa.
As soon as I sat down on my seat I noticed that the area around the TV and the seat, was bare, without any airline magazines or duty free catalogues, safety instruction sheets, not even headsets visible. It felt as if the plane had been raided.
I only found the magazines and duty free catalogue when I left my seat and realised they were stored on the armrest. The headsets materialised later on, but they only gave me and the passenger next to me one pair, and I was quicker to use it.
The crew came around to leave a bright yellow washbag-style inflight amenity kit and a small bottle of water on each seat.
The seat went flat but at an incline. That means that, through the night, I had to pull myself up as my toes were getting crushed against the footrest wall. The incline was minimal, maybe 5%, but enough for me to slide down while trying to sleep.
The footwell was quite large and square, almost the width of the TV, but with the seat flat, my toes touched the top when lying face up which made it slightly uncomfortable when sleeping flat.
The seat was quite spacious, especially for someone small like me, and measured 21 inches in width and 78 in length.
There was a compartment to store small items to the side of the seat, where the electricity socket and the USB connector was. This is also where you would plug your headsets and where the water bottle could be placed. The remote controller for the TV was also stored in this small compartment.
I found this the perfect place to keep the amenity kit and my phone but not much else. Because the armrest could be lifted if pushed down, this is also a place where you could store your laptop for meal service.
Next to the TV there were two additional compartments, a bigger one at the bottom for your shoes, and a smaller one above to place other larger items. A hook was also available right next to the TV to hang jackets.
New Boeing 787 Business Class seats on Ethiopian Airlines
Ethiopian Airlines' new Dreamliner Boeing 787 cabins are much more sleek and modern than the older ones and a major improvement.
The cabin is on a 2-2-2 reverse herringbone configuration with four rows and a total of 24 seats. The best seats in the cabin, in my opinion, are the window seats because they face away from the aisle and feel cosier, however, the TV screen is not aligned to the seats but tilted away.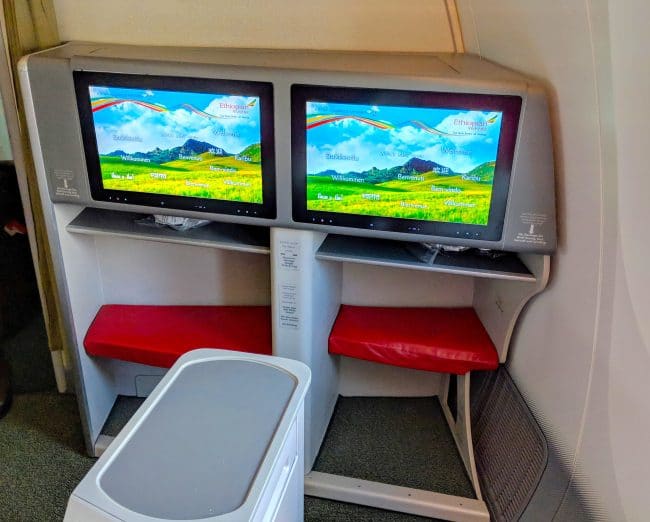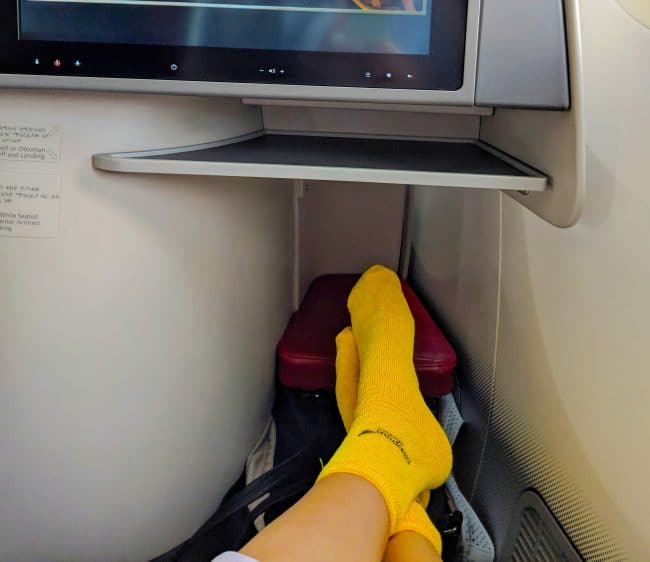 The first row has more spacious footrests, because the footrests of all the other rows are sandwiched between the seats in the row in front, but is also closer to the galley. The Economy Class galley is at the back of the Business Class section so if you want to be in the quietest part you should take rows two or three.
The seats in this refreshed cabin are comfortable and feel more elegant, with sounder edges and a much larger touch screen.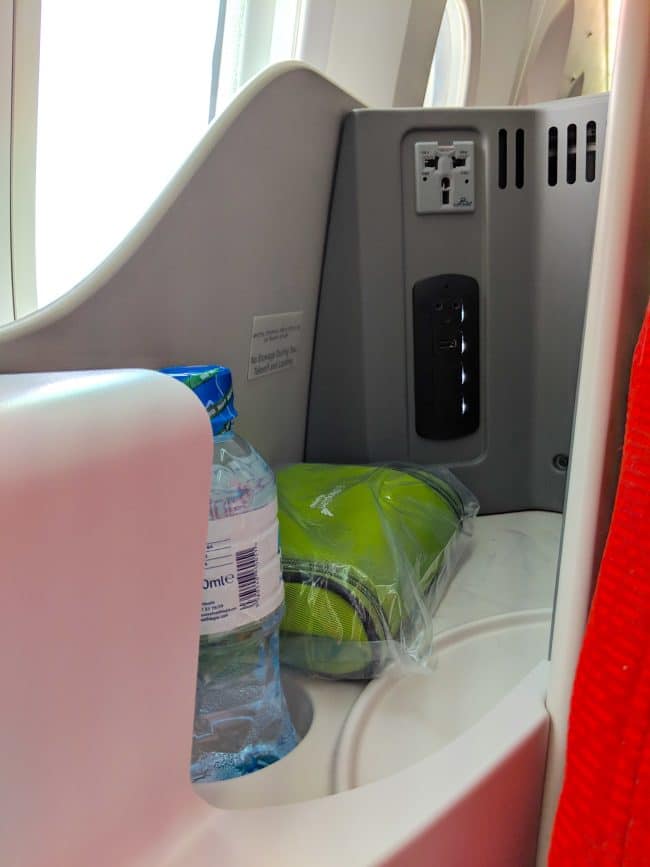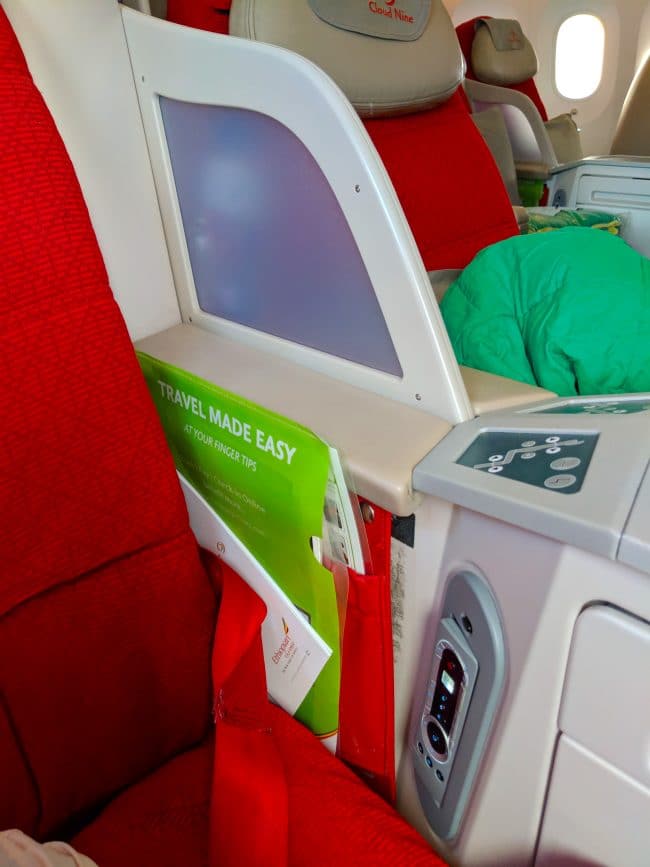 Dining onboard Ethiopian Airlines Boeing 787 Business Class
Onboard food and drinks are one of the most important elements in a longhaul flight, so reviewing Ethiopian Airlines Business Class means spending quite a bit of time on the food. Dining service was similar on both flights so I will review them together.
Both flights had two meal services, two dinners, one breakfast and one lunch. It is fair to say that I experienced Ethiopian Airlines inflight meal service in-depth after the four meals and various snacks.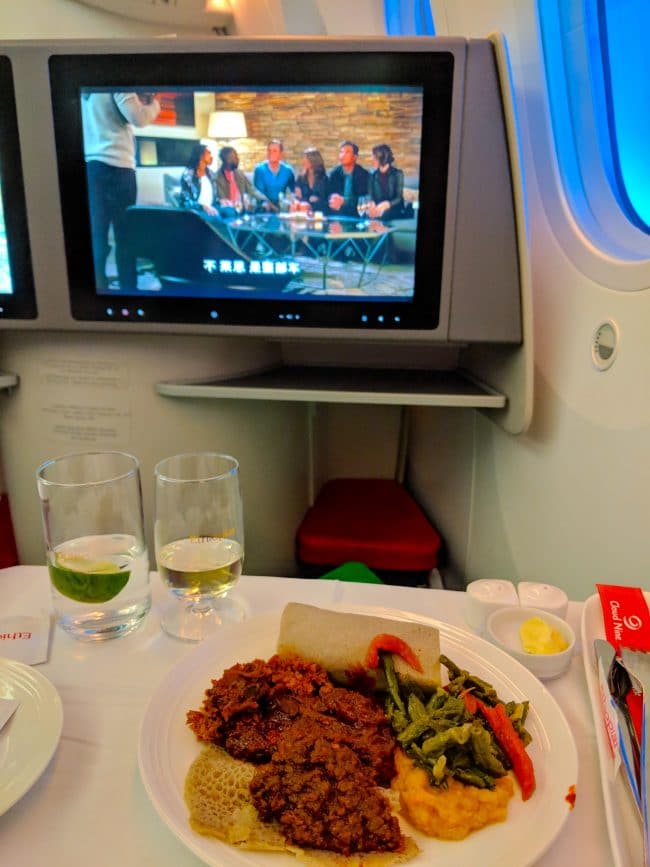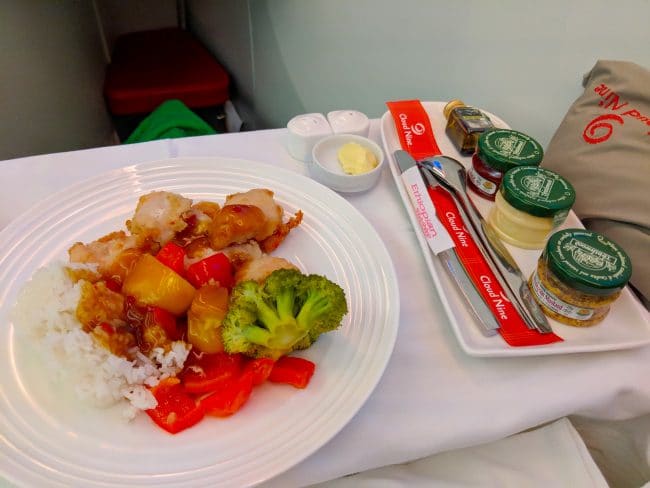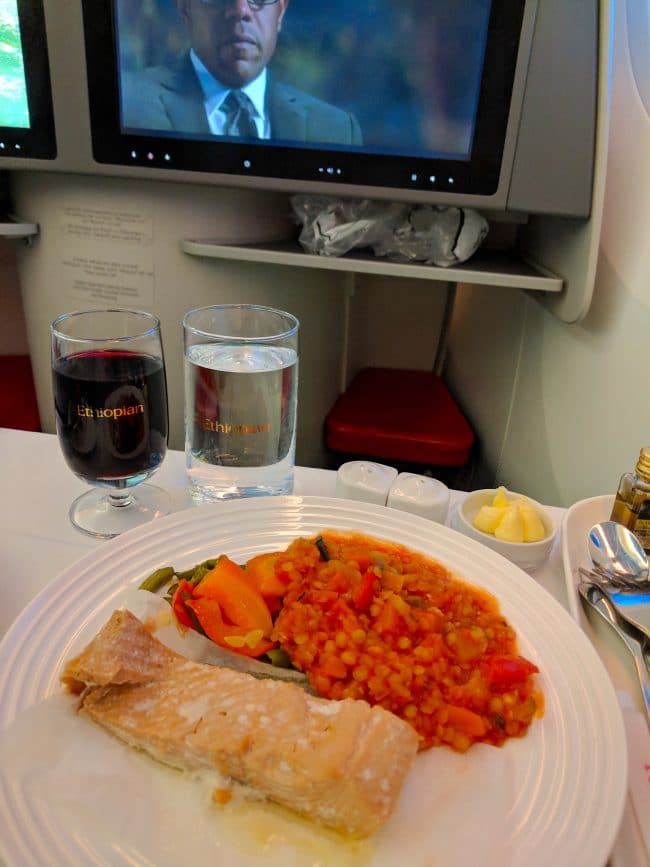 Ethiopian Airlines Business Class passengers on long haul flights (my flights were 9h and 13h long) enjoy very extensive menus including international, Asian and Ethiopian dishes, one option was vegetarian.
Pre-flight, you could select your choice of a special meal, but I did not. I did however notice that the passenger next to me had made a special request for a vegan meal and his meal was not available, despite having ordered it before, and none of the dishes were vegan so he did not have much to eat.
The meal service offered a choice between two starters, a salad, four mains and the possibility of trying Ethiopian cuisine of injera. For dessert, there were two cakes, a selection of fruit and a range of cheeses.
Both flights had a choice of four white and four red wines from South Africa, France and Ethiopia, and a huge selection of spirits and liquors, three types of beer and one port wine. There were also several types of juices and soft drinks. Local Ethiopian coffee and several types of tea were also available.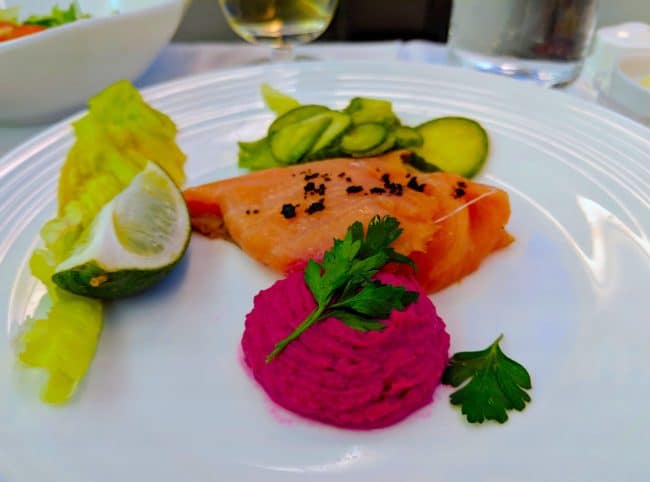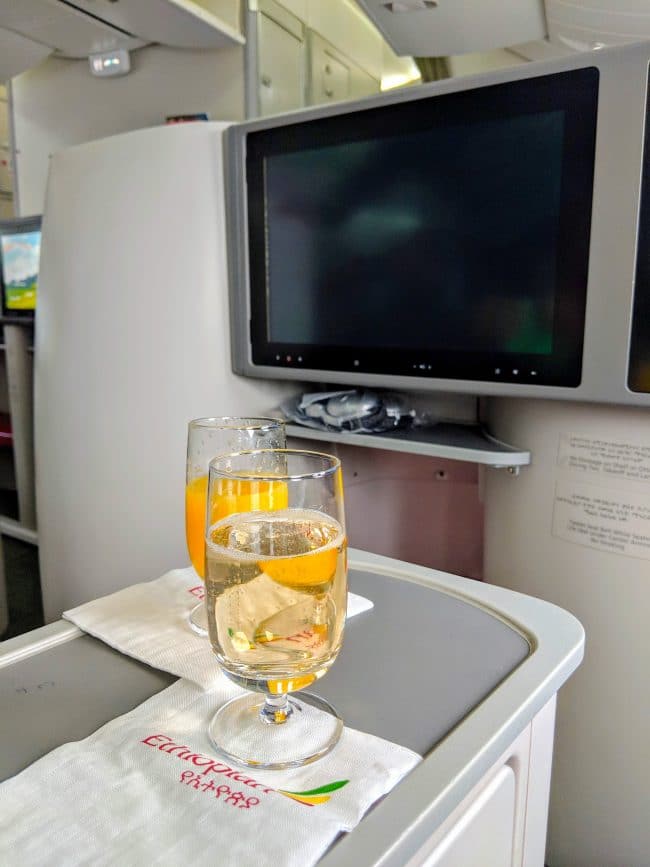 Meal service started with some snacks and drinks. On top of some crackers, Ethiopian Airlines offers its Business Class passengers a local toasted, crunchy barley snack called kolo which is quite addictive.
On the daytime flight the gap between snacks and lunch was incredibly long, approaching 2h, which was far too long. I wanted to do some work but didn't want to have to stop half way through for meal service, so I kept waiting and waiting for the meal service and was eventually done 4h after take off which was far too long.
The tray with starter and salad was brought out in a trolley and we picked the starter on the spot. The tray also contained butter, salt and pepper shakers, a small bottle of olive oil and tabasco, and pots with mustard, ketchup and mayonnaise.
The bread basket came after the starter was brought out and included only two choices of white or brown bread rolls which had been warmed up. Although the bread did not look very appetising it was in fact pretty tasty, and that comes from someone who could live off bread.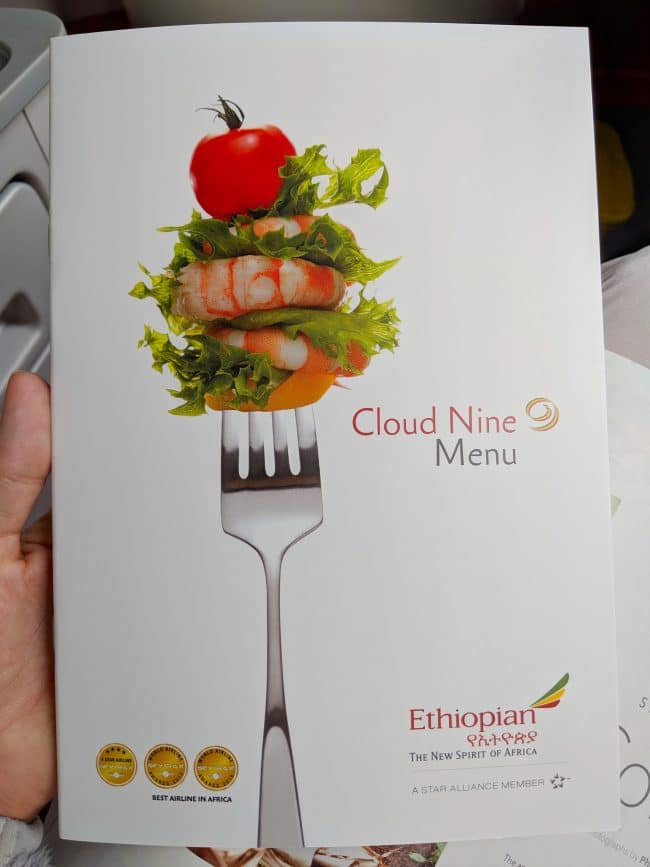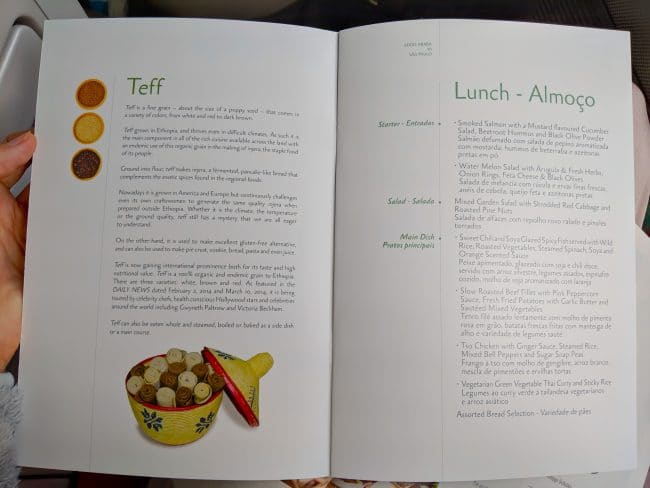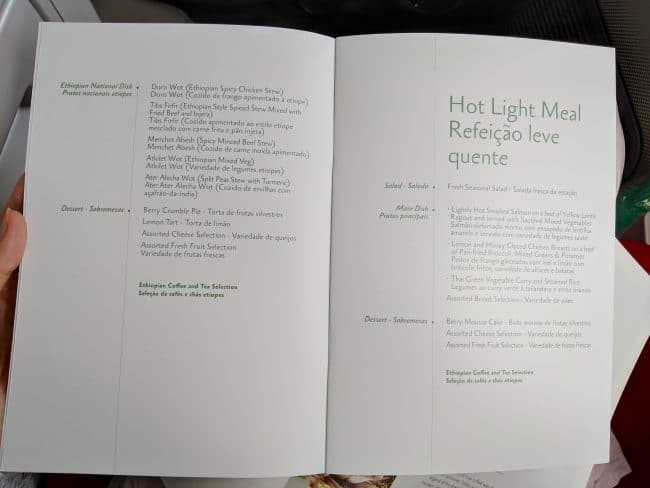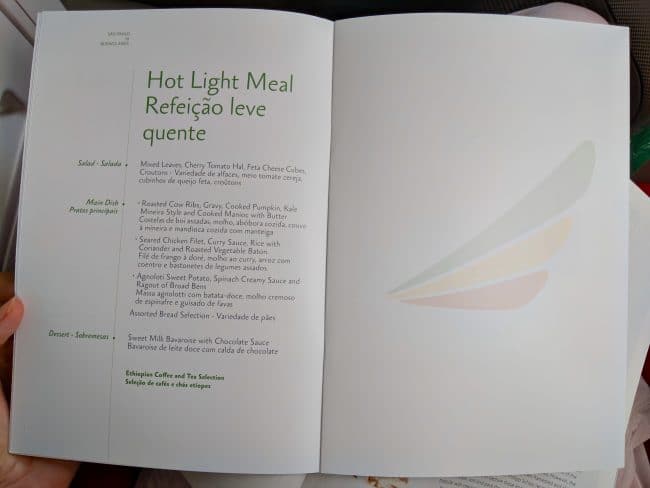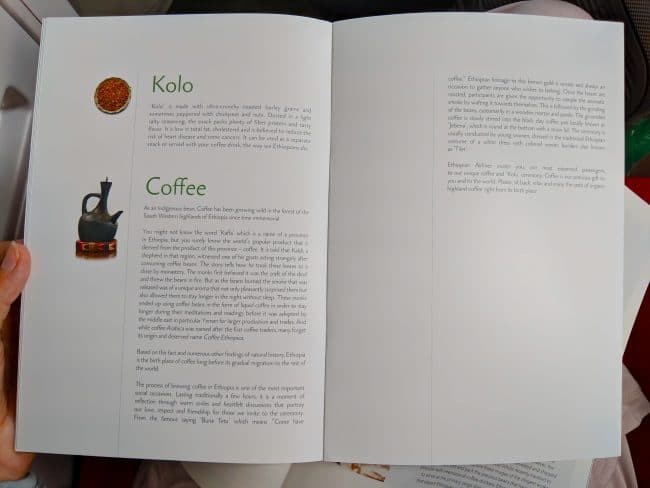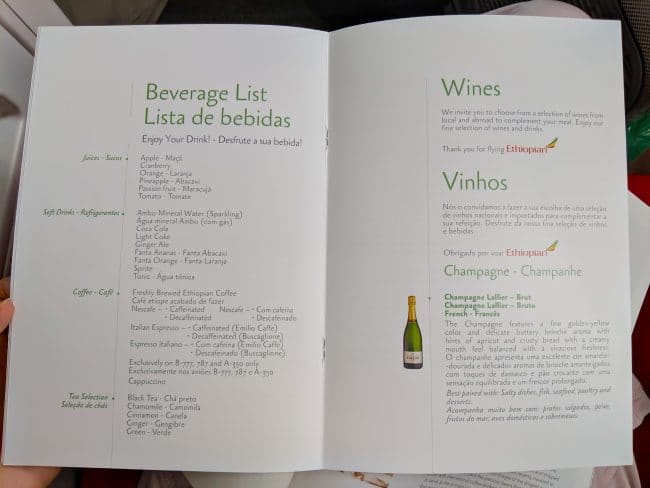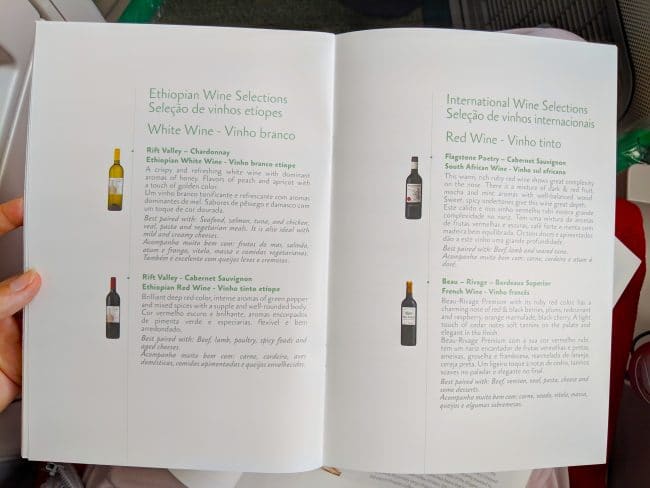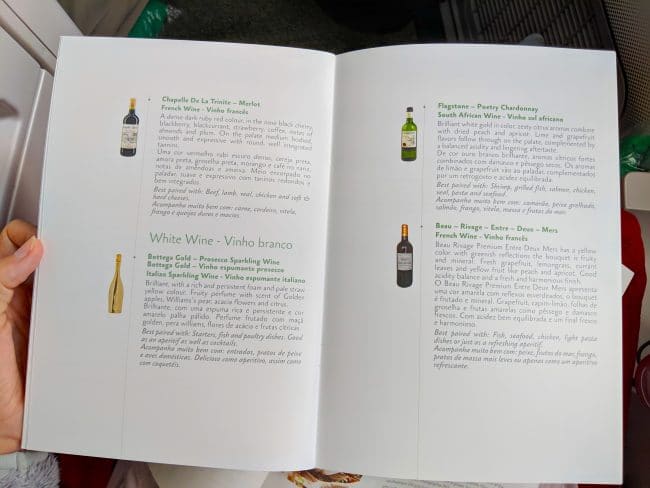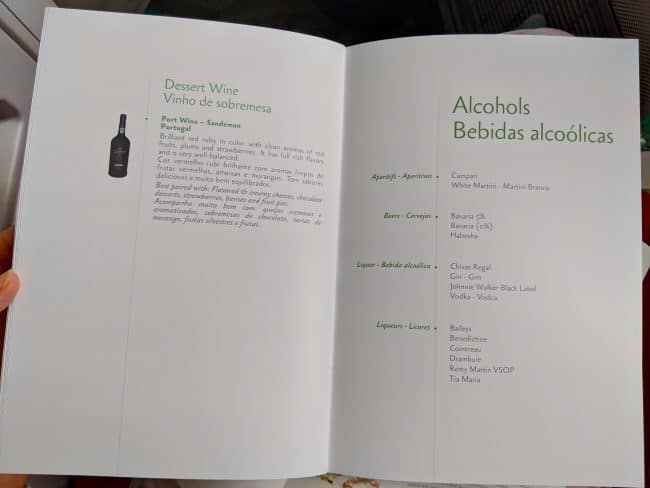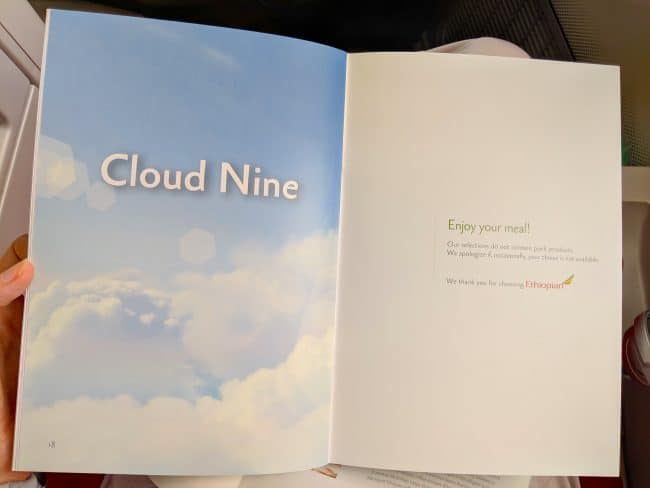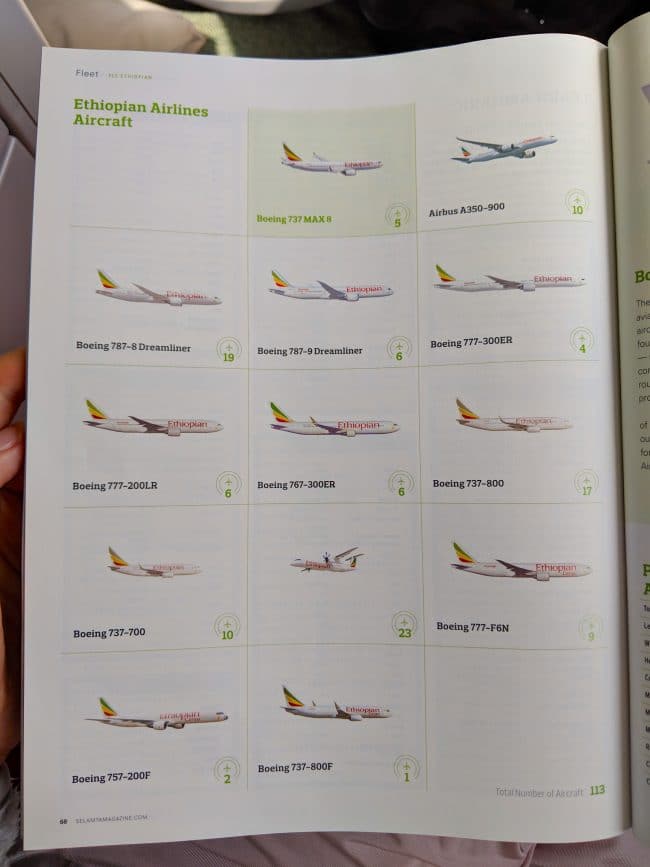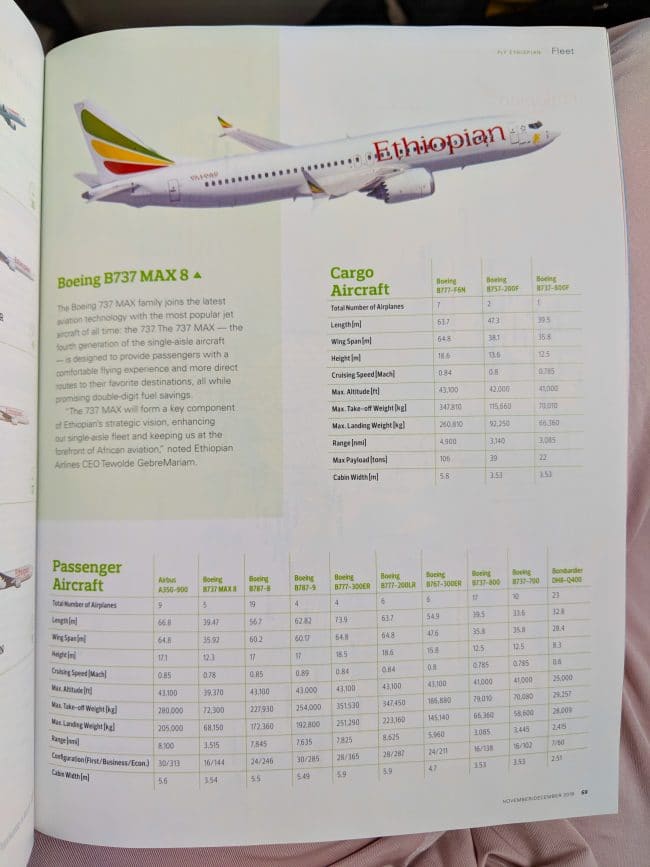 After starters, the crew brought out a trolley with Ethiopian injera and traditional dishes which were optional. I always associate injera and Ethiopian food with my time spent in Kenya between 2006-2009 and since it is such a unique and unusual food, I never say no to the chance of eating it once again.
My injera plate included dollops of chicken and beef stew, yellow peas, green beans and a rolled up injera pancake which were served from the communal trays onto my plate.
I quite like the sprinkles of local cuisine and traditions in Ethiopian Airlines' onboard dining and I consider them one of the best parts of the Business Class service.
While the overall food is not the best, several other airlines such as Lufthansa, Singapore Airlines, SWISS or Emirates do a much better job at presenting and preparing their inflight meals. Ethiopian is best at adding a touch of the local culture to flights which are usually connecting.
This is probably the only chance most of the passengers will get to try injera as the majority of Ethiopian Airlines passengers transit via Addis Ababa but don't stay in the country.
The entertainment system and amenities on Ethiopian Airlines Business Class Boeing 787
Surprisingly, the entertainment system was not the same on both flights. The older aircraft had a less extensive and sophisticated entertainment system, even though both used the same remote controller.
Like most Asian airlines, Ethiopian Airlines offers a wide range of movies from many countries as well as a modest selection of series, some music and games and a few documentaries. The blockbuster section included the most recent releases.
The choice is not as extensive as onboard Emirates or Singapore Airlines but decent enough to keep you busy even on the longer flights, as was my case.
Ethiopian Airlines amenity kits come in a small wash bag in either bright yellow or green, the same two colors of the duvet. Inside, there is a well stocked kit with a foldable hair brush, toothbrush and toothpaste, dental floss, a pen, ear plugs, eye shades, a pair of socks and a lip balm.
The airline does not give out pyjamas to Business Class passengers but you get a comfortable and large pillow and a huge and soft lime green and bright yellow duvet.
Service on Ethiopian Airlines Boeing 787 Business Class
Ethiopian Airlines does not have the friendliest staff but both flights had very different types of crew and service levels. My first flight to Addis Ababa had a careless crew that did not seem interested in taking care of guests.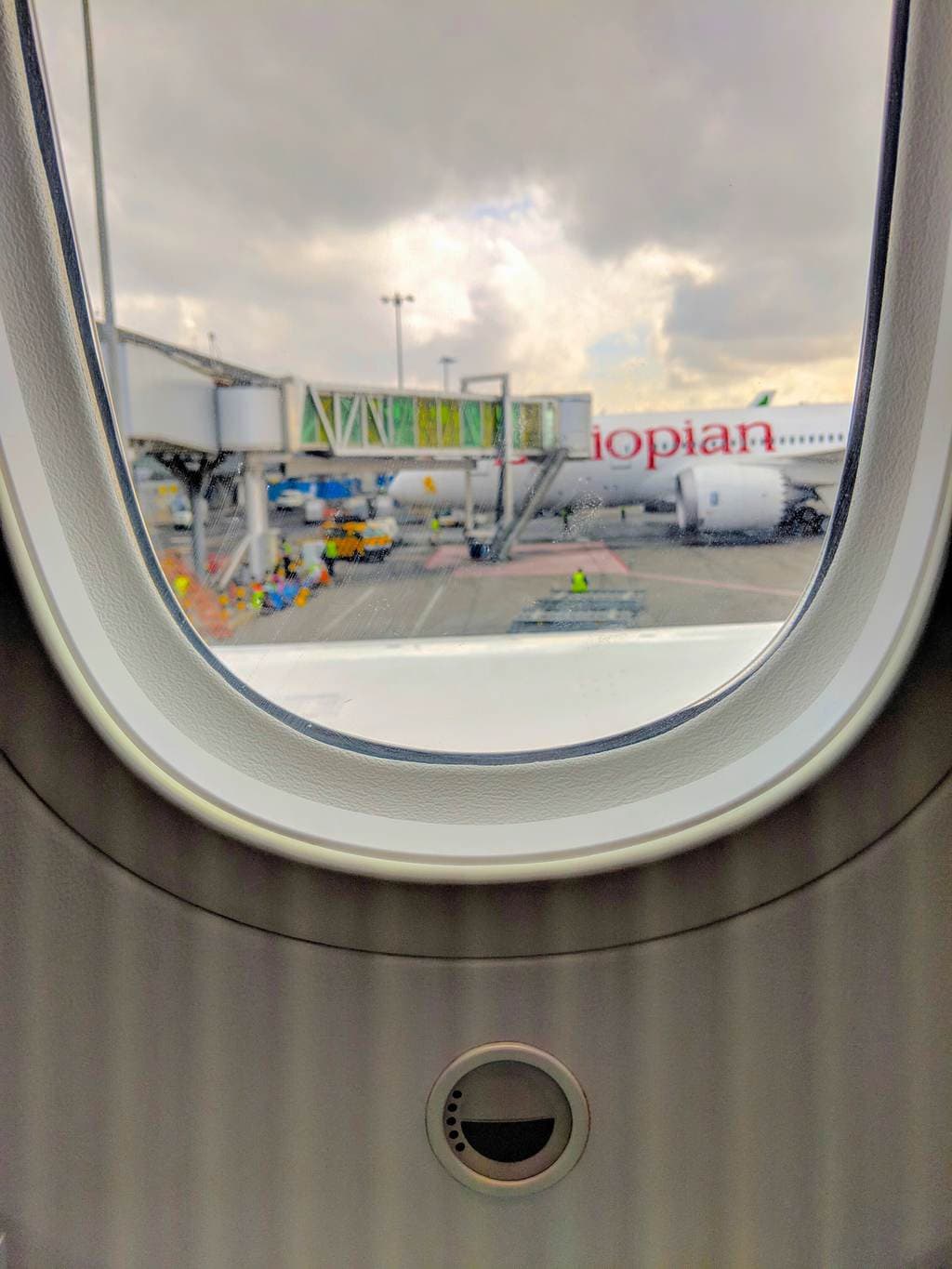 When my armrest was broken, I was told to find another seat only to then be asked to move because I picked a seat that was reserved for the crew (beyond the curtained off seats). My empty glasses and dirty napkin were left on my tray for almost 2 hours after I finished my breakfast and the crew only came to collect them when they were securing the cabin for landing.
On my second flight to Buenos Aires the crew were far more attentive throughout the flight and came to offer drinks when I was writing this review. The service was far better in all aspects, with a smiling crew and a friendlier overall service.
Having flown Ethiopian Airlines before, I know that service is usually erratic and you can have the friendliest crew or an uninterested one.
The verdict – Ethiopian Airlines Business Class Boeing 787
Ethiopian Airlines is one if the most affordable options when connecting to a final destination in Africa and even between Asia and South America and it tends to have very competitive in pricing that is hard to beat.
With such a wide network of destinations, I look at it like the Turkish Airlines of Africa, with a huge reach to almost anywhere in Africa and very appealing prices. And an ambition to grow even bigger and turn Addis Ababa into the largest hub in Africa.
The new Boeing 787 Dreamliner cabins are quite comfortable and modern, and the food is always generous, if not the best looking or elaborate, but the older cabins feel outdated and worn out. Service is not usually rude or bad, but can often be uninterested.
Something worth considering is the connection via Addis Ababa. Until the new airport opens, the existing one is generally chaotic with people everywhere, very few places to sit and a very uninviting lounges for an airline's flagship.
Flights are often delayed and missing a connection is commonplace. If that happens, the queues to rebook are long and, unless you fly Business Class, you will spend a really long time waiting to be helped.
The country does have a program to give transfer passengers transit visas to enter into Addis Ababa, and Ethiopian Airlines tops that with a hotel room and food if your transfer time is longer than 8h.
More Business and First Class reviews: