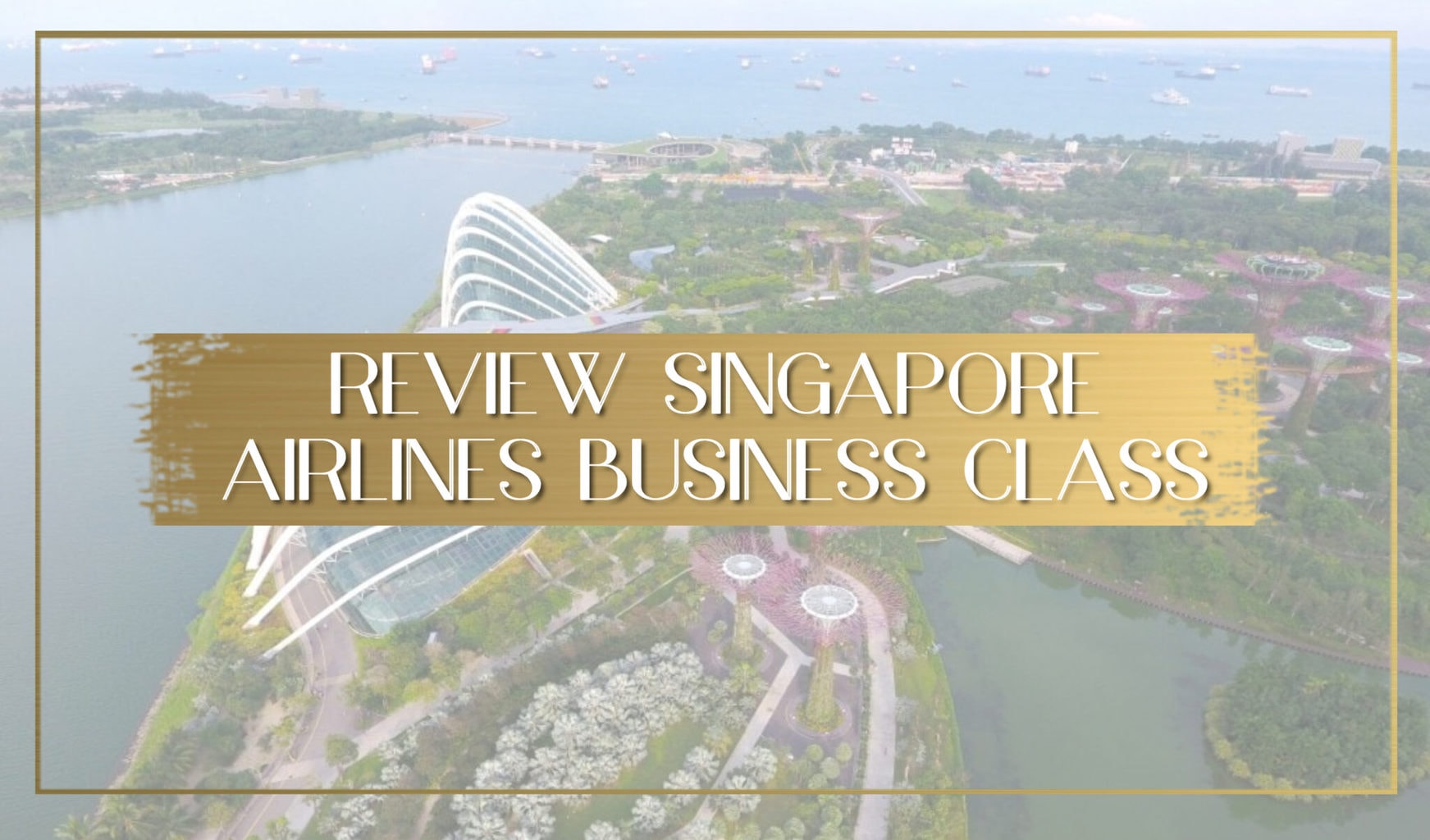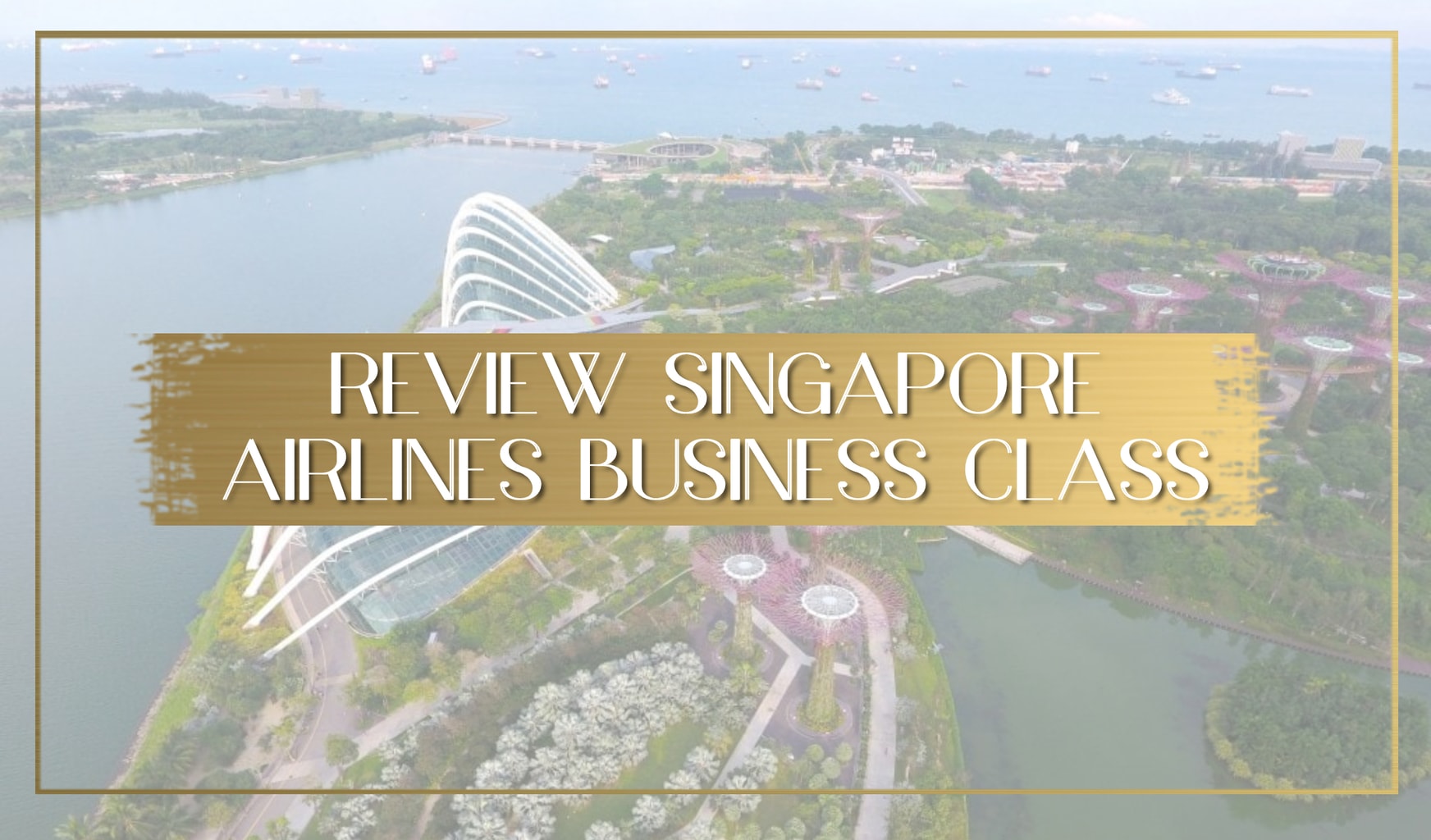 Before Singapore Airlines launched direct services to San Francisco on the new A350 I had flown on their Business Class from Singapore to San Francisco via Tokyo Narita. Since the launch, the direct service has been my favourite as noted in my review of the Business Class from Singapore to San Francisco. But the price difference between the direct and the stopover flights has but increased and stood at almost $5,000 when I looked to book, over a month ahead of my travel dates. This price difference is for a mere two extra hours in Hong Kong. I found the $2,500 an hour more than hard to justify so I booked a seat on Singapore Airlines Business Class from Singapore to San Francisco via Hong Kong onboard the refurbished Boeing 777-300 ER.
I have covered the flights from Singapore to San Francisco several times using different airlines and services. You can see the list of Business Class reviews Singapore to San Francisco below.
Other Singapore Airlines Premium Class flights I have reviewed
Other Singapore to San Francisco flights I have reviewed
More business class reviews:
Arrival and check in to Singapore Airlines Business Class
One of the elements that makes flying with Singapore Airlines Business Class fantastic is enjoying a painless travel experience through Changi airport and the airline's business class lounge.
Singapore Airlines Business Class check-in at Changi Airport is most likely the most efficient and pleasant business class experience of any business class product available. There is a dedicated gate at Changi Terminal 3 departures with a row of check-in counters that are almost always empty. I would have a hard time trying to remember a time when I waited more than a couple of minutes to get my boarding pass. Check-in is fast, efficient and seamless. Within less than five minutes from stepping off my taxi, I was pressing my thumbprint against the border control reading machine and within another 10 minutes I was sitting at the lounge with a plate of food in my hands. I doubt any other international airport can pull this off. Bravo Singapore Airlines and bravo Changi, the best airport in the world many years running.
Singapore Airline Business Class lounge at Changi Terminal 3
A review of Singapore Airlines Business Class from Singapore to San Francisco cannot start but with a review of the lounge at Changi. Although Singapore Airlines does not have the best lounge food, it does have one of the most comfortable lounges.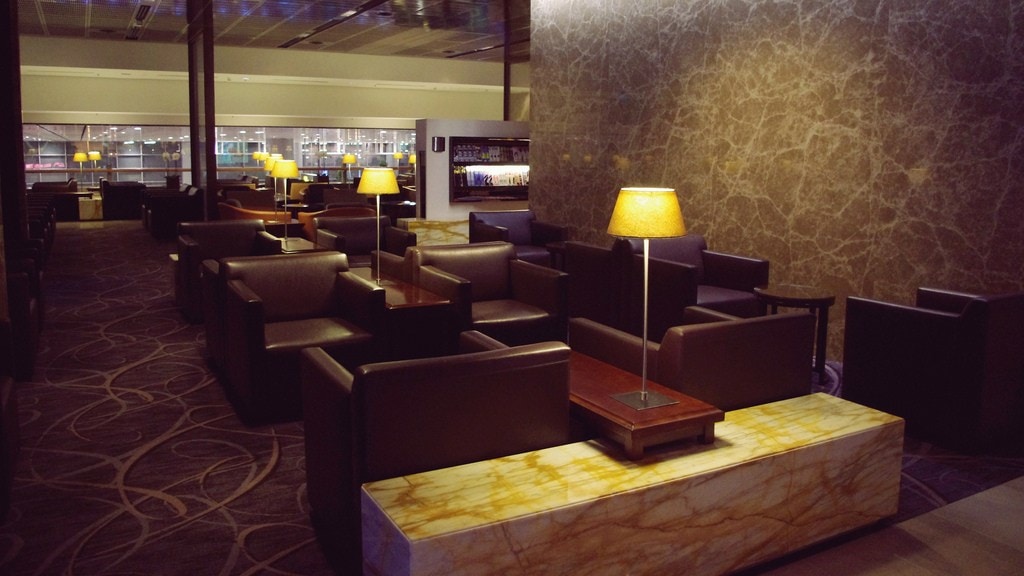 The Singapore Airlines lounge at Terminal 3 in Changi Airport is split into three areas: Business Class, First Class and The Private Room. The Private Room is an exclusive experience only available to those flying Singapore Airlines Suites. It is a completely separate room that looks more like the lounge room at the Chedi Andermatt than the lounge in an airport at a tropical destination. It features a private chef menu created on demand including lobster and caviar, plush leather armchairs with reading lights and even fireplaces. From there, you board your fantastic Suite for the experience of a lifetime.
But let's get back to my review of Singapore Airlines Business Class from Singapore to San Francisco. The First and Business Class sections in the lounge are largely the same but vary in the food. I have never been a fan of the Singapore Airlines Business Class lounge food. Although it includes a wide range of Indian, Chinese and even Japanese items like sushi, I find it lacks light and fresh options that are not heavily spiced or very rich.
There are however fresh cut fruits, cold cuts and some cheese. The options are adequate for lunch or dinner but quite poor at breakfast when the food choice is again very Asian inspired and lacks appealing continental or international alternatives. Of course, this is a matter of personal choice. The Singapore Airlines lounge also has a bar area with wines and spirits, savory snacks like nuts and chips.
Aside from the food, the lounge has a very large array of magazines and newspapers to read and, of course, WiFi. The sitting area is made of rows of leather sofas with tables between them. The lighting is subdued and warm, giving the room the same Alpine feel. There are also high tables and stools for those looking to work more comfortably.
The lounges share a business center with several desks and desktop computers to work at, a couple of telephone booths and even meeting rooms for quieter discussions away from interested eyes.
Singapore Airlines does not make announcements in its Business, First Class lounges or in the Private Room and that is a blessing. Time in the lounge is peaceful although it is a permanently busy place to be. I love announcements to be as minimal as possible, on or off the plane! Here's my ranking of the airlines with the longest inflight announcements. If you're a frequent flyer like me you'll definitely guess who won.
Review of the aircraft and the seats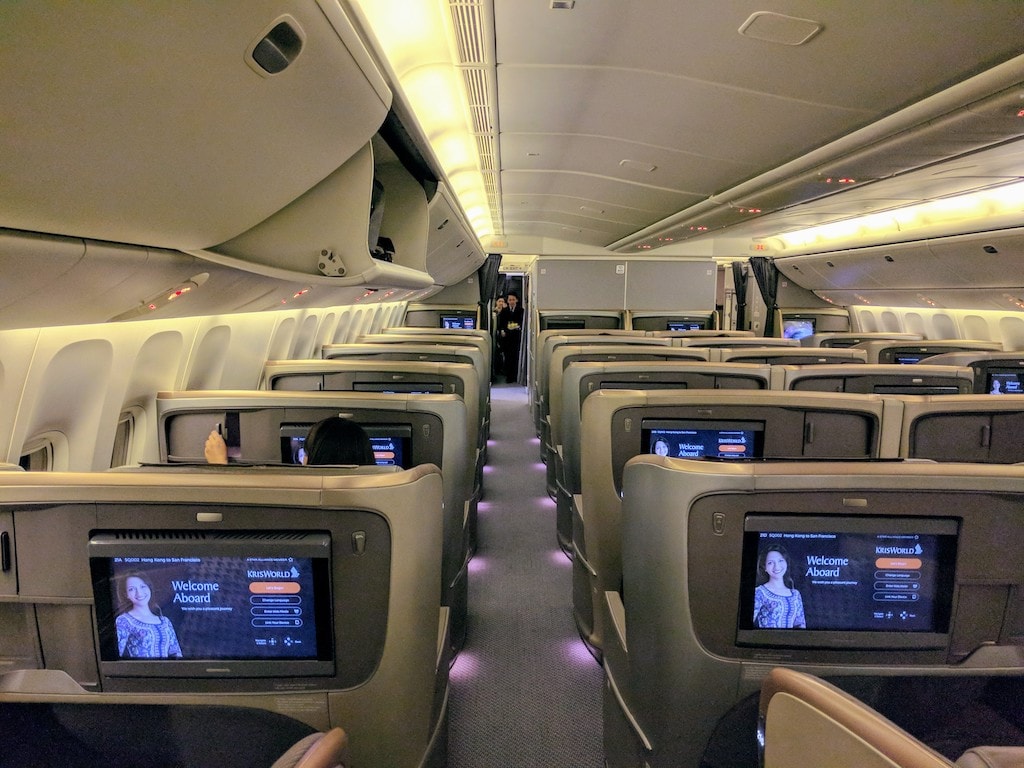 A review of Singapore Airlines Business Class from Singapore to San Francisco cannot start but with a review of the lounge at Changi. Although Singapore Airlines does not have the best lounge food, it does have one of the most comfortable lounges.
The Boeing 777-300 ER that Singapore Airlines flies to San Francisco is refurbished with their new seats and amenities. The Business Class seats are the usual wide pitch with the diagonal flat bed that I find so annoying.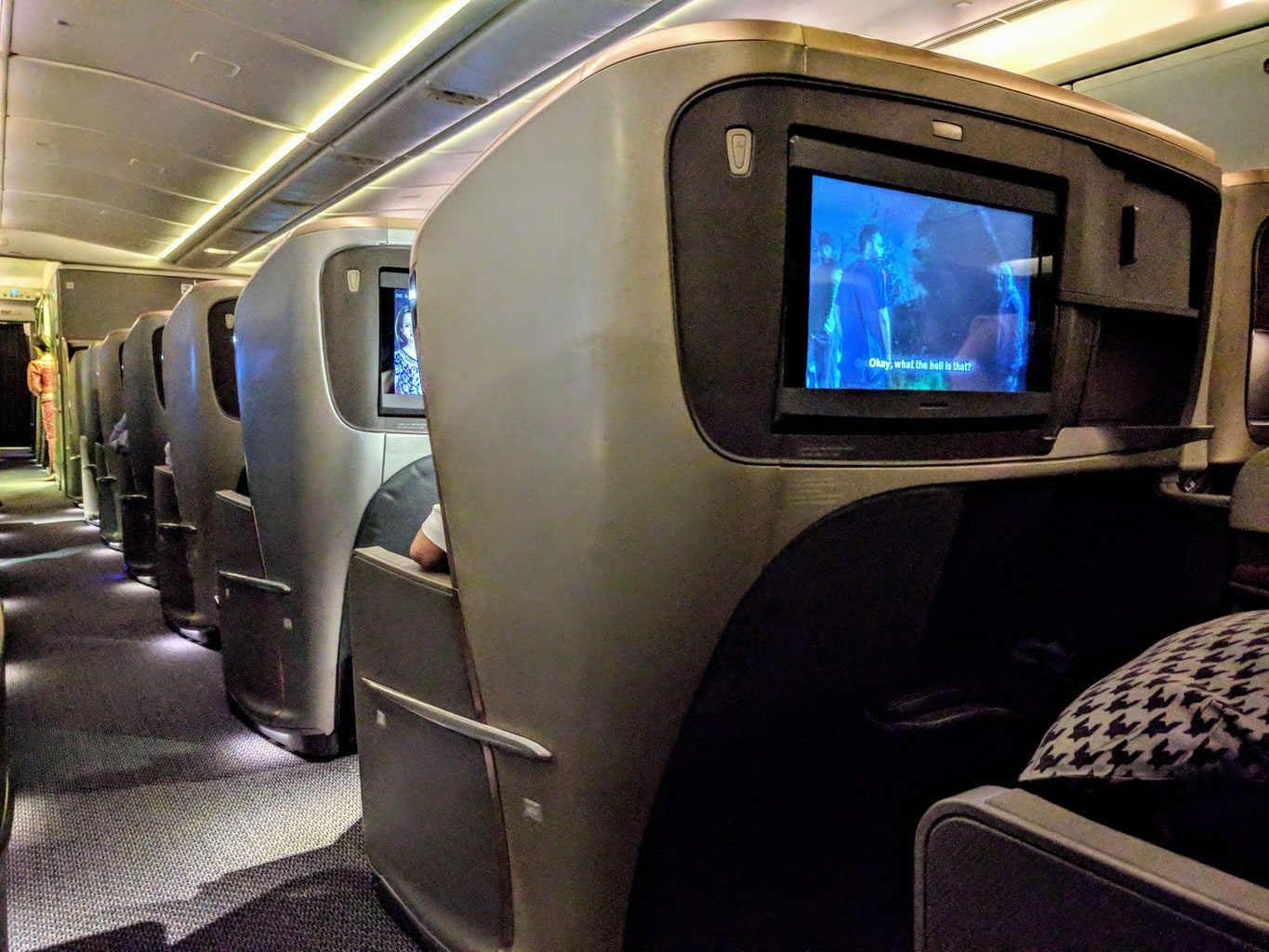 The seats are in a 1-2-1 layout and Business Class is located at the front of the plane in two cabins with a seat of lavatories in the middle. There is also a row of four First Class seats at the very front. I would be hard pressed to find justification for First Class given the quality of the Business Class product, the food offering and the very close format and seats in First Class.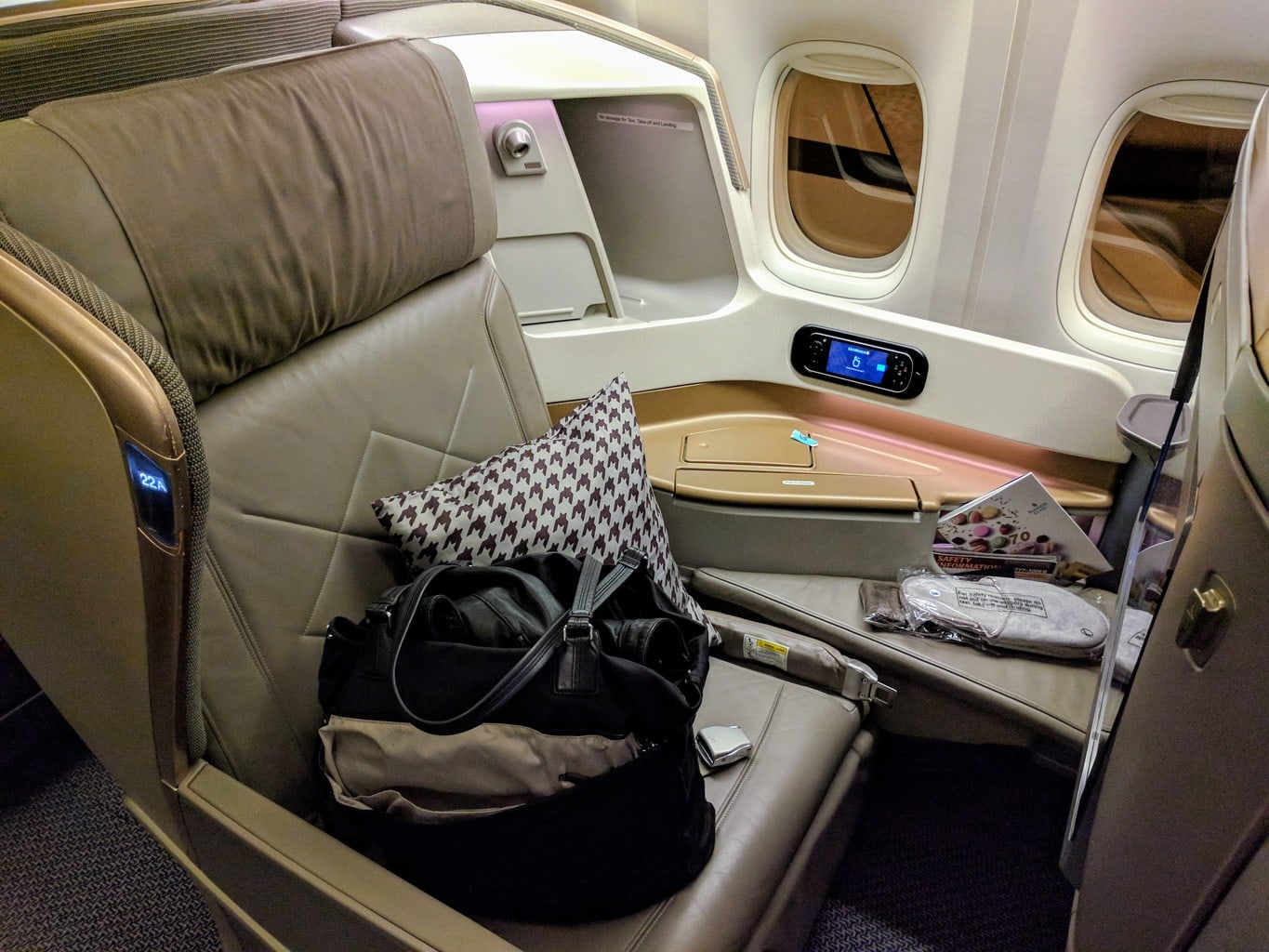 The seat area is so spacious that it can fit two of me, and has everything you need. There are various compartments around the wide flat screen TV. A small compartment with a mirror and light is helpful to fix your make-up and make sure you look appropriate before landing. A larger compartment above can be used to store smaller items like phones, chargers and the like.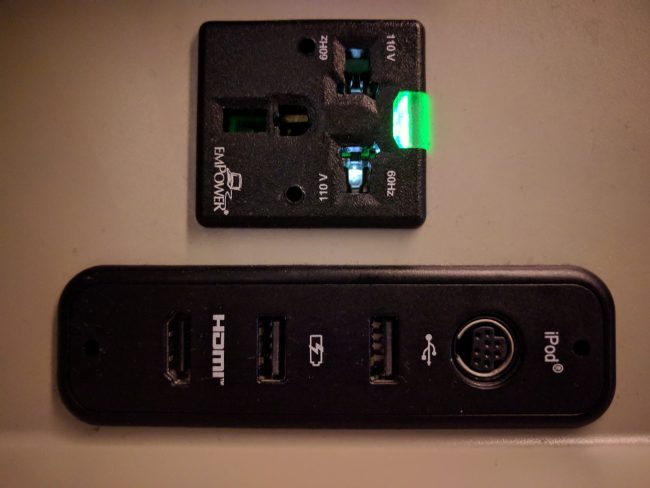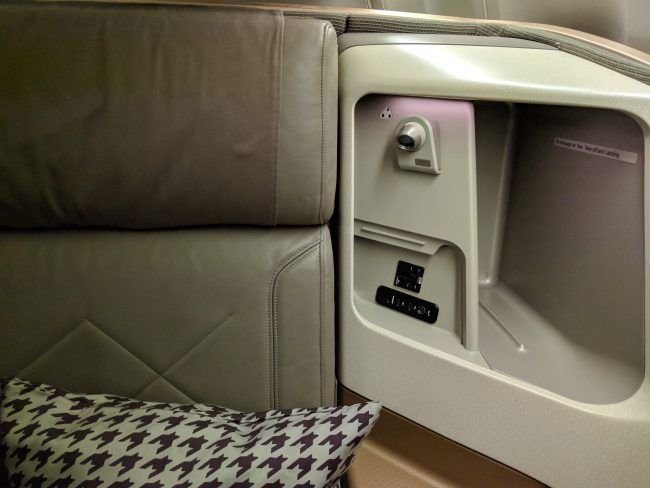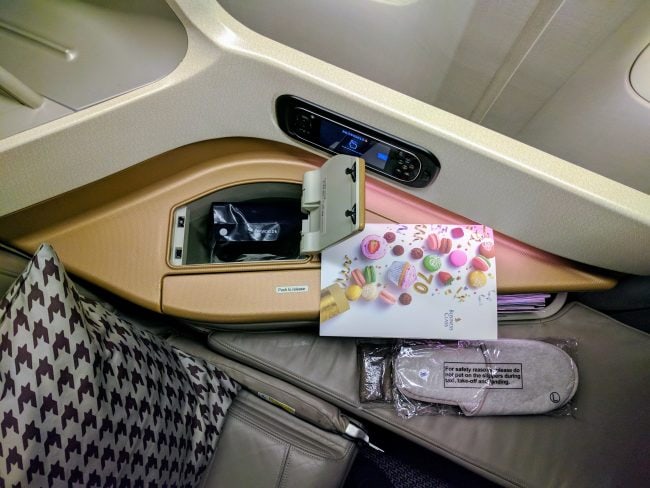 To the left (or right) of the seat, there is a magazine compartment where the Silverkris magazine, the Kris Shop and the very long menu is stored. Next to that is the remote control for the TV and the table hidden vertically. Right next to the table there is a compartment with the headset.
Right along the seat back are a set of lights on each side and another compartment for vertical objects like a laptop or a magazine. The charging outlets are also there, including two USB outlets and an electricity outlet that accommodates all types of plugs, very neat to avoid all those clunky and big travel adaptors. With all this amazing technology, don't forget to take a look out the window from time to time, where you'll see amazing sights like this.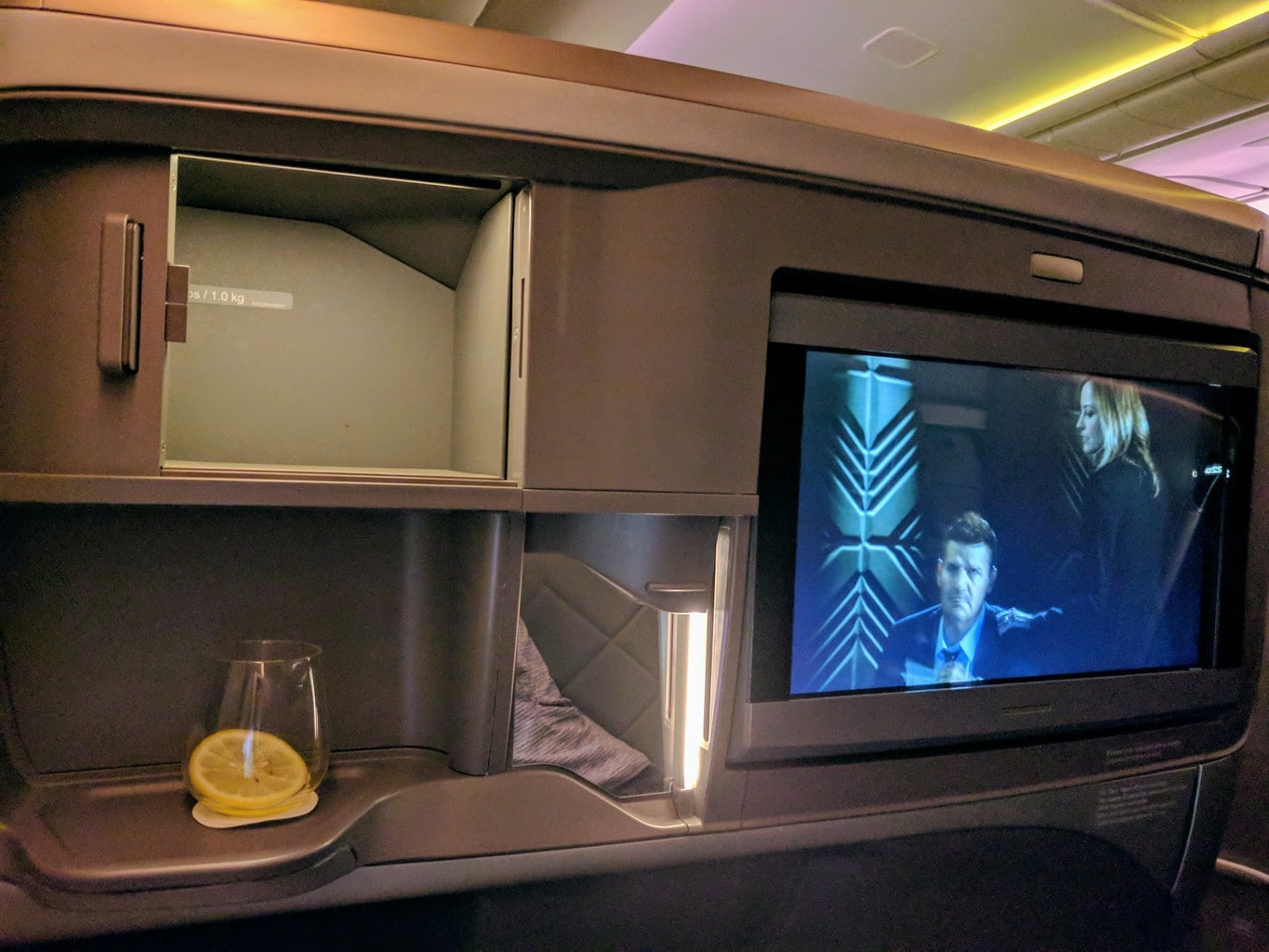 The Singapore Airlines Business Class seat on the refurbished Boeing 777-300 ER has a very practical and comfortable setup if it wasn't for the diagonal shape of the flatbed. And on to that.
The Business Class flatbed is made by pulling down the seatback. The pillow and the duvet are also stored behind the seatback. Once the bed is made, the surface is wide and flat. There is no denying that the Singapore Airlines flatbed is one of the widest there is.
However, the diagonal shape makes it impossible to sleep unless on your side or your head is one side and your feet at the other end, so head to the right and feet to the left. This is ok for me as I sleep on my side anyway but it makes it hard for those who like to sleep on their back, as the end of the bed is pretty narrow.
The only way to get around this is to make sure you book a seat in the first row in each cabin as these do not have this problem. These seats are definitively a winner and much more spacious (even) than the standard seats. The surface of the bed can also be very hard as was the case on this flight.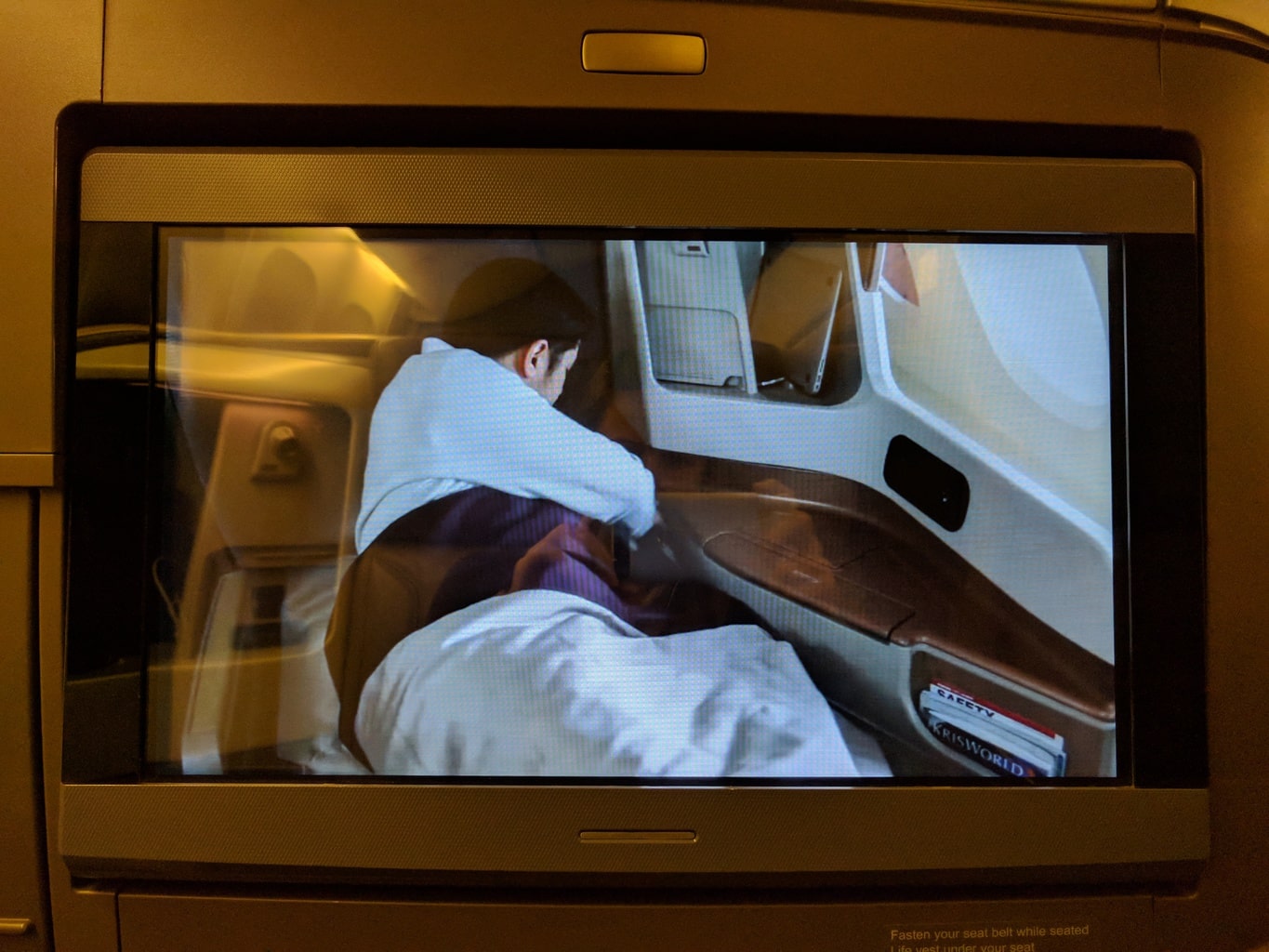 As the crew does not come to make your bed like in other airlines (Etihad, Emirates) there is a video playing at the beginning of the flight showing you how to. It is not difficult, but it often requires force as the lever gets stuck quite frequently.
Another thing I love about the Business Class seat on Singapore Airlines Boeing 777 is the large table which makes it easy to work. It does wobble quite a lot when typing but you can use one of the large pillows to stabilize it. The duvet is also fantastic. It is thick, it has a velvety side and it is plush. It almost makes you forget you are on a plane.
Singapore Airlines inflight entertainment system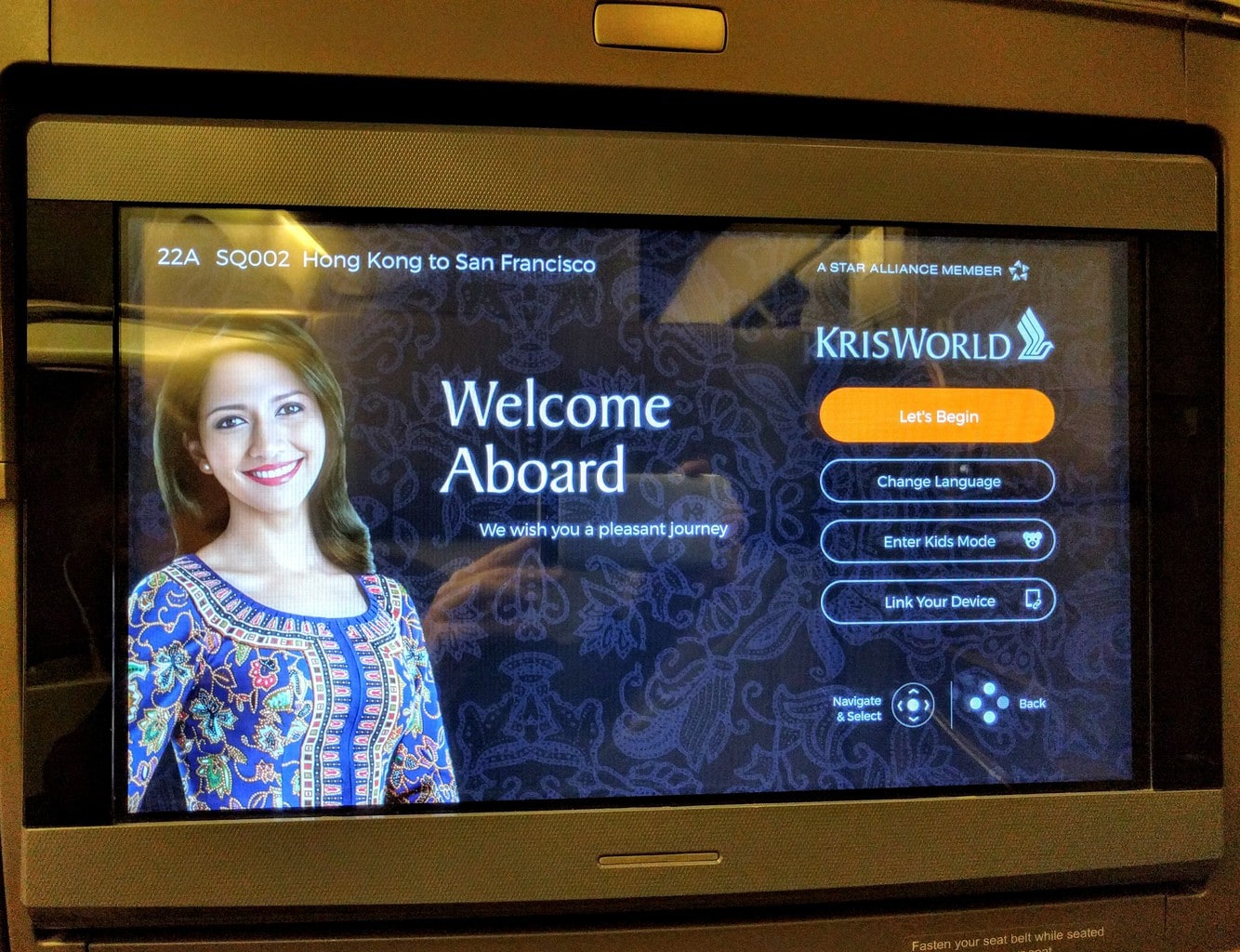 Singapore Airlines has perhaps one of the greatest entertainment systems there is. It is available in all classes of travel and not just for Business Class, but if you are flying Business you get a set of (almost) noise cancelling headsets that elevate the experience. I do find that, on long flights like from Singapore to San Francisco, by the end of the trip my ears ache from the pressure of the headsets but it is a small price to pay to almost isolate the surrounding noise.
The entertainment system has a very long list of movies, series, music, podcasts, games and a learning section with executive summaries of books. Some of the series are shown as back-to-back episodes or even full seasons making binge watching a pleasure. The new TV screen size onboard is rather large and it makes you forget that you are on a plane. The TV can be controlled via the remote touch screen control that is stored on the side of the seat. The screen of the remote is touch screen but the TV is not.
You can also connect your phone to the entertainment system and have everything that is available on the screen on your device. The system also allows you to enter child safe mode in case you are traveling with children.
Aside from the TV entertainment, Singapore Airlines also offers an array of magazines and newspapers. Before taking off, you can download a large number of publications from Singapore, Malaysia, Indonesia and China onto your phone or iPad from the Singapore Airlines app and read them at your convenience. Physical copies of the newspapers are also available before boarding, to all classes, and a magazine and newspaper cart is passed around before takeoff in Business Class.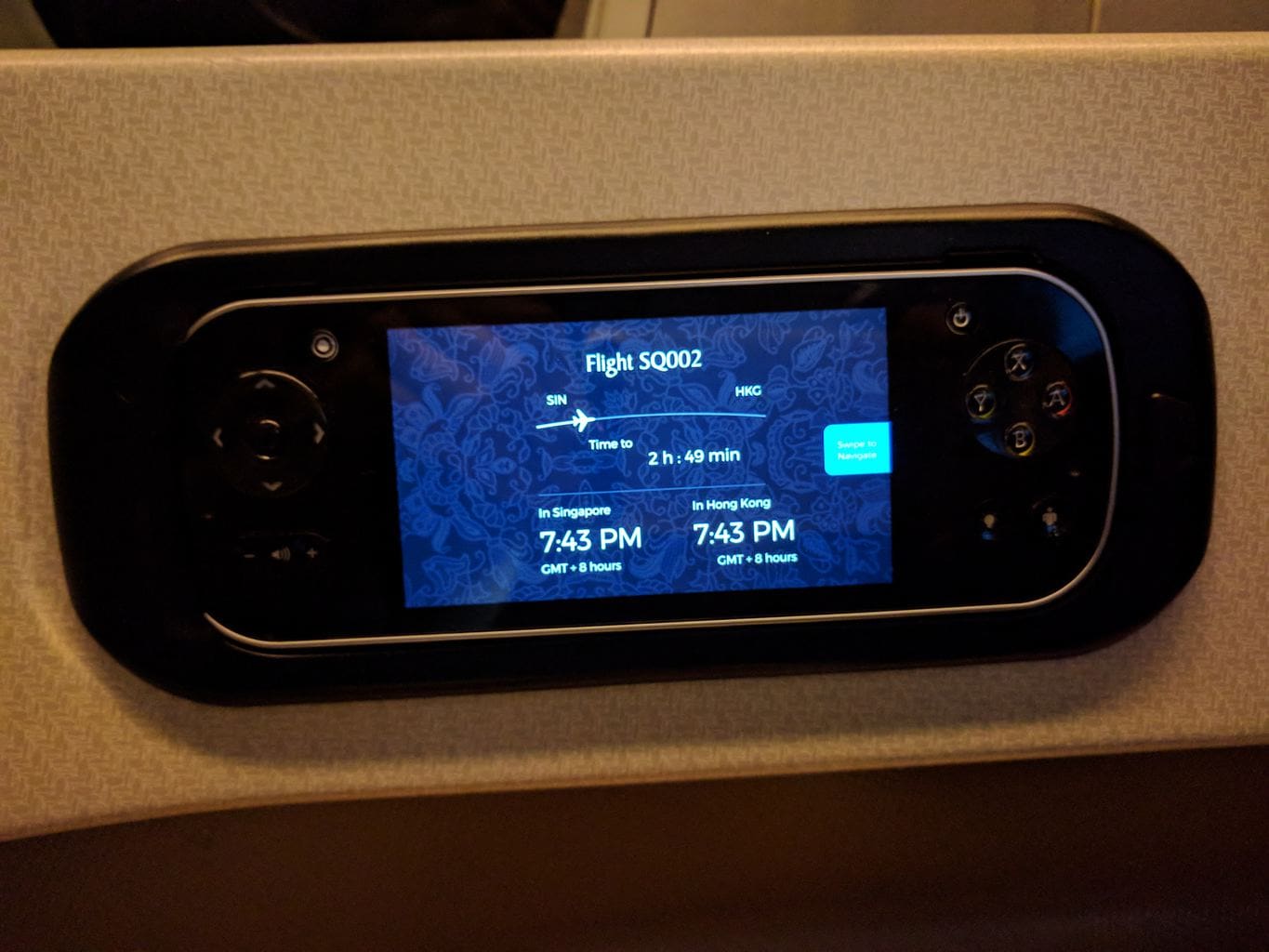 The flight was supposed to have inflight WiFi which you can signup to via their inflight WiFi system and website. However on the Singapore to Hong Kong flight internet was never available and that situation continued on the way to San Francisco. When I inquired the crew told me the network was down.
This was a major issue for me as I wanted to use the 18+ hours of travel to get work done and I could do nothing. Very disappointing on Singapore Airlines as it is not the first time I encountered issues using their WiFi. It almost feels like having internet is an afterthought for the airline. I was expecting more on such a long flight.
Review of the food
Singapore Airlines has significantly improved its inflight food experience in the last few years since I started flying with them over seven years ago. In these years the range of choice and quality of the food on the Business Class food menu has increased noticeably. Onboard my Singapore to San Francisco via Hong Kong Business Class I enjoyed the food very much.
After taking your seat, a member of the crew will always come to offer a drink. You can choose from the usual orange juice, champagne or Singapore Airlines signature drink: pineapple juice with soda. After take off, another drink and some nuts were offered. Scroll through the images below to see the complete menu including meals, as well as alcoholic and non-alcoholic drinks.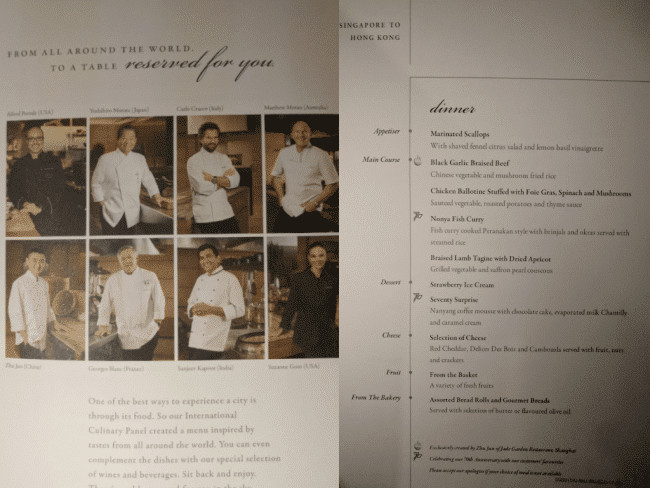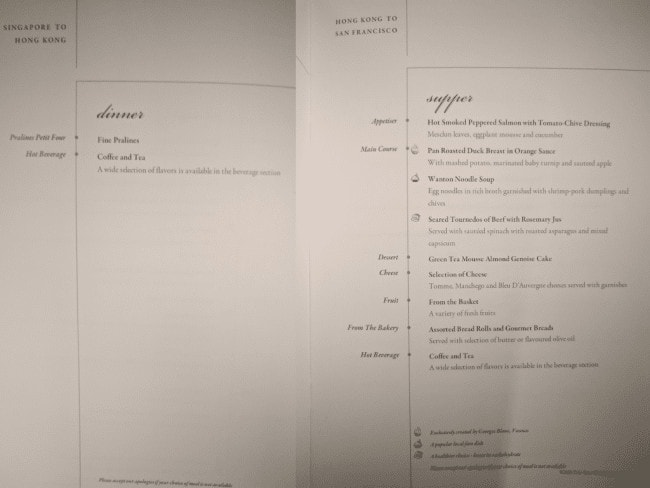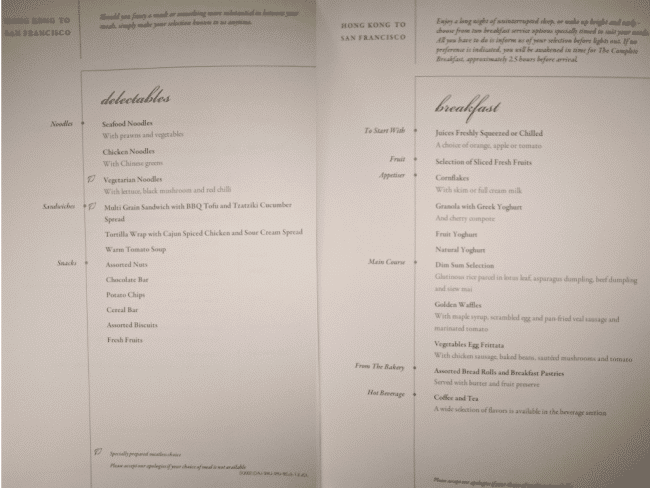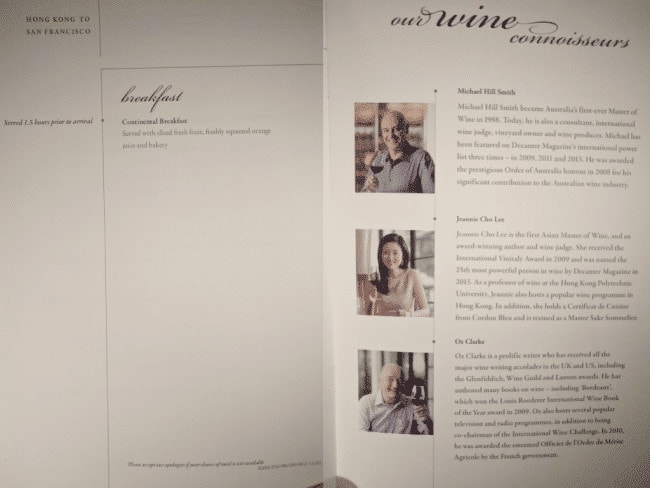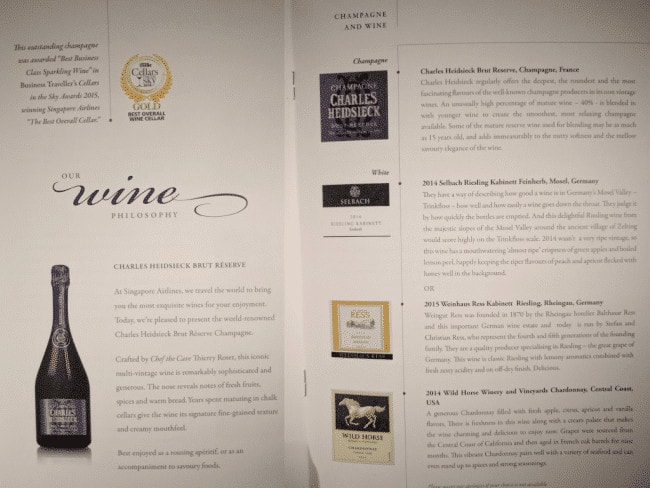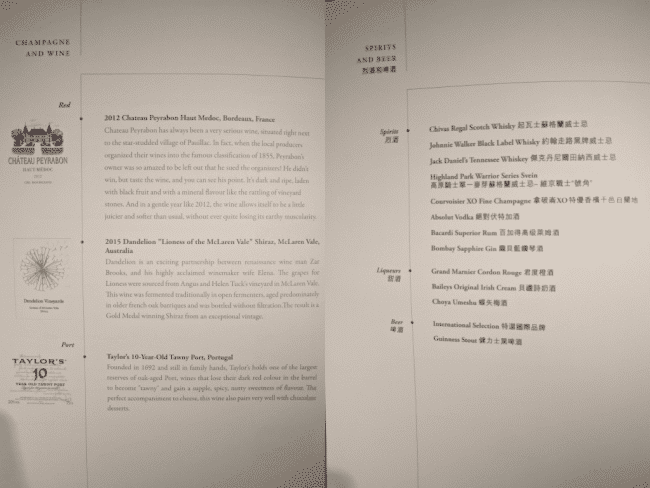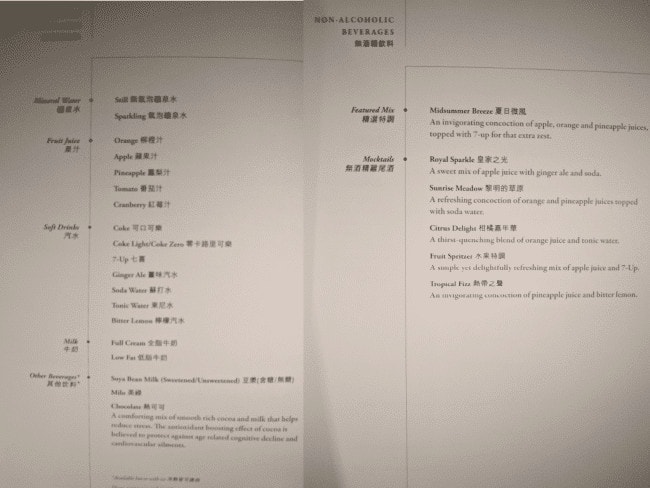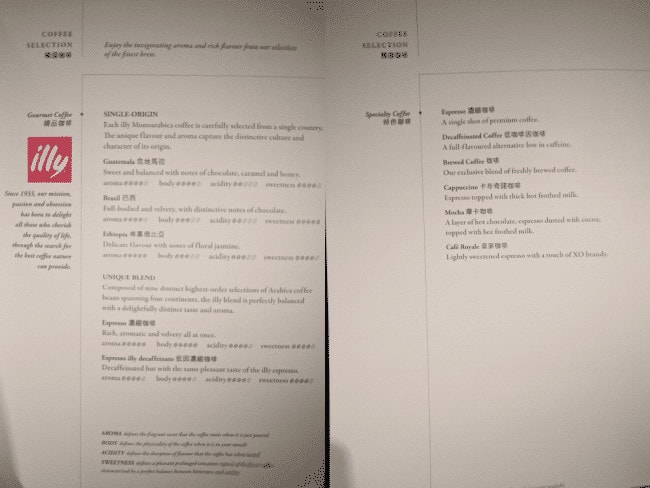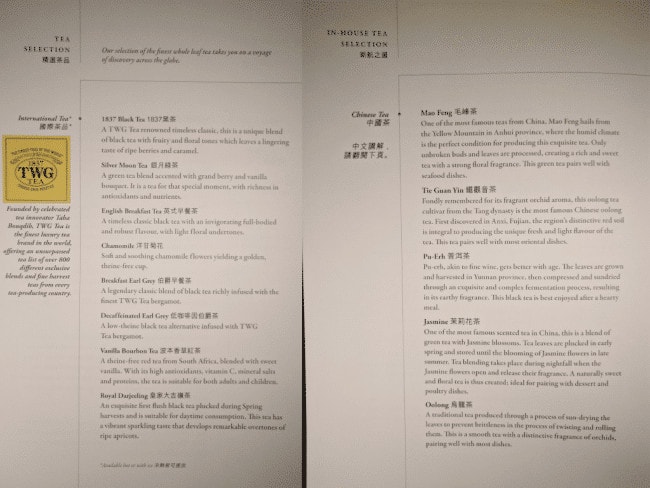 My food order was taken after that, around an hour into the flight. The menu has a very extensive list of food and drinks options. Since 2017 is the 70th anniversary of Singapore Airlines, the menus across all flights feature typical Singaporean recipes with a strong Peranakan influence.
Since the flight has a stopover in Hong Kong, dinner was offered on the flight from Hong Kong to San Francisco and supper from Hong Kong to San Francisco. Effectively, that is two meals in the space of five hours.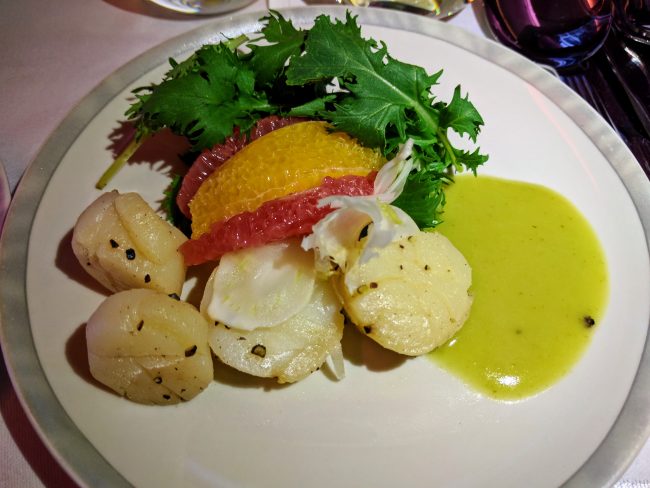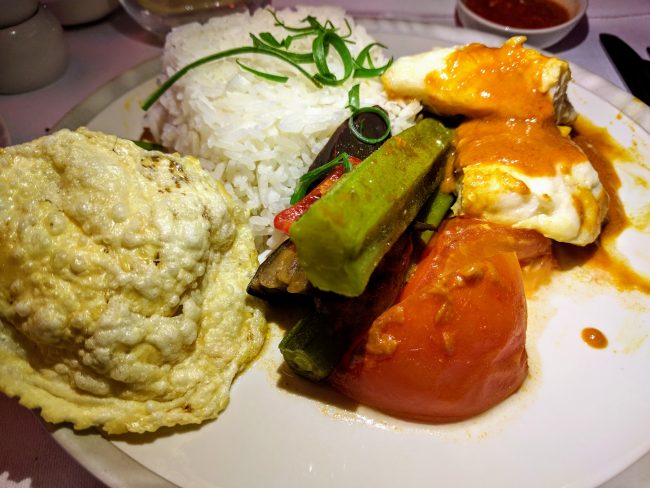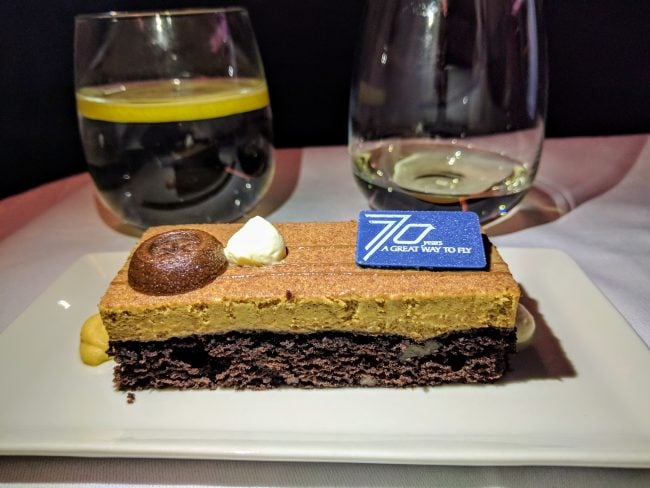 The dinner menu from Singapore to Hong Kong featured a signature 70th anniversary main and dessert option and a celebrity chef starter by Zhu Jun from Jade Garden restaurant in Shanghai. The starter on offer was made of scallops with citrus slices and dressing, a rather light dish that I enjoyed. The mains included braised beef by the celebrity chef, a French-inspired chicken stuffed with foie gras, Nyonya fish curry (70th anniversary dish) and braised lamb tagine. The dessert selection had strawberry ice cream or coffee mousse with chocolate cake.
I went for the fish curry which was quite light and not very spicy (albeit chili sauce was served on the side) and the coffee mousse with chocolate cake which was divine. I have to admit the fish curry was perfectly cooked and flavorful and the chocolate cake was just great.
Singapore Airlines always serves a range of breads on Business Class. There was the usual crunchy bread, cranberry bread, garlic bread and wholemeal buns. Butter is also provided.
To top off the meal there were cheese platters and fresh fruit to be taken on top of or to replace the dessert options. A long list of tea and coffee options were also available, or port wine or spirits to go with the sweets. After the meal was served, the crew came around with a tray of chocolates for a sweet ending.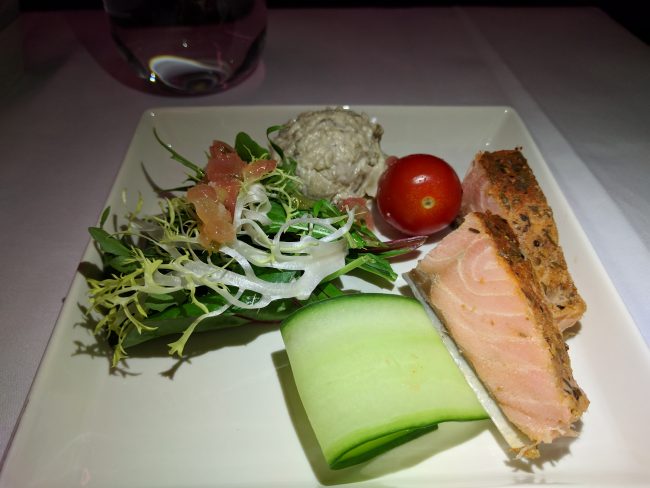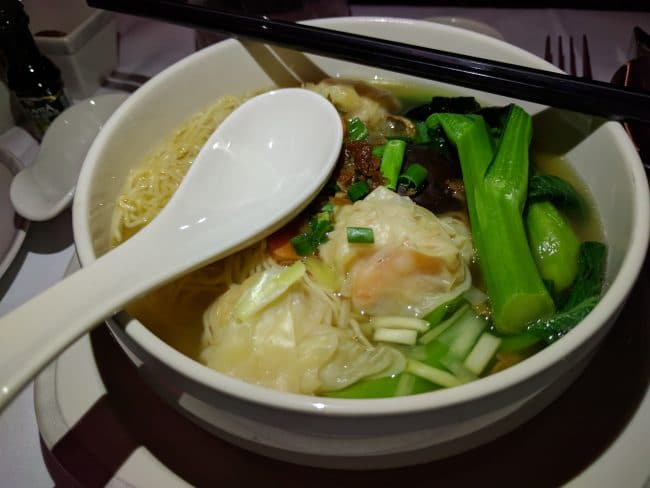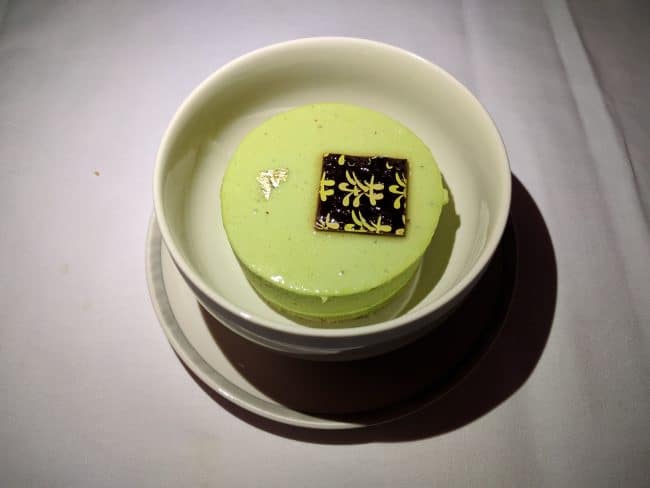 The supper menu from Hong Kong to San Francisco was lighter although equally fulfilling and complete. The starter had smoked peppered salmon with a light dressing. Mains included a healthy choice 9not available for dinner), wanton boodle soup as the popular Hong Kong recipe, a celebrity chef created pan roasted duck dish this time by George Blanc from Vonnas in France, and a green tea mousse almond cake. The same choice of breads, cheese, coffee, tea and liquor was also offered for supper.
I went for the wanton noodle soup which was relatively light but flavorful and I very much enjoyed it. The matcha mousse was very fluffy, almost panna cotta consistency. The breads this time were offered with a small bottle of olive oil and included sunflower seed bread which I went for.
Since the flight was very long, lasting almost 18h total with the stopover in Hong Kong, a long list of snacks were available throughout the flight. You could choose from savory options like instant noodles, sandwiches, tomato soup, wraps, chips or nuts. There were also sweet options like cereal and chocolate bars, fruits or biscuits.
Lastly, to top up the food feast, breakfast was served before landing. Singapore Airlines offers two options for breakfast in long-haul overnight Business Class flights: a full breakfast experience starting 2h before landing and a continental breakfast 1,5h before landing.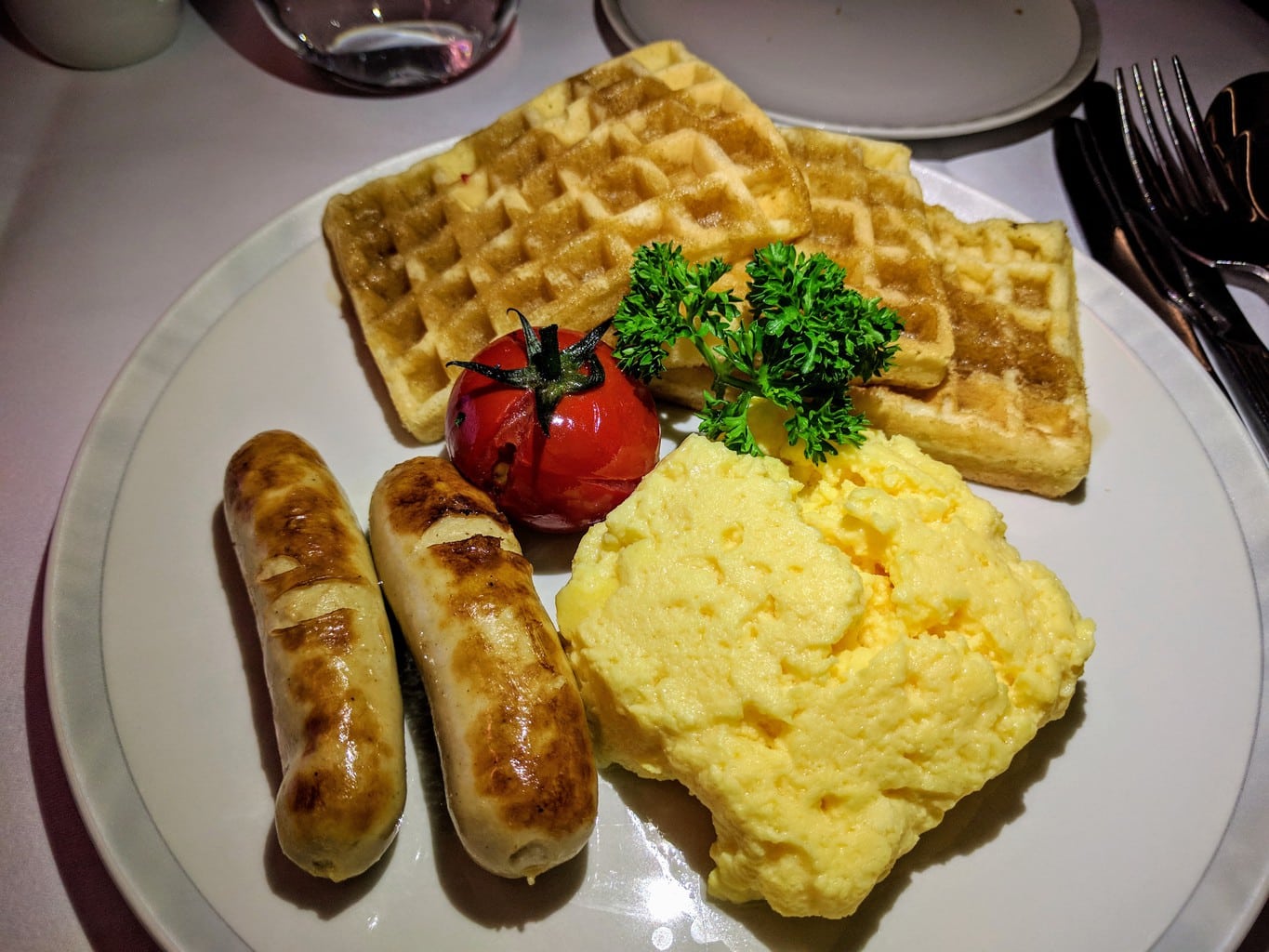 The full breakfast experience, as labeled by Singapore Airlines, included a long list of options. To start off there were cornflakes with milk, granola with Greek yoghurt, just yoghurt or muesli. The main hot dish options had a range of Asian and international choices.
There was dim sum, waffles with maple syrup, sausages and scrambled eggs or egg frittata for vegetarians. Breads, rolls and croissants came out again. I love the warm croissants that are served on planes, they are crunchy, buttery and flakey, they must be terrible for you. Tea, coffee and juices were also available as were fruits, served first.
The continental breakfast option excluded the fanfare and just offered juice, fruits and breads. I obviously went for the waffles which were a little disappointing. They were mushy rather than crunchy and more like a sponge but still satisfying.
I found it a bit strange that the food followed Singapore times rather than San Francisco, so we had breakfast at what was 8pm local California time. I almost ordered coffee!
Review of the service
Singapore Airlines is usually spot on in Business Class service. The staff was friendly, attentive and helpful. They came around every time food was served always with a smile. This time they were also very considerate when I was using my laptop before take off and asked me to put it down in a very polite and appropriate way although I pushed it to the very last minute as I was sending out one last email.
I did not interact much with the staff on this flight except for when the internet was not working. No explanation was given for connectivity not being available on the Singapore to Hong Kong portion. I had similar issues on my previous flight to San Francisco when the service was suddenly unavailable for a few hours.
The amenities on Singapore Airlines Business Class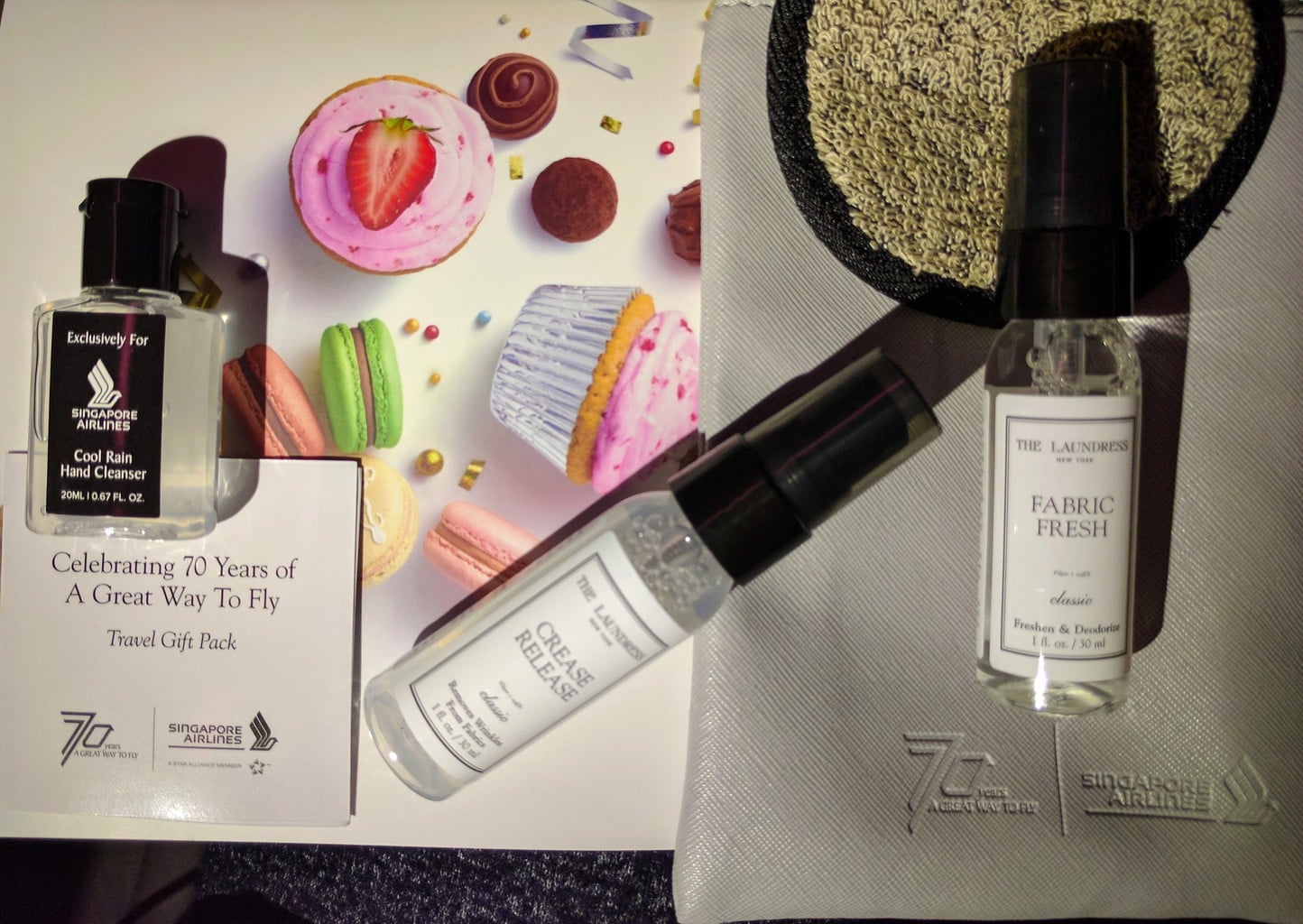 Singapore Airlines has not traditionally been known for its amenities. While airlines like Etihad offer specially designed amenity bags that even include local guides by the fabulous Luxe City Guides, Singapore Airlines never really offered any amenities. Instead, you would get a pair of socks and slippers. Items of personal use like toothbrushes, toothpaste, perfume and face spray were always available in the Business Class bathrooms.
In celebration of the airline's 70th anniversary, Singapore Airlines is giving its Business Class passengers a small timeless travel gift pack by New York's The Laundress during 2017. The pack included a hand sanitizer, a fabric freshener and a crease release spray. A loofah was also included. It all comes in a small grey branded pouch. The Laundress is a detergent and fabric care company that "turns an everyday chore into a luxury experience".
Comparison between Singapore Airlines Business Class flight from Singapore to San Francisco direct versus the stopover flight via Hong Kong or Tokyo
If you book ahead, the stopover option is one of the best options to fly from Singapore to San Francisco in Business Class. There are other cheaper alternatives like the China Airlines or Philippine Airlines but the quality does not compare to Singapore Airlines. Cathay and EVA Air have competitive products but they are not as efficient (not direct) and have long layovers.
United launched direct flights at the same time as Singapore Airlines did in 2016 but the overall product, service, food and the seats are nowhere near the quality of Singapore Airlines. Seats are much smaller, so much so that you may end up sharing the seat rest and the crew is never as friendly, obliging and accommodating.
When comparing the direct flight to San Francisco and the stopover options via Hong Kong or Tokyo, the direct option is a bit more efficient but the saving is minor (a couple of hours) and the price difference between the two is hard to justify at times.
The stopover in Hong Kong is literally just as short as getting out of the plane, going through security check and boarding again. It is short enough to disembark, clean the plane and replace the crew so it is pretty quick. There is staff at every turn guiding you through to the next flight so everything is very well organized, Singapore Airline style, and you will be given a sticker and a transfer card to make sure you are well identified by everyone in Hong Kong.
In case you have a bit of time, the Singapore Airlines Business Class lounge is very near the gate so you can always pop in for a quick email check or a drink. In Tokyo, the transfer is a bit longer but also pretty fast.
Another thing to consider is that the flights via Hong Kong/Tokyo have one extra meal. This is because there is a dinner service after departing Singapore and another one after taking off from Hong Kong or Tokyo.
Good to notice the difference in cabin structure of both flights. While the stopover services have First Class, the A350 direct flight is only Business and Economy class.
In terms of timings, the direct flight and connection via Tokyo usually depart in the morning for a morning arrival in San Francisco whereas the Hong Kong option departs in the evening so it is most efficient in terms of maximizing the time in Singapore and at the destination.
Lastly, the stopover service is usually much emptier after departing from the Asian stopover city. A lot of people just take the first portion of the flight without going all the way so after departing Hong Kong or Tokyo the flight is practically empty. My flight from Hong Kong to San Francisco was not even a third of the way to full cabin.
Add this to your #AirlineReviews Pinterest board