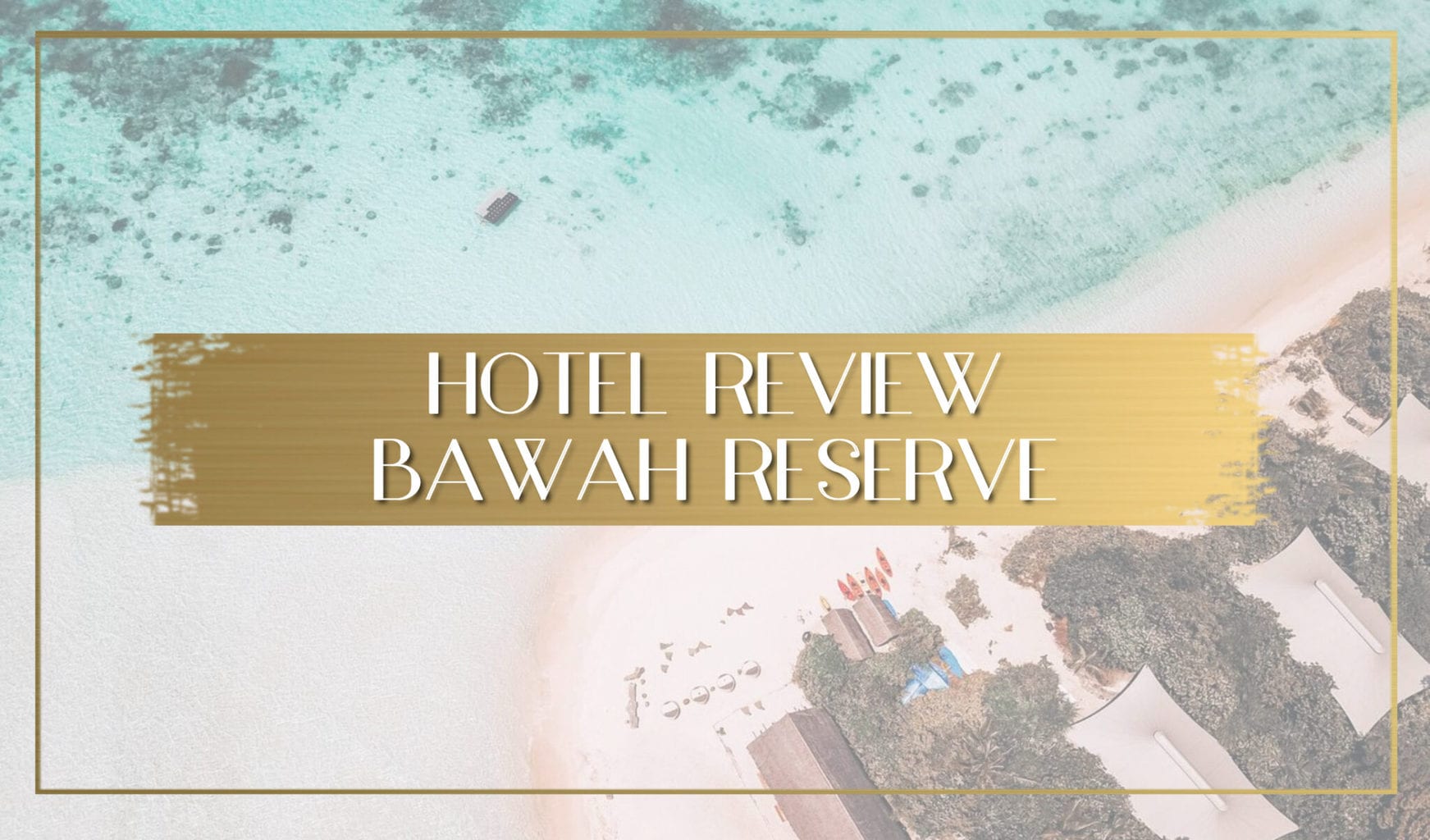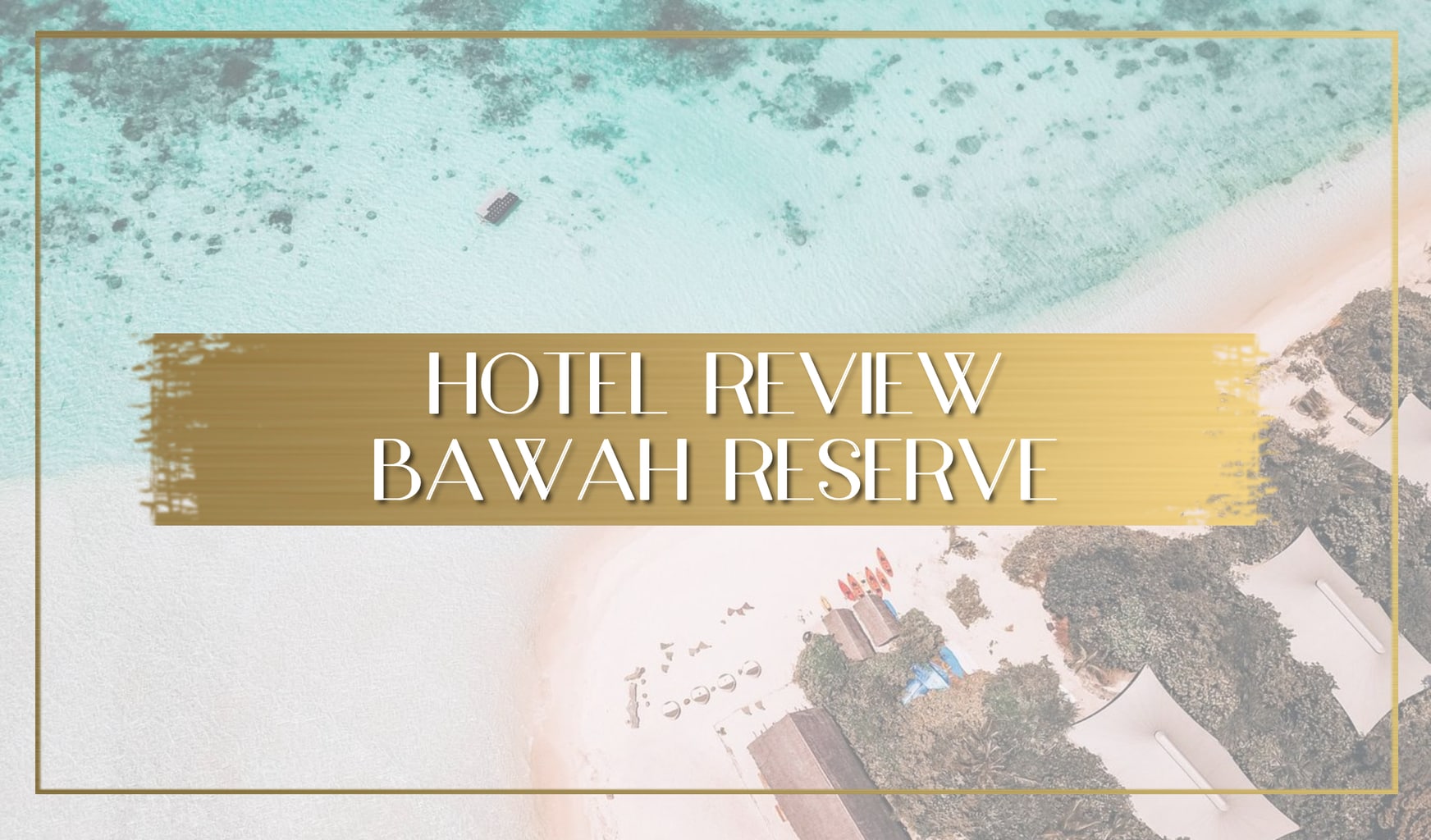 Once in a Lifetime Journey was a guest at Bawah Reserve. As always, all opinions are honest and our own.
A new private island in Indonesia near Singapore quietly opened mid-2017. Despite the mildly secretive opening, my sixth sense for luxury island resorts picked it up. What I saw were beautiful lagoons, wild jungles and clear waters only an hour's flight from Batam across the channel from Singapore.
I was immediately intrigued by its beauty. A few months later, I finally boarded the amphibious plane on my way to Bawah islands, courtesy of the resort who invited me and my partner for a 4 day getaway. Here's my review of Bawah Reserve.
Check out my drone video of Bawah Reserve before reading for some inspiration. You can book your trip to Bawah here.
The story behind Bawah Reserve
Bawah Reserve is located on Bawah island, a group of six islands and three lagoons in the Anambas Archipelago of Indonesia. The resort is located in the main island of the group and a separate Owner's Residence is being built on a smaller island across the lagoon.
This beautiful island resort was opened by a British shipping entrepreneur and resident of Singapore who used to sail the waters and fell in love with the area. What is most unique about Bawah's coming into being is the fact that it is Indonesia's first fully owned hospitality development. A sign that the Indonesian Government is fully devoted to promoting tourism beyond Bali's booming luxury tourism industry and Bintan/Batam continuous growth.
Before the resort was built, Bawah Islands were already known to the locals. If you research the Anambas Archipelago, Bawah is always mentioned as the most beautiful in the archipelago and it used to be a popular stop on an island hopping adventure in these remote waters. Albeit very few people had actually ever heard about it due to its location right in the middle of the ocean and its distance from the nearest airport. Until CNN featured it in one of the best paradise islands in Asia.
Once all the permits were ready, Bawah took five years to build using traditional Indonesian methods. "To break the rocks for construction, they were first heated and then dropped into the ocean where the drastic change in temperatures cracked them into smaller pieces", George, the Marketing Director of Bawah, tells me.
You can see the resulting imperfections in the rustic chic surroundings of the resort giving it an all the more appealing look. You can almost spend your entire time barefoot, walking on these stone paths built by skillful hands.
Bawah Reserve was born as Bawah Island mid-2017 in a relatively low key opening for a resort of such cache and it was refreshed and mildly rebranded into Bawah Reserve in April 2018 with tropical undertones over a copper finish to differentiate it from other private islands and convey the idea that it is much more than just white sand beaches and clear waters. Bawah Reserve is a different yet stylish take on a remote luxury island getaway.
What was it like to spend a few days at Southeast Asia's most beautiful and exclusive private island resort? And did it trump Nihi Sumba, which charges similar prices and promises an unforgettable experience as would be expected from The Best Hotel in the World according to Travel + Leisure?
Let me tell you all in this review of Bawah Reserve. Make sure to scroll to the bottom to see how the resort compares to similar options for the same price and level of luxury.
Arrival and check-in at Bawah Reserve
There are check in procedures and then there is Bawah.
I love to make an entrance and I even paraglided to the Six Senses Zighy Bay in Oman which was remarkably peaceful after the two seconds of panic ("Oh my God, do you really mean we run into the abyss!"). You can see me screaming in this short video of the experience.
At Bawah Reserve, you arrive on an amphibious plane which is able to take off from the runway of a regular airport and land on water. Amphibious planes are a level beyond the seaplanes that are so famous of the Maldives (I took one to get to the Conrad Rangali Island and to Soneva Fushi and Joali Maldives) and can also take off from solid land.
But first, we were picked up by a Mercedes taxi at 7am from our home in Singapore, taken to the ferry terminal at Tanah Merah, near Changi Airport, and then escorted all the way to Batam where we were greeted by the ground staff from Bawah after sorting Indonesian immigration procedures.
Bawah usually has a fast-track service for this but it was not available on the day we visited, yet we enjoyed it on the way back. We were then taken on a comfortable van to Batam airport. There, we had breakfast at the Coffee Bean and Tea Leaf, where a table had been booked for Bawah Reserve's guests, and a safety video was played on the cafe's TV.
There are no lounges at Batam airport so this is the closest you can get to a comfortable lounge experience. The wait was very short and soon after, our private plane was ready for the scenic journey to Bawah and we just walked and boarded our 10 seater propeller plane.
Bawah's amphibious plane is owned by the resort and leased from one of only two companies in Indonesia that have passed the EU's safety certificates which are much stricter than the US ones, I know because Garuda and Philippine Airlines were for many years not allowed to fly into Europe while they were still flying to the US. In fact Philippine Airlines is still not allowed into European airspace. The safety measures also require the plane to take a day of rest every week to undergo maintenance.
The flight takes about one hour and 15 minutes and flies over Bintan and the ocean. It would be about an hour to fly directly but the plane needs to take a detour to avoid Singapore's military air space.
We spent the flight looking through the window for a while and then fell asleep for a few minutes only to wake up ready for landing. For miles, all we could see below was the ocean, until the islands came into view.
Our barefoot pilot took a full 360 degree tour of the island and then finally landed on water. I would recommend sitting on the left of the plane for a better view of Bawah from the air.
Landing on water is incredibly smooth and after a few minutes we were docked at the end of Bawah's pier and were greeted by the whole staff. A buggy was waiting to take us straight into the room where our butler gave us a run down of the room.
The villas at Bawah Reserve
Bawah Reserve has a total of 35 villas split into three types: the beach villas on the sand, the over water villas located at either end of the island and on a short path over the water and a couple of garden villas in the greenery of the island.
Although I would usually go for the overwater villas, I will admit that the beach villas were equally appealing. As opposed to most of the Maldives luxury resorts – like for example the Six Senses Laamu which comes with huge two storey overwater villas on a long wooden boardwalk – the overwater villas on Bawah Reserve are a short walk from the main boardwalk so they are not out in the sea but just a few meters from shore. They are still fully over water and on stilts.
It is beautiful to wake up to the sea views and the stunning water, which the beach villas don't immediately have (you do have that similar view from the verandah) but is also great to walk down from your verandah and dip your toes in the sand.
The garden villas, of which the resort doesn't really have many, are good for those who prefer to have a jungle feel as they are surrounded by lush greenery and still only a few meters from the sand.
Inside, the villas are not as over the top as you can expect in overwater villas in the Maldives or even at Nihi Sumba, but they have that Robinson Crusoe look and you are unlikely to spend any time inside, one comes to Bawah to enjoy the outdoors.
I did love some of the touches in the room. In particular, I enjoyed the wall paper. I know, this may sound strange, but the tropical themed wall paper in the room and the bathroom gave it a sophisticated look beyond the typical white and wood tones of most overwater resorts.
The copper finishing in the sinks and the free-standing bathtub were beautiful and went very well with the wild nature-inspired look the resort is going for. The resort's signature jellyfish lamps also make an appearance in the villas reminding of the remote sea location.
I also loved that there were delicious, not too sweet, chocolate chip cookies in a jar which my partner finished multiple times (and they were replenished) and unsweetened and unsalted nuts which are far healthier than the usual fried options. They both added to a more back to nature organic experience. We also got freshly squeezed orange juice in the minibar and the usual espresso machine and tea bags.
Outside, the overwater villa verandah is expansive, with two levels, one in the shade and one in the sun. The Dedon sun loungers come in the signature egg-shape and are perfect for two people, although you do get two, so you don't have to share. We pulled our bedsheets out and enjoyed the sunrise as the first rays started to peek above the island.
The beach villas have a covered bamboo verandah which sometimes comes with a hammock, and a beach area with the same sun loungers mere meters from the water. In between the villas, there are plenty of palm trees and bushes to create a sense of privacy so you feel as if you were alone.
As most of the resort faces south, you can only see the sunrise from the overwater villas in the eastern side while the sunset can be enjoyed from the Jules Verne bar at the top of the restaurant area or from the outside area in some of the farther west overwater villas.
I found the villas were set adequately apart from each other and farther than you can expect in places like the Maldives or Bora Bora where you can almost hear the neighbours. At Bawah, you shouldn't.
Perhaps the only shame was the fact that you cannot see the sunset or sunrise from your villa given the position of the resort vis-a-vis these points but a good reason to head out to the bar for a pair of sunset cocktails.
The food at Bawah Reserve
Bawah's rates are all inclusive so breakfast, lunch and dinner as well as non-alcoholic drinks are part of the rate and you only need to pay for alcohol on top. I will stress that, unlike in places like Nihi Sumba where there were silly charges for room service, for replenishment of the in-room inclusive alcohol or the chocolates, at Bawah you are sure not to have to worry about any additional charges except for alcohol.
The food at Bawah was one of the highlights of our stay. The chef went above and beyond expectations and created specifically tailored meals for us for lunch and dinner every day. It was an absolute privilege to have someone of his innovative culinary approach and skill cook for us almost as a private chef for the entire stay.
What is more, we felt that he was truly enjoying sharing his creations with us and that we were the only ones at the restaurant. Chef Ardian was truly a gem and made our stay very unique. Sadly, since our visit, he left to start a diving business in Bali but I am sure the new chef will be equally good as food is an important element of the experience.
Bawah Reserve cuisine focuses on serving what you feel like eating. While there is a menu for lunch, dinner is designed every night as per your tastes and what you your taste buds crave for the evening. In our case, we did not realise there was a lunch menu until the last day as Ardian was getting ready to go to Batam on the plane with us to see a doctor. Until that time, he came to see what we wanted to eat when we sat down at lunch and suggested ideas that were exactly what we felt like and came out every time as incredibly delicious.
Dinner menus were discussed usually over lunch where the chef would sometimes have suggestions based on what he had on offer and we would complement with our wishes. If we changed our mind before dinner, he was easy to accommodate. It all flowed so effortlessly and so genuinely we felt as if he was our private chef. I have not felt like this anywhere else in the world.
The personalisation, the authenticity, the team's eagerness to share their culinary ideas and how amazing each dish was meant that the food was a highlight of our stay at Bawah Reserve and that it was probably one of the best dining experiences I have ever had at any luxury resort.
Lots of resorts have Michelin-awarded chefs, visiting celebrity chefs, in-resort gardens, special wine-pairing dinners, gimmicky experiences like underwater restaurants, teppanyaki under the stars, beautiful table settings and exclusive ingredients but no place I have stayed at has the level of genuine personalisation that we enjoyed at Bawah.
Beyond that, the quality of the food, the presentation and the innovative flavours and combinations simply elevated every meal to something wonderful.
Chef Ardian's background also played an important role in his cuisine. He is half Honduran half Indonesian and, in addition to creating fabulous dishes, he managed to entice us to demand Indonesian food at every meal. I always eat local, no matter where I am, because I am a huge foodie and because I believe food is an important part of a culture and of travel in general. However, Indonesian food is not one of my favourites.
I find the flavors too strong, the recipes too greasy and the dishes featuring deep fried elements all too often. At Bawah, both me and my partner found ourselves asking for Indonesian food at every meal because the chef showed us how the beautiful Indonesian flavours and local ingredients could be if cooked in a lighter way and fused with other cuisines like Japanese, Peruvian or even Mexican.
We had mee goreng made with lighter Pad Thai noodles, less oil and garlic and more aromatic chili sauce. We enjoyed nasi goreng wrapped in a burrito. I had the freshest of local fishes in a light ceviche and with gazpacho. Lamb was cooked with their locally grown purple cauliflower. Grilled fish was served with hot and sweet chilli sauce. Every dish was outstanding and we cleaned the plates without hesitation.
Lunch can be enjoyed at the main restaurant or the beach hut while dinner is served at the main restaurant or a location of your choice, from the end of the jetty to possibly one of the best beaches in Indonesia, poolside, in your villa or in a special treetop location where you have absolute privacy.
Aside from the food, there are also two bars, Grouper at the beach level and Jules Verne at the very top which is open only for sunsets. Both serve a selection of cocktails, spirits and wines from a relatively affordable wine list, considering the location, Indonesia's high taxes and the prices of the villas.
We had two and a half bottles of wine, a couple of cocktails every evening and spent about $300 on alcohol. I found the prices to be reasonable. If we had been in Singapore, where cocktails are easily $20 each, we would have spent far more.
The activities and facilities at Bawah Reserve
On the evening of our arrival, Paul, the CEO, organised some snacks and drinks at sunset and we met the rest of the guests staying at Bawah. I was surprised to see that most guests were coming for a week or longer and, it being my first evening, I wondered whether they would get bored after such a long time. After all, you are on a remote island far from any civilisation so left to get busy with water and island activities.
At the end of the trip I wished we had spent a week on Bawah reserve because there was just so much more I wish I could have enjoyed that we just didn't have the time to.
So what can you do on Bawah?
There are a host of water activities available, as would be expected of a private island resort. You can go kayaking to nearby islands, you can do standup paddleboarding, go explore the mangroves, snorkel on the shore reef which is stunningly beautiful or on the rest of the islands, or even take the hobbycats out or go fishing.
Snorkeling equipment will be left in your villa when you check in (your size will be asked prior to arrival). If you want to venture farther, diving is also available although the area is still suffering from dynamite fishing. There are two shipwrecks nearby that are famous diving spots in Southeast Asia.
Contrary to other luxury island resorts nearby like Nikoi or Cempedak, or any resort in the Maldives, there is a whole lot to explore on land too. This reminded me a bit of Nihi Sumba and of Bora Bora but on a smaller scale. While Bawah does not have the large cultural opportunities you have on Sumba or Bora Bora, it does have some land activities to dust out your trainers.
Bawah is a volcanic island which is almost untouched. Its interior is lush and teeming with vegetation. The forests are thick and the trees tall. You can immerse yourself through the three marked trails that take you to corresponding view points from where you can see different parts of the island. Going up to the point to see The Rock is stunning. The sea so wild when the wind blows, the cliffs so raw.
For beach lovers, there are six beaches on the islands. The ones which are not on the main resort area can be easily reached on the resort's speed boat which can take you and wait or drop you off to your own slice of remote sand for as long as you want.
The staff can be available for that at a moment's notice although advanced planning is always preferable. You can even request for a picnic in one of these locations where the staff will set comfortable cushions on the sand, beautiful food and a sun umbrella. As the speed boat leaves, you are abandoned to the romance of your own desert island. Picture perfect.
For spa lovers, Bawah Reserve offers the ultimate all-inclusive experience: unlimited wellness and spa treatments from facials to wraps, scrubs, massages, yoga and meditation sessions all day from 11am to 7pm. This was such a treat and a benefit I have yet to see at any other resort.
It definitely put the dot over the i of "inclusive" and gave us something to keep busy when the clouds came in after lunch time every day. We came out of the spa re-energized as the sun returned. I found the therapists and the treatments to be great too. A real getaway for the mind and soul.
As the food is so important at Bawah, cooking classes are also available. If we had a bit more time we would have enjoyed a quick lesson by the team on replicating their mee goreng back home. I sneaked into the kitchen to see how they prepared it, so naturally and quickly. The chef offered to show us how to cook any of the dishes. Cocktail classes were also available if you wanted.
As per the facilities, the resort has a library, a main pool and beach area with sun loungers.
Perhaps the most relevant take-away from the activities available at Bawah was the fact that anything that was possible could be organised, we just needed to ask. This helpful, can-do attitude permeated everything and made us feel at ease and fully welcomed.
Nothing was too much effort and nothing carried any additional charges. There were never discussions about money only about when something would be possible to do, mostly to do with tides. Knowing that we could just ask anything was what put us straight into real holiday mode from the start.
The service at Bawah Reserve
I have already hinted at the many details that made the service at Bawah so special. Perhaps one of the elements which surprised me towards the end of our stay was the fact that there is no reception or main area at Bawah, if you need anything, you can call your butler or you can simply ask anyone. It does not matter who you ask, your wishes will be someone's command and everything will be sorted.
We randomly asked anyone we saw. The kitchen staff, the service staff, the housekeeping staff, anyone who was nearby when the need arose and things were just done. There were no "I will connect you to so and so" or "go to XYZ to speak to ABC", things were just organised for us. Everyone felt like a family working as a team to simply make sure you enjoyed your time.
Special mention goes to the chef who acted almost as our main host giving us tips on things to do, recommending us spots to drone and generally helping us organise anything. His insights and conversation were fabulous. Our butler and one of the team members who came with us on the trails and helped us carry the drone was also very friendly and always smiling when he saw us around the resort.
Overall, the service was prompt, incredibly friendly and authentic. It was not pretentious, it was down to earth, it was not arrogant, it was helpful and at no point did it make us feel that what we asked was too much effort. The eagerness of the staff was remarkable and, trust me, we made lots of strange requests related to flying the drone or organise photo shots including asking for tea candles for the bathtub, colourful cocktails for the photos or help with flying the drone.
Bawah Reserve: the verdict
Our stay at Bawah was one of the nicest holidays we have had in the last few months. It was a beautiful place with lovely staff and an "anything is possible" down to earth attitude that I prefer luxury resorts to have.
The island feels like the kind of place one can go back to every year to recharge and reconnect and I look forward to the opportunity to do so.
You can book your stay at Bawah Reserve here.
A final note on Bawah Reserve value for money
Before I finish this review of Bawah Reserve, it is important to assess the value for money component.
Far too often resorts at this price range feel like they can charge anything and guests will pay without blinking or assessing whether their place was worth it. I have sadly felt like this in more than one occasion and it is a feeling which I do not wish on anyone. There is nothing worse than feeling taken advantage of after spending $2,400 a night.
In this case, and because I am always transparent, I was invited to Bawah and so our stay was complementary except for the alcohol. But I always focus on value and constantly assessed the experience while there against the price tag I knew we would have paid.
Was Bawah Reserve unjustifiably expensive?
The short answer is no. Overall, I felt Bawah Reserve was reasonably priced and that it was worth the price. Here's why.
Prices at Bawah Island start at $1,800 for the garden villas but let's take the beach villas because most people splurging to this level would want to stay somewhere special. The rate for two at the beach villas starts at $1,980. For this you get transfers from Singapore, all meals and non-alcoholic drinks as well as all activities and unlimited use of the spa.
This may seem like a lot but consider how much you would spend at any other private island resort on activities and food and deduct that from the all-inclusive rate. This can easily be $500-$1,000 for two people at most luxury resorts in Asia.
When I stayed at the Conrad Rangali or the Six Senses Laamu in the Maldives I spent $1,000 a day on food and activities. Take lunch and dinner for two and add in a diving session, a sunset dolphin cruise, a tour or a massage and it's easy to spend as much or even more. Nightly rates at $1,400 for luxury hotels in Asia are very common.
Many of Bawah's comparable alternative resorts like Song Saa in Cambodia, the Four Seasons tented Camp in Chiang Mai, any of the Maldives resorts or any of the Aman or Six Senses properties are in that prices range. Don't let the headline tariff for non-inclusive rates fool you, Bawah comes out pretty affordable.
More importantly, there are no surprises on the final price as it is all in and you will make the most of your vacation if considerations on the prices of excursions don't play a role. Spa sessions every day? Yes please!
If you can't make it to Bawah Reserve, you may want to check out these hotels on nearby Bintan:
Pin this to your #barefootluxe Pinterest board now!