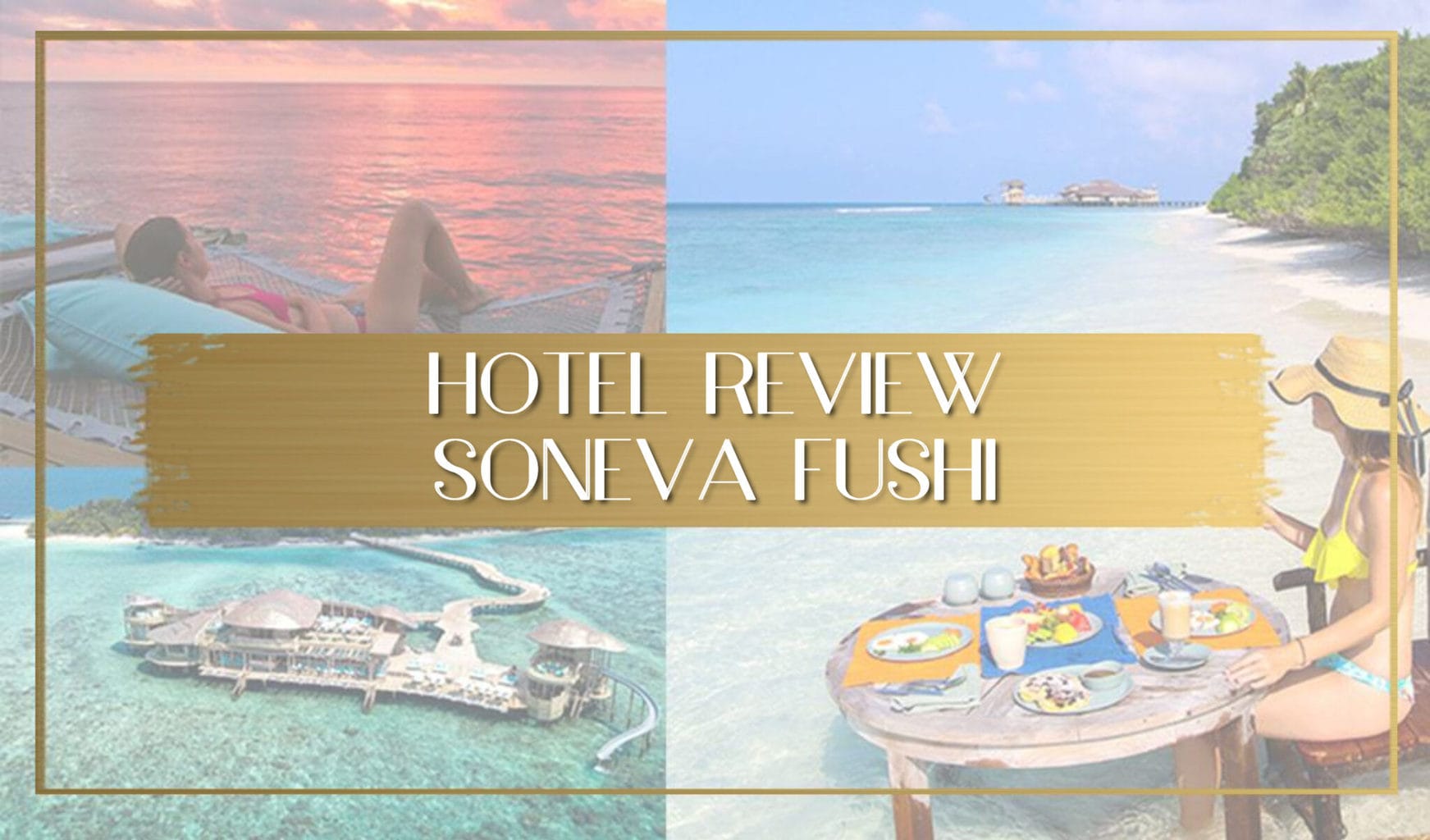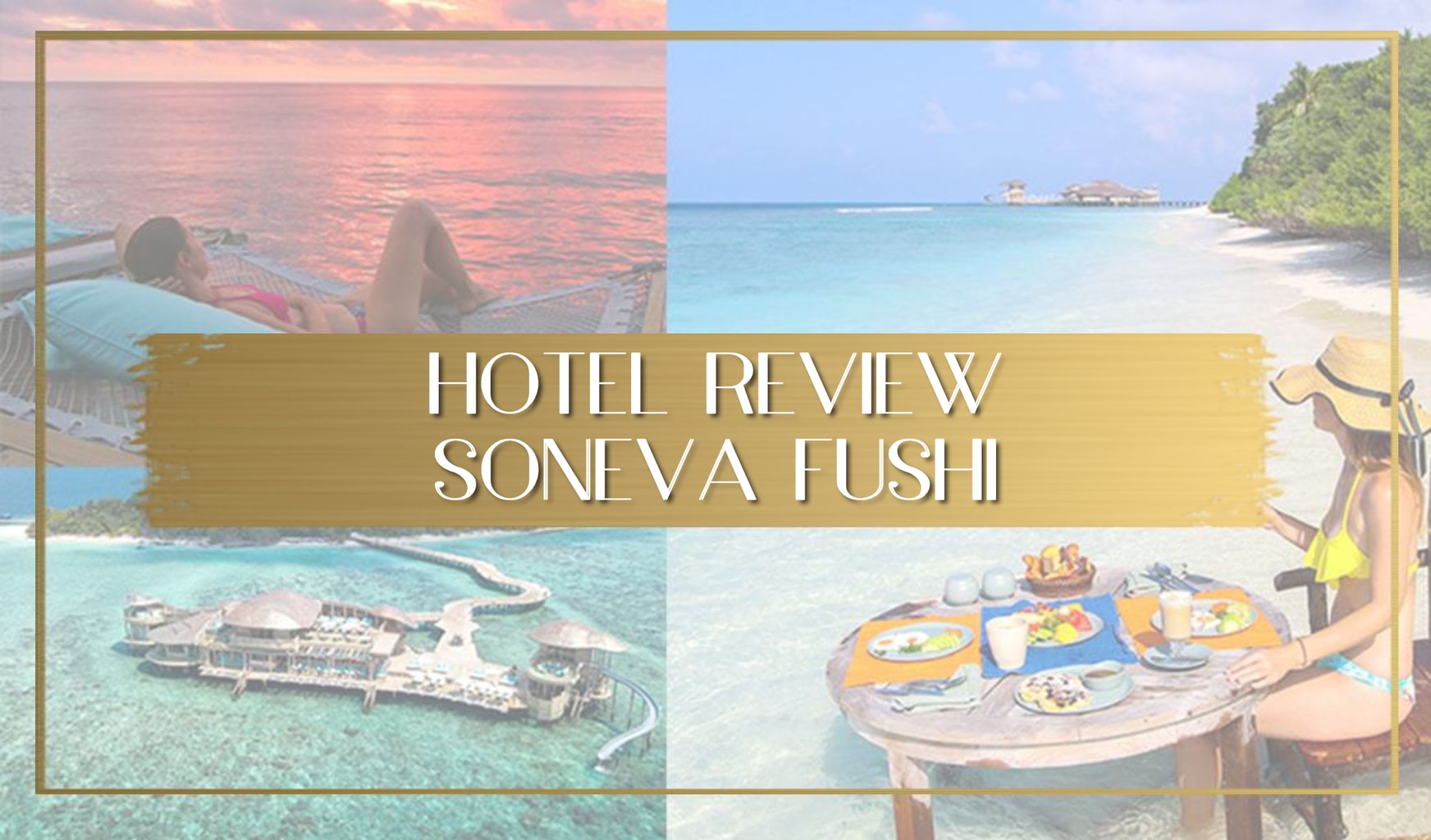 I was a guest of Soneva Fushi on a full board basis. All opinions are always honest and my own
Soneva Fushi is one of the few luxury resorts in the Maldives without any water villas. Instead, all of the villas at Soneva Fushi are hidden in the jungle, and I do not mean this lightly. The resort truly embodies the Robinson Crusoe castaway feeling like no other resort in the world. Are you ready to explore it barefoot?
A bit more about Soneva resorts
Soneva is a family run and owned luxury brand by Sonu and Eva Shivdasani, the couple who gave their name to this unique brand of intelligent travel and were born in the Maldives.
Its vision, they say, is "inspired by nature's magnitude" and nowhere is this more palpable than at Soneva Fushi, the first resort to open under the brand's name as an evolution of Sonu and Eva's home which they built in 1995.
Unlike most of the islands in the 1,200 island-strong country of the Maldives, Kunfunadhoo, where Soneva Fushi is located, has been kept mostly untouched and thrives with vegetation and wildlife.
This raw state is what best illustrates the brand's back to basics luxury concept where you wear no shoes and truly immerse yourself into the environment. Luxury is therefore, defined not by the amount of gold or crystal or by high heels and designer clothes, but by the opportunity to share a place that is special.
Soneva Fushi was my second experience with the brand, after a wonderful time at Soneva Kiri in Thailand, so I arrived with high expectations, expectations which were met.
Arrival and check in at Soneva Fushi
Soneva Fushi is reachable by either seaplane or scheduled domestic flight, depending on availability and arrival/departure times.
While flying on a seaplane in the Maldives is a wonderful experience, it is also one which is very much weather dependent and restricted to daytime so it is convenient to have the option of a domestic flight which can fly during night time and regardless of heavy rains.
I was staying at a hotel in Hulhumale the night before so, early in the morning, I headed to the arrivals area of the airport to meet the Soneva Fushi representative. As soon as my friend arrived, we checked in at the Trans-Maldivian seaplane counters and then boarded a bus to the seaplane terminal.
Soneva has a lounge on the first floor of Trans-Maldivian seaplane terminal for both its resorts in the Maldives, Soneva Fushi and Soneva Jani, as well as the luxury yacht Soneva Aqua. The lounge is lined with orange and green sofas and the staff are on hand to give drinks and some snacks. While this is a comfortable lounge, it is not a place for a long wait and offers drinks plus some nuts and dried fruits.
After heavy rains early in the day, the skies cleared and we were finally ready to board our seaplane to Soneva Fushi. The flight only took 45 min and we landed on the floating "airport" of Soneva Fushi, a 5 min boat ride away from the resort.
The fact that the seaplanes do not dock at the resort as is the case at LUX* South Ari Atoll, but on this platform, is helpful to avoid the constant noise of the seaplanes overhead.
Instead, the landing is far enough from the resort that planes cannot be heard from the villas or common areas. This is done in several other resorts in the Maldives like Milaidhoo, for the same reasons.
As soon as we boarded the speedboat, we were given a canvas bag for our shoes in keeping with the resort's philosophy of "No News, No Shoes". We obliged and were then shoeless for the next five days, just like at Gili Lankanfushi.
At the resort's jetty, Lilly, our Mrs Friday, as well as the resort's management, were waiting to greet us and we were quickly on a buggy enroute to our jungle villa.
The villas at Soneva Fushi
It is hard to describe the villas at Soneva Fushi mostly because each one of them is uniquely designed and different from the rest.
This is because a third of the villas at Soneva Fushi are privately owned in a premium timeshare type of arrangement where the owner gets a certain amount of nights a year to use and rents it out to other guests otherwise.
These privately owned villas are built to order when a buyer is interested, and they are designed as per his or her specifications, while keeping with Soneva Fushi ethos and brand look & feel. This means than no two configurations are the same.
There are 63 villas at Soneva Fushi, 33 with one bedroom, 14 with two, nine with three bedrooms, four with four and two with six bedrooms. Because the resort is geared towards families, the majority of the villas have more than one bedroom.
The star of the show is the Private Reserve, the biggest villa in the Maldives, with nine bedrooms, a large pool in the middle and a slide. Apart from the villa, it also features its own spa and a Mr/Mrs Friday room so the butler team can stay in-house and be at hand to help out with anything.
Here's my video walking into the Private Reserve.
All the villas are built with sustainable wood and a decidedly rustic chic look. There are all the things you would need for a comfortable stay but you will not find any glitz and glam, this is not what Soneva is all about. Intelligent luxury means splurging where it matters and not spending money on things that Soneva guests do not value.
The rooms have four poster beds with mosquito nets, air conditioning, large TVs hidden in oversized trunks, small kitchenettes with Smeg fridges, huge sofas and desks to work on. Needless to say, space is not an issue and all villas are set in tropical gardens with lots of indoor and outdoor space.
While Soneva Fushi is the ultimate jungle resort in the Maldives, all villas have direct beach and ocean access from their gardens and you just need to walk a few steps to get into the water. From your garden and even from your bedroom, you can hear the waves at high tide.
However, the close proximity to the water does not mean that you can see the ocean from your living room or bedroom because in many cases, the vegetation has grown to cover it.
This provides privacy, so anyone walking on the beach can't see in, and also gives you the feeling of being in a jungle cocoon, adding to the resort's Robinson Crusoe feel, but it does deter from the sensation of being on the beach.
Watch as I walk into my villa here.
Dining at Soneva Fushi
Soneva Fushi has several restaurants available but my favorite was the newly opened Out of the Blue, a dining destination set on the water with a slide and several restaurant options.
Out of the blue is the latest addition to the resort having only opened in 2018 and consists of two levels of dining options, a slide, hammocks hanging over the water and several sunbeds. It also has the country's first overwater greenhouse and a few meeting rooms, right in front of the slide. So if you're missing the overwater bungalow experience, you can find it here.
The main dining area on the lower level is open for lunch and serves a range of Thai and Japanese fusion dishes that go well with the weather and a lazy lunch.
At night, the spot turns into a more sophisticated venue with under the stars dining on the upper floor, a teppanyaki grill, a private room for larger parties, the eight seater Once Upon a Table used by visiting chefs, the Chinese kitchen with modern Chinese dishes, a sushi counter, a large cellar, a bar and an ice cream and chocolate room.
Check out this video of Out of the Blue I made.
For a bit of a change, there are three other venues. Breakfast is served under the trees, sand between your toes, at Mihiree Mithaa where a buffet is also available for lunch and dinner. Breakfast here is quite a spread and a meeting point for all guests as this is the only breakfast option (aside from destination or in-villa breakfast).
There is a chocolate cave, a huge room for pastries, breads and ice cream, a salad bar inside another hut with a large range of greens including most of the produce from the garden, a fruit hut with one of the most extensive selections of fruits you have ever seen, an Indian breads hut serving typical items from the South Indian cuisine, a cheese room and a corner with all the ayurveda concoctions (same as Gili Lankanfushi) as you can imagine, ready to revive the dead.
There are also items available for ordering from the a la carte menu including lots of fresh juices and other liquid options like turmeric latte, eggs cooked to order, pancakes, waffles and other sweet options, etc.
Breakfast at Soneva Fushi is quite an event and you could easily spend a couple of hours here. After four breakfasts I still had not tasted most of the items, despite every morning's overindulging.
Mihiree Mithaa is also the location of weekly themed nights where the tables are set out on the beach with lanterns and the area under the trees is covered in huts and stalls serving all sorts of cuisine, from sushi and sashimi to Maldivian dishes.
Fresh in the Garden, open only for dinner, is a more refined dining venue set above the garden in a structure that seems suspended at the level of the tree canopy. Here you can sample an array of Mediterranean dishes prepared using lots of fresh produce. The location is the star here, especially at night when the lights in the suspended platform are dimmed.
Soneva Fushi has a large cellar with a collection of 7,000 bottles, that include biodynamic and organic wines, in keeping with the brand's sustainable and clean eating. There are wine tastings as well as visits with the Sommelier.
Dining at Soneva Fushi can also be enjoyed at many other locations. There are sunrise, sunset and daytime picnics on the sandbank, with overnight options if guests so desire, meals enjoyed in your own-villa or in the jungle dining. Pretty much anything is possible.
Facilities at Soneva Fushi
Soneva Fushi is on a relatively large island by Maldivian standards so there is enough space for pretty much any facility you could imagine for an island in the middle of the ocean.
There are tennis courts, a well equipped gym, a dive center with its own training pool, a jungle open air cinema called Paradiso with a large movie screen and weekly shows and plenty of beach space.
One of the most unique facilities is the observatory which comes with a 3D Telescope and a trained astronomer to walk you through the night sky and the stars above after dinner.
Families with children will note that the Children's Den is the largest children's club in the Maldives and it is truly massive. There, children and even teenagers, have endless hours of fun with trained professionals. Upon request, staff who speak specific languages can also be brought to the resort.
The Den has a spiral slide, a pool, several climbing play areas, a painting room, a music room and even a Lego room. The amount of activities on offer is impressive and a few more options for older children in their teens are being developed as well.
Another one of the unique elements of Soneva Fushi is the Eco Centro Waste to Wealth Centre where over 85% of the waste of the resort is handled and processed sending as little as possible to the local processing plant. Here, guests can also learn more about the guts of a luxury resort and learn more about the efforts required to maintain the fragile waters of the Maldives rubbish-free.
Soneva Fushi also own its own private sandbank where you can go to spend some time, picnic or just have fun with the clear waters, the powdery sand or the hanging hammock. This is the true image of the Maldives.
In keeping with the resort's and brand's sustainability commitment, Soneva Fushi has the only Art and Glass Studio in the Maldives where glass is recycled and turned into art. Guests can see the artists at play or buy some of the exhibited pieces.
As would be expected, Soneva also has its own spa, run by the Six Senses brand, which used to be a sister property and with whom Soneva shares a lot of the same values. The spa is located in the middle of the jungle, secluded and peaceful.
Activities and things to do at Soneva Fushi
Most people come to Soneva for extended holidays of between one and two weeks so there needs to be enough activities to keep everyone entertained and occupied.
Usually, water sports are the ones that prevail in the Maldives, but there are also other options.
Water sports at Soneva Fushi
Obviously, the ocean is the focus of most people visiting the Maldives. Soneva has a water sports center where you can borrow all sorts of non motorised sports equipment like stand-up paddle boards, kayaks, etc.
If you are looking for a more exhilarating choice, motorised sports are also possible, and you can learn to surf at the nearby breaks.
I was lucky enough to visit in one of those times and it was incredible to snorkel with a few dozen mantas dancing under water so close to us. Even if you don't visit in manta season, snorkelling trips are often successful in finding reef sharks and turtles too.
Of course, both snorkeling and diving are a main draw to the Maldives and the resort has its own dive center. Its location, in the UNESCO-listed Baa Atoll, means it is in proximity to lots of dive sites and also near one of the most popular manta areas where the majestic animals can be seen in large groups in season.
If you are interested in going to the depths of water without an oxygen tank, the resort also offers free-diving lessons.
There are several options to be in the water while staying dry. I am referring to island hopping tours on the resort's yacht, a day trip on the luxury Soneva Aqua luxury boat or sunset dolphin cruises with canapes and champagne. Sightings of the playful animals are almost always guaranteed.
Cultural activities
Some of the facilities I mentioned offer activities that are land based. You can visit the waste management center or the host village to learn about how Soneva treats its own staff and how a resort of such magnitude in such a remote location is managed or go on a tour to some of the local islands.
Culture trips to Eydhafushi or to Maalhos Island are a great way to learn more about Maldivian culture, harder to interact with when staying at one of the Maldives luxury resorts.
Service at Soneva Fushi: Your Mr or Mrs Friday
A lot of resorts in the Maldives and elsewhere claim to offer personal butlers but the majority fall short on their claims and offer a mere concierge. Soneva Fushi is not one of those.
At Soneva, like at Six Senses resorts and at Gili Lankanfushi, your personal butler is called Mr or Mrs Friday and is ready to truly make your stay special and take care of all your requests.
I never realised while staying at the resort that there is no such thing as a reception. There is a champa, or hut, in the main arrival area near the breakfast restaurant, which serves as a meeting point, but a reception per se is not required as your Mr/Mrs Friday is there to resolve any needs on the phone.
This was no doubt the case with Lilly, our Mrs Friday, who was spot on every single time and an absolutely incredible host. And trust me when I say this, we had all sorts of requests that were a first for her, despite having been at the resort for two years permanently dealing with special requests from guests.
Lilly always managed to appear out of nowhere, ready to help us with anything before we even knew we needed it, she was hands down the best butler I have ever been assigned, and I can honestly say I have had the pleasure of experiencing many.
I kept thinking how close she was to the invisible hand that I tend to associate with Aman Resorts, except for Sveti Stefan in Montenegro which was a let down in that front. It is the kind of service that you never need to follow up on, that thinks laterally and out of the box, that resolves and finds solutions to any idea you may have without having to be prompted.
Then there were several details that did not escape me. The feedback form upon check out specified very unique questions about her level of service which gave away the standards of service expected at Soneva. For example, I was asked if Lilly had picked up the phone within 3 rings every time, or if she was able to anticipate my needs.
Lilly called us every time we were about to go on a scheduled activity and was always near our villa. If we said we needed to be picked up and dropped off to any place, she was right there. If we preferred to walk or cycle, as we almost always did, she simply let us. I realised she was always around us without us noticing, so in case we needed anything, she could resolve it straightaway.
And when I say we had lots of unique requests she had never had before I am referring to breakfast in the room which we placed outside, on the garden table and chairs we had put in the water. And if that was not bizarre enough, we asked for the standup paddleboard to be brought to our villa, on the other side of the resort from the sports center, by boat, which you can see here.
We also asked for the standup paddle board to be brought to the nine bedroom villa so we could paddle inside the big pool in the middle and shoot footage with the drone. It is fair to say, she had never had these requests before but she did not even blink and got it done without questions being asked.
I also needed a document printed and scanned. I forwarded it to her via email using the address found on the card she gave us at check in before breakfast. She did not reply and I said nothing, thinking I would mention it when I would see her.
I went to breakfast an hour later only for her to magically appear as usual with the document printed and a pen for me to sign. I did so and she scanned it and sent it back to my email just after.
Lilly was there to greet us and wave us goodbye when we went on every activity, from the short boat ride to the sandbank to the sunset dolphin cruise. She got us bamboo bikes and a tandem bike which we wanted to use for photos and sorted pretty much every single request speedily and efficiently.
The verdict – Soneva Fushi review
Having stayed at ten resorts in the Maldives, I can openly say that Soneva Fushi is quite a unique and special destination.
Firstly, it is a jungle resort, albeit surrounded by the Maldives' stunning waters and, since the addition of Out of the Blue, also with an ocean-facing side. This gives the resort the opportunity to offer more than just a powdery sandy island. To many, this is the image they come to expect in the Maldives so a jungle may disappoint. To experienced Maldives goers, the jungle feel is a welcome change in scenery and a blanket of privacy.
Secondly, Soneva Fushi offers a level of service that is second to none. Our Mrs Friday was absolutely fantastic and the satisfaction survey at the end of our stay tells me that service is taken seriously at Soneva.
Thirdly, Soneva's location in the Baa Atoll gives a lot of opportunities to explore in the water and on the land. And the proximity to a domestic airport offers the chance to stay at the resort until a closer time to the international departure flight.
If you're unsure whether you want to stay in the Maldives or Bora Bora, I have written a comprehensive article on this topic which has an interactive guide that will help you personalise your choice. Read on for which to choose Maldives or Bora Bora.