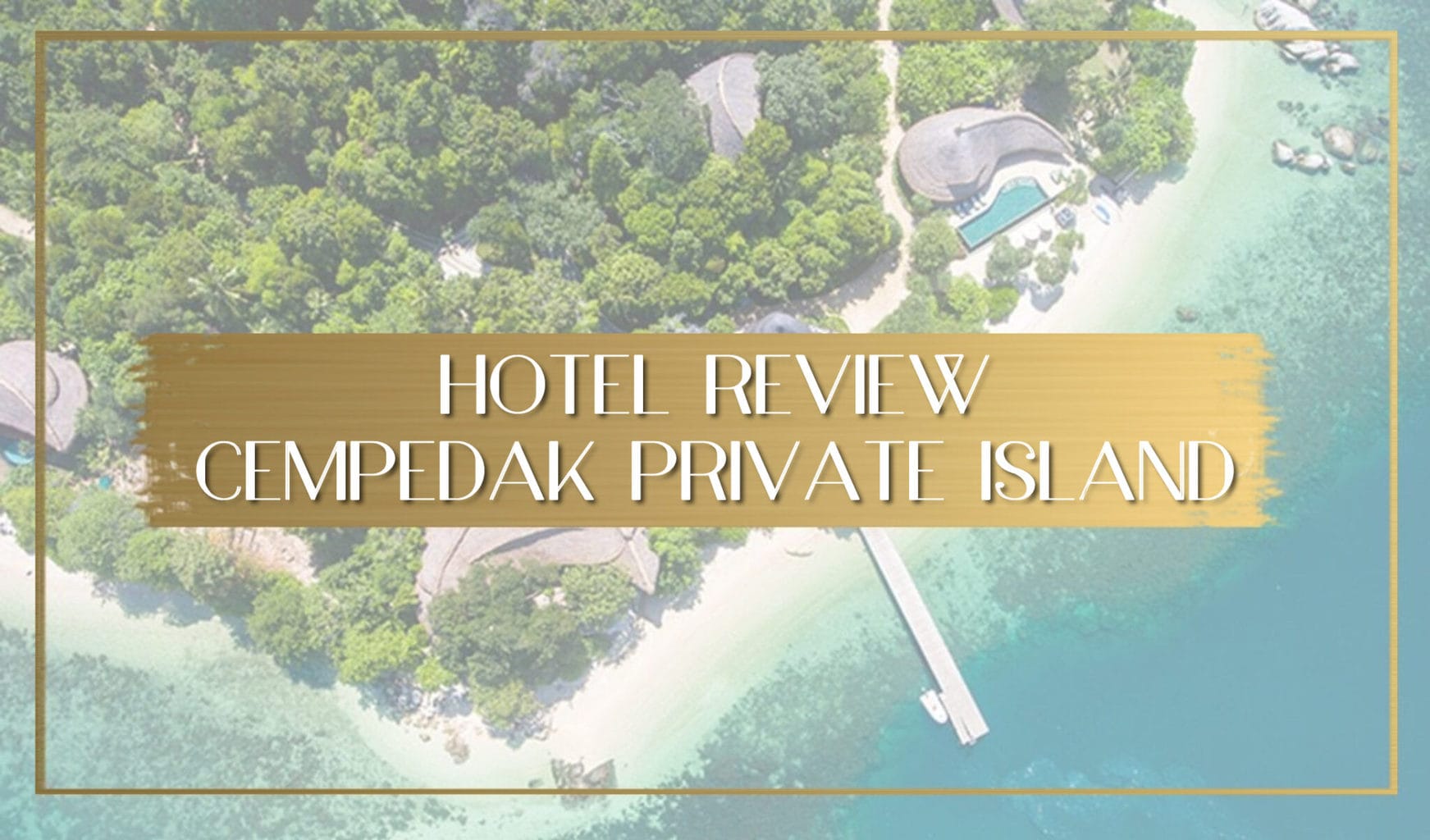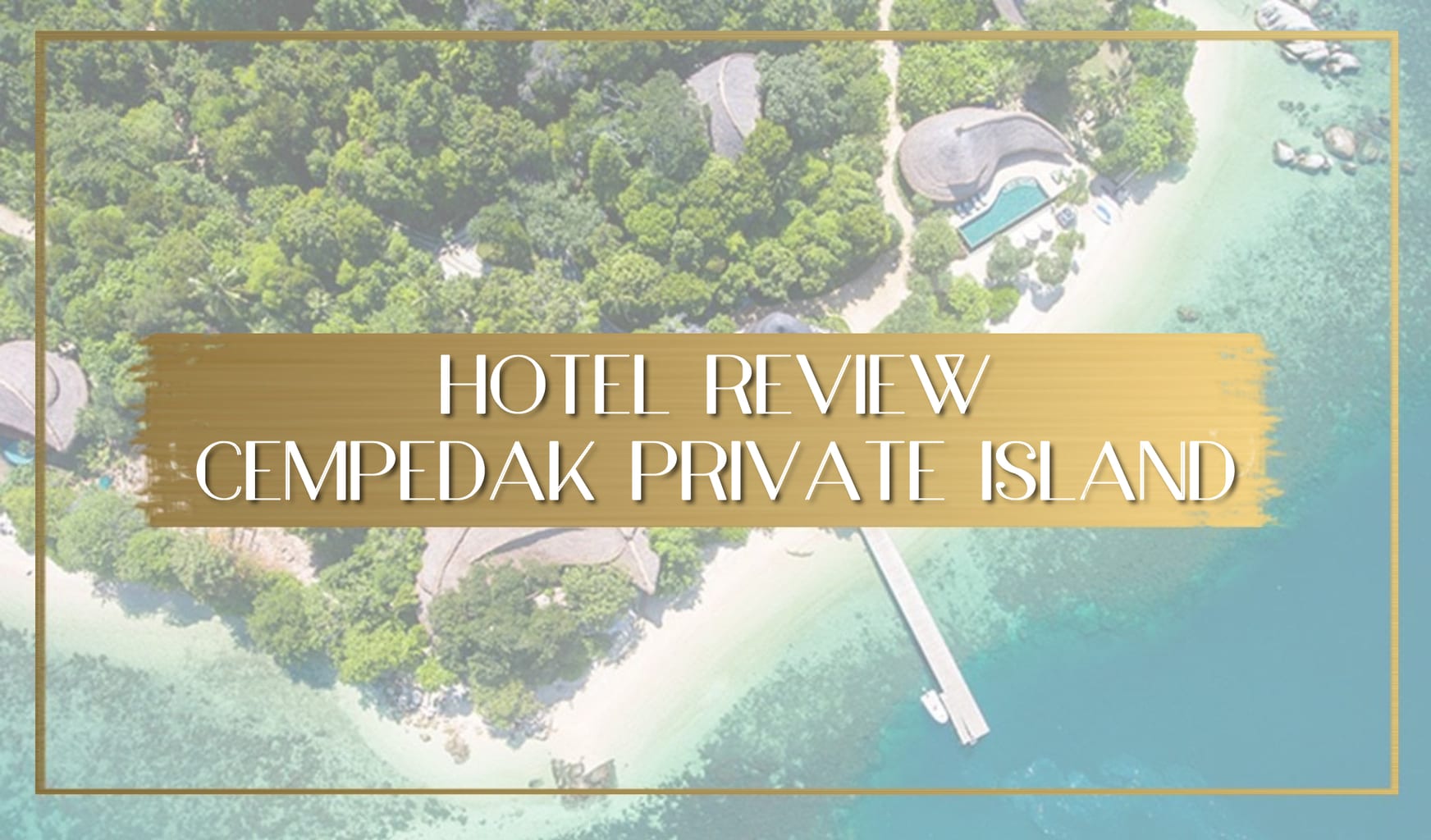 Cempedak Private Island Resort is a barefoot luxury destination near Singapore and the sister property of famed Nikoi Island, one of the most well known island resorts to residents of Singapore. If you live in the tiny Red Dot, you sometimes need to escape to an island resort to relax and disconnect. There are lots of beach resorts in Bintan and Batam, and a few private island resorts near Singapore but, admittedly, Cempedak was filling the void for a couples-only retreat where romance, not children, takes center stage.
Unlike Nikoi, the second most high-end private island resort near Singapore, Cempedak is not for families and that places it on a league of its own, although it now has competition from the uber-luxe Bawah Island Resort reached only via private seaplane from Batam, the sister island of Bintan.
Cempedak Private Island is one of the latest island resorts to open in Bintan, in Indonesia, and one of the most luxurious island escapes from Singapore when you cannot care to board a plane. This chic island resort offers pool villas with sea views, the utmost privacy and some of the most pristine beaches in Indonesia. I spent three days there on a long weekend to report back on the best parts and the areas where it fell flat.
Let me share my review of Cempedak Private Island with you below. As always, feel free to message me if you want to discuss my thoughts on Cempedak further. But first, check out my video of the island. The drone footage came out great. 
If you're looking for a luxury beach resort near Singapore, you'll want to check out this article below. Click the image to find out more options.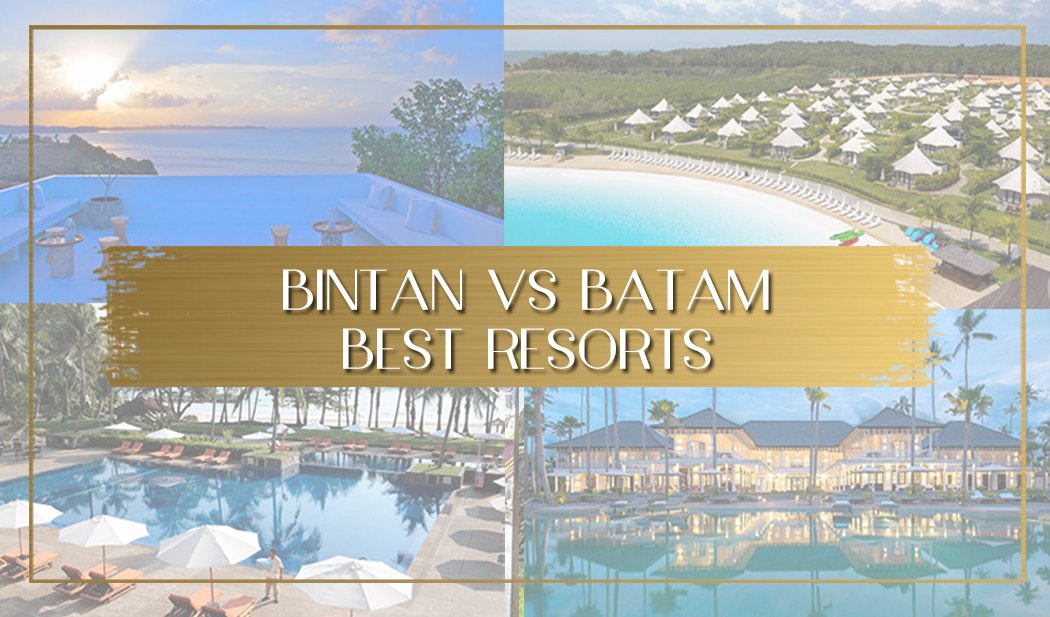 Booking and arrival in Cempedak
Cempedak, like Nikoi, can only be booked online on their website. The resort's most amazing claim to fame is running at almost capacity all year round despite their high prices (S$550 and above) and the fact that they are not available for booking via any hotel booking agent or aggregator. Impressive.
However, this comes at the expense of the professionalism and the 24h service offered by these online booking agents and involves a lot of manual intervention, as I found out on the day.
Like Nikoi, Cempedak runs at high occupancy on the weekends so if you want to stay there you have to book ahead. In our case, a couple of months in advance as the resort had opened just six months prior to our visit and was not yet as well-established and known as Nikoi. Bookings are always non refundable, so make sure you do not have to cancel. More on that later.
Their online booking system is ok, not the best, not the worst, and when you go through you will have to select the food inclusions (mandatory as there is nowhere else to eat on the island) and the transport, again, almost mandatory as you can only reach via their private speed boat. So I did all of that. Daily board is S$90 per person per day and return transfers from the ferry in Bintan is also S$90 per person.
We had a last minute emergency on the same morning of our trip and wanted to cancel the reservation, shorten it by a day or move it. There is no contact phone number on the website. That is right. Take a moment to let that sink in.
Cempedak's website, facebook page, brochures or otherwise do not have a contact number. There is an email, that's all. As the property has no other online presence, there was no other way to reach them. Finally, I found a number on the booking confirmation.
We tried calling, several times. We tried email, we tried Twitter, we tried facebook messenger. The phone was off, literally off, it had an automatic message from the Indonesian mobile operator simply saying the phone was turned off, it didn't even ring. Whatsapp, which they provide for more "convenient" access was not replied to, facebook Messenger got us nowhere. I could not believe that a S$550 a night hotel would not have 24h access yet there it was.
Eventually, at 9am Singapore time (8am in Indonesia) someone replied to my facebook Messenger and advised us that the phone was not on until 9am Indonesia time. We had an 11am ferry which meant that whoever was coming to greet us would be leaving around 9am Indonesia time, and wanted to warn them to avoid the wasted trip. Nothing.
The person attending to facebook Messenger promised she would try to reach out in the reception to get them to turn the phone on. Eventually, they started to reply to our Whatsapp messages, it was about 9,20am Indonesia time. We called and were given standard scripted answers "Sorry your booking is non-refundable". No options given, no empathy. We would lose the entire value of the booking, but we had no choice.
I tried to get friends to take the booking so it would not go to waste but it was too last minute as the only other available ferries on the day were at 5pm so they would have to leave after lunch to go home and pack.
Eventually, my partner managed to sort out his emergency and we managed to book the 8pm ferry in premium class. We lost a day on the island but we made it there. The interactions on the morning left a very sour taste in my mouth – this was not the level of professionalism and service I expected from a five star luxury hotel.
When we got to Bintan, our driver was waiting for us. We drove for about an hour to the ferry pier and then took a speed boat for 20 minutes to Cempedak. This is the same journey you do when you go to Nikoi which is right next to Cempedak.
As we got there very late, we had ordered our food prior via Whatsapp and it was ready. We had a late dinner at the resort's restaurant and a glass of wine before we retired to our pool villa.
The pool villas at Cempedak
Cempedak is a private island so there is nothing else on it but the resort. When we visited, there were some villas still under construction but once finished, there will be just 20 of them, that means there are only a handful of guests staying on the island and the emphasis is on privacy and seclusion so you could well spend your days in your villa without seeing other guests except at meals.
The resort is a pioneer in the use of bamboo in hospitality, at least to the extend it is used here, and it was designed by renowned Bali based architect Miles Humphreys from New Zealand. He is also the creative power behind other stelar hotels like Savoy Luxury Resort & Spa in the Seychelles; the Six Senses Yao Noi in Phuket, the Balinese inspired Santhosa Resort & Residences in Costa Rica, The Oberoi in Bali and Ubud's Mandapa, the third Ritz-Carlton Reserve.
The pool villas all come with, err, plunge pools filled with salt water which is more eco friendly than chlorine and easier to maintain. The salination was low enough not to show and that comes from someone who cannot open her eyes under water.
There are only two types of villas, the seaview ones and the beach level ones. The beach access pool villas in Cempedak are directly on the sand, so as you walk around your one half of a yin and yang shaped pool towards the sea, you immediately step on the beach.
The beach pool villas are slightly more expensive than the seaview ones, between S$50 and S$100 per night. Are they worth it? Not sure, since there is a lot of vegetation between the pool and the beach so you don't have such a view and the beach is so narrow the sand does not shine. I would advise in favor of the hilltop villas as they have more perspective. Either way, they are both very much the same.
The pool villas at Cempedak are made of bamboo and local elements like driftwood and sadly, they were already suffering from the elements and the corrosion of the ocean and the wildlife. The massive bamboo beams holding the ceiling in our villa were being eaten by a sort of bug that appeared to be a termite.
In the morning, or after every few hours, everything was covered in sawdust from the wood eating insects. All our stuff, our suitcases, our phones left to charge on the desk, etc. A real shame since the resort had only just opened, but we did confirm with the staff before leaving that they were treating the beams against this. Nature can be unforgiving.
Aside from the unforgiving nature, the thick bamboo beams are majestic and beautiful and the large open spaces and the rooms without walls or AC make for a spacious living.
Cempedak, like Nikoi, is free flowing and eco-friendly. Entirely designed using native materials and techniques and without any surplus use of electricity. There is no air conditioning, no hair drier, no mini bar fridge and no TV. There is however internet – thankfully, else we would have had to play Monopoly and talk to each other, quel horreur! There is also an iPad to connect with the staff and request anything, or to access the in-room brochure and materials.
Jokes aside, as much as I love the feeling of being one with nature, the lack of sealed walls to close the bedroom off completely at night meant that we woke up every morning with a floor covered in dead insect bodies, from large moths to mosquitoes and all sort of crawlies, together with the termite sawdust.
Getting out from under the mosquito net to visit the bathroom was an obstacle race around nature's best insect samples. After two nights there we could not figure out why they were dying every night until we found out that the resort's staff would spray the room during their turn down service. I felt slightly sorry to see the poor dead insects every morning, they needn't die.
The lack of AC was not an issue for us as the evenings were cool and we actually needed to close the folding glass windows to shelter from the wind but I remember Nikoi being very hot and for the nights to be tough to sleep in. Bear in mind I sleep with the AC at 29 degrees in Singapore so if I am hot, anybody will be steaming. There is a wooden fan inside the mosquito net to help as well which should be more than enough.
What did wake us up on the two nights were not the lapping waves, which we could also hear from our two storey villa, but the motor of a passing Indonesian fisherman going out to get his catch at 4am. Sadly, not much can be done in this regard as he has to make a living and the engine is incredibly loud so it could be heard from anywhere in the dead silence of night.
The rooms were interestingly designed, with very high ceilings made of alang alang thaching to promote air circulation, warm tones of white and wood with dashes of orange and little in the way of decoration or artifacts to distract you from the sea. It was pleasing to the senses and unique, not reminding me of any other place I have ever stayed at. With so much copycat and design replication, it was refreshing to see a new take on island living.
The first floor is accessed via a spiral staircase made of a single piece of bamboo which can twist completely in a circle. It made me think of the intricate bamboo scaffolding structures of Macau and Hong Kong where the flexible and humble wood is used as a replacement for steel, certainly resistant and impressive.
Did I mention there are no room keys? All rooms are open to the elements, to the animals and to the other guests, should they choose to visit. You have a safety box should you wish to put valuables away. We didn't, I never have as I am terrified of forgetting something in it. Besides, I don't have that many things of value. My phone is always with me, as is my camera, and often times my laptop and it is not like you could get away with stealing a drone in a private island.
The food and drinks at Cempedak Private Island
At Cempedak you are a bit of a prisoner to the chef's will as there isn't really anywhere else you can go and you have to purchase the full board option. But I was happy I did.
I remember the food at Nikoi being ok, but nothing to write home about and the lack of options a bit of a let down for the amount paid. I have to say that Cempedak is a major improvement on the food than at Nikoi. At the end of every meal, they pulled out the menu for the next meal.
There was only one option, except for breakfast where there was two. However, if the option was not to your liking, the chef was happy to oblige and make you something else. I would say the three course meals were excellent with a mixture of fusion and local Indonesian dishes elevated to international standard of finesse.
Indonesian food is not my favorite of all Asian cuisines, in fact, it is my least favorite, but Cempedak did an amazing job and all the meals we had were excellent. As my partner has a generous appetite, he got second servings of some of the dishes without a problem. The resort also has an adequate wine list with a few options from the New World by the glass and bottle.
Meals are all served in the open air restaurant building above the sea with lovely views and lots of corners, levels and booths to make you feel as if you were alone.
Aside from the restaurant, there are three bars and a floating sunset platform to enjoy a drink. There is a bar by the main pool, a bar at the restaurant and the main raised area from where you can have sunset views. On Saturday evening, before sunset, the resort's floating platform offshore is decked out with bean bags, sun loungers and a makeshift bar for everyone to see the sun go down.
Things to do in Cempedak Private Island
If you are coming to Cempedak to stay active there are a few water sports you can enjoy like snorkeling, sailing, stand up paddling and the like. If you want to dive, that can be arranged. There are also daily excursions you can join. However, they are only communicated via the in-room iPad so we missed them every time until we realised we should check the schedule in the iPad. I wished we had been told beforehand as an inconspicuous message 15min before a snorkelling trip departure was not helpful.
For the majority of the guests, a trip to Cempedak is usually a way to escape the busy life, so books, lazing around and sunbathing are more common ways to keep yourself occupied. If you wish to swim, there is also a pool which allows for a bit more than a dip, and the ocean. For more pampering, the resort will feature a spa.
On land, there are two tennis and croquet courts, and you can go on jungle walks with a member of the staff if you want.
The service at Cempedak Private Island
I saw the service levels at Cempedak, once there, to be quite high. The staff were very eager, kind and nice and were always smiling and looking to help. As it is a small team, you quickly get to know them all. They also immediately knew who we were and what room we were from, which made everything much smoother.
Upon departure we are also asked to fill a form with our feedback, which was sent to the duty manager who smoothly came to chat to us as we were waiting for our boat and discussed a few of the elements we raised, among which the bamboo bug situation and the fact that they are working to continuously treat the wood or the feedback with regards to the iPad notifications not being visible enough.
Value for money
I mentioned this before but Cempedak prices start at S$450 per night during the week and S$550 during the weekend and go up to S$650 for the beach villas. On top of that, add S$90 per person for food. That means that you are paying S$730 a night for two all in. This may seem a lot of money in isolation but when compared to similar luxury island getaway alternatives near Singapore it is just above the average for something that is newer, of higher quality and more exclusive. See below a table comparing the prices for all the luxury resorts in Bintan and Batam.
* Price per room for two people with breakfast
Cempedak is one of the most expensive, and also one of the highest end. If you want a romantic weekend getaway it is one of the best options, only second to The Sanchaya or recently opened uber-luxury Bawah Island. A more affordable place to stay is the luxury glamping Natra Bintan.
The verdict: My review of Cempedak Private Island
I found the villas at Cempedak very spacious, well-designed and comfortable. There were a few things I mentioned above which could be improved, especially the sawdust covering it all and the many insects every morning but I guess these are all to be expected of a true tropical getaway in sync with nature, and they did not affect my stay.
Cempedak is not cheap, as indicated on the pricing comparison above, but it is one of the nicest. If you do not mind splurging, you will enjoy it.
Remember to Pin this to your #barefootluxe Pinterest board