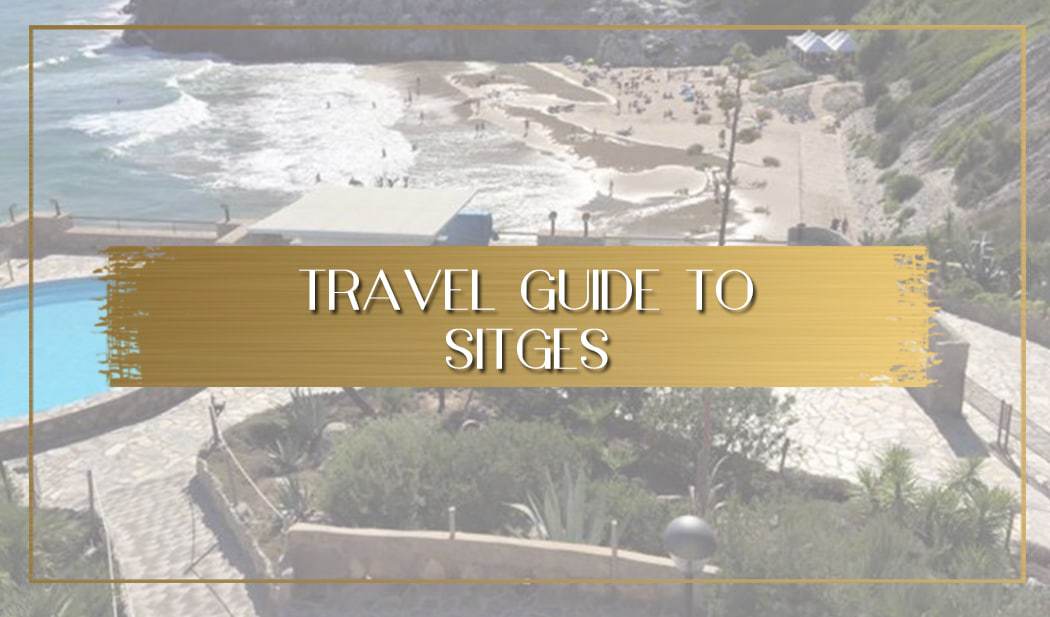 Sitges is a tiny coastal town 30km south of Barcelona which can be reached by road or by train. It is a popular weekend destination, with many Barcelonians having a holiday home there. For me, it is my home town, where I grew up. So this guide to Sitges is packed with real local sites and activities.
After over three and a half years of having this blog I could not live with the thought of not having a proper guide to my hometown, including everything I tell visitors about the best things to do in Sitges, all the places to eat, the shops to visit, the spots to take it all in, the best bars for an aperitif, the most amazing sunset and sunrise places, and also, the best hotels. And of course, the best beaches in Sitges.
I do not live in Sitges now, as I am based in Singapore and have lived outside Catalunya for over 13 years, but my apartment was on Airbnb for five years so I had plenty of opportunities to share my recommendations on where to go and what to do in Sitges with my guests.
Sitges is such a popular destination and residential address that with less than 30,000 inhabitants it receives several times its size in day visitors and overnight stays. With 5,000 hotel beds, 2,000 camping spots and a large proportion of Airbnb rentals, it is possible that the town receives well over a million visitors.
Naturally, I have found myself writing emails about recommendations and a complete guide to Sitges one too many times. This guide to the best things to do in Sitges will provide a personal list of recommendations from a local, just like the one I have for Barcelona. I have also written a guide on how to get from Barcelona Airport to Sitges which will answer any questions on transportation methods and prices.
Or, if you don't have time to explore on your own, visit on a half day tour from Barcelona or a combined Sitges + Tarragona full day tour to make the most of your day.
A brief history of Sitges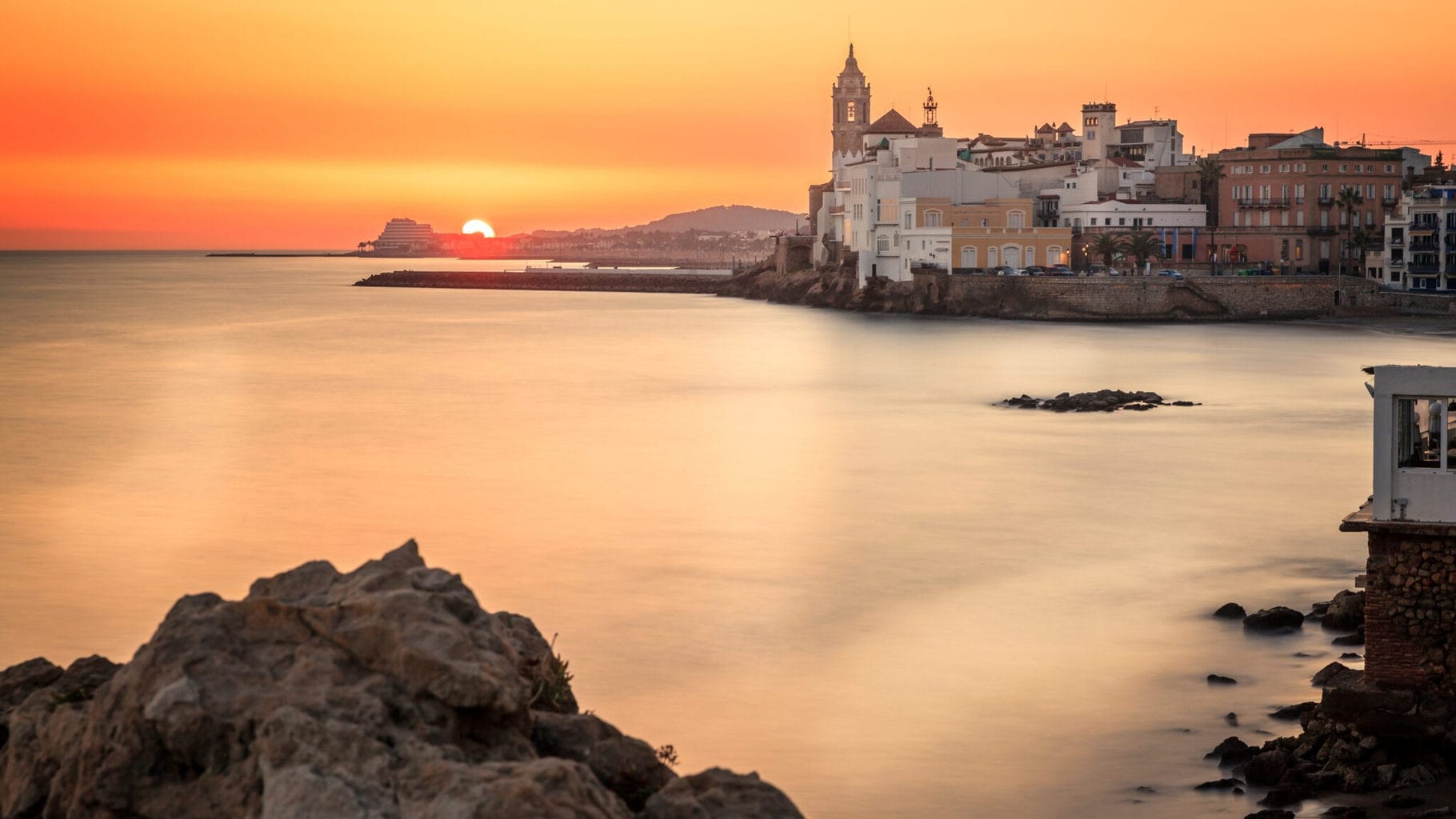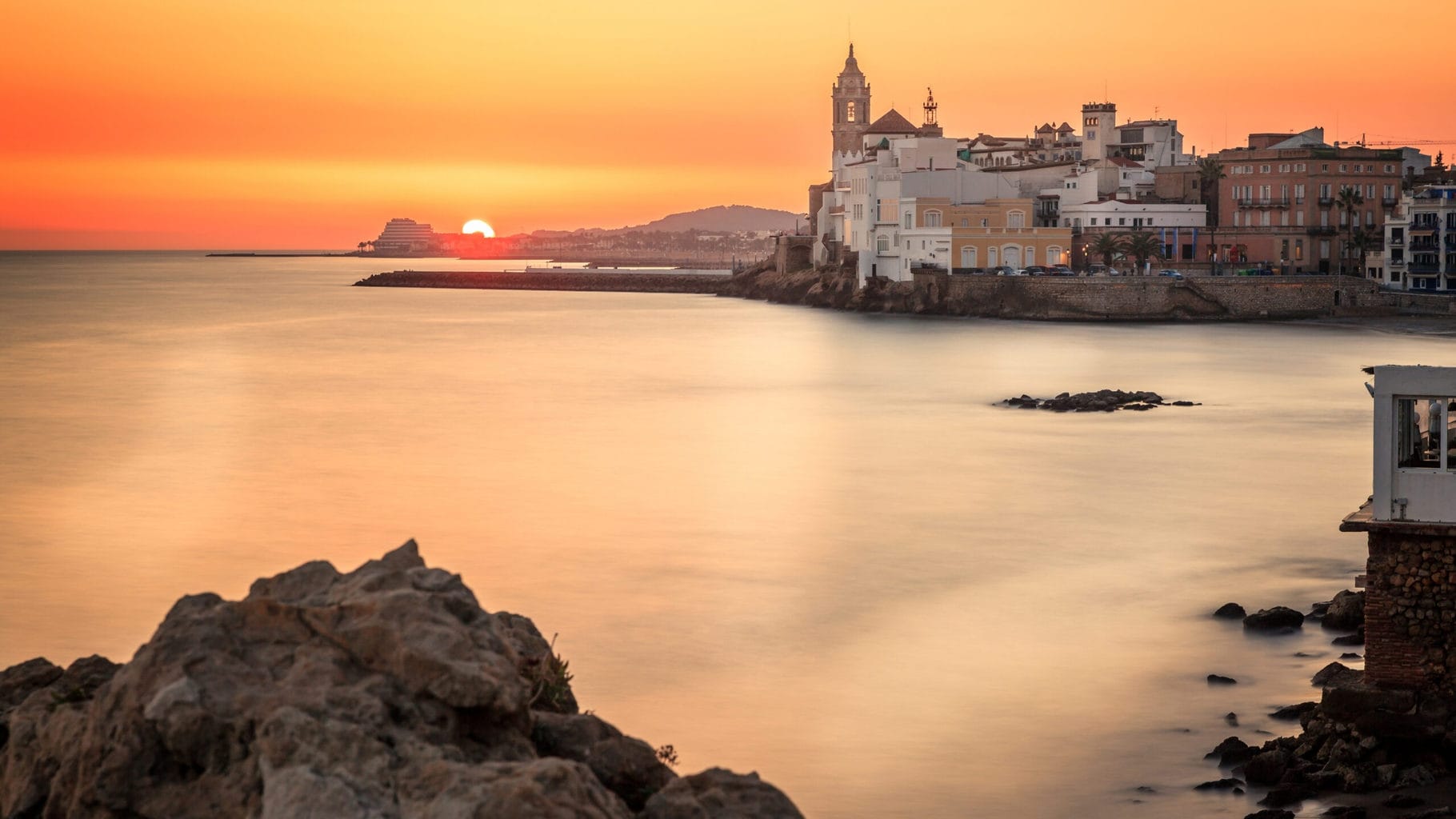 Thousands of people descend on the town every year to enjoy one of the many things to do in Sitges, and in particular, its beaches. But did you ever wonder where it all started? Let's have a brief look at its history.
The word Sitges means "silo" in English and it refers to the underground holes used to store wine. Before the tourist and LGBT boom of the 60s and 70s, Sitges was a wine producing fishing village big in shoemaking and with a thriving artistic and cultural scene.
The name was given by the Sitges family who took over the town in the 12th century. But the town's history dates back to thousand of years ago, from the Neanderthal period when it is believed that humans inhabited the caves at either end of the town. A Neanderthal jaw found in the Cova del Gegant in the 1950's dates back to 53,200 years ago and is one of the oldest human remains in Catalunya.
Fast forward to Medieval times and it is believed that Sitges had a castle where the Town Hall stands today. A few remains of that castle are still kept in the Cau Ferrat Museum. The area was under a few feudal masters and in the 14th century, the "seigneur" of Ribes (the town next door, where my father lives) ceded the castle and domain of Sitges to the Sitges family who ceded the rights to Bernat de Fonollar, the right-hand man of King James II the Just, later on.
When he died, Bernard de Fonollar had no heir so his properties were left to the Pia Almoina, a charitable institution run by the See of Barcelona. The Pia Almoina had to fight for ownership for 300 years as the Sitges town hall tried to become independent and report directly to the Crown of Aragon.
Sitges suffered in the 17th and 18th centuries as a result of the conflict between France and Spain. First in 1640 when 600 Napoleonic soldiers from Felipe IV of Spain's army overran Sitges and ransacked it.
Later, in 1649, during a two-day siege when the Castilian troops of the Viceroy of Catalunya attacked it via sea and air destroying a part of the wall, the castle and two towers and seriously damaging the church of Sant Bartolomeu i Santa Tecla, which was rebuilt in 1682.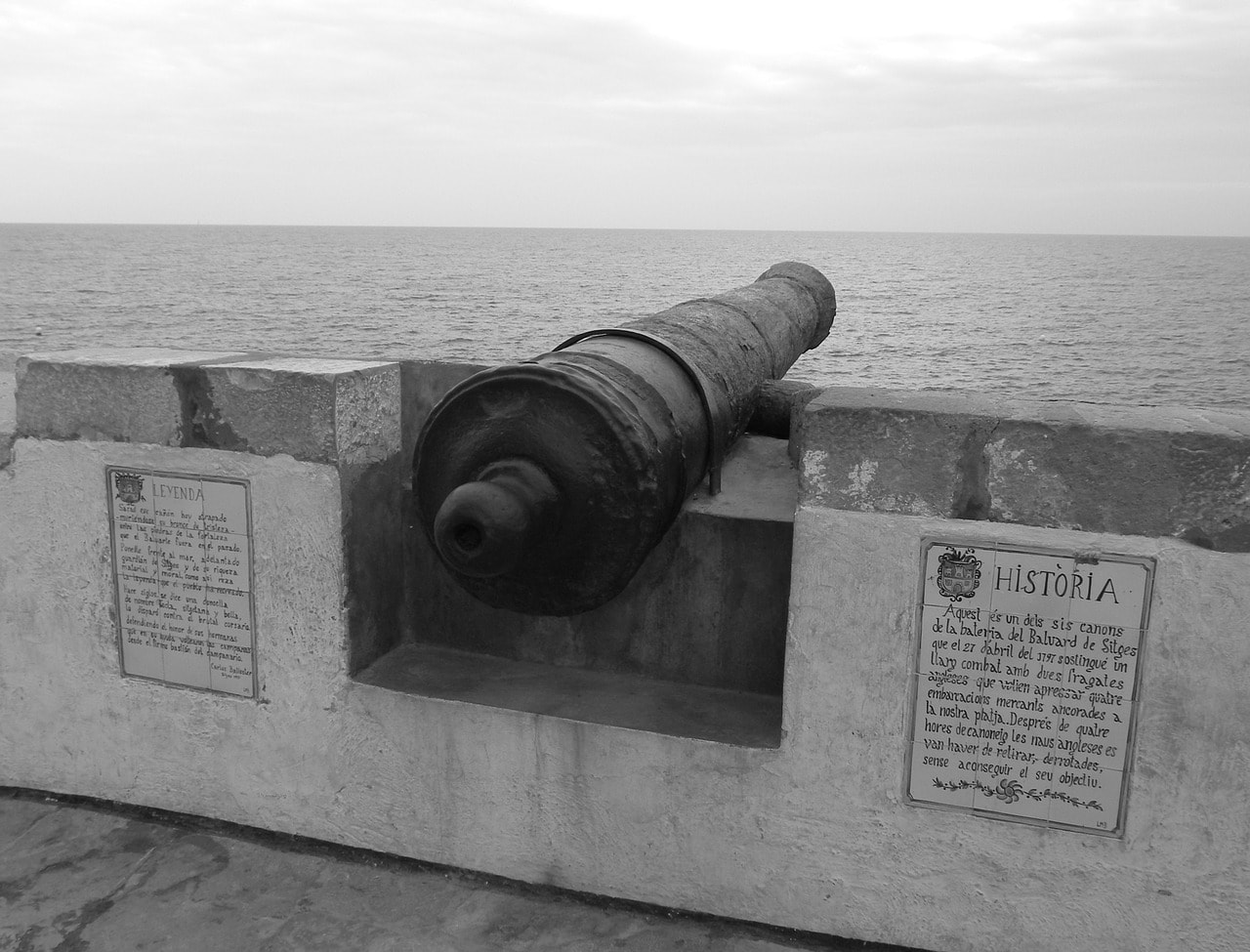 During the Spanish War of Succession (1700-1714) Sitges suffered attacks from soldiers on both sides, bandits and pirates, so the typical Catalan country farms (masies) were fortified and watch towers added. A flotilla was moored under La Punta, the Church that has made the town so famous and stands as the most recognisable landmark, to fight piracy.
The remaining cannons from the time can be seen in front of the church. They succeeded in preventing the British from taking a boat anchored in La Fragata, the area under the church where the flotilla was moored and name of a local restaurant located in its place that is an institution.
The town managed to continue growing thanks to the 1778 Free Trade Act with America which allowed the citizens to emigrate to the new continent and set up import and export businesses. This gave way to what we call Americanos, successful Catalan entrepreneurs who emigrated and returned to Sitges to spend their summers and holidays bringing back large sums of money that were injected back into the village. The most famous one was Facundo Bacardí, the founder of the famous rum company, the largest in the world, who was a native of Sitges, emigrated to Cuba to found Bacardi rum and returned to the city after. A museum for the company sits large next to the Town Hall in a Catalan Art Nouveau building.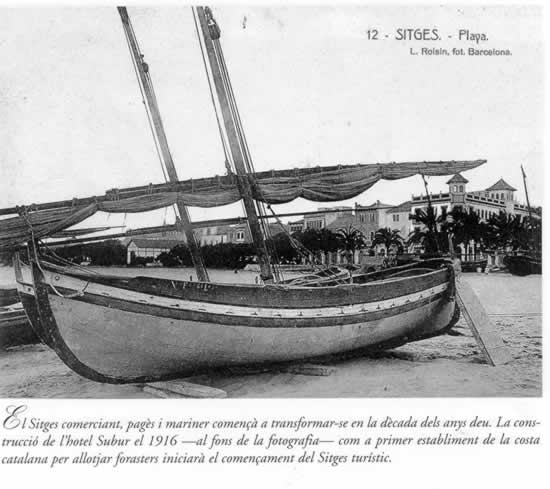 The phenomenon of the Americanos brought much progress to Sitges and can be appreciated throughout the town with several large mansions built in the style of the colonial houses of Puerto Rico and Cuba, where most Sitgetans (citizens of Sitges) emigrated.
This particular part of the town's history is also reflected during the local Festa Major, the town's patron saint's three day party at the end of August, which includes Giants made of papier mache that are paraded to the sound of folkloric music. Two of them are The Cubanitos and represent the Americanos who went to Cuba, then a Spanish colony. The Sitges Giants, so common of all Catalan Festa Major (every town has one), are the oldest in Catalunya and date back from 1897.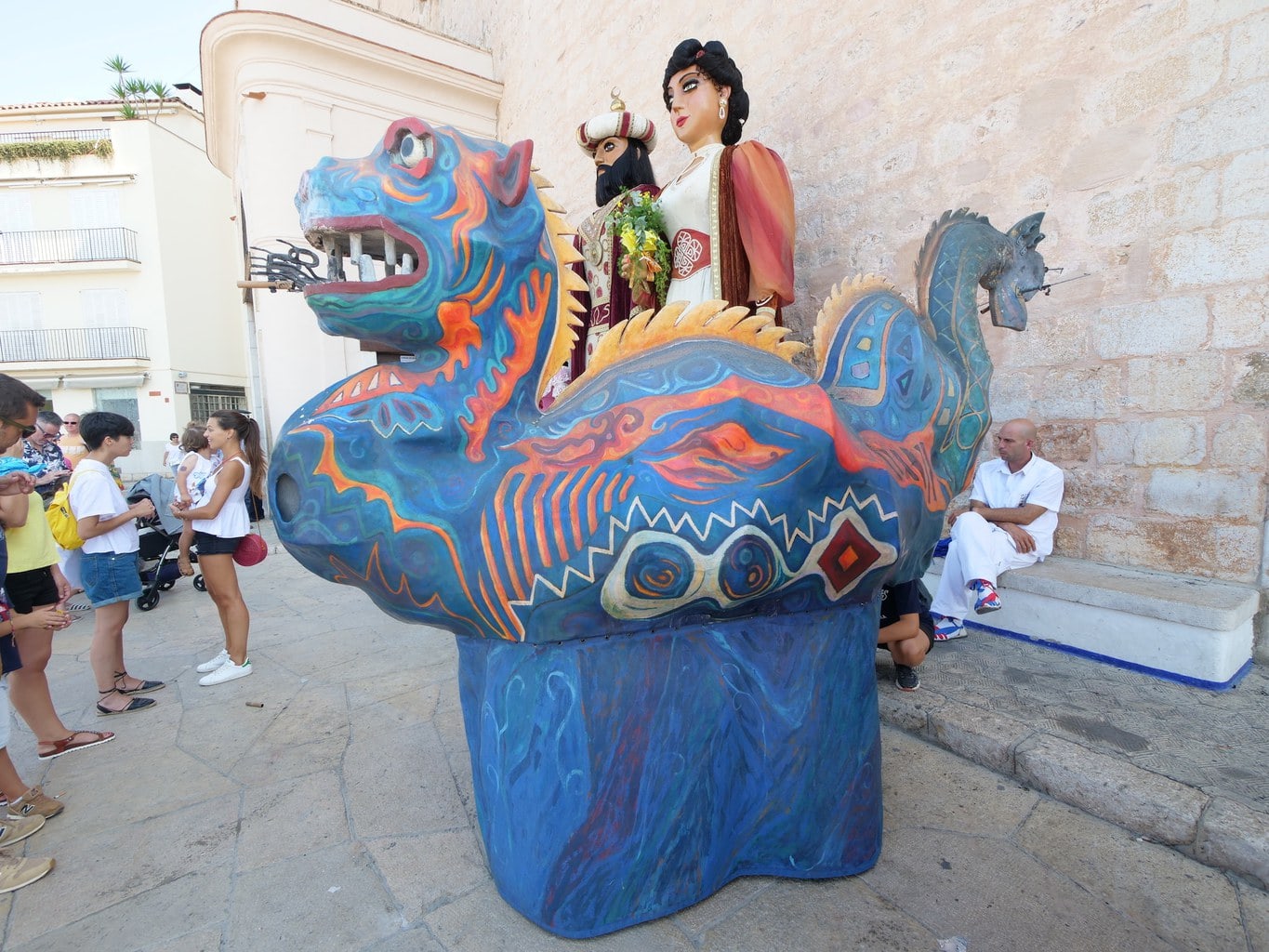 Some of the most important factories in Sitges were set up then. A spinning factory called La Union Suburense, a cask making factory and a shoe making factory which would employ 75% of the population at the beginning of the Spanish Civil War in 1936. Even the recreational society El Retiro, still in use in the exact same place today, was set up in 1870.
The Casino Prado Suburense was opened in 1877 and is the second most important social gathering place in town. The second newspaper in Sitges, El Eco, today known as L'Eco de Sitges, was launched in 1887 and is still in circulation today. My grandparents and now my mother hold a lifetime subscription and it is a fine example of a surviving local newspaper that helps a tiny town stay abreast of all developments and social events.
A village that was isolated by the Massis del Garraf mountain range, Sitges became well connected to Barcelona in the 19th century when the coastal road, still very much in use today, and the railway line connected it to the metropolis.
At the turn of the 20th century, Sitges became the center of artistic endeavours and a focal point during Gaudi's Modernism. Painter Santiago Rusinol very much contributed to this by setting up his studio in the Cau Ferrat is an emblematic building and an incredibly stunning location that is today a museum. A cement factory still in use today and owned by Uniland was built in Vallcarca at that time, between Sitges and Barcelona, and the staff colony that came with it at once employed 5,000 workers.
Sitges tourism experienced a boom when the city's quaint beauty started to spread thanks to artists and Americanos. The first hotel opened in 1916 (the Subur Maritim, still standing in the middle of the town today) and the Terramar Hotel, bought by Melia in 2017 and being refurbished completely, opened in 1933. The residential premium neighbourhoods of El Vinyet and Terramar, further away from the town center, were developed then. Some of the mansions are still standing to this day and were built by bricklayers like my grandfather who passed away in 2015.
The sea promenade, extending 2,5km was also developed and lined with palm trees then. The Terramar racetrack opened in 1923 and was the first car-racing circuit in Spain and the third in Europe. Sitges attracted famous artists of the time, poets, architects, painters, intellectuals, journalists, sponsors and the wealthy.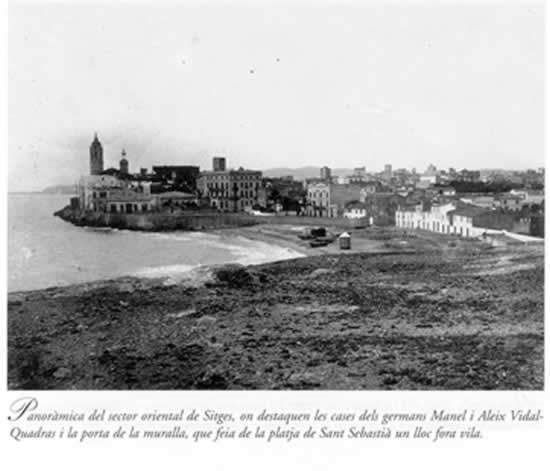 When the Civil War started, Sitges, like the rest of Catalunya, entered a dark period when all the artistic appeal and openness of the city was stopped and went into hibernation until the second half of the 20th century when things started to improve and by the 60s and 70s, especially after Franco's death, 75% of the population had moved from shoe making to tourism and most of the now famous festivals and cultural events that make the town proud and known were launched. If you ever wondered what to do in Sitges, the calendar of events is a good place to start.
After Franco's death in 1975 and the arrival of democracy, Sitges experienced a renewed boom. And the world famous Sitges Carnival, banned during the dictatorship, was re-established.
The Port in Aiguadolc was built and the highway to Barcelona, opened in the 90s, greatly facilitating travel time to Barcelona and the airport and turned the town into Catalunya's second congress destination after Barcelona. Hotels sprung up and restaurants, bar and societies flourished.
Bonus Barcelona Guide

Apart from this guide to Sitges, you should also check out my detailed guide on Where to stay in Barcelona which describes each neighbourhood and best hotel recommendations – Psst I am a local to the city! Explore the rest of the continent by car in an epic road trip across Europe.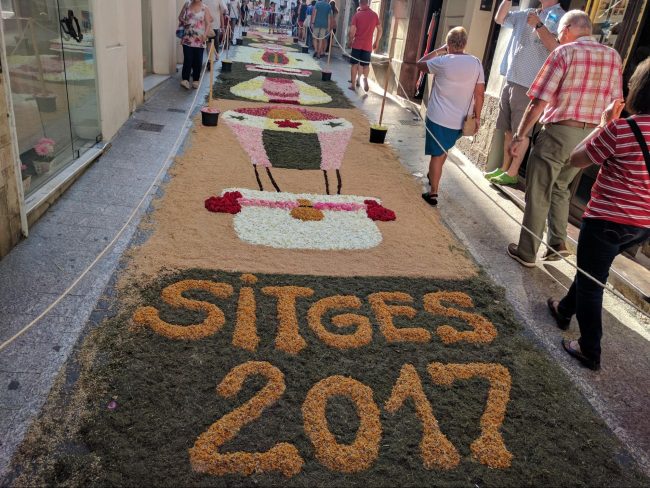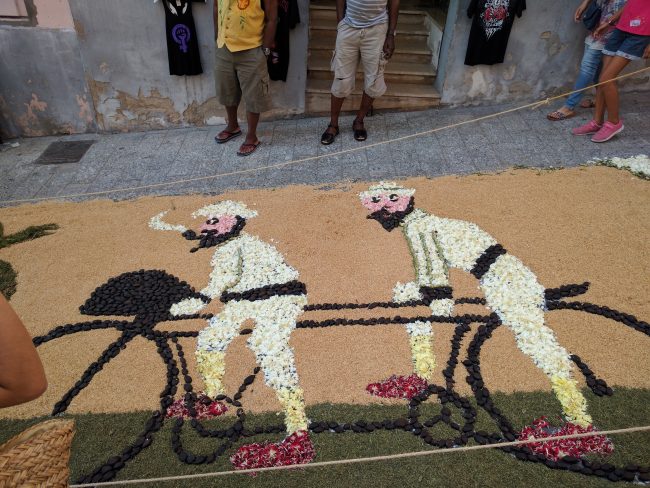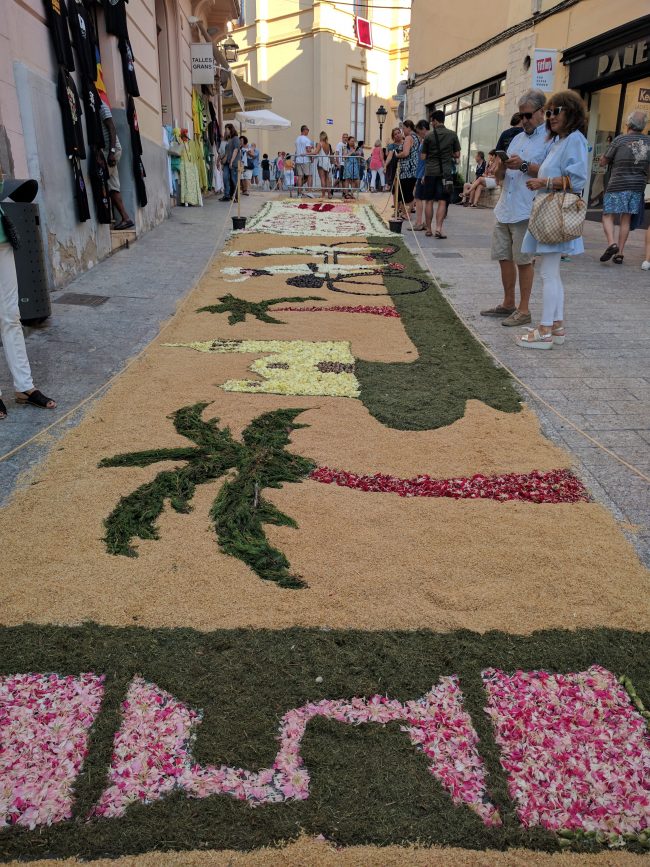 For a town of less than 30,000 inhabitants there are lots of things to do in Sitges including 50 events a year, one for every weekend, sometimes two. From the Vintage Car Rally to the Corpus Christi Flower Carpets, the Carnival, Gay Pride week, the Harvest Festival, the Fantastic Film Festival and all the other religious and pagan celebrations.
Sitges' openness and artistic past is embedded in the people. There are three nudist beaches, the regular ones are full of topless women, trans-sexuals openly showing their journey, people walking barefoot or barechested in the streets, men holding hands, women kissing. And for this, it is also one of Europe's most important gay destinations, loved by all of my gay friends.
If you are still wondering why it has become so popular, I am about to show you the best of Sitges. But I will start by giving a few stats from the local tourism office. It is said that the microclima the town enjoys brings 300 days of sun and that is another reason why so many artists chose to settle there, the light.
There are 5,000 hotel beds, almost 2,000 camping spots and many Airbnb and private rentals; one golf course; three marinas and 26 beaches. For a town of this size, Sitges has a very multicultural society with residents from 90 nationalities. Care to find out more? Read on…
Map of the best things to do in Sitges
Guide to Sitges & the best things to do in Sitges
No doubt if you asked 10 people what to do in Sitges you would most likely get different answers and this is because despite being a tiny place, visitors come for various reasons. Some love to chill on the beach, others to party, and some to escape.
The sun and year round nice weather means visiting is always a good idea and you will always find many things to do in Sitges no matter the time of year. As a local, let me share my insider knowledge with you.
Enjoy the beaches in Sitges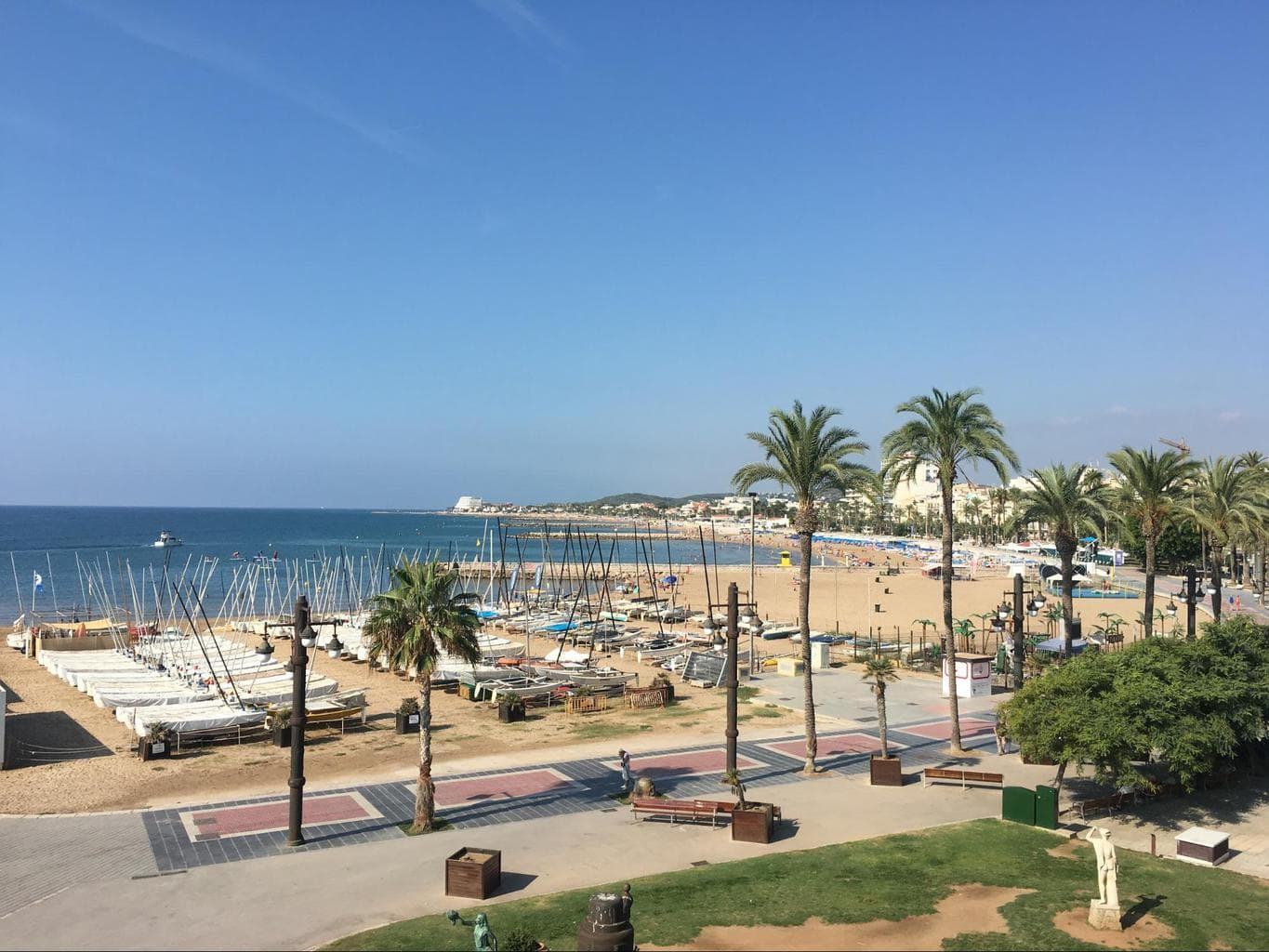 The number one thing to do in Sitges is enjoying its beaches. But to answer which one is the best beach in Sitges is a matter of personal choice, that is why all of them are always equally full. With 26 beaches you are sure to find at least one that will be perfect for you.
The most popular beaches in Sitges are between La Punta (the church) and the Terramar Hotel, at the end of the sea promenade. In that stretch there are seven beaches, all of them flanked by rocky piers at either side. These piers make the town very quaint and prevent the sand from being taken away by the sea. They also help patrolling the beaches for safety and keep the larger waves tamer. Each of these bays has a name.
No guide to Sitges is complete without its beaches. Below you will find the best of the beaches in Sitges along the promenade starting from below the church. To the other side of the church there are some more and finally, another two beaches located further away from the main urban center but worth mentioning.
Beach of La Fragata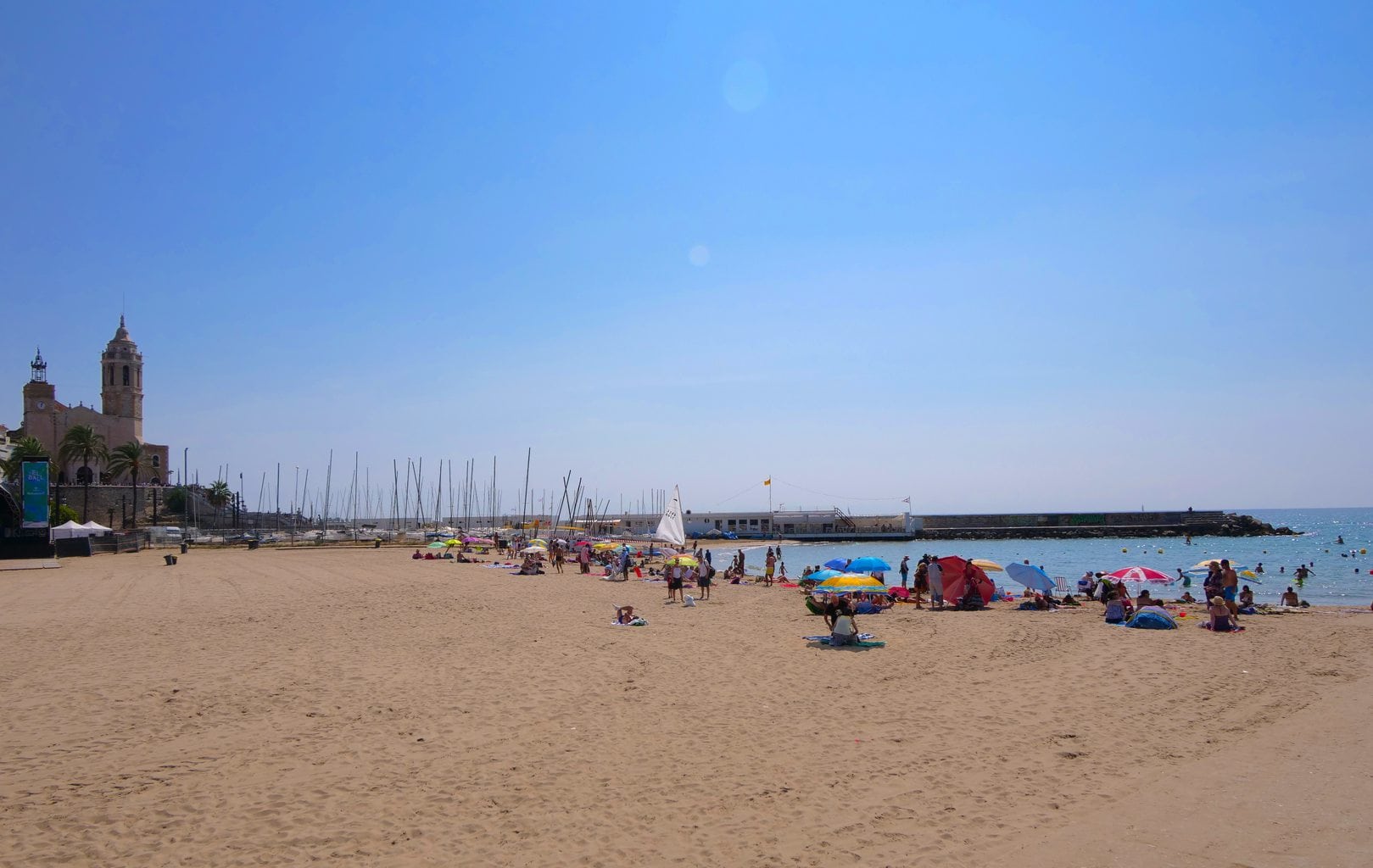 This is the beach of the sailing club where the smaller sailing boats are moored or stored. There are usually volleyball tournaments or people playing volleyball in the two nets there as this is one of the many active things to do in Sitges. These were there 20 years ago when I was a teenager. La Fragata is a popular beach in Sitges with families and, because it is small and centrally located below the church, it is one of the first ones to fill up.
La Ribera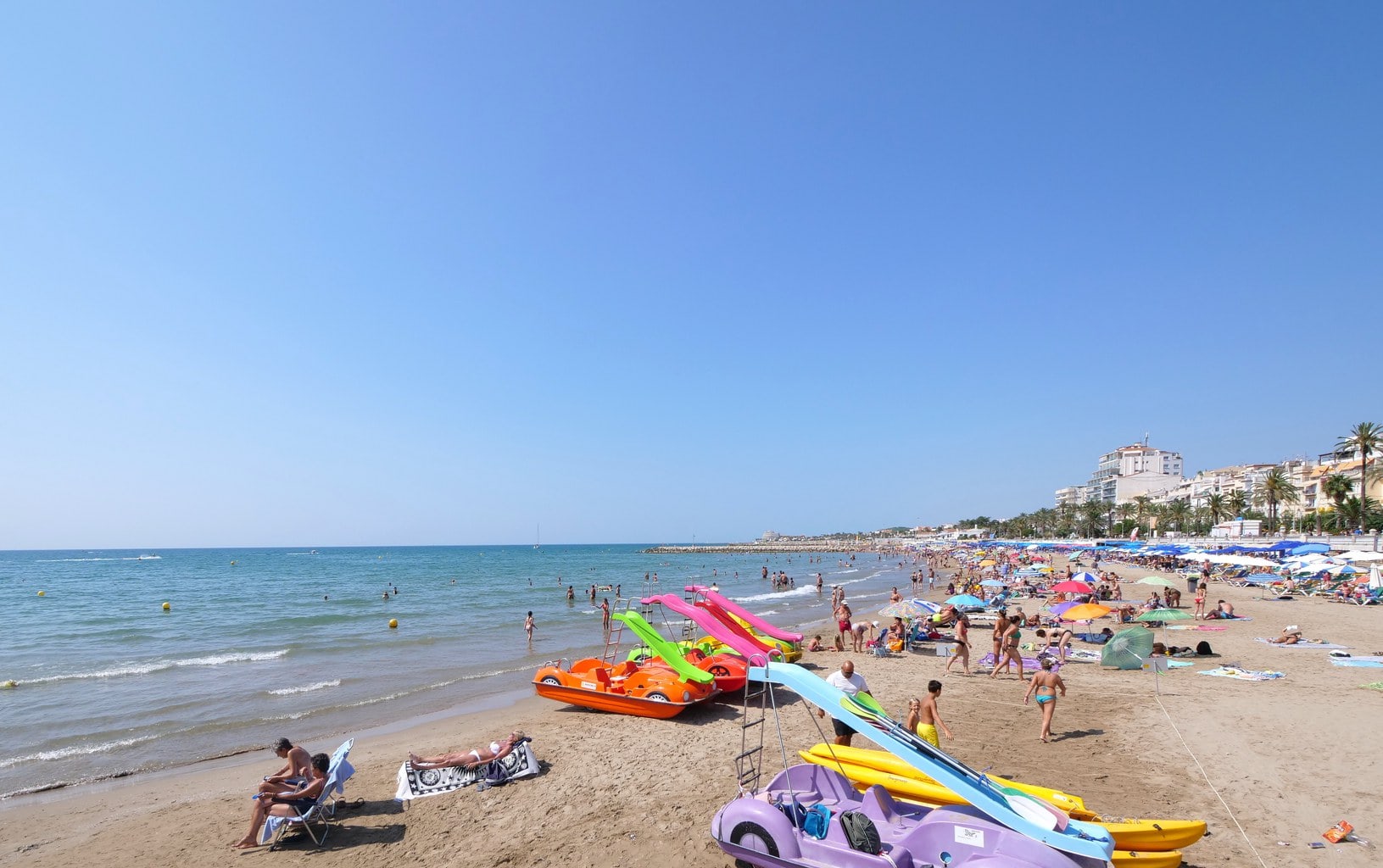 La Ribera, translated as "the shore", received its name from the origins as the first stretch of beach in Sitges to develop. It is located in front of the Subur Hotel and it is most crowded beach in Sitges because it is the easiest to reach from the main streets. It is pleasant and has sun beds, umbrellas and tents for rent and chiringuitos (beach kiosks selling drinks and snacks) all along so you are well catered for.
In the weekends or peak summer months it can get very busy but its location, close to the town center, makes it ideal if you want to spend the day there and leave the towels to go for lunch only to return back. Especially if you rented a sun lounger. The beach also has a massage point and plenty of street vendors parading their goods, from pareos to dresses, hair braiding, beach mats and towels, mojitos, hats and sunglasses. Because it is always full and happening, it is rarely quiet.
Bassa Rodona
This is the most popular beach for gay travelers. Like all beaches in Sitges, it is open to everyone, but gay visitors tend to congregate there especially on the half that is closest to the Calipolis Hotel. The beach here is more crescent shaped and the middle part, near the Swimming Club, is very narrow, with little sand left. There are two bars that have been there since immemorial times and that were open at the beginning of the Sitges tourism boom: Picnic and the Swimming Club.
Platja de l'Estanyol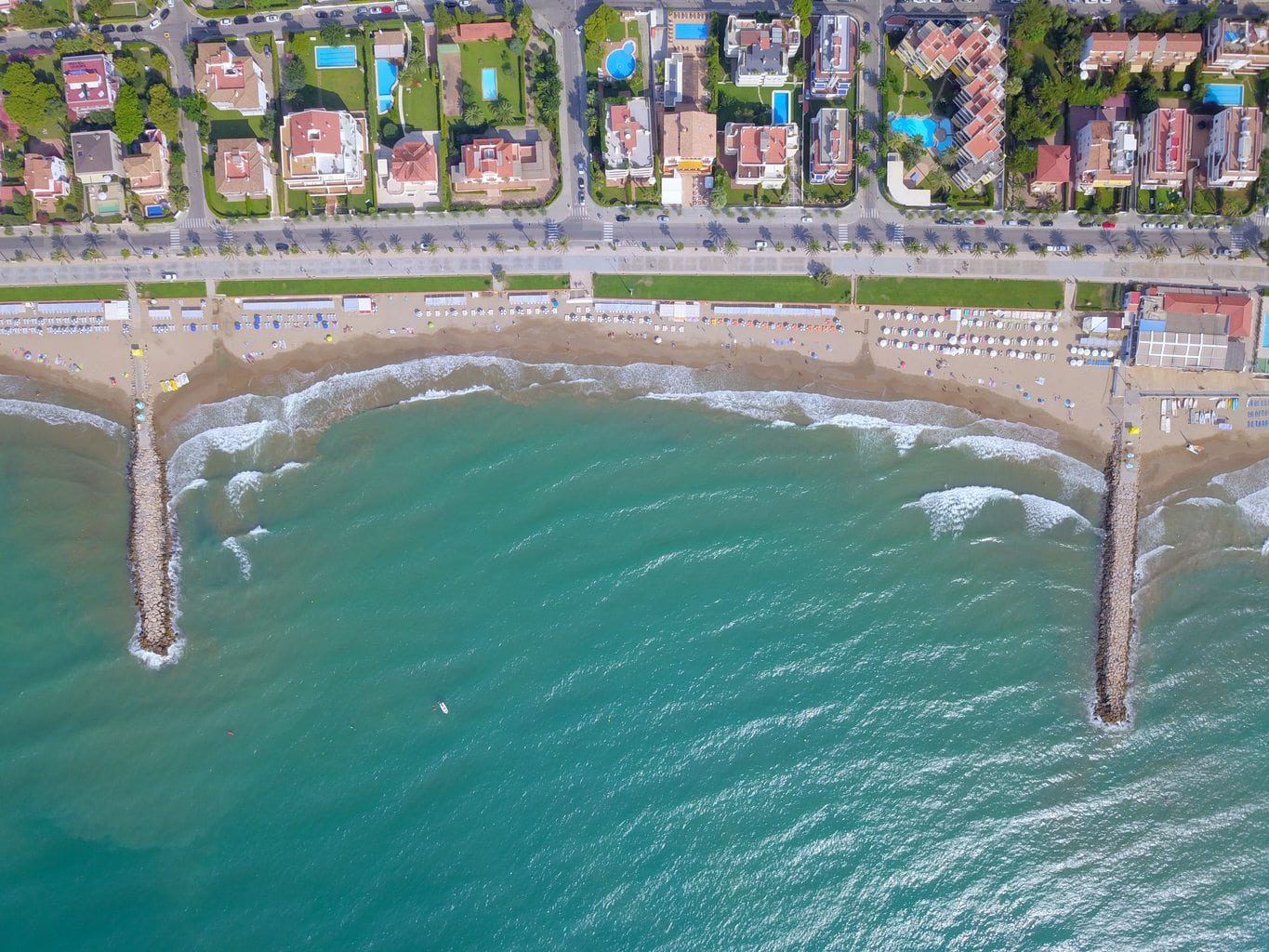 Next one down from Bassa Rodona, Estanyol is a narrow stretch of beach that is often wiped away during the rougher winter months. It is quaint and because of the narrower size, you never feel too crowded or far from the water. There is a bar at on end, under the promenade and the well known Alberto Beach Club which rents sun loungers, proper sun beds, umbrellas and has a full service bar. There are also massages on offer.
La Barra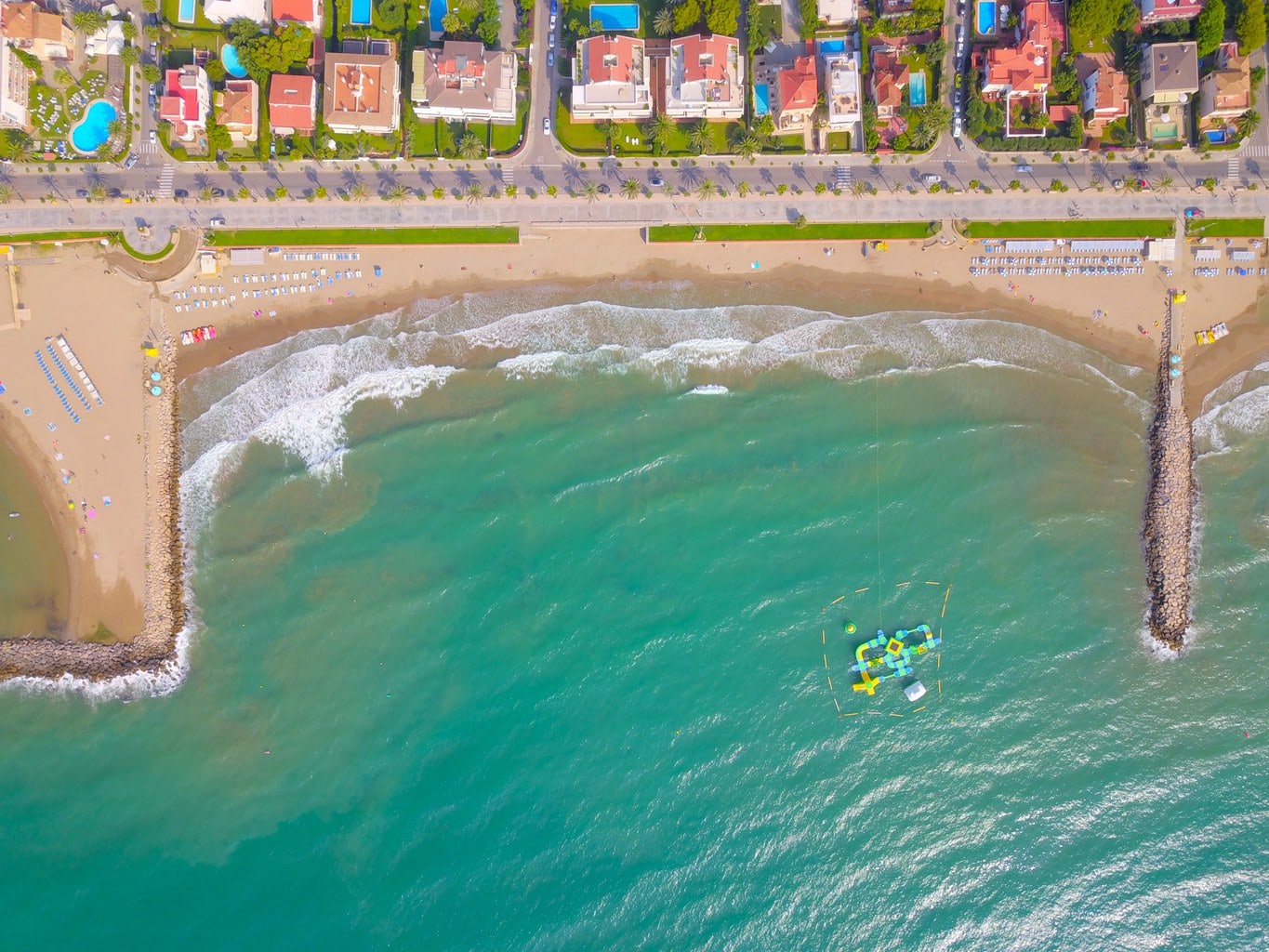 Known for the two small islands that are found in the middle of the bay, La Barra is a more peaceful and quieter beach in Sitges as the waves are stopped by the islands. As a result, it is frequented by families with small children. This is the beach that starts where you can see the monument halfway along the promenade, a natural landmark used by the locals.
The half of the beach that is closest to the monument is called Sausalito, like the beach town in California, and is the most popular among the younger local elite who park their scooters in the area and come here to see and be seen.
Platja de Terramar and Anquines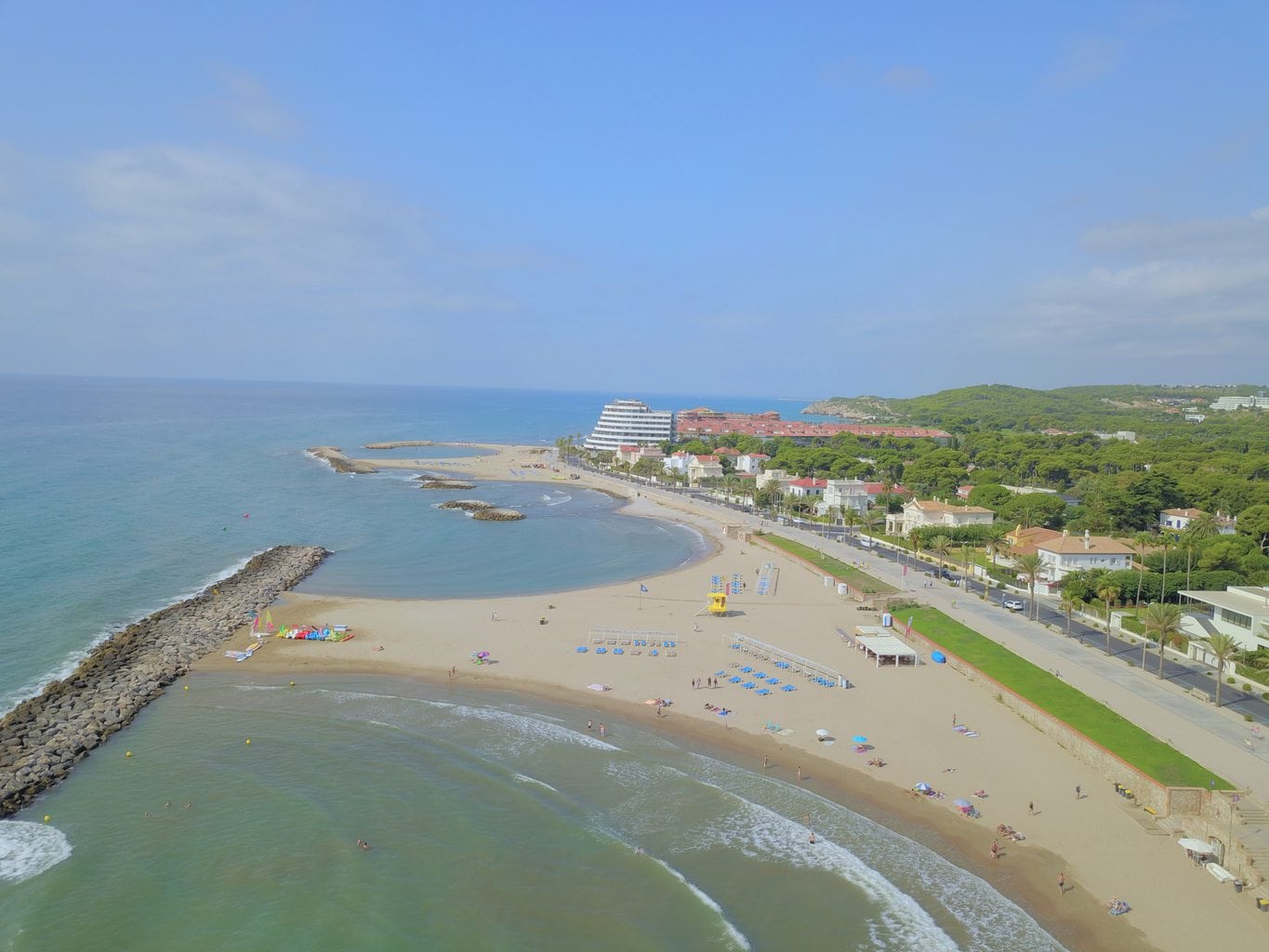 Named after the residential area that is located at the end of the promenade, Terramar beach has four artificial islands that help protect the sand from the currents. Despite their existence, the sand is regularly wiped away and some parts of the beach are just cement. I like this beach because it's farther away location make it a perfect escape from the town.
Outside of the hyper peak summer months and weekends, this beach is empty and quiet. Anquines is the small almost entirely enclosed beach that follows Terramar and it is actually an artificial beach created in the 20s to service the tourism industry.
There are stand up paddle boards and kayaks for rent and even guided tours. It is usually frequented by families and guests of the Terramar Hotel, just in front. It is also one of the easiest access beaches for those not living in town who can come from Vilanova road and even park in the quiet Vinyet Residential Area streets without paying and under the shade of pine trees.
Platja de Sant Sebastia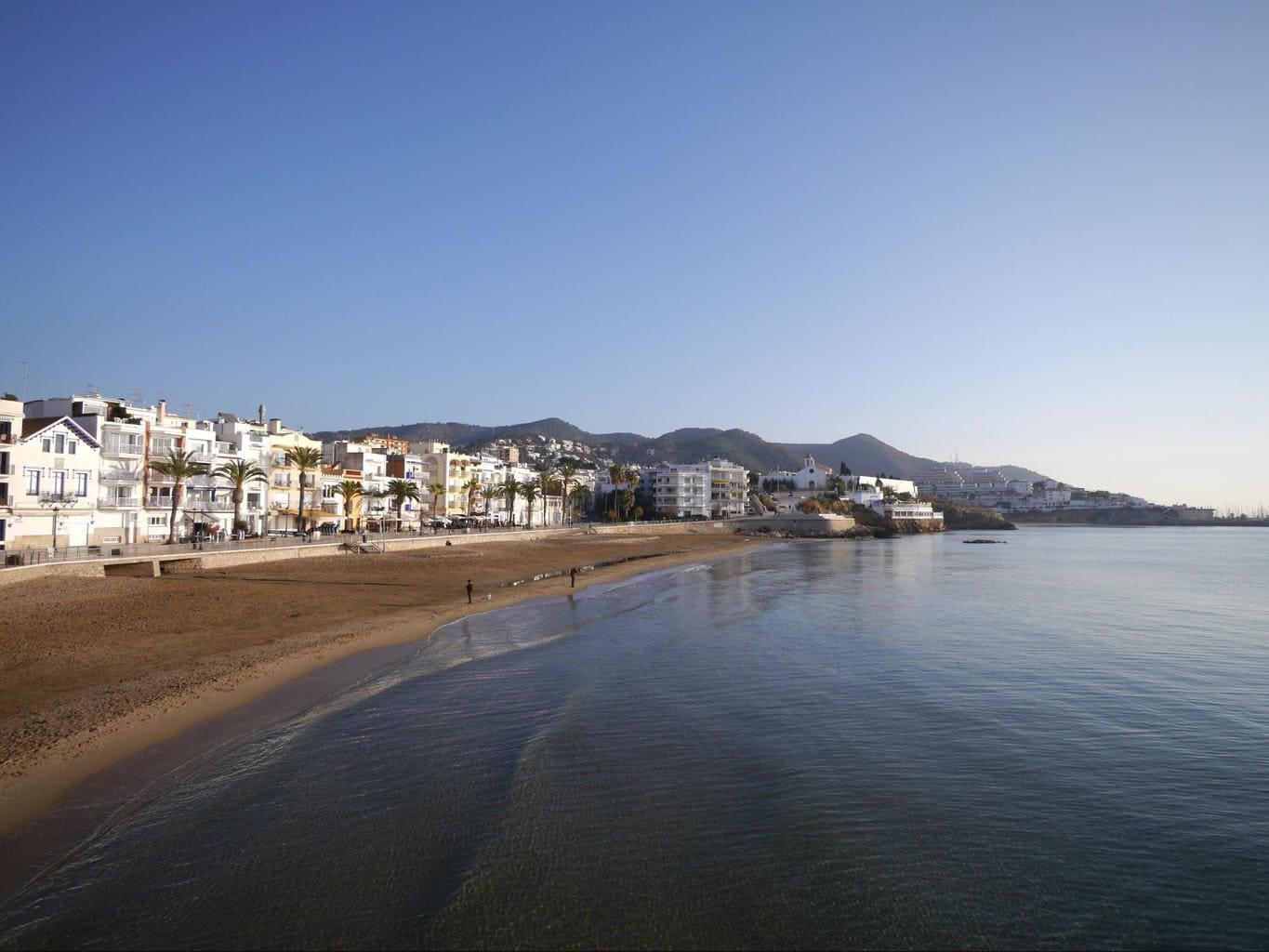 On the other side of the church, behind its entrance, there is one of the most historical beaches, the Platja de sant Sebastia. If you look at pictures from the beginning of the 20th century, before Sitges became a touristic center, the town lived off the shoemaking industry and fishing, and Sant Sebastia was where the fishermen boats were anchored and departed.
It was then a stretch of sand without any facilities or buildings. Today, Sant Sebastia is more traditional and popular with local and tourists staying in that part of town. As it is located below the promenade, it makes for a quaint picture and the view of the church provides a good framing.
Balmins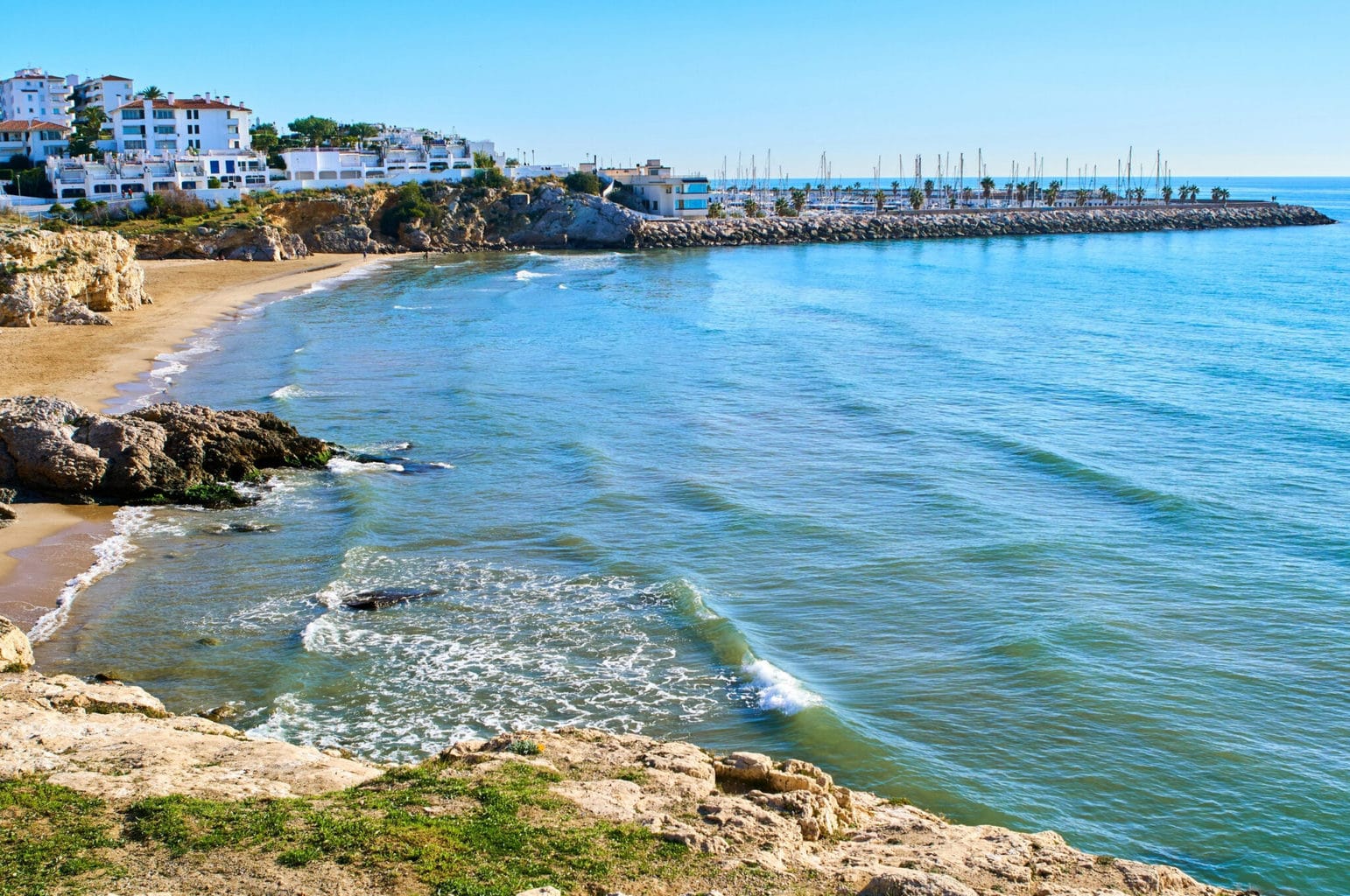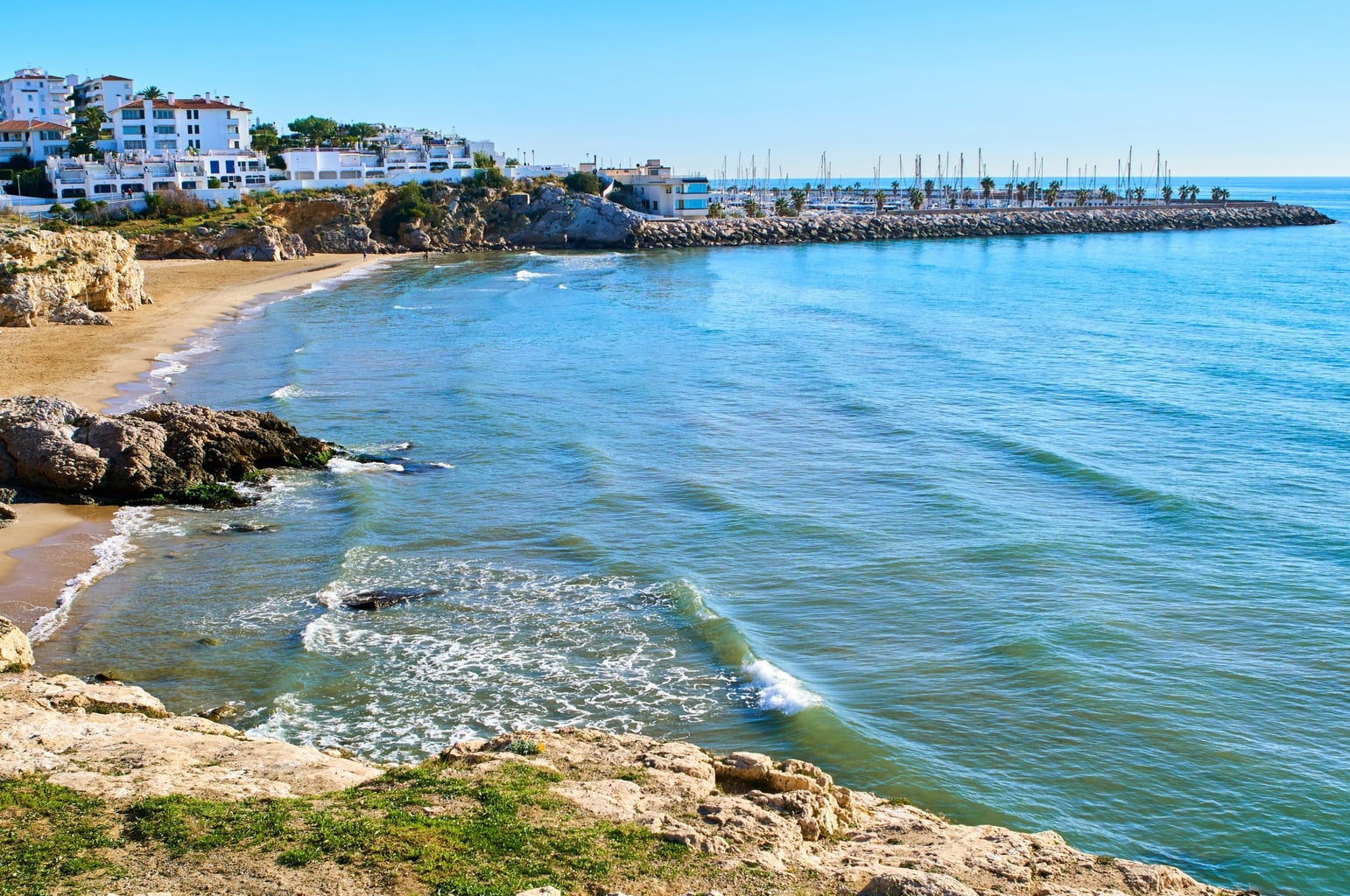 This is the most accessible of Sitges nudist beaches because it is essentially in walking distance from the port, from Sant Sebastia and the rest of the town so for those who have never been to a nudist beach before, checking out Balmins makes for an exciting thing to do in Sitges. It is officially mixed so clothes are optional. As the beach is naturally split into two parts by a rocky outcrop, the more secluded area tends to gather the nudists while the other part is filled with regulars and families.
The beach can be reached through a rocky path down from the cemetery or through the steps that connect it to the Port d'Aiguadolc marina. It is a pretty beach with a nice bar and the beautiful framing of the white washed houses and apartments of the port. I very much like Balmins and I spent an entire summer there as a lifeguard when I was younger.
Cala Morisca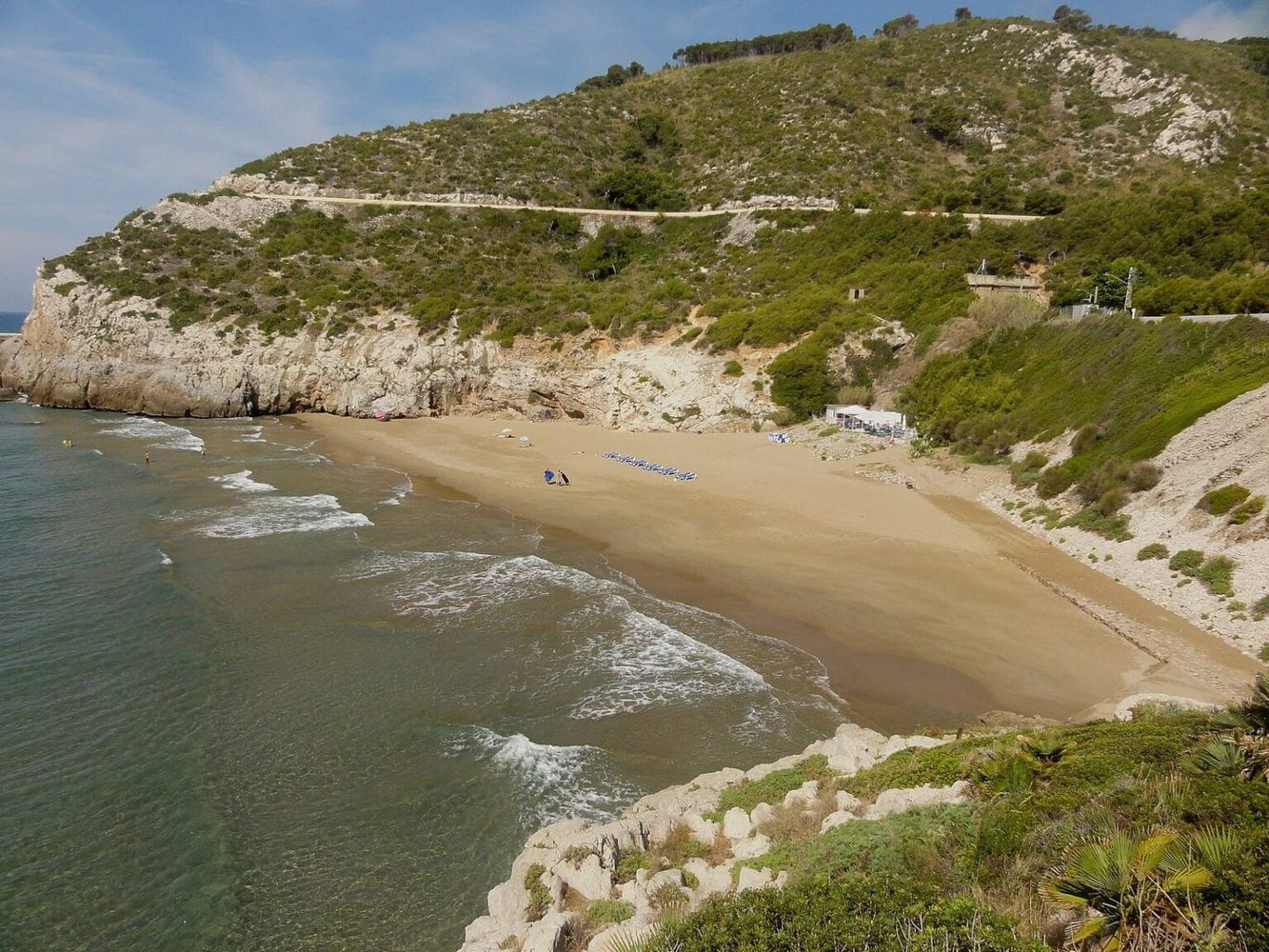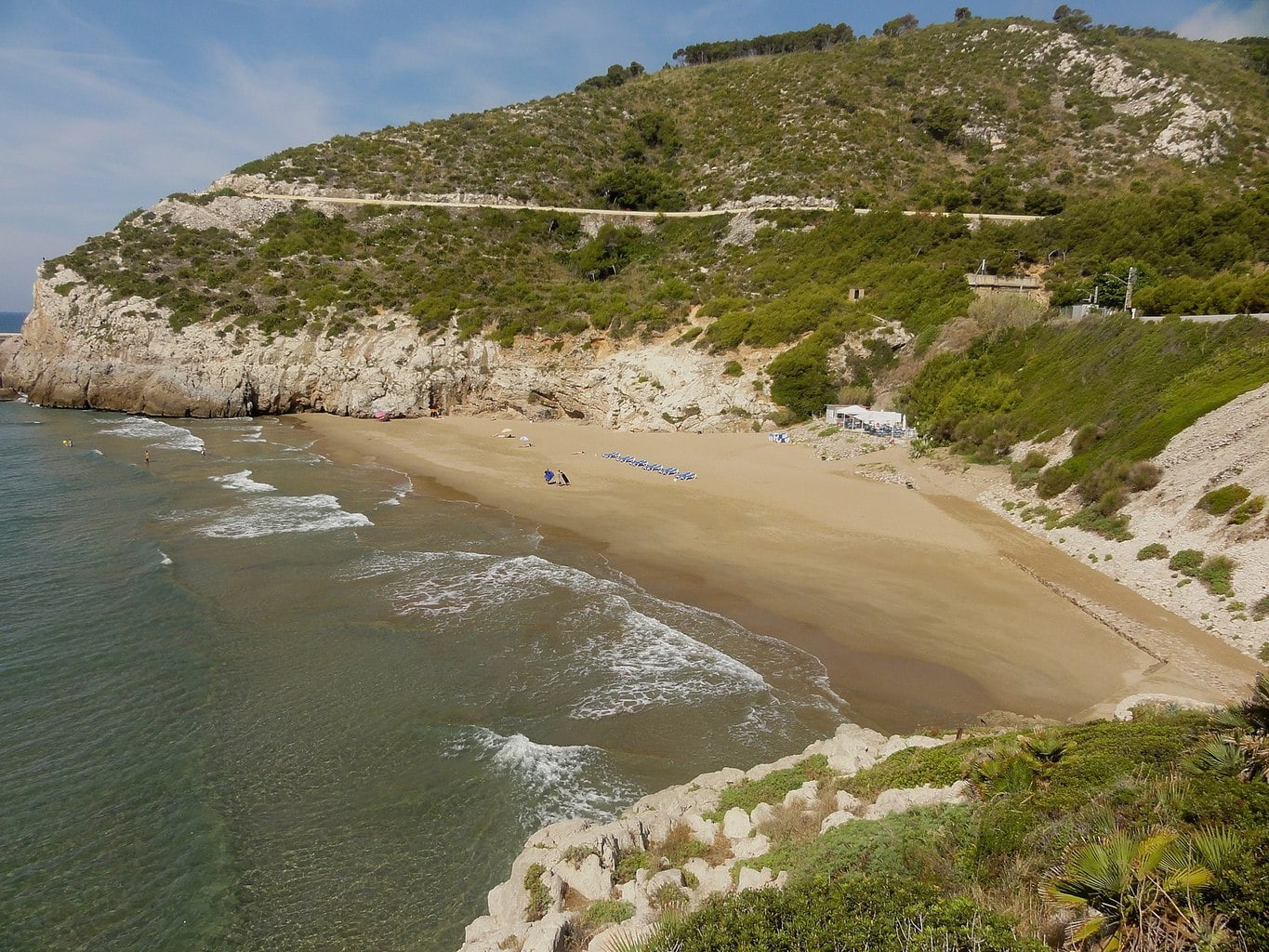 Still part of the Sitges demarcation but located a 10min drive from town through the winding coastal road, Cala Morisca was a beach my dad used to take us to when we were kids. We would play in the sand with the dogs well before any visitor arrived and he would go out into the sea to look for muscles attached to the rocks. Much has changed since then and the bay (Cala) has made a complete 360 degree turn and is today a clothing optional beach club and restaurant.
As the access to the beach is tough there is a private paved road, you will have to pay for parking unless you come by scooter and park it in the very small space by the side of the road. Beaches in Spain are public by law, but a smart owner bought the land adjacent and is charging to let you pass through or park in his land. There is a restaurant serving food and sometimes a DJ. Events are often taking place as it can be rented for weddings and the like. The difficult but picturesque location make it an interesting find.
Another beach that can be found in the coastal winding road is located in the municipality of Garraf, still part of the term of Sitges. Garraf is a very pretty little town with a marina and a few beach houses that are considered heritage (hence their ability to withstand the Spanish Coastal Law that forbids anything being constructed less than 150m from the sea). They were historically fishermen huts that have been refurbished into tiny two storey wooden houses. This is as close to the sea as you'll be able to live in the whole of Spain.
The beach is only accessible by car or a train that stops once per hour. It is usually filled with families who come to spend the day there. There are a couple of proper restaurants to one side that provide much respite from the heat in the summer. Parking can be tough so come early (before noon) if you plan to spend the day during the summer months. In 2019, a new small boutique luxury hotel by design brand Soho House opened in Garraf and upped the game entirely. Little Beach House is rustic, pretty and fits right in.
Things to do in Sitges beyond the beach
Some of the best things to do in Sitges are free. I am talking about walking around the town, strolling along the sea or enjoying the beach. If you are not an indoors buff and do not like museums and history, Sitges will fill your days with plenty of activities and options to enjoy the outdoors. Here are some of my favorite things to do in Sitges in the winter or when I am not in the mood for beach.
Stroll along the promenade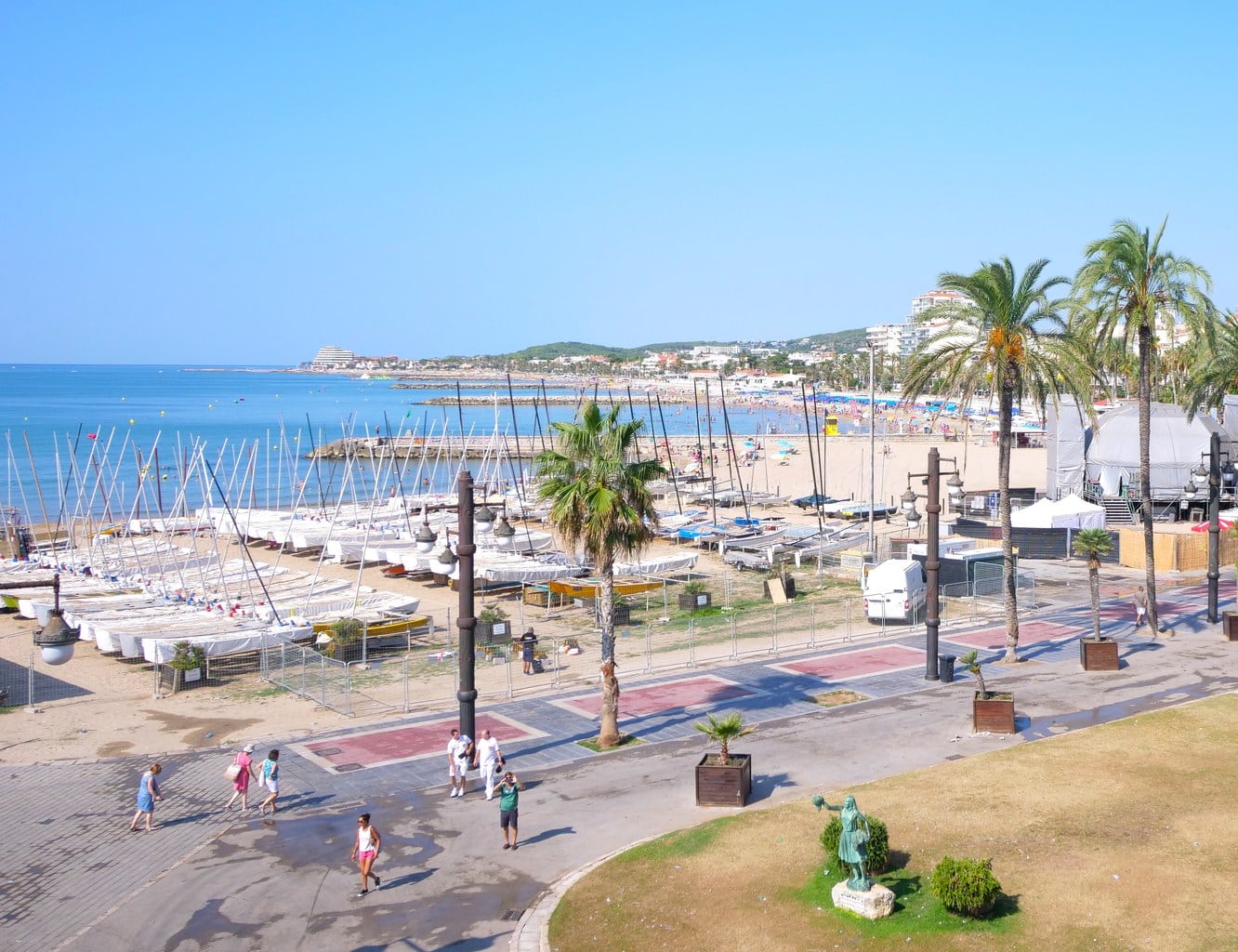 You could consider this the local sport. Everyone, young or old, walks to the end of the promenade, until the Terramar Hotel and back. My grandfather did it until he died at age 86. It is good for the health and, I can assure you, it is good for the soul.
The promenade is wide and spacious and you will find people biking, running, walking, strolling, jogging and even skating. In the summer, it is packed with people from all walks of life. You can't visit Sitges and not walk the promenade. As you do, look out to the mansions that line the seafront. Some of these are incredible and were built by the wealthy families and the Americanos. Today, this is some of the most expensive real estate in Spain.
Walk the back streets around the church
The prettiest part of town is the streets behind the church. Walk the narrow pedestrian only alleyways, some of which follow the old medieval city wall, look out for wall plaques, tiled messages, names of illustrious local families, towers and rooftops.
Start at the church and walk down the Davallada and up again through the street where all the Museums are. Take a moment at the Raco de la Calma to take it all in. There are often musicians providing a magical tune.
Shopping
Sitges has over 400 shops, bars and restaurants and a significant portion of the businesses are gay friendly. You will not find any of the large chains or luxury stores, this is all about local, small and artisan stores selling everything from chocolate to clothing, swimwear, jewelry and trinkets, etc.
The best streets for shopping are Carrer Jesus, Carrer Sant Francesc, Carrer Parellades and Carrer Major. Carrer Major is a lovely street to walk. It is fully pedestrian, narrow and filled with all sorts. Here are some shops I recommend:
Go sailing
Go on a fabulous cruise from Barcelona to Sitges where you will get to sail the Mediterranean coast along Sitges and the Garraf mountain range aboard a luxury sailing boat at sunset and then sleep onboard. Dinner will be served onboard at the port and you will wake up to a great breakfast again.
Best places to visit in Sitges
The concentration of things to do in Sitges is mind-boggling when thinking about its size. There are five museums all of which deserve a stop and will put faces and images on the town's history above. They are also quite small so shouldn't take more than 1h each.
Palau Maricel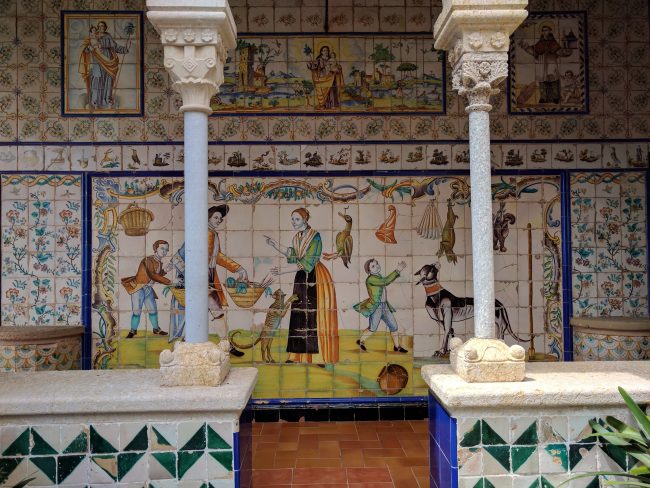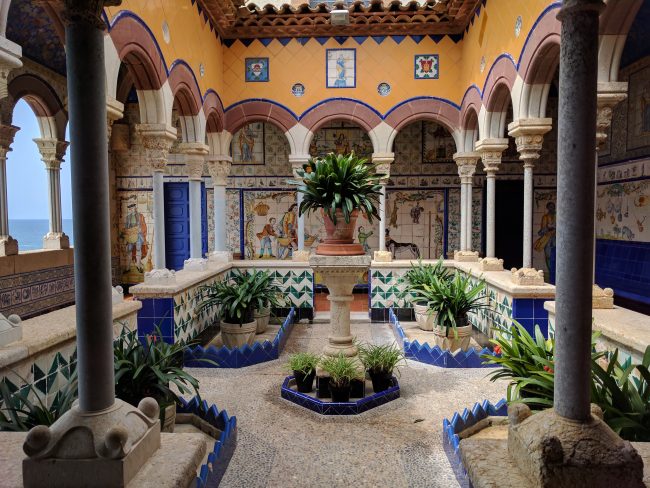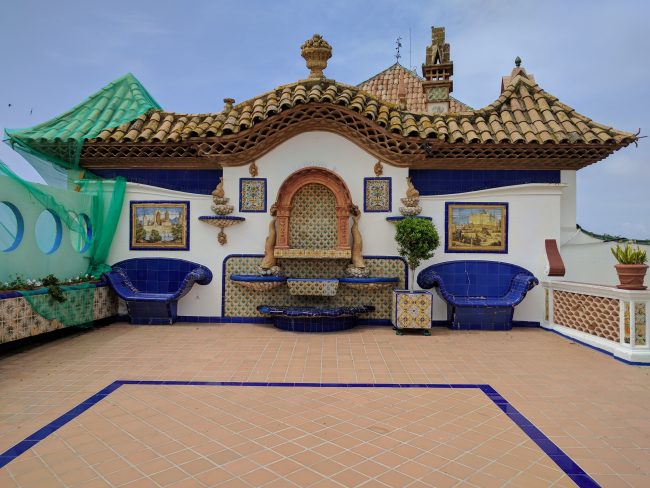 Start here with a 50min guided tour of this Palace that was built by a wealthy American man, Charles Deering, at the beginning of the 20th century to host all the items in his very valuable art collection which included Goya and Velazquez paintings. It is a truly amazing spot, a source for daydreaming and magical stories. Tours are also in English with a knowledgeable guide.
Museu Maricel
Across the street in front of Palau Marice used to be Deering's house and today holds some beautiful Romanesque, Gothic, Renaissance and Baroque art as well as a Modern Art Gallery. The Museum is worth it even if just for the stunning location above the sea. It must have been one of the most incredible places to live in when Deering lived there at the beginning of the 20th century. You can visit it on a fantastic wine and chocolate walking tour.
More information about the museum here.
Cau Ferrat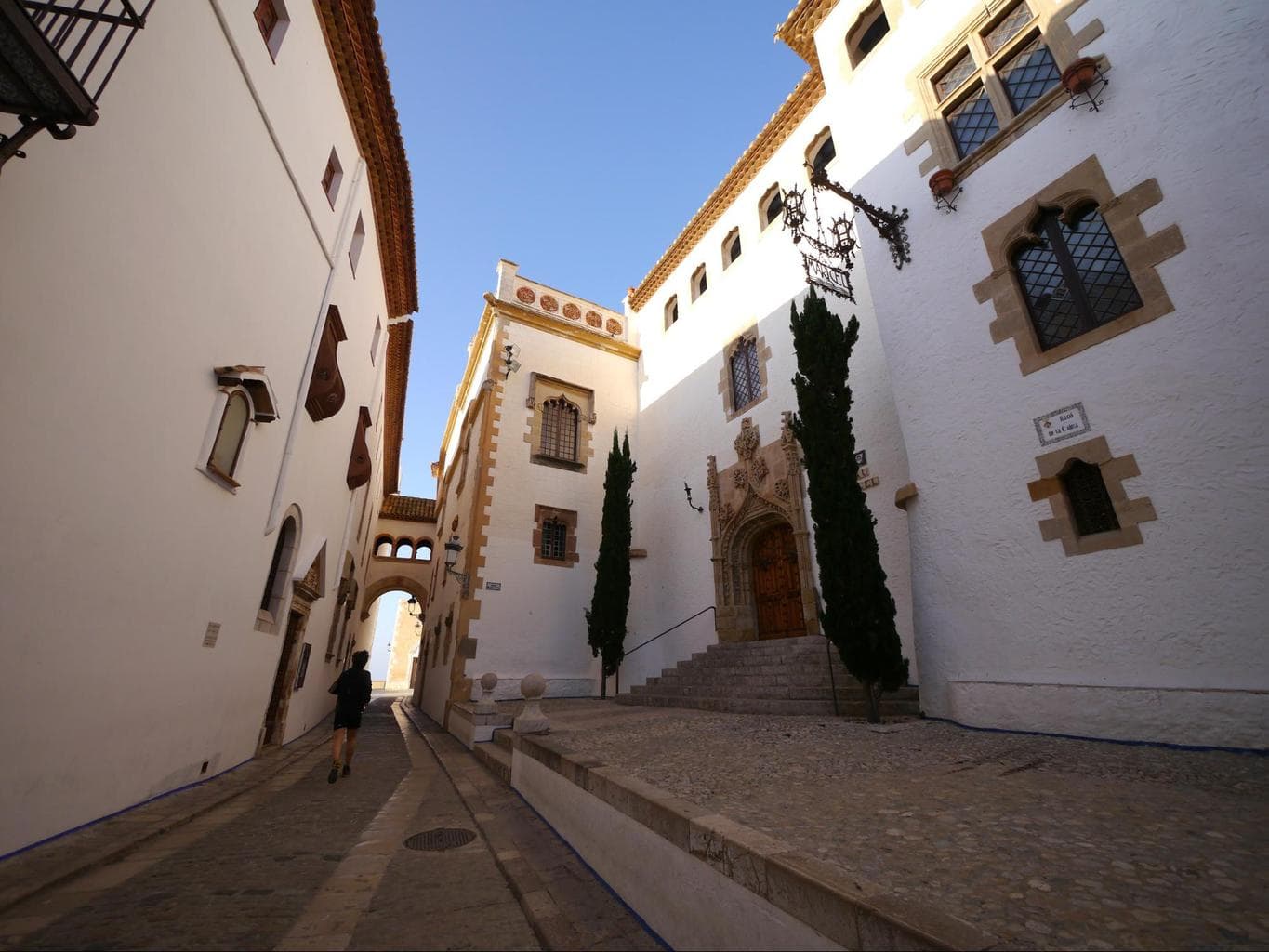 In the same complex as the Museum Maricel, Cau Ferrat was Santiago Rusiñol's studio and house and today is a museum holding works from Rusiñol, Ramón Casas, El Greco, Zuloaga and Picasso. It is a lovely building, part of the Maricel complex, with a location as privileged as Museum Maricel. Inside, the explosion of blues and the amazing art is breathtaking. It can be visited as part of an amazing wine & chocolate walking tour.
More information here.
Museu Romantic
I remember visiting this museum as a kid because it holds one of the largest collections of dolls in Europe. The Museu Romantic is hosted in a 19th century home that belonged to one of the most powerful families, the Llopis, and it shows what life was like back then including the family's horse carriage and the clothes of the time.
Casa Bacardi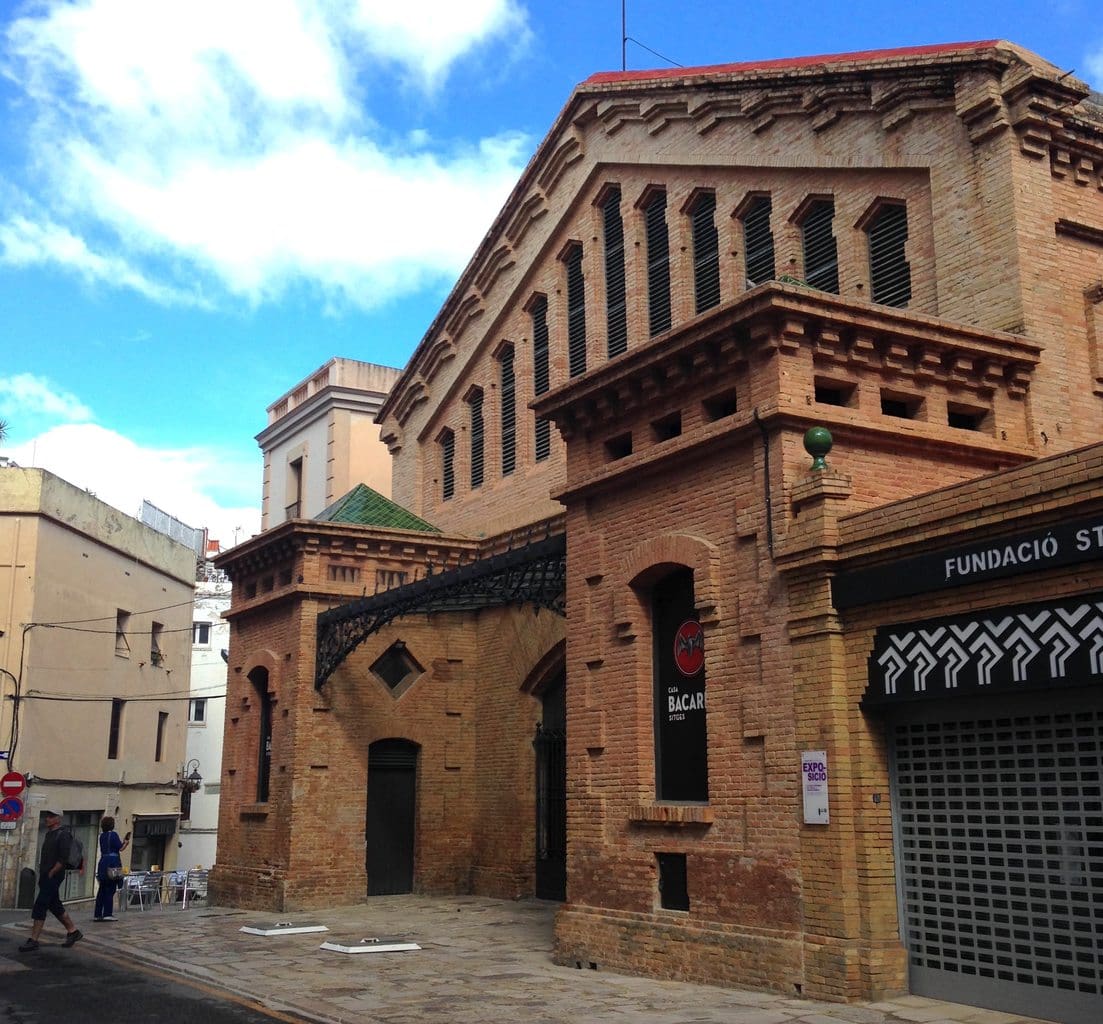 Hosted in a modernist building Casa Bacardi is a permanent exhibition of the world's most famous rum brand, Bacardi. Founded by one of the Americanos, Fecundo Bacardi, who emigrated to Cuba from Sitges where he founded the successful rum company that is today a household brand name for rum. There are daily tours in English and you can learn to make some cocktails too.
The Sant Bartomeu i Santa Tecla church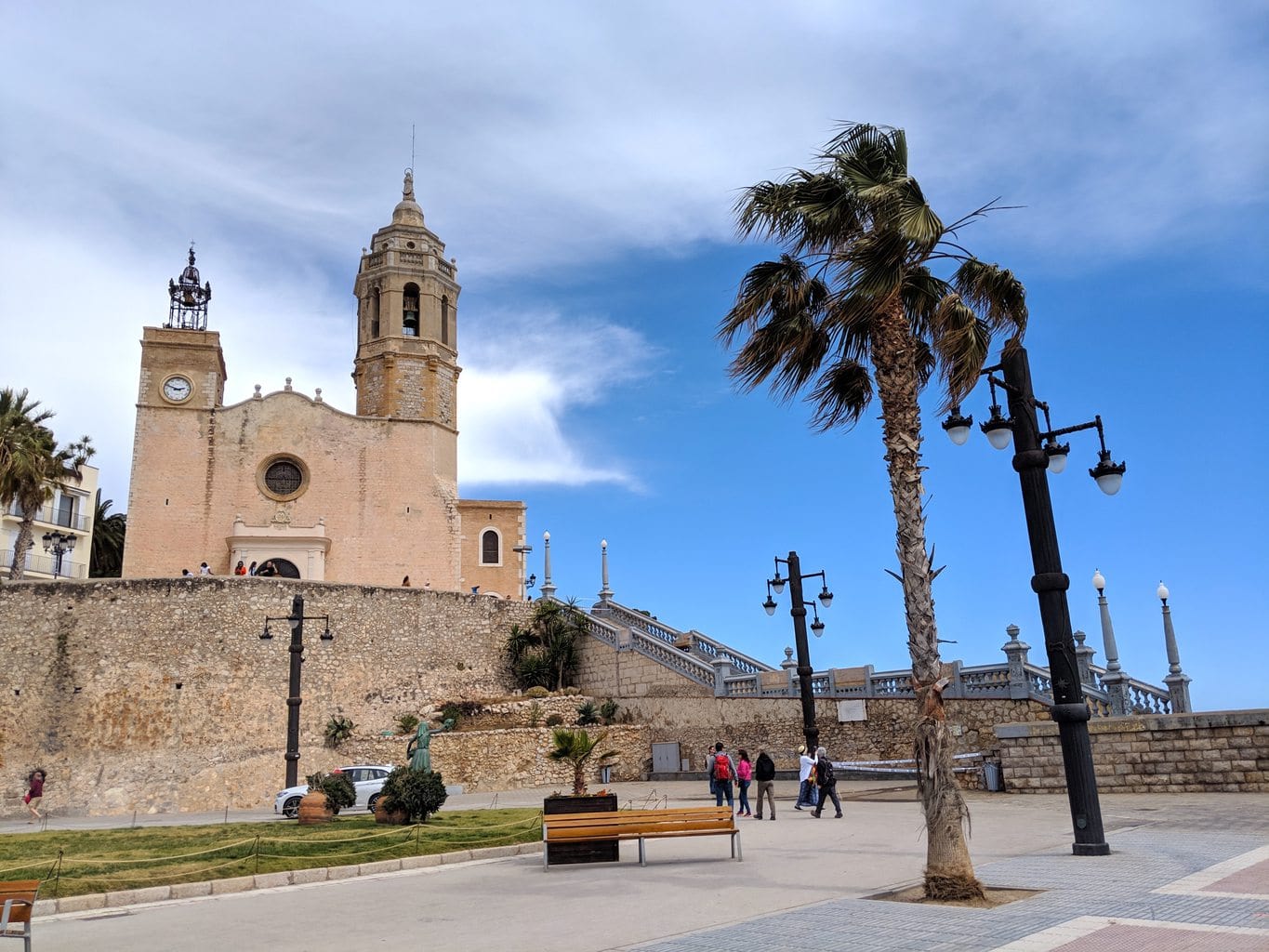 As old as it is, this is the town's most well known and most picturesque spot which is locally called La Punta, the point. It is also featured on pretty much every postcard or picture of the town. The current church is a Baroque structure from the 17th century although it was built over Gothic and Romanesque remains. The altarpiece inside is of Renaissance origin.
This is a religious building where mass is still conducted several times a day so respect the silence and meditation of the locals. If there is mass, you should not go in and wander around, wait for it to end.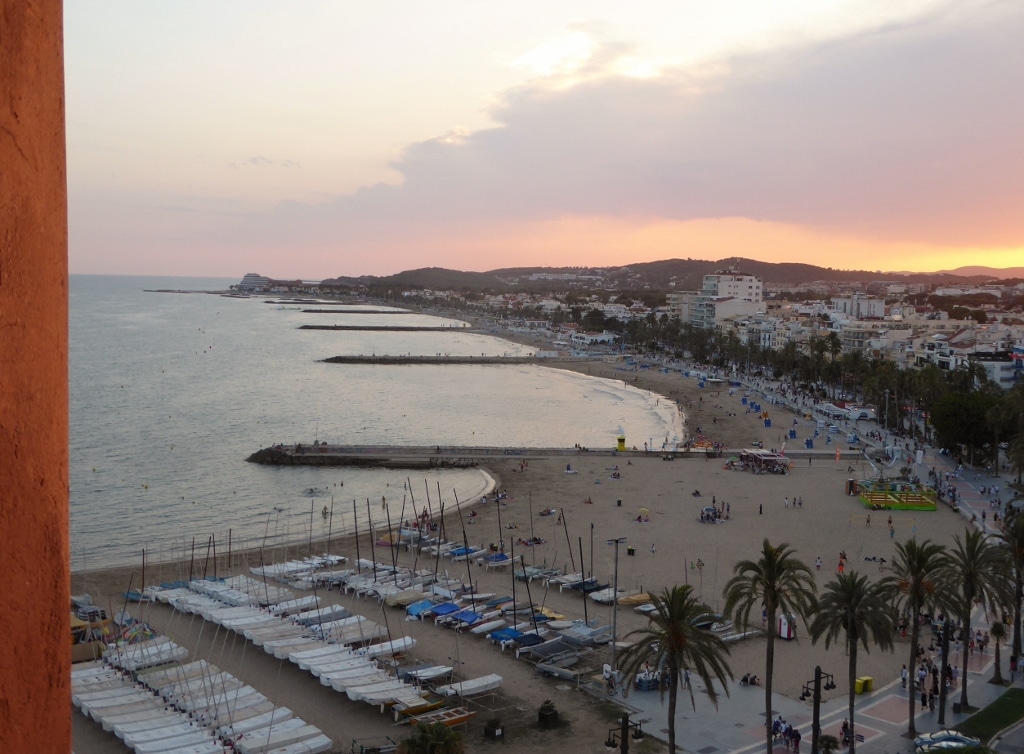 Pro tip: you can actually go up to the top of the bell tower for the most amazing views of Sitges, definitely a must do in your list of the best things to do in Sitges. To book you need to call or email ahead. Tours are conducted on the first Saturday of the month from May to October at 5pm. You can go up the bell tower and see the view along with a short explanation, English information is limited. This way, you can also visit the church. More info here.
El cap de la Vila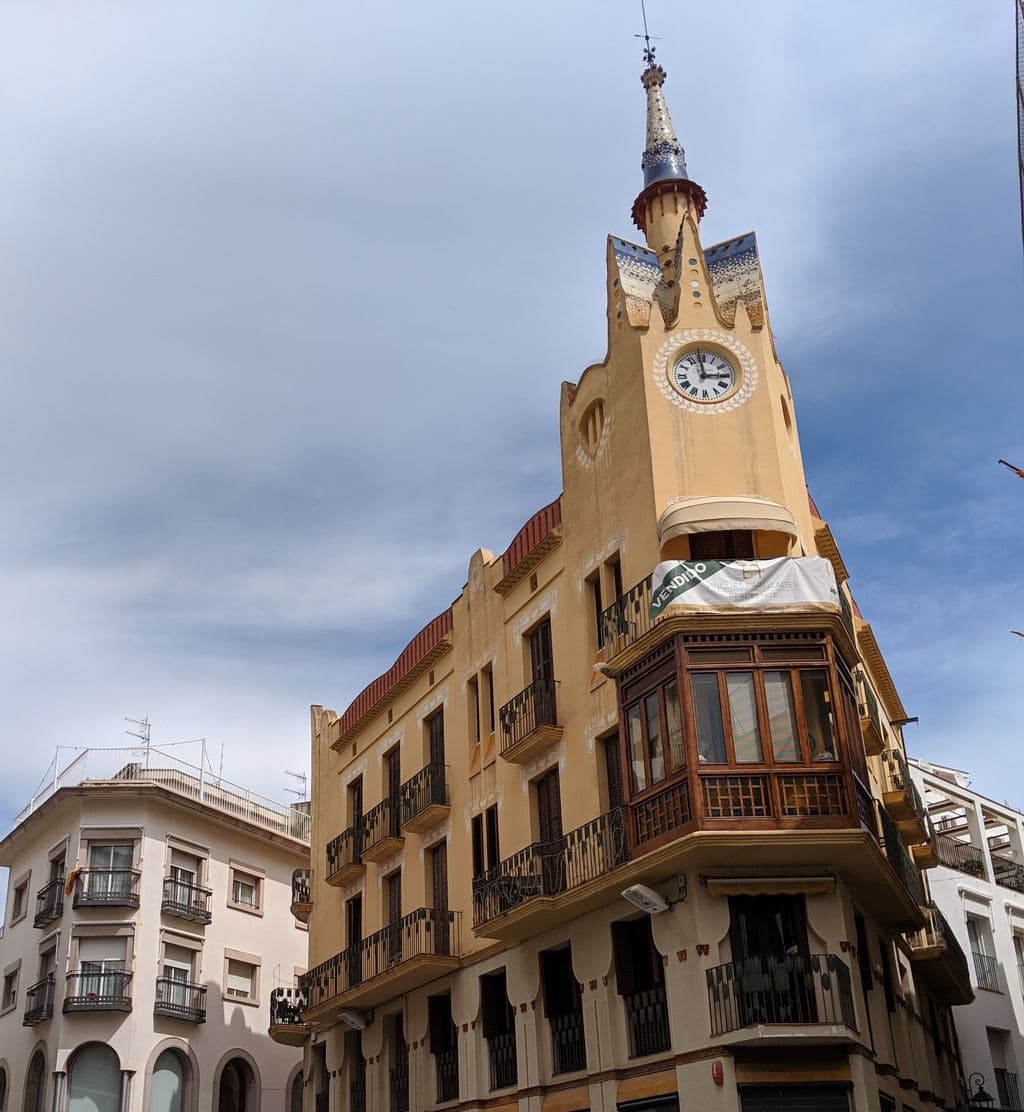 The effective heart of the town is El cap de la Vila, literally translated as the head of the town. It is where all streets gather and it is a typical meet-up place for locals. Although there does not seem to be anything to see there, just stores of all kinds from a pizzeria (the first one in Spain opened in the 1960s) to a couple of bakeries and a sunglass store, look up and you will see why it is worth a stop.
What the locals warmly call the House of the Clock is a renovated Art Nouveau building owned by the textile trading family Carbonell i Mussons. The building's tower has 5 small roofs covered in the trencadis style of tiles, a mosaic made from broken tile pieces that Gaudí used in most of his constructions like Park Guell or Casa Batllo. Look up to the enclosed wooden balcony on the second floor.
Things to do in Sitges – Take a day trip
Sitges is well positioned just south of Barcelona and can be the gateway to the Penedes and Cava Wine Regions as well as Barcelona while still enjoying a very relaxed feel. If you are spending longer in town, one of the best things to do in Sitges is to take a day trip.
Day trips to the wine region
As Sitges is in a very interesting part of Catalunya there are lots of day trips you can take. Some of the most obvious ones are those related to wineries such as Garraf, the county where Sitges is, is part of the DO Penedes Wine Appellation and also the Cava region. There are hundreds of wineries and cellar doors to visit including lots of guided tours.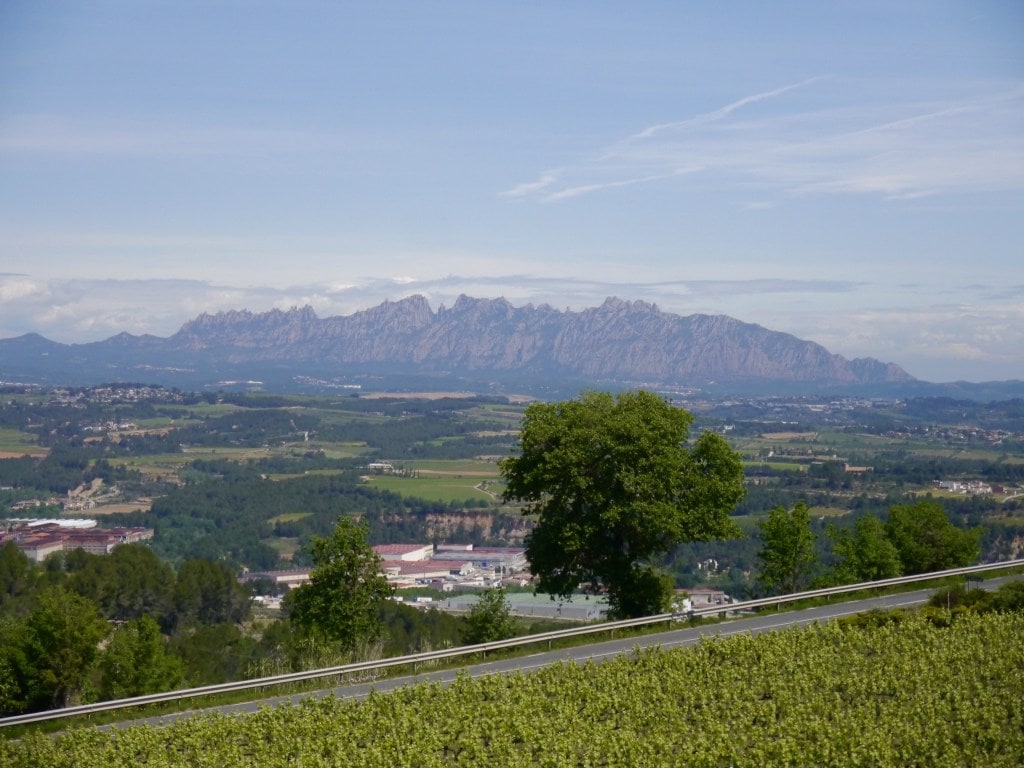 Some of the better known wineries are Torres, pioneer in organic wine Albet i Noya, Can Ràfols dels Caus and Sumarroca. The best cava cellars are one of the top-10 oldest family businesses in the world, Codorniu, famous Freixenet of international renown, artisan Gramona, family-run Agusti Torello Mata, and Cava LLopart, another of the oldest caves in the world. I wrote about 10 of the best wineries before and also a weekend wine escape in case you want to attach a wine theme to the end of your beach holiday.
Catalunya is well known for wine appellations and although the DO Penedes is the most obvious from Sitges, world famous Priorat Region is only a 1.5h drive away and filled with incredible terraced vineyards, stunning UNESCO monasteries, incredible national parks and medieval villages like Siurana. A region I love and which is a little closer is Conca de Barbera where you can visit the Poblet Monastery as well as understand the role the Church had in bringing wine to Spain.
You can also choose to go on one of several tours to the Penedes wine region on your return back to Barcelona:
Excursion to the Parc Natural del Garraf
If you are more into nature, the Garraf National Park is a great place for outdoor adventure and to explore how life must have been before. You can even visit a Sakya Buddhist monastery, in Plana Novella, established there in 1996 in the former pre-modernist residence of a local wealthy family. The group already has other monasteries across Spain and organises retreats and meditation classes. They also organise hour-long tours every hour from noon to 5pm on the weekends.
Guide to Sitges Day Tours (including pick up from Barcelona)
If you don't feel like the stress of making your own way from Barcelona to Sitges, and are only going for the day, you could always book a private tour. Here are a few options that you can book online:
If you are staying in Barcelona a few days, make sure to check our insider articles – remember, I am a local Catalan!
Day trip to Barcelona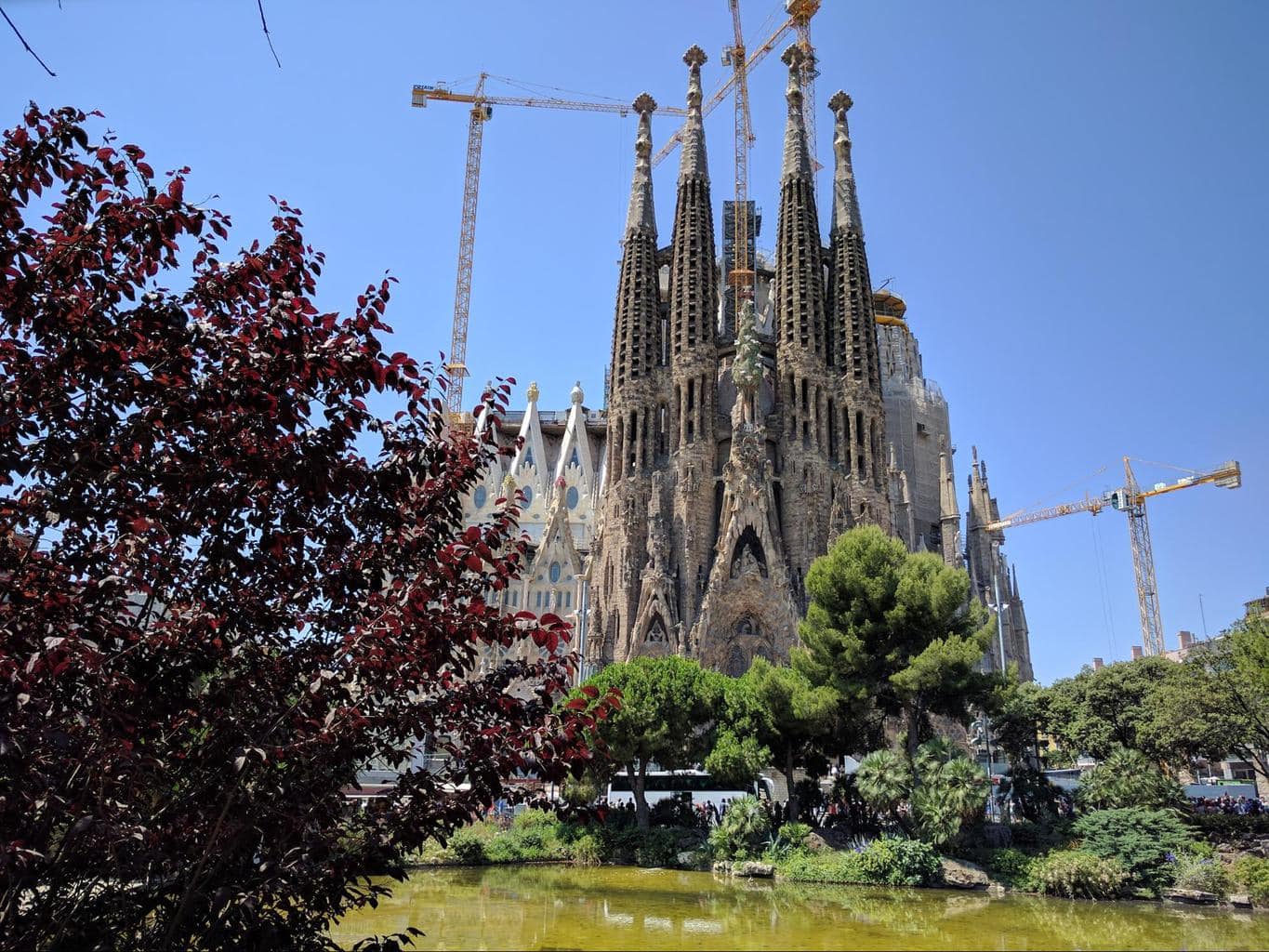 Another of the favorite trips is to Barcelona. The city has so much to offer. I put together an itinerary for 4 days and you can pick and choose as much or as little as you want. I would suggest visiting Gaudi's triade: La Casa Batllo, my all time favorite Gaudi building, La Pedrera and La Sagrada Familia. All three are breathtaking. All of Gaudi's buildings in Barcelona are beuatiful. But Barcelona has so much more so take the 40min train trip and venture into the city.
Day trip to Montserrat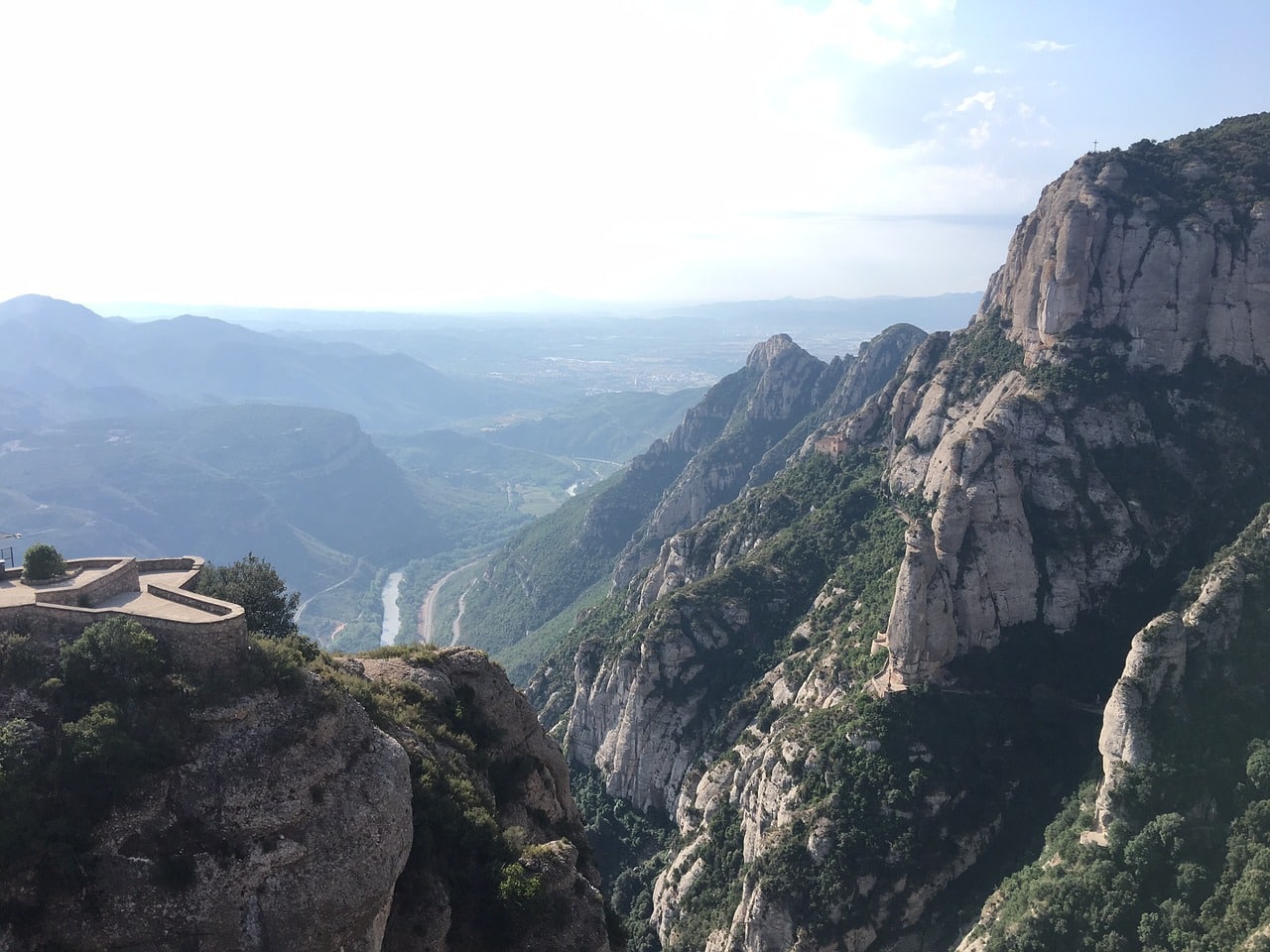 Lastly, Catalunya's holiest mountain is Montserrat. A mountain range that can be seen from many viewpoints kilometers away and is easily recognisable by the rounded tips. At the top, a working Monastery is still a pilgrimage destination. It's about an hour's drive from Sitges.
Here is a whirlwind of a tour with visits to Montserrat Monastery, Torres winery with some of Catalonia's best wines and also a stop at Sitges. This option is for those who want a bit more out of their journey and want to see more. Book online here.
Best restaurant guide to Sitges
This is Catalunya, food is in our blood. We savor and we make the most of every meal. On a typical Catalan day we have breakfast followed by aperitif, lunch, coffee and maybe ice cream, sunset drinks and then dinner. If you are up for it, the night is young and there are bars open until 2-3am and clubs until sunrise. At which point you should buy a sandwich or go to a churros place to have a bite before going to sleep. Next up in this guide to Sitges are all my favorite places to eat.
Best places to have breakfast in Sitges
Our breakfasts consist of pastries or savoury sandwiches made with the signature Catalan ingredient: bread with tomato and olive oil. We don't have cooked breakfasts when we eat outside, unless there is a tortilla inside your sandwich or you go to rural parts where the traditional bars may still serve you a slice of potato omelet or serve you a proper farmer's breakfast.
Simpatic
One of my favourite bakeries for breakfast is Simpatic (formerly el Fornet d'En Rosend) which has two outlets in town. They serve all sorts of sandwiches, pastries, breads and drinks. You can't go wrong here.
Forn Enrich
Forns Enrich has a history dating back to the 1920s. It is a traditional bakery run by a local family where people still pre-order their special breads and they cook seasonal delicacies like Easter bunyols, coca for Saint John's evening (summer solstice), etc.
Cafe Montroig
If you want a place with more of an international take on breakfast, try Cafe Montroig, also around for as long as I can remember, but which opens later on in the day (around 10am) and closes in the winter. They prepare hot dishes too and are more of a touristy undertaking with outdoor seating lined against the wall for proper people watching.
Cafe Bar Roy (permanently closed)
This institution is the ultimate place for people watching in Sitges. Cafe Bar Roy has been in operation for as long as I can remember and even my grandma used to come for afternoon coffee. Nowadays, this is the go-to place for anyone, from die-hard locals to tourists, all coming for a table outside from where you can see the world go by.
Cafe Roy is good all hours of day and night and opens almost every day of the year from as early as 8am. It serves breakfasts, pastries, sandwiches, cocktails, coffee, etc. You will find locals reading the newspaper in the morning, enjoying a carajillo (espresso with whiskey or cognac) in the afternoon and gin and tonics in the evening.
Best restaurants in Sitges for lunch
The best way to enjoy lunch in Sitges in the summertime is by the sea, with a paella or a set of tapas. In the winter, the cozier indoor spaces close to the sea are also a great way to remember the warmer months will return soon enough.
La Fragata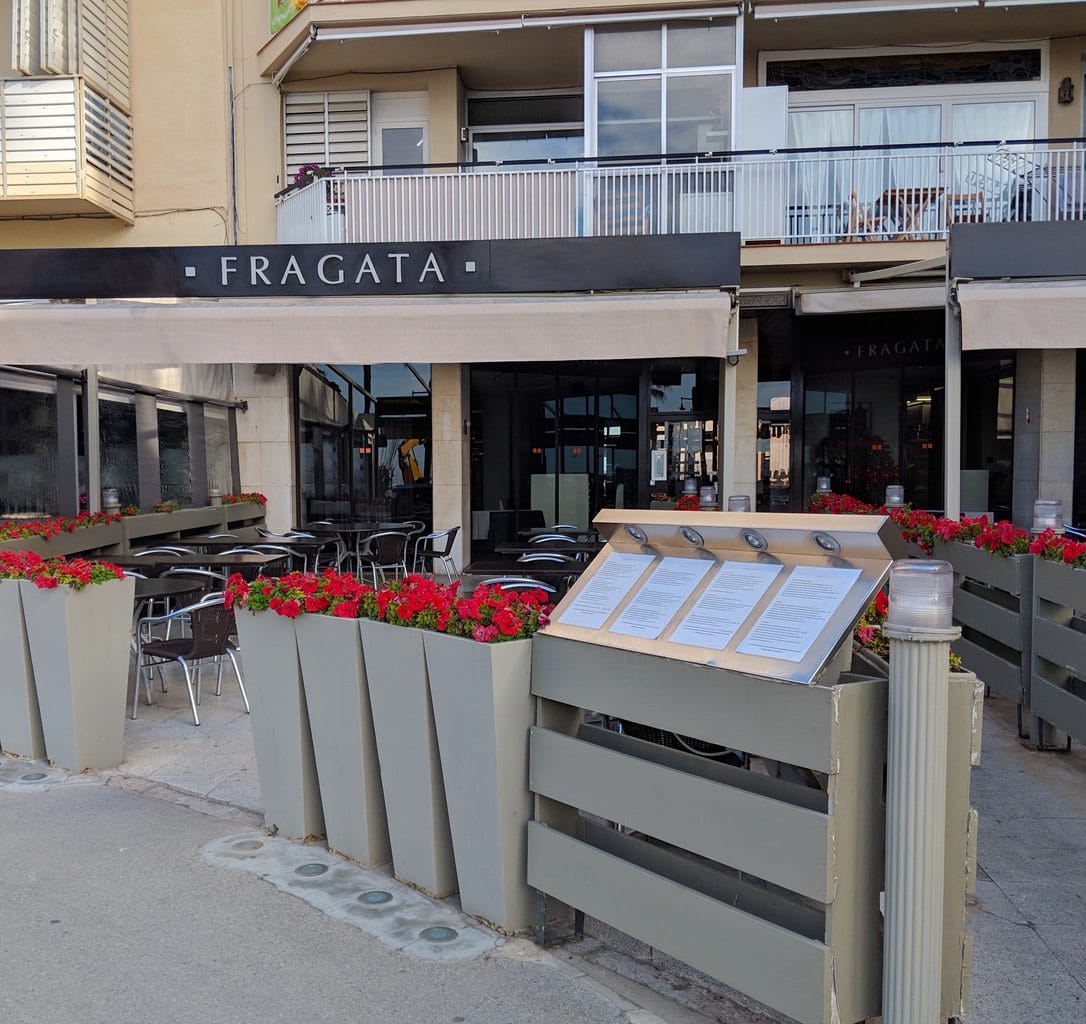 La Fragata is an institution and one of the best known restaurants in Sitges my parents used to frequent. It is premium and serves some of the most traditional Catalan dishes and local specialties. Seafood features prominently and its location, below the church and in front of the sailing club, a lovely spot. It is romantic and classy as opposed to many of the outdoor spots around town that are filled with tourists covered in sand.
La Santa Maria
For a more casual but still proper sit-down option, try La Santa Maria. Named after one of Columbus Caravels (the hotel it belongs to is one of a three-part hotel named after the three caravels that discovered America, La Pinta, La Nina and La Santa Maria) this restaurant has been around long enough to know how to prepare a paella. It is a good spot to drop by after the beach. Their outdoor terrace is nice. Inside it is cooler but can be darker.
El Chiringuito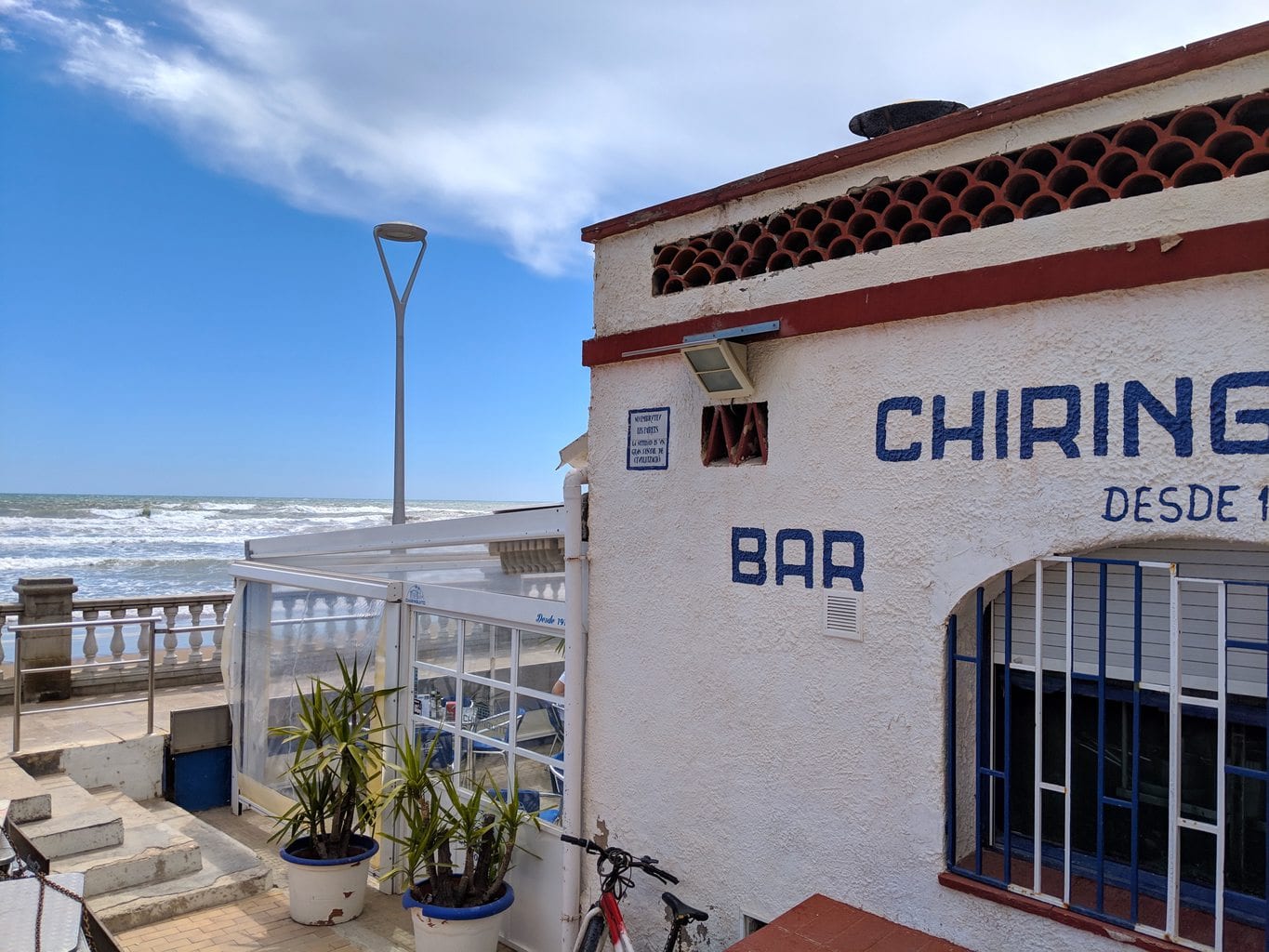 If you are looking for tapas, there are a few great options in town but some have more charm and heritage than others. The first ever Chiringuito in Spain, a word that today refers to all the beach hut kiosks, is right on the promenade, between Fragata beach and Ribera and it goes by this name only, El Chiringuito.
You can't miss it because it's on the walk itself, the only business that is this close to the sea. It has survived the coastal law in Spain because it is considered a heritage building dating back to 1913 when it was named after what is believed was a way to have a coffee in the Cuban plantations. Here you can hear the waves crashing on the beach while you enjoy the typical tapas dishes with a strong seafood focus.
Pic Nic
Another tapas spot with sea views is Pic Nic, a bit farther down in front of Calipolis. This is right above the beach, also on prime location and is a casual place for casual tapas. Nothing fancy.
El Pou
In town, my favourite tapas places in Sitges is El Pou. This is a traditional no frills place that is quaint and local. It does not get any more authentic than this. The food is great and the ambience really lovely.
Eguzki
For montaditos, or bite sized tapas typical from the Basque country, go for Eguzki, on C/ Sant Pau. Pick the montaditos you like from the selection placed on the bar, sit at your table or stand around with a glass of wine to eat them, keep the toothpicks that come with each montadito, and pay based on the number of toothpicks you have on your plate.
Sports Bar
For burgers and finger-licking food, try the Sports Bar, a revelation when it opened when interest in the US and international sports was inexistent, it has survived the decades and is a fixture in the local scene. There is free wifi and you can watch games.
Pans & Company
The most casual environment can be enjoyed at Pans & Company, the Catalan version of fast food, with the crunchy bread, the lovely fillings and the great cold cuts and meats. Ask for the fuet sandwich, not on the menu, but one of their traditional options since they opened.
Best restaurants in Sitges for sunset and dinner
Sitges is a place that calls for romance and for long, late dinners. You can't sit down for dinner in Catalan culture while the sun is still up and, at the beginning of summer, the sun is up until 9,30pm hence the tourist-shocking tradition of eating dinner at least later than that time. These are a few of my restaurants in Sitges for dinner.
Al fresco
Al fresco is my all time favorite restaurant in Sitges. I always recommend it to my Airbnb guests and friends and everyone loves it. It is the perfect place for a couple's romantic dinner or a for a friend's indulgence. The location and atmosphere makes it incredibly romantic.
The restaurant is on an indoor courtyard filled with plants and even a banana tree and lit with candles and fairy lights. The menu is Catalan and seasonal with north African and Asian influences. All the dishes are always fantastic and the ambience can't be beaten. You will fall in love again.
Komokieras
Komokieras is another contender, serving Catalan cuisine with an internal patio. A good choice too.
Club Nautic Sitges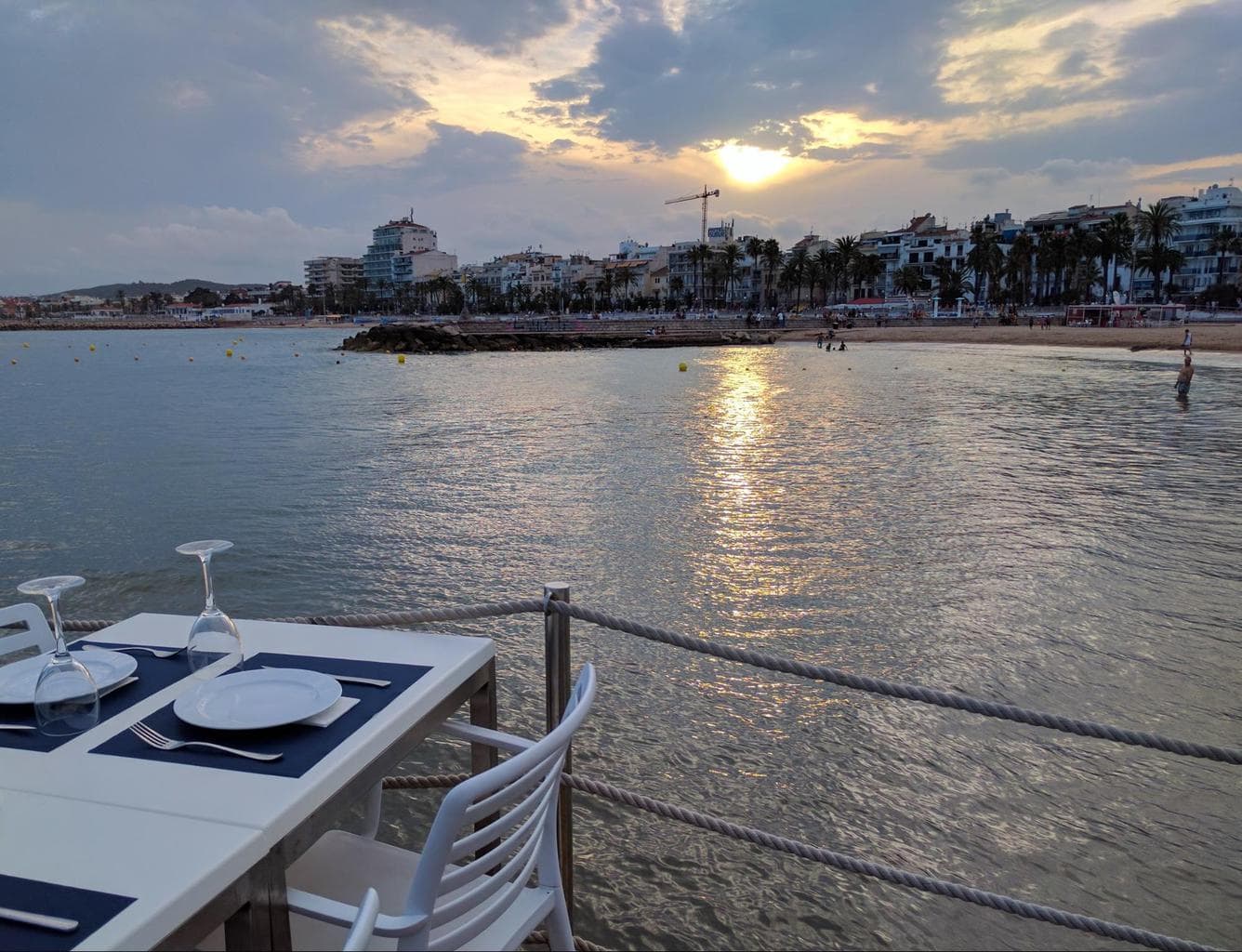 I also love el Club Nautic, the sailing club under the church, which has some of the most beautiful sunset views and is right over the water.
MiM Hotel rooftop
One of the best rooftop bars in Sitges is at the top of the MiM Hotel which offers a slightly busier but still romantic setting with a 360 degree view.
El Vivero

For stunning views and a sea location that is unbeatable, try El Vivero, right above Sant Sebastia beach, on the rocks, with beautiful sunset views.
La Pizzeria del Cap de la Vila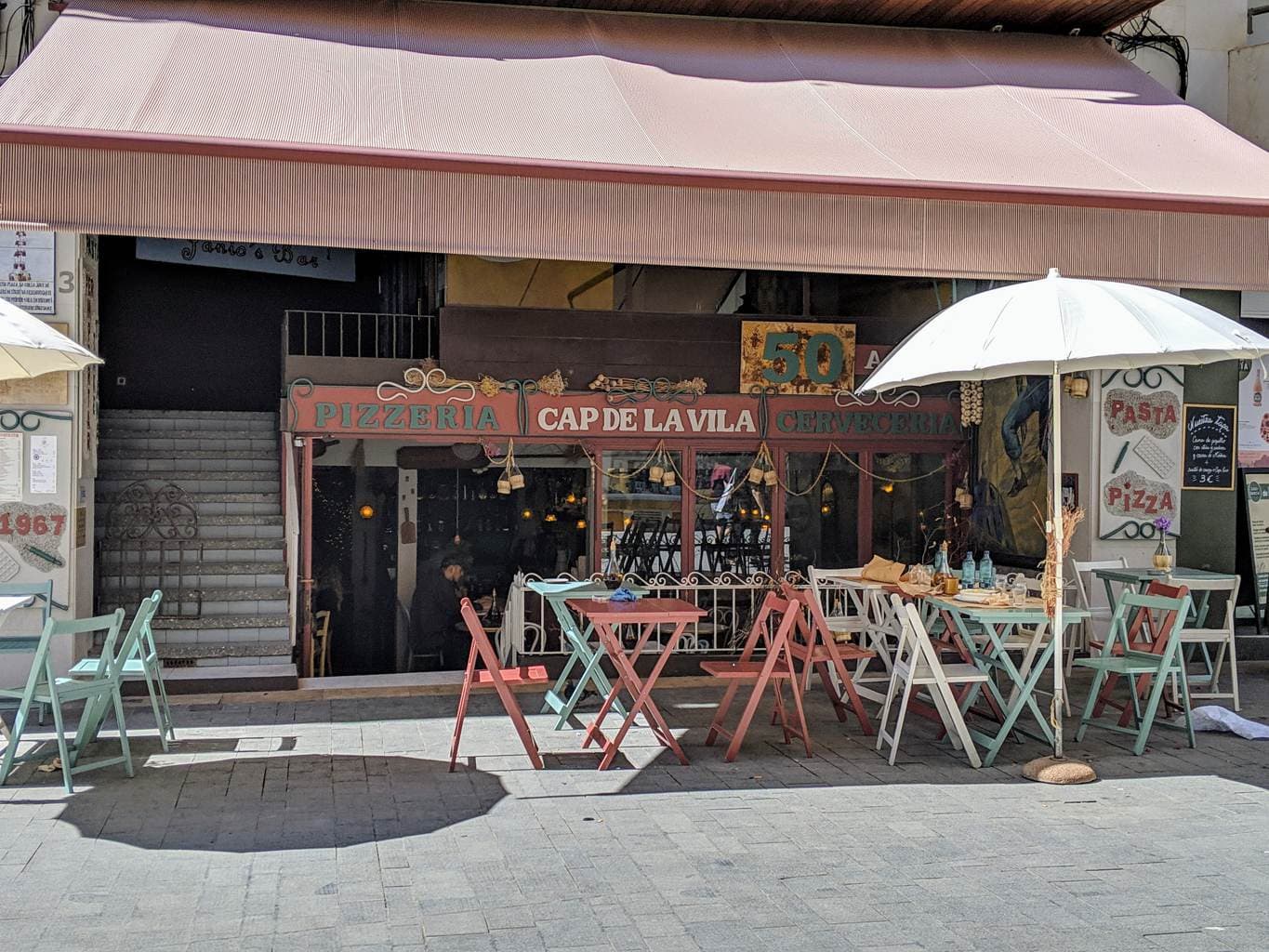 If you want something homemade and a little less formal, La Pizzeria del Cap de la Vila is a good option, if mostly focused on pizza. It was the first pizza place opened in Spain and the restaurant is nicely decorated inside. If you want entertainment, the outdoor tables come with a side of people watching.
Can Laury
The Port d'Aiguadolc is filled with great dinner options and since it requires a nice stroll to get to (unless you are driving) it is a good excuse to enjoy the sea breeze. As this is boat heaven, it is also seafood heaven. Try Can Laury, which has been there forever and serves some tasty paellas and fideuas
La Taberna del Puerto
La Taberna del Puerto is another classic seafood restaurant in Port d'Aiguadolc and you should make sure to try their grilled seafood with olive oil and garlic.
Iris Gallery
Sitges doesn't really do refined restaurants but this is as close as it gets. The restaurant at the five star Estela Hotel, Iris Gallery is probably the closest to fine dining.
Best luxury hotels to stay in Sitges
Sitges may have 5,000 hotel beds but there are very few luxury ones. The majority of the picturesque and historical Americanos mansions host two and three star hotels with lots of charm but simpler services and facilities. There are a couple of four stars hotels, including one owned by FC Barca player Messi who acquired it in May '17.
The Dolce Sitges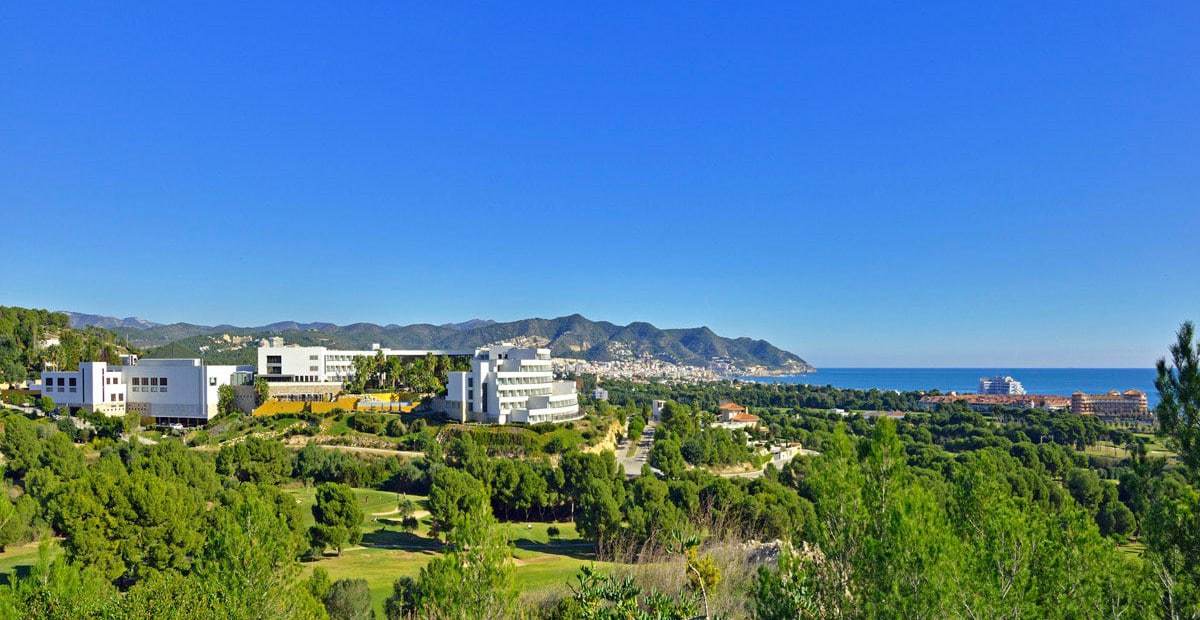 The only five star hotel in Sitges, part of the Wyndham Hotel Group, is the Dolce Sitges, which is right by the golf course and far from town if you are walking. It has a spa, wonderful gardens for events and weddings and privileged sea views, although it is far from the beach. It is large and contrasts with the rest of the town but if you are looking to relax by the pool (there are three), play golf and simply rest, this is a good place to do so. To the locals, Dolce feels slightly misplaced if luxurious.
Book your trip now on Booking.com | Agoda
MiM Hotel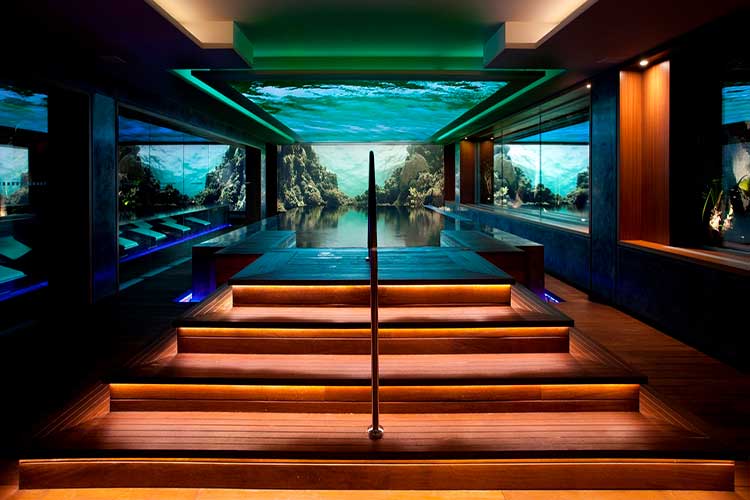 Of the four stars, the best is MiM which used to be called Hotel Avenida Sofia, the name of the street, before Messi bought it and rebranded. When I was a kid, this used to be Hotel Veracruz, owned and managed by the same family owning Hotel Capri across the street and sharing the wonderful swimming pool of this fabulous mansion. Although MiM is only a four star, the hotel is sleek, modern and completely new and the rooftop terrace and plunge pool have some of the best views in town and a very happening bar and restaurant to while away the warm summer nights.
Book your trip now on Booking.com | Agoda
Hotel Calipolis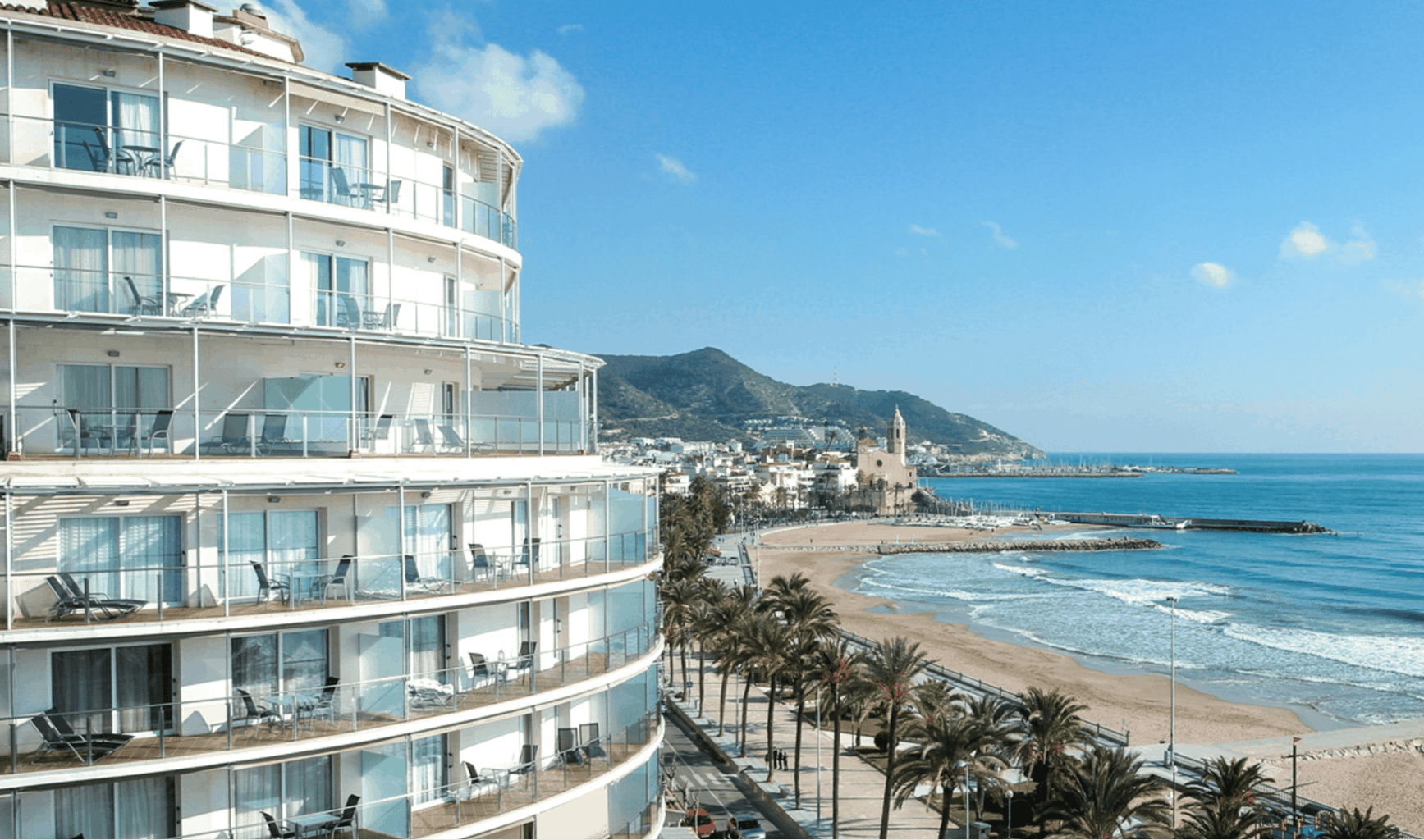 Calipolis Hotel is an institution. So much so that my sister got married there and we both had our Catholic Confirmation when we were 10 and the hotel was there well before that. Calipolis has a privileged corner position in front of the promenade with great sea views and it is in town. All the sea facing rooms come with a balcony. Breakfast can be taken in the terrace or first floor, where both our Communion and my sister's wedding took place. The views are fantastic. There is also a pool on the ground floor steps from the promenade and the beach.
Book your trip now on Booking.com | Agoda
Hotel Casa Vilella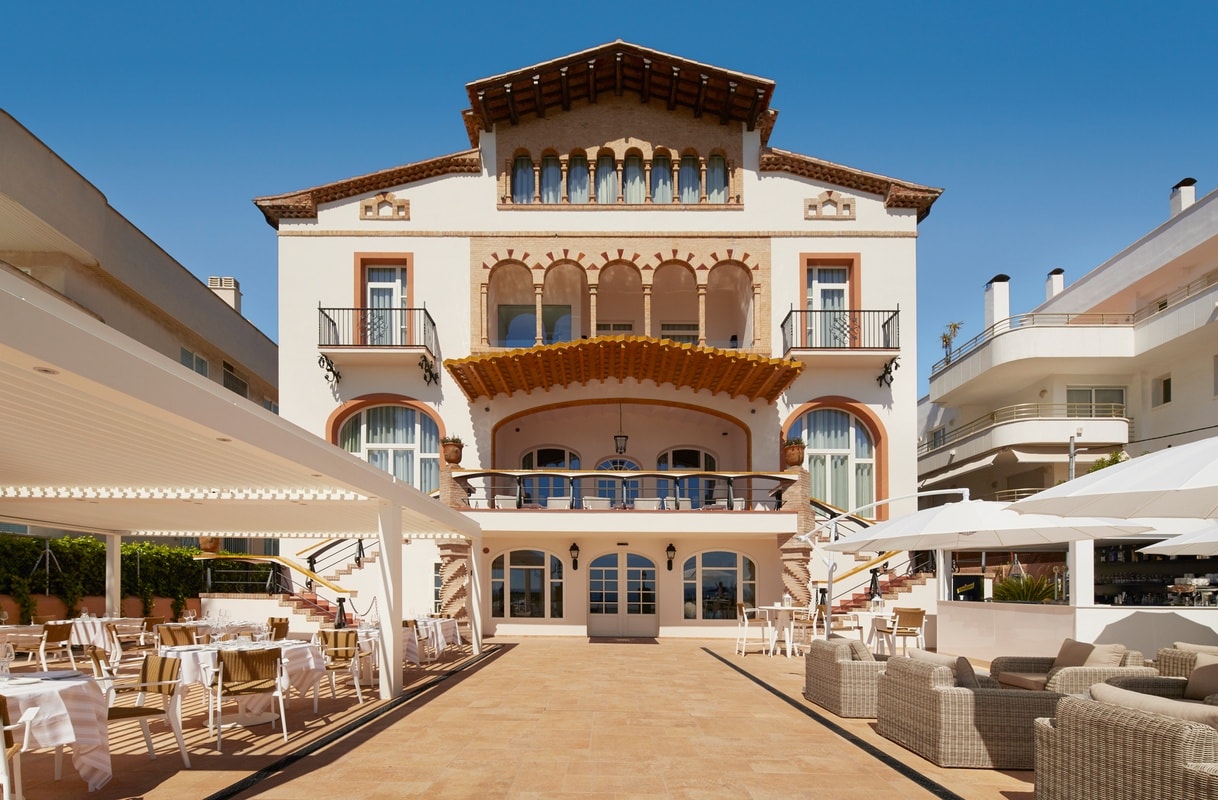 Perhaps one of the nicest and most coveted new hotel openings in town is the refurbishment and launch of the Casa Vilella Hotel hosted in what once was locally known as the Residencia Helvetica. It was designed by a disciple of Gaudi and is a Noucentisme period building turned into a luxury hotel. It is located on the promenade, right in front of the sea, and some of the rooms have balconies with stunning sea views. At the back, there is a garden and pool. The rooms with sea views are beautiful and would be my luxury hotel choice to stay in Sitges. They come with balconies located in that wonderful arched terrace on the first level. The right amount of luxury with heritage.
Book your trip now on Booking.com | Agoda
Melia Sitges & Hotel Estela
There are two other four star hotels that are located in Port d'Aiguadolç, the marina at one end of the town, Melia Sitges, part of the Melia Hotel Group and Hotel Estela.
The Melia Hotel is a large congress hotel where conferences and business meetings have been held for years thanks to the hotel's location at the entrance to the town, only 20min from the airport, and the large number of rooms able to host bigger groups with an auditorium that sits over 1,300 guests. The hotel has a large pool for adults and one for children and rooms with sea views thanks to its position at the top of a small hill from which even the famous church can be seen. There is a spa.
Book your trip now on Booking.com | Agoda
The Hotel Estela touts itself the Hotel del Arte because of its strong art focus. It is located below Hotel Melia and right at the entrance to the marina and in front of the Aiguadolc beach, one of the least frequented and most peaceful of the Sitges beaches. The hotel's artistic endeavour starts with its design. The entrance was designed by Subirachs, the same person who designed the Facade of the Passion in La Sagrada Familia. The rest of the hotel is dotted with sculptures and art pieces. The hotel has pretty rooms with balconies facing the beach and a swimming pool.
Book your trip now on Booking.com | Agoda
Port d'Aiguadolc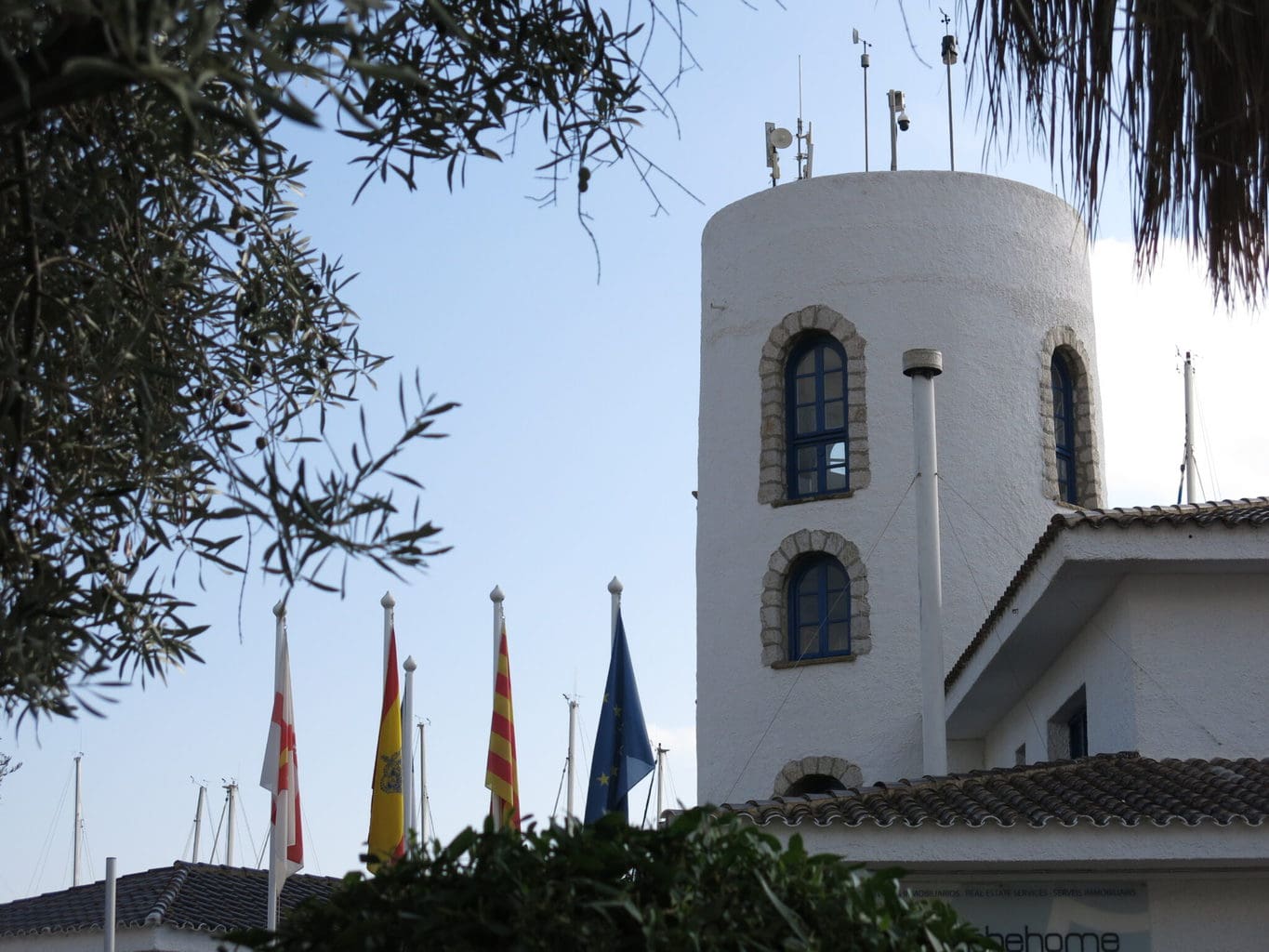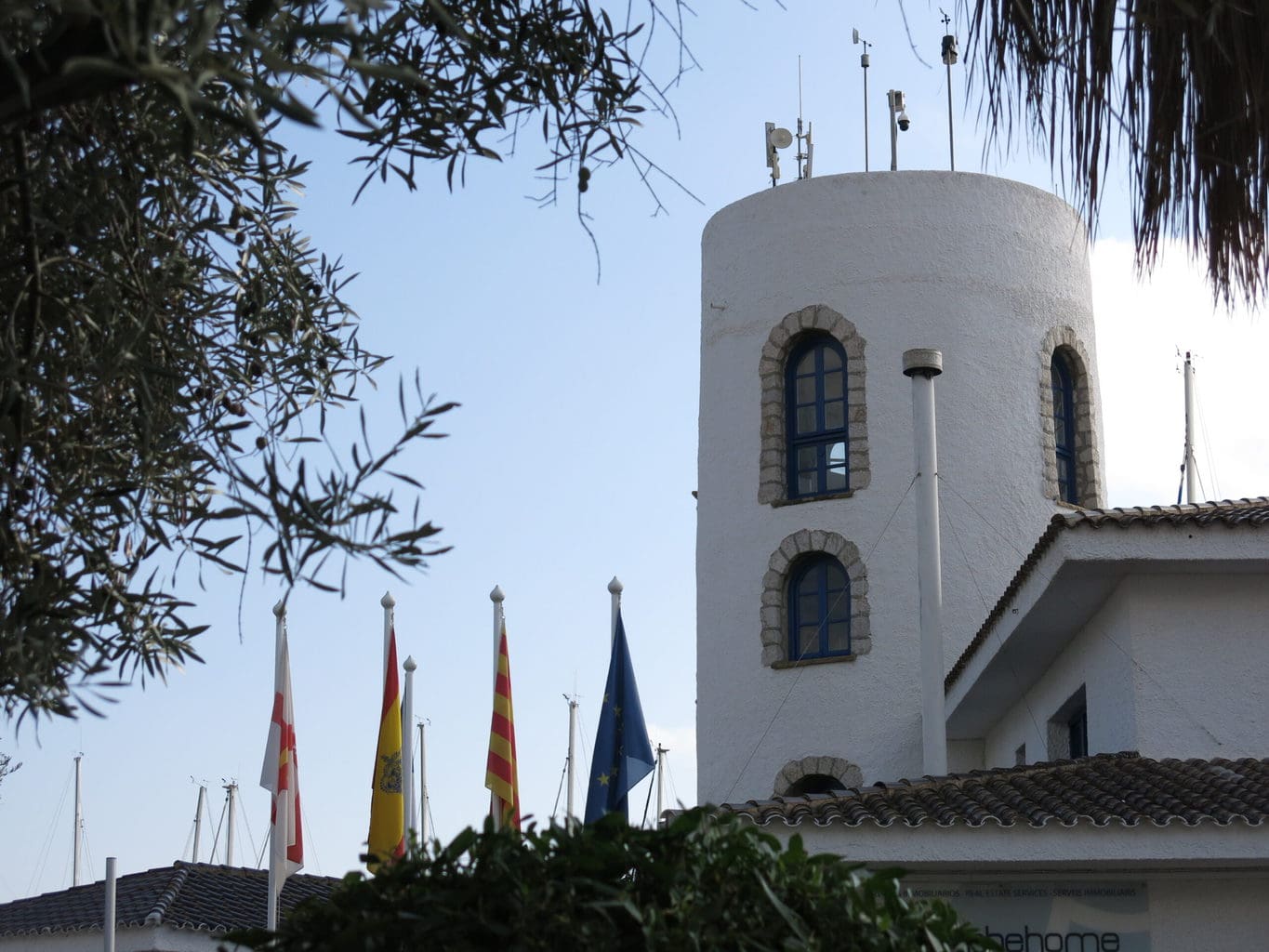 The port used to be far from the town but is now a continuum of houses and flats. Staying there is a bit far from town, which can be reached by a 20min walk or a scooter. The port is a lovely place to stay in. It is quaint it has the same design and feeling as Ibiza, with white-washed pedestrian narrow streets splashed in cobalt blue. The marina is posh and has a Monaco feel to it and is full of restaurants and bars. There is also a picturesque beach flanked by the marina on one side and a rocky outcrop on the other one.
Book your trip now on Booking.com
Guide to Sitges: Things to consider when visiting
Sitges is a tiny town. It is fully walkable and in fact mostly pedestrian so cars are not allowed in the downtown area.
As a result, Parking is very hard as all streets are payable and there are only very few small underground parking lots. So if you plan to drive in, leave the car further out from the town for the duration of your stay and pick it up when you leave. You will not use it in town as you can barely drive anywhere other than the golf club or the port (you can also walk there). Locals use scooters and bikes.
Sitges is a very popular beach destination from Barcelona and during the summer months or in the weekends the town gets absolutely packed. If you are driving from Barcelona, make sure to avoid driving back on a Sunday after 5pm because you will be stuck in traffic. Rather stay for dinner or leave after lunch. or take the train, far easier and quicker.
This would make a great addition to your Spain Travel Pinterest board!