This article was first published in 2014 and updated in July 2018
"If you want to rush you can get another car" gushes out the taxi driver as I encourage him to start the engine and get going. Not the usual Thai hospitality that I was expecting but I guess patience can wear thin for service industry professionals constantly harassed by the hordes of drunken tourists hitting Phuket's beaches.
Our intentions could not be farther from this. We booked a girls weekend in Phuket to celebrate the birthday of two of my friends but were caught up at immigration longer than anticipated and now had to rush to make it on time for our fabulous dinner at Ka Jok See Phuket, one of the best things to do on the island in my humble opinion.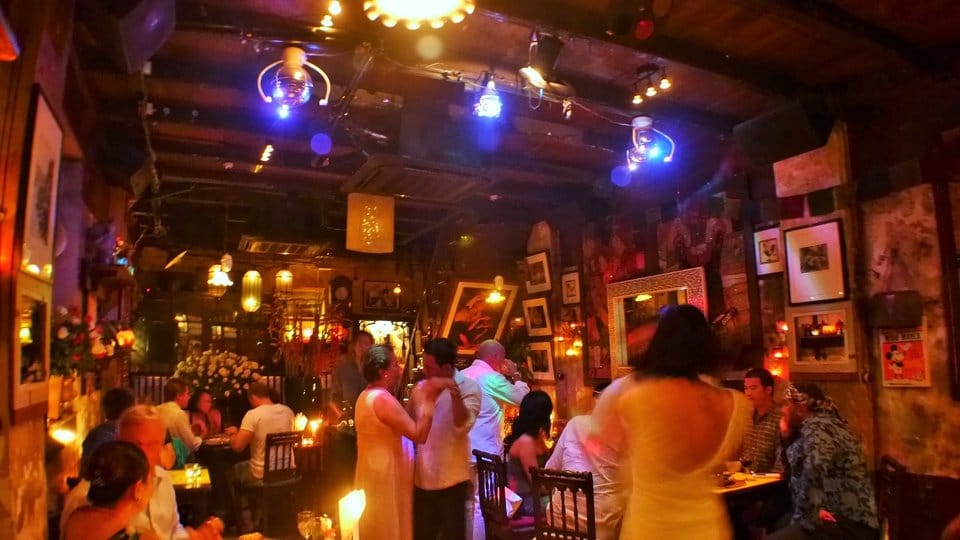 The last time I went to Phuket was 8 years ago. I have since transited through several times on my way sailing or visiting some of the quieter islands like Phi Phi or Koh Lanta and more secluded beaches, but always tried to avoid getting sucked into the less than desirable Patong.
Reports through the traveller's vine warn of the place getting even more obscene in recent years. Lady boys, sex workers, groups of drunken backpackers and other VIPs in the zoo of life have proliferated in the last two decades providing a very popular if slightly sad attraction for passing tourists. Back then, shows portraying "artists" skilled on unusual areas of expertise and drag queens were the norm but even those have had to reinvent themselves on even more unusual skills.
Thankfully, Phuket is not just that side of questionable tourism anymore. A host of uber chic and luxury resorts have recently sprung uplifting its cache. Sri Panwa's Baba Nest pool bar has been named the most spectacular by a long list of publications and it sure is breath taking and Paresa's pool villas are divine.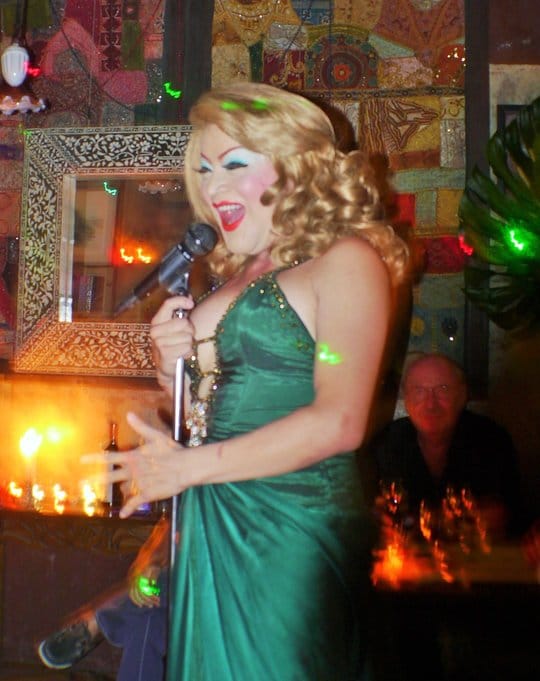 We had set out to have a fabulous weekend filled with sophistication and fun and there is only one place serving up tasteful drag queen performances and an evening of Thai spiced dancing without the DJs that fill the famous spots: Ka Jok See Phuket.
A local institution in its full glory, Ka Jok See Phuket delivers classy drag queen shows paired with yummy Thai delicacies, a team of professional entertainers and the right cheesy music to get everyone moving. It's unpretentious and familiar, like visiting a crazy old friend that knows how to throw a party.
Thanks to our delay in getting to the hotel we arrived at Ka Jok See when everyone else had full stomachs and enough drinks to forget embarrassment so the show started right there and then. By the way, here are my favourite luxe hotels in Phuket if you're interested.
This restaurant-cum-club is hidden inside an old shop house in Phuket Old Town. Once you step inside you are transported to a Boudoir from the time of Moulin Rouge. Most of the light comes from strategically places candles. The walls are decorated with paintings, wooden appliques and all sorts of trinkets, not a single spot is empty.
Chandeliers and disco balls co-exist with large vases overflowing with ornate flower arrangements. The high ceiling is made of dark and thick wooden beams. The outdoor table by the entrance, is flanked by a glass window with cascading water so passers by cannot see inside. The entire rooms feels rustic with an attempt at cheap sophistication, until the real fun begins and you completely forget all about it.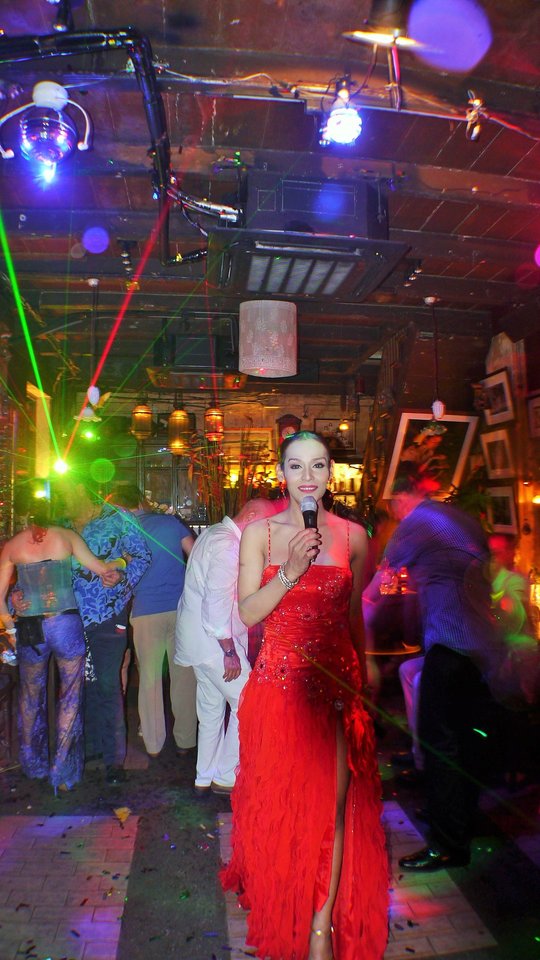 Props are brought out, dancers, singers, drag queens and entertainers in all colors and shapes outnumber guests and fun is served in large spoons of an antidote to stage fright. Fluorescent orange wigs tower anybody brave enough to wear them and shirts and, occasionally pants, come off easily as bodies rub off each other.
Then one of two drag queens to perform come in, cabaret style. Their hair and make up is overly done and emphasizes their cheeks and eyes. They are surprisingly beautiful and fabulously dressed with long feathery gowns and diamond embroidery.
At first you wonder if they are singing but quickly realize they lip sing. They do not always know the lyrics instead relying on sounds, but this doesn't make it any less extraordinary. They are fantastic. They smile, they dance, they sing like true divas and they create a glamorous atmosphere.
At that point, everyone's judgement is clouded and the exaltation of new found friendship begins. Ka Jok See Phuket does not discriminate in sexual orientation – everyone's welcome and most are somewhere in between.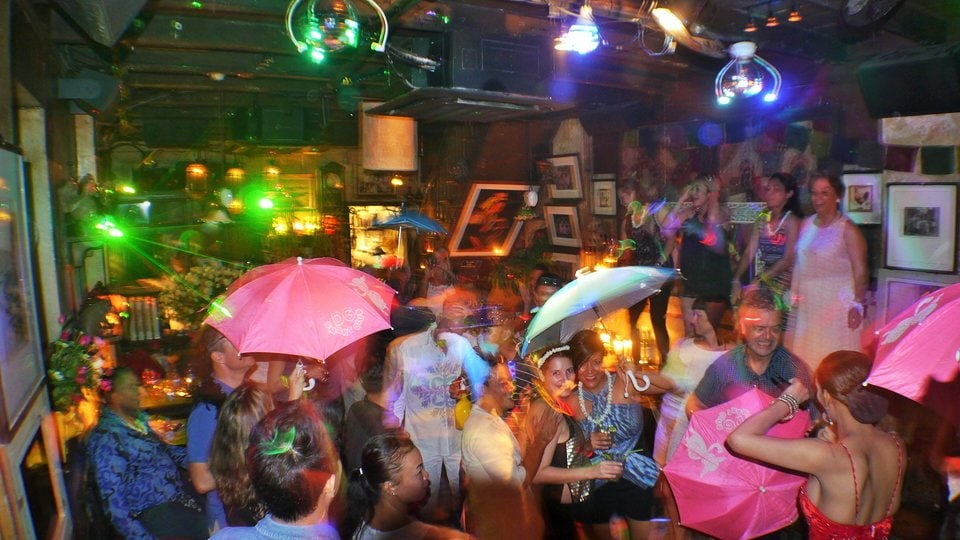 The tables and chairs act as makeshift stages. The staff are constantly on the look out to help you climb or descend from your royal podium lending a hand to those damsels in need. Plates and drinks share the space with your high heels.
The food and drinks cannot be dismissed among such spectacle. Food is served free flow, chosen from a long list of Thai favorites, in sharing plates. You can order to your heart's will and the price is set at around USD100 (3,000 Baht) plus drinks. Cocktails are excellent. Margaritas and mojitos come perfectly mixed and taste divine. We know because we were sober when we started ordering them.
Even when you think you've had enough, drinks keep coming out, complimentary, in the form of shots. Water is also available, but only as a cure for the sweaty bodies dancing to old time favorites like Madonna or It's Raining Men, when the crew actually makes rain magically appear inside and gives out umbrellas.
At some point during the night there will be conga dances and limbo, but only when dancers are already at the stage of not caring what others think.
The night ends when the last guest leaves which can be anytime between 1-3am depending on the crowd. It is an evening to remember and an insight into the underworld of Patong without losing in class and sophistication.