Looking to get into the full spirit of the season? Check out this list of places to see the Christmas lights in Singapore and we guarantee you'll leave singing Christmas carols! Bring in all the magic of the season with these ideas for Christmas in Singapore.
Orchard Road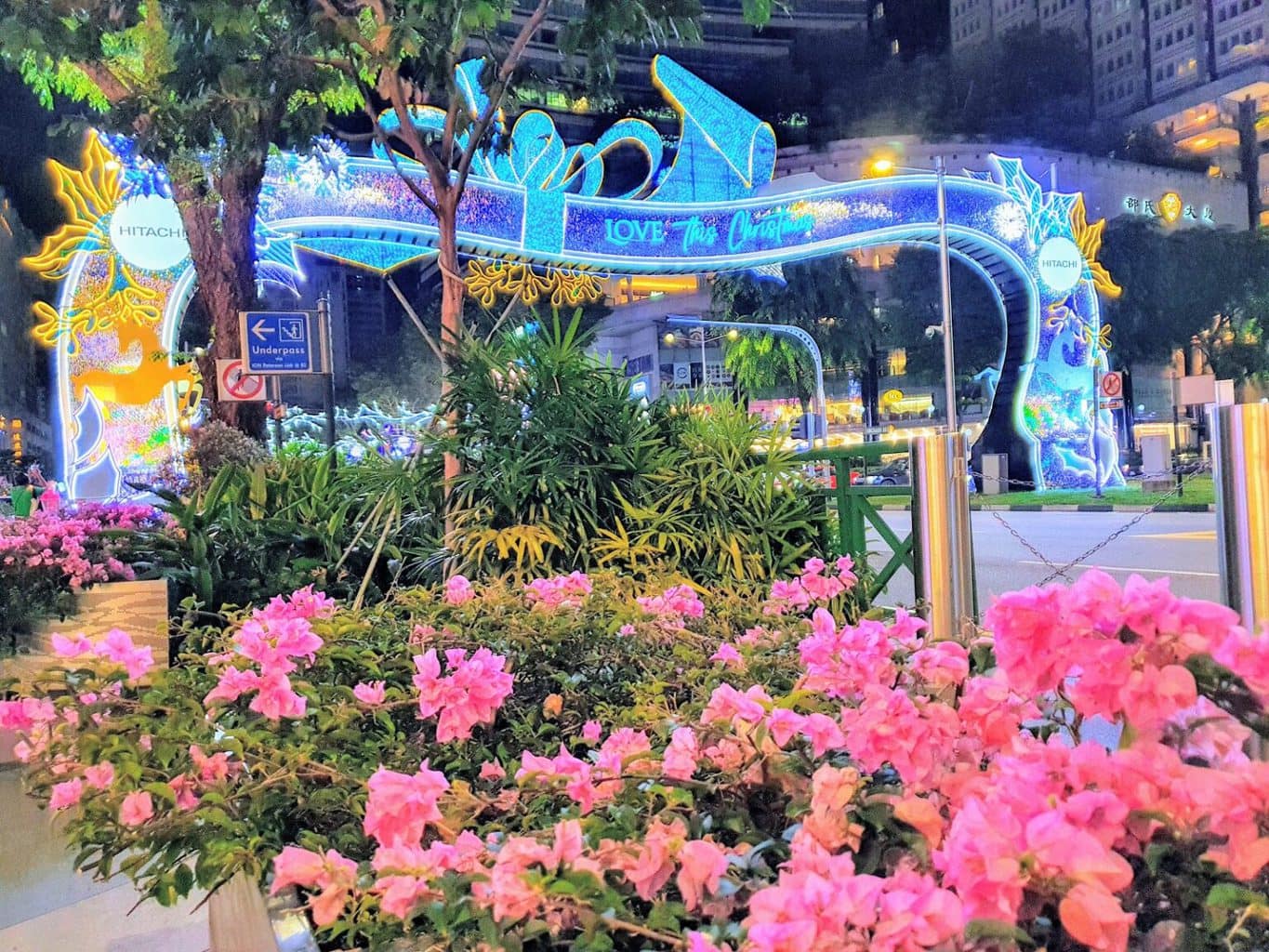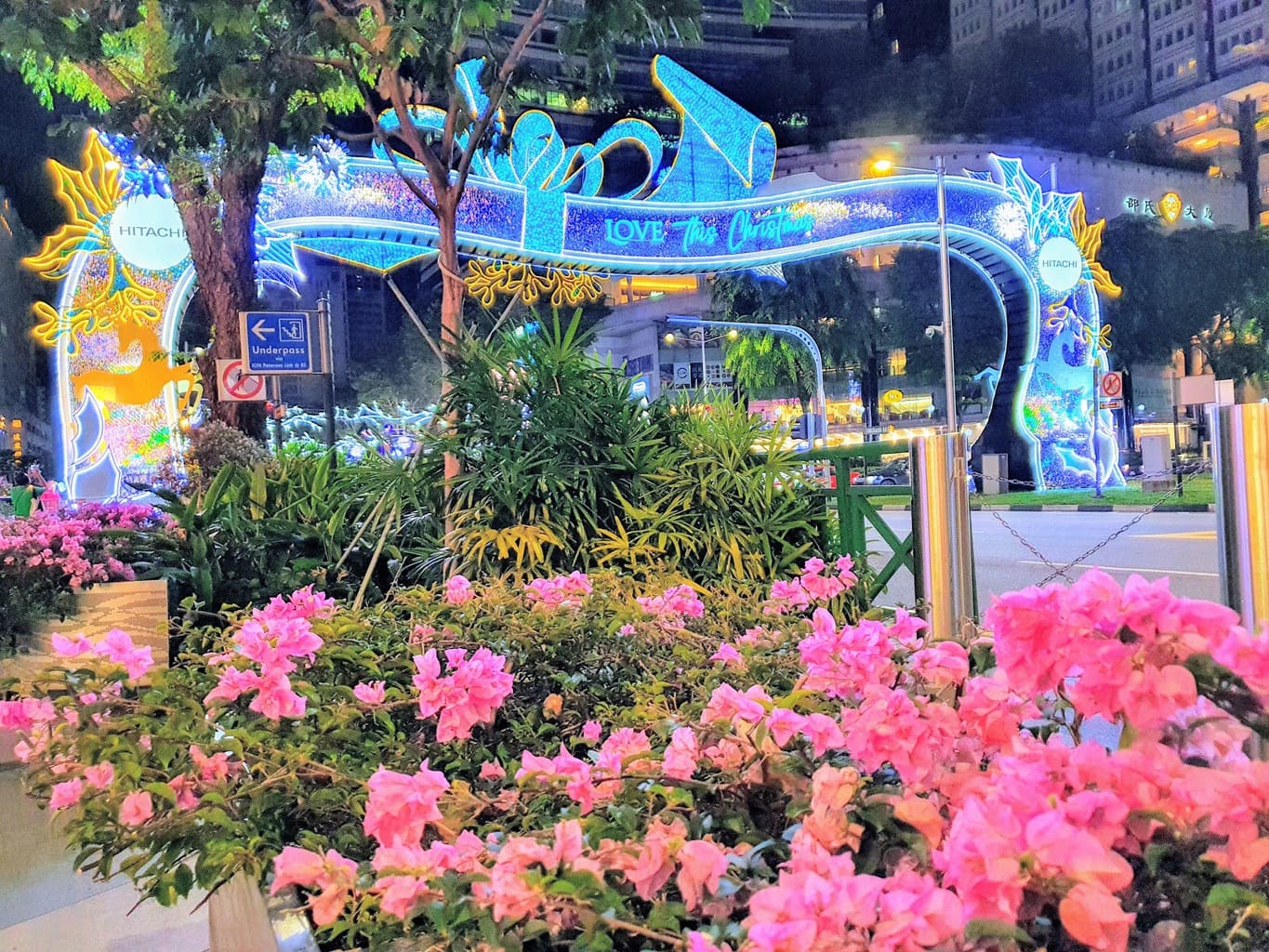 Come Christmas in Singapore, Orchard Road dresses up with all manners of Christmas themed decorations and gets fully decked with twinkling lights, Christmas carols and red and green storefronts. If you're a visitor or expat that misses home or want to experience what the Christmas spirit is all about you must start there.
Around mid November, Orchard Road officially lights up the street lights which feature Christmas themes such as snowflakes, reindeer, baubles and trees. The lights turn on in the evening around 6:30pm and stay on till late until the 1st of January. It's similar feel to Deepavali Little India.
In 2020, the campaign is called Christmas on a Great Street and features not only offline decorations but also a full-fledged website with online events and fun Christmas activities such as an online photo booth, a virtual Orchard Road tour and a variety of offers.
Ion Christmas pinwheel tree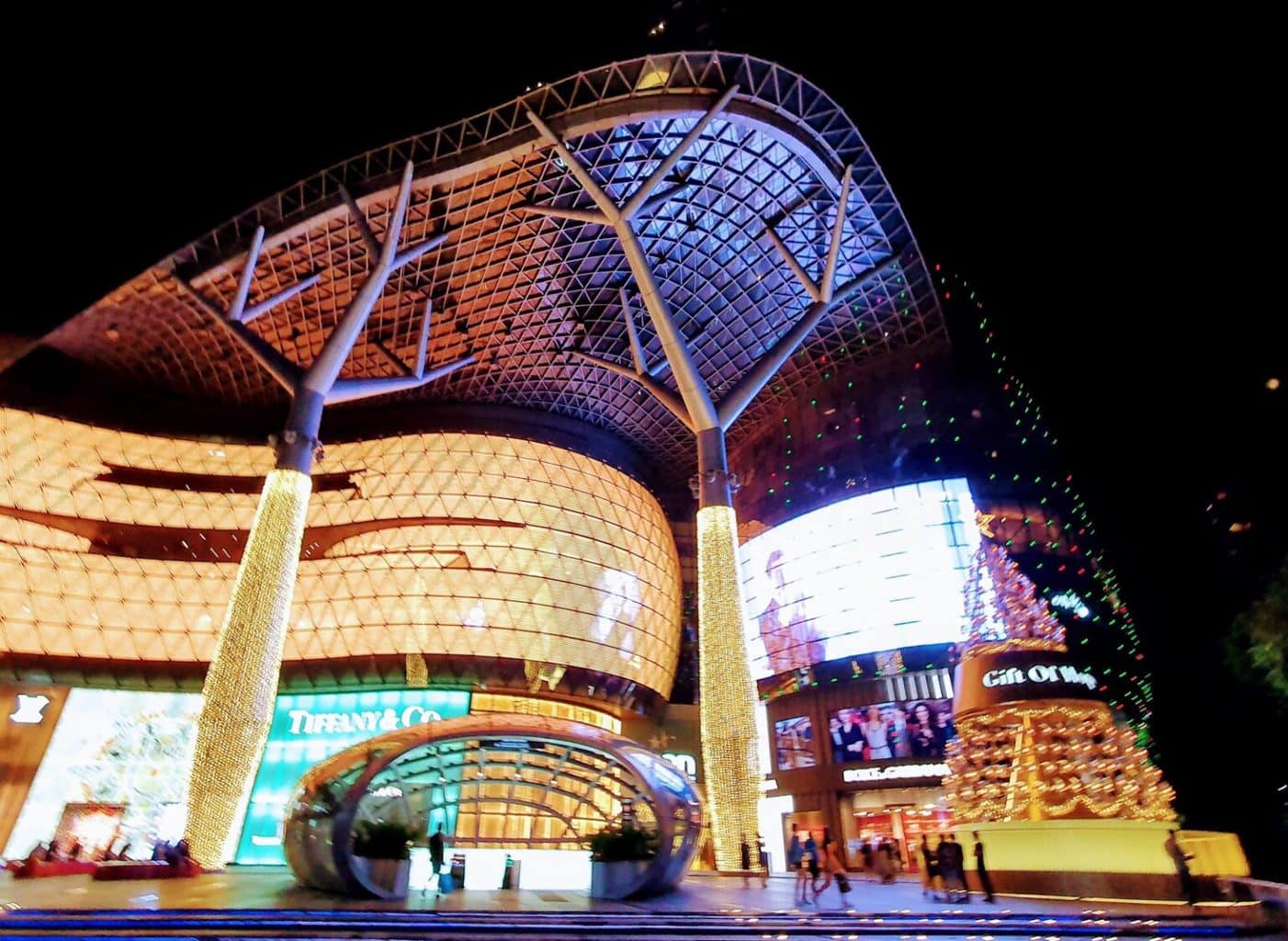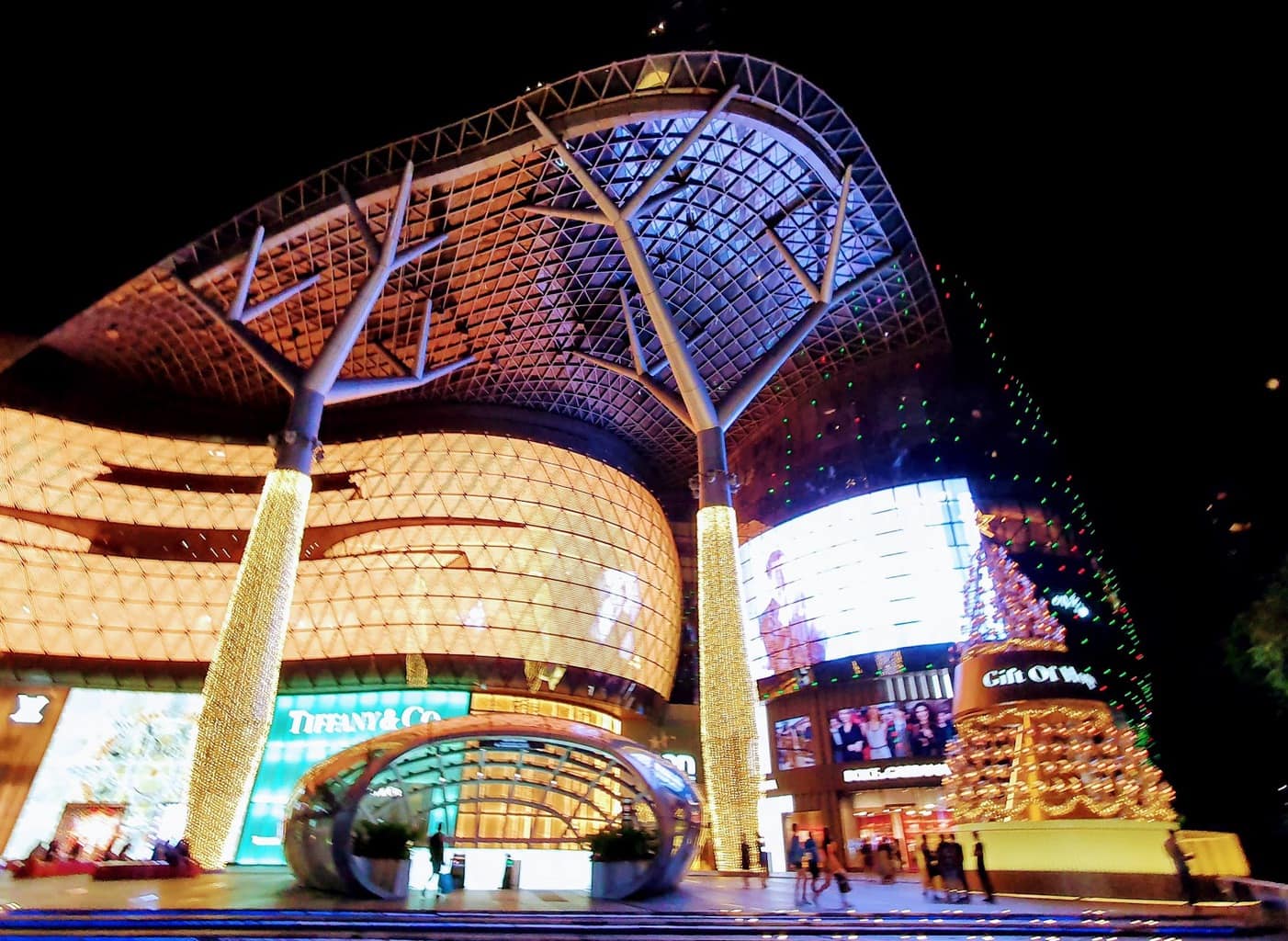 Other than the main Christmas gate of Orchard Road you will find Ion's large pinwheel Christmas tree made of 250 individual pinwheels that spin with the wind.
Be there at 7:30pm and 8:30pm daily to watch the music and light show and the short video playing behind the tree that explains how it was built.
Christmas Wonderland at Gardens by the Bay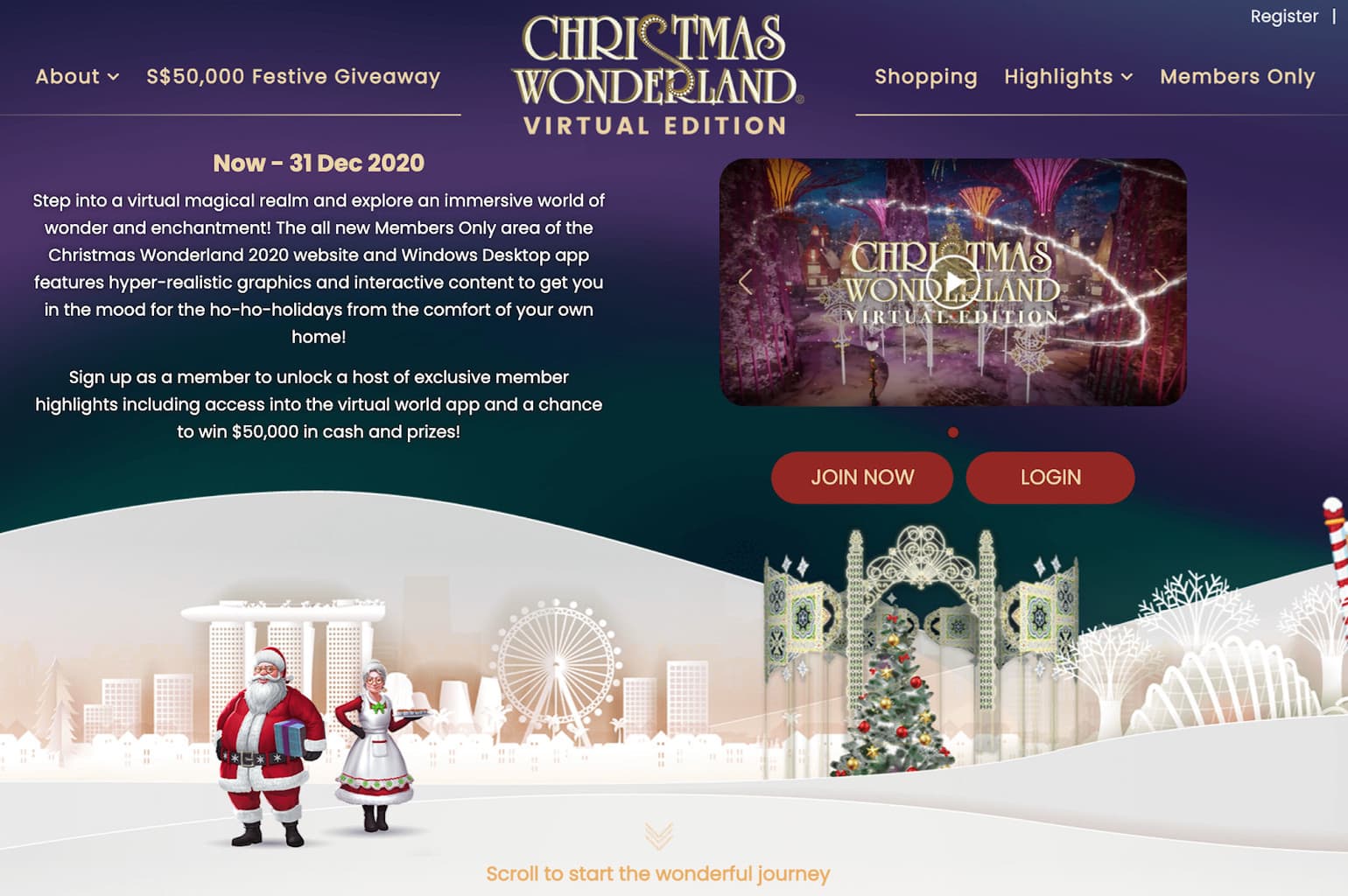 Gardens by the Bay puts on an annual Christmas theme park at the Supertree Grove that resembles the Christmas markets in Europe with stalls selling decorations, mulled wine and food under the name of Christmas Wonderland.
Foam snowflakes fall from the sky between the tall Avart-ish trees, themed music floats in the air and kids play in the few rides. In 2019, there was even an ice rink to feel like winter.
In 2020, the only offline Christmas installation will be a light display called Walk of Lights that will run from the 4th December and allow visitors a half hour self-guided tour if they buy tickets online. And of course, there's always Garden Rhapsody, the GBS Light Show.
Other events will all go online including online video calls with Santa, a huge giveaway, a Christmas song singing contest, a puzzle contest, and more, all from the comfort of your home and for the price of a membership starting at $8 and going all the way to $25 at the Virtual Christmas Wonderland website.
Pro tip: The tickets for the Walk of Lights and the Virtual membership are bought separately. You must buy tickets for the Walk of Lights online, they are not sold on site.
Changi Festive Village at Changi Airport and Jewel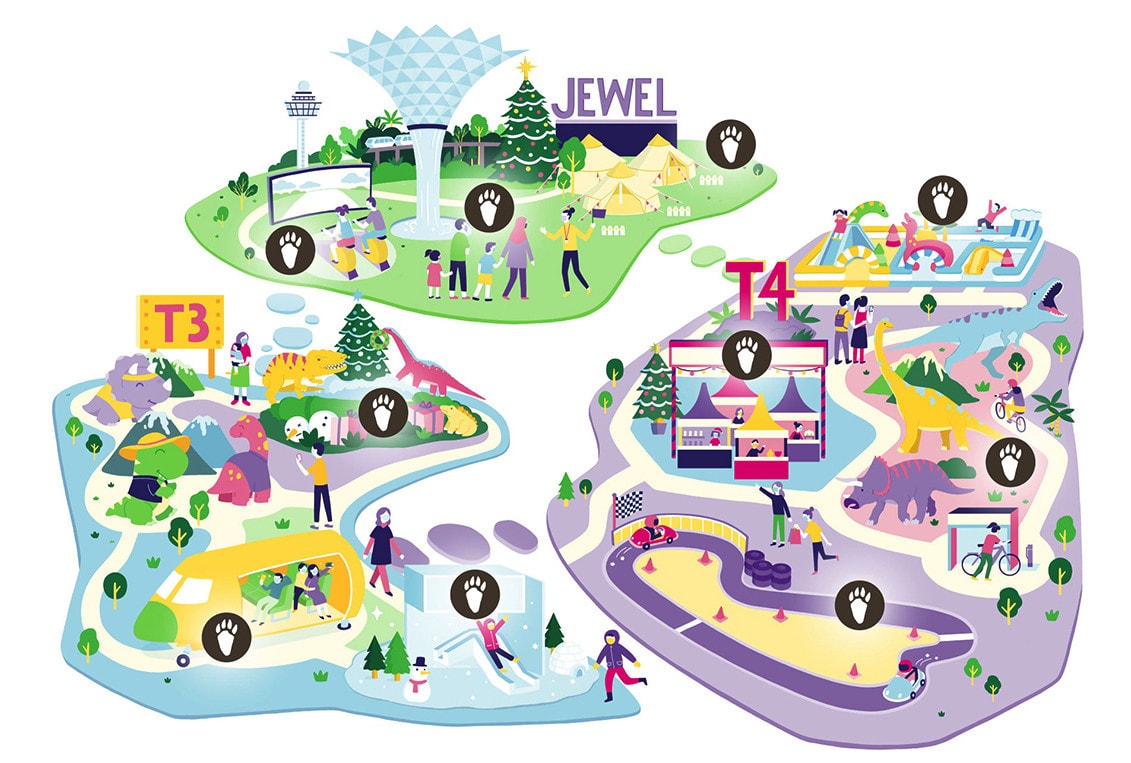 Changi and Jewel are putting up a Christmas themed show until the 3rd of January including displays and activities across Terminal 3 and 4 and Jewel under the Changi Festive Village name.
Combine your visit with access to the Canopy at the top and Jurassic Mile and you'll have an entire day at Jewel that will feel like a day at an amusement park. It's also one of the best spots to visit in Singapore when it rains and is the most Instagrammable.
What can you do at Jewel for Christmas in Singapore?
Sparkling Christmas at Jewel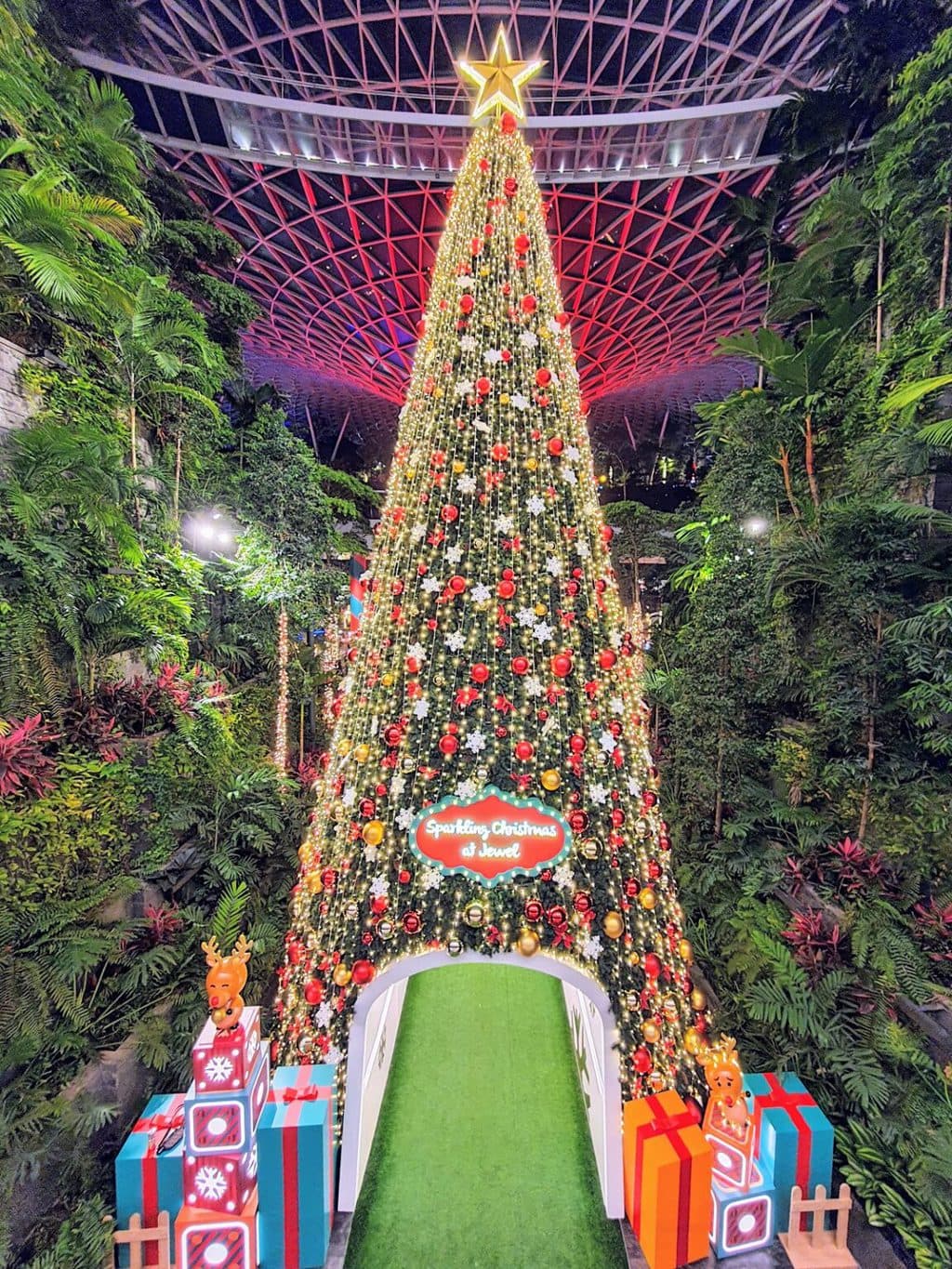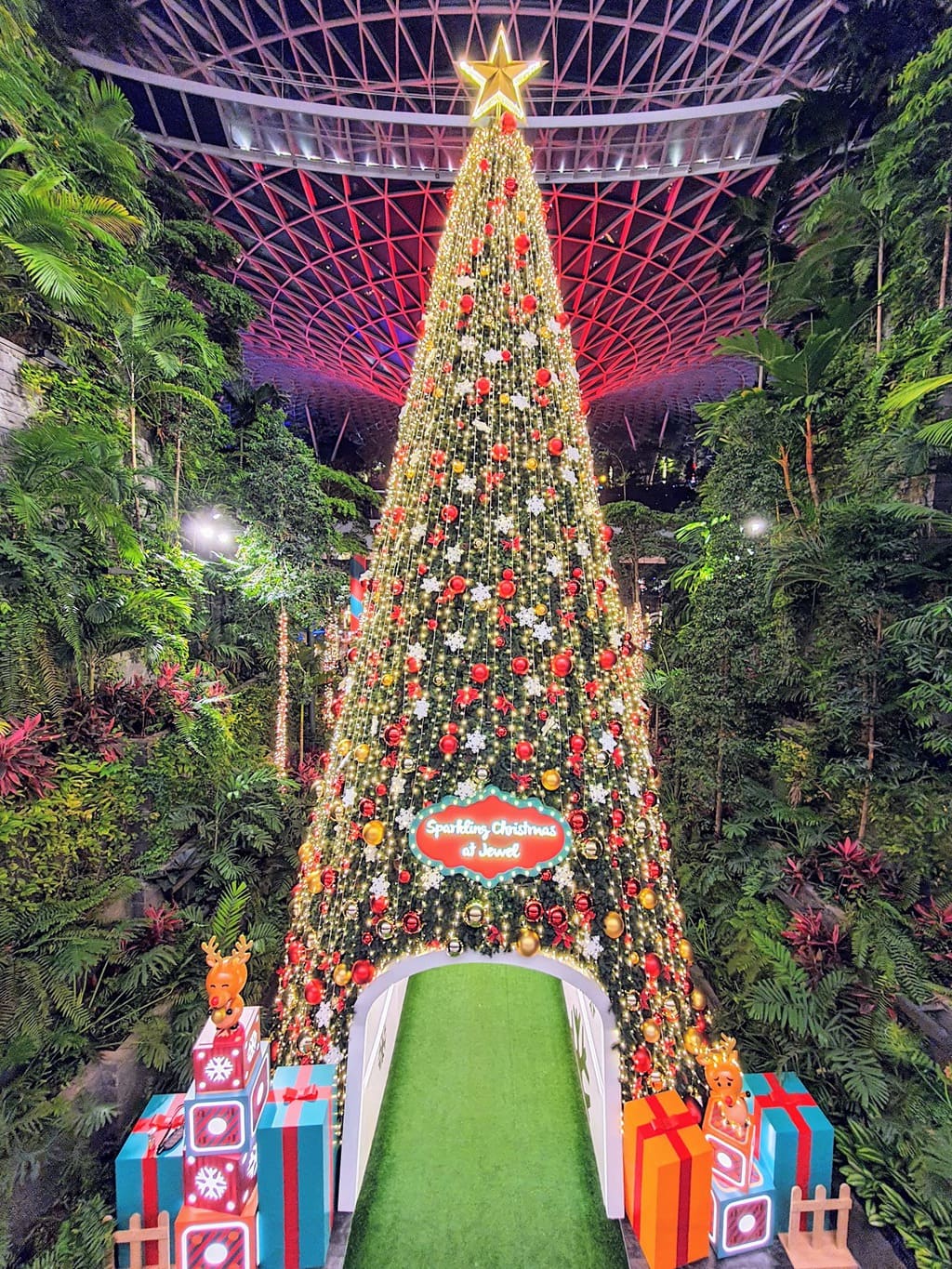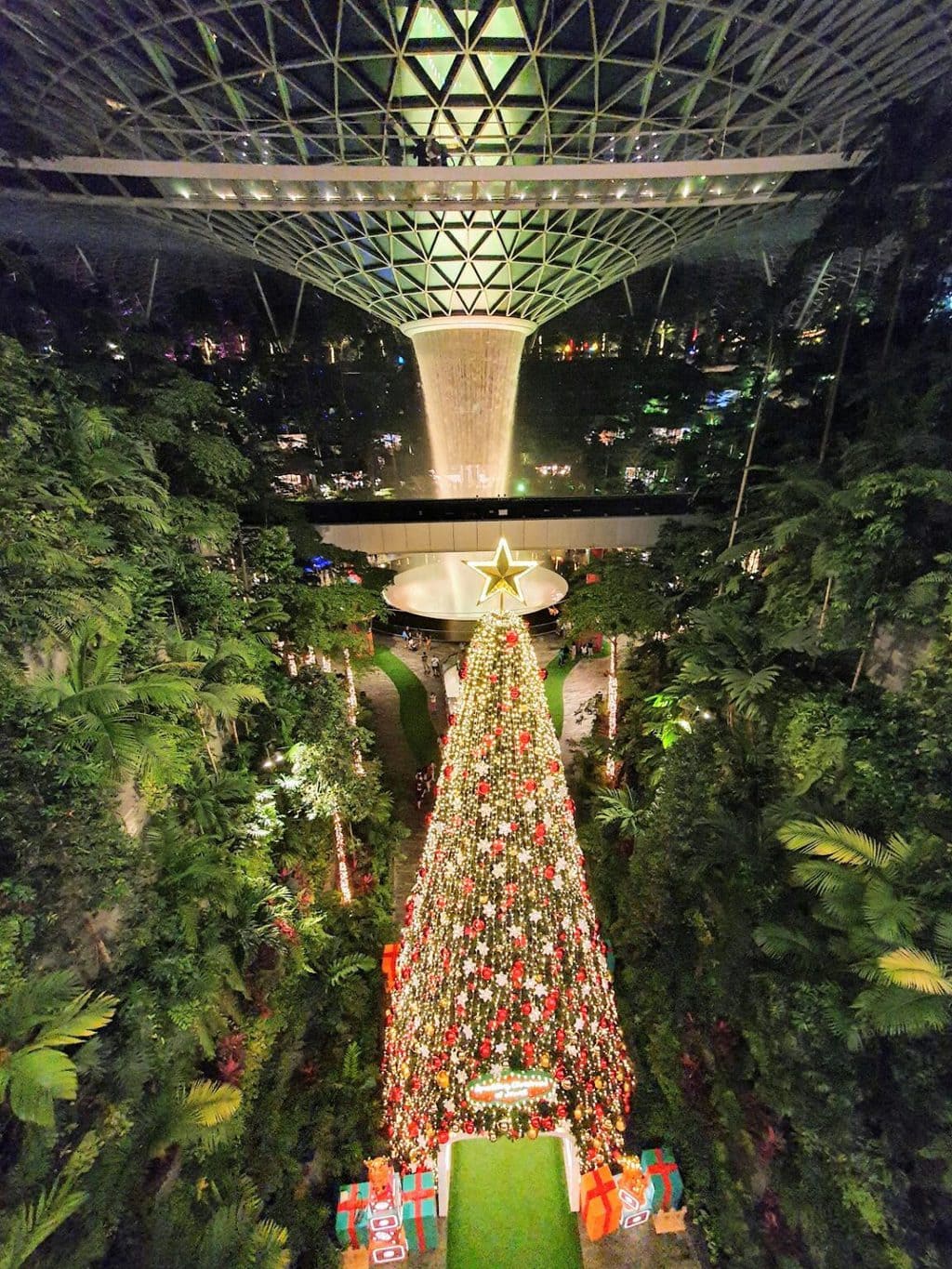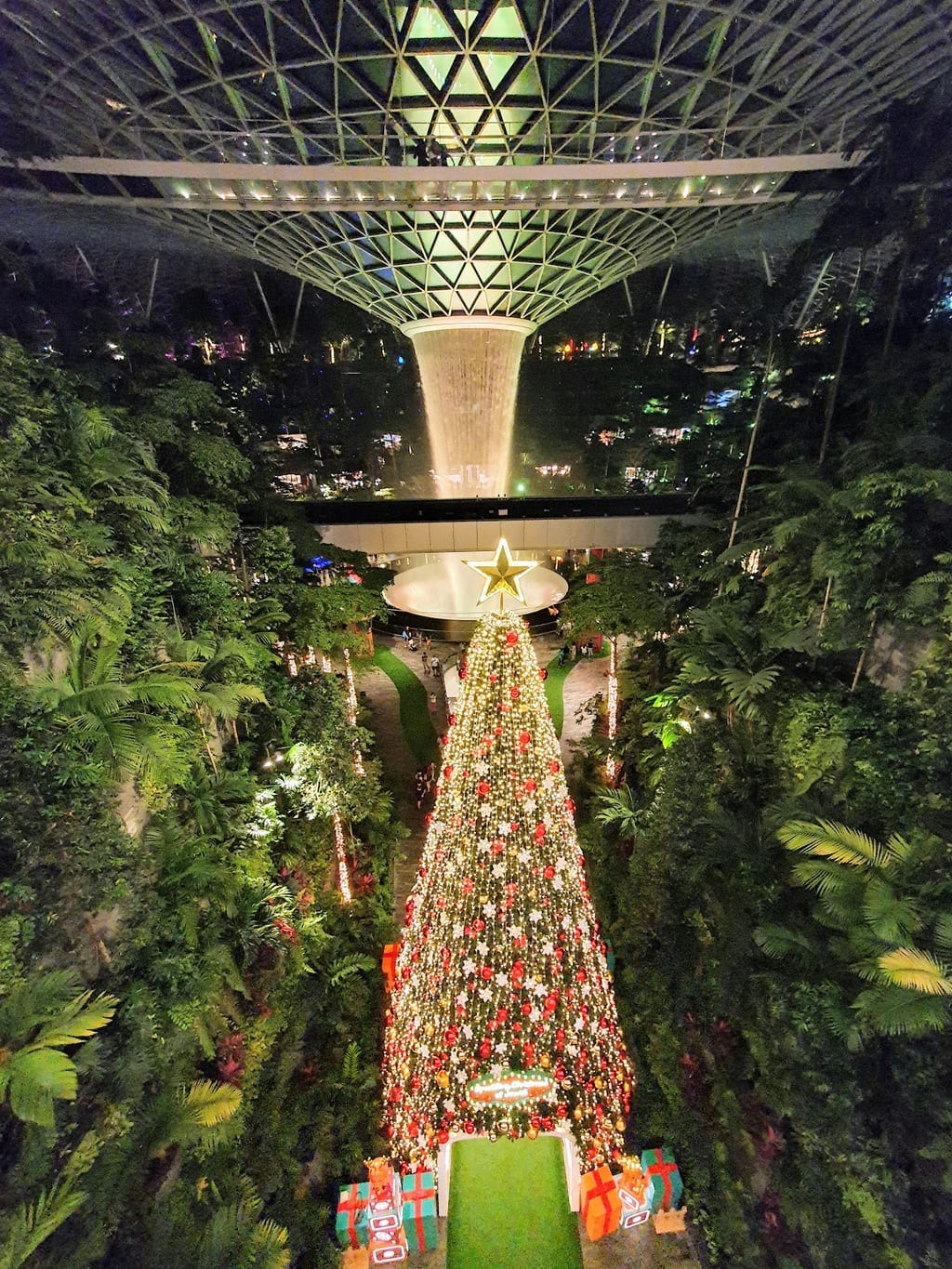 The main Christmas themed display at Jewel is at the Vortex.
A 16m tall Christmas tree gives way to the center of the waterfall where there are several Christmas themed photo ops and props like a sled, a stall selling warm cookies, a dial that you can stand below and it will mark whether you have been naughty or nice and, at every half hour from 6:30pm onwards, foam snowflakes.
As far as we know, access to the Vortex area is free until 6:30pm, you will need to show a receipt of $30 (spent at Jewel Shopping Mall) for every two people to gain access after that. Passes cannot be purchased separately.
Sentosa Island Lights with Sanrio
From 12 December to 3 January Sentosa is having one of the most kawaii light festivals you can imagine. Island Lights will feature seven of the most well-known and adored Sanrio characters including 8m tall installations of Hello Kitty, Pompompurin, My Melody and Little Twin Stars.
The light installations are placed on one of Singapore's favorite beaches Siloso on Sentosa. This is sure to be a completely Insta-worthy walk along the beach where lit up installations of Sentosa's past are combined with the cutesy characters that will whisk you away to Japan. There will be plenty of photo ops including demarcated benches for the best wefie.
While visiting the area is free, you will need to reserve online. You can register one of three sessions for up to 5 people. Sessions are an hour long and go from 7.30pm to 10.30pm. You can book five days in advance from 7 December and enter at the Sapphire Pavilion. Show your email confirmation for access. reserve your ticket online here.
Dino Wanderland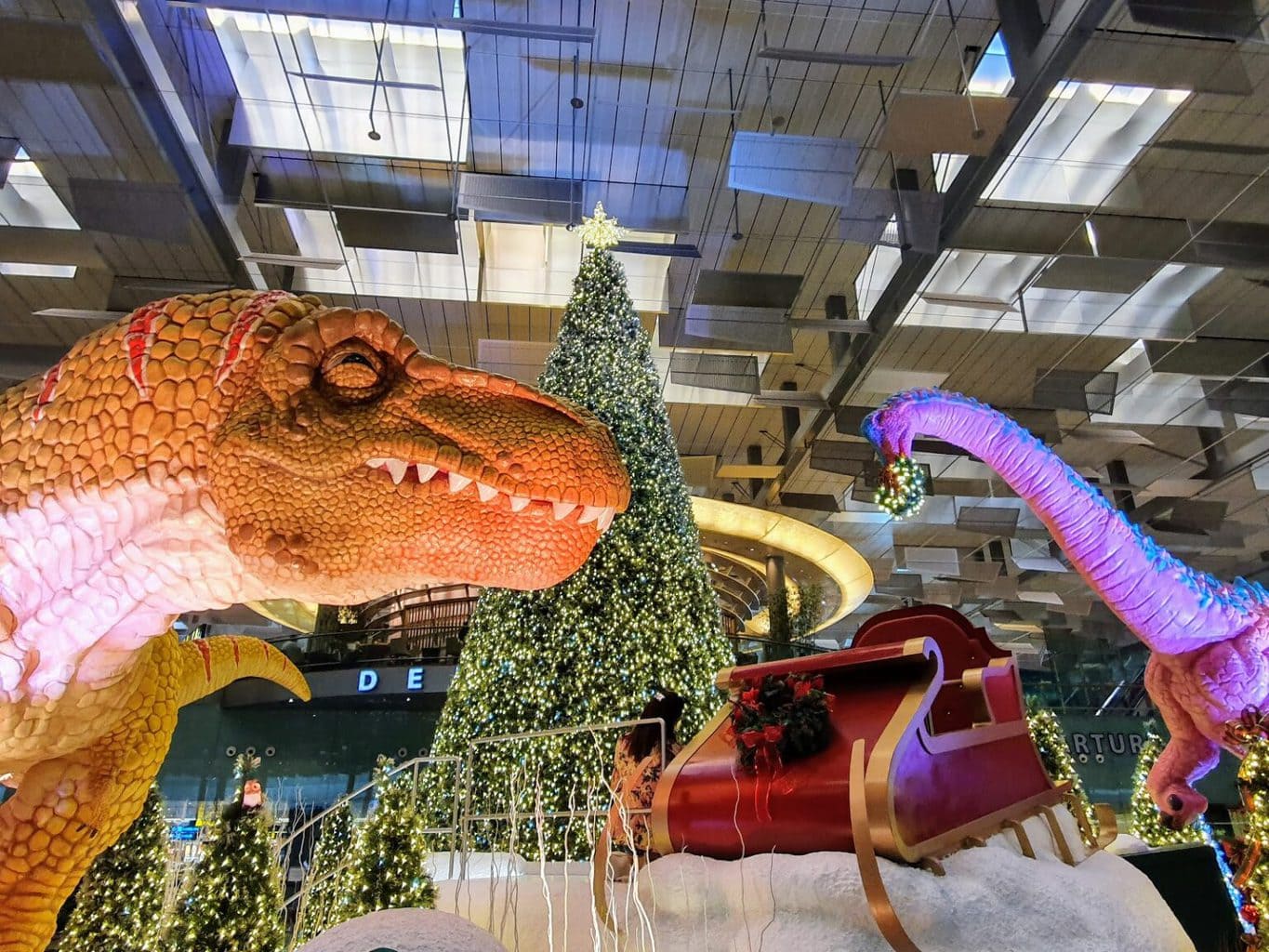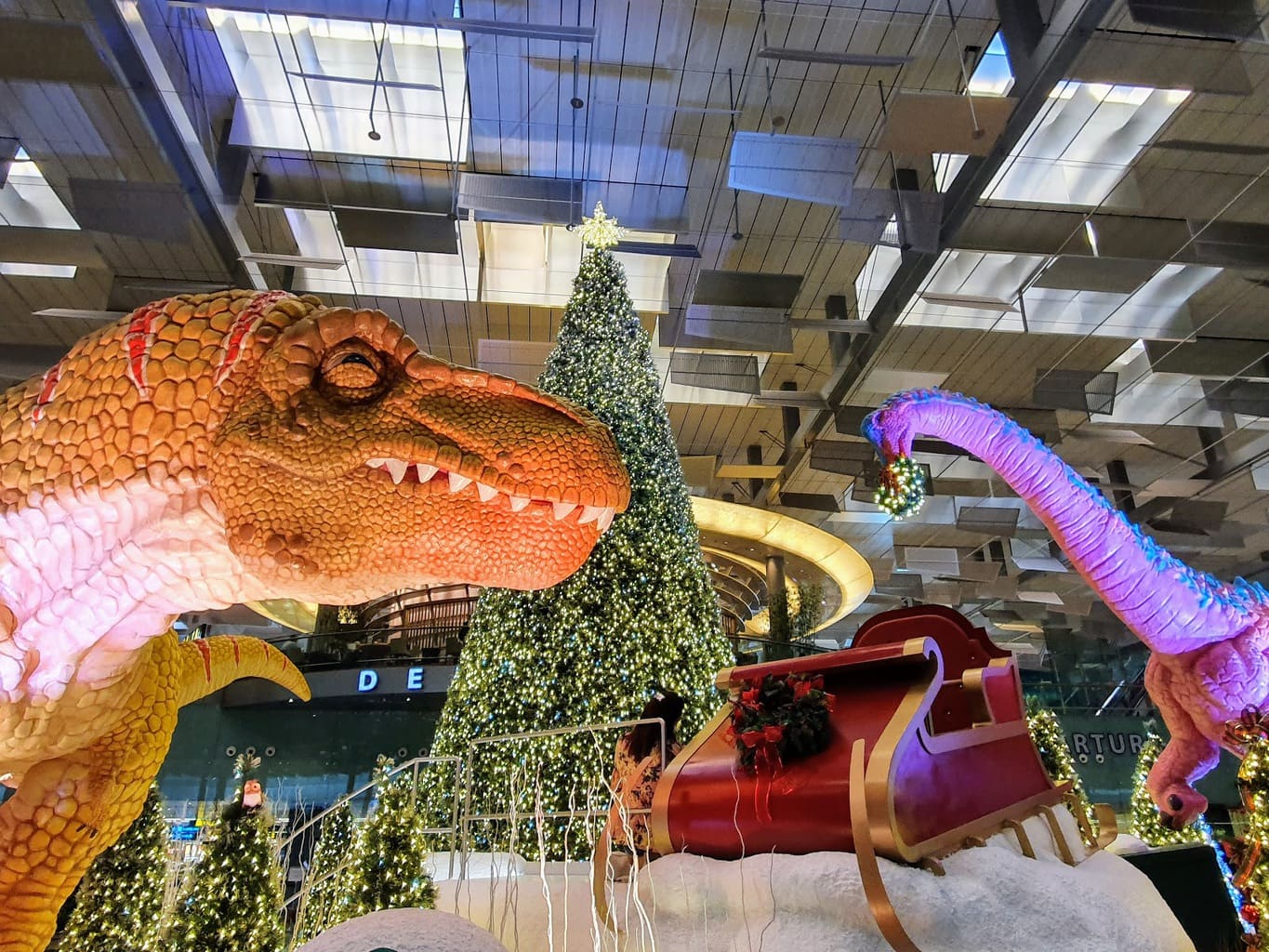 In Terminal 3 you will find Dino Wanderland, a dinosaur-themed Christmas in Singapore exhibit that you can take pictures at.
To access the exhibit and take pictures on the sled, you need a receipt worth $30 (from Jewel) for every party of 4 people taking 1 picture together. Terms and conditions can be found here.
What you need to know:
Receipts need to be for the same day and on qualifying purchases (e.g. Jewel activities such as the Canopy, Changi Studio, etc. do not qualify) and using a qualifying payment method (that is, no credit cards allowed).
Photos are available from 3-9pm from Monday to Wednesday and from 11am to 3pm from Thursday to Sunday.
You can buy additional photo passes at $5 here.
Dino Dazzle at Jurassic Mile
Singapore has really gone dino crazy this year! So while you can make your way to Dino Wanderland, there's yet another prehistoric Christmas event that you can attend at Changi. We've mentioned Jurassic Mile above, but what some may not know is that the one-kilometer stretch will be covered in lights up until January 3.
See Mr T-rex like never before as he will be covered in fairy lights. The trees will be lit in neon and the walkway will look all the more merrier. Visit Jurassic Mile after 6:30pm to see the Mile all lit up and glowing with festive spirit. Entrance is free.
tokidoki Snow Holiday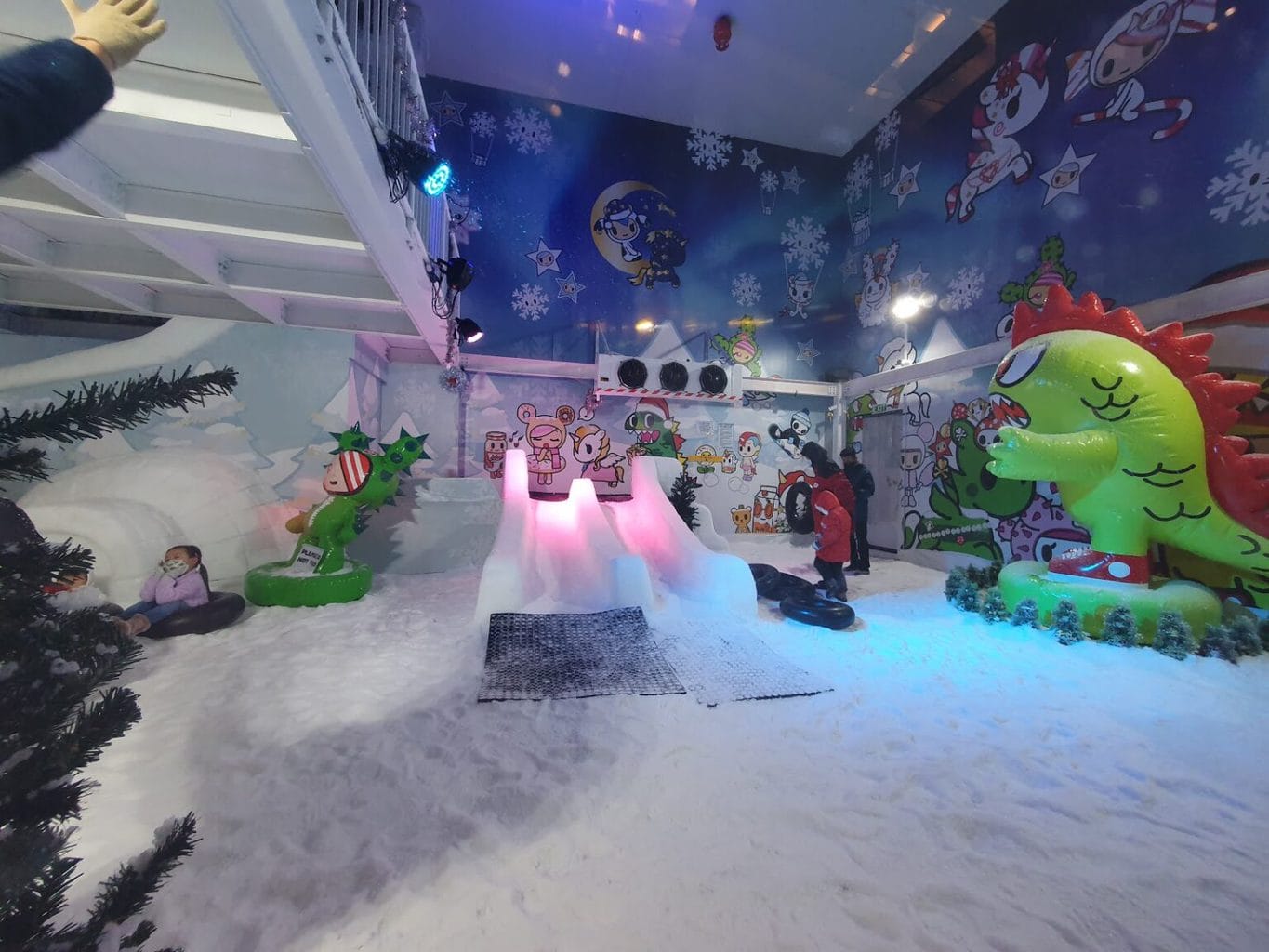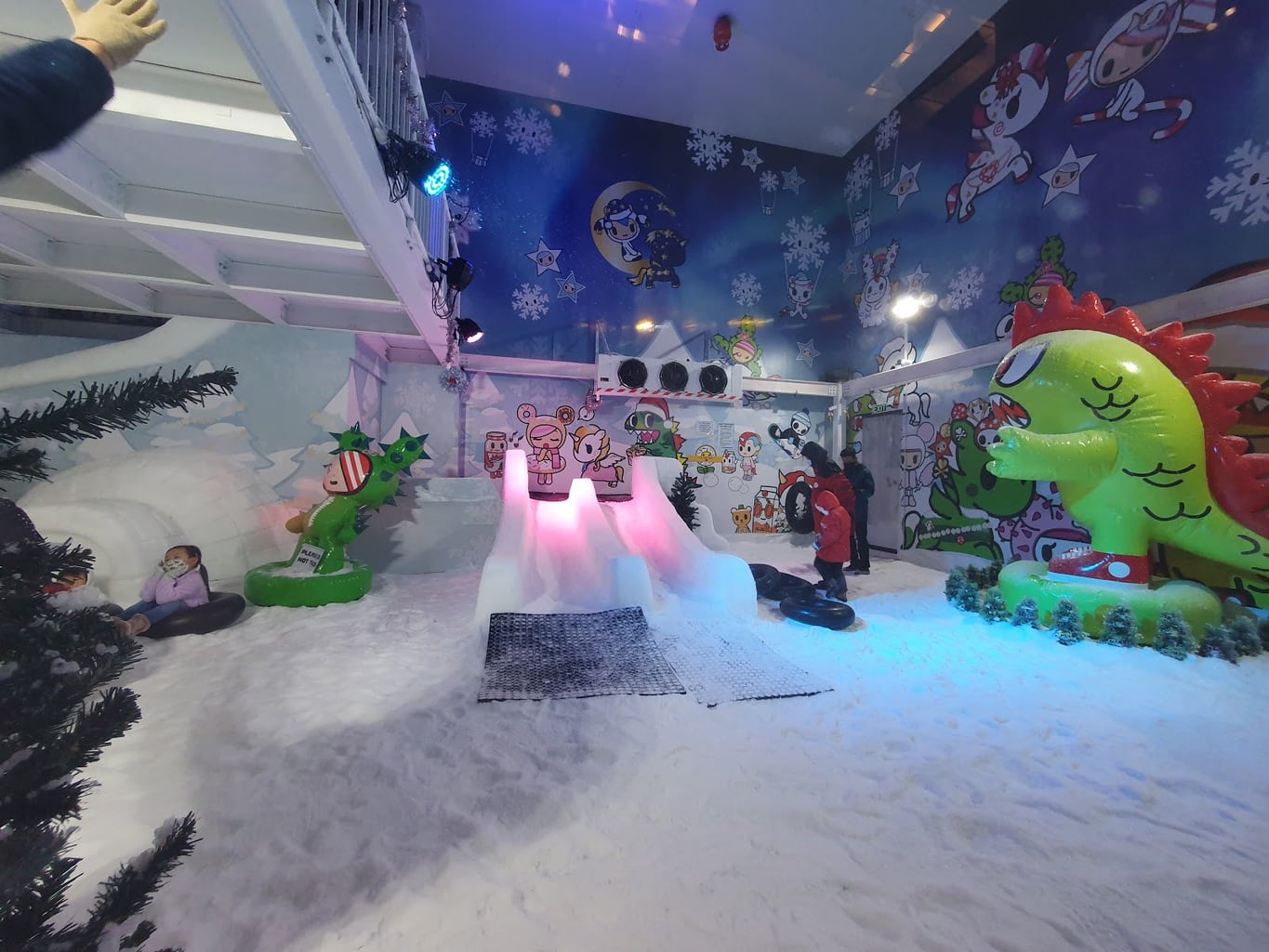 A small indoor play zone with short sides, an igloo and several tokidoki cartoons where kids can play in the snow and take pictures in.
Each play slot will consist of 20 minutes of briefing/preparation and 20 minutes of play time for both weekdays and weekends/public holidays. Play slots are available for booking from 20 November 2020 to 3 January 2021 daily from 10:40am to 10:20pm (last entry at 9:40pm).
Each activity pass includes complimentary use of winter jackets and boots for the participant. You need to bring your own socks and long trousers or you'll be able to rent them there.
If you don't have a receipt with the minimum value, you can buy a Playpass for $13,90.
Air tokidoki
At Terminal 3 as well, you can feel the closest you'll get to flying at this replica airplane interior (Economy Class) that is tokidoki themed. Take pictures with tokidoki characters and have fun, for free.
Dino bounce
At Terminal 4, you will find more dinosaur themed activities at the large bouncy castle. Like with other attractions, you can present a receipt to enjoy the fun, only this is just for kids aged 5 to 12 and measuring a minimum of 1m.
Each slot will be 20 minutes exclusive of 5 minutes of briefing/preparation. Slots will be released 5 days prior to the activity date and the activity opens from 3-10pm Monday to Wednesday and from 2-11pm from Thursday to Sunday.
If you don't have a receipt, you can buy access for $8 at Playpass.
Dino kart
At Terminal 4 near the taxi waiting area, you will also find a small dinosaur themed go kart.
This activity cannot be redeemed for free with receipts, you need to buy access passes, but if you have a receipt you can get them cheaper. Prices start at $12 for novices on weekdays and go as high as $22 for professionals on weekends.
This activity is open from 3-9pm from Monday to Wednesday and from 11am to 3pm from Thursday to Sunday. Activity passes will be available for booking/purchase 5 days prior to the activity date. You must wear closed shoes and kids need to be 9 years old and above and measure 1.3m.
Workshops
Besides all the activities, Changi and Jewel have also organised lots of Christmas workshops you can participate in and which will keep you busy all day, from drone flying to terrarium making.
Find them all here.
How all the Changi Festive Village activities work
It is incredibly confusing to figure out how the activity passes and the voucher for activities actually work because each is different and has specific requirements. The website is even more confusing and the staff at the shops have no idea either. It all feels a bit like a macabre puzzle making it very difficult to figure out.
Other than the requirements I listed above, this is what we know.
Each receipt can only grant a maximum of 4 passes so anything above $120 does not grant you any more accesses.
To qualify, purchases must be made from 20 November 2020 to 3 January 2021 and the receipts redeemed the same day.
You can buy passes to all activities, so if you don't want the whole hassle, just get them ahead on time online and you're done. If you participate in all activities you'll spend $50 (with professional karting).
Most activities will grant access to 2 people for $30, so if you have a kid then you'll need a minimum spend of $60 for the 3 of you to participate (except for the Dino Wanderland which is for a maximum of 4 people per receipt).
I recommend you first go have a meal or a purchase so that you can then use your receipt.
Pro tip: Go early, entrance to the Vortex is on a first-come-first-serve basis and with a maximum capacity to keep social distancing and it does get absolutely packed. If you can, go during the week or earlier (6:30pm instead of 7:30pm) to avoid queueing for nothing.
Universal Studios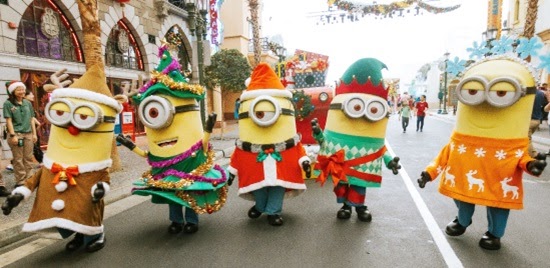 Universal Studios went from Halloween to Christmas in Singapore in 2 days and has themed the park entirely for the holiday season since the beginning of November and until the 3rd of January.
Attractions are still implementing social distancing and capacity is controlled so this is not the Universal you might be used to but it can still be a fun day out on Sentosa.
You'll find Minions dressed up with Christmasssy outfits, Christmas decorations and lots of photo ops and meet and greet with characters from Sesame Street, Madagascar and more. Every ticket gets a Christmas themed mask.
Pro tip: Queues are long and because of social distancing and the constant disinfection, you will most likely spend more time queueing than riding. So take it easy, relax and arm yourself with patience. The little ones will enjoy it more because they will care less about actually getting on rides and more on taking in the overall festive spirit.
Get your Universal tickets here.
CapitaLand Lego festive Carnival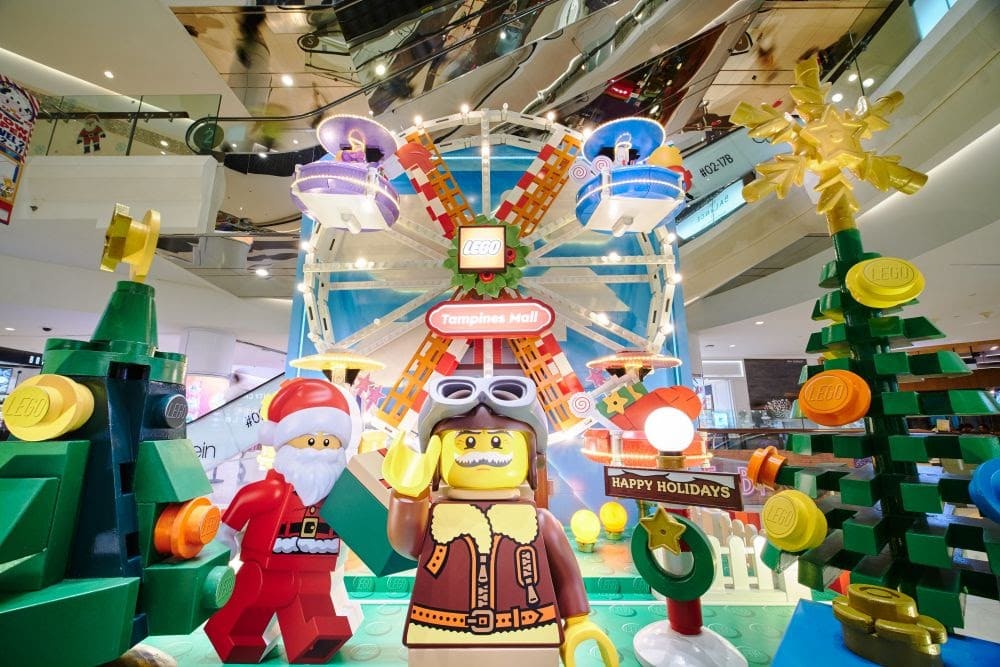 This year, CapitaLand has teamed up with Lego to create Christmas installations all around the city's 13 malls where kids can play and take photos until 31 December.
Each scene is Christmas themed and some allow kids to ride them or to play in them with slides and other interactive elements. Why not go on a treasure hunt across the island to find them all?
The installations are at Bedok Mall, Bukit Panjang Plaza, Bugis+, Bugis Junction, Funan, IMM, JCube, Junction 8, Lot One Shoppers' Mall, Plaza Singapura, SingPost Centre, Tampines Mall and Westgate.
You can see gingerbread men, Santa Claus, a 20m carousel at IMM, a ferris wheel at Tampines Mall, Funan and JCube and a roller coaster at Plaza Singapura and Junction 8.
CapitaMalls will turn the Christmas installations into Chinese New Year ones in the new year.
Nutcracker and the Whimsical Realms of Christmas in Singapore
The Capitol and Chijmes have several Christmas-themed celebrations and workshops ready for the holidays. You can learn to make your own arts and crafts, tree decorations or even Christmas meals and, in 2020, you can buy from their online Christmas market vendors.
Activities are available from 20 November until 25 December.
Dinner in a bubble at Chijmes or Capitol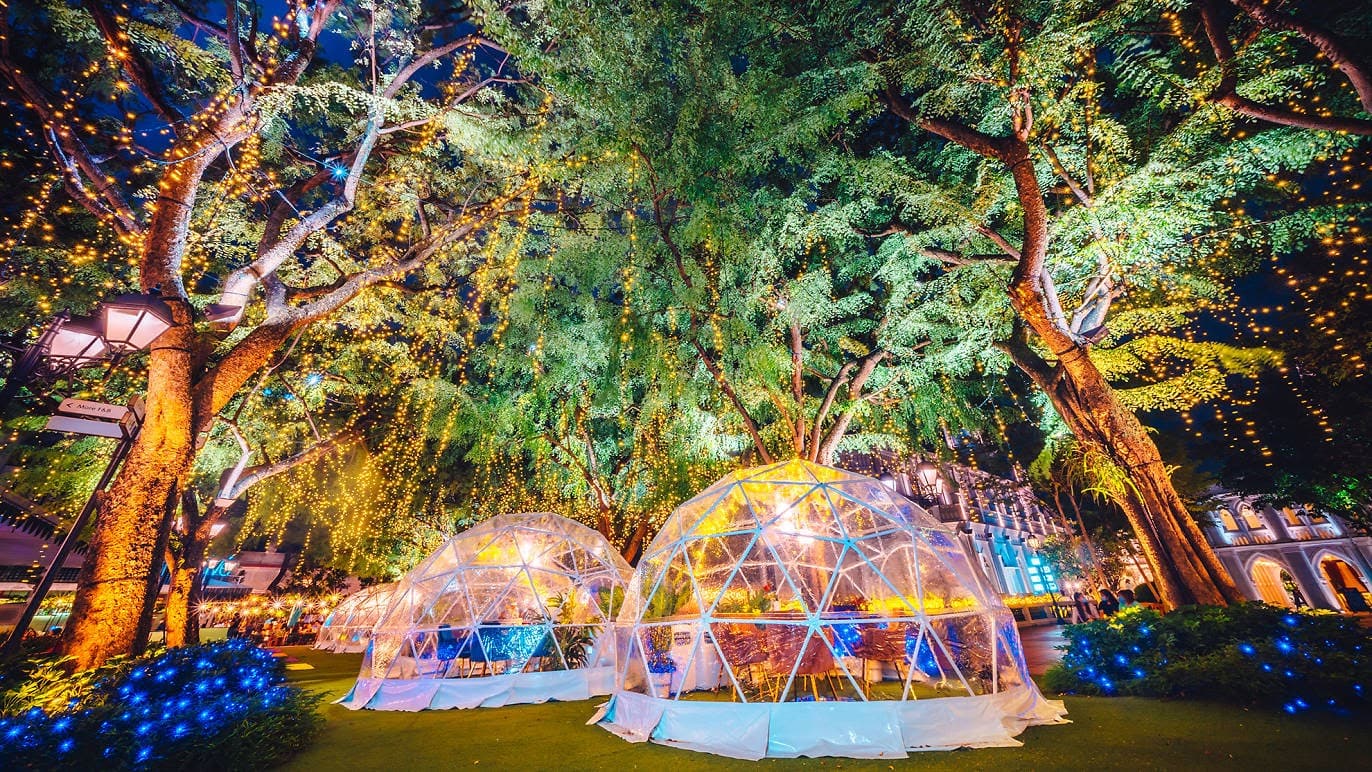 For a more unusual meal under the stars, Chjmes and Capitol Theatre have joined the bubble trend and installed a few domes on the lawn and Outdoor Plaza where you can have dinner with twinkling lights, we would say under the stars but really, this is in the middle of Singapore, there are no stars to be seen but the whimsical fairy lights do help feel a bit of magic.
Book here.
Snow City and the Science Center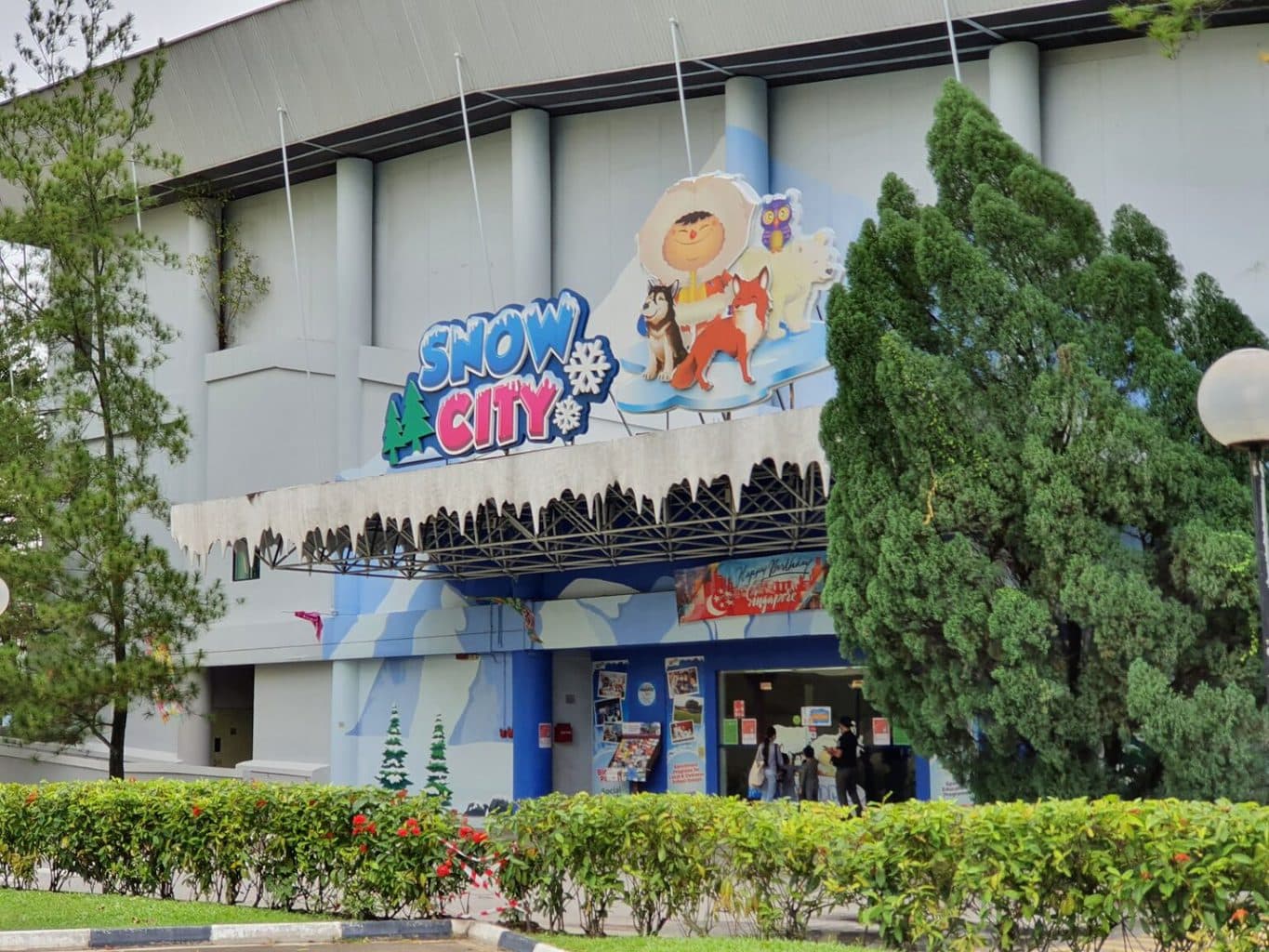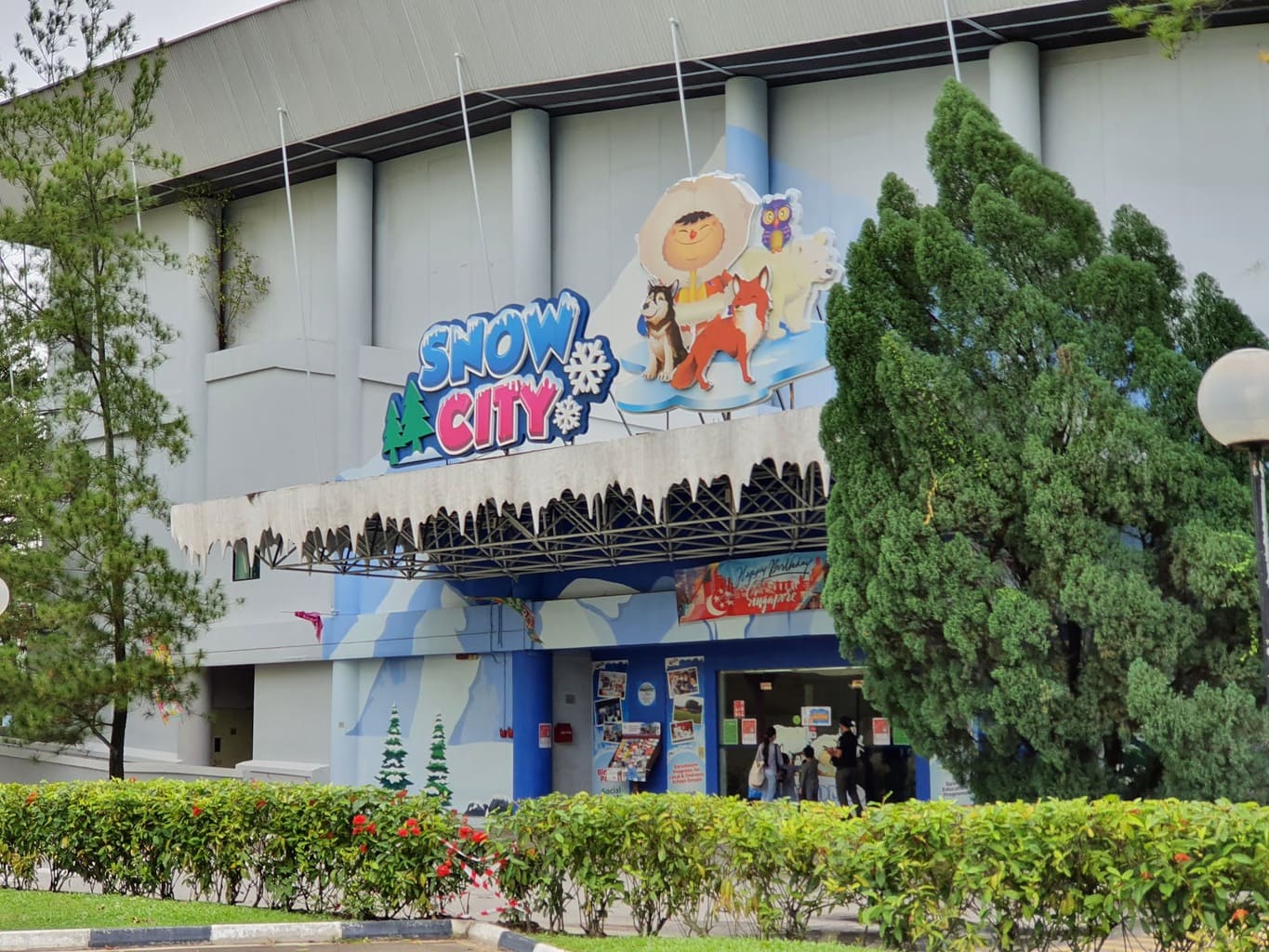 Not necessarily Christmas themed but nothing says Christmas like snow, and cold and what better place to enjoy this than at Snow City. This all-year-round activity is fun for kids and adults and allows you to enjoy the real cold beyond the crazy AC temperatures.
Snow City is quite compact so you won't spend more than 30min inside. The most fun part are the rides down the pneumatic donuts. You can buy photographs that will be taken of you at every step, your own photos are not allowed.
Pro tip: Make sure to book ahead or the queue could be brutal (1h plus on the weekends). Bring your own long trousers, closed shoes and jackets to avoid having to pay for rental. We recommend gloves as well, it does get cold inside. Remember the complex closes for 1h at lunch time, 1pm to 2pm.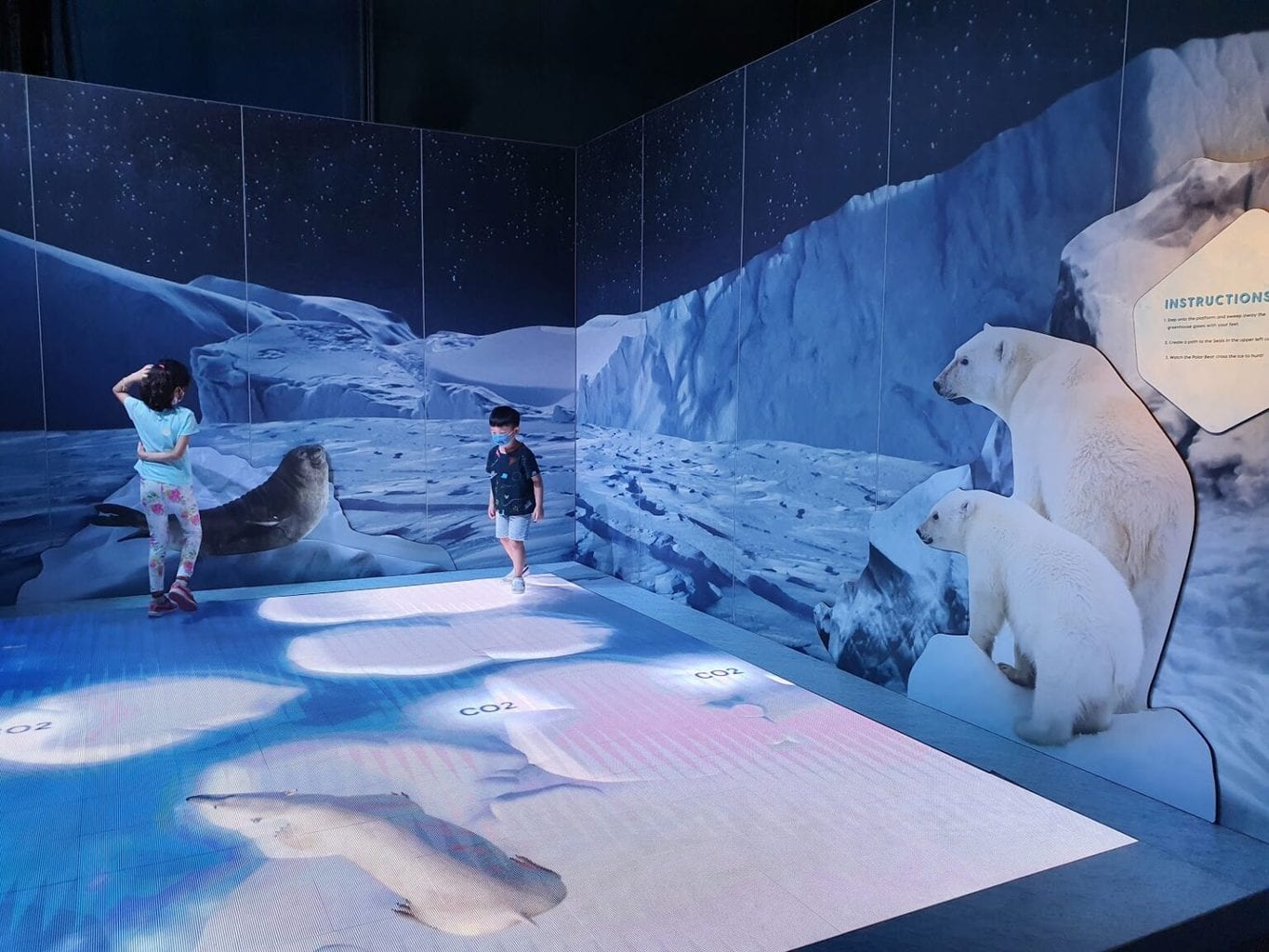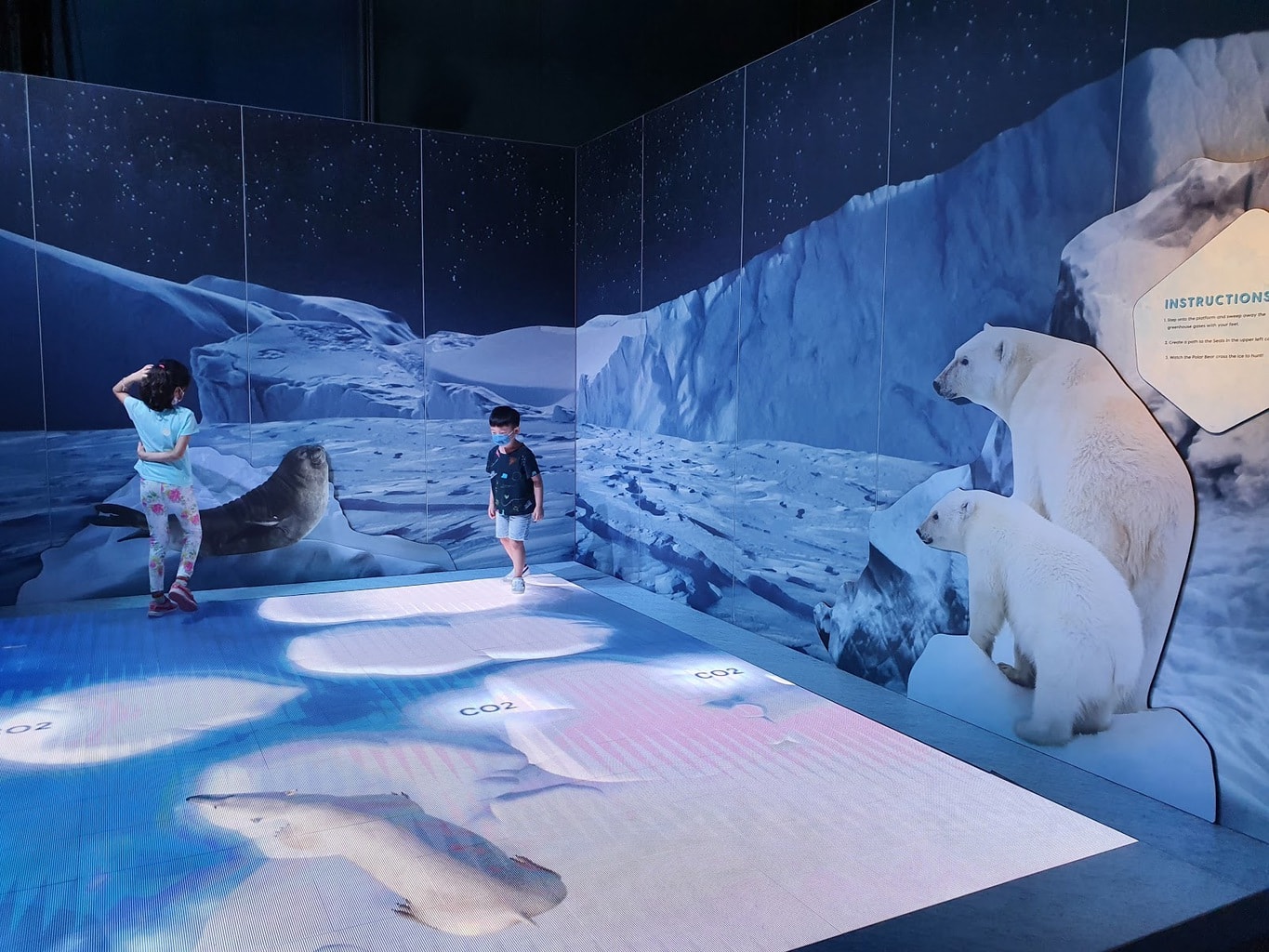 After or before Snow City make sure to check out the Animal Planet itinerant exhibition that is at the Science Center next door and the Science Center itself which is one of our favorite museums in Singapore.
The exhibition is obviously animal themed, but it is also strongly focused on the Arctic and Antarctica and the wildlife and conservation in those parts of the world. It is not cold inside, but it makes for a nice Christmas in Singapore feel and a good learning opportunity for kids to know more about conservation of the planet.