We have written plenty about amazing hotels in Singapore from luxury to boutique to hotels with rooftop swimming pools. But now it is time to explore the best staycations in Singapore for when splurging is on the cards.
Lucky for you, we've researched and found some amazing online deals that you can take advantage of if you're a resident of Singapore. From business daycations to ultra luxe pampering to family staycations, there's something for everyone.
In this list you'll find all the best brands for a fraction of the original price, often including treats and gifts like a bottle of wine, a room upgrade or F&B coupons to some of Singapore's best dining experiences.
Intrigued? Read on to find out all of the best Singapore staycation deals online. Book soon as they are selling out fast!
Note on updates: We will be updating this article every week as new offers come in, so if you don't like what you see, come back soon. You never know what may show up, maybe even one of your favorite brands. You can also compare regular rates here.
Are you ready for the best staycation deals in Singapore for this week? Read on to find out what's on offer.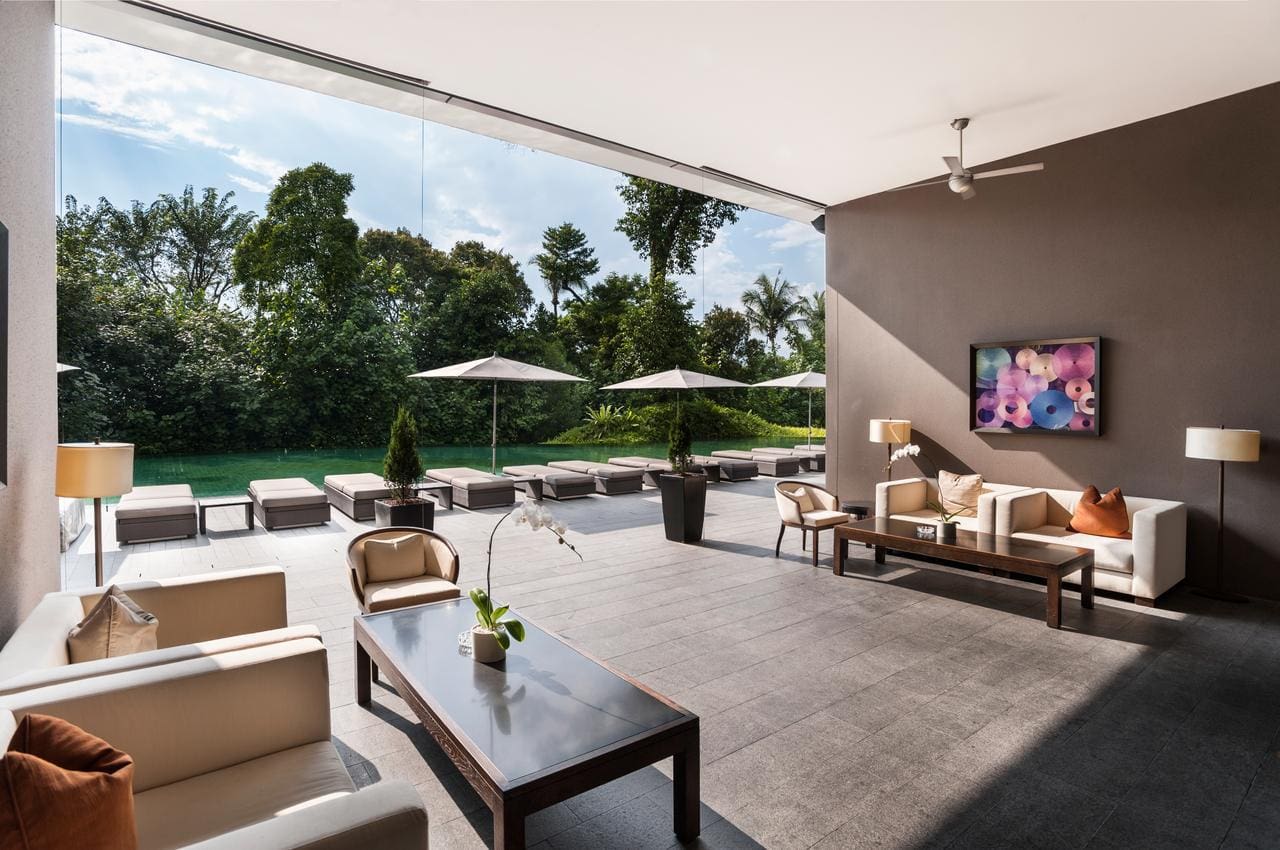 I have stayed at the Capella in Sentosa, three times in fact, and can attest to its brilliance. Although I stayed at the hotel and this is a listing for The Club Residences, I can imagine that the service, tranquility and island vibes seamlessly flow over so I am sure you are in for a treat.
This part of The Capella is absolutely beautiful and designed with modern and elegant touches that blend into nature. It's both child and pet-friendly so you can literally bring the entire family through.
Enjoy some of the best cuisine at one of the restaurants The Knolls, Cassia, Chef's Table and Bob's Bar. There are also private dining experiences in the comfort of your own room if you aren't too happy about eating in a public space just yet.
The resort's multi level pool is amazing, and look out for the pretty peacocks that strout their feathers around at breakfast and throughout the day. Pamper yourself at the award-winning luxury Auriga spa or do some yoga at the Clubhouse.
As the Capella is located on Sentosa Island there is so much to do even if some of the more popular places are closed for the time being. Check out our complete Guide to Sentosa for some inspiration, but please ask to the front desk to check if the activities and destinations are open before you go.
Of all the staycation options in Singapore, this gets us most excited and is the one which will make you feel the farthest away from the city. If you are looking for a vacation feel without leaving the borders, Capella The Club Residences is IT.
The offer below provides guests with a 1-night stay in a comfortable One Bedroom Suite for two with a sumptuous breakfast and tea at The Knolls as well as access to hotel facilities such as fitness centre and amazing cascading infinity pool.
Perks: Staycation with Daily Breakfast at The Knolls & Afternoon Tea
Area: Sentosa
Original Price: S$1,254.00
Discounted Rate: S$800.00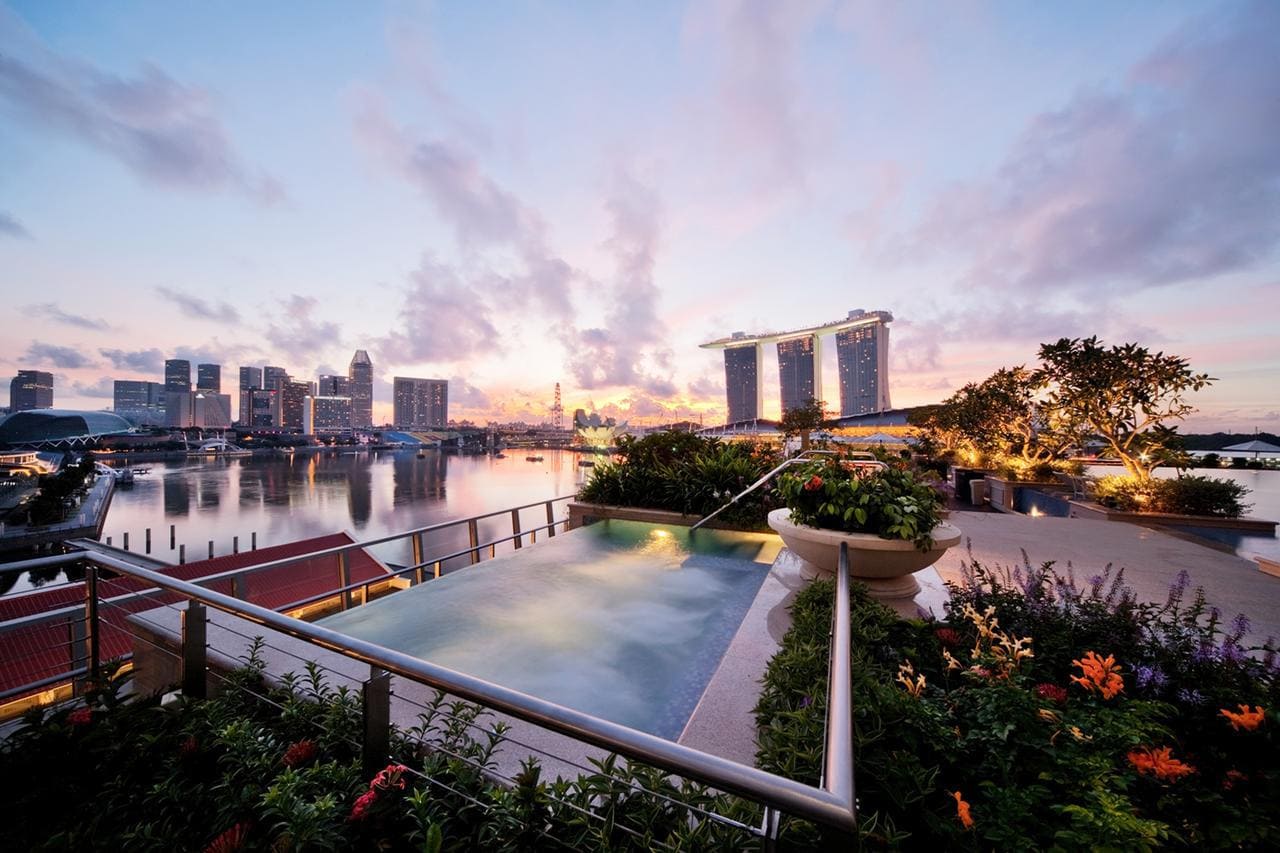 Not to be confused with The Fullerton Hotel down the road, The Fullerton Bay Hotel provides sweeping rooftop views of the Marina and is the perfect spot for sunset drinks or sunrise views from your room.
The hotel is a sleek and modern accommodation located right on the waterfront. As it's a heritage building, you can expect all the charm of a bygone era with fully kitted modern amenities. Rooms are spacious and comfy with a hint of colonial flare and most have stunning floor to ceiling windows with marina views.
The rooftop pool and jacuzzis are a great way to wind down while enjoying the tranquil waterfront views and some of the suites come with their own balcony jacuzzi for that extra indulgence.
Don't miss out on sunset drinks at Red Lantern, weekend dim sum brunch at heritage Clifford Pier or a walking heritage self guided tour of the riverfront area including the hotel's common areas and sister property Fullerton Hotel colonial heritage as the former Post Office.
This deal has several options for guests including a 1-night stay in a Quay Room with panoramic views of the Singapore River, a Duplex Loft Suite with views of the Marina Bay or a Premier Courtyard Room for 2. All deals have breakfast included with access to all hotel facilities.
Furthermore, there are some romantic options like a 4-course set dinner & complimentary bottle of wine, afternoon tea, evening cocktails with canapes. Options for extra safe in-room dining too. And for families, you can get a kids sleeping tent with a constellation projector lamp, take home sleeping bags and a pair of the signature take home Fullerton Bears.
Perks: Sweet Retreat Staycation with Afternoon Tea and Free Bottle of House Wine
Area: Downtown Core
Original Price: S$940.00
Discounted Rate: S$616.00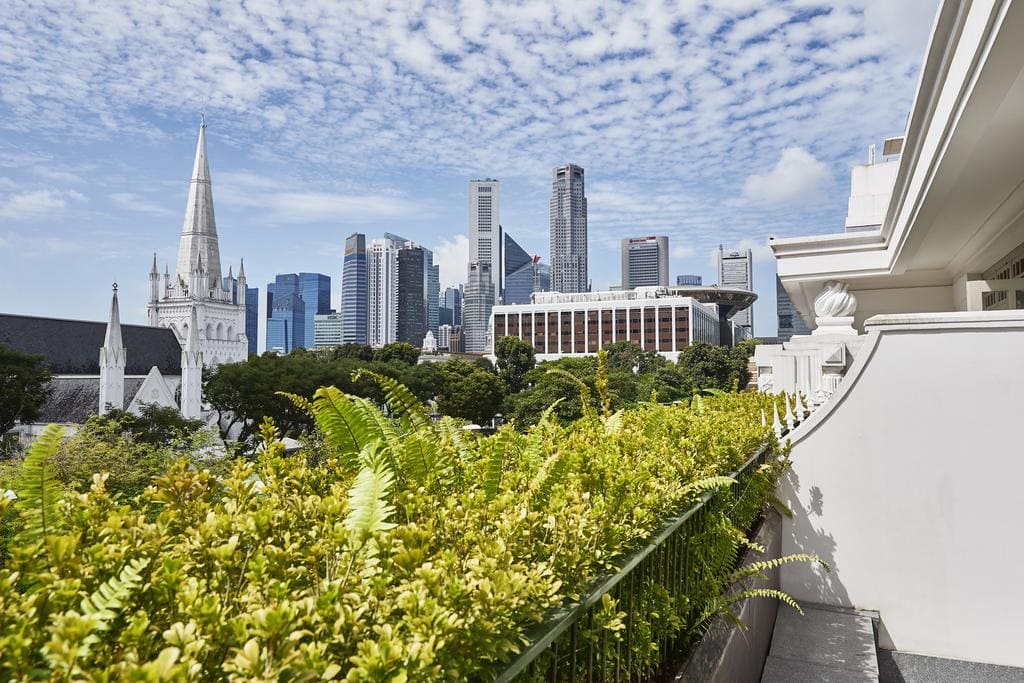 Food and heritage lovers will enjoy a Singapore staycation at the Capitol Kempinski. This gorgeous hotel is located in the civic and cultural district and is housed in a historical building that has preserved its blend of neoclassical and Venetian Renaissance design.
Kempinski is all about the service and you can count on their Lady in Red concierge services to create a bespoke personalised stay to your liking or look out for the Ambassador who is always in the Lobby ready to help.
The integrated lifestyle complex where the hotel is located boasts several fun areas to keep you busy without having to leave the premises.
Venture into the Arcade @ The Capitol Kempinski, Eden Residences Capitol, the historical Capitol Theatre, or the Capitol Singapore mall which houses premium stores. It's also fairly close to the Marina Bay area and near all the colonial heritage buildings in Singapore.
The hotel has plenty of great gastronomic choices to explore like acclaimed 15 Stamford by Alvin Leung, The Bar at 15 Stamford, the Lobby Lounge, Frieda, chic Berthold Delikatessen, the Capitol Milk Bar, Chalerm Thai, La Scala Ristorante, and El Teatro Tapas.
Enjoy this deal with a 1-night stay in a Deluxe Room/Stamford Suite for two with dining credits and a surprise gift. If you stay in the Stamford Suites, you can indulge in the spacious bathrooms with rainfall showers and even a deep-soaking bath with LCD TV.
Perks: Dining Credits and Gift
Area: Bugis
Original Price: S$629.19
Discounted Rate: S$453.15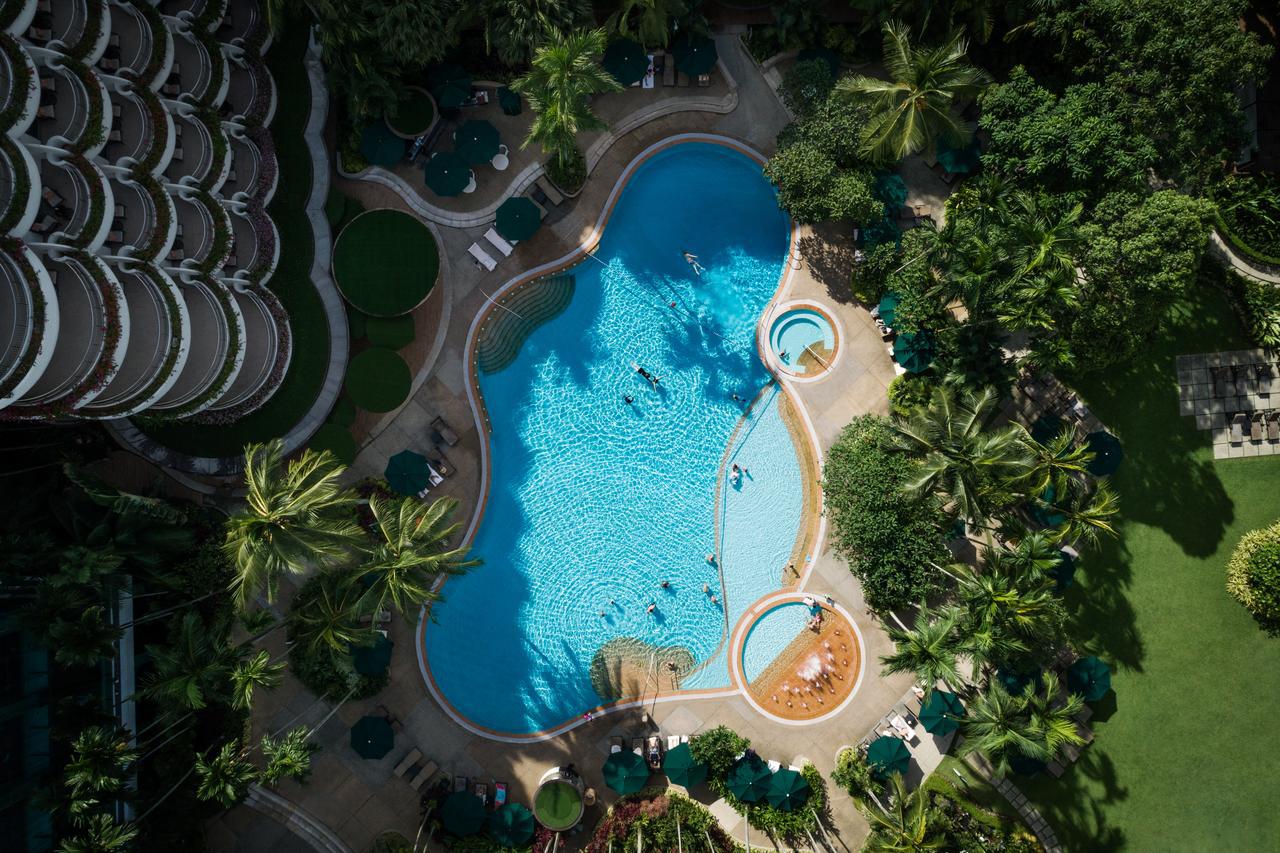 Shangri-La is a massive hotel that is separated into 3 distinct wings, so it caters for every type of Singapore staycation guest. The massive pool is surrounded by lush greenery and open gardens where you can chill among nature without even leaving the premises.
There are plenty of delicious culinary options to enjoy as well as unique family-fun experiences including Buds by Shangri-La. While the kids are at play, the parents can relax at adults-only Chi, The Spa.
Take advantage of their deal with the Family Fun Package that includes a 1-night stay at the Garden Wing Deluxe City View Room with daily breakfast for 2 adults & 2 children (below 12 years old), complimentary gelato for 4 guests at Waterfall Ristorante Italiano and playtime at the newly launched outdoor Splash Zone featuring 6 unique water play areas.
Couples can opt for the Garden Picnic Experience with 1-night in a Garden Wing Deluxe Room with breakfast, a picnic basket complete with picnic mat & food items for 2 guests and 20% off the total bill at Chi, The Spa including all massage treatments.
There's even an option for foodies with a Dinner Package that has all the benefits of the previous package but also includes a 3-course dinner at Waterfall Ristorante Italiano.
Perks: Family Staycation with Complimentary Room Upgrade, Gelato & Playtime at Splash Zone
Area: Orchard
Original Price: S$559.10
Discounted Rate: S$387.75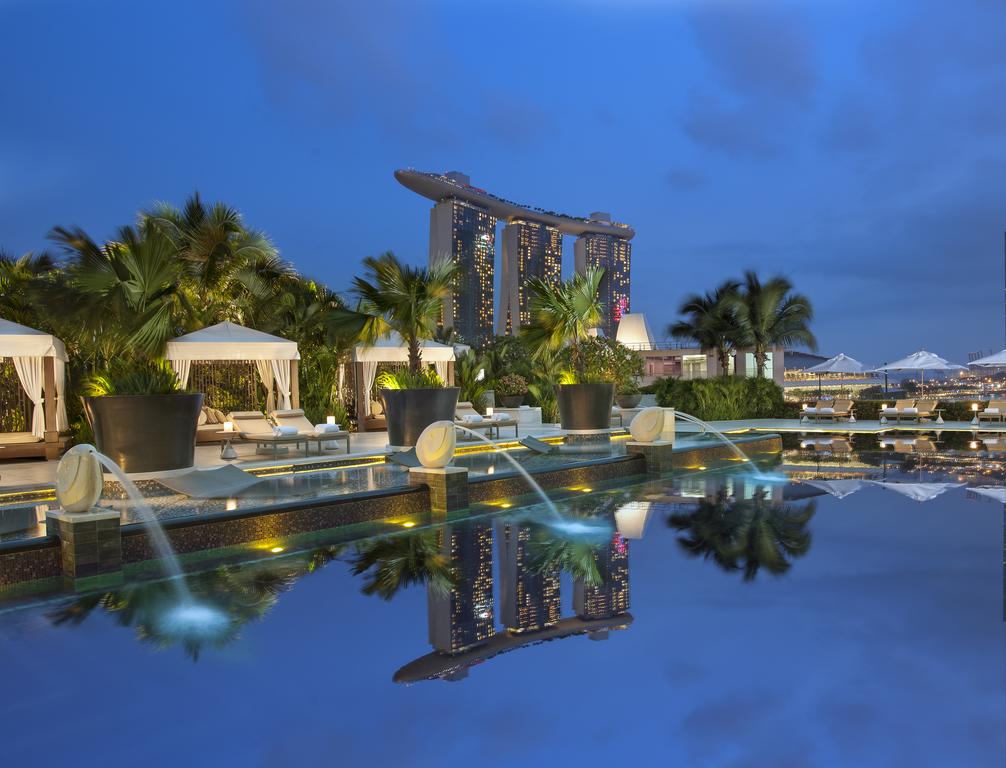 The iconic five-star luxury hotel in Marina Bay is an urban retreat like no other and one of our favorite SIngapore staycation options.
With a building shaped like their iconic fan logo, Mandarin Oriental, provides chic contemporary rooms that come with granite bathrooms with walk-in showers and stand-alone baths. The lush rooms have the most dramatic views of the Marina.
It's a place for complete relaxation with an elegant 25-metre swimming pool with their own well-distanced cabanas and wonderful spa right next to the pool with bespoke massages to meet your specific needs. It's a tranquil sanctuary to rejuvenate and destress.
Enjoy the Mandarin Oriental's Couples Package that includes a 1-night stay at a Deluxe Room with daily breakfast for 2 adults. Make your stay extra long with early check-in at 12:00 and late check-out at 16:00 and 20% off Mandarin Oriental F&B outlets.
If you didn't get to go on your annual holiday, why not take advantage of their 3 Days 2 Nights Package. And don't worry, parents with kids can also pamper themselves with the Family Package for a 1-night stay in 2 Deluxe Rooms with access to Nerf Xperience at Kiztopia.
Perks: Family Staycation with Breakfast & Nerf or Kiztopia Access
Area: Marina Bay
Original Price: S$580.00
Discounted Rate: S$386.09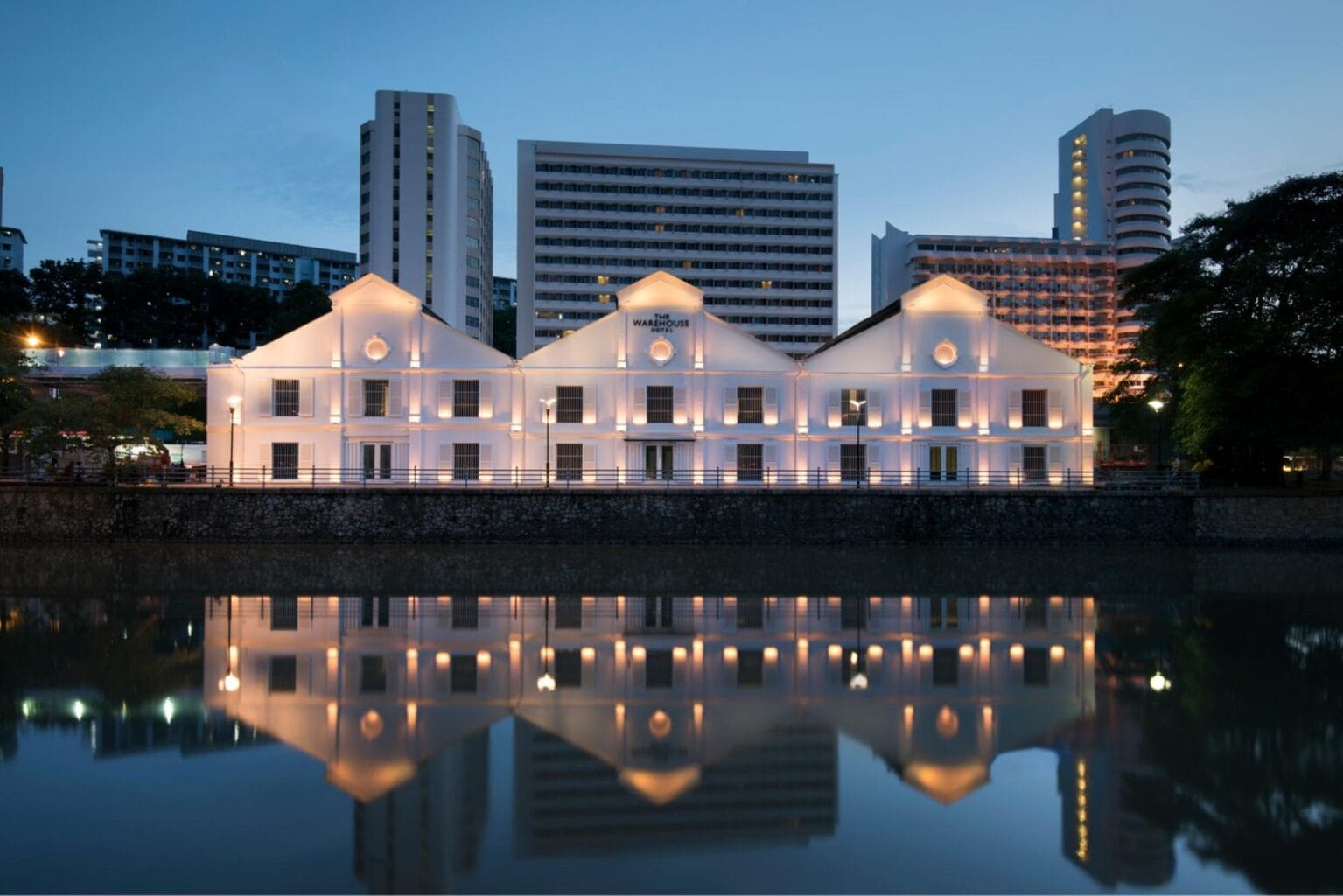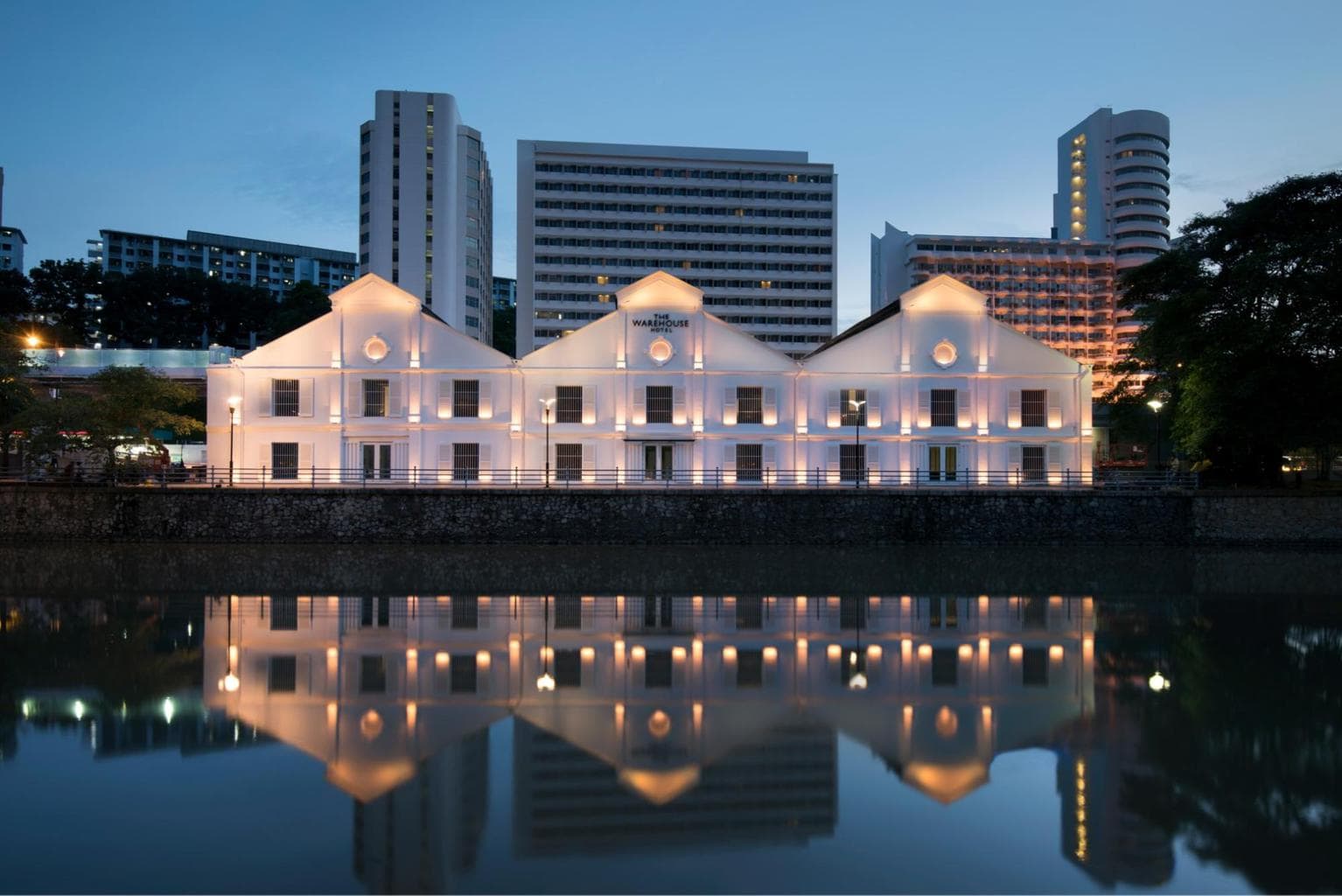 Once a working "godown" (warehouse) that was first built by businessman Lim Ho Puah in 1895, the Warehouse Hotel has been given a new life as a luxurious accommodation along the Singapore River.
Located in Robertson Quay, the 37-room boutique hotel focuses on minimalistic dark brown and leather design, heritage and local culture.
Dishes are locally inspired, rooms are historically detailed, the property breathes culture and plays on its beginnings where homemade arrack, tuak and toddy were distilled.
While the secret societies and opium dens have disappeared, The Warehouse Hotel retains its roots clearly seen in the Lobby Bar with some very unique cocktails (it used to be a disco in the 80s!).
You can stay at The Warehouse Hotel and get a free breakfast while enjoying the SG$50-80 F&B dining credit per room with complimentary 2 Bespoke Cocktails per guest.
Perks: F&B Dining Credit and 2 Bespoke Cocktails
Area: Robertson Quay
Original Price: S$545.00
Discounted Rate: S$385.00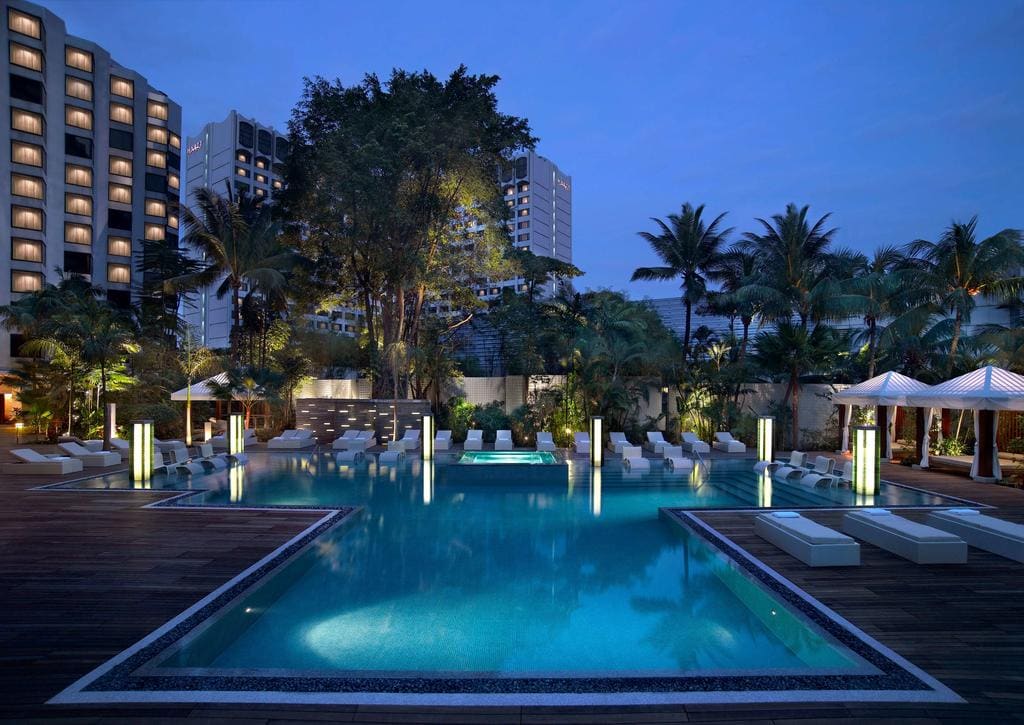 Shoppers of the Lion City unite! The Grand Hyatt Singapore, located right in the heart of Orchard is also offering some great deals. Even though it's in the centre of the shopping belt, it feels miles apart offering lush gardens, colourful cuisine and contemporary rooms thanks to its location on Scott's Road.
The hotel's popular Damai Spa & Fitness Centre is open for business, so it's also a great option for a much needed Spa Day. After getting your knots untangled at the spa you can dip in the free form turquoise pool with loungers and private cabanas.
While Grand Hyatt is well known for their fantastic dining experiences (the mezza9 weekend brunch is legendary), their sustainable initiatives in Food Sourcing, Food Waste Management, Energy and Water, and Hotel Operations are also reasons to support the hotel.
Take a 1-night stay in a Deluxe or Grand Club Room that comes with breakfast at StraitsKitchen with a choice of in-room dining services. This offer also provides a 20% discount at all restaurants in the hotel including room service. There is also an option to enjoy a three-course set lunch at mezza9 for 2, along with SG$50 Spa Credit per room.
Perks: Breakfast, Three-Course Set Lunch & Spa Credits
Area: Orchard
Original Price: S$588.50
Discounted Rate: S$376.20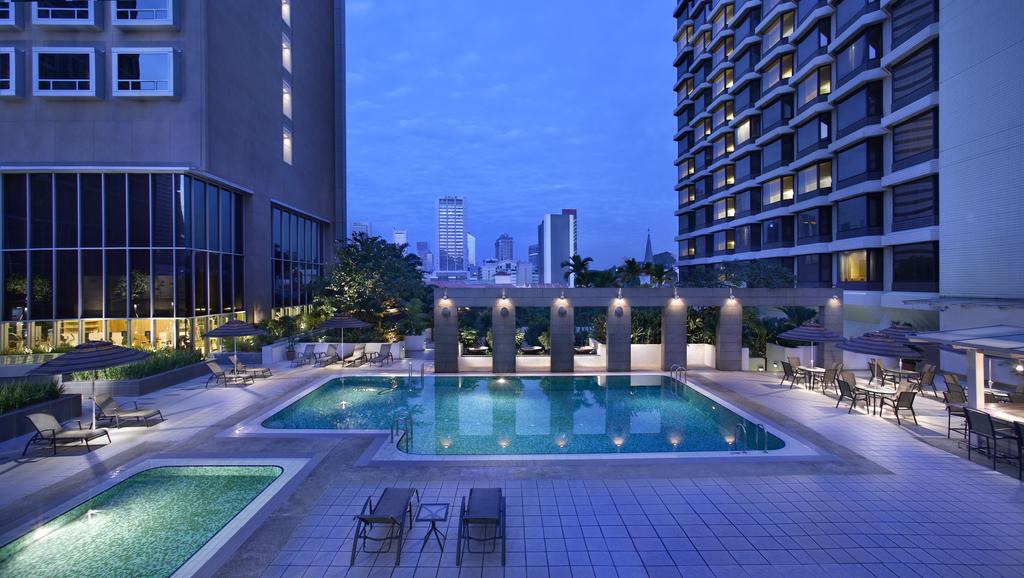 The Carlton Hotel Singapore is exactly what you'd expect from a top-tier chain for both business and leisure travelers. Rooms are clean and modern with a business hotel type feel, the LifeSpa provides professional therapy options, and the business centre is perfect for the digital nomad who misses business travel.
But it is the location, at the heart of Tanjong Pagar and Chinatown, that gets this hotel several points for foodies and heritage lovers. There is just so much to eat and see around you may not spend any time at the hotel!
The outdoor pool is the perfect place to relax out in the open, but spaces for the pool and gym are limited so don't forget to reserve your spot in the sun.
Enjoy the Carlton Hotel with a 1-night stay in a Premier Room that includes breakfast, with the additional choice of a late check-out at 4pm. The Stay & Dine Package also includes a 5-Course Dim Sum Set Lunch or Set Dinner at Wah Lok!
Perks: Breakfast & 5-Course Dim Sum Set Lunch or Set Dinner at Wah Lok
Area: Downtown Core
Original Price: S$636.50
Discounted Rate: S$350.00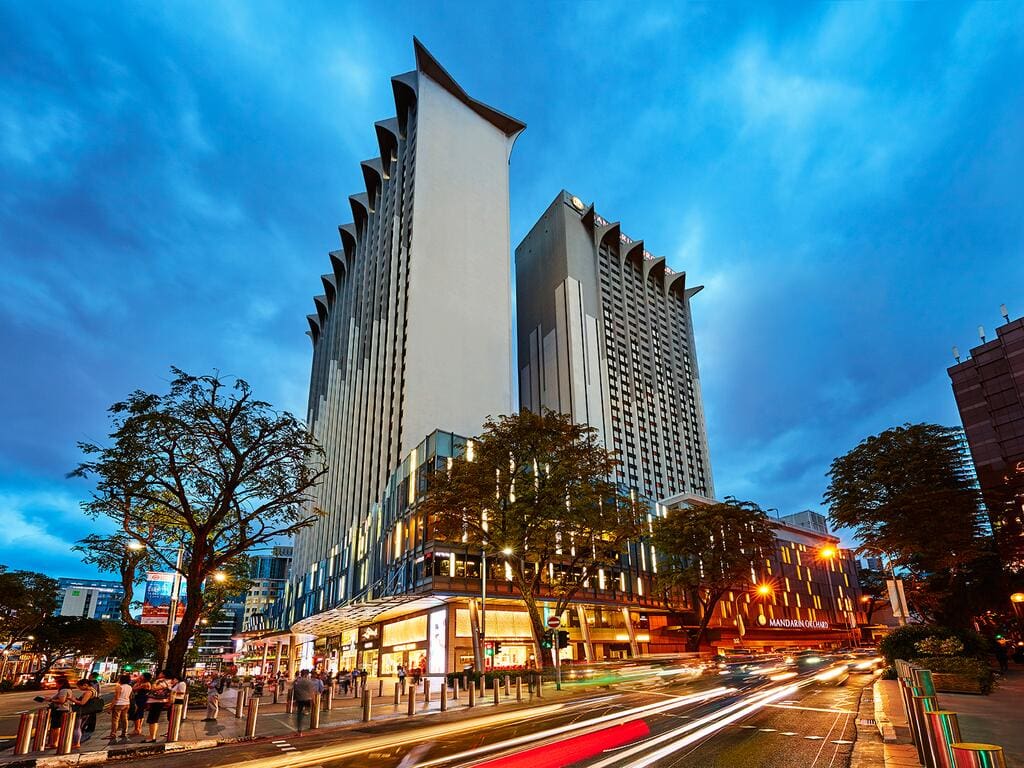 The Mandarin Orchard is a great choice for discerning Staycationers. It has won the Best City Hotel in Singapore at the TTG Travel Awards 7 years in a row. So you know you're in good hands. ​
As it's right next to the Orchard Shopping belt, you can combine some retail therapy with your visit. Yet you have everything you need within the premises from Michelin-star Shisen Hanten by Chen Kentaro to four storeys of luxury retail experience at Mandarin Gallery, so most likely won't leave. Other SG Clean restaurants include Triple Three and Chatterbox (chicken rice anyone?).
Visit the 5th floor for a dip in the outdoor Swimming Pool (cocktail in hand of course) or climb high to the 38th and 39th floors for some panoramic views of the city skyline.
Enjoy this quality hotel with a 1-night stay in a Superior Deluxe Room including breakfast, a set lunch for two at Chatterbox or lunch/dinner buffet for two at Triple Three (with the buffet lunch only applicable on weekends).
The Meritus Club Room stay will get you an exclusive set menu at Shisen Hanten by Chen Kentaro as well as complimentary access to Meritus Club Lounge at Top of the Hotel.
Perks: Set Meal at Two-Michelin-Starred Restaurant Shisen Hanten by Chen Kentaro & Meritus Club Benefits
Area: Orchard
Original Price: S$573.20
Discounted Rate: S$350.00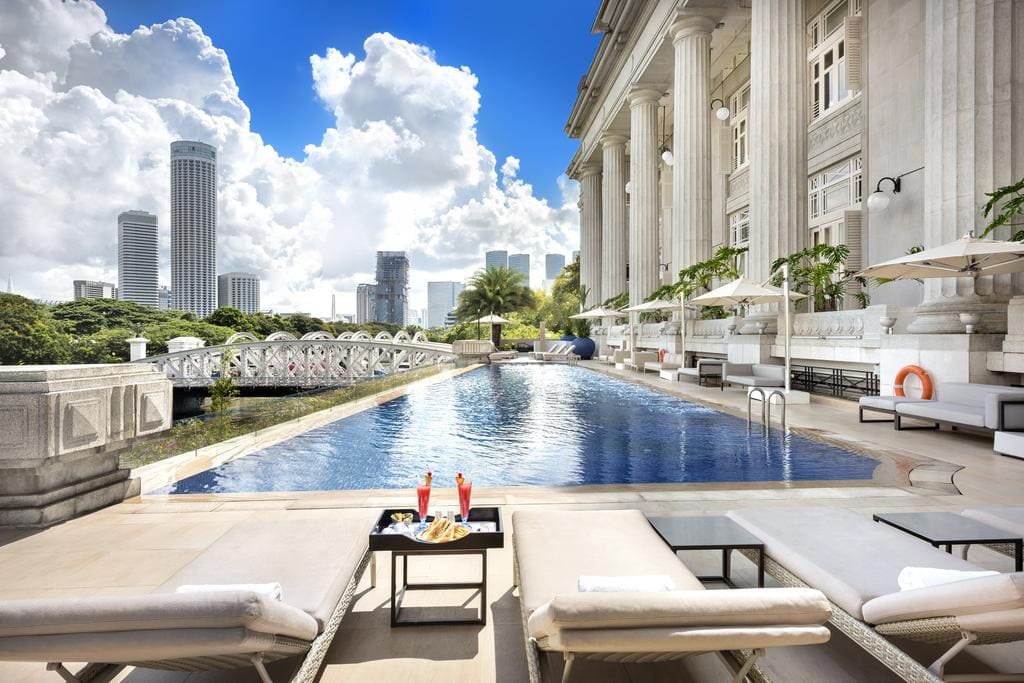 Just like its sister hotel down the road, The Fullerton Hotel is housed in a heritage building. The neoclassical Post Office was built in 1928 and was even gazetted as a National Monument in 2015.
This is the perfect Singapore Staycation for those wanting to pretend they're in Europe as the gigantic columns standing over the large pool seem like something out of Rome or Greece.
You can expect brilliant customer service with a personalised experience, exquisite cuisine served in-room (vegetarian options available!) and gorgeous views of the Singapore River.
There are so many Singapore staycation deals at The Fullerton Hotel, so choose the option that best suits you (all options include free breakfast), and call ahead to make sure everything is perfectly designed to your needs. The Romance by the Waterfront will have you staying in a Quay Room with a 4-Course Set Dinner & Complimentary bottle of House Wine.
Be adventurous and select the Starry Night Glamping option in a Duplex Loft Suite that comes with a kids sleeping tent with constellation projector lamp, take home sleeping bags and a pair of take home signature Fullerton Bears. This option also has afternoon tea and evening cocktails with canapes.
Perks: Romance By The Waterfront Staycation with 4-Course Set Dinner & Free Upgrade to Quay Room
Area: Boat Quay
Original Price: S$840.00
Discounted Rate: S$348.00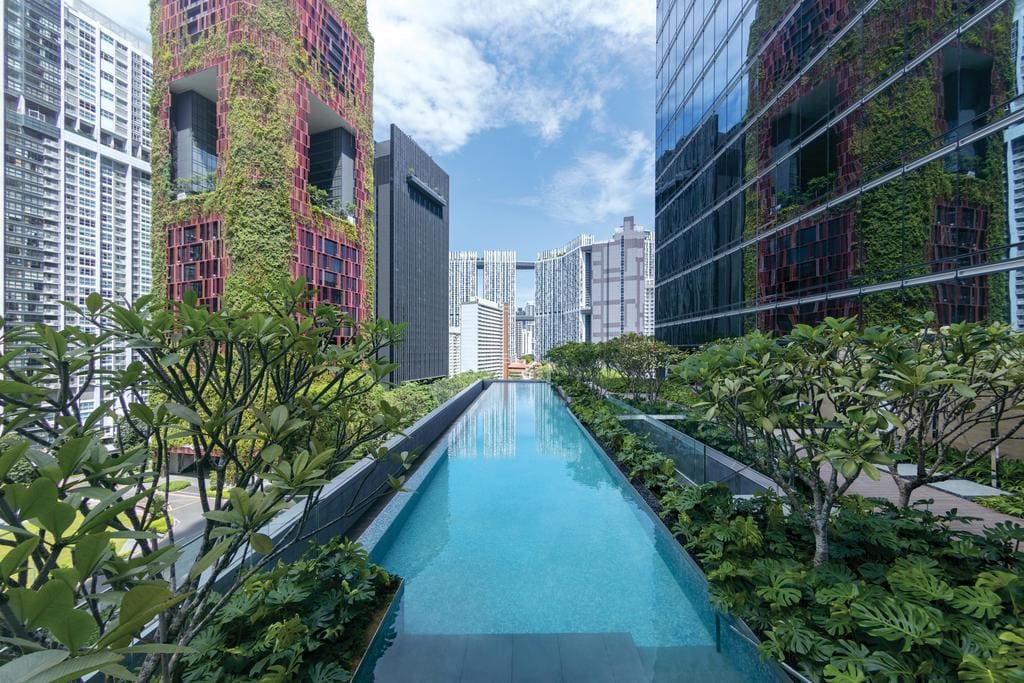 The Sofitel offers a premium Singapore staycation deal with a touch of art and elegance. This is the spot to come if you have a designer's eye as there is artwork throughout the property and the look and feel is bold and interesting with refreshing botanical motifs.
Discerning gourmands will love the authentic French classics and refined Local Chinese cuisine at Racines. Those who have a taste for the refined will enjoy the handcrafted mixologist specials from signature barrel-aged cocktails and martinis to hand-crafted tapas. Expert Baristas are also on hand to make your morning that much better.
The 24 hour gym is top notch and overlooks the city skyline and the 30-metre long infinity pool will invite you to take a dip among the foliage.
Sofitel Singapore staycation deals range from Couple to Family options both with free breakfast at Racines and late checkout at 4pm. Kids will get a luxury children's tent, tailored in-room entertainment.
Perks: Couple & Family Staycation with F&B Dining
Area: Tanjong Pagar
Original Price: S$490.00
Discounted Rate: S$339.00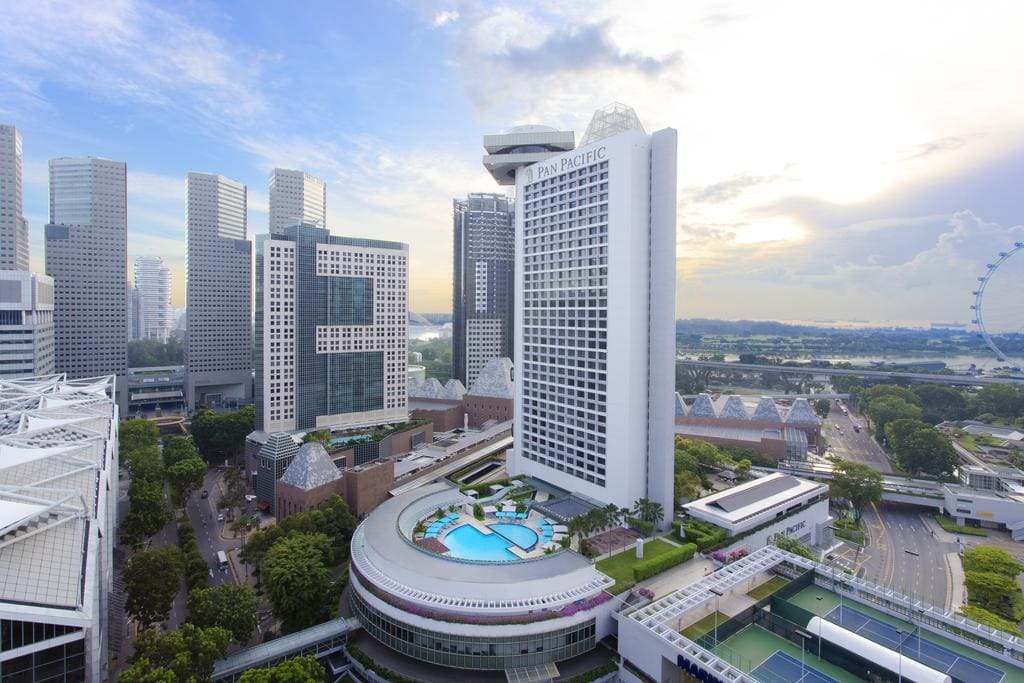 The Pan Pacific Singapore has one of the best locations in Singapore and is within walking distance (1-2km) from most sites like Orchard Road or the Gardens By the Bay. As it's linked via skybridge to three shopping malls including Marina Square Mall, you can easily shop til you drop.
Get pampered at St. Gregory Spa with an authentic traditional Chinese therapy, play a game of tennis at the courts or take a dip in the outdoor swimming pool and let the kids go nuts at the children's playground.
In-room floor-to-ceiling windows provide refreshing views of the city below. There are too many dining options to mention, including its fancy lobby Atrium bar and Michelin awarded Hai Tien LO, so just trust us when we say this Singapore staycation offer will make you happy in many ways.
Singapore staycation deals at the Pan Pacific include a 1-night stay in a Deluxe Balcony Room or Harbour Studio with breakfast at Edge, afternoon tea at Pacific Club Lounge on Level 38 (with 360-degree views) and a 20% discount on treatments at St.Gregory Spa.
Perks: Afternoon Tea at Club Lounge & Breakfast at Edge
Area: Suntec City
Original Price: S$685.00
Discounted Rate: S$310.00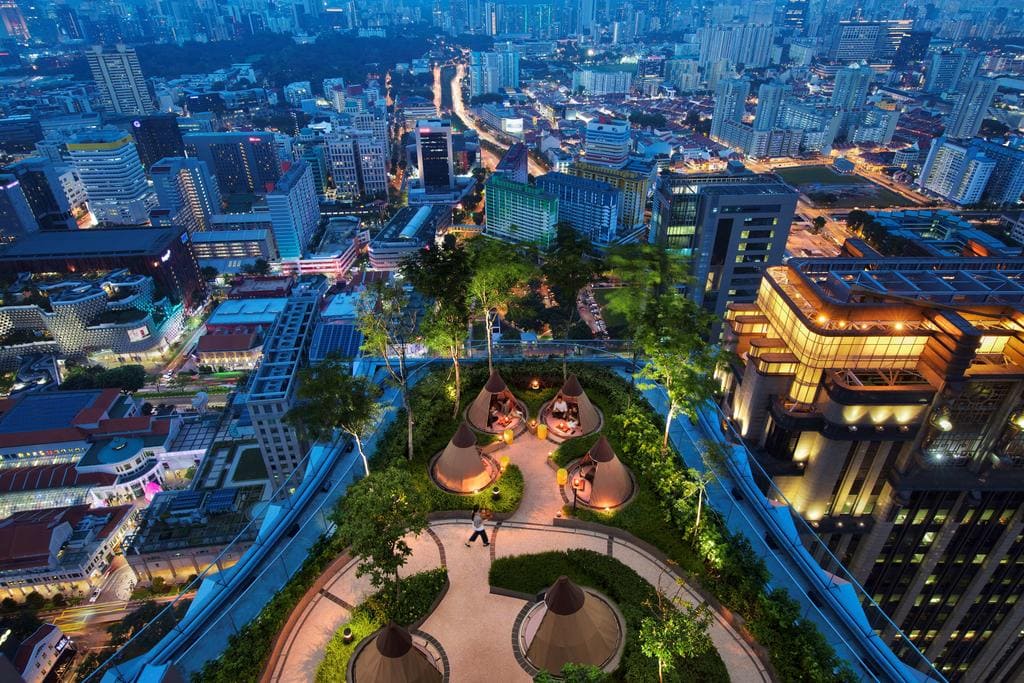 Andaz Singapore is a pioneer in sustainability initiatives in the hospitality sector. They have certified energy saving design features, their food is sourced sustainably, they don't use plastic, and lead a recycling program for used coffee capsules and soaps. So you get a sense of what the brand is about.
The interior, designed by Andre Fu, is a combination of organic features, natural lighting and fluid spaces. Rooms are sleek and elegant and The views from the hotel rooms and rooftop bar area (Mr. Stork on level 39 and the infinity pool) are amazing.
You can enjoy the teepee huts amid tropical foliage at Mr. Stork, dine on level 38 at premium steakhouse 665°F or sip cocktails on level 25 at Bar Square. The Weekend lazy brunch option is great value too.
Enjoy Andaz with a Singapore staycation deal where you can stay 1-night in an Executive, Deluxe or Suite Room with breakfast (we recommend a higher room), 25% off discount for dinner at Alley on 25 and SG$100 F&B credit per room (including in room dining). You will also get complimentary all-day refreshments at Sunroom on Level 25 (non-alcoholic, coffee, tea)
Perks: Breakfast and SGD100 F&B Dining Credit
Area: Bugis
Original Price: S$455.00
Discounted Rate: S$300.00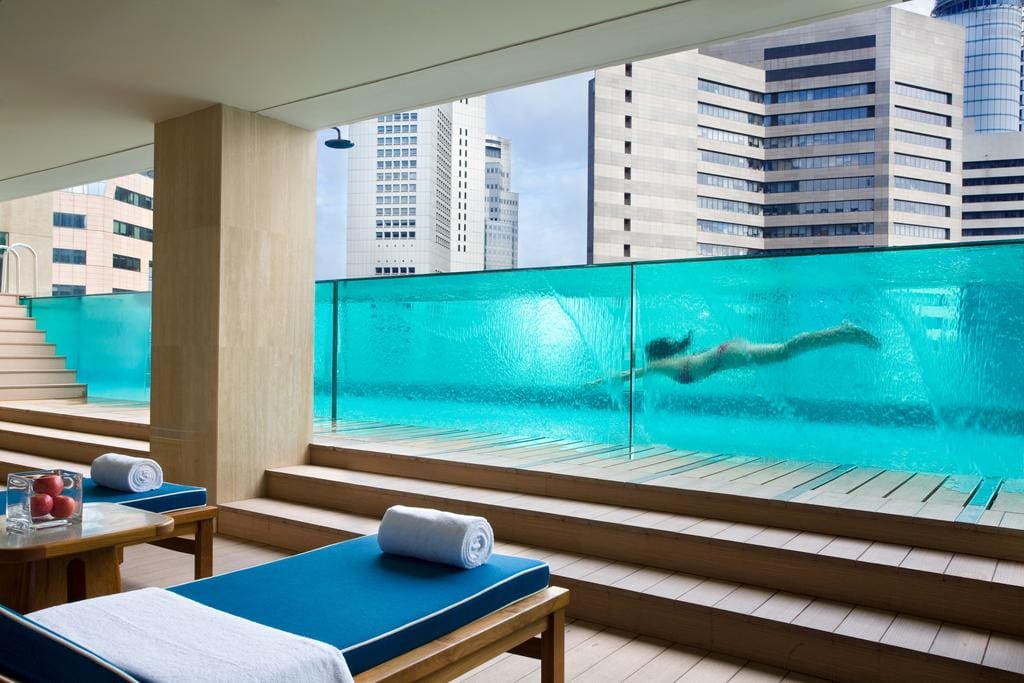 Ascott Raffles Place Singapore is a heritage building in classic Art Deco design that was originally the Asia Insurance Building in the 1950s. Due to its location right in the CBD, it's a great place to base yourself if you have to rush off to work directly after your staycation.
The rooms at Ascott Raffles Place Singapore are spacious, modern and plush. You'll find original artworks hanging on the walls, a modern kitchen with all the latest amenities and large comfortable beds. The infinity pool on the 19th floor is always a great way to escape from the heat and you would never know it's there from the ground level business of Raffles Place.
Enjoy your Singapore staycation deal at Ascott Raffles Place Singapore with a 1-night stay in a Cutler Suite with breakfast and early check-in at 13:00 and late check-out at 14:00 (Mon-Thurs only).
Perks: Breakfast, Early Check-In & Late Check-Out
Area: Raffles Place
Original Price: S$320.00
Discounted Rate: S$264.00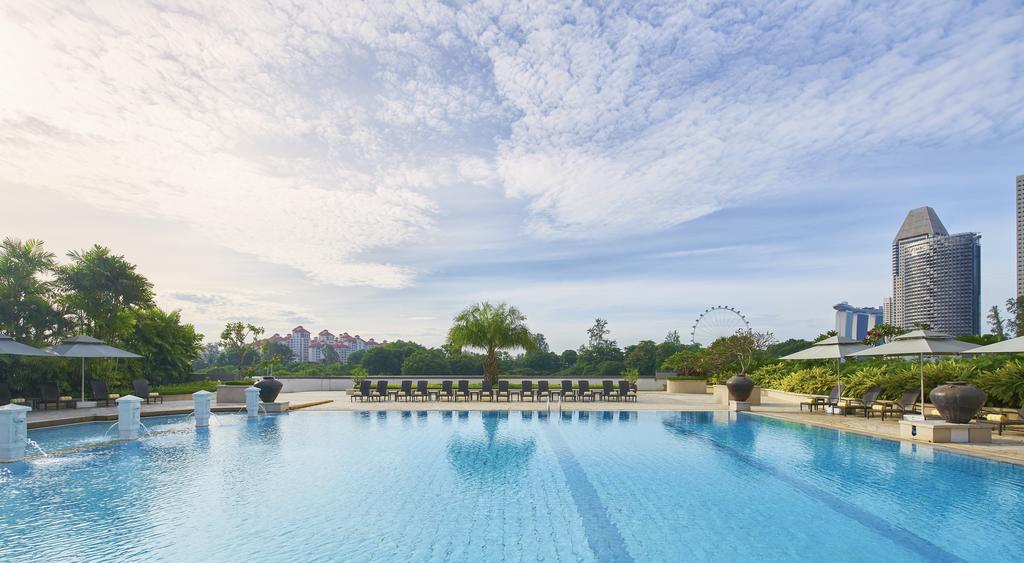 You may think you know Singapore quite well, but when you stay at PARKROYAL on Beach Road, you'll be surprised at all the stellar recommendations their Personal Travel Insiders provide – especially for Bugis.
Their massive half-Olympic size outdoor swimming pool with views of the Singapore Flyer and downtown skyline make for the perfect socially distanced swim. Get pampered at St. Gregory with a wide range of spa packages.
While Ginger restaurant and Club 5 bar are being refurbished until mid-October, Si Chuan Dou Hua Restaurant is available for meals.
Make use of their staycation deals with a 1-night stay in a Superior Room with daily breakfast. And you should definitely make use of their daily curated Local Experience Workshops led by the hotel's in-house Culinary Masters (booked in advance).
Perks: Staycation with Local Experience Workshops and F&B Dining
Area: Beach Road
Original Price: S$668.50
Discounted Rate: S$244.85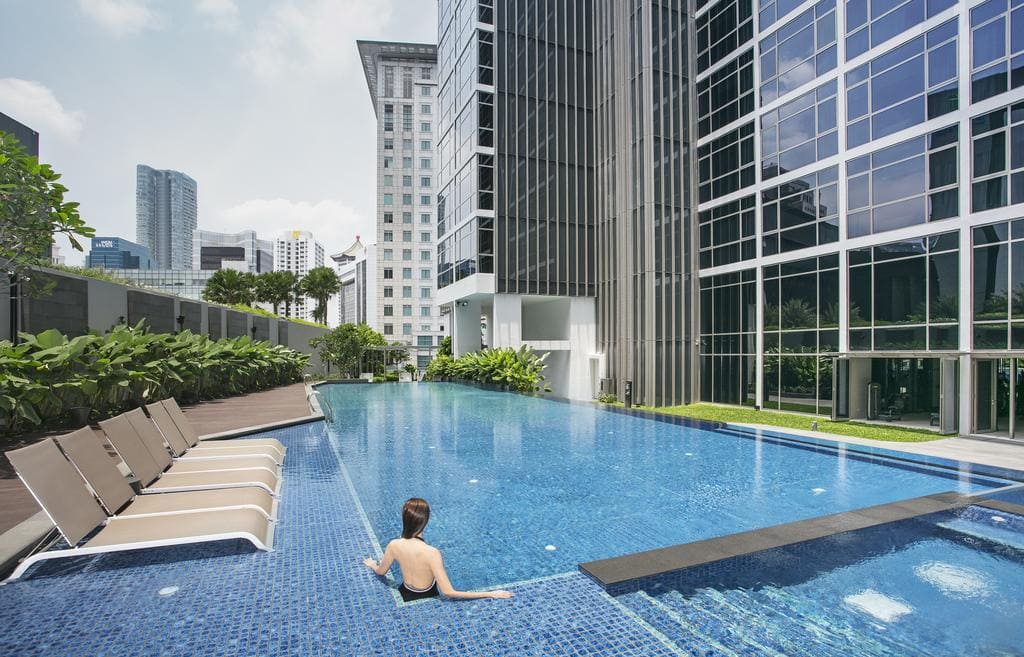 Another of the gorgeous hotels located in the Orchard Road shopping belt, Ascott Orchard is a premium serviced residence that is linked to high class Paragon shopping mall through a covered bridge.
The modern rooms, set in neutral grey and beige tones, are clean, comfy and perfect for couples. The 24 hour gym has two sections depending on where you like to workout. Indoor, you'll find an air conditioned space, or you can choose to really break a sweat while working in the open-air section. Or simply do some laps in the stylish outdoor pool.
The Ascott Orchard Singapore staycation deal includes a 1-night stay in your choice of a Studio Executive, One Bedroom Deluxe Suite or Two Bedroom Premier Suite with breakfast and access to the resident's lounge. Present your Keycard at Kith Cafe and you'll get an additional 20% discount!
Perks: Family Staycation with Breakfast and 20% Discount Off Kith Cafe
Area: Orchard
Original Price: S$412.00
Discounted Rate: S$231.00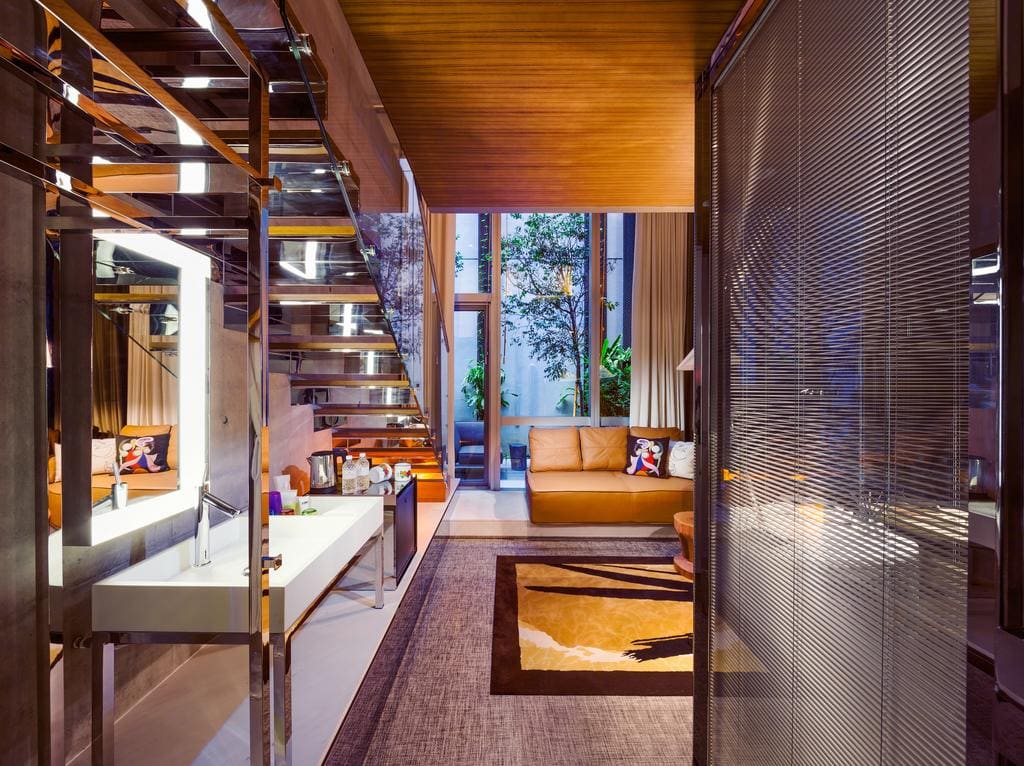 M Social Singapore is a unique lifestyle boutique hotel designed by famous French visionary Philippe Starck, who also designed the vibrant JW Marriott Singapore South Beach. So you can expect each room to be unique, chic and flamboyant.
Enjoy additional safety as you're welcomed by their robot AURA and served by their breakfast chef robot AUSCA. You can also use the Order & Grab feature where you pick up your meals or get them delivered to your room from Modern Asian Beast & Butterflies.
Wade through the communal spaces and into the pool. Rooms have full-length windows with picturesque views of Robertson Quay.
The Singapore staycation deals at M Social Singapore are as unique as their designs. One option is to create your own perfume or cocktail with an amazing workshop. The 1 or 2-night stay in an Alcove Cosy Room also comes with a 10% discount on dining at Beast & Butterflies.
Perks: Staycation with Exclusive Perfume or Cocktail Workshop
Area: Robertson Quay
Original Price: S$336.00
Discounted Rate: S$211.89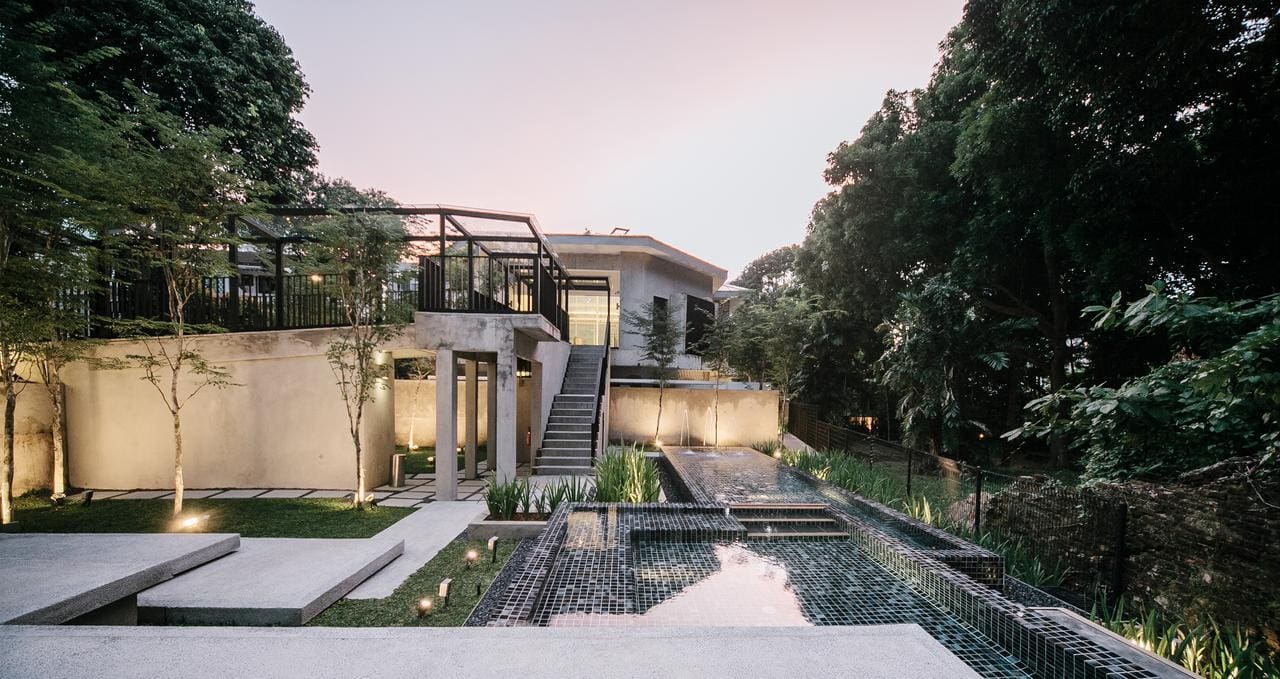 Lloyd's Inn Singapore is a fantastic Boutique Hotel in Singapore, that provides an intimate and elegant stay. The minimalist design is sleek straight and modern with robust greenery and touches of wooden. Venture out to nearby Fort Canning Park for an epic stroll in nature.
Enjoy views of the sunset and a touch of Zen from the rooftop. And then escape to your spacious room for a raintree shower. This is a place for nature lovers who prefer design over flash and glam.
The Lloyd's Inn Singapore staycation deal provides a 10% discount off the a-la-carte menu at Artisan Boulangerie Co a block away. You can bring your food back to the hotel with you and eat in your room or make your own picnic at the outdoor pantry. The Standard and Business Room stays include a surprise turndown gift.
Perks: 10% Discount Off A-La-Carte Menu at Artisan Boulangerie Co
Area: Near Orchard & the northside of Fort Canning park.
Original Price: S$274.00
Discounted Rate: S$186.15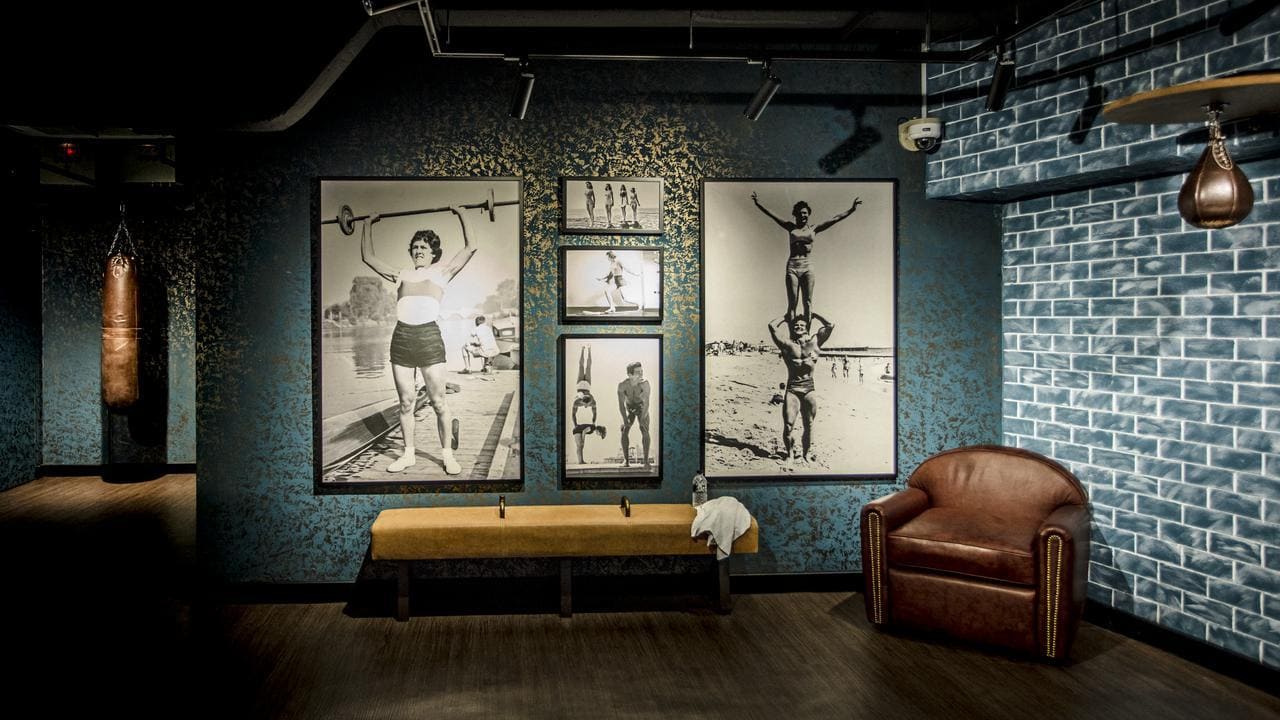 Hotel G is for young couples or solo staycationers who want to enjoy a stay near busy Bugis. The rooms are small yet plush and modern and the dining options at bistro-style French restaurant Ginett (famous for its once a week oysters for S$1 offer) and American gourmet burger & liquor bar 25 Degrees are fantastic.
The vintage-style fitness area is a super cool space to burn some calories and the freeflow coffee and tea is perfect for your fix of caffeine at any time of the day.
Hotel G doesn't only have Staycation options but also Daycation deals where you will get a set lunch at Ginett. All stays with this staycation deal include a free bottle of wine, and an option for #BurgersInBed. You can also pick the deal that has breakfast for 2 and a SG$50 dining credit at Ginett.
Perks: F&B Dining and complimentary Bottle of Wine.
Area: Bugis
Original Price: S$282.00
Discounted Rate: S$165.00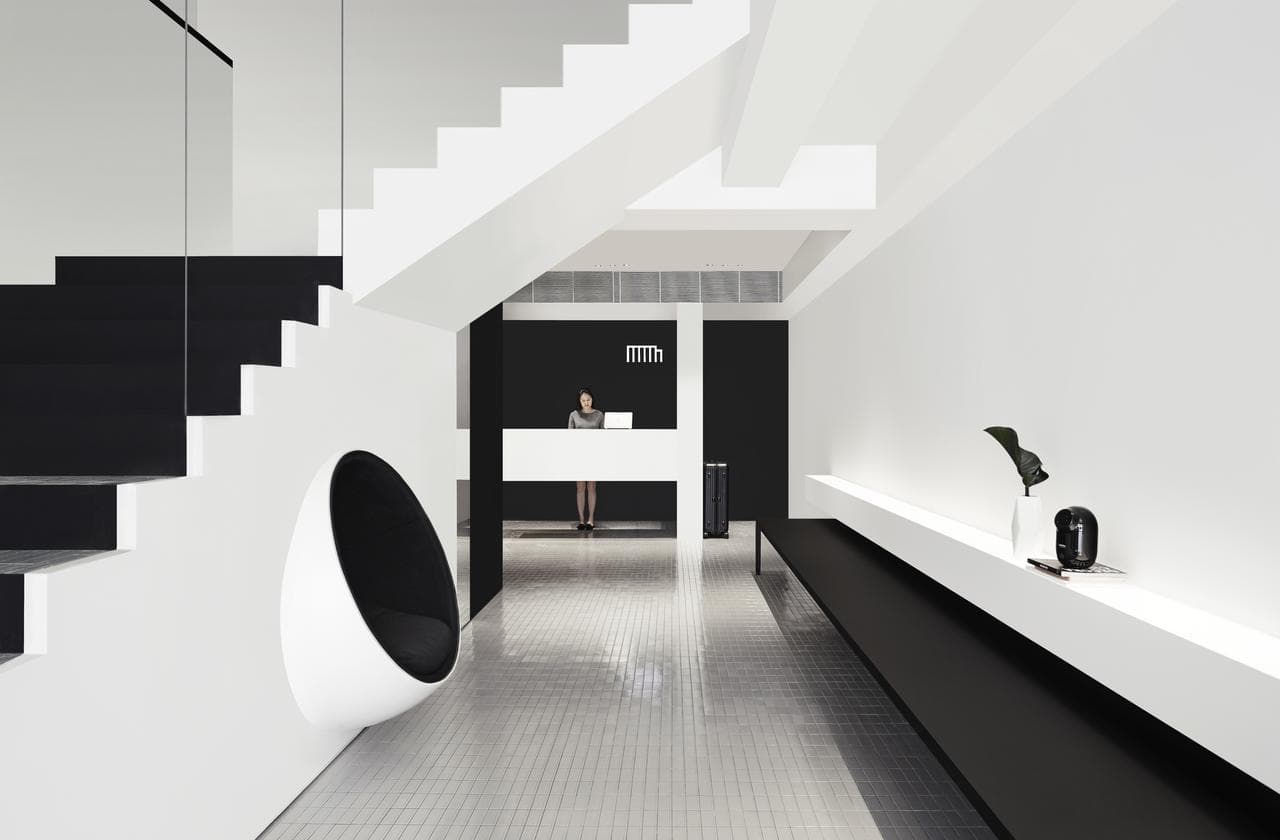 If you loved the movie 2001: A Space Odyssey, then you'll absolutely adore Hotel Mono. The boutique hotel is set in a row of refurbished shophouses in Pagoda Street, at the heart of Chinatown, but with a uniquely modern design.
Minimalist and intensely monotone black and white interiors combine seamlessly with the Rococo-era facade. Inside you are away from the buzz of the area.
Pop into Chinatown to see some of the most beautiful temples in Singapore, take a self-guided free walking tour of the area and don't forget to take our Singapore Chinatown guide with you so you're sure not to miss any of the insider spaces.
The Hotel Mono Singapore Staycation deal is great for families as it provides options for 2 in a Deluxe Double or a Loft Room for 5 people. It's a great intimate setting for some real bonding and true family time.
Perks: Deluxe Double for Couple or Loft Room for Family (Exclusive)
Area: Chinatown
Original Price: S$215.40
Discounted Rate: S$144.00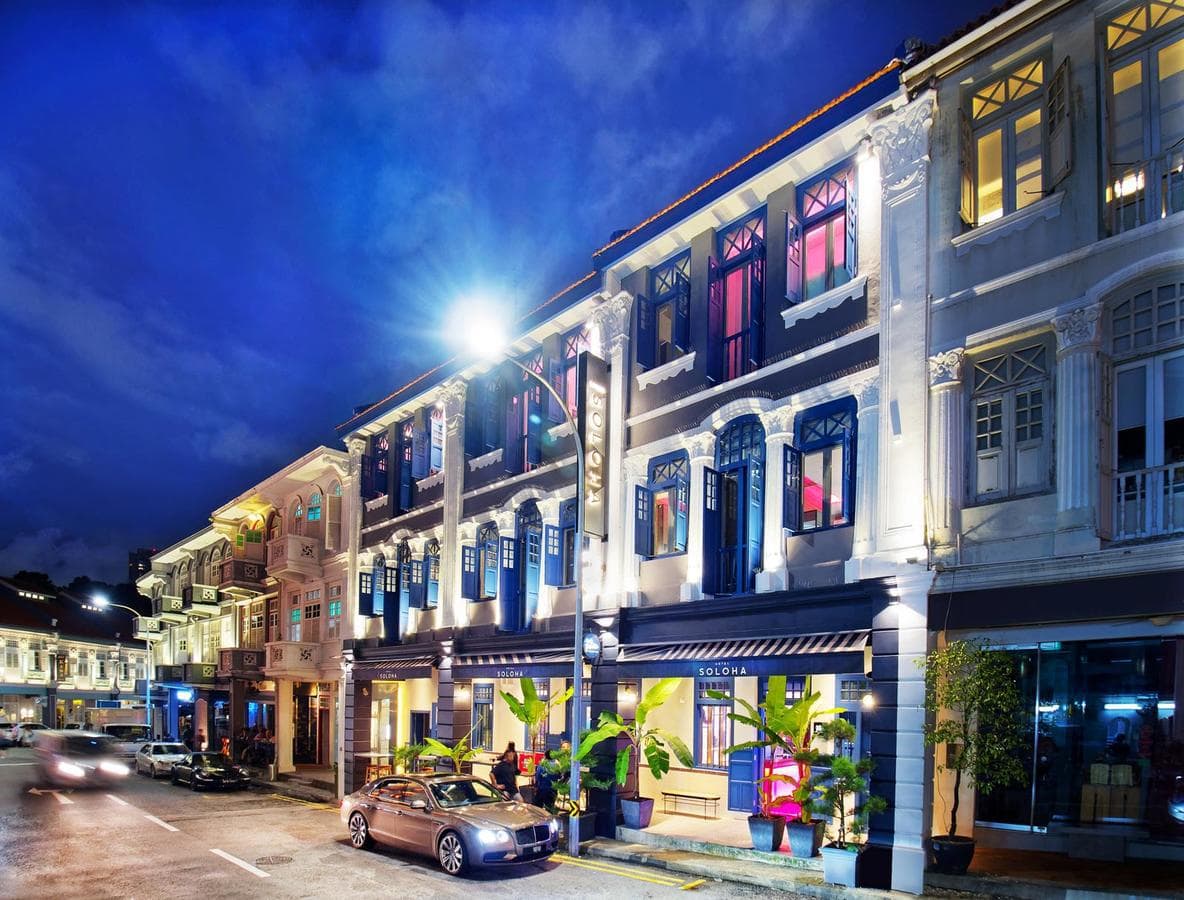 Just like Hotel Mono above, Hotel Soloha is also housed in a converted shophouse in Chinatown, but this time there's a bit more color and vibrancy. In fact, this is a truly great option if you need some content for the 'Gram.
A stay at this "Urban chic jungle" will have your eyes popping as you explore the art-covered walls, an abundance of illustrated jungle-themed caricatures and touches of neon splashed around the property.
Make sure you bring your phone charger as you'll be taking loads of pics of the bespoke designer furniture to the gorgeously lit bar-reception. The lights are configurable to suit your mood, from the festive party mood to calming romance. It's also a great hotel to do some Netflix and Chill with the large 4K TV.
The Hotel Soloha Singapore staycation deal allows guests some brilliant F&B discounts at various merchants including Takeshi Noodle Bar, Tempura Oji, Wang Yuan Cafe, Apiary, Kafe UTU, Kenko Spa, and Choo-P Leathercraft. You'll also get a 1-For-1 Asahi Beer special with your stay.
Perks: Historical Staycation with F&B Dining Benefits including All-Day 1-For-1 Asahi Beer Happy Hour, Exclusive offer of 10-15% discount off Partner Merchants.
Area: In Tanjong Pagar/Chinatown and very close to the Buddha Tooth Relic Temple & Museum.
Original Price: S$182.45
Discounted Rate: S$126.89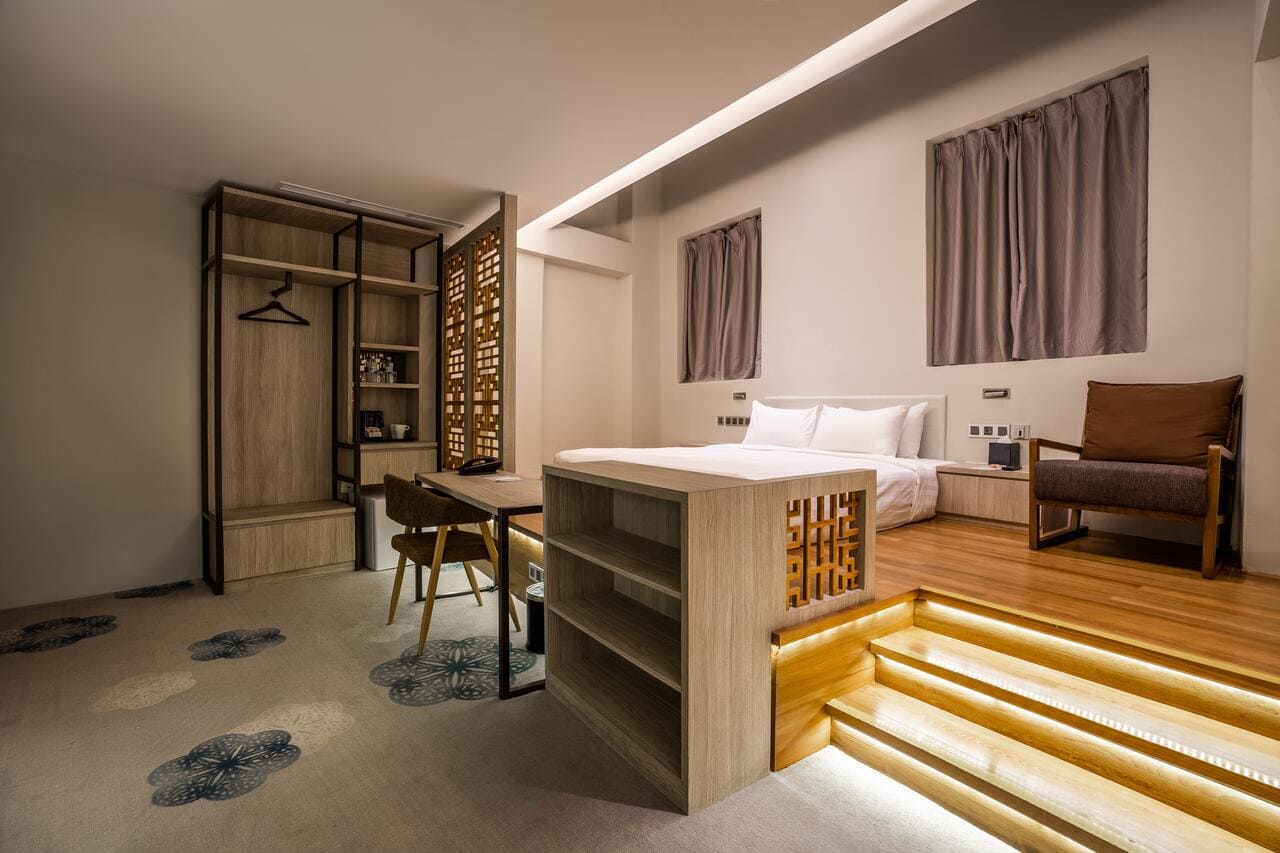 If you love the Quays, then consider a stay at The Quay Hotel set along the Singapore River. Situated at the edge of Clarke Quay, on New Bridge Road, and a stone's throw from Raffles Place, The Quay Hotel Singapore is a great spot for some respite along the water.
As you're close to the Esplanade, you can set up a picnic on the grass, get your shopping done at One Fullerton or visit Gardens By The Bay and watch the Light Show. The rooms are clean and minimalist with neutral tones and ample space. So you can escape a cramped up apartment and really stretch your legs and relax your mind.
In this deal you can choose either a Superior or Deluxe Double Room which are both spacious, clean and stylish. You can also enjoy 10% off F&B dining at some of their partner establishments like delicious Dopa Dopa Creamery and Isaan Thai resto Un-Yang-Kor-Dai.
Perks: F&B Dining Benefits
Area: Clarke Quay/ CBD
Original Price: S$172.50
Discounted Rate: S$125.00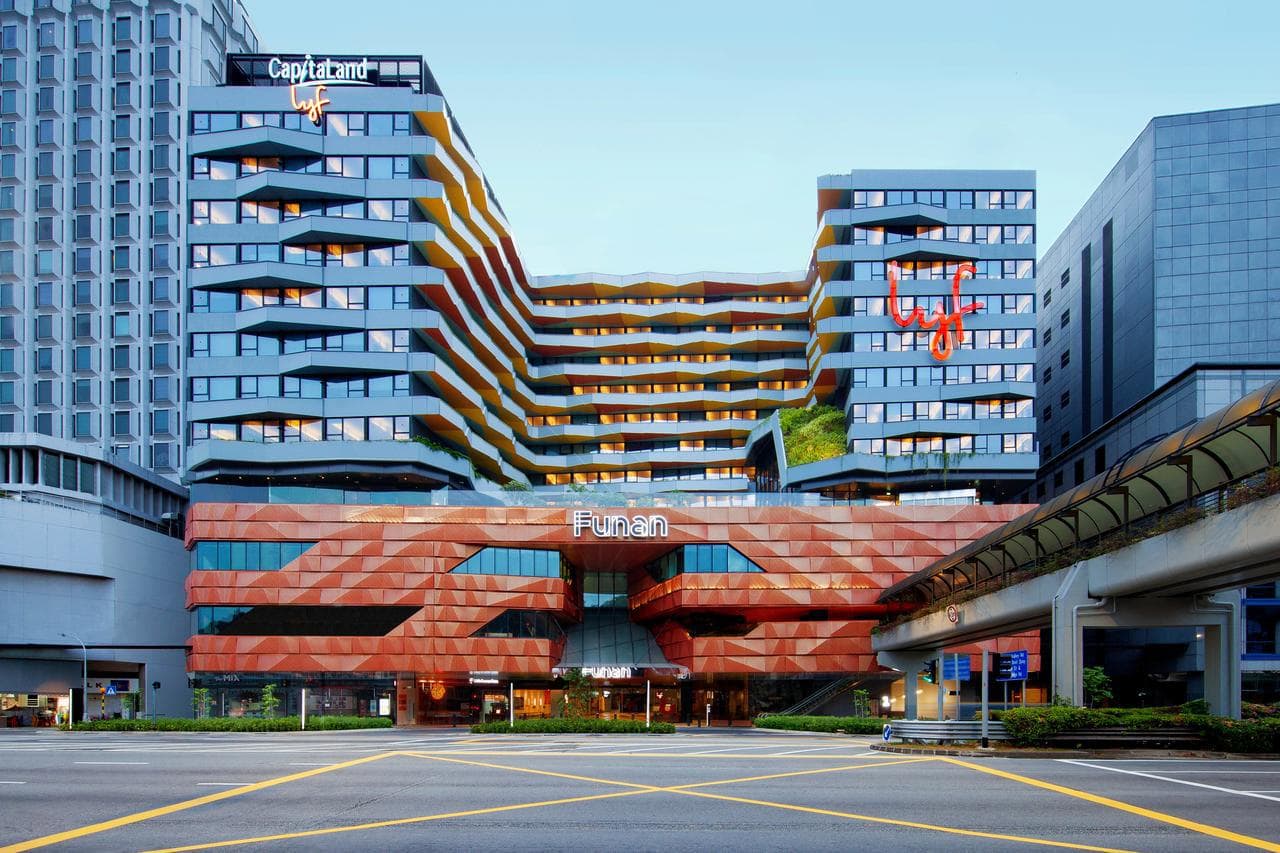 lyf Funan is the perfect spot for extrovert travelers who want to connect (while distancing) on their staycation in Singapore. In fact, it's Southeast Asia's largest coliving property, so you'll feel like you're at the Google headquarters more than at a hotel.
Enjoy the gym, play some darts, and then get your beer from the vending machine. If you'd rather spend your time relaxing, join Jyan Yoga Studio for a complete mind/body reinvigoration. If you download the lyf Funan app you can get your mobile key card for a more streamlined experience (although the staff are amazingly friendly).
The best part about this Singapore Staycation offer is that you can grab some exclusive discounts to Shop at Funan. Get out of the hotel and go wall climbing at the indoor wall, try out favorite hawker foods from the basement food court, or enjoy a movie at Gold Class.
Perks: Exclusive Discounts to Shop at Funan
Area: Downtown Core, City Hall MRT.
Original Price: S$230.00
Discounted Rate: S$121.00
Here are some great ideas for amazing Singapore Staycation activities. Get inspired!