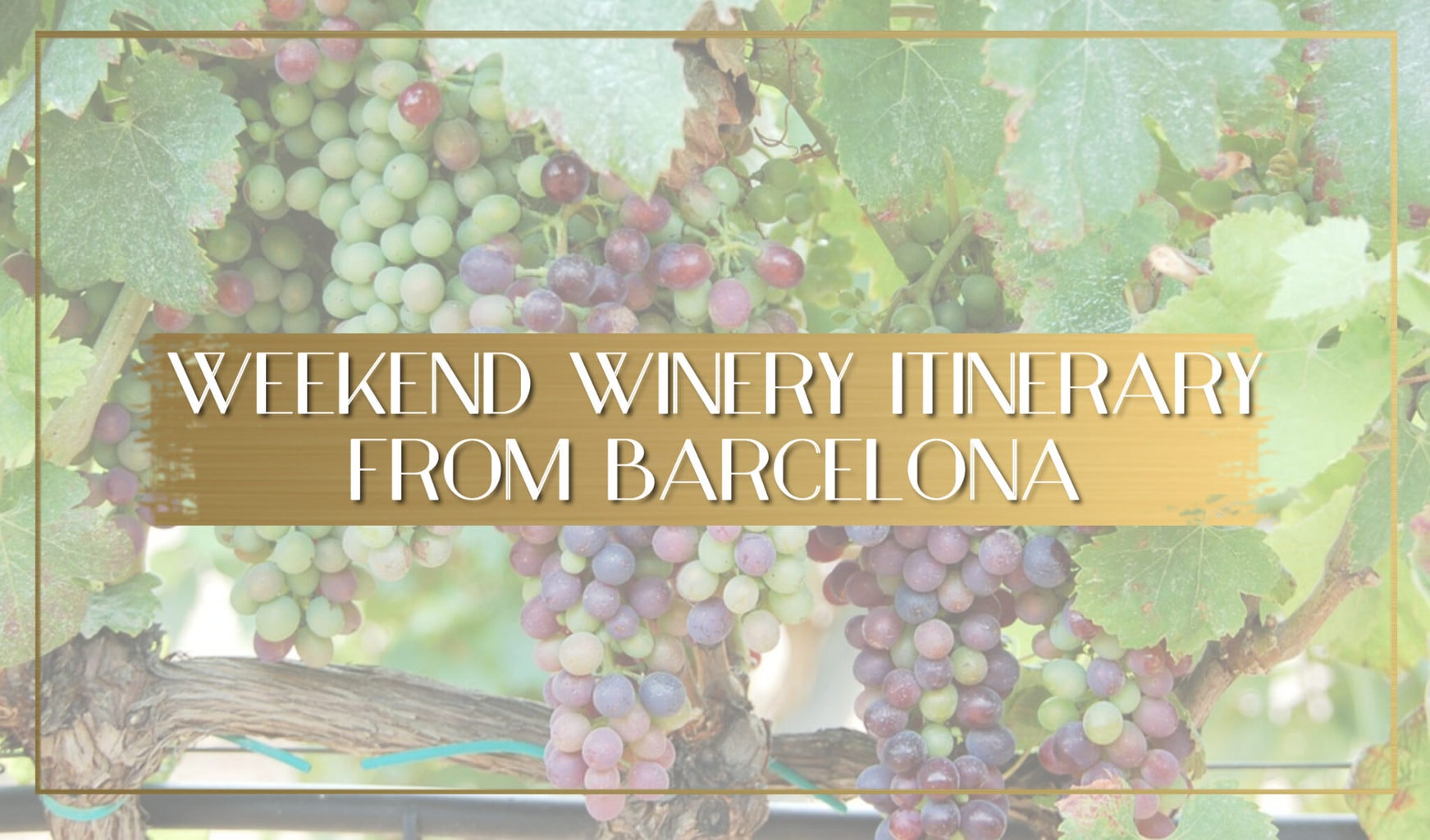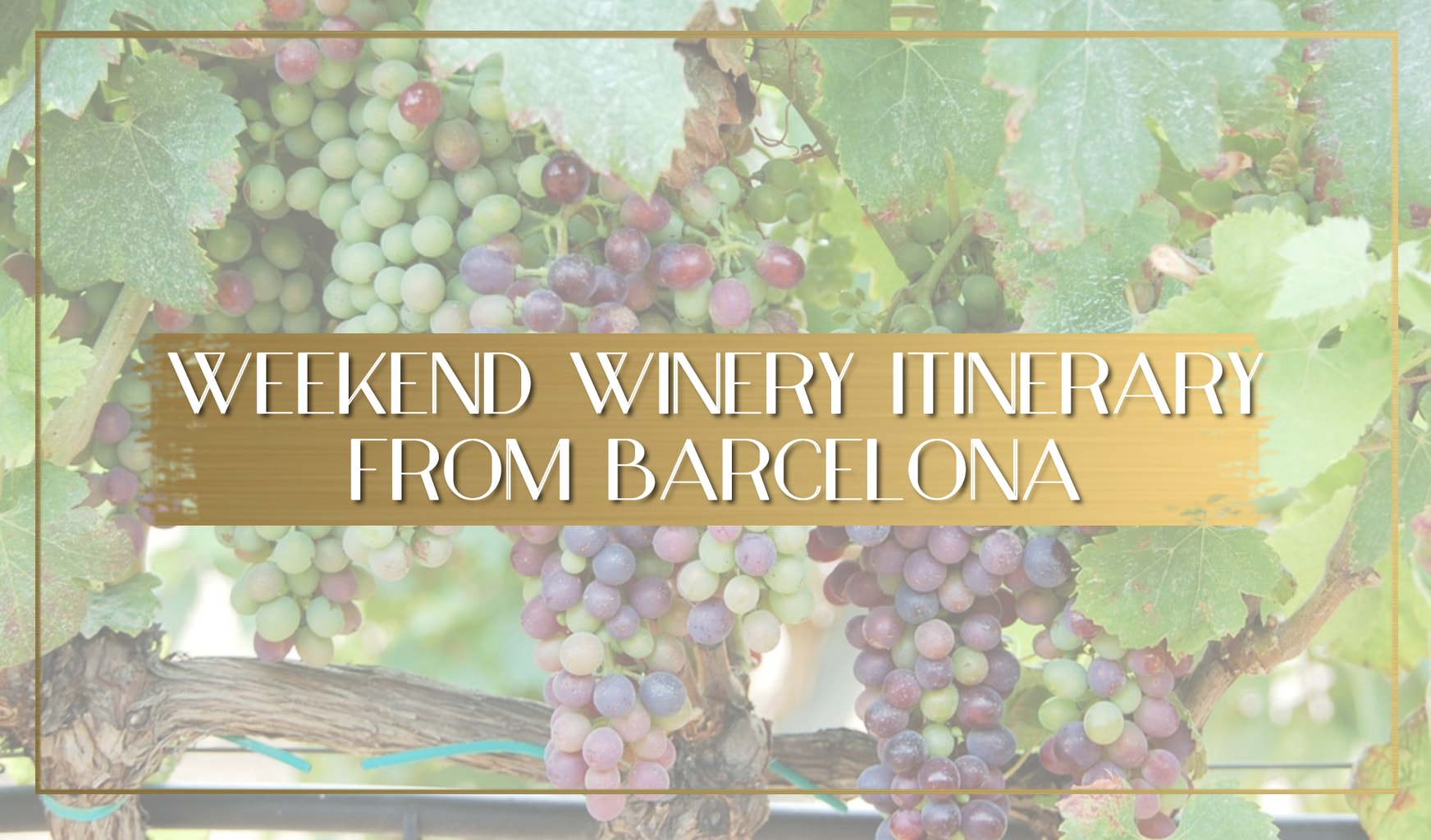 Catalunya has 12 wine appellations and, Barcelona, centrally located, is within easy access to most of them. In this article I am proposing a weekend wine escape from Barcelona visiting wineries less than one hour away in the Penedes wine appellation, both for wine and for cava.
You can return to your hotel in Barcelona for the evening given the proximity of the wineries from the city. This weekend wine escape from Barcelona itinerary is thought to happen over a weekend, Saturday being day 1 and Sunday day 2, but if you are doing this during the week then just check the timings and bear in mind that then on day 2 you should have more options as Sundays are days of rest so many places are closed.
Last but not least, all of the below need bookings in advance so I recommend that you plan ahead. I have included the timings that are feasible because they state them on their site and because I did the itinerary myself. But, as with everything, changes may happen to email or call ahead each winery to make appointments or join groups.
If you have a car or are thinking or renting one, keep our epic road trip around Europe guide on hand.
Bonus Barcelona Guide: If you are planning to travel Barcelona, check out my detailed guide on Where to stay in Barcelona with details on each neighbourhood and best hotel recommendations – Psst I am a local to the city!
Day 1 – The Royalty of cava & wine in Penedes
Start your weekend wine escape from Barcelona with a bit of old and new, a bit of innovation and of Spanish wine royalty, a bit of tradition and modernity.
10am – Agusti Torello Mata
Although this is a winery that started in 1959, which is relatively new for Spain where wines were produced since the Middle Ages, it has carved a name for itself with high quality premium cava.
Agusti Torello Mata himself, is often around in the weekends and he very much enjoys discussing the history of the family business or of cava. Although his family was in the tailoring business, he opened the first wine lab in the region in the 50s and was credited with founding the Cava Guild of which he was made Honorary President. His most famous cava, Kripta, is bottled in a very special vessel reminiscent of the Roman amphoras the wine used to be shipped to Rome in a few thousand years ago. This is a cava for special occasions, one that even my demanding father loves!
Book a private tour of the winery that ends with a tasting in the shop and get a guided explanation of the production process of cava as well as a visit to the cellar and the cava tunnels. The tasting includes a few of the wines, rose cava, dry and off dry cava and a very interesting pairing with raspberry yogurt sorbet.
11:30am – Cava Llopart
You may be a little bit late for this one, unless you can book the previous tour at Agusti Torello earlier than 10am, but Cava Llopart is only a few kilometers up in the hills above Sant Sadurni d'Anoia, on the little village of Subirats. This is one of the very first cava producers with the first bottles issued in 1879, just a few years after Codorniu's first ever cava bottle in 1872. Join the Gran Reserva Tour of Cava Llopart with the bundle that includes lunch at Mirador de les Caves.
The Gran Reserva Tour will take you around the winery, the long cava tunnels and to the farm house where the family first lived. There is where the first bottles of cava were made and the cellar where they aged is kept just as it was in 1879. The view from the farm house where the tour kicks off with a Catalan spread of cured fuet sausage, botifarra cooked sausage, ham and cheese, bread with tomato and olive oil paired with the family's few premium cava and the amazing view of the holy Montserrat Mountain and Abbey.
This is a tour that usually happens on Saturdays so it is not exclusively private.
2pm – Lunch at Mirador de les Caves
Right above the winery you will find Mirador de les Caves. Owned by Cava Llopart and operated by a famous local restaurant, Cal Blay. Here you will enjoy the heartiest most filling and delicious Catalan lunch with the most incredible views.
The bundle ticket includes the tour and lunch of a set menu with lots of choices of mains, tapas and starters to share and unlimited wines and caves from the tour. We had great food which included ham, cheese, egg cocotte with foie and mushrooms, olives, roasted peppers, caneloni (traditionally eaten on Boxing Day in Catalunya), and other plus a main to choose from steak, cod fish, grilled lamb or duck.
Then there were four more desserts to choose from. With unlimited wine we finished with stuffed stomachs and the happiest of smiles. Come hungry! More info here.
4:30pm – Torres Winery
No wine escape from Barcelona would be complete without a visit to Torres. After lunch, head to Pacs del Penedes, the tiny village right next to Vilafranca del Penedes, the capital of the Penedes region, about 15min from El Mirador de les Caves, and join Torres Winery basic tour or upgrade with some of their other tours with a wider range of wine tastings at the end. You will be hard pressed not to stop at the shop and buy some of their premium wines.
Before the tour ends at the tasting room, make sure to veer right and into the Museum where various artefacts from Roman Amphoras to Catalan tile works and all of Torres awards are on display. There are also some photos of the very first wine Torres produced and sold to the US in the early 20th century.
This is a pre-set tour in Spanish. The train has all the other main languages available for the main explanations.
7pm – Vilafranca del Penedes Medieval or Modernist tour
Nobody eats in Spain before 9pm so you will still have a bit of time to have a walk around the city of Vilafranca. There are two routes you can take in town with a Modernist or a Medieval focus. The city center is mostly pedestrian so just park and walk. I lived in Vilafranca for 15 years and wine is at the heart of every Vilafranqui, if you live here, you breathe and dream wine and cava.
Check the website to find the route and DIY following the map. You won't be able to get into some of the buildings because they will be closed in the evening but you can get a good sense of the architecture and will work an appetite for dinner!
9:30pm – Dinner feast
You can choose between three options. El Cigro d'Or, translated as the golden chickpea, which is in town and offers innovative Catalan seasonal cuisine. Head out into Espai Gastronomic en Rima, at the Hotel Mas Tinell for fine dining Catalan market food among the vineyards. A rustic and local option is to eat at the farm house La Posada, opened in 1975 this grilled meat haven is located in a 500 inhabitant town. All their meats are local and cooked over oak wood open fire, it does not get any more tasty and amazing than this.
If you still have some energy after dinner and want to take part in something truly unique, head to Cal Figarot, the practice ground and Center of the Castellers or Human Towers in Vilafranca.
Vilafranca is one of the two most important groups of human towers there are in Catalunya and "Els verts" or "the green" as the local troupe is called, are some of the best in building the tallest most complex towers. During the sumemr months, from April to November, Cal Figarot is the place where castellers and friends and family get together for drinks and some practice.
There is a bar cafeteria and anyone can drop by. This is an experience not written in any guide book so I am spilling the beans on what, as a teenager, I used to do in the evening, this was the social gathering place for everyone in town, from the older to the youngest. Castellers are very important in Vilafranca and they are something every local is very proud of. They also bring everyone together, literally.
Bonus one day guide to Barcelona: If you only have one day in Barcelona, this is how you should spend it! Enjoy this one day itinerary for Barcelona.
Day 2 – Cava in Sant Sadurni
On the second day of your wine escape from Barcelona, a Sunday, you will stay in the same region of Penedes but have a very different experience. Remember that if you are not doing this over a weekend then this might not be Sunday so you may have more places open in the afternoon.
10am – Vinseum
Start back in Vilafranca and learn more about wine and cava and the history in the area at Vinseum. This is a very modern and interactive museum and totally worth the visit.
11am – Gramona
Continue with a visit at Gramona, one of the oldest cava makers and one of the most traditional. Located in the middle of the town of Sant Sadurni d'Anoia, the capital of cava where over 70 cava wineries are located, Gramona is a fantastic way to understand how the traditional and manual cava process takes place.
They organise private tours so you can call ahead and get a personal visit of the winery, go down to the many floors underground to the old alleys lined with bottles resting in the peace and silence of the cellar. Of all the tours and visits that I made to over 50 wineries in the last ten years.
This was one that was incredibly interesting, not because Gramona does anything different or more exciting than any other cava winery but because our guide was very knowledgeable and the tour really showed us how it was done.
There was no prepared script, no talking to a guide, we were talking to a final year student of oenology working at the winery that was passionate and who showed us how things were done, he even disgorged a real bottle for us, which we then drunk at the tasting. Well worth a visit.
1pm – Albet i Noya
The pioneer in organic wine making in Spain, Albet i Noya, is the result of a Danish wine distributor looking for a Spanish wine maker that could be interested in organic wines in the 70s. The farmhouse is set among the vineyards and is a great place to sit down and taste some wines after the tour.
Read my complete review of Albet i Noya to find out more.
3pm – Lunch at Cal Blay
An institution in the town and the region serving incredible seasonal and Catalan food in a traditional farmhouse in Sant Sadurni d'Anoia. More info here.
5pm – Visit of Sant Sadurni d'Anoia
Sundays in Spain are rest day and that means that nothing will be open. That is why this is a good time to simply have a walk around the Capital of Cava. If you feel like heading to the beach, you can also end your wine escape from Barcelona in Sitges, about half an hour away from Sant Sadurni, and always teeming with activity in the weekend. You can walk along the sea promenade, have a drink or simply take in this pretty quaint little town.
Bonus Sitges Guide: Check out this detailed Guide to Sitges which is my hometown, with details on things to do, places to eat and where to stay!
One last note. A lot of companies organise tours and wine escapes from Barcelona and a quick Google search will return hundreds of options. But the vast majority of the tours take you to the main wineries and wine producers and do not explore the smaller more pincturesque and traditional ones.
Having seen the tours that the big wineries, including Torres, put up, I can highly recommend you do it yourself, hire a car and head out on this itinerary with pre-booked visits. This is a much more authentic, genuine and real way to understand the wine culture in Catalunya, the Penedes and cava regions. Trust me on this one, I grew up there! Enjoy and let me know if you need any help organising this.
Winery itinerary from Barcelona guided tours
When it comes to winery tours near Barcelona or Penedes winery tours, there are so many great options to choose from. Below are a few hand-picked tours that are highly recommended if you want to venture beyond the suggested itinerary mentioned above. Select the one that best suites you, click to see more information and to make a booking online. Most options provide 24hr cancelation and are eco-friendly, so make sure to double check the details before booking.
Where to stay on your wine escape from Barcelona
Here are two options that I've personally stayed at and highly recommend if you'd like to wake up overlooking the gorgeous views and vineyards.
Mastinell Cava & Boutique Hotel by Olivia Hotels Collection
A wonderful boutique hotel set in a cellar with funky rooms in a modern design that blend into the surrounding and are shaped like wine barrels. Outside, the vineyards and in the horizon, the city of Vilafranca del Penedes. The rooms are pure bliss with free standing bathtubs with views and all the amenities. A perfect place to base yourself.
Book now on Booking.com | Agoda
Mercer Casa Torner i Güell
A hotel in the middle of Vilafranca del Penedes with cozy rooms and luxury design part of the Mercer Hotels group. Check-in is done via the self-help system outside of opening hours and the hotel has an on-site restaurant if you are too tired to go out.
Book now on Booking.com | Agoda
If you are looking to stay closer to the beach, try one of the luxury hotels in Sitges. And if you bought too many bottles you may need your own wine rack to store them at home!