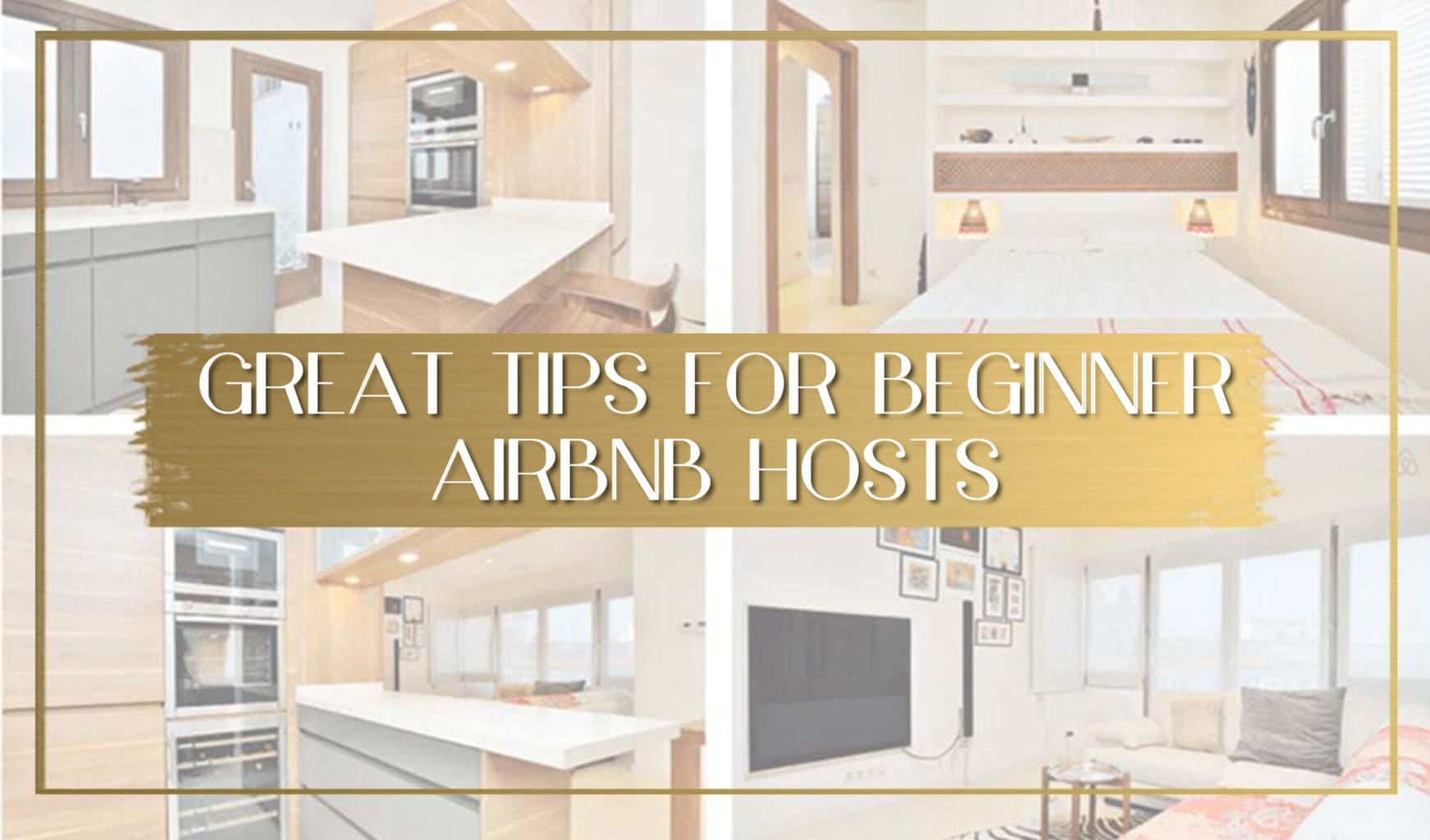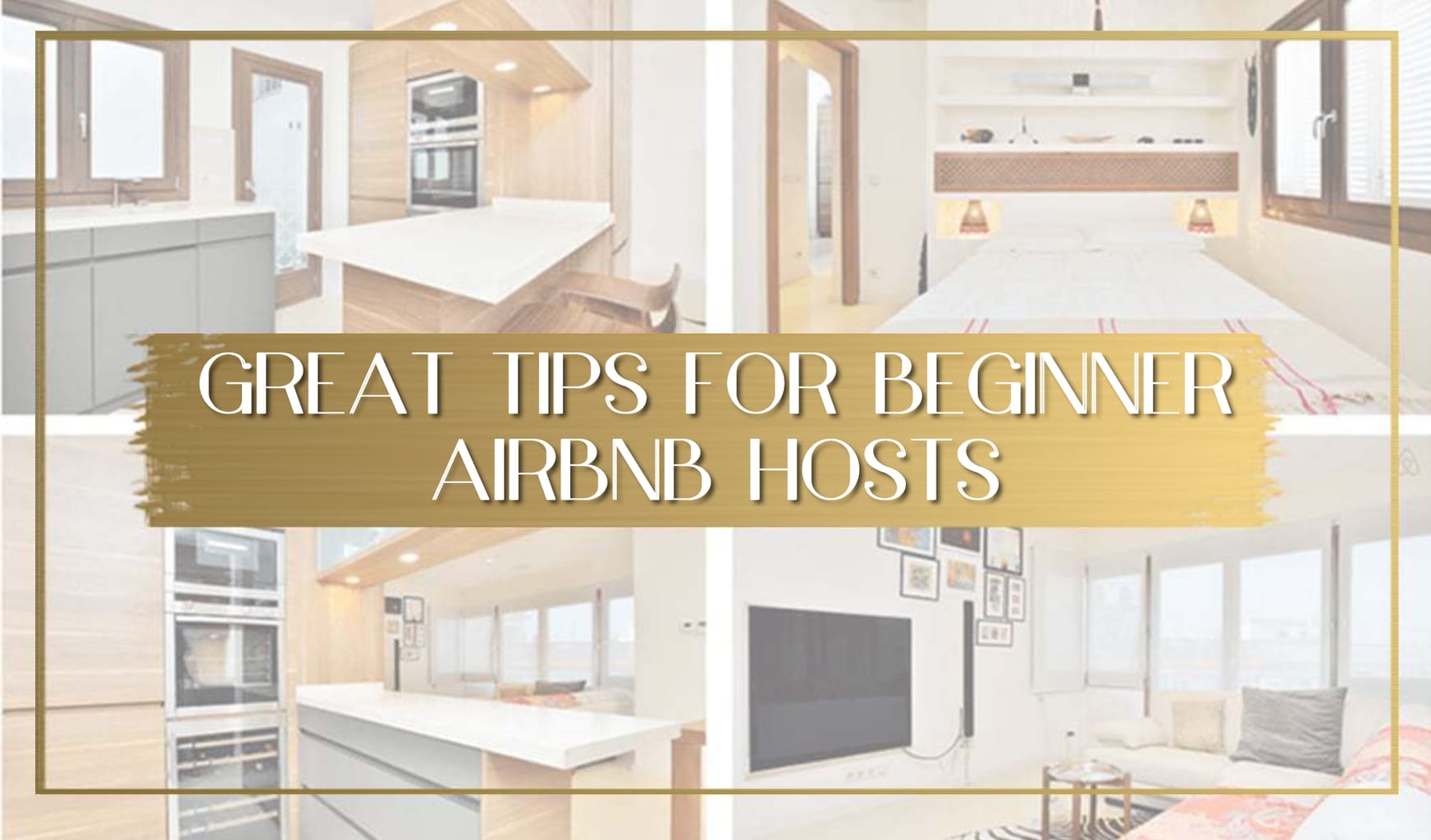 "Welcome to the shared economy!" I thought to myself as I completed my Airbnb profile and listed my Spanish property in the tiny town of Sitges, 30km south of Barcelona in 2013. Armed with little more than a friend's experience and none of the Airbnb tips for hosts that I know today, I was mostly concerned about the risks and hopeful for the advantages.
I wish I knew then what I know after over 100 guests, so I wanted to share my tips for hosting on Airbnb so that you can be a great host since day 1.
Summary of Tips for Airbnb Hosts:
Make your listing stand out, but be honest and truthful.
Set up clear rules.
Make sure the time between bookings is reasonable and accounts for the unexpected.
Trust the kindness of strangers, but make things clear and remind your guests of the rules.
You harvest what you sow, so give as you expect to receive.
Contact Airbnb immediately if you have any issues.
Help your guests keep your space clean.
Be thoughtful, a small detail can go a long way.
Allow for Instant Booking
Make check-in smooth with automatic locks, directions and welcome SMS.
Understand your cancellation policy.
Take reviews with a pinch of salt.
Work hard to get to Super Host status.
Never take communication or bookings outside the Airbnb App.
How I started hosting on Airbnb
When I started hosting, the telecoms consultant in me found the sharing economy shamefully exhilarating. I was now going to experience what all the fuss was about. Plus I would get to experiment with the world of human behaviour and with the hospitality service industry.
Bliss!
I know it may sound a bit creepy but it is not what you are thinking.
I always enjoyed process hyper large amounts of anonymous data to discover trends and this was as close as it would get on the hospitality side. Far better even, as I would also get to generate passive income to complement my blogging income.
However, Airbnb did not have the resources it has today and there certainly wasn't a "Guide to hosting on Airbnb" telling you all the insider tricks tips for host I accumulated after more than five years hosting. But hey, this is what this article is for: to share all the tips for hosting on Airbnb.
My first Airbnb guests
I bought my apartment in my beautiful hometown of Sitges with the wishful thinking that one day in the not-so-far future I would return home to Catalunya and settle there. But several years later, I am still living in Singapore.
Because it was a bit of a dream house, no effort was spared to refurbish it completely, bringing the walls down and redesigning the place to my every whim. I even expanded the bathroom, at the expense of the second bedroom, in order to fit a Jacuzzi.
I put underfloor heating, because you know, Spain can get really cold in the winter (really?), and installed air conditioning, a rare commodity in Spain to which I had got accustomed to in Dubai and Singapore.
I filled the apartment with artefacts, souvenirs and knick-knacks from all my travels. The Moroccan lamp hanging from the dome above the bed is from Marrakesh and was inspired by my 5 years living in the Middle East.
The zebra skin carpet in the living room is from South Africa's culling efforts in Kruger Park. The paintings I bought in Sudan, Malawi, Turkey…you name it. Objects from all sorts of exotic places hang from the walls or rest on the shelves.
Then, one day, the first Airbnb guest booked. And the next one; And another… And well over 100 guests later I am still happily renting my flat out. I have an almost perfect review score, a Super Host badge and lots of happy guests some of which have returned.
I am was also selected as part of Airbnb Plus program for premium properties which I started off as part of the launch beta group of Hosts because of my long time as a Super Host on Airbnb. I have a lot of experience as a host and a lot of tips for Airbnb hosts which I will be sharing with you here.
So to all those considering renting out their properties I have the following Airbnb hosting tips, let's get down to the details.
How to make your Airbnb listing stand out
Before you even host your first guest, you will have to list your property and unlike at the beginning, Airbnb now has millions of properties in thousands of cities so competition is fierce, let me give you some tips to help you make your listing stand out and be successful from the get-go.
Be honest and truthful
The most important element of a successful Airbnb listing is for it to be truthful to the reality. One of the most common feedback points I get from my guests and something which they regularly highlight in their reviews, is how faithful my listing is to the photos and descriptions on Airbnb. Nobody likes to arrive at a place that is not what you were expecting.
Don't make things look better than they are, be factual and be honest. If there is no space for a child to sleep, don't say there is and then let parents arrive at a place where nobody can sleep because there is no extra bed and the bedroom has a queen bed. Don't say the balcony has great views if that is not true. And if something does not work or is out of order, make sure the guests know and, if critical, provide a discount.
For example, my apartment has a Jacuzzi and once, it broke down in between two guests. As it happened in the middle of August, it was impossible for us to get it repaired (everyone is on holidays in August in Spain). I reached out to the guest and let them know. They were ok as they had not even realised there was a hot tub so everybody was happy but I was prepared to offer a discount.
Being honest particularly extends to photography. Airbnb will send you a photographer to take professional pictures. They do not mask reality, but they will make the place look as good as possible and lighting and wide angle lenses can make a huge difference. Make sure you are not misleading anyone with sizes of spaces or amenities.
Other things that matter to guests and you should make sure are clear, is the noise level. What may be a great location to some (near party places, bars, etc.) could be the worst nightmare for others. You need to make sure these things are clear upfront so you don't get a family to your party place ruining their experience and your review.
Make the rules clear
A bit in the same lines, but make sure your rules are clear from the start. Airbnb asks guests to accept the rules as part of the booking process, which is great, so make sure everything that is relevant is included.
This means adding things related to community rules (like keeping noise down after 11pm), whether pets or babies are allowed, whether there are check-in timings (eg. I do not allow check in after 11pm as my mother cannot take a train back to Barcelona after that).
Allow for enough check out and check in time
I have been there. You want to maximise the revenues you make so you allow guests to check in on the same day another guest checks out. You can do that easily if you are renting rooms, in which case it is quite quick for you to get the room ready for the new guest, but it is harder if you are renting a whole apartment and it needs to be cleaned in a short space of time.
I would caution you against allowing same day check out and check in on too many consecutive bookings.
You can rush once but if you are always worried and stressed about whether you will have enough time to clean everything before the next guest arrives, you will end up tired of the whole thing. Also, you may need extra sets of towels and bed sheets to be used in case they can't be cleaned on time.
I have set it up so that the system includes a preparation time between guests and occasionally allow consecutive check out and in. I used to allow this to happen always and there were times that we were in a pickle.
Why?
Because you never know how the guests will leave the apartment. If they are real piggies and leave it all in a complete mess, it can take 4-5h to get it sorted again. Great guests even clean after themselves, bad guests leave all the rubbish and dirty dishes in the sink for all the days they were staying.
Some guests barely cook, some have feasts every night needing ovens to be cleaned with their auto function (you know, that one that burns everything to a temperature of 1,000 degrees for 2h). If you are renting entire properties, allow yourself enough time between guests, you will thank me for it.
Getting started as a host on Airbnb
When I published my listing there were many question marks that needed answering and plenty of fears about the risks associated with renting out my precious property to complete strangers on Airbnb.
Before my first guest arrived, I had all these questions and fears.
Will they treat my apartment with care? Will anyone steal my designer TV or sound system? Will I have to continuously replenish the wine glasses, smashed on a night of debauchery?
These were aggravated by my fearful mother who was even more scared than me – granted her fears were built over years of real state experience and were perfectly founded.
I was terrified that my beautifully decorated apartment would be destroyed by careless holiday makers and, at that time, I didn't know anybody who could help me understand how Airbnb hosting worked or what things I should know before listing my apartment on Airbnb.
If you, too, are feeling a little cautious about opening your house to strangers, read more to find out some of the Airbnb tips for hosts that may help you minimise the risk.
Tips for Airbnb Hosts
The guidelines on the Airbnb site will give you all the details for starting out and also tell you all the important bits and pieces about your listing, but there is so much more to Airbnb hosting than that and I hope that the following tips will help you with that.
1. Trust in the kindness of strangers
Contrary to alarmist websites like Airbnb Hell, of all the 100+ guests I have welcomed only one caused issues which cost me money. Be it because the review system works or because people feel ashamed when dealing with an individual as opposed to a face-less hotel, hosting on Airbnb has renewed my faith in humanity.
While this is a valuable insight into hosting which should give you a lot of peace of mind, I also want to give some tips to make this a smooth reality and ensure that you set yourself up for success. Here are some recommendations to ensure you only have positive experiences with Airbnb guests
Make things clear
I ask guests to sign a contract at check which simply states basic things like the fact that they have rented for a specific length of time, check in and check out times as well as the rate they paid. This is to protect myself from legal issues of them not leaving the flat, a common problem with renting apartments in Europe where the tenant has the right to stay even without paying and eviction is hard, expensive and time-consuming.
In this contract, I also make everyone read and sign an inventory list which includes everything that they should leave behind when checking out. In my case, a list of wine bottles are included as I have a small wine cellar in the flat.
This has come in handy when there have been guests who have taken things they were not supposed to, like my bottles of wine. As it was clearly stated in the inventory, they cannot claim lack of knowledge. So when you raise an issue with Airbnb, the contract is a good way to back yourself up.
Remind them of the rules
Often times guests book long before they arrive and they may have forgotten about the rules they accepted when they booked. It is not hard to simply give them a nudge and remind them of noise levels, community rules, etc.
2. You will always get what you put in
If you are good to people they are very likely to reply in the same manner. You should treat others how you want to be treated.
I have always been extremely friendly, flexible and accommodating of my guests. If nobody is checking in on their departure I let them stay longer. I give recommendations for restaurants, I offer the timetable for the airport bus, we even left a bottle of cava for a couple who were celebrating their anniversary.
We have printed reservations for events they were attending, we organised flowers and chocolates for couples, we booked taxis. Anything really, like a concierge service. I once had to mail a pair of earbuds that a guest forgot, all the way to the US. For a vegan guest on a special diet, my mum and sister left their blenders in the flat for her to use during her stay.
Of course, this may cost some money and time and we never charged for any of that. But, in return, I got great reviews, appreciation and, even, a hand written thank you card and a couple of key rings from Delft from a couple who were staying for the second time and a hand stitched doll from another. And there is no better feeling that contributing to someone's happy holidays and great memories.
Airbnb has now made it even easier for you as a host (or as a guest) to remain in the minds for your guests by letting you send Christmas cards via their messenger system. In my case, this is a courtesy gesture that may pay back since a lot of my guests return to Sitges every year.
3. Contact Airbnb immediately if you have any issues
As mentioned above, there have been very few cases where I have had to reach out to Airbnb, but if that happens, here are my recommendations for dealing with the situation.
If you have an issue with a guest, immediately contact Airbnb and send a request to recoup the associated costs. Keep photos as proof of the damage and if the guest does not agree to pay you back then ask for Airbnb to intervene. You only have 48h to do so after which Airbnb will have returned the deposit to the guest, so you need to be swift.
Airbnb will always ask that you reach out to the guest and resolve the issue amicably, and you should do so asap and always bearing in mind the 48h window. Unfortunately, Bad things also happen to good people.
Beware, Airbnb will not let you make a claim for someone leaving the flat uber dirty, that is considered part of the cleaning fee, even if you need to get professional help to wash the bed sheets with disinfectant or get someone to come polish the floors.
This has happened to me. The cleaning fee is to be used to pay for that so you are unlikely to get any money from your guest if their dirtiness deems something unusable. So think about that when setting the cleaning fee and also consider the average duration of your bookings: the longer the stay, the more likely it is the flat requires more time to clean.
I also have a couple of additional Airbnb hosting tips to prevent things from happening.
Cover up
If you have any furniture or fabrics which are white or light coloured I would recommend you cover them. For example, my sofa is off-white so I bought a nice cover which goes well with the rest of the living room and which protects it from people sitting on it with dirty clothes or dropping something.
Sometimes, there is no malice. Guests are relaxed, they are on their holidays, but they forget they come from the beach and sit with their lotion-covered legs on the white sofa and that stain will never come off.
Choose bedsheets which are not white
You may be inclined to think white will be more hotel-like and will look more elegant but I would strongly advise against it. One thing I learned through the years is how incredibly dirty bed sheets can be. I never thought about it because my own bedsheets at home don't get stains of any strange things but this is such a common thing.
We have found all types of stains. We disinfect and wash everything thoroughly but stains may still be there. If your bedsheets are white, no matter how much you wash them, you will not be able to fully remove stains and they will look disgusting to anyone. Alternatively, consider using professional companies to wash the bed sheets but bear in mind this is usually very expensive.
Help them clean
Provide guests with detergent so they can clean and wash after themselves in case they make a mess so it saves you the trouble of doing it yourself. Provide them with rubbish bags, with a mop, with cleaning materials. Help them help you clean. Also, provide coasters for people to use on coffee or bedside tables. You never know where someone might want to enjoy a drink.
4. A small detail may go a long way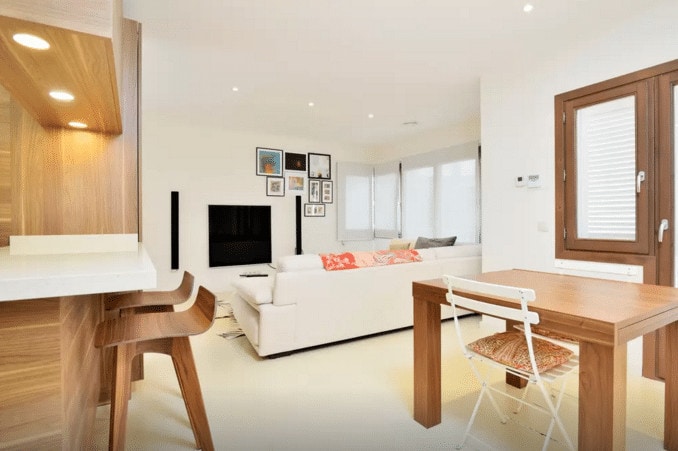 In my flat there are beach towels, beach chairs & a beach umbrella for guests to use. These are items that you wouldn't pack in your luggage, let alone check in on a low cost flight. If you rent those at the beach it would cost 15-30 euro a day so I know it makes a difference.
Other things to consider are shampoo, conditioner and shower gel which are also heavy to carry. Dish washer or detergent are also appreciated as these are things that you would use little of as a short term guest. I have found that guests value having a washing machine so they can travel light and only bring carry-on.
For guests with babies, I warn about the lack of a crib and have provided one (borrowed from a friend) when asked with enough notice. We also searched for specific brands of diapers in the local shops and helped a guest find ways to ship breast milk back to the US. These are all unusual things, but very much appreciated.
When a guest is celebrating a special occasion, as they often are at my flat, we make an effort to leave a bottle of cava, flowers or chocolates. Or sometimes, just a card with a note. These are things which don't cost a lot, but are nice gestures and not only help them feel at home but make guests more likely to treat your home like their own.
5. Allow for Instant Bookings
When I first listed my property, Airbnb did not allow for instant bookings, those you can do with a hotel and where you get an immediate confirmation. So you could either let guests send a booking enquire which you had to confirm or screen them first through an email exchange before they were allowed to send a booking request. At the beginning I wanted to make sure people understood the house rules so I did not allow for booking requests until I had screened each guest.
After a while I realised this was not necessary because people almost always had read the house rules (and Airbnb forces you to accept having read them before confirming a booking). The added step did however provide me with peace of mind and who can put a price on that?
However, in my experience, I strongly recommend you allow for Instant Bookings from the beginning.
Airbnb does not provide you with the information to ban someone anyway and how can you tell if someone will be a good or a bad guest? Negative reviews are rare anyway.
Also, there is a grace period during which Airbnb allows you to cancel a reservation if you are indeed not comfortable with a guest, so there is no need to pre-approve every guest. This is obviously not to be used to discriminate but in cases where the guest thinks the property is suitable while it is not, for example, if someone books with a child and does not realise the apartment has no place for them to sleep in, or wants twin beds and you only offer a double.
If you do not allow for Instant Bookings bear in mind you may lose some bookings to other places which allow these. I have been allowing Instant Bookings for years have never regretted it so I would recommend you allow it too.
6. Make arrival and check in smooth
My flat is managed on the ground by my mother because I live in Singapore. I handle all online communication and she greets the guests and organises the clean-up. There has never been a guest who had to wait for my mother. She always goes there with plenty of time to switch on the AC or the heater and make sure the flat is in order and comfortable.
Guests take public transport, bus or train, and they almost always underestimate the time it will take them. My mum waits between 1-2h on average over the agreed time and often times much longer. This is important if you are busy or if you are using a third party agency who will indeed not wait. Alternatively, I have seen other properties charging more for guests who arrive late or out of office hours.
What can you do to make sure you wait the least? Let me give you some Airbnb hosting tips for checking in your guests.
Automatic locks
Airbnb makes it easy for you to have an automatic remote lock that can be activated with a password that you can generate and provide each guest. This way, you do not have to be there every time a guest arrives and you are less bothered if they are late.
This is particularly interesting if you are renting a room so you know you will eventually see the guest but do not have to rush to open the door, or if you want to enable Airbnb Business which requires the automatic lock to qualify. In my case, this is of no use because I want to make each guest sign the contract and go through everything with my mother but it can be extremely valuable to many.
Give directions
I provide guests with the airport bus schedule and tell them it is a better alternative to the trains everyone is familiar with. The trains are often late and they require a transfer. In Spain, they are also often on strike so they are a far worse option to the bus which is direct from the airport to Sitges.
However, most people are not familiar with the bus. By giving them all the directions I ensure they have a smooth arrival and they do not get lost.
Verify their contact details
Ensure you have the correct mobile number the guest will use when they land. Often times, the phone they used for Airbnb may not be the one they will use on their travels making it harder for you to locate them in case of any issues. You can reconfirm this before arrival and provide them with the contact number of the person who will greet them.
Get their flight details
I always ask guests for their flight details prior to arrival, so we can track if the flights are delayed. We have been able to tell this on a couple of occasions avoiding long waits.
Send a short message when the flight has landed
My mother has been sending a short SMS to everyone upon landing since the beginning. She checks when the flight has touched the ground on the airport's website and then sends them a short text welcoming them and making sure they have her number and address when they land. This way, we make sure they know who to contact and how to reach them.
7. Understand very well your cancellation policy
You will have to choose between three types of cancellation policies depending on the flexibility you wish to provide. Although I always felt bad for not returning money to customers who had to leave early or cancel last minute it is worth remembering that very close to the date you are not likely to find a replacement so if a guest cancels 5 days before your property will remain vacant.
Airbnb is not yet the go-to platform for last minute options and the lack of a Direct Booking option didn't help in the past. You can very well be sure that if someone cancels within 5 days, you will not fill the vacancy so I would recommend picking the cancellation policy that is Moderate or Strict to make sure you do not lose money from cancellations you cannot refill.
8. Take reviews with a pinch of salt
Yes, this is the banner platform for the shared economy and a great success case for a crowd-sourced, review-based site but do take the reviews with a pinch of salt. I have yet to read a negative review on any guest's profiles even the ones who left the apartment in a dire state.
In the past, this was disincentived because you could see the other person's review before you published yours so there was no way you would write a negative one. This changed a while back. Now, you can't see the other review until you write yours so this is addressed.
However, it is really hard to leave a bad review on a guest when what you write can be perfectly seen by everyone. It's great for transparency, but severely discourages honest feedback. You do not want other guests to see you complain about things that may seem harsh from the outside, like saying the guest left the apartment filthy or messy.
Also, guests, and hosts, can answer to reviews so if someone left a bad one, you can respond and provide context. This turns reviews into a bickering situation and discourages anyone from actually leaving one.
This propensity for positive reviews means one take away for hosts: If you ever see a guest with bad reviews, you should be very careful and consider not accepting the booking. On the other hand, if a guest with dozens of good reviews has a bad one, you can probably discount it as coming from a misunderstanding or a disgruntled host.
9. Aim for Super Host badge
Super Host status on Airbnb is a really hard to get badge, not least because it requires you to have lots of guests, who both write a review, and who have a good experience to write about. So if you have a seasonal flat like mine, it is hard to keep this badge.
However, it is a very important and useful badge, especially if your flat is in a popular destination with lots of options.
I saw an increase in bookings when the badge was activated so it is worth striving for it. Ask your guests to leave you feedback, usually people will do so. Since Airbnb will only let them leave feedback for 14 days after their departure, some people forget so reminding them can help.
I usually nudge my guests if they have not left a review after a week, and I make sure to leave mine because they will get an email when I do so which will remind them to do it too. Be sure not to push them to leave a positive review, but to leave one. I only ask them to please leave a review if they have a moment as it will help me and my mother to continue being great guests.
10. Never take a booking outside of the platform
This is probably the most important of all my Airbnb host tips.
As soon as you put a listing up in a popular destination and you have good ratings, expect guests to reach out to you asking for a discount on the listed price. Airbnb charges guests 10% fees for booking which can add up to quite a lot and I have had a lot of potential guests offer to give me 5% so they save the remaining 5%. I would highly discourage you from engaging in such situations no matter the financial benefit.
Why?
Because you will not have any protection. If they steal something, break something or if there are any issues of any kind, you will be at a loss because you will not have anything to do against the guest. Through Airbnb, you know the guest's credit card is on file and available to make any claim of that style. Airbnb also takes insurance on your behalf so you have extra protection. There is basically nothing in it for you so don't do it.
I hope this article inspired and you got all the Airbnb hosting tips you need to get started.
Let's recap my Tips for Airbnb Hosts:
Make your listing stand out, but be honest and truthful.
Set up clear rules.
Make sure the time between bookings is reasonable and accounts for the unexpected.
Trust the kindness of strangers, but make things clear and remind your guests of the rules.
You harvest what you sow, so give as you expect to receive.
Contact Airbnb immediately if you have any issues.
Help your guests keep your space clean.
Be thoughtful, a small detail can go a long way.
Allow for Instant Booking
Make check-in smooth with automatic locks, directions and welcome SMS.
Understand your cancellation policy.
Take reviews with a pinch of salt.
Work hard to get to Super Host status.
Never take communication or bookings outside the Airbnb App.
Don't forget to Pin this to your #AIRBNB boards