I was a guest at Gili Lankanfushi on a full board basis. This, and all my reviews, are always honest and my own.
Gili Lankanfushi reopened at the end of 2019 after a full refresh following an incident that damaged several of the villas and the main restaurant and I had the chance to return to this little slice of paradise for a second time, so this review of Gili Lankanfushi is made with the experience from both stays at the best resort in the Maldives (as chosen by TripAdvisor).
If you search on Booking.com you will notice that there are 196 five star hotels and resorts in the Maldives. This is probably the highest concentration of luxury hotels anywhere in the world. Picking one is a difficult task, and you should take my word for it, Gili is one of the very best.
Discerning between the great and the best luxury resorts in the Maldives is a really difficult job, especially if you are doing it based on online research.
All resorts look stunning, the Maldives waters are beautiful no matter where you look and on paper, you can't really tell what sets each apart.
So why was Gili Lankanfushi at the top of my wishlist at the Maldives?
Because of recommendations from (highly demanding) friends, because it has been awarded several recognitions such as being chosen Best Resort in the Maldives on TripAdvisor twice or Best Destination Spa by Conde Nast Johansens Awards for Excellence in 2018.
But above all, because it had most of the elements that I care about from a luxury resort.
Curious to find out more about this slice of paradise?
Read my review of Gili Lankanfushi below to find out why I think it is one of the best resorts in the country.
A little more about Gili Lankanfushi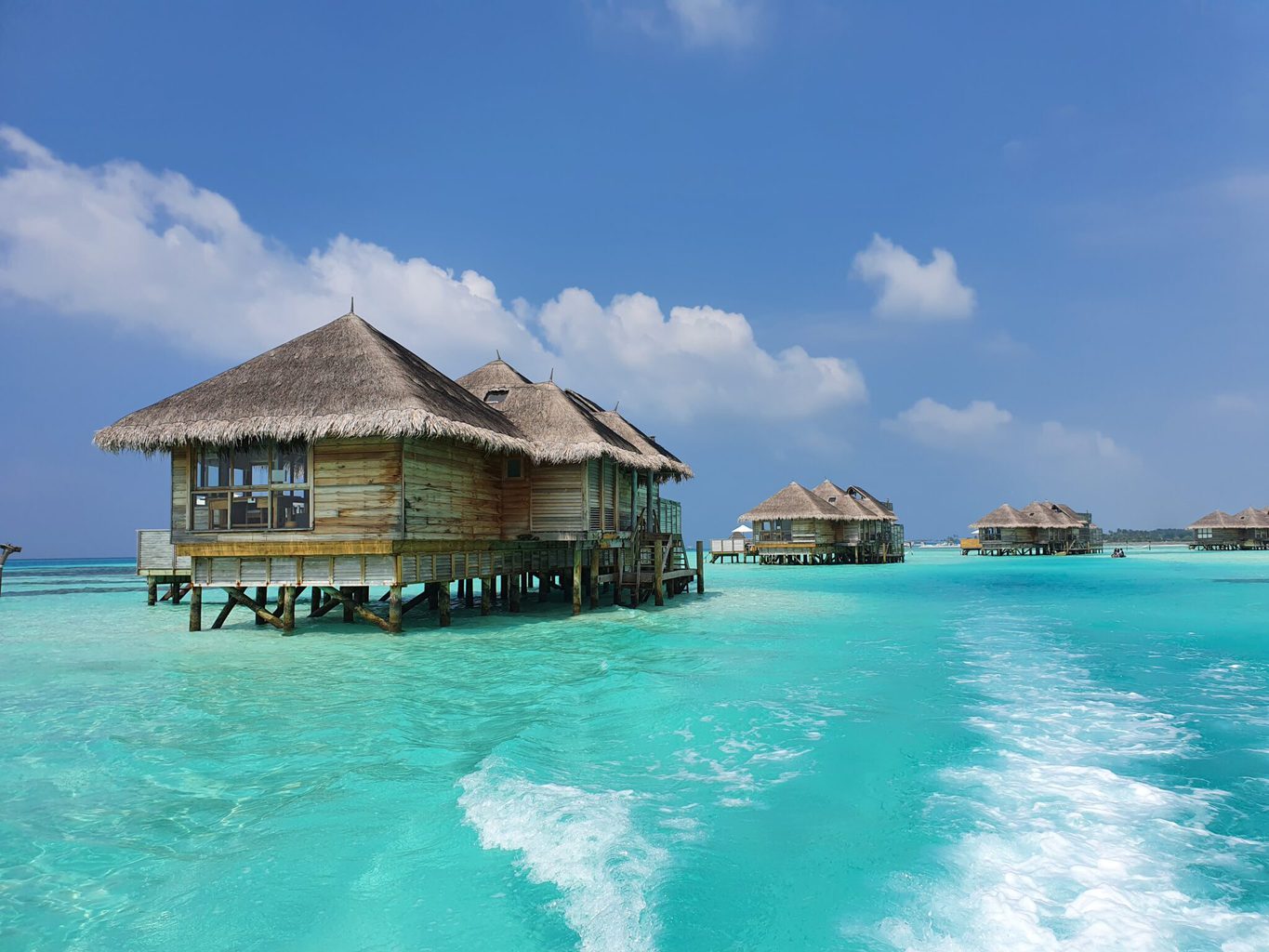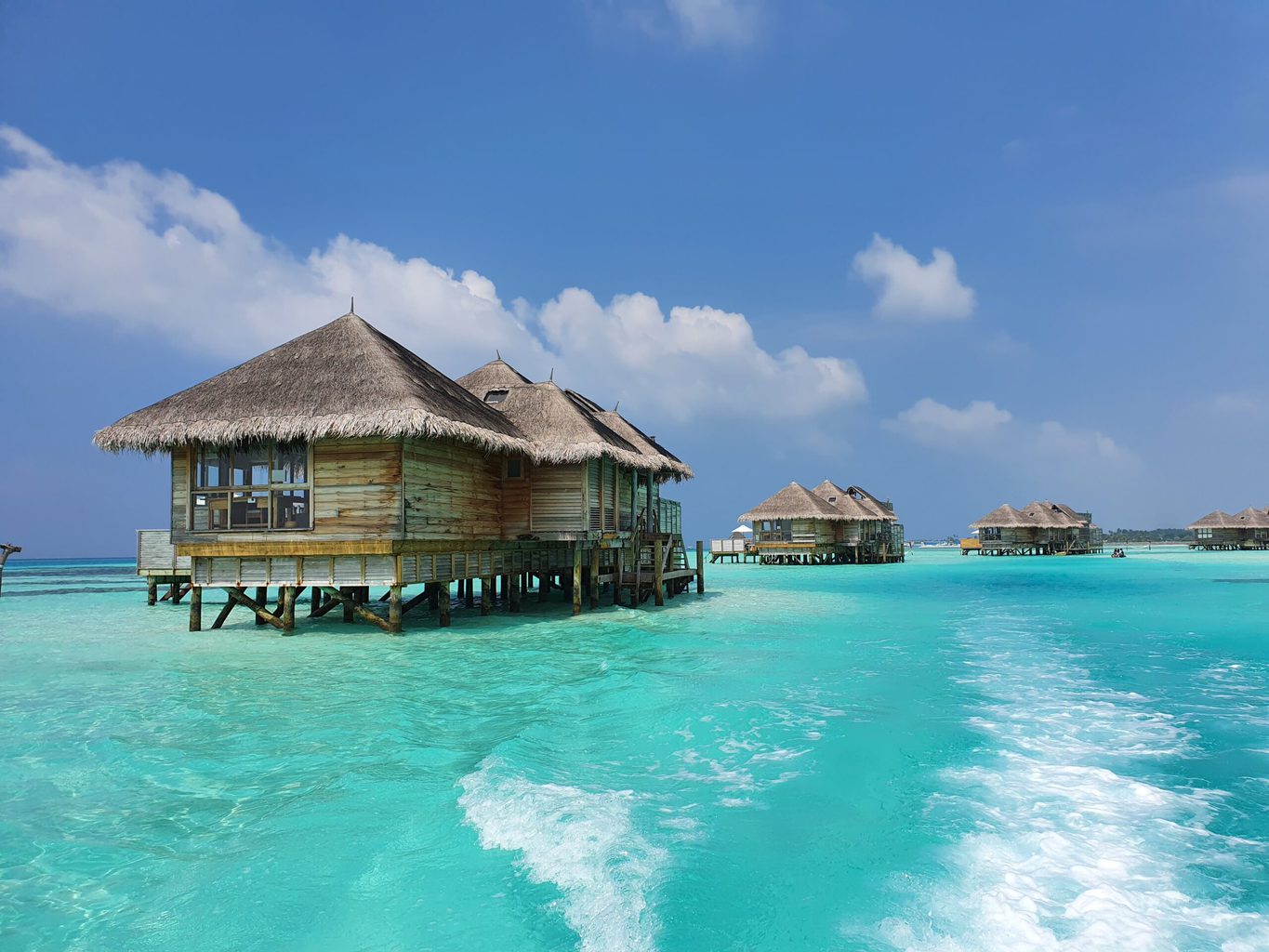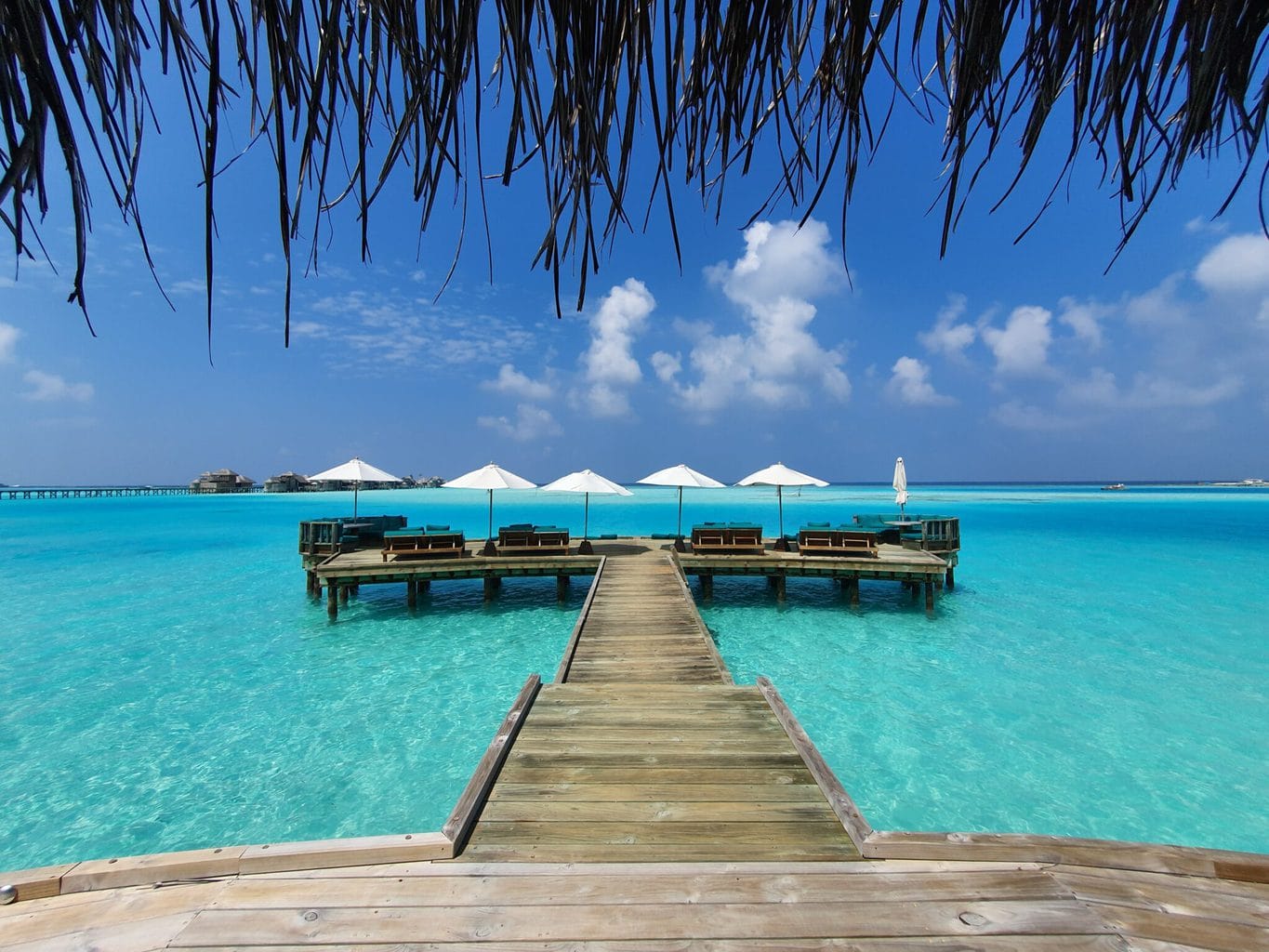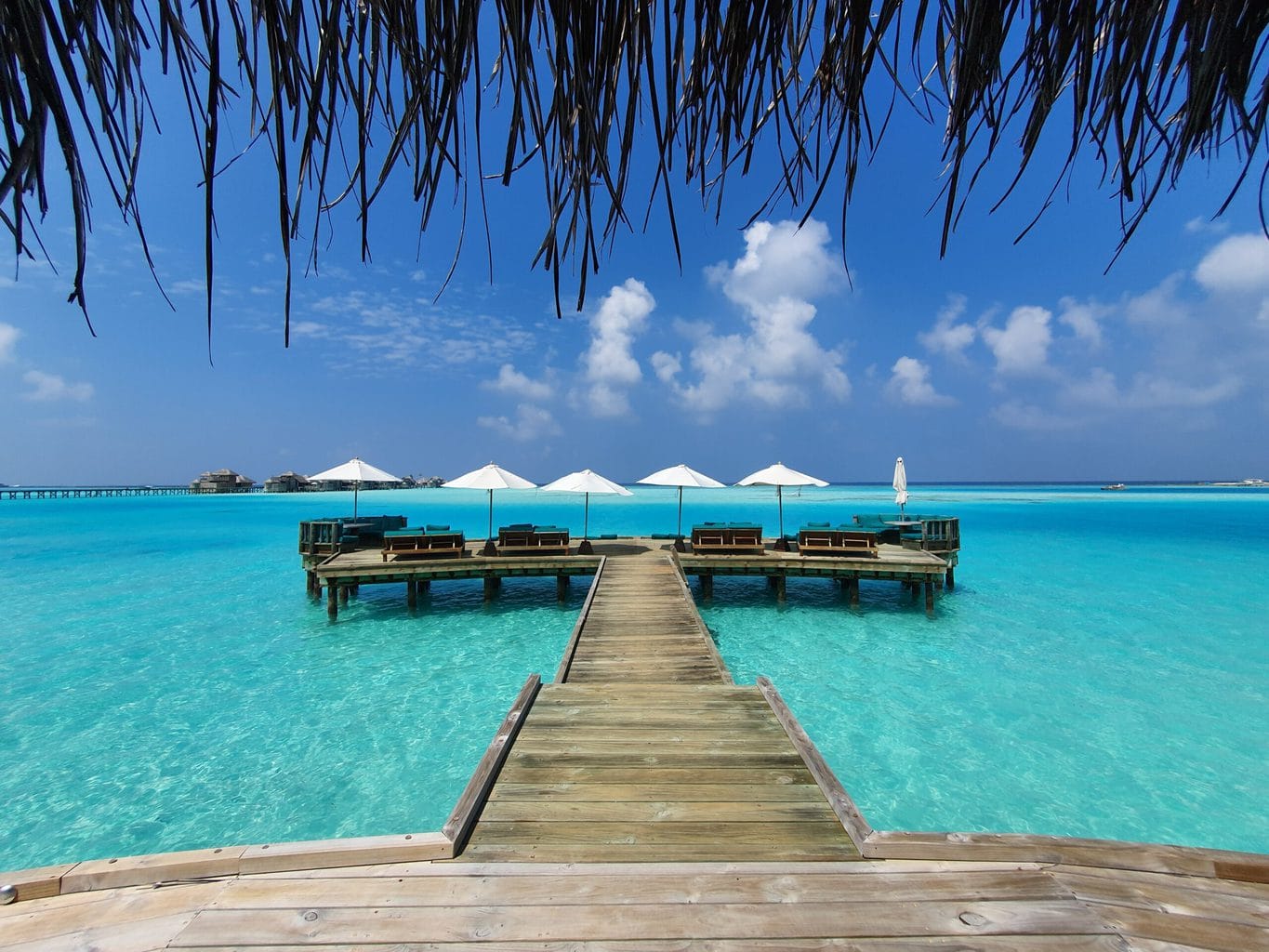 Gili Lankanfushi is owned by Singapore-based HPL Hotels & Resorts, a hospitality management group with 11 hotels and resorts across Asia which I am very familiar with and a fan of.
I have previously stayed at Casa del Mar one of the best hotels in Langkawi Malaysia and at The Boathouse Phuket in Thailand, both of which, while being very different types of hotels, shared the same commitment to service and long term employee satisfaction. Gili Lankanfushi was no different.
Many of the staff I talked to had been with the resort for years, despite the very competitive Maldivian market where dozens of luxury hotels open every year and try to poach the best staff from awarded resorts like Gili (Gili's General Manager left to open Joali Maldives).
The hotel used to be part of the Six Senses/Soneva Group, who sold the property to HPL Hotels & Resorts in 2012.
After the take over, instead of completely changing the style, most of the successful elements were maintained including the brand's commitment to sustainability and much of the same look & feel as well as service standards.
The recent refreshed brand has evolved some elements like the color palette, added some Maldives-musts like pools, but kept every part of the resort's philosophy.
If you have visited or are familiar with the Six Senses brand (I have stayed at several Six Senses including Zighy Bay in Oman, Six Senses Con Dao in Vietnam, Six Senses Singapore in Duxton, and Six Senses Qing Cheng Mountain near Chengdu) or with Soneva (I have been to Soneva Fushi in the Maldives and Soneva Kiri in Thailand), you will feel very much at home.
The same "No News, No Shoes" barefoot luxury, the use of sustainable and upcycled materials for the resort's construction and the Mr/Ms Friday personal butlers are all shared elements among the brands.
Since the refresh, Gili Lankanfushi has claimed its own identity even more, personalising the color palette and bringing unique drift wood upcycled pieces to each of the rooms, for example the unique mirrors that are different in each villa.
What the resort still preserves and will continue to strengthen, is its eco-friendly approach and commitment to sustainability. Marine conservation efforts, the banning of all plastic, the use of eco-friendly amenities and products, garden-to-table dining, and many other things are all part of the brand's values.
Arrival and check-in at Gili Lankanfushi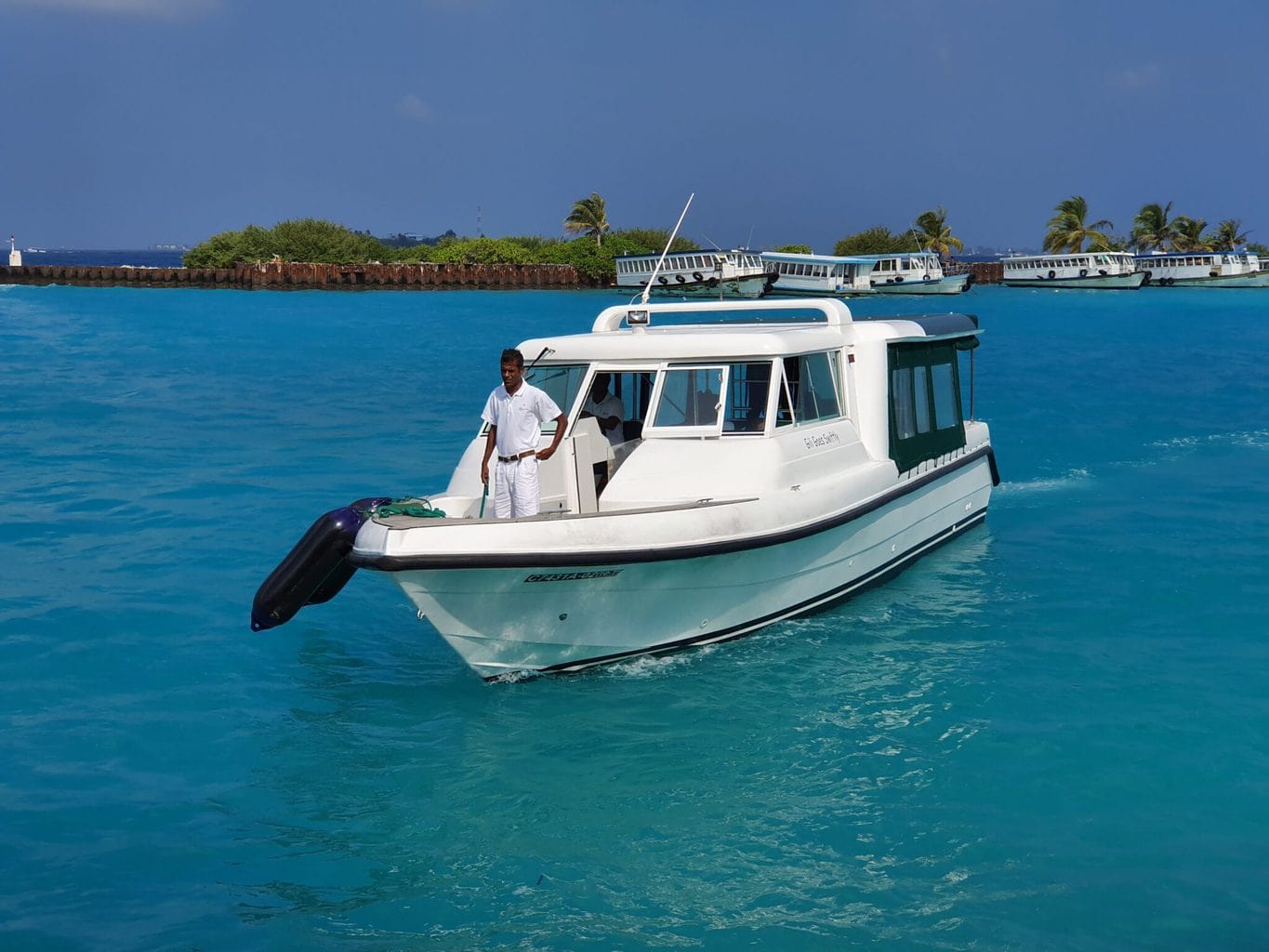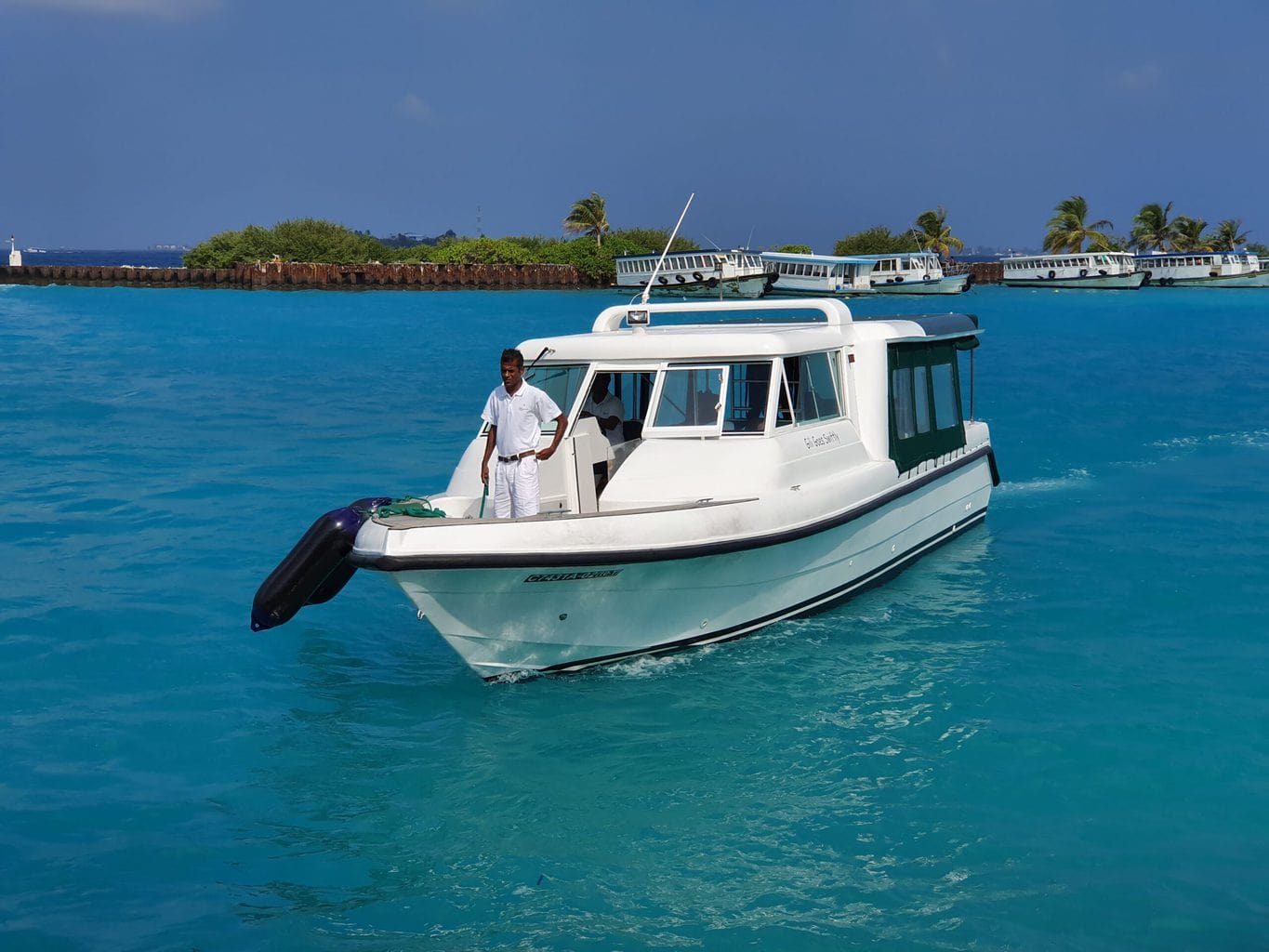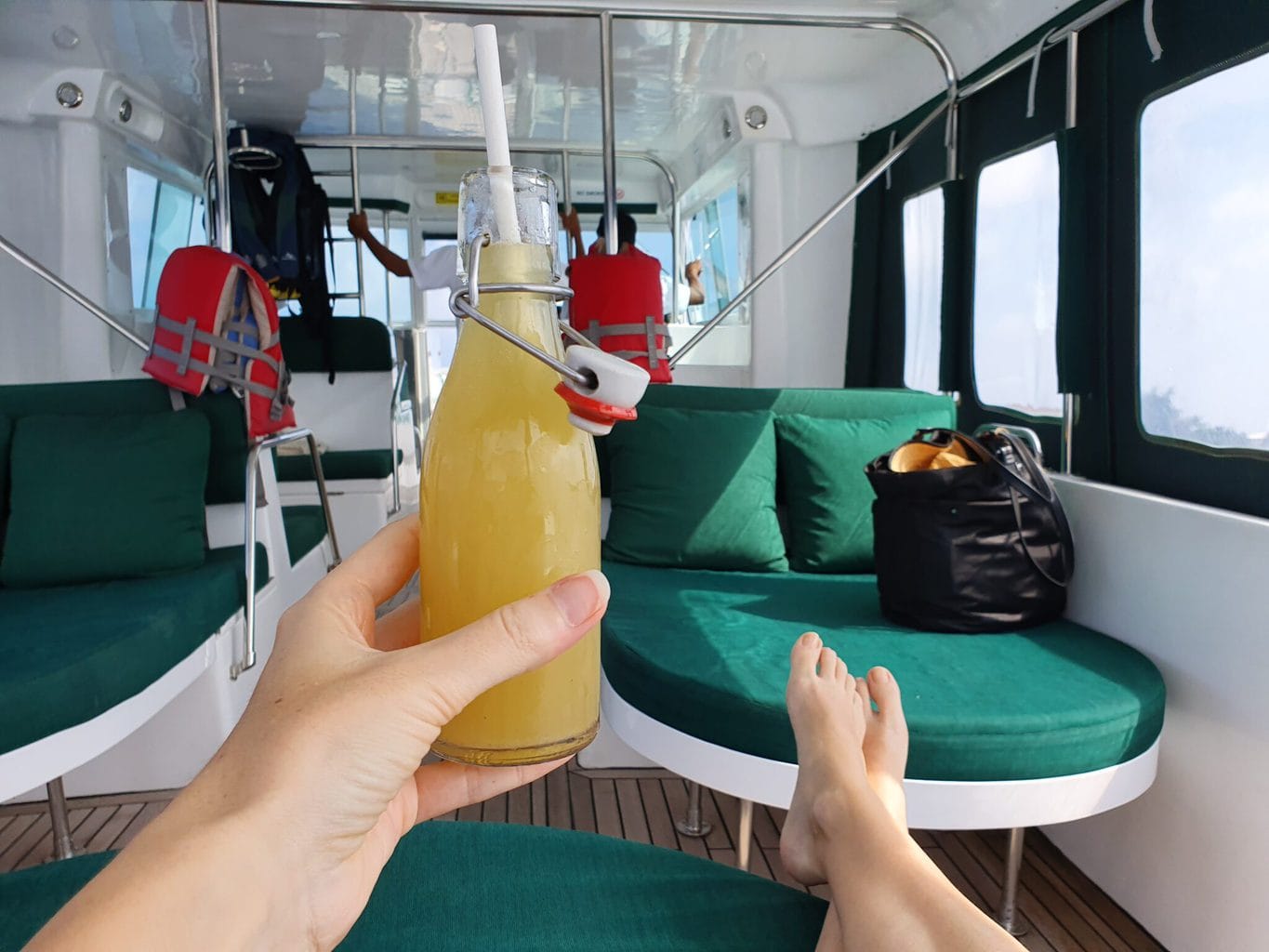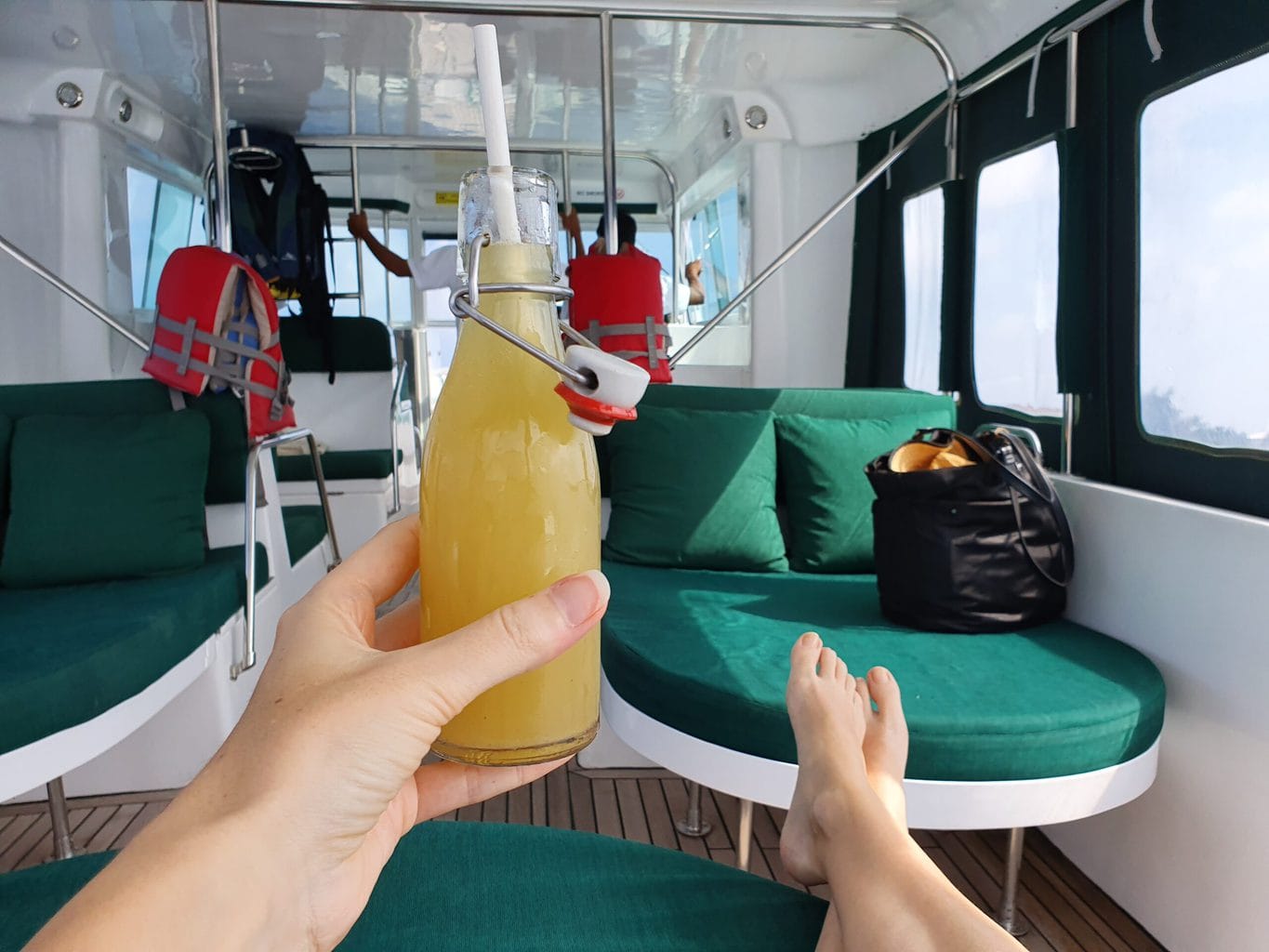 Gili Lankanfushi is one of the few truly luxury resorts in the Maldives that are near Male Airport. This means that to get there, you do not have to take a seaplane but rather a 20-30 minute boat ride, depending on the weather.
If you are not familiar with the Maldives you may think that you want to take a seaplane, and that is probably true if you never took one before. But the downside is that you can waste a lot of time waiting around at the airport while resorts that are near Male are much more efficient. You can land and get to the resort within an hour.
In my case, both times, I was coming to Gili from an overnight stay in Hulhumale. All hotels in the Maldives will call your accommodation in Hulhumale the night before to let them know your departure time and meet up point, in this case, the pier which is in front of the airport.
We were scheduled to depart at 9am and met the team from Gili at that time. As there were some other guests landing from a flight at a similar time, we waited for them.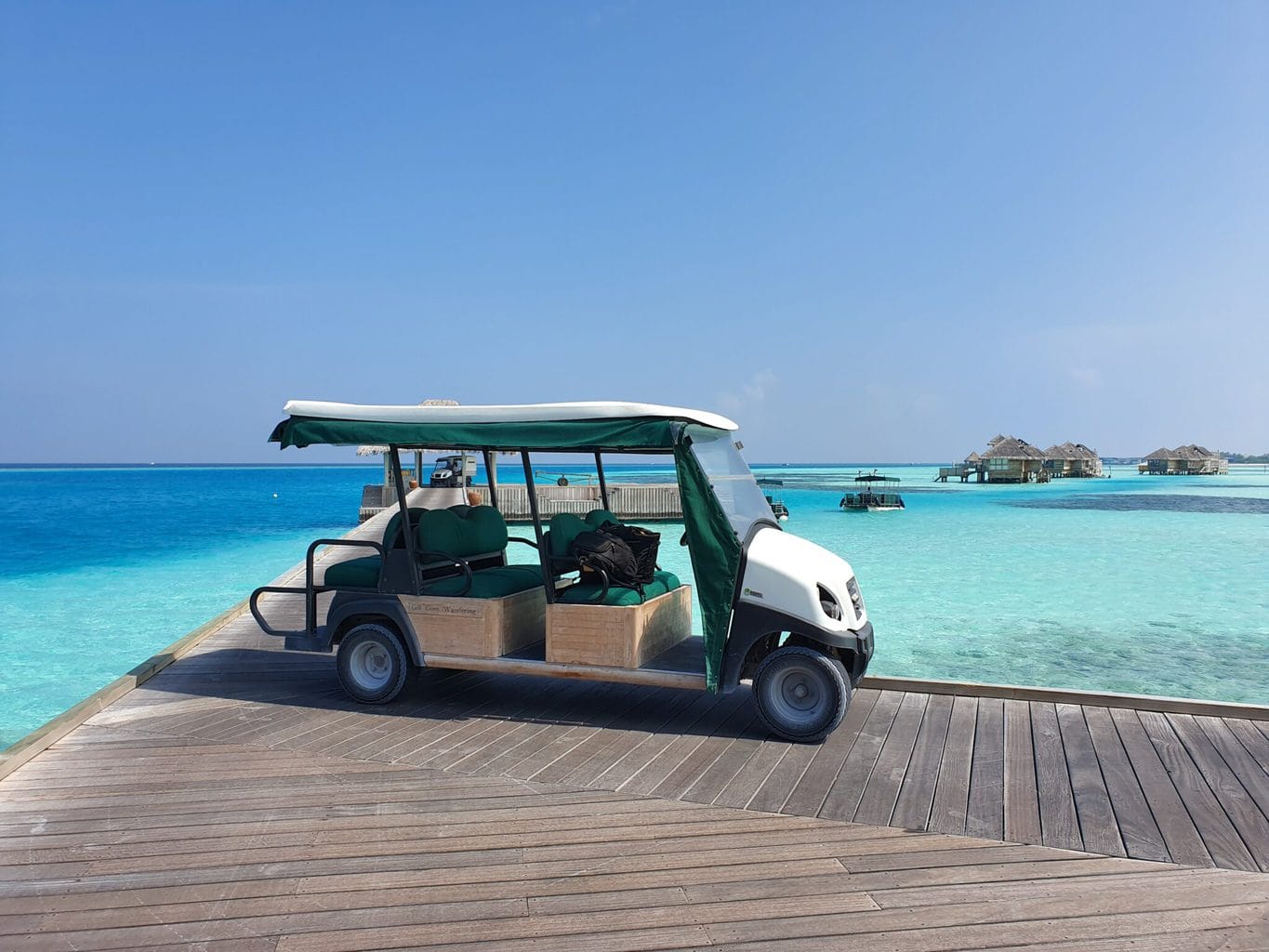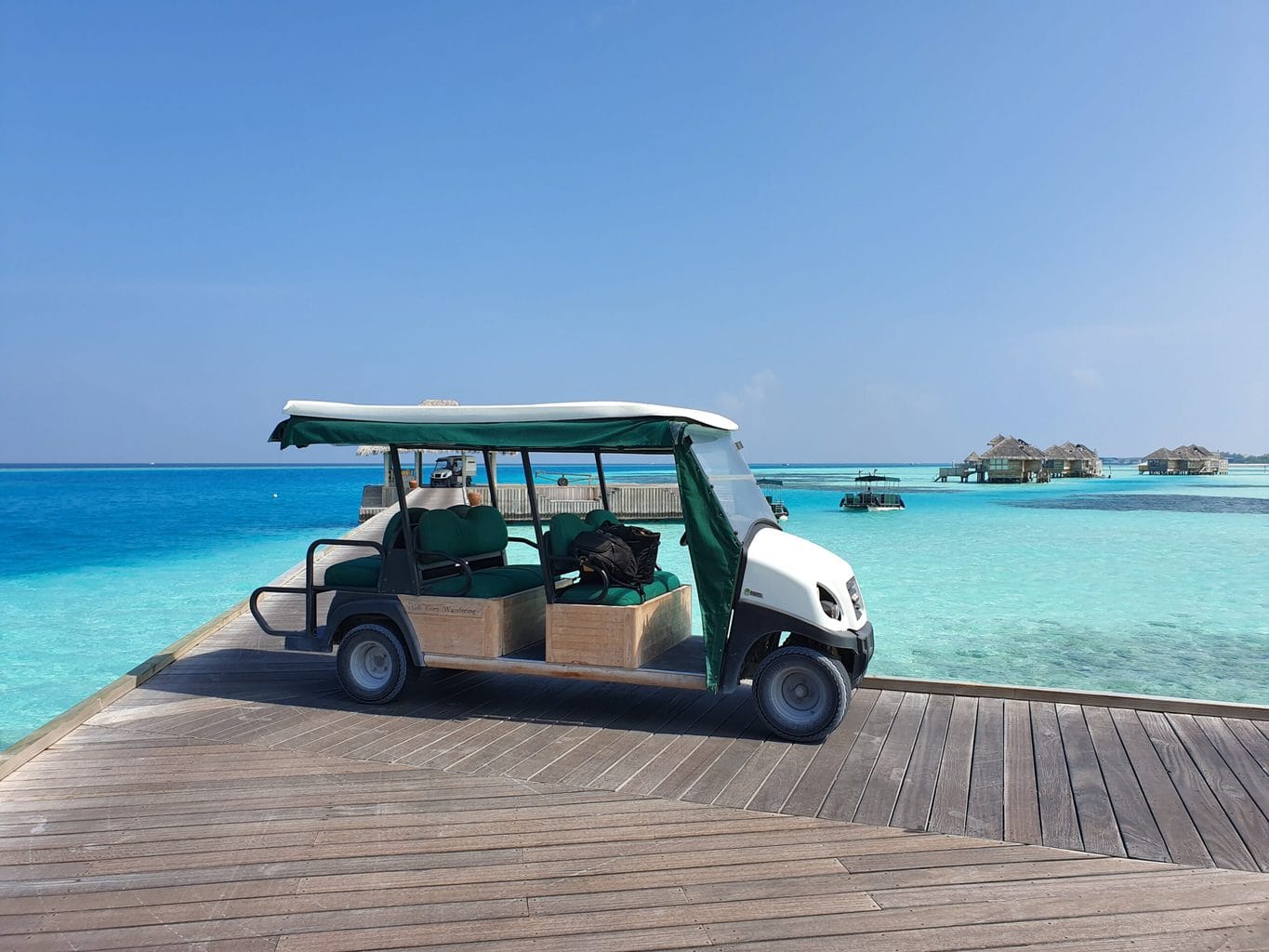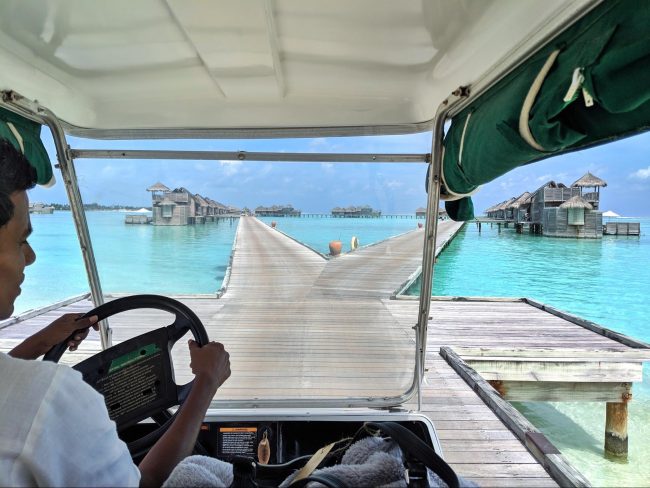 Gili Lankanfushi has its own fleet of luxury speedboats to pick up and drop off guests, making the transfers as efficient as possible.
On the boat, decked with emerald green cushions, we were introduced to the crew, given life vests, a cold lemongrass-scented towel and a refreshing drink to accompany us on our short journey to the resort. Our shoes were also collected and stored in the canvas bag, where they would remain for the rest of our stay. In fact, I almost forgot about them.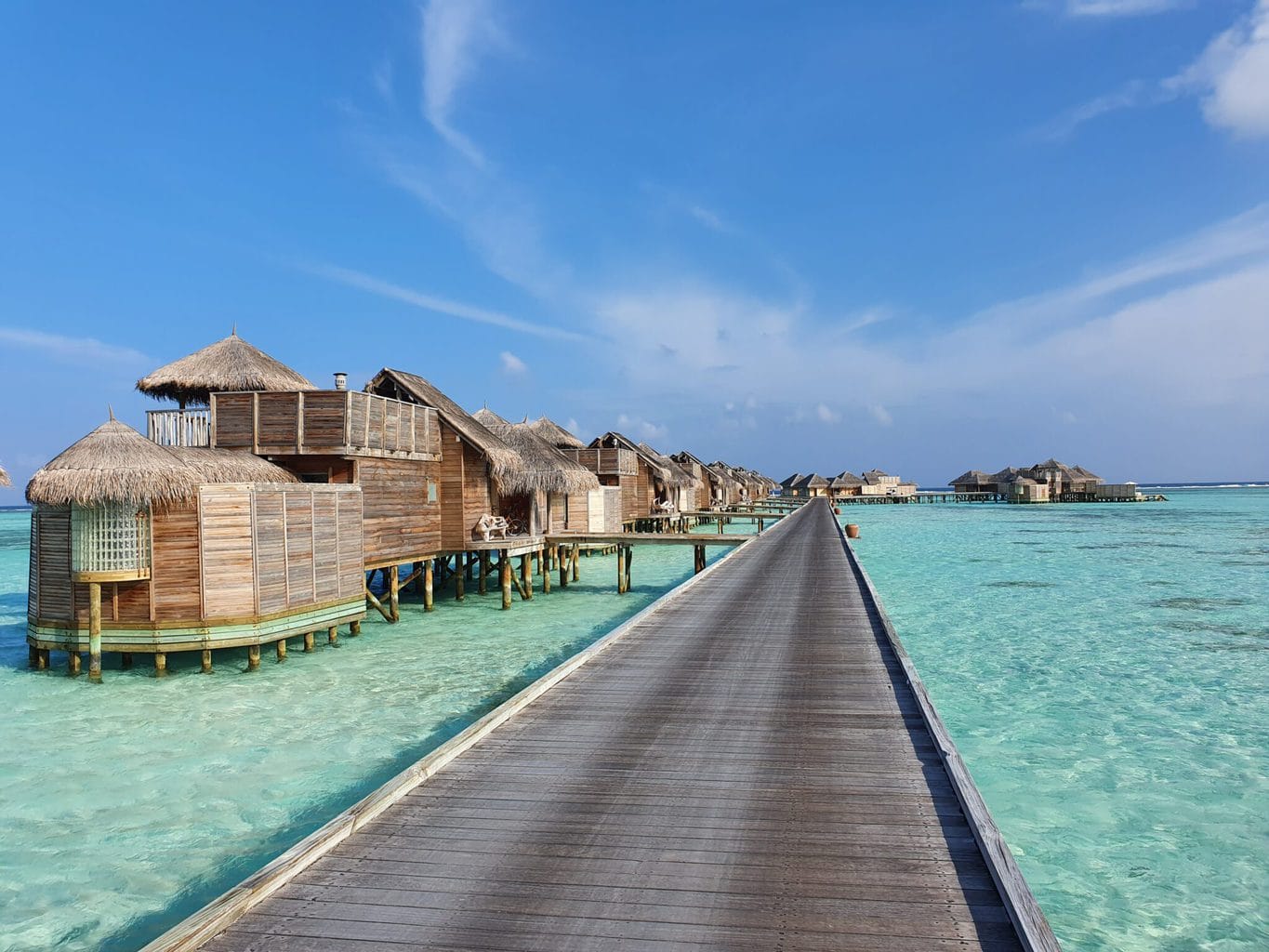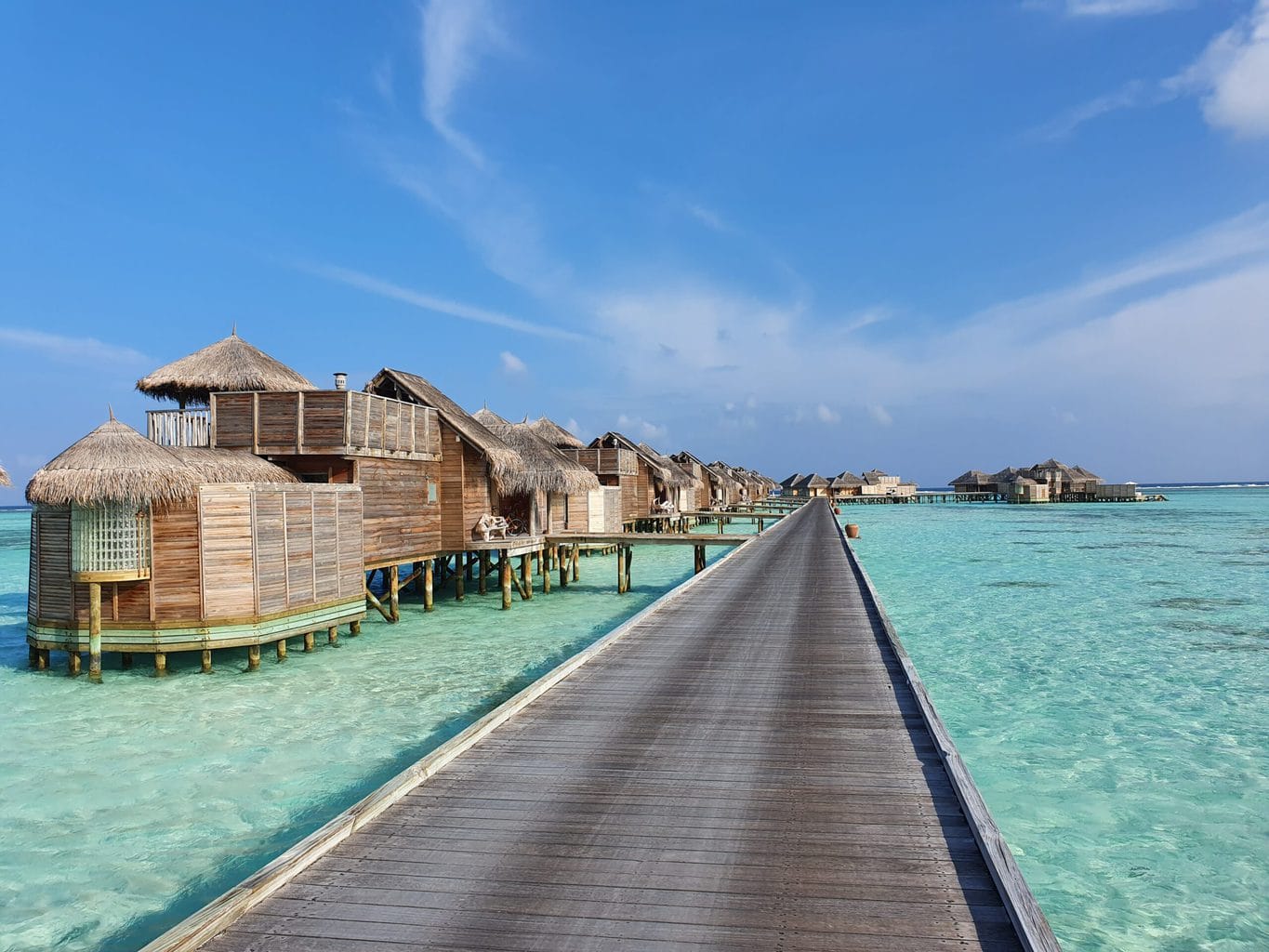 The speedboat journey length depends on the weather and how strong the waves are but takes a maximum of 30 minutes. As we approached the resort we immediately recognised its standalone water villas and jetties.
Gili Lankanfushi is relatively close to other islands and, in fact, one of the local islands is very near and can be seen in the horizon.
Its proximity to Male also means that you can see some of the local boats outside the lagoon. If you want to feel like there is nothing around you, the villas facing the sunrise see almost no traffic.
As soon as we stepped onto the main arrivals jetty we were greeted by the entire team, including the General Manager, the Resort Manager, the Marketing Manager and the Food and Beverage Manager. Our Mr Friday was also there to escort us to the room on a buggy while giving us a tour of the island.
Our luggage was taken straight to the room where we completed our check-in formalities. Even the credit card given as guarantee was swiped directly on a portable reader in-room.
We had a chilled welcome half bottle of Louis Roederer champagne and a bottle of homemade iced tea as well as a wide selection of canapes that were designed as a small meal, with a starter, main and dessert all neatly and prettily laid out on top of the cupboard in the bedroom.
The rooms and villas at Gili Lankanfushi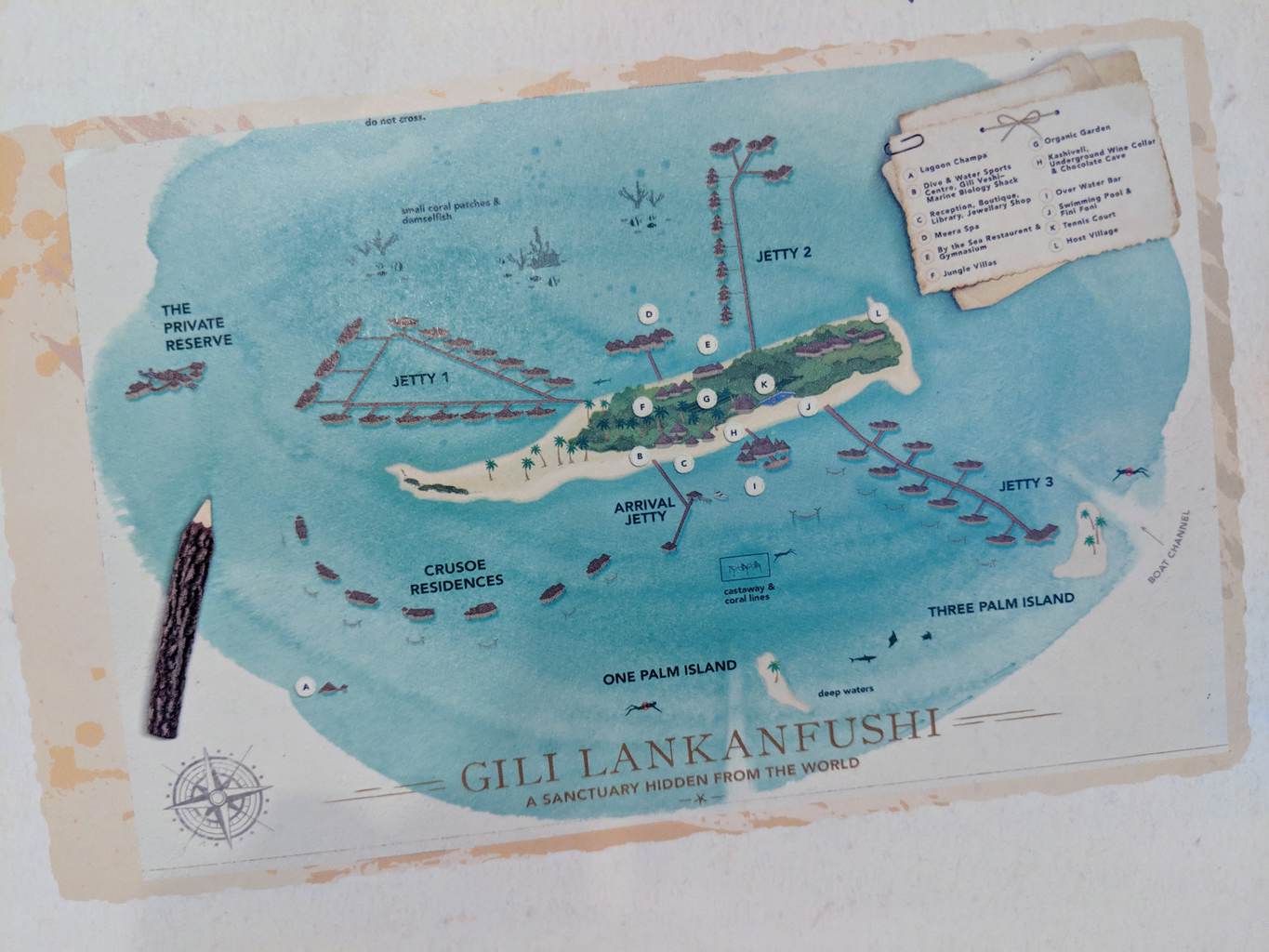 Gili Lankanfushi is an all-water villa resort and has different kinds of villas spread across three jetties, plus a few standalone Crusoe Villas that are not connected to the main island and offer the full castaway experience.
Besides the "regular" (if we can call them that) villas, the resort has the largest standalone overwater villa in the world, the four bedroom Private Reserve, disconnected from the island and located 500m away from the resort.
While there are many other overwater villas in Asia, and Maldives is an overwater villa destination, Gili certainly has some of the most show-stopping.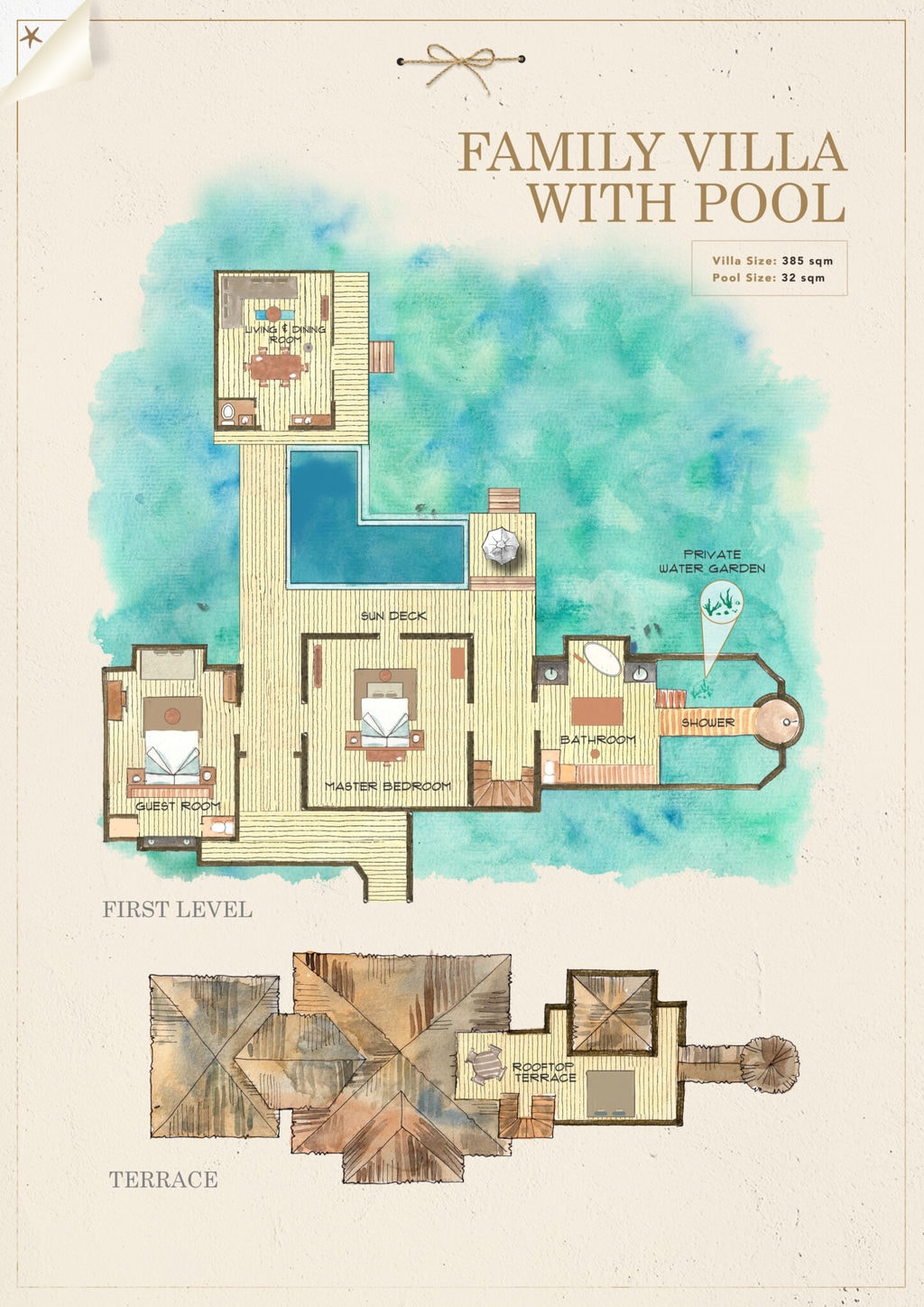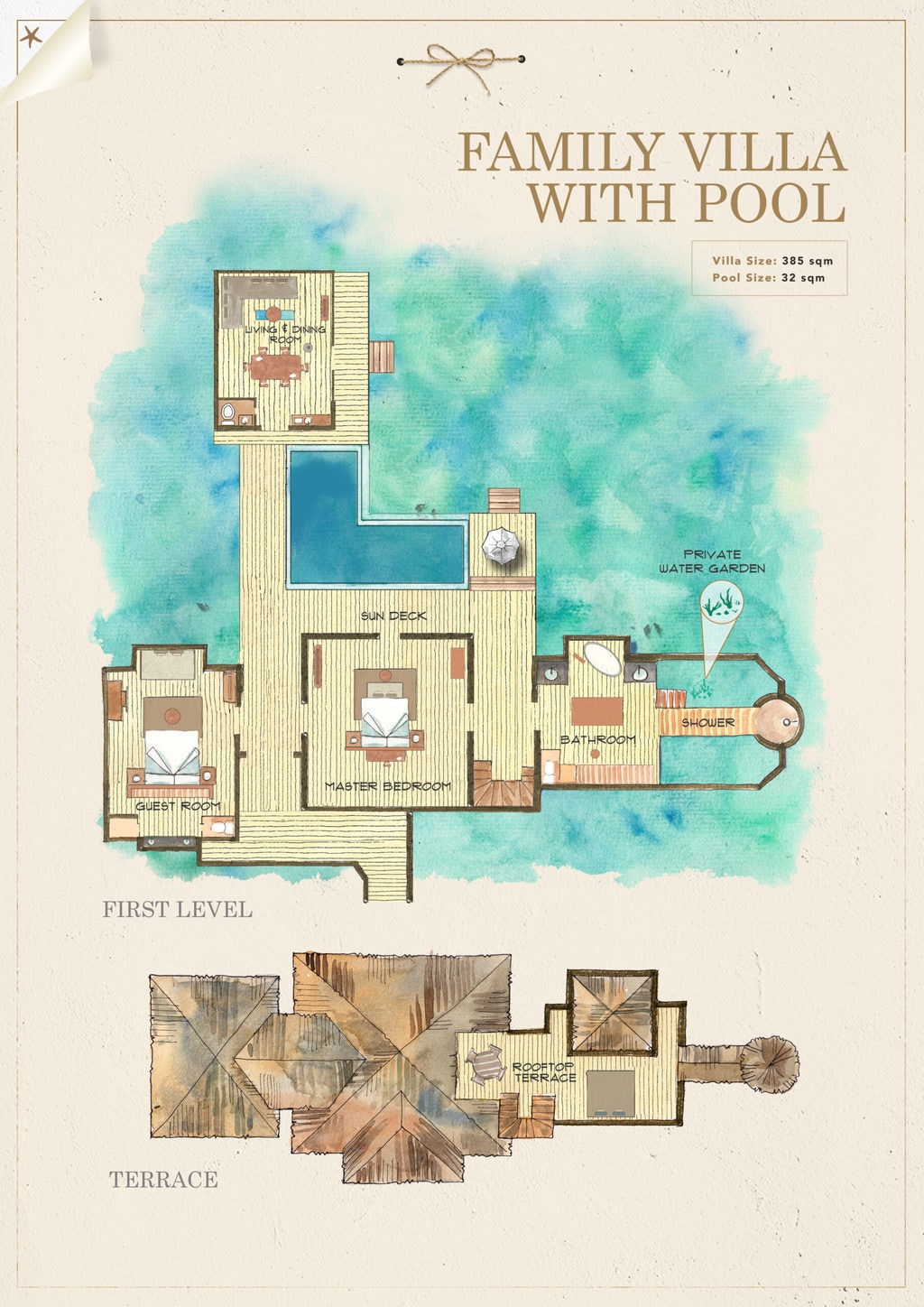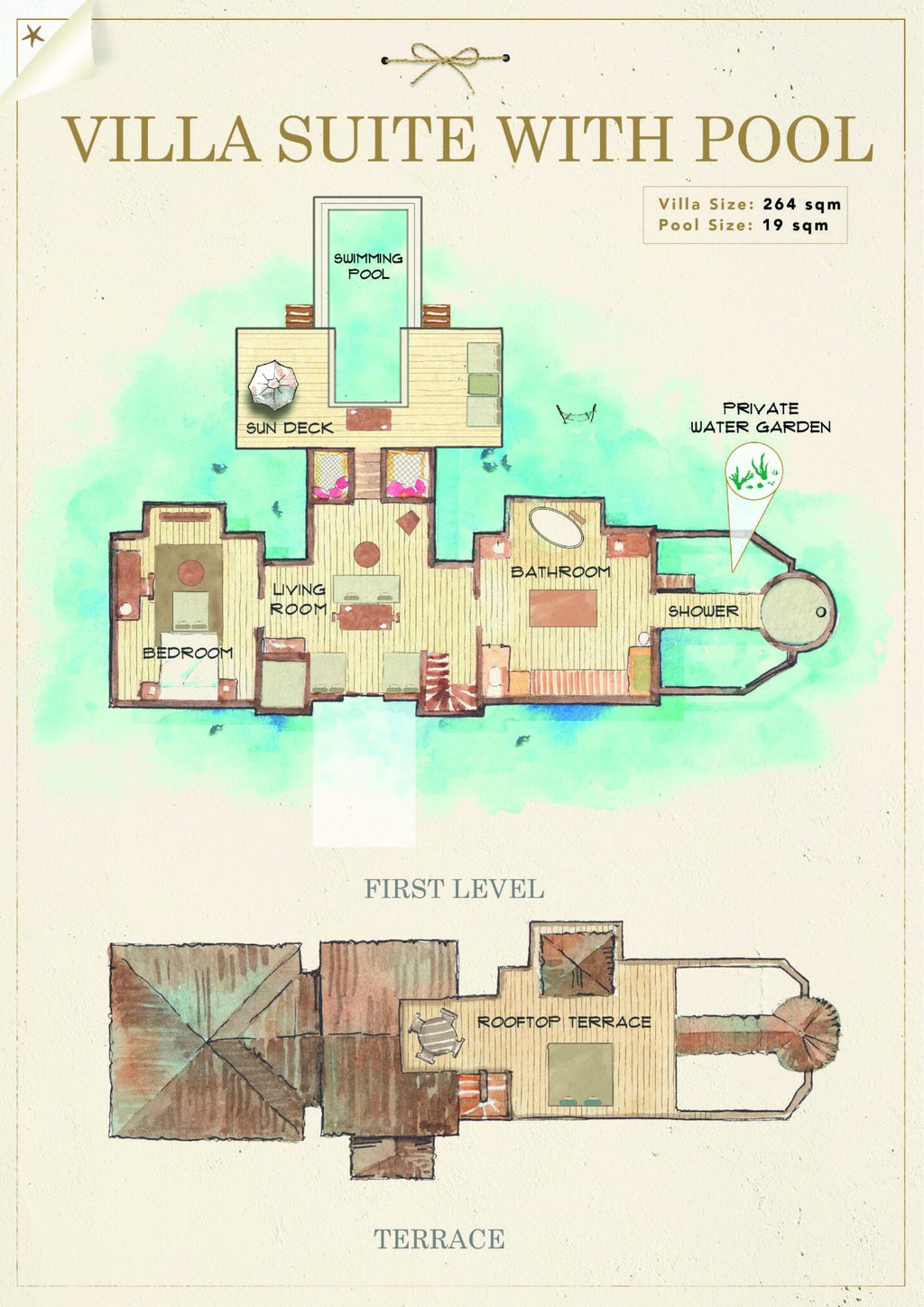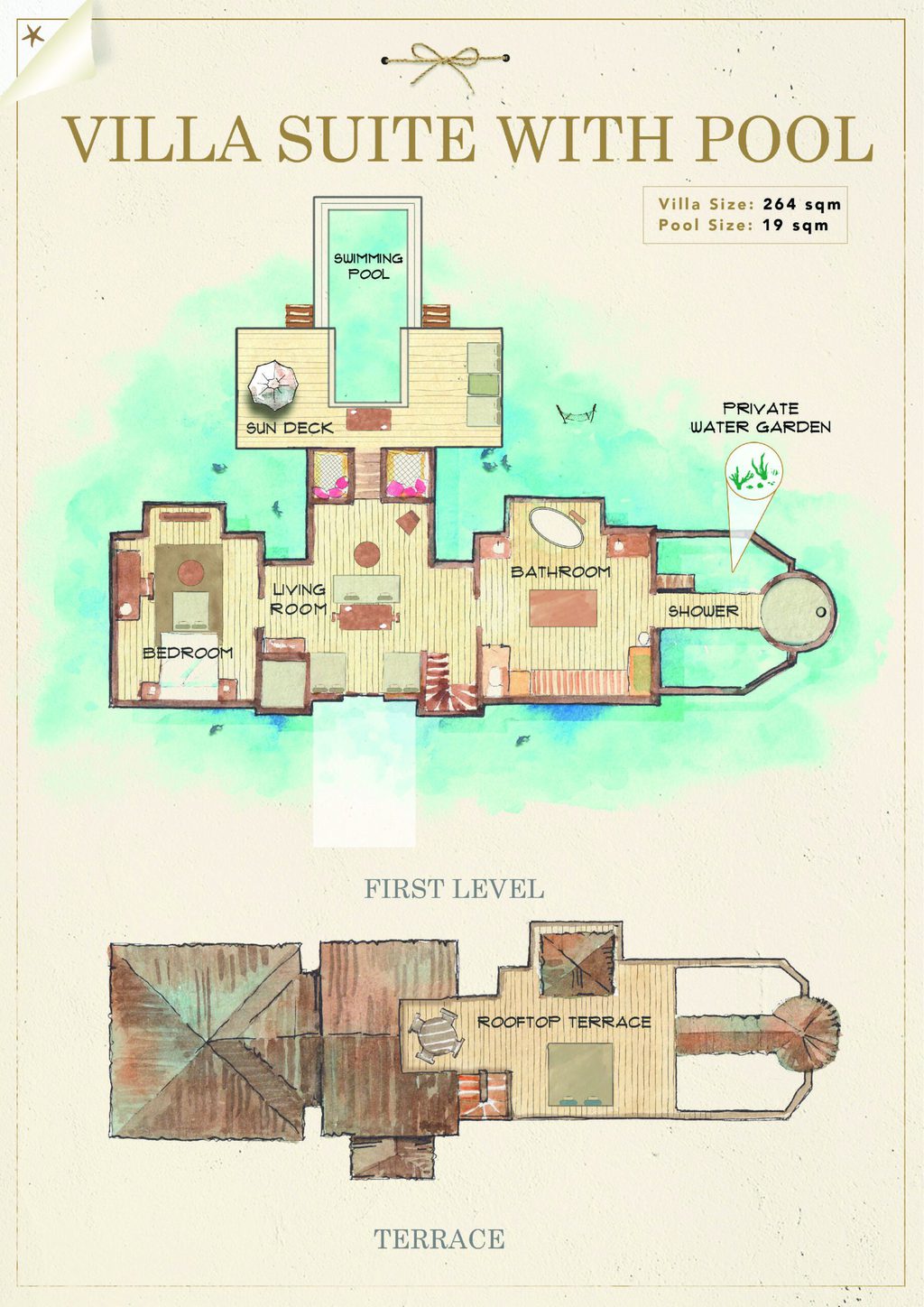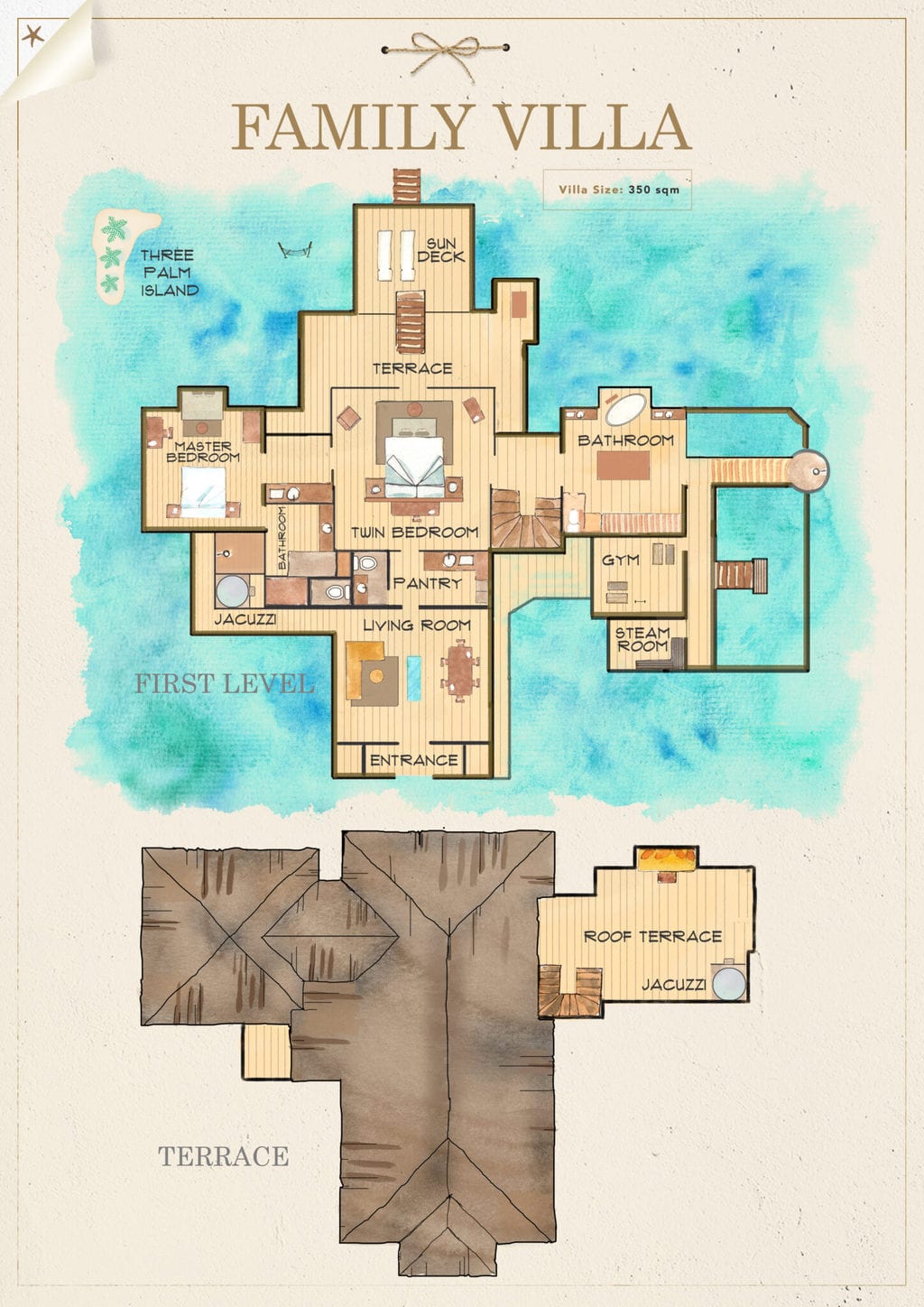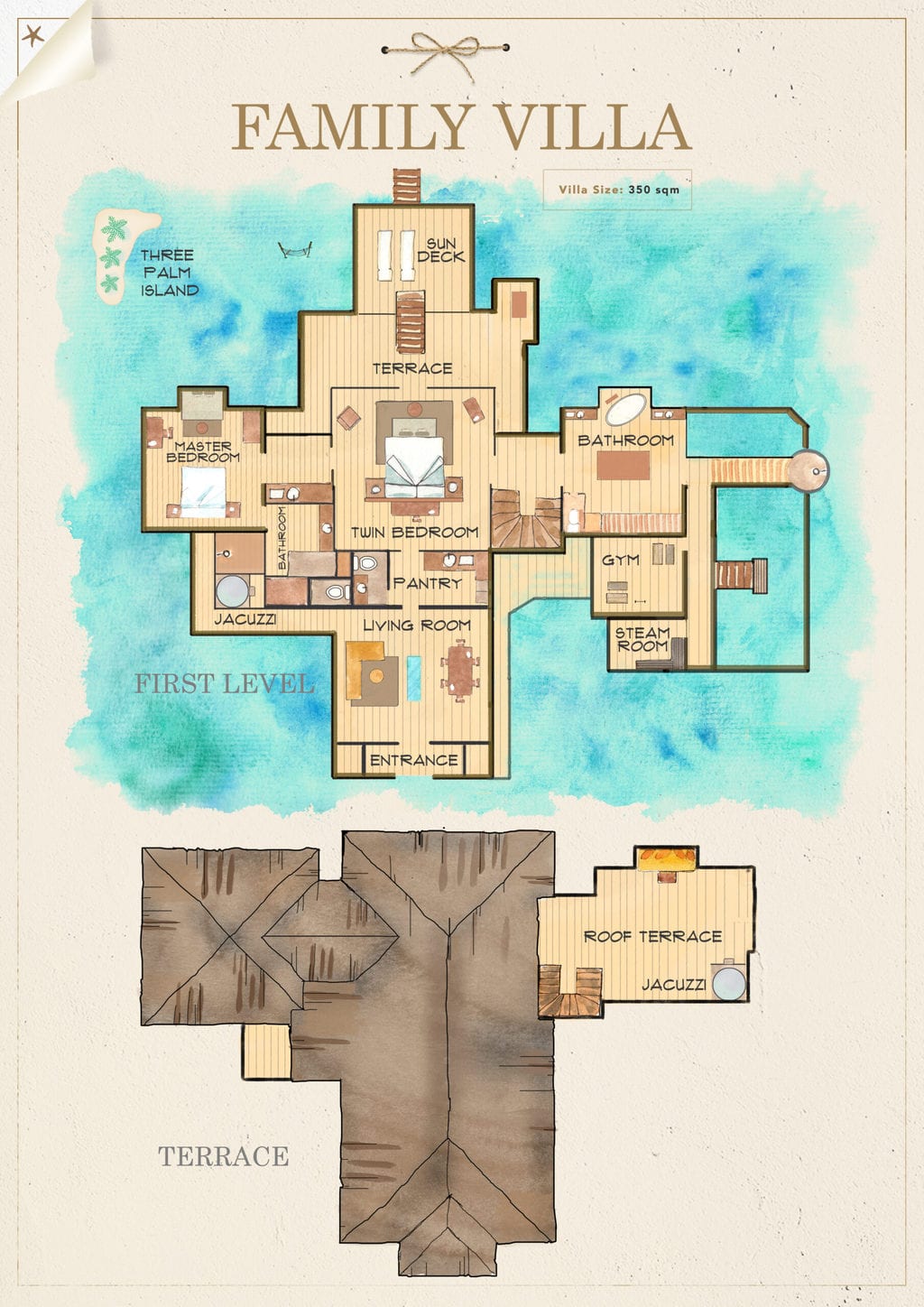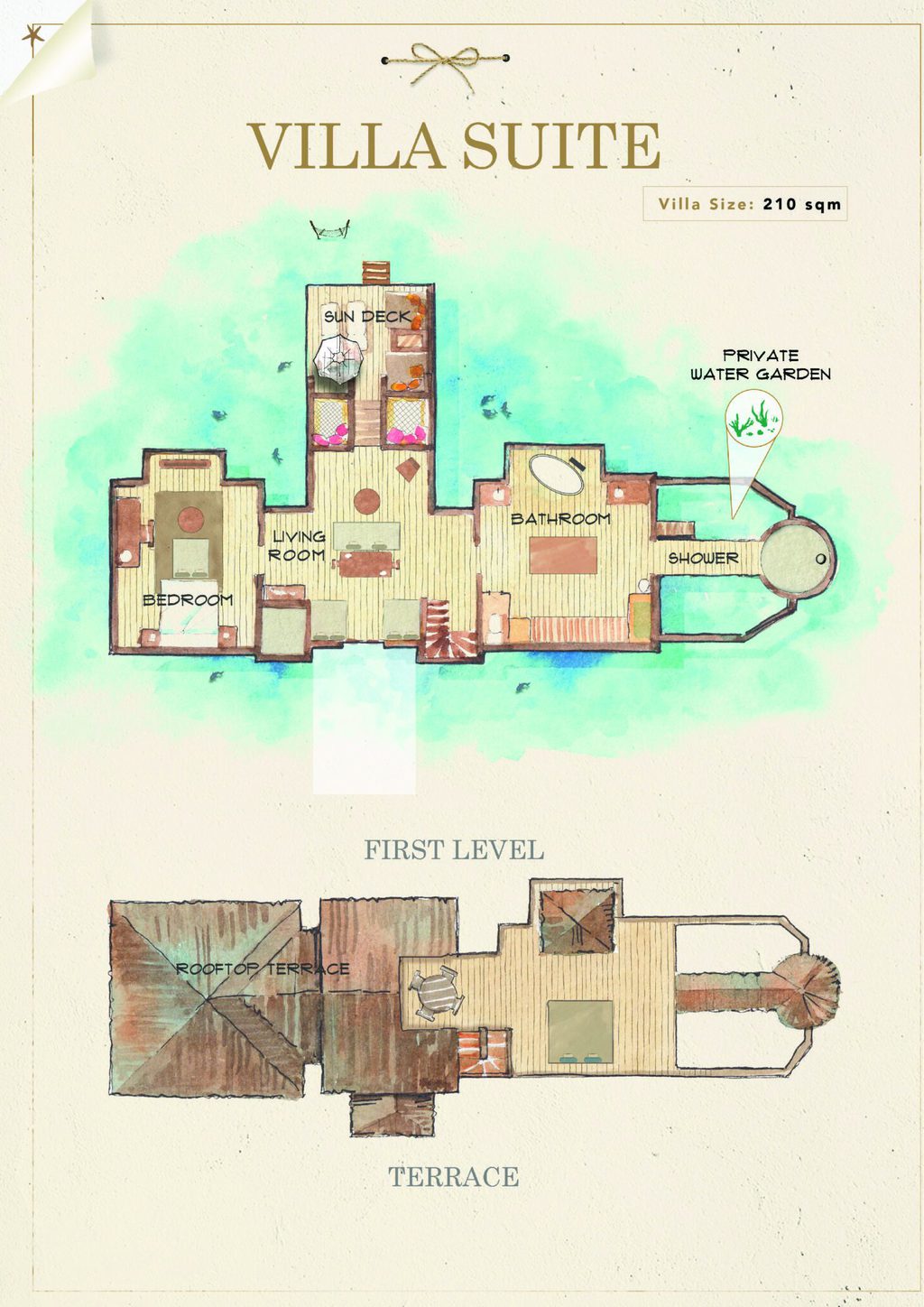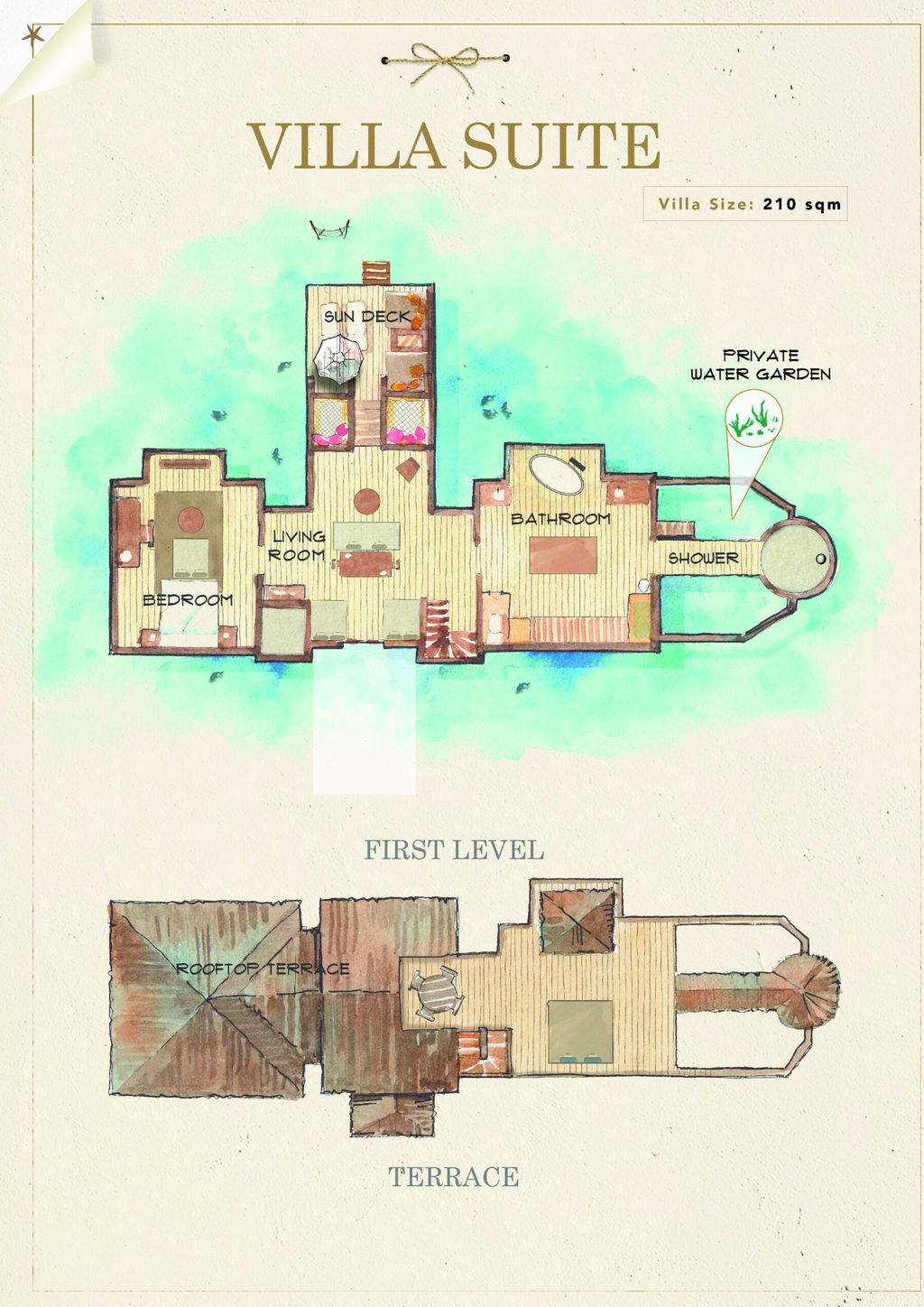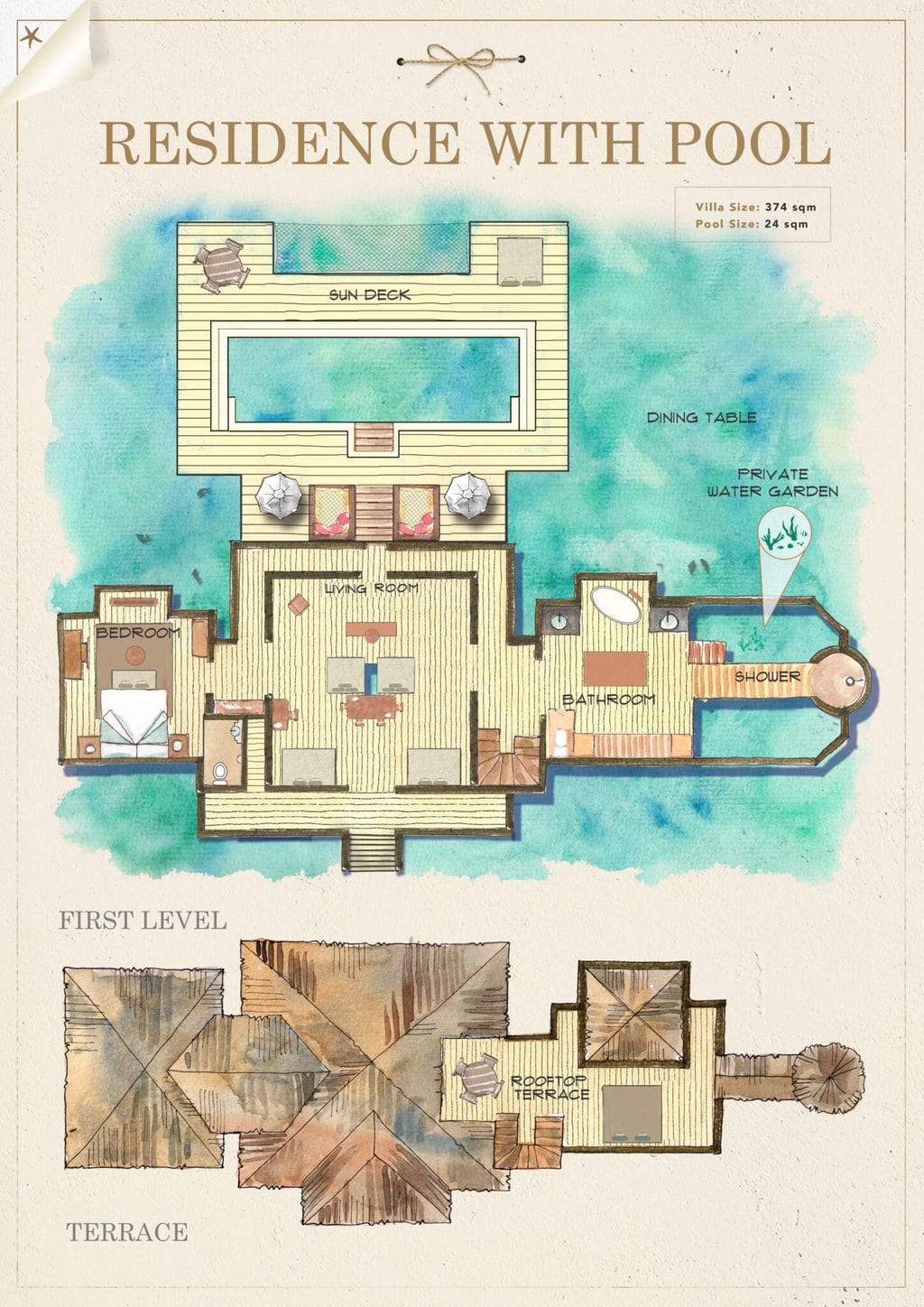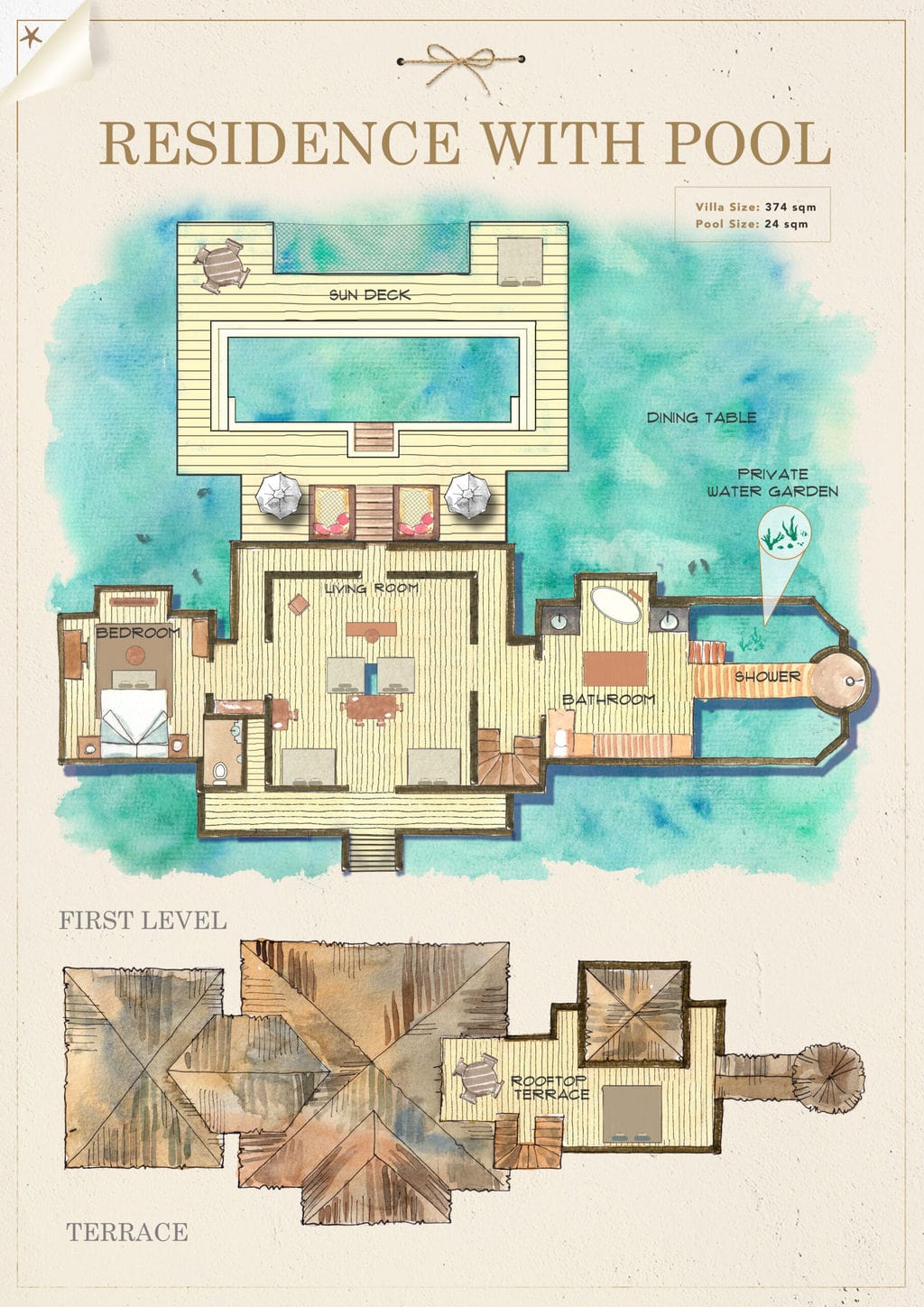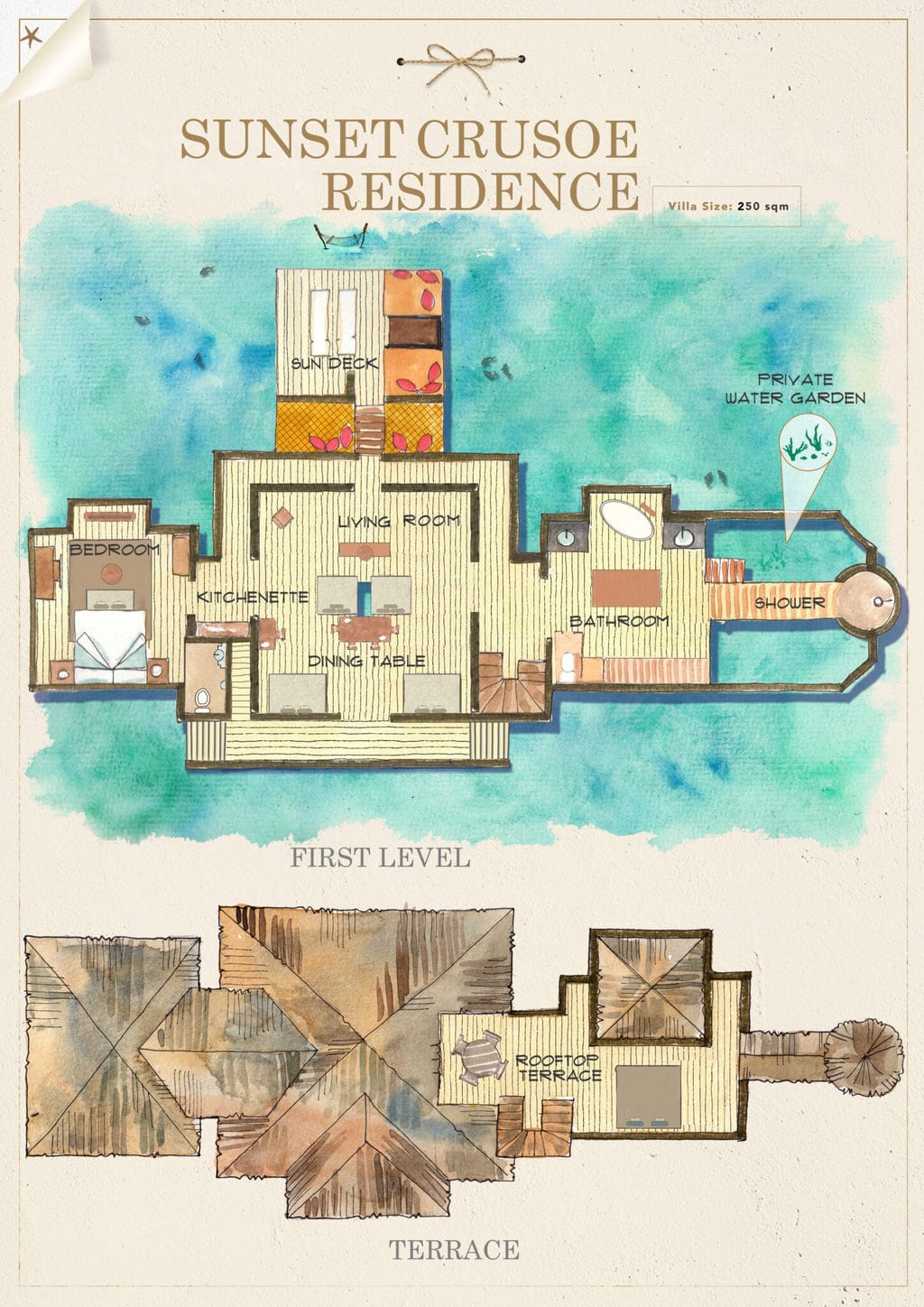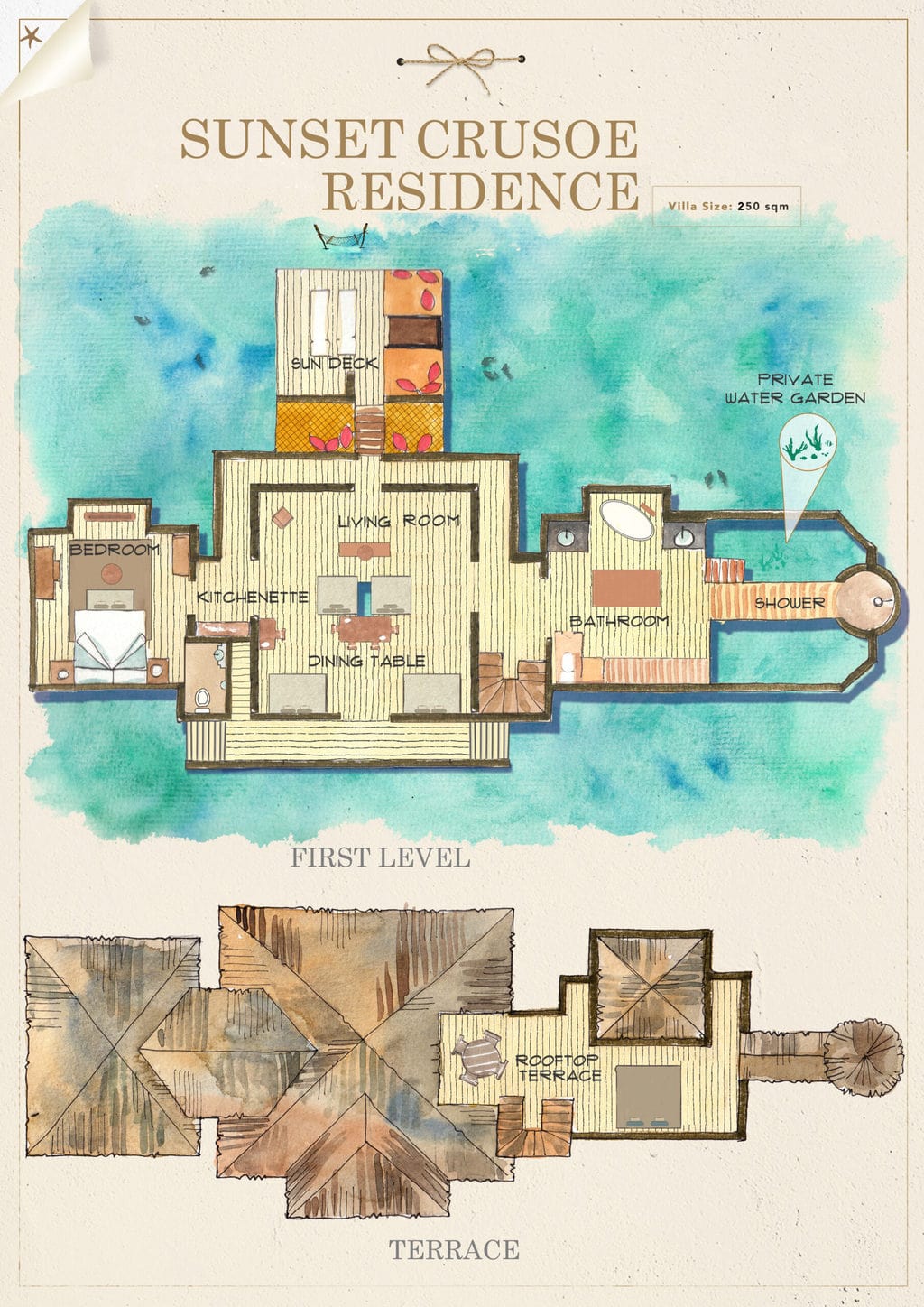 All villas at Gili are built on planks, with eco-friendly materials and recycled driftwood and have thatched roofs and open plan spaces with lots of light. They epitomise the concept of barefoot luxury like no other resort, bar Soneva and Six Senses.
Each of the villas have standalone bathtubs, air conditioned bedrooms and a second floor upstairs with a day bed, a table and the opportunity to sleep under the stars. You can directly access the water from your villa as they all have small decks onto the lagoon.
Gili Lankanfushi has several villa categories depending on the villa type and the view. Sunset villas are more sought after, as are those that simply face the horizon (vs. those that face the island):
Villa Suite, Lagoon Villa and Villa Suite with pool
Residence villa, Residence villa with pool and Lagoon Residence
Sunset Crusoe Residence and Crusoe Residence Island view
Family Villa and Family Villa with Pool
Private Reserve
Let's look at each type of villa at Gili Lankanfushi separately.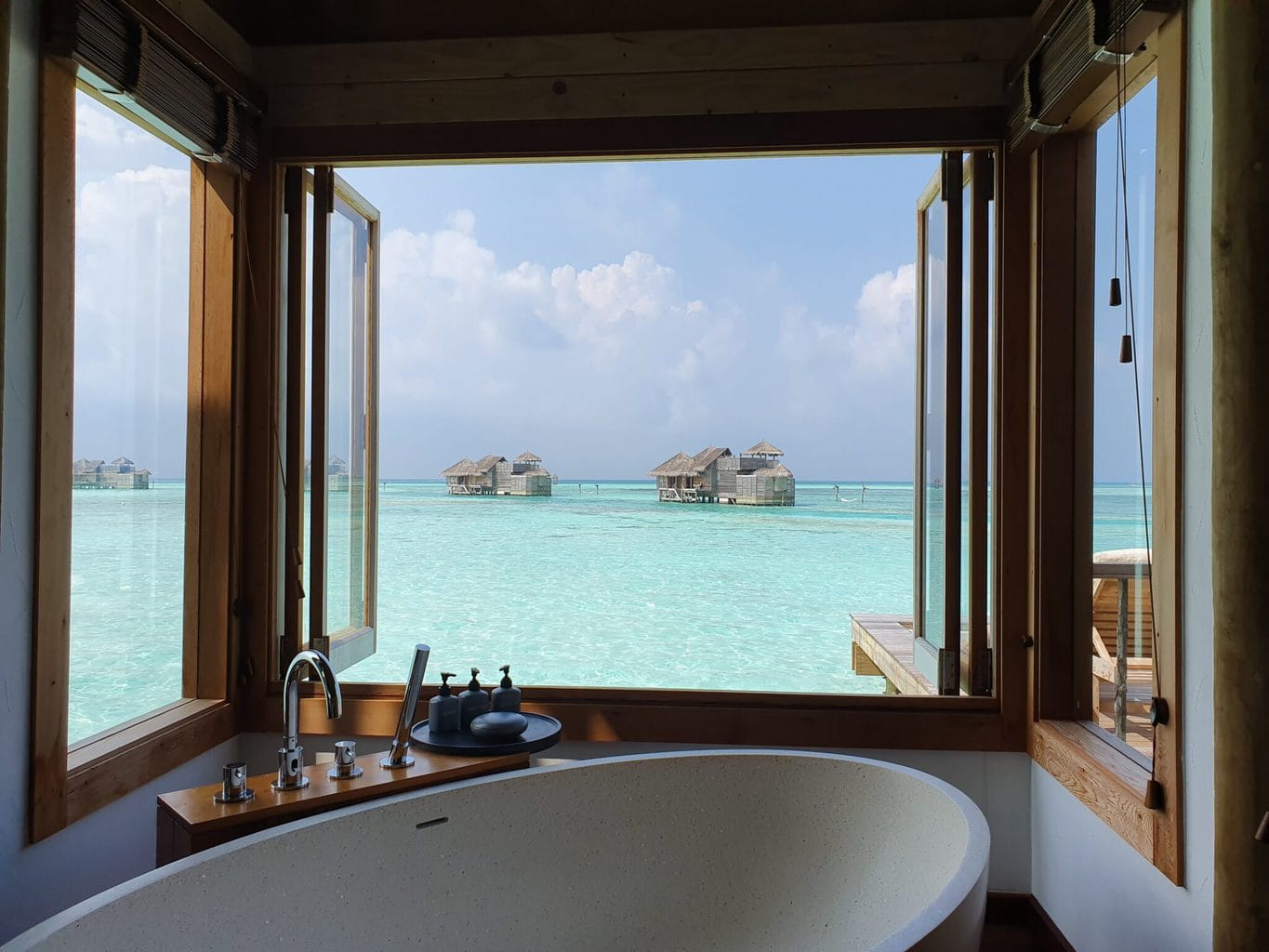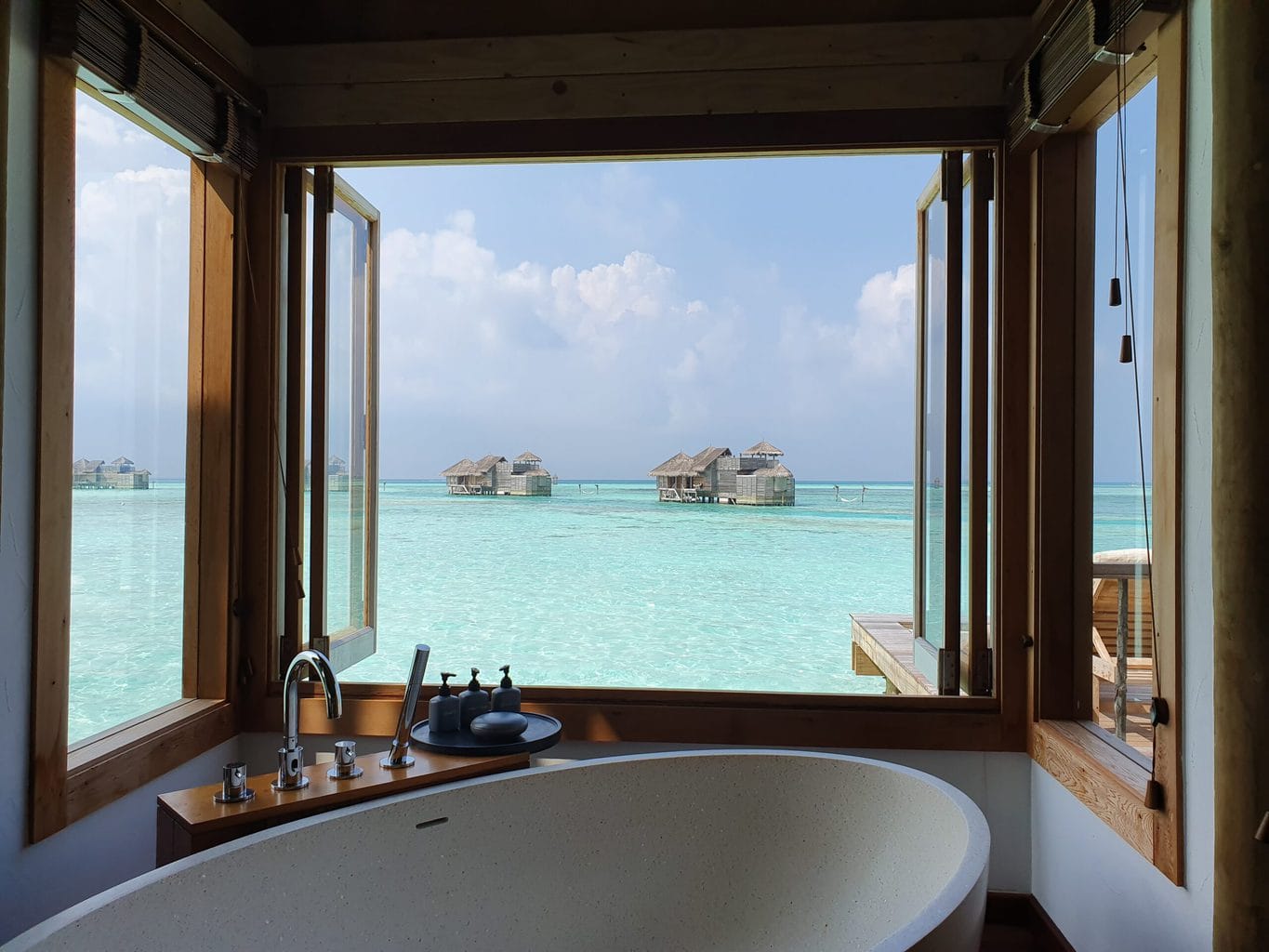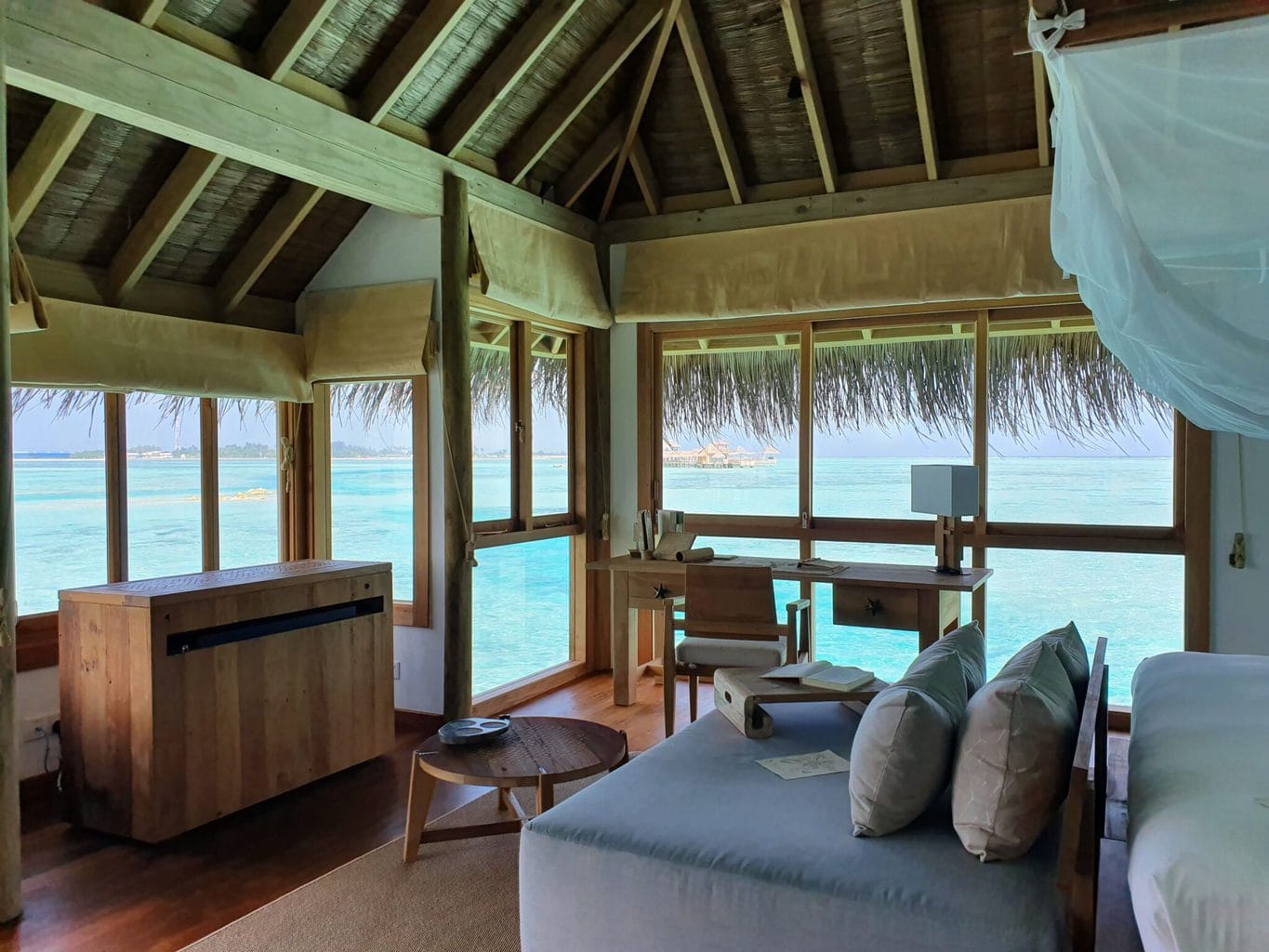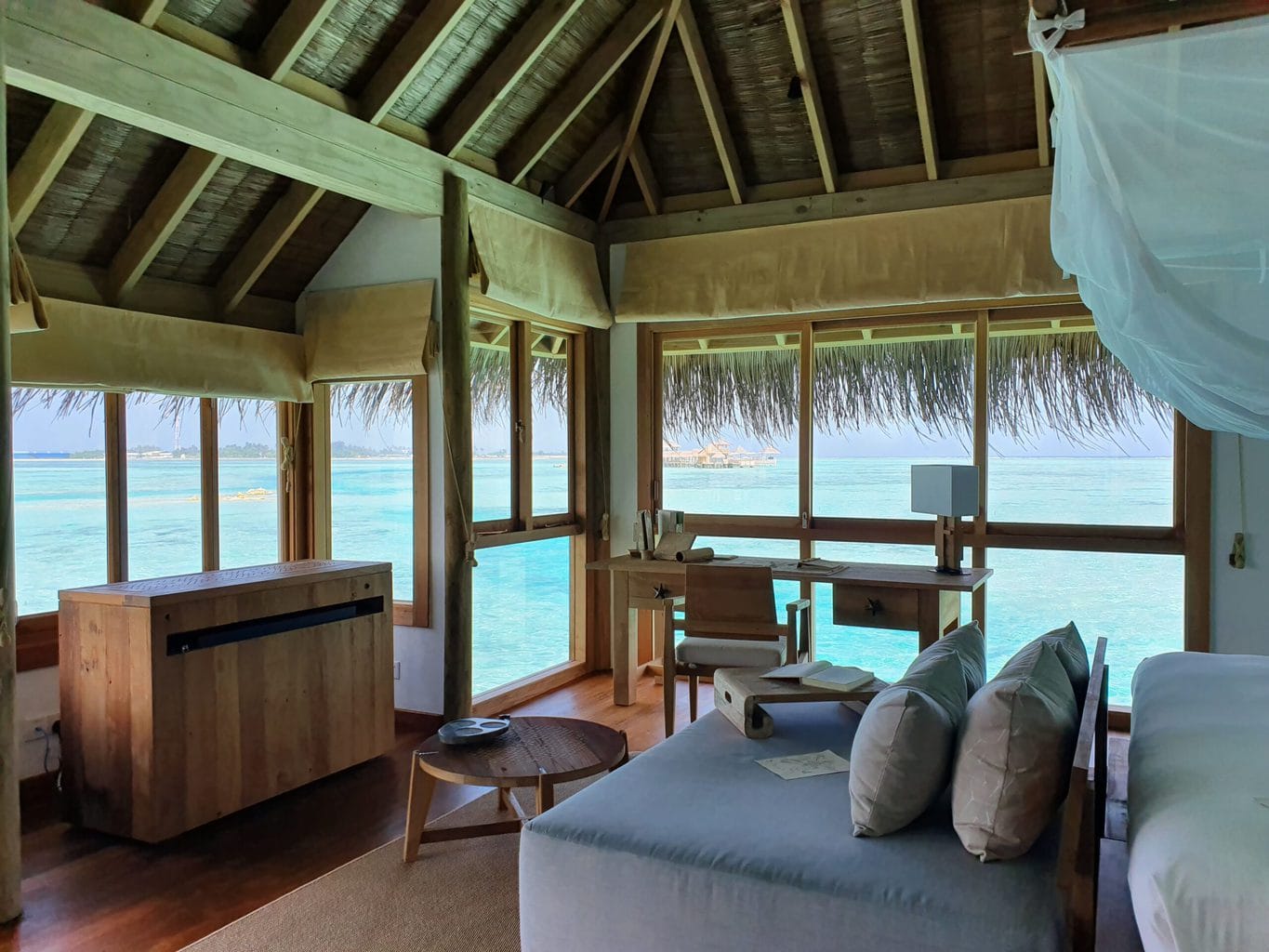 The entry level rooms, if we can call them that, are the 210 sq meter Villa Suites split into 4 spaces, a bedroom, a large bathroom with a walk in closet area, a living space with table and day bed in the middle and an overwater platform with a catamaran net for lounging, two sun beds, umbrellas and sofas. There is also a glass bottom bit to look into the lagoon.
Suite Villas are spread across all jetties. These are spacious, rustic chic over water villas with large bedrooms and bathrooms and direct access to the lagoon down a flight of stairs.
Since the resort refresh, some of these villas now have pools for that extra premium touch and I have to say the pool just made them extra perfect. The difference between Lagoon Villas and Villa Suites is their location and views.
During our stay, we spotted baby sharks, turtles, manta rays, lots of fish and a spotted eagle ray enjoying the peacefulness of the lagoon.
The bathroom in the Gili Lagoon Villas is huge and has an outdoor separate shower surrounded by an enclosure of the lagoon, a bathtub attached to the window and his-and-hers sinks. There is also an open closet area to hang or store clothes.
The living room area is open although you can bring down the blinds should the rain and wind become too much, and has two sofas, a table with chairs and a couple of board game tables.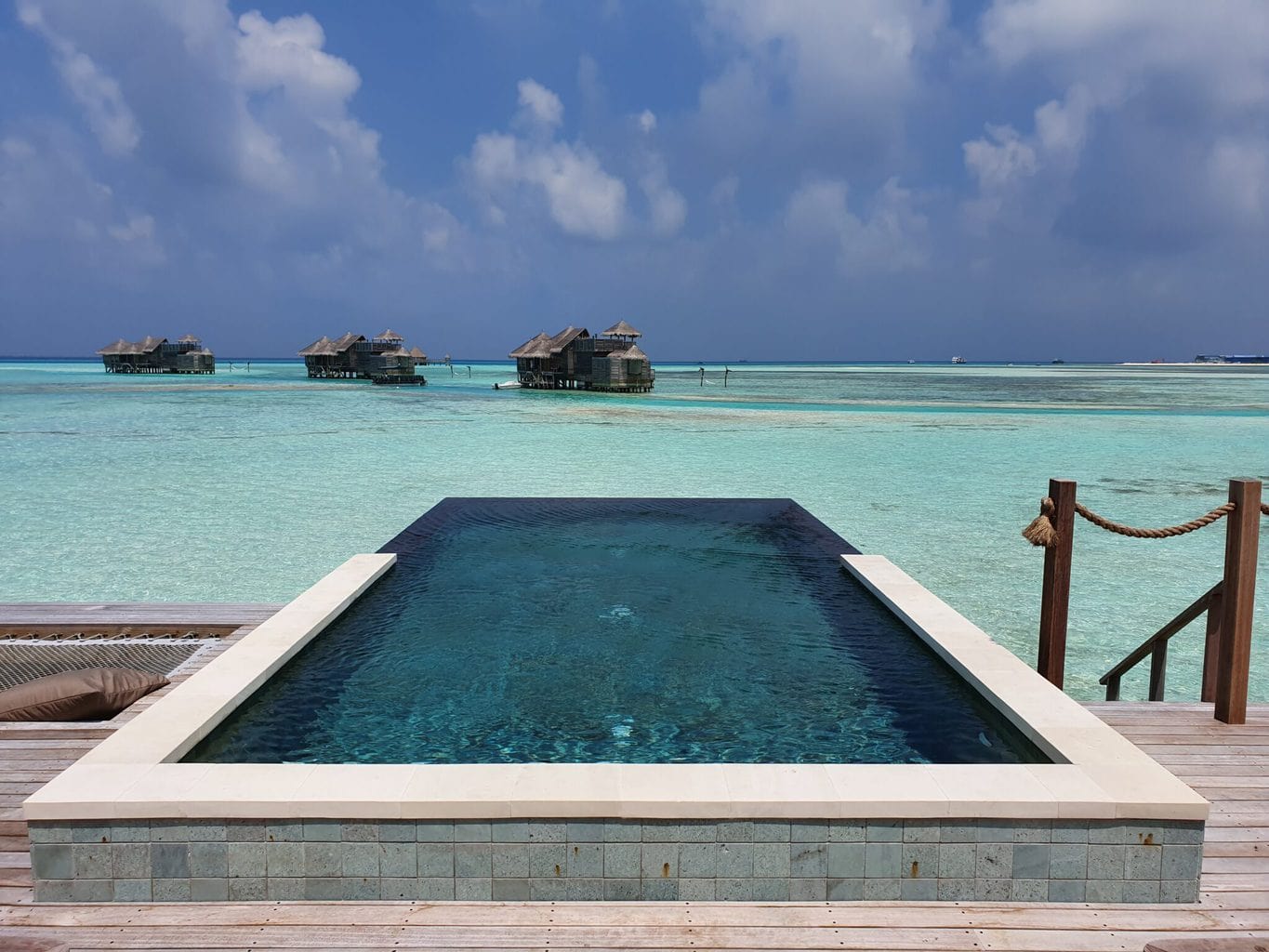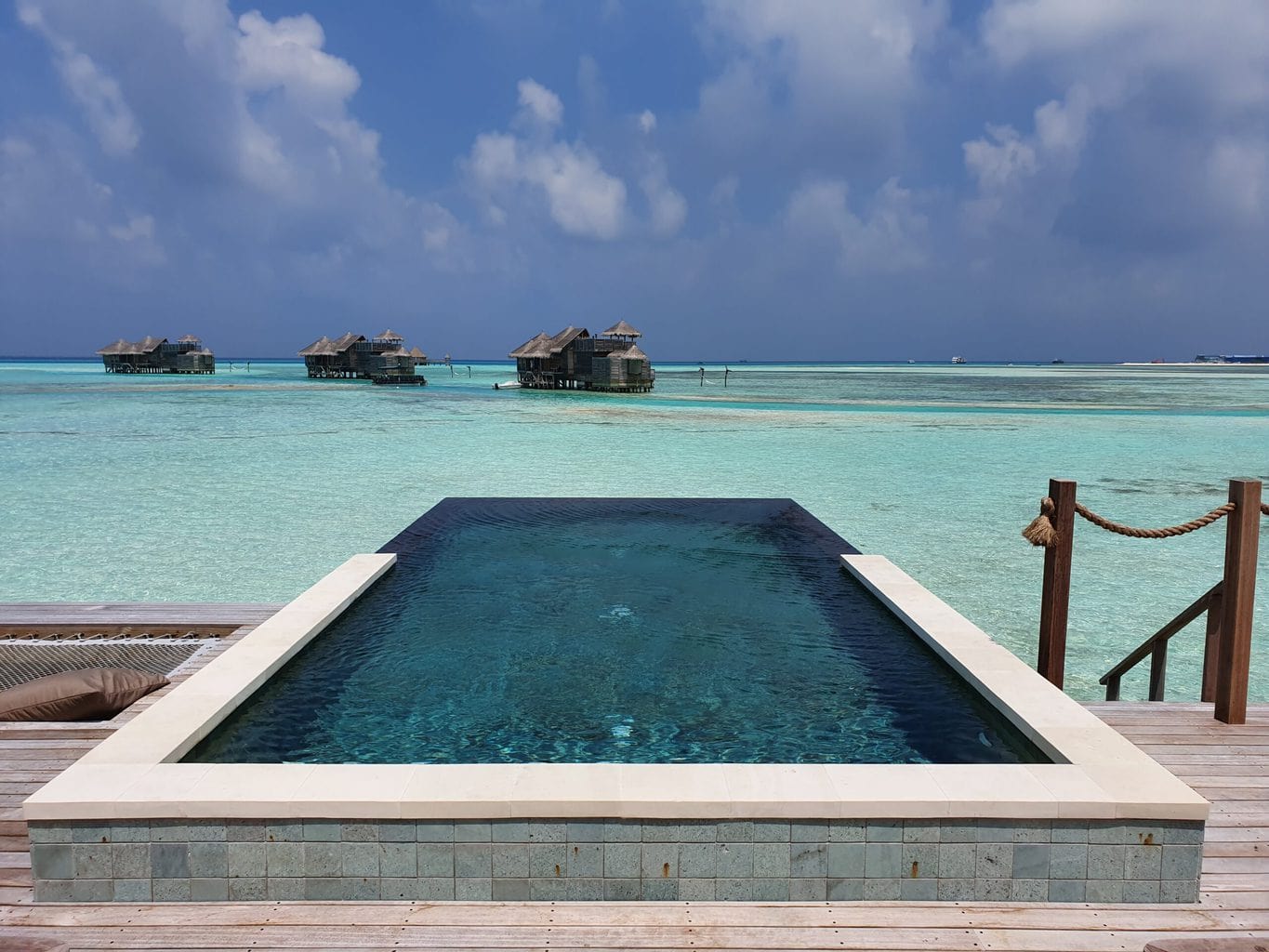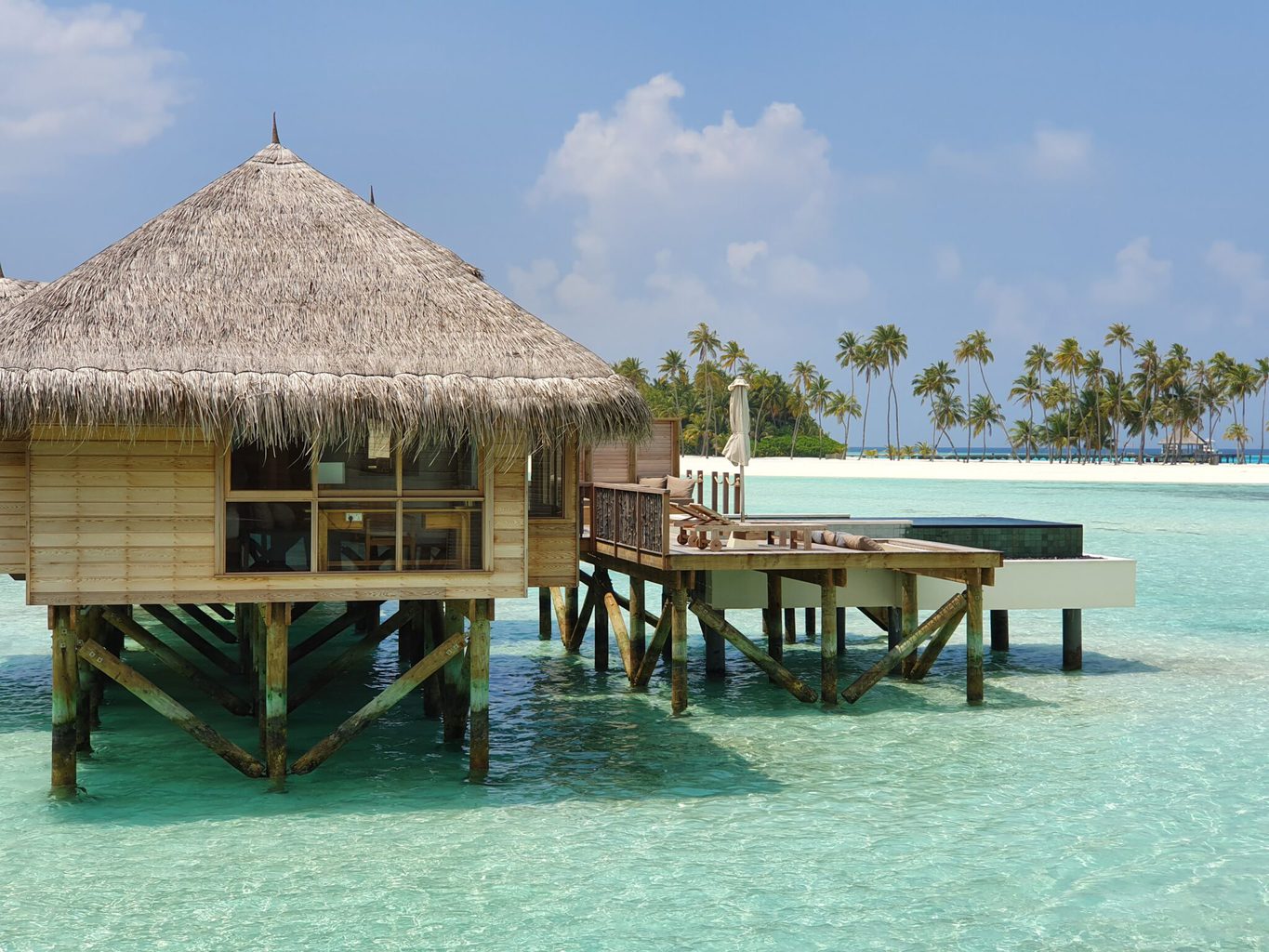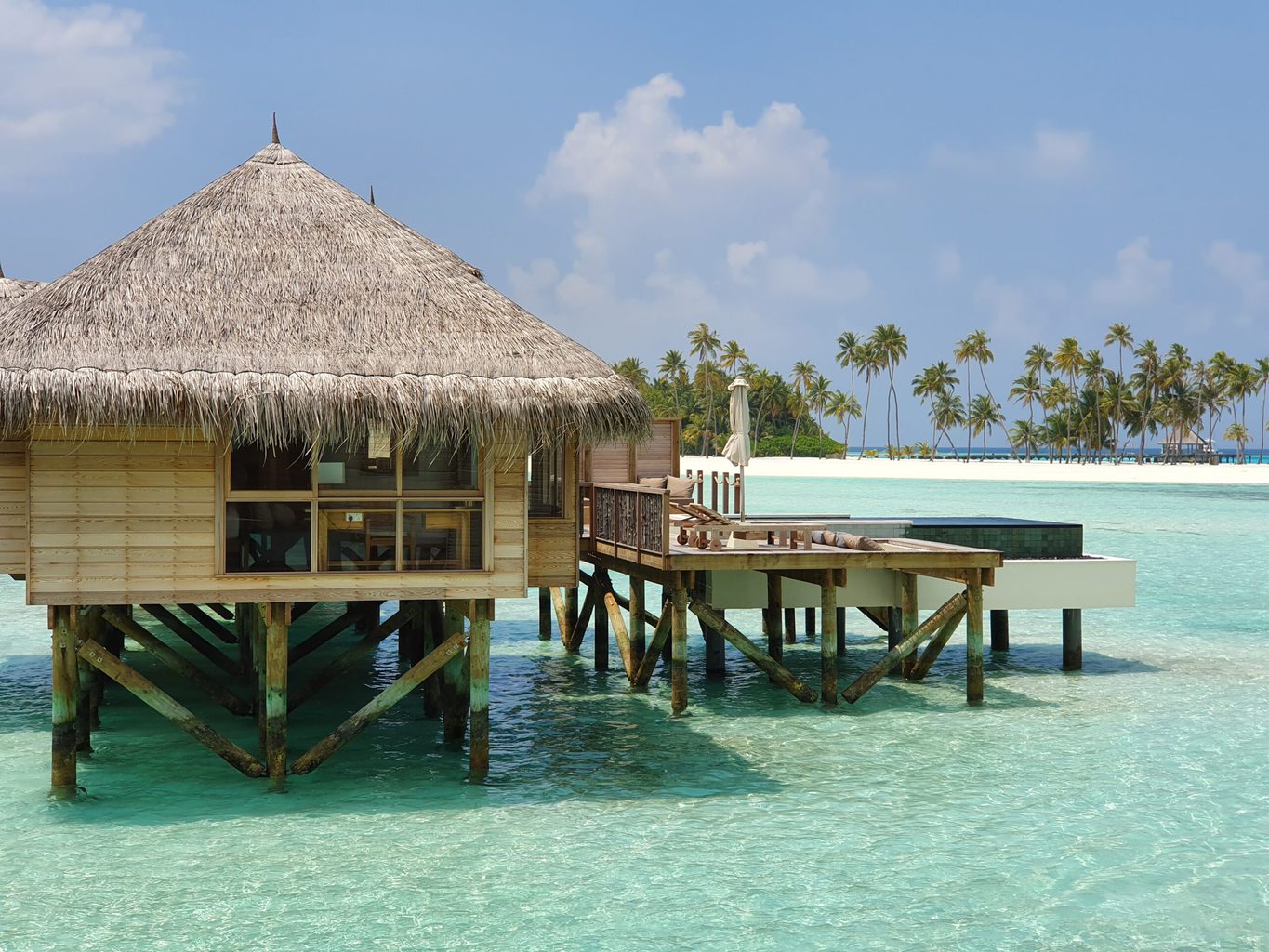 The upper level daybed can be transformed into a regular bed so you can sleep under the stars. This is also a great spot for an in-villa breakfast.
The Lagoon Villas are located along jetty 3 and are a category up because they face the sunset and have their own private hammocks. That part of the lagoon is also nicer and has a deeper blue so it is preferred by many who like to swim (at low tide, jetty 1 and 2 can be a bit shallow).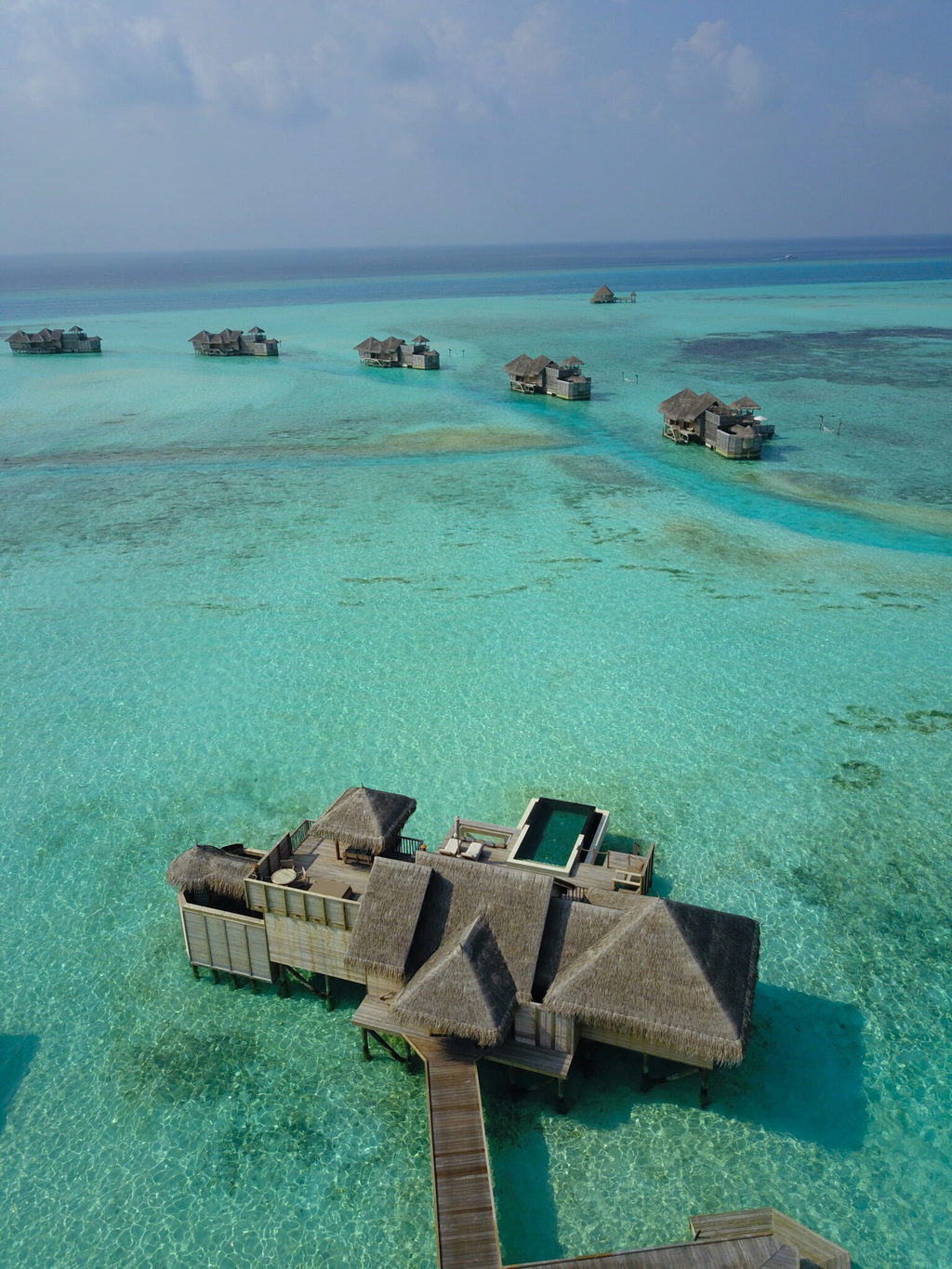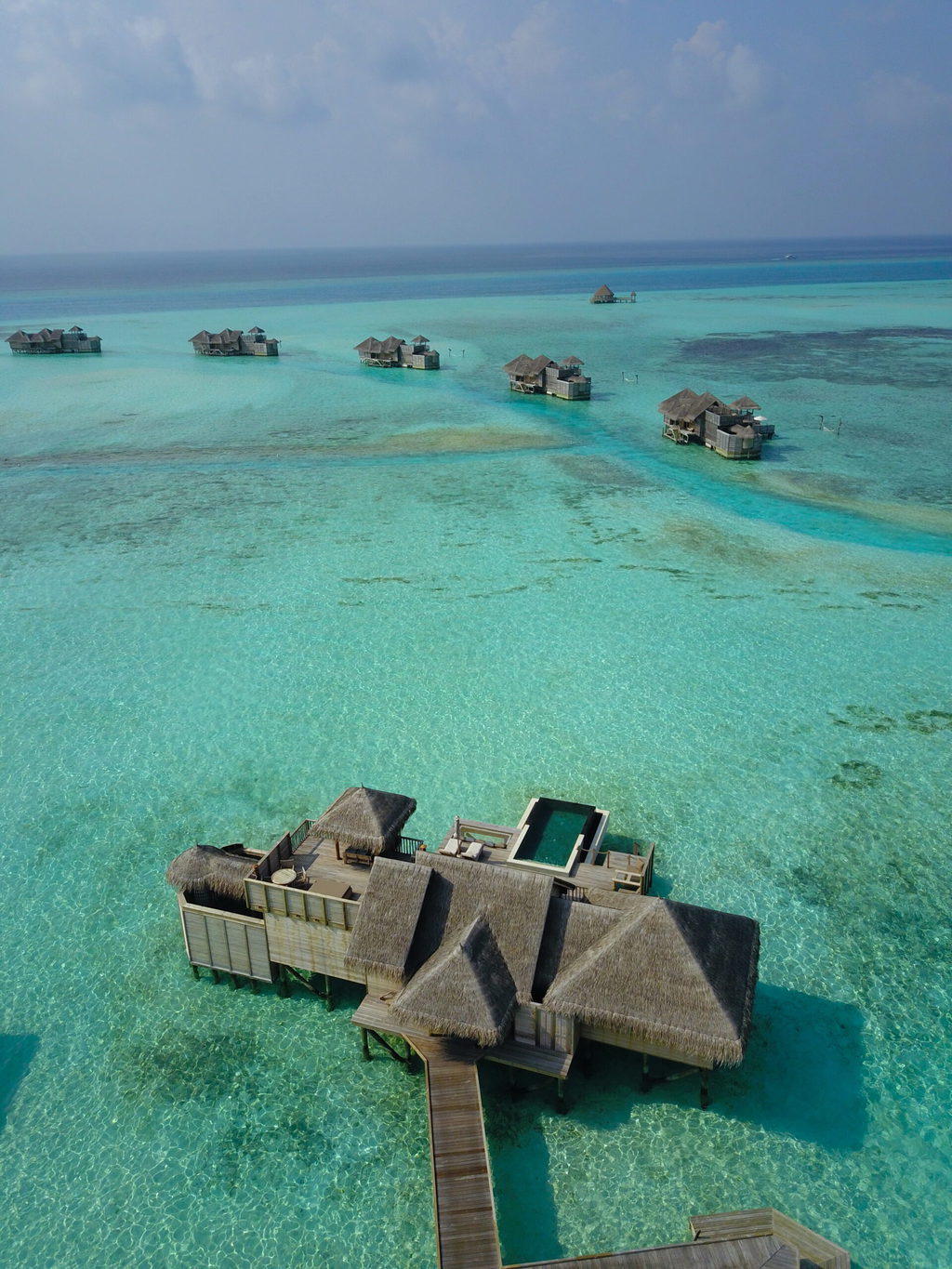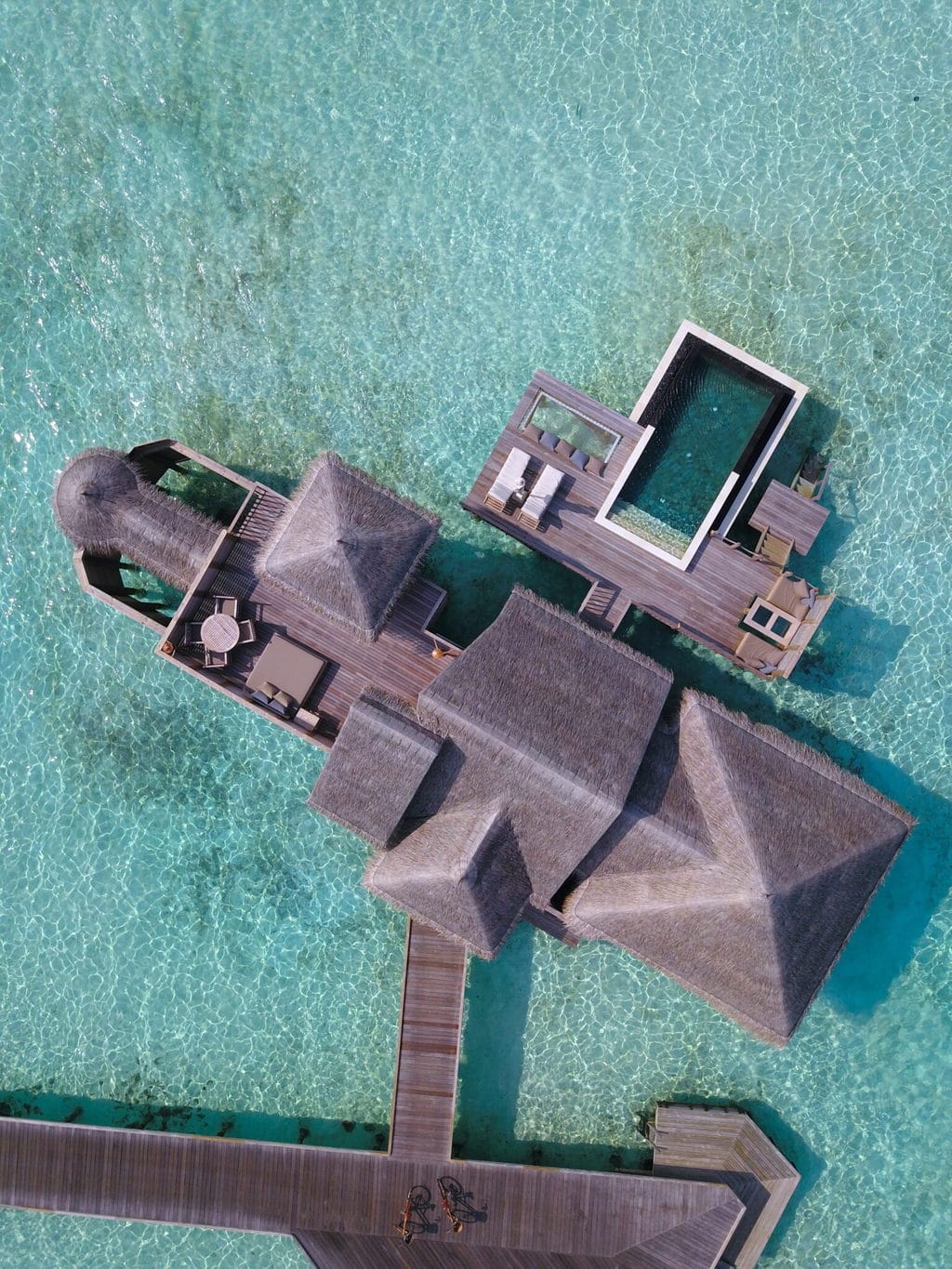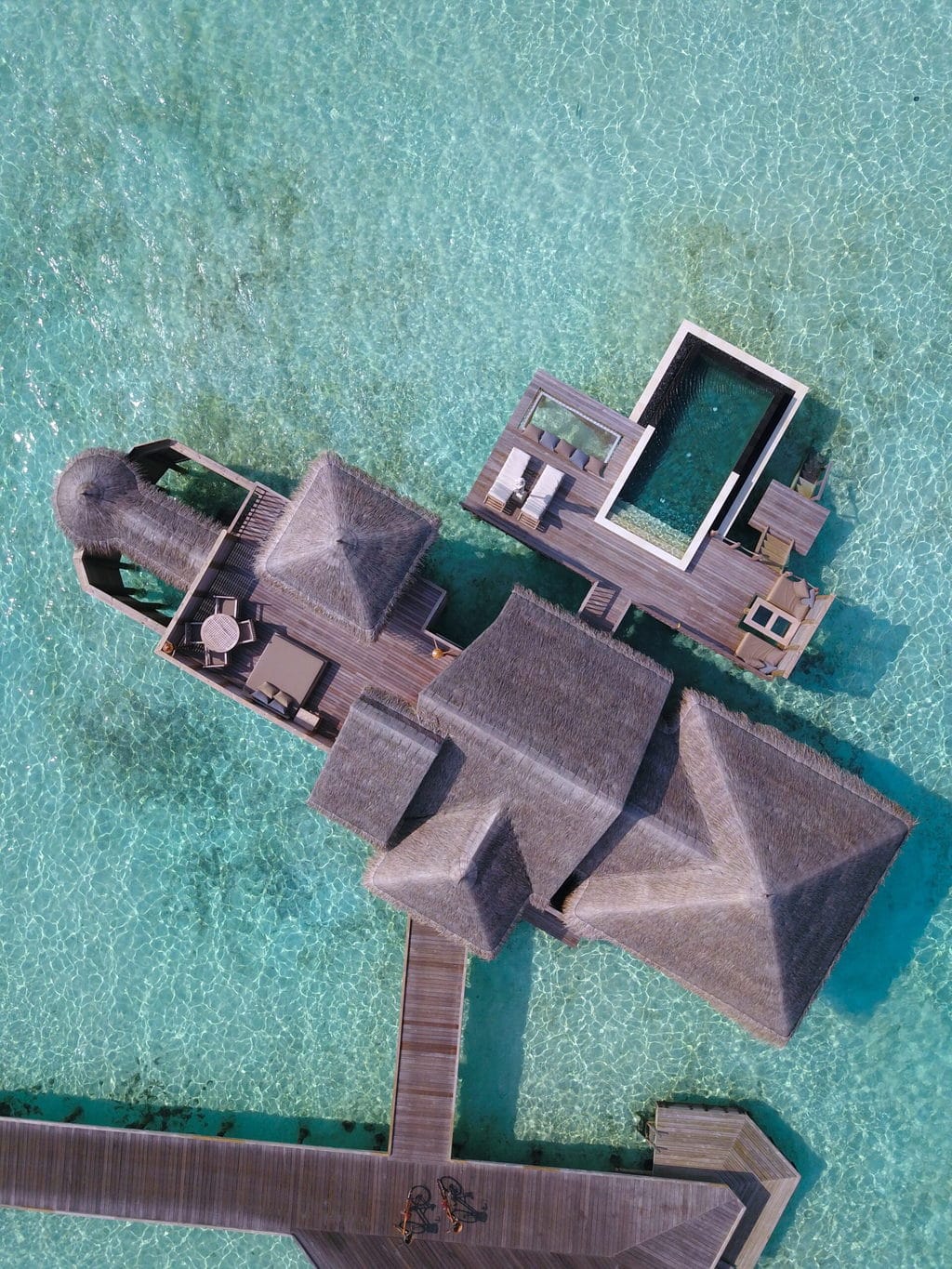 There is also a cupboard where the minibar is located and which is topped by a hidden Nespresso machine and any other glassware you may need.
The bedroom is air-conditioned, spacious and has floor-to-ceiling glass windows, a sofa and a large desk with the best office views in the world. The king bed is draped by a mosquito net and has the softest bed sheets.
The cupboard below the hidden TV holds the sound system and a few other electronics. Needless to say, I only realised there was a TV when the topic came up in a conversation with the Marketing Director, I had completely missed it hidden inside the cupboard.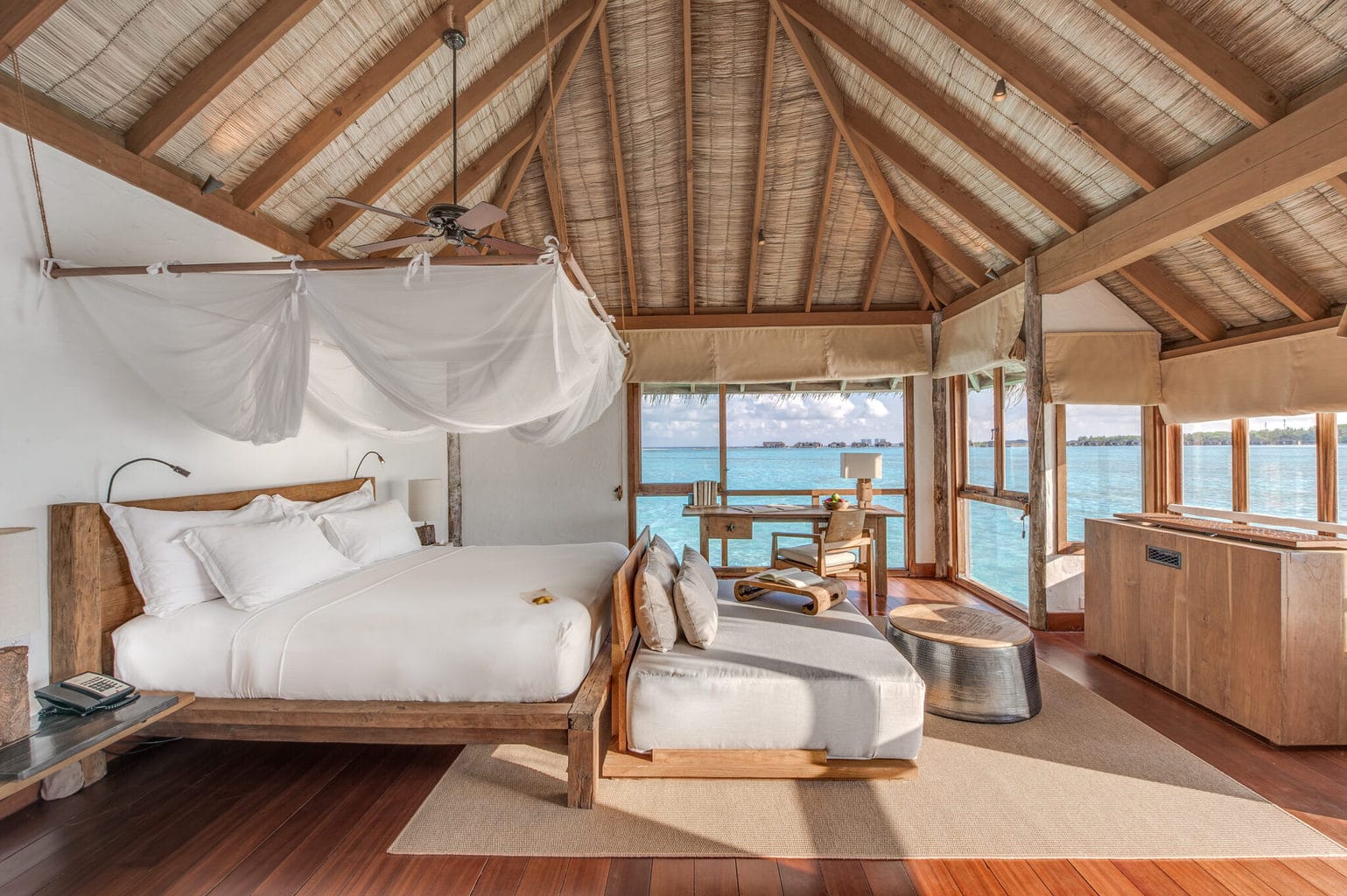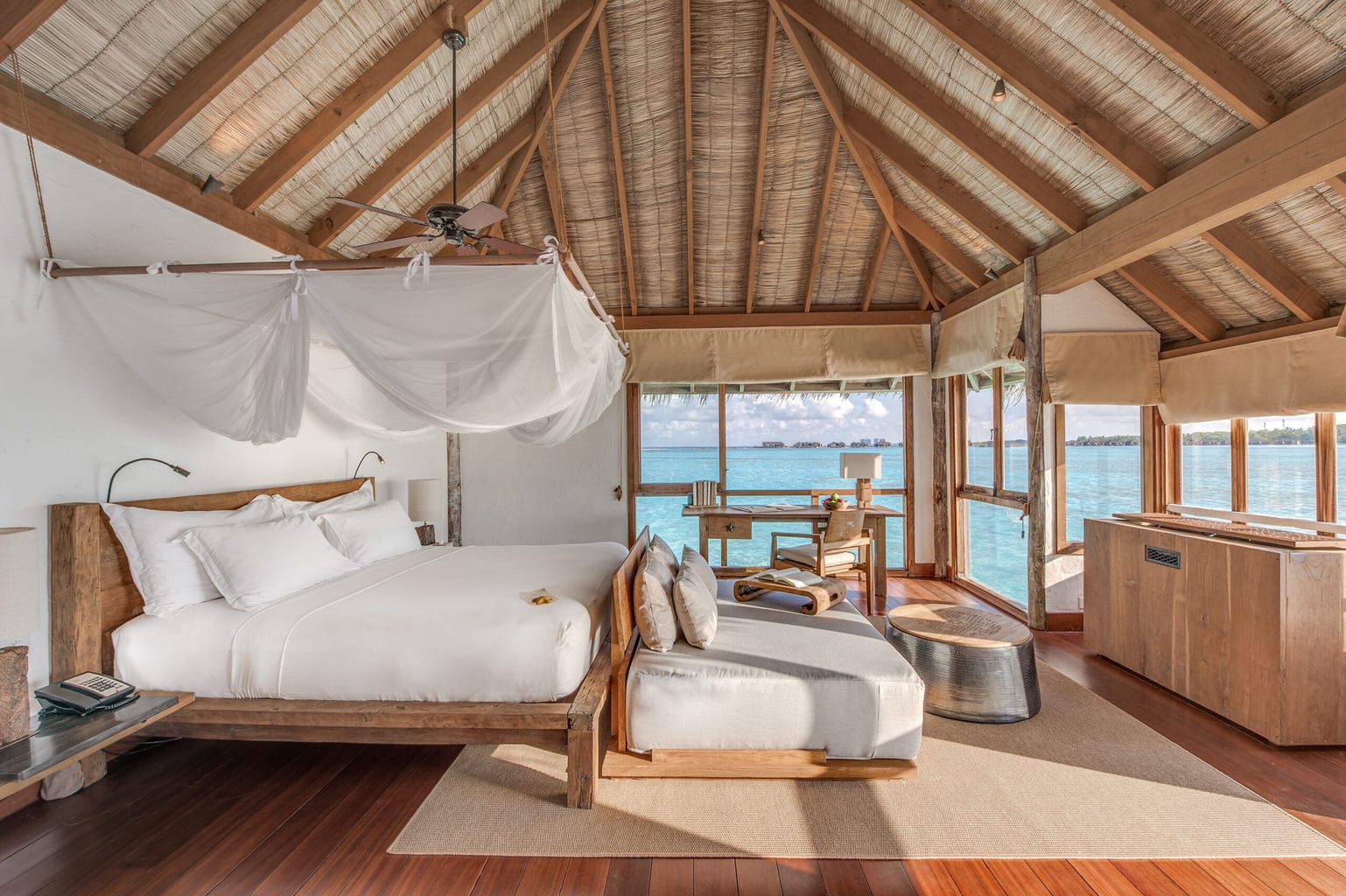 After the lagoon villas come the Residence Villas. There are only six of those located at the end of the two jetties facing the sunrise and measuring 250 sq meters. Some of the Residences now have pools.
These villas differ from the rest in that the living room space is enclosed and can be converted into another bedroom. These are the preferred villas for families and can comfortably fit four people .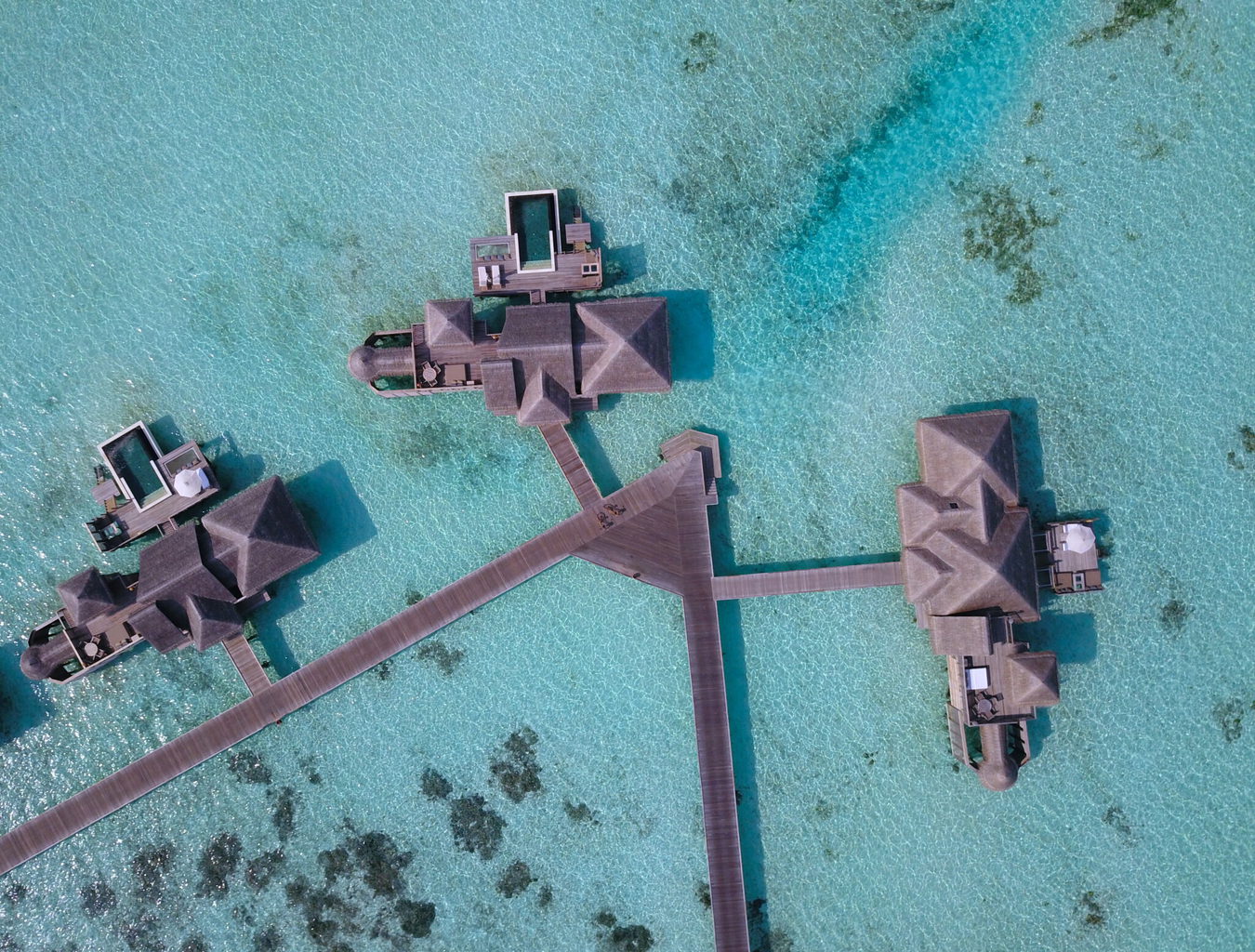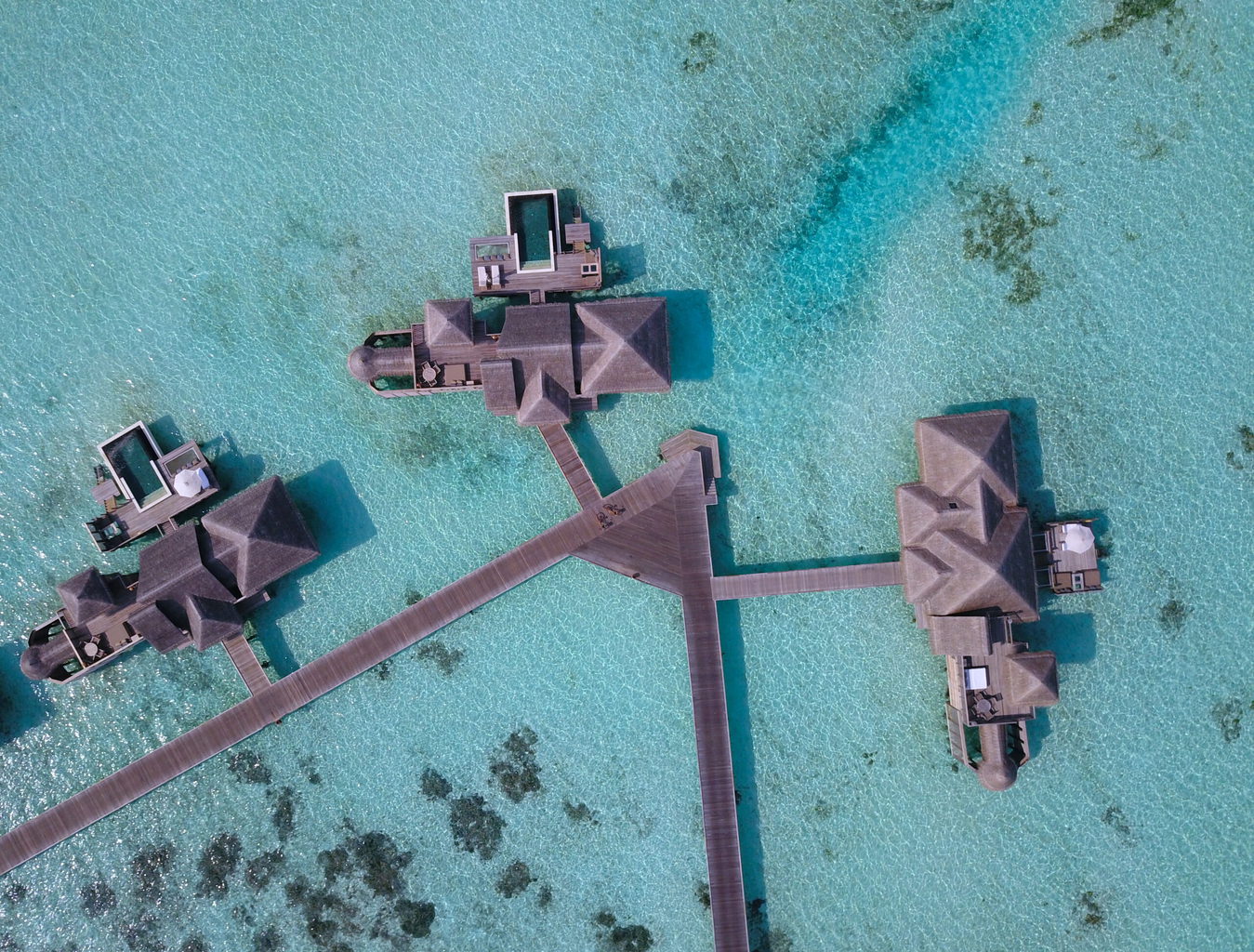 The enclosed living room also has air conditioning for those who get too hot in the Maldives. While the lack of AC in the suite villas is not a problem for me, it may be for those who are less used to the heat.
Residence Villas also have their own kitchenette and wine chiller to stock your favorite bottles but not a hammock. There is one Lagoon Residence Villa which comes with its own hammock and sunset views.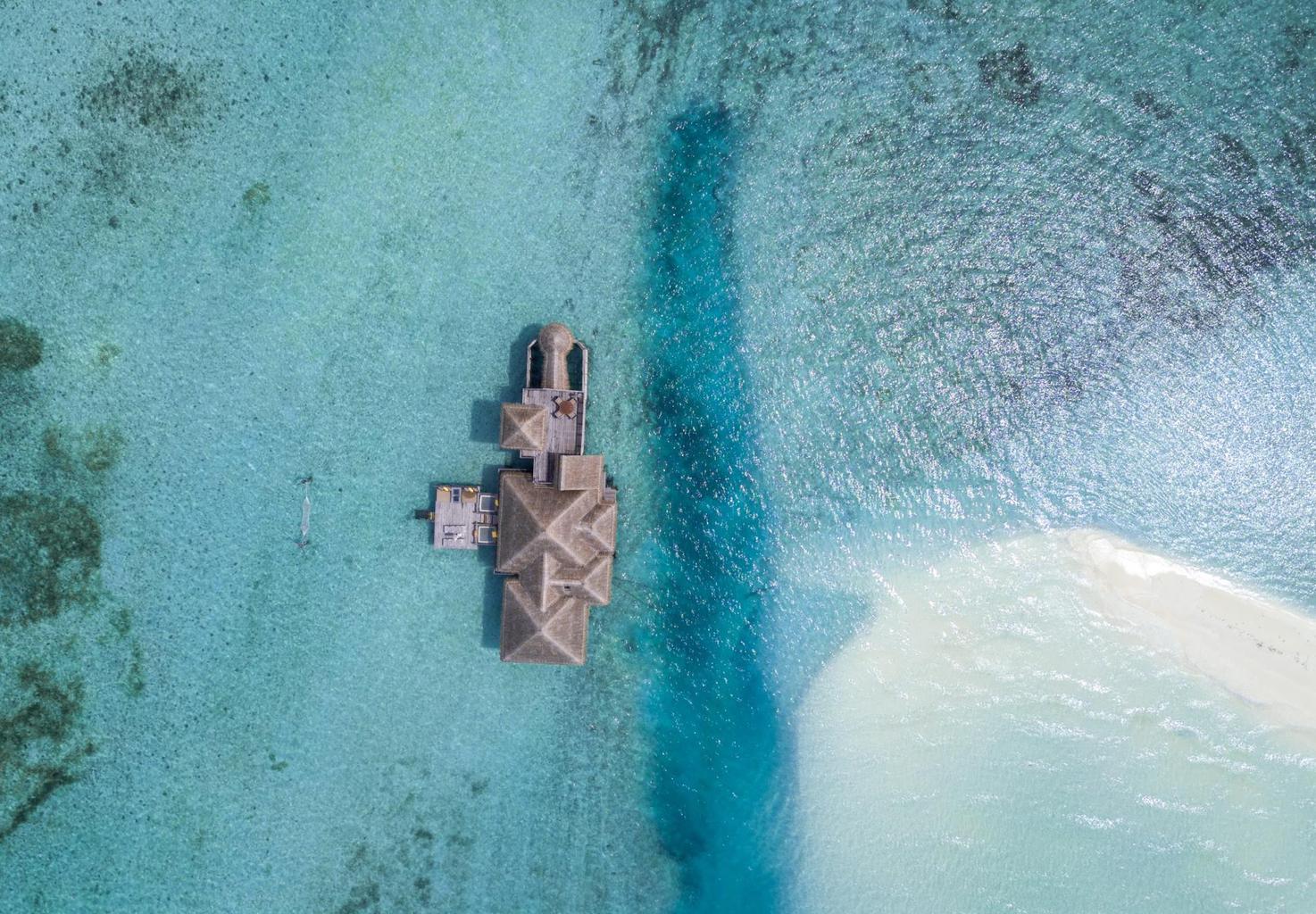 The Crusoe Residences are the seven standalone water villas measuring 250 sqm located on a crescent off the tip of Palm Beach.
These are an iconic type of villa was pioneered by Gili Lankanfushi but has now become the latest trend in new Maldives resort design. You can find the idea of a standalone villa at Jumeirah Vittaveli.
These villas are on their own and not connected to the island other than via a small wooden boat which guests can have at their disposal if they feel comfortable using them. Alternatively, they can also just call their Mr Friday for a pick up or drop off.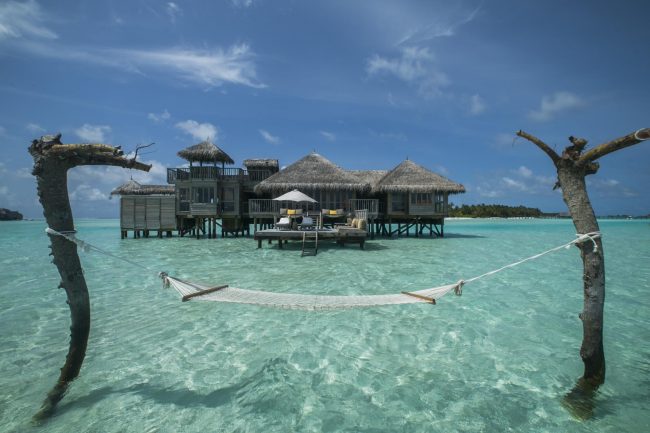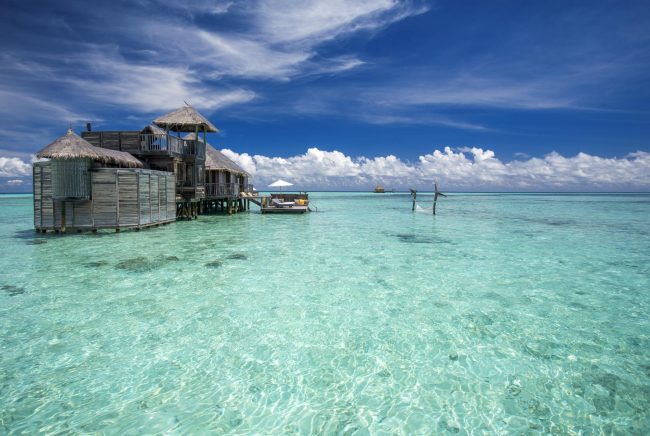 In the villa you will find a small kitchenette and dining table. While they are similar to the Residence Villas inside, they have their own private hammocks in front of the villa and the isolation and privacy of not being connected to the island.
Crusoe Residences are favored by honeymooners because of the total isolation, but they are also great for families who just want time on their own.
Each Crusoe Residence villa location in the crescent determines the view, be it more towards sunset or towards the neighbouring island. There is a small price difference between the two.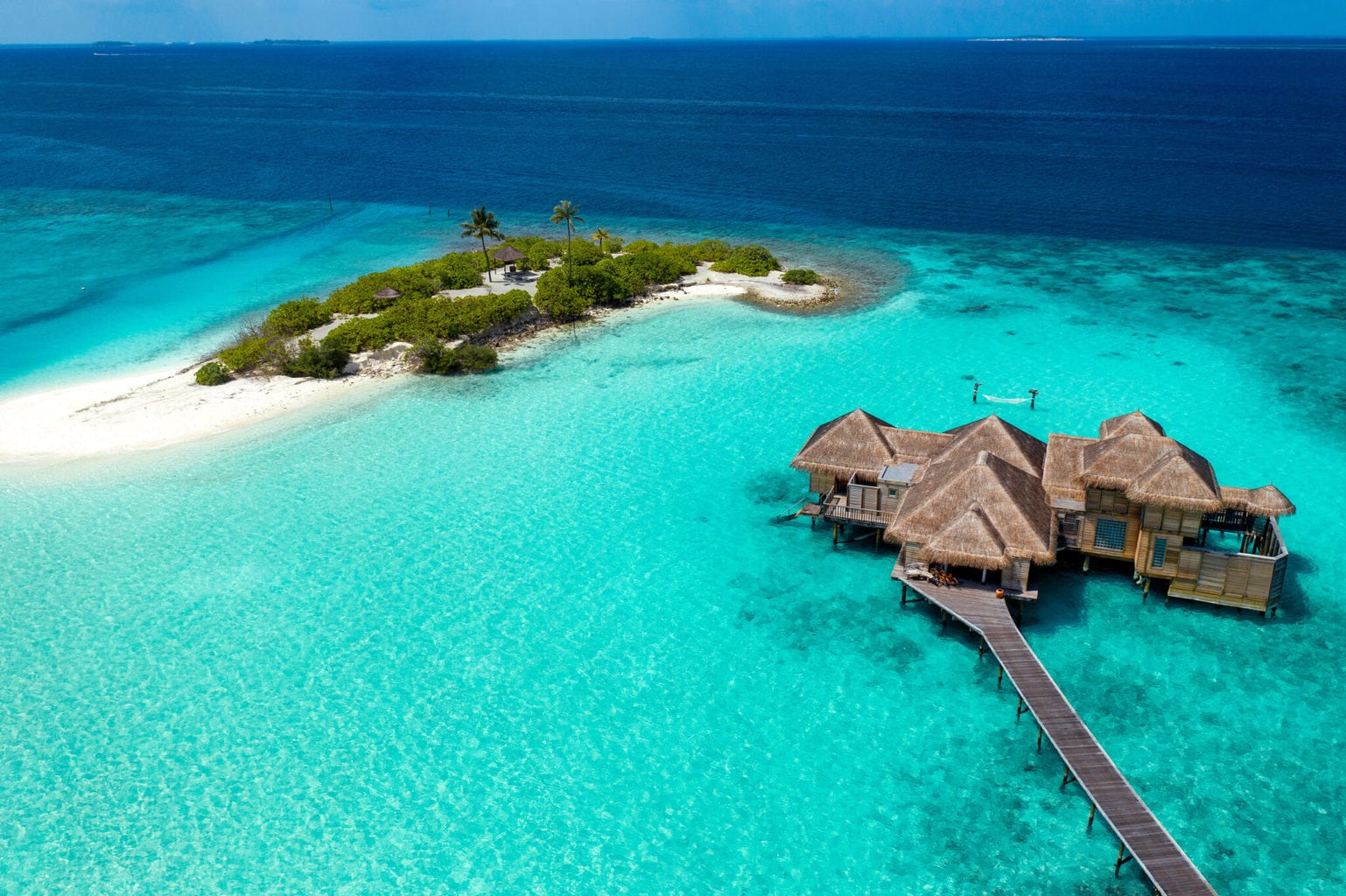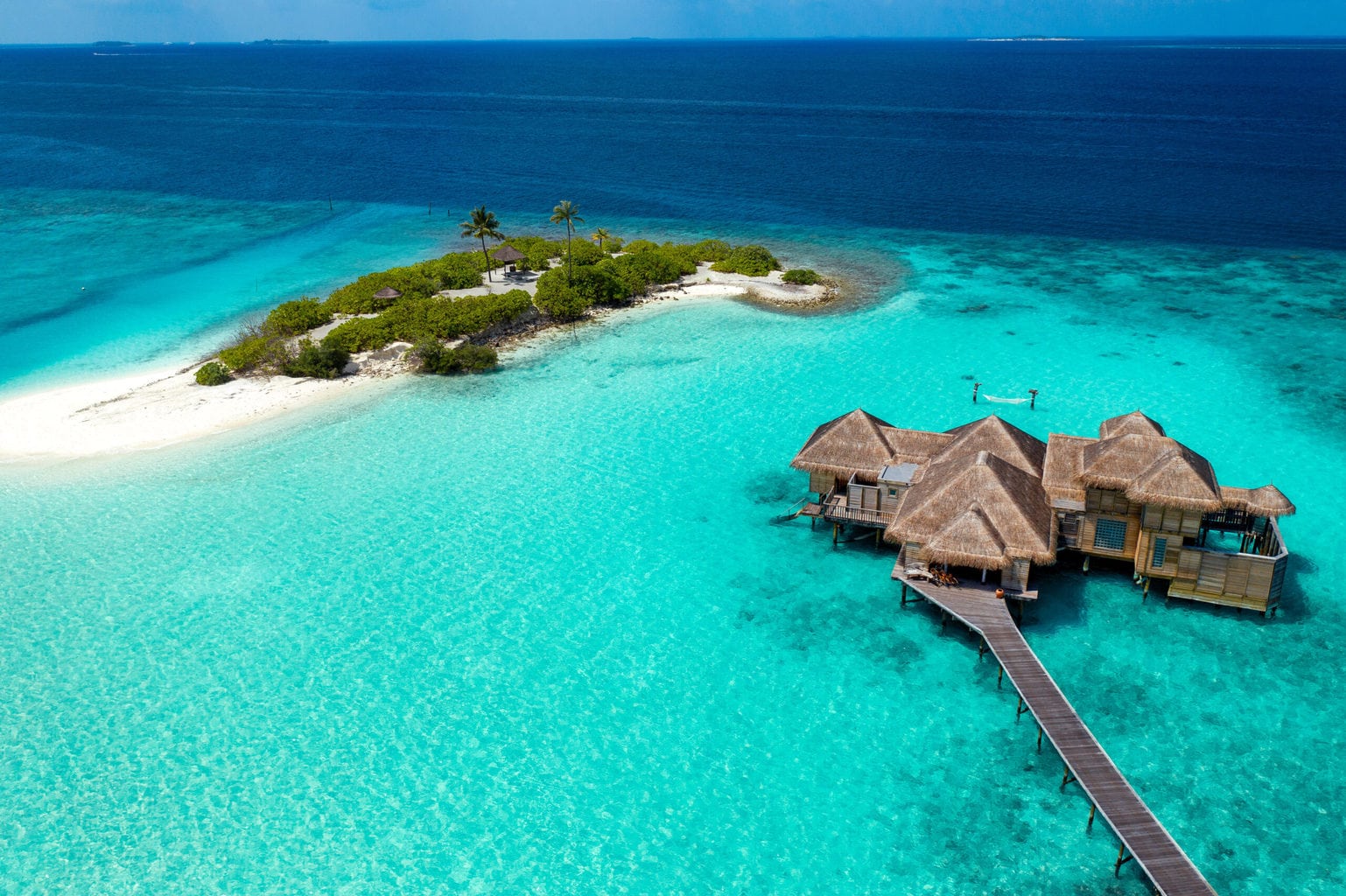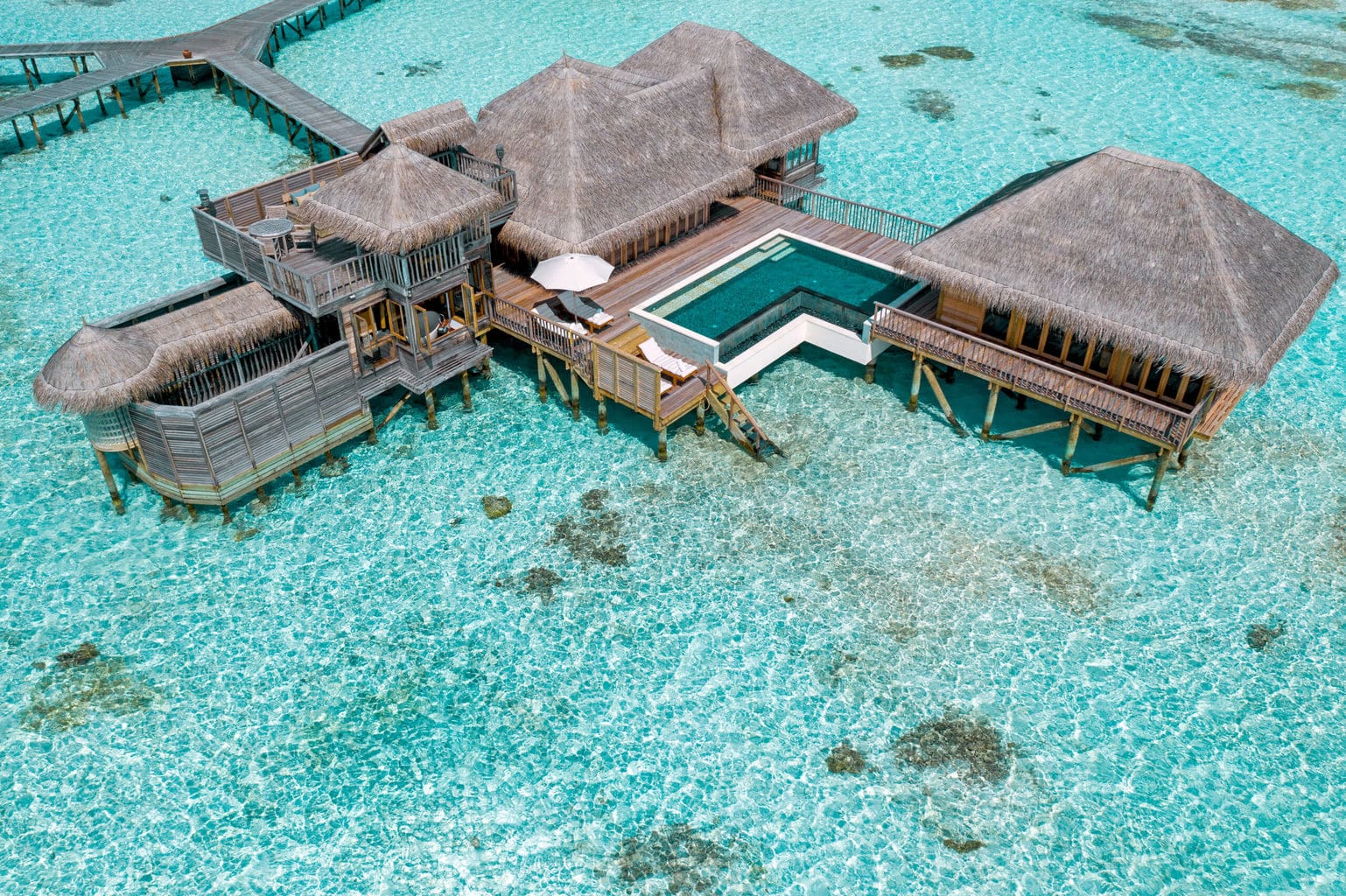 For families, there are a couple of Family Villas. The original was located at the end of jetty 3 facing the sunset and in front of 3 Palm Island which was of exclusive access to this villa. There is now another Family Villa with an an L-shaped pool.
Family villas measure 350 sqm and come with two bedrooms, a private gym and 2 air conditioned living rooms, one of which can be converted into a second bedroom.
The master bedroom has its own bathroom including an outdoor jacuzzi and there is a second jacuzzi in the upper floor of the villa.
A villa of this size is thought of with families in mind and has its own kitchenette, wine chiller as well as steam room.
The top of the range accommodation option at Gili Lankanfushi and, arguably the Maldives, is the 1,700 sq meters two-storey Private Reserve, a standalone five bedroom villa located 500m from the island and only accessible by boat. It is the largest water villa in the world.
Described as a "fort of dreams", this is the ultimate seclusion and privacy for a group of friends, a wedding, a large family or a wealthy individual. Rumor has it that someone lived there for three years!
The Private Reserve has its own gym, spa, cinema room, an infinity pool perched over the ocean, two sea hammocks, a swinging sofa and a slide to keep the whole family entertained. Some of the bathrooms have outdoor jacuzzi tubs and their own outdoor spaces.
It is hard to imagine what it must feel like to stay in such a glorious accommodation. But I can tell you, since I got to spend a day there, that it felt like we were completely alone, miles away from civilisation when in fact the ride back to the resort was only five minutes.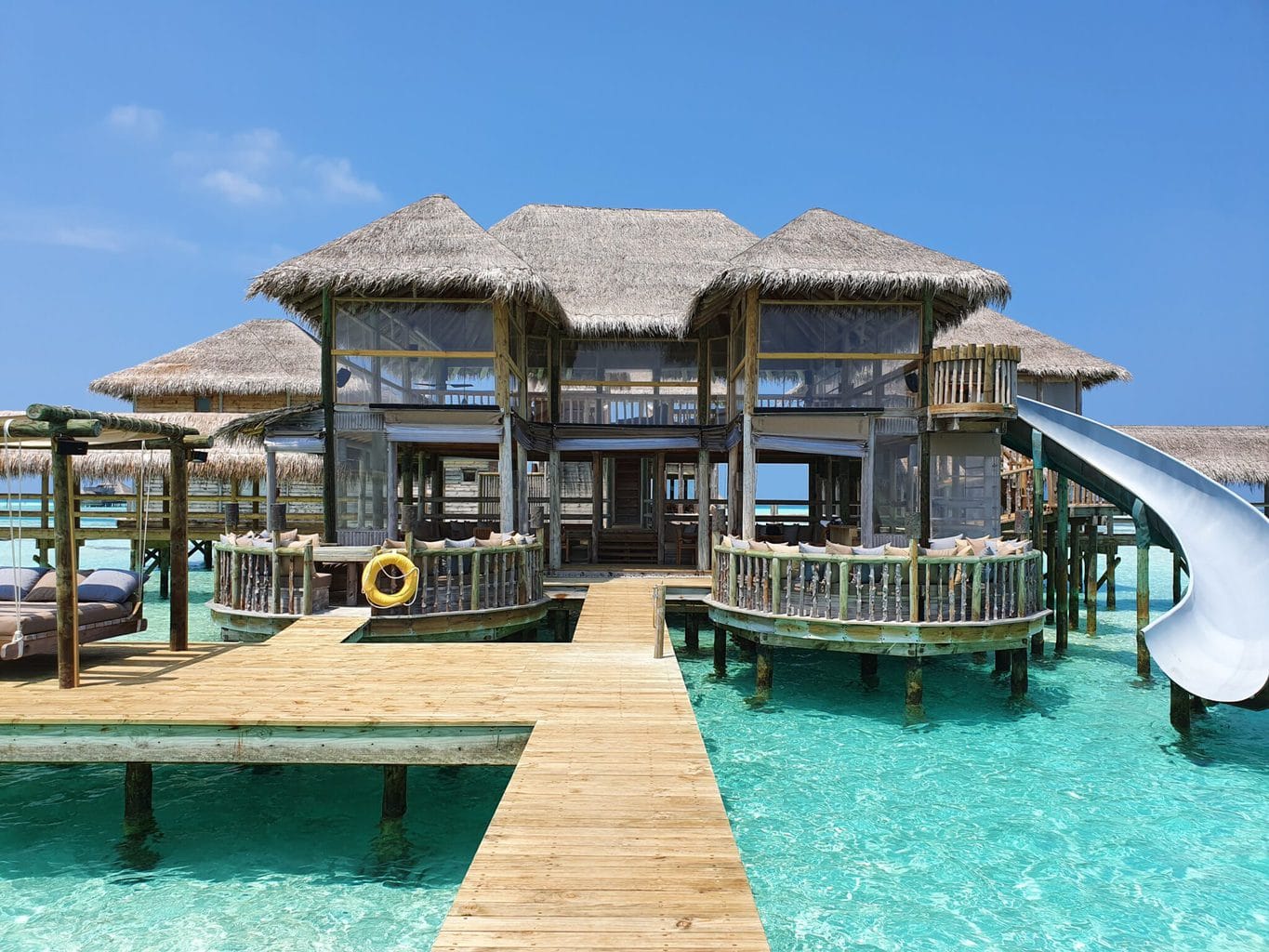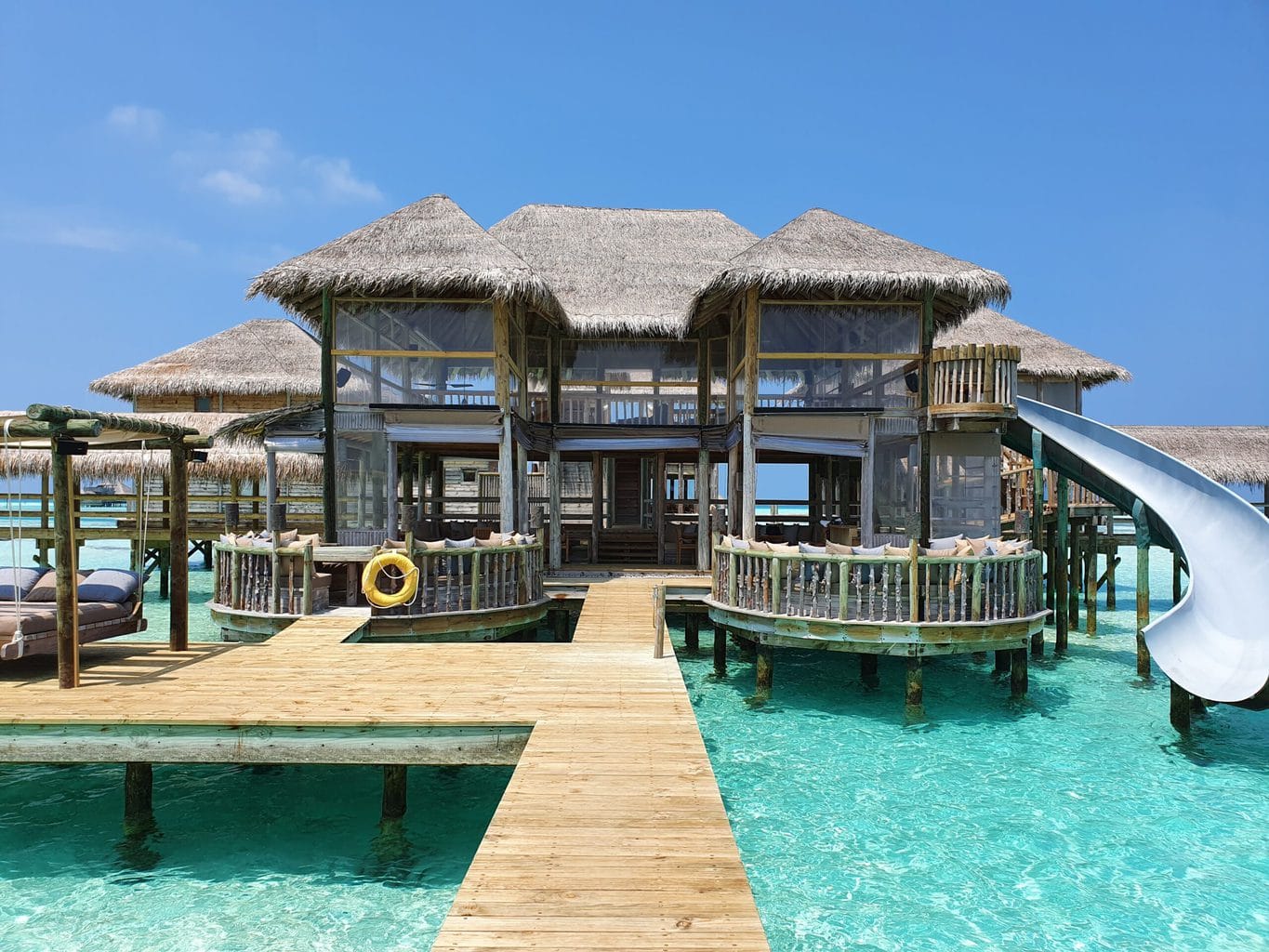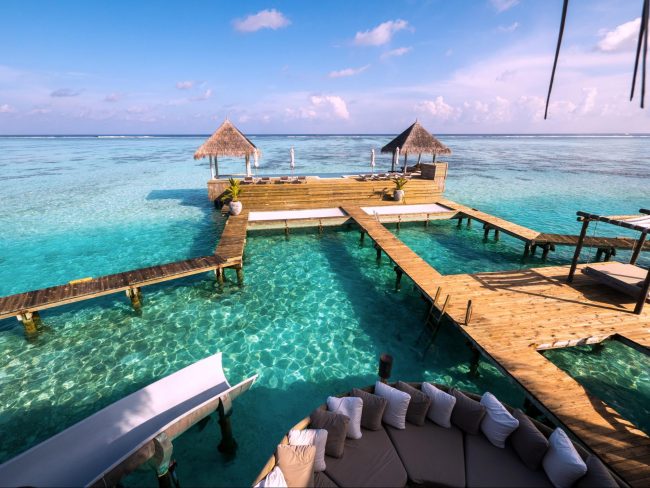 As you can see from all the villa pictures, the look and feel of the villas at Gili Lankanfushi is reminiscent of both Six Senses Laamu and Soneva Fushi since the resort used to be part of the former Soneva-Six Senses group and the decor and much of its spirit and unique selling proposition has been maintained.
You will find rustic aged wood, the back-to-basics level of luxury and the attention to detail and service. The theme here is understated luxury with lots of details that make your stay special but without any of the superfluous elements that are unnecessary in the Maldives. You want to let the blue shine.
When deciding which villa to choose, price will play a role as there is a wide range of options. Money being no object, couples prefer the Crusoe Residences while families are best at the Family villas. Larger groups should consider the Private Reserve, which can be expanded to turn the living room into a 5th bedroom.
Food and dining experiences at Gili Lankanfushi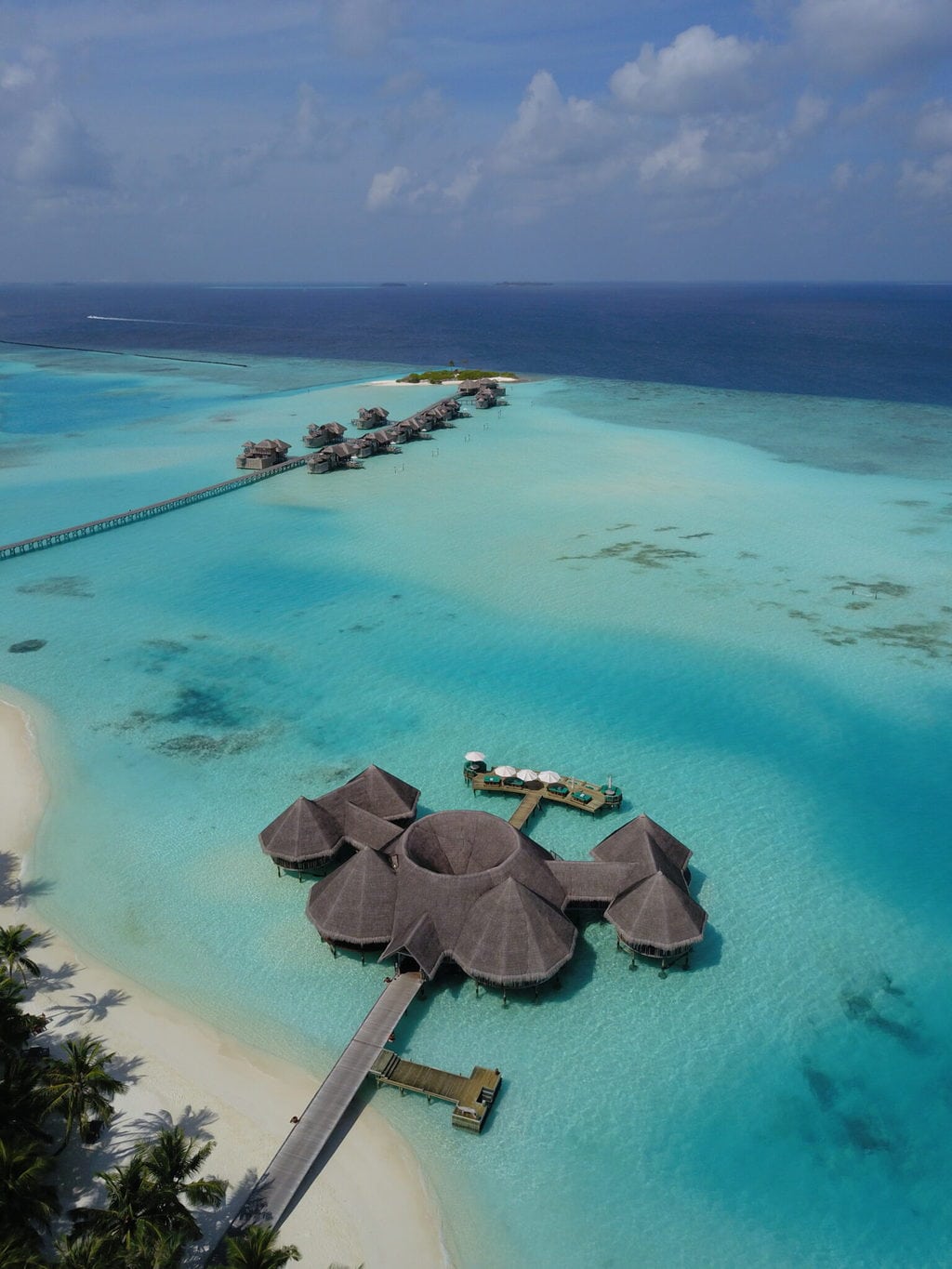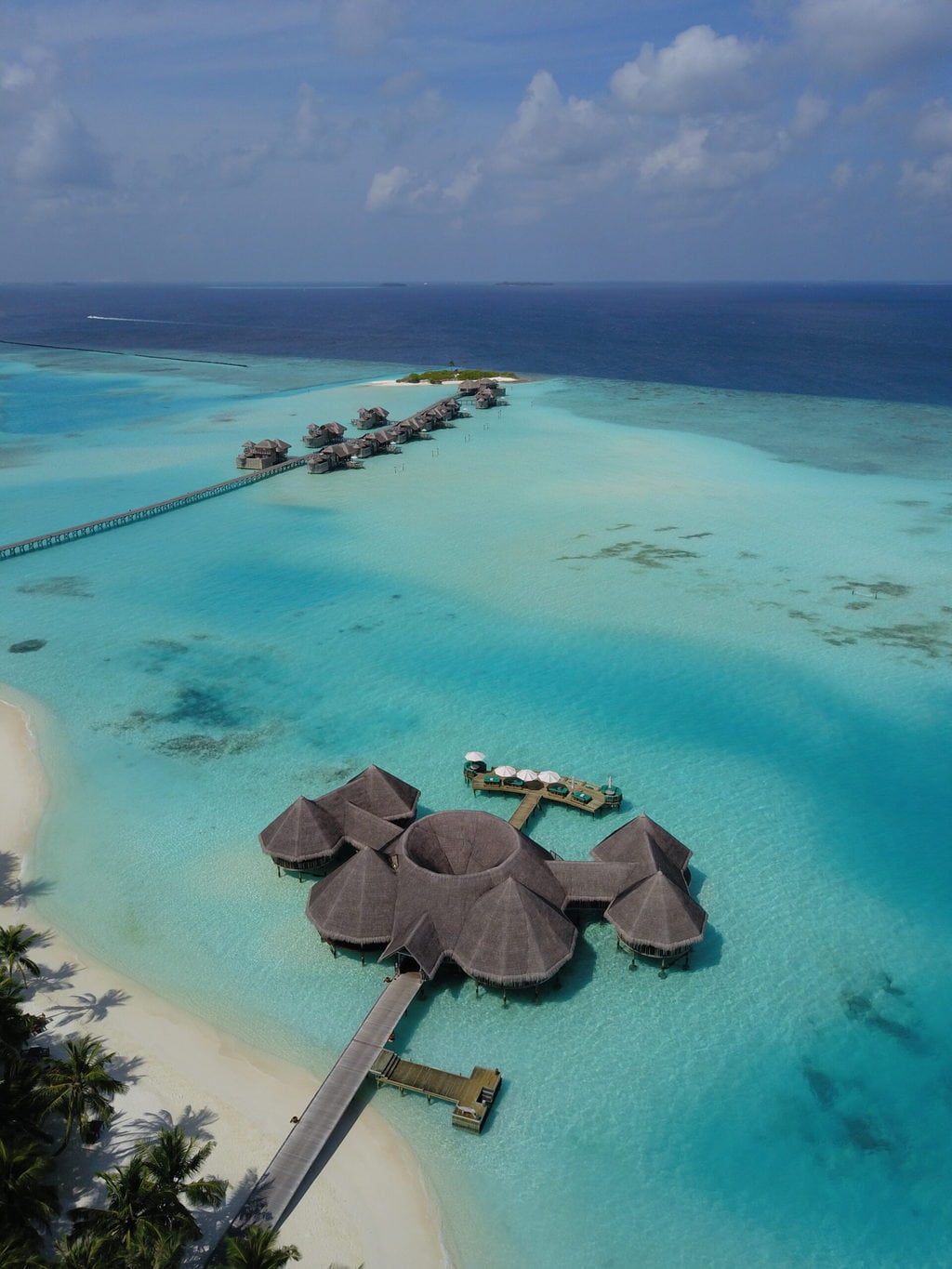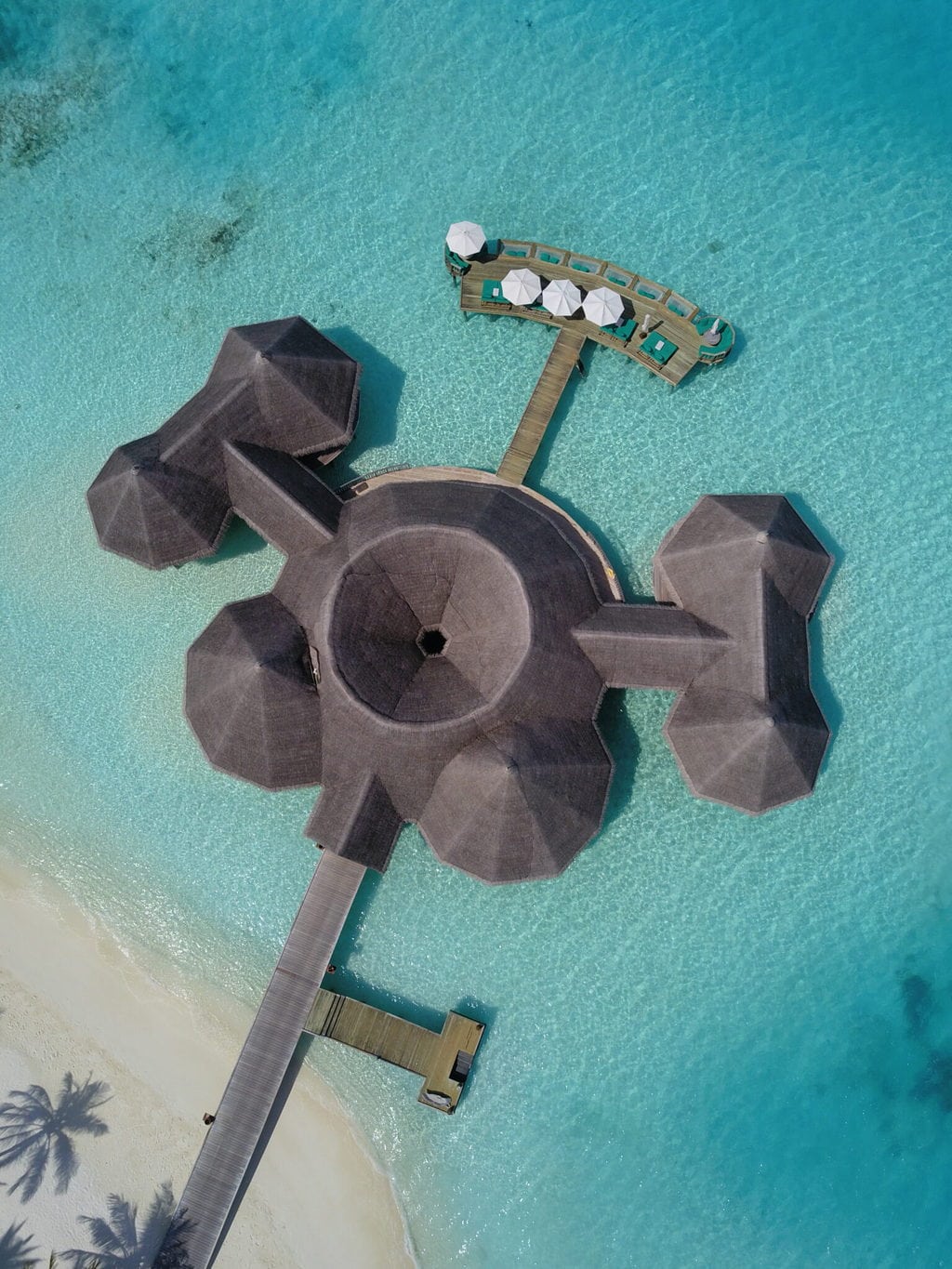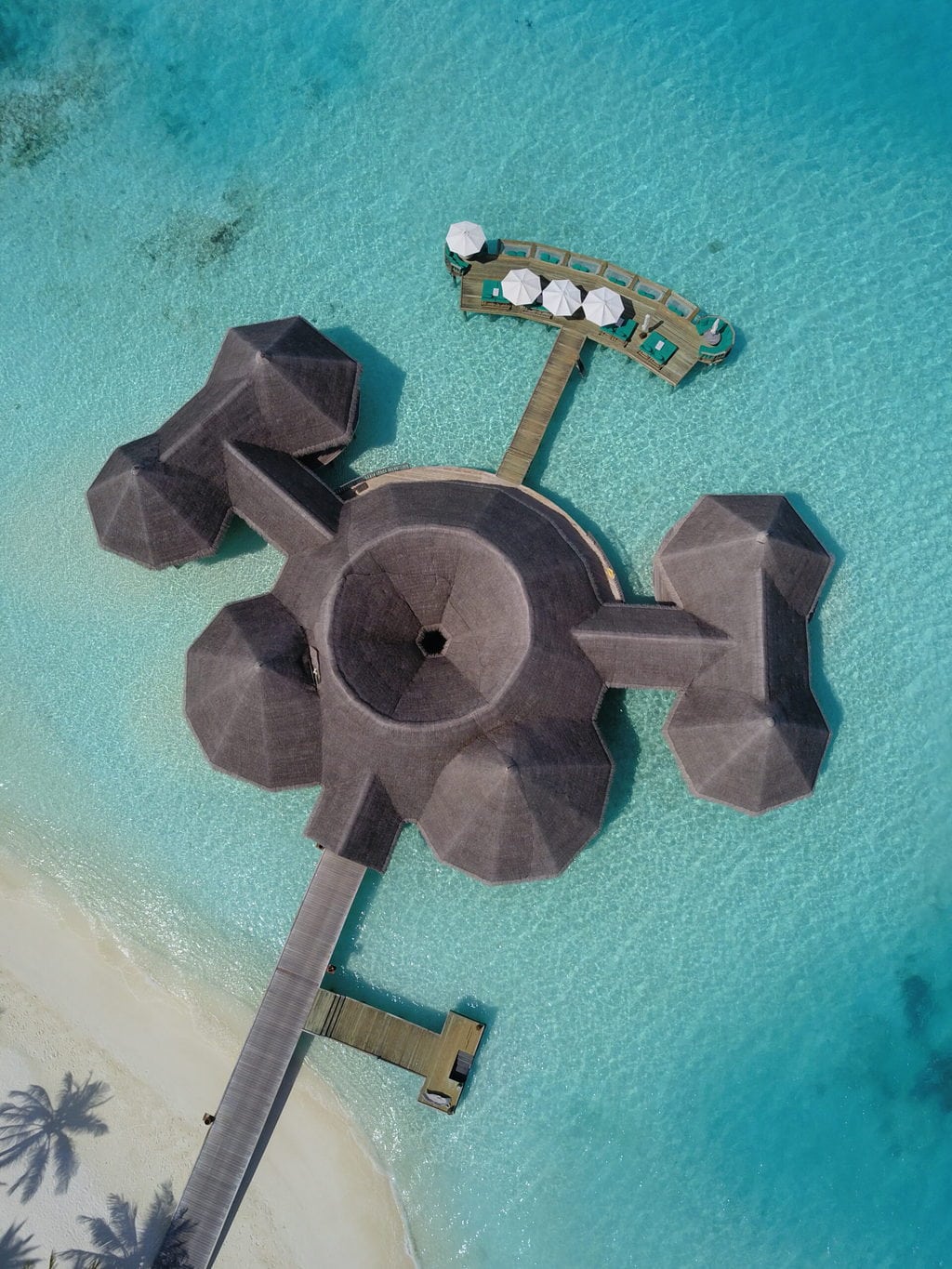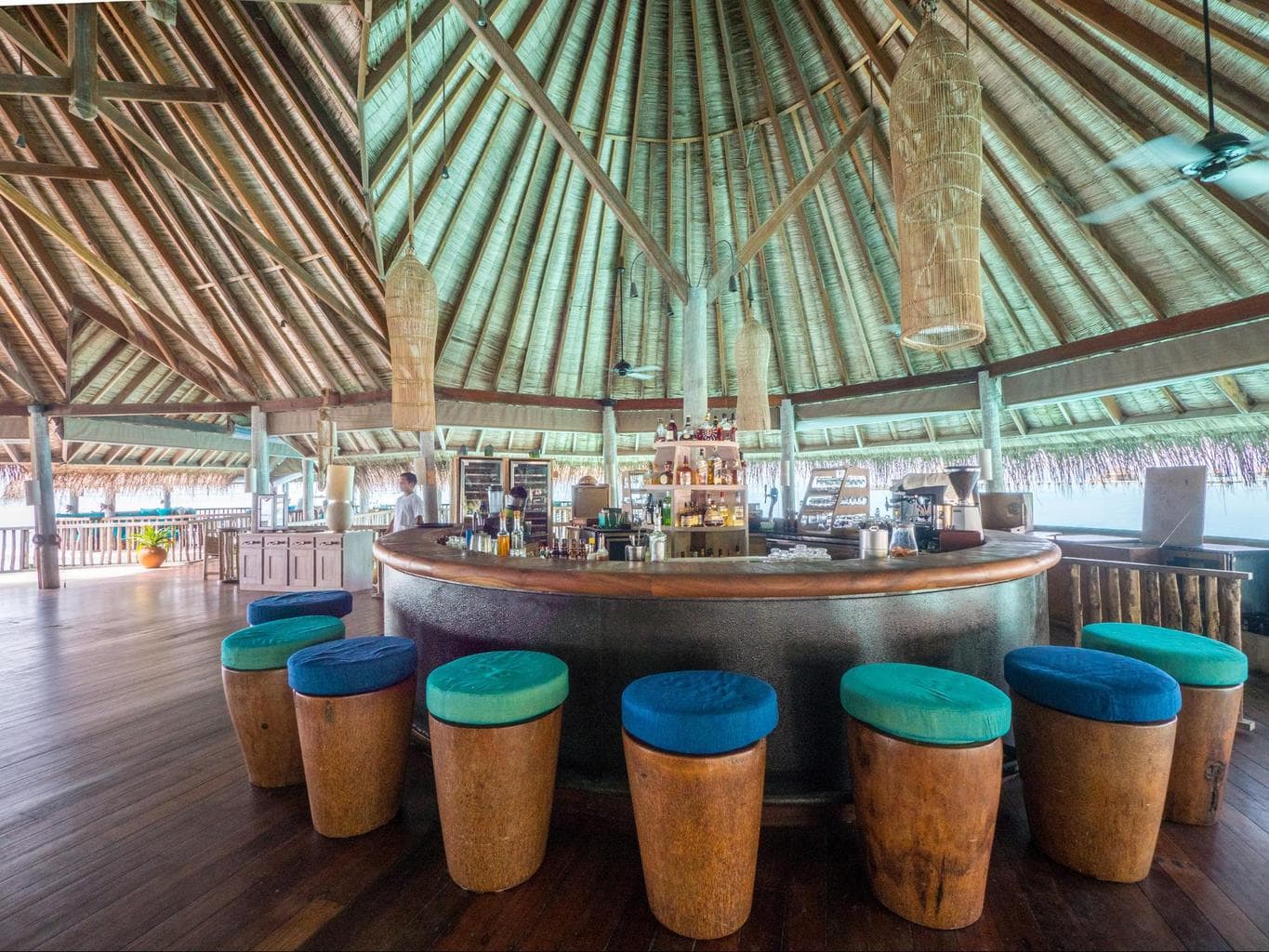 Food and dining experiences are one of Gili's strongest points, not only because of the quality of the food but also because of the various destination dining experiences available and the opportunities to tailor-make your own food journey to your preferences and liking.
There are three restaurants at Gili Lankanfushi. The Overwater Bar serves all day dining with a lunch consisting of a fresh salad buffet and two daily specials and an extensive Mediterranean and Indian Ocean inspired menu complemented by Chef Hari's super bowls. The drinks menu is extensive and has a long list of fruit juices to choose from.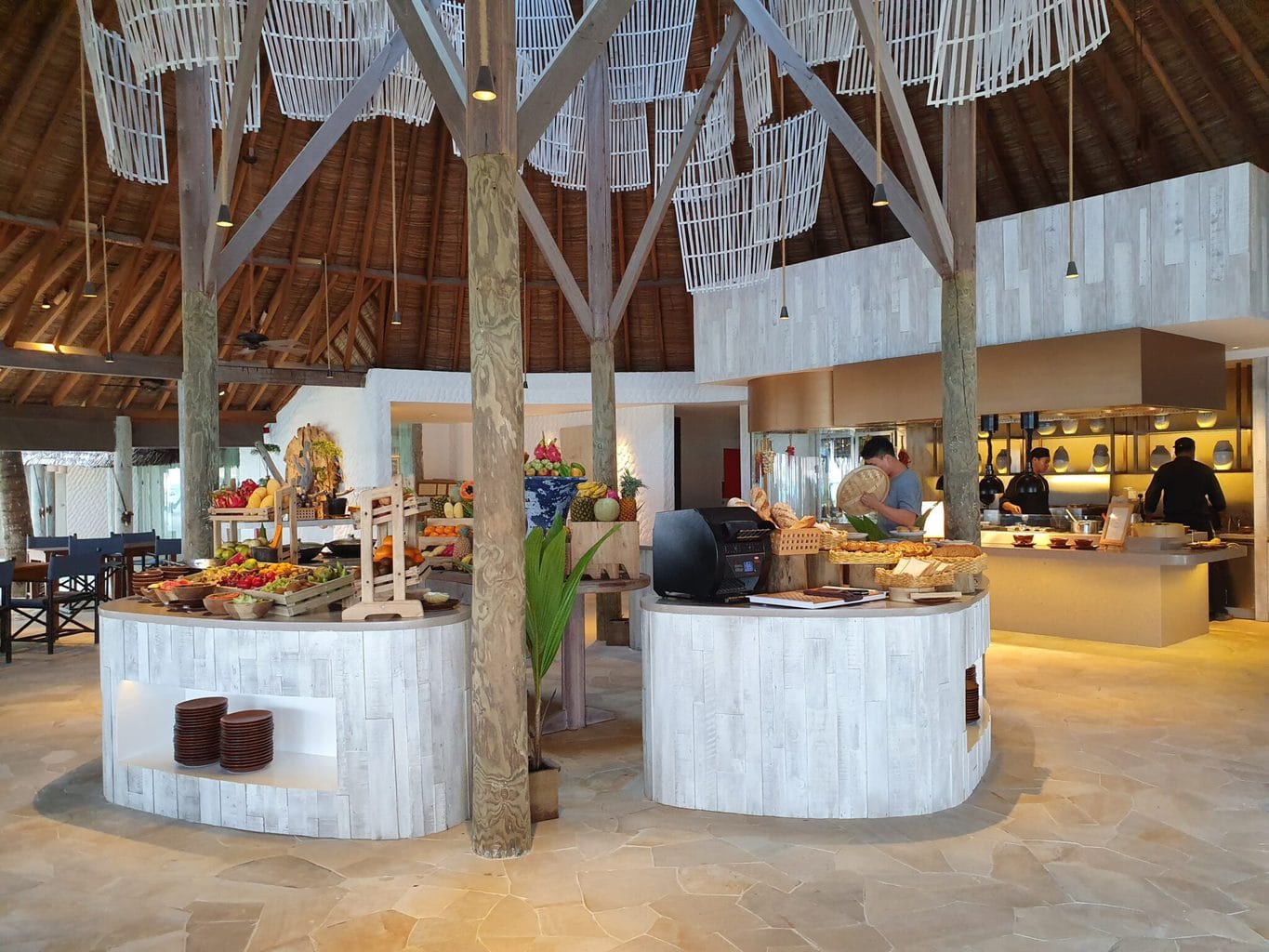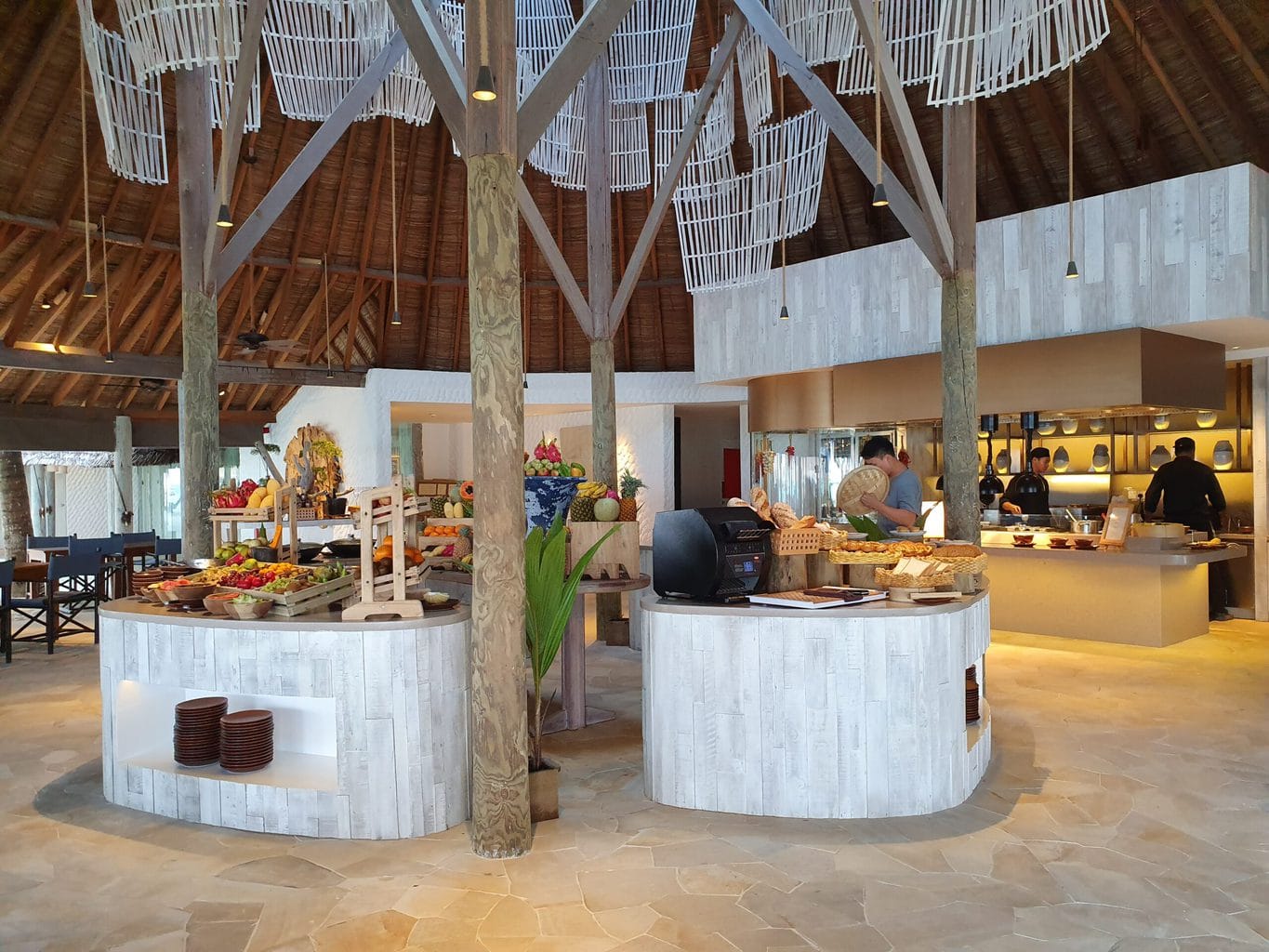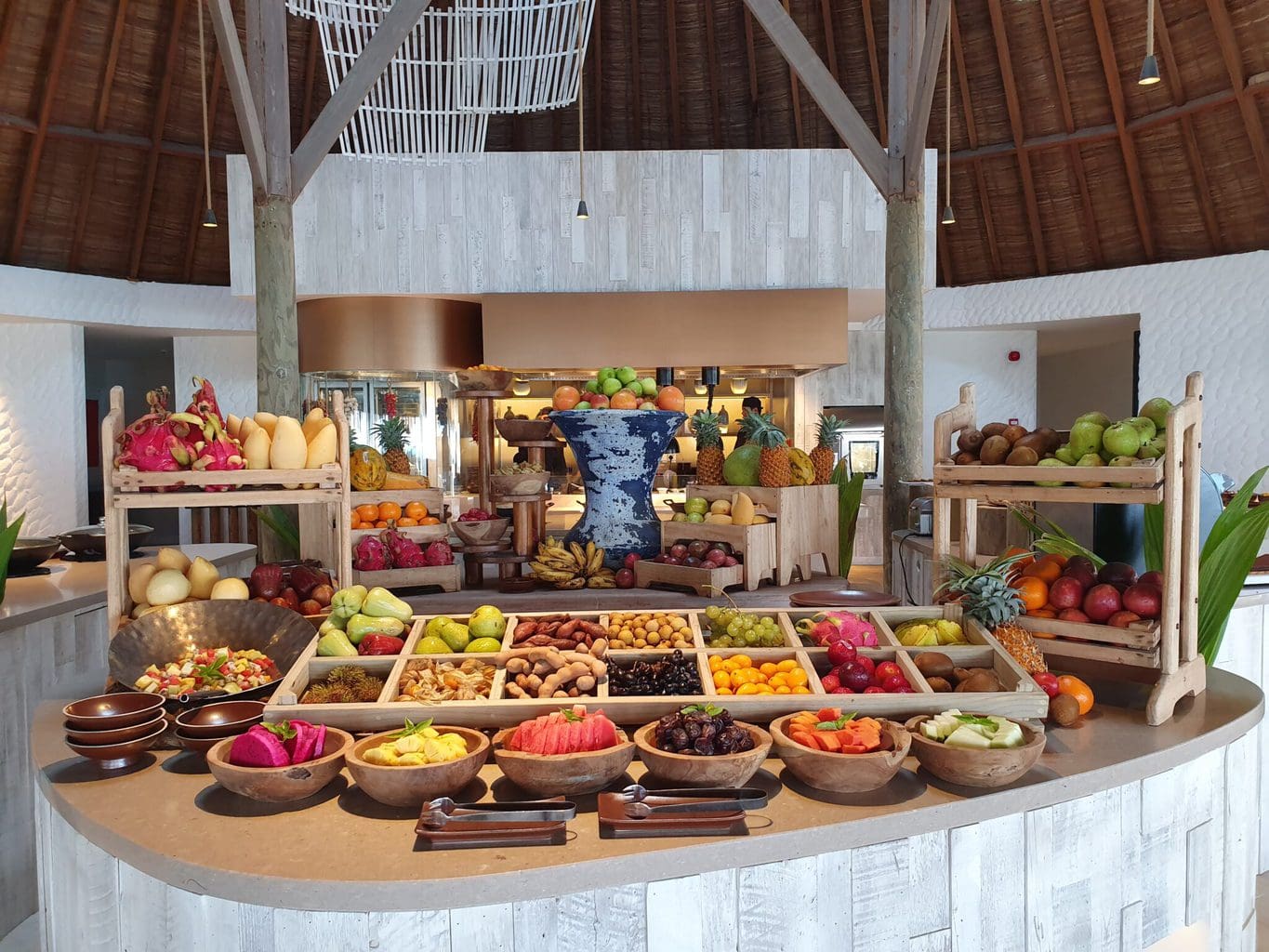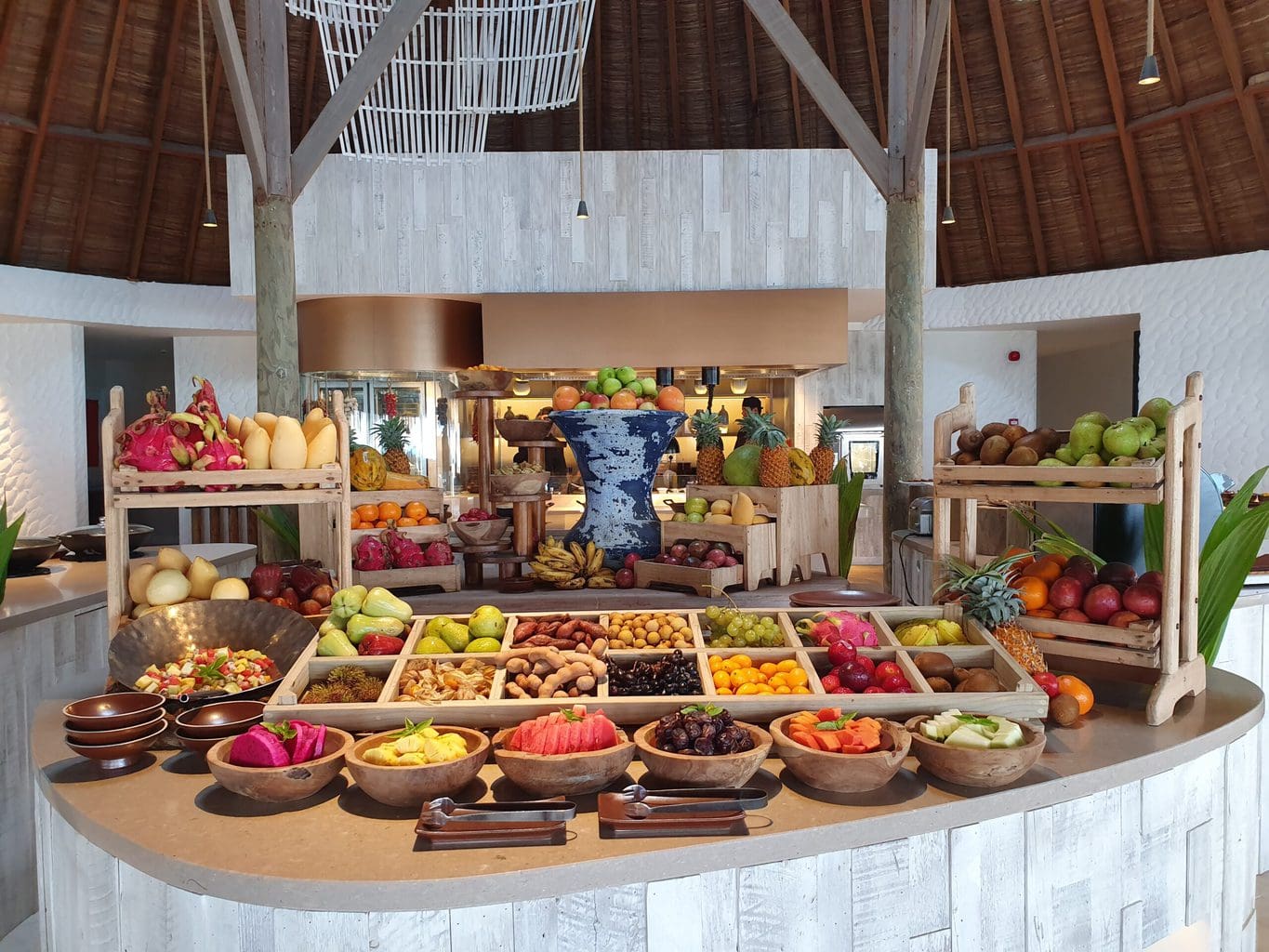 Portions are generous and we struggled to finish many of the dishes. You can order from a pretty vast array of options from casual meals like burgers and sandwiches to more elaborate dishes like curries. Asian influences are clear.
The restaurant area is covered and it also has a jetty with a platform where you can enjoy the best sunsets. Here, you can don your swimming gear during the day and laze on the few sunbeds or indulge in a seafood dinner under the stars after the sun sets.
The bar area has a few high stools and a sunken round area with glass bottom and sofas in case you prefer your drink with a side of marine life views. There is a large selection of cigars that you can enjoy in the sunken bar or in the comfort of your villa.
The sandy Kashiveli Restaurant opens for breakfast and dinner and is located beach side with some outdoor tables under the shaded palm trees and others under a newly constructed thatched roof.
At breakfast, the spread is magical. There are live stations preparing an avocado spread or frozen yogurt on alternate days, eggs and noodles to order and a live fresh fruit station where you can get any fruit cut to order, I was told they have more than 30 kinds of exotic fruits.
On the continental side there are several types of cereals, pastries, nuts and seeds and lots of cooked items from sausages to beans. The refurbished restaurant now has an indoor air conditioned area that replaces the underground cellar that previously used to house the cheese and chocolate cold rooms.
Now, cheeses, cold cuts, a large selection of sushi and other chilled foods are available in this glass air conditioned room. You will also find a chest of drawers with a selection of Ayurveda concoctions. Look further and you'll find some Maldivian dishes (namely the traditional dried tuna breakfast staple) and other options like porridge.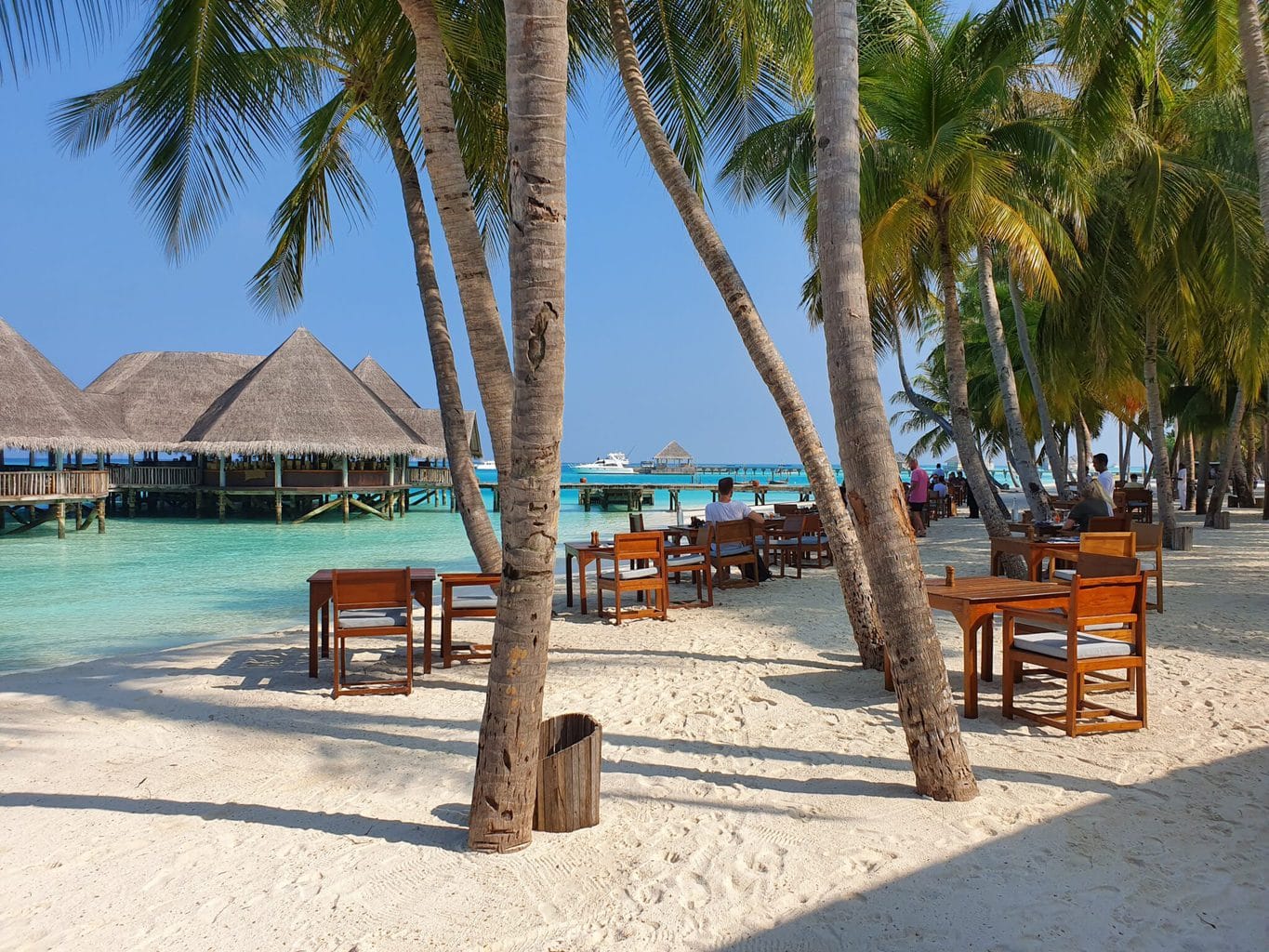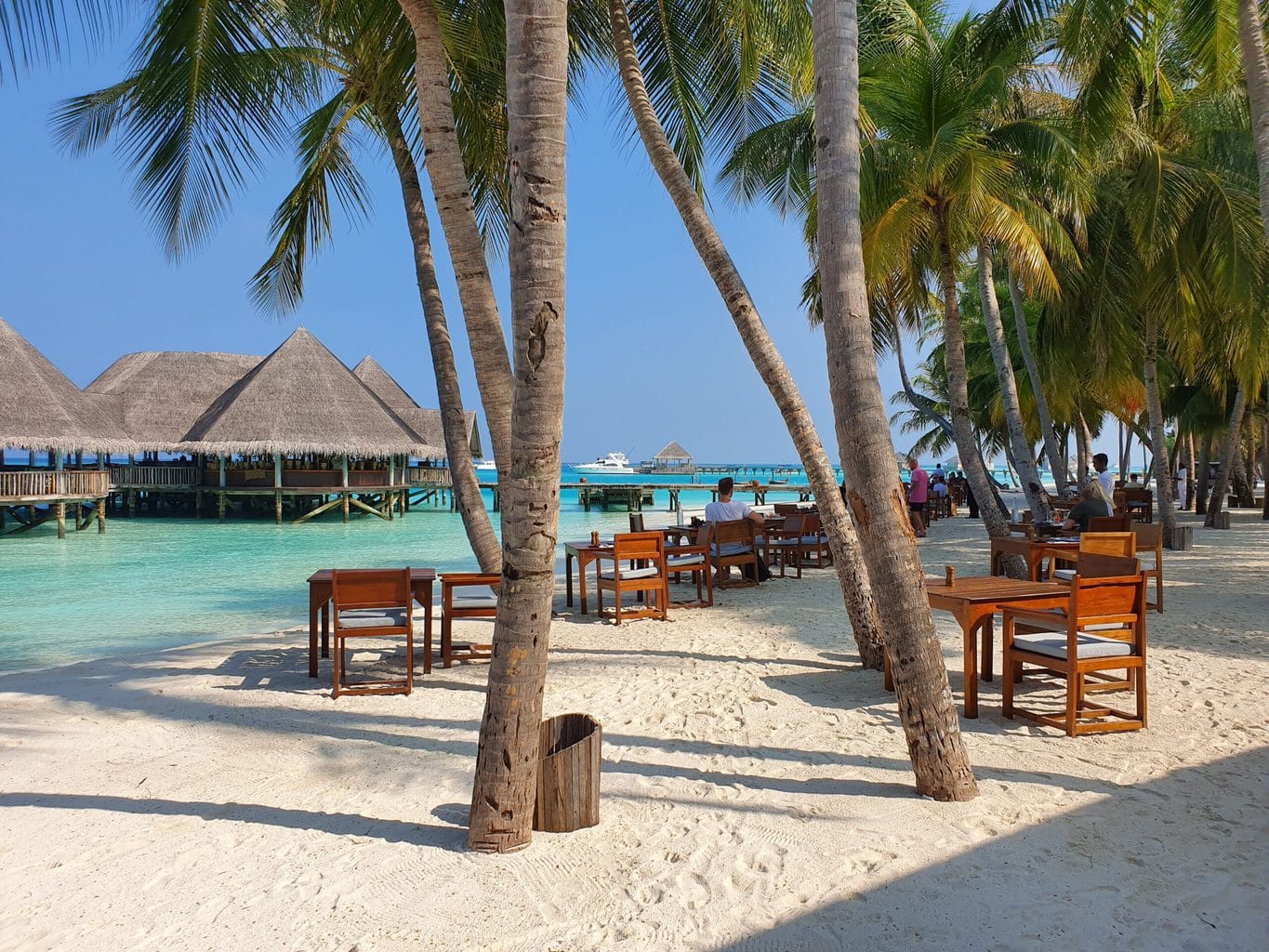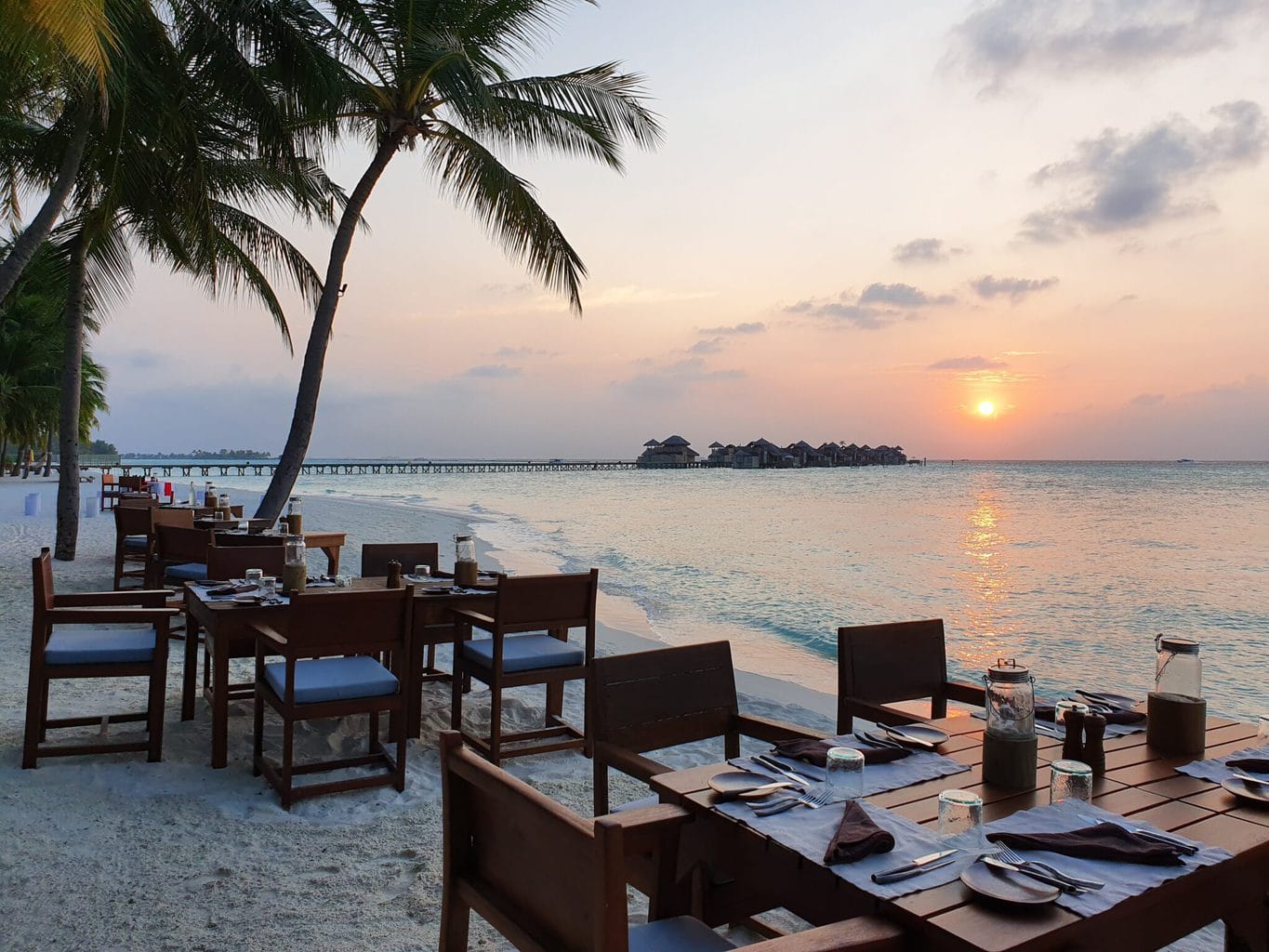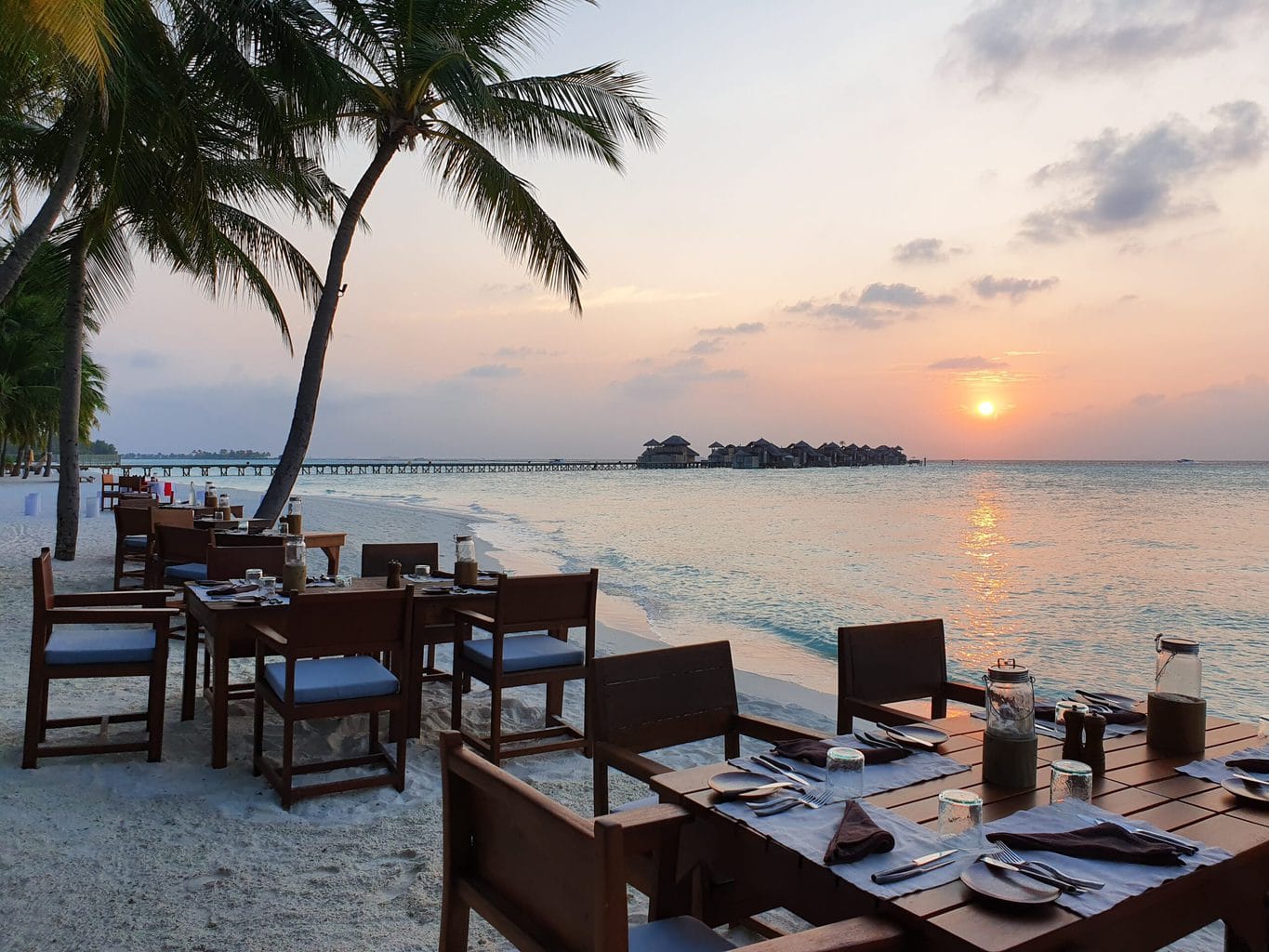 The star of the breakfast indulgence is the a la carte menu from where you can order a variety of hot dishes, freshly squeezed juices (the list is endless), and pretty much anything you can think of. They have a very good healthy menu with lots of options and also local Maldivian alternatives.
It is hard to leave breakfast and a leisurely 1h is usually not enough. When you finally gather the courage and strength to leave, the kind ladies from the spa are ready to give you a 15min back and shoulder rub under the shaded palm trees. What better way to start the day.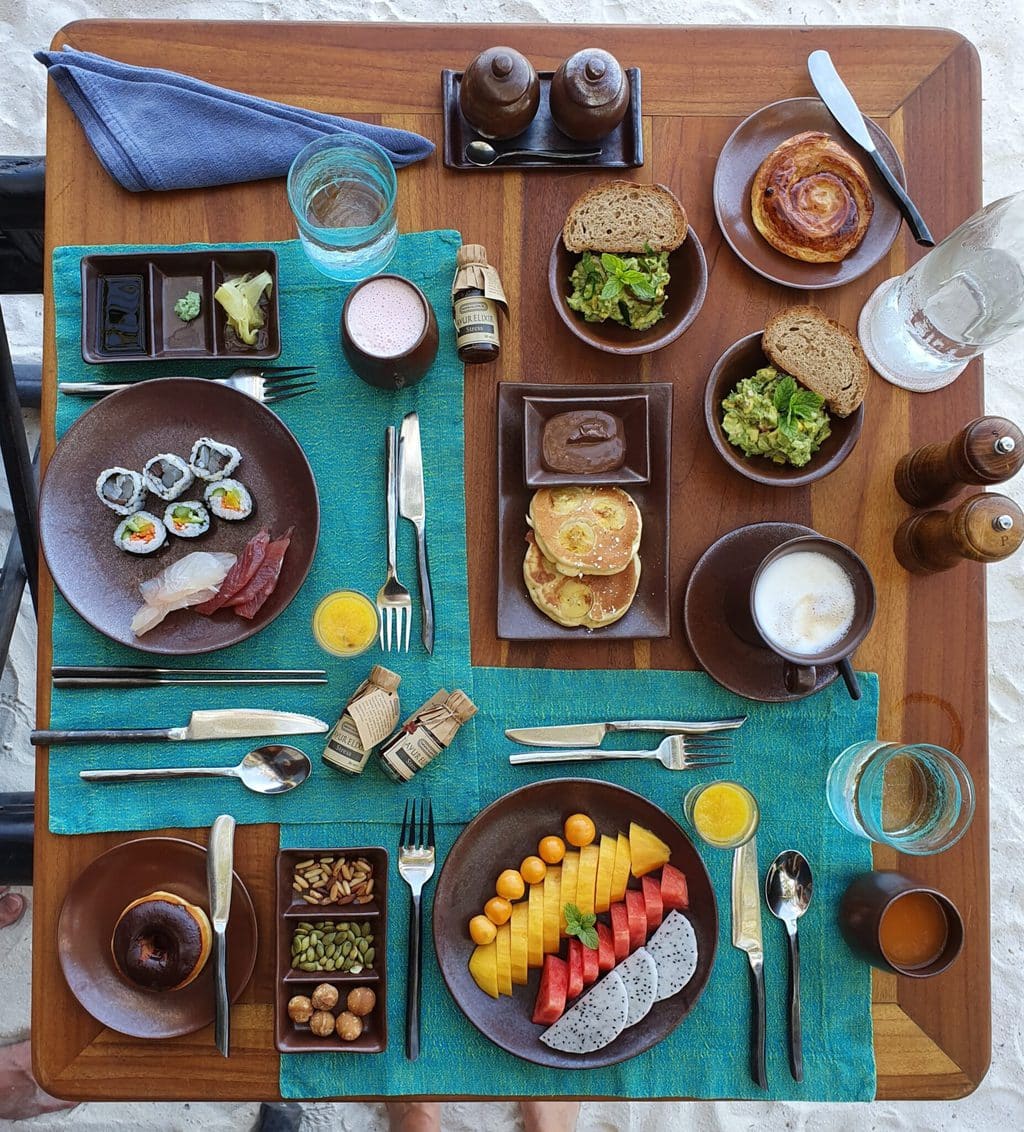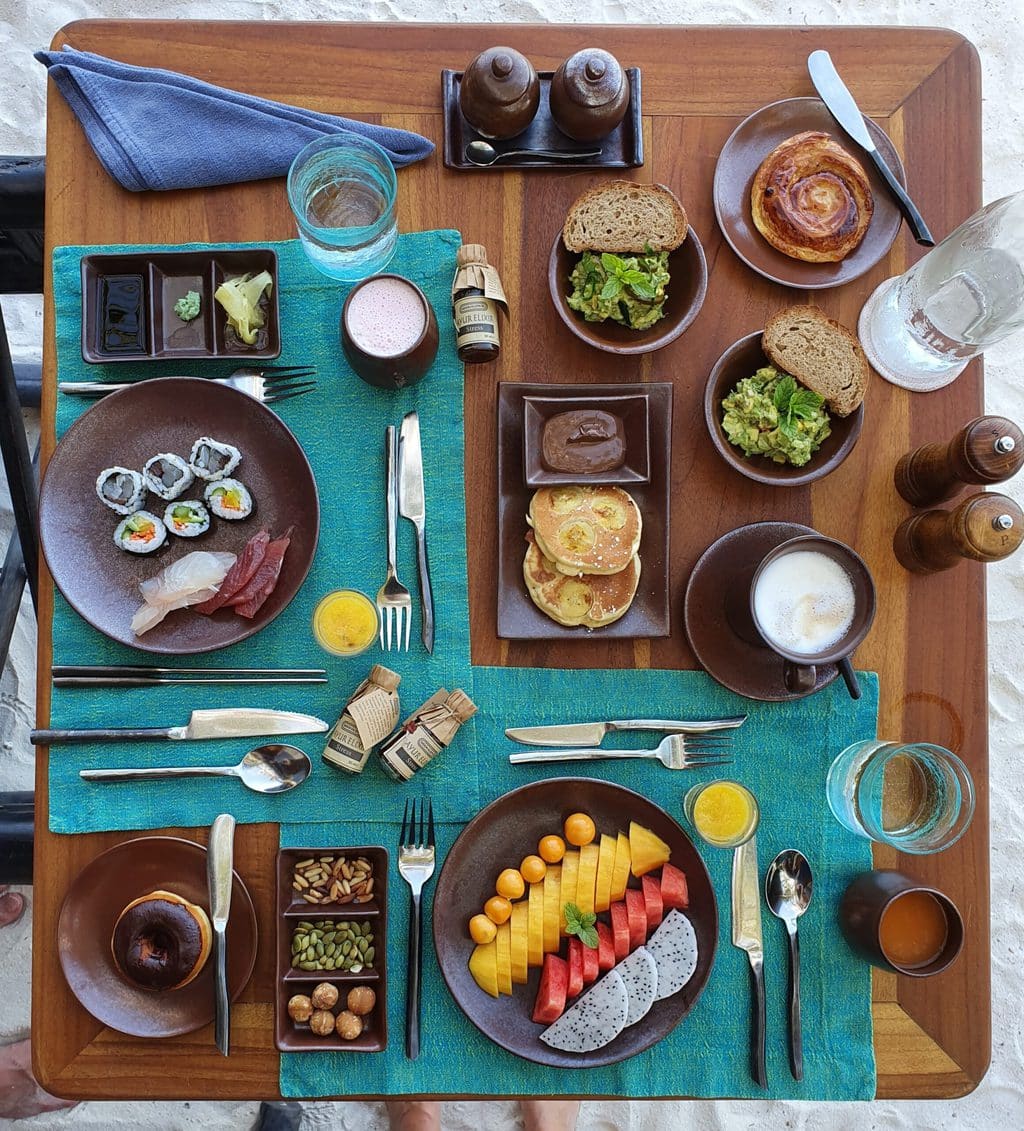 For dinner, Kashiveli has ongoing nights where specific cuisines or themes are on offer and where you can sample island specials, Arabian Delights, Asian specialties, etc.
We indulged in colorful freshly handmade pasta, roasted chicken, the freshest ceviches, fantastic Asian dishes, and a themed Madagascar night. The food at Kashiveli was something to look forward to and every dish was prepared to perfection and with a lot of attention to detail.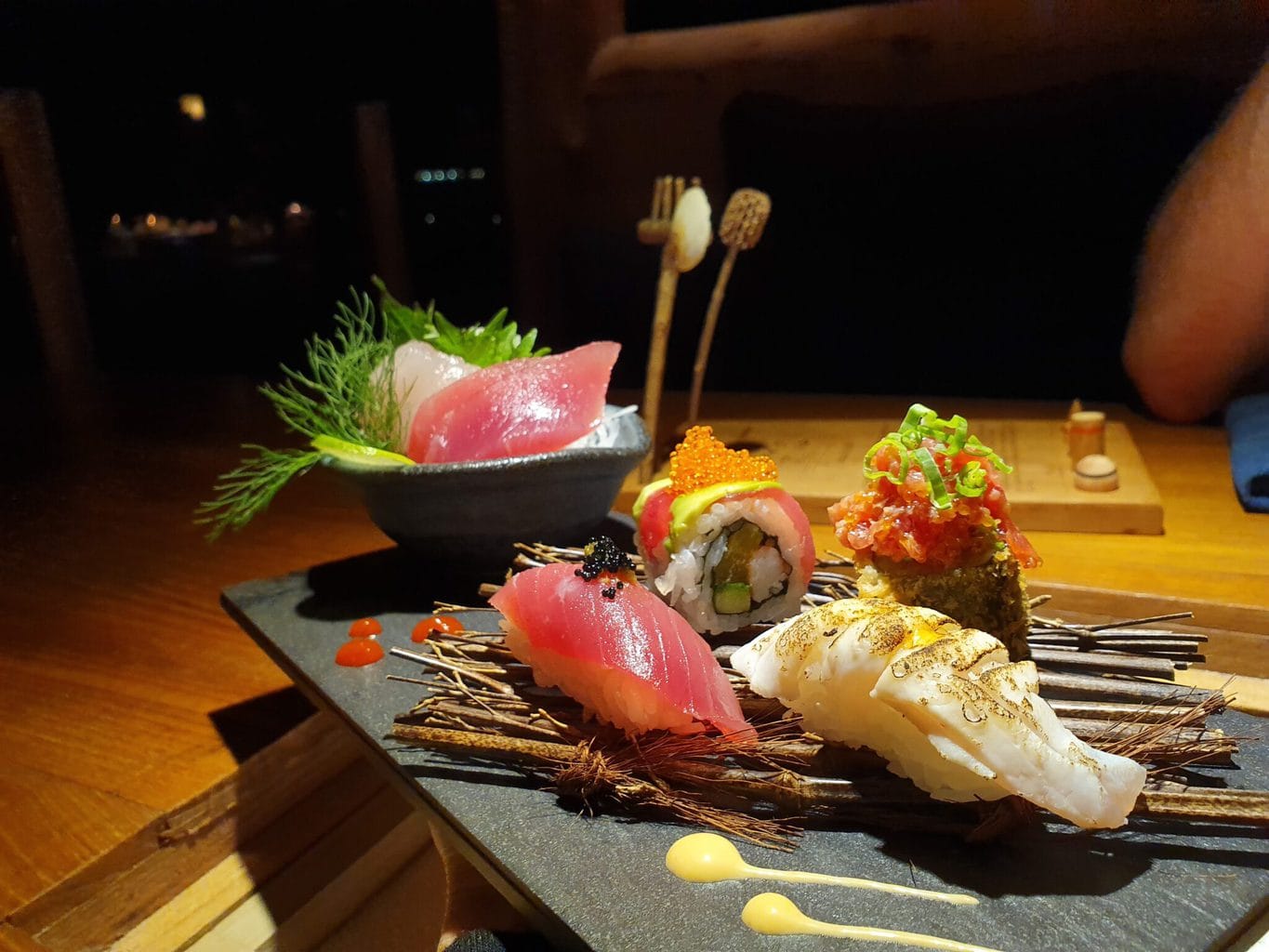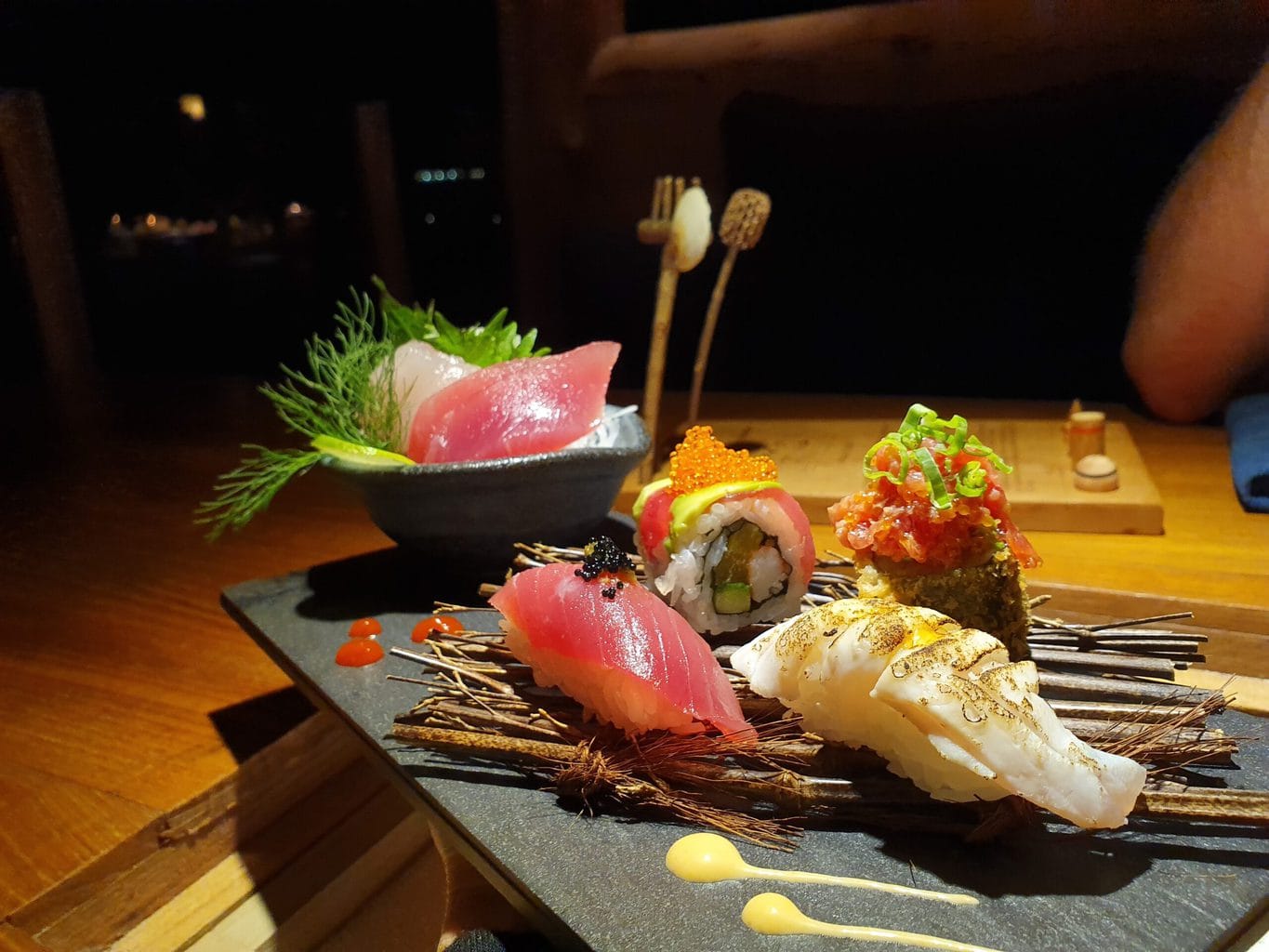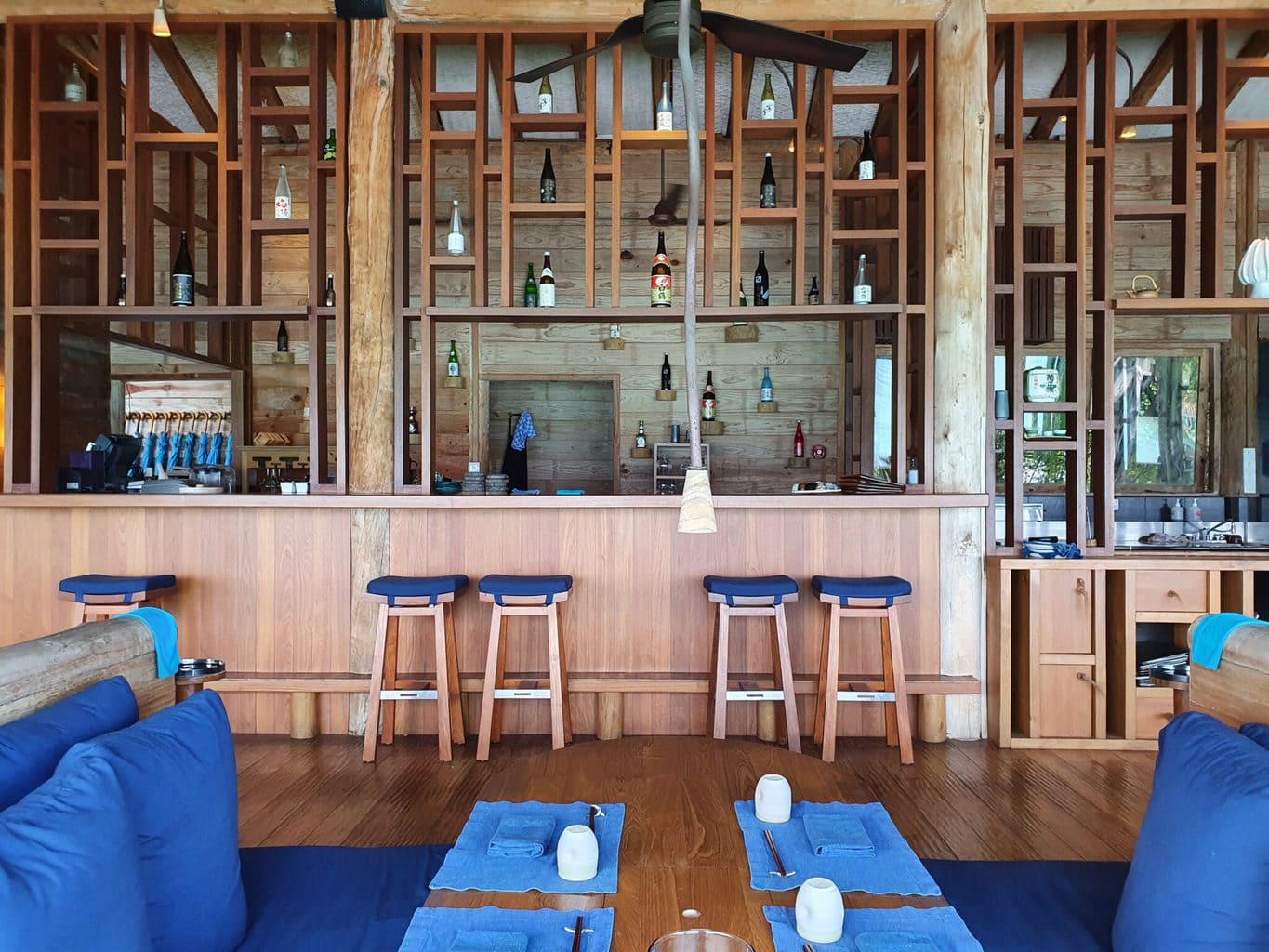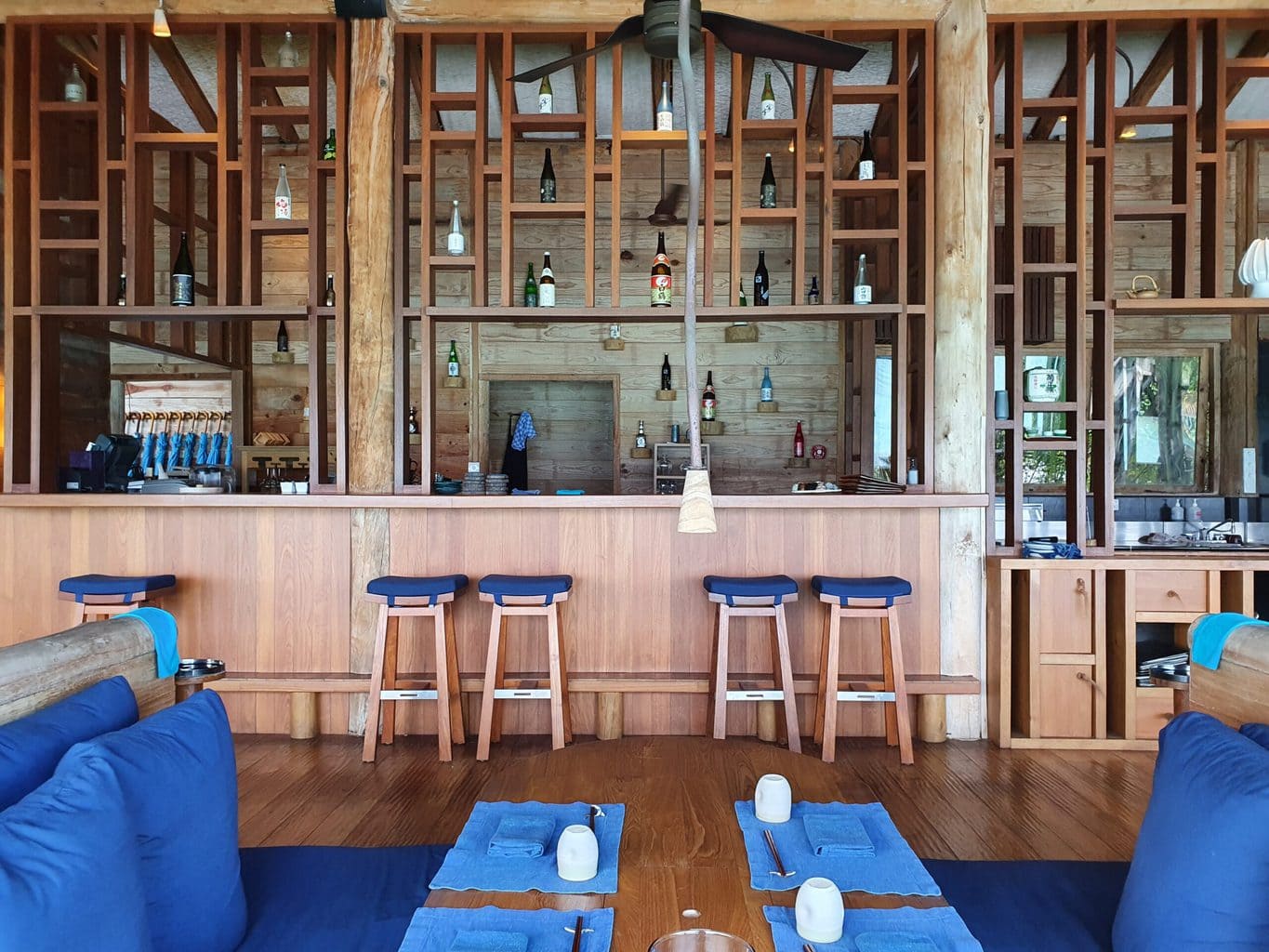 The fine dining Japanese restaurant By the Sea is where you can enjoy a more refined experience, although still barefoot and casually dressed.
There are three spaces to indulge in the freshest produce; a sushi bar where sushi is made in front of you, a teppanyaki counter for groups complete with a show, and a few sunken sofas with sea views and a fusion Japanese menu.
Food at By the Sea is more elaborate and premium and best paired with some of the amazing sake bottles on the list. The food here is meticulously presented in the prettiest compositions and prepared with a lot of attention to detail. There is a small zen garden on each table which you can use to relax even more, as if the island wasn't a good enough antidote for stress and anti-urban rush.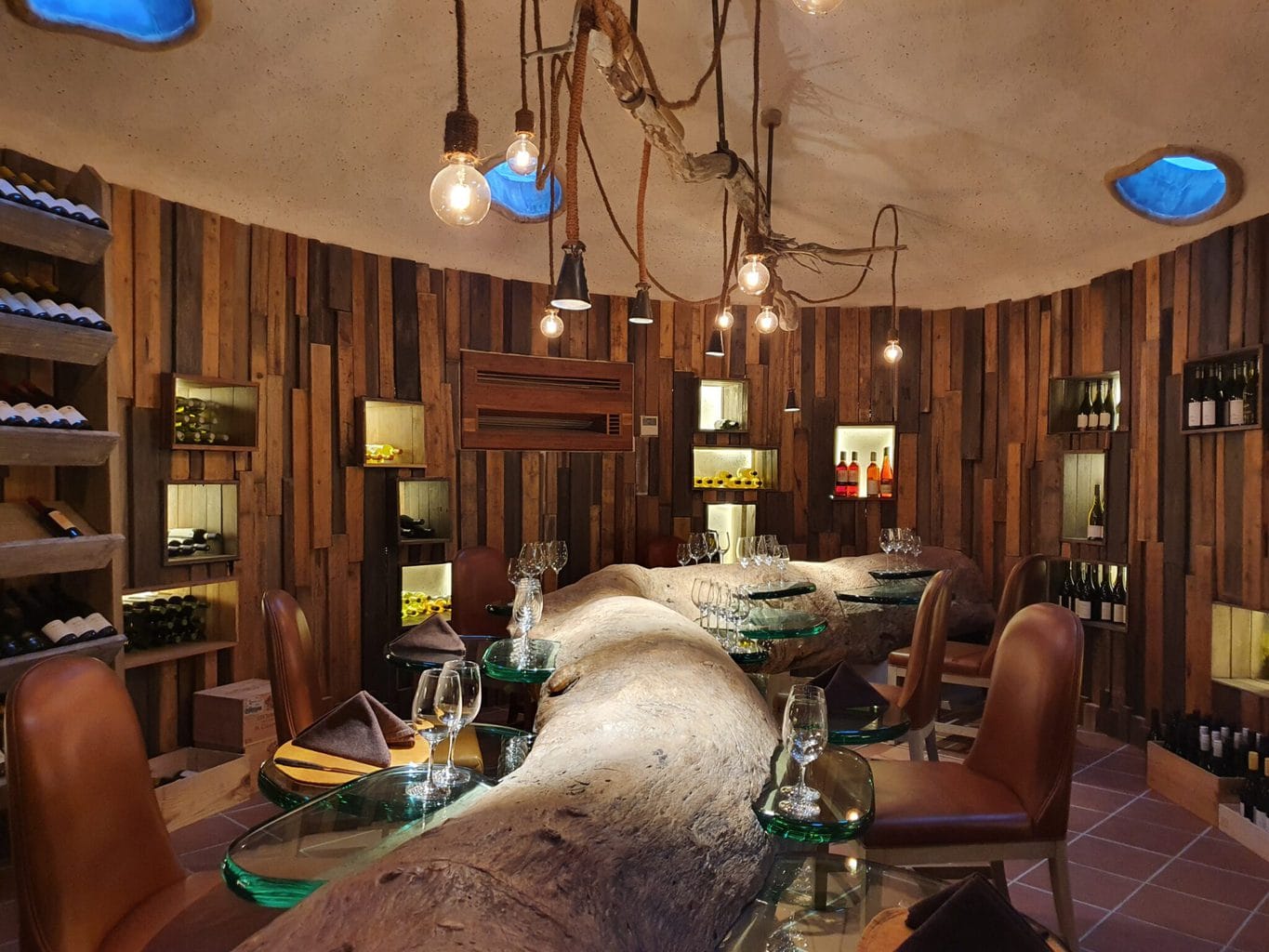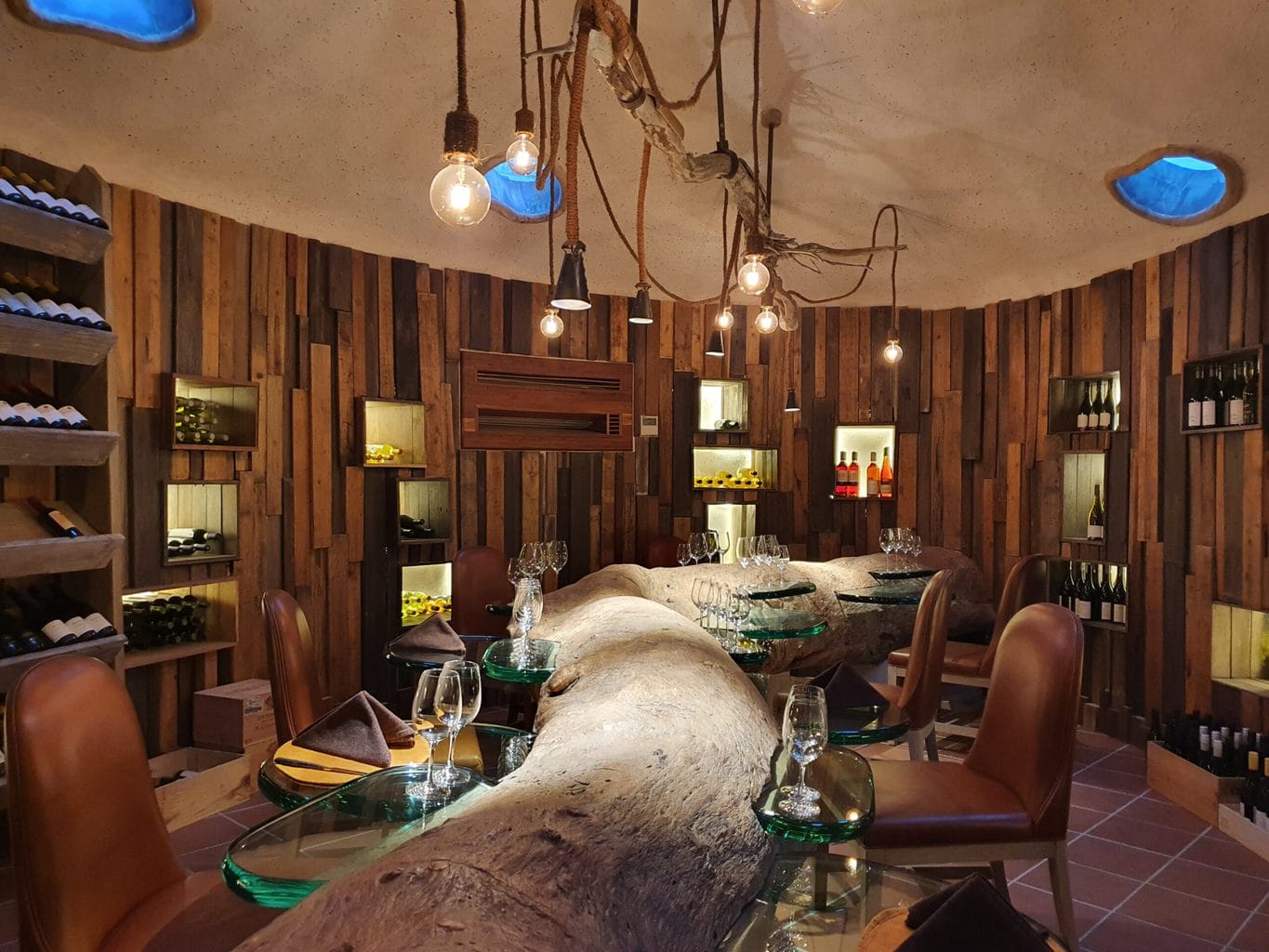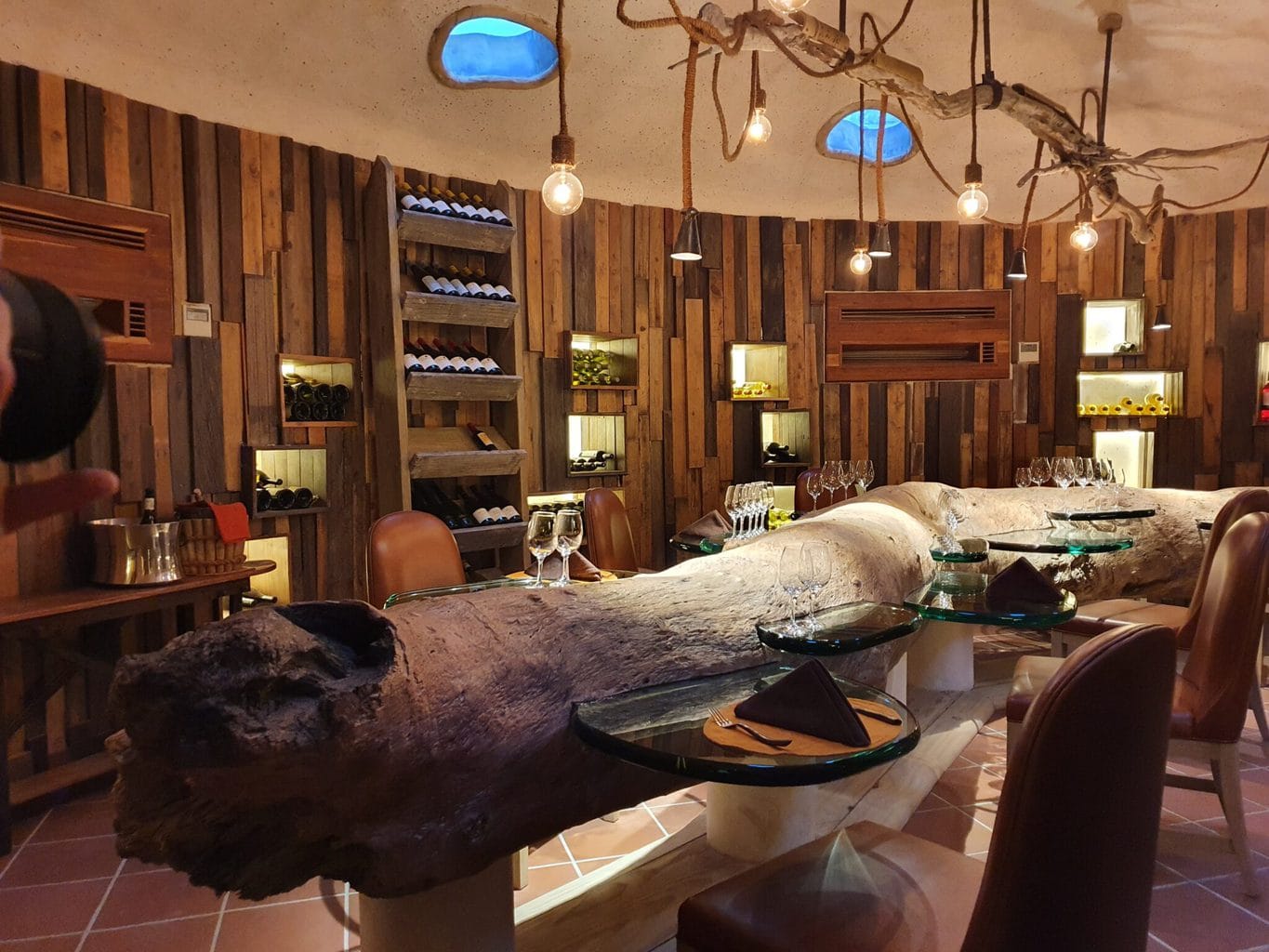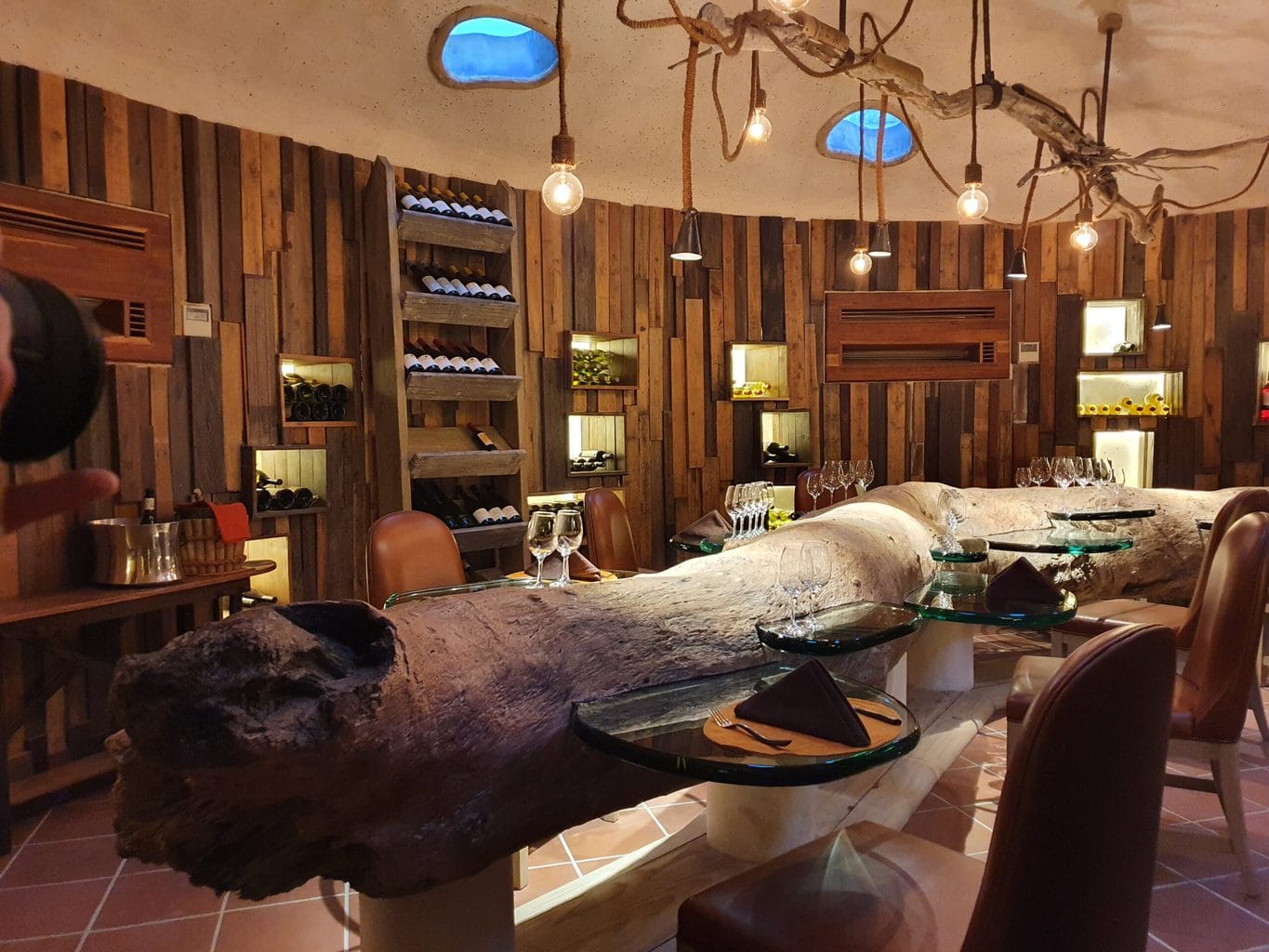 For those who love ice cream, there is also an ice cream shop by the pool called Fini Foni where you can order handmade ice cream flavors.
One of the resorts showstoppers is its underground cellar. Gili is not the only luxury resort in the Maldives with one, I first experienced this extravaganza at the Conrad Rangali, but it is one of the first. There is a separate cellar room as well as a main space for wine pairing dinners or experiences that has recently been renovated.
The center piece of the cellar is a large tree trunk that washed up on the island's shores after the 2004 tsunami and was repurposed as the main table. Since the refresh, the cellar now has its walls covered in wood and a much cosier and warmer feel.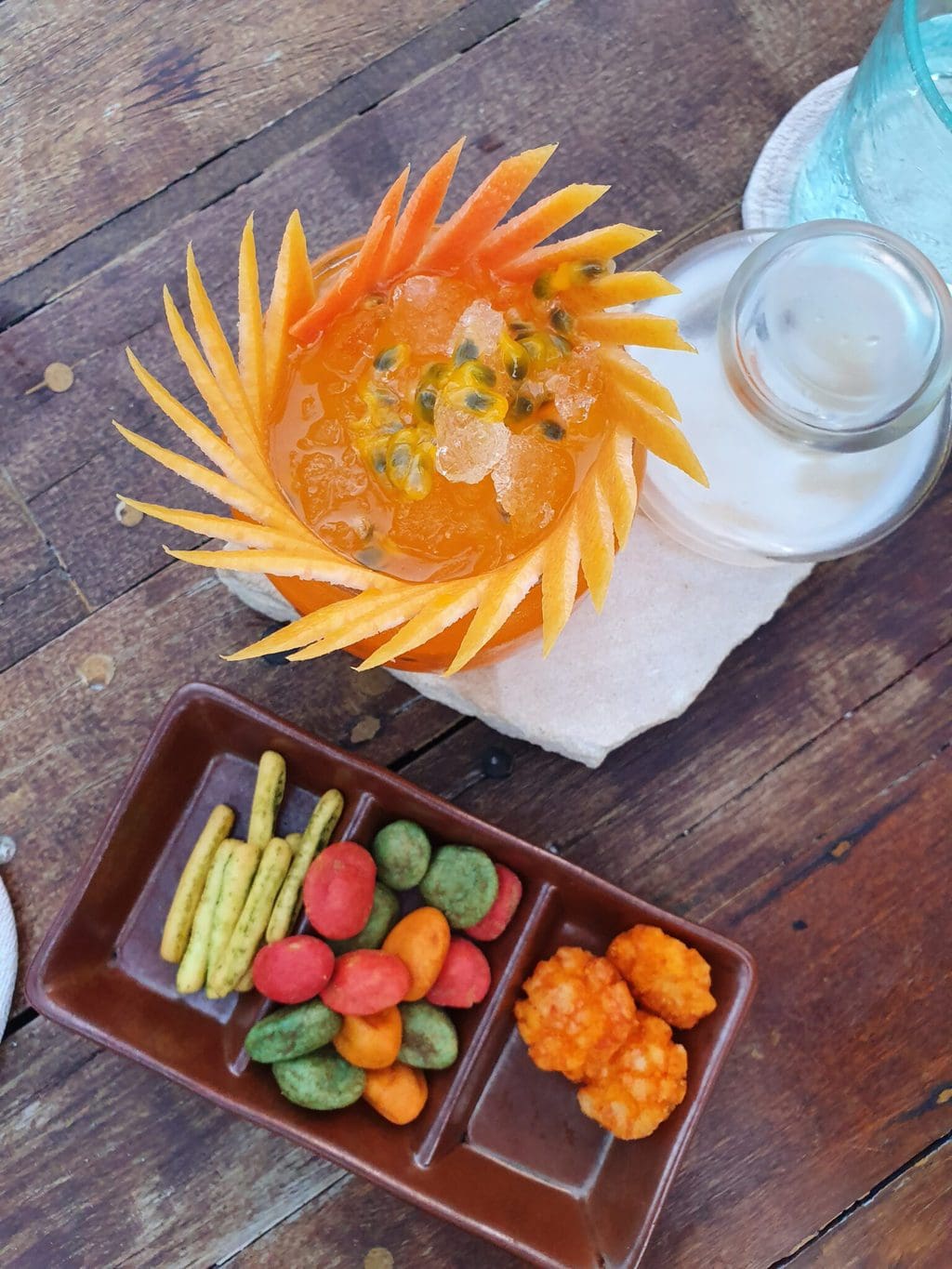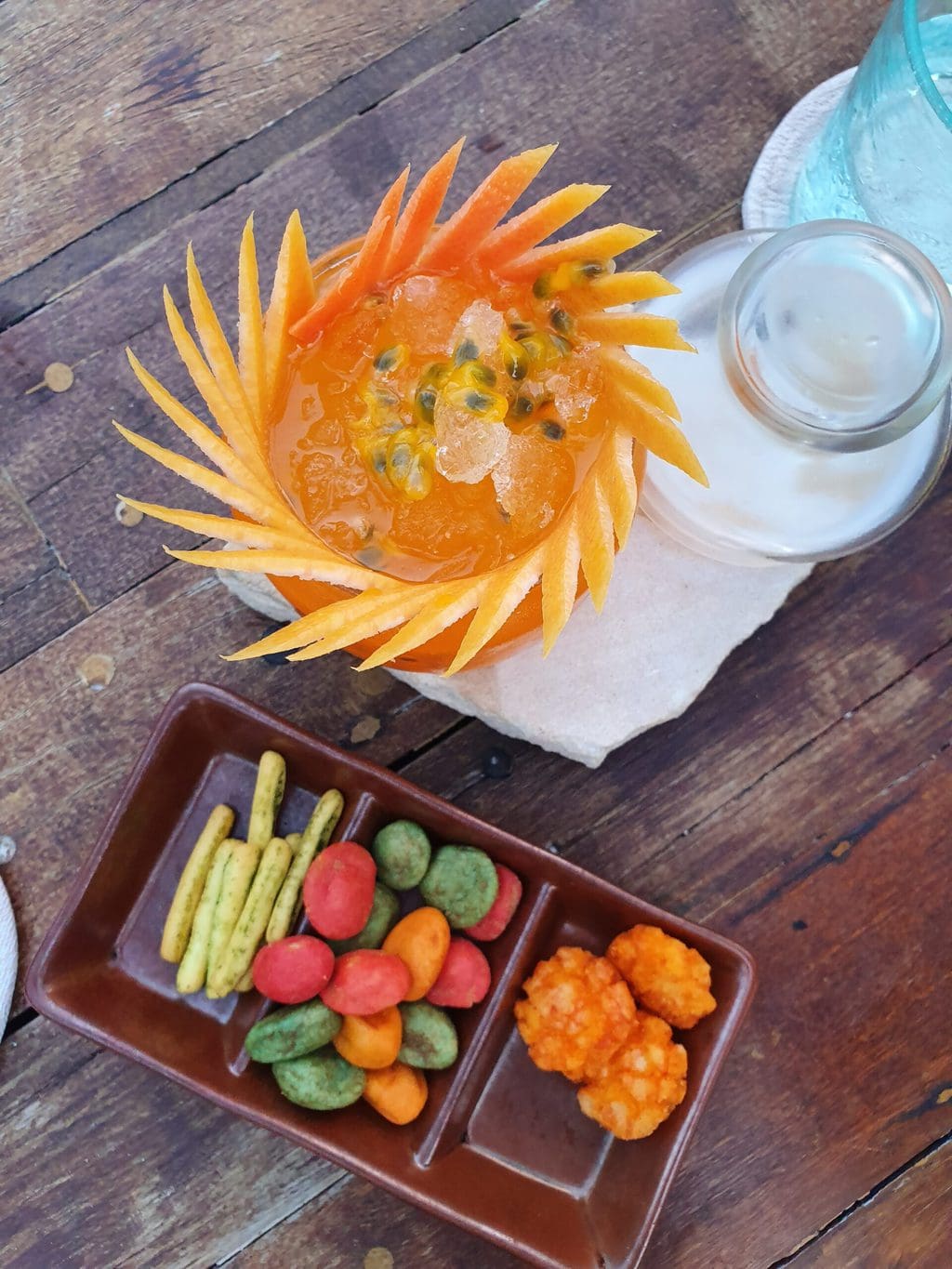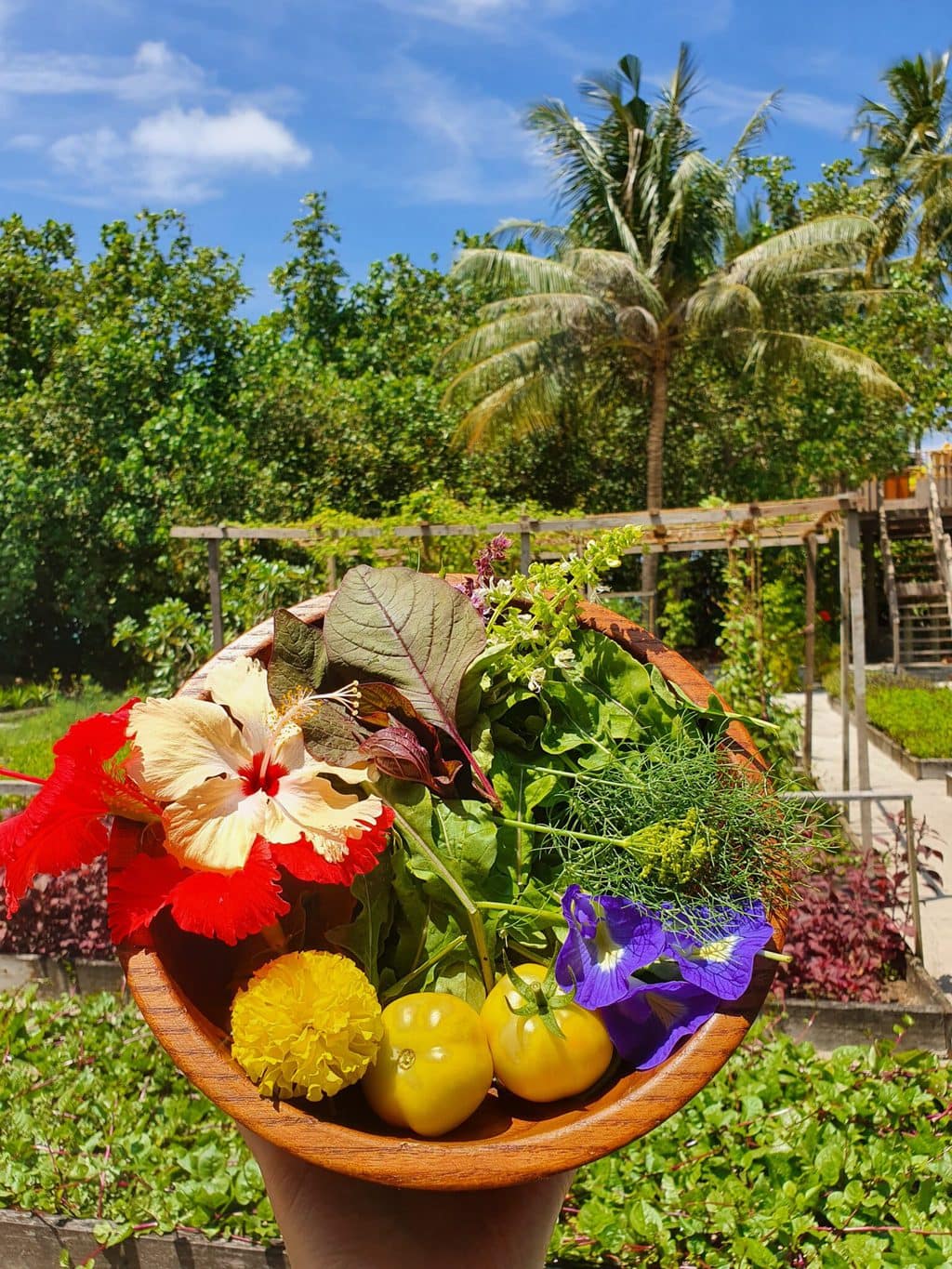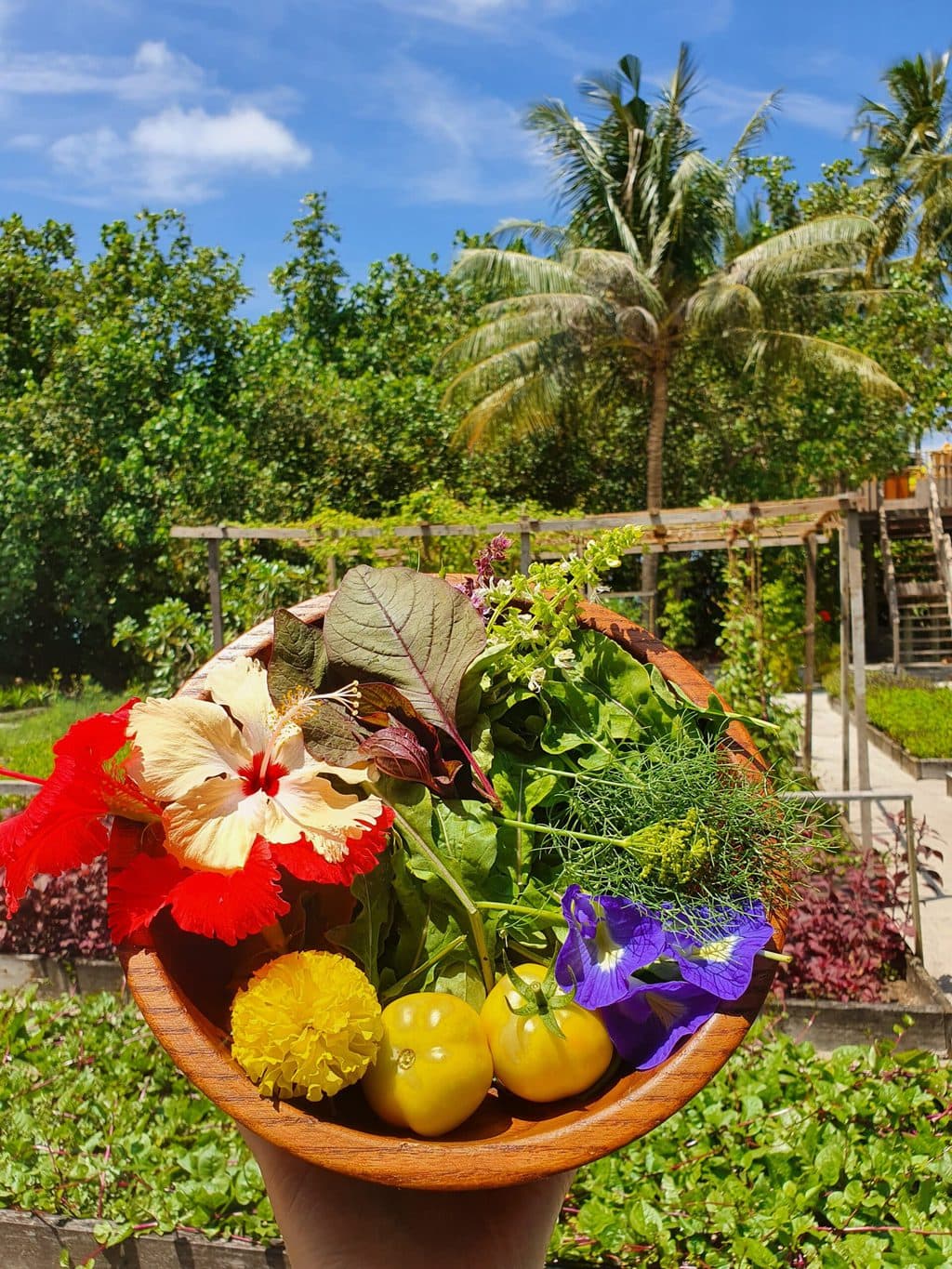 Other resorts in the Maldives like, for example, LUX* South Ari Atoll, have a wider range of restaurants, but Gili prefers to focus on personalised dining experiences instead. These can be designed from one of the many options available or you can even come up with your own.
You can have dinner at 360 Table above the garden, on a secluded patch of beach surrounded by lanterns under the stars, in your villa, in the middle of the organic garden, in the cellar with a sommelier-hosted, wine pairing, or even on a floating platform on the lagoon.
There are private barbecues on One Palm Island or picnics on the sandbank. You can even enjoy your private dinner and movie at the Jungle Cinema. If you can think it, it can be done by the great food and beverage team.
Other dining experiences include chocolate and wine pairings, cheese and wine pairing or the fabulous Gili Tasting Journey which includes five drinks with canapés at five spots in the resort as you take in the sunset (ideal on your first night so you can see all the various dining spots available).
This was a great experience and, as we made our way through the resort by the hands of some of its best food and beverage managers, we discovered all the hidden destination dining locations while sipping on the best drinks with fantastic small bites. We started with champagne and ice cream by the beach and ended with Gili's signature drink made with pink dragon fruit.
I enjoyed Gili's approach to dining as it was different and unique and meant that every meal was an event and an opportunity to celebrate, akin to what a real holiday should look like for food lovers. Gili definitely takes dining to a whole new level.
The facilities at Gili Lankanfushi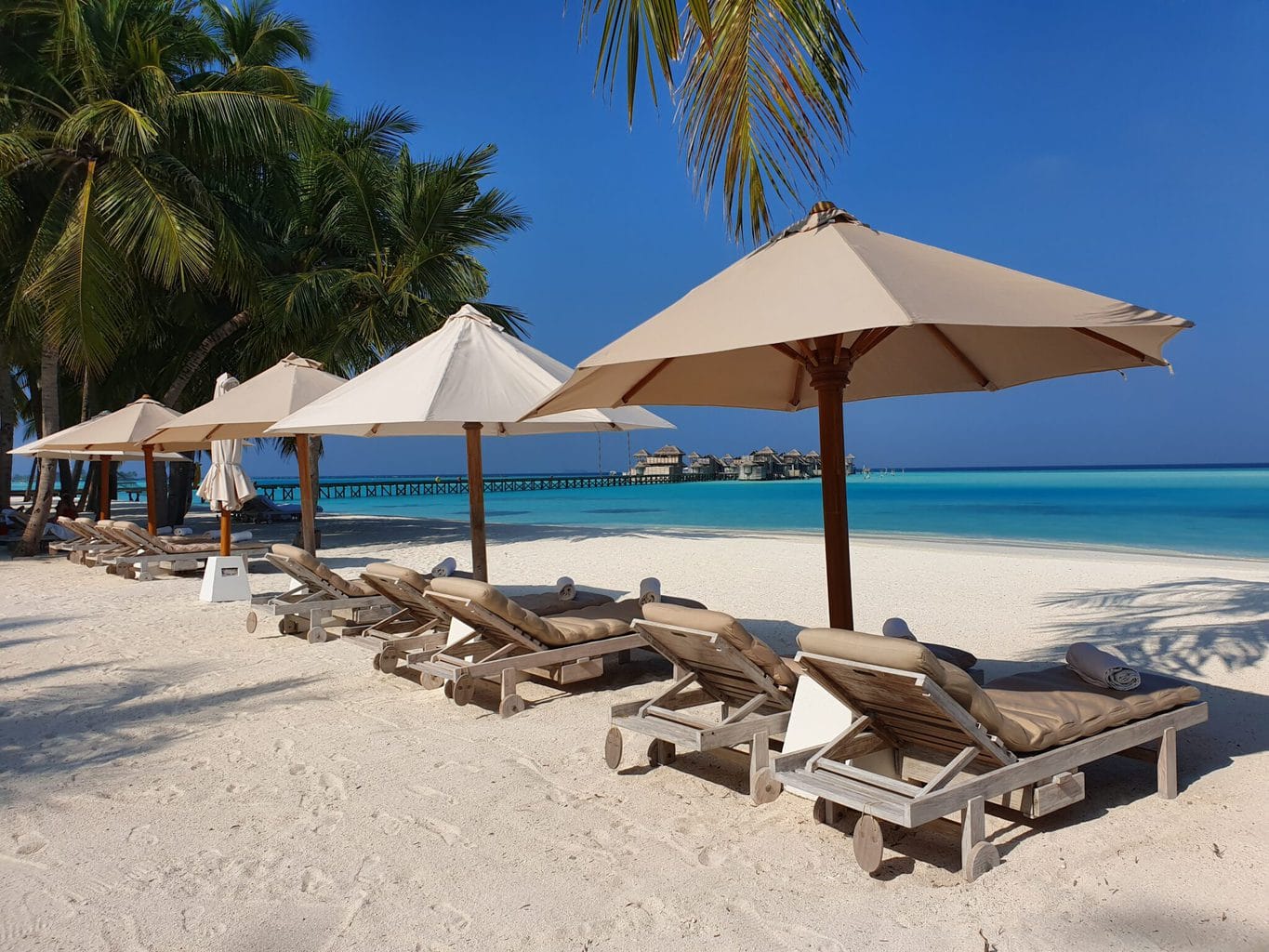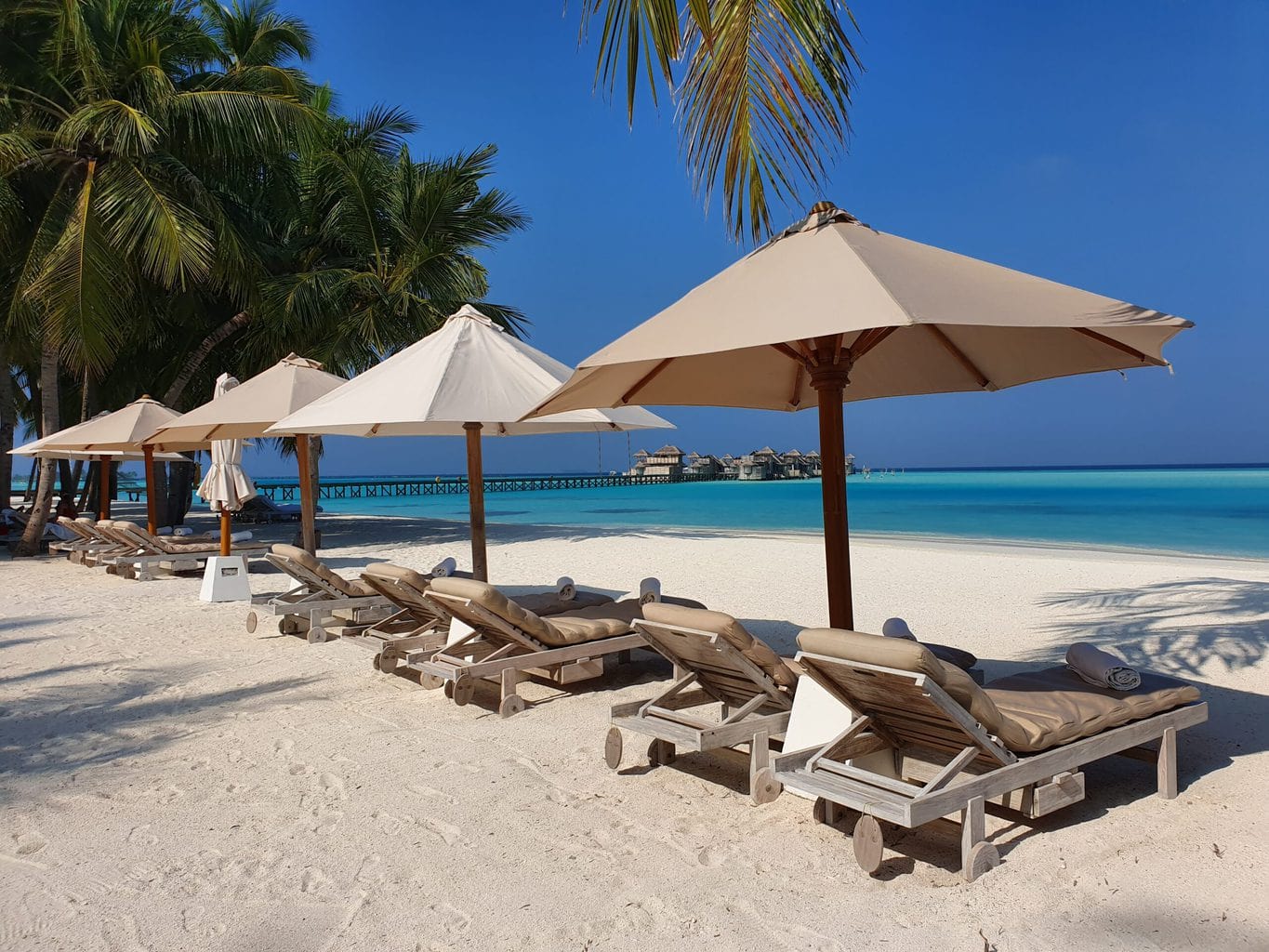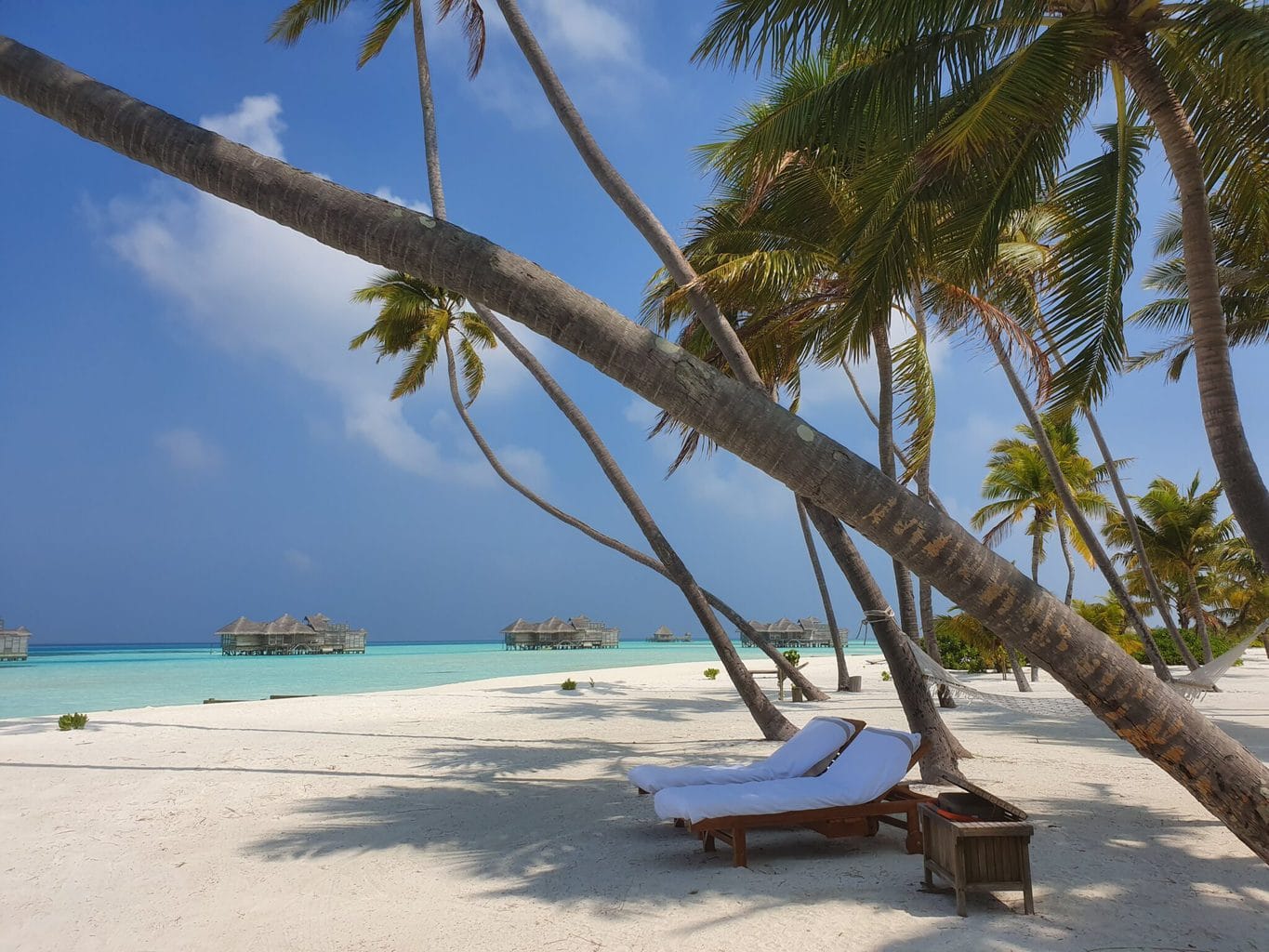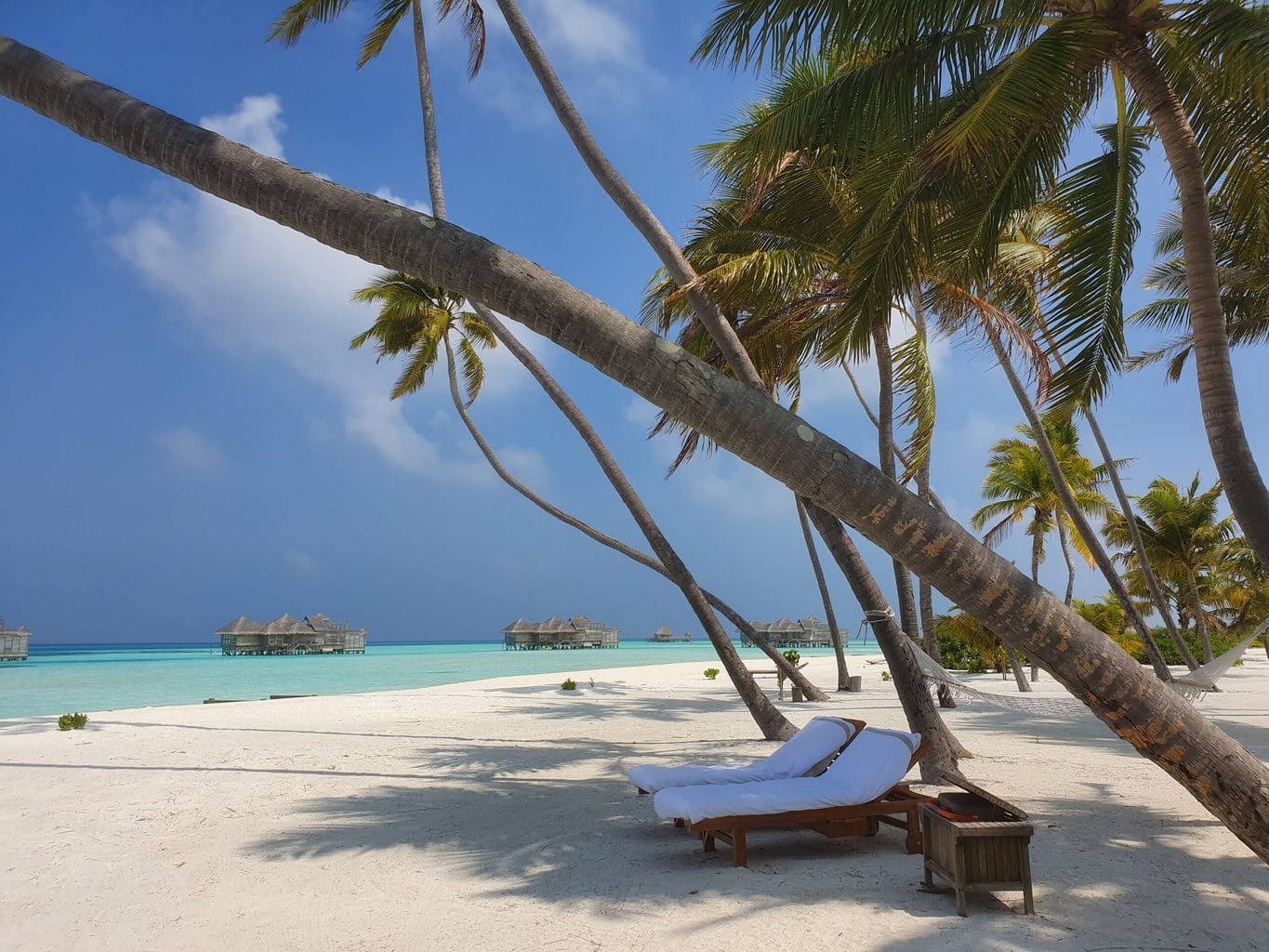 Gili is located on the island of the same name and has a good size to get around on your bikes while also being able to walk without needing half an hour to get to places. The bamboo bikes, in dusty pink for women, are a great way to get around and if you don't want to walk, you can call on your Mr/Ms Friday to come get you on the buggy.
It is unlikely that you will spend much time at the common areas of the resort, simply because your villa is so spacious and divine that leaving it is a challenge. But if you do, you can peruse some of the resort's facilities like the shared pool, right on the beach.
Since the refresh, some of the Gili Lankanfushi villas have their own pools, but the the main pool continues to be a destination for kids and for those who want to be on the sandy beach. It is also right by the ice cream parlor and that is a big bonus. Otherwise, the lagoon is shallow and inviting so it might just be enough.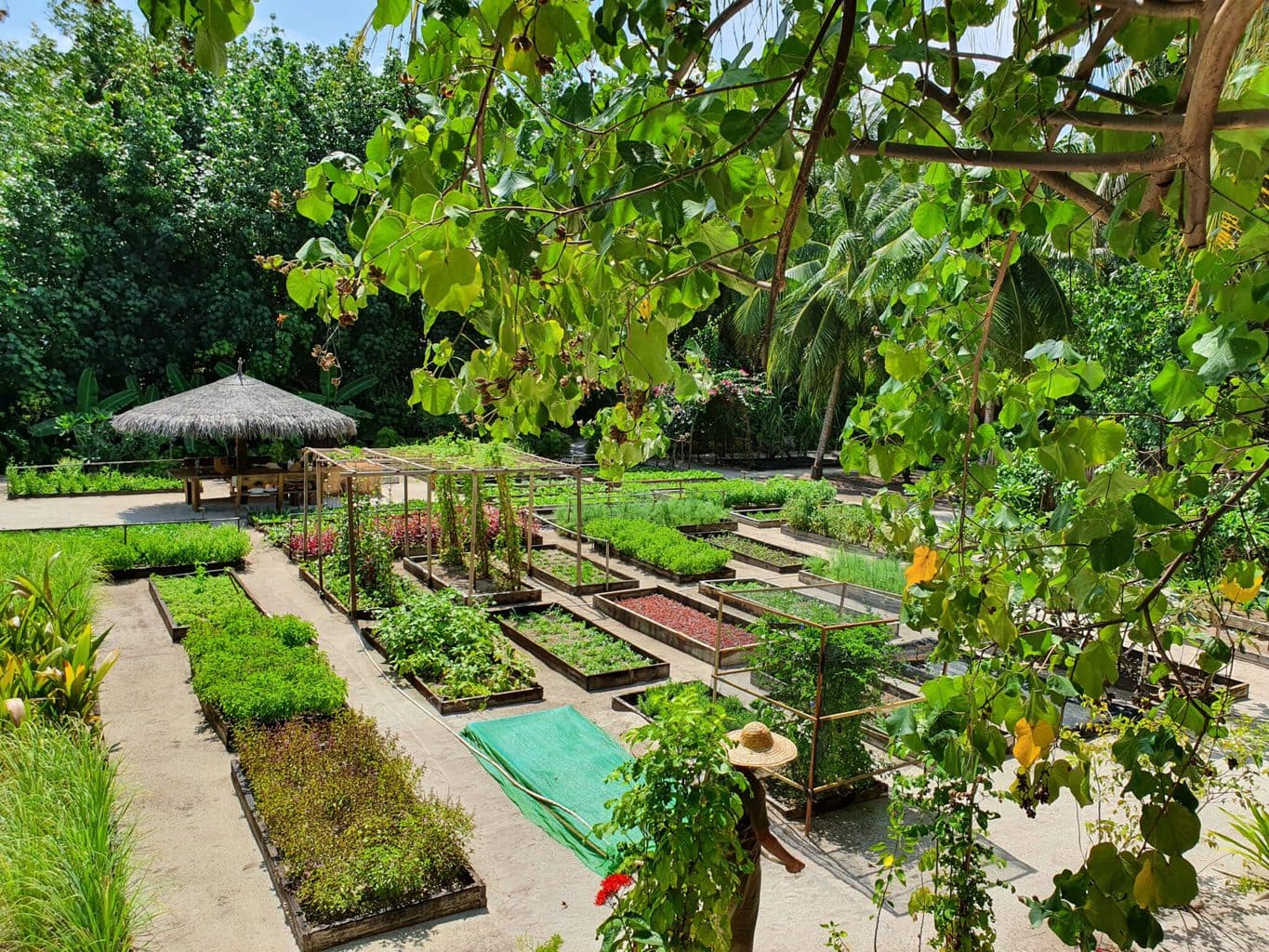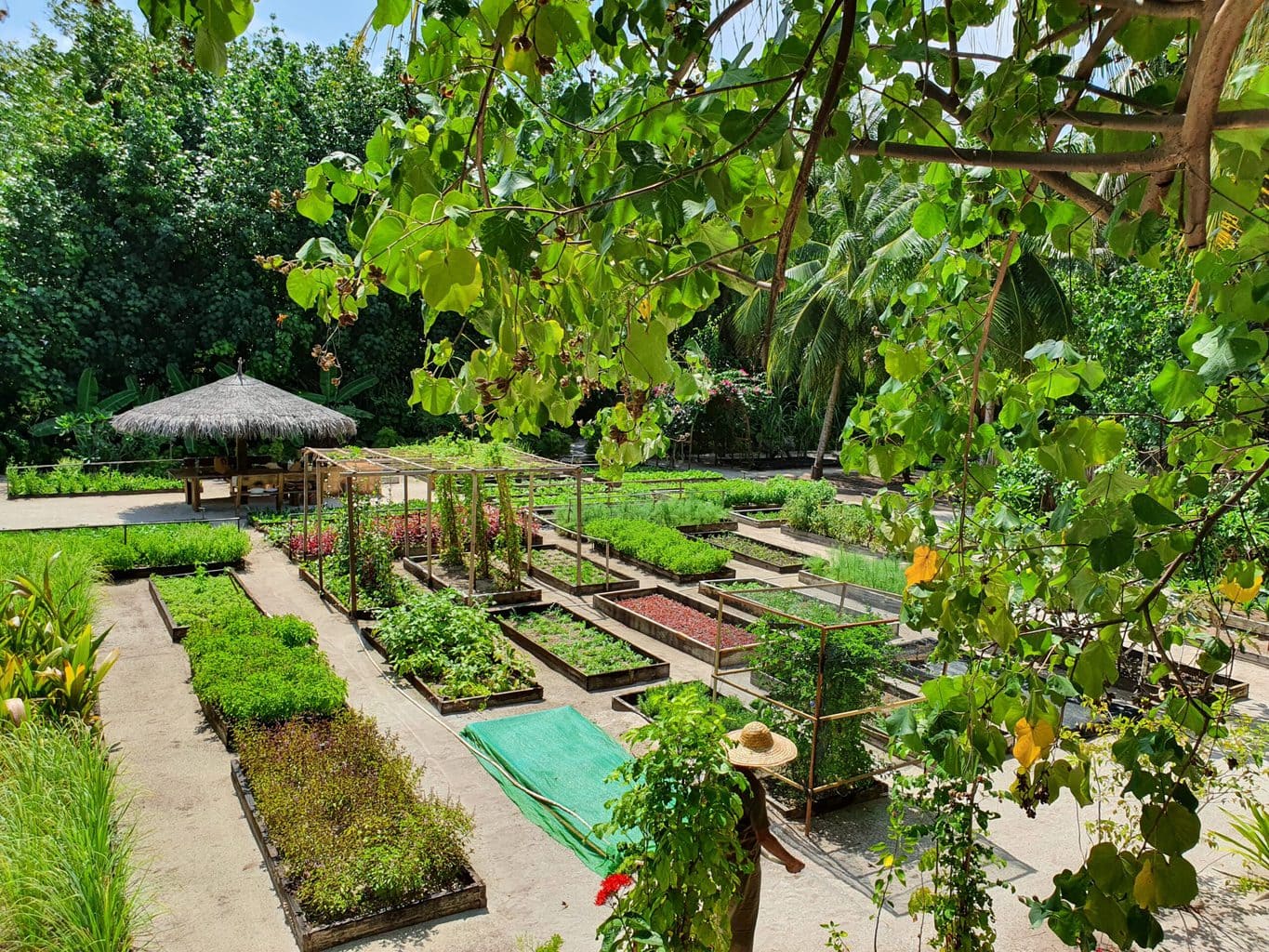 It is precisely the lagoon where you will find Gili's main playground. This is one of the largest lagoons in the Maldives and serves as the resort's main activity area. You can read the next section with information about all the activities you can do there.
Gili also has its own organic garden, set in the middle of the island, where a lot of the herbs and greens you will be eating are grown.
Those with a need for exercise, the gym has nice views over the jungle and there is also a surf shack to book surf lessons and a marine center to learn more about aquatic life. Yoga lessons are complimentary every morning at the beach yoga champa and you can book private sessions too.
A personal trainer and in-house tennis coach is at hand for any exercise routine and Gili always has visiting wellness experts that offer specific and often alternative treatments and sessions.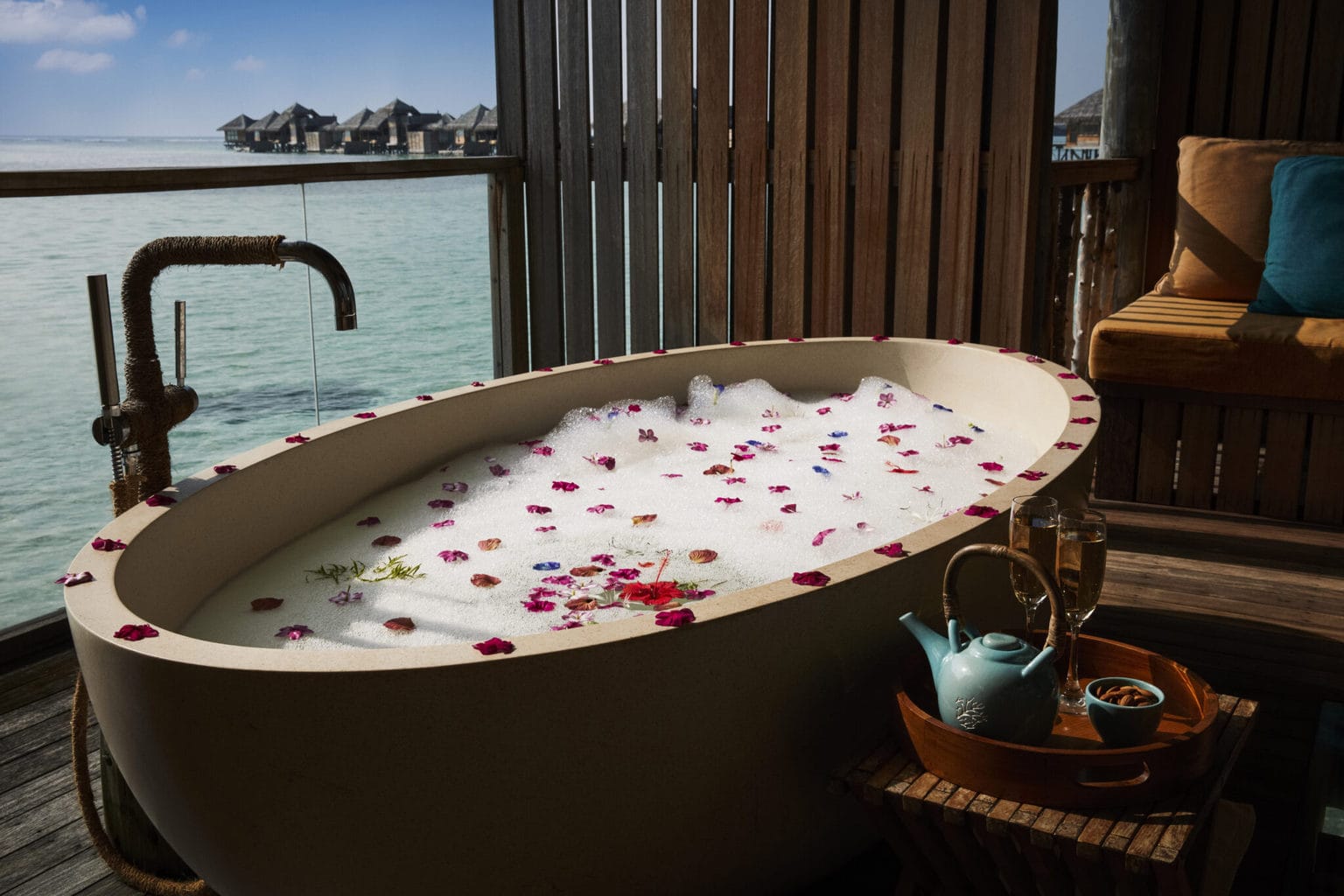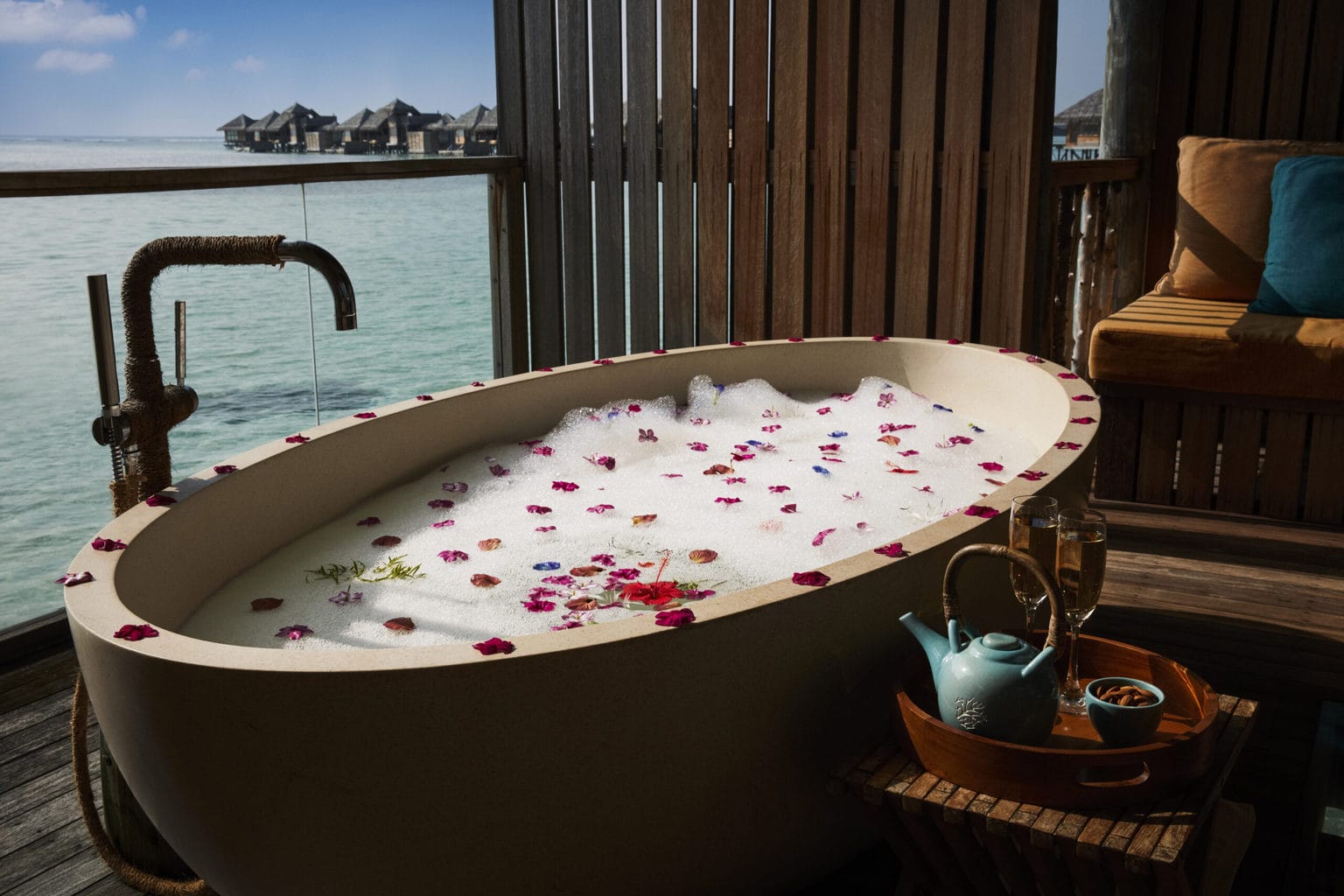 If it rains, you can always enjoy a game of pool or duck into the Meera Spa which has its own separate overwater cabanas. The second floor relaxation area is enough to get you in the right frame of mind.
The Library has some books you can borrow during your stay, or leave to pay it forward.
One of the most romantic facilities at Gili Lankanfushi is the Jungle Cinema where movies are shown two nights a week. You can sit back on a comfy chair, toes in the sand with the background sounds of the jungle and watch some classic movies. Complimentary popcorn is provided.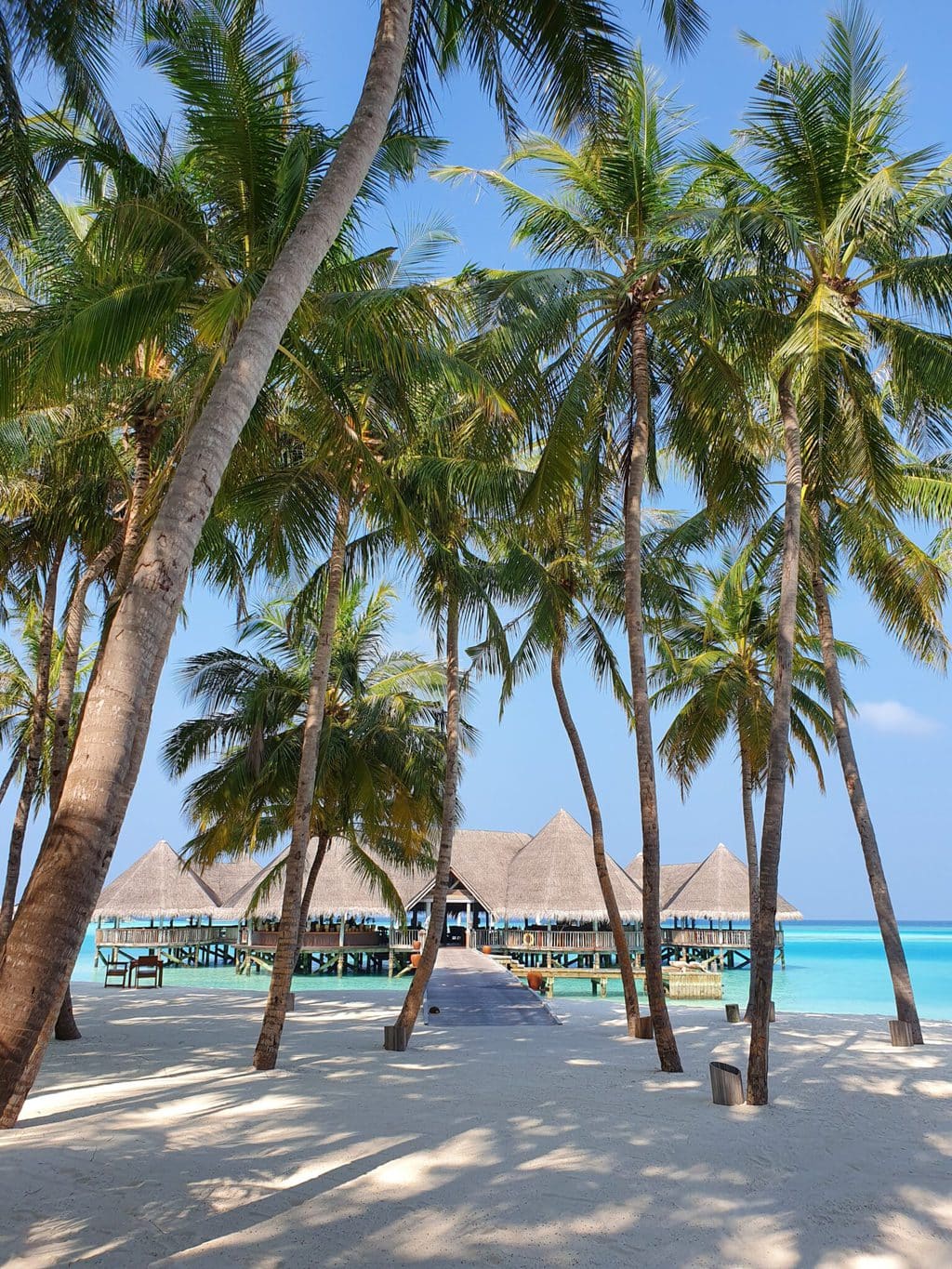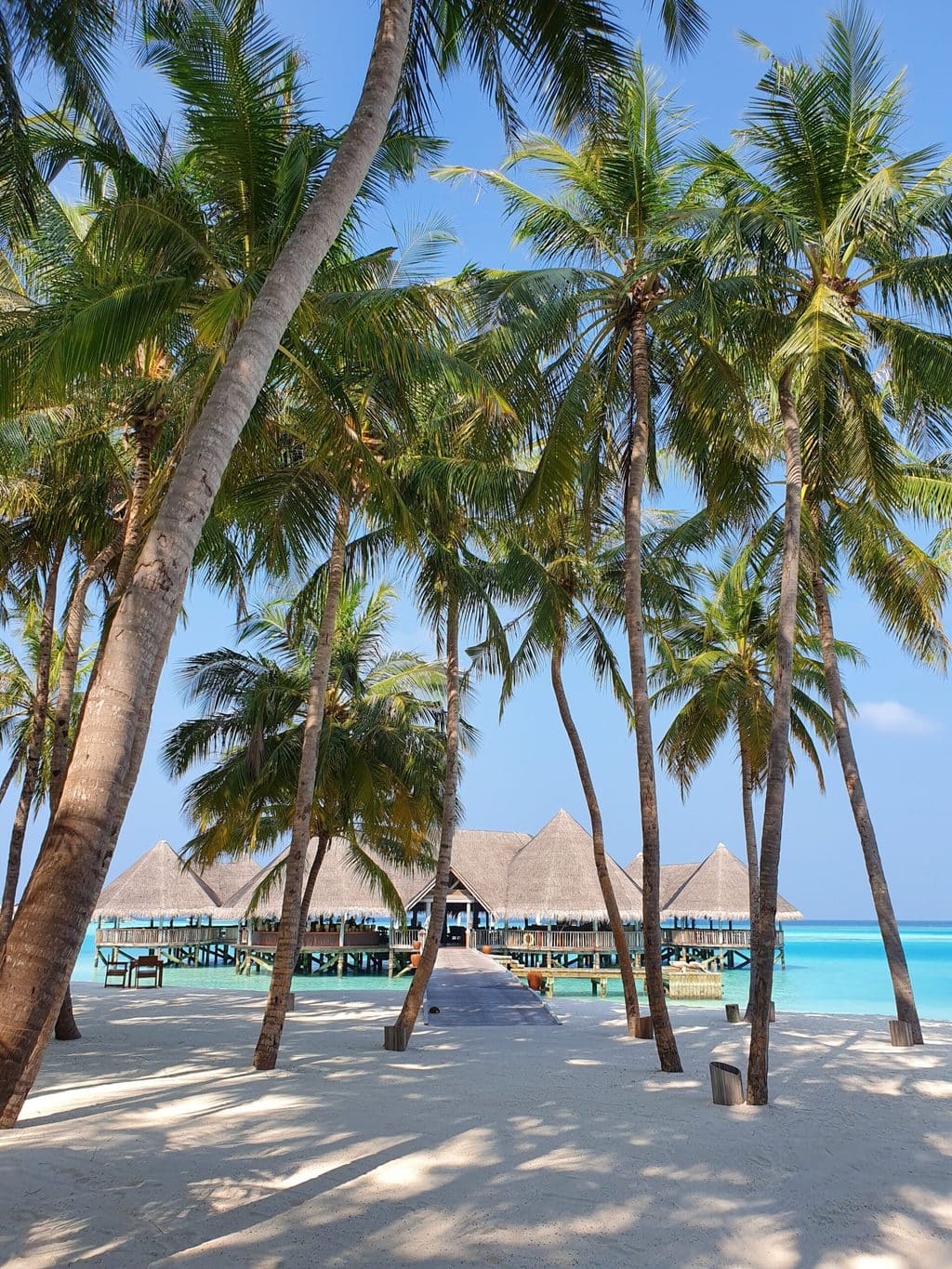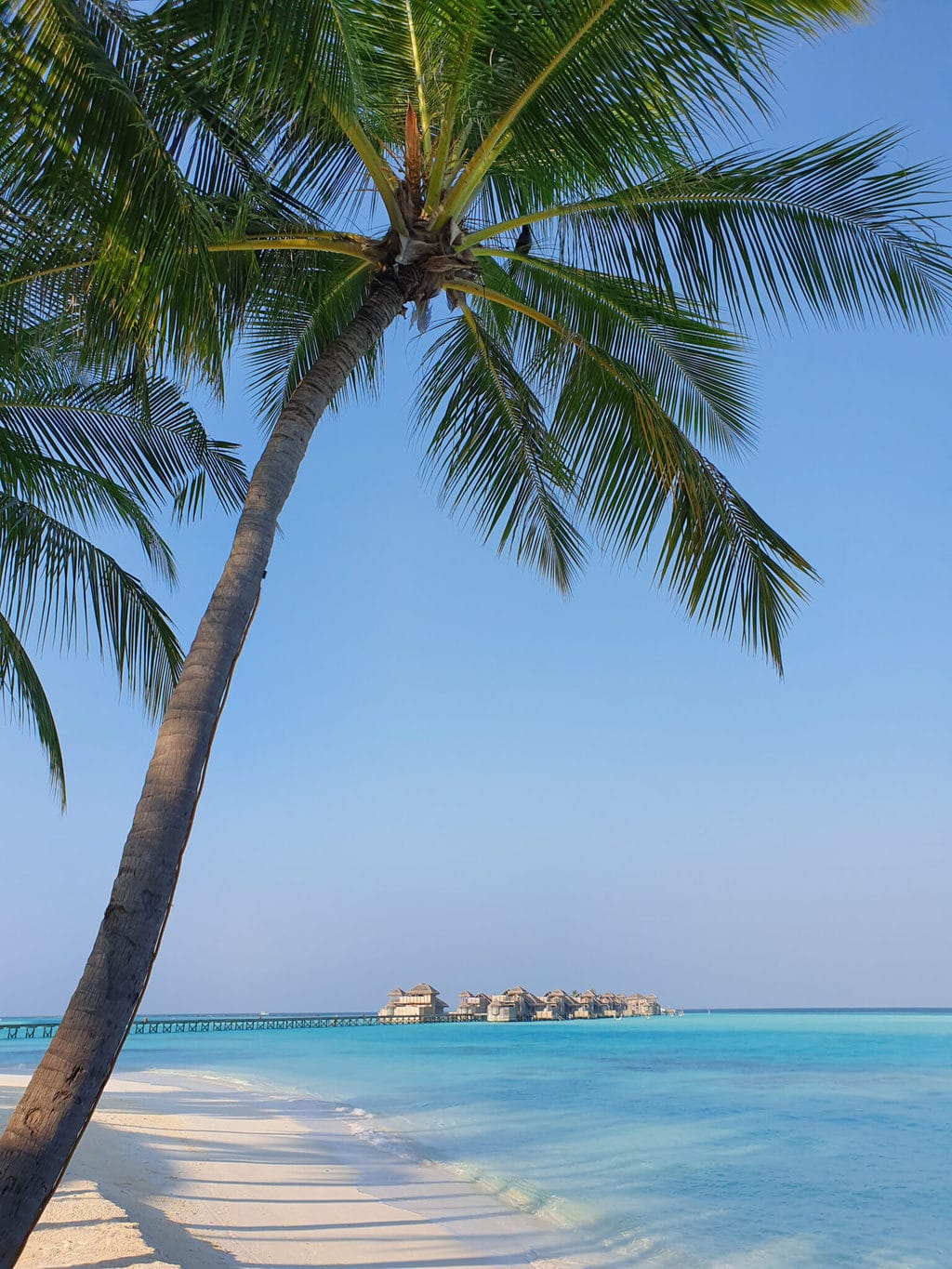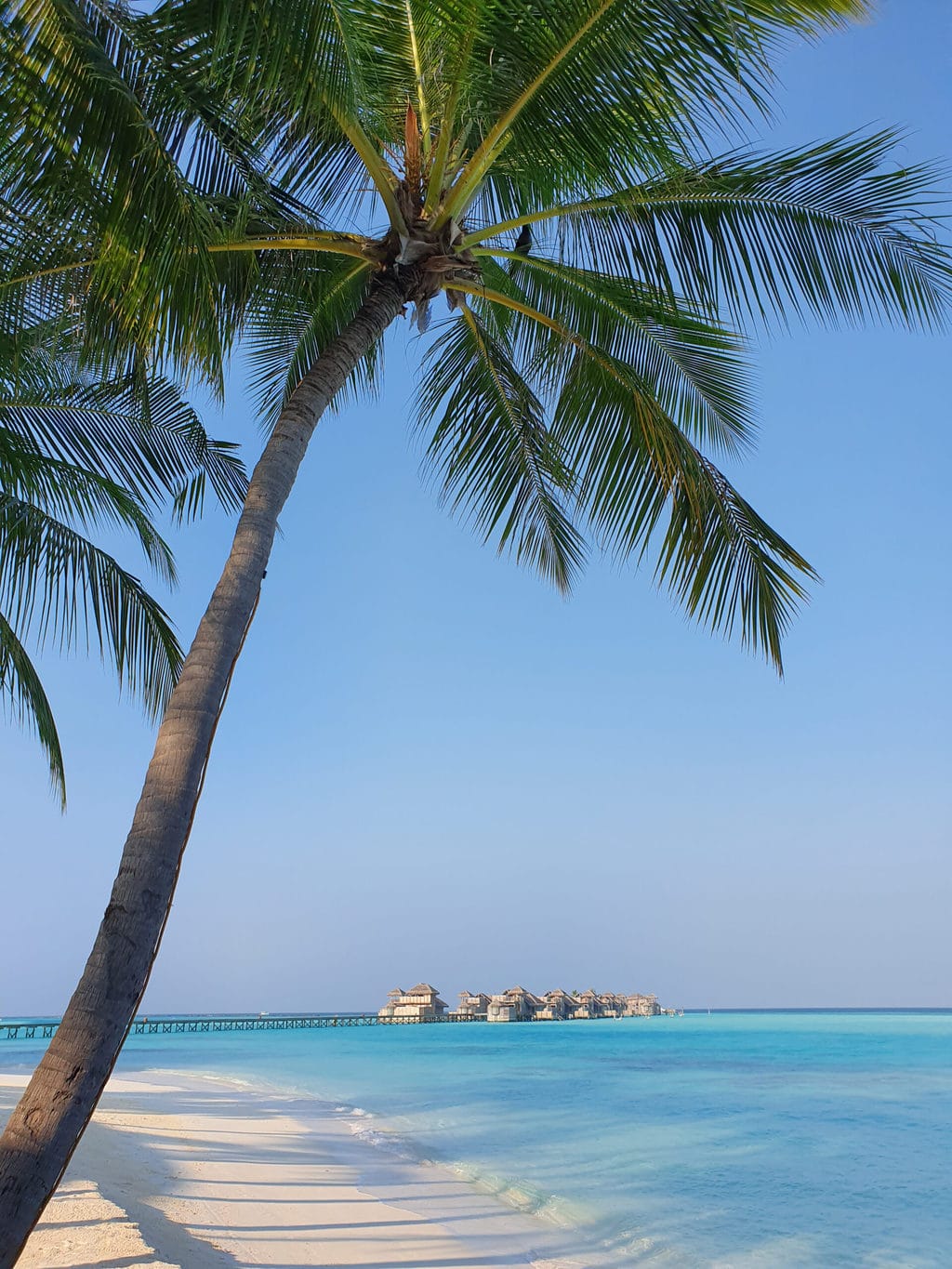 The resort's marine shack is not only a place to come to for excursions but also a learning and research center where talks are given and you can learn more about the local marine life.
Gili offers two complimentary snorkelling sessions a week for guests where the resort's marine biologist will first explain more about corals and the marine life found in the Maldives and around the resort and you will then get in the water to see for yourself.
The resort's house reef is set in the lagoon and there is a drop point in the outer reef you can get to on a couple of minutes boat ride or, if you are a good swimmer, on your own. It is common to see sharks, sting rays, turtles and lots of tropical fish there.
In season, Gili has a manta point nearby where these gentle animals come to clean themselves and you can get up close with them on a snorkelling trip.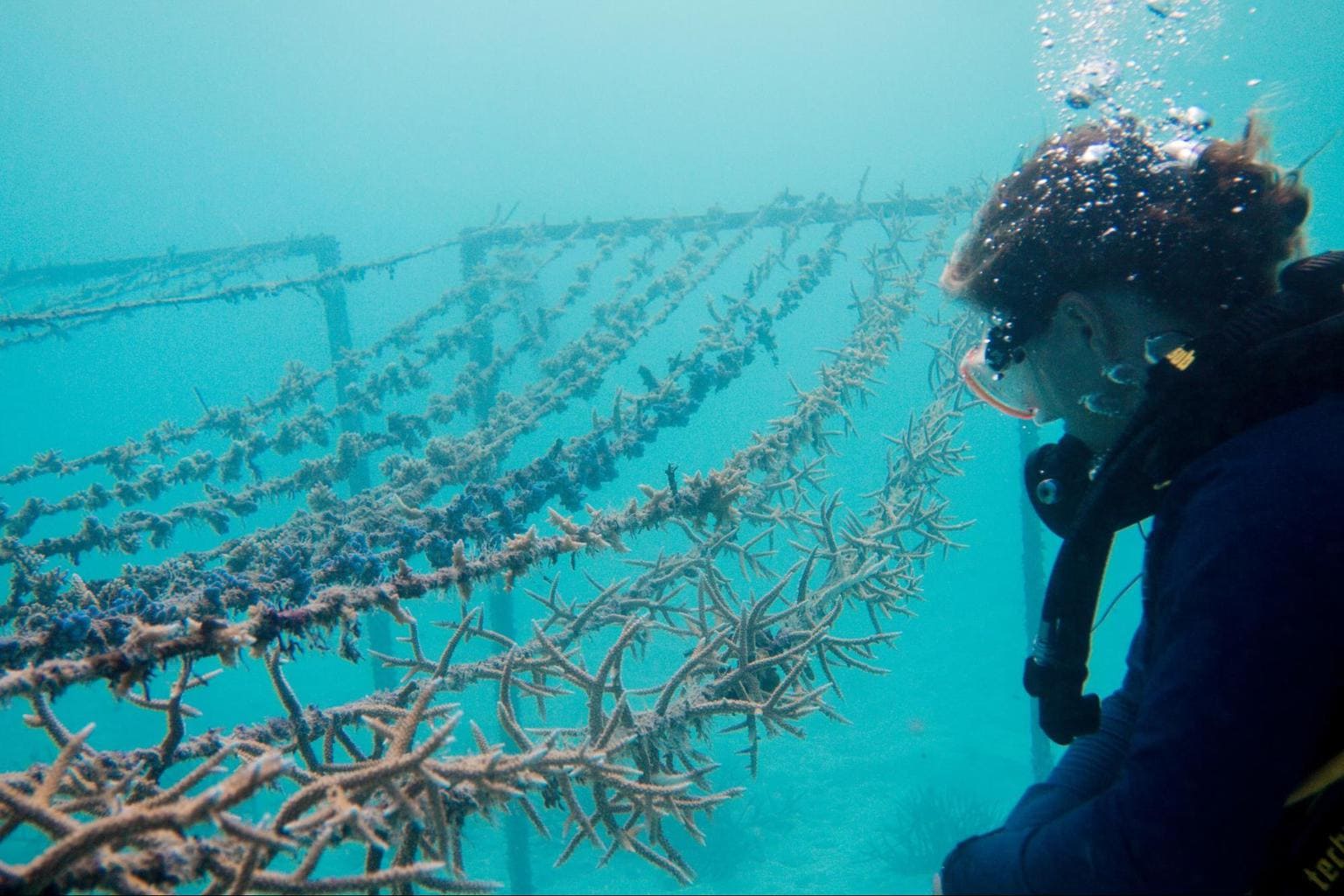 Gili Lankanfushi was the first resort in the Maldives to start a coral nursery back in 2014 and its coral replanting efforts have paid off with dozens of coral lines successfully replanted back.
The resort's research efforts, especially into coral growth and restoration following the 2016 coral bleaching event, are encouraging. The resort's closure during the refresh also accelerated growth and restoration of the marine life around the resort.
Guests who wish to contribute can adopt a coral line and receive follow up information with details on how their line grows from the moment it is planted at the resort's line until it is moved to its final location. Repeat guests can also go visit their line.
The coral nursery is within the resort's lagoon and you can see it while snorkelling. If you want to get down and close you will have to be a good free diver or you can join the team with scuba diving gear.
Things to do at Gili Lankanfushi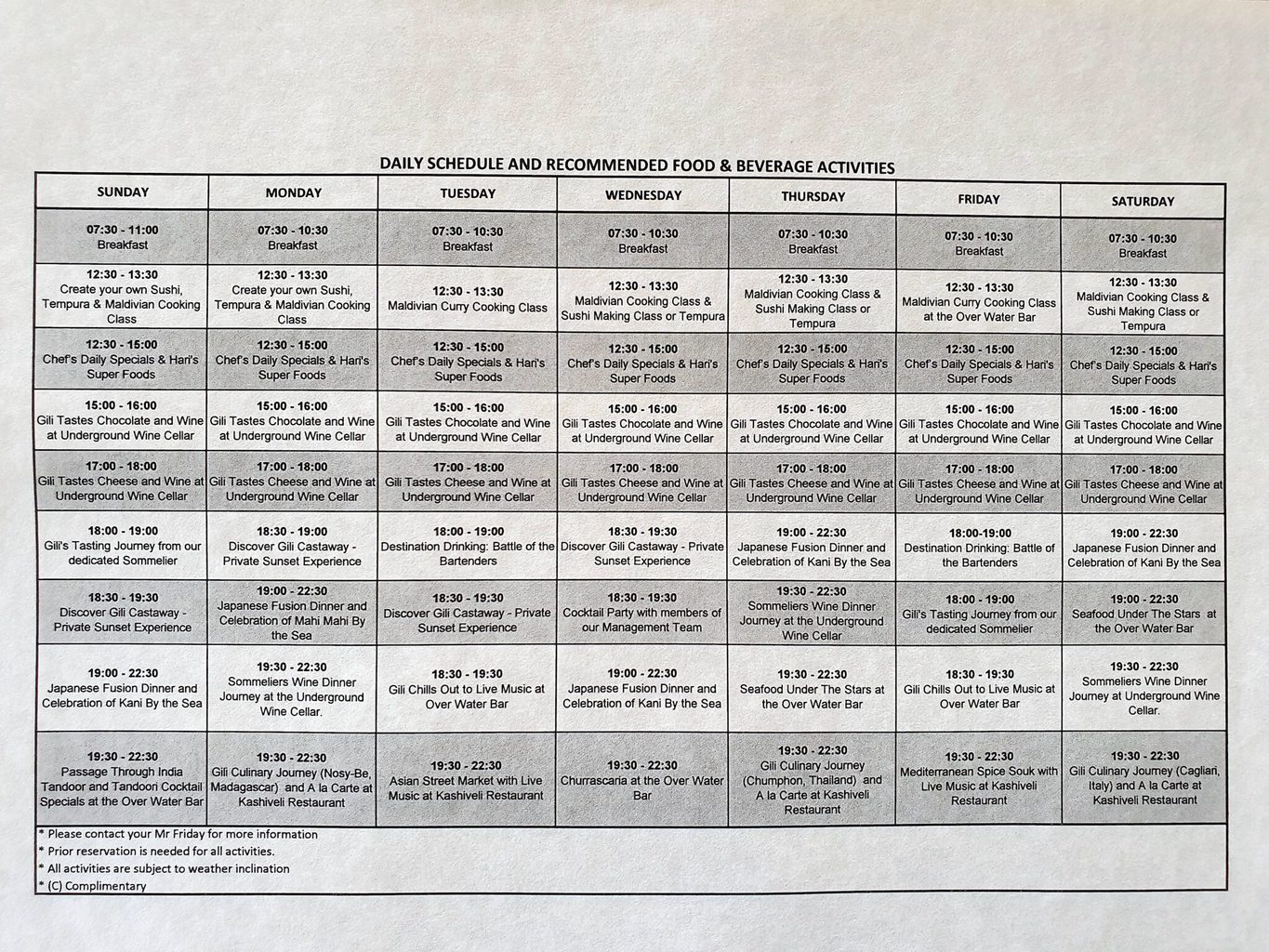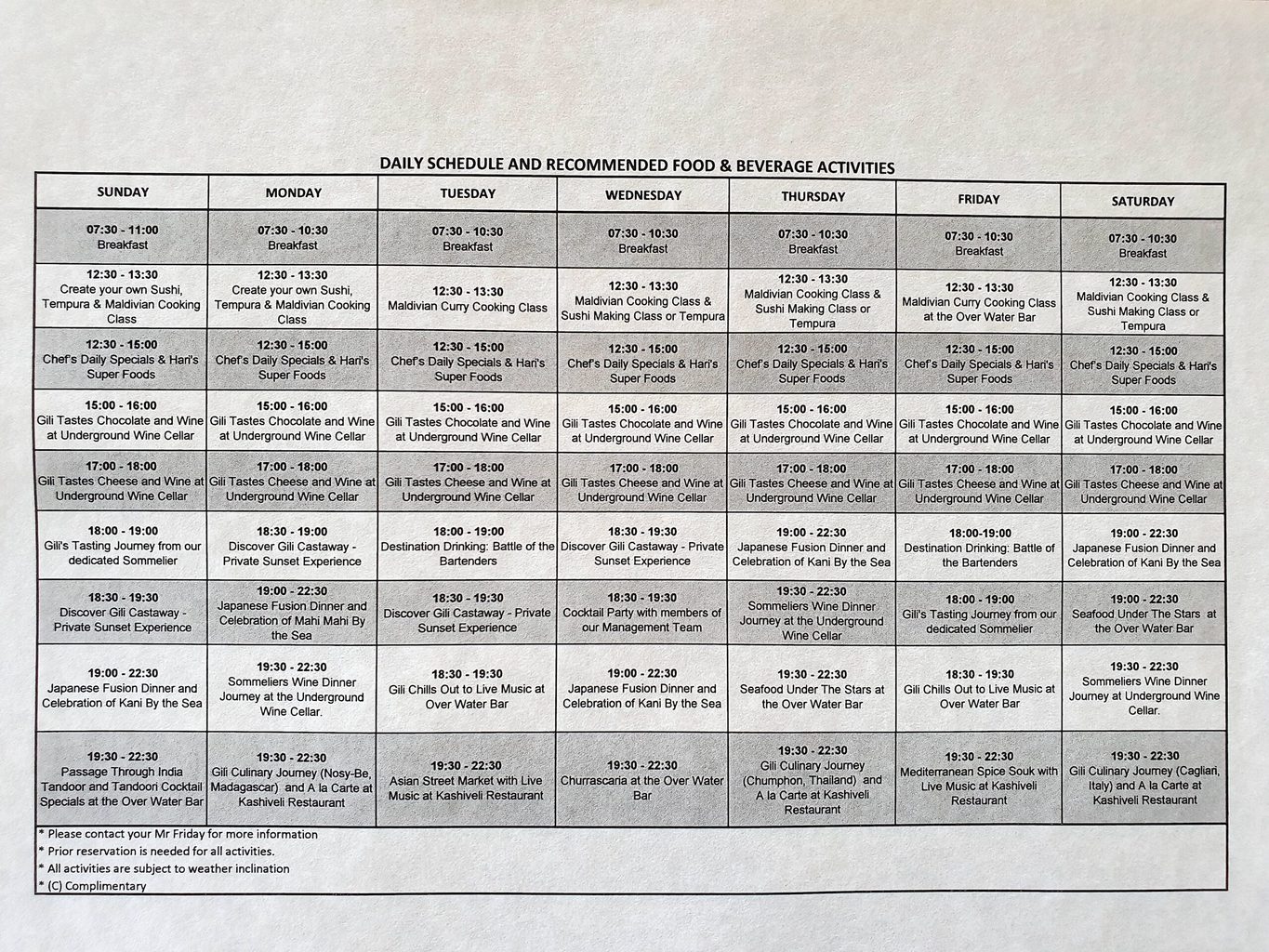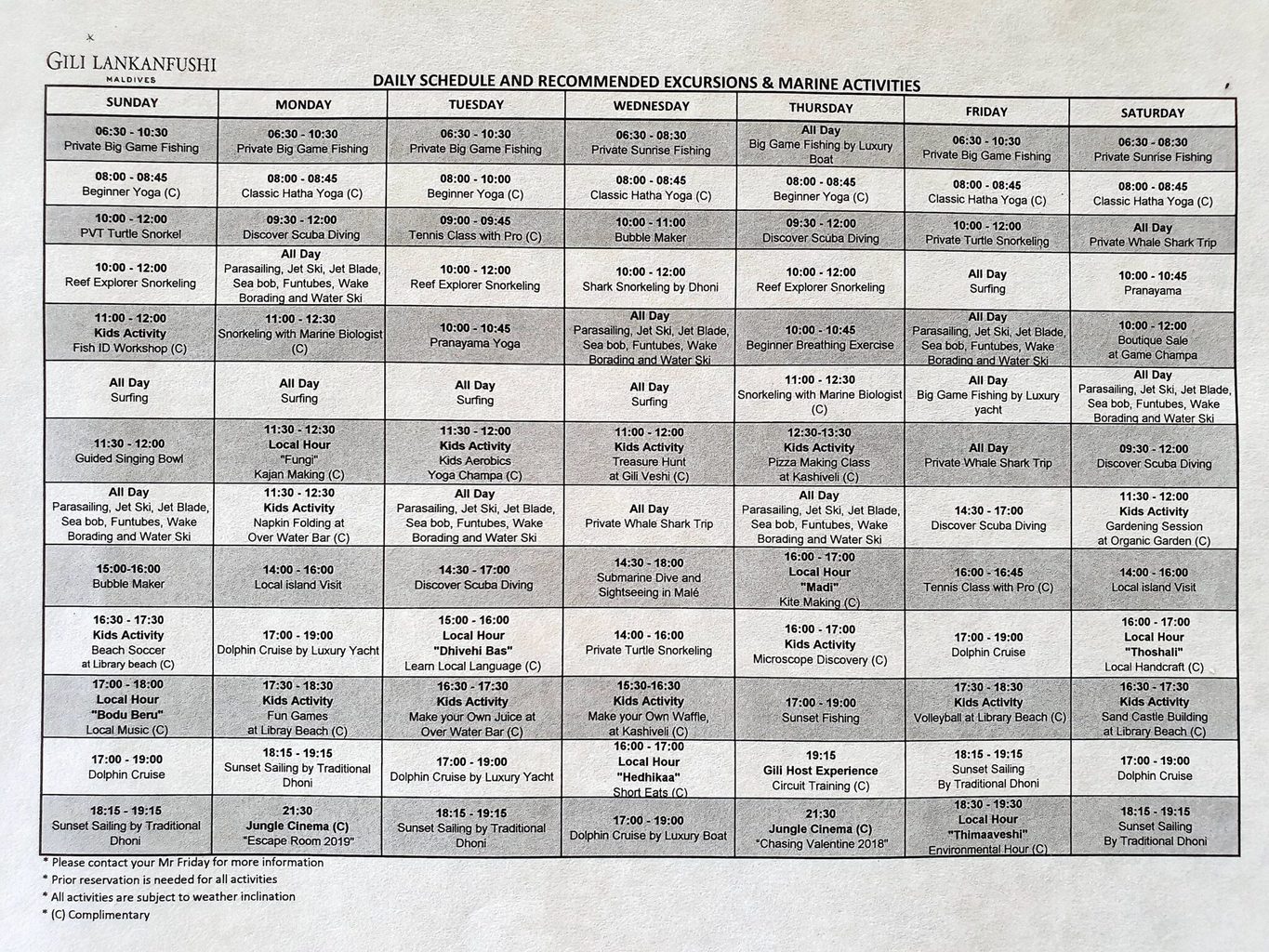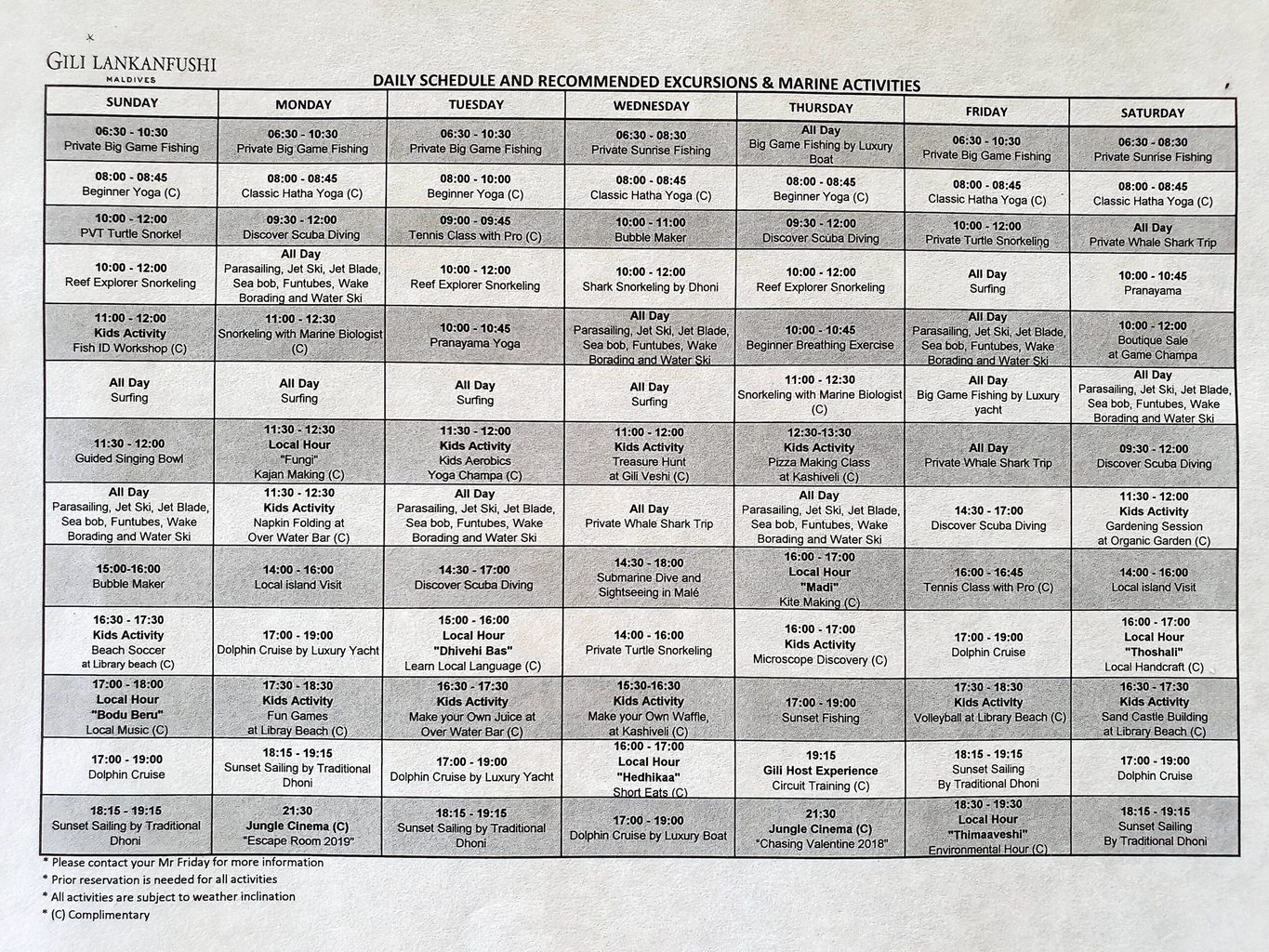 Many people ask if I ever get bored in the Maldives, and the reality is that there is a lot to do at pretty much every resort. But if you prefer, there is also nothing you need to do at all, it all depends on how active you want your vacation to be.
Gili is quite an active resort if you want it to be. The lagoon gives you the chance to enjoy lots of water sports and activities in the peace and quiet, and the outer reefs and the proximity to lots of dive sites and surfing spots add an extra layer of action.
All the usual Maldives suspects are available.
You can borrow stand-up paddle boards, kayaks to get to One Palm Island or the few hammocks in the ocean. You can snorkel right from your outdoor verandah and look for the friendly marine life. You will surely find baby reef sharks, octopuses or rays or you can just cycle around the island on your bamboo bikes.
If you don't dive but came to the Maldives for the great snorkelling the island provides, the lagoon may not be enough but a short boat ride will drop you at the outer reef where you can snorkel to your heart's content and find some of the larger marine animals.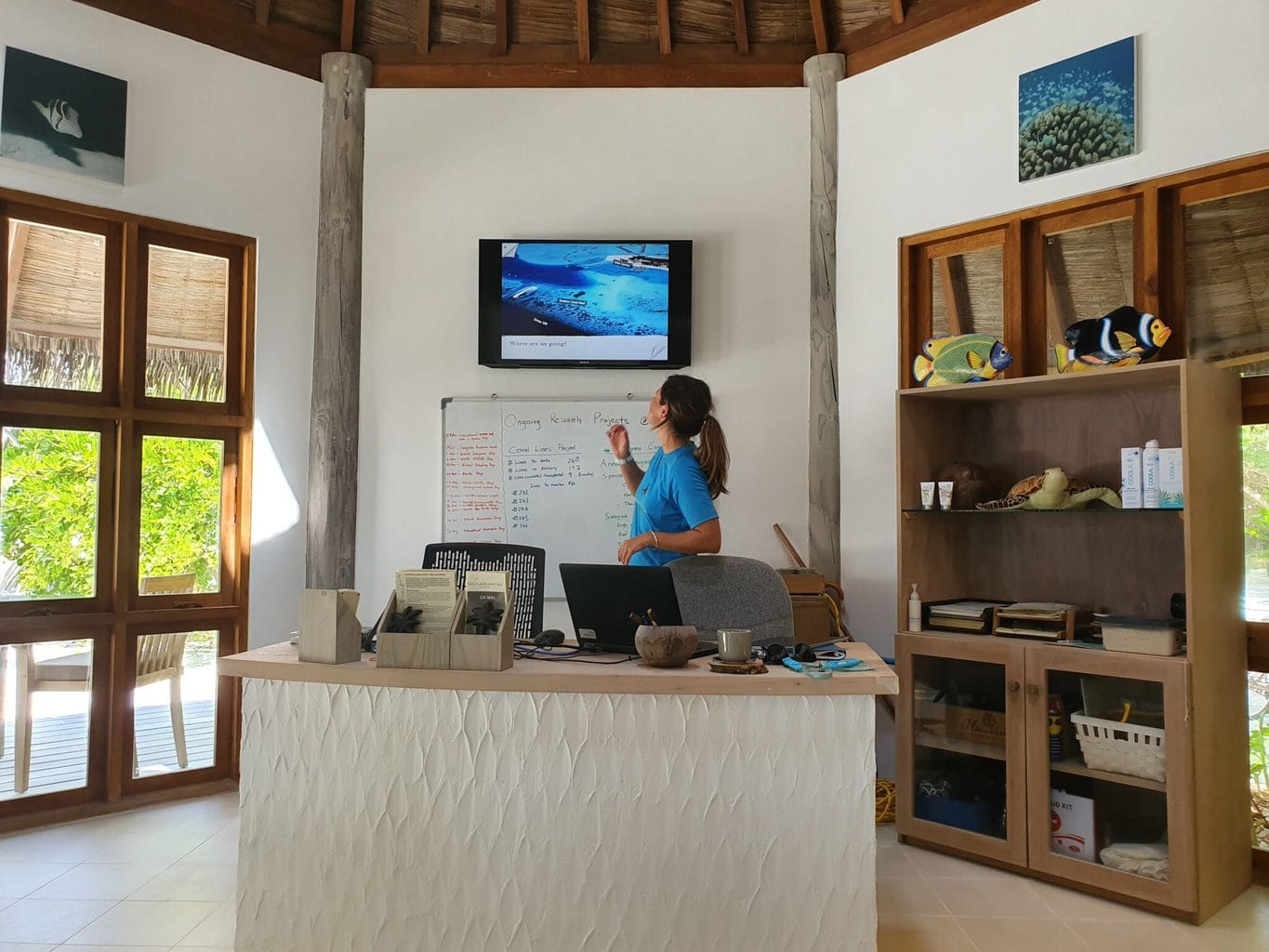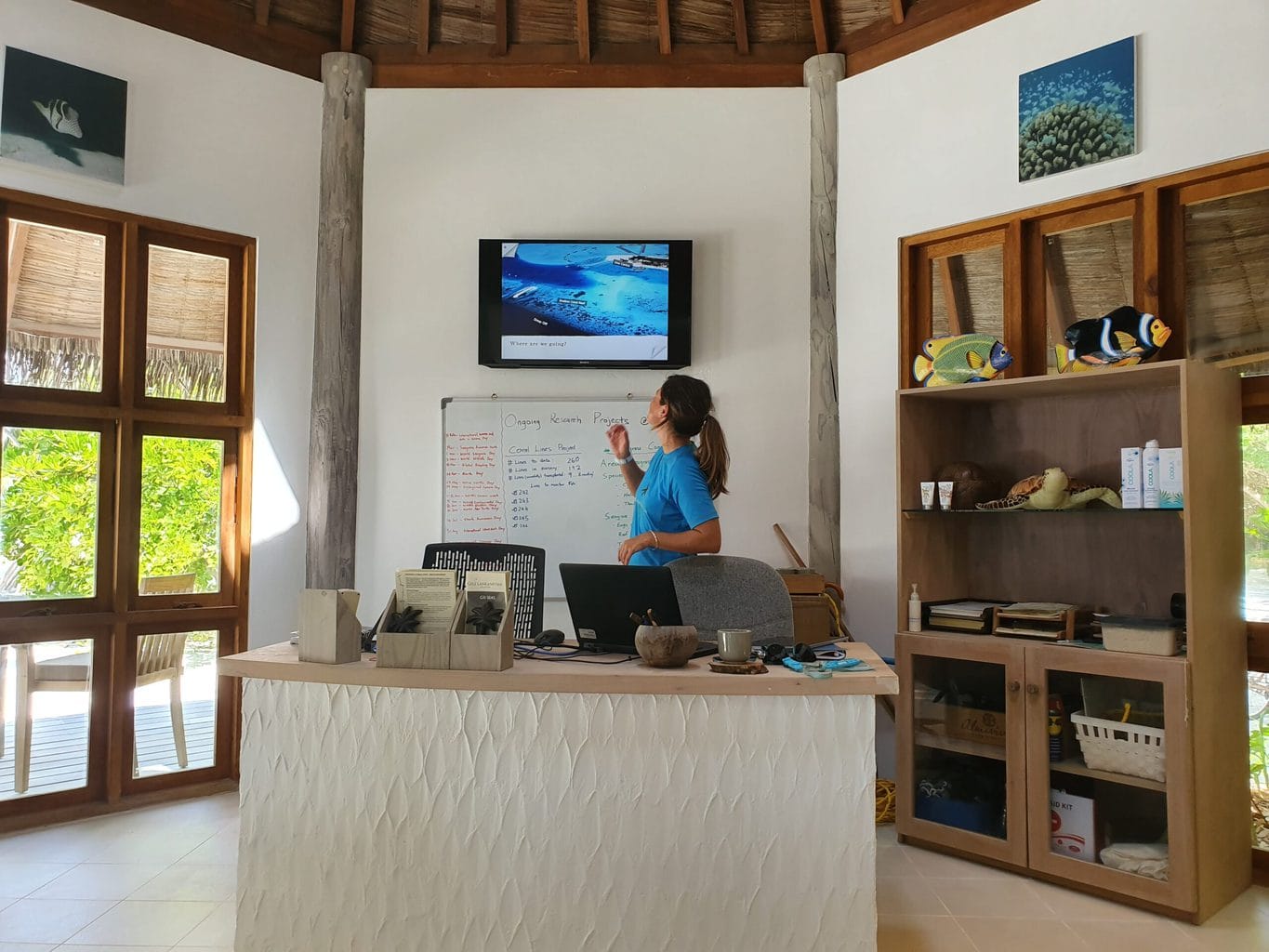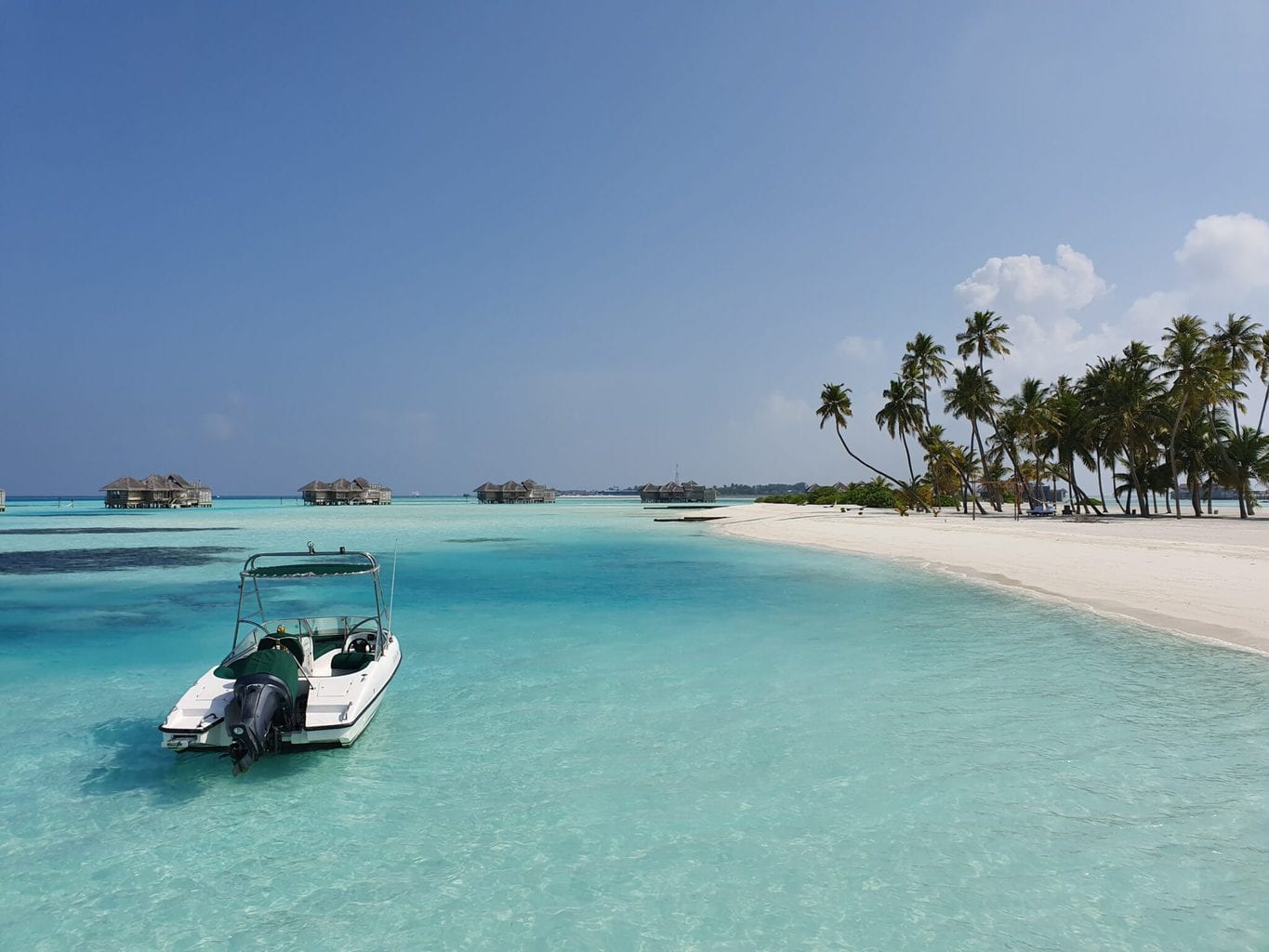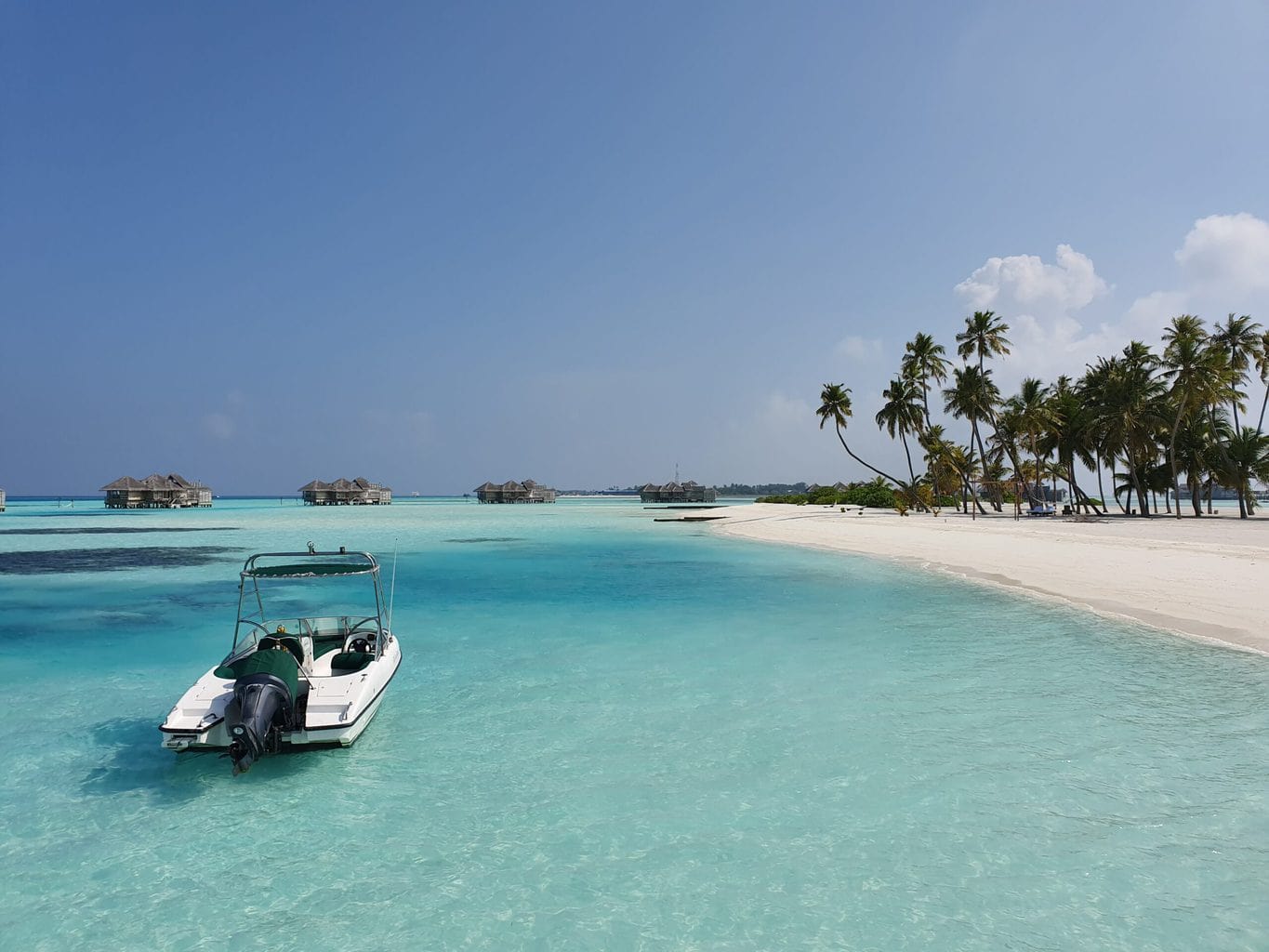 For those who prefer speed, you can rent or book catamaran sailing lessons, go fishing or even windsurfing, wakeboarding or water skiing. Who knows, maybe you pick up a new skill!
Other common excursions include sunset dolphin cruises to look for the local spinner dolphins, a really nice experience in the Maldives as they seem to be found everywhere. Or just a sunrise/sunset cruise with a loved one.
But there is also a whole country to be explored outside the resort.
While most visitors to the Maldives come for the crystal waters and the dreamy beaches, there is a world of local culture you can discover and Gili's location right next to Male and other local islands is perfect for this.
The resort offers a half day Male tour and the options to visit other islands. Because of the way tourism is organised in the country, with visitors heading straight out to the resort islands from the airport, most people will have little to no interaction with Maldivian culture. Gili is better positioned than most resorts to offer this because of its proximity to the capital.
If you want to see what it's like to fly above the Maldives, you can also book a sightseeing seaplane ride. I really love seeing the Maldives from the sky and Gili's convenient location near the airport means you miss out on that so a sightseeing flight is a good option to have the best of both worlds: convenient location and a great sightseeing experience.
Gili Lankanfushi excels in the dining aspect with great food, no matter where you look and a great Head Chef, who has grown with the resort. The resort also offers lots of food-related activities.
Those like me who consider food and wine as important as sightseeing will appreciate the opportunity to book a cooking class where you can learn some of the local dishes like the coconut curries. Cooking lessons can also be had in the garden, where the team will bring out all ingredients and cooking tools to prepare a dish that is truly garden to table. If you are lucky, and a good cook, you can eat your own meal at the end.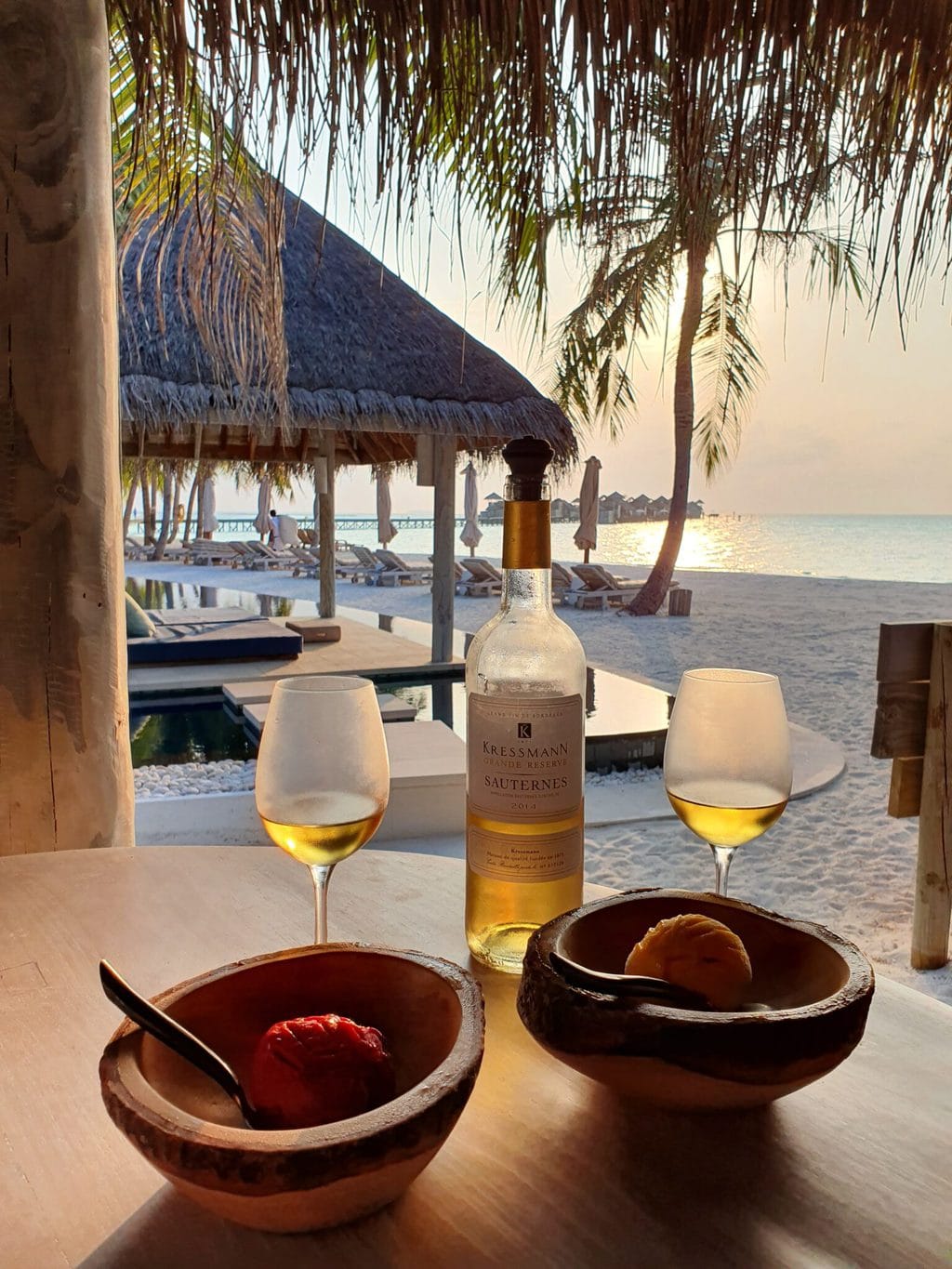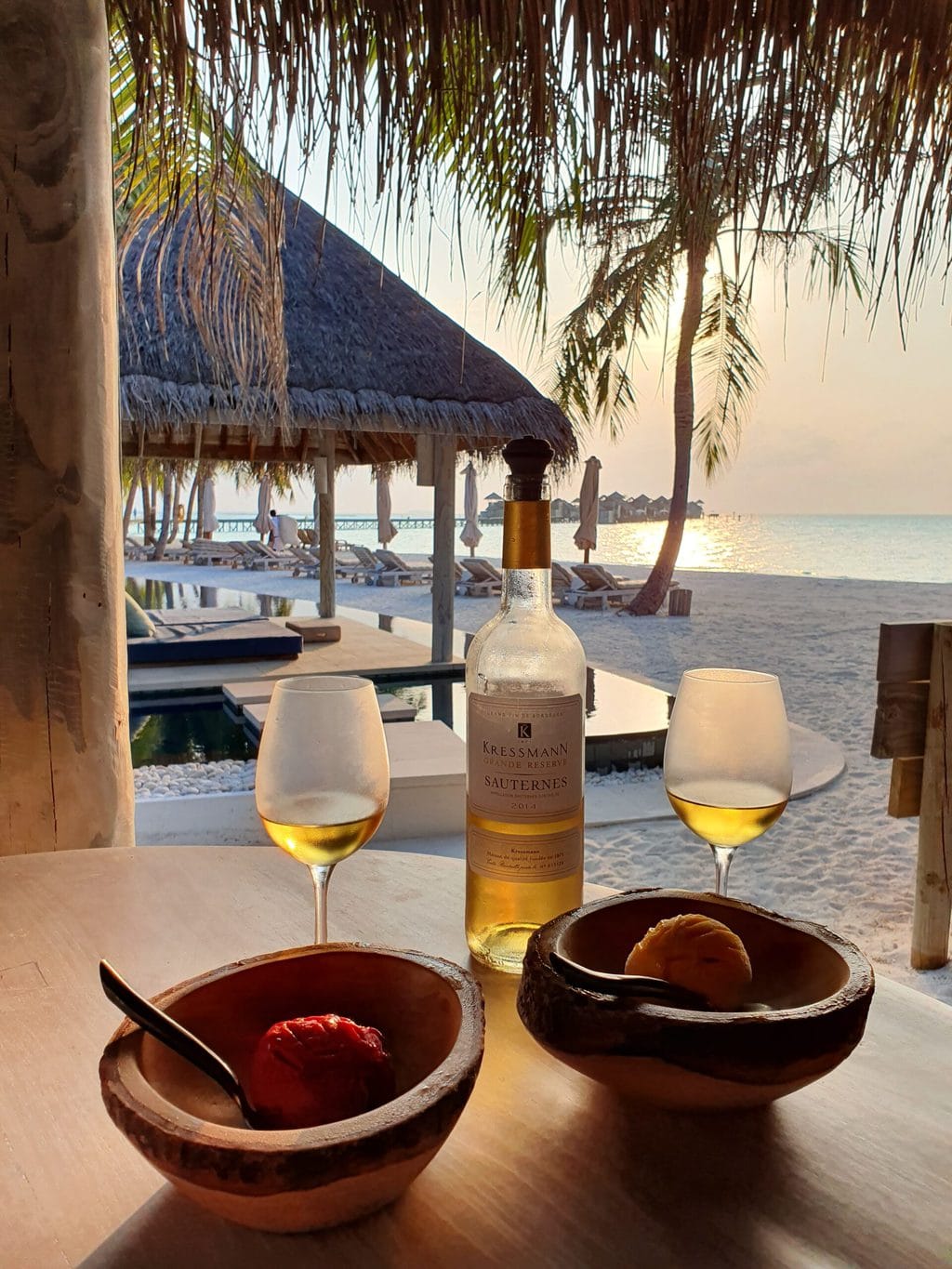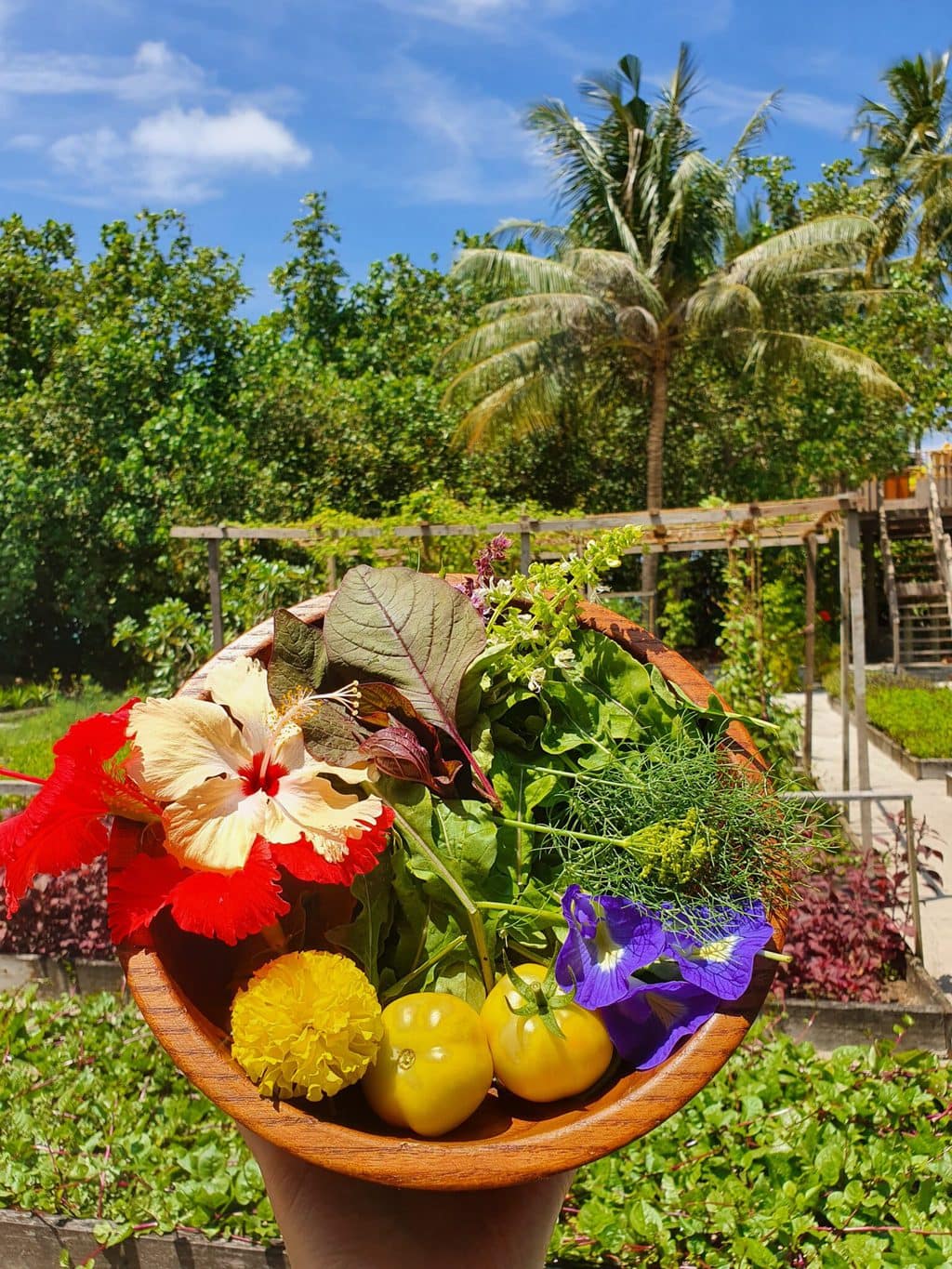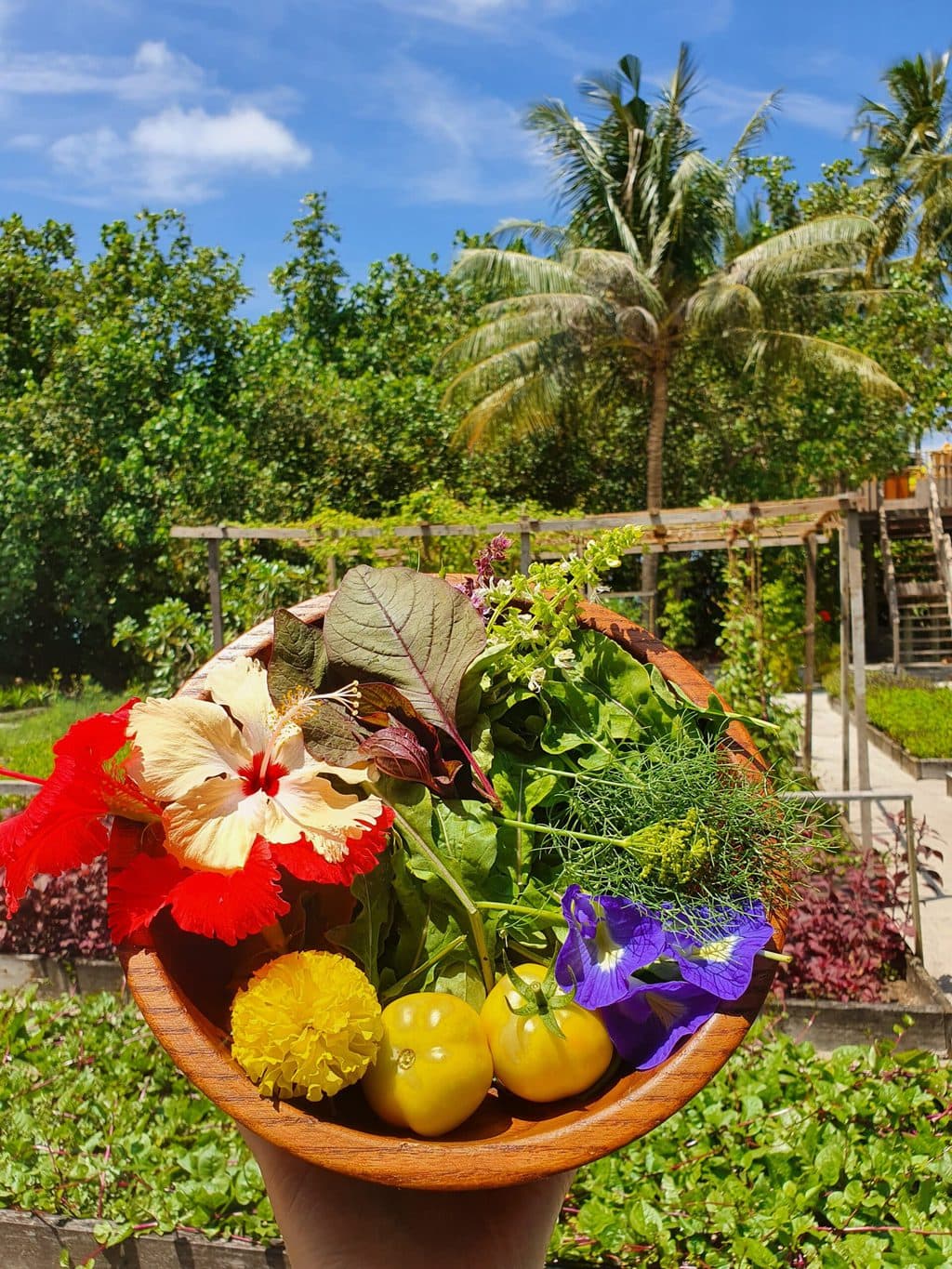 For those into wine, the resort's underground wine cellar is open for sommelier-led wine tasting experiences (the resort has 3 sommeliers), chocolate and wine pairings, cheese and wine pairings and wine pairing dinners.
One of the best activities to enjoy at Gili, as mentioned before, is the Gili Tasting Journey which starts at the Japanese restaurant and ends at the overwater restaurant. You will savor 5 drinks and canapés at 5 locations as the sun sets while exploring all the locations for destination dining at the resort. I highly recommend you do this on your first evening to get a sense for what Gili has to offer.
Another recently added activity sees the bartenders set out on a cocktail competition where you are the judge. Two of the team members will prepare 4 drinks in total for you to rate on presentation, flair, story and taste. A fun way to enjoy some drinks and learn more about the team.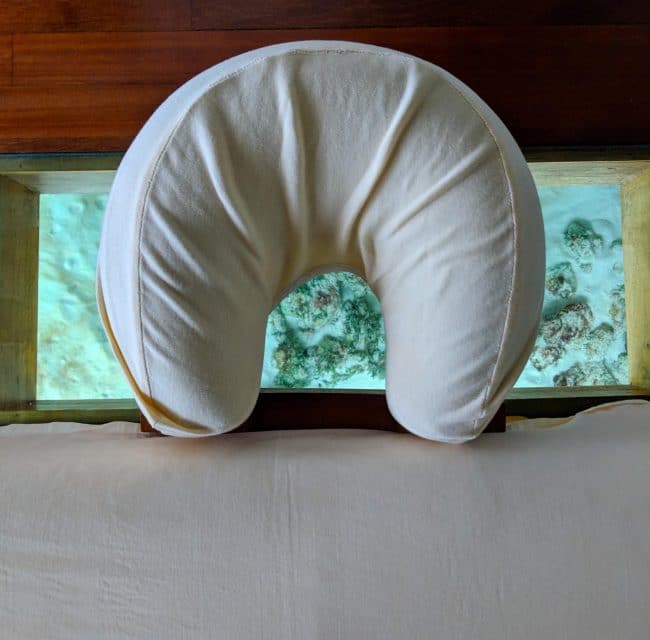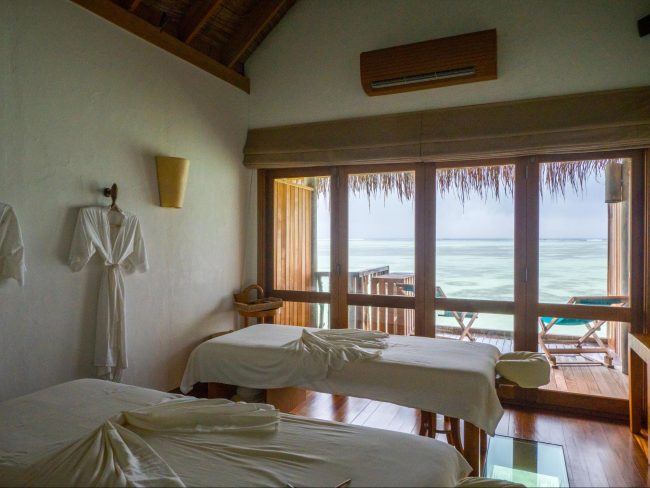 The resort's Meera Spa offers great treatments right over the water and has visiting specialists and experts that provide additional treatment options. Yoga and meditation are offered complimentary every day.
As you relax in your treatment, you can also look down through the glass bottom to see the fish swimming by, or even a baby shark like we did. I found the team at the spa very skilled and the massage lovely. Before or after, you can relax in the upper floor with views over the horizon and endless ocean.
The service at Gili Lankanfushi
The Maldives has a host of incredible resorts to stay at and several of the luxury resorts offer personal butlers. You will find them at Soneva Fushi, at Six Senses Laamu, at Milaidhoo, at the St. Regis Vommuli Island or at the Conrad Rangali among many others.
From experience, not all butlers are made equal and while some are there to help but cannot take the initiative to pre-empt your needs, others are able to go several steps further and know what you need even before you do.
I found the service at Gili Lankanfushi and our Mr Friday butler to be of an exceptional level. He was ready to help us with whatever requirement we had and was always prompt. As the Marketing Director put it, Mr Fridays always appear "cool as a cucumber". I was sure he had dealt with far more difficult guests than us.
Perhaps what sets the butlers at Gili apart from the good service everywhere else is the can-do attitude and the sense that no matter what you ask for, no matter your wishes, everything is possible. If you can think it, Mr/Ms Friday can make it happen.
The feeling that nothing is too troublesome is something that is quite unique of the Maldives and not found at other honeymoon destinations like Bora Bora. When I compare both, the level of personalised service is something with which the Maldives stands out.
But even there, not all the luxury Maldivian resorts excel at it as well as Gili does. This is one of the real pioneering resorts in the concept of personal butlers and it shows.
I also appreciated the fact that most of the butlers, and the rest of the team at Gili, have been with the resort for a long time. Management cares about the teams, and this shows in better, more caring service.
Other things to consider when booking Gili Lankanfushi
Gili Lankanfushi is a fabulous resort, but as with all luxury resorts everywhere in the world, it is not the best option for everyone.
Stay here if you are looking for romance and enjoy the type of understated luxury that the resort values and promotes. If you like to wear high heels, dress up and be surrounded by modern facilities, this may not be your cup of tea.
Stay at Gili if your definition of a vacation features food and wine as much as it features relaxation, keeping active and learning something new. Do not stay here if food does not matter much to you as you would miss out on one of the best differentiating factors the resort has to offer and there are other resorts with a wider range of dining restaurants and buffets.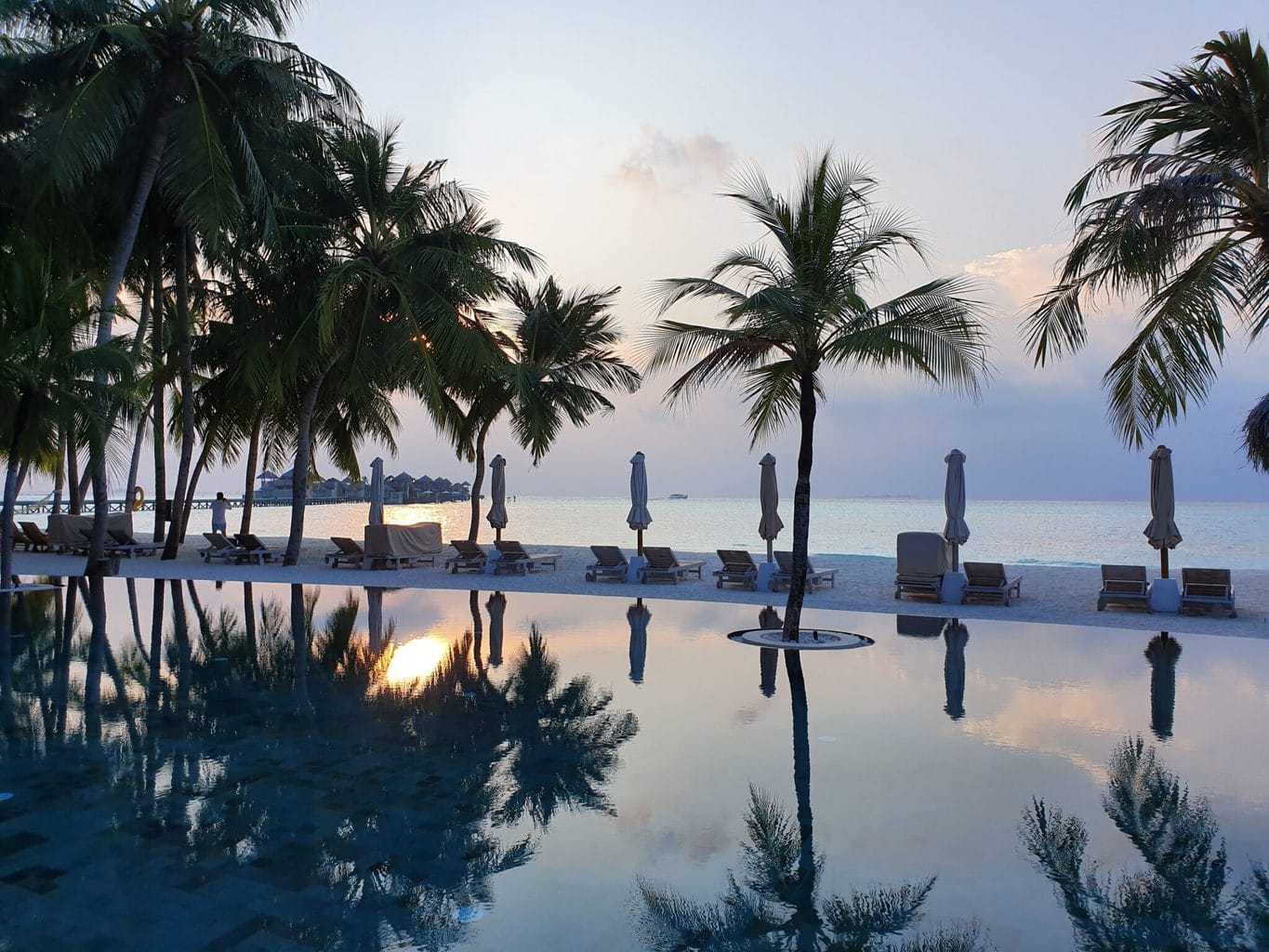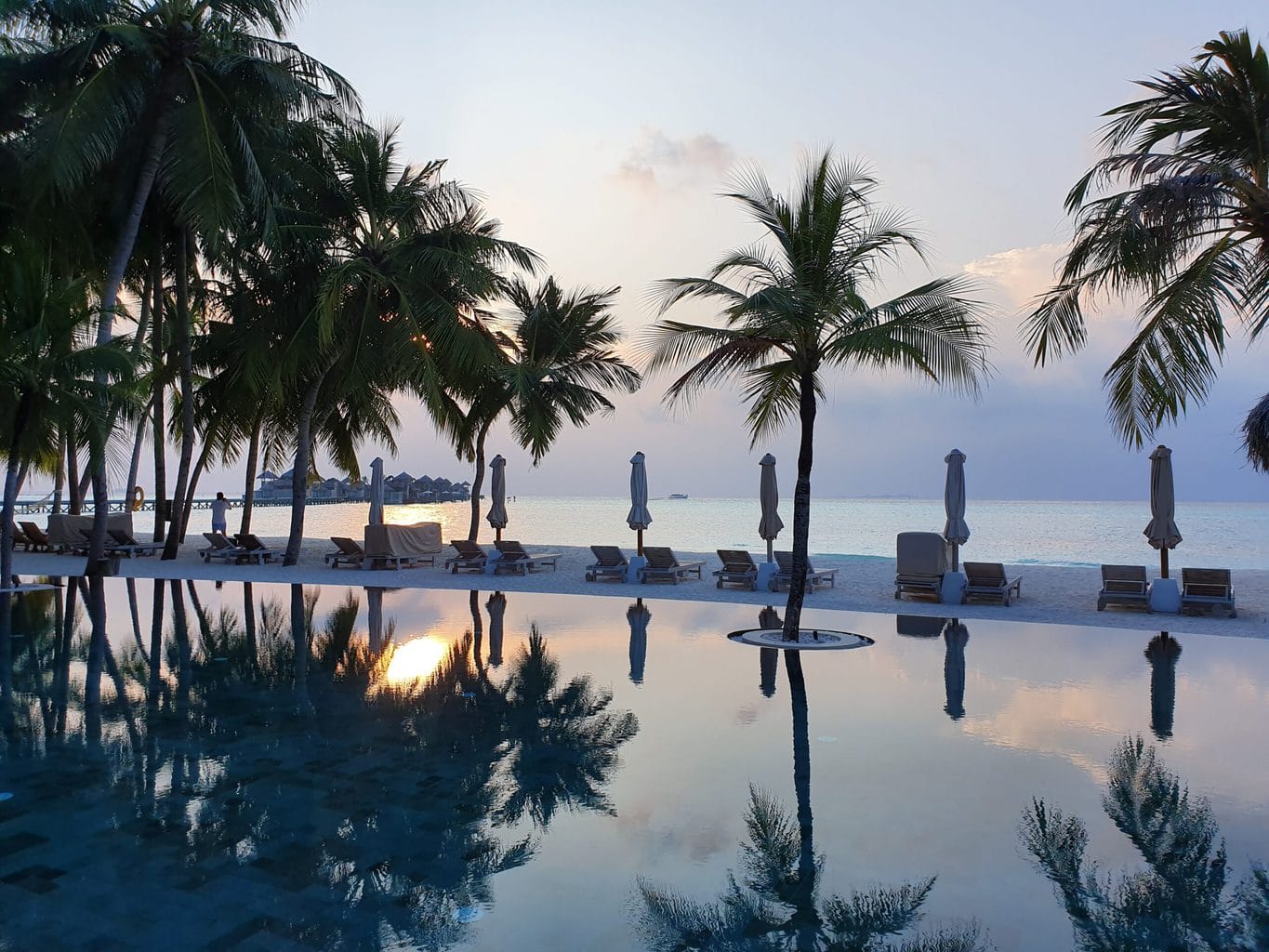 Book a solo trip to Gili if you are looking for some me-time, want to enjoy the Maldives in luxury and are afraid of being alone in a resort that is mostly for families and couples.
Gili has a Solo Package designed with travelers who come without a plus 1 and which includes a variety of activities geared towards the individual traveler like a photo session with your Mr/Ms Friday, a barbecue at the sandbank, a dinner in the dark and plenty of pampering.
Book at Gili if you escape to the Maldives a few times a year in search of luxury and don't want to waste time in airport transfer by seaplane. But don't come if you want to feel remote and far away from everything. At Gili you will be able to see the local island nearby and hear the occasional plane fly above.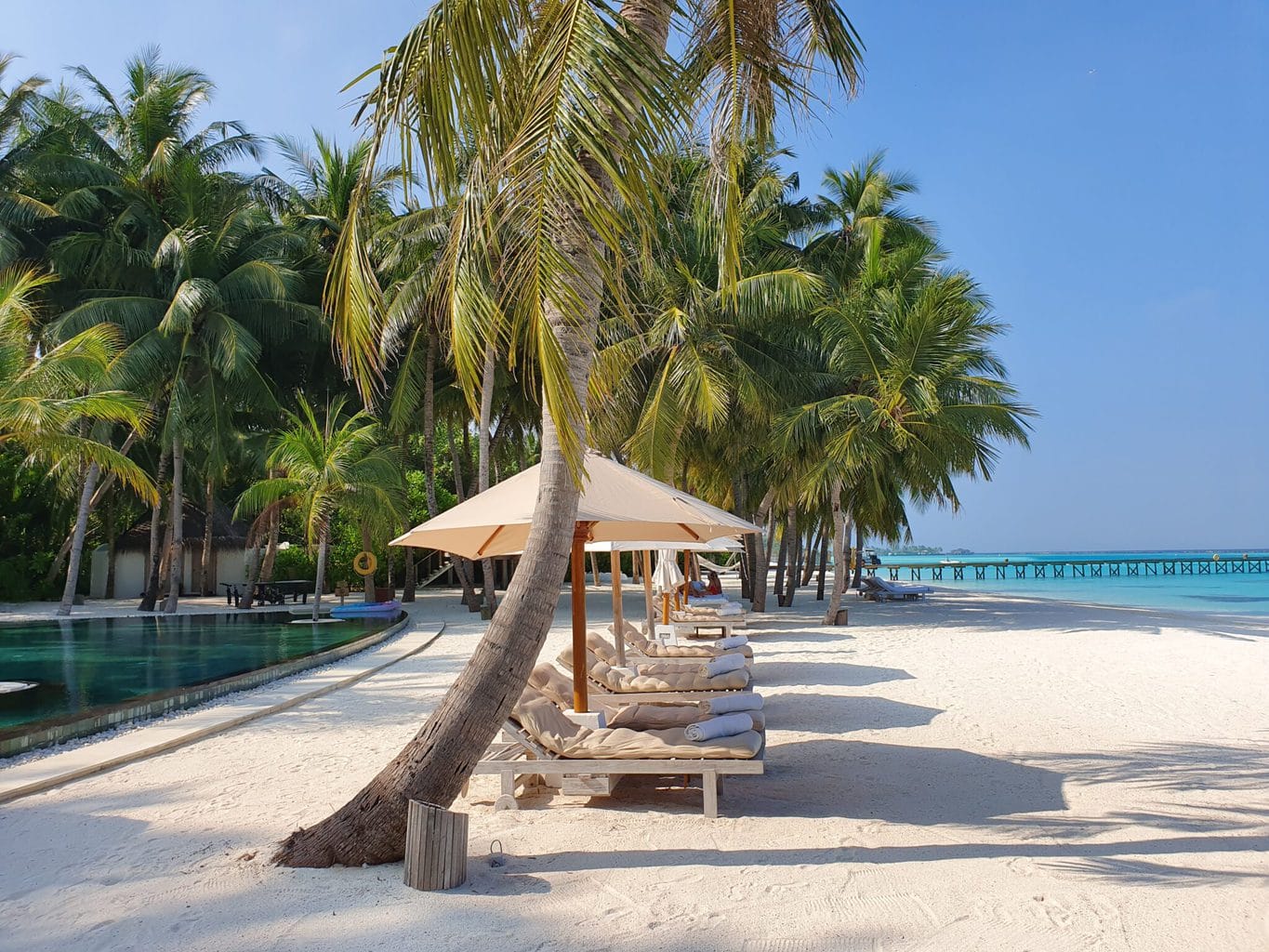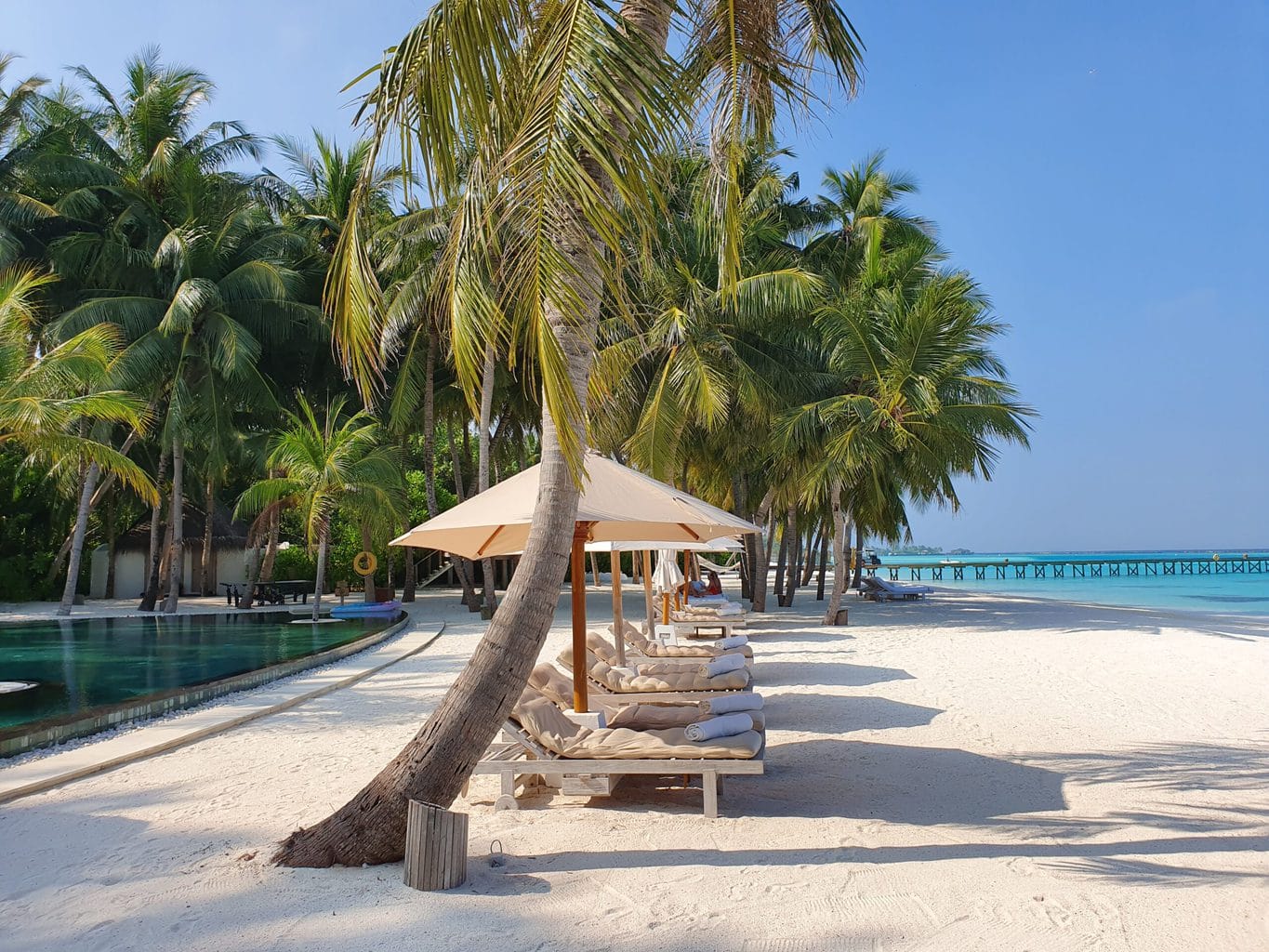 The verdict: Review of Gili Lankanfushi
After visiting Gili Lankanfushi twice, I continue to be confident in my conclusion that this is one of the best resorts in the Maldives. I have not visited them all, but after 8 visits to the Maldives, I know this is my personal favorite.
I cannot fault the resort on anything. Service is attentive and predictive, the destination drinking and dining options make every meal an experience and the island is absolutely gorgeous. Every time you look at the blue, you can't help but be wowed.
Gili Lankanfushi does Crusoe-style, rustic chic for two like no other resort and the all-overwater villa concept with the famous Crusoe Residences and now with some pool villas, is an irresistible offer. The convenience of its location cannot be underestimated either and can easily add an extra day to your trip.
Even families can now spend time at Gili and have all their needs covered. The two-bedroom villas, either with pool or with exclusive access to 3 Palm Island, are perfect and the resort pool and shallow lagoon the best playground.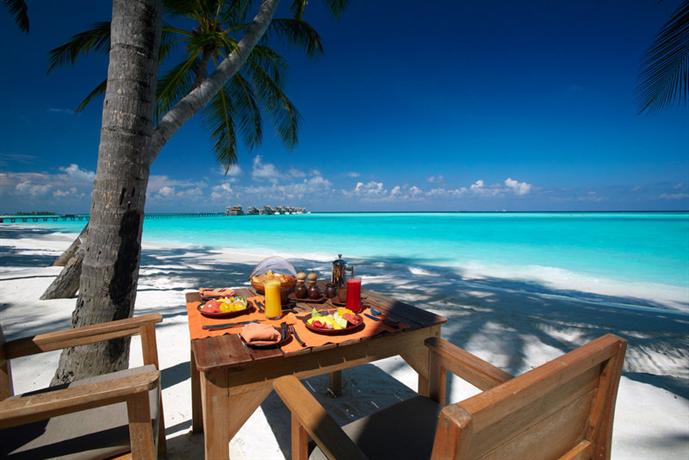 But I cannot end the review without looking at the value for money. There are luxury resorts and hotels everywhere in the world but the final verdict depends on the price level they come at and whether it is worth the splurge.
Gili is not an affordable resort. Rates in high season can cross the US$2,000 a night mark just for bed and breakfast and you can expect to spend another US$500 a day on food and activities at least, much more if you book some of the dining experiences, activities, etc.
When compared to other resorts of similar luxury level, Gili Lankanfushi is priced adequately to the competition with several advantages in quality and range of dining options (especially the unique ones), fantastic service and a great list of activities available. And if you are celebrating a special occasion with friends and family, the Private Reserve is the largest overwater villa in the world.
If you're unsure whether you want to stay in the Maldives or Bora Bora, I have written a comprehensive article on this topic which has an interactive guide that will help you personalise your choice. Read on for which to choose Maldives or Bora Bora.
Gili Lankanfushi is definitely one of the best luxury resorts in the Maldives, without a doubt in the top-5, perhaps even the number 1, but I would have to visit them all to make that claim!
Pin this to your #luxetravel board now!