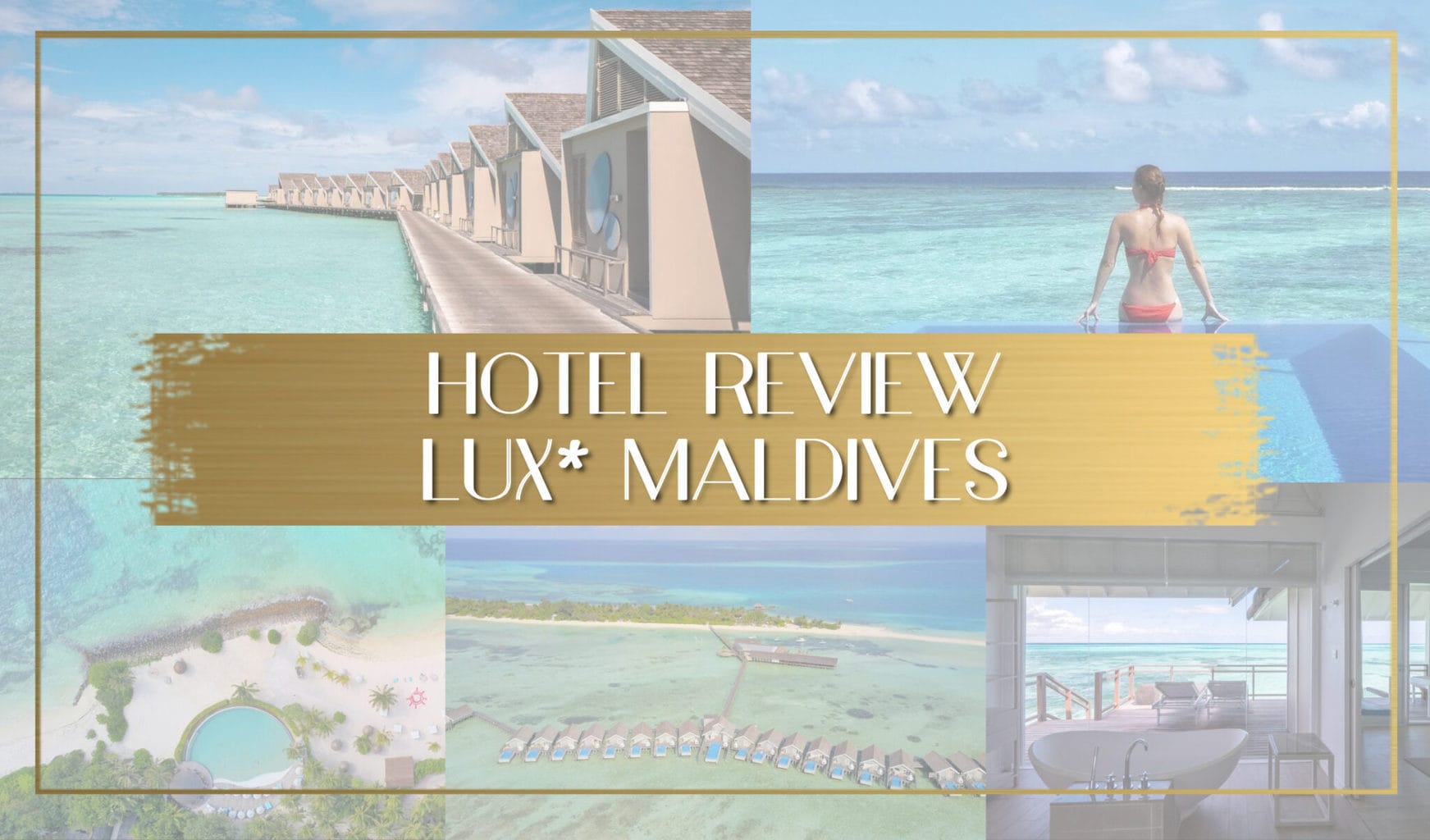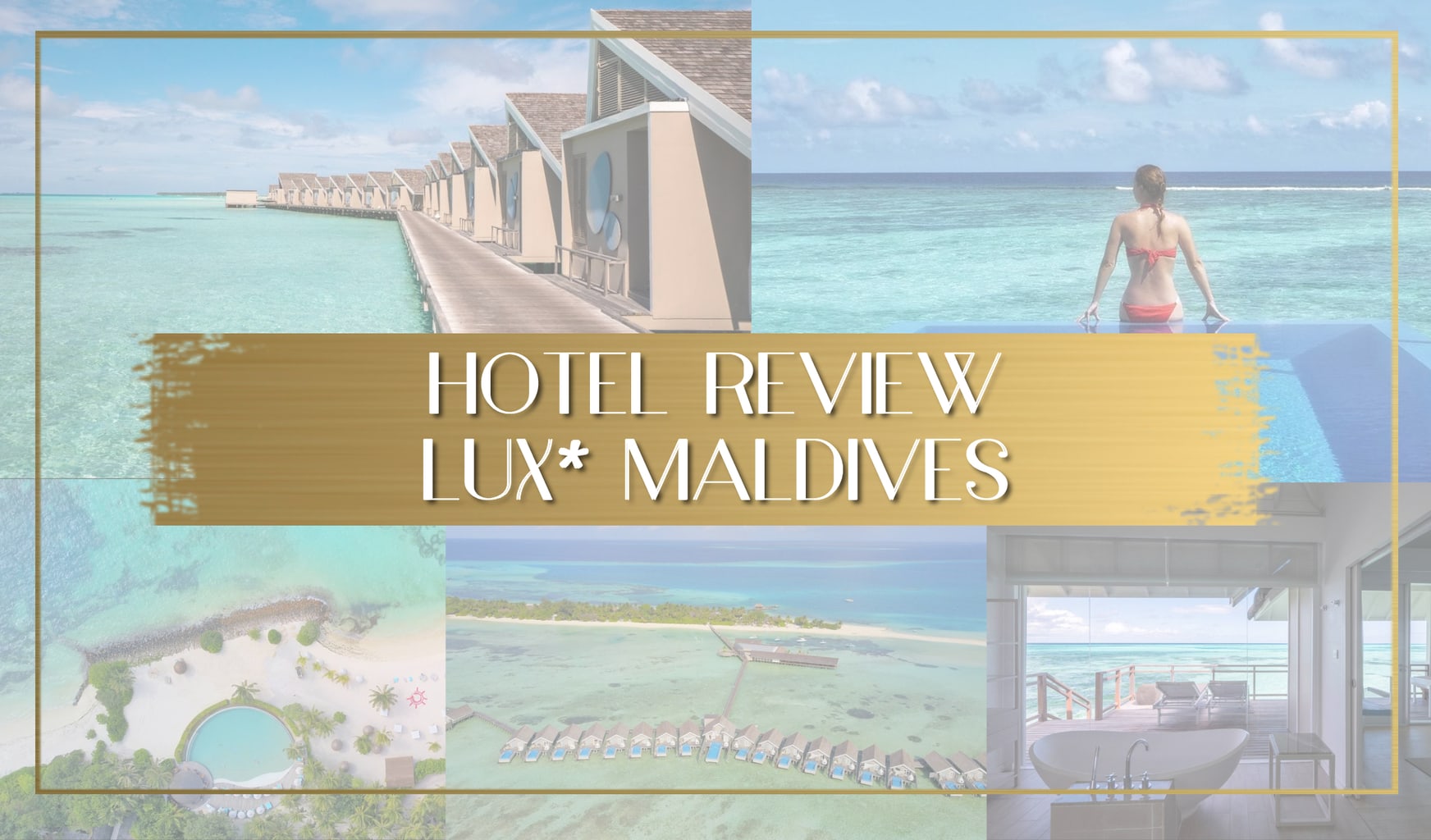 I was a guest of LUX* Maldives South Ari Atoll on full board basis. All opinions, as always, remain honest and my own.
LUX* Maldives includes two properties in the Maldives, one in South Ari Atoll and a newer one in North Male Atoll opening in 2019. In this article I will talk about the property in South Ari Atoll and will share with you a detailed review of my stay as well as all the insights and considerations when booking your stay at LUX* Maldives South Ari Atoll.
Traveling to the Maldives is a major investment for most people and choosing the right luxury resort is critical to ensure you have the best time. Read on for all details on LUX* South Ari Atoll. But first, here's a video of my time there…
A bit more about LUX* Hotels & Resorts
As a luxury travel expert, I keep abreast of the best known luxury travel brands and try to not only understand the positioning of each but also test them so I can compare and advise my readers.
I have a few favorite luxury hotel brands I keep coming back to because they not only consistently provide unforgettable experiences but also because they align with my travel style.
For example, I am a self-confessed Aman junkie and I love the Six Senses and Soneva brands, both of which I have visited in the Maldives and beyond.
LUX* South Ari Atoll was my first experience with Mauritius-based LUX*, a group of luxury properties scattered across the world and managed by Mauritius stock exchange listed Lux Island resort Co, Ltd.
There are currently six LUX* properties across the Indian Ocean and China and as many scheduled to open in the next three years in China, Turkey, the UAE and Vietnam.
I was familiar with the LUX* brand and had been eagerly reading about its ethos and values for a few years before this visit, so I had a fair idea about what to expect and was keen to see if it would deliver on its promise shown in the glossy travel magazines.
From the outside, LUX* differentiates from other luxury brands by not taking itself too serious. "Lighter, Brighter" is its slogan, and this reflects on every aspect of the experience. Or at least that is the impression I got.
LUX* brand of luxury is light-hearted, brighter and makes 17 promises (referred to by the * that accompanies the brand name) among which, great coffee (bad coffee at high end hotels is a pet peeve of mine), ice cream carts, tree of wishes, phone booths to call home, hidden message bottles, Junkart, aperitives, its own range of wines and plenty of fun.
This was perfect given that I was visiting the Maldives with a blogger friend of mine, Sabrina from Just One Way Ticket, so we were definitely not on a romantic getaway.
LUX* South Ari Atoll island
LUX* South Ari Atoll is the only resort on Dhidhoofinolhu, an island located at the bottom of the South Ari Atoll. As with most resorts in the Maldives, there is nothing else on the island other than the resort.
The island measures almost 2km and is very thin with a path running its length followed by boards at both ends where the overwater villas are located. With the distance from the farthest villas at each side it is probably closer to 3km or maybe even more. That means you get a good chance at exercise if you go up and down a lot as we did to take photos and videos.
I cycled close to 10km every day while staying at LUX*, but this is not representative of most guests. Firstly, the average guest moves far less in a given day and also spends more time in their villas or at a fixed place. We were working and taking lots of pictures and videos so did not sit down and enjoyed the beach or pool at all.
Secondly, there are buggies running back and forth along the path every 10-15min and this was the choice of transportation for most guests.
For me, the bikes and the possibility to exercise a bit was a welcome option for what would have otherwise been an indulging holiday. If I took the latter option I would have come back with an extra few kilos.
Check out this resort map of the Maldives and you will find LUX* at the bottom of the South Ari Atoll.
Arrival and check in at LUX* Maldives South Ari Atoll
LUX* South Ari Atoll is located around half an hour seaplane ride from Male's Velana Seaplane terminal. All hotels have a counter at arrivals in the International Airport to welcome guests and transfer them to the seaplane terminal.
As we had spent the night before in Male, we woke up early to be at the airport at the agreed 6,15am. A hotel representative was there waiting for all passengers and once everyone had arrived, we walked over to the check-in counter and got our boarding passes. Our luggage was weighted and checked in too and we were then transferred by bus to the seaplane terminal just a few meters away.
The schedule for seaplane transfers to the various resorts in the Maldives is only communicated to guests the evening before, when the various routings are confirmed based on arrivals. This is different from what it used to be last time I visited the Maldives when I knew the time of my seaplane earlier in advance.
However, tourism in the Maldives has grown so much in recent years that the local seaplane company, Trans-Maldivian Airlines, has become the largest seaplane operator in the world and the scheduling runs like a well-oiled machine, transporting hundreds of passengers across the country's atolls everyday.
The few resorts I visited this time all confirmed that guests usually wait less than two hours from arrival in the Maldives until their seaplane transfer as there are lots of routes and alternatives. However, do bear in mind that if you land in the evening like I did, you will have to stay overnight in Male as seaplanes only operate during the day. If you'd like to know more in depth about seaplanes in the Maldives, you can read my post on the topic here.
The most efficient arrival time in Male would be early morning so you can catch the first seaplane and be at the resort for breakfast, or late at night if you don't mind spending a night in Male (now connected by road to the airport island) or Hulhumale Island which is adjacent to the airport island.
When we arrived at the seaplane terminal, we took a quick look at LUX* lounge. LUX* has probably one of the best lounges in Velana Airport. There is a huge selection of food and drinks, lots of sofas and seaplane views as it is located first row in front of the dock. I actually wished we had a bit of time to enjoy breakfast but our flight was scheduled to depart at 7am so we boarded shortly after arriving.
Seaplanes in the Maldives are boarded on a first come first serve basis and seats are not assigned. The planes can usually fit about 18 passengers in six rows of three seats and the luggage is stored at the back of the plane. There are single and double seats.
There is no AC inside the aircraft as they are not reaching the compression level but fly at lower altitudes and it can get really hot inside so dress lightly. Small fans are located along the wall and if you are close to one they will be blowing on your head all the way, something I tried to avoid.
The crew will give a short safety briefing before take off and then you are out to the islands in one of the most scenic plane ride you will ever take. The best seats in a seaplane to take photos of the atolls below are those at the front because you don't have the wings in your frame. I would suggest to sit on the same side of the plane on both the outbound and the return so you see the views on both sides.
When we arrived at LUX* we were greeted by the entire team and walked over to the reception area for check-in. After providing our details, we were give a very thorough introduction to every aspect of the island including all the facilities, the restaurants, the activities, etc. We were also briefed on our full board inclusions.
A drink and a cold towel were offered while Elena, the Guest Services Manager, walked us through all the information. Our keys came with a small map of the resort which helped locate where everything was.
After check-in was finished, we jumped on the buggy and Elena took us to our overwater villa, practically the farthest it could be from reception.
The rooms and villas at LUX* Maldives South Ari Atoll
LUX* South Ari Atoll is a large resort by Maldives standards. It has almost 200 villas split over water and on the beach and when full, it can host up to 400 guests. This means that there are a lot of activities and dining options to keep everyone satisfied and catered for. Watch my live stream below of the rooms at LUX*.
There are a few room categories split between beach or water locations.
The entry level rooms are the Beach Villas located along the beach on both sides. They are located right on the sand and have outdoor decks with a table and chairs as well as two sunbeds to relax on. Inside, there is a large bedroom with views over the beach, a walk-in closet and a bathroom with a large round freestanding bathtub.
While the beach is shared and there might be other guests walking around, the villas are set slightly back from the shore and surrounded by greenery so you feel quite secluded. These are best for those who love to enjoy the sand or who have small children for whom the water villas are not as safe.
The Beach Pool Villas are also on the beach but have covered pools inside. These villas are probably best suited to those who like the water but prefer to hide from the sun, as most Asian guests would. The pools are at the back next to the bathrooms.
Over the water, there are Water Villas which do not have pools, Romantic Pool Water Villas with pools, and the Temptation Pool Water Villa which is larger and comes with a much bigger pool.
I stayed at one of the Water Villas. These villas are quite spacious inside, with both the bedroom and bathroom along the outdoor terrace and with views over the ocean below. The bathroom is very nice and, aside from the two sinks, it also has a small counter for hair drying or putting on makeup with an additional mirror and light.
There is also a small walk-in closet which was a bit tight for the two of us, so we used the daybed to place our suitcases and many pieces of equipment. The minibar is at the back and stocked with a few drinks and snacks as well as two bottles of wine, all chargeable.
The outdoor wooden deck is a bit compact and busy with a table and chairs, two sunbeds, a daybed and a net hanging over the water. The water villas have direct access to the water through the wooden stairs. The hanging net was a great place to relax and read and the daybeds quite a comfortable place to just watch the sunset.
These villas can face either the sunset or south so they can enjoy varying degrees of sunlight. If you are after sunbathing, you might want to make a special request. Our villa faced the sunset side and only the sunbed area had sun in the peak hours of the day.
The Romantic Pool Water Villas are the ultimate indulgence. They face south, so enjoy the most sun, have quite big plunge pools, an outdoor deck with a hanging Dedon style nest and two sunbeds. Inside, the bedroom faces the outdoor pool area while the bathroom is at the back.
These villas are best for couples looking to spend quality time together in the privacy of their villa. They can access the water directly through the stairs and the infinity pool offers stunning views of the ocean.
Because of their longer rather than wider setup (as compared to the Water Villas), they offer far more privacy and the pools add an extra level of incentive to stay in. You don't even need to leave the room to sunbathe or enjoy the sun or the shade (the nests provide a lot of shade).
Romantic Pool Water Villas have some amenities not available at the Water or Beach Villas. These include white LUX* branded flip flops, bathrobes and a beach bag. There is also a semi-circular sofa and playful decoration clearly aimed at couples. Definitely a romantic setting for two.
There are two Romantic Villas in particular which are priced at the same level but are located significantly apart from the rest and from each other. It would pay to make a special request for those to enjoy extra privacy as the rest of the villas are quite close to each other.
There are also three overwater villas among the row of Romantic Pool Water Villas that have larger pools and are overall bigger than the rest. These villas are called Temptation Pool Water Villas.
The ultimate villa at the resort is the LUX* Villa which is also over water, at the end of the set of water villas and is almost twice as large as the other villas with a very big infinity pool. This is the most amazing of the villas at LUX* South Ari Atoll and has a large living room, a master bedroom and a huge outdoor deck with an infinity pool.
While LUX* does not have two bedroom villas, families can book the Family Lagoon Pavilion which has two adjacent beach villas next to each other. Many of the other villas can also accommodate a kid in the daybed which turns into a bed.
Inside, all villas have a minibar, an espresso machine, tea bags, and an interactive TV with all the details on the themed nights, the entertainment shows, the DJ sessions, the scheduled activities (eg. snorkelling or yoga) and all the special dining offers and menus (eg. Full moon BBQ buffet).
Privacy at LUX* South Ari Atoll is guaranteed by the wooden panels that separate the Water and Water Pool Villas from each other. However, the villas are set quite close to each other so it is easy to hear the conversation of your neighbor if they are having it on the outdoor decks.
Also, as soon as you go down to the water, it does not take long to see inside the villa next to yours. I was combing my hair just out of the shower when I realised I could see the reflection of the guest from the villa next door in the bathroom mirror.
This is not exclusive of LUX* as a lot of the Maldives luxury hotels are designed like that, but something worth mentioning.
Dining at LUX* Maldives South Ari Atoll
LUX* South Ari Atoll has a vast array of dining options each with a different cuisine. There are also a couple of bars and even DJ sessions in the evening.
I will look at the various dining options and then add a summary table with the option available at each of the meal times.
Mixe
Mixe is located in the middle of the island and is a casual, feet in the sand restaurant next to the main round pool with most seating under an open cone shaped building and some tables outside under the shaded trees.
It is one of the two options available for breakfast along with East Market and it serves an incredible range of foods. This is probably one of the best breakfast spreads I have ever seen, although breakfast is a really serious affair across the Maldives.
Here is what was available in the breakfast buffet at Mixe.
A selection of pastries, croissants, donuts, muffins and breads with a toaster and a huge range of jams and nut butters made from hazelnut or almond. There was also a peanut butter machine where you could make your own fresh.
A juice station where you could get your own juice made to order from the selection of fruits, vegetables, powders, superfoods and other supplements. There must have been over 20 options to choose from beyond the fruits and veggies including protein powder, camu or maca powder, quinoa and several other superfoods, nuts and seeds, flavor powders like vanilla or chocolate, other superfoods like spirulina or ginger. It has to be the most impressive selection I have ever seen at a hotel breakfast.
Cold cuts and charcuterie along with nine types of cheeses, quite a few different kinds also including salmon.
Seven kinds of cereals, 12 kinds of dried fruits, nuts and seeds to go with them.
A chufa corner, something I had never seen before, mind you chufa is a Spanish item we make into milk, but here it is dried and made into balls and cookies.
A few kinds of freshly cut fruits, fruit salads and poached fruits.
About 10 different kinds of kombucha with all sorts of flavors.
Eight kinds of yogurts including soy based options and other vegan alternatives like tofu yogurt plus goat or sheep yogurt and fruit yogurts with fresh jam.
Pancake, waffles, French toast, crepes and other cooked sweets like banana fritters and beignets. They could be paired with almost 20 different toppings like marshmallows, chocolate sauce, dried fruits and nuts.
Savory cooked breakfast items including sausages, bacon, sausage rolls available from the live egg station.
Savory cold items like hummus, labneh, salad items, pickles and moutabal.
10 flavors of ice cream, yes, available for breakfast!
Condiments like two types of sugar, three types of salt (spicy, Celtic Sea salt and Molden), fresh honey.
An Indian station with idli, puris and some curries and dal.
Coffee could be ordered from the waiters but cold drip coffee was also being brewed and was available to anyone.
From the above, you probably have a good idea about how extensive the breakfast choice was. Because of that, our breakfasts were long and lazy as we wanted to try a few different options every morning.
Mixe also offers lunch and dinner from a buffet with an equally vast array of choices.
Senses Restaurant, Bar and Lounge
Senses Restaurant serves Middle Eastern and Indian Ocean favorites, mostly from the south and west parts of India or Sri Lanka where coconut based curries prevail, and Middle Eastern recipes from Morocco to Lebanon.
Senses Restaurant is located next to the infinity pool and it is split into two buildings, one with the restaurant and one where the bar and lounge is, both of which come with sea views.
The restaurant is open with most of the tables located under the building and a few other scattered in the sand just below.
The menu is extensive, with both curries and tandoor dishes and the flexibility of making your own in case of food allergies or restrictions (eg. vegan). I enjoyed Sri Lankan hoppers with curry, a nice Mediterranean soup and my friend had some dal.
Food from Senses can be ordered poolside if you are lounging around, or even from one of the beach cabanas spread across the beach. Both lunch and dinner are served, as well as late afternoon tea from 5pm to 7pm daily.
Allegria
The famous Italian restaurant was fully booked for the duration of our stay and we could not try it. This was not unusual, the restaurant is often fully booked as guests make reservation before their arrival, encouraged by their travel agents.
This is the most popular restaurant at LUX*, although we could not quite figure out why. We concluded that it must have been the result of scarcity (only opens at dinner) and the willingness from long term guests to try a more formal restaurant setting (there are only three formal options for dinner, premium Japanese, Senses or Allegria).
Allegria is located in the middle of the island and spread across indoor and outdoor breach areas. There are also private rooms for parties to dine together.
Veli Bar
Open until 5pm daily, Veli Bar serves drinks poolside so it is a great way to relax while sunbathing or enjoying the pool area.
Beach Rouge
Beach Rouge is a bar and restaurant open for lunch and dinner located around the middle of the island by the water. There is a large area under the room and an outdoor area under white tented roofs.
The food served is Mediterranean style and comes in tapas portions ideal for sharing. There are also pizzas and drinks. The lounge area snakes into the sea and hangs over the water and is perfect at night when it all turns red. There are also sofas and cabanas on the beach for extra privacy.
In the evening, a DJ plays lounge sets as guests smoke shisha or drink champagne to while the night away. Beach Rouge is quite a unique offer in the Maldives where quietness and seclusion usually prevails.
Umami
Umami is LUX*'s most premium restaurant. Serving Japanese fresh sushi and sashimi as well as live teppanyaki shows, grilled meats and a huge array of dishes from the menu, this is the place to come to truly indulge.
The restaurant is located by the reception in the floating restaurant area next to East Market. All the seating at Umami is indoors and split between three sections, a sushi bar where expert chefs wield sharp knives to skilfully slice the fish, a robata grill where meats are grilled in wood, and a teppanyaki kitchen where the fun and entertaining chef makes every guest's dinner a full show.
Umami is designed in reds, blacks and blues and is like stepping into a place far away from the Maldives. Soon, you forget your toes were in the sand just minutes before, and that is not a bad thing.
To accompany the food, there is a selection of eight different kinds of soy sauce from the cart, including smokey, aged or organic version, as well as 30 sakes and several whiskies from the restaurant's selection.
East Market and bar
East Market is the other buffet alternative to Mixe with an Asia focus. Here you can find lots of dishes from China, Korea, Japan and other Asian countries like Malaysia or Thailand. It is open for breakfast, lunch and dinner and it is located next to Umami, over water by the reception.
East Market is organised as a market with lots of live stations where chefs are cooking the various dishes on the spot. You can get skewers, noodles, dim sum, stir-fries or Peking Duck.
Seating is outside, on the very large terrace which has a covered and open area as well as some private nests which can be booked by couple seeking privacy.
For breakfast, some of the more European items can be mixed with Asian favorites. While Mixe is more popular with Western guests, East Market is logically the favorite for Asian guests.
By the restaurant you can also find the bar area, open in the evening from 5pm till midnight, serving drinks by the hanging nets, the swinging seats or the lounging sofas.
East Bar is where friends meet up for pre or post dinner drinks in a more casual setting.
Lagoon Bar
Lagoon bar is the casual beachside restaurant and bar by the watersports and reception open for lunch only. It is undoubtedly informal, barefoot and colorful. The chairs and tables are scattered under palm trees and tented roofs and painted in bright basic colors.
There are bean bags, umbrellas and playful elements everywhere. Paddleboards and people on top of SUPs hang around and make the area friendly and lively.
The bar faces the quietest part of the lagoon with the most shallow waters, and serves fresh salads and other easy eats like burgers. I found it a great option for a laid-back lunch where we could eat with our bikinis on and enjoy really fresh and healthy options.
LUX* Cafe
One of LUX* promises is that of good coffee and this is delivered across all the dining outlets as well as at LUX* Cafe, located by the reception area.
The cafe is manned by a barista till the evening and serves not only specialty coffee but also very pretty small cakes and pastries. The coffee can me made to go so you can enjoy it anywhere.
Drinks at LUX* South Ari Atoll
While the food menus change from restaurant to restaurant, the drinks menu stayed very similar across, with the exception of Allegria and Umami which have their own special options.
There are a couple of non-alcoholic mocktails, several cocktails and a wine list with the signature Scrucap LUX* wines as well as international options from several countries ranging from Chile to Australia.
Meal plans and all-inclusive package at LUX* South Ari Atoll
As you can see, there are a lot of dining outlets are LUX* South Ari Atoll so it is hard to run out of options. We tried all the restaurants except for Allegria and they were all pretty good and with very different cuisine types. The fact that you are able to enjoy such a range of food options also meant that all preferences should be satisfied, from Japanese to Mediterranean, Indian or Western.
Food at LUX* is of high quality and the chefs are happy to cater to special needs. My friend is vegan/vegetarian and she got several dishes made to order removing some of their ingredients from preset dishes like vegetarian dim sum or sushi.
While you can book your stay in bed and breakfast, LUX* offers several meal plans from half-board to full-board or all-inclusive. You can book the meal plan ahead of time or upgrade upon arrival. You can also choose to change the meal plan occasionally if you want to experience its value. I thought this flexibility offered great value to guests who might be unsure which one of the plans was better for them.
We were on full-board and found that the all-inclusive package would have been good value for money. The full-board plan was priced at $225 per person a day including all three meals but no drinks (not even water) while the all-inclusive package was an additional $45 per person and included unlimited drinks, alcoholic or not, all day long from all restaurants and bars with the exception of Umami which is not included in any of the meal plans.
You may think that $270 per person is a lot to spend on food and drinks but it does add up at the end of the day and this gives you peace of mind and is good value for money. The $45 for all inclusive is the equivalent of two cocktails and even water is about $10-15 per bottle.
We signed lunch bills for around $100-$150 per meal for food only for the two of us and probably another $150-$200 for dinner at the more casual venues. We rarely enjoyed desserts because we were never hungry enough. These amounts did not include drinks during meals or otherwise.
For the vast majority of guests, the all-inclusive package offers the best value for money, even if you do not drink alcohol as non-alcoholic drinks are not included either in the full-board meal plan.
Special dining experiences at LUX* Maldives
LUX*, like many other properties in the Maldives, is popular with young couples looking to spend romantic time together, celebrate milestones or even on their honeymoon. Maldives is especially known for the many over the top activities and arrangements available for such types of special moments and LUX* is no exception.
You can order any meal in the privacy of your room and all villas come with outdoor tables and chairs where this can be enjoyed, even breakfast.
What to do at LUX* Maldives South Ari Atoll
In such a large resort it should come as no surprise that there are lots of activities on offer.
LUX* South Ari Atoll has a range of non-motorised and motorised activities available as well as lot of water activities and other things to do on land.
Swimming with whale sharks at LUX* Maldives
As expected, some of the best things to do at LUX* South Ari Atoll are water-based, in particular, swimming with whale sharks is something the resort is known for all year round thanks to its location in a reef that sees them permanently.
It is believed that the reef along the resort is a breeding location for whale sharks who stay here until they are teenagers then migrate to other parts of the world. Whale sharks here can measure 6m to 10m and usually live in the deeper waters and come up nearer the surface to sunbathe.
When they do, they can be spotted and guests can jump into the water to swim with them. If you swim along next to them without touching them or interfering with their path, they may stay for a few minutes.
As this is a well known location, boats from other resorts come daily in search of the whales. The marine biologist at the resort and the team, agreed that there is a 50% chance of seeing them so you are best scheduling two trips to make sure you don't miss out on this. We went only once and couldn't find them so they remain an elusive animal for me.
Water-based activities at LUX* Maldives South Ari Atoll
Playing in the water is probably one of the main reasons people come to the Maldives and LUX* has you covered with many options for all tastes and interests, from stand-up paddle boards to kayaks, snorkelling on the house reef, water skiing, wakeboarding, jet skiing, windsurfing, kitesurfing, topcat sailing and more. There is even a flyboard to float above the lagoon, for those in search of the biggest adrenaline rush only!
For trips off the island, you can go on snorkelling, fishing, diving or on catamaran island hopping excursions. If you are not PADI certified, the Maldives is a great place to get your license because the waters are calm and warm and LUX* has its own diving center.
The spa at LUX* Maldives South Ari Atoll
A visit to the spa is one of the must-do activities on any resort in the Maldives and LUX* is no exception, especially because it is extra nice.
The spa is located on the beach and has some treatment rooms right on the sand as well as some overwater villas for couples treatments.
All the products used have been developed for LUX* and can be tested and purchased at the store.
Before or after any treatment you can enjoy the serenity of the spa pools or the sauna/steam room. Evening treatments before dinner and bed are highly recommended.
Land-based activities at LUX* Maldives South Ari Atoll
One of the best things to do when at LUX* is taking a bike and cycling along the paths. Gym bunnies will be able to exercise at the island's gym either alone or with one of the trainers, and for groups, there are beach volleyball nets. Two tennis courts ensure the tennis fans don't lose the habit.
For the more mindful vacationers, yoga classes are available at the yoga pavilion, on the beach, and there is also meditation. Or perhaps a real life size game of chess? A library, unexpectedly located on its own at one end of the island right on the sand, is a great place to read and relax (the upper floor bean bags are very inviting!).
If you are after the perfect Instagram shot, the island is filled with many Instagrammable spots with swings, windows, perfectly shaped bushes, hanging hammocks in the ocean, nest-shaped sofas or cool signs.
Look out for the phone booth which allows you to call home anywhere in the world for free, or find the coconut hut where slices of fresh coconut await.
If you like treasure hunts, the resort's staff hides a few message bottles every day across the island filled with gifts for those who find them so you can set out on a quest to uncover them.
Of course, there are also two pools, aside from the private pools in some of the villas, to relax, read or simply enjoy the views.
The infinity pool is between Beach Rouge and Senses and is right above the sand with a small deck to one side and plenty of sunloungers and cabanas scattered on the beach nearby.
The second pool is by Veli Bar and is round and more suitable for small children because it has a very shallow part. It also has some cabanas to hide away from the crowds and stare at the ocean views.
If you prefer to dip your toes in the sand, the long stretch of beach on both sides of the island means that you will always be able to find a spot to put your towel down in complete solitude. Or use one of the beach beds by the water sports center.
In the evenings, apart from the DJ sessions or maybe a game of pool at Senses Lounge, you can also join a talk by the marine biologist on the population of whale sharks, enjoy one of the two sessions (one family-friendly) of cinema under the stars or practice your night photography on the beach.
Service at LUX* Maldives South Ari Atoll
The service at LUX* Maldives South Ari Atoll was friendly and willing to help, and believe me when I say this, we had a lot of unusual requests, from a flower bathtub (which three members of the staff spent one hour preparing), to switching the timings of everything we booked based on the weather.
We also made several special vegan requests at meal times all of which were happily satisfied, often with the chef specifically coming out or being consulted.
The staff were patient and keen to help out and requests were usually fulfilled quickly. The water sports team who came whale watching with us were very friendly and on the look out for whales and shared their knowledge with the guests.
Other things to consider when booking a stay at LUX* Maldives South Ari Atoll
LUX* is a very unique type of resort in the Maldives and there are a few things to consider.
Firstly, it is a large resort. If you like to stay active and don't mind cycling everywhere, you will be happy to be able to do so but for those who don't like constantly waiting for buggies or taking time to get to and from places, it can get a bit frustrating.
The full board package does not include any drinks, not even water, so consider going for the all inclusive option even if you don't drink alcohol.
The seaplane is a great experience but because you need to pay for it separately, it will set you back $900 for two. It also limits your arrival and return times as the latest seaplane is early (before sunset) so you might end up having a lot of hours at the airport on your departure or you will need to add a night in Male.
The beach villas near Beach Rouge may hear the DJ sessions so if you like early nights, ask for one of the farther away villas.
The side of the island you are on will determine the amount and type of sun you will get so chat to the resort to discuss or ask your travel agent for help choosing the right side depending on how much time you plan to spend in-villa.
The sunlounger area around the two shared pools is not very large and tends to be quite busy, especially with families, so if you are looking for quietness by the pool, consider booking one of the Romantic Pool Water Villas
Drones can be flown at LUX* but only from the two ends of the islands and away from the villas, this guarantees other guests privacy.
Verdict – LUX* South Ari Atoll review
LUX* South Ari Atoll gets a 5* review score on TripAdvisor from over 3,500 people who have left their thoughts, and that is quite a lot to say of a resort.
While LUX* Maldives South Ari Atoll is not one of the most luxurious resorts in the Maldives, it stays true to the lighter and brighter promise of the brand and it delivers on its promises.
The resort is very good value for money and offers a fantastic experience. The villas are beautiful and inviting, the food quality is truly very good and with enough choice that you don't have to repeat. The service is friendly and willing to help, from Jonas, the GM who always has a smile and a tight handshake, to the lady collecting the fallen leaves on the path. And there is so much to do that after four days of non-stop exploring I felt as if we had not even scratched the surface and wish I could have longer.
If you are looking for an over the top resort with lots of glam and snob, this is not the place. If you prefer a beautiful island that does not take itself too serious and enjoys a casual atmosphere, LUX* is the place.
Above all, I found LUX* Maldives was very good value for money and this is important in a country where all too easily, prices are unreasonably marked up just because.
If you're unsure whether you want to stay in the Maldives or Bora Bora, I have written a comprehensive article on this topic which has an interactive guide that will help you personalise your choice. Read on for which to choose Maldives or Bora Bora.
Pin this to your #luxetravel Pinterest board