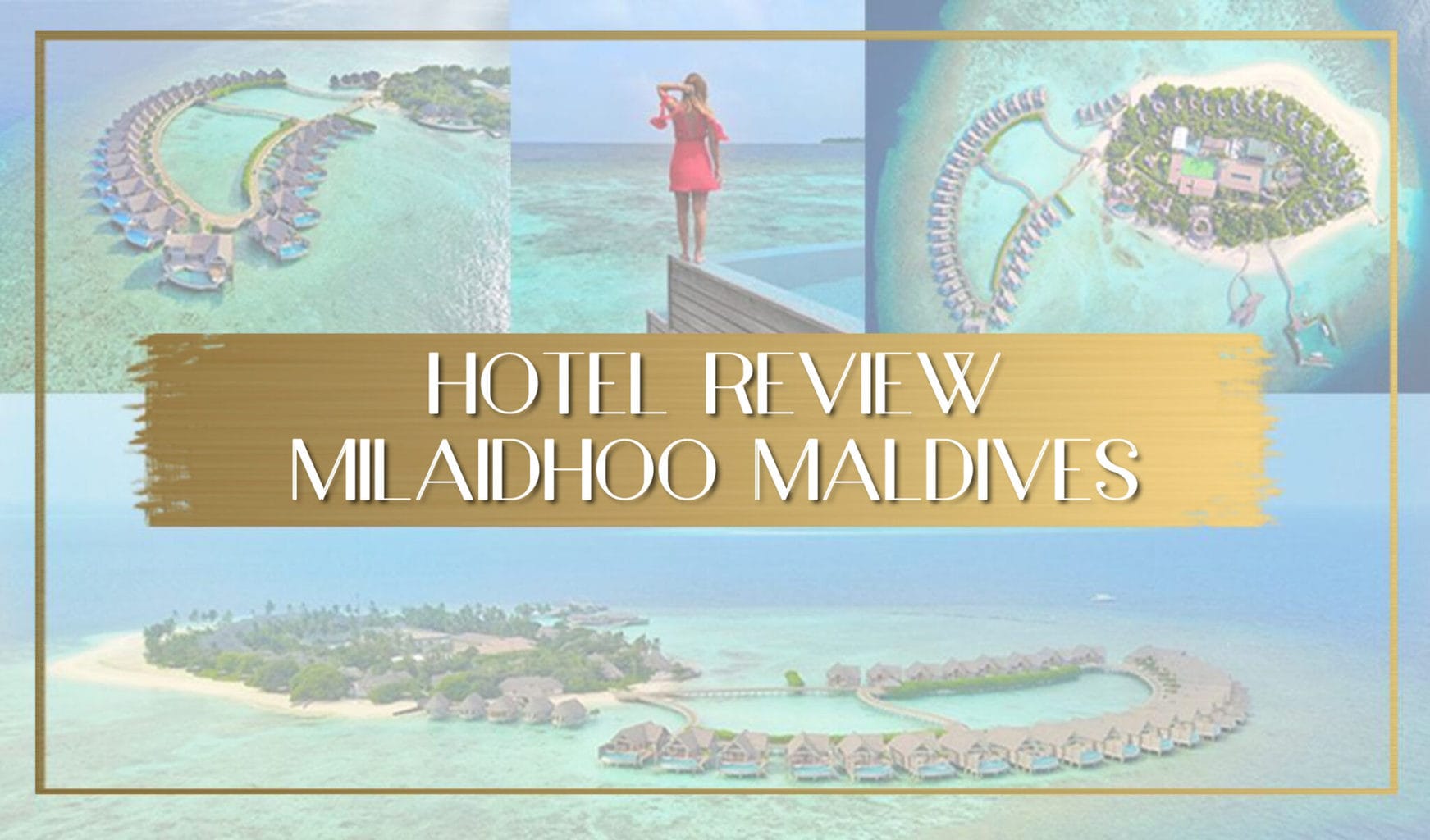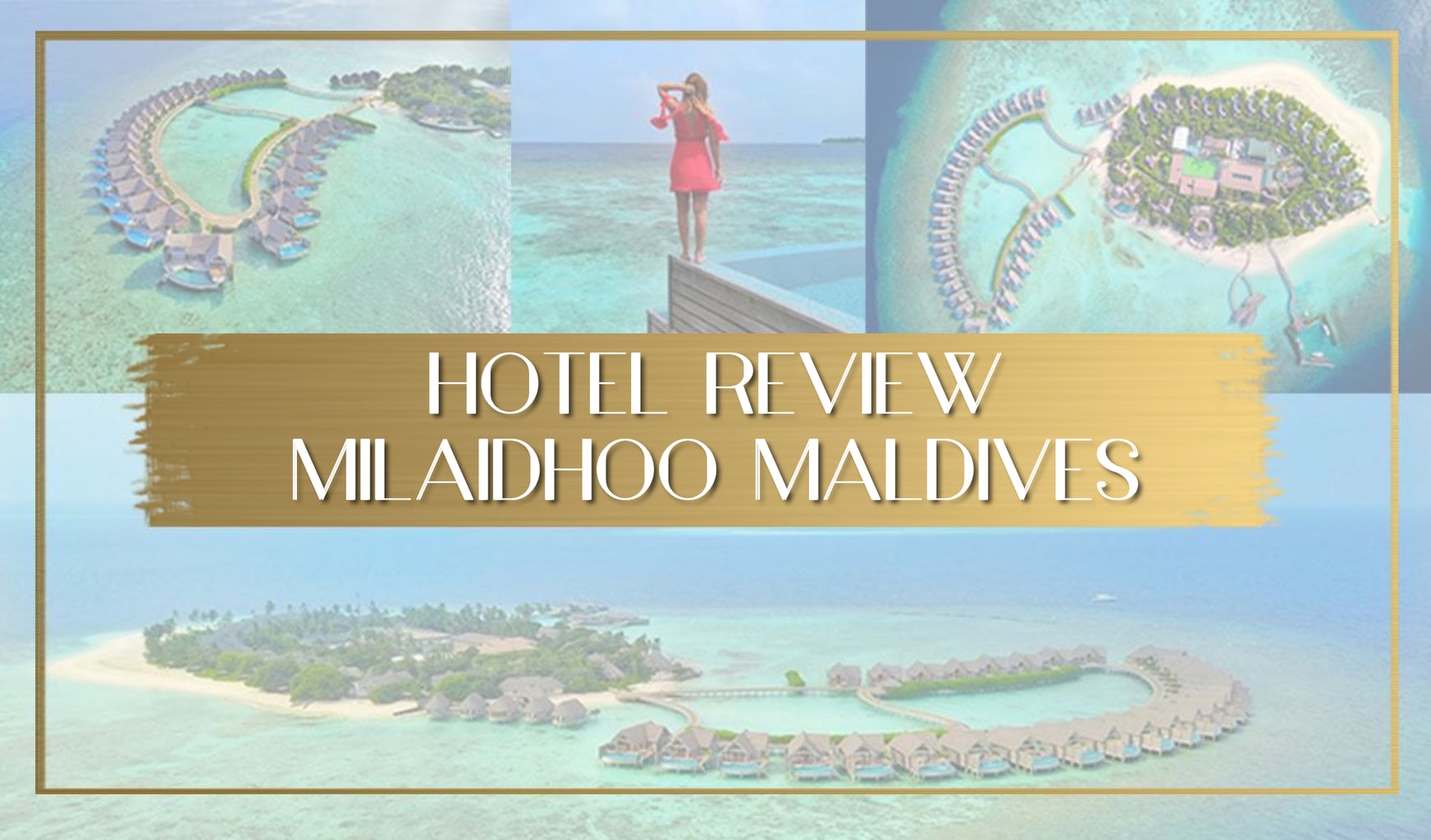 I was a guest of Milaidhoo and Small Luxury Hotels of the World on half board basis. As always with my reviews, all opinions are honest and my own.
Milaidhoo is a luxury boutique resort in the Maldives that is part of The Small Luxury Hotels of the World and delivers a different kind of experience in the saturated market of luxury resorts in the Maldives.
My stay at Milaidhoo was my fourth in the island paradise that is famous the world over for its 1,000 shades of blue and its many atoll islands, and I was excited to stay at a resort which looked decidedly different from the rest.
In this article I will share my experience staying at Milaidhoo and also the details and considerations you should bear in mind before booking. Is Milaidhoo for you? Read on to find out.
A bit more about Milaidhoo
Milaidhoo was one of the most awaited Maldivian resort openings of 2016. Its design and its promise to offer privacy (no drones, no selfie sticks), personalised service and a stronger Maldivian focus, rare in a destination where International is touted as an advantage, were seen by many as a refreshing addition to the country.
It is this focus on the local heritage that I hoped the resort would bring, and I was keen to better understand how a resort that is just 300m long and 180 wide (compared to LUX* Maldives where I had stayed just before and which is almost 10 times longer), would ensure we were kept busy and entertained.
Milaidhoo was designed by Mohamed Shafeeq, a famous Maldivian architect with projects across the country and abroad including the Waldorf Astoria Maldives, Kandolhu, Kurumba, Huvafenfushi, Anantara (Dhigu, Veli and Kihavah) and Naladhu.
The interior design, with most furniture custom-made for Milaidhoo, and its location on the UNESCO-listed biosphere reserve of the Baa Atoll, promised wonderful marine exploration and plenty of opportunities to go underwater in a country that is all about the sea.
Where is Milaidhoo
As mentioned, Milaidhoo is located in the UNESCO-protected biosphere of the Baa Atoll, about half an hour seaplane ride north of Male, in an area dotted with atolls and reefs and where several other resorts like the Four Seasons or Amilla Fushi are also located.
The resort takes it name from the island it is located on, although you could say that half of it (its over water villas) is actually on the shallow lagoon that encircles the island and not so much on the island's surface.
Arrival and check in at Milaidhoo
Like several other resorts in the Maldives, Milaidhoo can be reached by seaplane from Trans-Maldivian Airlines departing from Male's Velana Airport.
We transferred from LUX* where we were staying before, to Milaidhoo via Male. As soon as we got off the seaplane from LUX*, a representative from Milaidhoo was waiting to escort us to the check-in counter at the airport. After getting our boarding passes and our luggage checked in, we jumped on the bus to Milaidhoo lounge.
Located at the back of the seaplane boarding dock, the lounge was comfortable but basic. It had internet but not a lot in the way of food, despite it being lunchtime. There were biscuits, pound cake slices, vegan date balls and some fruits plus drinks in a fridge and coffee/tea.
Seaplanes usually run on their own schedule and are often delayed, except if you take the first one in the morning, and ours was no exception, so we ended up spending a couple of hours at the lounge doing some work before we were called to the boarding lounge next door where we waited for the boarding call and then walked over to the seaplane.
Our seaplane journey was direct to Milaidhoo although the plane was then continuing on to other resorts. Since there are so many resorts and islands near each other in the Baa Atoll, the seaplane usually makes more than one stop. On the way back, we stopped at Dusit Thani which was less than 5min away by seaplane.
When we landed at Milaidhoo, the privacy element the resort is known for was apparent. Instead of landing on the resort's pier, we landed next to a floating platform in the middle of the ocean where we disembarked to then board the resort's luxury motor yacht.
This is done so that the seaplanes do not continuously land and take off by the resort's guest villas as the island is pretty small and the seaplanes can be really noisy. For my complete guide to catching seaplanes in the Maldives, you can read this article.
The motor yacht ride was really short, less than a couple of minutes, and we stepped on the island's pier to the welcome smiles of our villa butler and the rest of the team.
A short walk to the reception was met with a fresh coconut drink followed by a glass of champagne while we acquainted ourselves with the resort, the GM and our butler, Sayan. We finished the check-in formalities and were soon seated on the buggy for the ride to our overwater villa, champagne glass in hand.
The villas at Milaidhoo
Milaidhoo was conceived with couples in mind and has only two types of villas, overwater or beach villas, plus the grand Ocean Residence and three Beach Residences.
There are 30 water villas and 20 beach villas measuring 245 square meters with thatched roofs and traditional parquet flooring in honeycomb shape.
Contrary to what you might expect, the beach villas are considered the more premium option and priced accordingly.
Inside, both types of villas are similar. Very high ceilings, light colored wood, textiles splashed in fuschia, red and cyan blue and expansive ocean views.
Large bedrooms come with separate long desks behind the bed, a big walk-in closet, a beautiful bathroom with a freestanding, oval and white composite bathtub, a spacious shower and his-and-hers sinks.
The decor is decidedly Maldivian but contemporary with Arabic influences that are a mix between Morocco and Oman. Or perhaps it was Zanzibar? This would make sense since the Indian Ocean was a major trade route between Asia and Africa and the Maldives would have no doubt seen its share of exchanges resulting in the country's Islam faith.
Beyond the feel of the place, all the furniture and furnishings were custom-made for the resort and cannot be found elsewhere. The chairs have intricate carvings similar to those found across the Maghreb and the brass lamps look like they were taken from the treasure of a sunken ship.
Indoor and outdoor blends in seamlessly as the doors can be fully folded open and are otherwise made of glass, floor to ceiling. The bathroom doors can also be open to the outdoor terrace to enjoy the views.
Bathroom amenities at Milaidhoo are from the century's old Italian premium lifestyle brand Aqua di Parma including the bath salts, the shampoo, the shower gel and the conditioner.
While I do not personally like the signature smell of the brand's famous colonia or the quality of its conditioner (a pet peeve of mine at 99% of the luxury hotels and resorts in the world), they did portray a certain image evocative of the Italian Riviera and of Italian's gentlemen style.
As guests tend to spend most of their time in their villas, the minibar becomes important. The fridge is hidden behind a closet and includes a well-stocked selection of drinks and snacks as well as a wine fridge which comes with mid-range wines and can be restocked with every guest's choices. The prices are aligned with the resort's villa rates and at the higher end of the Maldives spectrum.
All villas have their own outdoor freshwater plunge pools and butlers easily reachable on their mobile phones from the villas which you can take with you anywhere for that spur of the moment request.
The outdoor decks at Milaidhoo are almost as large as the indoor spaces and, in addition to the plunge pools, they also have a swinging sofa, a poolside oval-shaped daybed under a shaded roof made from tree branches, two sunbeds and a table with two chairs.
It is worth noting that, depending what side of the island you are on, the decks in the overwater villas may get limited to no sun with only the sun loungers enjoying some rays at certain hours of the day. This is a much appreciated feature for Asian and Middle Eastern guests with whom the resort is most popular.
The Ocean Residence villa is the ultimate destination. Spread over two floors and with lots of indoor and outdoor space, the villa is designed for perfect seclusion and privacy. It is located at the end of the row of overwater villas and facing south and away from the island.
From there, you will only see the other islands in the distance and the island hopping seaplanes. The lower level of the villa has a very large bedroom and living room with a double day bed, there is also a small kitchen area and a bathroom.
Upstairs, there is a small room with views over the ocean and another double daybed. The outdoor deck has a sofa, a daybed, a table with two chairs and two sun loungers.
All the villas at Milaidhoo are made for two and children are not allowed at the resort. The result is an adults-only boutique resort where you are unlikely to see other guests until sunset time as everyone keeps to their villa.
Dining at Milaidhoo
For a resort of this size, Milaidhoo had enough dining options to provide alternatives at every meal, although the cuisines were remarkably international except for the Maldives-only dhoni hosted restaurant serving Maldivian fine dining cuisine.
There were three different restaurants and one bar at Milaidhoo, all four of them along the stretch of beach that starts next to the reception and ends at the beginning of the water villas.
Let's look at each of the dining options at Milaidhoo individually.
Ocean restaurant
Ocean restaurant serves breakfast, lunch and dinner in an open plan indoor and outdoor seating facing the sea.
Breakfast is a combination of buffet and a la carte while lunch and dinner are offered only from an a la carte menu.
After staying at LUX* South Ari Atoll, I thought I had seen the best breakfast in the Maldives but Milaidhoo could have topped that. The spread was not only wide ranging in options but the made-to-order, a la carte dishes were also a great addition.
More importantly, Milaidhoo had a huge array of foods where it mattered most to me, with less Asian delicacies that I am less interested in and more Western items, like the huge cheese selection, the leg of Spanish ham and the dozens of fresh fruits freshly cut to order.
I was positively impressed with the spread and it made it impossible not to enjoy very long and lazy breakfasts every morning.
This is what was available for breakfast at Milaidhoo:
A Spanish leg of ham, six types of cured sausages, five other types of charcuterie cuts
Six types of smoked fish and fresh sashimi
Cooked non-pork sausages and chicken and turkey ham for those who do not eat pork
Cooked items like beans, spinach, roasted tomatoes, wild mushrooms, potatoes, sweet potatoes, pork sausages, and bacon
Over 20 types of cheeses including fresh and cured options served with nuts and pickles
Over 25 different kinds of fresh fruits from rambutan to mangosteen, two types of mango from Egypt or Thailand, two types of grapes and apples, jackfruit, mandarins, strawberries, kiwis, dragon fruit, snake fruit, plums, tamarind, three types of bananas, guavas, star fruit, peaches, oranges, pineapple, watermelon, etc.
Hot coffee made to order or cold drip coffee
Several kinds of pastries, fruit danishes, croissants (pain au chocolat, Nutella, cheese, almond, wholemeal, squid ink, etc.), donuts, cronuts, pound cake slices
10 types of cereals, milks, seeds
Ba'theli Lounge and Restaurant
Ba'theli Lounge and Restaurant is Milaidhoo's signature restaurant and one that I was looking forward to trying.
The restaurant is open for dinner and it is the only one in the Maldives hosted inside a traditional dhoni wooden boat located off shore in a group of three, one of which is a bar and the last one used as a kitchen.
The food served here is fine dining and primarily modern Maldivian with elements of Indian Ocean cuisine. The chef, Ahmed "Seabass" Sivath, is famous locally for hosting a cooking TV program and his take on modern Maldivian cuisine a first in the country.
As you may expect, this is an expensive restaurant with mains starting at $65 and topping at $100 despite the small fine dining portions. You can easily spend more than $150 per person plus drinks for dinner.
Service At Ba'theli is aligned to the fine dining concept. Waiters have been trained for the occasion, the lights are dimmed, romance is in the air and food is great.
Ba'theli was the only chance I had in my three weeks in the Maldives to enjoy local food so I very much appreciated the chance despite the cuisine not being very vegetarian-friendly as my travel companion discovered.
I highly recommend ordering the set Maldivian heritage degustation menu where you get to try a few of the chef's local dishes at a more reasonable price ($250 for two).
The Shoreline Grill
The shoreline grill serves a selection of grilled seafood and meats locally sourced and from around the world.
The menu features some truly premium options like a tomahawk suitable for two and priced at over $250, signature grill stands at close to $300 for two as well as some other more affordable a la carte alternatives.
The Shoreline Grill is a place to come to satisfy an appetite for premium grilled meats and seafood.
The restaurant also offers the Chef's Table where a teppanyaki-style dinner is cooked in front of your eyes by the chefs, and a Wine Cellar room where you can order canapes and glasses of wine or book a private wine tasting session with the sommelier.
The teppanyaki Chef Table has a la carte options and set menus at $200+ per person with lobster or meats.
The Compass Pool Bar
On top of the Ba'theli lounge, there is also a bar along the shared pool, by the beach. The bar is nestled between the greenery and the beach and is the perfect place for a poolside drink.
Sand between your toes, hanging nest swings, wooden tables, candle lit lanterns in the evening, wine and cocktails. This is a fine place to come see the sun go down with a drink and live music. Or to smoke a cigar from the resort's cave.
All inclusive Gourmet package at Milaidhoo
The most convenient and affordable way to experience Milaidhoo is by booking their Gourmet package which includes breakfast, lunch and dinner at Shoreline Grill and Ocean restaurants and a dinner at Ba'theli every four nights.
While the menus are not all inclusive and some items are off the Gourmet package list, the majority are, making this a very affordable choice. Drinks are also part of the package but the minibar and room service are not.
What to do at Milaidhoo
Milaidhoo offers no motorised sports, bans selfie sticks and drones and ensures there is minimal to no noise around the resort.
It aims to provide quietness, peace and privacy above all and it differentiates from many other resorts on this. And it succeeds. So much so that when I flew out to Colombo at the end of the stay to attend a conference, I was deeply bothered by the noise of people's chatter.
For those who stay longer and want to explore the area, there are a few private activities available for booking through your butler which are called Milaidhoo Moments. They are all arranged on a couple's only basis so they can become quite pricey.
Here are a few of the best Milaidhoo Moments you can book.
Excursions to the sandbank
Milaidhoo has exclusive use of a strip of sandbank in the shape of the Nike sign that is a few minutes from the resort between Milaidhoo island and Amilla Fushi. The sandbank is popular with seagulls who come to nest in the area and is a beautiful place to enjoy some true solitude with the whitest and most powdery sand.
You can book breakfast, lunch, picnics, sunset drinks or dinner on the sandbank for an increasing rate that goes up to $1,400 for private dinner for two with wine from the resort's cellar. I paid something similar for a sandbank dinner at Six Senses Laamu.
I can honestly say that the time we spent on the sandbank was the most special of our entire stay. The staff member took us on one of the smaller speedboats and then he placed an umbrella, brought some drinks over and some fruit skewers and we had an hour to ourselves flying the drone and enjoying the place.
The water was incredibly clear and warm and the sand was the whitest you will see, representative of the Maldives experience most people come to expect of their vacation.
Diving and snorkelling at Milaidhoo
The Baa Atoll is known the world over for its rich marine life and wonderful diving opportunities. There are many diving sites nearby where you can easily spot reef sharks and turtles and if you are lucky, dolphins.
In season (June to November) one of the largest groupings of mantas can be found at nearby Hanifaru Bay which you can organise an excursion to. Seeing mantas is one of the most spectacular diving experiences in the world.
If you are not certified, Milaidhoo's dive center offers all levels of diving courses from the initiation discovery diving type to more advanced options only for those staying longer.
One of the few group activities available daily is a snorkelling trip to the house reef which is offered on a daily basis. Even if you do not dive, snorkelling should be top of your list in the Maldives.
Activities available on land at Milaidhoo
Milaidhoo has a wonderful overwater spa with four treatment rooms and a yoga pavilion where complimentary sessions are offered every morning.
Milaidhoo, like all Maldivian resorts, also has a spa. With its turquoise, Moroccan-inspired door, the Serenity Spa is a place you should make sure to visit during your stay.
It has an extensive menu with 60-minute treatments starting at $225. There are also facials, body treatments like scrubs, pedicures or manicures and longer ceremonies that combined a few treatments. The couple's rooms with bathtubs facing the ocean and the relaxation huts post treatment are wonderful.
If you like to learn to cook local foods, Milaidhoo also offers cooking classes with the chef. Maybe you can go back home with a new recipe to wow guests at a dinner party.
Other things to do at Milaidhoo
Contrary to other bigger and more active resorts, there is not a lot to do on Milaidhoo so the majority of guests simply enjoy their time in-villa. The only shared area where you might (rarely) spot other guests is the common pool by Compass Bar.
This infinity pool above the beach is beautiful and faces the sunset. It has mostly some tables and chairs around but also a couple of sunbeds. There are no shared sunbeds anywhere else.
If you want to enjoy other water activities, you can rent a regular or a see-through kayak (even with an instructor), stand-up paddle boards or windsurf equipment.
All of this equipment is available for a fee except for the regular kayak so it can start to add up if you want to use them unless you are an experienced user and can make the most of it. The fact that these are chargeable activities discourages a lot of guests from simply trying for a short while.
However, at $110 per hour, I found the catamaran rental to be quite reasonably priced, even with a skipper, and perhaps the best activity to book at Milaidhoo since the area is beautiful and a catamaran is a great way to explore it.
Other tailor-made activities in Milaidhoo also included sunset dolphin cruises with champagne, night diving or snorkeling, fishing or even visits to local Maldivian villages.
Service at Milaidhoo
Life at Milaidhoo happens at a slower island pace, even for the Island Hosts as the butlers are appropriately called, who are very happy to help with everything but never seem to be in a huge rush.
For the Island Hosts, nothing is too much to ask, and the resort prides itself in helping guests create their own stories.
And so we did, ask for anything.
From ice for the complimentary half bottle of Ruinart Champagne that waited for us in the room at check-in (which we forgot about), to sliced oranges which arrived cut in halves and thus sank in the bathtub where we intended to place them (blogger life).
The staff catered to all of our strange requests. From a last minute sandbank trip to fly the drone to a specific table booking at breakfast to photograph the food against the sea, to the possibility of flying from the Ocean Residence to avoid bothering other guests, to a tour of the spa.
The can-do attitude and the "everything is possible" spirit definitely permeated albeit at island speed. Of course we were not the resort's regular guests, coming to relax and indulge but were collaborating with the resort to create content and write this review so our needs were slightly unusual.
Other things to consider when booking a stay at Milaidhoo
Milaidhoo is made for couples looking for privacy. If you are a very active person who loves to participate in many activities there are more suitable resorts in the Maldives to be active. This is a resort for those who are looking for private time with their loved ones away from it all.
Milaidhoo is an exclusive resort and that usually comes with a higher price. All food and drinks outside of meal packages are expensive and the activities are pricey too. Booking the all-inclusive Gourmet Package will pay off.
Milaidhoo is one of the few resorts that are better booked via your favorite agent because they tend to have better offers available. For example, the Gourmet package is not bookable via their website and the prices are higher than when booked via an agent.
Verdict – Milaidhoo
Milaidhoo is a great choice for those who truly value silence, time together alone and privacy. The resort is a favorite for Middle Eastern guests who appreciate the large private space in the villa. Honeymooners will also find it the perfect resort to extend the romance.
For those who like to stay active, explore the area and be continuously trying new things, resorts like LUX* South Ari Atoll or Six Senses Laamu are a good alternative. They offer plenty of in-resort activities, are large enough to have a lot available and have plenty around too.
If you're unsure whether you want to stay in the Maldives or Bora Bora, I have written a comprehensive article on this topic which has an interactive guide that will help you personalise your choice. Read on for which to choose Maldives or Bora Bora.
Pin this to your #travel and #luxehotels boards