This article on the best boutique hotels in Singapore was last updated in June 2020.
The first luxury boutique hotel in Singapore only opened in 2004. The Scarlet Hotel was the original, the first one and also the most audacious one. Since then, the small city-state has bloomed with many other options. Here are my picks of the best luxury boutique hotels in Singapore.
There are great Singapore staycation deals that include some of the hotels on this list. Read our article on the best Singapore staycations under S$200 to find out more.
The Scarlet Hotel
The pioneer hotel on Club Street is a blend of old and new, a red velvet Chinese den in Singapore's eponymous expat go-to evening spot. I know because I lived in the area for two years. Set in a contiguous line of shophouses that were refurbished and renovated to accommodate the requirements of a luxury hotel, The Scarlet is a great place to reminisce of Singapore's past in modern obscene luxury.
Take the outdoor jacuzzi with views over the Buddha Tooth Relic Temple & Museum in Chinatown, or the neon lit red corridors connecting all the shophouses and you are sure to be transported to the last century of Chinese decadence.
The rooms come in various shapes and layout to maintain the essence of the shophouse architecture and the common spaces are decked with chaise longue and chandeliers. It reminds me very much of the Parisian-themed L'Escape Hotel in Seoul.
Even if you do not stay there, drop by for authentic Italian fare with strong truffle influences at Casa Tartufo, run by a Singaporean-Italian couple or one of the many great restaurants.
Book now on Booking.com | Agoda
The Naumi Hotel
Naumi is both naughty and nice. She will guide you through grey corridors of excess and fun and help you make the right choices. Nestled at the edge of the CBD, far away to elude all the chaos but close enough that you can pop by the office in a jiffy, Naumi embodies the concept of grown up modern chic.
Watch the sun set over the infinity pool, the first rooftop of its kind in Singapore, reached through the staircase to heaven, or the hangover cures served at breakfast and you will know what I mean. The rooms are sleek, functional and smart and make the most of technology to bring a smile to your face. The devil is in the details, and so is Naumi, the slightly flirty lady that welcomes you to a world of fun riddles and innuendo. Here is my full review.
Book now on Booking.com | Agoda
Six Senses Singapore at Duxton Hill
Newly opened in April 2018, the Six Senses Singapore at Duxton Hill is the brand's first urban retreat. Yet what it lacks in sand and sea it makes up for in style, heaps of gorgeous style. Apart from its much larger 200-room sister property in Maxwell Road, that will open in Fall, the Duxton property only has 49 rooms.
Meticulously conceived by Bond Girl turned design guru Anouska Hempel, it's not only the distinctive rooms that are pleasing to the eye, but the entire boutique hotel that garners attention to detail. Hempel is credited with inventing the concept of the boutique hotel, so you can imagine that the Six Senses Duxton Hill is on par with the best of them.
Hempel's trademark consists of a mismatch of old and new, dark and bright, East and West, sober and opulent, fitting right in with Singapore, where skyscrapers tower over centuries' old heritage shophouses. By far one of the most Instagrammable spots in Singapore.
When planning a stay, I would recommend the Skylight Suites which have added brightness and romance. Other than the design, there are a few finishing touches that make this a truly boutique experience. You are welcomed by a Tibetan singing bowl, advised in a consultation with a Traditional Chinese Medical (TCM) expert, dine with deconstructed Chinese food at Yellow Pot, or sip the signature Escape to Kaifeing cocktail in the Yellow Pot Bar. See some amazing pictures of when I stayed here in my complete review of the Six Senses Singapore at Duxton Hill.
Book now on Agoda
Wanderlust Hotel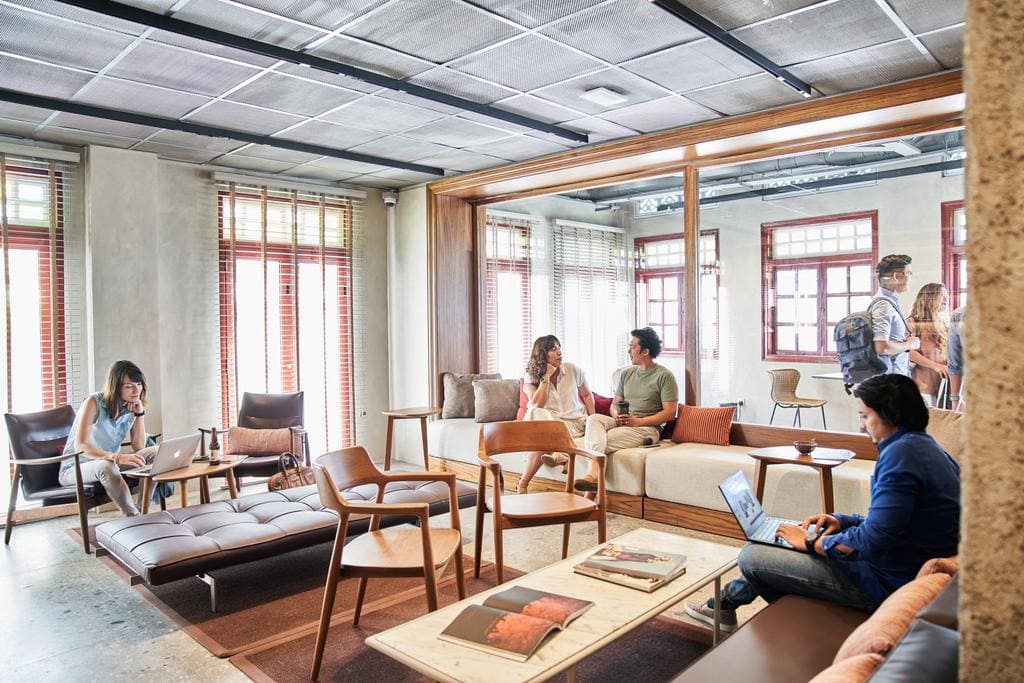 Once part of The Unlisted Collection but now managed by 8mcollective, this is a gem in the middle of the exotic, colourful and vibrant Little India neighbourhood (with the glorious Mustafa Centre). What used to be a fusion of various designs, concepts, trends and aesthetics has become a minimalist zen-topia with meditative colors, calm moods and an all-round relaxed atmosphere.
The lobby is a meeting place for traveling digital nomads to sip their morning coffee at one of the workstations, the pool invites afternoon plunges for refreshment and Kotuwa (helmed by Michelin-starred chef Rishi Naleendra) celebrates Sri Lankan cuisine. The loft suites are also something rare in Singapore boutique hotels.
With sustainability at heart, Wanderlust attempts to reduce its carbon footprint and plastic use, become completely energy efficiency and also provides guests the option to use only what they need with their select-service model.
Book now on Booking.com | Agoda
Lloyds Inn Singapore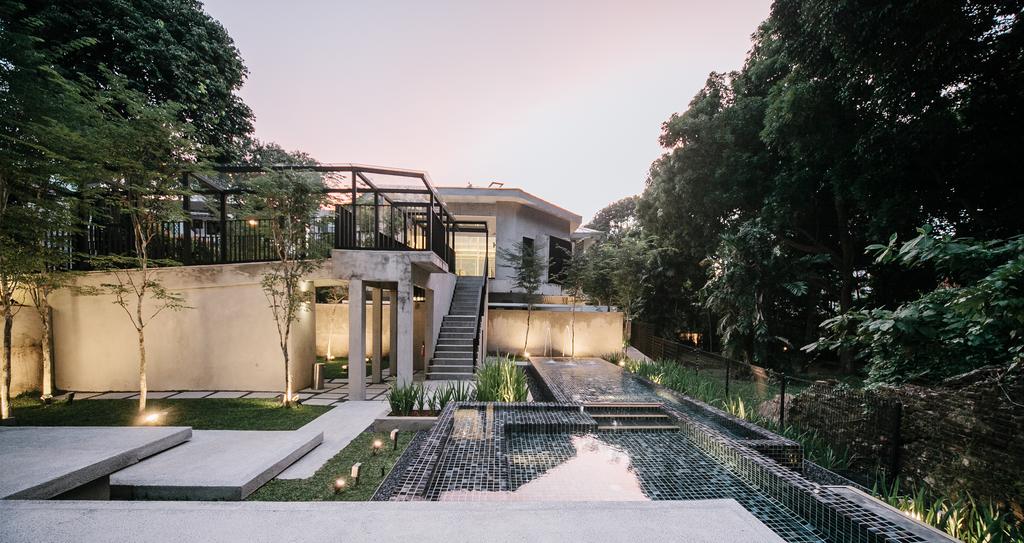 A minimalistic concept that almost feels like it is trying to stay off the beaten path, unknown. The small hotel believes in nature, space, light, texture, convenience and comfort.
This means that you can bring your own breakfast and enjoy it at the outdoor pantry, make a cocktail under the stars on the rooftop or take a dip in the outdoor pool. Lloyds Inn is different and not for everyone. Think straight lines, white walls and linen, grey touches and natural wood colours.
Book now on Booking.com | Agoda
D'Hotel Singapore (former Wangz Hotel)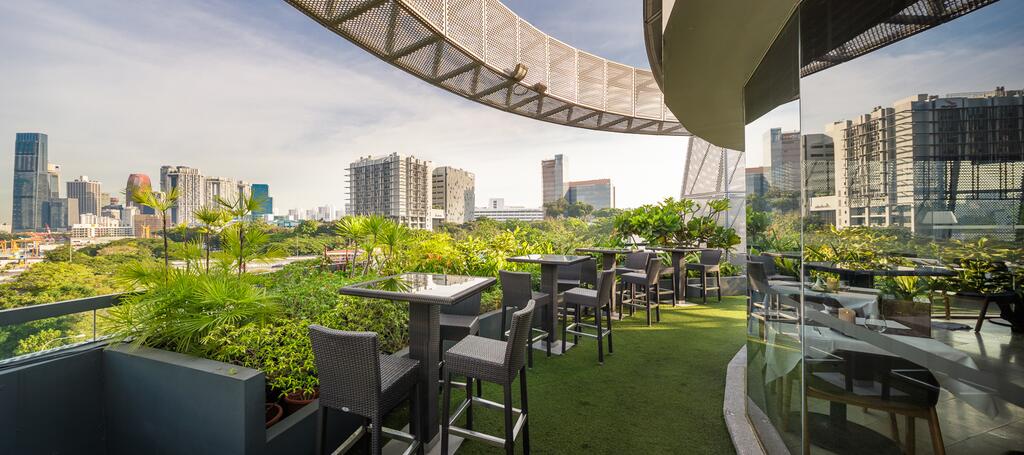 A futuristic and funky hotel, D'Hotel is located in the gentrified area of Tiong Bahru, the place where the craze for specialty coffee started in Singapore. Return to the basics in this neighborhood where life moves at a different pace and you can still see a lot of the old ways of Singapore before the glitzy Marina Bay Sands opened. I like their rain showers with outdoor views and the rooms with patios, such a rare thing in Singapore.
Book now on Booking.com | Agoda
Ann Siang House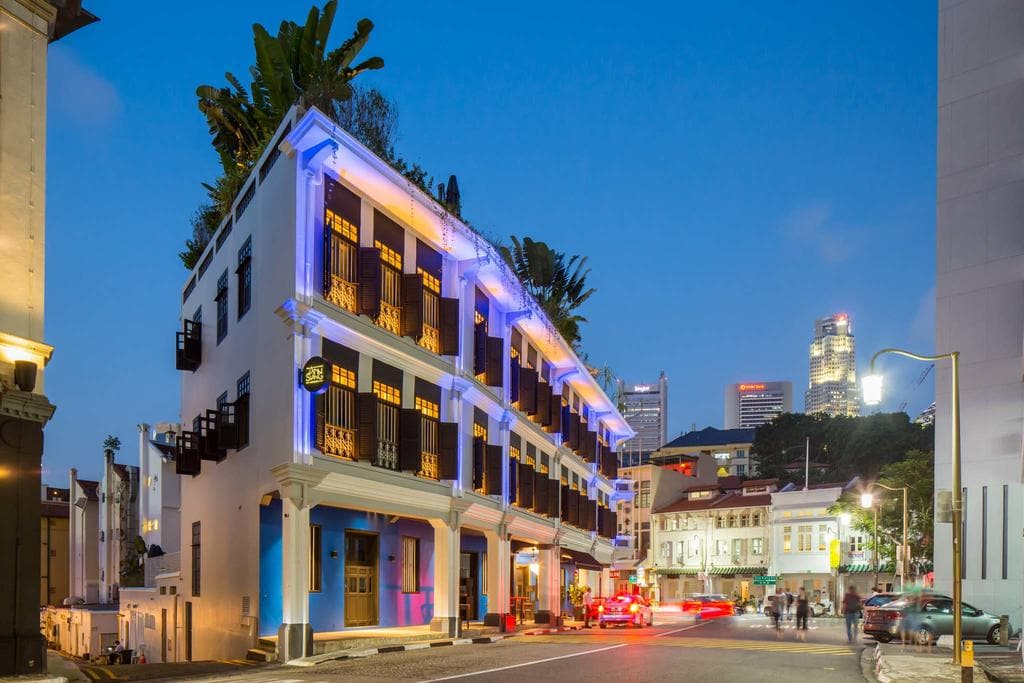 A former heritage shophouse-cum-club that maintains the eponymous neighborhood's hip and happening vibe, Ann Siang House is centrally located in Singapore's top expat haunt. The stylish electric blue and golden hues encompasses the entire property inviting deign-minded travelers with a keen eye for detail.
All 20 rooms are as equally as trendy with Hypnos "Firenze" beds, supposedly the comfiest in the world. Some rooms have their own kitchenettes if you want to warm up a quick meal before heading out. Bathrooms include either tubs or rain showers, with complimentary Ashley & Co bath amenities.
The neighbourhood encompassing the hotel, Ann Siang Hill is perched within the larger Chinatown district. So it's a great place to base yourself for some serious touring.
Book now on Booking.com | Agoda
Porcelain Hotel by JL Asia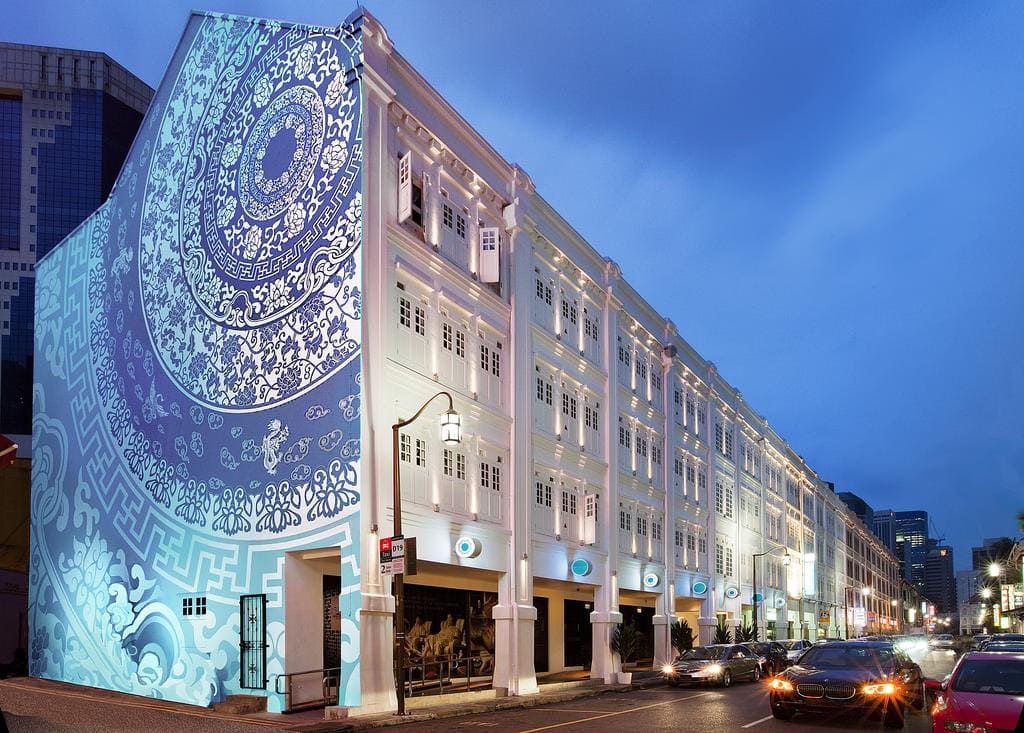 Another fantastic heritage shophouse conversion in Singapore's Chinatown, Porcelain Hotel is sleek and elegant with stylized suites that are a bit smaller than your average. You'll find ancient Chinese Qing and Ming dynasty designs blended seamlessly with a modern twist.
The largest room is the Theme Suite which shares the minimalist patterns with other rooms, but comes complete with a bathtub for additional relaxation. Pop into Bee Cheng Hiang Bakkwa around the corner to try Singapore's signature beef jerky or just take a stroll down the street to visit any of the amazing restaurants, eateries and cafes.
Book now on Booking.com | Agoda
Hotel G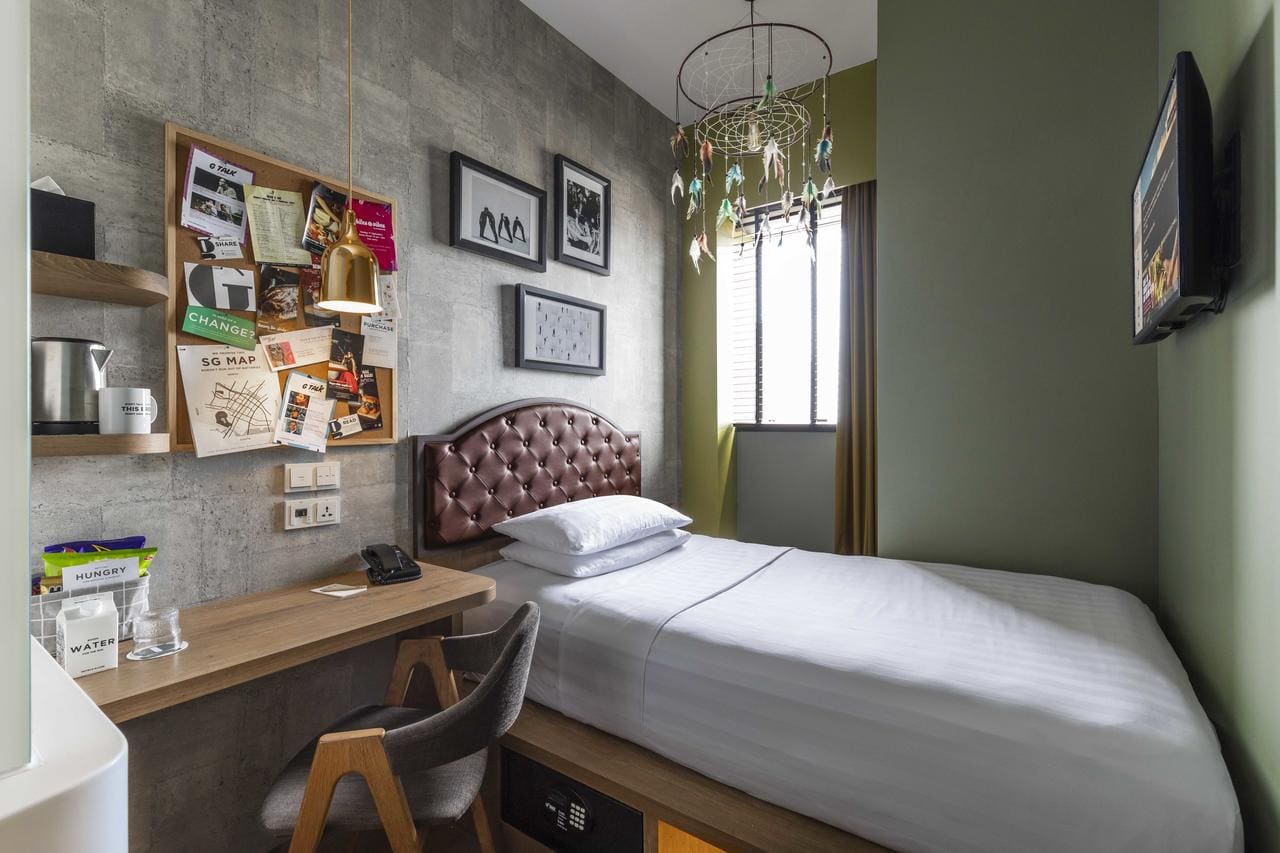 If size doesn't really matter to you, we'd really suggest a stay at Hotel G. While some rooms are more of a closet than a spacious apartment, the service is top-notch, the design is super trendy and the clean plush beds make for a comfy sleep. Not all rooms are minuscule thought, but what they lack in size, they make up for in design where each room is uniquely decorated.
The fully equipped gym on the 3rd floor is something out of Brooklyn with exposed brick walls and vintage furniture adding an element of cool. Two of Singapore's trendiest eateries are also housed on the first floor, French wine bar and resto Ginett and burger joint 25 Degrees both create delicious food in an airy, trendy atmosphere.
Hotel G is extremely close to Bugis for some shopping, Dhoby Ghaut MRT station and about 15 mins to Orchard Road on public transportation.
Book now on Booking.com | Agoda
If boutique hotels aren't your thing, then why not check out my ultimate guide to luxury hotels in Singapore, hotels in Singapore with rooftop pools, or one of these nearby places in Bintan and Batam you can get to. If your hotel doesn't have a pool you can always escape to some of the best beaches in Singapore.
Don't forget to Pin this post to your #luxuryboutiquehotels board!