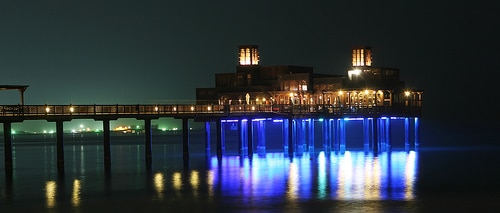 Dubai, a city known for being the center of attraction in the Middle East, is a magnet for both business and tourism. It is a city where buildings touch the skies and one of the world's largest malls is.
Dubai surprises for bringing the uncommon definition of luxury and exoticness to the next level. Dining is not an exception. One of the strangest facts about Dubai is that, while there are world-class restaurants, there is no official Michelin guide to the city. But here are some of my favorite restaurants in Dubai.
1. Pierchic
For some time now, Pierchic has had the reputation for being one of the fanciest and most romantic restaurants in Dubai. With its over-the-water dining experience, dazzling views of Arabian Gulf, the Dubai Coastline, Palm Jumeirah and the iconic Burj Al Arab, the restaurant welcomes guests to enjoy lunch and dinner in a la carte menus of classics including Oysters, Scallops, Sashimi and Lobster, as well as a wide range of fresh Fish. The inviting space, wooden tables, and Swarovski crystal light installation over the bar, scream romance. Pierchic is well known for the warm, friendly, knowledgeable and attentive service. Wander along the lush gardens of the Al Qasr Hotel on your way to the beach.
2. Zuma
Zuma, located in Dubai's International Financial Center, brings a contemporary twist to Japanese Izakaya dining and is a fine example of informal yet highly sophisticated food sharing. The setting is just perfect for people to meet and enjoy a casual yet stylish Japanese meal as the food is brought to the table.
3. Catch
At the Fairmont Hotel, on Dubai's Sheikh Zayed Road, food, service and amazing scenery are fused to provide one of the most creative and original drinks and recipes in Dubai. The food is rich in taste and visually appealing. Catch is the perfect balance between dining and nightlife. It's cool, fun, stylish and hipster.
4. Al Mahara
Al Mahara pays tribute to its meaning in Arabic, "Clamshell", by offering an unmatched dining experience within a vast aquarium. Lit by the blue glow that emanates from the aquarium, entertained by the swimming fish within, and enjoying the best cuisines the sea could offer, Al Mahara is an exclusive experience complete with fabulous service to match.
5. Buddha Bar
A tourist and local resident magnet, Buddha Bar is one of the those venues with amazing reputation. Located in the Grosvenor House Hotel and named after the Buddha statue that watches over this lavish setting, Buddha Bar serves food, drinks and chill out music in a comfortable and out of the ordinary atmosphere. The menu is a combination of Asian fusion dishes with Japanese, Chinese and Thai influences. The drinks are worth a trip.