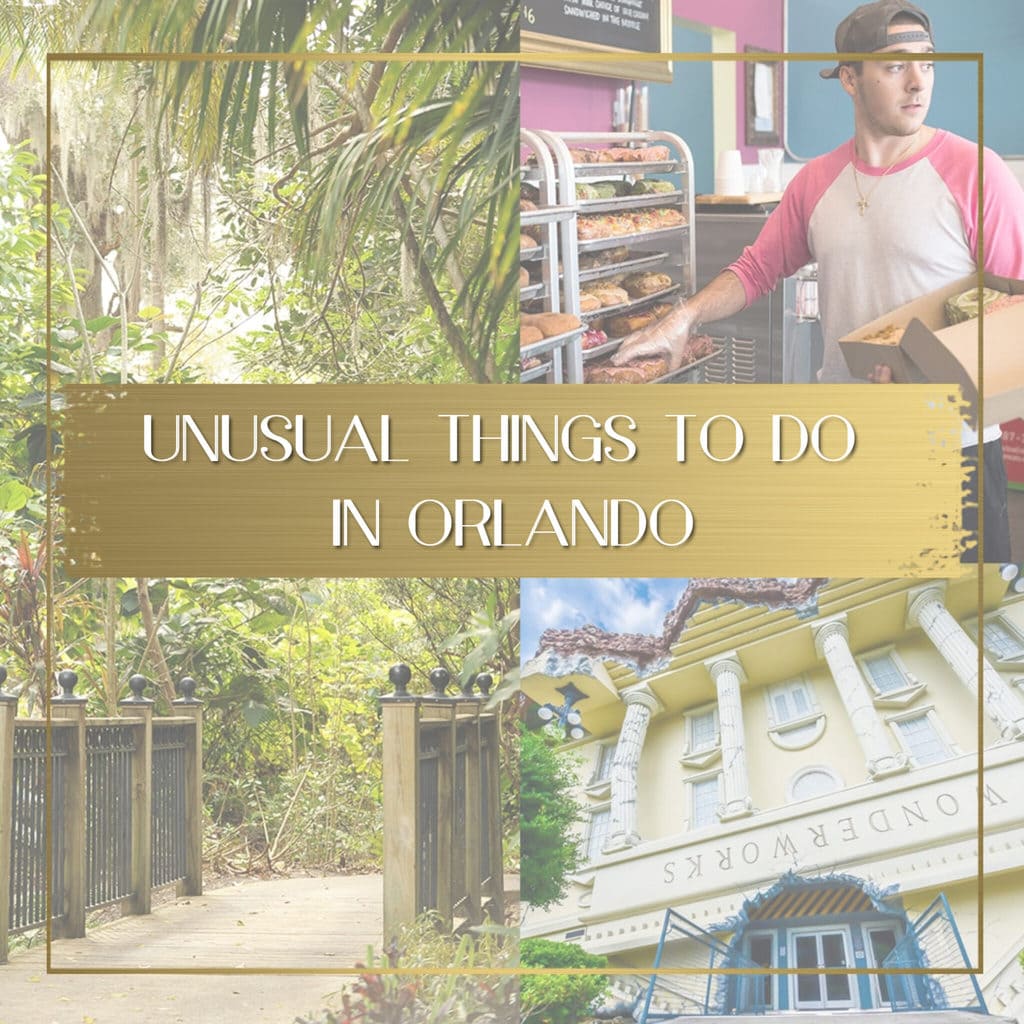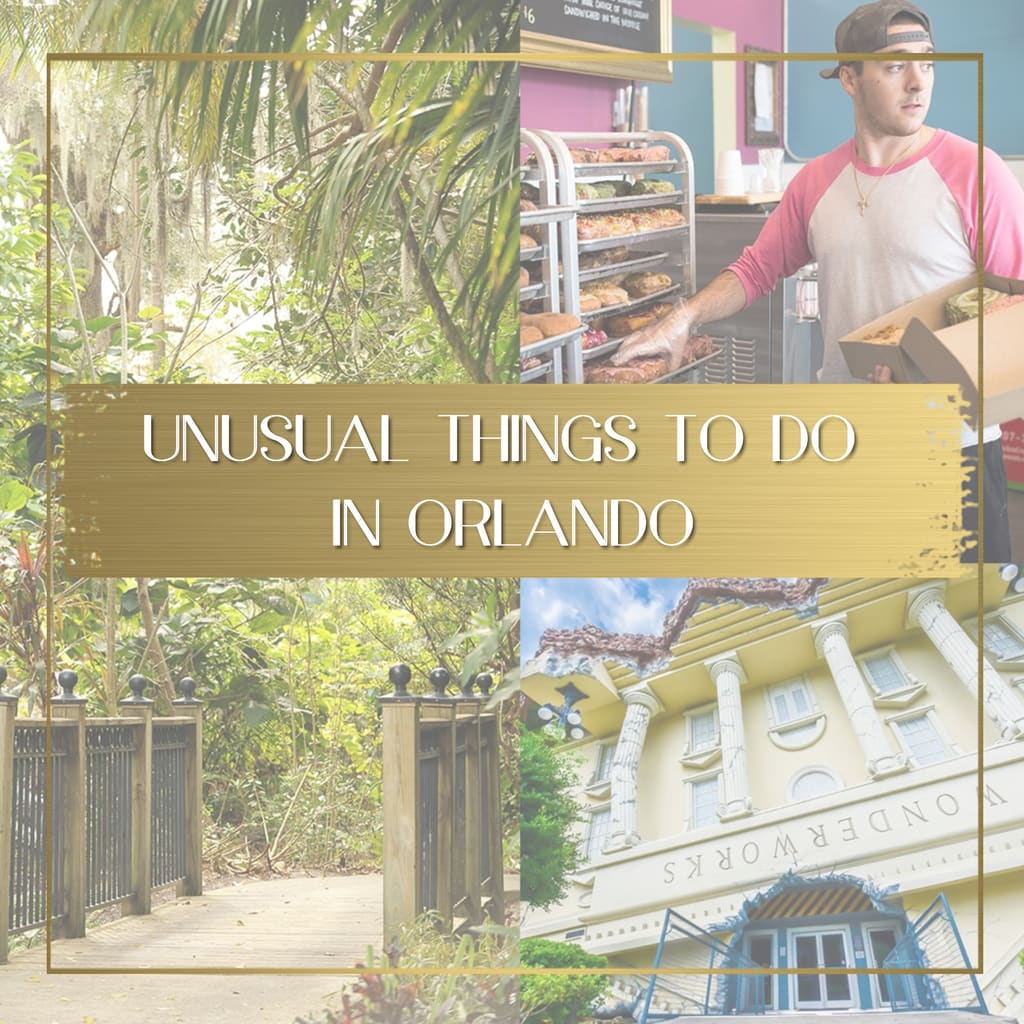 When someone mentions Orlando, the first image that comes to mind is Mickey Mouse and the Magic Kingdom Castle. But there is so much more to this subtropical city than a bunch of theme parks.
Due to its climate, Orlando boasts a biosphere that has a diverse range of flowers and animals, most notably orchids and crocs. A visit to Orlando would not be complete without a stop off in nature. Apart from the lush flora there are a number of unusual things to do in Orlando that aren't mentioned in the run-of-the-mill tour guides.
Visit a biblical theme park, chow down on a doughnut the size of your hand or explore an upside down house among many other interesting things to do in Orlando.
Wave goodbye to Goofy and Pluto and say hello to the most unique activities, cool places and unusual things to do in Orlando.
1. Visit a Christmas theme park
Whether you're religious, atheist or just somewhere in between, The Holy Land Experience is definitely one of the most interesting things to do in Orlando, a religious theme park of sorts where you can learn more, participate in the faith or simply get entertained by the many productions and experiences.
While the tone is one of faith, it is also educational and historical with a touch of theatrics. The performances are grand and you can take a behind the scenes tour and see what it takes to bring them to life from the point of view of the costumes or the technology, so this is also an interesting places for those who are just fans of the theatre.
The Holy Land experience opened in 2001 by Jewish Marvin Rosenthal who wanted to expand the Gospel and also tell about the Judaistic roots of Christianity. In 2007, Trinity Broadcasting Network (TBN) purchased the property and expanded it further.
This living, biblical museum also has a 2,000 seater Church of All Nations to witness next level dramatic productions and get in a bit of prayer time. For those interested in artefacts, the Van Kampen Collection of Biblically related artefacts hosted in the building has some rare pieces dating back 4,000 years and is the largest in the world.
2. Challenge yourself to a massive square doughnut
In America, bigger is always better. So go big or go home with a BFD (Big F***in' Doughnut) as the guys from Valkyrie like to call their massive doughnuts. These big guys are the equivalent of around 2-3 "normal" doughnuts and are served in boxes that look like individual pizzas but even higher. Not to worry though, if you can't guzzle down the BFD, there are "mini" doughnuts you can order ahead or nuggets which come in cups and are as delicious.
Although the menu here is basically focused on the doughnuts, there are also a host of other delectable treats, from root beer floats to soft serve to the megalithic Doughnut Sammich – a giant doughnut stuffed with a brick of DaJen's Irie cream. You can wash it all down with a cold brew or drip coffee from local Golden Hills Roasters.
Note that all their doughnuts are egg free, dairy free and vegan friendly, but do contain gluten. There are benches outside the store to enjoy your treat, or bring your four legged friends, and a small bar from where you can feel like you are the main character in a show, trying to eat the massive doughnuts without ending up with sprinkles all over you. This is not a lounging place though so better to take away and maybe enjoy them back home in the comfort of your sofa. One of the best places to indulge in Orlando.
3. Explore tropical plants from around the world
Due to Orlando's position on the map, it shares a tropical climate that is on par with most Southeast Asian countries. This makes is the perfect position for a range of flora and fauna to flourish. Possibly one of the best places to visit in Orlando to see the large variety of plants is Leu Gardens with 50 acres to explore! As you walk around the area, make sure to look out for the QR codes on the many plants and trees which give more information on th specific species. If you are a gardener yourself, you can also attend one of the propagation classes and get some to take home and see if you can replicate the garden's success.
This botanical oasis was donated by Mr. Harry P. Leu and his wife, Mary Jane, way back in 1961 and has maintained its original beauty ever since. They accumulated tropical plants from their travels and kept expanding the gardens. You would not be able to do that today, with all the custom and border controls across the world, but back then these were the types of souvenirs that the couple enjoyed to collect.
Leu Gardens is the perfect place to go for some respite from the busy city – by yourself, with the kids or even to tie the knot as this is a popular wedding venue. You can also learn a thing or two about tropical plants.
There are classes, camps, tours and workshops to attend. So why not stop over to harness your green thumb powers. There is a minimal $10 fee for adults and $5 fee for kids and young adults (4-17 years old), toddlers up to 3 get in for free. They are open every day except Christmas from 9-5. There are no dining facilities on site but there is a vending machine.
4. Find a medium at Cassadaga Spiritualist Camp
We all need a digital detox from time to time. Getting away from the iPhone neck and the constant glare of the laptop. One step further is to go on a complete spiritual retreat, where participants not only escape the clutches of their smart phone, but have a personal guru to attend their every need.
Visiting the Cassadaga Spiritualist Camp is probably one of the most unique things to do in Orlando on a holiday. Established in 1894 and designated as a Historic District in 1991 by the National Register of Historic Places, Cassadaga is a meeting place of like-minded individuals to gather and share their beliefs and a permanent community for the few who live there.
Even though many people take up residence in the 55 houses, the public are invited to visit, participate in classes or even get a consultation from one of the resident mediums. They not only offer workshops, classes, tours and seminars, but also provide accommodation for outsiders to relax in the tranquil settings. Whether you're a believer or a skeptic, this is by far one of the most uniques place in Orlando to spend the day.
If you are not interested to explore your spiritual side but are just curious to learn more about this Victorian era community, there is a tour that will tell you about about the philosophy but also show you its architectural value and the reason why it is registered as a historic place that started at the end of the 19th century. For the brave ones, there are night spiritual tours too.
5. See views for miles and miles from the Citrus tower
Billed as one of Florida's first attractions opened in 1956, the Citrus Tower has one of the most amazing views of the state. Just a quick 22 mile drive from Orlando, in Clermont, donate a small $6 fee and ride up to the top of the 69m tower overlooking Florida's scenic South Lake County region.
The tower was built as a tribute to Central Florida's citrus industry and while it used to provide views over thousands of citrus trees below, the citrus trees disappeared in the 80s as a result of freezing weather, and with them, a 100-year old industry. Despite the trees are no longer there, the building still stands a reminder of the area's historical growth and still provides expansive views.
If you're lucky to be in Orlando during the festive season, the tower is lit up from base to tip providing a spectacular light show. It's therefore one of the best things to do in Florida during Christmas.
Don't forget to visit Lilly's Gifts on the ground floor where you can buy citrus themed souvenirs as well as the the Highlights Market to find some quirky curios or Florida-feel gifts to take home.
6. Visit an upside down house
In a list of different things to do in Orlando, this one tops the bill. WonderWorks is a science theme park of sorts that provides "edutainment" for visitors. If you haven't guessed it, that is a combination of education and entertainment and they provide exactly that mix. That means you don't just observe but also participate in some of the exhibits.
Explore the main attraction, which is an upside down house which is a laboratory that supposedly flew all the way from the Bermuda Triangle due to a failed experiment and crash landed in Orlando. In the 35,000 square foot complex, there are mind-challenging exhibits for every age. The 6 Wonder Zones provide physical and mental challenges for kids and grown-ups alike so it is an amusement park with a bit more than just empty fun, One of the best indoor activities in Orlando for a rainy day.
Inside, you can learn about natural disasters and how they are created or lean about how planes and rockets fly and work. There are also other fun things to do that are a bit closer to a theme park like the bed of nails, a flight simulator, a hurricane shack or an inversion tunnel. There is also laser tag and you can done an astronaut's suit.
Spend the entire day exploring the numerous activities and make sure to end up at the interactive Outta Control Magic Comedy Dinner Show with Tony Brent. You'll be entertained and after the unlimited pizza, salad, beer, wine and soda, your tummy will be satisfied.
7. Tuck into vegan delights
PETA-certified and soul-satisfying, Dixie Dharma is a one of a kind restaurant that serves comfort food with a twist. So, what's the twist? All the food is 100% plantbased, locally-sourced and vegan. They have a restaurant at Market on South or a stand alone Hot Dog cart if you just wanted to taste their amazing "not-dogs". While this is a favorite of vegan customers, it is also an interesting restaurant to try if you re a meat lover because the flavor and texture combination may feel and taste like meat even though they are all vegan.
Not a fan of pulled pork? Try the bbq pulled jackfruit. Don't like the idea of meat-based hot dogs, then bite into their delectable vegan Hillbilly Chili Dawgs. From tofu scramble to tempe bacon, you can get all the flavour without the cruelty. Make sure to try the Orange Bird BBQ which is the signature dish everyone raves about.
It doesn't stop with the food, there are also a range of craft drafts from IPA to hefeweizen, porter to stout some of which have been brewed with strange ingredients like salt.
8. Pose for an IG photo with your tacos
If you do enjoy meaty dishes and are looking for the best place to eat in Orlando, then you have to head over to Hunger Street Tacos. It is 100% genuine Mexican food where the standards to maintain authenticity are high but you will get your street food cravings sorted in an interesting environment.
Hunger Street Tacos was named after a street in Mexico City where the founders, Seydi and Joseph, met and enjoyed many types of street food, among which a specific type of taco native to Mexico City that uses a particular cut of meat. After returning to the US, a career in Finance, and two children, they, along with Joseph's brother David the third founder, decided to open the restaurant to serve the same street food they enjoyed back in Mexico and which had become a craving for them.
But you won't only want to come here for the delicious certified Mexican street food, the space is also a fine representation of the North American country. The art on the walls is from the mind of Lapiztola, a collective consisting of the designers Roberto Vega and Rosario Mtz, and architect Yankle Balderas. They are based in Oaxaca, Mexico, so the art is bona fide Mexican.
Dress up as a luchador and snap a selfie in front of the vibrant mural outside while eating the scrumptious mushroom quesadilla or a taco, among many other choices.
9. Sing karaoke like the pros
Okay, so Universal Studios isn't the most unusual place to go in Florida, but hidden inside is definitely one of the coolest places in Orlando. CityWalk's Rising Star is probably one of the only places where you can feel like a professional singer, even if your voice is as flat as a pancake. They my call it karaoke but this so much more than that. Everyone sings along, everyone cheers, no matter how good or bad you are.
Rising Star is not like your typical karaoke with a mic and a TV, it is the full immersive experience with talented backup singers and an entire live band! The host makes it feel like an episode of the Voice and the star of the show is not some random stranger, it's you.
Be sure to go early as the queue to sing can get long in the weekends and if you come too late you may not even be able to get on stage. Don't be shy to step up to the mic, not matter what your level of expertise. You will be glad you did it as it is the most fun thing to do in Orlando.
10. Relax and revive in salt
Ever heard of salt therapy? Neither had we. It's a treatment used for respiratory and skin conditions. All sufferers of conditions ranging from eczema to asthma could benefit from salt therapy (or halotherapy).
It works by lying in a surprisingly comfortable and specially-designed halochamber (halo meaning "salt" in Greek). While you relax in the cave-like environment, dry sodium chloride aerosol is spritz into the air. This form of treatment has been going on since 1843 after a physician observed the low incidence of respiratory conditions in salt mine workers who breathed in saline dust. More recently, studies were conducted on surfers and the results were very positive.
So take a trip to the Salt Scene and experience one of the most relaxing and different things to do in Orlando. Give your lungs and skin the treatment they deserve while you're in Orlando, with longer lasting results that a typical spa. Sit back in one of the most advanced halogenerators in the country, take a salt-forward massage or hire an entire salt room for a healthier than healthy organic food and wine evening.