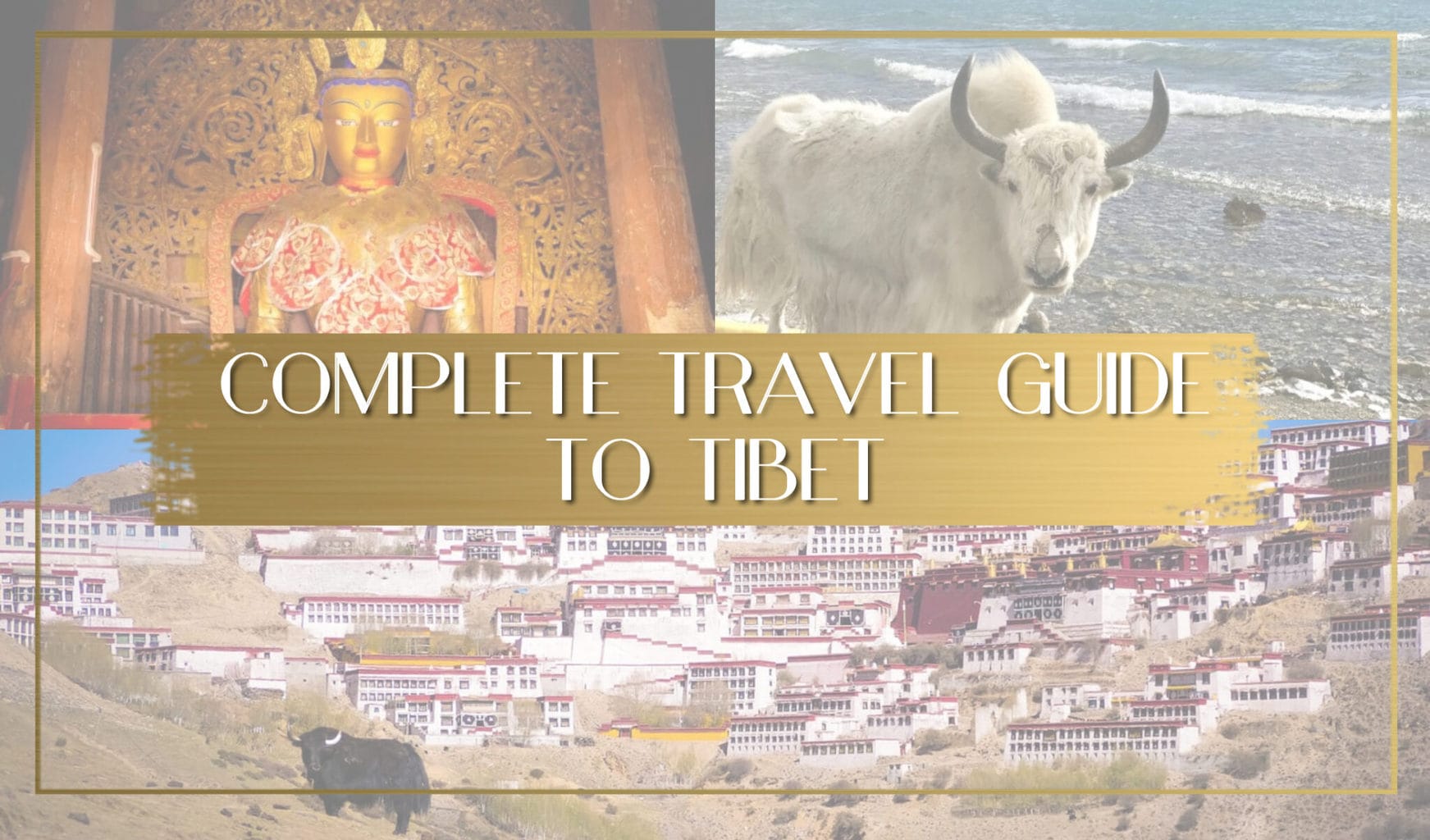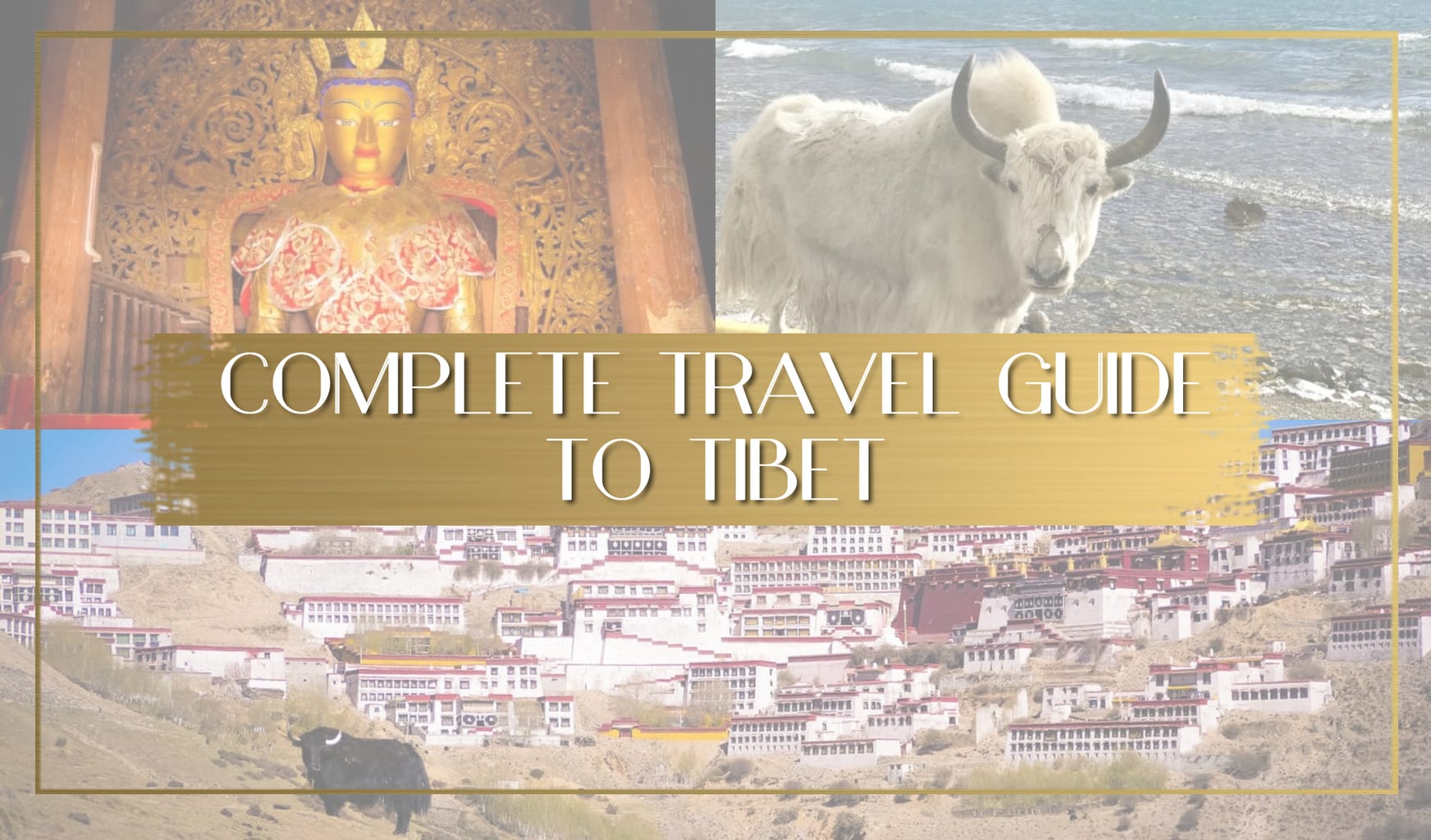 "The Roof of the World" is often used to refer to Tibet, a Chinese province since 1950 that is located on the Himalayan mountains and the Tibetan Plateau. A trip to Tibet is a dream for many and a hard to forget experience for everyone.
Imagine monasteries filled with red-robed monks, arid barren landscapes above 4,000m, mountain passes at the top of the world, sky blue lakes and a journey to the footsteps of the world's highest mountain: Everest. The real-world Shangri-la is a fantastic trip but it requires proper advance planning particularly concerning altitude sickness.
I visited with WildChina, experts in taking you to the wildest, most remote and most beautiful parts of China, in style and comfort, and came back with 50GB of photos and video to show you how to do it.
Watch my full 9 day trip below:
A brief history of Tibet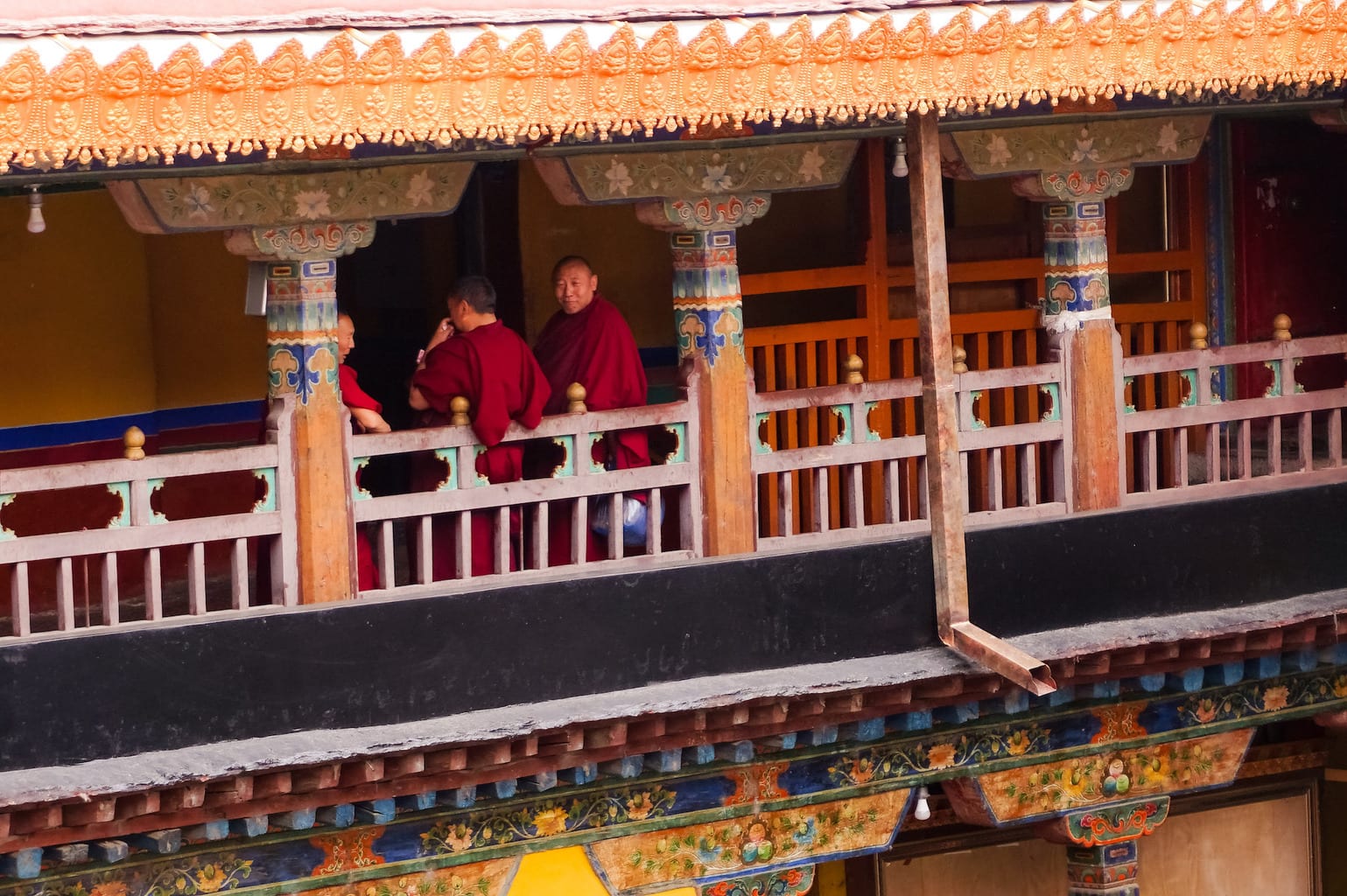 Tibet as a nation was formed during the 7th century when Songtsen Gampo started to unify various Tibetan tribes. The Kingdom expanded into China and battles with the Chinese continued until peace was signed in the 9th century. But it did not last long. The Mongols conquered Tibet in the 13th century and annexed it to their growing empire. In the 16th century, the Mongol king named the first Dalai Lama and the Potala Palace was founded. Wars with the Mongols and Chinese continued for centuries.
European explorers first arrived in 1624 when a group of Portuguese missionaries came to build a church but were finally expelled in 1757 at the request of the Dalai Lama who was then the head of the Political and Religious power. Parts of Tibet were first annexed to China in 1724 when the Qing Dynasty was in power. From then on, China had a Commissioner that was supervising the Dalai Lama's administration.
At that time, the British empire was strong in India and the british East India Company visited Tibet to assess possibilities for trade. Later on, the British will try to conquer Tibet repeatedly but, meanwhile, Tibet had to continue defending itself from Nepalese invaders with the help of China.
To protect itself from Russian and British invasions and battles for control in Central Asia, Tibet closed its borders in 1850s but that didn't deter the British troops who eventually forced Tibet to sign a trading agreement in 1904 which was later confirmed in 1906 by the Chinese government. In 1907 both Britain and Russia agreed to Chinese suzerainty over Tibet, that is China controls all foreign and military policy of Tibet but the state is left to manage internal affairs independently. The Dalai Lama is restored in 1908 but then flees as China sent its army in.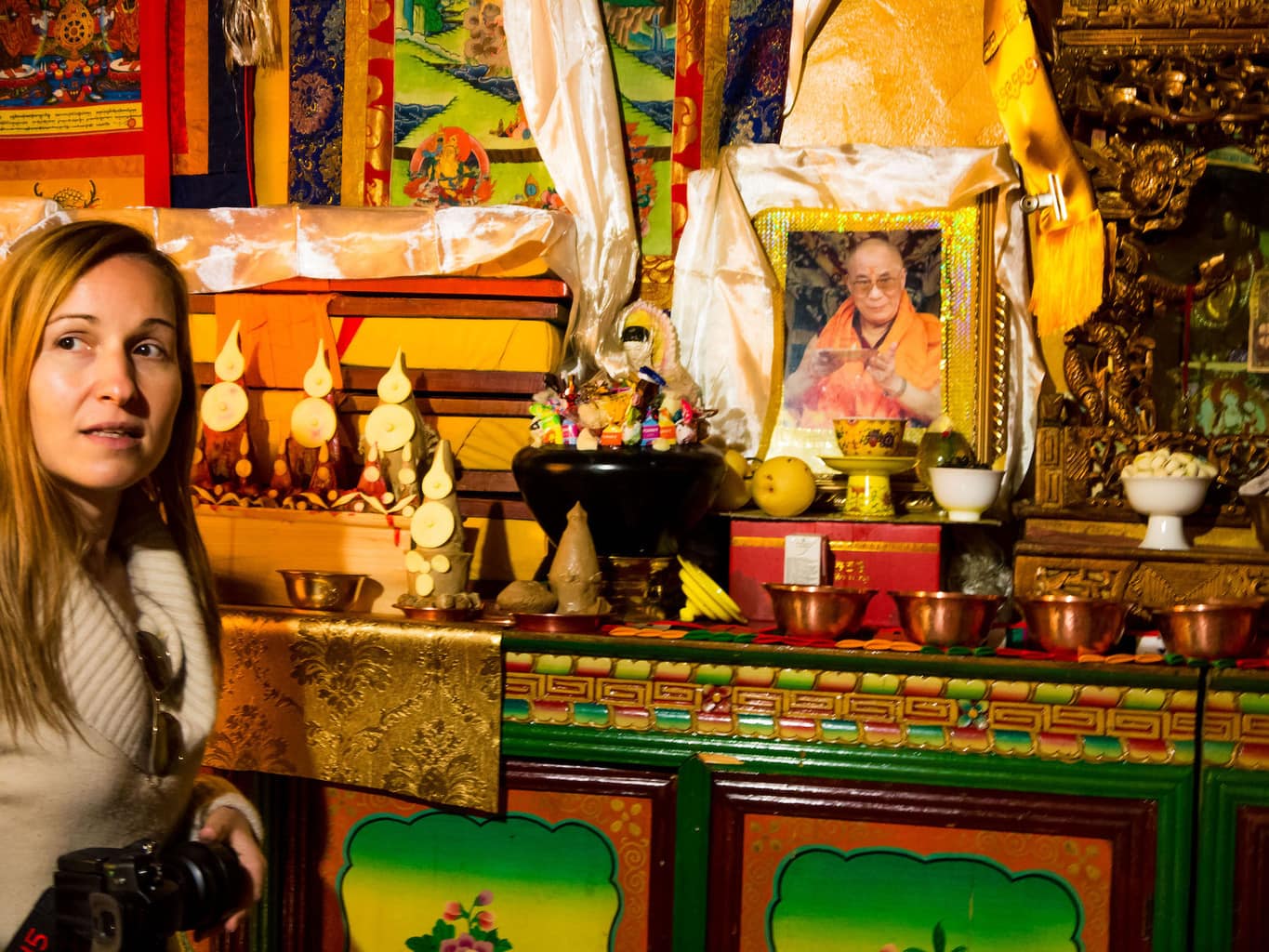 The Chinese Republic declaration in 1912 caused the Chinese presence in Tibet to surrender and Tibet became an independent Nation with the return of the Dalai Lama from India.
In 1937, today's Dalai Lama, is declared the reincarnation of the 13 previous Dalai Lamas at the age of two.
When Mao Zedong founded the People's Republic of China in 1949 it also threatened Tibet with "liberation" which takes place in 1950 when China finally invades Tibet. The Dalai Lama, then 15, became the Head of State. China forced Tibet to sign a treaty in 1951 which guaranteed Tibetan autonomy and respect for the Buddhist religion in exchange for Chinese military presence in Lhasa.
Many of Tibet's landmarks, monasteries and temples were sacked and destroyed during the armed resistance that followed. Despite repeated efforts by the Dalai Lama to get China to commit to sign the treaty, Mao's government fails to which led to a full fledge revolt in 1959 with thousands of deaths and the final exile of the Dalai Lama and 80,000 Tibetans.
China banned foreigners from 1963 and established the Tibetan Autonomous Region in 1965 which was followed by the Cultural Revolution which claimed many monasteries and artefacts. Foreigners were not allowed in Tibet until 1971.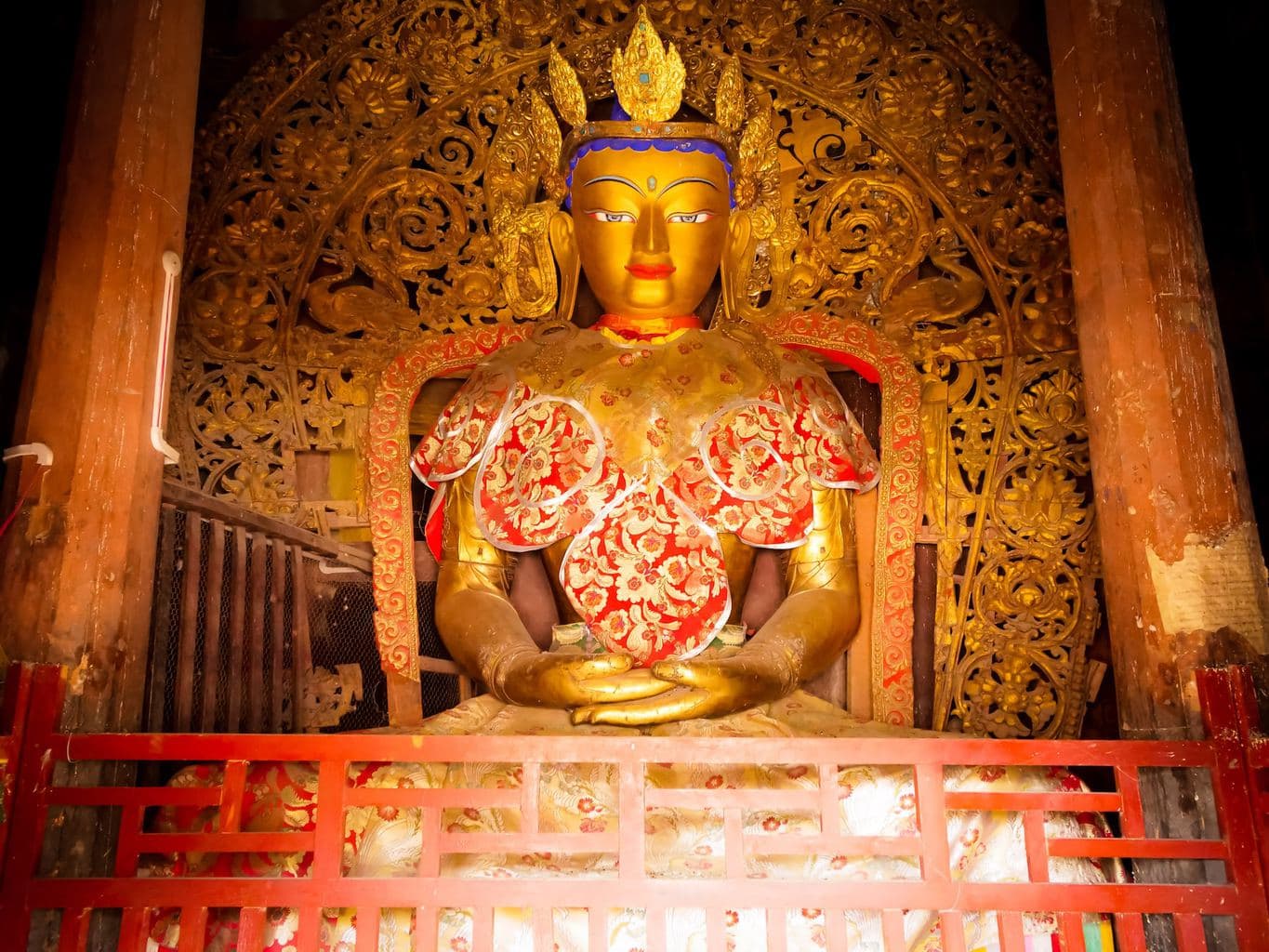 Investment from China into Tibet started in the 1980s but Tibet's autonomy was never granted despite the Dalai Lama's insistence for peaceful discussions. The Dalai Lama was awarded the Nobel Peace Prize in 1989.
His succession as the next Dalai Lama is source of much dispute with China when the Dalai Lama's nomination disagreeing with that from the Chinese government. Gedhun Choekyi Nyima was named the true reincarnation of the Panchen Lama, the second most important figure in Tibetan Buddhism, by the Dalai Lama but the Chinese authorities placed the boy under house arrest and designated another six-year-old boy, Gyancain Norbu, as their officially sanctioned Panchen Lama.
The opening of the railway link to Lhasa in 2006 increased the number of Han Chinese arriving in Tibet and continued to undermine the Tibetan culture. In 2007, the number of arrivals was believed to be 4 million as per Chinese State Media. Development in Lhasa and Tibet continued with more infrastructure and Han Chinese arrivals.
Violence escalated in 2008 before the Beijing Olympics. International activists focus world attention on Tibet as they disrupted the Olympic torch.
From 2008 on the Dalai Lama tried to harden his political position while continuing to push for Tibet's autonomy rather than independence. Several diplomatic spats between China and France and the US continue to put Tibet on the world map. The Dalai Lama retired from government in 2011 and Lobsang Sangay was chosen as his replacement, also in exile. Protests for Tibet's autonomy take the shape of self-immolations with Tibetans across the world, including Tibet, setting themselves on fire.
Tibet Today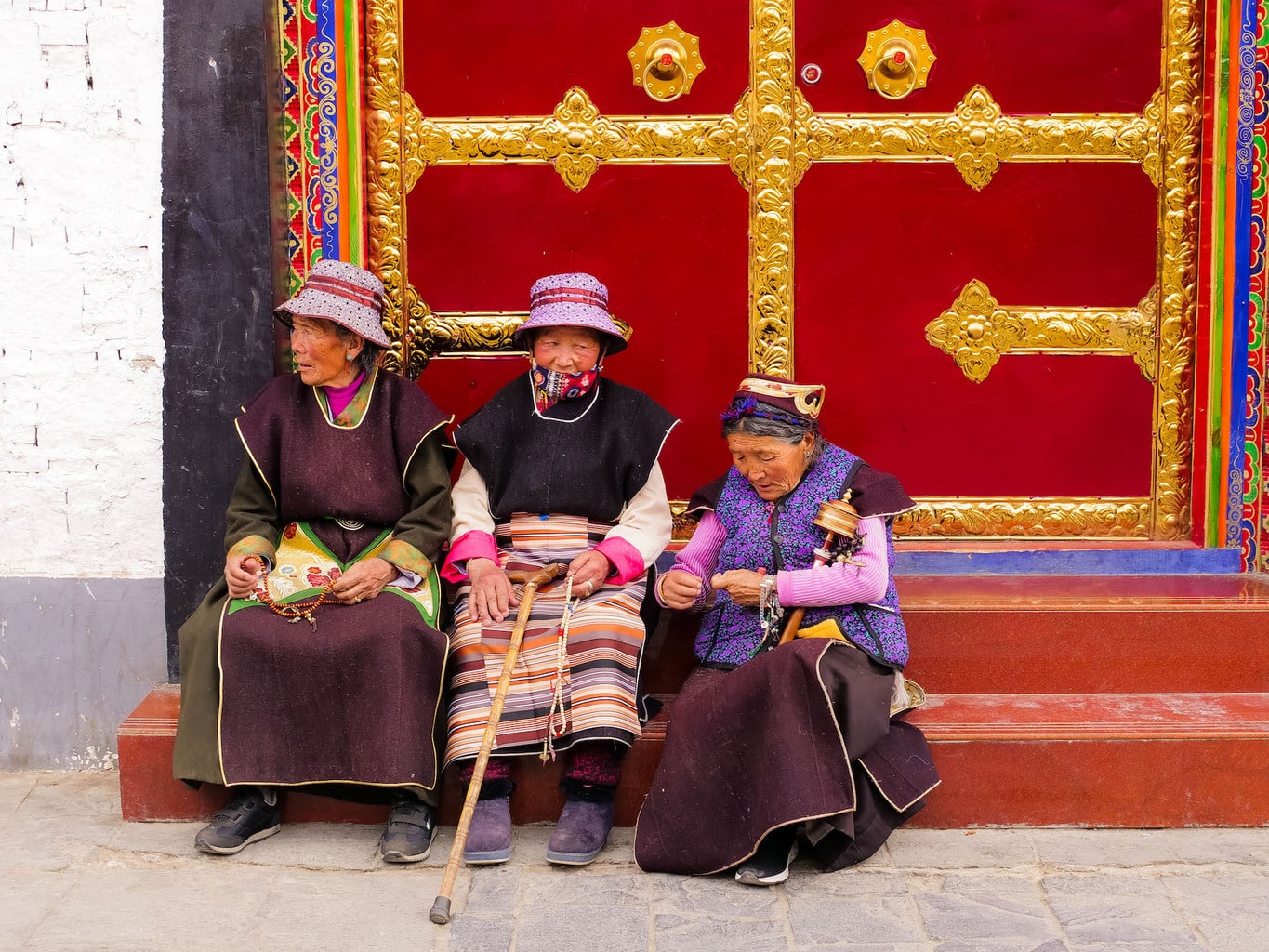 The Tibet that I saw was a place that resembled a Chinese city more than it did in the images I had of Tibet in my head, particularly Lhasa. Infrastructure, Chinese signs, Chinese businesses and Chinese control of visitors all contribute to a feeling of repression of the local Tibetan culture. As a result of the Cultural Revolution, so much of Tibet's past and heritage was destroyed that the Chinese reconstructions are but a reminder of what once was.
Finding truly Tibetan businesses is hard because many of those who call themselves local are not. Talking about Tibetan politics is difficult as the locals could face punishment. Photos of the Dalai Lama are forbidden. Instead, locals must profess their devotion to the Chinese-vetted Panchen Lama. Chinese flags fly above most rural houses next to the Buddhist prayer flags. They are mandatory.
Tibet receives large amounts of visitors, between 5-7 million with back of the envelop calculations, but judging by my experience, they are 95% plus Chinese. The face of the country and its culture is changing.
Places to see in Tibet
Potala Palace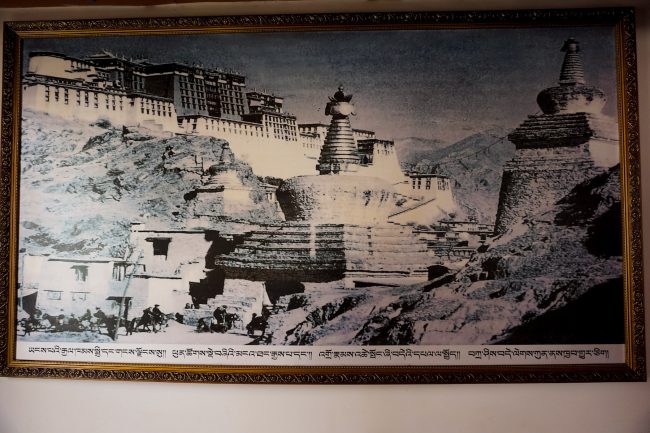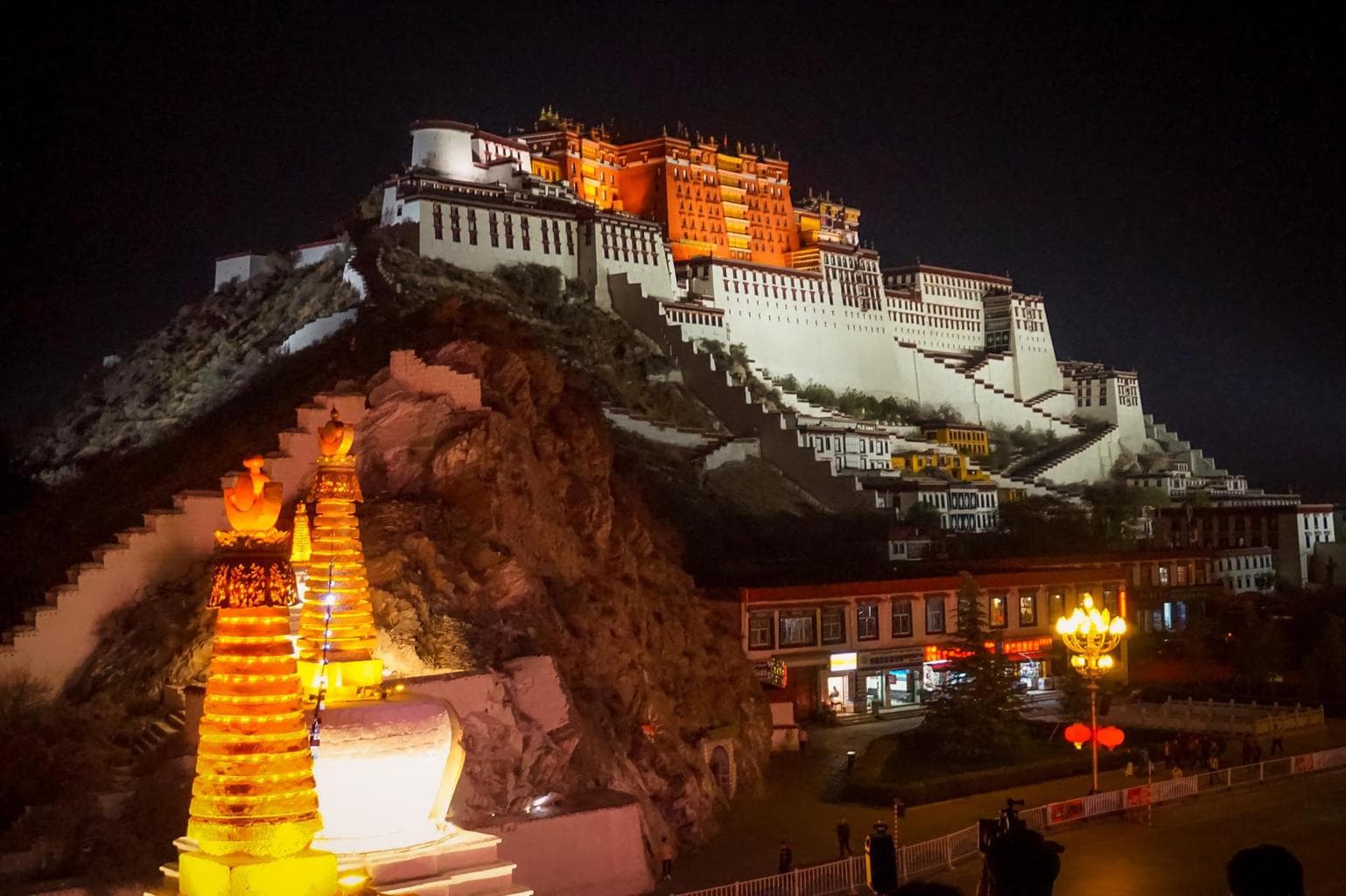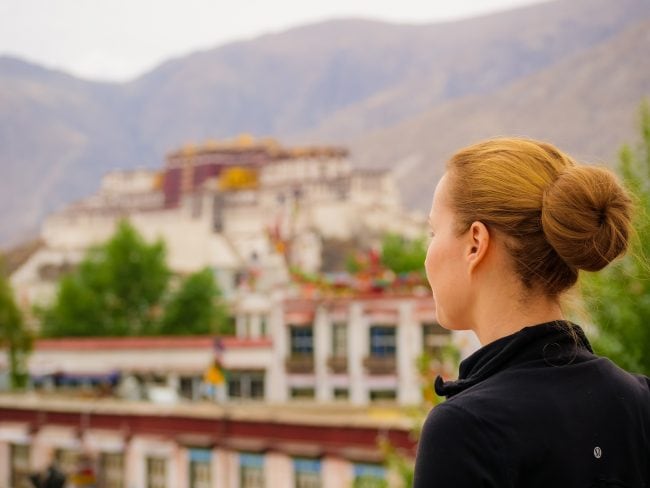 Lhasa's most impressive sight is also the reason why most people visit Tibet. In fact, the majority of visitors stay in Lhasa and surroundings only, adding Tibet to a longer China tour. The Potala Palace, a UNESCO site, will take an entire morning, even if the majority of its rooms are not open to the public, not least because of its added altitude to the already high Lhasa.
The Potala Palace is a beautiful building but at peak times there can be almost 3,000 visiting per day so you are only allowed one hour inside the main building.
The Potala Palace used to be the winter residence of the Dalai Lama until the 14th and current Dalai Lama fled to India. The palace received its name from the the mythical abode of the bodhisattva Avalokiteśvara. The buildings were constructed by the 5th Dalai Lama in the 17th century on the site of an ancient fortress built in the 7th Century by the 33rd King and founder of Tibet, Songtsen Gampo. Songtsen Gampo is depicted in many statues across Tibet and is believed to have introduced Buddhism to Tibet by the hand of his Nepali and Chinese wives.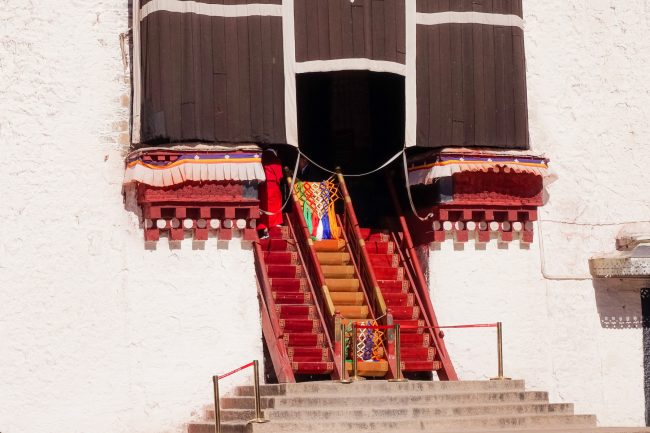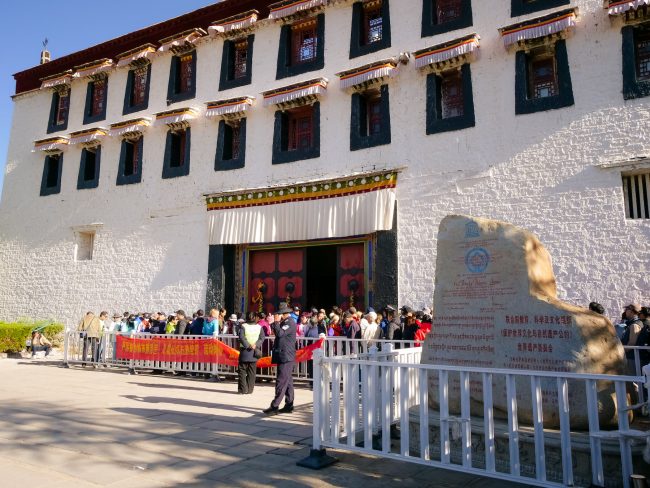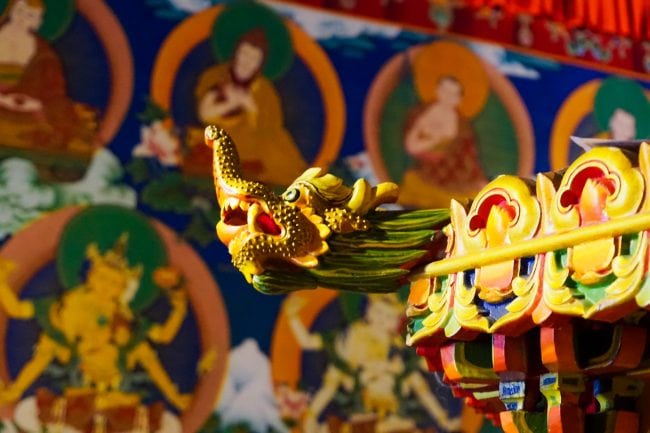 Songtsen Gampo is also credited for creating Lhasa and moving the seat of government to the city which was referred to as "Place of Gods" to allude to Jokhang Temple which he also built. The King was belligerent and there were several battles and incursions from the Chinese emperors into Tibet and vice versa, but Tibet expanded during his reign.
To gain peace, he finally married the Chinese Princess Wencheng whose statue can also be seen in some of the monasteries. Chinese history books (and Chinese guides in the Potala Palace or Jokhang Temple) talk about the Palace being built by the king for the Chinese princess, but Tibetan accounts disagree.
The Potala Palace's location was at the intersection of the Sera and Drepung Monasteries and near Old Lhasa so it was believed to be an auspicious location. Given its holy status, it largely escaped both the 1959 uprising as well as the Cultural Revolution thanks to the intervention of the then Chinese Prime Minister.
Buddhist Monasteries
Jokhang Temple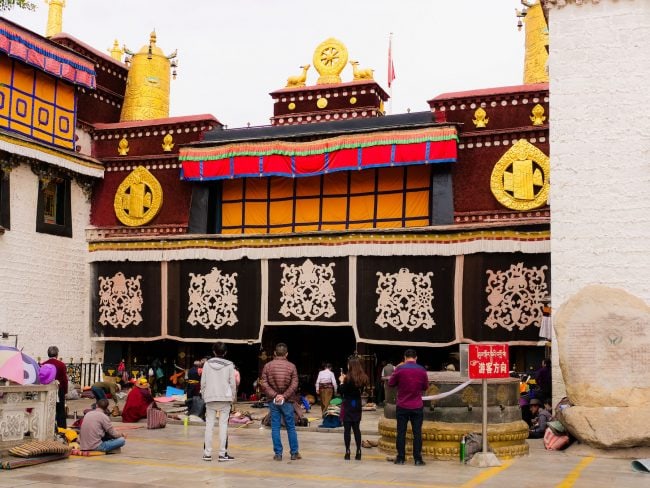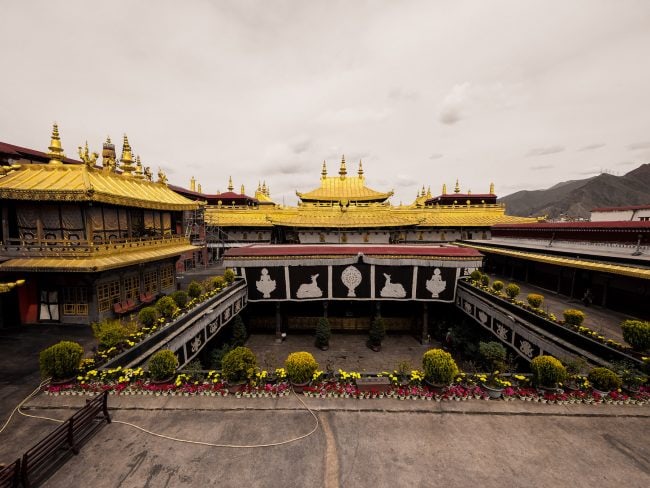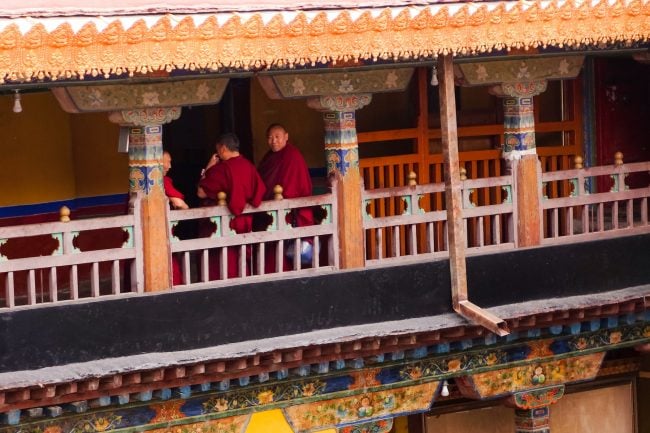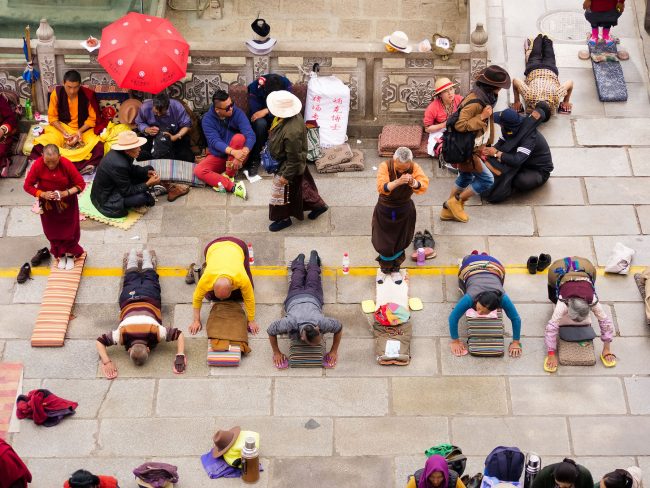 Jokhang Temple is a beautiful and small temple right in the middle of Old Lhasa, in a largely pedestrian area surrounded by Barkhor street and hundreds of pilgrims prostrating and going on their kora. The atmosphere around Jokhang Temple and Barkhor Street is mesmerising and shows the real Tibetan culture that is so hard to find under the layers of Chinese development.
The Temple is considered the most sacred temple in Tibet, even more than the Potala Palace, because of a unique statue of the Buddha as a young prince that is 2,500 years old and is said to have been sculpted in India as a mirror image of Buddha himself when he was still alive by a celestial architect, Viswakarma, in 6th-5th centuries B.C.E.
It is the statue's likeness to Buddha himself that makes it Tibet's most revered. Jowo Rinpoche or Shakyamuni Buddha as the statue is interchangeably referred to, ended up in Tibet through the hands of Princess Wenchen in the 7th century when she married Songtsen Gampo.
Jokhang Temple was founded by the first Tibetan King Songtsen Gampo. According to tradition, the temple was built for the king's two brides: Princess Wencheng of the Chinese Tang dynasty and Princess Bhrikuti of Nepal whom he married to keep Tibet's borders safe. Tibetan guides will also tell you that the king had a third Tibetan wife which can be seen in one of the glass receptacles holding a baby, the only one the king had.
Pilgrims come to Lhasa to visit Jokhang first then the Potala Palace. The temple is open in the mornings for the locals and the afternoon for visitors.
There are around 200 monks living in Jokhang Temple today. You can visit the chanting room where the monk's ropes are neatly folded on each seat and all the other chapels and halls. The temple is small, in comparison with other monasteries, so it is permanently crammed with people with the strong smell of yak butter and juniper incense.
You can also see one of the few 3D mandalas at Jokhang. It was added to Jokhang at the beginning of 2017 and offered by the local businessmen who collected money too make a huge one with gold and precious stones. Make sure to go up the rooftop of the temple to see views over the square and Potala Palace.
Yamdrok Lake

Yamdrok means turquoise in Tibetan and the lake does certainly live up to it name. It is one of the holy lakes in Tibet and it is considered sacred by its people. You may find locals going around it on their kora which can take up to a week. Fishing in the lake is prohibited as it is holy. Many Tibetans come to the lake to pray before taking important decisions.
Namtso Lake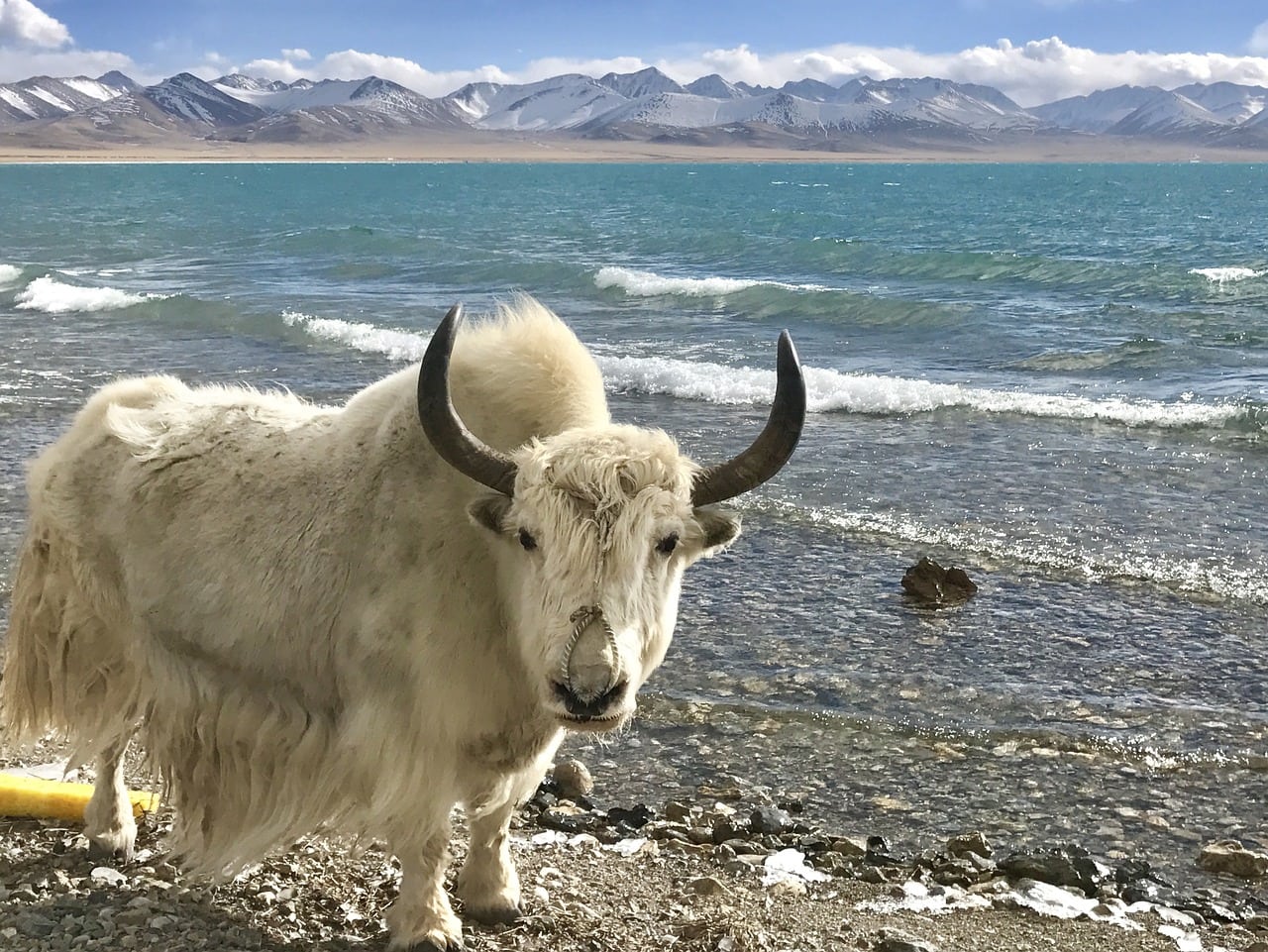 Similar to Yamdrok Lake in appearance, Namtso Lake is located in central Tibet and boasts the same turquoise waters that make Yamdrok so popular. It also has a few islands which pilgrims used to retire to for meditation in the summer months, crossing over when the lake was frozen in the winter but this is no longer possible as the Chinese Authorities have banned the practice.
Mount Kailash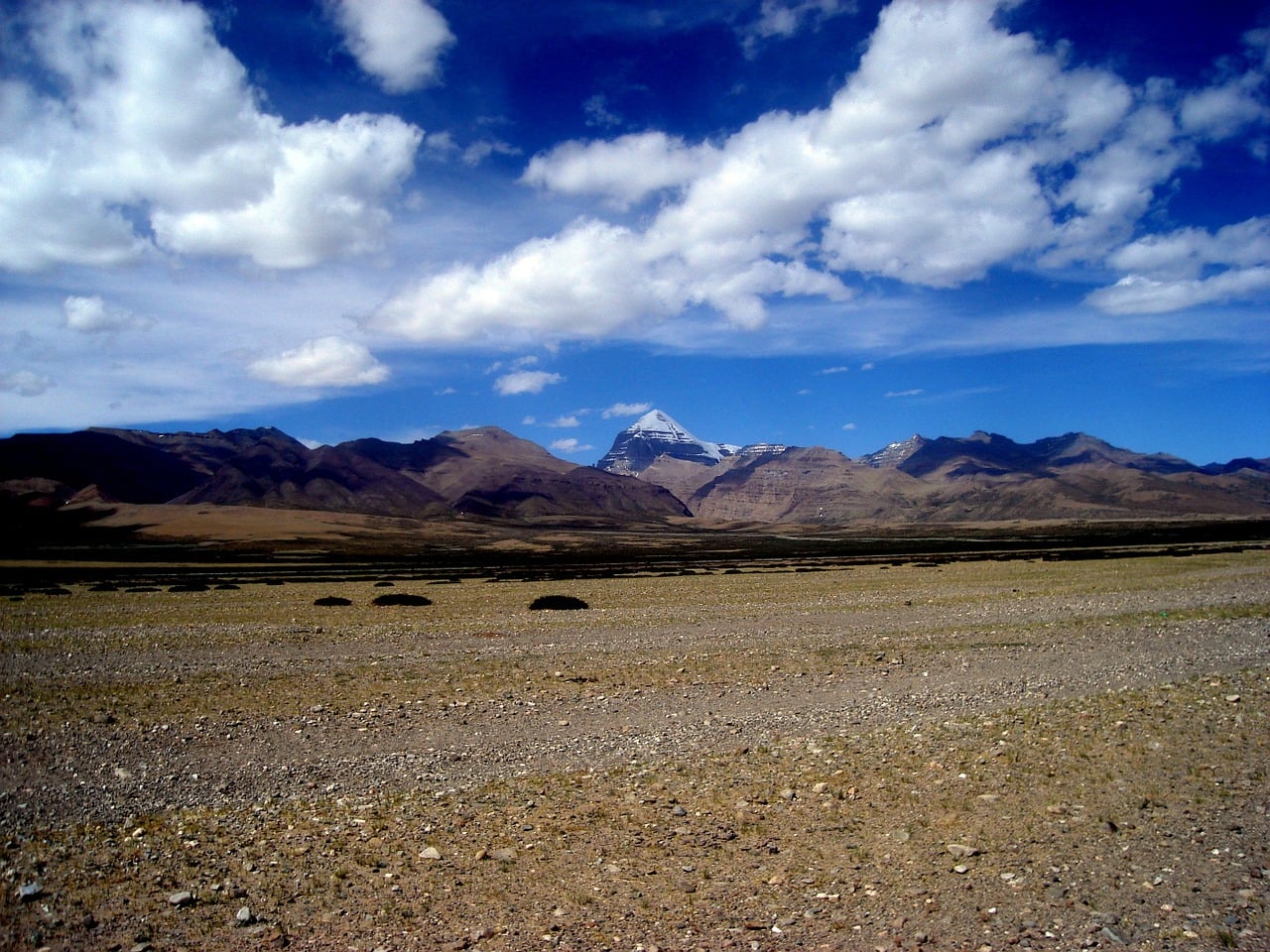 This is perhaps the world's most sacred mountain and also one of the most remote and inaccessible. Mount Kailash, in East Tibet, is a holy mountain for Jain, Buddhist, Bon and Hindus and has also been named Meru, Axis Mundi, Apex of the World or Swastika Mountain.
The mountain can only be reached via a long road journey from Lhasa that can take up to three days. It is believed that there have been no recorded attempts at climbing Mount Kailash and the Chinese Government has withdrawn any possibilities of climbing permits since 2003. As famous mountaineer Reinhold Messner put it:
"If we conquer this mountain, then we conquer something in people's souls."
At approximately 6,200m high, Mount Kailash is considered by the Hindus as the abode of Lord Shiva and he is believed to live atop the mountain with his consorte, Parvati, practising tantric yoga and smoking marijuana.
For the Bon, the animistic religion that permeated Tibet before Buddhism and is still partially followed in Bhutan, Mount Kailash is Tise and is believed to be the seat of the Sky Goddess Sipaimen as well as the place where the battle between Bon and Buddhism was fought in the 12th century and Bon was displaced. For Buddhists, Kailash is home to Demchog, a tantric meditation deity, and his consort Dorje Phagmo and the three peaks around the mountain the homes of the the Bodhisattvas Manjushri, Vajrapani, and Avalokiteshvara.
The mountain is surrounded by three lakes that are also believed by the four religions as having magical powers.
Most pilgrims will make visiting Kailash their final resting place and, as our guide pointed out, a large amount of them will pass away on the trip. Pilgrims traveling to Mount Kailash will not leave without going on a kora around the mountain, a walk which is 52km long and can take three days or longer for those who perform the circumambulation while prostrating.
Pilgrims who perform kora 108 times around Mount Kailash are said to be guaranteed enlightenment. Taking a dip in the highly sacred and freezing Lake Manosaravar may also be part of the pilgrimage.
Things to do in Tibet
Apart from major landmarks and sightseeing opportunities, a big part of visiting Tibet is immersing yourself in the culture and traditions of its people. Some parts of the journey should be spent simply observing and doing as others do.
Join the locals doing their Kora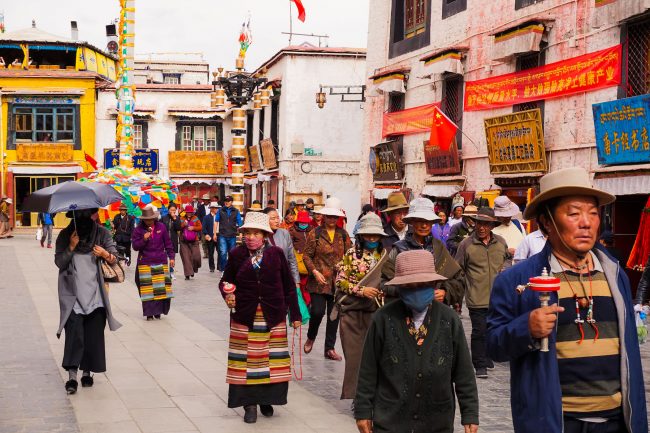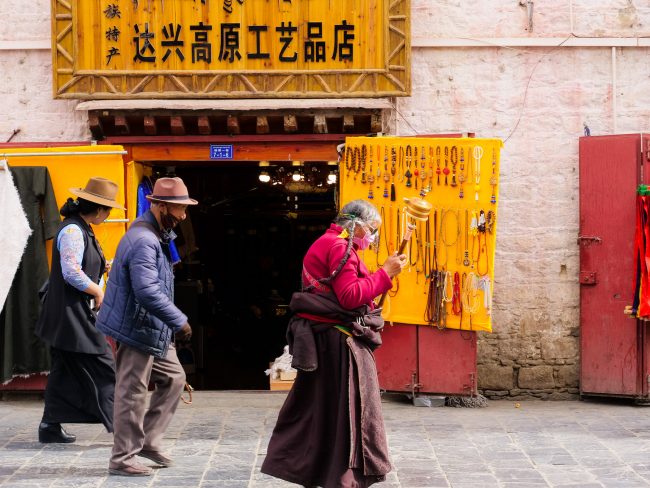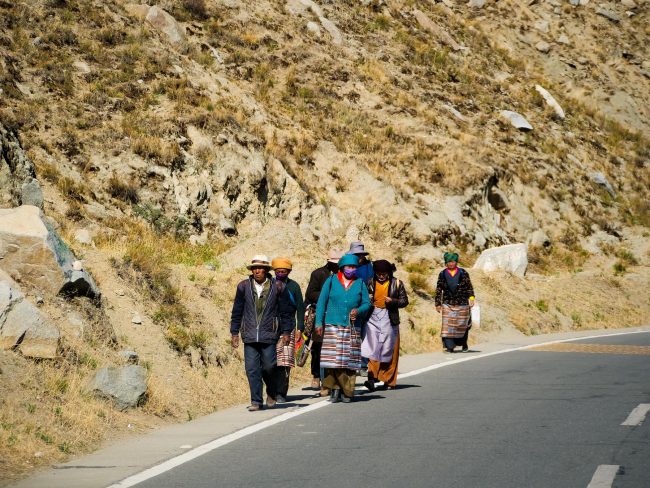 Kora refers to the circumambulation that Buddhist pilgrims do, sometimes daily, around sacred places, be it a landmark, a mountain, a monastery, a temple or a mere stupa. You cannot visit Tibet without realising that there are groups of locals walking and spinning handheld prayer wheels while reciting mantras everywhere. A common mantra is the om mani padme hum.
Many of the paths you will walk in a visit to Tibet will actually be kora. The best known one is Barkhor street. You may be able to recognise them because many of the paths are well marked with different tiles and because they are filled with locals walking on a bee-line. The kora is always done clockwise.
Koras are done to earn positive karma. One can accumulate more merit by doing the kora with the intent of awakening the mind and by repeating it an auspicious number of times, like 3 or 108. Prostrating instead of walking adds an enormous amount of spiritual merit as the full body prostration requires huge effort, commitment and time.
Stop at a local village house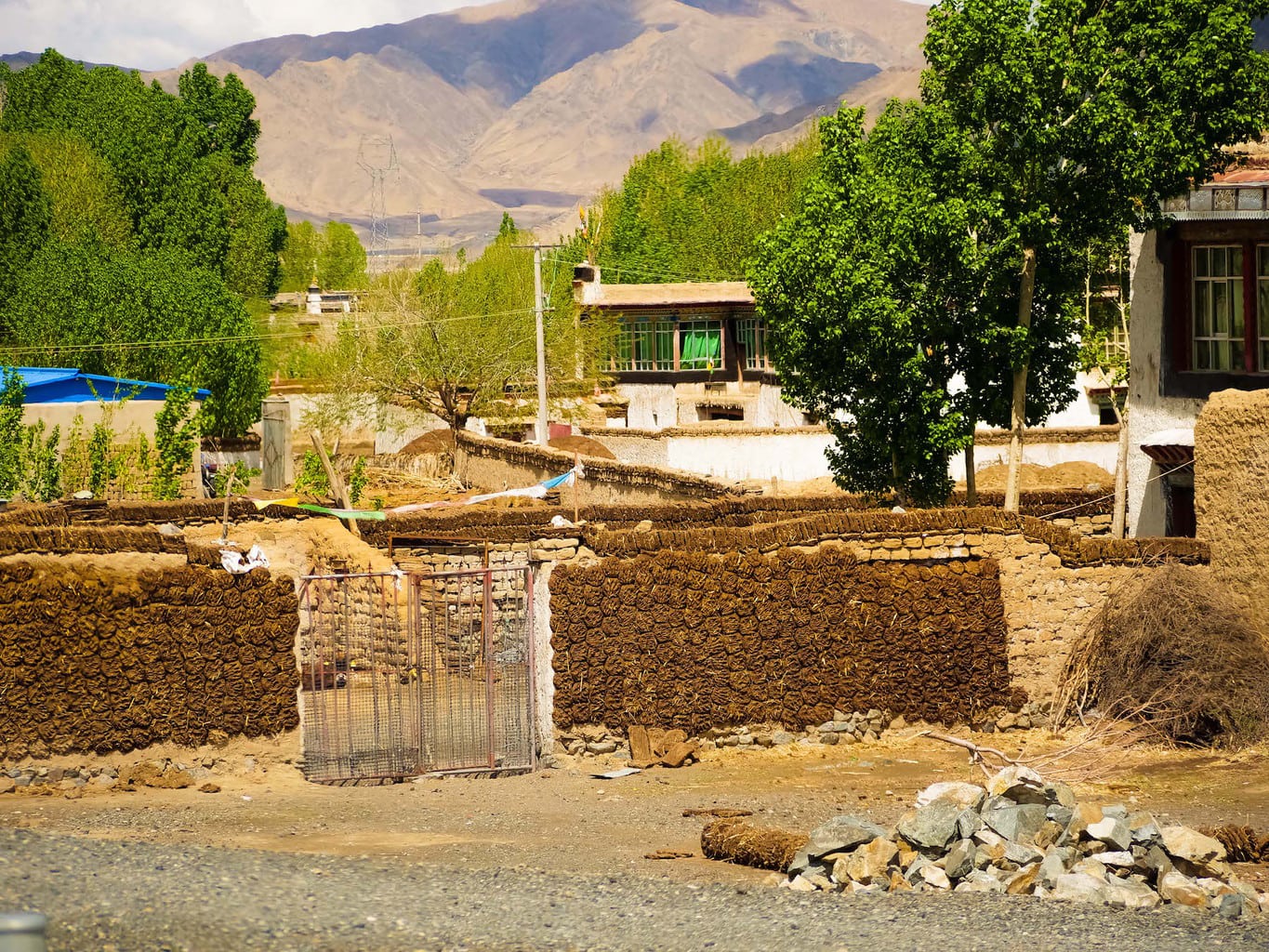 Tibetans' hospitality extend to complete strangers, as we found out. I genuinely wanted to interact with the locals and find out more about the way they lived. I saw all the local houses, covered in yak dung neatly placed to dry for the winter months, haystacks, wood piled up, and wanted to see inside. Our guide simply stopped at a local house and asked whether we could come in.
The lady was very friendly, sat us down in her living room and offered us an unlimited amount of sweets, snacks, butter tea and barley wine. It was fascinating to see the house chapel and the kitchen, and it was enlightening to see how easily and hospitably she received a group of complete strangers.
Typical itinerary from Lhasa to Everest Base Camp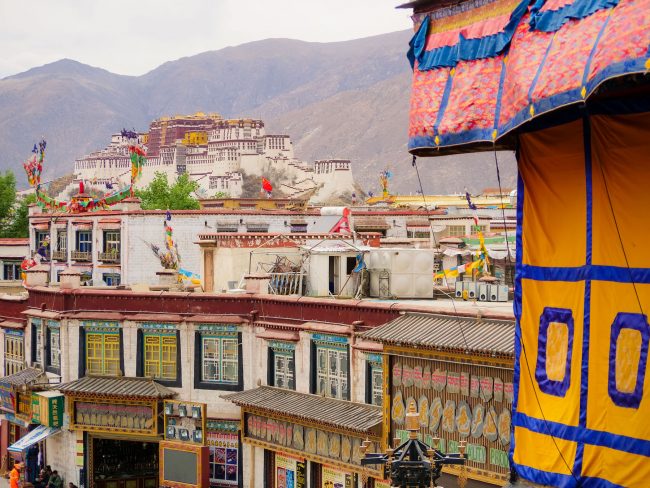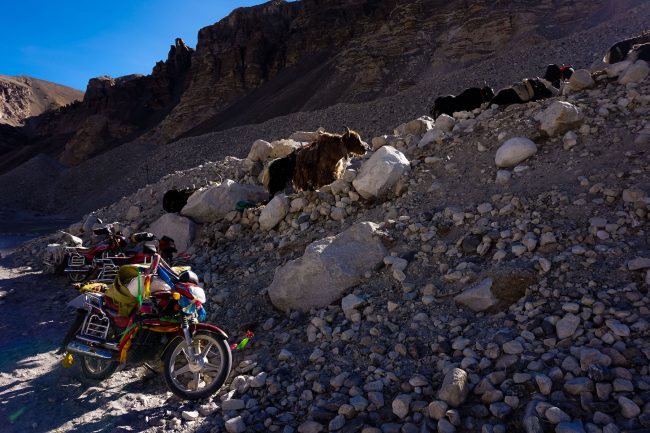 Most people will visit Tibet either as part of a larger China tour, with only Lhasa included in the itinerary mostly to visit the Potala Palace, or spend a whole week in the country.
If you are there for a week, this would be a sample itinerary from Lhasa to Everest Base Camp that would cover most of the country's sights mentioned above with a few exceptions, most notably Mount Kailash as it is a very remote and hard to reach place. For a more detailed itinerary you can check my day to day trip with WildChina here.
Where to stay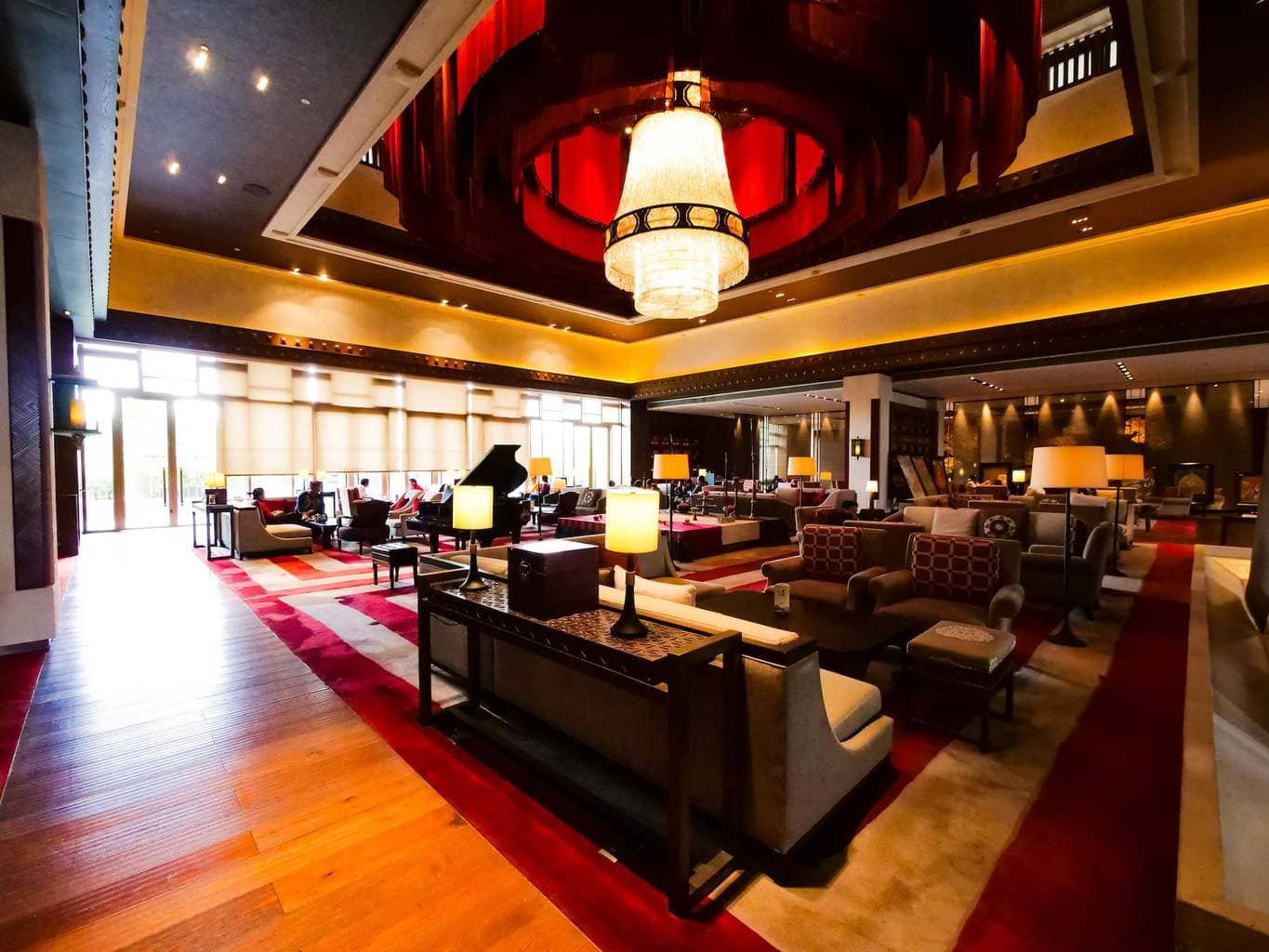 In Lhasa there are a few international hotels that offer beautiful accommodation, yet with difficult conversation in English. Outside of Lhasa there are very limited options to stay at.
What to eat in Tibet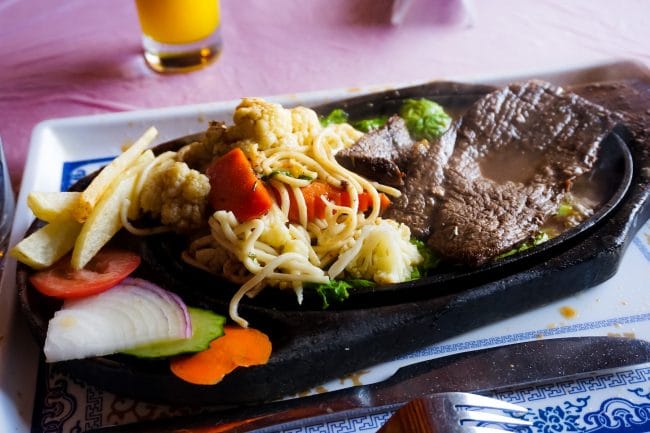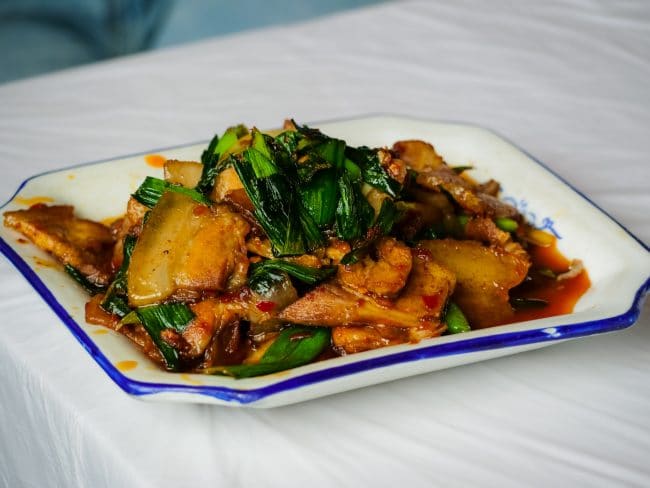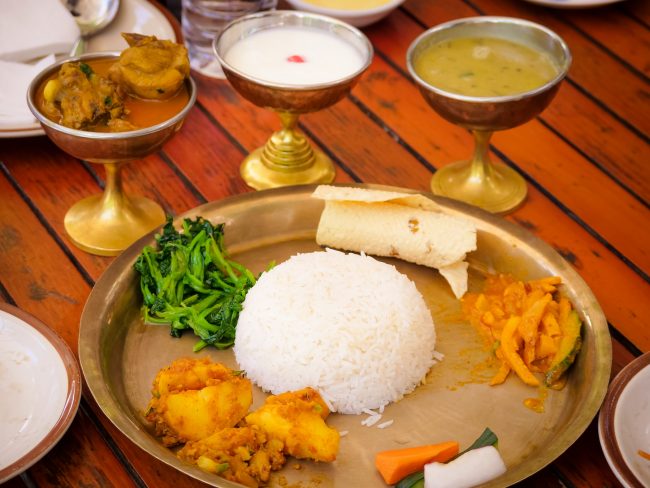 Tibet has a very particular cuisine with strong Nepali, Indian and Chinese influences. Most restaurants will have a Nepali or Indian Tali set meal on their menus including a protein, dhal and curried vegetables.
The country's staples come from yaks and barley, the two most commonly available sources of food. Barley is used to make Tibetan's typical breakfast item: tsampa, which is made by mixing raw barley flour with yak butter, sugar and spices and it is eaten with butter tea, the official drink in Tibet, made with a generous amount of yak butter and tea in what is almost impossible to stomach for a foreigner, but worth a try.
Yak meat, leaner and lighter than beef, is widely available and it is the most common item on any menu. It is usually eaten grilled or in curry or stir fry. Barley is also used to make barley wine, a drink similar in taste to cider with a low alcohol percentage and which is made at home by many families.
Chinese noodles are pervasive and eaten either in soup or stir fried. As per vegetables, potatoes, bok choy, carrots and peppers are easy to find. Most of the food has generous amounts of chilli and fat, either yak butter or oil, so they can be very greasy.
Perhaps one of the most famous staple foods common across Nepal, Bhutan and Tibet are momos or dumplings which are either pan fried, steamed or served in soup (like the Chinese wonton soup) and are usually stuffed with delicious yak meat or potatoes. Maintaining a light diet in Tibet is almost impossible but it would also be foolish as the high altitudes and the cold are likely going to make your body consume more calories than usual. I managed to lose weight despite the heavy meals and hearty breakfasts.
Indian favourites like chicken tikka, tandoori and curries are available country-wide, as is naan bread and rice dishes, steamed or fried.
If you get tired of yak, chicken and lamb are usually an option but beware of the bones and animal parts you may not be used to eating, particularly with chicken which is usually chopped whole and hard to eat, bones, skin and cartilage, with chopsticks. We ordered a delicious roasted chicken with mushrooms en route to Everest and got the whole animal, head and feet. If you don't want to sort through bones, order chicken tikka which almost always will come deboned.
Knives are not provided in Tibet, neither are tissues, which you should carry with you. To drink, tea is always a good idea. Water is always served hot across Tibet and China, which is not a bad thing since Tibet is mostly a cold place without heating. Local Lhasa beer is a light version of the drink. Wines are rare to find and, if you are brave enough to try them, like we did, you will most likely be the first customer to do so at your own risk. We ordered a bottle in Lhasa that was probably closer to vinegar than wine.
Most hotels will serve a mainly Chinese breakfast with all sorts of noodles and savory items but bread, butter and eggs will usually be available.
How to get there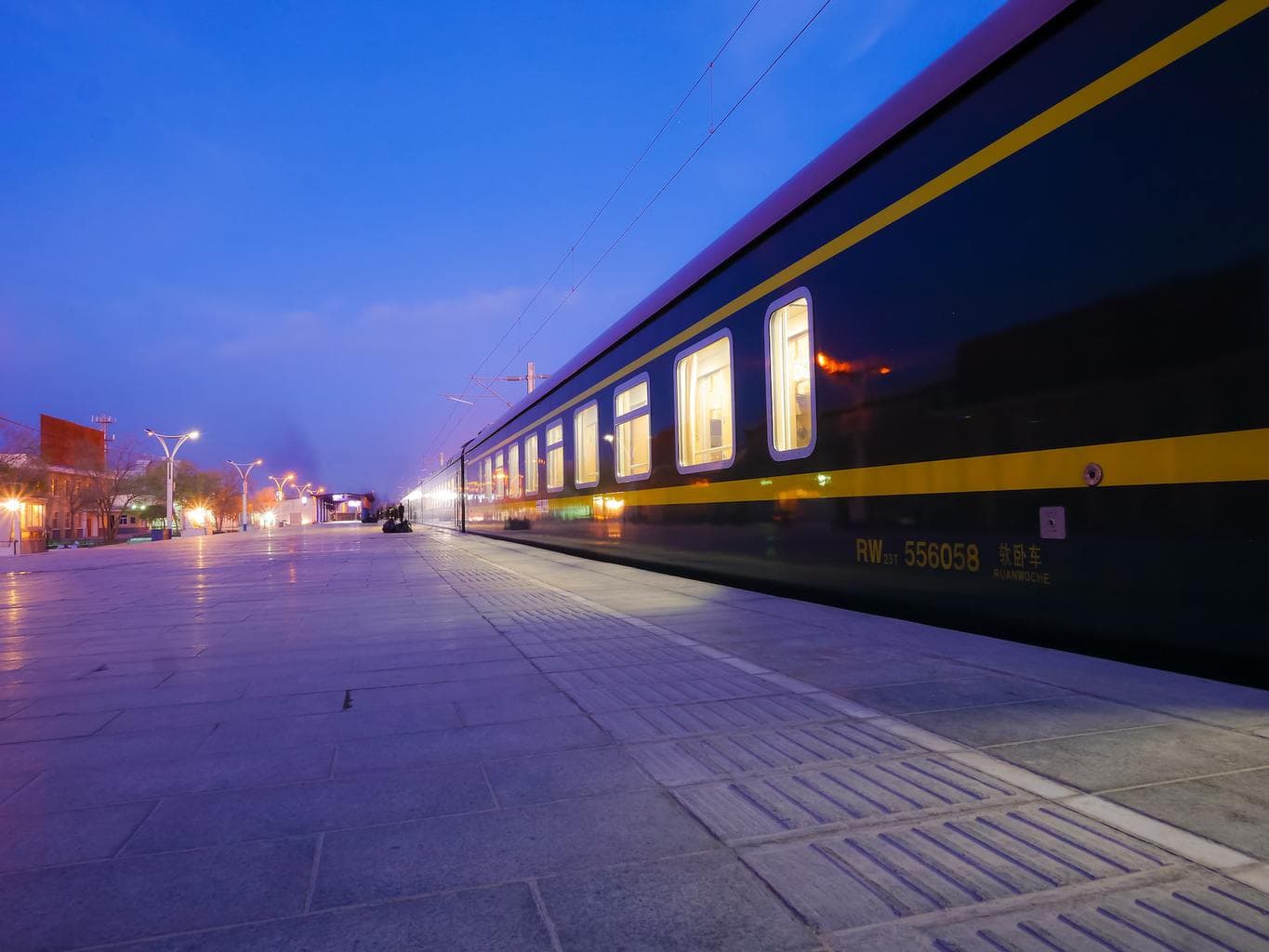 Lhasa is serviced from main Chinese cities with about 30 flights a day during the peak season and only from Kathmandu via international flights.
If you choose to take the train, the best option is boarding at Xining and flying there via Chengdu. Chengdu can be reached from most international cities including Bangkok, Singapore, etc. If you need to spend a night in Chengdu I recommend The Temple House, an absolutely fantastic hotel that is part heritage Chinese temple and gallery and part ultra-lux and modern tower. Its location, bang in the city, is walking distance from great eateries and shopping.
Other important things to know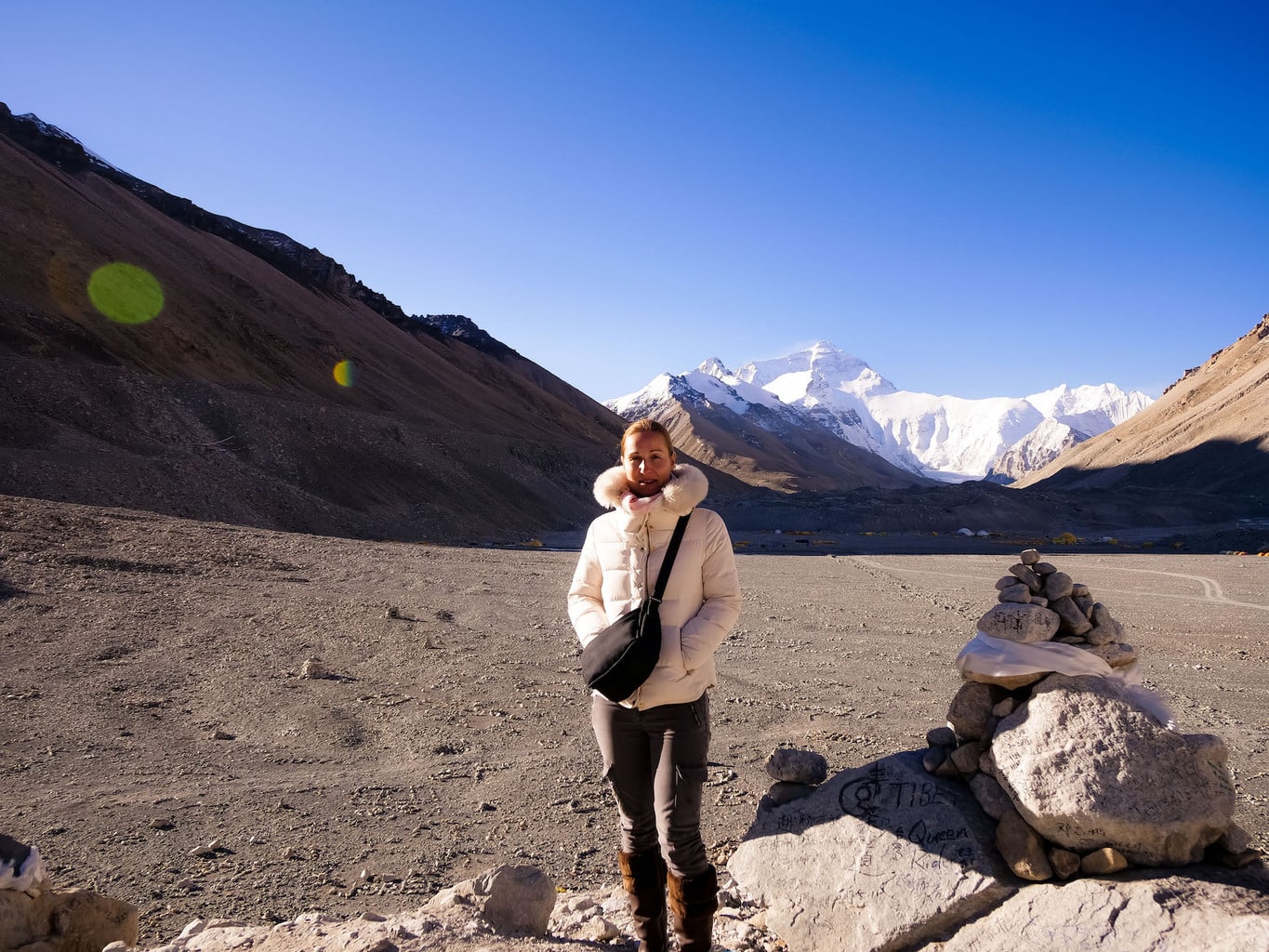 Tibet is a very unique place and so there are a few things to be taken into account when visiting. Tibet is not accessible to foreigners independently so you will need to go with an authorised local guide and driver. To enter Tibet you will require both a visa for China as well as a Tibet Permit which is essential.
WildChina will organise that for you. Going to Everest Base Camp requires an additional Alien's Permit which the agency will also get for you. At every place you spend the night the guide will have to register you with the police so you will have to hand over passports. You will only have to go through controls in person when entering Everest park.
Although talking to the locals is largely possible and they will converse with you freely (barring the language barrier), discussing politics, the Chinese occupation or the Dalai Lama is punishable and the locals may avoid the subject.
Tourist cars are owned by the government and leased by the travel agencies so they are fitted with speed cameras that will warn the driver if he or she is driving too fast. Other safety announcements will also make it through the car's speakers.
Tibet's temperatures will be low at night even in the summer months as the country is located very high up in the mountains. Check the weather forecast and dress appropriately. Everest Base Camp is permanently assaulted by incessant winds that will bring the temperature further down, be prepared with warm clothes. Sunscreen is a must as the sun rays are incredibly strong and the atmosphere closer. The sun also reflects on the snow. Hats are a must when walking around outside to protect your head.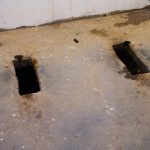 The best months to visit are mid-April to mid-June and then from mid-Sep to mid-October. During the summer it rains and the mountains are hidden behind the clouds. In the winter Tibet gets bitingly cold and the borders may close between December and February so it is not advisable to go.
Altitude sickness is a real risk that you should not ignore. Being prepared with the right medication, going up ensuring proper acclimatisation and adding an extra couple of days before reaching Lhasa can make a huge difference in your well-being and in how you experience the trip.
Consider adding those two days in Xining pre-Lhasa or an extra day between Xigatse and Base Camp if you want to trek instead of taking the bus. Drink plenty of water, eat properly, avoid alcohol and stay warm. Oxygen canisters are available at all hotel rooms and in the tourist cars should you feel suddenly worse. Monitor your symptoms and tell your guide if you suffer from dizziness or vomiting.
Toilets in Tibet are available at all the major stops but they consist on squat toilets with a hole in a cement floor and a long (or short) drop. There are no doors and no partitions between the holes so bring someone to guard the door. Tissues and wet wipes are a must as water is not available and toilet paper inexistent. A small bottle of perfume will also be critical to use in some of the dirtiest places and you should consider nature as the easiest and cleanest option.
Map