Known for its dazzling corals and white sand beaches, Tioman Island is the perfect destination for a weekend getaway (or longer) from the mainland or even nearby Singapore. Off the east coast of Malaysia and very close to the private island Batu Batu, Tioman is smaller than its more well-known counterpart, Langkawi, but there are still many things to do in Tioman Island in Malaysia.
Those who want to break free of central Malaysian destinations like picking strawberries in the Cameron Highlands usually flock to the islands on the West coast or even Malaysian Borneo like Kota Kinabalu in Sabah State, Gaya Island or Manukan Island, the East coast still has some beautiful options. This makes it one of Malaysia's best kept secrets.
Malaysia definitely has some of the best beaches in Southeast Asia as well as the dreamiest overwater bungalows in Asia and Pulau Tioman delivers. There is more to Tioman Island than learning to dive on a weekend liveaboard which we aim to share with you below.
It's also a fantastic beach destination for Singaporeans beyond Indonesian Bintan and Batam and its own busy beaches. And don't forget to read our guide on 10 Essential Things Travelers Must Know Before Visiting Malaysia.
First let's look into the details about Tioman Island or Pulau Tioman along with a brief history.
Where is Tioman Island & History of Pulau Tioman (with map)
Tioman Island lies roughly 32kms off the East Coast of Malaysia in Pahang territory and is part of the Mersing Marine Park. Although it only measures 21kms in length and 13kms in width (roughly 137sq kms), it is the largest of the 64 islands in the region. Tioman Island consists of four kampungs (villages), namely Salang, Tekek, Juara and Air Batang (or ABC).
Although it shot to fame in the 70s when Time magazine named it one of the world's most beautiful islands, its history goes back much farther. Ancient lore states that Tioman Island is the body of a dragon princess, Sri Gumom. After disobeying the gods by visiting her sister, Gunung Linga, she was cursed and she fell from the sky to become the island.
In actuality, Tioman Island is a volcanic island where its highest point is on top of Mount Kajang standing at 1,038 metres. Used as a navigation point and source of fresh water for weary fisherman, Tioman Island has been used as a beacon for nautical exploration. Trading ships once used it as a port and it was even host to Japanese and British navies in WWII. In fact, you can even dive off the coast to see the remains of the HMS Repulse and HMS Prince of Wales.
These days, Tioman Island has moved from a fishing economy to one of tourism and is a very popular place for divers, snorkelers and those who are looking to obtain their PADI certification. While you could just lay around at the resorts, it's beautiful, untouched jungle is also a place for the more adventurous traveler to get lost in an isolated landscape filled with bustling wildlife and tropical flora.
Some parts still have that kampong feeling like Pulau Ubin in Singapore, so channel your inner Jacques Cousteau and find your way to this island paradise using this guide as a roadmap.
Tioman Island 4 day itinerary
Below is our suggested 4 day itinerary to Pulau Tioman, although you could pick what you like for a quick weekend getaway.
Day 1: Travel from mainland to Tioman Island
Day 1 of your trip will consist of traveling from the mainland to Tioman Island. See our section below on how to get to Tioman Island for more details.
1pm: Arrive at Tekek, Tioman Island and lunch
If you aren't staying overnight in Mersing or Tanjung Gemok, you're going to wake up super early (more info below on that). If you're up before sunrise, then after catching a bus or taxi, or renting your own car, and then hopping on a ferry, your feet should touch the white sands of Tioman Island by about 1-1:30pm.
Check in at your hotel, drop your bags and pick up your bikini or board shorts because you're going to want to head straight to the beach.
Depending on where you're staying, you'll find many local eateries serving up fresh satay. Most travelers will be near Tekek village, and if you are, then head to Babura Seaview Restaurant (which also doubles as a hotel with diving lessons). You can choose from local Malay dishes that include mostly BBQ style fish or satay, or choose some Western dishes if you feel like a burger.
The homely restaurant is right on the beach, so you can dive into the ocean at any time. As the owner is Muslim, there is no alcohol sold, but they do allow you to purchase alcohol from outside and bring it in, provided that you throw away your cans or bottles afterwards. There is a tax-free shop right across the road, so no worries there.
3pm: Cocktails on the beach and snorkeling
After lunch, and possibly sipping on a fresh young coconut, head over to the Berjaya Hotel pool area, which is joined to Sri Nelayan Restaurant, to rent a snorkel and mask. Jump in directly in front of the hotel and you are welcomed to a world of tropical corals and hundreds of species of fish.
You will be amazed at what you see, especially when you find Nemo among the anemone, but this is just a taste of things to come. You can also order cocktails or ice cold beers from the beach bar or Sri Nelayan Restaurant.
Spend the rest of the day and sunset on the main beach and enjoy that much needed dose of vitamin sea. As the beach is on the west coast of the island there will most likely be a magical sunset, perfect for Instagram.
6:30pm: Dinner at Matahari Restaurant
After sunset, make use of the outdoor showers at Berjaya and then take a slow stroll over to Matahari Restaurant, Berjaya's more refined offering, for some very tasty Thai fusion. The setting is very romantic as it is also directly adjacent to the beach, and there are even seats available directly on the sand (must book ahead for these).
Be warned that things on Tioman Island run on island time, so you may have to wait a while for your food. While Berjaya's other restaurant, Sri Nelayan, is nothing to write home about as it caters for the masses, Matahari is delicious.
Day 2: Snorkeling at the many islands
Day 2 involves another early wake up for on an island hopping tour that promises to be one of the greatest diving or snorkeling experiences in Southeast Asia. Eat breakfast at the hotel or one of the local eateries and head out by 9:30am.
9:30am: Half or Full day snorkel tour
Island hopping excursions can be booked at your hotel or from any of the major resorts either when you arrive or before your trip. Swiss Cottage Tioman and Berjaya provide half and full day snorkeling tours.
The half day snorkel tour will take you to areas that may include the Marine Park, Coral Island, Malang Rocks and Renggis Island. The tour will begin at around 9:30am and finish by 1:30pm. Cost is around RM75 per person, with a minimum of 4 persons, and includes mask, snorkel and fins.
If you are a traveling couple, try seeing if there are any other like-minded couples to join you or just pay the additional price.
The round trip full day tour goes to some or all of the following places: the Marine Park, Coral Island, Malang Rocks and Renggis Island, Monkey Bay, Mukut waterfall, Juara, Soyak and Salang beach. While you will stop for lunch, it is not included so bring cash with you.
The tour also starts at around 9:30am but will finish around 4:00pm. It will cost around RM120-160 per person and also has a 4 person minimum. So depending on your preference, you will either arrive back at 1:30pm or 4pm.
Coral Island (Pulau Tulai) and surrounding Malang Rocks are north-west of Tioman Island. While the beach is beautiful at Coral Island (albeit slightly polluted with plastic bottles from unfriendly tour groups), Malang Rocks is where you'll experience beautiful coral formations and see a variety of fish species.
Note: Due to many tour groups feeding the fish in this area, they may nibble at your legs, especially the Parrot Fish that have slightly sharper beaks (reminiscent of a parrot's beak). This did happen to us, so note that it may cause a bit of a shock. Just kicked your legs and they will swim away. This did not happen anywhere else, so it may not be the best option for the little ones.
Definitely the highlight of the tour, Renggis Island is a short boat ride from Tekek village. It is so close to the beach that you could probably swim there, but we recommend that you do not as there are speedboats constantly passing by. The island is sprinkled with some of the best coral in the area. If you're lucky you will see enormous greenback turtles, blacktip reef sharks, blue spotted manta rays and a whole lot more like barracuda and cuttlefish.
You can spend hours in the water and even swim around the entire island if the currents aren't too strong. Don't worry, the sharks are not aggressive and are more interested in fish than humans.
You can also choose to only visit one or both of the above and skip the entire island tour. This will cost around RM60-110 per person with a minimum of 4 people.
1:30: Lunch and walking around the island
If you take the half day tour, then take your lunch at Tioman Cabana which acts as a budget hotel and restaurant. It has a lively vibe with live bands playing at sporadic periods. Enjoy your lunch on the beach with a much deserved ice cold drink.
Take a walk around the island after lunch while enjoying the friendly local culture. You're sure to see monkeys, so be aware and try not to carry food out in the open.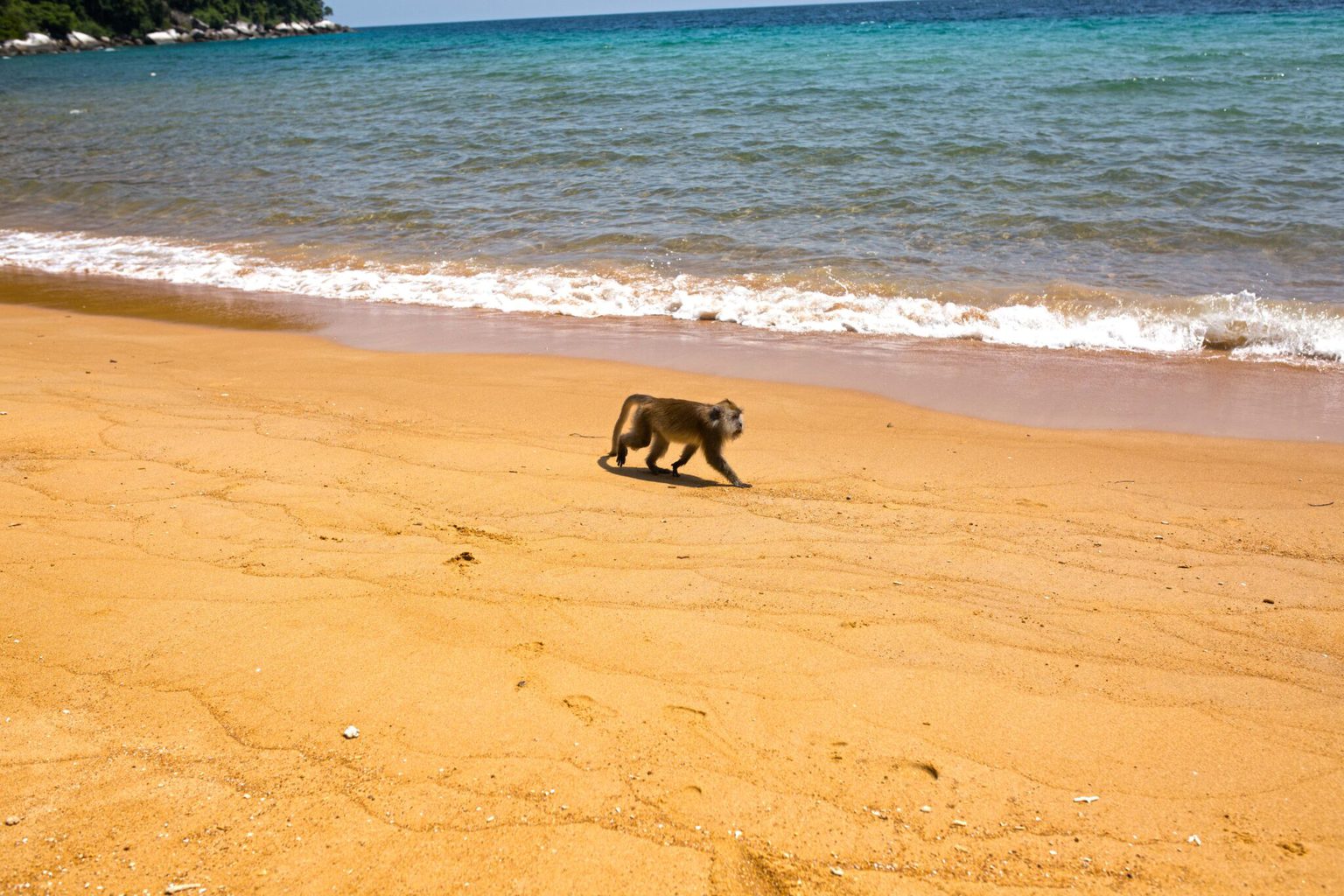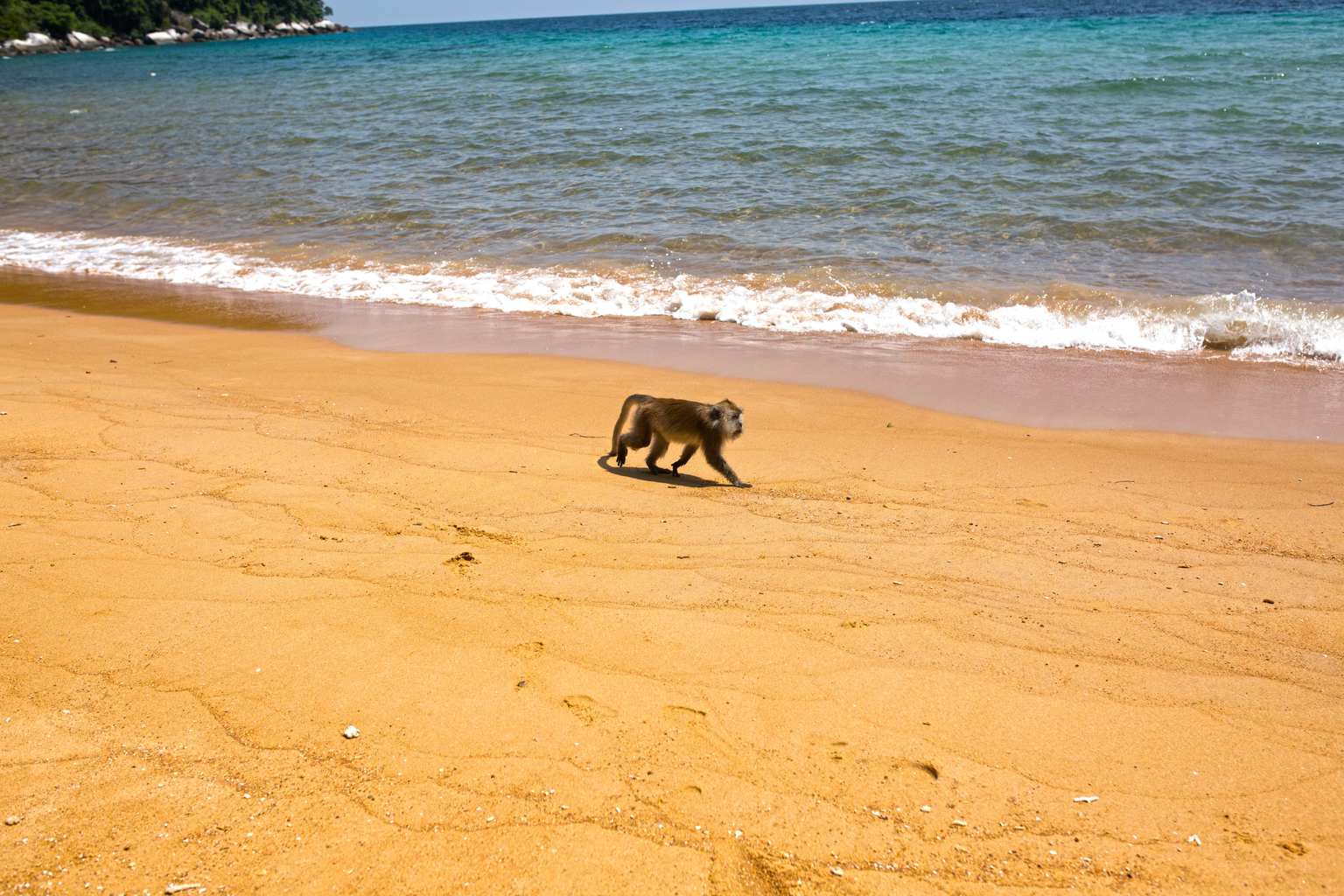 You can also choose to explore other beaches if you want a more isolated experience to watch the sun go down. There are several places reachable by sea taxi services. The prices range from RM20-100 per person one way. You can arrange a pick up time with the driver when you are dropped off or get his number and call him when you're ready to leave if you have airtime. The first option is preferable in case something happens to your phone or the signal.
6:30: Dinner at Japamala Resort
Treat yourself to some of the best food on the island at the best resort on the island. Tamarind is one of luxe hotel Japamala Resort's restaurants serving Indochinese and Thai fare. This is the sister restaurant to Singapore's Tamarind Hill (with another one in Kuala Lumpur).
Not only is the food top-notch, but the setting is perfect for a dreamy evening with your better half. If Thai is not your thing, you can also choose to dine at with a Western selection at Mandi-Mandi or the Italian Il Tiempo that serves gastronomic delights.
Tip: Visit Japamala's Samadhi Spa before dinner for a truly relaxing evening. Or better yet, stay here for a the most luxurious offering the island has. See rates here.
Day 3: Trekking and exploring Tioman island
If you are't the avid type, you can spend day 3 on the water relaxing. Yet we highly suggest a hike into the jungle, especially with a guide who can show you all the flora and fauna including some Red Giant Flying Squirrels.
8:30am: Hike from Tekek to Juara
After breakfast at your hotel, set out early as you start your journey from Tekek on the west to Juara on the east. Intrepid travelers will love this trek as it passes directly over the island ridge, away from tourist-heavy Tekek to isolated Juara.
There is not much here as far as tourism goes and is much more rugged as hotels have been banned from being built here to enhance natural rehabilitation. Snorkelers should note that the coral is not as great on the east side, so it's a place for land adventure and to experience total seclusion.
The trail is about 7km and is not the most strenuous of hikes although it does get quite steep in certain places. The path starts near the mosque in Tekek and joins up with the paved road to Juara. If you get lost, follow the power cables as they all end up at the main villages.
You will be going through pure jungle, so expect to see snakes, monitor lizards, Long Tail Macaques swinging overhead, Fruit Bats, Black Giant Squirrels, Red Giant Flying Squirrels, Brush Tailed Porcupines, and an array of insects.
The walk will take about 4 hours depending on speed. You can either walk back or arrange a sea taxi pickup, we suggest taking a sea taxi as the jungle after about 4:30pm can get a little dangerous, especially if you get lost in the dark.
You can also trek to other parts of the island, like to Monkey Bay in the north or the beautiful Asah Waterfall by Mukut village in the South. All hikes are moderate so wear proper trekking shoes.
1pm: Lunch and visit Juara Turtle Project
We suggest packing a picnic on the beach for a trip to Juara as the small cafe may be closed because, well, island time. You can always try Mia Café at Mentawak Chalet for a perfectly authentic Malay style lunch, although some snacks are recommended too in case.
After lunch, head over to the Juara Turtle Project and support local conservation. Entrance is only RM10 and they are open from 9-5 every day. They act as a research database, offer teaching and awareness about the turtles, and a hatchery for the cute little turtles.
4pm: Back to Tekek for some more snorkeling
Take a sea taxi back to the west for some more snorkeling. A day without snorkeling in Tioman is a day wasted.
7pm: Dinner at Sunset Corner at ABC or BBQ at Tekek
Take a sea taxi or hire a motorbike and ride to to Air Batang or ABC. There is a wonderful little restaurant called Sunset Corner that serve great pizza. You can also stay at Tekek if you're tired of travel and prefer to just take a walk.
Try Restoran Delima or Citra Anugerah Wah Leng right across the road from each other and both serving Malay BBQ with fresh catches of the day. The only difference is that Anugerah is closer to the ocean and offers more Chinese-inspired cuisine.
Day 4: Back to the mainland
Day 4 is about taking it easy before the long trek back to mainland. If your ears aren't clogged with water, it's time for some more snorkeling!
9am: Breakfast and golf or snorkeling
If you're up for it, you can play a round of golf among playful macaques at Berjaya or, as we so obviously prefer, go snorkeling one more time before hitting the road.
11:30: Early lunch and back to the mainland
Have an early lunch at Riverside Café or any one of the restaurants that are located right by the ferry terminal before heading back to either Mersing or Tanjung Gemok. The restaurants are nothing to write home about and serve local dishes, but they are a good option if you are worried about missing your ferry back.
Remember to arrive about an hour early at the terminal and to make sure with your hotel that you are catching the correct ferry back.
Where to eat on Tioman Island
Where to eat on Tioman Island will very much depend on were you are staying. As the east coast is devoid of infrastructure, there are little to no options and most dining choices are closer to the main resorts and hotels. Cafe Mia is probably your only option if you plan to visit Juara Turtle Sanctuary and serves a range of delicious local and international dishes with a smile in a seaside shack. Santai Bistro is also a nice place with good seafood, but you can expect slow service, so come if you're not in a rush.
As mentioned, Tamarind and Il Tempio at Japamala Resort are probably your only choices for haute cuisine on the island. Mandi-mandi is great for romance as it's at the end of a pier at Japamala and under a thatched hut, so you're basically eating over the sea.
The most popular eateries on Pulau Tioman are definitely on the west coast, closer to the jetty at Tekek and nearby resorts. Tioman Cabana is part hostel, part restaurant with a younger nomadic crowd that serves tasty food with hammocks overlooking the ocean. Some nights see live music and it is the top choice on TripAdvisor.
Sunset Corner at ABC is the place to go for pizza and milkshakes if that's your thing. Other good options on ABC are Mawar Beach Restaurant with a large menu and Nazri's Place with typical warung selections on the beach. There are actually two Nazri's, Nazri's Place 1 is more inland and near Mawar and Nazri's Place 2 is the one on the beach and more north.
As mentioned before Restoran Delima or Citra Anugerah Wah Leng are by the boom gate to Berjaya Resort and are right across the road from each other. Both serve Malay BBQ with fresh fish and seafood, although Anugerah is closer to the ocean and offers more Chinese-inspired cuisine, so it's better for sunset.
Other nice and affordable places that serve a range of local food that you can visit for some mee goreng mamak, ayam percik and nasi lemak include Warong Syahirah right next to Sarang Chinese Seafood Restaurant and across the street from Babura.
If you're staying in the north in Salang you can try Salang Pusaka Restaurant for a nice BBQ and you may even be able to catch onto the hotel reception's wifi.
Diving in Tioman Island
Tioman Island Malaysia is known to be a diving and snorkeling mecca, similar to Redang or Perhentian in the north. Many travelers come to Tioman Island as a place to get their PADI certification, or if they want to learn to dive or just go on a relaxed diving trip. For this reason many of the resorts offer this as part of a package, so it's best to find out if your resort offers a full board package as it works our cheaper with a complete package.
Always let your resort know the intention of your trip well in advance so that they can make the necessary provisions. If you're going to get your diving license, they will need to bring in a dive master from somewhere else who speaks your language.
If you are planning to get your open water certification, know that you will have to stay for at least 5 days, so you will have to budget for this. Some of the best places include Tioman Dive Centre, DiveAsia in Salang (5 Star) and B&J Dive Center. Tioman Dive Centre have a great pricing guide to all the types of dives on their website, which is really useful to get an idea of expenses.
While much of the equipment is provided at a price, those who need powered lenses in their goggles (i.e. if you wear glasses) will have to get them from mainland or wherever you are coming in from. If you are a diver, you can visit this link for equipment pricing at Berjaya Dive Centre to get an idea of how much you will need to spend for diving in Tioman.
Best time to visit Tioman
The best time to visit Tioman is definitely between March and October. Not only do the northeast monsoons frequent the area between October and March, but many of the resorts are in fact closed. The monsoon transforms the tropical paradise into a desolate island where the ocean becomes murky and visibility is bad.
Also try to stay away from Pulau Tioman on school holidays and public holidays like Chinese New Year in both Malaysia and Singapore, as it will be inundated with locals and Singaporeans and will make the visit less pleasant and calming.
What to pack for Tioman Island
You will be mostly in the sun and on the beach, so what to pack for Tioman Island Malaysia is centred around these things:
Sunglasses

, especially when you're out in the ocean as the reflection can be quite intense. We recommend Oakley as, while not the best for Instagram, they are incredibly useful to protect from the sun and from the sand. Our editor has used

this exact polarised model

for years.

A hat

to protect from the sun. You will be under the sun everywhere you go so a hat is essential.

Mosquito repellent

, especially in the evenings when you're chilling on a lounger or walking around the resorts. We always use either the brand

Off!

or Repel. They just work and are sold in small bottles that I can easily carry around.

Sunscreen

, like sunglasses and hats, sunscreen is a critical items when traveling anywhere that is hot and sunny. There were so many red bodies at the resort as they didn't consider slathering on sunscreen before going out into the water. And then they got lost in the magical underwater world that is Tioman. We always like to use

Biore

because it is dry, non oily and you can even apply make-up on top of it. It comes in handy small bottles that can easily slip in your handbag and go through passport controls.

Also some after sun lotion or aloe vera gel, which you should keep in the refrigerator if your resort has one, as it will soothe any sneaky burns that you get from unapplied areas.
A small waterproof pouch for your money and phone like this one from Joto that comes in different colors and is almost 5 stars from nearly 30,000 reviews on Amazon.
A good antiseptic cream like this Betadine in case you scratch yourself on the coral.
A pair of reef shoes is a must as the coral can get sharp the further you venture out into the ocean.
Where to stay on Tioman Island
Tioman hotels and resorts are all based on the West coast of the island. There is something for everyone here from one luxury option to all inclusive selections for families. There are also diving hotels in Tioman where you can stay in a bungalow on the beach and hop into the water to get your PADI.
We saw some scuba divers wading into the water after sunset for night time exploration. Below are three options from the affordable to the extravagant (for Tioman that is). But there are a few more options which you can check out on Agoda here.
Affordable
Selesa
Once a part of Berjaya but now on its own management, SELESA is a great option for couples or families. Although it does come with a few pros and cons. It is nice and secluded from the main the Berjaya complex, yet close enough if you want to take a visit, yet this will have to be with the small shuttle bus that goes every hour, the walk is too long and up a hill.
Rooms have ocean views and balconies, although you should watch out for monkeys if you are planning to eat there. They have no fear of humans and will jump right onto the balcony if there is any food left. The rooms are slightly dated, so don't expect pristine conditions. Think bloated and chipped boards in the kitchen area. They are spacious enough though. So if you're not too fussy and want to save some cash, then it's a good pick.
The pool is wonderful, the staff extremely friendly and accommodating, and there is an onsite restaurant serving small meals.
Rooms from $70.
Book on Agoda | Booking.com | Agoda.
Melina Beach Resort
For a super affordable option in traditional wooden chalets, you can try Melina Beach Resort. The chalets here are spacious and cosy and offer air-conditioning and mosquito netting, which is a catch for the price. There is even a spa at this resort called Lemongrass and it offers complimentary two-way shuttle services from Paya Jetty.
It is further away from most other places, so it can be quite off the beaten path. But service is kind and well organised and they can arrange just about any activity for you. There is also volleyball on the private beach in front of the resort.
Prices start from $70
Book on Agoda | Booking.com.
Mid-range
Berjaya Resort
Not super luxe by all means as the rooms are in need of an update, but definitely on the more high-end spectrum for Tioman Island is Berjaya Resort. Here you will find all the relevant amenities like gym, swimming pool, Taaras spa, tennis courts, two restaurants, or gear for snorkeling.
The Berjaya complex is large and also has one of the most beautiful stretches of beach on the island. You can relax in their loungers or sip a cocktail at their beach bar. You can also reserve any tour you'd like to participate in at Berjaya for good rates. It is the best option for a traveling family.
Rooms from $110.
Book now on Booking.com | Agoda.
Tunamaya Beach & Spa Resort
Another option for great, yet more secluded stay on Tioman Island is Tunamaya Beach & Spa Resort. The rooms have a modern, villa-esque quality and feel and come with balconies. Tunamaya Spa is said to be very good. It is also the perfect option for a honeymoon as it has a more secluded ambience than the touristy Tekek beach area.
Rooms from $200.
Book now on Booking.com | Agoda.
Bagus Place Retreat
Bagus Place Retreat is a set of no-frills chalets right on the beach in the south near Tunamaya. So you can expect for seclusion and privacy here. You will get spacious, open air chalets, great beach BBQs for guests and the friendliest staff. You can walk up to the jetty, grab a mask and jump right into the beautiful cove to explore the reef.
Prices from $240
Book now on Booking.com | Agoda.
High-end
Japamala Resort
Your perfectly luxury hotel choice for Tioman Island would definitely be Japamala Resort By Samadhi. While not a 5-star hotel, you would definitely mistake it for one. Rooms are not opulent, but spacious enough with a rustic yet modern design.
And the service is stated as constantly being astonishingly good. Expect out-of-the-ordinary experiences like hot stone massages in caves, leafy villas surrounded by nature, and exceptional cuisine at either Indochinese/Thai Tamarind Tioman Restaurant or the more Western Mandi-Mandi.
Rooms from $380
Book now on Booking.com | Agoda.
Getting to Tioman Island
Travel to Tioman Island from Singapore or other parts of Malaysia involves two modes of transportation, a bus ride (or private taxi) and a ferry ride. If you are in Malaysia, you will have to get a ride to Mersing or Tanjung Gemok, depending on where the ferry is starting from. From Singapore, things get a little trickier.
Tip: The ferry does change between Mersing and Tanjung Gemok on a daily basis, so you should always check with the ferry operators before you go. If you are on a bus that has a connection to the ferry company, they will know on the day and take you to the correct port.
Getting from Singapore to Tioman by coach
The drive from Singapore to Mersing/Tangung Gemok by bus will take about 2.5 to 3 hours depending on where you leave from in Singapore and traffic. We left from the Singapore Flyer and it took 2.5 hours to Tanjung Gemok in total including a short breakfast stop and going through 2 customs check points.
Remember that you will be alighting the bus twice and going through customs which lengthens the process. After Johor, the drive is very quick, albeit quite winding in the narrow Malaysian roads. The bus drivers think they're in an F1 race, so anti-nausea tablets could be a good idea, even before the ferry.
As explained above you will either embark from Mersing or Tanjung Gemok depending on capacity and various other circumstances that are beyond our knowledge. Both points of departure are very close to each other, so there is not much inconvenience.
Your bus guide will inform you exactly where to go and where to return to. He will come to each passenger individually to confirm. Just remember exactly which port you are returning to as there may be different ferries at different times leaving from the island.
For coach services contact WTS for a professional ride. Here is link for other destinations in Malaysia.
On the way back there was much more traffic and took 3 hours. You have a choice to either be dropped off at Woodlands, right outside the border, or at Newton where you can have a bite to eat at the Hawker Centre, one of the best things to do in Singapore.
Getting from Singapore to Tioman by taxi & public transportation
There are also other, more luxurious and convenient, modes of transportation such as private car. With this option you have extra legroom, comfort and convenience as you are picked up from your door in Singapore. And you don't have to get out of the car at the Woodlands and Johor checkpoints, but will have to change driver in Malaysia which the company service will organise for you.
Book a taxi service through Klook from:
Singapore to Johor Bahru here.
Johor Bahru to Mersing/Tanjung Gemok here.
Johor Bahru back to Singapore here.
If you don't have much luggage and time is not a concern, you can also take public transportation. Take the subway to Woodlands MRT and then catch Bus 911 to Woodlands Checkpoint. Go through immigration clearance at Woodlands and then take bus 170/160 to the Johor checkpoint.
From there you will need to hop on another bus to Johor Bahru Larkin Bus Station. You can take the Causeway Link, a popular bus operator to Larkin Bus Station. Your next bus will be to to Mersing Terminal Bus Station, which should take about 3-3.5 hours. When you reach Mersing, just take a taxi to the Jetty, which is a quick 5 minute drive.
If you're planning to spend some time in Johor Bahru, for example, visiting Legoland before going onwards to Tioman, it's best to get a bus pass. This bus pass is for both Singapore and select destinations in Johor Bahru which allows access to Johor Premium Outlet, Sanrio Hello Kitty Town & Thomas Town. You can book it online here.
Use the bus ticket in combination with one of the following adventures (some are discounted 10% off through Klook):
Getting from Singapore to Tioman: Going through customs
If you are taking the bus you will have to go through 2 checkpoints at the Singapore/Malaysia border. Once at the Woodlands checkpoint in Singapore and once at the Johor checkpoint in Malaysia. When taking the bus you will only need to remove your luggage at the second (Johor) checkpoint.
Getting to Tioman from Kuala Lumpur
If you're not coming from Singapore, you'll most likely be arriving from one of the international airports in Malaysia.
The busiest airport with the most connections is no doubt in the nation's capital of Kuala Lumpur. Getting from Kuala Lumpur to Mersing/Tanjong Gemok is quite a long ride and depending on whether you're hiring a car or catching a bus, can range anything between 4 and 6 hours respectively.
Hiring a car is a great choice as you can take stops along the way and at your leisure. While there are shorter routes than the one we are about to suggest, this is more for locals as the roads are winding and small. The best and most direct route is the North-South Highway. You can drive from the airport to, exit at Segamat and then continue east on Route 50 to Kluang and then onto Mersing.
Another option is to take the East Coast Highway from Kuala Lumpur to Kuantan and then south on Route 3 where you will pass through Pekan and Rompin and finally onto Mersing. Once you reach Mersing, you can leave your car there in the parking lot which charges around RM8 per day.
Tanjung Gemok is around 30 mins faster so the total drive time would be 3.5 hrs. From Kuala Lumpur you would also take the North-South Highway, but you would exit at Seremban onto the Kluang route to Kuala Pilah, Muadzam Shah and finally Tanjung Gemok.
There are various buses that go from Kuala Lumpur to Mersing and start from Tasik Selatan Bus Terminal. You can reach the bus terminal by taking the KLIA transit for about 25 mins. Buses leave at frequent intervals at 9am, 12:30pm, 6pm, and 11:30 pm from Kuala Lumpur. So you can take an overnight bus if you wish as the trip is around 6 hours.
It's about a 15min walk from Mersing Terminal to Mersing jetty, but there are taxis available if you have loads of luggage.
The same bus goes through Tanjung Gemok before ending at Mersing, so let the bus driver know beforehand where you plan on getting off. The bus stop is very close to the jetty.
Getting to Tioman from elsewhere in Malaysia
You can also fly into Senai Airport in Johor and take a taxi 2 hour taxi if you don't want to travel for 4-6 hours on the road. You can even book your private taxi online through Klook from Senai International Airport in Johor to Mersing here.
You have even more options depending where you are based in Malaysia, such as a bus from Melaka Sentral Bus Terminal which is about 4.5hrs. You can even fly into Sultan Ahmad Shah Airport in Kuantan and take an express bus all the way down the coast which is around 4 hours. Private taxis and car hire is also available from both destinations.
Ferry from Mersing/Tanjung Gemok to Tioman Island
There is one ferry company, Bluewater Ferry, operating between Mersing or Tanjung Gemok to Tioman. While there is only one ferry, there are several agencies to purchase your tickets from. Choose between tiomanferryticket.com (previously tiomanisland.com.my), tiomanferry.com and easybook.com. The first option seems to be the most updated and streamlined.
The ferry ride is about 1.5-2 hours including a possible wait at the terminal port while other ferries offload. When leaving Tioman, it is advisable to be at the ferry terminal about 1 hour before departure. The route when arriving in Tioman is usually Genting, Paya, Tekek, ABC and then Salang. Listen to the captain to find out which port you are at as the order may change or one or two stops may be left out of the route.
There are also restaurants around both ferry terminals and convenience stores inside the terminals, so you can purchase snacks for the ferry or have a bite to eat before the ferry leaves, but only if you arrive early enough.
Flights to Pulau Tioman
There is an air strip on Tioman that is located in Tekek, but flights were suspended as from 2014. Berjaya Air was the only operator, but apparently System Aviation Services (SAS) provide daily trips to Tioman. Please contact them for further details.
There is some good news on the horizon as SKS Airways are planning to open routes into Tioman Island! Check their website for more details. The route is currently there for selection, but we have tried and it is faulty which most likely means the route is not yet available. We will also keep checking and updating this article whenever we find out some news.
Getting around on Tioman Island
If you want to travel to some of the other areas on Pulau Tioman without walking you can hop on the Mersing/Tioman Bluewater Express ferry service at around RM15 per trip, but this is only between Salang and Genting. You can also catch a local boat taxi as mentioned above, but these are a little more expensive at around RM20-100 per person one way, although this is the most convenient.
There are 4×4 cars available at an additional price of around RM30 per person on a one-way trip (to Juara). Hotels also offer transfers at higher prices if they aren't already included in your package at around RM70+ per one-way trip. There are places all around the island that rent out scooters for around RM10 per hour. You can haggle for daily use prices. We rented our bike from the security guard at the boom gate to Berjaya for around RM70 for the day as we were staying at Selesa and didn't want to walk up the steep hill constantly.
Other important notes about Tioman Island
Here are a few other important facts that you should know before your visit.
Wifi, cellphone coverage and ATMs
While there are ATMs on the island, you should try to bring enough cash for your trip as they aren't everywhere and locating one may be difficult if you're staying in more desolate parts of the island.
As we aren't locals and needed internet connection for work, we bought a sim card from the convenience store near Tekek jetty. While it worked fine in Tekek, some parts, like at Selesa, it was sporadic with limited connectivity. Some resorts offer free wifi, like Berjaya, but only in the main lobby area. This can also be limited. Suffice to say, Tioman should be a digital-free vacation.
Tax free
Although Tioman is a tax free island and booze is really cheap, anything that you bring back to Singapore will be charged with the standard tax rates after declaration. The best stores for tax free shopping are all in Tekek and include QKS Duty Free for mostly alcohol, Vision Commerce Duty Free Shop for everything else (see map above for directions). While the prices for alcohol are pretty good (especially compared to Singapore), don't expect too much choice.
Marine Park Conservation Fee
You will have to pay a MYR30 Marine Park Conservation Fee before getting on your ferry. It is a once off fee and is necessary as Tioman is part of a conservation area. The payment is cash only, so have it available. Your bus guide on WTS will have MYR available for exchange using the day's exchange rates.
Monkeys business on Tioman Island
Monkeys rule the island. They are everywhere and always hungry, so be sure to hide food in a sealed container in your backpack. They are less spotted at Berjaya as movement is more frequent, but everywhere else on the island, the have free range.
Monkey Bay is not called this for nothing. We placed our towels down with nothing in site and as soon as we got our our lunch out, they appeared. We had to go into the water to escape. So just be cautious of these guys, they are not malicious, but they will come up to you if you have food. Do NOT feed them. This makes them rely on humans for food and teaches them that food comes from humans. They therefore start to become aggressive in the long run. Be a reliable traveler and only feed yourself.
Other animals on Tioman Island
There are a host of other animals of the rugged island from snakes and monitor lizards to bats that fly low in dark areas at time. Please be cautious and ask your hotel for a guide if you decide to go on a hike.
Pin this to your #MALAYSIA Pinterest boards!