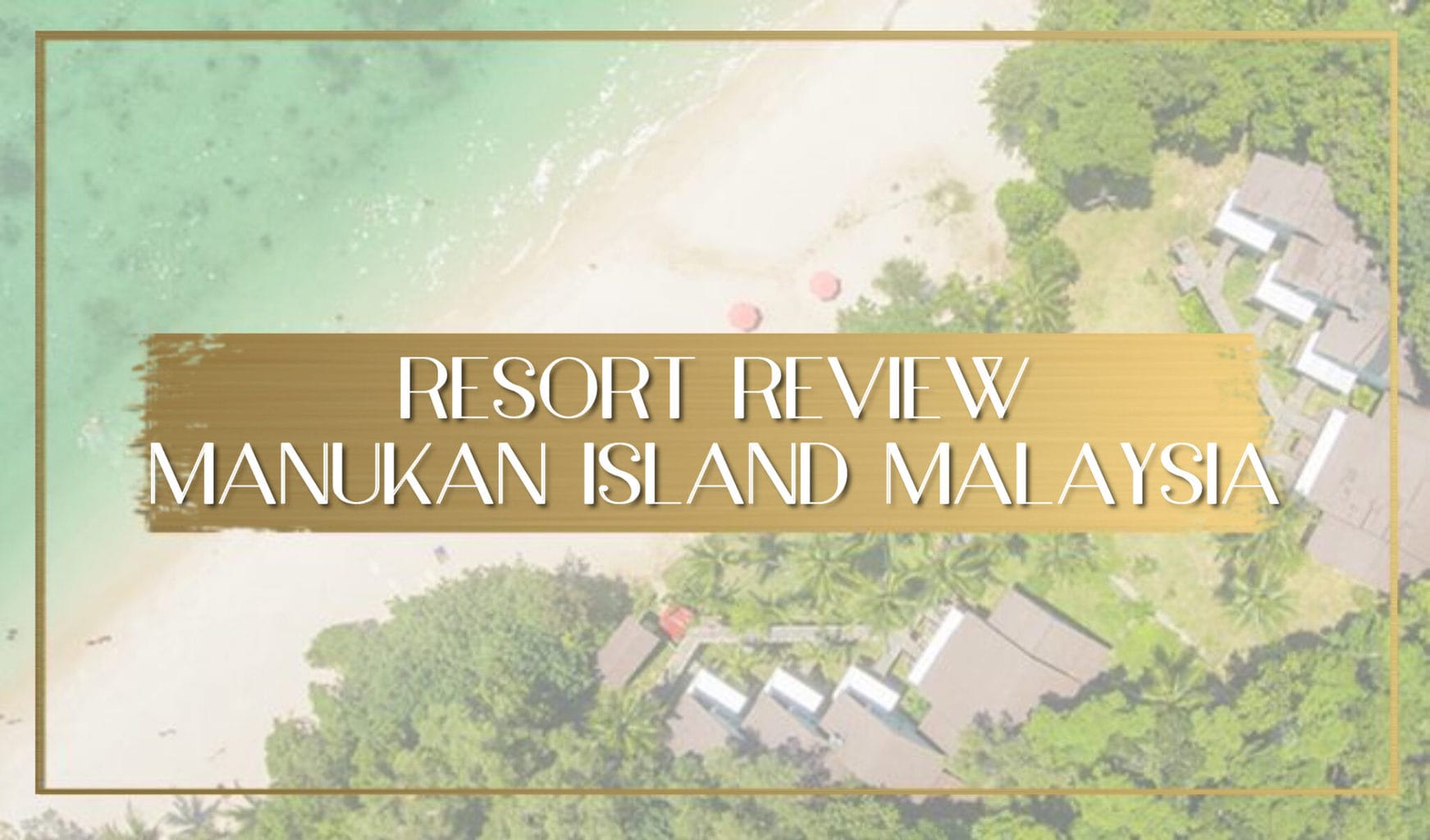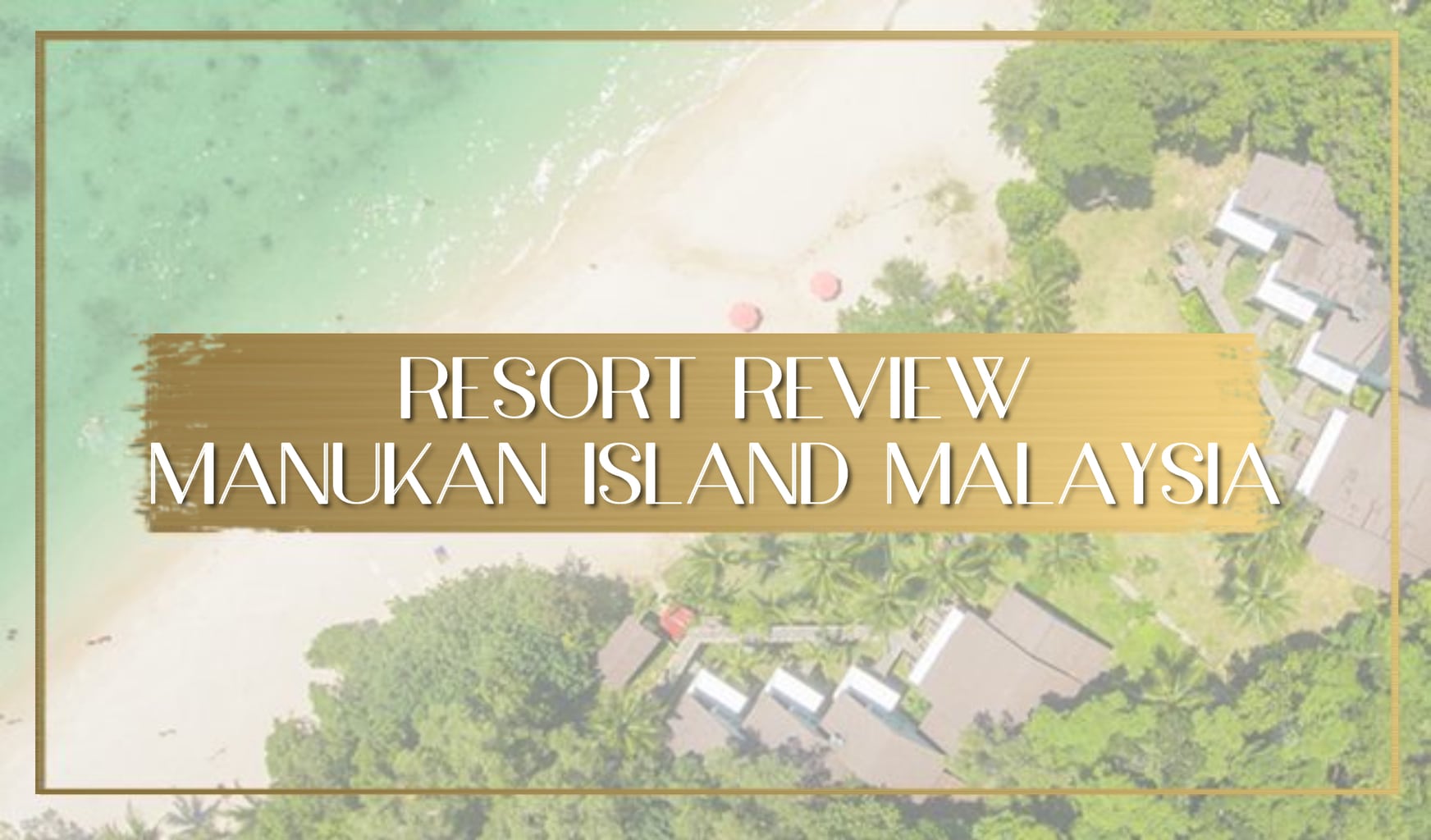 Once in a Lifetime Journey was a guest at Sutera Sanctuary Lodges which is a member of the Secret Retreats collection. As always, all opinions expressed in this article are our own.
Manukan is the second largest island in the Tunku Abdul Rahman Marine Park, in Malaysian Borneo. The island is a popular day trip from Kota Kinabalu because it is only a 15-minute boat ride from the mainland and the waters are clear and calm.
Because Tunku Abdul Rahman Park is relatively protected, shallow and calm, it makes for a great place to learn to dive in Southeast Asia. There are a lot of dive sites within the depth of the PADI Open Water certification and plenty to see, without much risk for beginners.
Tunku Abdul Rahman is a rich ecosystem where you can even spot whale sharks in season. During a regular dive, you could be spotting turtles, reef sharks and lots of tropical fish as well as some healthy corals, soft and hard, and lots of other critters. It is not the most amazing diving you can do in Asia, Sipadan also in Borneo and Similan in Thailand have far richer ecosystems and regularly rank among the Best dive sites in Asia.
But it is accessible and easy for beginners without major currents or difficulties and getting certified is relatively affordable, even when traveling from outside of Malaysia. The park, and Manukan Island, are both great places to finish your PADI certification if you started it in another place (like back home in cold waters!).
There is only one accommodation option on the island: Manukan Island Resort, managed by Sutera Sanctuary Lodges, part of the Secret Retreats Collection, but owned by the Sabah government. And don't forget to read our guide on 10 Essential Things Travelers Must Know Before Visiting Malaysia.
Watch my time on the pristine island below:
Where is Manukan Island Resort and how to get there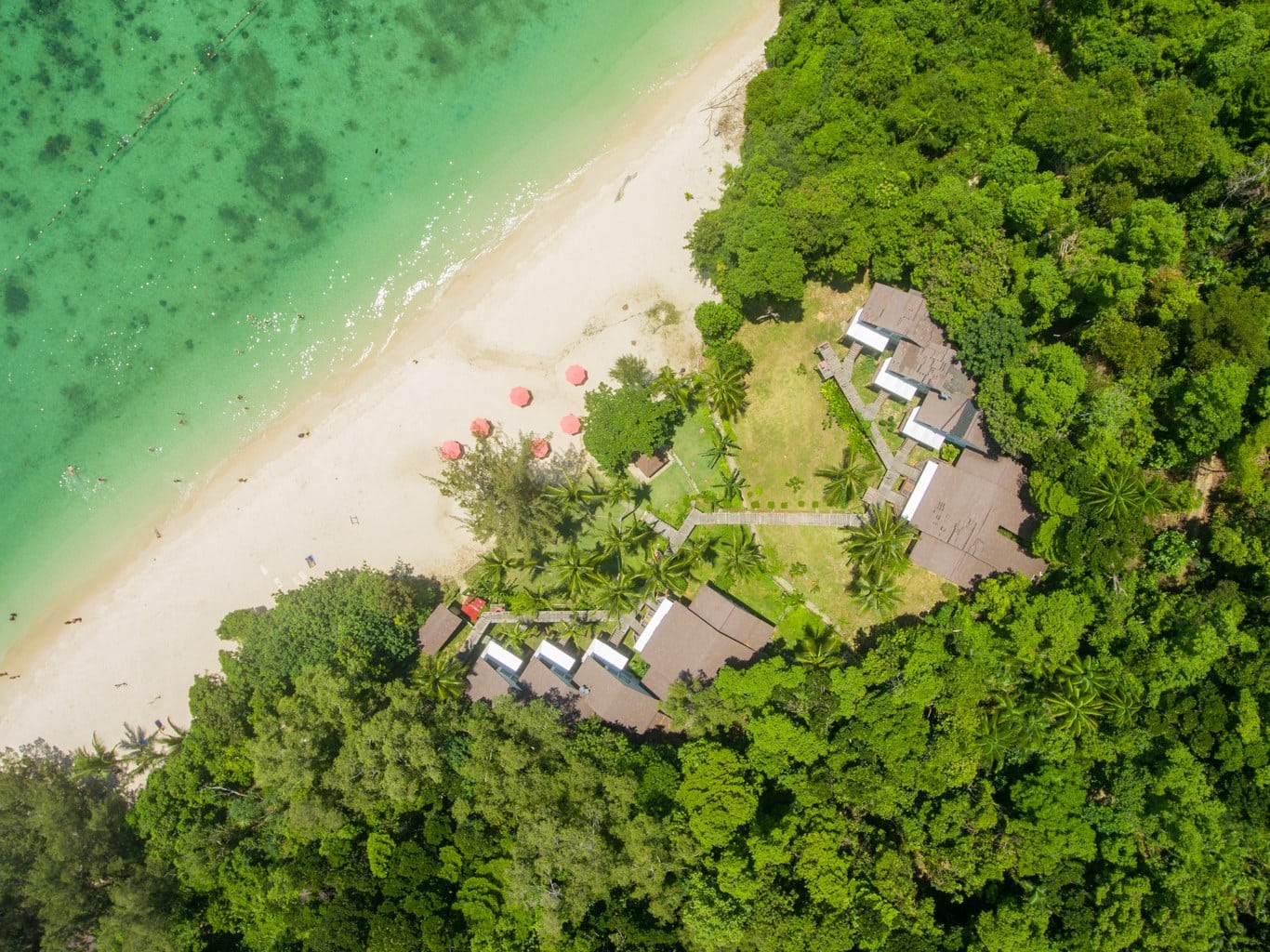 Manukan Island can be reached via a 15-minute boat ride from the jetty which is in turn about 20-30 minutes from the compact and efficient Kota Kinabalu airport. That means that from the moment your plane touches the ground until you reach the hotel barely an hour has passed.
When you arrive at the island's jetty, the reception for the hotel will almost be the first thing you will come across. Check in will be quick and you will be shown to your room shortly after.
The easiness of reach and accessibility of the resort is one of its main drawing points.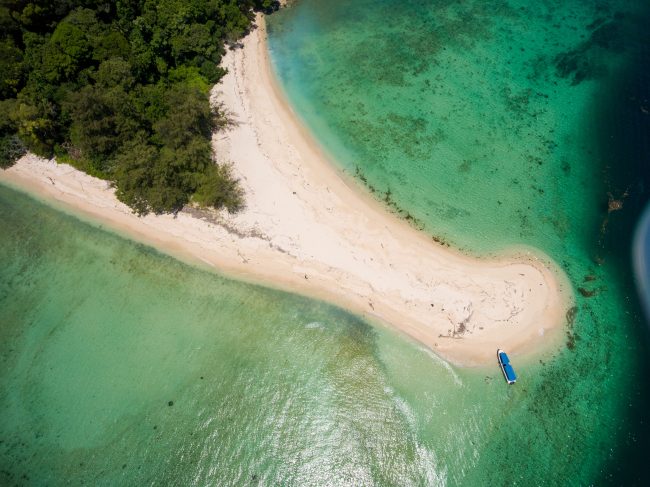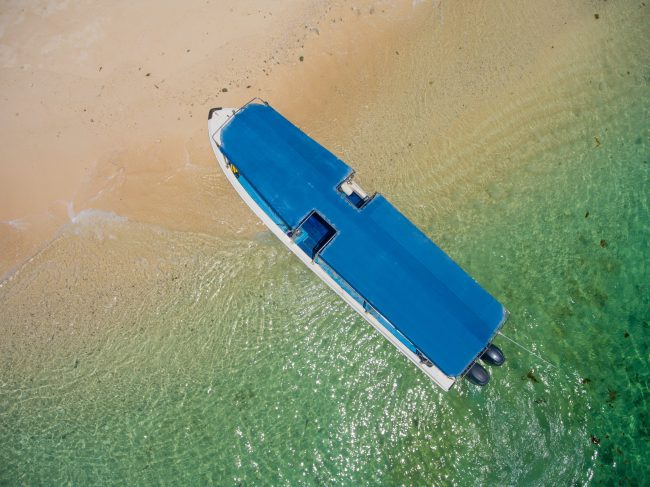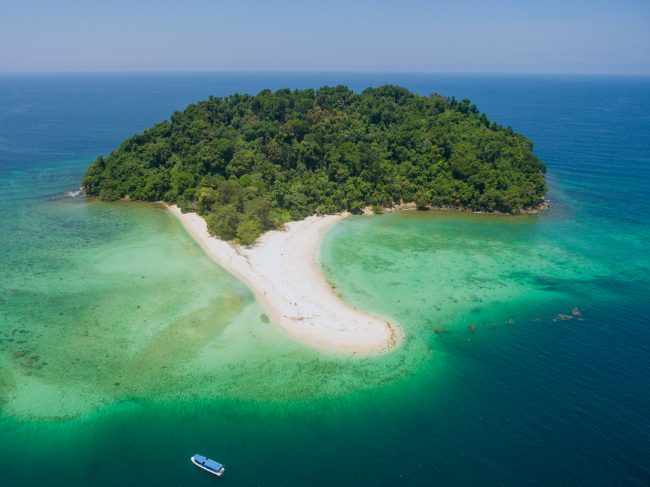 Staying at Manukan Island Resort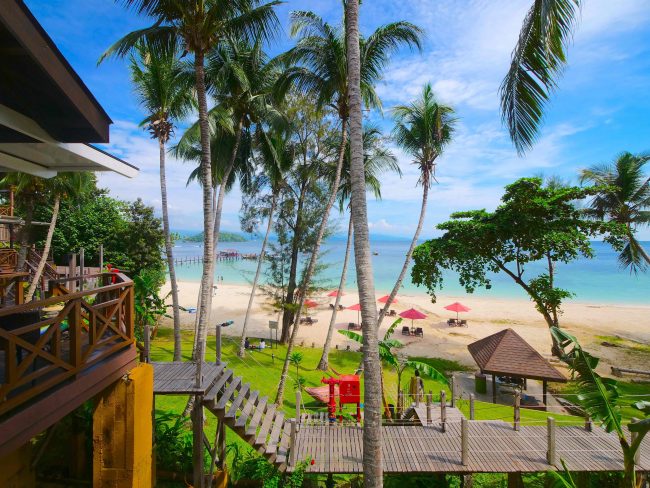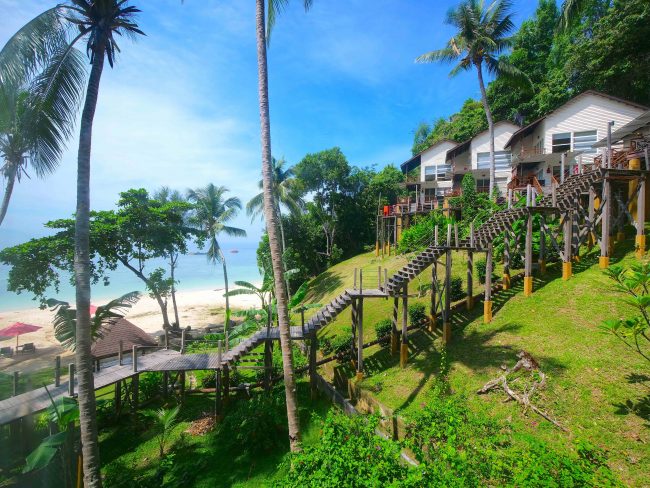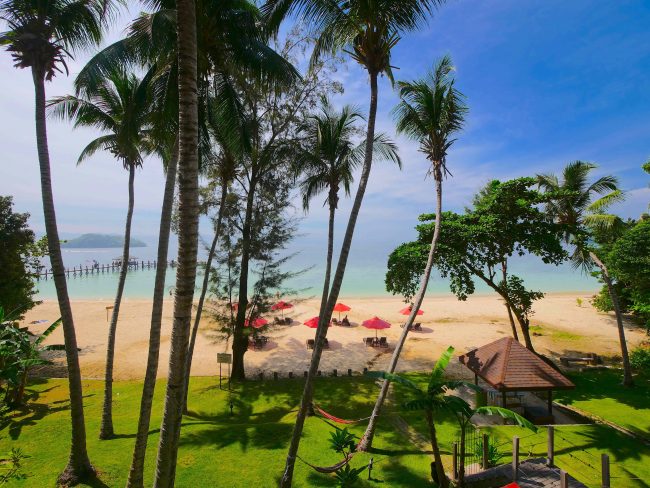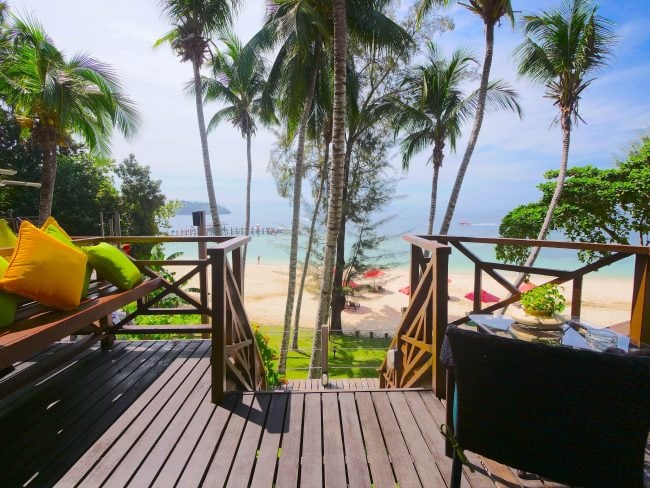 Manukan Island Resort is made of two types of accommodation: hilltop villas and beach villas . Both offer the same level of comfort inside but differ in their location and views. In both cases, the layout can be single storey or duplex. Sizes are the same but the duplex has the bedroom upstairs while the lounge is downstairs.
The beach villas are located near the restaurant and the main beach area. They are more affordable and are in the middle of everything, making them easily accessible and convenient. Because Manukan is very popular with daytrippers, the beach area can be quite busy in the weekends.
Hilltop Villas are the premium option. They are located further away from the main beach and are elevated, providing sea views from your bed and lounge. They are reached via a steep short path followed by a network of wooden walking boards and stairs. Because of their location, they offer a more peaceful vacation and have direct access to Manukan's private beach area. The duplex hilltop villas are the most premium option.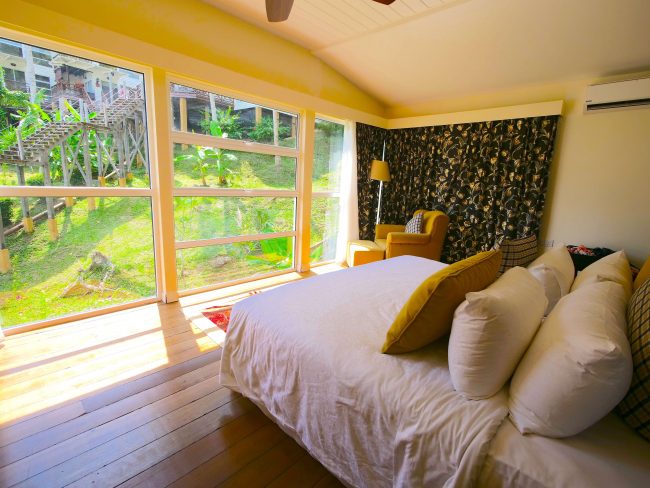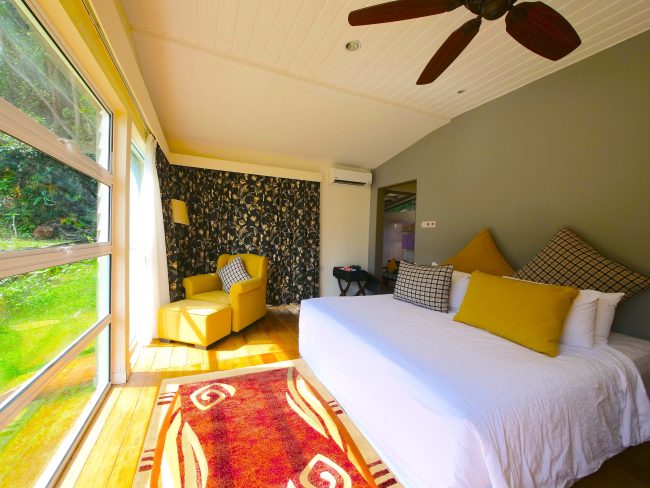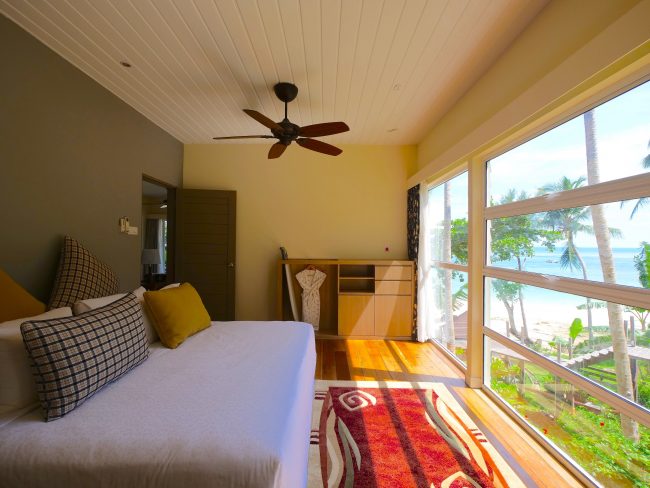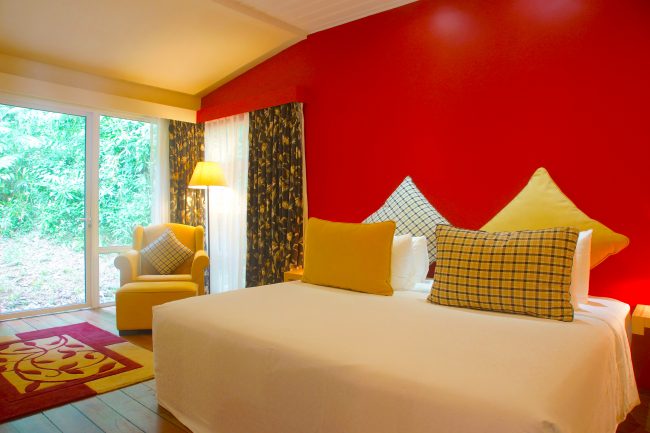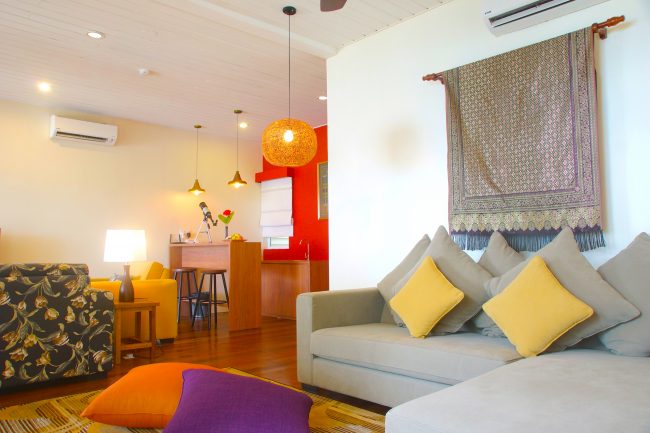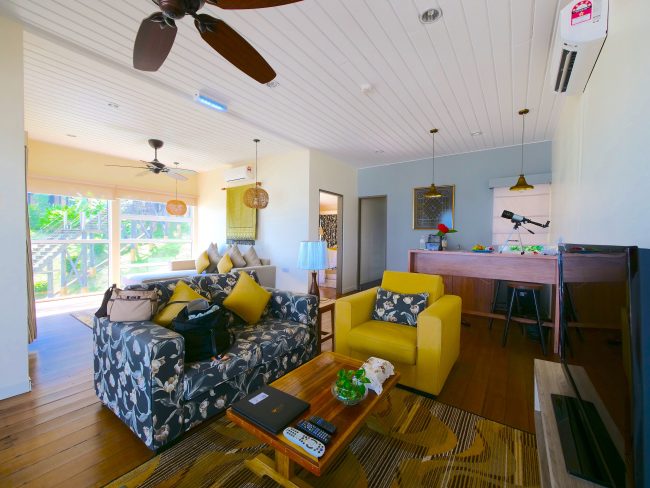 Inside the rooms the space is comfortable and large. There is a big living room with a TV area and a relaxation area with pillows and sofas and a small bar with a sink and a fridge. A guest bathroom is also in this space so anyone coming to your room does not need to go through the bedroom. The bedrooms usually have sea views with wrap around windows that are the perfect way to wake up in the morning. There is also a large bathroom with a bathtub and a shower and lots of space to get ready.
Manukan Island Resort has some of the largest rooms I have ever stayed at, feeling more like an apartment than a hotel room.
The hilltop villas are a great place to relax in both inside as well as outside, in the small chill-out area by the entrance. They are surrounded by lush greenery, palm trees and green grass and protected from onlookers by the thick vegetation. They are also a few steps away from the sand below.
Article continues below…
For more amazing island escapes around Malaysia and Singapore read these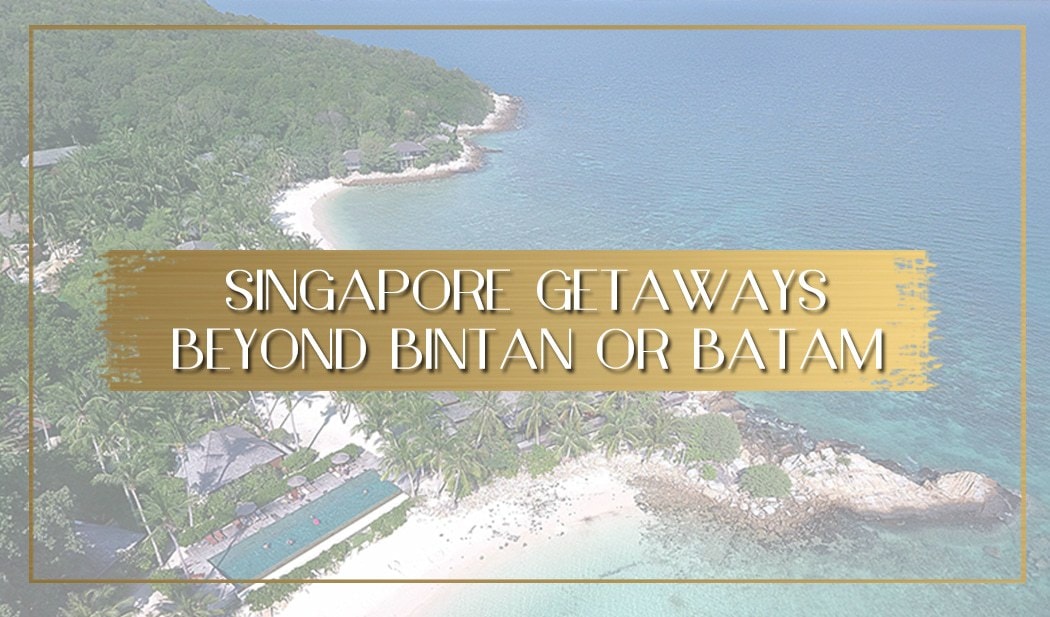 5 weekend getaways from Singapore beyond Bintan
Thinking of a getaway from Singapore? Only have the weekend? Don't think Bintan! Here are 5 amazing ones!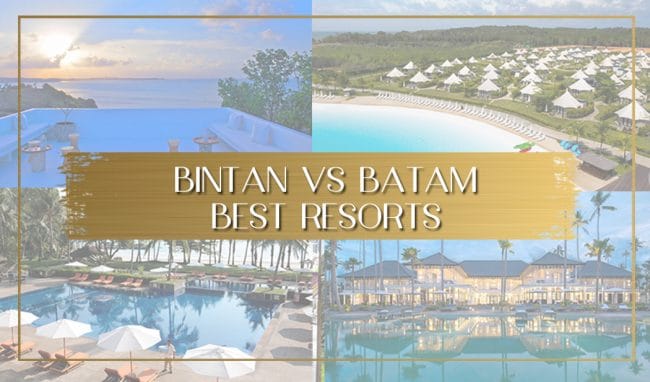 Best resorts near Singapore in Bintan and Batam
Looking for the best beach resorts near Singapore? Read on for the best resorts in Bintan, Batam and beyond with info on which island you should choose.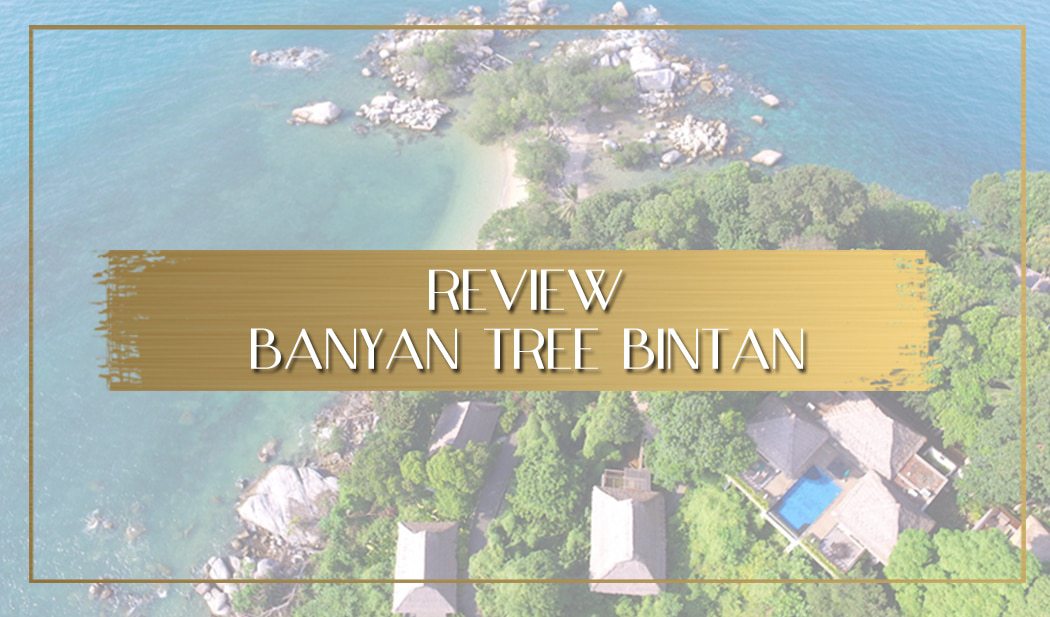 Banyan Tree Bintan review – Rediscovering Bintan's most romantic resort
A weekend getaway at the Banyan Tree Bintan brings back romanticism in the convenience of a short ferry ride from Singapore
The food and drinks at Manukan Island Resort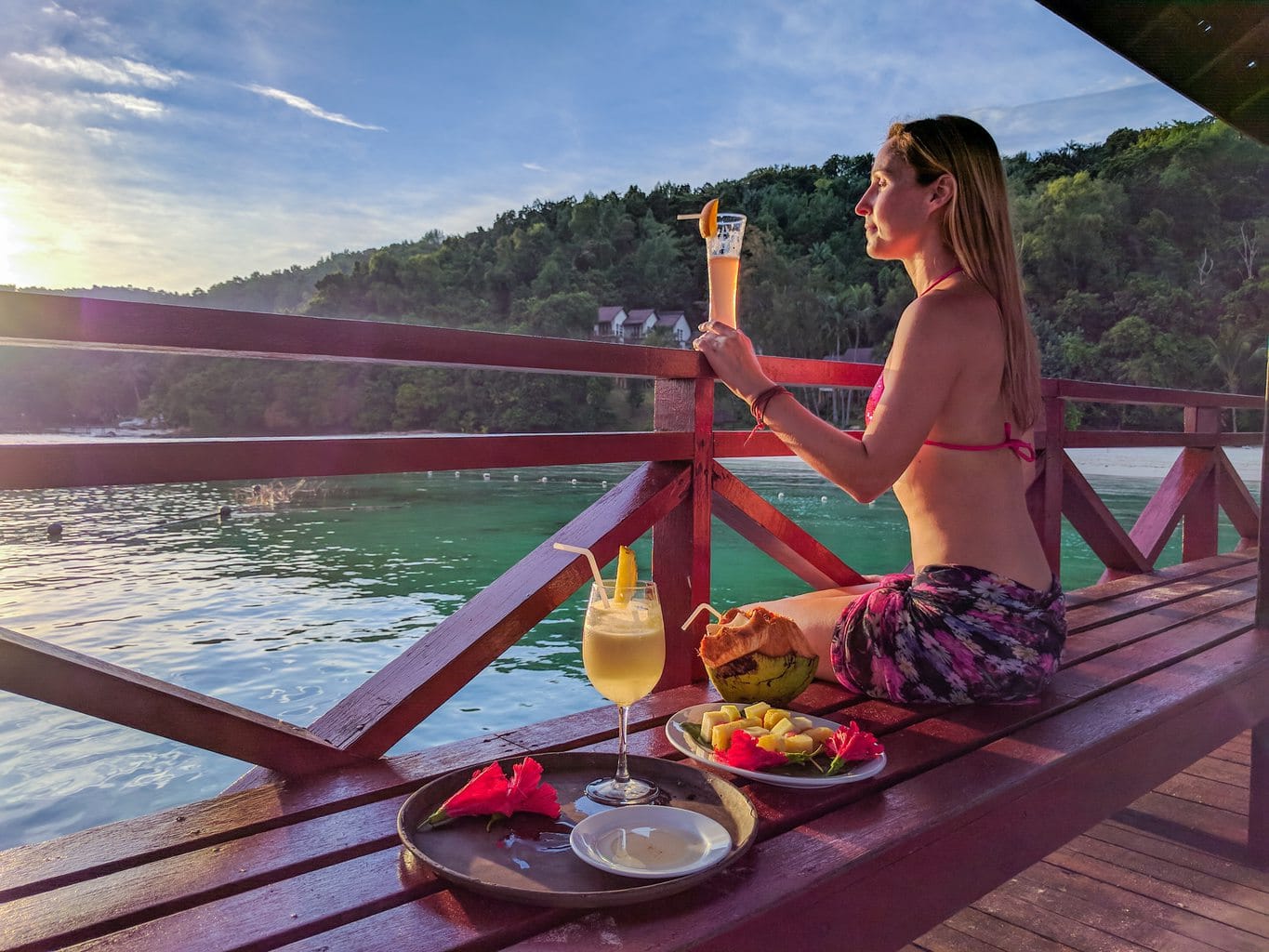 Manukan Island Resort has two restaurants and there are also several local stalls selling Malaysian comfort food during the day.
The main Perahu restaurant offers a variety of local and international set dishes with favourites like club sandwiches, fried rice or roasted chicken. Everything is flavourful and indulgent. Try the local roasted chicken with spicy sauce or the nasi lemak for a dose of Malay goodness. Each dish is quite a generous portion.
Breakfast is served at the other restaurant which turns into a grill at lunchtime and is open to the general public. For breakfast, there is a wide range of options from pancakes and eggs made to order to nasi lemak or curries. There are also fresh fruits, yoghurts and cereals as well as breads, pastries and other sweets. Coffee is properly made with a coffee machine. I very much enjoyed a fresh coconut for breakfast.
The island is full of hawker centre type stalls set up by locals selling snacks and meals throughout the day. These are very cheap but not of the same quality as the resort's options. A good choice if you want to get a quick snack in between meals.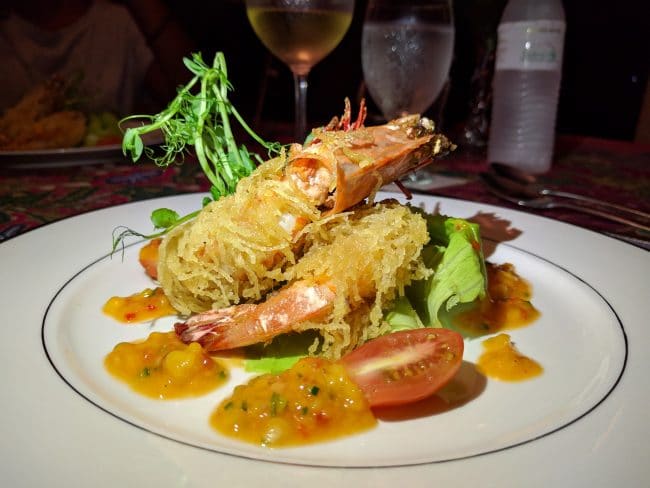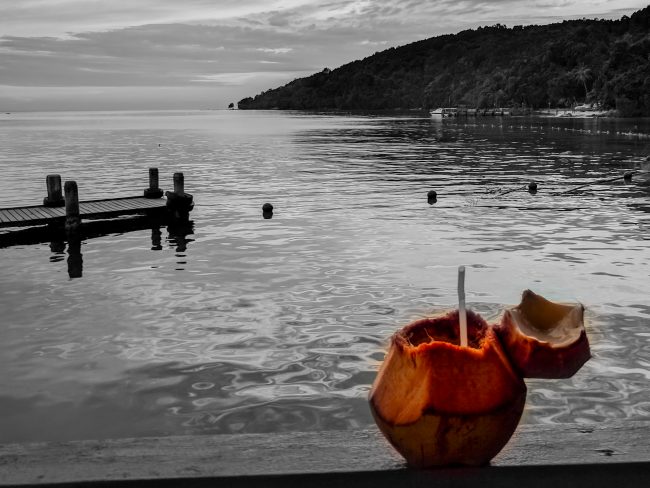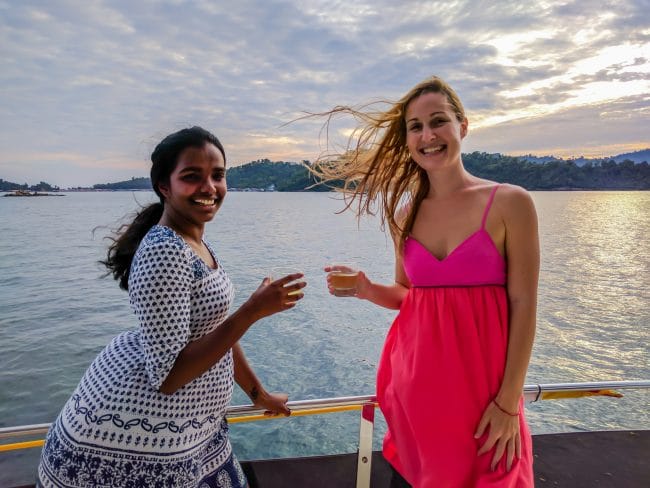 There is also a bar by the pool to enjoy some drinks. Manukan Island Resort has a long cocktail menu and a few wine choices. Service at the resort is always friendly and helpful.
I really loved having sundowners by the jetty. In the evening, after the daytrippers leave, the island is incredibly quiet, even small reef sharks think so and come by the jetty to feed. We got drinks from the bar and took them to the jetty to watch the sun go down next to the tip of the island.
If you are staying by the hilltop villas or are relaxing at the loungers on the beach, you can order drinks and snacks from the staff who will fetch them from the restaurant.
If you are celebrating something special, the Manukan Island Resort Staff are specialists in preparing beach and pool cabana dinners for a romantic moment a deux. They will put together sheltered tables by the large pine trees and light romantic lights and candles strategically placed to create illuminated paths and provide dimmed settings.
Away from the rest of the guests you will feel like you are the only ones on the island. The pool cabana BBQ dinner is also a great way to spend an evening with your loved one. Do not miss out on asking the staff to prepare one of these for you.
Things to do on Manukan Island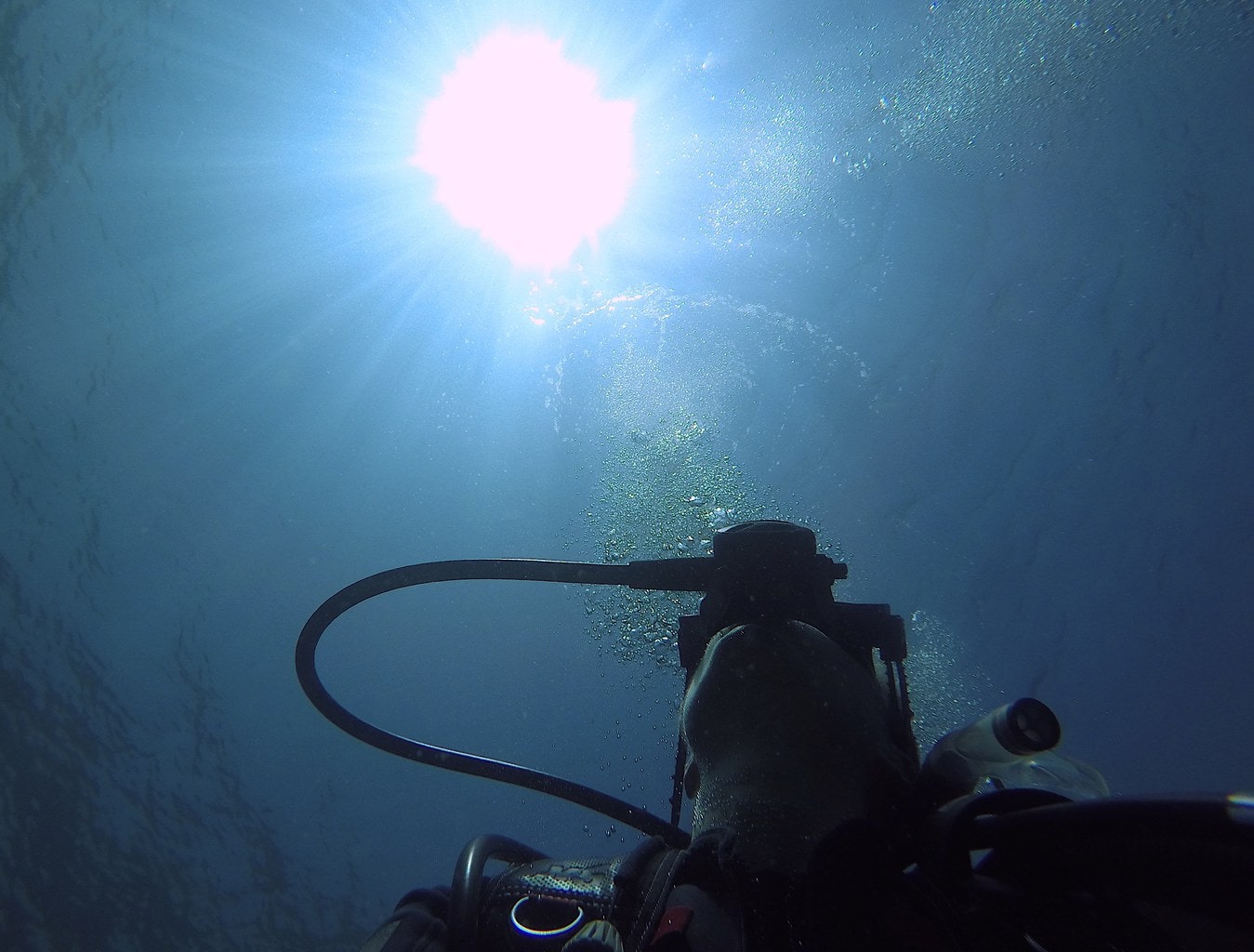 Although the island is small, the area has a lot to offer and Manukan Island Resort is the perfect place to discover Tunku Abdul Rahman Park.
One of the most interesting activities at Manukan Island is learning to dive. The island has its own dive centre managed by Downbelow Adventures, owned by British expat Richard who has been living in Malaysia and diving the area for years. Richard is a great source of knowledge on the marine population in Tunku Abdul Rahman, on the ins-and-outs of the diving industry in Malaysia and on the country in general.
He is also a great storyteller. Whether you are new to diving or have completed the theory portion of the PADI Open Water course at home, Manukan is an easy and convenient place to get certified.
If you are already a diver looking to explore a bit of the underwater world, Manukan has a few interesting dive sites, including a wreck that was sunk purposefully in 2017 with the help of Downbelow and the government to draw marine life and add an attraction to the area. The site is expected to open to visitors in 2017.
In season, Manukan welcomes whale sharks and there are lots of turtles swimming around, as I found out when I stayed at Gaya Island Resort in the past.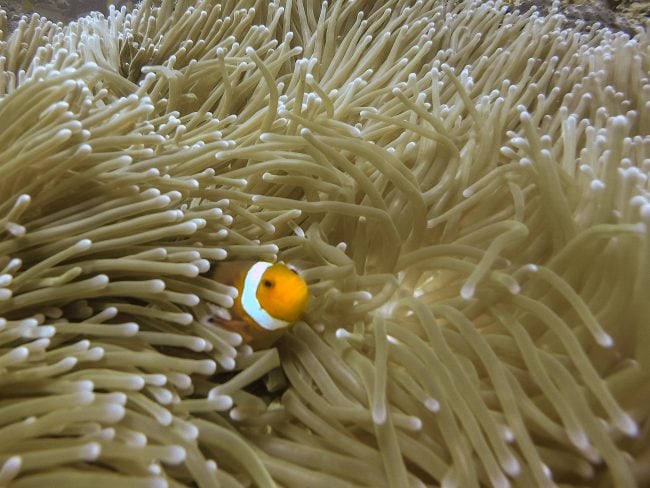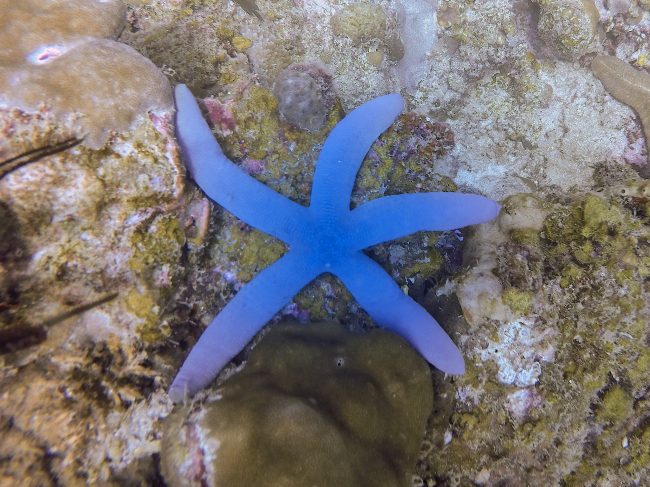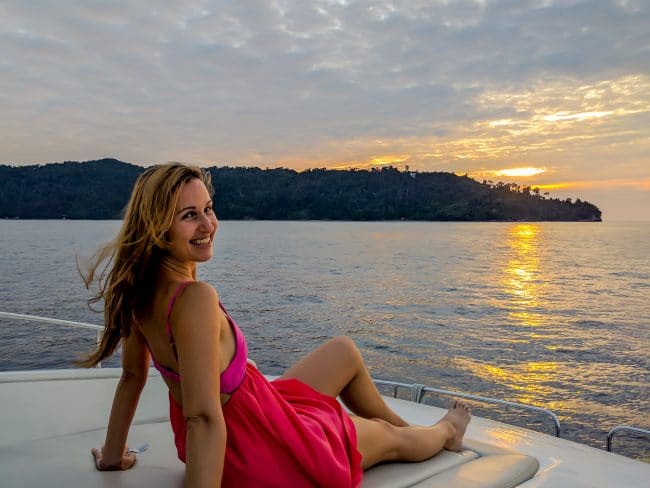 If you are not a diver, you can join one of the daily snorkelling trips which will take you to clear waters away from the beach craziness of the day. The waters of Tunku Abdul Rahman are warm all year round so snorkelling is very pleasant.
For those less interested in being under water there are also some other activities above the water or the ground. Lots of activity operators come for the day to offer banana boating, parasailing and other water activities. You can even book some time on one of those very funny head submarine artefacts that will make you look like a diver from the 19th century.
Chilling by the pool or the private beach is always a more relaxing option. The beach sand around Manukan Island is fine, white and pleasant, but bring repellent because the sand flies are incessant in their quest for some food. Thankfully, Manukan Island Resort has managed to mark off an area on the beach where the hilltop villas are for its guests only. The sign does not always deter the day visitors from getting in but its location on the other side of the main beach gives it relative peace.
For the adrenaline seekers Manukan Island is very near Southeast Asia's largest pontoon, a place to join in some fast-paced activities like banana boating or a trip down one of the largest island-to-island zip lines that hovers above the water. Quite an experience.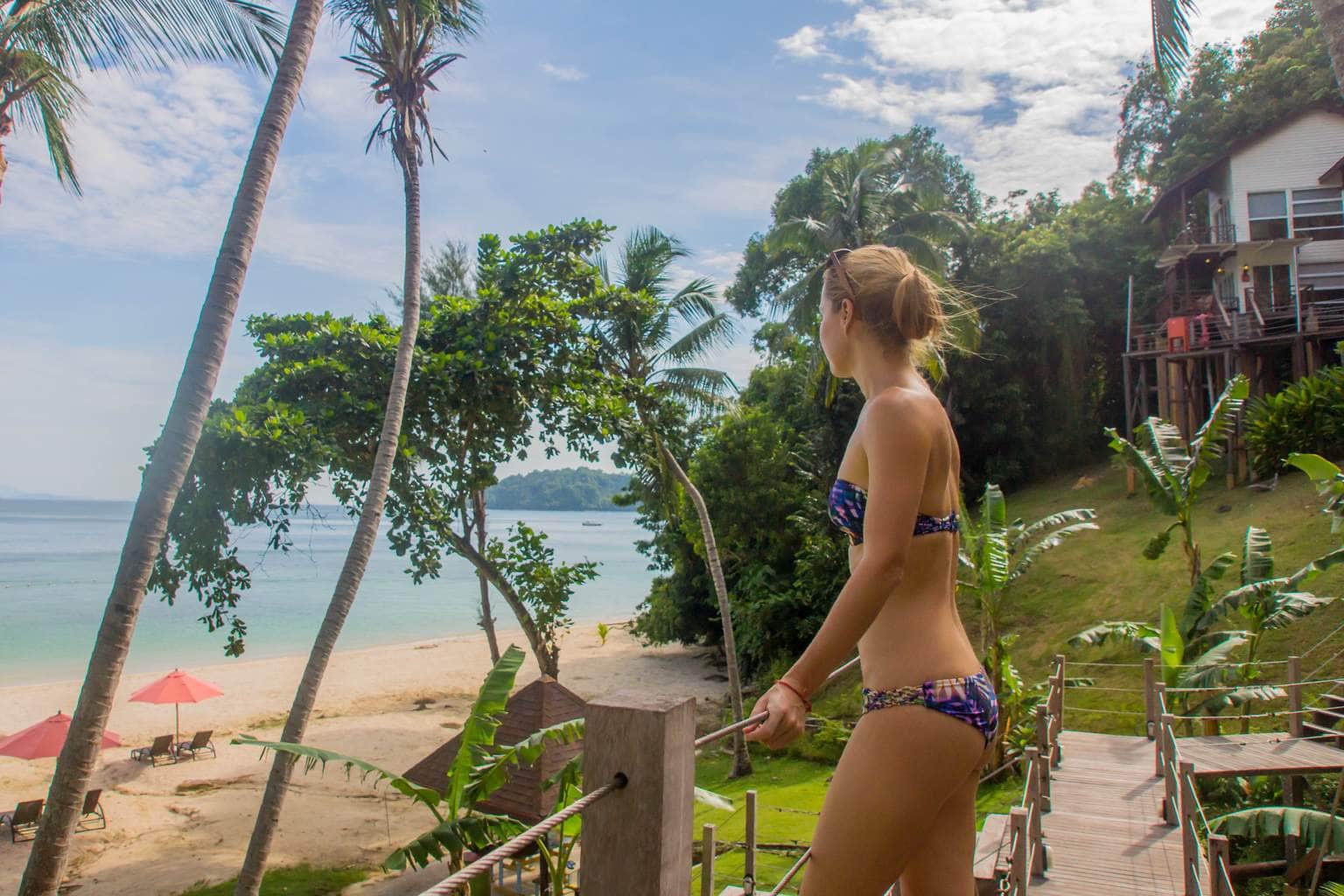 For land based activities you can go on the short trek to the tip of the island through one of the two well-marked paths. The walk is along a well-maintained path and it takes less than half an hour. At the end of the day, you can walk to the sunset point and watch the golden orb set below the horizon, on the South China Sea. There are endemic and endangered mangroves at that end of the island and you can sit on the rocks to see the last rays of the day.
One of the resort's staff members will walk with you. Remember to bring torch to make your way back in the dark. During your walk you can spot the island's friendly monitor lizards and lots of birds which Manukan is known for. On Manukan, you are transported to tropical jungle surroundings, somewhere far from the coast of a big city. I always love walking in the jungle and smelling the wet soil and the hearing the sounds of the animal kingdom.
The service at Manukan Island Resort
The entire team at Manukan Island Resort was made of friendly, caring and always ready to help staff. They were constantly smiling and happy to oblige, which made our stay wonderful. Ben and Robert, the F&B Manager and Front Office Manager respectively were a delight to liaise with and shared their pride for the island and Sabah with us. They were attentive and always ready to help us find the right place to fly the drone or bring us cut fruit for our makeshift sunset drinks. The team were indeed the highlight of our stay and they went out of their way to make it extra special.
Verdict for Manukan Island Resort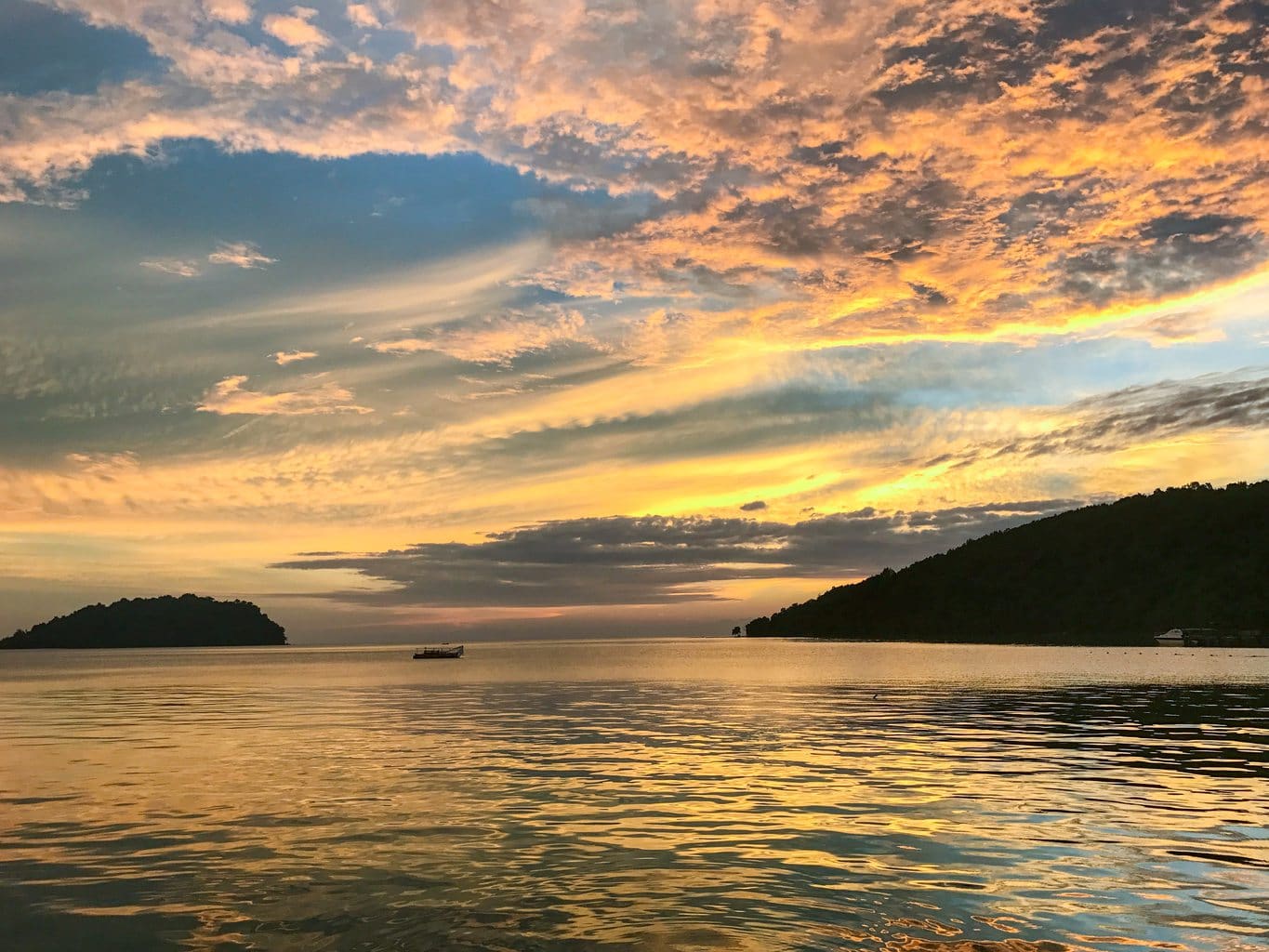 Manukan Island Resort is not the very high-end type of resort I usually stay at or review. It is one of those gems known only to locals but which delivers a friendly weekend in an island paradise with white sand beaches and blue turquoise waters. Enjoy easy diving, go island hopping on some pretty sandbanks and feel like you are visiting an old friend, very much aligned to the Secret Retreats promise. It is that no frills and easy going vacation one sometimes need.
Convenience was a major reason to visit Manukan Island resort. For an island so close to Singapore and so convenient to reach, there was a lot to offer which can rival some of the no-flight resorts near Singapore. Door-to-door I spent the same or less amount of time getting there than if I had gone to some of the Bintan or Batam resorts, the Malaysian Mersing ferry island resorts like Tioman, or even Langkawi. The diving was quite nice and the uninhabited islands dotting the area around Manukan were very pretty and postcard perfect. A relaxing weekend getaway from Singapore that is well worth the travel.
What to pack for Manukan Island Resort
The most important items to pack for a trip to Manukan Island are the same ones you would take to any beach holiday: sun protection, comfortable and good-looking water sports clothes and sexy beach wear.
These are some of my favourite packing items to protect from the sun:
Biore sunscreen. If you have read some of my beach posts you will know that I have been using Biore for years and I love it because it comes in pots that are less than 100ml so I don't need to check-in my luggage because of clunky pots but most importantly, I love Biore because it is not sticky, greasy or oily and it does make my body or face all shinny. You can even put it on and then apply make up on top, how amazing is that for a sunscreen? It is a daily sunscreen that you can apply every morning before going out. You can trust the Japanese to deliver the best in cosmetics. Sadly you cannot buy their spray on version (for the next level in beach laziness), on Amazon but they do sell it in stores in Singapore and in Japan.
Oakley sunglasses. If you are going to spend hours on a boat or staring at the sea with the strong sun rays reflecting on the white sand beach, you better make sure your eyes are protected. You could use a pair of stylish sunnies but trust me, you are always best off going for something which protects you. I was a lifeguard for six years on the beaches of Sitges staring at the sun for more than eight hours a day and I can tell you, Oakley is the only sunglasses we used. Make sure they are polarised so your eyes are protected. Leave the stylish sunglasses for your away from the water, boats and beaches and make sure your eyes are protected and you do not get a headache from bright sun rays.
Rash guards. Especially if you are going to go snorkelling or diving, make sure you are protected from nasty cuts and sunburnt from extended exposure. There are so many super sexy rash guards today they are actually a fashion statement beyond the utilitarian function. This one is super cool
This would fit perfectly in your #islandlife Pinterest board!