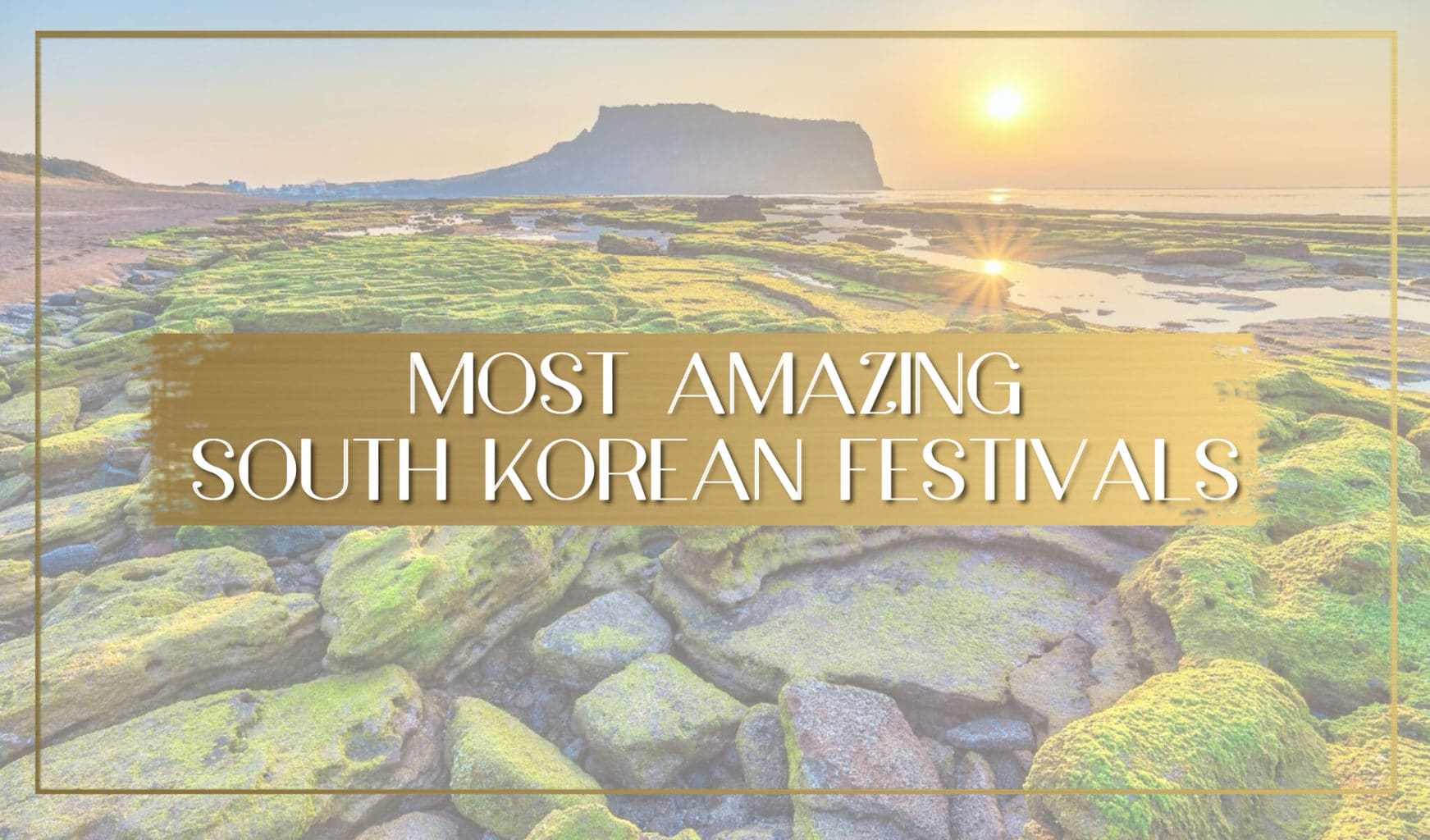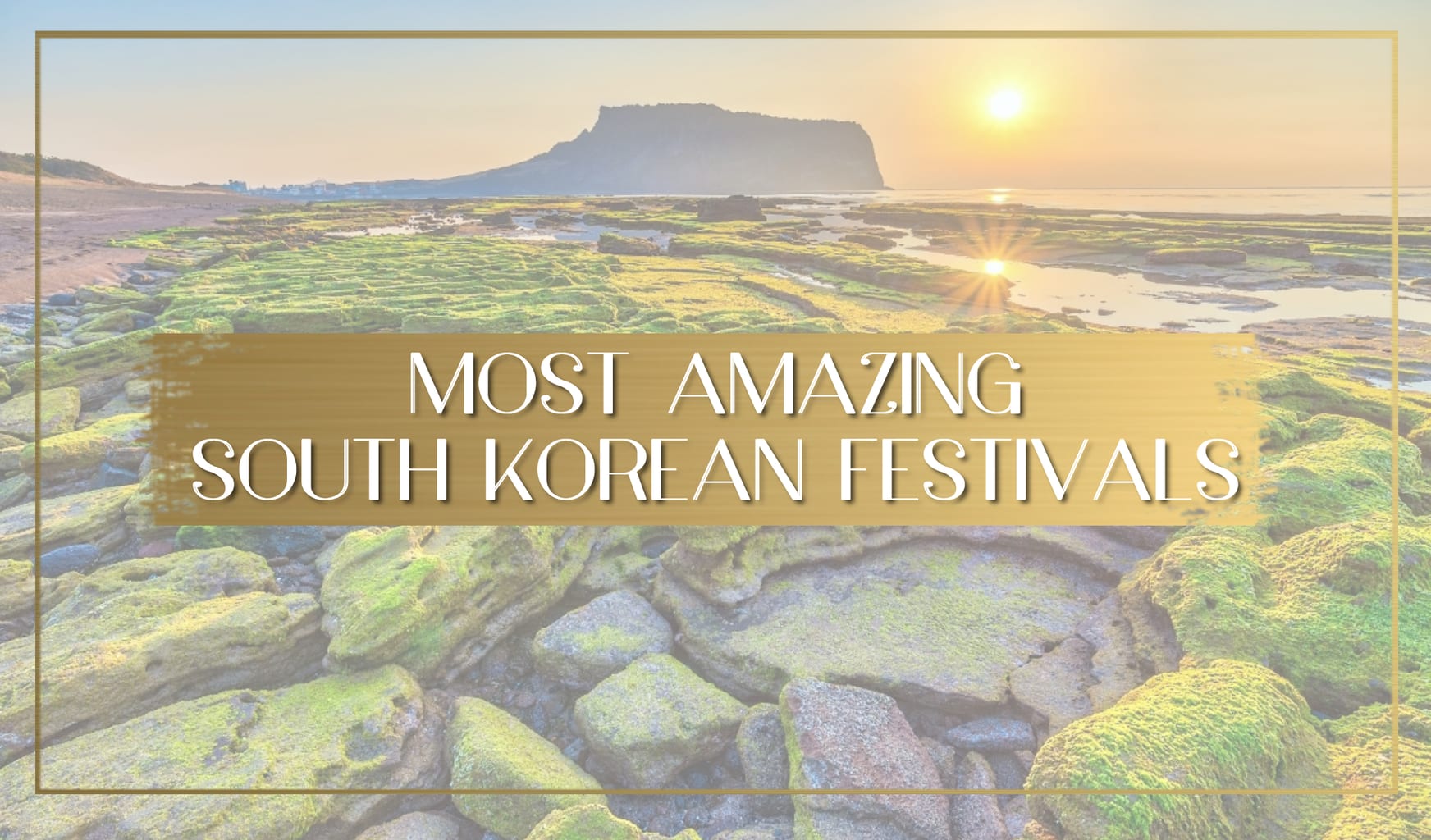 Korea is a country that takes pride in its culture, history, traditions and heritage. So when it comes to South Korean festivals, the country goes all out in its celebrations with traditional dress, meaningful rituals and beautiful displays.
Some of the best festivals in South Korea are ancient with traditions going back eons, while others are more current and seem to exist for purely marketing purposes (we're looking at you Pepero Day).
We've included all types of South Korean festivals and holidays in our list to make it as complete as possible, so there will be the usual suspects like Chuseok and Seollal, as well as some newer festivals that most Koreans won't even know exist like the Hampyeong Butterfly Festival or Nonsan Strawberry Picking Festival.
No matter what month you're visiting Korea, there's always something happening and some festival being celebrated all over the country. And the best part is the safety in South Korea is never really a huge concern.
For ease, we've organized this list by season as Korea proudly has four distinct seasons. You can see what's on in the Land of Morning Calm at the specific time you're visiting and plan accordingly.
Don't forget to join in the fun as the Korean community loves sharing their culture and history with foreigners and the Tourism Board often has free cultural events to celebrate the more well-known festivities.
Note: While this list is packed with the best South Korean festivals, there are hundreds more that are not very well known. I can't tell you the number of times I visited a small off-the-beaten-path city and came across a weird and wonderful celebration by chance, like the Jukkumi (webfoot octopus) Festival in Muchangpo Port, Boryeong where I was the only foreigner (translated from Korean as the "Muchangpo Mystic Sea Road Jukkumi and Dodari Festival"). So go explore!
Here is a map of all the South Korean festivals by month and a little calendar to help you out visually.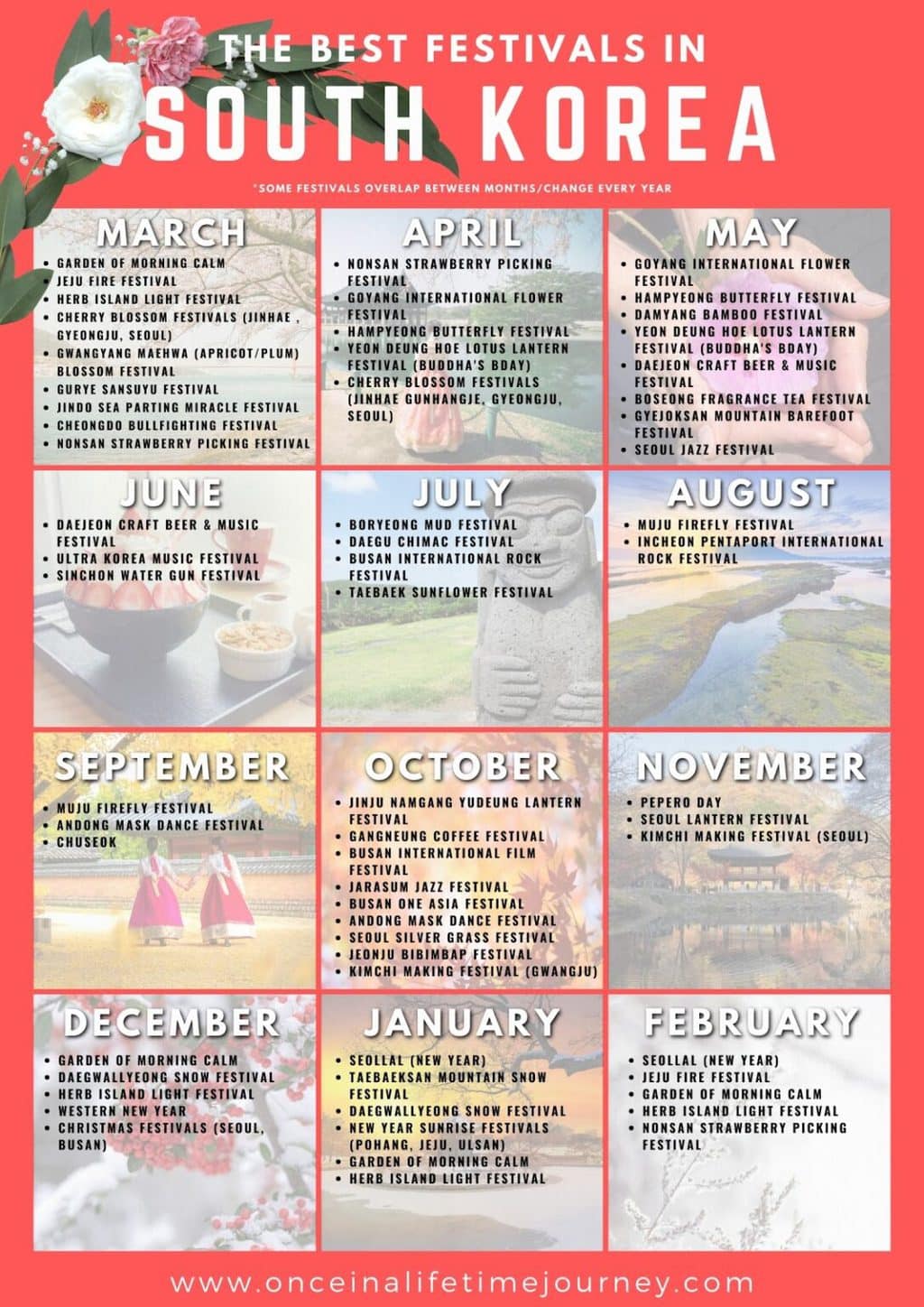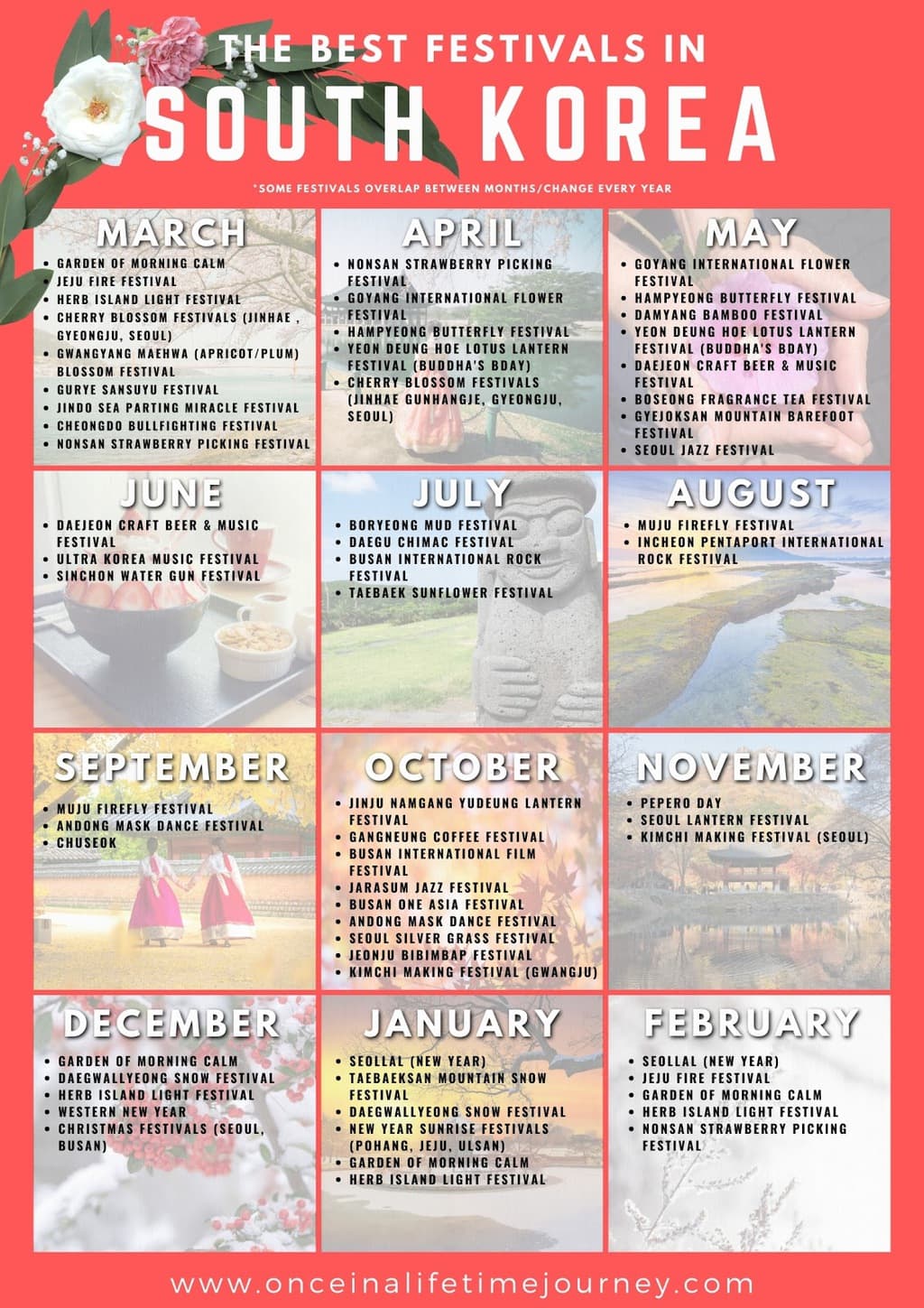 Spring Festivals in Korea (April – June)
Let's start our list of the best South Korean festivals with the budding of the cherry blossoms, an absolute must.
Spring festivals in Korea take place in a short timeframe (because spring is short) but are definitely some of the most beautiful. The climate is mild, temperatures relaxed and there's a sense of joy as the harsh Winter fades into a calm season. Get your camping tents and chairs ready as you explore the best festivals in Korea's Spring.
Cherry Blossom Festivals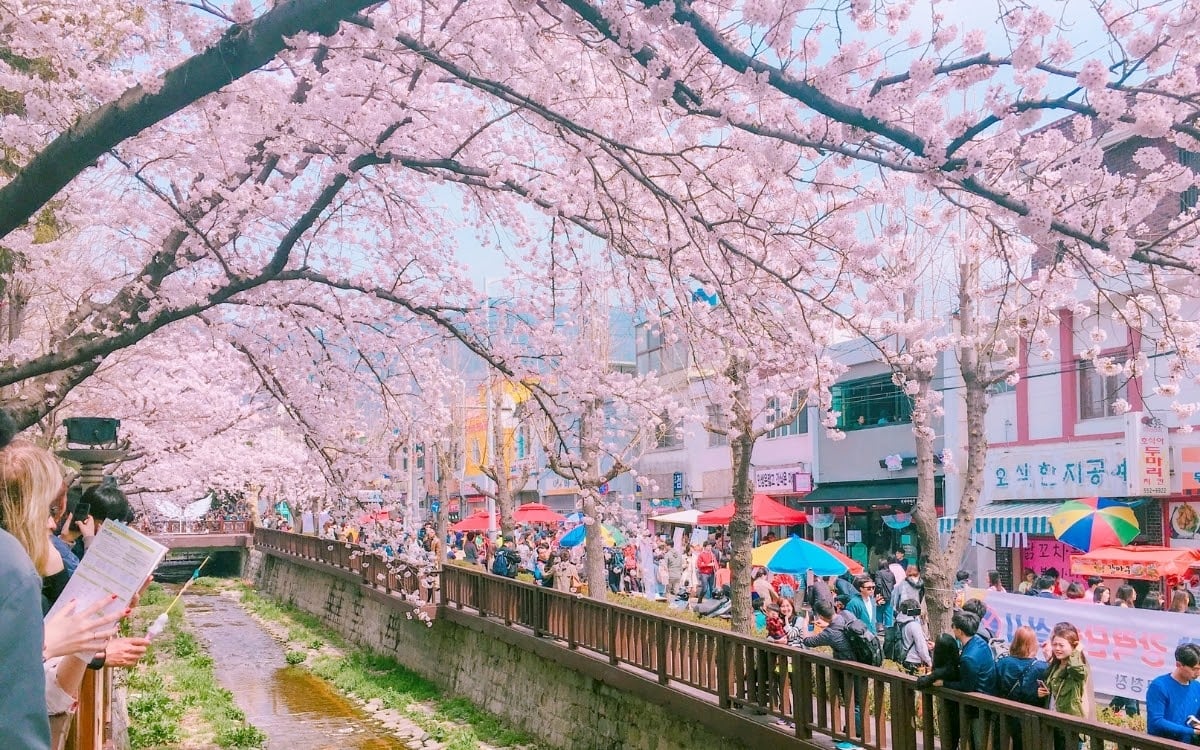 Just like in Japan, there are many different places to view the cherry blossoms showing off their Spring beauty. But there are also several cities, towns and areas that hold annual official Cherry Blossom Festivals. This means that it is more tourist friendly in these areas, a livelier atmosphere with live music and cultural performances, but it also means more people.
The three main cherry blossom festivals are at Seokchon Lake in Seoul, Jinhae in Gyeongsangnam-do and Gyeongu in Gyeongsangbuk-do and they are all free to attend.
From a tourist perspective, Seokchon is definitely the most convenient as it's located at Songpa-gu in the Gangnam Greater Area of Seoul and is literally steps away from Lotte World, Seoul Sky and Jamsil Station. It's a fun place to visit day or night as the epic Gyro Swing ride at Lotte World hovers over the Lake while the screams of the thrilled riders echoes throughout the area.
Jinhae Gunhangje is probably the most famous and beautiful of the cherry blossom festivals in South Korea. It's pretty much as south as you can get in Korea and right next to Busan (1h flight from Seoul or a 3 hour KTX train ride), so it's a no brainer if you're traveling south during early April.
There are two places to see the cherry blossoms bloom here. Yeojwacheon Stream is the first and Gyeonghwa Station is the more popular one with its own Cherry Blossom Road. There are also cherry blossom flavoured drinks and snacks available throughout the festival.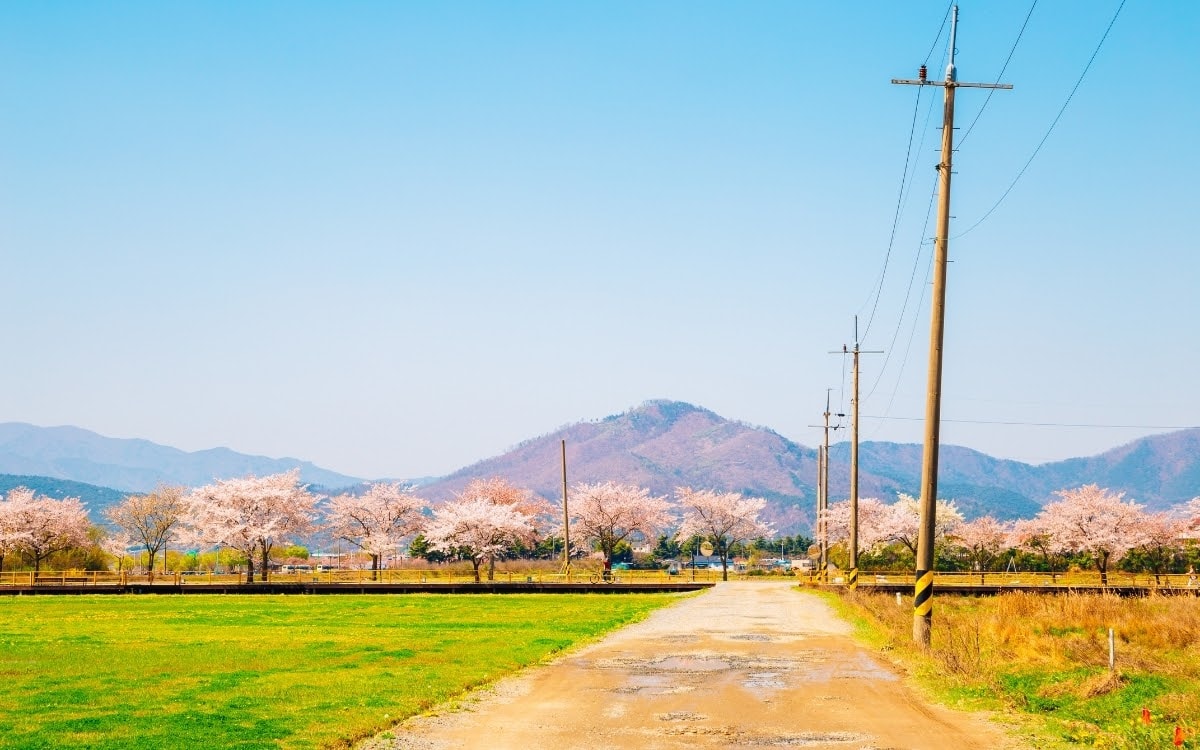 A little further north is Gyeongju, which is about three hours by train from Seoul or one hour from Busan. Visiting Gyeongju is like stepping back in time as it houses some gorgeous UNESCO sites and is often called "the museum without walls". It's a place to visit at just about any time of the year, but the cherry blossom festival brings out its pink side.
The main areas to explore are Bomun Lake, Bulguksa Temple and Tumuli Park. There are performances and boutique markets throughout the week-long festival.
Don't miss out on a thing in Gyeongju and opt for a complete guided day trip of the area which takes you to basically all the major sites including Bulguksa, Daereungwon, Huanglidan, Gyochon Village, Woljeong Bridge, Cheomseongdae. Go any time of the year as it's always absolutely beautiful. Book your tour here.
When + How long: All the above South Korean festivals usually are from end of March to early April, but change every year and run for roughly one to two weeks.
How to get there:
Jinhae: The easiest way to get to Jinhae is to first stop over at Masan Station and then take a bus or hire a car for roughly 40 mins to Gyeonghwa Station. You can get to Masan Station (Masan Express Bus Terminal) from Seoul via KTX which is a 3 hour ride. Or you can get there from Busan on a one hour bus ride from Busan Sasang Bus Terminal.
Gyeongju: You can take the KTX from Seoul to Singyeongju Station, taking roughly 2 hours, and is approximately 3km from Gyeongju City Centre. There are local buses constantly going to the center, but you may want to take a taxi for convenience, although this could be more expensive than the bus. You can book a tour from Busan here.
Seokchon Lake: This is right in front of Lotte World and can be reached from exit Jamsil Station (Seoul Subway Line 2, 8) at Exit 4.
Websites: Jinhae Cherry Blossom Festival (Korean); no site for the Gyeongju festival (it is usually up on the city's site though), but you can see the annual Cherry Blossom Marathon event and time your trip accordingly; Seokcheon Lake Cherry Blossom Festival (Korean)
Goyang International Flower Festival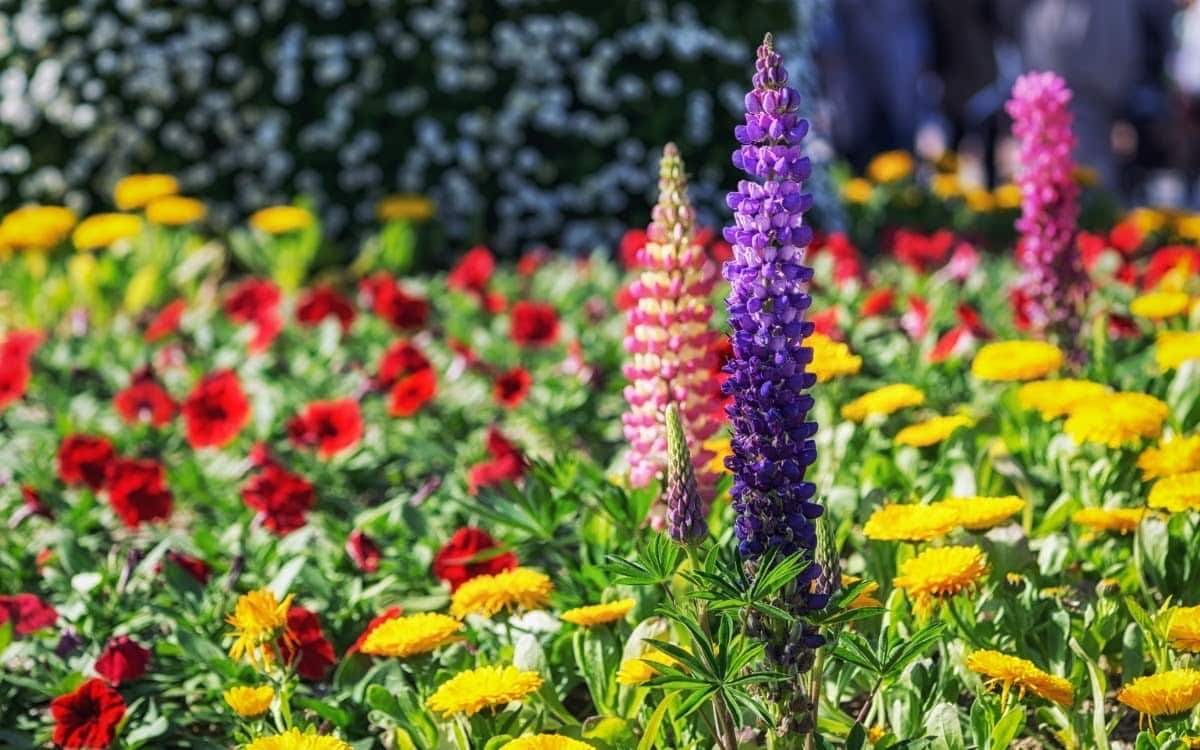 Staying with the Spring theme, another festival for sore eyes is the Goyang International Flower Festival held in Goyang, a city in Ilsan District bordering the north-west of Seoul and close to Gimpo Airport.
The festival is also called the International Horticulture Goyang Korea festival, and it could be compared to the Corpus Christi Flower Carpets in Sitges, Spain.
As the name suggests, this is not just a local event, but around 300 companies from all over the world participate in the international festival. There are flower carpets, flower sculptures and just about anything else you can imagine made using flowers.
Apart from all the sculptures, it's also quite educational with various indoor and outdoor displays edifying festival goers with information on rare plants. And as in typical Korean style, there are also performances and cultural events.
Entrance is ₩12,000 with an online purchase discount to ₩8,000. There is another festival held in Autumn in Goyang but is less extravagant but still pretty enough, and is even free. It's held between September and October that runs for the same period of time.
When + How Long: 3 weeks between April & May, roughly 17 days
How to get there: There are plenty of intercity buses leaving from all over Seoul, for example the M7119 goes directly from Seoul Station to Ilsan Lake Park and takes roughly 1.5 hours. You could also take the subway to Jeongbalsan Station (Orange line 3) exit 2 which only takes about an hour from Seoul Station.
Website: International Horticulture Goyang Korea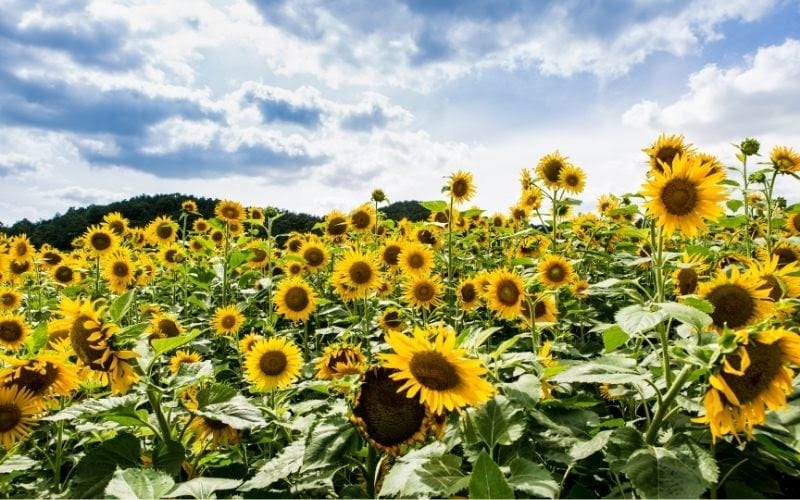 Tip: There is another lesser known flower festival in Korea called the Taebaek Sunflower Festival in mid July where you get to see thousands of the beautiful giant yellow flowers in bloom and make food with them while watching performances.
This will require a either a KTX trip to Donghae and then a bus to Taebaek Guwau Village (Alpine Botanical Garden at a total of around 4 hours) or an intercity from Dong Seoul Bus Terminal (Gangbyeon Station, Seoul Subway Station Line 2 Exit 4) to Taebaek Bus terminal around the same time and then onto Taebaek Guwau Village.
Gwangyang Maehwa (Apricot/Plum) Blossom Festival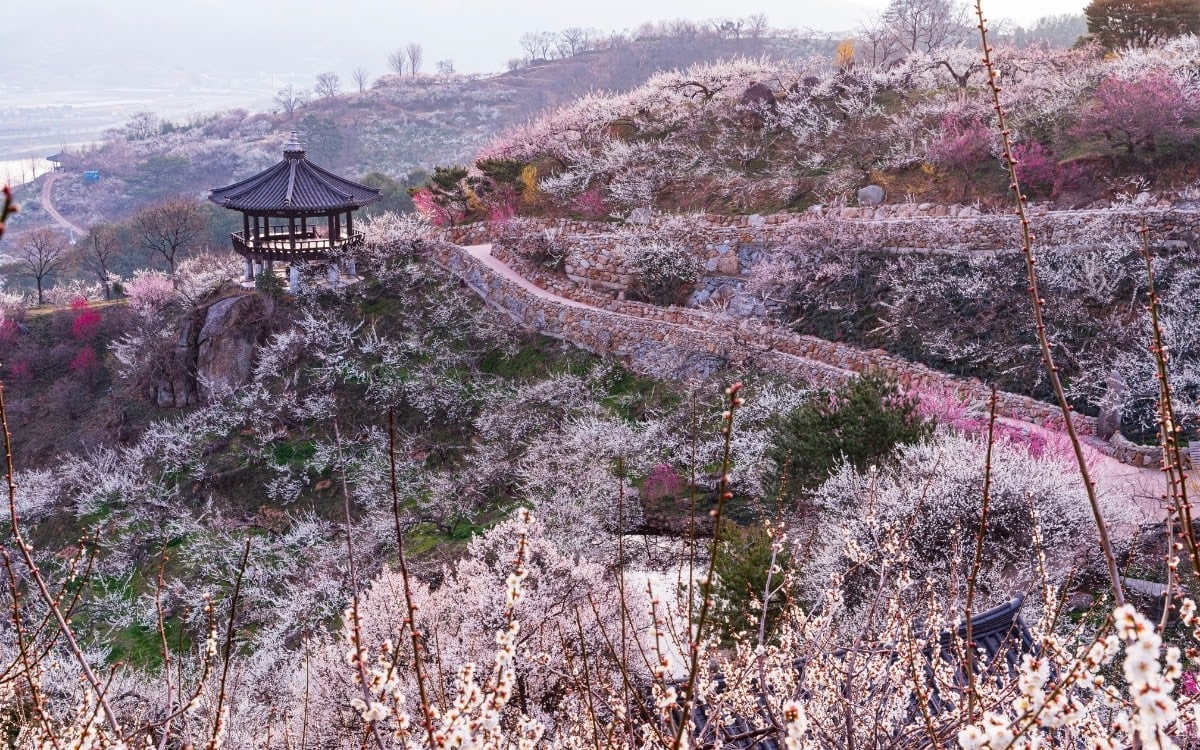 This is a festival for nature lovers as it's quite out in rural Korea, but the air is fresh and the nature is absolutely breathtaking.
I love plums and apricots or maesil (매실) which is the fruit that grows from the maehwa (매화) tree, especially as a drink. And the blossoms in spring are almost identical to the cherry blossoms, so it's a nice alternative if you don't like crowds.
You can visit the Maehwa Village (매화마을) along the Seomjin River (섬진강) which contains roughly 10,000 maehwa trees with over 30 different kinds of green plums. You can taste the sweet maesil juice or tea (great for the belly), maesil ice cream or even maesil alcohol.
The southern location makes it quite a journey, but entrance is free and it's very close to beautiful Jirisan Mountain. The full name is actually Gwangyang Maehwa Information Village (광양매화정보화마을), so don't get confused by the Maehwa Village (매화마을) in Gyeonggi Province.
When + How Long: Mid March for around one week, similar to the cherry blossoms
How to get there: Take a bus from Seoul Nambu Bus Terminal to Hadong Bus Terminal for roughly 5 hours. From Hadong Bus Terminal, take a local bus bound for Daap-myeon (다압면) for around 1.5 hours or take taxi for 10-15 mins and hop off at Maehwa Village (매화마을).
Top up for a 5 hour bus ride? You can always pop over to Gimpo Airport and catch a plane to Yeosu for an hour. Then hire a car and drive for 45 mins (public transportation is 2 hours).
Flights not your thing? Take the KTX for 2.5 hours to Gwangyang Station and then a taxi.
Website: Gwangyang Maehwa Village
Gurye Sansuyu Festival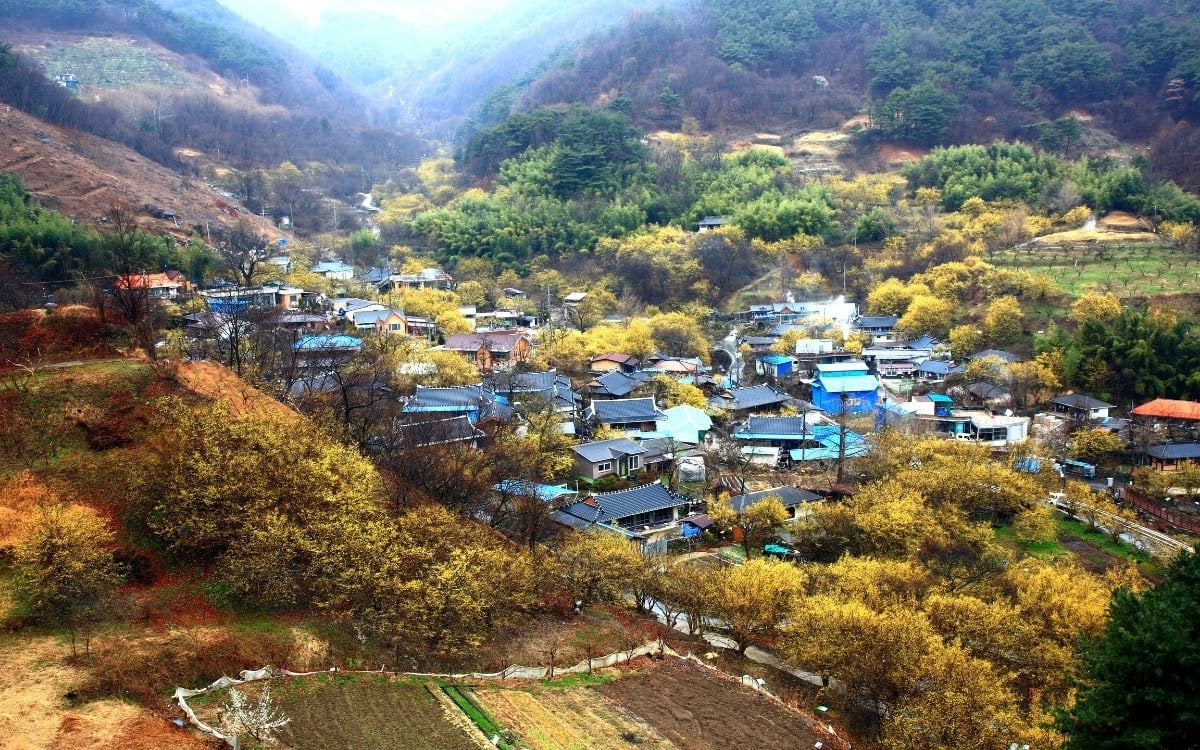 Nearby the Gwangyang Apricot Festival is Gurye Sansuyu Festival, another flower blossom festival, but here the colors stray from pinky purple to bright yellow.
Sansuyu is translated as a Korean cornel dogwood and is a type of cherry. Gurye is the place to visit to see the Sansuyu in full blossom as roughly three quarters of Korea's sansuyu is here with 30,000 trees.
This festival is also free and also way out in rural Korea, so hiring a car is your best bet to getting here. Combine Jirisan and Gwangyang and you have a complete blossoming festival itinerary.
When + How Long: Mid March for around one week, similar to the cherry blossoms
How to get there: Take a bus from Seoul Nambu Bus Terminal to Gurye Bus Terminal (4 hours), then change to another bus for 1.5 hours or hire a car and get there in 20 mins. The stop is called Gurye Sansuyu Village (구례산수유마을). You could also fly into Yeosu and hire a care from there as suggested for the Maehwa Festival.
Website (Korean): Gurye Sansuyu Village
Damyang Bamboo Festival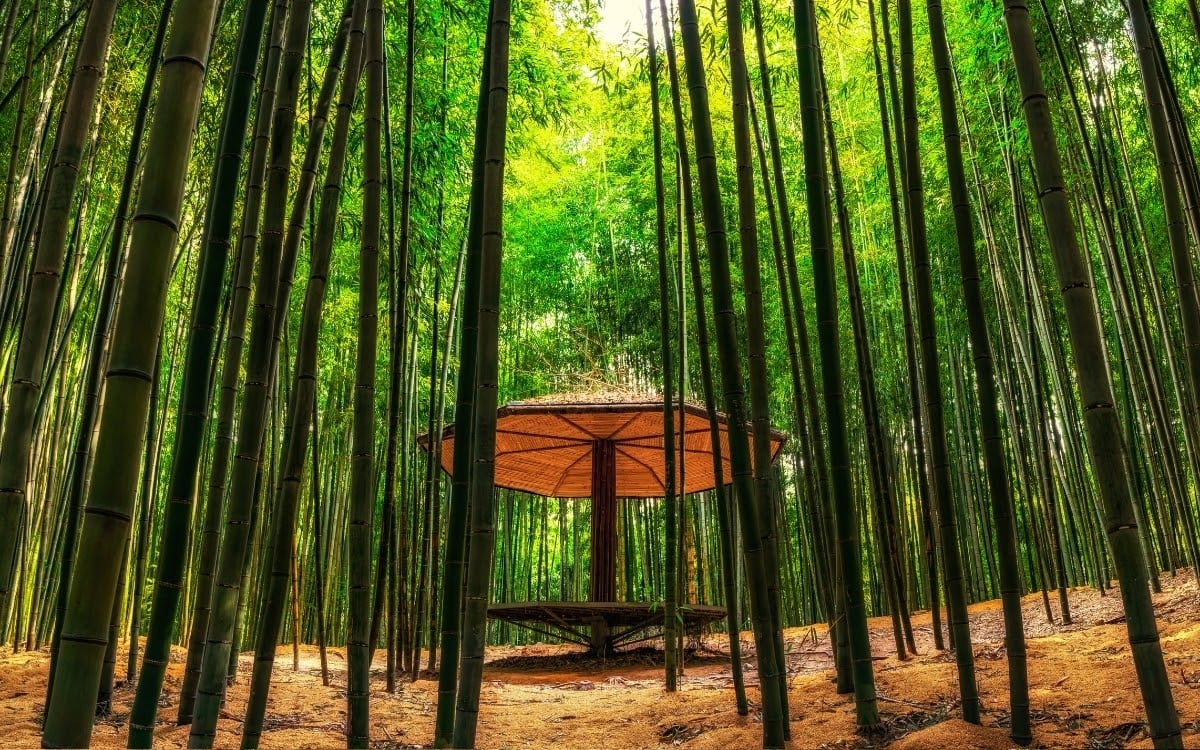 This is quite a popular festival in Korea and is always packed with people sampling Damyang's finest bamboo cuisines, liquors (called daenamu tongsul – 대나무 통술), musical instruments, weaponry, and art. Bamboo is not only beautiful to look at, but also holds an array of medicinal properties and beauty functions.
During the festival you can take part in the cultural activities like bamboo raft riding and fishing with a bamboo basket or visit the popular sites like the Joseon Dynasty Soswaewon Garden, Damyang Gwanbangjerim Forest along the stream, Juknokwon (Bamboo Forest), or the epic Metasequoia (Dawn Redwood) Road.
Skip the train and take a guided day tour from Seoul which visits more than just the Damyang bamboo forest (Juknokwon) but also stops at the Metasequoia Road, Jeonju Hanok Village, and some foodie goodies like bibimbap and Jeonju Choco Pie. You can book your tour here.
Why not do something a little more daring and unique with a Hwaseong and Damyang Light Aircraft Flight Experience! Take to the sky and witness the rolling mountains from way up above. This is something you will surely never forget and would make for an amazing birthday gift. Book your flight online here.
When + How Long: Usually the first week of May for a week
How to get there: Take the KTX from Seoul to Nongseong Station in Gwangju (2 hrs) and then a bus into Damyang (30 mins).
Website: Damyang Bamboo Festival
Boseong Fragrance Tea Festival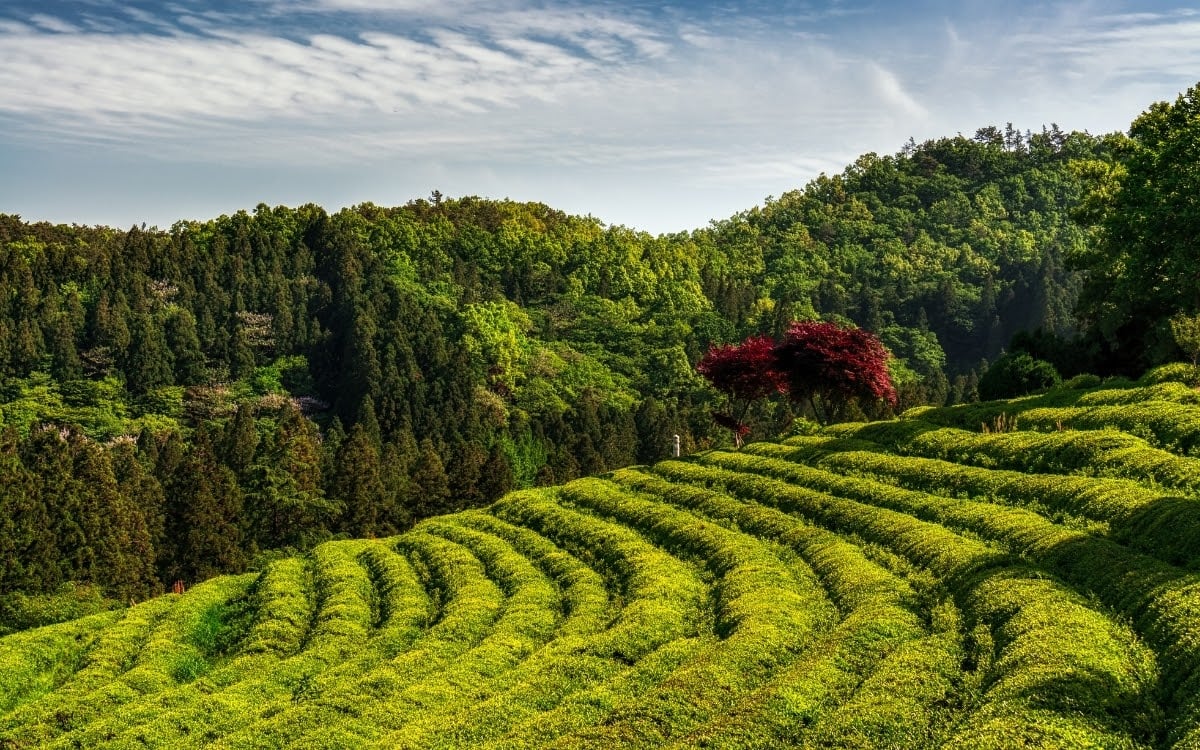 While tea is not one of Korea's largest exports, the country does produce some of the world's finest. Tea aficionados will no doubt know about Boseong where the finest quality tea in the country takes root here.
Boseong produces around 40% of Korea's tea as the climate (Boseong is known as the rainiest part of the country) and soil provide the perfect conditions for growing a green tea and the region has a 1,600 year history doing that.
Visiting the green tea plantations in this southern part of the country is a real treat and it feels as if you've entered the rice paddies of Ubud in Bali.
During the Boseong Fragrance Tea Festival, you can sip on all types of green tea from the various plantations and try your hand at green tea picking, go on a green tea scavenger hunt, enjoy a green tea moonlight party, or just learn all about green tea including farming, manufacturing and Korean tea ceremonies. This is very near the coast, so bring your costume and pop over to the beach after you visit.
When + How Long: Around mid May, just under one week
How to get there: Take a bus from Seoul Express Bus Terminal to Boseong Bus Terminal or the slow train from Yongsan Station, both take around 5 hours. Then take a local bus to the Korean Tea Culture Park for about 30 mins or a taxi for a more expensive but shorter 10 min ride. Alternatively, take the KTX from Yongsan Station to Gwangju-Songjeong Station (2 hrs), then transfer to the slower Mugunghwa train to Boseong Station for 3.5 hours in total.
Website: Boseong Fragrance Tea Festival
Jindo Sea Parting Miracle Festival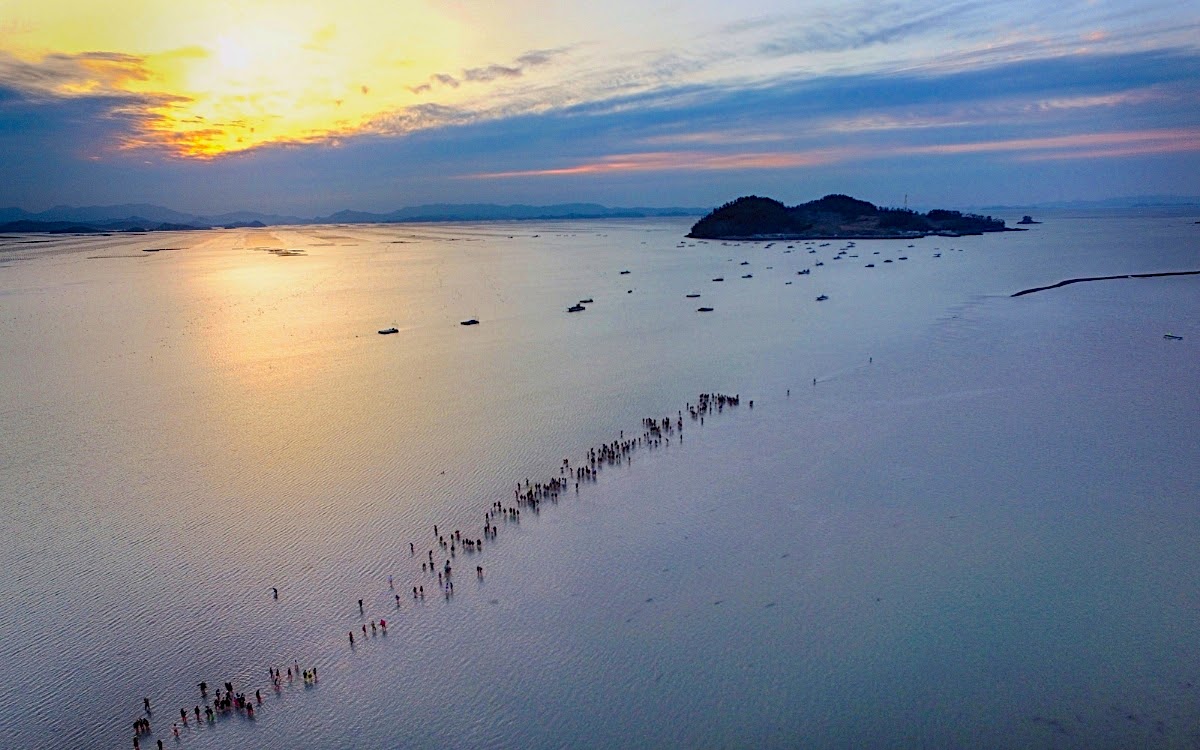 This interesting event is unknown to tourists but quite a popular Korean festival to locals and can get pretty packed with visitors who wish to cross the 3km path between the mainland Jindo and Modo Island, famous for its cute Jindo dog.
Most have heard of Moses who parted the Red Sea, but not many people know that this occurs naturally here for just 4 days out of the year (twice a year in March and June, but no festival in June).
Hundreds of thousands gather to walk the tiny path, while others hunt for clams and seaweed. The phenomena is known as tidal harmonics, which causes extreme low tides. Don't forget to bring your Wellies as it will be super muddy.
When + How Long: At the end of March for 3 to 4 days
How to get there: This one is a bit of a schlep, so be prepared. Take the KTX train from Seoul to Mokpo (2.5-3 hours), then transfer to Mokpo Express Bus Terminal (목포종합버스터미널) which is around 30 mins by bus. Then take an intercity bus to Jindo Intercity Bus Terminal (진도 버스터미널) for around an hour. Then you will need to take a taxi to to the site which is called Mysterious Sea Road Experience Center (신비의바닷길체험관 – Shinbiui bada gil cheheomgwan) in the east. There is also a local bus which takes roughly an hour from the terminal to Hoedong ("회" is usually written as "Hoe" but it's actually pronounced "Hwe") and it's a quick 10 min walk north from there. Or hire a car from Mokpo and drive directly for 1.5 hours!
Website (Korean): Jindo Sea Parting Miracle Festival
Gyejoksan Mountain Barefoot Festival
This is a festival for all hikers and nature lovers in central Daejeon. This unique festival in Korea sees runners, joggers and general saunterers take off their shoes and ascend the muddy red clay path along the mountain trails without the aid of their shoes. The path goes on for 14.5 km around the dulle-gil ("dulle" means edge or circumference, "gil" is road and there are many around the country, most popularly in Jeju) and Hwangtot-gil (hwangtot is red clay).
The clay is said to have positive health benefits such as reducing stress or healing the skin. There are also cultural activities and performances during the weekend.
It may seem like a walk in the park, but walking in muddy red clay even for one or two kilometers is no easy feat. Marathoners will want to enter the unique barefoot race which has a ₩15,000 entrance fee that you will need to register for beforehand.
When + How Long: Mid May for one weekend
How to get there: Catch the KTX from Seoul to Daejeon for around 1.5hrs. From Daejeon Station take Exit 3 and then hop on bus 512 to Hoedeok-dong Community Service Center (회덕동주민센터) for 30 mins. Transfer to Bus 74 (another 30 mins) to Jang-dong Forest Park (장동산림욕장) and the Gyejoksan Mountain Red Clay Trail (계족산 황톳길).
Website: Gyejoksan Mountain Barefoot Festival
Cheongdo Bullfighting Festival
As a vegetarian, I don't condone any animal cruelty. Yet this is nothing like the gruesome matadors of Spain slashing away at the defenseless beasts.
Bullfighting in Korea is more a game between two bulls where they "fight" until they get tired of each other and then just gently walk away. So it's more like watching a boxing match than anything else.
This type of Korean bullfighting was introduced as a game to kill time back in the olden days and was banned during Japanese colonization to stop Koreans from engaging in cooperative games.
The game was brought back after the Second World War and grew in popularity, not just as a way to pass time but as an act of goodwill where Japan bulls are invited to compete. During the festival there's also a rodeo show in the massive arena by US troops that are stationed in Korea.
When + How Long: End of March for 5 days
Where: Hop on the KTX from Seoul to Dong Daegu Station (2.5 hrs). Transfer to the KTX Gyeongjeon Mugunghwa line for 20 mins to get to Namseonghyeon Station. Then catch the town bus (1 or 7) to the Sossaum Stadium which is at a stop called Cheongdo Sossaum Gyeonggi Jang (청도소싸움경기장) and is a 30 minute ride.
Seoul Jazz Festival
After the Jarasum Jazz festival in Autumn, the Seoul Jazz Festival is the next largest jazz concert in the country.
This is an international festival that goes beyond jazz, so there are acts from all over the globe with previous acts including everyone from jazz greats like Chick Corea, and Herbie Hancock to pop and dance acts like Jamiroquai, Flying Lotus, Rufus Wainwright, Mark Ronson, Jessie J, Jason Derulo, Sergio Mendes and Iron and Wine.
The festival is in the center of Songpa in the greater Gangnam area at Olympic Park. So it's pretty convenient if you're touring Seoul.
When + How Long: Mid/end May for the weekend
How to get there: Either get off at Mongchontoseong Station (몽촌토성역, pink line 8) exit 1 to get to the Peace Gate entrance to the park or Olympic Park Station (올림픽공원역, purple line 5 or gold line 9) exit 3 for the stadiums.
Website: Seoul Jazz Festival
Hampyeong Butterfly Festival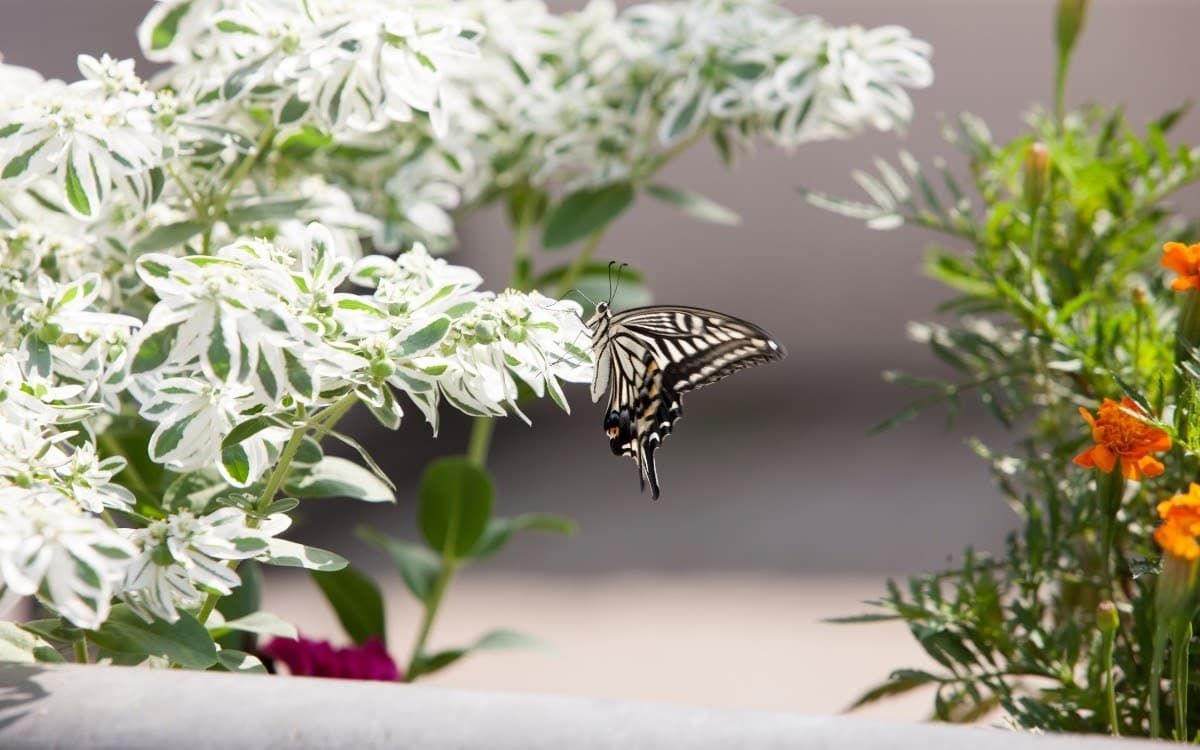 Nature photography enthusiasts and Disney princesses will absolutely love the Hampyeong Butterfly Festival. Enjoy eco-friendly exhibitions where you can witness 50,000 living butterflies, an exhibition space of non-living butterflies, 35,000 caterpillars, 15,000 insects and a botanical garden with 2,500 succulents.
As this is a wildlife experience, there are also areas with other farm animals like cows, pigs, goats, chickens and ducks to frolic with. The location, Hampyeong Eco Park, is a lesser visited area in the southwest and is an absolutely gorgeous natural space with a massive eco-conscious sensibility.
When + How Long: End of April/beginning of May, just under 2 weeks
How to get there: There are two options. The longer one without transferring is to take the Mugunghwa line toward Mokpo from Seoul and get off at Hampyeong Station (around 4.5 hours).
The quicker way, with a transfer, is to take the KTX to Gwangju Songjeong Station and then transfer to the Mugunghwa line to get to Hampyeong Station (around 2.5 hours).
Then hire a car/take a taxi for convenience to get to Hampyeong Eco Park in 20 mins. Alternatively, take public transportation which will take around 45mins and is two buses away with a transfer at Hampyeong Terminal (the final bus stop is 함평자연생태공원 – Hampyeong jayeon saengtae gongwon).
Website: Hampyeong Eco Park
Yeon Deung Hoe Lotus Lantern Festival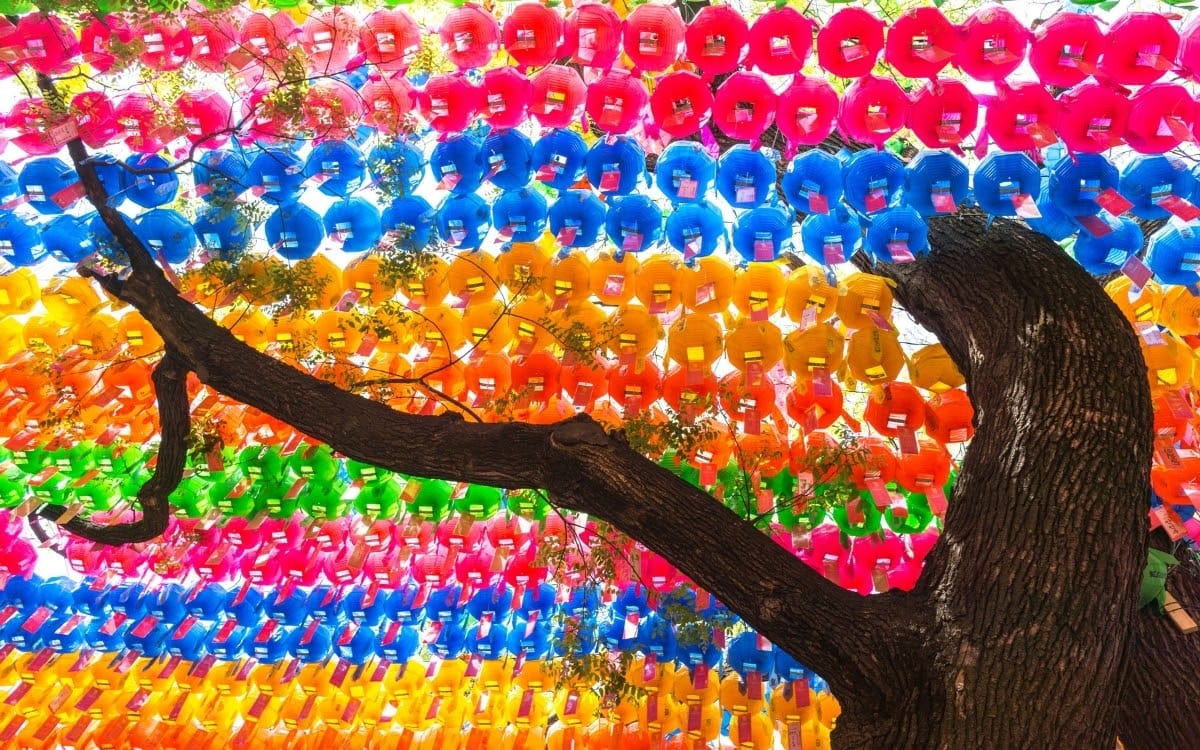 No trip to Seoul is complete without a visit to Jogyesa Temple, the center of Korean Seon (Zen) Buddhism of the Jogye Order and very central near Gyeongbokgung Palace and Insadong Shopping Street.
Yeon Deung Hoe literally translates to "lantern-lighting ceremony", and every April/May, the temple holds the annual Lotus Lantern Festival. This three-day extravaganza of beautifully decorated Buddhist style lanterns is in celebration of Buddha's birth.
Join in the festivities with activities like Eoulim Madang (Buddhist Cheer Rally), an energetic song and dance ceremony before the extremely popular parade. You can make your own lanterns, be entertained with cultural performances and hear the Dharma throughout the premises.
No matter where you go in the country, there will be lanterns hanging on the streets to celebrate Buddha's birthday, just like the Christmas lights throughout the country celebrate the birth of Jesus.
Know exactly where to go and visit several other locations with a complete day tour of Seoul. You'll get to visit Jogyesa and see the festivities, but you'll also get an in-depth experience with a personal guide. You'll visit sites like the Blue House (or Cheongwadae where the president lives), Gyeongbokgung Palace, the National Folk Museum and a Ginseng Center. Sound great? It is. Book your tour around Seoul here.
When + How Long: April-May, depending on the Lunar calendar, held for 3 days
How to get there: Take Jonggak Station (dark blue line 1) exit 2. From the exit walk straight for about 70m then cross the street. Then go 100m to reach the road leading to the temple. Alternatively, get off at Anguk Station (orange line 3) exit 6. Walk straight for 150m to the crossing, cross the road and turn right. Walk another 150m until you get to the entrance.
Website: Jogyesa Temple
Summer Festivals in Korea (July – September)
Along with the change in temperature, the Summer Festivals in Korea center around water, the beach and a general celebration of life.
This is when most of the music festivals are held, as well as the infamous Boryeong Mud Festival. Grab your shorts and handheld fan as these South Korean festivals are going to be scorching!
Boryeong Mud Festival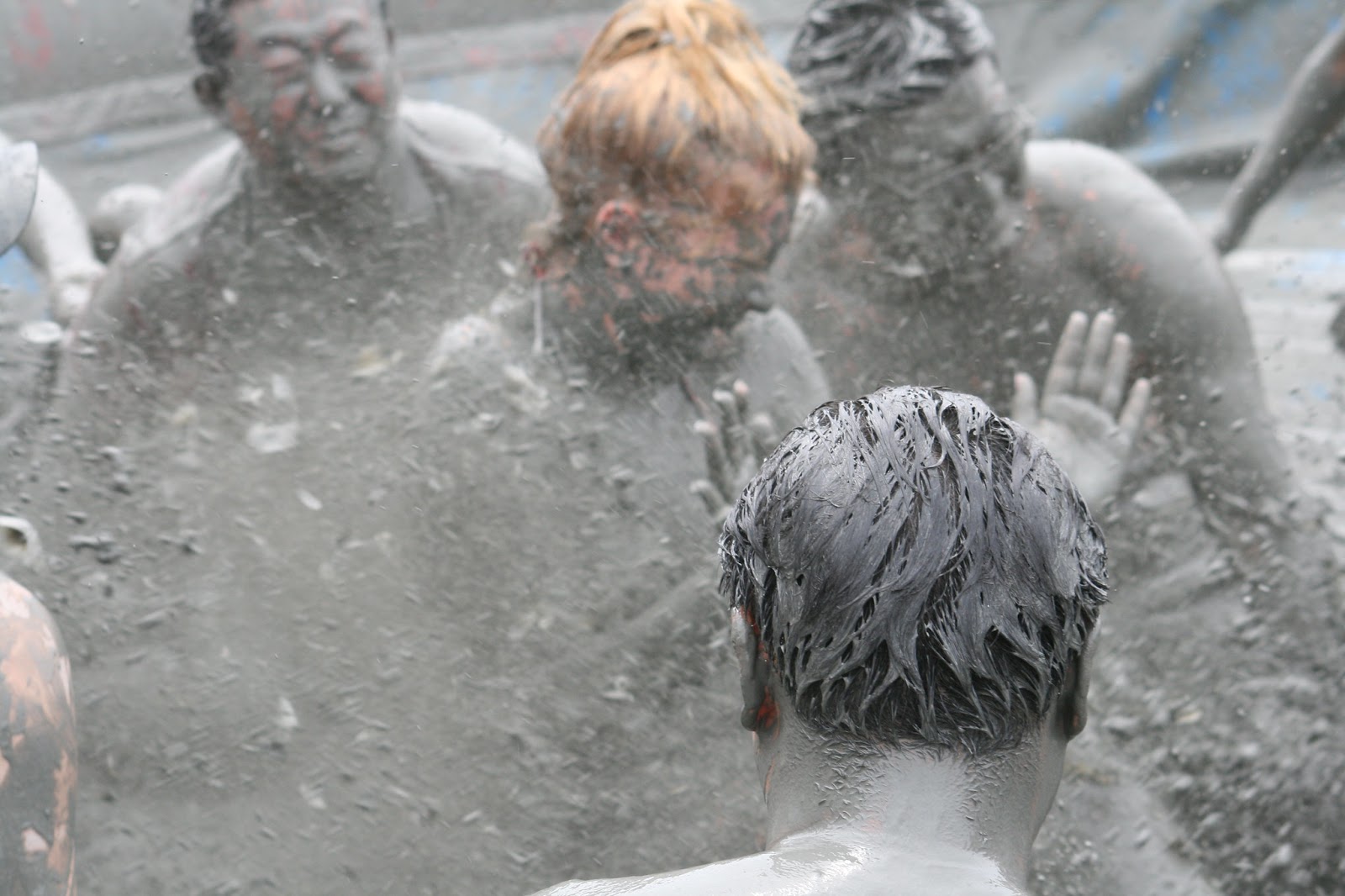 Definitely the most popular of all the Korean summer festivals is the epically sludgy Boryeong Mud Festival.
The festival originated to promote the benefits of mineral-rich mud from the Boryeong mud flats which contain bentonites and germaniums that naturally occur in the mud and it has become a staple for locals and expats to get down and dirty in the muddy goodness.
Every year, Daecheon Beach hosts literally millions of people (almost 2 million) over a ten-day period to enjoy pumping musical performances, dancing, mud wrestling, mud skiing, mud pools, a mud prison, mud colored body painting and general slipping and sliding in the healthy mud.
Mud cosmetics are also on sale of course. The first few days are mostly calm, but the latter half of the week sees a large influx of people from all over.
When + How Long: Usually on the first 2 weeks of July
How to get there: From Yongmun Station in Seoul take the Korail train to Daecheon Station (2.5 hrs). You can also go from Central City Bus Terminal or Dong Seoul Bus Terminal by bus to Boryeong Bus Terminal or even directly to Daecheon Beach which is only available during the festival. Could take up to 3.5 hrs depending on traffic.
You could also take the KTX from Seoul Station to Achasan Station and transfer to the ITX-Saemaeul train to Daecheon Station for around 2 hours. There's a 20 min bus ride (on the 100 bus) from Daecheon Station to the beach.
Website: Boryeong Mud Festival
Daegu Chimac Festival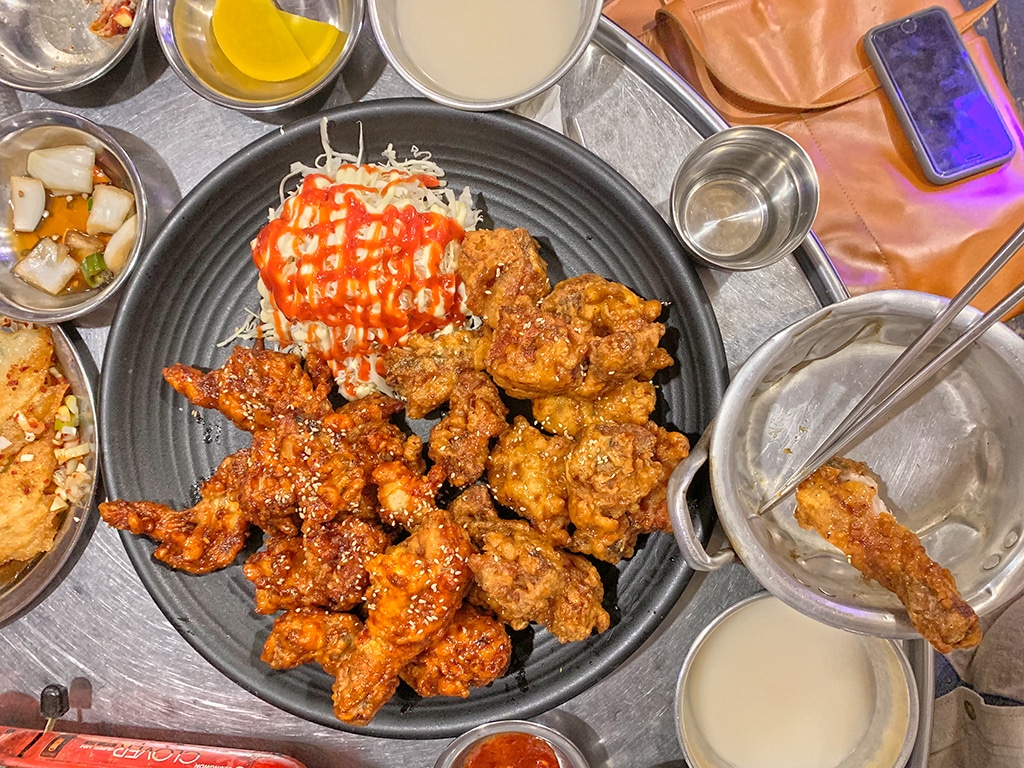 Chimac can be considered a national dish of Korea. It's a blend of fried chicken and beer, which is called maekju in Korean. Combine the two and get chimac (chicken+maekju).
Korean fried chicken is known throughout the world (it even has its own Wikipedia entry) and is one of the best Korean foods around, add beer and you have yourself a winner. The dish is served as a meal, an appetizer, anju (food served with alcohol), or snack.
The Daegu Chimac Festival celebrates this dish with live music, cultural performances, and a whole lot of oily chicken and refreshing beer. It's a youthful event with over one million visitors and is basically a music festival. And think about riding the Hop On/Hop Off bus which goes to all the major sites. You can see the map and prices, as well as book online here.
When + How Long: Beginning of July for 5 days
How to get there: Take the KTX from Seoul to Dong Daegu Station for 1.5 hrs. Then take the 805 bus to Duryu Park or take the subway Myeongdeok Station and transfer to the 706, 805 or 650. These will take another 45mins to an hour.
Dakdongjip (Chicken Gizzard) Alley at Pyeonghwa Market is a 20 min walk or a 10 min bus ride from Dong Daegu Station, i.e. Bus no. 708, 937, 156 and 401.
Website (Korean): Daegu Chimac Festival
Daejeon Craft Beer and music festival
Speaking of beer, there is also a new festival in Daejeon dedicated to the frothy fluid. The Daejeon Craft Beer and music festival, held at Daejeon Expo Park, is a lively event that celebrates the hop.
For just ₩10,000 admission you get live music, food stores and over 100 varieties of craft beer as you party along the banks of the Gapcheon River. While Korean beer is synonymous with the watered down and ubiquitous Cass and Hite, there is a budding craft beer scene which has some amazing offerings.
When + How Long: End May/beginning June for the weekend
How to get there: Take a bus from Express Bus Terminal to Daejeon Bus Terminal (2 hours). Or you can take the KTX from Seoul Station for under an hour. Then take bus no. 705 and get off at Expo Park Bus Stop for about an hour.
Website: Daejeon Expo Park
Incheon Pentaport International Rock Festival
The king of music festivals in Korea is the Incheon Pentaport International Rock Festival. It comprises both local and international music over a three day period and is held on three different stages.
Pentaport has had some really major acts in the past including bands from yesteryear reuniting like My Bloody Valentine, Nine Inch Nails, Weezer, The Prodigy, Korn, Deftones and Suede.
While the title says "Rock", bands and solo artists from all musical genres perform and the festival has seen appearances by artists to the likes of Dua Lipa, Justice, Bastille, Cornelius and DNCE.
Prices vary depending on how many days you wish to go, but previous admission (2019) was 1-day at ₩80,000; ₩120,000 for Saturday or Sunday; a 2-day pass at ₩150,000 and a 3-day pass at ₩200,000. In 2020, the concert went online for its 15th anniversary.
When + How Long: Mid August for 3 days
How to get there: The venue has been known to change from Songdo Moonlight Festival Park to Incheon Dreampark in Incheon, but getting to Incheon is fairly easy. You can take an Express Bus or even the subway all the way to Incheon. Just make sure you don't take an airport bus to Incheon Airport as this is on a completely separate island and far away from the city center.
Website (Korean): Incheon Pentaport International Rock Festival
Busan International Rock Festival
The Busan International Rock Festival (Burock for short) is one of the most well-known rock festivals in the country that's been running since 2000.
While the concert is mostly focused on local talent, there are acts from all over the world and even some megastars in the rock, metal, indie and other music scenes like Andrew WK, Overkill, and The Chemical Brothers.
This used to be a free concert up until 2019 when it started charging admission of ₩88,000 (for a 2-day pass) due to the increasing popularity and introduction of international mega acts.
There is plenty to see and do in South Korea's second largest city. So why not take one of the many tours or get some discounts for several attractions by browsing this page.
When + How Long: End of July for 2-3 days
How to get there: Plane is the easiest and quickest way to get from Seoul to Busan and takes around an hour from Gimpo. Next is taking the KTX for 2.5 hours. Samnak Ecological Park is easily reached from Sasang Station (Metro line 2), exit 3. It's a 15 min walk from there. It's also reached from Gwaebeop Renecite Station (Busan-Gimhae Light Rail Transit), exit 1. Just cross the bridge that leads to the park.
Website: Busan International Rock Festival
Ultra Korea Music Festival
Any music lover will know about the Ultra Music Festival. It's a global concert that's now being held in over 20 different countries.
The Korean faction of Ultra first began in 2012 at Olympic Park where it stayed until 2019 when it moved to the Everland Speedway in Yongin, so it's super convenient if you happen to be traveling to Seoul during the month of June.
Departing from rock, Ultra is an electronic music (EDM) festival and therefore draws a different kind of crowd and vibe.
Past performers include major international EDM players like Skrillex, The Chainsmokers, David Guetta, M.I.A., Sasha & John Digweed, Steve Aoki with appearances from hip hop legends Snoop Dogg and Lil Jon. Tickets range from around ₩380,000 to VIP tickets at ₩1,700,000.
When + How Long: Beginning/mid June for 3 days
How to get there: Used to be held at Olympic Park (see Seoul Jazz festival above). Recently changed to Everland Speedway in Yongin, Gyeonggi-do. To get there, take the subway Bundang line (yellow line) to Giheung, then change to the Everland line (light green) and ride it to the end at Jeondae-Everland. Take exit 4 and catch a bus for 10 mins.
Website: Ultra Korean
Sinchon Water Gun Festival
One way to escape the heat is to hit the various beaches of the Korean peninsula. But if you're more of a social butterfly, you could rather choose to get soaked at the Sinchon Water Gun Festival.
This festival is a blend of Halloween dress-up, kindergarten water gun fight and outdoor music festival. You can bring your own super-soaker or buy one at the party and there is a constant flow of water to fill up your gun as it cascades from a giant water tower, culminating in a massive foam party.
It's right in the center of Seoul near Hongik and Yonsei universities in a trendy and youthful college area. Each year has its own theme like pirates, Earthman VS Alien or android occupy Sinchon. Tickets are around 13,000 and there are lockers and changing rooms on the premises as you will surely get absolutely soaked.
When + How Long: Early June for the weekend
How to get there: Easily reached on the green line (line 2) at Sinchon Station exits 2/3. Just walk straight, the festival is along this main road.
Website (Korean): Sinchon Water Gun Festival
Dano or Surit-nal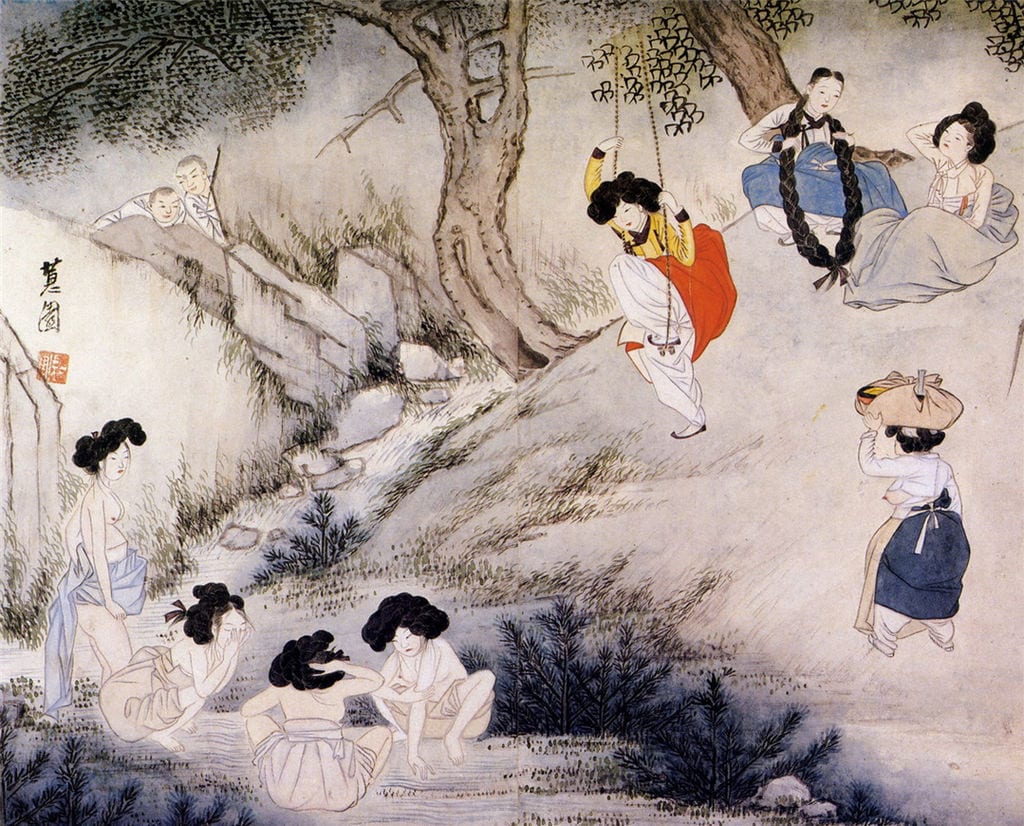 For a more traditional affair, why not experience a truly unique cultural summer festival in South Korea, that's actually an official holiday in North Korea too.
Dano or Surit-nal (translated as "high day" or "the day of god") is the day where prayers are given to the sky deity in celebration of the end of the sowing season.
Historical rituals are carried out where women wash their hair using water boiled with Sweet Flag changpo (창포 – the Sweet Flag plant) and put gunggungee (궁궁이 – Angelica Polymorpha) flowers in their hair to make their hair shiny and fragrant to ward off evil spirits.
Food is a major part of the festivities, like all Korea cultural festivals. You can try all types of rice cakes (tteok) like ones made with local herbs surichi or ssuk (mugwart).
Folk games are also played, such swinging for women and traditional wrestling like ssireum (씨름) and taekkyon (택견) for men. The festival is celebrated in many parts of the country, but the most notable is the Gangneung Danoje Festival, which is part of the UNESCO Intangible Cultural Heritage of Humanity.
When + How Long: 5th day of the 5th month of the Lunar calendar
How to get there: All over Korea, but most notably in Gangneung at the Gangneung Danoje Training Center. Gangneung is a 2 hour KTX ride from Seoul. Take the 211-1 directly there in 20 mins or just catch a cab directly for 10 mins.
Website: Gangneung Danoje Festival
Muju Firefly Festival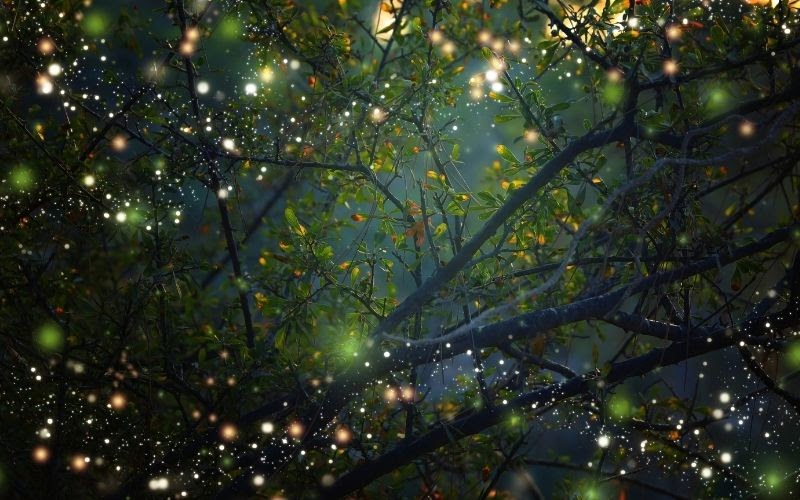 Entomologists and eco-conscious travelers prepare to be enthralled by a spectacular festival in Korea that celebrates nature's most dazzling insect, the firefly.
The Muju Firefly Festival is a fascinating look into this specific bug's life with nine days of activities and viewings. The festival is all about promoting environmental awareness but with a twist of street food, souvenir stalls, performances, activities for all ages and a chance to send your wish off in a lantern.
The fireflies are away from the festival area, so you can wander off into the countryside or spend ₩5,000 to take the 10 min bus ride. The festival is right in the center of the country, so it's pretty difficult to get to, but it probably has some of the cleanest air and beautiful natural scenery as fireflies can only survive in the cleanest of habitats. It is located right next to Muju Bus Terminal though, so not much of a trek after the bus ride (although it's a 3.5 hour ride from Seoul, but close to Daejeon if you're visiting).
When + How Long: End of August, beginning of September for nine days (when the fireflies are most active)
How to get there: There's a direct bus from Seoul Nambu Bus Terminal to Muju Bus Terminal that takes around 2.5 hours. You could also take the SRT from Suseo Station to Daejeon (30 mins) and then take a TxBus to Muju from there (50 mins).
Website (Korea): Muju Firefly Festival
Autumn Festivals In Korea (October – December)
As the temperature drops and the leaves start to change from green to all kinds of reds, yellows and oranges, the nights start getting longer and the lantern festivals in Korea start to make an appearance.
Autumn festivals in Korea revolve around food, lights, and tradition with the most important holiday of Chuseok.
Jinju Namgang Yudeung Lantern Festival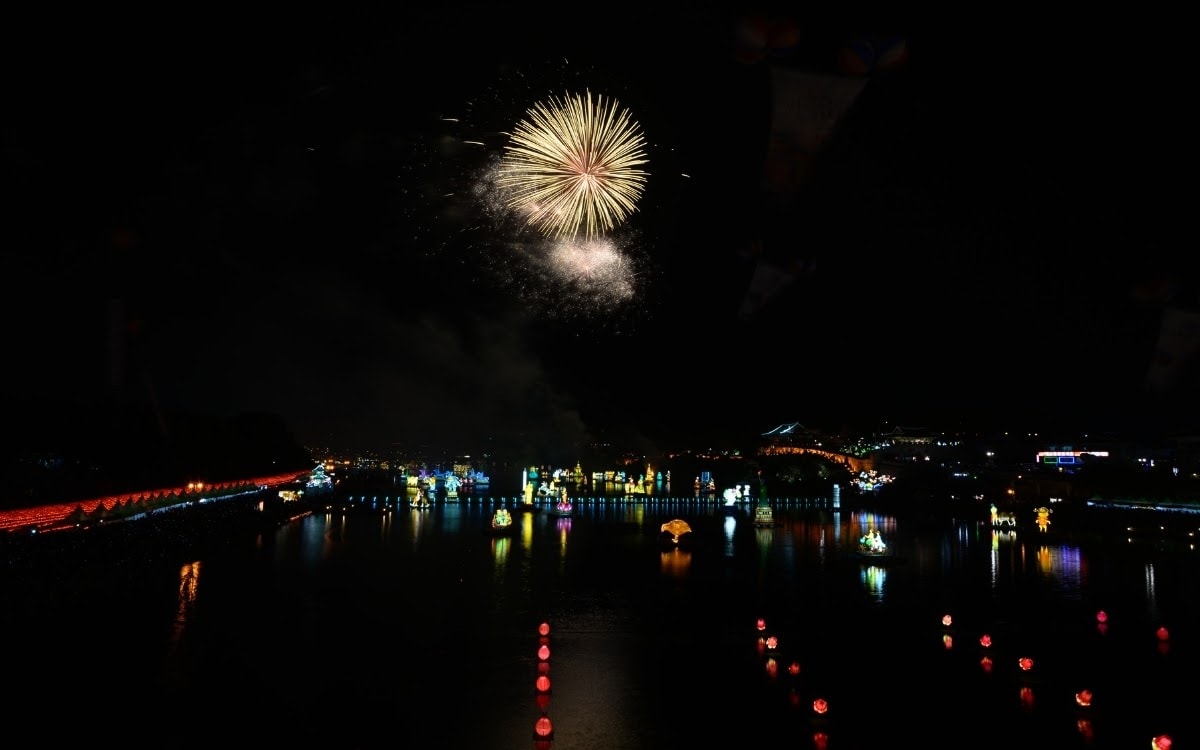 As the days get shorter, Korea welcomes the longer hours of darkness with a series of beautifully lit lantern festivals. The two most popular are the Seoul and Jinju Namgang Yudeung Lantern Festival.
The Jinju Namgang Yudeung Festival is one of the oldest and most popular lantern festivals in Korea and has been exported all over the world including the Winterlude Festival and Niagara Falls Winter Lights Festival in Canada, the LA Korean Festival in USA and the Xian Wall Lantern Festival in China.
The festival started with the concept of yudeung or floating lanterns that were actually used as military signals to prevent Japanese armies from crossing the river. They were also used during the 1592 Japanese Invasion as communications between families.
It's a really spectacular, romantic and exciting festival with lanterns floating on the water, a torch-lit procession, street parades, street food, a World Lantern Exhibition, and of course the creme de la creme of lights – fireworks. It's an ode to the past, as well as a hope for a prosperous future.
When + How Long: First two weeks of October
How to get there: Around the Namgang area in Jinju City. Take the KTX from Seoul to Jinju (around 3 hours). Take a 15 min taxi to the river area (Jinju Namgang) or a 50 min bus ride.
Website: Jinju Namgang Yudeung Festival
Seoul Lantern Festival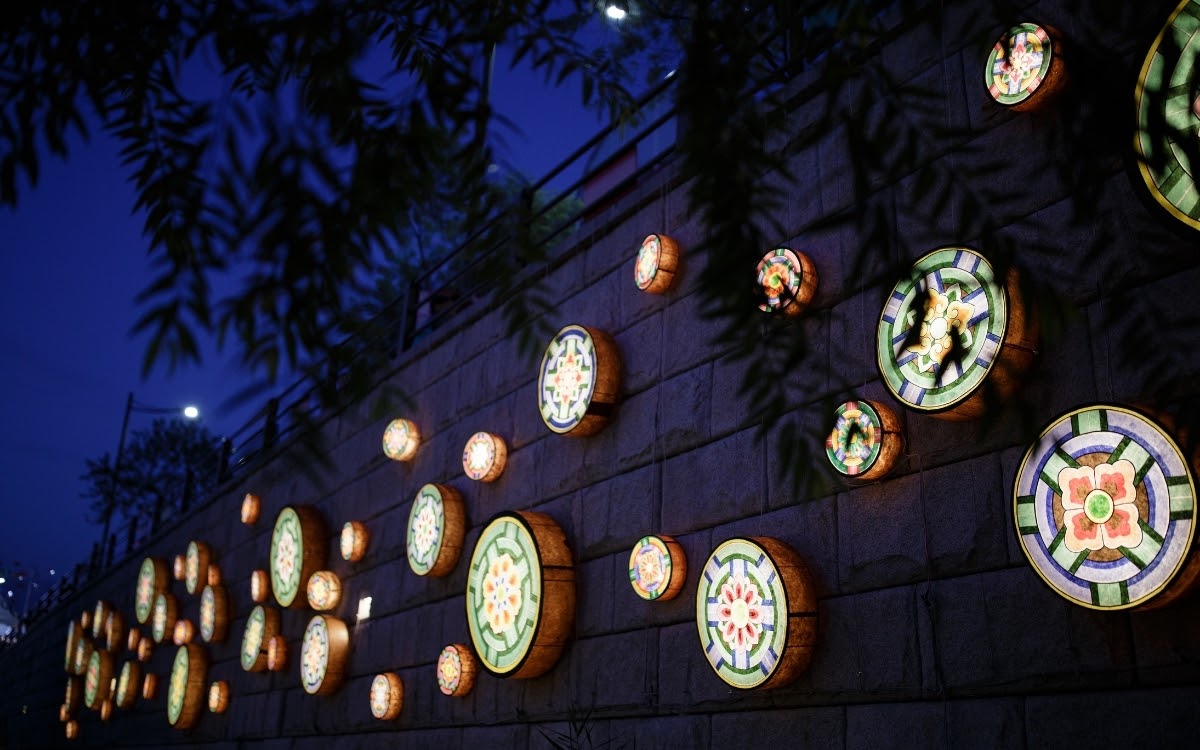 As the lantern festivals make their way up the country, they finally arrive in the capital. The Seoul Lantern Festival is held annually along the sunken 1.2km river that flows through the center of the city called the Cheonggyecheon. The river starts from City Hall and goes all the way down to Dongdaemun and beyond.
Each Autumn through Winter, thousands of intricate designed lanterns are placed along the stream with themed areas, historic installations, Korean folklore and more modern designs for spectators to witness for free. Not only are the lights a beautiful sight to witness after dark, but there are also cultural activities, fun games and lantern making workshops.
Pro tip: It's highly recommended to only visit after sunset at around 5 or 6pm depending on the month as the lanterns really come alive with the lights on.
When + How Long: First Friday of November to the third Sunday of November
How to get there: Cheonggyecheon Stream. Start at Cheonggye Plaza/Square in Seoul, easily reached from Gwanghwamun Station (purple line 5) exit 5.
Website: Seoul Lantern Festival
Gangneung Coffee Festival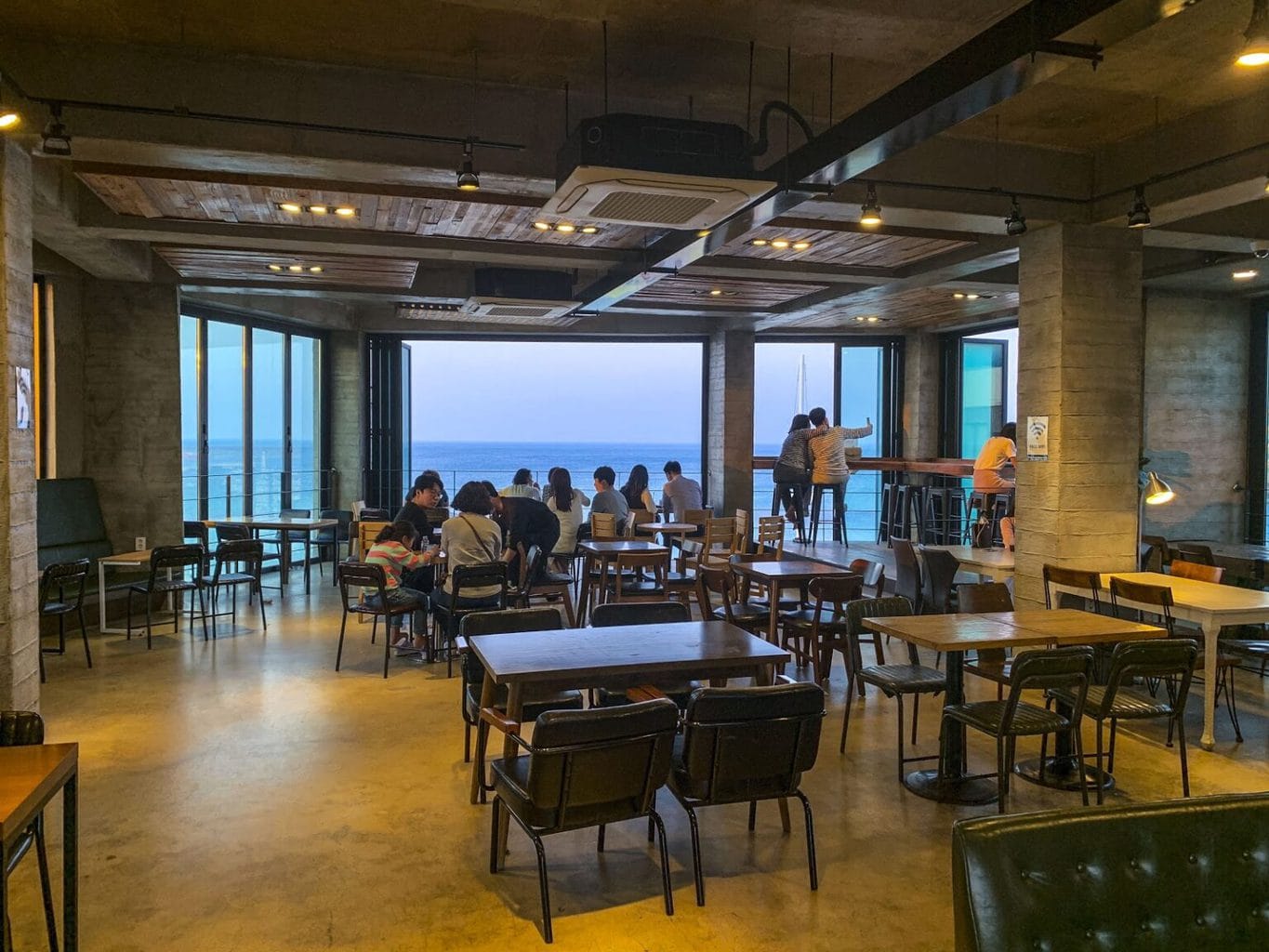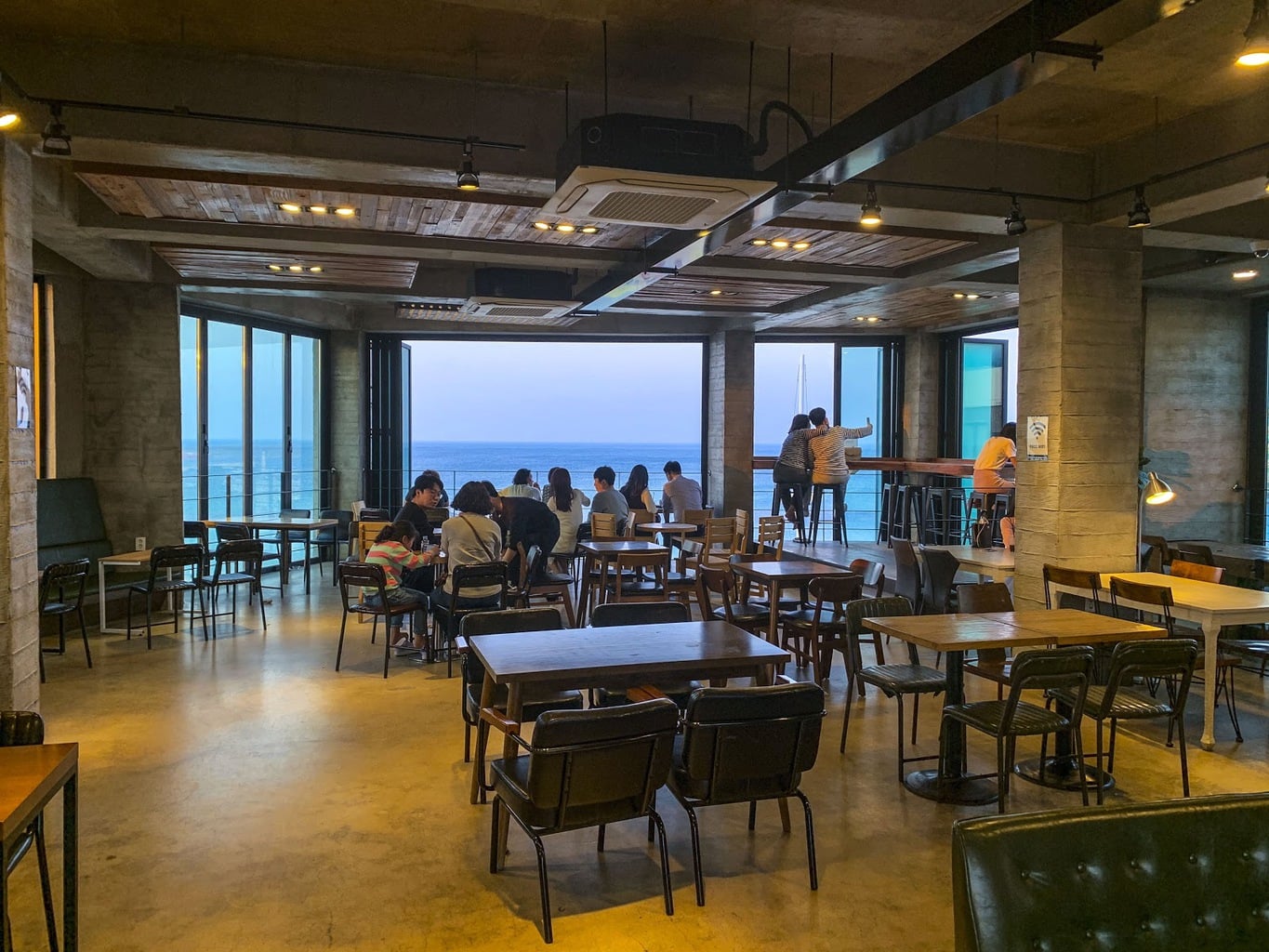 I absolutely love Gangneung. Not to be confused with the popular Gangnam in Seoul, Gangneung is on the east coast near surfing village Yang Yang and pretty close to the DMZ.
Apart from the gorgeous beaches, the town is most well known for Sundubu (soft tofu) Village where they have the delicious sundubu gelato, and its hoard of different coffee shops and roasters.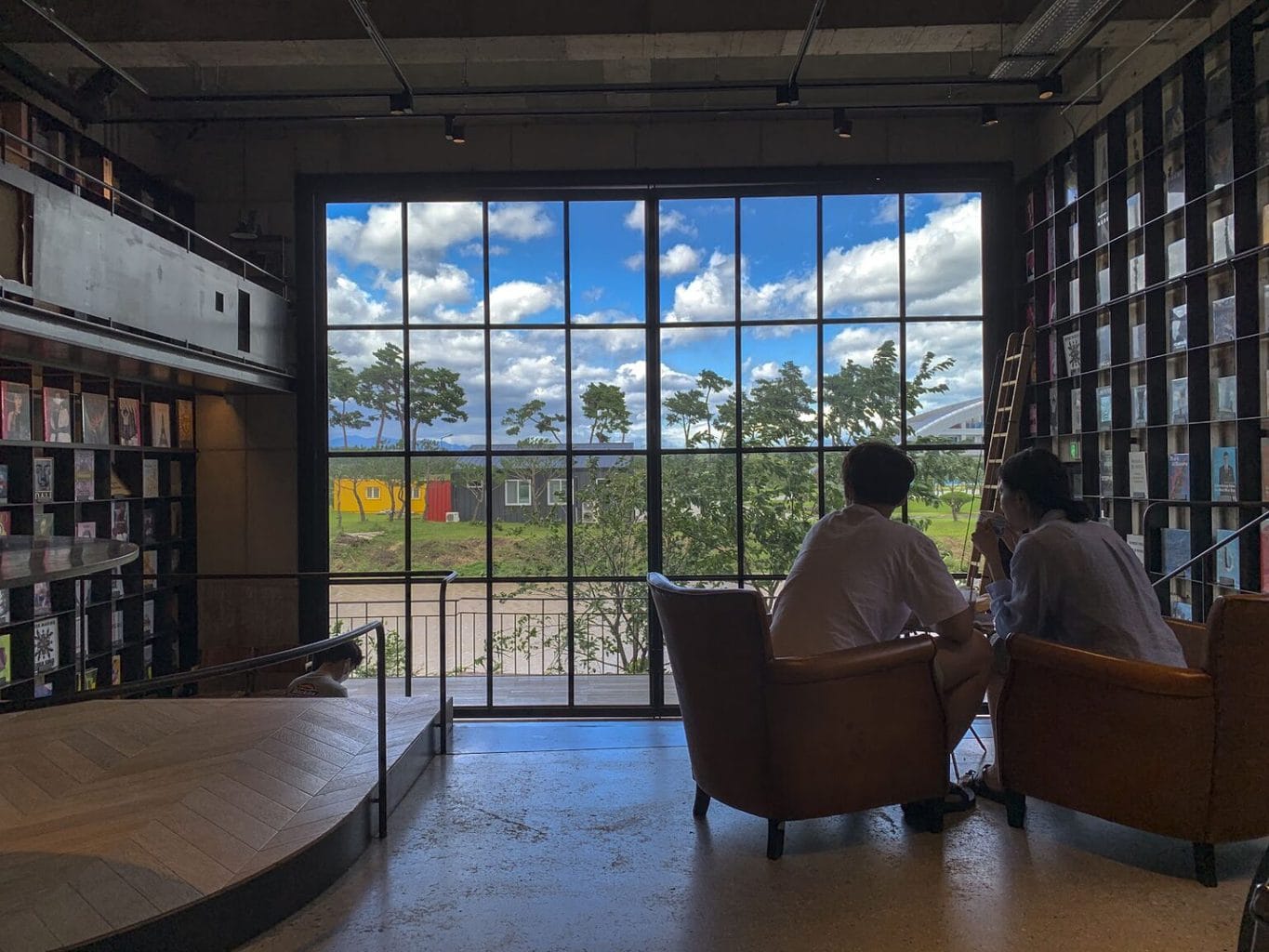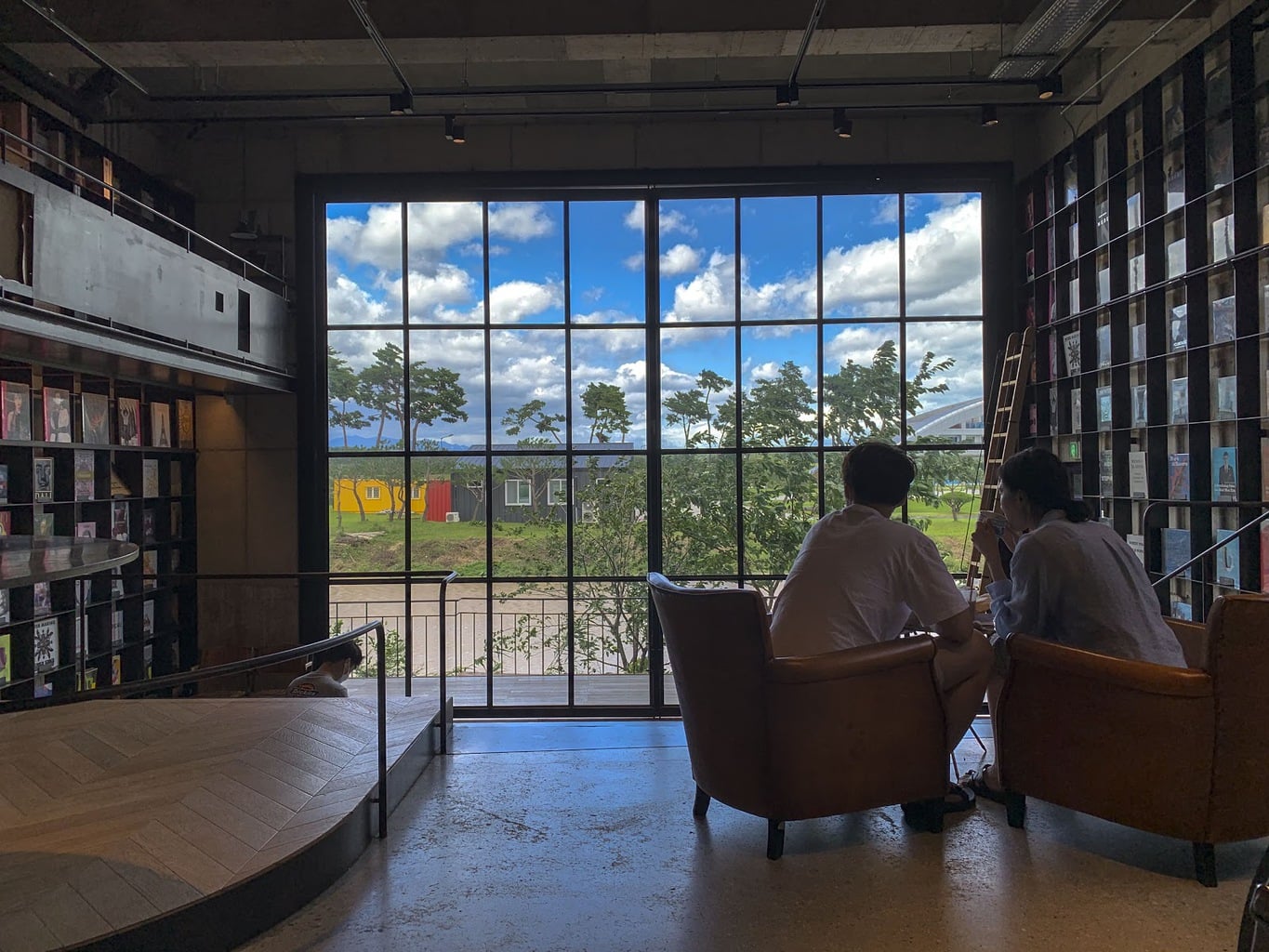 Gangnueng's best export is hands down Terarosa coffee, which now has stores throughout the country. They have an ethical, high quality approach to coffee beans with an emphasis on sustainability and a hardcore interest on architecture and design. I'll let the photos talk for themselves.
There is a really cool Coffee Museum (use the Google translate app if you visit), and other great coffee shops right on the beach (aptly called Gangneung Coffee Street in Anmok Beach) with personal favorite Bossanova. Climb up to the rooftop for some epic views.
The fairly new Gangneung Coffee Festival is an ode to all of these amazing cafes and roasteries throughout the peaceful city. It started out small and has become a major event on the foodie calendar where each year sees a different theme such as "Coffee Speaks, Voice of Coffee", "Coffee City and Green + Imagination" or "JAZZ PRESSO".
Expect close to 200 vendors, barista performances, education and a whole lot of the Black Gold right near the ocean. Each coffee shop will also have their own sales, events and discounts during this time.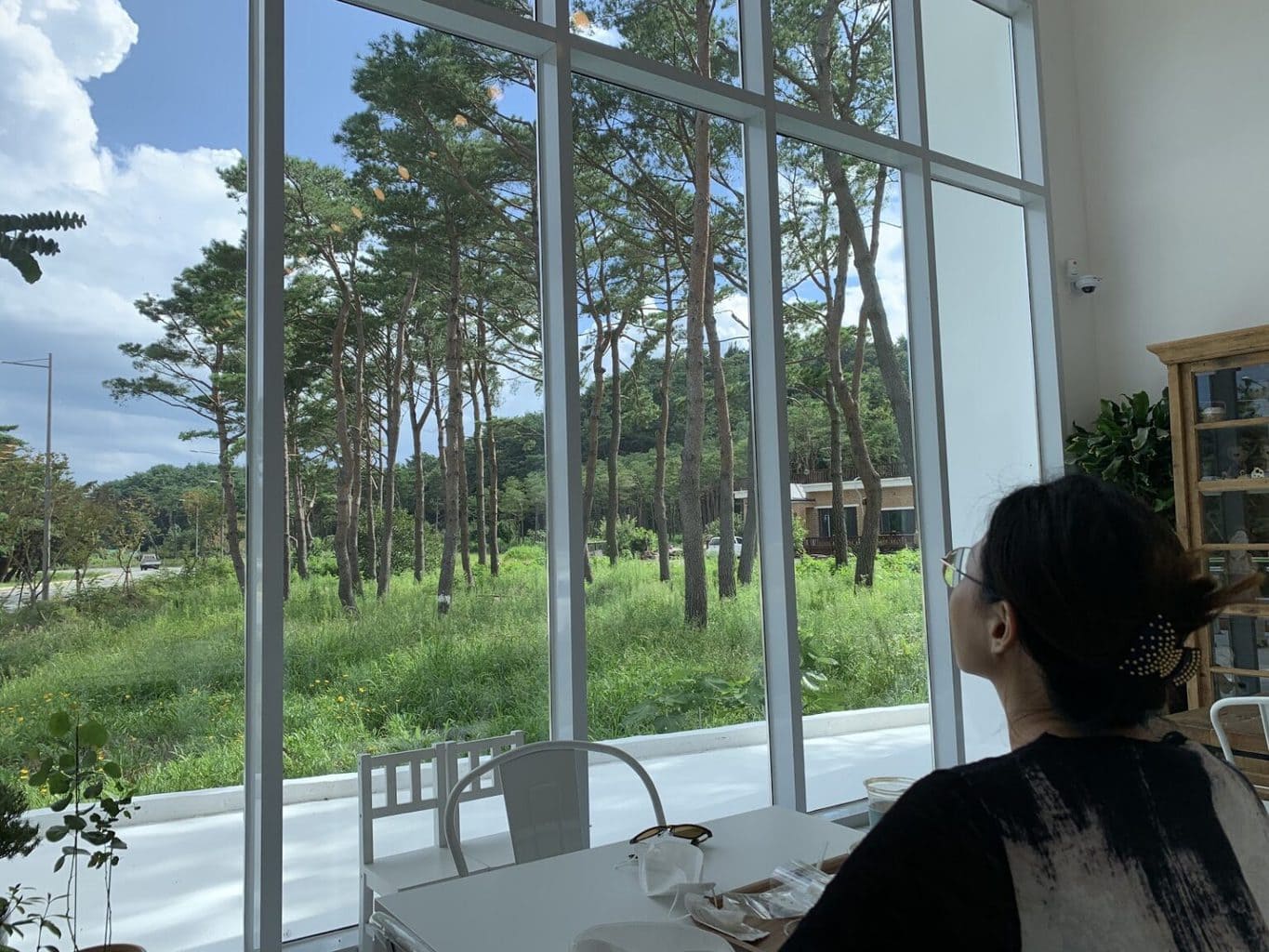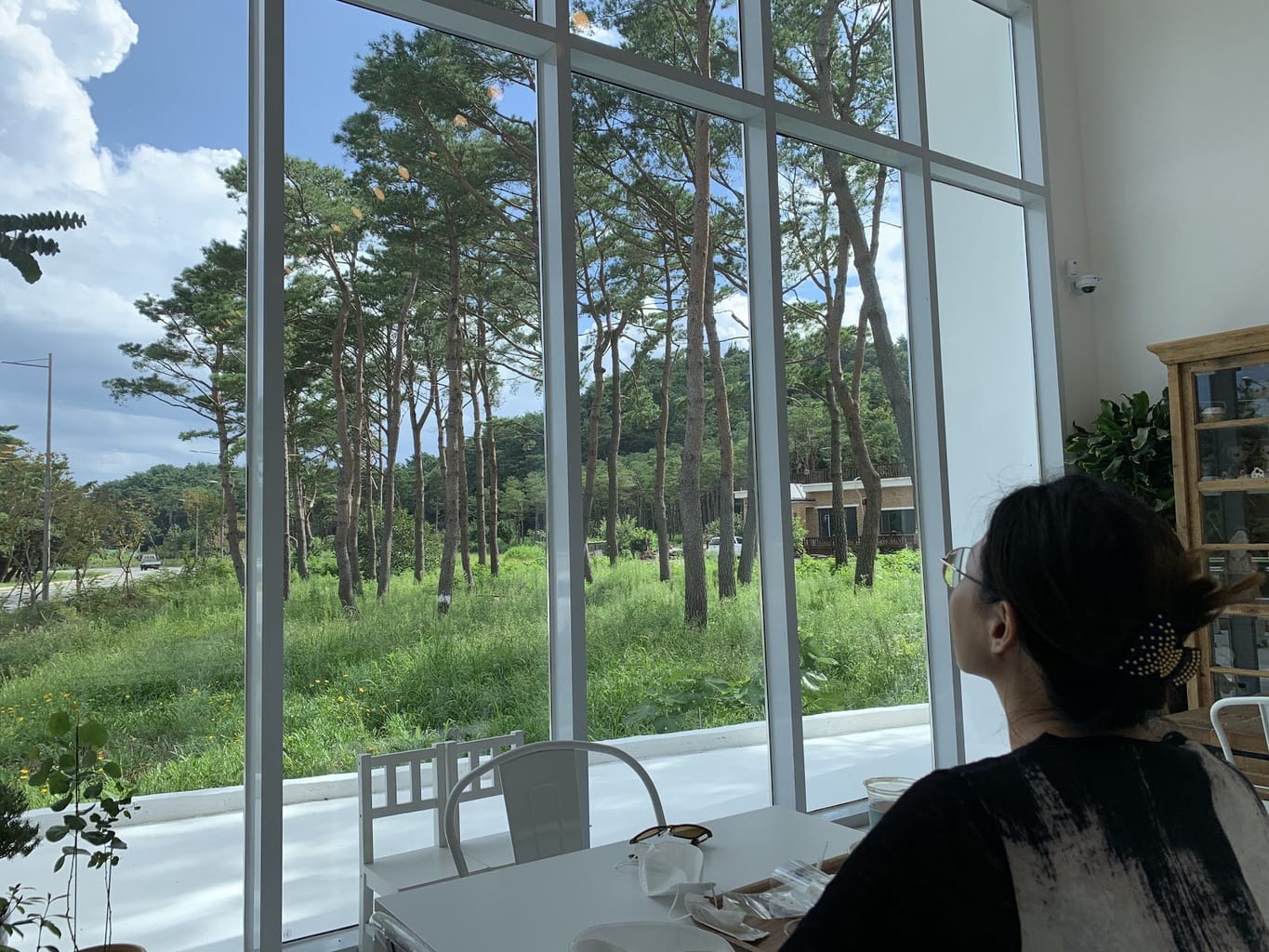 Gangneung is host to several other lesser known South Korean festivals including a film festival, the Gyeongpo Summer Festival, and the Beach Beer Festival.
When + How Long: Early October, days differ each year, but there seems to be a trend of around 4/5 days
How to get there: All over Gangneung, particularly Anmok Beach where the Coffee Street is. Gangneung is a 2 hour KTX ride from Seoul. There are plenty of taxis outside and buses to get to where you want.
Website (Korea): Gangneung Coffee Festival
Busan International Film Festival
The beach city of Busan is known for many things. From its fresh seafood market to its packed beaches, the second largest city in Korea is also home to the most popular film festival in Korea (and possibly Asia), the Busan International Film Festival (BIFF) which has been running since 1996.
BIFF focuses particularly on new films, young talent and first-time directors, honed in on the larger Asian region although there are films showcasing the entire world from the USA to Afghanistan and Iran.
The location for the festival, the Busan Cinema Center, is a landmark in the city. The 4,000 seat 30,000 m² Cinema Center was designed by Austria-based architecture collective Coop Himmelblau. Closeby is the uber popular Haeundae beach and the Busan Museum of Art.
When + How Long: Changes, but usually either the first of last 10 days of October
How to get there: Plane is the easiest and quickest way to get from Seoul to Busan and takes around an hour from Gimpo. Next is taking the KTX for 2.5 hours. When you arrive, take the subway to Centum City Station, exit 12 (about an hour) and then a 10 min walk to Busan Cinema Center. There are also plenty of buses (1 hour) and taxis (30 mins).
Website: BIFF
Jarasum Jazz Festival
The Jarasum Jazz Festival is the preeminent Korea jazz festival and has been an establishment on the music scene since 2004.
"Seom", sometimes written as "sum", means small island in Korean. Jarasum along the Bukhangang River means "soft-shelled turtle island" (or terrapin) as it faces a hill that represents the cute animal. It formed in 1943 a result of the construction of the Cheongpyeong Dam.
In total, there are actually four islands in the area named Dongdo, Seodo, Jungdo and Namdo respectively. On any other day, it is a quiet area where campers and hikers can enjoy eco-conscious living, but during October Seodo turns into a massive jazz wonderland with over 100,000 visitors and acts from over 55 countries.
When + How Long: Mid October for 3 days over a weekend
How to get there: Get to Hoegi Station and take the Gyeongchun Line to Gapyeong Station. This will take an hour. It will take quicker but be more expensive on the ITX if you catch it from Cheongnyangni (40 mins). Jarasum is a 40 min walk from there or a quick bus ride and a 20 min walk.
Website: Jarasum Jazz Festival
Busan One Asia Festival
Are you a massive Kpop fan and can't get enough of the Korean Wave (known as Hallyu)? Does the mention of Momoland, Black Pink and Super Junior make you rush to get your stan badge?
Then you should definitely visit Busan One Asia Festival (BOF) is a Korean festival which has a major focus on all things Kpop.
It's beyond a simple festival and is more like a Kpop carnival with spectacular performances that only Koreans know how to pull off.
Beyond the music, this major festival in South Korea has cultural activities and exhibitions in a week long Hallyu extravaganza. You can even bring along your posters and a felt tip marker to meet your favorite idols.
When + How Long: Late October for one week with the biggest performances on the first and last days
How to get there: Plane is the easiest and quickest way to get from Seoul to Busan and takes around an hour from Gimpo. Next is taking the KTX for 2.5 hours. There are several locations including Hwamyeong Ecology Park, Haeundae Culture Plaza and Kyungsung Univ. Yeno Theater in Busan. Public transportation is easily accessible, like in Seoul.
Website: Busan One Asia Festival
Andong Mask Dance Festival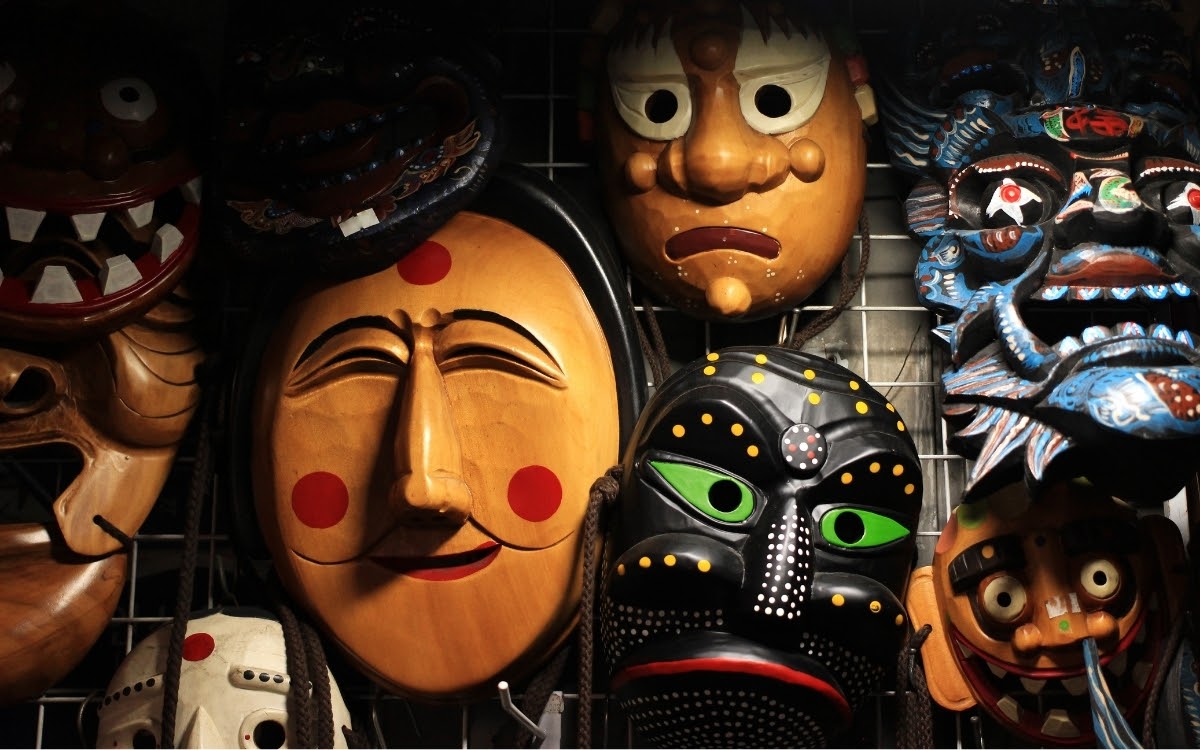 Andong may be off the tourist map, but it is the center of folklore in South Korea and I highly recommended you visit during this very unique Korean festival.
The area is so authentically Korean that, on her visit to South Korea in 1999, Queen Elizabeth II reportedly asked to visit the "most Korean place in Korea" and was taken to Hahoe, the cultural village which is home to the Andong Mask Dance Festival. So it's known as the epitome of "Koreanness" and therefore the best place to experience Korea's cultural heritage.
Masks have a long history in Korea and were used for an array of purposes from protective wear during war, to ceremonial and shamanistic practices, to poking fun at the nobility in theatrical performances.
Famed cultural shopping street Insadong in Seoul is packed with traditional masks of all kinds and hit Fox US TV show The Masked Singer actually originated in Korea called The King of Mask Singer (미스터리 음악쇼 복면가왕 – Miseuteori Eumaksyo Bongmyeon-gawang) in 2015 on MBC (try guess who the Unicorn was here).
During this fantastic Korean festival you can witness a variety of these centuries old performances (unfortunately in Korean only) for free, although some require an entrance fee.
There is much more here though from an epic amount of food stalls, to other dance and music performances from Korea and other countries like Apsara from Cambodia or shadow puppetry from Thailand.
When + How Long: End September/Beginning October for 10 days
How to get there: Take a bus from Express Bus Terminal in Seoul to Andong Terminal (2.5 hrs). You can also catch the korail from Cheongnyangni Station (3.5 hrs). Andong Hahoe Folk Village is a 30min taxi/car ride, Mask Dance Park is a 15 min taxi ride.
Website: Andong Mask Dance Festival
Seoul & Gwangju Kimchi Making Festival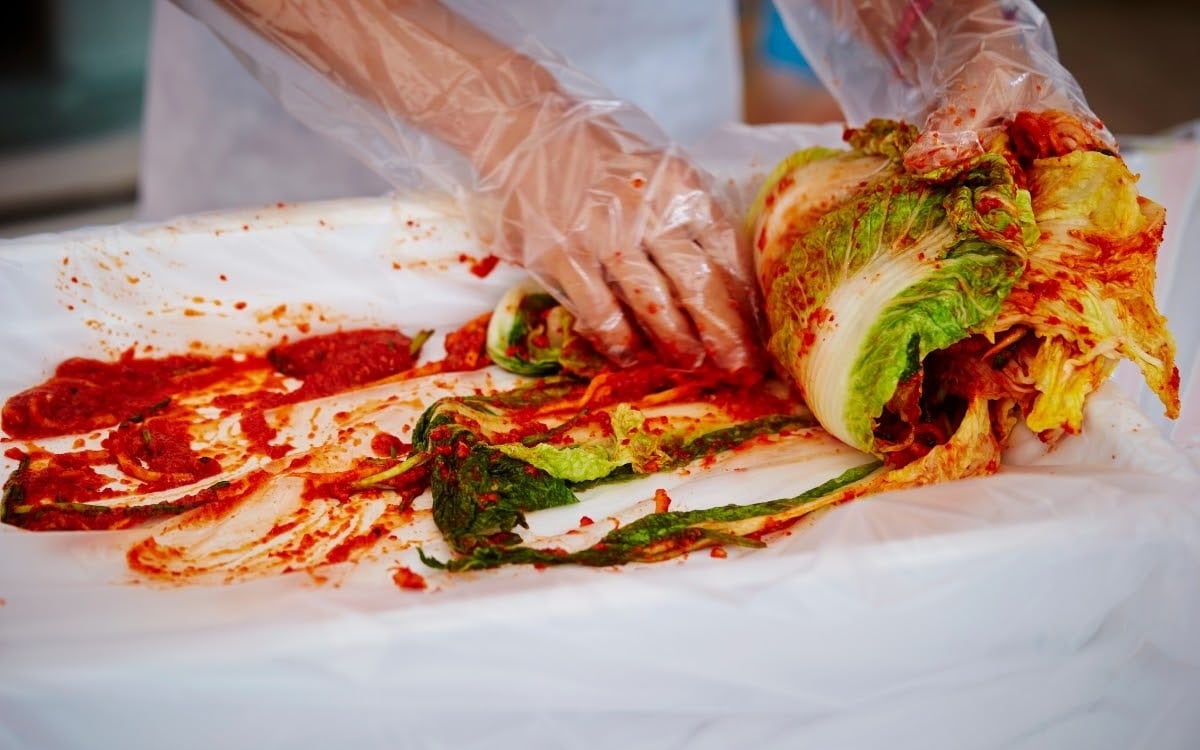 The most well known Korean food and one that has recently been introduced internationally as a world superfood gaining global popularity, is kimchi.
What foreigners may not know is that, at the end of October, there is a decades-old tradition of making kimchi called kimjang. Families gather around the country to make the ubiquitous fermented spicy cabbage so that it can be stored and eaten for the entire year.
The two most famous South Korean festivals to celebrate this nutritious food is the Gwangju World Culture Kimchi Festival and the Seoul Kimchi Making Festival.
The former is held in the historic city of Gwangju which is responsible for the birth of Korean democracy due to the horrific Gwangju Uprising of May 18, 1980 where students protested for a free and fair country.
The city holds the most renowned kimchi festival in Korea, where you can experience a master kimchi-making competition, join in making the side-dish with cooking classes, learn all about the health benefits and history of kimchi, browse the bustling Kimchi Market and even taste variants of Kimchi for all over the globe.
While the Gwangju festival is more honed in on culture and tradition, the Seoul Kimchi Festival is a tourist event with a cause. The 50 tons kimchi made by the 5,000 participants is then donated to 20,000 underprivileged families. This is another fun way to experience kimjang right in the heart of the capital for a worthy cause.
When + How Long: End of October for 3-5 days
How to get there: Take the KTX from Yongsan Station to Gwangju-Songjeong Station. Then taxi (30 mins) or bus (no. 29, about an hour) to Gwangju Municipal Folk Museum and the Gwangju Biennale sites nearby.
Website (Korean): Gwangju Kimchi Festival
When + How Long: Beginning of November for 3-5 days
How to get there: Seoul Plaza, just outside Seoul City Hall in Taepyeongno, easily accessible from City Hall Station (dark blue line 1) exit 5.
Website (Korean): Seoul Kimchi Festival
Jeonju Bibimbap Festival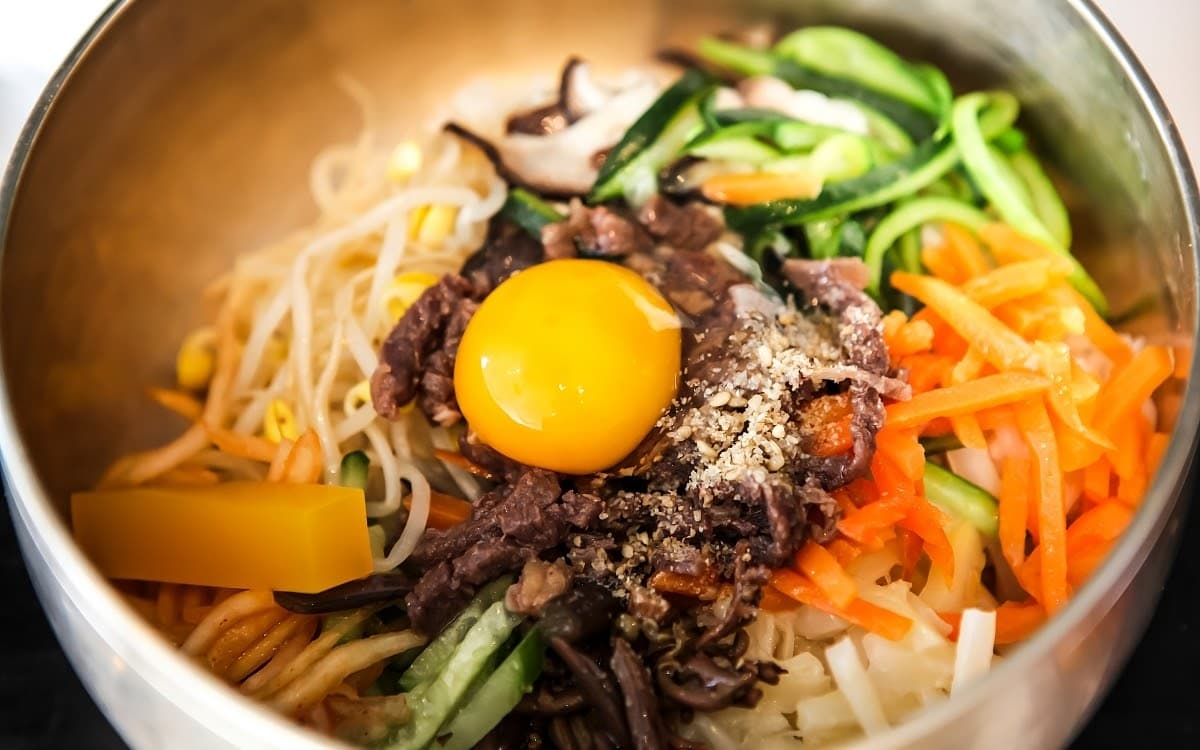 While Korea has some unique and strange foods like live octopus or sea cucumbers, bibimbap is by far the most accessible.
Literally translated to mixed rice, this nutritious dish comes with a bed of steamed rice topped with several ingredients that may include lettuce, microgreens, mushrooms, carrots, braised spinach (sigeumchi), bean sprouts, kimchi, and an egg and then covered in gochujang (red pepper paste).
There are multiple variations of this ubiquitous dish with the most popular being dolsot bibimbap, which comes to the table sizzling in a stone bowl and Jeonju bibimbap.
What makes Jeonju bibimbap particularly famous, apart from having a centuries old recipe, is the rice which is prepared in beef leg broth and finished with shiteme oil.
The Jeonju Bibimbap Festival is a celebration of this delicious dish with a massive bibimbap mixing which serves roughly 400 people, bibimbap cooking classes, night markets and loads of festive activities and cultural performances.
Skip the train and take a guided day tour from Seoul which visits more than just the Damyang bamboo forest (Juknokwon) but also stops at the Metasequoia Road, Jeonju Hanok Village, and some foodie goodies like Jeonju bibimbap and Jeonju Choco Pie. You can book your tour here. Or get cultured with a Jeonju Hanok Village and Rail Bike Park Day Tour with a Hanbok Experience. Dress up and walk around the city to get some epic Insta shots. Book here.
When + How Long: Beginning/mid October for 3 days
How to get there: Changes, but has been held at the Jeonju Hanok Village and the Korea Traditional Culture Center in Jeonju. Take the KTX from Seoul to Jeonju for 1.5 hrs.
Website (Korean): Jeonju Bibimbap Festival
Seoul Silver Grass Festival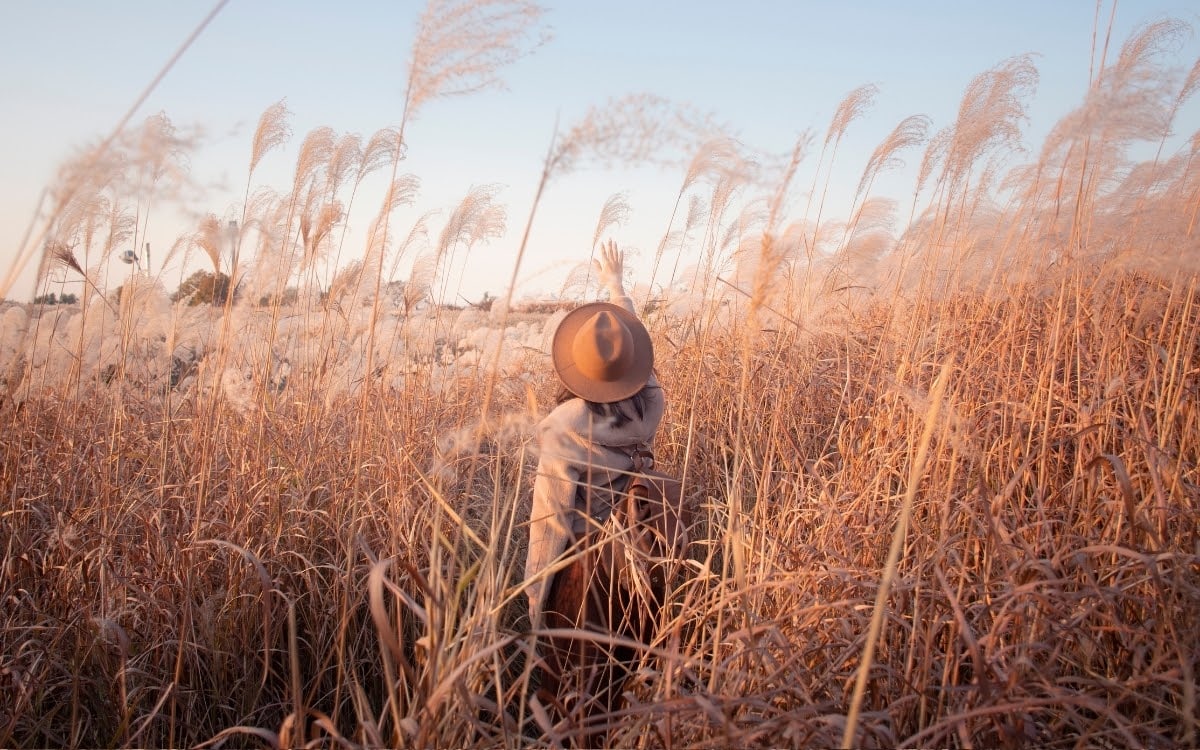 Haneul Park along the banks of the Han River, should be on everyone's Seoul itinerary. This is one of the capital's most beautiful green spaces with a small hill that has some great views of the city. Autumn is the best time to visit this park as the silver reeds are on full display, making it one of the most photogenic and Instagrammable spots in Seoul.
There are sculptures throughout the park and during the Seoul Silver Grass Festival there are also nighttime musical performances and beautiful lights.
The Pink Muhly and Red Kochia Grass also boasts its beauty in Autumn, so make sure you have your external charger with you as you'll be snapping pics like crazy. Plan to be there for Golden Hour during sunset when the tall silver grass shimmers in the fading light with views of the Han River below.
When + How Long: End of October for a week
How to get there: The closest subway to Haneul Park is World Cup Stadium (dark brown line 6). It's about a 10-15 min walk through Seoul World Cup Stadium to the entrance of the park from there.
Chuseok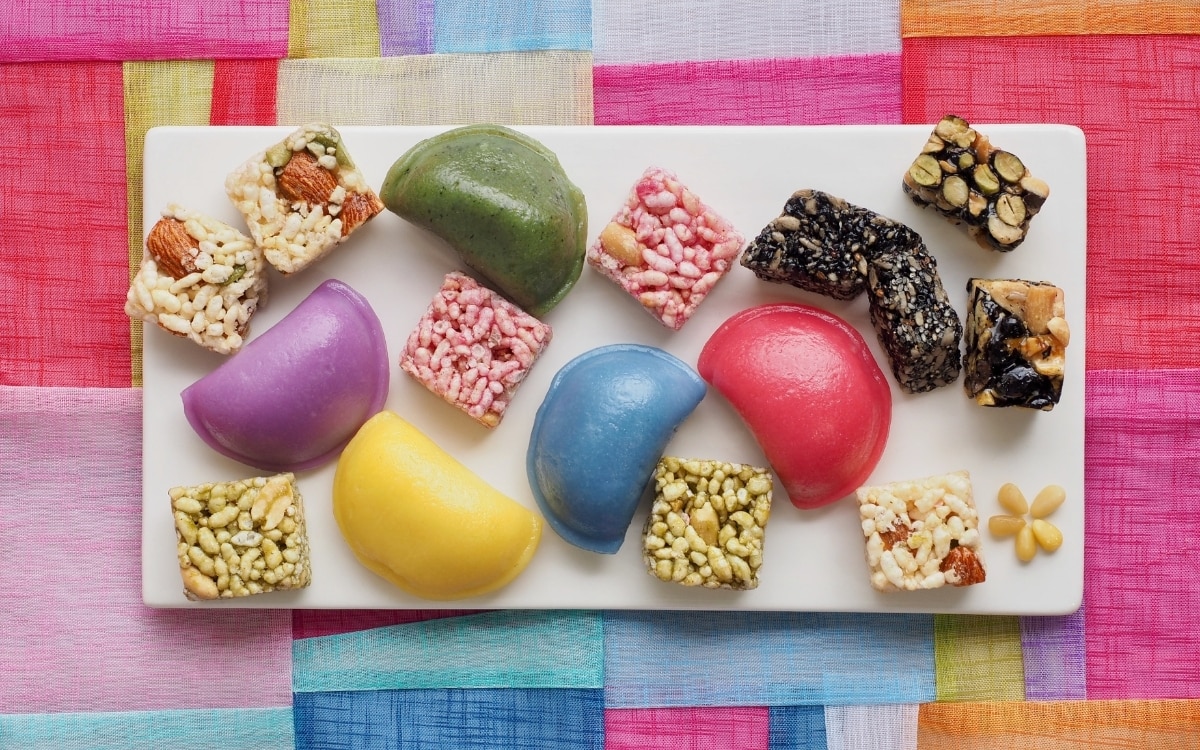 Not so much a festival than Korea's most important national holiday, Chuseok in Korea is time for family, relaxation and spreading some love.
Chuseok, or hangawi, literally translates to "Autumn eve" and is held around the autumn equinox, which is a fancy way of saying when Summer officially changes to Autumn.
Koreans throughout the country (as well as in North Korea), celebrate Chuseok and a bountiful harvest by visiting their ancestral hometowns, feasting on traditional food like songpyeon (small rice cakes), and taking part in two formal traditions called Charye/Jesa (ancestor memorial services at home) and Seongmyo (visiting ancestral graves), where they clean the graves (Beolcho).
If you're in South Korea during Chuseok you will definitely feel it as the entire country goes into hibernation with many of the restaurants and stores closed and Seoul becoming a ghost town.
There are however some vivacious cultural activities for tourists to take part in at places like theme parks and cultural sites, but don't expect to travel as Koreans plan their hometown exodus a year in advance and public transportation is full.
When + How Long: 15th day of the 8th month of the Lunar calendar which means around mid to end of September for 3 days, although many Koreans take the entire week off as everyone travels to their hometowns to be with family
How to get there: The entire country
Website: Learn all about Chuseok here
Pepero Day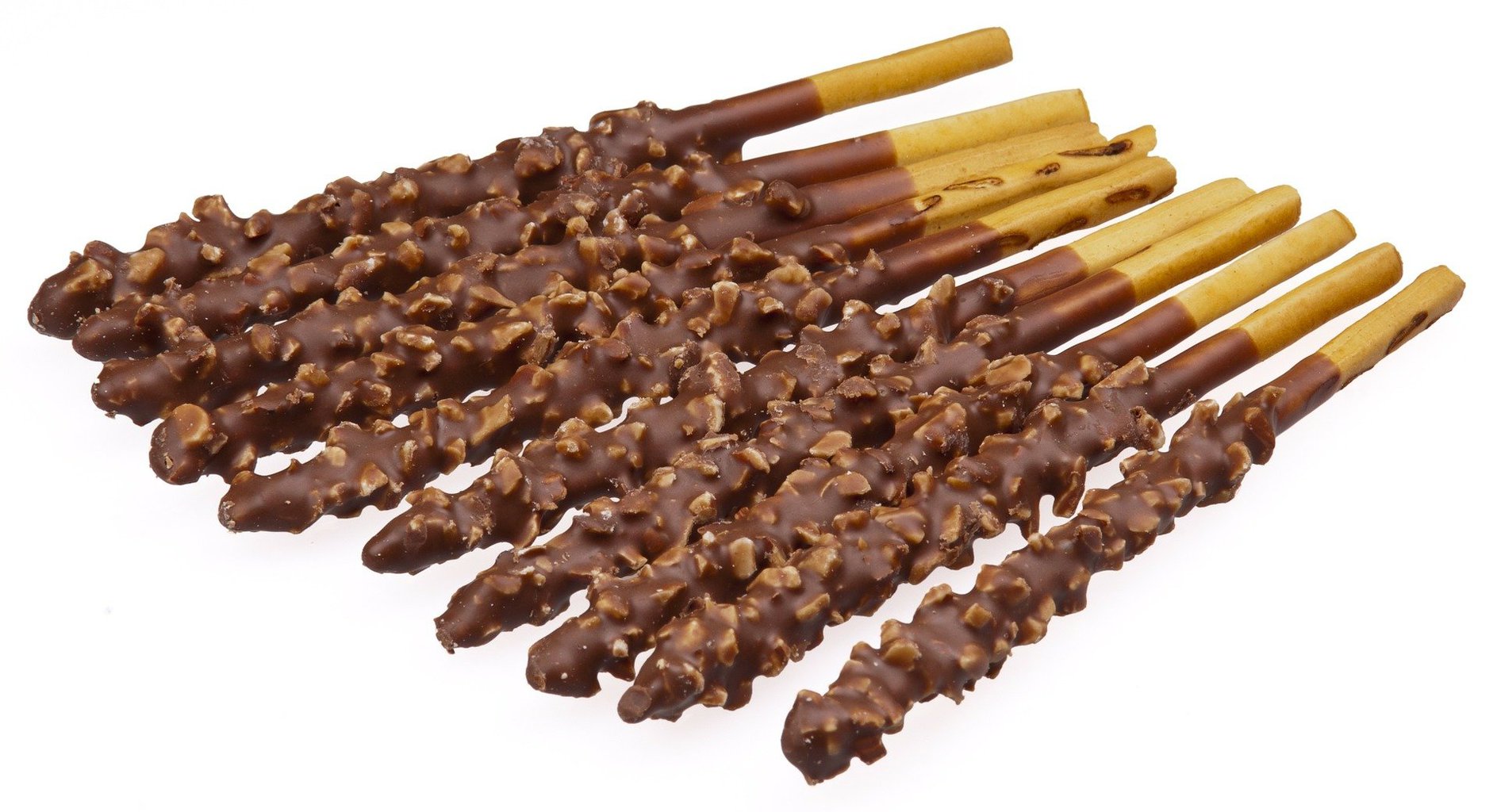 This isn't really a Korean festival, but we thought we'd mention it as it's a cute event to know about if you're in Korea on the 11th of November.
Pepero are basically cookie sticks that are dipped in compound chocolate, and were first manufactured in 1983 by Lotte Confectionery (the same Lotte as Lotte World). It's basically a copy of the Japanese snack Pocky that has been manufactured by Glico since 1966.
No one really knows the origins of this day. Stories include two school girls trading the sticks in the hopes of becoming tall and thin to Lotte promoting the day as a marketing tool as the sticks that weren't selling too well.
Either way, Pepero day falls on 11/11 each year as this is the shape of the delicious snack. Boxes of Pepero are bought and traded like Valentine's Day chocolates with convenience stores to mega marts having huge specials, pretty displays and even giant Pepero for sale.
When + How Long: One day on 11 November
How to get there: The entire country
Website: Lotte Pepero
Winter Festivals In Korea 2020 – 2021 (December – March)
South Korea gets absolutely freezing in winter with temperatures hovering at around 0 Celsius in Seoul. Up north it gets even colder, but down south in Busan and Jeju the climate is more forgiving and is usually around 5 degrees warmer.
Even with the icy winds and snow, Koreans don't stop celebrating their culture, history and geography with a range of winter festivals in Korea.
There are a range of activities to do in Korea during the winter months from snowboarding to ice fishing and mostly revolve around the sub-zero temperatures, but there are a few surprises. If you come to Korea during winter, pack layers and be prepared from freezing outdoor temperatures and extremely hot indoor heating!
Jeju Fire Festival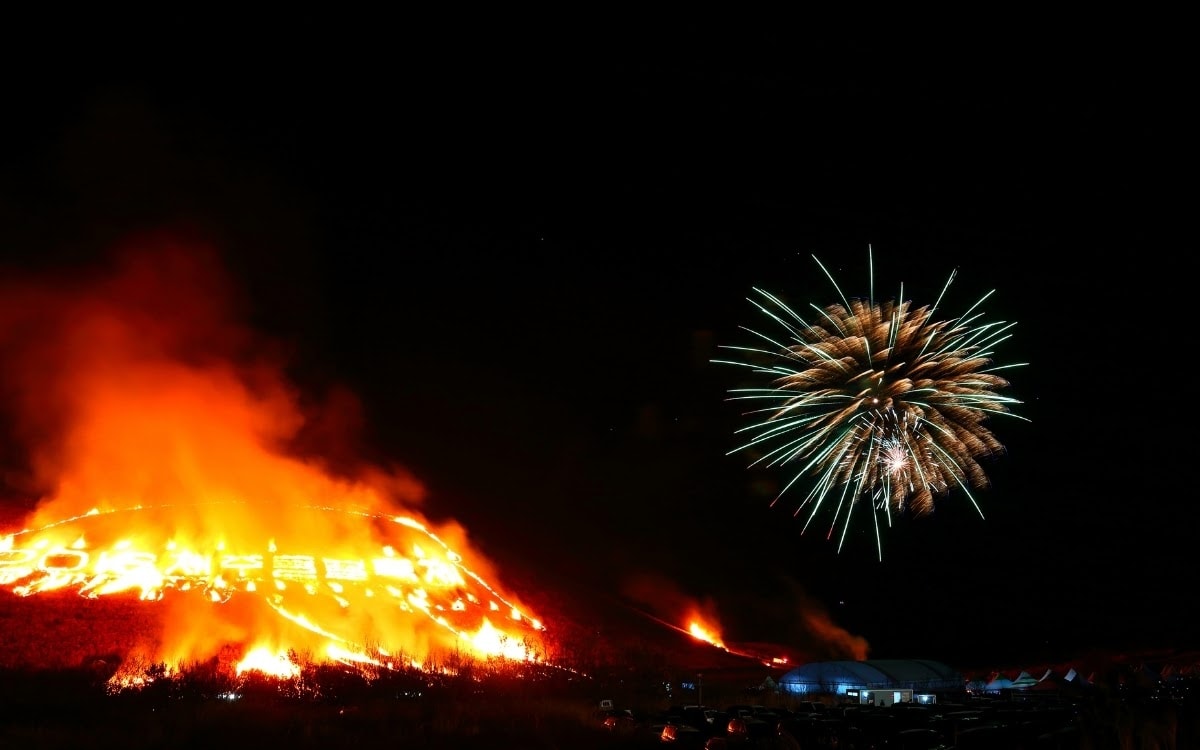 The Jeju Fire Festival is probably the most well known of all the Jeju festivals, maybe even of all the South Korean festivals.
The festival originated in the ancient practice in Jeju known as bangae where farmers would burn down the fields between late winter and early spring to renew the grass and exterminate vermin so that the cattle can graze freely in the open fields. The tradition has continued to this day and has become one of the most beloved and free South Korean festivals.
Each year a different oreum (volcanic cone) is selected to be set ablaze, lighting up the night sky in a spectacular sight. The fire is a symbol of health, happiness, vitality and the hopes for an ample harvest. There are fireworks, performances, contests, a folk market, folk dancing, a torce march and many different cultural as well as agricultural education programs.
Jeju has so much to do and see from museums to beaches to heritage sites. See all the tours and get some really great discounts if you book tickets to certain attractions online right here.
When + How Long: Late February/early March for 3 days
How to get there: Fly over to Jeju island from Seoul for 1 hour. The festival changes year to year from one volcanic cone (oreum) to another. There is public transportation, but the oreum are usually out of the way better reached by car or taxi.
Website: Jeju Fire Festival
Ice Fishing Festivals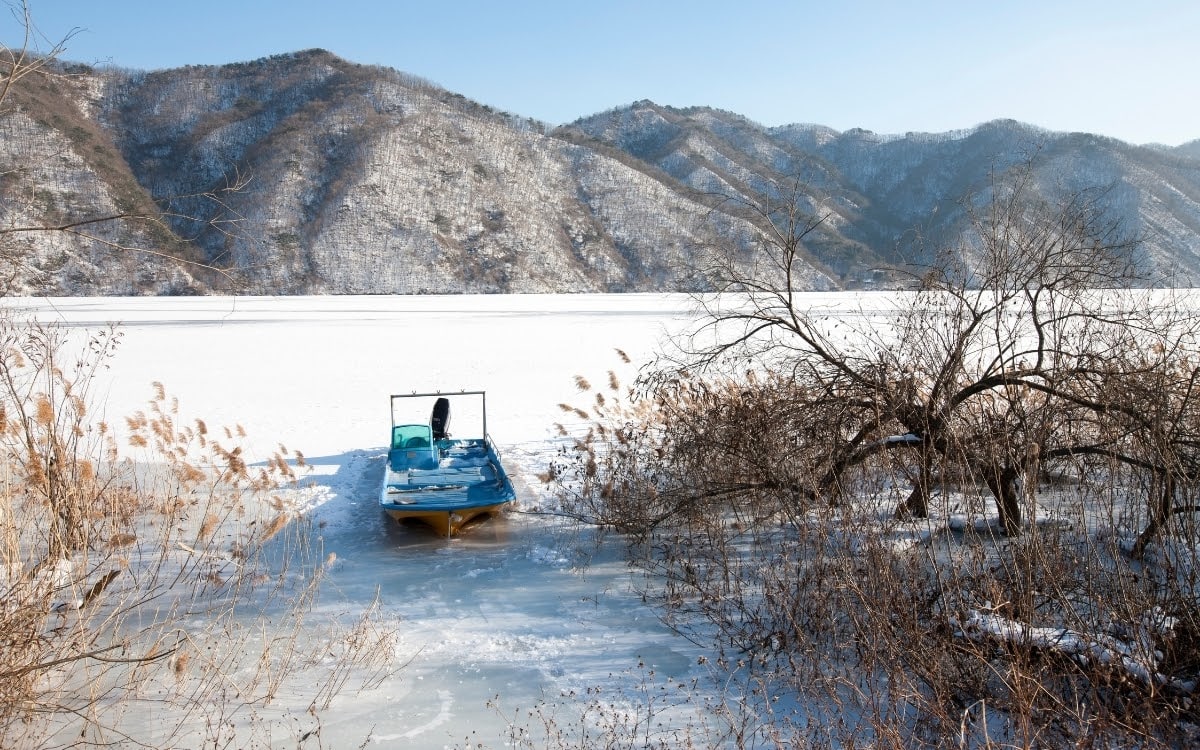 Some of the most popular winter festivals in Korea include the age old tradition of ice fishing, but of course with a twist.
There are a variety of great ice fishing festivals but the top three picks are all up in the north where it's colder in Gangwon Province. They are Hwacheon Sancheoneo, Inje Ice Fishing Festival, and the Pyeongchang Trout Ice Fishing Festival, an area known for its amazing ski resorts and the 2008 Winter Olympics.
All three are super enjoyable and go way beyond just drilling holes in the ice and dropping a line. It's a really festive time with ice soccer, sledding, snowman building competitions, ice sledding and a ton of fresh fish to eat.
The more intrepid explorers can join the trout catching at Hwacheon and Pyeongchang where you can brave the sub-zero temperature and jump into the water in just a t-shirt and shorts to catch a trout with your bare hands!
While all of the three ice fishing festivals in Korea mentioned above are great fun, Hwacheon Sancheoneo is probably the busiest and most exciting of the lot. It is very tourist friendly, has an indoor ice sculpture area, night fishing, an ice castle with a slide, figure skating, cultural events, and even a separate ice fishing area for foreigners so that you can ask all the questions you want.
When + How Long: Late Jan/early Feb for 21 days
How to get there: You'll first need to take the ITX from Wangshimni to Namchuncheon Station (1 hr). Then transfer to a bus at Chuncheon Bus Terminal and ride to Hwacheon Bus terminal (1 hr). The festival is nearby.
Website: Hwacheon Sancheoneo
When + How Long: Dates change, and as been held in Dec/Jan/Feb from a week to 2 weeks
How to get there: Take the KTX from Seoul to Jinbu Intercity Bus Terminal (2.5 hrs). The festival is around Odaecheon Stream in front of Jinbu Intercity Bus Terminal.
Website: Pyeongchang Trout Ice Fishing Festival
When + How Long: Late Jan for ten days
How to get there: You can take a bus directly from Dong Seoul Bus Terminal to Inje for 1.5 hrs. Catch a taxi to the site in about 10 mins.
Website: Inje Ice Fishing Festival
Garden of Morning Calm Lighting Festival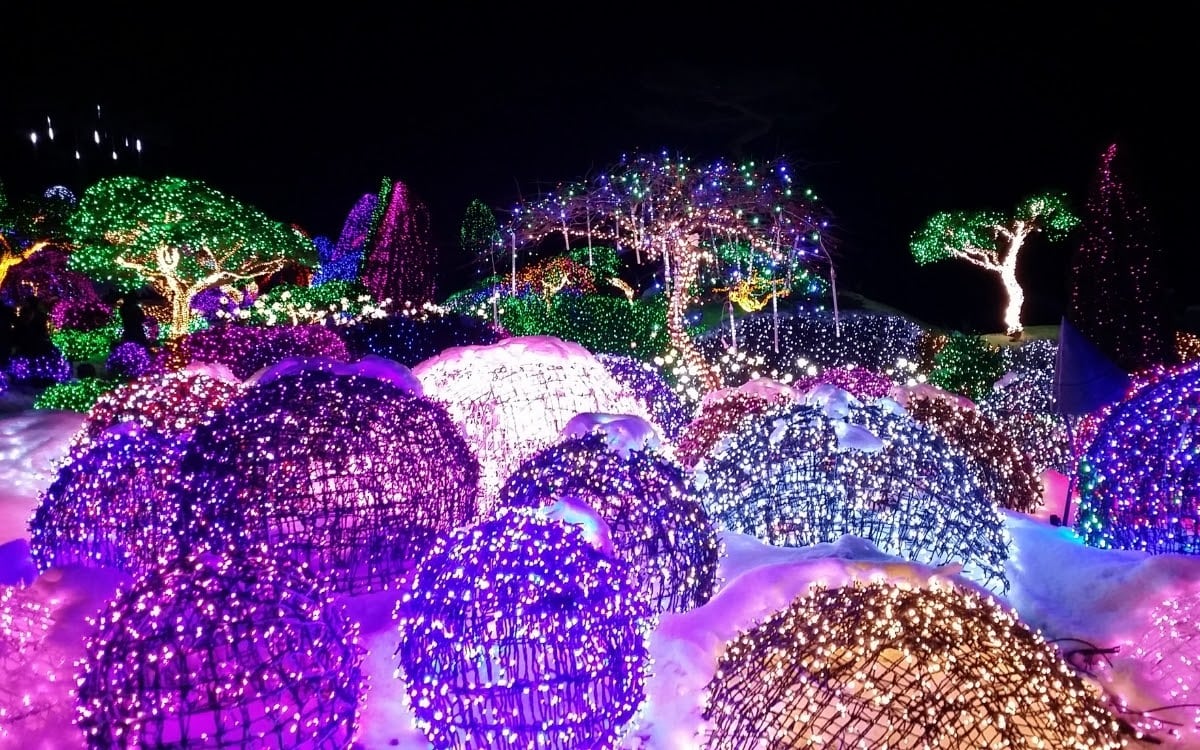 Many Hallyu (Korean Wave) fans first port of call when they arrive in Korea is to visit the picturesque Nami Island, made famous by several Kdramas including Winter Sonata.
A lot of the tours to Nami also include nearby locations such as Petite France and Garden of Morning Calm. The latter is a beautiful eco green space founded by professor Sang-kyung Han and opened in 1996.
You may have heard South Korea being referred to as the "Land of Morning Calm", which is what the Indian poet Rabindranath Tagore called it as he believed the country was "The Lamp of the East".
There are 5,000 kinds of plants to explore and the Sukgeun Garden, shaped like the Korean peninsula. The Light Festival is absolutely mesmerizing as the entire property is adorned with thousands of lights ranging in shape and color with light archways and a truly romantic atmosphere.
If you're not sure how to get here, why not take one of the most popular day trips from Seoul which explores Garden of Morning Calm, Nami Island, Petite France and a ride on the Rail Bike. Choose one or visit them all! You can book online right here.
When + How Long: Early December to mid-March, although the property is open all day from 8:30am, the lights only come on after sunset until 9pm (11pm on Saturdays)
How to get there: Take the Gyeongchun Line or ITX to Cheongpyeong Station (40 mins). You can opt for a more expensive taxi or take "The Shuttle Bus for Gapyeong Tourist Resort", which is a Hop On, Hop Off Bus for cheaper. You only pay once and can venture to any other tourist sites like Petite France or Nami Island.
Website: Garden of Morning Calm Light Festival
Nonsan Strawberry Picking Festival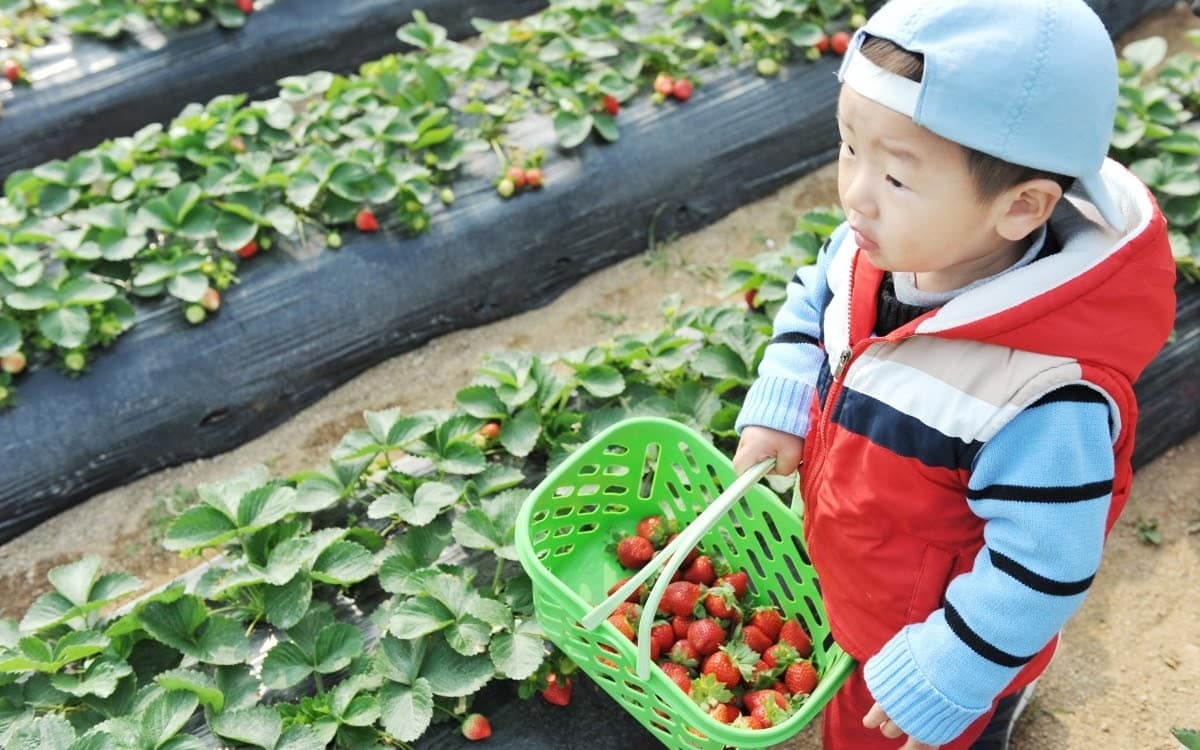 Strawberry picking season is in the dead of winter in Korea. The fertile soil, clean water and abundant sunlight at Nonsan in Chungcheongnam Province in the midwest is the perfect breeding ground for juicy strawberries. The area is the largest producer of strawberries in Korea and has been for more than 50 years, so you can expect an abundance of flavor and fragrance.
Imagine your favorite dish. Got it. Now add strawberries. This is basically the Nonsan Strawberry Picking Festival in a nutshell.
You can decorate cakes, make jam, have strawberry bibimbap (mixed rice), eat them fresh, have them with tangsuyuk (fried pork or beef in a sweet and sour sauce), injeolmi (rice cakes) or have them in a macaron. You'll learn about the different varieties of strawberry, including the especially sweet seolhyang strawberry.
Probably the best way to go strawberry picking, or to even visit the strawberry farms out of season, is to take a guided tour so that you don't need to translate everything. Here is a Nonsan Strawberry Farm and Jeonju Hanok Village Day Tour from Seoul which is very highly rated. Book it now right here.
Top tip: If you can't travel to Nonsan, pop over to Namyangju to strawberry farms like YaeDang Farm or Daega Farm which doesn't hold a festival, but it's fairly close to the capital (1-1.5 hrs by public transportation) and you get to pick the sweet fruit and make jam.
When + How Long: The date changes drastically each year, for example it was in mid Feb in 2020, late March in 2019 and mid April in 2018. It always lasts for 4 days.
How to get there: Catch the KTX from Yongsan to Nonsan Station for about 2 hours. It's then a 1km walk to the site, but you can always catch one of the buses or a taxi.
Website (Korean): Nonsan Strawberry Picking Festival
Snow festivals in Korea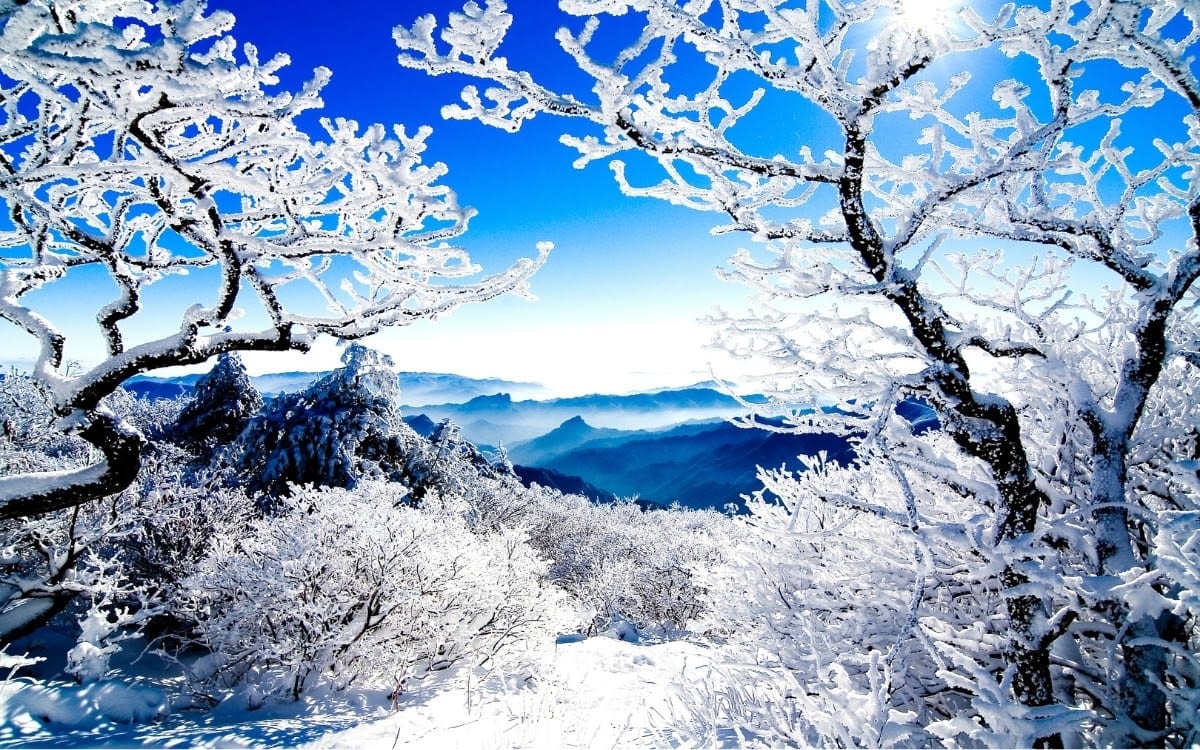 Snow festivals in Korea are a fun way to warm up in winter as you get to hike, build snowmen or get some sledding in. They are great for the entire family as there is something for everyone.
The two most important snow festivals in Korea are the Taebaeksan Mountain Snow Festival and the Daegwallyeong Snow Festival.
If you're up to get your blood pumping and be active in the freezing cold, then the Taebaeksan Mountain Snow Festival is just what the doctor ordered. Taebaeksan is one of Korea's most well-known mountains that runs 1,566m up and is especially busy during the winter season as it's known for the epic views.
If you join the festival, you don't have to scale the mountain, just join in the fun activities like building a snowman, sip a hot beverage in the Igloo Café, witness the ice fountain, grab a sled and do some snow sliding, go snow rafting or peer up at the starlight festival. The festival is most well known for its intricate snow sculptures.
When + How Long: Mid January for 10 days
How to get there: From Dong Seoul Bus Terminal ride to Taebaek Bus Terminal (3.5 hrs). Then take a bus bound for Danggol and get off at Taebaeksan National Park (25 mins). Hwangji Pond, where the festival is located, is a 10-min walk from the Taebaek Bus Terminal.
Website (Korean): Taebaeksan Mountain Snow Festival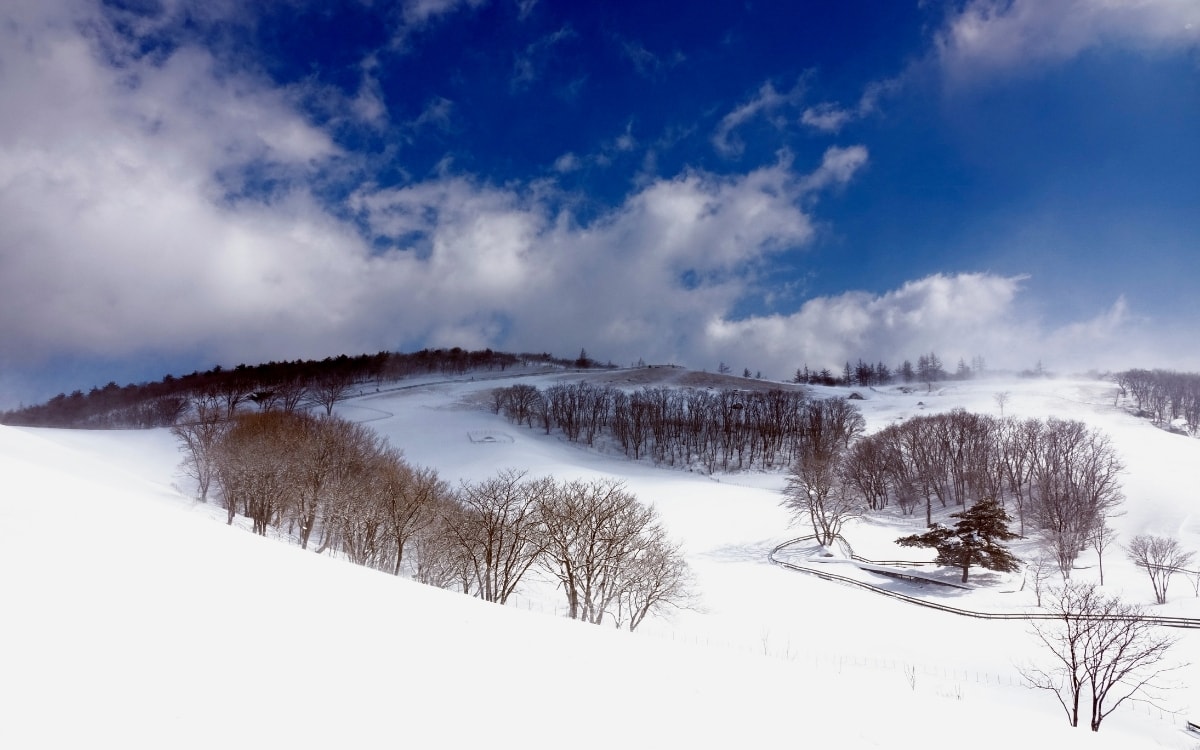 The Daegwallyeong Snow Festival is another snow festival but closer to Seoul, in Pyeongchang and is quite similar but less established than the Taebaek Snow Festival. It also runs for 10 days in late December to January and has lights, sculptures, sledding, horse riding and a whole lot of great street food.
It's very close to the famous Alpensia Ski Resort which is one of the top in the country as it was a large focus of the 2018 Winter Olympics. Daegwallyeong Sheep Ranch is also nearby and is one of the top Instagrammable spots in winter in Korea.
This privately owned 195sqm ranch has a 40 min walking loop and a solo wooden shack. It has become a photo favorite, just look at the images on their website to see. You can also feed some of the 200 sheep or join the "naked marathon" event where you can run in the freezing cold in nothing but your trunks.
When + How Long: Dates changes but is usually at the end of December or early to mid January for 10 days
How to get there: The festival is close to Alpensia Resort and can be reached via KTX where you will get off at Jinbu Station (1.5hrs) and then take a taxi (15 mins).
Website: Daegwallyeong Snow Festival
Christmas festivals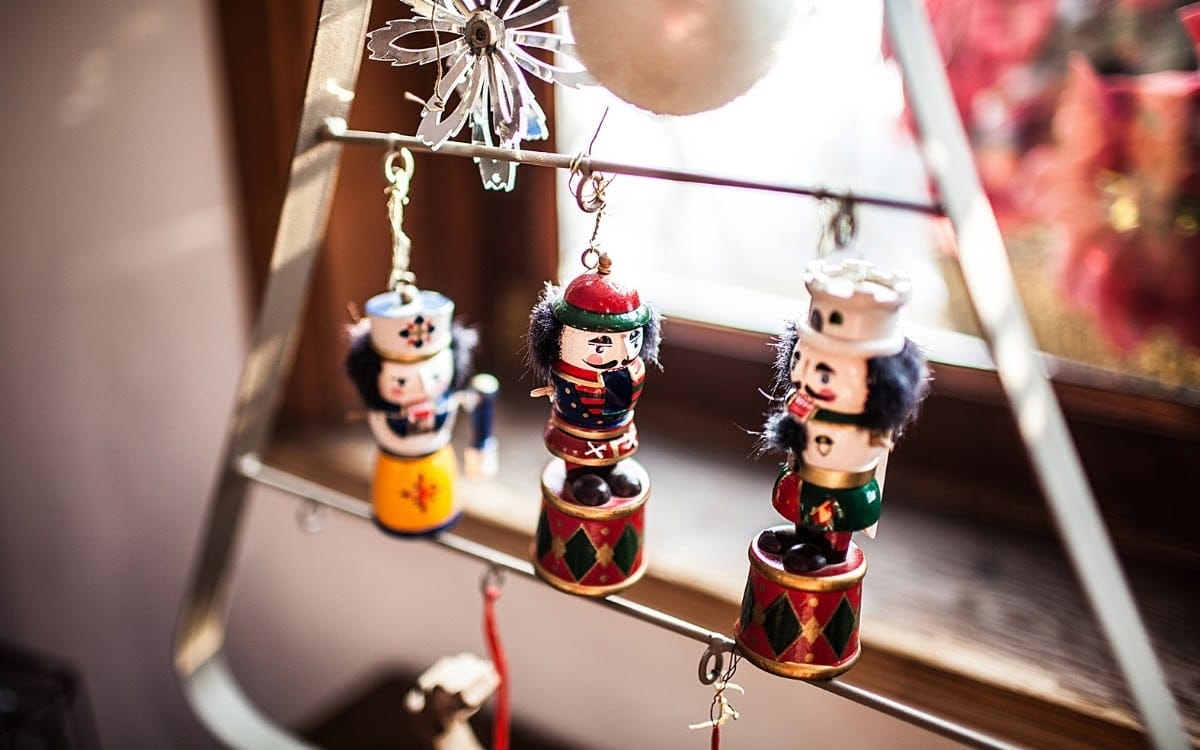 While Christmas in Korea isn't a very religious holiday as only around 30% of the population is Christian, they go all out on winter decorations with dazzling lights and carols booming from every speaker. There are massive sales at every department store, messages of merry Christmas in each mall and Christmas trees wherever you go. There are also some Christmas markets and a few festivals to visit.
The Herb Island Light Festival is similar to the Garden of Morning Calm festival mentioned above with lights to brighten the dark cold nights. But there is also a European style Christmas Market and Santa's Village, so the vibe is more Disnye's Frozen than Jingle Bells, but romantic and magical nevertheless.
Herb Island is generally a fun place to visit with foot spas, a replica of Venice's canals, cosmetic making workshops, princess and prince makeovers, and a whole lot of potent scents to wrap your nostrils around. The small ₩9,000/₩7,000 entrance is worth it.
When + How Long: Early December to mid-March
How to get there: Take the express bus to Pocheon Intercity Bus Terminal (1.5 hrs). Then hop on bus no. 57 bound for Sinbuk Oncheon (Sinbuk Hot Spring) and get off at Samjeong-ri Bus Stop (40 mins). Walk the Samcheongol-gil Street to Herb Island.
Website (Korean): Herb Island Light Festival
There are smaller Christmas markets and events throughout the country like the Busan Christmas Tree Festival along the streets of Gwangbok-ro in Jung-gu district, Seoul Land, Everland and Lotte World throw massive annual Christmas Parties.
There are also a few European Christmas markets sprinkled throughout Seoul like the French Christmas Market, the Christmas Bazaar at Seoul Foreign High School and Handmade Market Korea, but are quite small. You can also go ice skating and skiing, so we suggest taking a deeper look at our article on Winter in Korea.
New Year Festivals In Korea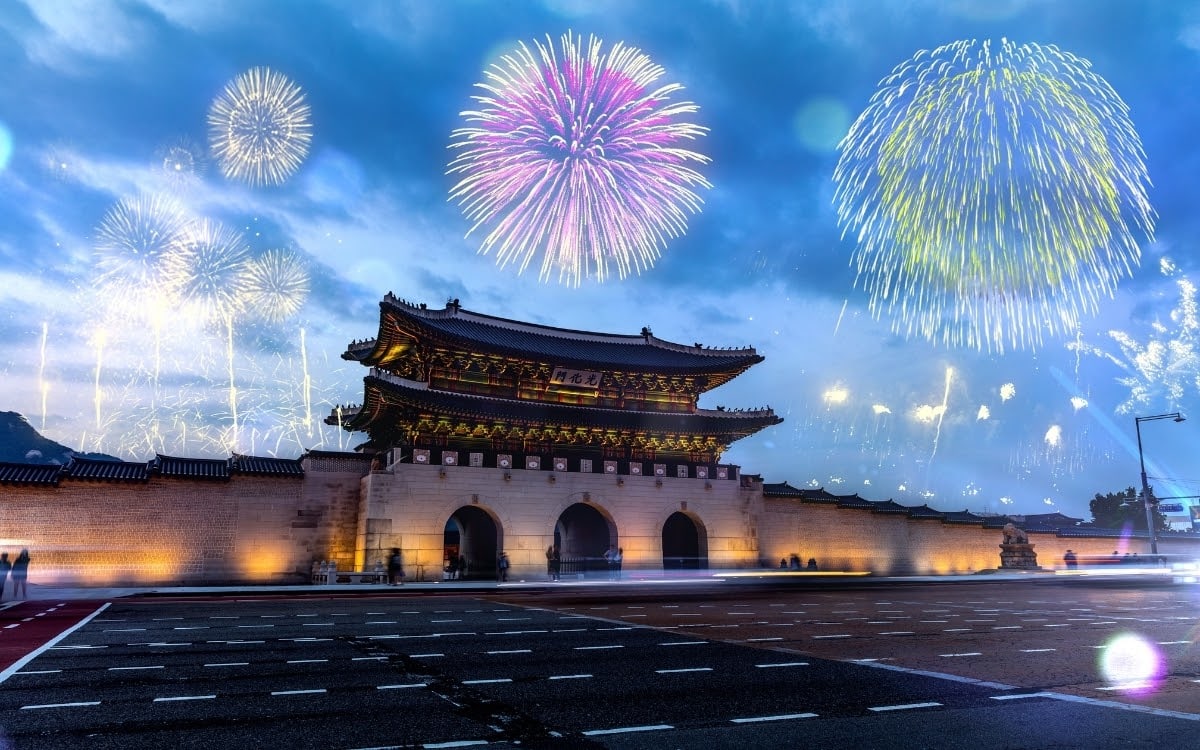 While there aren't really any New Year's festivals in Korea, we thought we'd mention it here so that you know what to expect during December 31st and January 1st.
First, you should understand the difference between the Western New Year in Korea (Dec 31) and the Lunar New Year called Seollal in Korean (see the next section for more on this holiday).
January 1st is a public holiday, but it doesn't hold as much significance in Korea other than being the day after a big party. It's basically just a day off.
There are countless parties all over the country on the 31st of December and fireworks displays in bigger cities like Seoul with the Seoul from Lotte World Tower (that last 555 seconds to represent the 555m that make the skyscraper), COEX Mall and an epic light show at Dongdaemun Design Plaza (DDP). The most famous tradition is when celebrities hit the Bosingak Bell in Jongno (Jonggak Station line 1) for the countdown.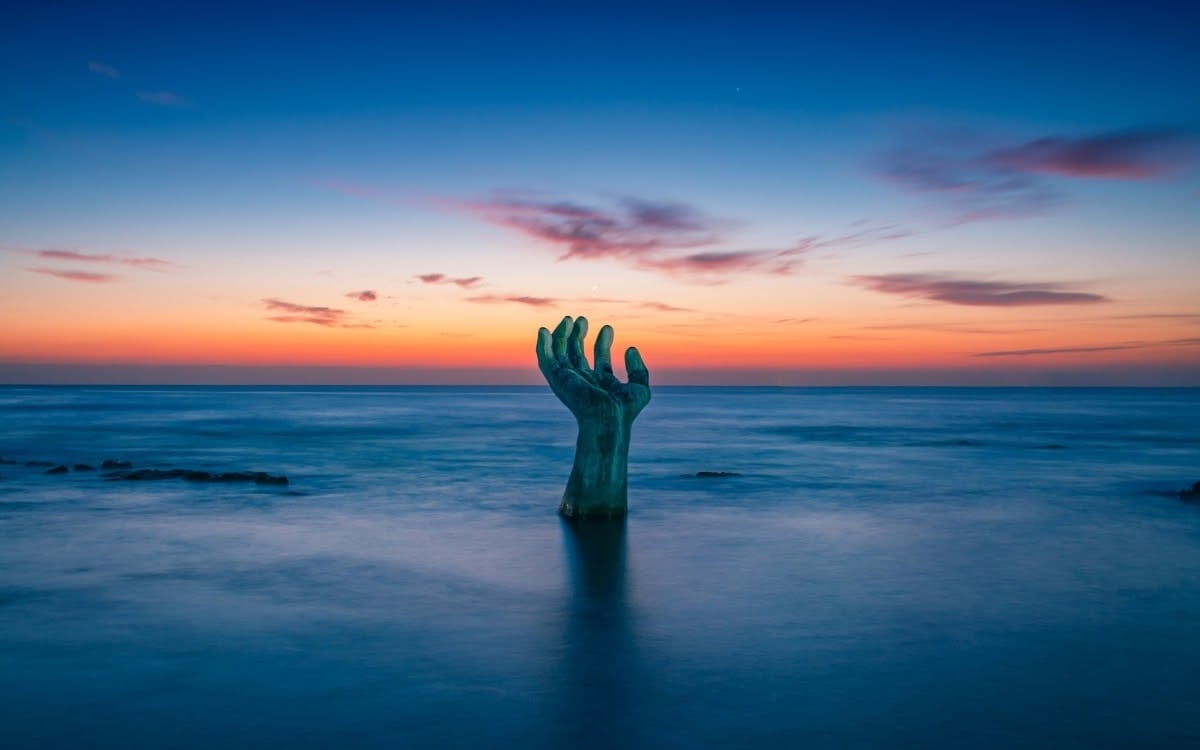 As nature is so abundant and Koreans have a strong fighting spirit, many citizens also visit certain areas to watch the sun rise at the east coast as the new year begins.
The most famous places include Ganjeolgot Cape Park in Ulju-gun, Ulsan, Homigot Sunrise Square in Pohang City, Gyeongsangbuk-do, Jeju's Seongsan New Year Sunrise Festival near the famous volcano crater Seongsan Ilchulbong, or Gyeongpo or Jeongdongjin Beach Sunrise Festivals in coffee town Gangneung, Gangwon-do.
There's no need for guesswork here. You can take a guided day tour of Jeju with a sunrise viewing at Seongsan Ichulbong, walk part of the Jeju Island Olle Trail and take a scenic stroll on Gwangchigi Beach. Book it right here.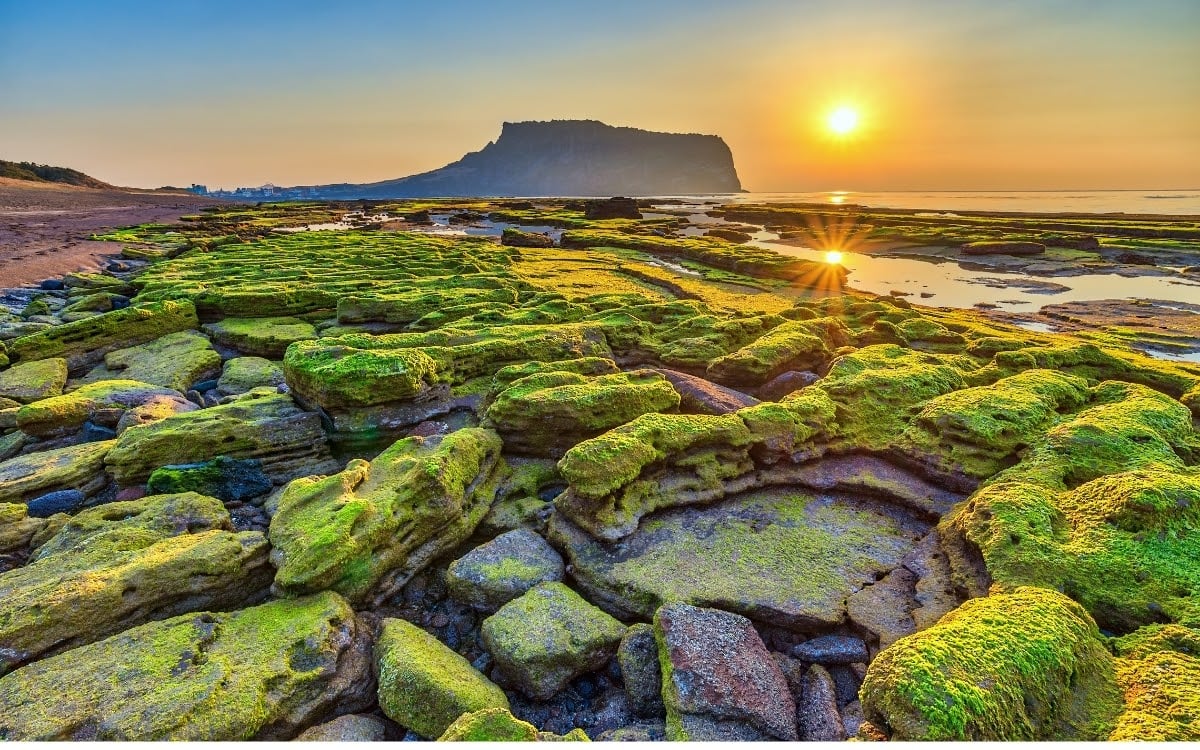 Top tip: While public transportation usually closes at around 12, it extends for about 2 hours on New Years Day, so you can ride the subway until 2am in Seoul. Double check though, as you may need to transfer and could get stuck. There are always taxis available though, but you may need to wait quite a long time as it is extremely busy throughout the night. Prices may also jolt up.
When + How Long: December 31 to January 1
How to get there: All over the country
Website: Ganjeolgot Cape Park, Homigot Sunrise Square, Seongsan New Year Sunrise Festival
Seollal (Lunar New Year)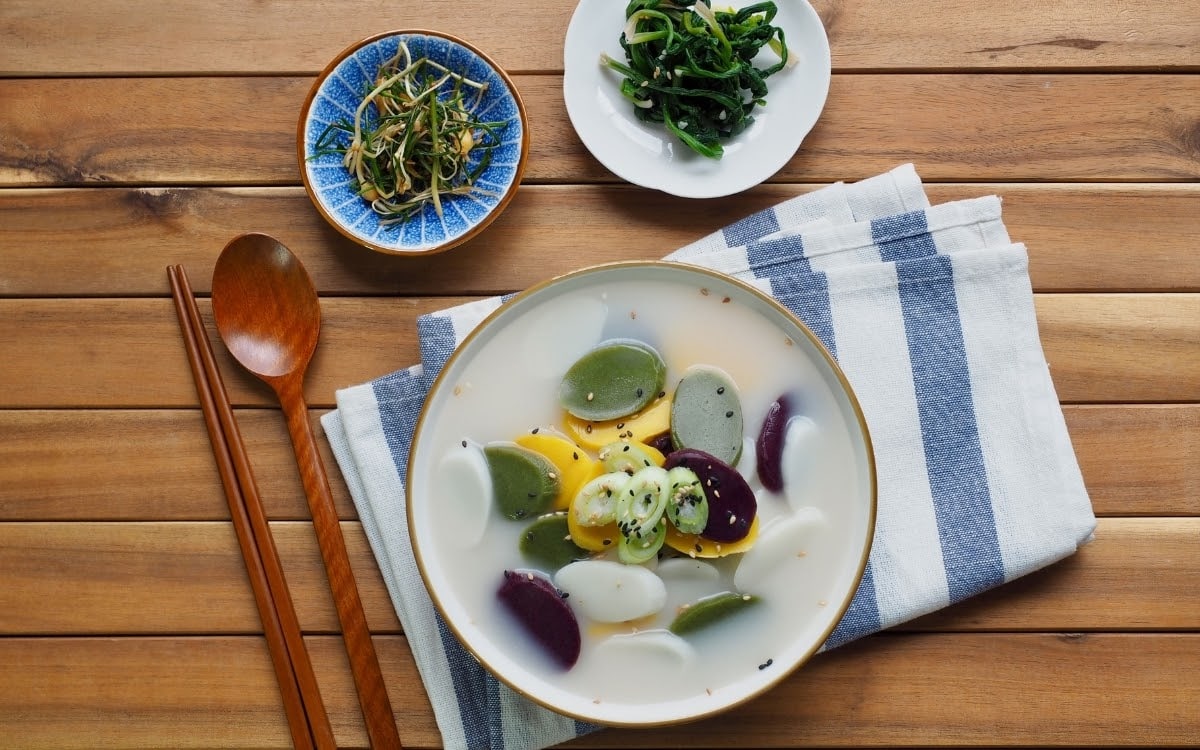 Seollal or Seolnal is what Korean's call the Lunar New Year. In other parts of the world this is called other names like Chinese New Year in the west or in Singapore, Chunjie in China, Tet in Vietnam and Losar Tibet.
In Korea, this is a much larger celebration than the western new year as it holds cultural and traditional significance too. It's the time of the year that the Chinese zodiac sign changes.
Ancestral rites are performed, people are adorned in Hanbok (traditional Korean clothing), tteokguk (rice cake soup) is eaten, folk games are played (like Yut Nori), gifts given (sebaetdon or New Year's money) and various folk stories are relayed.
Seollal is a 3 day holiday with much of the country taking the entire week off. Just like Chuseok, public transportation and air flights are completely booked out well in advance during this period.
While most of the country is shut down, you can still visit malls and famous tourist spots where celebrations will be in full swing as friendly Koreans are happy to share their culture and history with eager foreigners and tourists.
When + How Long: begins on the first new moon of the lunar calendar which is some time between January 21 and February 20
How to get there: The entire country
Website: Find out more about Seollal here
What you need to know about South Korean Festivals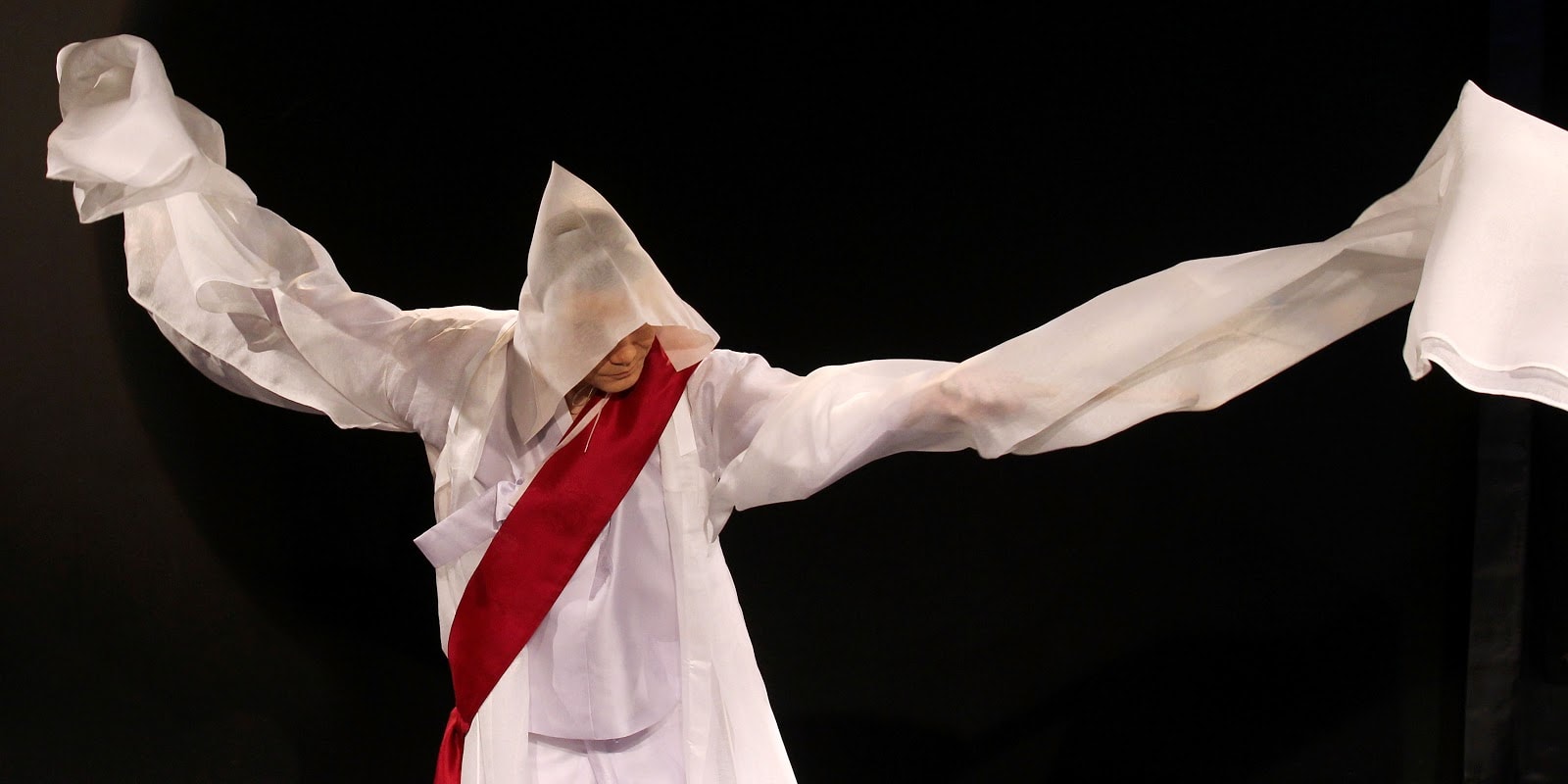 There are some details you should know to help you plan your celebrations. Keep the following in mind when planning your Korean festival itinerary.
Where are the best South Korean festivals
Some of the South Korean festivals don't have a specific location and are celebrated country-wide. Major holidays like Chuseok are usually celebrated in Korean homes, but in major cities like Seoul, Suwon and Busan there may be traditional and cultural events at major landmarks, theme parks and museums (while the rest of the country is closed and on holiday).
It's always best to plan your itinerary right by visiting the various festival websites to see if anything special is happening for the celebrations where you will be.
Other South Korean festivals have specific locations like the New Year Sunrise festival in Pohang is located there as it is the most eastern part of the country and the very first place to see the sun. Music festivals are also located at particular venues like the Jarasum Jazz Festival located on the island in Gapyeong County.
Can you celebrate without speaking Korean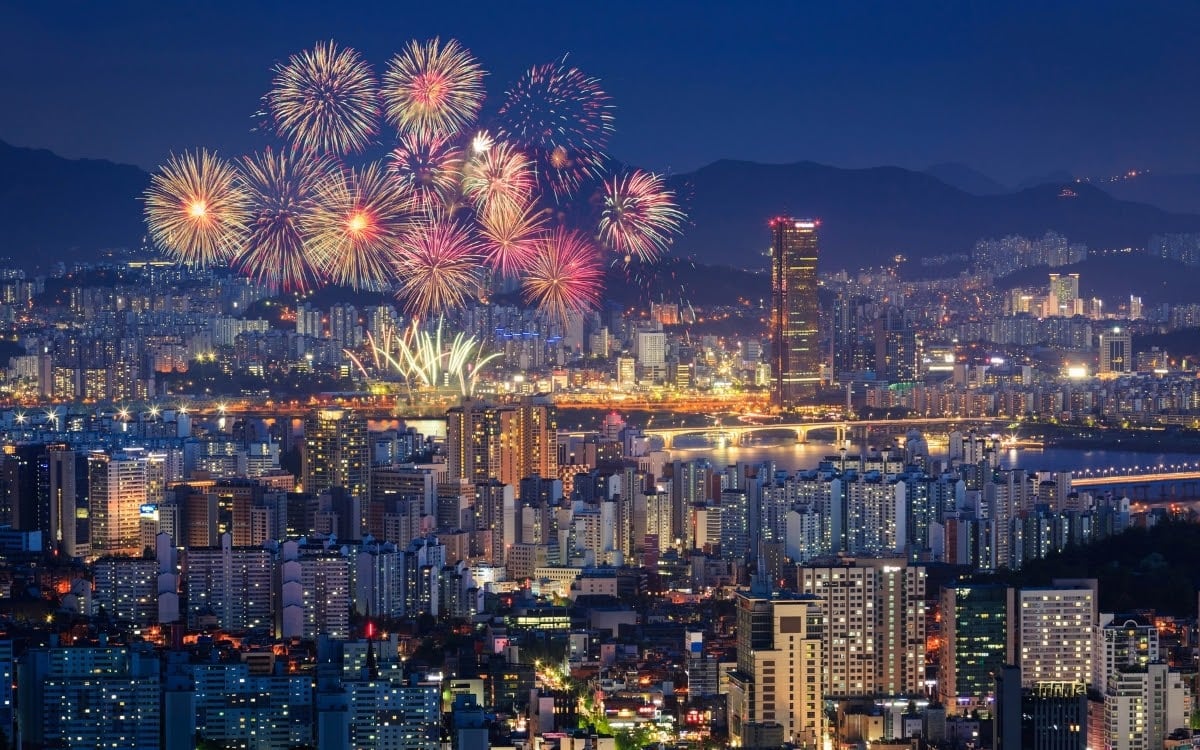 Of course! Although you may need to put in a little groundwork and learn some phrases if you plan to venture into rural Korea.
Major South Korean festivals will be celebrated in multiple languages as they have tourist appeal. Others will be more catered to locals and will be for the most part held in Korean. But this shouldn't stop you from attending! Someone is bound to speak English, if not, Google Translate can always help you out.
Even if the festival in question is in Korean and you don't speak the language, you will enjoy it all the same. South Korean festivals are joyful and high energy with performances going all day long. While you may not understand what the singers are singing about or the MC is talking about, the general vibe is infectious and will leave you smiling nonetheless.
You will possibly need the help of Google Translate or a local to help you book your transportation and accommodation, but once you arrive, you'll get by with a few phrases concerning money, food, ablutions and directions.
To make things easy on site, we highly recommend downloading and familiarizing yourself with the Korean map apps as Google Maps is quite unreliable for directions. It can be great to find places, but the navigation is atrocious.
The two major map apps in Korea are Kakao and Naver. It also wouldn't hurt to take a few lessons in Hangul, the Korean alphabet, as it will only take a few days of effort to learn and will really help you out in navigating your way around.
Pro tip: There is an English tourism hotline that you can call should you have any questions during your time in Korea. The Travel Hotline is +82-2-1330.
A note on transportation
I have provided directions only from Seoul, but you may be anywhere in the country. I find Rome2Rio to be a good way to find out the gist of a route, but a little more research is needed to make your journey smooth sailing.
Some of the South Korean festivals mentioned above are really off the beaten track and will involve some deep research in how to get there. We have provided the map, so the locations are copy and paste ready for you in English and Korean. As mentioned before, Google maps is really bad for directions and Kakao or Naver maps are preferred. If you have the choice between the train and bus for longer rides, we highly suggest paying the extra fee for a train as they will save you time and hassle (and they have toilets!).
I personally always use RailNinja as booking on the Korean websites is basically impossible, even if you understand the language. Just note that you may not get the exact time you want with RailNinja as they are an intermediary between you and the railway companies and booking is not instant. They are very helpful though and I've never experienced major issues with them.
When is the best season to see the South Korean festivals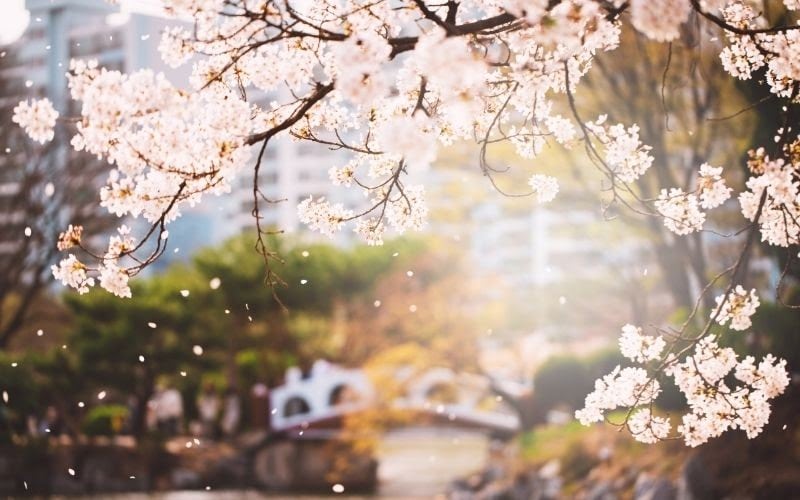 South Korea has four very distinct seasons. If you're lucky enough, you'll be visiting in the shortest, but also most beautiful seasons of Autumn and Spring. Officially the seasons are split into four quarters (3 months each), but after living here for over ten years, I can tell you with confidence that it's more like a 2-4-2-4 seasonal change.
Spring is when the flowers start to bloom and the green reappears after the desolate winter. The weather is mild and there is light rain throughout. Autumn is equally as beautiful as the leaves start to change color.
A little known fact about South Korea is that it's 70% covered in mountain, so the changing of the leaves (dan-poong – 단풍 in Korean) is otherworldly as the mountains go from green to all shades of red, orange and yellow. The skies are clear too, so the stark contrast of the leaves and ultra blue sky is even more gorgeous (and there's less pollution).
Winter and summer in Korea are stark opposites with the former being absolutely freezing and dry, hovering around zero Celsius for four months. The latter is humid with harsh downpours and it's not uncommon for sweat to be dipping down your back even when doing nothing and just sitting. That being said all transportation and indoors are regulated with air conditioning systems and these months also have their benefits.
Just note that there is about a 3-4 hour difference of sunlight between peak summer and winter, so your days will either be longer or shorter depending on the season you travel. Food is also seasonal, which is why there are so many food festivals in South Korea.
So to answer the question, "When is the best season to see the South Korean festivals"? That's completely up to you.
If you like more moderate temperatures with higher tourist traffic, come in autumn or spring. If you don't mind the freezing cold and want to see Korea covered in snow, then winter is your best bet. Summer is for those who love the beach and don't mind super high temperatures. But as you will see South Korean festivals are year round, so there's always something to celebrate.
A note on dates: Some South Korean festivals are on the same day each year, while others change. The reason for this is twofold. The first reason is that Korea, like other parts of Asia, still uses the Lunar Calendar which has different dates than the Western Gregorian Calendar. The second reason is that some South Korean festivals are not held on specific dates, but rather on specific days, for example, the second Saturday of May. We will state this clearly below in each festival and if a date is not specified, we will try our best to link to a website where you can check the date for the year you are visiting. Sometimes websites are in Korean only or are unavailable.