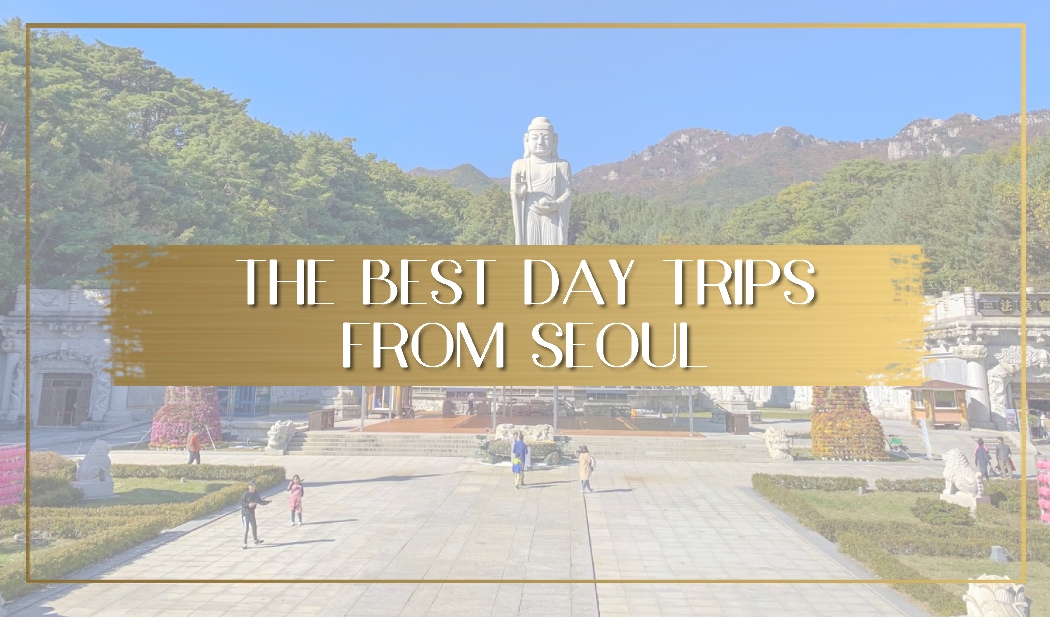 You can travel just about anywhere in South Korea within a few hours, especially if you take the high speed railway like the KTX, ITX or SRT. So, if you're planning a few day trips from Seoul, you just need to wake up at the crack of dawn to take the first train or bus out of the city and return after sunset.
Visiting Seoul is no doubt a must, but if you have a week in Seoul or more, we would highly recommend taking a day tour out of the capital to see what the rest of the country has in store. Or if you're a Seoullite this is your chance to see more of the country.
This list has it all, from rural splendor to bustling tourist sites, so you'll surely find something that suits your time allowance, budget and taste.
Note: Our list of the best day trips from Seoul is divided into Provinces to make it more geographically accessible. Note that provinces Gyeongsang, Jeolla and Chungcheong are divided further into north (bok) and south (nam). See the map above to get a clearer geographical image.
Tip: Although this is a list of day trips from Seoul and they can all be reached in between 30mins-3hrs, we always recommend 2N1D in the further destinations as 6 hour travel times can cut into your site seeing time and make the day trips exhausting.
Now that you have the lay of the land, let's get down to the best day trips from Seoul.
Incheon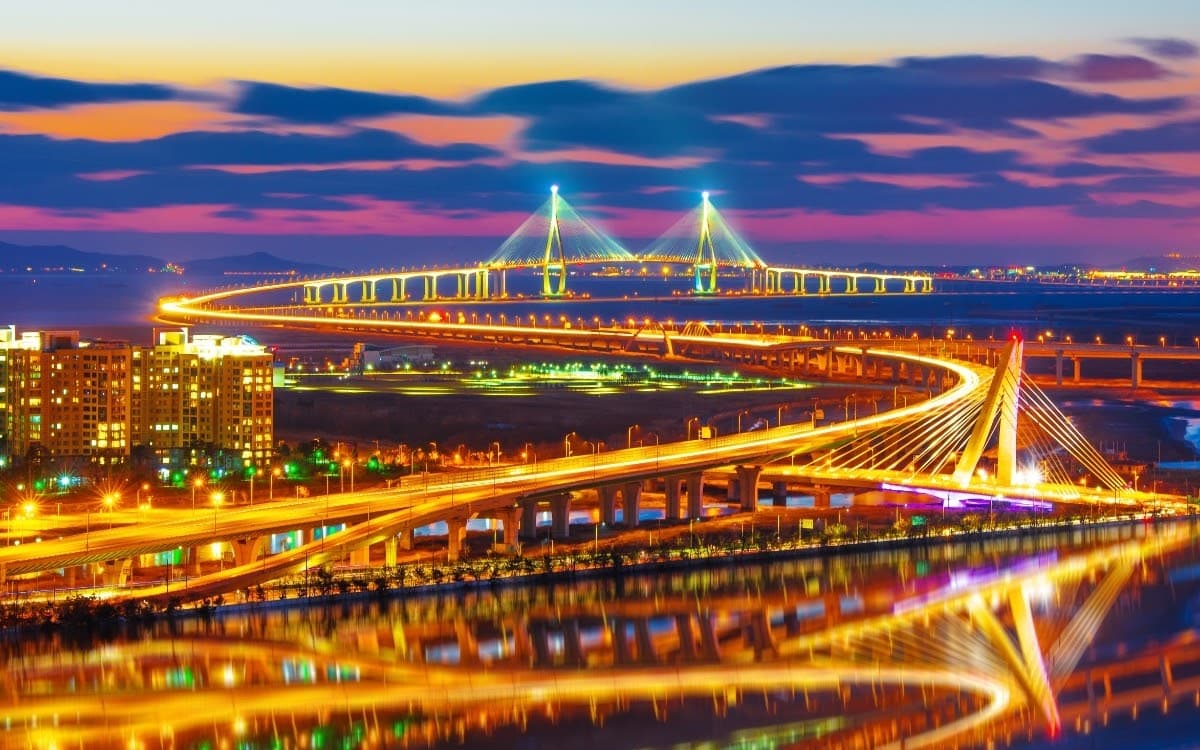 Incheon is a no-brainer day trip from Seoul, especially on your way out of the country as this is where the international airport is and it is super close to Seoul (1hr by train from Seoul Station), easily accessible (choose between bus, taxi or subway), and with lots to do.
Incheon is much larger than most people think and comprises several islands, the most popular being Yeongjongdo, Wolmido and Ganghwado (click here for more on these islands which we describe in more details below).
You could choose to spend a day in Incheon during your trip, but it's probably best to spend your last day (and possibly one night) there on your way out of the country to avoid going back and forth and wasting time on unnecessary travel.
Public transport in Incheon is great with buses, taxis and a subway system, but if you have the option to rent a car, this is highly suggested so that you can more easily go from place to place. SIt's also important to know that solo travel throughout South Korea is extremely safe for both sexes, so you can travel to Incheon and beyond by yourself without much stress. If you do have solo travel anxiety you can try reach out to a behavioral therapist.
So what makes Incheon one of the most enticing day trips from Seoul other than its proximity? The first reason is that Incheon is home to the largest (and the only official) Chinatown in the country (opening in 1884). This is a foodie's paradise with all sorts of authentic Chinese fusion dishes, most prominently jajangmyeon (black bean noodles).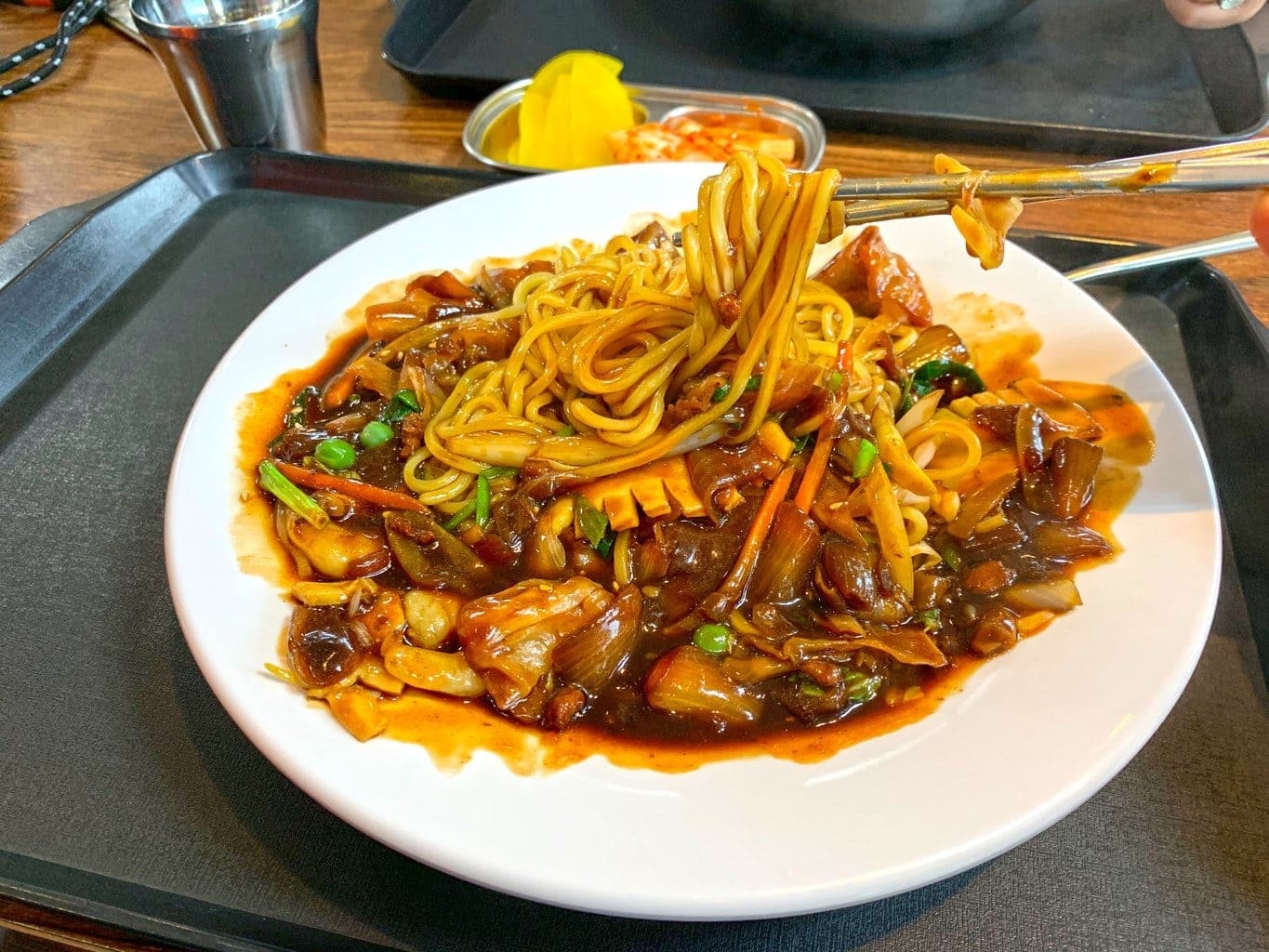 Enter the premises through the 11m paifang (Chinese-style gateway) and be sure to visit Lucky China for the best jajangmyeon (black bean noodles), jjampong (spicy noodle soup) and tangsuyuk (sweet & sour beef or pork).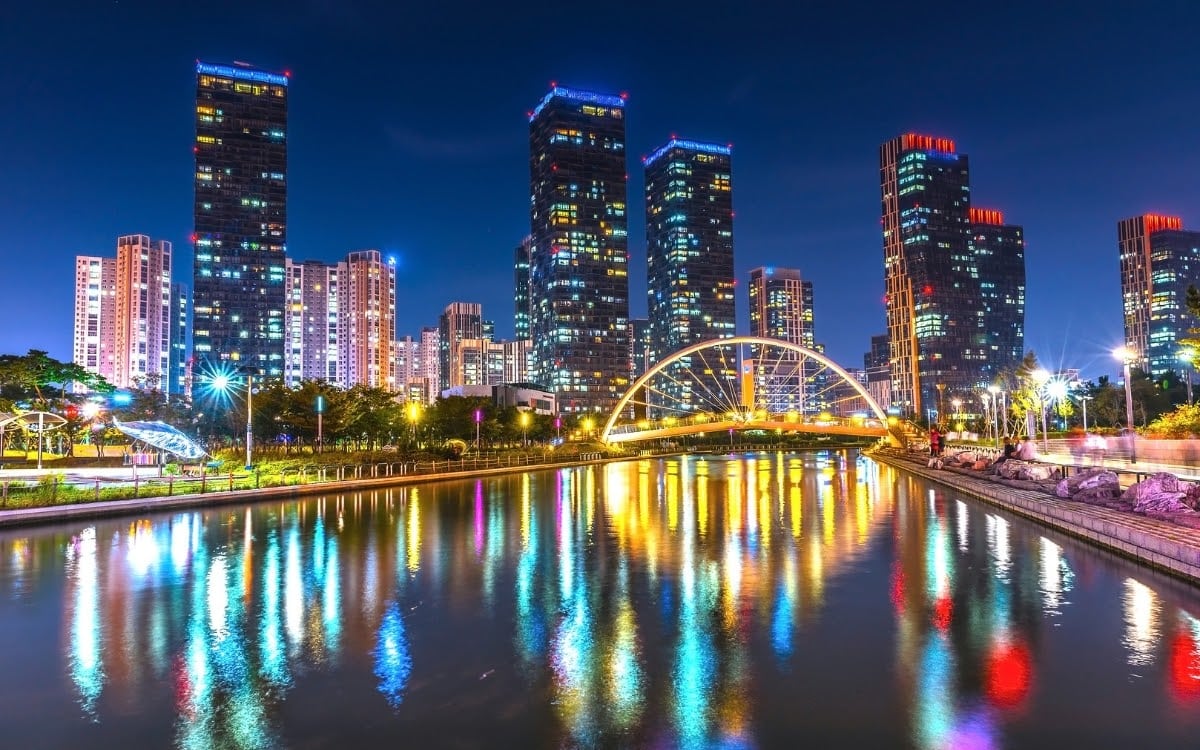 By day or night, you can stroll along Songdo Park, a large green space edged by skyscrapers like a mini Han River. Catch a water taxi, pedal boat or canoe and take the kids to the deer park or island for rabbits.
If you really can't get enough of green spaces, you could also pop into Incheon Grand Park, 727 acres of flora with a children's zoo and an ice rink and sledding in winter. There's also Freedom Park (자유공원 – Jayu Gongwon) where General MacArthur planned the successful amphibious landing at Incheon in September 1950 that spearheaded the take back and win of South Korea during the Korean War. April is especially beautiful due to the cherry blossoms.
The small connected island of Wolmido is fun, with restaurants and cafes with ocean views, street artists, a museum on Korean immigration and a small amusement park. There is free entry to Zaha Hadid-designed G-Tower (the same architect of the DDP in Seoul), which houses offices for the United Nations, with an outdoor observatory and Sky Garden on the 29th floor. Snap your pics of Incheon Bridge from here.
Pro Tip: If you aren't renting a car and don't want to schlep your luggage along, send it directly to the airport from Seoul if you're traveling with Korea Air or several other airlines from COEX Mall. You can also use Trazy which provides a similar service from multiple locations for a fee.
How to get to Incheon: The most convenient way to get to Incheon is by taxi. But this is also the most costly. This price will differ greatly depending on where in Seoul you leave from but expect over ₩50,000 (including a toll gate fee) and loads of traffic during rush hour. Also note that getting to the airport from Incheon Station will take another 40 mins by taxi and an additional fee of around ₩40,000 (including a toll gate fee).
The next best way to get to Incheon from Seoul is to take the subway. This is a direct route from central Seoul to Dongincheon Station (or all the way to the airport) on the blue line (line 1) and takes around 1hr15mins. This is the simplest public transport route, but if you take this during rush hour you may have to stand for the majority of the ride.
Another option is to go by bus which will take around 2hrs from central Seoul, or take the express bus to the airport and venture into downtown Incheon from there (1.5hrs).
Travel time from Incheon central to Incheon Airport is 1.5hr by bus. Go to Dongincheon Station and then take bus 306 which costs around 3,000 won.
Skip all of the above and take a private and bespoke tour of Incheon with options for pick up in Seoul or Incheon Airport. The tour is in a luxury sedan with an English speaking driver and will take you around Incheon for up to 9 hours or you can suggest where you would like to go. Book your tour online here.
Jeju Island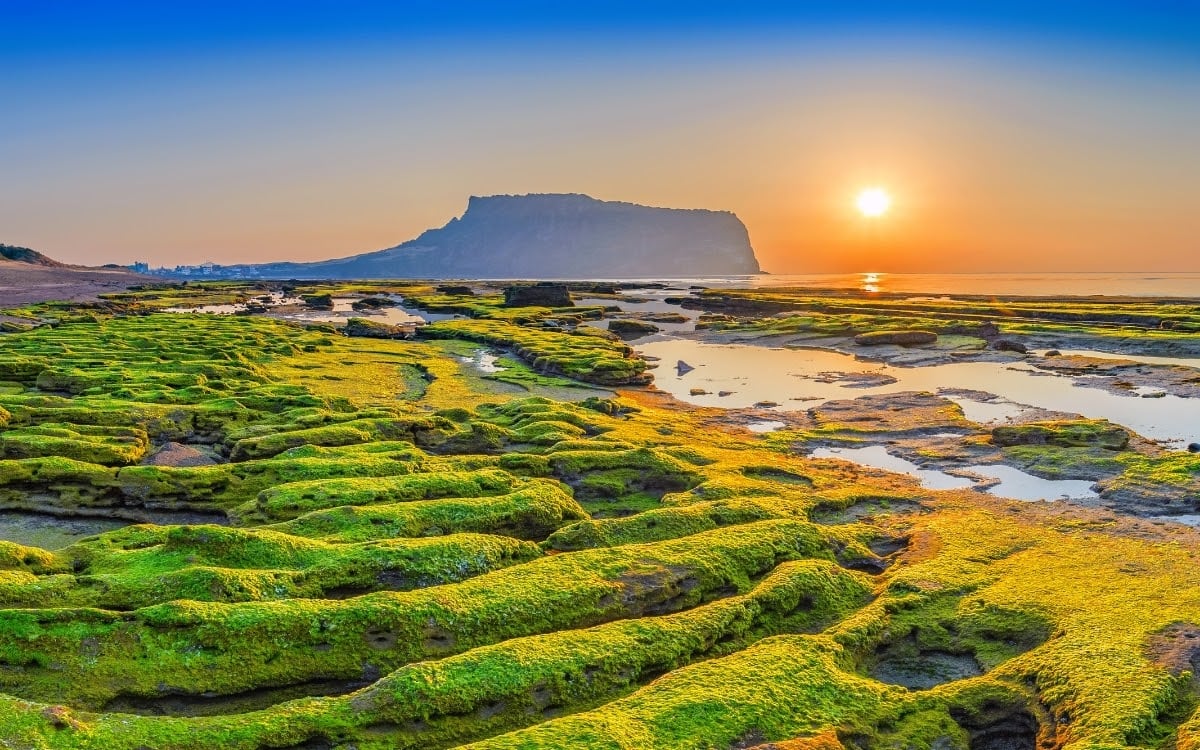 Probably the most popular destination for a longer trip from Seoul is Jeju island, the largest and arguably most beautiful island in South Korea. Jeju is famous for having the highest mountain in the country, Hallasan, which is a volcanic mountain that actually makes up most of Jeju and stands at 1,950m.
There are also volcanic cones darted around the island known as oreum in Korean that are beautiful to climb at any time of the year. Seongsan Ilchulbong (Sunrise Peak) is the most famous, holds UNESCO status and formed around five thousand years ago.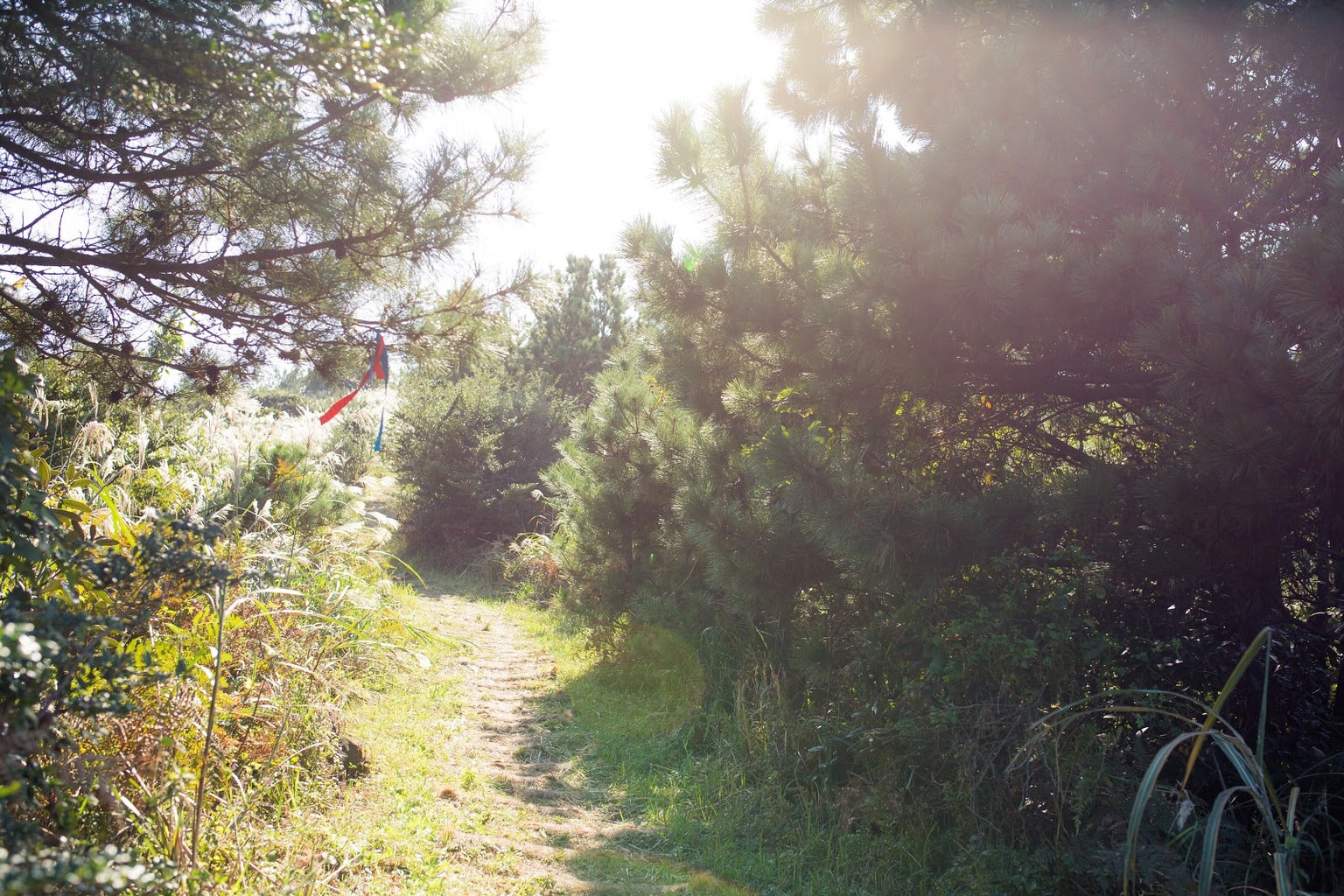 In winter, hiking is the most popular activity in Jeju as there are paths all over the island including a round trip known as the Jeju Olle Gil which is 425km and broken into 26 different routes. The camelia flowers also bloom in winter, so you can visit Camelia Hill for some epic beauty.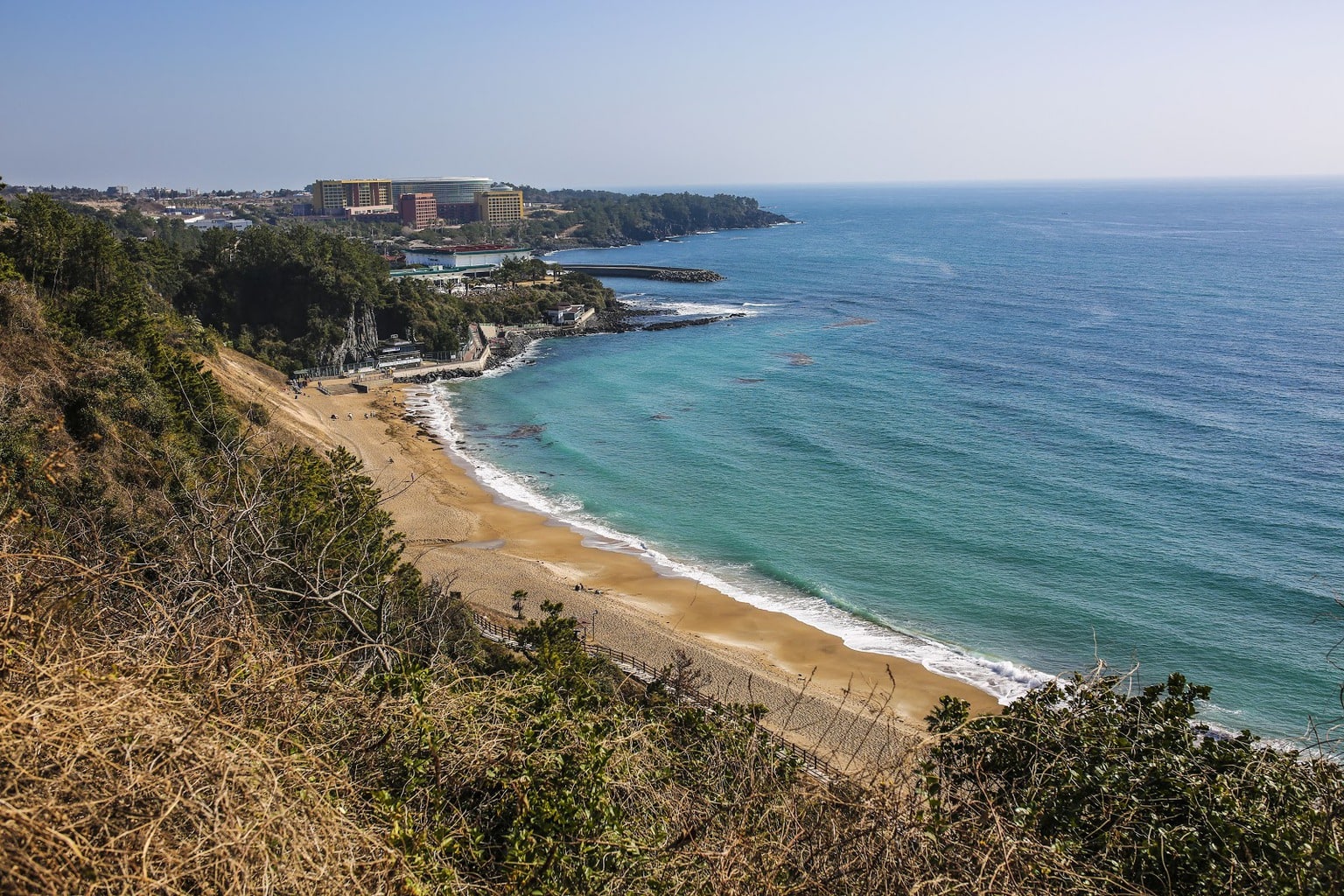 Summer seas the masses arrive in droves to spend time on the beaches, especially in the southern area known as Seogwipo. Natural beauty is Jeju's main draw with sites like Cheonjiyeon Waterfall, Manjanggul Cave (lava tubes with unique formations), Udo island, Yongduam rock formations, Bijarim (nutmeg) Forest, Sangumburi and Sanbangsan for the most beautiful natural scenes and the list goes on and on.
There are museums throughout such as Jeju Love Land or the Teddy Bear Museum. And of course, there is a massive cafe scene with some of the most visually appealing and trendy coffee shops in the country like One and Only or Cafe Hallasan (to name 2 out of hundreds of choices).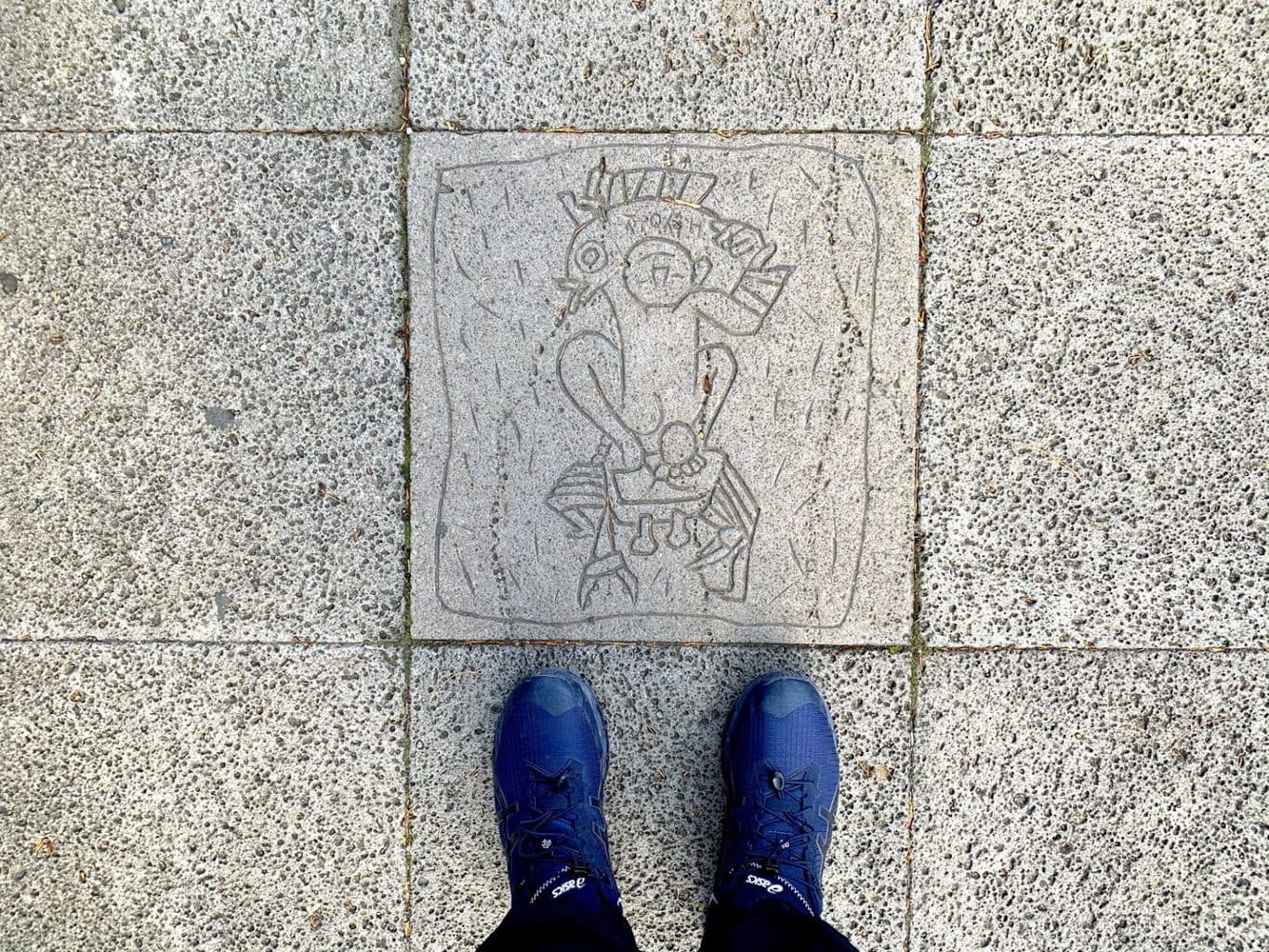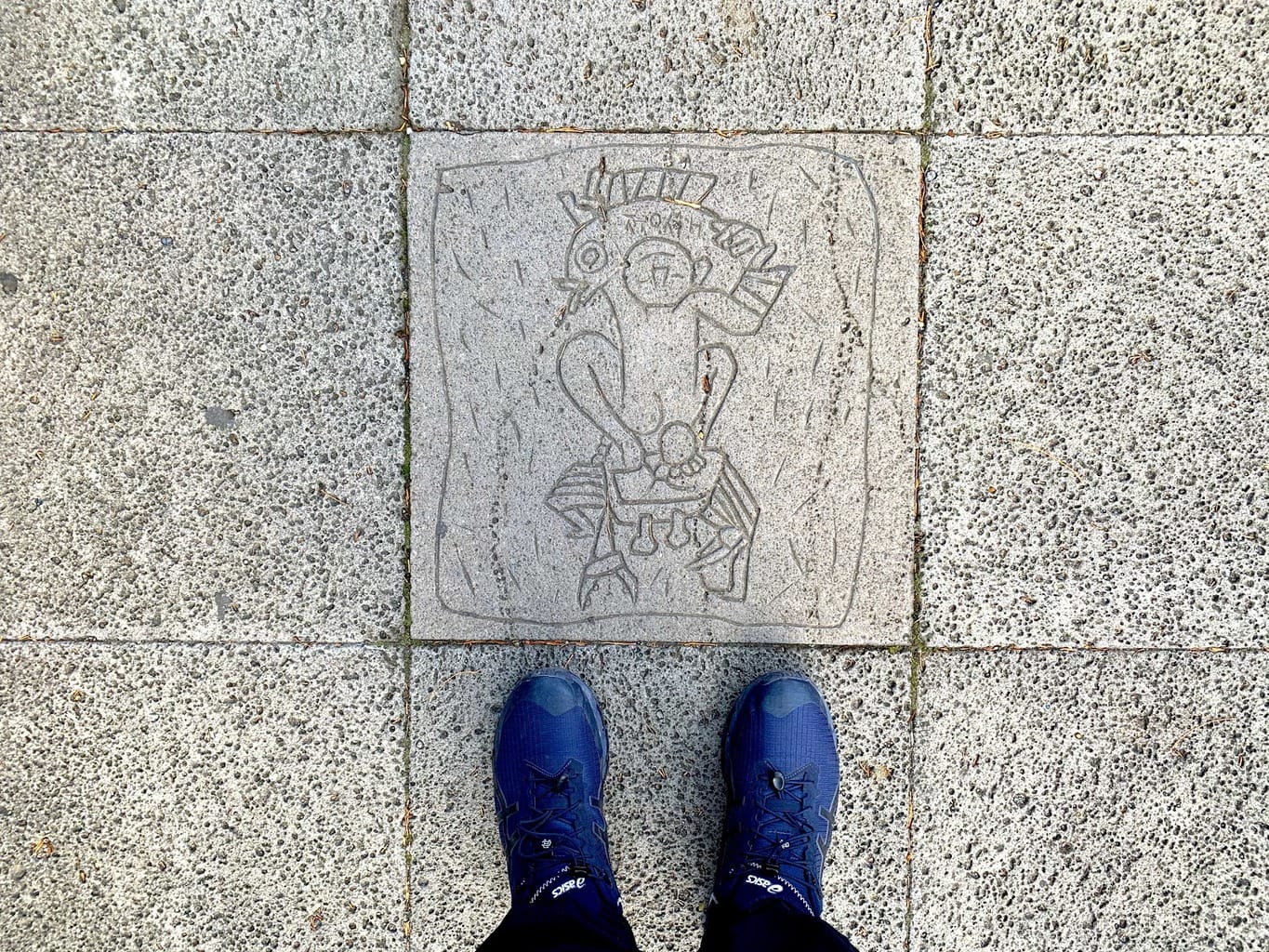 Lee Jung Seop Street in Seogwipo is dedicated to the famed Korean artist and has cutesy boutique art shops and museums.
You'll also want to try the best food that Jeju has to offer like the famed heuk dwaeji gui (black pork BBQ), jeonbokjuk (Abalone Porridge), Dombe Gogi (Boiled Pork Served on a Wooden Cutting Board), Kkwong Memil Kalguksu (Knife-Cut Buckwheat Noodle Soup with Pheasant), a range of fresh fish dishes and broths and of course, Osulloc tea.
Seafood is Jeju is attached to the rich history of the Haenyeo (female divers) who brave the ocean to catch sea critters with their bare hands and no oxygen tanks.
How to get to Jeju: If you only have one day to visit Jeju from Seoul, this is definitely possible as flights leave as early as 6am and return at 9:20pm. The flight is only 1hr long from Gimpo Airport, so it's actually quicker to get to Jeju by plane than some other day trips from Seoul like Suncheon in the south which is roughly 3 hours by KTX. There is a lot to do in Jeju though, so you will have to plan an itinerary before going and definitely hire a car for the day.
There are also plenty of day tours that will take you where you need to go without any planning that all have airport picking. They are no fuss, edifying, and relaxed guided journeys around the island:
Take a UNESCO walking day tour that includes a south route hike up Hallasan, a visit to Jusangjeolli cliff and Cheonjiyeon falls, exploring Seongsan Sunrise Peak, Manjanggul Cave and Woljeongri Beach. The tour includes entrance fees, lunch and pick up service. Book here.
Take the Eastern Jeju Discovery tour to explore the yellow canola flowers in full bloom (during spring), view modern and ancient culture at Korean Folk Village and Women Diver (Haenyeo) Show, discover Seongsan Ilchulbong and explore Manjang Cave. This tour includes Jeju Black Pork BBQ or a vegetarian lunch. Book here.
Or maybe you'd prefer a Western Island Exploration tour which will take you to the gardens of Hallim Park and Spirited Garden. You will go on a Sanbang Cruise through the Dragon Head Coast, Mt. Sanbang and Mt. Songak. This tour includes a Korean buffet lunch. Book here.
Gyeonggi Province
Gyeonggi translates to "the area surrounding the capital", so you can guess that Gyeonggi is the province that surrounds Seoul. It is absolutely massive and by far the largest province in the country, so naturally it holds some of the best day trips from Seoul.
Venture up north to the DMZ (border of North Korea), visit the UNESCO capital of Gyeonggi in Suwon, wander through gorgeous Gapyeong or take a hike around the UNESCO fortress of Namhansanseong.
Gyeonggi is also easily accessible as the Seoul subway line runs into and around many different cities in Gyeonggi, buses venture even further and you can even take the speedy driverless Shinbundang subway line all the way from Gangnam to certain areas of Suwon in about 40mins. Many Koreans actually live in Gyeonggi and travel to Seoul for work every day.
Below are some of the most prominent places in Gyeonggi to visit for a great day trip from Seoul.
DMZ tour
If you're wanting to dive into the recent history of South Korea, you will definitely want to plan a guided trip to the Demilitarized Zone (DMZ) in Paju intersecting the 38th parallel north which borders North Korea.
An interesting fact about South Korea is that they never really ended the war with North Korea, but rather signed the Korean Armistice Agreement in 1953. So on paper they are still fighting. This is why there is such a heavy Korean-US military presence on the border of the country.
The DMZ is a total of 250km (160 miles) long, around 4 km (2.5 miles) wide, but not all of it is visitable. There is a meeting point between the two nations in the small Joint Security Area (JSA) and several places you can drive you to if you wish to learn more about the Korean War and pay homage to those that fell during the height of the conflict.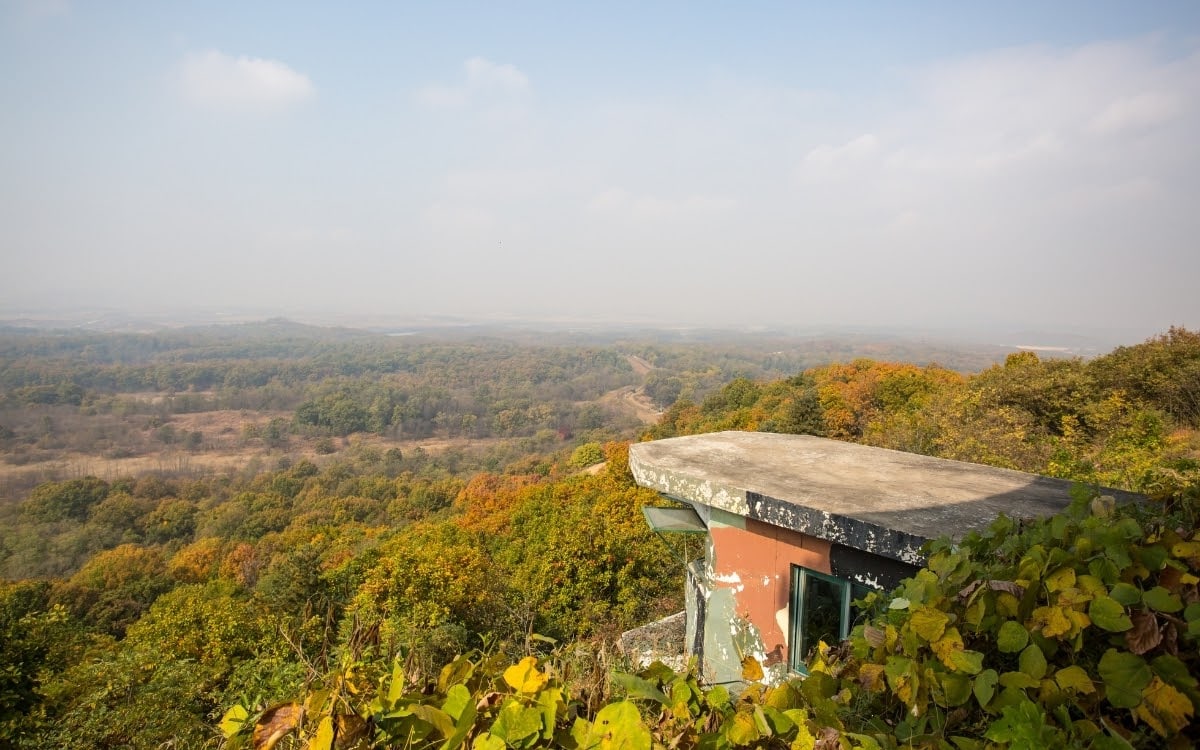 How to get from Seoul to the DMZ: While you can visit independently if you have your own transportation, it is highly recommended that you take a guided tour. The area is highly protected and guarded, so you don't want to be driving around fearing for your life. There have even been tourist casualties, for example, when a South Korean woman wandered into a military area without knowing in 2008.
Going on a guided tour is extremely safe though as your guide will know exactly where to go. The tour includes Seoul pick up, information about the Korean War and the Cold War, visits to Imjingak Park, the Freedom Bridge, the Third Infiltration Tunnel, and the DMZ Exhibition Hall. You can book a highly rated tour of the DMZ online here.
Namhansanseong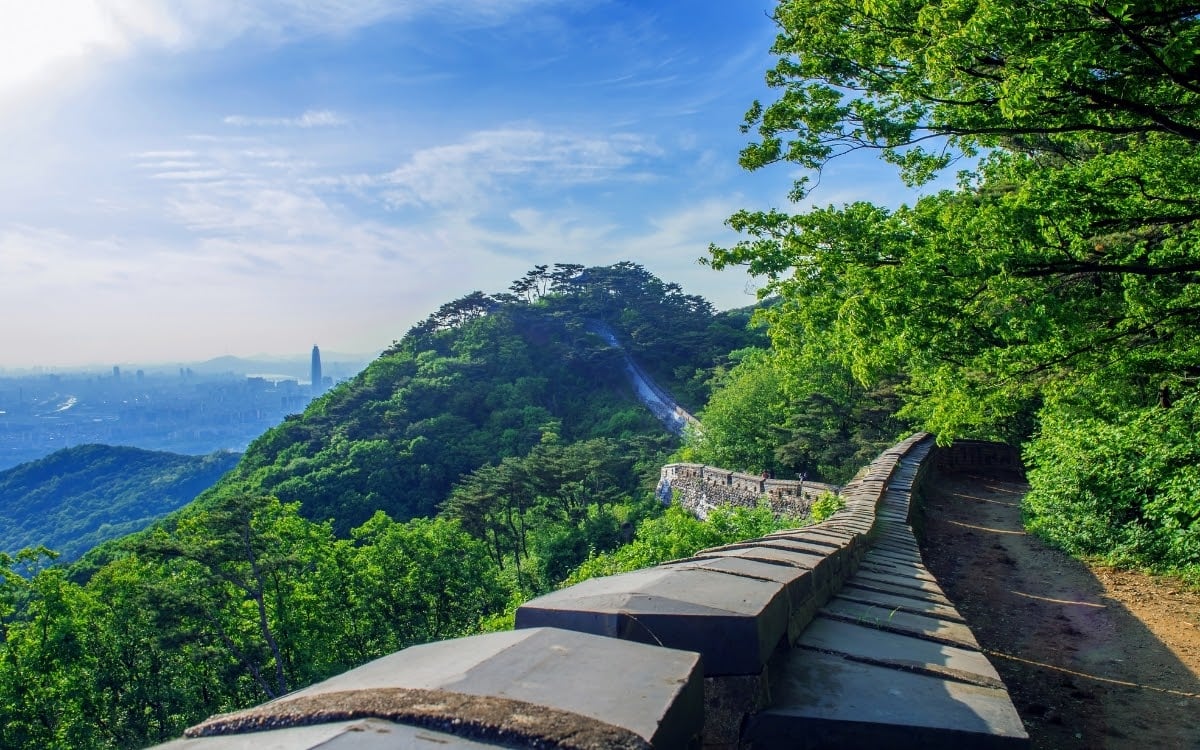 Namhansanseong is a UNESCO-listed world heritage site in Gyeonggi Province that encompasses three cities of Seongnam, Hanam and Gwangju.
This is an historical fortress that was mainly built during the Joseon Dynasty in the 16th to 18th centuries and has several gates, a very well-preserved fortress wall, several Buddhist temples, an entire town filled with restaurants and cafes and absolutely breathtaking views.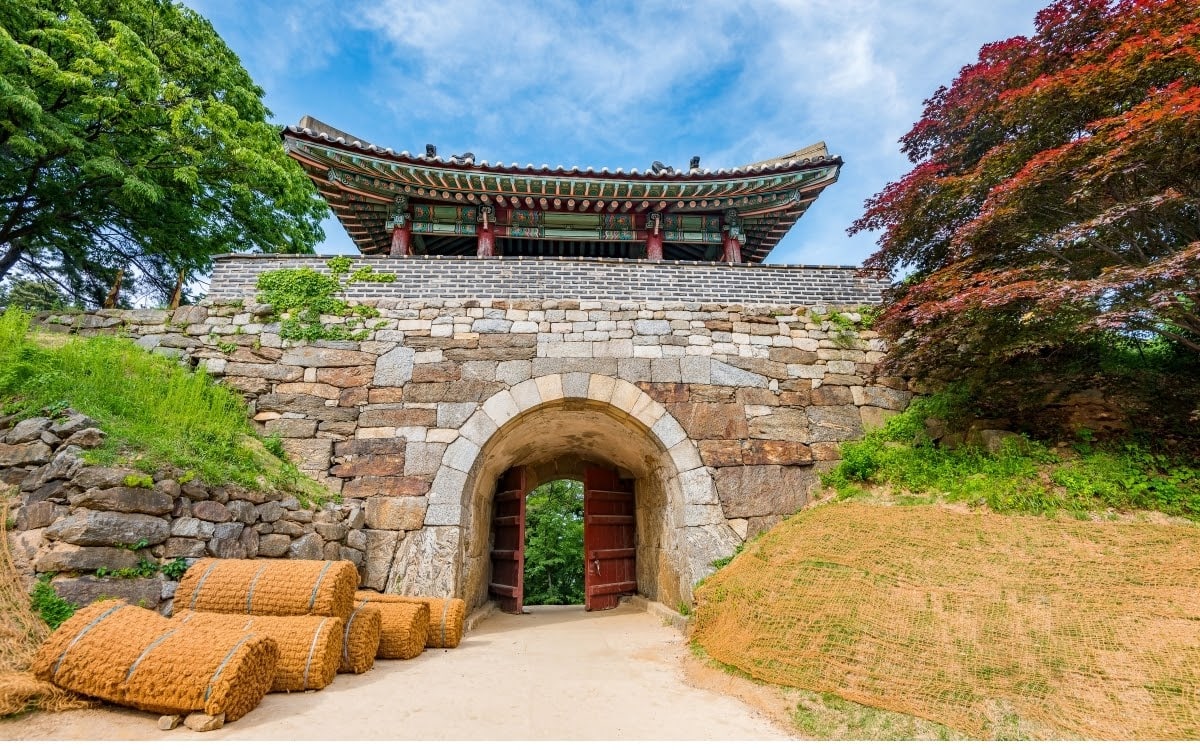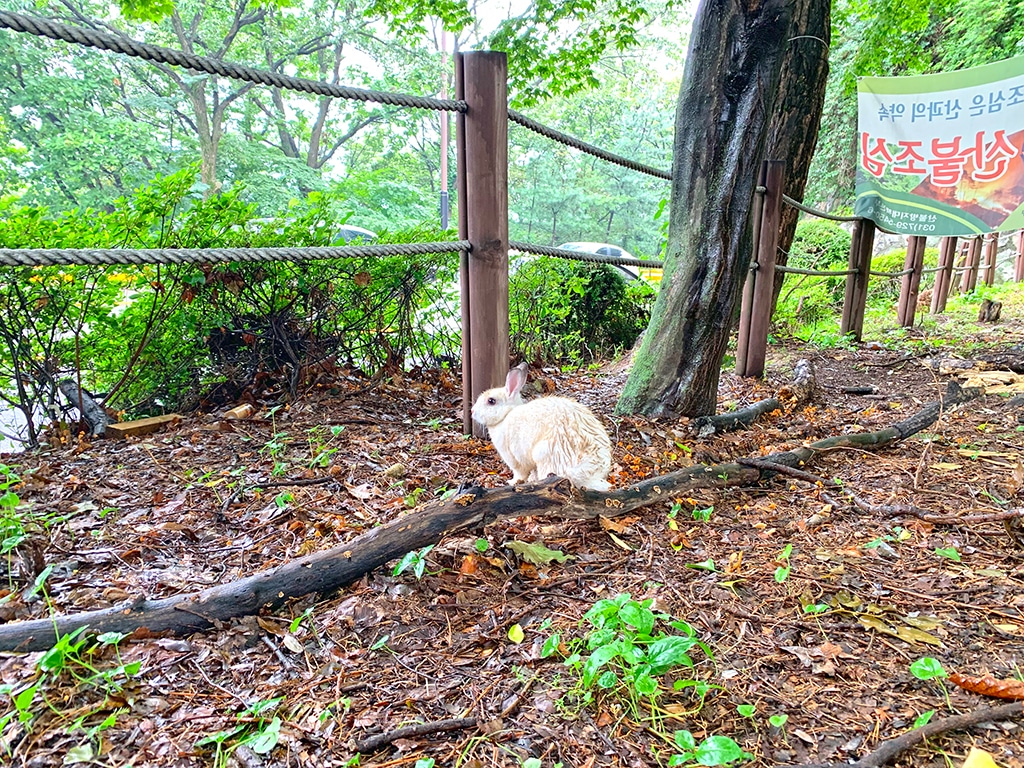 If you're an avid hiker or just someone that loves the outdoors and you don't want to scale Bukhansan, this is an amazing option. There are several paths throughout the 12.4km trail, that range from 2.9km (1 hour) to 5.7km (2 hours).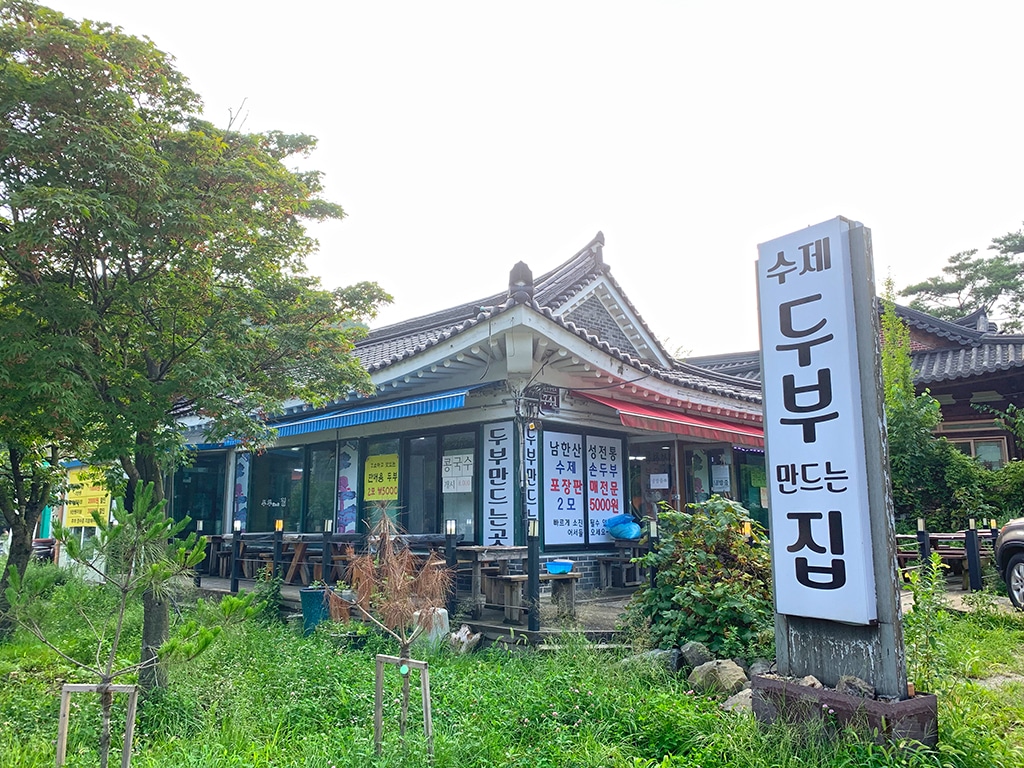 Right in the center is the quaint Namhansanseong Village where you can try some acorn jelly (도토리묵 – Dotorimuk), handmade tofu or soft tofu stew (순두부 찌개, sundubu-jjigae) and a bottle of makgeolli. There are also several cafes and cultural sites to explore. This is a great outdoor space to visit with the kids (if you hire a car) and it is quite romantic for couples.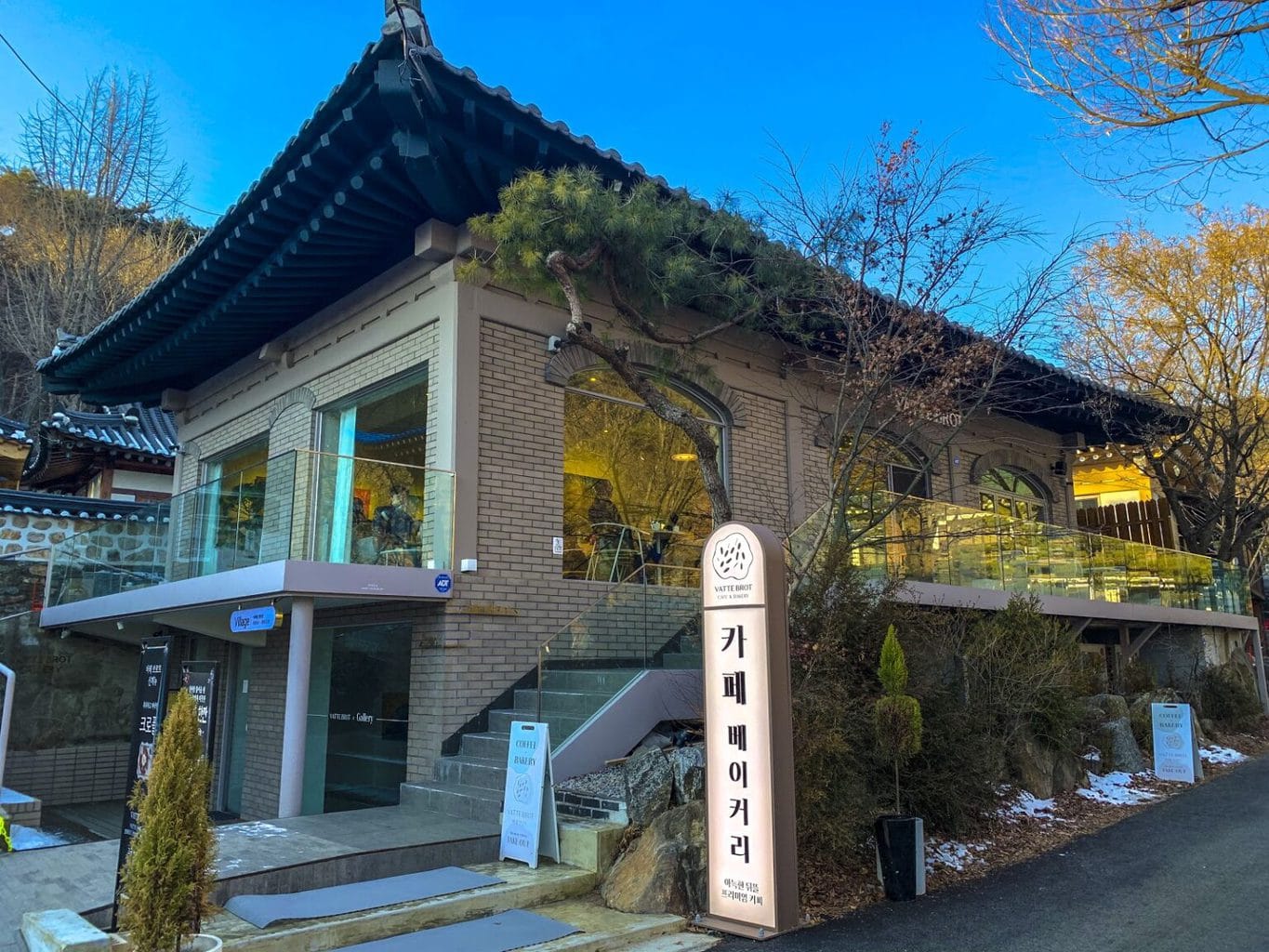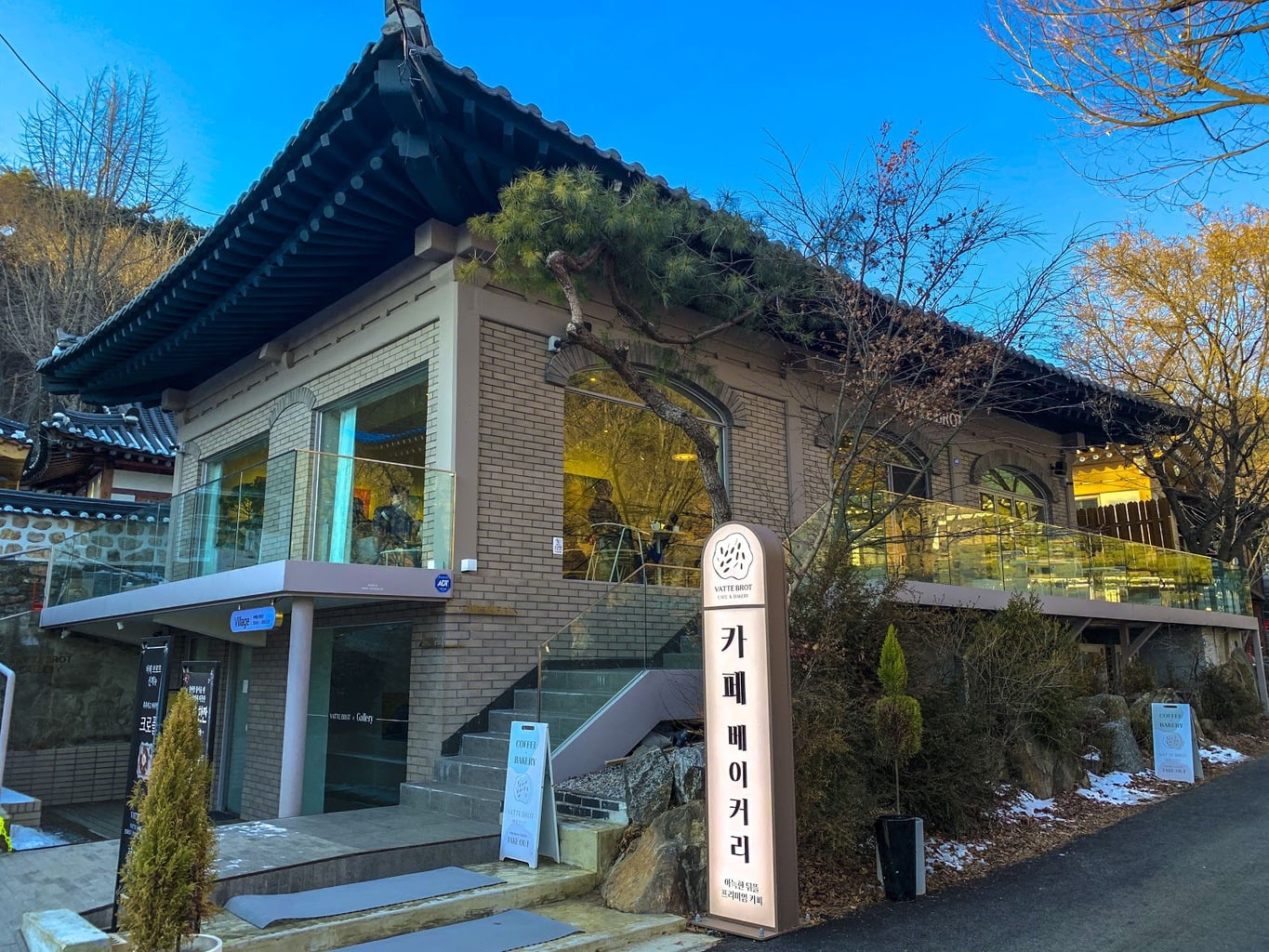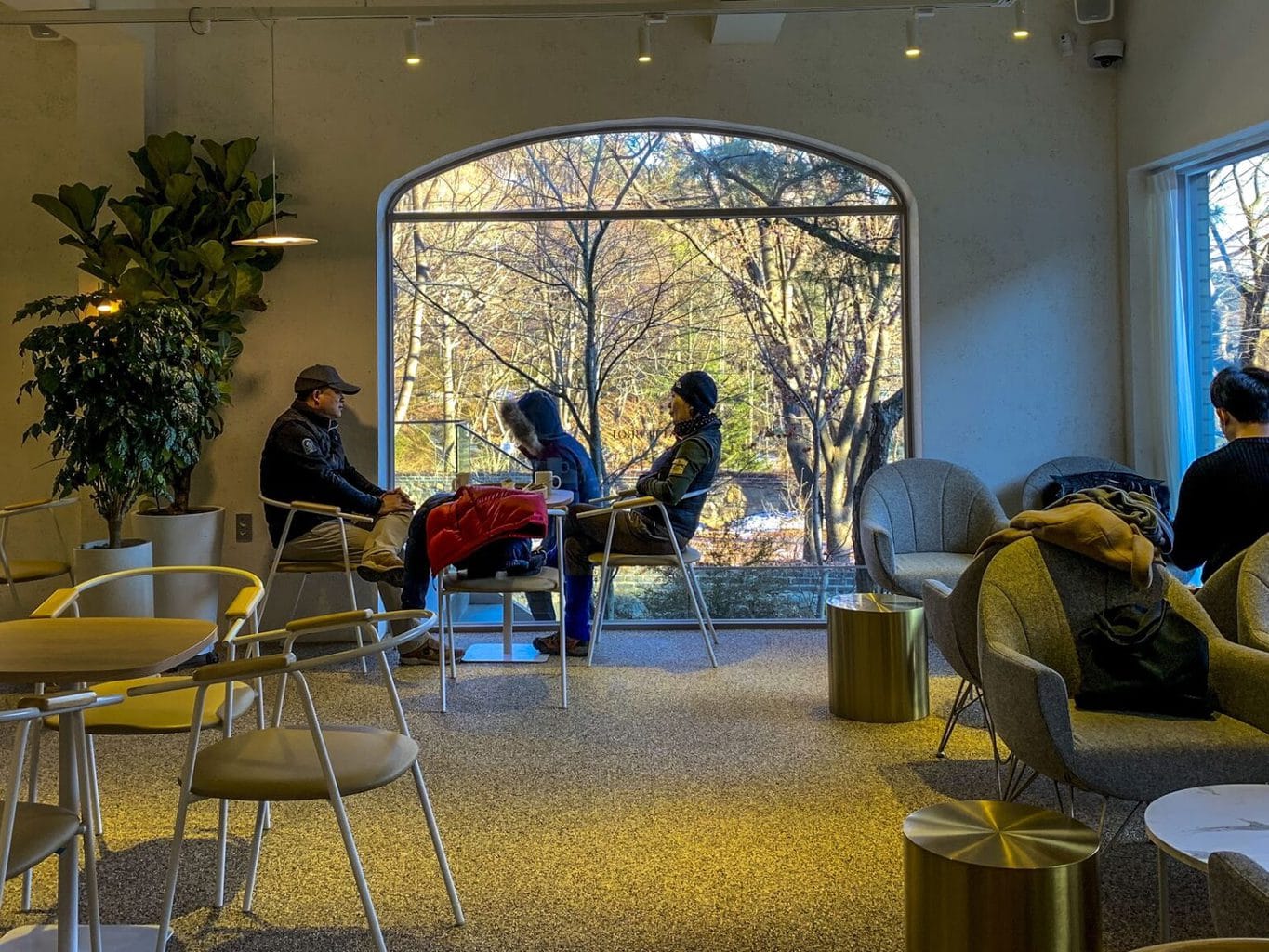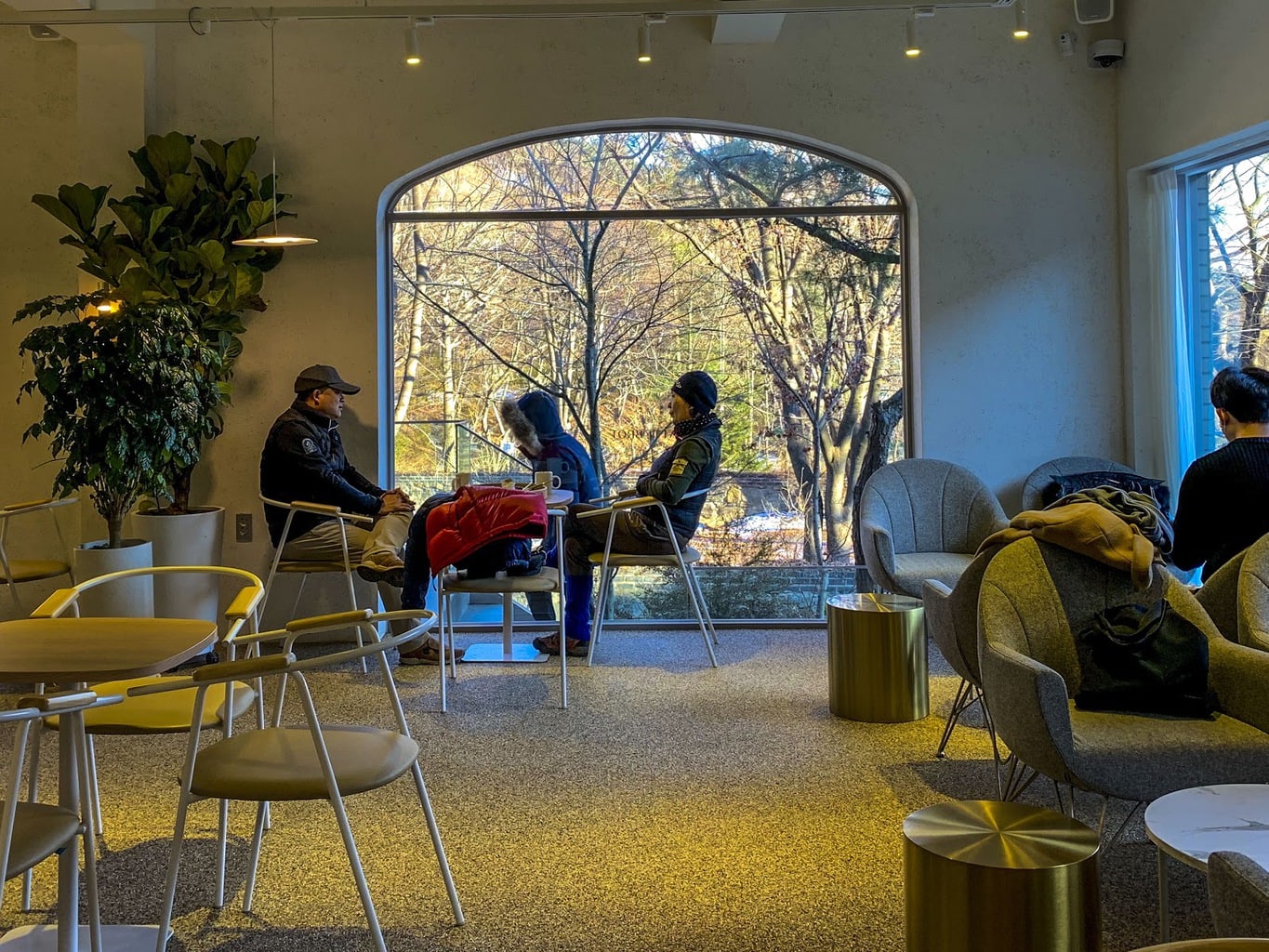 There are paper maps available at the information center in Namhansanseong village or click here for maps online.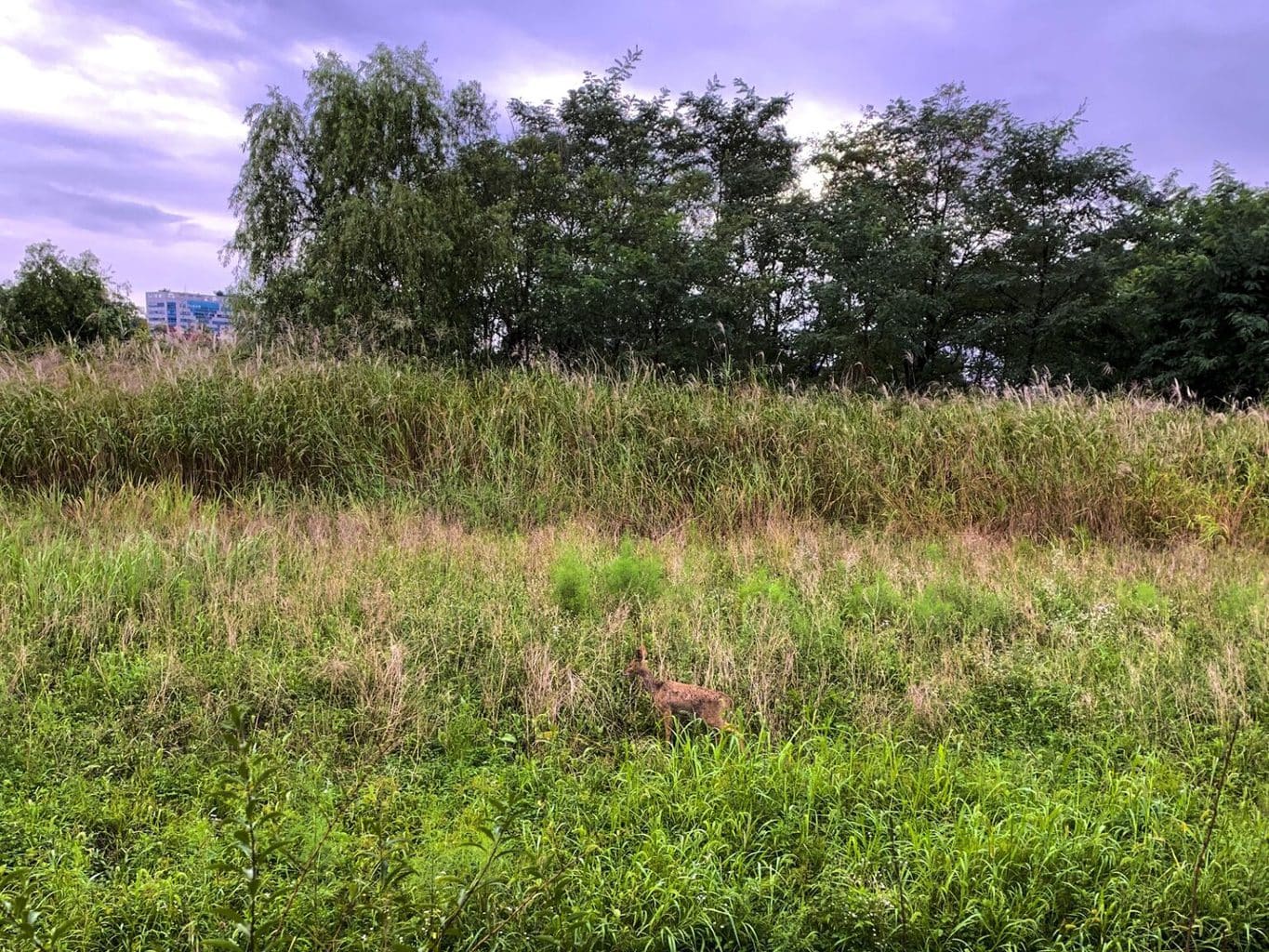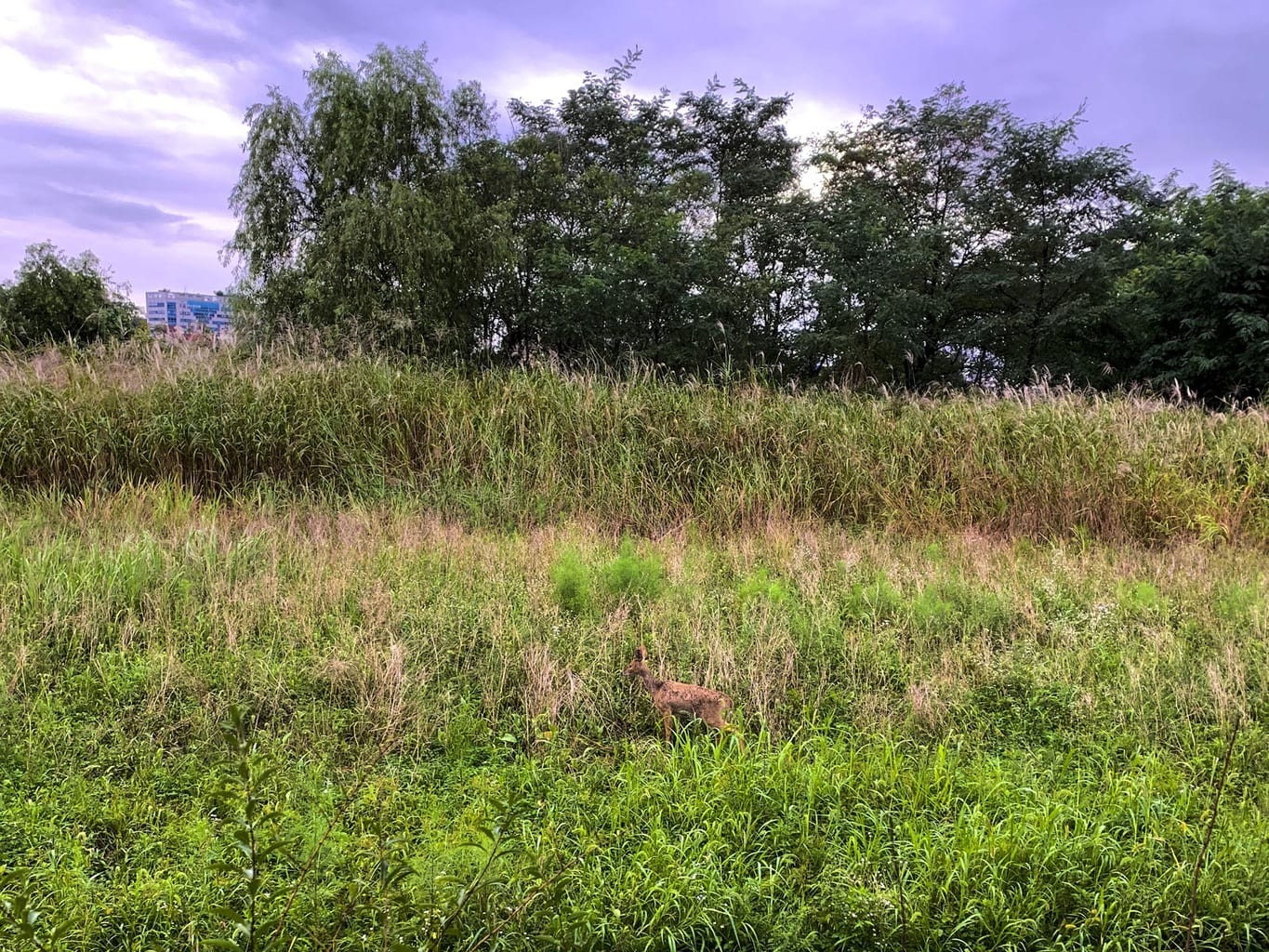 To make your day trip complete you could also pop over to Hanam City and explore areas like Paldang Dam, the massive Starfield Hanam Mall which is right in front of a beautiful walking path over a marsh along the Han River called Paldang Palhwasupyeon Kongwon (팔당팔화수변공원).
This is not your average tourist destination, but a really nice and refreshing stop and goes well with a visit to Namhansanseong. There are also several mountains you can explore in Hanam such as Geomdansan if you have more energy.
How to get from Seoul to Namhansanseong: The easiest way to get there (apart from a taxi) is from Sanseong Station (line 8, exit 2 – NOT Samseong Station on the green line). Walk straight 100m from exit 2 to the bus stop and take bus 9 for around 20 mins or the 9-1/52 for about 10 mins (although these are less frequent).
This will take you to Namhansanseong Village which has access to the majority of the trails. Note that if you are hiring a car, traffic is atrocious on weekends and public holidays as there is one path leading to the village and parking is insane. It's therefore best to go during the week or super early in the morning on weekends.
Suwon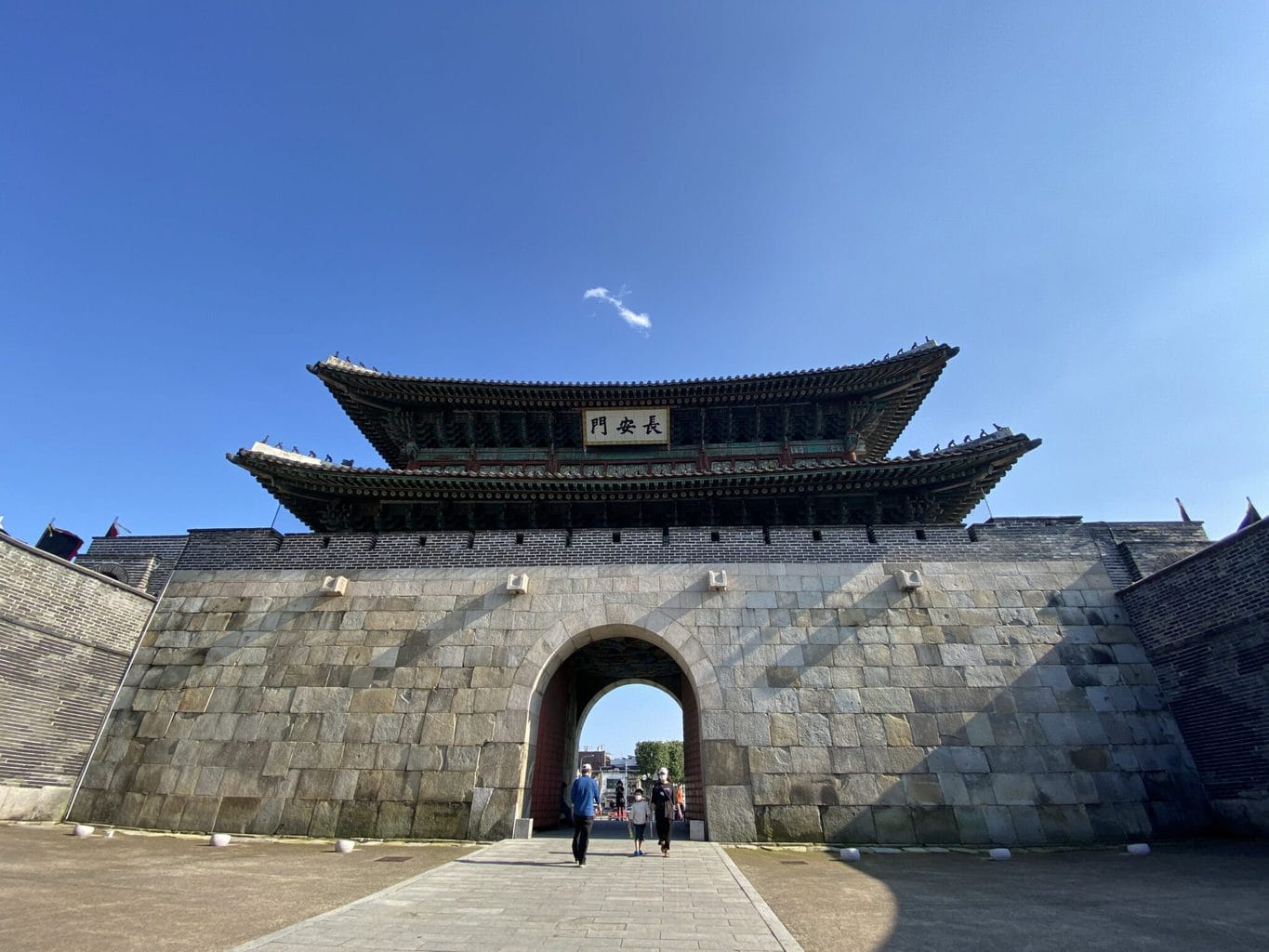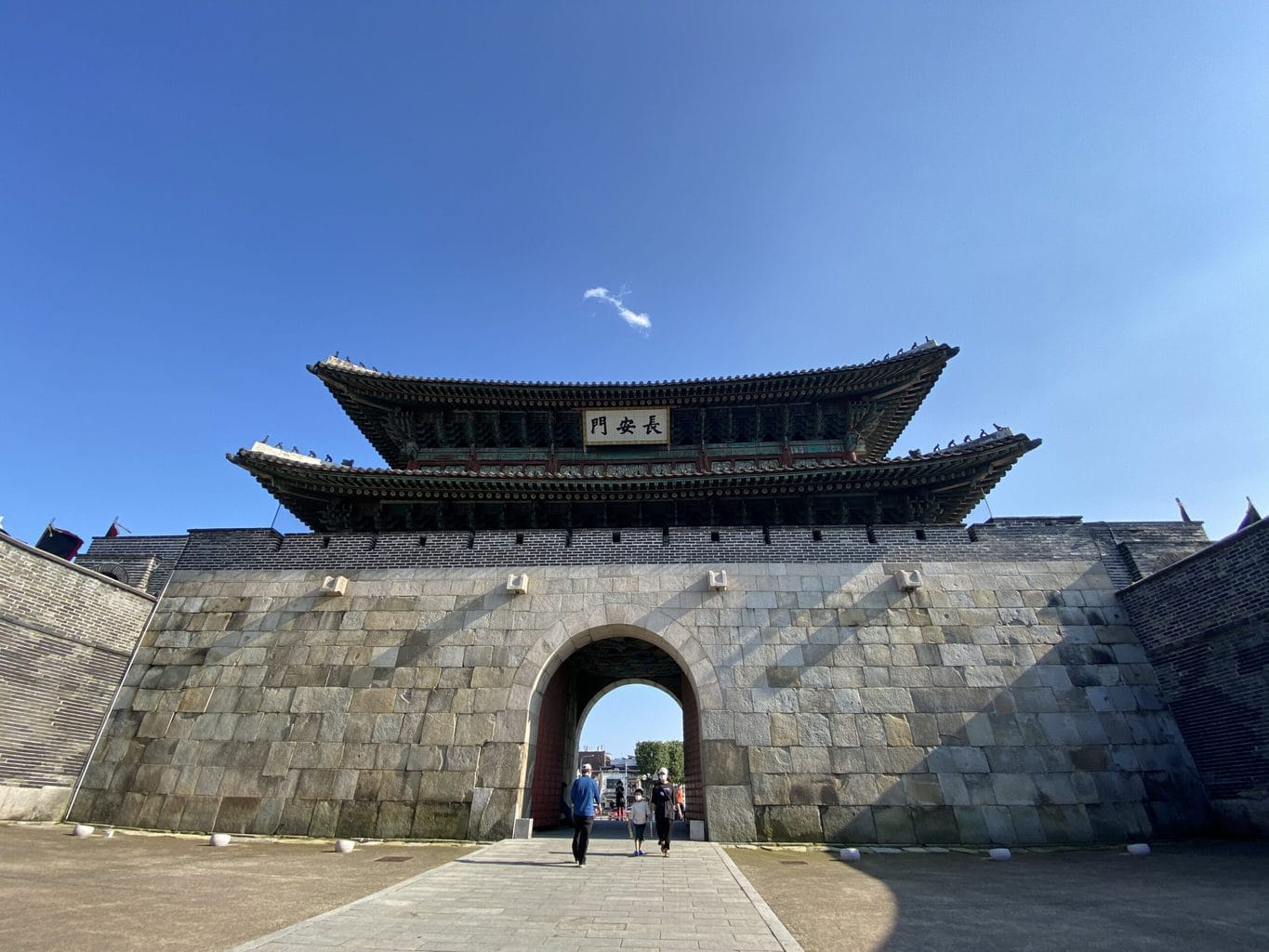 Suwon is another one of the top day trips from Seoul due to its accessibility and amazing cultural heritage sites. It's the capital of Gyeonggi Province as well as a UNESCO-verified city.
Most visitors come to Suwon to see the late-18th-century Hwaseong Fortress, the towering Paldalmun gate marking the entrance to Old Suwon, and Hwaseong Haenggung Palace (화성행궁) where the nobility of Korea used to holiday.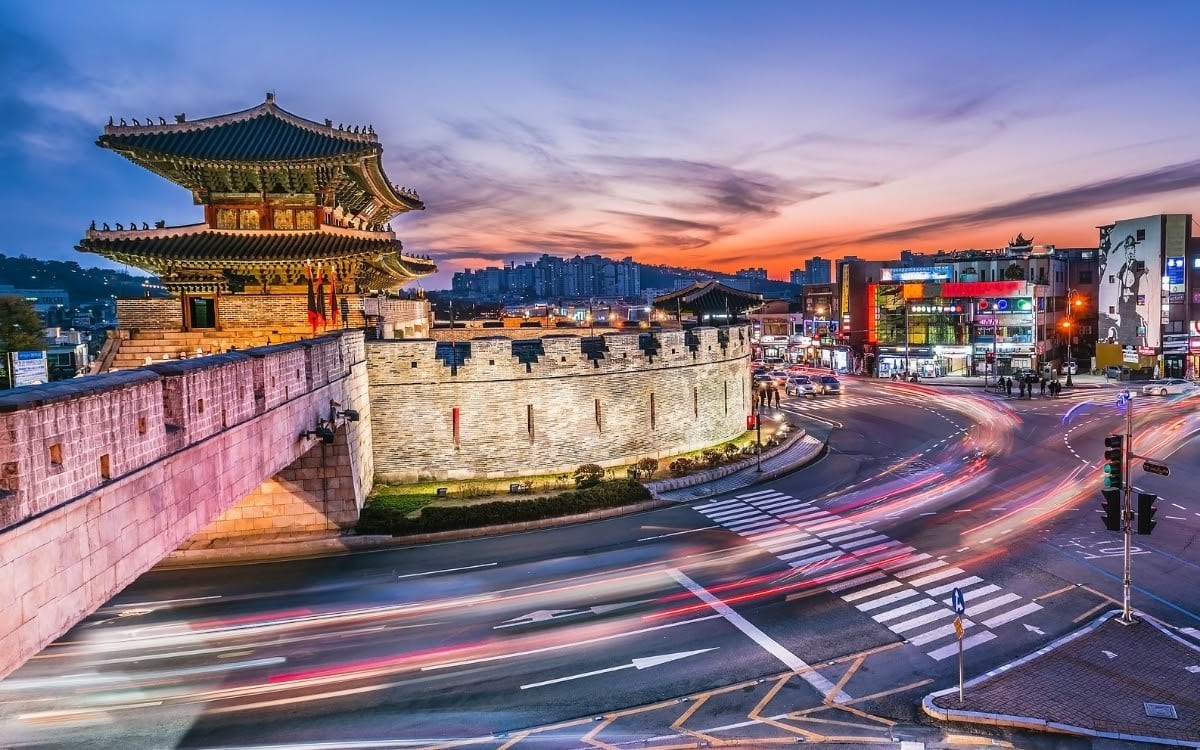 Apart from the cultural sites and festivities, Suwon has become a hip jaunt for foodies and coffee lovers. Instagrammable cafes are spread throughout the city and are housed in unique buildings.
You can try Jung Jiyoung Coffee Roasters near Paldalmun gate, No Smoke Without Fire, Sogon Sogon or 91 Coffee (4 locations). There's even a dedicated road for hip eateries called Haengnidan-gil (행리단길) near Suwon Fried Chicken Street. There are several large malls by Suwon Station too and a restaurant street nearby.
Stroll around the popular city by yourself, or take a guided UNESCO tour of Suwon to learn more about the history of the city where you will visit Hwaseong Fortress and the Korean Folk Village among other places. Book the tour online here.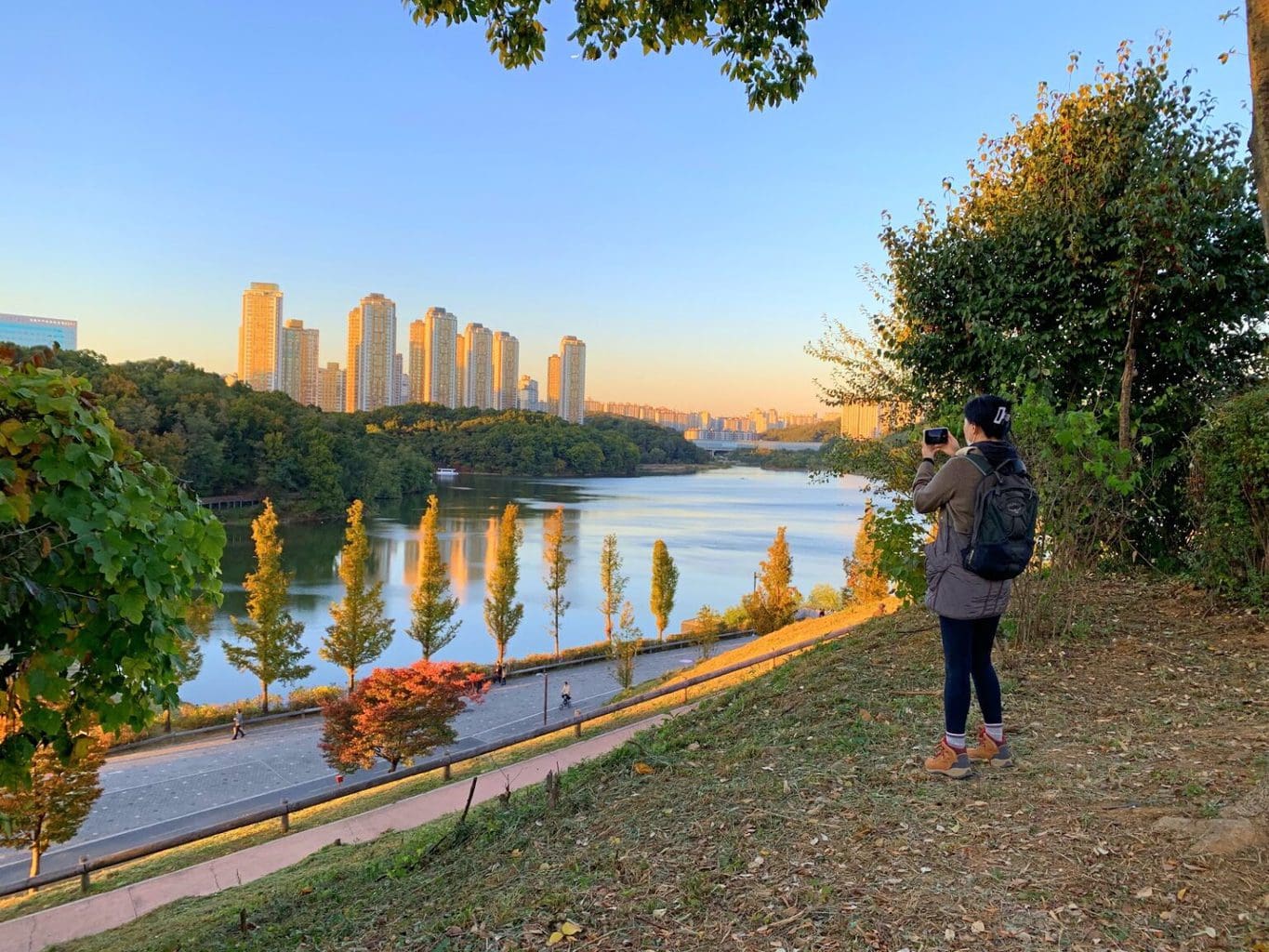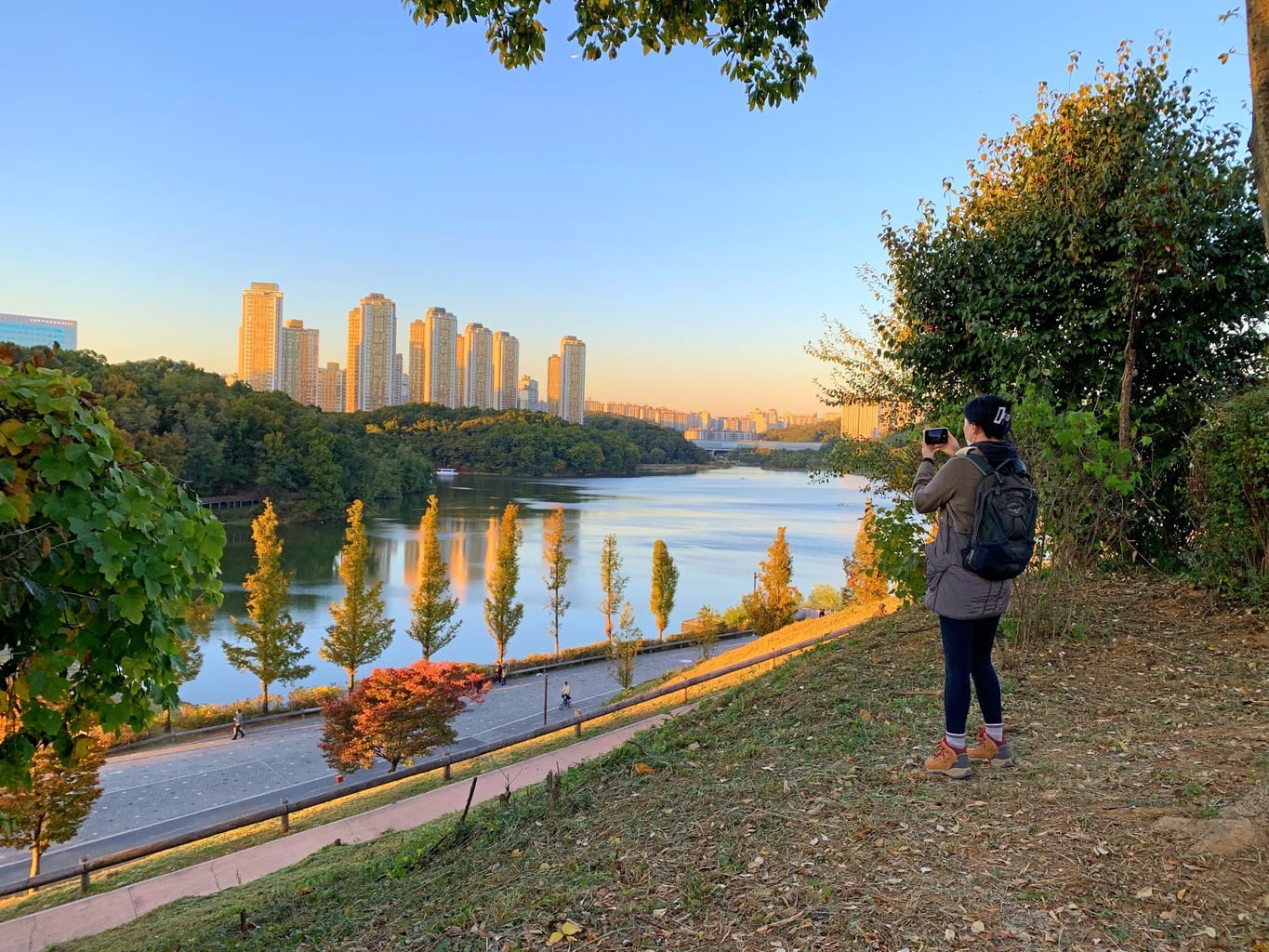 Many visitors only consider the cultural area of Suwon for a day visit from Seoul, but there is another part of Suwon that is up and coming and more of a fun family affair than a cultural outing.
Gwanggyo is a "new town" within Suwon that boasts fresh new apartment complexes, luxurious shopping malls and a giant lake surrounded by a green area with picnic spots, a unique library and a climbing wall.
New towns in Korea are residential areas that are built with a vision of sustainability that are well connected to the capital, have beautiful green spaces and are very high-tech. Other examples are Pangyo in Seongnam and Dongtan in Hwasung. It might be in your interest to explore the newer vision of South Korea after understanding its past and Suwon is the best place of both worlds.
So what can you expect from a new town?
Walkable and rideable paths surrounded by flora, an abundance of free public facilities, cleanliness and safety, amenities for kids to play around, shopping malls, easy access, hip cafes, glorious eateries and a general sense of comfort and luxury living.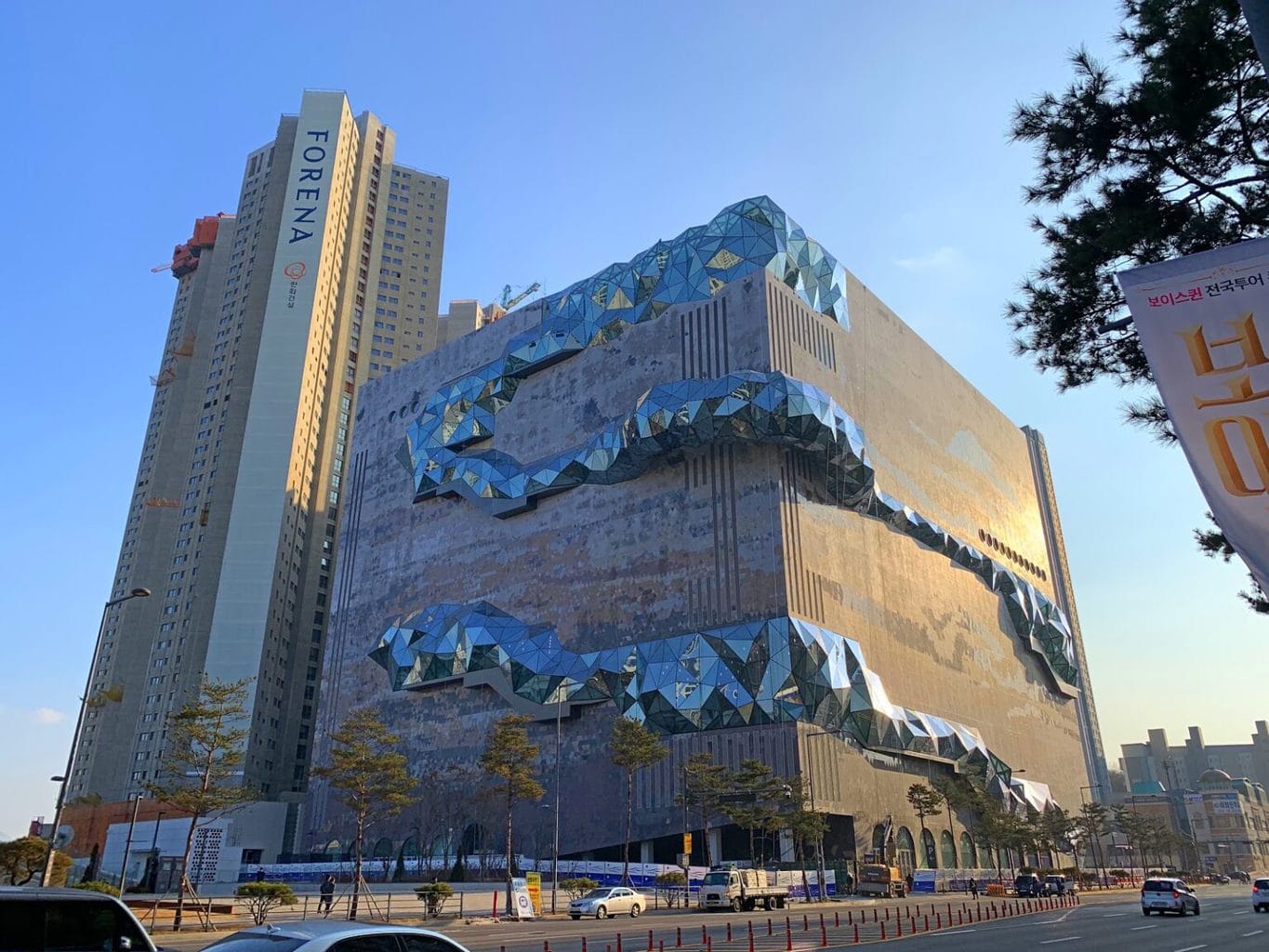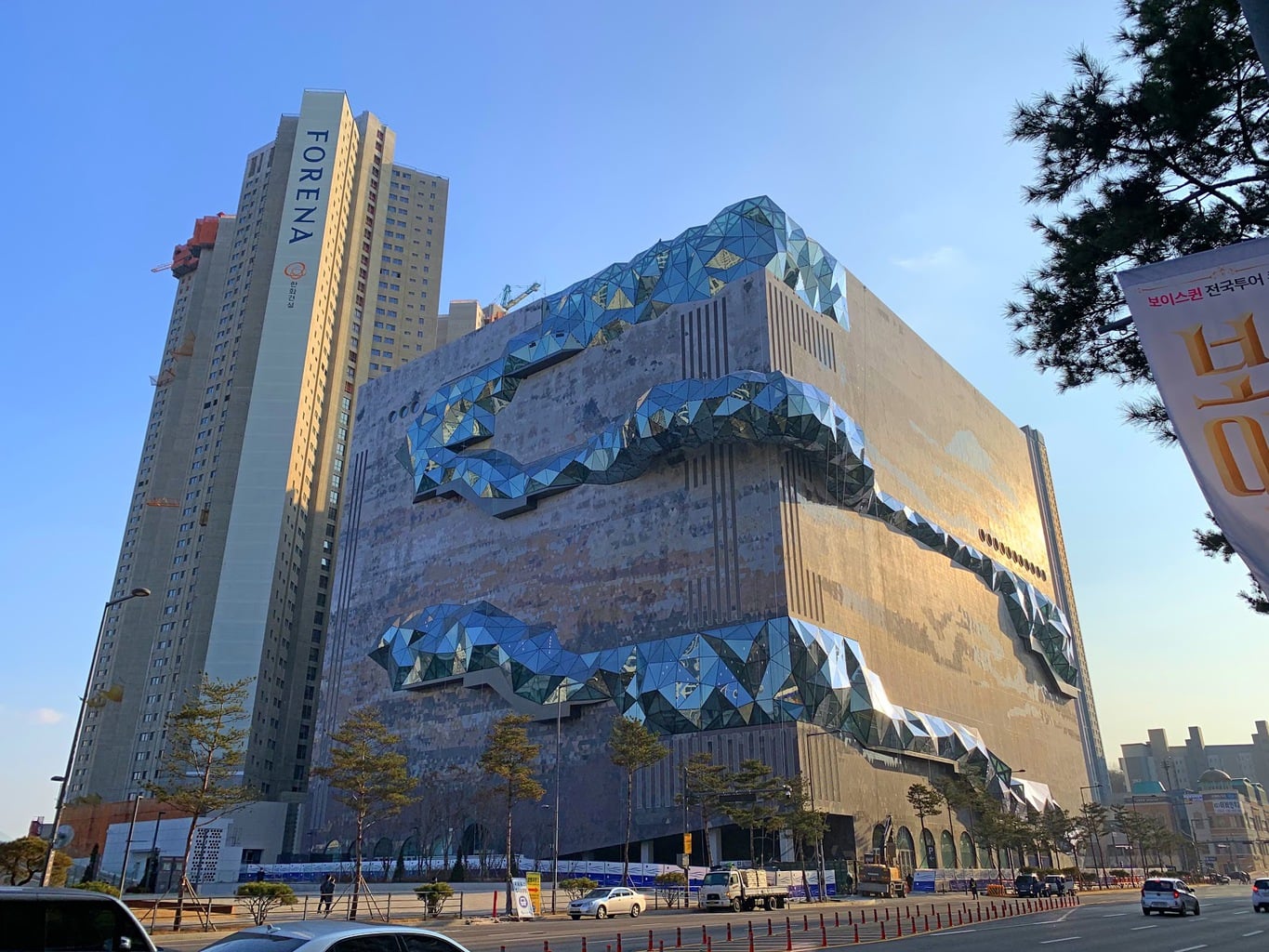 Gwanggyo has an amazingly unique building that houses the Galleria Shopping Mall which looks like an alien cocoon and has a glass floor that you can walk on. There are two more malls directly across the road (Lotte Outlet and L'Fort Mall) and another one in the opposite direction of Gwanggyo Station (Avenue France).
Walk in the direction of Avenue France (exit 3 of Gwanggyo Central Station), turn right after the mall and cross the river and you'll find a quaint cafe street. There are a multitude of cafes, bakeries and restaurants here and if you walk along the river you'll finally end up at the lake.
If you want to experience Suwon, old and new, spend half the day by the fortress and then half the day in Gwanggyo. If you're not sure which part of Suwon to spend your day trip from Seoul in, ask yourself if you prefer culture, history and more of an old feel (fortress) or you like easily-accessible well-manicured, pristine environments and convenience (Gwanggyo).
How to get from Seoul to cultural Suwon: Take the subway to Suwon Station on the dark blue line (line 1) which goes all the way from Seoul Station (about an hour away). It also has a KTX station, so you'll find a lot of foreigners and expats here. Pop into the green kiosk (info booth) directly outside Suwon Station to ask any questions.
How to get from Seoul to Gwangyo in Suwon: Go to Gwanggyo Central Station (광교중앙역 – Gwanggyo Jungang where Ajou University is – NOT Gwanggyo Station) and take exit 4. If you walk straight, you'll get to Lotte Department Store, Galleria and Suwon Convention Center. The best way to get to the park is to take the stairs down between Galleria and the Convention Center. 
Hwadam Botanic Garden or Konjiam Ski Resort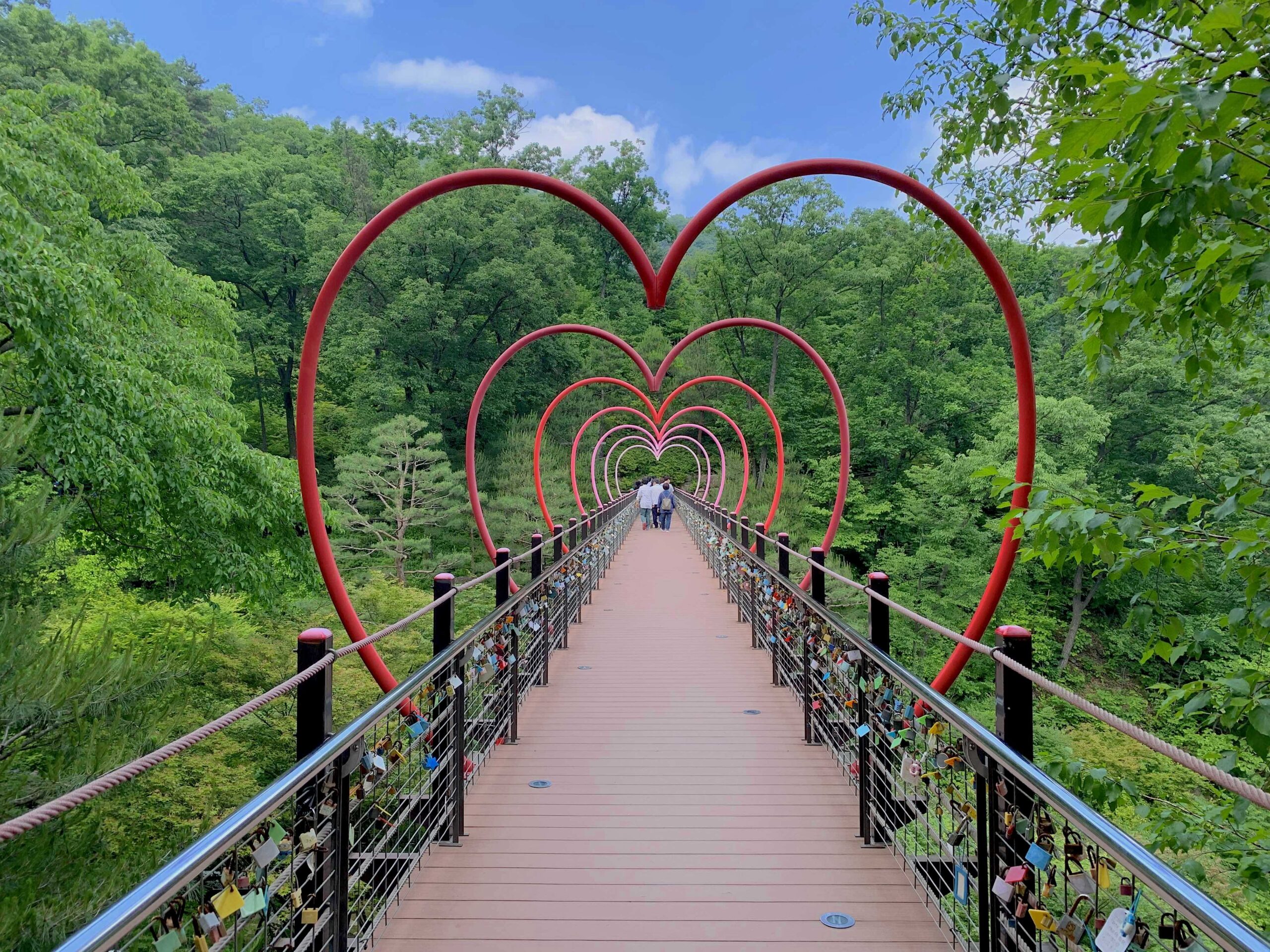 About 40 minutes from South Seoul in Gwangju city, Gyeonggi Province is the perfect getaway no matter whether it's scorching summer or freezing winter. The place is called Hwadam Botanic Garden (화담숲 – Hwadam Sup), a 165,000 sqm green space due to the efforts of former LG chairman Koo Bon-moo (grandchild of the founder of LG, Koo In-Hwoi) and still due to the efforts of the LG Evergreen Foundation.
The area is massive and great for the entire family as there is a walking path, hiking opportunities, an eco-friendly monorail, a Pine Garden (the largest in Korea at 13,800sqm with 1,300 pine trees), a 9,450 sqm moss garden with 30 types of moss, a firefly garden if you visit at night, a massive display or bonsai, summer tobogganing and so many animal sighting opportunities like koi fish, frogs, turtles, and birds.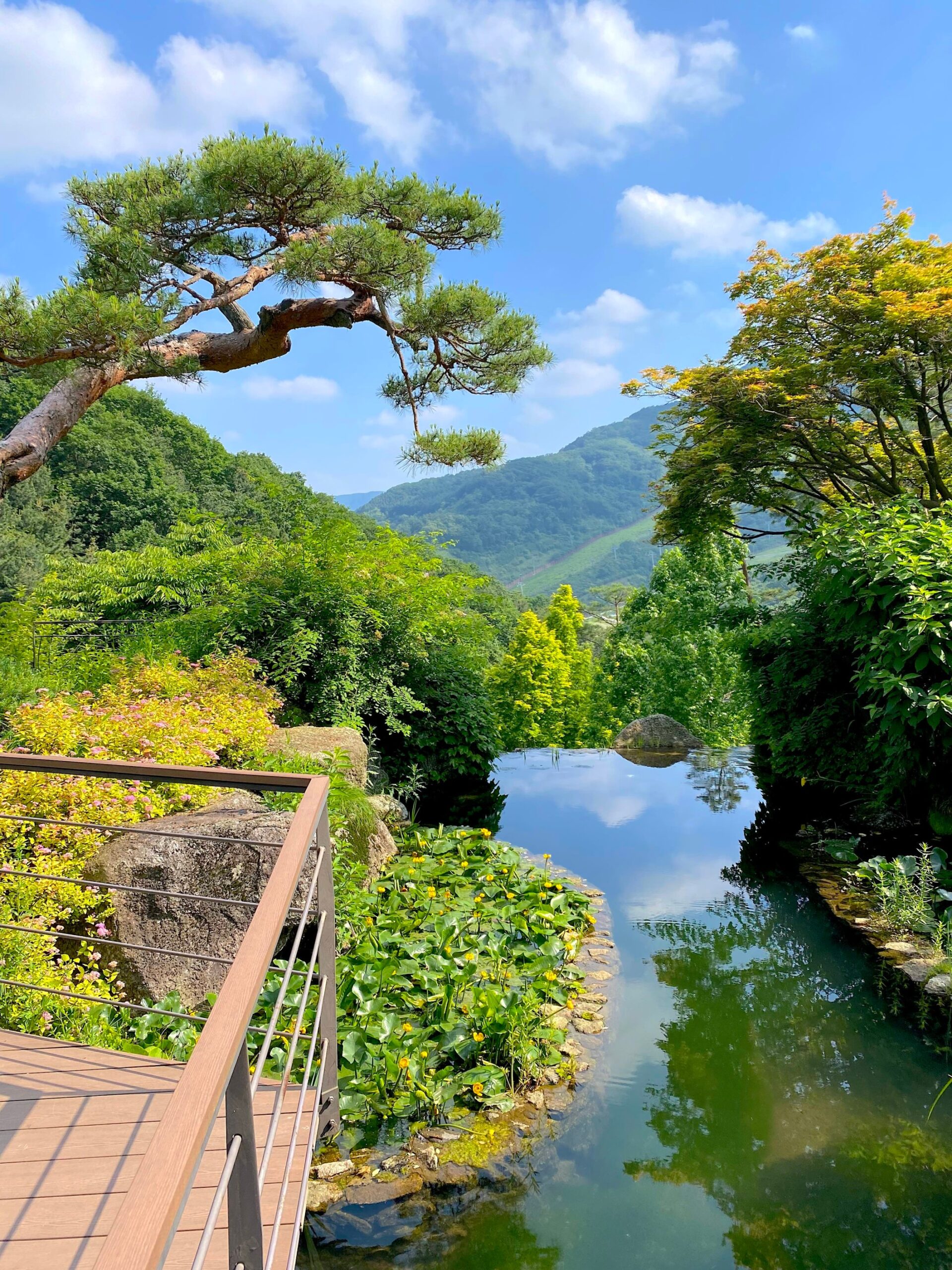 Opening hours in summer (March-October) on weekdays is from 9am-6pm and weekends & public holidays from 8:30am-6pm (last admission at 5pm). In winter (December-February) it's from 10am-6pm (last admission at 3pm).
It costs ₩10,000 for adults, ₩8,000 for teenagers and ₩6,000 for kids (free if under 2 years old). The monorail is an additional price. Your bags will be checked for things such as bubbles makers as they will not be allowed into the garden. You can keep whatever is not allowed at the information and pick it up later. There are also vending machines and bathrooms at various points in the garden.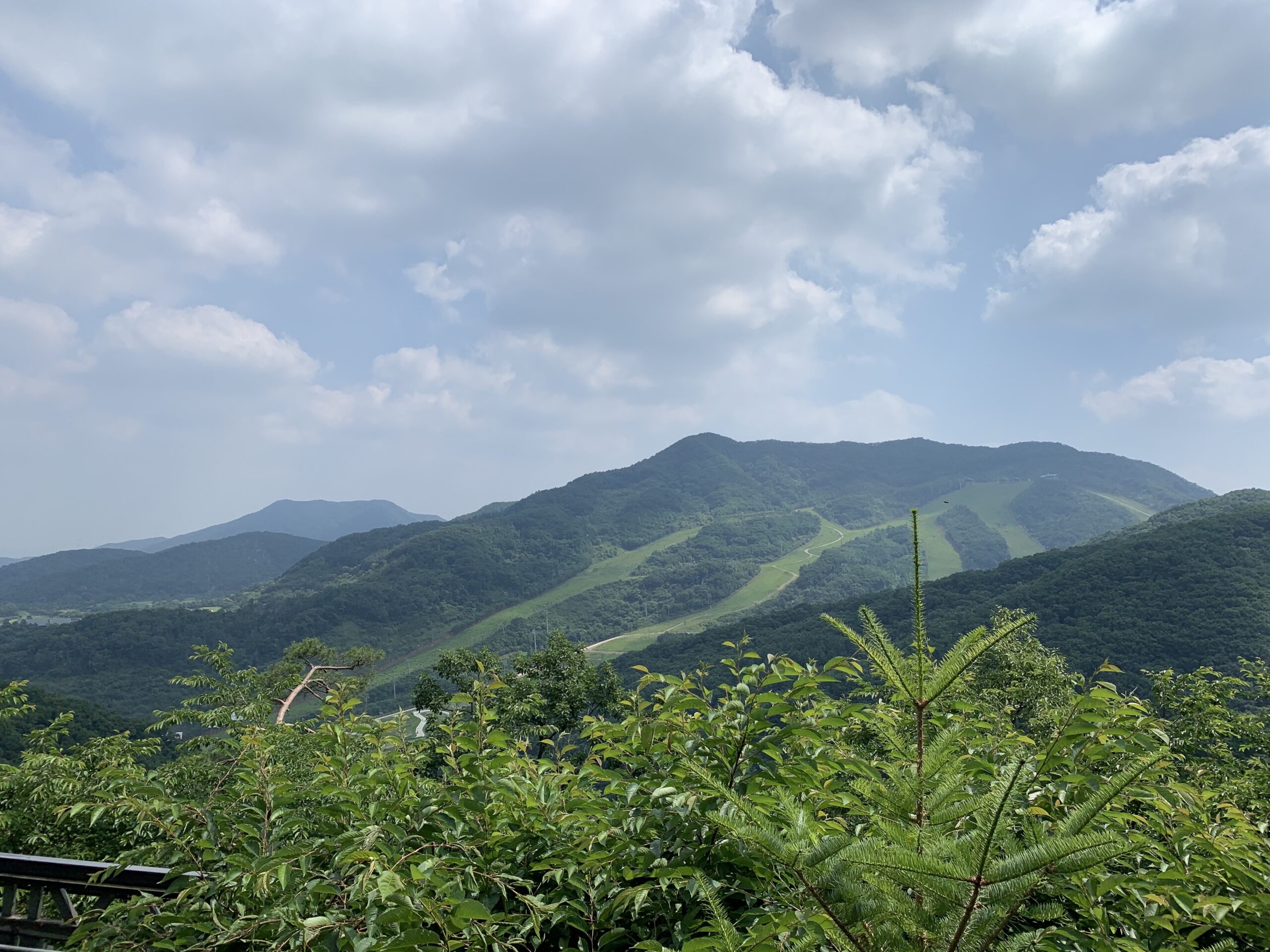 It's the preeminent spot to see the autumn foliage called Danpung (단풍) and right next to the garden is the Konjiam Ski Resort which is the closest place to ski from Seoul in the winter with 9 slopes of various different skill levels. There is also the Spa La Spa at Konjiam if your partner is a skier and you don't want to step foot on the slopes. Here's a map of the premises.
Skiing in Winter
If you're visiting Korea in the winter, you might want to try out some skiing or snowboarding. While the major ski resorts are all in Gangwon province, there are a few really nice options in Gyeonggi if you want something a bit closer.
The most popular ski resorts in Gyeonggi include Jisan Forest Ski Resort (지산 포레스트 리조트 스키장), Bears Town Ski Resort (베어스타운리조트 스키장) which are both under 2 hours from the capital by bus and possibly quicker if you hire a car (depending on traffic).
Slopes range from beginner to advanced, so you can take lessons even if you've never put on a ski before. We recommend staying the night if you can as the accommodation at some of the options is top tier and pure luxury. If you are more advanced, we would recommend waking up a bit earlier and traveling over to Pyeongchang (see our section below in Gangwon Province for more information).
Gangwon Province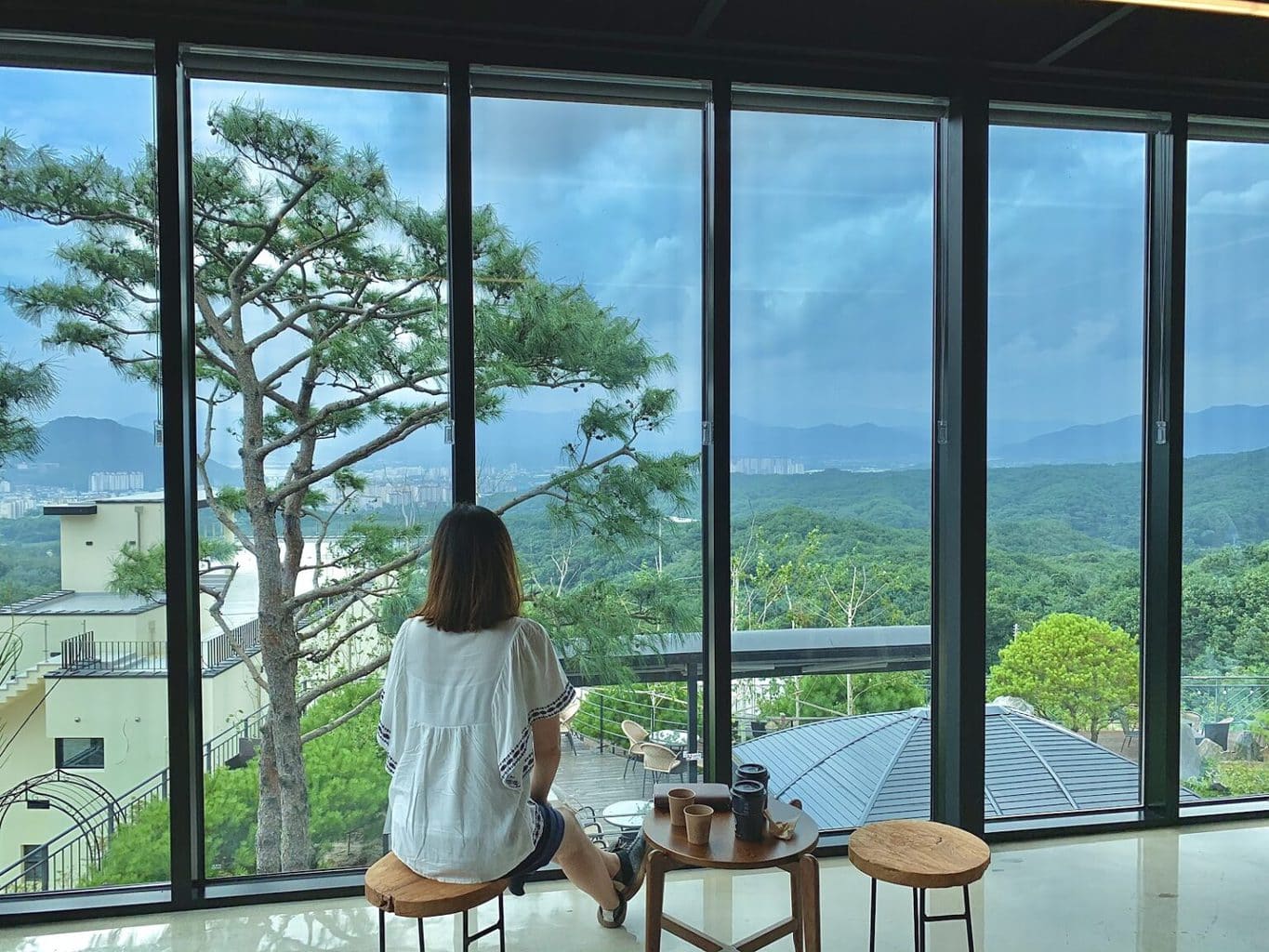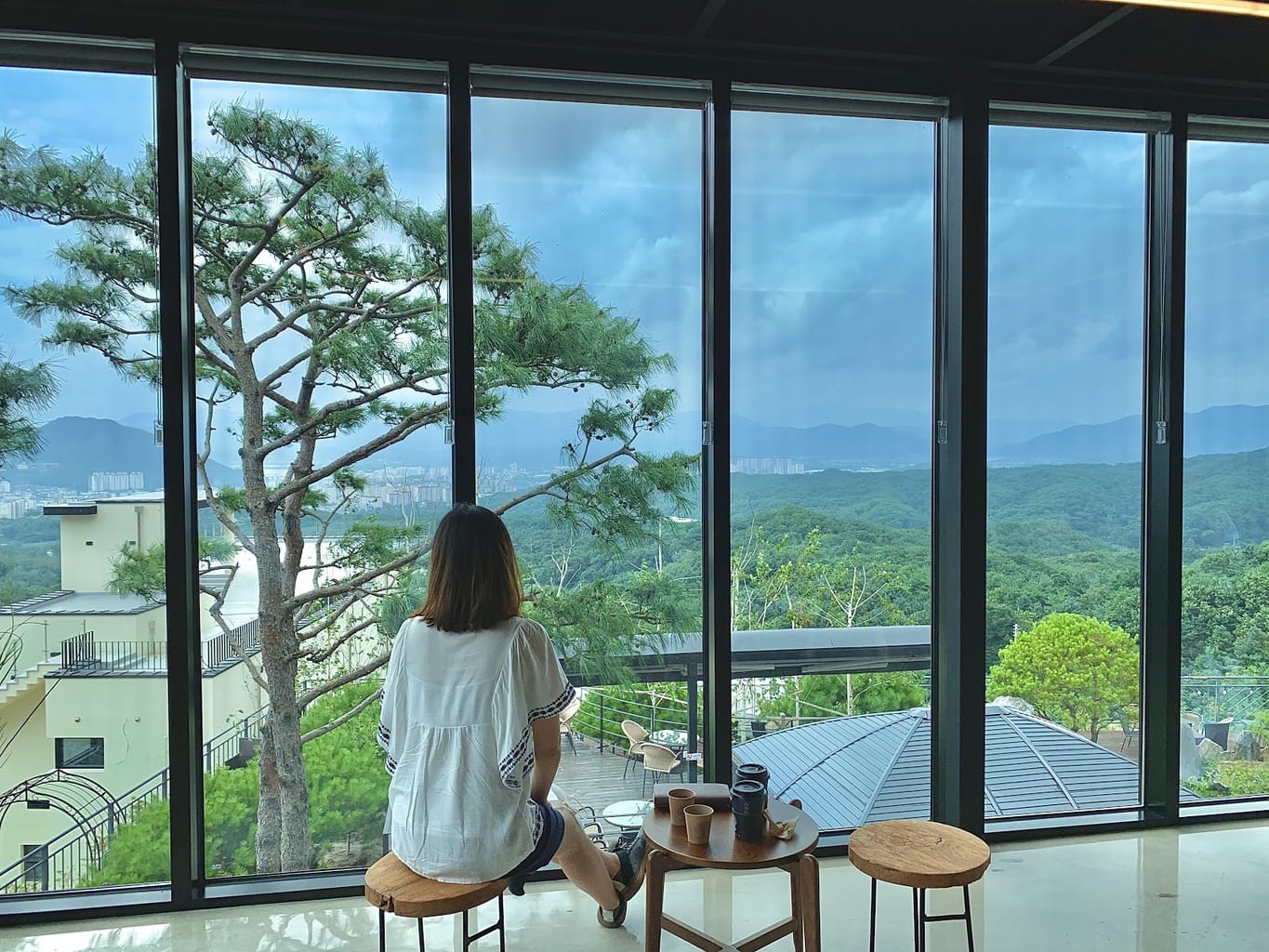 Gangwon Province is for those who love nature and a bit of a rustic feel, but still need a little kick of tourism and hipsterism. There are stunning locations all around the province to the east of Gyeonggi and most destinations are pretty easy to reach for some amazing day trips from Seoul.
Follow the Han River as it breaks off into the north to become the Bukhan River where loads of Summer leisure and sports activities are held. Visit some of South Korea's most famous ski resorts in the Winter and see where the 2018 Winter Olympics were held. Or venture off all the way to the coastline to catch some waves at Yang Yang or explore coffee-centric beach location Gangneung.
Gangwon is one of my personal favorite areas in Korea as I'm a surfer, nature enthusiast and coffee lover, so I would always suggest exploring the area at least once on your visit if you have the time. Here's where to go in Gangwon Province on a nature-fueled day trip from Seoul.
Chuncheon/Gapyeong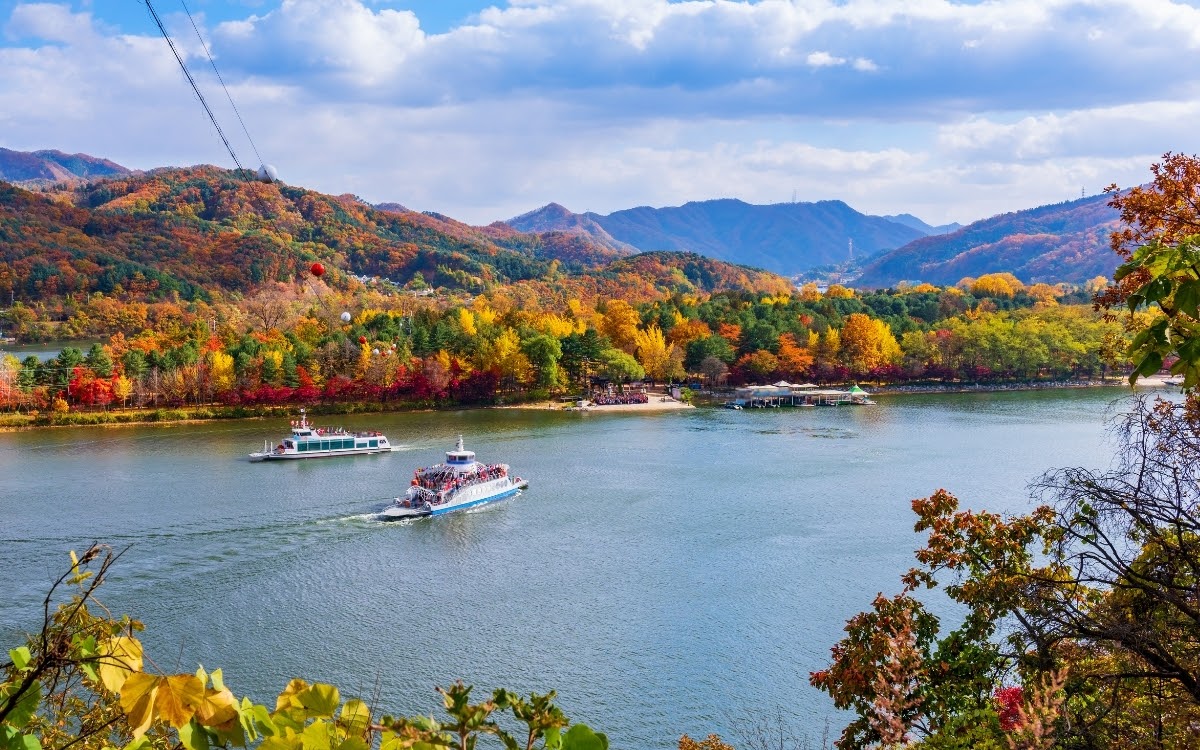 One of the most beloved tourist destinations near Seoul lies in the capital of Gangwon Province, and is called Nami Island.
Nami Island's appeal lies in its utter natural beauty that can be witnessed at any time of the year. The cherry blossoms bloom in Spring, the waterside glistens in Summer, the Fall foliage is jaw dropping and the Winter scenes covered in pure white snow are calming.
Due to the increased appeal of Kdramas and subsequently the Korean Wave or Hallyu around the world, some locations in the country have received cult-like status. Korean drama fanatics visit the Land of the Morning Calm just so they can explore the places where their favorite scenes were shot.
Nami Island found international appeal after appearing in Winter Sonata, which had a scene there among a now famous line of birch trees. The main draw of the location is its extreme natural beauty and romantic appeal.
Whether you're a Hallyu fanatic or just want to visit because you love nature, we would highly recommend booking a guided tour of the area that will take you to other popular destinations like Petite France, Garden of Morning Calm and Gangchon Rail Bike.
This takes out the hassle of having to hire a car, book a bus or pay exorbitant prices for taxis. You can book your tour online here. If you want personalised images along with your trip, book a Kdrama photo tour of the area which can also be done online here.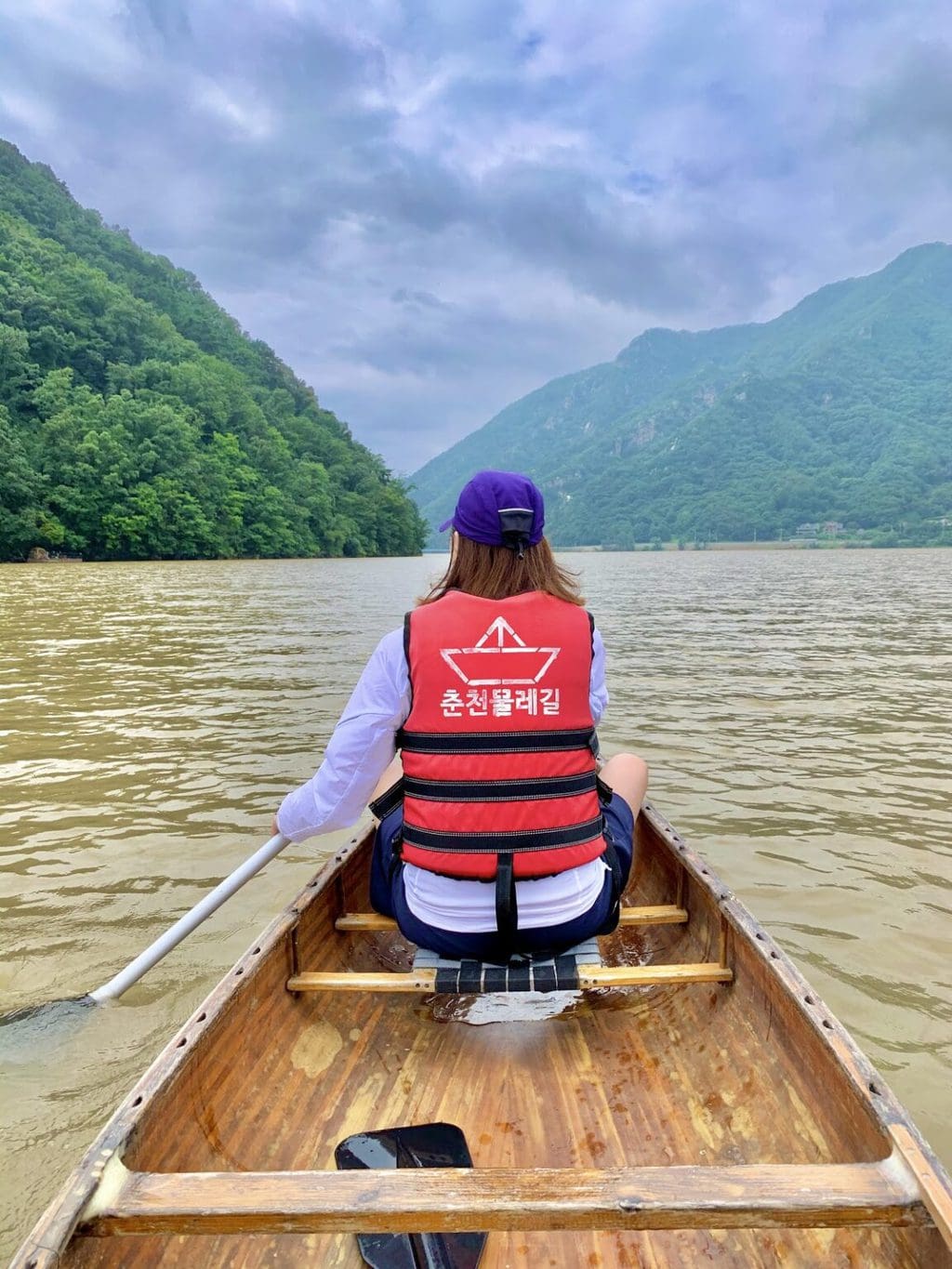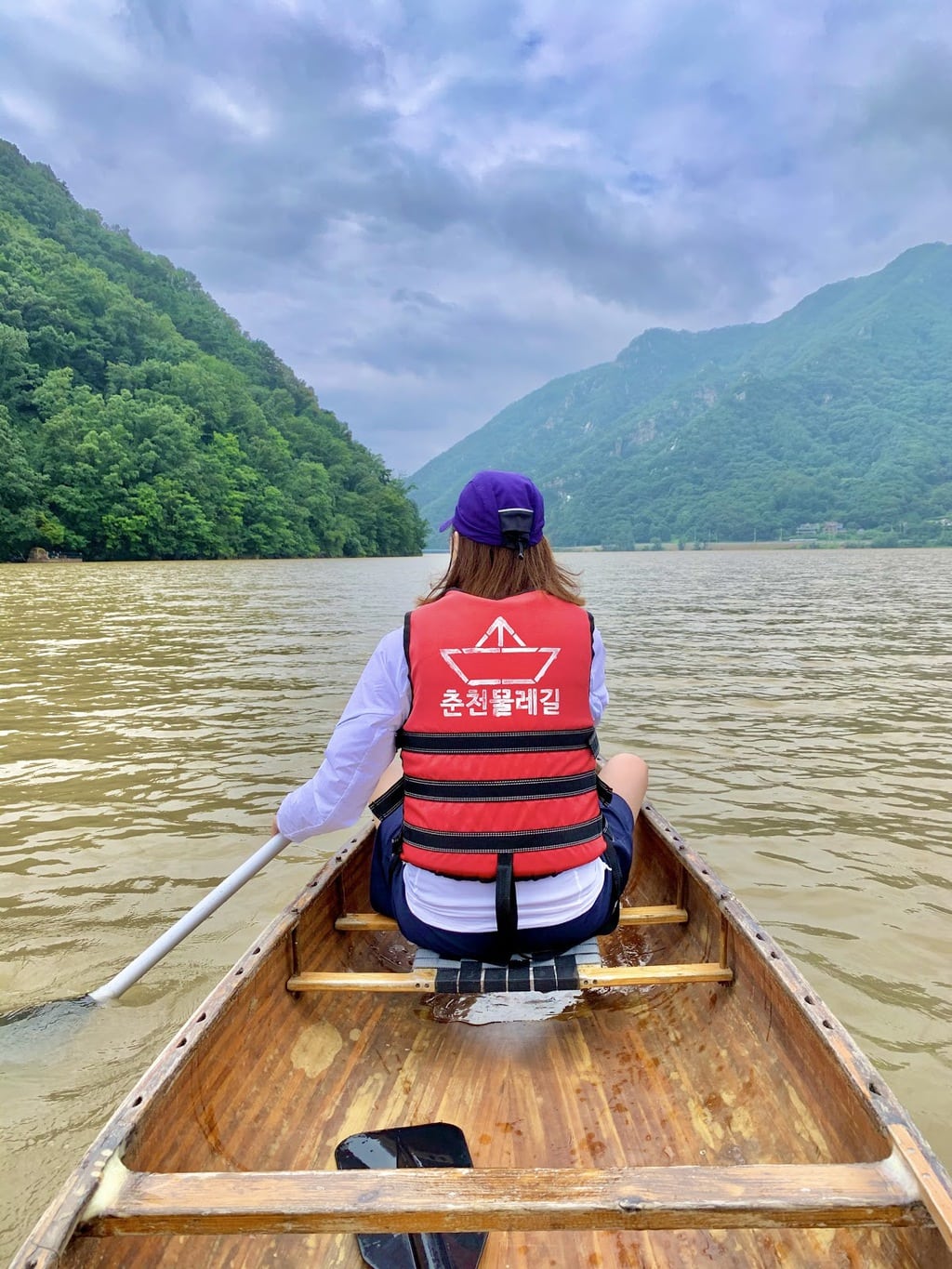 But the fun in Chuncheon doesn't end with highly touristy Nami Island, if you plan a bit longer you could venture into other outstanding areas of the capital of Gangwon Province.
I personally live traveling to Chuncheon from Seoul to escape the constant busyness of Seoul for a digital detox and reboot. Spring and Summer are particularly great as there are some awesome outdoor activities like kayaking along the river and hiking.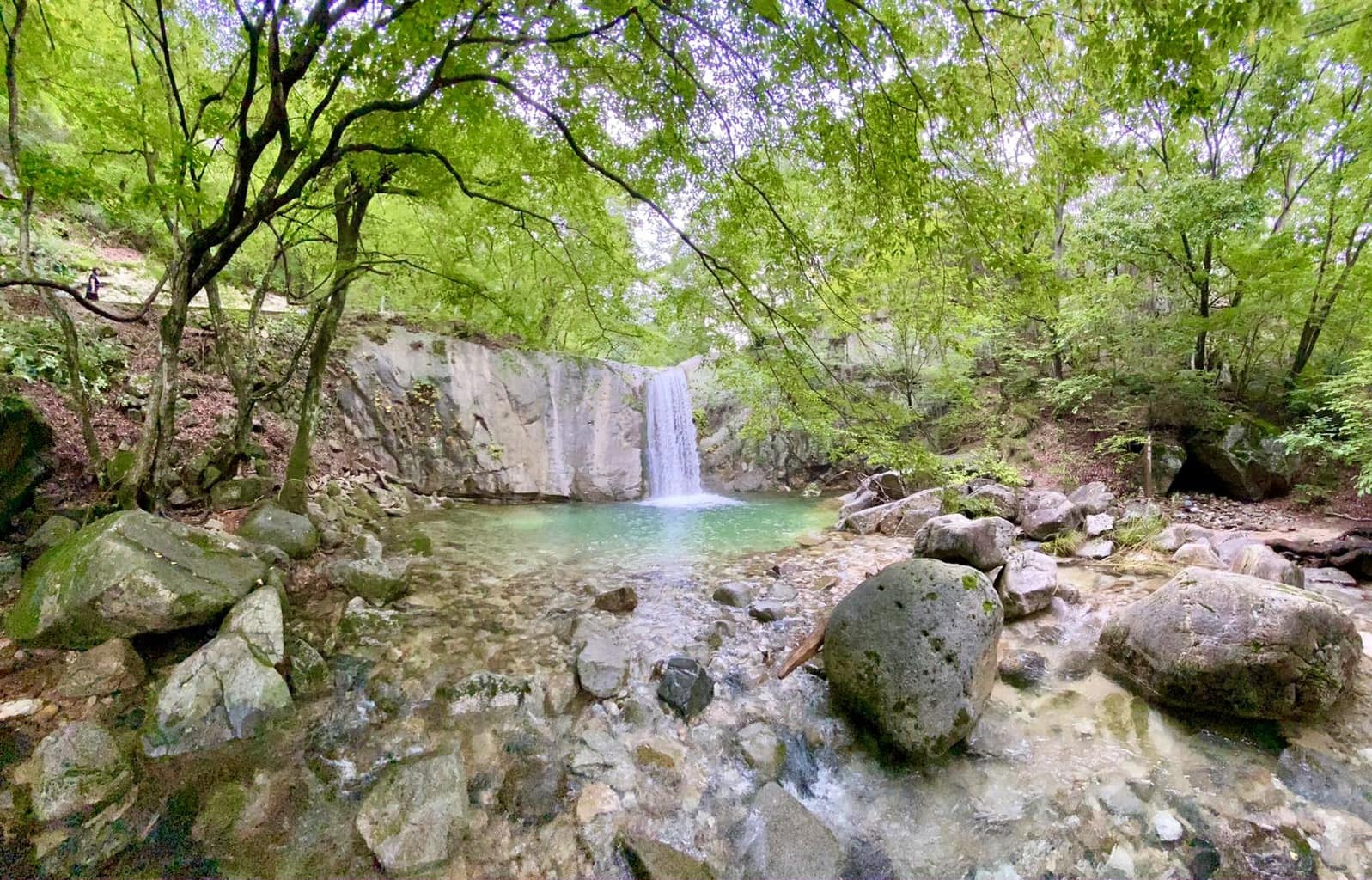 Popular places year-round include Parisian theme park Petite France, riding along the tracks on the Gimyujeong Rail Bike, strolling around Jade Garden Natural Arboretum, hiking up to small Buddhist Cheongpyeongsa Temple, and visiting the cafe at KT&G Sangsangmadang Art Center & hotel (the same company that has a famous building in Hongdae).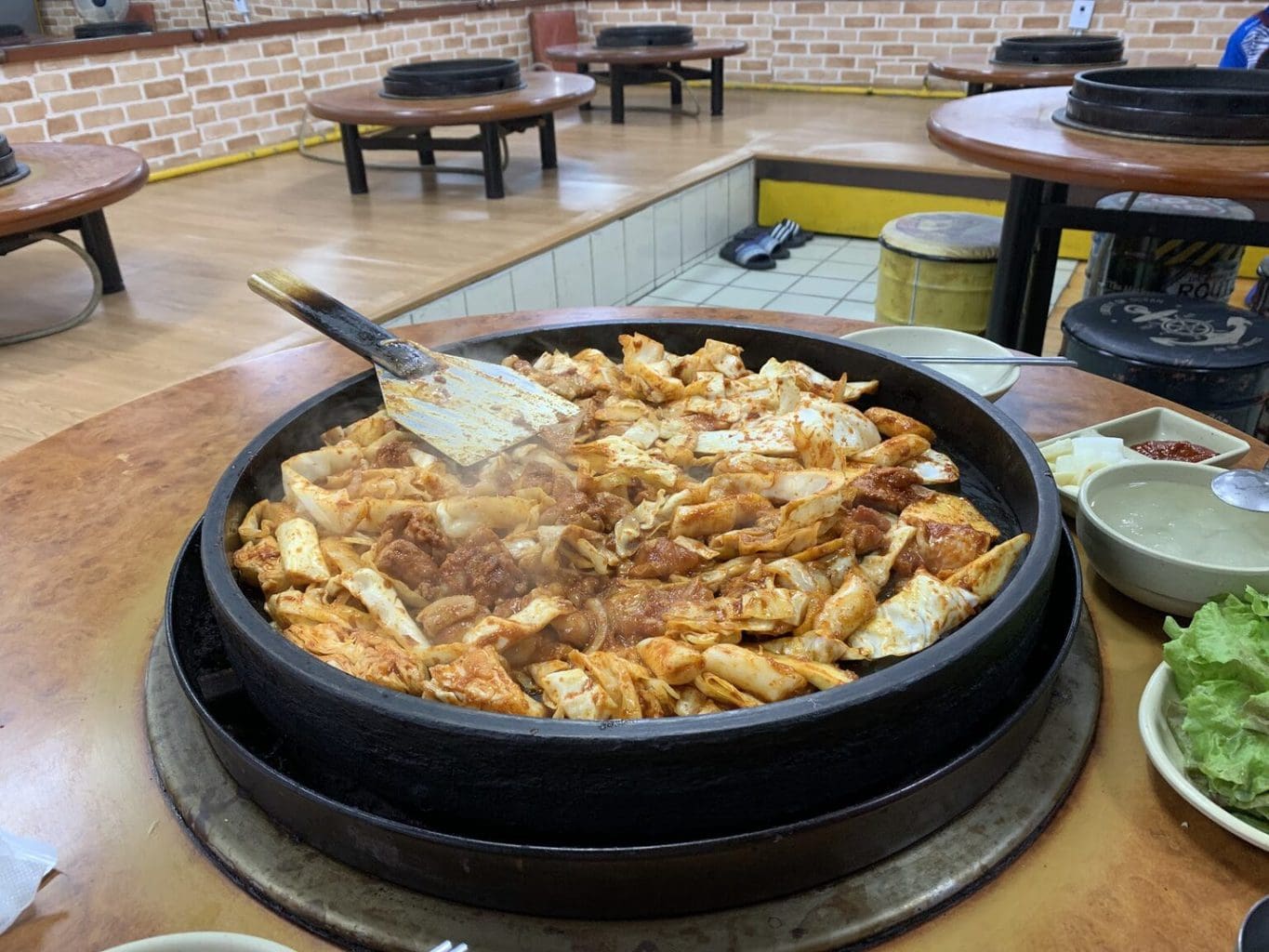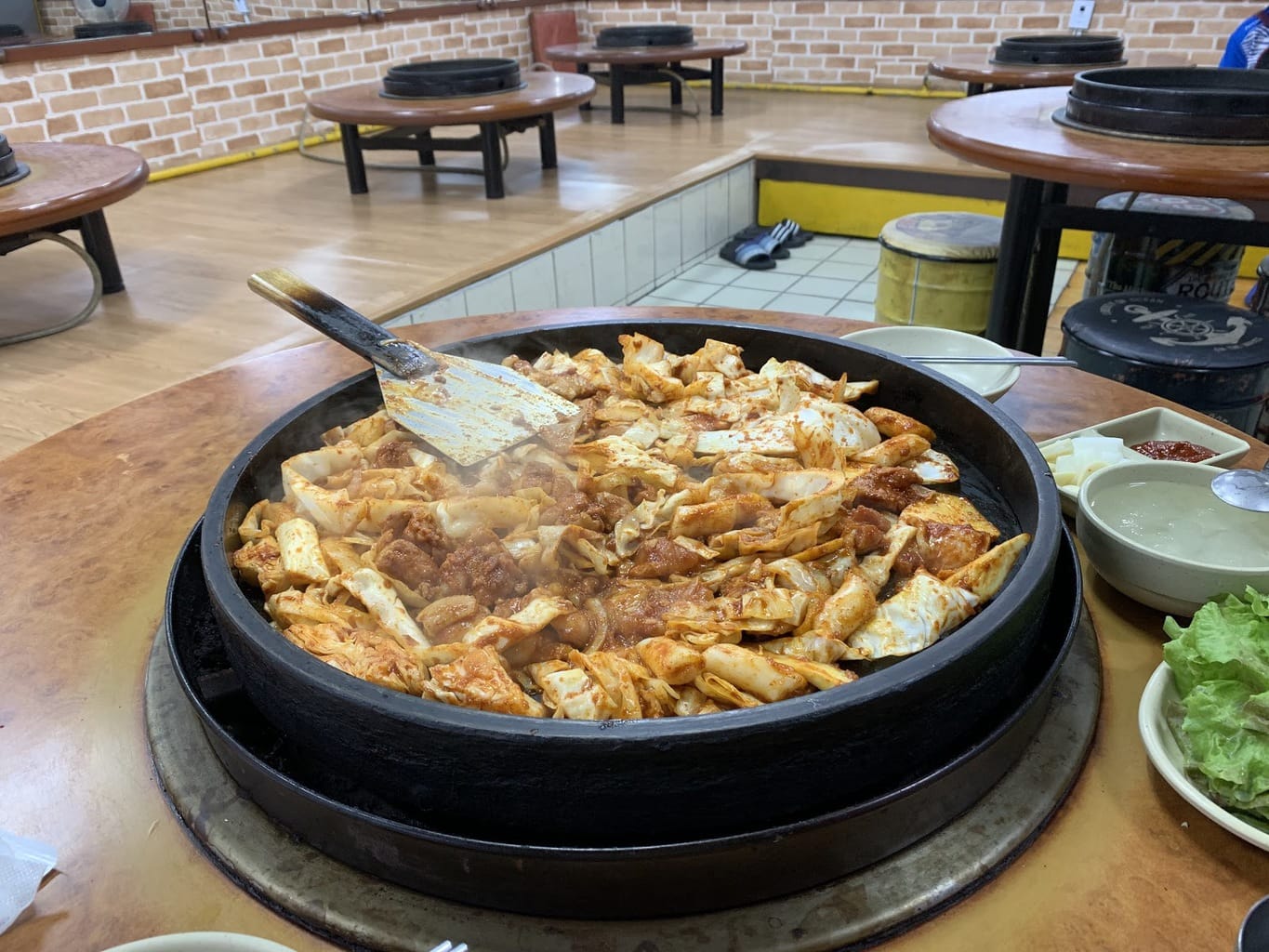 And of course, you will need to try Chuncheon's famous dakgalbi (spicy stir-fried chicken) at Chuncheon Myeongdong Dakgalbi Street (yes there's a small Myeongdong in Chuncheon too) which is one of Korea's most delicious foods. There are even complete tours that can be booked online like this very highly rated one!
How to get from Seoul to Nami Island: You can get to Nami Island on the subway by taking the Gyeongchun Line (turquoise) from Sangbong Station to Gapyeong Station which is around 1hr. The ITX has less frequent stops and is therefore quicker. You can catch the ITX from Yongsan or Sangbong (35mins from Sangbong). But keep in mind that the walk from here to Nami Island is around 20 mins. There are taxis that could get you there in 5, or the Gapyeong Tourist Bus comes every hour if you can wait. There have been shuttle buses in the past from Jamsil and Gangnam, but these seemed to have stopped for the time being.
How to get from Seoul to Chuncheon central: Chuncheon city center can easily be reached by public transportation. You can take the subway from Wangsimni Station all the way to Chuncheon Station on the Gyeongchun Line (turquoise) and take just under 2 hours. The high-speed ITX from Yongsan Station to Chuncheon Station is about 1hr45mins. There are buses from Dong Seoul Station that take just over an hour depending on traffic.
Pyeongchang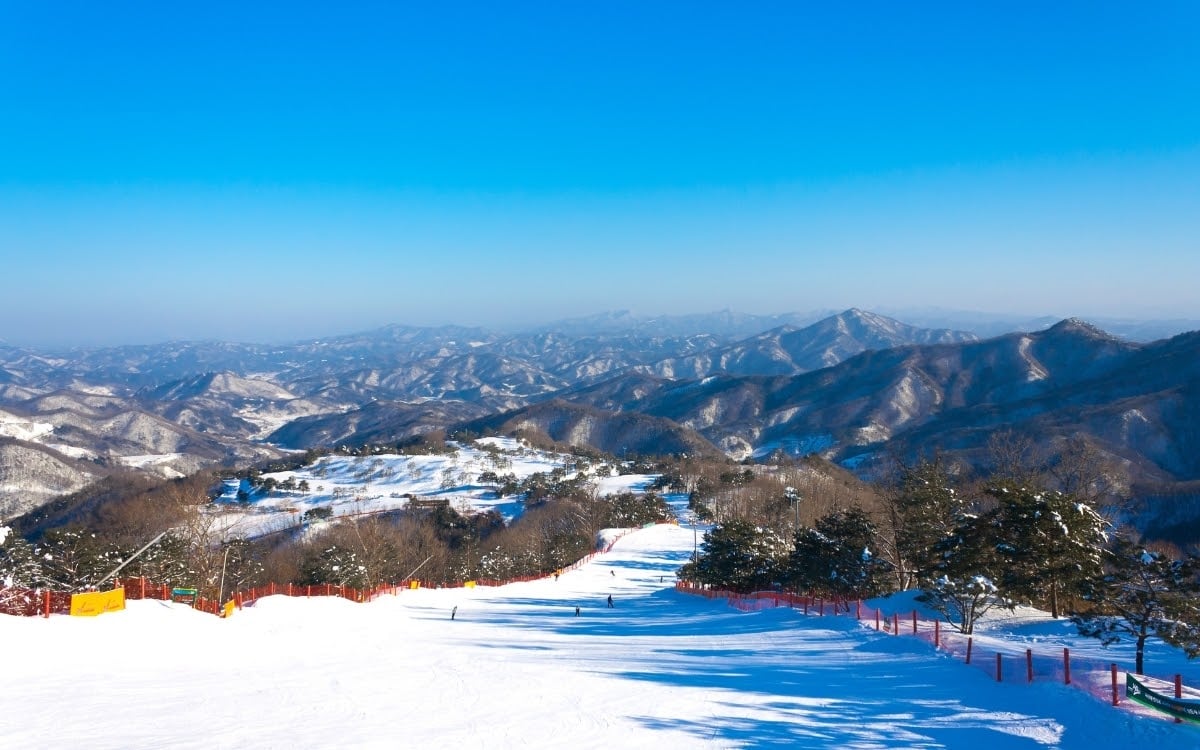 Not to be confused with the capital city of North Korea (Pyongyang), Pyeongchang is the ultimate destination for skiers and snowboarders.
Pyeongchang was the host to the 1999 Asian Winter Games, the 2018 Winter Paralympics and the 2018 Winter Olympic Games. It has been described as the Korea Alps and with reason.
Four of the country's top ski resorts call Pyeongchang home which you can visit to shred some powder. Visit the following for a day trip or overnight stay:
If your partner is hitting the slopes for the day and you couldn't be bothered, there are other great places to explore near the resorts. You can practice zen at Odaesan National Park with the calm Woljeongsa Temple and Sangwonsa Temple.
Alpensia Ski Resort mentioned above also has the famous Instagrammable spot Daegwallyeong Sheep Ranch (대관령 양떼목장), a privately owned 195sqm ranch with a 40 min walking loop and over 200 sheep that has a solo wooden shack on a hill. You can see why so many come here to snap up shots by checking the images on their website.
Ari Hills Resort Skywalk Observatory is another spot for photo opportunities at 583m above sea level and hanging over the cliffs in Jeongseon (it's also called the Byeongbangchi or Jeongseon Skywalk).
For culture you can visit the Jeonggangwon Traditional Korean Food Culture Experience Center where you can learn how to make traditional Korean foods in Hanok, from pastes like gochujang (chili paste) and doenjang (soy bean paste) to authentic dishes like songpyeon (half-moon rice cake) and injeolmi (Korean traditional rice cake).
The Pyeongchang Trout Festival is yet another activity during winter in Korea that you may want to try. After catching your trout, you can take it to one of the nearby eateries where they will prepare a dish for you. There is more to fishing at the festivities from folk games like spinning tops to snow rafting.
How to get from Seoul to Pyeongchang: Take the KTX either from Seoul Station or Cheongnyangni Station for roughly 1.5 hrs. The city is quite large and while there is public transportation, it's advisable to hire a car so that you can get around quicker to the more far flung places. Try Lotte Renta Car (together with Hertz) and always remember to carry cash on hand for toll gates (there are many) and don't use the HiPass lane unless your car comes with a HiPass card (ask before you leave). Don't rent a car from Seoul, rather catch the KTX and then hire one at Pyeongchang Station.
The East Coast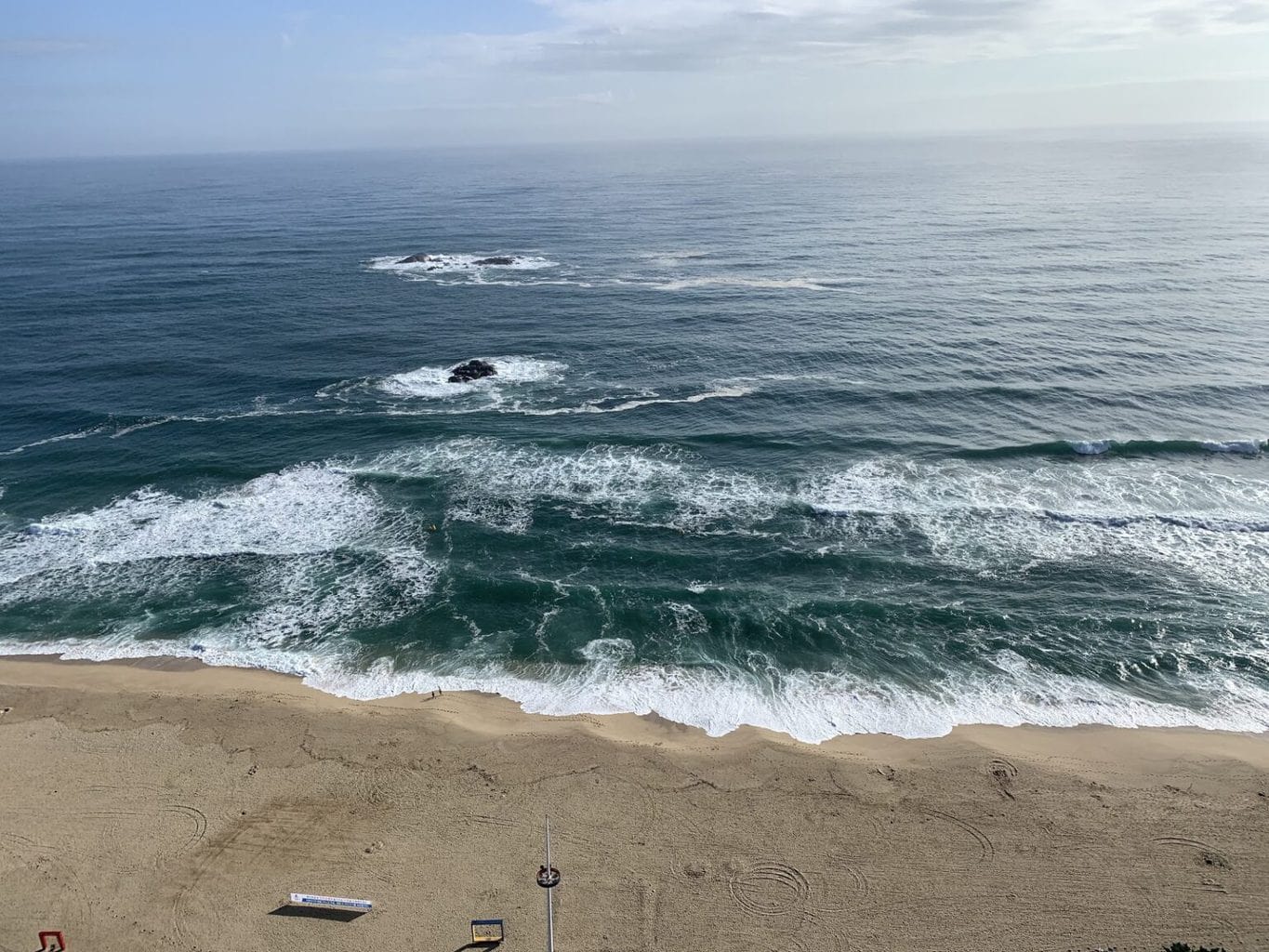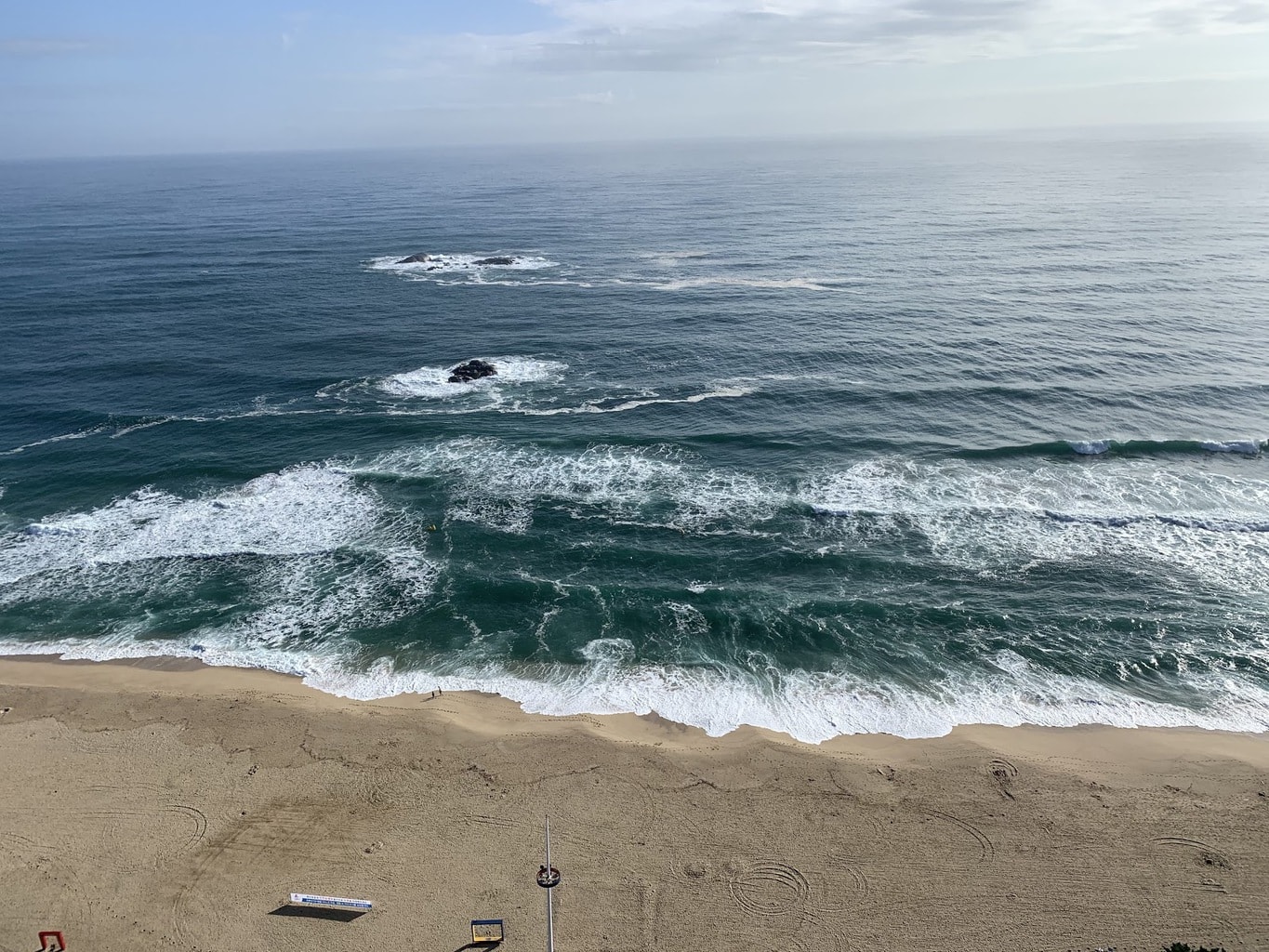 The East Coast of South Korea is known for its calmer waters, white sand beaches and general slower paced living with small surf communities popping up in certain places. The three main areas you'll want to visit on a day trip from Seoul (or even a week) are Gangneung City, Yangyang County and Sokcho City.
While these three areas are right next to each other, they all offer something a little different, each having its own charm.
Let's begin with the most easily accessible of the lot, Gangneung. This is my personal favorite escape from Seoul and the place I hope to live one day as it reminds me a little of my home town Cape Town in South Africa.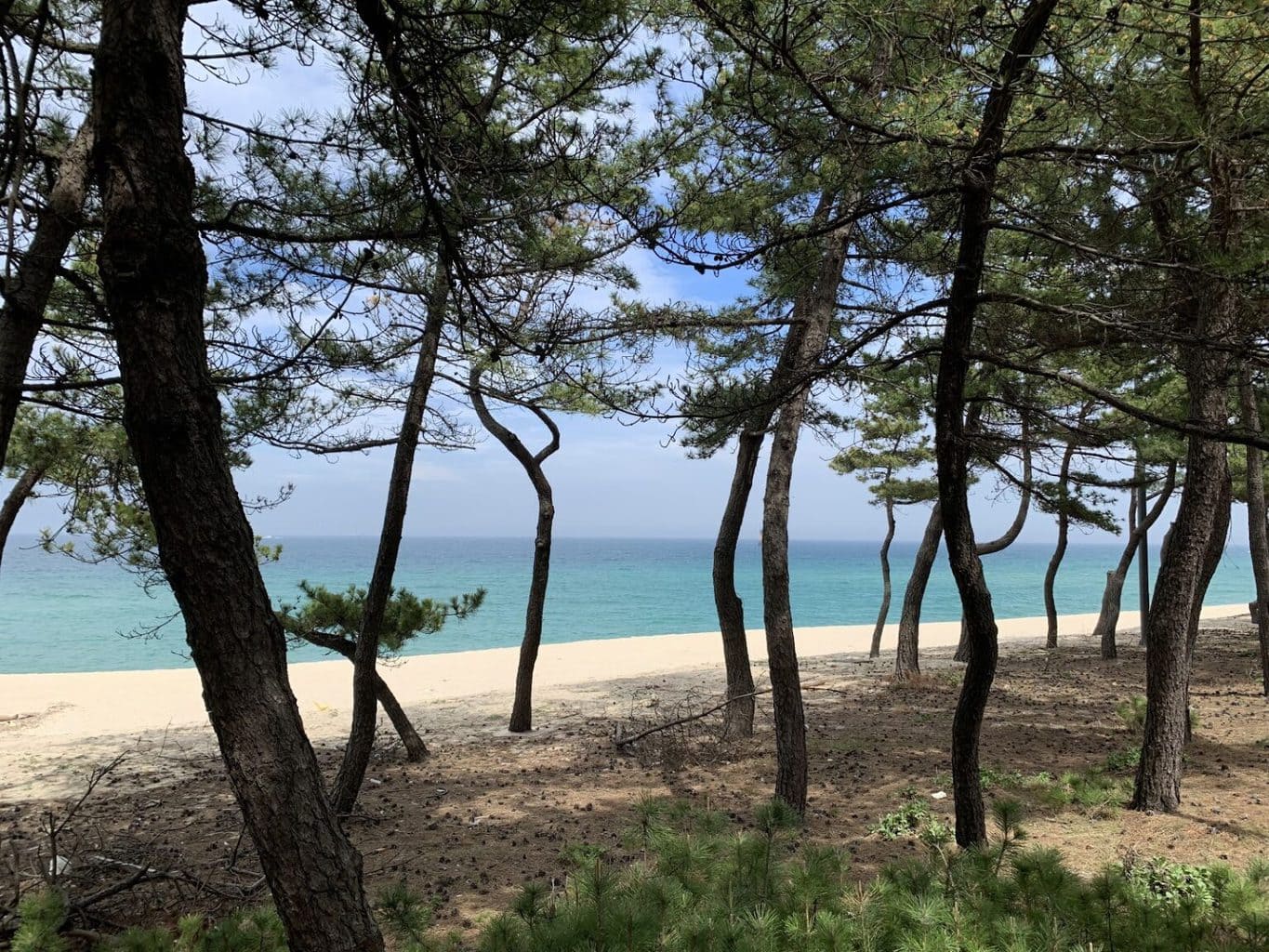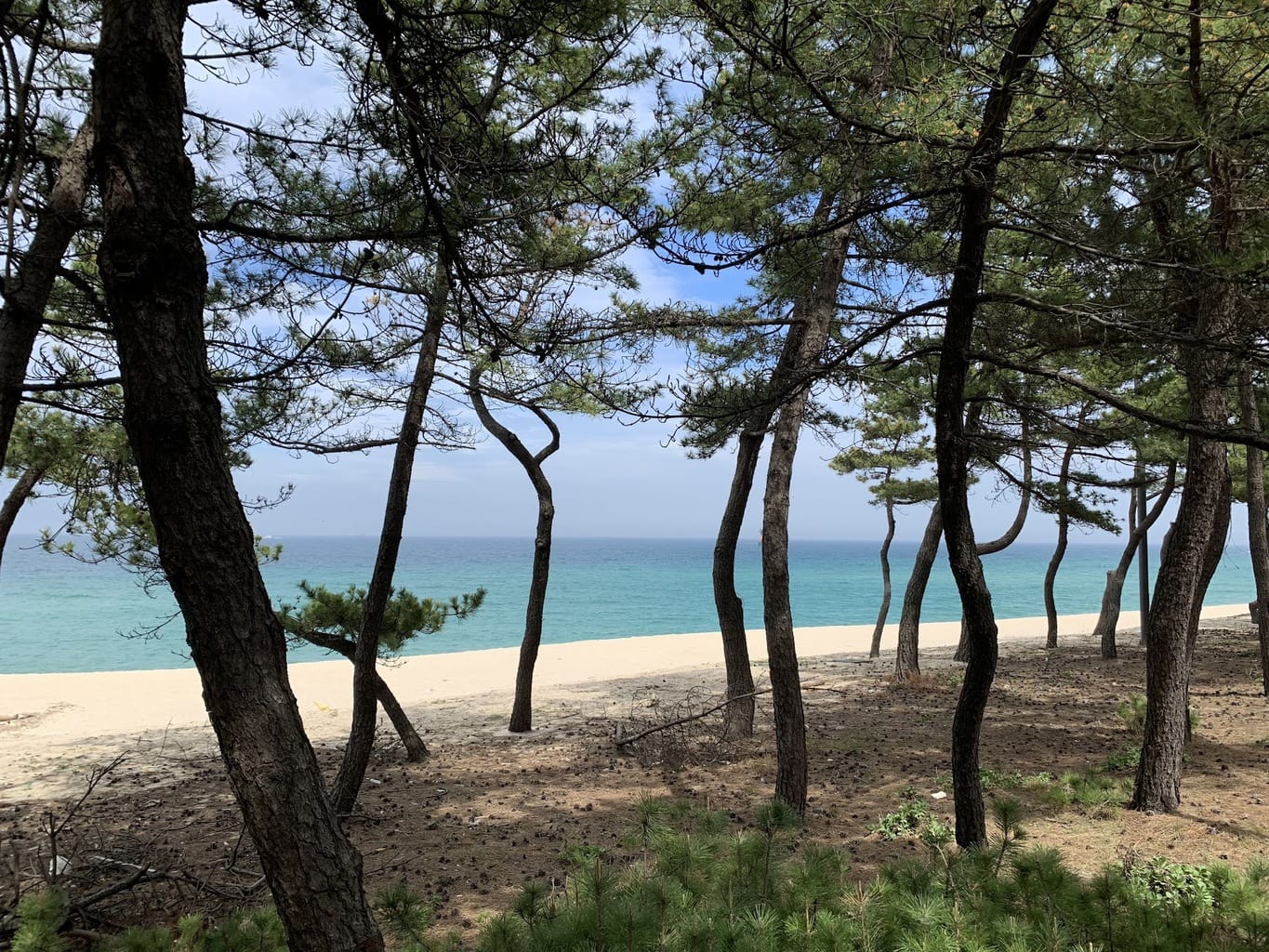 Gangneung offers beautiful beaches where the fragrant pines protect you from the wind, epically spectacular nature, the wonderful Gyeongpo Lake, the foodie's delight of Jumunjin Harbor and Chodang Sundubu (soft tofu) Village (where you can get tofu gelato) and of course – coffee!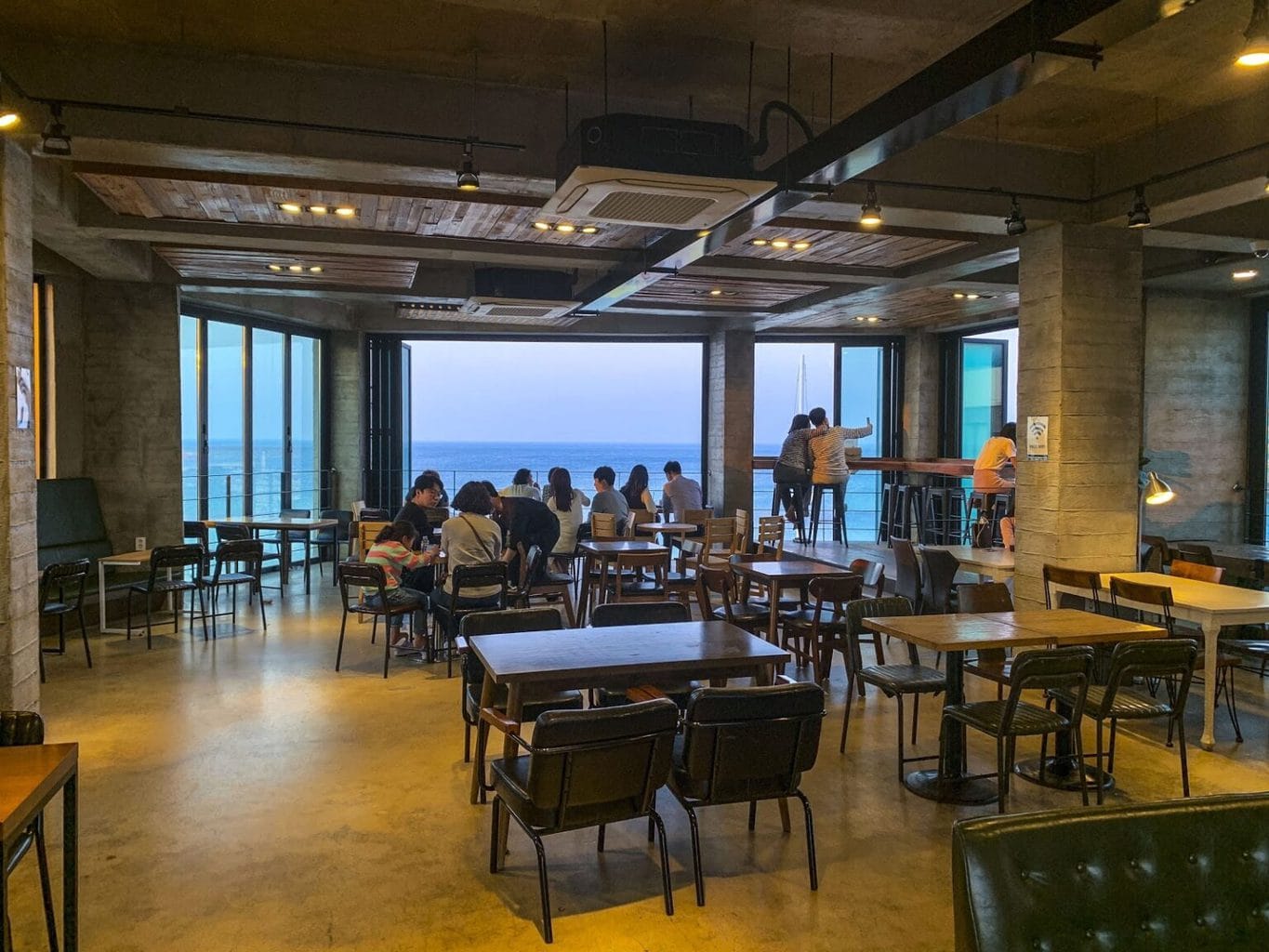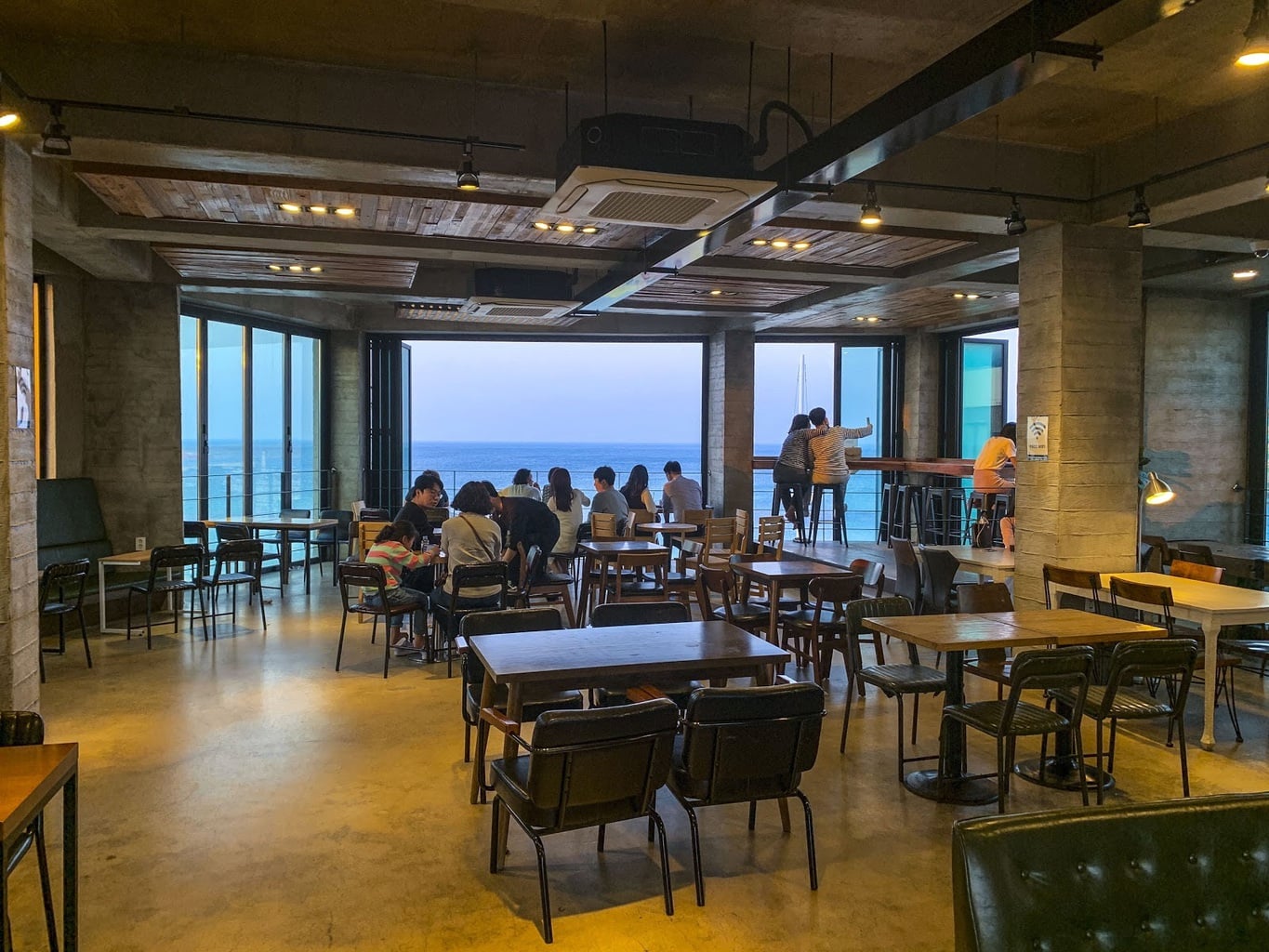 For some reason, Gangneung has become a coffee haven where hoards of different coffee shops and roasters have placed their premises. Gangnueng's best export is hands down Terarosa coffee, which now has stores throughout the country.
They have an ethical, high quality approach to coffee beans with an emphasis on sustainability and a hardcore interest on architecture and design. I'll let the photos talk for themselves.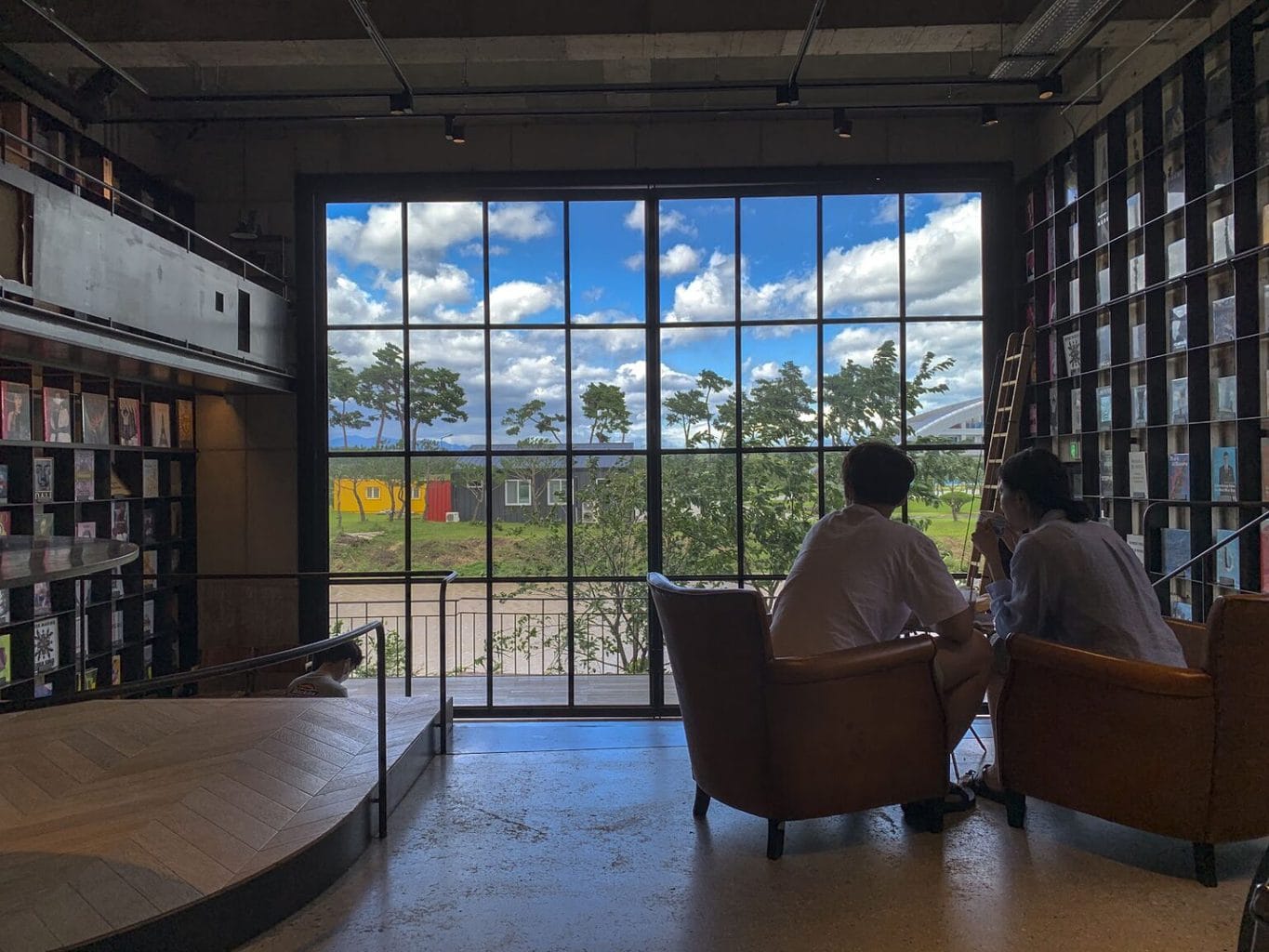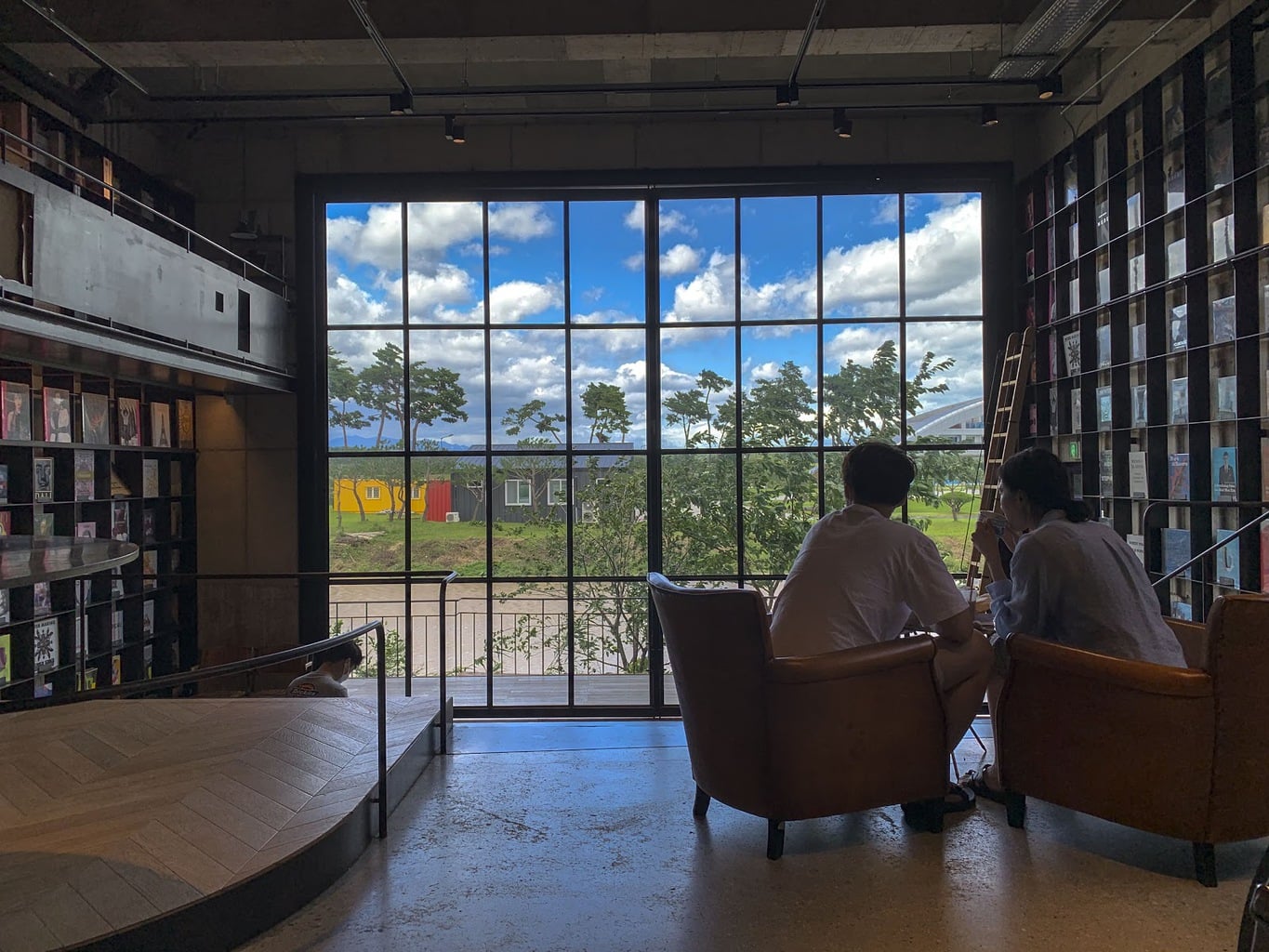 There is a really cool Coffee Museum (use the Google translate app if you visit), and other great coffee shops right on the beach (aptly called Gangneung Coffee Street in Anmok Beach) with personal favorite Bossanova. Climb up to the rooftop for some epic views.
October sees the Gangneung Coffee Festival, the ultimate South Korean festival for lovers of java. It started out small and has become a major event on the foodie calendar where each year sees a different theme such as "Coffee Speaks, Voice of Coffee", "Coffee City and Green + Imagination" or "JAZZ PRESSO".
Expect close to 200 vendors, barista performances, education and a whole lot of the Black Gold right near the ocean. Each coffee shop will also have their own sales, events and discounts during this time.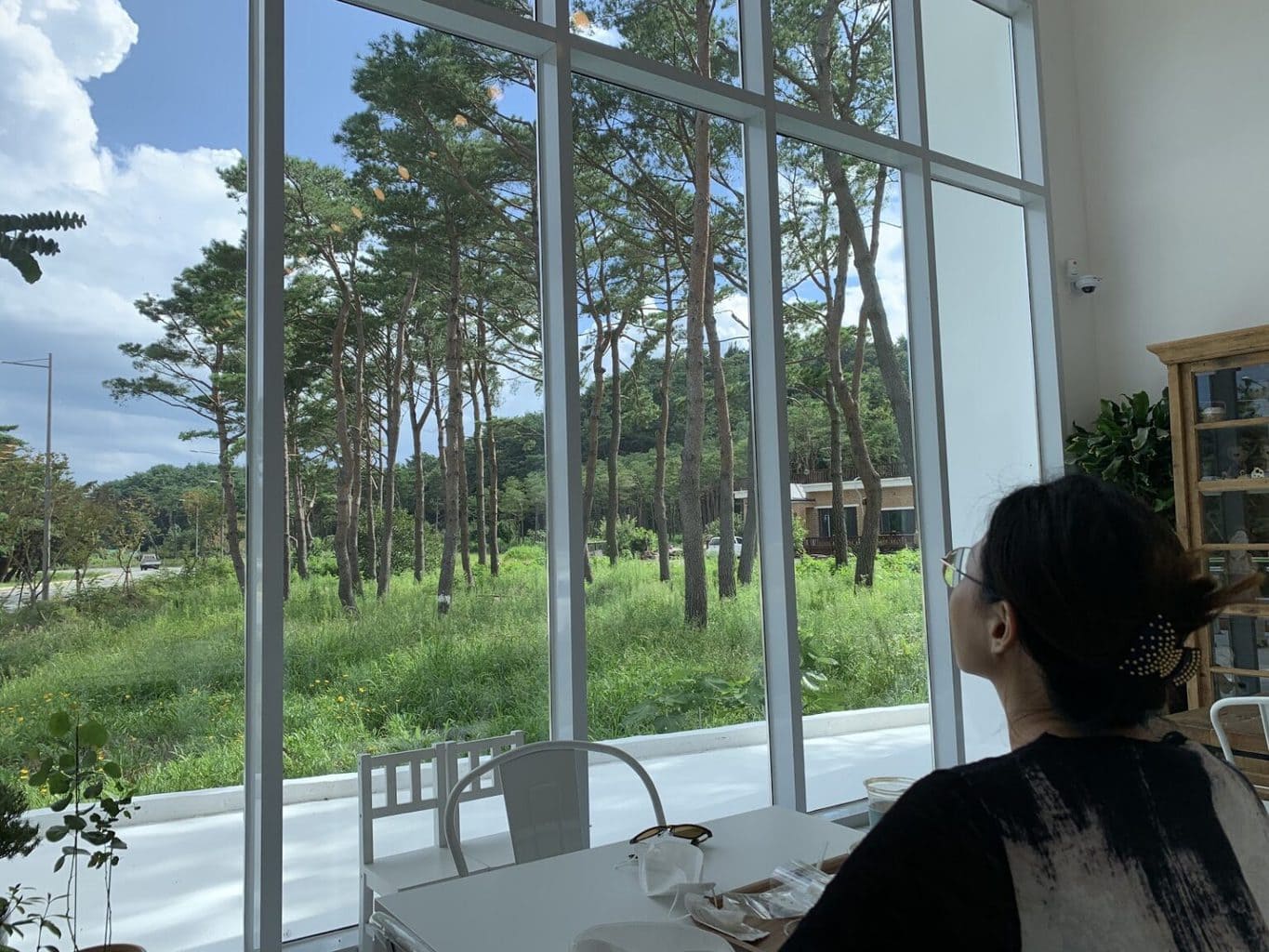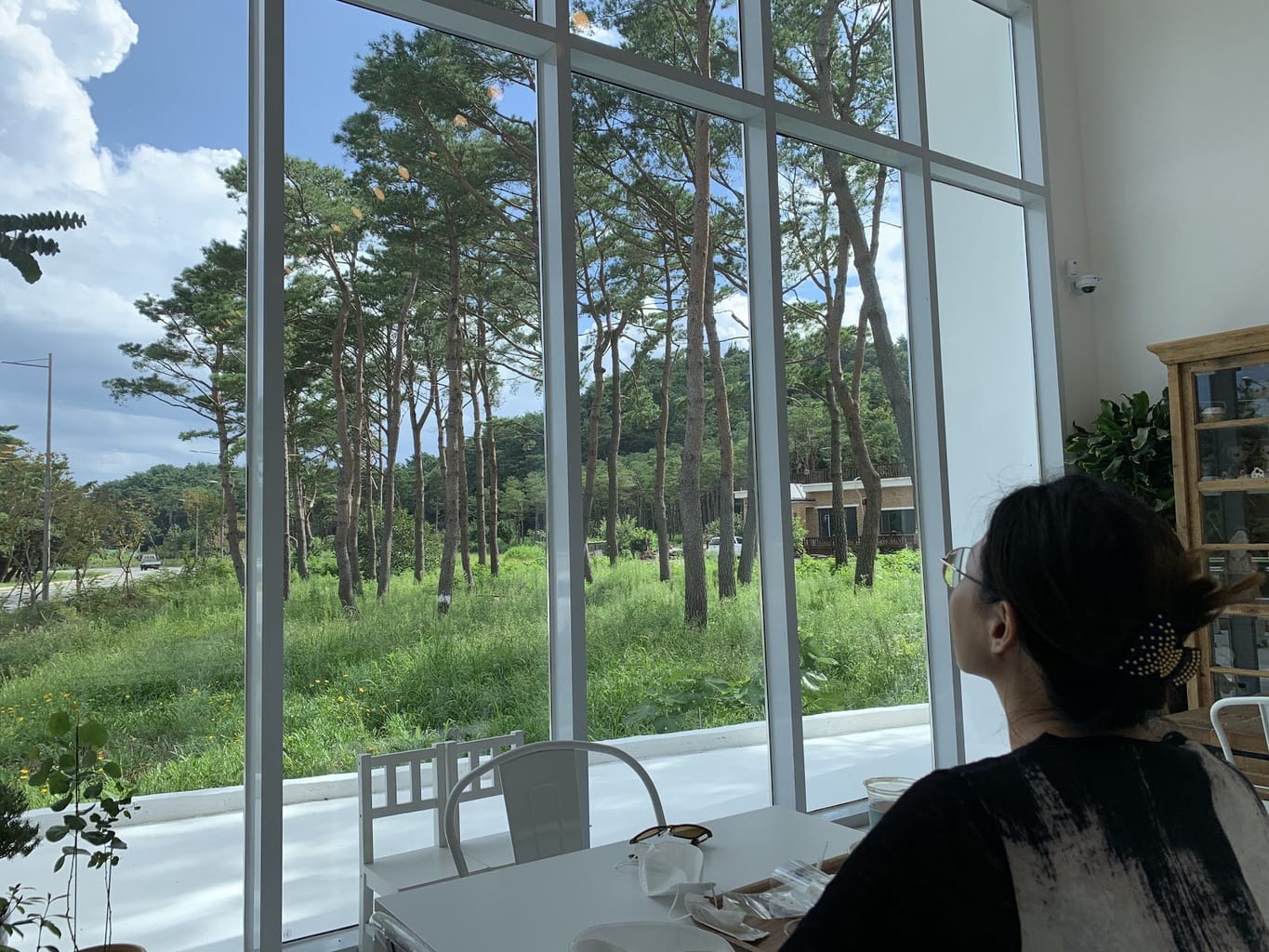 Gangneung is also host to several other lesser known South Korean festivals including a film festival, the Gyeongpo Summer Festival, and the Beach Beer Festival. And as it's on the East Coast it's a very popular place to visit on New Year's day to watch the sunrise, a Korean tradition.
How to get to Gangneung: Gangneung is a 2 hour KTX ride from Seoul. There are plenty of taxis outside and buses to get to where you want, but hiring a car from Gangneung Station is the most convenient way to get around, especially if you're venturing beyond Anmok or Gyeongpo Beach.
Go north and you'll get to Yangyang County which feels more like Bali or Australia due to the no frills, laidback surf culture that has grown here due to the great waves.
Nowhere have I seen such free spirited Koreans walking around in bikinis and boardshorts, it's a true gem. You can hire boards and wetsuits here or even take surf lessons (no matter if there are waves or not).
Yangyang has several famous beaches to choose from, each offering their own unique vibe. Surfing culture in the East coast all started at Gisamun, famous for its cutesy mushroom-shaped light tower (the area is also known for the highly regarded and absolutely delicious Songi mushroom). The waves are a bit rougher, so beginners may want to go elsewhere.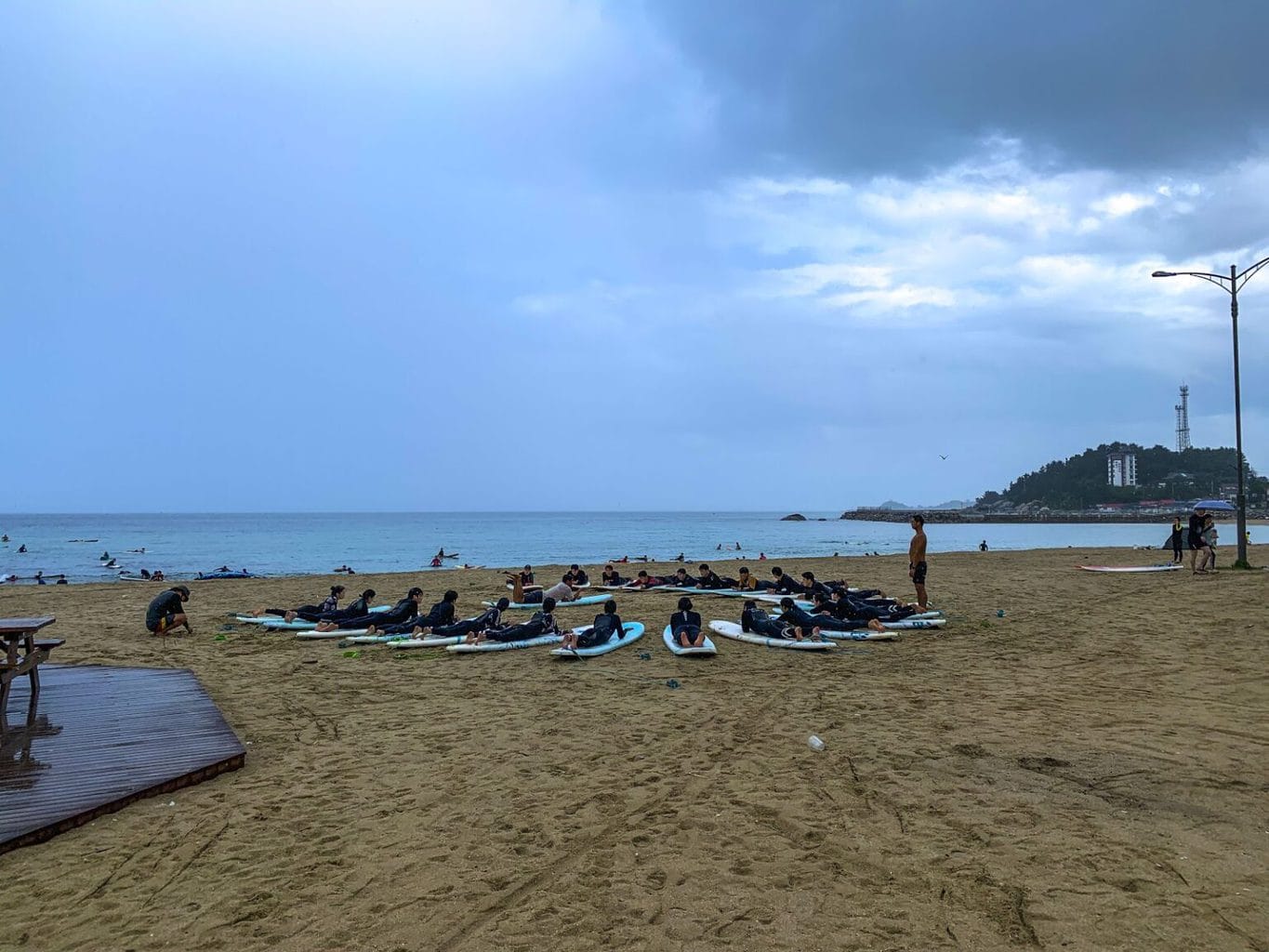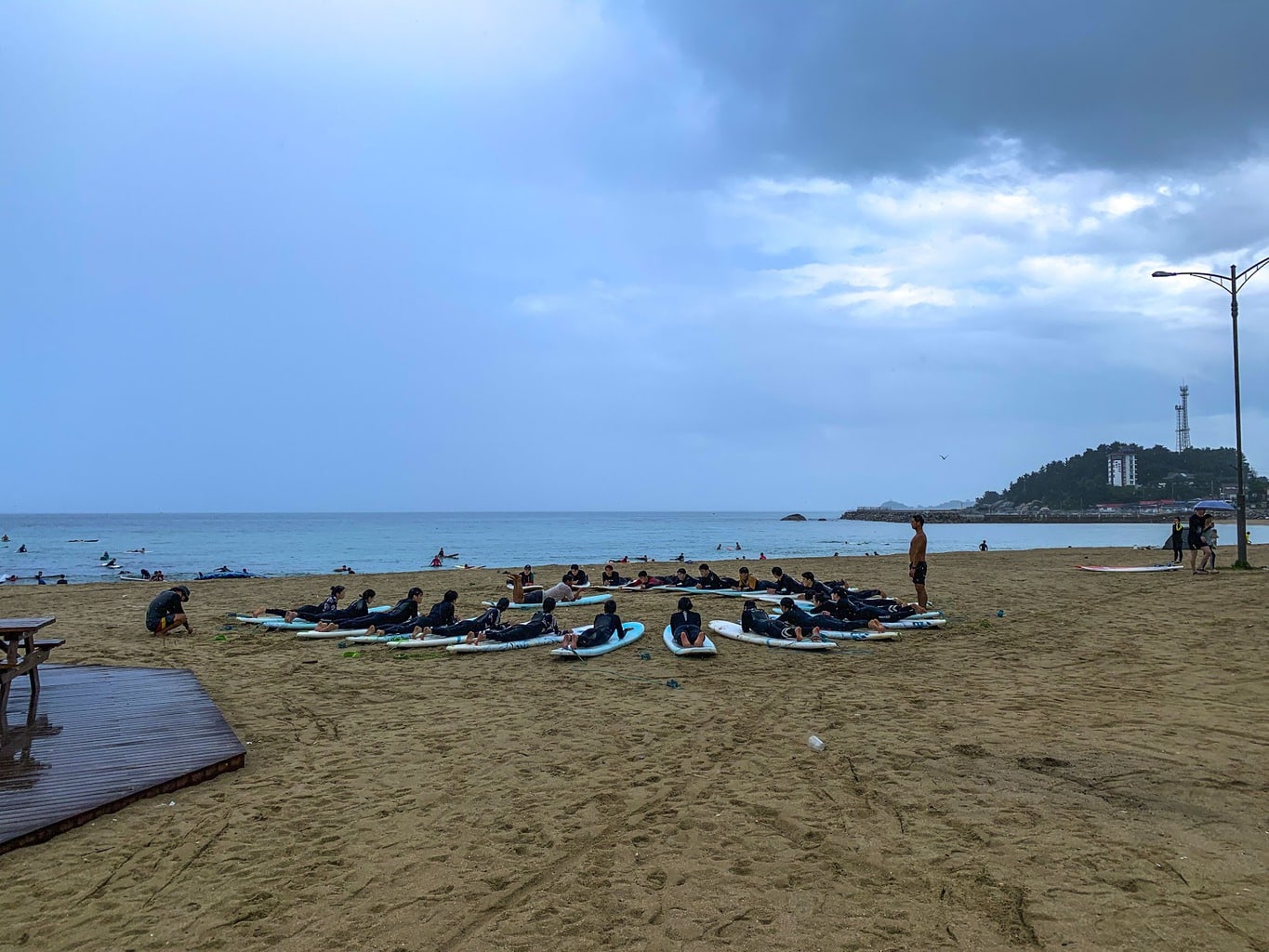 Other famous surfing beaches include Dongho, Ingu and Jukdo where you will find hoards or backpackers, surf schools, eateries and surf shops. It's also a very popular place to pitch a tent or set your camper van for the night.
How to get to Yangyang: You can take the 2hr bus from Seoul Express Bus Terminal to Yangyang Bus Terminal, but it's more recommended to take the KTX to Gangneung and hire a car from there. You could also fly to Yangyang Airport from Gimpo if you really want to.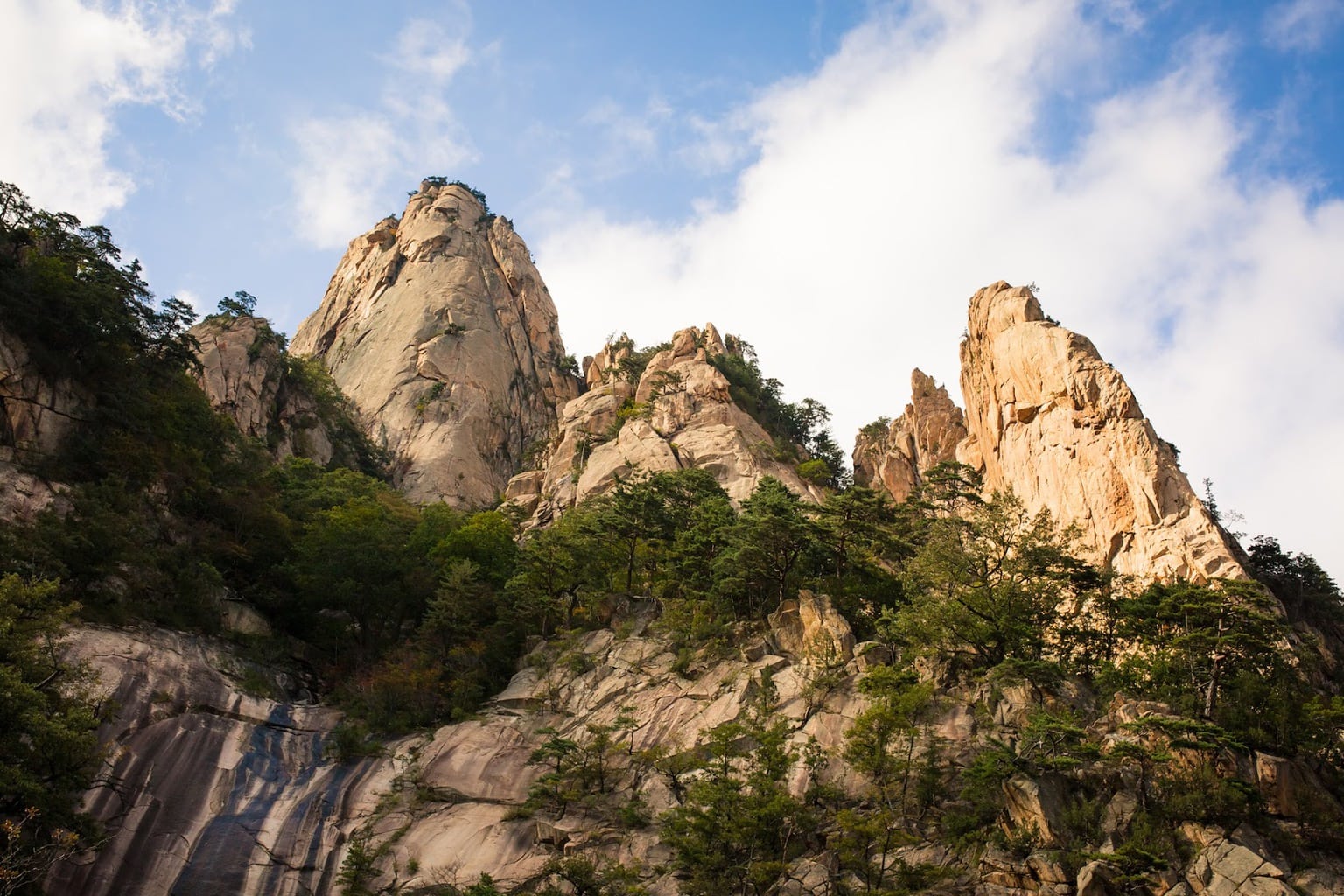 Even further North and nearing the border of North Korea is Sokcho, known for probably the most beautiful mountain in the country (in my humble opinion) Seorak. Other than the fabulous Seorak Mountain, Sokcho is popular for its super fresh seafood and scenic ocean views.
At Seorak Mountain, you'll pay a minor ₩3,500 entrance fee and you have the choice of either hiking or taking the cable car to just before the peak (the peak is another 20 mins from the station). The cable car is a ₩10,000 fee for a round trip.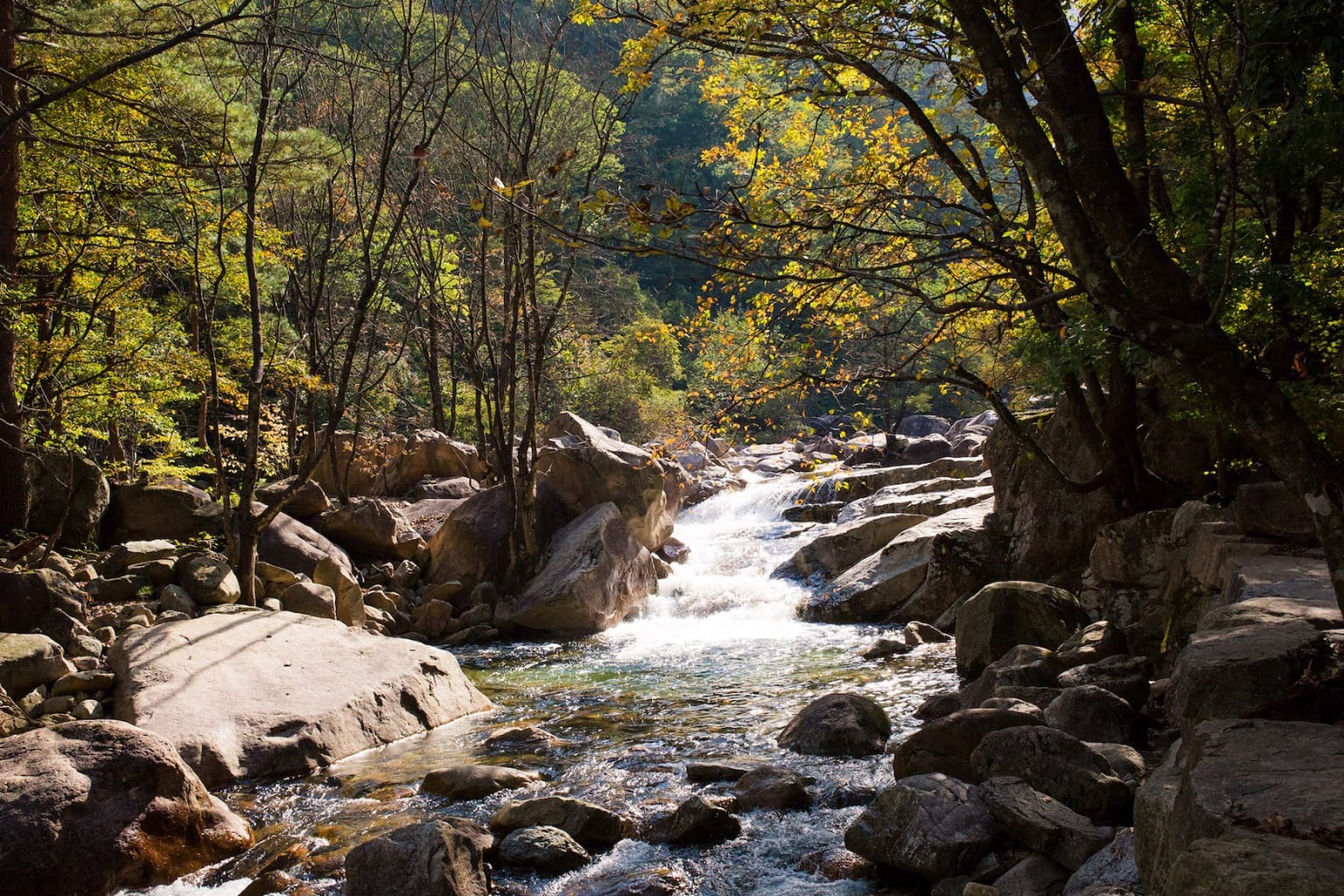 Apart from your hike you can explore the Sokcho Tourist & Fishery Market, Sokcho Beach (although the beaches Yangyang and Gangeung are much nicer) and Korean Drama film locations like Daepo Port and Abai Village. Your main reason for visiting Sokcho would be Seorak Mountain though.
How to get to Sokcho: You can take the intercity bus from Seoul Express Bus Terminal to Sokcho Bus Terminal, which will take around 2.5hrs, but again, we'd recommend the KTX to Gangneung and hiring a car. If you do take a bus to the bus terminal, you can take bus 7 or 7-1 to Soraksan Sogongwon bus stop (설악산소공원하차).
Gyeongsang Province
Moving from the north to the south, you will arrive at South Korea's next major province, Gyeongsang Province, known for its large port cities, beautiful and busy beaches, panoramic mountains and beachside temples.
There are five administrative regions in Gyeongsang with three major independent cities of Busan, Daegu and Ulsan. It's further divided into Gyeongbuk (north) consisting of Daegu and Gyeongsangbuk-do, Gyeongnam (south) where you can find Busan, Ulsan and Gyeongsangnam-do.
Being the birth of the Silla Kingdom, the region is filled with ancient historical sites, but is also more built-up than its eastern counterpart Jeolla Province. So you will experience the calming past and the wired up future.
Gyeongsang is easily accessed from Seoul by air or land with buses and high-speed trains traveling at multiple times throughout the day.
If you are looking for a no-frills day trip from Seoul, a cheap flight from Gimpo Airport into any of the major cities (Daegu, Busan and Ulsan) is recommended and will take roughly an hour. The KTX is always super speedy and can take anything from 1hr40mins (Daegu) to 2hr15mins (Busan) and you don't have to wait around at the airport pre-flight for an hour.
Let's see which places you can explore for the best day trips from Seoul to Gyeongsang Province.
Busan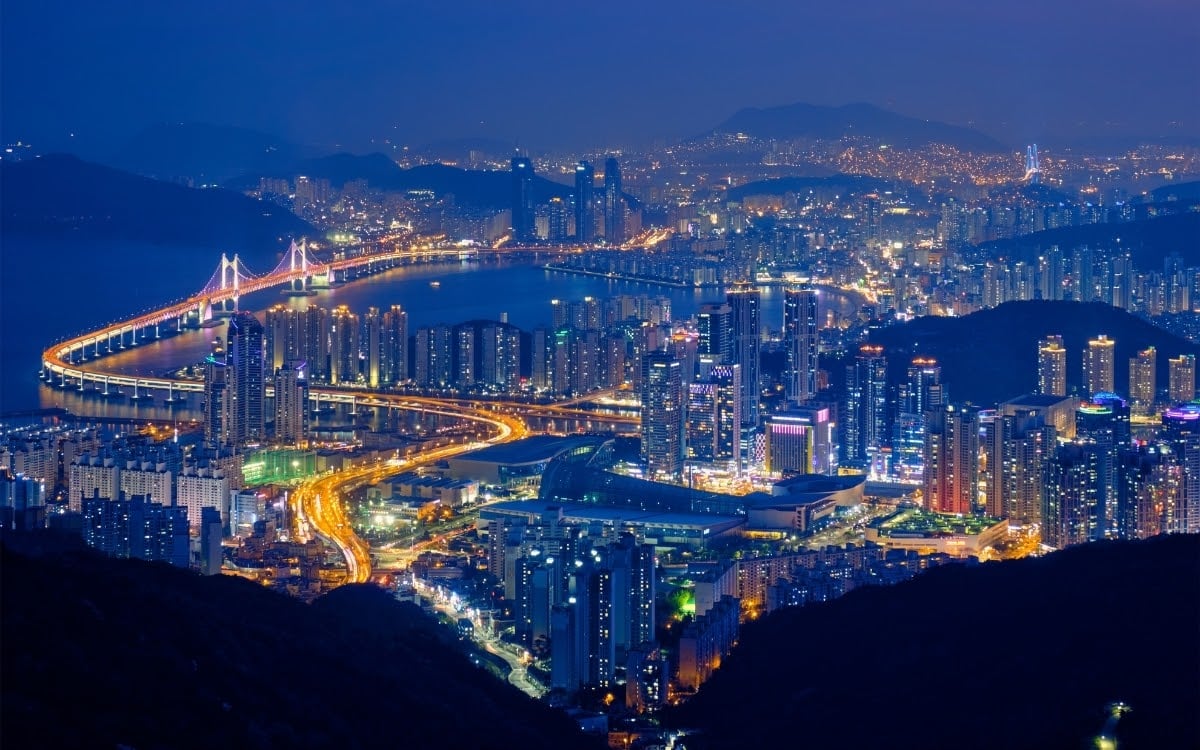 The second most populous city in the country and one that entices many visitors, both locally and internationally, is Busan.
Visiting the city center is fun and exciting, but it's the outskirts of Busan that you'll want to visit, especially after spending so much time in the concrete jungle of Seoul.
Busan is big and spread out and there is a lot to do here. So, while you would be better suited to make your travels here 2 days plus, you could cram a lot in 24 hours, especially if you arrive on the first flight and leave on the last one out.
A lot of your 24 hour trips to Busan from Seoul will involve the beach, temples, cultural villages and exploring the food at various markets. If you have some time, you could also cram in a few of the city's other tourist sites.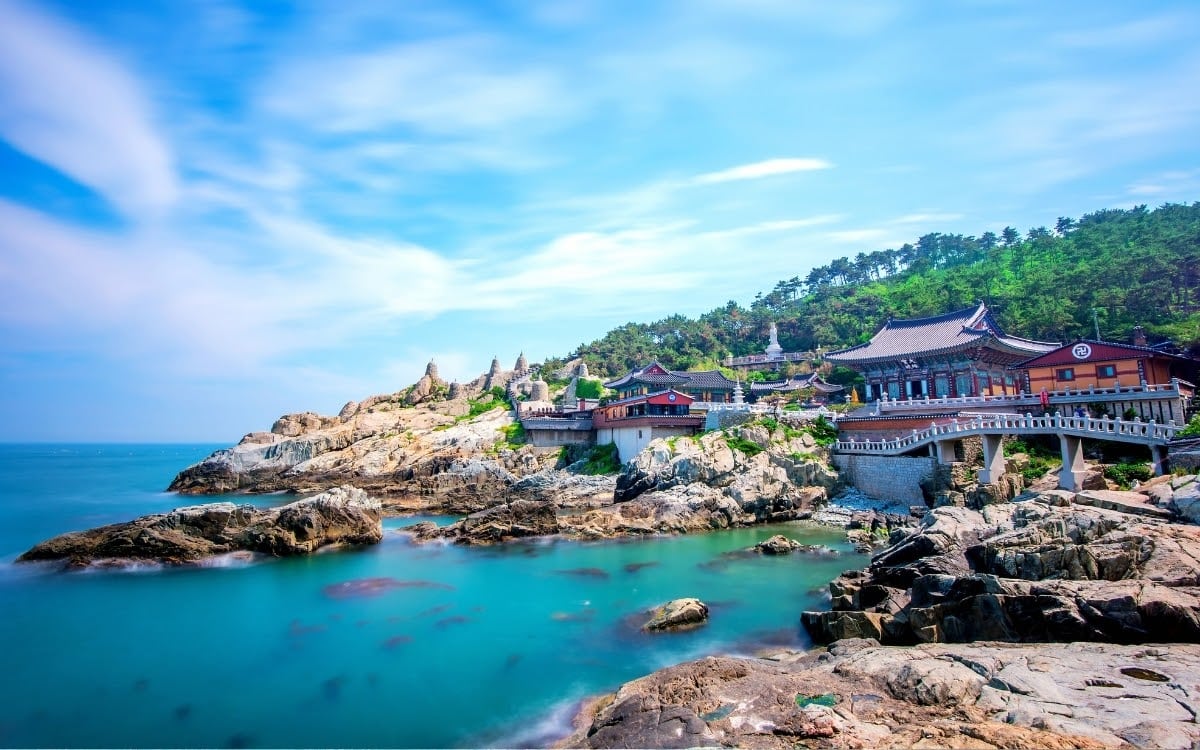 In Busan, it's best to go slow. Start your day trip to Busan from Seoul with a little bit of Zen at the oceanside Haedong Yonggungsa Temple. We recommend this as your first port-of-call because it opens at 5am, so if you arrived in Busan the night before, you should try to even catch the iconic sunrise here.
The temple was built by a Buddhist monk called Naong who had a vision of a sea god which led him to move from Gyeongju to this temple. Its surroundings are so calming and beautiful as it's right on the ocean.
The night scene with the dazzling lights reflecting on the water is also wondrous. There are plenty of other temples to visit, most notably Seokbulsa for its cliff carvings, Samgwangsa for its lantern festival and Beomeosa for its templestay program.
Keeping with the ocean theme, you can make your way to some of Busan's most famous beaches for a dip or a walk. Haeundae Beach is the most popular and busiest of the Busan beaches and is known as Busan's "party beach" with bars,clubs, hostels and eateries.
Gwangalli Beach is also busy in the peak season, but slightly less so than Haeundae, and is the place where you can see Gwangan Bridge lit up at night (the bridge featured in Marvel's Black Panther). Songdo is another easily accessible but lesser known beach with a cable car.
You'll be hungry after your swim, so you can then head to one (or all) of the popular Busan markets. Jagalchi Market is probably the most famous in the entire country, so not you would really be missing out if you didn't visit. It is massive and the choice of seafood (fresh and dried) is astonishing. Pop into any restaurant that catches your eye for lunch.
After all that fish, you can also explore Gukje Market where you can find just about anything from anywhere that Busan's port brings in. It's also one of the best places to try out Korea's best street food if raw fish isn't your thing, especially along the Gwangbokdong Food Street enclave.
You can then choose to either explore hip Gamcheon Culture Village for Busan's most photogenic cluster of colorful houses, Yongdusan Park and Busan Tower for greenery and views, Gwangbok-ro for shopping (Busan's Myeongdong), or just stroll along the coast visiting places like Taejongdae Resort Park, Oryukdo Skywalk and Cheongsapo Daritdol Observatory.
There is a lot more to do in Busan that may not fit into a day trip from Seoul, from hikes to hidden beaches to museums, but we think the above will keep you happy for 24 hours.
How to get to Busan: You can easily get from Seoul to Busan in just under 3 hours by catching the KTX directly from Seoul Station to Busan Station. You could also take the 50min flight from Gimpo keeping in mind that catching a subway from Seoul Station to Gimpo is roughly 25mins and then from Busan's Gimhae Airport to Busan Station is another 25mins with an hour wait at the airport before it leaves. So these are roughly the same times with the KTX being more time traveling and the flight being more time waiting around.
Once you're in Busan there is a well-connected subway, just like Seoul. A one-day metro pass for Busan is ₩5,000. You can use the same Seoul Subway app (Apple, Android) to find directions, just change it from Seoul to Busan (it also has Daejeon, Gwangju, & Daegu).
Daegu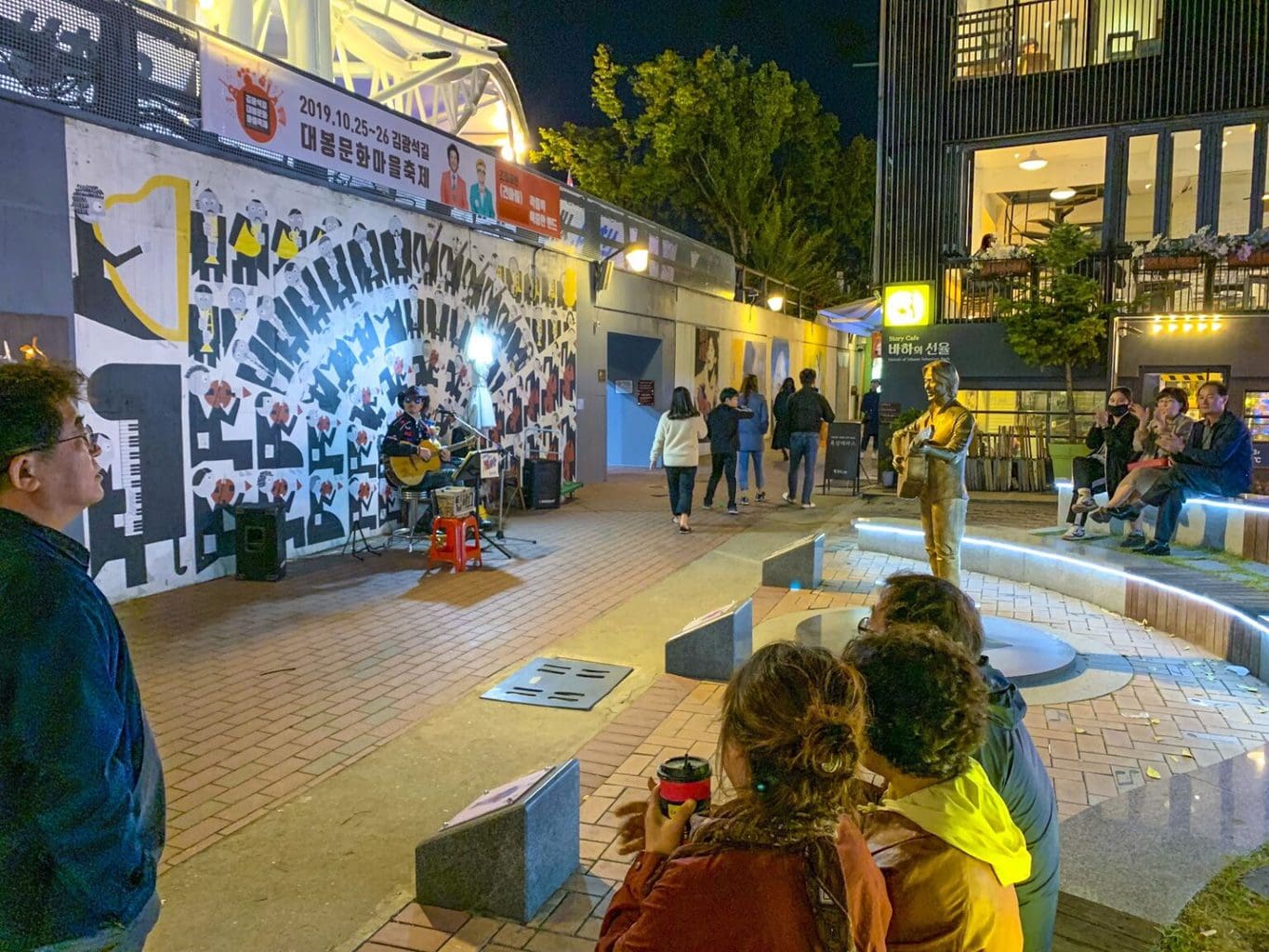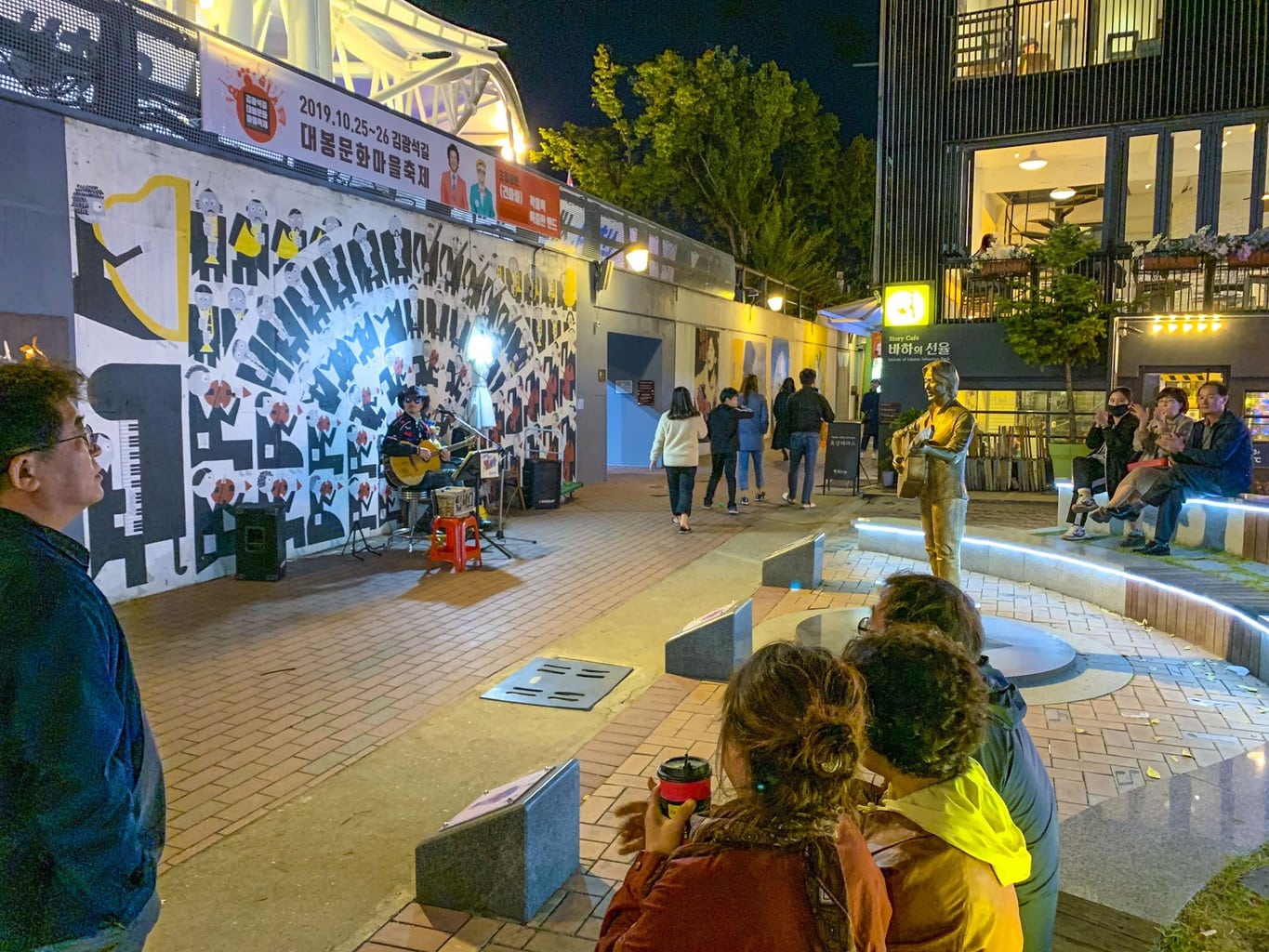 Daegu has a unique vibe which is young but historic, relaxed but also vibrant. You can shop for ancient oriental medicines and visit historical churches and then shop till you drop and party all night long at Dongseong-ro.
There's a high level of spirituality that floats around Daegu with gorgeous Donghwasa Temple high up in the mountains and it holds the First Presbyterian Church of Daegu. There is also a strong history of independence against Japanese colonialism, like the National Debt Repayment Movement led by Seo Sang-Don (you can even visit his house which is not a small museum), which still can be felt today.
Life in Daegu goes at a slower pace and is a very relaxing and healing place to visit for a day trip from Seoul. There is a self paced walking tour of the city center where you can collect stamps at each of the major sites.
The Dongdaegu Tourist Information center says there is a free gift of a disposable camera for those who collect 10 stamps, but after doing so I was told there is nothing. The self-guided stamp trail was a gift in itself though as you pass 67 unique tourist attractions over 5 different courses in several areas around the city.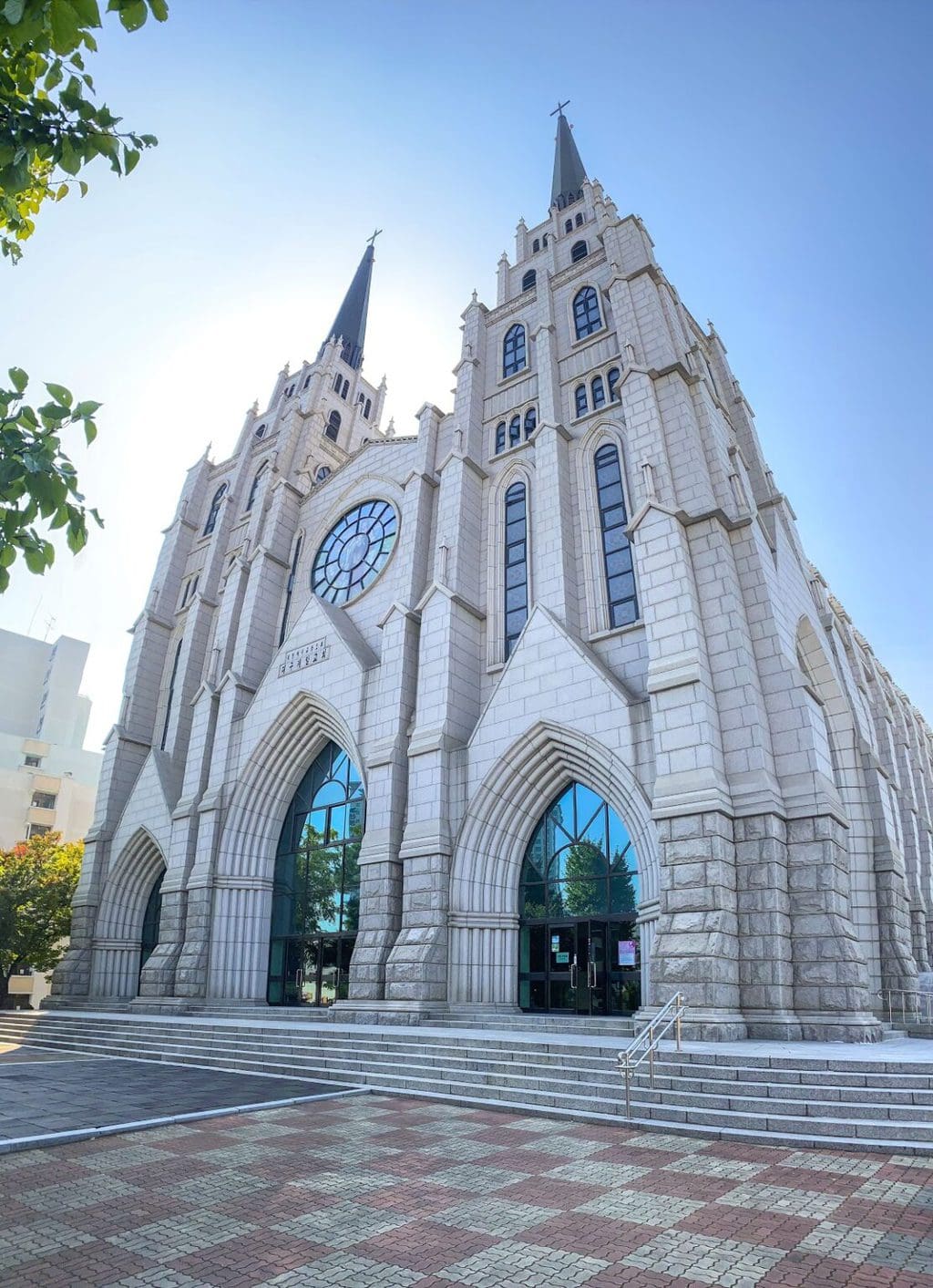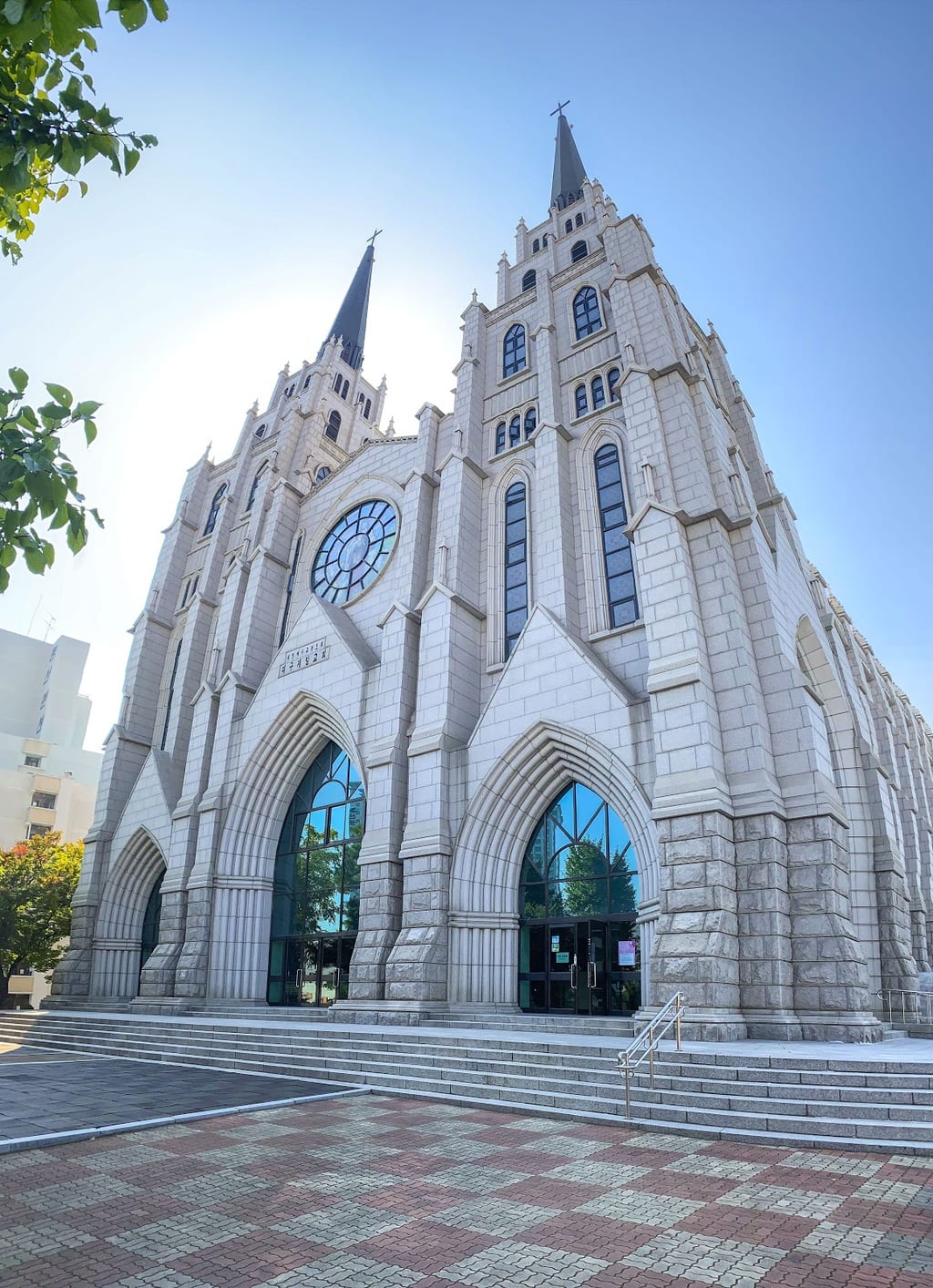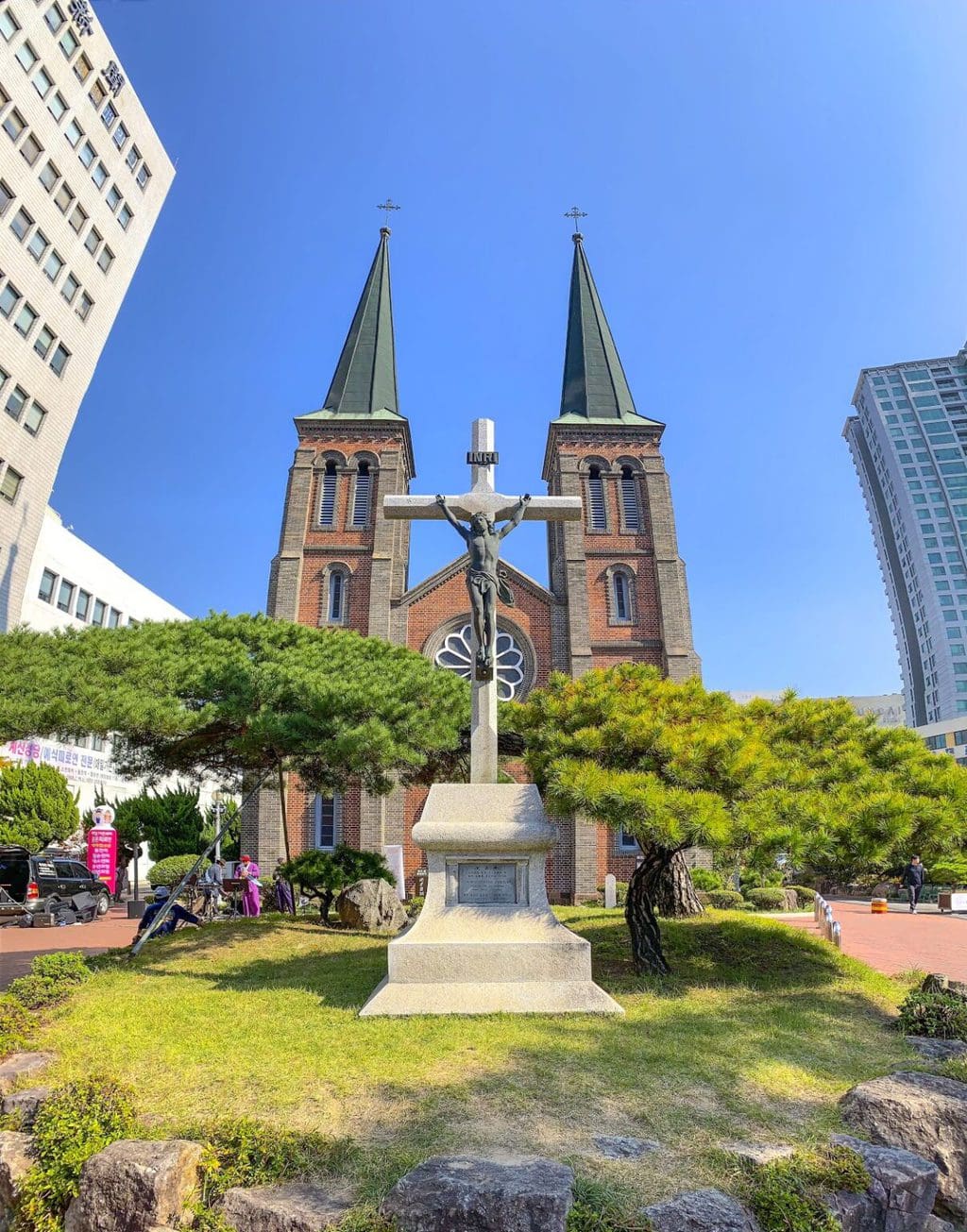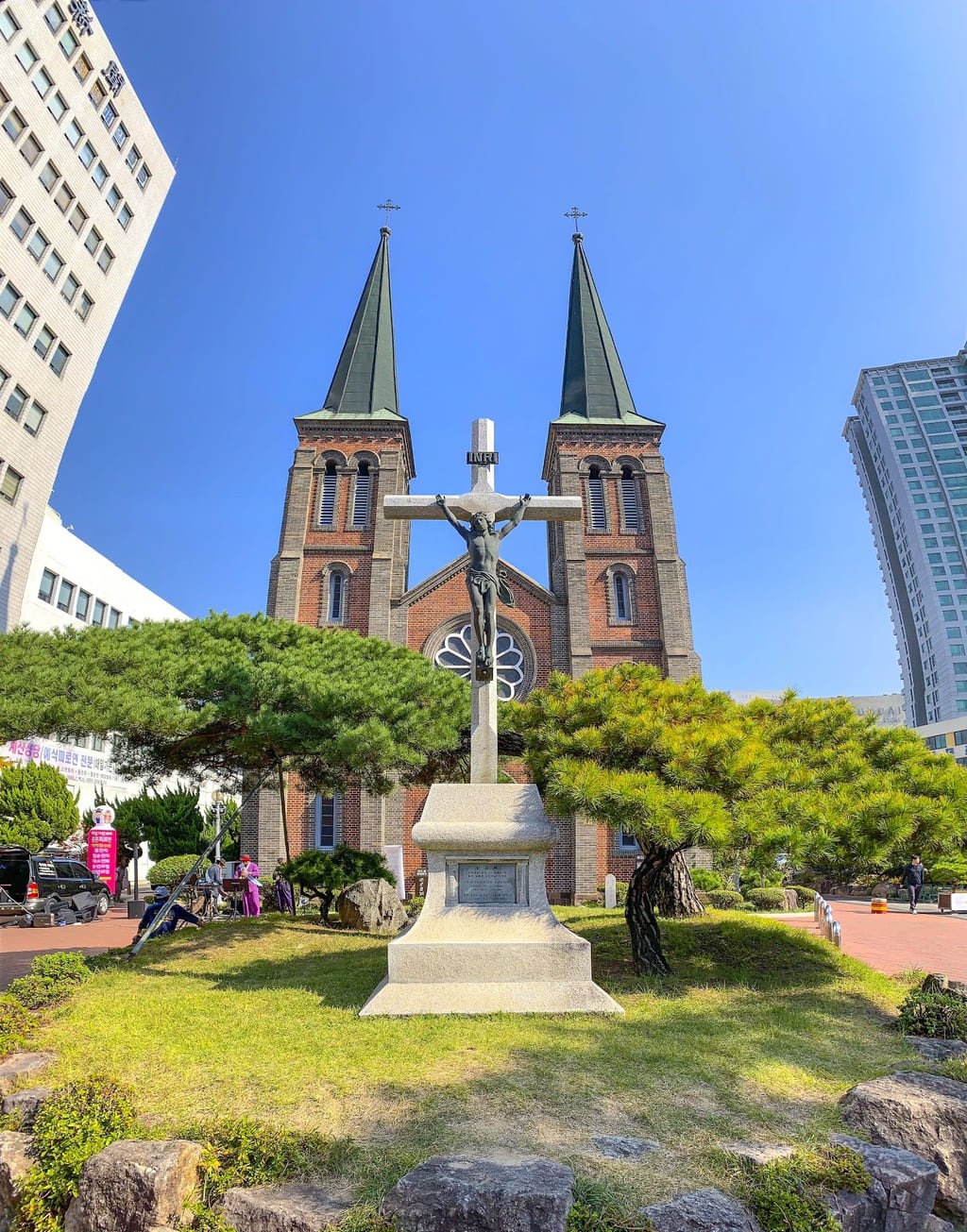 The downtown Jung-gu district is a fascinating and lively area. A few attractions include the newer Daegu Jeil Church which is absolutely massive and can seat up to 3,100 and is a fine example of Gothic style architecture. The red-bricked Gyesan Catholic Cathedral is gorgeous inside and out. Shop for all your traditional medicinal needs at Yangnyeongsi and Seomun markets and be sure to visit the Yangnyeongsi Museum of Oriental Medicine.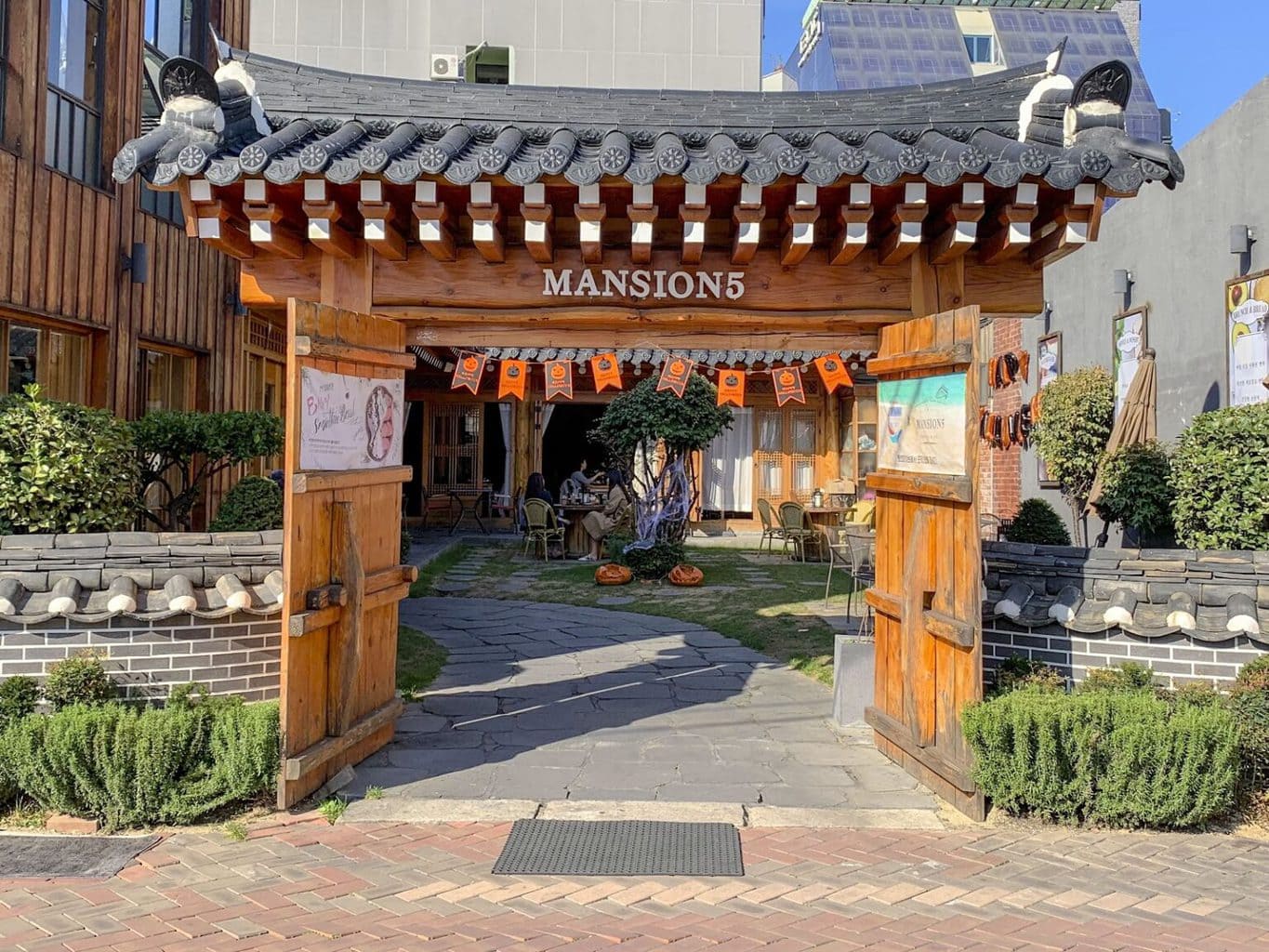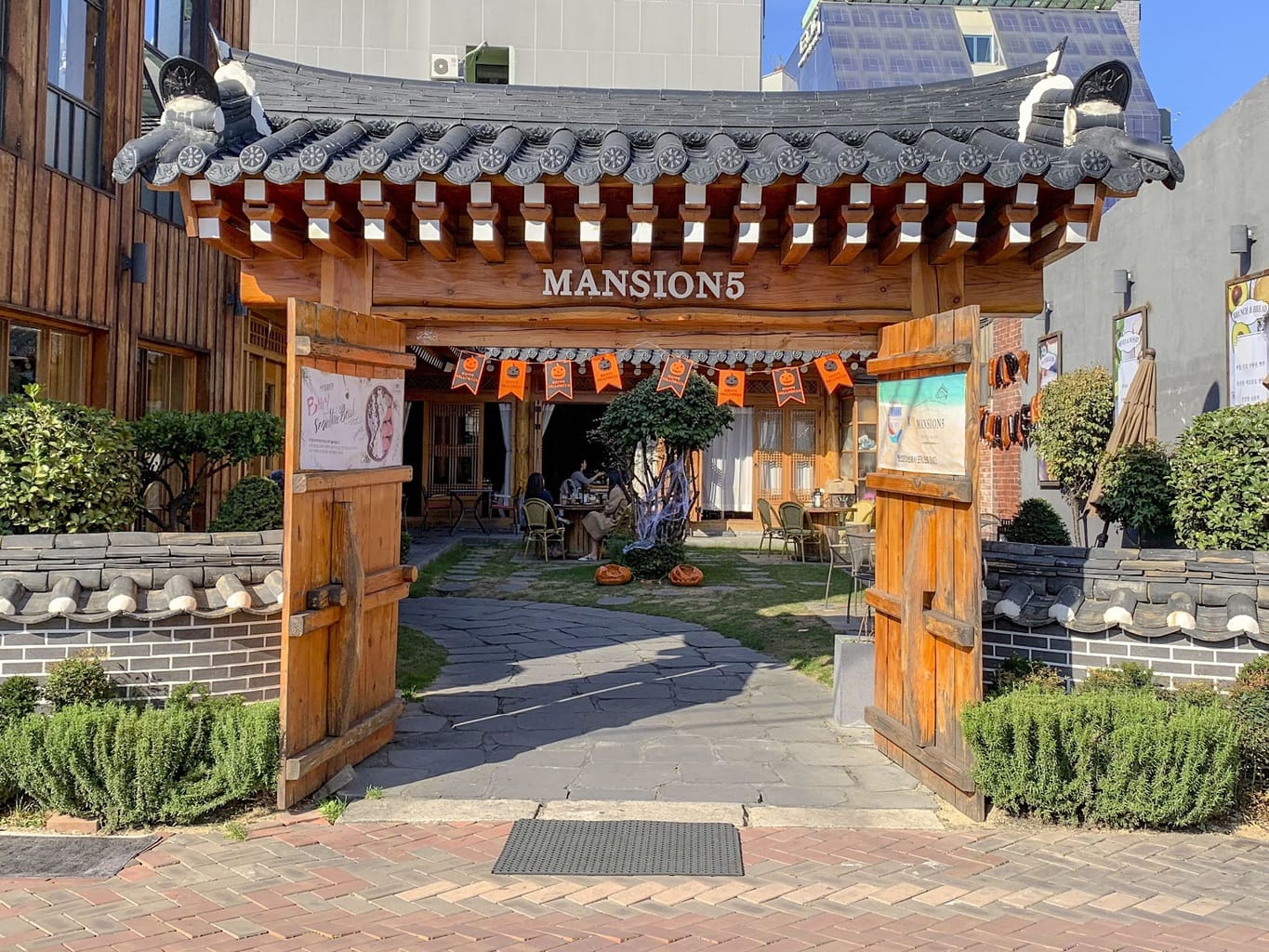 Be sure to roam around Jingolmok Alley which is an old area inundated with hip eateries and cafes in reconstructed Hanok (traditional Korean houses) like Mansion 5.
While Daegu is most well-known for its galbi-jjim (braised short ribs), it really is a foodie's heaven and just about every restaurant is amazing. You can literally spend the day restaurant-hopping and you'll be happy. Hands down best coffee is whole-in-the-wall Coffee Ingu (커피인구), but there's not much place to sit.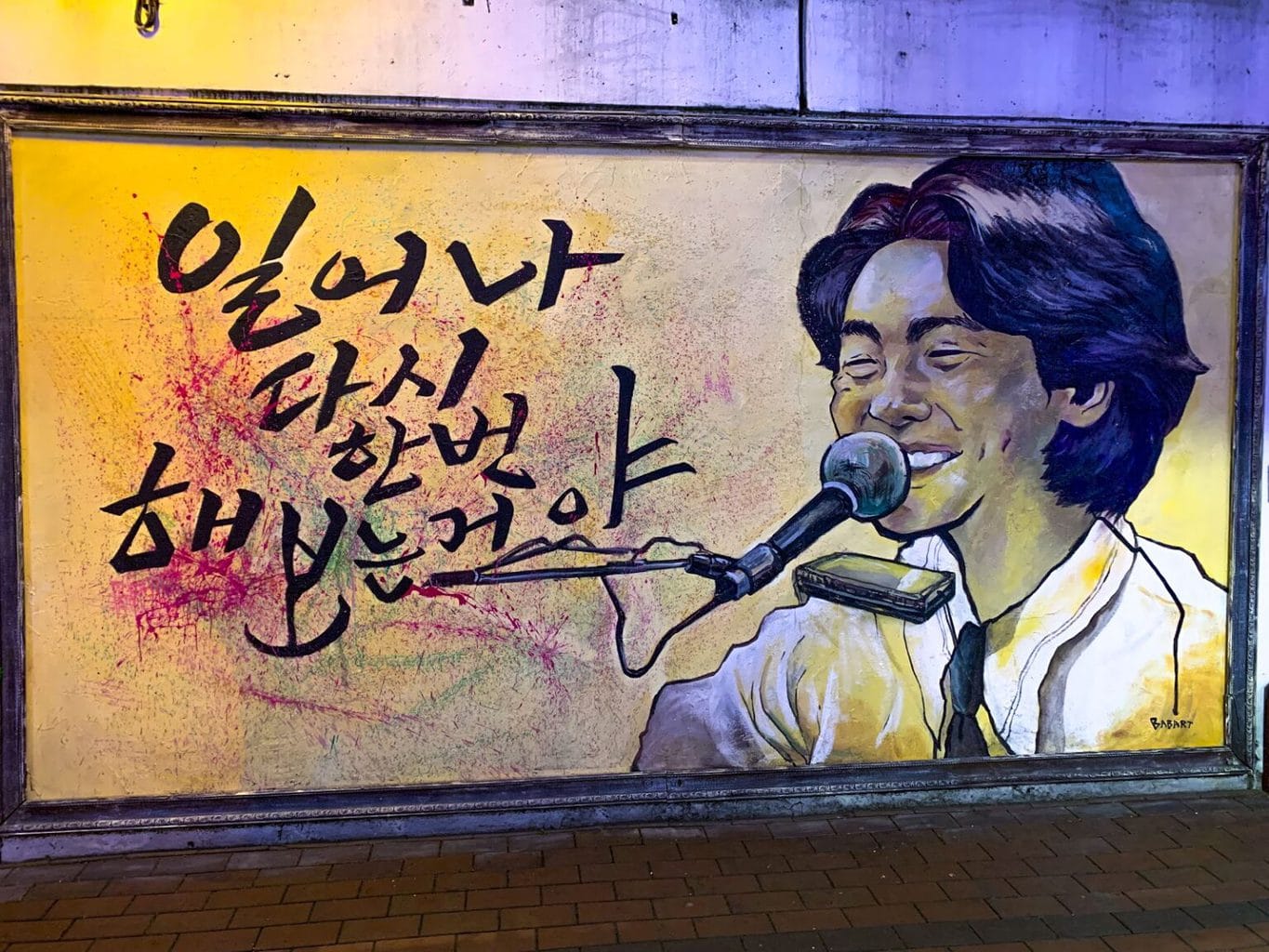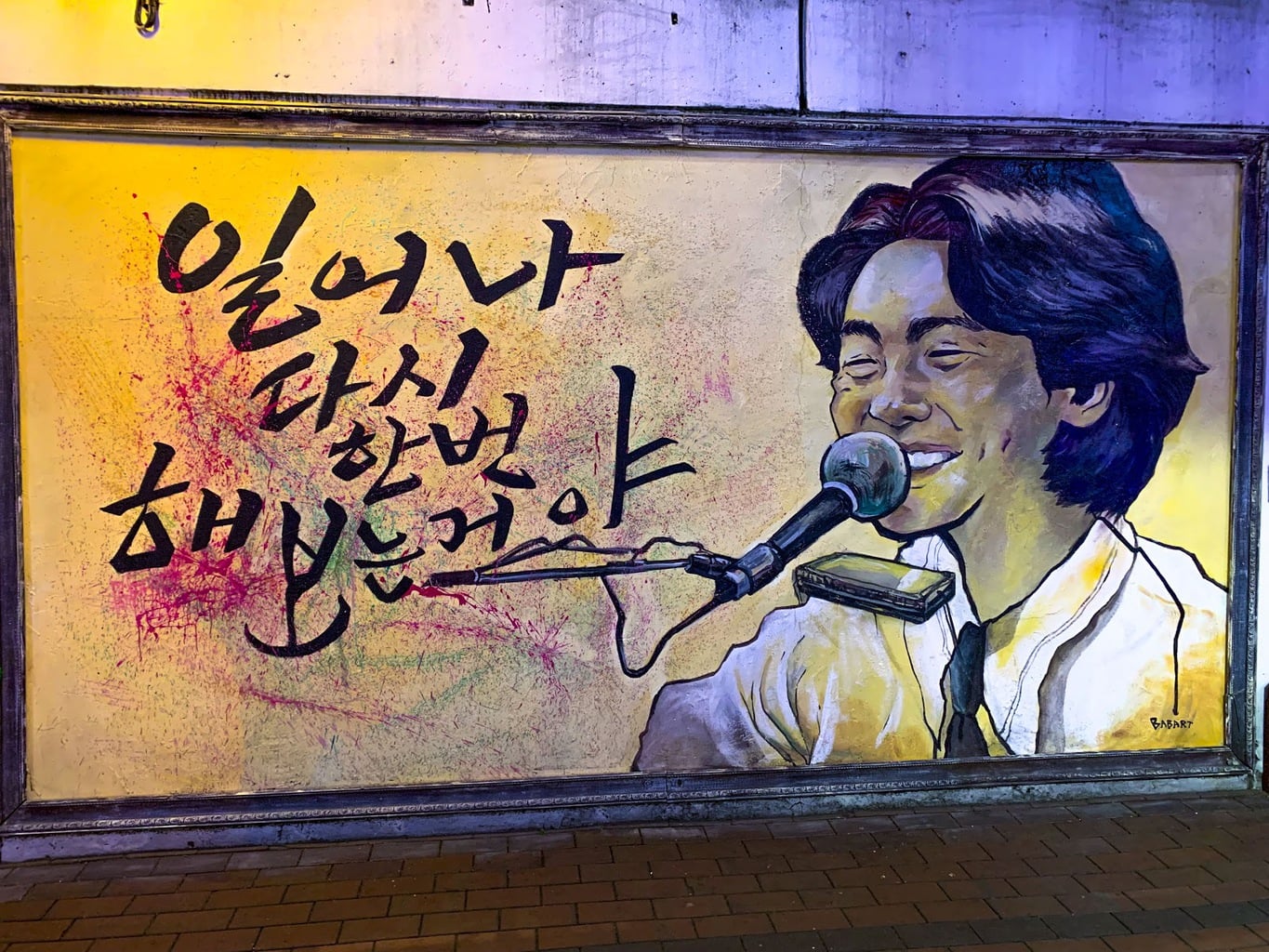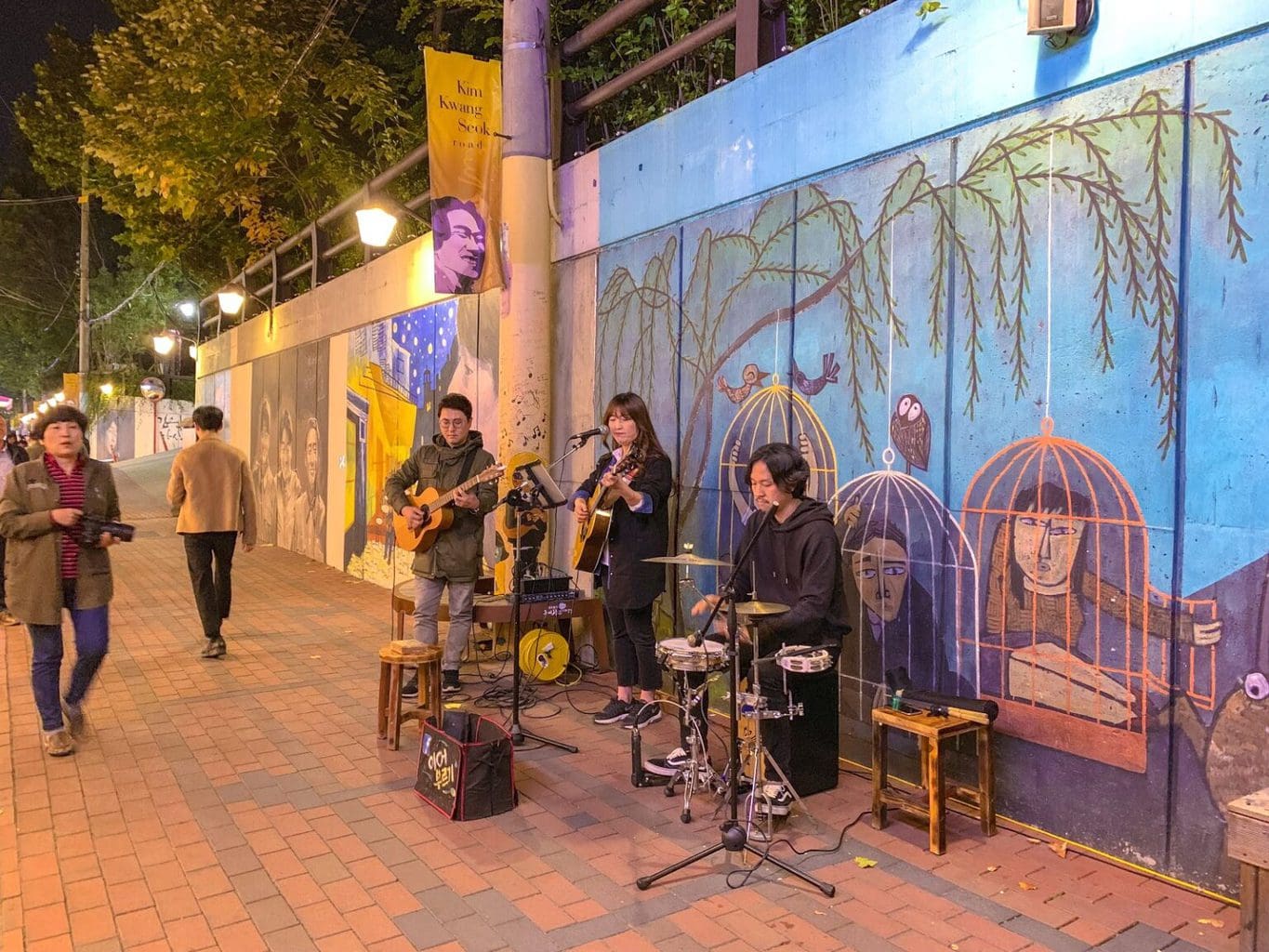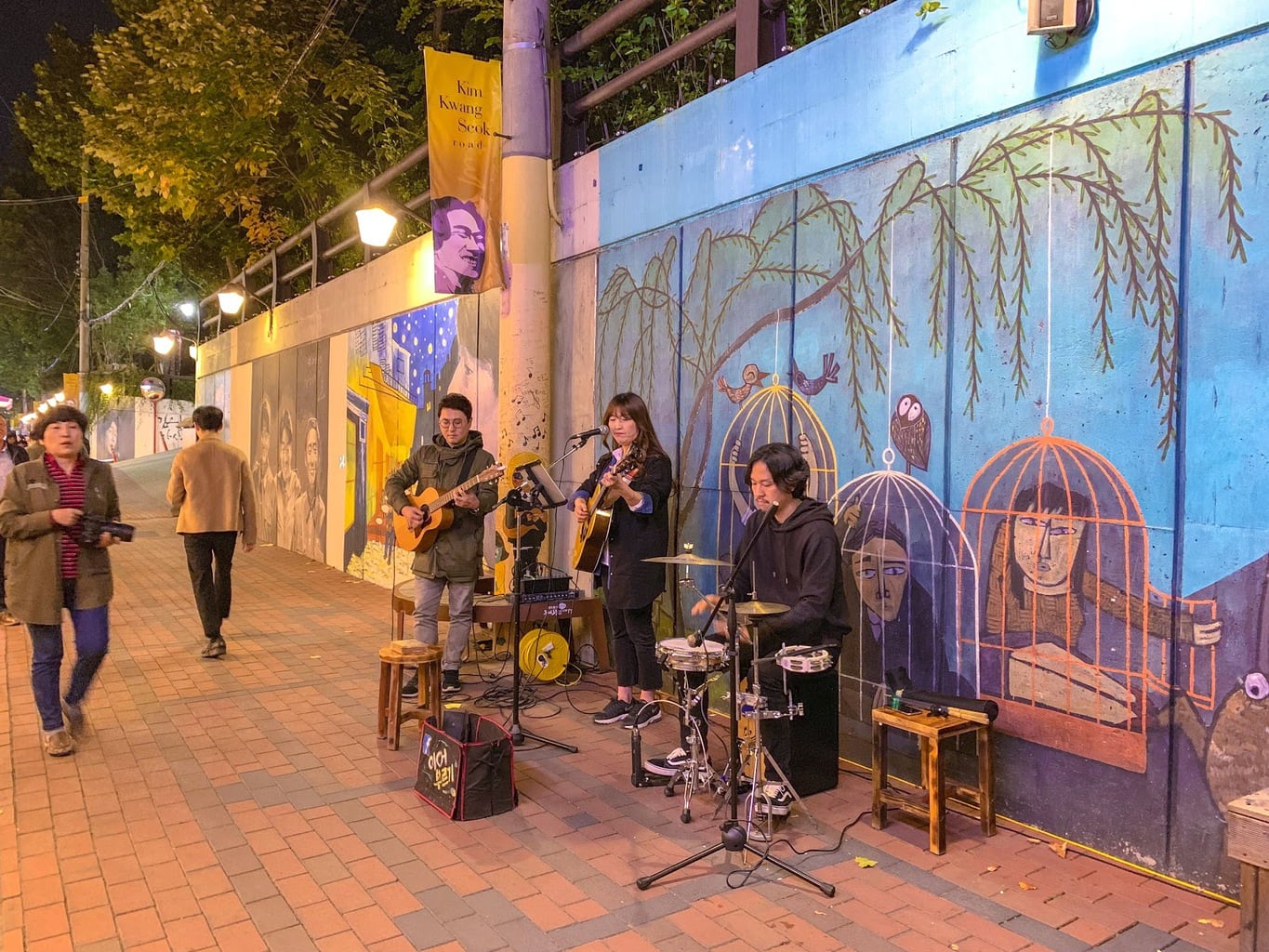 A great cultural spot is Kim Kwang-seok street, an ode to my favorite Korean folk singer/songwriter and a national music treasure who sadly ended his own life in 1996 (although there have been other theories). The street is filled with paintings of him, small boutique stores, eateries and buskers performing.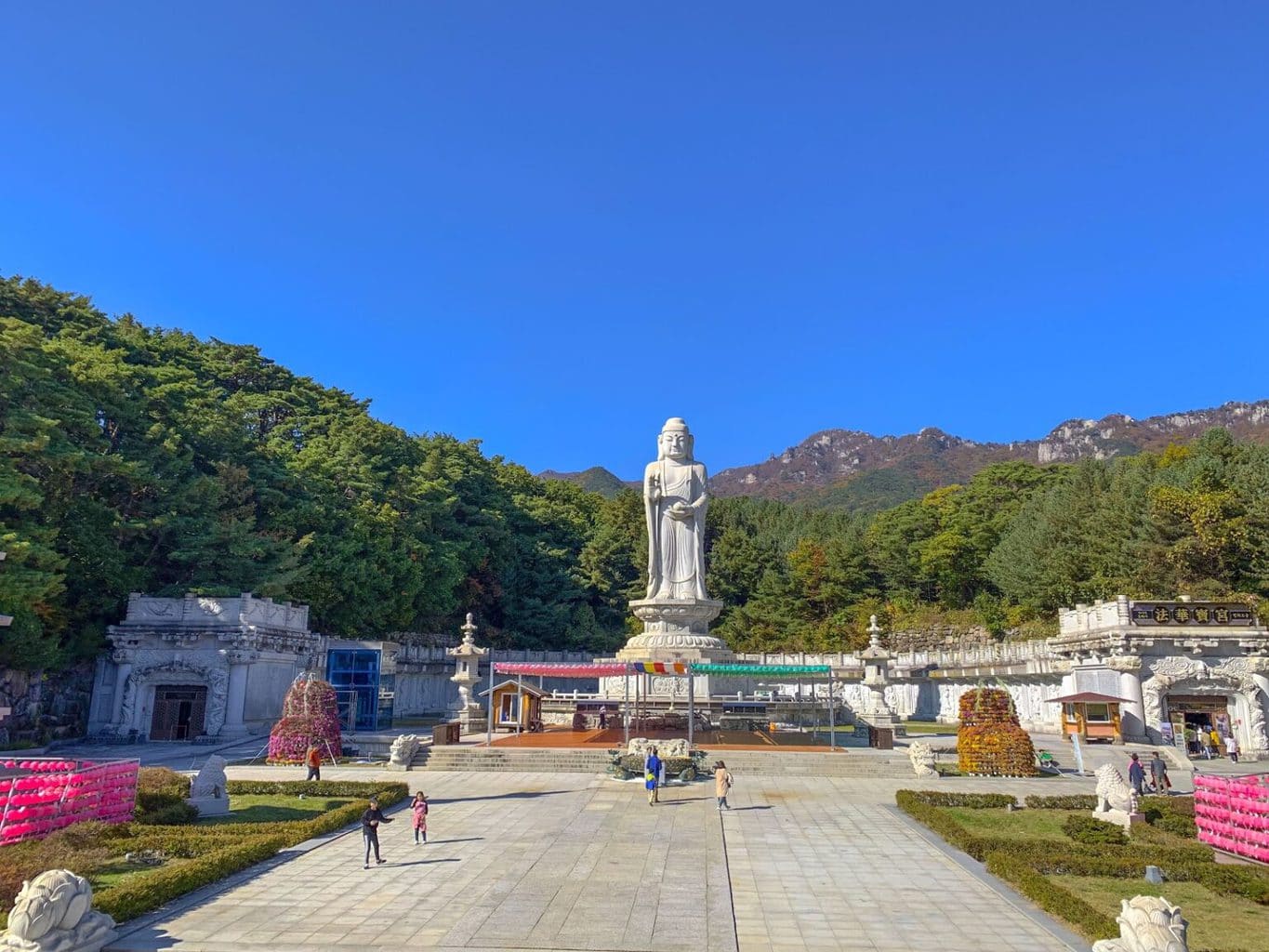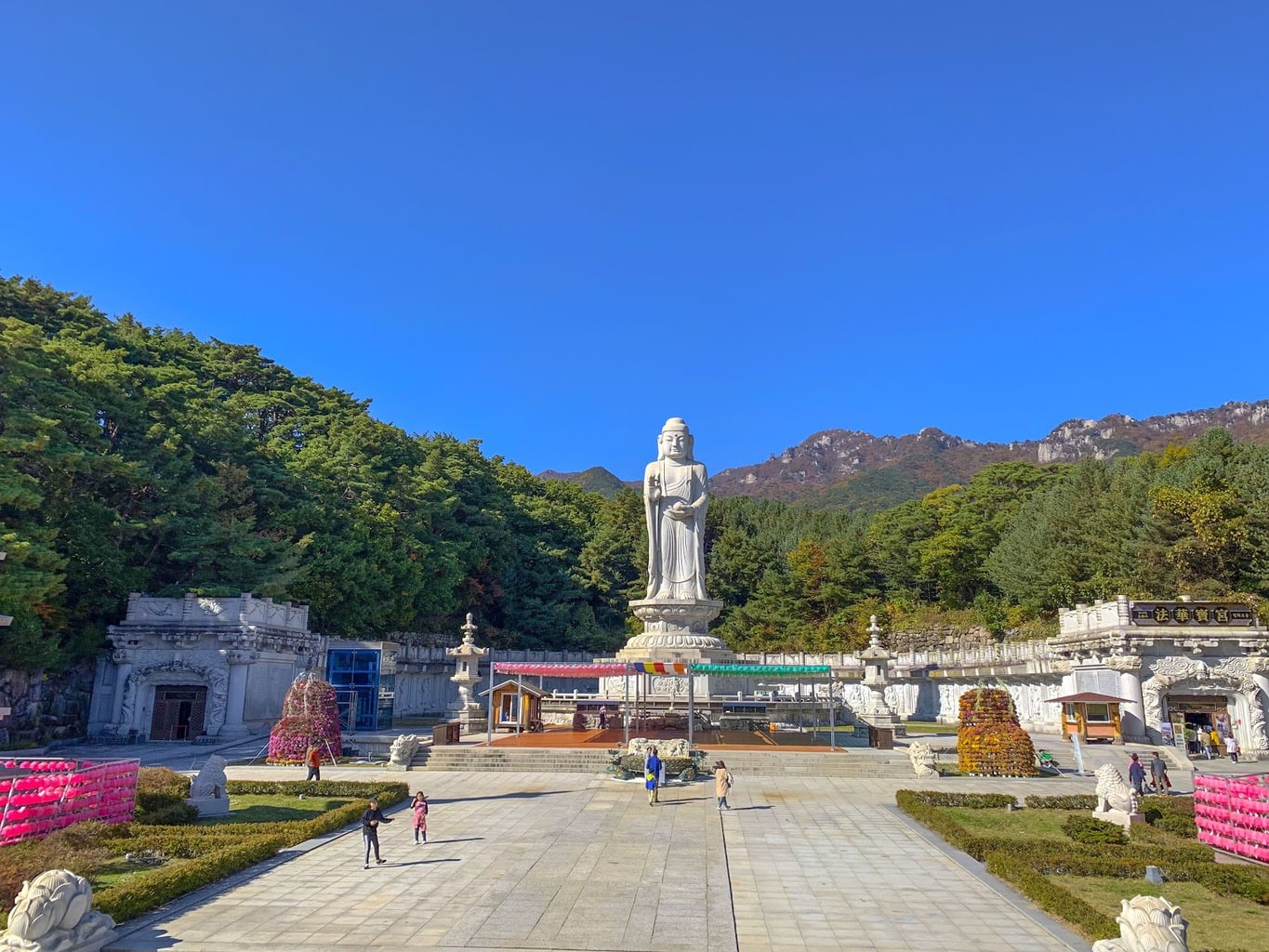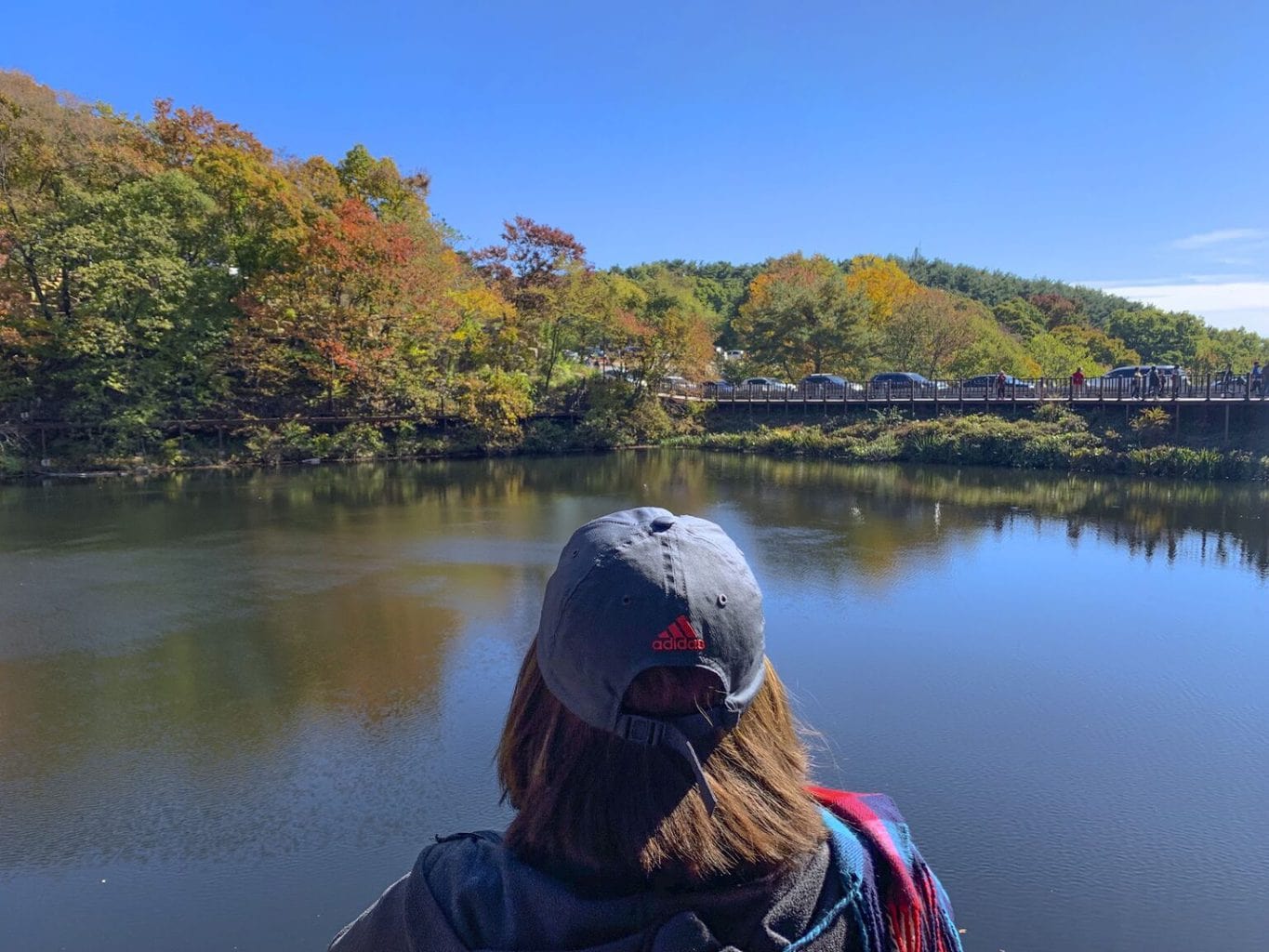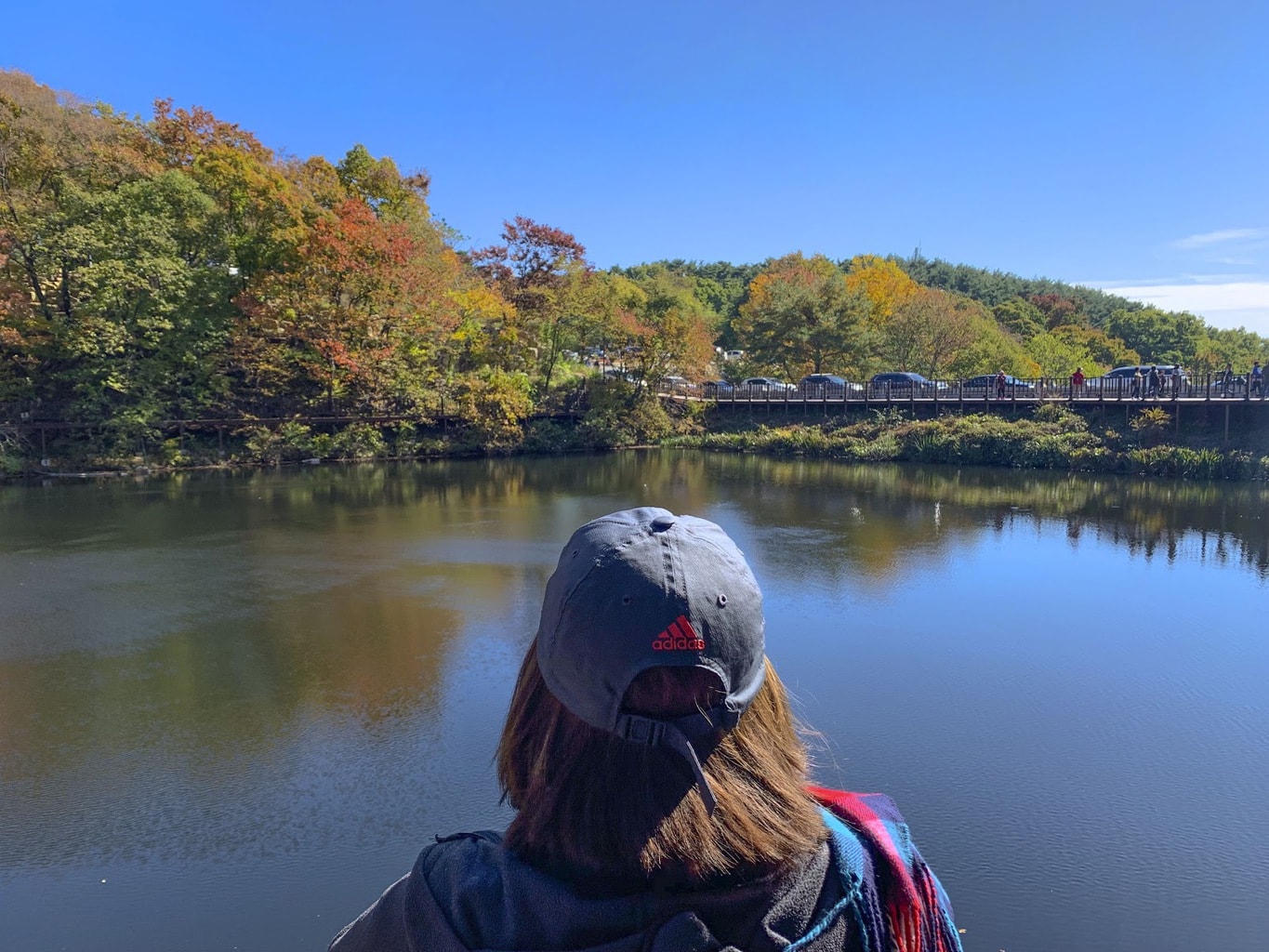 Daegu is also surrounded by beautiful mountains that are definitely recommended visits. Donghwasa Temple is one area to walk around to see nature at its finest as well as visit the 33m Statue of Medicine (Tongil Yaksa Yeorae Daebul), ancient rock carvings, and the International Tour Zen Experience Center.
Nearby, you can take the cable car up Palgong Mountain, at the base there are also loads of restaurants, cafes and nice walking paths. Apsan Mountain is closer to the city center and is a nice place to see the night scenes of Daegu.
You can take the kids to the zoo at Dalseong Park, take a paddle boat at Suseongmot Lake, experience youth culture at Dongseong-ro, or go up Daegu Tower (E-world 83 Tower). Basically, you won't be bored with a day trip from Seoul to Daegu.
How to get from Seoul to Daegu: Daegu does have it's own airport and takes about an hour to fly to, but, like Busan, taking the train could be a better option. The KTX goes directly from Seoul Station to Dongdaegu Station and takes roughly 2hr20mins. Daegu also has its own subway system and loads of public transportation, but hiring a car or taking a taxi is advised if you want to visit the more far-flung places faster like Palgong Mountain.
Andong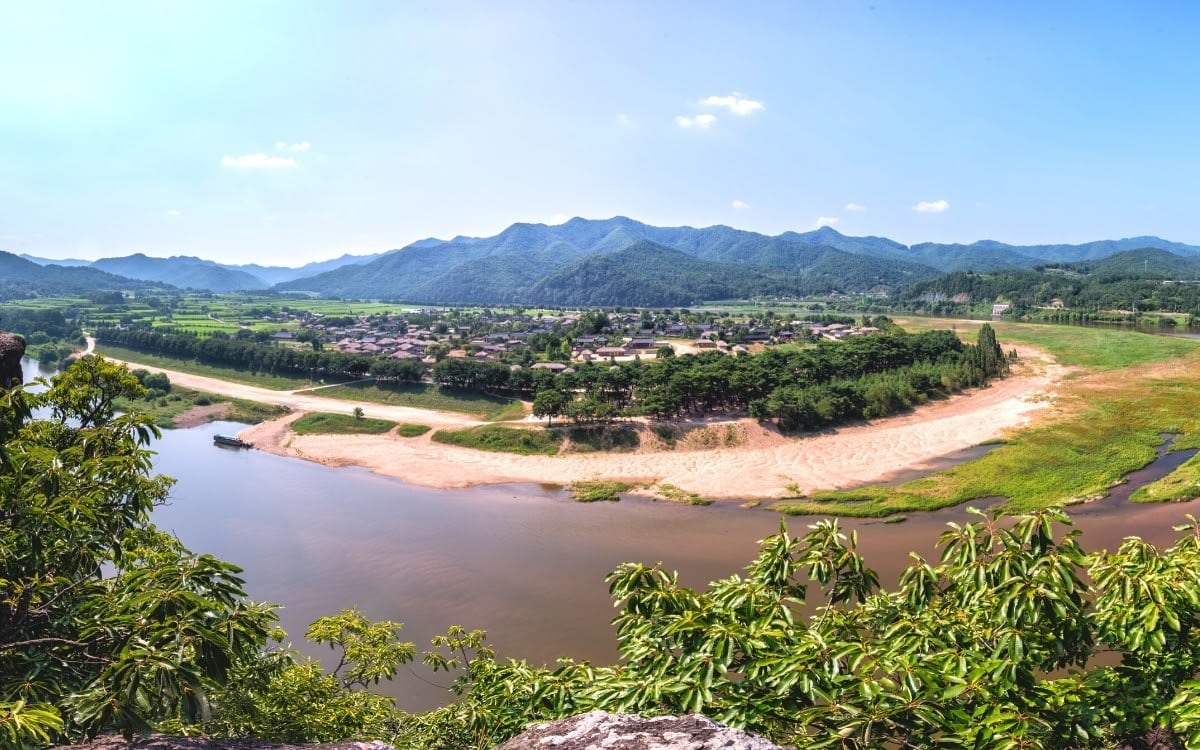 If you're looking for a bit of a less packed day away from Seoul and more of a slower paced getaway in small towns that hold significant cultural relevance, then you can choose to escape to either Andong or Gyeongju. These also make for great day trips from Busan if you're staying in the port city a bit longer.
As Andong is a bit out of the way, it's better to put it on your list of destinations for a longer holiday. That being said it can be reached for a day trip from Seoul in around 3 hours one way. Why would you want to visit such a far flung place? Because it's the center of folklore in South Korea and the epitome of "Koreanness".
It's so central to the history and culture of the country that on her visit to South Korea in 1999, Queen Elizabeth II reportedly asked to visit the "most Korean place in Korea" and was taken to Hahoe Village in Andong.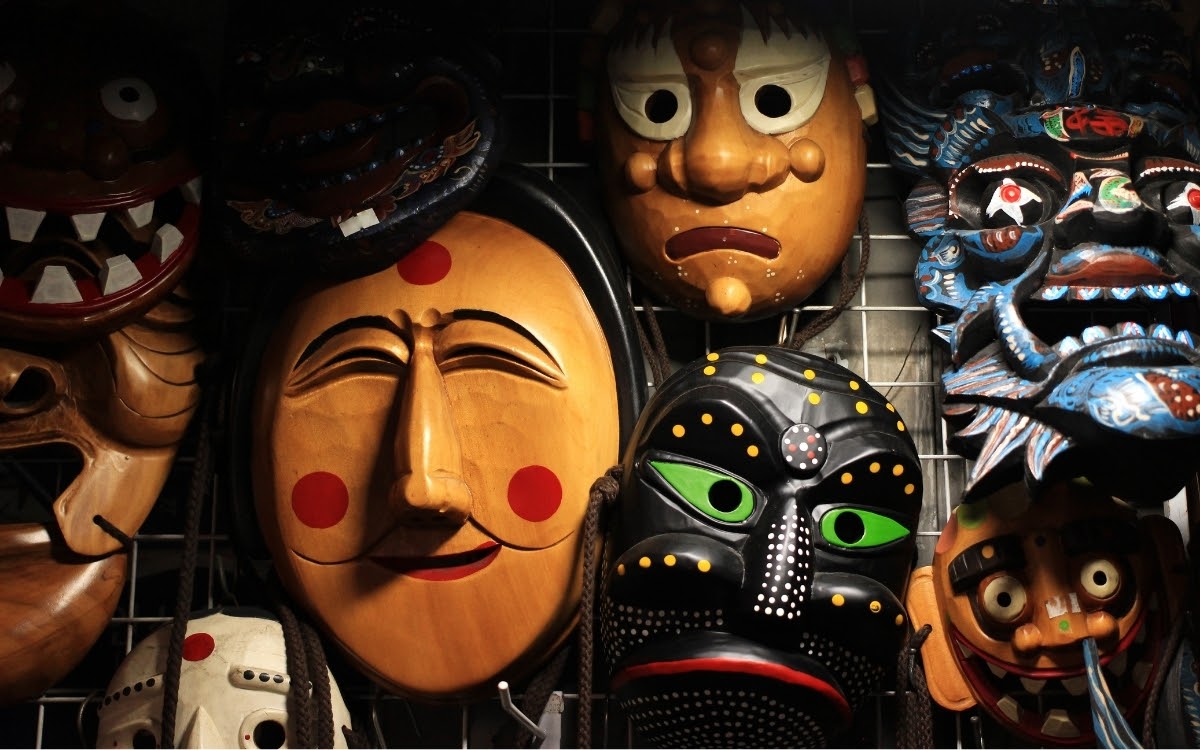 The famous Korean mask pictured above (known as Hahoetal) was created in Andong, and due to this it holds the annual Andong Mask Dance Festival at the end of September/beginning October for 10 days.
This would definitely be your best time to visit if you had the choice as the festival hosts a variety of centuries old masked performances that were originally aimed at poking fun at the nobility of the time. There are also food stalls, and other cultural performances like Apsara from Cambodia or shadow puppetry from Thailand.
If you've seen the hit Fox US TV show The Masked Singer, you may not know that it original came from a Korean show called The King of Mask Singer (미스터리 음악쇼 복면가왕 – Miseuteori Eumaksyo Bongmyeon-gawang).
When the festival isn't on, Andong Hahoe Folk Village is most well known for its epically beautiful Woryeonggyo Bridge floating on the Nakdonggang River. It holds the tragic yet beautiful tale of a wife who made a pair of mituri (hemp shoes) from her hair in an ode to her late husband. The bridge is therefore made in the same shape as mituri.
How to get from Seoul to Andong: Take a bus from Express Bus Terminal in Seoul to Andong Terminal (2.5 hrs). You can also catch the Korail from Cheongnyangni Station (3.5 hrs). Andong Hahoe Folk Village is a 30min taxi/car ride, Mask Dance Park is a 15 min taxi ride.
Gyeongju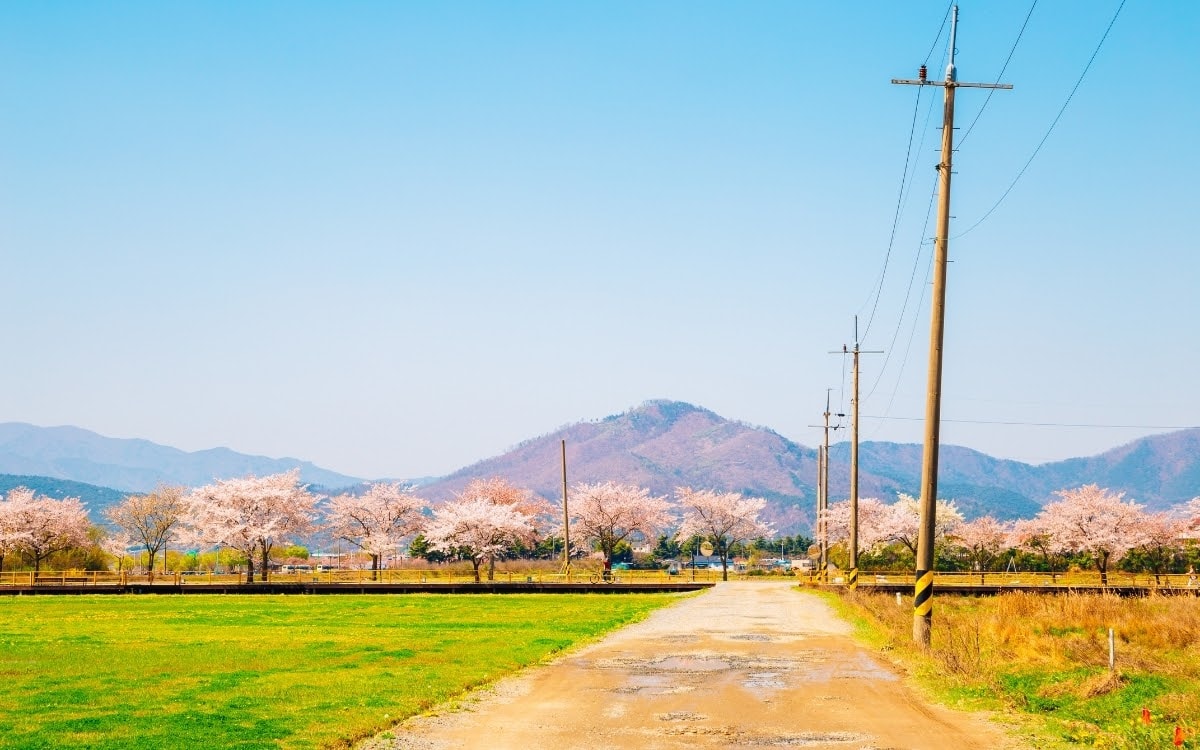 Gyeongju is yet another gorgeous, rustic, culturally significant town in Gyeongsang Province, which holds UNESCO significance and is an amazing escape, especially if you want to escape the franticness of Seoul and detox for the day.
Often dubbed as "the museum without walls", Gyeongju is vast and open and possibly one of the few places in South Korea where you can escape the ubiquitous apartment complexes. I personally love hiring a bicycle and just peddling around the bike paths and taking in the scenery. There are rental shops are all over the place including one next to Gyeongju National Museum and are about ₩3,000/hr or ₩15,000/day.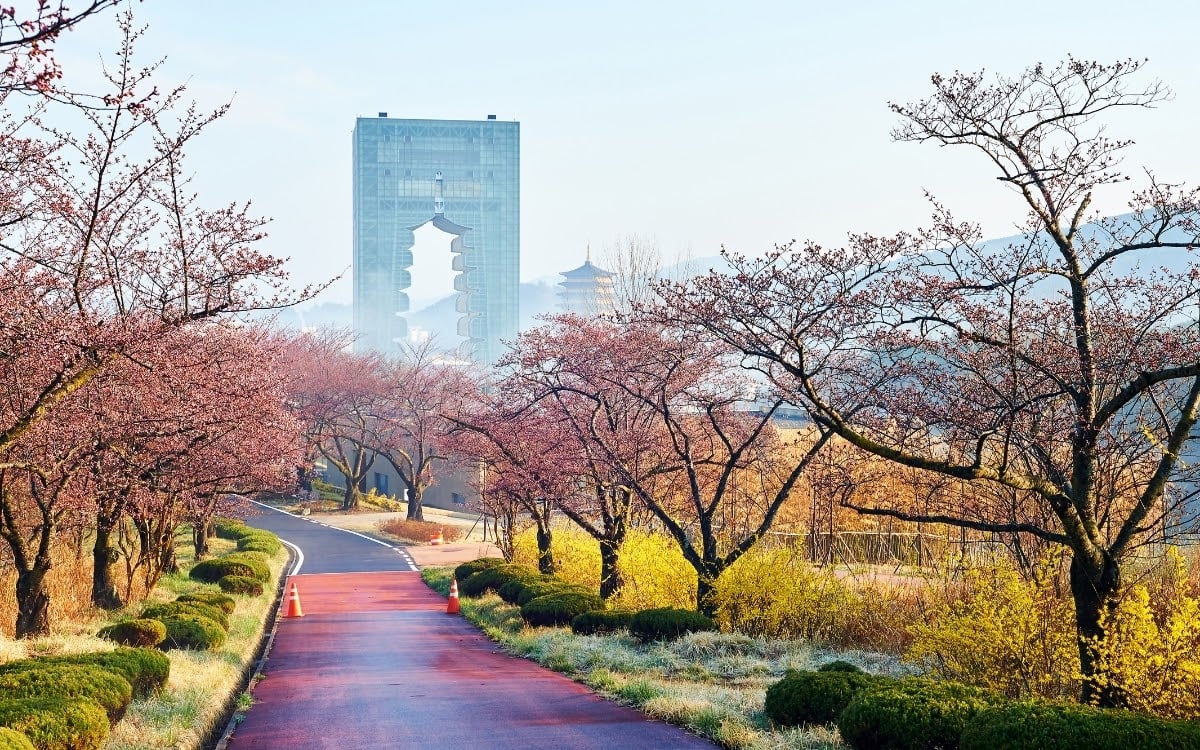 The main areas to explore are the vast Bulguksa Temple with the Seokguram grotto, a stone temple made of granite with the impressive Bonjon Bodhisattva Statue.
You can explore an ancient traditional yangban (traditional ruling class of Korea) village from the Joseon dynasty at Yangdong Folk Village, the giant mounds of earth at the Daereungwon Tomb Complex (also called Tumuli Park), night stroll at Donggung Palace and Wolji Pond, or see the snow covered Bomun Pavilion.
You can also get lost among the pines and forest bathe. See the images of photographer Bae Bien-U for some wanderlust.
Gyeongju is extremely different from Busan and more for nature lovers, poets and dreamers. Foodies must try the Gyeongju bread (Hwangnam ppang), which was first made in 1939 and is filled with red-bean pastry.
In spring (end of March to early April) Gyeongju has its own cherry blossom festival where there are performances and boutique markets throughout the week-long festival. But it's really a place to visit at just about any time of the year.
If you are coming here for the day from Busan, you can book a tour of the entire area with all the sites mentioned above from Busan, like Bulguksa, Daereungwon, Huanglidan, Gyochon Village, Woljeong Bridge and Cheomseongdae. Book it online here. This tour is basically the same but has hotel pickup from anywhere, so if you're coming for the day, just meet at the station.
How to get from Seoul to Gyeongju: You can take the KTX from Seoul to Singyeongju Station (about 2 hours) which is approximately 3km from Gyeongju City Centre. There are local buses constantly going to the center, but you may want to take a taxi for convenience, although this could be more expensive than the bus.
Jeolla Province
Jeolla Province is usually not on many lists of the best day trips from Seoul as it takes the longest to get to, however it is easy to reach on the KTX so it is definitely possible and worth the trek if you want up early enough.
Jeolla as a tourist destination is more popular among the locals than foreign tourists, but as connection to the city improves, expats and foreigners are starting to venture out to the south-western province flanked by both the Yellow and East China Seas.
You'll find culture, history, food and some of Korea's most beautiful coastal cities and nature reserves in Jeolla from the south-western area of the Jirisan National Park near Gurye to the epic UNESCO-listed Suncheon Biosphere Reserve.
Gwangju
Gwangju is the 6th most populous city in South Korea and is a great blend of nature and metropolis. Downtown Gwangju has Hwanggeumdong Street, basically Gwangju's version of Myeongdong. But this shouldn't be the reason you visit Gwangju on a day trip from Seoul.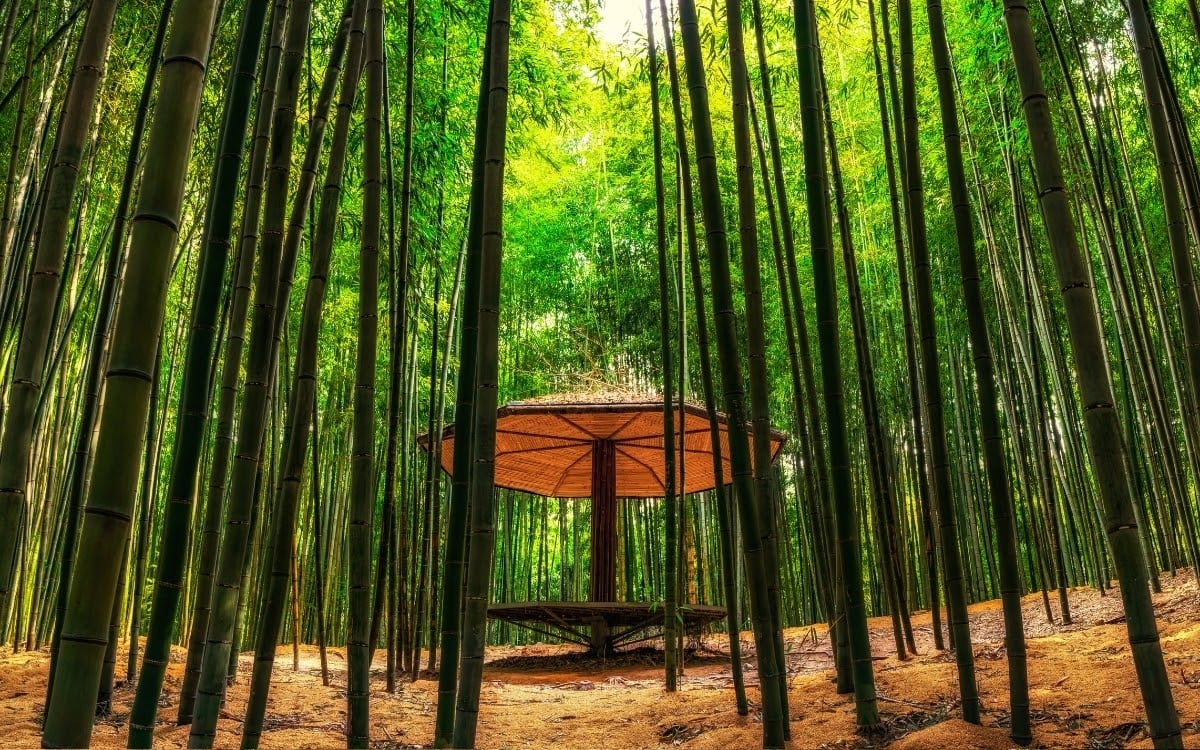 The most spectacular area in the city is by far Damyang Bamboo Forest compared to Japan's Arashiyama. It's the spot for the annual Damyang Bamboo Festival (first week of May) which is a popular Korean festival that is all about the bamboo.
You can taste some amazing bamboo cuisines and liquors (called daenamu tongsul – 대나무 통술), sample musical instruments and weaponry, or check out bamboo art. If you can't make the festival, it might even be better as the silence among the bamboo is spellbinding.
Make sure you sample the bamboo ice cream and purchase some bamboo beauty products. Nearby, you can visit other popular sites like the Joseon Dynasty Soswaewon Garden, Damyang Gwanbangjerim Forest along the stream, Juknokwon (Bamboo Forest), or the epic Metasequoia (Dawn Redwood) Road.
Gwangju also holds deep historical importance as it's the place where the 5.18 (18 May 1980) Gwangju Uprising was held which was the Democratic Movement against the South Korean Government led by then-leader Chun Doo Hwan. This paved the way for the spirit of Gwangju, whose citizens are very protective of their democratic rights.
Pay your respects to those that fell at the Memorial Park and the 5.18 Memorial Culture Centre.
Have some dinner before you go back to Seoul at Daein Market, especially on Saturdays when there is a flea market. And make sure to sample the famed tteokgalbi (grilled short-rib patty with minced pork and beef) that has its own street in the city called Tteokgalbi Alley in Songjeong.
Skip the train and take a guided day tour from Seoul which visits Damyang bamboo forest (Juknokwon) but also stops at the Metasequoia Road, Jeonju Hanok Village, and some foodie goodies like bibimbap and Jeonju Choco Pie. You can book your tour here.
Why not do something a little more daring and unique with a Hwaseong and Damyang Light Aircraft Flight Experience! Take to the sky and witness the rolling mountains from way up above. This is something you will surely never forget and would make for an amazing birthday gift. Book your flight online here.
How to get from Seoul to Gwangju: Take the KTX from Yongsan Station or the SRT from Suseo Station to Gwangju Songjeong Station which is about 2 hrs long. Catching the bus from Express Bus Terminal will take around 3 hours. Gwangju does have an airport if you'd prefer to take the 50 min flight, but with transfers and travel times to and from the airports it could end up being much longer.
Jeonju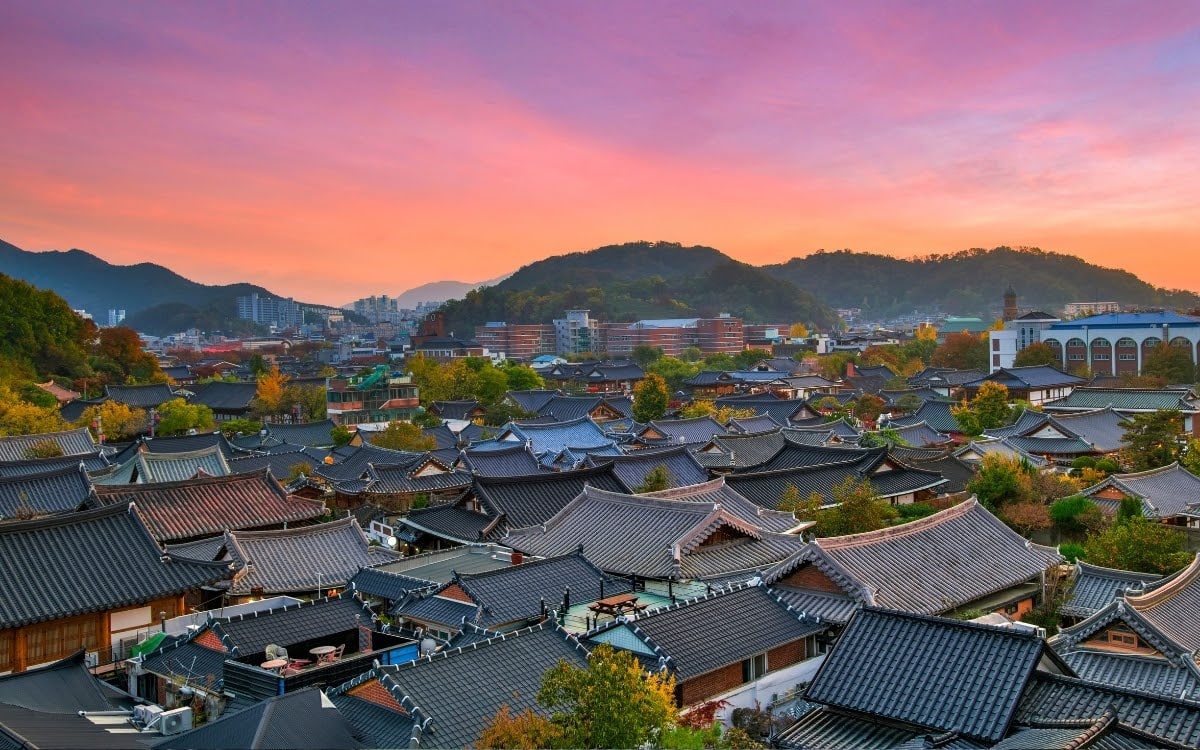 If Bukchon Hanok Village were somehow flung into rural Korea and expanded, you'd end up with Jeonju. It's a fascinating cultural town with more traditional houses and roads than apartments and malls. It received culinary acclaim in 2012 as it was awarded a UNESCO city of gastronomy label, particularly due to the ubiquitous Jeonju Bibimbap (mixed rice).
After a brisk 2 hour train ride you will land in the city where the most popular thing to do is rent a Hanbok (traditional Korean clothing) and stroll around popular sites such as Gyeonggijeon Shrine, home to the portrait of King Taejo, founder the Joseon dynasty, and Jeonju Hanok Village, a complex with multiple museums and restaurants right in the old houses.
You can try your hand at pottery and crafts by joining one of the lessons at the Jeonju Crafts Exhibition Hall. For some awesome photo opportunities, you can see the city from above at the Omokdae Viewpoint or make your way to Jaman Mural Village.
Get some dinner at Nambu Market, especially if you're visiting on Friday or Saturday, or at Gaengnidan-gil (named after the trendy spot near Itaewon in Seoul) which also has boutique retailers and cutesy cafes.
You may want to leave all the planning up to the experts. So why not enjoy a convenient day tour from Seoul to Jeonju which will have you exploring Jeonju Hanok Village, Damyang Bamboo Forest, and the Metasequoia, with some traditional food. Book your tour online here.
How to get from Seoul to Jeonju: As mentioned you could catch the 2 hour KTX from Yongsan Station to Jeonju Station. There are also buses that depart from Seoul Central City Bus Terminal and take around 3 hours.
Yeosu/Suncheon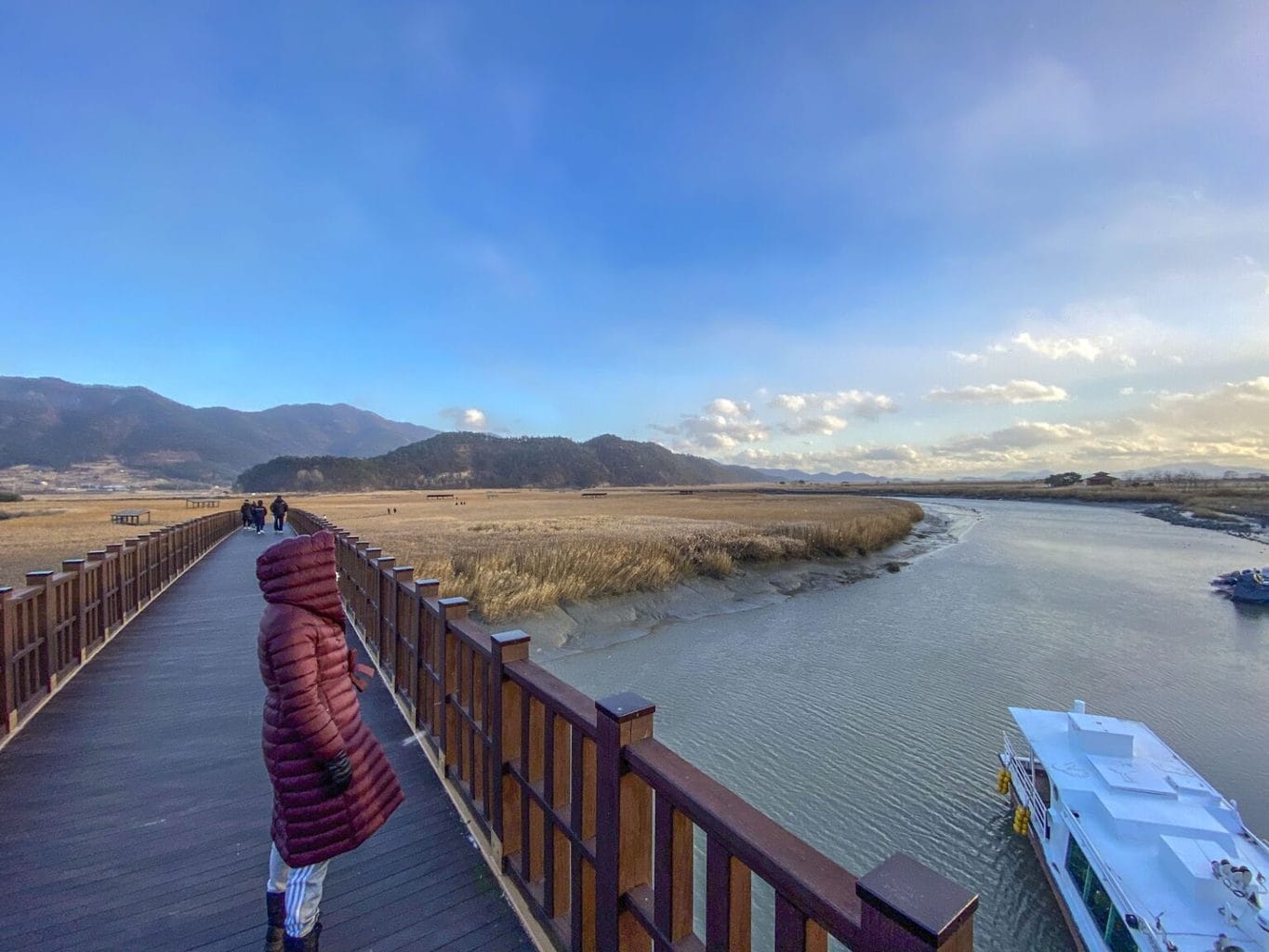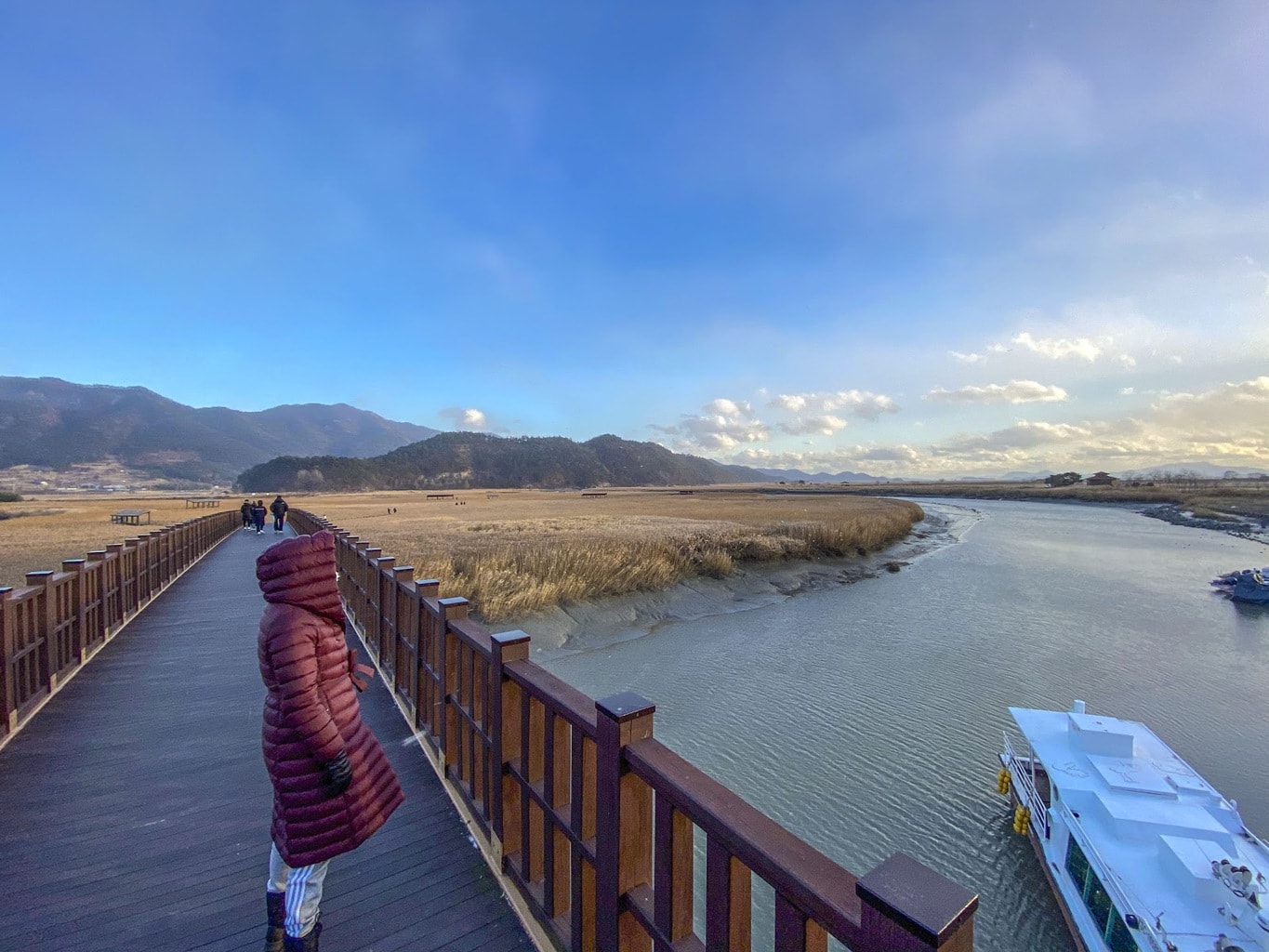 Probably the furthest of the destinations in this article, Suncheon and Yeosu are amazing places to escape to for the day, but are better if you could make them a longer trip. The two oceanside cities are right next to each other.
If you love the ocean, natural biospheres, island hopping, hiking and a general relaxed vibe, then these two cities are definitely for you. Suncheon is more in-land, but if you travel toward Yeosu you'll find the ocean and its main attraction Suncheon Bay Biosphere Reserve.
This massive protected saltwater wetland is home to thousands of birds (roughly 140 species), large open spaces, salt swamps, a boardwalk floating over reeds, a fascinating museum and an observatory.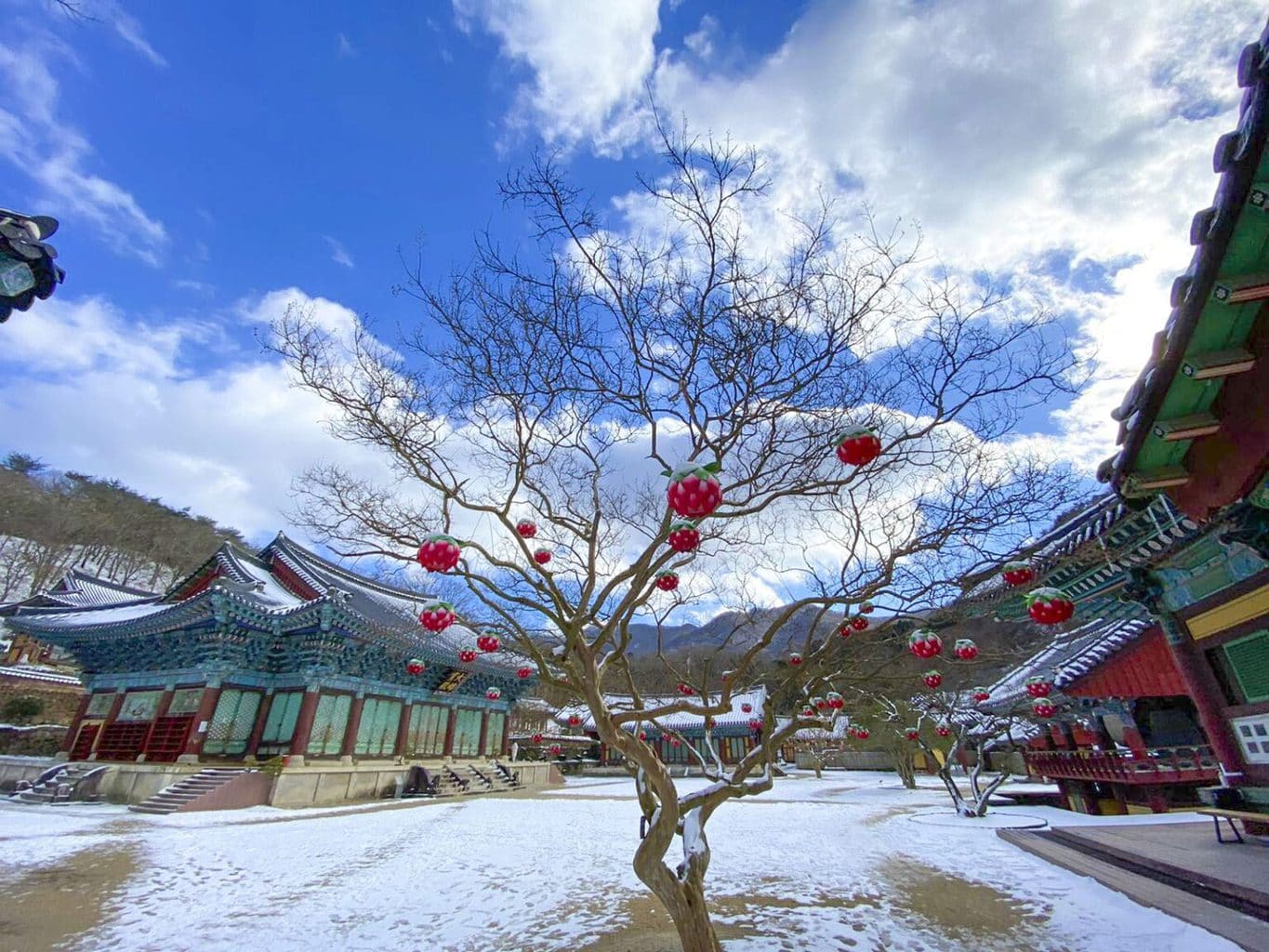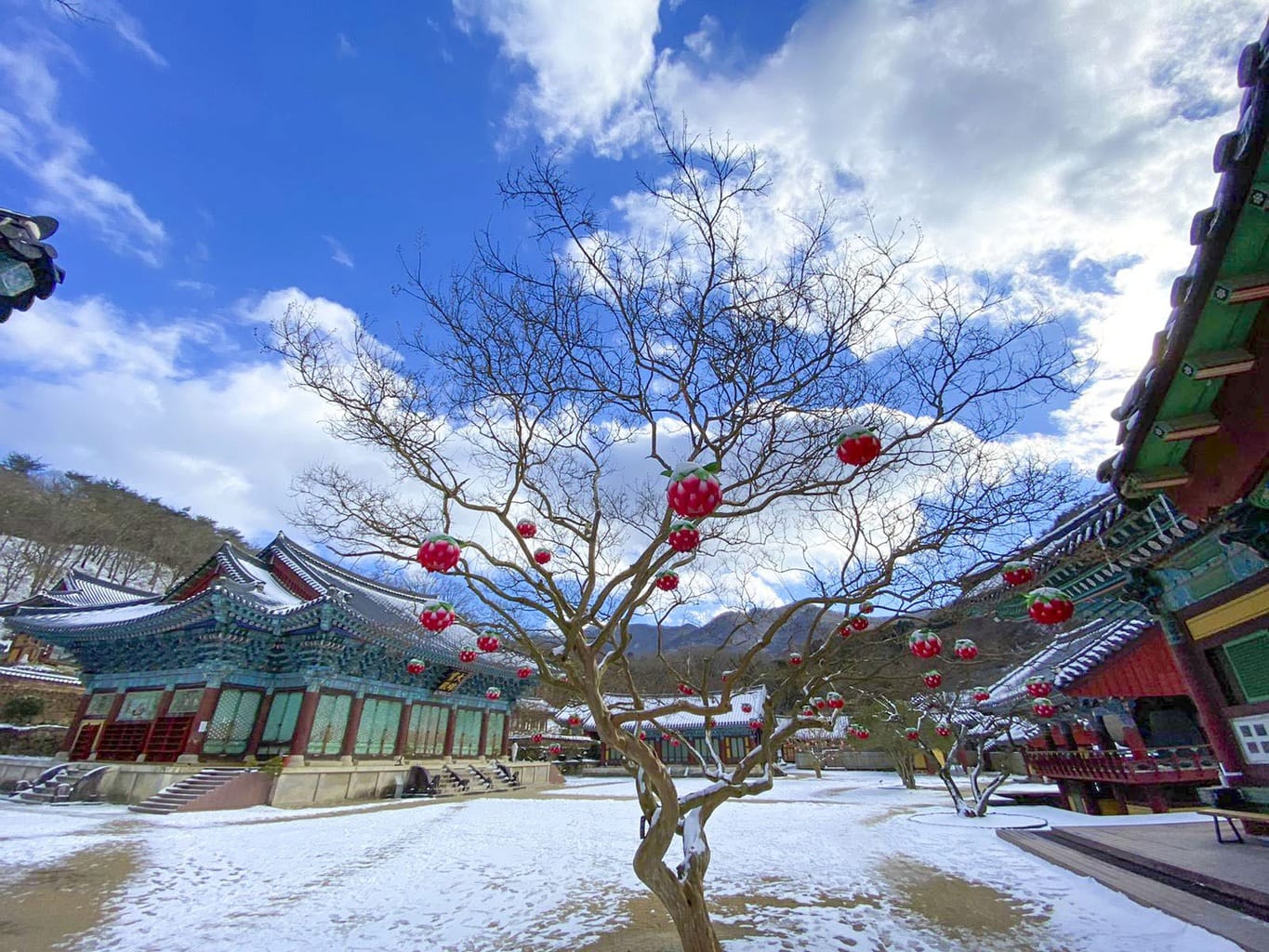 Apart from the wetland area, you can visit some amazing temples like Songgwangsa and Seonamsa. You can even hike between the two for an extra bit of zen on Jogye Mountain. Don't forget to walk up to Bopjong's hermitage at Songgwangsa along the Musoyu-gil, where the famous Zen monk wrote his famous manifesto of non-possession, Musoyu which inspired a wealthy restaurant owner to change her property into a temple (which is now Gilsangsa in Seoul).
Experience some history at Naganeupseong fortress in Nagan-myeon, the only remaining Joseon Dynasty walled town in Jeollanamdo with traditional houses that differ from the usual Hanok. There is a really trendy street in Jungang (central) Suncheon called Culture Street (Munhwa ui Gori) with cafes, restaurants and boutique stores like Samcheongdong in Seoul.
Go a bit further south and you'll get to Yeosu which is kind of like an island, except it's attached to the mainland. Suffice to say, you'll be frolicking by the ocean no matter where you go. While Yeosu is most well known as the place where naval commander Admiral Yi Sun Shin advanced the country (there is a statue of him in Gwanghwamun) and hosting the 2012 World Expo, today it is an oceanic respite with loads to do.
As there are so many islands around Yeosu, many day travelers love exploring them as they are quick and accessible. The islands feel like you're in some of the best beaches in Southeast with standouts including Hahwado, Geumodo, Gaedo and Sado.
Beaches on the mainland are also quite nice if you visit during the summer. Make sure to check out Manseongri (만성리) for its black sand, Mosageum (모사금) for sun tanning, and manmade Ungcheon (웅천) with loads of amenities.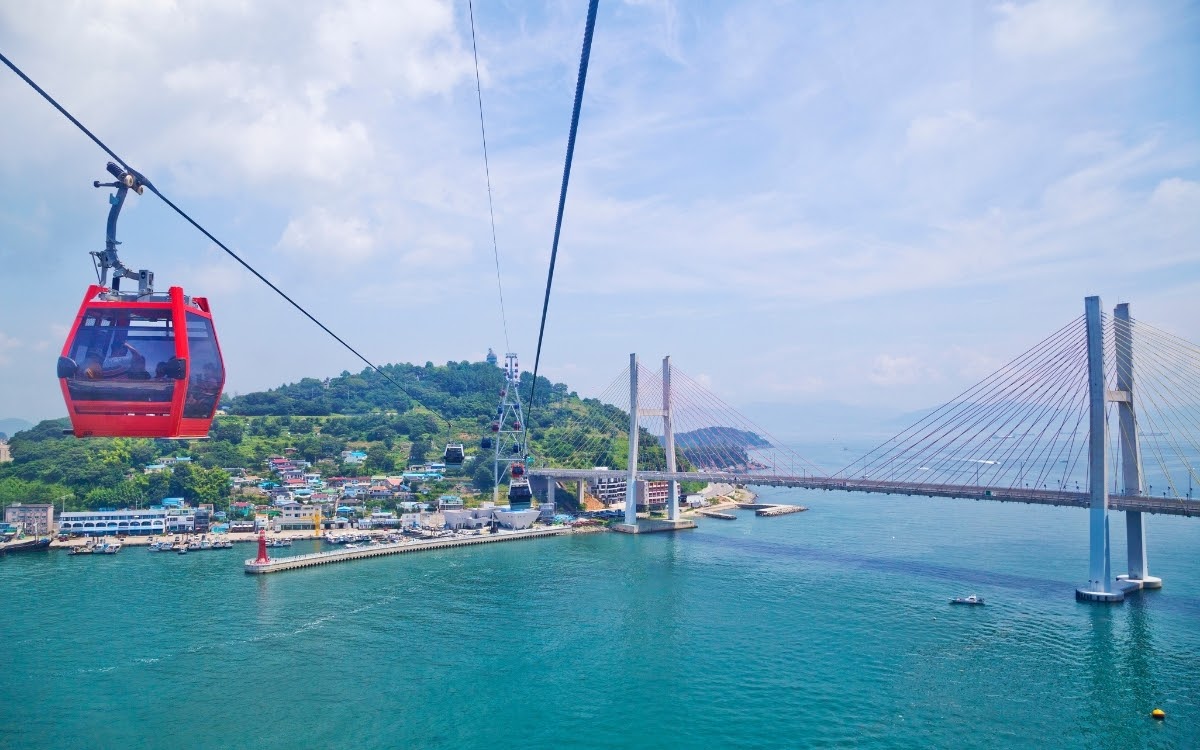 Take a little hike to seaside temple Hyangiram, stroll around Yeosu Expo Convention Center and definitely try to take the cable car to Dolsan Park. Once you arrive, check out the night scene of the lit up bridge from Dolsan Park which has a spectacular Light Show.
The night scenery is beautiful and was made famous by the Busker Busker song Yeosu Night Sea. And of course, you can have your fill of all the freshest seafood from grilled oysters to sashimi.
How to get from Seoul to Suncheon/Yeosu: Unlike other places in this article, taking the plane is actually your quickest bet. The flight is only around 50mins, so even with travel time to and from the airport it would be quicker than the train. The train will take just over 2.5 hours from Yongsan via KTX. The same line goes past Suncheon and is 20mins less travel. So you could fly into Yeosu, hire a car and drive around and into Suncheon and then take the KTX back if you plan to visit both in one day. But this is really missing the idea of chilling in a slow city. This is why at least a day at each destination is recommended.
Chungcheong Province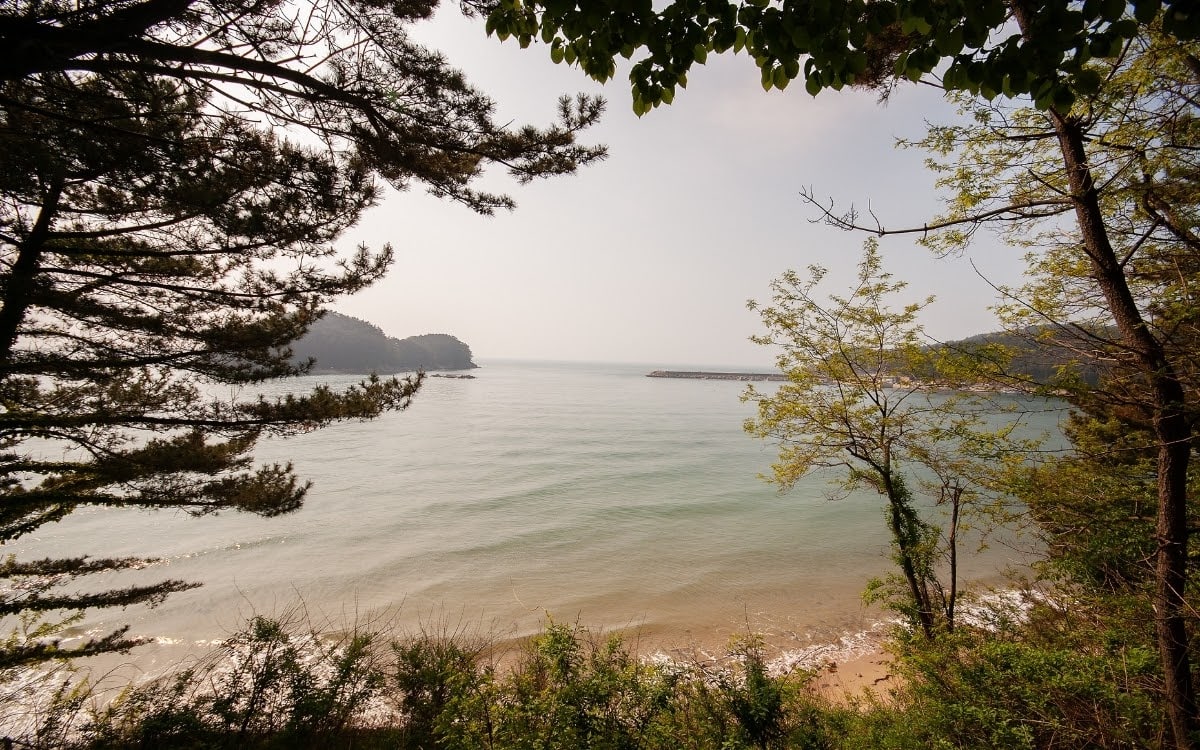 You will most likely not go on a day trip to Chungcheong, but we didn't want to leave this province out in case you planned on going to visit a friend or you have been to all the other provinces. Like all other provinces, it is divided into South Chungcheong (Chungcheongnam-do) and North Chungcheong Province (Chungcheongbok-do), which is more like west and east, respectively.
The only place I've visited in Chungcheong Province is Tae-an, a small coastal village with not much to do other than walk the beaches and eat fresh seafood, and that works for me because I've been living here over 10 years and always want to go exploring.
The most famous day trip from Seoul to Chungcheong is to visit the Boryeong Mud Festival which is located at Daecheon Beach on the west coast. This is an annual event that promotes the health benefits of mud for the skin.
Swarms of people flock to the otherwise very quiet seaside town to take part in mud wrestling, mud skiing, mud pools, a mud prison, mud colored body painting and general slipping and sliding in the healthy mud. It's definitely one of the most well known festivals in South Korea.
Boryeong is accessible by Korail train to Daecheon Station (2.5 hrs) or by bus to Boryeong Bus Terminal (about 3.5 hrs). During the festival there is a direct bus from Seoul to Daecheon Beach.
There is a huge expat population in Daejeon as this is the home to one of Korea's most prestigious scientific research universities, Korea Advanced Institute of Science and Technology (KAIST). There are loads of online expat communities for those living in Daejeon including the Daejeon Access and Facebook Groups.
So if you are visiting for the day, it's best to do a deep dive into all the best cafes, clubs, pubs and restaurants in Daejeon. You'll find areas like Dunsandong, Eunhaengdong, Daehungdong and Gungdong to be filled with young people enjoying food, drinks and culture.
You also may want to check out Cheongju, the capital of North Chungcheong Province which holds historical significance with places like Sangdang Sanseong (Sangdang Mountain Fortress) that stretches over 4.2 kilometres (2.6 miles) in circumference and dates back to 1716. Cheongju National Museum is also here.
How to get from Seoul to Chungcheong Province: Daejeon is a quick 50min ride via KTX from Seoul, so it could be an option for one of the more off-the-beaten-path day trips from Seoul. Cheongju has its own airport if you'd rather fly in, but it may be quicker to drive the 135km from Seoul or even take a 2.5hr bus.
South Korea's Islands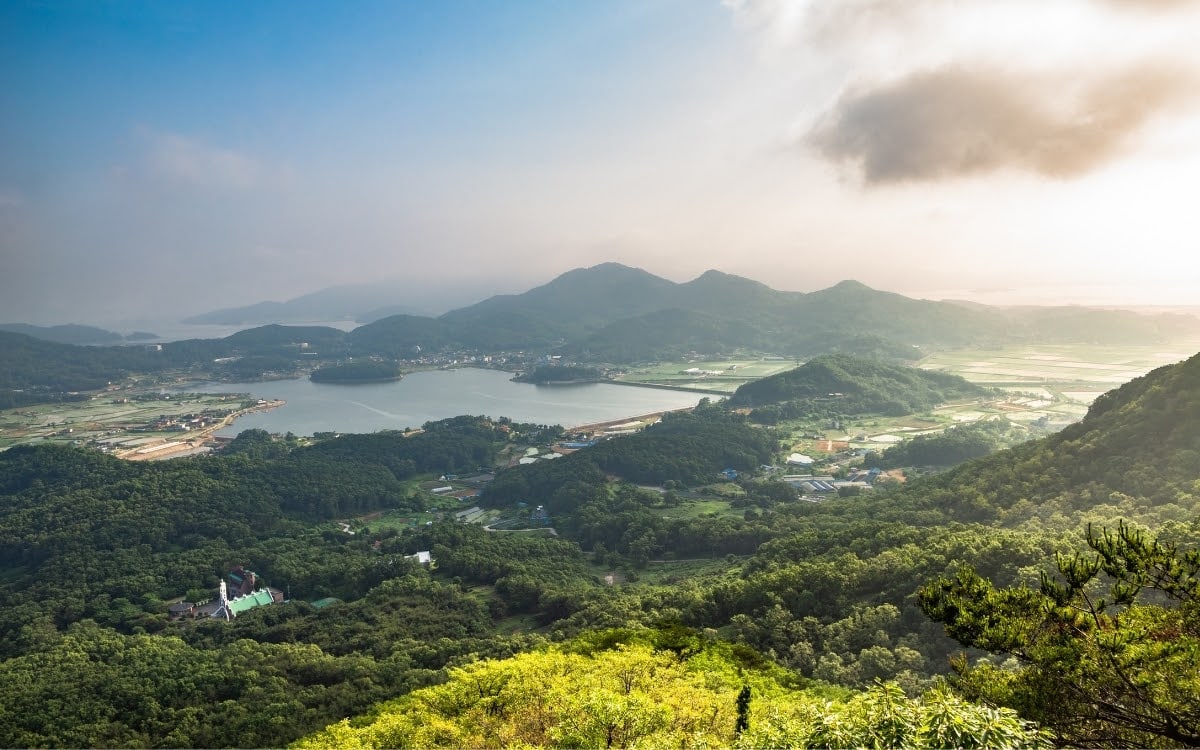 Don't forget that there are plenty of islands to explore around the entire peninsula that also make for epic day trips from Seoul.
While Jeju is the most accessible, largest and popular of the islands, there are actually 3,358 official islands in Korea and most are easily accessible by ferry.
The closest islands to Seoul are near Incheon on the west coast and can be visited throughout the year for either a quick day trip or a longer stay.
You may be asking why you'd even want to spend the day on an island when there is so much to do in the country. The answer lies in the tranquility that island life brings.
You'll see that the most frequent day travelers to these islands, especially off season, are hiking groups, lovers and families escaping the frenetic fast-paced existence in the big city.
Islands in Korea are for letting your hair down, exploring nature, going on hikes and eating the healthiest cuisine and freshest seafood. They are places to have a complete digital detox while watching the waves lap up on the ocean with a paperback book in your hand. You'll always come back feeling refreshed and invigorated, even if you're only gone for the day.
One thing to keep in mind is that the islands are worlds apart between in and off season. In season there are festivals, hoards of travelers and a general atmosphere of jovial holiday spirit. After the 2 weeks of peak season, most of the restaurants close, there are much fewer people and the islands are basically dead. You can choose when to take your day trip from Seoul depending on which atmosphere you prefer.
During the monsoon season (from June to September), known as jangma in Korea, ferries can be postponed or cancelled sporadically. So always keep this in mind when traveling during heavy rains. I was stranded on Deokjeokdo once due to heavy rains.
Here are a few islands to explore, very close to Incheon or in Incheon iself, for some great day trips from Seoul ("do" in Korean means island, which is why they all have this suffix):
Seonjaedo (선재도). Can be visited by bus/car, known for its parting of the ocean during low tide. You will pass Daebudo, another island, to get here which is known for its Daebudo Haesolgil hiking trail.
Deokjeokdo (덕적도). The island I have personally visited the most, Deokjeokdo is known for its hiking trails and pine forests. The west side where Seopori Beach is located is the more active area with minbaks (Korean guesthouses), convenience stores and the main beach. It also has MTB trails. Located about 1-2.5 hrs ferry ride from Incheon Port depending on which ferry you catch.
Muuido (무의도). Right next to the island where Incheon International Airport is located. It has ziplining, pristine beaches like Hanagae, the Marine Tourism Trail (해상관광탐방로) and cabins if you want to extend your stay. A bridge was built in 2019, so you can get here by bus/car and don't need to catch a ferry.
Ganghwado (강화도). This island is close to Gimpo International Airport and borders North Korea. The island is packed with cutesy cafes boasting stunning views like Dore Dore, Tramonto Cafe, I'm Fine Cafe, Joyang Bangjik (조양방직) or Mahogany Cafe. Apart from the Insta-cafes, there's the Haeden Museum of Art (강화도 해든 뮤지엄), Yongheunggung Royal Residence (용흥궁), beaches like Dongmak and it's also known for its fields of daisies in spring. The island is reached by bus/car and as things are quite far apart and public transportation is quite sparse, it's best to hire a car when visiting.
Yeongjongdo (영종도). This is the best island to explore for the day if you're flying out of the country as it's the island where Incheon International Airport is located. You may think that there's nothing to do here, but in fact there is quite a lot from Yonggungsa Temple overlooking the ocean, Baekunsan Mountain, the beautiful Yeongjong Seaside Park, a few beaches and like the previous entry, cafes for days. Try Terrace In Seaside (바다앞테라스), Thanks To Tea (차덕분) or Cafe Geon (카페건). You can get here from Wolmido via ferry, but there is also the massive Incheon Bridge (a tourist site in itself) and another bridge in the north to get here by bus/car.
There are several very popular islands around the peninsula that you may be able to take on a day trip from Seoul, but it would mean waking up before sunrise and are therefore better explored for overnight journeys. This may even mean staying overnight on the mainland in a city close to the island so that you don't have to go all the way back to Seoul.
You may wish to check out Ulleungdo (for the freshest fish) and Jindo (known for its cute dog) in the east; or Geojedo and its offshoot Oedo (near Busan), Hongdo (to see the large red cliffs) and Cheongsando (Asia's first "Slow City") in the south.
Transportation for the best day trips from Seoul
Here are some tips and hints of how to get from Seoul to your particular destination as well as how to get around once you arrive. For an in-depth look on safety transportation and more, you can read my in depth article on Safety in South Korea.
By Train
This is my personal preferred way of traveling as the trains are fast, clean, safe, efficient and are the most convenient. I love that you hop on and hop off at your destination. There are toilets and vending machines on all trains, but many people bring their own snacks on board. The first trains usually leave the station at 5am and the last trains leave at 10pm. So even if you're visiting all the way down south to places like Busan, you can arrive at just after 8 or 9am and have a full 14 hours in the city before heading home.
By Air
There are also planes to various locations other than Jeju and Busan from Gimpo International Airport. The longest flights are to Jeju at 1 hour! Other southern areas like Busan and Yeosu are around 50mins. Just remember that you will first need to travel to north-west Seoul and arrive an hour before your flight. So if you are based in Gangnam, this could end up being much longer travel times than just taking the train as the KTX, SRT and ITX have many different stations around Seoul.
By Bus
There are also buses that leave from major terminals like Express Bus Terminal, Nambu Terminal and Dong Seoul Bus Terminal. Buses run a strict time schedule and will leave on the allocated time no matter what, so it's always best to arrive early and check your platforms. While there are bus lanes and buses are the kings of the road in Korea, they are subject to traffic and can take very long, especially if you are returning during rush hour where a usual 30min journey could take around 1.5hrs! We highly recommend taking the train if you have the option. When you are in your destination you can use public buses to get around, keeping in mind that some places have less frequent public transportation than others where hiring a car would be more handy.
By Car
One last way of getting around is to hire a car for the day. Just be aware of return times. You could also be stuck for hours in traffic though. We would recommend a combination of train (to and from your destination) + car (in and around your destination) for the most convenience. There are also taxis in all the destinations mentioned in this article, but in some places they are more scarce, so using apps like Kakao Taxi (similar to Uber or Grab) are best.