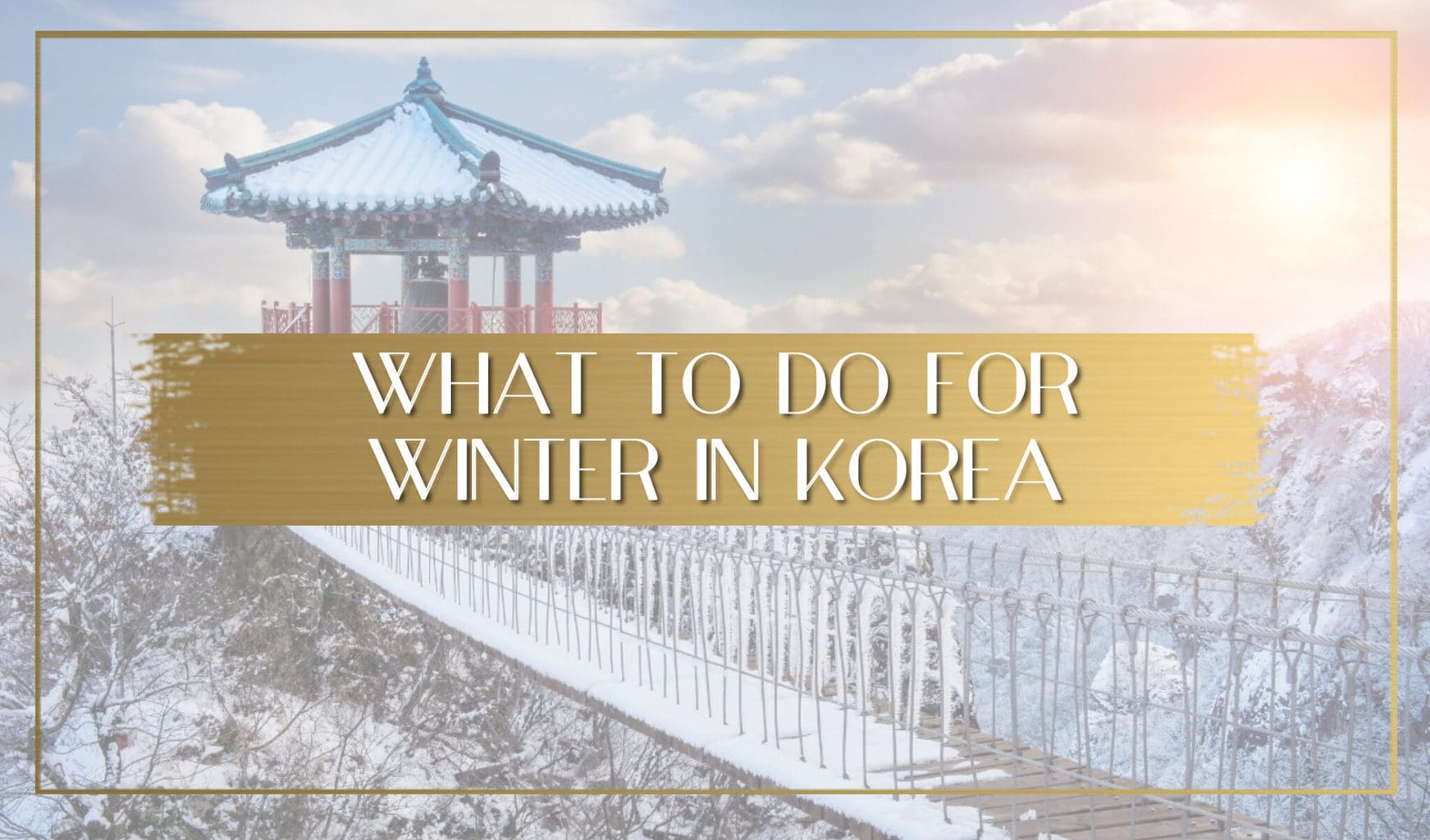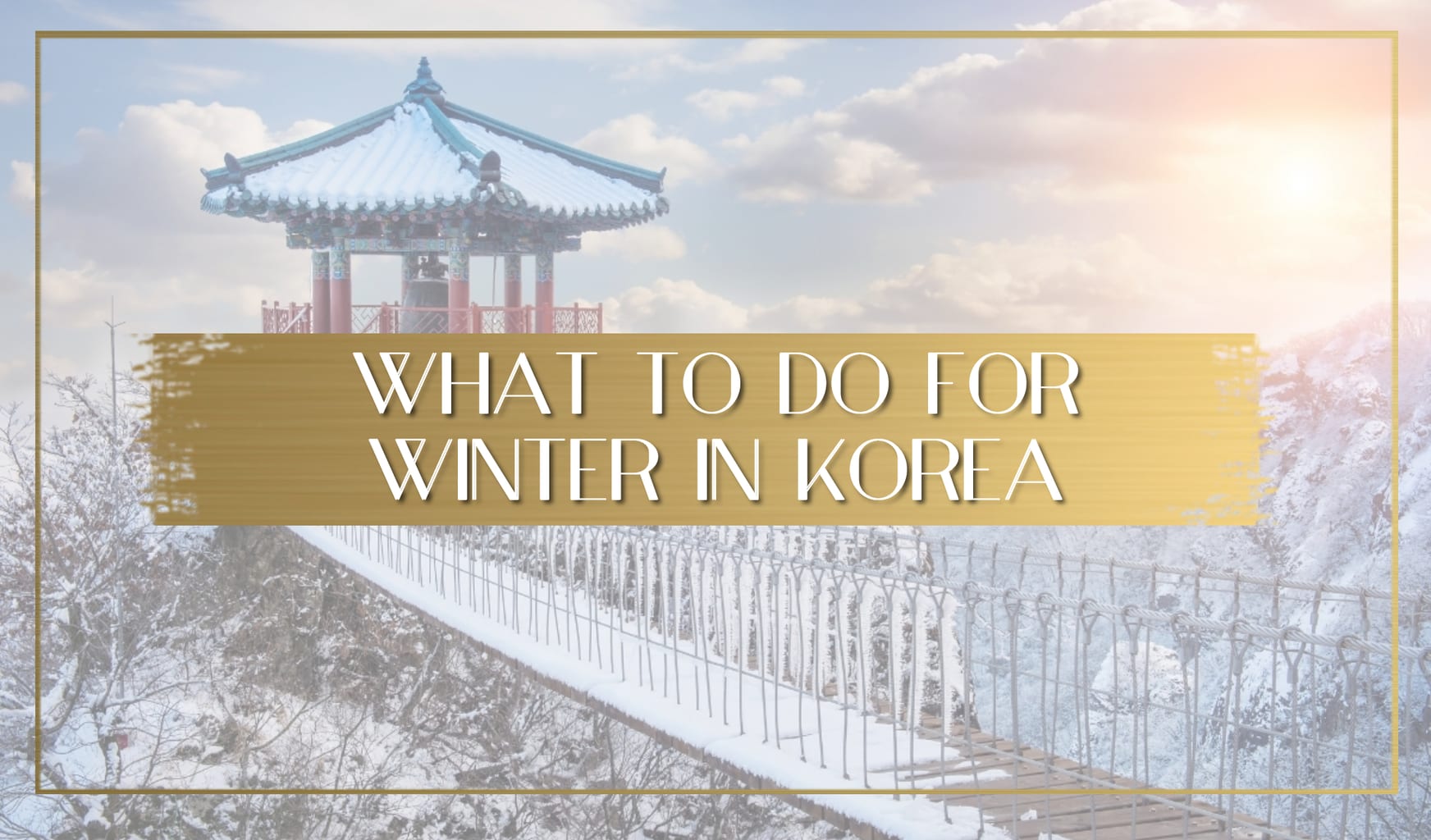 While winter in Korea can be freezing cold with bitterly chilling winds and negative temperatures on the thermometer, much like winter in some parts of Canada, it is also a magical place with loads to do and a sense of romance in the air.
I have been living in Seoul on and off since 2009 and have experienced a dozen winters in the capital and traveled to various other cities during winter. I have experienced one of the coldest days in Seoul in recorded history. In this article, I will describe what winter in Korea is really like and explain what to expect if you're visiting during this time.
There are also some tips and tricks I will share to make sure you plan your trip right and insider suggestions on what to do, where to go, festivals to explore and the best seasonal Korean winter foods to try. If you're concerned about your well-being, you can read my in-depth article on Safety in South Korea before you go.
Winter weather in Korea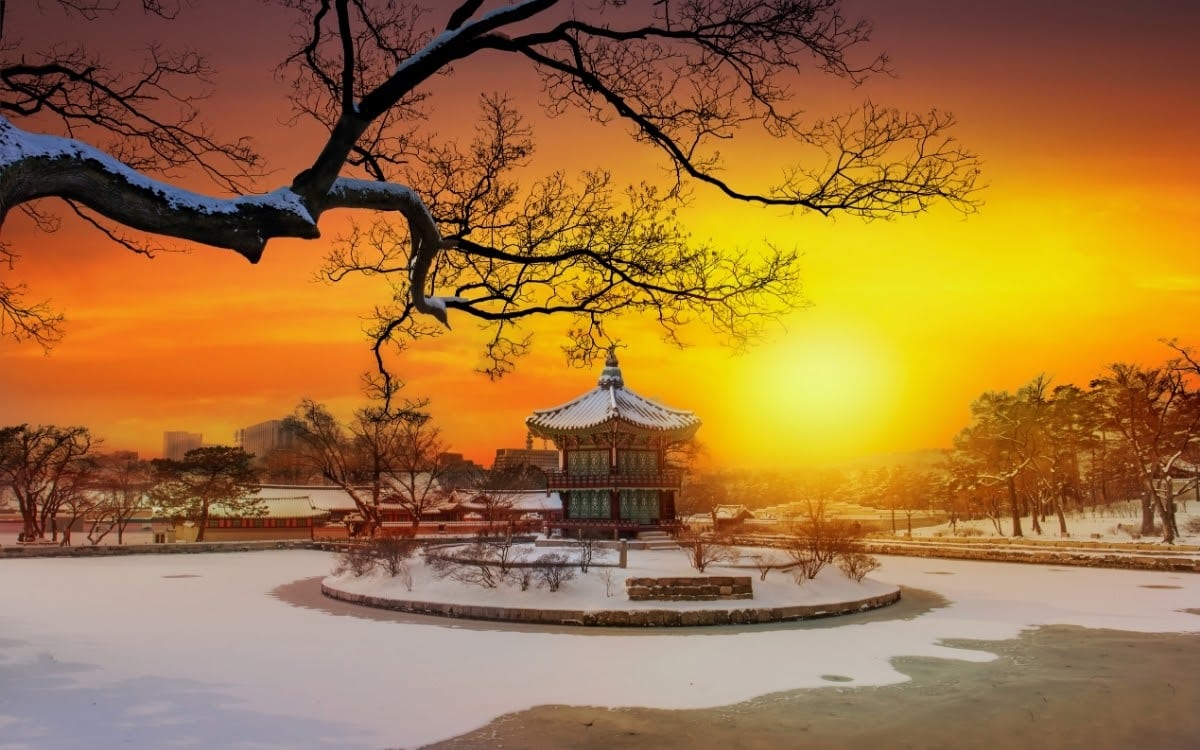 Autumn and Spring last about 1 second in Korea. Okay, they're not that fast, but these two seasons are extremely short and also really beautiful. After the gorgeous Fall Foliage (called 단풍 or danpung) which lasts around 3 weeks between October and November, the icy winds begin to blow and it gets really cold really quick.
From late November to mid March you can expect winter in Seoul and up north in Gyeonggi and Gangwon provinces to be, on average, anywhere between 0 and 10°C. You may recall the 2018 Pyeongchang Winter Olympics which was in Gangwon and went as low as -18°C!
It can even drop way below zero in Seoul. One New Year's my friends and I didn't want to leave the bar as it was nearing -20 outside!
As you go further south the temperature gets a bit warmer, so South Gyeongsang Province (Busan), South Jeolla Province (Mokpo) and Jeju will all be roughly 6°C warmer. Yet, if you are by the ocean, the wind chill factor is an additional caution to be aware of and the breeze coming off the ocean can make it feel much colder than it is (both north like in Gangneung and in the south).
Where to go during winter in Korea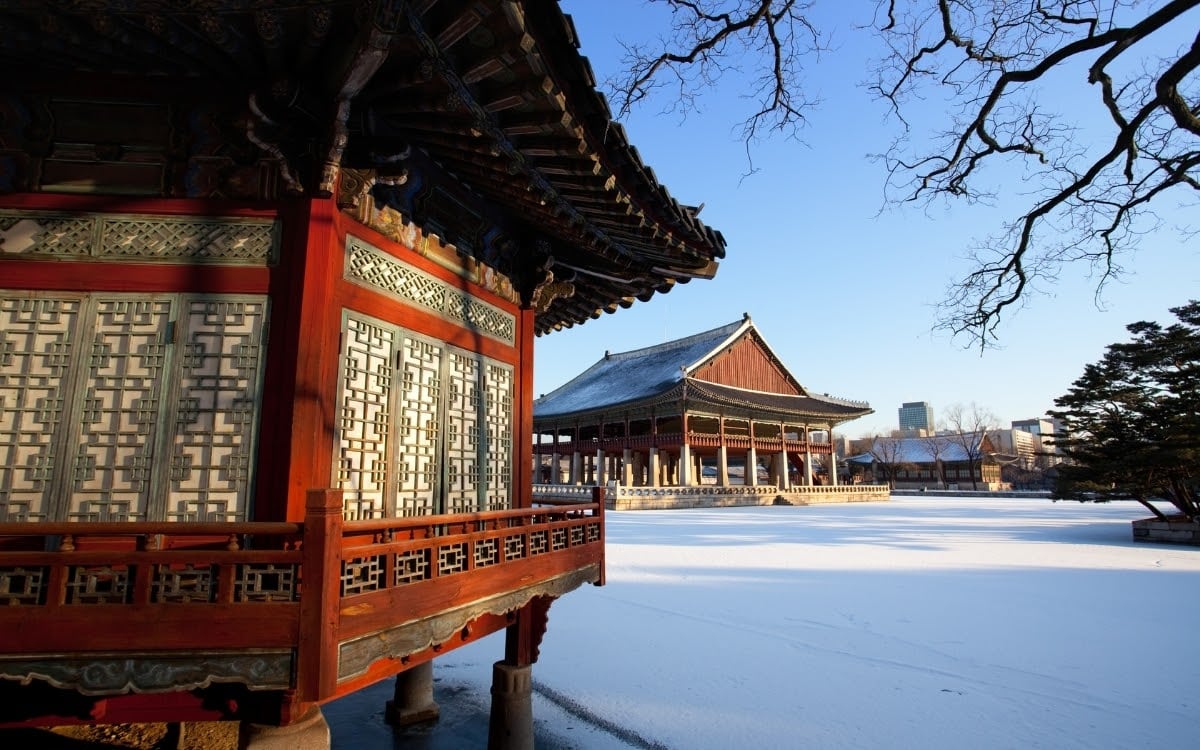 Where to visit during winter in Korea will largely depend on what you're after.
Seoul can be a great city to visit all year round and many of the best things to do in Seoul are great no matter what the season as public transport is always on point, indoor temperatures are consistently warm and there's something about Seoul in the winter that is magical, much like an NYC Christmas film.
All the best tourist sites are open and I have personally seen throngs of tourists dressed up in Hanbok and walking around Gyeongbokgung in sub zero weather.
If it gets too cold or the wind is howling, there are plenty of Instagram-worthy coffee shops to dry your feet at while watching the snow fall, and dozens of department stores to get your fix of retail therapy. Explore all the areas of the capital in our guide on where to stay in Seoul.
If you love the cold and all the winter sports, you can go north east into Gangwon province or anywhere in Gyeonggi Province which surrounds Seoul.
Here you can find ski slopes and snow, and even if there is a lack of powder, they have machines to create more. Remember this fact about South Korea: 70% of the country is mountainous, so there are plenty of slopes to ride down and even hikes to go on in the dead of winter. There's even surfing throughout the country as the swell is much higher in winter with some amazing waves.
For those who can't stand the icy weather, heading south is a better option. Jeju is always a popular winter escape for most Seoulites. While you may not be able to pop into the ocean (unless you're a die-hard surfer), you can still walk along the beaches, hike up Hallasan or relax in a sauna at one of the luxury hotels.
Things to do in Korea in Winter
While you can explore the entire country when the weather is cold, Korea in winter does have some standout places to visit and activities to participate in. Following is a list of our top picks of tourist places, secret locations and wintery activities to do during winter in Korea.
Explore Seoul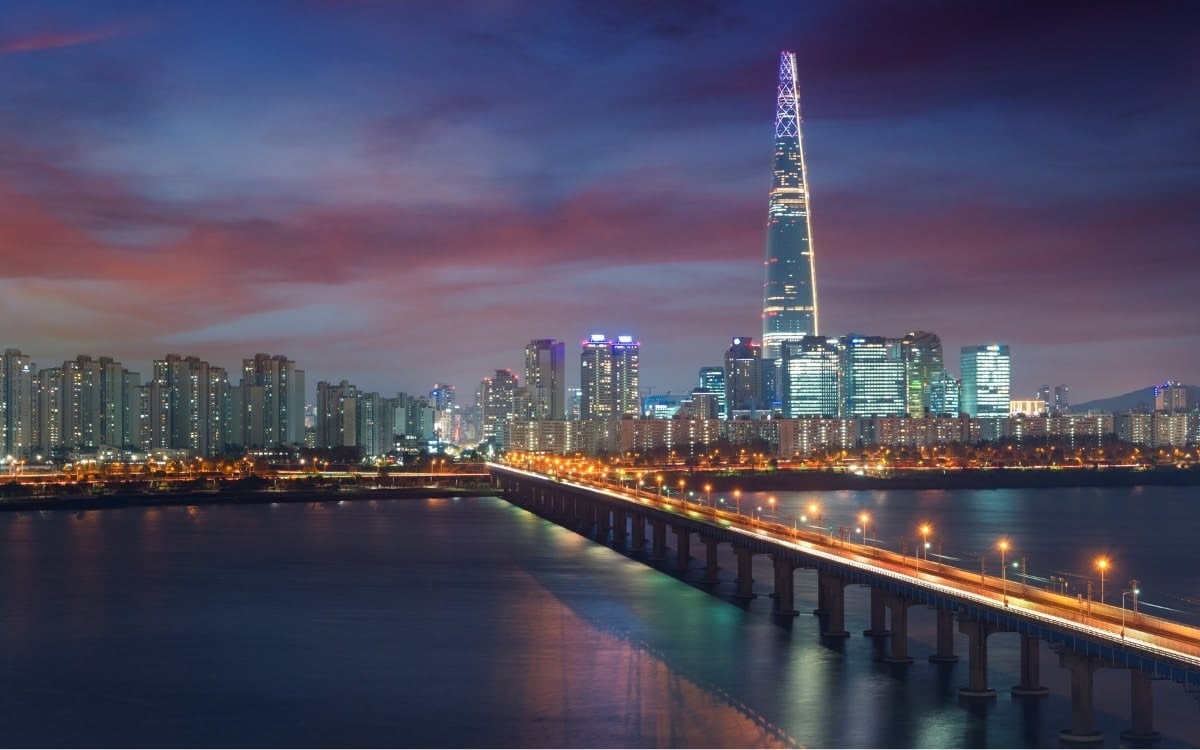 Forget New York, Seoul is really the city that never sleeps.
It is constantly on, wired, fun and always filled with inventive things to do, from pop up stores to exhibitions to cultural activities. Winter in Seoul is no different and due to the accessibility of transportation you'll never be stuck out in the cold for too long.
Subway seats are heated, malls are decked out in festive lights, steam from pojangmacha (tented eateries) wafts through the air and people walk the streets as though it were any day in summer (maybe with a little more clothing).
On warmer days you can dress up in Hanbok and explore all the palaces. The palaces also make for some amazing photo opportunities on snow days.
Explore all of the hippest cafes in gentrified Seongsu which will all be heated and cosy; Shop till you drop at in any of the malls including the largest underground shopping mall Starfield COEX.
Explore all the best food markets like indoor Gwangjang, Noryangjin Fish Market or Garak Wholesale Food Market. Take a cooking class, watch a show, visit a museum or explore UNESCO sites.
You can practically do all the things on our Guide to Seoul, so check it out and don't forget to fill out the form and select the time of year to get a personalised guide!
If you want more of a guided trip around Seoul, here's a great Seoul guided tour for 2+ people where you can chat to the guide to create a perfect customised itinerary. Here's more of an historic tour of the capital and here are discounted rates to theme parks and museums.
Go ice skating or sledding in and around Seoul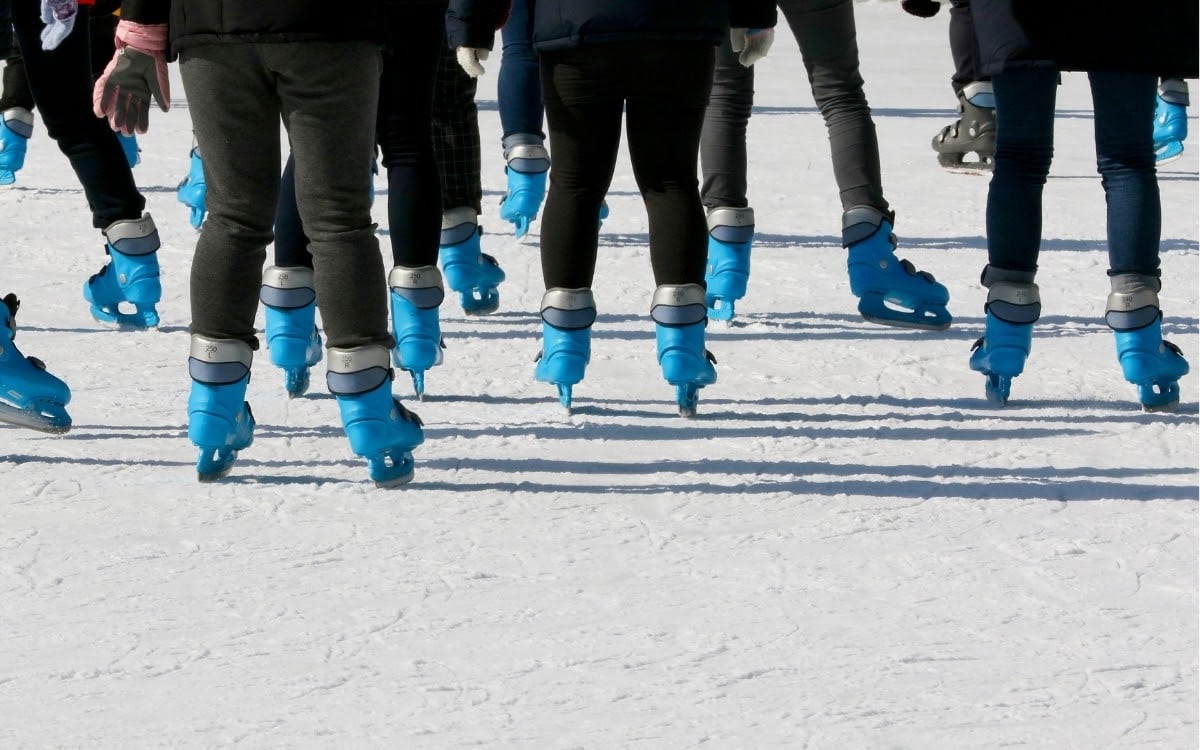 There are makeshift ice rinks and permanent ones to play around in Seoul as well as other parts of the country. They get quite packed on any day of the week, but weekends should be avoided as you may have to wait in a long queue in unpleasant weather.
Lotte Department Store has a permanent indoor ice rink right at the entrance to Lotte World. So you can make a complete day in the Jamsil area by going to Lotte World, skating in the department store and then going up Lotte World Tower to Seoul Sky viewing platform, the tallest building in Korea and then the Aquarium.
Other places in the capital which are easily accessible include Seoul Plaza (similar to The Rink At Rockefeller Center), Olympic Park, Sangam MBC Skating Rink, Mokdong Ice Rink (Indoor), or Korea University Ice Skating Rink.
Even some hotels create ice rinks for the winter including Grand Hyatt and Banyan Tree Club & Spa. Onemount Snow Park is a bit further west if you're on your way to Gimpo or Incheon and has so much more than just a rink with sledding hills, sled dogs and a Santa Village.
There are also sledding hills for a whole lot of fun near the capital like Seoulland, Everland, Ttukseom Hangang Park and the Korean Children's Center Snow Sledding Field (어린이회관 눈썰매장), and facilities in other cities such as Daegu, Busan or Jeonju.
Feel festive at a department store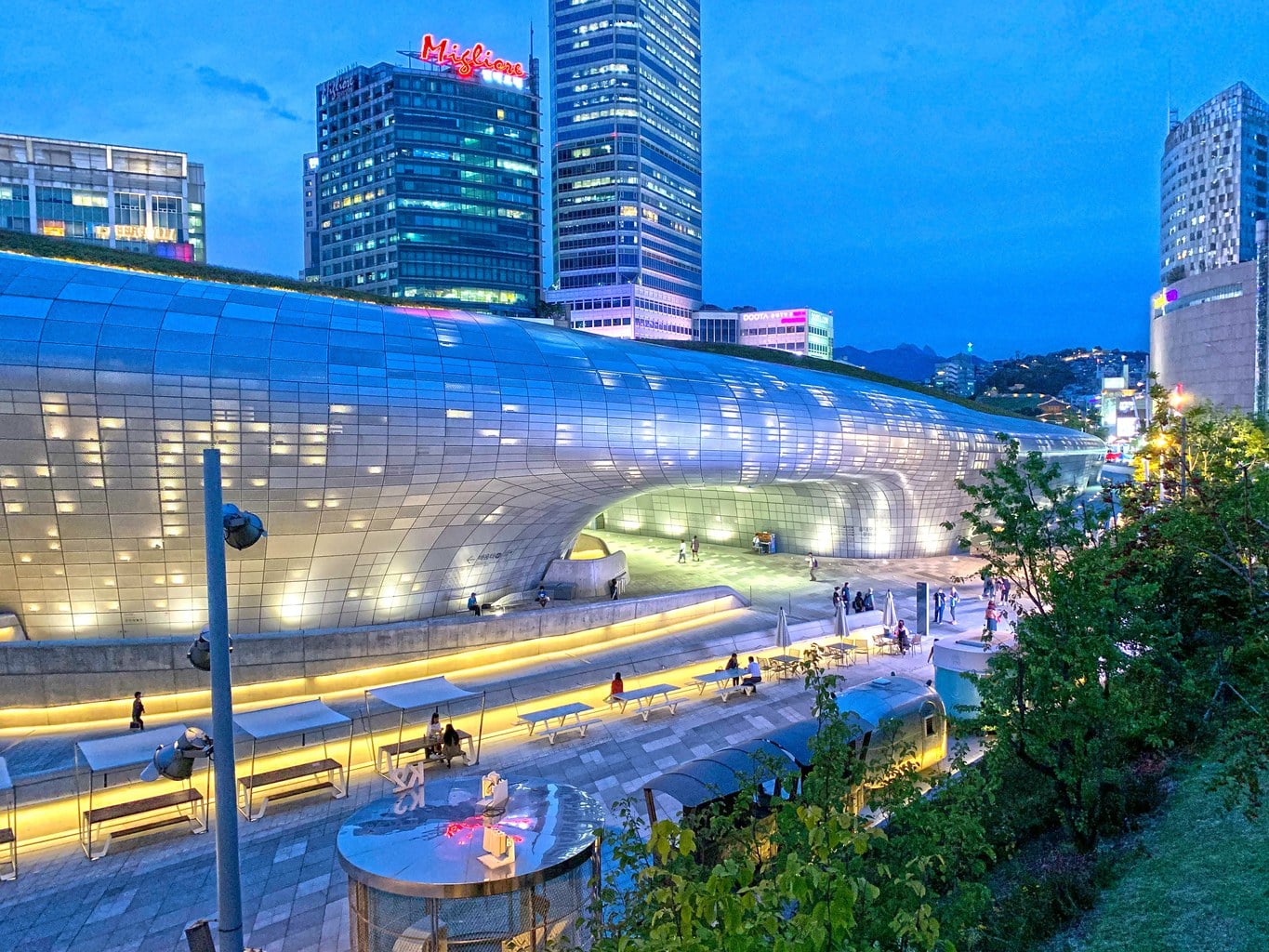 Yes we've mentioned shopping before and we'll say it again, malls in Korea are far beyond places to go shopping. Winter is really the best time to visit the department stores as they're decked out in festive ornaments from giant Christmas trees and fairy lights to winter wonderland pop up exhibitions and massive winter sales.
The best malls and department stores to visit include Starfield COEX, especially the Instagrammable library, Starfield Hanam, strolling along Dongdaemun and Myeongdong, Lotte World Tower & Mall. When in doubt look for a mall under the following names and you're sure to have a great time and find some amazing deals – Shinsegae, Lotte, Hyundai, and AK.
Pro tip: Korea Festa is held annually between 1-15 November where the entire country goes on sale (online too). Yet if you can't make those dates, there are specials on for the entire season. Korea is very fashion forward and loves to get rid of last season's items, so you can always find something at a discounted rate.
Take a hike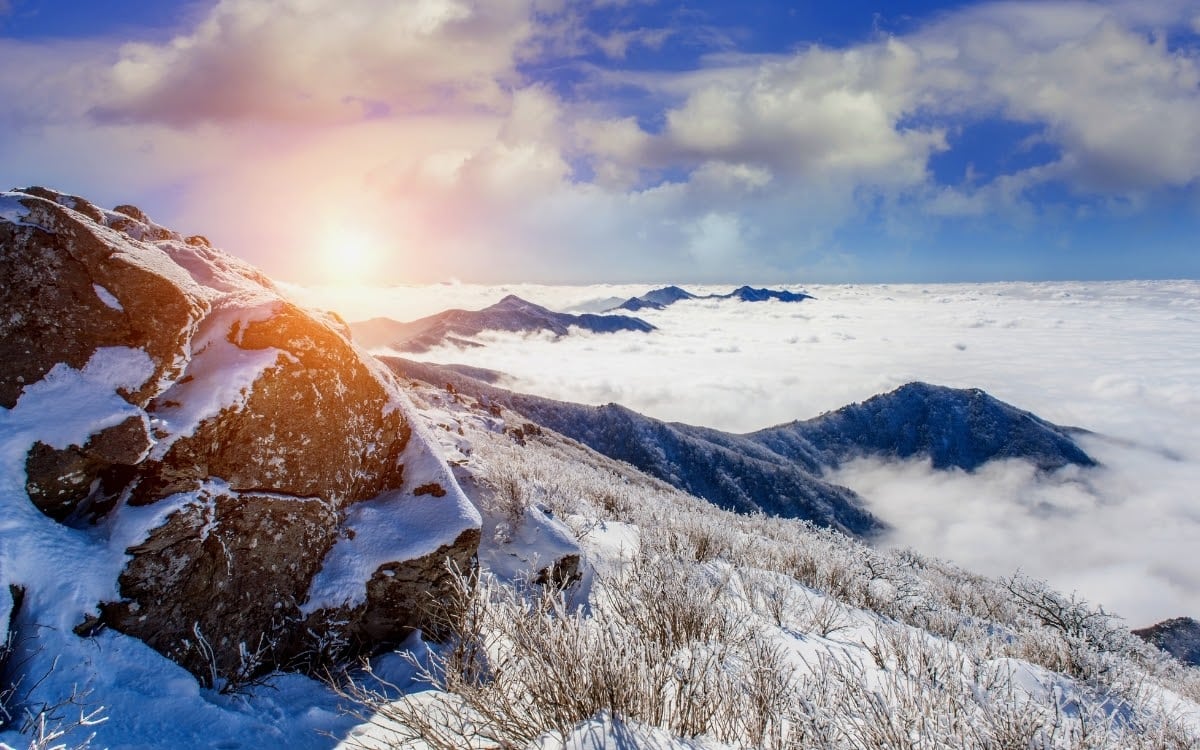 Hiking is one of the most popular pastimes for Koreans and with so many mountains and hills to choose from, it's easy to see why.
Unless there's torrential rain or a snowstorm (or a government warning not to go out), there will always be someone on the mountains of South Korea, especially in the larger cities and more popular areas.
Hiking in Korea in winter is safe, yet you will need to have the right equipment and be quite careful as there may be black ice which is inescapably slippery.
Unless you're scaling one of the larger mountains, you won't need crampons, a good pair of hiking shoes will suffice. Do bring loads of water and snacks and several layers with you as the temperature will drop the higher you go.
A mountain in Korean is called "san", so this word will appear in all mountain names, for example, Bukhansan translates to "North of the Han River Mountain". Top mountains in Seoul include Bukhansan (836m), Gwanaksan (632m), Inwangsan (338m) and Bugaksan (342m).
If you're an avid hiker and came to Korea in winter to scale mountains, venture out of Seoul and try your feet at the following mountains. And remember to check the Facebook group "Hiking in Korea" or one of the many hiking groups in Korea on Meetups:
Hallasan in Jeju.
Taebaeksan, especially Seoraksan, in Gangwon-do. You can actually book a guided tour of Korea's most beautiful mountain here.
Songnisan bordering Gyeongsangbuk-do and Chungcheongbuk-do, which has the largest Buddha statue in the world called Cheongdongmireukbul, and is located in one of Korea's largest temples, Beopjusa.
Seonjaryeong Ridge in Pyeongchang, Gangneung, Gangwon-do
Jirisan in Gyeongsangnam-do
Naejangsan in Jeollabuk-do
Get a guided tour of Bukhansan with a Korean spa experience here. They take the route up to Samo Rock which takes around 2.5 hours, so you will need to be fairly fit. It ends with lunch and a Korean traditional sauna.
Visit Jeju & see the camellias bloom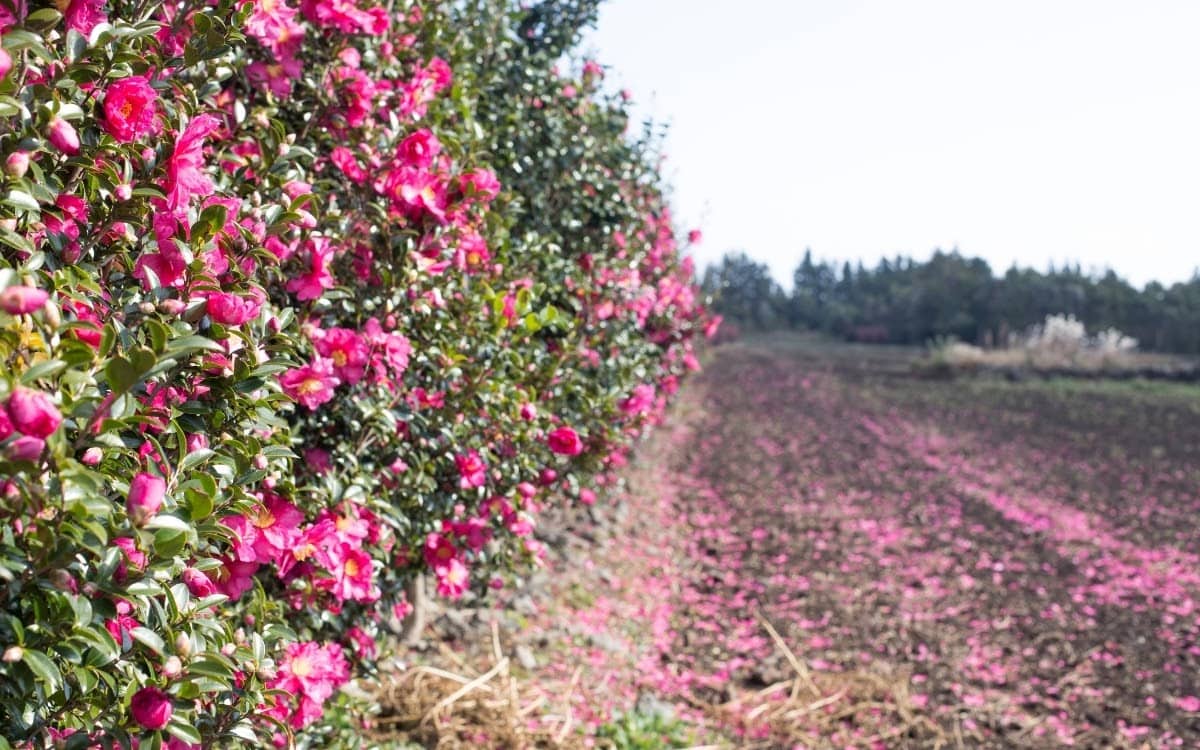 Jeju is the perfect place to escape the harsh temperatures of the north. While it can get cold on the island, especially after the sun goes down or high up around Hallasan, it usually lingers around 10°C in the day which is much better than the sub-zero winds of the north. I have personally lived in Jeju in the winter and can confirm that it is wonderful.
Did you know that some flowers only bloom in winter? Apart from Jeju's many attractions it's most well known winter activity is to visit the camellias.
There's a very special place in Seogwipo City in Jeju called Camellia Hill (카멜리아힐) or Camellia arboretum, where 6,000 Camellia Trees are in total bloom in an area of over 20-hectares.
If you missed the cherry blossoms in Spring (in Korea or Japan), this is your second chance at viewing a gorgeous natural floral sight. The camellias bloom in December and there is a walkway where you can bathe in the beautiful colors. Visit their site for more information like opening times and entrance fees. It's very close to the Figure Museum for all your kidulting needs and Hello Kitty Island if you love the cutesy cat from Sanrio Japan.
Take a guided tour to all of Jeju's best sites including UNESCO areas, the South route of Hallasan, a visit to the Jusangjeolli cliff and Cheonjiyeon falls, Seongsan Sunrise Peak, Manjanggul Cave, Woljeongri Beach and so much more (includes hotel pick up and entry fees!). Book your tour online here.
Wondae-ri Birch Forest
While the trees at the Wondae-ri Birch Forest are beautiful all year around, they are especially stunning during winter, making it one of the top winter activities in Korea for locals and tourists.
While it may seem natural, it actually took the government 20 years and 690,000 trees to create this amazing space. After a fire, the government replanted the trees in an act of conservation and now attracts over 200,000 visitors a year.
There are 7 trails leading to the birch tree forest and ranging in difficulty and timing. All trails are fairly easy and are between 1-3 kms which means it will take around 40mins to 2 hrs of total walking time.
Wondae-ri Birch Forest is in Inje County in Gangwon Province which is around a 2hr bus ride from Seoul. To get there, take the intercity bus from Dong Seoul Bus Terminal (동서울 종합버스터미널) to Inje Intercity Bus Terminal (인제 시외버스터미널) which is roughly 1.5 hrs and costs around 13,000 won.

You can then choose to either take a taxi to Wondae-ri Birch Forest (roughly 20,000 won, 15 mins – show the driver this: "원대리" and say "Wondae-ri kayo") or take the Inje City bus (around 2,500 won, 40 mins) and get off at Wondae-ri (원대리) bus stop. It's about a 10 min walk from the bus stop. You will need to register at the counter, where you can go to the toilet and pick up a free map of the area. We highly recommend a taxi both ways, but definitely going back so you can make the bus back to Seoul in time and without worry. Buses are also limited and you could be waiting in the cold for a very long time if you choose the bus.

Park opening times are 9:00-18:00 (3 May-31 Oct) with last entry at 15:00. And then 9:00-17:00 (16 Dec-18 Mar) with last entry at 14:00.
Go ice fishing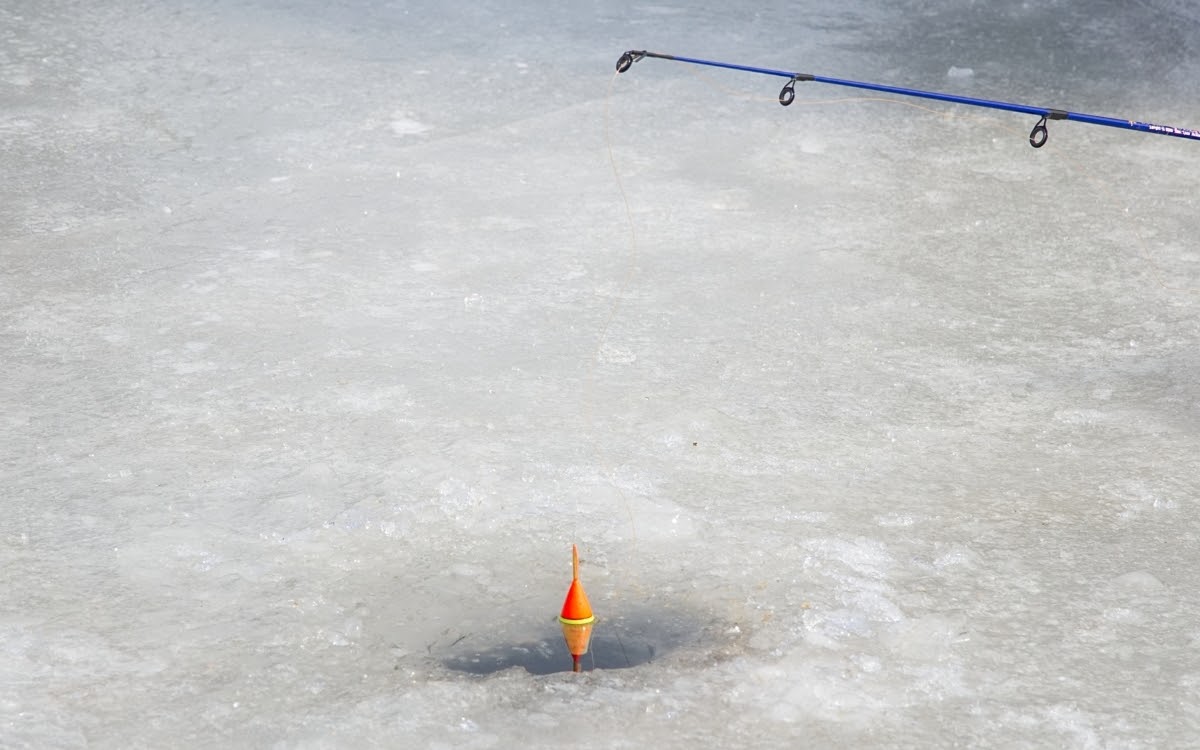 If you decide to visit Wondae-ri Birch Forest, why not try your hand at ice fishing, another Korean winter activity in Inje County.
The Inje Icefish Festival is held annually in January at Soyangho Lake. The coldwater fish swim up to the ice in winter where you can try catching them just underneath the hard surface.
The most popular place to go ice fishing is probably Hwacheon-gun, also in Gangwon-do. The Hwacheon Sancheoneo Ice Festival is a super fun and bustling festival where you can brave the elements, put on a t-shirt and jump into the icy waters for barehanded fishing. It's also very close to the DMZ, so you could possibly combine your trip with a tour while you're so far north.
Pop over to Pyeongchang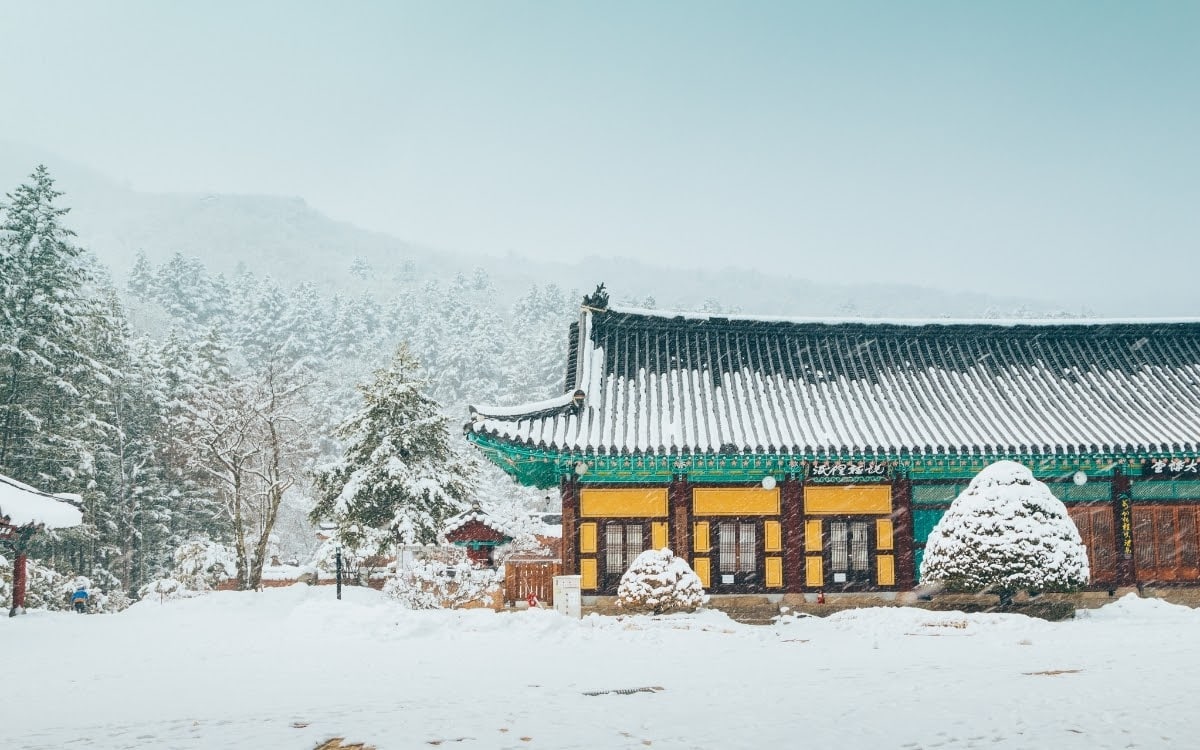 Pyeongchang is known as the city of nature and sports. It's where the 1999 Asian Winter Games, the 2018 Winter Paralympics and the 2018 Winter Olympic Games were held and it's just around 2 hours on the KTX from Seoul.
The beautiful Odaesan National Park with the calm Woljeongsa Temple and Sangwonsa Temple is great for peace, quiet and nature. Some call it the Korean Alps.
Alpensia Ski Resort is one of the top in the country as it was a large focus of the 2018 Winter Olympics. It also has one of the top Instagrammable spots in winter in Korea, Daegwallyeong Sheep Ranch (대관령 양떼목장), a privately owned 195sqm ranch with a 40 min walking loop.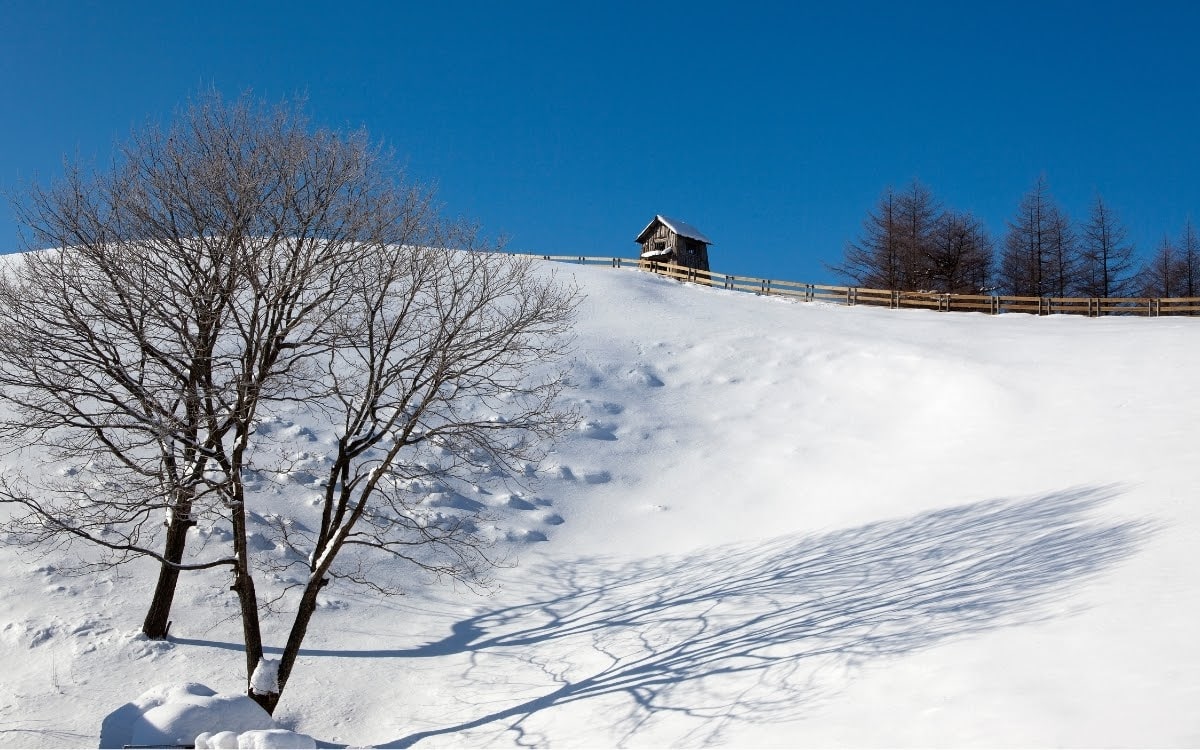 The solo wooden shack with the massive snow-covered hill has become a photo favorite, just look at the images on their website to see. You can also feed some of the 200 sheep.
Ari Hills Resort Skywalk Observatory is another spot for photo opportunities at 583m above sea level and hanging over the cliffs in Jeongseon (it's also called the Byeongbangchi or Jeongseon Skywalk).
For culture you can visit the Jeonggangwon Traditional Korean Food Culture Experience Center where you can learn how to make traditional Korean foods in Hanok, from pastes like gochujang (chili paste) and doenjang (soy bean paste) to authentic dishes like songpyeon (half-moon rice cake) and injeolmi (Korean traditional rice cake).
The Pyeongchang Trout Festival is yet another activity during winter in Korea that you may want to try. After catching your trout, you can take it to one of the nearby eateries where they will prepare a dish for you. There is more to fishing at the festivities from folk games like spinning tops to snow rafting.
The best way to get to Pyeongchang is to take the KTX either from Seoul Station or Cheongnyangni Station. It's about a 1.5 hr journey depending where you catch the train from and costs around 30,000 won one way.

The city is quite large and while there is public transportation, it's advisable to hire a car so that you can get around quicker to the more far flung places. Try Lotte Renta Car (together with Hertz) and always remember to carry cash on hand for toll gates (there are many) and don't use the HiPass lane unless your car comes with a HiPass card (ask before you leave).

Don't rent a car from Seoul, rather catch the KTX and then hire one at Pyeongchang Station. You might even choose to stay the night in Gangneung for some winter beach scenery.
Garden of the Morning Calm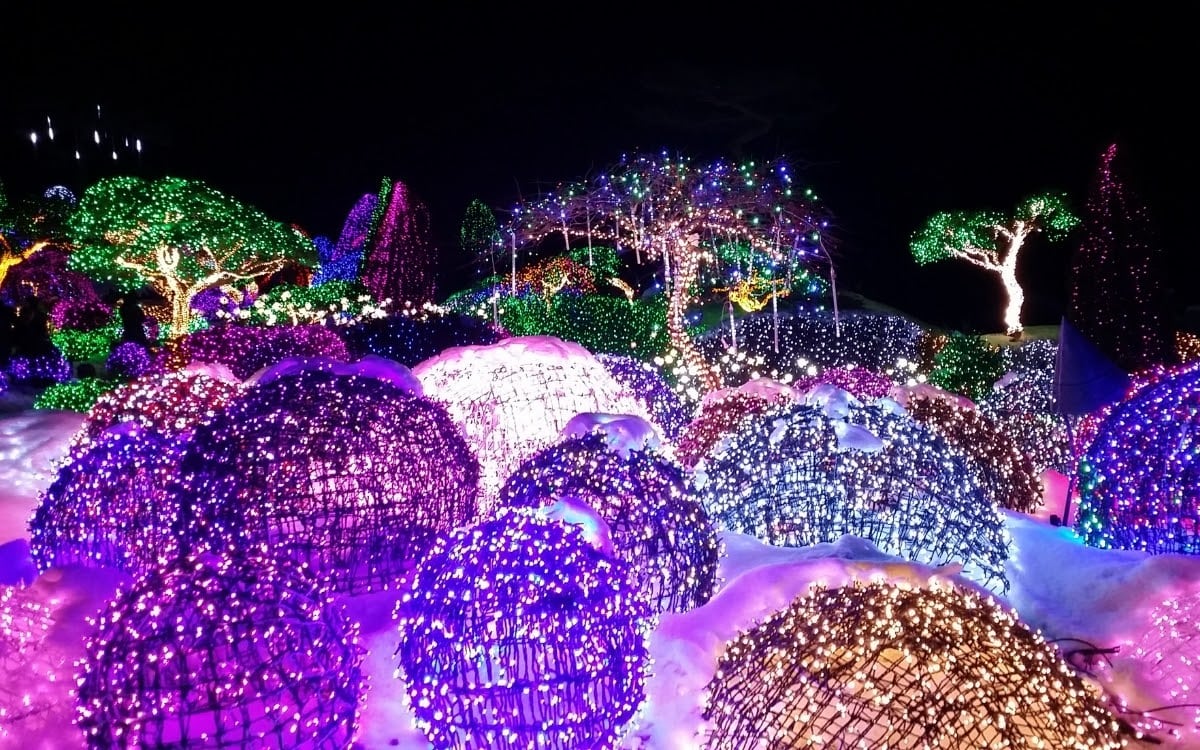 Gapyeong in northern Gyeonggi Province borders Gangwon Province and is therefore surrounded by extremely beautiful nature. The most popular spot to visit is the gorgeous Garden of Morning Calm, which was founded by professor Sang-kyung Han and opened in 1996.
The title "Land of Morning Calm" originated from a poem by Indian wordsmith Rabindranath Tagore who believed the country to be "The Lamp of the East". The curves and asymmetric lines of the garden make it very interesting to look at and walk around. As Korea has four very distinct seasons, the garden exemplifies each of them through nature.
There are 5,000 kinds of plants to explore and the Sukgeun Garden, which is shaped like the Korean peninsula, is heavenly. This is why Garden of the Morning Calm attracts upwards of 600,000 visitors per year. The Lighting Festival during the Korean winter season is a reason to visit alone.
To get there take the Gyeongchun Line or ITX to Cheongpyeong Station and then walk around 1km or take a taxi or the local bus. The complete trip one way from Seoul is around 2.5 hours.
Pro tip: Many bloggers say that popular Nami Island and Petit France are quite close by, but they're actually quite far if you're using public transport (roughly 1.5-2 hours by bus). If you have a car on the other hand, the trip will only be roughly 30mins to either depending on traffic, so it would make a great combination to see all three sites at once.
You can book a tour to Garden of Morning Calm, combined with a choice of Nami Island, Petit France and other sites in the area here.
Pick strawberries in Namyangju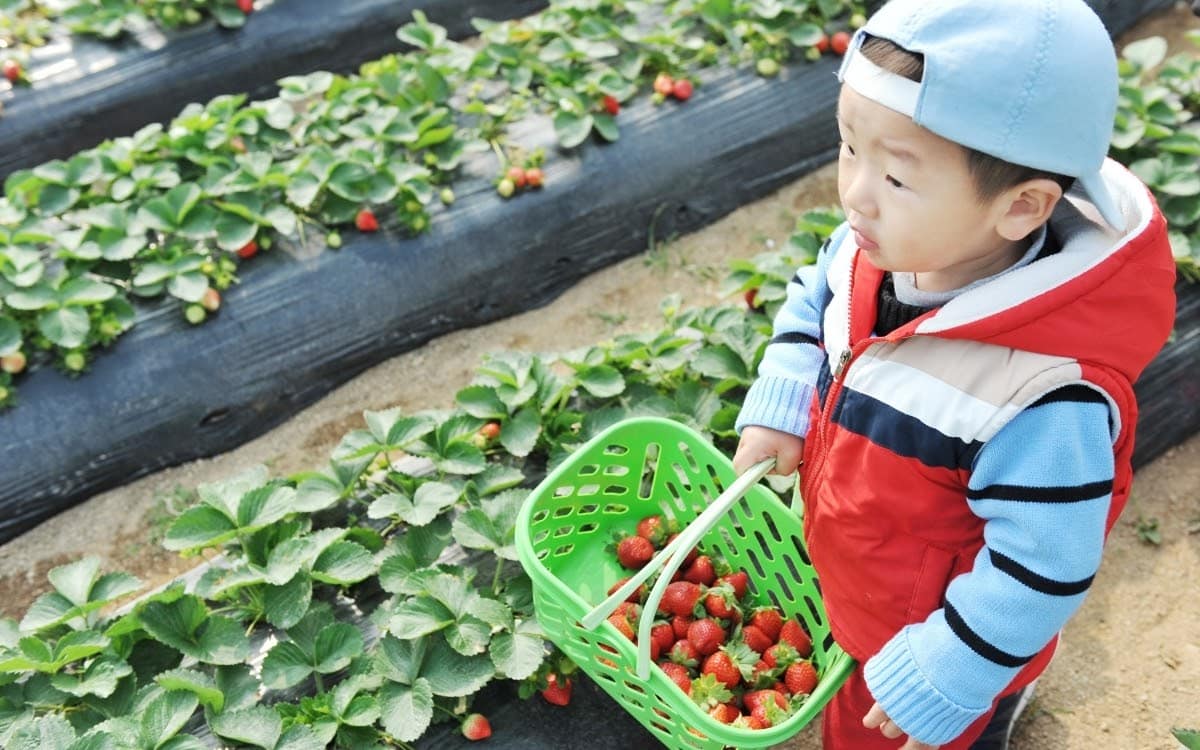 A fun winter Korean activity for the entire family that isn't too much of a trek from Seoul is to pick strawberries in Namyangju City in northeast Gyeonggi Province.
Namyangju is well known for its organic strawberry farms where there are many and just about all of them allow guests to spend the day picking strawberries for a minor fee.
The reason why this is such a great thing to do in winter in Korea is the fact that all the strawberries grow in greenhouses, so you are basically indoors away from the wind. It's actually really warm inside the little greenhouses.
The experience starts from around 10-12,000 won for kids and adults, but prices will vary depending which farm you visit (up to about 20-30,000 won). You usually walk away with a 500g plastic container of strawberries, but you also get to eat as much of the delicious fruit directly after picking it. There are also paid options to make jam to take home.
Pro tip: Due to the organic nature of the strawberries, there are bees buzzing around in order to spread the pollen. There are usually no complications, but if you or your kids are either scared of bees or are allergic, you may want to reconsider the experience or visit a farm that doesn't use such methods.
Two options you can try are YaeDang Farm or Daega Farm. Get your hotel concierge to help with a booking as you will need to speak Korean. Reservations are mandatory and strawberry picking season only starts in January. Namyangju is easily reached by bus with about a 1.5 hr journey from Seoul (1 hr by car) and is near Paldang dam (where the Han River splits into north and south).
Visit Nami Island & explore Chuncheon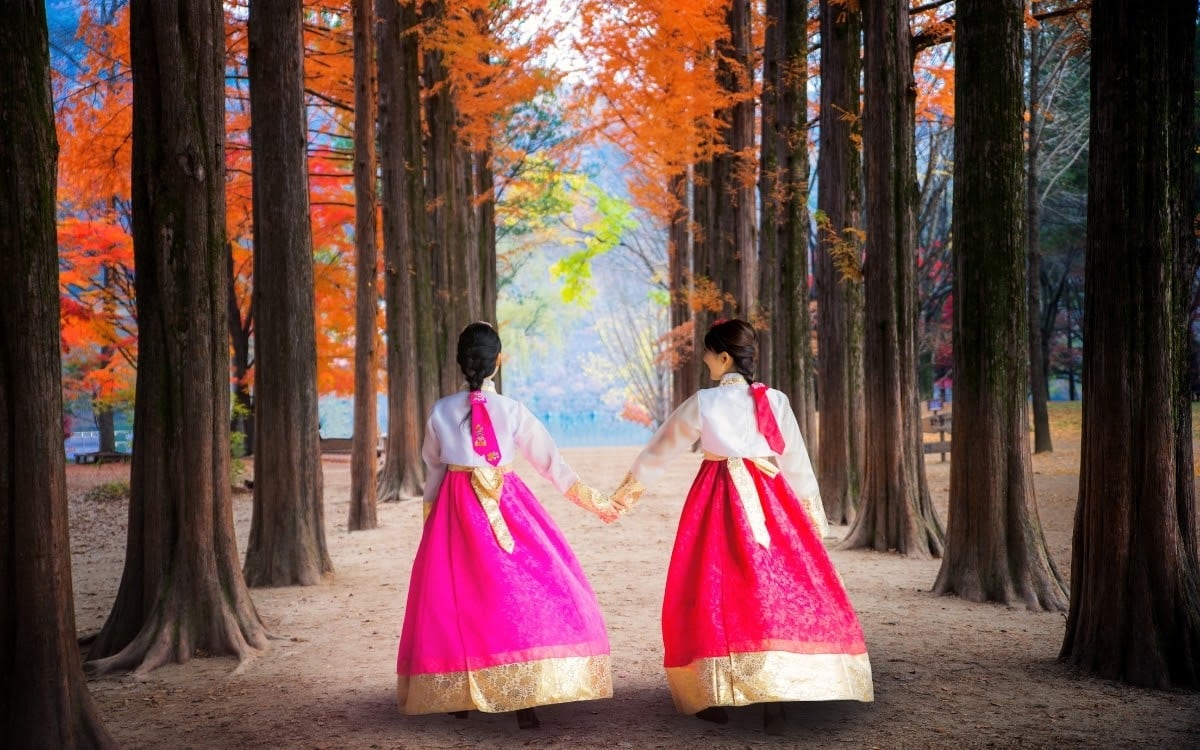 Nami Island has become one of the busiest tourist destinations in the country due to being featured in several Korean dramas, most noticeably 2002's Winter Sonata. The main draw of the location is its extreme natural beauty with tree lined walkways and gorgeous forests. It's probably the most Instagrammed place in the country, and due to its proximity to Seoul, is a fun day trip to see a more rustic part of the country without long travel times.
It's still extremely popular in Hallyu circles around the world, especially in the Philippines as the first Filipino-Korean romantic comedy series, "My Korean Jagiya", was also shot here.
As it's in Chuncheon, which is right outside of Seoul, Nami Island makes a quick day getaway from the capital. You can actually go at any time of the year but winter really brings out its magic with the rows of snow-covered birch trees in pretty little lanes.
Other than getting photo-happy in Nami Island, you can make a day of it in and around Chuncheon, the capital of Gangwon Province. In the summer it's known for kayaking along the river, but there are plenty of things to keep you busy during the winter too.
Make visits to Parisian theme park Petite France, ride along the tracks on the Gimyujeong Rail Bike, stroll around Jade Garden Natural Arboretum, hike up to small temple Cheongpyeongsa, visit the cafe at KT&G Sangsangmadang Art Center & hotel (the same company that has a famous building in Hongdae) and be sure to eat the famed dakgalbi (spicy stir-fried chicken) at Chuncheon Myeongdong Dakgalbi Street (yes there's a small Myeongdong in Chuncheon too).
This may all sound very daunting for someone planning a trip, which sites do you choose, how do you get there, should you hire a car or take a bus. If this is your situation we highly recommend taking a tour which will cut out planning stress. You can choose to go to one or all of the following Nami Island, Petit France, Garden of Morning Calm, the Rail Bike and even Alpaca World! The tour has pickup from Myeongdong or Hongdae and lasts the entire. Book this very highly rated tour here!
Go to the southeast coast, to Busan & Gyeongju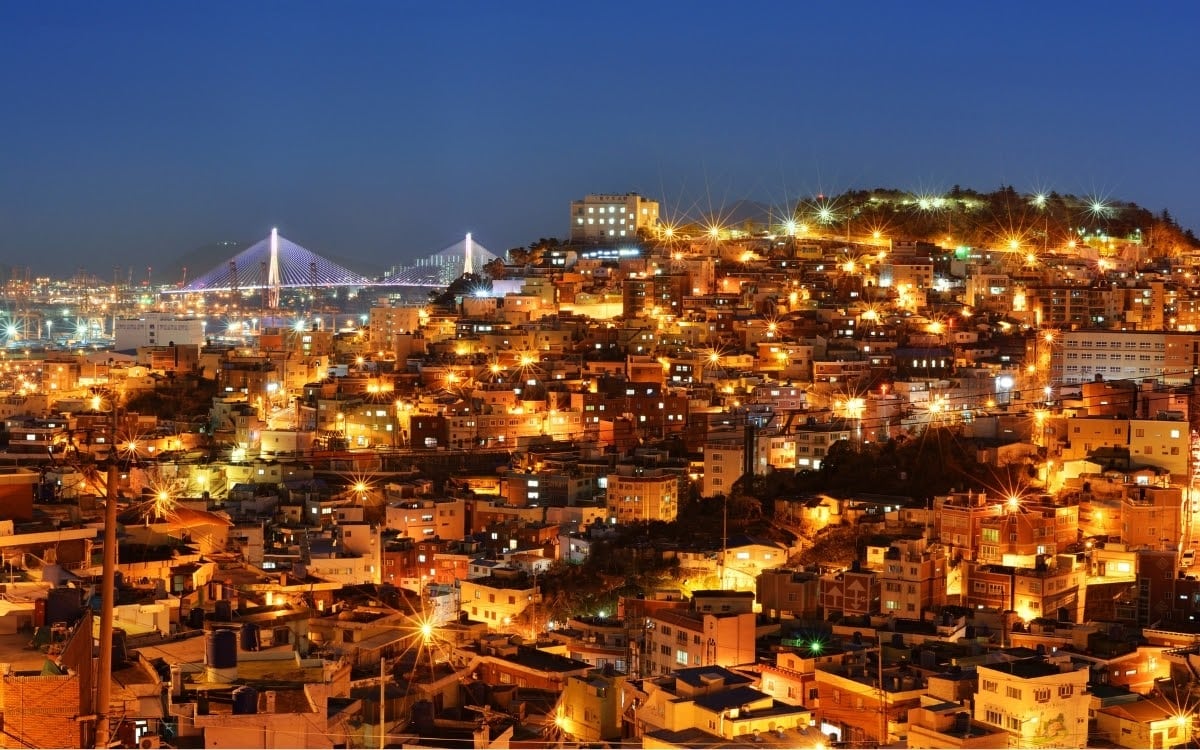 Going down south during winter in Korea is a really clever thing to do if you really dislike the cold as it will be at least 10°C. If you can't make the flight to Jeju and don't want to ferry to the thousand islands around the peninsula, visiting the southeast coast is a great option.
Start your winter journey in Busan, the second-most populous city in the nation. While Busan is mostly known for its popular beaches like Haeundae and Gwangalli, as a tourist and expat hotspot, it also thrives during the winter.
Many of the most popular tourist attractions are indoors and therefore perfect for the cold. You have the Busan Sea Life Aquarium, the giant Spa Land right inside Shinsegae Department Store, Jagalchi Fish Market which is great to explore at any time of the year and you can even stroll along the desolate beaches on warmer days or to Haedong Yonggungsa a Buddhist temple on the coast.
If you're looking for winter specific activities in Busan, give ice skating a go at Shinsegae Department Store, view the Busan Christmas Tree Festival along the streets of Gwangbok-ro in Jung-gu district, or take the plunge at the Haeundae Polar Swim Festival in January.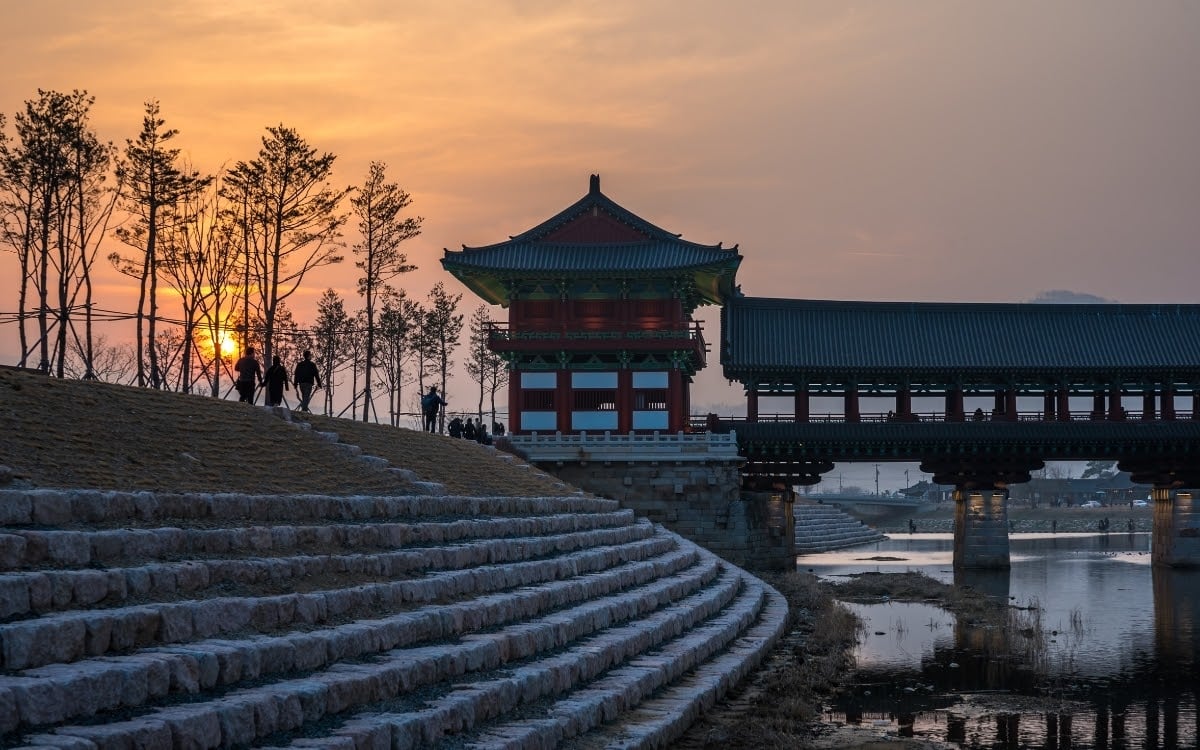 Moving north you can visit Gyeongju, the city that is often referred to as "the museum without walls" due to its vast beauty and historic sites.
There are multiple UNESCO sites in Gyeongju to explore and each has a charm of its own. Within the vast Bulguksa Temple lies Seokguram grotto, a stone temple made of granite with the impressive Bonjon Bodhisattva Statue.
You can explore an ancient traditional yangban (traditional ruling class of Korea) village from the Joseon dynasty at Yangdong Folk Village, the giant mounds of earth at the Daereungwon Tomb Complex (also called Tumuli Park), night stroll at Donggung Palace and Wolji Pond, or see the snow covered Bomun Pavilion.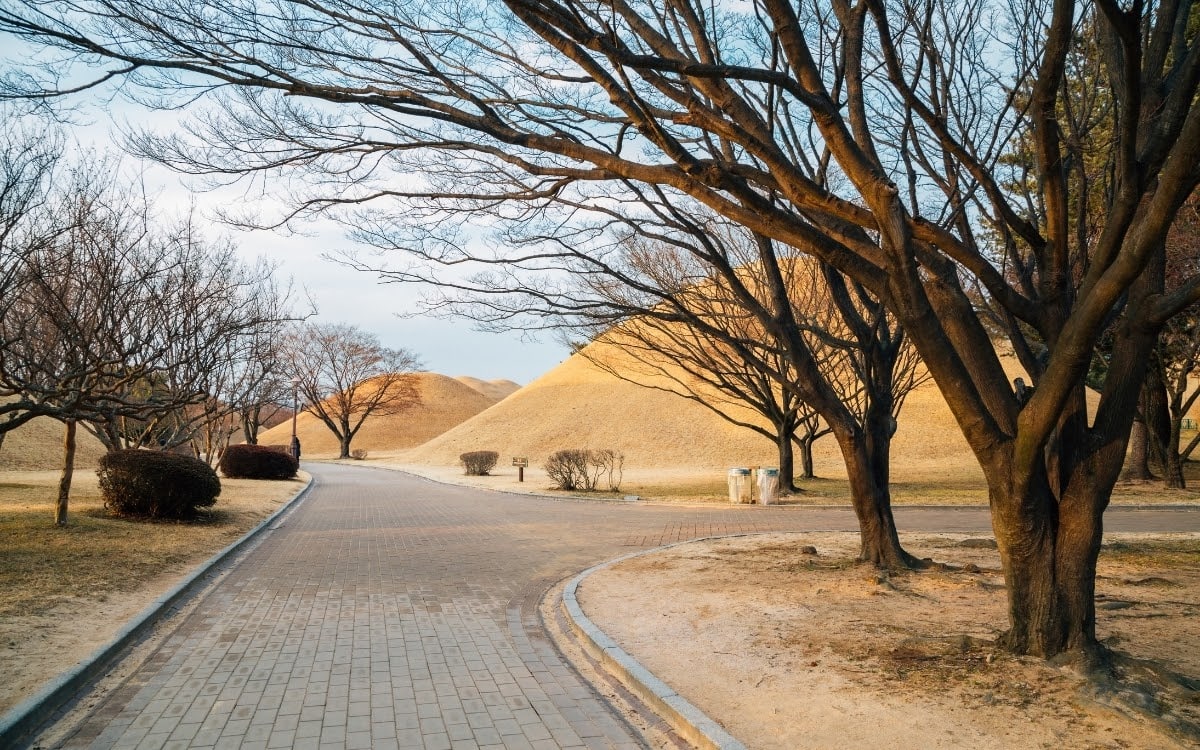 Another option is to forest bathe among the pine trees most impressively captured by photographer Bae Bien-U. Gyeongju is extremely different from Busan and more for nature lovers, poets and dreamers.
See more about transportation and walking courses of the city on its website. We'd highly recommend hiring a bicycle if the weather is pleasant enough, rental shops are all over the place including one next to Gyeongju National Museum and will be about ₩3,000 an hour or ₩15,000 for the day.
You can access the southern coast easily from Seoul via the KTX or ITX (we always use Railninja, just note that you may not get the exact time you want if trains are too busy).
Confused on where to start and how to plan? You're in luck as there's a perfect combined Busan and Gyeongju guided tour that is customized just for you. It can go up to 9 hours and is customized to your wants and needs where you get to create an itinerary of your choice or just follow a suggested one. It's in either English or Chinese. Book your awesome full day tour here. You can also do separate tours of Busan and Gyeongju if you'd like a bit more time in each area. Here's a hanbok tour of Gyeongju for a fully immersive cultural exploration and a full day Busan tour here.
Go skiing in Korea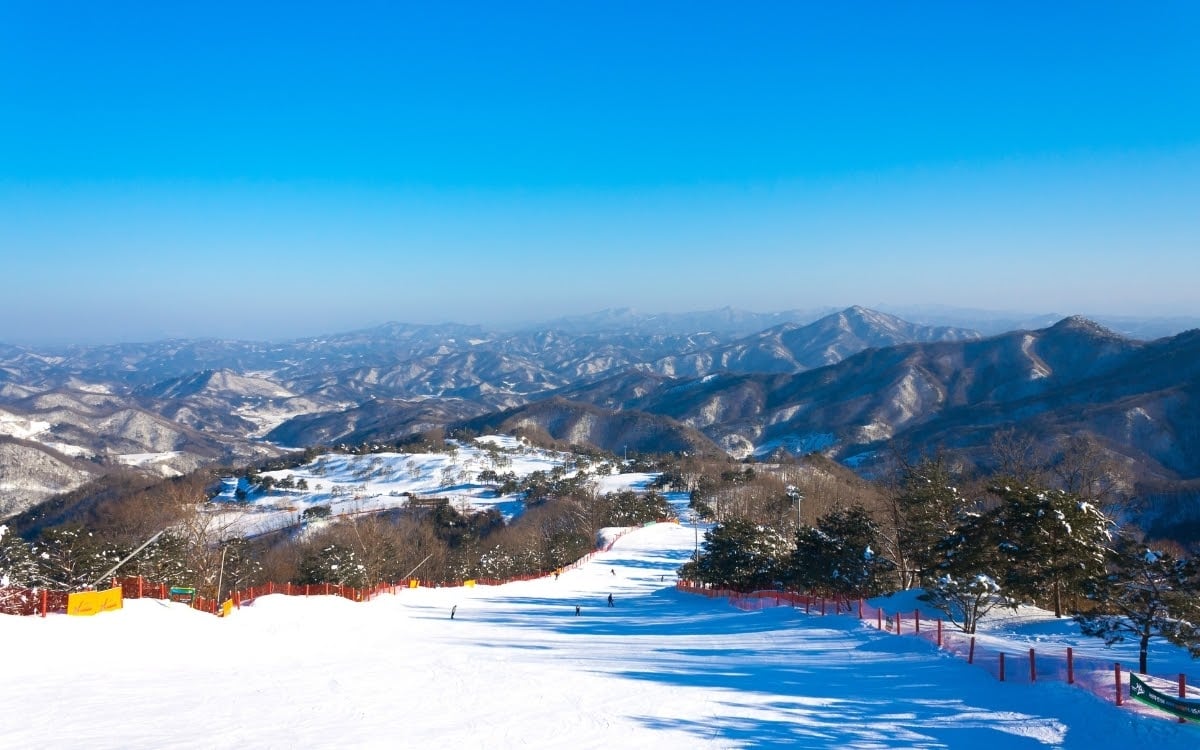 Wondering if you can ski in Korea during winter? Of course you can!
The mountainous country has some really stunning alpine resorts where you can ride the powder as soon as the temperature starts dropping.
While skiing and snowboarding in Korea doesn't have the sparse natural splendor of the Swiss Alps and other European countries it does have a few great options.
If there is a lack of snowfall in a particular year, there are snow machines, so you will always have powder on the slopes although it may be a very thin layer.
Most resorts have top-tier hotels, eating halls and other activities to partake in from waterparks and festive light displays to sledding and sheep farms! If you can, it's best to stay over for at least one night. You can also look for hotel and ski packages by visiting their websites included below on our list.
Rental gear is easily available and fairly affordable at all resorts, but a tip for those who'd like to purchase their own gear, you can head over to Nonhyeon-ro in Seoul's Gangnam where all the best snowboard and ski stores are clumped together.
The section with all the shops is between exit 3/4 Hakdong Station and exits 2/3 Onsu Station. There are also a few more if you continue walking toward Yeoksam Station.
Be cautious of skiing and snowboarding in Korea as spatial distancing is very different in the country. You may need to dodge people who have decided to sit in the middle of the slopes and chat for no apparent reason without moving to the sides. So please be cautious, I only speak from experience.
And remember to always have travel insurance in case something should happen, like a broken collarbone or jaw (true story). We trust Safetywing or WorldNomads with providing extensive travel insurance while on the go.
Here are a few of the best ski resorts near Seoul in either Gyeonggi or Gangwon Province.
Best ski resorts in Pyeongchang
Alpensia Ski Resort (알펜시아리조트 스키장). Location of the Pyeongchang Olympics (6 slopes). See our section on Pyeongchang above for more info. There are a few resorts to stay at near the slopes. Two of the most popular are the Intercontinental for luxe, the Holiday Inn Suites for upper tier or the Holiday Inn close by.
Yongpyong Resort (용평리조트 스키장). First and largest ski resort in Korea and another location for the Pyeongchang Olympics (28 slopes). We found an online package deal here.
Phoenix Park (휘닉스 평창). Also in Pyeongchang and chosen as the venue for freestyle skiing and snowboarding in the Olympics (21 slopes). Check out the Phoenix Pyeongchang Resort here.
Korean winter festivals & theme parks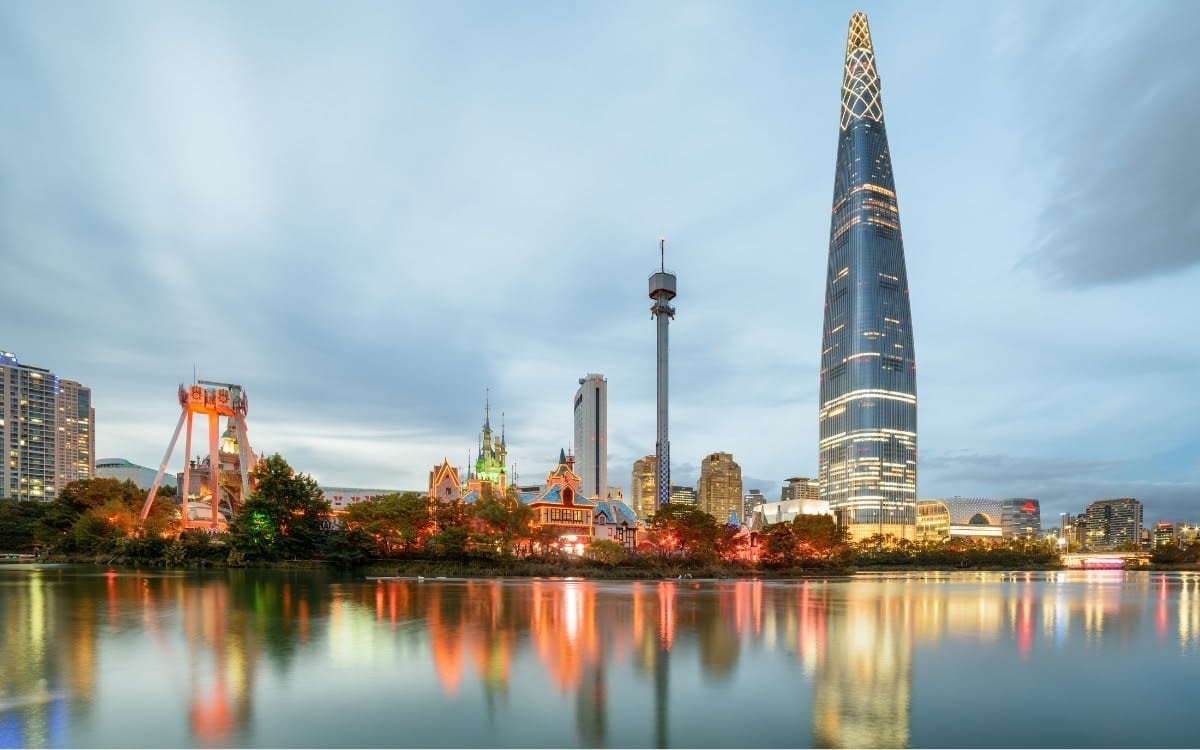 Lotte World is a great place to visit in winter
We have mentioned a few winter festivals in Korea throughout the article, but thought it might be nice to add a few more of the top ones to explore. Decide which seems fun for you and then go and explore!
Taebaek Mountain Snow Festival (태백산 눈축제). Snow sculpture festival where you can have a cup of coffee inside an igloo, do some ice sledding or go on a snow hike. The festival runs for 10 days in the beginning of January.
Seoul Land (서울랜드) festivals. The Winterlight Festival is an LED light festival running throughout winter at night where the entire space is transformed into a huge light concert hall with classical music, lighting, 3D mapping shows and fireworks. They also have a yearly Christmas Party running from late November to early December and a Snow Part in January. Get discounted tickets to Seoul Land here.
annual Christmas Party (롯데월드) festivals. Lotte World has annual events in winter like "Make A Miracle Winter Festival" where visitors can see Christmas decorations, go to Santa's Village and see the Happy Christmas Parade. It's also the most easily accessible theme park as it's right in the Gangnam District of Songpa-gu. Pop over to the Lotte World Tower & Mall for a complete day of wintery fun.
Boseong Green Tea Plantation Light Festival (보성차밭빛축제). If you're going down south near Yeosu, you may be interested in visiting Boseong where the tea plantations are located. Between November and January they have a festival of lights and is where the entire Korea Festival of Lights begins. There are also fireworks and cultural performances.
Seoul Lantern Festival (서울빛초롱축제). If you can't make it that far south, just mozy on over to the Cheongyecheon, the stream that runs through central Seoul, to see the amazing annual Seoul Lantern Festival. It started in 2009 and has been going every year, usually between October and January and is really amazing and super convenient with displays of all kinds running from Jongno all the way to Dongdaemun.
Daegwallyeong Snow Festival (대관령 눈꽃축제). Probably the biggest snow festival near Seoul, this festival in Pyeongchang is similar to the Taebaek Snow Festival and has lights, sculptures, sledding, horse riding and a whole lot of great street food. The festival runs for 10 days in mid January.
Christmas in Korea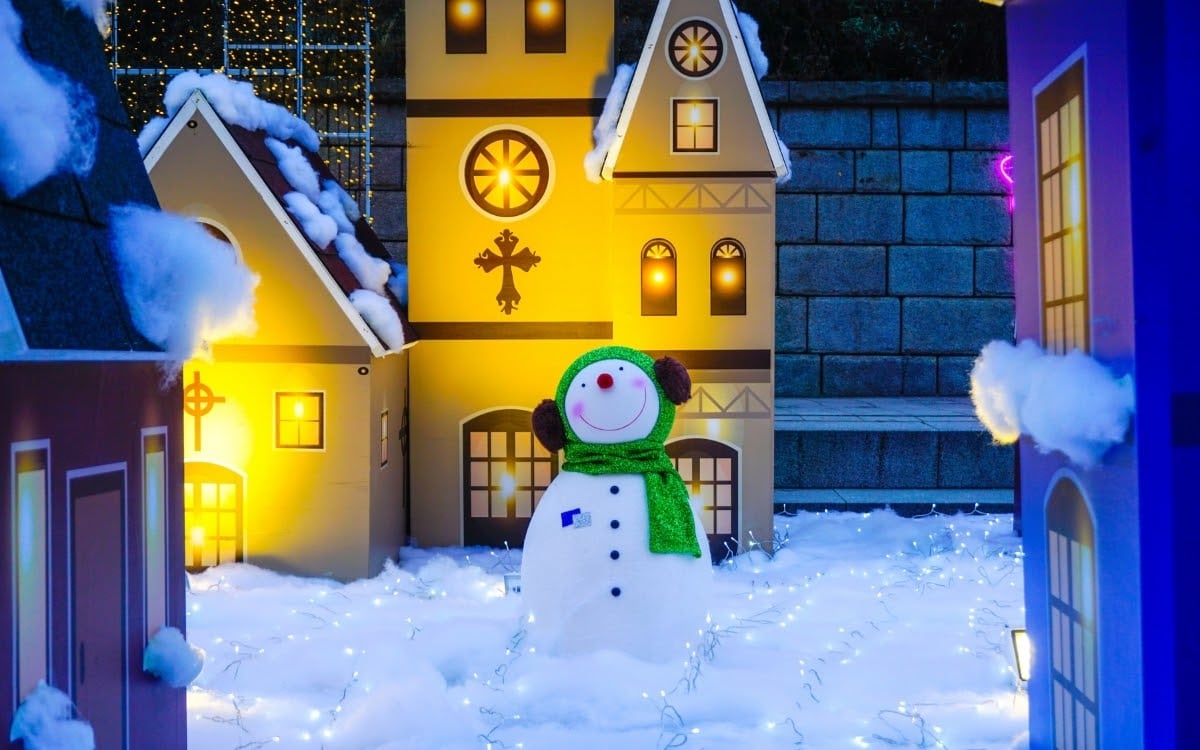 A little known fact about South Korea is that Christianity is the country's most popular religion with 20% being Protestant and 8% Catholics. Buddhism comes a close second with 15.5%, but 57% of South Koreans do not abide by any religion. So, other than the Christian population who will visit the various Churches, most of the country takes the day off as it is a public holiday.
While the majority of the country does not adhere to any particular religion, Christmas is seen as a couples day where dating couples and families will spend the day relaxing or traveling. But just because most Koreans don't celebrate the birthday of Jesus it doesn't mean there aren't any festivities. You will see the usual Santa's all over the place, festive lights, carols and most importantly, massive sales!
The atmosphere is one of celebration and romance as the fairy lights and festive carols are ubiquitous throughout the season. Christmas day in Korea is calm, peaceful and free with couples exploring the cities away from the watching eyes of their parents.
New Year in Korea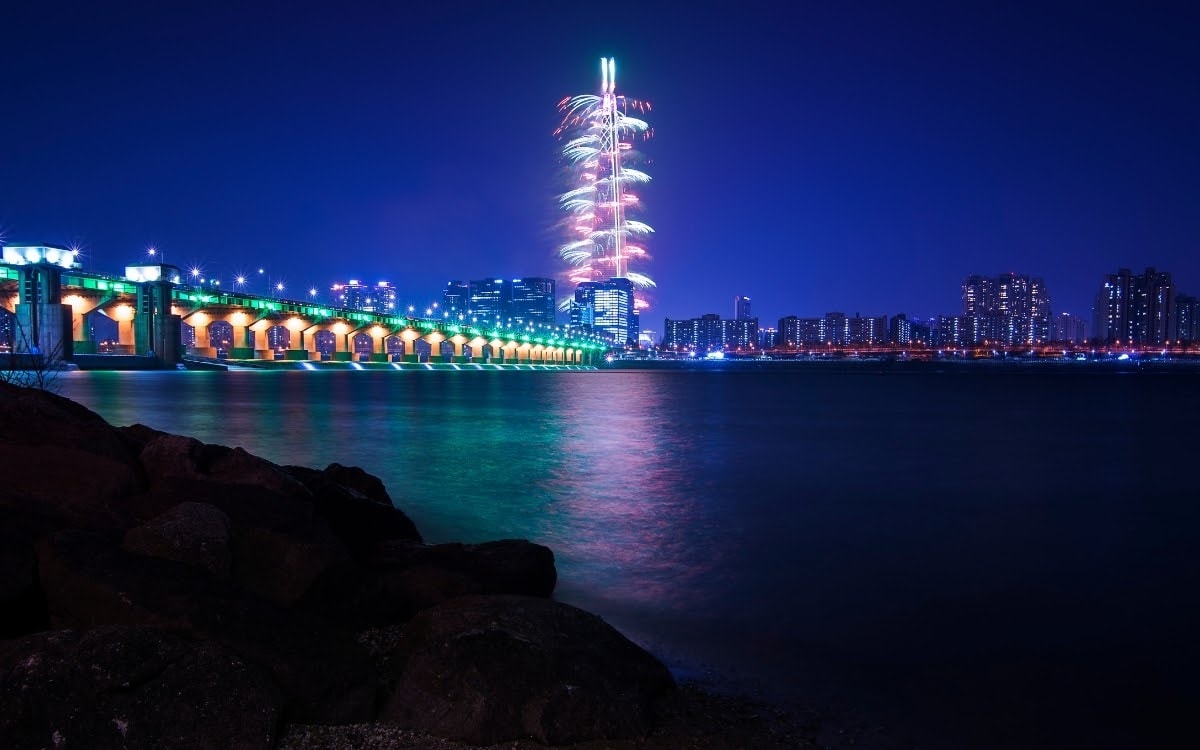 Western New Year in Korea (Dec 31) is quite a party just like anywhere else in the world, but it's more of a western thing so it's not too big of a deal. You can watch celebrities hit the Bosingak Bell in Jongno (Jonggak Station line 1) for the countdown or party in university towns like Hongdae.
There are fireworks all over Seoul from Lotte World Tower (that last 555 seconds to represent the 555 m that make the skyscraper) and COEX Mall and an epic light show at Dongdaemun Design Plaza (DDP).
If you're more of a nature person, you can travel to the east coast to watch the first sun of the year come up in places like Ganjeolgot Cape Park in Ulju-gun, Ulsan, Homigot Sunrise Square (호미곶 해맞이광장) in Pohang City, Gyeongsangbuk-do or Gyeongpo Beach Sunrise Festival in coffee town Gangneung, Gangwon-do.
If you're younger, the atmosphere is electric and all-night benders will have you partying till sunrise. For those not too much into the party scene, the typical New Year hope wafts through the air of the country, but most people will go to sleep at a normal time and treat it like any other day of the year.
While public transportation usually closes at around 12, it is usually extended for about 2 hours in New Years Day, so you can ride the subway until 2am in Seoul. It's always best to make sure before you go though, especially if you need to transfer. Otherwise, taxis are always available, but you may need to wait quite a long time as it is extremely busy throughout the night. Prices may also jolt up.
Seollal (설날) in Korea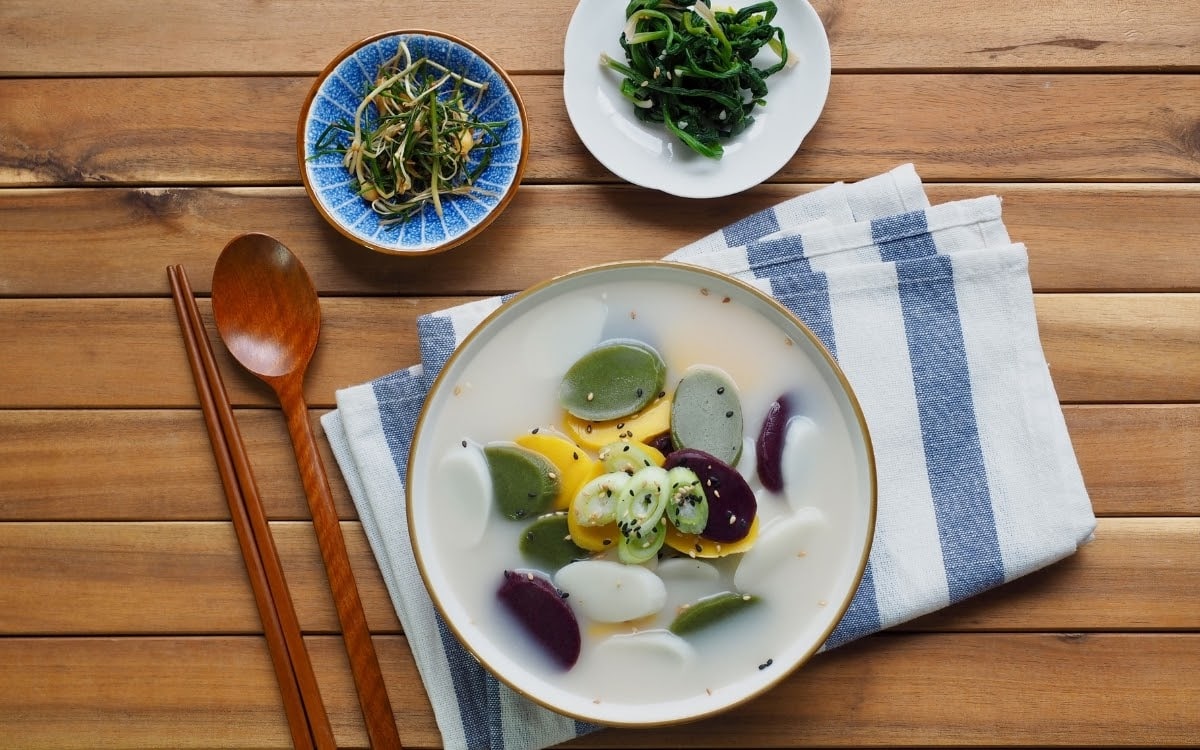 Chuseok (in September or October) and Seollal (in January or February) are the two most important holidays in Korea. In other parts of the world it's known as Chinese or Lunar New Year where most of Asia goes on holiday and celebrates the coming of the new year.
If you are visiting Korea during this period, know that travel will be quite difficult and most stores will be closed during the period. Seoul usually becomes a ghost town as everyone goes to their hometowns, but there are festivities such as eating tteokguk (rice cake soup) and playing yutnori (a traditional board game) around major sites like Gyeongbokgung in Seoul.
Seollal is also important in Korea as the entire country becomes one year older together. Age in Korea is a bit different in Korea than in other countries as you are born 1 year old, not 0 and Seollal marks the one year older mark for everyone. A bowl of tteokguk solidifies this one year age difference. This shows the country's importance on unity and insignificance on individualism, as all grow older and wiser together.
Charye is celebrated, which is a highly structured ritual of ancestor reverence, with loads of food for guests and ancestors. Charye is dying down with newer generations preferring to relax during this time, but it is generally a time for family and thanksgiving to those who came before.
While most of the country is closed down during Seollal, recreational and cultural facilities like amusement parks, national parks, and major palaces stay open to the public. They usually have cultural celebrations too like traditional games for families.
Korean winter food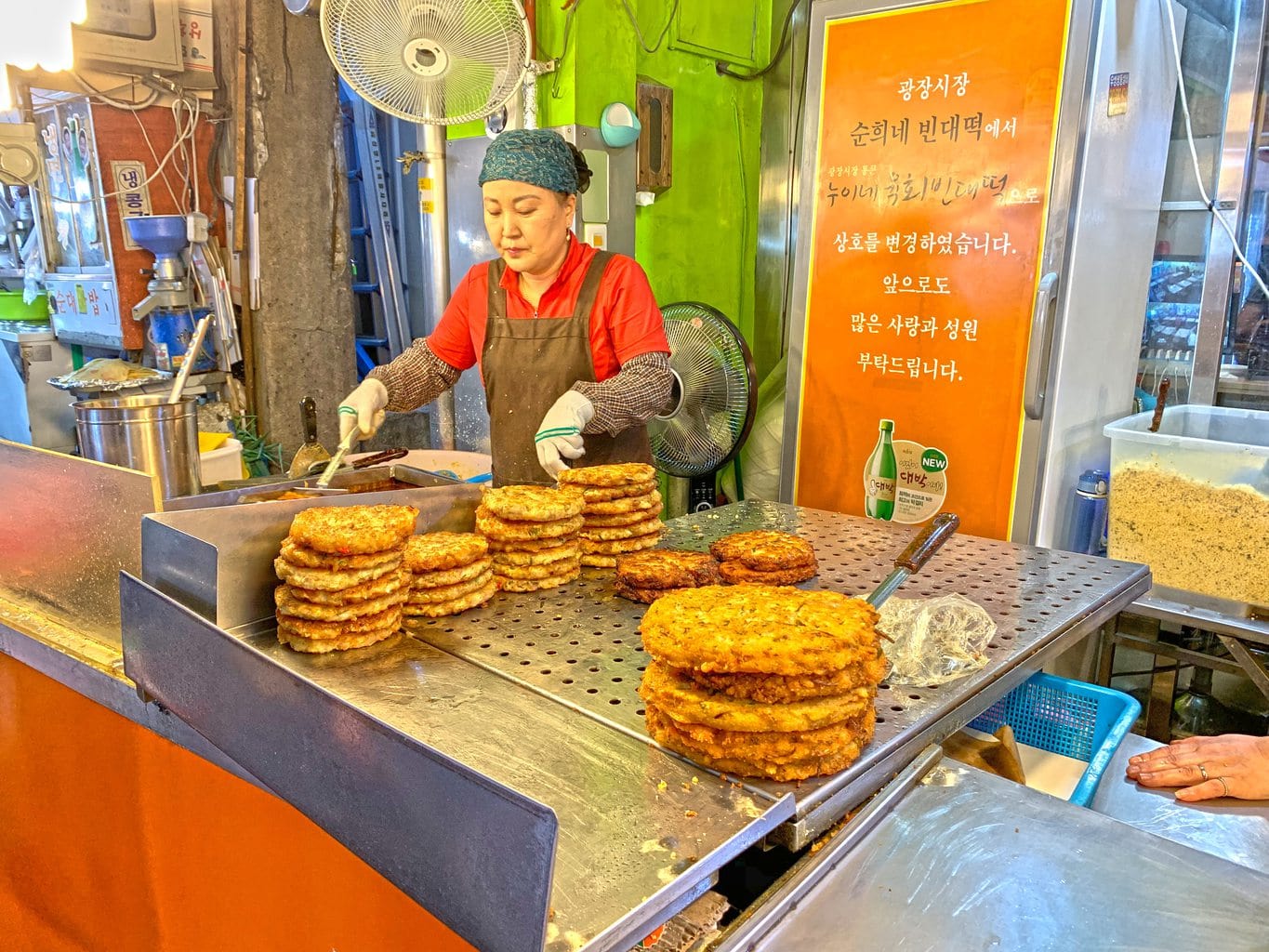 You may be asking, "Why is there a section on Korean winter food, I know exactly which Korean foods I want to try!"
Well, Koreans are very particular about food and during seasonal changes restaurants will also change their menus as there is an unwritten rule that you "should" or "shouldn't" eat certain foods at particular times of the year.
You won't be able to find the chewy iced noodle dish naengmyeon (냉면) or the delicious soy bean soup kongguksu (콩국수), for example. Shaved ice dessert patbingsu (팥빙수) is also taken off most cafe menus. So what food is left in Korea during the winter? Loads!
Street food is the best place to start on your wintery culinary journey. Why? Because there's nothing like standing in a pojangmacha (street street stall) with steam all over the place as the snow falls down.
Koreans love their roasted sweet potatoes (고구마), which you just eat straight from the coals. Hotteok (호떡) is a delicious sweet pancake filled with brown sugar, honey, chopped peanuts and cinnamon. Hoppang (호빵) is hotteok's bready counterpart which is a steamed ball of dough filled either sweet or savory.
Ddeokbbeokki (떡뻑기), stir-fried rice cakes, is a go-to street food at any time of the year, but it's spicy and sweet flavor will surely heat you up. It usually comes alongside eomuk tang/odeng tang (fish cake soup), which you drink out of a paper cup, boiled eggs and scallions.
You can also find delicious egg bread (계란빵) at certain food markets, which is sweet bread filled with an egg in the middle. Fish Bread (붕어빵) gets its name from its shape and not its taste (it's filled with sweet red bean paste) and hodo kwaja (호두과자 – walnut shaped pastry) are other great on-the-go warm snacks.
Beyond street food there are some winners for Korean winter food at sit-down establishments. Start with a hearty soup, stew or broth which you will have many many choices. If the meal ends with tang (탕) or jjigae (찌개) you know that it's going to come in watery and boiling hot.
Start your winter Korean food journey with kimchi jjigae (김치찌개) a classic stew made with kimchi, dubu jjigae (두부찌개) similar but with tofu (soon or 순 means soft so soondubu jjigae is the softer kind).
Galbi-tang (갈비탕) is a beef short rib stew, seolleongtang (설렁탕) is ox bone soup and similar to ox bone hangover soup called ppyeo-haejangguk (뼈해장국) where haejang-guk (해장국) means anytype of hangover soup and will cure your thumping headaches. If you're craving chicken try some jjim dalk (찜닭), a ganjang (soy sauce) based steam chicken dish.
There is plenty more to eat, so take our complete guide of food in Korea with you to get a better sense of the amazing dishes the country has to offer along with some cultural faux pas and history.
If you're not sure where to begin you can take a food tour combined with a cooking class here. There are also vegetarian tours and nightlife foodie tours to get you started on your Seoul culinary journey. There's a private street food tour and a Bukchon Hanok Village walking tour with food tasting.
What to pack for winter in Korea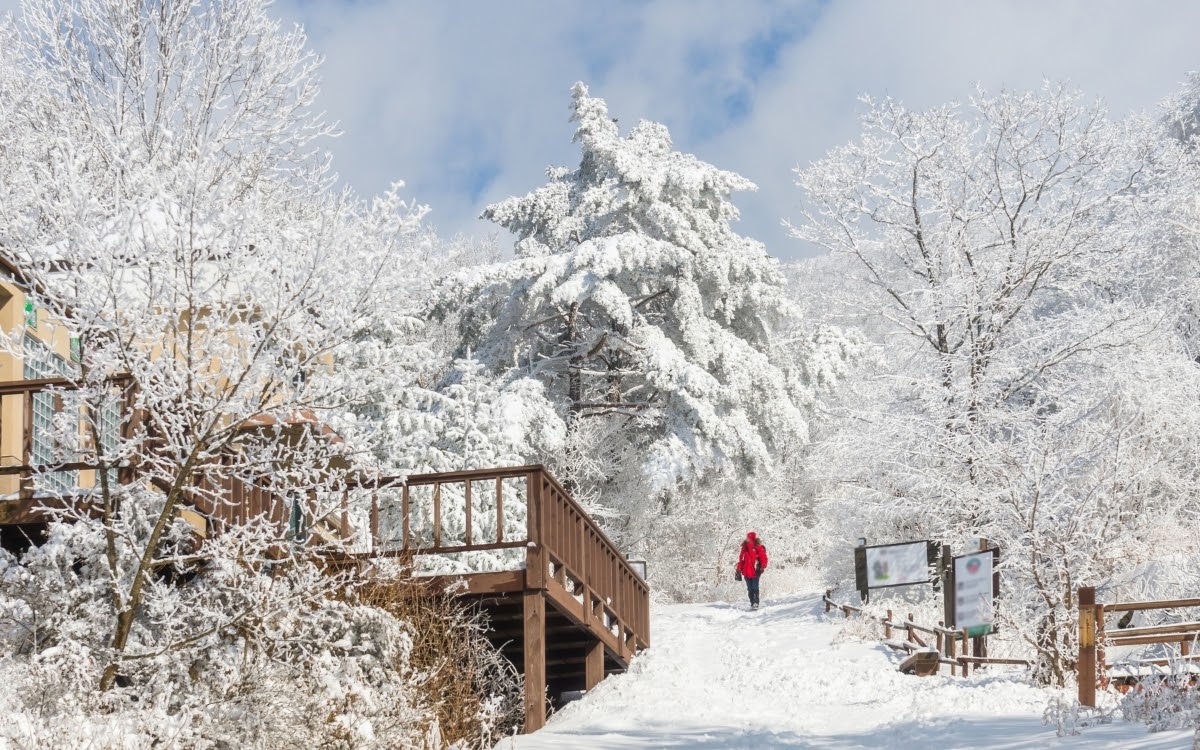 All Koreans (and local expats) know that you survive winter in Korea by using layers. Layers and layers. This is for two reasons.
The first is to keep you warm outside obviously. The more layers you have on, the warmer you will be. The second reason is that when you walk inside you will be blasted with the most aggressive heating system you've ever experienced.
I have personally ridden in buses when it's negative outside but I'm sweating like it's a sauna in the bus. Then you walk back outside and it's freezing again. Wearing layers allows you to be comfortable when you change from the outside to inside and back out again.
UNIQLO sells an awesome product called Heattech which is thin and retains heat quite well. Korean brand Top 10 has similar items that are a bit cheaper. So if you do find that you haven't packed enough layers, you can easily purchase more just about anywhere in the country.
Pro tip: Local fits are Asian and therefore smaller. I wear an L in the west but am an XL in Korea, so make sure you know your size in cm before you go shopping. I am a 105 t-shirt for example.
Apart from thermal or insulated innerwear, you will also need a parker with a hood if you're exploring the outdoors and pretty sturdy shoes, preferably waterproof ones for snow like these boots from North Face or more slip on/off friendly ones from North Face so that the snow doesn't become water that sinks into your socks.
Black ice is a real issue and people go unexpectedly sliding all over the place, so shoes with grip are preferred. You may have to take off your shoes in certain places, so ones with a zip that slip on and off easily will also help a lot. Thick socks are also a plus.
If it's blowing at all, you'll need something to cover your appendages, lest you want to feel like an icicle. Gloves always come in handy, as does a scarf and beanie.
Note on shopping in Korea during winter. There are always sales on in Korea, especially in the "Event Hall" in most department stores. So if you did forget anything, it's amazingly easy to pop into a store and get whatever you need. But it is advisable to at least bring a thick jacket on arrival so that you can at least make it to the shops.
More tips on winter in Korea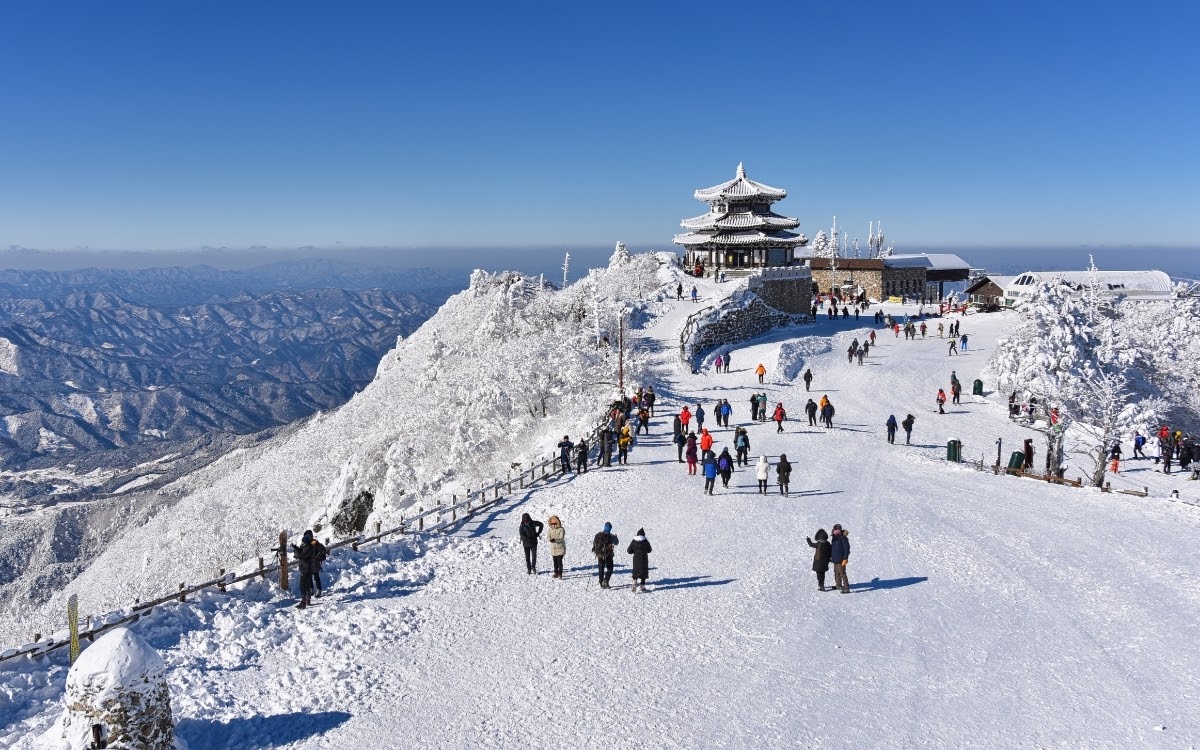 Here are a few more additional tips to keep you warm during your winter in Korea.
Hot packs. Hot packs are super cool little bundles of joy that you can buy just about anywhere. As soon as you land in Incheon, you can go directly to any convenience store in the airport and purchase a few of them or buy them on Amazon here. They are about the size of a hand, all you do is crush them and they miraculously heat up and stay heated for between 6-12 hours! They're around $1 each.
Beware the indoor heat. As mentioned before, everything is heated in Korea in winter, from the subway seats to the buses to the shopping malls. Over and above the standard heating, Korea has an ancient system called ondol where steam passes through pipes under the floor so that the floor is heated! Most hotels, restaurants and even some Templestays have ondol, so ask your concierge about it so that you know how to work the heating system when you arrive.
Keep hydrated. Winter in Korea is extremely dry. The weather in general is much cleaner than in the summer, but you will experience a dryness like never before. Always keep some lozenges with you, which you can buy at any pharmacy or convenience store (ask for mok candy (목 캔디) which translates to throat candy).
A pharmacy or drug store is called a yakguk (약국) and they are literally everywhere, sometimes 4 per block. They also have elixirs or all kinds and the awesome Vita-500 (vita obek) for an instant shot of vitamin C or warm ginseng drinks called hongsam (홍삼).
And always carry water with you, especially on public transportation where the temperature changes drastically and may make you cough uncontrollably. Indoors heating will also make you sweat more than you think so you'll need water to keep hydrated.
Black ice. If you skipped the section above, you may have missed my recommendation to wear waterproof shoes with a nice grip. I suggest you venture back up to read that. Snow and water quickly become ice and if you aren't well equipped you'll meet this hidden foe in the worst way possible, with a slip and thud! The waterproof shoes also save your toes from absorbing melted snow. I speak from experience when I say that snow melting through your shoes and into your socks is no fun.
Visiting a jjimjilbang. Jjimjilbang are Korean-style saunas, much like Japanese onsen. They are all over the country and you can find them in any city. Visiting a jjimjilbang is a uniquely Korean experience and a part of the culture. They are visited any time of the year, but winter is especially great as you get to warm yourself up in the blistering hot waters, the perfect escape from the cold. They are super cheap, roughly $10 for the day and you can even sleep there overnight as many are open 24/7 and have public sleeping rooms.