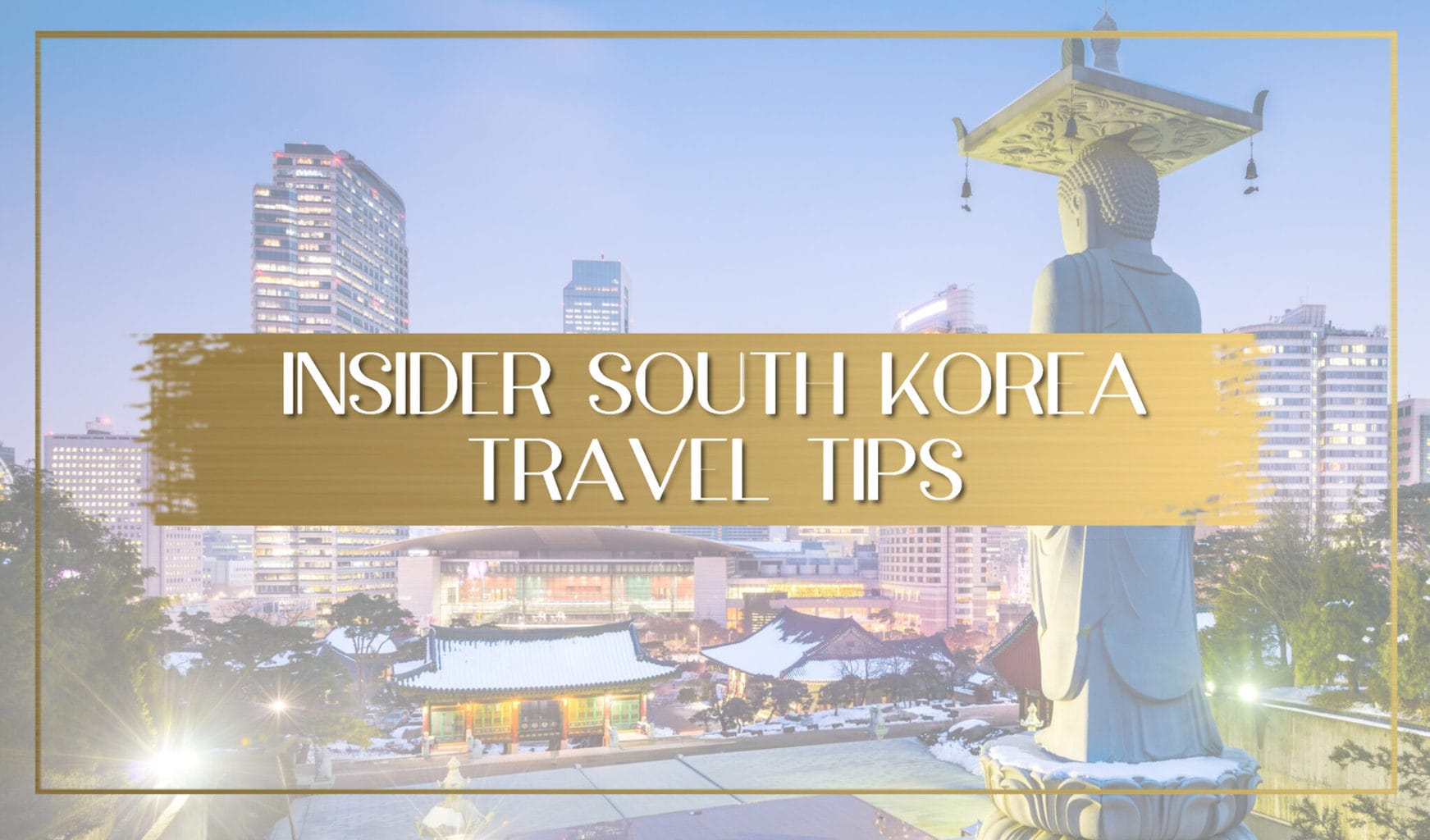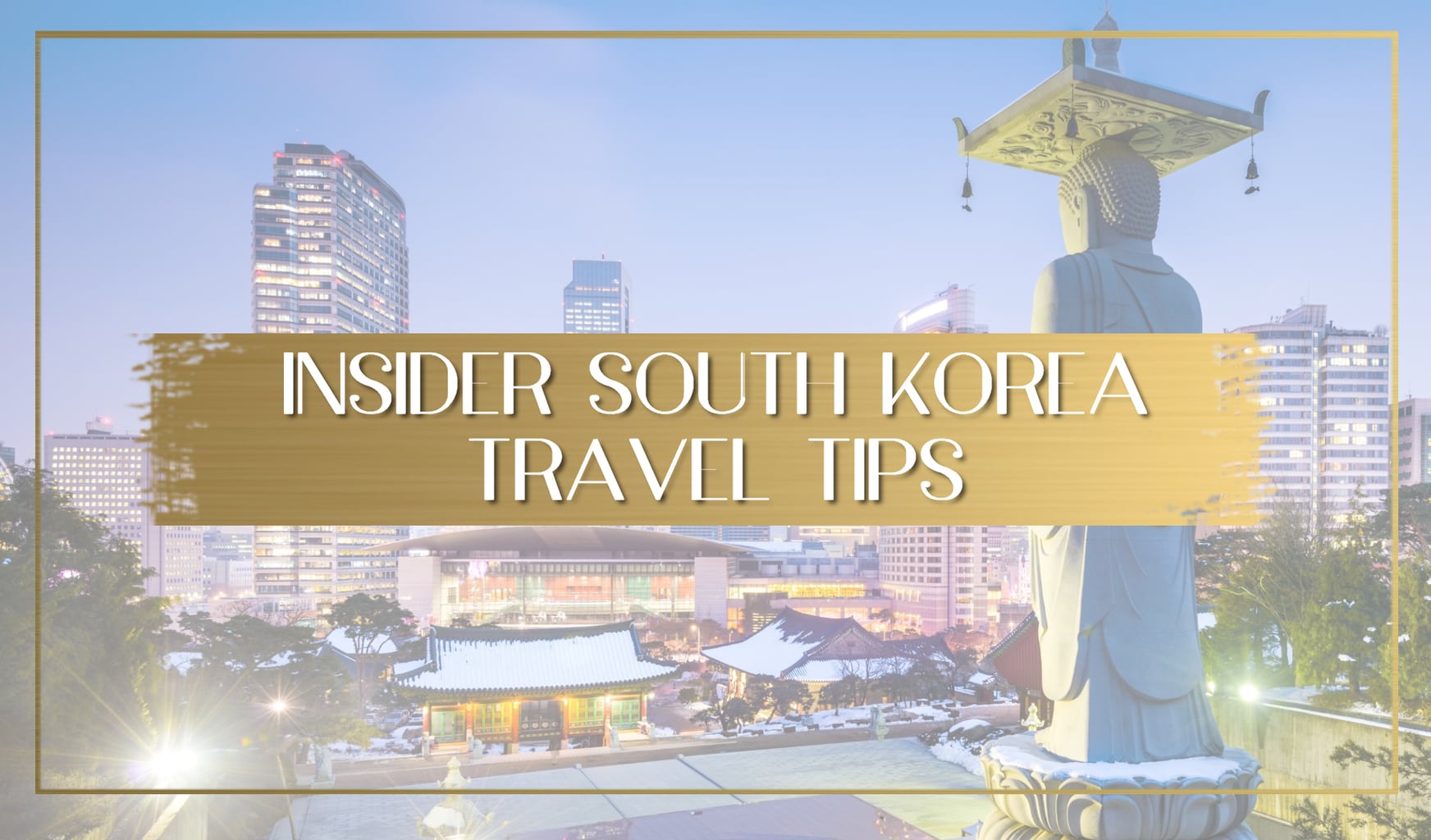 So you've planned your journey to the Land of the Morning Calm, but you want to find out a bit more about the nation. From the intricacies of drinking culture to practicalities like visas and vaccinations, this article has all and the best South Korea travel tips directly from a Korean-speaking expat who has lived in the country for over 10 years.
Find out how to experience South Korea like a local, from riding the subway like a pro to where to get the best shopping deals. This is an essential guide for both tourists and for those who are considering living in Seoul and beyond. You'll definitely find some practical and really interesting tips for traveling to South Korea below…
Preparing a trip to South Korea
There are some things to consider when traveling to South Korea. Even if you've visited several times, you may find some new information below, so don't skip to the next section just yet. After living here for over 10 years there's always something new to learn. Here are our most useful South Korean tips.
Visas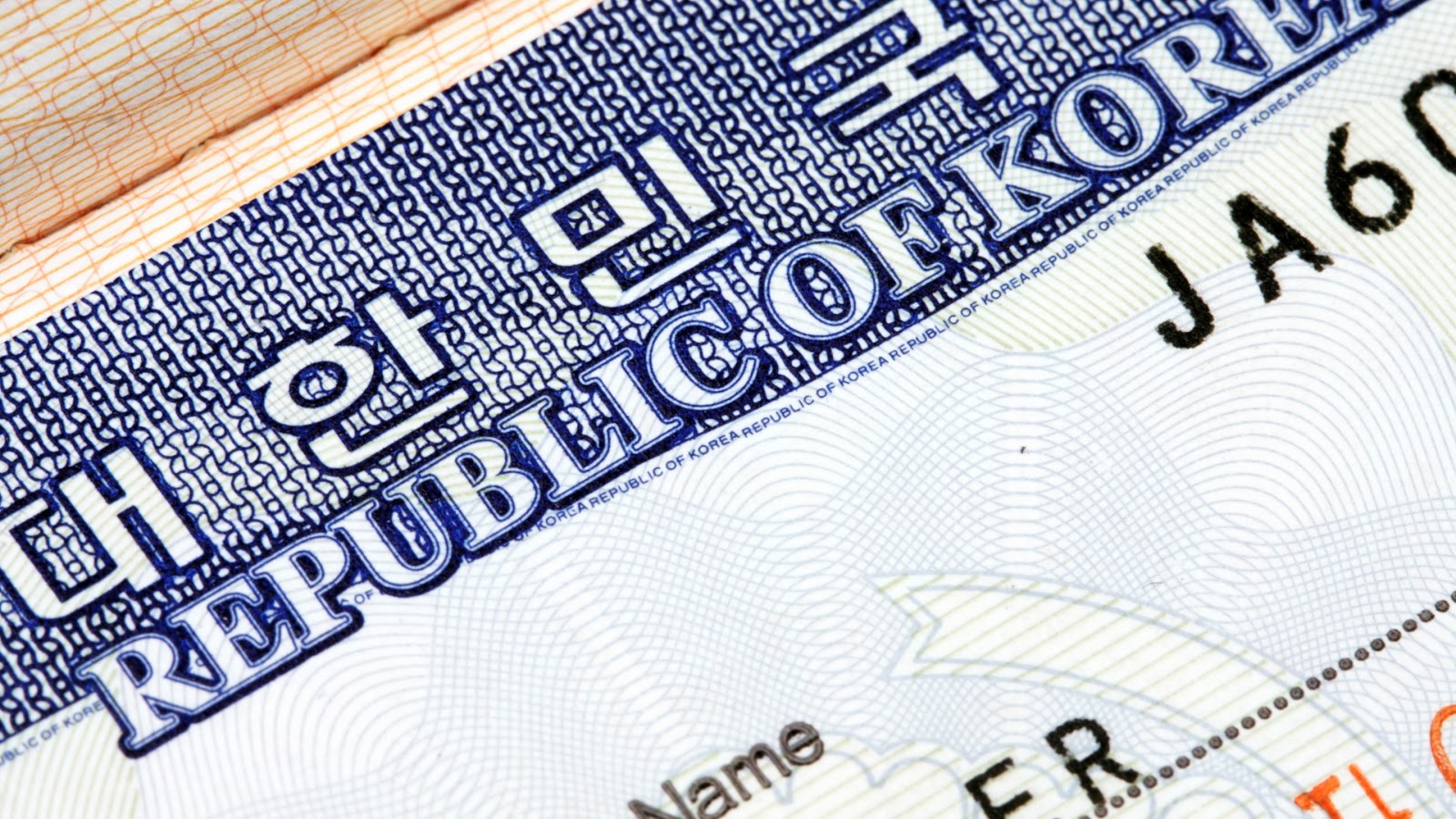 The very first thing to consider when traveling to South Korea is to check whether you need a visa. Many countries are allowed to enter visa free for 30 days, some can be extended to 90 days. You can see which countries are allowed in here. 
Of course, this has now changed with the Coronavirus pandemic. Tourist visas have currently been put on hold and if you do have a visa currently and are in the country, you will need to obtain a re-entry permit in order to leave and come back into the country, no matter whether you are teaching, are married or even have a child with a Korean national. There is also a 2-week mandatory quarantine on arrival.
One travel tip for South Korea concerning visa extension that I learned the hard way is that you cannot extend your visa in the country.
For example, I am a South African citizen and can enter Korea with no visa for up to 30 days (pre-Covid). I am also allowed to extend this to 90 days, BUT only if I do it before entering the country. Even though I am married to a Korean citizen, I was not able to extend my visa and had to do a visa run to Taiwan. 
The best South Korea travel advice I can give about visa extension is that you may extend in an emergency, but there needs to be proven documentation from hospitals or the relevant institution. So it's best to you to understand how long you're allowed and if you need to obtain a visa or visa extension before your trip. 
Vaccinations
Other than a negative PCR test, you do not have to prove any vaccinations to enter the country like you may need in some parts of Southeast Asia. South Korea is a first world country with brilliant medical practitioners. It is recommended to keep up to date on all routine vaccinations like Chickenpox (Varicella), Diphtheria-Tetanus-Pertussis, Flu, Measles-Mumps-Rubella (MMR) & Polio. For other vaccines you may want to get, you can check this list.
Connectivity
South Korea is notably one of the most connected countries in the world. With 96% of the country online and an average mobile Internet speed of 52.4 MB/s, South Korea's internet connectivity is ridiculously fast and ubiquitous.
While you can connect to the public Wifi, it can sometimes get choppy and may even be difficult to connect to at times. Cafes are more stable with 5G connections, but you will need to purchase a drink as the passwords are usually on the receipts. If you can't find the password, just ask the staff for Wifi bimilbeonho (비밀번호 = password). 
Internet plays a vital role in the comfortability of your trip as you will need it constantly when traveling, especially when mapping your journey. For this reason, one of the useful tips for traveling to South Korea is to rent a portable pocket Wifi device as soon as you land at Incheon or Gimpo airports. This will save you a lot of time and worry when traveling. You can book one ahead of time by visiting this link for Incheon and this link for Gimpo. You could also get a 4G LTE sim card at Incheon if you'd rather not carry around an additional device.
What you can/cannot bring into the country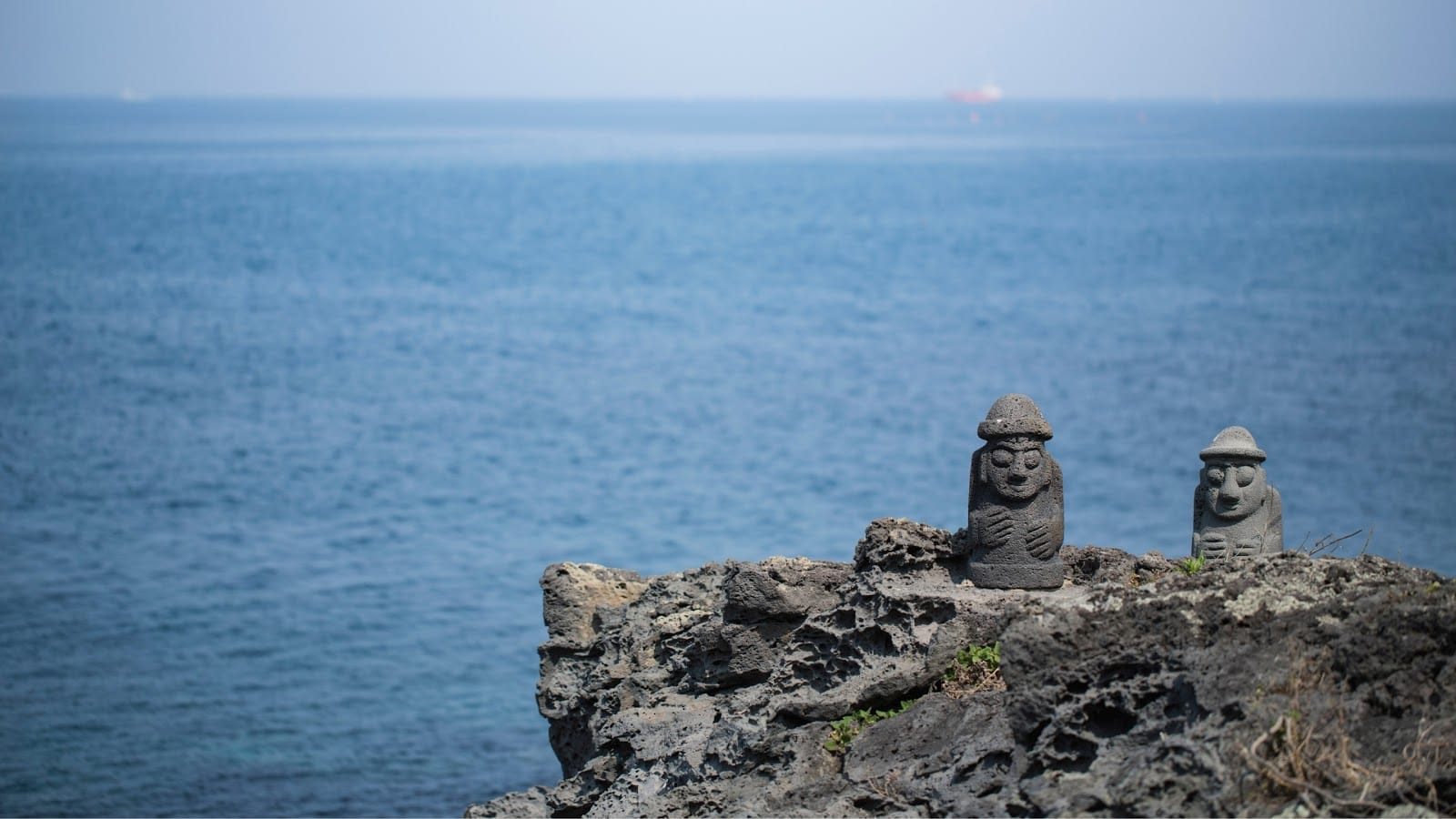 South Korea has an absolute 0 tolerance policy for illegal drugs. Controversially, they are even allowed to throw Koreans in jail if they have partaken in drug activities abroad even if they were legal in the country taken. For example, a citizen could be locked up in South Korea for smoking a joint in Oregon in the US where marijuana is legal. 
Once I brought in two bottles of wine from Cape Town and a bottle of olive oil. The limit is one liter of alcohol. I have traveled to Seoul many times, but this time I found a large belt around my luggage with a lock. I needed to visit the customs official who told me I needed to declare the wine, as they thought the bottle of olive oil was wine. If this happens to you, don't panic, it's just a precaution from customs.
You're not in trouble if this happens, you just need to state how much the items cost as you may need to pay import taxes if it is over a certain monetary limit. Usually, they don't speak English too well, so you can just show the amount on your calculator and they will either ask you to pay or they'll let you pass through.
Quick mention here if you are visiting Jeju, due to conservation efforts it is illegal to take the black volcanic stones with you when flying out of the island, just like in Hawaii. There are souvenir stores all around the island that sell the lava rocks where you can buy it legally.
Learning Hangul & Korean phrases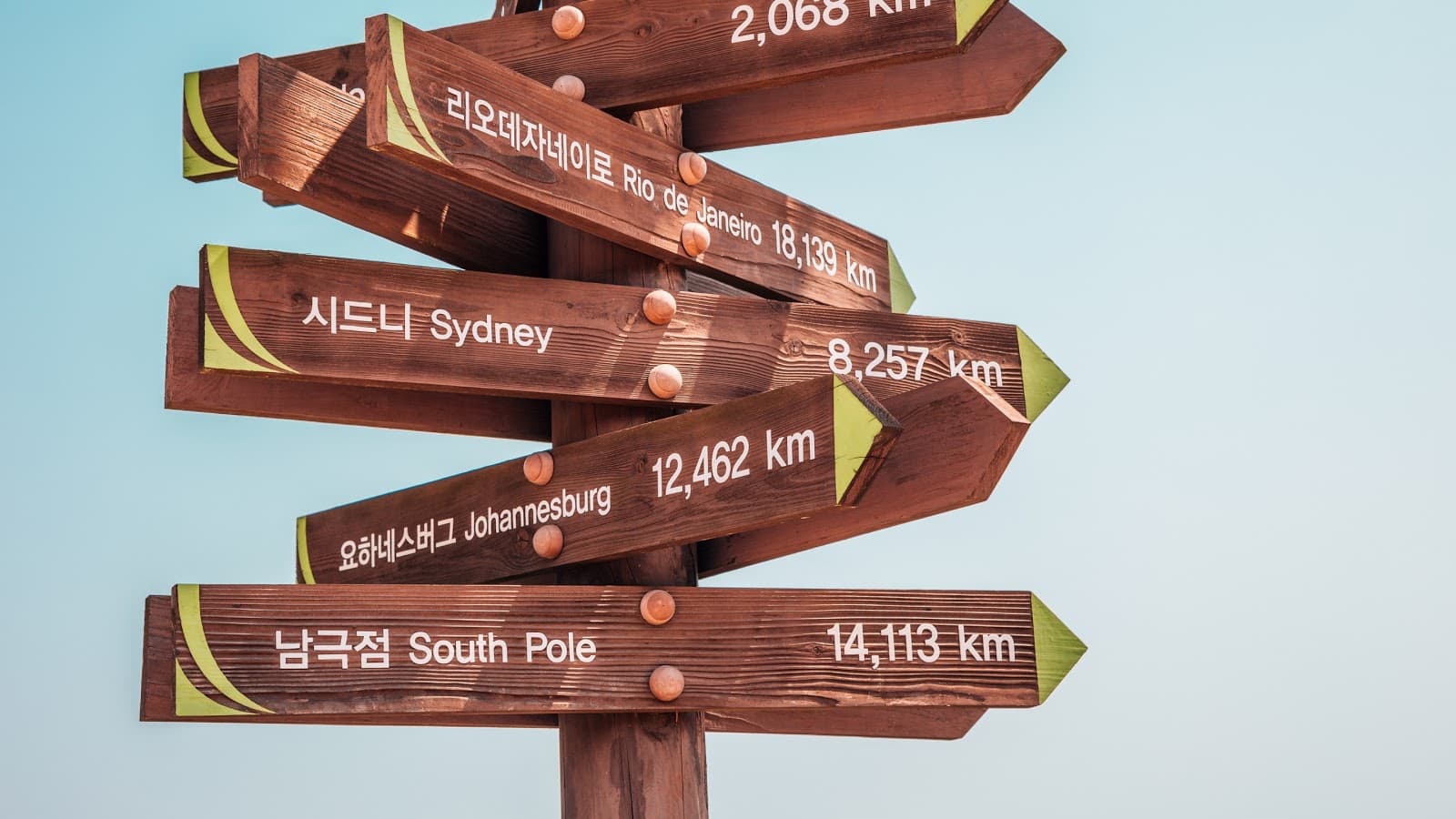 One thing I always recommend to friends when coming to Korea is to not only learn a few helpful phrases but to also learn the writing system called Hangul. This will be especially helpful if you're planning to visit some of the remote areas outside of Seoul, but will also help when traveling around the country.
The reason why learning the alphabet is one of the top South Korea travel tips is that it is both super useful and extremely easy to learn. Unlike Japanese and Chinese that use thousands of pictograms, Hangul was developed fairly recently and mimics the shapes of the mouth, throat and tongue to bring about sounds, i.e. the sound for "m" is "ㅁ" mimicking the closed mouth. Consonants and vowels are grouped together to form blocks of syllables, i.e. bap or rice is a combination of  b (ㅂ), a (ㅏ) and b (ㅂ) to form "밥". 
There are only 10 consonants & 14 vowels to learn, making it an alphabet with a total of 24 letters. Sound familiar? I am terrible with languages and it took me 2 weeks to learn Hangul before I came.
Many English words are also brought into Korean, but written in Hangul. For example, you might encounter the word "세일" at a store and keep on walking. If you knew that that word phonetically sounded out "Sale", you most likely would have got a great bargain.
So basically, you don't have to even speak the language in order to phonetically sound out and understand words that are borrowed from English. This is also great if you're on a bus and need to go to a destination but all the bus stops are in Hangul, you can easily read where to get off.
Another one of the most useful travel planning tips for South Korea is that it also helps when using Korean map apps like Kakaomap or Naver Map. The English is quite limited on Kakoamap and Naver has a strange translation system (i.e. 릴리스커피 "Lillies Coffee" in Korean is translated as "Release Coffee"). Also when you type coffee in English there are limited results.
Take for example, typing in "coffee". This will only bring up a few search results. Yet, if you type "커피" (coffee), "카페" (cafe) or "로스터리" (roastery) thousands of options come up for coffee shops and cafes. 
Visit a site like this one and give it a try for a few days, you'll be pleasantly surprised at how easy it is to learn. For phrases, visit this link. You'll get around just fine in Seoul with a few key phrases under your belt and you'll very quickly learn a few after arriving.
Familiarising yourself with the culture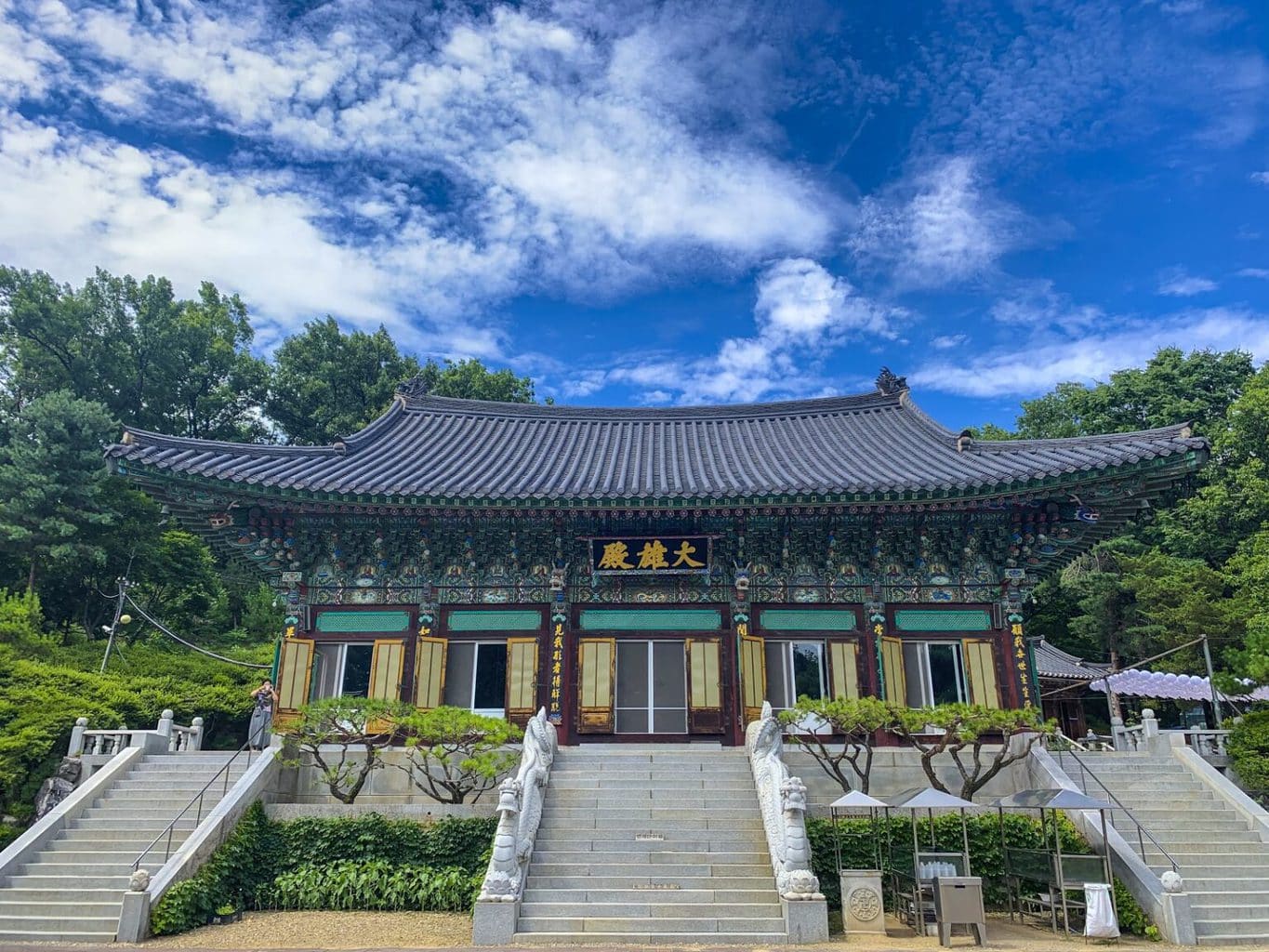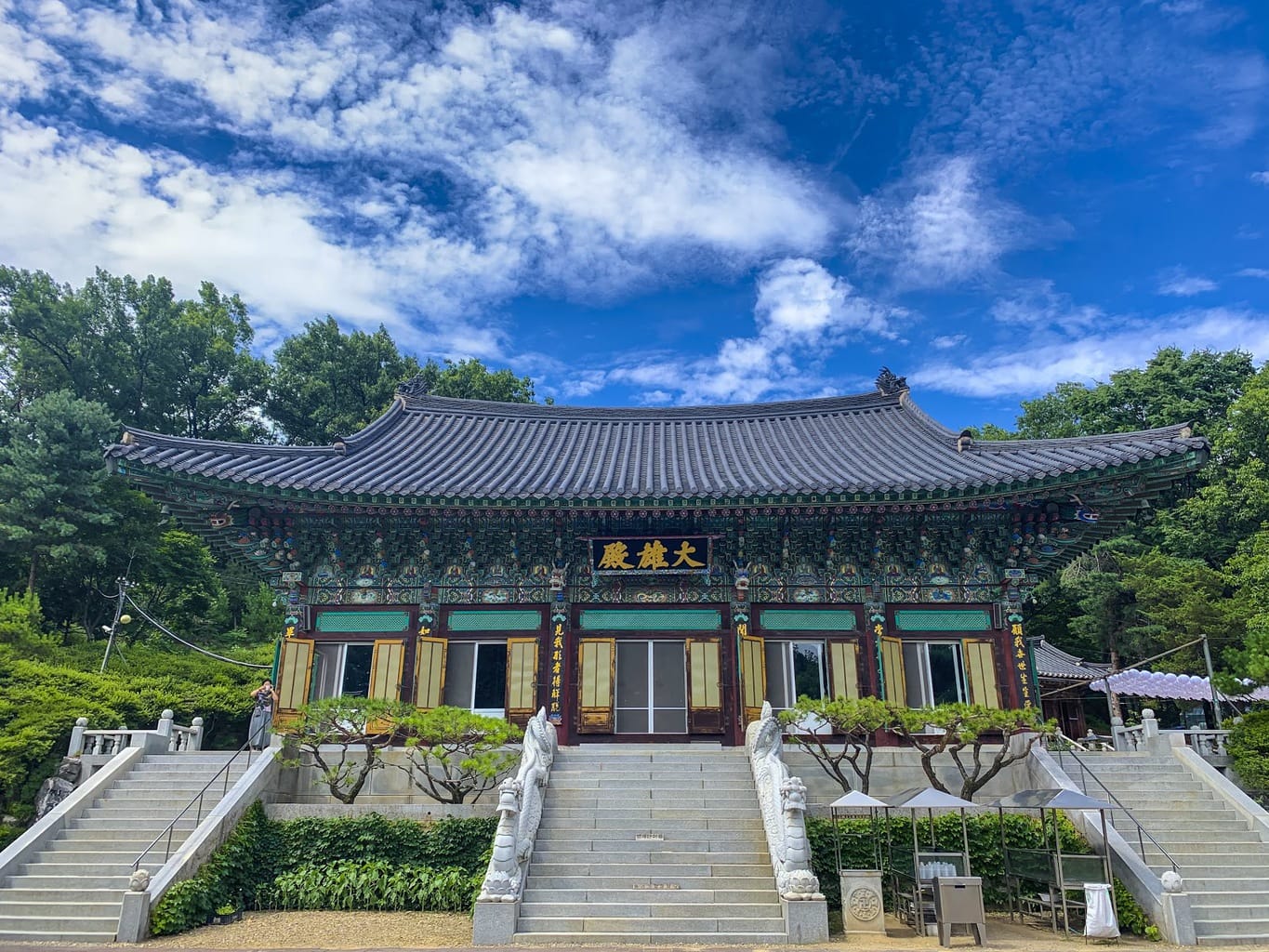 Korea has a very strong and proud cultural heritage and there are a lot of interesting and unique facts worth understanding ahead of your trip and many intricacies that you can only learn by living in the country.
It pays to read up on interesting and uniquely Korean concepts like bballi bballi (getting things done fast), nunchi (ability to listen and gauge others' moods), jeong (feeling attachment, affection, or bonding) and han (emotion that is a form of resentment and hatred).
You'll be doing yourself a huge favor if you read up a little on Korean history, culture and traditions before you go. There is a lot more than the glossiness of Kdramas and superficiality of Kpop and some people are shocked to find that Korea is a very different place than what's shown on TV. So doing a little research online is probably one of the top South Korea travel tips I can give. But watching some beloved Kdramas can also help, like Secret Garden, Reply 1997 or 1988, Signal, or the recent The World of the Married.
I highly recommend browsing through or reading in its entirety "Korea: The Impossible Country" by Daniel Tudor. He covers a lot of concepts in depth, so you can choose which sections you'd like to read and which to gloss over or skip. You'll really get to understand why Korea is the way it is due to its tumultuous history and lightning-pace recovery after the Korean War. 
Booking accommodation
Booking an accommodation is fairly easy as sites like Agoda and Booking.com have plenty of options, even in the more rural and off-the-beaten-path destinations. All you need to remember is that Korean accommodation is fairly unique in that there are many more options than just the hotel.
What you should note is how the different types of accommodation differ so you can make a more informed decision. While this will not always be mentioned on the booking site, you can understand what you're getting by looking at the images and facilities provided. One of the top things to consider when traveling to South Korea is where you are going to stay as there are so many options. Here is a breakdown of each type.
Pro South Korea travel tips: Instead of air heaters, Koreans use a system known as ondol (온돌 translated as "warm stone") which is essentially floor heating. With modern ondol, water is heated in a boiler, pumped throughout a network of pipes under the floor, which then heats up to the temperature you choose. Most Korean accommodation will have ondol (even templestays out in the mountains). So if you have to sleep on the floor in winter, this is no problem!
Hotel (호텔)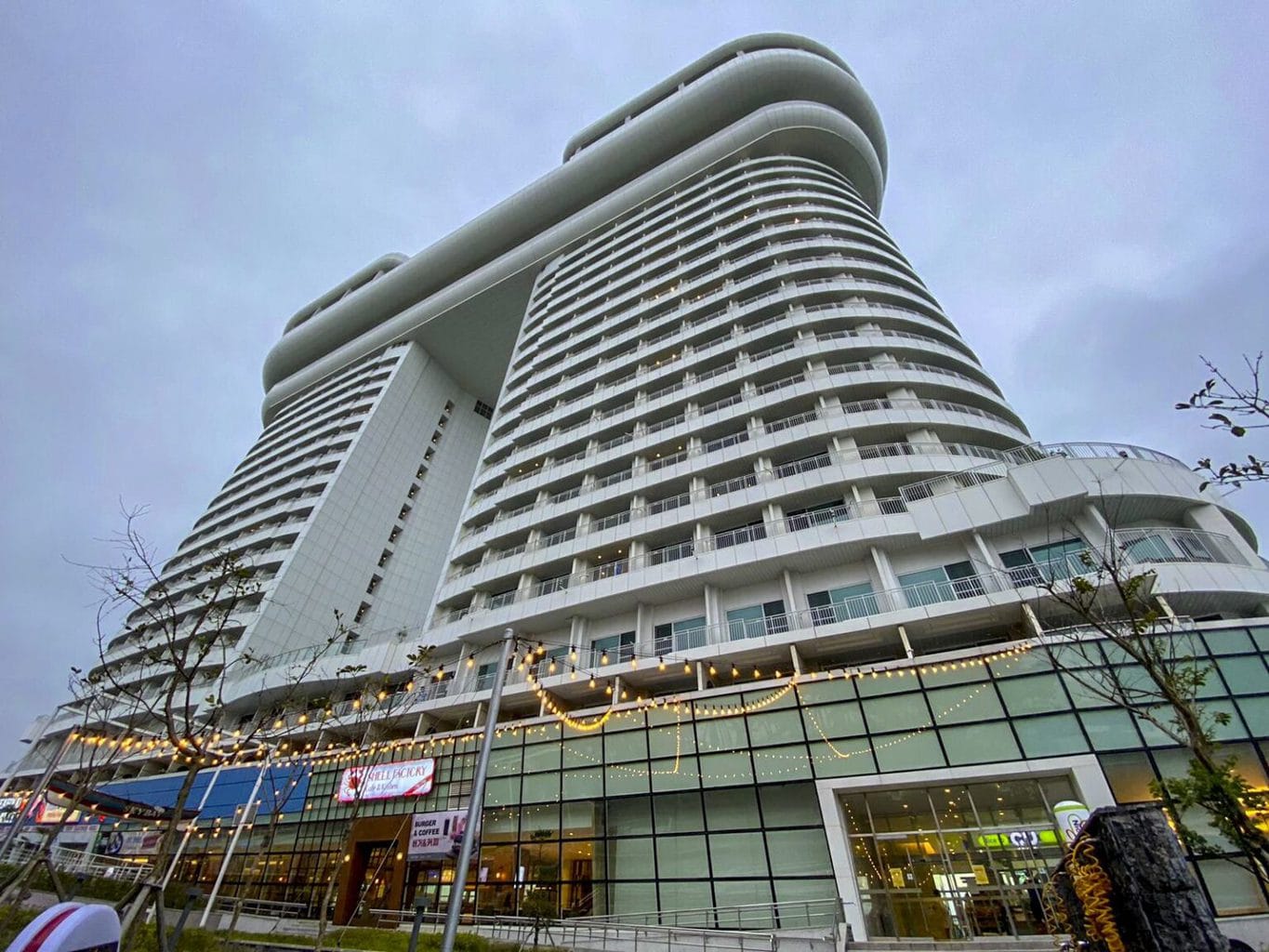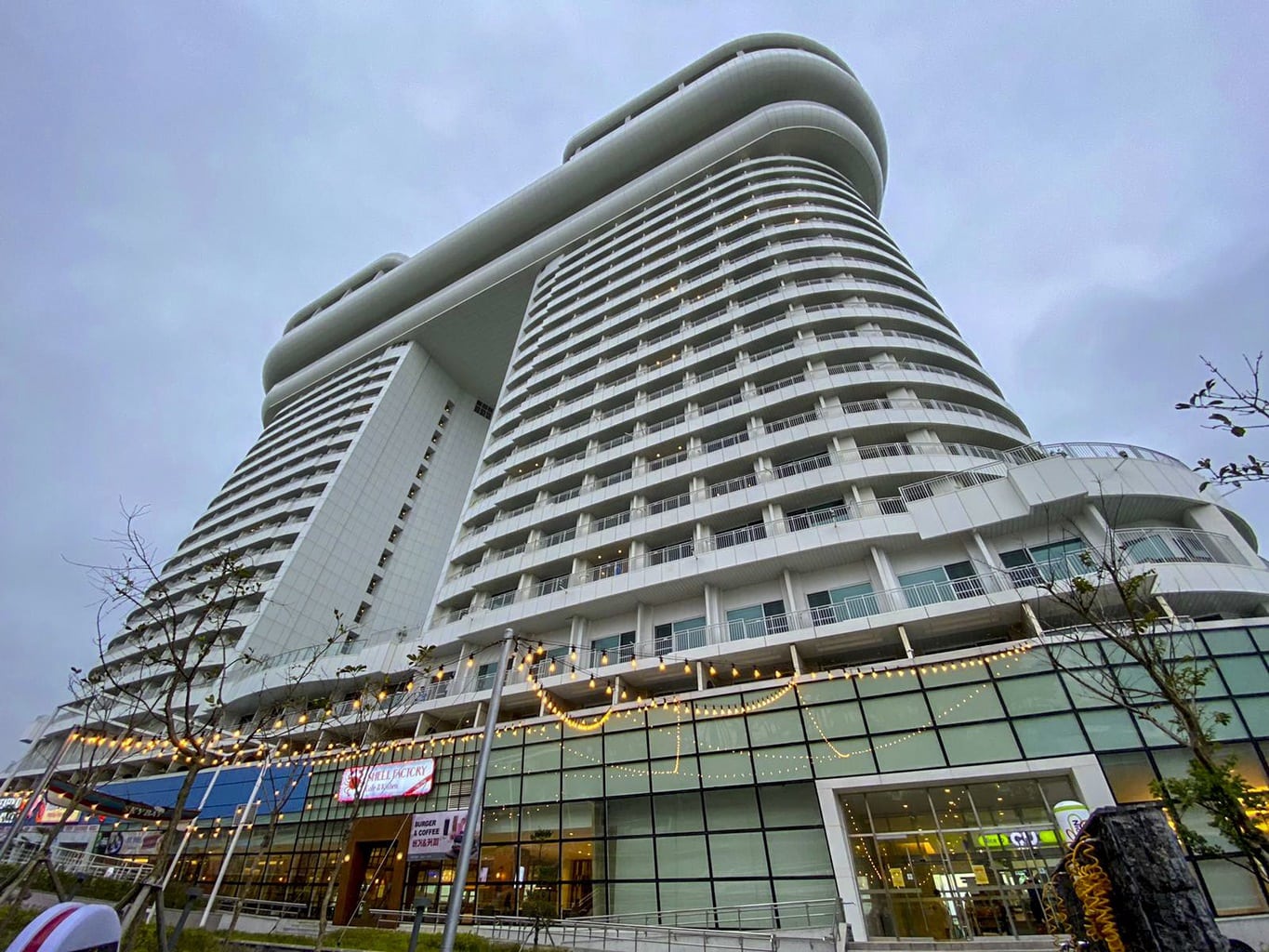 The same you'll find anywhere else in the world, on a sliding scale from the cheap and old to the fancy and luxurious. Usually with an option for breakfast and various other facilities. Check our guide to the best luxury hotels in Seoul for the best options in the capital as well as a description of the various neighborhoods.
Motel & Love Motel (모텔)
The same set up as a hotel but with a more "romantic" undertone. Love motels, as the name suggests, are usually hired by the hour for amorous escapes. In Korea, much of the population lives at home until marriage, so this is the only option if you'd like to get intimate with your partner. 
They may look like a standard hotel, but you'll notice a strange heavy "curtain" for cars, the telltale sign it's a love motel. They are usually discrete, have covered parking, and are super kitsch. These are good options if you'd like to save some cash.
While originally Love Motels have gotten a bad wrap, they are changing more to just Motels these days and are brighter, cleaner and more done up.  
Yeogwan or Inn (여관)
Similar to motels, the yeogwan (also yeoinsu) are older, a bit more dingy, usually located in alleyways, and are the cheapest options when everything else is booked up. This is your last port of call and best to be avoided if you can.
Hostel (호스텔)
The same concept as anywhere else in the world. Budget accommodation with either your own room or a shared dormitory, bathroom and possibly kitchen facilities.
Favorited by intrepid and extroverted backpackers, hostels are great for serendipitous meetings of fellow travelers. Staff are usually friendly and speak some English as they have lived the backpacker lifestyle themselves. You can ask the staff about any insider info in the area you're traveling. 
Minbak (민박)
A very uniquely Korean accommodation, a minbak is sort of a guest house style stay that is very basic and sometimes you will be sleeping on the (heated in winter) floor. There are a few kitchen facilities and an en-suite bathroom. Minbak can be hotel style or a spare room in the owner's house. The cheaper the minbak, the more basic and older. 
Some minbak are really nice though, which is related to the price, the higher the price, the better the minbak. If you just need a place to sleep for the night in a rural area, minbak are great options. I once stayed at one in Sapsi-do (island) and the owner cooked us a seafood stew for breakfast with clams she caught before sunrise. Yum!
Pension (펜션)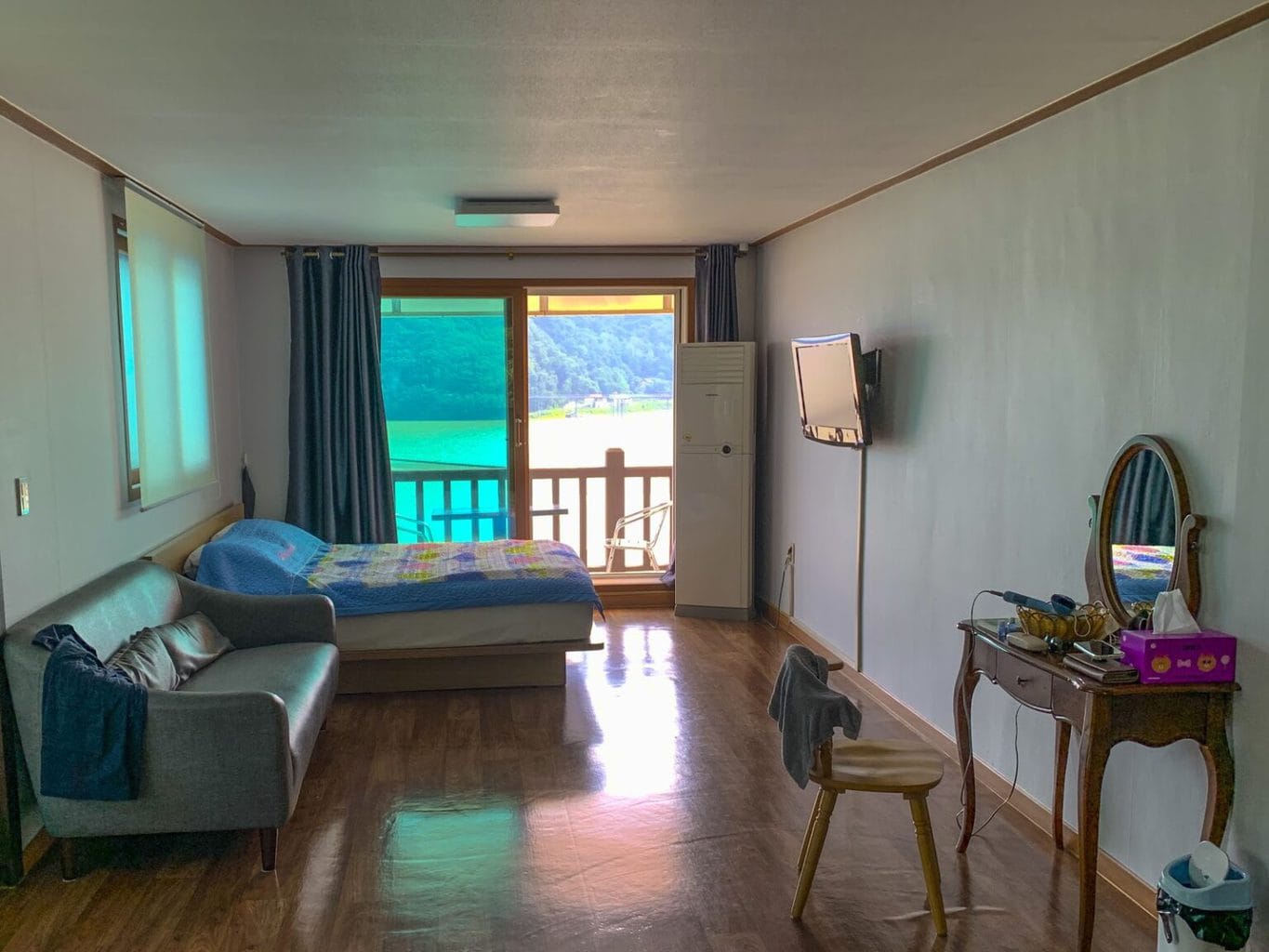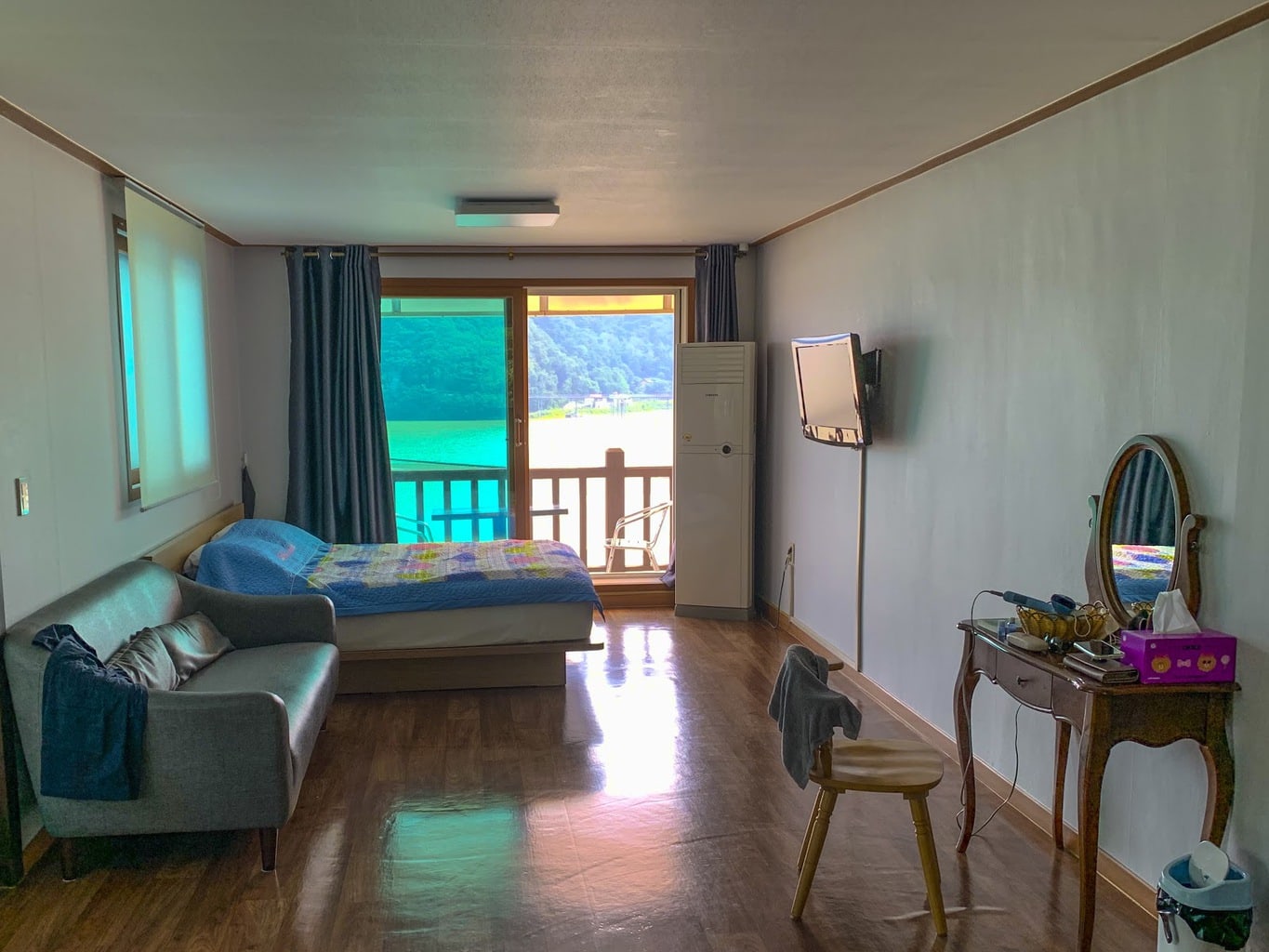 Pensions are basically the big brothers of minbak. They are quite basic with a few amenities and en suite bathroom. These are catered toward groups of travelers and families vacationing together. Some provide BBQ facilities and patios. 
We've stayed at all kinds of pensions and there is usually a relaxed and calm feel where elder folk stay up drinking at night with the doors wide open. They can also be cheap or more expensive and can range from dated and in need of renovation to recently renovated, from kitsch to classy. They are usually clean and great for larger groups and more in remote destinations like mountains, islands and beaches.
Guesthouse (게스트 하우스)
For a bit of a local taste, guesthouses have rooms with either private or shared facilities and set up in the owner's house. They are similar to minbaks in the sense that you are renting a room in another person's house, but are more like a B&B. They are often in the same category as hostels in Korea.
Airbnb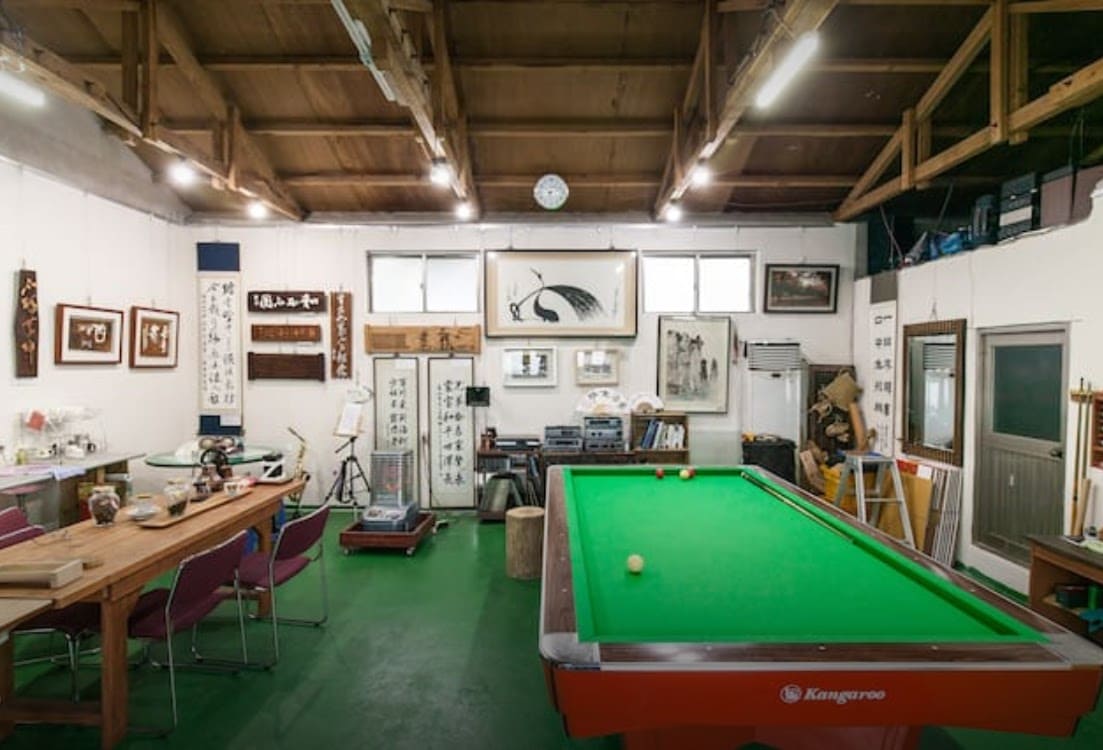 Just like anywhere in the world, Airbnbs can range from the simple to the glamorous. Some are hotels that are also on sites like Booking.com, others are guesthouses with very hands-on hosts.
Our favorite Airbnb was in Jeju where the host offered to teach us wood carving, calligraphy and coffee roasting. He took his property off Airbnb but we still visit him when we go to Jeju. This shows that you can get a really local experience, just read the reviews to get a better vibe. One of the top South Korea travel tips is to stay with a local family and Airbnb is a great place to find this type of experience.
Templestay (템프스테이)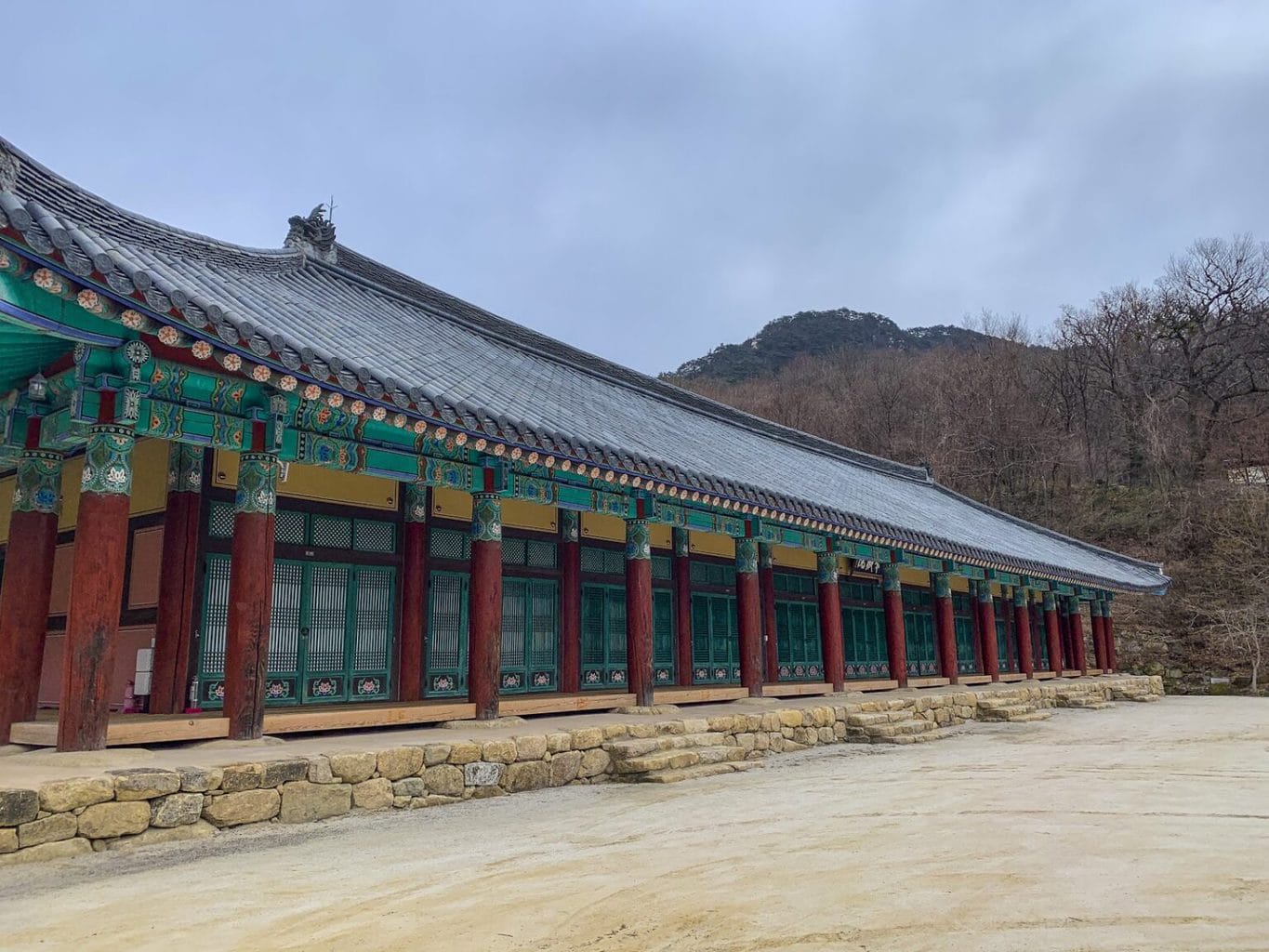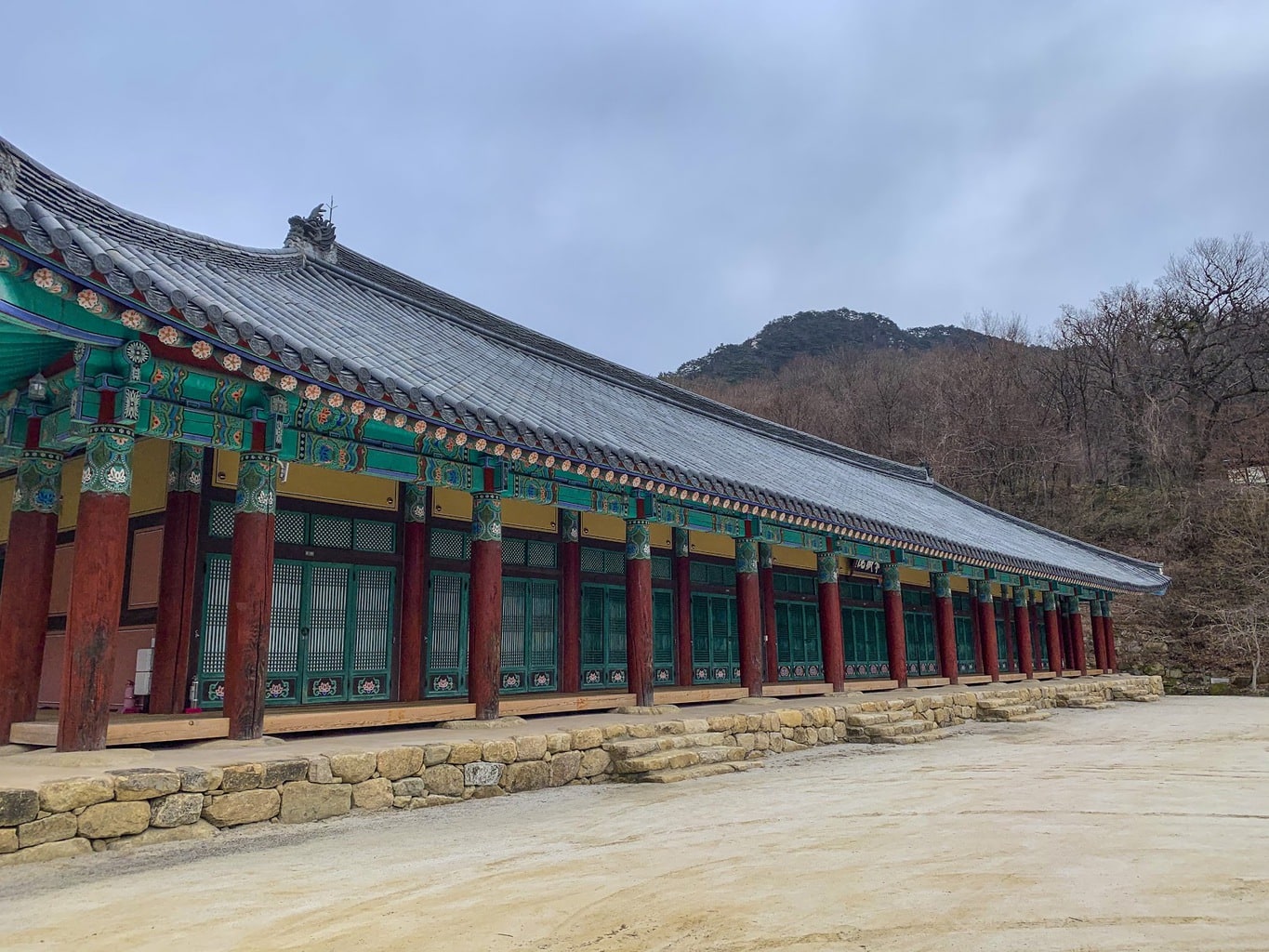 Another uniquely Korean experience is to go on a Templestay where you get to live like a Zen (Seon in Korean) monk. You literally get a (shared or single) room at a Buddhist temple. This is an extremely calming and relaxing stay that focuses on mindfulness and inner peace. There are usually schedules to follow like bowing, chanting and meditating, but it's kind of up to you if you want to partake in all these. My Christian friends had an issue with the bowing, so they either stood, sat or just skipped this completely. 
You eat in silence with real monks, discuss Zen principles over tea with a head monk, and just wander around the ancient temple grounds. I went for a full hike on my own when I stayed at Haeinsa.
The rooms vary by temple. I got my own room with ondol, an aircon, a desk, and en-suite bathroom. This is a bit more expensive than staying dormitory style, but nice if you want to get away alone. It can be as pricey as an average hotel if you get your own room. You'll leave feeling refreshed and calm as the setting is otherworldly.
Hanok (한옥)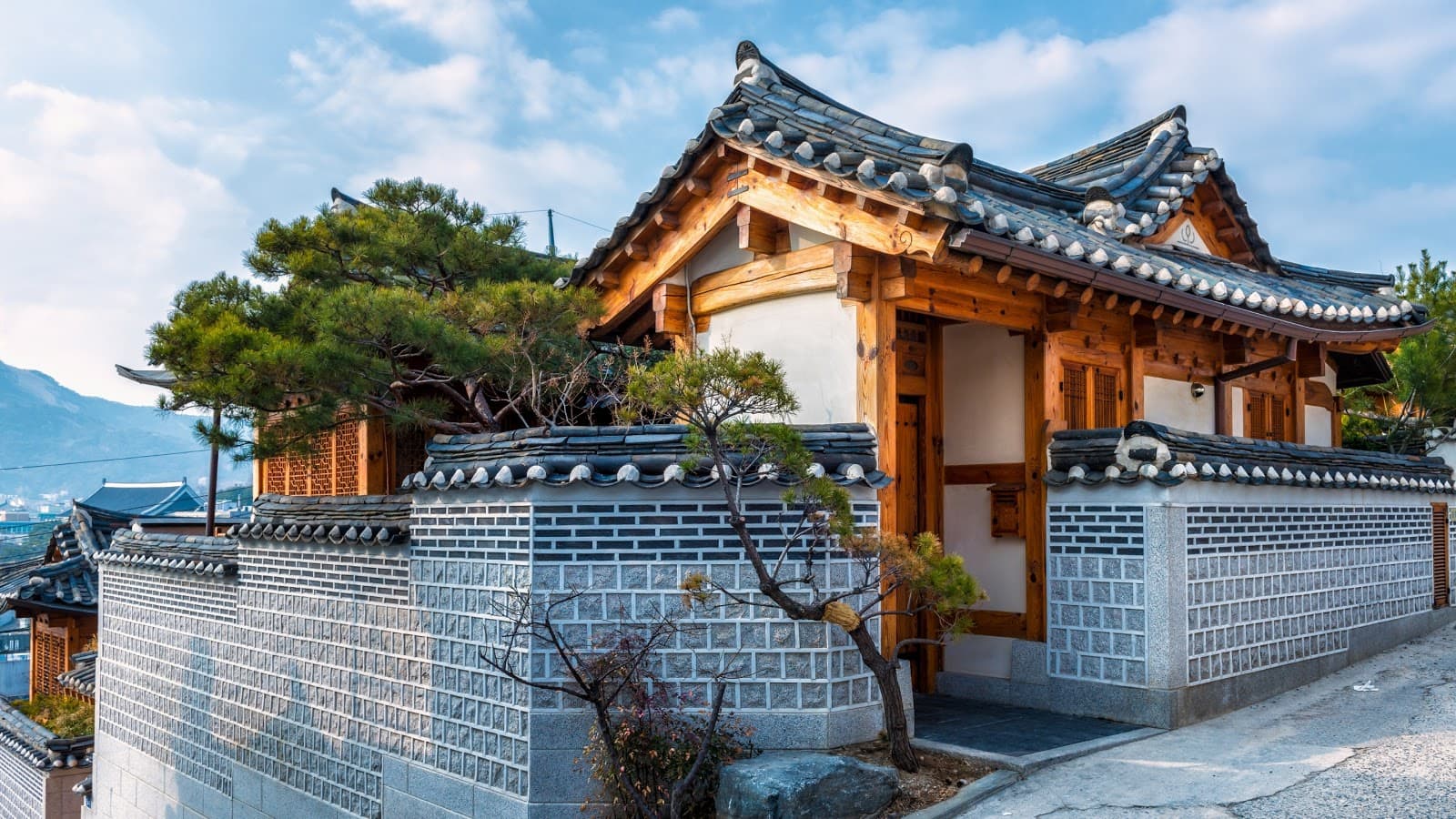 Basically a guesthouse, but this time in a traditional Korean house, which is called hanok. These could be in recently built houses that mimic ancient architecture, or actual hanok that are sometimes 100 years old.
The traditional rooms have sliding paper doors and you may be sleeping on a yo (a soft mattress) or a western bed. It's similar to the templestay in that there is no TV or Wifi in the older buildings, so be warned if you need the Internet. 
This is a homely experience and truly Korean, although the Japanese ryokan does come very close. One of the most popular South Korea travel tips when considering staying in a Hanok is that toilets may be in an outhouse, which is not fun when temperatures get negative in winter. You can always just visit Bukchon in Seoul for the day and have tea in a Hanok and skip the sleepover.
Resort (리조트) & Condo (콘도)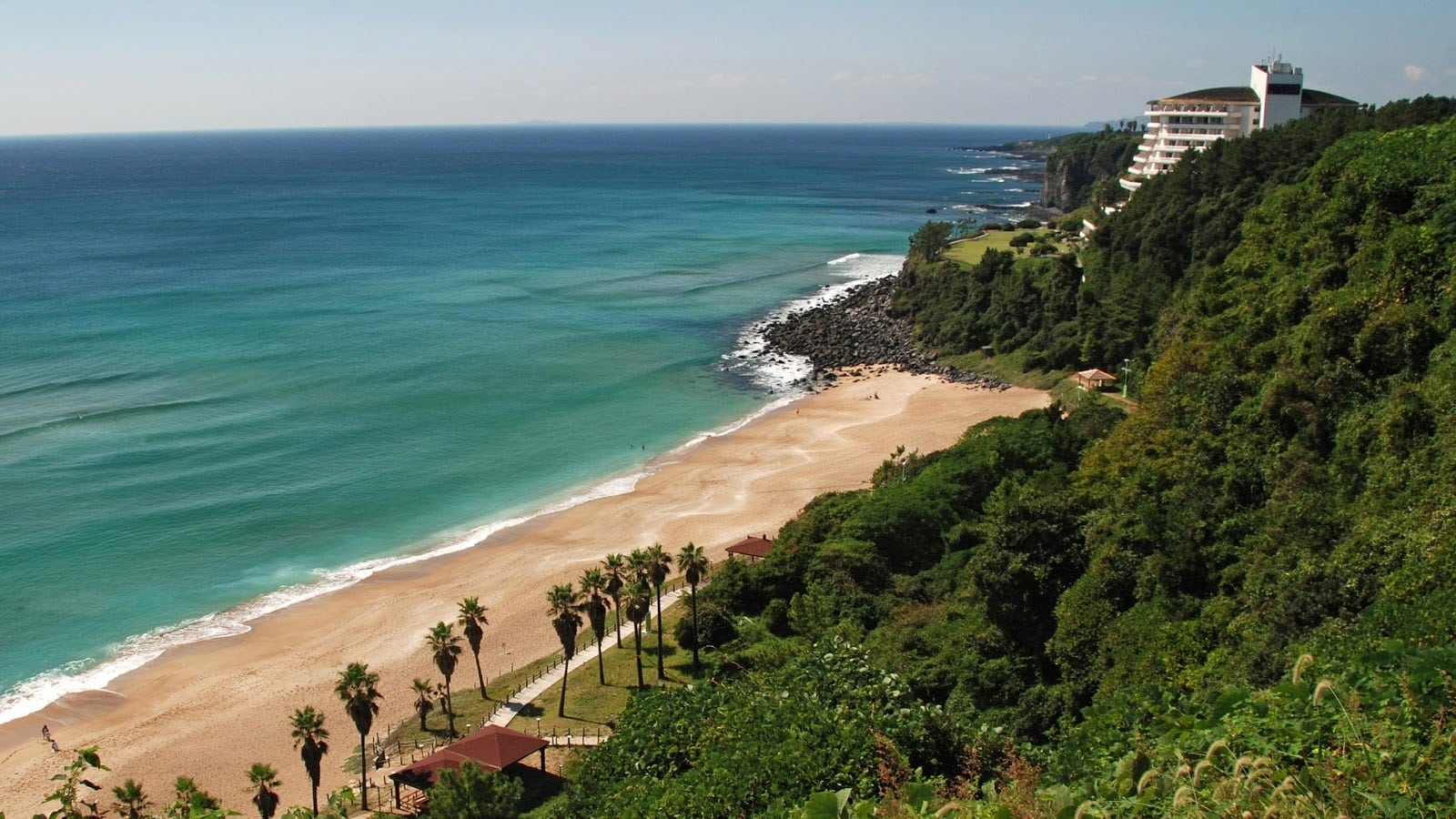 Definitely catered toward locals and family, resorts, like in other area of the world, are usually all-inclusive and therefore more expensive. They're usually out of the major cities and are for holiday seekers that don't want to worry about what to eat, how to keep their kids entertained or where to venture off to.
Resorts are usually upper scale and can be exorbitant in the high season or weekends. While a condo is usually partially owned by several people, similar to a timeshare, the word is often used interchangeably with resort. Sometimes you'll have both in the name, like "Yongpyong Resort Villa Condo". If not used interchangeably, the condo would be more like a pension than a resort, meaning it is more basic with less amenities. 
Goshiwon (고시원)
While you most likely will not come across a goshiwon, I wanted to include it here as some Airbnbs are goshiwon. If the images of the place just show a bed and desk and looks like a shoebox, this is a goshiwon.
These may be good options if you are coming to Korea alone for an extended period of time and don't have the budget for a hotel. They are very small (roughly 16 sqm) with an en suite bathroom. Outside guests are not allowed, so take this into account before booking.
Connecting with other travelers or expats
Traveling alone doesn't mean you need to be lonely. There are a multitude of different options to meet up with both foreigners and locals as you travel through the country.
If you stay at a hostel, you are likely to meet other travelers, especially solo ones. If you aren't staying at a hostel, one of the best ways to meet others is by joining a group tour on providers like Klook or Getyourguide where you can meet like-minded individuals and connect with a local guide.
Meetup is also a great place to join groups of expats and locals who go on hikes, drink wine together, do pub crawls, visit UNESCO sites and so much more. Another one of the useful South Korean tips is that Facebook Groups are also pretty amazing places to find out more information on the areas you're visiting, travel issues and general questions you may need answered. Just type in "Korea" and you'll see the ample results from surfing to expats to foodies. 
You'll miss out on a lot of the culture if you don't at least go out once with a local. Koreans are communal by nature, so much of the culture involves meeting, drinking, chatting and eating outside the home.
South Korea travel tips for safety – which areas are unsafe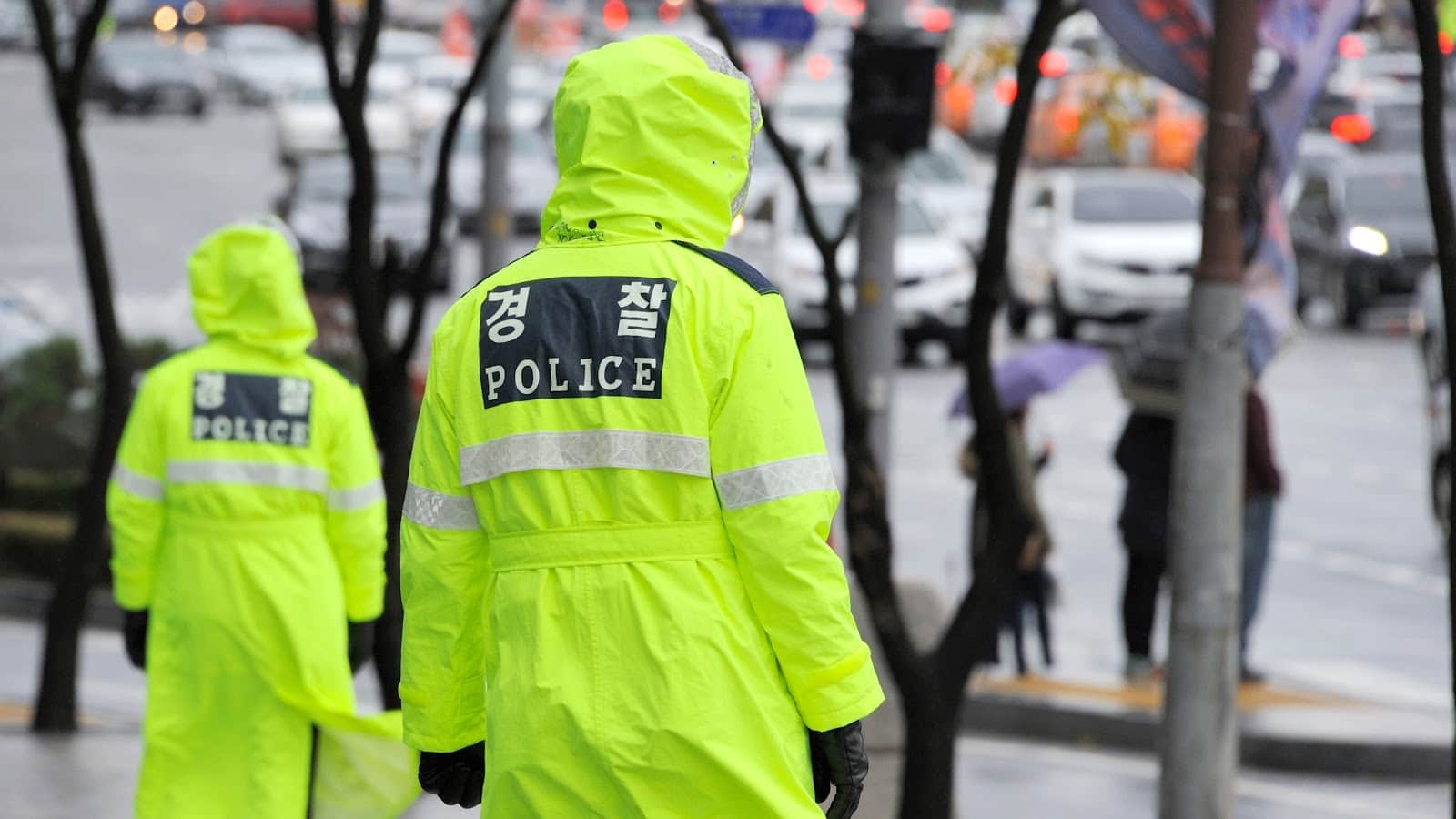 The answer to which areas are unsafe is basically none of them. The entire country is pretty safe. Coming from South Africa, I still can't believe the things people do here on a daily basis.
Delivery men leave their motorbike running, people leave the keys in their car when popping into a convenience store, customers leave their laptops and phones on the table of coffee shops when going to the bathroom. It still blows my mind.
The other day I dropped my gloves at a busy subway station in Seoul. They were pretty expensive too. Counting my losses, my wife suggested I phone Lost & Found, and yup, they had it there, waiting for me. I have heard numerous stories like this where expats have left their bags, cameras or laptops on buses or taxis, only to recover them the next day.
Of course, don't go doing these things on purpose, there are criminals in the country that will take the opportunity to steal if the situation arises. The major South Korea travel advice here is that there are no areas that you should "stay away" from, that if you happen to wander there by mistake your life will be in danger.
Take normal precautions, don't flash your valuables (even if everyone else is), and use your common sense. For some objective facts you can read this South Korea Crime & Safety Report (for 2020). You can also read my in depth article on Safety in South Korea for a more personal view on the topic (although a lot of objective research was also done).
What about North Korea
While the Korean War never officially ended and the North and South are still technically at war, Western media usually has a way of blowing things out of proportion. The "North Korean threat" is not felt at all in the country and the South Korean army is all over the border with service being mandatory for all South Korean males.
If you want to visit North Korea, you can only do this through China. We have written extensively on visiting the hermit country which you can read about here.
How about safety in South Korea for a solo female traveler
There are women of all ages walking around alone at all hours of the night and there are CCTV cameras everywhere, especially in tourist destinations. While it is one of the safest countries in the world for solo female travellers there are a few precautions you will needs to take.
There was a rise on toilet, upskirt and changing room cameras (molka or spy porn) for a while in South Korea. The government has now placed extremely stringent rules on this where even pointing your camera at a female in the wrong place will wind you up in jail. This is due to large protests headed by the slogan "My life is not your porn". There are now also free hidden camera detectors you can download on your phone.
Laws in South Korea are also quite archaic when it comes to charging men for sex crimes. Being drunk in some cases if a legitimate excuse in the eyes of the law. Women are even victimised and blamed for "bringing it upon themselves". So when you hit the club, always watch your drink. Some very bad people do take advantage of extremely drunk women.
Other than the above, South Korea travel tips for solo female travelers is to try and avoid going solo to the clubs. If you aren't planning to visit South Korea for the clubs, you will be in good hands as South Korea is generally an amazingly safe place for female travelers.
Best season to visit South Korea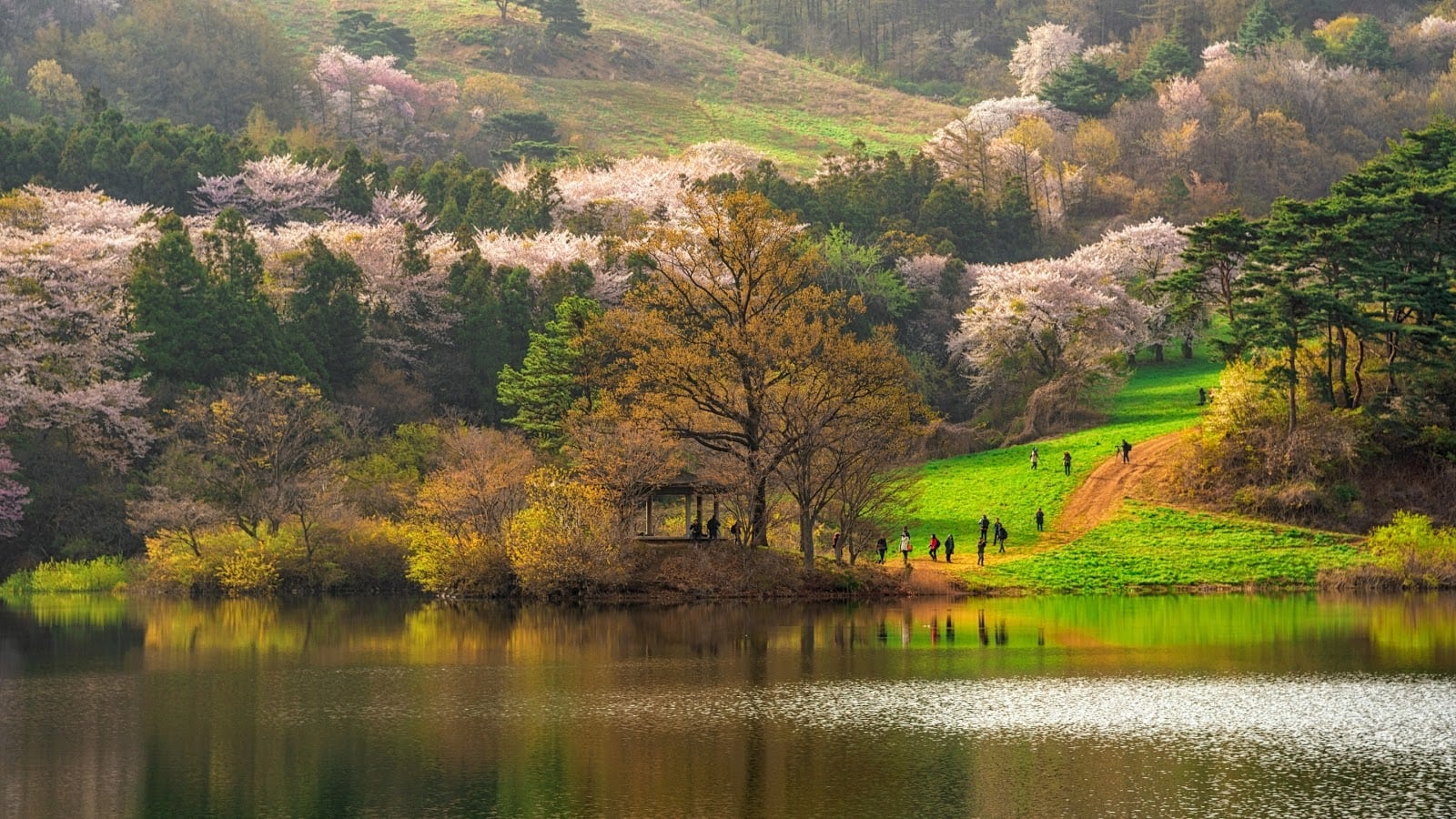 Korea is always a good idea. The entire country is on year round. There are festivals happening throughout the year as the citizens love being entertained and the country provides.
The best time to visit Korea will largely depend on the type of weather you like as South Korea has four very distinct seasons.
Autumn and Spring are the shortest and most beautiful with mild temperatures and the most beautiful foliage. The only thing is that they only last for just under 2 months each. Spring sees the cherry blossoms bloom and Autumn witnesses the changing of the leaves (dan-poong – 단풍 in Korean).
Winter and Summer in Korea are stark opposites, the former being absolutely freezing and dry, hovering around zero Celsius for four months. The latter is humid with harsh downpours and will have you sweating profusely.
One of the top South Korea travel tips for seasons is that there is roughly a 3-4 hour difference of sunlight between peak summer and winter, so your days will either be longer or shorter depending on the season you travel. Food is also seasonal, which is why there are so many food festivals in South Korea.
There are pros and cons of each season. Autumn and Spring have more moderate temperatures with higher tourist traffic. Winter is constantly freezing, but you can ski and hike the snow capped mountains. Summer sees a hoard of festivals and outdoor activities and you can visit all the best beaches.
I would personally suggest coming just before Summer (April) or Winter (October) where temperatures are more moderate and tourist traffic is slightly down. Avoid all public holidays, especially Lunar New Year and Chuseok (Harvest Festival), as transportation is fully booked and many things are closed.
How long you need to visit South Korea
The question of how long you'll need to visit South Korea depends very much on your travel style and what you're coming to see. If you're just visiting the capital, you will need less time, but a weekend in Seoul would be very rushed. We'd recommend at least 4 days in Seoul as there is a lot to cover and you won't want to skim by the sites.
Those wanting to venture onto other areas like Busan, Daegu, Gyeongju, Jeju or any day trips from Seoul to places like the DMZ or Suwon will need much more time. Each additional place can be visited over 2 days on their own.
We would say a good amount of time to Seoul plus one other area is a full week. This way you can explore the various districts of the capital and you get to visit another area to get a well-rounded experience of the country. South Koreans might all be one nation with a similar mentality, but the cities all vary in vibe and atmosphere and you'd be doing yourself a disservice by only visiting Seoul.
We have written pretty extensive articles on all these topics and suggest perusing through them before booking your trip. It will give you an idea of where to stay in Seoul, over 100 things to do in Seoul, which day trips you want to make and a complete suggested itinerary for 2, 4 and 7 days (including day trips).
Best areas to stay in Seoul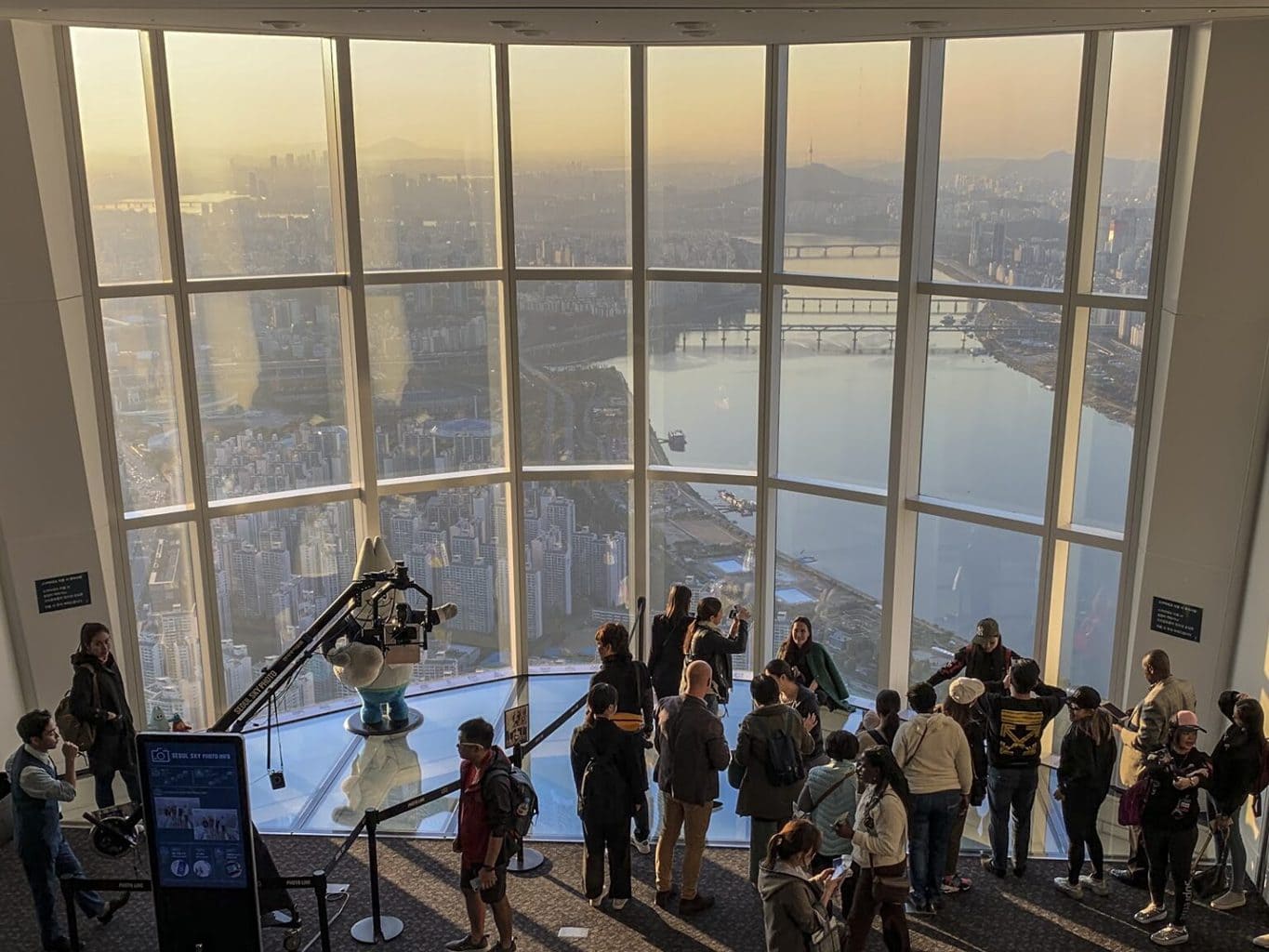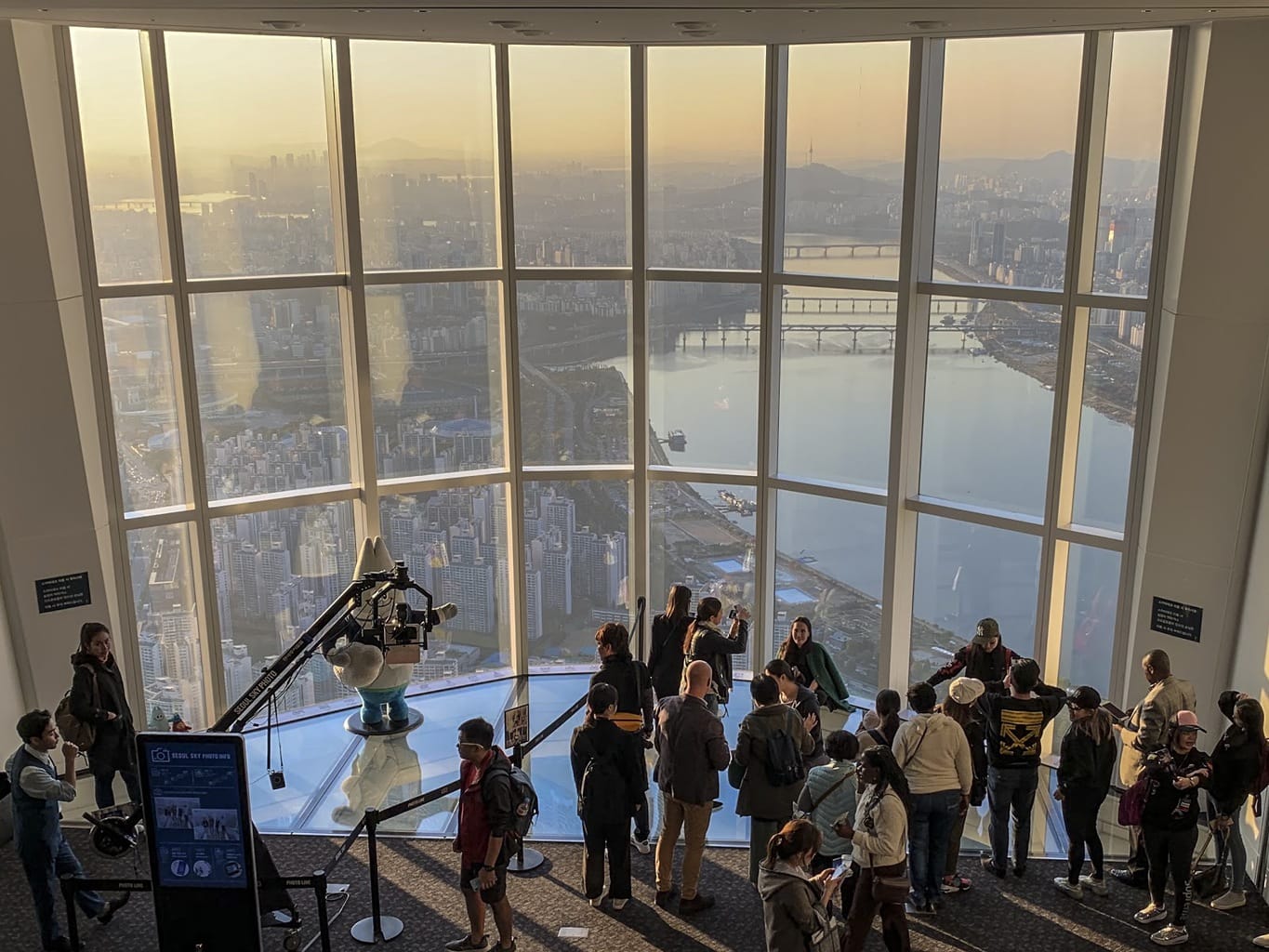 Seoul is spread out quite haphazardly and where to stay will very much depend on the sites you want to see.
In our article on where to Stay in Seoul, we map out the entire city into different districts, state the best things to do in those districts and then offer advice on which type of traveler would stay there, offering tips for choosing the best place to stay in Seoul. Use the article to decide on where to stay.
South Korea travel tips
In this section we'll be providing actual South Korea travel tips and tricks to make your visit easier and more convenient. Read it all or skip to the sections that you need the most.
There are some gems in here that you won't find anywhere else on the internet as they are drawn from personal experiences throughout the years and a short term traveler cannot provide the same level of insight of someone who has lived here for a decade.
General South Korea travel tips on public transportation
While using public transportation in South Korea is much like other countries, there are a few things to note that will make your life a whole lot easier and help you get around with ease. Before we start, know that in Seoul public transportation does shut down from around 12am-5:30am, so plan your trips accordingly.
Taxis are always in operation but the rates differ depending on the times and days, rush hour and weekends are more expensive for example. They can also be a bit more difficult to find in the wee hours of the morning. One of the most useful South Korea travel tips is to download an app. Having an app will be a big help for finding cabs and also planning your journeys on public transportation.
Using an app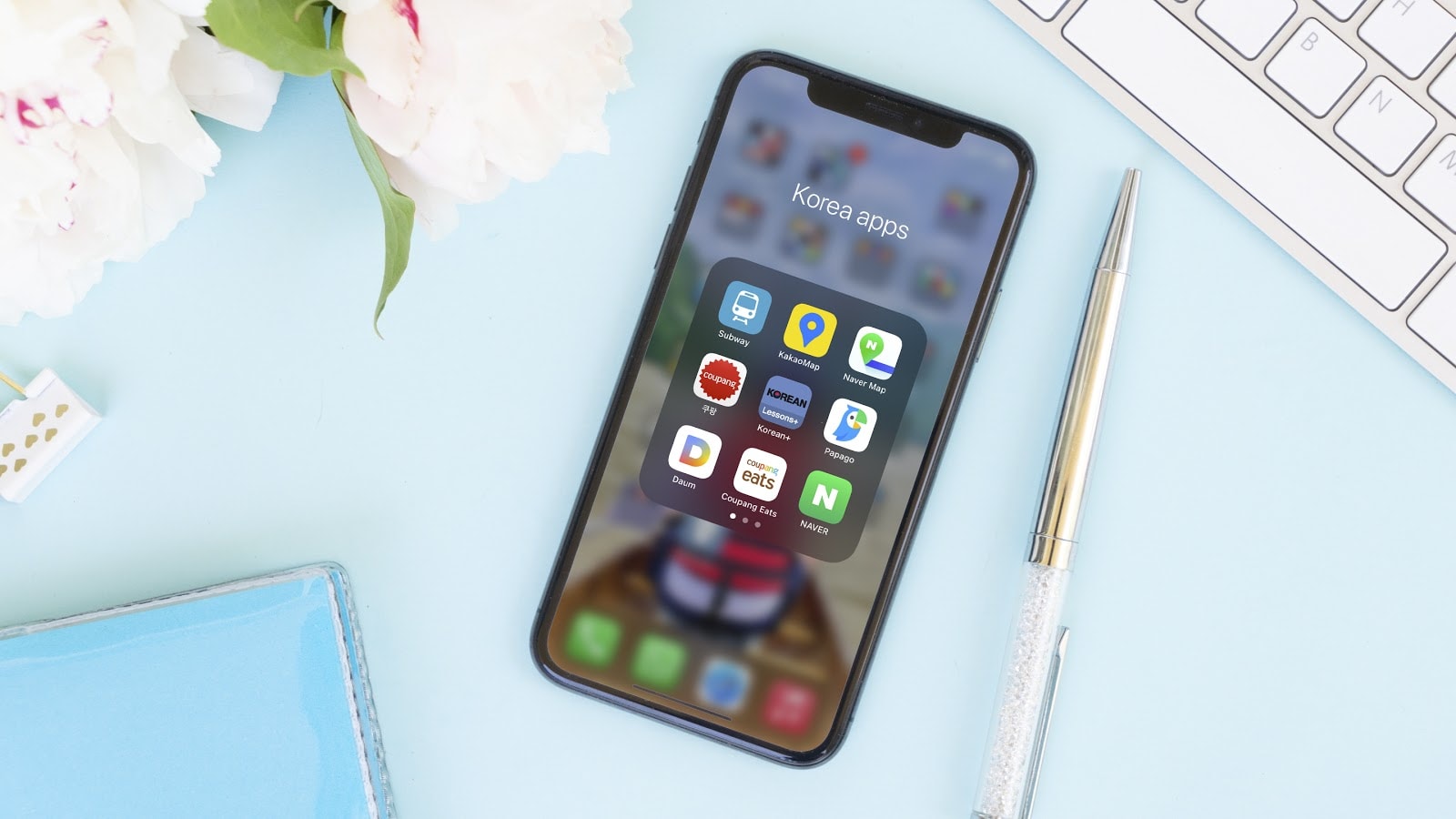 There are two major apps that you can use when traveling in South Korea. They can be used to see the best routes for walking, driving, cycling or taking public transportation. In fact, they show the exact times that buses will arrive, to the second. You will however need a basic knowledge of Hangul to use them, another reason to learn the Korean alphabet.
Google Maps is terrible in Korea, especially if you're looking for the best routes. Before your trip, download and familiarize yourself with the following three apps: Kakaomap, Naver Map and Subway (Mac, Android).
Naver is Korea's Google and is better for English speakers than Kakaomap (started as Korea's Whatsapp but is now a major conglomerate), but you can find many more options if you know how to write basic Hangul.
Travel cards
It's very rare to see people carrying cash these days. Wireless is the way forward in South Korea. People even have their credit cards on the phones now, where banks provide app cards instead of the usual plastic. This means wallets are a thing of the past.
This is no different for transportation. While there is the option to pay for your ride with cash, it is very rare and inconvenient to do these days. You could purchase a transportation card (called Tmoney) from any convenience store, but you will need to have a good handling of the language to direct the clerk to what you want.
The easiest way to get your scannable travel card is to order it online and then pick it up from the airport as soon as you land. Reserve a Tmoney card with $5 top up online here. You can use this card on basically any form of transportation including buses, the subway, taxis and even some retail stores. It even comes on a mobile app where you can top up your card instantly and check your remaining balance.
One of the top South Korea travel tips for those traveling by rail to other areas is to also book a KR Rail Pass. Book it online here. The pass allows you to travel to over 600 stations on 80 different routes using the high-speed rail. It provides unlimited rides for options of 3 or 5 consecutive days or flexible 2 and 4 day options.
Riding the bus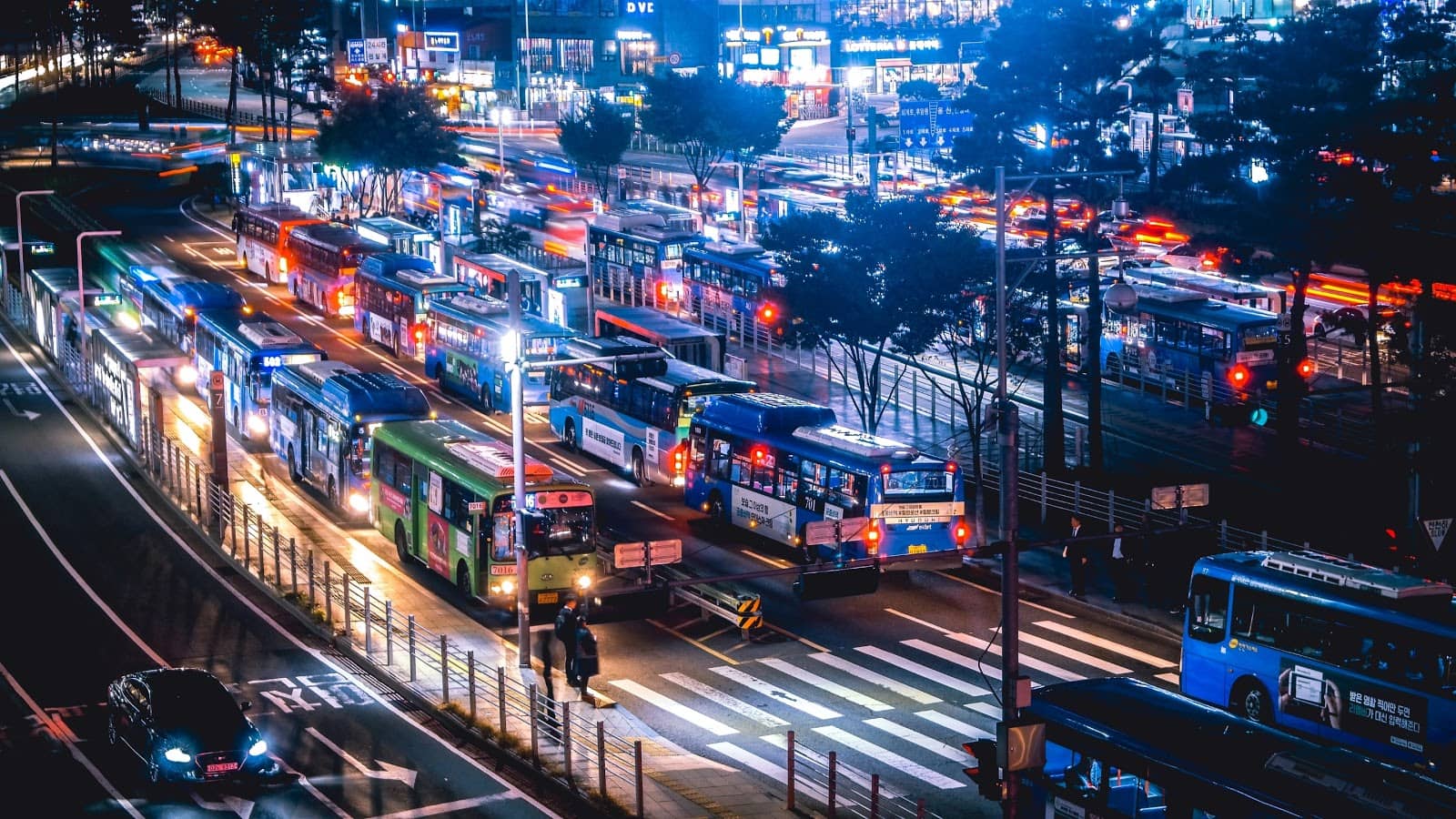 Buses in South Korea are color coded by type, super modern, and ridiculously punctual. In Seoul, you get several types of city buses.
The red buses go between districts and even provinces and have less stops as they usually only stop at major stations before hitting the highway. The green or blue buses are smaller and more local with more stops along the way so they can take longer to get between destinations. The yellow buses are super local tiny little things that don't stretch too far. Purple buses are airport limousines.
Larger buses occasionally have Wifi and USB chargers that actually work (many don't) and most buses have small TVs playing constant ads. Seats are clearly marked for the elderly (yellow) and pregnant women (pink) and are usually close to the front. It is customary to give your seat to an elderly person should no other seats be available.
Bus driver friendliness will range from polite to aggressive. Some bow to each person that enters, some listen to the radio without even looking in your general direction and they don't speak much English. They are under extremely tight schedules and often drive like they're in an F1 race, but accidents are few and far between. It's a common sight to see bus drivers hop out the bus, take a smoke break while the light is red and hop back in. Occasionally they jump into buildings to use the bathroom.
The bus is a very common mode of travel in Korea as they are really efficient. One major reason to choose the subway over the bus is traffic, which gets atrocious during rush hours. Otherwise the bus is usually quicker and more convenient. Buses are the kings of the road in Korea with their own lanes on the freeways and people actually let them cut in.
As bus drivers are trying to stick to an almost impossible schedule, they can be quite cranky. One of the top South Korea travel tips to know to avoid their wrath, is to have your bus card or cash ready and waiting. Know that you need to scan your bus card when you get on and off the bus (see our section above on cards to understand where to get them).
I have seen a driver scream at a poor female foreigner passenger when she couldn't find her card when getting off. Just have your card on the ready and know where you're getting off.
Taking the subway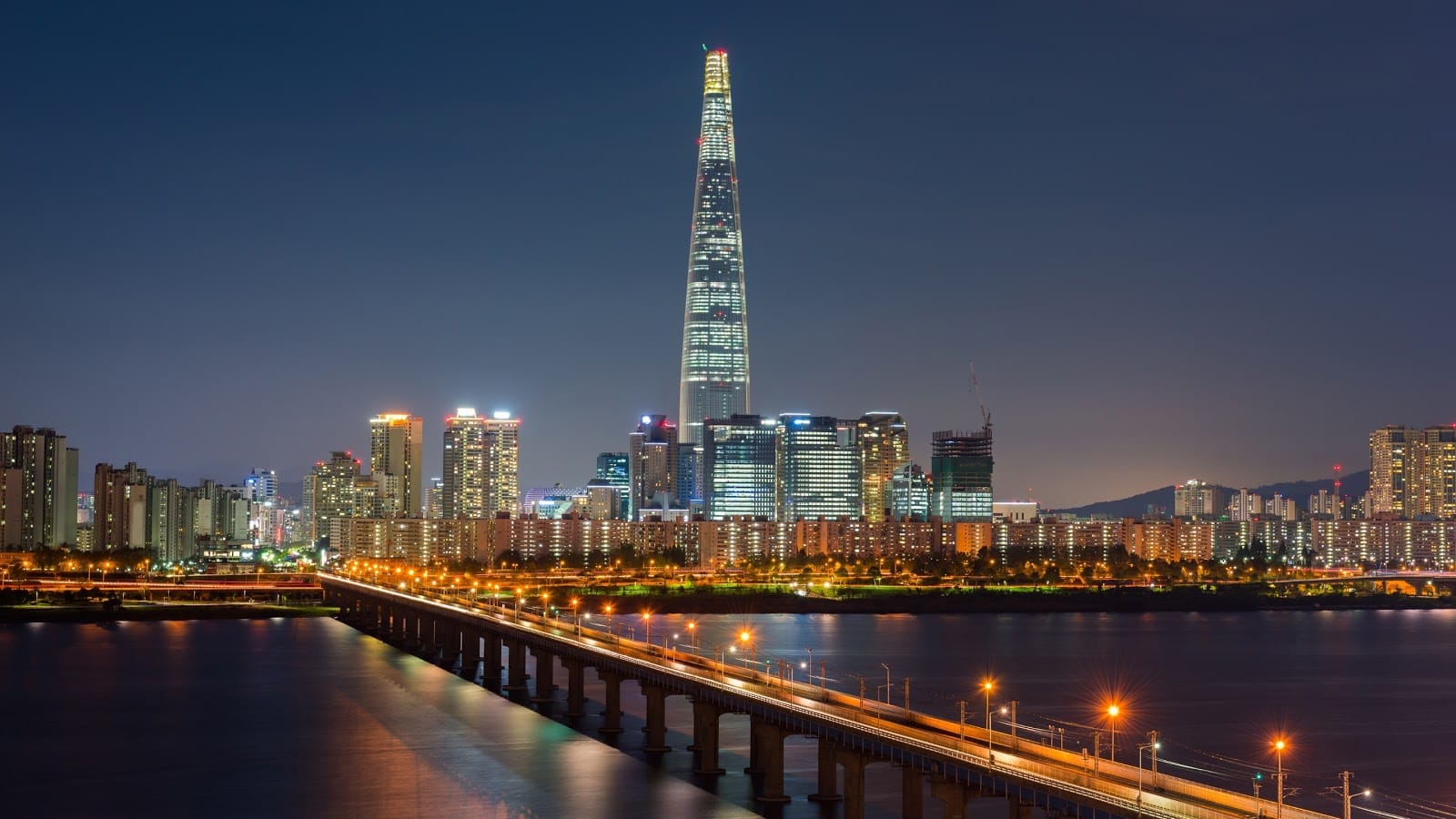 The subway is the most convenient way to travel around Seoul. There are also subways in Busan, Daegu, Daejeon and Gwangju. The reason I say that this is the most convenient is that the subway is most always on time, you can plan your trip to the minute using the subway app mentioned above, there is no traffic to sit in, and you will not be waiting outdoors.
Getting a seat during rush hour is most likely not going to happen. Note that there are seats reserved for the elderly and pregnant women. If you are not in this category, you are expected not to sit in these seats, even if they are empty. It is also etiquette to give your seat up to an elderly person.
Pro South Korea travel tips: Drinking and eating is prohibited on the train and you are supposed to either talk very quietly or not at all (on the phone or in person) unless you want to get the evil eye from fellow passengers.
The subway is extremely well connected in Seoul. You can get to almost anywhere in the city and places in surrounding Gyeonggi Province conveniently. All maps, directions and stops are mentioned in Korean, English, Japanese and Chinese. If you use the app mentioned above you can see the best possible routes, depending on if you want less time or less transfers. There is even information on which cart to stand in to lessen your transfer time.
Avoid rush hours at all costs if you can. It gets absolutely packed, especially in areas like Gangnam. Sometimes it gets so packed that it feels as if your feet leave the ground as you are pushed up against other passengers.
All subways have free bathroom facilities, vending machines and some have convenience stores. You can either use a single transfer card at one of the machines which is in multiple languages. You get 500 won back at your final destination when you give the card back. Another option is to get a T-money card which you can top up at any subway station and most convenience stores around the city. You then just tap it when entering the subway.
Catching a cab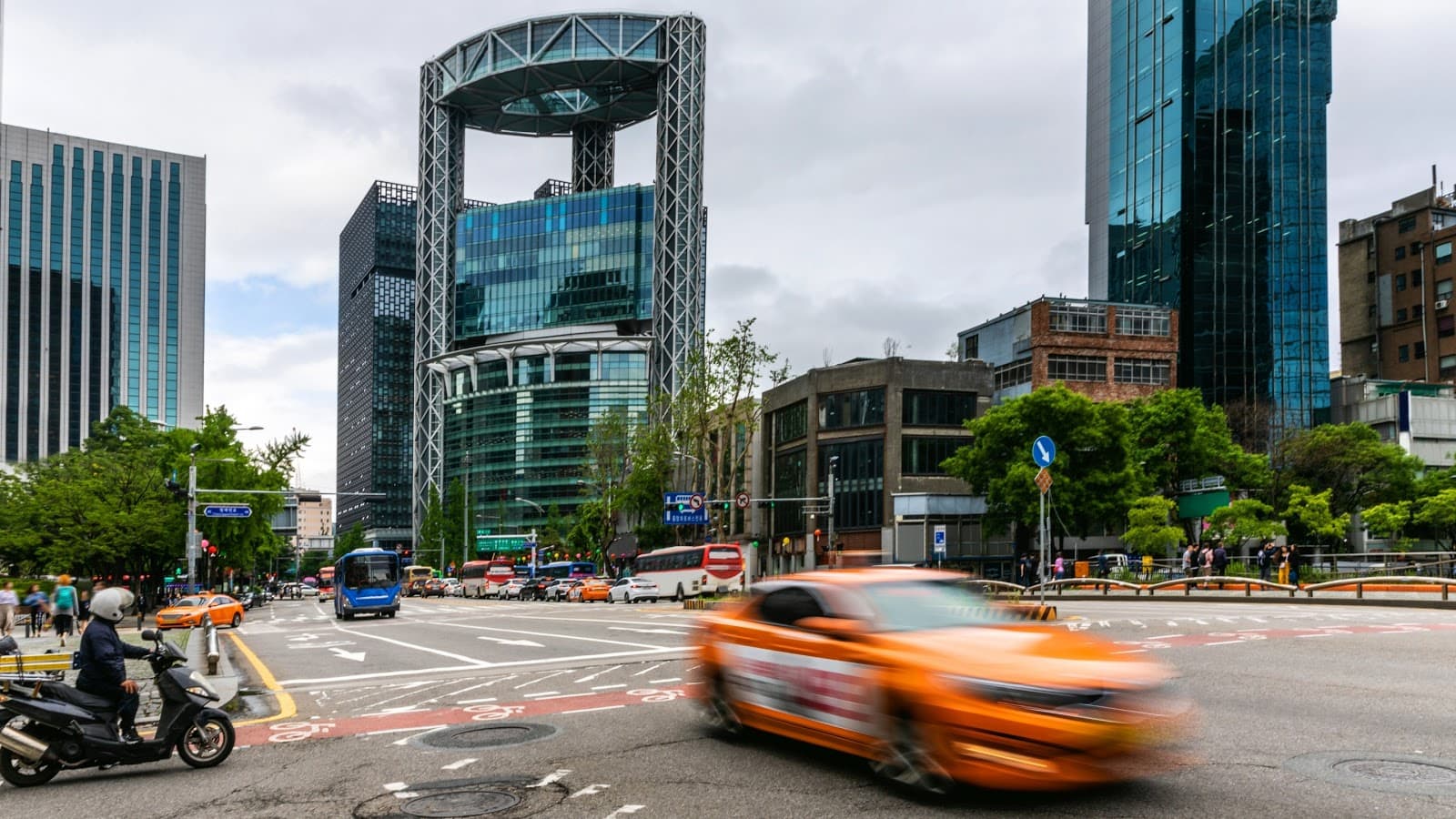 Cabs are very affordable in South Korea and there are millions of them wherever you are in the country. They are more difficult to find in rural areas though. Not all drivers speak English so you may need to learn a few phrases to get by.
The driver may choose not to give you a ride if your destination is too close or if they are headed to another city, like catching a Seoul taxi in Gyeonggi. Note that there are different color taxis depending on the service you need. We have written about the system here.
You can ask your hotel to order you a call taxi to take you to your destination. If you are registered, you could also use an app like Kakao T or the premium TaDa (which took a short hiatus), which is Korea's version of Uber or Grab.
Pro South Korea travel tips: It is against the law for a cab driver to swindle you out of money by going on extended routes or overcharging. If you feel something is up, you can take a picture of the driver's taxi license which is always prominently displayed and call the Dasan Call Center by dialing 120. Once taking the picture, the driver will most likely change their tune.
Hiring a car
It is advisable not to hire a car if you are only visiting Seoul. Public transportation is so good and convenient that you would not need a car to get around at all. If you are planning on taking a day trip from Seoul, you still have the option of taking an intercity bus or train (like the KTX, ITX or SRT) as they are also pretty easy and convenient to catch.
Hiring a car is also more convenient when traveling outside of major cities where public transportation is less frequent. Places like Gangnueng on the East Coast or even Daegu are just so much better when you have a car as you can explore more and really understand the areas much better.
If you do choose to hire a car you will need an international driving permit along with your original license. Hiring a car is a great option if you plan on venturing out to more unknown, rural areas as there is so much to explore in Korea beyond the bus routes. Driving, like in the US or most of Europe, is on the right. Try Kayak or Lotte Rentacar to book your car.
Camping has grown in popularity and there are many RV camp sites popping up all over the country. You will need to book well in advance in season though if you plan to hire a car and go camping.
Unfortunately, in order to use the keyless and contactless car hire services like GreenCar, where all you need is an app to unlock the car, you need to have a Korean license. Enterprise is apparently trying to introduce contactless car pickup though.
I do feel the need to mention Korean driving style as this is different from other countries. Korean driving style is very aggressive where you need to push to get into a different lane. Oftentimes drivers will turn without signaling, so be aware of this. Don't be afraid to push in when needed. And always allow buses in.
Pro South Korea travel tips: You can turn right on red traffic lights and are expected to if no pedestrian is crossing the road. Always let buses in, they will drive directly into you if you don't.
Korea has many speed cameras. Your car will come with navigation, so make sure it is set to English before leaving. The navigation will warn you of any traffic lights ahead, the dinging sound can become quite annoying as there are so many, but it's better than paying fines. Filling up with gas is very easy and simple, just say how much you need to fill up in Won. Note that there are both self services and gas stations with staff.
Public bikes & scooters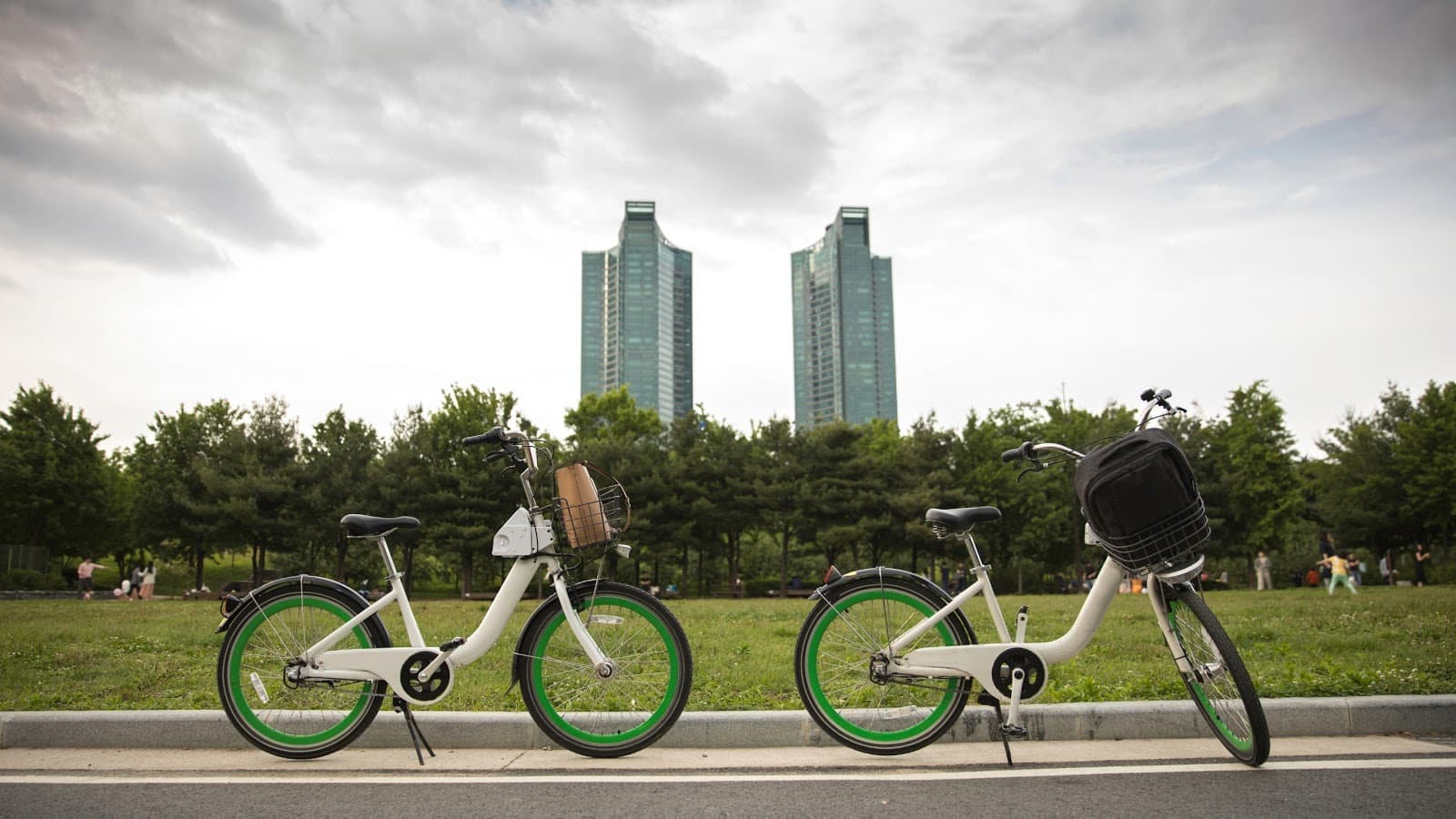 There are multiple choices when it comes to e-scooters and bikes in Korea. Unfortunately, most of them cater to the locals. The easiest to set up for foreigners is Lime.
Because scooters have been classified as motorcycles, most of the local options like Beam or Kickgoing, require you to put in your Korean driver's license. Laws have changed though and e-scooters are classified as bicycles, so it may be easier to grab one of these. You also now do not have to wear a helmet and you can be as young as 13 to ride one of these. These laws may change in the future.
Remember that Korean drivers are quite aggressive and will turn into oncoming pedestrian traffic occasionally. So always make sure that you are safe before crossing the road. It may even be a good idea to get off the scooter before crossing as cars come fast and furious.
Cities have public bicycles to use which can be normal manual push pedal bikes like the green Ddareungi (따릉이) in Seoul or electric hybrid ones like Kakao T Bike. They are pretty simple and easy to use and charge per kilometer.
Pro South Korea travel tips: Note that some of the bike and scooter apps only allow you to place the items in certain areas when you are done. If you plan on going far, make sure that your final destination is not out of the zone otherwise you will be charged with an additional fee. These are clearly delineated on the apps as greyed out areas. You will also get a warning when you are entering one of these zones.
Queuing in Korea
This is some South Korea travel advice you learn by living here. Queuing for public transportation in Korea is slightly different from other countries. The style of queuing will depend on the type of transport you are taking.
When catching intercity buses, for example, the usual first-come-first-serve method works here. For more local transport, there is no queuing system whatsoever. Even if you got there early and have been waiting for 20 minutes, once the bus comes, everyone will fight to be the first on the bus, especially elderly women.
You will need to push in like the rest of the people even if this seems against your instincts. The same goes for the subway in Seoul. Unlike places like Taiwan where the flow is very Zen, people tend to form a cluster instead of waiting patiently in line. My advice as a Westerner is to just go with the flow and not to get too hung up about people cutting in line. And if you see a seat, make a beeline for it. If you hesitate for a moment, it will be gone.
Taking shoes off in homes & in changing rooms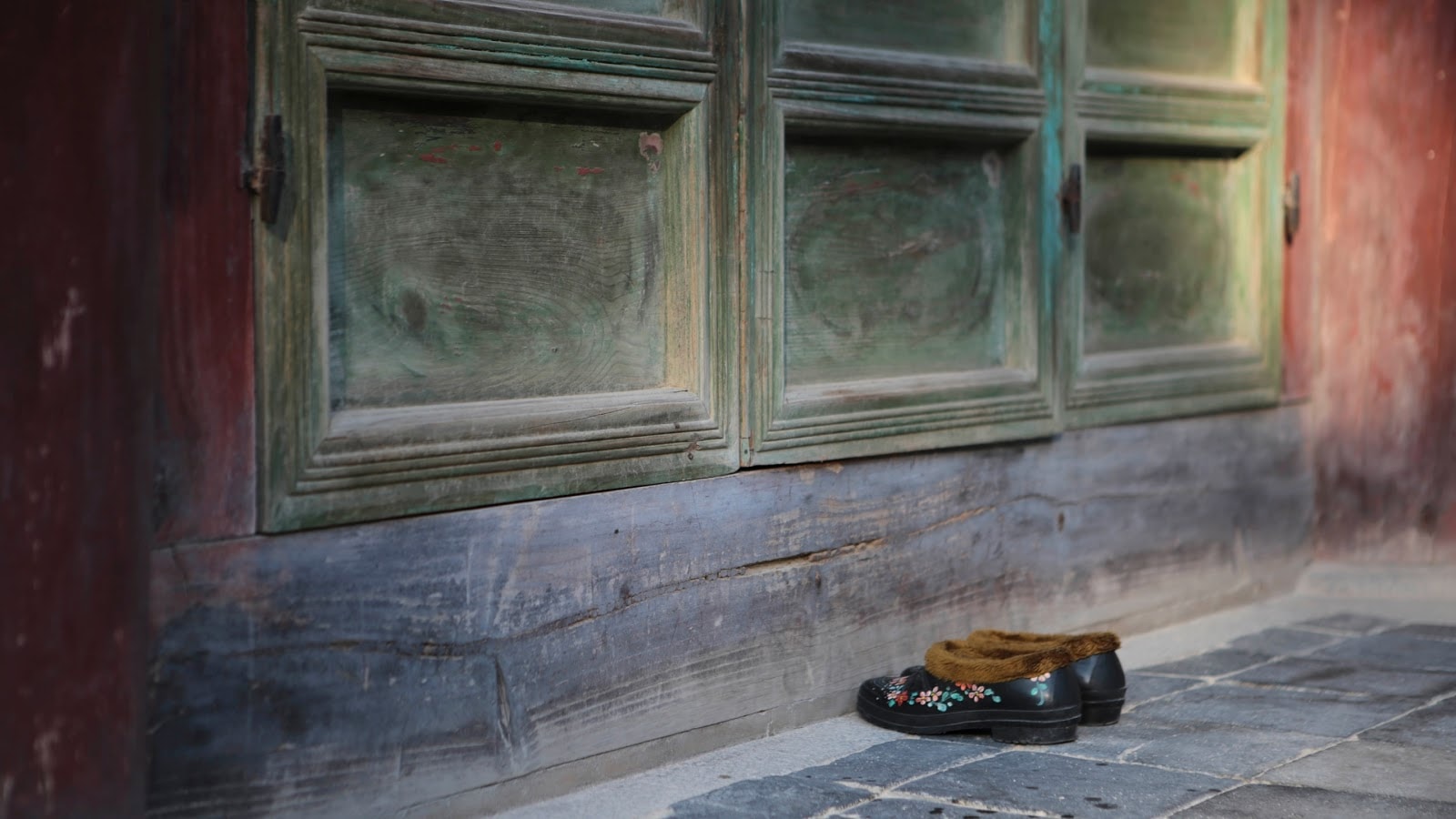 As in other Asian countries like Japan or China, it is customary to take off your shoes when visiting some Korean homes and also some restaurants where you need to sit on the floor. As it was traditionally customary to sit on the floor at homes in Korea, this is an obvious hygienic practice, so you don't muddy up the place you're about to sit on.
It's mostly traditional Korean restaurants that will ask you to take off your shoes at the door where you will be provided with a pair of inside slippers (if you have feet over 280cm, i.e. US 10, expect them not to fit). It's becoming more rare these days though.
Korean homes still practice this custom, so make sure to take off your shoes before entering a house or any establishment where you will be sitting on the floor, like a tea room. Other places you may need to do this is in changing rooms like at Uniqlo or Zara. The sales person may say this to you in Korean which will be clearly indicated with their body language (they will point to your feet). If you are unsure, just ask!
Is South Korea expensive
Generally South Korea is less expensive that Japan, but definitely miles more expensive than most of Southeast Asia. Imported products like wine or alcohol are all very pricey. A meal out for one will most likely fall around the 10,000 KRW range, but this will vary depending on the restaurant.
Pizza and Western dishes can be outrageously pricey, like 25,000 KRW for a pizza. Local dishes will also vary on the prestige of the restaurant and the meal served. Eating Korean style sashimi or eel for example can be around 25,000 – 40,000 per person. Eating at a pojang macha can be roughly 1,000-5,000 KRW per item.
Alcohol at a convenience store is pretty cheap if you're buying local. A beer will set you back around 4,000 KRW from 7-11 but will cost around 7,000 at a pub for exactly the same thing. Restaurants may charge even more. An Americano is about 4,000 KRW at a chain.
Hotels can vary largely depending on where you're staying and can range from 20,000 KRW for a hostel to over 150,000 KRW for a quality hotel per night. Motels are roughly 50,000 KRW depending on the quality.
Subway rides and buses are around 2,000 KRW but can vary depending on where you are traveling to. Taxis have a basic fee of around 3,000 as soon as you step in and then charge an additional 700 KRW per km.
Shopping tips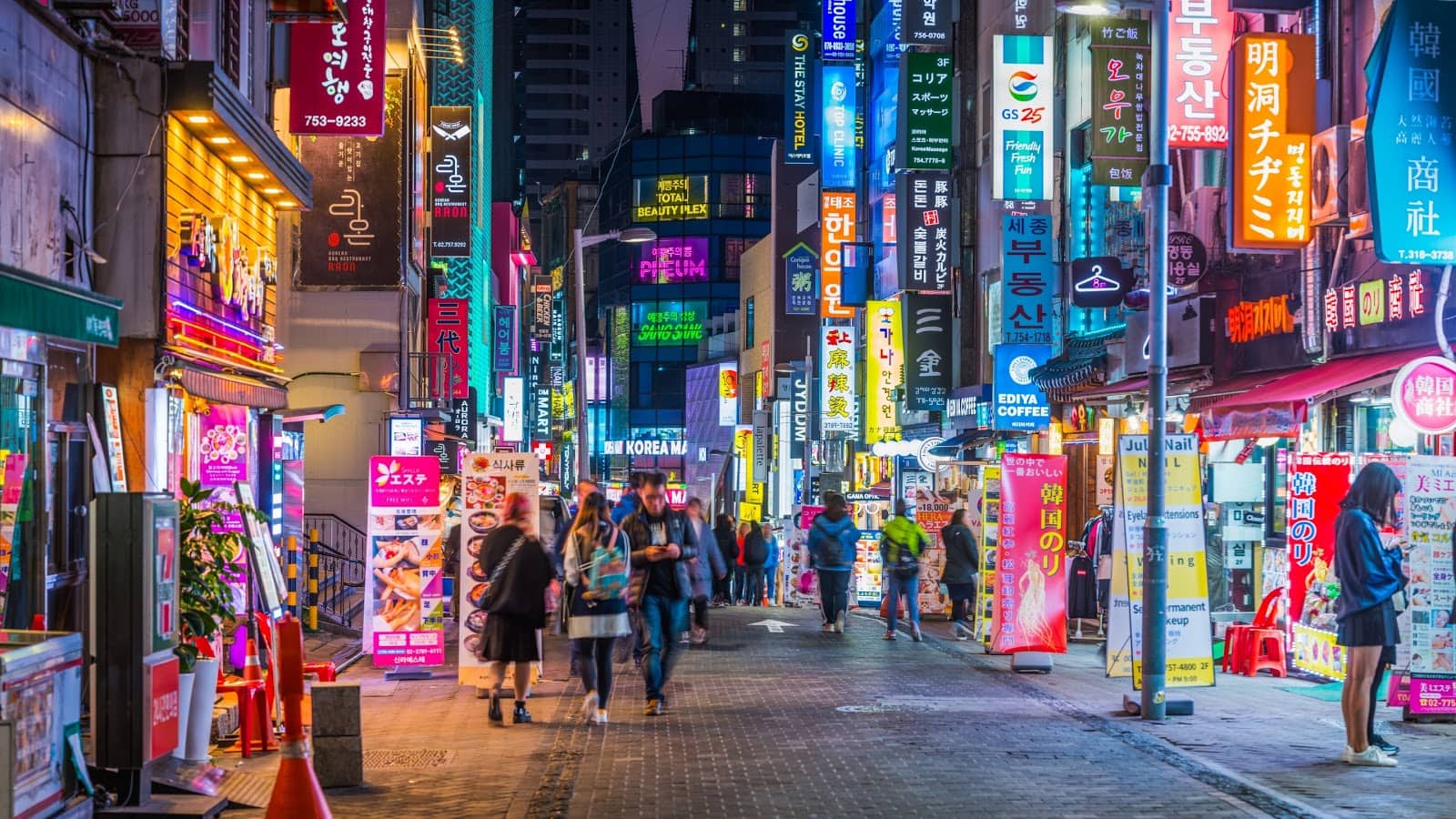 Shopping is Korea's national pastime. So of course a lot of our South Korea travel tips revolve around this. Although much of the shopping has moved online over the past few years, malls and department stores are still thriving. They allow a sense of escapism and are always busy on the weekend and public holidays no matter where you are in the country.
We have written extensively about shopping in South Korea, so we won't talk much about that here. You can find out some shopping facts (facts 2 & 14), places to go shopping on a Seoul itinerary, or more about shopping at major areas in Seoul like Dongdaemun, Myeongdong, Insadong or Apgujeong.
Here, we will concentrate on the different types of shopping experiences you can have in Korea along with sizing, events, currency, discounting and bartering. This will help you to plan your shopping so that you are well prepared and can save some time, energy and hopefully money!
Currency & ATMs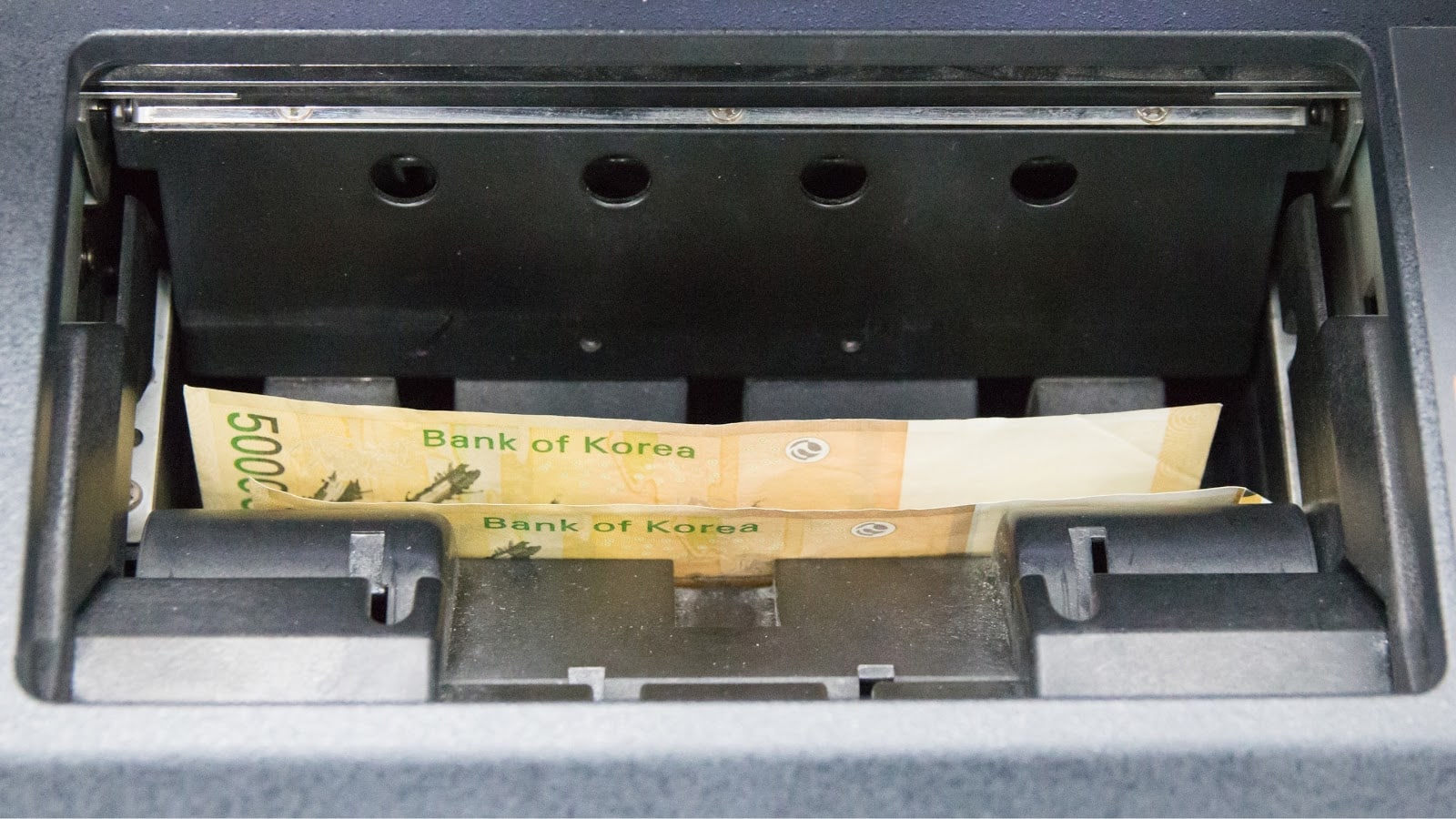 Korean currency is known as the won (KRW) and written "₩". Like the Japanese yen, the won is displayed in larger numbers such as ₩1,000 being equivalent to roughly US$1. So, expect to change your mindset before entering the country as everything will be in the thousands and millions. You'll be an instant millionaire on arrival.
As an economic powerhouse, Korea has a very strong and stable currency. For example in 2011, US$1 equaled 1,117 won; in 2021, it was at 1,098.
Withdrawing money is not an issue in South Korea as there are ATMs all over the place. You can even search for ATMs if you download Korean map apps like Kakaomap or Naver Map. Withdrawal fees will depend on the bank and country of origin of the card, I usually pay around US$2 for withdrawals.
The only issue withdrawing cash in South Korea is that you will need to find a "Global ATM" otherwise your card will not be accepted. Of course, you will also need to make sure your bank has activated your card for overseas usage.
I always use Woori Bank to withdraw as they are consistently in working order and allow for the highest withdrawal allowance (1 million per transaction). I have personally had issues with Hana and Shinhan where the ATM clearly said "Global" but the card didn't work. Woori, Hana and Shinhan ATMs all offer international languages beyond English which you can choose by selecting the correct button on the touch screen. The amount will be in won, so convert the amount before you step up to the ATM.
One of the best South Korea travel tips for currency conversion is that the best place to exchange foreign currency other than at the airport (which should be your first pick) is at Dongdaemun in Seoul. I don't have experience of exchanging currency outside of Seoul, but market areas usually have money changers.
Shopping experiences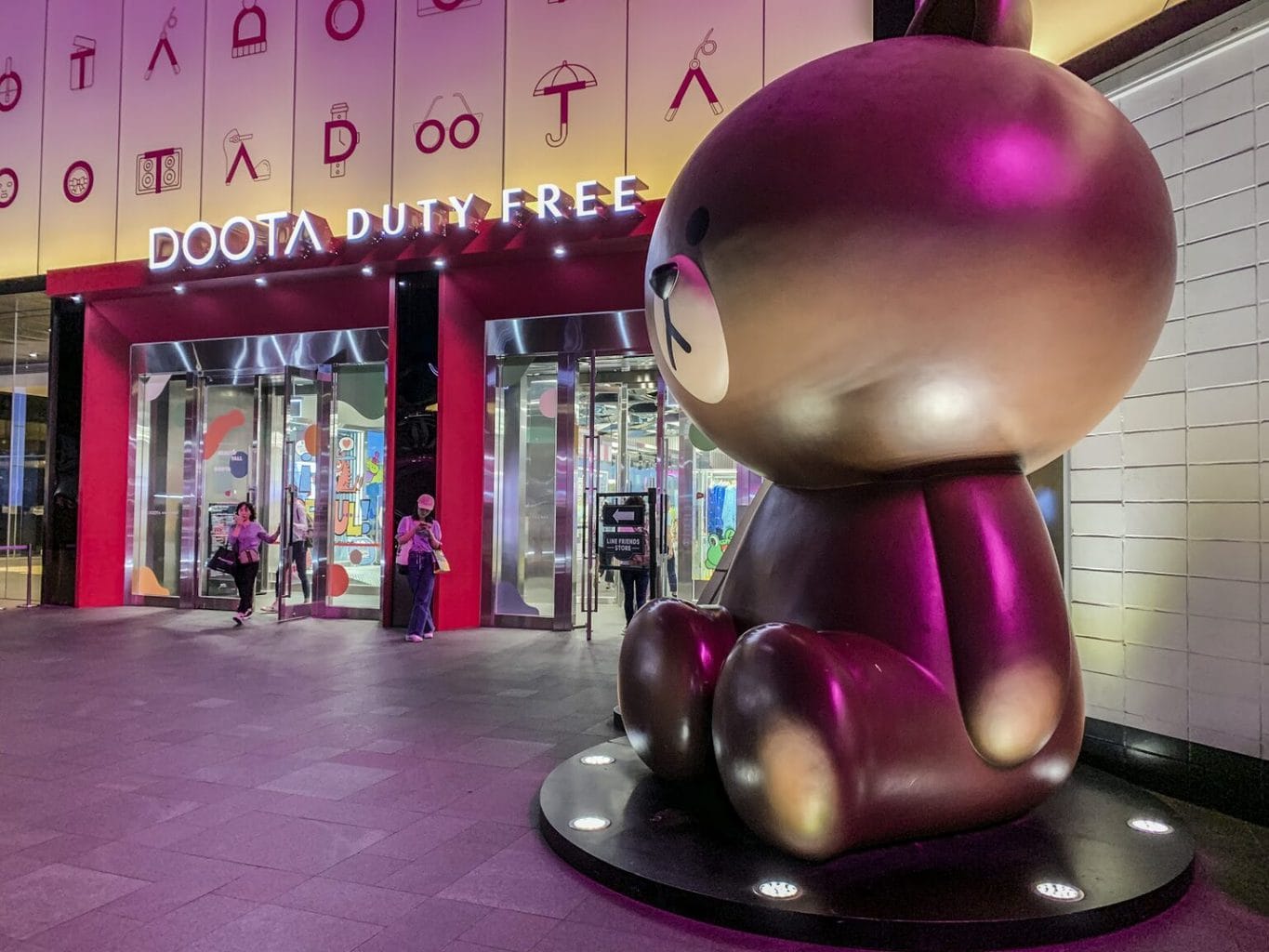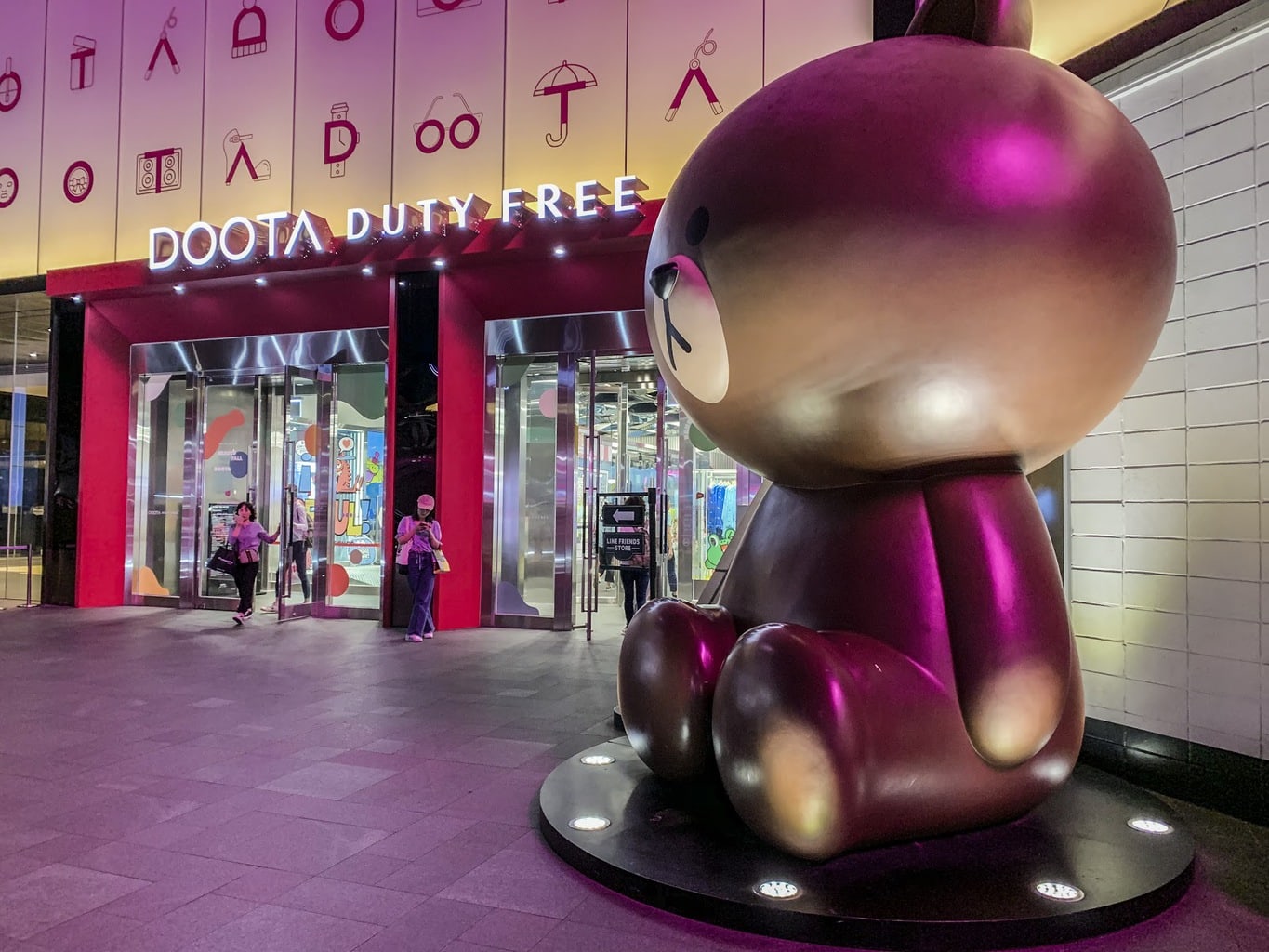 There's a lot of shopping to go around in South Korea. If you're visiting the greater Seoul area and surrounding Gyeonggi Province, you'll be struck with the number of department stores. Along the yellow subway line going from Seoul into Bundang District and onto Suwon, there is almost a department store at every subway stop.
So where do you start your shopping journey and what do you need to know along the way? The best places to begin are the touristy areas as they cater for foreigners with store clerks that speak some English, tax refund services and larger sizes if you want to purchase clothing.
For this reason you can start at places like Dongdaemun, Myeongdong and Namdaemun for all your fashion needs. Insadong is the best spot for cultural souvenirs. These areas have all the different shopping location types available from malls to department stores, outlets to underground shopping, big brands to boutique stores.
Starfield COEX, the largest underground mall in the world, is a great option if you prefer a mall setting. Lotte & Avenuel in Jamsil (the same building that houses the Seoul Sky Tower) is another option for upscale brands.
Luxury items can be purchased at Apgujeong along Rodeo Street or at one of the big name malls like Galleria department store or top-notch Hyundai Department store. We have written extensively about all these places in our Top Things to do in Seoul Guide.
Now that you know where to start your shopping spree in Seoul, we think some great South Korea travel tips will include more about the types of shopping experiences you can have in the country for a bit more insider info and a few more personal suggestions of places we love.
First is to know the difference between the various types of places you can shop at. Operating hours will vary but usually go between 10am-11pm.
Shopping at fashion streets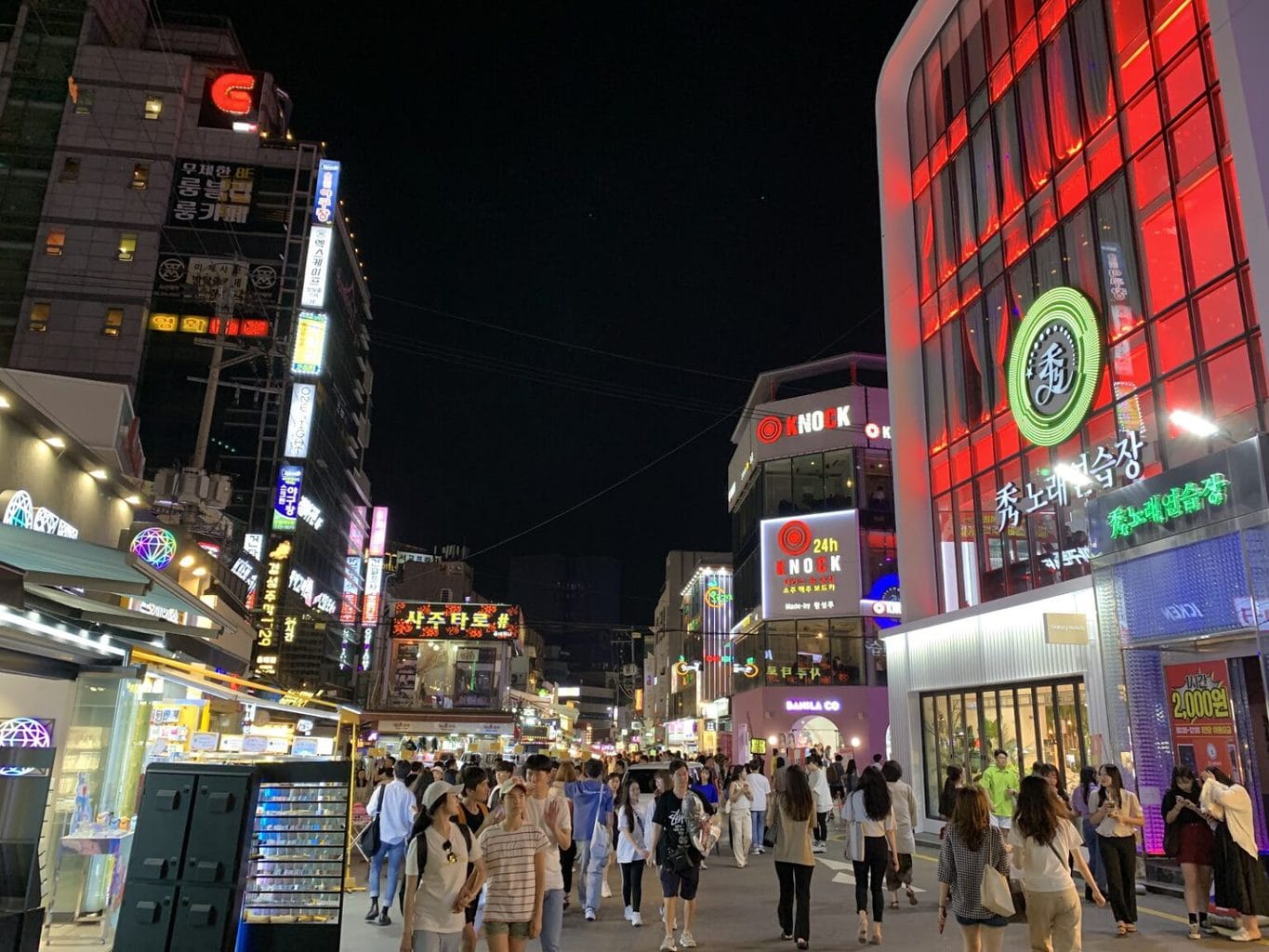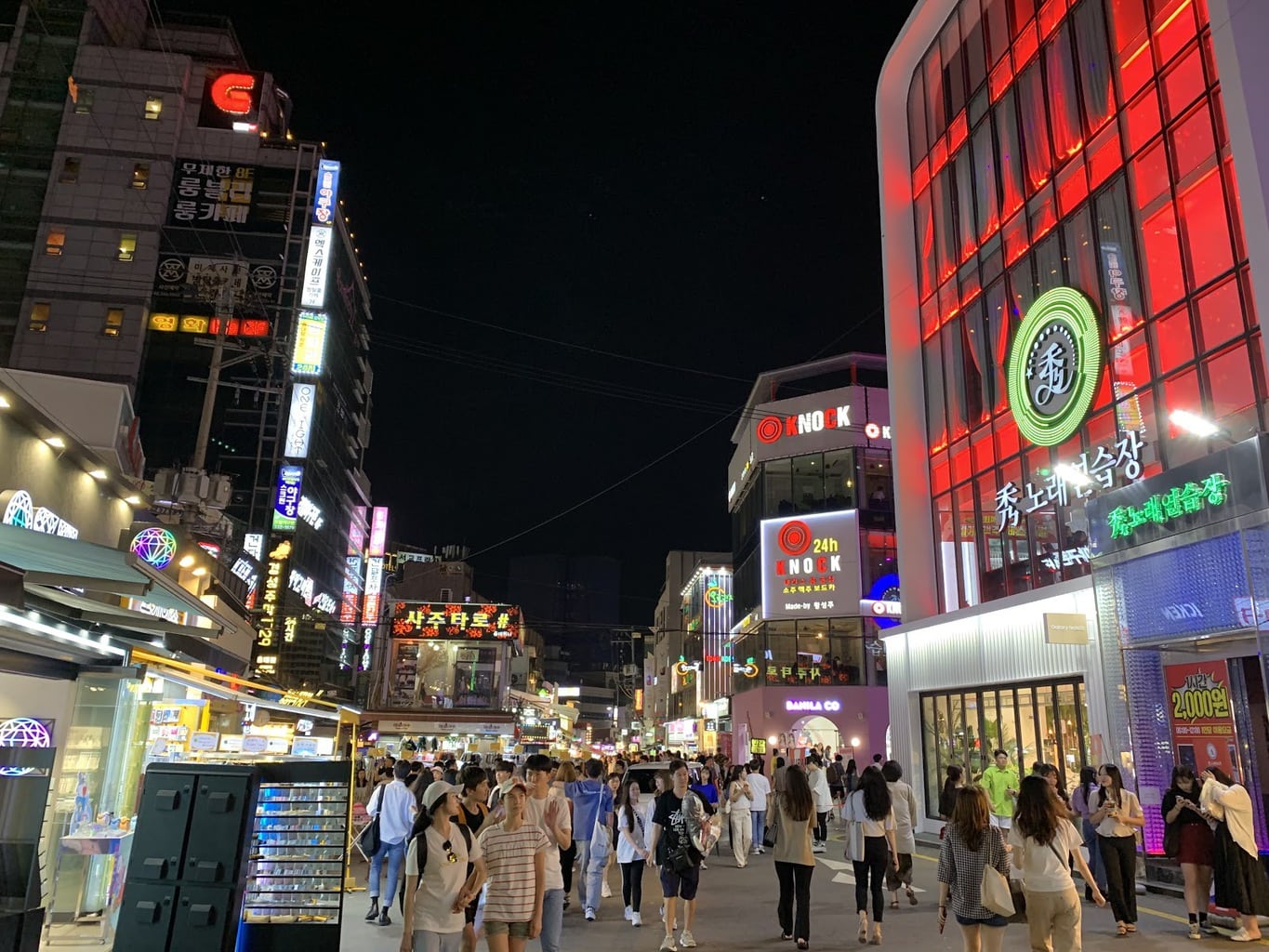 These are quaint outdoor areas where shops are lined along paved pedestrian avenues and usually have more of a boutique, fashion-forward feel, but some have major brands too. There are usually also eateries and cafes all around.
Some famous areas in Seoul include Insadong, Myeongdong, Samcheongdong (next to Gyeongbokgung Palace), or Apgujeong Rodeo Street. All major cities will have at least one of these roads which will sometimes end in "Pashon eu Gori" (패션의거리 – "Fashion Street") like in Busan or Suncheon. Some are less obviously stated like Daegu Dongseongno Street (대구 동성로거리).
Student boutique shopping areas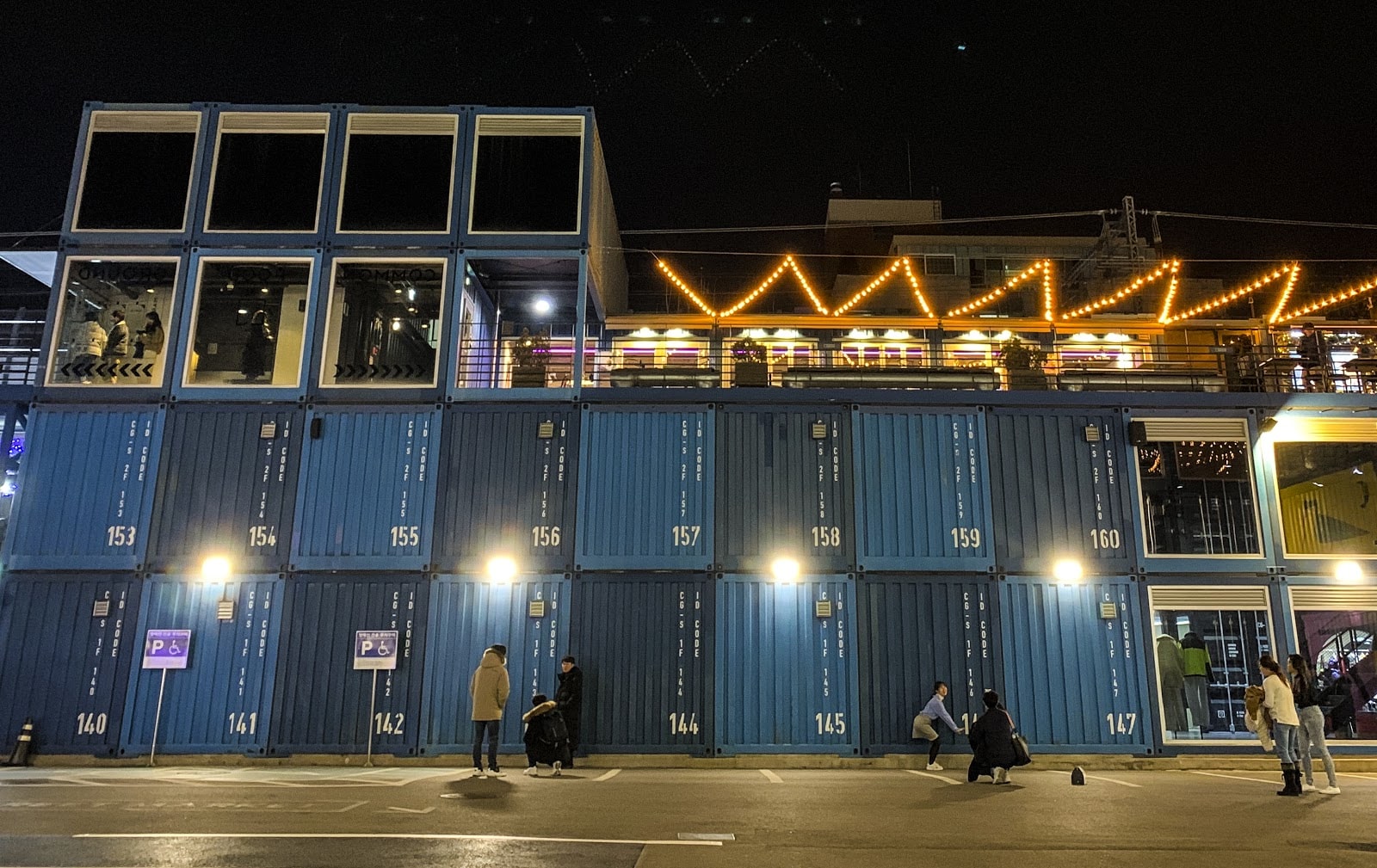 Very similar in layout to the fashion streets, the major difference is that they cater to students and are mostly situated around major universities. The brands are therefore mostly youth culture with an array of dives, bars, cafes and inexpensive eateries.
These areas are rowdier, particularly at night when everyone's had a drink or two, but they are quite vibey and fun. It's always an interesting experience going shopping here at night and you can also find super trendy brands as well as some great sales.
In Seoul you can try Hongdae (Hongik Uni), Edae (Ewha Women's Uni), and Kondae (Konkuk Uni near Seongsu). It's good to know that not all student areas will have shopping streets, but most do have a few stores around, i.e. Hyehwa is known for its theaters, but there are some shops along the main road.
Underground shopping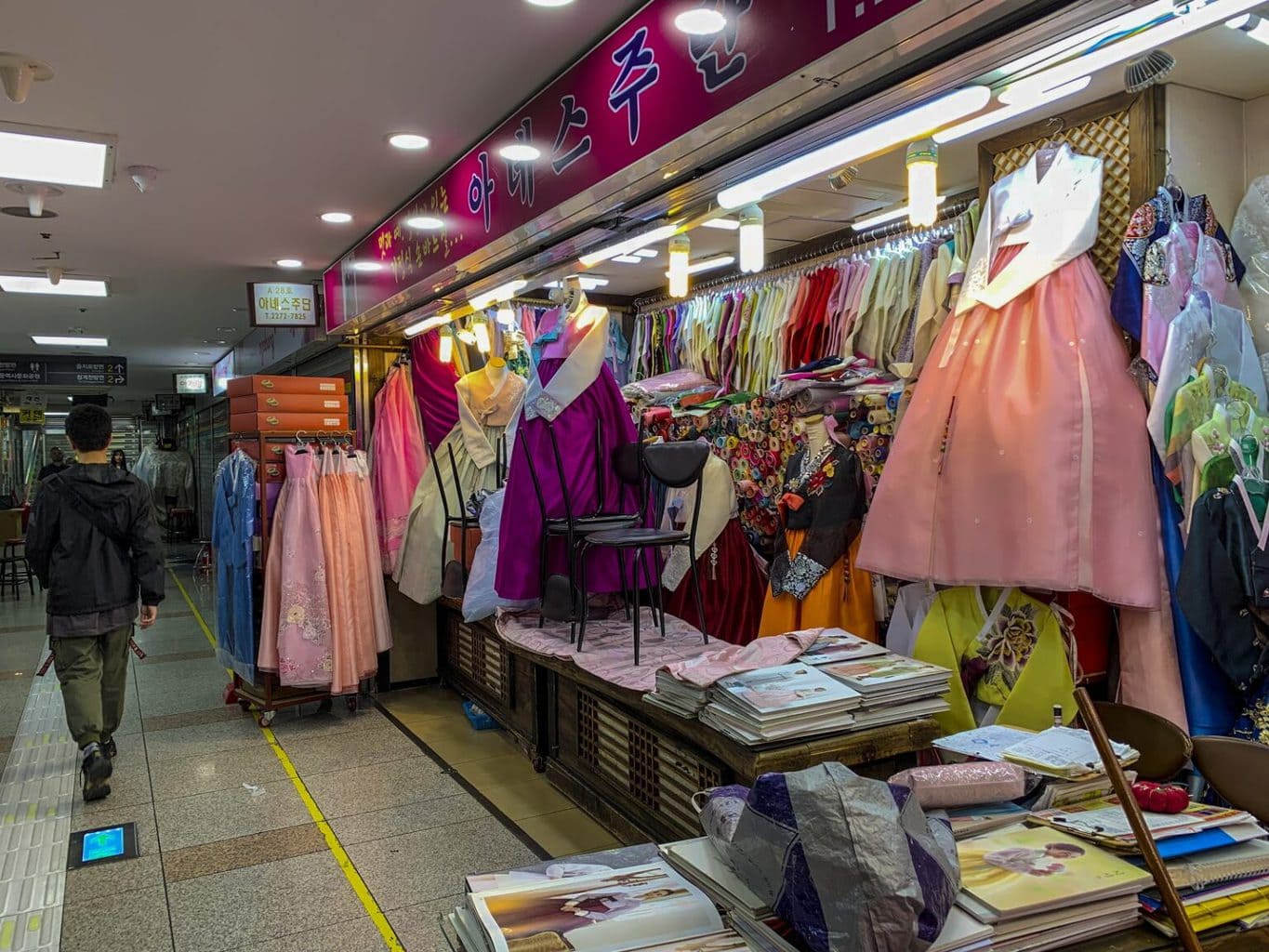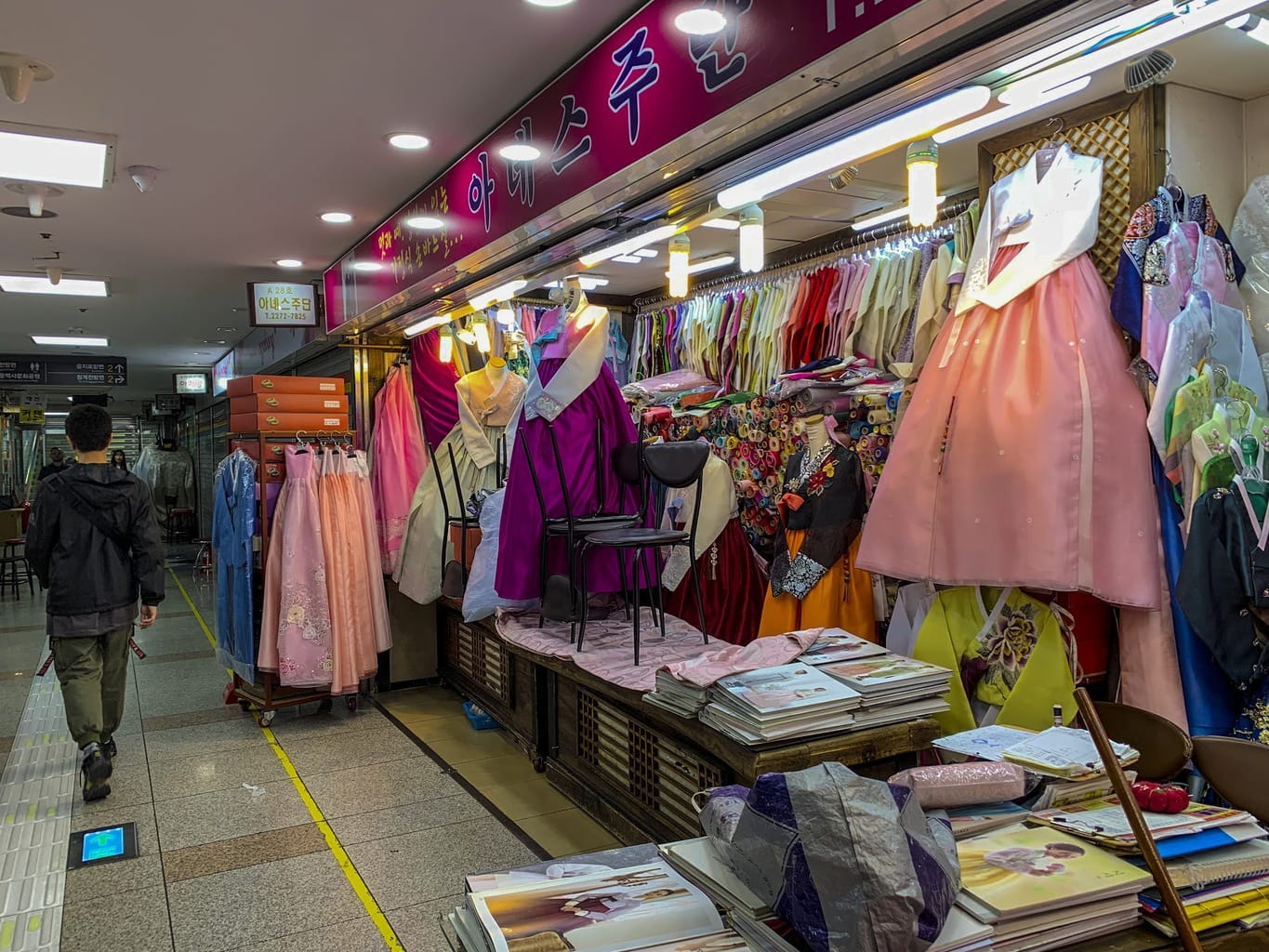 If you want to go subterranean, you can visit one of the major underground shopping complexes in Seoul or around the country. These are usually near or joining the subway stations, so it includes smaller boutique style stores in small compartments along the passageways. They are different from COEX which is a proper mall.
You can find some really great fashion finds here sometimes. Just note one of our South Korea travel tips for shopping is to be aware that electronics and some brands may be fake, so use your common sense and if something is too good of a bargain, it probably is.
The most popular underground sopping areas include the ones at Gangnam, Jamsil & Jonggak Stations, with another in Myeongdong near Euljiro 1(il)ga Station entrance 6.
Department Stores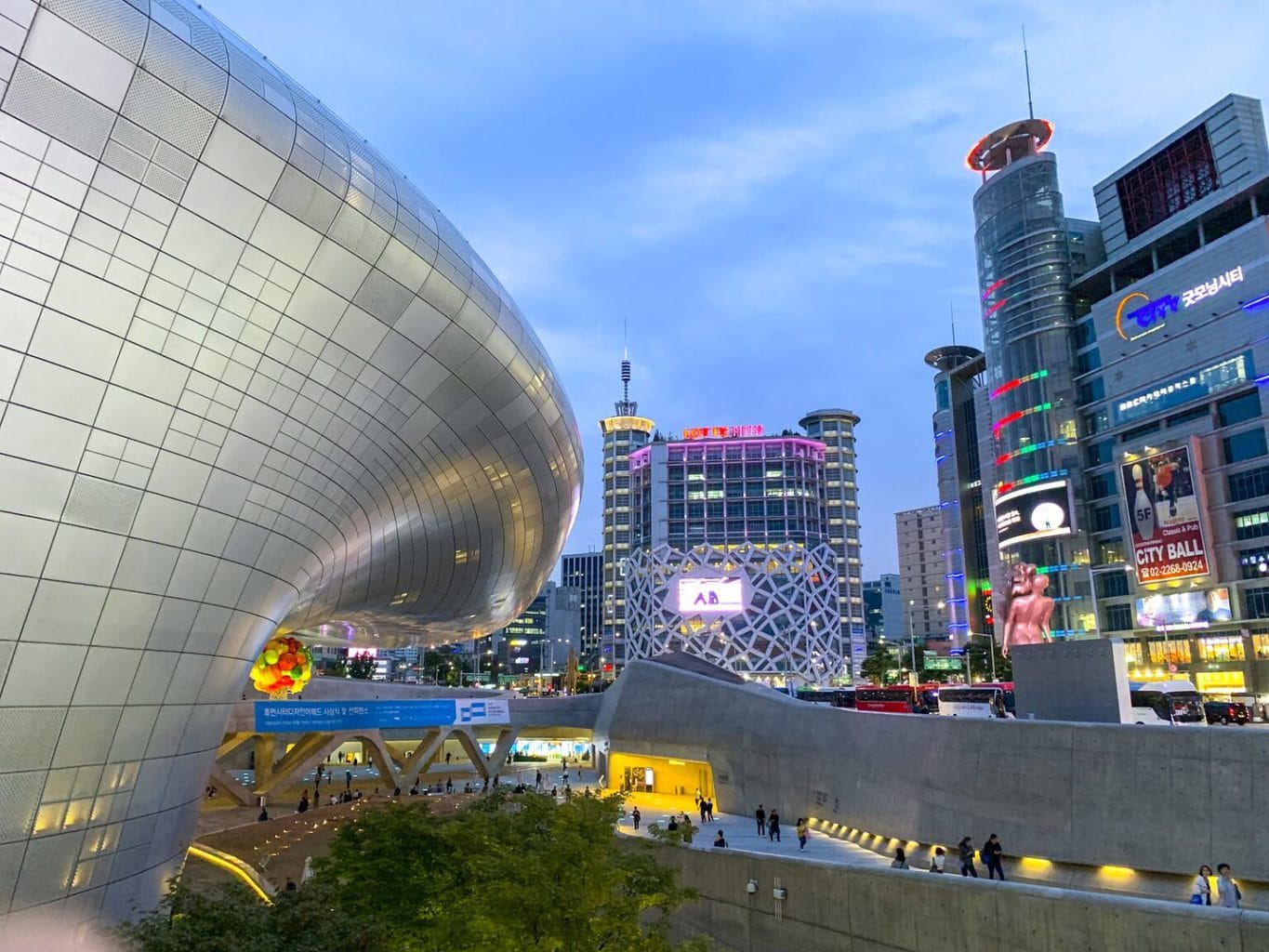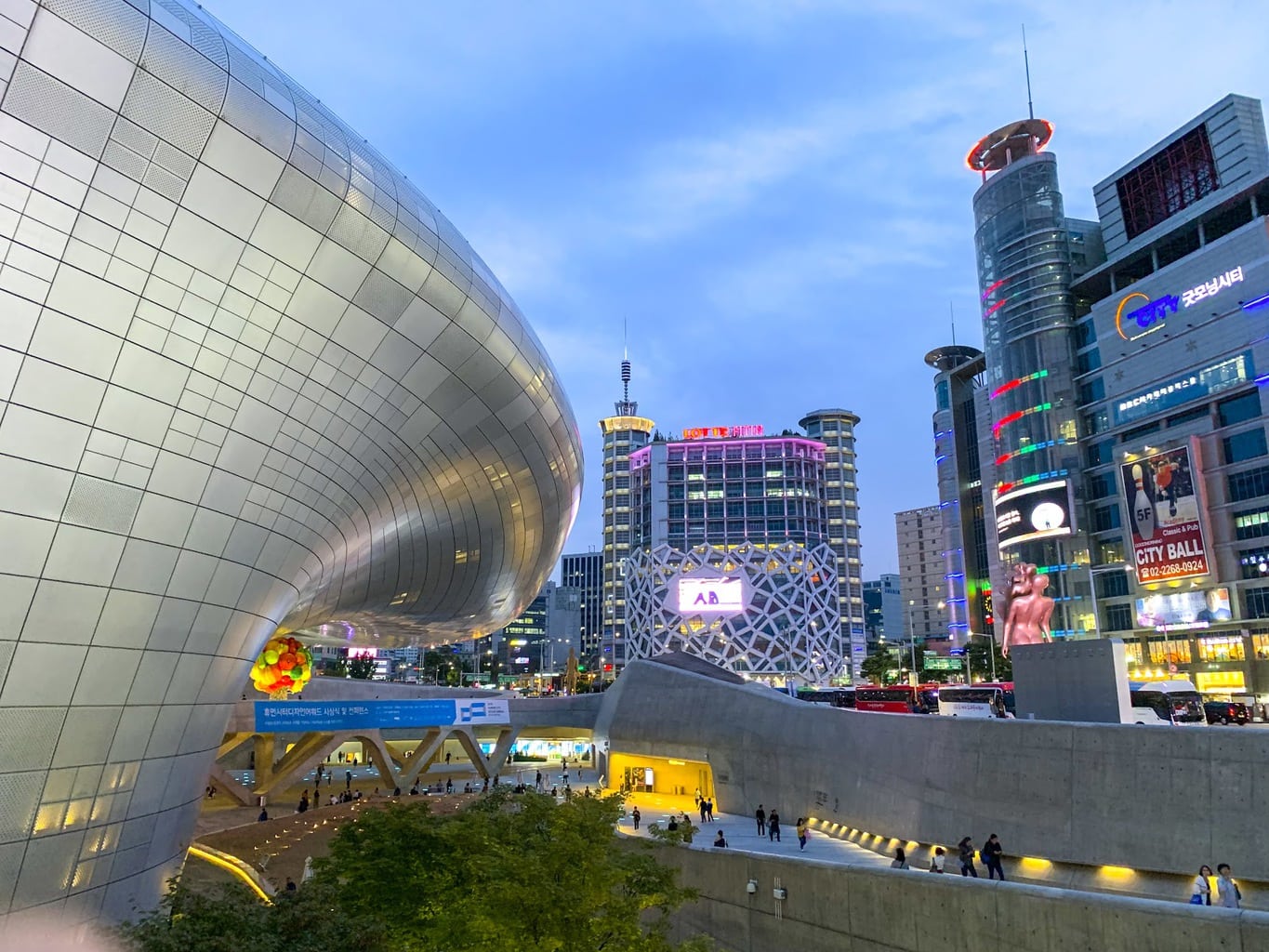 Department stores are great places to experience shopping like a local, which means you can find discounts like a local. These are multi-level shopping complexes housed in large buildings where each level has a theme. They are usually separated into Mens fashion, Ladies fashion, Youth, Sports, and Home.
As is the case across most Asian capital cities, some classier department stores have luxury brands and perfume on the first floor which feels more like an airport, and there is typically a grocery store in B1 with a food court or restaurants and an Event Hall somewhere in the building with ever-changing sales, sometimes the events are outside at the entrance.
There are cafes, events, activities for kids and year-round sales at department stores where you can sometimes find items for up to 80% off. There are also concierge services, pushcarts, wheelchair facilities, seamstresses, shoe repairs, tax refund services, everything under one roof.
In terms of which department stores to check out, there are too many to recommend, but if you are staying in Seoul, you could visit one of the many in the Dongdaemun or Myeongdong areas that we mention in our post. Alternatively, take a day trip to Bundang to visit some of the other options if you want to get away from the touristy ones, just don't expect much English.
Outlets & Malls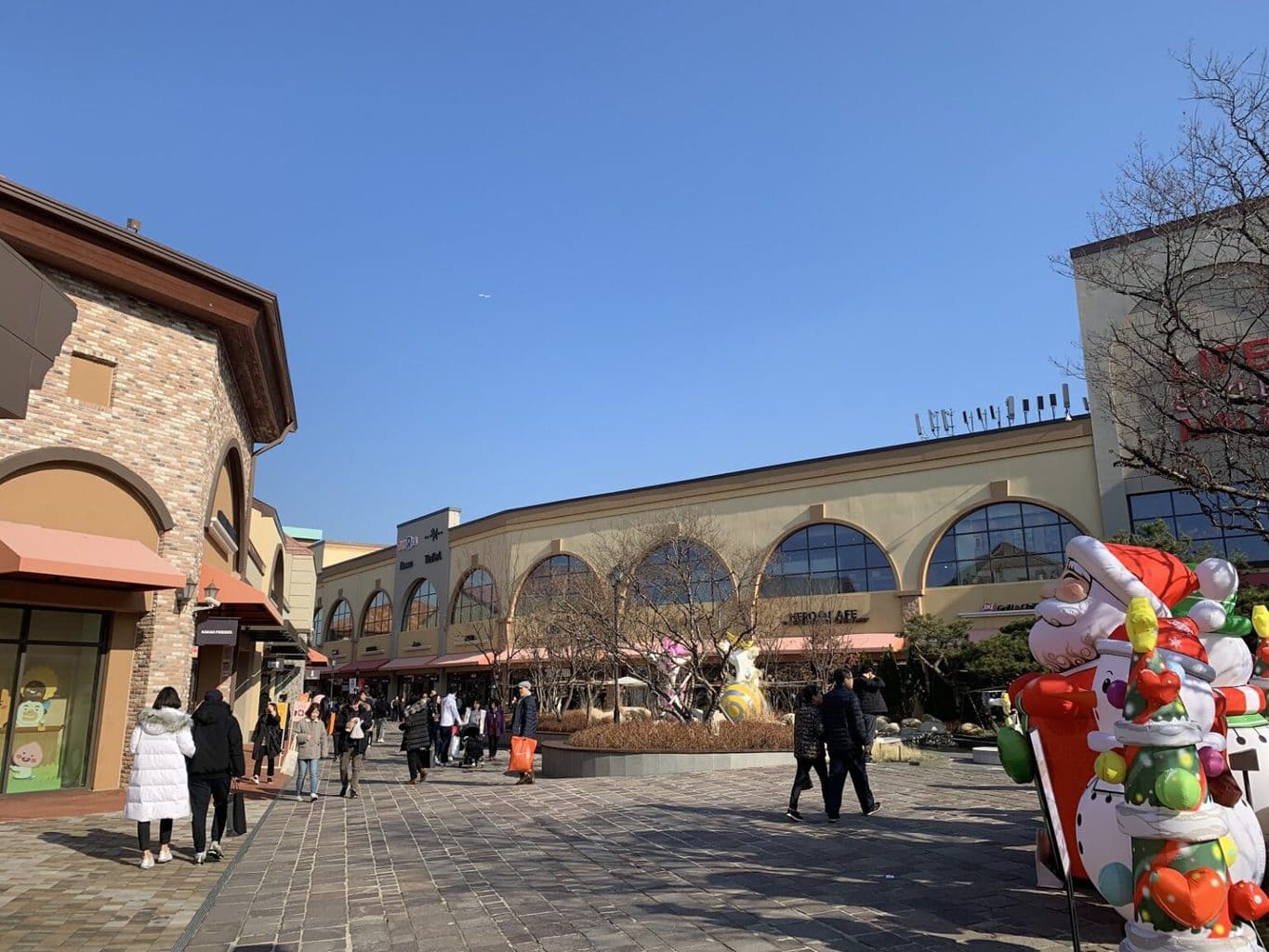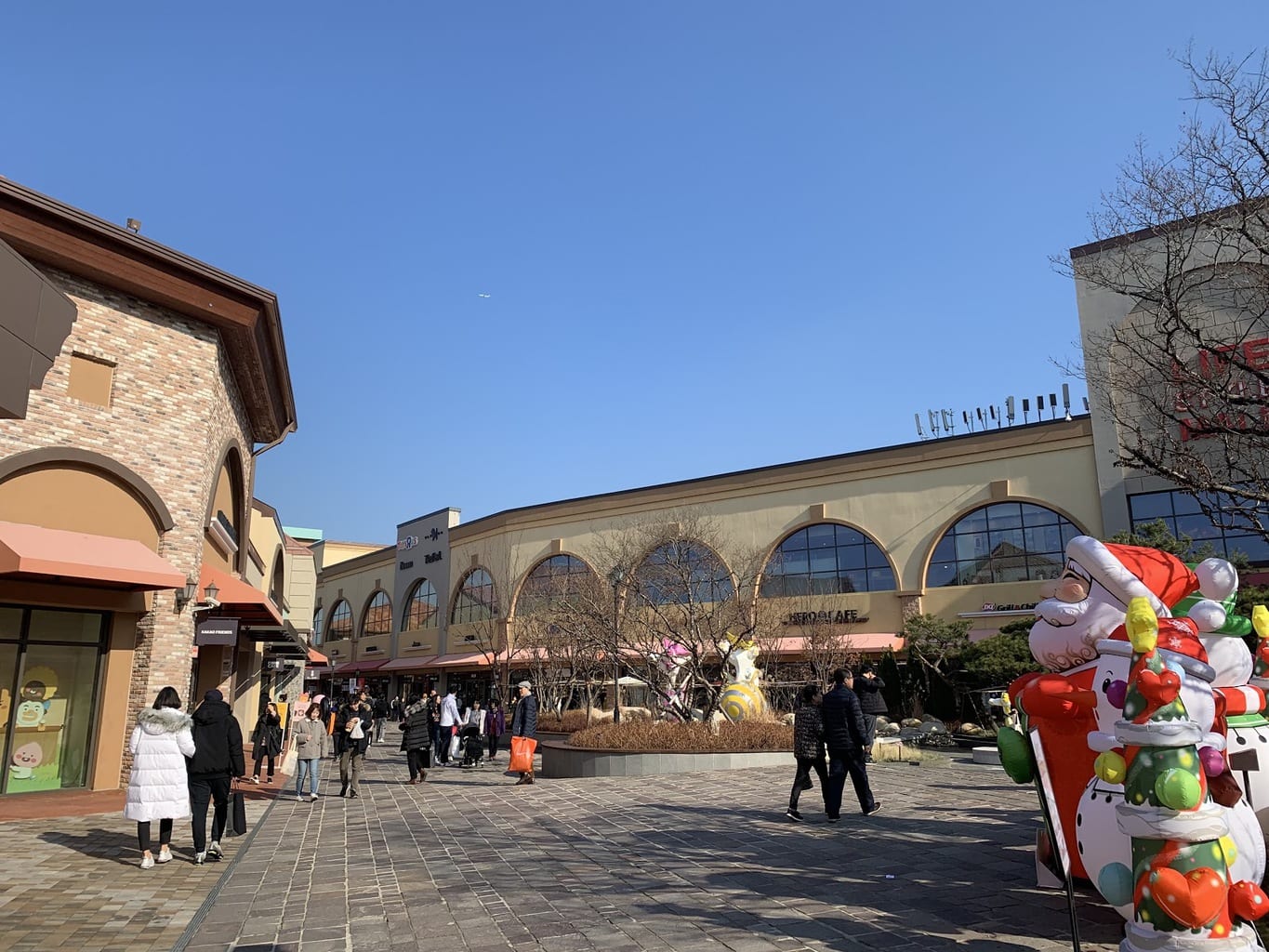 My favorite places to find sales, outlets are huge spaces where fashion goes to die. Korea is extremely fashion-forward, so if you're okay with wearing Nike's from last season, then these are great places to visit as there are some enormous sales.
Outlets and malls are basically department stores, yet spread out over 2-3 floors instead of 8-10. Malls are closer to department stores in content with seasonal international brands and occasional sales. Outlets are more the places where last season's fashion is dumped and there are always sales.
There are some great places to visit in Seoul and Gyeonggi including Lotte Mall in Suwon, Suji and Gimpo. Lotte outlet in Giheung, right next to Ikea, is my favorite as it reminds me of a Californian American Mall and it has a flowrider. There is also one in Gwanggyo which we mentioned in our Day Trips from Seoul article.
Starfield, part of Shinsegae Group and owner of COEX also has some amazing Malls, the best one is in Hanam (city in Gyeonggi, not Hannam-dong in Seoul), next to Misa-ri and close to a marsh along the Han River. It is massive and joined to a Shinsegae Department Store.
One more thing to note is the major shopping chains brands to look out for. Most department stores, malls and outlets are owned by Lotte, Hyundai, AK or Shinsegae (Starfield). Each has its own vibe, for example Lotte is more family-focused while Hyundai is more concerned about boasting a premium and luxury experience. The stores are basically the same. Happy shopping!
Bartering & cash discounts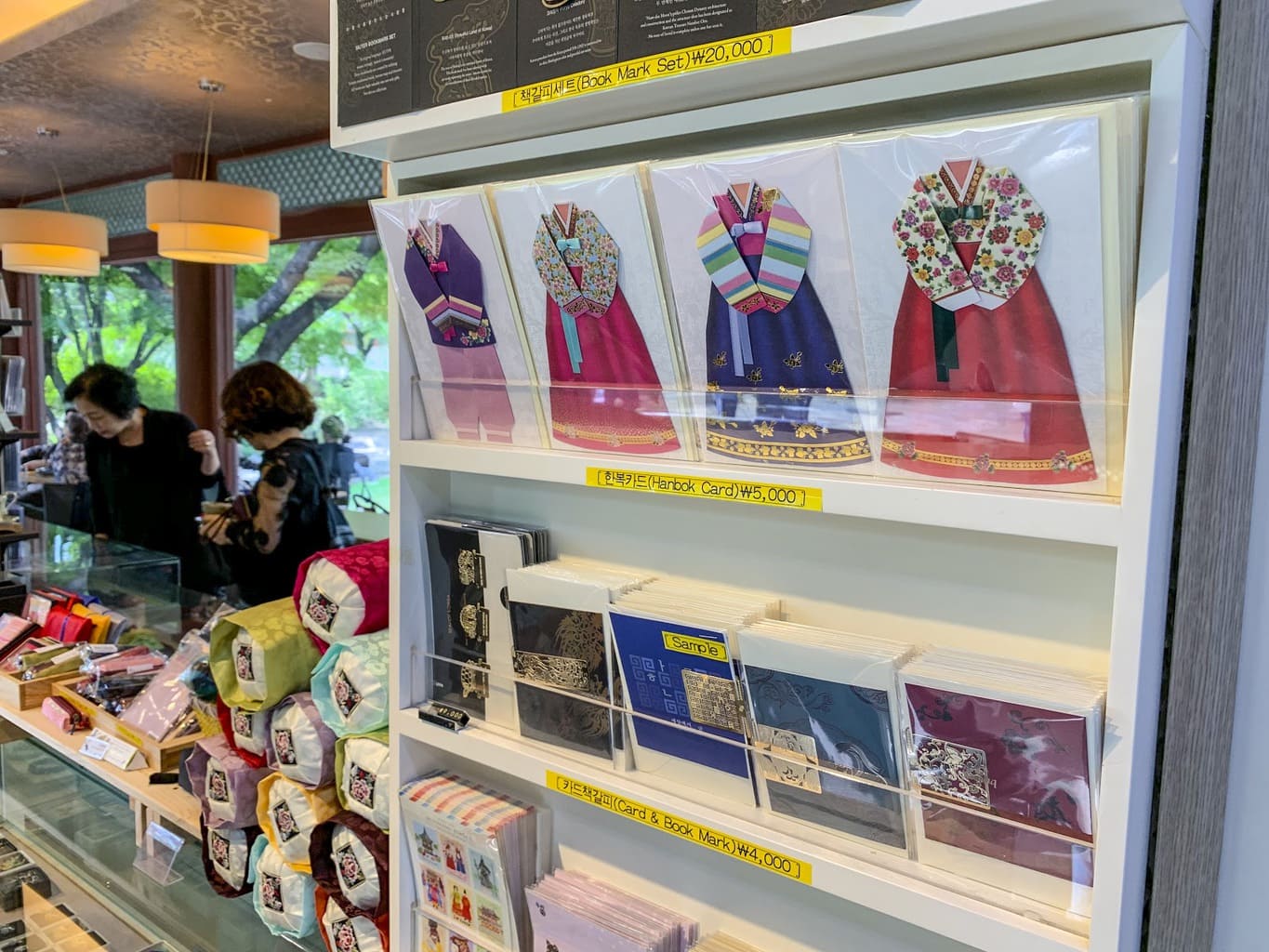 If you're expecting to come to Korea to haggle, your ability to get a cash discount will depend very much on where you are shopping and what you are buying.
Some places in Korea are known for bargaining like the Yongsan electronics area, or if you are purchasing in bulk at places like Dongdaemun, Namdaemun or one of the wet markets like Noryangjin. Cash discounts are also accepted here.
Prices at malls, department stores and chains are all fixed, so you won't be able to haggle prices down at these establishments. You can try your luck at smaller, boutique stores or college areas, but expect nothing.
To ask for a discount, you can say "kkakka juseyo" which basically translates into "give it to me for less". The store clerk will then whip out a calculator and start typing furious equations to get a new price. You can always use your phone calculator if they don't speak English and you are having troubles with the large numbers.
Sizes (Asian fit)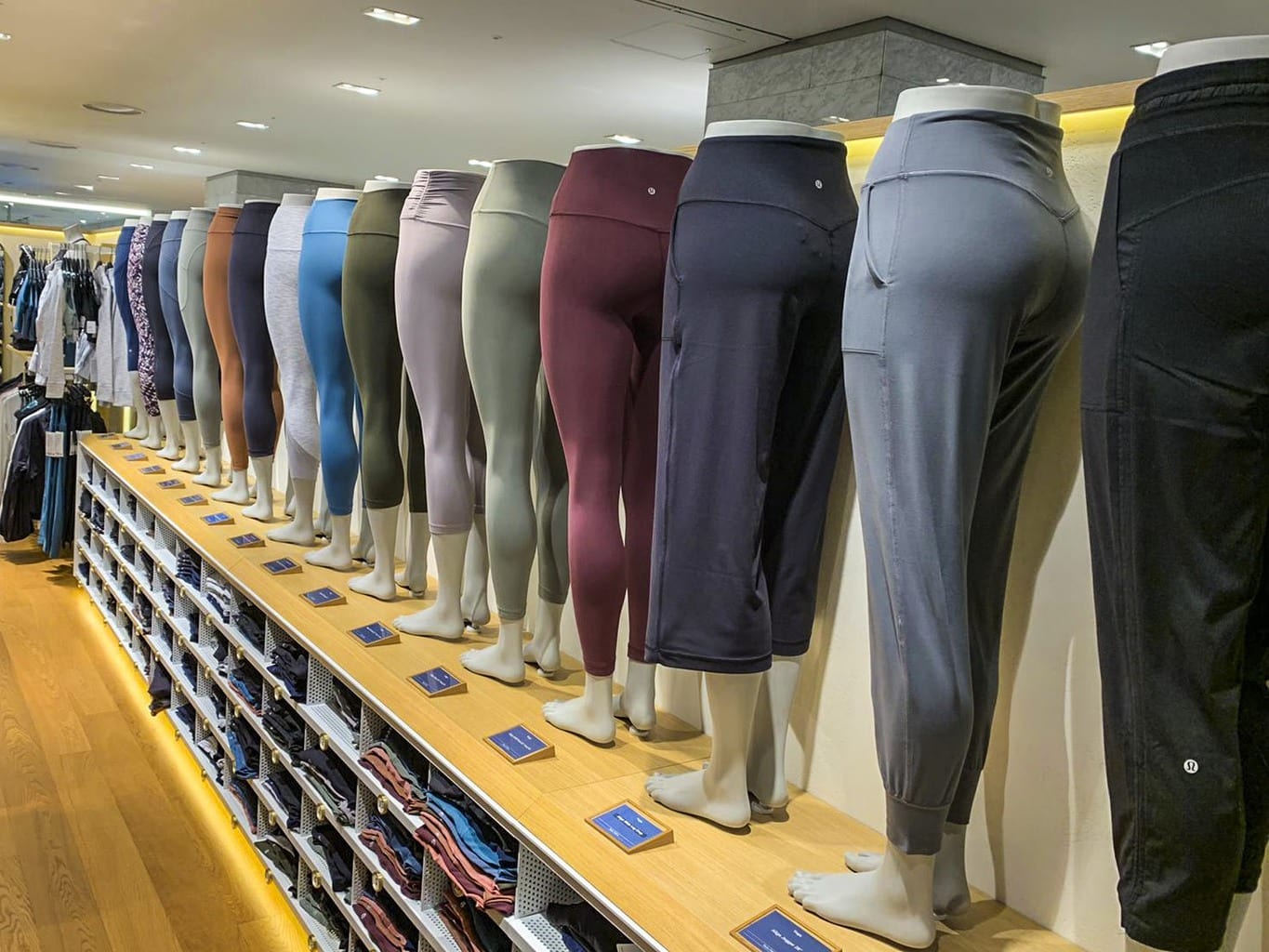 The stereotype that South Asians have a smaller frame is fairly true in South Korea. Due to size differences clothing is catered to Koreans and is therefore smaller in the country. I take a male large in the US, but in Korea I'm an XL, for example. Lululemon has been clever and introduced an "Asian Fit" that caters for a more petit frame, so their sizing is universal.
Clothing is also measured differently here, so you can't always rely on the S, M, L, XL etc. sizing guide. I have found one of the top South Korea travel tips is to measure using centimetres. I found out that I am a 105 for a t-shirt, so I completely disregard the previously mentioned format and look only for the numbers. The same goes with waist size.
I have heard from my plus size female friends that shopping for clothing in Korea is quite a nightmare and that bras in larger sizes are basically non-existent. Some areas, like Itaewon, do cater for larger sized individuals though.
When it comes to shoes, it is extremely difficult to find larger sizes, which is a 290 (US 11) for males. What is standard in Western countries, is extremely large in Korea. There are some places with larger sizes like Itaewon, flagship stores and the bargain bins at the outlets. Going to places like ABC Mart that sell multiple shoe brands will most likely result in failure.
Events (or Sales)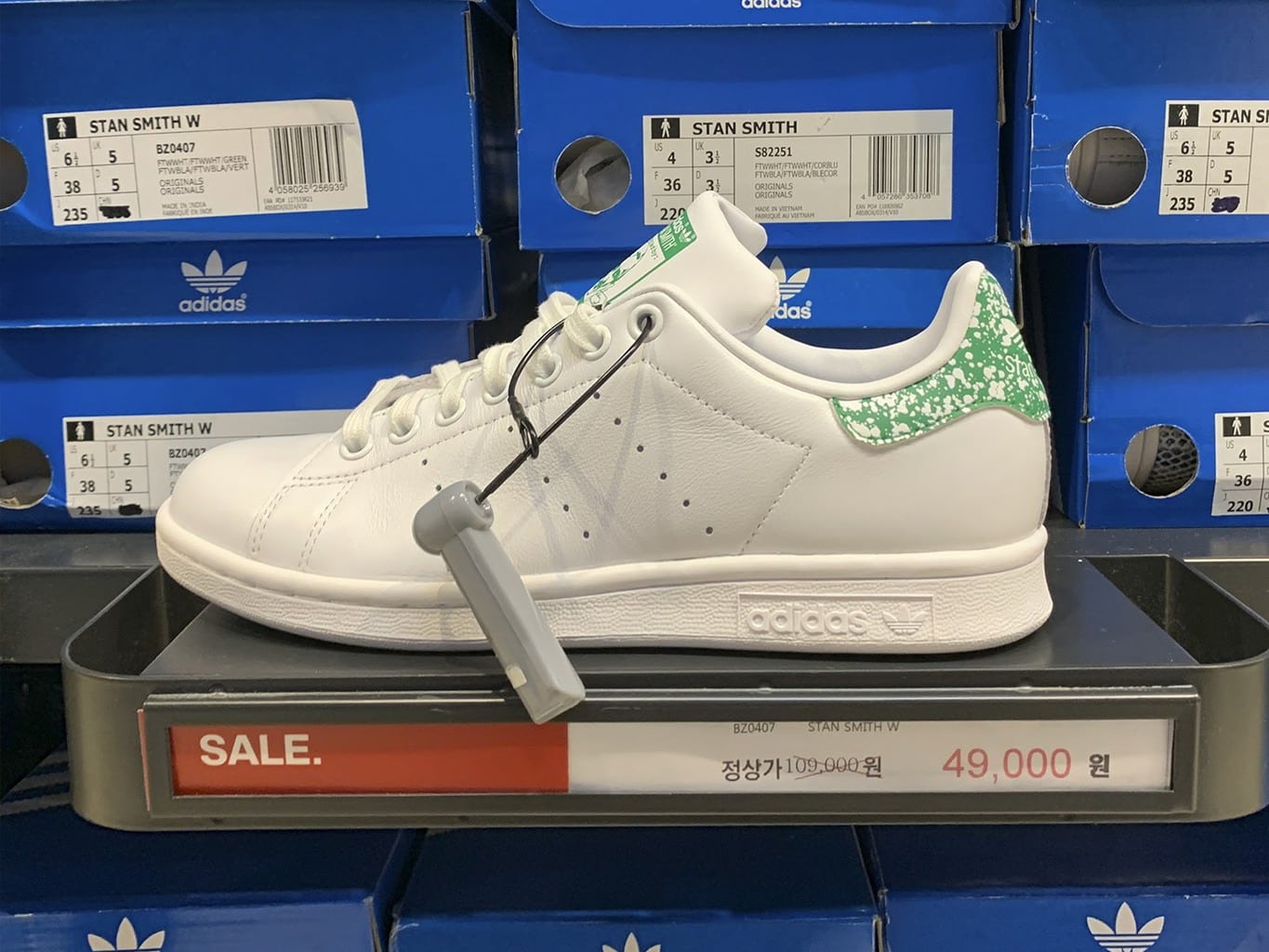 There's always sales going on in Korea and if you know where and when to look you can get some amazing deals.
Firstly, if you're visiting a department store or outlet, try locating the Event Hall. This is a partitioned area with massive sales. They are usually once off and change every week. Sometimes they have luxury brands, other times they have homeware, but it never hurts to walk past to see what's on sale at the time of visit. Sometimes they're located outside under tents by the entrance to the building.
Seasonal sales are massive in Korea. As the country changes in season, so does the fashion and there is a massive push to get rid of "old" stock. The biggest event is Korea Festa which usually happens in November throughout the entire country where every mall has some kind of sale going on.
Basically, one of the top South Korea travel tips is to buy winter goods in summer and summer goods in winter. And always look for the red tags in department stores, as well as sale racks which might have a sign saying "Last Chance" or "Last Size". And if a store is having a sale, always ask if the price tag has the final price. Oftentimes, the discount is not clearly stated. Many times I've come to the counter and there had been an additional 40% off the marked discounted price on the label.
Then, look out for various other events marked "2+1 Event", "1+1 Event" etc. This basically means buy 2, get 1 free or buy 1, get 1 free etc. This is everywhere from food items at convenience stores to clothing and electronics.
Sometimes it gets a bit complicated like if you buy 2 of the same item, you get 50% off the second item only. Or you need a specific bank card to obtain the discount. These types of sales are even difficult to understand for native speakers. With that being said, there are always discounts available if you keep your eyes open.
Walking paths & hiking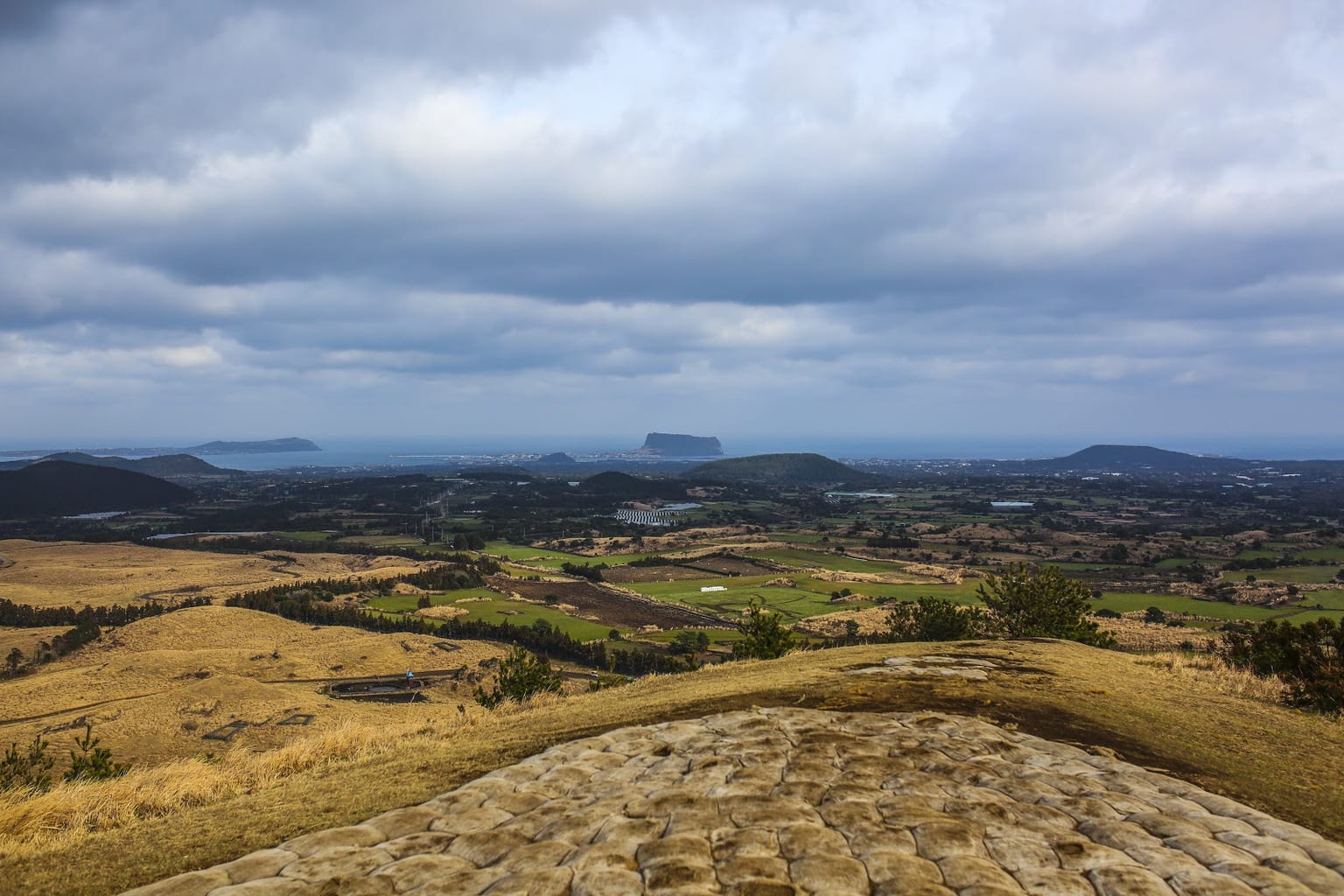 The entire country is absolutely covered in hills and mountains of all sizes and for all fitness levels. You could easily go from sprawling metropolis to the splendor of nature in minutes. One example is visiting Seoul Arts Center in Seocho.
The huge art center is located right in the center of the Gangnam greater district close to Seoul National University of Education and Nambu Bus Terminal. At the back of the art center there is a path that leads up to a mountain called Umyeonsan (우면산) which is a 4.5km hiking trail ending near Sadang station, reaching an elevation of 221m with a temple called Daesongsa to visit.
This is just one of thousands of examples of how accessible hiking is in Korea. All paths are well trodden, sometimes even lit up at night, with bathrooms along the way and outdoor fitness areas if you feel like having a workout on the top of a mountain.
Hiking is extremely safe in South Korea with CCTV cameras usually at the start and end of the trails. You will notice that Koreans like to dress for each occasion and hiking is no different, with hikers decked out in the most up to date trekking apparel.
Try to download one of the map apps mentioned above before you go as path signage can be deceiving, in Korean only and are not always 100% clear or accurate. While there is always a path down to a metropolitan area, especially in Seoul, you may take a completely wrong turn and end up going for longer than expected. Maps will help with this.
Pro South Korea travel tips: Always take enough water and some snacks with you in case you get lost or need some energy. You can always call 119 if you need urgent assistance. On the more popular routes, there are even signs with numbers so that you can clearly tell the operator exactly where you are.
Korea is also a very walkable country. There is even a path from Seoul in the north to Haenam in the south called the Samnam Route (삼남길) or you could walk from Busan to Haenam on the Namparang (south wave) Route. Jeju has it's Olle Gil Route circling the entire island. Koreans love their "courses" and each major mountain has several to follow, usually marked on maps and color-coded.
You can take a stroll along the Han River into Gyeonggi Province and beyond. Or just get lost in the maze that is Seoul, there is always a convenience store, public bathroom or transportation nearby.
Avoiding crowds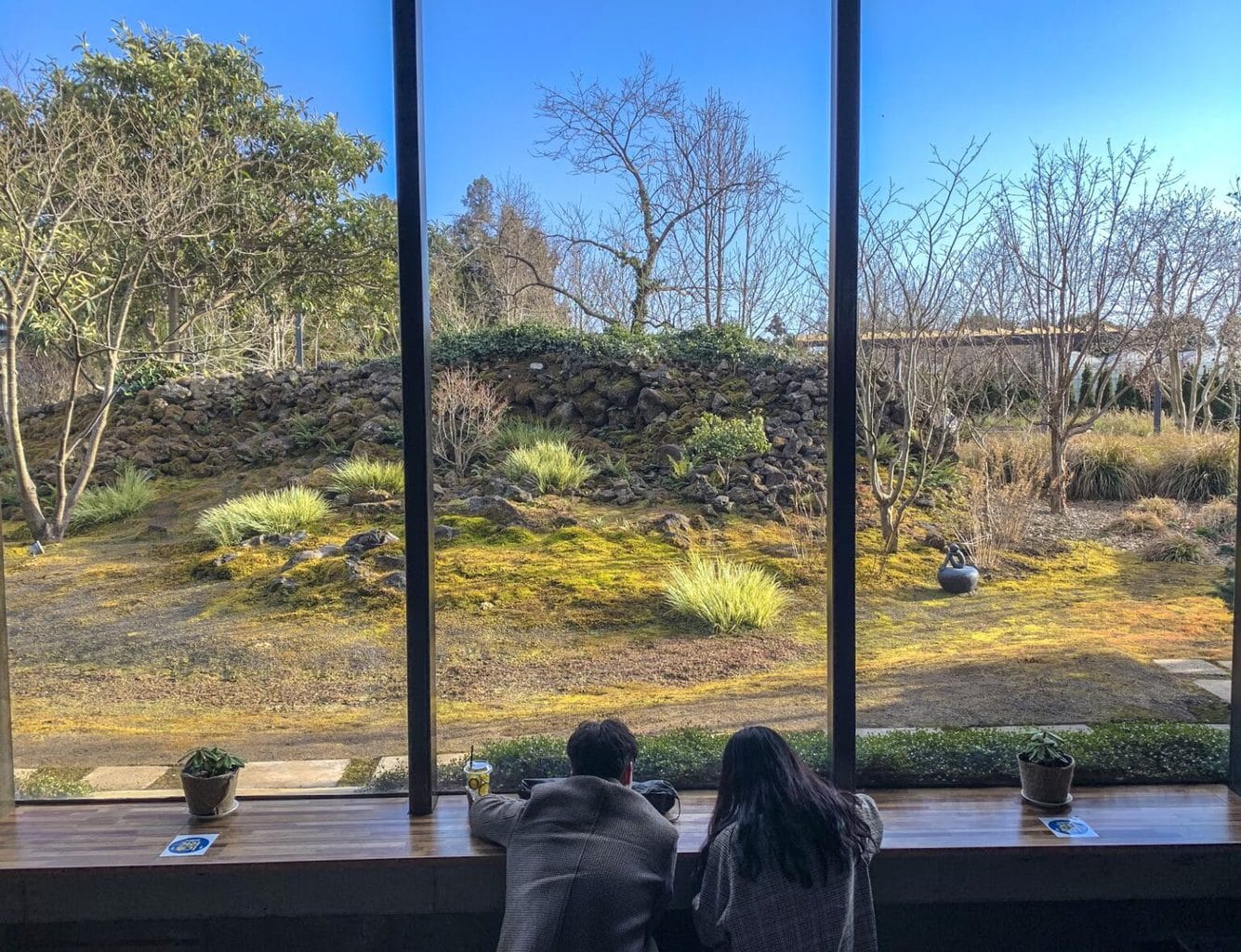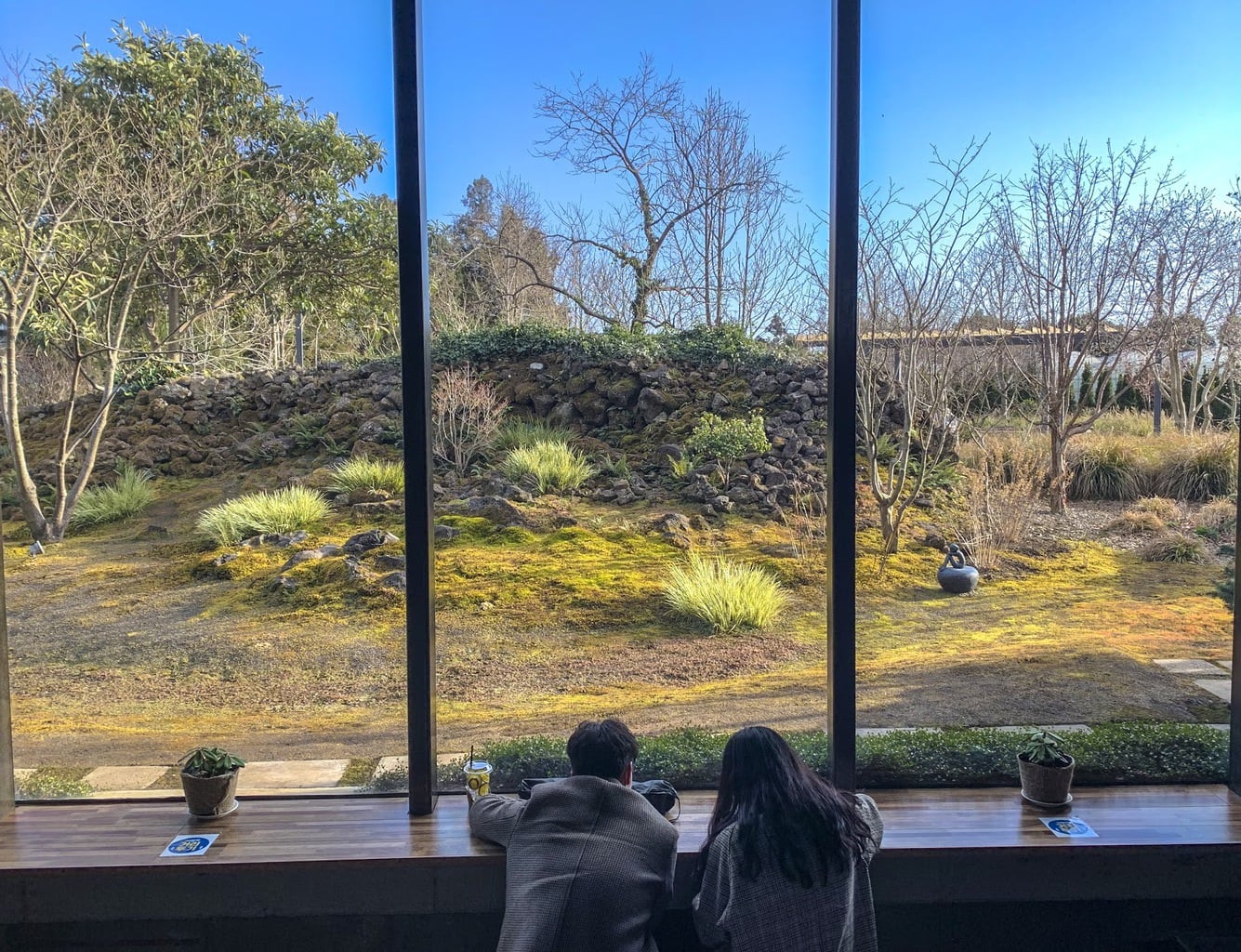 If you can, always try to avoid using public transportation or driving during rush hour which can be from around 7-10am and 5-8pm. Being packed on the subway or waiting to get onto a bus can be quite an uncomfortable experience, so try to abide by these South Korea travel tips on avoiding crowds.
Lunch and dinner times are also extremely busy at restaurants. Like clockwork, the restaurants will all be filled up with people between 12-1pm and 7-8 and then like magic, everyone disappears. Coffee shops also fill up after lunch as Koreans love going to a second destination after the main meal. If you want a good seat at a cafe, arrive during lunch hours.
Pro South Korea travel tips: Avoid traveling to Korea on the biggest holidays Chusoek and Lunar New Year (Seollal) as the entire population goes on holiday, so prices for accommodation are sky high and sold out. Transportation is also sold out as the entire country goes back to their hometowns during these holidays. As these go by the Lunar calendar, the date changes each year. Chuseok is in September or October and Seollal is in January or February.
Weekends are also super busy, so if you can, avoid the major sites on Saturdays and Sundays as there will be loads of foot and road traffic. Weekdays see much less people.
Night clubs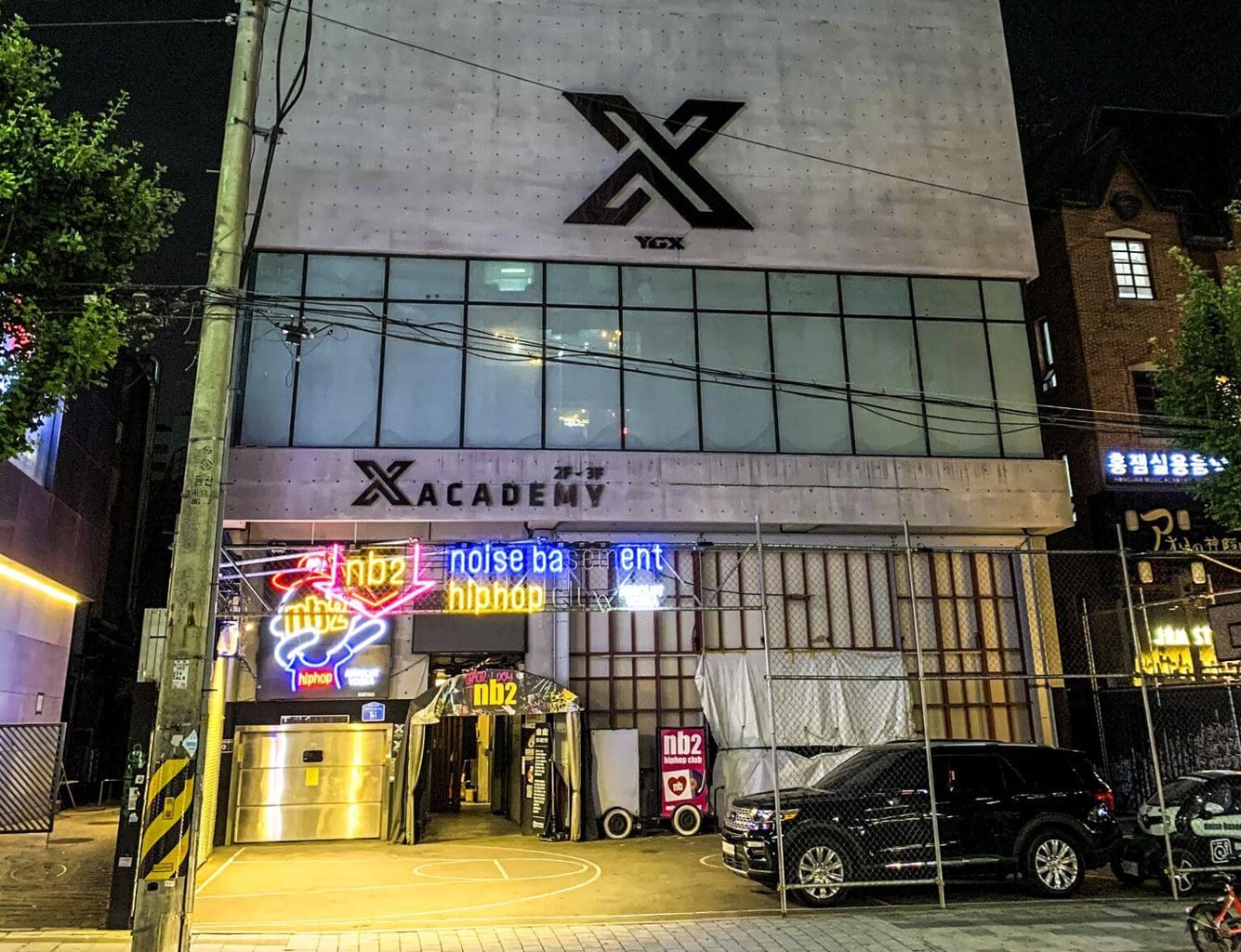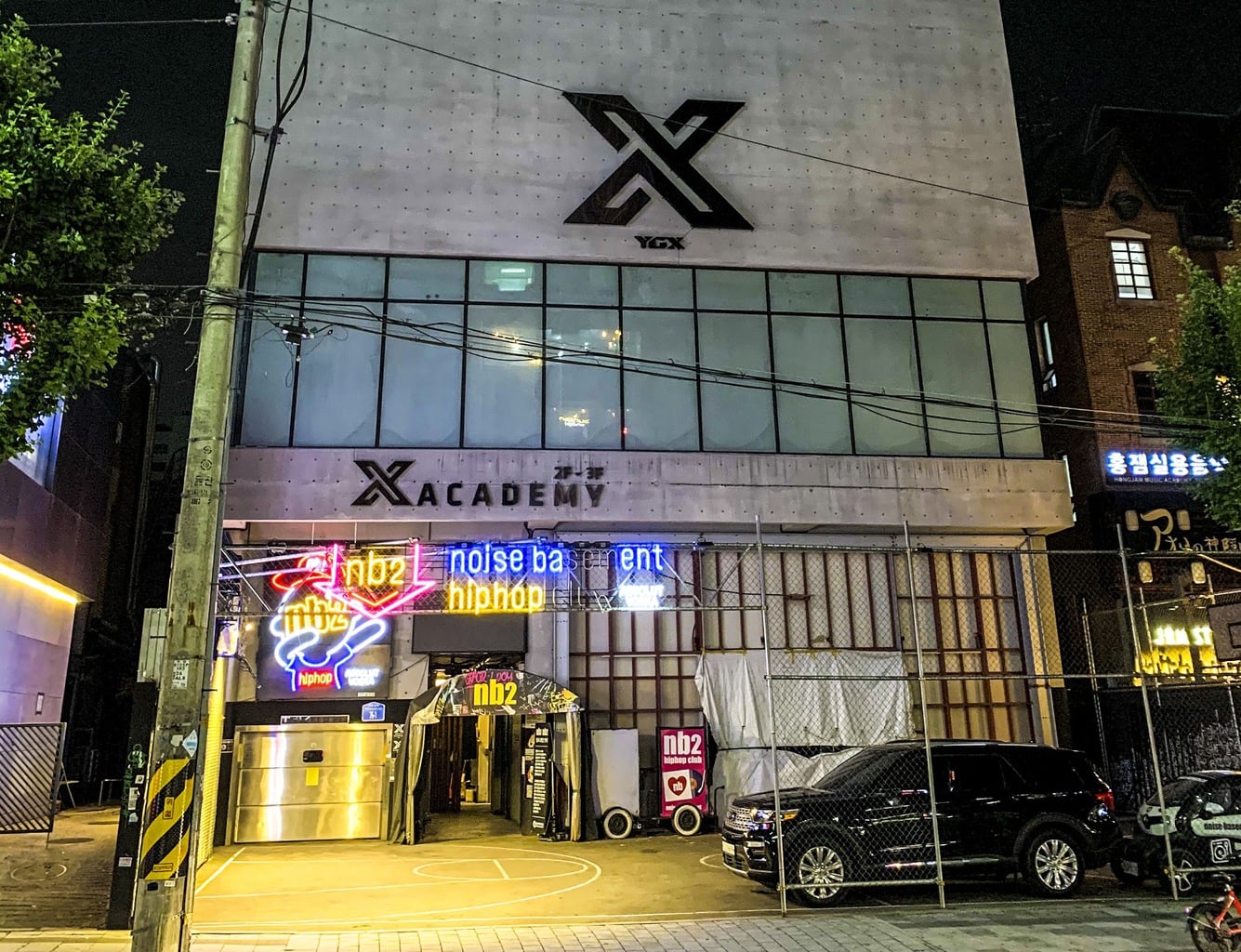 Clubbing in Korea is an impressive experience. Megaclubs are state of the art facilities attracting international DJs and are always a blast.
Pro South Korea travel tips: There have been cases of racial profiling at certain establishments, as South Korea has no legal prohibitions on racial discrimination by private businesses. Whatever the reason, you may be declined entry into particular venues for the way you look. Some clubs, pubs or bars deny entry to US military GIs for example. So just keep this in mind, there is not much one can do about the situation unfortunately. Just try the next venue on your list. If you get aggressive, or act against verbal assaults, know that Korean law most always favors the Korean citizen, no matter whether you instigated or not. Just walk away.
Drinking culture
If you read our Korean facts article, you might be shocked to see how heavily Koreans drink, or that you can get alcohol at any time of the day and can drink in public.
My first experience of drinking culture in Korea was seeing a group of youngish men huddled in a circle throwing up in the centre. Later that night I witnessed a grown businessman passed out on a staircase, cell phone in hand. These are not once-off sights.
It's important to note that alcohol is a social lubricant that cancels out otherwise stringent social norms. It's a way for Korans to open up about their very busy and frantic lives to friends, family and coworkers. If you get blind drunk at a social gathering, it's not uncommon for this to be canceled out Monday morning when you come back to work.
At the centre of most meals is alcohol, usually a bottle of soju (rice wine) or makgeolli (fermented rice wine) depending on the meal. If you end up drinking with a local, you'll also see that you'll move locations quite frequently, especially if it's a gathering of business colleagues. You may have pre drinks somewhereI (il-cha or first round), then move onto your main meal (i-cha or second round), and then head to a noraebang (sam-cha or third round) and beyond.
The heaviness of drinking culture is thankfully shifting in recent years, making it much easier to skip on the alcohol if you aren't a heavy drinker. Older men will still push the alcohol though as old habits die hard.
South Korea food tips
In our next section on South Korea travel tips, we'll move onto one of the biggest draws the country has to offer, the glorious food. See our complete guide to Korean food if you're unsure what there is on offer.
This section provides some tips on dining out, etiquette at the table and a few small things that will make your life a bit easier at restaurants, eating in South Korea is a whole new experience worth enjoying fully.
Matjib Gori (Delicious food streets)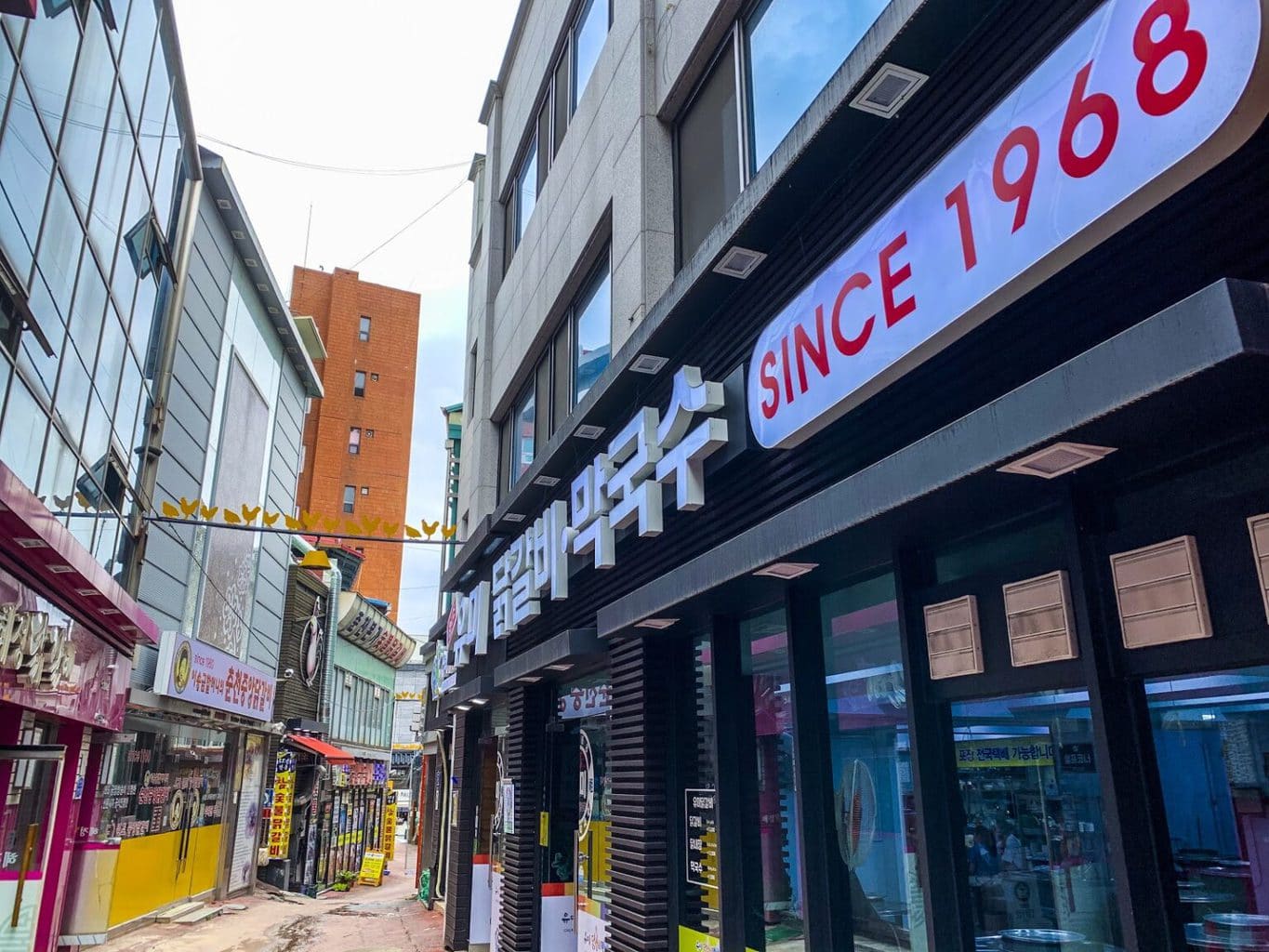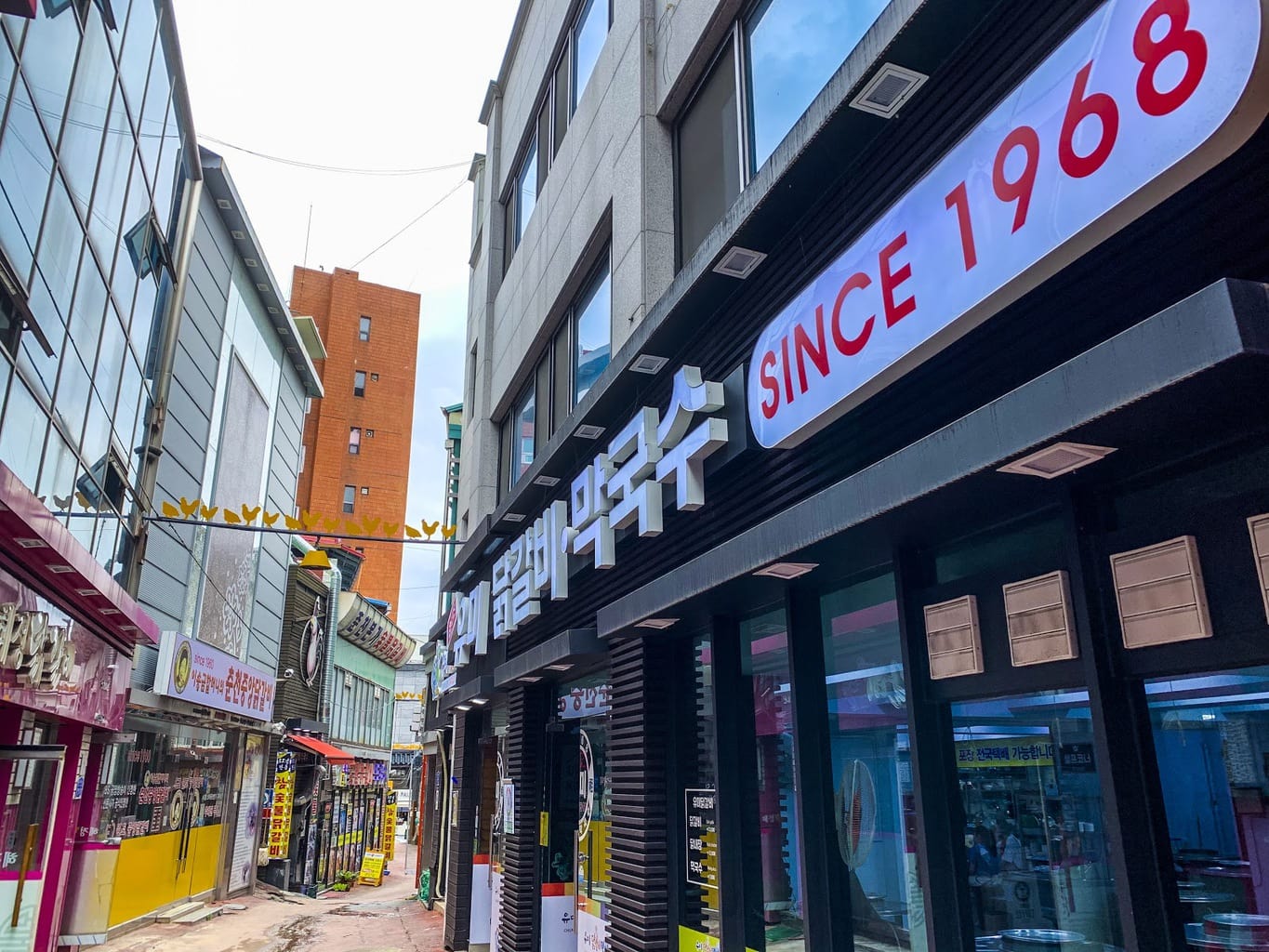 A lot of the tips for traveling to South Korea are for getting the best food. If you read the shopping section above, you will remember that we mentioned above about "fashion streets" or clusters to go shopping at. The same thing goes for food in Korea.
When you hear the expression "matjib" (맛집 – directly translated as "delicious house"), this means a popular restaurant where the food is highly rated.
Restaurant areas, like fashion districts, are usually clustered together where there are hundreds of choices to choose from. These areas will have different names such as matjib gori (matjib street), meokja golmok (먹자골목 – Let's eat alleyway) and so on and are usually situated near business districts or universities. They are lively areas where everyone is eating and drinking in a jovial and social atmosphere.
You will be able to find just about any meal in these areas from Western and Southeast Asian to Indian, fusion and local. As restaurants are clustered together, in Korea, it's not necessarily about visiting a specific restaurant, but rather you select the meal you feel like and then choose a restaurant accordingly. There are also Cafe Streets (Cafe Gori) which have an array of cafes to choose from.
Restaurant breaks between rush hours
Restaurants usually have a break time between meals to prepare for the next rush. If you are visiting a specific restaurant from afar, make sure they will be open. Eateries in malls usually don't have a break time. Just keep this in mind if you choose to eat out of the usual dining times, many restaurants may be closed.
Tipping
One of the greatest things to consider when traveling to South Korea is that is does not have a tipping culture at all. In fact, some people may feel insulted if you provide a tip. The only places I have seen with a tip jar are bars and pubs, but then again, it is not necessary to leave anything. I have been chased down the street by store owners wanting to give me my cash back when I left a tip.
Eating times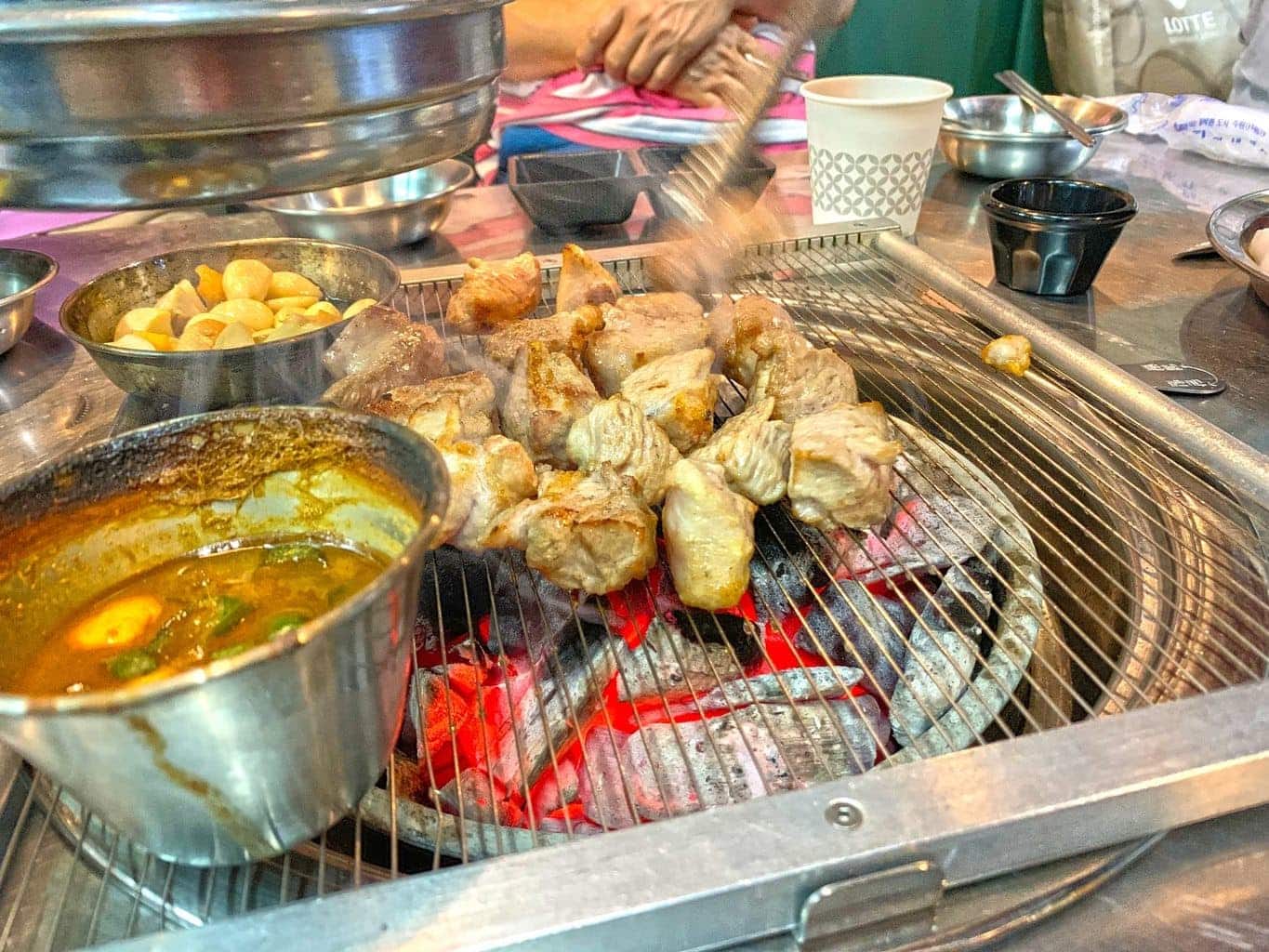 Koreans are trained very well at eating 3 meals a day. For this reason you will find meal times extremely busy. You may have walked into a restaurant at 11:50 to think they are going out of business and by 12:10 you can't even hear the person sitting across from you it's so noisy.
Restaurants also often take breaks between meals to rejuvenate or prepare for the next rush. The door may be open, but they may not be serving food at the particular time you walk in. If it is not meal time and you pop your head in and things look stagnant, you may want to ask if they are serving food. You can say "문 열었나요?" (mun yeol-eotnayo, basically "is your door open?").
Try to arrive early at meal times, which is roughly 12pm for lunch and 6:30pm for dinner. Breakfast is usually eaten at home, so you won't really be struggling early in the morning. In fact, many restaurants only open for lunch and dinner. There may already be queues outside of popular places 30 minutes before meal times for fear of missing out, or as they say in Singapore, kiasu.
Call bells & ordering food
In western countries, your server is usually friendly and chatty as they know this will provide a greater tip. In Korea, servers are exactly that, people to serve your every foodie desire. There is no chit chat, discussing menu options, asking for recommendations and so on. You select what you want to eat and then either shout for service or some larger establishments have a call button on the table which calls for a server.
Pro South Korea travel tips: Don't be afraid to shout "yogi-yo!" (여기요! – over here!) to get someone's attention. You'll hear the response neh! (yes) and a server will come your way. Don't keep them waiting. Ordering food in Korea is a quick process and is done swiftly so as to save time.
Not all servers will speak English, or at least they won't feel confident to speak it. So you can either point at what you want on the menu and say how many you want. They should understand one through ten in English. If the menu is in Korean either ask for an English menu or use the translate image feature on Google Translate. Just know that this may bring some very strange translation results.
Your food will come with the bill which is inclusive of tax. If you want to order something else, go ahead and they will update your bill. Unless the restaurant you are visiting is super fancy, you are expected to order, eat and leave as quickly as possible. Lingering around means less customers and you will feel a very rushed and awkward vibe if you stay around chatting after you have finished your meal. This is what coffee shops are for.
Cutlery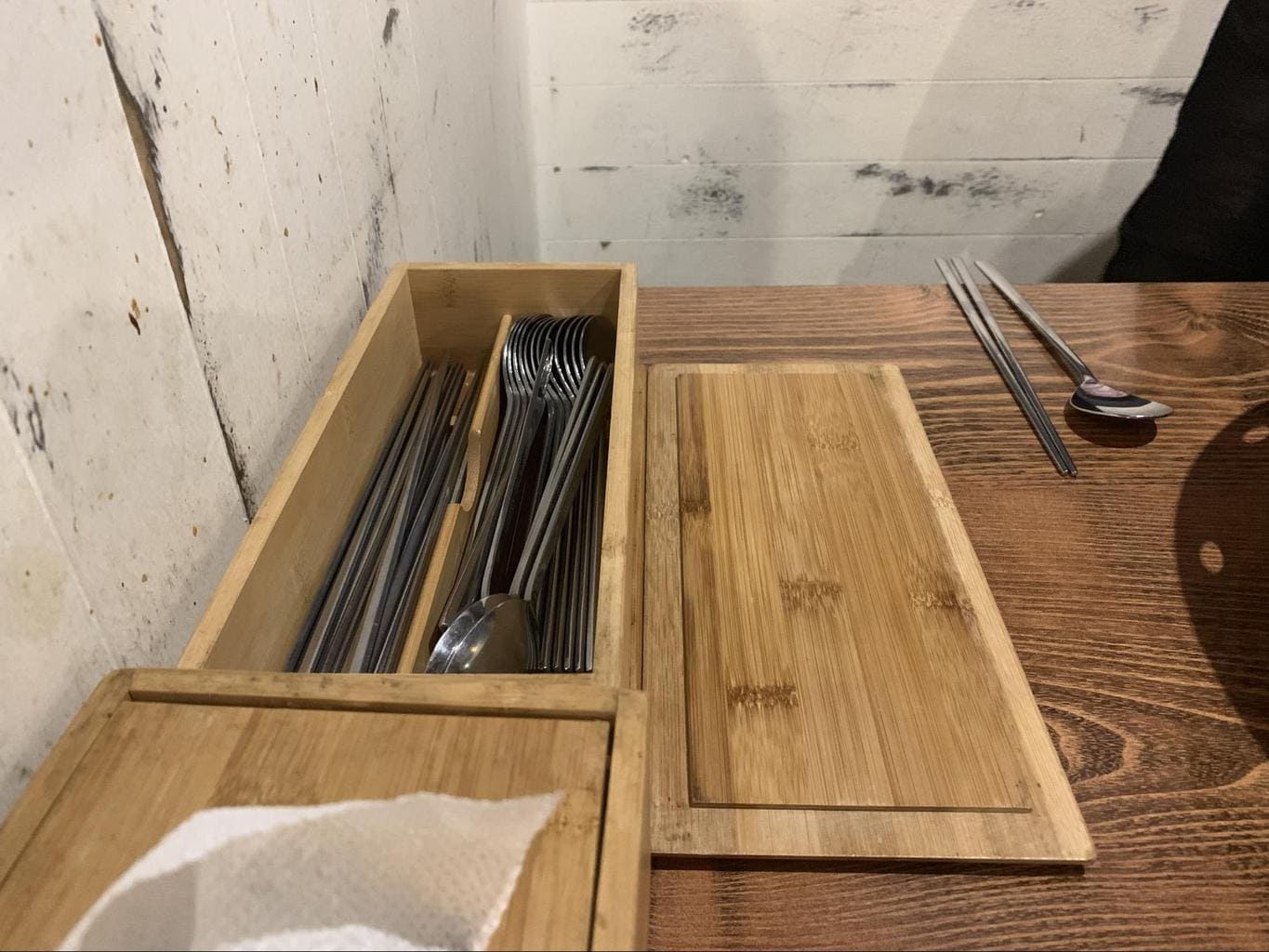 Unless you are ordering Western food, your meal will come with metal or wooden chopsticks and a spoon. Some restaurants offer forks if they see you are struggling, but not all will have. It's up to you to bring your own fork if you struggle with chopsticks.
Sometimes cutlery is hidden out of sight. If this is the case, either it will come with your meal, it may also be in a small container on the table, or it might be in a cutlery drawer underneath the table.
Self water / coffee / side dishes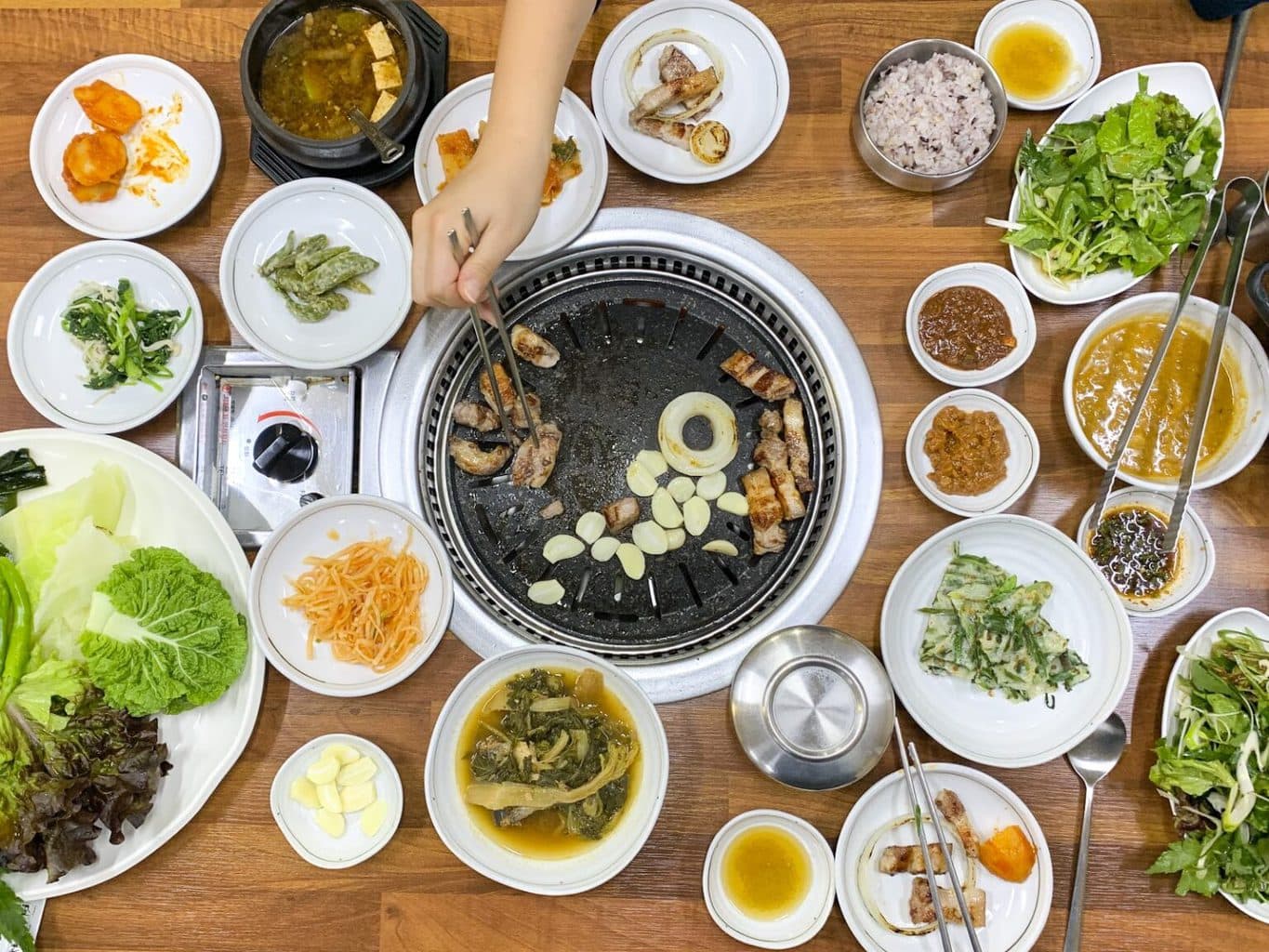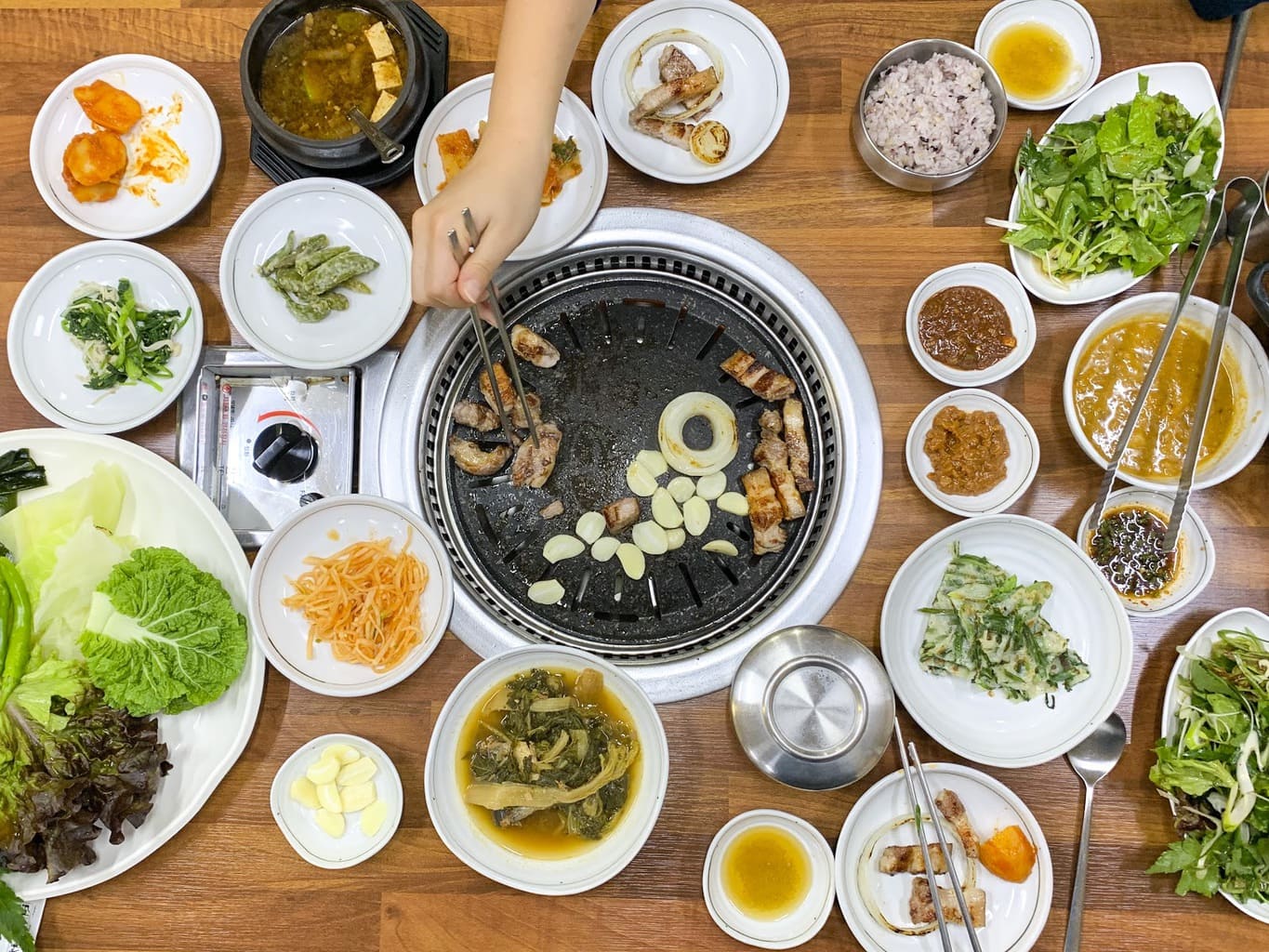 Most restaurants have a free water filtration system. You are expected to collect your own water and if you are with locals, you will also get water for the entire table as a custom. Sometimes there is free mix or capsule coffee too. If it isn't free there should be a price nearby.
Traditional Korean food comes with several side dishes like kimchi or sigeumchi (seasoned seaweed). If you finish one, don't be afraid to ask for more, they will bring it to you for free. Just know that the second helping is usually aggressively larger and you are expected to finish everything. Sometimes side dishes are also self service where you can fill up to your heart's content. Look for the "Self" sign to see if anything is self service.
Vegan & Vegetarian friendly
I am a pescatarian and know very well about vegetarianism in South Korea. When I first arrived there was one single vegan restaurant in the entire country, but now it seems to be coming a new craze. From all the Impossible Burgers sprouting up in the fast food chains to plant-based restaurants, South Korea is becoming more vege friendly.
Beware that if you use ask if something has "meat" in it (gogi in Korean) and the person answers "no", don't be shocked if you bite into a piece of ham. You will have to say that you are vegetarian rather as there are multiple words for various types of meat and Koreans will take you very literally. Gogi means "cow meat", so if it has "pig meat" they will answer you directly.
Broths will 99% of the time contain some form of meat or bones. So if you ask if the kimchi or tofu stew has meat in it, and the answer is "no", what they really mean is, "It was made using meat but doesn't include chunks of meat in its current form".
Join the Seoul Veggie Club on Facebook where you can find all the best plant-based restaurants and food in the city. Happy Cow is another great option to finding the most amazing and avant-garde restaurants that do not have meat on the menu.
Cafe culture – Sitting / working in a cafe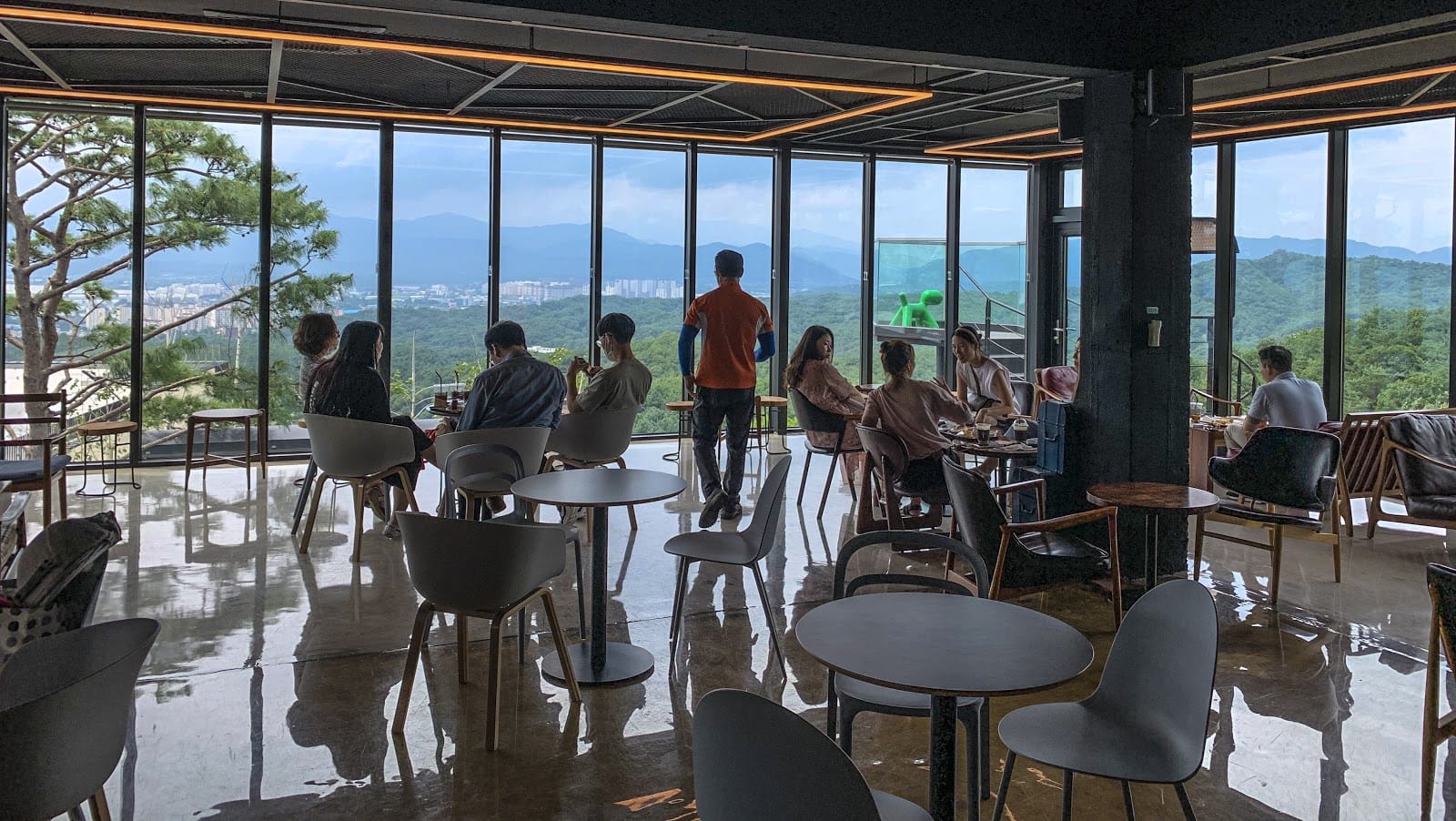 As a digital nomad, this is probably one of my favorite parts about living in Korea. There seems to be an endless stream of cafes and coffee houses throughout the country. It's not an uncommon sight to see five Starbucks on one block, surrounded by other chains like Ediya, Coffee Bean & Tea Leaf or Mega Coffee with a sprinkle of mom and pop stores.
One of the best things about these cafes is that they are a digital nomad's dream with super fast free Wifi, power outlets, bathrooms and pretty comfortable seats. The best part is that, unless you're at a more boutique cafe, you won't get evil stares from the staff when you've been sitting there for several hours.
South Korea also has something called a "study cafe" where you can hire a desk for a specified period of time. Shared workspaces are also popping up in Seoul like WeWork or FastFive. But coffee shops, especially the chains, are still amazing places to go to get some work done. The larger double, triple or even quadruple storey mega franchises are always great if you want a bit of privacy. And this is all for the price of an Americano.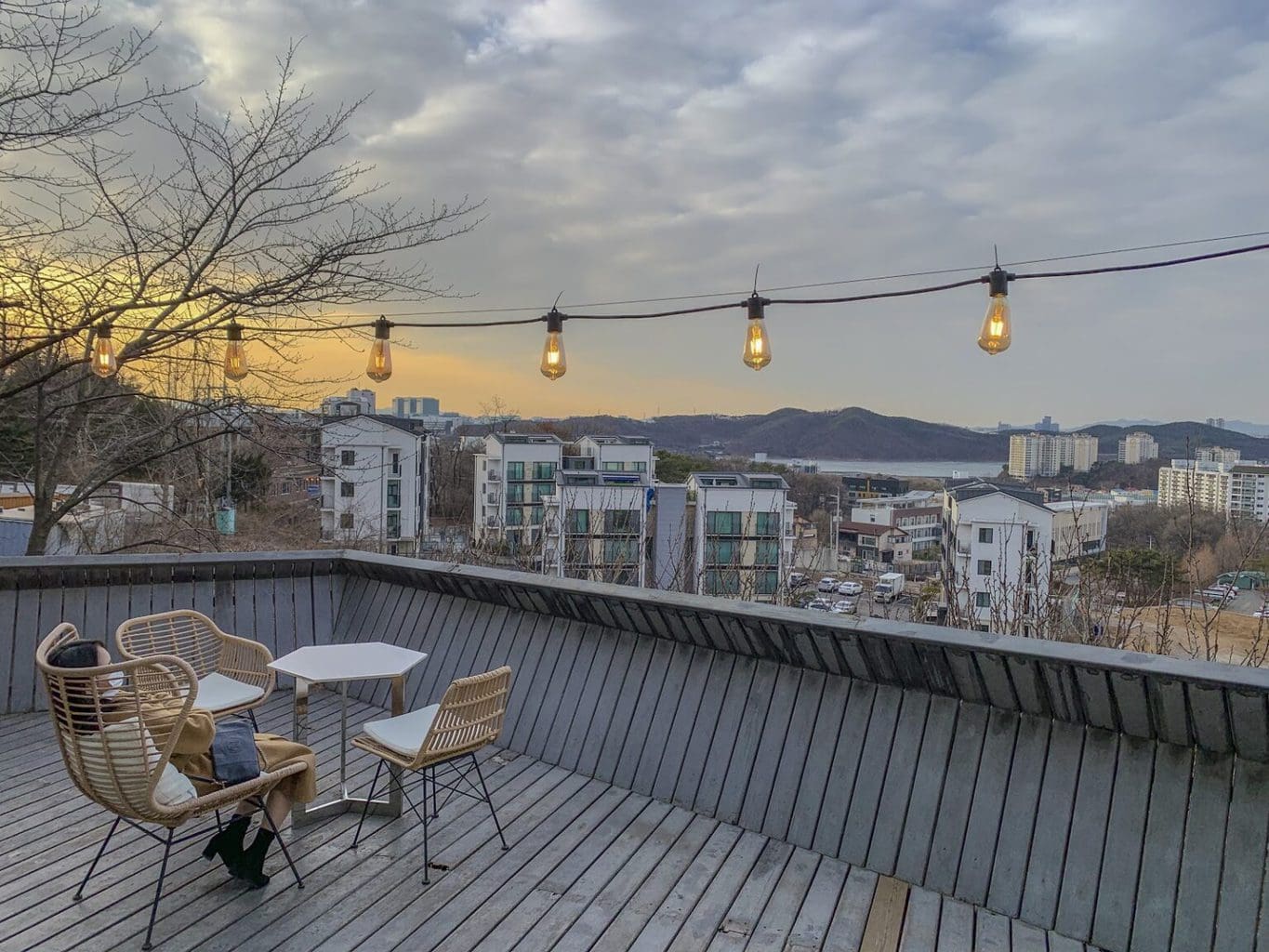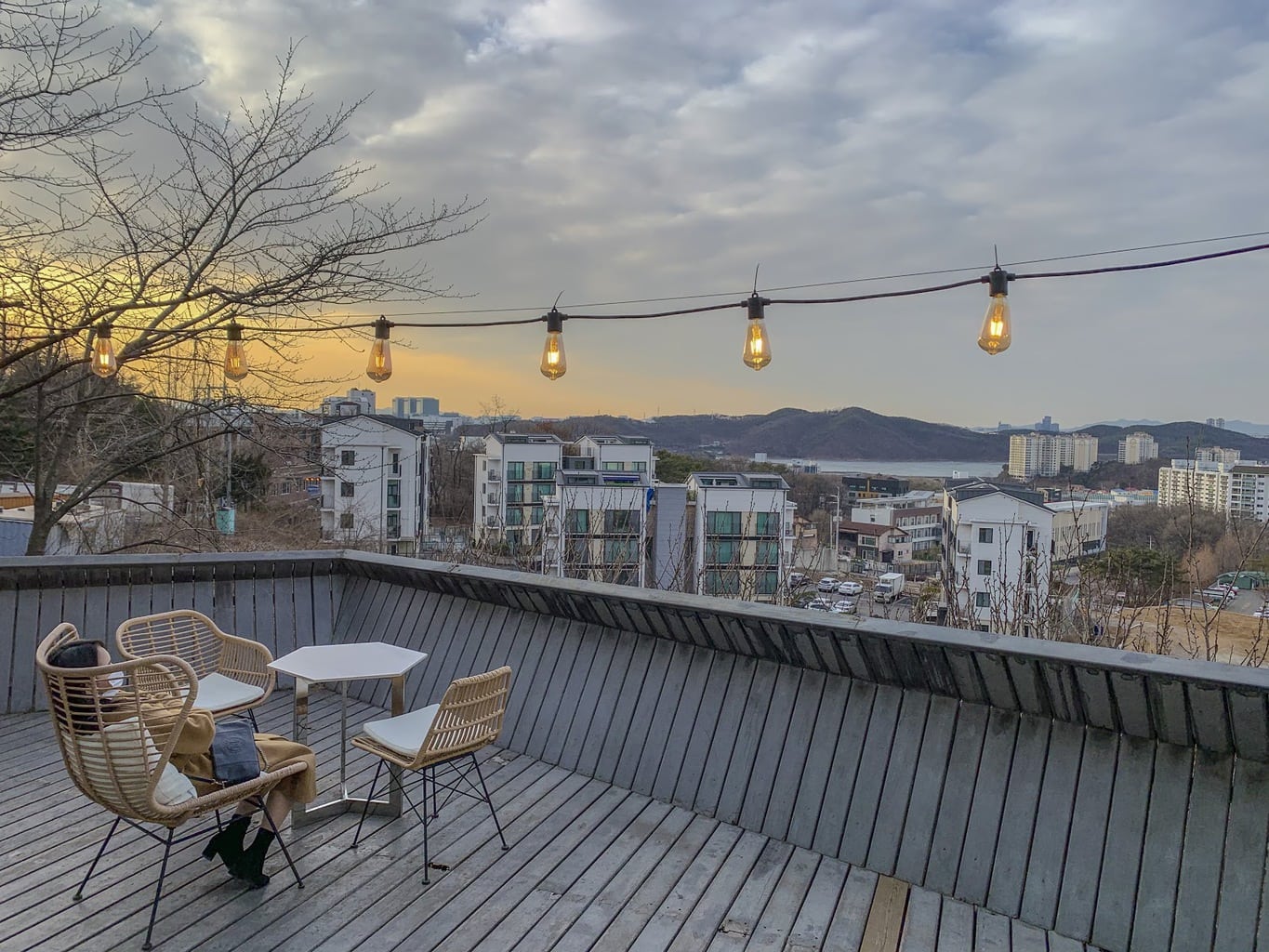 Coffee shops are a little different in Korea than in other countries. They are more focused on dessert and baked goods than brunch and meals, as bread is a dessert food in Korea. So don't go expecting a huge assortment of food.
Cafes also tend to get really busy after lunch as they are usually post-lunch meetup spaces. So if you want to get a seat, try going mid-morning before the rush. And when you're done, always take your mug and plate back to the designated spot, don't leave it on the table. As you can stay in cafes for hours, some places offer discounts for takeaways so that more seats open up, or if you bring your own tumbler.
There are also designated areas in certain districts called Cafe Streets (Cafe gori) which is a cluster of cafes all in one walking street. Great examples include Samcheongdong (near Gyeongbokgung), Buamdong (only reached by bus), a few in the Hongdae / Hapjeong / Sangsu area and a really romantic one near Jukjeon Station in Bundang, Gyeonggi province.
Who pays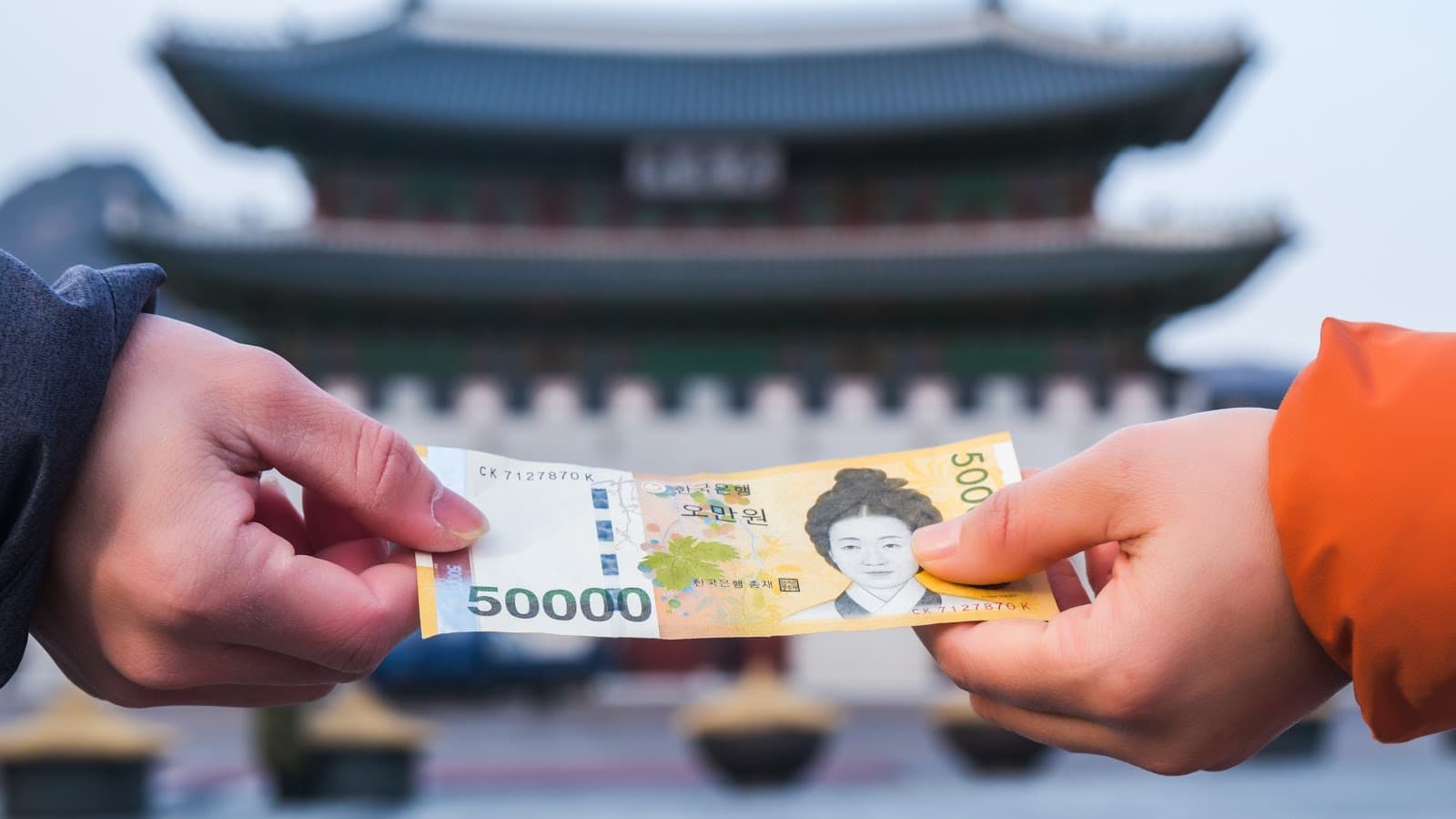 This is one of the most important South Korea travel tips, especially when dining with locals. Dining with others is an art in South Korea. When a Korean person invites you to a meal and at the end the bill is miraculously paid, don't take it personally.
Of course, the situation may differ depending on who you are dining with, but usually the oldest person at the table or the senior of the company will pay for everyone. You can then pay for coffee, dessert, or wherever you go for round two or three if you are younger.
If someone travels to your area, you will need to pick up the check as they have put in the effort, and vice versa. Going Dutch (splitting the bill) is not really a thing here. Although, things are changing a bit with the younger, more worldly, generation. But still, expect an awkward pause or a bit of a struggle if you say "Shall we split?"
You may need to be quite sneaky if you want to pay for a meal. The best is to say you're going to the bathroom and then you take the bill with you to the counter to pay. Expect to be berated and shouted at by the oldest at the table if you do pay as you may have disrespected their honor. It's all about knowing the person you're dining with. I still have no clue when I'm supposed to pay for my Korean in-laws.
Pouring drinks, dishing food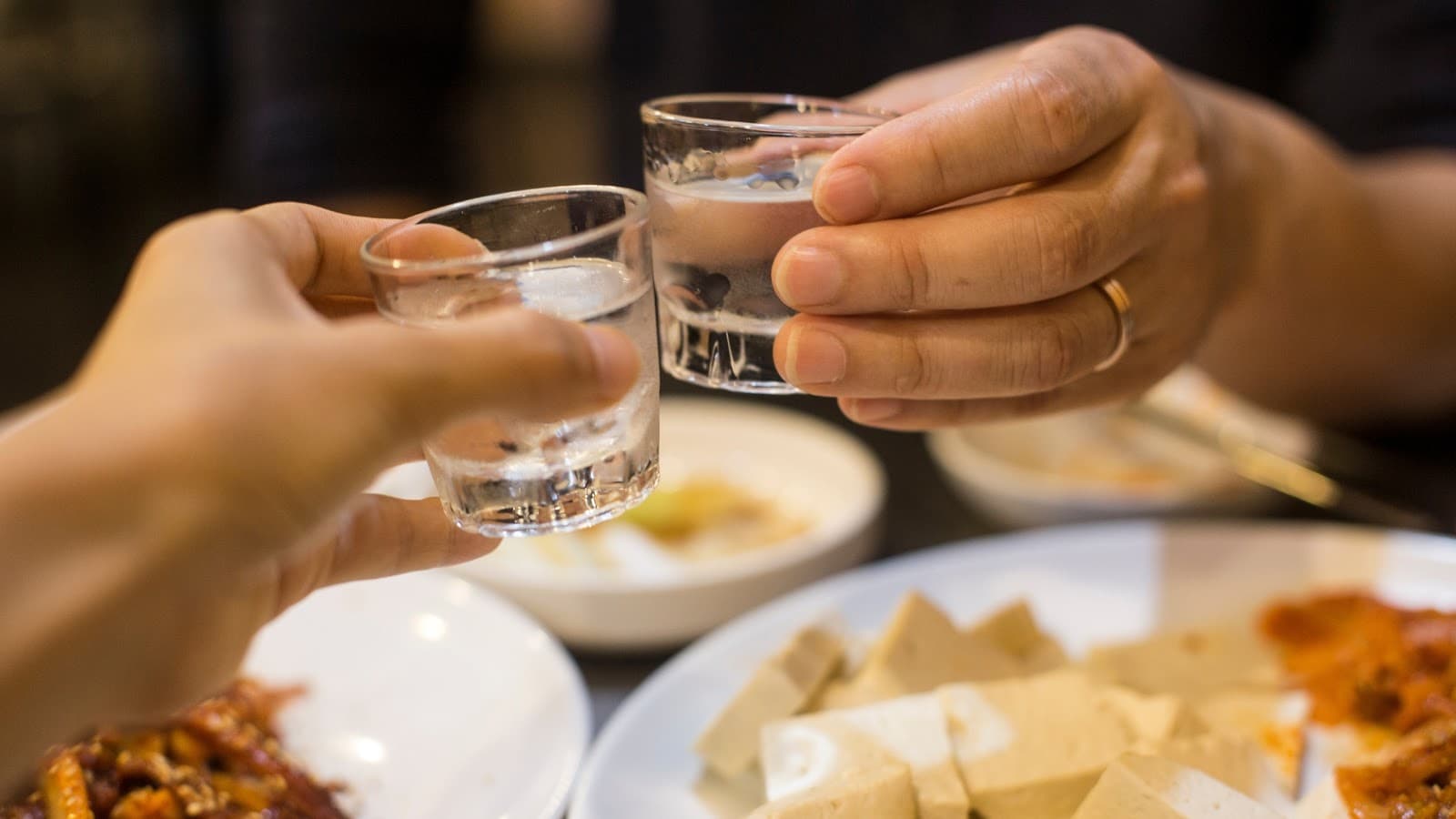 Drinking is a serious and subtle art in Korea. The most important thing to know is that you don't decline a drink from someone who is older than you unless you have legitimate religious or health concerns. You are also expected to keep up with the oldest, having as many shots as them. One cheat is to sip slowly and always leave some alcohol in your glass. If your glass has liquid in it, it will not be topped up.
If you are the youngest, keep a hawk's eye on the other diners' glasses. It is customary to pour for other people and to always top up when the glass is empty. You pour with one hand, the other hand holds onto your arm or rib while you pour. To receive a drink, hold your cup with two hands. When taking a sip it is customary for the younger individuals to turn their heads either to the right or away from the table, covering your mouth with your left hand as you drink. If someone is topping you up and it is enough, gently lift your glass up to inadvertently tell them "it's enough". When toasting, say "geon-bae".
As with alcohol, if your dish is empty, it means you want more. Always leave a bit of food on your plate if you're done. If you see others with empty plates, you can take some of the shared food and place it on their dish. If one of the side dishes is empty, call the server and ask for a top up – the table will be very impressed with you.
Before the meal, you can place tissues at the table and then lay out the chopsticks and spoons as well. If there is self service water, you can pour a glass for everyone at the table.
The importance of sharing & communal eating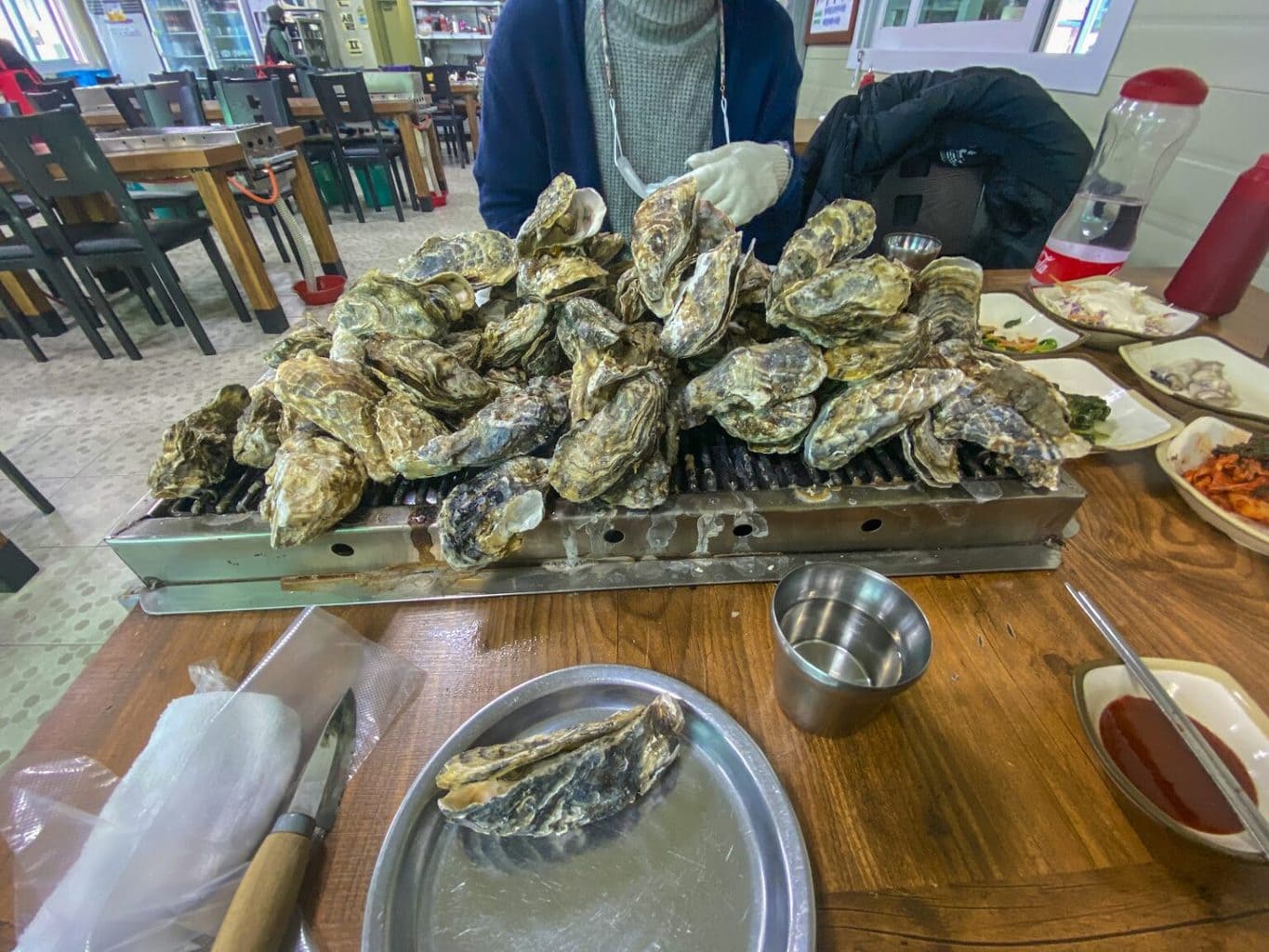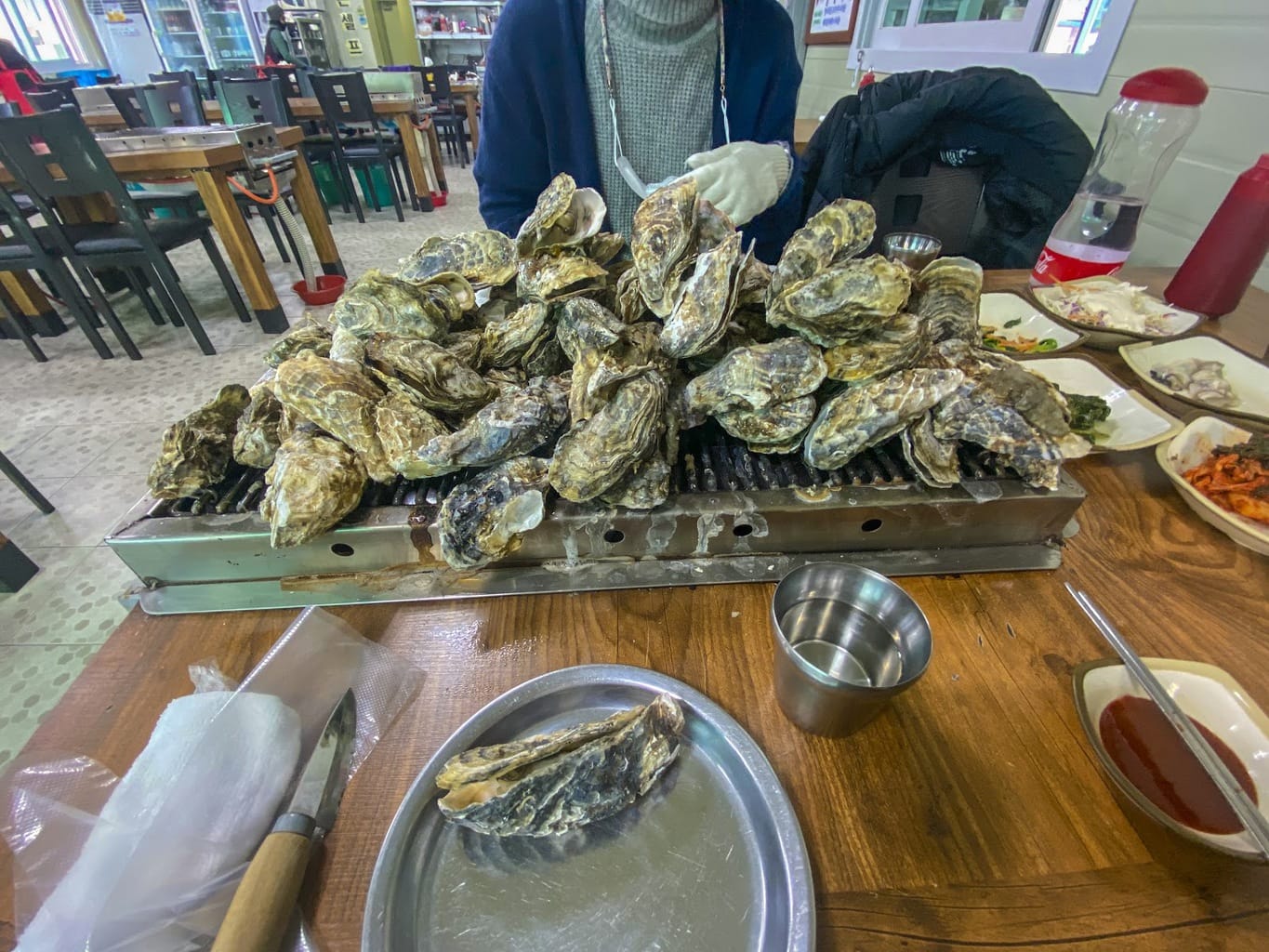 Following from the previous point, you should know that eating with company in Korea is a shared experience. This means that you will sit around a table and order a meal for everyone to share, unless it is a Western style restaurant. This is exemplified by Korean BBQ where you sit at a round table, cooking a meal for everyone to eat.
Side dishes, main courses and desserts are all shared. This takes quite a bit of getting used to if you come from the West where it's all about the individual. Dining is not about "what do I feel like today", it's more about sharing time together and eating "delicious food".
So what constitutes delicious in Korea. Healthy and fresh are the words that come to mind. You will find that Korean food has much less sodium and sugar than other countries, so expect a bit more of a dull taste. Over time your palate will change and when you return to the West everything will taste processed and unhealthy.
You will most likely never be invited to eat at a Korean person's home as this is not the norm for the culture. To dine with a Korean is to learn a lot about the culture and the traditions.
Street food & pochang macha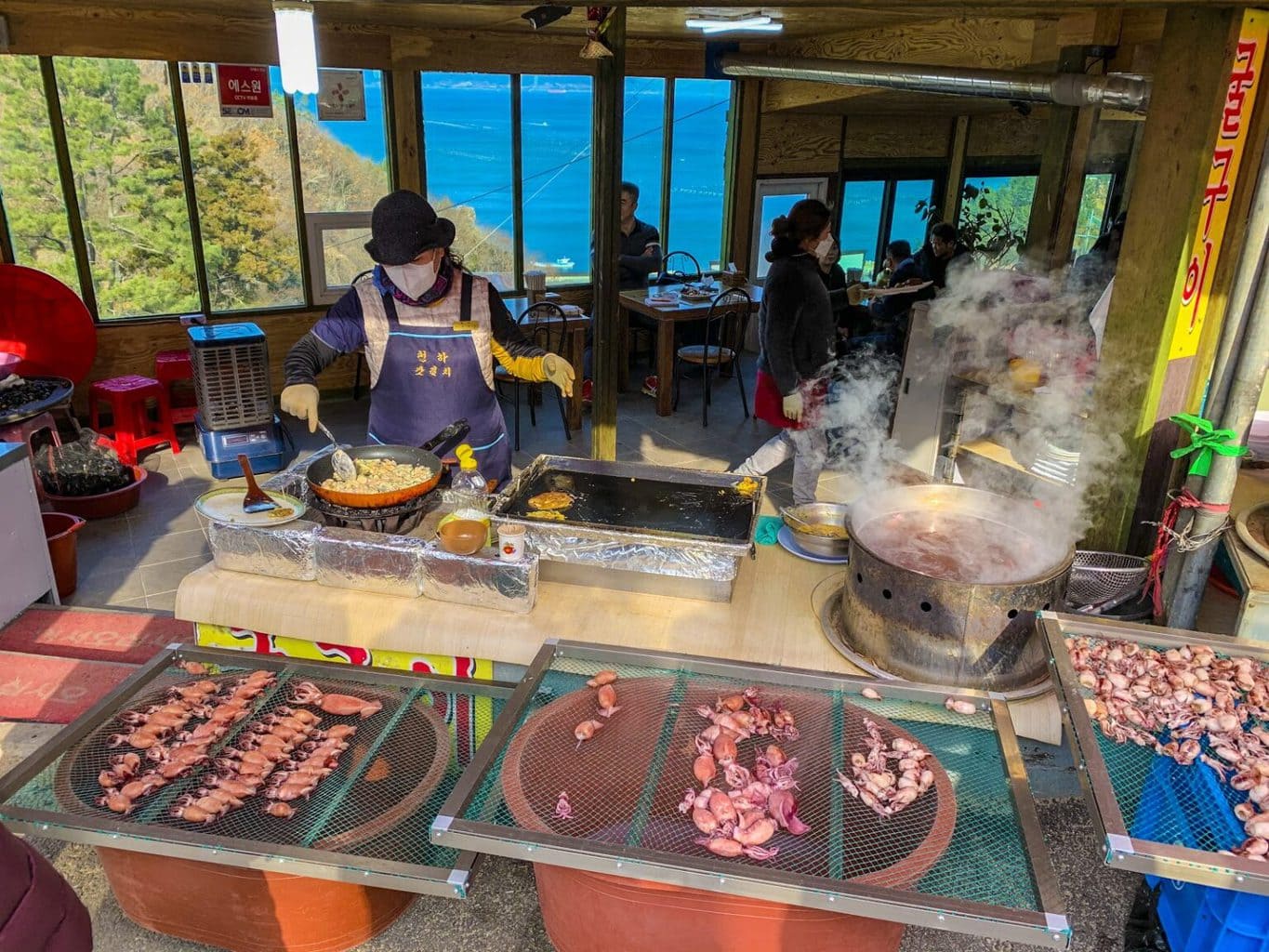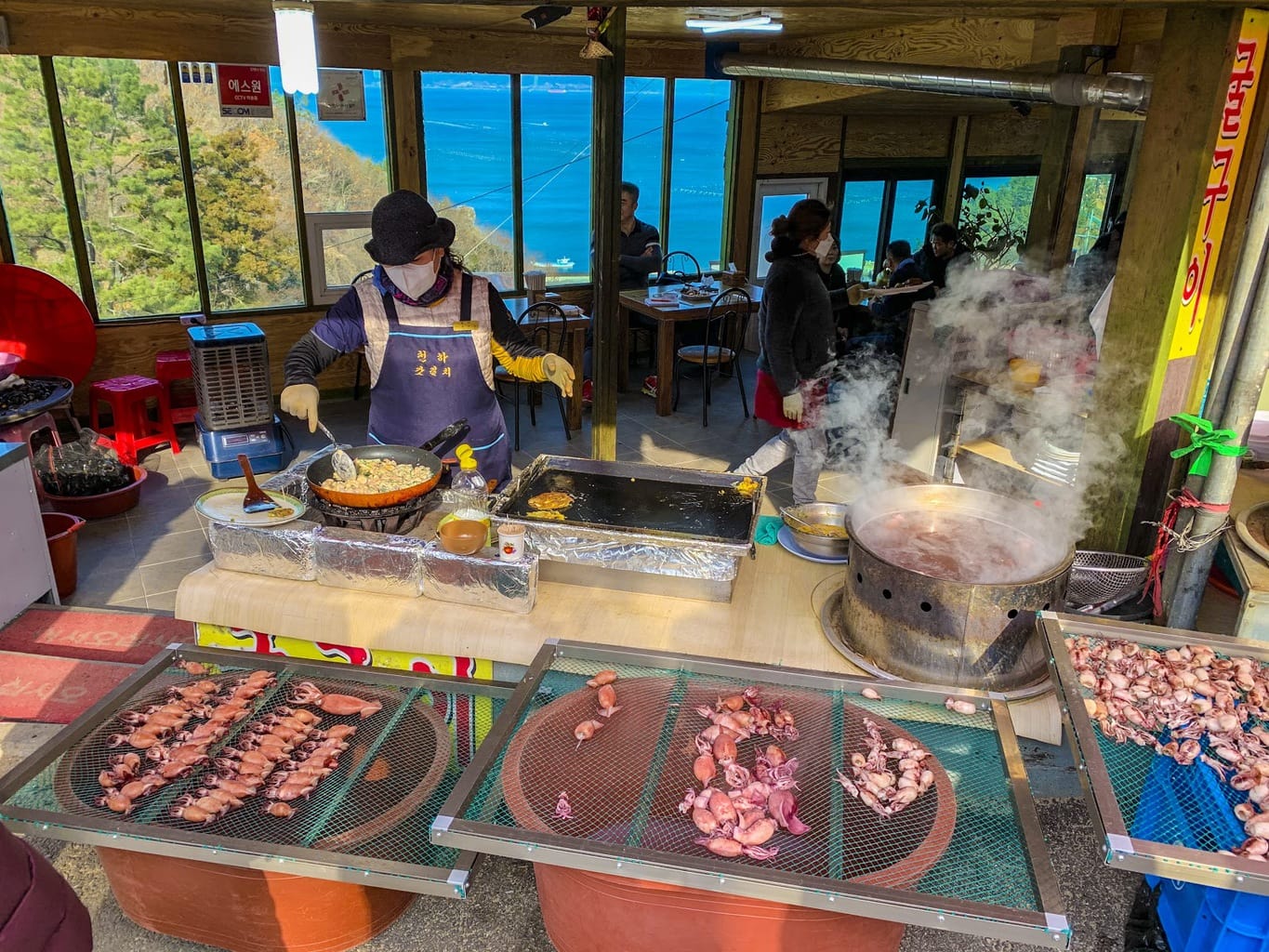 A top experience in Korea is to dine on some deep fried, sugary street food at a pochang macha. Pochang macha are street food vendors housed in makeshift clear tented apparatus. They are either set up randomly around the area or at a specific location like Jongno 3-ga Pojangmacha Street, Namdaemun or Gwangjang Market, or even underground at Jamsil Station.
We will not tell you what amazing food to find or where to find, that's all been written in our article on the Best Korean Food in the street food section. What we focus on here is street food dos and don'ts.
Eating street food at a pochang macha will be a different experience depending on the type of establishment. Some places you sit down, have a few drinks and eat multiple courses. Other places you stand, munch down your meal as fast as possible and leave. If the pochang macha has seats and it's night time, it's usually a longer affair.
Unless you're in a very touristy area, English will most likely not be spoken, so you will need to know how to order your food in Korean. Some vendors will have card machines, but it's always best to pay in cash so that they don't have to incur any fees.
If you're eating tteokbokki (spicy rice cakes) and odeng tang (fish cake soup) from a wheel cart vendor, know that you can drink as much of the soup as you like, just use the ladle and dish up for yourself. Know what you want to order and how to order before you go up to the cart as the vendor will not be patient. Don't even expect them to look at you, just shout your order and pay the money. Eat there or take it away, the choice is yours.
Ordering food at a pub, bar or hof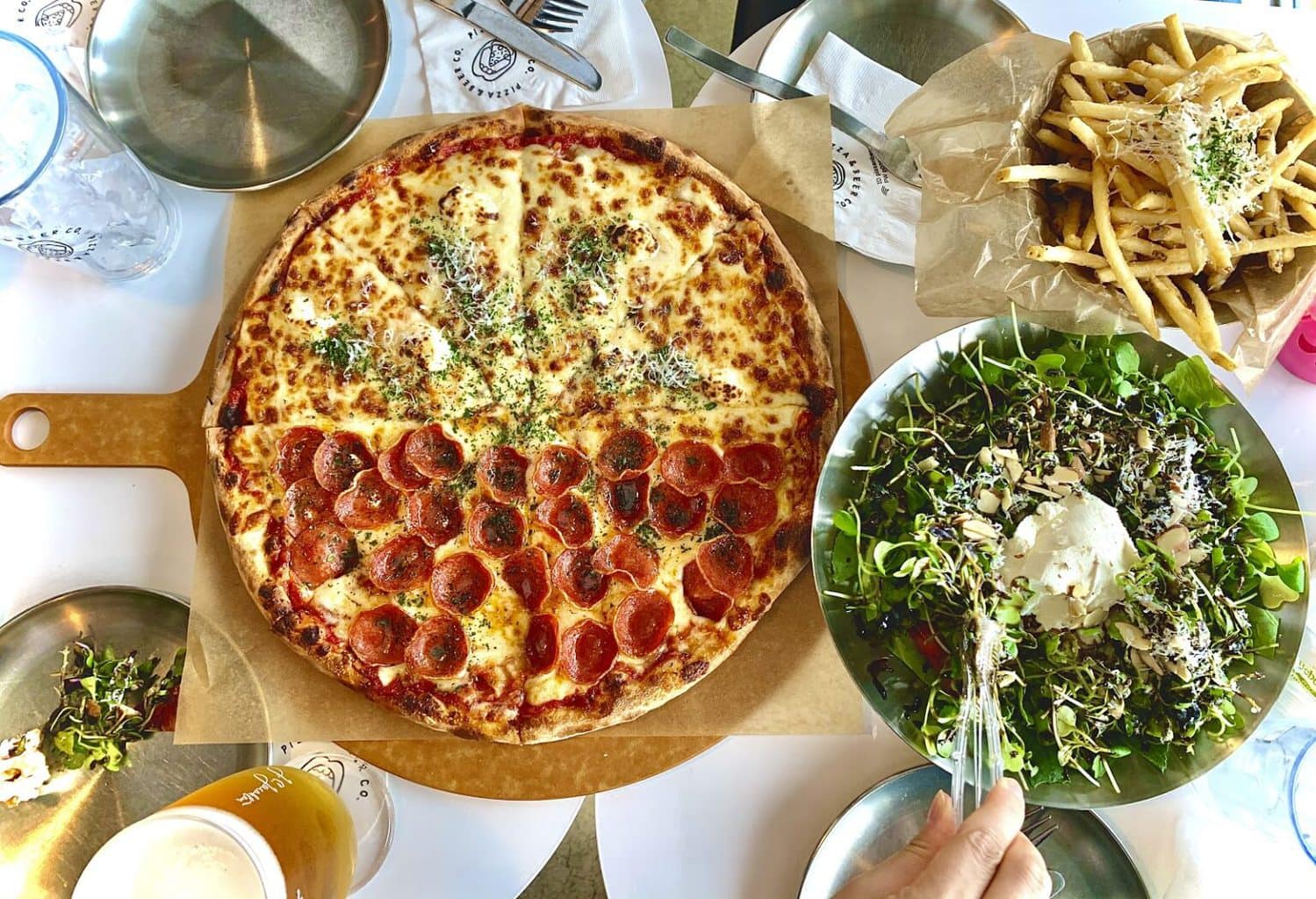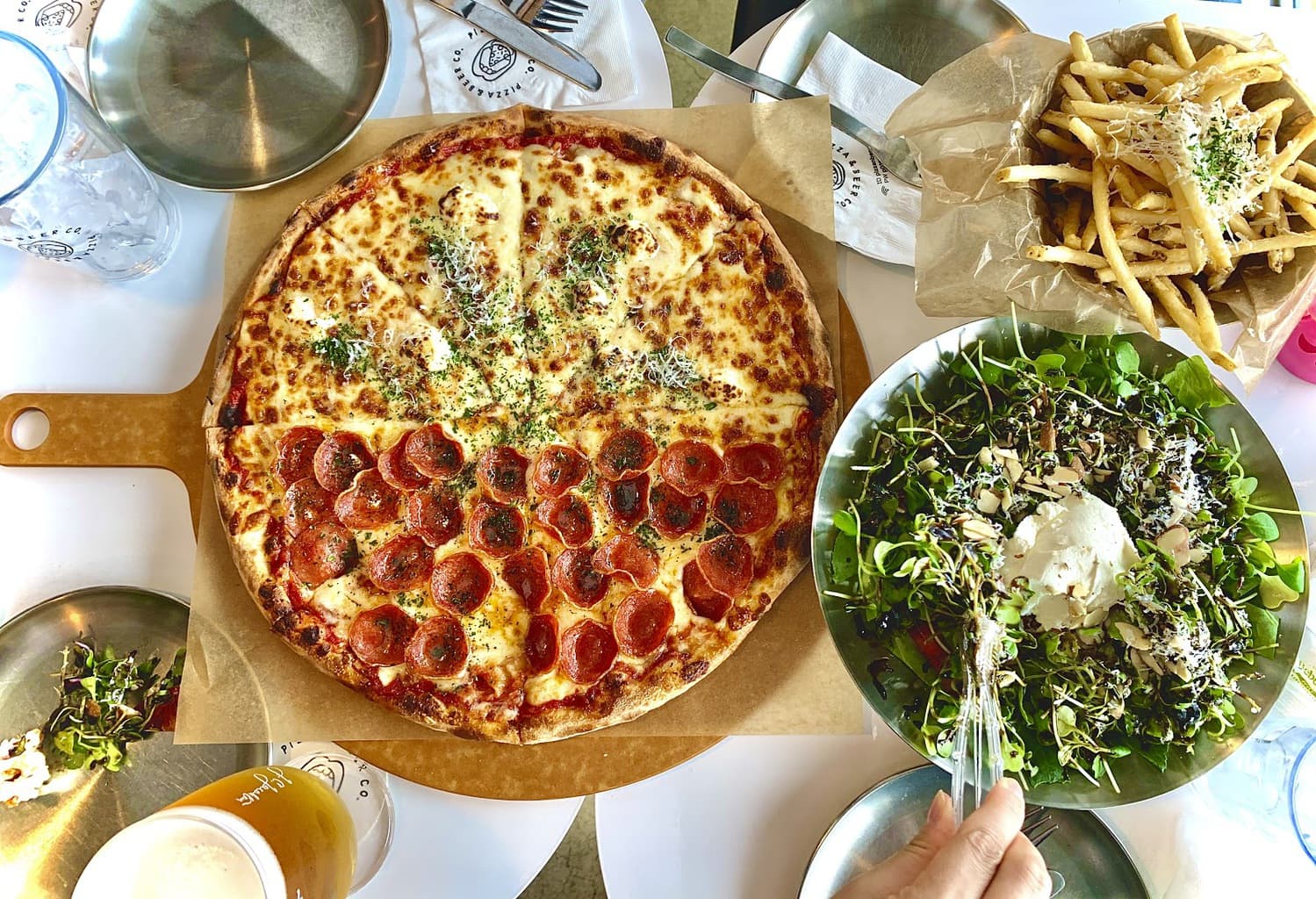 The biggest difference between going to a bar in the west and one in South Korea is that you're expected to order food with your drinks. The type of food will depend on the establishment ranging from Western style finger food to Korean snacks to full on pub food.
One thing for sure is that you will at least need to order one thing off the menu along with your drinks, even if you've just had a gigantic meal a few minutes before. The words pub, bar and hof are basically used interchangeably to mean a watering hole with snacks.
Sometimes there will be electronic dart boards and other fun stuff too. These days wine bars are also gaining in popularity. While they are usually pretty pricey, there are some cheaper ones like the Wine Han Jan franchise.
South Korea travel tips on etiquette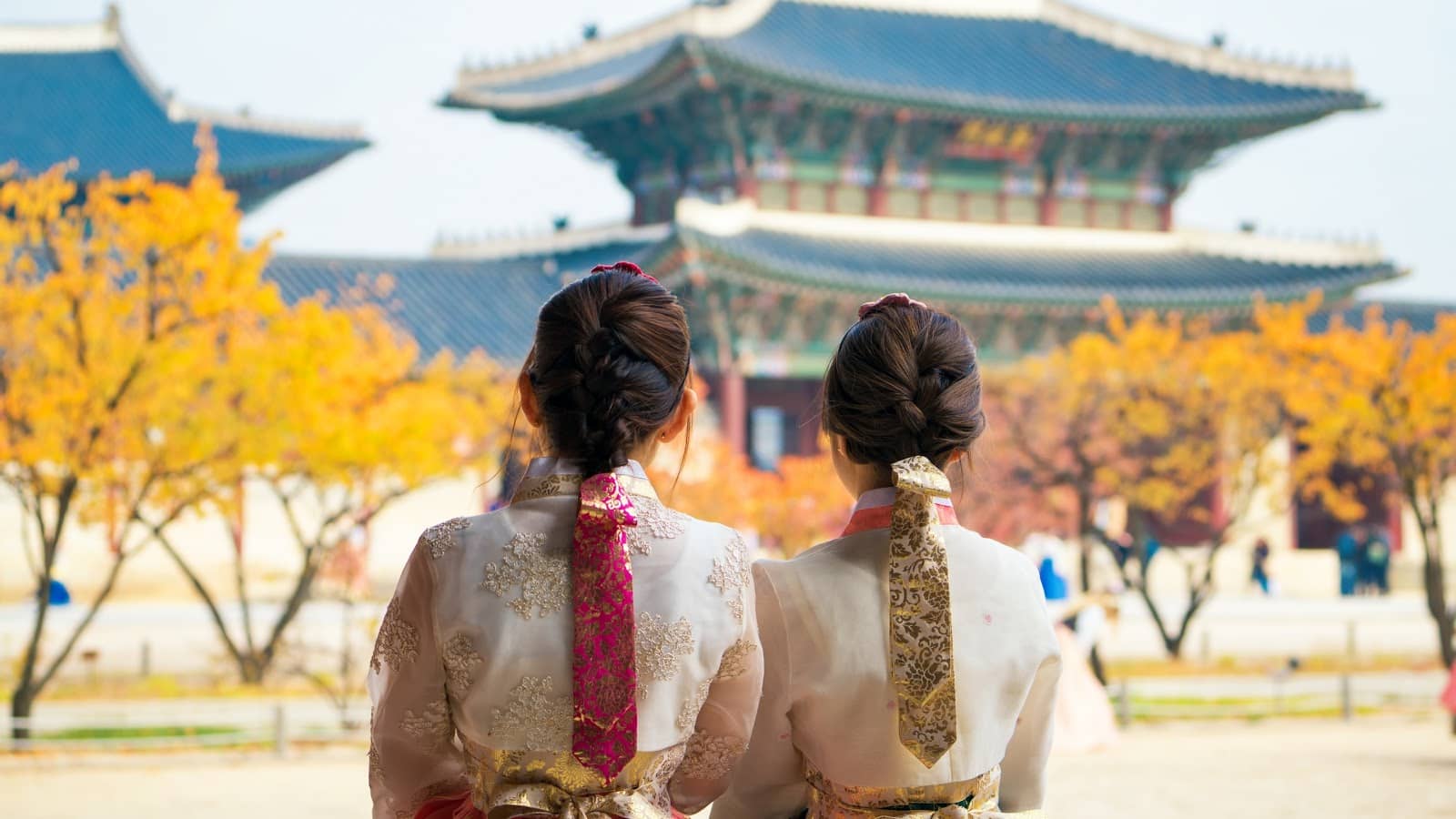 While a lot of Korean etiquette has been discussed throughout the article already, we thought it would be nice to have some general etiquette tips so that you don't commit too many cultural faux pas.
As you saw in the food section above, there are a lot of intricate dining and drinking musts that are interwoven into the culture. The biggest take away is that you need to respect your elders. This is shown most noticeably in the language where the wording will actually change depending on whether you're speaking to someone older or younger than you, whether they are senior or junior at your company.
While you most likely won't be learning the language on your trip, respecting your elders is evident in other areas of Korean life. For this reason, one of the first questions Koreans ask is your age. This is not considered rude, in fact, it would be rude not to ask as you may be speaking impolitely by using the incorrect phrasing.
Respect for your elders and also the patriarchy has its roots in Confucianism which places emphasis on family, personal betterment and respect for age and authority. It is the reason why Korean women may seem more timid, why the elderly are treated so well and why everything in Korea is about family and the community.
If you come from a Western country, which places more emphasis on the individual, this may be quite a shock to the system. My advice would be to go with flow, silently observe the difference in culture and don't visit Korea with the idea that an entire culture with thousands of years' history should change to suit your "modern" needs.
This may sound harsh, but many Westerners visit without considering that things will be vastly different which leads to anger and rage. Visiting Korea is a chance to really explore a wonderful nation with many great practical positives that you can take home with you.
No doubt you'll witness the harsh elbows of the furious ajumma at the bus stop (ajumma is the word for "aunt" but is basically a stereotypical middle-aged to elderly woman), the politically incorrect meanderings and wind breaking of the ajeossi (like ajumma, but for a man), the leech-like store clerk following your every move and the handbag carrying 20-something man. Soak it all in, be attentive, let things slide and you will have a wonderful time.