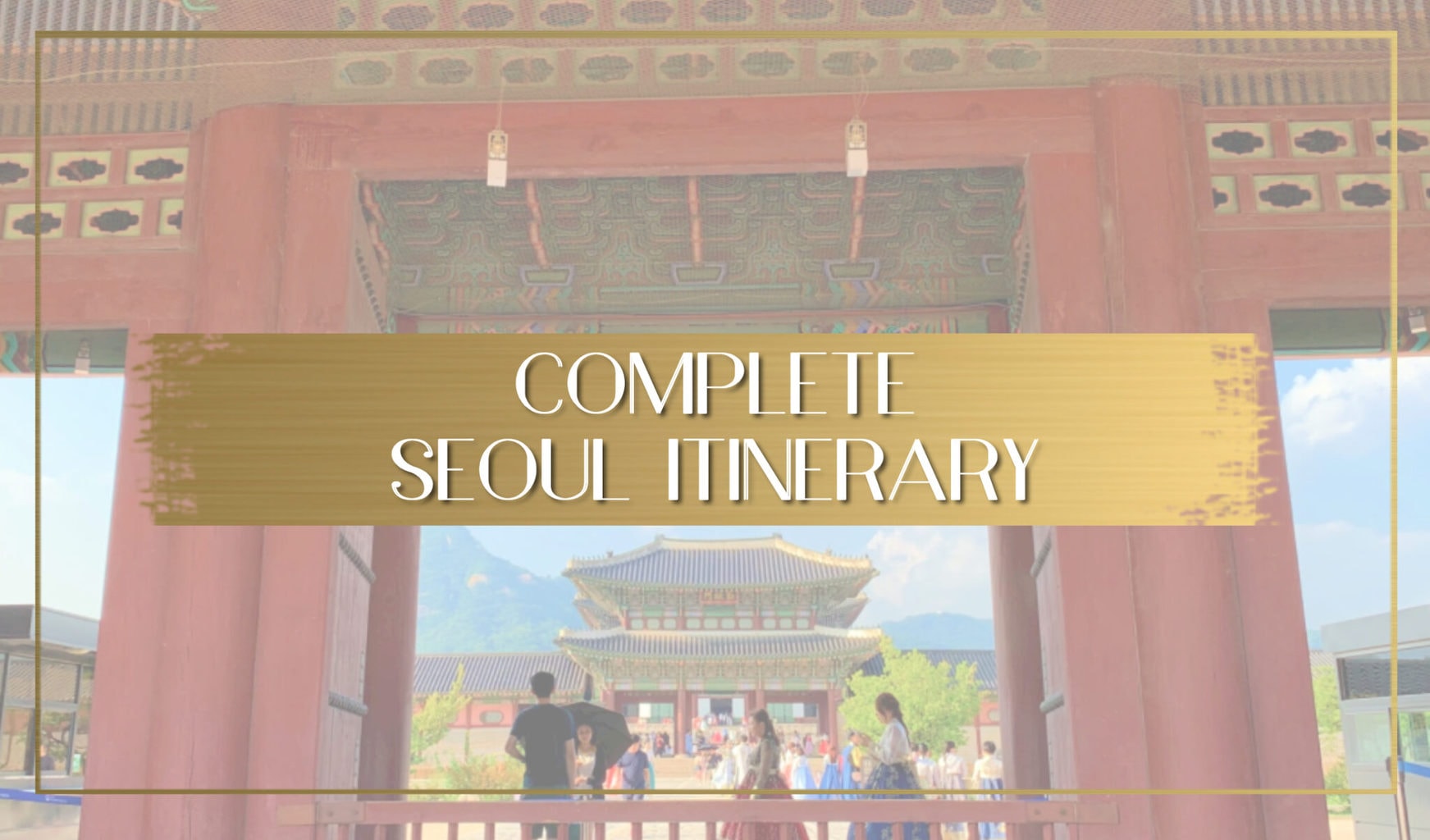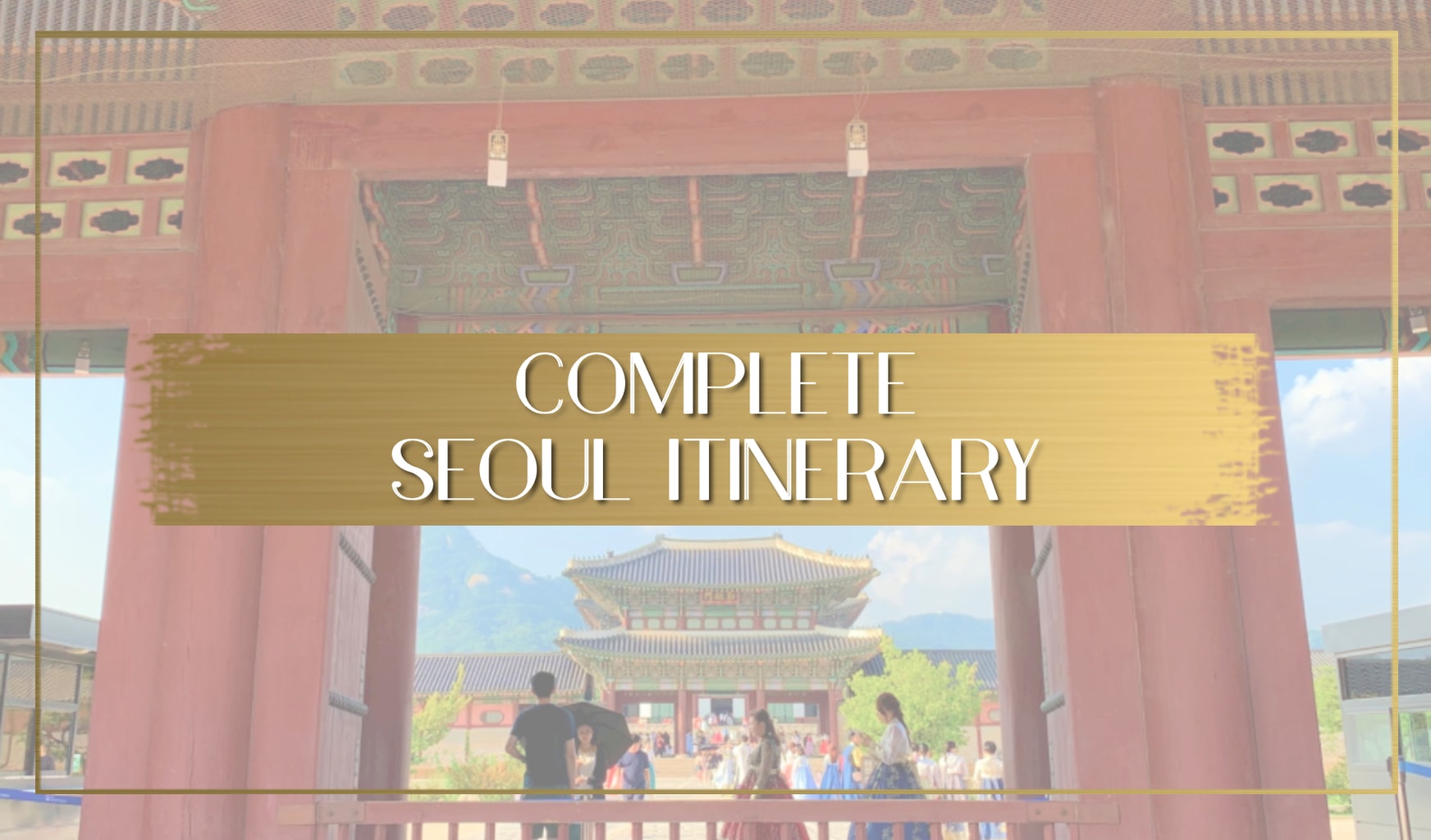 Seoul is a huge city with lots to see and do and that means that you should plan your time there wisely. In this article we will discuss the perfect Seoul itinerary whether you are spending 2 days, a week or anything in between.
The capital of Korea is one of those cities where you can happily get lost for hours and hours without worrying about getting stranded or fearing for your life. It is safe, well connected (online and transportation), always on and filled with surprises at every turn. But it is also huge.
This is why we recommend that any Seoul itinerary follow a well laid out geographical plan so that you can fit the most into your journey in a logical and efficient way. With the help of several apps, you can keep track of how many minutes a bus or subway train will arrive so you really can plan your Seoul itinerary down to the very last minute.
While your itinerary for Seoul will greatly depend on your type of travel, our suggested plan follows the major tourist attractions with a few personal under-the-radar suggestions. If you're a foodie, a nature lover, an influencer or a history buff, there's something for you as our suggested Seoul itinerary has a bit of everything Seoul has to offer.
One week Seoul Itinerary (with map)
If you have one week in Seoul, you will have the chance to see most of the best things and then spend some time in the outskirts doing some day trips. To make the most of it, we recommend traveling by area, but you can always skip something or change things around to suit your travel needs.
The map below has the places recommended in this one week itinerary but remember that Google Maps is not great for directions in Korea, so copy the name of the place and paste it on Kakao or Naver Map
Day 1 – Central Seoul: Seoul's most famous sites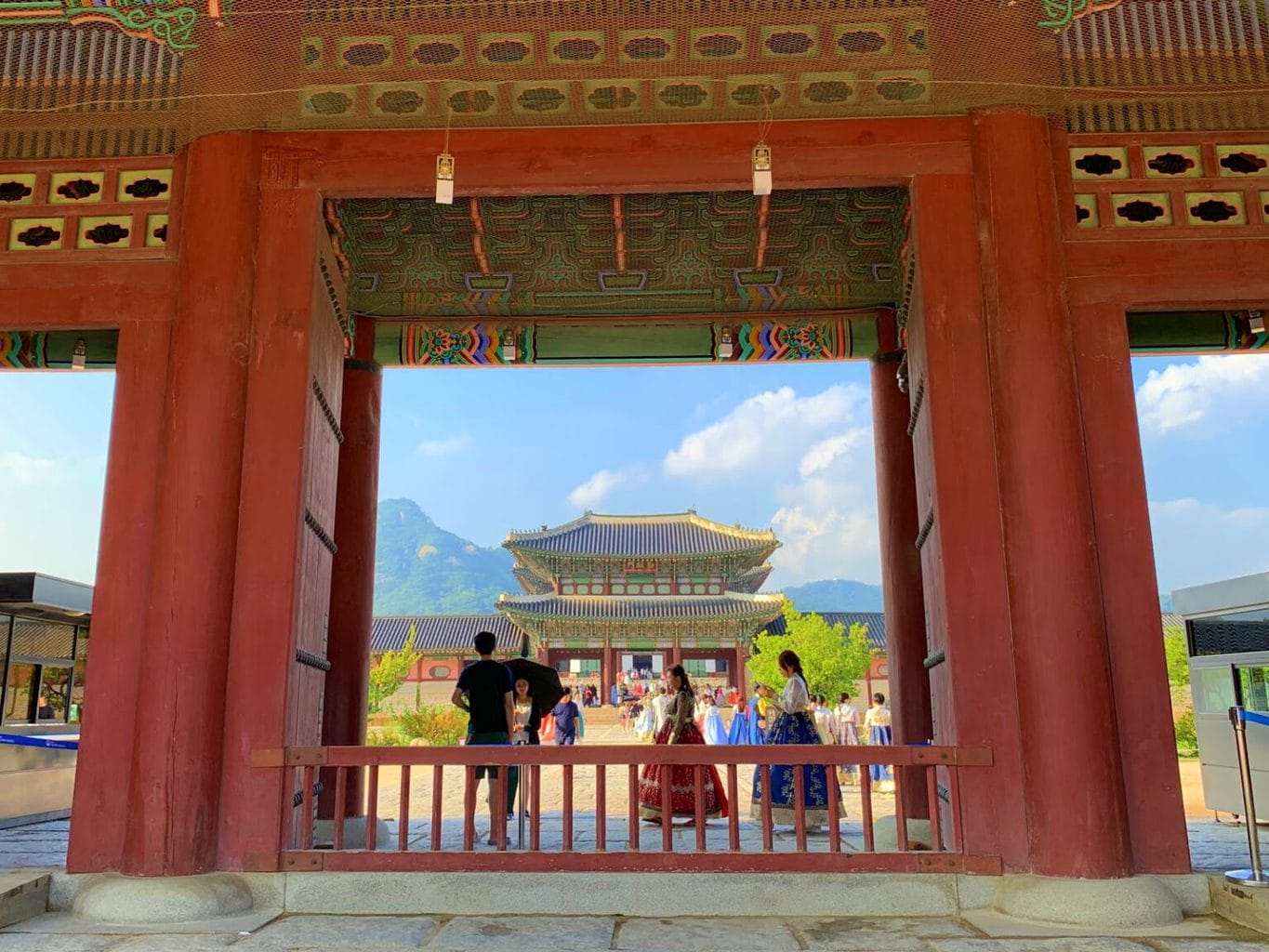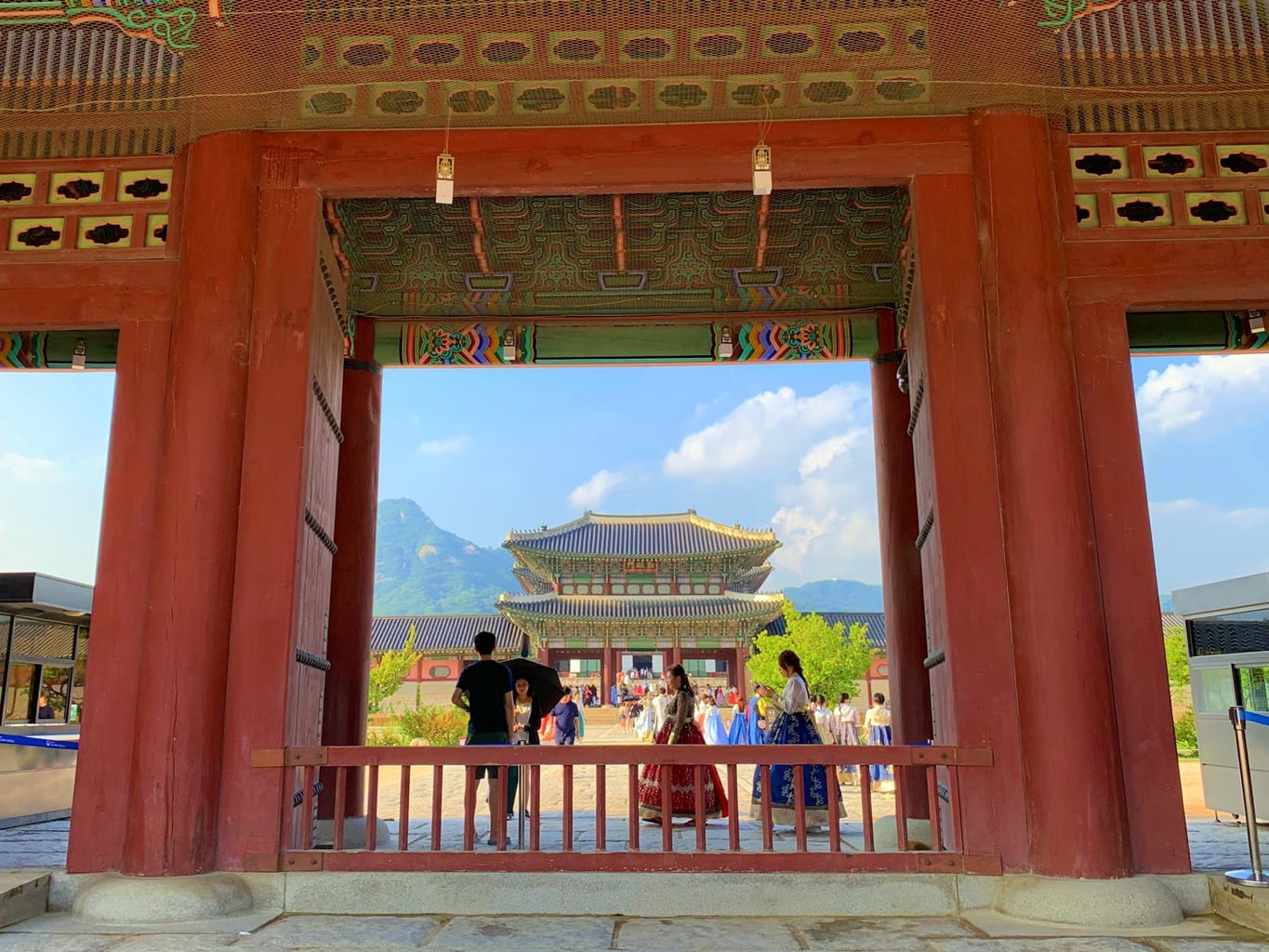 If you only had one day in Seoul, your time should be spent in the epicenter of the city, in and around the Jongno District of central Seoul. This is where all of the most famous sites and best tourist destinations lie. There is culture, history, food, nature and superb spots for photos. Central Seoul really does have everything.
Morning: Gyeongbokgung Palace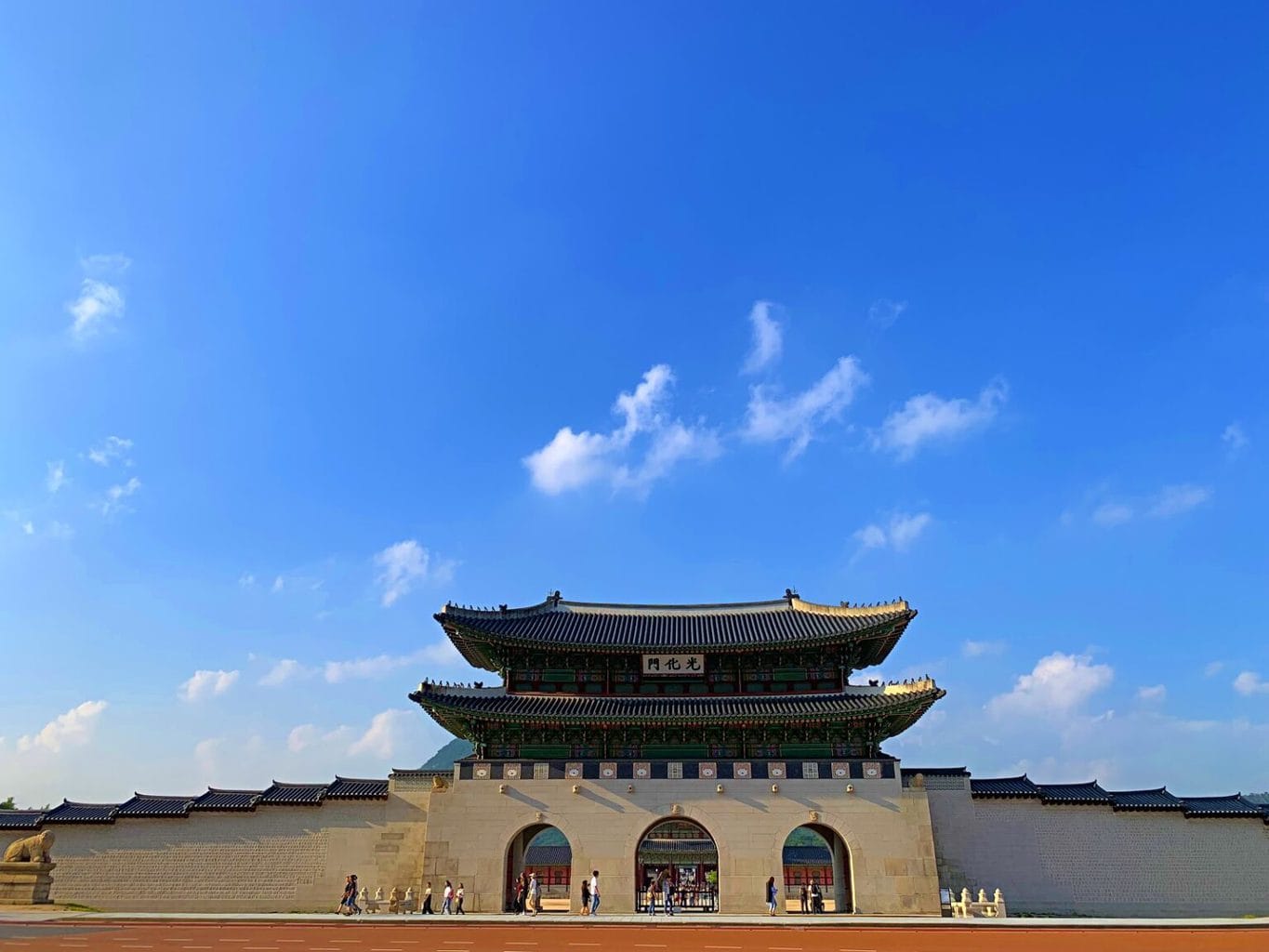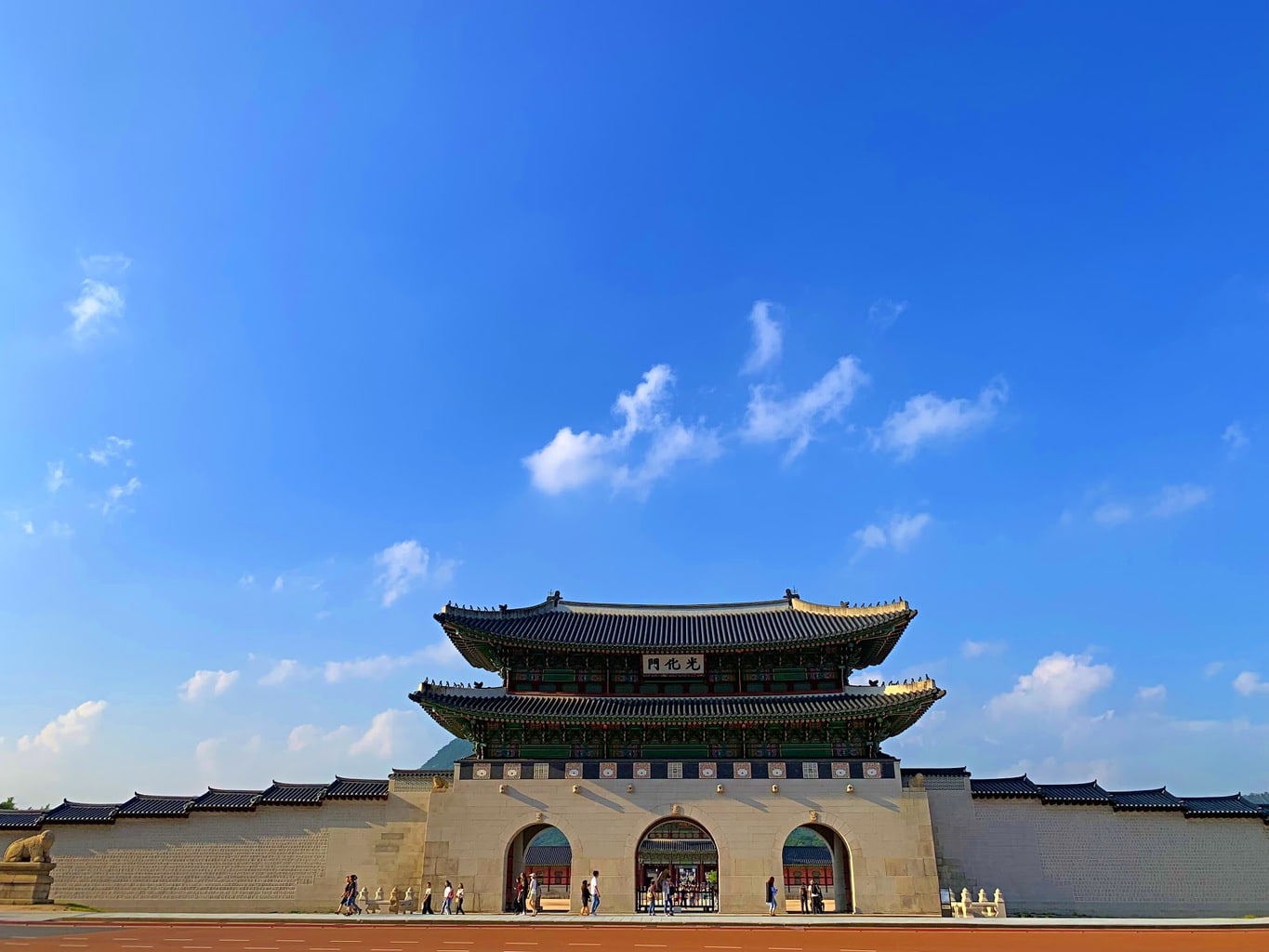 Wake up at 8 and start your day with some breakfast. Unless you've planned to visit specific restaurants, our breakfast recommendation for central Seoul (if your hotel doesn't provide breakfast) would be to grab a kimbab (Korean sushi roll) from one of the many franchises.
Check out Kimbap Cheonguk, Kim Seonsaeng or Kimbap Nara (no websites available, they are everywhere). They're nothing fancy but are ubiquitous, affordable and come with an array of side dishes, so they are also filling.
Cafe Mamas in Gwanghwamun is a good Western brunch style option if you don't feel like rice and kimchi. Otherwise, step outside and follow the crowds or ask your concierge what they recommend. Then onto your first destination.
Gyeongbokgung is Seoul's most visited palace. Out of the 13.4 million people that visited the four major royal palaces and tombs of the Joseon Dynasty in 2018, over 5 million visited Gyeongbokgung, and half visited Deoksu Palace.
Gyeongbokgung Palace was the main royal palace of the Joseon Dynasty that was originally built in 1395 and restored again between 1852-1919 after almost being destroyed by fire.
Start by posing outside the main entrance which is called Heungnyemun and then explore the interior. Little Korean lesson for you, "mun" translates to "gate" as in Heungnyemun; "gung" is an older way of saying "palace" as in Gyeongbokgung; "san" means "mountain" as in Namsan; and "sa" is "temple" as in Jogyesa.
Opening times are between 9am-6pm daily in summer except for Tuesday when it is closed and 5pm in winter (Nov-Feb). If you arrive on a Tuesday, then we suggest exploring Gangnam first (Days 3+4) and then central Seoul as most palaces are closed.
The Changing of the Guards Ceremony is at 10am and 2pm, and the Gate Guard Duty Performance at 11am and 1pm. Please double check the official times here so that you are not disappointed. There is also audio commentary and a free guided tour at 11am, 1:30pm and 3:30pm.
In the Palace grounds there are 2 museums that you can visit, namely The National Palace Museum of Korea, which is closer to Socheon (west) and the National Folk Museum, which is closer to Bukchon (east).
Another stand out spot within the complex is the beautiful and highly photogenic Hyangwonjeong Pavilion right up in the north. Entrance is ₩3,000 for adults and ₩1,500 for visitors aged 7 to 18.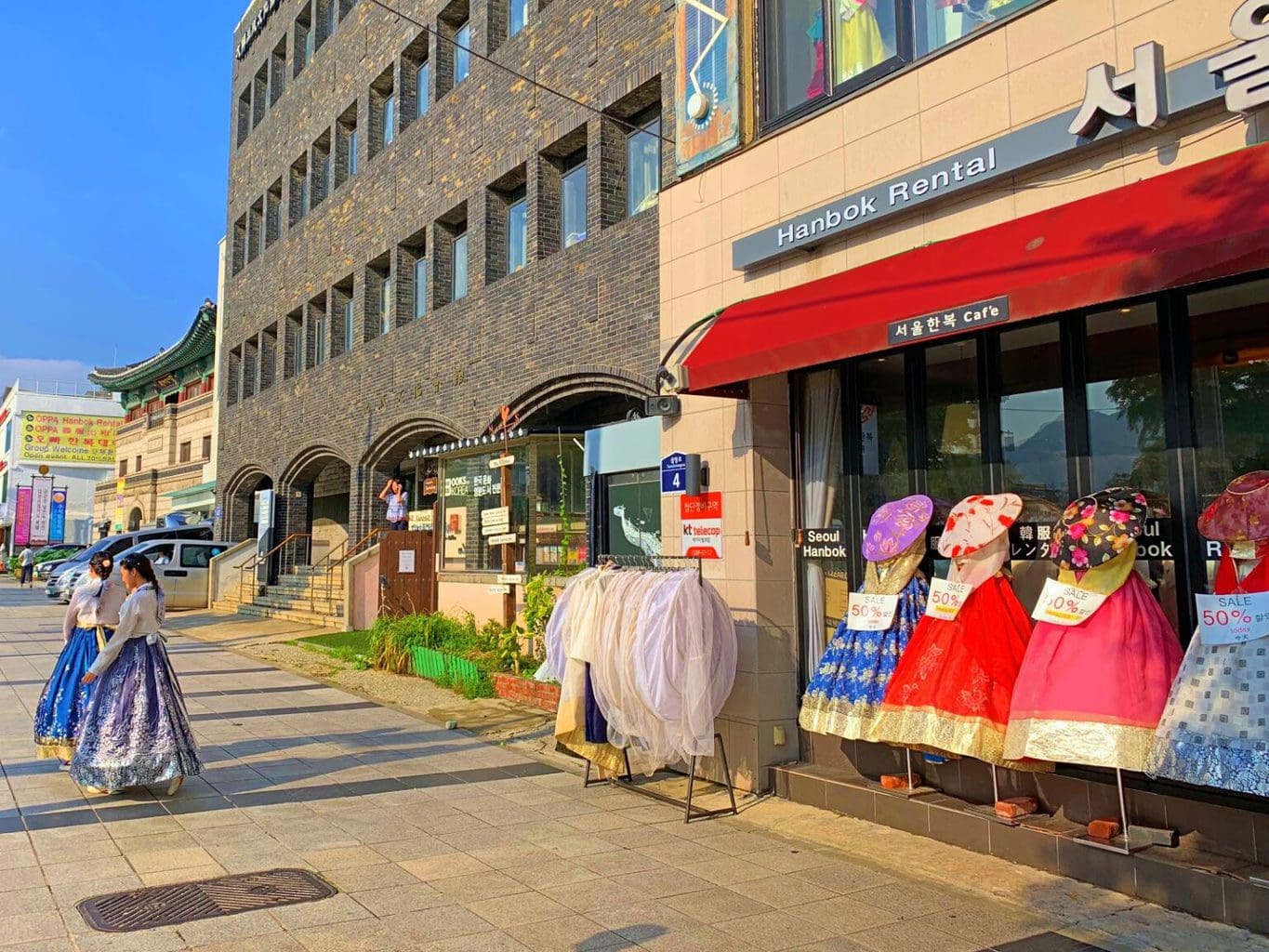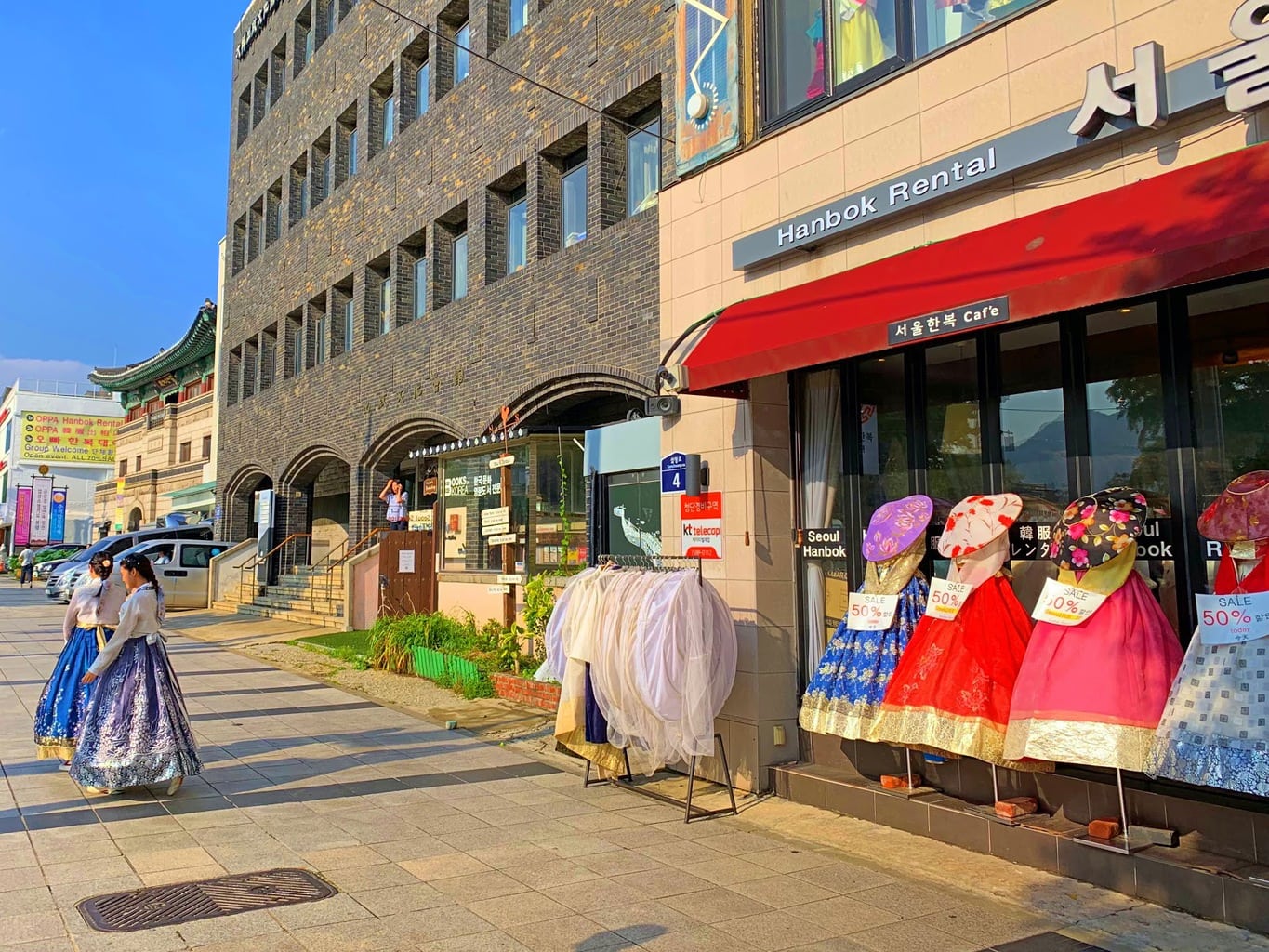 It's highly recommended that you put on Hanbok or traditional Korean clothing as this will get you free entrance to all of the palaces. It also makes for eye-popping photos for your social media.
There are plenty of places to hire this beautiful clothing, but Hanboknam seems to be one of the most popular. You can book yours online here.
If you like, you can explore the other palaces today or tomorrow, but this will then become an all day activity as travel time, exploring the premises and taking photos will take some time.
You can easily spend up to 3 hours at each palace. Exploring Gyeongbokgung alone could take up to 3 hours depending on queues, if you're taking the tours and if you want to visit all the museums.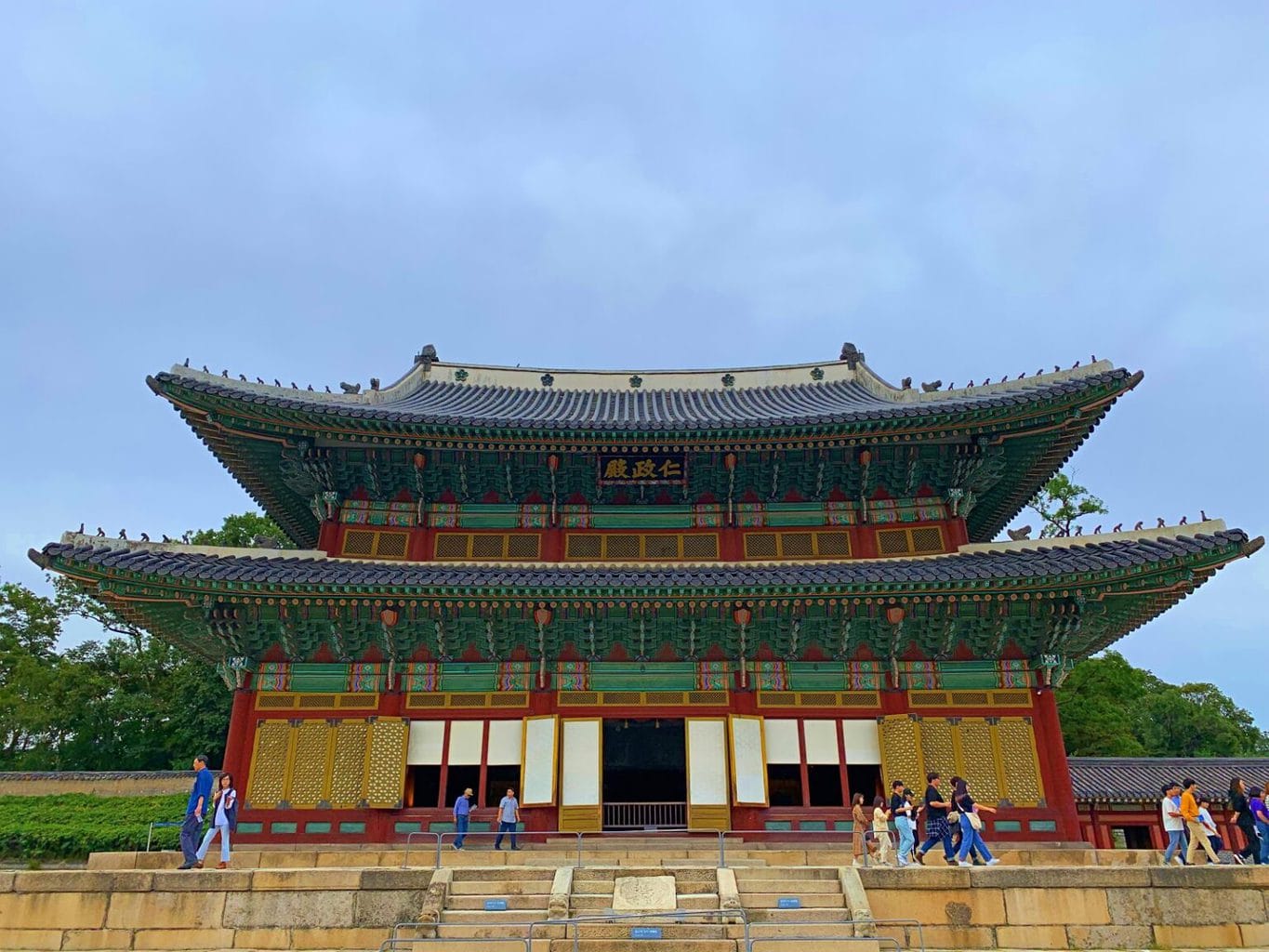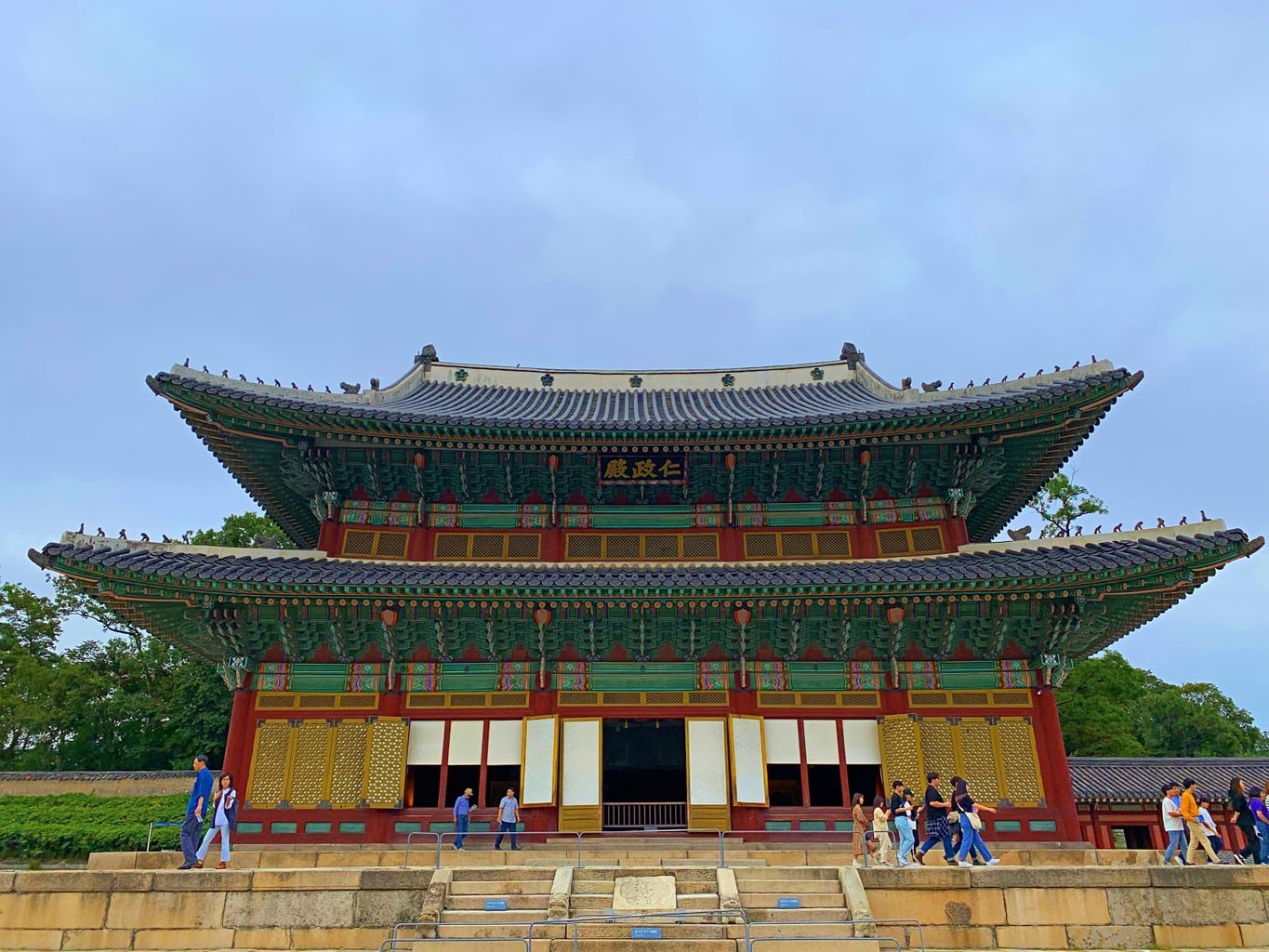 UNESCO-listed Changdeokgung is the next most beautiful in our opinion and is absolutely massive with a Secret Garden (Huwon), that can only be visited on a tour, and Changgyeonggung Palace. Entrance is ₩3,000 won for the palace and an additional ₩5,000 for Huwon.
Jongmyo Shrine is another popular UNESCO attraction just south. Deoksugung Palace is where you can see another changing of the guards and visit one branch of the MMCA. Gyeonghuigung is the least well known Palace of the 5 and least attractive, but has fewer people.
If you are into history or would like to explore the temples without having to plan your times and transportation, we highly recommend taking an historic tour of Seoul. You'll drive past the President's house (Blue House or Cheongwadae), watch the changing of the guards and tour Gyeongbokgung, visit the National Folk Museum and Jogyesa Temple. And you'll even get to taste one of Korea's most famous exports, ginseng, at a Ginseng Center. Book it online here.
Afternoon: Samcheongdong & Bukchon Hanok Village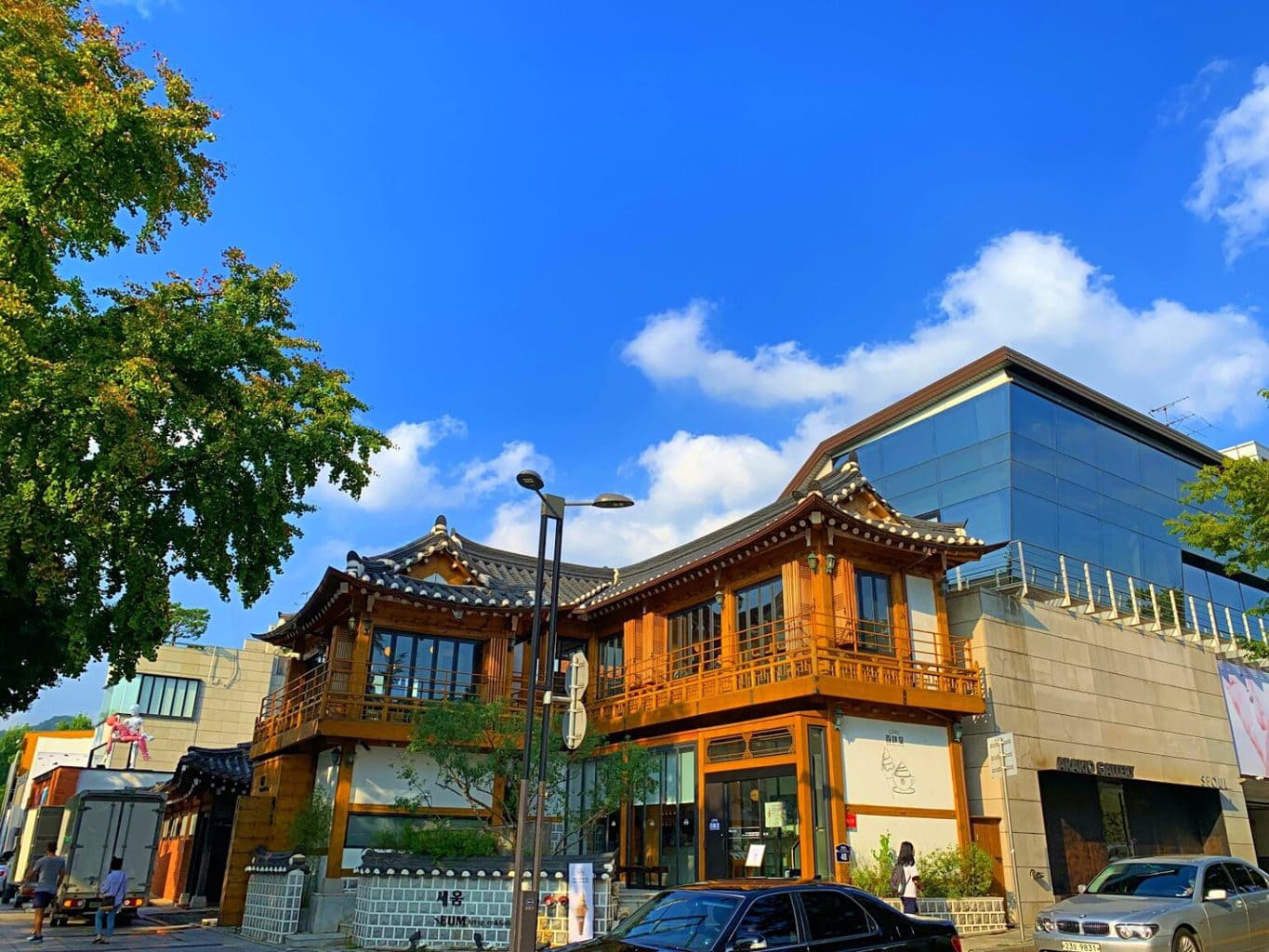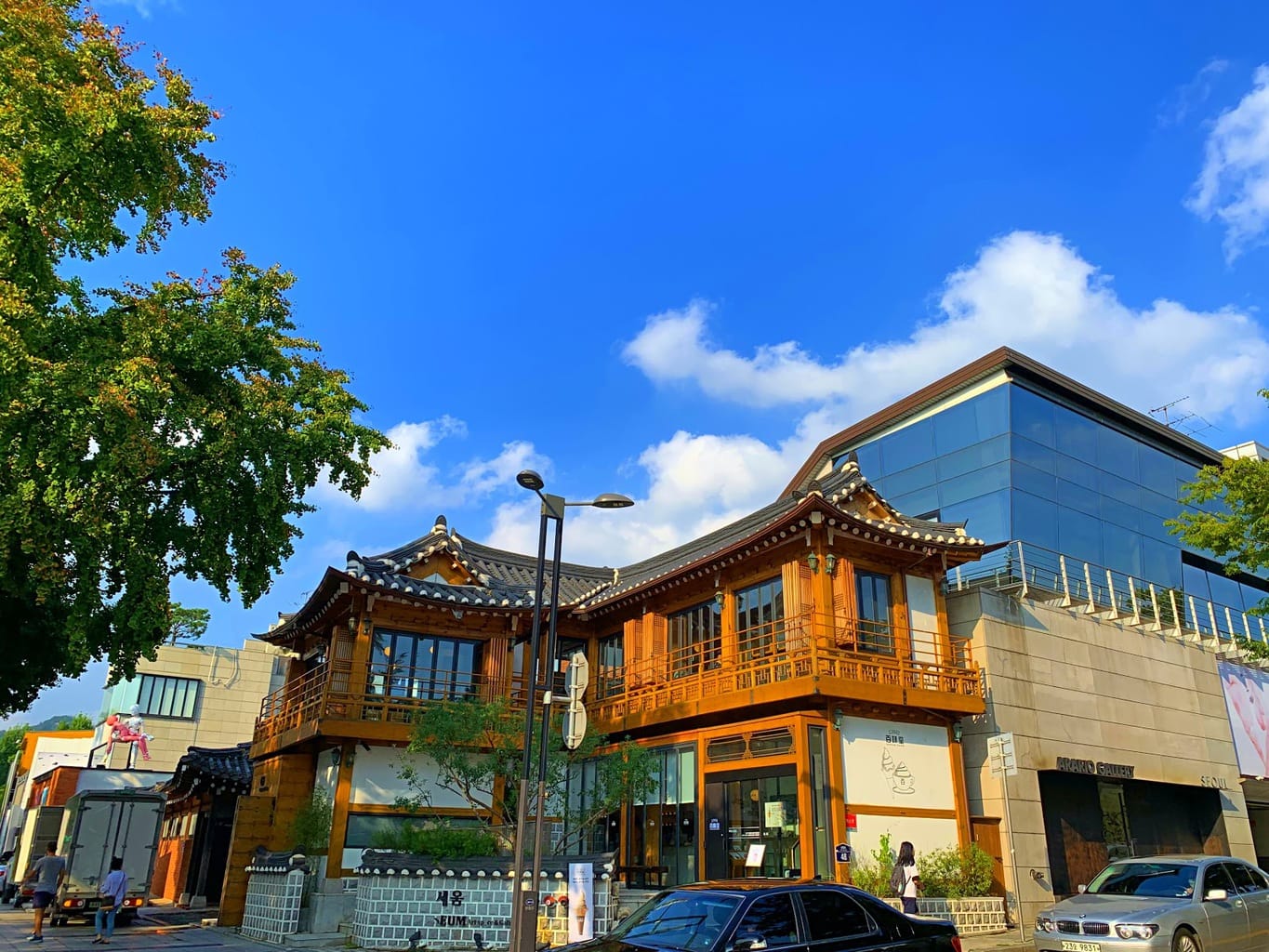 Exploring Gyeongbokgung is going to make you pretty hungry, so pop over to Samcheongdong or Bukchon Hanok Village for lunch, some coffee and delicious waffles.
There are plenty of restaurants in the area east of the Palace, but standouts near Bukchon include Dooreyoo for hanjeongsik (Korean traditional food) or Spanish fine-dining Terreno. You can also take your pick of a multitude of restaurants along Samcheong-ro.
After you have a bite to each, walk around Bukchon Hanok Village, an in-tact traditional Korean village in Seoul composed of many alleys with Hanok (traditional houses) that showcases how Koreans lived 600 years ago.
The Hanok Village is a very popular attraction for influencers, especially the Hanok and tea houses within the village. Take a guide and professional photographer with you and you'll get some amazing shots for the Gram. Book your Bukchon tour with a photographer here.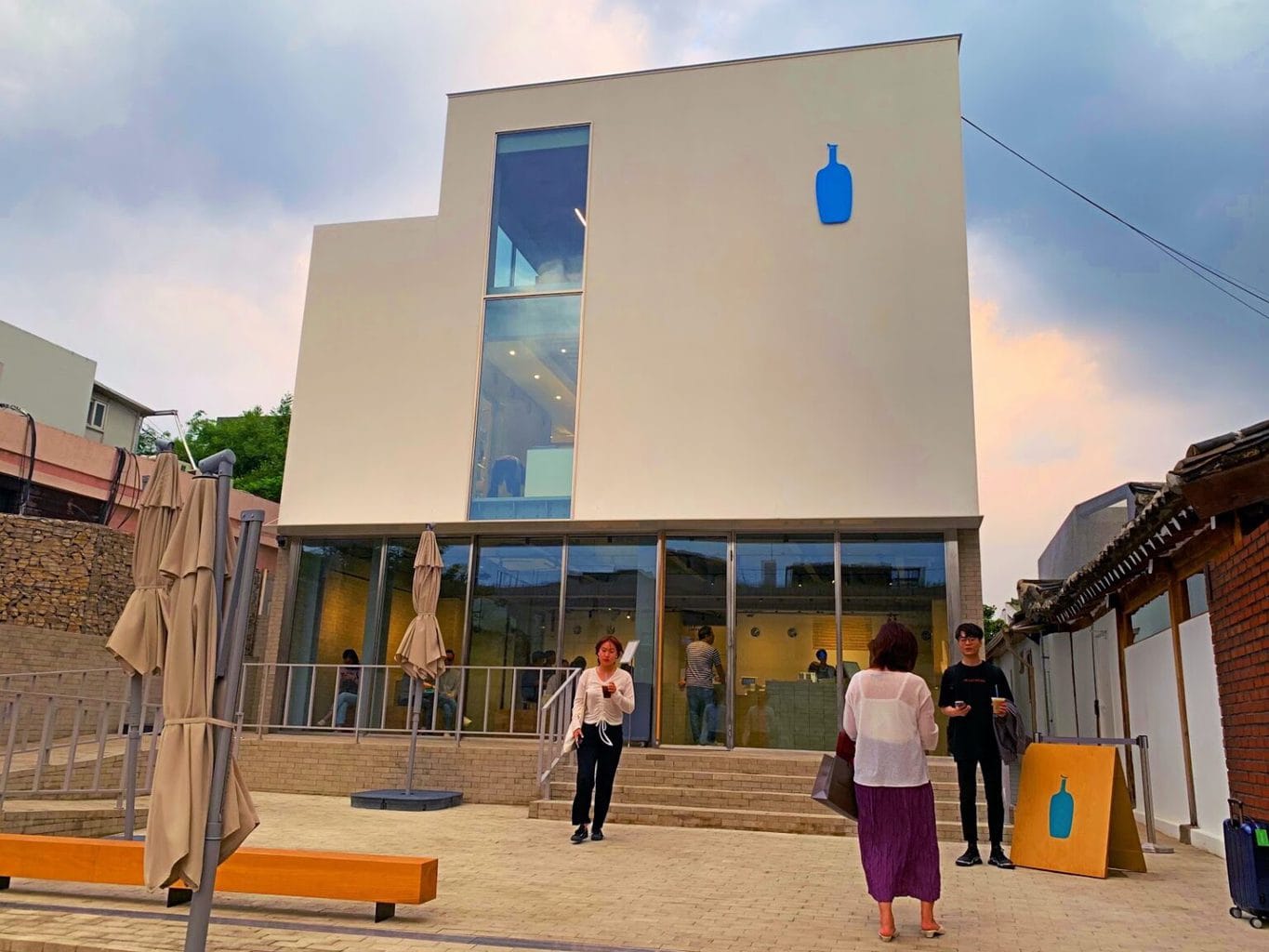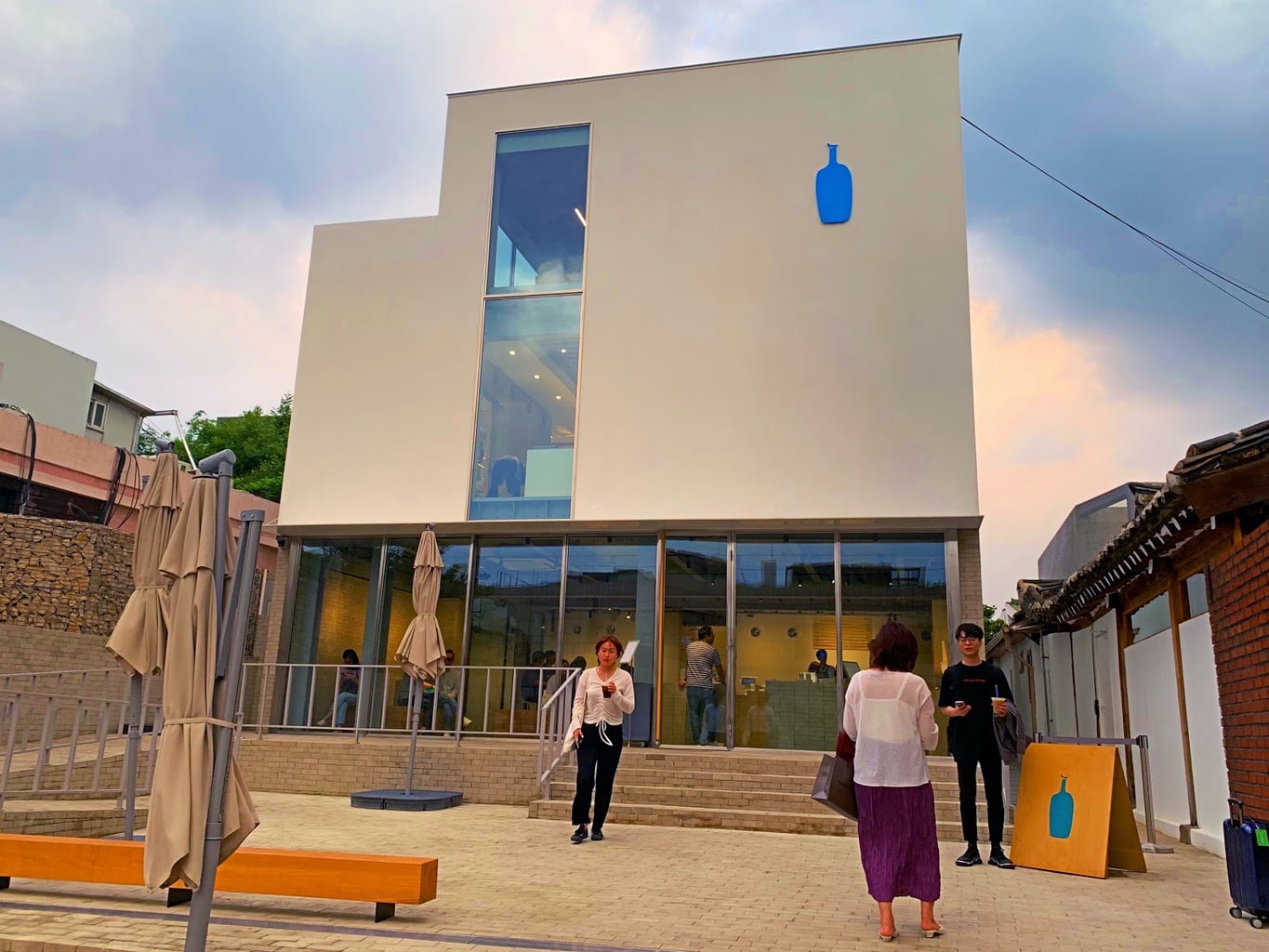 Samcheongdong is minutes away and is a really romantic place where you can grab a coffee and waffle. There are strange houses, cutesy Hanok and cafes of all kinds along the main road leading up to the Blue House (the presidential residences, called Cheongwadae in Korean).
Coffee here is so popular that there's even a branch of Oakland franchise Blue Bottle Coffee in the area and their newly opened Hanok experience. Pop into the Blue House on an official tour if that tickles your interest.
This area is about a 10 min walk from the east entrance of Gyeongbokgung. You can walk around for quite a while in these two places, but we suggest putting aside a 3 hour block for lunch, coffee and a stroll.
If you're more into art than culture, you can skip Samcheongdong and pop into the National Museum of Modern and Contemporary Art (MMCA) Seoul which is on the way to Bukchon.
Evening: Namdaemun, Myeongdong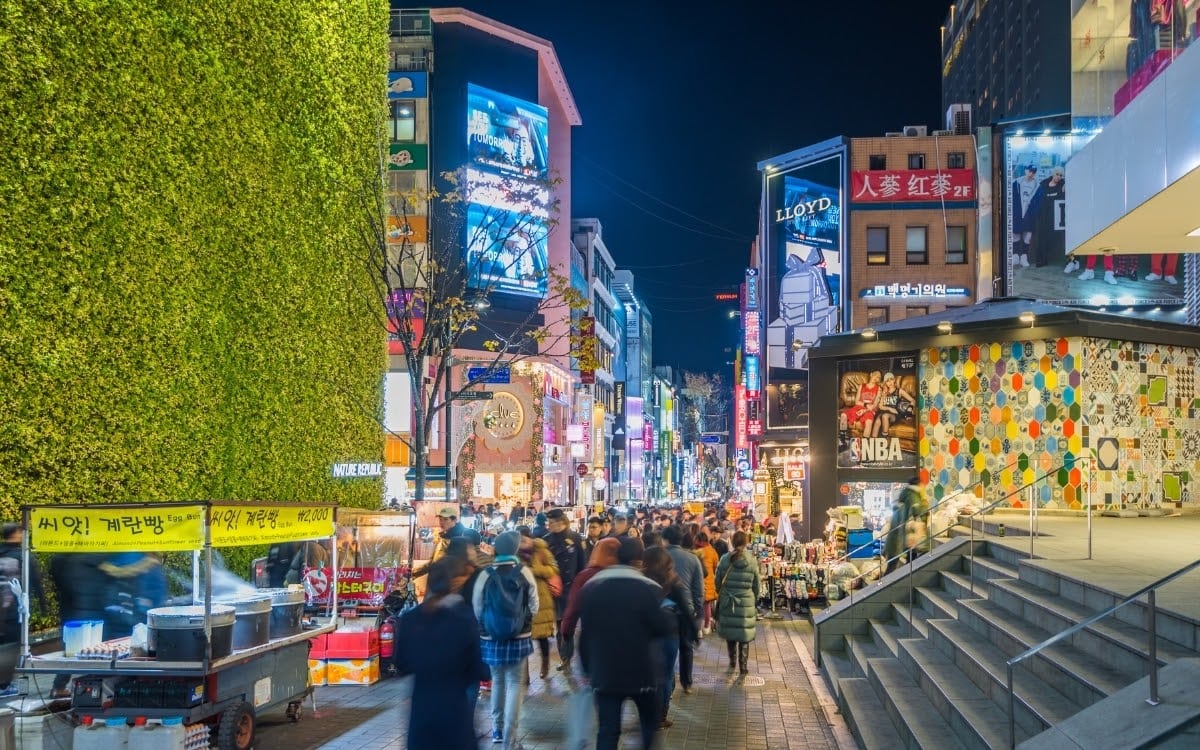 Namdaemun and Myeongdong go hand in hand as two of the top spots to go shopping in Seoul.
Namdaemun Market is a place where you can find anything from jewelry to fashion to fresh produce. The street vendors also have some amazing Korean snacks and traditional pojangmacha (tented eateries) to try out all the best street foods.
Myeongdong is an extremely popular place to purchase cosmetics at discounted prices but it is also a massive fashion outlet where the streets are lined with building upon building of the freshest brands. Grab a 32cm ice cream from one of the street vendors and then shop till you drop. Remember to keep all your receipts as you can get your tax back at the airport.
There's an amazing vibe in Myeongdong at dusk as the lights start up and the cutesy sellers start shouting their sales pitches in various languages. Look out for the multilingual information guides in red hats who will help you with anything you may need from the nearest money vendors to the direction of the Apple store.
There are also department stores in Myeongdong like Lotte and Shinsegae where you can get luxury brands tax free. You can also choose to eat anywhere in Myeongdong if you're liking the vibe and are running out of time. If you have time, venture on…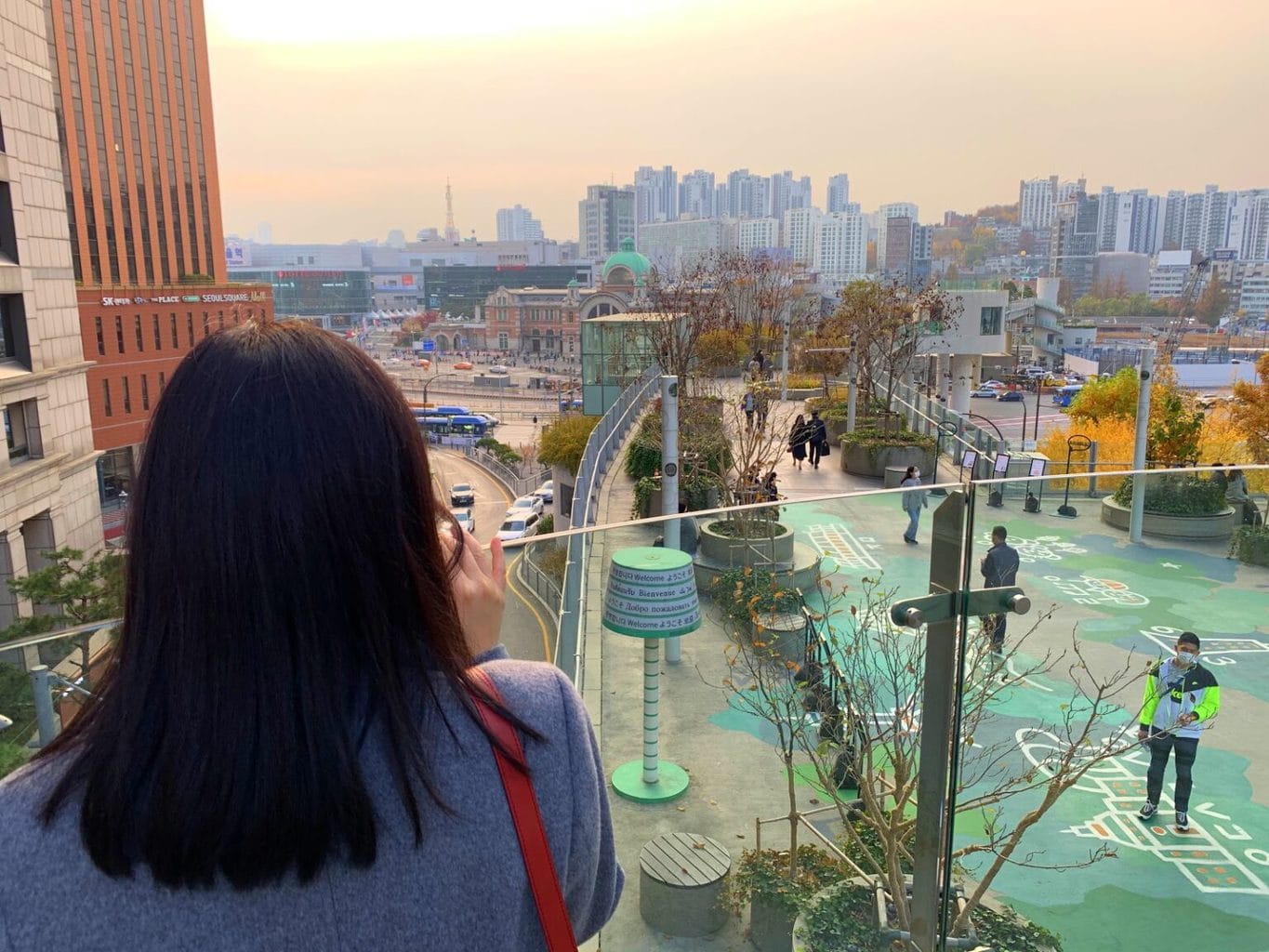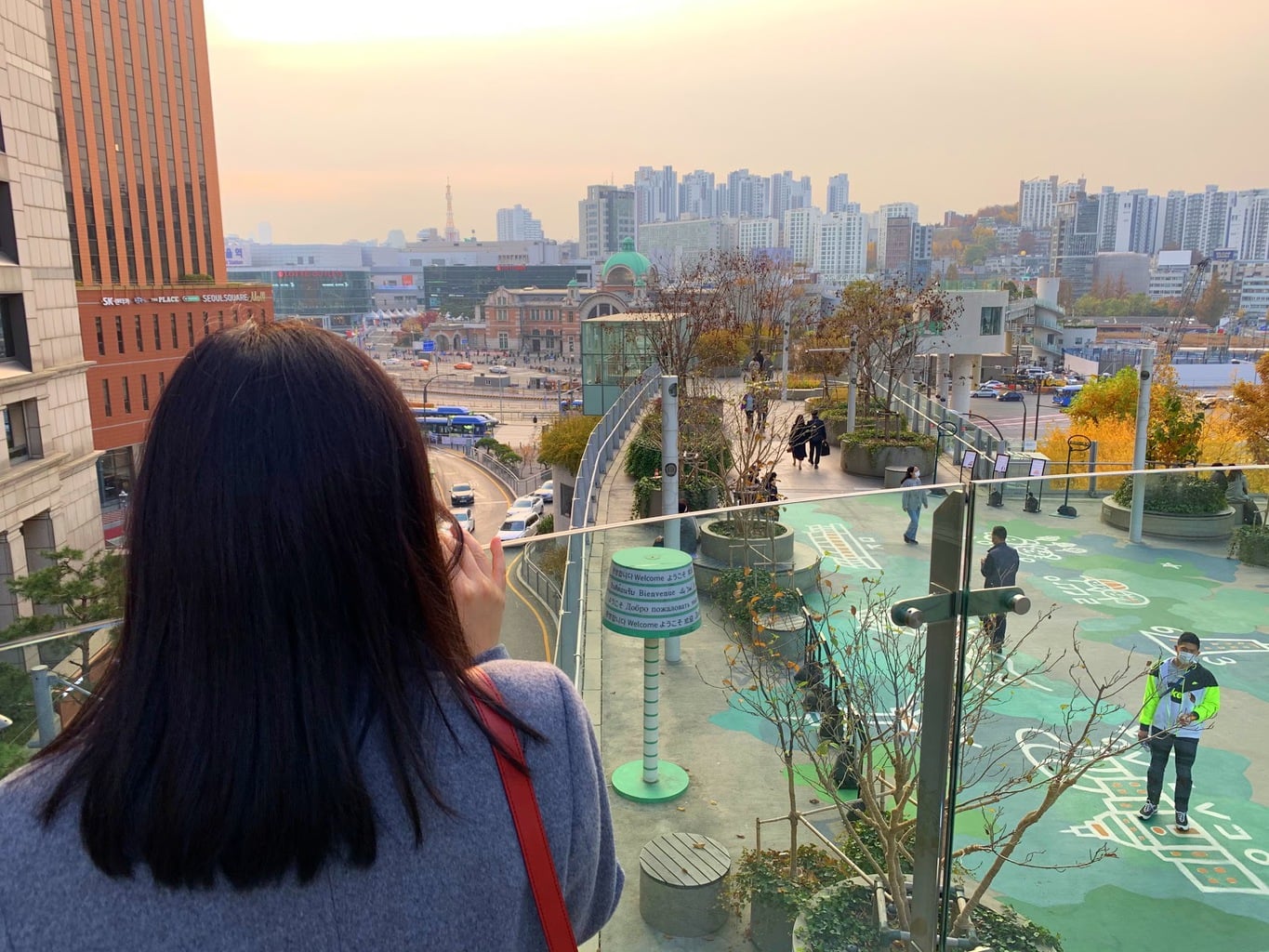 You could also choose to visit Seoullo 7017 (서울로 7017) right by Seoul Station. Also called Seoul Skygarden or Skypark, it's pretty similar to New York's High Line in that it's an elevated park built over a former highway overpass that includes one km containing 24,000 plants.
There are small exhibitions, trampolines and toilets along the way. There are also small department stores with restaurants at the end (toward Hoehyeon Station side) called Seoullo Terrace and Seoulista.
It's a really nice way to pass half an hour if you have it, as it's an easy walk from Seoul Station to Hoehyeon Station where Namdaemun market starts (and by extension Myeongdong).
Dinner at Ikseondong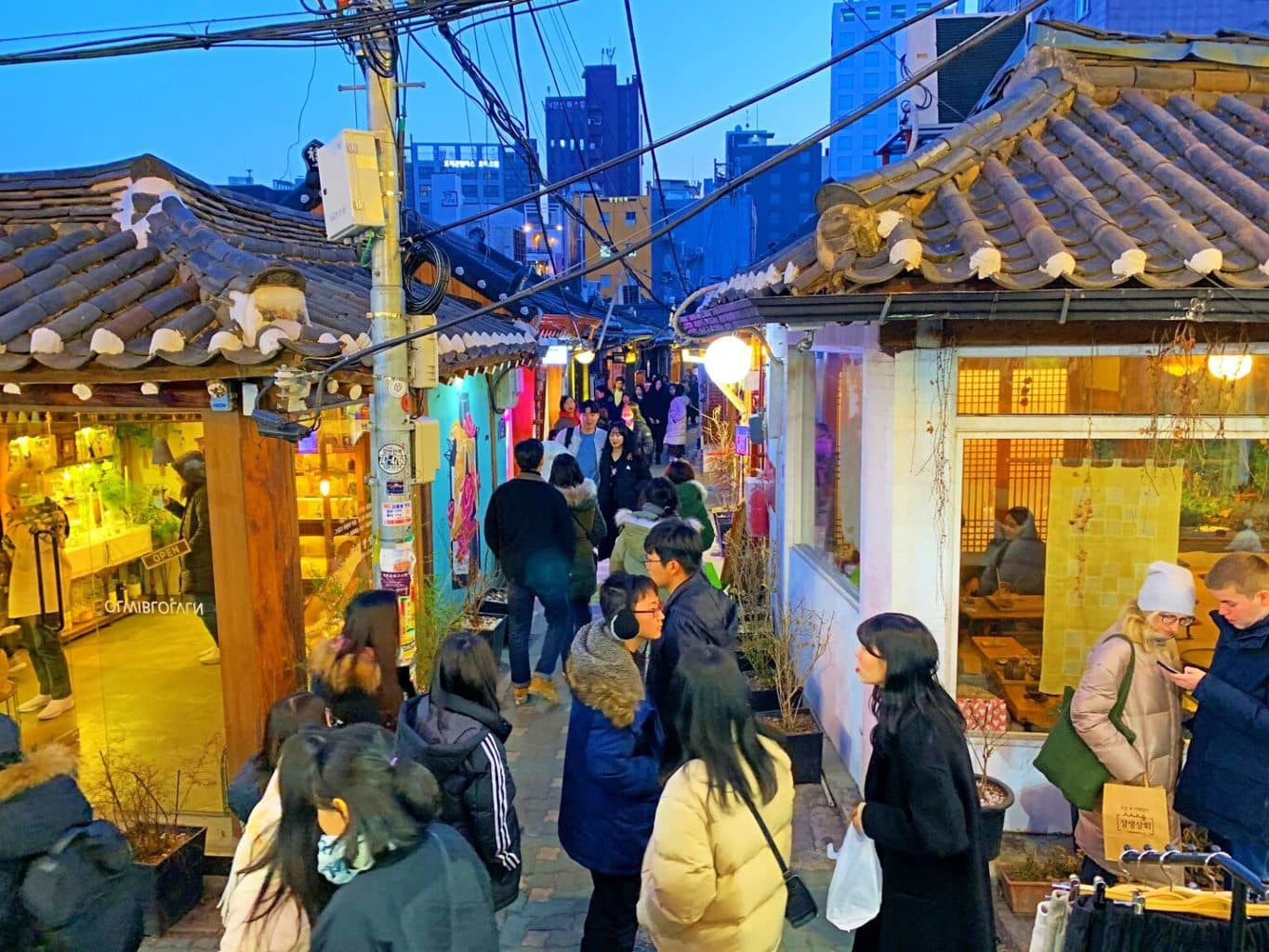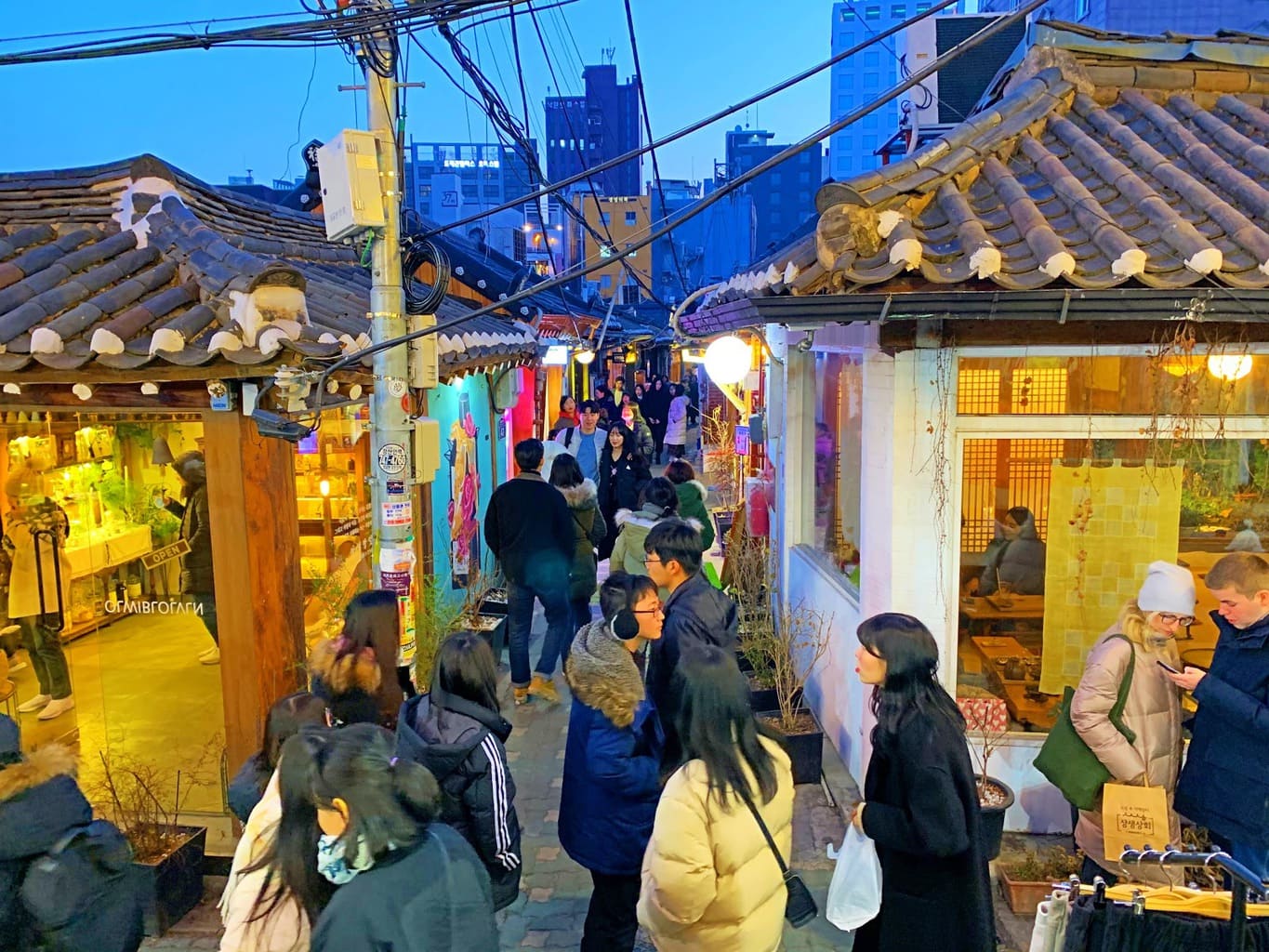 Make your way back into central Seoul for dinner at either Ikseondong or Euljiro. Ikseondong is for those who want to dine in a vibrant and bustling area set among Hanok with restaurants of all kinds.
Try Italian pizza and wine at Italy Chonggak, French cuisine at Le Blanseu, mandu (dumplings) at Changhwadang, Tonkatsu (breaded pork) and Hamburg Steak at Gyeongyangsik 1920 or cafe and pub Sooknyo Salon.
There are so many boutique stores, bars, pubs, eateries and cafes in this area, so just follow the crowds. You can even rent some vintage Korean clothing in Ikseondong apart from the usual Hanbok to really stand out. Book them online here.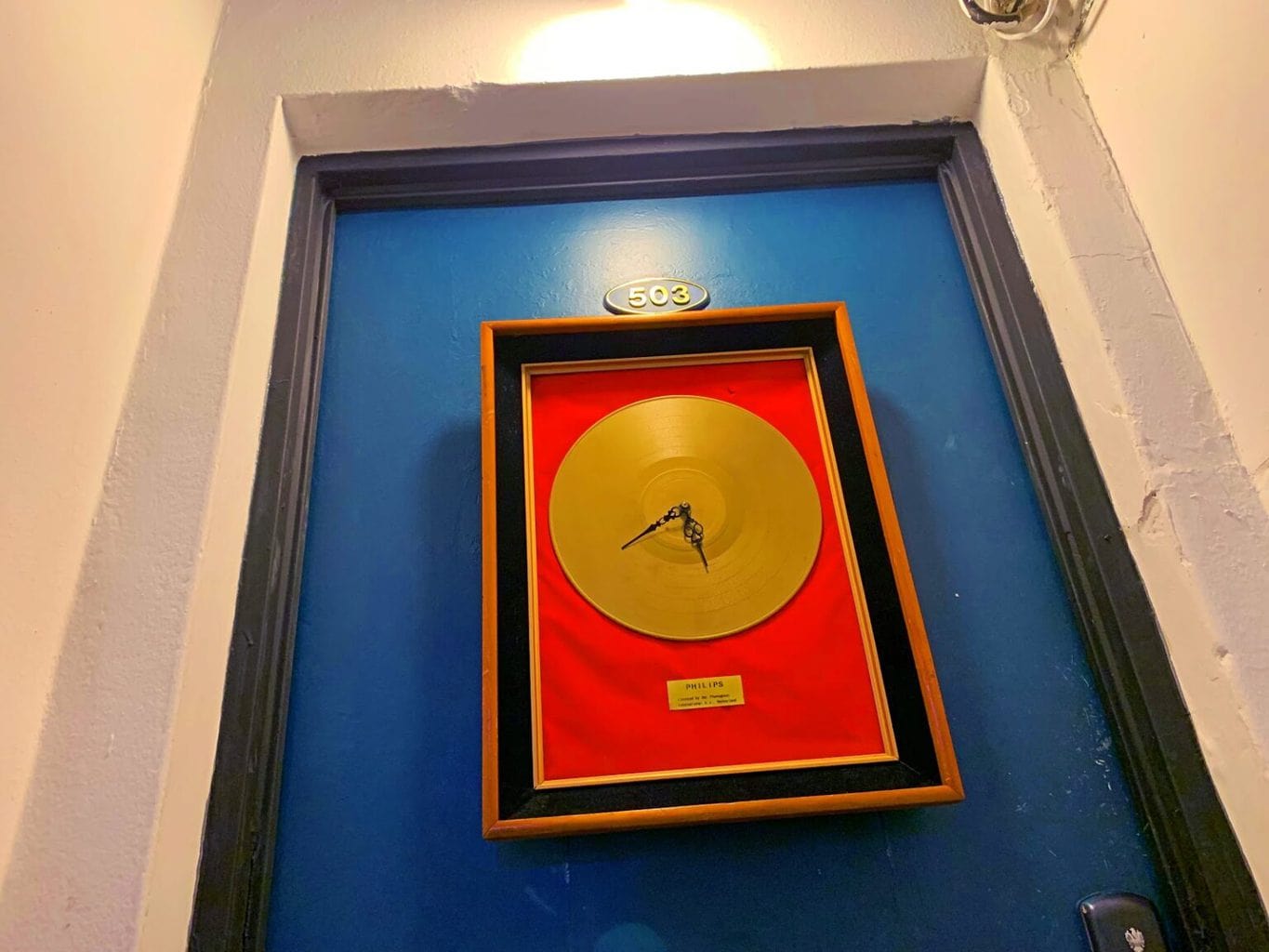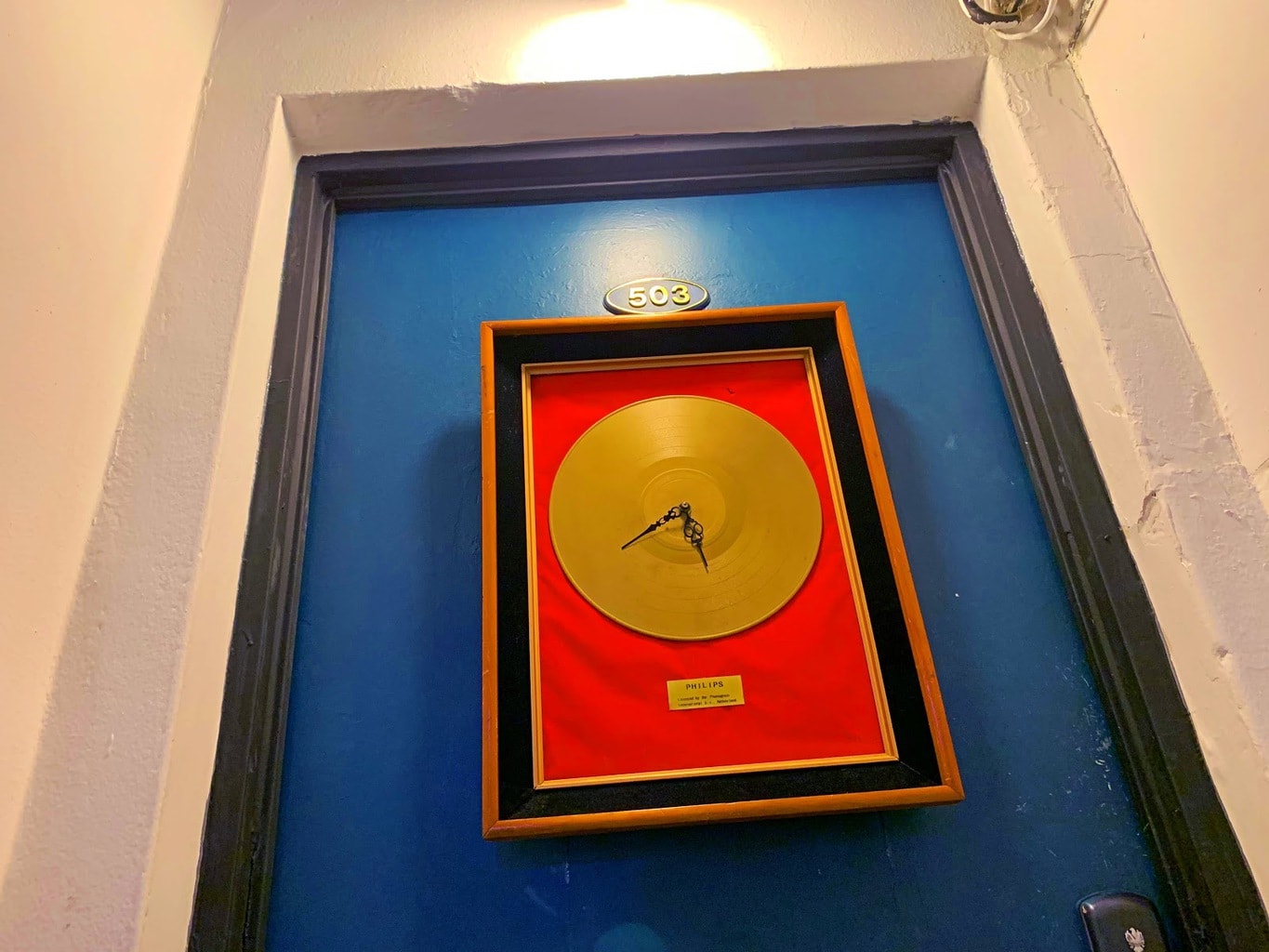 The area close by called Euljiro has now been dubbed "hipjiro" due to all of the under-the-radar speakeasy style restaurants and pubs. It's best to do your research before going as many of the places don't have names and are hidden away from the public eye.
5:37, for example, is a rooftop wine bar inside a refurbished apartment, where the only sign is a clock with 5:37 as the time, on the door of the closed apartment on the fifth floor.
It's also better to visit with someone that speaks the language and knows the area or you may be disappointed. This suggestion is very local and is for those who are seeking something more off-the-beaten-track and difficult to find, don't come if you want an easy meal.
Day 2 – Central Seoul: Culture & shopping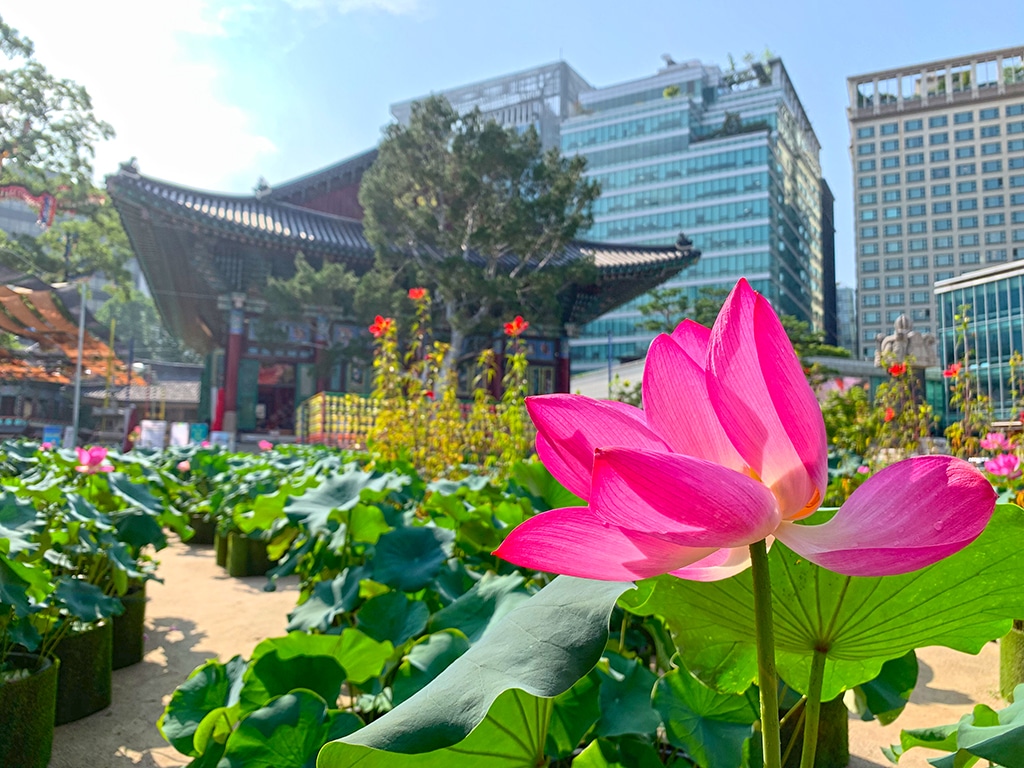 As there is so much to do in Central Seoul it merits another day in your Seoul one week itinerary.
Morning: Gwanghwamun Plaza, Jogyesa Temple & Insadong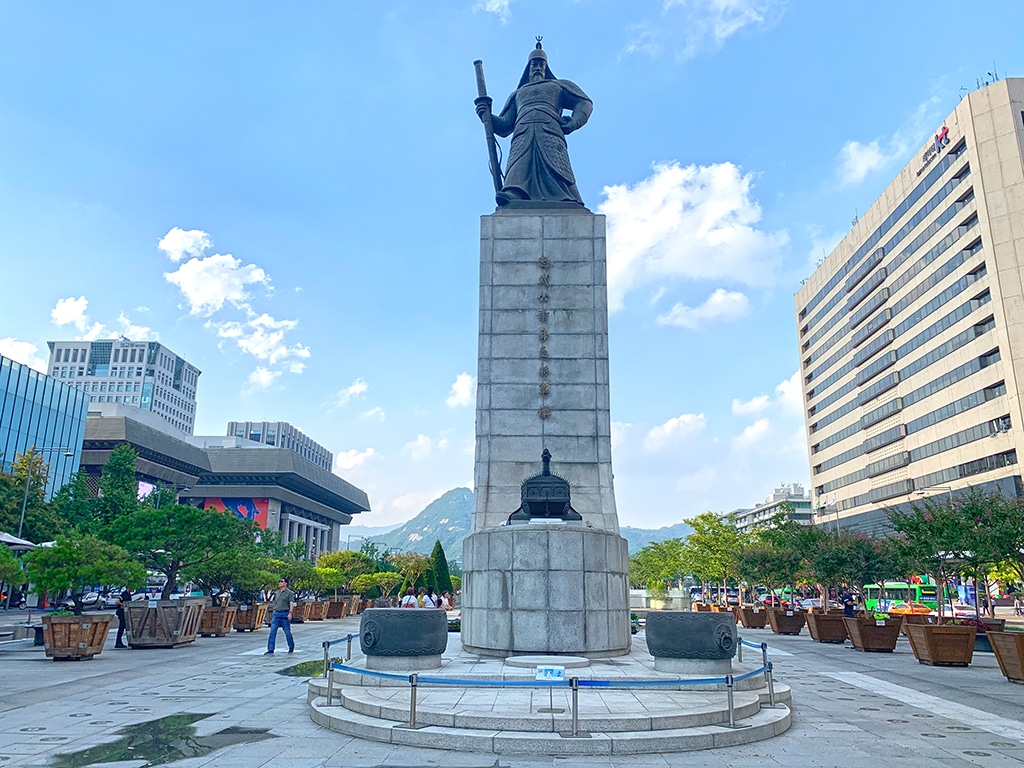 Start your day with some history and culture with a visit to Gwanghwamun Square where you can pose next to statues of King Sejong the Great (the inventor of Hangul, the Korean alphabet) and Admiral Yi Sun-sin (famed for his victories against the Japanese navy during the Imjin war in the Joseon Dynasty).
Across the road is the Sejong Center for Performing Arts to the west and The National Museum of Korean Contemporary History to the east.
Watch a show at the former or learn about modern and contemporary history of the Republic of Korea at the latter (opens at 10am). Note that Gwanghwamun Square is right in front of Gyeongbokgung, so you could also pop in here on day 1 if you arrive early and Gyeongbokgung is closed.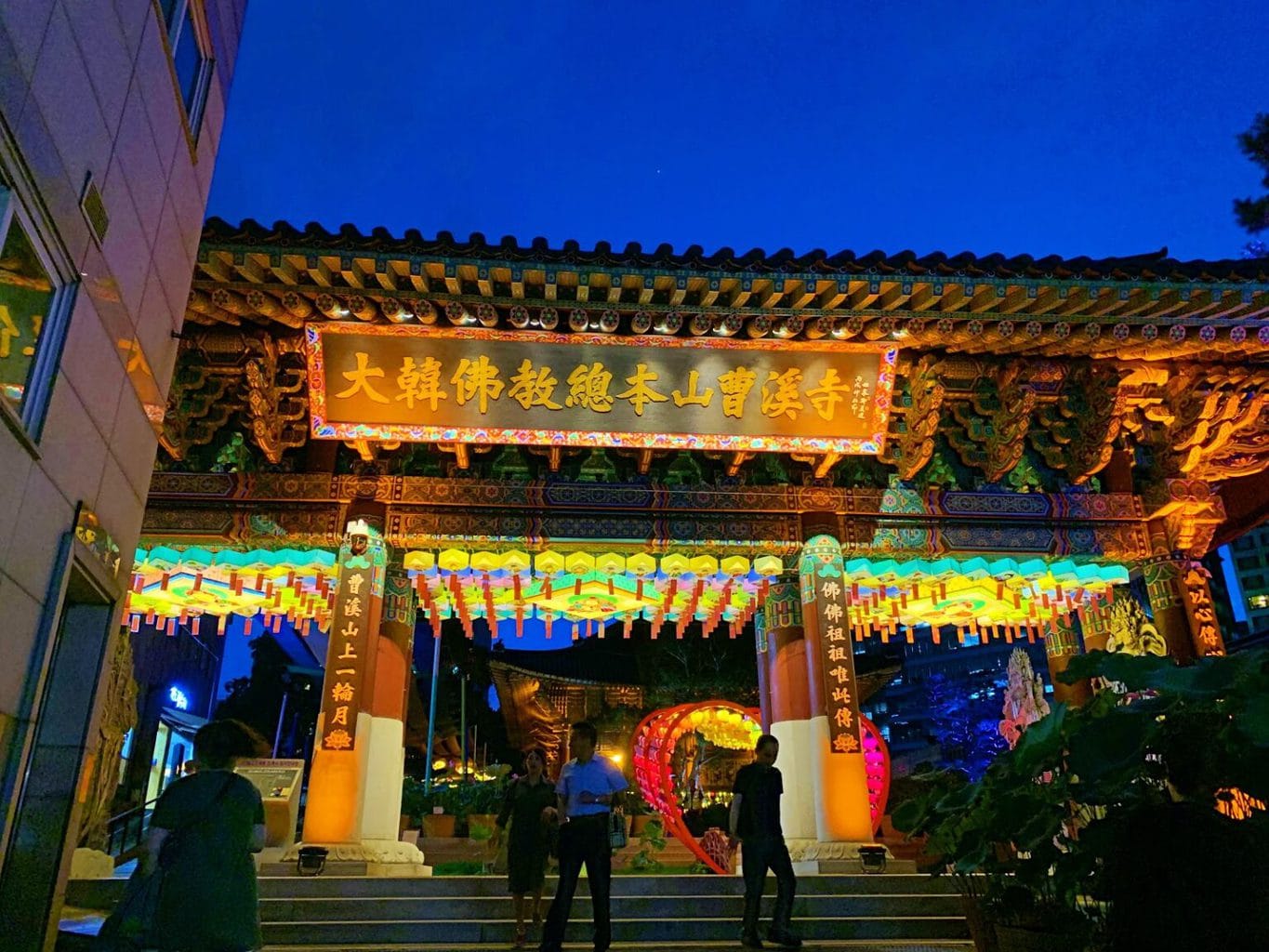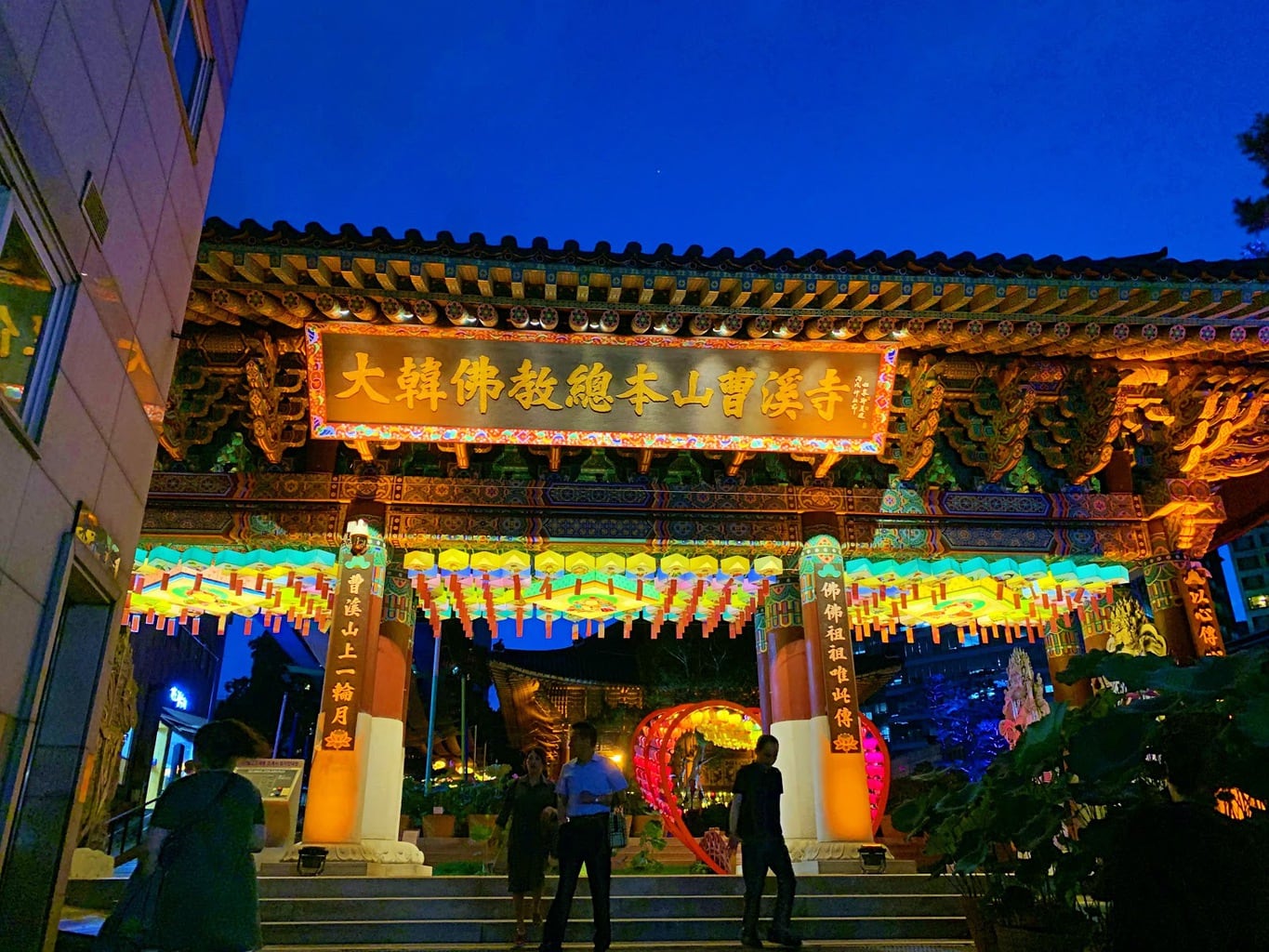 Make your way through to Jogyesa Temple which is the head temple of the Jogye order of Buddhism in Korea. It's a peaceful oasis in the heart of the city with Buddha halls and statues, events and even temple stay options. If you ever wanted to get some Buddhist trinkets or clothing, the streets outside are lined with various stores.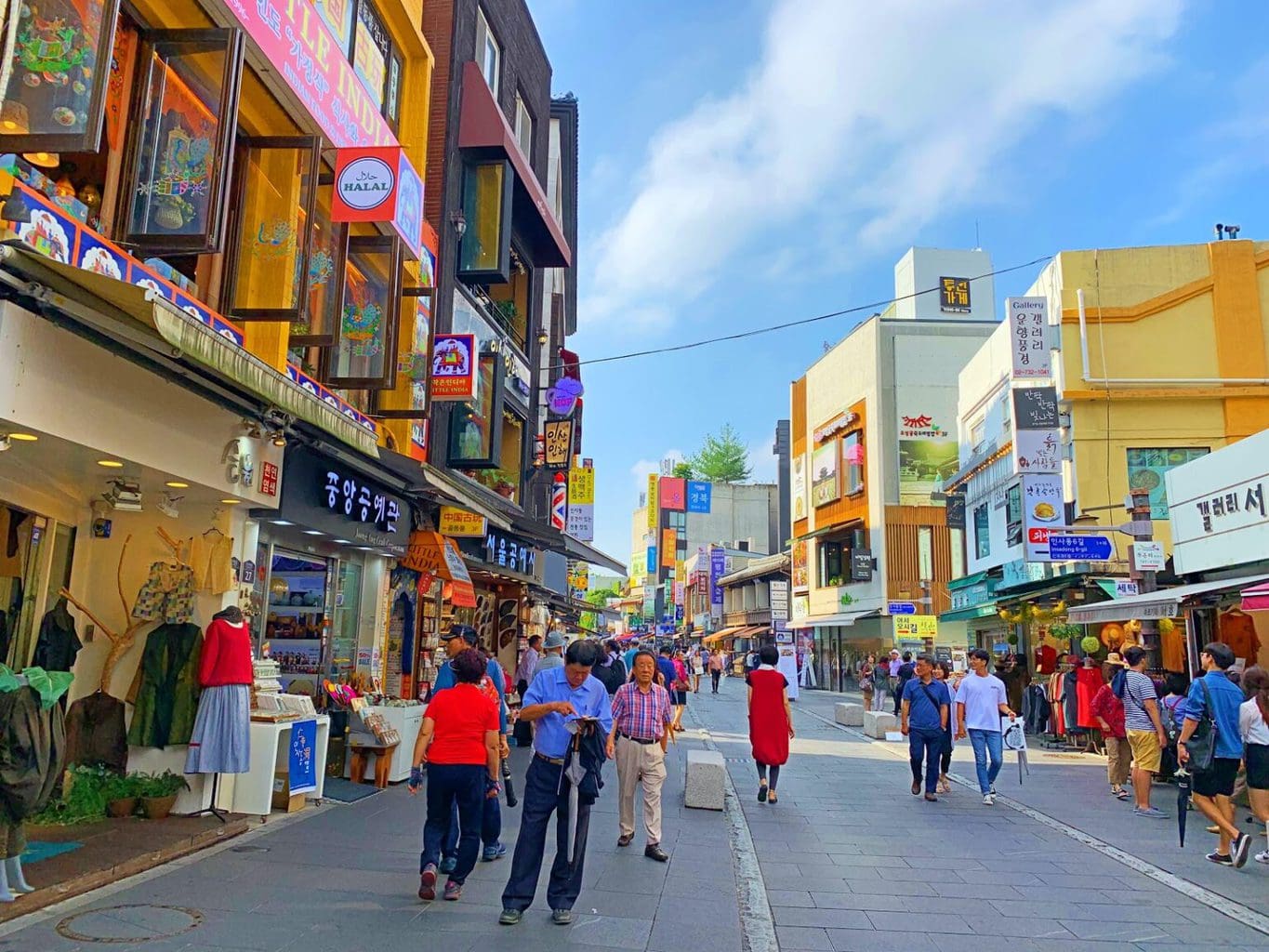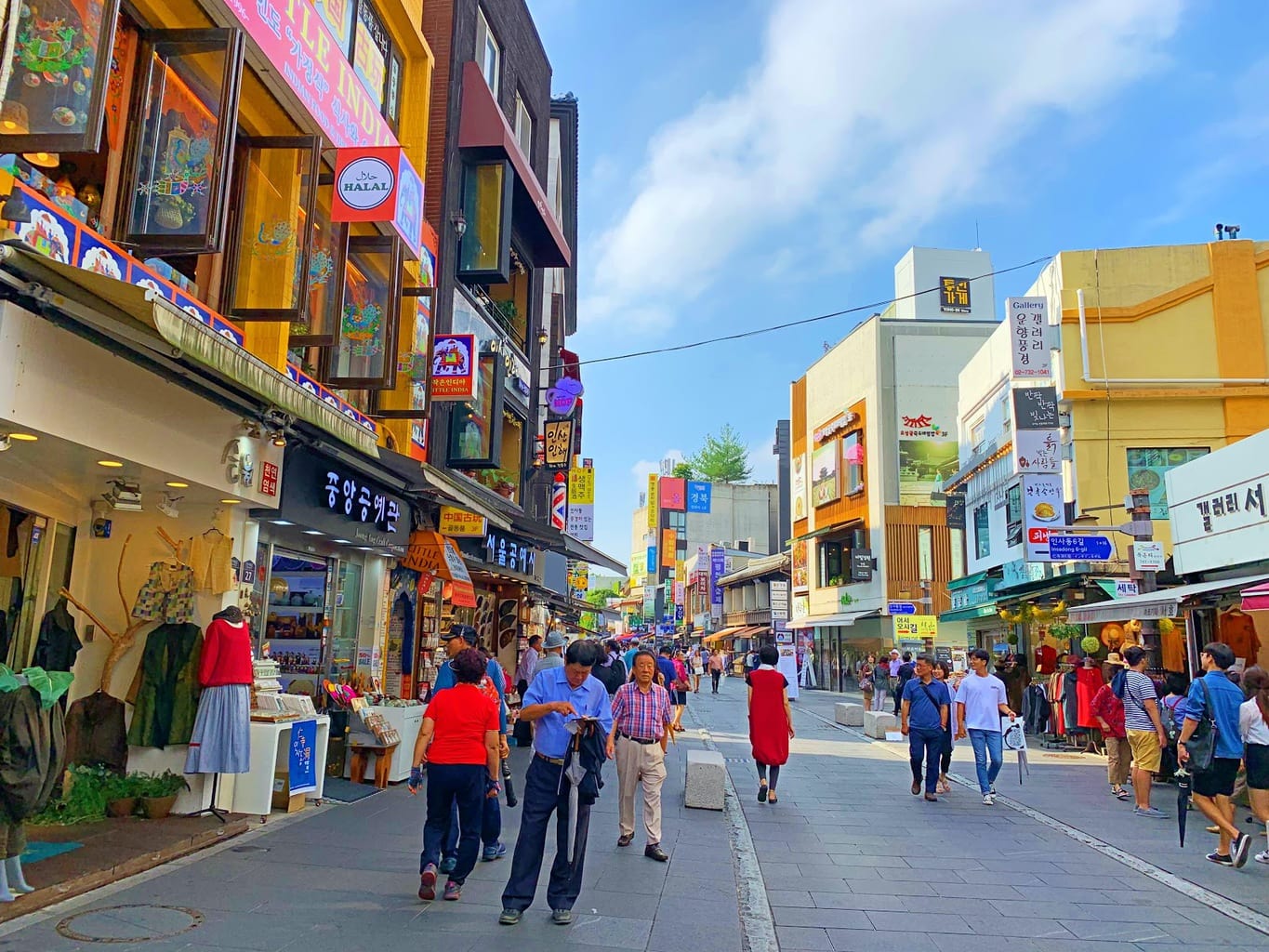 Next stop is souvenir shopping mecca Insadong. The well known outdoor shopping street in Seoul is home to an abundance of souvenirs and cultural artefacts. The shopping street extends for roughly 500m from Anguk Station exit 6 in the north to Jongno-3 ga station in the south.
You will find tourists walking around in Hanbok, merchants selling cultural trinkets and souvenirs, tea houses, coffee shops and street food. Ssamzie Market just off the center of the street is a multi-tiered shopping plaza selling locally produced crafts.
Nakwon Arcade is close to the south exit and you will want to visit if you're in the market for any musical instrument. There are hundreds of shops here to purchase anything from a drum kit to a ukulele. Skip this if you're not such a big musical instrument person.
Don't know where to start and want to save energy? Then we highly recommend taking a guided tour which goes to Jogyesa and Insadong, as well as other highlights like Dongdaemun and Gyeongbokgung. You can book your tour online here.
Afternoon: Jonggak, Cheonggyecheon & N Seoul Tower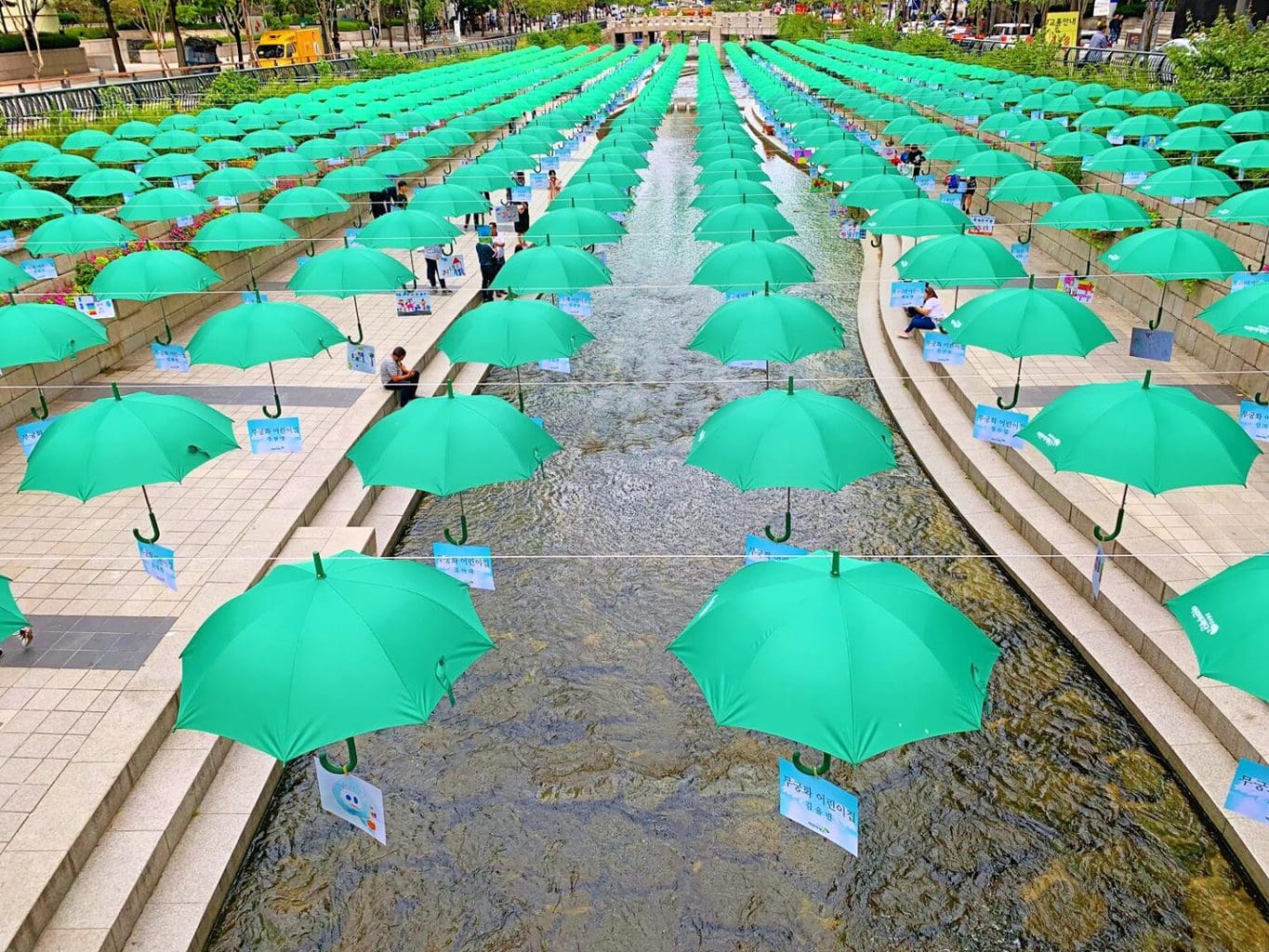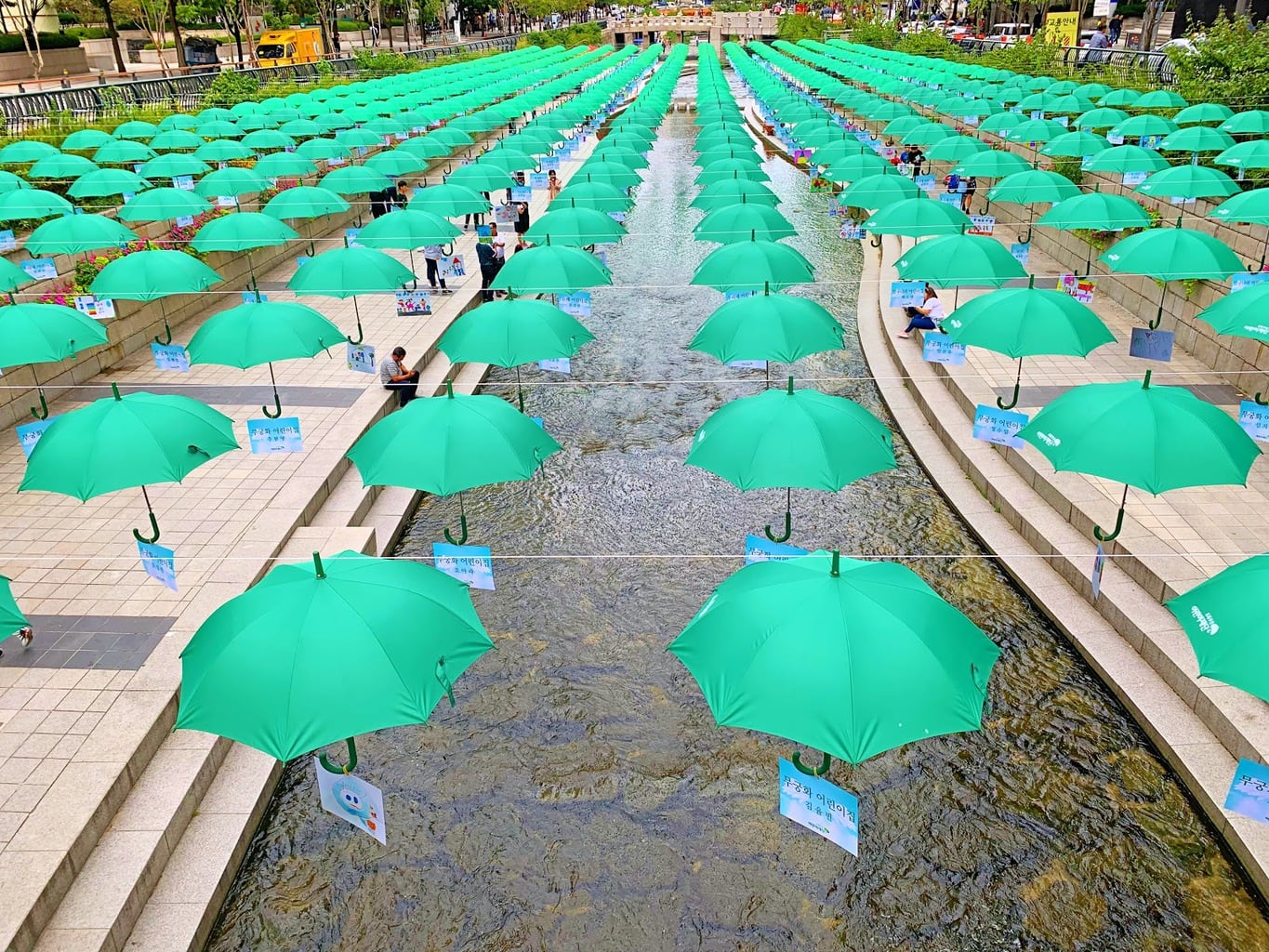 Grab some lunch at Jonggak Station in the back alleys between exit 10 and 12. The area is titled "Street of Youth" (젊음의거리 – jeolm-eum-uigeoli) as all the salary workers come here for their lunch and dinner breaks.
There's no particular standout restaurant here, but there are hundreds to choose from. Lines get extremely long at popular restaurants during lunch and dinner hours.
If you didn't spend Day 1 at any of the other Palaces, now is your time to do so after lunch. You also have the choice to walk along the Cheonggyecheon which is a stream that runs through central Seoul. You can access the stream anywhere, so you don't have to start at the beginning near Gwanghwamun Station.
Winter brings around the Lantern Festival (Oct-Dec) where the stream is filled with amazing lanterns of all kinds. You can walk all the way along the stream to your next destination, Dongdaemun or you can take the subway if you don't want to dawdle.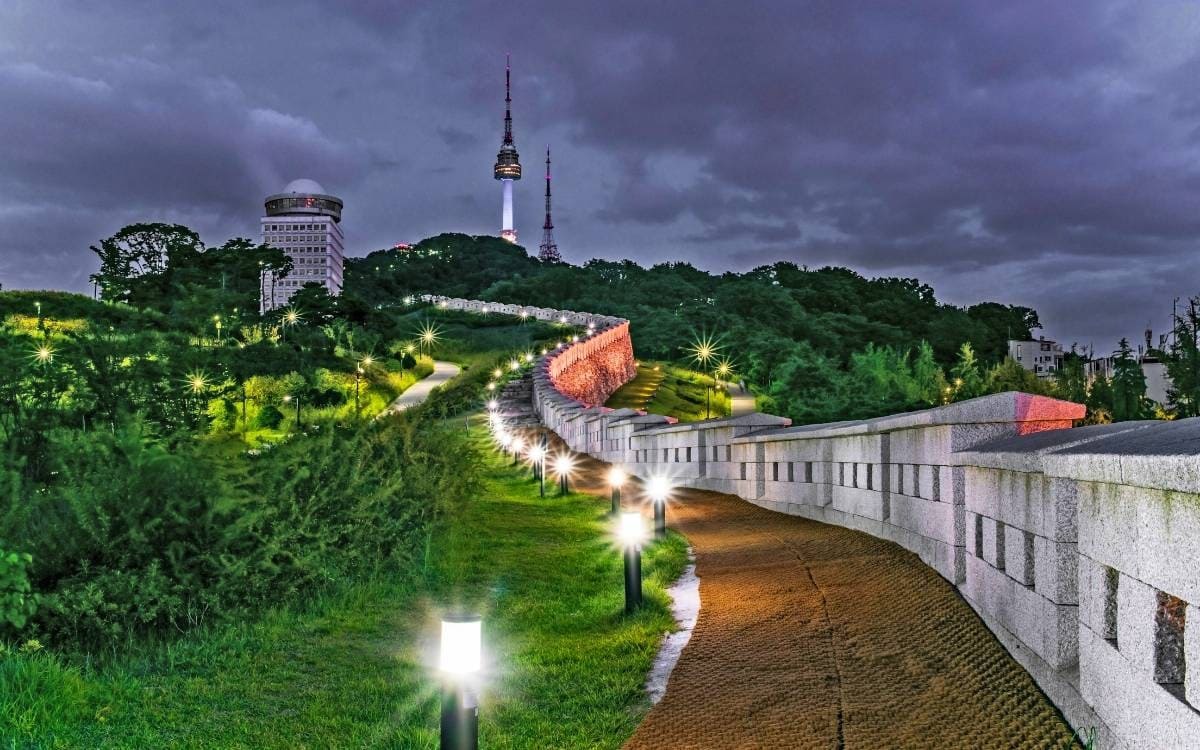 Another option before doing ALL THE SHOPPING at Dongdaemun is to catch the cable car up to N Seoul Tower on Namsan. N Seoul Tower is one of the city's most visited attractions and is a tower on top of a fairly small mountain in the middle of Seoul (236m). This is definitely a must for your Seoul itinerary.
At the top you will want to ascend N Seoul Tower, which provides a 360 panoramic view of the entire city. There are snack vendors and several restaurants at the top. You can reserve your entrance ticket online here (with options for food).
Catching the cable car is fairly cheap and fast, even with queues, and runs from 10am to 11pm (12 on Saturday). An adult return ticket is around ₩9,500.
If you aren't in much of a rush, there are free options to walk up to N Seoul Tower through a windy road that goes around the mountain or the steeper, but quicker set of stairs that lead to the top.
There are also eco-friendly public buses that run regularly up and down the mountain. For the full routes visit this website. Exercise junkies can wake up extra early and run the flat loop around the mountain if they so choose.
Evening: Dongdaemun & Gwangjang Market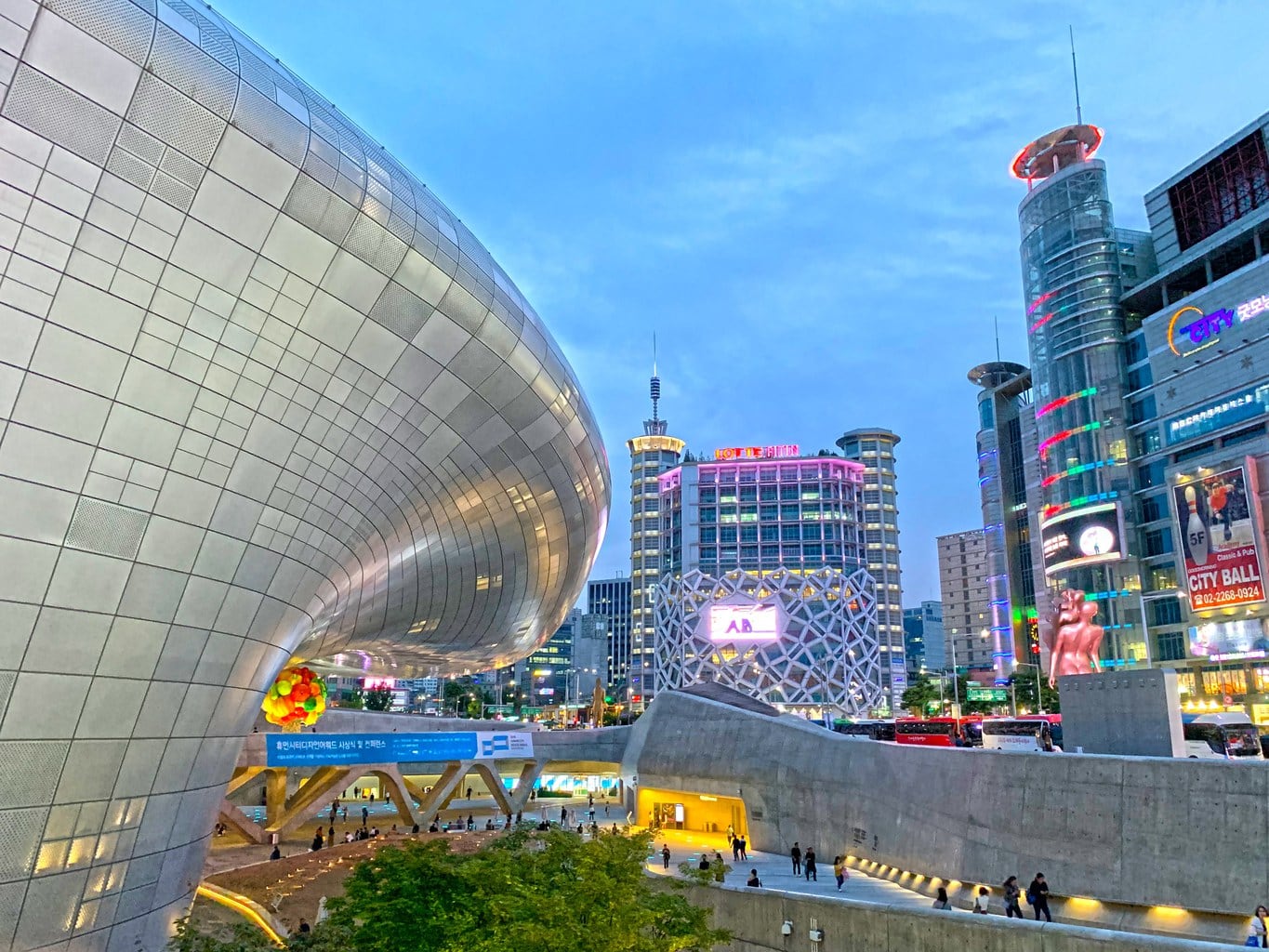 Your final stop of the day will be at Dongdaemun, an all night shopping wonderland with a handful of department stores selling everything from luxury brands to local Korean designer clothing. It's also Seoul's top wholesale shopping destination if you're into textiles.
As shopping only begins at sundown and goes throughout the night, visit Dongdaemun Design Plaza (DDP) first. This influencer's dream is an epically futuristic building designed by Zaha Hadid who designed the Morpheus Hotel in Macau and the Heydar Aliyev Center in Azerbaijan.
Apart from being a major urban landmark, the building can also be visited and has a rooftop park, exhibition spaces, parts of the original Seoul fortress, a design museum, the design lab, the academy hall, media center, seminar room, the designers lounge, the design market and more retail stores. It comes alive at night with light projections.
American burger chain Shake Shack is at the bottom of Doota Mall if you want a quick pick me up. For something a bit more local, try Dongdaemun chicken stew alley or grilled fish alley (grilled fish is called saengseon gui – 생선구이 – and is usually mackerel).
The highest rated samgye-tang (삼계탕 – ginseng chicken soup) is at Myeongdong Dalk Hanmari (명동닭한마리). There is no particular place for the fish, so just find a full restaurant and pop in. If all else fails, try Honamjib (호남집).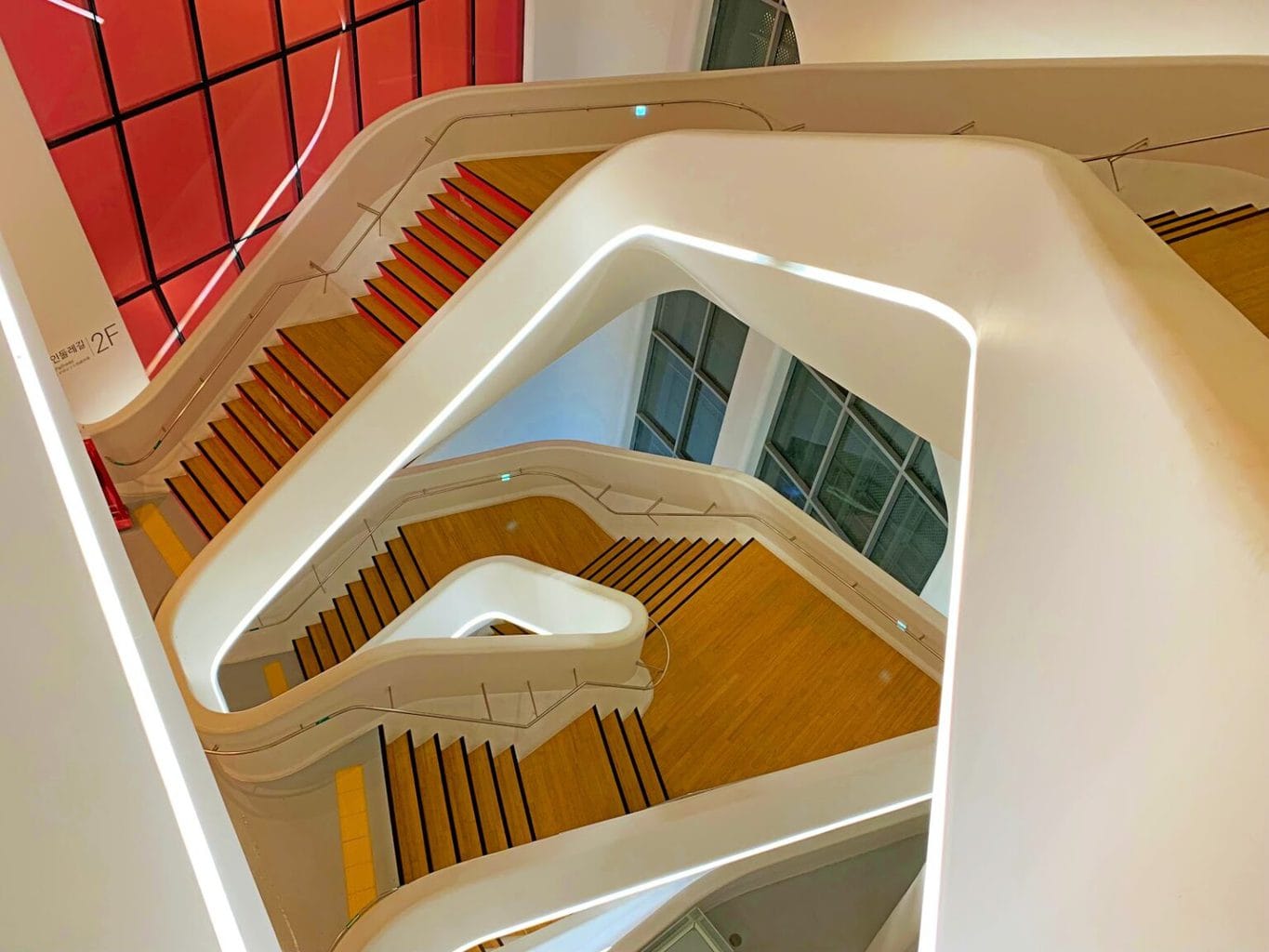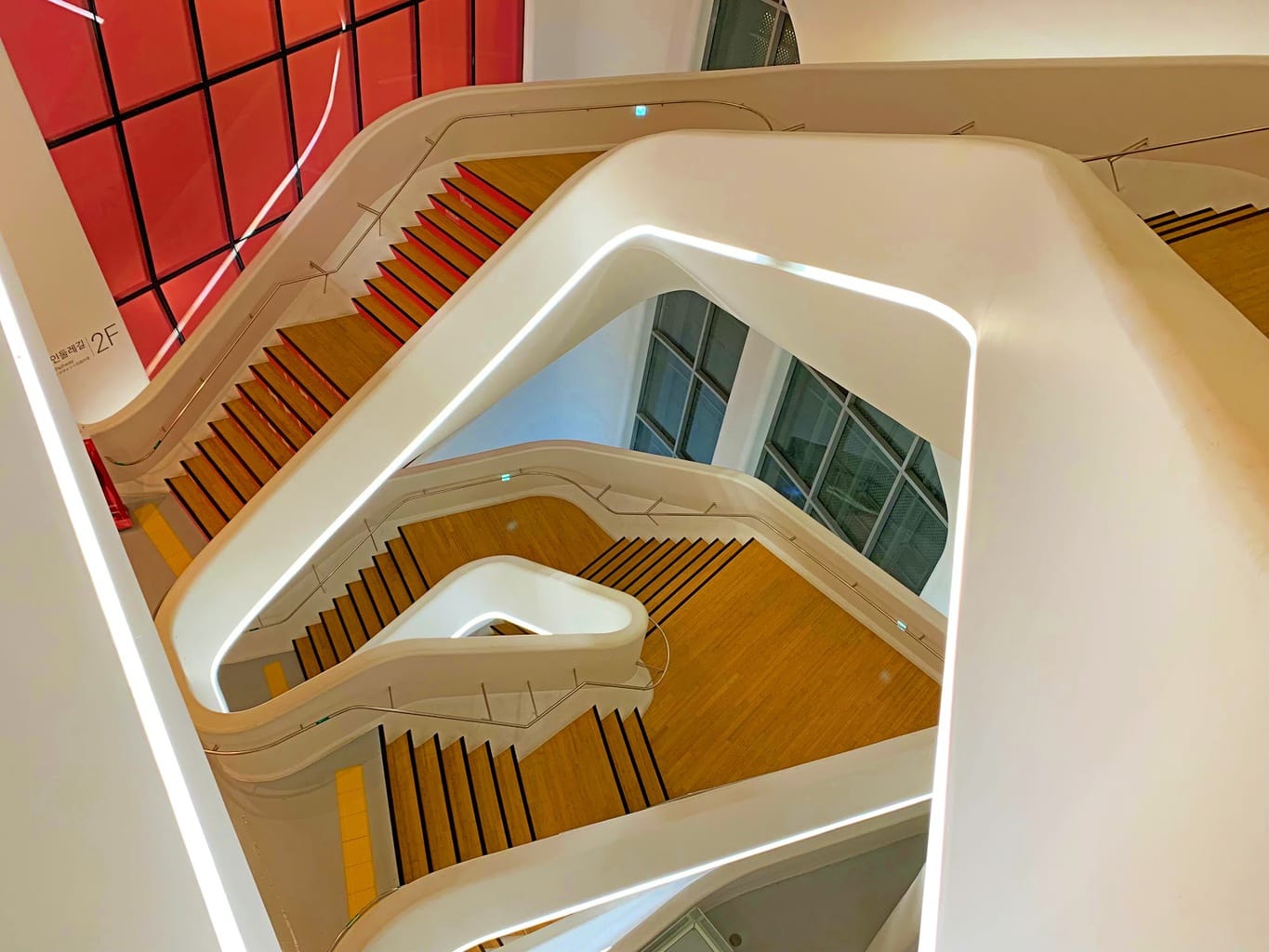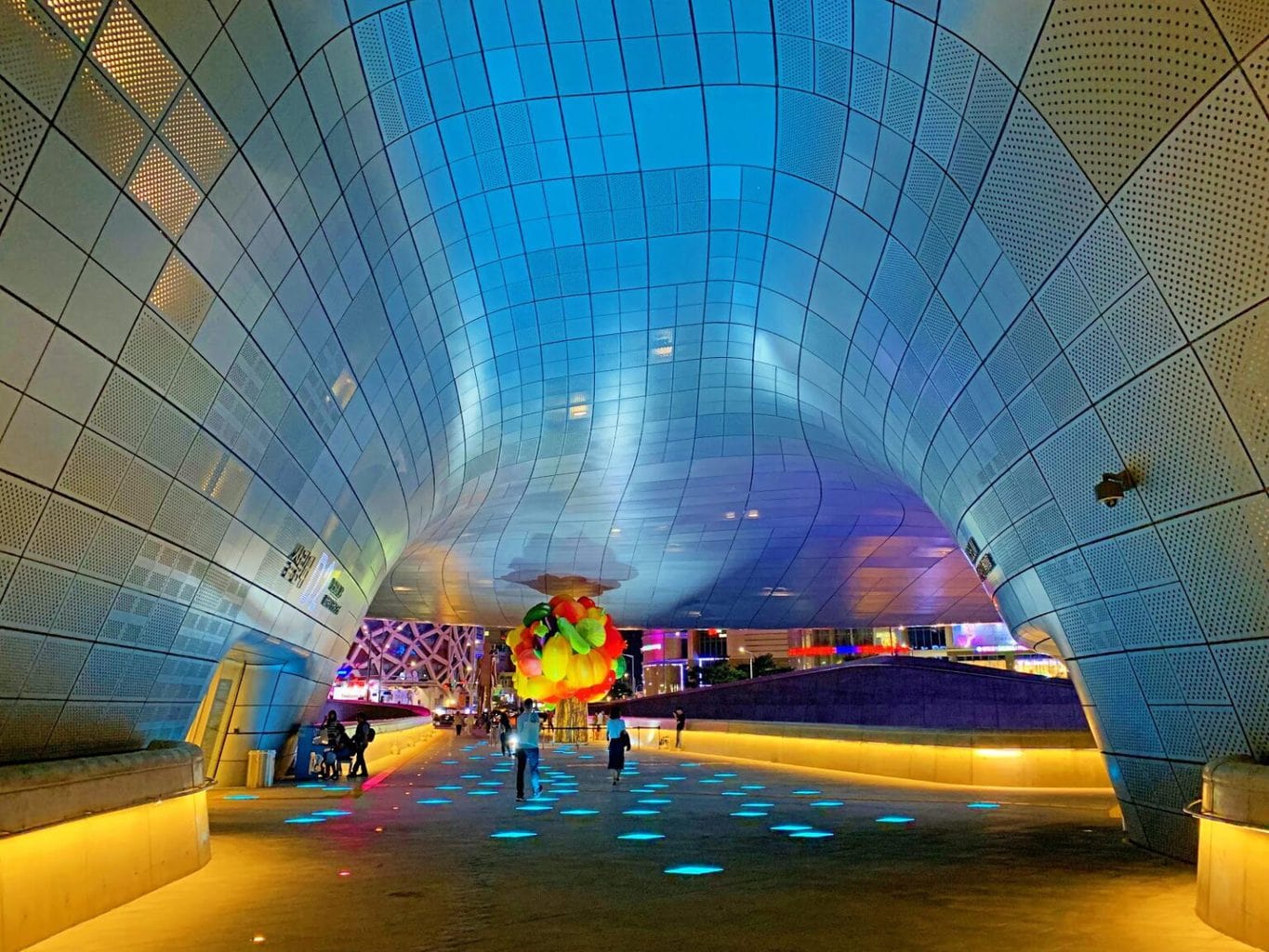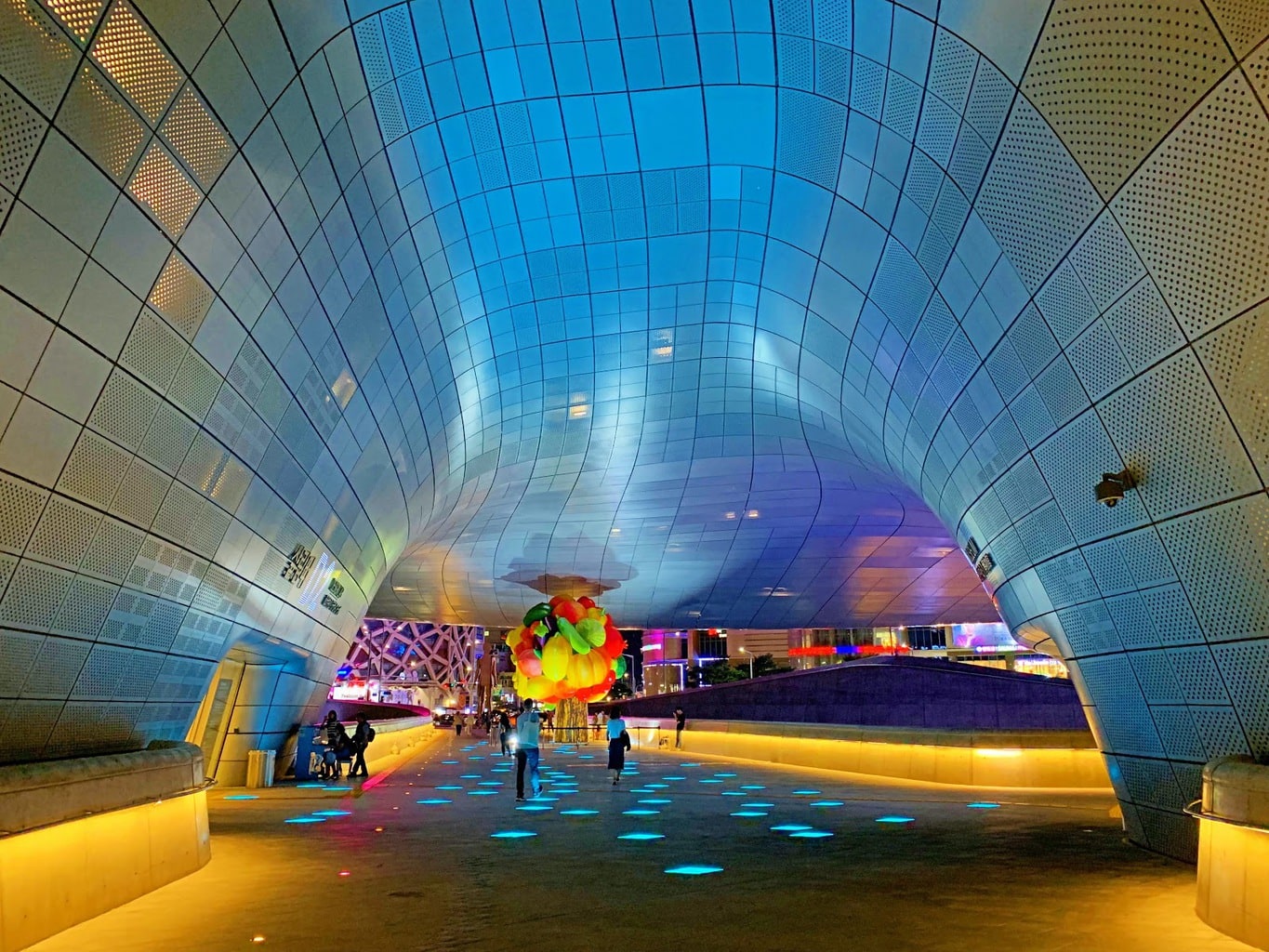 Places to visit in Dongdaemun include Migliore, Doota, Hello APM or any of the otherapM franchises. Bring cash to haggle down the prices (say "kkakka juseyo" to ask for a discount). But Doota and Migliore should be your top picks for retail items.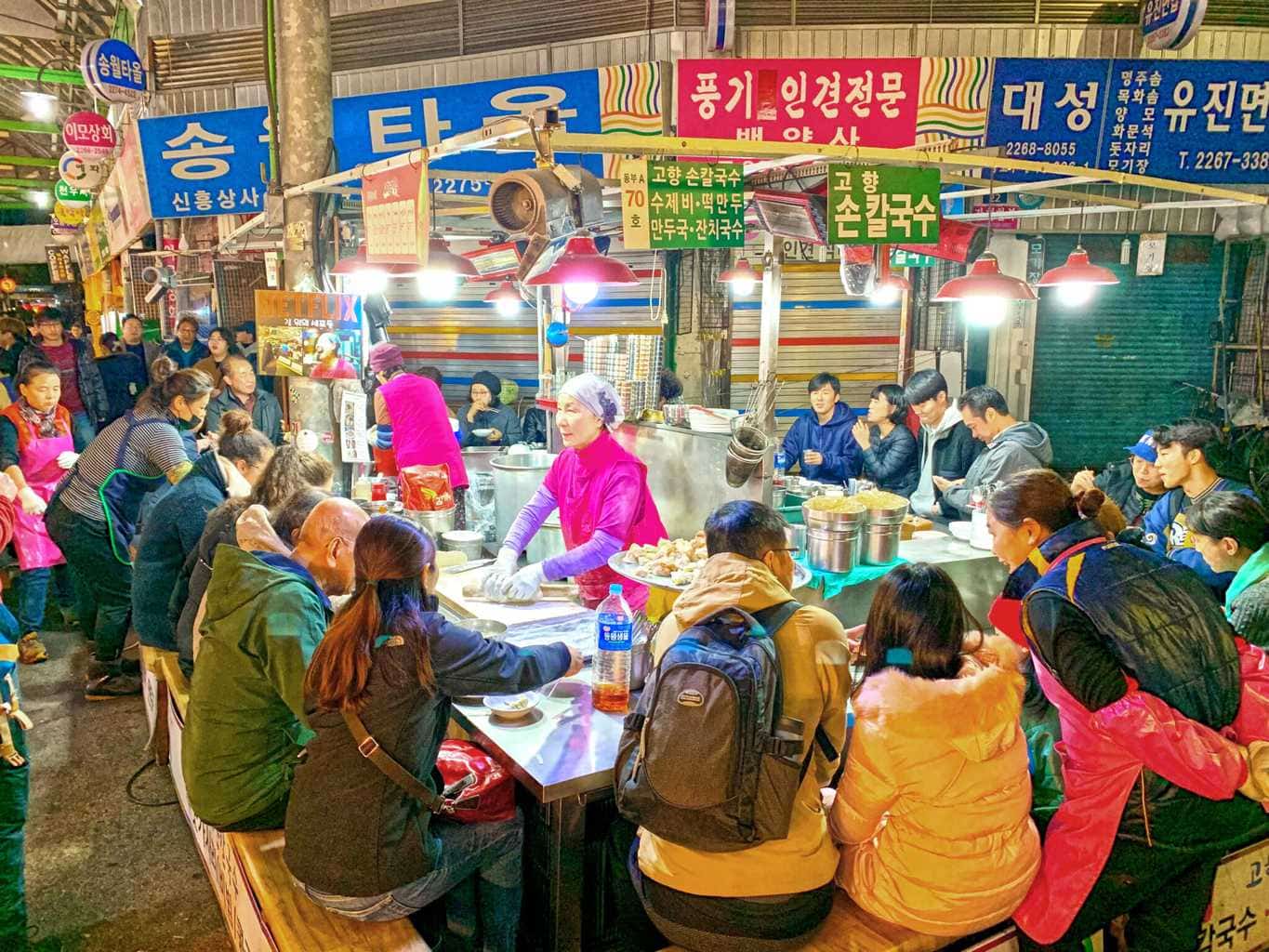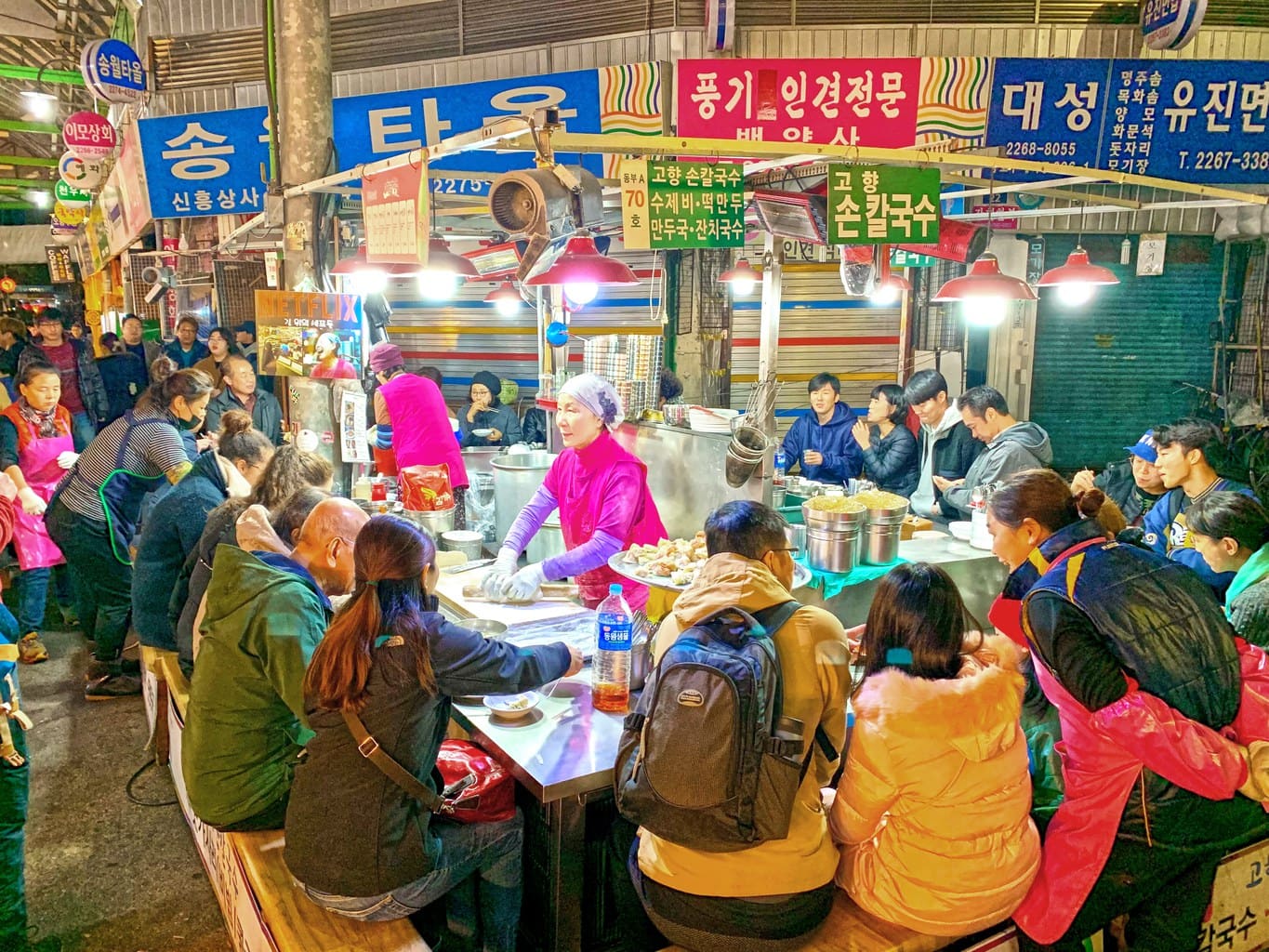 You can also try to fit in a visit to Gwangjang Market where an episode of Netflix's Street Food was shot. Yoonsun Cho has her hand cut noodles and kimchi mandu here for around $5, she's at stall #70.
There's kimbap (김밥, Korean style rice roll), jokbal (족발, pig's feet), soondae (순대, blood sausage made of cow's intestines) and bindaetteok (빈대떡, mung bean pancake) among many other street food options. Bring cash and an empty stomach.
There is a really cool tour you can take which visits all the top stores in Gwangjang Market at night, as well as taking you to N Seoul Tower, Jogyesa, Changgyeonggung Royal Palace and Cheonggyecheon Stream. It's really cool at night, especially in the maze that is Gwangjang. It can get really overwhelming there to decide on the best stalls, so a local guide is extremely helpful. You can book it online here.
Pro tip: Fashionistas may also want to visit Dongmyo flea market near exit 3 of Dongmyo Station (behind Dongmyo Shrine). It's basically a vintage shopping town with hundreds of stores all condensed into one area. Definitely a spot to pick up your next #OOTD.
Nature lovers could choose to skip all the shopping and take a hike on Seoul's largest mountain Bukhansan. There are various routes, so you can pick your level of difficulty and the amount of time spent on the massive green space that is 78.45km wide, 836 m high, lies within 6 different districts and even extends into the next province, Gyeonggi-do.
Day 3 – Gangnam: Apgujeong, Lotte World & Han River Park
Today will be your first day exploring Gangnam. Translated, Gangnam literally means "South of the River" referring to the Han River and is synonymous to Koreans with luxury, wealth and power.
The greater Gangnam area is in southeast Seoul and is divided into 3 separate districts – Gangnam, Songpa and Seocho.
Gangnam is not only the center of wealth, but also Kpop and high-end fashion. You'll find the best restaurants, hip cafes, boutique and international shopping and swarms of people. It's the center for plastic surgery tourism too if that's your poison.
Pro tip: It's best to avoid public transportation during rush hours in the morning (7-9), afternoon (12-1) and evening (5-6) as it gets really packed. I have personally been stuck in a bus for 45mins between one stop and the next (usually a 5 min drive) as the traffic was not moving. You will also be pushed up against people in the subway during these times.
Morning: Apgujeong & Cheongdam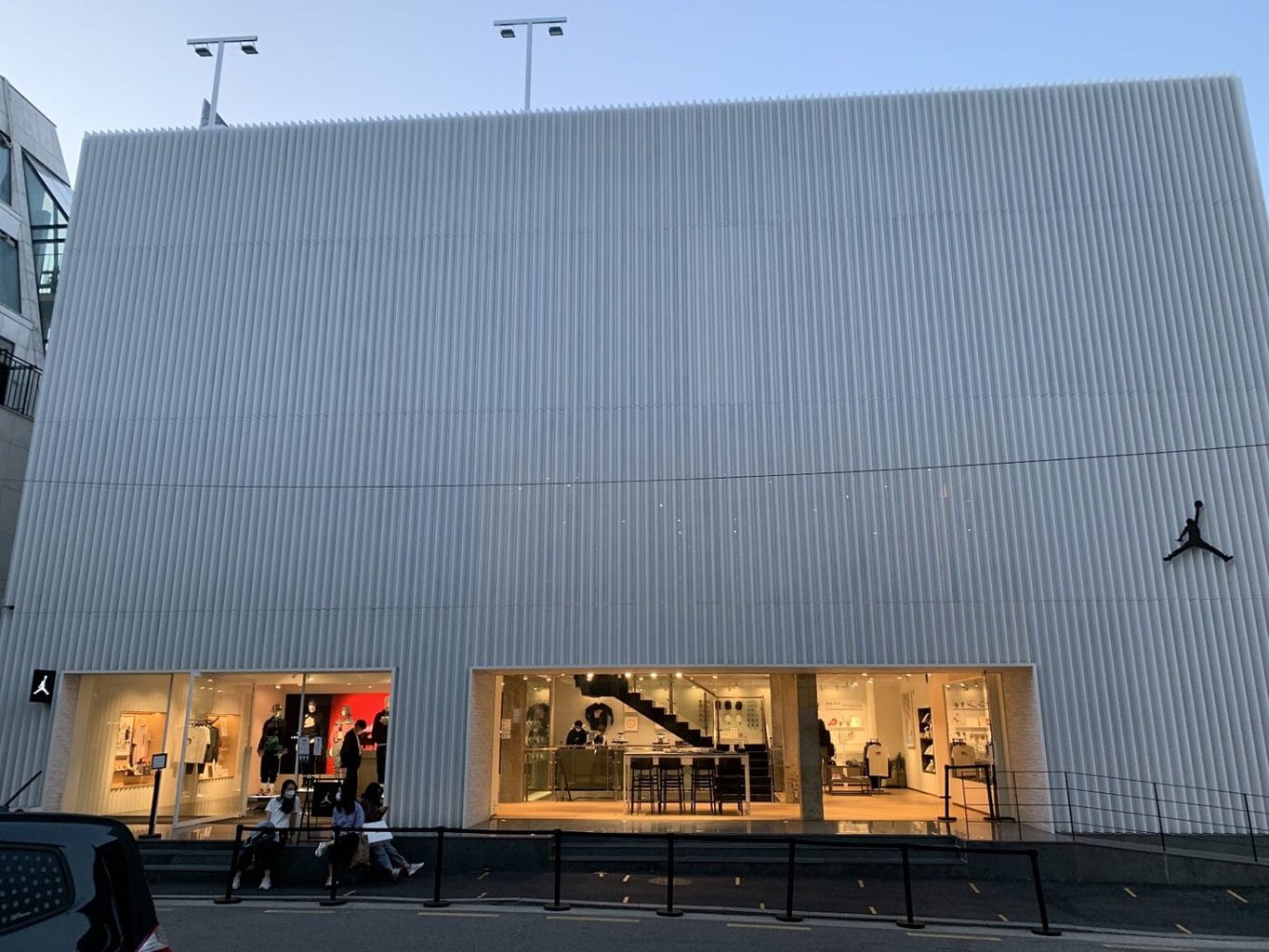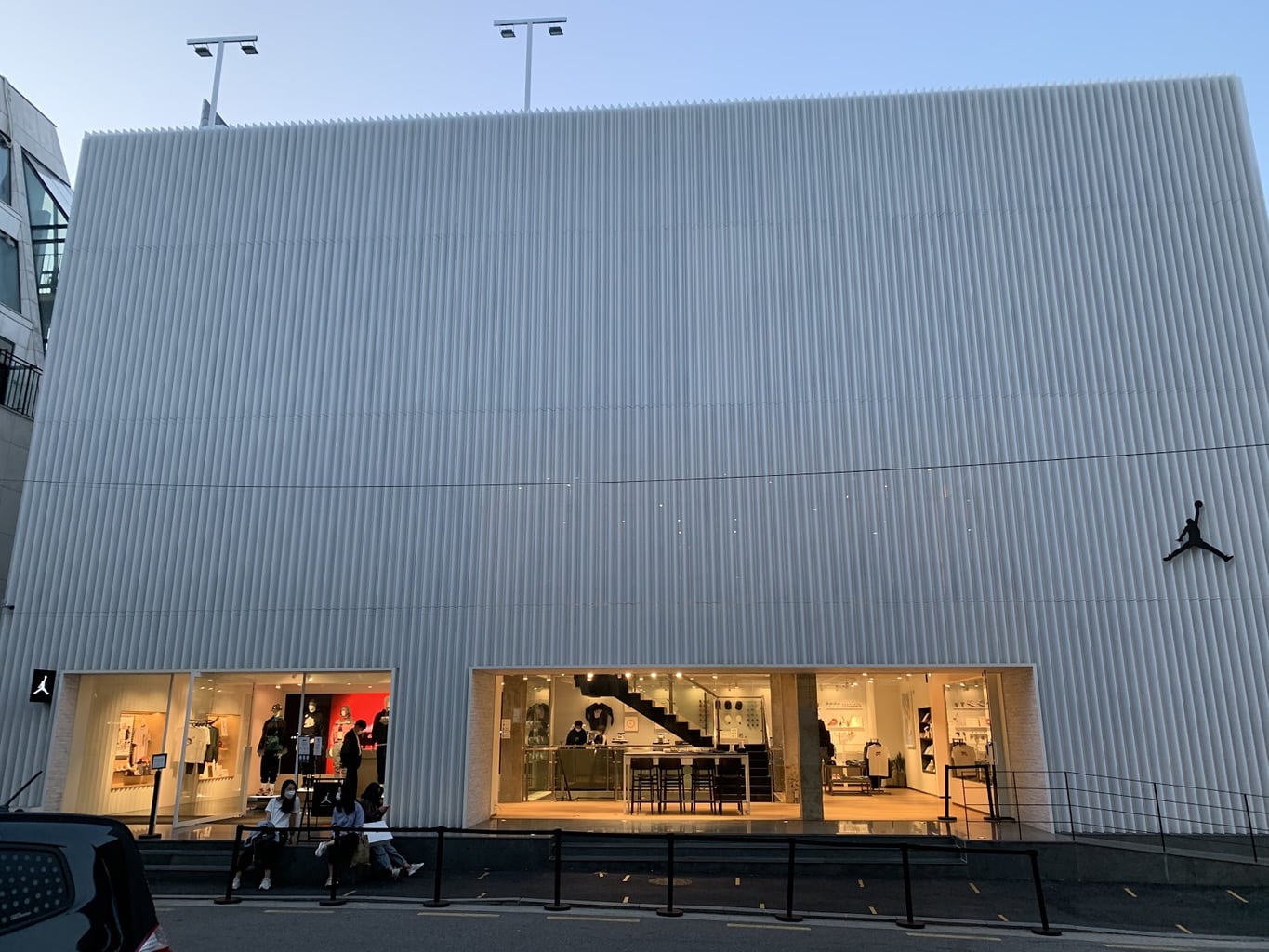 Start your morning in trendy Apgujeong. It's usually compared to Tokyo's Ginza and has also been named the Beverly Hills of Seoul. The area between Apgujeong and Apgujeong Rodeo Stations is absolutely packed with all types of amazing restaurants from all over the world. So find a nice place for some breakfast and then get to shopping.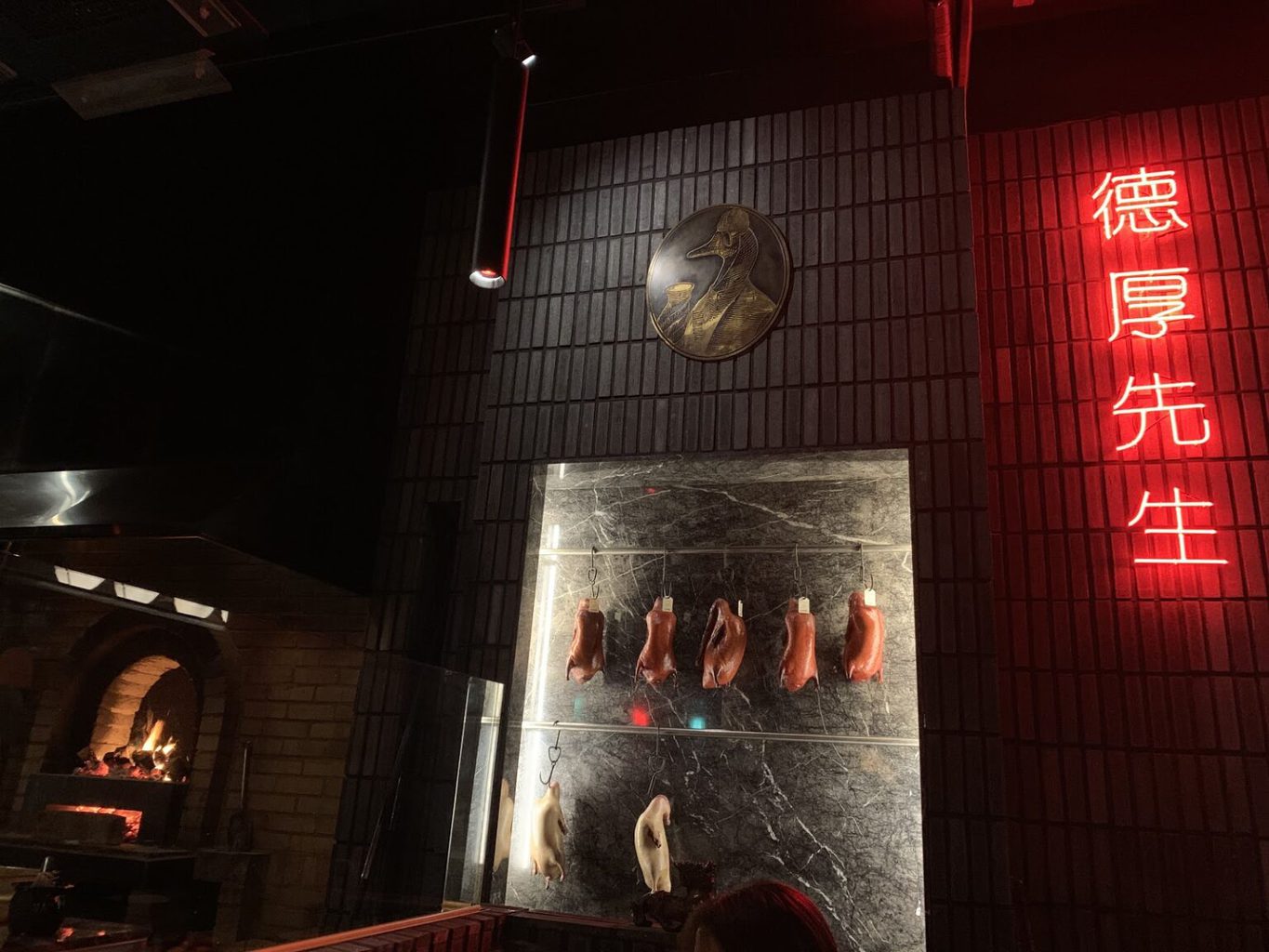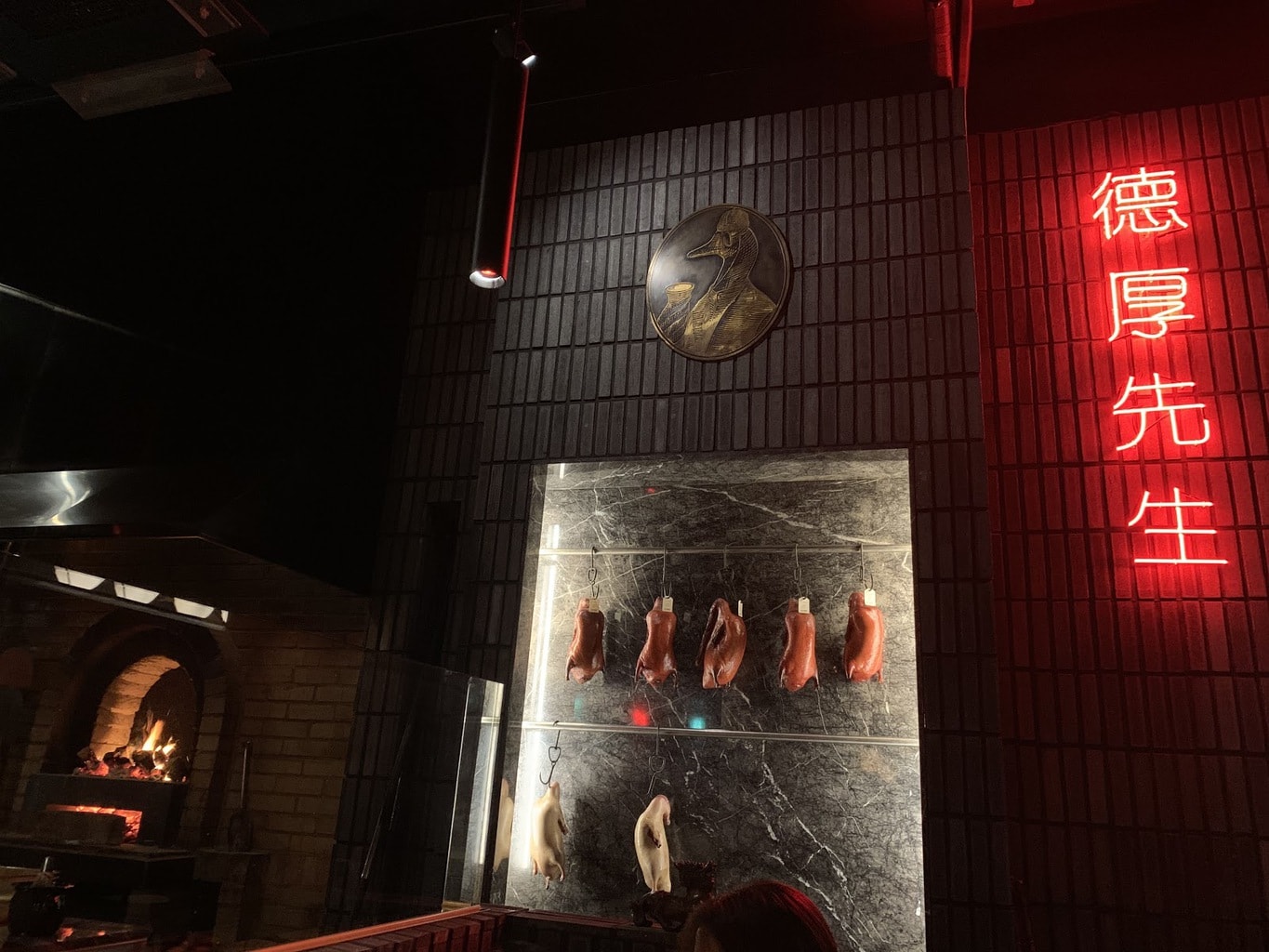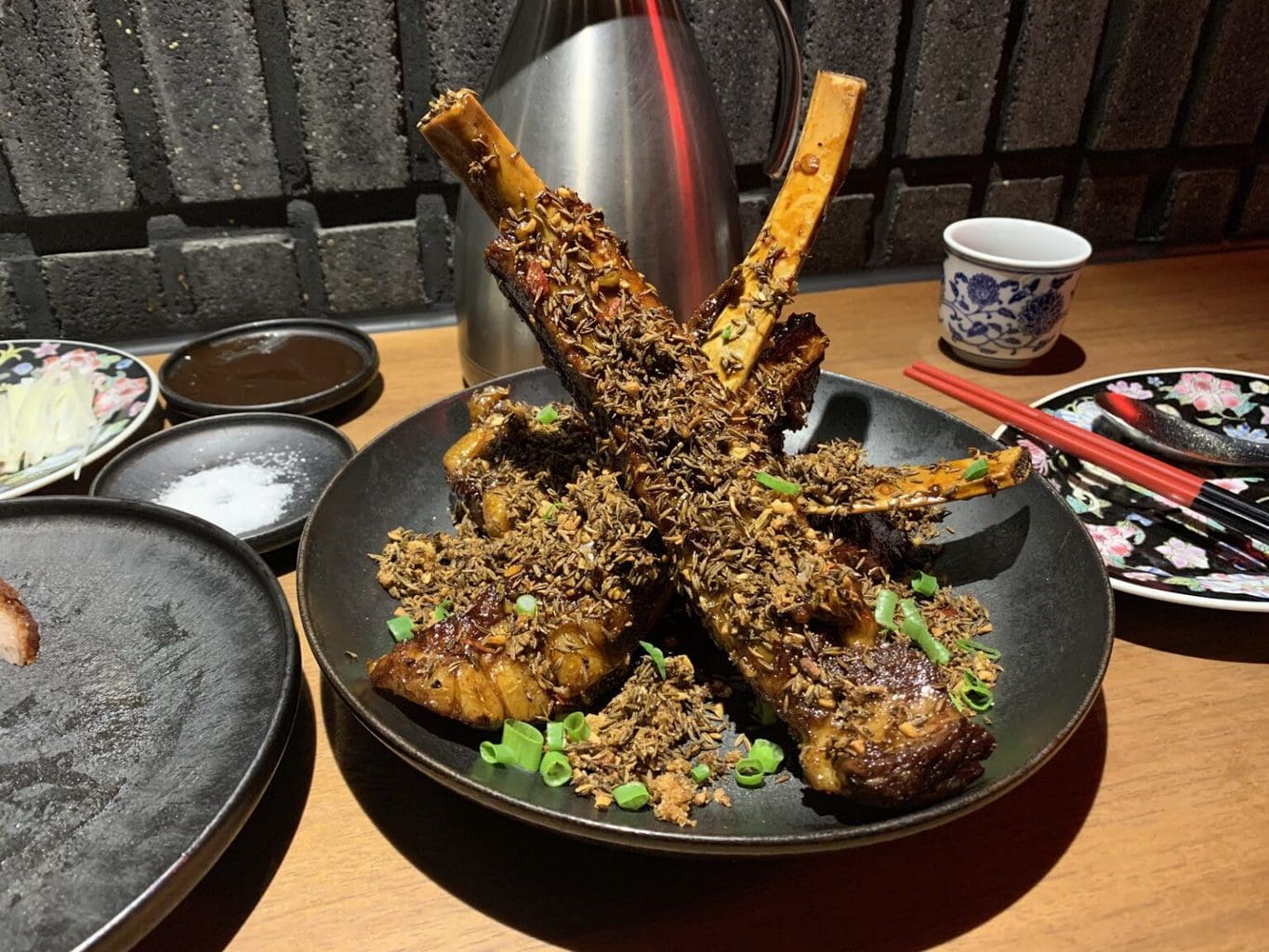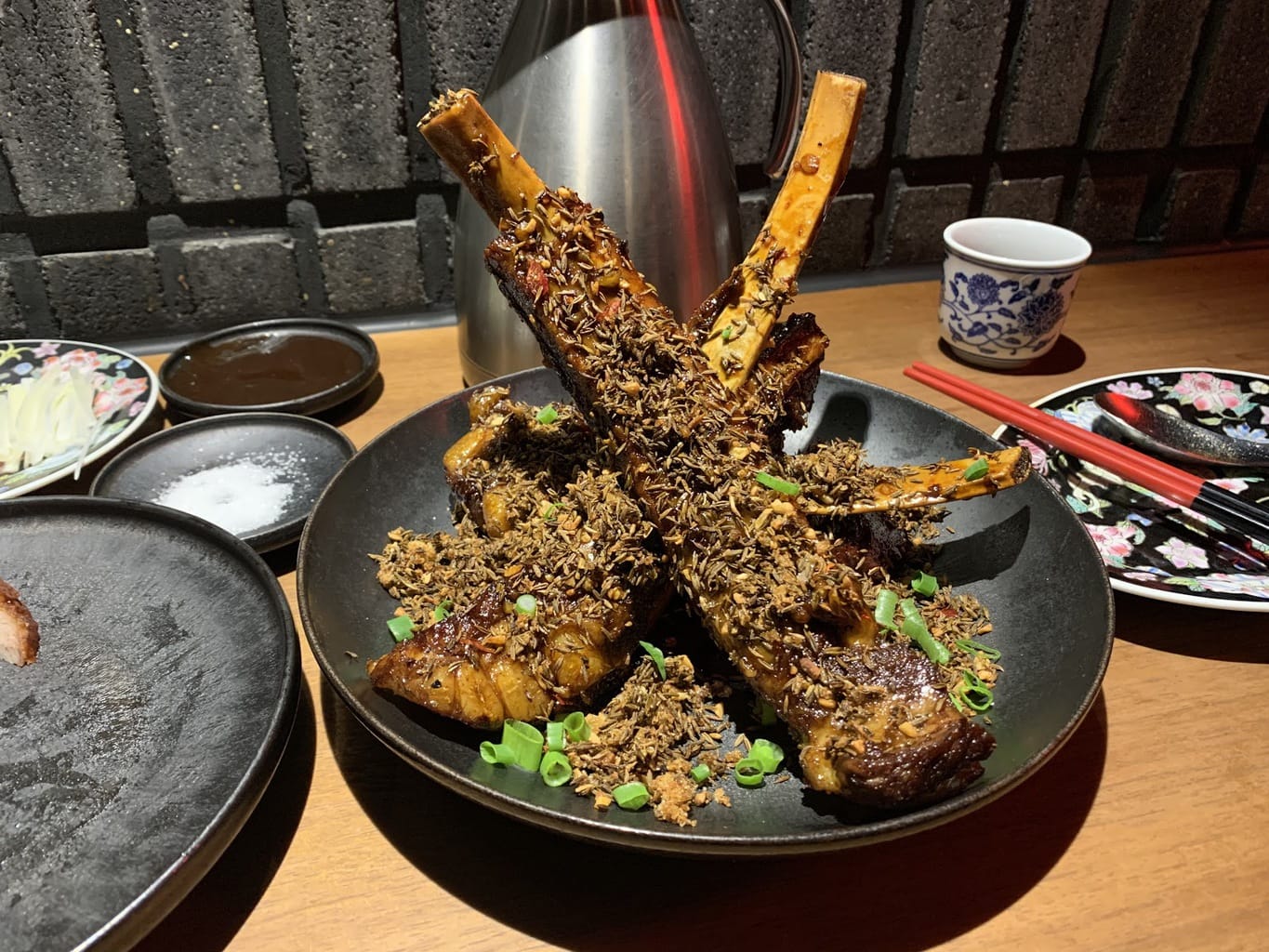 Pro tip: If you use Daum or Kakaomap, zoom into the area you're visiting and type or paste "맛집", which loosely translates to "tasty house" and is a restaurant with delicious food that's made famous online or through word of mouth. Basically it's a "hot place". While you may not be able to understand the reviews (you can use Google Translate), you can see the star ratings. Walk past and if it's busy, it's good.
Walk back to Garosugil, a trendy place for fashionistas and beautiful people to do their shopping. You are now in the center of the Gangnam District, which is all about flash, money and one upmanship.
You'll see Ferraris and Lamborghinis lining the street, plastic surgery clinics and a general air of wealth. It's the epitome of the Psy song "Gangnam Style".
Sit at one of the coffee shops on Garosugil to people-watch and don't forget to explore the back alleys for amazing boutique stores. Here are some places to visit in the area.
Check out the glamorous Galleria department store, top-notch Hyundai Department store or Apgujeong Rodeo street for some serious shopping. Saunter over to Cheongdam, also known as the Champs Elysees of Asia, for more high class fashion brands and see where the super rich of Korea live.
Next to Apgujeong Rodeo Street is Cheongdam Fashion Street where celebrities come to get their hair and make-up done. You can actually reserve an appointment with celebrity hairstylist Jenny House in Cheongdam online here to get a complete Seoulite makeover.
You can max your credit card further at Cheongdam Luxury Street (청담동 명품 거리 – Cheongdamdong Myeongpum Gori) which is lined with flagship stores of prestigious fashion brands such as Louis Vuitton, Giorgio Armani, Gucci, Prada and the like.
Pro Tip: Another hot place is Nakseongdae area's Sharosugil, a newer and more student-oriented version of Garosugil but less pretentious. If you'd like to skip Apgujeong, you can visit this spot later, but it's suggested that you do it in the evening as it really comes alive when the sun goes down.
Afternoon: Lotte World & Olympic Park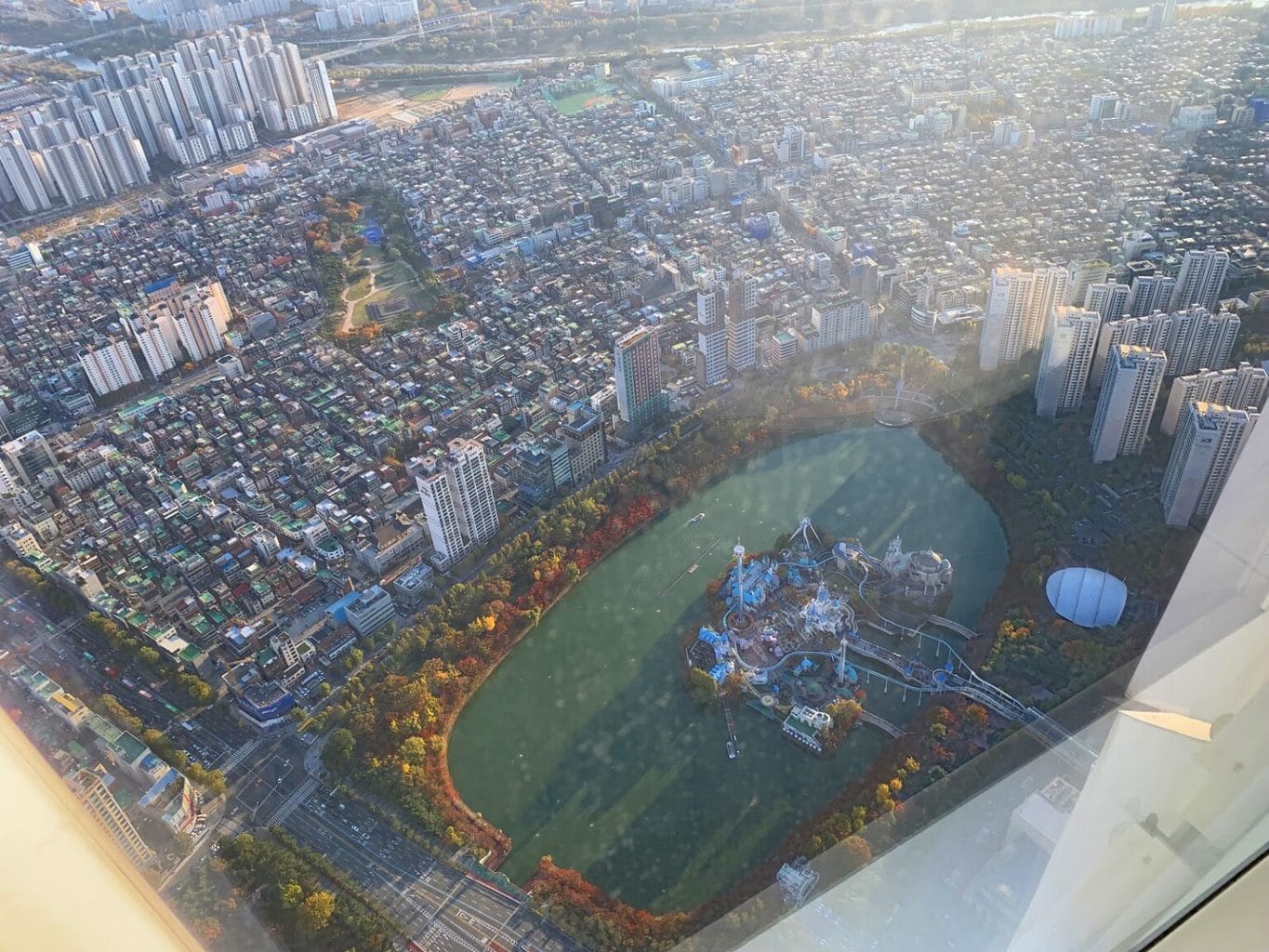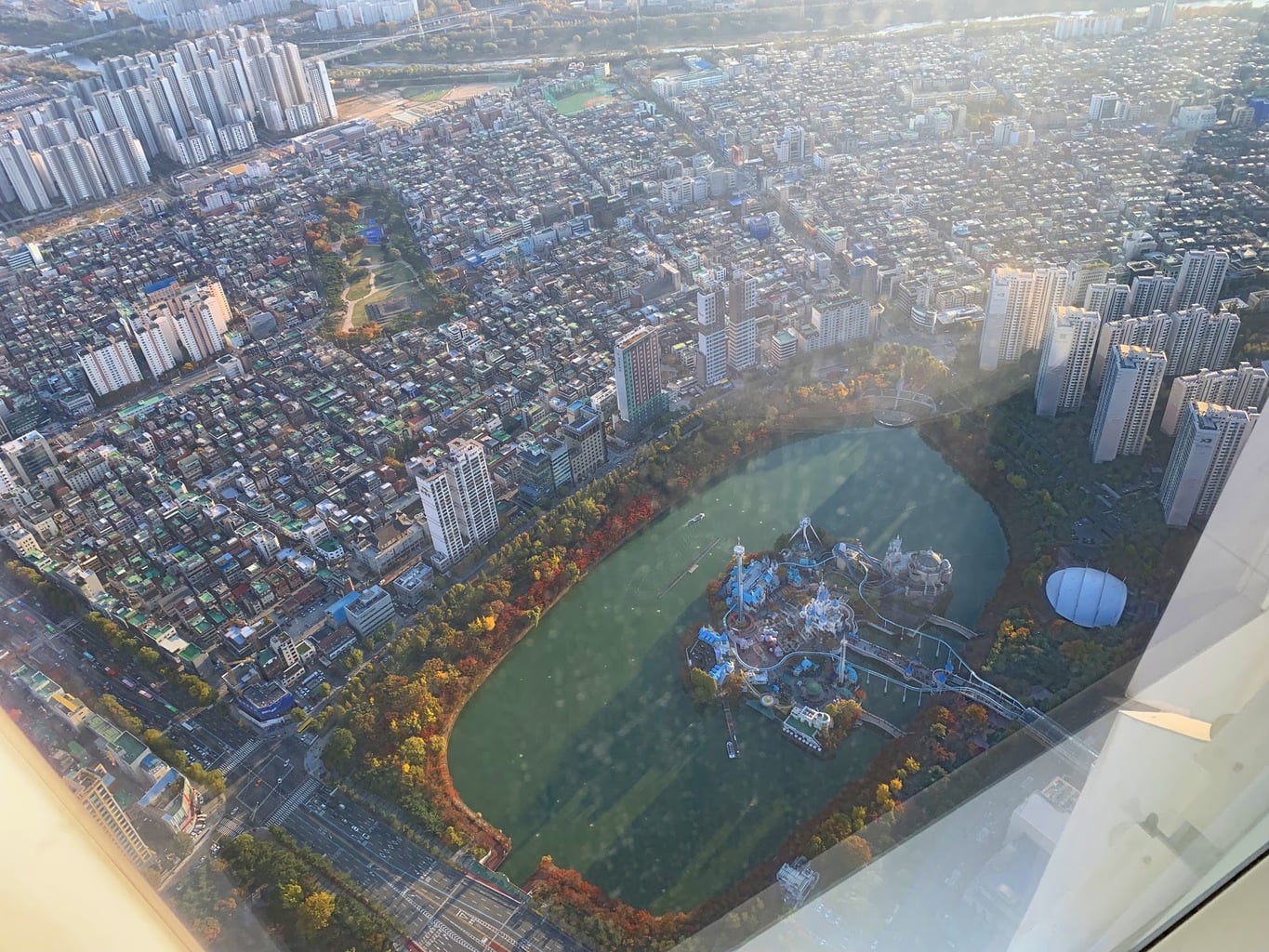 Now that you're done with shopping, you can do some more shopping!
You'll be going east to the Jamsil area where you'll find the largest building in the country and the 5th tallest building in the world (123 floors at 555m). There are actually three shopping malls in this area:
Lotte Department Store near Lotte World which is a typical Korean multi-level department store
Lotte World Mall which is a bit more fancy and styled in the fashion of a western mall
Lotte Avenuel which is a luxury mall with high-end brands and duty free items
If you're all shopped out, there is plenty to do in the area. You could spend the rest of the day at Lotte World Theme Park, much like Disney World with roller coasters and other rides that will give you an adrenaline rush.
Book your day pass for Lotte World online and get discounted and skip the line tickets here.
There's an indoor ice rink in front of Lotte World that's open year round, and is separate to the theme park. A romantic lake called Seokcheon is just outside Lotte World and is great to get some exercise in or to slow your pace a little.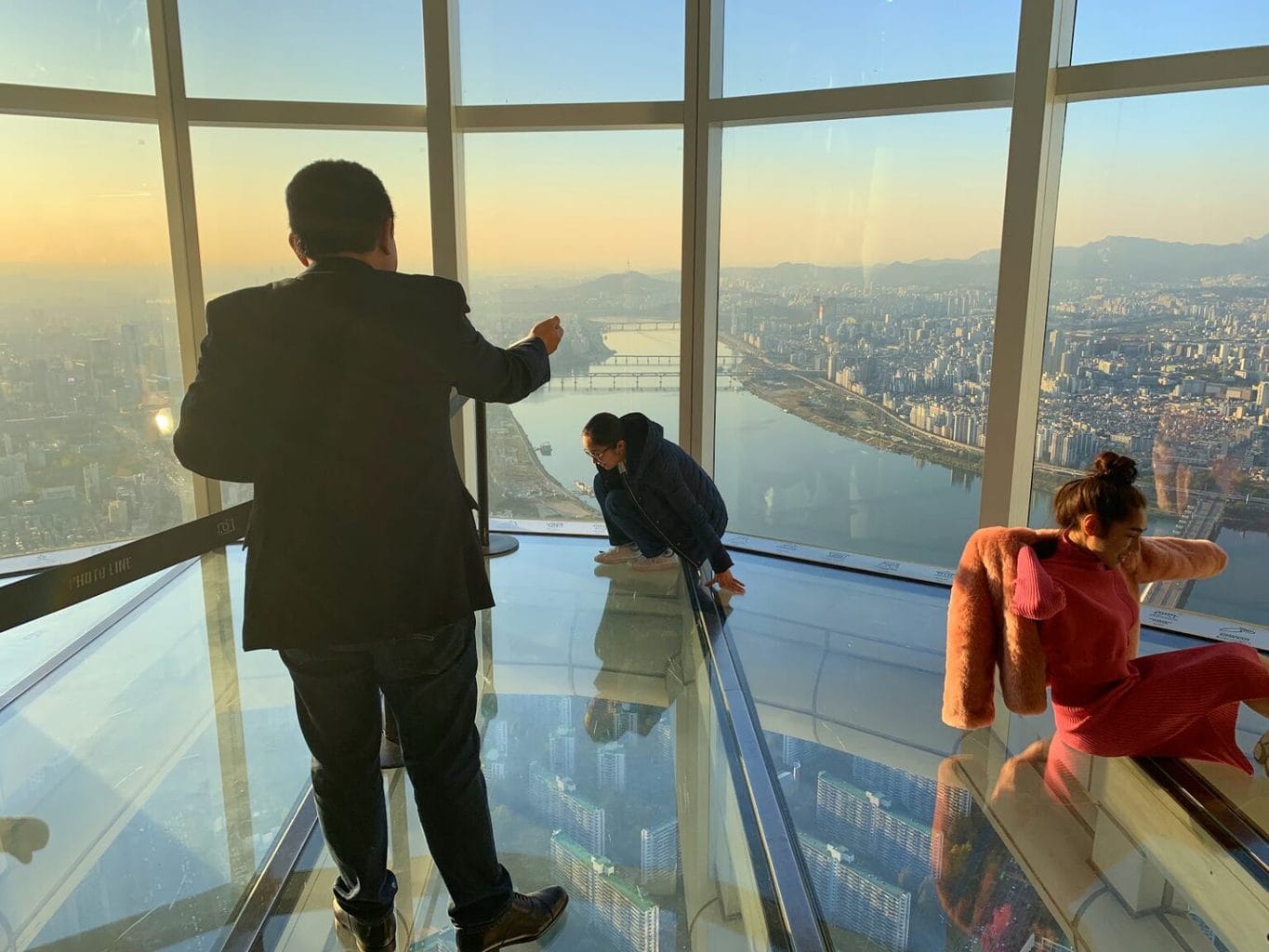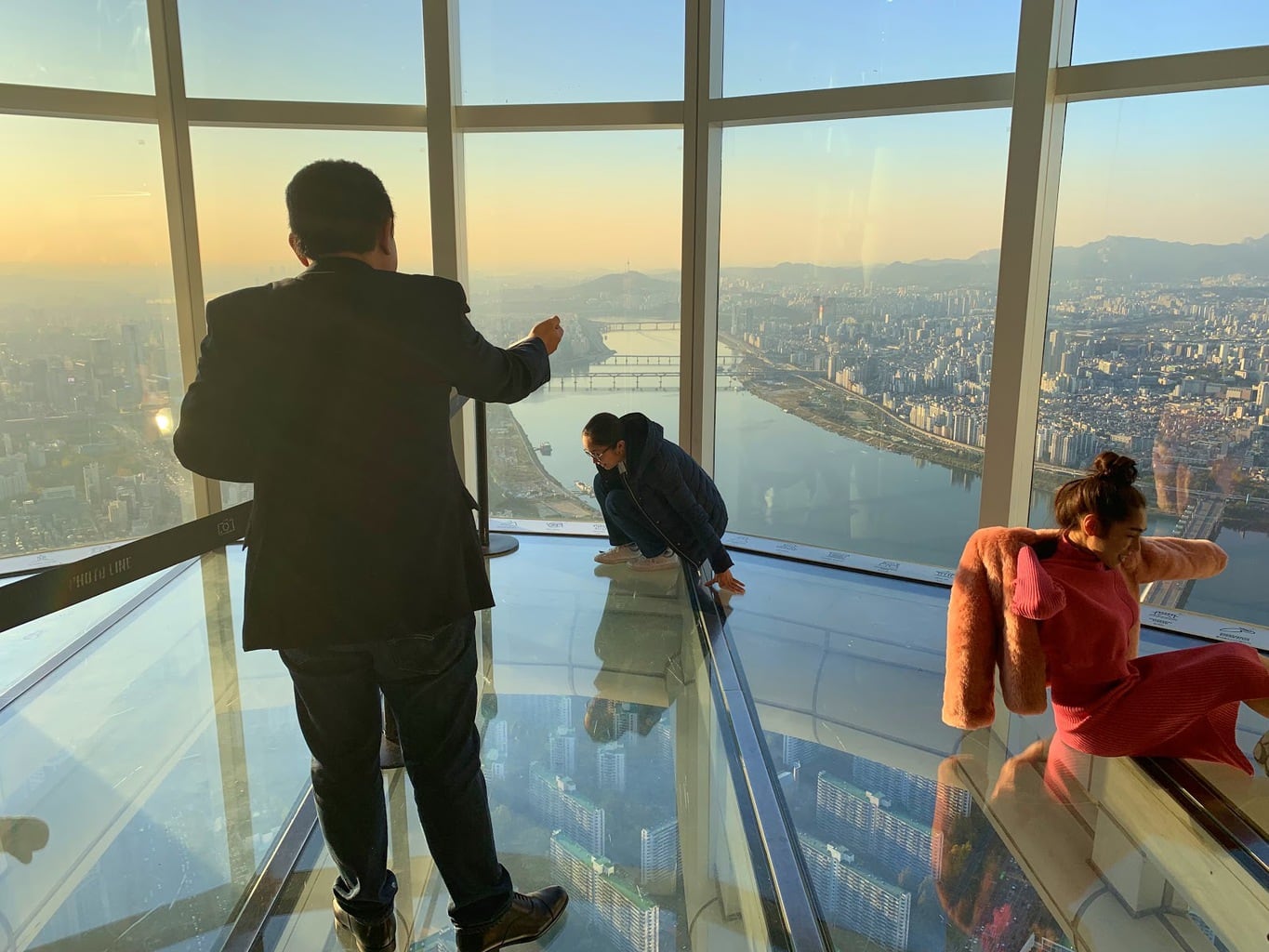 One experience we would highly recommend is going up Lotte World Mall Tower. It has the world's tallest and fastest double-decker elevator, the Sky Shuttle, which takes passengers from the basement to the 121st-floor observation deck in one minute (that's 10 meters per second).
Just the elevator alone is motivation enough to go up. But then you get the most epic 360 degree view of Seoul and the glass floors are thrilling!
There is an Aquarium at the bottom of the tower, you can reserve the Signiel Hotel and stay between the 76th to 101st floor, or book the Songpa L Pass which gets you access to Lotte World Adventure, Lotte World Aquarium and Seoul Sky if you expect to visit them all.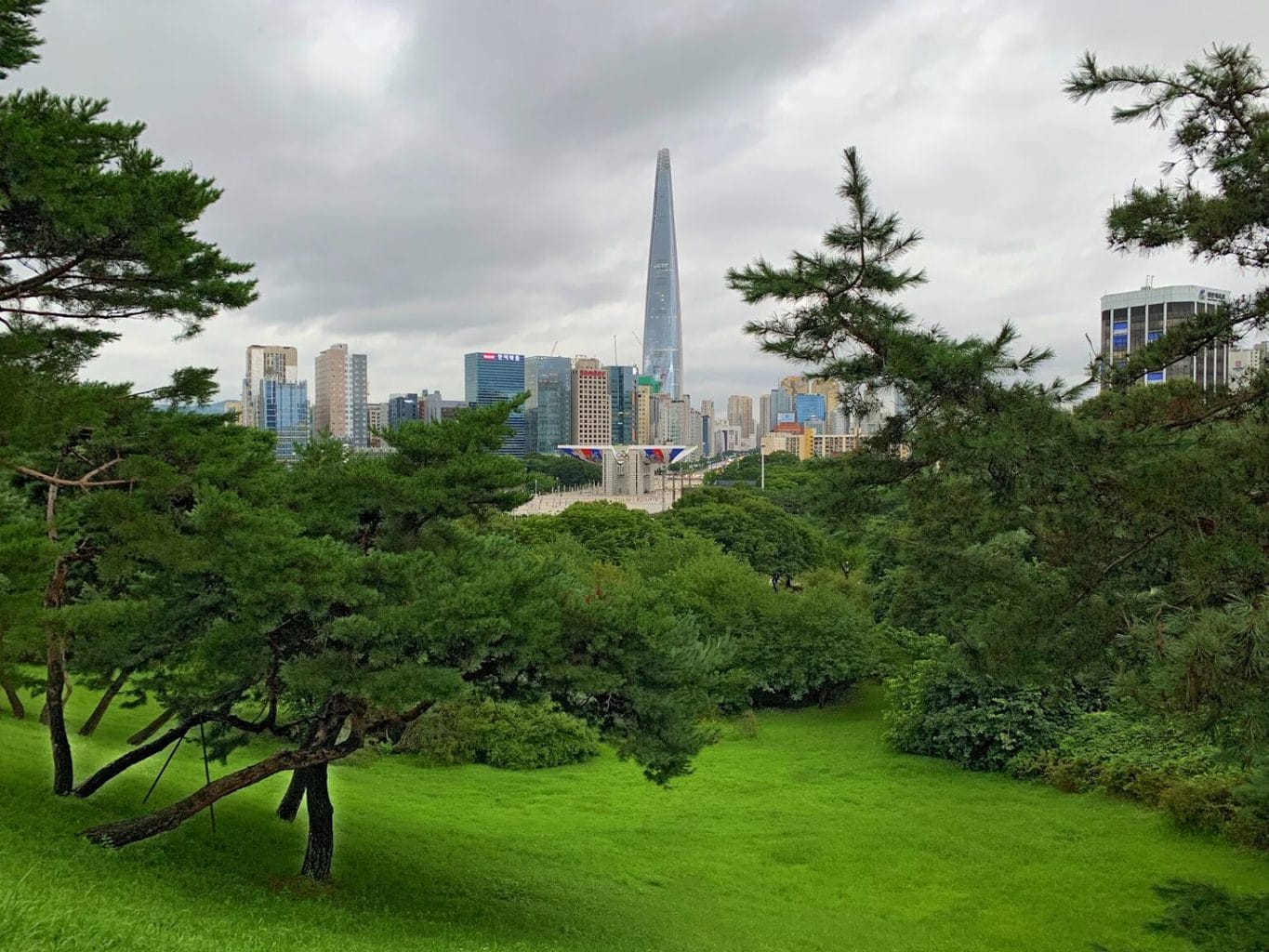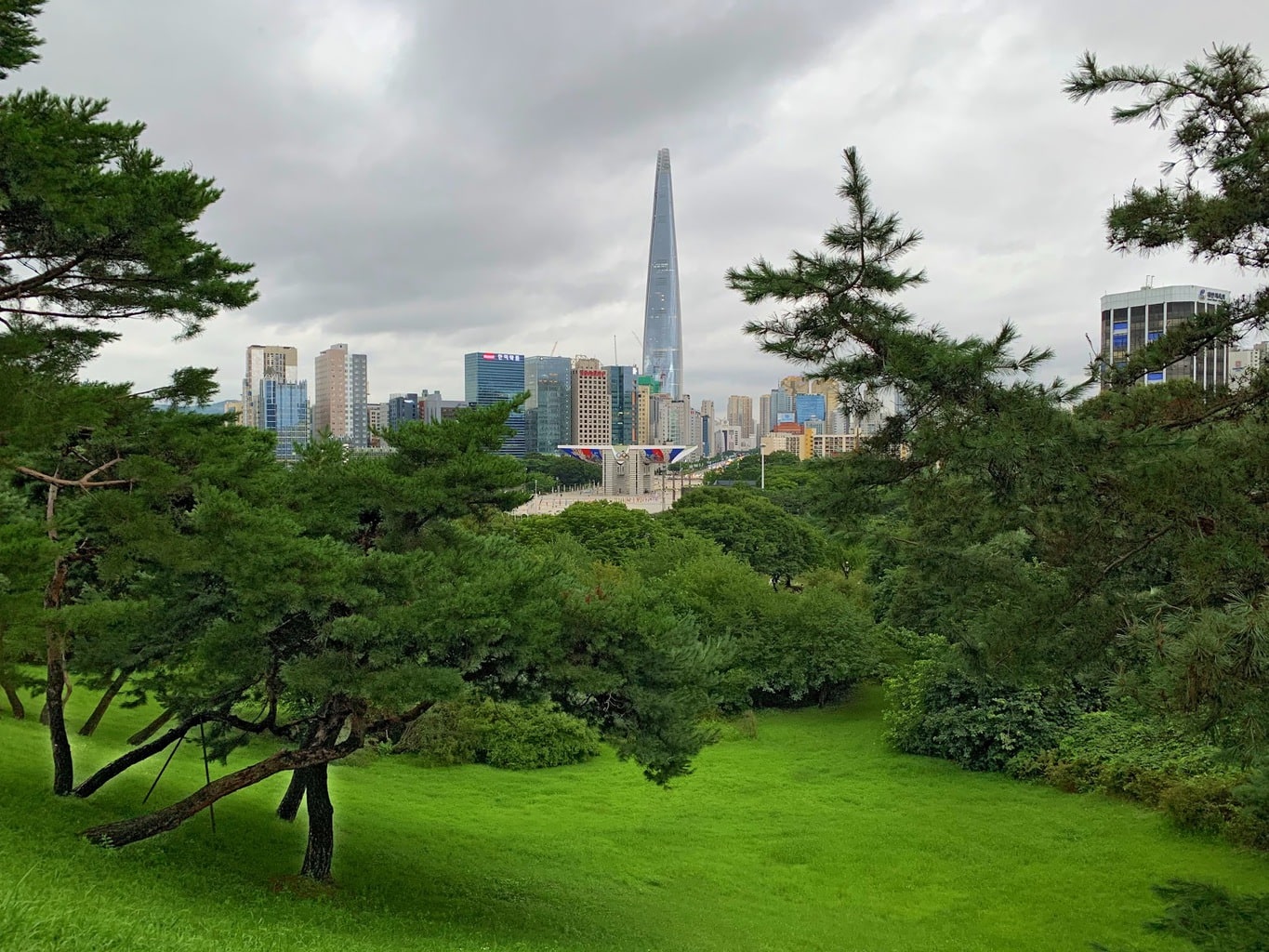 If you're more of a nature, art or history enthusiast, head over to Olympic Park for a visit to Seoul Olympic Art Museum (SOMA), the ergonomic Seoul Hanseong Baekje Museum or The Museum of Photography Seoul.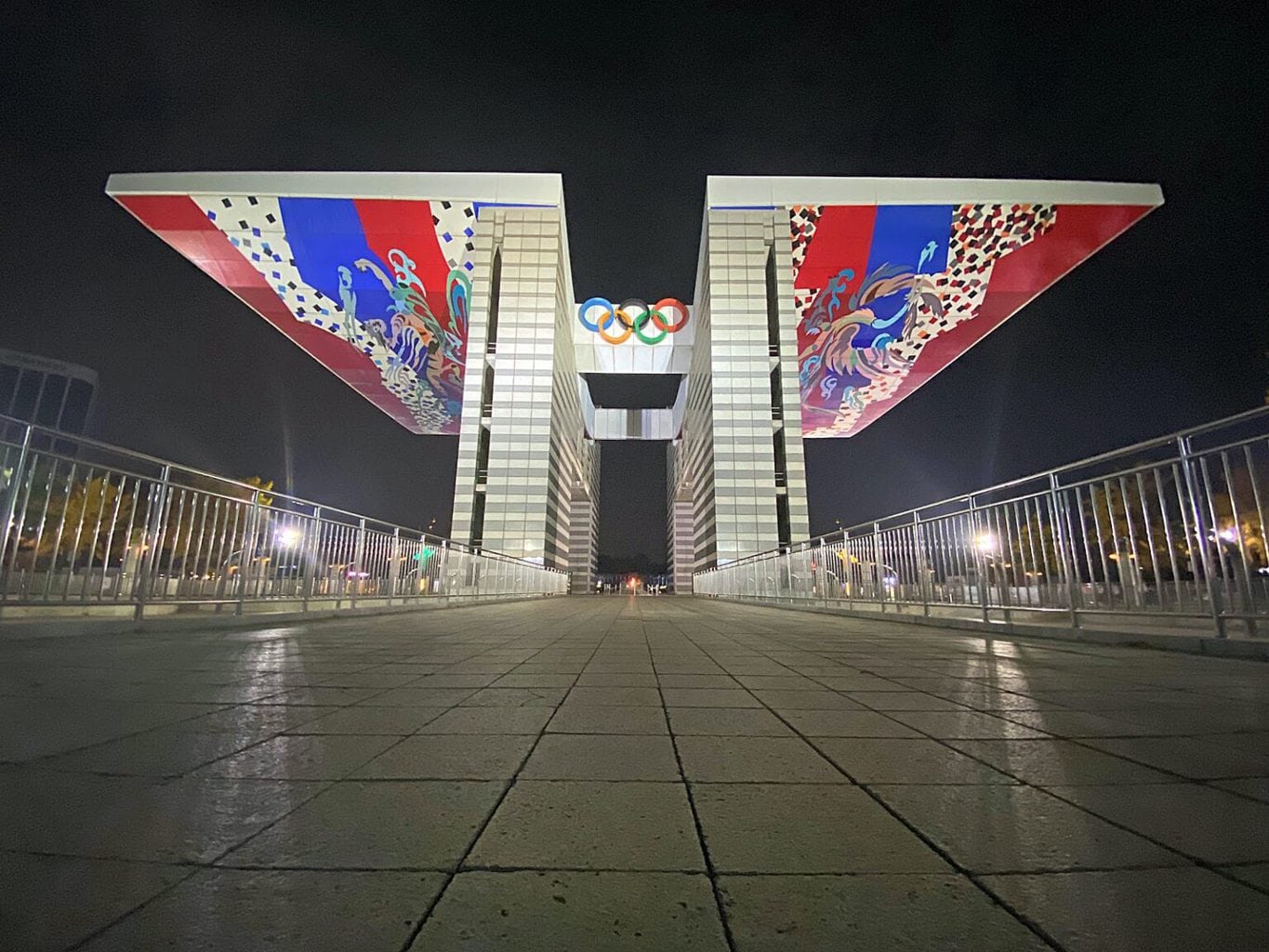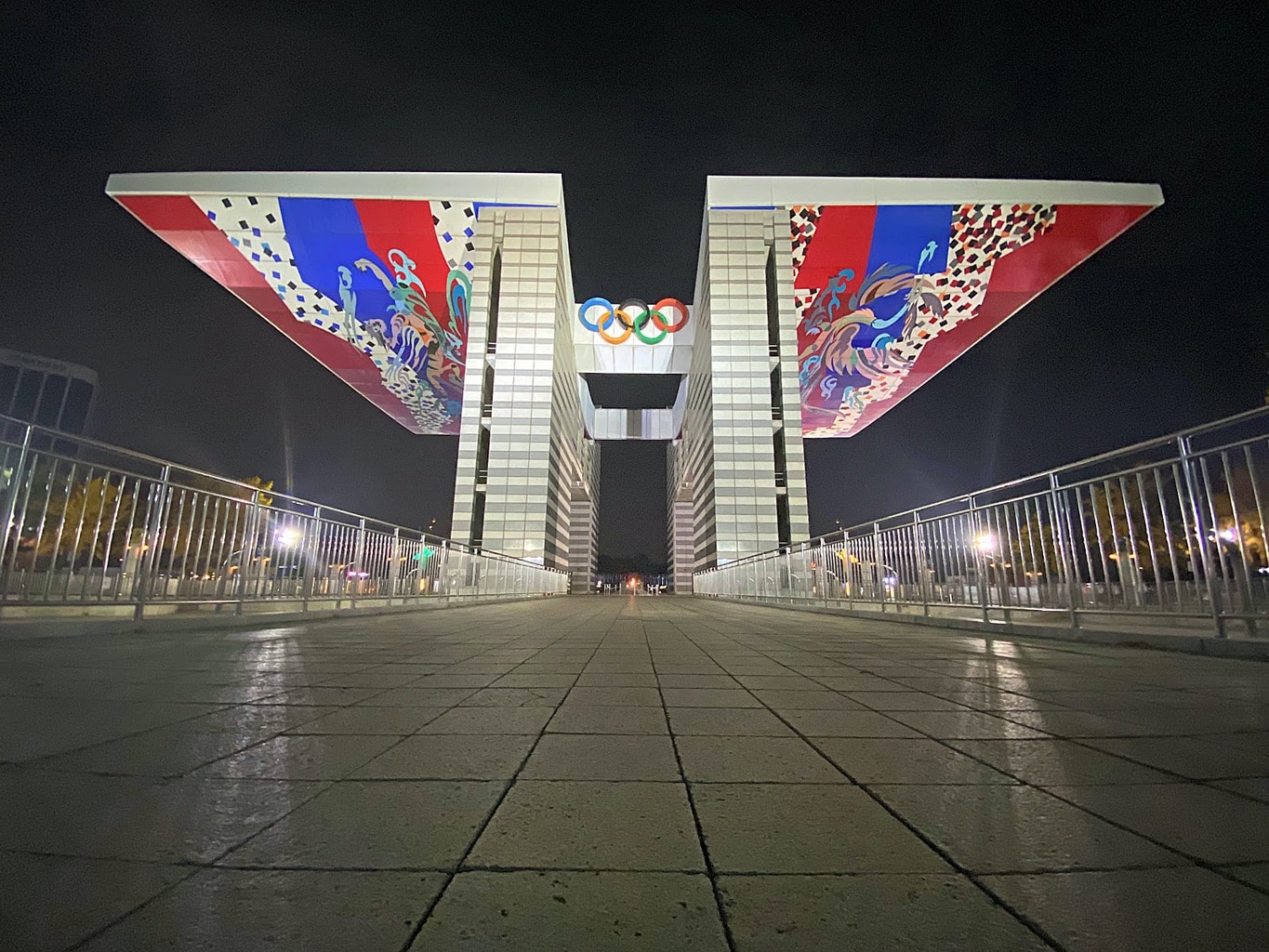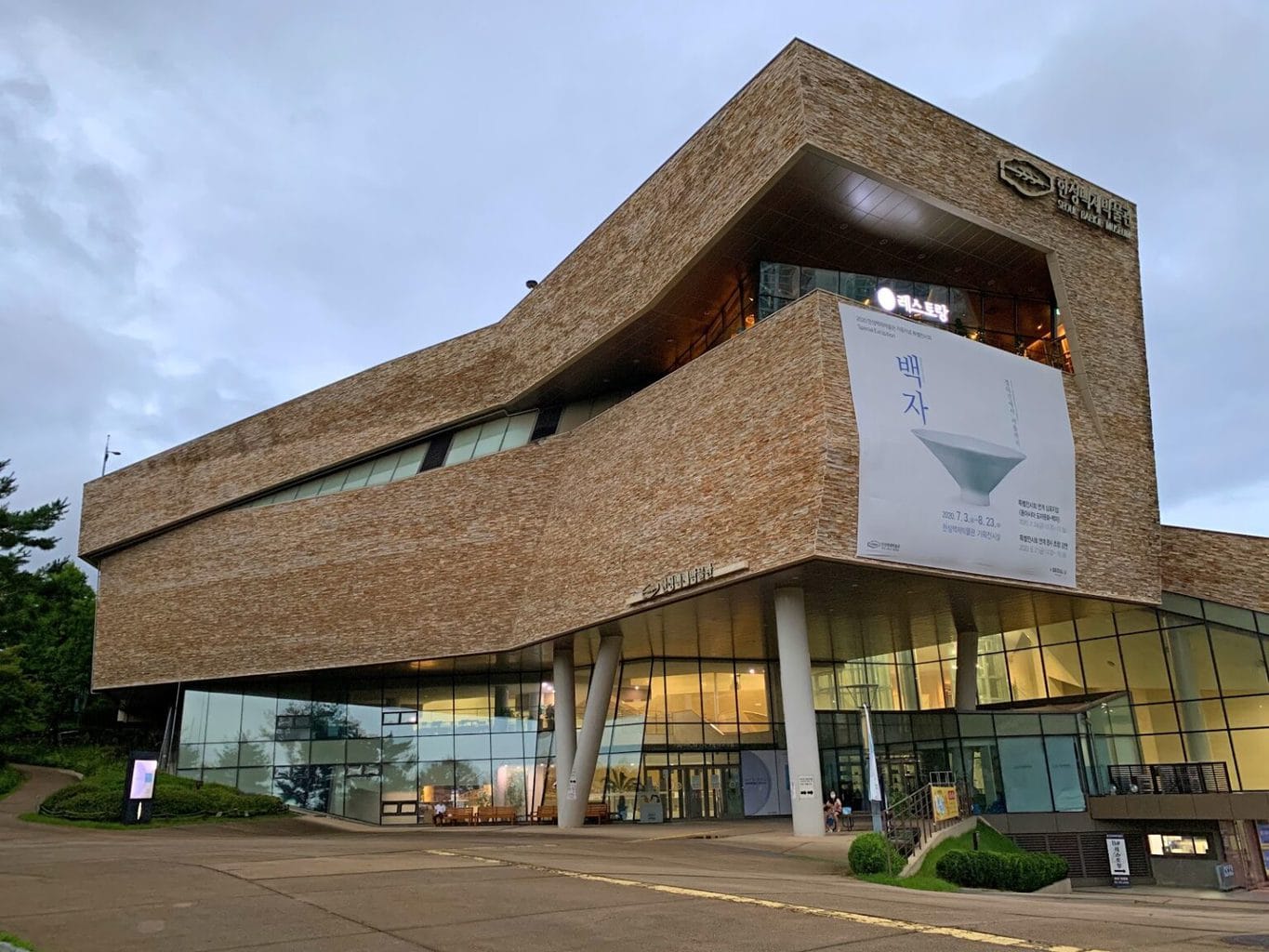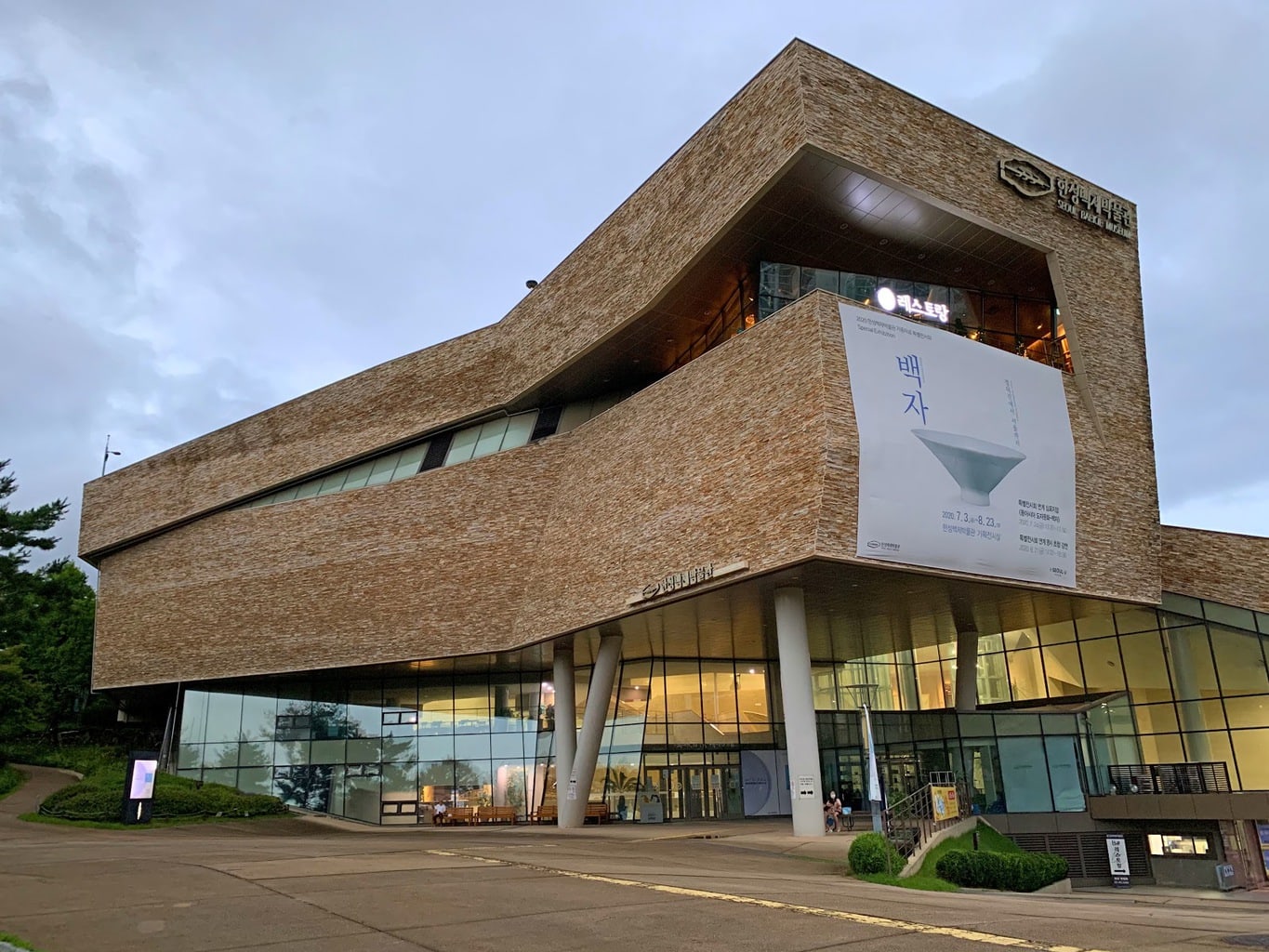 It's also the place where the 1988 Olympic Games were held so you can take in the history of the area that put Korea on the international map. The hilly walk and massive lawn is absolutely beautiful at any time of the year to experience green in Seoul.
Evening: Banpo Han River Park & Hangang River Cruise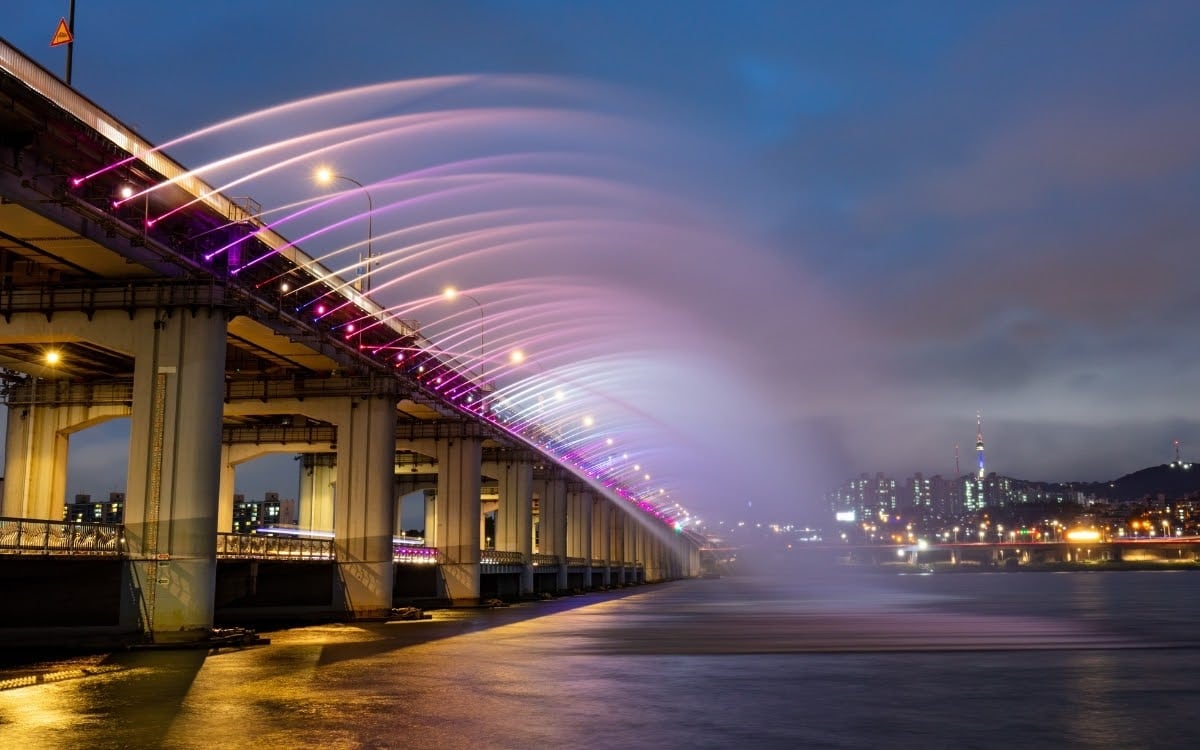 You can end the day on the banks of the Han River at Banpo Han River Park. It's a green space with a small patch of sand that surrounds the southern side of the Banpo Bridge.
The total area the park covers is 567,600 sqm stretching 7.2 kms. There are several reasons why this is such a popular spot.
The first is the iconic Banpo bridge that connects Seocho-gu to Yongsan-gu and lights up in a rainbow of colors at night. At 570 m it's the longest bridge fountain in the world with a total of 380 nozzles. 200 lights illuminate the waterjets every night for a free 20 min show on both sides of the bridge, like Gardens by the Bay Light Show in Singapore but not as "super".
Times vary depending on the season but the schedule we currently have is between April 1 – June 30 & September 1 – October 31, weekday shows are at noon, 8:00pm, 8:30pm and 9:00pm. During weekends and holidays, the fountain shows are at noon, 7:30pm, 8:00pm, 8:30pm and 9:00pm.
Between July 1 – August 31 weekday shows begin at noon and every half hour starting from 7:30pm. The last show begins at 9:00pm. On weekends and holidays, it starts at noon, and every half hour from 7:30pm – 9:30pm.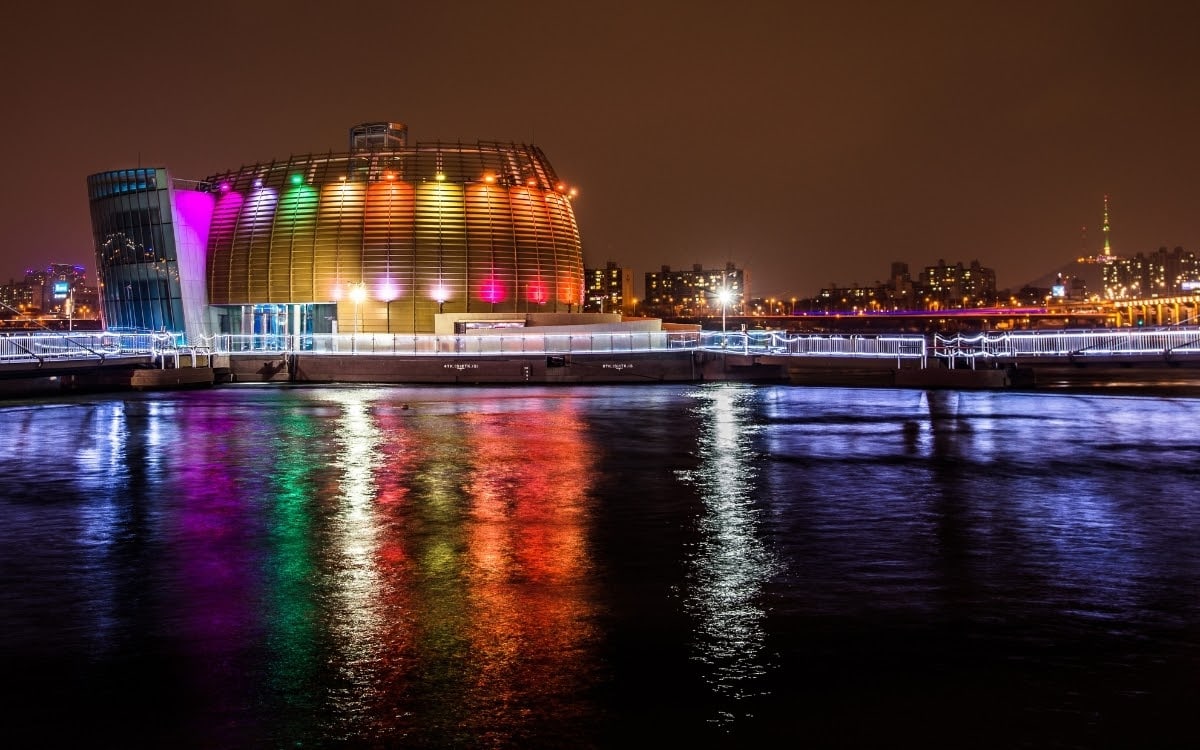 Near the Banpo bridge are the terrific floating islands of Sebit, which includes Yevit, Gavit, Solvit and Chavit. "Seom" in Korean means "island" and there are a few along the Han River, but none as spectacular as Sebitseom.
Sebitseom is actually made up of 4 connected islands with facilities and another open air theater on the mainland, each dedicated to a different activity.
The open air theater with a ridiculously large TV screen that shines like the sun at night is called Yevit. There are occasionally events where meals or snacks are served while you watch TV. Otherwise you can just sit and watch at your leisure.
The largest complex is Gavit, a MICE (meetings, incentives, conferences and exhibitions) space with a cafe, an Italian restaurant and a beer garden-cum-restaurant. There are also floating tables with rubber tubes if you want to chow down on the water in an intimate setting.
Chavit has a buffet-style restaurant with over 160 different dishes to choose from. Solvit is the smallest of the lot and is more for culture lovers where exhibitions are held.
The perfect place to eat dinner is to grab some food from the Bamdokkaebi Seoul Night Market, known as the Romantic Moonlight Market, that has food trucks and flea markets.
Grab your local or international fare from the food trucks and then grab a spot on the grass and dig in. But note that this night market is only held on Fridays and Saturdays between 6:00–11:00pm, from April to October. Pop into Sebit for a bite otherwise or bring your own food for a picnic.
There are several Bamdokkaebi Seoul Night Markets in the capital including Yeouido, DDP and Cheonggyecheon. They open at different times of the year, so it's best to check their website for exact dates, but it usually runs from April to October. We have pinned it on our map so you can find the correct one and don't get redirected to Yeouido.
Pro tip: Head over to the south end of Dongjak Bridge, and take the elevator up to the hybrid convenience store/cafe/library spaces that are built on top. You'll get fantastic views to the east and west of the city.
You could also take the 70 min Han River Cruise, also known as the Eland Music Cruise that runs from Yeouido to Banpo. It starts at 7:30pm every night except Saturday and you'll be able to get right next to the Banpo Bridge for the water and light show. You can reserve your spot online here to avoid disappointment or book your cruise with a dinner here.
Day 4 – Gangnam & Seongsu: COEX & Seongsu Cafes
On day 4 of your Seoul itinerary you'll be exploring Gangnam a little bit more. Today you'll be visiting the largest underground mall in the world, a gorgeous temple and the hippest of gentrified Seoul.
Dress appropriately for social media and wear comfortable shoes as you'll be cafe hopping and trekking around Gangnam.
If you're a massive Hallyu fan (Korean Wave) and stan BTS or Blackpink, you'll definitely want to take the Kpop Tour which explores some areas mentioned below. It also takes you to special places in the Kpop universe like BTS's favorite restaurant, celebrity spotting at the KBS building, a visit to major record labels SM and JYP Entertainment as well as Coex Artium SM Town for SM entertainment. If you're scratching your head and wondering what all these things are, you're better off booking a spa experience at Sulhwasoo in Gangnam. This is for Hallyu fans only. Book your Hallyu tour online here.
Morning: COEX, Bongeunsa & Gangnam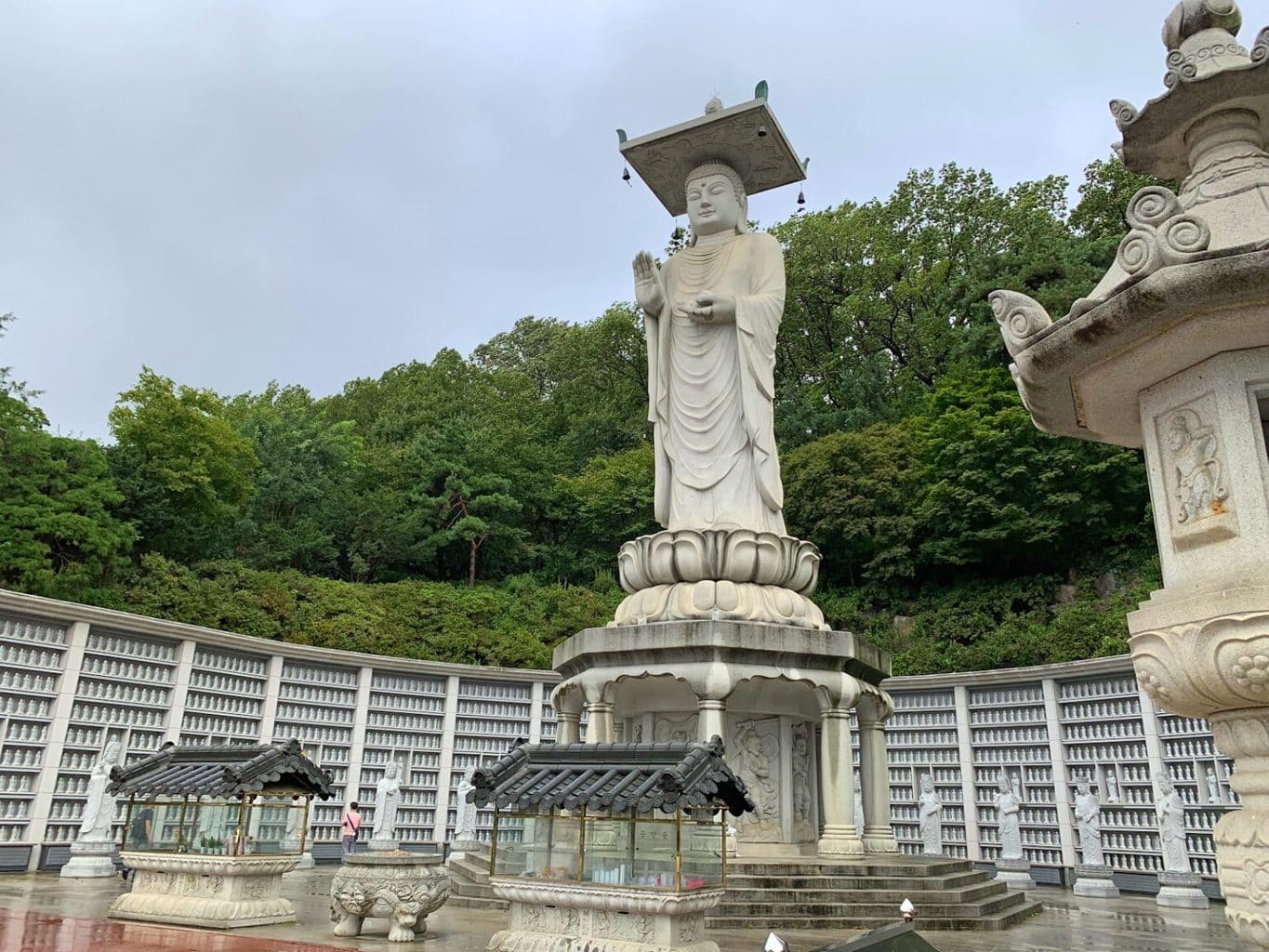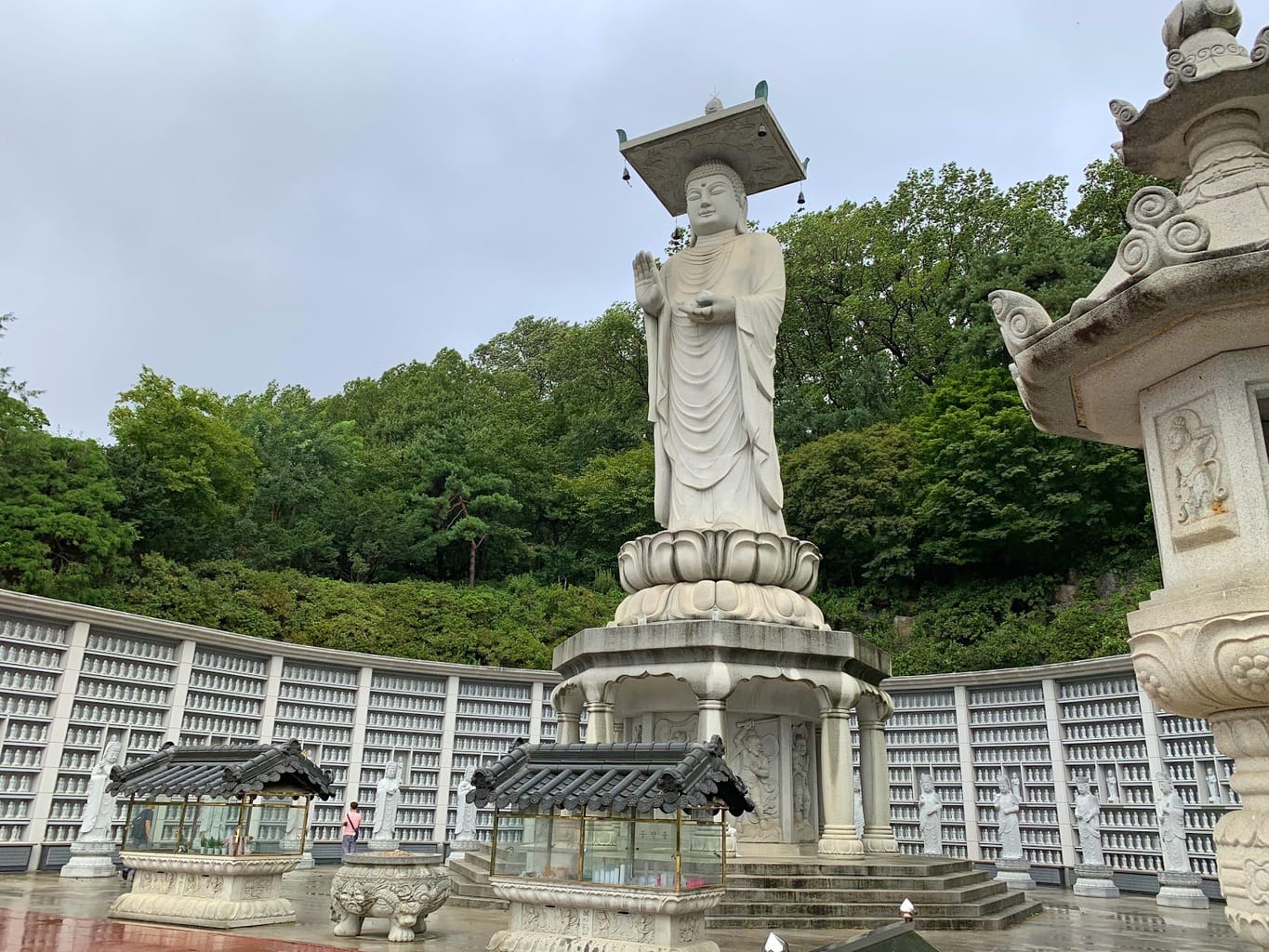 Start your day with some Zen at the gorgeous and peaceful Bongeunsa Temple. As the temple is open from 5am-9pm everyday, you can arrive really early to take in the tranquility of the complex right in the middle of bustling Gangnam.
The Temple was originally built in 794 and then refurbished in 1498 and is located just north of COEX (your next stop), around a 10 min walk. The temple is home to 3,479 Buddhist scriptures, an impressively large 23m Maitreya Buddha statue surrounded by hundreds of smaller statues. The Buddha statue at Bongeunsa is amazing and if you walk up the little hill behind it you can take some images of the statue overlooking Gangnam – a blend of old and new.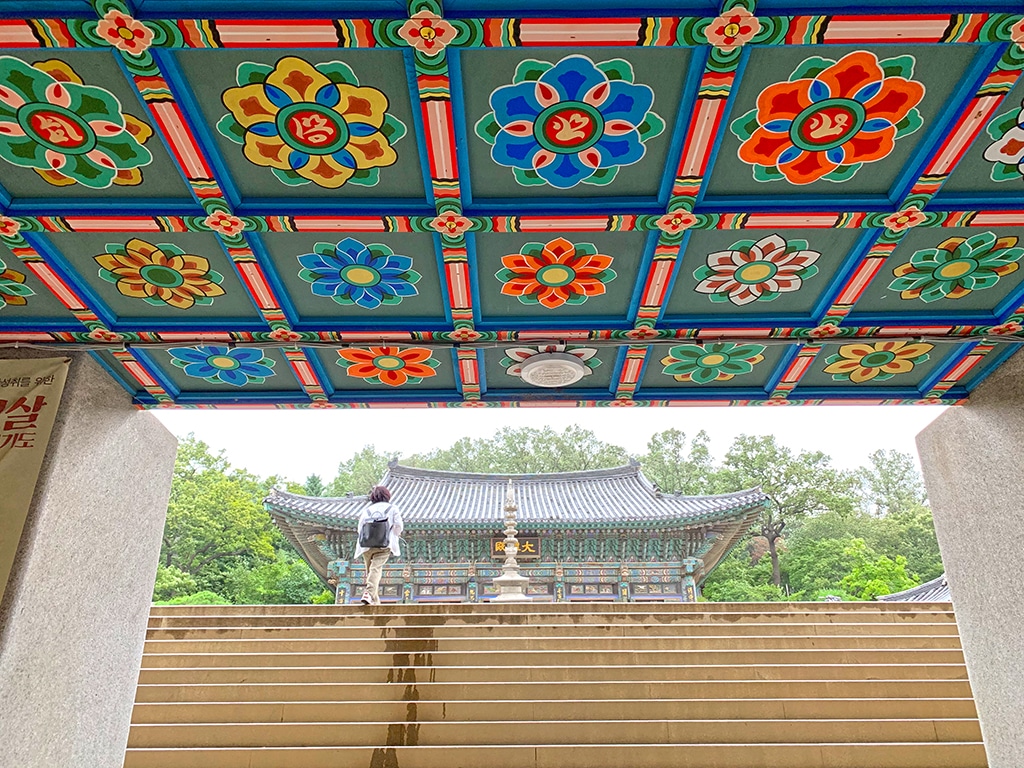 There's also a Buddha Hall, a Templestay area, a Seon (Korean Zen) meditation center and a tea house to get your day off to a good start. Here's a map of the entire premises.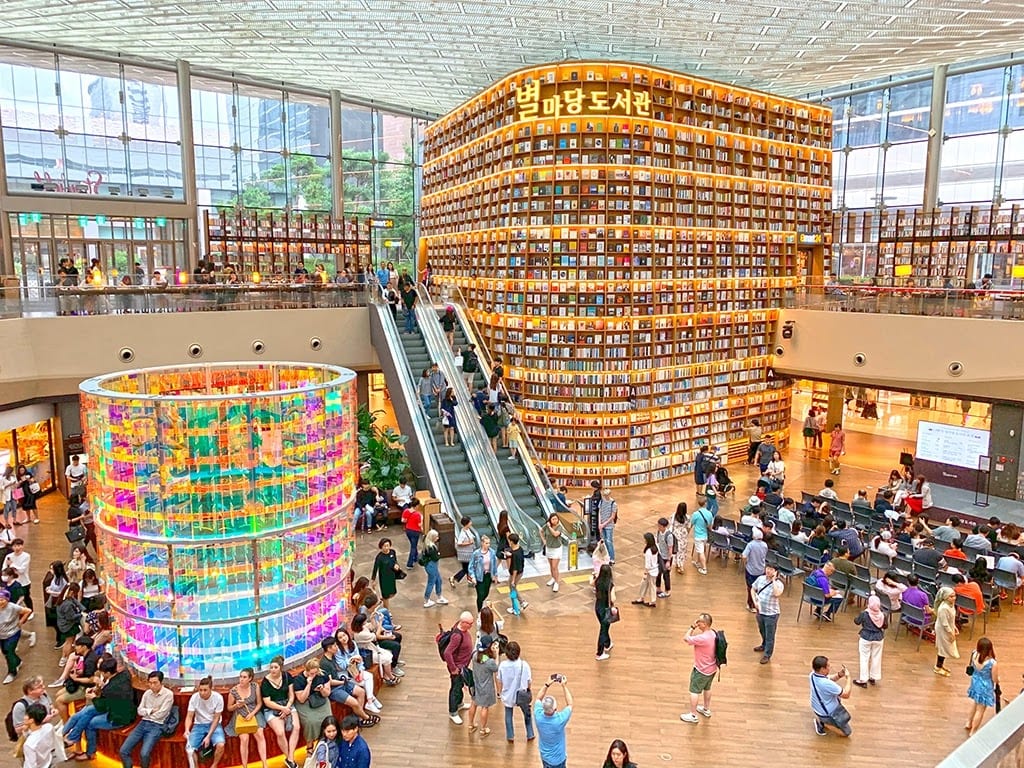 Walk over to the Gangnam Style hands statue that's very close to exit 7 at Bongeunsa Station with the circular HDC building across the road. Then venture on to the Starfield Library in COEX to get those extremely popular images. It's called Byeol Madang Doseokwan (별마당 도서관) in Korean.
If you're a digital nomad, this is a particularly amazing place to work as there are seats, charging stations, an entire mall at your disposal and free wifi. Get here early if you want a free desk with a charging station.
When you're done exploring the photogenic library, you can walk around the largest underground mall in the world, COEX. This is joint to Parnas Mall which has an amazing food court for all your breakfast needs.
There's also an Aquarium in the mall if you want to explore 40,000 sea creatures including sharks and penguins. Book your tickets to the Aquarium online here.
Afternoon: Gangnam Station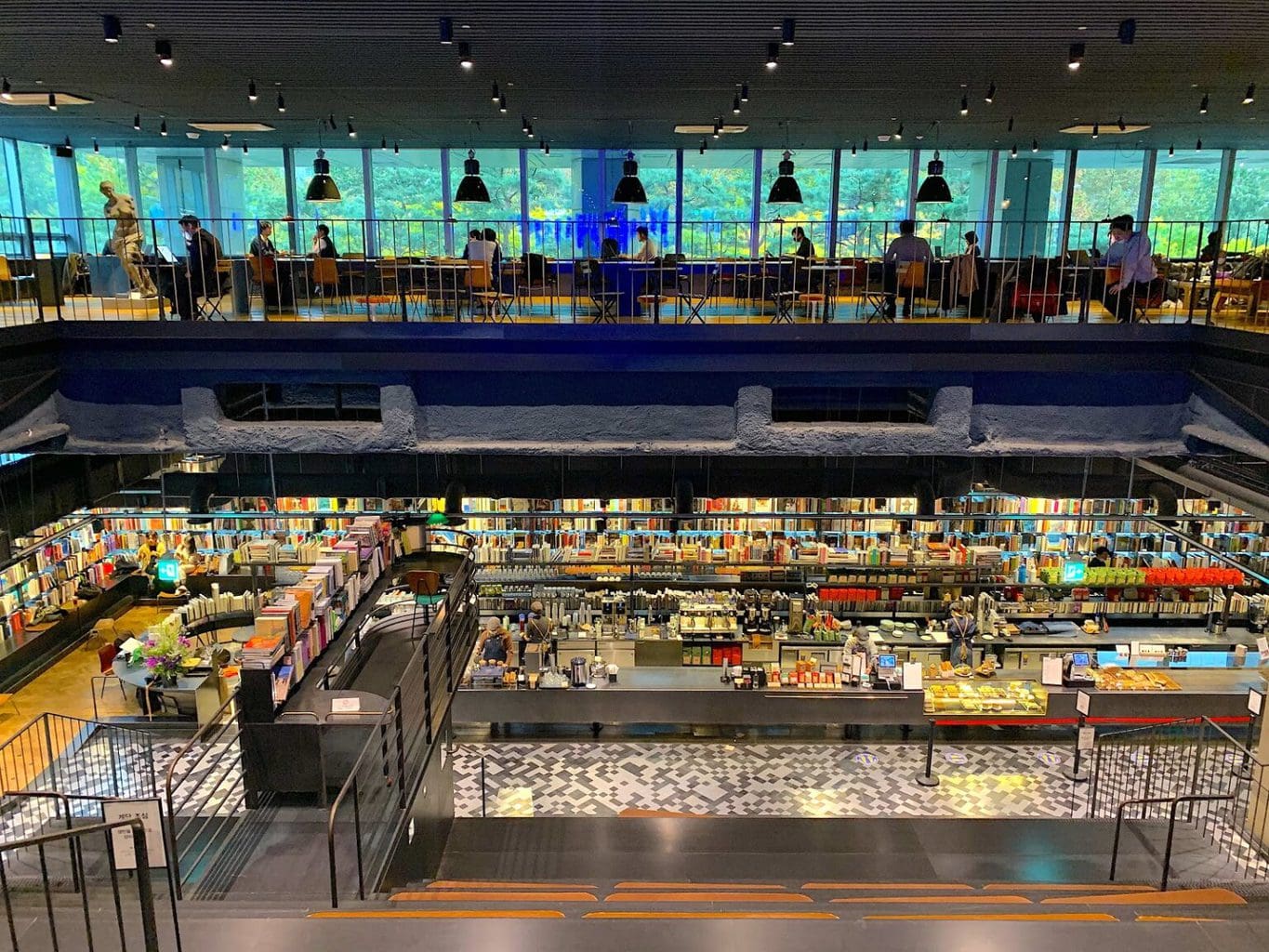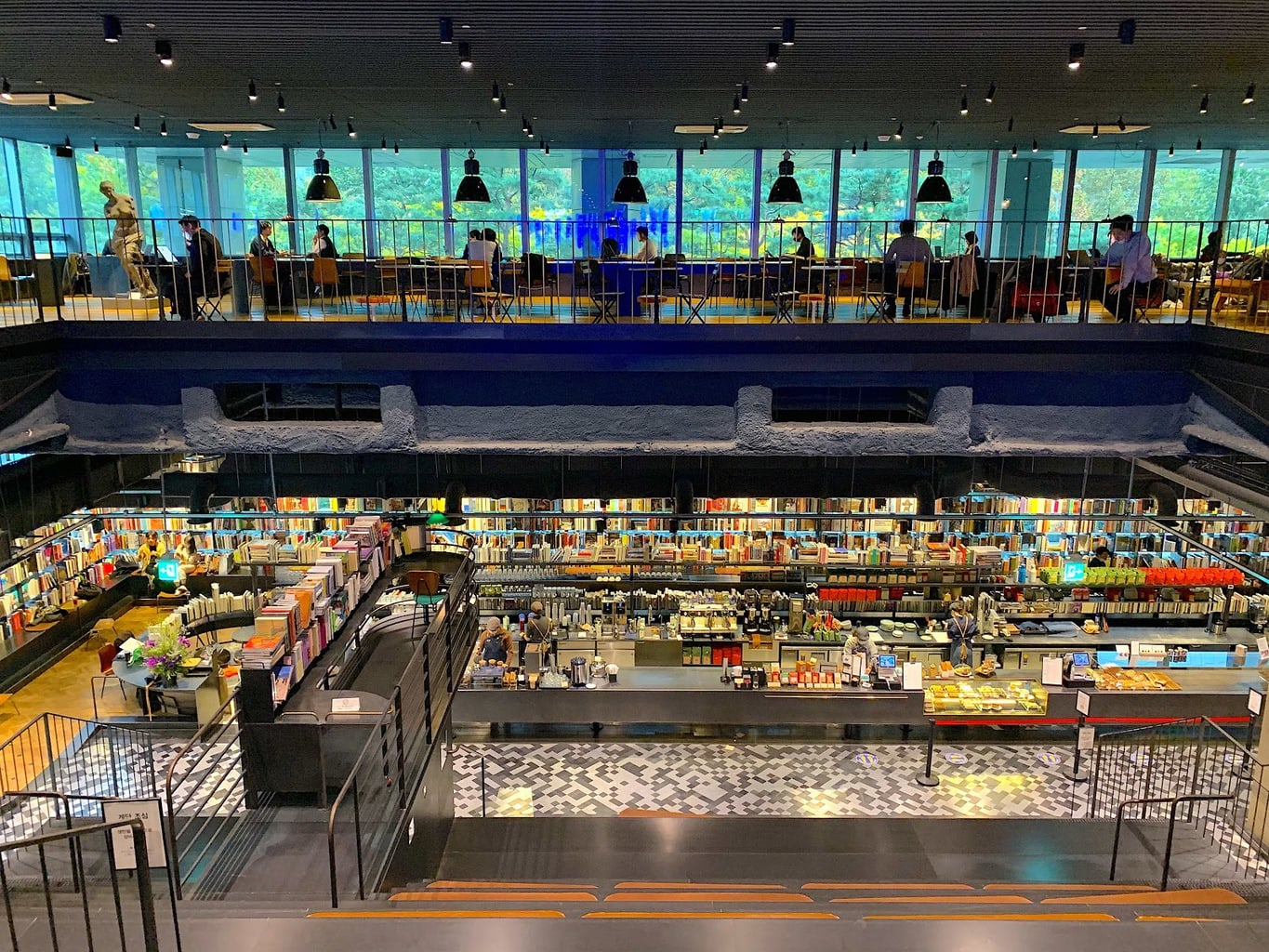 You'll now head onto Gangnam Station which is 3 stops over on the Green line. If you're up for it you could also use one of the public bikes or scooters, catch a bus or just walk over which is always our preference.
If you do walk over make sure to visit Terarosa Coffee Shop in the Posco Building a few hundred meters from exit 4 Samseong Station. It's a gorgeous double story cafe that will get you Insta pictures for days.
The coffee franchise from Gangneung in the east coast is famous in Korea for combining architecture with ethically sourced coffee. They have a few small edible treats too. I absolutely love Gangneung and would move there today if I could. Make sure you visit during the Gangneung Coffee Festival, one of the best South Korean festivals for coffee snobs.
When you reach Gangnam Station you can start by walking the main road between Gangnam Station exits 10/11 and Sinnonhyeon Station exits 5/6. There are many different restaurants and cafes if you walk up from the main road on the CGV Movie Theater side (between Gangnam Station exit 11 & Sinnonhyeon Station exits 5).
This is a place to get lost and pop into any shop that looks good to you. The neon signs at Art Monster Brewery at night, near exit 11 at Gangnam Station are an IG favorite.
There's Spanish cuisine at Sobremesa, Julio Mexican Diner and Cafe for tacos, Midoin for Korean Fusion and a billion other choices. There's also about a hundred cafes (beyond the 6 Starbucks in the area) like spacious Alver or picture perfect Jungwol.
The other side of the road (between Gangnam Station exit 10 & Sinnonhyeon Station exits 6) is more for the evening or night time and is filled with pubs and clubs. There's also a huge bookstore called Kyobo with large English and Kpop sections at exit 7 Sinnonhyeon.
Hottracks is a massive stationary store that's just underneath Kyobo and is the place to get your BTS calendar or Blackpink poster and cutesy notepads and stickers.
Evening: Seongsu & Seoul Forest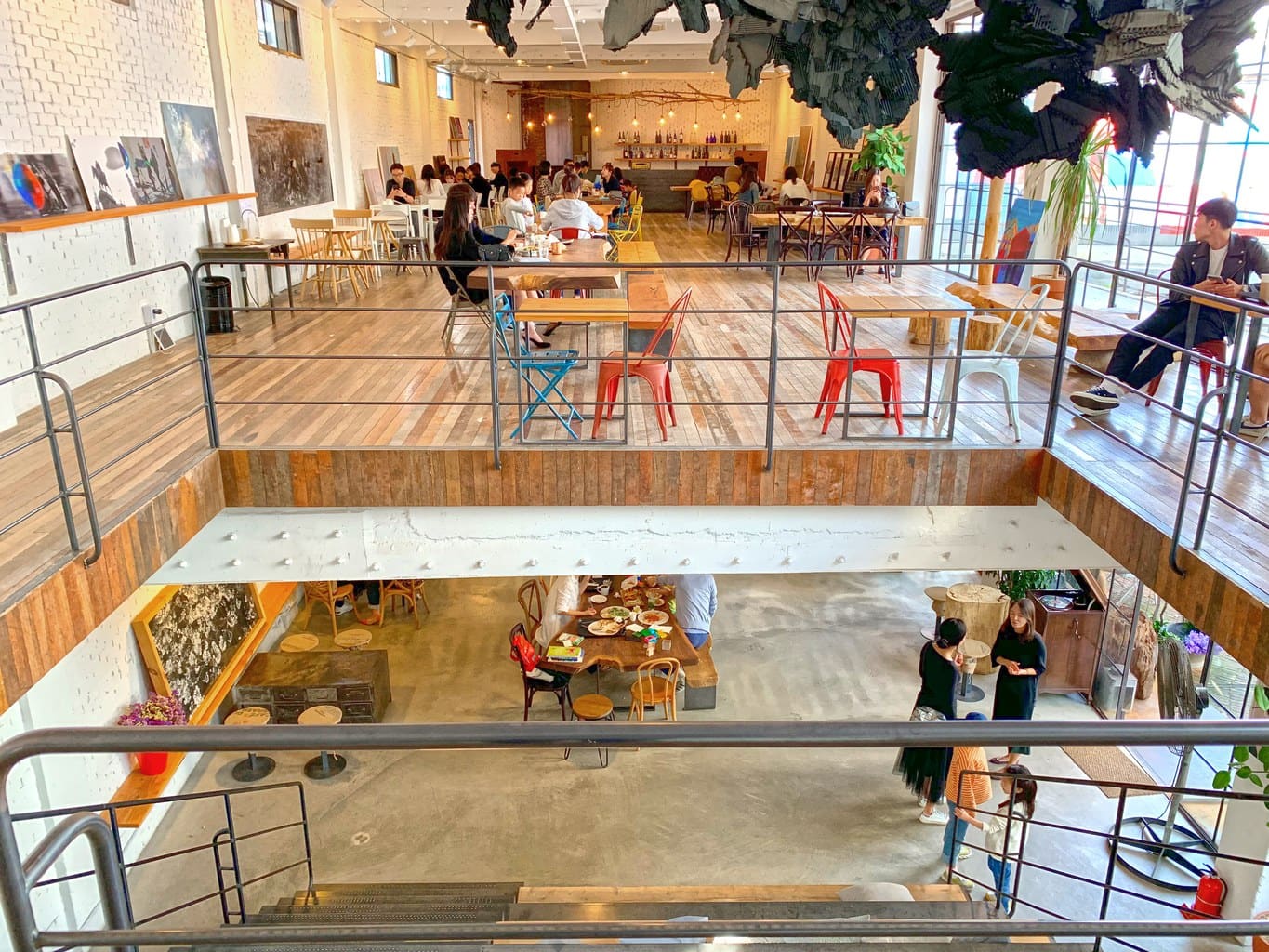 You're now going to go above the river again away from Gangnam (meaning "South of the river") to Gangbuk ("North of the river"). Your first stop will be Seongsu, which is known as the "Brooklyn of Seoul" as the entire area has been gentrified from industrial to hipster chic.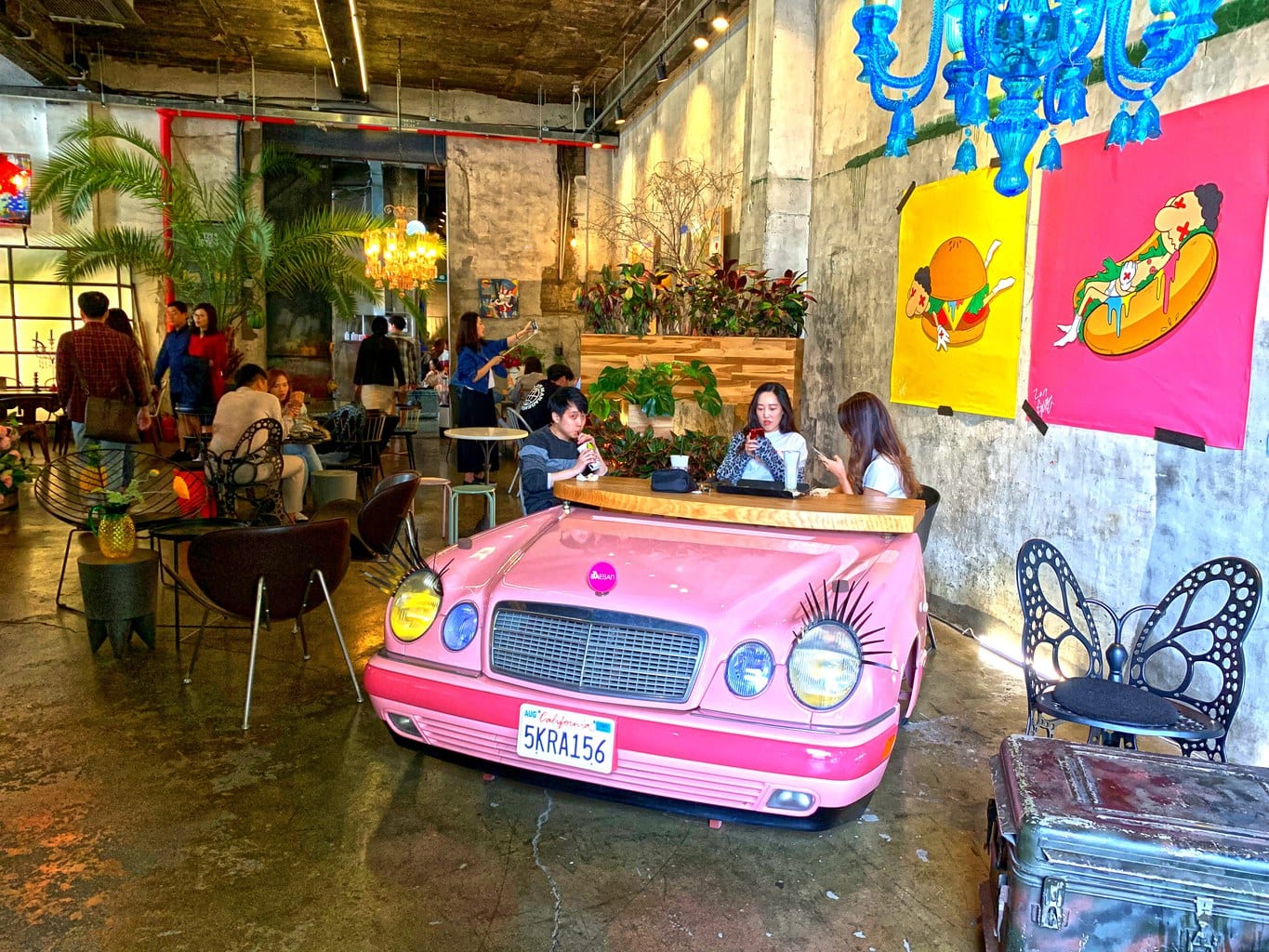 Top picks include Cafe Onion, Daerim Changgo (대림창고), Baesan (pronounced Bison – 바이산) and Grandpa Factory (할아버지공장 카페에), Singaporean brand Mellower, Ongeundal, Oakland-based Blue Bottle (for delicious coffee only) and Ssenneu (with Arco which relocated here – it's the French pronunciation of Scene). Bring an extra battery pack as you'll be taking pictures for hours.
We have found a guided tour of Seongsu online, so you may want to reach out to them to see if you're able to create your own cafe itinerary if you don't want to explore the area on your own, just mention the cafes in our list above and ask for other recommendations, they may oblige.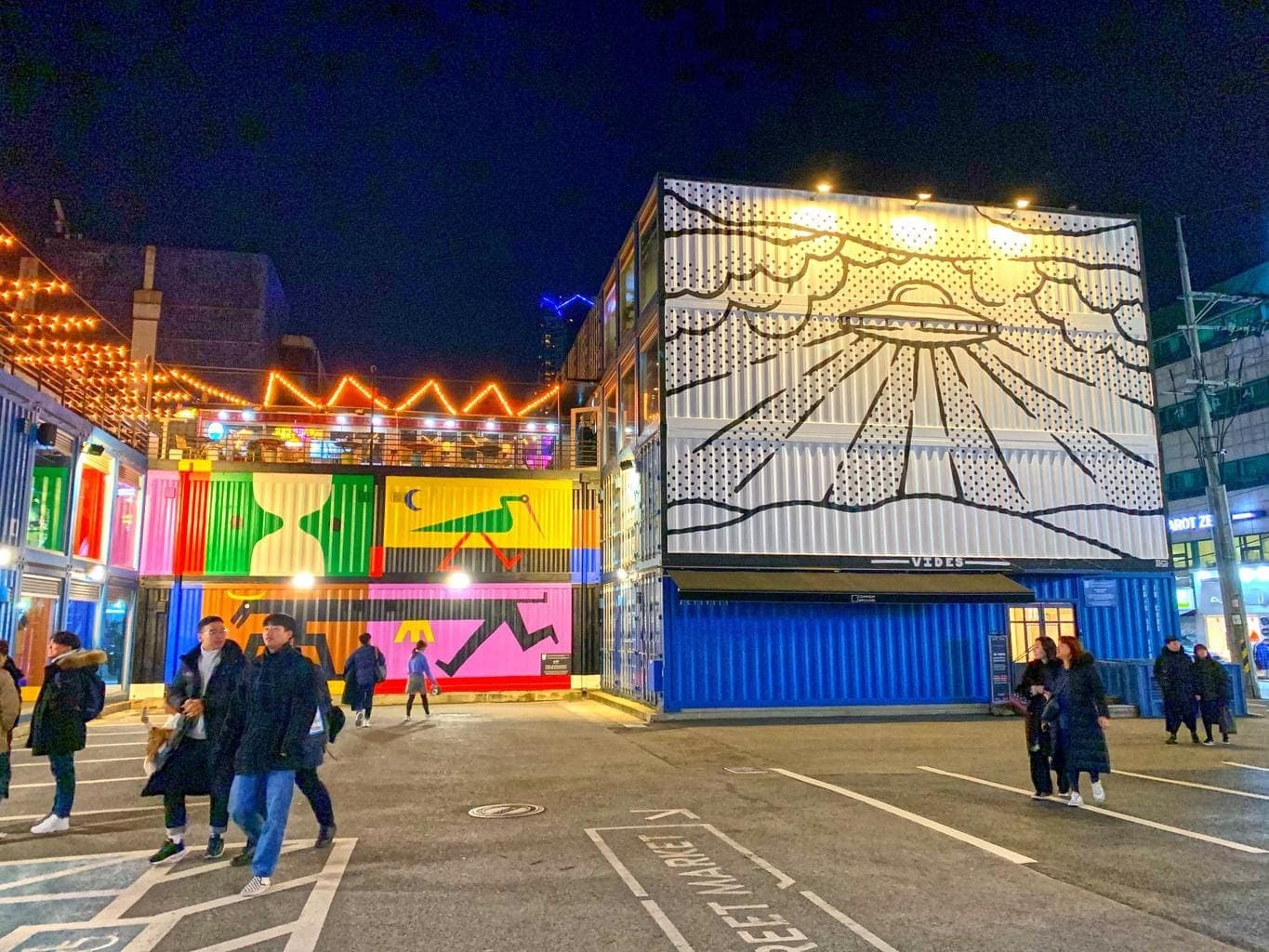 Pop into nearby Common Ground, a shopping space in blue shopping crates that's been made famous on Instagram. The road behind Common Ground, called Kondae Rodeo Street stretches to Konkuk University Station (Kondae Ipgu) exit 6 and has a few stores selling brands at discounted rates like Nike and Adidas.
The other side of the road or exit 1 of Kondae Ipgu is called Kondae Food Alley (건대 먹자골목 – Kondae Mokjakolmok) and is packed with bars, pubs, clubs and eateries of all kinds and is a blend of local and foreign students.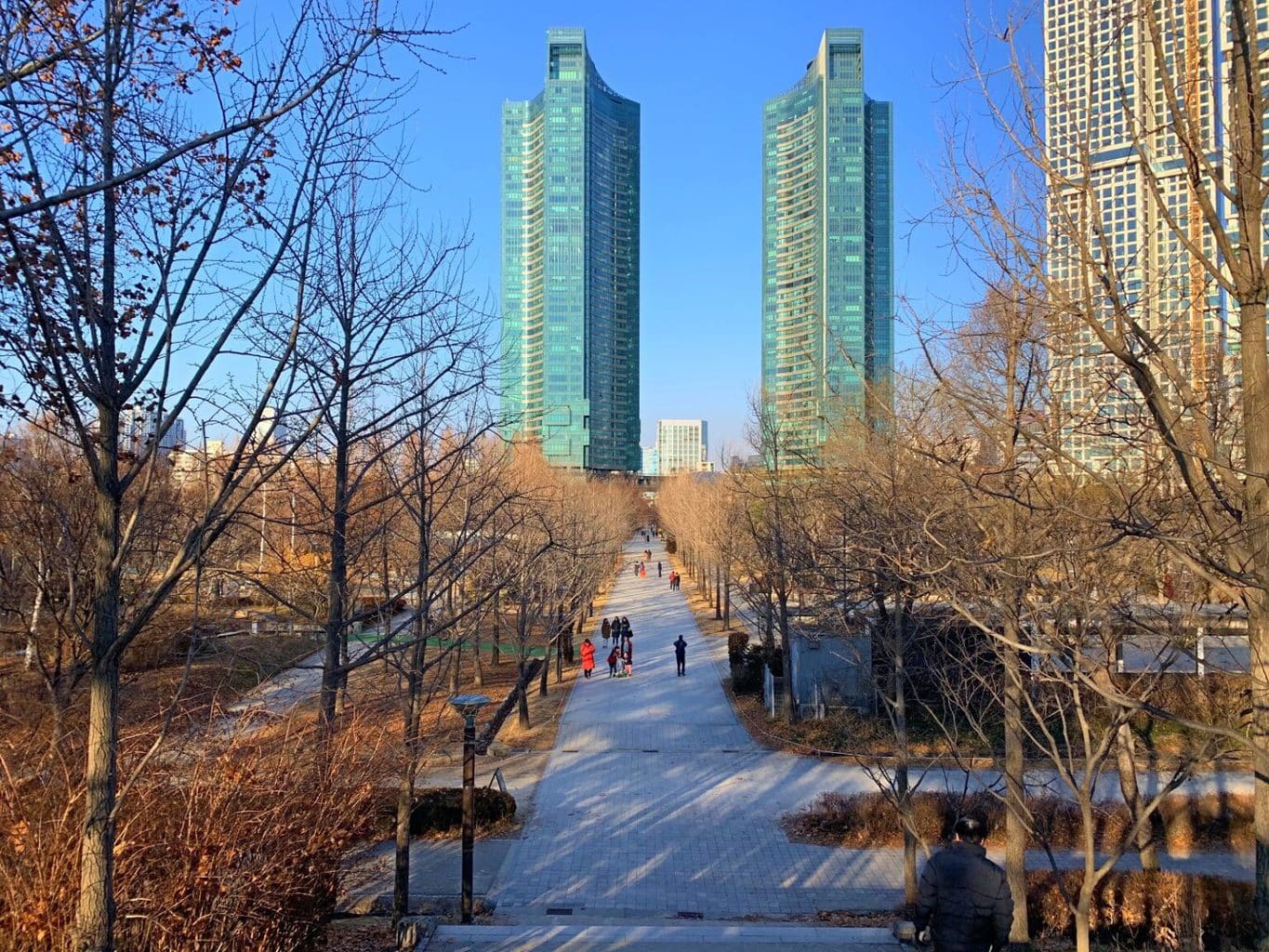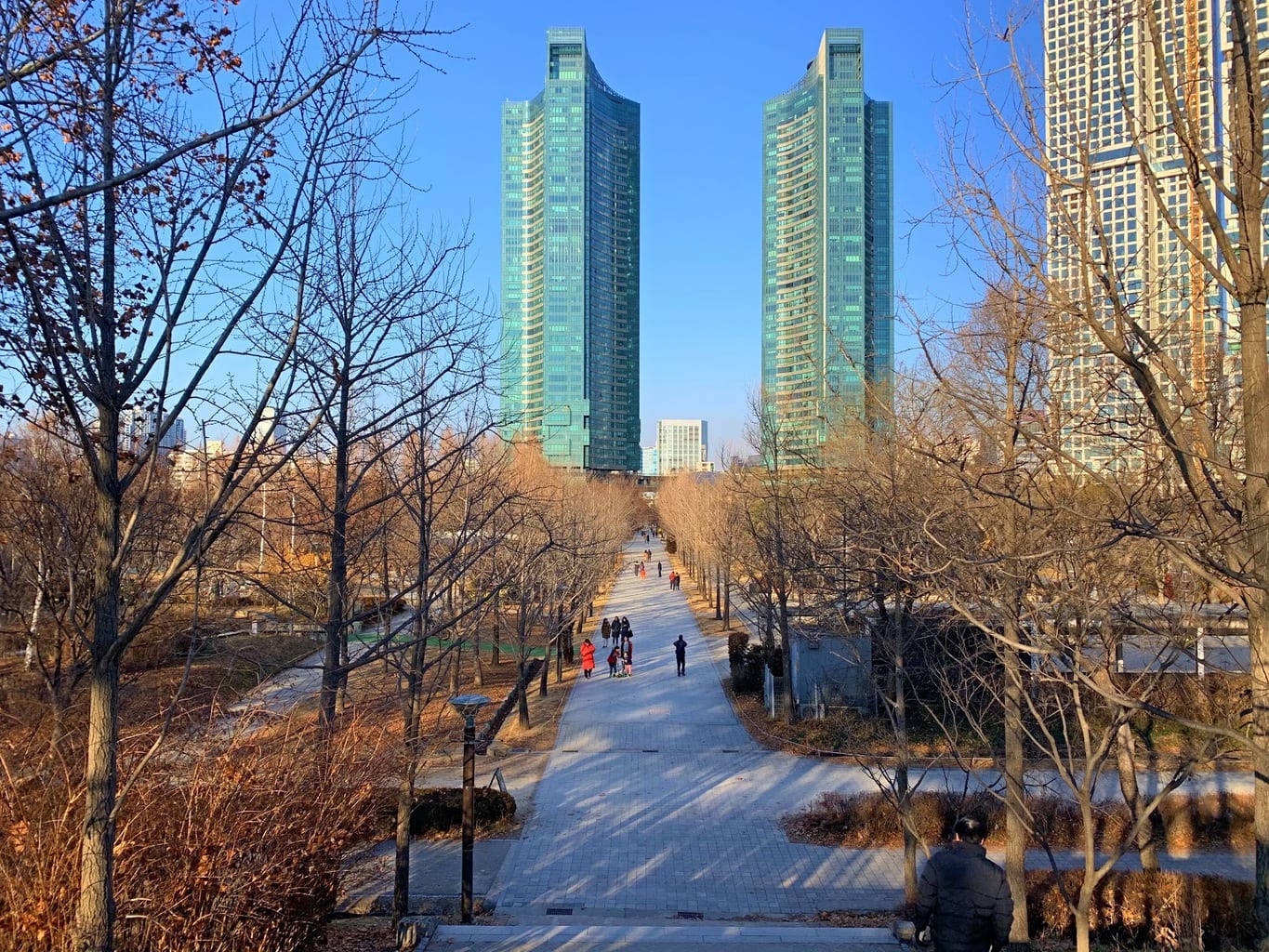 You'll end the night in a trendy area and one of Seoul's most preeminent green spaces. In walking distance from Seongsu is the beautiful Seoul Forest. Not by any means a real forest, this man made eco-friendly area is a nice break from the chaos of the city centre.
There are trees, bicycle rentals, rollerbladers, a skate park, sculptures and walking paths that lead up to and along the Han River. You can also spot some really cute deer in a certain spot in the massive complex. Here's a brochure and map for more detail.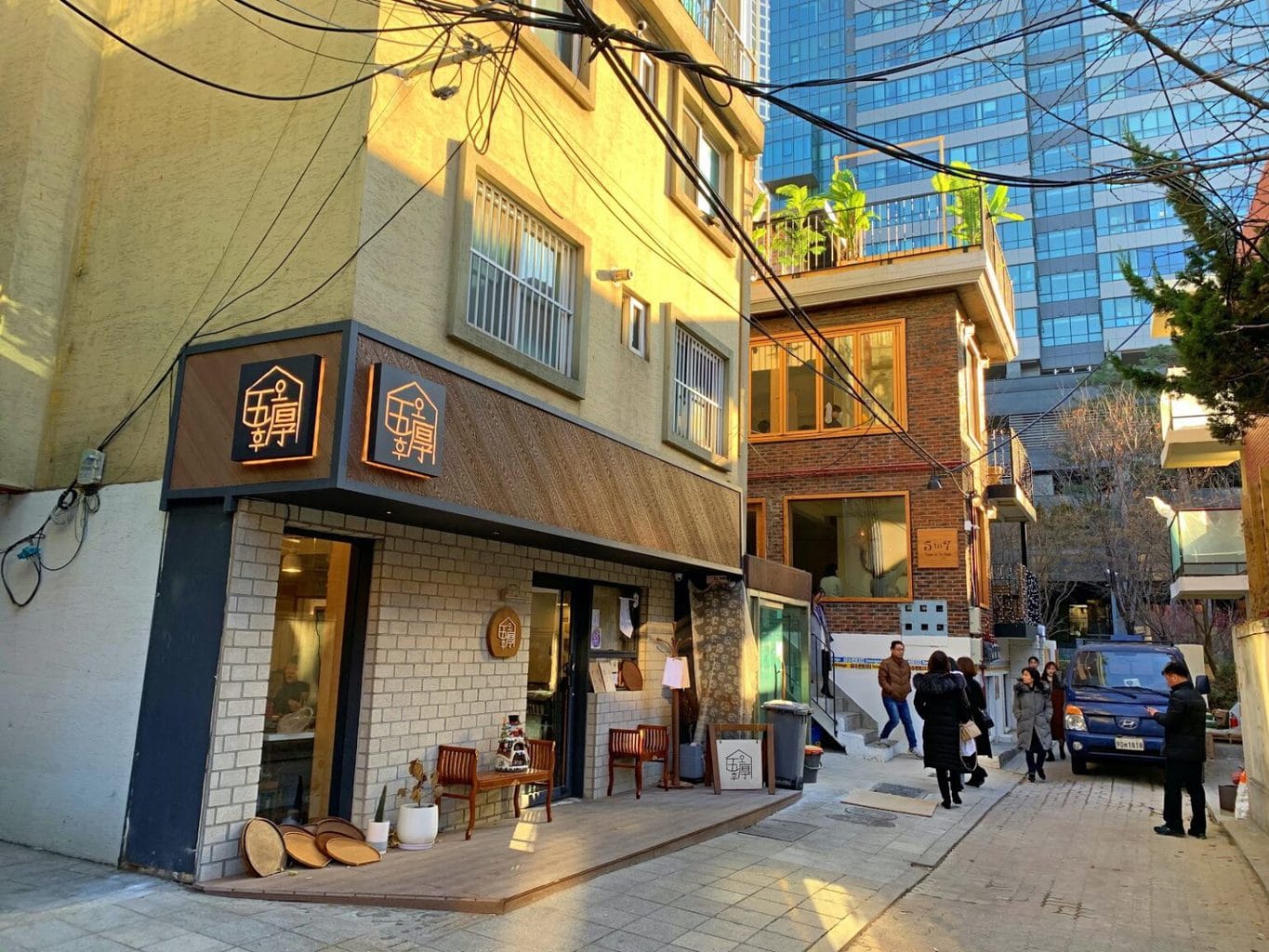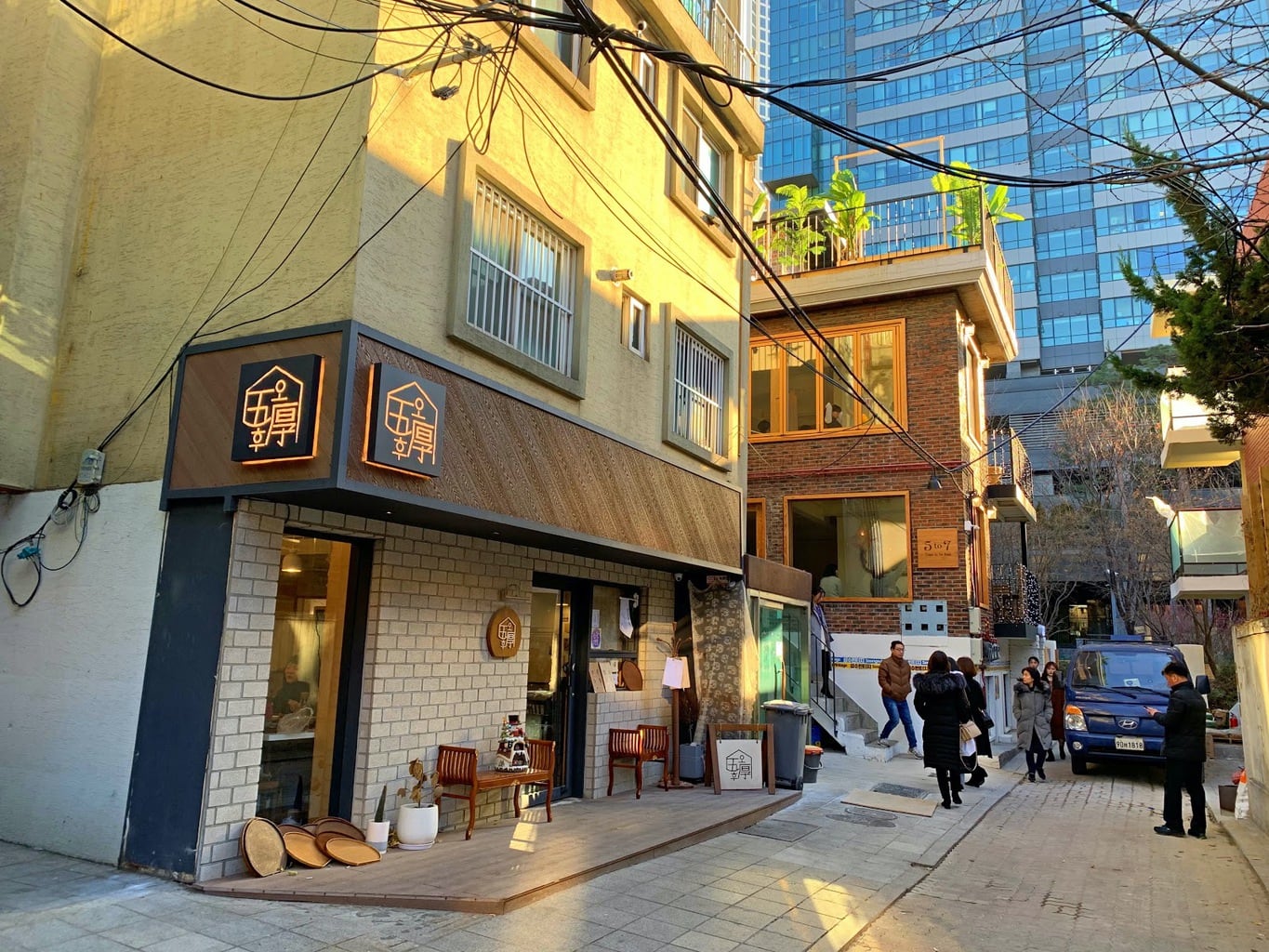 If you walk toward Galleria Foret and the Sports Park, through the path and into the back roads, you'll be welcomed by an up-and-coming hip area known as Atelier Road (아틀리에길 – Atelier Gil).
As the name suggests the street is lined with boutique stores, bakeries, gelato shops and so many great eateries. Take a slow stroll along the road and pop into any one that tickles your taste buds.
There are very long waits on weekends at eating times, for example, we have waited for over an hour at popular burger joints Zesty Saloon and Elder Burger, so try and get there early.
Another option for today is to skip the trendy shopping areas and rather explore Gwanaksan, a mountain range in Gangnam's Seocho-gu. It's the second highest mountain range in the capital at 632m and also has various different routes.
Day 5 – Day trip from Seoul
Although this is a Seoul itinerary, you should put aside at least one day to explore the outskirts of Seoul to get a real feeling of what South Korea has to offer. This is especially worthwhile if you're visiting Seoul for 1 week as Seoul is only one aspect of the entire country.
Day trips from Seoul are super easy to organise, whether it's on an organised tour or just renting a car and driving to your destination of choice. We are suggesting to take the day trip in the middle of your Seoul itinerary, but you can choose to switch it up and put it anywhere you please. Here are a few popular suggestions for day trips from Seoul that you might enjoy.
DMZ tour
The most popular day trip from Seoul is visiting the Demilitarized Zone (DMZ) on an organised tour.
You may not know this fact about South Korea and North Korea, but they actually never ended the War, only signed the Korean Armistice Agreement in 1953 and on paper are still fighting. This is why there is such a heavy Korean-US military presence on the border of the country.
The DMZ intersects but does not follow the 38th parallel north, which is 250 km (160 miles) long, roughly 4 km (2.5 miles) wide and there is a meeting point between the two nations in the small Joint Security Area (JSA).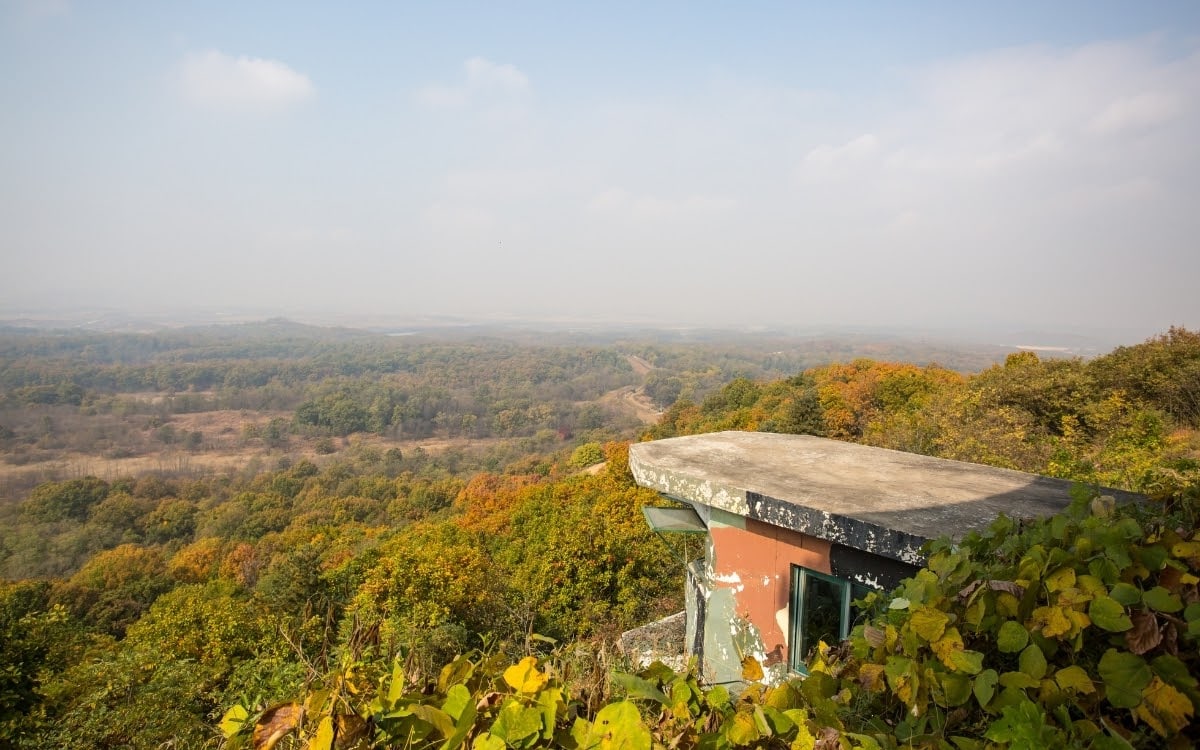 Looking out into North Korea
While you can visit independently if you have your own transportation, it is highly recommended that you take a guided tour. Traveling alone can be daunting in such a highly protected area, so you don't want to be driving around fearing for your life.
A guided tour will pick you up in Seoul, you will be provided with mass amounts of information about the Korean War and the Cold War, and you'll visit all the top places like Imjingak Park, the Freedom Bridge, the Third Infiltration Tunnel, and the DMZ Exhibition Hall. You can book a highly rated tour of the DMZ online here.
Namhansanseong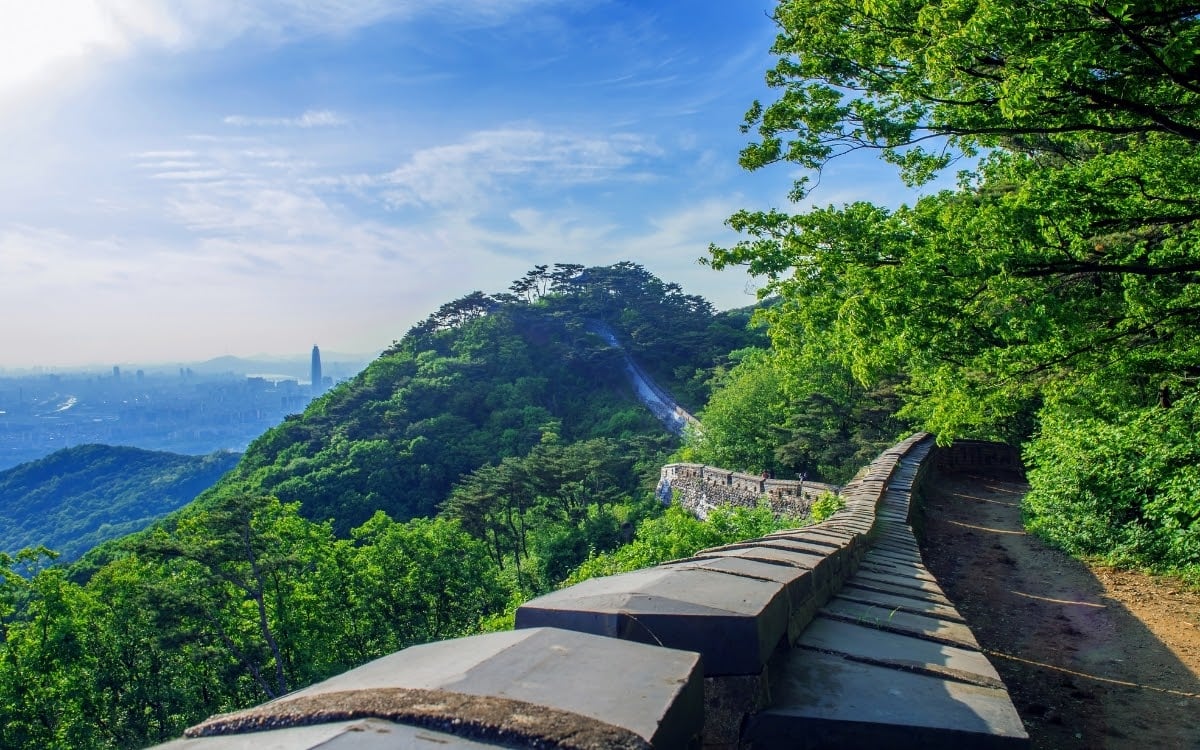 Namhansanseong is a UNESCO-listed world heritage site in Gyeonggi Province that is easily reachable either on a bus or the subway. It's practically in Seoul. There is a truly beautiful hike along the fortress wall all the way to Namhansanseong village. The hike has various routes depending on the time you have and fitness level.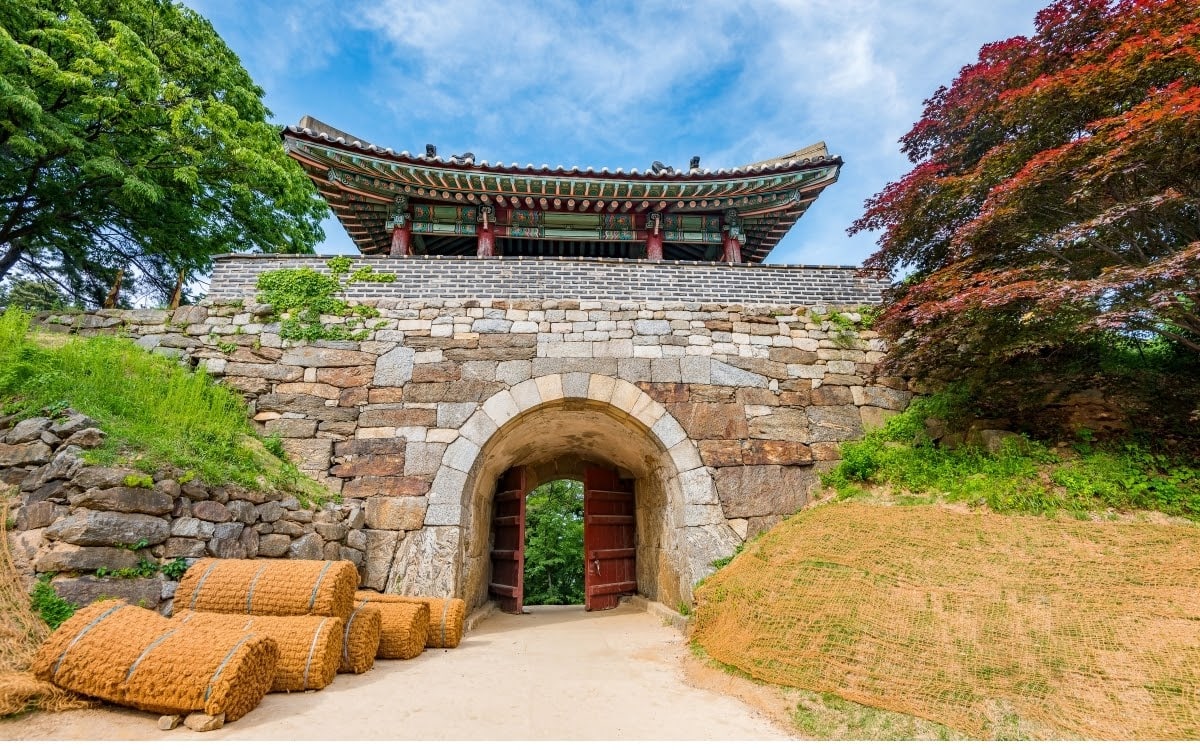 You can also just catch a bus directly to Namhansanseong Village to get lost in food and culture. Try the acorn jelly (도토리묵 – Dotorimuk), handmade tofu or soft tofu stew (순두부 찌개, sundubu-jjigae) and a bottle of makgeolli.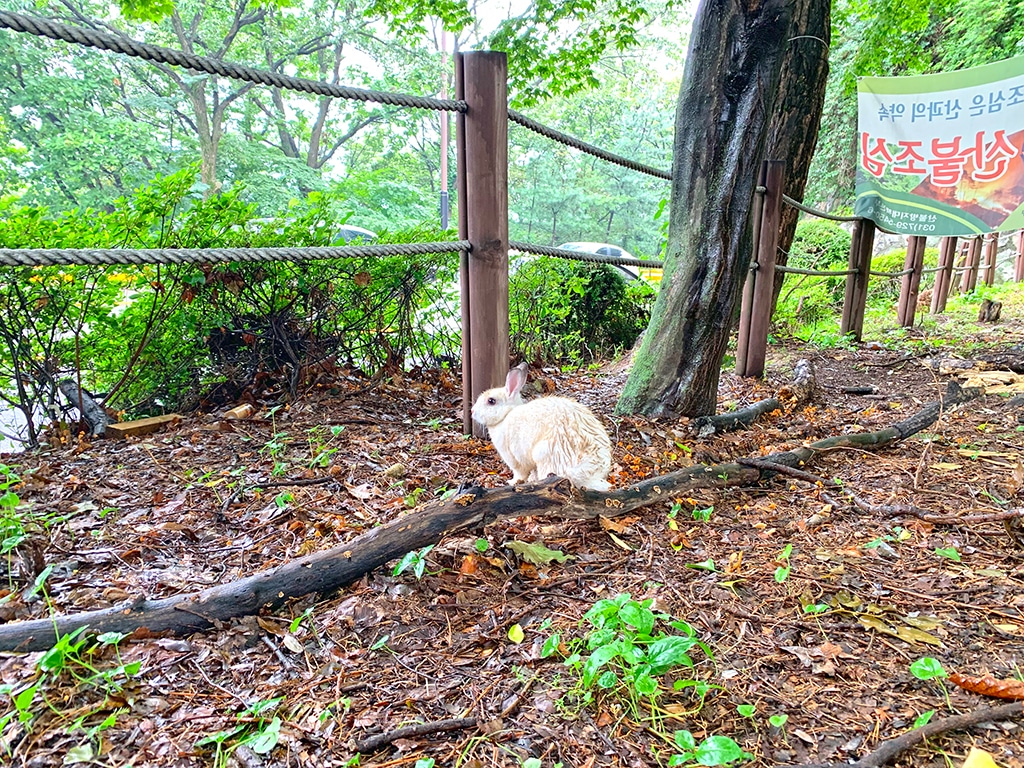 The entire Namhansanseong Fortress trail is a lengthy 12.4km, but it is broken up into several shorter courses ranging from 2.9km (1 hour) to 5.7km (2 hours).
The easiest way to get there is from Sanseong Station (line 8, exit 2 – NOT Samseong Station on the green line). Walk straight 100m from exit 2 to the bus stop and take bus 9 for around 20 mins or the 9-1/52 for about 10 mins (although these are less frequent).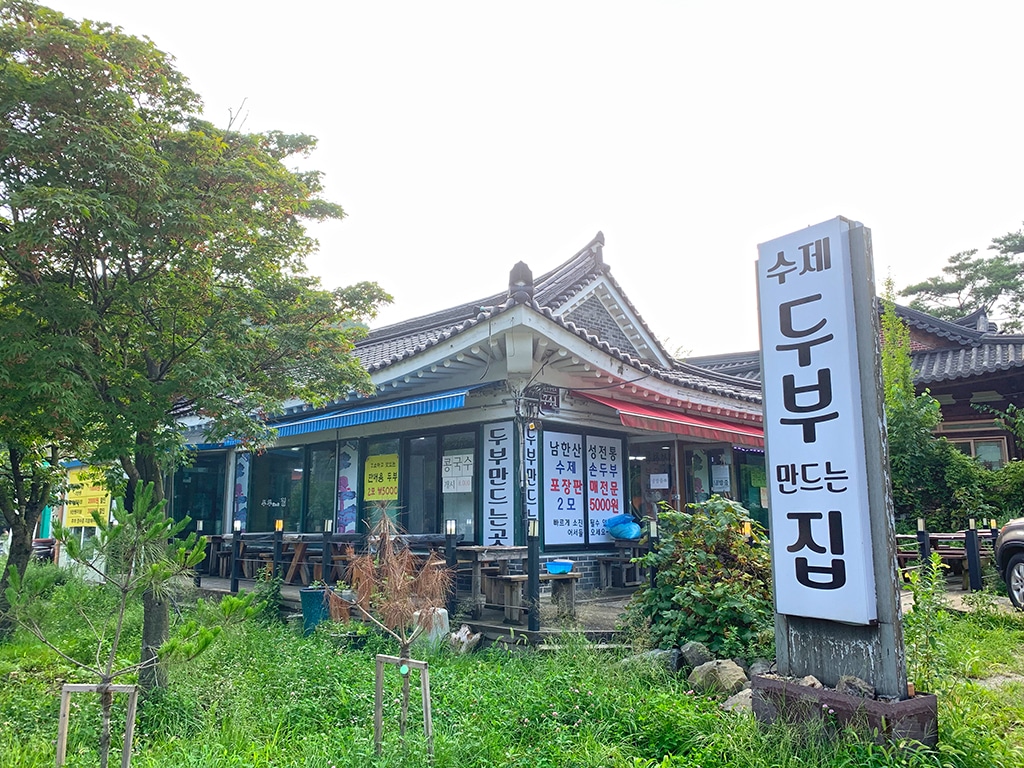 Alite at Namhansanseong bus stop and walk another 30 mins. You could also haul a taxi from the station for a 12 min ride. Do keep in mind that weekends and especially public holidays can get absolutely packed and bus/taxi rides can take twice to three times as long.
There are paper maps available at the information center in Namhansanseong village or click here for maps online.
Suwon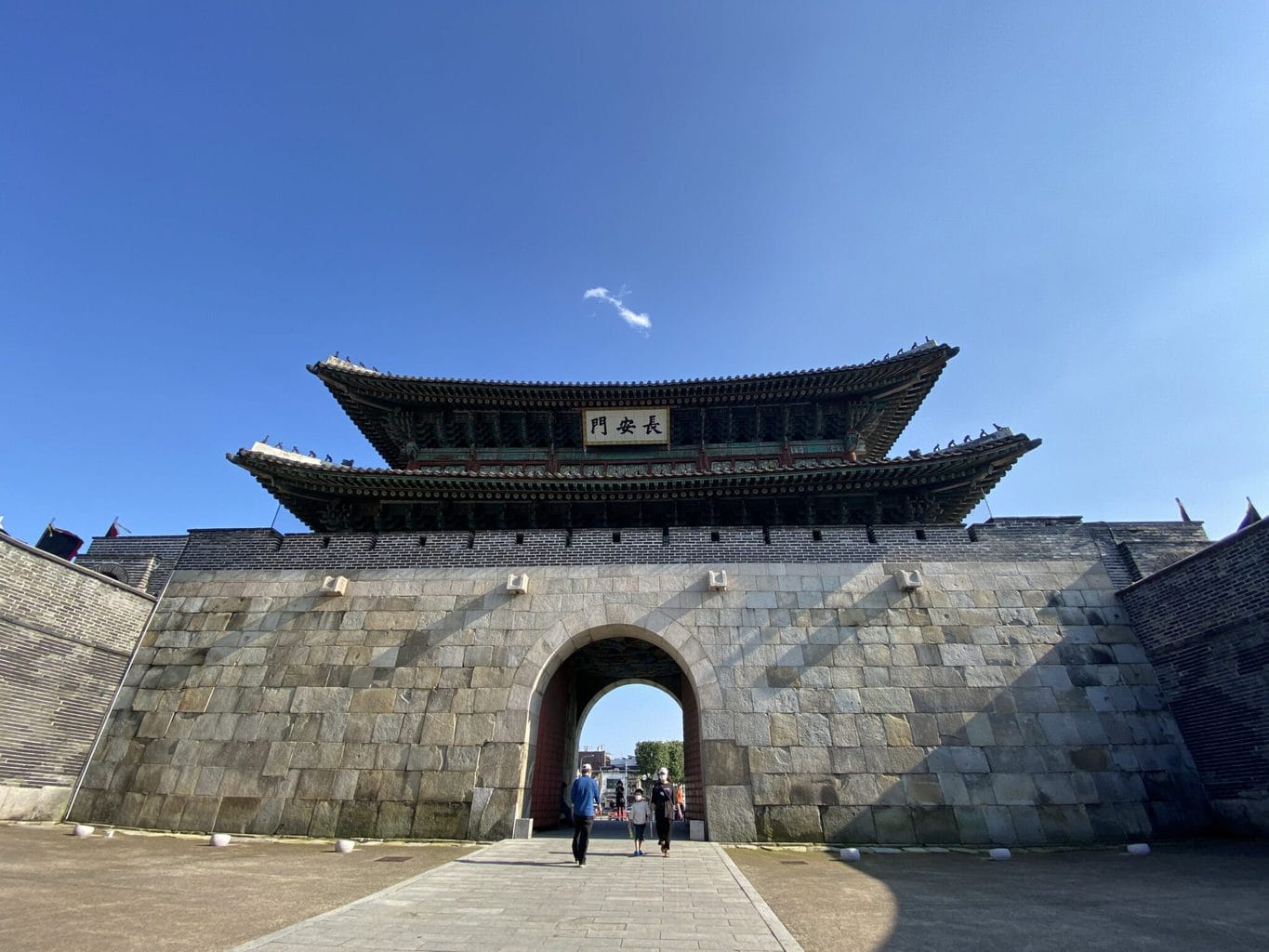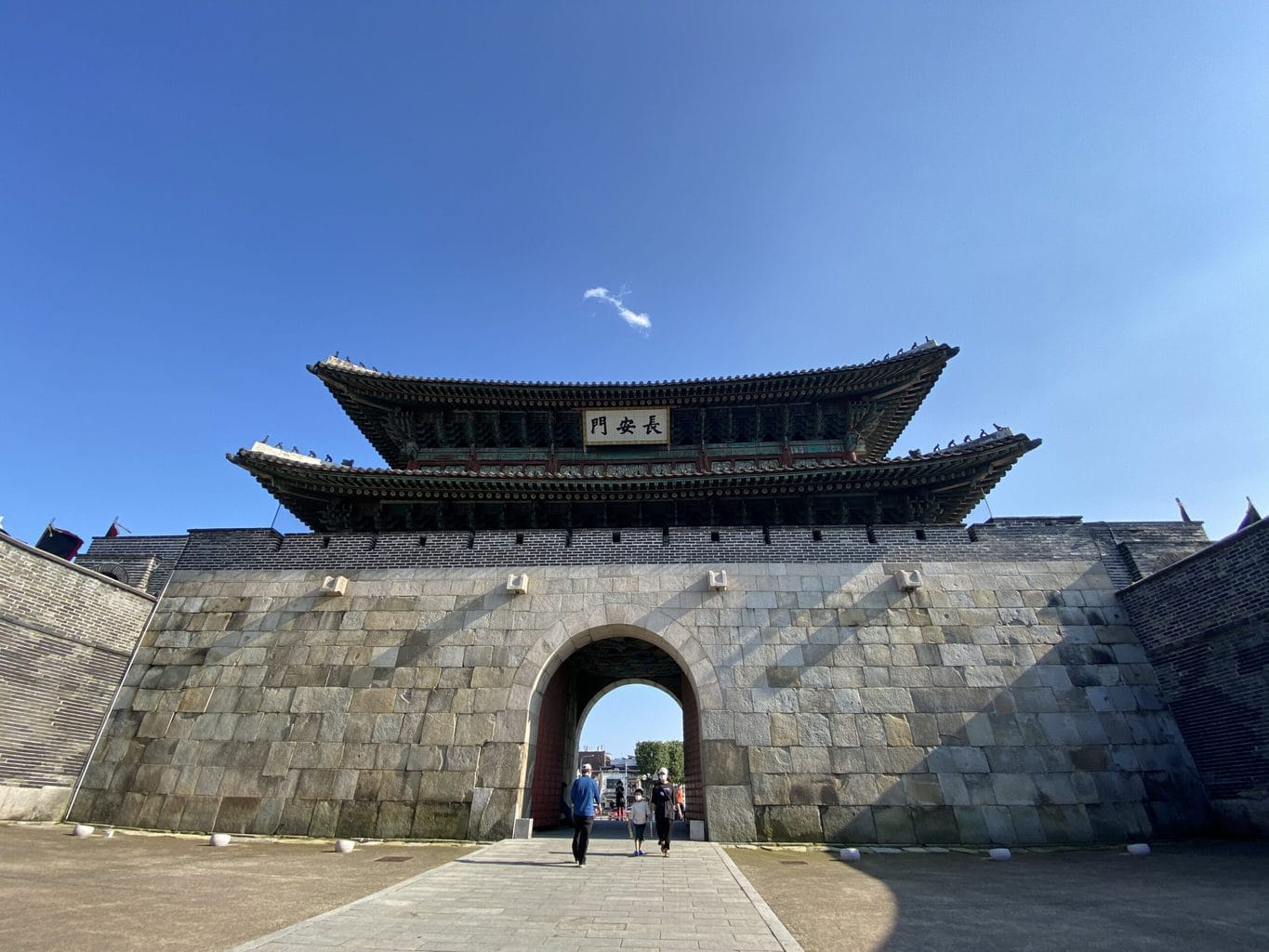 Suwon is another UNESCO-verified option in Gyeonggi Province for a day trip from Seoul and can easily be reached on the subway. Suwon is the capital of Gyeonggi Province and is most well known for its late-18th-century Hwaseong Fortress and the towering Paldalmun gate which is the southernmost gate marking the entrance to Old Suwon.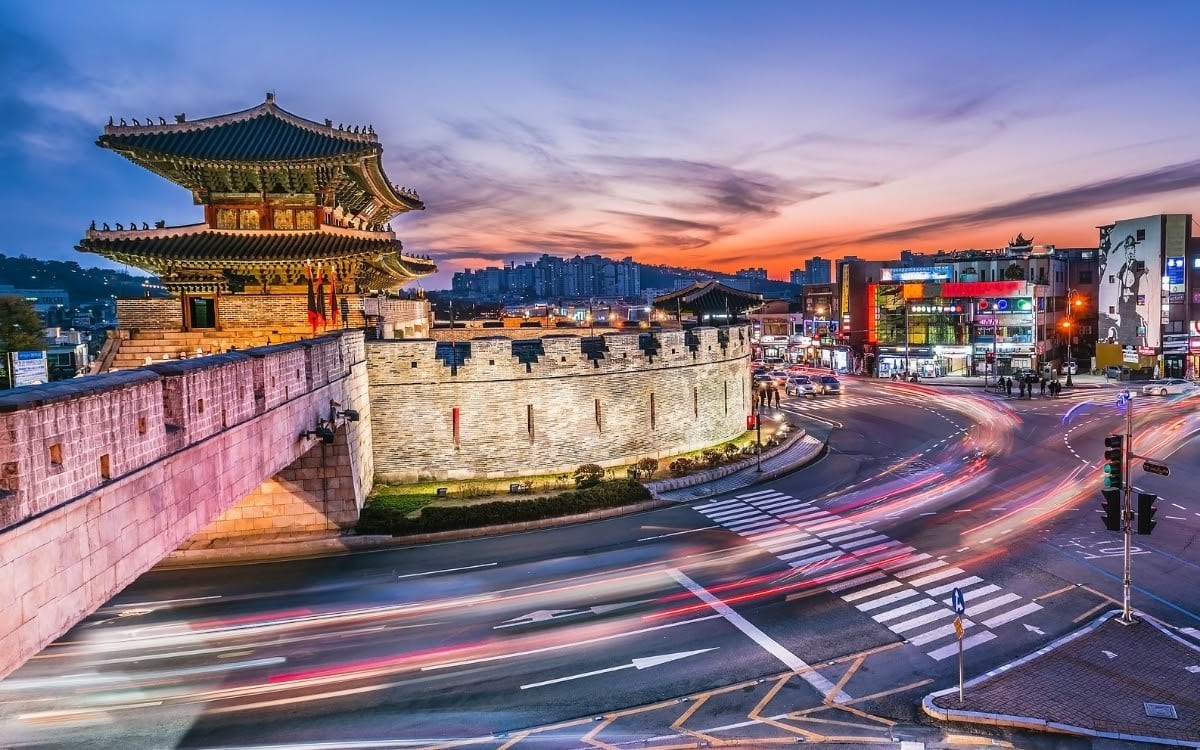 Hwaseong Haenggung Palace (화성행궁) is a great place to see where the nobility of Korea used to holiday and usually has cultural performances and activities.
There's also a large number of amazingly Instagrammable coffee shops around the city with standouts including Jung Jiyoung Coffee Roasters right by Paldalmun gate, minimalist No Smoke Without Fire, bright Sogon Sogon or spacious 91 Coffee (4 locations). One trendy road in Suwon is Haengnidan-gil (행리단길) near Suwon Fried Chicken Street right by the Fortress.
To get there, take the subway to Suwon Station on the Dark Blue line which goes all the way from Seoul Station (about an hour away). It also has a KTX station, so you'll find a lot of foreigners and expats here.
Once you get out of the subway, pop into the green kiosk directly outside Suwon Station to ask any questions to the information guide. There are several large malls here too and a restaurant street nearby.
Take a guided UNESCO Suwon tour that visits Hwaseong Fortress and the Korean Folk Village. Book the tour online here.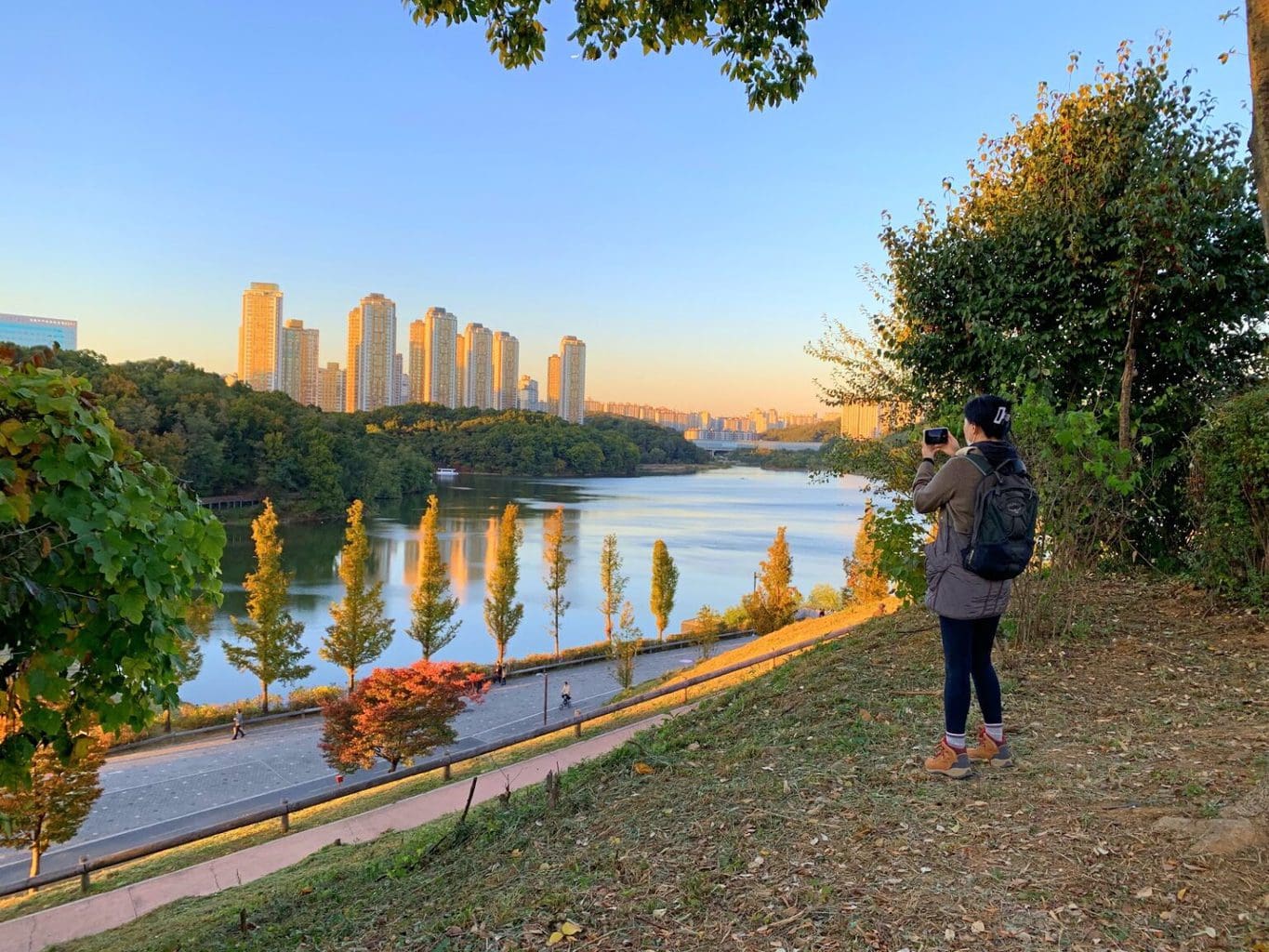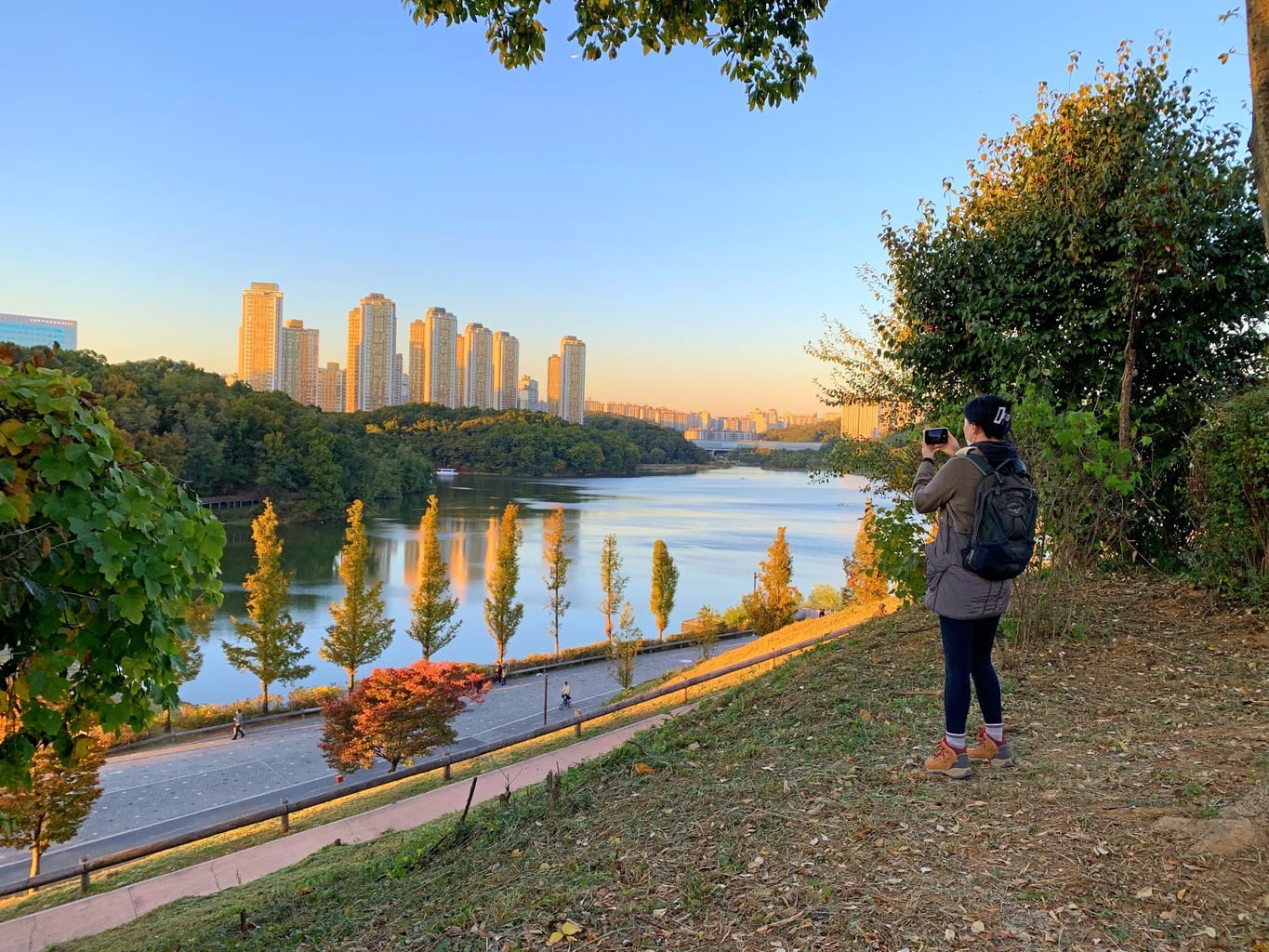 Suwon is actually quite large, so you can visit other districts within the city like Gwanggyo which is a "new city" with a giant lake surrounded by a green area with picnic spots, a library and a climbing wall.
THe area is very walkable and there are bike paths, restaurants on the water and hiking paths too. There are actually two lakes right next to each other, but there are signs and maps everywhere in Korean and English to help you on your journey.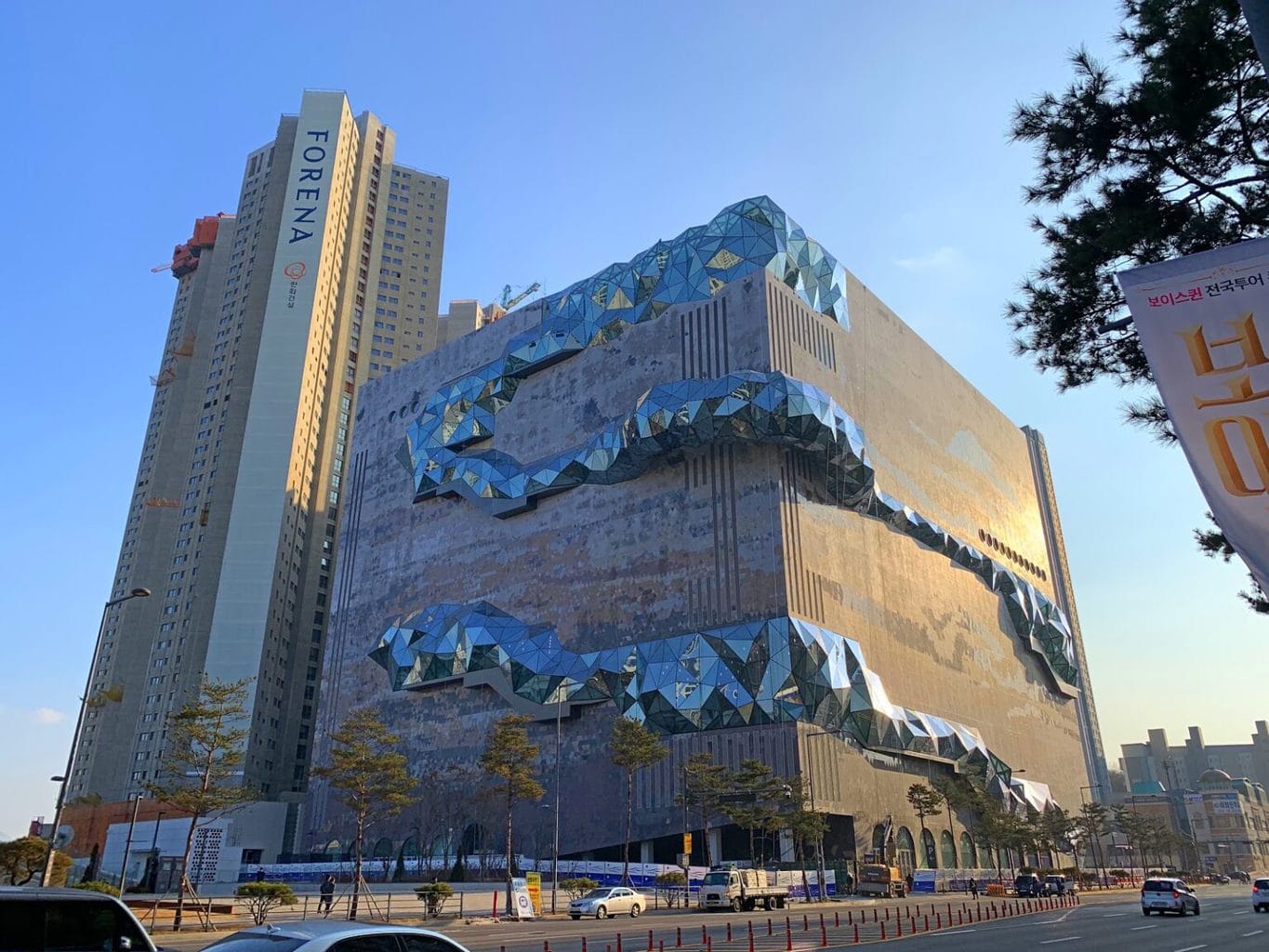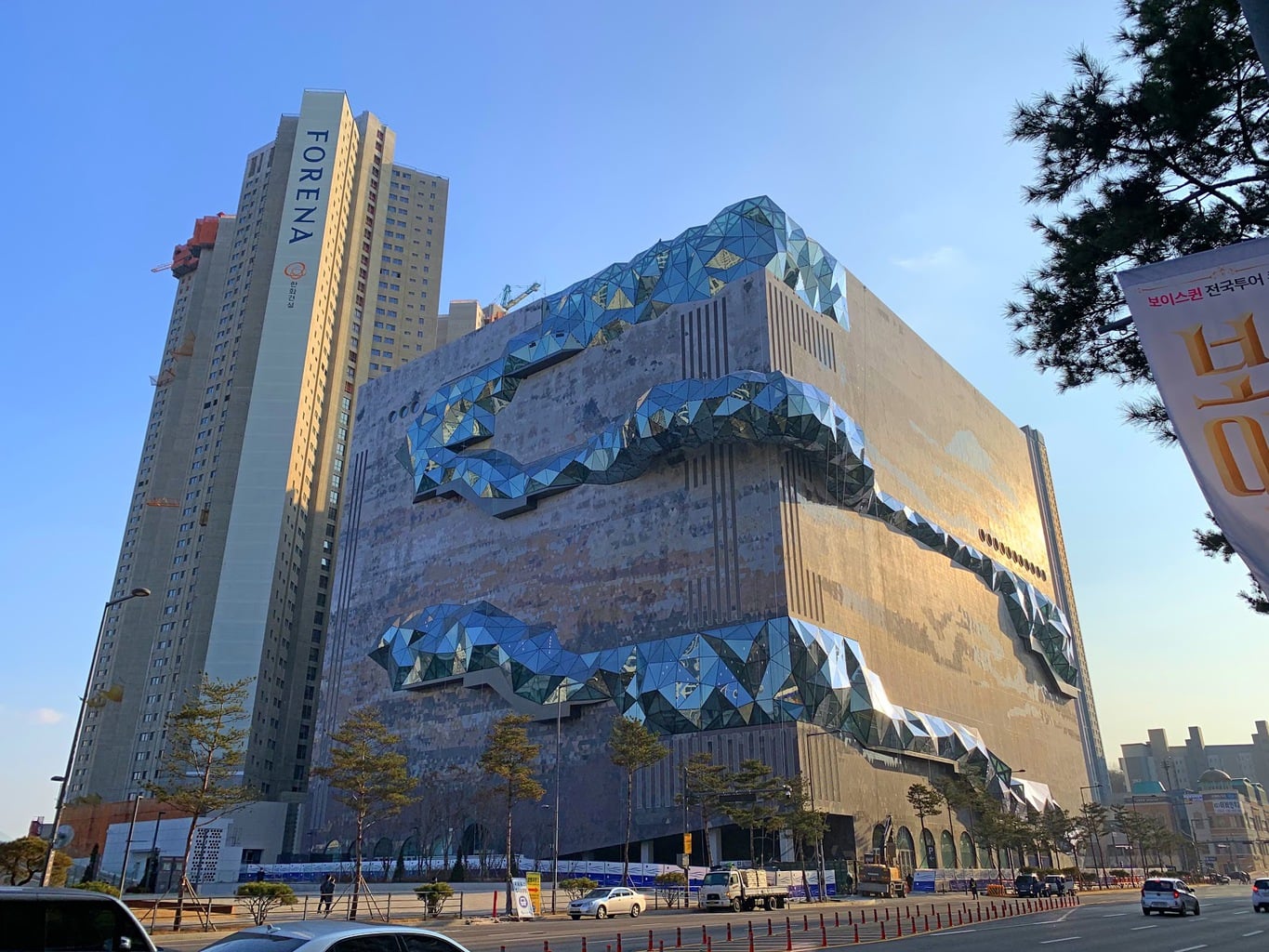 There are also some shopping malls including the fairly new Galleria Shopping Mall which looks like an alien cocoon and has a glass floor that you can walk on. It's easily accessible on the new Bundang line (Shinbundang line in red) and you can get there without transferring from Gangnam Station.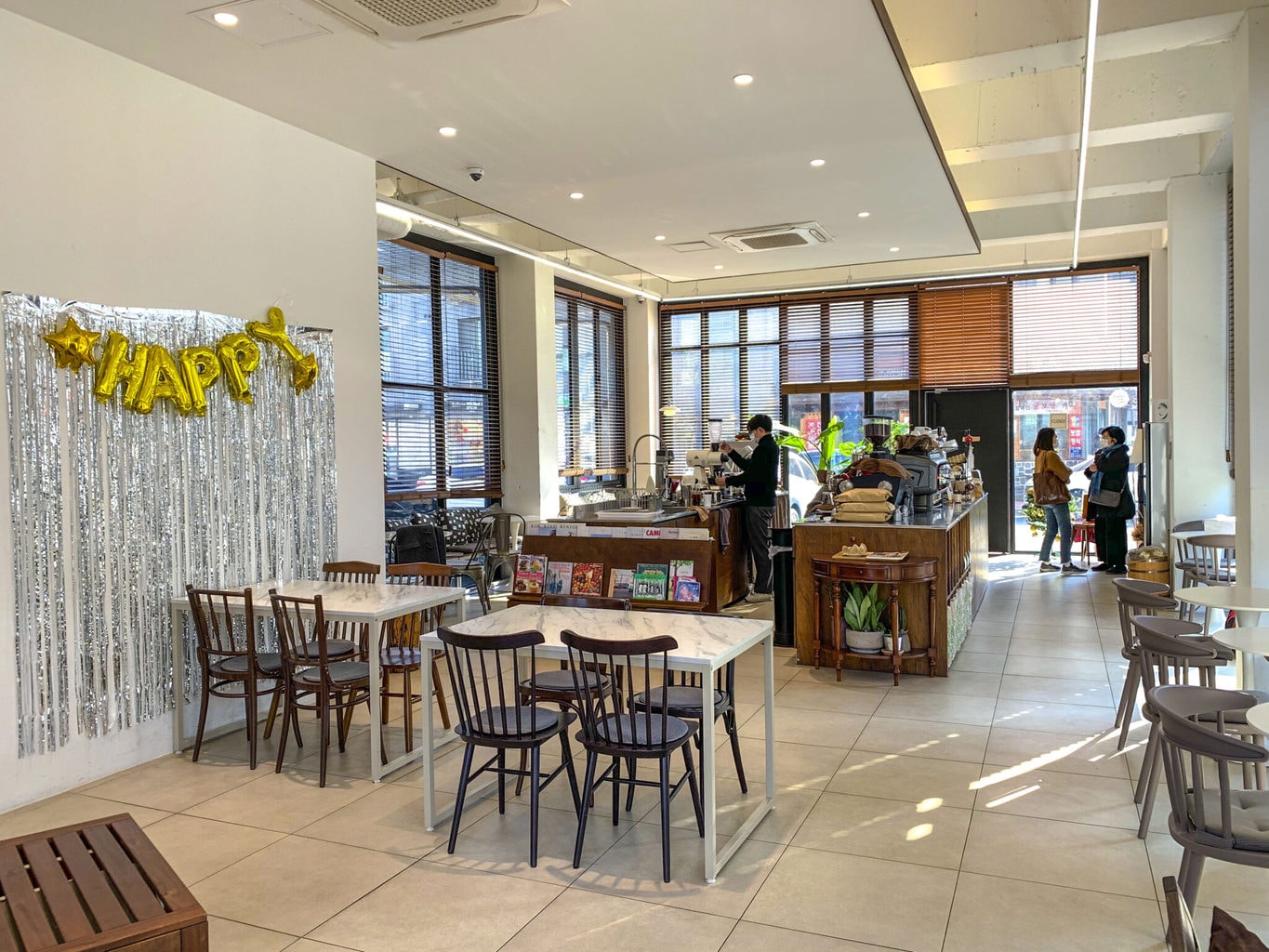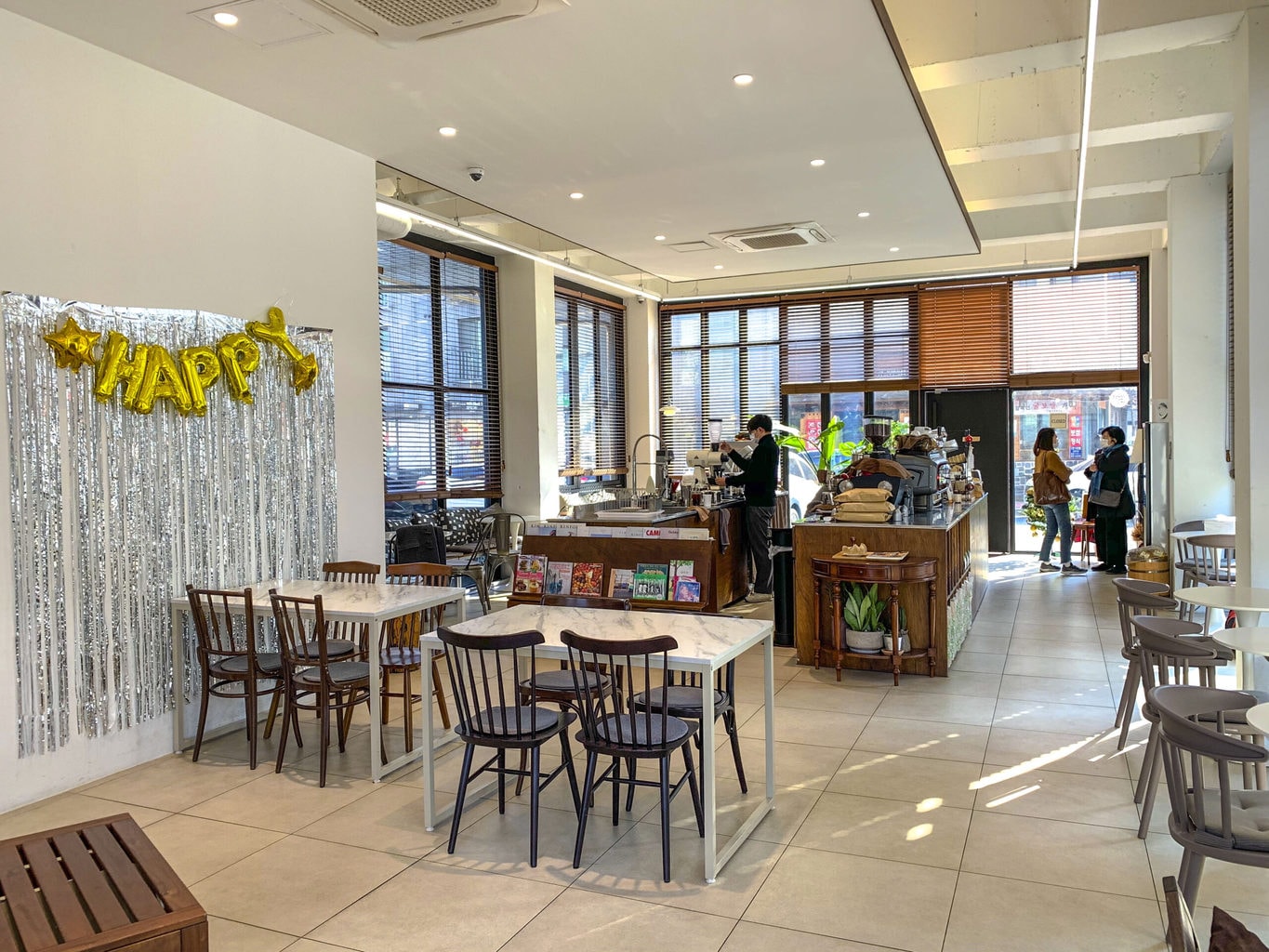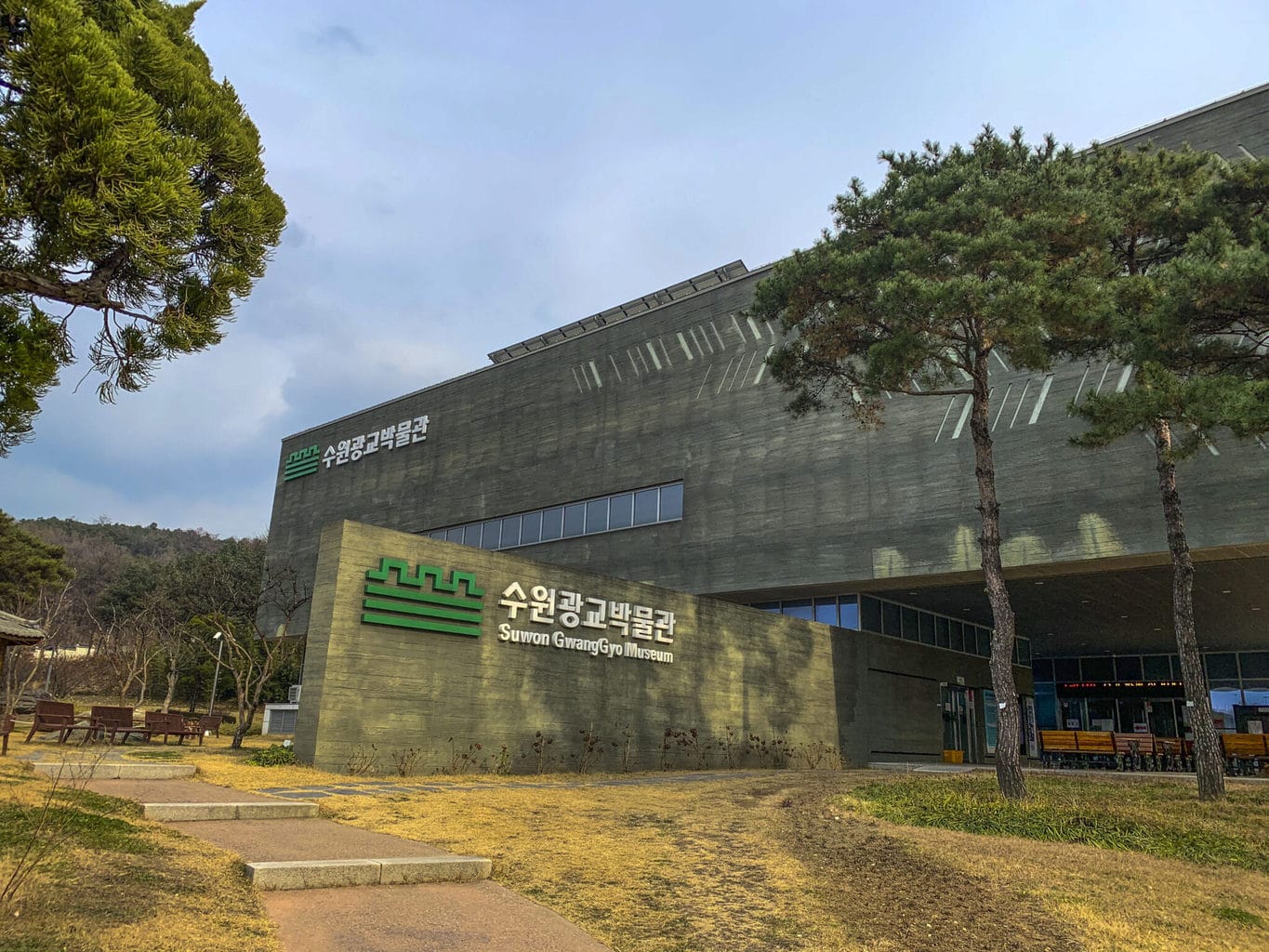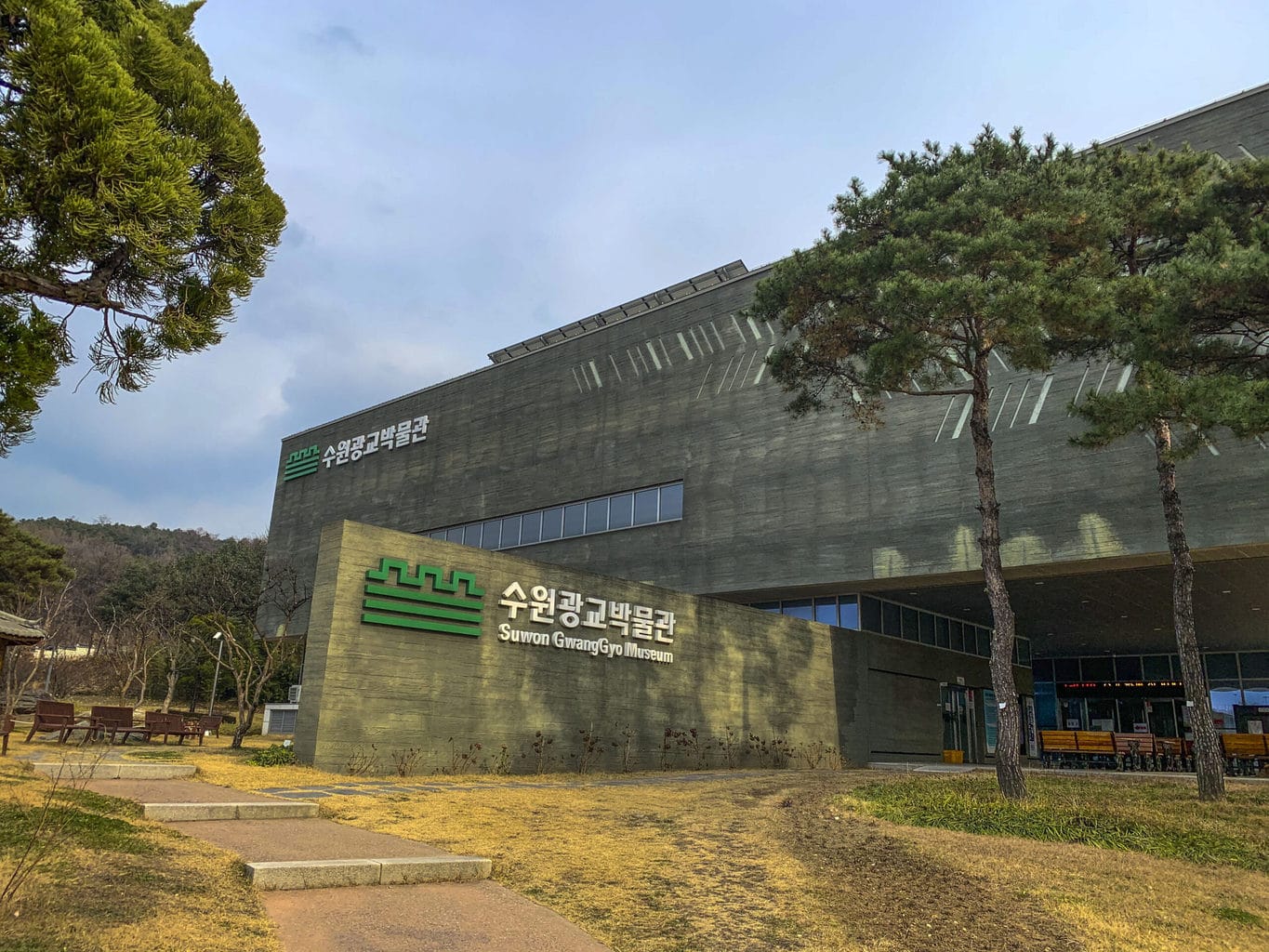 There's even a cafe street if you take exit 3 and turn right after Lotte Mart (not Lotte Department Store which is in the other direction), walk straight and the cafe street begins just after the small river. We haven't tried them all, but our current favorite is Dominic Coffee Lab as they roast there own coffee and make the most amazing cheesecake! There are plenty more if you walk around the streets and even more along the river. You can walk all the way to the main Lake area along the small stream.
Then venture onto the Suwon Gwanggyo Museum which is pretty cool as it explores how Suwon was in the past with a full 1960s market experience. There's also the Calligraphy Museum of Korea, showcasing approximately 33,000 relics.
You can spend half the day by the fortress and then half the day in Gwanggyo if you really want to fit a lot in. If it's a toss up between Gwanggyo and the fortress, ask yourself if you prefer culture, history and more of an old feel (fortress) or you like easily-accessible well-manicured, pristine environments with a touch of trend (Gwanggyo).
Our recommendation is to visit the fortress area as it has UNESCO appeal and loads of cultural activities (although we personally prefer Gwanggyo).
To get there, go to Gwanggyo Central Station (광교중앙역 – Gwanggyo Jungang – NOT Gwanggyo Station) and take exit 4. If you walk straight, you'll get to Lotte Department Store, Galleria and Suwon Convention Center. The best way to get to the park is to take the stairs down between Galleria and the Convention Center.
Pro tip: Remember that Gyeonggi Province circles Seoul, so there is a north, east and south Gyeonggi, which are a few hours apart (Incheon is to the west). So you would need to possibly travel through Seoul to get from one section of Gyeonggi to another.
Nami Island and Chuncheon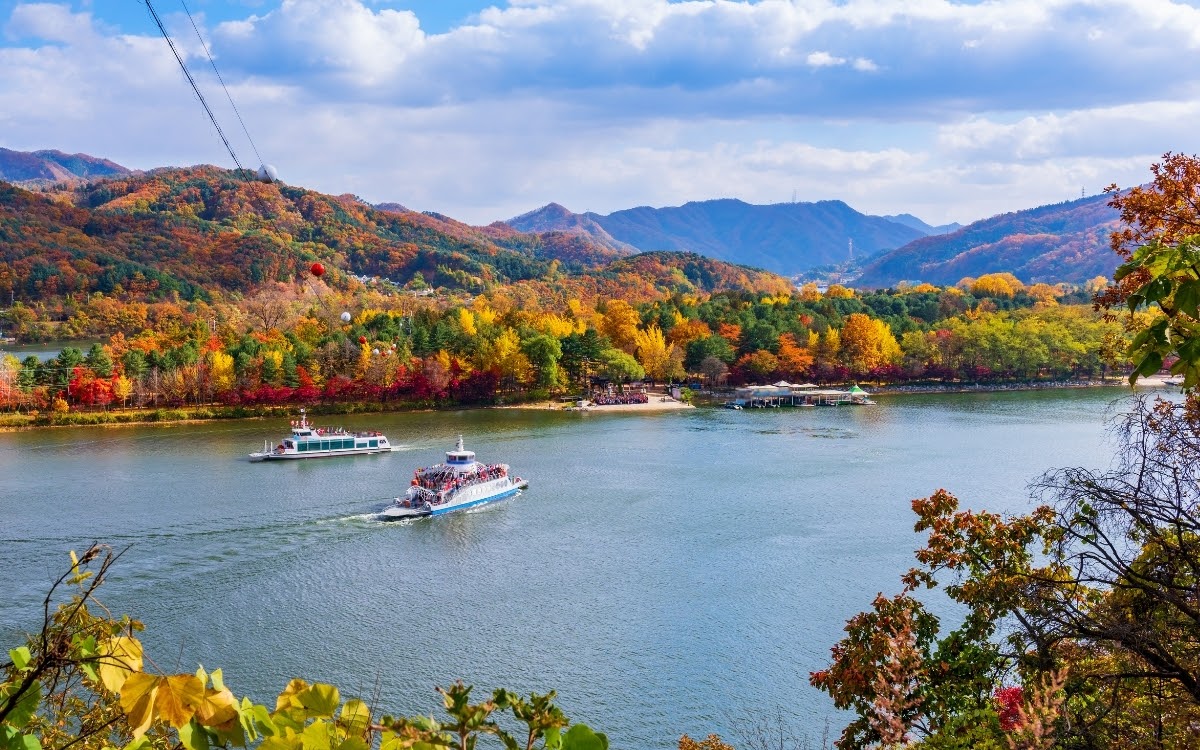 Nami Island is on all the lists of Seoul day trips as it's pretty close and is an absolutely gorgeous slice of easily accessible nature.
After the success of Kdrama show Winter Sonata, which had a scene here, the island has become a top tourist destination. The main draw of the location is its extreme natural beauty with tree lined walkways and gorgeous forests.
It's perfect for any season from blossoming Spring, to Fall Foliage and even snowy Winter where the birch tree alleys look magical.
Book a guided tour to Nami Island that also stops at several famous locations like Petite France, Garden of Morning Calm and Gangchon Rail Bike. Great for all seasons! Book your tour online here. You could also book a more relaxed Nami Island and Petite France Kdrama photo tour if you know exactly the locations you want to visit. You can book it online here.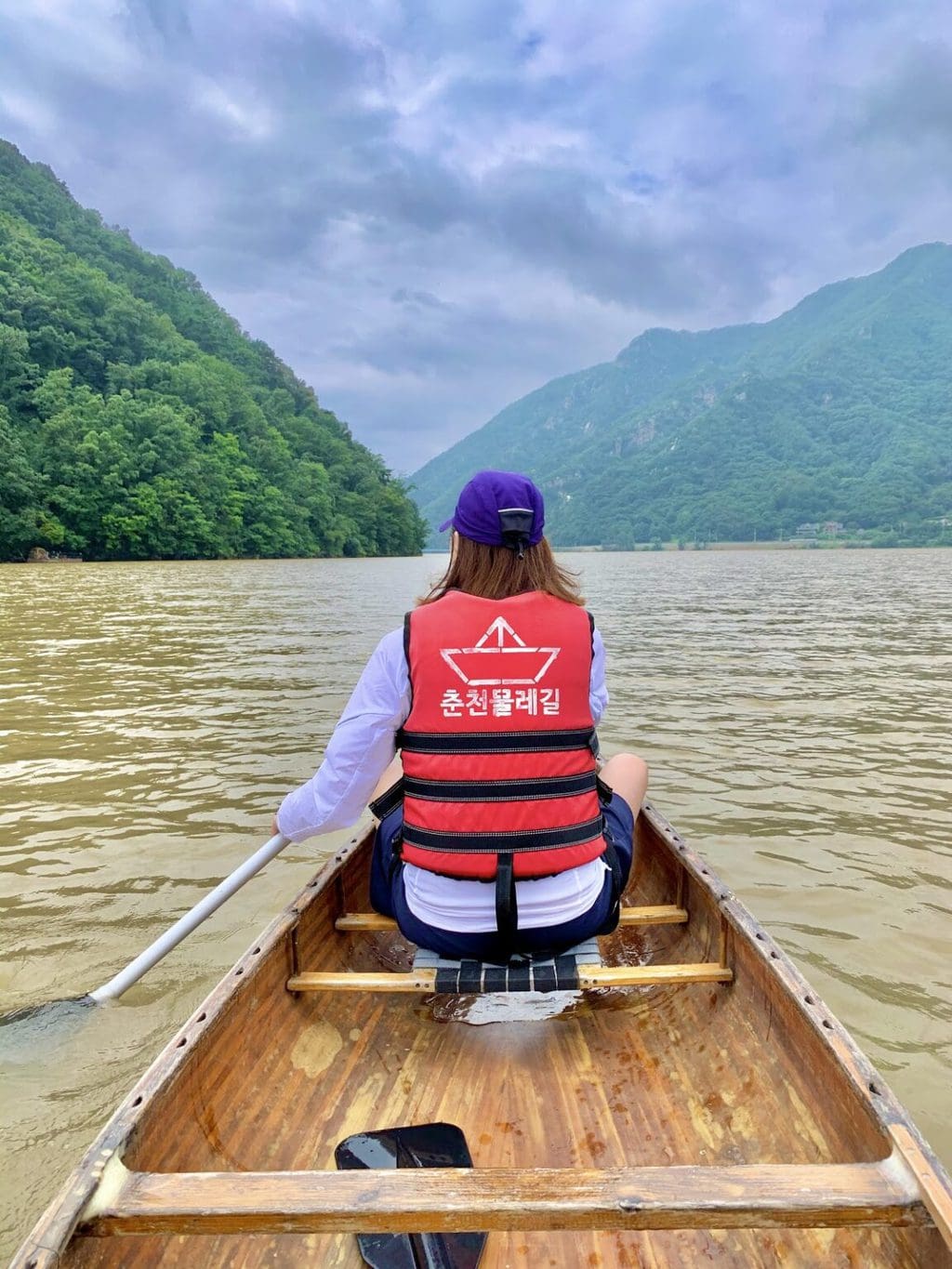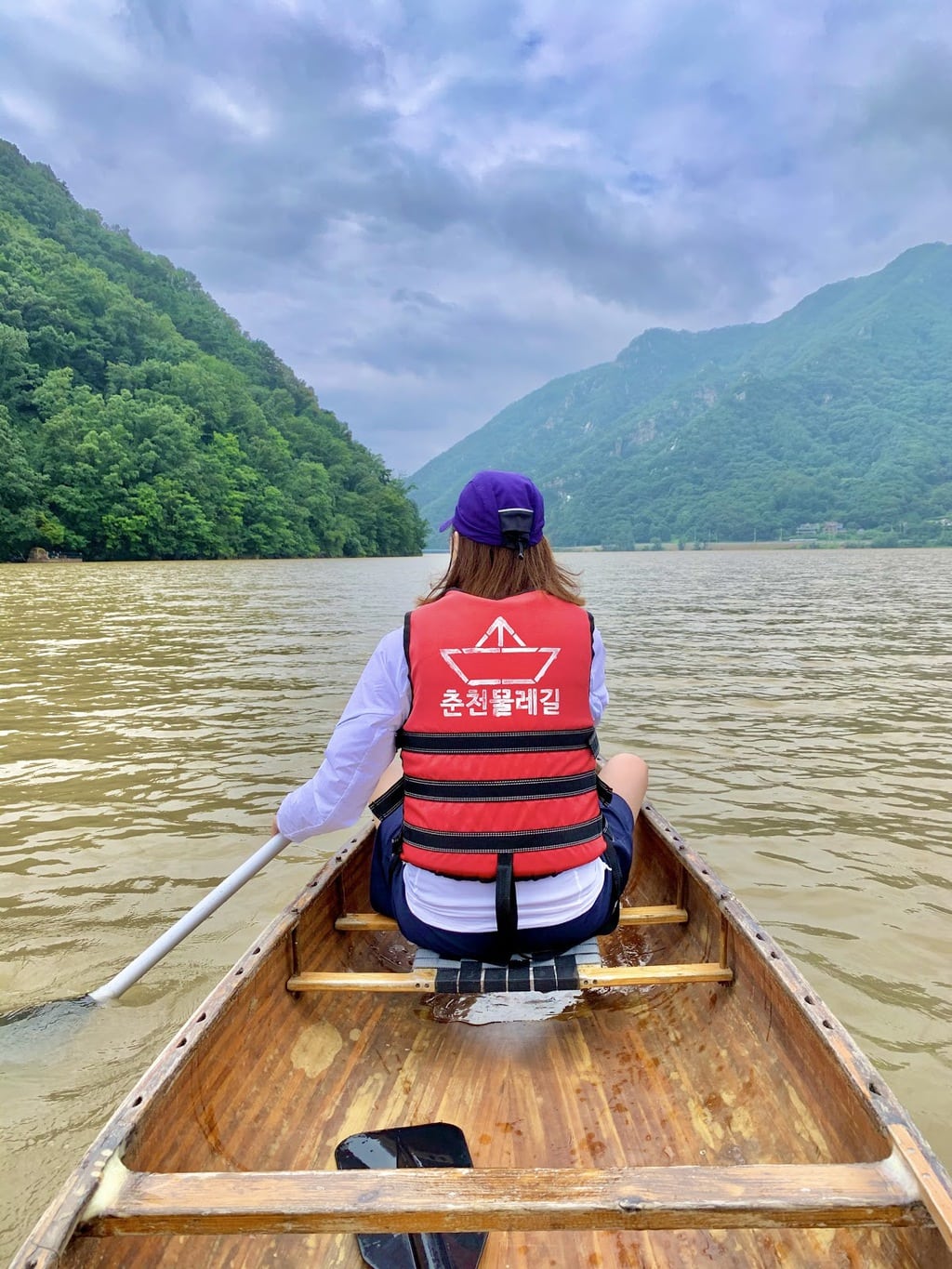 Chucheon, the capital of Gangwon Province (where Nami Island is located) is a great area to experience Korea's more rustic side and is a great change of pace from frenetic Seoul. In the summer it's known for kayaking along the river, but there are plenty of things to keep you busy during the winter too.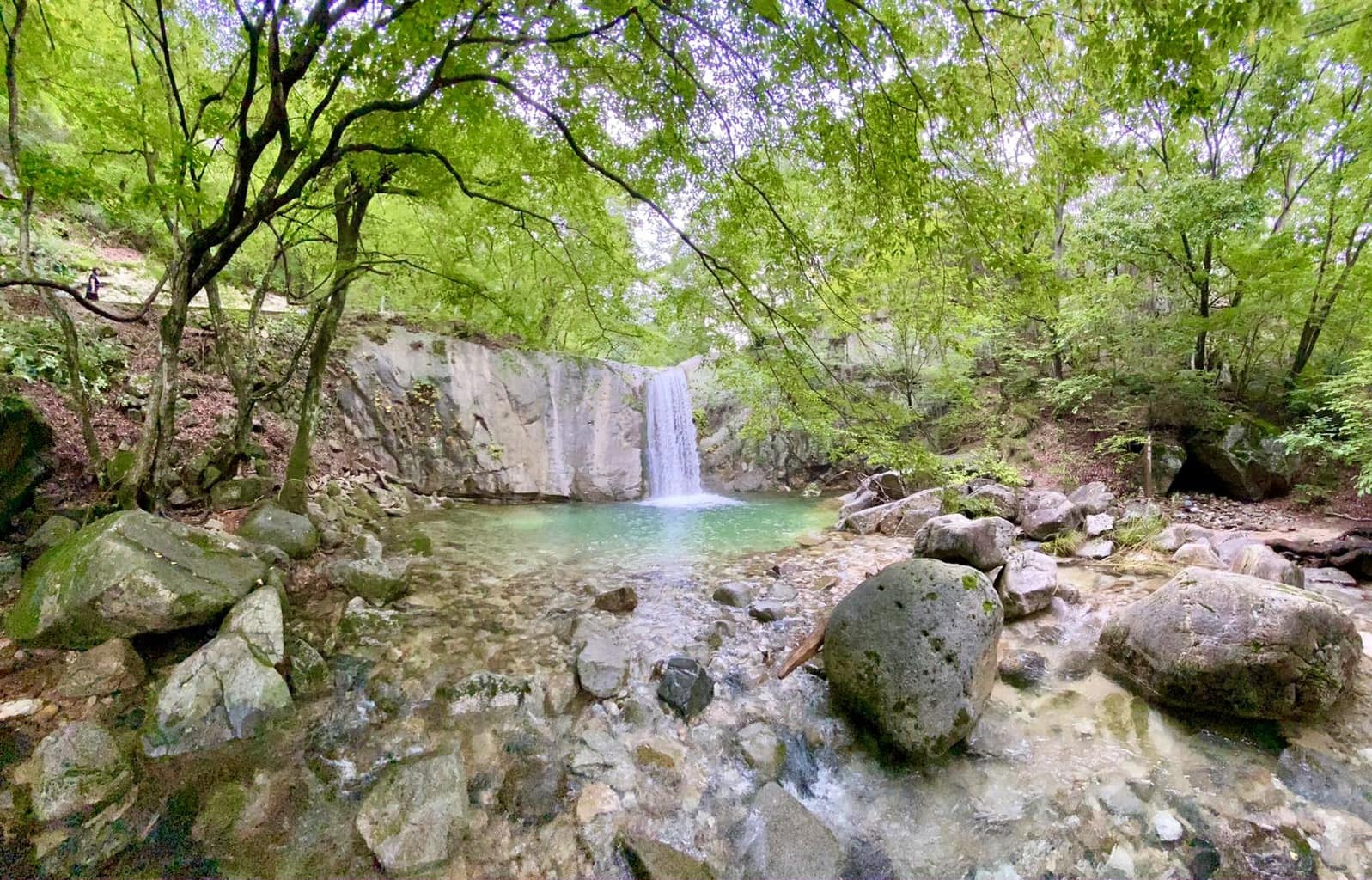 Popular places year-round include Parisian theme park Petite France, riding along the tracks on the Gimyujeong Rail Bike, strolling around Jade Garden Natural Arboretum, hiking up to small temple Cheongpyeongsa Temple, visiting the cafe at KT&G Sangsangmadang Art Center & hotel (the same company that has a famous building in Hongdae).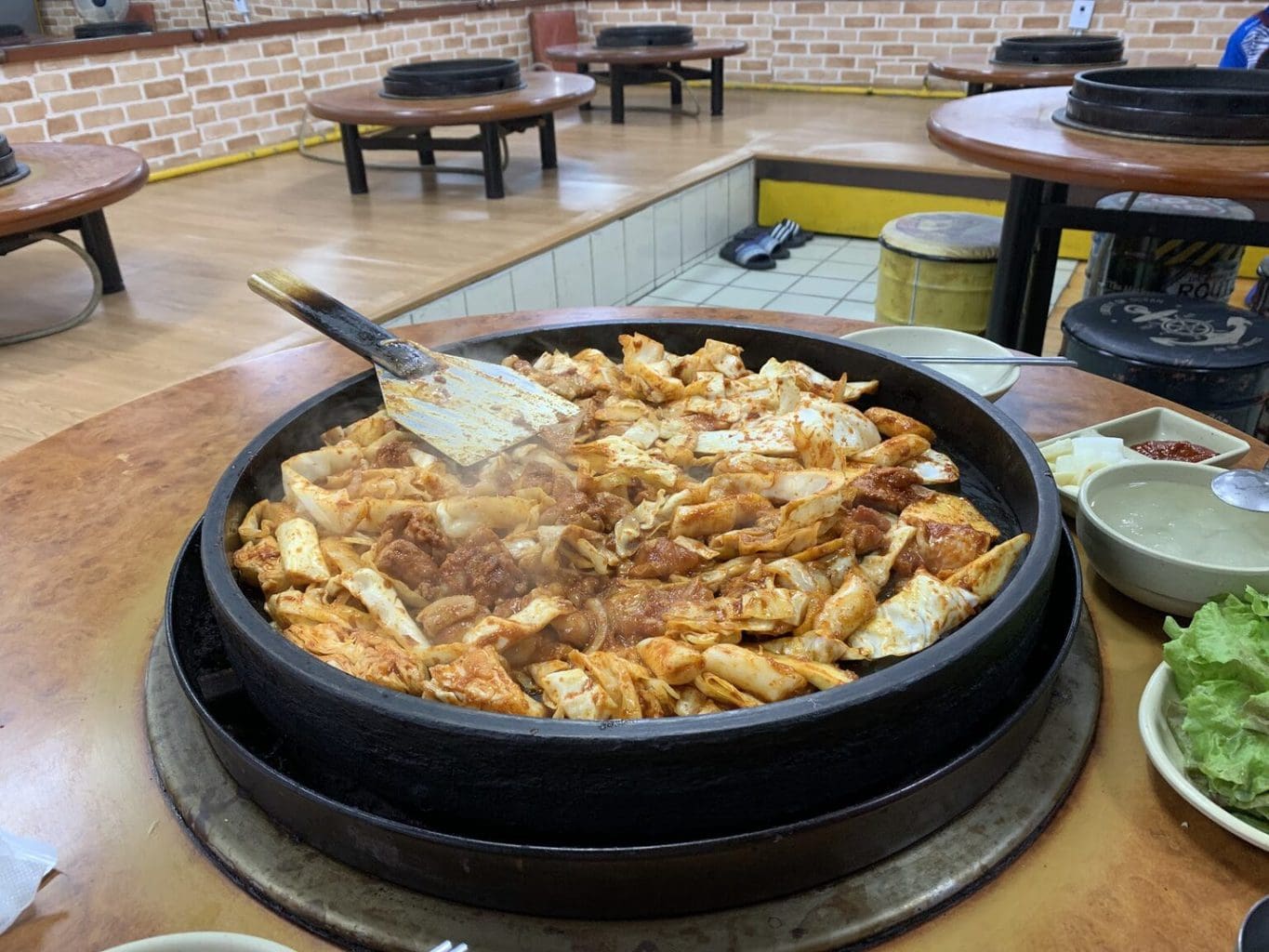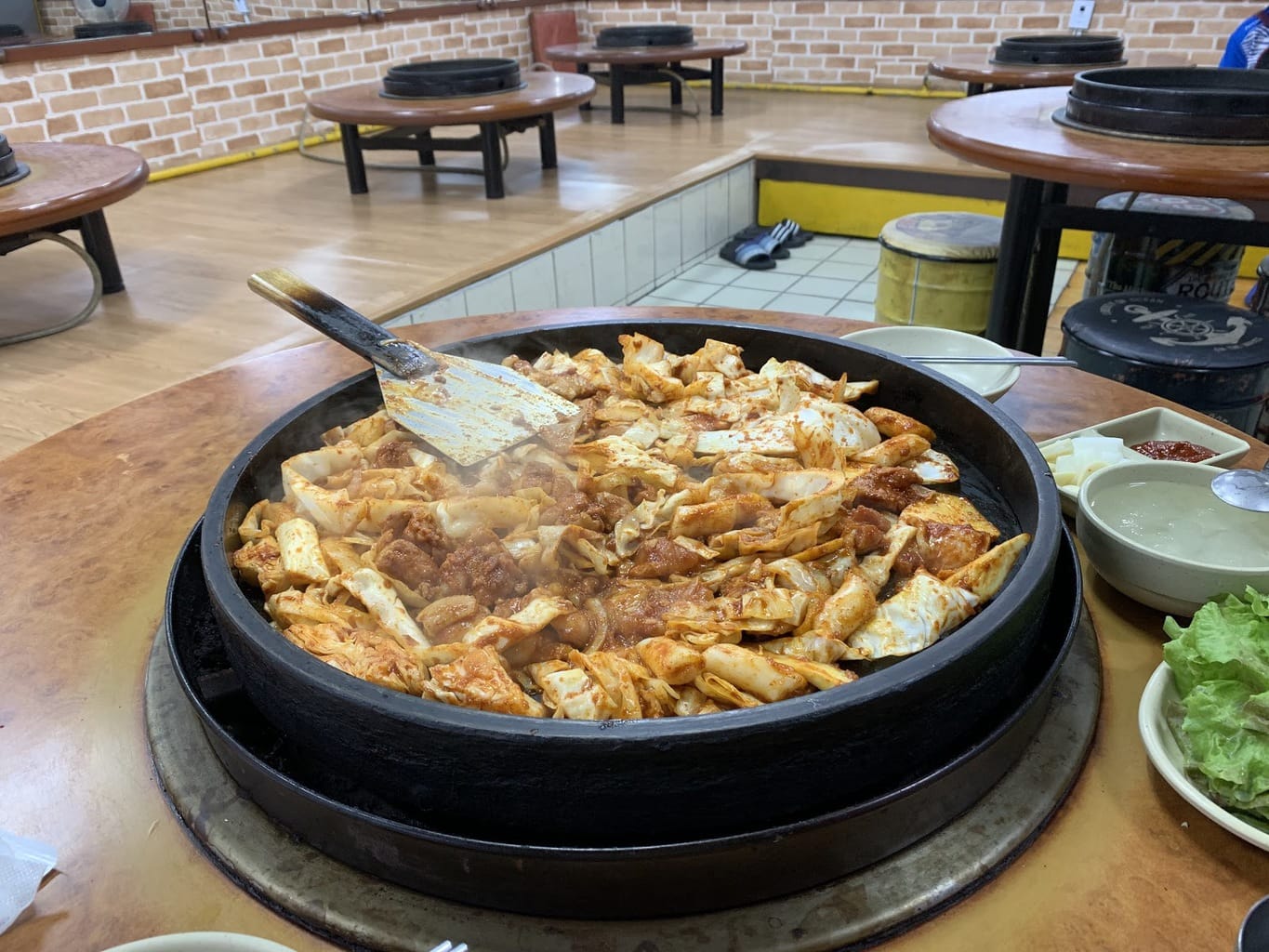 Trying famous dakgalbi (spicy stir-fried chicken) at Chuncheon Myeongdong Dakgalbi Street (yes there's a small Myeongdong in Chuncheon too) is another great thing to do for foodies. There are even complete tours that can be booked online like this very highly rated tour!
Skiing in Winter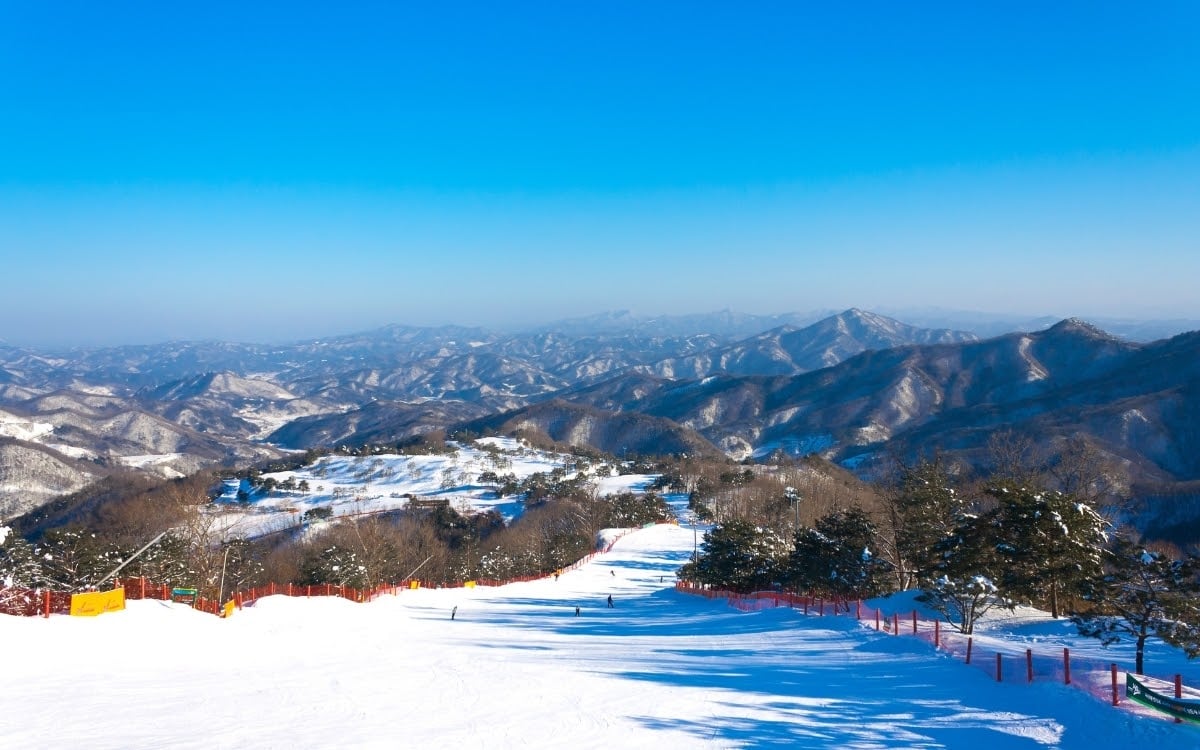 If you're visiting Korea in the winter, we've actually written an entire article about this topic, so you can get some hints there.
But probably the best day trip is to go skiing at one of the closer resorts like Jisan Forest Ski Resort (지산 포레스트 리조트 스키장), Bears Town Ski Resort (베어스타운리조트 스키장) or Vivaldi Ski World (비발디 파크 스키월드) all under 2 hours from the capital by bus and possibly quicker if you hire a car (depending on traffic).
As you go further north, temperatures will drop more but this also means more powder to carve. If you go to the resorts more south it may be a few degrees warmer, but may have a lack of snow. This is no problem though as all ski resorts in Korea have snow machines.
Slopes range from beginner to advanced, so you can take lessons even if you've never put on a ski before. We recommend staying the night if you can as the accommodation at some of the options is top tier and pure luxury.
Day 6 – West Seoul: Expat haven, nature & party
Today on your Seoul itinerary, you'll be exploring the western side of the capital. It's an area with a dense expat community, some great green spaces and an artsy student party area.
Morning: Itaewon & Hannam-dong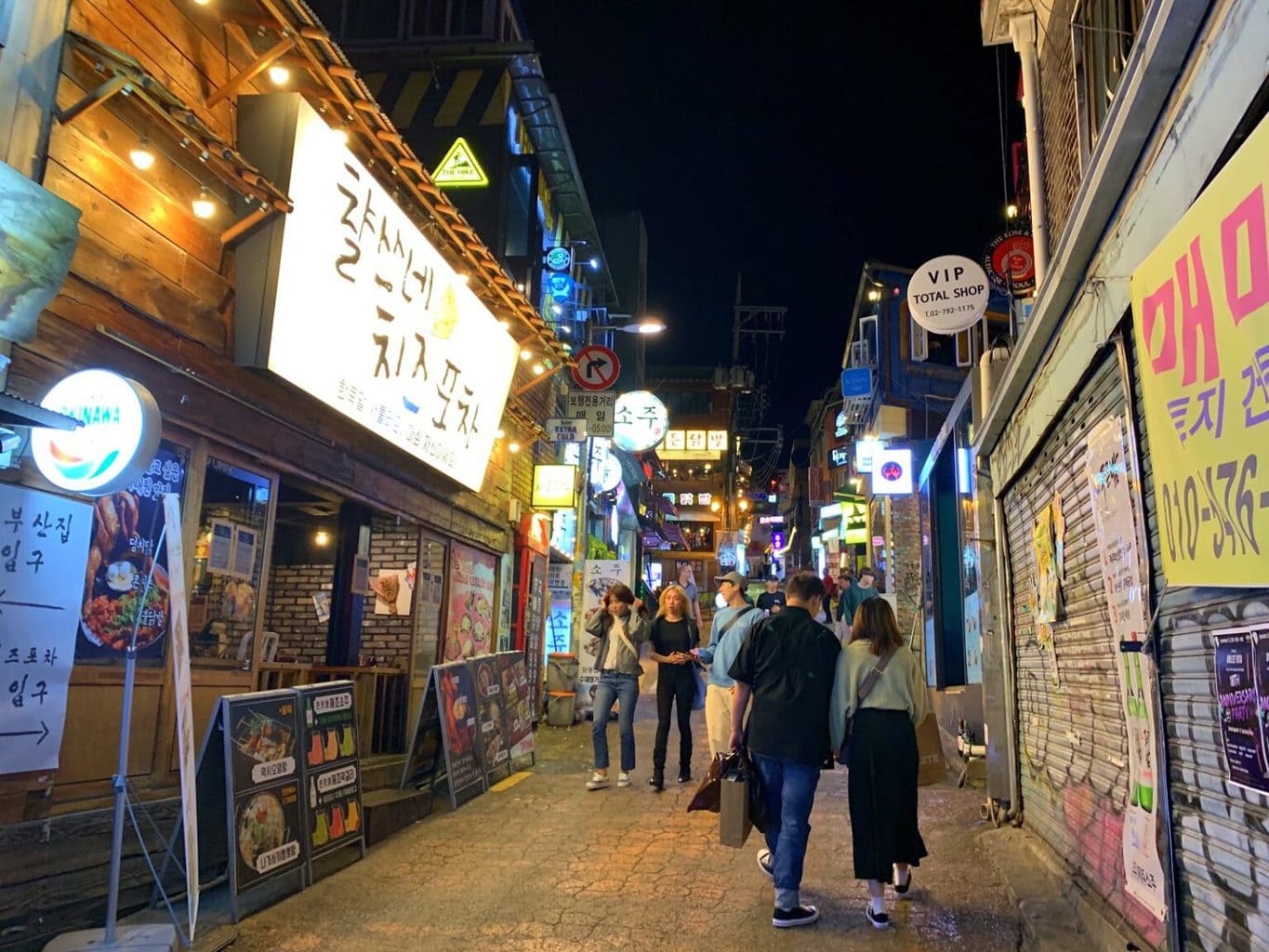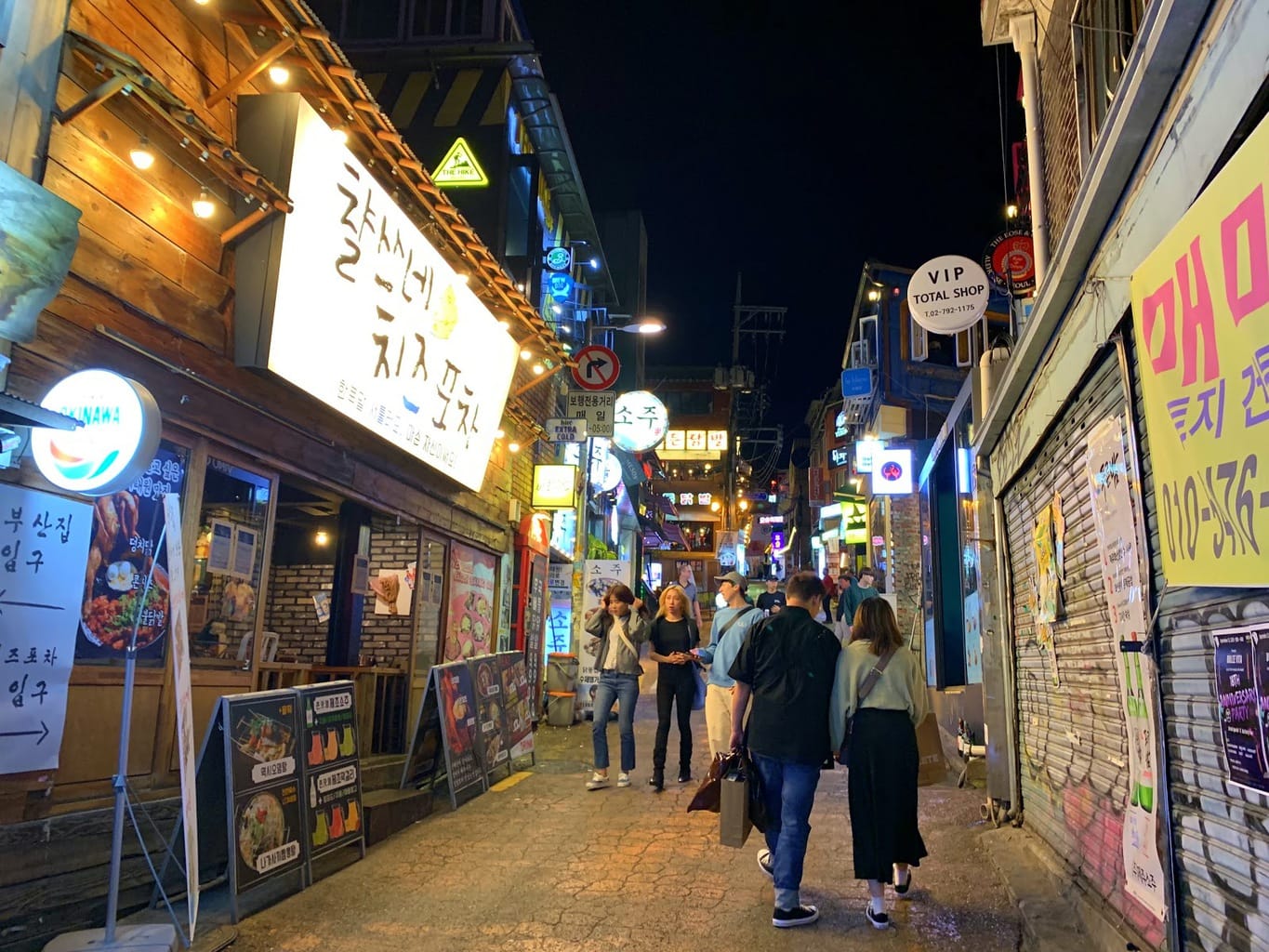 While breakfast in Korea usually consists of rice, kimchi and soup, this may not be your idea of morning food. Lucky for you, Seoul has a bit of everything for all palates. Itaewon and Hannam-dong are two areas right next to each other that have a multitude of Western style brunch restaurants for you to grab a bite.
Summer Lane serves Australian style brunch, The Flying Pan has been around forever, and Little Neck and 4.2 Brunch Cafe have great menus. The area near The Flying Pan in Itaewon is a foodie haven and there are meals here for every taste at any time of the day.
Expats congregate at the bars here and the main road is one of the only places in the capital where you can get large sized clothing and shoes. The Leeum Art Museum is also a great spot in Itaewon if you love art.
When you're done exploring Itaewon and Hannam, you can walk toward Noksapyeong Station and then around to Haebangchon and Kyunglidan (about a 15-20min walk). These are both additional expat areas where you can find food of all kinds and it's the epicenter of the craft beer scene with breweries like The Booth and Magpie. You can even book an Itaewon pub crawl here.
Afternoon: National Museum of Korea, Haneul Sky Park or Yeouido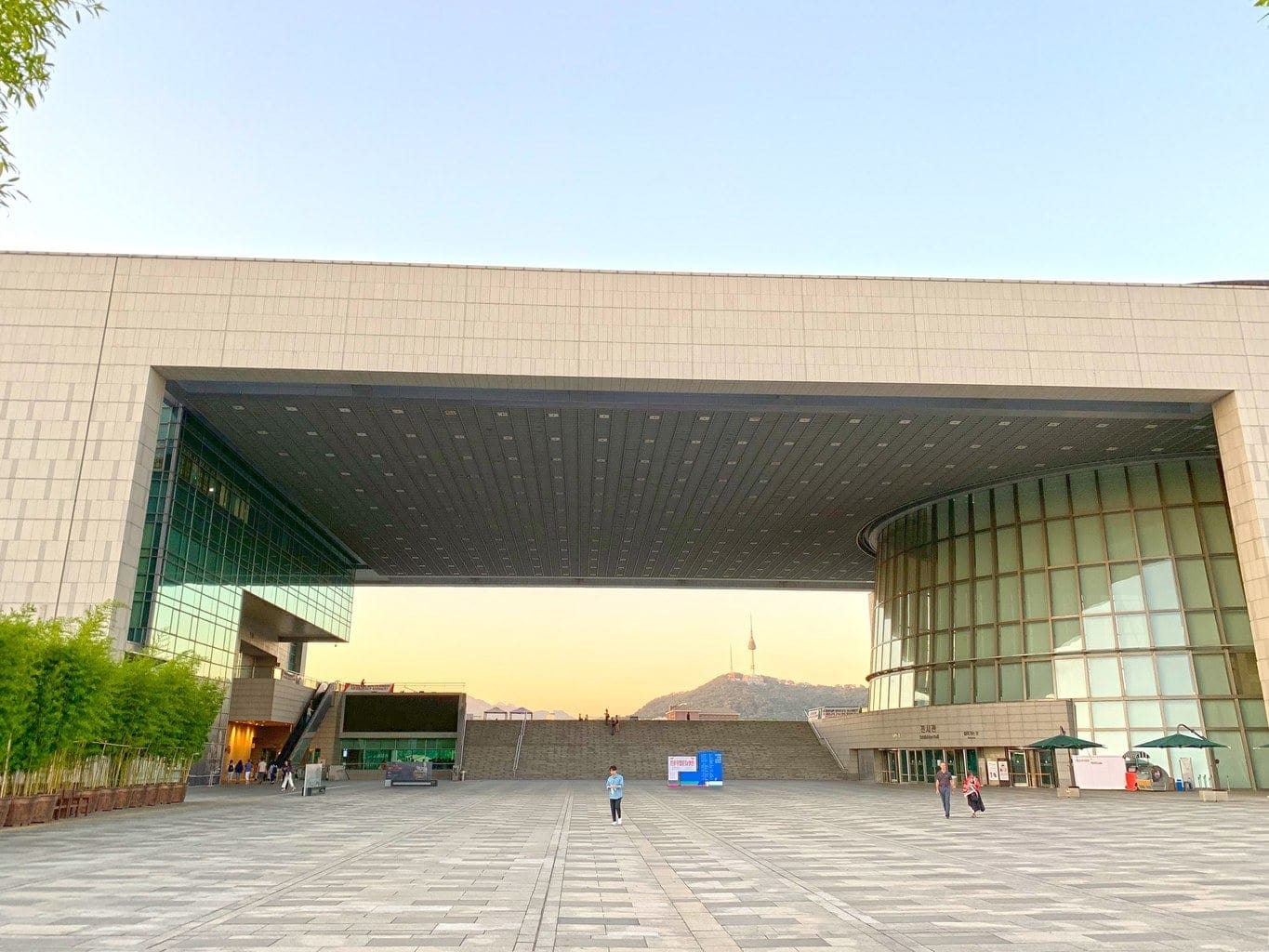 There are various different options for a great afternoon in west Seoul. The National Museum of Korea is the largest museum in the country that houses Korean cultural assets from its ancient beginnings right up to the modern era. This includes a large collection of relics (around 15,000) and an array of wonderful educational programs and cultural events.
The complex is really huge, with three different floors including Prehistoric and Ancient History Gallery, a Calligraphy and Painting Gallery and a Sculpture and Crafts Gallery. There are also artefacts from throughout Southeast and Central Asia including Indonesia, China, Japan and more. And the best part, entrance is free for the permanent exhibitions.
The museum is inside Yongsan Park, which is great for a stroll or picnic. There are also food trucks outside selling snacks.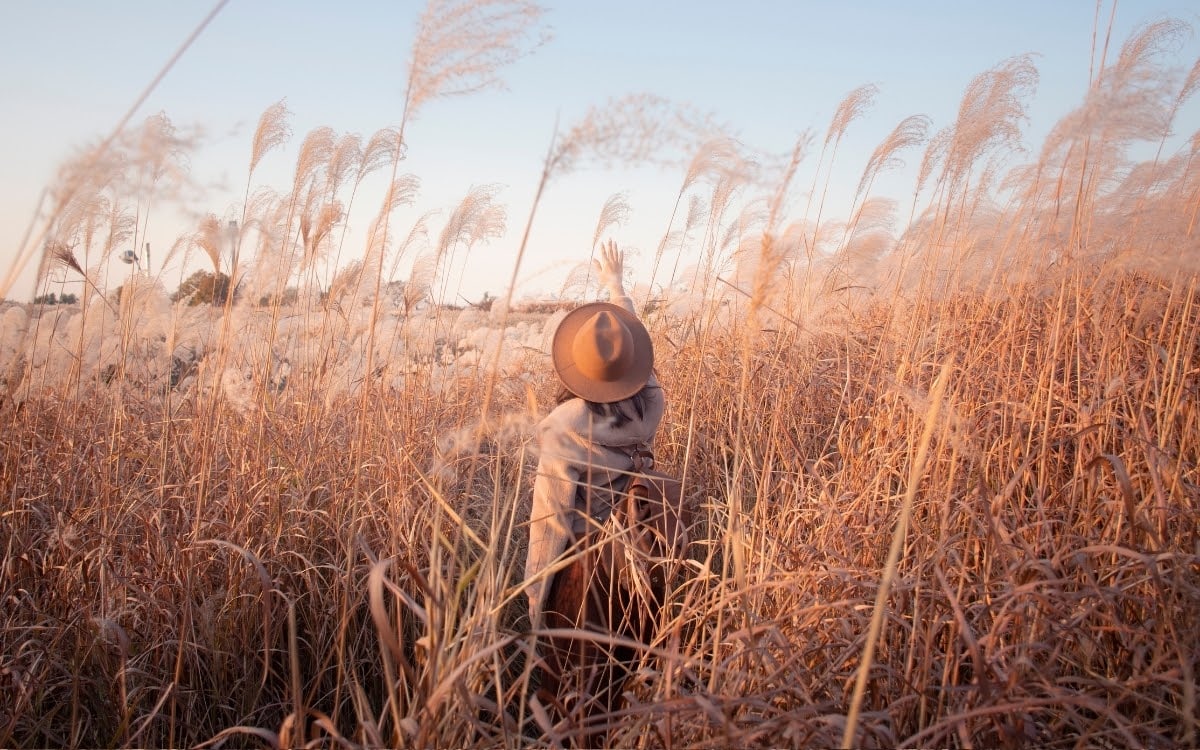 If you are more of a nature lover than a culture vulture, you have two options depending on how far you want to travel.
The closer option is Haneul Sky Park, a picturesque hill consisting of 291 steps with walking paths and a sweeping view of the Han River and Bukhansan. It's most well known for its Pampas Grass, Pink Muhly Grass and Kochia Scoparia which come into full bloom in Autumn. Yet it's fantastic to walk around at any time of the year.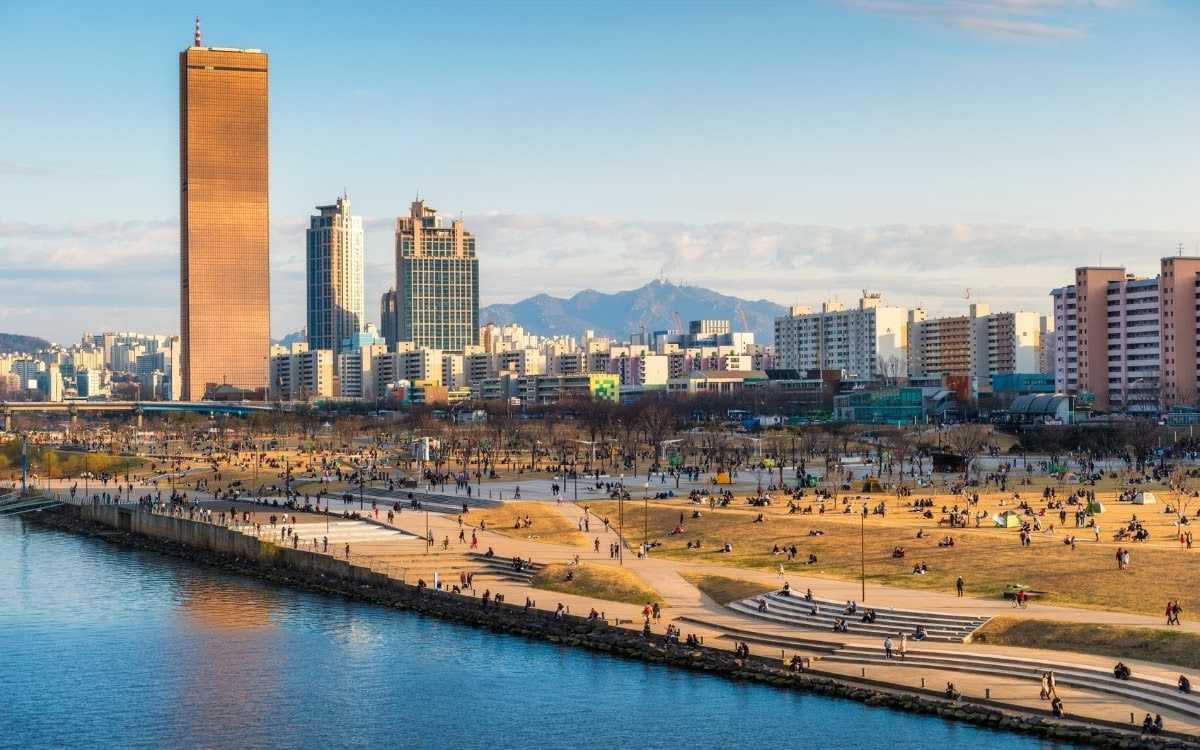 Your other option is to visit Yeouido Han River Park. Yeouido is an island on the Han River and is known as Korea's Wall Street.
There are towering buildings including the second largest in Korea, the Hanwha 63 Building (or 63 SQUARE), which has an observation deck and an Aquarium.
Yeouido Han River Park is another very nice park to check out along the banks of the Han River, but not as picturesque as Haneul Sky Park. You may choose Yeouido if you're a family with kids to entertain. You can also reserve tickets to the 60th floor and Aqua Planet 63 Aquarium online here.
Pro tip: There's a small piece of land in the middle of the Han River called Seonyudo Island, which is also a fun green space to visit with almost no one there. Not to be confused with the island of the same name in Jeolla Province, this tiny island is accessible via a bridge between Hapjeong Station and Dangsan Station. It was once filled with cliffs, but is now a fairly flat eco-conscious park, with greenhouses, lotus plants, bugs and birds galore.
Evening: Noryangjin & Hongdae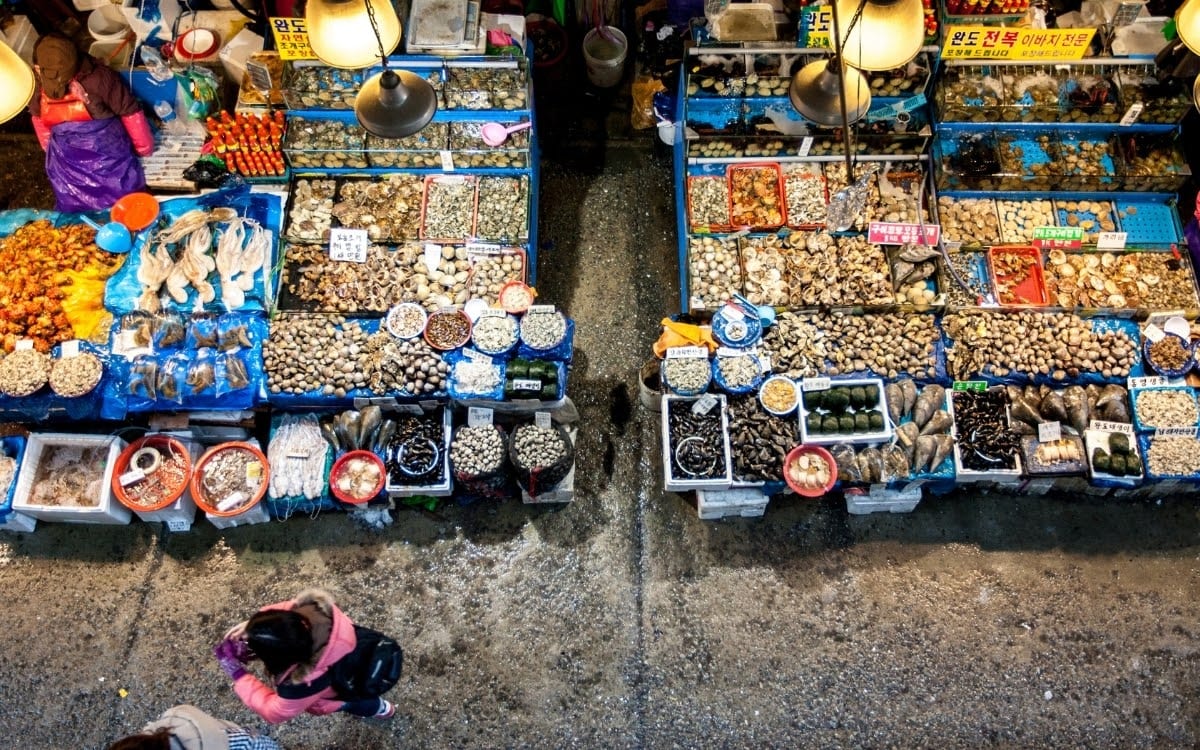 Seafood is massive in Korea and the best place to get it fresh is Noryangjin Fish Market. Even though restaurateurs and the public come here to purchase fresh seafood in bulk, you can also sit down and have a bite to eat for dinner.
The top pick includes Korean style sashimi, known as hwe or sliced raw fish. It is not the usual salmon or tuna varieties found in western sushi restaurants. It comes in large quantities with side dishes and usually a broth made with the leftovers. You can even have live octopus "sashimi" (산낙지, san nakji) if that's your poison (I have tried it on several occasions, but there have been some fatalities).
The market is open all day long with an auction being held at 3am for the best catches of the day and is quite a vibe!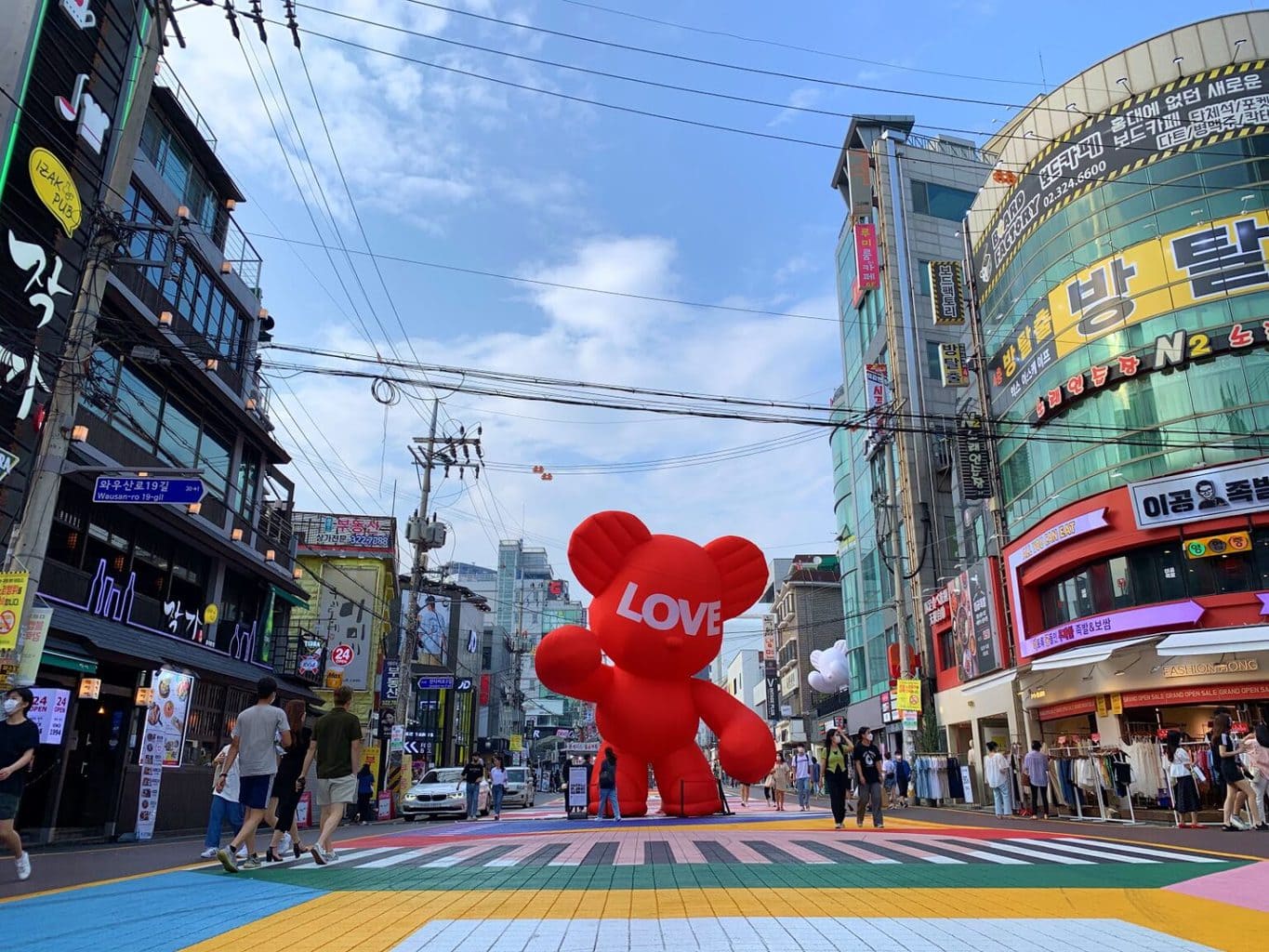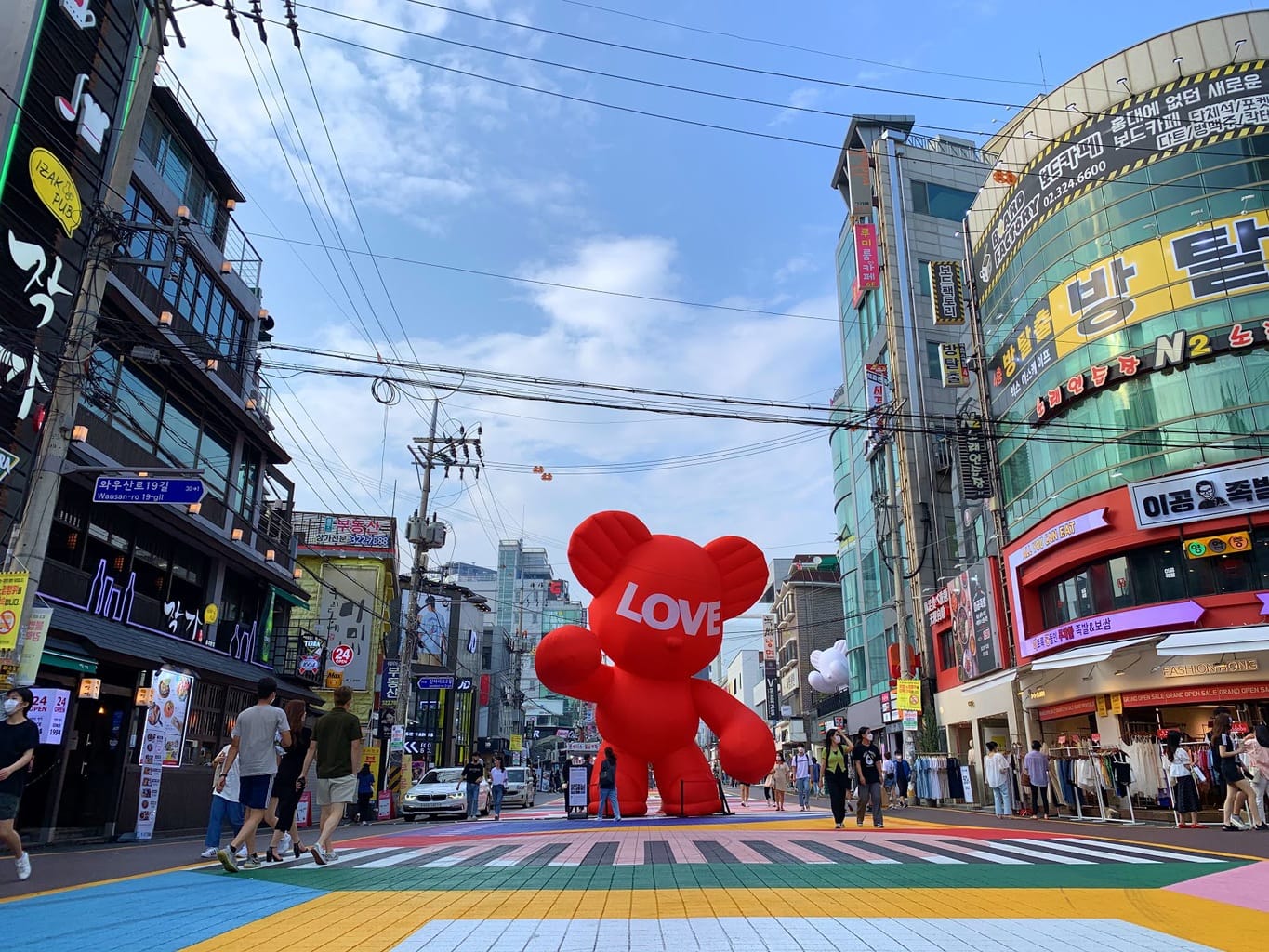 If seafood and markets aren't really your thing, you can head to university party hub Hongdae and Sinchon.
The word "Hongdae" is a mix of "Hongik" and "Daehakyo" (which means university in Korean) and is the preeminent art university in the country. Due to the focus on freedom of expression and art, the area is packed with young folk expressing themselves through clothing, make-up and general fashion.
It's known for its clubs, bars, pubs, and general sense of freedom and exploration. There are restaurants at every corner and down every alley, and two beautiful shopping roads that really only wake up as the sun goes down. There are also performances along the road closer to the station with future Kpop wannabees.
Looking to truly immerse yourself into the party atmosphere? Book a Hongdae pub crawl here.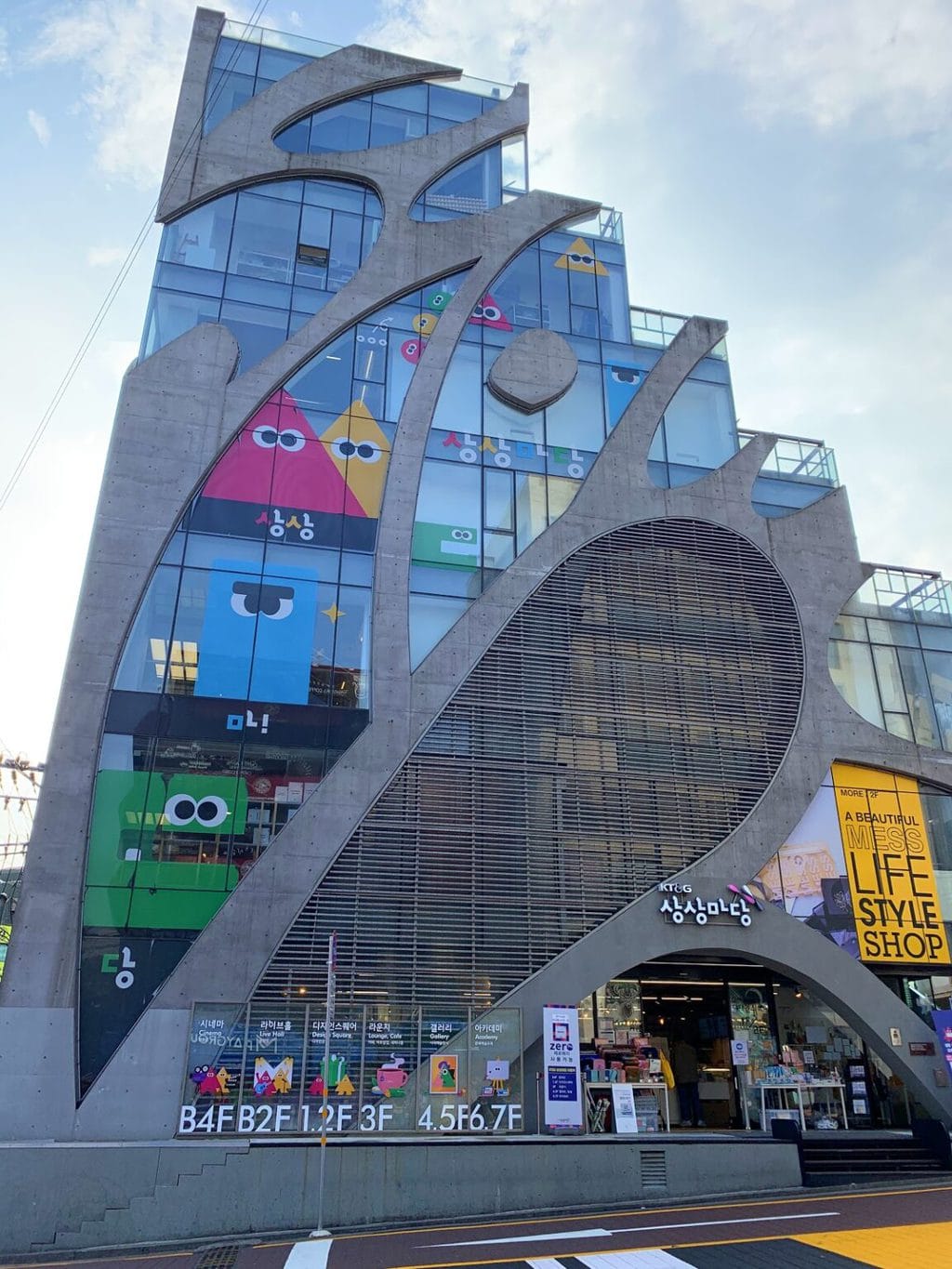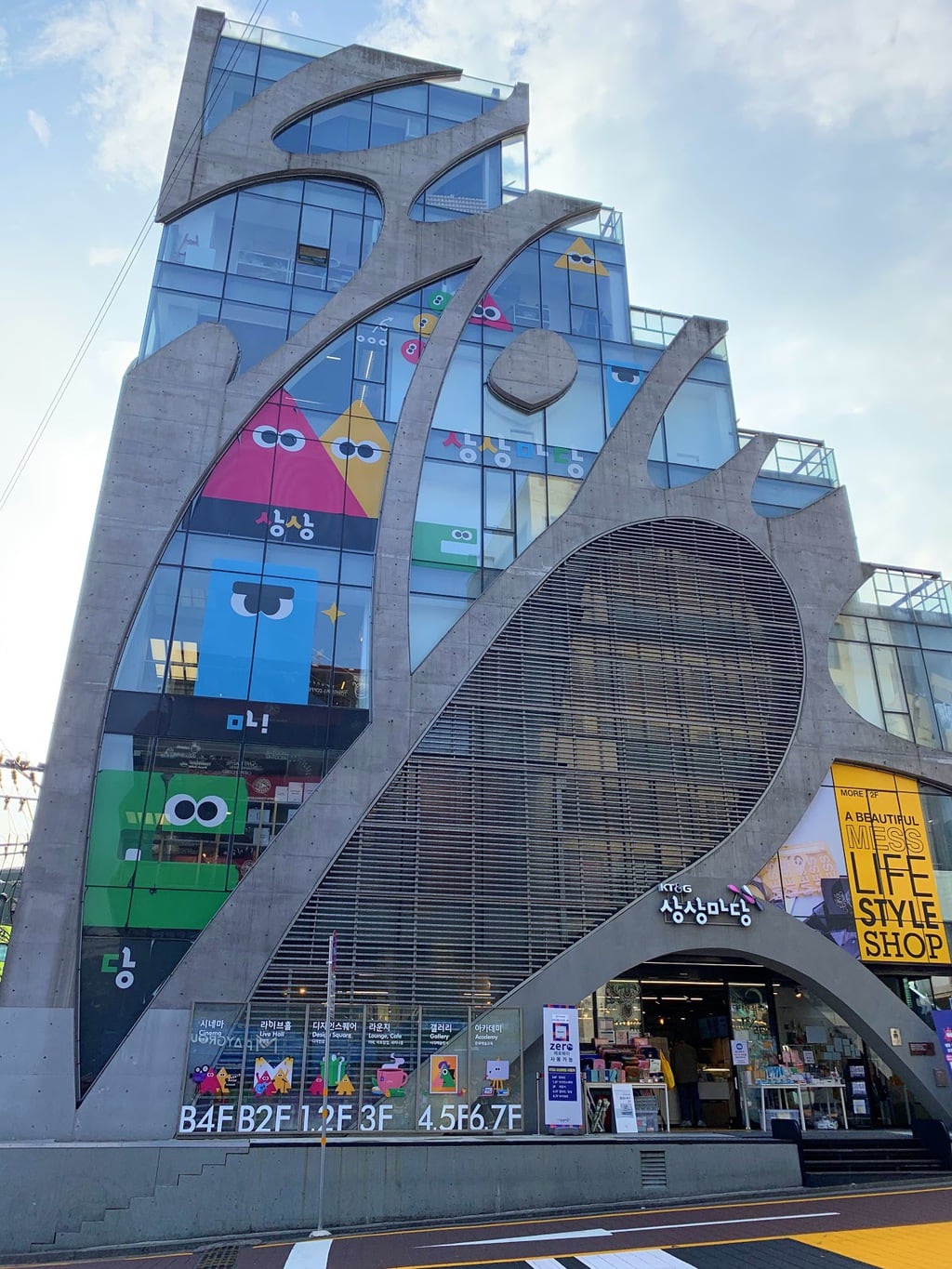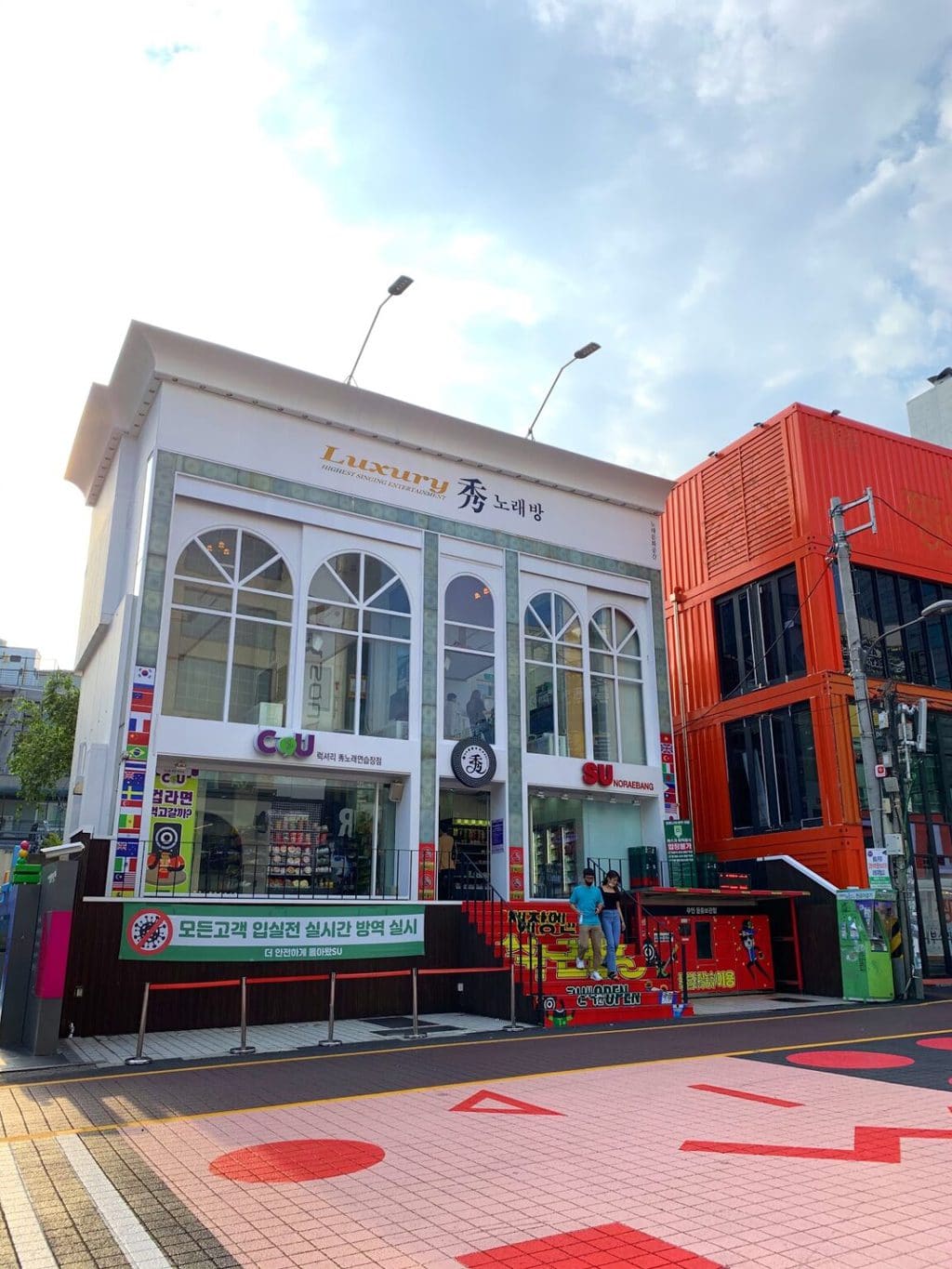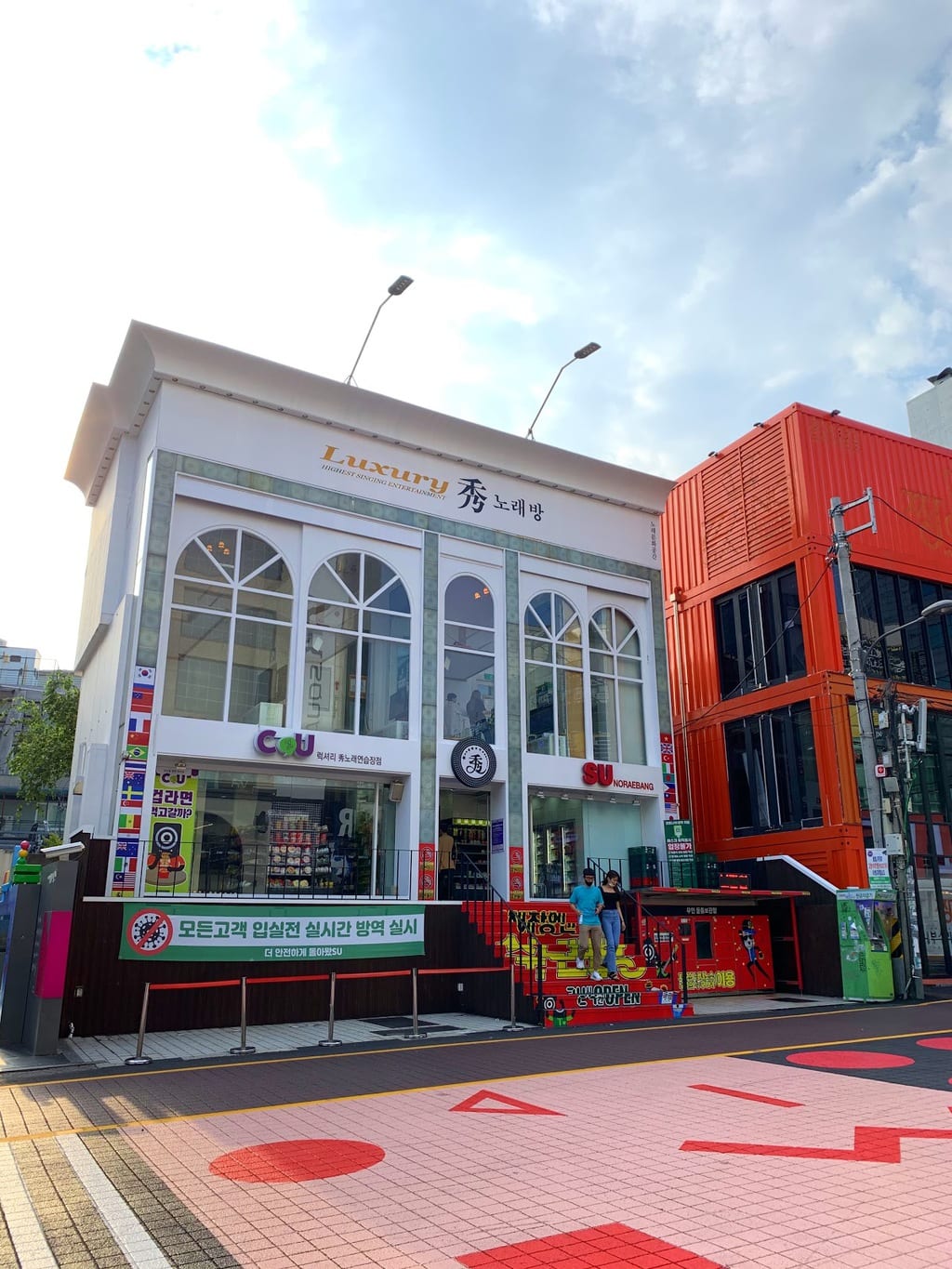 If you haven't experienced Korean karaoke yet (called noraebang in Korean or singing room), this is your time to try it, particularly at Luxury Su. Pop over to the famous Sangsang Madang building to shop for trinkets and then stroll down the street to explore the copious amounts of boutique and vintage stores.
If you're within the age limits, this is your chance to drink like a Korean with some shots of soju while cooking galbi (marinated beef) or samgyeopsal (three-layered pork) at your table (Korean BBQ).
There are no particular standout restaurants in the area as there are too many, so follow your nose and the crowds.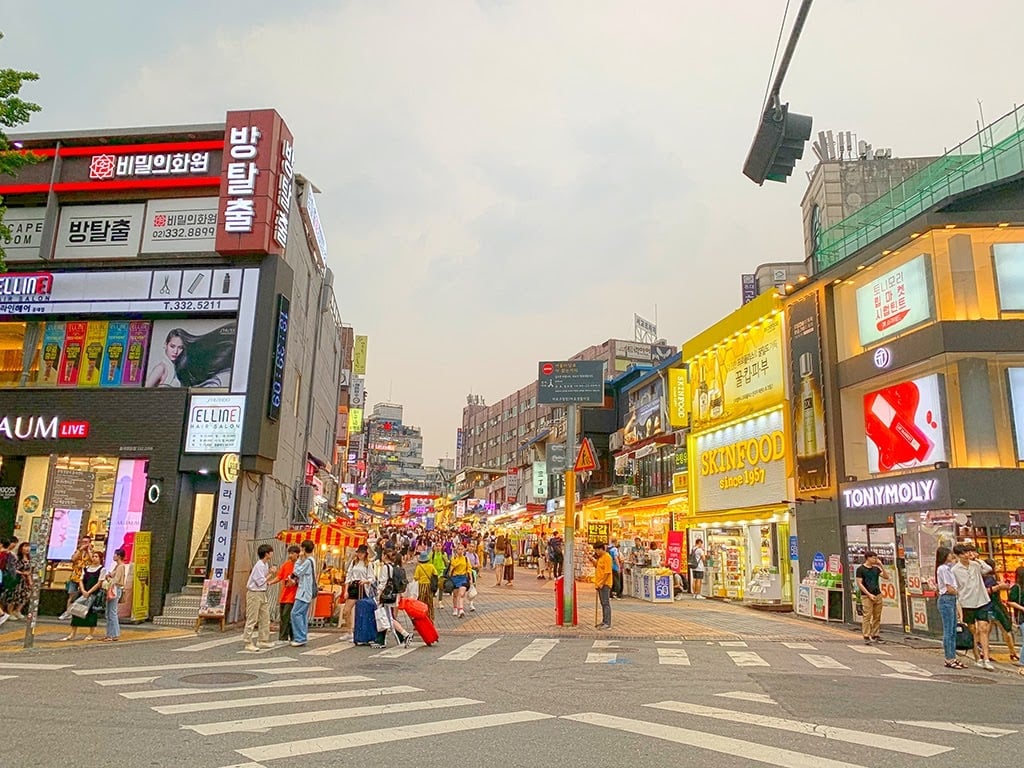 You could choose to party all night long and catch the first train home as the sun rises or take a cab back to your hotel.
Pro tip: If you expect any foul play in the taxi (i.e. your cab driver is going in circles) take a picture of their license on the dashboard and they will rectify their bad behavior as fooling passengers is against the law. If you're catching any public transportation, just be weary of the final operating times.
Day 7 – Seoul exploration or Incheon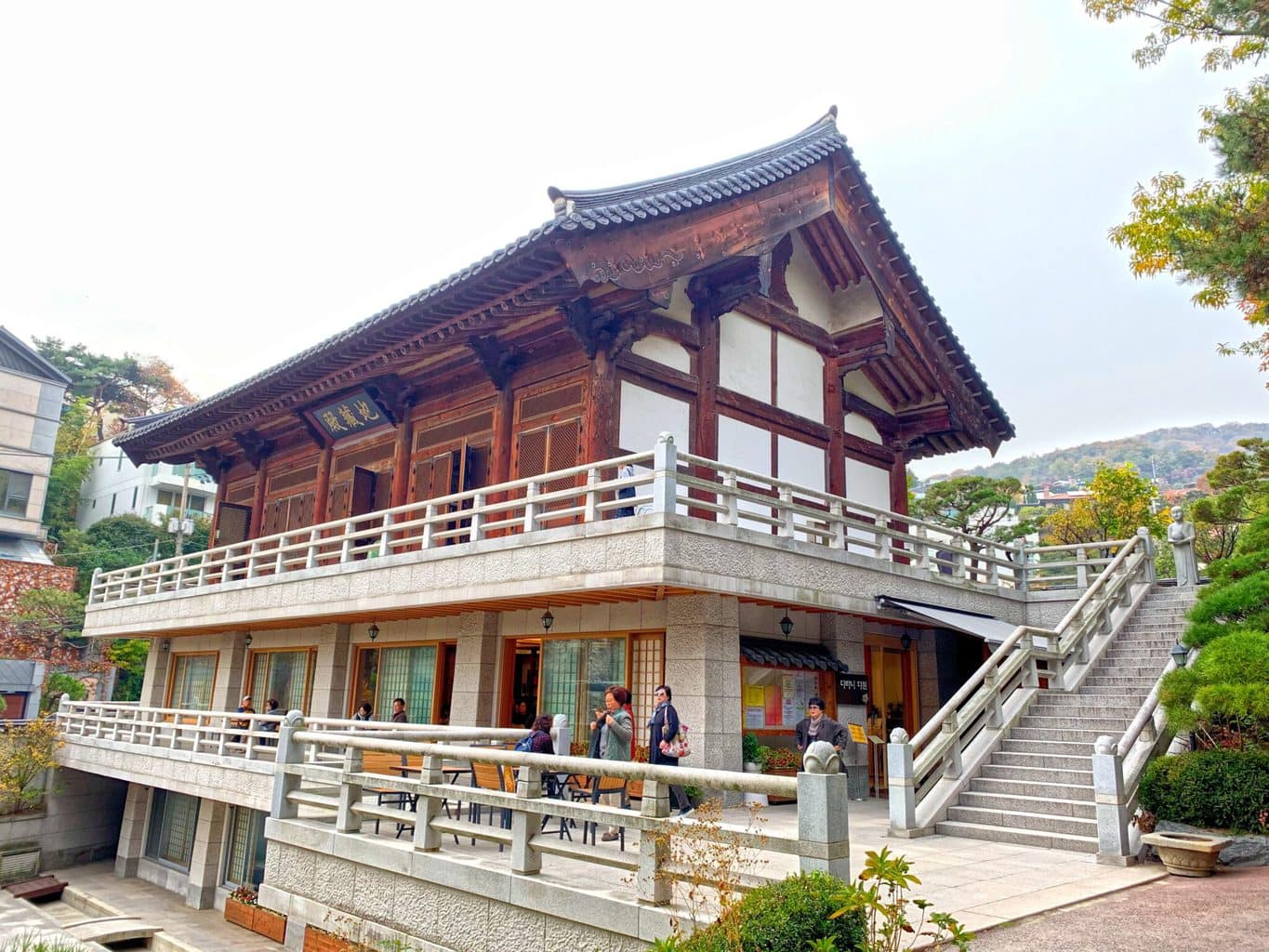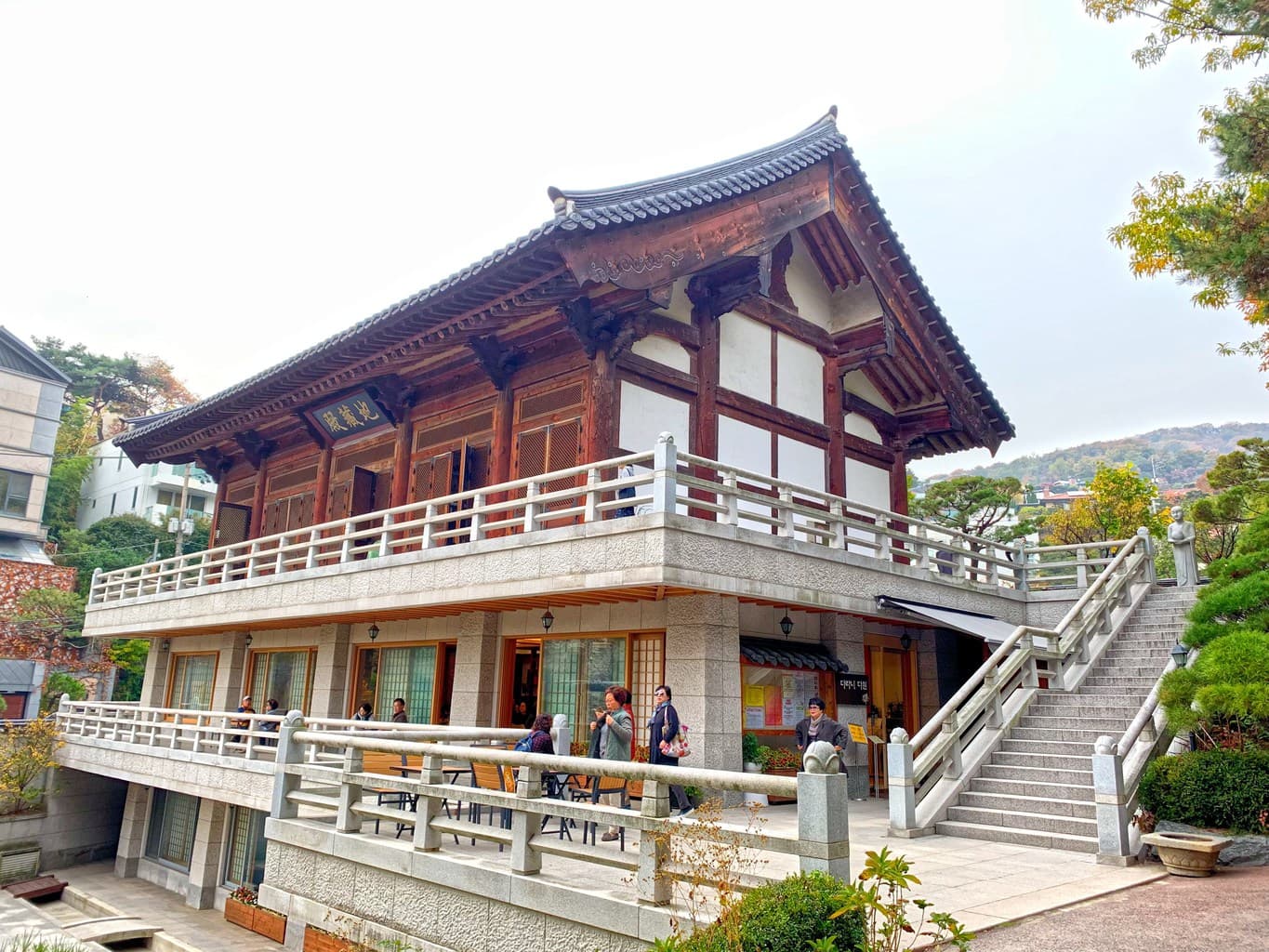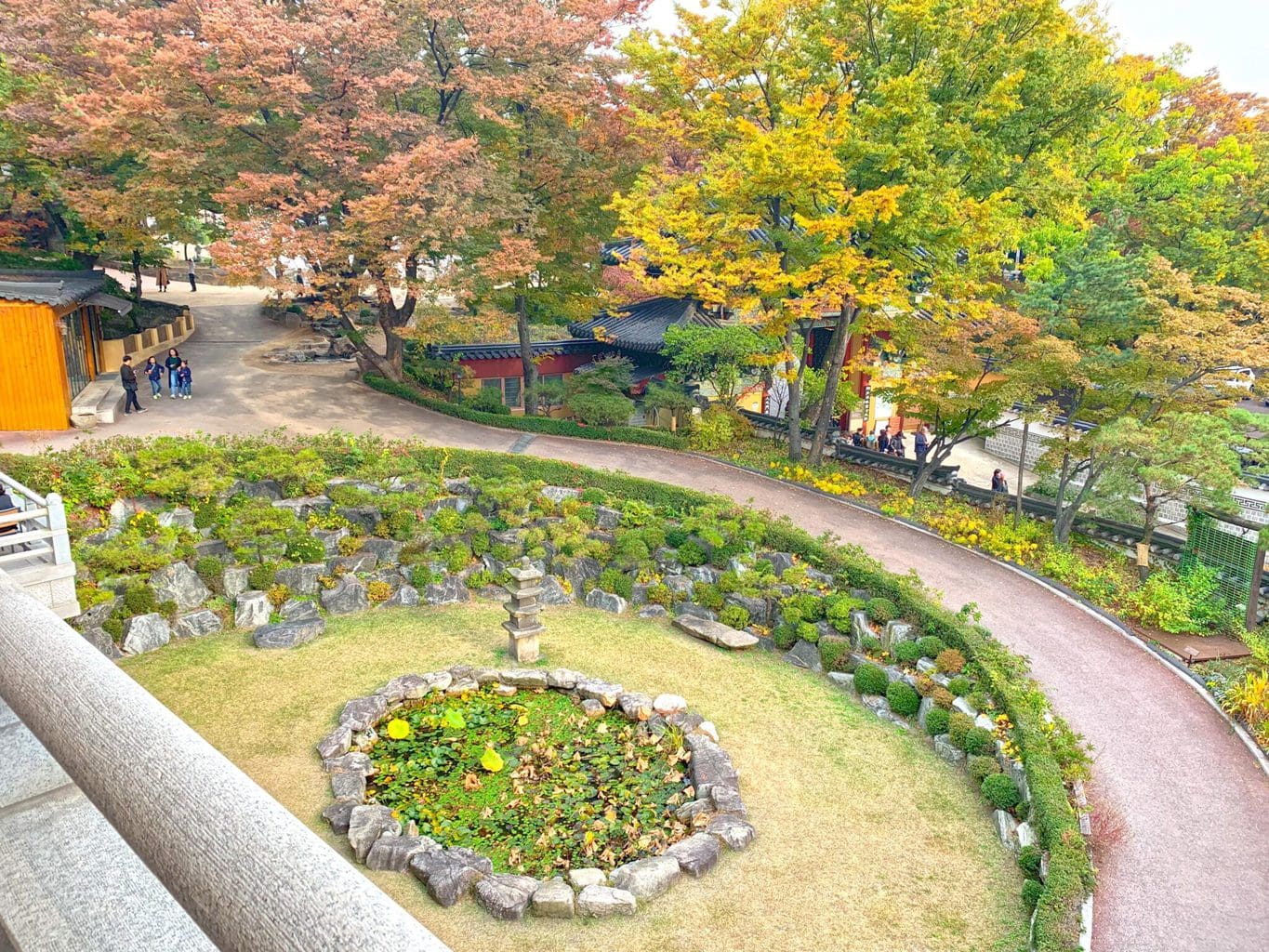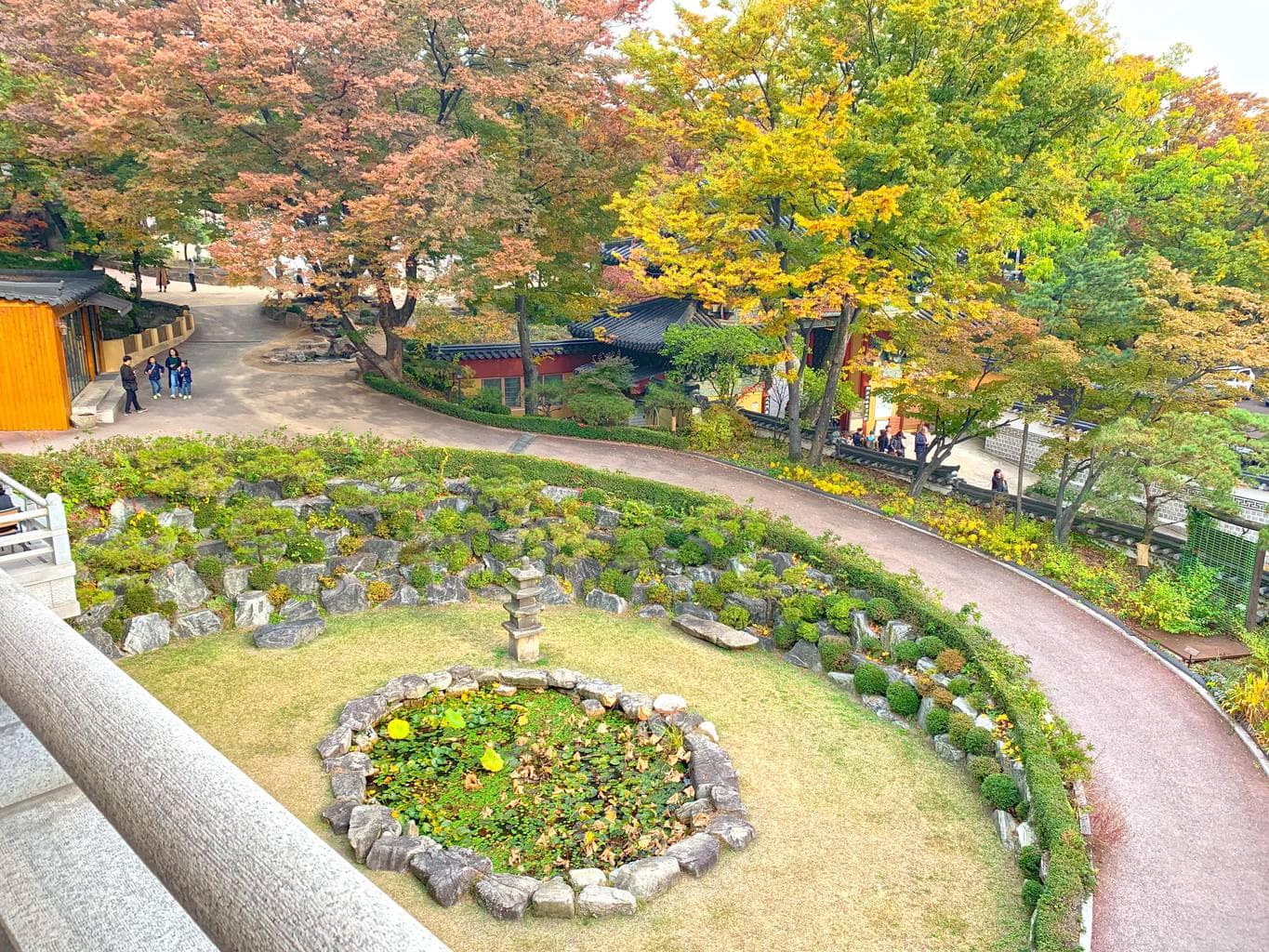 Your last day in Seoul could be playing catch up. You could revisit areas you really liked, or visit some of the places in the Seoul itinerary above that you missed. You might want to explore the lesser known palaces, visit Bukhansan mountain, take a second day trip or maybe just spend more time shopping.
This will all depend on how much time you have until your flight. You'll probably only be able to visit one or two more places before you depart, so here are some options.
Visit brothel turned Buddhist temple Gilsangsa, explore relaxed cafe area Buamdong, see the famed Nanta cooking theater show, do a templestay for the day at Bongeunsa, explore Seoul Arts Center, or even take a Korean cooking class.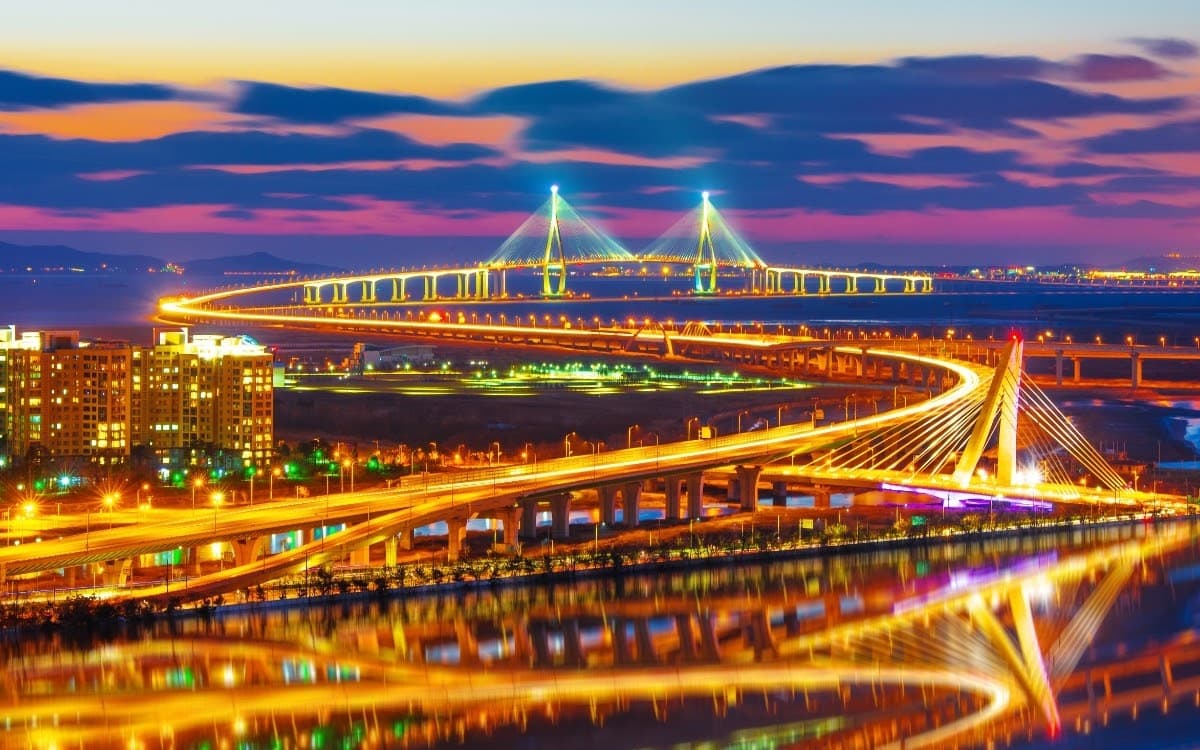 Another option is to make your way over to Incheon. The city where the airport is located actually has a lot of activities from beautiful parks to yummy markets to bustling Chinatown.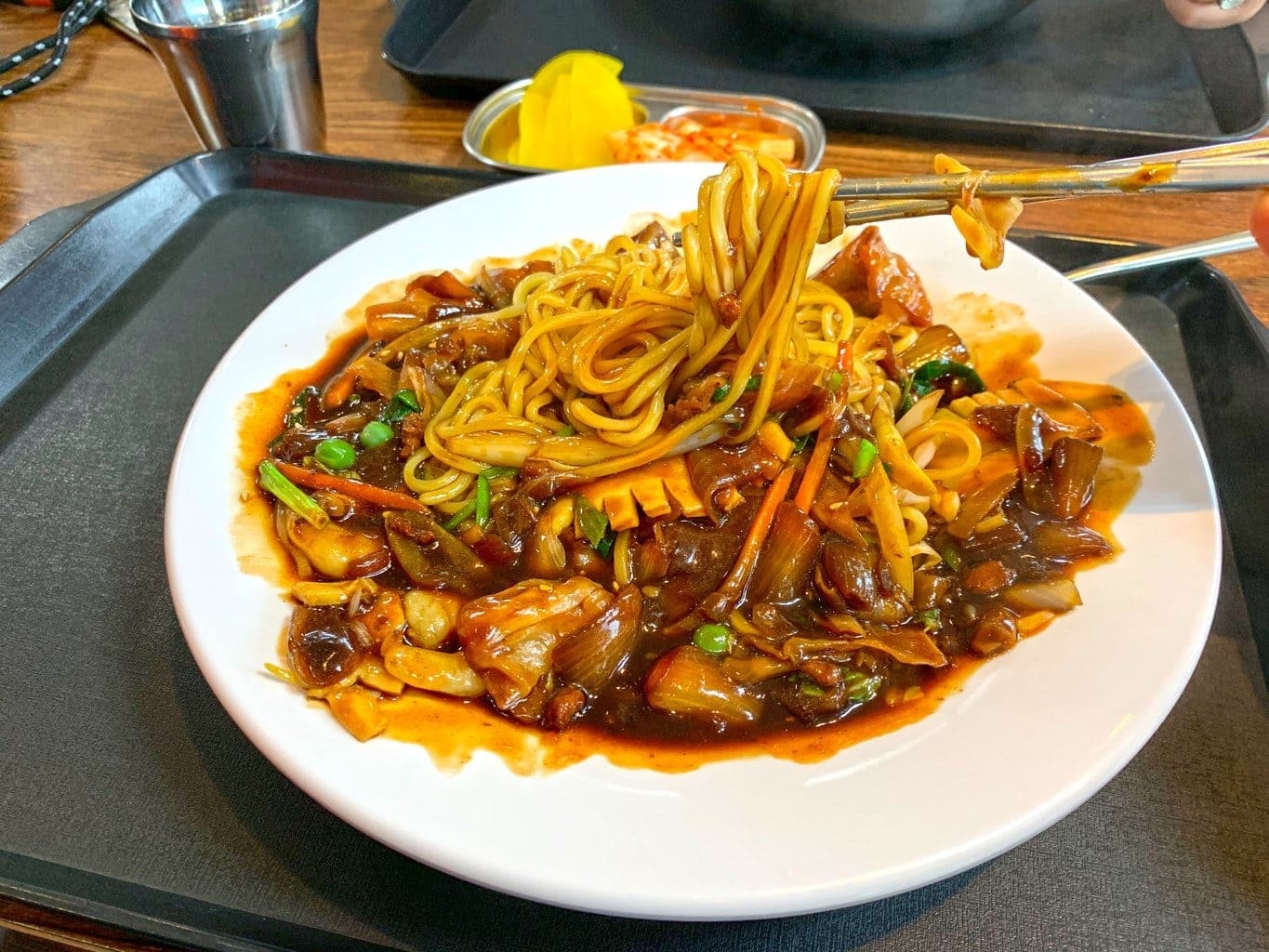 Chinatown in Incheon is Korea's only official Chinatown and has been there since 1884. You are welcomed by a beautiful 11m paifang (Chinese-style gateway) before entering a world of sites, smells and tastes.
One top combination meal to try here is the Korean-Chinese fusion meal of jjajangmyeon (black bean noodles), jjampong (spicy noodle soup) and tangsuyuk (sweet & sour beef or pork). The most highly rated restaurant is Lucky China, but be prepared to wait for a seat or try asking your hotel concierge to make a reservation if possible.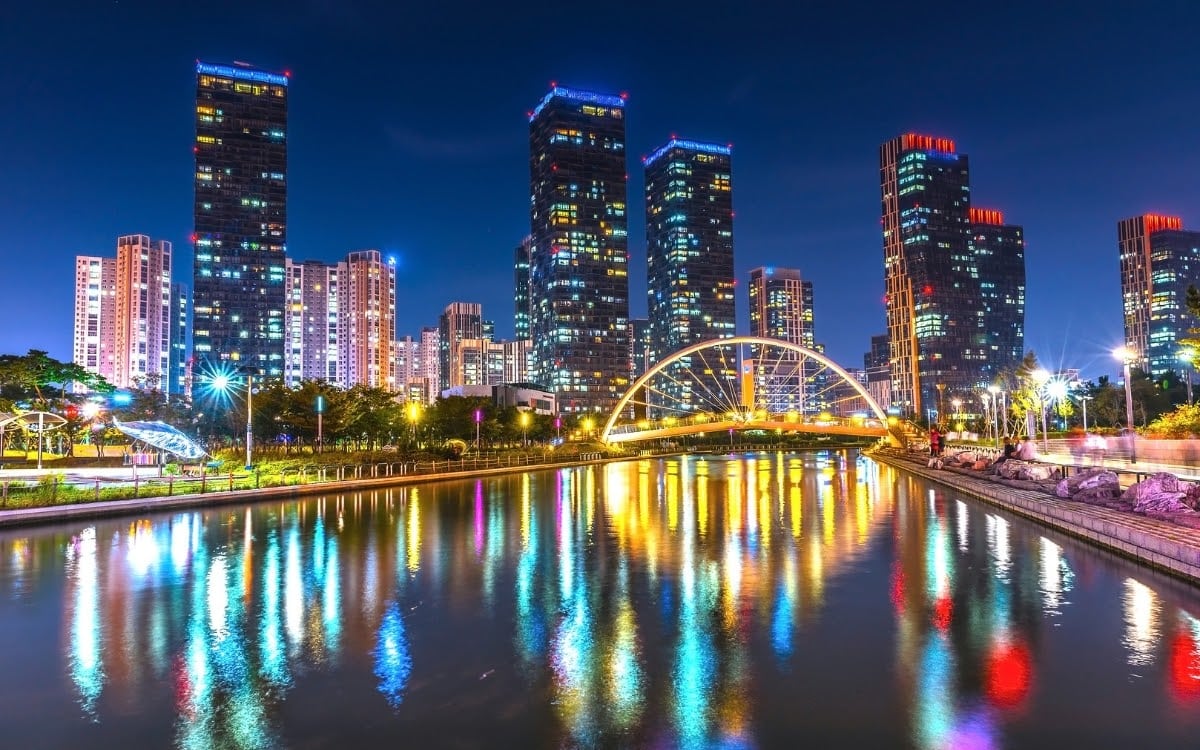 Next up is Songdo Park, a large green space edged by skyscrapers and dissected by a canal which you can actually visit on a water taxi, pedal boat or canoe. There's also a deer park like in Seoul forest, an island for rabbits and sporadic public art.
Incheon Grand Park is another 727 acre green space to explore with a rose garden, ecological areas, an arboretum and children's zoo. There's also an ice rink here in winter, along with sledding and bike rentals.
Stop by Freedom Park (자유공원 – Jayu Gongwon) to pay homage to General MacArthur who planned the successful amphibious landing at Incheon in September 1950 that spearheaded the take back and win of South Korea during the Korean War. Come here in April to see the cherry blossoms.
Wolmido is a fun area that changed from being a U.S. Army base in the 50s-90s to a bustling area with restaurants and cafes with ocean views, street artists, a museum on Korean immigration and a small amusement park.
You may also want to visit Zaha Hadid-designed G-Tower (the same architect of the DDP), which houses offices for international organisations, like the United Nations. The outdoor observatory and Sky Garden sits at the very top of the structure on the 29th floor with some amazing views of the Incheon Bridge and ocean. Entrance is free.
Pro tip: There are lockers for your baggage at just about every station including Dongincheon and Incheon, but beware that they can get filled up very quickly, especially on weekends. If you get stuck with your luggage, visit the information center at Incheon Station and they may be able to make provisions.
An easier way is to send your luggage to the airport from Seoul before you go to Incheon. If you're traveling with Korea Air and several other airlines, they provide this service from COEX Mall. If not, you can use Trazy which provides a similar service from multiple locations for a fee.
Keep in mind that travel time from Incheon to Incheon Airport is about a 1.5hr bus ride if you wanted to catch public transportation. You will need to get to Dongincheon Station and then take bus 306 which costs around 3,000 won.
An easier, faster and more convenient way is to just catch a taxi from Incheon Station for around 35,000 won (including a toll fee of 3,200 won), taking roughly 40 mins.
Skip all of the above and take a private and bespoke tour of Incheon with options for pick up in Seoul or Incheon Airport. The tour is in a luxury sedan with an English speaking driver and will take you around Incheon for up to 9 hours or you can suggest where you would like to go. Book your tour online here.
2 Day Seoul itinerary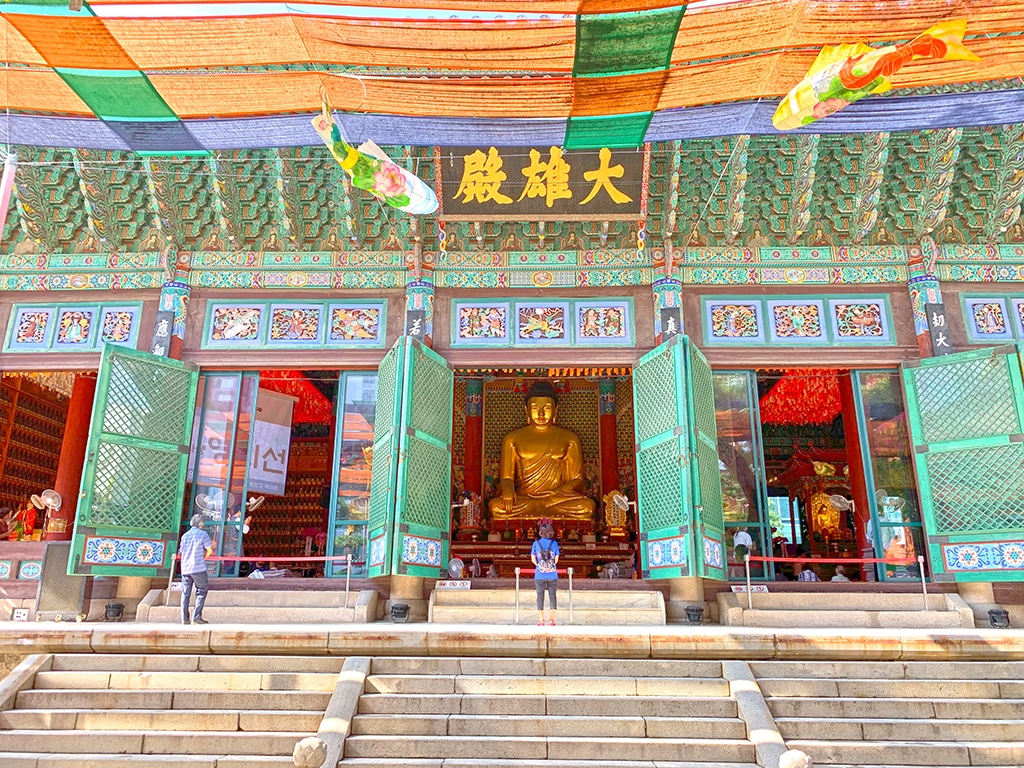 Taking the 7 day itinerary above, you can either choose whatever entices you for a 2 day journey through the capital, or you can follow our Seoul 2 day itinerary below which is aimed at first-time visitors and takes you through all the most popular attractions in 2 packed fun-filled days.
This 2 day Seoul itinerary is for 2 complete days and anticipates that you will arrive the night before on day 0 and either leave late at night on day 2 or early morning on day 3.
If you have only 2 days in Seoul, we would suggest exploring one day in Jongno (central Seoul) and another in Gangnam to get the most that the city has to offer.
The times provided are a guide as to how long you can expect to spend in each destination with travel times included. Adjust depending on your travel style and activities, i.e. foodies will explore more restaurants/coffee shops, culture lovers at temples, palaces or museums, shopaholics at shopping streets, malls etc.
Here is our suggested itinerary for 2 days in Seoul.
Day 1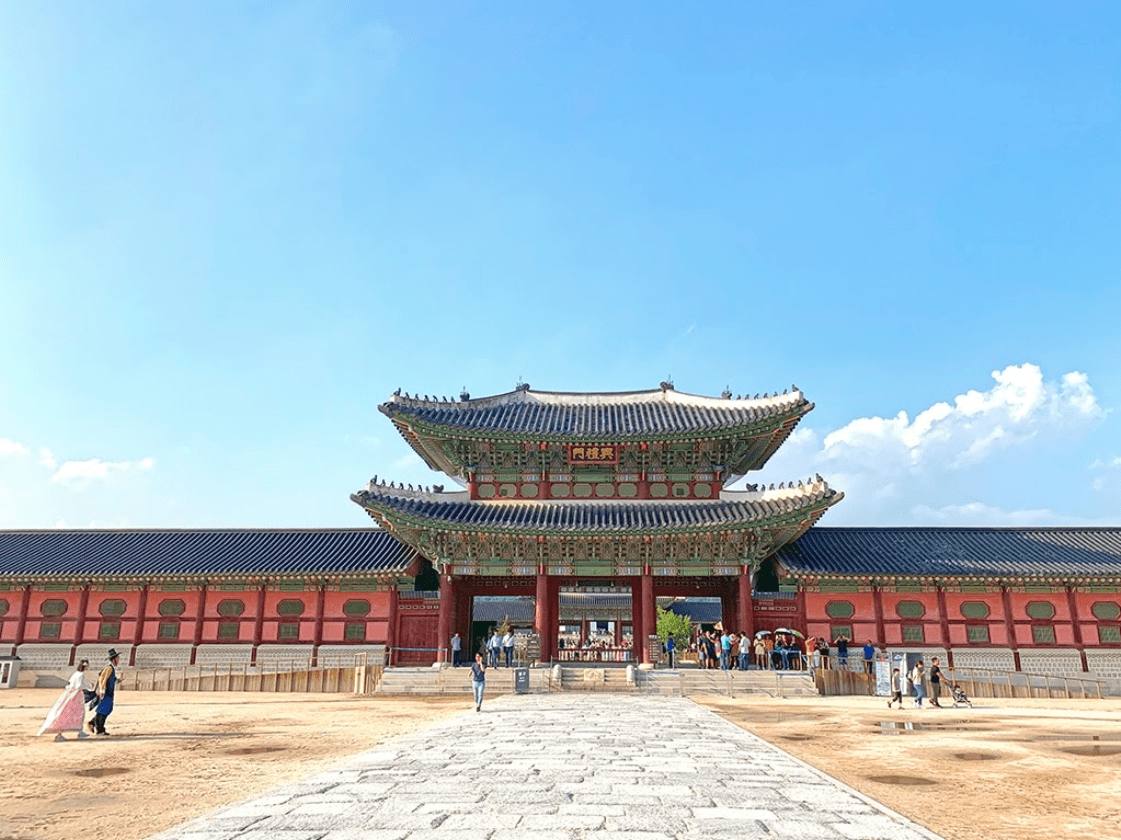 The top tourist sites in Seoul are located in walking distance in central Seoul so that is where we will start on your first day of a 2 day itinerary in Seoul.
If you're not a fan of using your feet, the city is hyper-connected by public transportation, and there are buses and a very easy subway system to get you around.
There are also city bikes and motorised scooters all over the city. Some only residents of Korea can use, while foreigners can try Lime and Seoul Bike (also called 따릉이 – Ddaleungi). Check out how to use them and download the apps before picking one up as the process can be complicated.
Morning: Gyeongbokgung
After breakfast at or near your hotel, start your day off in Gyeongbokgung with an option to hire some Hanbok (Korean traditional clothing).
You can walk around Gwanghwamun Square and take pictures of the palace gate at your leisure. Then take a free guided tour of the premises in English at 11am (there are also options for 13:30 & 15:30pm) which lasts around 1-1.5 hours. Other language options are also available here.
Lunch: Bukchon Hanok Village & Samcheongdong
For lunch, head to Bukchon Hanok Village and have lunch at Dooreyoo for hanjeongsik (Korean traditional food). Explore the area afterwards and head down to Insadong via Samcheongdong.
Take a break in a coffee shop that appeals to you, Cafe Onion near Anguk Station and Blue Bottle in Samcheongdong are super popular, both housed in traditional Hanok.
Afternoon: Insadong & Jogyesa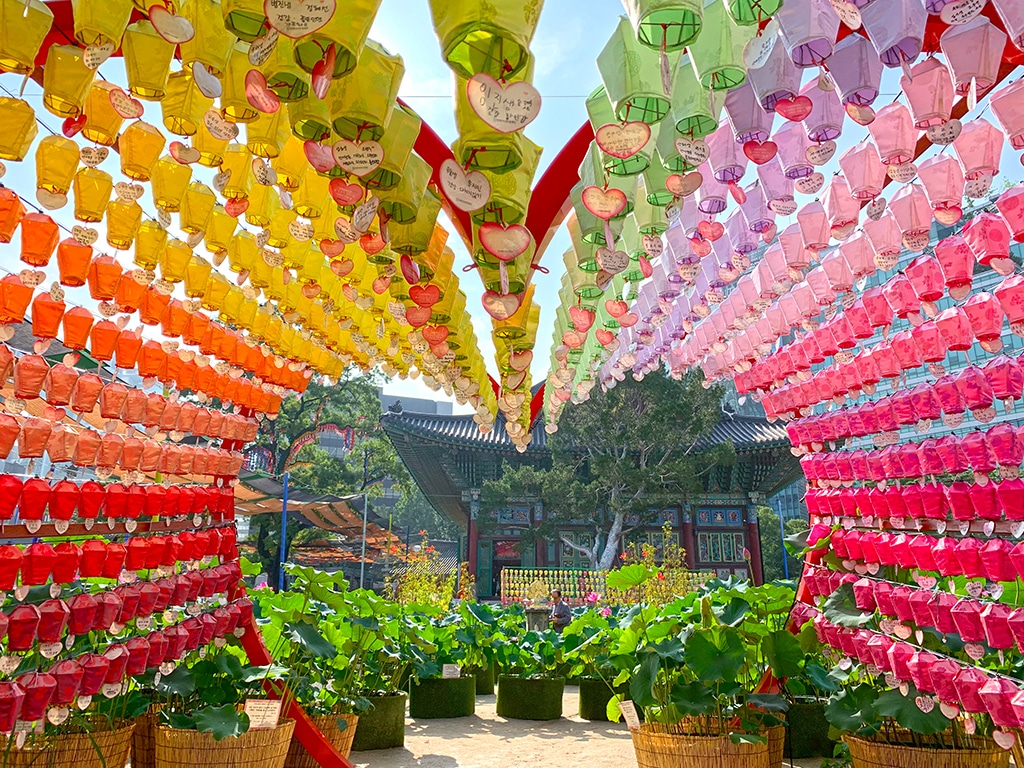 Start your souvenir shopping at Insadong which could take anything from 30 minutes to 3 hours depending on the amount of stores you visit. Don't forget to visit Ssamzie market in the middle of the long shopping street for an extra bit of shopping fun.
If you have time, try to spend a few minutes walking around Jogyesa Buddhist Temple. It's so close to Insadong and as the head of Korean Seon (Zen) Buddhism, it really is a calming place to stroll around, day or night. There is an International Zen Center across the street that has information on Templestays, so you can plan for your next visit.
Evening: Myeongdong
Make your way down to Myeongdong shopping complex to get all your cosmetics and fashion brands. This is a great spot to be in as the sun goes down and the lights come on. The atmosphere changes at night to an electrifying avenue. So it's great to experience both in the light and after dark.
You can also be here for hours and hours, so try to plan your Myeongdong itinerary before going so you have an idea of the places you 100% want to visit, as the options are limitless. And this is just in the main shopping area, there are also several malls surrounding the area.
Dinner: Namdaemun
For dinner, get some street food at Namdaemun market. Visit any one of the pojangmacha (tented street vendors) and remember to take some cash with you. Street food can go from ₩1,000 to ₩15,000, so if you want to try a whole lot bring more cash.
Top picks include tteokbokki (spicy rice cakes) usually served with odeng/eomuk tang (fish cake soup), kimbap (seaweed rice), jeon & buchimgae (Korean pancake), sundae (blood sausage) and the sweet hotteok & hoppang (crunchy pancake & sweet bread) for dessert.
After dinner: Namsan
You'll end your busy day up Namsan Mountain by going up the N Seoul Tower. You can walk up, but you will be pressed for time, so it's better to take the bus or the cable car (adult return ticket is around ₩9,500) to the top of the 262m mountain.
Get those 360 panoramic views of the entire city on the top. The cable car is fairly cheap and fast, even with queues, and runs from 10am to 11pm (12 on Saturdays). You can reserve your entrance ticket online here (with options for food).
Day 2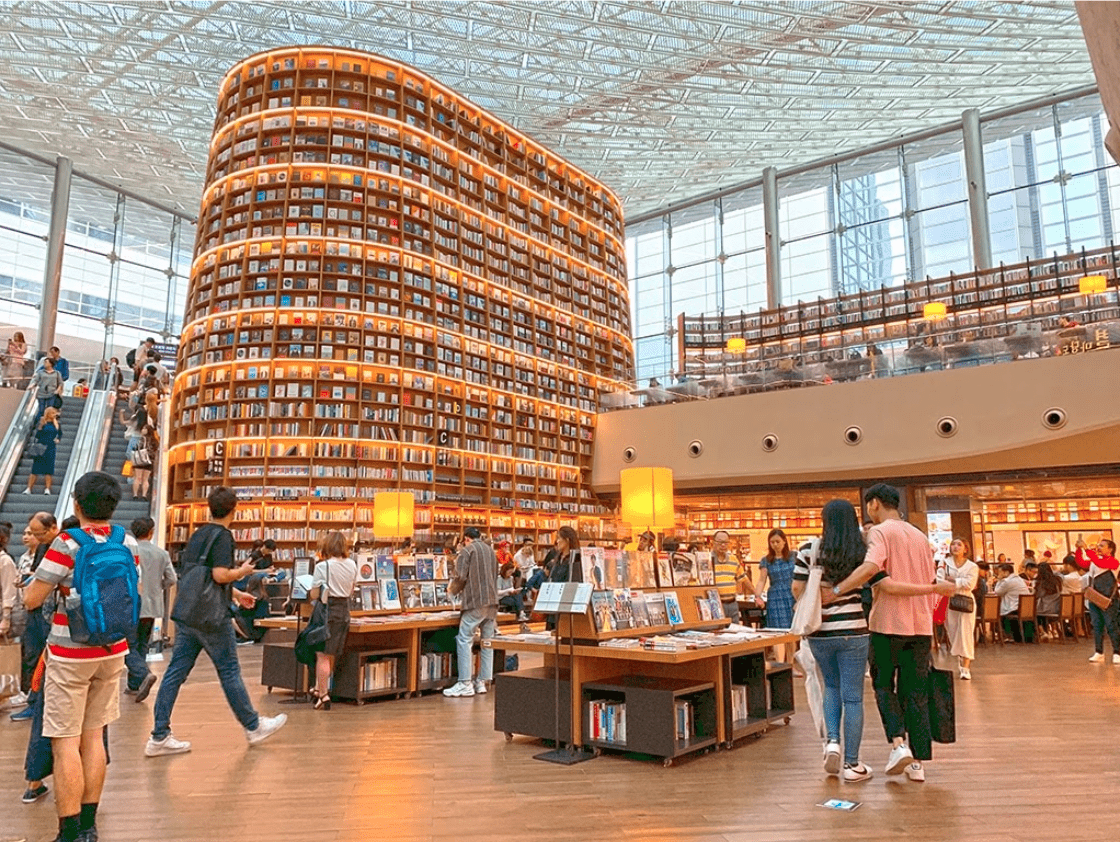 Day 2 for your 2 day seoul itinerary should be spent in the Gangnam area so that you can get a complete and total Seoul experience.
As mentioned above in our 7 day itinerary, where Central Seoul is more about history and culture, Gangnam is more about fashion and Kpop (or Hallyu, the Korean Wave).
Morning: Apgujeong & Cheongdam
After breakfast at or near your hotel, venture to the Apgujeong/Cheongdam area at Apgujeong Station exit 5 (and a 10 min walk) as you start your exploration at Garosugil, the famed shopping street.
Visit all the shops on the main road and don't forget to explore the back roads to find some real gems. Pop into a coffee shop for a pick-me-up and take in all the upper class flash of Gangnam's elite.
If shopping is your thing, visit Galleria department store, Hyundai Department store and Apgujeong Rodeo street. Then explore Cheongdam, (the Champs Elysees of Asia), for more high class fashion brands, particularly Cheongdam Luxury Street (청담동 명품 거리 – Cheongdamdong Myeongpum Kori).
Top Korean Kpop entertainment groups JYP and SM are also in Cheongdam if you love Korean pop music.
Lunch and early afternoon: Lotte World Mall & Sky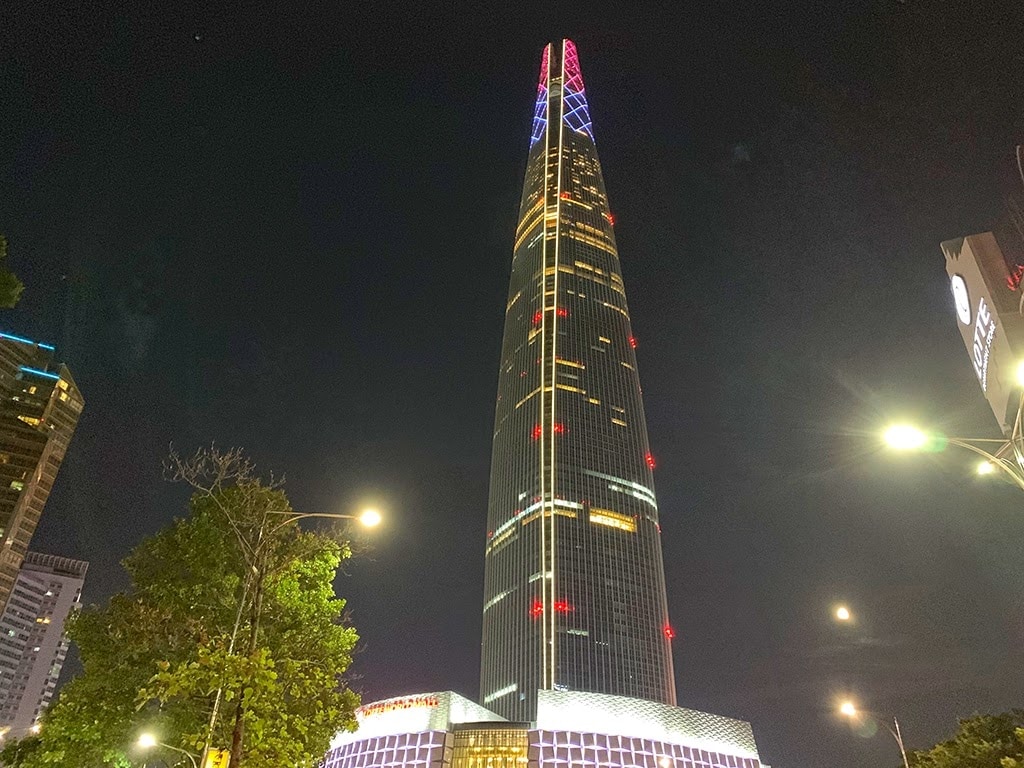 Make your way to Lotte World Mall after your Gangnam highlife experience. You may not have time to visit Lotte World Theme Park, but you should definitely go up to Lotte Sky, 121 floors above the ground.
The experience here is awesome as you catch the fastest double elevator in the world up to the top. The views are breathtaking, especially if you have the guts to step onto the see-through flooring!
Visit Lotte World Mall if you want to do some more shopping, but you will be going to another mall after this, so you may want to skip the shops and head directly to the food court if you're peckish. Afraid of heights? Lotte World Mall also has a great aquarium to explore.
Afternoon: Bongeunsa Temple
Take a cultural break after Lotte World Mall and visit Bongeunsa Buddhist Temple which can be reached either from Samseong Station (exit 6 around a 10 min walk) or Bongeunsa Station (exit 1 around 2 mins).
You can walk the grounds as day becomes dusk and the city starts to light up. The massive 23m Maitreya Buddha statue is awe inspiring and you can really get a taste of the calmness that Korean temples bring, even though it's directly in the center of Gangnam!
Evening and dinner: Starfield COEX
Walk back for 10 mins to Starfield COEX Mall where you can take a million pics for Instagram at Starfield Library called Byeol Madang Doseokwan (별마당 도서관) in Korean. Walk for as long as your feet will carry you and get that last bit of shopping in at COEX, there's even a Lotte Duty Free section of the mall to get some real steals.
The reason why we suggest you end your 2 day Seoul Itinerary at COEX is because there is a
City Airport Terminal or CALT right in the building where many airlines offer pre-luggage-check-in (here is a complete list), so you can drop your bags before walking around. There are also plenty of buses to the airport from COEX.
CALT is closer to Hyundai Department Store in the south end of the mall and it's on the first floor (remember that COEX is an underground mall and therefore in B1).
4 Day Seoul Itinerary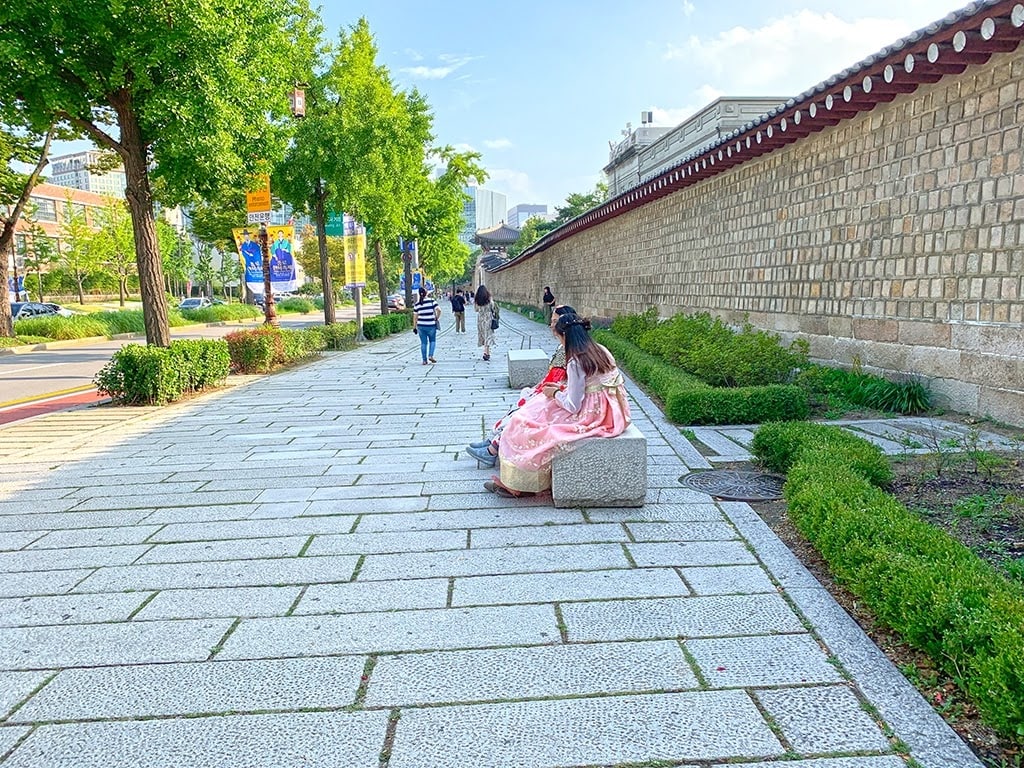 If you have longer than a weekend and more like 4 days in Seoul, you can spend more time exploring all the sites that northern Seoul has to offer. You could also try to fit in a day trip to one of our suggestions above if you want to explore other areas outside the capital or if you really aren't into shopping.
Day 1
See our suggested Day 1 in the 2 day Seoul itinerary above.
Day 2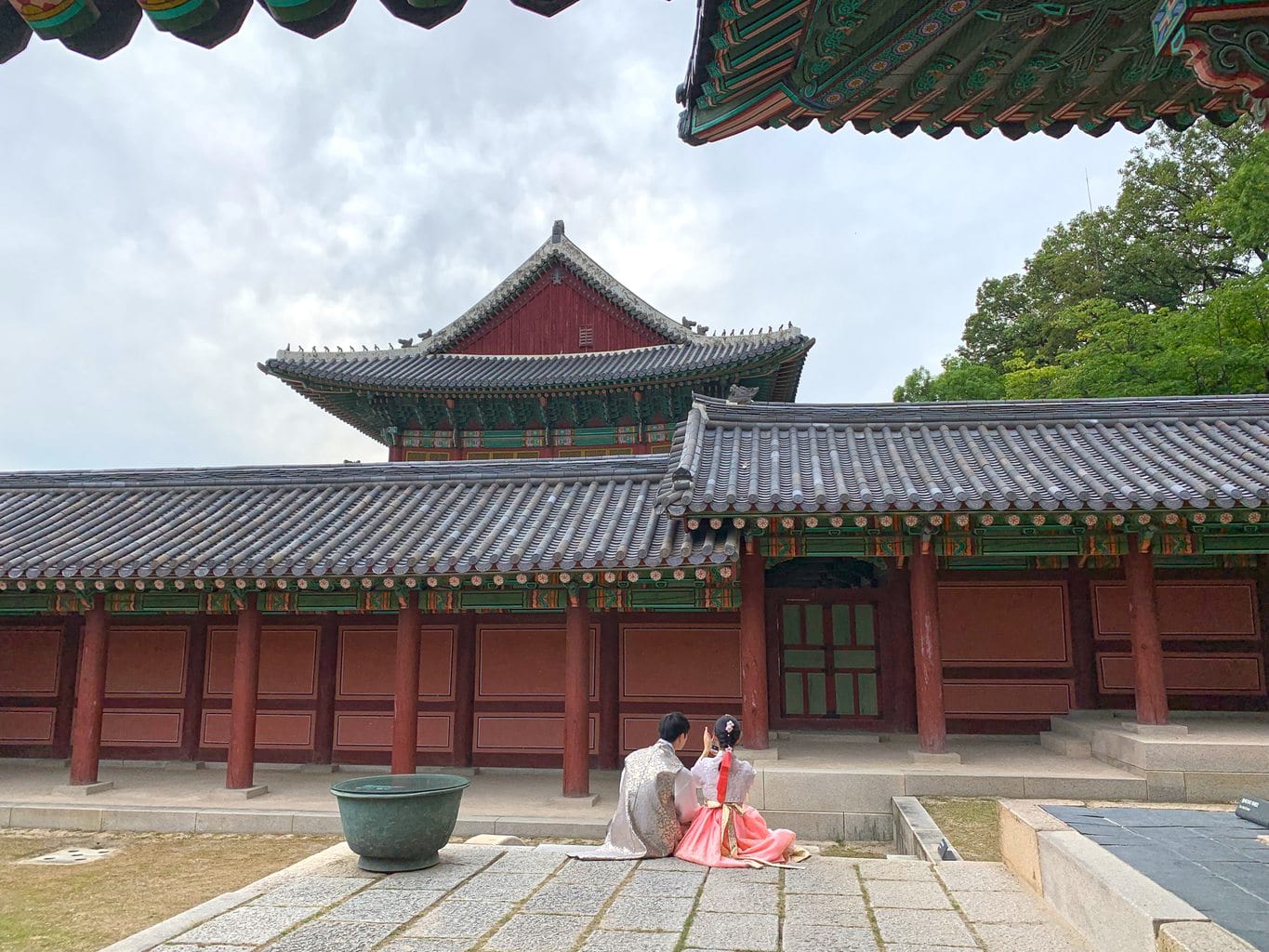 For your second day into the 4 day itinerary, we suggest staying in Central Seoul instead of Gangnam as mentioned in your 2-day Seoul itinerary, so that you can really soak in the culture and history aspects of the city, while visiting some new hip places.
Morning and lunch: Changdeokgung & Jongmyo Shrine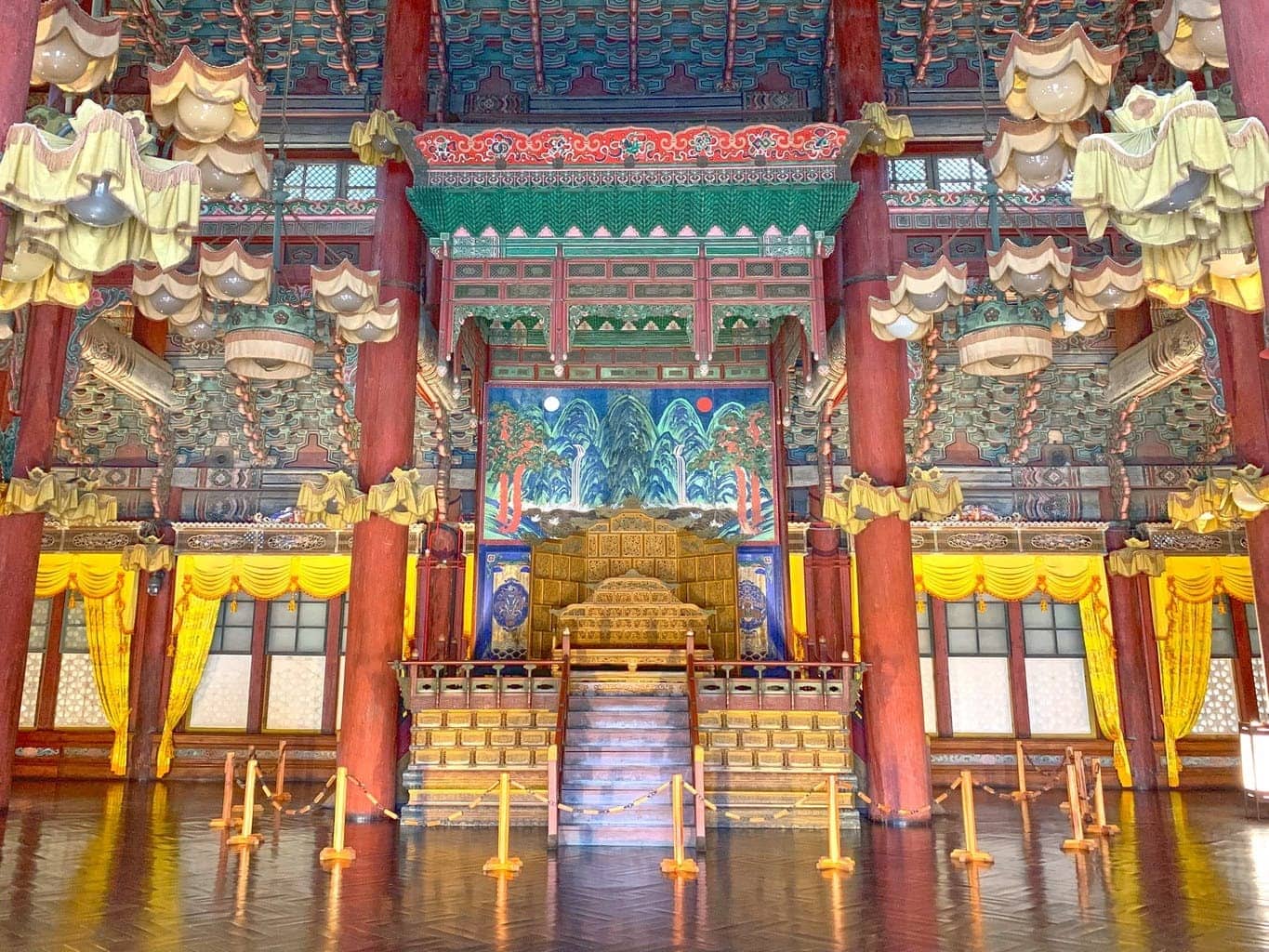 Start your second day at another beautiful historic site, the 600-year old Changdeokgung Palace and then explore Jongmyo Shrine directly underneath the complex.
Changdeokgung opens at 9am throughout the year, so you can start here early after breakfast at or near your hotel. Begin by exploring the UNESCO heritage site on foot, which is very large (57.9 ha), as you pass through the different complexes.
There is a beautiful secret garden called Huwon that can only be visited on a guided tour and opens at 10am throughout the year.
The garden is actually the majority of the complex, taking up roughly 60% of the palace ground, so it would be really regretful to miss. You will see 300 year old trees and over 26,000 specimens of more than 100 different species of plants and flowers.
Tours of Changdeokgung (excluding Huwon) are free, about an hour long and start at 10:15am (and 1:15pm). Entrance is ₩3,000. Tours of Huwon are at 10:30, 11:30, 14:30, and 15:30 in summer and in winter the same excluding the final tour at 15:30. Entrance is an additional ₩5,000.
Reaching Changdeokgung is best by subway, where it will take around 5 mins on foot from exit 3 of Anguk Station. Expect around 2-3 hours here before venturing to Jongmyo. Note that Changdeokgung is closed on Mondays and Jongmyo is closed on Tuesdays.
Jongmyo Shrine is another UNESCO world heritage site as it is the oldest and most authentic of the Confucian royal shrines. Take the guided tour at 12 if you're there on the weekend, otherwise just explore the premises by yourself with a map that you will be provided at the entrance. Entrance fee is ₩1,000.
Lunch time: Gwangjang Market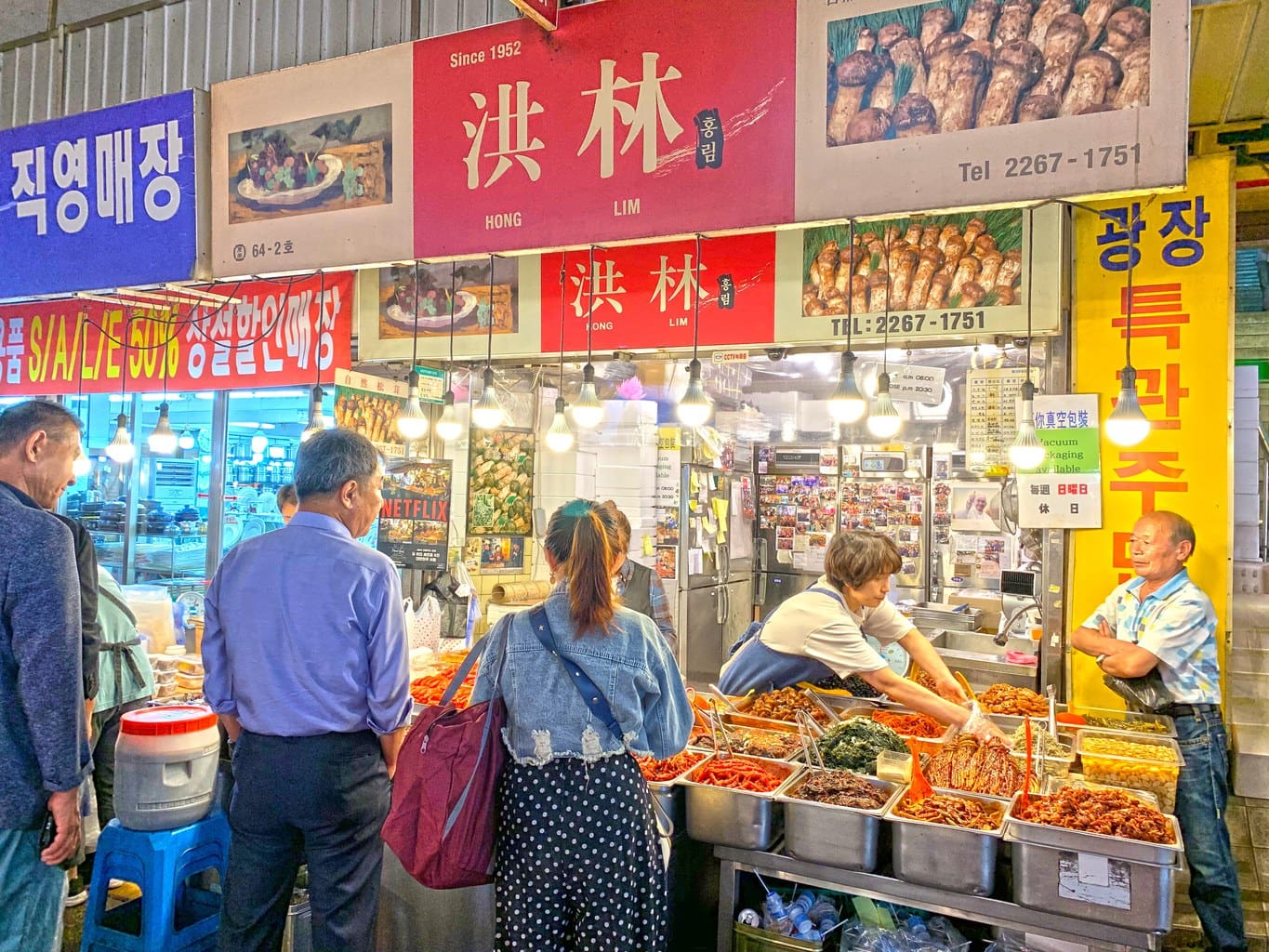 You're going to be extremely hungry after all that walking and photo taking, so your next destination should be the famed Gwangjang Market which is around a 10 min walk from Jongmyo Shrine. It's also reached from exits 7 and 8 of Jongno 5-ga Station.
The market itself is massive and undercover and is like entering a city of food. The most popular eatery is Yoonsun Cho's hand cut noodles and kimchi mandu stall (for around ₩5,000), as she appeared on the Netflix food special Street Food. She's at stall #70.
There's kimbap (김밥, Korean style rice roll), jokbal (족발, pig's feet), soondae (순대, blood sausage made of cow's intestines) and bindaetteok (빈대떡, mung bean pancake) among many other street food options. Bring cash and an empty stomach.
Afternoon: Cheonggyecheon & Dongdaemun Design Plaza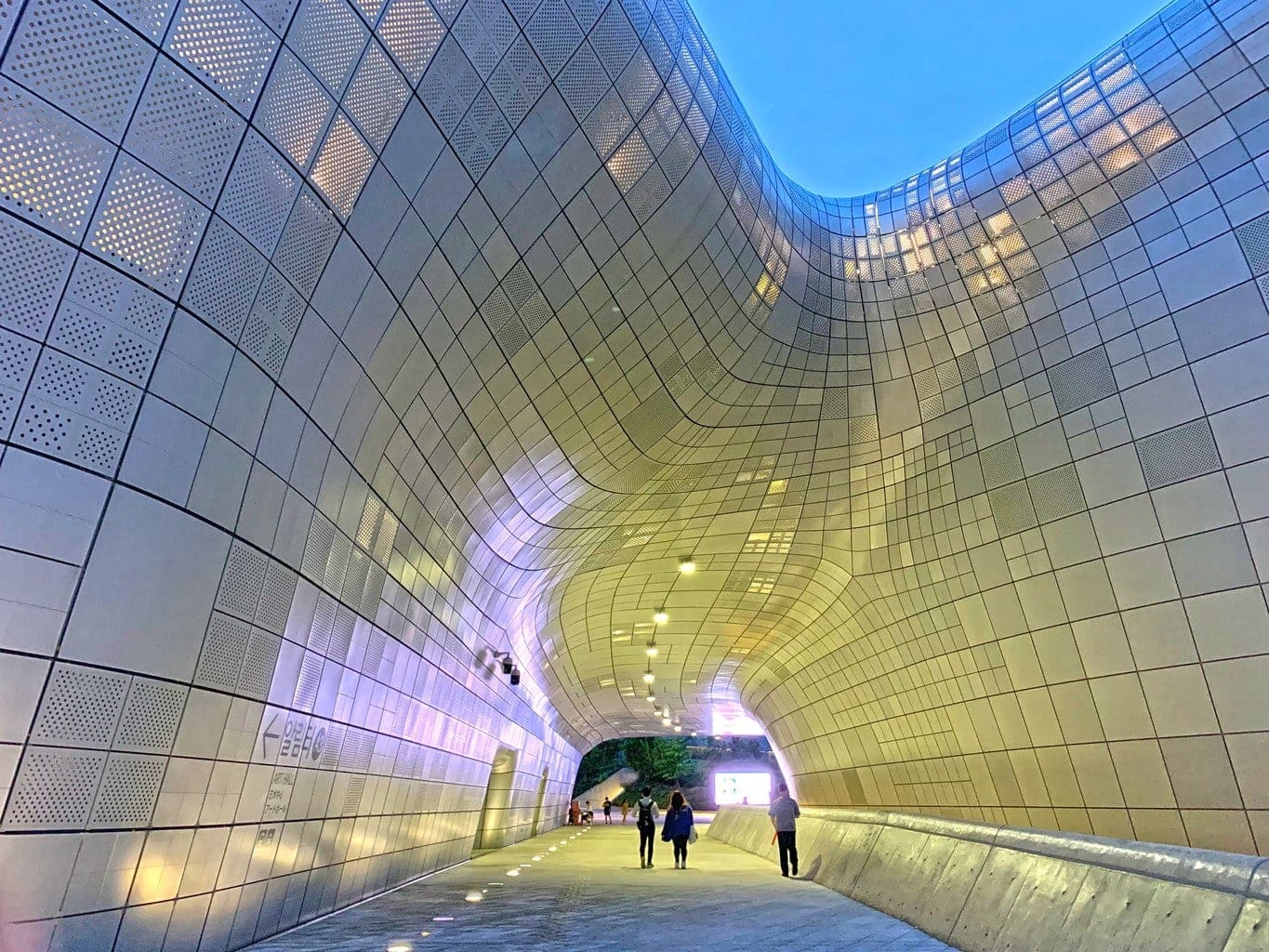 You can either choose to catch a bus or subway to Dongdaemun History & Culture Park Station (exit 1) or you can take a stroll along the stream that runs through the center of Seoul called the Cheonggyecheon. In winter there is a Lantern Festival (Oct-Dec) which is nice to see at night otherwise it's a great slice of nature in the city if your feet aren't dead.
You will be heading toward Dongdaemun Design Plaza (DDP), a futuristic building designed by Zaha Hadid that has a rooftop park, exhibition spaces, parts of the original Seoul fortress, a design museum, the design lab, the academy hall, media center, seminar room, the designers lounge, the design market and more retail stores. It comes alive at night with light projections, so it's best to visit as the sun sets and beyond.
The building is free to explore and extremely photogenic from just about any angle, although some exhibitions do charge a small fee and will vary in price. Walk on the outside, visit the lawn, pop inside and just snap away.
Evening and dinner: Dongdaemun Fashion Street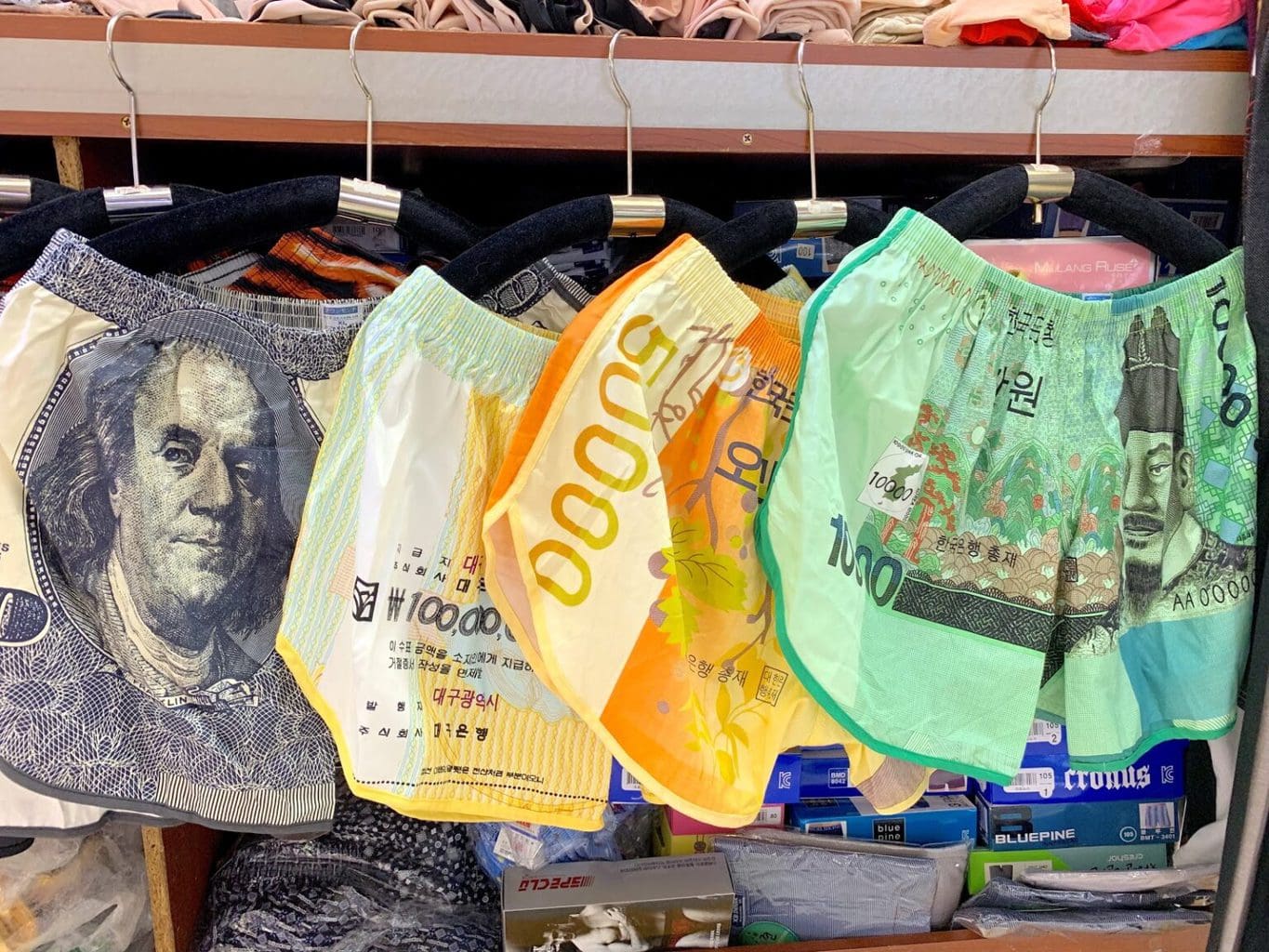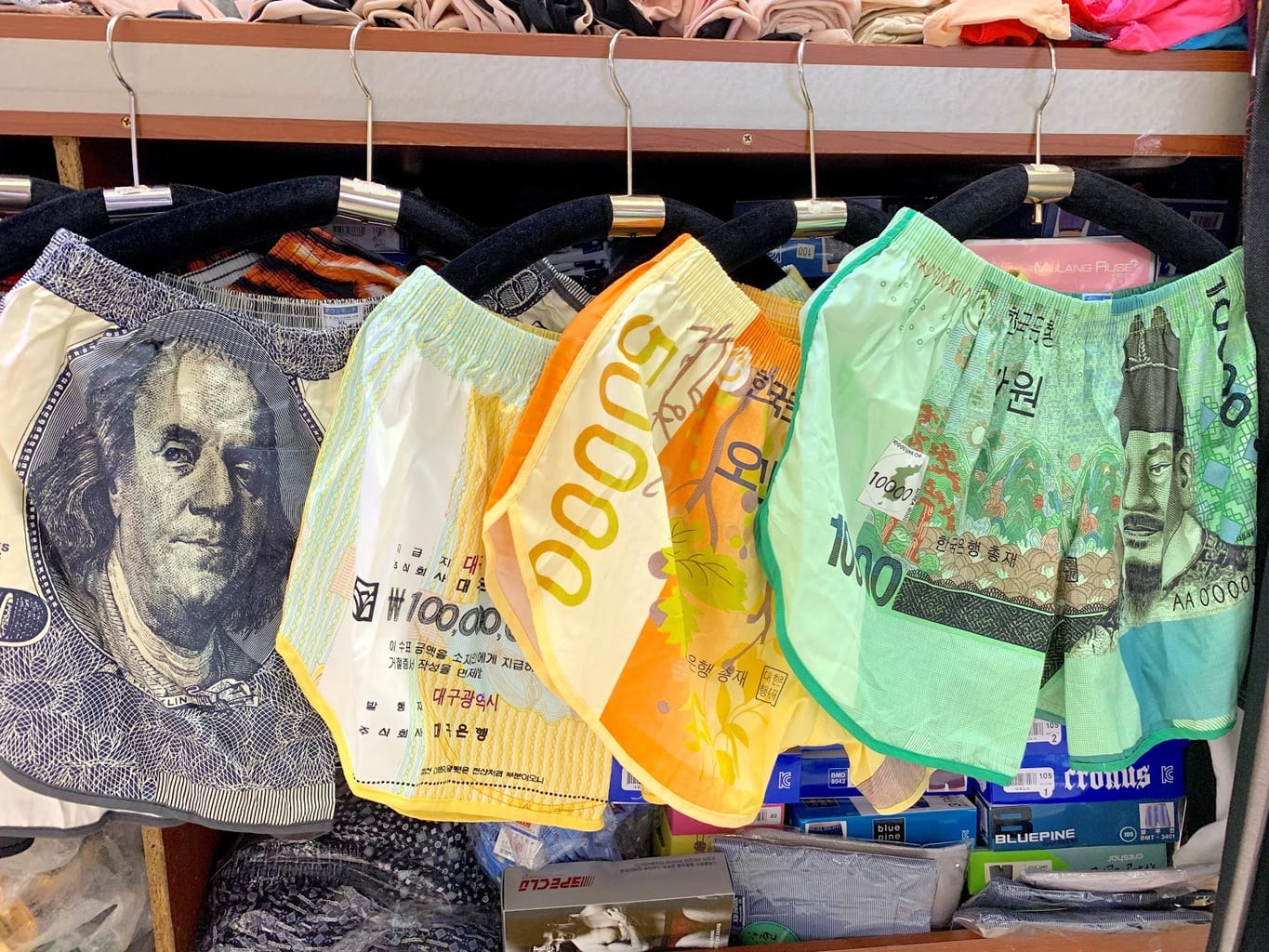 Before going shopping, you have the choice of visiting the East Gate ("Dongdaemun" means "East Main Gate") which is also known as Heunginjimun.
Pro tip: Go have a glass of wine and some food at Tavolo 24 in JW Marriott Dongdaemun Square which has great views of the gate. It is pricey though, so if you're budgeting, head to Heunginjimun Park just across the street and climb the small hill along the old fortress wall to get a great view of the area.
Dongdaemun is an all-night shopping destination that is known for selling in bulk, yet you can buy just about any type of fashion item here. There are several different malls in the area that include Migliore, Doota, Hello APM or any of the other apM franchises.
Each building has its own feel and vibe, some being more higher end like Doota and Migliore, with others being a bit more budget but with some amazing and fun finds similar to Mustafa Center in Singapore.
Each floor has a theme from women's to men's to sports clothing and there is usually a food court and games area on the top floors (like bowling, virtual reality and arcades).
Most stores only open at night, so you really can get a lot of shopping done here into the early hours of the morning. Bring cash to haggle down the prices (say "kkakka juseyo" to ask for a discount).
Day 3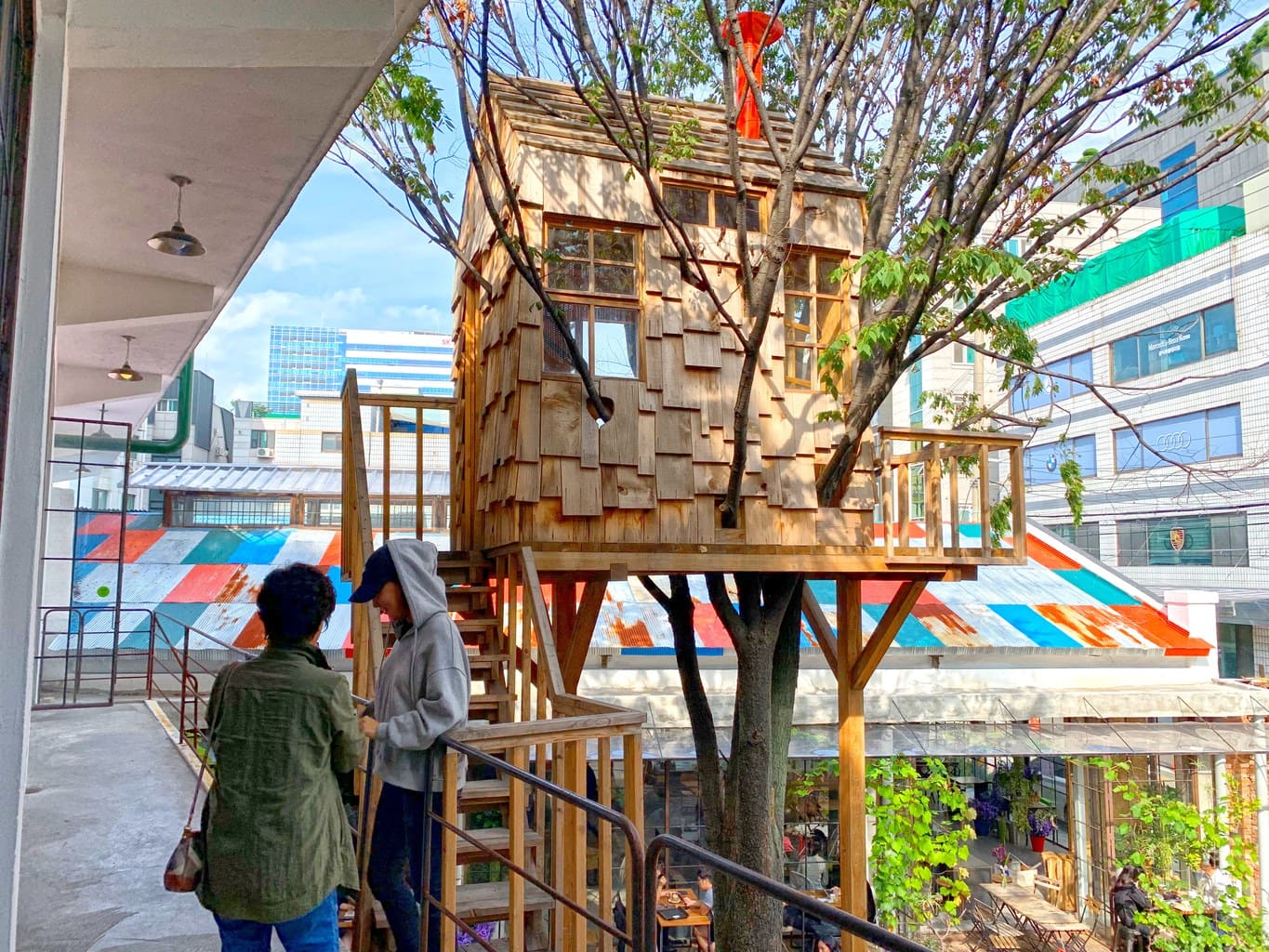 Day 3 of your 4 day Seoul itinerary will have you venturing into the west of the capital to explore Seoul's thriving expat and student areas. There is also a visit to the hip gentrified cafe area, Seongsu, a possible stop over at Seoul Forest and a look at the massive National Museum of Korea.
Morning: Seongsu & Seoul Forest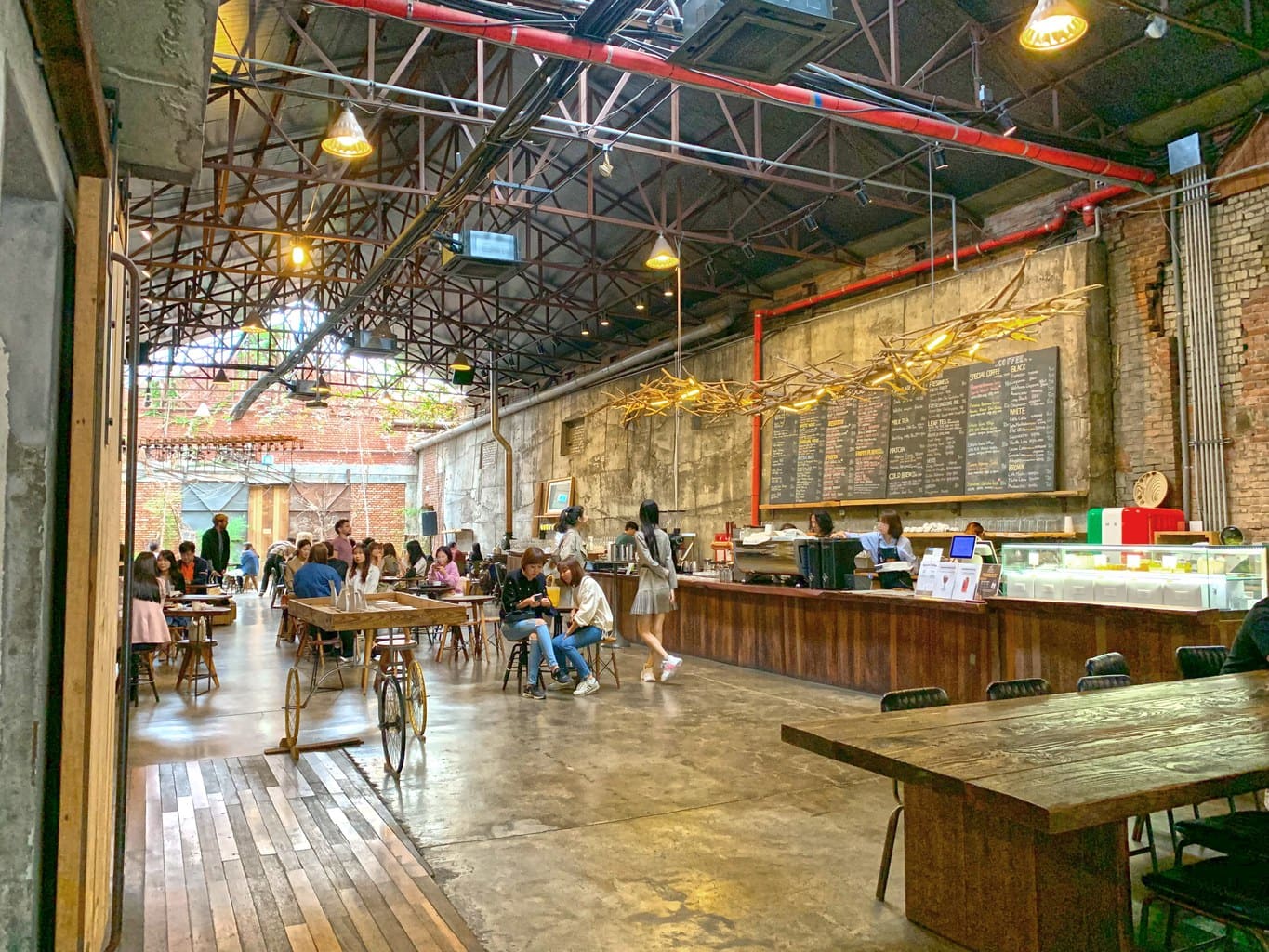 Day 3 begins in the gentrified cafe area Seongsu. You can again choose to eat breakfast at your hotel, or you can nosh on something in Seongsu.
We must mention that cafes in Korea differ from other places in the west or Southeast Asia. Unlike cafes in Ubud, for example, Korean cafes are more about spending time with friends than a focus on food.
So while the coffee and menu can be great, cafes in Korea usually only have coffee, tea and baked goods on their menus. So you may not find a complete meal at these cafes, only sweet and savoury goods like croissants, muffins or cakes.
That being said, there are a multitude of restaurants in the area to explore, although the focus is on Instagrammable sleek cafes.
Stand outs include include Cafe Onion, Daerim Changgo (대림창고), Baesan and Grandpa Factory (할아버지공장 카페에), Singaporean brand Mellower, Ongeundal, Oakland-based Blue Bottle (for delicious coffee only) and Ssenneu (with Arco which relocated here – it's the French pronunciation of Scene).
You can visit as many cafes as possible, and as they're usually so busy, if you're cheeky you can just pop in to get your pictures and leave (although it is nice to support them).
After this you also have the option to visit Seoul Forest nearby. This is one of Seoul's most preeminent green spaces and about a 15min walk from the Seongsu area. Not by any means a real forest, this man made eco-friendly area is a nice break from the chaos of the city centre.
There are trees, bicycle rentals, rollerbladers, a skate park, sculptures and walking paths that lead up to and along the Han River. You can also spot some really cute deer in a certain spot in the massive complex. Here's a brochure and map for more detail.
As mentioned in the 7 day Seoul itinerary, you can also visit Atelier Road (아틀리에길 – Atelier Gil). As the name suggests the street is lined with boutique stores, bakeries, gelato shops and so many great eateries.
Take a slow stroll along the road and pop into any one that tickles your taste buds. There are very long waits on weekends at eating times, so try and get there early. There were waits of over an hour at popular burger joints Zesty Saloon and Elder Burger, for example.
LUnch and early afternoon: Hannam-dong & Itaewon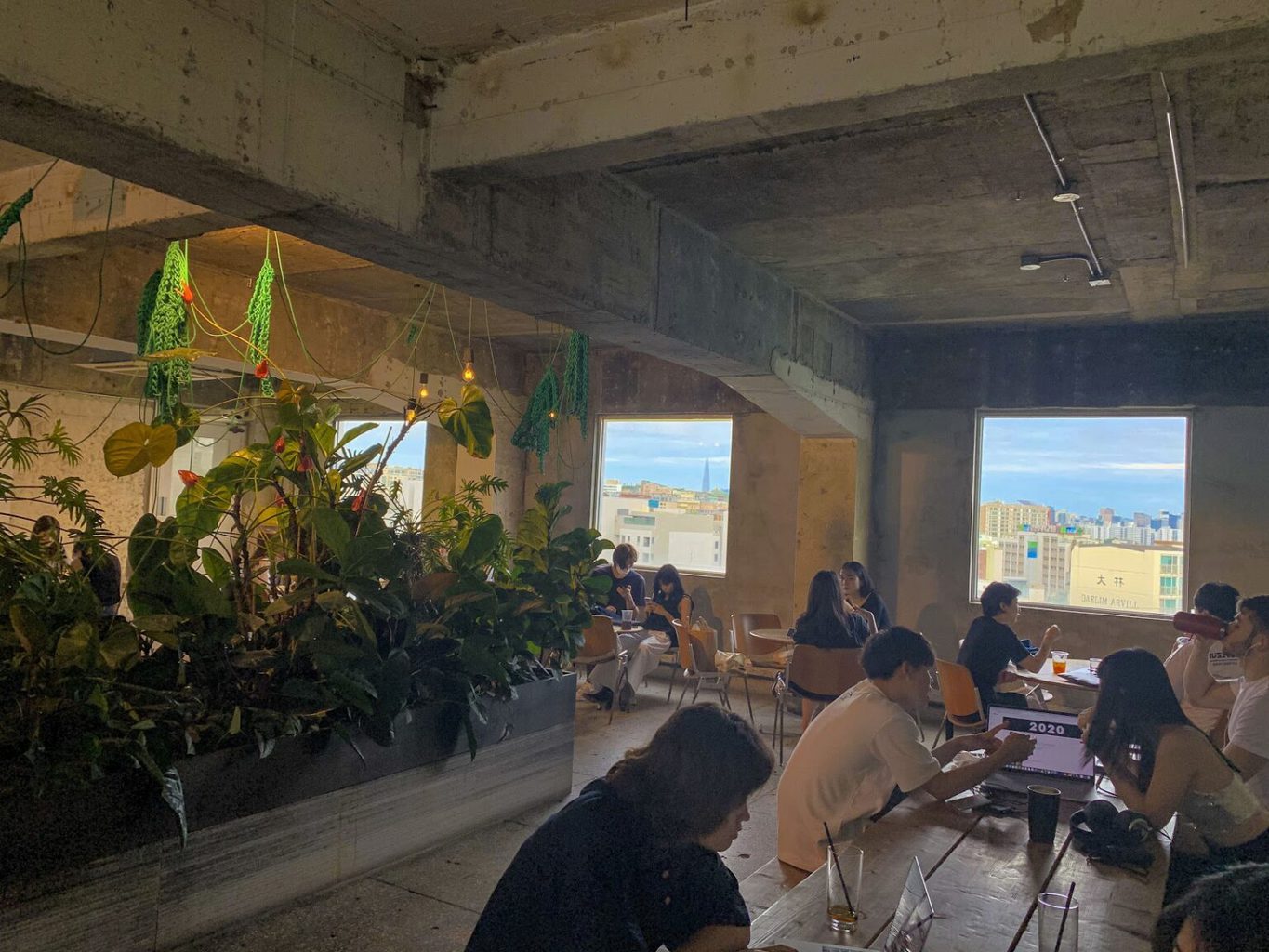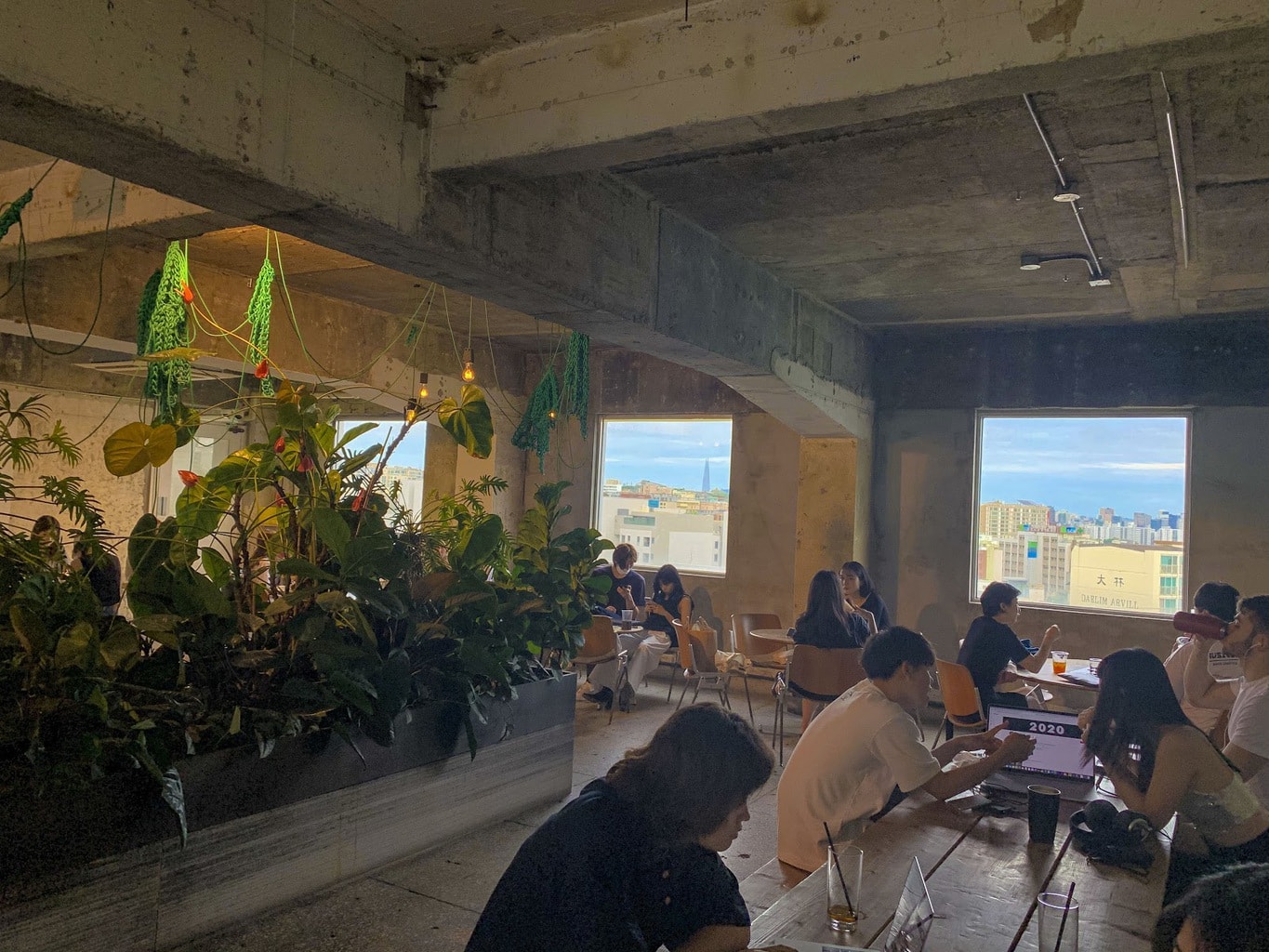 Next up is Hannam-dong where you will explore a happening area with loads of eateries and trendy coffee shops hidden in the alleyways. Although Gangnam is where the rich flaunt their wealth, Hannam-dong is where many celebrities and diplomats call home so there is an air of international cool and well-cultured high society.
Travel time is roughly 30 mins by subway from Ttukseom Station to Hangangjin Station with a transfer at Sindang Station. A taxi will be around 20 mins and cost roughly ₩10,000.
Your next stop is a quick walk over to Itaewon where you will see people from all over the world walking in unison. There are bars, pubs, restaurants, cafes and shops all along the stretch from Itaewon Station to Noksapyeong Station.
Don't stay on the main road though, as the backstreets both above and below the main road are packed with boutique and trendy stores with local and international owners.
The area above the Hamilton Hotel is more for night owls as it is a condensed area of clubs. Yet there is much more to explore from breweries to gelato shops. Below is a place more filled with trendy boutique stores, international food markets and pop-up eateries.
Afternoon: National Museum of Korea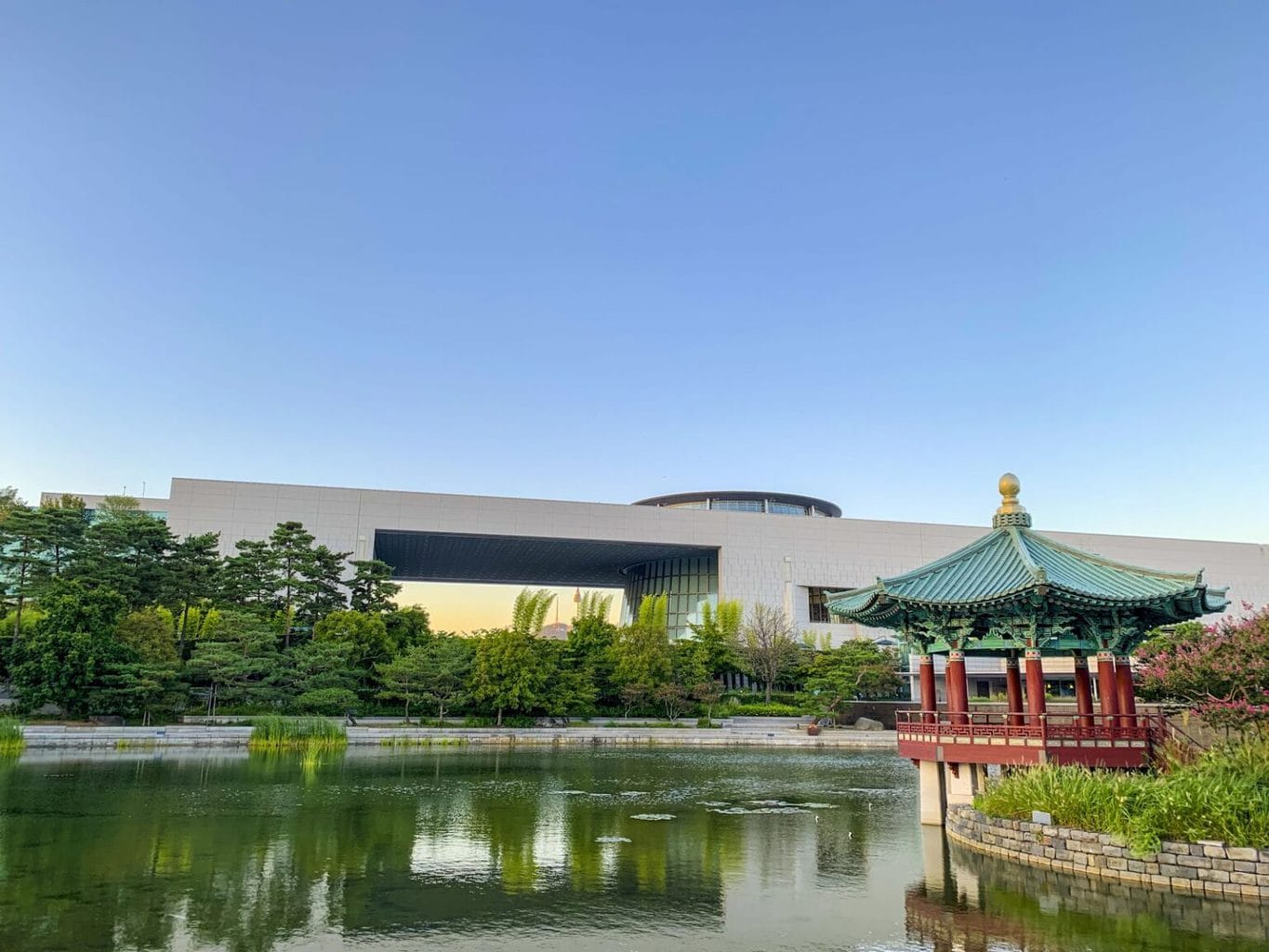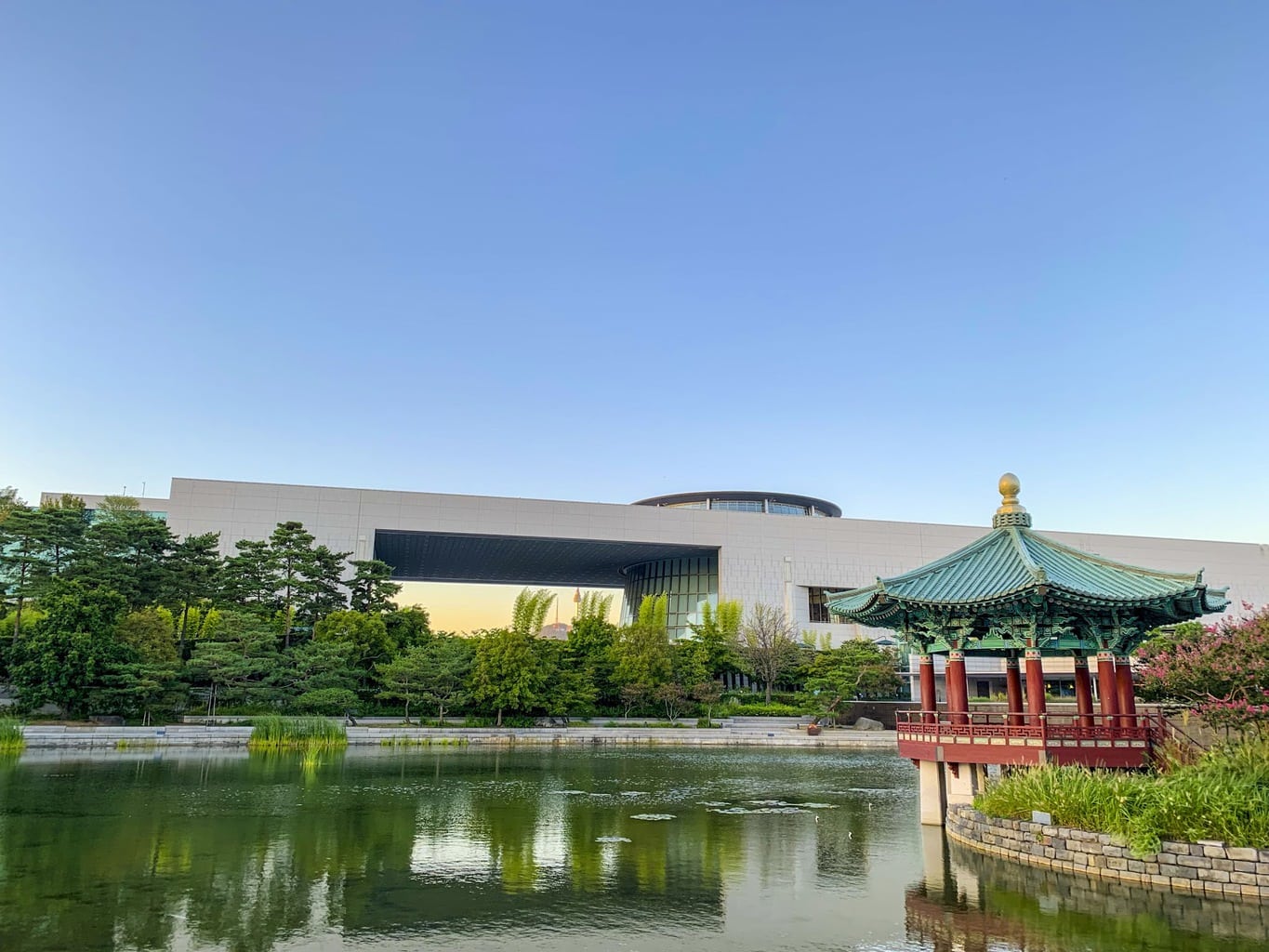 Wave down a taxi and head to the National Museum of Korea. There are buses available too like the 400 bus close to exit 4 of Itaewon Station, but this may be daunting to new time visitors. A cab will take around 10-15mins and cost roughly ₩5,000. If the driver doesn't understand the English show this "국립중앙박물관" which is transliterated as "Kuklim Jungang Bakmeulkwan".
This is a major museum in Korea, in heritage and size, and houses Korean cultural assets from its ancient beginnings right up to the modern era. It includes roughly 15,000 relics in three different floors from the Prehistoric and Ancient History Gallery, a Calligraphy and Painting Gallery and a Sculpture and Crafts Gallery.
There are also artefacts from throughout Southeast and Central Asia including Indonesia, China, Japan and more. And the best part, entrance is free for the permanent exhibitions.
The museum is inside Yongsan Park, which is great for a stroll or picnic. There are also food trucks outside selling snacks. The Museum closes at 6.
Evening and dinner: Hongdae & Sinchon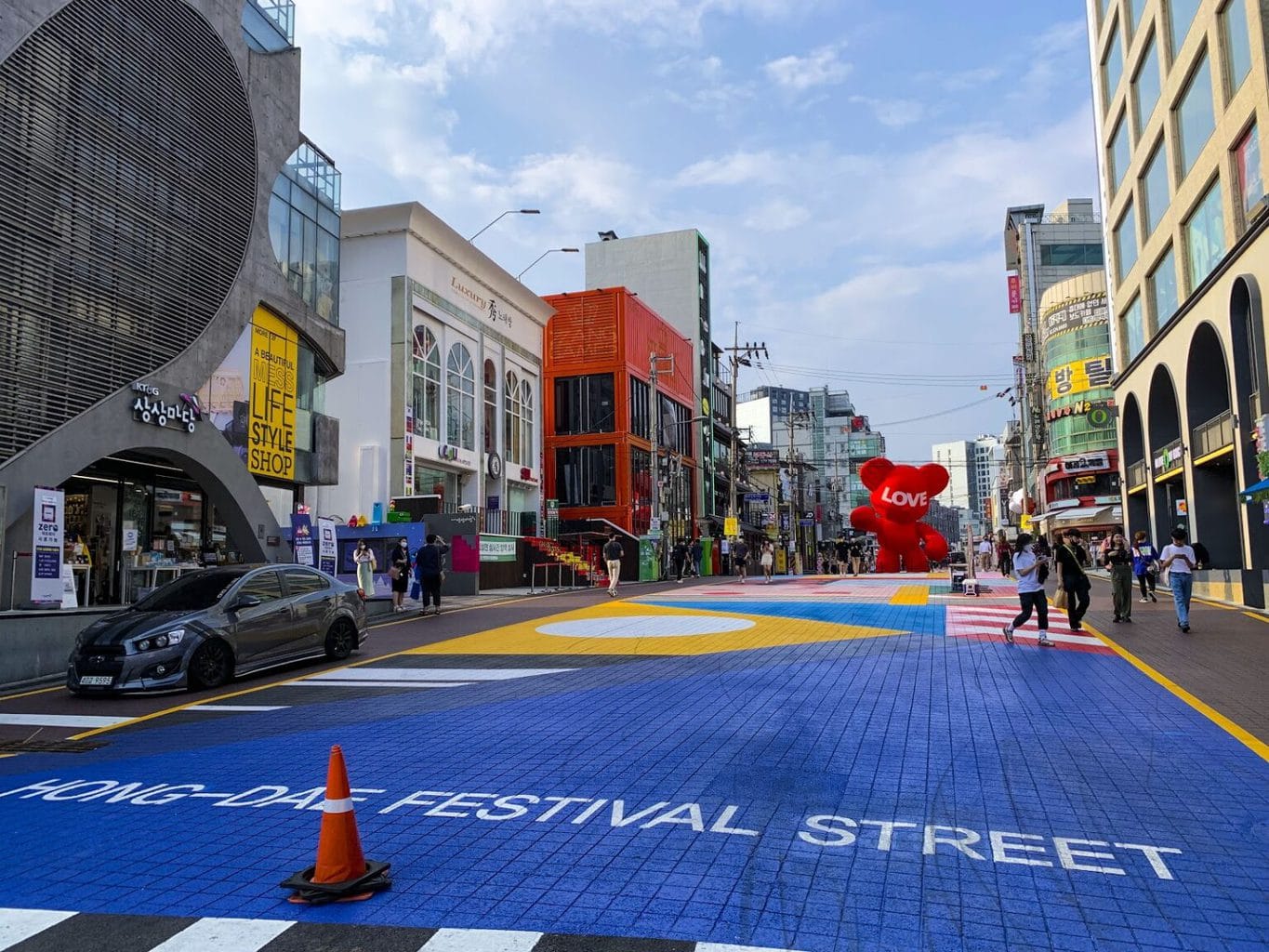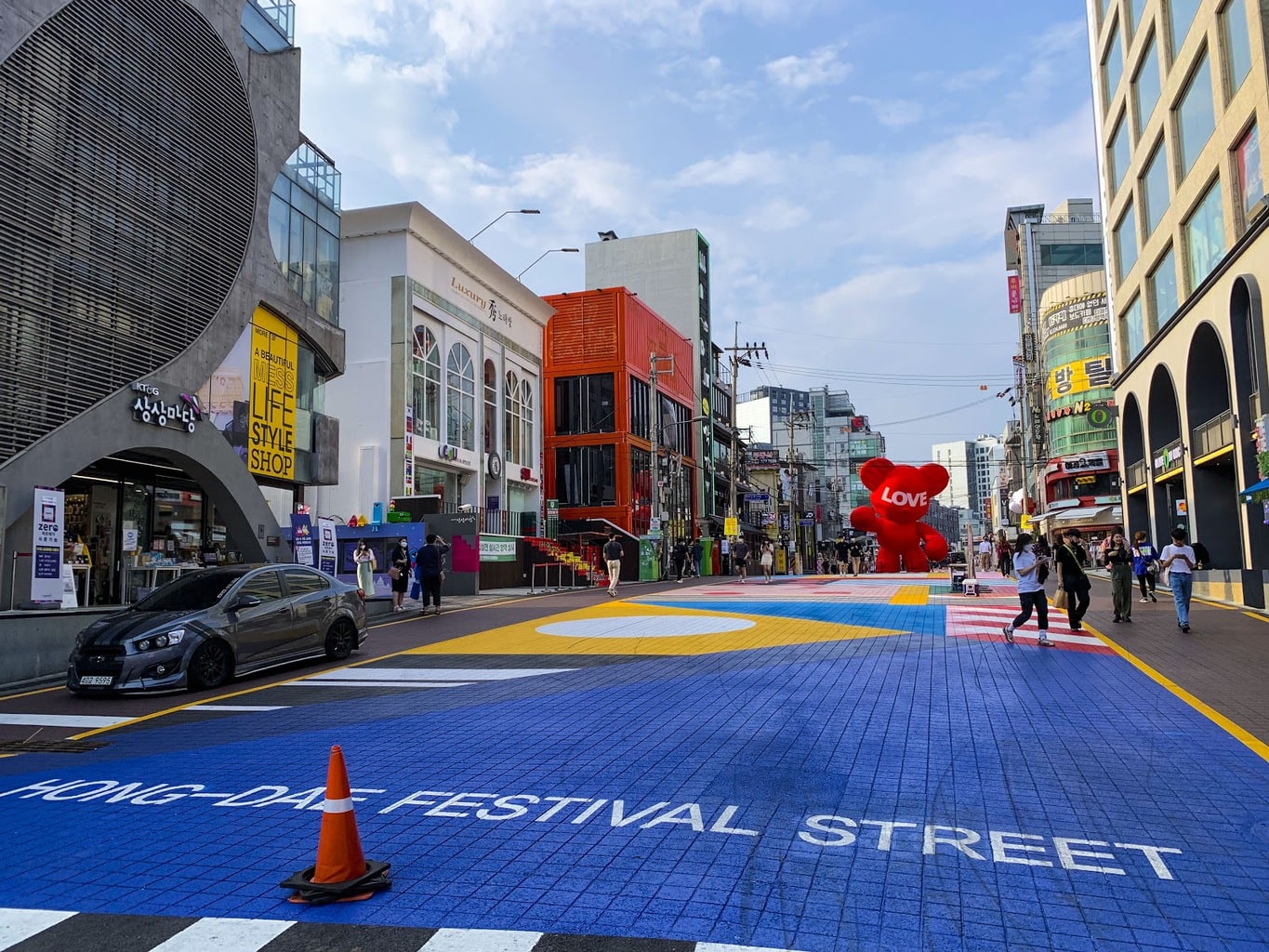 If you do visit the National Museum, walk over to Ichon Station and take the subway to Hongik University Station (Hongdae Ipgu Station) which will take roughly 25 mins. A taxi will take around the same amount of time but will be over ₩10,000, so we suggest the subway.
Hongdae is Seoul's artsy hangout as it's the area where students attending Hongik University hang out. There is an air of liberation and art and it's where the most open-minded and free-spirited Koreans like to spend their time. There's always something happening in the area, but dusk and night time are when the place really comes alive.
When you get to Hongdae, take exit 9 and walk up to Hongdae Fashion Street which has a road of boutique and fashion brands where you can find some awesome clothing and jewelry.
There are Kpop busking performances on the road and fashionistas strutting their stuff. Walk all the way along the road and then cross the Shibuya style crossing for more goodness.
Hongdae is also known for its clubs, pubs, wine bars and general bohemian air. You can try any restaurant that looks good as there are so many that it's difficult to suggest one. You can walk all the way up to Sinchon Station to find even more eateries, watering holes and hidden bars.
Take the subway back home or party well into the night and catch a cab when you're ready. Note that taxi fares will go up after 10, so you can expect to pay quite a bit. If you're young and carefree, you can always pop into a 24 hour jjimjilbang (sauna) and have a sleep here until the public transportation starts up again. Some franchise coffee shops are also open 24 hours if you need to kill some time.
Day 4
For your last day in your 4 days in Seoul, we recommend you follow the suggestion on our second day in the 2 day itinerary in Seoul so that you can make the most of the day and ready to head to the airport afterwards.
Other things to know about your Seoul Itinerary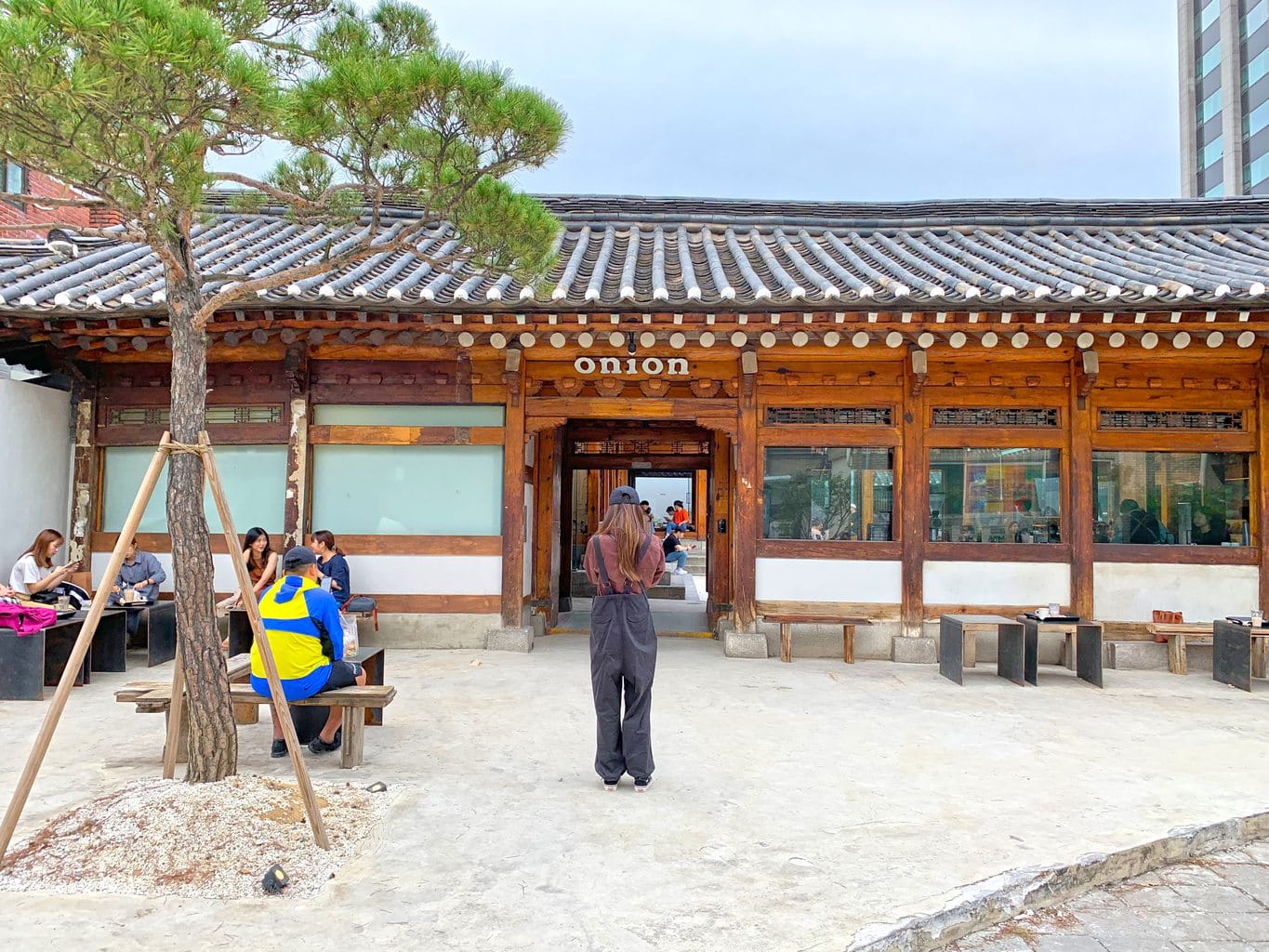 We highly recommend visiting our travel Guide to Seoul and scrolling down to "Best time to visit Seoul" section.
From this section onward there is a host of great insider information from a local on other things to know about travel in Seoul. There is first-hand information from 10+ years experience of living in the city on where to stay in Seoul, getting around Seoul, getting to and from the airport, visas, internet and so on.
While we have provided Google Map links throughout the article, the app is not ideal. While it is good for finding places, it doesn't work well for directions and might take you on very long journeys.
This is why we recommend Kakao or Naver Map where you can copy the Korean name we placed in the Google Map and paste it in the Korean version of your choice to get directions.