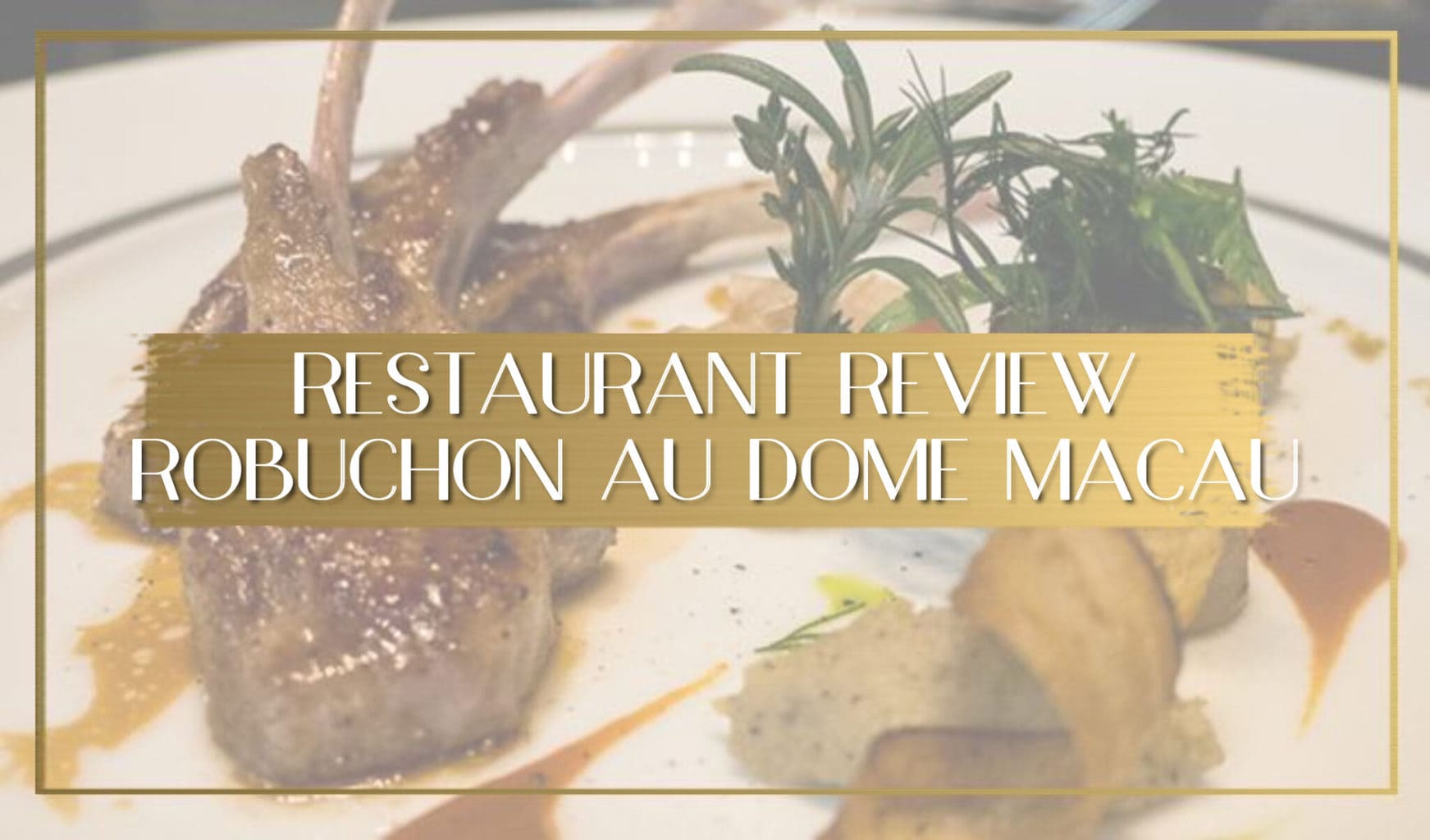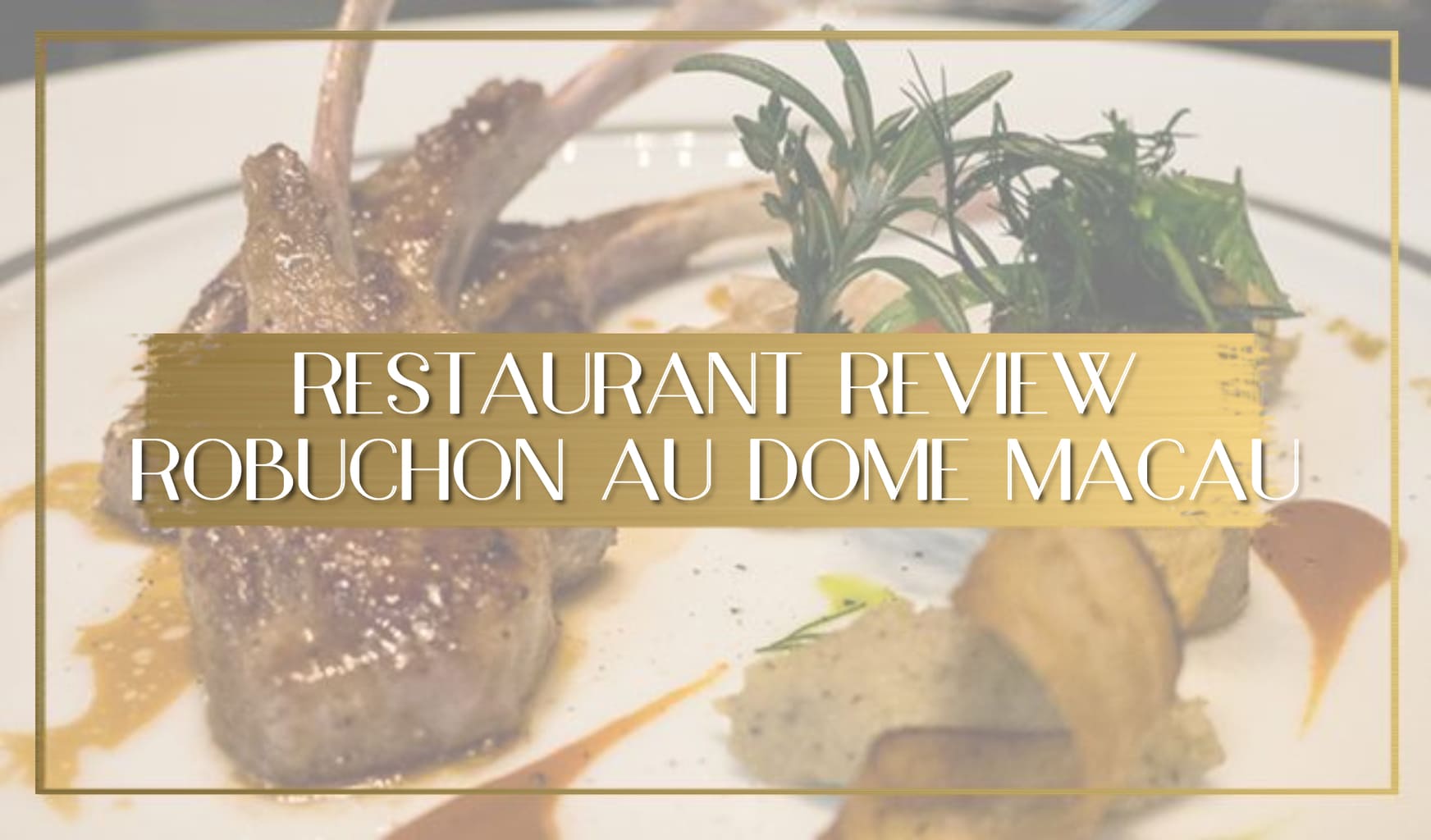 Macau is filled with Michelin-awarded restaurants which seem to congregate at the Grand Lisboa Hotel, which is also one of the best places to stay in Old Macau, for more options on where to stay check this post out. Both Robuchon au Dome and The Eight, the only 3 Michelin starred restaurants in Macau are located there. There are an additional six more restaurants with either two or one Michelin stars in Macau as per the 2018 Michelin Guide.
I booked a table at both Robuchon au Dome and The Eight and compared the dining experience. It could not have been more different. But in this article, I only wanted to review Robuchon au Dome Macau. You can read my review of The Eight here. If you are visiting Macau, try out my personalised guide. I have also written a foodie guide on what to eat in Macau and where to find it, a quick one day travel guide to Macau and how to get to the best beaches in Macau.
Booking and arrival at Robuchon au Dome Macau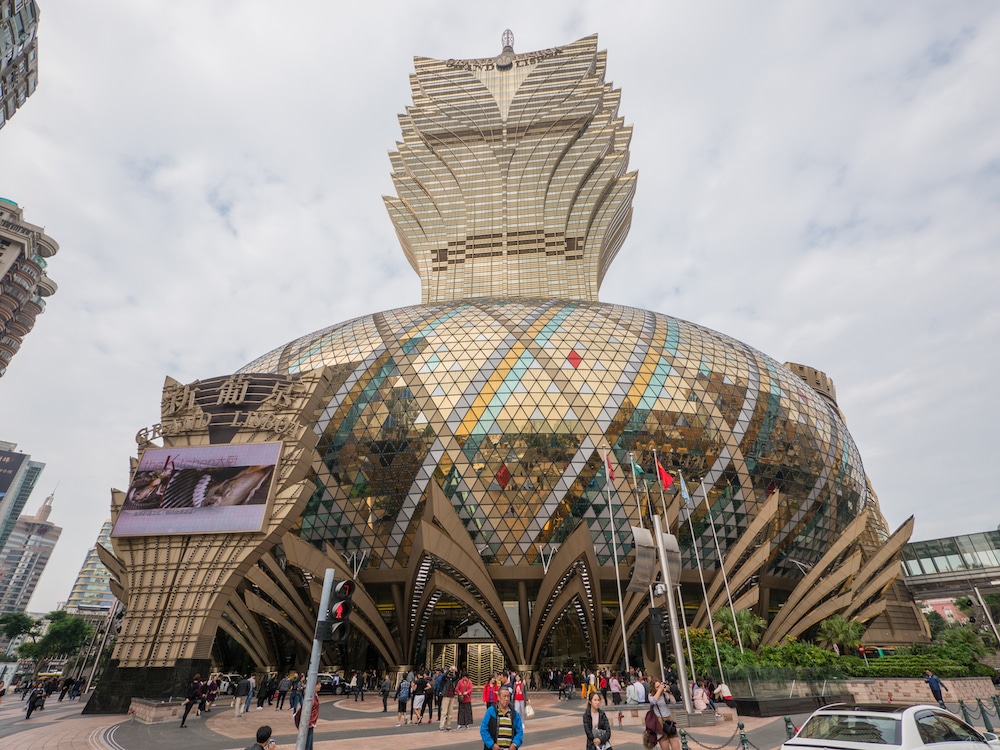 I will admit it: I was skeptical and slightly reluctant to dine at Robuchon au Dome Macau. In Singapore, I find their main fine dining Robuchon and well as l'Atelier to be pretentious and condescending when you try to book. I wanted to have a girl's evening there with my girlfriends on their Wednesday girl's night and they could not guarantee me contiguous sitting.
Basically, we would book for six people and may not be sitting together. I thought this was absolutely idiotic and despite trying to talk to them several times to understand if this is indeed what they were implying and confirming so, I never returned. I thought it was a very poor experience and a rather financially oriented choice.
Then there is the fact that I like to eat local when I travel. I consider food very much part of the experience and so try to eat at local restaurants. While The Eight serves Chinese cuisine, Robuchon au Dome is mostly French, so I was slightly apprehensive to spend an evening there instead of at a local Chinese, Portuguese or Macanese restaurant.
I eventually decided that I wanted to make up my own mind and try the restaurant without previous experiences from the Singapore branch. So I booked two consecutive nights at each of the two during my second visit to Macau.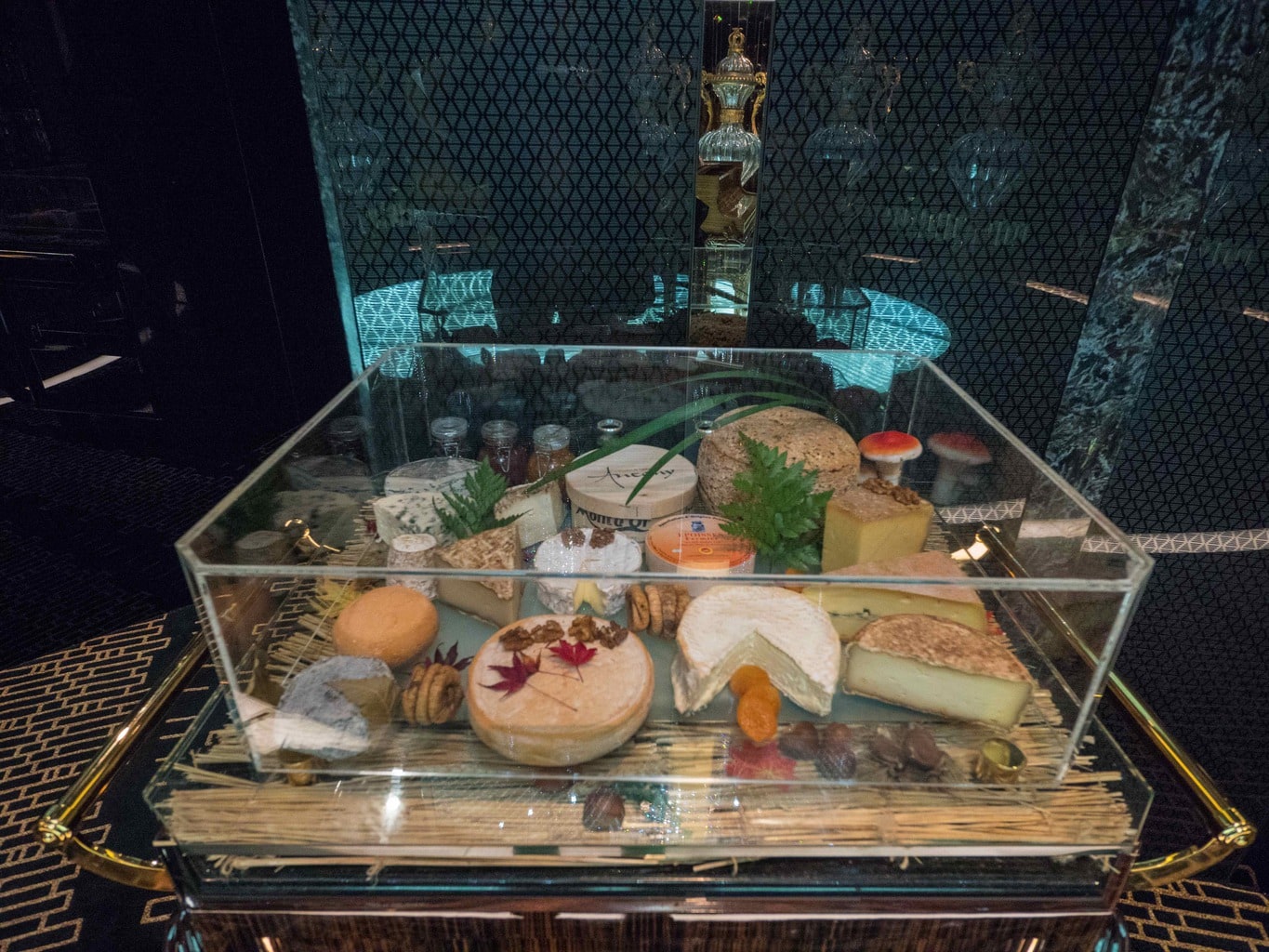 Booking Robuchon au Dome was done by our concierge at the St. Regis in Cotai, a day before the date. I was surprised to find the restaurant was indeed available despite the last minute notice. When we actually arrived at the restaurant, it was clear that not all tables were booked. Online, when I had previously tried to book for a past trip, they asked me for a credit card authorisation form, something common at restaurants that run at full capacity.
Arriving at Robuchon au Dome is done via the main lobby at the Grand Lisboa, walking past hundreds of tourists, in true Macu style, and large diamonds on display, huge bone carvings and enormous chandeliers. The Grand Lisboa is an institution and one of the oldest hotels in Macau. It is also the epitome of tacky, in my opinion, with a yellow gold and silver panelled facade in the typical Macau colors.
It is indeed fascinating. As you arrive at the restaurant's level, right under the hotel's dome, you are greeted by a mix of gold and black shades, a large chandelier and a shiny piano. The dessert, cheese and petit four carts are all lined up next to the elevator as a sign of the indulgence that is to come.
The decoration and ambience at Robuchon au Dome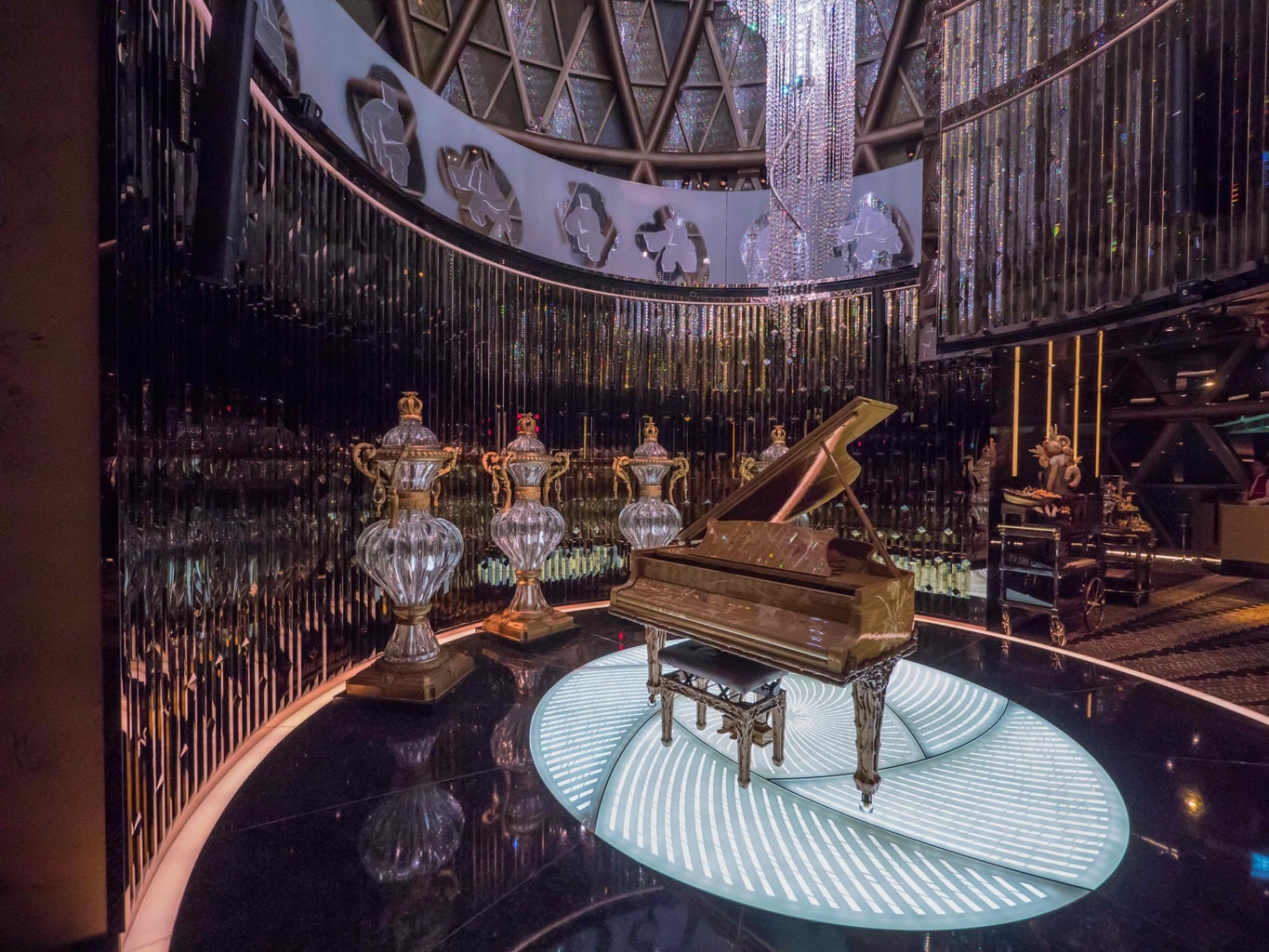 Robuchon au Dome is very much aligned with everything else you can find in Macau: it is ostentatious, grand and golden. They could have it no other way at Macau's most expensive restaurant and the one with the most awards and accolades.
From the moment you step out of the lift and onto the grandiose chandelier and the polished piano you have no doubt entered into a world of indulgence and gratification that cannot compare to many other place in Macau. The carpet is thick and plush, hard to walk through in high heels, and the sparkling chandeliers reflect the aggressive lights that never seem to stop in the Las Vegas of the East.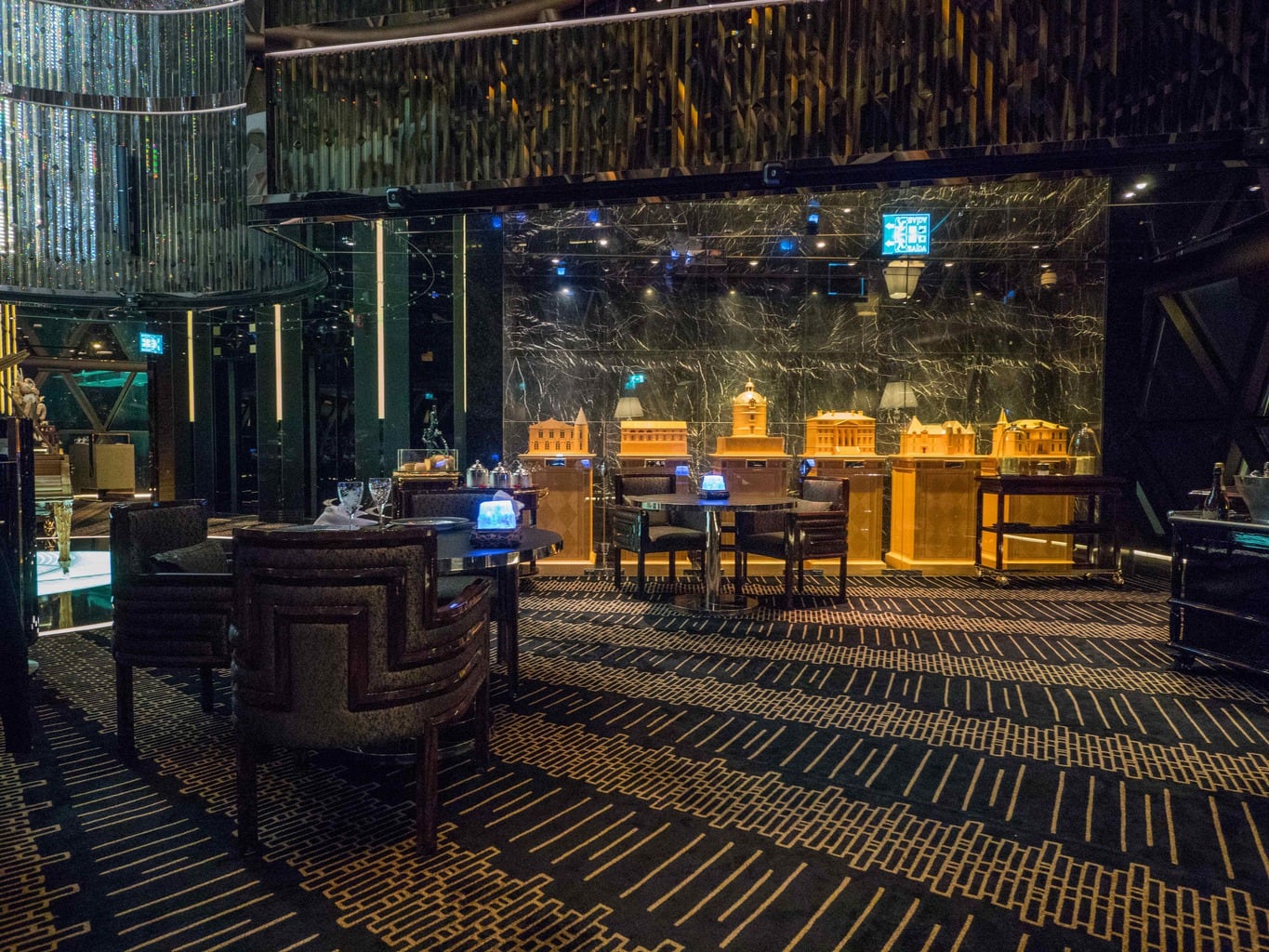 The restaurant was not full when we arrived, despite it being past 8pm and the tables were spread out, so it felt as if we were alone. There were a couple of other tables with two people dining but we could not hear nor see them. Next to us there was a single diner who arrived after us and who, if I could venture out, was probably spending his casino winnings on a night of pampering. He had a bottle of a rare French vintage all to himself but ordered from the a la carte.
On the table, we had white cloth and our napkins were so starched that it was impossible to tame them down onto our laps. The glass was sparkling crystal with such finesse and the silverware was probably made of silver.
The menu at Robuchon au Dome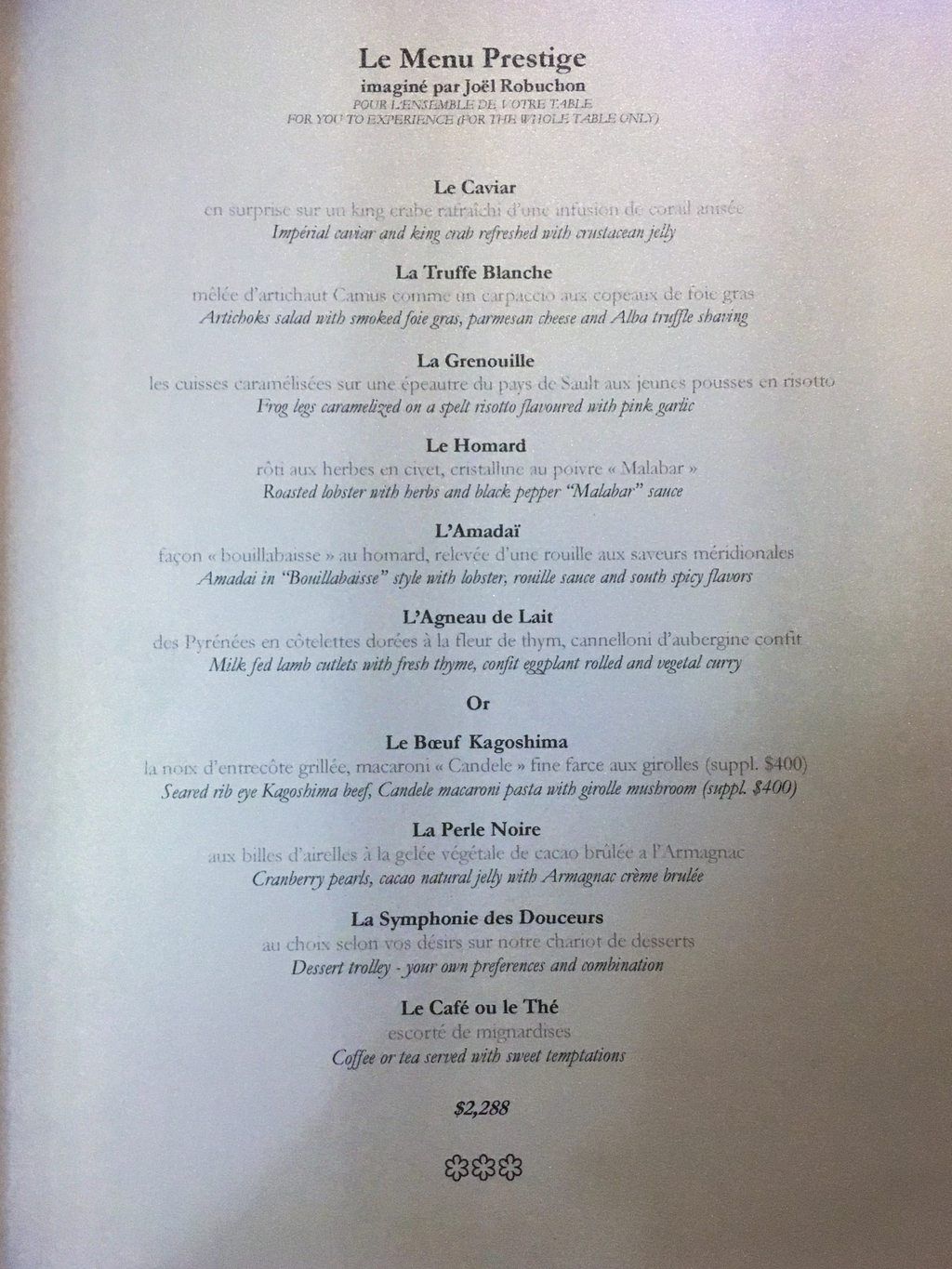 The menu at Robuchon au Dome is decidedly French with minor signs of Asian influence. There are two set degustation menus and an a la carte option with lots of choices. We decided to go for Le Menu Prestige without wine pairing. Interestingly, the wine pairing option was not mentioned in the menu but the Sommelier could put it together if we wanted.
When we checked the wine list we were faced with a large multimedia iPad app with lots of options that was rather hard to navigate. Call me old fashioned, but I much prefer the paper wine lists, I find them more elegant and appropriate to the occasion and the setting.
With so much choice and with such ridiculous wine markups we were left with only one choice: asking the Sommelier for a wine recommendation that was reasonably priced and would pair well with the degustation menu at Robuchon au Dome. No mean feat.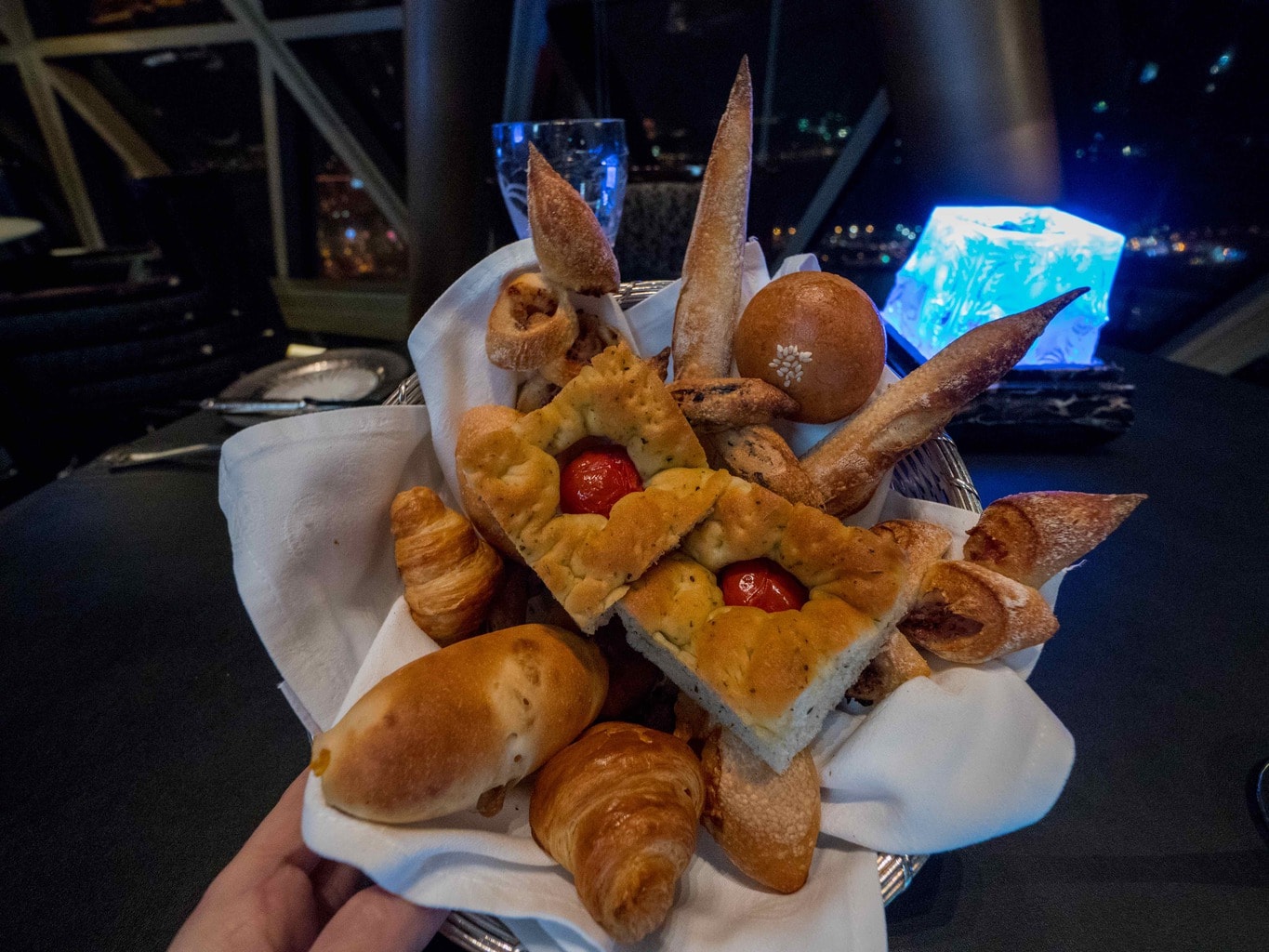 The wine list at Robuchon au Dome was filled with lots of expensive and unique French vintages as would be expected. However, I was surprised by some strange entries like Mateus, a Portuguese wine we drink in Spain in the summer made in sangria style because it is quite affordable (maybe a couple of euro?), mass market and sweet. There it was, rose and white, in the menu of a 3 Michelin starred French restaurant and being sold for several times the cost back home.
Before the dishes were served, we ordered a pair of Negroni cocktails and got some amuse bouche with homemade butter (salted or unsalted and hand churned) and a bread basket.
Now, that was not just any bread basket, Robuchon au Dome has a bread trolley and that was my perdition. We were asked to choose the breads but, of course, I had to go with the selection of all. I couldn't help it, I love bread, in fact, I could live off bread, so, when faced with such an extravaganza, I had to have them all. And that was the biggest mistake.
On offer were:
Focaccia with juicy tomatoes, which we were warned against, "Be careful when you bite into the tomato as it is very juicy". Translation: do not bite into it unless you want the tomato seeds all over your dress.
Bacon bread, I mean, is there anything better than a buttery bacon filled bread bun?
Croissant, made with tons of butter as it is meant to be.
Baguette, from a French Michelin-starred chef.
A simple bread roll, which was so good.
Cheese rolls with such silky cheese, and warm!
Walnut soft bread rolls, which I loved, because I love nut bread.
Olive bread, the best combination in the world.
As expected, at the end of the meal, we were positively full. In fact, I was so full that I had to decline the petits fours. At that point I regretted all the fantastic bread I had.
As per the food, Le Menu Prestige had a truly indulgent selection of dishes with lots of lobster, caviar and exquisite Japanese beef to satisfy the palate and wallet of big casino winners. The set menu had the following dishes:
Click the images to enlarge…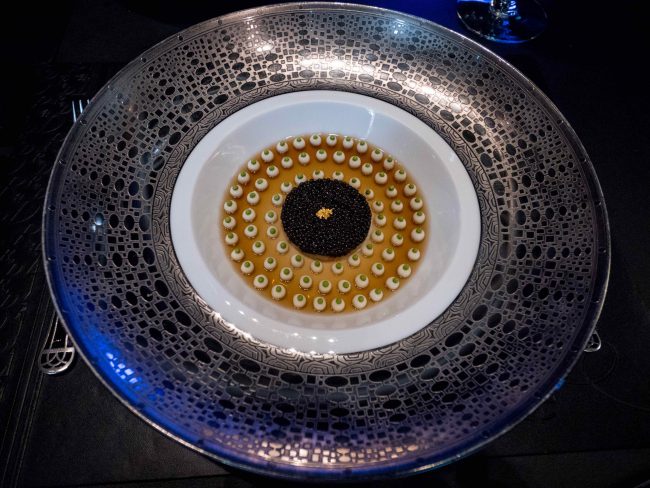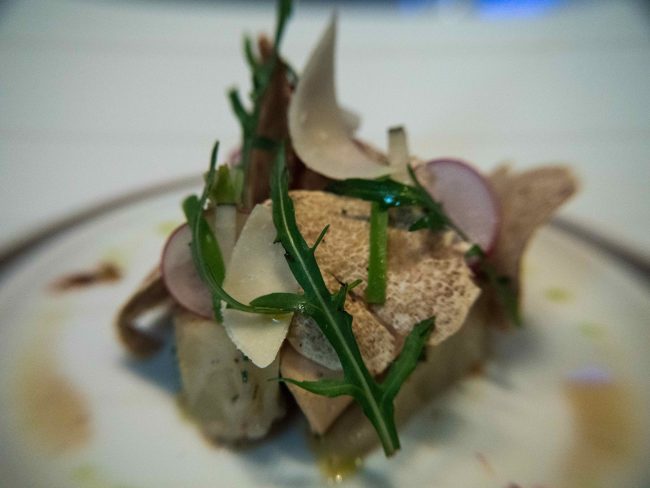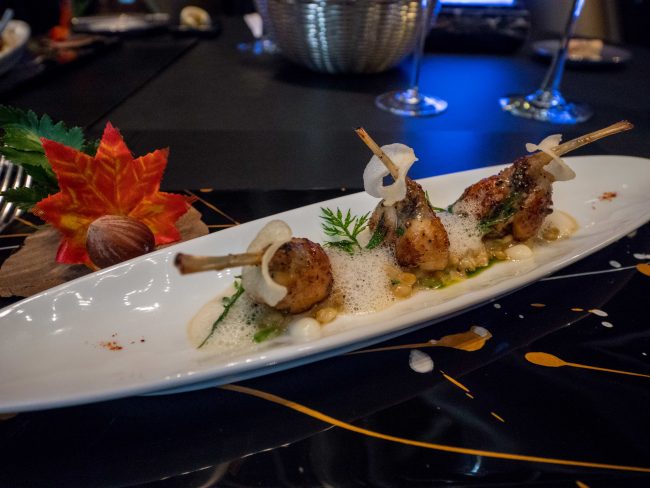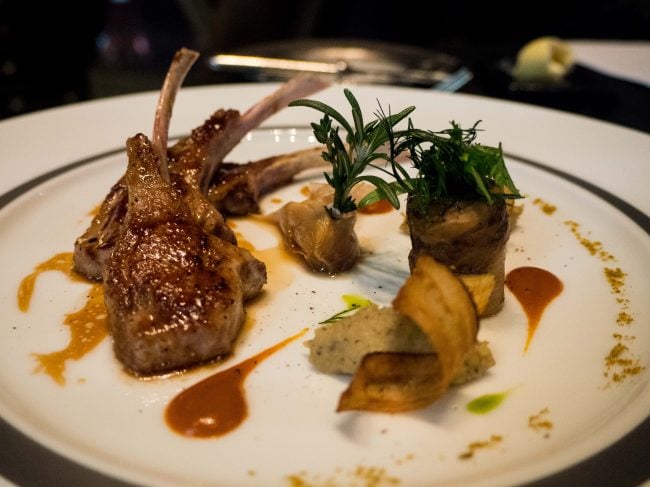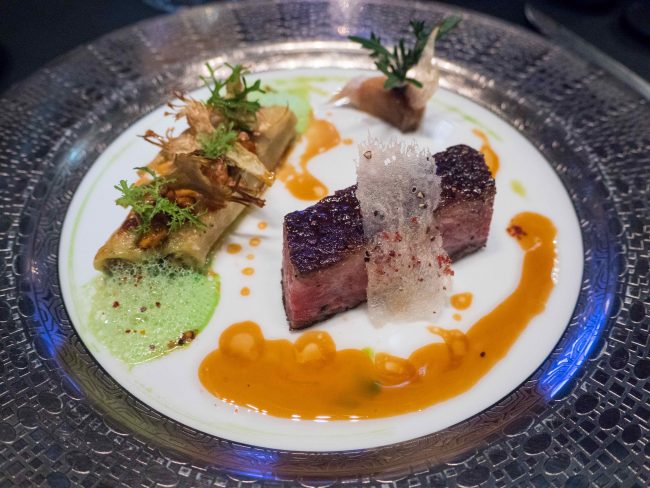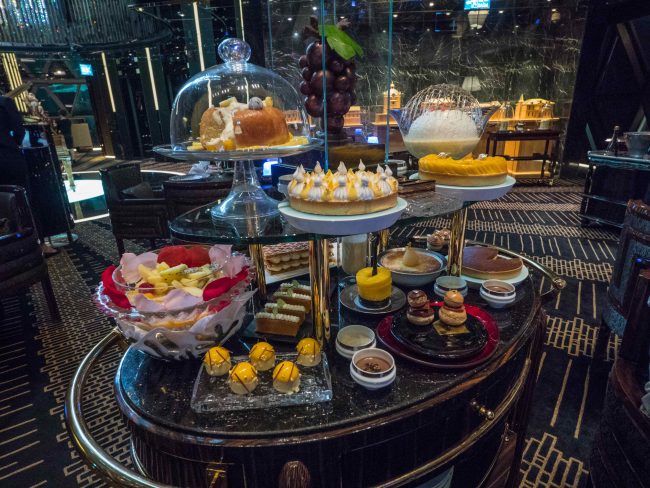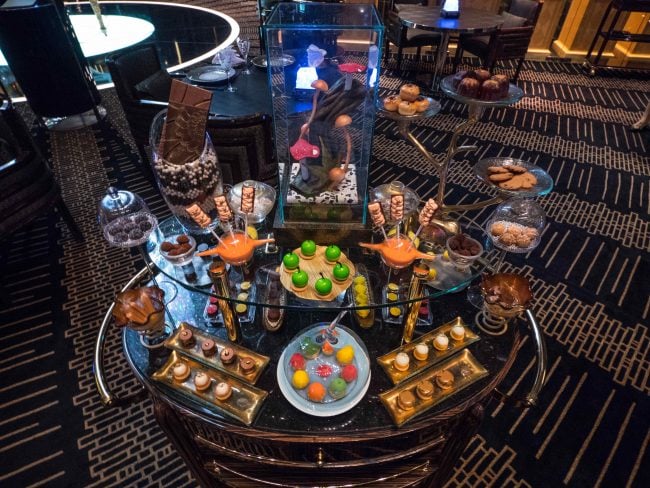 Le caviar – Imperial caviar and king crab with crustacean jelly. A dish which I thoroughly enjoyed, I found the flavour combination to be fantastic and the presentation was sublime with so much detail going into each drop. The jelly was delicious and the entire combination was great. It was better accompanied with a bit of bread because the flavours were very strong.
The truffle blanche – Artichoke salad with smoked foie gras, parmesan cheese and Alba truffle shaving. The artichokes were from Normandy and the foie gras was served in carpaccio style, with thin shaved slices.
Le grenouille – Frog legs caramelised on a spelt risotto flavoured with pink garlic. I had never had frog legs, even though they are quite popular in porridge, in Singapore. These were very soft and genuinely tasted like chicken which is what Edwin told me they were supposed to taste like. The onion emulsion, onion chips and onion cream with the spelt risotto was fantastic. It was a truly accomplished dish.
Le Homard – Roasted lobster with herbs and black pepper "Malabar" sauce. The Maine lobster here was surrounded by a spicy sauce with a strong curry like wasabi touch.
Pepper L'Amadai – Amadai in "Bouillabaisse" style with lobster, rouille sauce and south spicy flavors. Amadai is a very interesting and unique Japanese fish which is eaten with the scales on so it looks different and tastes crunchy. The scales fry out into crispy bits that complement the perfectly cooked soft fish. The Bouillabaisse sauce was light and packed with strong flavours of the sea and was complemented with a rouille sauce with garlic and saffron. We were given garlic bread on the side, as if I had not have enough bread already!
We had to choose between a main of L'Agneau de lait – Milk fed lamb cutlets with fresh thyme, confit eggplant rolled and vegetable curry. Edwin had the lamb and it came with delicate cutlets OR…
Le Beouf Kagoshima – seared rib eye Kagoshima beef, candele macaroni pasta with girolle mushroom (supplement of $400). The beef, which we had already enjoyed at The Eight the night before, was sublime. This beef is so fatty and strong in flavor that you can only eat a very small portion because it overtakes your senses completely. My piece was small but it was enough, you can't have more than 50gr of this beef. I have never tasted something so strong and concentrated.
La perle noir – cranberry pearls, cacao natural jelly with Armagnac creme brulee. This dish did not quite look like the description but was more a back currant mousse with layered vanilla ice cream, crunchy cocoa balls and sprinkles of gold flakes. It was nice but quite intense in flavor after such a long and filling meal.
La Symphonie des Douceurs – Dessert trolley, your own preferences and combinations. This trolley was heaven for me. I could not think of anything more incredible but, sadly, I was completely full so could only taste a couple of the desserts. On offer was:

Rum baba
Mango tart
Lemon tart
Opera cake
Floating island
Meringue
Chocolate and coffee puffs
Chocolate tart with nuts inside
Cinnamon pineapple
Apple tart
Mango mousse with white chocolate
Signature Napoleon Mille Feuille
Pudding cake with pear inside
Ice cream and sorbets
Chocolate and vanilla pudding

Le Café ou le Thé – coffee or tea served with sweet temptations
The service at Robuchon au Dome
The service at such restaurants is something I always find decadent and refined. Very few hotels and restaurants still have such a level of personalised and polished service and Robuchon au Dome certainly knew how to channel the old-fashioned European high society standards in the restaurant floor.
It reminded me of the elegance of old hotels like the Raffles in Singapore or the Galle Face Hotel in Colombo. I could not fault the restaurant's staff if only the lady that came with the dessert trolley had a hard-to-understand accent, but Edwin seemed to have no issues so it could have as well been me.
The verdict for Robuchon au Dome in Macau
I will have to admit that despite my skepticism, I actually enjoyed my evening at Robuchon au Dome very much. The food was a delight and an incredible journey through French refinement and perfection and the service was at the level for the occasion and the food.
As per the price, the degustation menu plus the wine bottle (reasonably priced at only MOP800, or around $100 which was a rarity in the wine list) and the two Negroni to start with came to around MOP6,500 for two which is about $800. A steep bill which we certainly got in bread and dessert. If I compare it with other 3 Michelin starred restaurants I struggle to see how it stacks as it certainly came up at the top in terms of price.
The Eight cost less than half and Lasarte, my new favorite restaurant in Barcelona was also half for the same level of refinement and food quality. Edwin and I paid a similar price for Singapore's most expensive restaurant, Waku Ghin.
In terms of innovation, Robuchon was interesting in the techniques but served us relatively normal ingredients. Narisawa in Tokyo, also the recipient of 2 Michelin stars, was a much more interesting journey of discovery with a themed Japanese exploration. For a similar style, 3 starred Enoteca Pinchorri in Florence delivered poorly in all levels, as I indicated in my review.
In summary, I enjoyed Robuchon au Dome very much and the restaurant is a sure contender for the 3 stars. They are well-deserved. In a city that truly never sleeps, more than one casino goer will choose to burn their gains on a nice dinner. For the average person like me, this needs to be a one-off celebration that is enjoyed a couple of times a year only, for the final bill would be heart-attack inducing if I had not been well-prepared for it.
If you're interested in Macau, you may find my article on interesting facts about Macau a fascinating read.