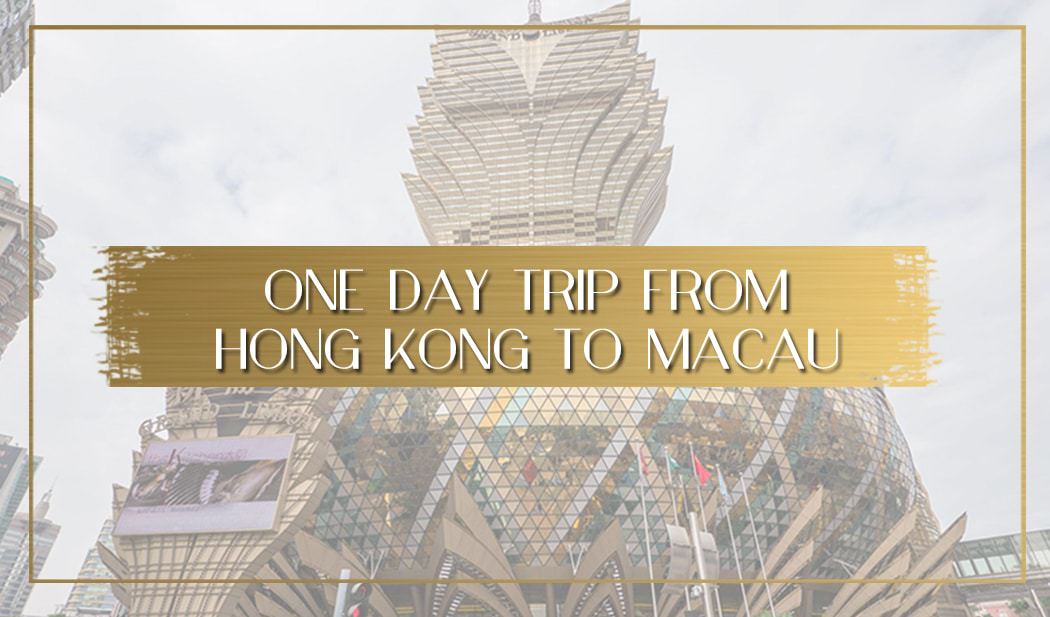 Is it worth is to go on a day trip to Macau from Hong Kong? And what is the best Macau itinerary for a day? To begin answering these questions, let's start with some interesting numbers.
Macau receives over 30 million visitors a year albeit around 90% are Chinese and 70% come from mainland China. That means that about 20% are visitors from Hong Kong, China's other Special Administrative Region, or Taiwan.
The vast majority of visitors from Hong Kong come in the morning and leave in the evening, visiting on a day trip to Macau from Hong Kong. Macau is the most popular day trip destination to escape the concrete jungle that Hong Kong can be.
Here are some data points about Macau tourism and Macau day trips in 2018 from to put things into perspective.
Annual number of visitors to Macau: 36 Million in 2018, that is 15% up since 2016
Number of visitors coming from greater China: 28 million
Percentage of same day visitors (day trippers from Hong Kong or mainland China): 50%
Average number of days overnight visitors stay for: 1.2 days, that is 2 days and 1 night – although I would suggest a longer visit to truly experience the city
Are you looking to go on a day trip to Macau but don't want any of the hassle?
Click below to book your tour!
We have selected all the best day tours and Macau itineraries so you don't have to do anything, just sit back, relax and enjoy the city!
1. Full day sightseeing tour
: This Macau day tour will take you to all the main highlights in the Old Macau area, A Ma temple and also stop at the Macau Tower. You will also go to Cotai and visit The Venetian hotel so you have a highlights visit with a bit of the casinos too. The tour departs from Hong Kong so you don't have to worry about transportation either. The tour can be cancelled up to 72h before
2. Open top bus night tour
: This is a good tour to complement the others and extend your Macau day trip to the evening in a more relaxed way than the one I suggest below. Macau really transforms and shines at night when all the neon lights are on, especially in Cotai. At the end of the tour you can alight at The Venetian and continue exploring on your own, go to the fountain at the Wynn Palace, go up the Eiffel Tower, or simply stroll along the Strip.
3. Walking food tour
: This is a great tour to combine with your won day trip to Macau and it includes a few of the best foods in Macau with a guide. Before and after the tour, you can explore the rest of Macau as mentioned below.
4. Hop on Hop off bus tour: Moving around Macau is time consuming since the Cotai and Old Macau areas are far from each other and some of the main sights are spread out, so a bus ticket is very convenient for day trips.
Where is Macau and how close is it to Hong Kong
Macau is a small country (and I use the term loosely as it is not officially a country) that lies one hour by ferry from Hong Kong so it comes as no surprise that it is one of the most popular one-day trips from Hong Kong, one of Asia's most densely populated cities, and an interesting destination well worth a visit.
Macau's territory is spread between a portion in mainland China, located on a peninsula, and the island which is split into three zones: Taipa, Cotai and Coloane. A Macau day trip usually includes some sightseeing in at least two of the 3 parts.
One of the most surprising facts about Macau (and there are many) is that this Special Administrative Region of China used to be made of two islands connected to the peninsula by bridges. In 2002 the two island were joint via landfill to create the middle bit, Cotai, where the casino resorts are located.
How to get from Hong Kong to Macau for a day trip
Macau is easily reached by plane via its international airport which opened in 1995 and has direct flights to many destination in Asia including Singapore, Bangkok, Phnom Penh, Danang, Phuket, Hanoi or Manila.
You cannot fly from Hong Kong to Macau as they are both very close, but there are several ferries running every hour from two companies covering the route, TurboJet and CotaiWaterJet.
If you are visiting Macau just for the day you will most likely take the ferry from Hong Kong to Macau and back. Don't forget to pre-order a Sim Card with Hong Kong pick up so that you are connected throughout.
Both companies depart from Hong Kong's international airport as well as the city's downtown area. In Macau, they stop at either Taipa Ferry Terminal or at Macau Outer Harbour Ferry Terminal on the peninsula.
Some ferries run throughout the night so you could successfully spend 24 hours in Macau or even sneak out from your hotel room after a day of business meetings and enjoying great Hong Kong food and go gamble, party or shop for the night and be back in Hong Kong for the next day's appointments.
That is if you are young at heart and full of energy. It helps that the ferry tickets prices are quite cheap running for as little as $25 each way.
You can see the ferry schedules of TurboJet from Hong Kong International airport below but bear in mind that because of the continuous construction both in Macau and in Hong Kong, these schedules may change so reconfirm when you buy your tickets.
Also note that the departures from Hong Kong airport to Macau are inside the airport and considered transit by the Hong Kong government so you would not need a visa to Hong Kong if you land in Hong Kong and immediately transfer to the ferry (in case you can't fly directly into Macau).
Unless you are landing in Hong Kong, you cannot take the ferry from the airport as the departures are inside the terminal.
TurboJet's ferry schedule from Hong Kong international airport are as follows:
TurboJet's ferry schedule from Hong Kong city center are as follows:
The ferry schedules of CotaiWaterJet from Hong Kong international airport below:
And the ferry schedules of CotaiWaterJet from Hong Kong city center below:
The convenience of the ferry frequency, its price and the 24h coverage means that it is quite easy to simply hop on a ferry and cross the Pearl River from Hong Kong to Macau and spend as little or as long as you want there. This is why day trips to Macau from Hong Kong are so popular among the residents and visitors to Hong Kong.
As the route is frequented by lots of visitors, businessmen and commuters, I would recommend that you buy your ferry tickets in advance to avoid queueing and overbooking as some of the popular times are often full, especially if you need to ensure a specific ferry on your way back to Hong Kong airport.
You can book your tickets online for Cotai Water Jet HERE
and Turbo Jet HERE
Is one day in Macau enough?
So now you know that it is logistically possible, easy and cheap to visit Macau for a day from Hong Kong, but how easy is it to visit Macau just in a day? How big is the city? What Macau itinerary makes sense?
Macau is only 28 square kilometres, or a sixth of Washington DC, so it is also quite manageable in a day, size wise, and it is the world's most densely populated country so it packs a punch in those 28 square kilometres. But just because it is possible it doesn't mean you should do it.
The real question therefore is, should you go on a Macau day trip from Hong Kong?
The short answer is, if you have no alternative, a day exploring Macau is better than no day at all, but my recommendation would be to devote some quality time (3 days ideally) discovering this former Portuguese colony to give it a chance to surprise and captivate you. After all, there are more than 60 things to do in Macau that I recommend.
However, a lot of people will disagree with me and say that one day in Macau is enough and there is nothing to see.
As my Guide to Macau proves, there is plenty to discover that is worth it and, as the proof is in the pudding, I spent 11 days on one of my trips to Macau and five of them were to exclusively visit the city, and I was not bored.
I will admit that, after five days, I had pretty much seen everything there is so the ideal length in Macau is probably three days. In five days in Macau I did it all!
However, if you are pressed for time and live far away, you may just have one chance to visit on a day trip from Hong Kong to Macau so I have put together this one day itinerary to help you make the most of your one day trip to Macau.
Things to do on your Macau day trip – The perfect Macau 1 day itinerary
If you are only going to visit Macau for a day you have to be sure you will make the most of it so get up early and take a ferry around 7ish am so that you can cover everything there is in this itinerary.
There are plenty of ferries going to Macau from Hong Kong city center, as mentioned above, so you could book a specific ticket to force yourself to not procrastinate, you definitively want to have as much time in Macau as possible if you're only there for the day. This is my suggested one day itinerary in Macau.
8:30-9am Arrive in Macau
You have to be efficient to make the most of your one day in Macau so after stepping off the ferry, head straight out to Coloane's Lord Stow's bakery.
This is a great place for a traditional Portuguese breakfast and also a rare insight into what Macau must have been before the casinos and the explosion in tourism and the economy. Lord Stow bakery is known for its egg tarts, one of the most well-known Portuguese sweets which you will find everywhere.
However, this is the original creator at their original store. The location is a bit out of the way, in a small store by the sea in a sleepy town so it is a good way to get into the Macau mood and a first step into its Portuguese colonial heritage.
10am UNESCO listed Macau
Feeling the sugar rush, the caffeine kick and the energy, you are ready to explore the heritage-laden area around Largo do Senado, a must-see in your Macau itinerary. Take a taxi to this central square in Macau's old city and start your heritage tour there.
These are the stops you should make. Peruse my Google map with all the sightseeing places in Macau to find them and download it for offline use. If you do not have internet, there is free WiFi in a lot of the main sightseeing points in Old Macau mentioned below or pre-order a Sim Card
you can pick up in Hong Kong before your trip.
Leal Senado
Leal Senado is the most central building in Macau and a good place to start your day exploring the city. The building was originally built in 1974 as the first municipal chamber and received its name ("loyal senate") by King John IV in 1654 for its loyalty to the crown during Spanish occupation.
The building is well preserved and you can go inside and upstairs to see the main rooms from where you can have a good view over the Senado Square below. There is also a small back garden. The building's walls are covered in typical Portuguese blue and white tiles and it is permanently full of people.
In front of the building is the square which was redone in the 1990s and paved with a wave-patterned mosaic of grey and white stones. The square is surrounded by stores, old pharmacies, sweet stalls, shops, etc. housed in neo-classical Portuguese buildings in the typical pastel shades. Follow the square along until you reach your next stop.
Holy House of Mercy – Santa Casa da Misericordia
This hard-to-miss building is one of the most recognizable landmarks of the Macau heritage area. The Holy House of Mercy is a charitable institution was established in 1569 and was the first to build a Western style clinic in Macau along with many other welfare efforts that are still in place today.
There is a small museum in the building you can visit.
St. Dominic's Church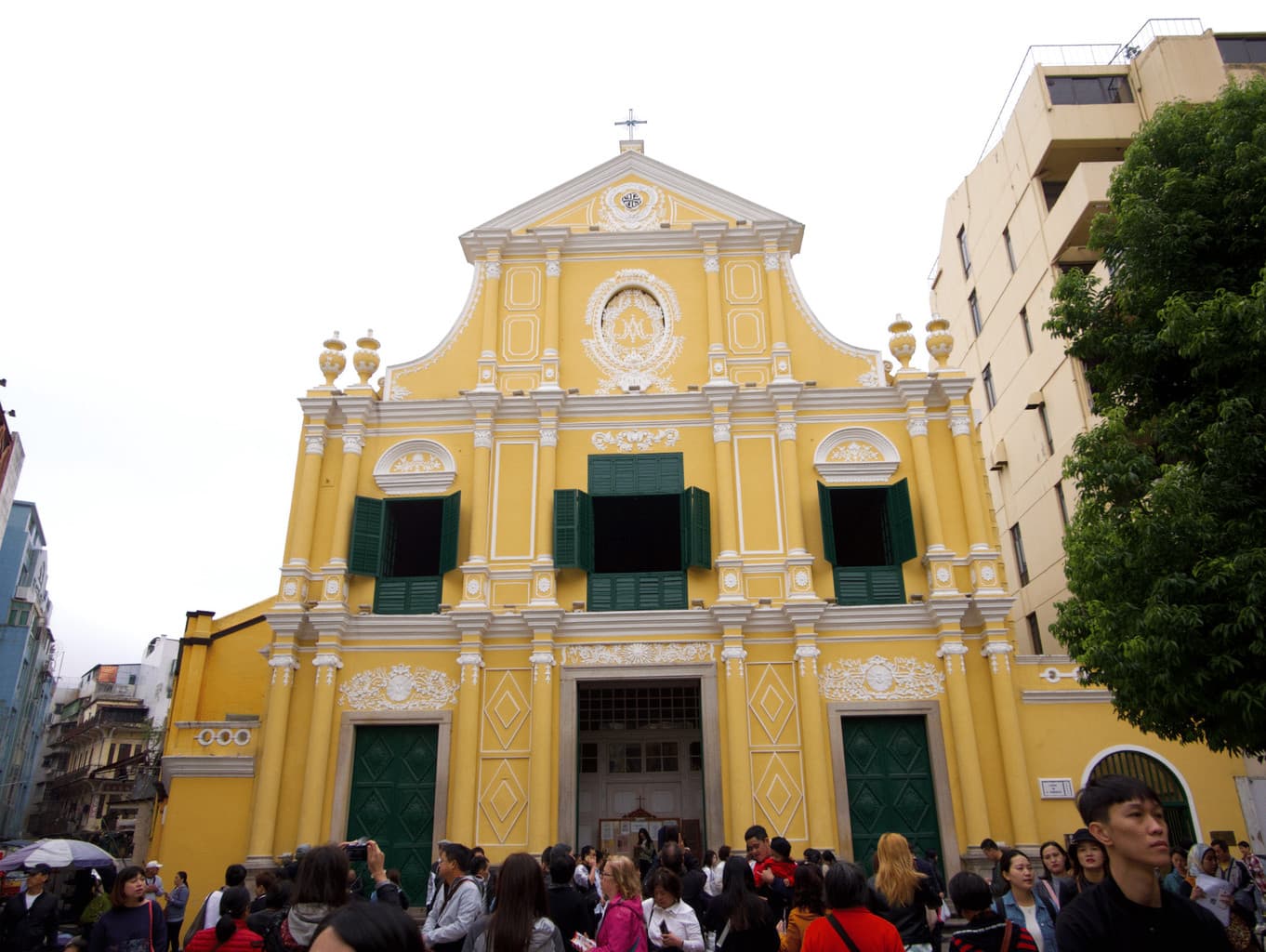 If you carry on the waved pavement you will find the yellow facade belonging to St. Dominic's Church, a 16th century Spanish Dominican church built by a Mexican priest from Acapulco. The church was also the site for the first Portuguese newspaper to be printed in China called the China Bee in 1822.
Do not miss the opportunity to go inside and climb the stairs up the bell tower to visit a small museum housing Sacred Art that is on display. You can climb up the four flights of stairs and visit the exhibits on every floor. At the very top, you can see the old church bells.
Lou Kau Mansion
Continue walking towards the Lou Kau Mansion very near the church. Lou Kau Mansion is a lovely Chinese building that has a lot of Western and Portuguese influences. Built on two storeys in the traditional grey brick courtyard style, Lou Kau Mansion dates back to the end of the 19th century and belonged to Lou Kau, a Chinese merchant.
Located in a back alley where lots of Chinese vegetable and protein soups are served, entering is like stepping back in time. Inside you can still see some of the original or replica furniture of the time.
Ruins of St. Paul
The Ruins of St. Paul is made of the facade and remaining of a church built at the beginning of the 17th century is the city's most emblematic landmark and the main piece of Macau's 21 UNESCO listed structures. If you only saw one thing in your Macau itinerary, it would have to be this one.
The Jesuit church was destroyed by fire in 1835 and what remains is the crypt and the main facade which has withstood the passing of time.
You can visit the museum right behind the facade. The College of St. Paul, right next to the church, was the first Western university in the Far East and considered a very advanced educational institution. To the right of the facade you can see the Mount Fortress hill which can be climbed.
Canons and some defensive structures remain. Behind the ruins, to the left, do not miss a chance to take a look at Na Tcha Temple from which you will have a different perspective on the ruins.
Alongside the temple lies a section on the city's old walls made of orange looking mud that was made with clay, soil, sand, rice straw, crushed rocks and oyster shells.
The contrast between the catholic church, the Chinese temple and the old walls so near each other is a reminder of Macau's rich past. Also, while the main stairs leading up to the Ruins of St. Paul are permanently crowded, the back side where the temple is tends to be quiet and empty.
12:30pm Lunch at Lung Wa Teahouse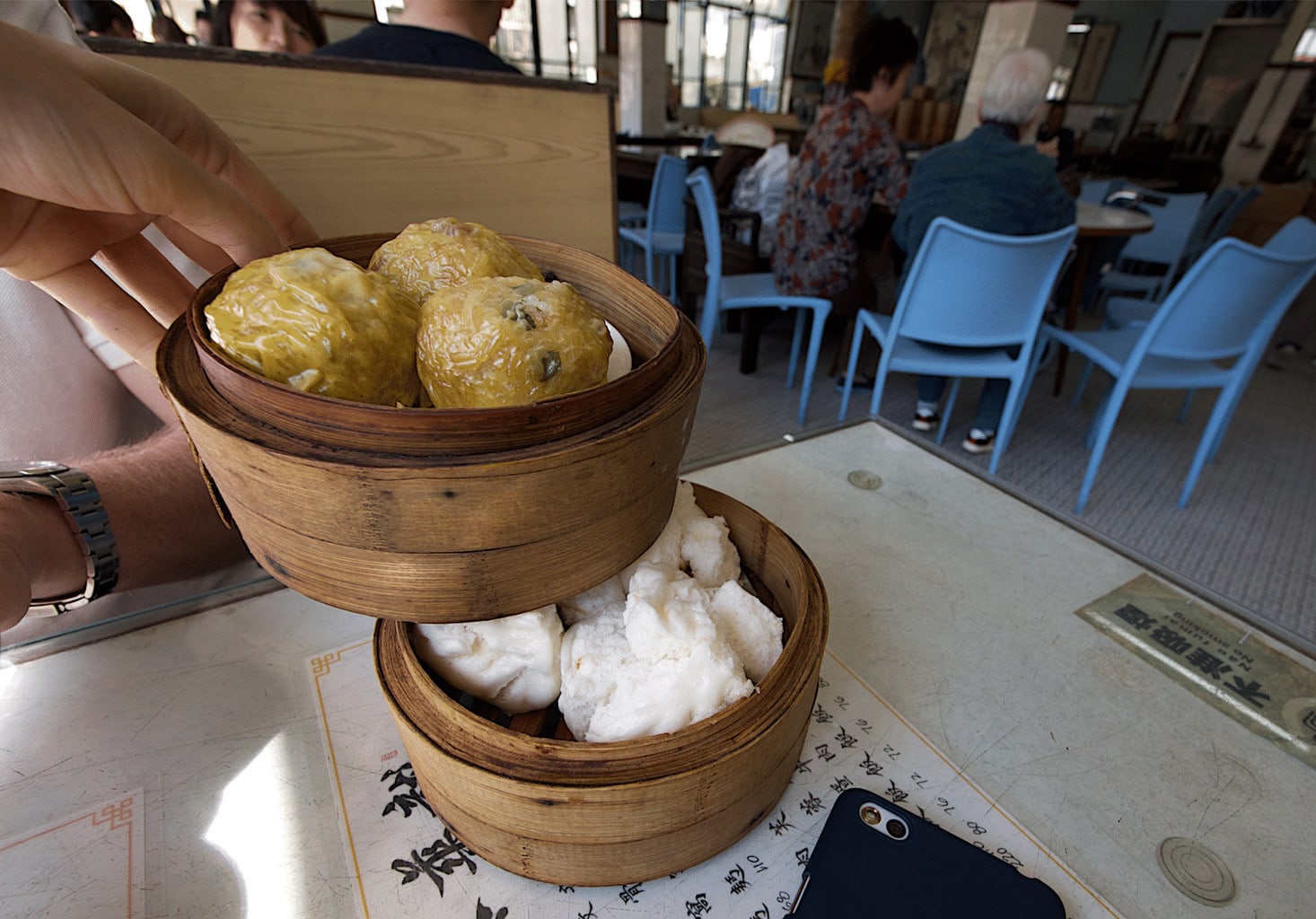 Lung Wa Teahouse is a traditional Chinese teahouse that sells their own tea leaves. The place is hard to find but you can locate it on my map. It is on a first floor of a pastel yellow round corner building and its name, in Portuguese, is written on the top of the building door frame so look up to identify it.
In front of it, the old Chinese tea market still functions. Inside, expect a charming if slightly old fashioned place where old furniture, Chinese art pieces and dim sum stack next to each other. There is a food menu, but it is only in Chinese.
You can use Google translate to attempt at ordering, but as soon as you sit down the owner will immediately come, armed with the largest most honest smiles, and offer you tea. Pick your choice and he will deliver the teapot and the cups together with a small bowl, chopsticks and a Chinese spoon.
If you don't dare to order from the menu, your best bet is to walk to the dim sum cart and pick the desired bamboo steamers. If you can read Chinese, there are fried noodles, chicken, etc. The tea is excellent and the owner is super lovely.
2pm Afternoon sightseeing
You should be on your way to visiting the lower parts of the Macau Peninsula, towards the sea, to check out the country's oldest Chinese temple and the one that gave Macau its Portuguese name and another beautiful Chinese mansions. You will end at Guia Fort.
Did you know that Macau has beaches? You might want to include a swim at the beach in Macau your itinerary if it's terribly hot. Click here to see how to get there and what to expect at the best beaches in Macau.
A-Ma Temple
A Ma Temple is a red temple located on a hill in various levels and surrounded by boulders and greenery and it is a muse see if you are in town even if you are just in on a Macau day trip.
This is a temple devoted to many Chinese faiths, including Taoism, Confucianism, Buddhism and folk believes, each with their own halls and deities and it is common to find pilgrims and devotees making offerings and praying.
Mandarin House
This house built at the end of the 19th century was a traditional Chinese compound and home of the Chinese literary figure Zheng Guanying. You can go inside and stroll through the many courtyards, rooms and gardens.
Like with Lou Kau Mansion, The Mandarin House is decorated with some of the original heritage furniture. Watch out for the moon windows, the intricate doors and windows and the pretty surroundings.
This is one of the most instagrammable places in Macau and a great way to have some rest if you are tired from all the exploration on your day trip to Macau as there are really peaceful benches.
Guia Fortress and Guia Lighthouse
The Guia Fortress dates back to the beginning of the 17th century. It takes a bit of a trek to go all the way up through the snaking steep paths but it is well worth it, not only for the chapel but also for the views and the military tunnels.
The chapels' frescoes are still visible and you can see a mixture of Western and Chinese motifs. The lighthouse is not open to the public so you can just see it from outside. As you walk up to the top, watch out for the defensive tunnels built inside the hill. This is the highest point in your Macau day trip.
5pm The House of Dancing Water
This is Macau's most famous show and a truly amazing performance and you should try to fit it in your one day in Macau itinerary. The House of Dancing Water is a massive performance by Cirque du Soleil's director and combines acrobats with dancers, performers and lots of water.
It is a fascinating show and well worth it, but quite expensive so you may prefer to skip it. They usually have 5pm and 8pm shows so i recommend going to the 5pm to get out on time for dinner.
If you choose to skip the show, I would recommend you have a sunset drink at the rooftop bar of The Altira and an earlier dinner at one of the options below.
8pm Dinner
You have a few options for dinner depending on how much you want to spend, what you feel like or your energy level.
Robuchon au Dome and The Eight are located in Old Macau so they require a 20min cab ride from The House of Dancing Water in The City of Dreams casino complex. Antonio is in Taipa, so a bit closer.
Robuchon au Dome
For a truly over the top French culinary journey through the most Michelin awarded chef Robuchon, this is your best bet. Robuchon au Dome has 3 Michelin stars and is located at the top of the Grand Lisboa hotel. Expect the dinner to take 2-3 hours and end with a very full stomach. Go for the degustation menu for a complete experience. Read my review of Robuchon au Dome.
The Eight
This is the only other 3 Michelin star restaurant in Macau but, unlike Robuchon, it offers Chinese cuisine and is a lighter option. The Eight is also located at the Grand Lisboa. Read my review of The Eight.
Antonio's
Antonio is one of the most awarded and traditional Portuguese cuisine restaurants in Macau. It is housed in a traditional Taipa building with a lot of character. The menu is extensive and it has a lot of traditional Portuguese dishes as well as some Macanese recipes.
Make sure to order the sausage as a starter as it is grilled in the fire tableside, as are the crepes. All the dishes come in generous portions. More information and bookings here.
Albergue 1601
Albergue 1601 is a Portuguese and Macanese restaurant in a heritage pastel yellow building in a pretty courtyard. This is similar to Antonio's. more information here.
Cheong Kei
Back in the heritage part of Old Macau you can find Cheong Kei, a Michelin listed tiny noodle store in the aptly named Rua da Felicidade, a colourful area that used to be Macau's red light district. It is an interesting little area as well.
Macau has plenty of restaurants and food options so you can never run out of options. The Michelin guide is full of options if none of the above suit your taste.
Looking for other dining options, or just need to know what to eat in Macau? Then check out my complete list of What to eat in Macau and where to find it
Don't stop the fun, club hop in a private van! Those looking to club hop and party hard should definitely book this Party tour
!
10pm/11pm Evening entertainment
Depending on your energy levels and eagerness to discover what Macau's frantic and large casino scene has to offer, you may choose to return to Hong Kong after dinner to stay on for a bit longer to stretch out your day trip to Macau with some more entertainment options.
These are some of the places in the Cotai casino area that you should check out after dinner for a variety of entertainment options.
Wynn Macau or Wynn Palace
If you had dinner at the Grand Lisboa you will be closest to the Wynn Macau, possibly the country's most lavish and luxurious hotel. If you ate at Antonio's you are already near Cotai so best to head to the Wynn Palace, one of the newest hotels in Cotai and as over the top as the Wynn Macau.
In both places you should check out the main shopping areas which are open until midnight and the art on display. Stay tuned for the performance lakes that are in front of both hotels for the light, water and music shows that happen every 15 to 30 minutes.
At the Wynn Palace you should also jump on the cable car to get to the hotel, it is free. At the Wynn Macau look out for the Tree of Prosperity and the Dragon of Fortune art installations.
The Venetian
What can I say about The Venetian? It is well known that this is the largest casino hotel in the world and a replica to the Italian city. If you arrive before 11pm, you are still on time for a last minute shopping extravaganza.
Stroll through the shopping area, look out for the San Marco square or take a a href="https://affiliate.klook.com/jump/activity/740-gondola-rides-at-the-venetian-macau/?adid=61315&af_wid=4900″>gondola tour with a graciously singing gondolier. Be careful, the lack of windows inside The Venetian means that you lose track of time and you could miss your ferry back.
The Parisian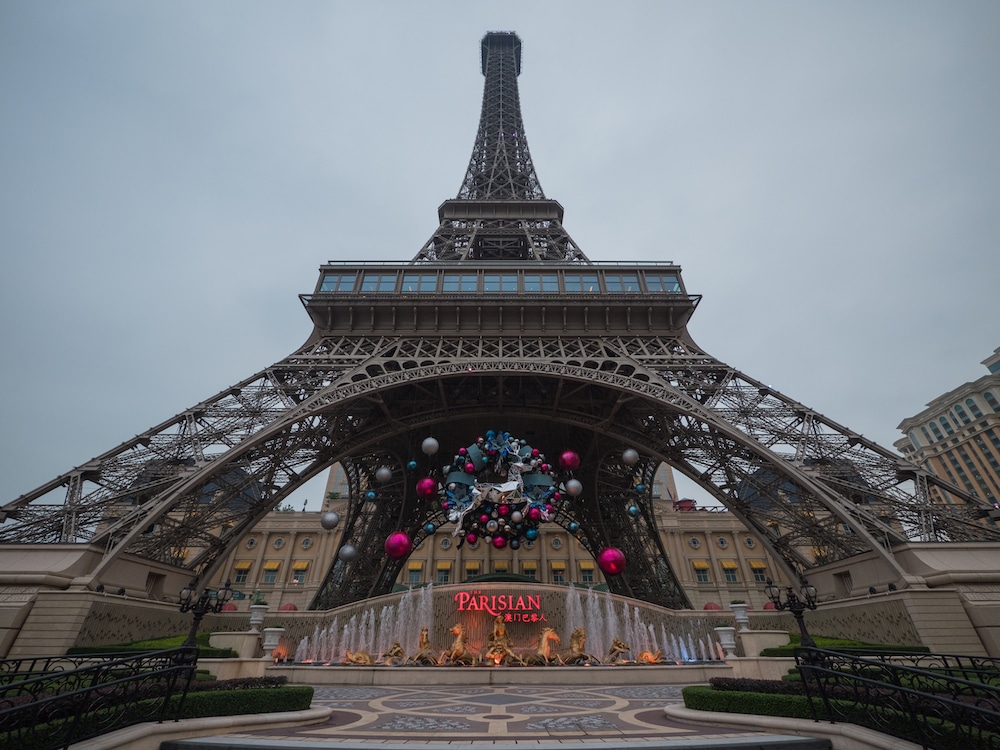 The main feature of The Parisian is the replica of the Eiffel Tower which you can go up to for great views over the entire Cotai Strip. The tower is open 24h.
Late night
If you are still up for more, you can stay up until as late (or as early) as you like by either partying at the two main spots Cubic or Show House Macau (formerly Pacha), or gambling all night long at the main casinos which are open 24h.
Where to stay in Macau
What if you are too tired and want to stay in Macau for the night?
Here is a summary of my accommodation suggestions in the Cotai area, where you will be. You can also read my more in-depth guide to the best luxury hotels here. Otherwise browse my recommendations in the table below.
Stick this on your #Macau Pinterest board