Curious about the overflowing amount of ultra-luxurious beachfront resorts and the ever-high airfares to Koh Samui, I investigate why and when this tiny island became the luxury mecca of Thailand. After learning about its history, check out my 4 day itinerary here.
Koh Samui is no doubt the shinny pearl of Thailand. With more luxury resorts than any other of the country's island getaways, Koh Samui offers an unlimited choice of infinity pool vistas with equally endless opportunities to empty your wallet. The island also tops the world's ranking for the highest number of beachfront hotels of any other beach destination at 270, topping Riviera Maya and Crete at 250 and 197 each, according to The Beachfront Club, a website aimed at showing how close hotels and resorts are from the beach. Formerly a photographer who spent his time plotting ways to show hotels away from the beach as if they were right on it, he started this platform to make amends.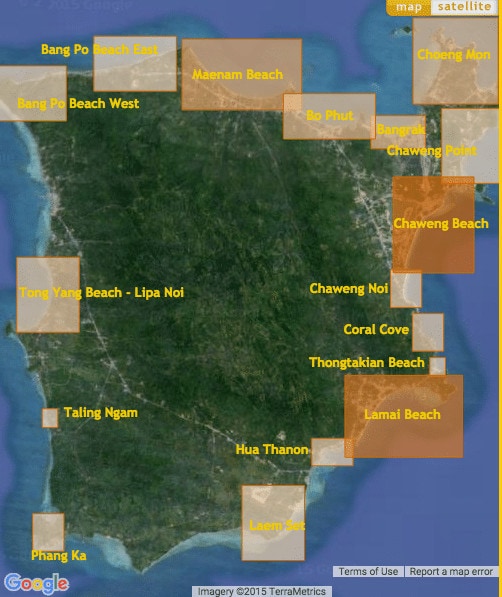 Most of the locally owned and ran resorts were taken over by chains such as the Sheraton, Renaissance or Intercontinental between 2010 and 2012 and the island has seen a luxury boom since. Renovation projects and relaunch campaigns followed suit and today, Koh Samui is part of the well-traveled Thai circuit.
In 2014, about 44% of the visitors arriving by plane were coming as part of a tour and spend an average of 4,5 days on the island. Visitors come, 10% each, from the UK, Germany, Russia and Thailand (Source)
Koh Samui's appeal
After almost five years in Singapore, I had yet to visit this exclusive destination. Why? Bangkok Airlines has understood the type of customer traveling from Singapore and offers invariably high fares in their "boutique airline" flights. Even with Business Class seats going for as high as $1,000 for the 2h flight, the flight is always full. To me, the usual $600+ return weekend fares on Economy never looked appetizing. For that amount, I can go to Bali or Phuket and stay at a very decent place, all in. Singapore Airlines is even more expensive. Admittedly, the airport is clean, pretty and even offers drinks and snacks in the Departure Lounge, to everyone.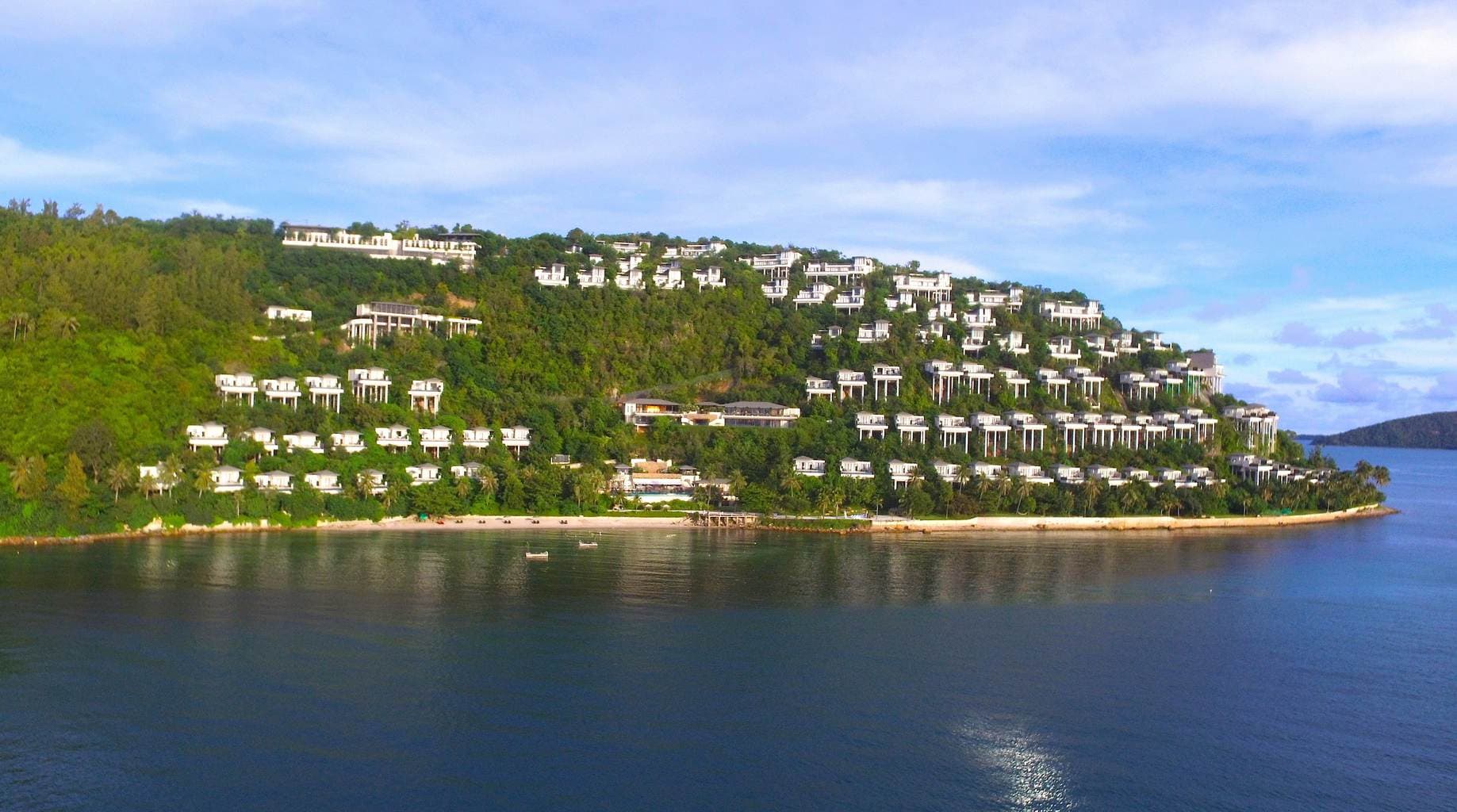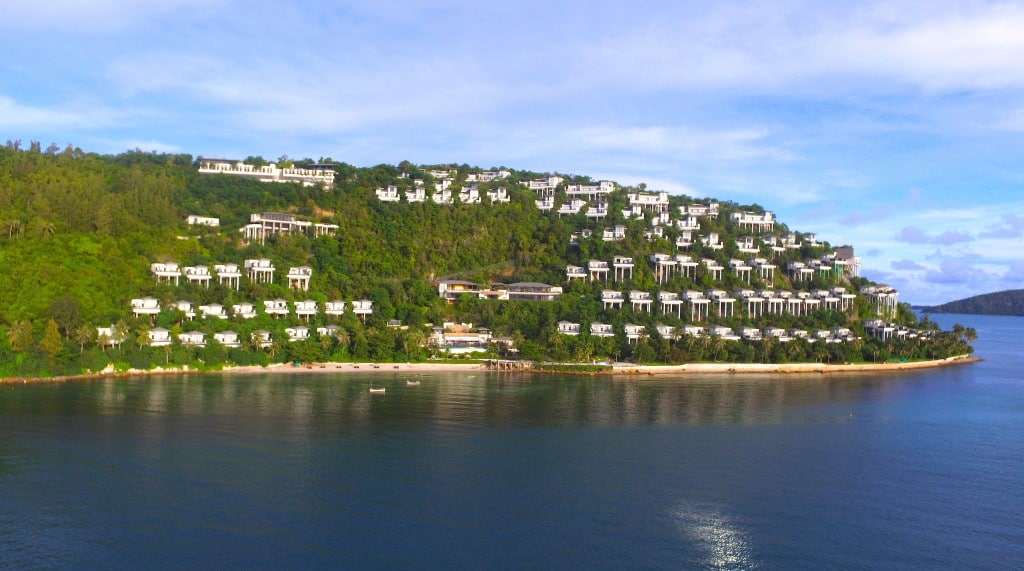 I never understood what the high fares were all about. And, after I visiting, I still could not understand it.
Sure it is pretty, but there is little culture or sights to speak of and the beaches are unimpressive – mind you I am a spoiled brat when it comes to fluffy white sand beaches and crystalline waters. But nonetheless, the lucky few who visit this 13 kilometer island go there not in search of culture or nature, that they can find elsewhere in Thailand, they go to relax by the pool of a swanky hotel and to be pampered and served at the raise of a finger.
Koh Samui made a clear bet for the luxury and high-end segment and it understood that, most of them, don't plan to leave the confines of their resorts anyway. So why bother to promote the area when what matters is the view, the infinity pool villa and the food? And let's not forget the spa, hand in hand with a nurturing getaway. Koh Samui definitively lacks a sense of place. From the luxury of your own private infinity ocean pool you could be anywhere.
This is why, although many of my friends had been to Koh Samui, before I did any research, I did not have a single point of interest in mind when thinking of Koh Samui, there just isn't a sight or a well-known place that is a must-visit. When Googling, the most common image is Nangyuan Island, near Koh Tao, 2h by speedboat from Koh Samui. That makes sense since Ko Tao was named the 5th best island in the world and the Number 1 island gem in Asia by TripAdvisor in 2015.
Other draw-backs
On the same TripAdvisor ranking, Koh Samui came in 4th place in Asia, climbing up from 9th place in 2014. But why?
Since the airport opened in the 90s, Koh Samui has been a rather accessible island with regular flights from Thai and regional low-cost airlines and easy ferry connections to mainland for overland travelers. As one of the few and larger islands in Thailand with its own airport, Koh Samui is the entry point to a wider range of islands in the Southeast part of the country.
It is indeed true that a large proportion of visitors to Koh Samui venture out to Koh Tao, Ang Tong Marine Park, Five Islands and other islets that are less than 2h away by speedboat.
Diving in Koh Tao is extremely popular and it regularly appears as one of the eagerly recommended places to learn by fellow travel bloggers. On a sailing tour to Ang Thong you will spot hordes of Korean and Japanese tourists suited up in neoprene lugging around heavy dive tanks from the beach to the water in those early open water dive sessions.
Koh Phangan, and its well-known full moon parties and debauchery, are a mere 20min away by speedboat. I went there a couple of years ago, admittedly at too old an age to truly appreciate its value, and laughed and giggled at the many confusing if funny scenes, from people having sex on the beach to others peeing nearby. A clearly happy party-goer making a butterfly shape on the sand and too many confusing signs advertising buckets of alcohol for $15 and mushroom cakes made it clear that I was a decade too late for any of that to make any sense to me.
Why you should still visit
There seems to be a clear differentiation between the backpacker trail, with the many cheaper accommodation options and the local street food, and the ubiquitous luxury resorts which, except for the views, could be anywhere.
For those looking for genuine Thai hospitality and off-the-beaten-track areas, try looking for the Southeast part of the island where thick coconut forests prevail instead of cleared out flat beaches. Chaweng, the popular beach on the Northeast, is chockfull with noise, bright neon lights, plastic souvenirs and Same-Same vests. You could be in Phi Phi, Phuket or Khao San Road, in what looks like the globally aligned version of a Southeast Asian beach. It may be remarkably familiar and convenient, you just know what to expect. But it is also soulless and void of any sense of place.
As per the luxury segment, you will be well tended to. Butlers, buggy rides at the ring of a button, champagne sunsets and fine dining are all wide-spread. You could also be in Phuket, minus the traffic plus the hideout feel of a private bay.
Culture will be less prominent than in other parts of Thailand but that may be fine to the 1 million visitors filling the many flights a day. Your choice to make.