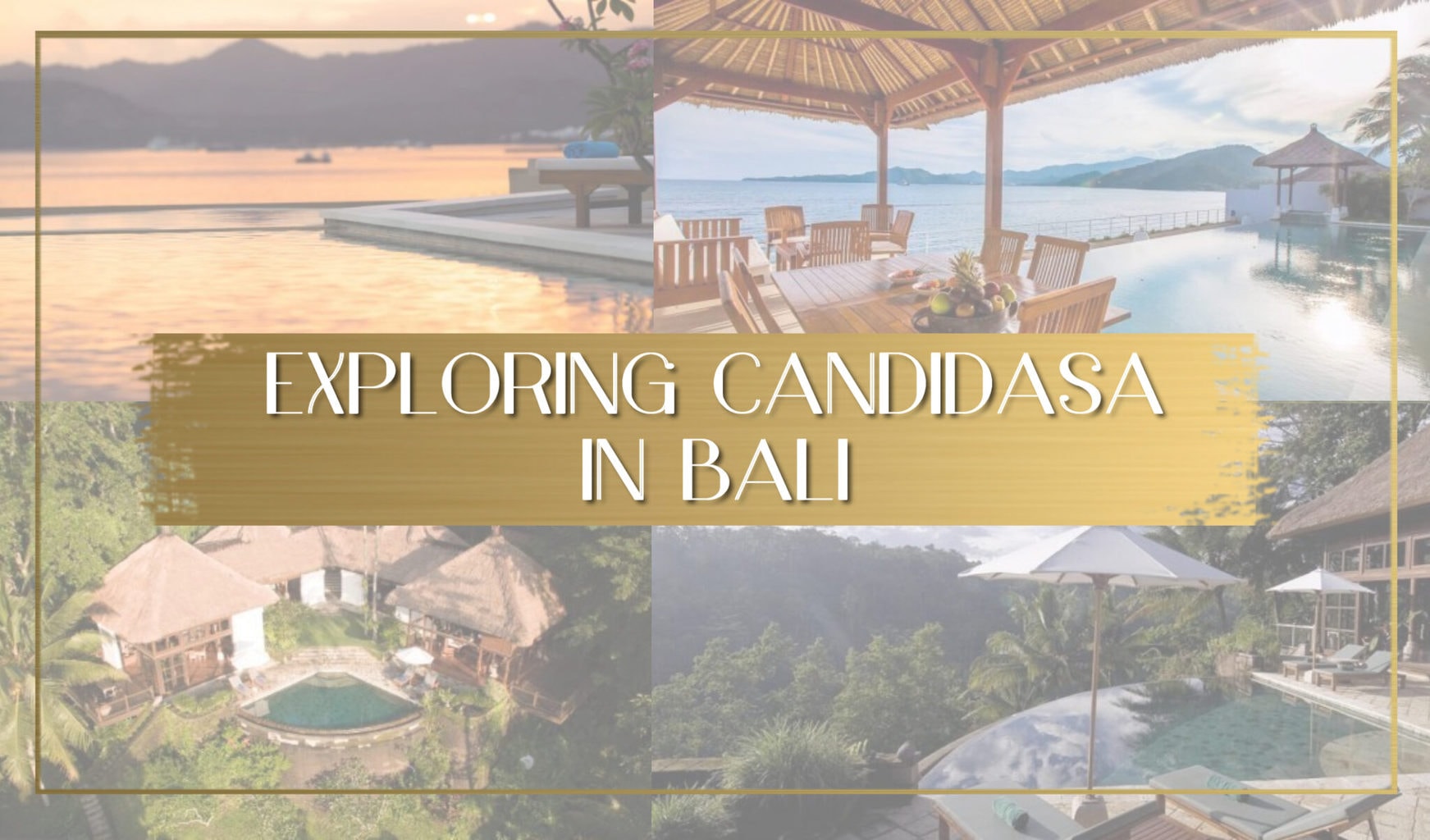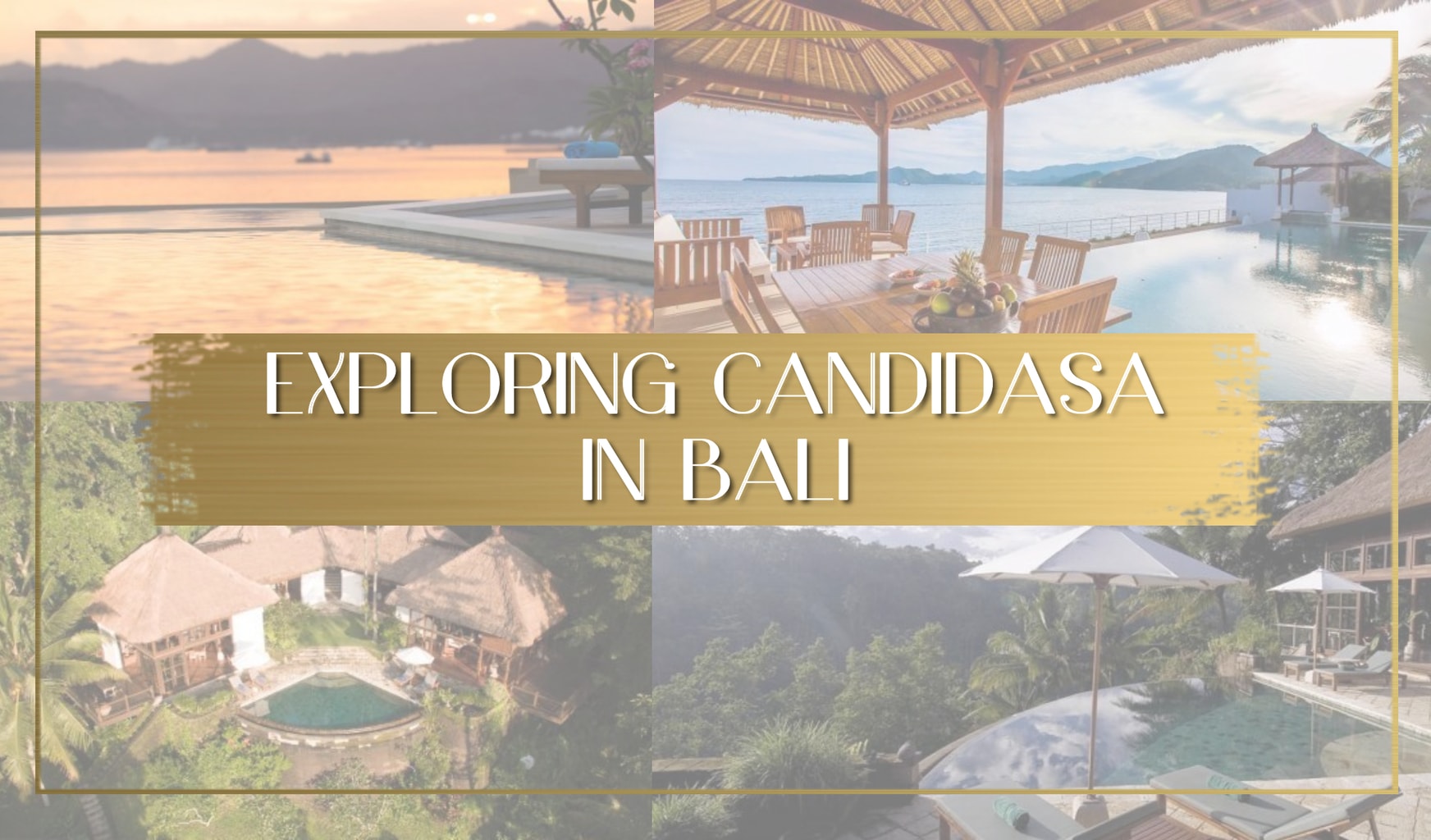 I have been to Bali over a dozen times in the last few years and can undeniably admit: Bali is always a good idea. While some parts of the island are becoming more and more crowded there are still many unspoiled and completely undiscovered areas like Candidasa, in the eastern part of the Island of Gods.
As this lesser part of the island is still off the main tourist radar, it is also the perfect place to unwind and immerse in true Balinese culture from the comfort and luxury of a private pool villa.
Things to do and see in Candidasa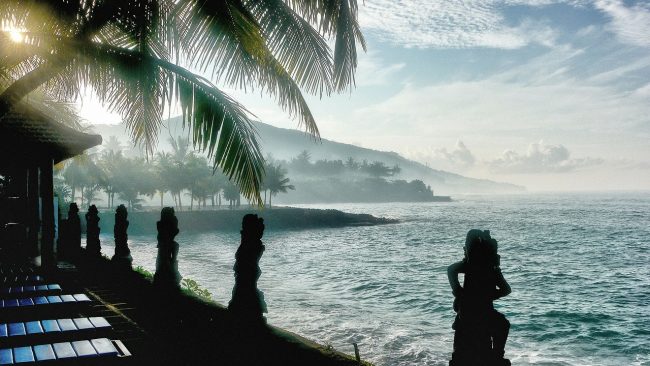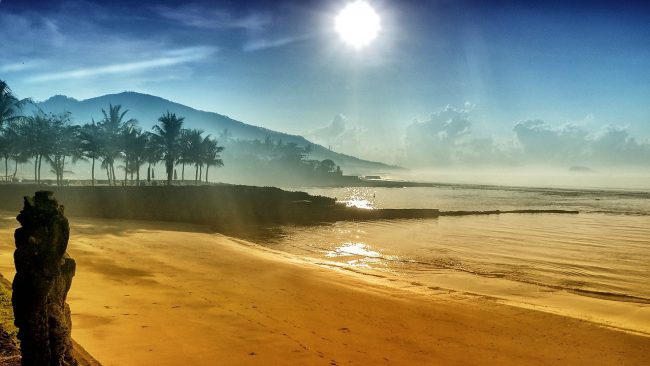 Guides to the area are starting to come up as it is referred to on a first name basis. Some of the best things to do in Candidasa involve the sea and the mountains with a healthy dose of culture thanks to the rich heritage around it.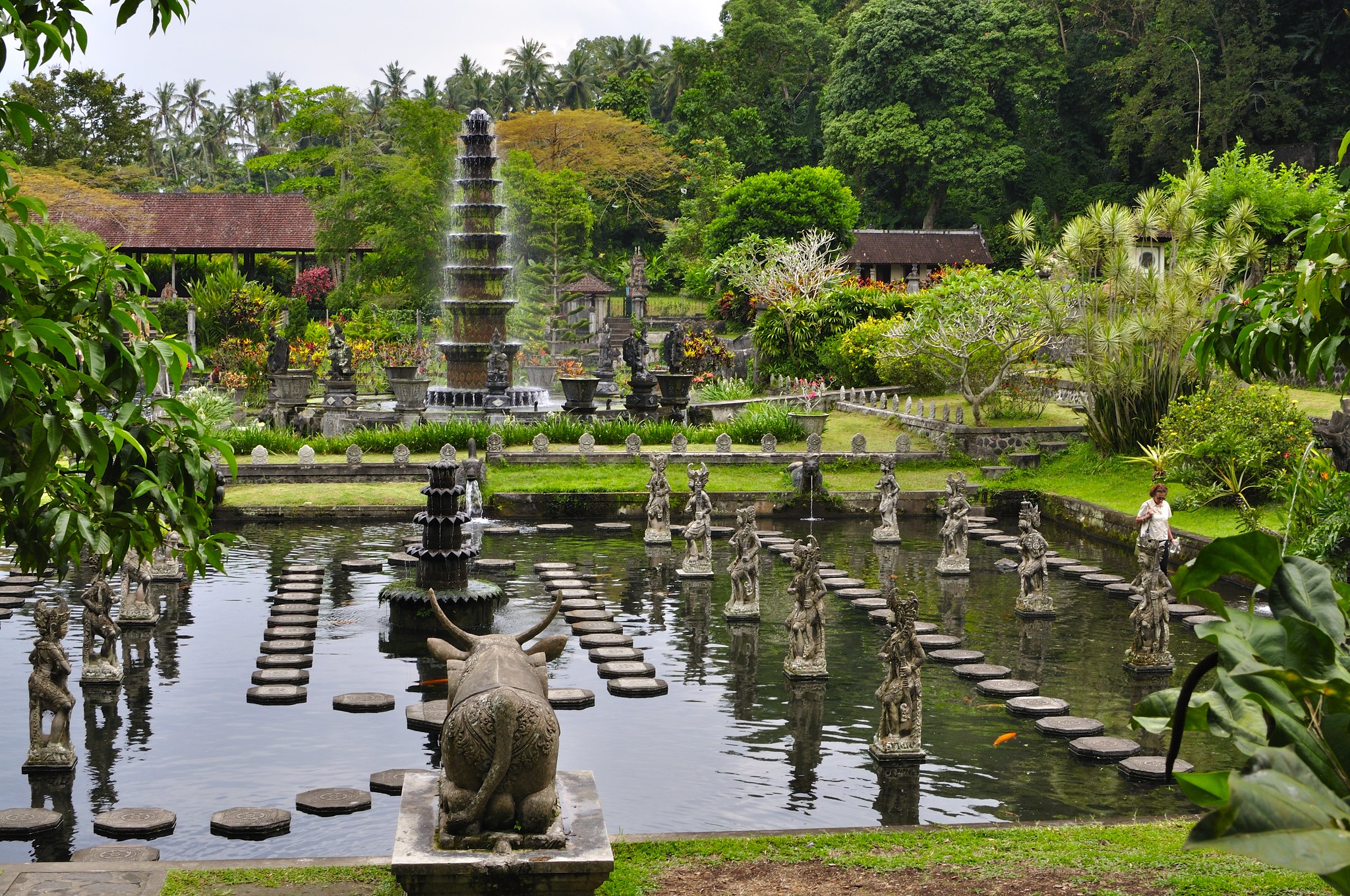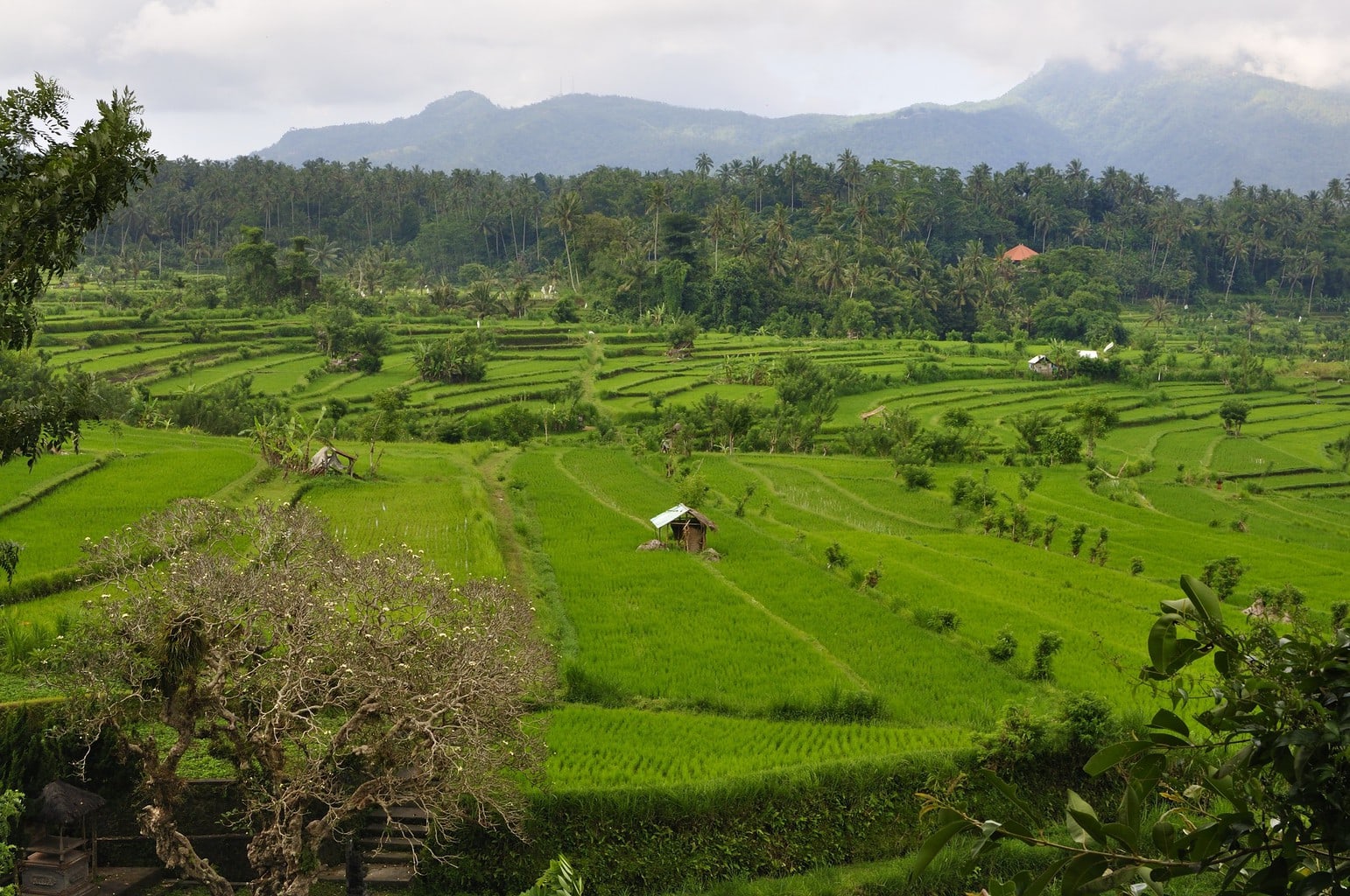 You can explore some of the emptiest beaches in Indonesia, like Virgin Beach, also known as White Sand Beach, Pantai Pasir Putih or Bias Putih. The name says it all and you know what to expect. Candidasa is by the sea so the water is never too far but this stretch of sandy haven is your best bet at island life between your toes. You can rent a car or scooter to make it in your own time.
Candidasa is also located near some of the most beautiful water palaces. Tirta Gangga is one of the most striking ones and is sure to satisfy all your holiday picture needs. Built in 1948 by the last King of Karangasem after a tour of Versailles, Tirta Gangga means Holy water of the Ganges in Balinese and is made of a series of water ponds and gardens that culminate in a tiered lotus fountain.
Bathing in the holy waters during full moon guarantees eternal youth, or so they say in Bali. Ujung Water Palace is another fascinating royal palace fed by springs that has been refurbished several times, especially after Mount Agung's 1963 eruption and the 1975 earthquake.
The palace was built by a mixed Dutch-Chinese architect tandem with Balinese influence and is a common place for locals to take wedding photos. Its location by the sea gives it amazing views.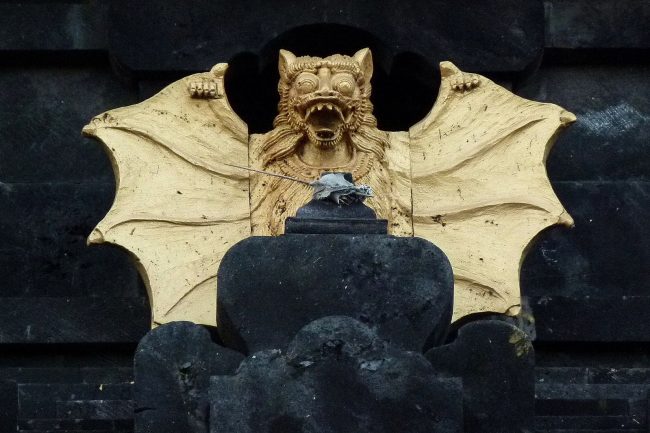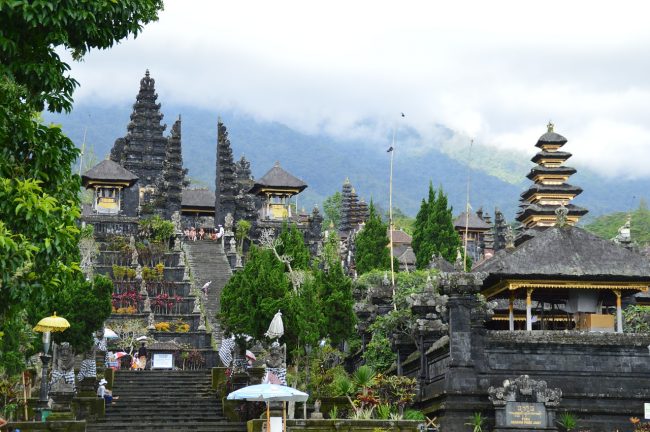 Bali's mother temple is located near Candidasa on the slopes of Mount Agung at 1,000m altitude. Besakih Temple is the holiest temple in Bali and also the largest. There are 23 connected temples and a 7-level one. The temple is believed to date from prehistoric times with some of its stones resembling megalithic structures. Its importance and holiness is supported by the fact that the eruptions of Mount Agung in 1963 spared it.
As temples go, Besakih is not the only one worth a visit in this part of the Island of Gods. Goa Lawah, also known as Bat Cave Temple, is about 10km south of Candidasa.
Not a temple but another architectural wonder is Kerta Gosa Hall of Justice, a former court built in the 17th century that remains an incredible piece of art with intricate sculptures and beautiful flower ponds.
The ceiling of the main building is decorated with Hindu-inspired paintings in gold and red that add an element of awe and warned the convicts of the punishments in the afterlife if they had committed a crime.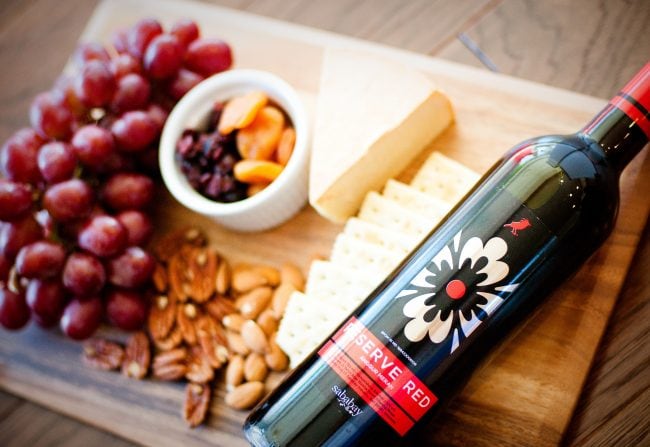 Perhaps one of the most stunning and romantic places to see in Candidasa is the Lotus Lagoon, a recognizable landmark in the village and the subject of many stock photos. Fair to say this is a pretty place for a stoll a deux.
If you are looking for something different, a submarine might be a tacky-sounding yet interesting choice. Voyages of Fantasy runs the only commercial submarine in the country, a dry and safe way to see life under the surface if you don't like diving. Talking of which, Tulamben ship wreck is one of the most famous diving spots in Bali and consistently included in the list of the best things to do on the island.
An easily accessible wreck, it is a shore dive you walk to from the beach and it is relatively close to the surface. For the wine connoisseurs, a visit to one of only two wineries in Bali may be an interesting option. Sababay, a fair trade wine enterprise by a local business woman, is well worth a visit.
Lastly, as Ubud is only an hour away, you may also spend some time exploring the area and some of the great food Ubud has to offer, especially drinks and dessert or the trendy vegan and vegetarian Ubud cafes.
5 luxury pool villas within easy reach of Candidasa
The best way to explore Bali and Candidasa is to rent a private pool villa and feel like a local. Bali has some stunning villas with either sea views or dramatic rice paddies settings and since it is so accessible and well connected you can explore the eastern coast from practically anywhere. I have picked six villas between Ubud and Candidasa that have amazing pools because, well, Bali, and I have a fascination for water and infinity pool views, I can't help it.
If you want to stay in Ubud because you plan to also explore this part of the island, here are two dreamy villa options.
1. For rice paddy dreams – Villa Melati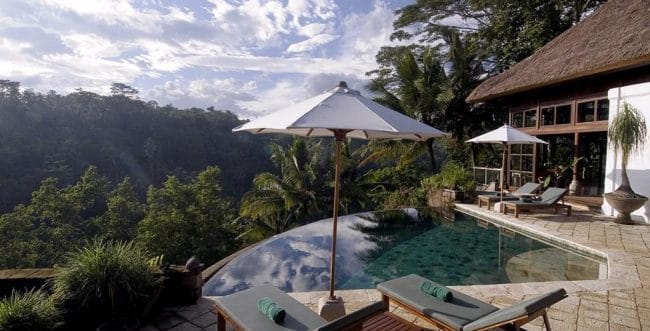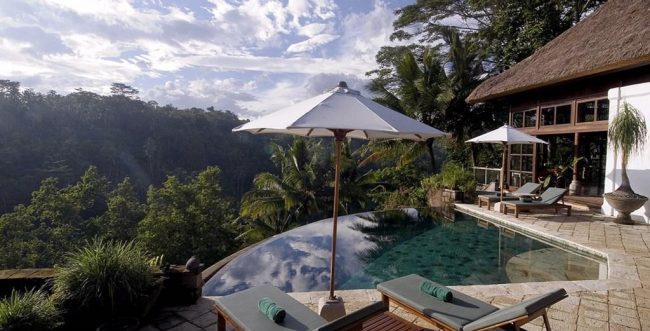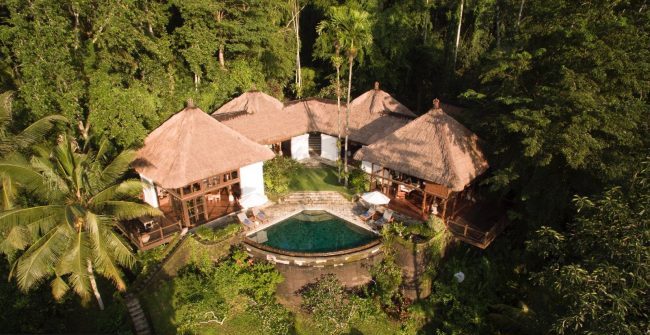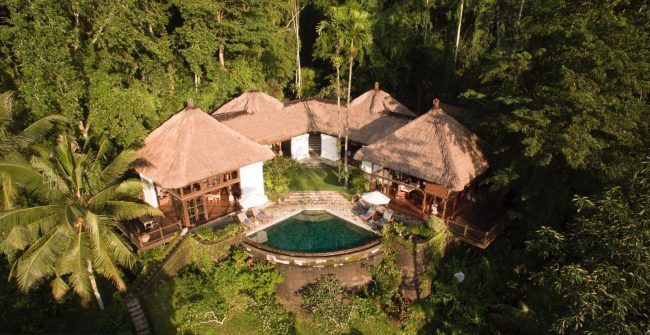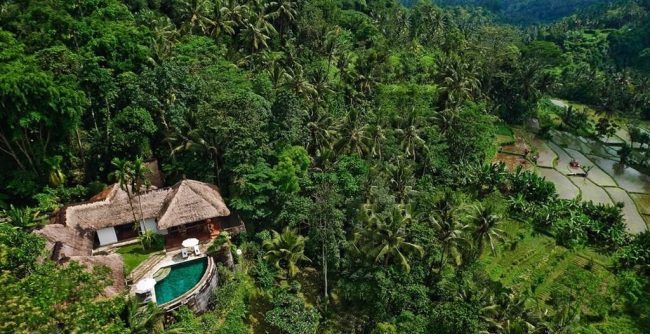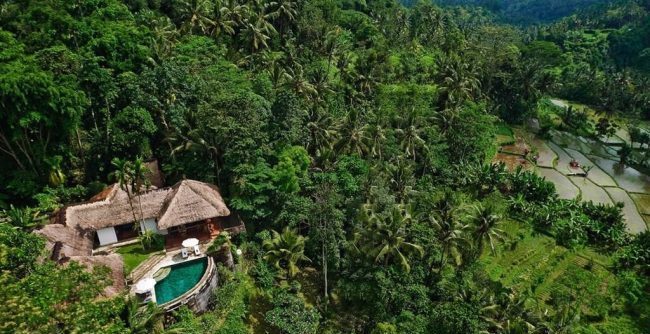 Located in Ubud about an hour from Candidasa, Villa Melati gets its name from the jasmine flower. Made up of two bedrooms flanking a stunning infinity pool with views over the rice paddies, this is a place to base yourself if you are keen to explore more of the cultural inland beauties of this part of Bali as well as the magic of the rice paddies and Ubud's romance.
The architecture is traditionally Balinese for an extra sense of immersion in the island's rich heritage. When you are ready for your meals, the in-house chef will whip up a feast. The villa sleeps 6 people and prices start at USD75 per person and night. Book here
2. For utter luxury – Villa Kamaniiya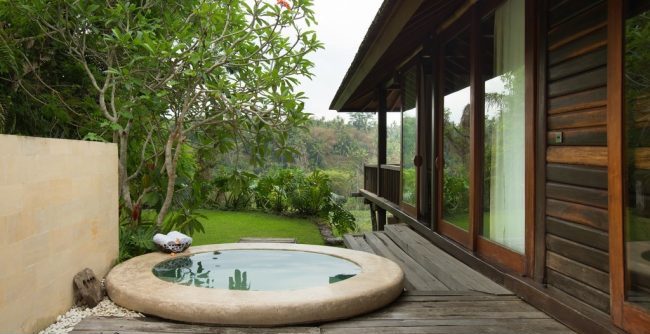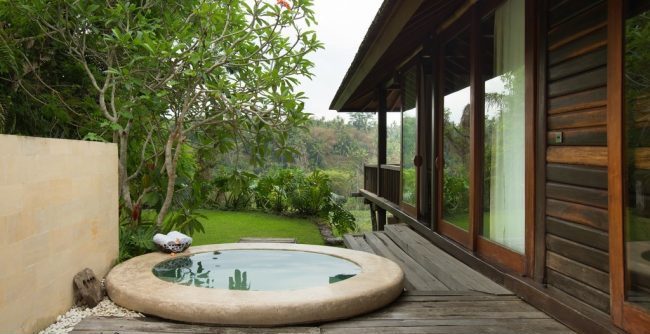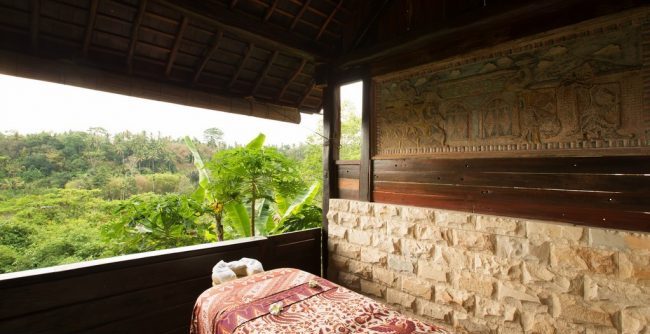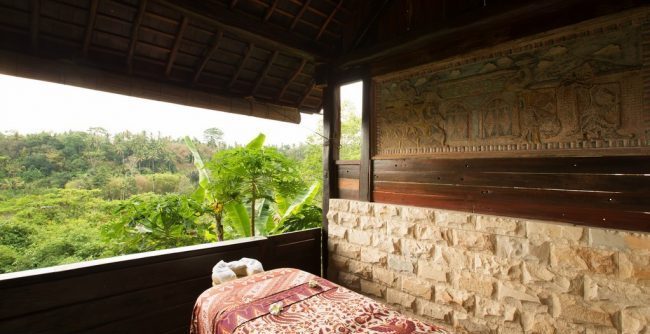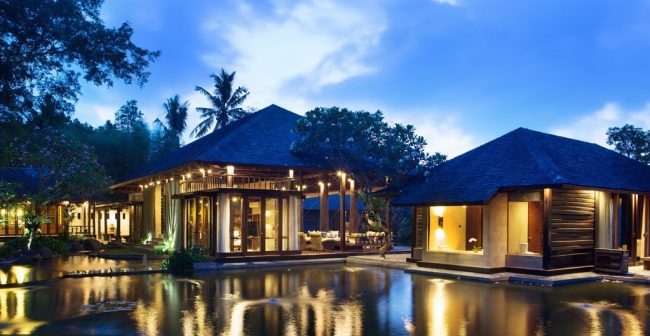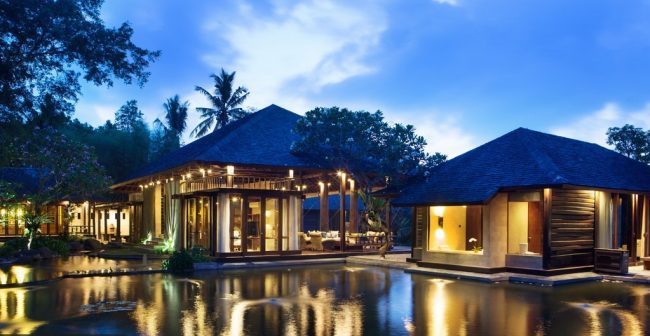 Mimicking the stunning beauty of the water palaces, Villa Kamaniiya is surrounded by a pond with several water features and sprinkled with lotus flowers just like Candidasa's famous landmark. Feel like one with nature as the king used to in his relaxation retreats while you take breaks from the sightseeing or the hiking up Mount Agung in this regal mansion with sweeping views over the valley and incredible sunsets.
The bedrooms have floor to ceiling glass windows that will make you want to wake up for sunrise and an outdoor jacuzzi bathtub. There is even a spa with spectacular views and a treetop house for all your childhood dreams. The villa can sleep 10 people in 5 bedrooms. Nightly rates start at USD170 per person. Book here
If you are looking to stay by the sea, on the Eastern shore of Bali and the heart of Candidasa, these are three great villas to choose from.
3. For seclusion – Villa Gils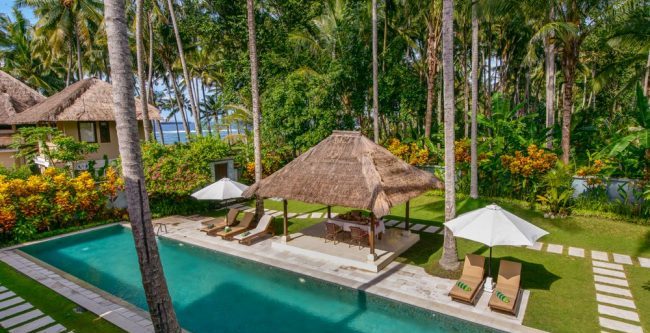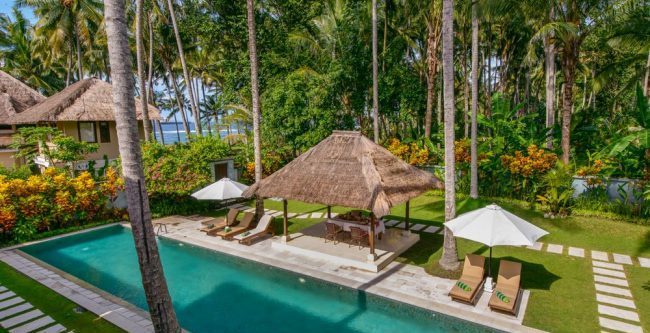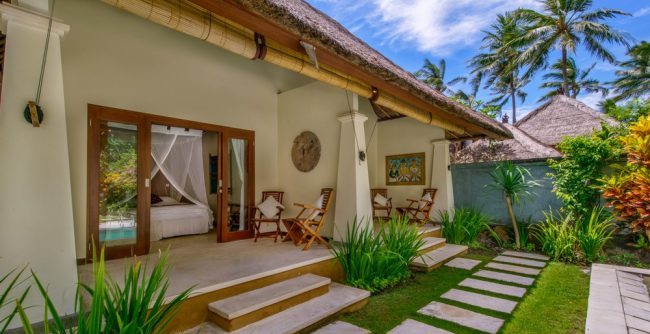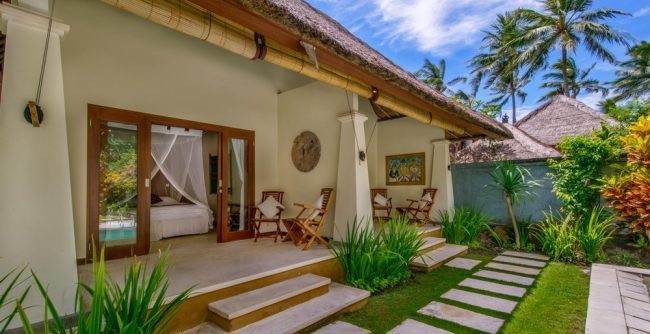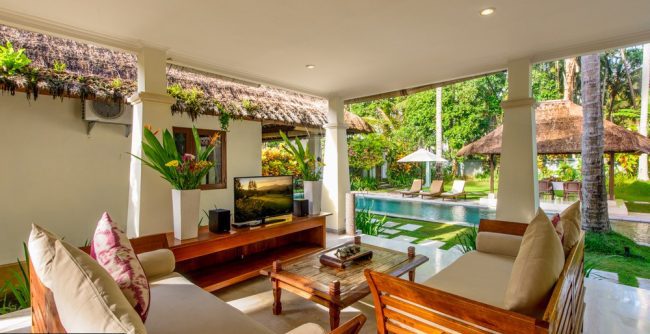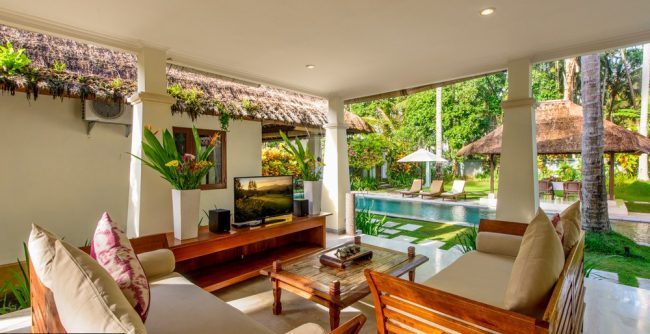 One block from the sea in a lush tropical setting, Villa Gils is a fantastically luxurious villa with outdoor marble bathtubs and rooftop views of the ocean.The 25m swimming pool is perfect for morning laps and the pool-side gazebos, a great place to unwind and enjoy tropical al fresco dining or a book.
Here you can be minutes away from all the unspoiled beauty of Candidasa and all the spots I mentioned above. This is a secluded piece of paradise sleeping 8 people and starting at under USD40 per person a night, a steal. Book here
4. For lagoon swimming – Villa Lucia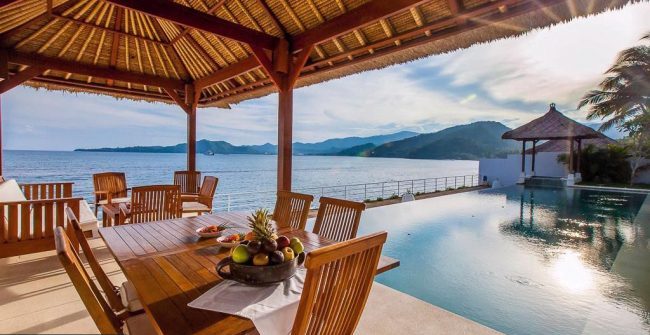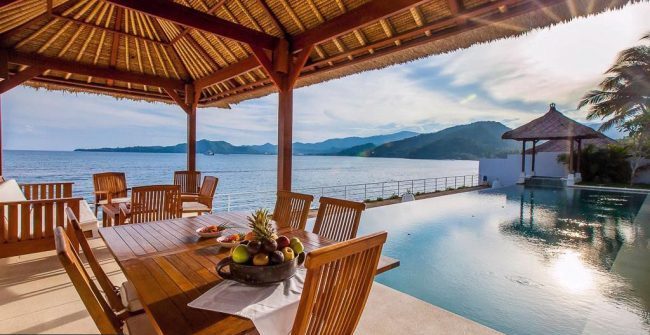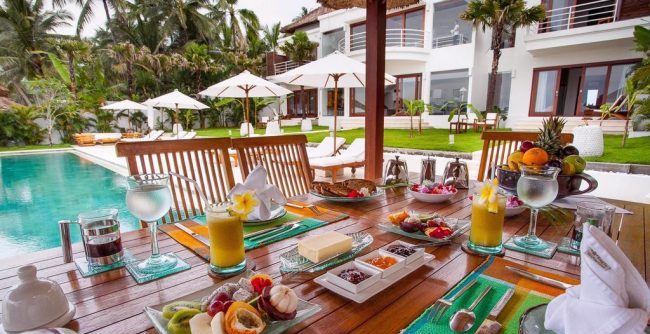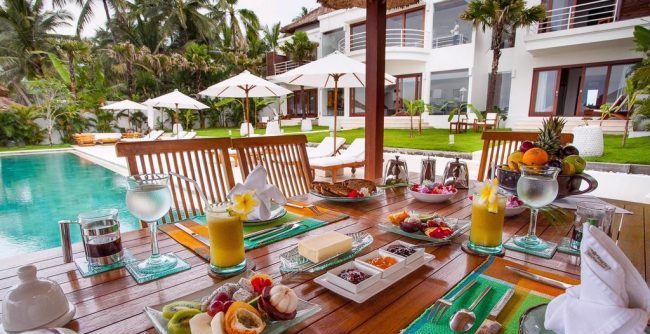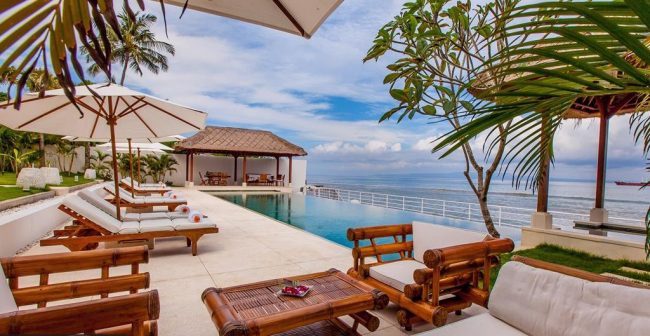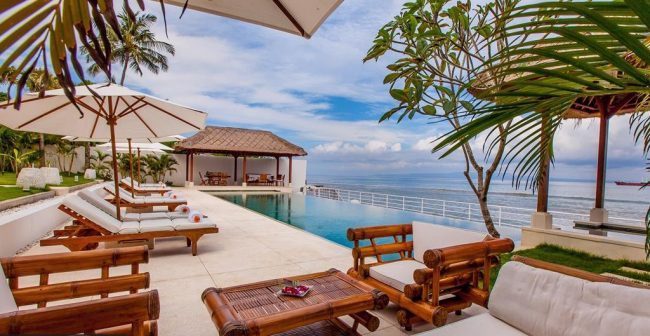 Your perfect stay right in the heart of Candidasa. Here you can simply and easily get into the mood of the area with those dreamy sea views right from the villa's pool. Very few villas, and hotels for that matter, in Bali have direct sea access and Villa Lucia is one of them.
All of the sights and things to do in Candidasa are easily reached from the villa and its modern facilities. The bedrooms have balconies onto the quiet lagoon which can be reached through a few steps. Villa Lucia sleeps 6 and starts off at USD60 per person per night. Book here
5. For spectacular sunsets – Villa Aamisha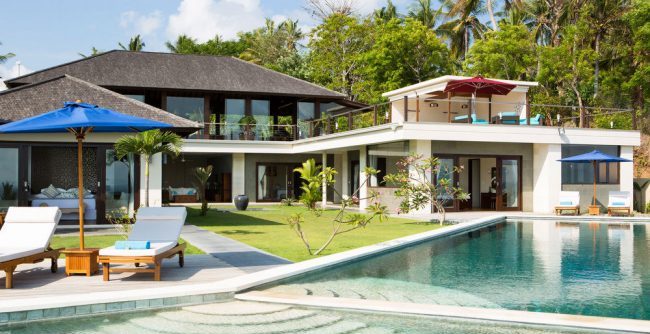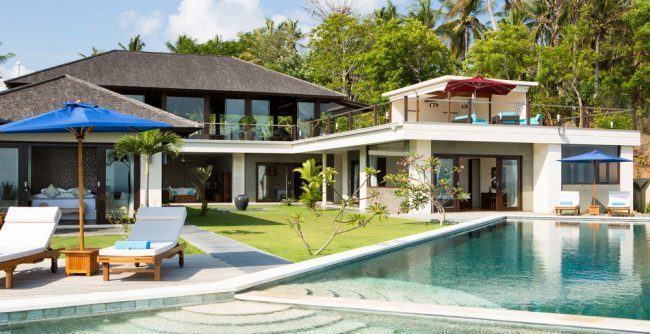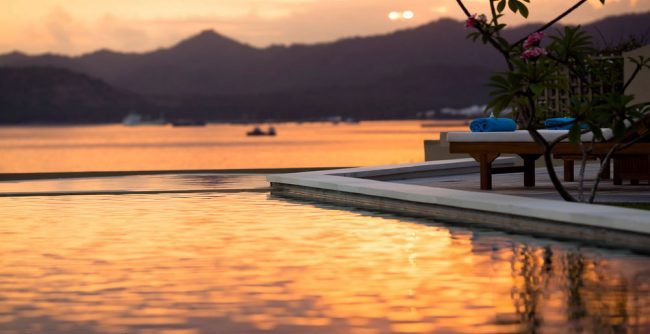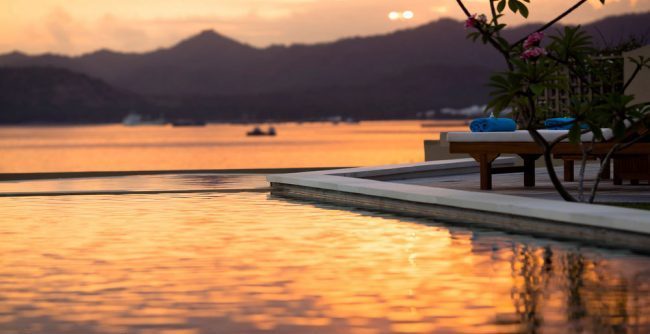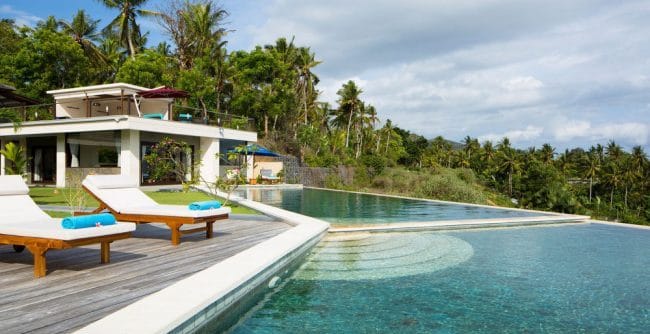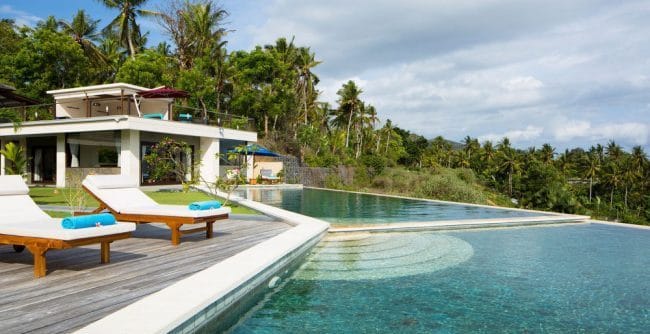 Villa Aamisha is directly above the sea with a grassy stretch between the swimming pool and the sea to enjoy seaside sunset cocktails and dinners. The sunsets from here are epic. The rooms have sea views and open onto the garden and pool area. The interiors are decorated with Asian and Indonesian art pieces and local teak.
Its location is perfect for exploring Candidasa and the surroundings as the bay, the islands and the many villages and landmarks are easily reached. Nightly rates start at USD62 per person and the villa can sleep 8 people. Book here
And if you're looking for somewhere else to stay in Bali check out my review of Capella, Chapung Se Bali, Intercontinental Resort Bali, and the Ubud Hanging Gardens.
All hotel images courtesy of villa-finder.com