Singapore is the second most densely populated country in the world after Monaco, but it is also very green, with 30% green cover according to a study by MIT and the World Economic Forum, and that means there are a lot of nature reserves and parks in Singapore to explore.
In this article we are going to be looking at a selection of the best Singapore parks, especially if you are looking for a good hike or to spend time in nature. Despite the country being so urbanised, nature reserves and parks are one of the best places to visit in Singapore and you should make the most of them.
Note: For the latest updates on visitorship controls and restrictions imposed on the parks check the official NParks website set up for this purpose. Latest updates on closures and upgrades can be found here.
Gardens by the Bay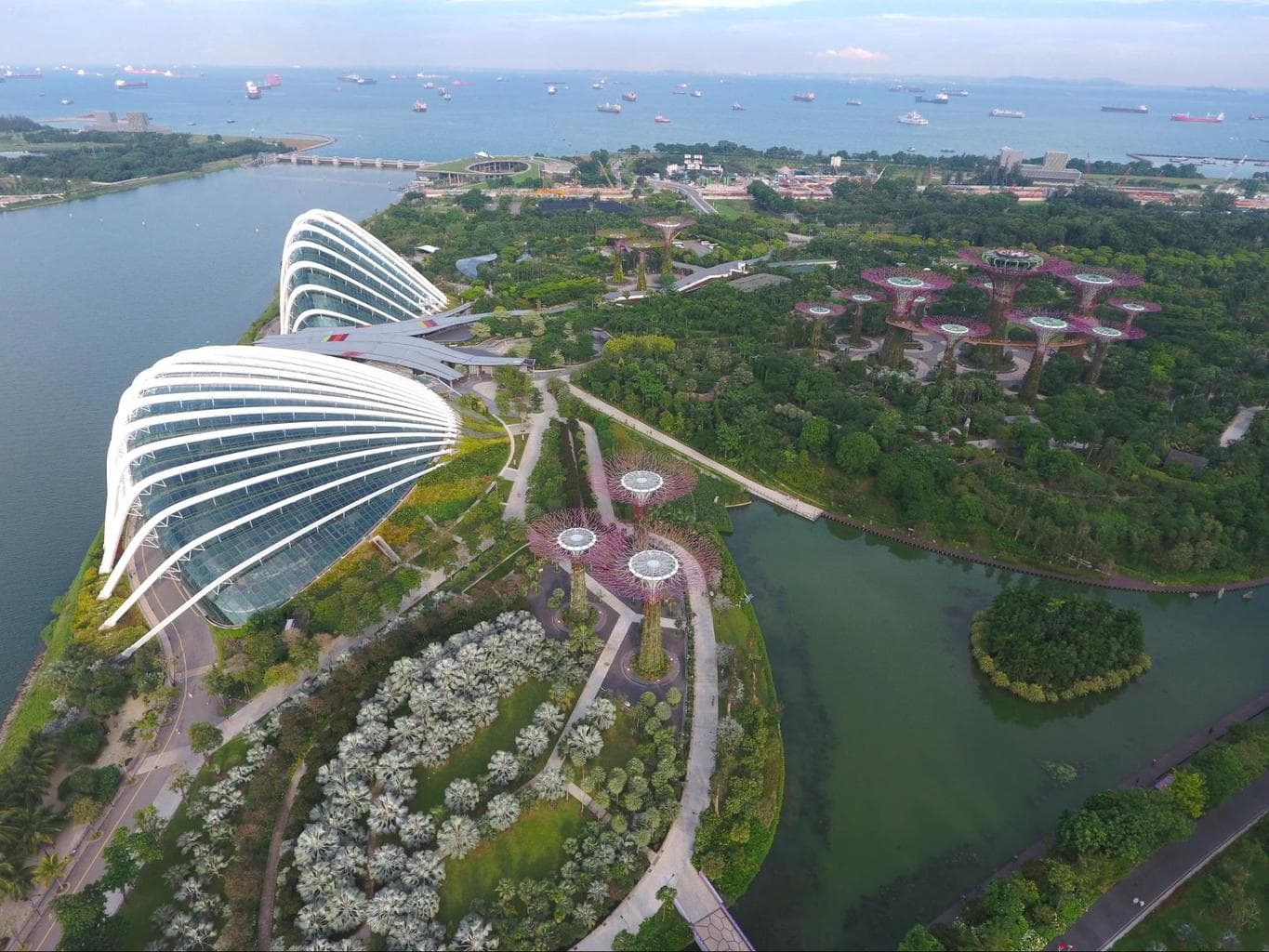 Gardens by the Bay is the go-to option when considering which of the Singapore parks to visit. It has just about everything you can think of all in one destination, from nature to feats of engineering to art and history.
This Singapore park is the most visited of all of Singapore attractions with a total of 50 million people in 2018. Why is this spot so popular? Apart from being one of the most Instagrammable places in Singapore, the ergonomic structures create a sense of awe and wonderment.
Located on reclaimed land behind Marina Bay Sands Hotel, Gardens by the Bay was introduced as part of the city's plans to transform itself from a Garden City to a City in a Garden. And they really delivered. It occupies a whopping area of 100 hectares and is actually made up of three parts, including Bay South Garden (which has the Supertrees, Flower Dome and Cloud Forest are), Bay East Garden (for sunsets) and Bay Central (for joggers). We'll focus on the area, Bay South Garden.
This is where most of the tourist attractions in Gardens by the Bay are and as such gets most of the foot traffic. The garden was designed to emulate an orchid, which is the national flower of Singapore. So when taking a stroll in Bay East, you can follow the route that starts at the Barrage and ends at Bayfront MRT Station. You also have the option to skip the Barrage, and just take the shuttle back to Bayfront MRT.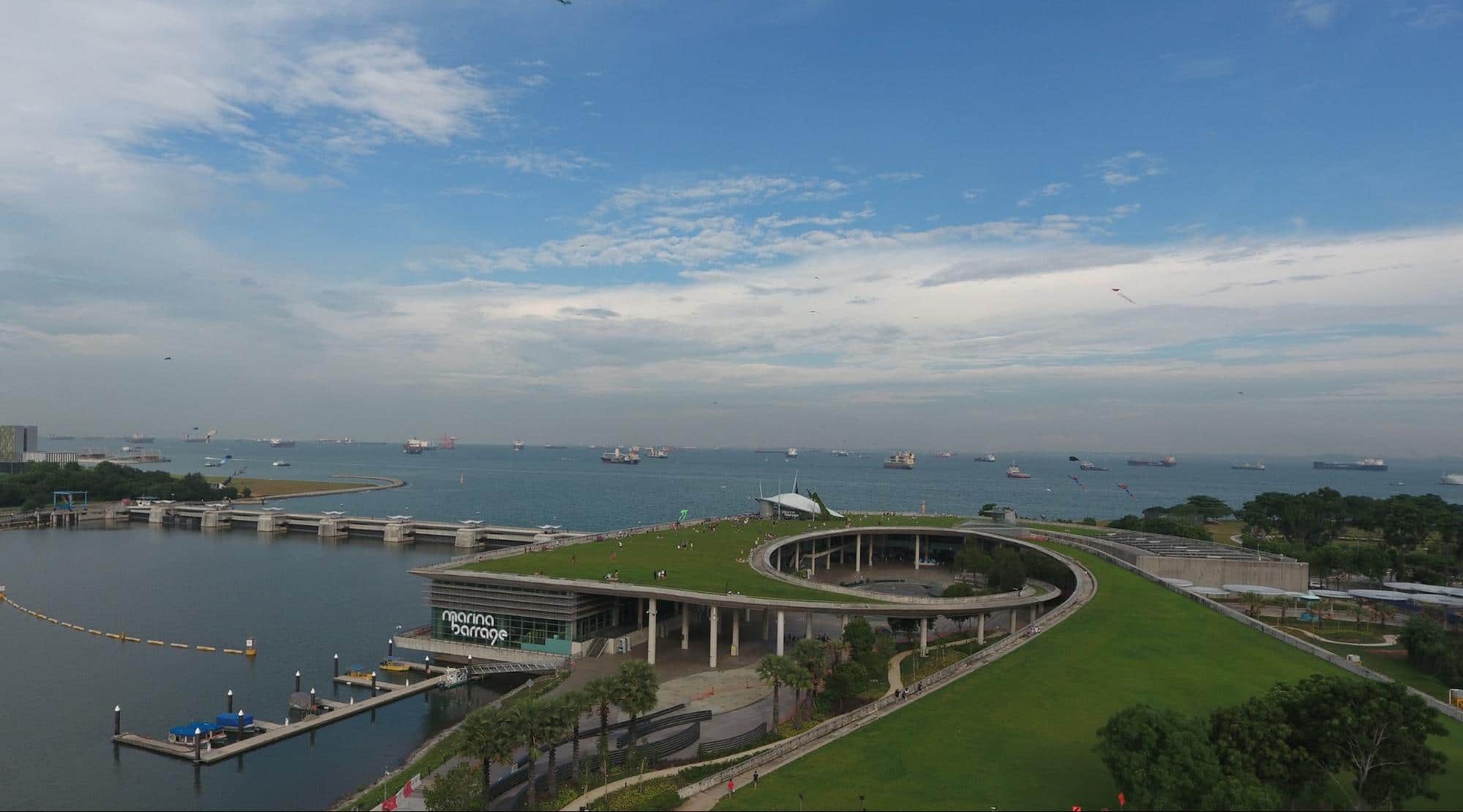 The Marina Barrage is one of Singapore's best-kept secrets. While many pass over it, the inviting green grass and tranquil quiet ambience makes it a popular place for a picnic or to fly a kite. The Far East Organisation Children's Garden is a place for families to bring their kids in costumes for a dip in the water feature.
Then comes the two Conservatories, which includes the Flower Dome and Cloud Forest. They were designed to be as self-sufficient as possible, minimizing their environmental impact and being carbon-positive.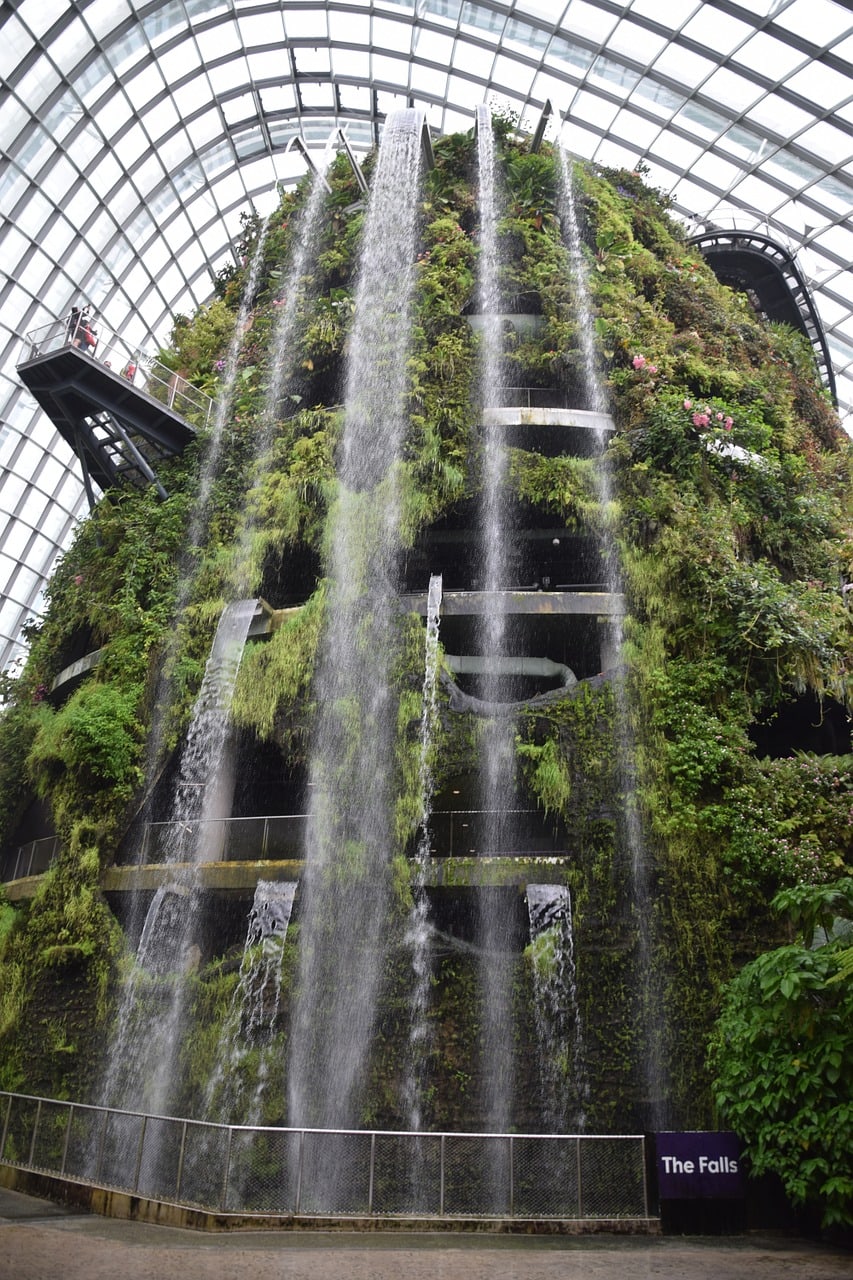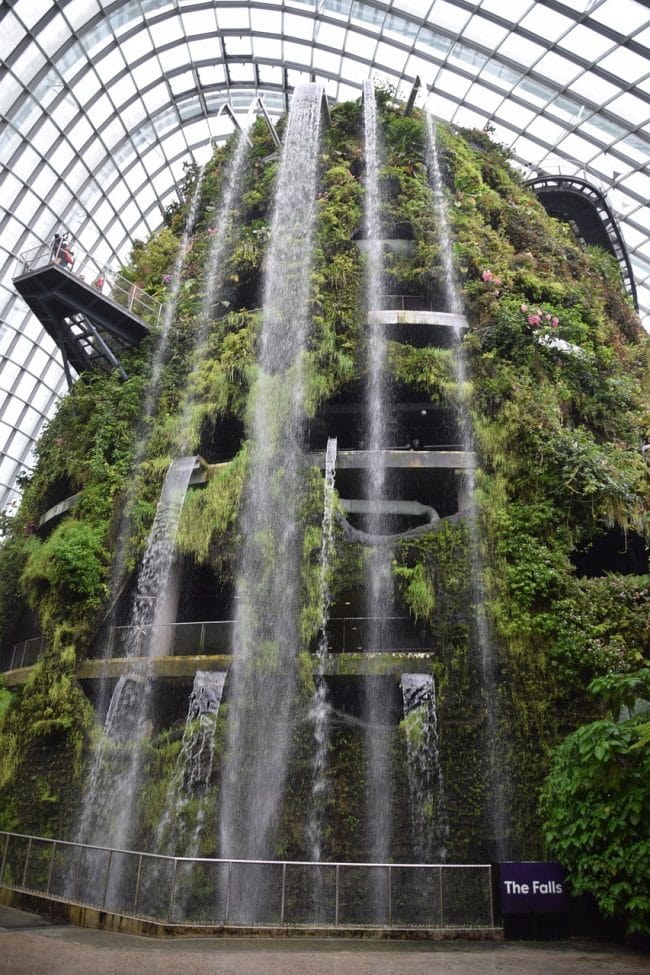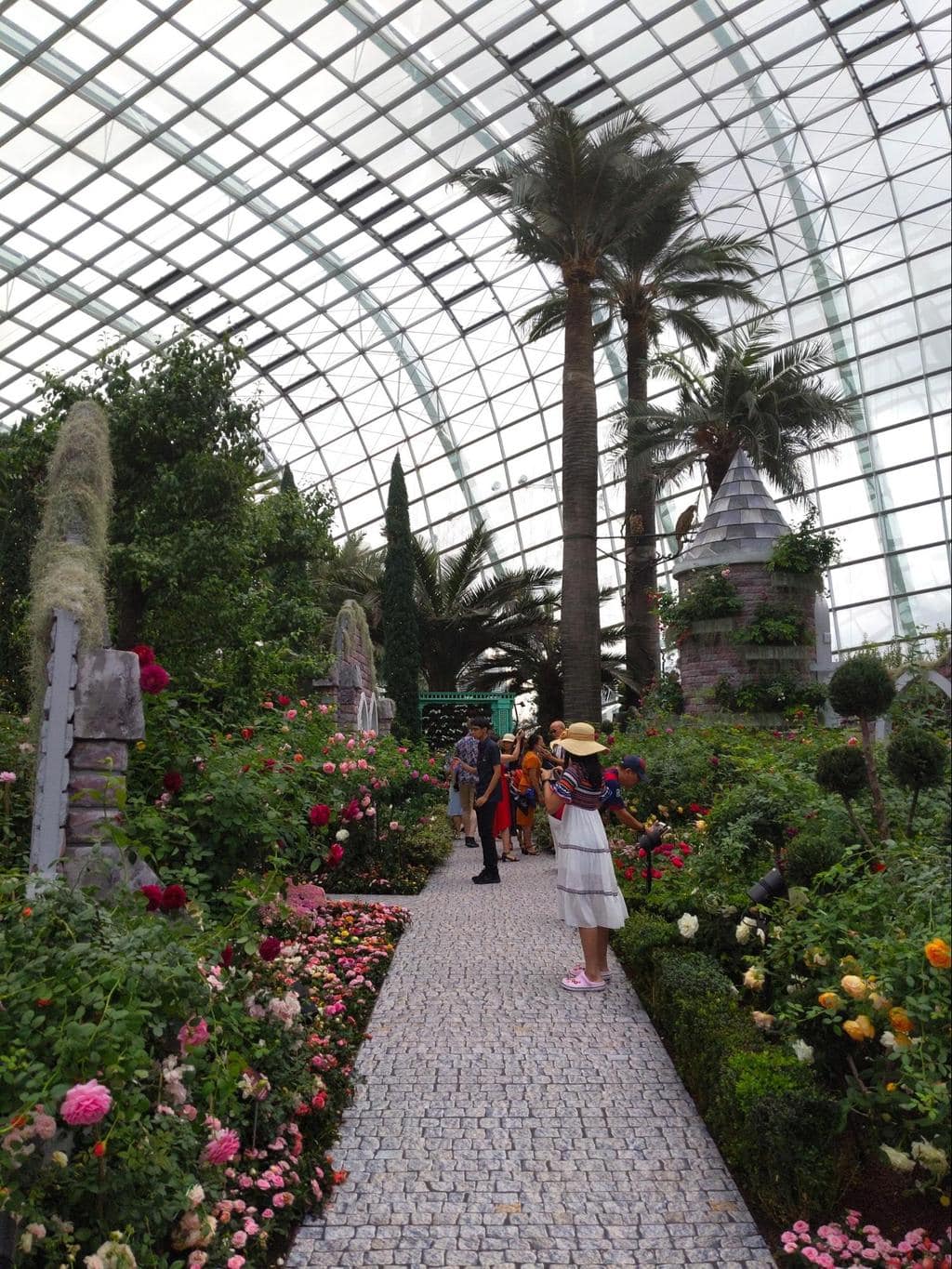 The Flower Dome is the world's largest glass greenhouse certified by the Guinness World Records and contains flowers and plants from all over the world. It also regularly holds exhibitions. Bring a jacket as it is freezing in here. Cloud Forest is the conservatory that replicates a wet and tropical mountain. It features a Crystal Room where real stalactites and stalagmites can be seen and a massive, climbable structure that simulates a mountain, complete with waterfall.
There are Heritage Gardens that showcase Malay, Chinese and Indian cultures, a simulated desert at Sun Pavilion, Edward Scissorhands-esque World of Plants, flower showcase Floral Fantasy, and a concert space at The Meadow.
And then comes to cherry on top, The Supertrees! These Avatar looking artificial trees show up on just about all tourism sites for Singapore and is one of the places that Singapore is best known for. The Supertree Grove is a forest made of 12 25-50m high metal trees planted with over 160,000 soil-less plants to create vertical gardens.
Cleverly designed to be carbon-positive, they actually generate more oxygen than CO2! You can climb up the trees which are connected via a 128m long canopy walk that is at 22m above the ground, known as the OCBC Skywalk. You are only allowed 15mins at the top and the queue to go up can be massive on weekends.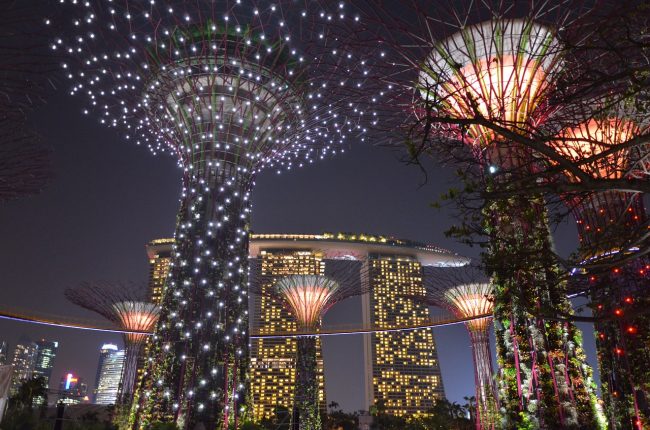 Every evening at 7:45pm and 8:45pm, the Supertrees light up to music creating the magical Gardens by the Bay Light Show called Rhapsody. It goes on for about 15mins and consists of a coordinated light and music show where the trees light and change colors to music.
There are restaurants at certains areas at Gardens by the Bay including hawker centre Supertree Food Hall, fine dining Pollen and Satay by the Bay eatery. It is also in walking distance to Marina Bay Sands and Shoppes high class mall.
We have written a complete guide to Gardens by the Bay with a suggested itinerary and route, so definitely read that before you visit for some insider tips from someone who has visited over 100 times!
Best time to go: The best time to go to Gardens by the Bay depends on what you want to see and do. Ideally, you should go twice: once in the early morning and once for the 8:45pm Light Show.
Highlight: Definitely the Rhapsody and our personal favorite is Cloud Forest to explore all the different plants and exhibitions and hike to the "mountain".
How to get there: There are three ways to get to Gardens by the Bay: Taxi with the main drop off zone being at the main entrance by the Supertrees in the Golden Garden. On the MRT where you can go to Bayfront MRT on the yellow Circle and the blue Downtown lines and take exit B which is near the Bayfront Plaza. Or on foot where you can get there via Shoppes or the Promenade.
Facilities: All facilities including restaurants, toilets, bicycle parking racks, strollers, wheelchairs, nursing rooms, first aid services, ATMs and electronic lockers.
Opening times: Bay South Garden is open from 5am to 2am daily but the Conservatories, Floral Fantasy and Skywalk open from 9am to 9pm. The Children's Garden is open from 10am to 7pm.
MacRitchie Reservoir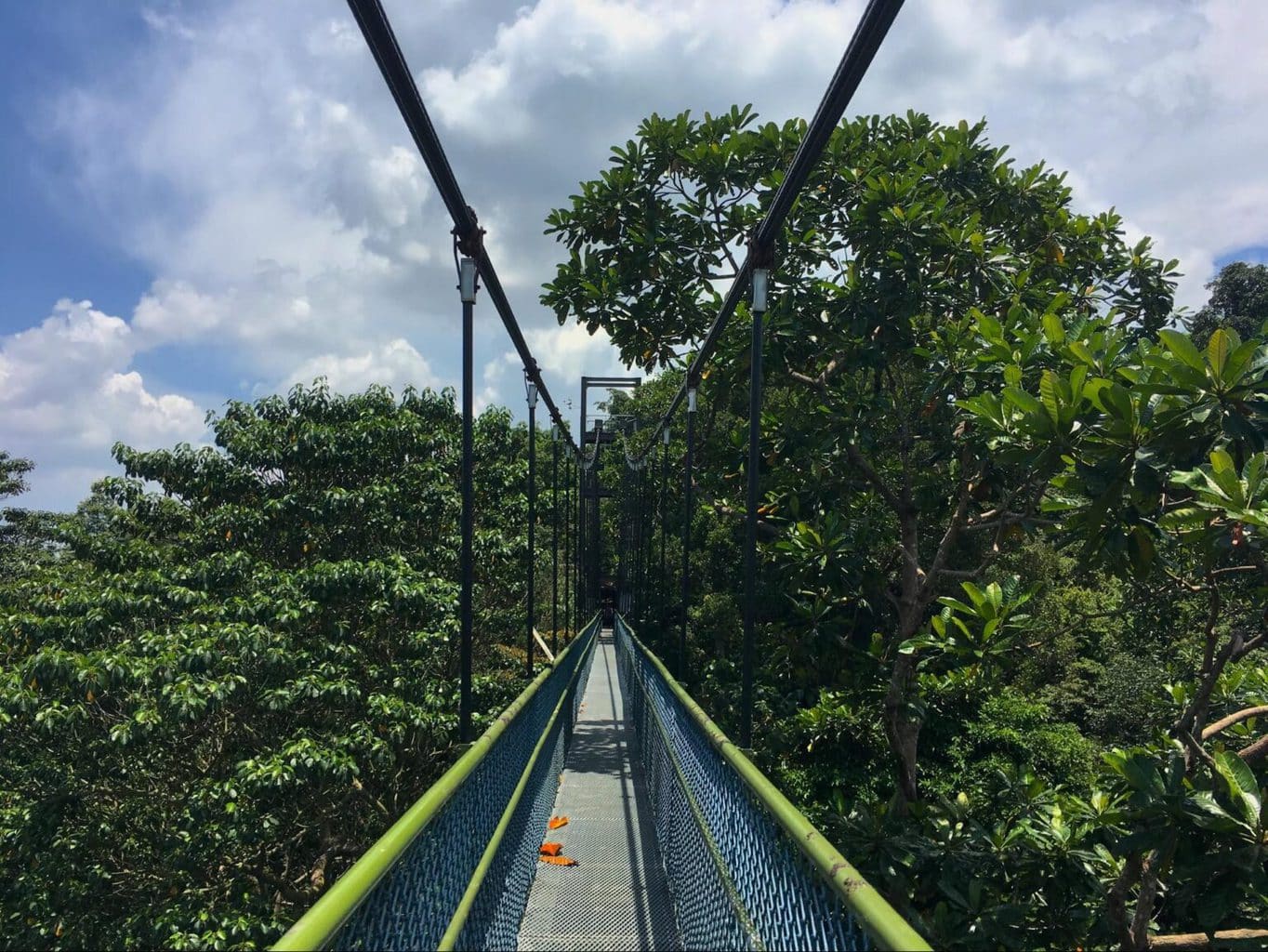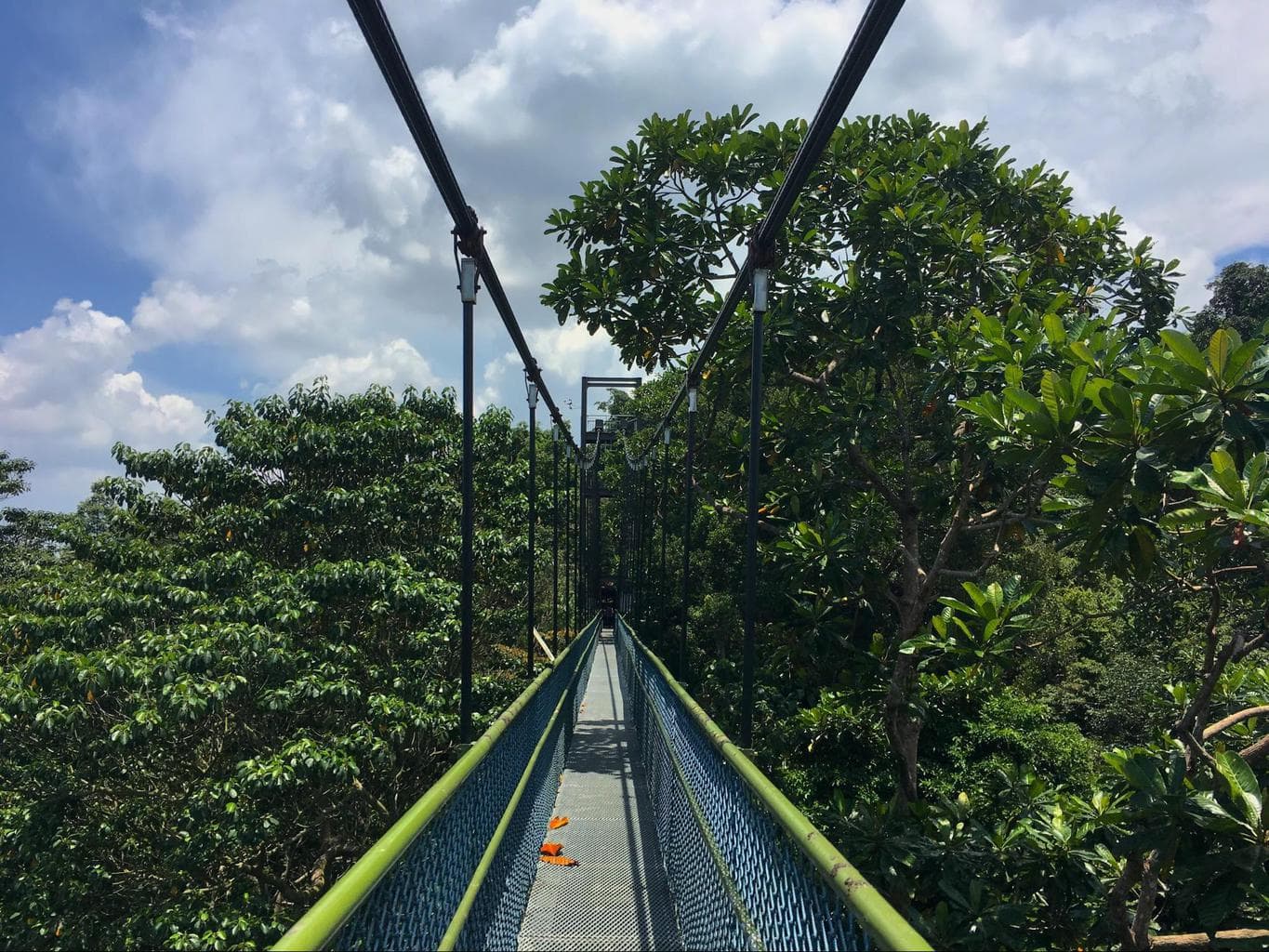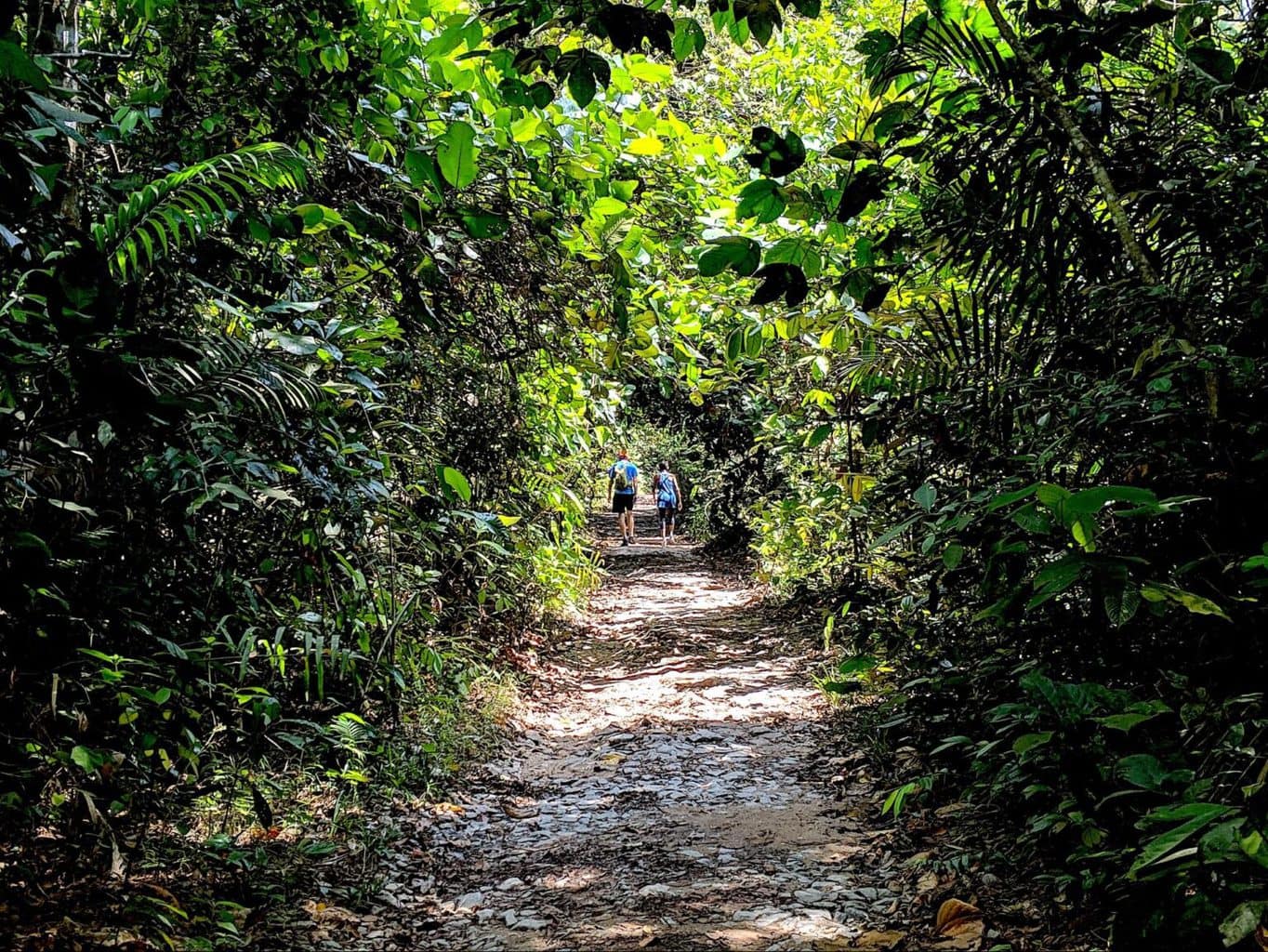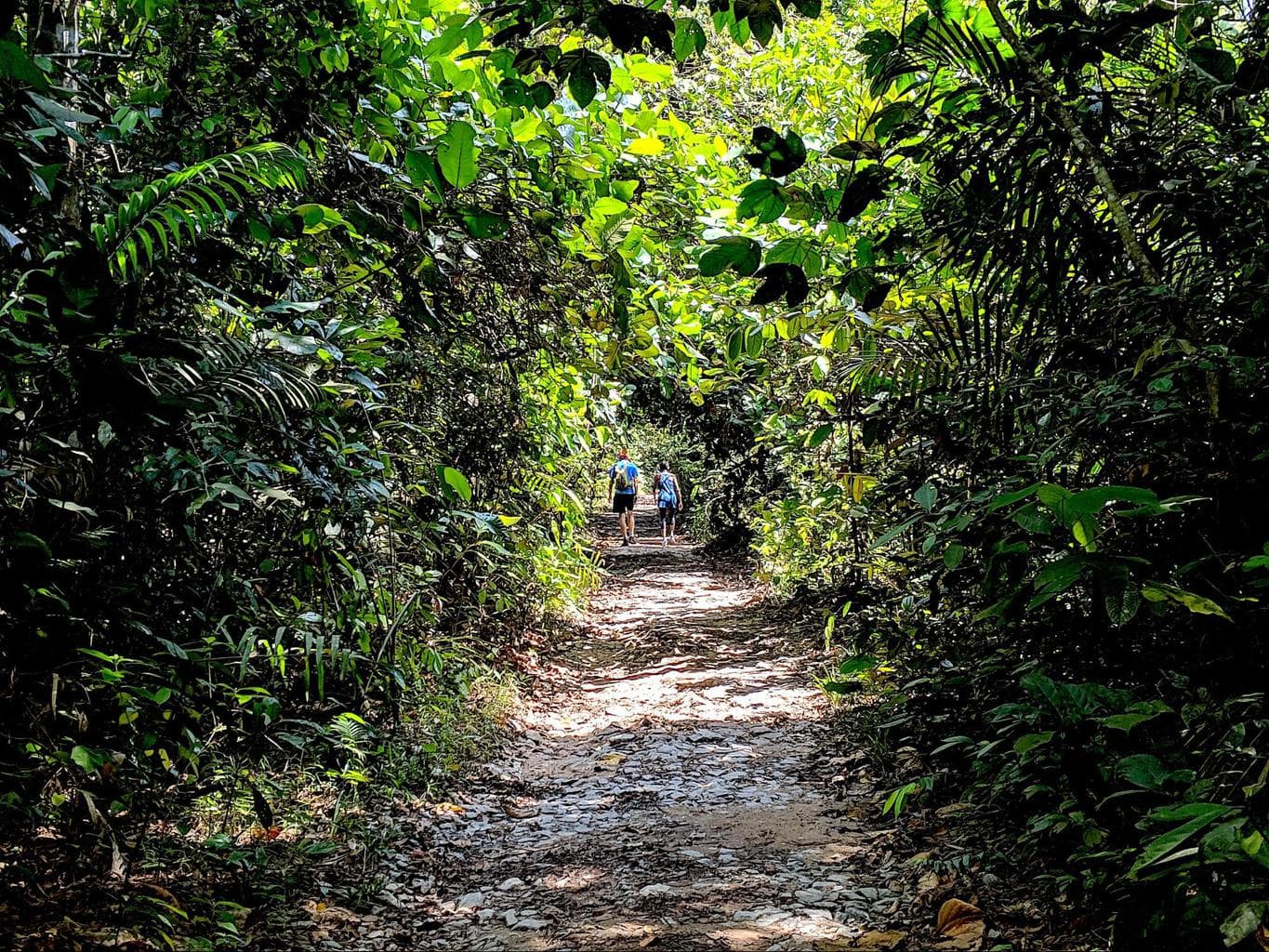 MacRitchie Reservoir is probably the most untouched of all the parks in Singapore. It is large enough that the entire loop will take you 3-4h to hike and far enough from traffic that you can enjoy peace and quiet surrounded by pristine nature.
MacRitchie offers several hiking trails, the longest of which is a 12km loop. There are shorter boardwalk trails that surround the reservoir area and are flat and easy, with peaceful rest stops with benches along the way.
Pro tip: MacRitchie is connected to Bukit Timah Nature Reserve and you can continue to complete a different hiking trail that is also 12km long.
Besides the cool Treetop Walk, there is the Jelutong Tower which provides a bird's eye view above the park.
MacRitchie is arguably the Singapore park with the most to offer. There are kayaks for rent and you can go freshwater fishing in designated areas (for free, but you must practise catch and release). See fishing rules here, unless you want to be caught with a S$3,000 fine.
There are also guided tours on the weekend where you can learn more about the local vegetation and about monkeys and lots of signs, especially along the boardwalks, to learn more about the local wildlife.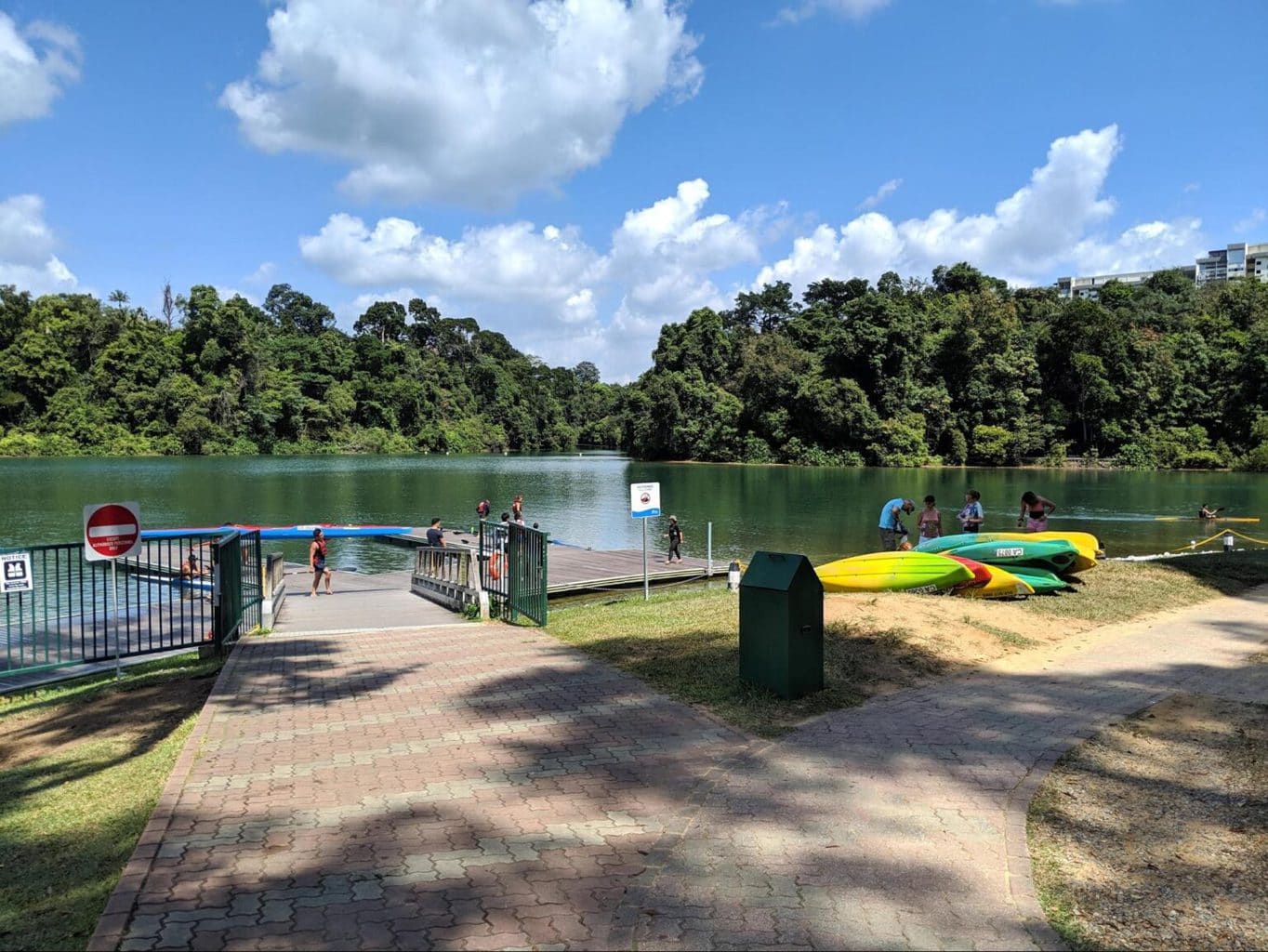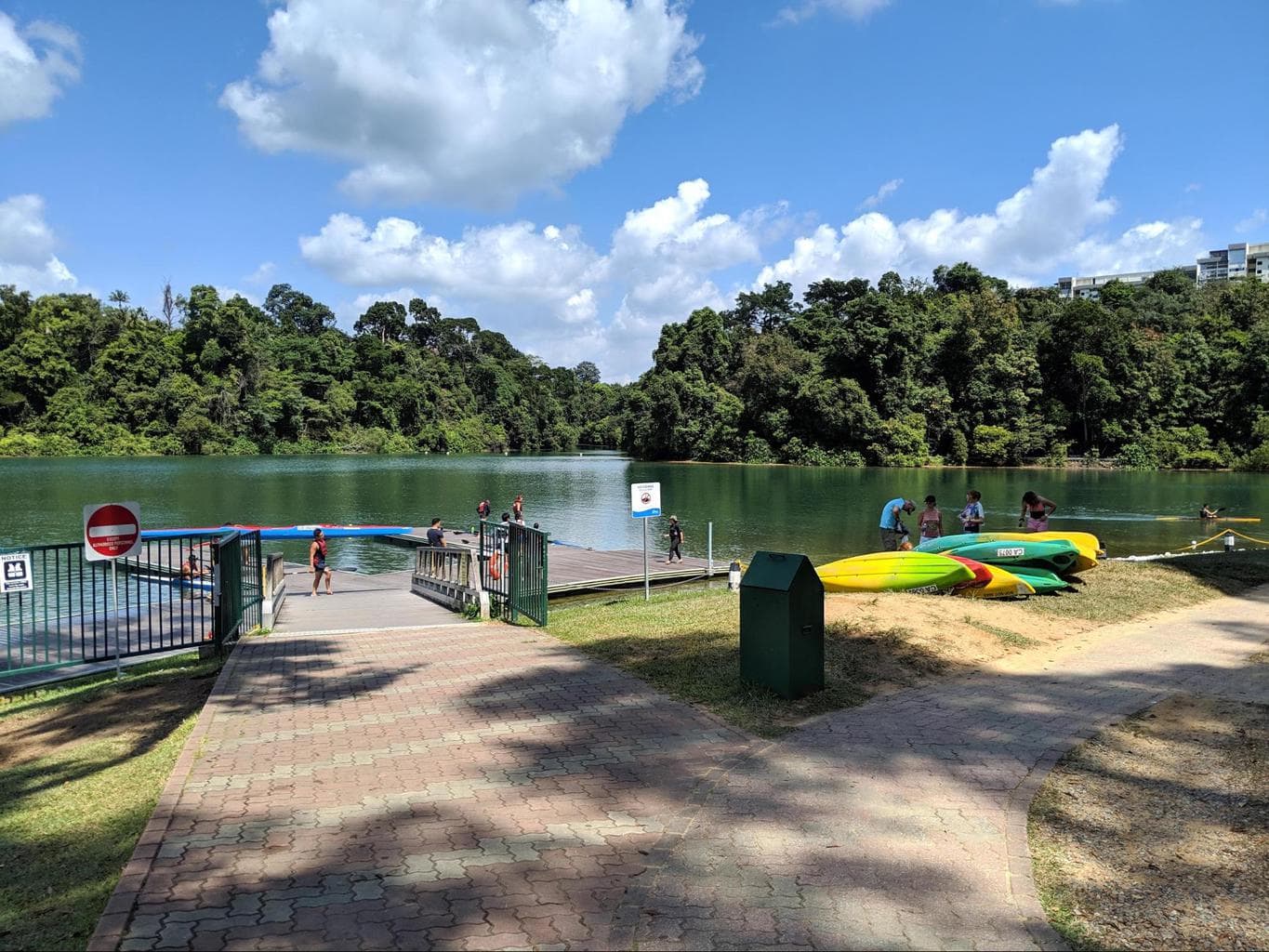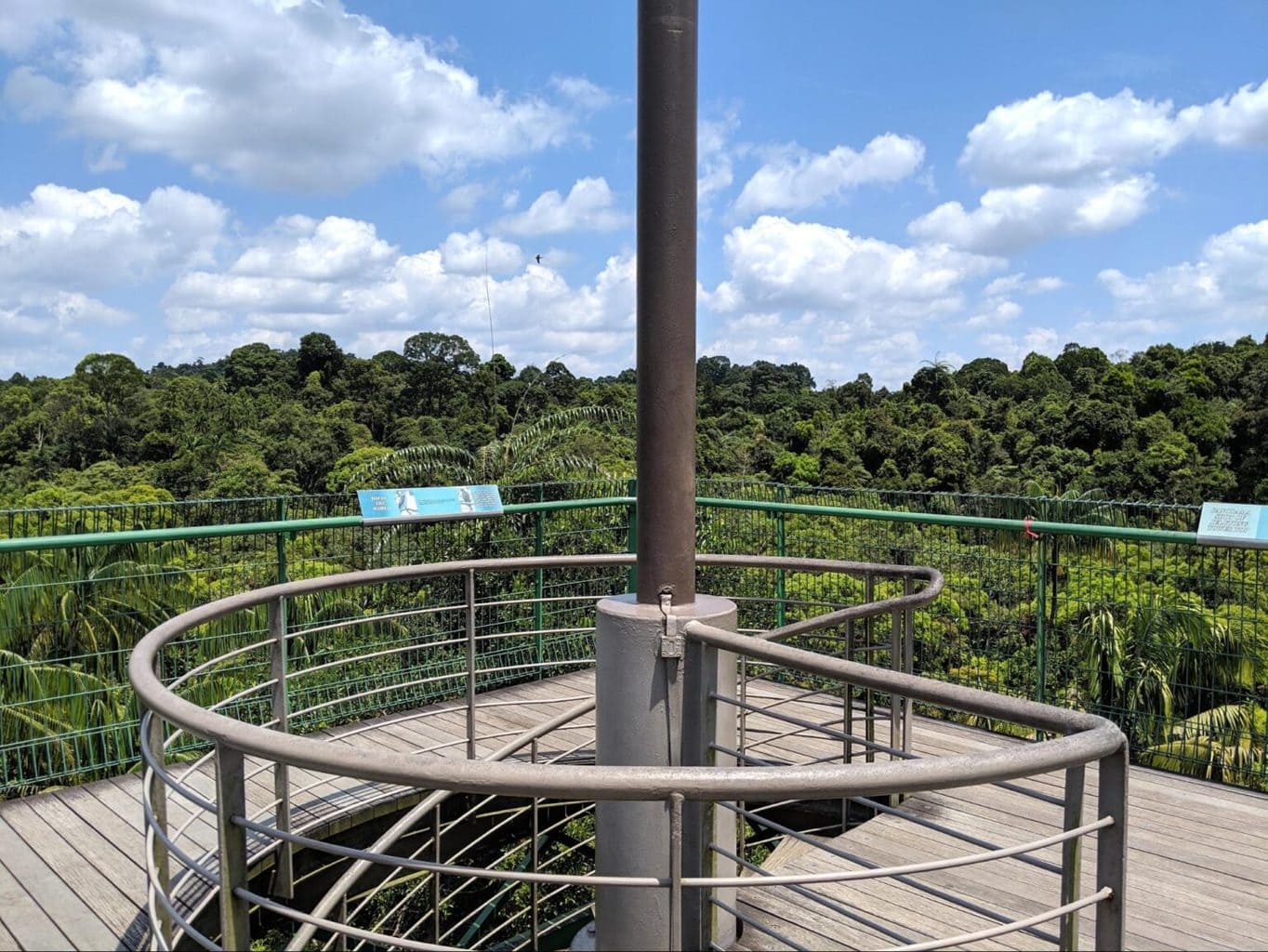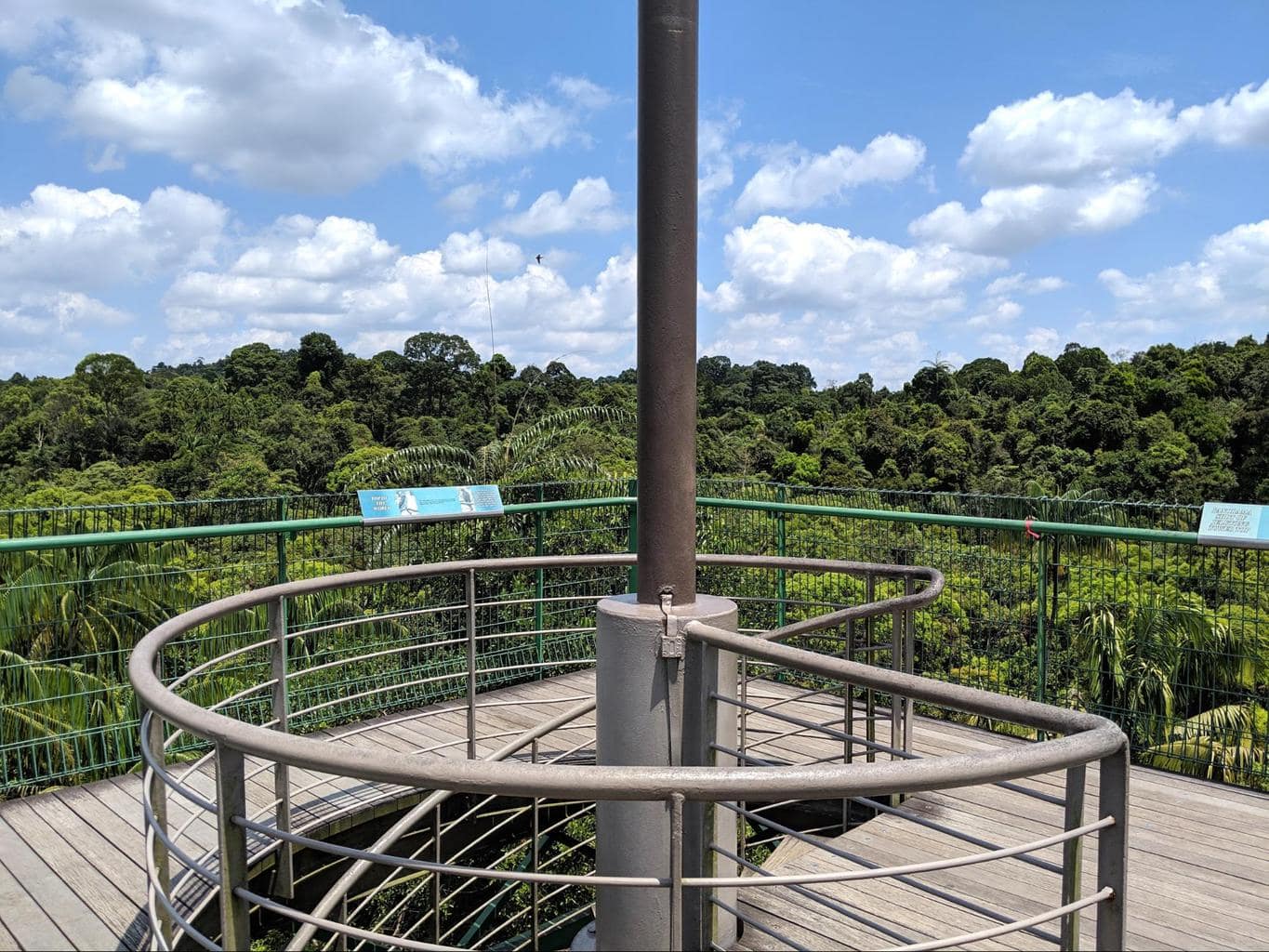 Look out for the monkeys (and keep your food and drinks inside your bag), the monitor lizards and the turtles that are commonly seen in the water. If you pay attention, you will also see birds and maybe even a snake.
Bring a picnic and enjoy it in the area near the entrance which has picnic tables, shade, shelters, pavilions and water views. Some of the buildings in this part can be booked for weddings and ceremonies.
Best time to go: Weekends see a huge influx of visitors but it dwindles after lunch time and afternoons are remarkably peaceful with beautiful sunset reflections on the water.
Highlight: The suspended Treetop Walk bridge is the park's highlight. You will truly feel like you are hanging above the tree canopy and enjoy views all the way down to the sea.
How to get there: Take a bus to the 'MacRitchie Reservoir' stop on Lornie Road, or take the Circle Line to Caldecott MRT and walk for around 10 mins.
Facilities: There is a cafe at the main parking and taxi drop off point (a rarity among all the parks in Singapore), and showers.
Opening times: 7am to 7pm, but do note times of sunset so that you can leave about an hour earlier so that you don't get caught in the dark in the forest.
Note: The Treetop Walk is closed until May 2021.
Map: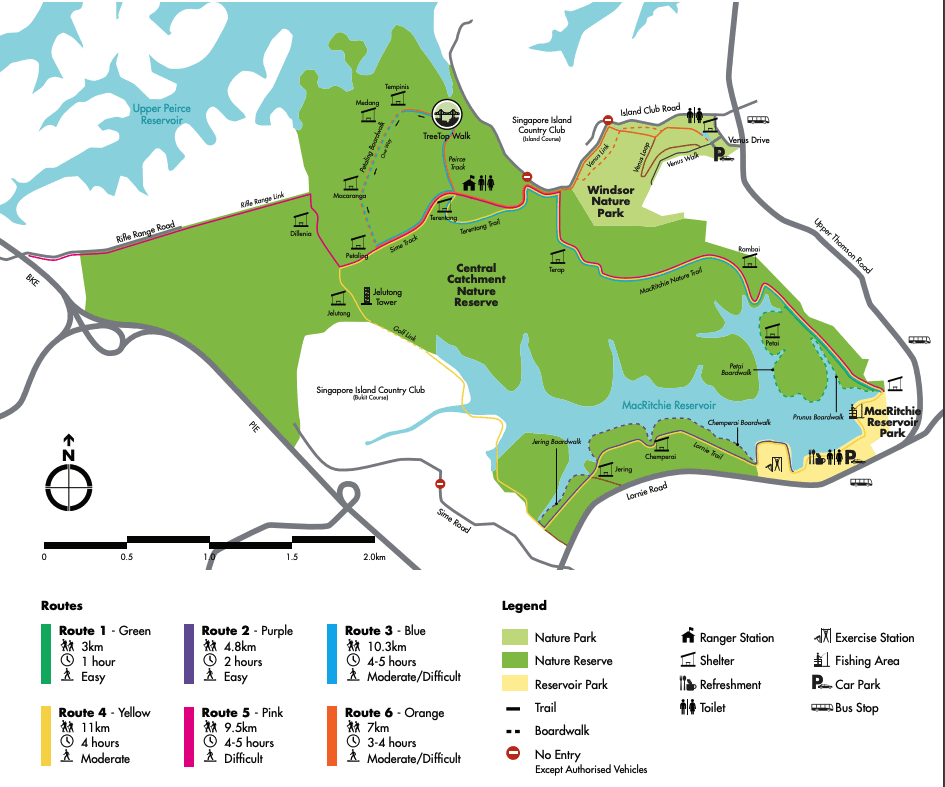 Bukit Timah Nature Reserve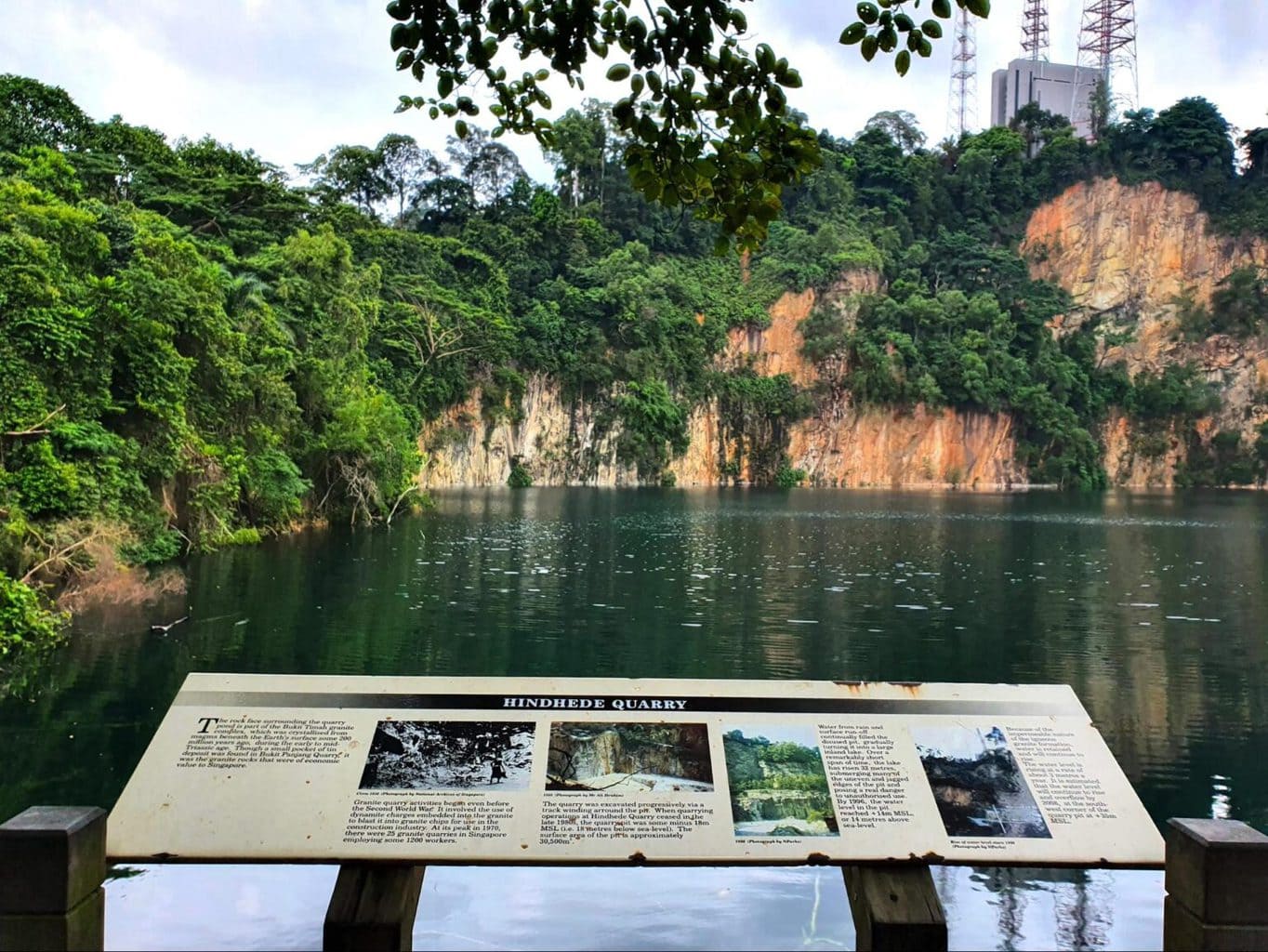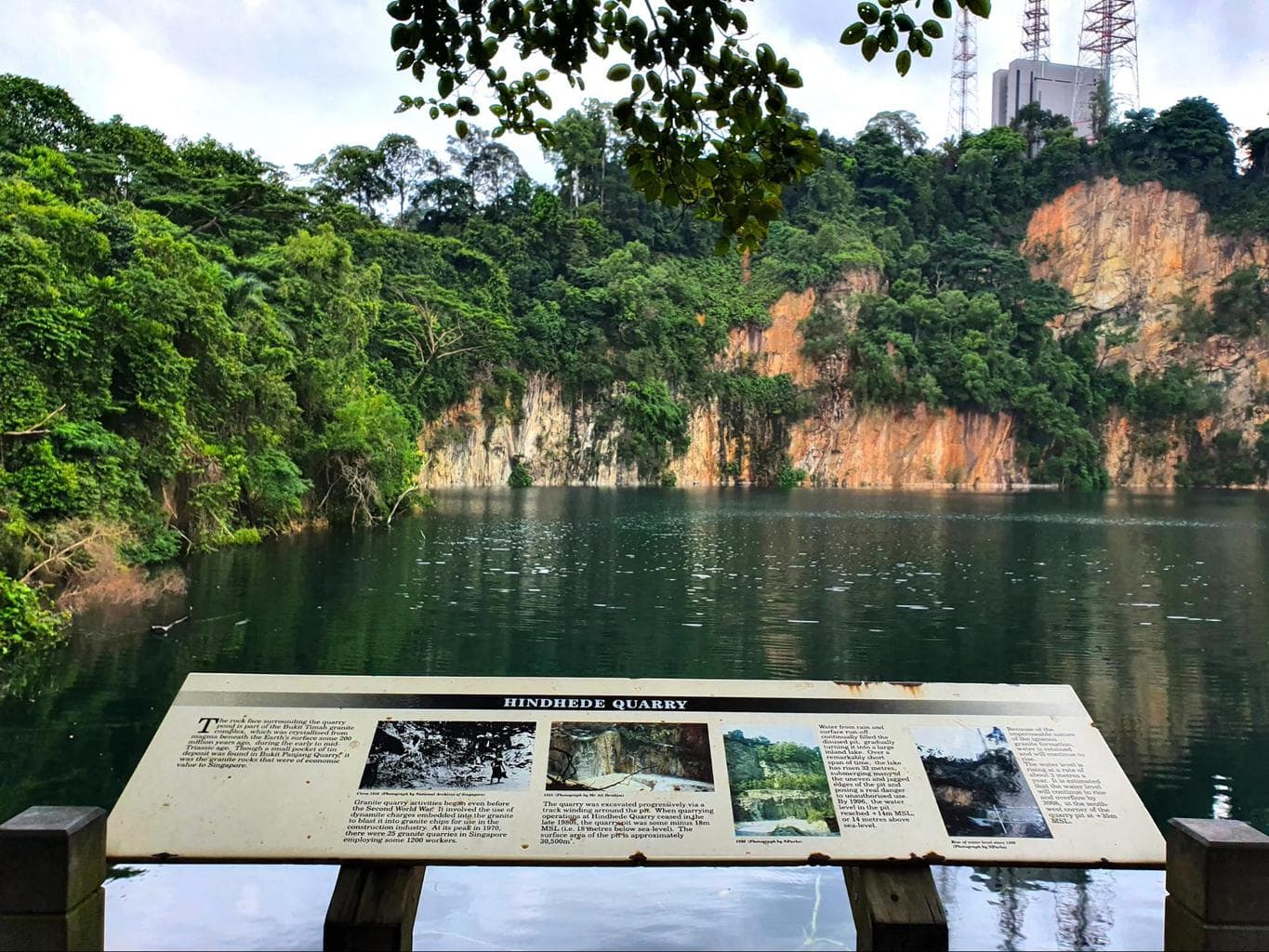 Bukit Timah Nature Reserve has the tallest point in the country (163m above sea level) and is a very well rounded Singapore park with lots to offer. It is also one of the few parks where you can mountain bike along the designated 7km trail.
The reserve was created in 1883 and is the only park in Singapore that was not logged for timber therefore it is the most untouched and naturally well preserved park in Singapore, no wonder it is also one of the most popular.
Here you can see endemic and unique flora and fauna not found anywhere else on the island and spot quite a few different types of species and animals including monkeys, turtles at the quarry, several bird species and other usual animals.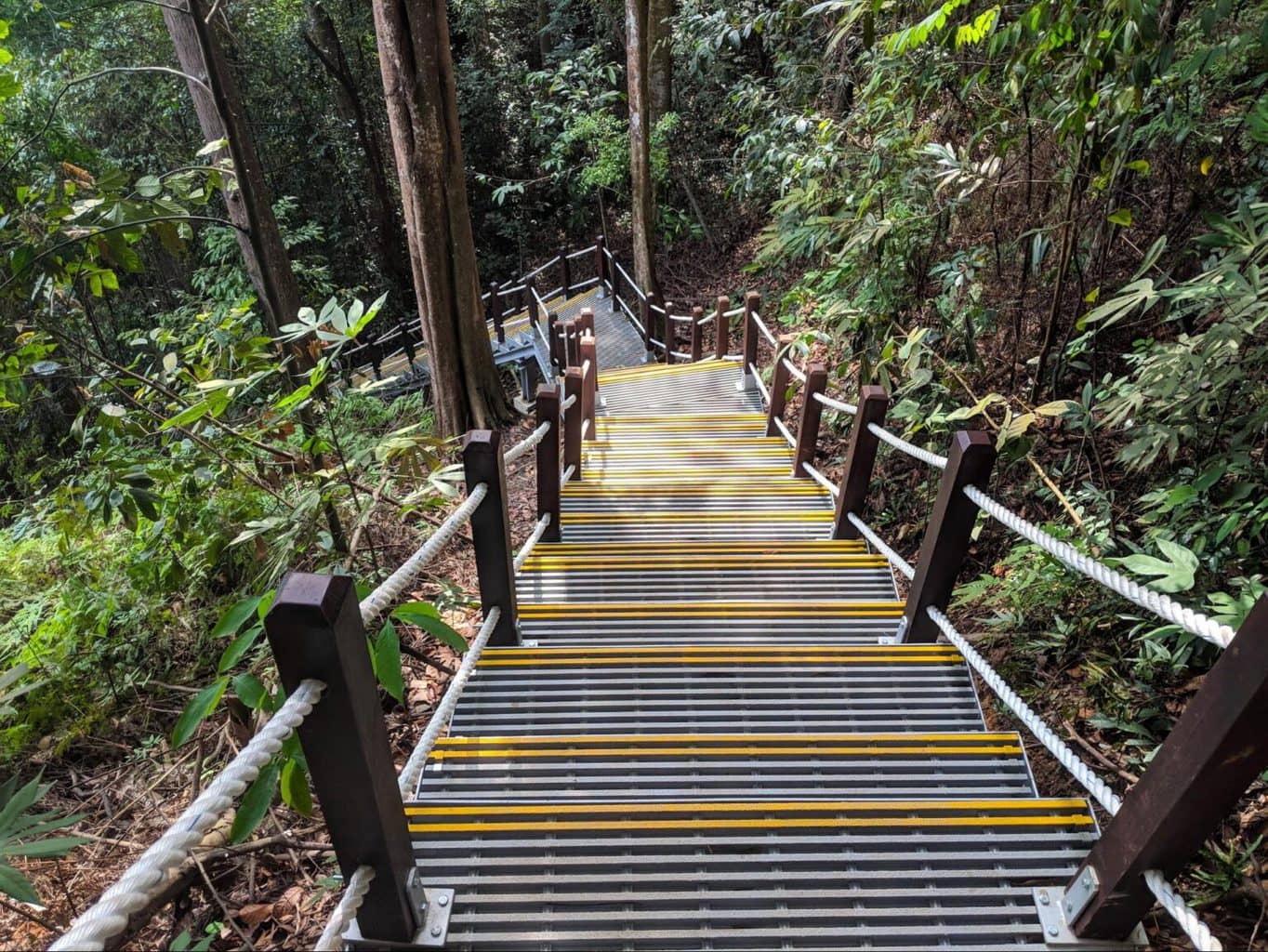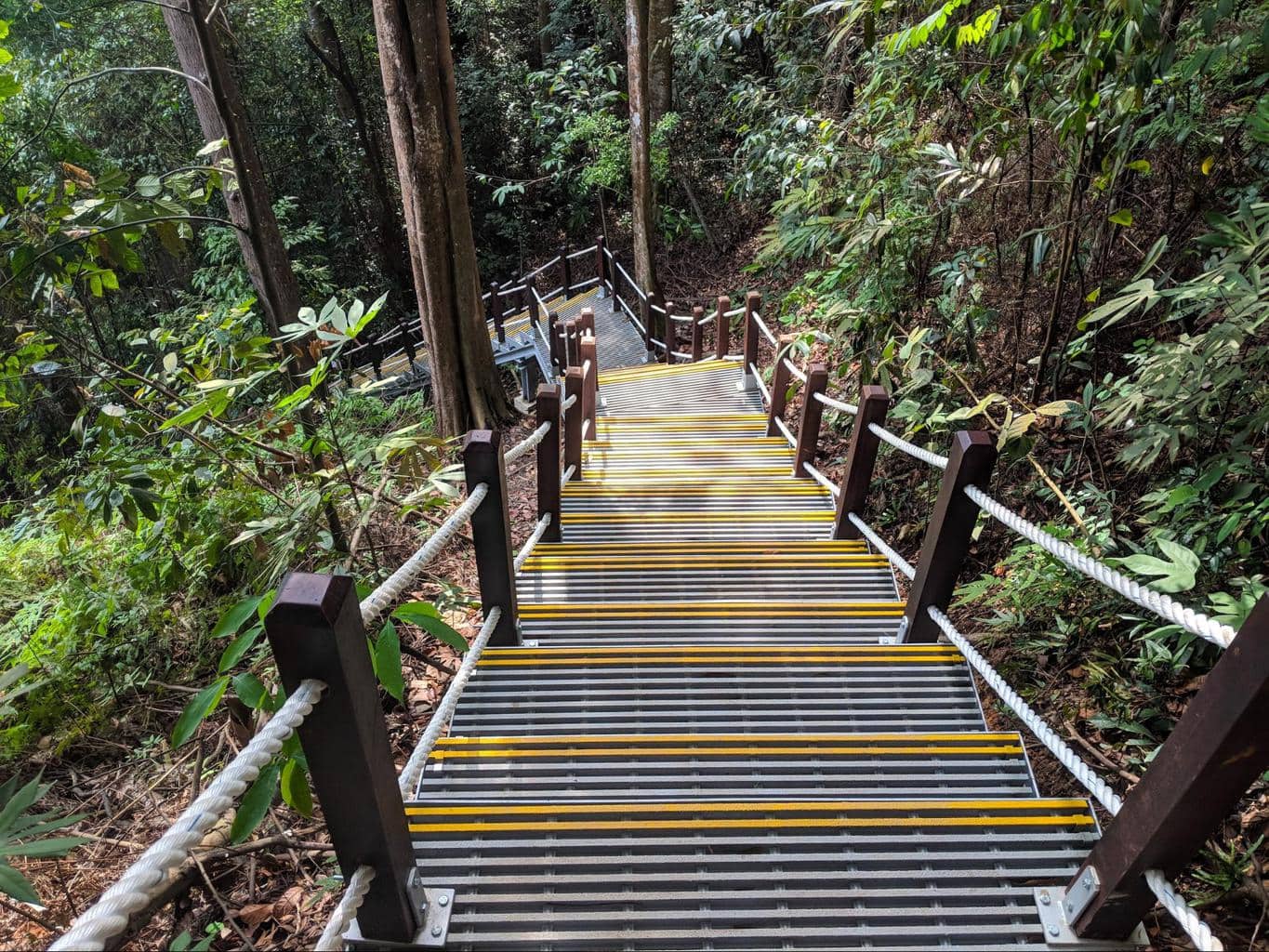 There is a playground area for kids including a zipline, an outdoor exercise area and several trails of varying difficulty including one connecting with MacRitchie. Take a look at the exhibition area at the entrance to the park to learn more about it and the many unique species you may find.
Best time to go: Weekends are incredibly packed, so much so that the park may close when certain numbers are reached so go either very early (8am) or late (after 3pm).
Highlight: The climb to the hill, although short, is quite steep. Make sure to explore Hindhede Nature Park to the quarry to enjoy the views.
How to get there: Take buses 67, 75, 170, 171, 184, 852, 961. Alight at Jalan Anak Bukit Road, opposite Beauty World Centre (Bus stop ID: 42109), or alight at Upper Bukit Timah Road, opposite Bukit Timah Shopping Centre (Bus stop ID: 42091). Or take the MRT to Beauty World MRT Station, take Exit A.
Facilities: Car park, shelters and restrooms
Opening times: 7am to 7pm daily
Map: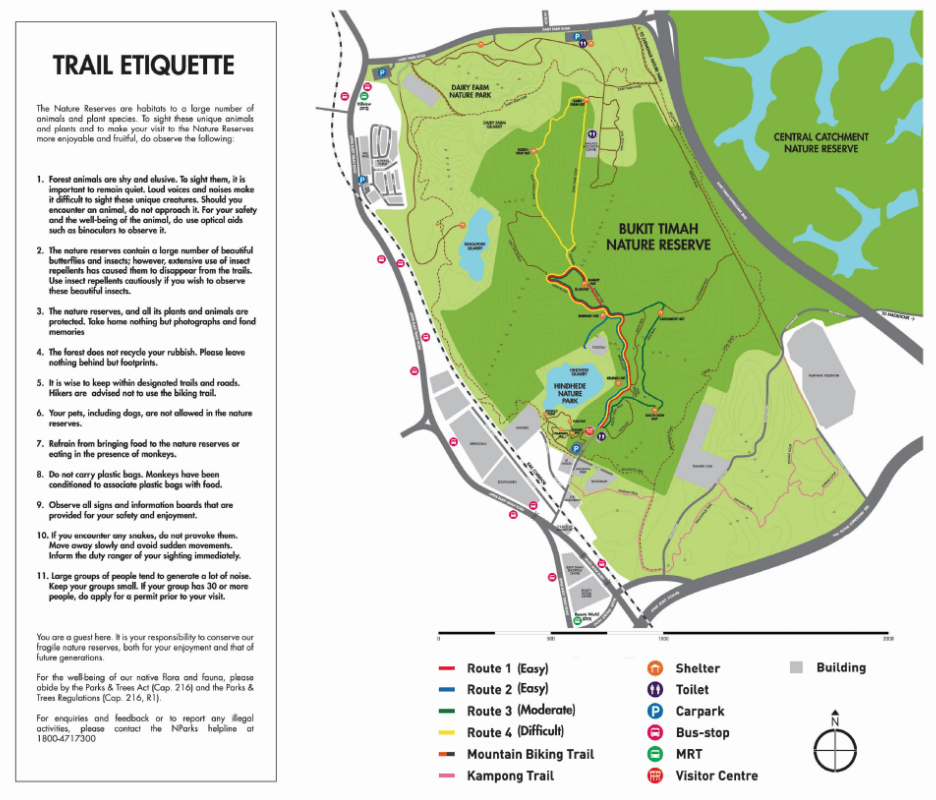 East Coast Park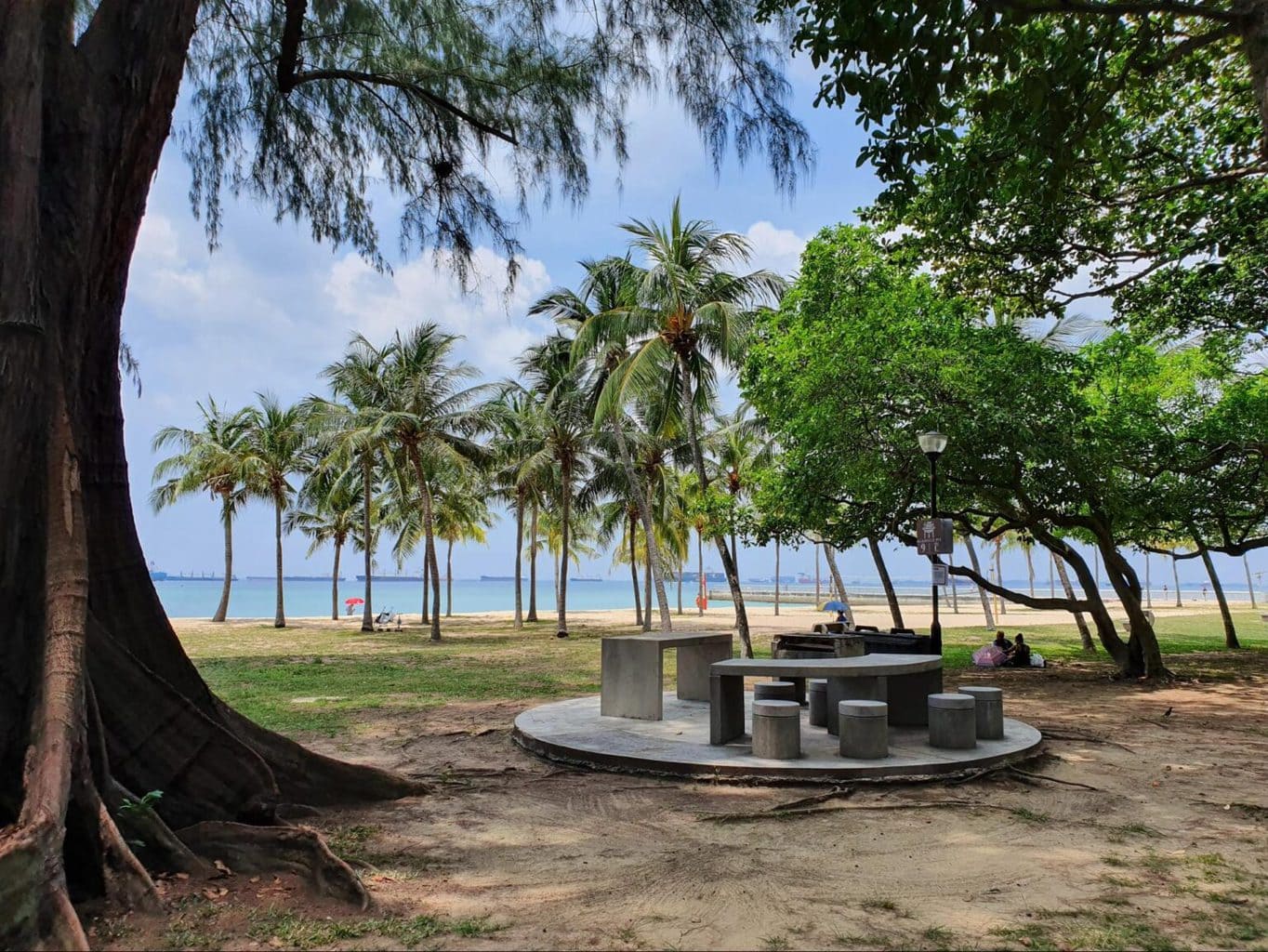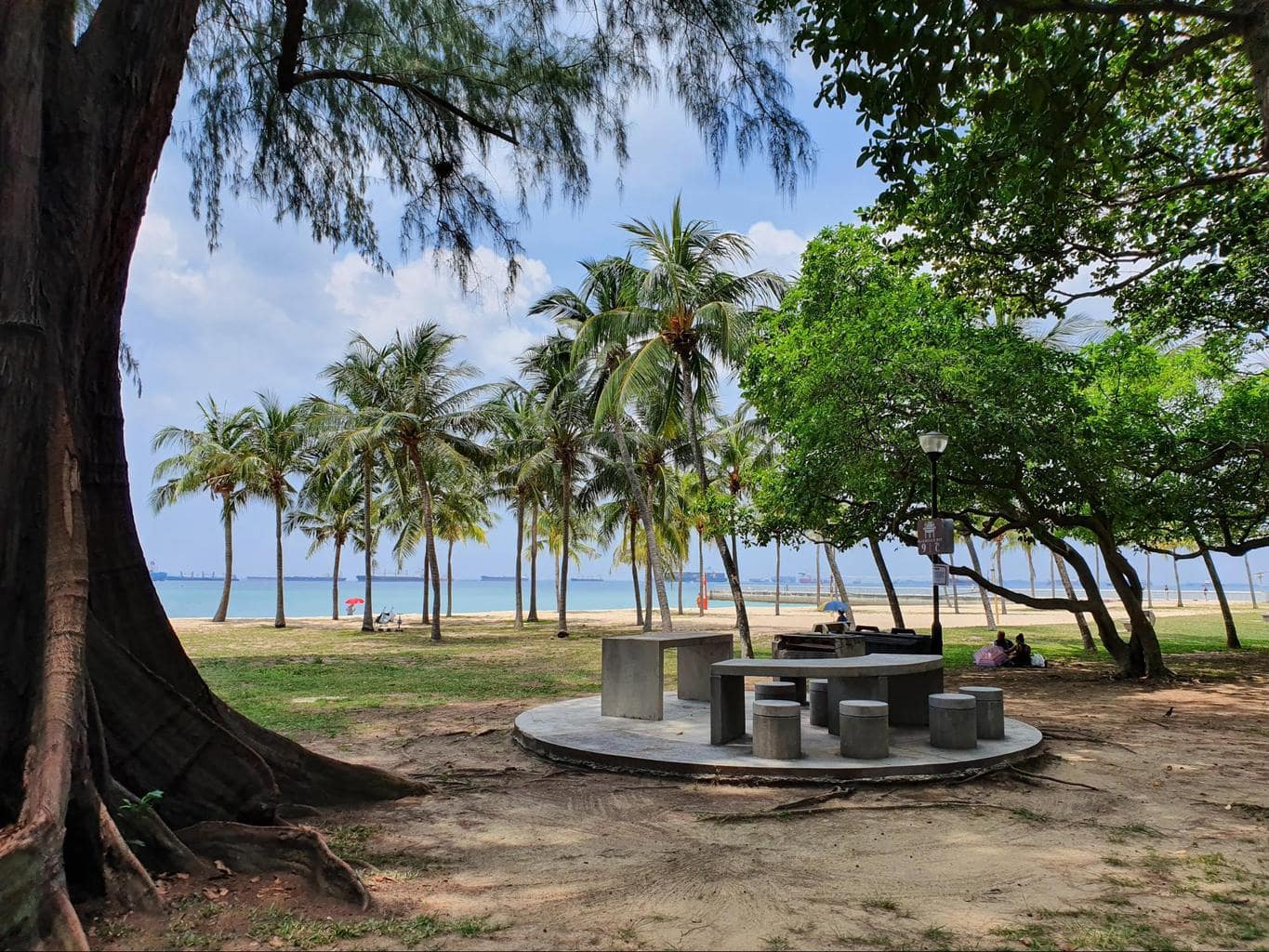 Family-friendly East Coast Park extends 15km from Gardens by the Bay to Changi Beach in what is the longest stretch of coast in Singapore and also the most popular.
This is a Singapore Park to come enjoy nature and mostly, the beach. You can sit under the shade of palm trees on grassy areas or sandy beaches, share a BBQ with friends, enjoy a lazy brunch or take the kids to one of the few playgrounds, East Coast Park has something for everyone.
On East Coast Park (ECP) you can also do lots of activities. Stay fit by renting rollerblades and bikes, including family and tandem bikes, by the hour, play beach volleyball, trying your luck at wakeboarding or at kayaking and windsurfing or even skating at Xtreme SkatePark.
Children will love the many playgrounds, especially Marine Cove which is the largest, Raintree Cove and Big Splash (closed till early 2021). East Coast Park also has lots of dining outlets, including some that have sea views and a large hawker center.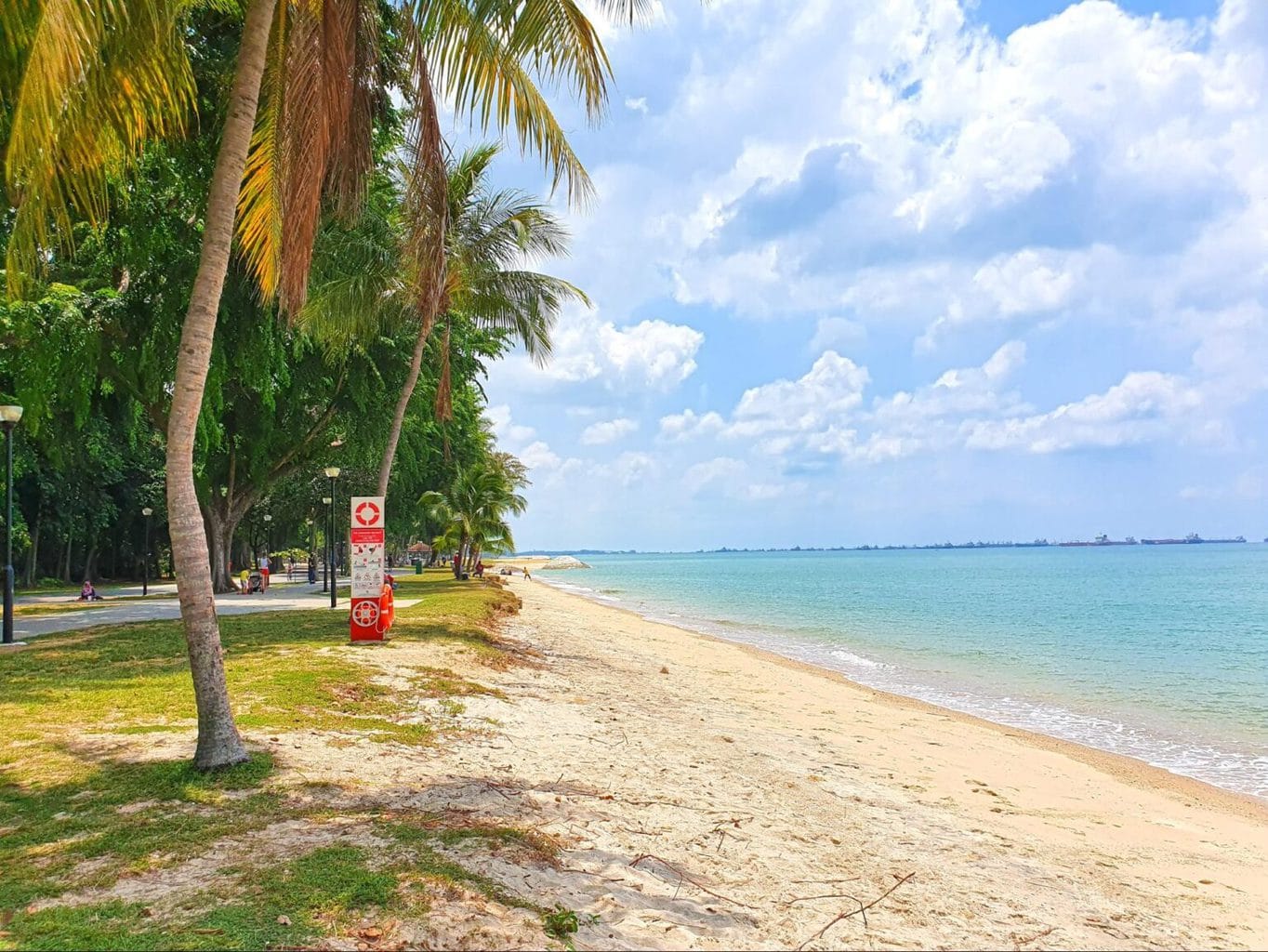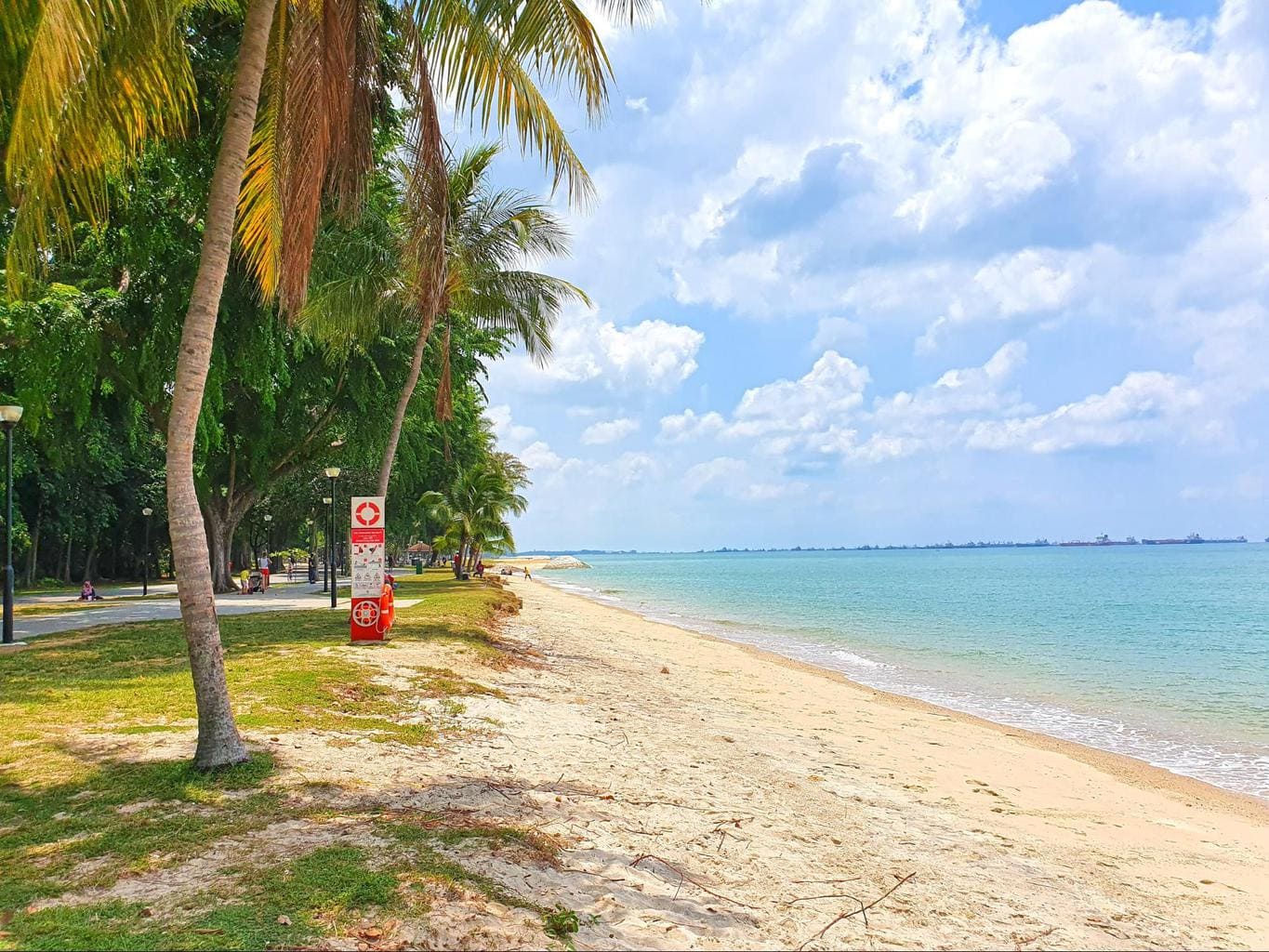 ECP is also the place to come camp in Singapore because there are several areas where this is allowed, and you can also rent one of the BBQ spots nearby to complete the weekend staycation.
Best time to go: Weekends can get crowded in particular around the parking areas, but walk a bit further (or rent a bike) and you will find spots for yourself only. During the week, the park gets busier in the evening with joggers and cyclists.
Highlight: Cycling the entire park starting at Gardens by the Bay is one of the nicest things to do in Singapore.
How to get there: The closest is to go to Bedok MRT and then take the bus 401 on weekends which takes you directly to the park. In the week, take the 197 to Marine Parade Road outside Parkway Parade and walk through the underpass.
Facilities: Beach volleyball court, BBQ pits (with a permit), water point, bicycle skate kiosk, playground, carpark, fitness area, camping (with a permit).
Opening times: 24hrs
Fort Canning Park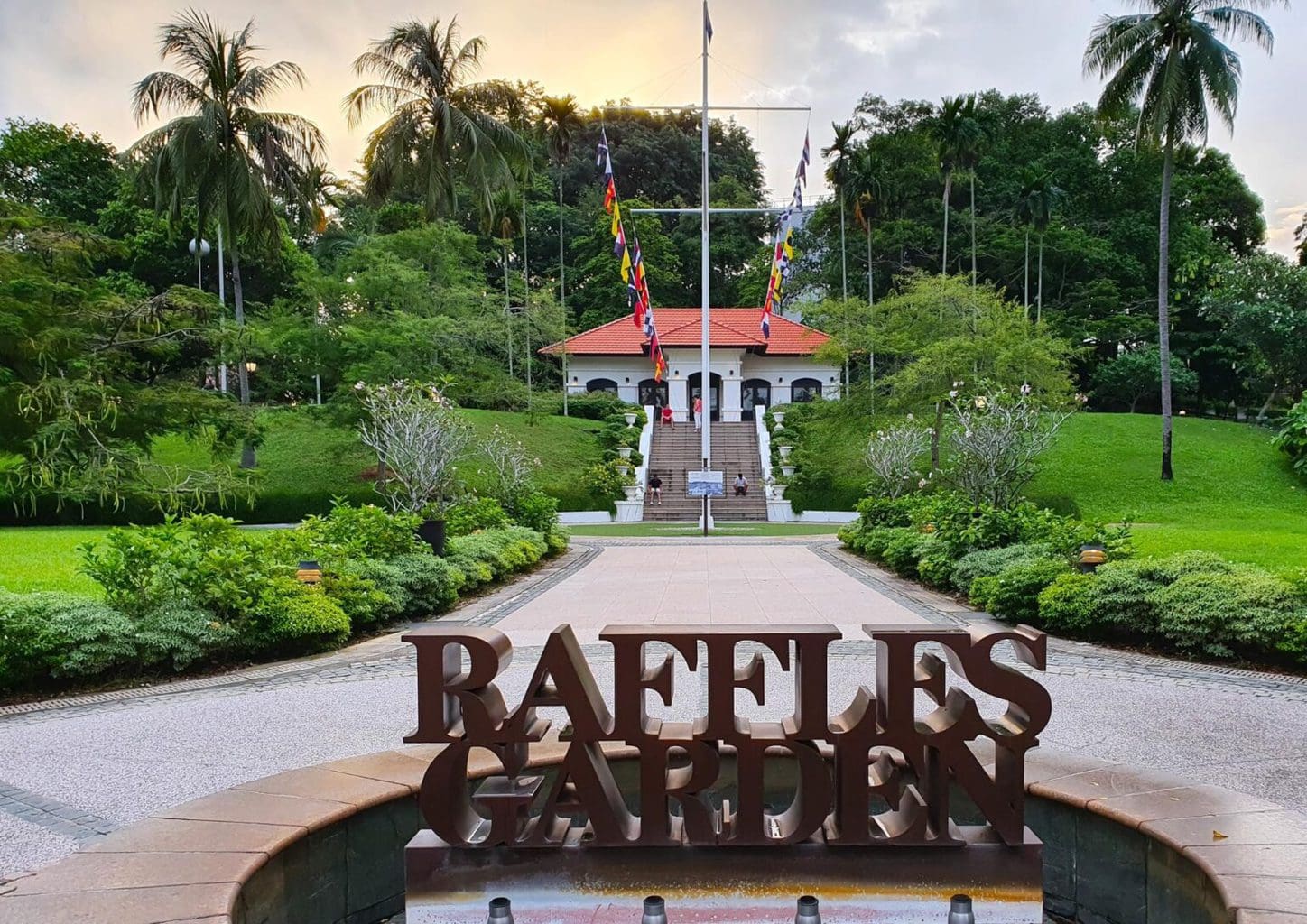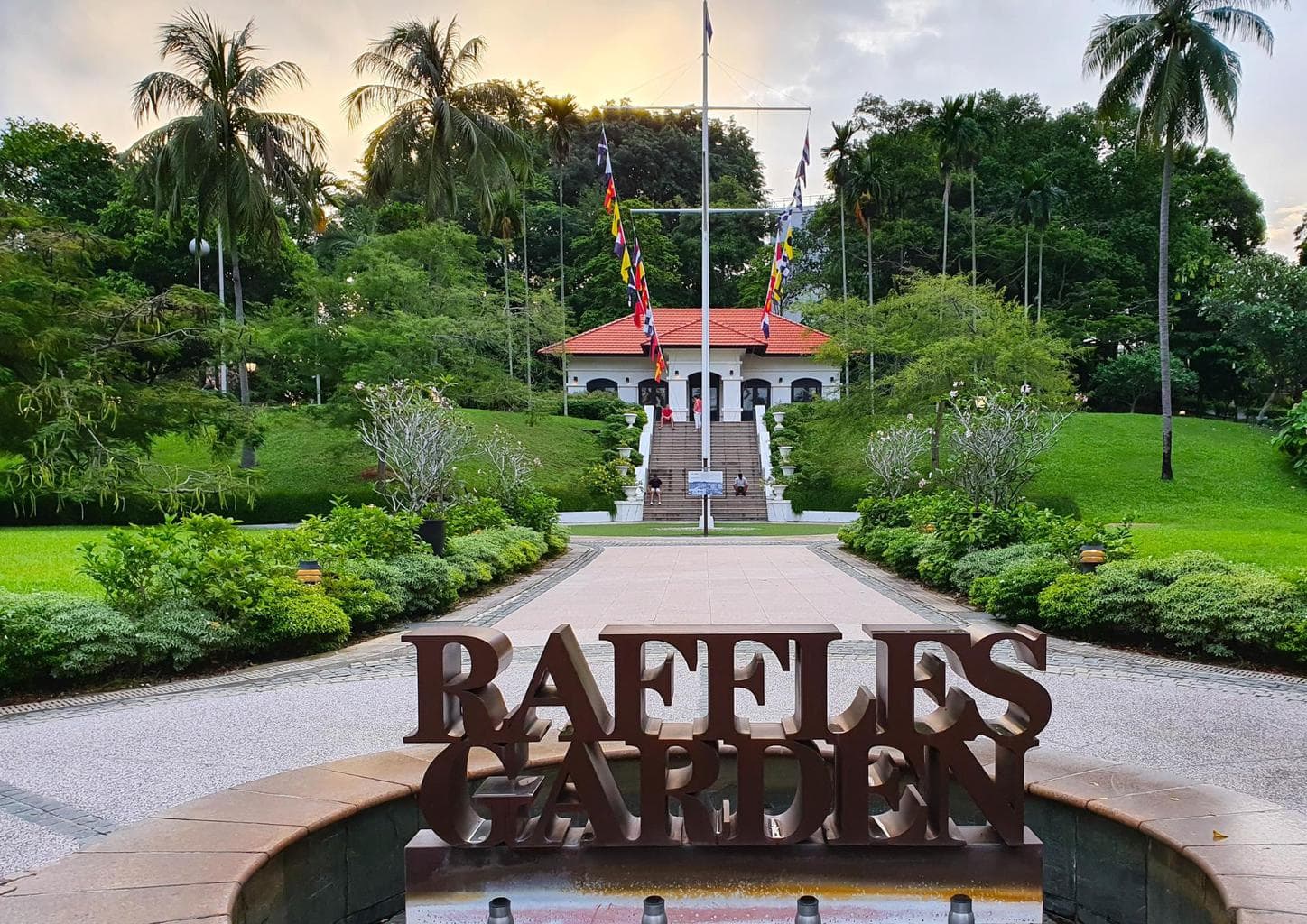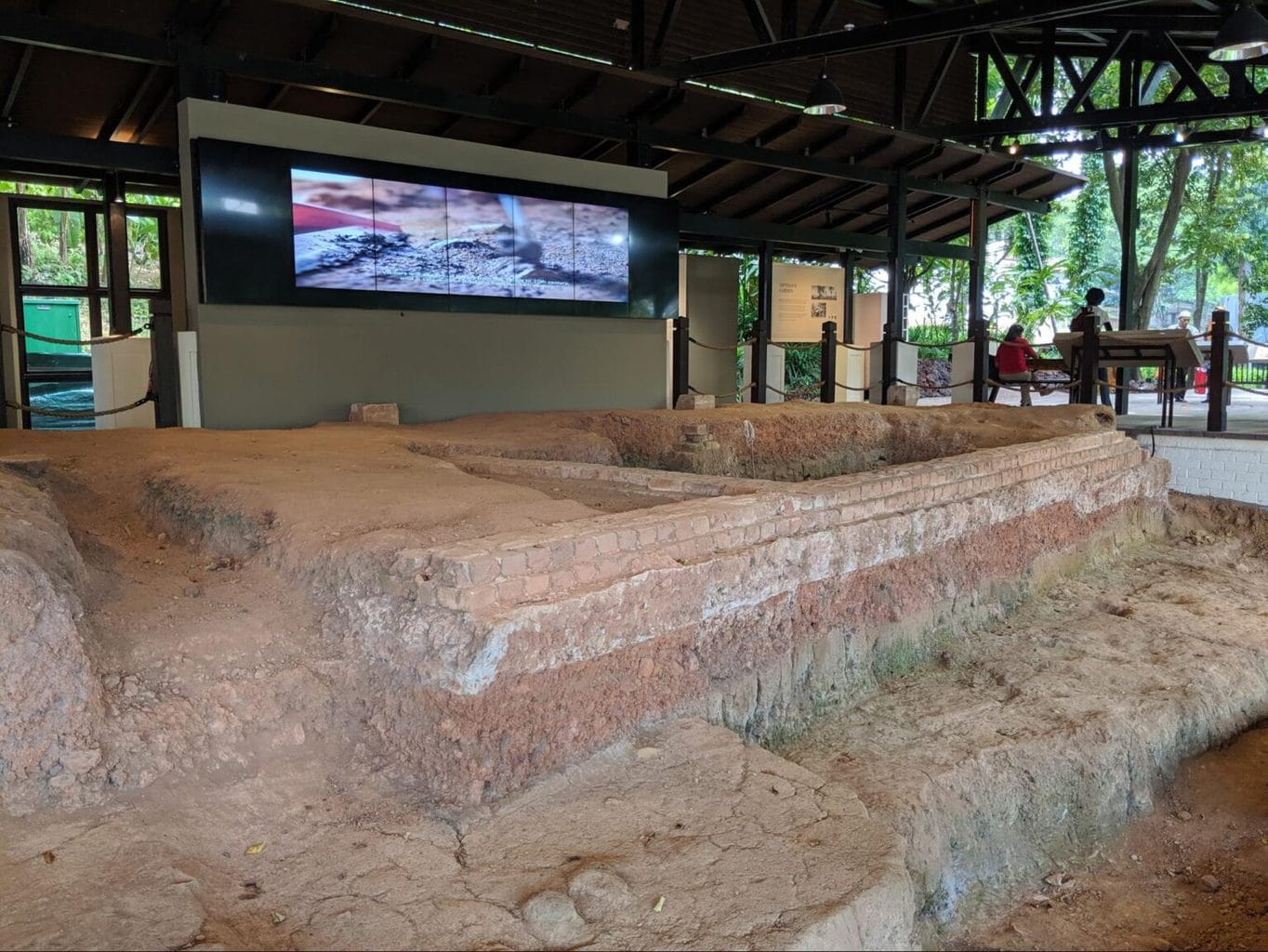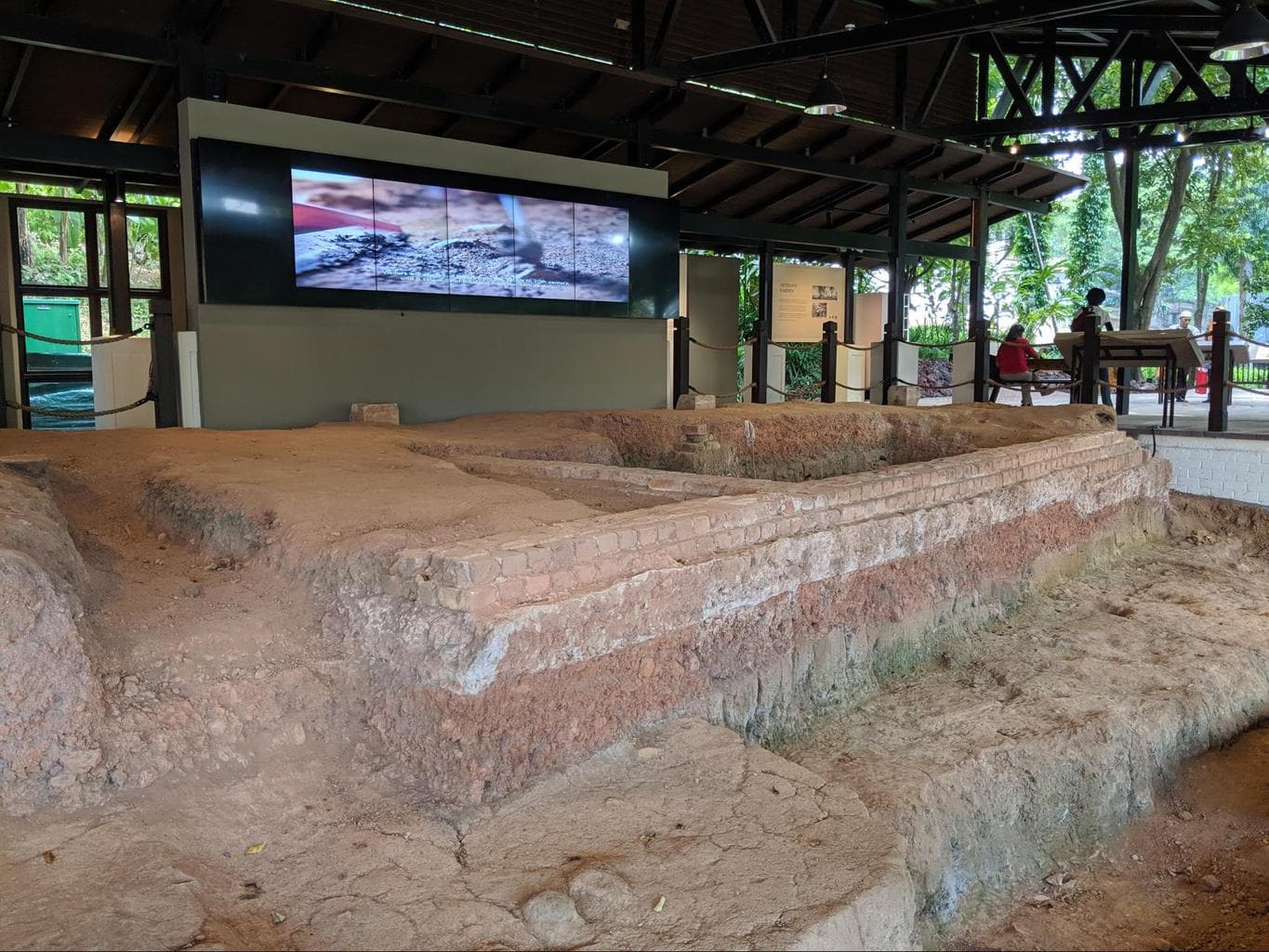 Right in the middle of the city this Singapore Park is also where it all started for the country. Located in Bugis, at the heart of the civic and heritage district, Fort Canning Park is the perfect place to enjoy a moment of silence in the middle of the traffic.
Here you will find the last open archeological dig site in Singapore located in the Artisan's garden and many other important historical landmarks.
Originally the site of 14th century Kings, Fort Canning was also the center of the Far East Command Centre (today part of the Fort Canning luxury hotel) and British Army Barracks during WWII and you can't leave the park without enjoying a visit to the Battle Box Museum, which many would say is the best museum in Singapore.
The park is not very big but has a few trails, some of which are mostly unexplored despite its central location, and several gardens where you can see local flora, spices, etc. Look out for Sang Nila Utama Garden which will briefly transport you to Bali or Angkor Wat.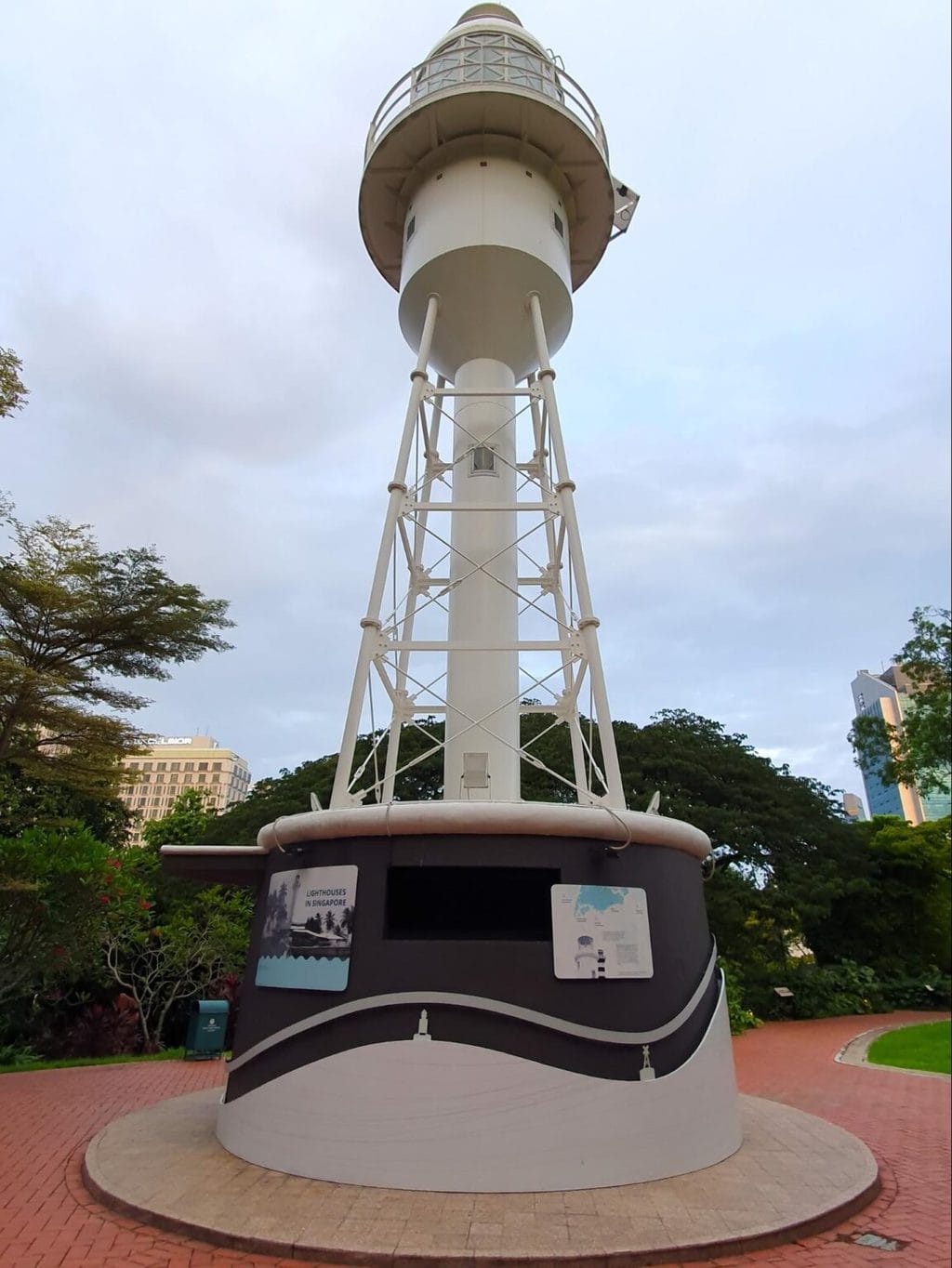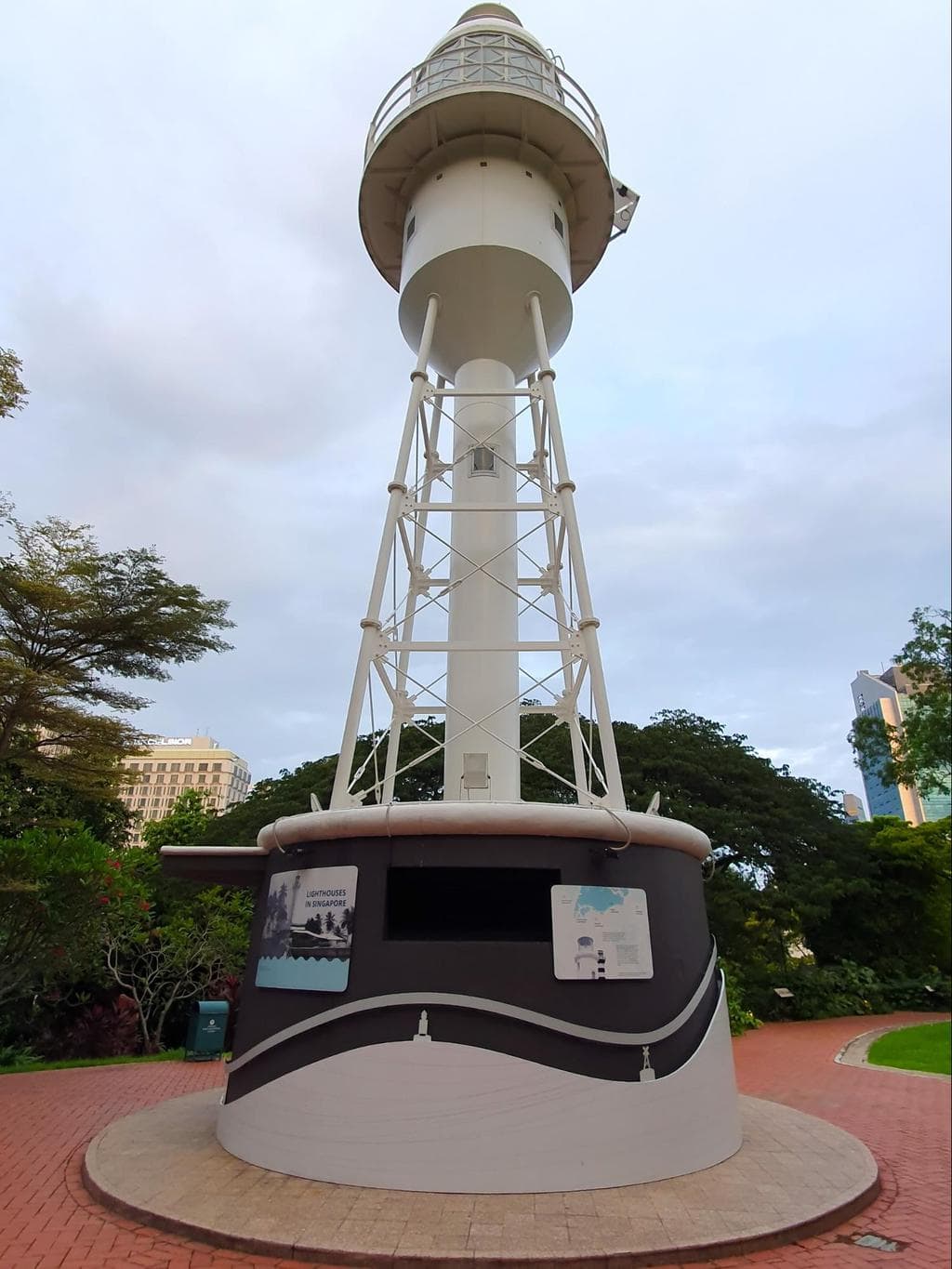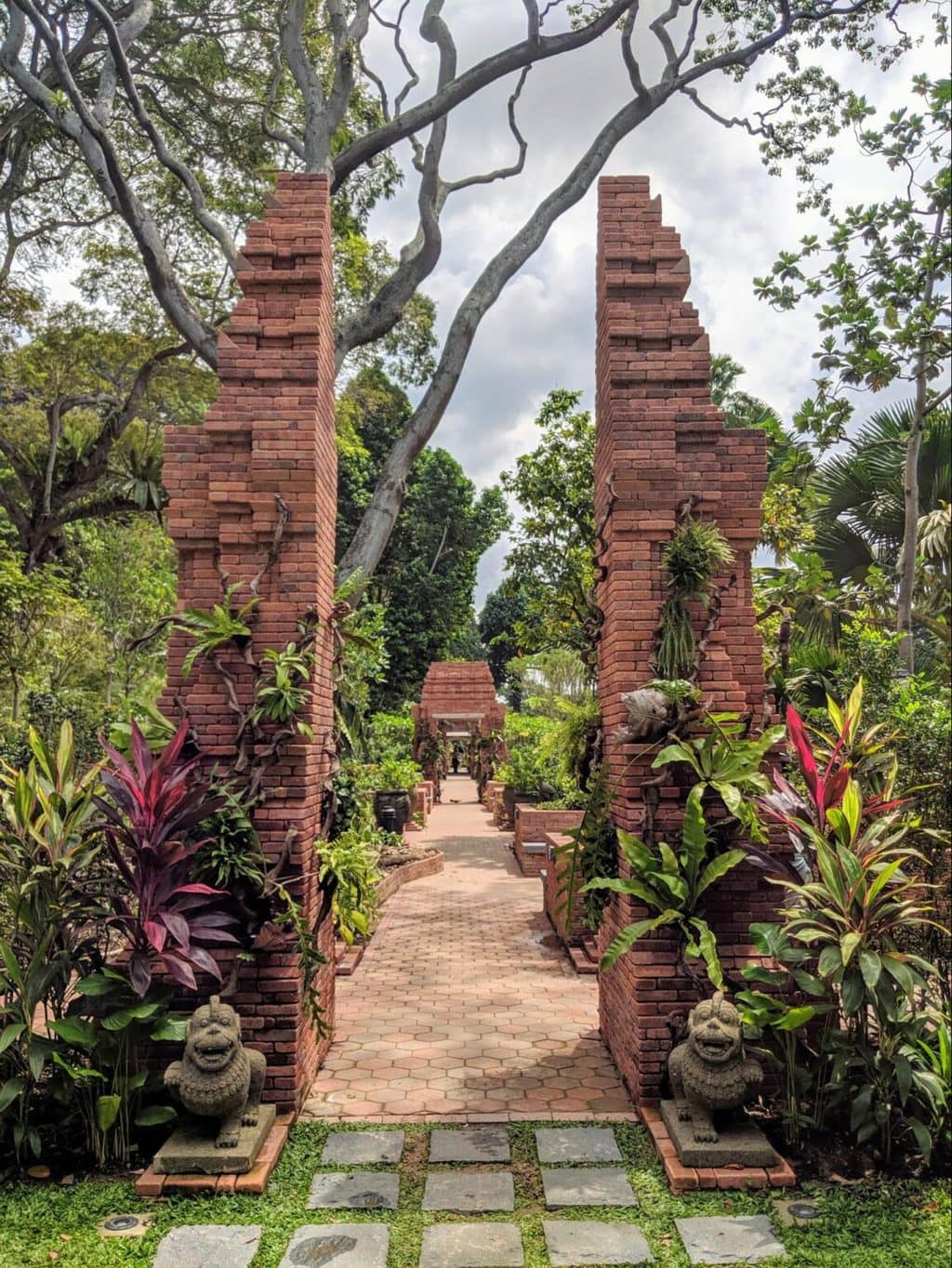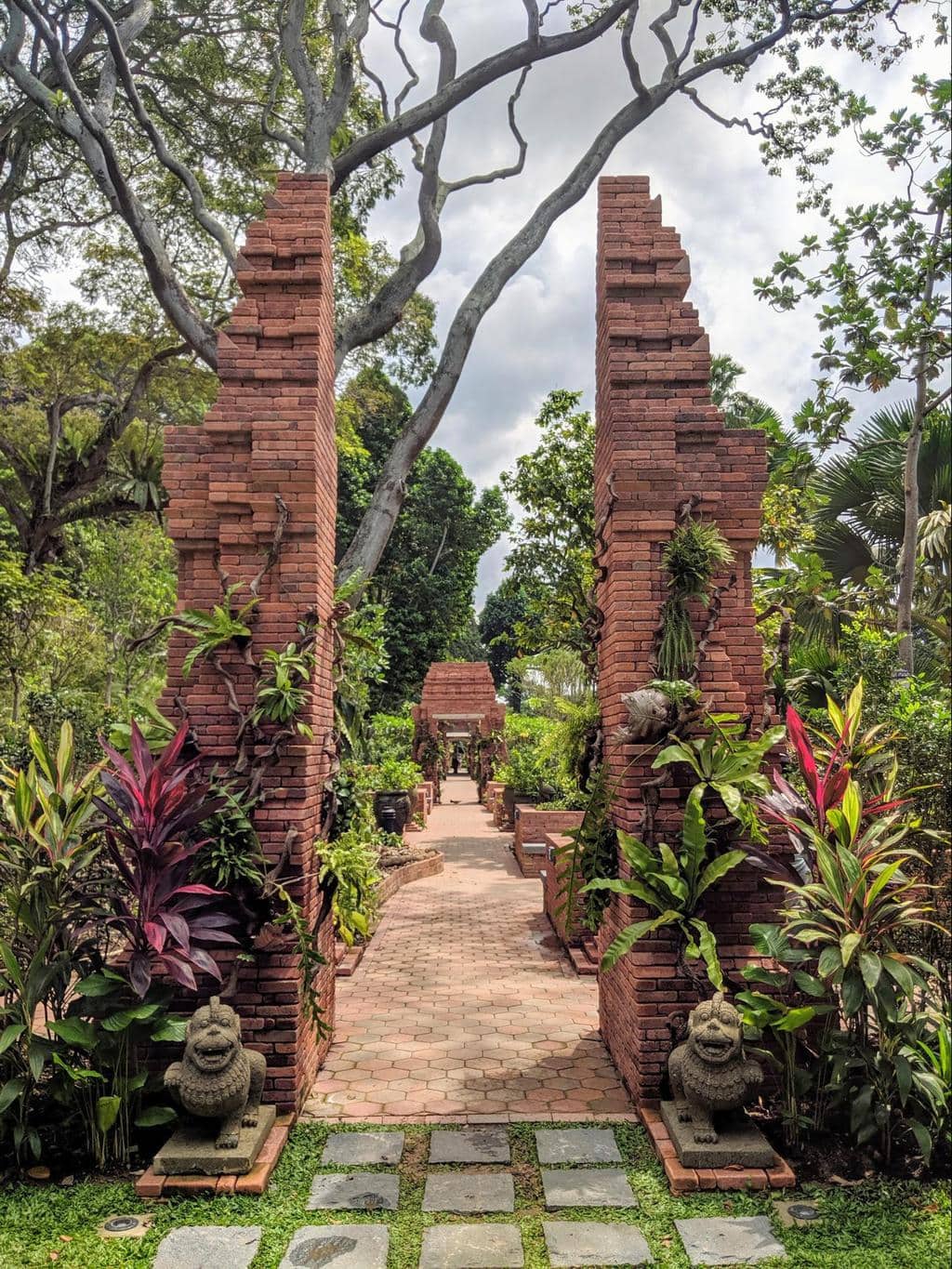 If you download the app BALIKSG you can follow a trail and stop at the QR codes to see the locations come to life via augmented reality and follow the trail.
Look out for a replica of the original Fort Canning Lighthouse which is at the top of the hill, it is also a great place to see the sunset.
Best time to go: Labrador Park is not usually super busy but it is particularly nice in the evening when the sun starts to set and the park becomes louder with the sound of the birds chirping. Take a seat on one of the benches and just enjoy the sounds.
Highlight: The various gardens are a delight but don't miss out on the famously Instagrammable spiral staircase.
How to get there: Alight at Fort Canning Station (Exit B), Clarke Quay Station (Exit E) or Dhoby Ghaut Station (Exit B).
Facilities: Carpark, fitness area, restaurant, shelters, venue for holding events, restrooms
Opening times: 24 hours
Map: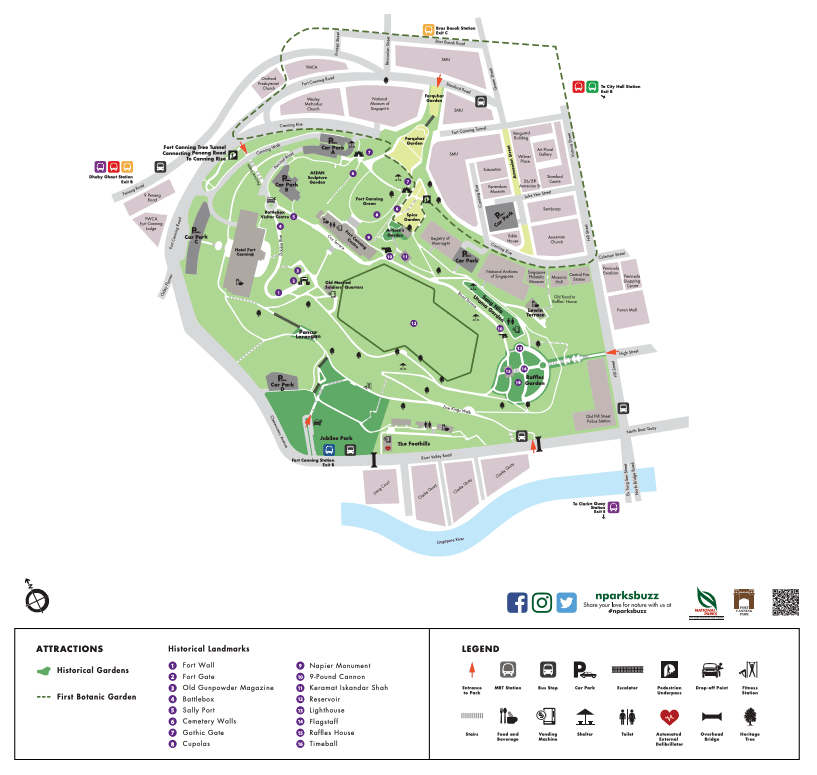 Labrador Nature Reserve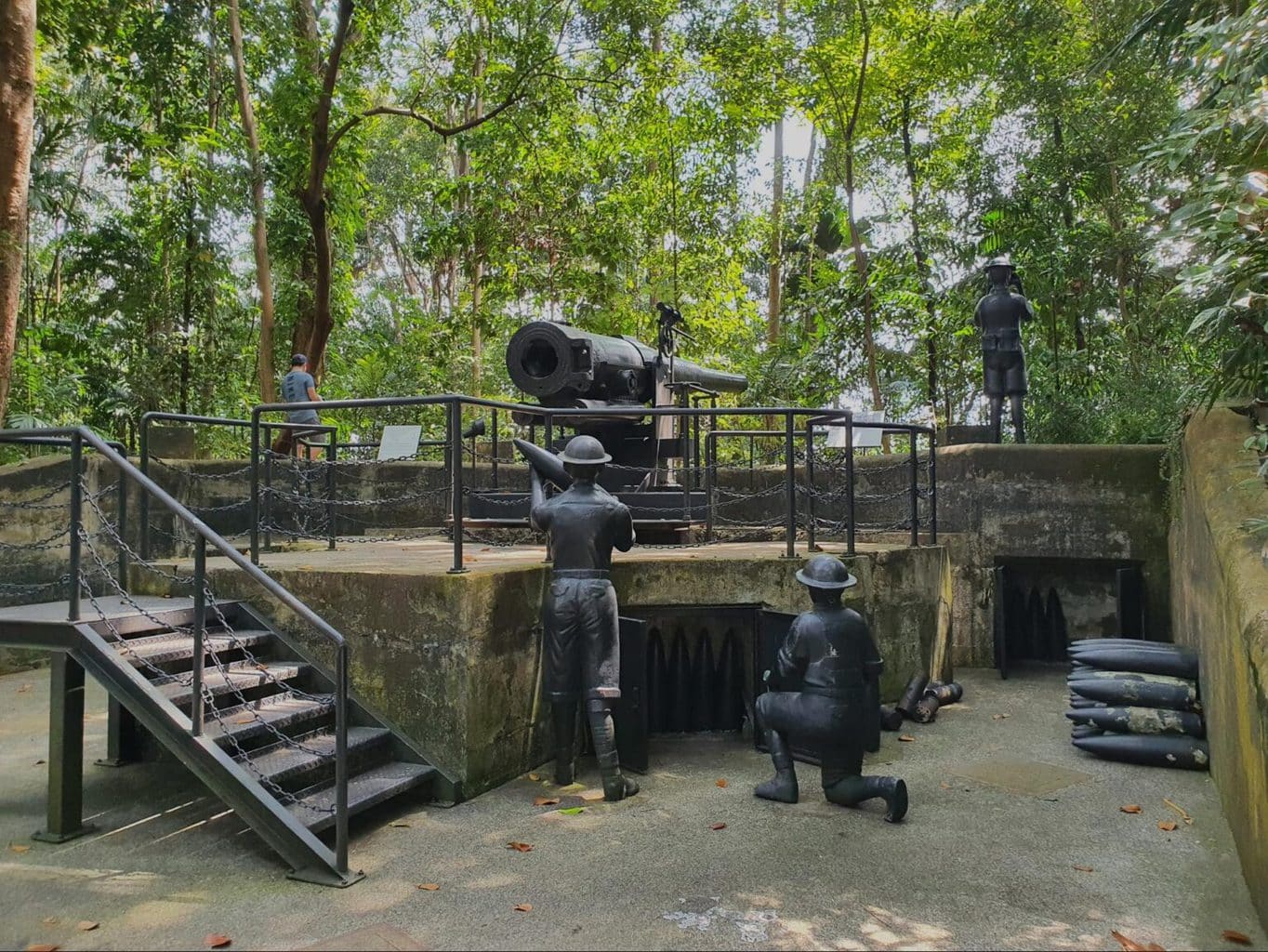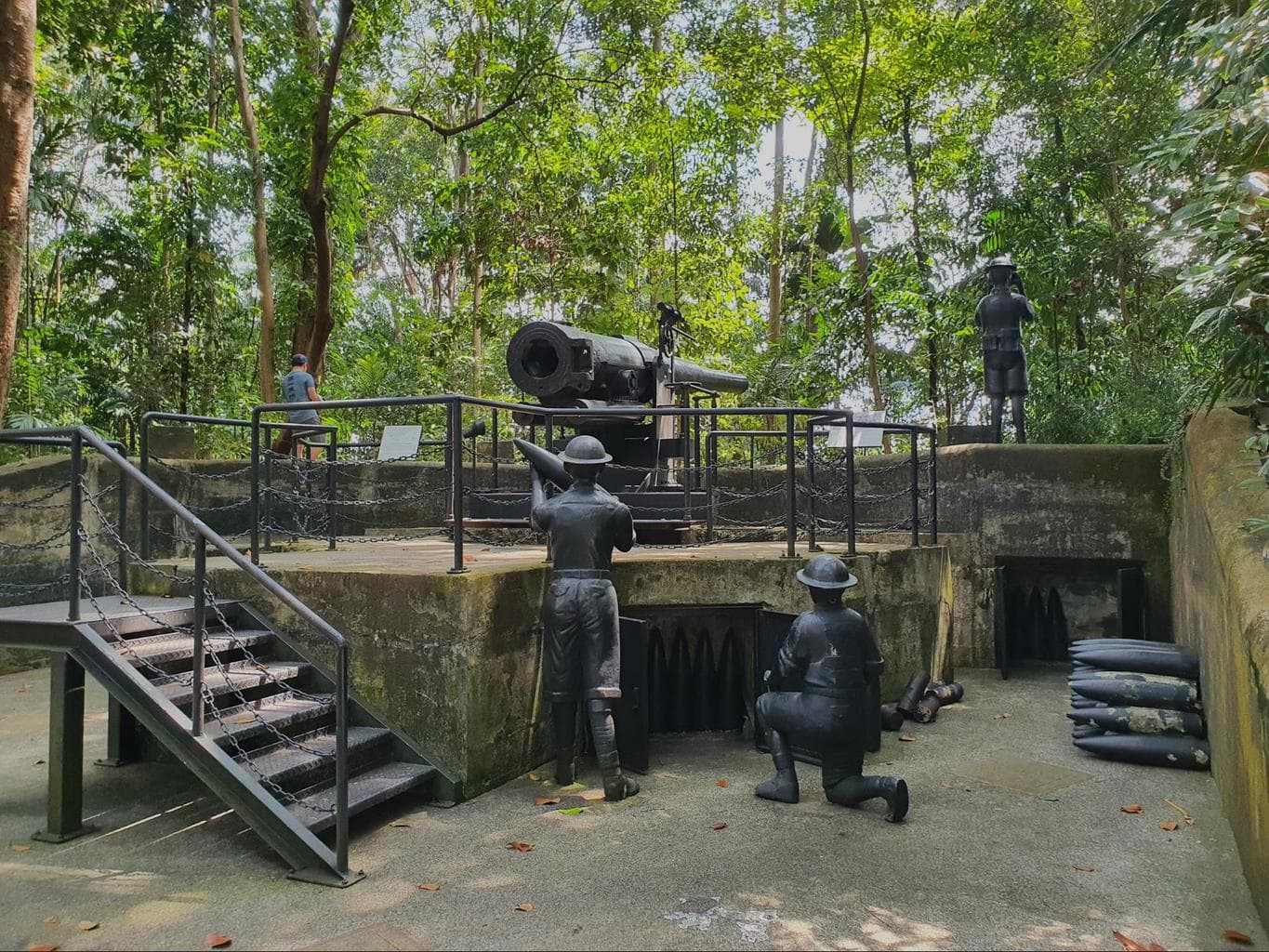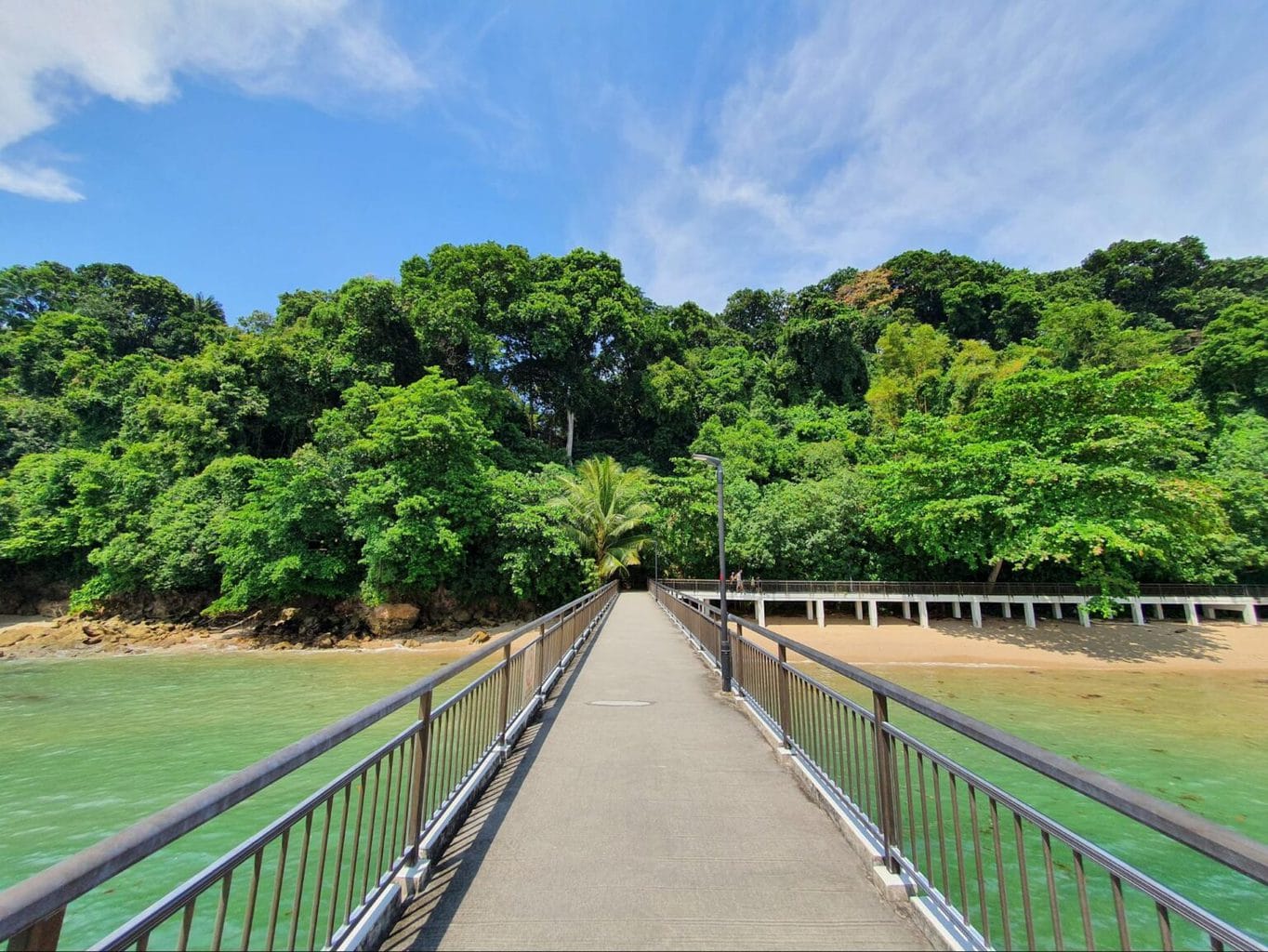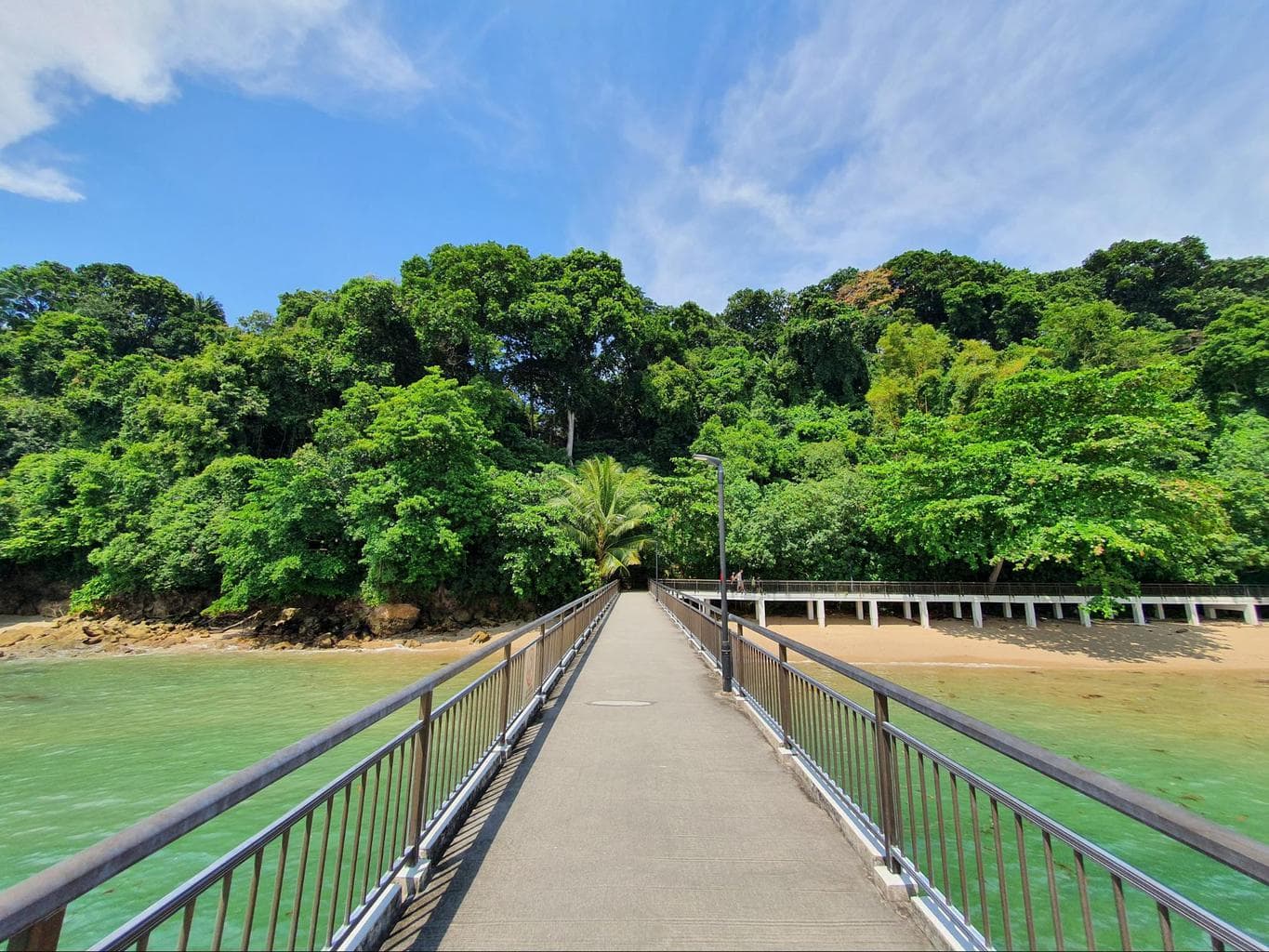 Labrador Nature Reserve is one of only 3 reserves in Singapore and is a favorite among residents of Keppel Marina and surroundings who can simply stroll along the coast and enjoy this heritage and historic enclave that mixes the sea with forest trails and WWII relics.
The nature reserve is part of the Southern Ridges and has two distinct areas. The secondary forested part upper on the hill and the seaside area with mangroves, overwater boardwalks, grassy areas and pavilions that are perfect for picnics and BBQs.
Labrador Nature Reserve is a great place to learn more about WWII and the Battle of Singapore through the relics from the war (canons, ammunition halls, forts, etc.) and the explanations on panels. These are mostly located in the forest though some are visible also by the coast.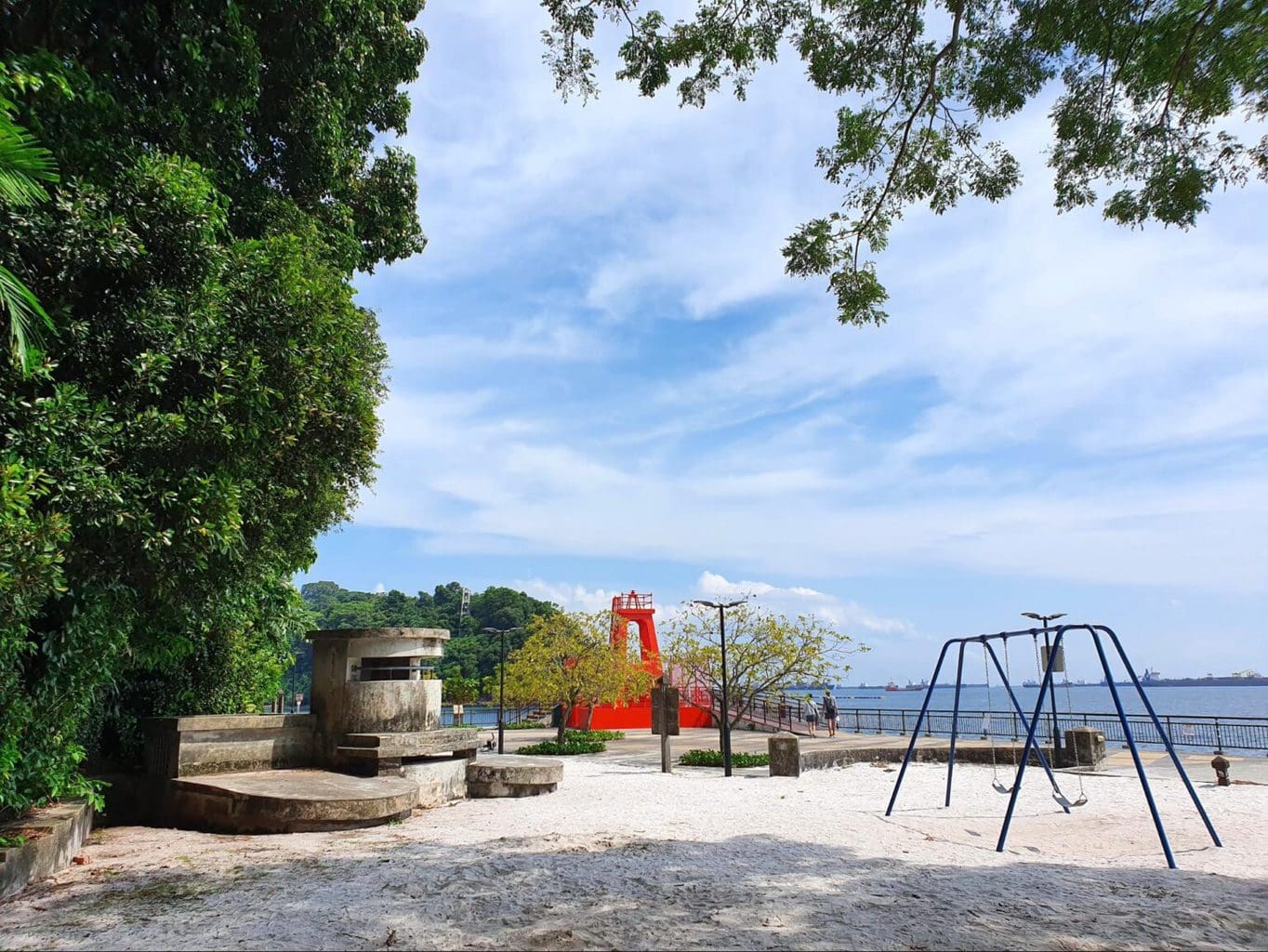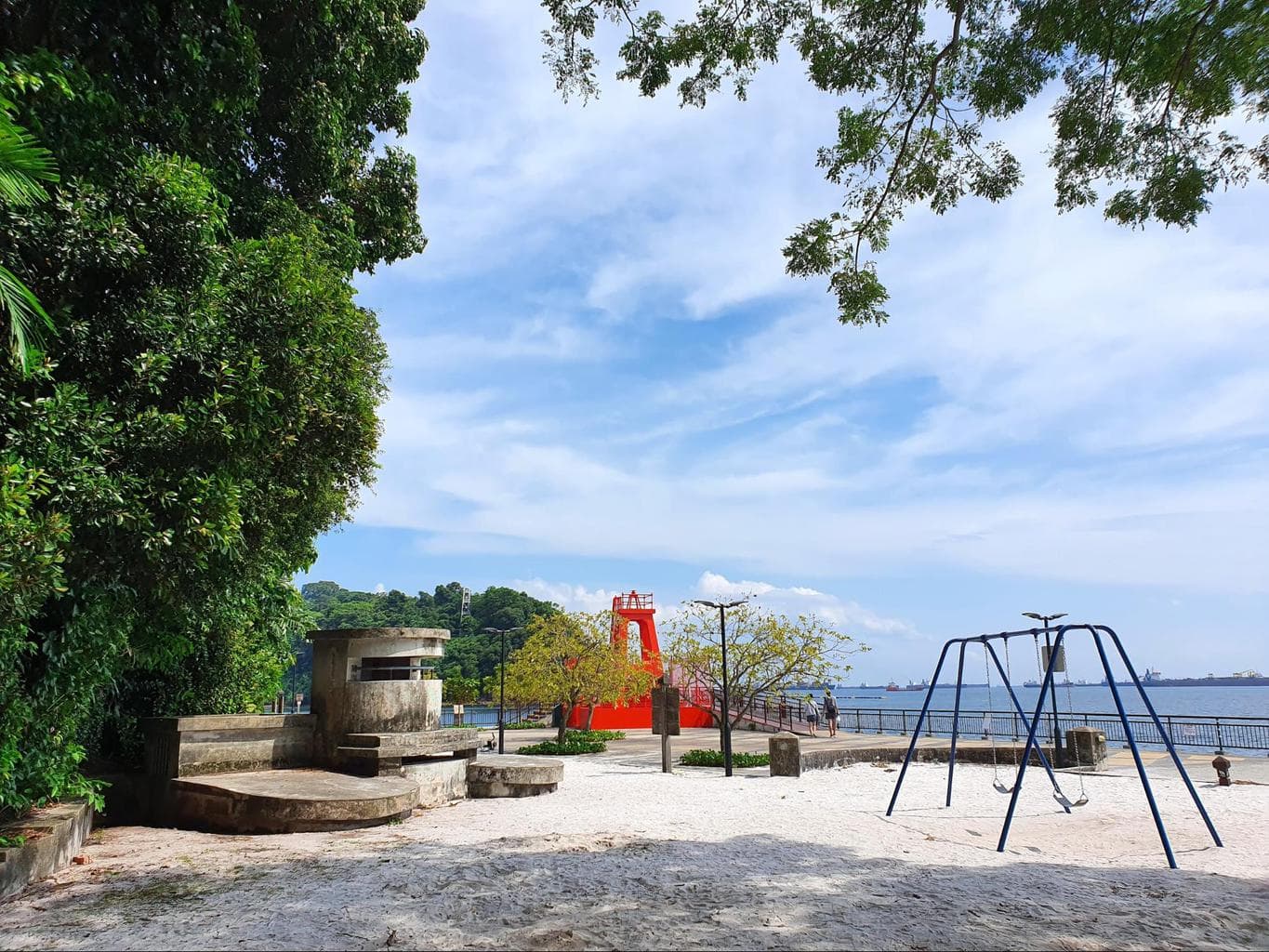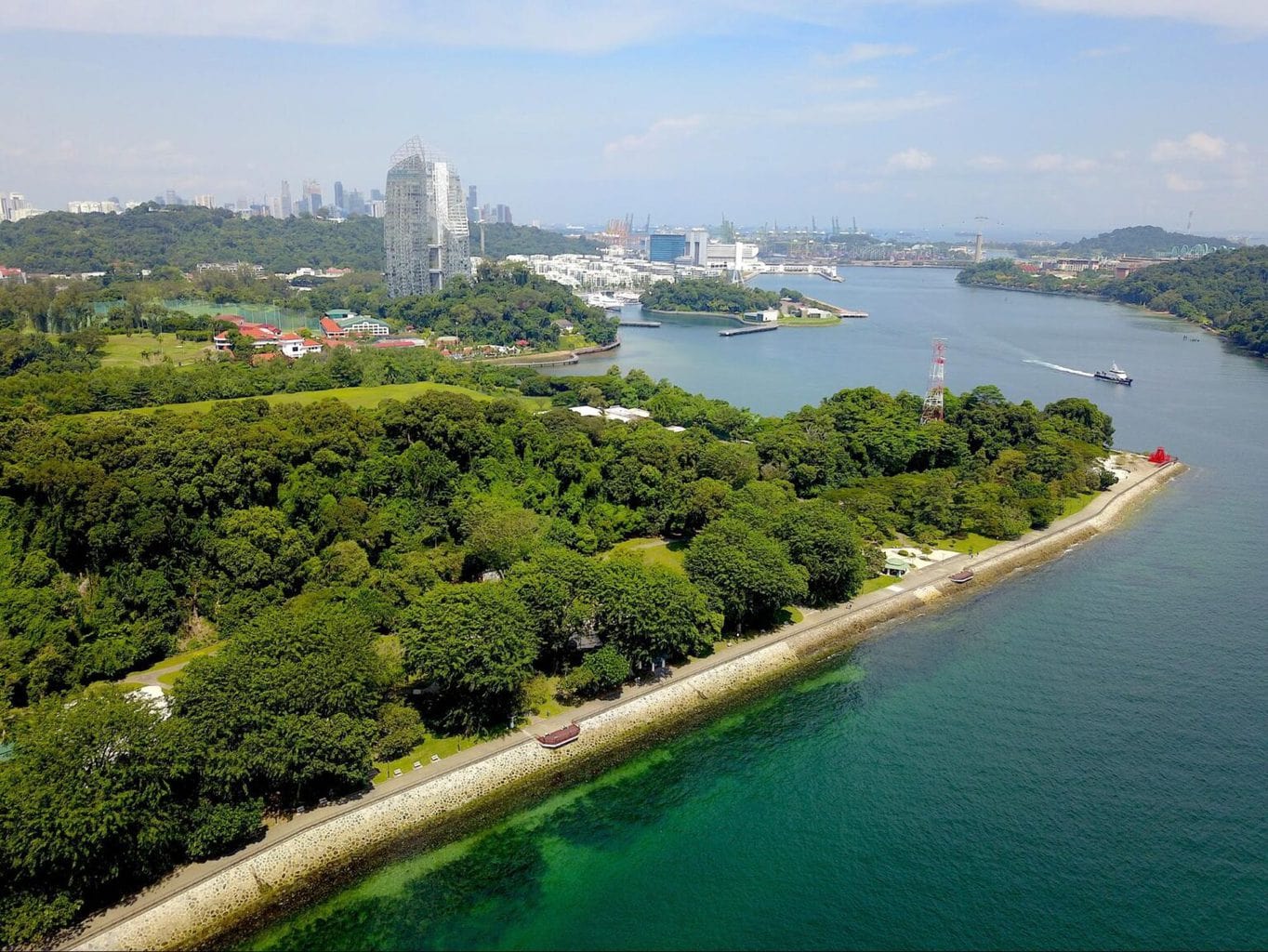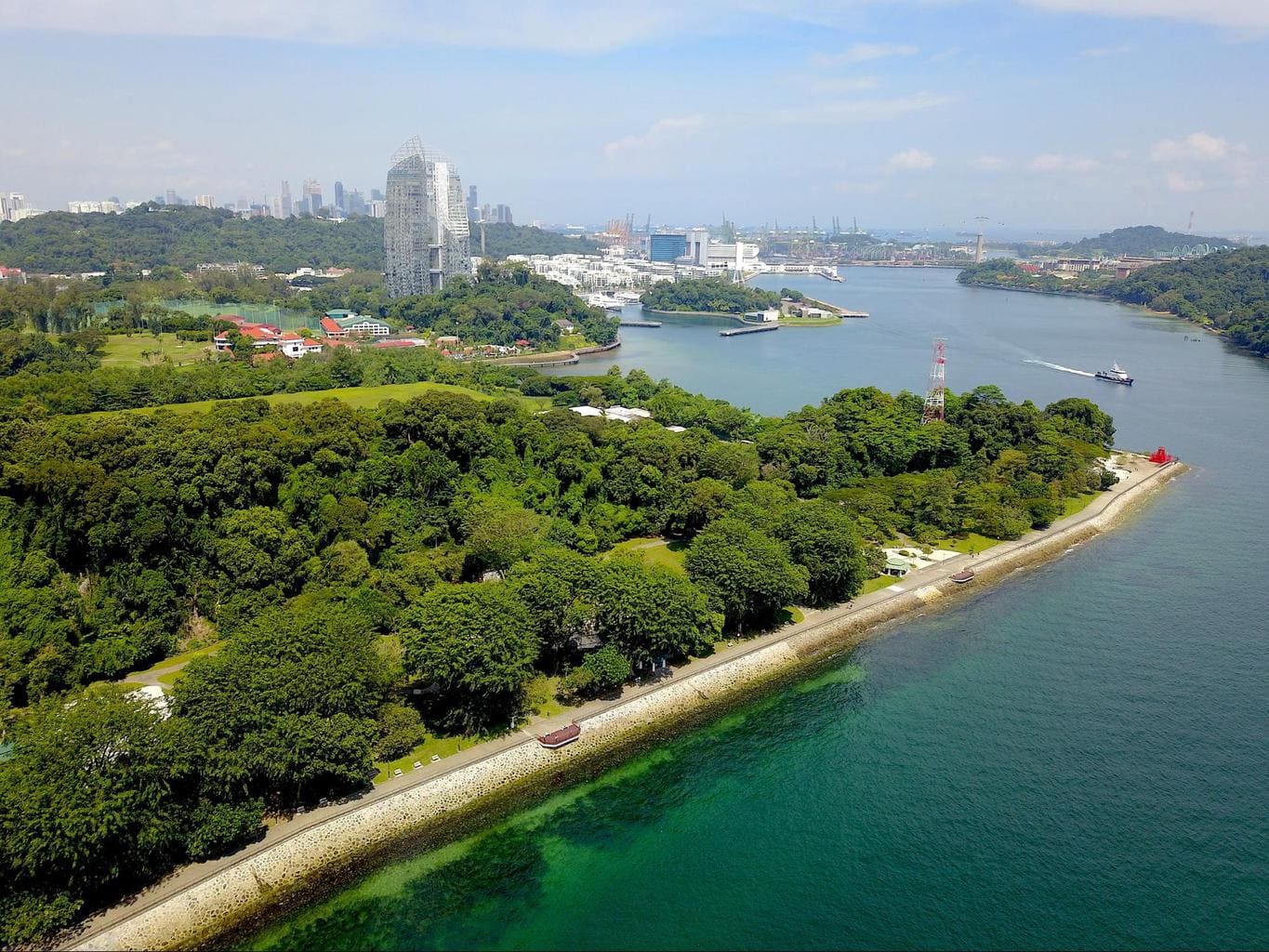 If you are a keen fisherman, there is a marked area at the end of a pier on the western side of the park where it is allowed. This is also where you will find the only seacliff in Singapore. BBQs and picnics with sea views are quite pleasant and the seaside part of the park is usually breezy and peaceful.
If you continue towards Keppel Marina you will find three extensions to the reserve that are also easily accessible from the Labrador MRT station: Alexandra Garden Trail, Berlayer Creek Mangrove Trail and Bukit Chermin Boardwalk. All three are really nice.
Look out for monitor lizards, an abundance of birds and butterflies and lots of fish.
Best time to go: Anytime really, but a great idea for weekends is to have brunch at Keppel or Tamarind Hill followed by a hike.
Highlight: You can start your exploration at Tamarind Hill for a nice brunch and then head out to explore the marked trails with WWII explanations, then walk down the hill towards the beach and continue to Keppel Marina.
How to get there: Labrador Park MRT and then follow the signs on foot down Labrador Villa Road for roughly 10-15 min.
Facilities: BBQ pits, playground, carpark, fitness area, restaurant, shelters, pond
Opening times: 7am to 7pm
Map: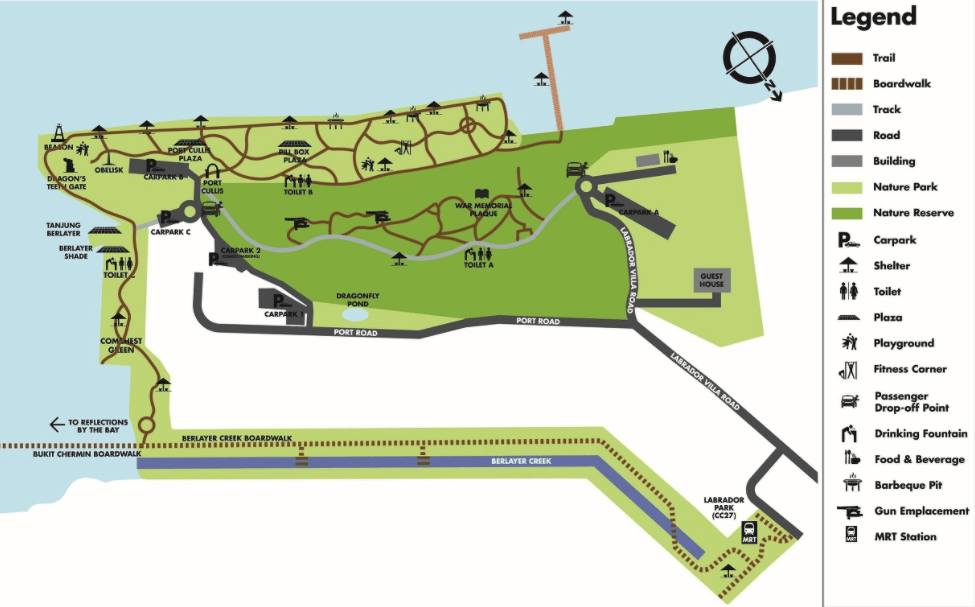 Pasir Ris Park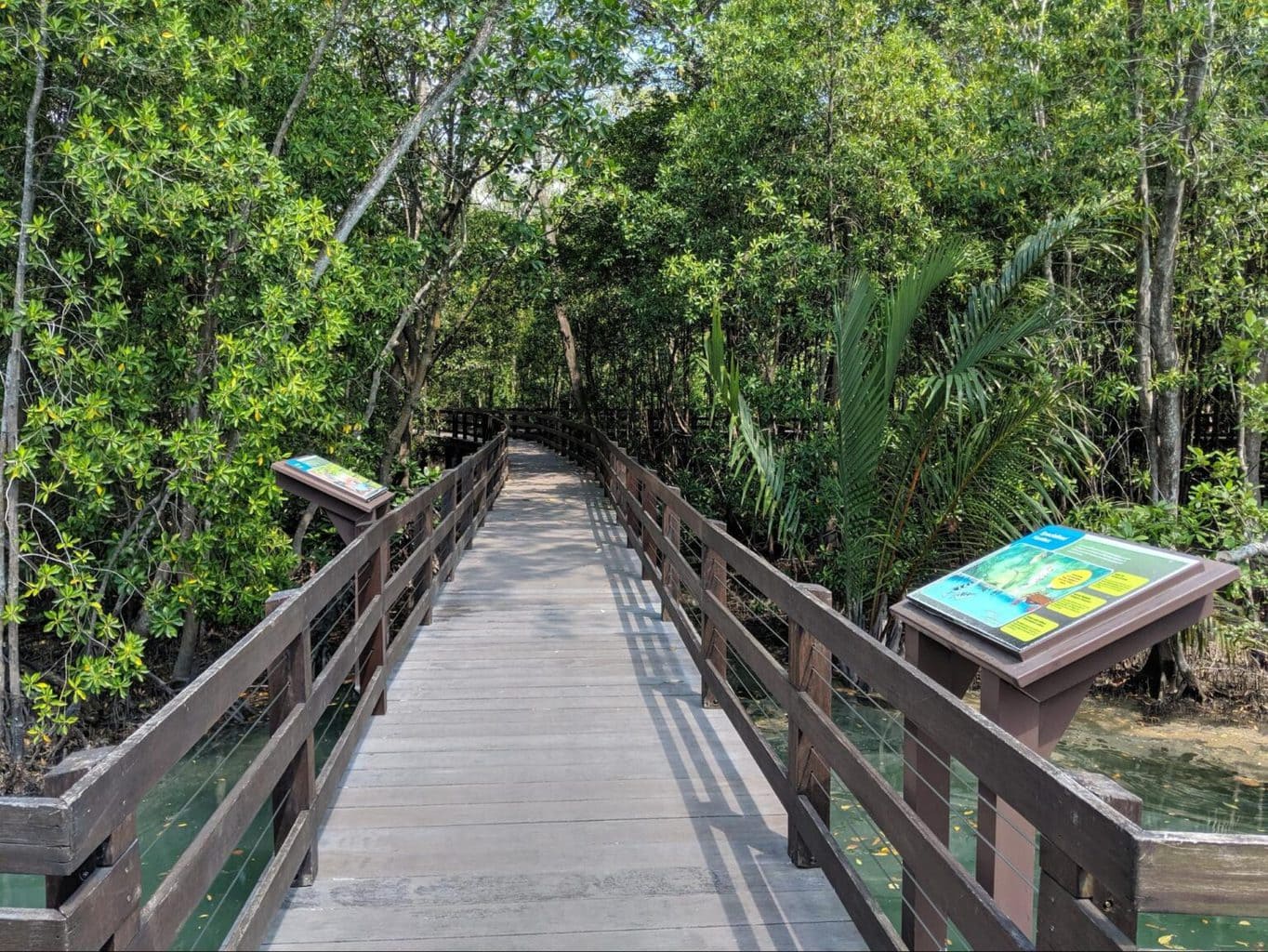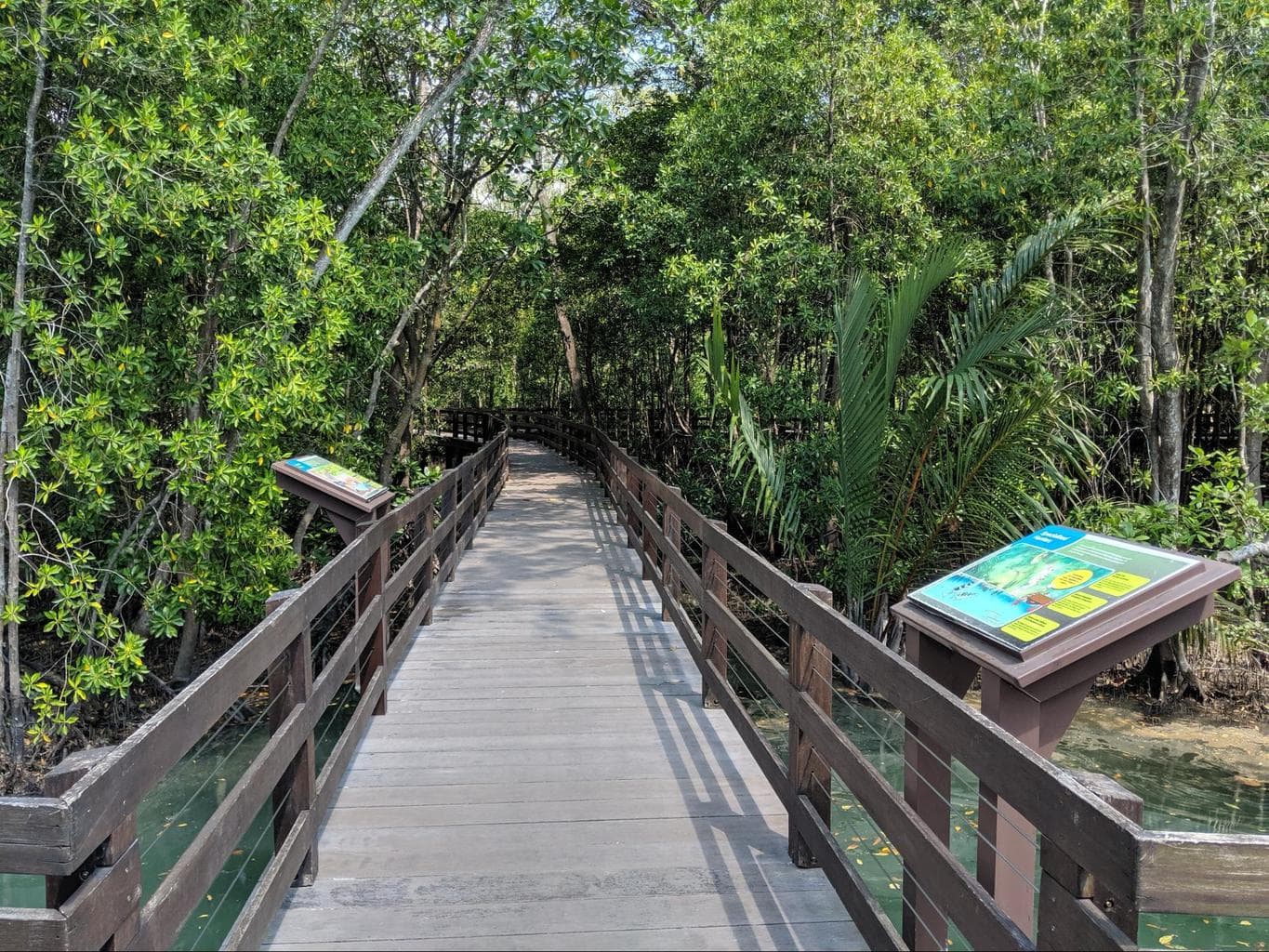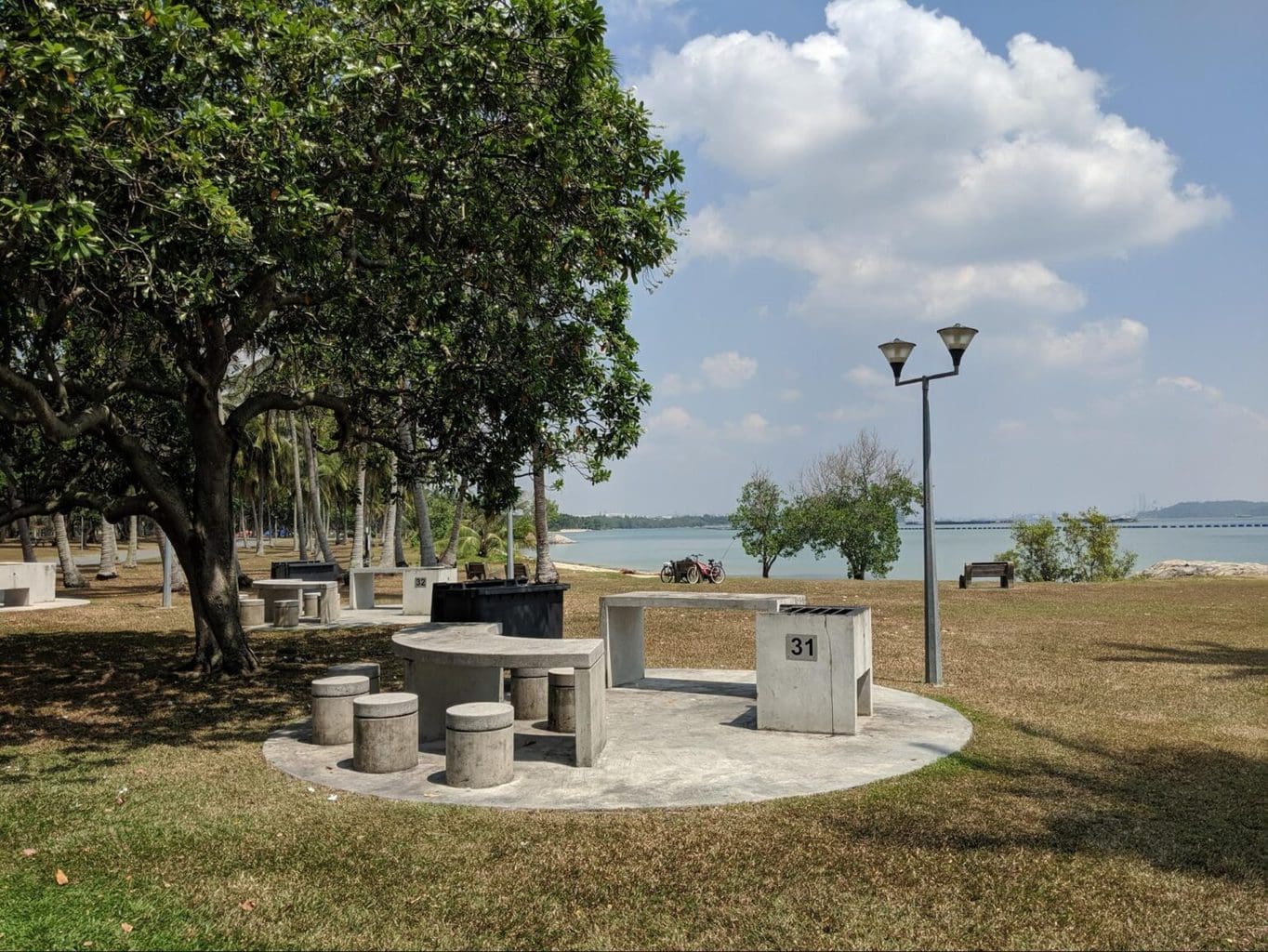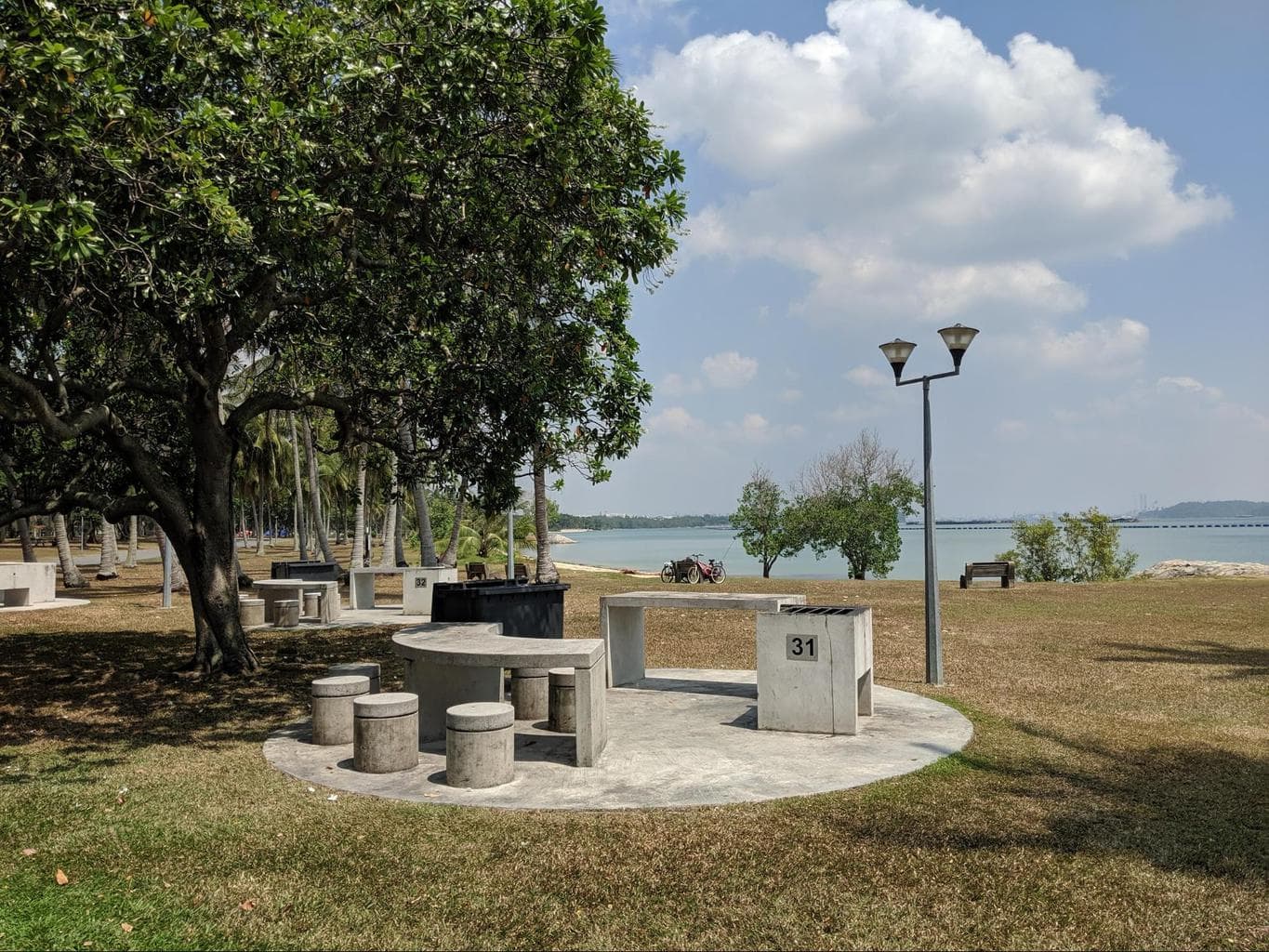 Pasir Ris Park is located in the northeastern part of Singapore and it is the second largest in Singapore and that means it comes complete with lots to do.
You can try to get out of the small maze, go bird watching from the tall tower or enjoy a beach BBQ. There are also camping spots, a large and well preserved mangrove area with boardwalks and a pretty nice beach.
As you walk along the boardwalks, you should be able to spot lots of wildlife. There are signs explaining what you can see, the mangrove ecosystem and lots more, they are particularly suited for children because of the cartoonish characters used to depict crabs and other wildlife.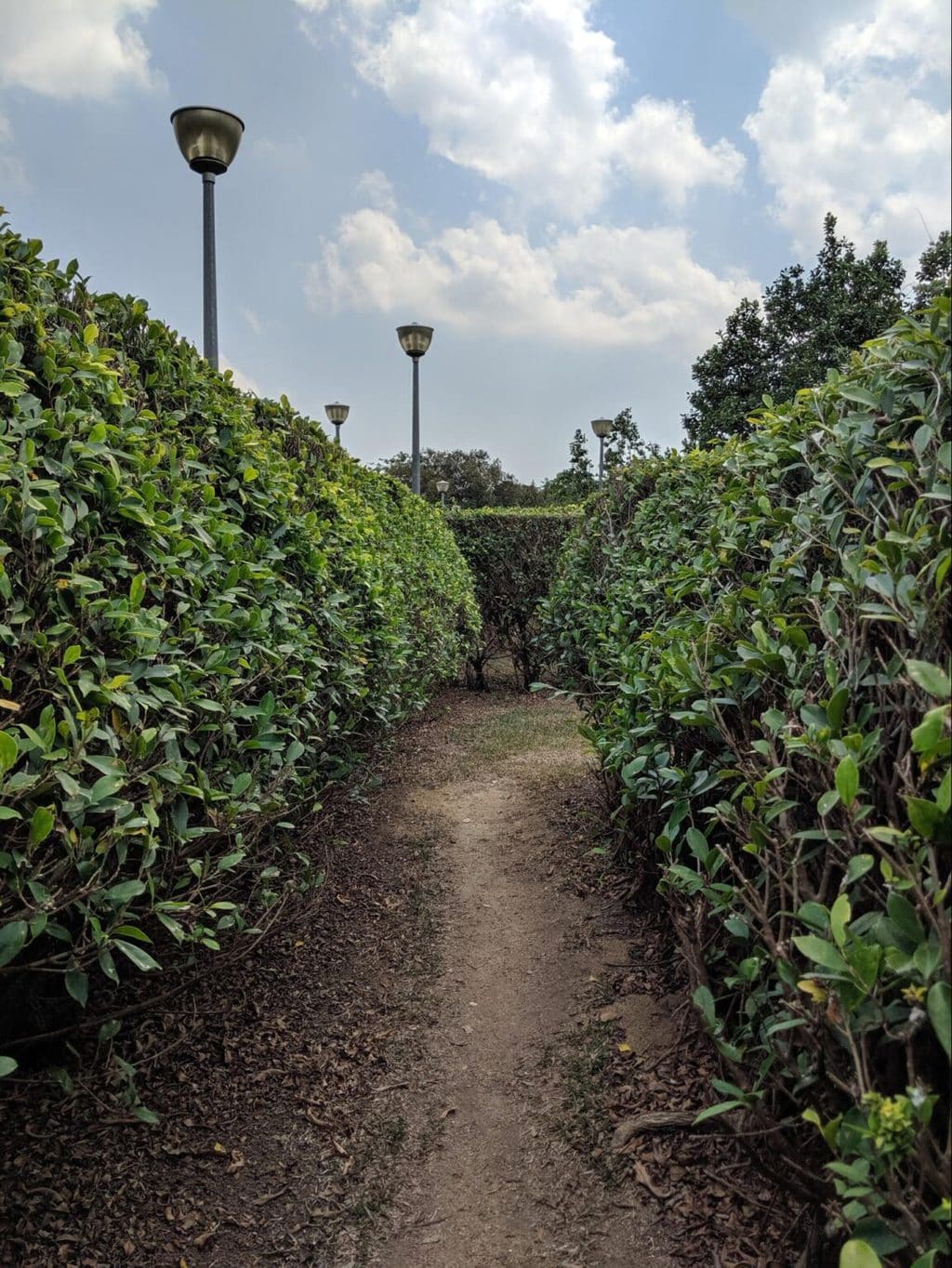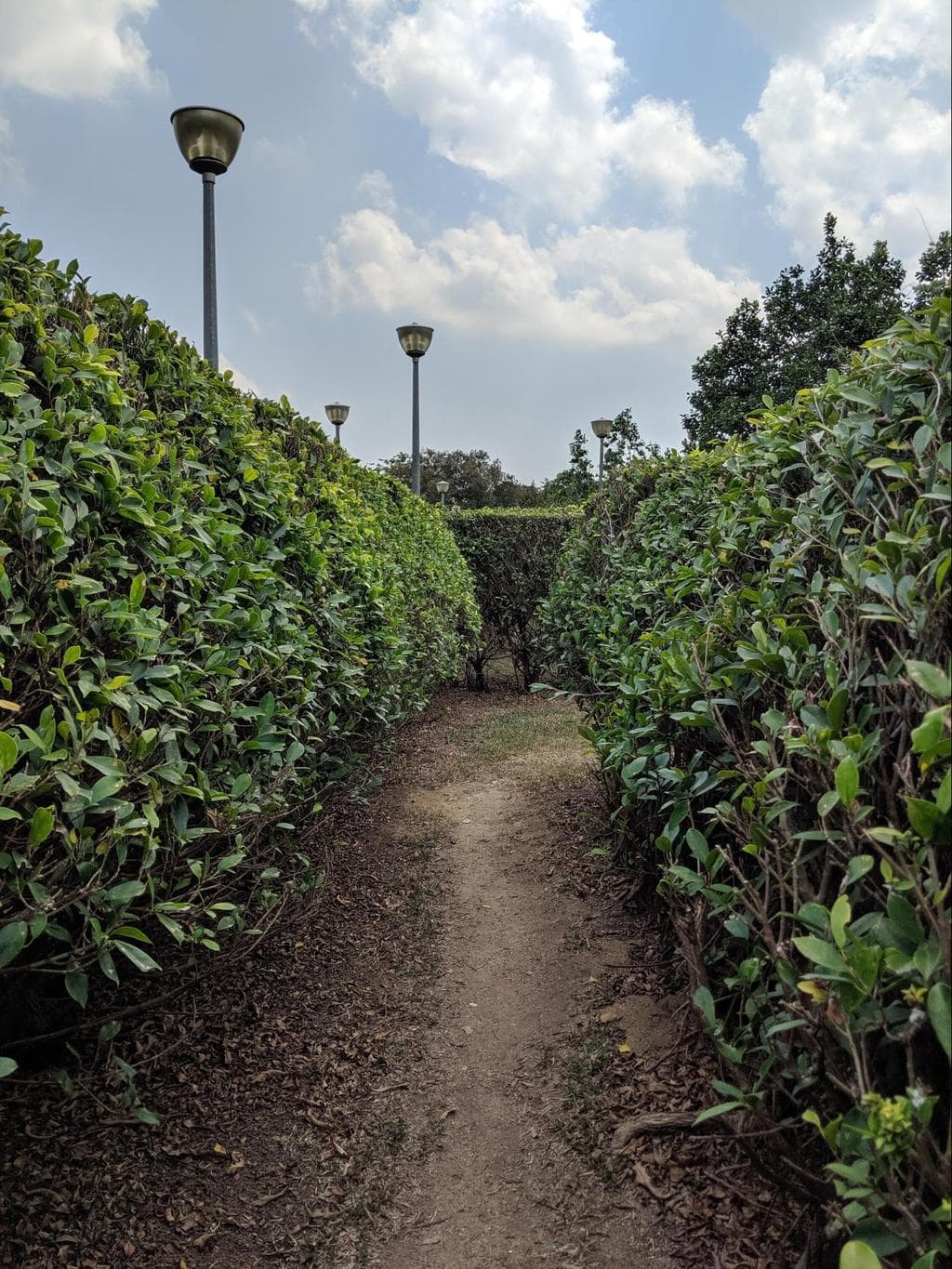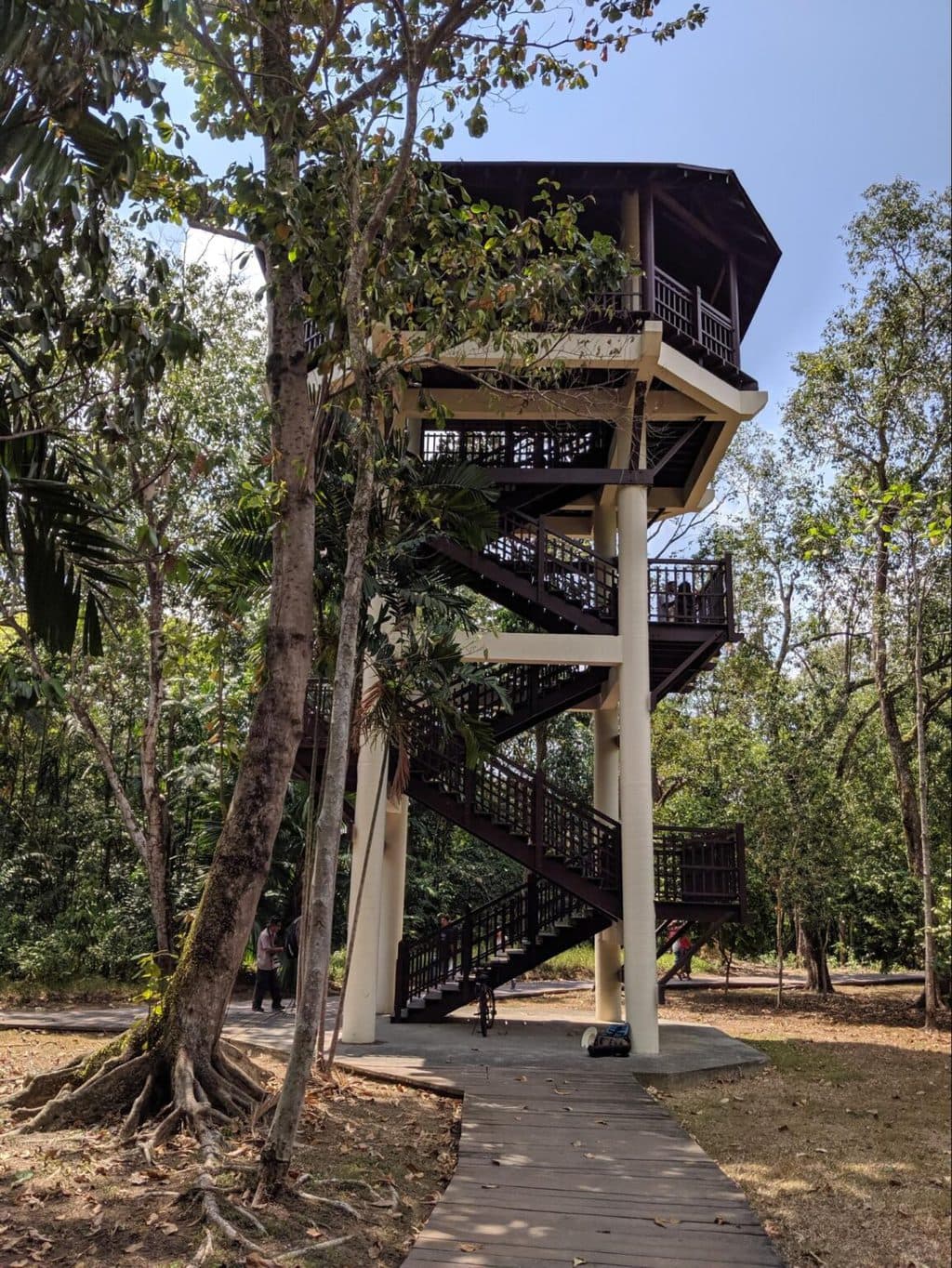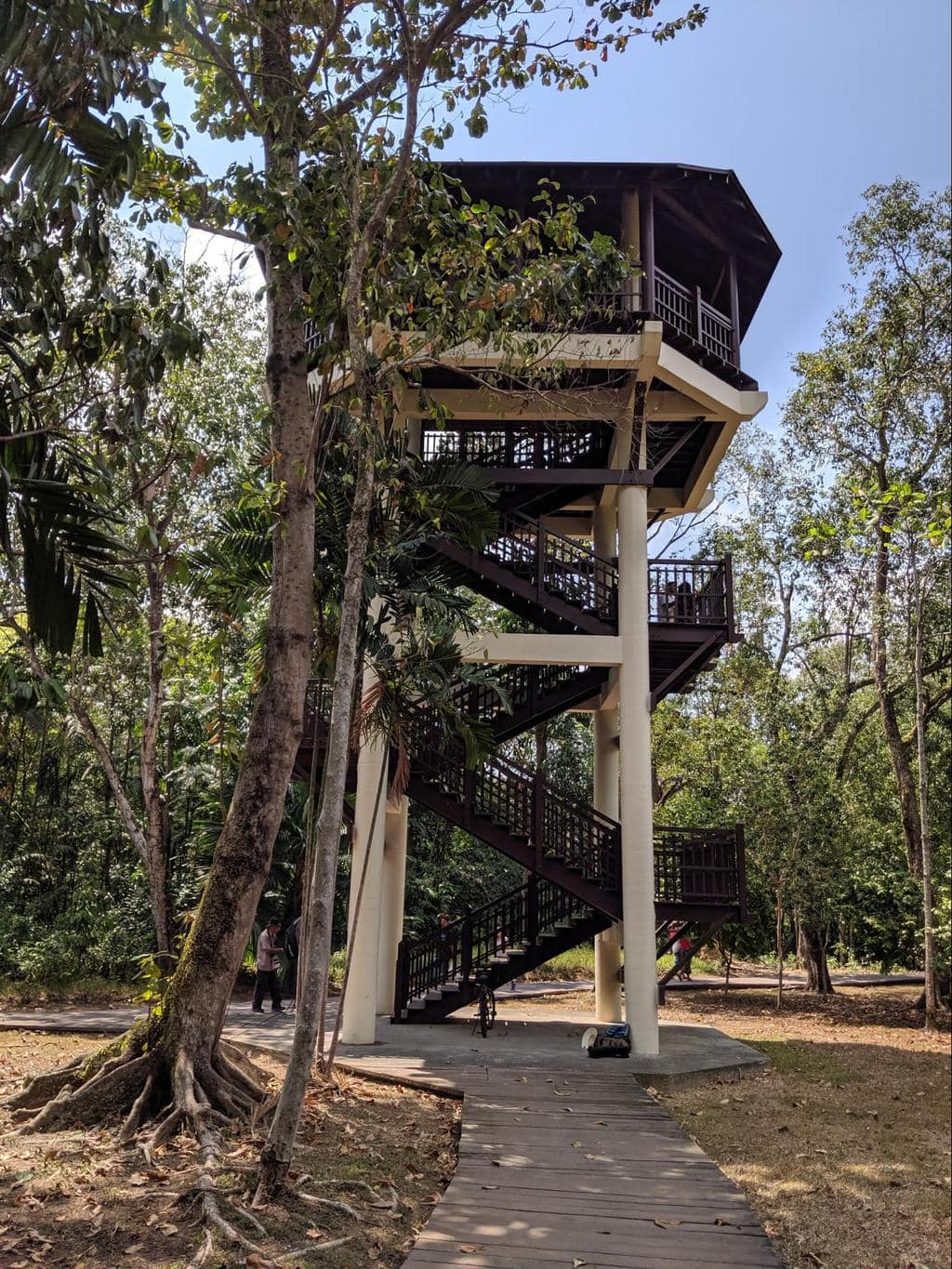 Pasir Ris Park has a few useful facilities such as bicycle rental and a very large playground for kids. Gallop Stables has horse and pony riding and there are a few restaurants to enjoy a meal. Further away, towards the MRT station, you will also pass by the Pasir Ris Town Park which has Singapore's largest fishing pond, D'Best Fishing Pond.
Best time to go: This park tends to be much quieter than all the others, so it makes for a good weekend alternative.
Highlight: The mangrove is pretty nice and for the little ones, Pasir Ris Park has (the only?) outdoor maze in Singapore.
How to get there: Bus stop no. 77129 (Opp Unit 104), 77119 (Aft Pasir Ris Way), 78109 (Downtown East), 78091 (Opp Downtown East)
Facilities: BBQ pits (with a permit), playground, carpark, fitness area, restaurant, shelters, pond
Opening times: 24 hours but only lit between 7pm to 7am
Bukit Batok Nature Park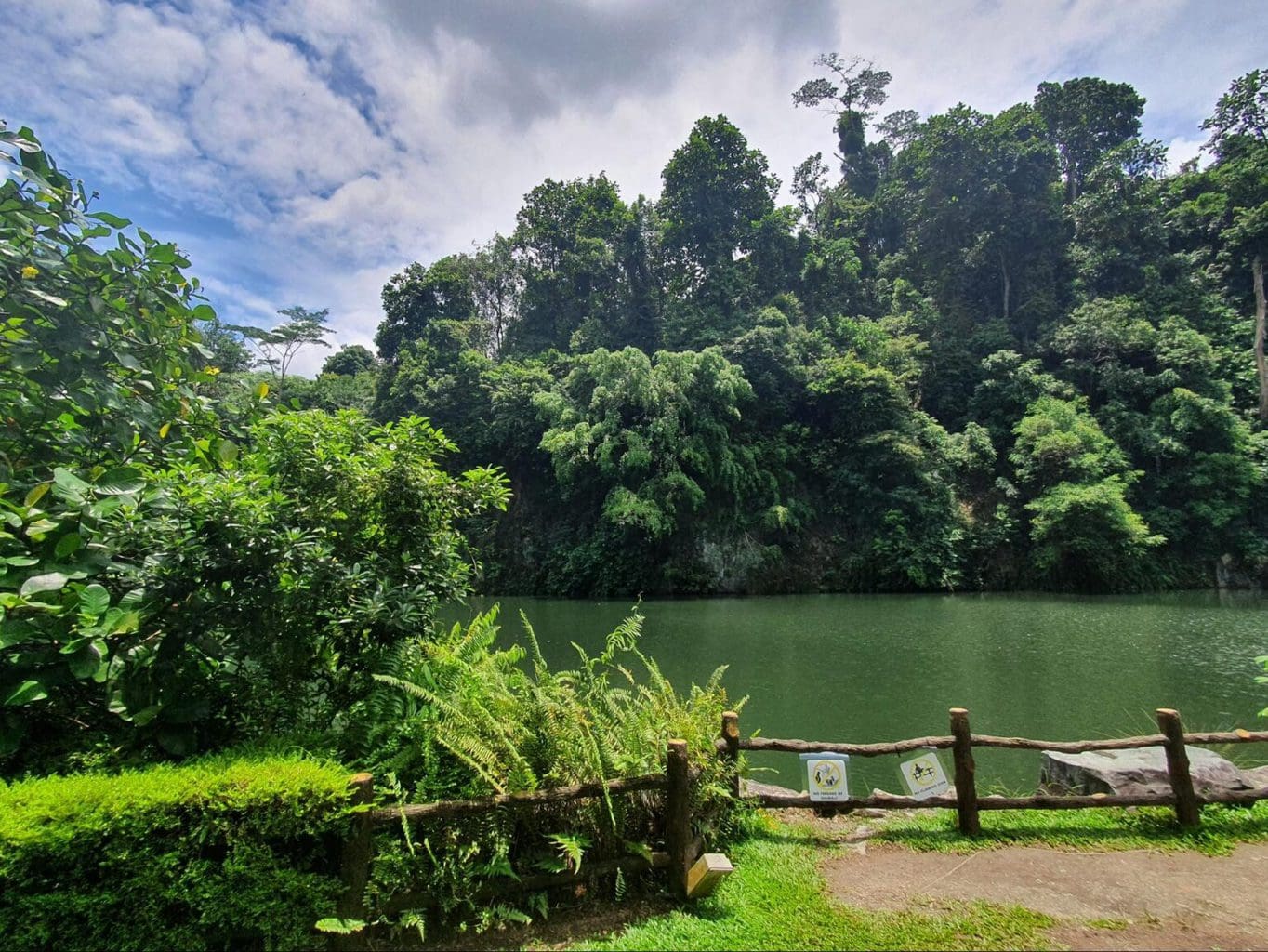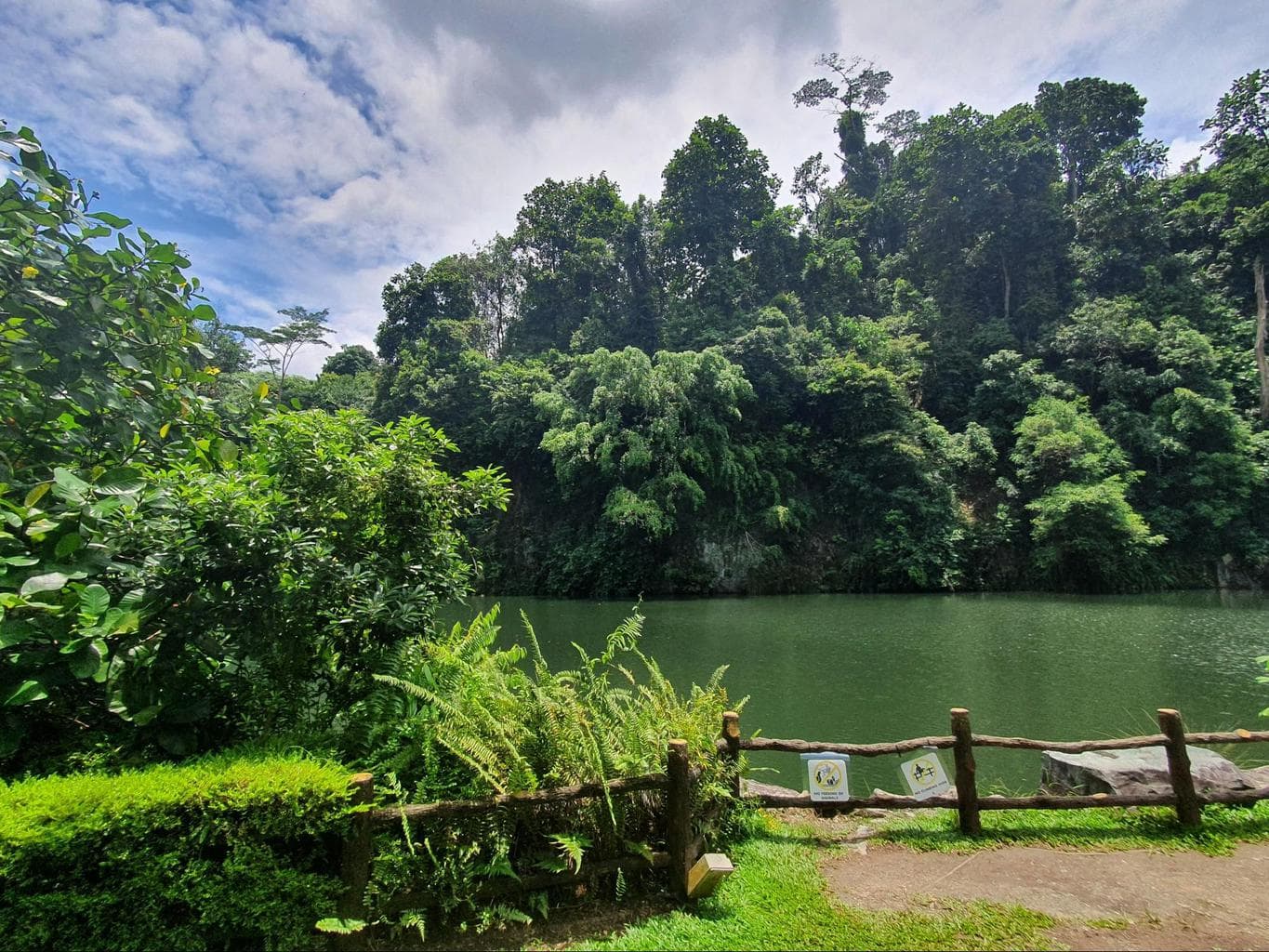 This park is near a network of parks in the center north of Singapore so it makes for a good addition to a hiking day that connects Dairy Farm, Bukit Timah Nature Reserve and Bukit Batok Nature Park.
Located in the middle of a large HBD estate, Bukit Batok Nature Park has a combination of steep forested area and a lower level submerged quarry that makes for a great peaceful picnic spot.
There is a WWII memorial plaque at one of the entrances to the park that remembers the Japanese soldiers who died. Not much else is left of the memorial other than the plaque and the steps up to the top of the hill which is now occupied by a telco tower.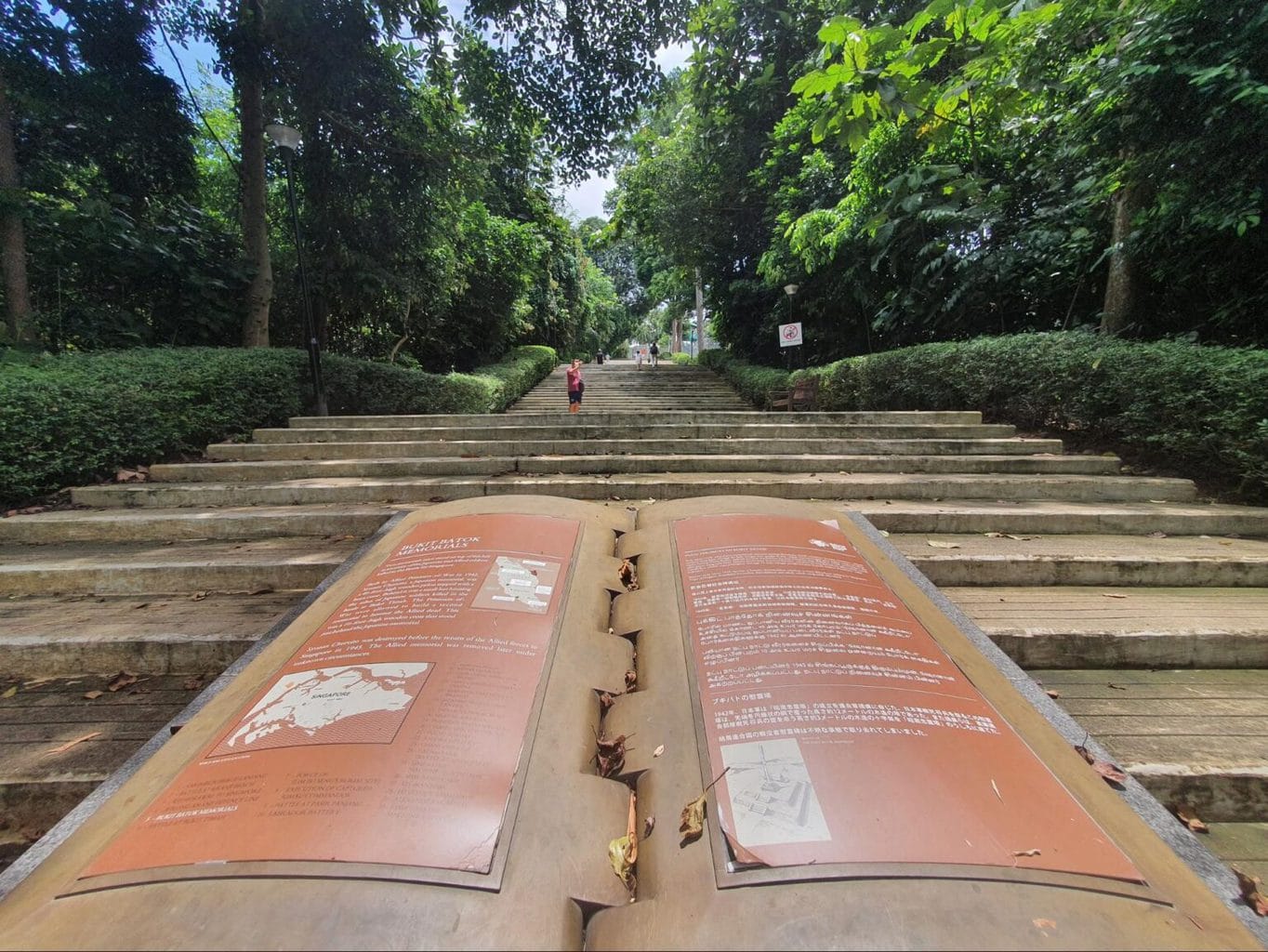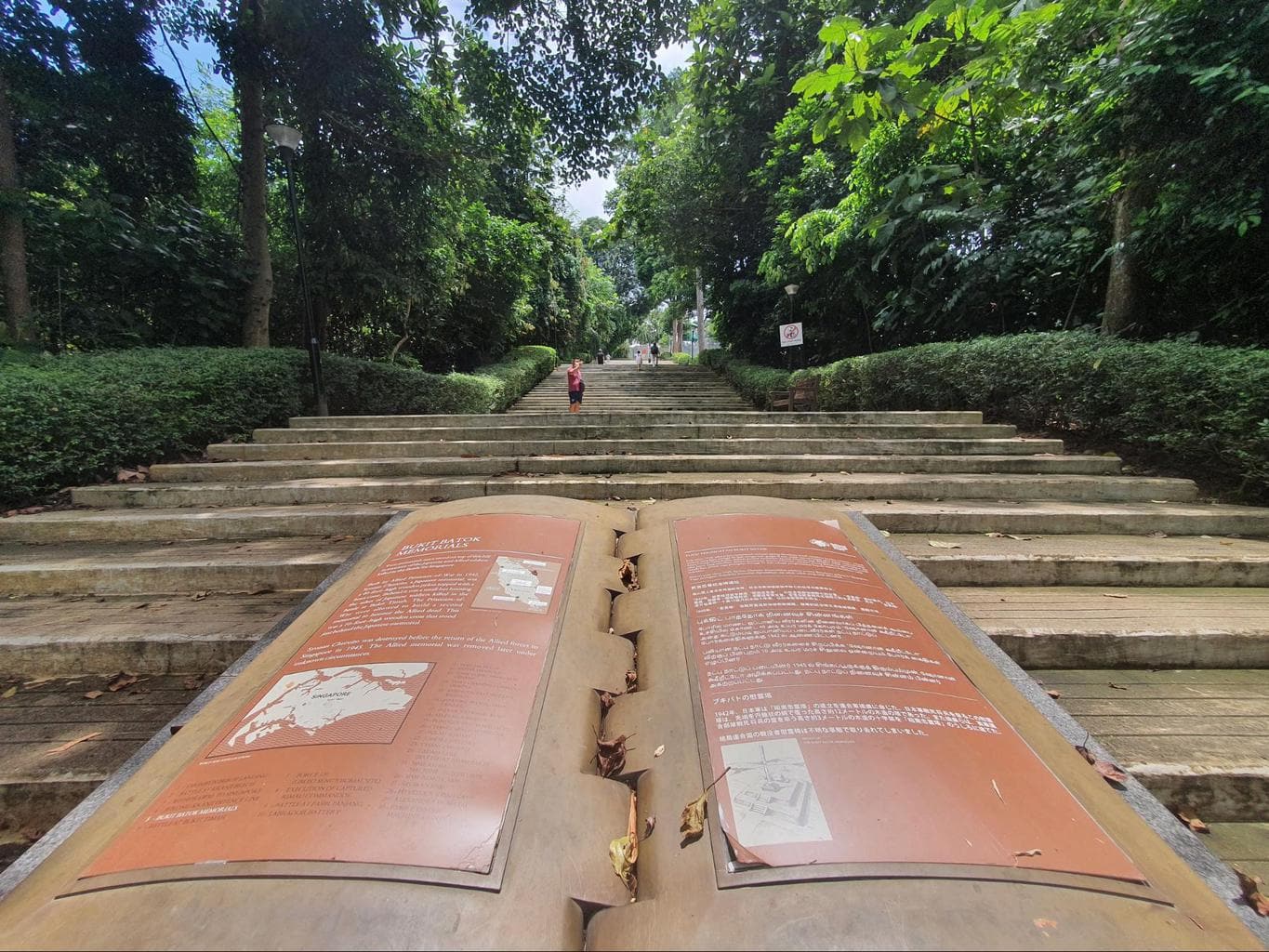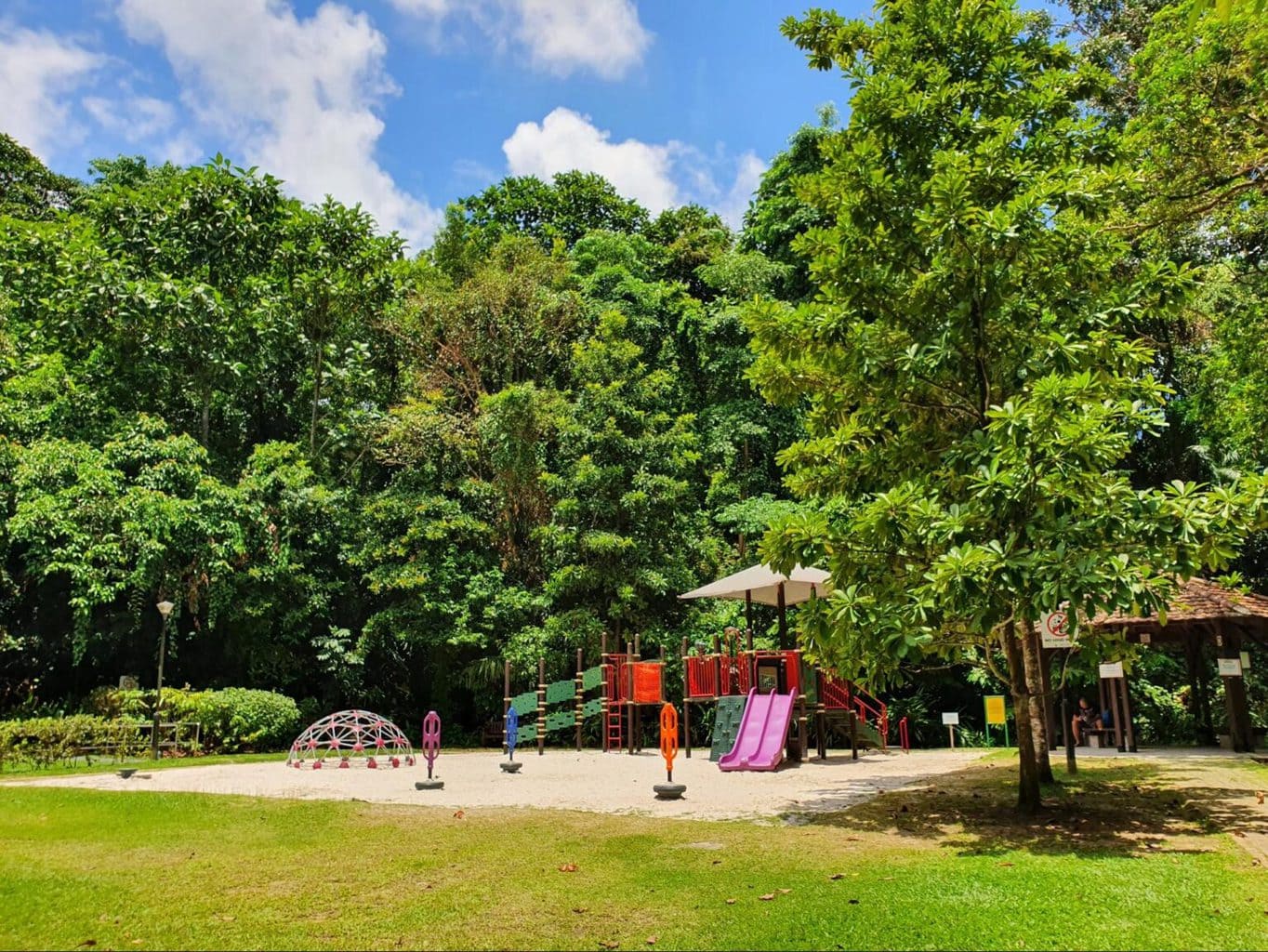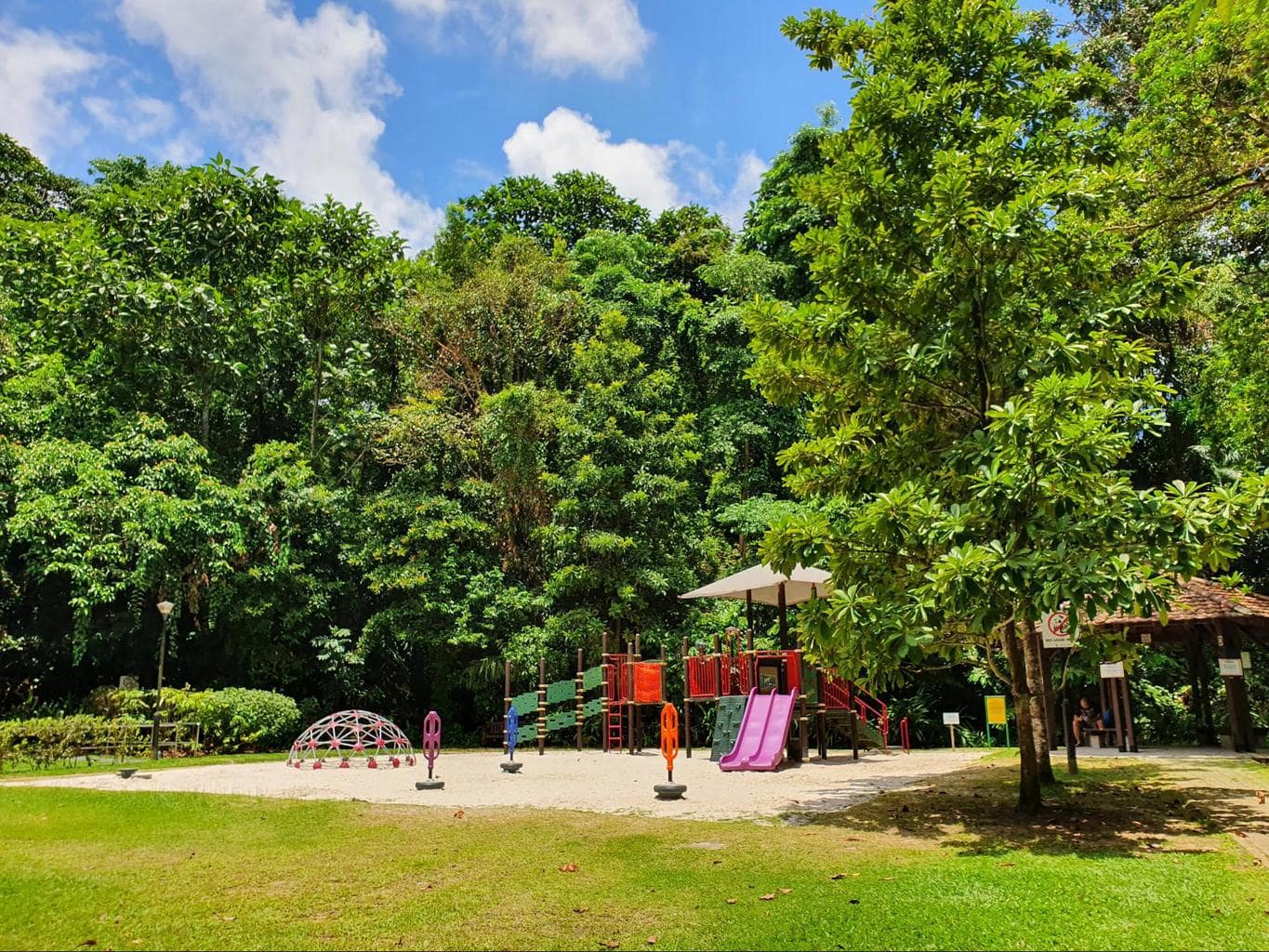 At the bottom of the park, the path is flat and has a few shaded and sunny areas with a children's playground near the toilet facilities. The tree lined path that leads out of the park to Bukit Batok East Avenue is particularly scenic and photogenic.
Best time to go: Anytime is good, as the park is never too full, but sunny days see beautiful greenery near the quarry pond..
Highlight: The quarry pond is really nice and serene. If you enter from Lor Sesuai, expect a really steep path to the top.
How to get there: Catch buses number 61, 66, 157, 178, 852 and 985. Or walk via the entrance at Lorong Sesuai and from Hillview Park Connector. Drivers can park at the car park along Bukit Batok East Ave 2.
Facilities: Playground, carpark, fitness area, shelters, venue for holding events, restrooms
Opening times: 24 hours but only lit between 7pm to 7am
Map: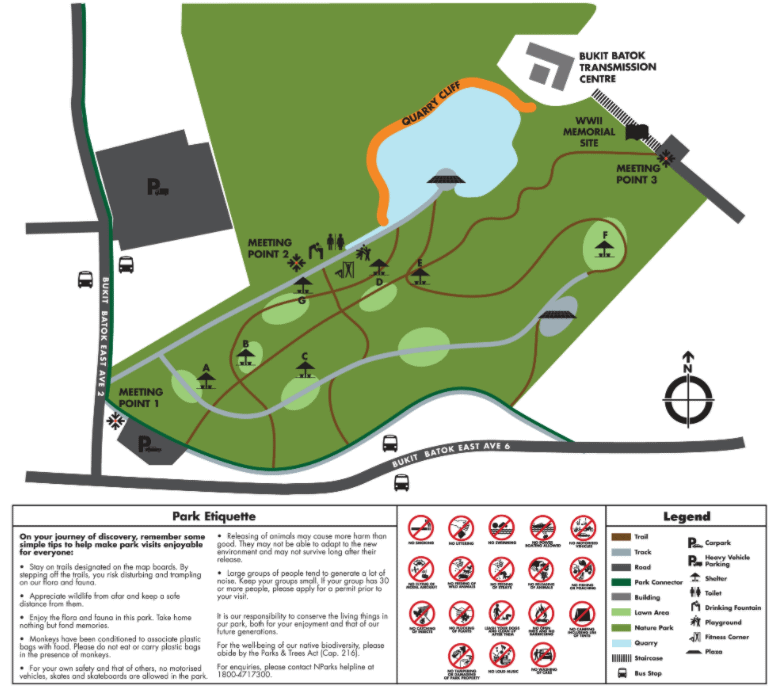 Southern Ridges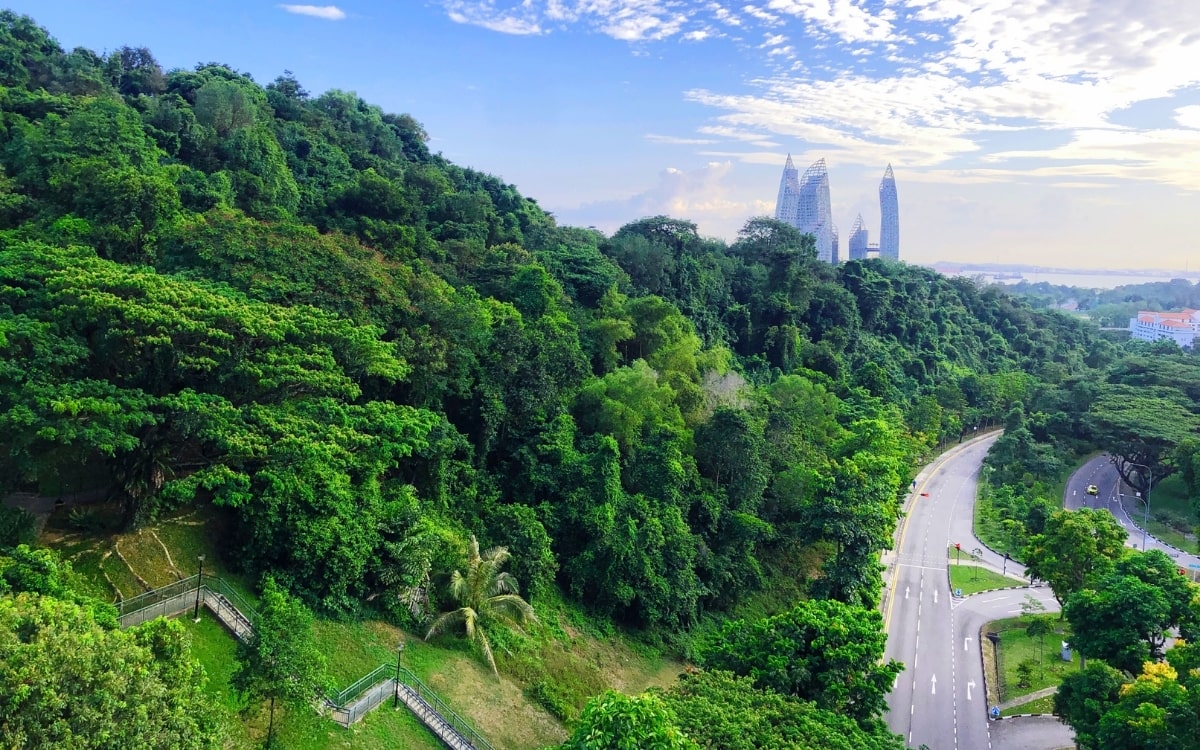 Similar to Gardens by the Bay, the Southern Ridges is a place to experience the beauty of both "garden" and "city". It consists of a 10km stretch of natural trails and manmade bridges in the South of Singapore. The route consists of Kent Ridge Park, HortPark, Labrador Nature Reserve, Telok Blangah Hill Park and Mount Faber Park as you dart through the latest in architectural design combined with the best of nature.
It's one of the best Singapore parks to visit for an extensive hike or to peer off into the Southern Islands with spectacular panoramic views. It has even won some awards including the prestigious Urban Land Institute Global Awards for Excellence in 2010. It is an international example of how to develop such an extensive and beautiful recreational space in such a densely populated city.
There is everything on the 10km stretch from Kent Ridge Park to Harbourfront MRT including garden workshops, birdwatching, historical battle sites and fine dining with a view. The entire route takes around 4 hours at a steady pace, so pack water and snacks to keep you going.
Start your expedition at Kent Ridge Park, a 47-hectare historical park where one of the last battles of World War II was fought for Singapore. It has MTB trails, fitness stations and jogging paths. Stroll over the 280m elevated wooden boardwalk connecting Kent Ridge Park to HortPark.
HortPark is a 9-hectare park one-stop center for gardening-related recreational, educational and research activities. Next up is the highly photogenic Alexandra Arch which lights up with LEDs at night, after which you will come across The Singing Forest, a bird song simulation project sponsored by STMicroelectronics.
Pass over the Forest Walk which is a 1.3km metallic elevated walkway linking HortPark and Telok Blangah Hill Park, a hilltop park with 360 degree views of the city. Up next, the Sembcorp Forest of Giants is a sponsored forest of over 600 rare trees that originally dominated Singapore's landscape before the onset of urbanization that includes 55 species, some reaching 80 meters high.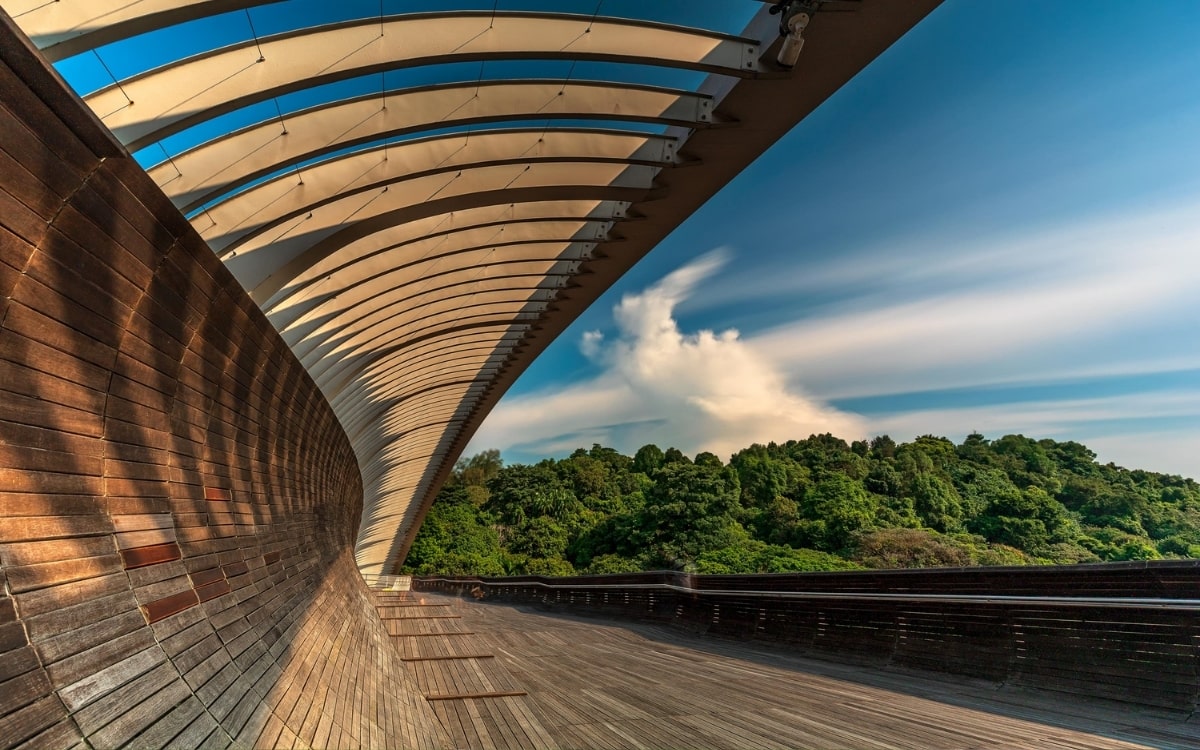 Pretend to surf 36 meters above ground at the Henderson Waves. This iconic structure consists of a series of rolling wooden curved 'ribs' and is also the highest pedestrian bridge in Singapore. Make sure your camera is charged as it will bring out the budding photographer in you.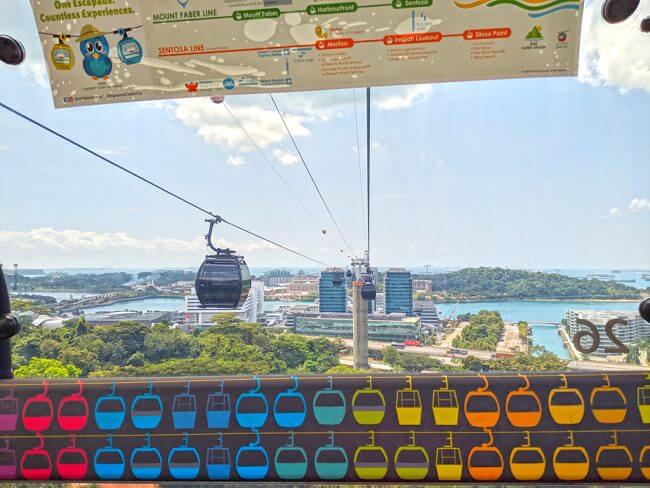 Make your way up to Faber Point at Mount Faber Park where you can peer through binoculars at the park's viewing deck. This is the spot where you can also take the cable car down to Sentosa Island. Alternatively, take the many steps down the Marang Trail which is a 70m high and 800 meter long shaded footpath to reach the Harbourfront area.
We have created a more in-depth guide to walking the Southern Ridges with opening times and accessibility information. It's best to read up more if you are considering hiking the complete route. It also suggests various other routes if you don't want to start from the very beginning.
Best time to go: Start your journey at 5:30am or 5:30pm (depending on the time of year), so that you can catch the sunrise (7am) or sunset (7pm) at the peak of Mount Faber, and miss the scorching heat.
Highlight: The Instagram-worthy Hendersen waves are a beautiful treat and the views from the peaks are absolutely breathtaking.
How to get there: There are two major starting points on the which include Harbourfront MRT in the south and Kent Ridge MRT on the northern side. You could also start at various other points or in the middle at Pasir Panjang MRT if you only want to do half the walk. Signs for the paths are clearly marked.
Facilities: There are no real facilities on the route itself other than a few bathrooms at certain points. You will need to exit the route in order to gain access to other facilities. Use our map for a better guide. Note that there is no wheelchair or bicycle access to most of the stops as there are many stairs to go up and down.
Opening times: Most parts of the route are open 24/7 and the safety lights on the bridges and parks are on from 7pm-7am daily.
Jurong Lake Gardens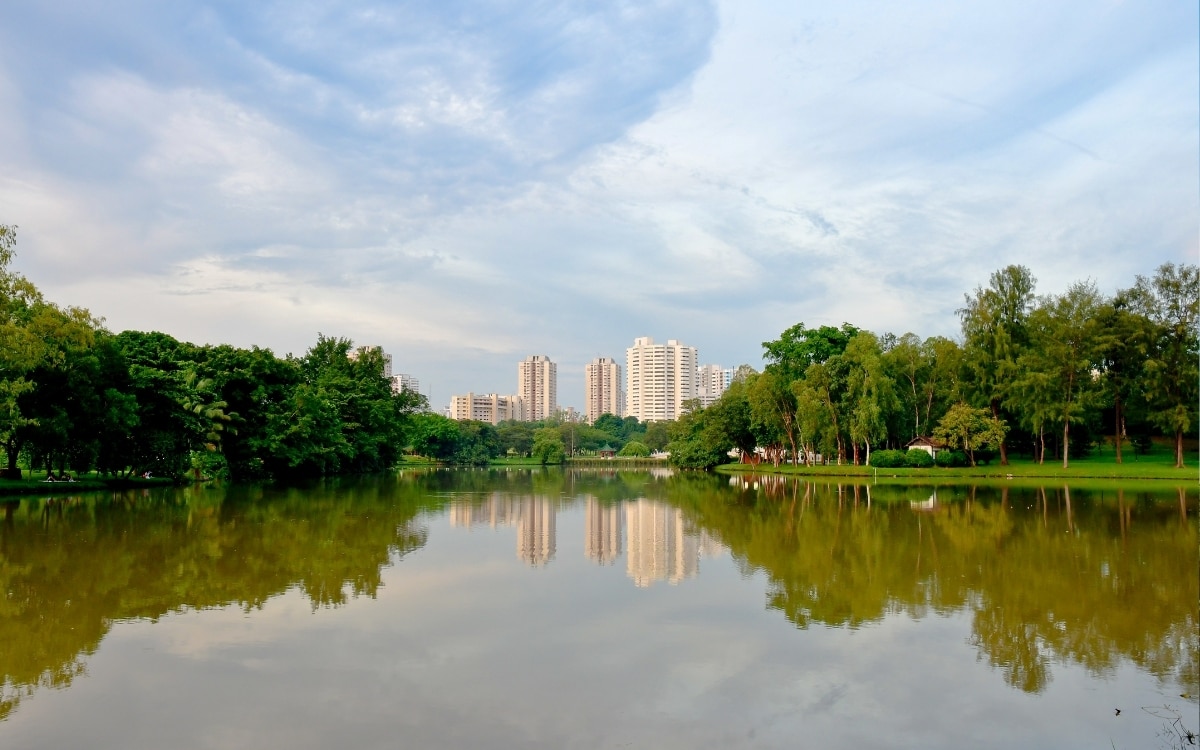 Jurong Lake Gardens is located in the west and is connected to the Chinese and Japanese Gardens as part of a great green area with water, gardens, trails and lots to do. Best of all, the park is usually very quiet and does not suffer from the overcrowding of East Coast Park, Bukit Timah Nature Reserve or Gardens by the Bay.
Jurong Lake Gardens has a lot of water, as the name indicates, and that means you'll be able to spot lots of monitor lizards, turtles, squirrels, bats as well as birds and monkeys. If you are lucky you might also see otters.
Children will have their day filled with lots of attractions, from public pools to kayaking and the Forest Ramble, a large playground with lots of fun rides, swings, climbing walls, toboggans and more. The free Clusia Cove waterpark is a winner for the kids. It has sandy areas, water pools and features and lots of plants to play.
Jurong Lake Gardens is quite nice if you just want to spend time among nature and have a stroll. The park is entirely flat and elongated so you can walk from one end to the other. Exploring all parts will take you about 1.5h hours at a leisurely pace and with plenty of stops.
Best time to go: Anytime is good but sunsets see beautiful colors.
Highlight: Rasau Walk is a favorite. The red path is surrounded by unique fauna and red colored palm trees and located along the water for plenty of bird spotting.
How to get there: Go to Lakeside MRT station or by bus services 49 and 154 from Jurong East or Boon Lay Interchanges. The North and South carpark are accessible from Yuan Ching Road.
Facilities: Attractions include: Clusia Cove, Forest Ramble, Gardenhouse, Rasau Walk, Neram streams, PAssionWaVe @ JLG and ActiveSG Park, see the map below for more information.
Opening times: Various times, see more here.
Map: