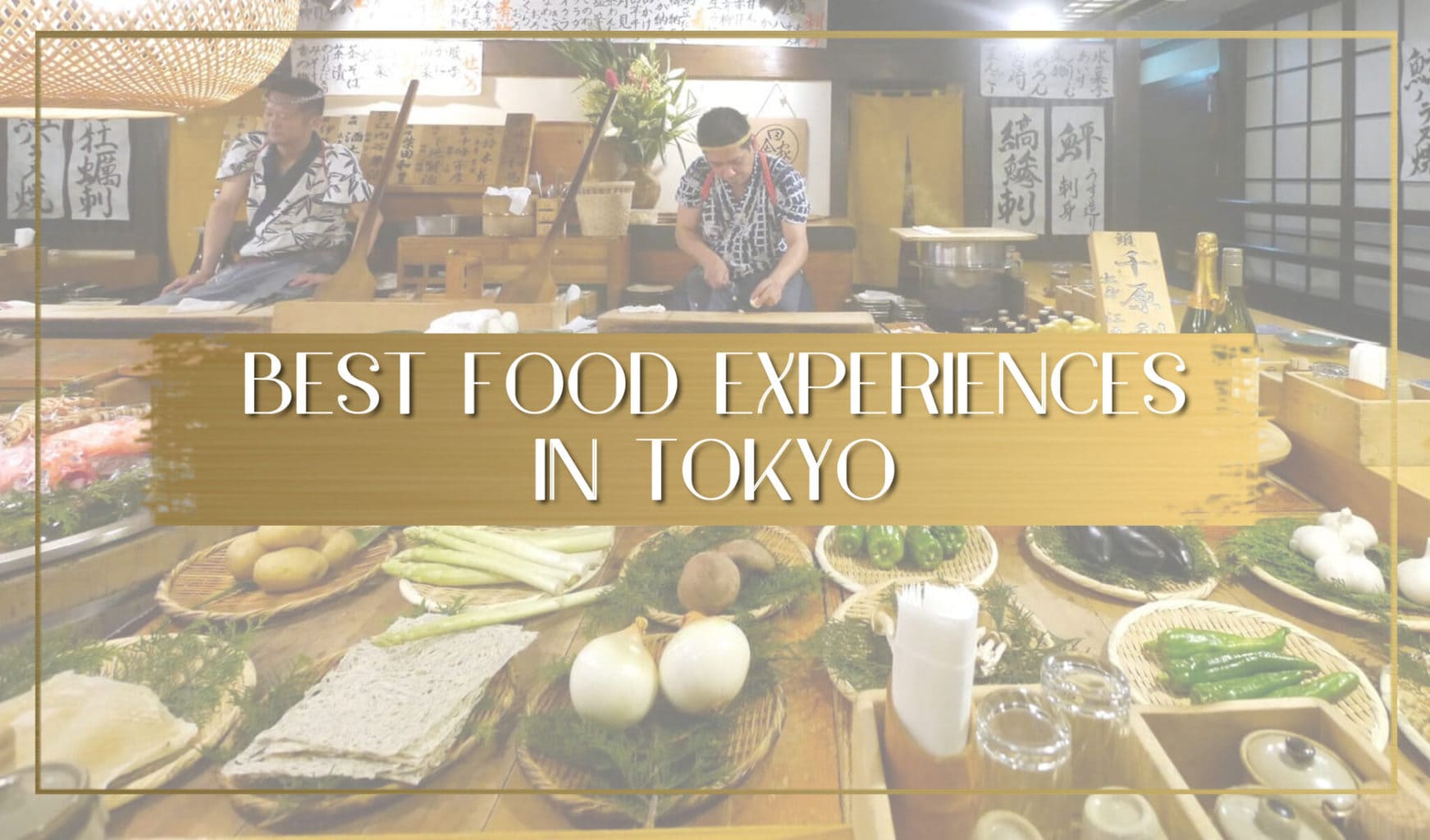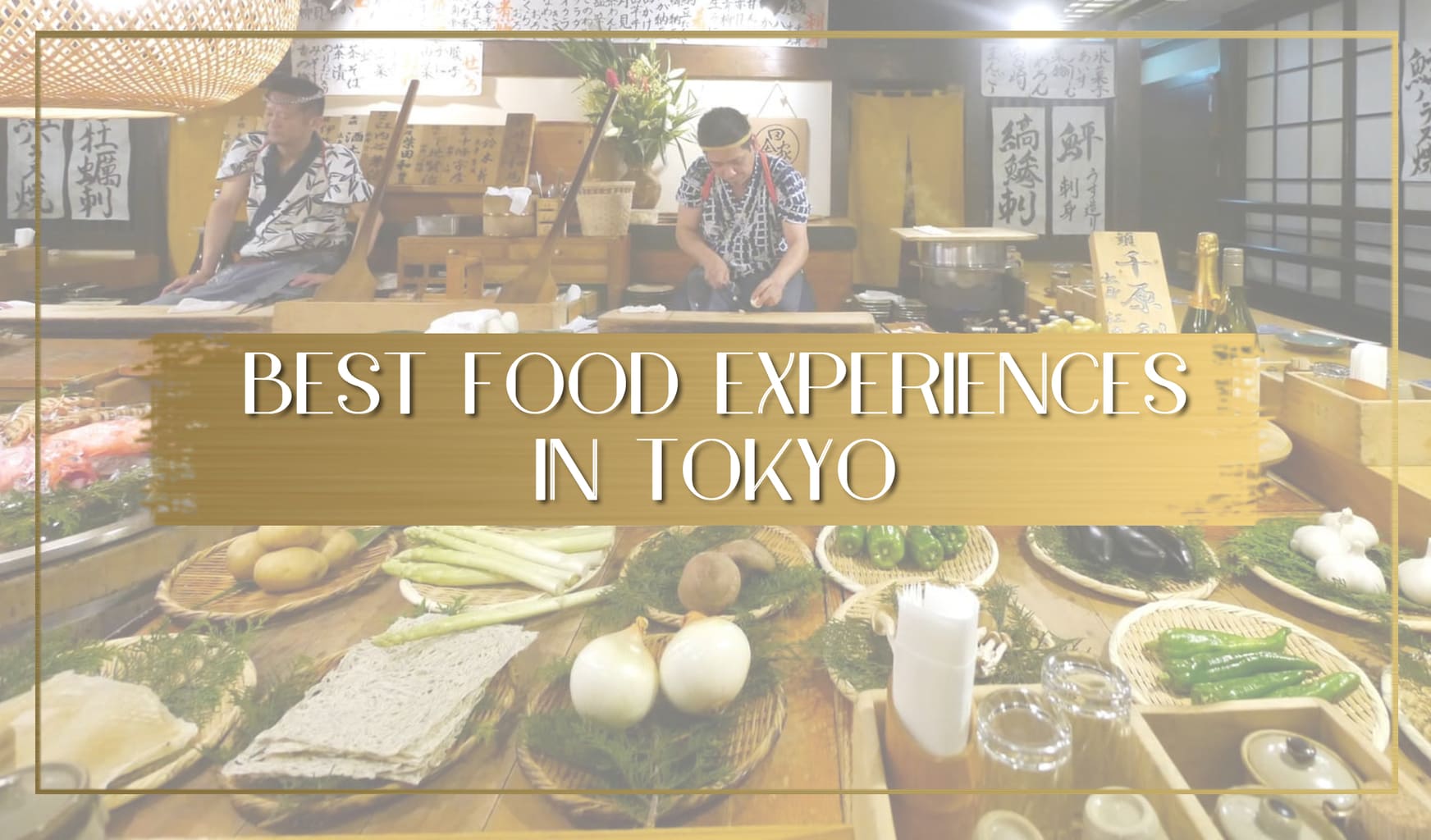 Japan is the land of the rising sun – and of the ever expanding belly! No visit to Japan, or Tokyo in particular, would be complete with copious amounts of great food and incredible foodie journeys. Whereas Osaka is known as the kitchen of Japan, Tokyo has nothing to be jealous about. It even has specialty food streets where you can go hunting for the best Japanese foods. Here are the best food experiences in Tokyo to indulge in.
For further reading when you're done with this article, here's our complete guide of the best things to do in Japan for first time or even seasoned travelers, as well as a great 4 day itinerary for Tokyo. We have also written about the most delicious Japanese food to try, a complete shopping guide to Tokyo, some inspirational facts about Japan to know before you go or a list of the best movies about Japan.
Narisawa's Satoyama-inspired fine-dining cuisine
The Satoyama-inspired cuisine that Yoshihiro Narisawa serves at his sleek Tokyo restaurant is nothing short of a great experience deserving of the restaurant's accolades, from the 2 Michelin stars to being named 2nd Best Restaurant in Asia and the 8th in the world in the San Pellegrino Restaurant list. The cuisine is elaborate and inventive and some of the dishes had such long names and explanations that I had to ask the waiters to repeat them more than once. The restaurant is just that kind of place that will inspire you to go back home and experiment with low temperature cooking and forest foraging.
Satoyama is a type of Japanese landscape that is common in the countryside. It is where farmers try to grow produce between the mountains meet the sea. Expect nothing less than a journey through the tastes of Japan via the locally-sourced ingredients and the conceptual dishes. Read my full dining experience at Narisawa here.
Kaiseki cuisine at Nihonryori RyuGin
A 3 Michelin awardee and no. 6 in Asia's 50 Best Restaurant Guide, RyuGin is a low key, unpretentious restaurant that contrasts with Narisawa in every aspect. Although the chef intends to bring Japan's elaborate and formal kaiseki cuisine to a more casual and accessible place. The detailed gastronomy and elaboration of most of the dishes leads the diner through a journey across the chef's life and the country's culture.
Kaiseki refers to the Japanese equivalent of a fine dining multi-course meal where the chef is allowed to show his skills and combine four types of Japanese cuisine: court, samurai, temple and tea ceremony cuisine. The dishes can also be considered a type of art form that balances the taste, texture, appearance, and colors of food with incredibly beautiful, delicate and ornate dishes.
Eat with your hands, slurp the soup directly from the bowl and take home a pair of branded chopsticks. A wonderfully approachable way to experience this traditional form of Japanese cuisine that can be so daunting to foreigners.
Ninja Restaurant
For a more fun and light meal head to the Ninja restaurant where you will be able to sample ninja stars, remove swords from pineapple salads or learn the tricks from your server. Dinner is served in the dungeons, inside your own personal cave, and the entire experience is fun and lighthearted. You will be guaranteed a laugh and the food was excellent too. Personally, I think they serve the best beef in Japan. More weird and wacky cafes in Tokyo that you must try out here.
Sushi stalls at the fish market
No visit to the fish market is complete without a sushi lunch. You'll find many stalls selling raw fish in the areas surrounding the main markets where the fish is bound to be fresh.
Isakaya experience
Isakaya restaurants originated as sake stores that allowed customers to stay for a drink. Later on, they started to offer snacks and the modern day Japanese version of a tapas bar was born. Today, Isakaya restaurants provide all sorts of typical barbecue foods that are served in sharing platters. You may order as much or as little as you wish and orders are placed as the meal progresses. So you could order a dish to start with, then see what others are being served and order that as well until you are full.
You don't have to wait for long because they cook the food relatively quickly. In many cases the raw foods will be on display, so you can either point at what you want or point at what other diners are eating. Food comes when it is ready in no particular order. There are usually menus available but, since they might be in Japanese only, the display helps you choose.
Order beer to wash it all down, or tea if, like me, you don't like beer. Sake is also a must. Common Japanese dishes found in the West are usually available here. Think of edamame beans, Karaage fried chicken, yakitori chicken, ginkgo nuts (seasonal), barbecue asparagus, tofu and sashimi. A great place for an Isakaya experience is Inakaya in Roppongi, a great experience, friendly staff and fab food.
Ramen bars
Perhaps the easiest and quickest meal you will have in Tokyo is ramen. Incredibly filling, quickly served and cheap, ramen noodle bars are available all around town and very popular abroad as well.
Many of the amen restaurants in Tokyo are actually bars without any additional tables apart from the main bar around the kitchen and they usually feature a vending machine to place your order.
Vending machines can sometimes be outside of the restaurant so that you can place your order before even going in. Machines can come with translations into English or pictures which make the ordering process easier for foreigners and illustrates what you are getting. Often times, on top of the noodles and the very filling ramen bowl, rice is available in unlimited quantities.
You will order and pay at the machine, sometimes only cash is accepted, then take a sit at the bar and hand the receipt to the waiter behind who will prepare your order. If you need time to make up your mind, it is best to look at the menu, usually displayed or hanging neat th machine, to decide before using the machine so you don't block other customers.
Food is prepared usually quite fast as all ingredients are ready and just need to be assembled from the various pots and boxes. Once ready, our food will be served usually by the same waiter. Many ramen noodle bars have individual counters around the bar where partitions separate you from th costumer next to you and you can eat almost in complete privacy. while this is great if you are eating alone, as it avoid stares from strangers, it is not ideal if you are traveling with someone, so it is worth checing the setup before walking in.
Portions are usually huge, especially for the price, so you do not need to order much aside from the ramen bowl. if you feel like ordering some side dishes, consider sharing. For $10 you can have a filling, tasty and quick meal anywhere, anytime.
Shabu Shabu
A great experience in Tokyo is a Shabu Shabu. Never having tried it before, Laura, from Savoured Journeys, and her husband, decided to dive right in on their first night in Tokyo and give it a try.
Laura described her experience like this. "Shabu Shabu is a hot pot dish with thinly sliced meat and vegetables that you cook at your table in boiling water, then dip in various sauces before eating. Unfortunately, no-one at the restaurant spoke English and we had no idea what we were supposed to do when the trays of uncooked food and sauces arrived at our table. Luckily, it's difficult to do something too wrong when cooking vegetables in water, and the waiters were hovering nearby the whole time watching us, probably waiting for us to make a funny mistake. I guess we'll never really know if we did it right or not!"
Food courts
While Japan does not really have a culture of street food in the form of buying individual foods from several stalls and eating it in simple shared spaces, there are a few high-end, pretty, clean and super organized food courts in the basements of shopping malls and metro stations that offer relatively well-priced foods in beautiful surroundings. The only catch? As most of the food is bought as a take away, there are no places to sit or enjoy the food. I just looked for a pair of stairs to enjoy my food because it comes with chopsticks and tissues.
The food courts on the ground level of rather high-end malls such as Takashimaya, Tokyu or alike, are usually referred to as depachika and usually offer both Japanese as well as Western food. It is easy to find French bakeries selling crunchy baguette and buttery croissants, often times from awarded French chefs as well as the best sushi. But the most impressive areas at a depachika tend to be the dessert sections where Japan's obsession with prettiness, perfection and beauty is best put into work with cakes and sweets shaped like animals, anime or cartoon characters, etc. Here is where you can find food that you would never dare eating, they are just too pretty.
Try the Tokyu Food Show food court at the basement of the Shibuya Crossing. Look for the entrance to the train station and follow the signs until you find this elegant area with anything savory, sweet and in between. The dessert stalls display incredibly intricate and pretty as pink cakes and jelly creations. Even if you're not hungry, this is a food experience is definitely worth sampling with your eyes too.
Bento boxes at Shinkasen stations
Remember your lunch boxes at school back in the day? Those little squares filled with sandwiches, fruits and yoghurts? In Japan they do things quite differently in their version of a lunchbox or bento. "With many people about to catch a Shinkansen (or bullet train), Tokyo Train Station has a large selection of portable food items for take-away on the journey", says Anne from Pretraveller.
"We accidentally found the food display on our first day in Tokyo when we became very lost in the massive train station complex. Later that week we returned to catch our Shinkansen to Kyoto and a visit to the food display was definitely on our list! We came away with an amazing bounty of beautiful bento boxes and other treats like yakitori skewers which were great company to Japanese countryside view from the train."
And there you have it, my favourite foodie finds in Tokyo. While they were all great experiences, you've probably had some awesome encounters of your own. Let me know what was on your plate.