I have flown Singapore Airlines more times than I can remember and that includes flights on pretty much every aircraft, except for the new Boeing 787 – 10. Until today that is.
The aircraft started operations in the spring of 2018 and flies a few routes only but I am very excited to be sharing this review of Singapore Airlines 787-10 Business Class.
The Boeing 787 Dreamliner 10 is the newest Singapore Airlines aircraft and the only Dreamliner in the fleet. The airline was also the first one to be operating the latest extended aircraft 787-10 Dreamliners from Boeing and placed an order for 50 in total.
The new Dreamliners are fitted with Singapore Airlines revamped regional livery and a have a very unique look different from all other Singapore Airlines aircrafts.
The airline is using the Boeing 787-10 for its medium haul regional routes of up to 8h, that includes destinations within Asia such as Japan or Australia, and replacing its aged A330s and B777 with the new product which is quite frankly, stunning.
Check in and boarding
My Singapore Airlines flight was a connection from Mexico City to Singapore via Tokyo so I did not check in at any airport but instead landed at Tokyo Narita Airport at around 6,30am and headed to the ANA Business Lounge without a boarding pass. this time, sadly, I had no time to explore Japan.
Singapore Airlines does not have a transfer desk in Tokyo so boarding cards are issued at the gate about an hour before take off, or at the lounge if you are flying Business Class.
I was relaxing at the lounge when a staff member from ANA came to get my passport, residence card in Singapore and luggage tags and returned a few minutes later with my boarding card. This was pretty convenient and saved me an unnecessary half an hour wait at the gate.
Singapore Airlines Business Class lounge at Tokyo Narita Airport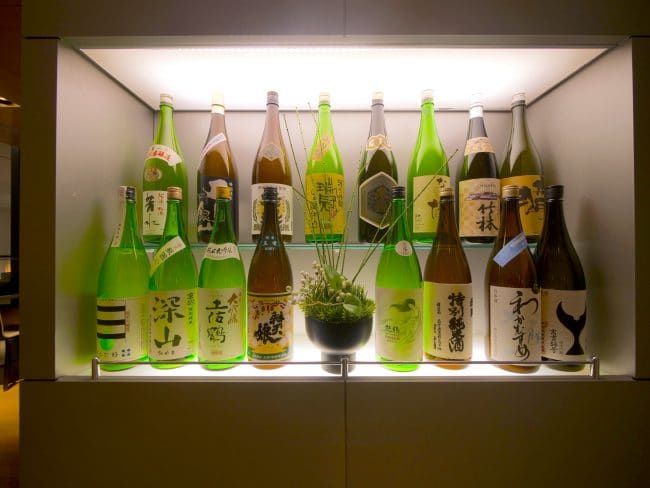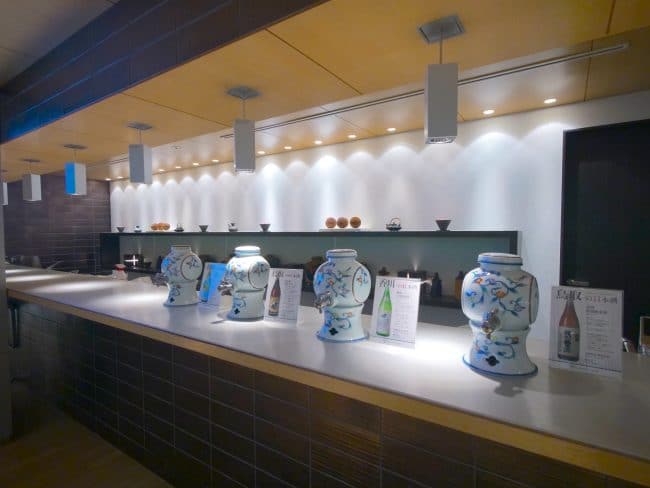 Singapore Airlines Business Class or Gold members have access to any of ANA's or United's Business Class lounges at Narita Airport but, typically, the ANA lounge near gate 46 is the closest to Singapore Airlines boarding gate and also a better choice, if only because of the sake and noodle bar.
ANA has several lounges inside Narita International Airport but they all offer similar facilities. The Business Class lounge near gate 46 is large and spacious and, when I arrived, I was the only passenger as the lounge had just opened. I remained the only one for almost an hour.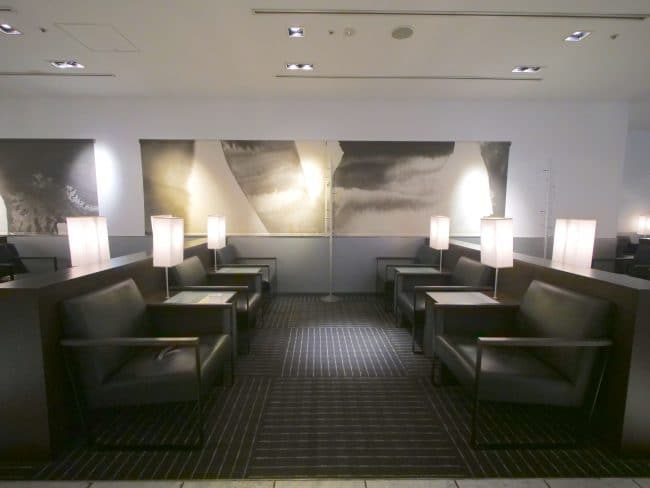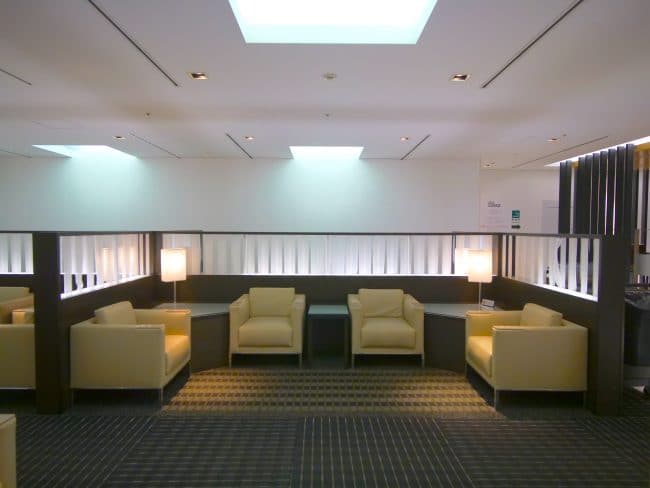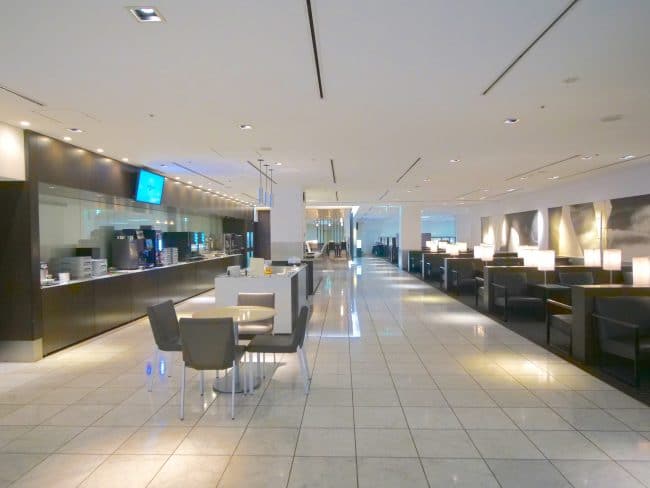 The lounge is split into a few separate areas, the majority of which have sofas set in cubicles. There are also tables and chairs for proper eating several of which are located by the noodle bar, a sake bar with high chairs and self-service sake jars and a central area with food and drinks.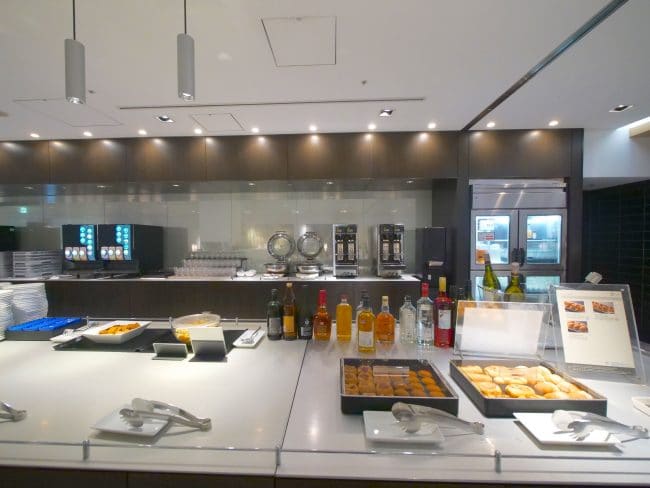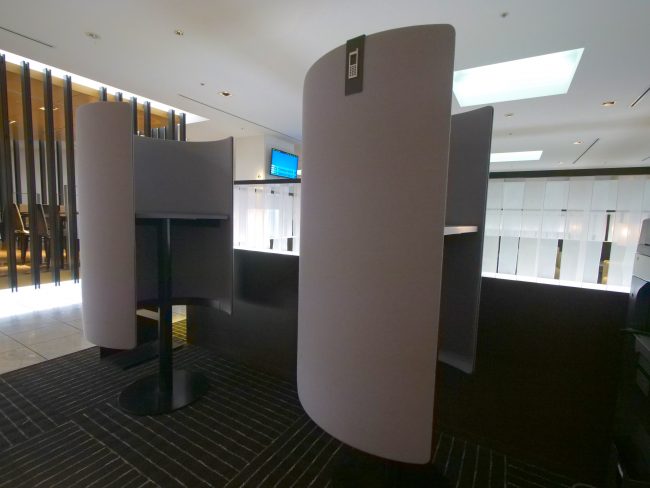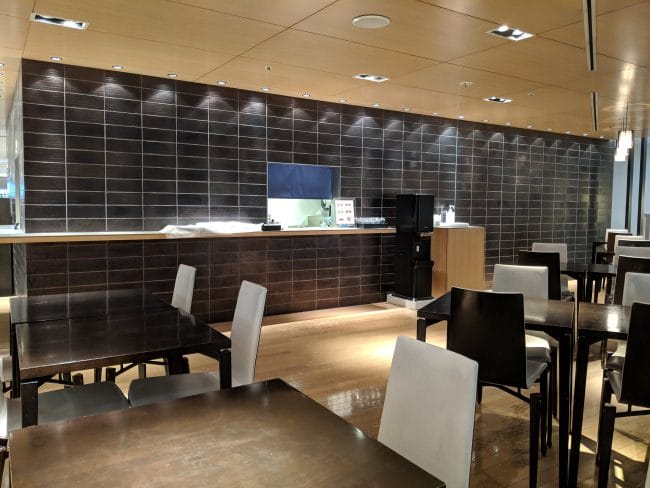 For those who need a shower, a few are available by the bathrooms. The toilets have the traditional electronic and intelligent buttons and the seat is usually warmed up, a fun Japanese factoid that amuses most first time travelers to the country. The moment I walked in the toilet, water sounds played loudly to mask any sounds I might have made. All so very Japanese.
The Business Class cabin and seats on Singapore Airlines Boeing 787
When I reviewed the flight, Singapore Airlines had seven Boeing 787-10 in the fleet flying to Tokyo Narita and another 33 more on firm order. At the end of 2019, Singapore Airlines already flies the aircraft from Singapore o Seoul as well as Narita.
The aircraft has a two-class configuration with 36 seats in Business Class in 1-2-1 forward facing and staggered configuration, and 301 in Economy Class. There is no First Class or Premium Economy onboard the Boeing 787 10 of Singapore Airlines.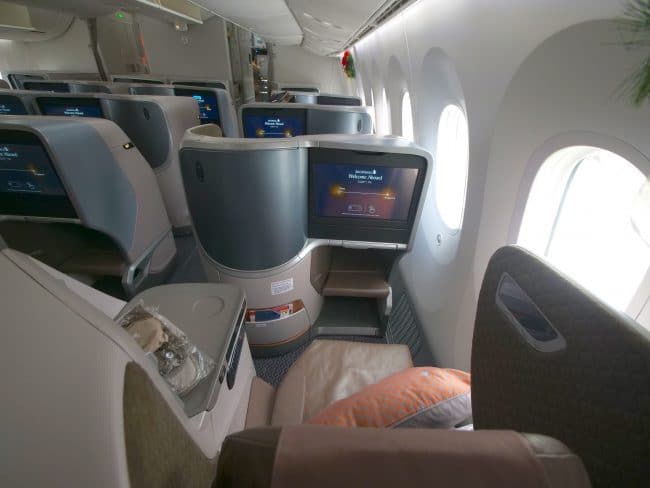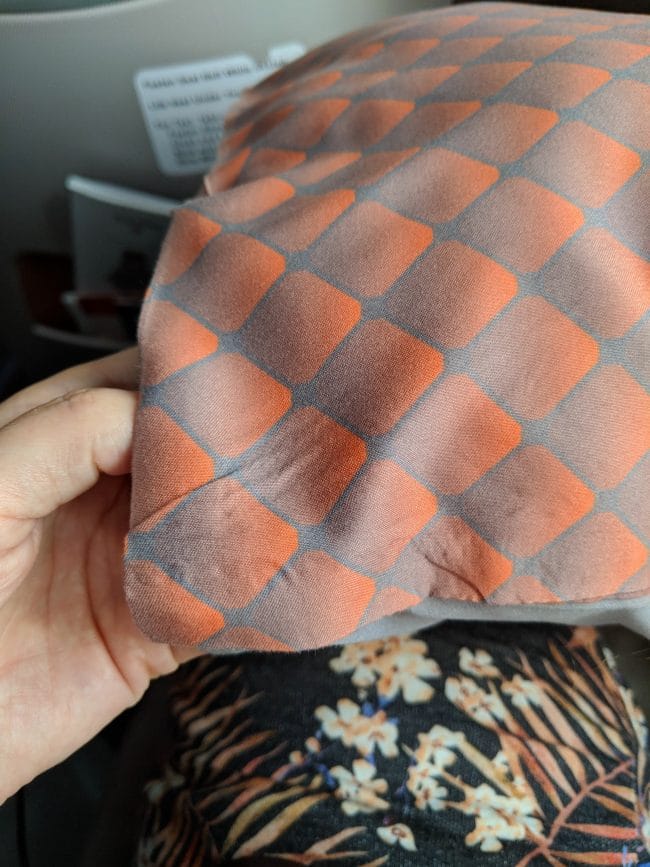 The livery on the Business Class cabin of Singapore Airlines Boeing 787 is unique and the moment I stepped in I was surprised by how different from all other Singapore Airlines cabins it was, from the colors to the layout. This livery has also been extended to Singapore Airlines new A380s.
Singapore Airlines' well known large leather seats have been replaced with cocoon style seats and the beige of earlier cabins has been replaced with browns, oranges and metal silver. There are also several different textures used across the seats and various shades of these colors making the seats look pretty sophisticated.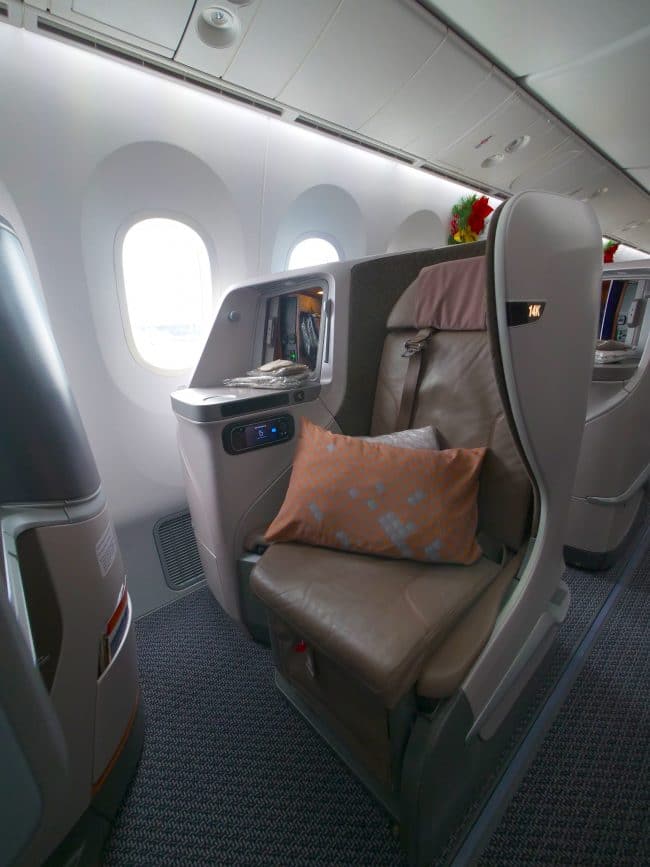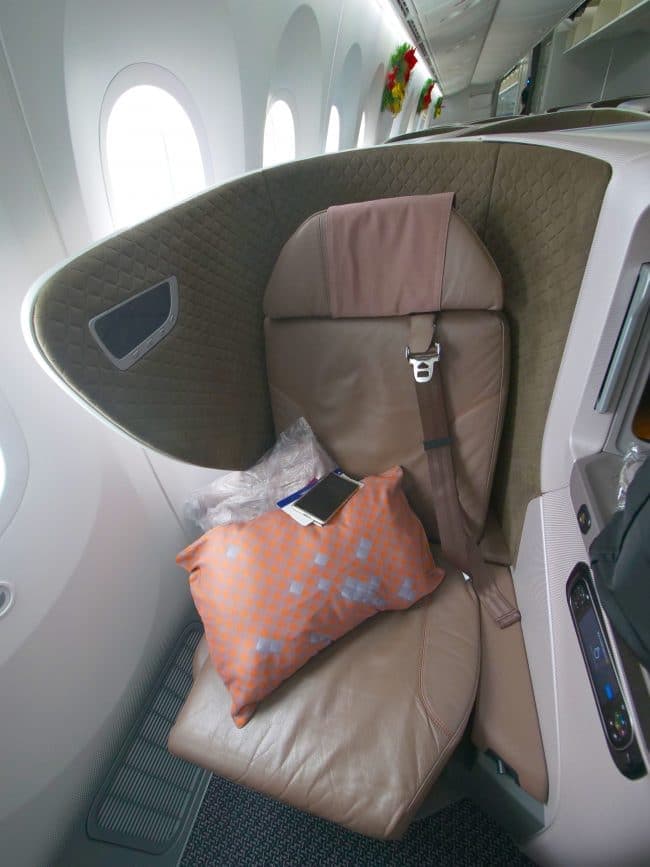 The cabin is elegant and the seat design affords a lot of privacy. Seats are staggered so that the feet of the passenger behind are placed under the counter top of the seat in front and they are reminiscent of SWISS Boeing's Business Class.
This also means that we are waving goodbye to the diagonal footwells of previous Business Class seats on Singapore Airlines, a really annoying feature of the older A330 and B777 flights.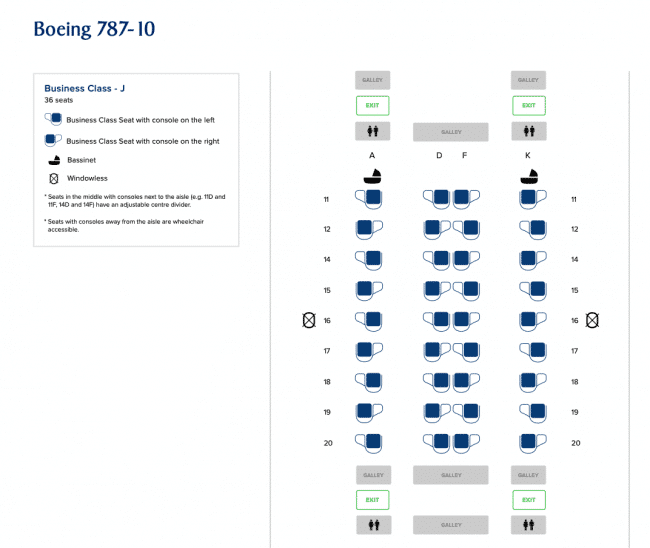 Because the seats are staggered, rows 12, 15, 17 and 19 have window seats whereas the others are closer to the aisle. The window seats on these rows offer extra privacy as they are farther removed from the aisle and are the ones I would recommend.
If you are flying with someone, make sure to pick the middle seats as opposed to those which are closer to the aisle, unless you don't particularly want to interact with your seat passenger in which case the divider goes up and you barely see them.
Lastly, the first row window seats have extra storage shelf space where the bassinet should be so they are the ultimate best seats. In this new B787-10 configuration, all seats in Business Class onboard the B787-10 have direct aisle access.
The new seats are significantly narrower than the previous regional product or the B777 from Singapore Airlines which was, in my opinion, unnecessarily wide (and with the diagonal footwell), and all other Singapore Airlines Business Class seats which stand between 25 and 30 inches, and a mere 1 inch wider than Singapore Airlines Premium Economy at 20 inches when seated. When the seat goes into full flat position or if you lower the arm rests, the seat becomes a more comfortable 26 inches wide.
On their length, the seats measure 76 inches, that is shorter than Lufthansa's A380 but long enough for pretty much any passenger.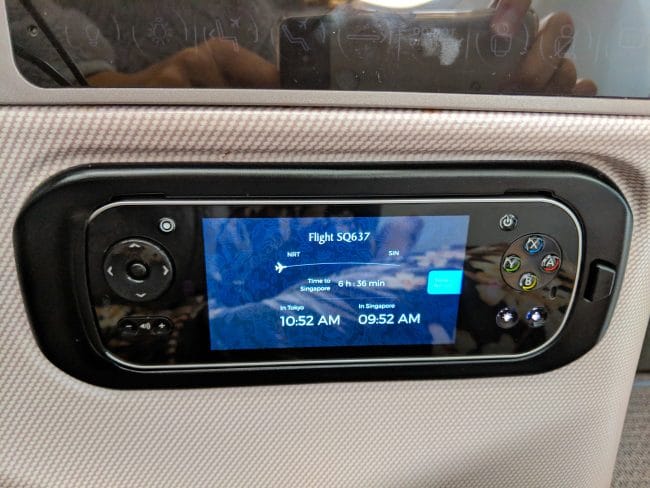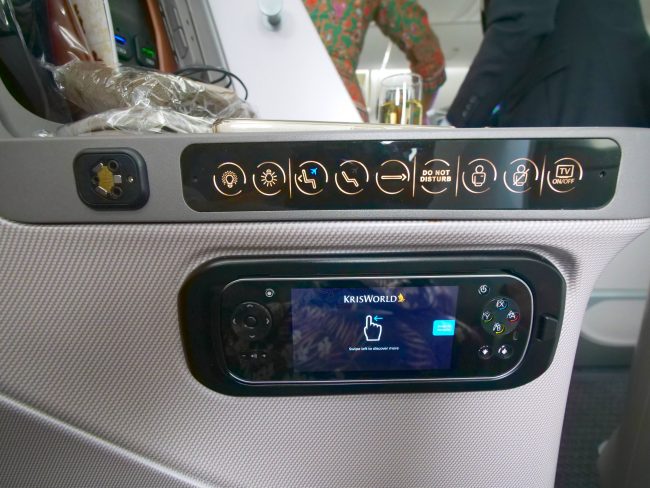 To be able to operate the seat, there is a sleek touch screen control on the side which you can lightly touch to light and then press to operate. I found this a bit annoying as it required me to press quite hard and then I could only put the seat in either of the preset positions and could not, for example, lift the footrest without reclining the seat back.
This control also has a Do Not Disturb sign and a quick button to switch off the TV screen, both of which are pretty useful and practical.
Being a Dreamliner, the window shades can be opened and closed with the click of a button under the window. I do not like this feature of the Dreamliners because I prefer to look out and with this, airlines tend to draw all shades for all seats at their own will instead of letting me use the daylight to adjust to jetlag. Singapore Airlines did not do that.
Extra lighting can be found in the inside of the cocoon where you can find three small lights which can be adjusted for individual brightness and which point at different places.
Other important parts of the seat are the nice padding on the cocoon which was in soft velvety patterned fabric and the many storing compartments.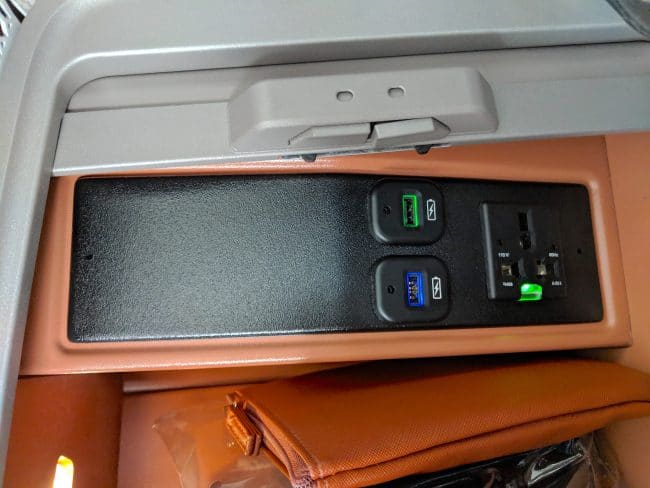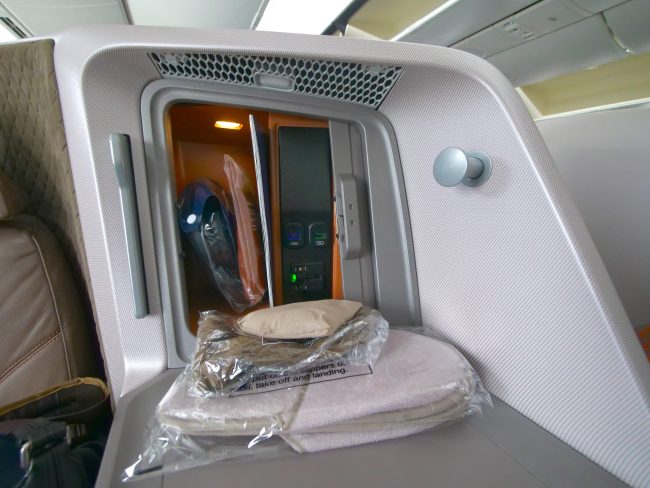 For example, there was a small shelf with a door on the console which was useful to store smaller items like mobile phones, passports, chargers, etc. This is also where the sockets can be found, including two USB sockets and a regular universal socket for plugging laptops.
The console top itself can be used to place your laptop during meal service, and there is a small mirror hidden by the side of this shelf which you can use to make sure you look decent and there are no sesame seeds in between your teeth.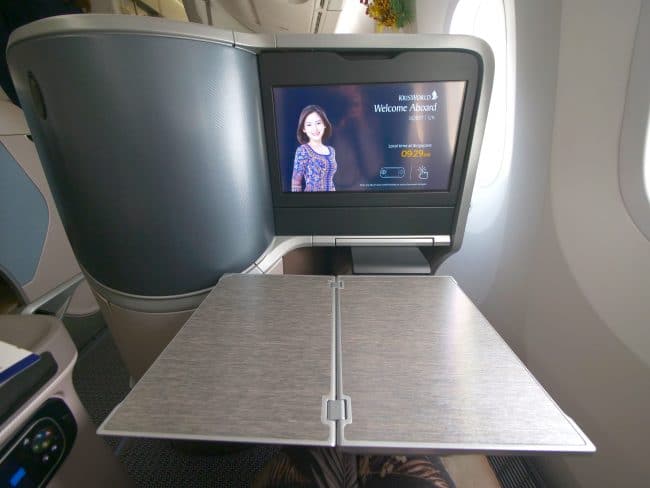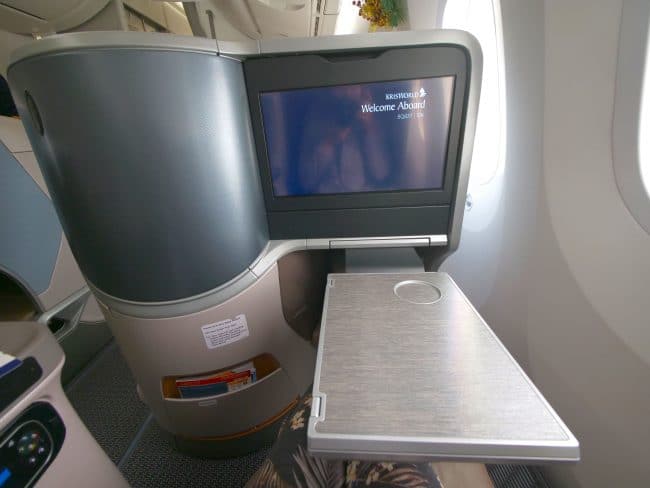 The table is unusually stored under the TV screen instead of inside the armrest and surprisingly, despite the long arm and size of the table, it was less wobbly than other tables which I always need to stabilise with a pillow to be able to type properly.
Curved storage does not allow for laptop but their is ample space
Lastly, there is a small storage compartment under the TV where all the magazines are placed. Unlike other aircrafts, you cannot put your laptop or anything straight in there because it is curved.
I tried to put my laptop in and it ended up dangerously perched at the top tip. Better to place it on the console or on the table, folded and half stored in, which is what I did when I wanted to take a break and watch some TV.
I really love the design of the new seats. Apart from the sleek look, you also have several small compartments to store things which are well thought-out and useful for frequent and business travelers. However, they are quite narrow and the harness type of seat belts are a bit claustrophobic.
Food and drinks on Singapore Airlines Business Class 787 10
I thought the entire meal service on the Tokyo Narita route was exceptional, and that is coming from someone who thinks Singapore Airlines' weakest point is generally its food (if we can fault anything that is).
On the Japan routes, Singapore Airlines offers a locally tailored menu with a Japanese menu complete with an entirely new different set of dishes from start to end, showcasing Japanese food and it was brilliant.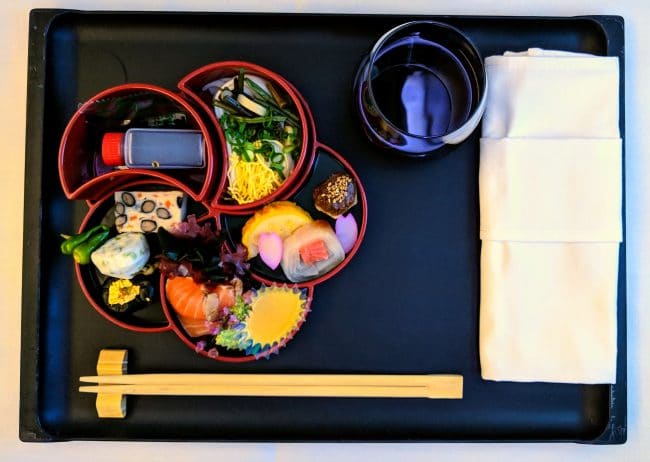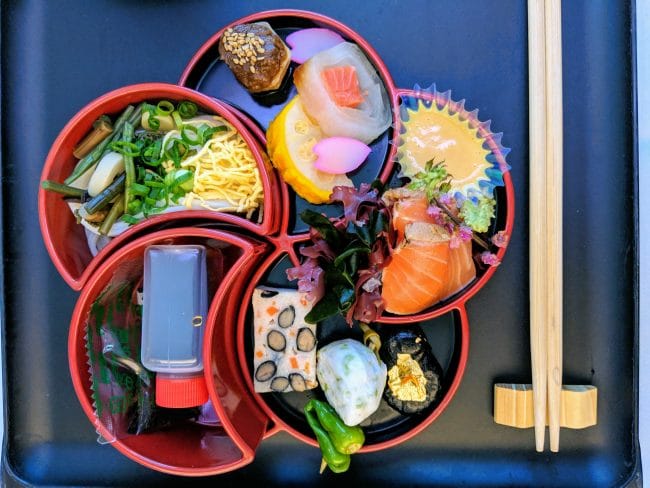 I opted for the seasonal Japanese kaiseki meal which was inspired by the flowers of Japan, called hanakoireki, and came beautifully presented in a plum blossom bento box. I was impressed by the presentation and the level of detail that went into each of the elements in the bento box, something which is rarely found onboard a plane.
Here are the menus available: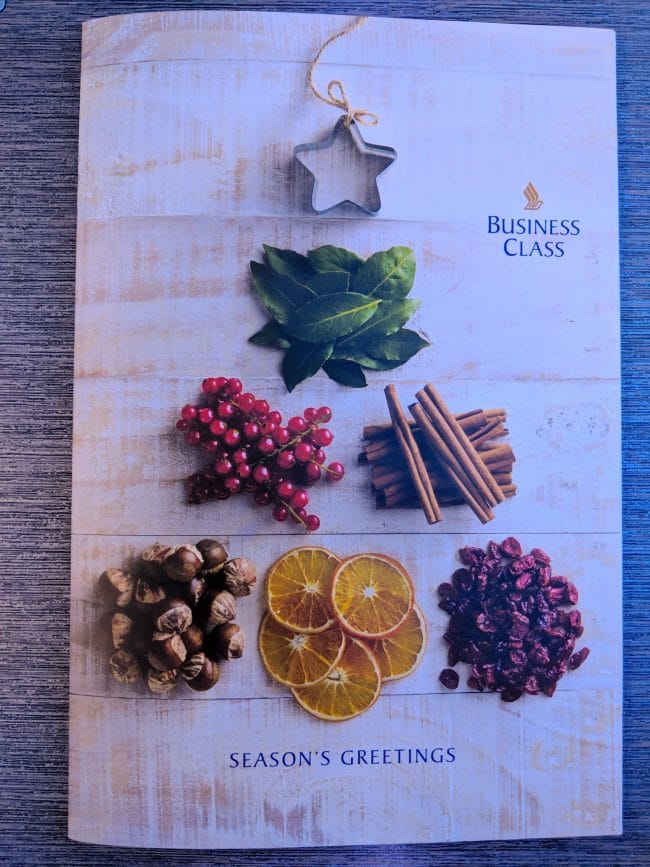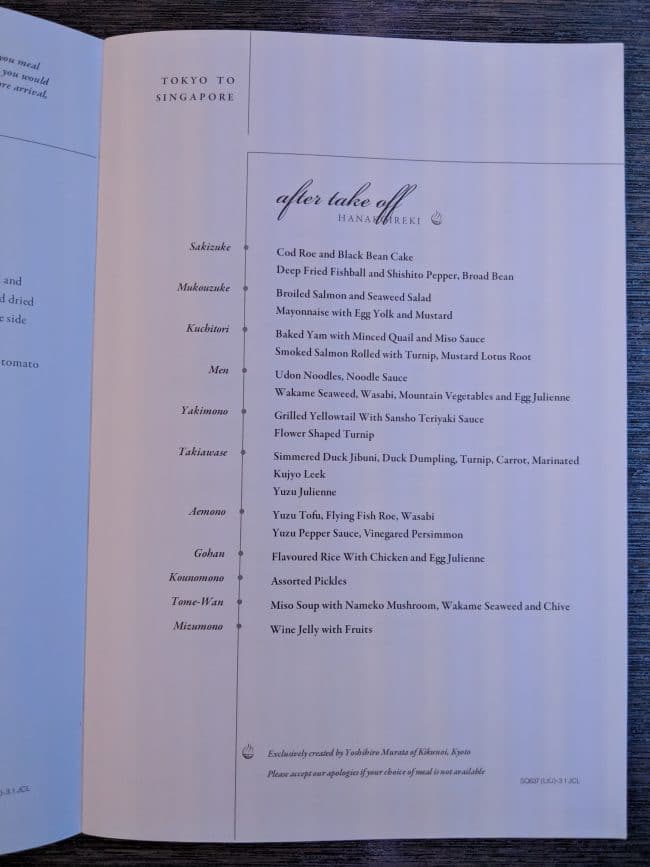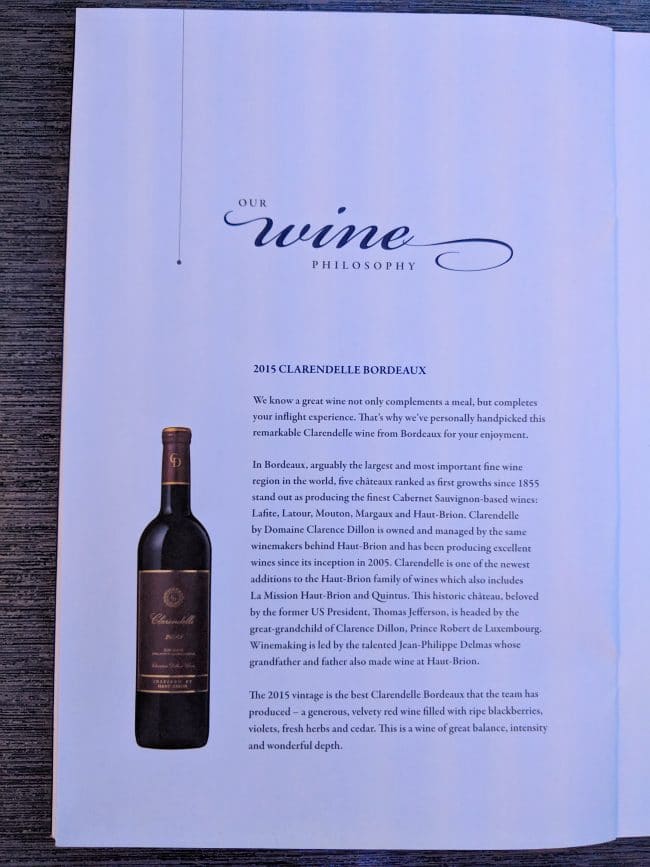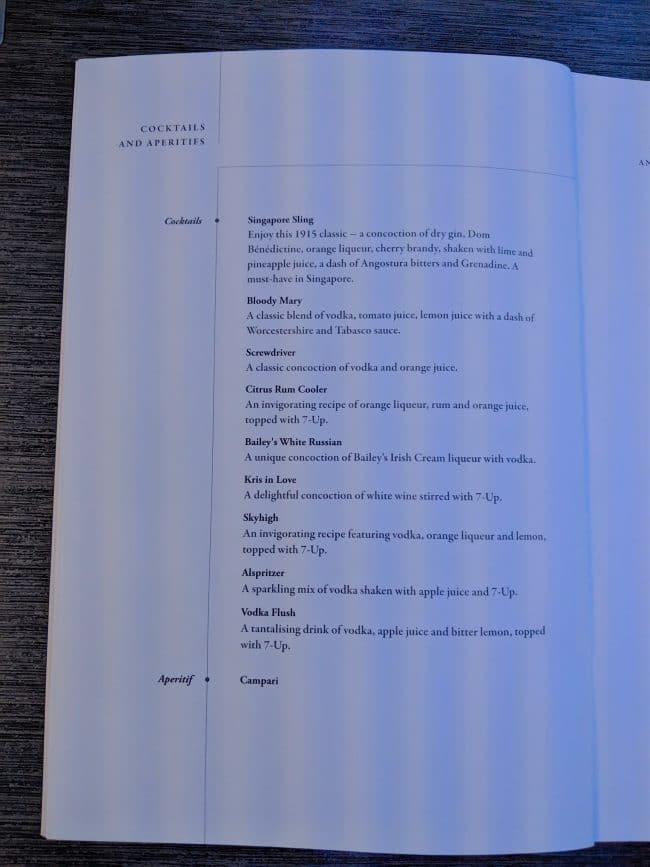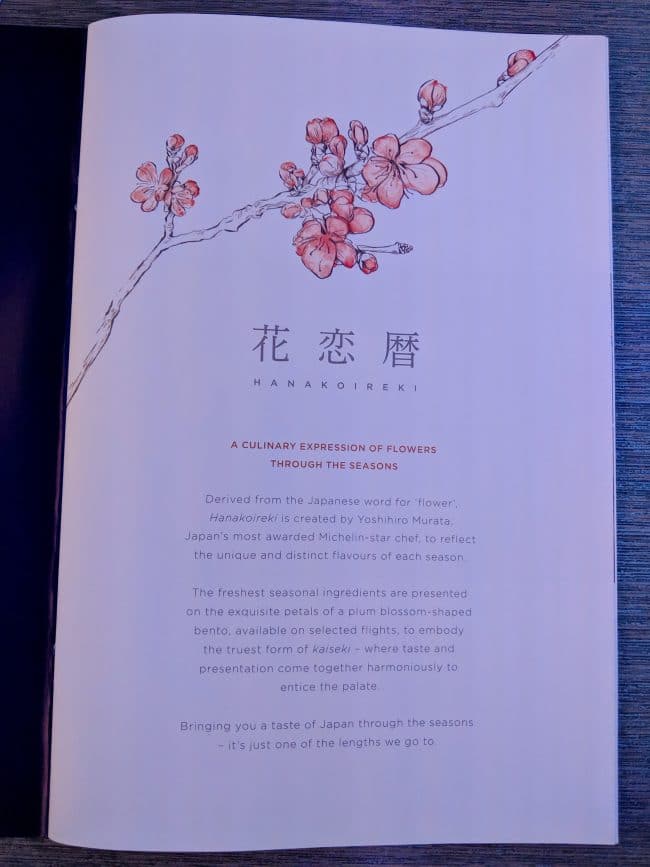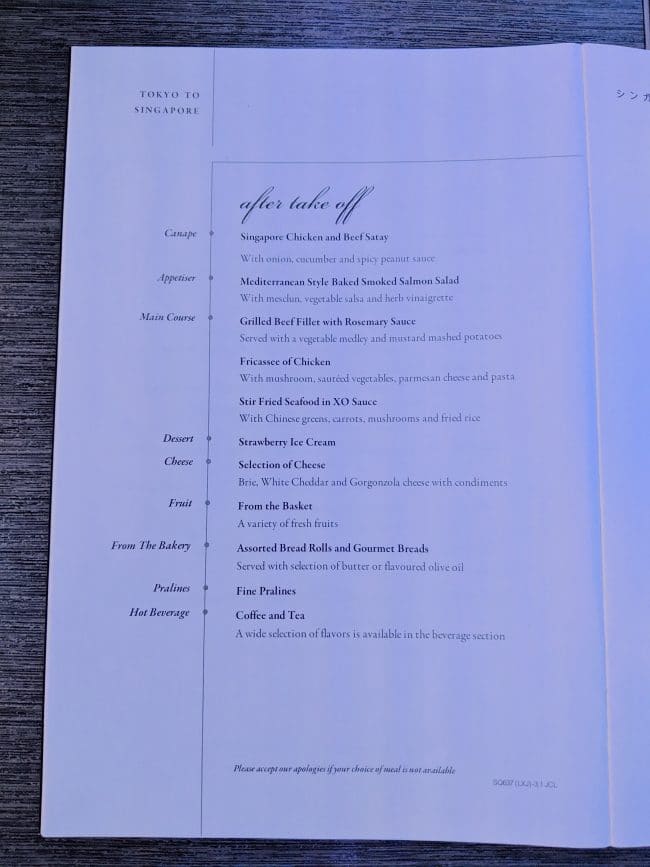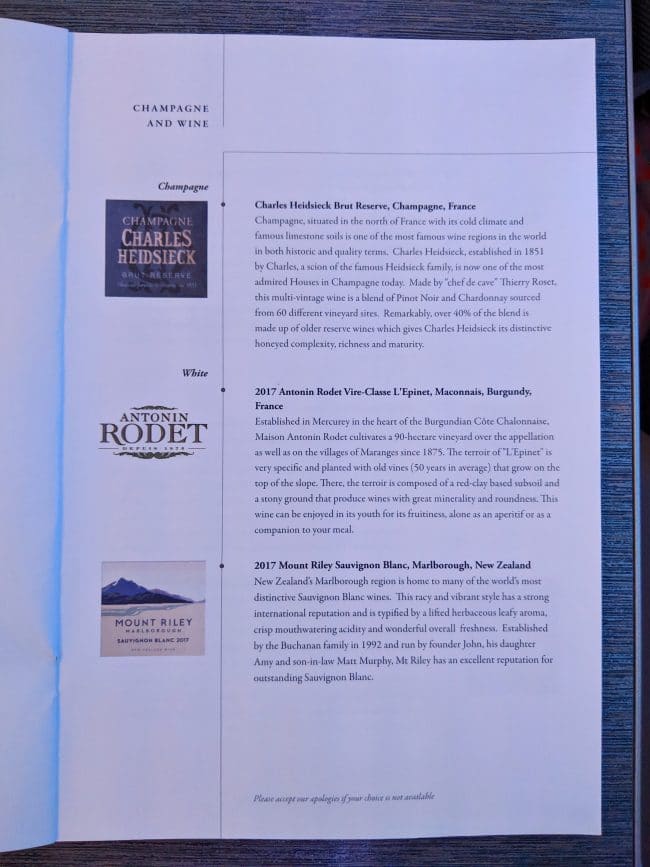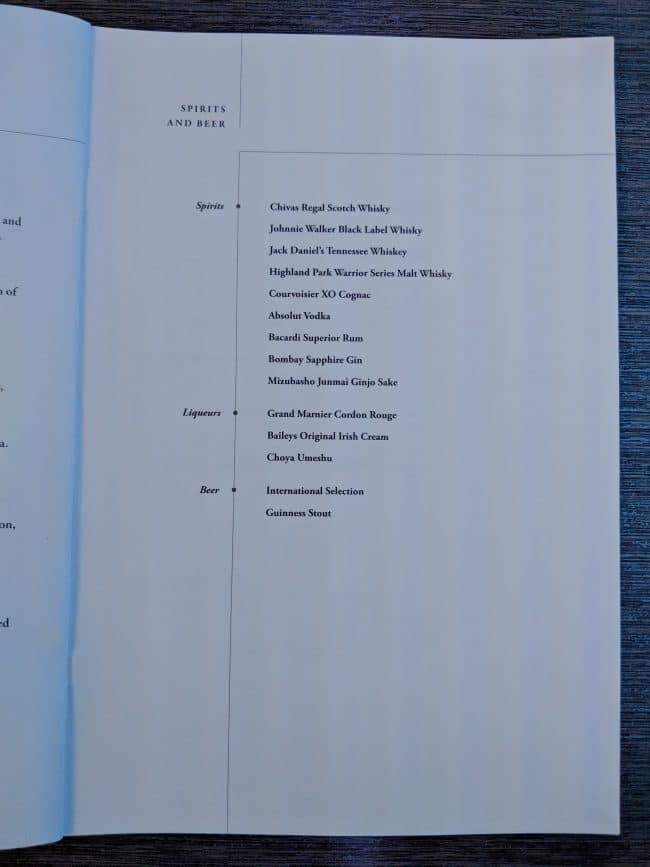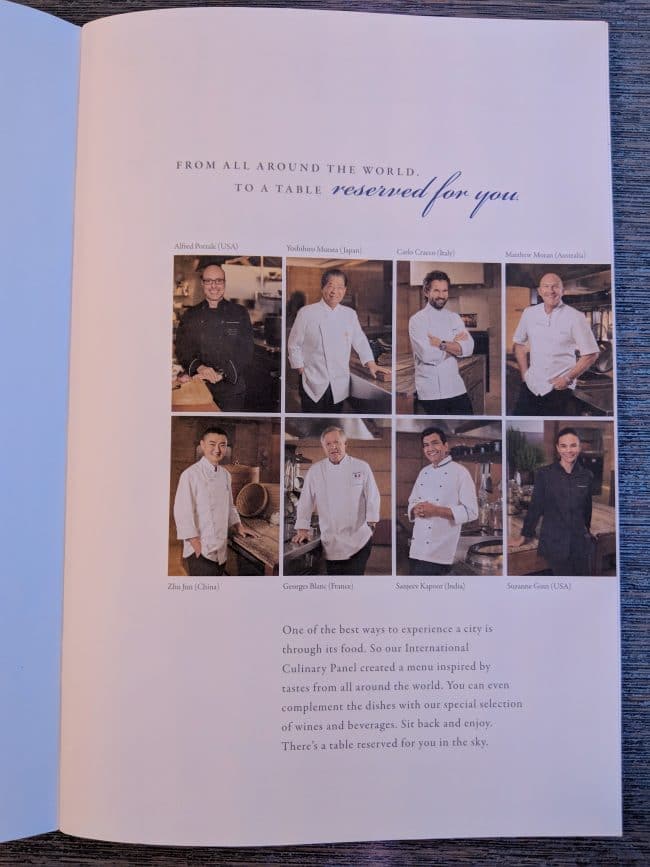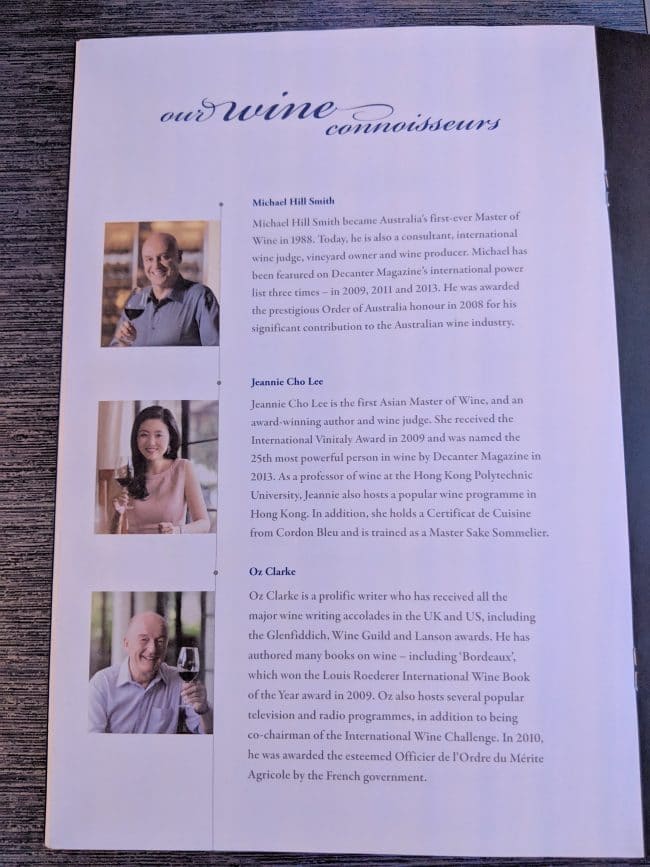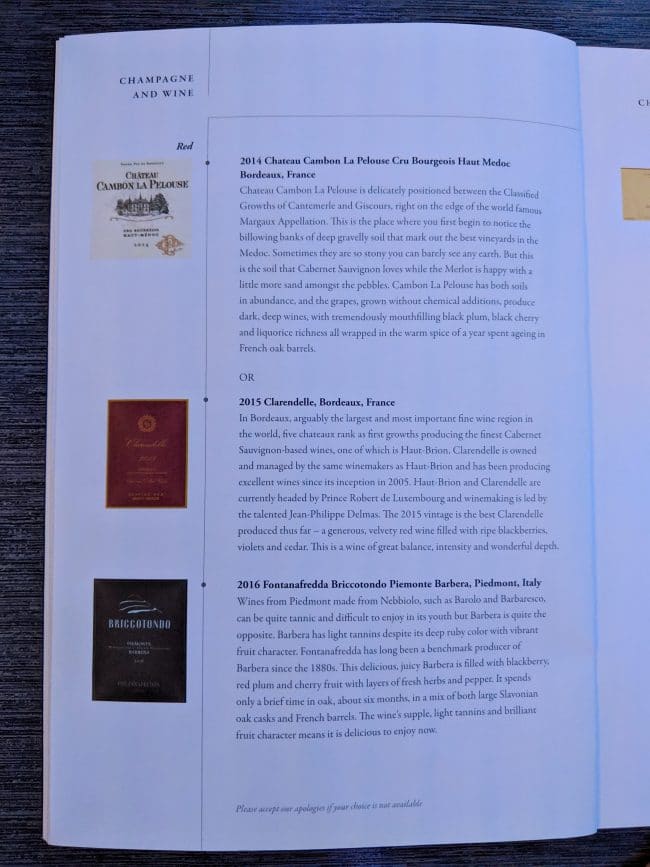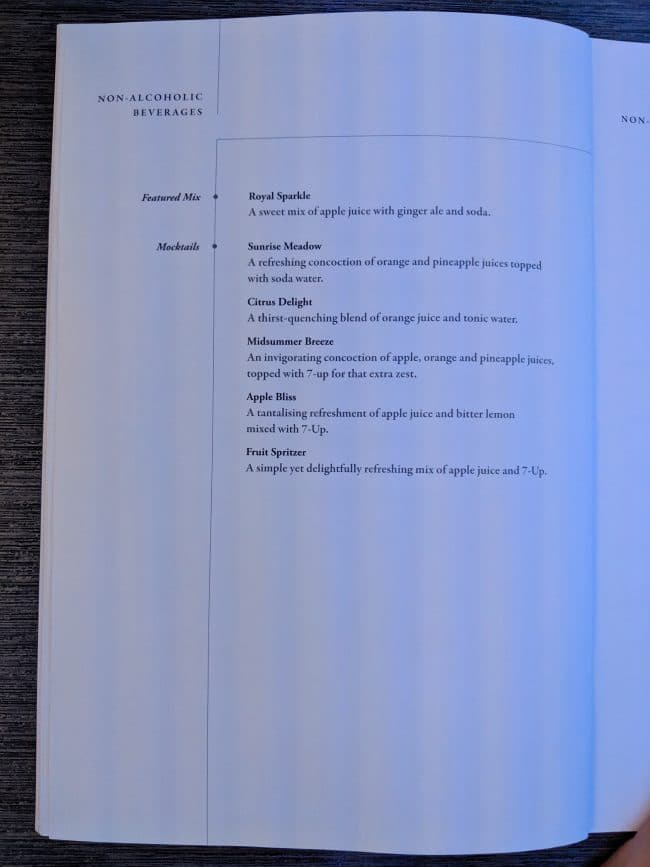 There were 19 small dishes that made up the kaiseki menu each of them was prettier than the one before and then it all came together in a perfect expression of Japan's obsession with detail.
The meal service is preceded with Singapore Airlines' signature satay (yakitori) plate which is made of chicken and beef satay with cucumber, onion and peanut sauce served before the food as an appetizer with drinks. This is the substitute for crackers or peanuts which are generally offered by most airlines, or Ethiopian Airlines crunchy barley.
Singapore Airlines' wine selection is award-winning and always includes a French champagne, two white wines, three red wines (always at least one from France) and one port wine. The airline now features one of the red wines as a recommended selection and so I tried that one.
After the meal service, the crew passed along with a dessert trolley with cheese, fruits and cake and then there were chocolates given.
I have to say that the meal service was really a highlight of my flight and since this was a day flight, I very much enjoyed the nice service from the crew and the lovely and beautiful food.
Amenities on Singapore Airline Business Class B787-10
This is a section which I always skip in Business Class reviews for Singapore Airlines because it used to be one of the few (if not the only) airline which did not give them out, something which was particularly odd for a premium carrier.
However, Singapore Airlines ran a test when I was flying and I did get one on my Boeing 787-10 Business Class flight despite it being a day flight of just under 7h. This has however stopped and the airline has reverted to no Business Class amenity kit again.
The amenity kit I got was similar to the one that Singapore Airline gave for its 70th anniversary and includeed a few items that are unusual in an airline amenity kit. Instead of toothbrushes and combs, Singapore Airline gave a nice lip balm, a fabric crease release spray, a hand moisturiser cream and a wash & stain bar for your clothes.
The fabric care products are from US-based The Laundress, a brand specialising in eco-friendly fabric care. Again, the items included inside the amenity kit were very business traveler friendly and focused on the needs of someone who is traveling long haul for work and may land and go straight to a business meeting and maybe, spilled a bit of bolognese sauce on his tie or her shirt.
Despite not giving away amenity kits, Singapore Airlines always provides eye shades, socks and slippers. The new blankets in the Boeing 787-10 were pretty comfy and soft, and were so thick that I barely used them throughout the flight. The two-sided fabric was velvety on one side and duvet style on the other so it was a very pleasant cover when you needed to sleep.
The pillows provided were silky soft and in an orange, baby blue and caramel beehive pattern. They were so soft to the touch that all I wanted to do was lay down on them. They were also thick enough to actually provide cushion. Definitely one of the nicest pillows I have seen and felt on an airline.
Entertainment on Singapore Airline B787-10 Business Class
Singapore Airline entertainment system onboard the new B787-10 was the same as the one offered on the A350 and A380 and comes with a large TV screen that can be operated by a controller located on the seat.
Both the TV and the controller are touch screen and offer a huge selection of movies, TV series, music and entertainment. It also has a sleek map to follow the progress of the flight.
Even if, like me, you fly a lot, there are always options for programs to watch including end to end TV series and a long list of movies in many languages. It is hard to get bored or have watched it all.
On the comfort side, the TV screen can be tilted to face down, so that you can watch TV also when lying down, and the brightness can be adjusted when the window shades are up.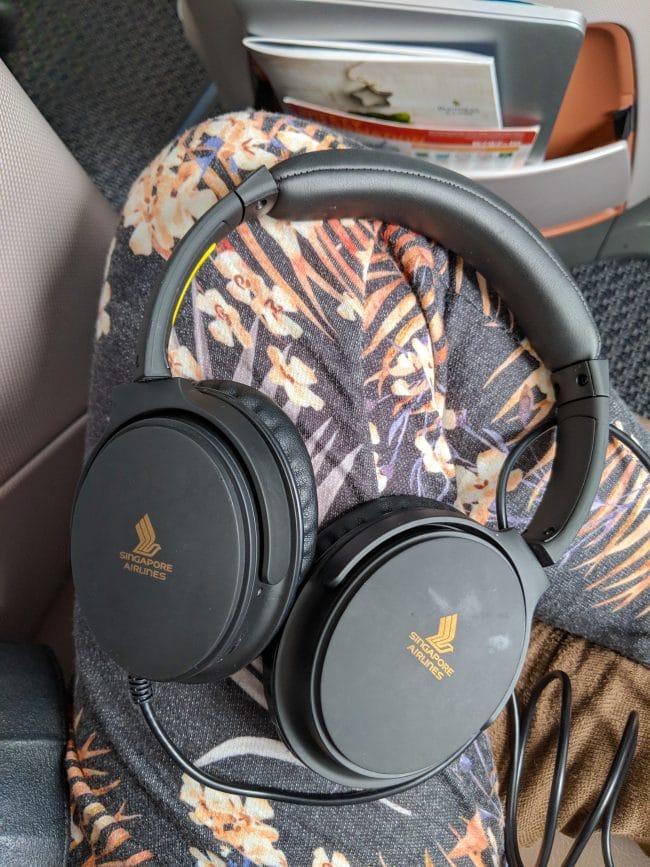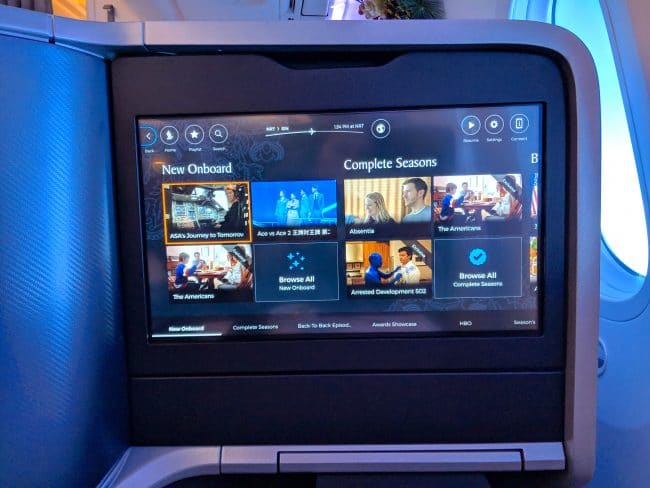 Noise canceling headphones and entertainment
The airline provides noise cancelling headsets that truly cancel any noise, and you will have to remove them to be able to hear anything a stewardess says, but they always hurt my ears after a long haul flight. Hard to fix this issue but interestingly, it only happens with Singapore Airlines.
Service on Singapore Airlines Business Class B787-10
It is hard to beat Singapore Airlines on service. From the moment I walked into the aircraft I was reminded of why I love flying the airline so much.
After a Business Class flight with Aeromexico, two with Copa Airlines and two with Ethiopian Airlines (including their awarded Dreamliner) in the previous two weeks, I was particularly unimpressed with general airline staff friendliness and the Singapore Airline crew was a fresh change.
As the aircraft was new and the crew expected most passengers not to be familiar with how it worked, the crew immediately came to my seat to show me the main features. I was quite happy to be enjoying the new aircraft so was eager to explore all its nooks and crannies and the quick tour was helpful.
The crew remained very friendly and nice throughout the flight. It is rare to have a bad cabin crew on Singapore Airlines. Of course people are people and we all have bad days, but the crew is always generally nice and the service level always exceptional.
I was coming down with a cold after so much flying across the world and they were quick to bring me hot water with lemon and honey and offered to replenish it until I pretty much had enough. They brought down the shades when I went to sleep and turned off my TV screen.
It is always a joy to fly with SQ.
The verdict: Singapore Airline B787-10 Business Class review
I was impressed with the new product from Singapore Airlines and very much enjoyed the seat and the new design of the cabin which is elegant and sleek without being ostentatious. The kaiseki menu was spectacularly well presented and looked beautiful on my table and the service cannot be faulted. It is hard to beat Singapore Airlines on the routes it operates and despite the seats on the new B787-10 being slightly narrower than any other Singapore Airline seats, it still is the better option on the regional routes it operates.
For more Business and First Class reviews head over to:
Don't forget to Pin this article for later!