"Djibouti? What is Djibouti"
This is the very first question I got from every single person I told I am headed there for Chinese New Year holidays. Not a single person knew where or what it was. Well, truth be told, one did, but that is someone who has lived in the area. Some thought it was a city in India, others thought it was a country in the Pacific but nobody could locate it between Ethiopia and Somalia in the Horn of Africa.
I miss Africa and this is why Djibouti is on the wish list for 2015 travel plans, together with New Zealand's South Island, the Cook Islands, Tibet, Shanghai two destination weddings in Bulgaria and Beirut and in London, California, Fiji, Laos, Bhutan, Bagan, camping with Orangutans, Xian and Brunei. As you know, I am usually time starved and in a constant search for the once in a lifetime experiences in each place so here you go the details of my luxury and out of the ordinary plans for 2015. I may not get to go to all of them and surely some new and exciting opportunities will come along the way but it a great list to start the year off with!
The Cook Islands
2015 started on a high note in Bora Bora. I stayed there until the 3rd of January when I flew to Rarotonga, the capital island of the Cook Islands, an autonomous but New Zealand ruled territory. Rarotonga was relatively quiet but after a couple of days I flew out to Aitutaki, less than 1h plane ride away and located inside an incredibly beautiful lagoon. After Bora Bora I thought I had already seen the most beautiful lagoon but Aitutaki proved me wrong. I will have to revisit that assumption. If you want to see more photos, my facebook page is full of them. I did not have to edit them at all, they were just absolutely stunning. Remember Survivor Cook Islands? The photos are there too.
Update: I have since visited the Cook Islands. You can read about my travels here.
New Zealand
On my way back from the Cook Islands I did a flash trip to Rotorua to white water raft and have a look at the geysers in the geothermal park. Later in the year, probably at the beginning of May, I plan to return to visit the South Island. Explore Mt. Cook, land on Milford Sound on an helicopter, experience Queenstown and be mesmerized at one of the only 3 Gold-rated Dark Sky Reserves in the world at Lake Tekapo. That should be an amazing trip!
Update: I have since visited New Zealand. You can read about my trips here.
California
Work will take me to the West Coast and I hope to be able to factor in at least a weekend in Napa Valley to indulge in the best food and wines, can't wait! I visited Sonoma 2 years ago on my sabbatical and enjoyed it very much. I am a huge fan of wineries and wine tours so I can't think of a better way to spend a weekend than sampling local produce and wineries. Work may take me back to the US again during the year and a visit in the warmer months may mean a trip to one of the wonderful national parks.
Update: I have since visited California. You can read about my journeys here.
Djibouti
A flash trip, one of my signature ones, one of those that most people would turn heads on, not just because of the destination ("Dji what…?") but because it involves 11h flying each way for a 4 day vacation but sadly this is the type of travel I am forced to do because of trying to juggle a day job and a passion for travel. It will be ok, I am a pro at these things and planes do feel like home to me. So what is there to see or do in Djbouti? For starters, it will be the whale shark season s I hope we can swim with these giants of the sea in the warm waters of the Red Sea and the Horn of Africa. Djibouti is also known for its coast and the little white sand beaches off shore, the crystalline waters and, most importantly, for the low altitude salt lakes with very strange and unique rock formations. Because it is such a small place in 4 days there's plenty of time to see it all. I am very excited to go, while most people will think I am slightly crazy.
Update: I have since visited . You can read about my journeys here.
Tibet and Shanghai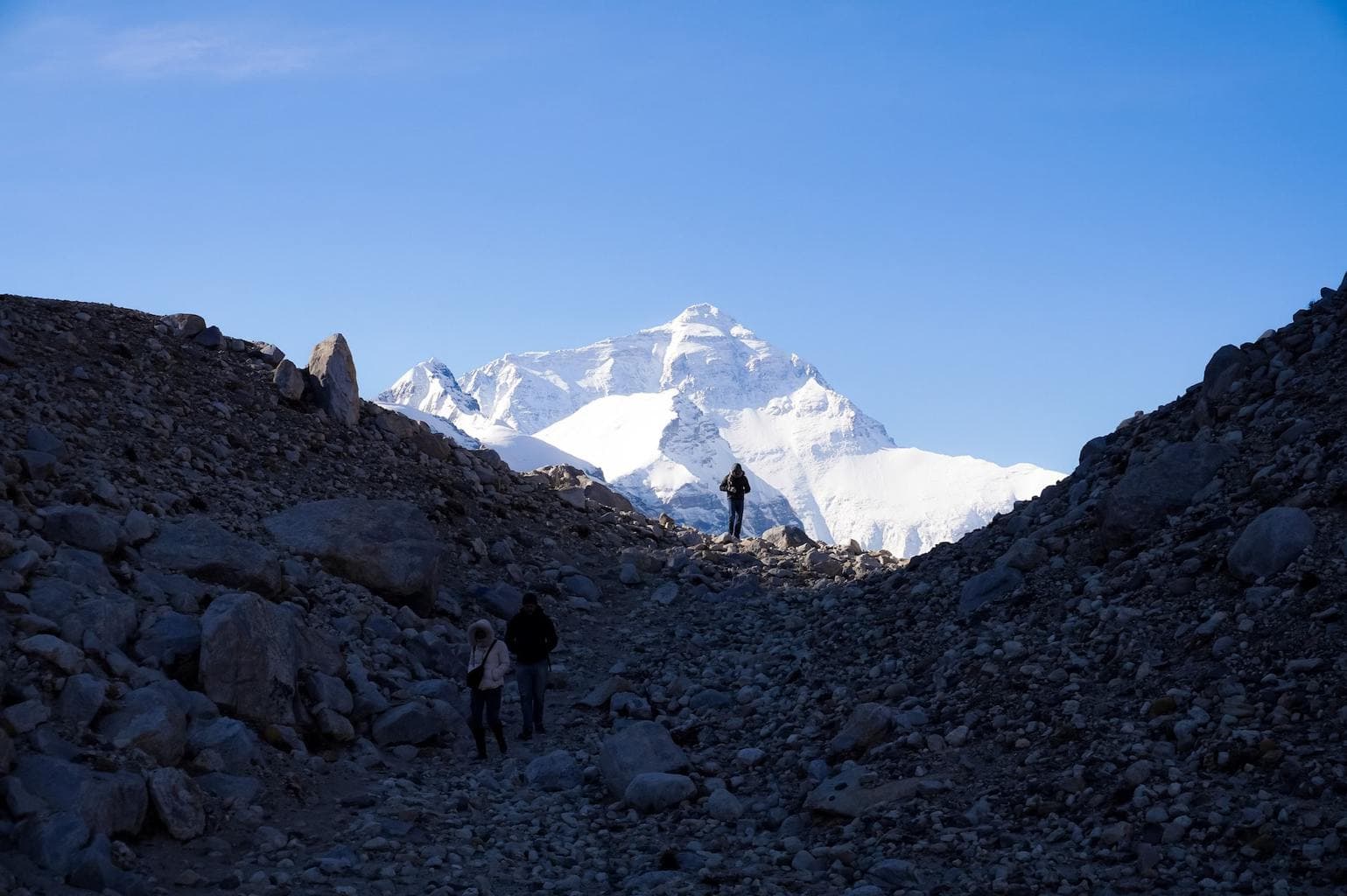 I have been meaning to visit Tibet for a long time but it is rather hard to get there and, if I do, I want to do it in style taking the train from China to make sure I acclimatize properly and I get to take in the amazing views from the highest train in the world, they are meant to be breathtaking, literally! So to manage the altitude sickness risk the train is equipped with oxygen masks. I hope 2015 is the year. Since you need to receive your Tibet permit in China that will require a stop over which I hope can be combined with a visit to Shanghai. A trip to Lhasa will no doubt mean a stay at the newly opened St. Regis Hotel, a top-end beauty with views on the Potala Palace. The golden indoor pool looks fabulously decadent.
Update: I have since visited Tibet. You can read about my journeys here.
Bulgaria and Istanbul, London, Beirut and Copenhagen
I have two destination weddings this year in Europe and very close to each other. One will be in Bulgaria's coast and I may combine it with a couple of days in Istanbul or in Sofia. The other one is in London and I plan to take the opportunity to make it to Copenhagen for the weekend to book a table at Noma and explore the Nordic city. I have never been to any of the Nordic countries so it will be a first. The one in London also comes with an engagement party in Lebanon where the bride is from. After living in the Middle East for 5 years I never got to explore this country as it was always considered dangerous and the few times I went there for work we were strongly advised to stay in the hotel and respect the curfew. It will be wonderful to experience Arab hospitality in the form of a wedding.
Laos
I am not sure this one will happen but I have had Laos on the wish list for a long time. Despite being so close to Singapore getting there is not easy. Connections are inefficient requiring almost always a stop over in Vietnam or a flight in the middle of the day and to get to Luang Prabang, the beautiful colonial city, it requires another inefficient flight from Vientiane. If I make it there this year I hope to not only visit Luang Prabang but also to make it to the treetop Gibbon Experience spending 3 days chasing gibbons high above the jungle canopy and sleeping on basic treetop tents. Given it will require a week it is one of the least likely trips on this list.
Update: I have since visited Laos. You can read about my journeys here.
Fiji
On the cards but not confirmed, Fiji may be on the calendar for 2015 if I participate in a wellness and networking retreat a friend is organizing. This will be a good opportunity to visit this country which I had little opportunity to explore when I went there in 2012 as I spent my entire week onboard the Tui Tai boat off Taveuni Island. Since I will also be with an adopted local of sorts I hope to get to see the real Fiji and explore some of the high-end resorts of which there are a lot of.
Update: I have since visited Fiji. You can read about my journeys here.
Brunei
Relatively accessible and short plane ride away from Singapore, Brunei is an undiscovered destination which can easily be done over a weekend as it is a very small city-state. I hope to finally make it there to explore the jungle and the temples and get to know a bit more of this oil-rich country on the island of Borneo. It is a dry country so I bet there will be good food to offset that.
Update: I have since visited Brunei. You can read about my journeys here.
Orangutans
Another of the destinations that have been on the back burner for a long time. Orangutans in Indonesia are relatively easy to find in the wild on a very affordable trip camping in the jungle for a minimum of one night. I have a few friends who have been and so I hope to make it there on a long weekend this year.
Bagan
I have been to Yangon several times before Myanmar opened up and I loved it but I bet Bagan will be magically beautiful. A hot air ballon trip is a must as will be a stroll on bicycles around the temples, what a special trip! This on will happen in 2015 no matter what.
Update: I have since visited Bagan, as well as Inle Lake in Myanmar. You can read about my journeys here and here respectively.
Namibia
The best present I got this Christmas was a trip to Namibia. I was always very sorry not to have made it there while I was living in Joburg, it was such an easy trip! So this time I am making sure that I can make the most of this remarkably rich country from a plane ride above the Skeleton Coast to the tribes in the desert, the giant sand dunes and the lush Etosha park in the north. A trip to Namibia will not be complete without a stay at @Beyond's resort in the Namib reserve which is considered one the 3 gold-rated Dark Sky reserves in the world. The starry night sky in the Namib Desert must be a once in a lifetime experience. I still remember very vividly my first night in Africa close to Joburg at Pilanesberg Park where I saw the Milky Way for the first time. This one will beat that view a hundred times.
Update: I have since visited Namibia. You can read about my journeys here.
Bangkok and the wineries in the south
When you live in Singapore there are weekend destinations that you tick over and over again. Places like Phuket, Bali, Hong Kong or Bangkok are a regular weekend stop-over. They are close and there are tens of flights every day and they just simply don't go out of fashion. I will be going to Bangkok for TBEX in October for sure but I am also sure there will be other trips there, at least once to explore the wineries in the south of the country which come with elephant wine tours.
Update: I have since visited Bangkok. You can read about my journeys here.
Apart from all these trips I am sure there will weekend escapes to Bali and Phuket at some point and work may take me to Sydney again which may call for a trip to Melbourne or Perth.
Where are you headed this year? and, most importantly, if you have been to any of the above, leave your tips below, they will be greatly appreciated!