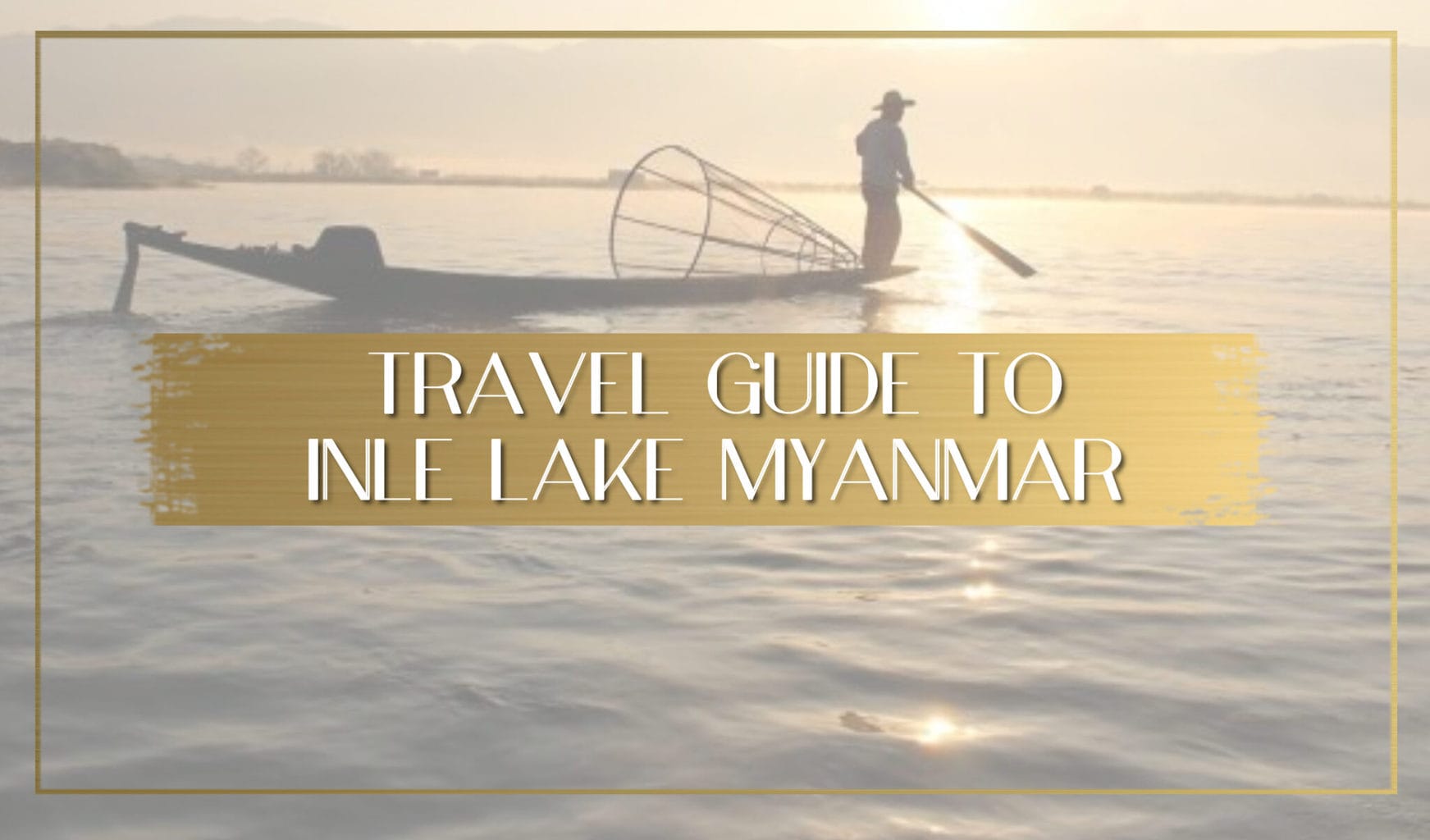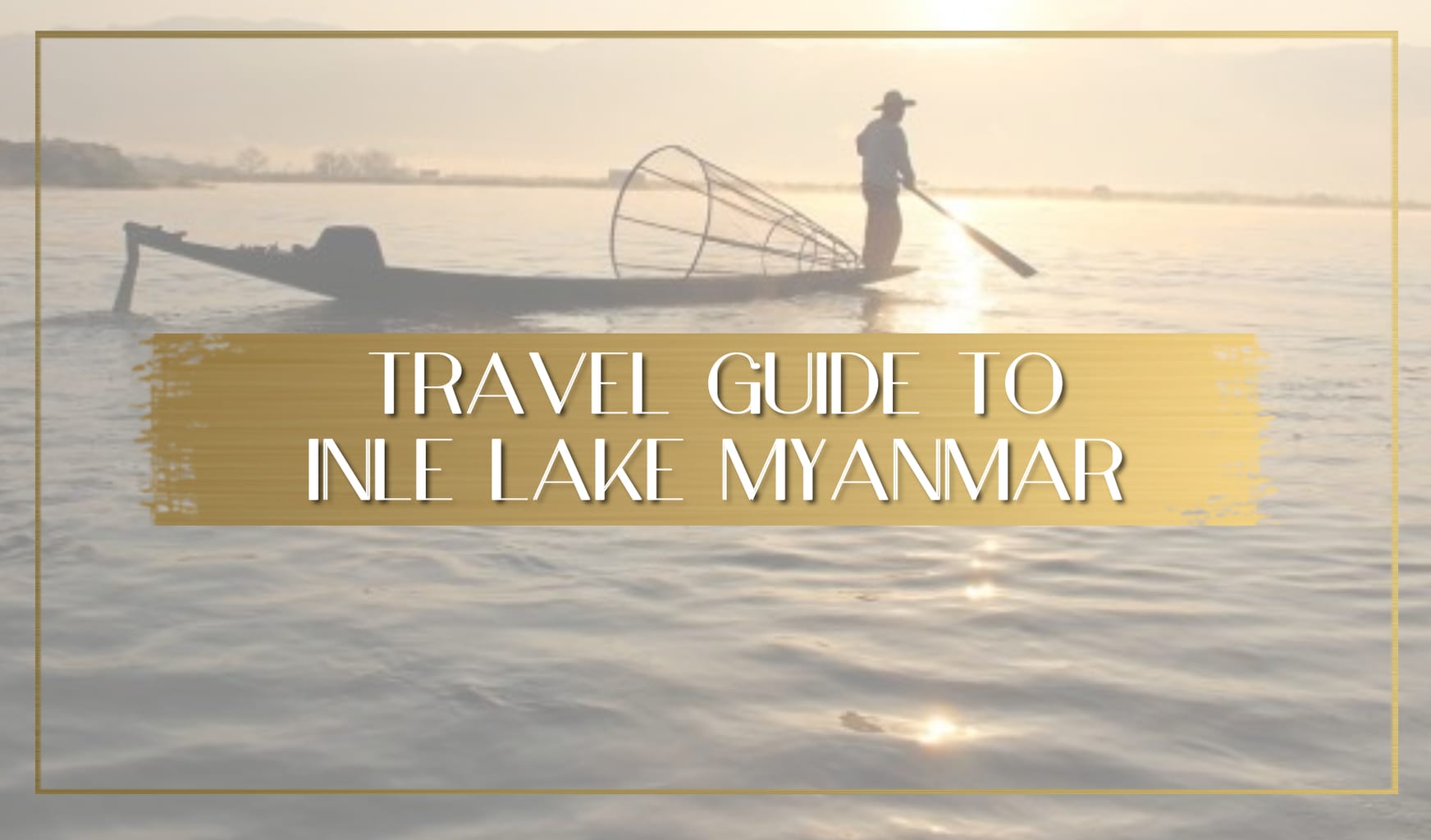 Inle Lake is located in the Nyaung Shwe township in Myanmar's Shan State. Most of the 70,000 people inhabiting the lake belong to the Intha ethnic group and live in four villages on the lake shores. They are mostly Buddhists and live on simple wooden houses many of which are on stilts.
Life on Inle Lake happens around the water. Locals are mostly fishermen and even the vegetables and fruits are grown on floating gardens. The particular leg rowing style of the fishermen and their cylindrical nets coupled with the stunning misty sunsets has made the photos of the fisherman throwing their nets famous all over the world. Traveling around the lake is done by long motorised boats which make the journey between all the towns and landmarks in the shallow waters steered by savvy longtail boatmen.
Apart from fishing, the locals produce wood carvings, crafts, silk and a special fabric from the lotus flower that they use as additional sources of income. Although the lake still appears largely clean and one can see the bottom of the water with the floating plants dancing to the water's rhythm, environmental concerns loom. The lake's size has reduced by 30% from 1935 to 2000 as a result mostly of the agricultural practise of floating gardens which solidify into soil with time. The lake was added to the list of Network of Biosphere Reserves by the UNESCO in 2015 and contains a number of endemic species not found anywhere else.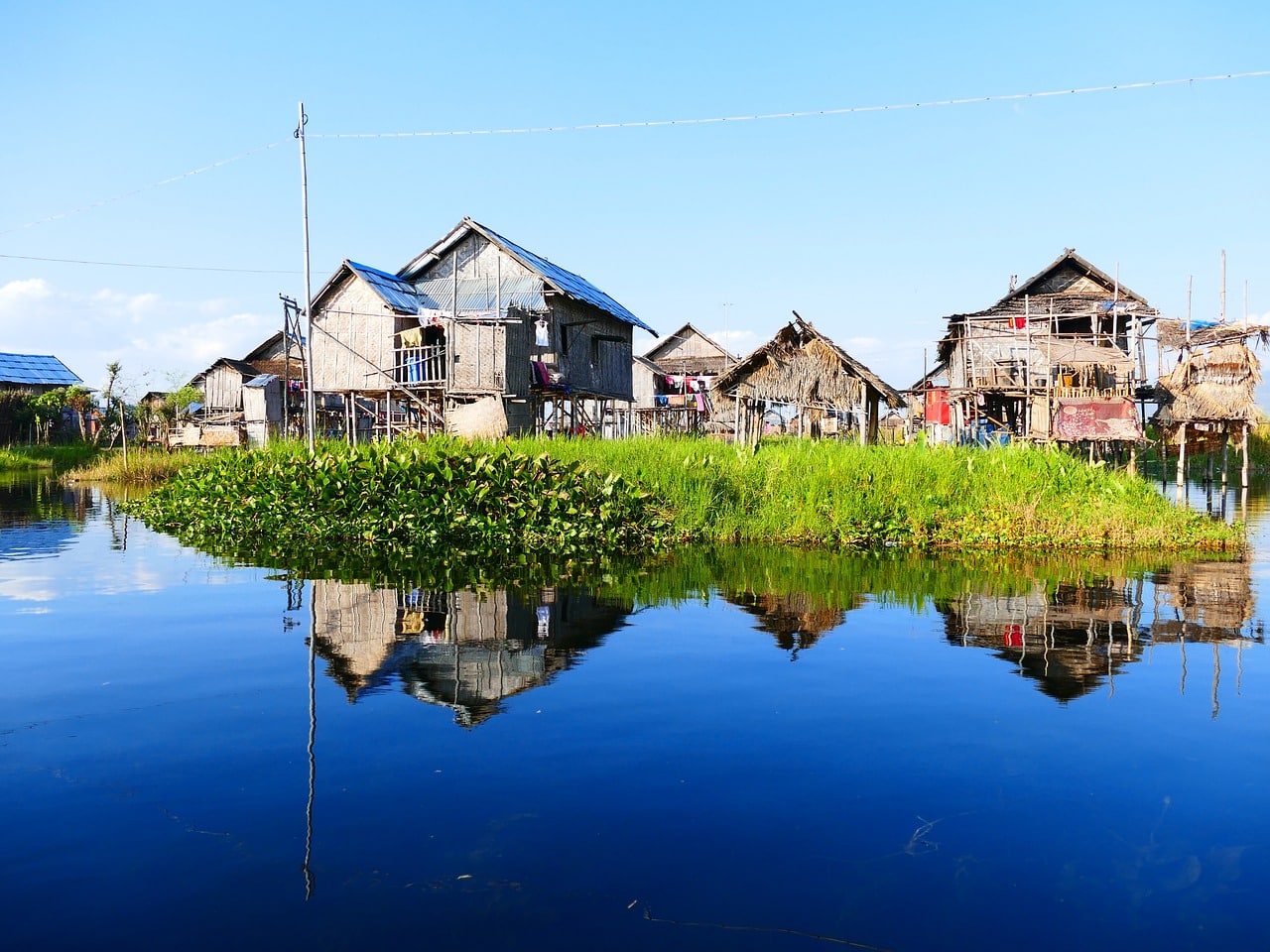 Myanmar only started to open to tourism in 2011 and Inle Lake came later to the game. Truly appearing on tourists' radars from 2014 but has since seen an explosion in the number of visitors. In the past, Inle Lake, and Myanmar for that matter, was the subject of dreams and trips by hard-core off-the-beaten path travelers that managed to get in and explore the country during the regime's close-off.
Today, and especially during the peak months of November to February, the lake can be full of backpackers in search of a quiet slice of lake life. And with reason. After Yangon's boom came Bagan's temples and lastly Inle Lake's romance. Both Bagan and Inle Lake are in a tentative UNESCO site listing since 1996.
Things to do and places to see on Inle Lake
Here is a complete list of all the things to do on and around Inle Lake in Myanmar.
The 5 day market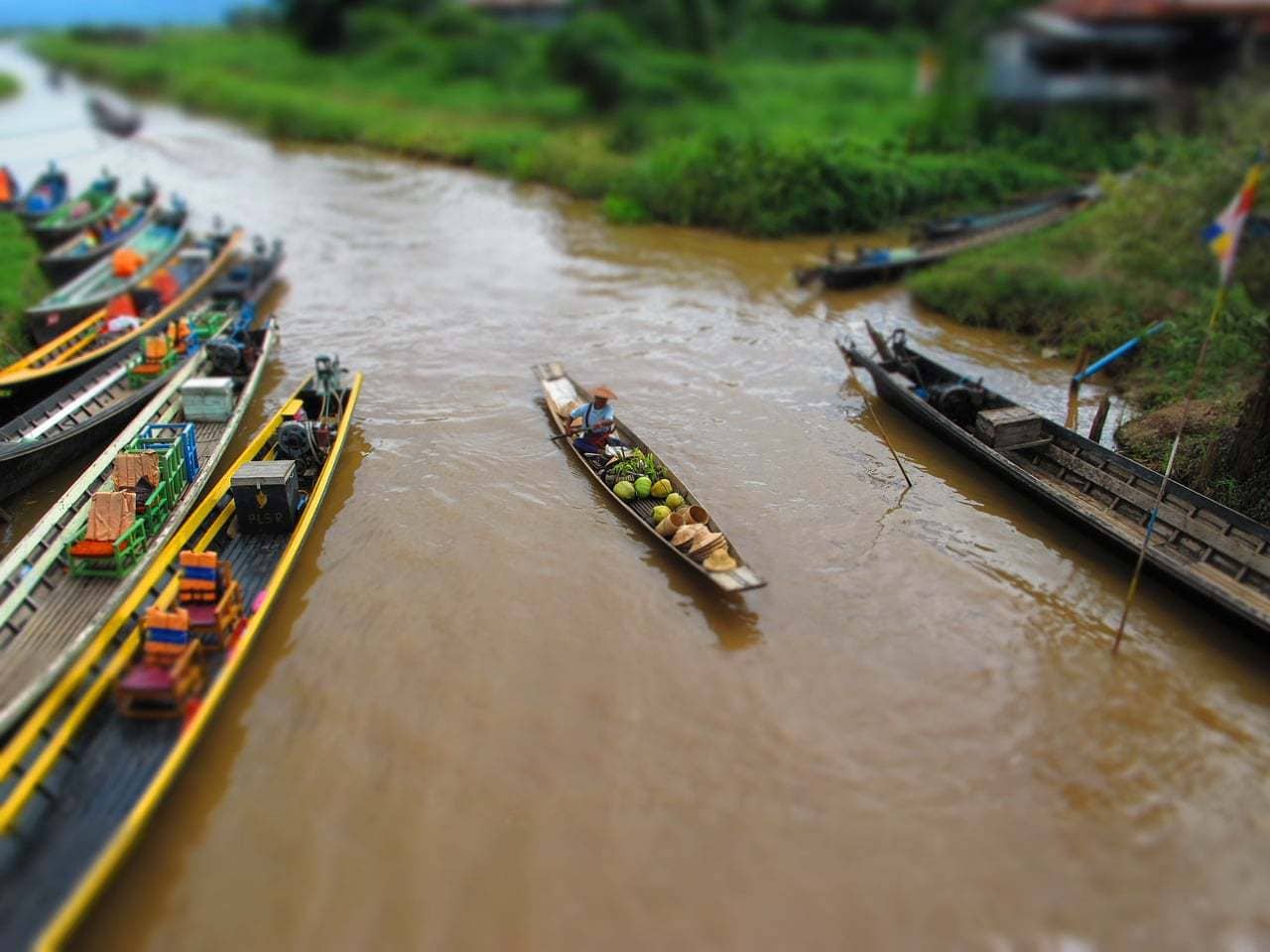 Inle Lake inhabitants get their groceries sorted in a daily market that tours the lake changing location on a 5-day cycle as follows:
Day 1 – The Nyaung Shwe in the village is one of the most authentic and local ones. Nanpan on the lake also has a special bamboo market where all sorts of bamboo items can be bought

Day 2 – In Heho, next to the airport. In Thauntaung. In Taung To market

Day 3 – In Taunggyi, the capital of the Shan state. In Ywama, there is a floating market on the lake that is well known

Day 4 – In the town of Taungni. In Phaung Daw Oo on the lake. In Maintauk on the shore next to the wooden bridge. The last one is the biggest of them all

Day 5 – Shwe Nyaung on the road to Taunggyi. In Dein on the stupas area. Kaung Dain on the west shore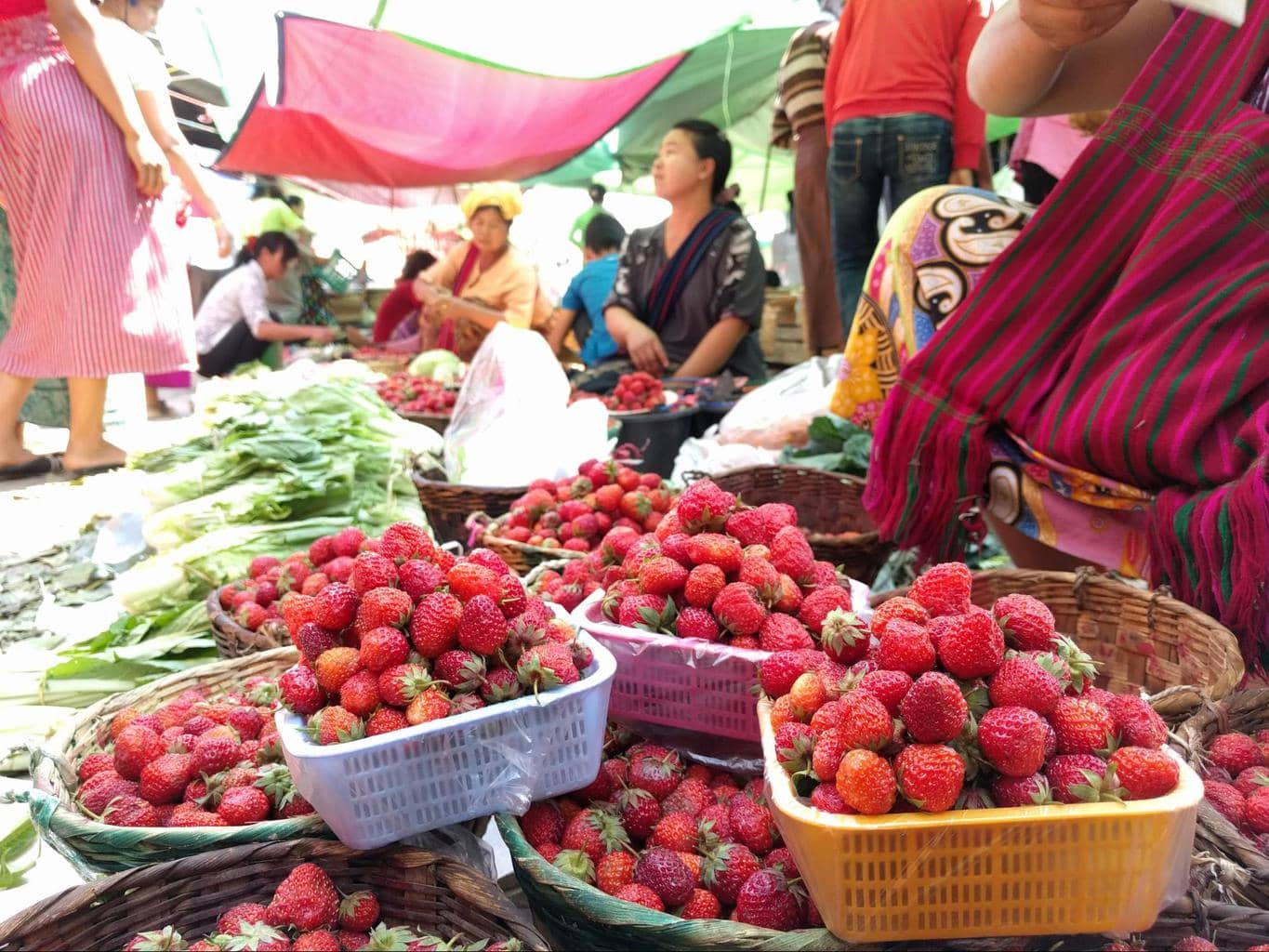 Since there is at least one or two locations for the market every day, you should wait for the best ones which are the Nyaung Shwe and the Ywama. I particularly enjoyed Nyaung Shwe because it was how I best like markets: full of interesting food and drinks to observe, locals buying and selling and no tourist trinket available.
You should avoid Thauntaung, Taung To and Shwe Nyaung as they are smaller and very hard to locate. Your hotel can organise a boat to take you to all.
In Dein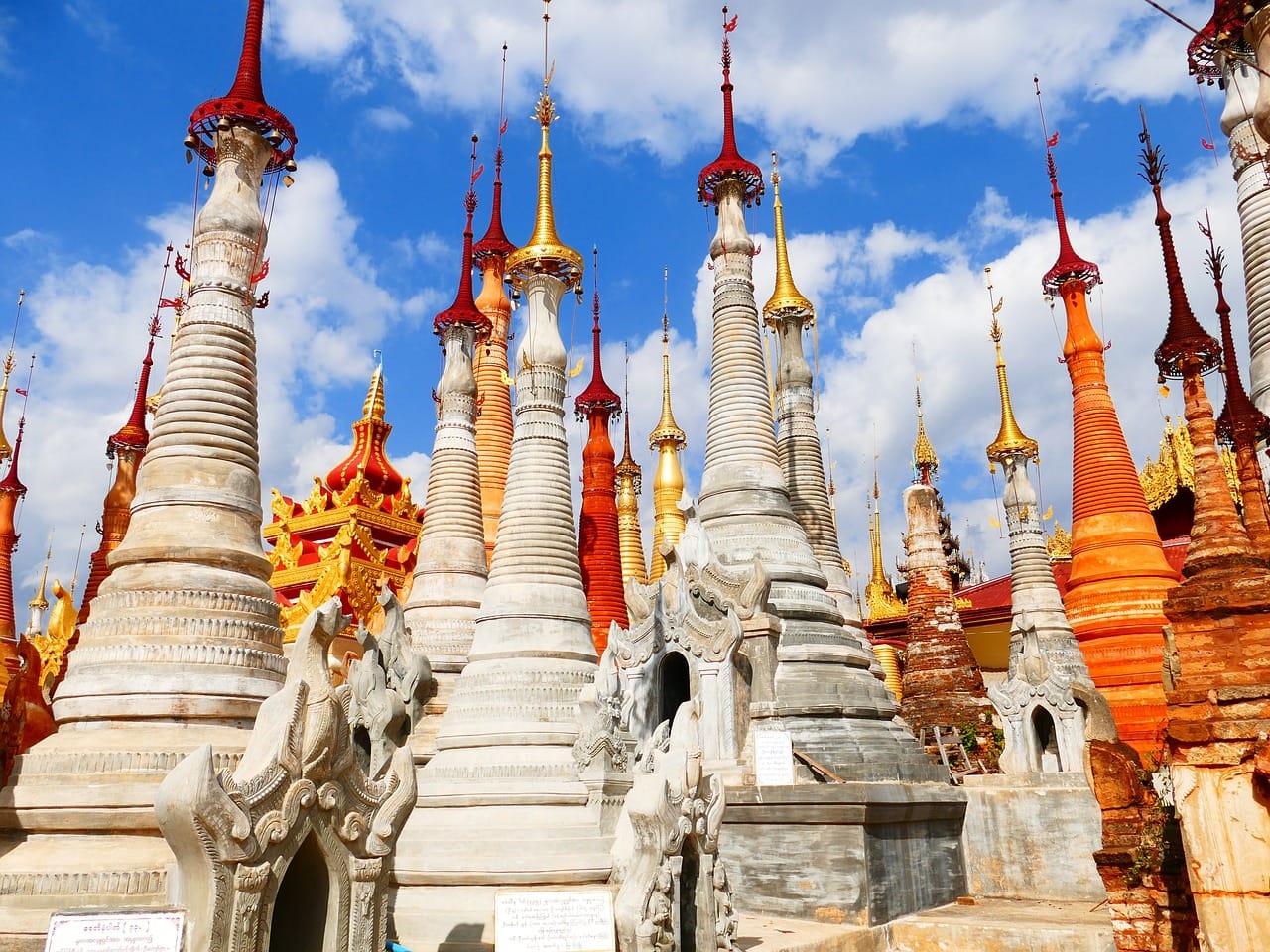 In Dein is made of two parts. A collection of ruined stupas that are much reminiscent of Bagan and a group of tall spired stupas in golden and white colors up a long covered colonnade that is lined with souvenir shops on both sides. The 418 pillar colonnade is covered with a tarpaulin roof and ends up the hill, from where there is a lovely view and a temple.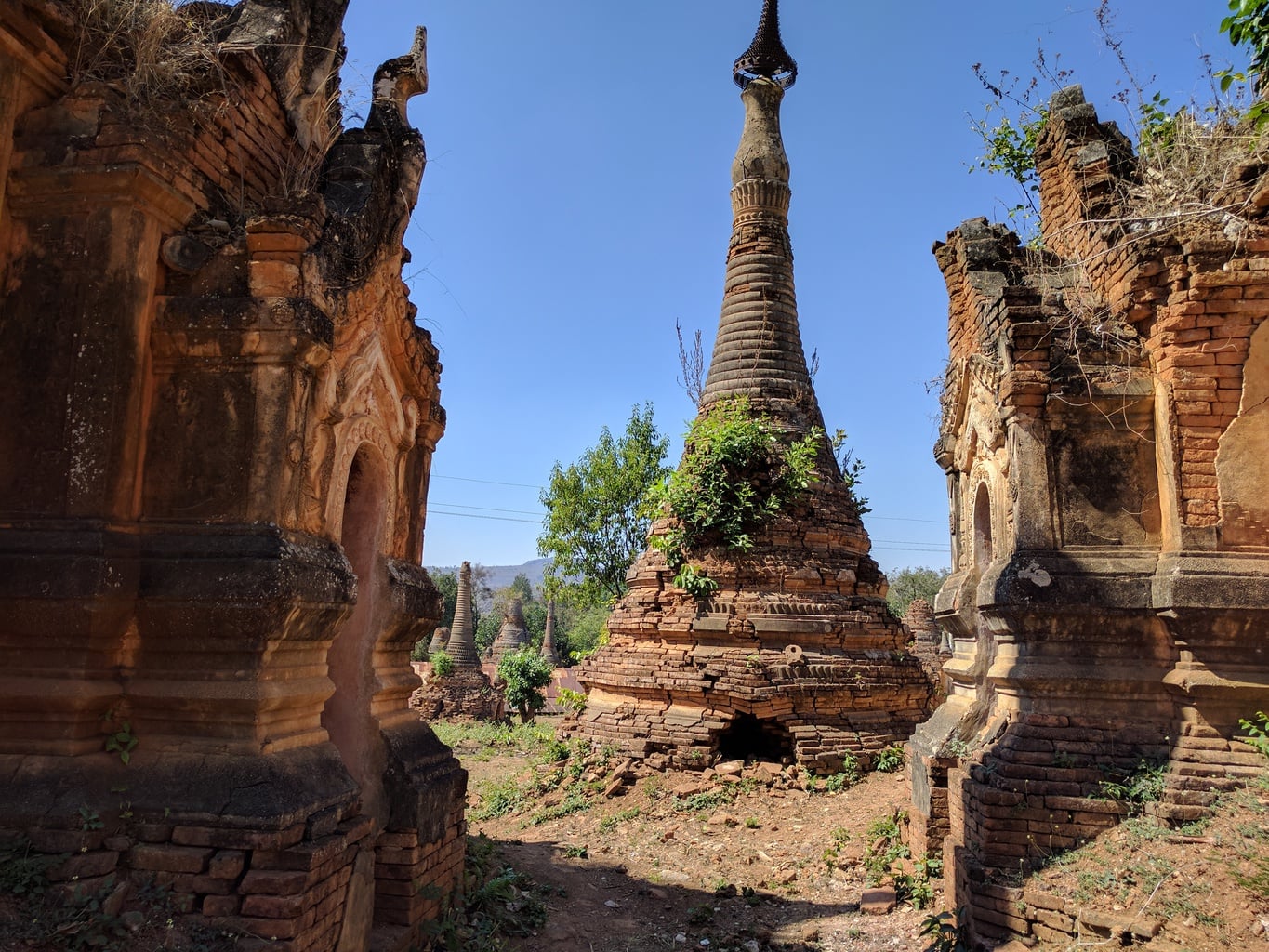 The stupas were added from the 12th century until the 18th and you should take your time to take it all in. As you walk up the colonnade, make plenty of off-course detours from the main corridor right and left as this is where the best views and stupas are, and where you are likely to find less tourists. In Dein is surely on every visitor's main to-do list on the lake.
Restoration efforts are ongoing although many say that the work is questionable and the stupas are not being restored faithful to their original structures.
Nga Hpe Kyaung Temple
There are lots of temples and monasteries around the lake. Don't expect the usual structures on land but rather a floating version on stilts where Gods and monks do the needful. Perhaps the most famous one is Nga Hpe Kyaung because of the many cats that are believed to have been trained by monks to jump hoops. Seeing this or any other one of the temples is fascinating in that they provide insights into a completely lake-adapted way of life.
Artisan workshops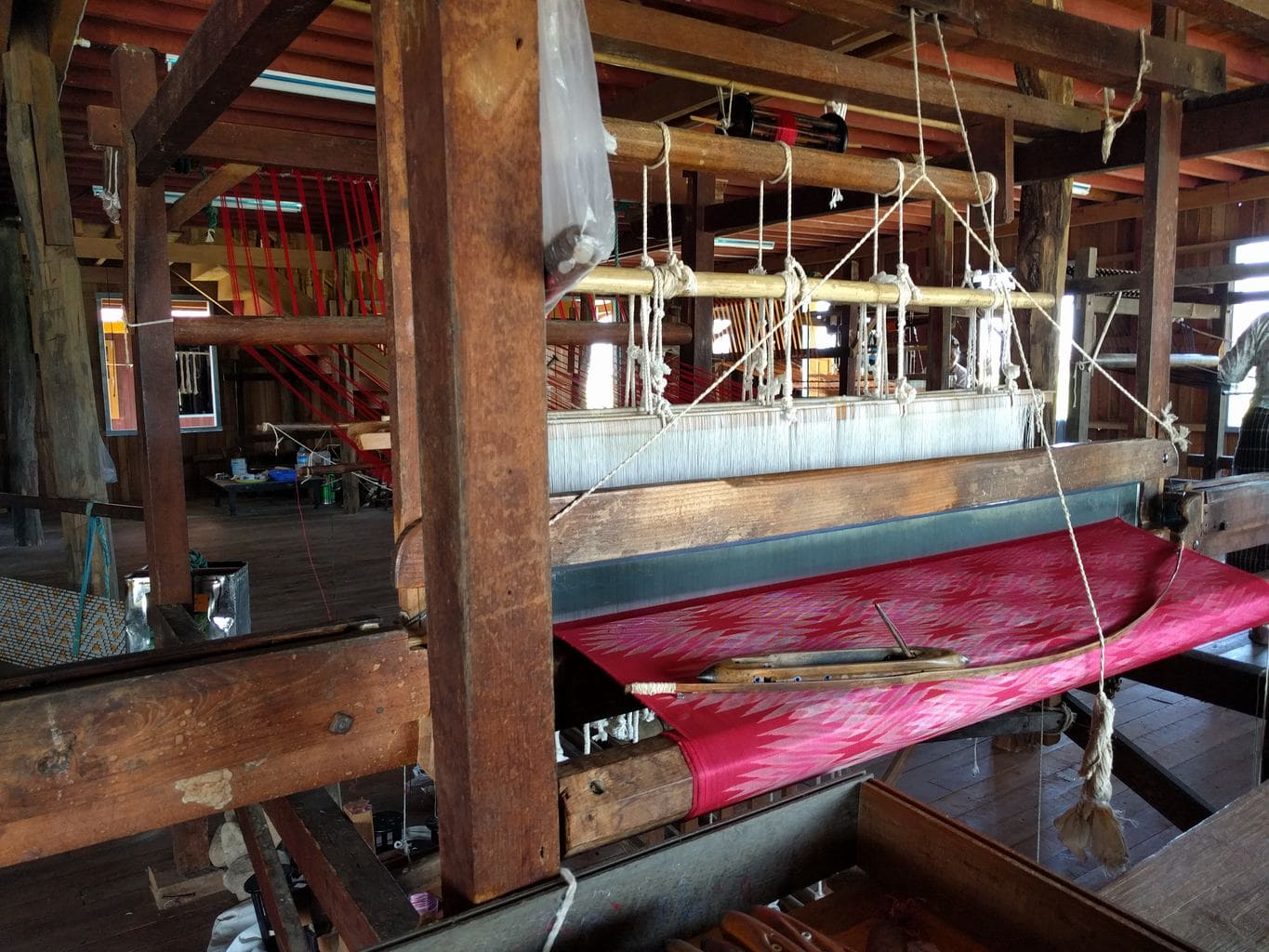 The lake people are known for their artisanal work as silversmiths (from the silver mines on the hills around the lake), fabric weavers from silk to lotus fabric (unique to the lake), and even cheroot cigar making. You can go on a tour of a few of them by simply asking the hotel or your boatman to stop along the lake at the various workshops. Get off the boat and observe how they carry out their guild then buy something if it interests you.
Khaung Daing hot springs
A short ride from town these hot springs are less visited than other parts of the lake and a pleasant way to while away an afternoon. You can ride a bike to the small town of Khaung Daing or take a tuk tuk.
Wineries
Believe it or not, Myanmar has wineries too. Red Mountain Estate opened in 2002 whereas Aythaya Vineyard is older. The wine is widely available in Inle Lake and it goes well with the spicy local food as it is relatively sweeter and lower in alcohol that your average wine, just like other New Latitude Wines. Red Mountain winery is high up in the hills and is a great place to have a glass (or many) as well as snacks. You can ask for a tour of the property. Aythaya wines, prosaically known as Myanmar's 1st Vineyard, is further away from town on a 30min taxi ride. German-founded, it was the first to establish itself in the country in 1999 and as the owner says, it has been a bit better every day. The winery also has a few lodge style accommodations for guests to stay in and a lovely restaurant.
I drank the local wines at every meal in Myanmar and thoroughly enjoyed them. They may make my friends back home frown and will surely make a snob wine expert cringe, but they go well with the hot weather and notoriously hard to pair spicy Southeast Asian food.
Phaung Daw Oo Pagoda
This is an impressive red-roofed, golden pagoda located on the lake. Its grand appearance contrasts with the lake's simple life and it is a sight to behold. Inside, there are five gilded images of Buddha that have been covered in so much gold leaf, a practice commonly seen in Bagan's temples, that the original shape can no longer be appreciated. The images are taken out on a parade during the festival held between September and October every year, one of the best times to visit Inle Lake.
Shan cooking class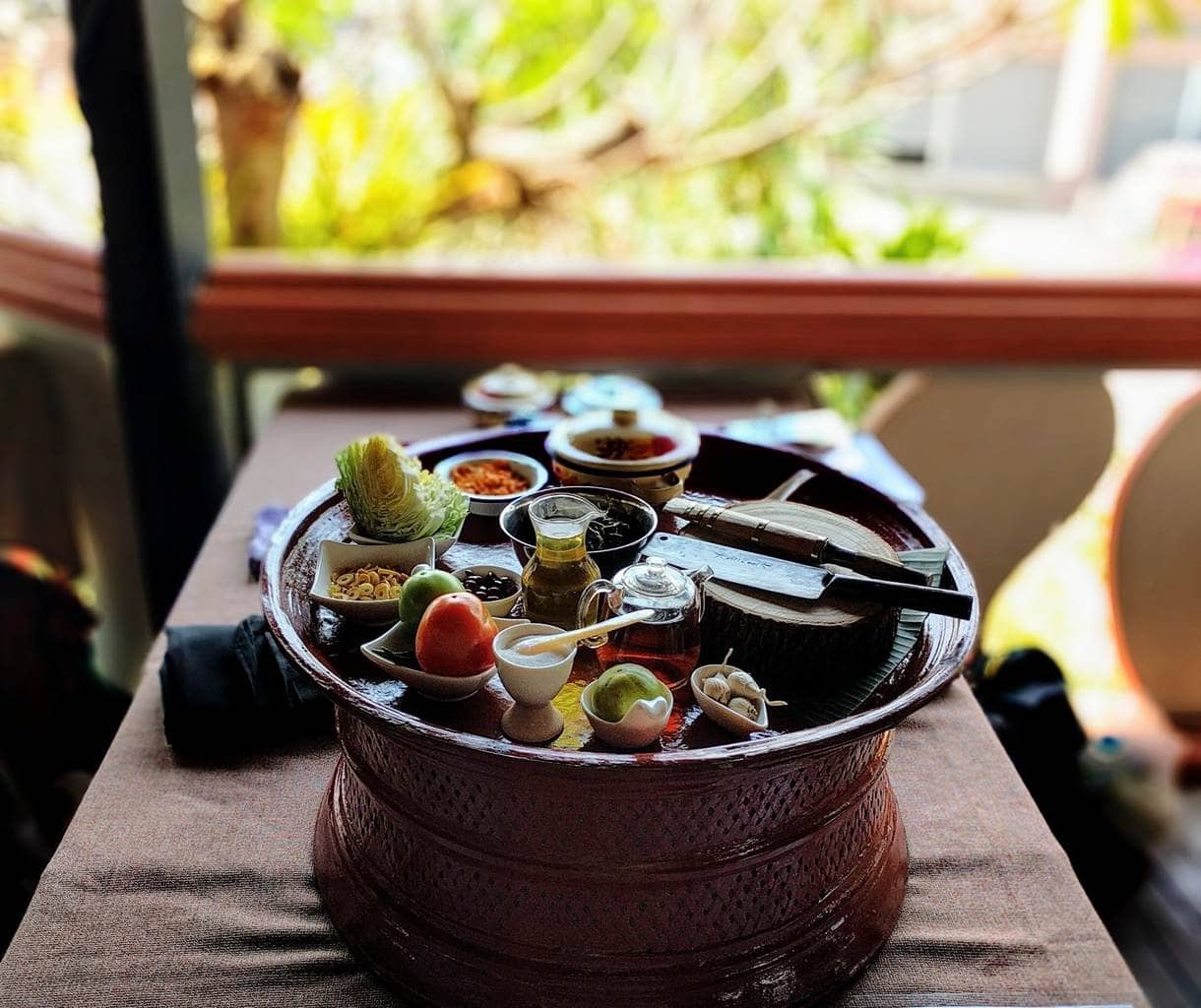 Burmese food is very different from other Southeast Asian cuisines. Even though it has a lot of similarities to Vietnamese and Thai food, there are many dishes and ingredients which are typical and exclusive of Myanmar. Moreover, in the lake, Shan recipes prevail and the locals have incorporated a lot of ingredients found around the area and fish remains the main staple.
There are very few places where Shan cuisine can be enjoyed outside of Myanmar and there is no better way to understand a culture than by taking a cooking class. You can join one of the fantastic ones that Inle ViewPoint Lodge organises in their restaurant and hotel in town. You will be taken to shop at the market first then shown how to prepare some of the most typical dishes like tea leaf salad, very unique to Myanmar and to this area and a deliciously flavourful starter.
Hot air balloon trip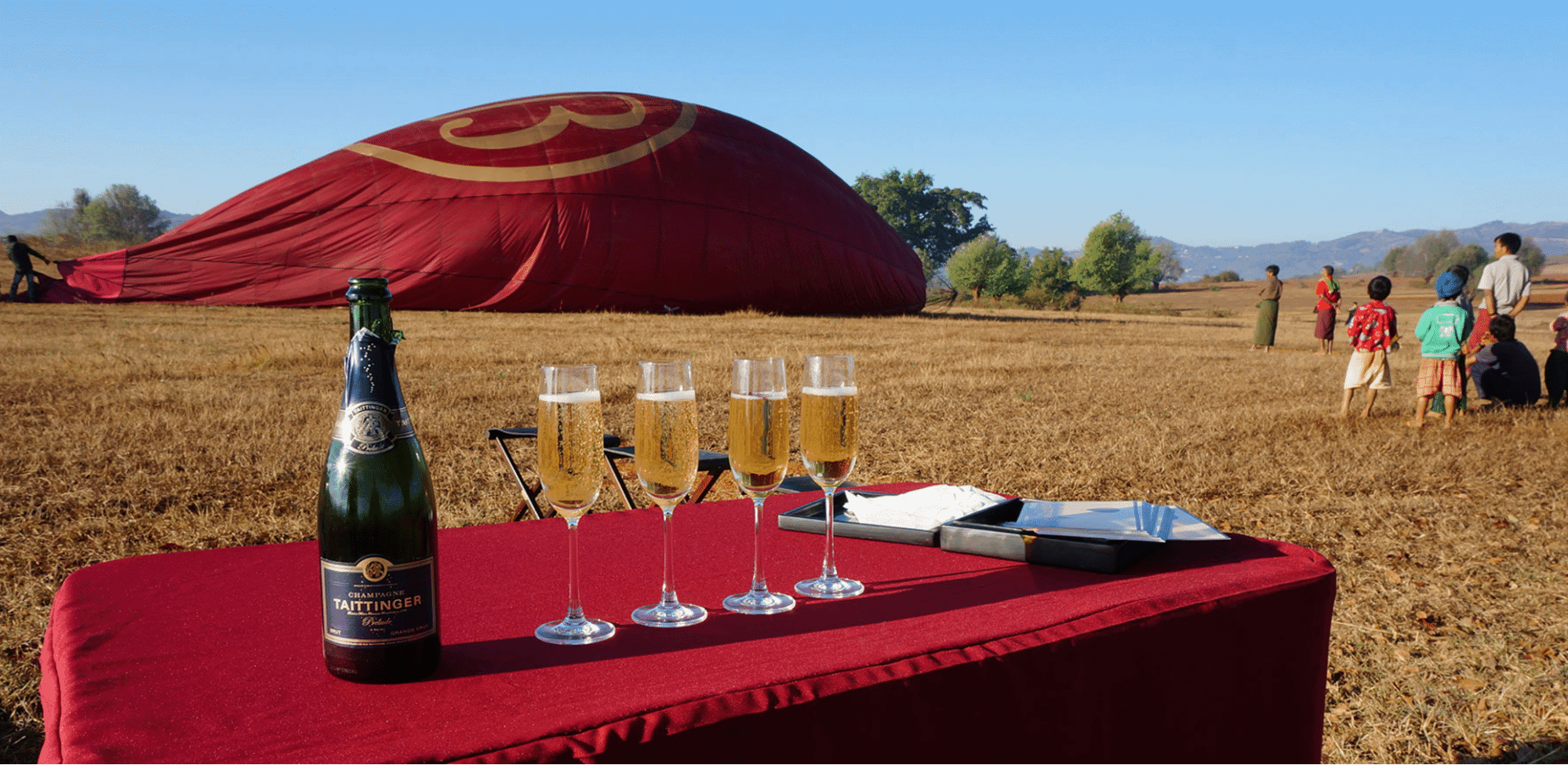 I took a trip with Balloons over Bagan on my trip to the temple city and they also offer their services above Inle Lake. I love hot air balloon trips and I am sure that the views of the lake from above are beautiful at sunrise, even if the rate is rather steep at US$340 per person with breakfast at the landing spot.
Maintauk wooden bridge
A beautiful landmark with postcard perfect frames. This is a very long, man-made, wooden bridge built on stilts and surrounded by the lake's greenery and waters.
Sagar lake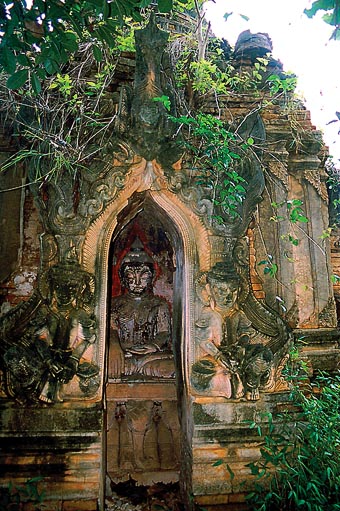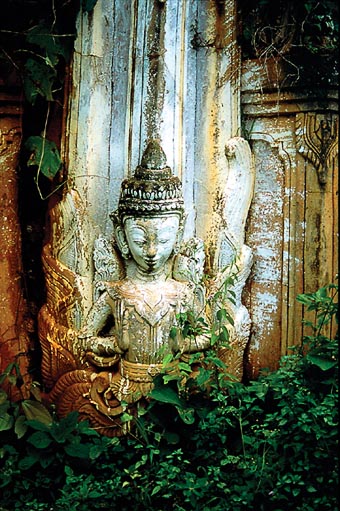 Because Inle Lake has become so popular and famous, there are a lot of tourists and the local life is slowly changing and adapting to new revenue streams. This is not to say that it is no longer authentic, but things have slowly started to change. If you want to see a more untouched version of Burmese lake life, head to Sagar Lake. This is a second lake that can be reached by a 2-3h boat ride from Inle and where you will see amazing landscapes and heritage completely unseen by Westerners.
Sagar used to be ruled by a Prince or Sawbwa until the Burmese dictator Ne Win took power after WWII. The village is known for its sunken stupas. This is a group of 108 16th and 17th century stupas located along the lake's shore and which are partially submerged in the lakes water once a year.
Other things to do on Inle Lake for longer stays
If you have more than just the ordinary 2-3 days on Inle Lake, you may want to venture into the mountains and go trekking across local villages. As so few tourists do that, this is a more genuine and authentic way to experience the local culture. If you are a fan of golf, There are 2 golf courses, one in Aythaya before Taunggyi and one on the top of Taunggyi.
Where to eat on Inle Lake
Inle lake has a variety of places to eat that cater to all budgets but here are some of the most special experiences.
Chillax
If you crave coffee and a croissant and some music at night, this is the place. A relatively Westernized option for when you need to mix it up a little.
Lin Htett
Considered by many as one of the few good Shan/Burmese restaurants in town, this is a family-owned and run business selling mostly curry style set menus and some soups. It is a crowd pleaser and so the word is out there with tourists although you can still get your curry for USD3. Ask your hotel how to get there.
One Owl Grill
A popular one with tourists featuring in pretty much all the lists of best places to eat on Inle lake. It is owned by a French expat and serves a mix of local and international dishes for a very affordable price.
Boat lunch on the lake
This is one of the nicest most unique lunch experiences I ever had. Organised by Inle ViewPoint Lodge, guests are taken to a larger opening on the lake by boat and then transferred to covered boats that serve as restaurants. The food is entirely cooked on another boat which is the kitchen, and fetched over by the waiters, on boats. And it is not just the location which is great, the food is expertly prepared by the ViewPoint Lodge team and was great and locally sourced and produced following Shan recipes. Book directly with them by emailing info@inleviewpoint.com
Lunch in a Bamboo forest
There is a real bamboo forest near In Dein where Inle ViewPoint Lodge can organise a bbq lunch under the shade. This cannot be a better way to gather energy for the climb up the hill. The food is great and has the Shan cuisine touch of the lodge and the setting is lovely. Book directly with them by emailing info@inleviewpoint.com
Novotel Inle lake restaurants
The sunsets on the lake are some of the most stunning I have ever seen. The light and the reflection on the water are only emphasised by the mist that usually floats on the water. A great place to watch the sun come down is the Novotel Inle Lake hotel. A set of over the water villas with two restaurants, one by the water and the other by the pool and reception. Both of them have stunning views.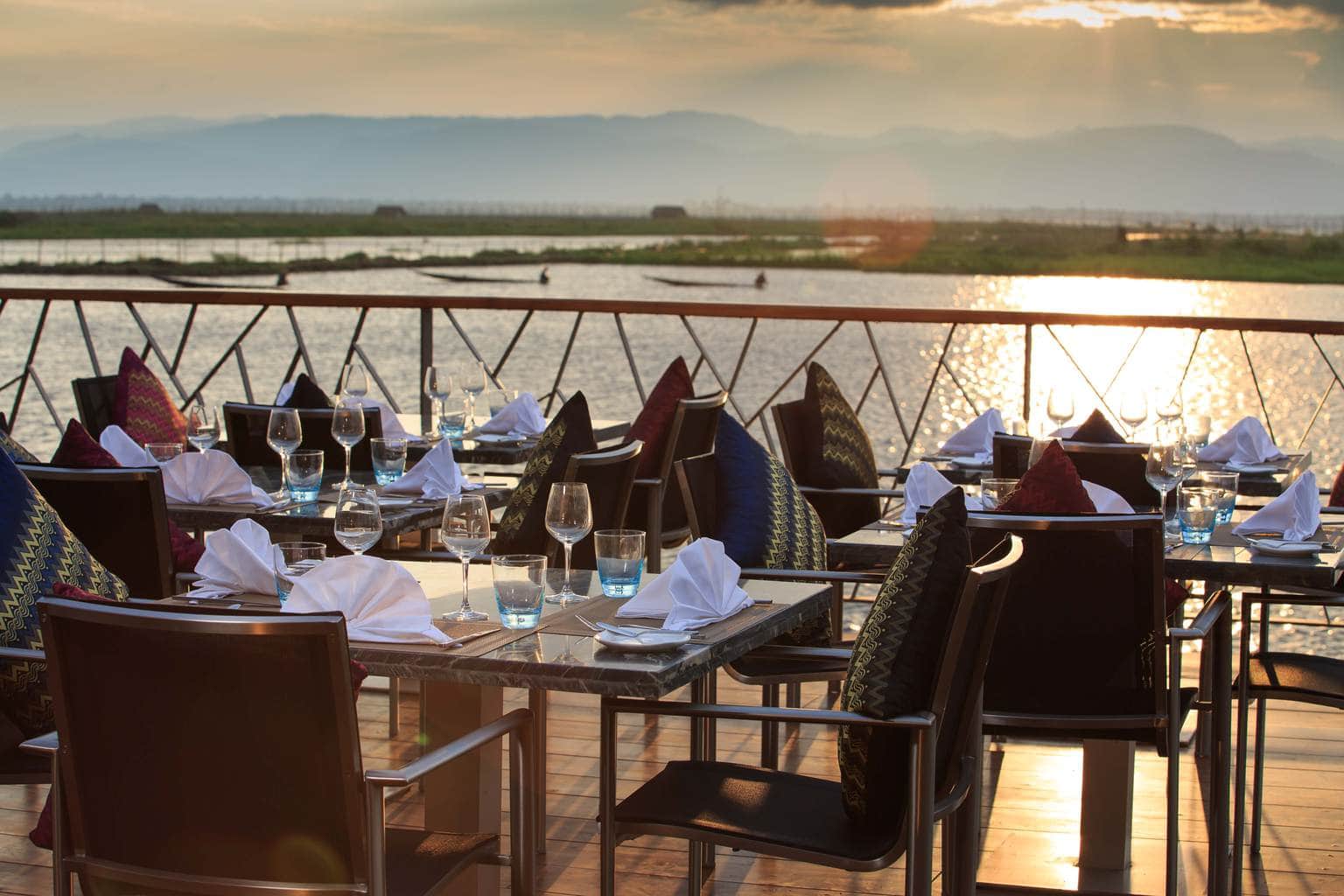 If you are out on a tour, it is probably easiest to stop and grab some of the snacks that you will undoubtedly find around. You'll get fried snacks or even skewered meat on sticks. Or get a bamboo biodegradable picnic box from Inle ViewPoint Lodge which will take care of itself without you having to worry about disposing of it. There are tons of local eateries that serve noodle soups and rice dishes. Try your luck by looking for the busy spots.
Best luxury hotels on Inle Lake
Inle Lake's fantastic setting makes for some amazing hotel locations and views all at very affordable prices. These are the best luxury hotels to stay in Inle Lake
Novotel Inle Lake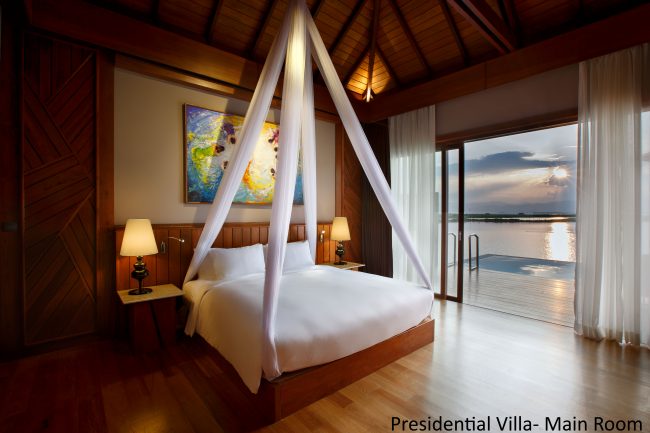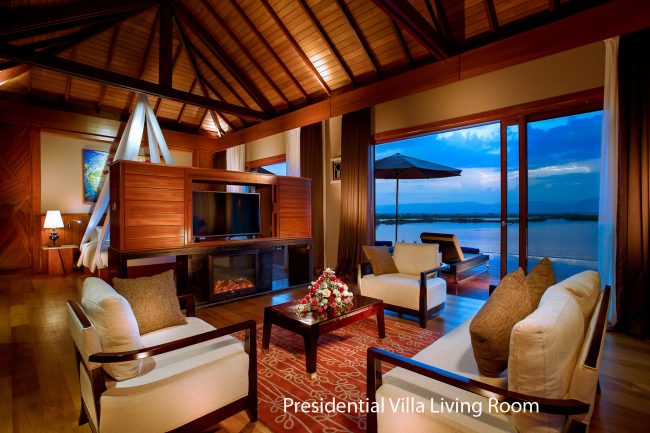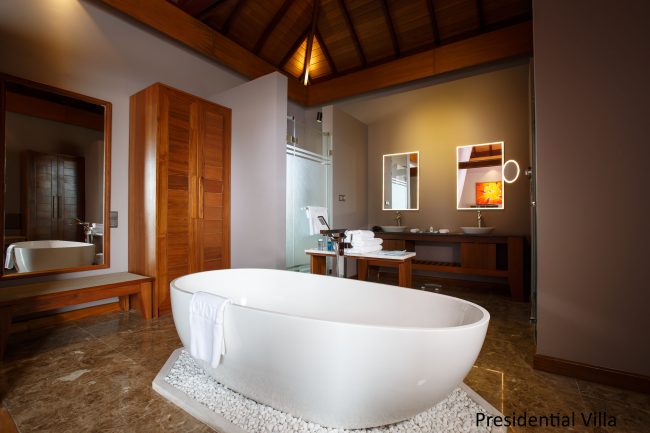 I stayed at the Novotel Inle Lake invited on a trip by TigerAir, Scoot and Accor Hotels. The hotel is a gem. For the price, these are probably some of the most affordable luxury overwater villas you can stay at. Novotel opened in 2016 so the rooms and facilities are all new, and it has some of the most stunning sunset views I have ever seen.
The restaurant serves great local and international food and the pool is gorgeous. But it is their Presidential Suite, with front-line lake views, that wins the prize for the best room on Inle Lake. You can read my review here.
Inle ViewPoint Lodge
Inle ViewPoint Lodge is a favorite lodge, convenient for those who want to stay on land and not be confined to the lake shores. The lodge is run by a French expat who brings a dash of flair to this fantastic outlet. Their food is great and they offer the best food experiences in the area, many of which I experienced myself. The lodge is made of rooms on stilts, like the local houses, which are charming and comfortable and will add a dose of Burmese life to your holiday.
Inle Princess Resort
Long standing, locally owned and boutique hotel Princess Inle conserves its local architecture and design and the Burmese wooden decor, as opposed to Novotel's modern look. The "houses" are made of teak and bamboo and sit on the water or on the mountains. Some have outdoor verandahs from where the sunset can be watched. The hotel offers several experiences and can organise all excursions. Inle Princess is part of the Secret Retreats network.
Getting to Inle Lake (Nyaung Shwe)
We would highly recommend booking your transportation to Inle Lake online before you go. Bookaway is a fantastic and trusted travel booking platform where you can search for transportation between multiple destinations. You can search any destination in Myanmar and see if they have your specific destinations by visiting their homepage.
We have also preselected some destinations into Inle Lake to make your search easier: