This article on Sayulita hotels was first published on April 30, 2016 and updated in January 2020.
The tiny town of Sayulita varies in size from 2,500 to 6,000 depending on the season. In the peak months of December to May, the waters are clearer, quieter and the beach is crowded with tourists from Mexico and mostly from the US.
Although there are lots of large hotels and all-inclusive resorts in neighbouring Puerto Vallarta, Sayulita hotels are not as large and are more focused on boutique accommodation options. If you are visiting Puerto Vallarta, I have created a guide to the best resorts and another guide of things to do in Puerto Vallarta. As I went on a road trip from Puerto Vallarta to Punta Mita through Sayulita, I also wrote a one day trip guide to Sayulita.
If you are looking for a place to stay in Sayulita this is a short list of a few boutique Sayulita hotels, villas and resort options. For those looking for an even more local experience of where to stay in Sayulita, Airbnb also offers a few choices, and you can get $35 or Euro free credit if you book through my referral. And don't forget to save my article on things to do in Sayulita, and find out what to eat in Mexico.
Sayulita neighborhoods
There are three distinct neighborhoods in Sayulita and you can choose where to stay in Sayulita depending on what you're looking for. That being said, it's a pretty small place and travel between each will not take too long. So it may be a good idea to stay somewhere more remote if you want quiet at the end of the day.
The three main places to stay in Sayulita are:
Downtown – this has the main beach as well as shopping, restaurants and nightlife.
South End – more of a jungle location that's covered in foliage and has two beaches. On the map, it's not actually south but rather west.
North End – a residential neighborhood that has a relaxed atmosphere. On the map, it's not actually north but rather east after the Sayulita River.
Unless you're going on a road trip to Puerto Vallarta like I did, you don't need to hire a car as you can usually get to the Downtown area from any other neighborhood. A walk from far flung hotels will probably take you 15mins max to Downtown, North to South about 20mins.
If you have mobility issues, you can rent a golf cart. They are also great for parking. Keep an eye out for the topes (toh-pays), the almost invisible speed bumps.
The best Sayulita hotels
Below is our pick for some of the best Sayulita hotels from beach front surfing havens to edge of town jungle hideaways. But first here is a map of our top hotels in Sayulita.
Villa Amor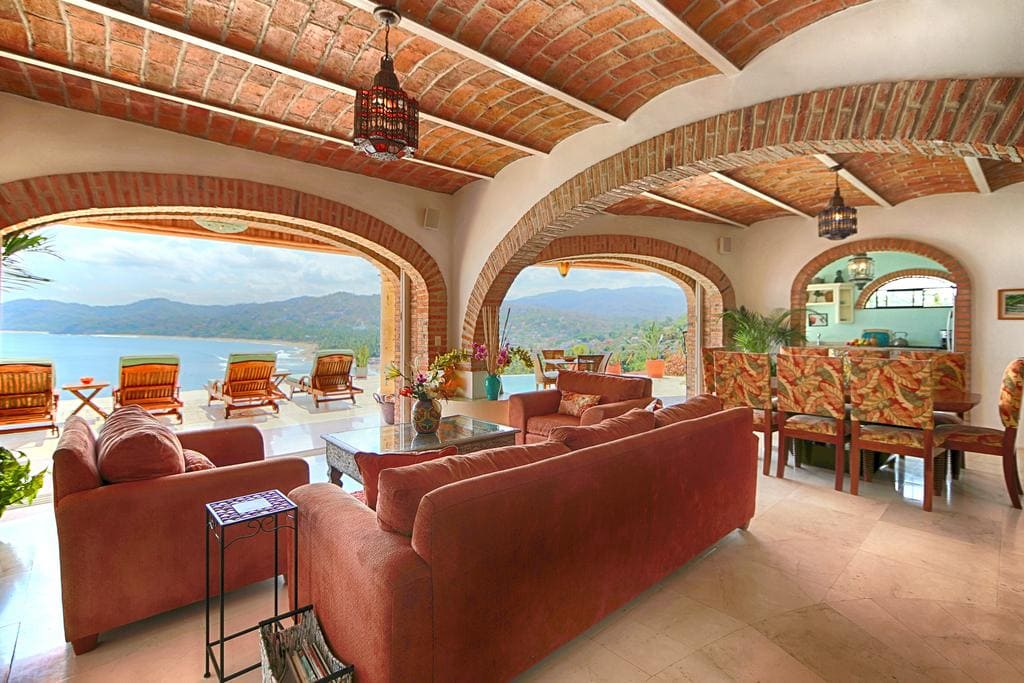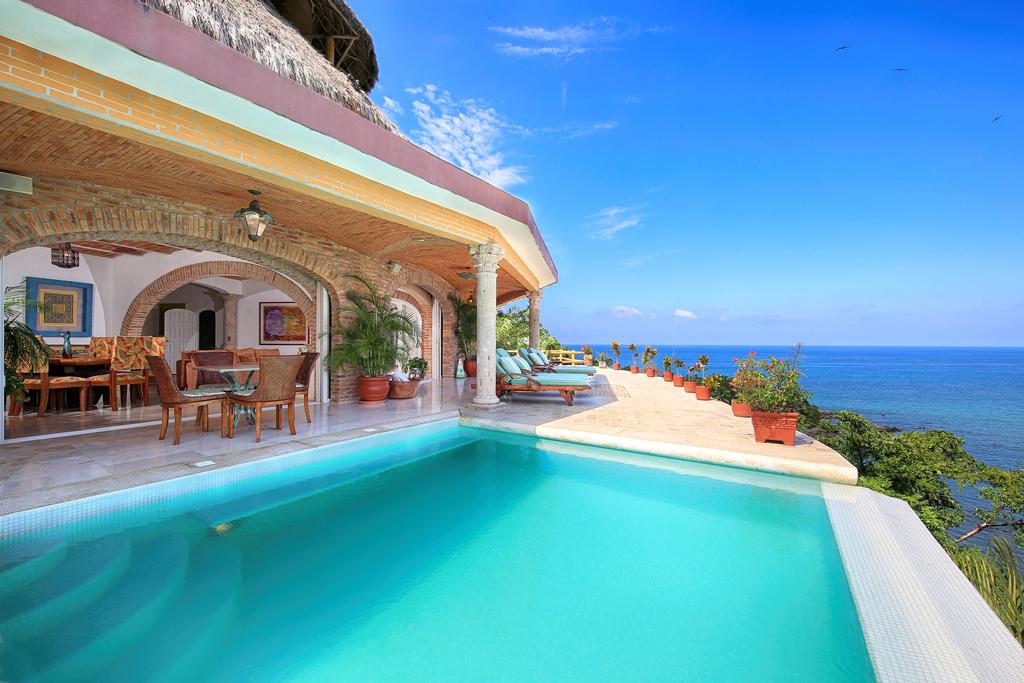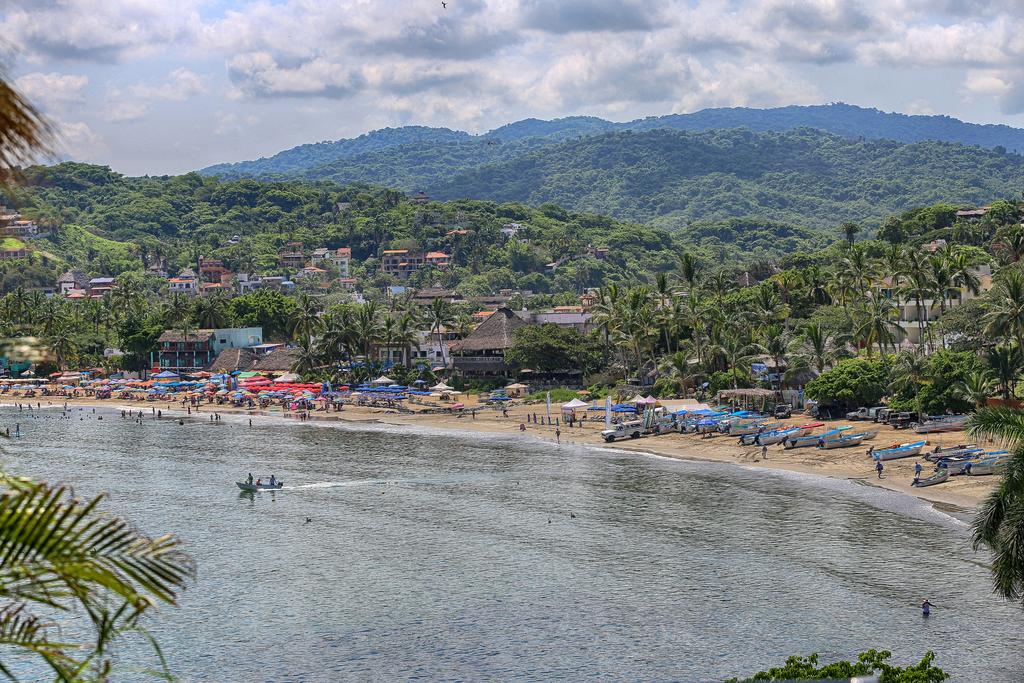 A group of 42 private villas on top of the hill at one end of Sayulita. The views from the sea-facing villas are great and you have all the independence of your own private home with cozy balconies, mosquito nets and romance, like the name indicates.
The style is rustic chic, like Playa Escondida, but without trying. It feels lived in, like your beach house would, and it is unpretentious. If you want to know where to stay in Sayulita that is calm, peaceful and unpretentious, Villa Amor is your answer.
Rates starting at $100.
Book your trip now on Booking.com | Agoda
Petit Hotel Hafa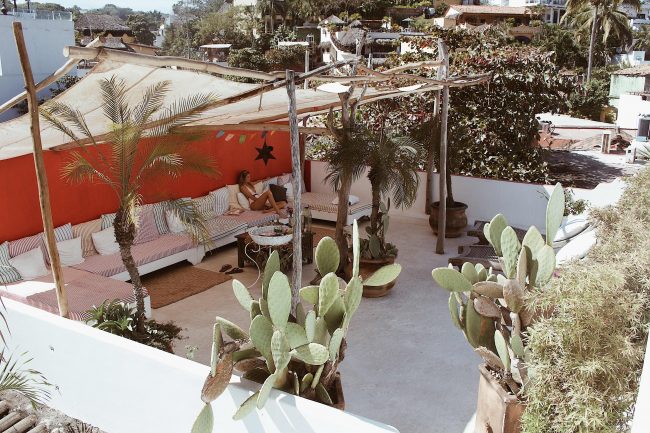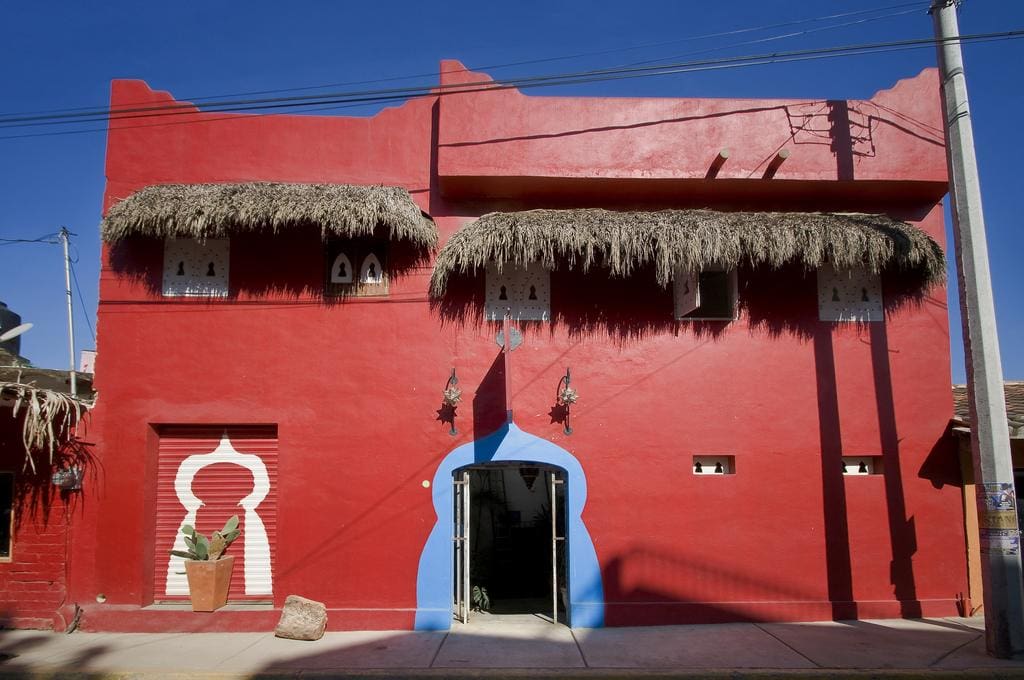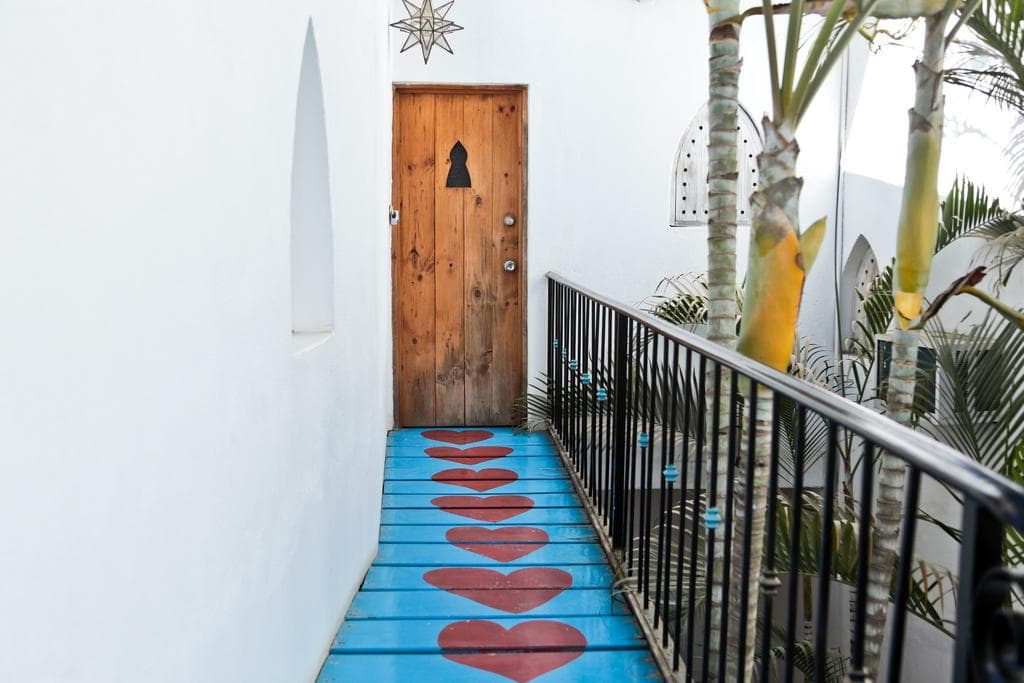 Moroccan riad meets Mexico in this beach-ready, red and blue swanky boutique Sayulita hotel in the middle of town. A rooftop provides seeping views over the town and prices are reasonable.
This is a family hotel in Sayulita with 8 rooms managed by a couple who decided to retire to the beach after sailing around the world for years and they are happy to help travelers find their way, share their secrets and generally make you feel at home. The Bohemian feel of Sayulita is most understood and felt at Hotel Hafa.
Rates starting at $65.
Book your trip now on Booking.com | Agoda
Playa Escondida
A rustic Sayulita hotel secluded, but not too far from town but a world away. There is limited internet and phone coverage, no electricity and the luxury here is being back as one with nature. The resort is about 1 mile from Sayulita but it takes more than half an hour to walk it. This is the only truly luxury resort in Sayulita, with outdoor jacuzzi and great beach views.
Rates start at $200 per night for the jungle rooms or twice as much for the beach ones.
Book your trip now on their website
Casa Brava
One of the best Sayulita hotels for great views, this towering house perched on top of the hill has incredible views. It is made of three units, the main two bedroom house, a smaller one bedroom apartment and a studio. The first two have their own pools but the studio doesn't. You can watch the sunset from the pools at this beautiful hotel in Sayulita.
Rates start at $115.
Book your trip now on their website
Hotel Sayulita Central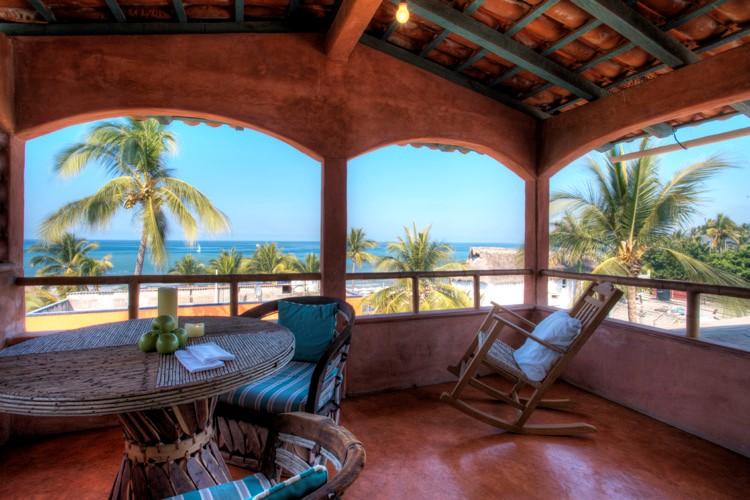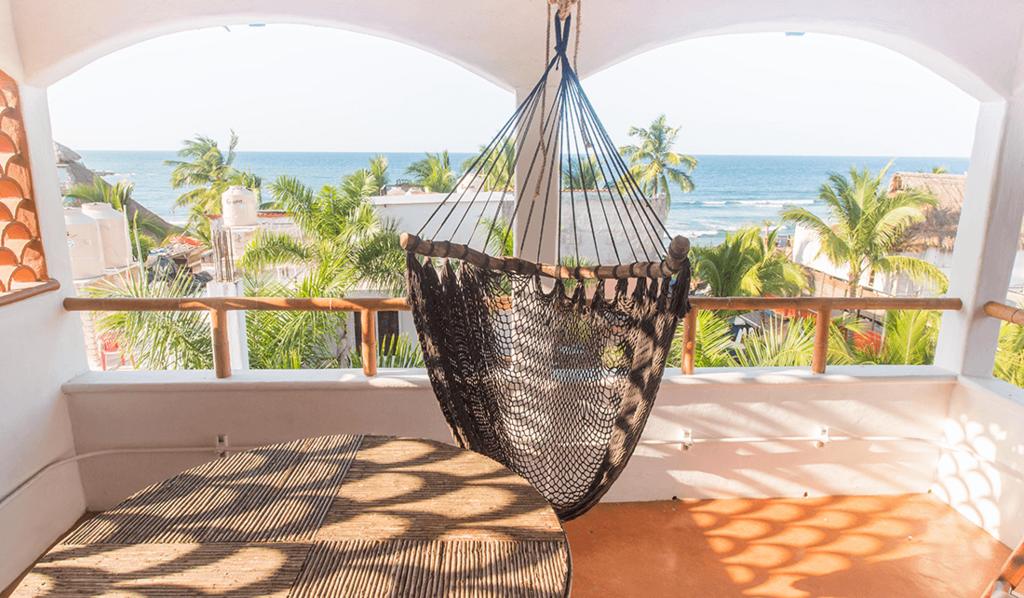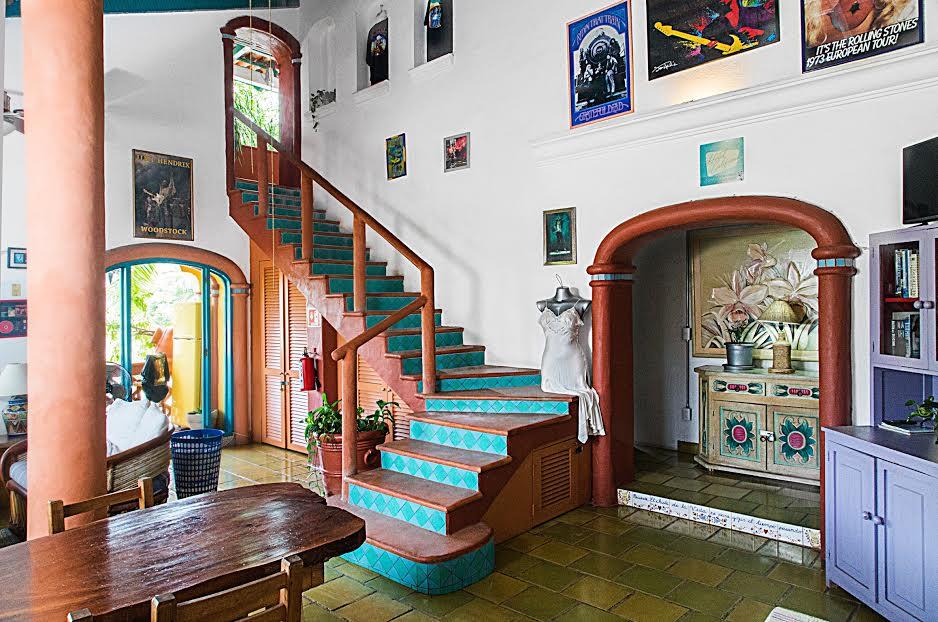 Bohemian Aztec B&B with rustic chic rooms in colourful bed linens and irregular walls. Each room is different and set in cute cozy decor inspired by rock bands like Guns 'n' Roses.
The whole place is friendly and playful and the location, unbeatable, one block from the beach and the town square (yes, Sayulita is that small!) and with a facade as colorful as the rooms this is one of the funkiest hotels in Sayulita.
Rates start at $110.
Book your trip now on Booking.com | Agoda
Aurinko Bungalows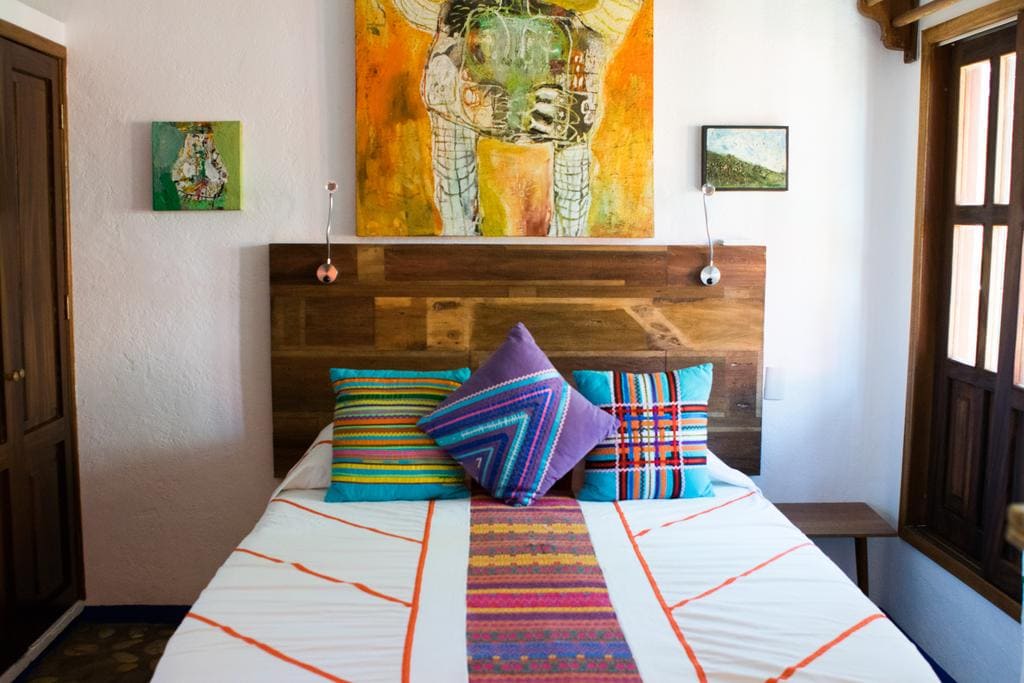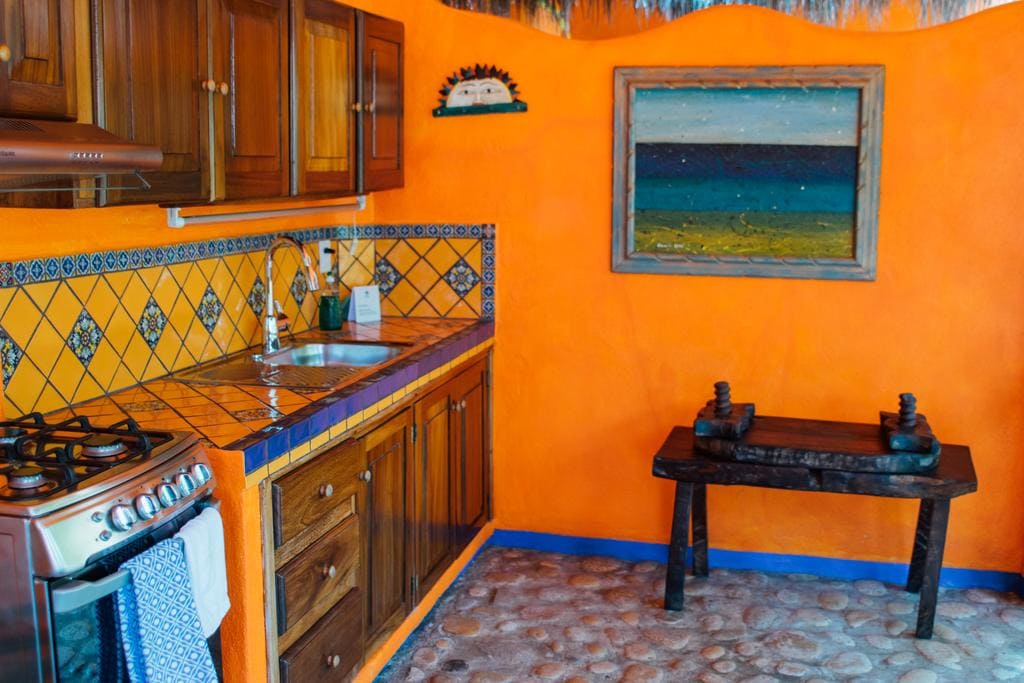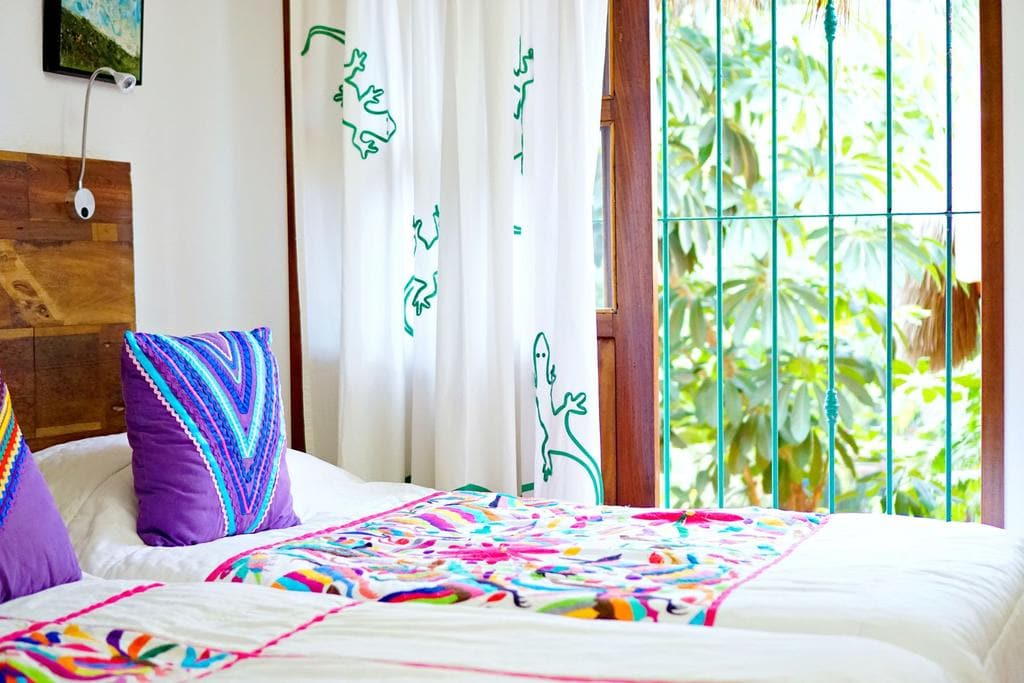 Bungalows with their own kitchen in a similar Bohemian chic look like the other Sayulita hotels but slightly more refined. Bright coloured walls with wood and white wool linen.
Relax on your hammock reading a book or cook a slow dinner. Location wise it is across the street from Hotel Sayulita Central so it is right in the centre of town.
Rates start at $70.
Book your trip now on Booking.com | Agoda
Hotel Villas Sayulita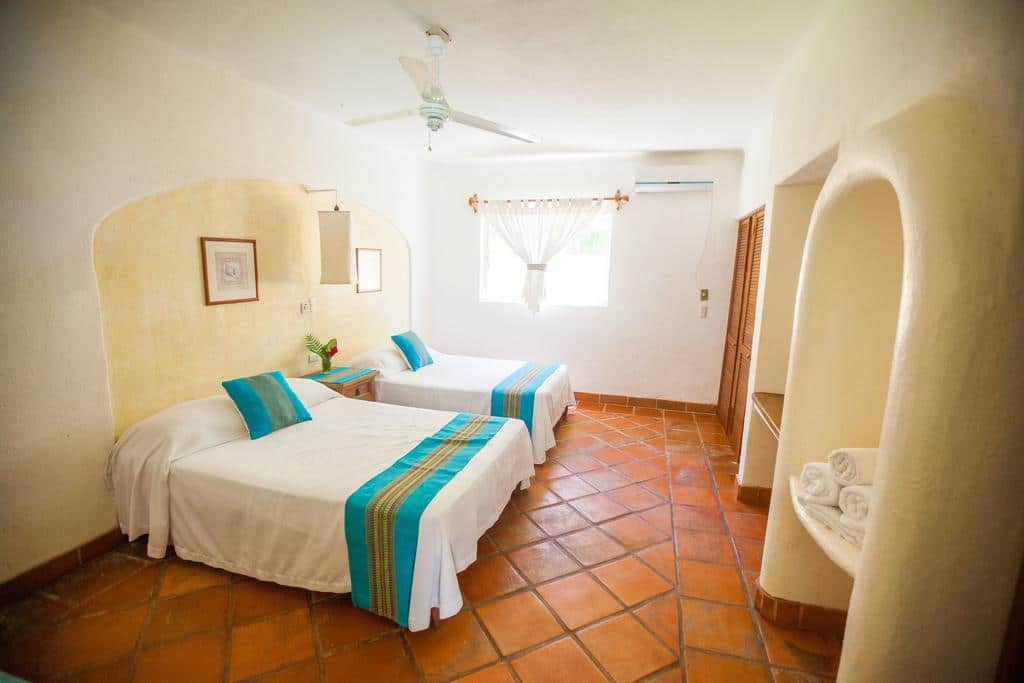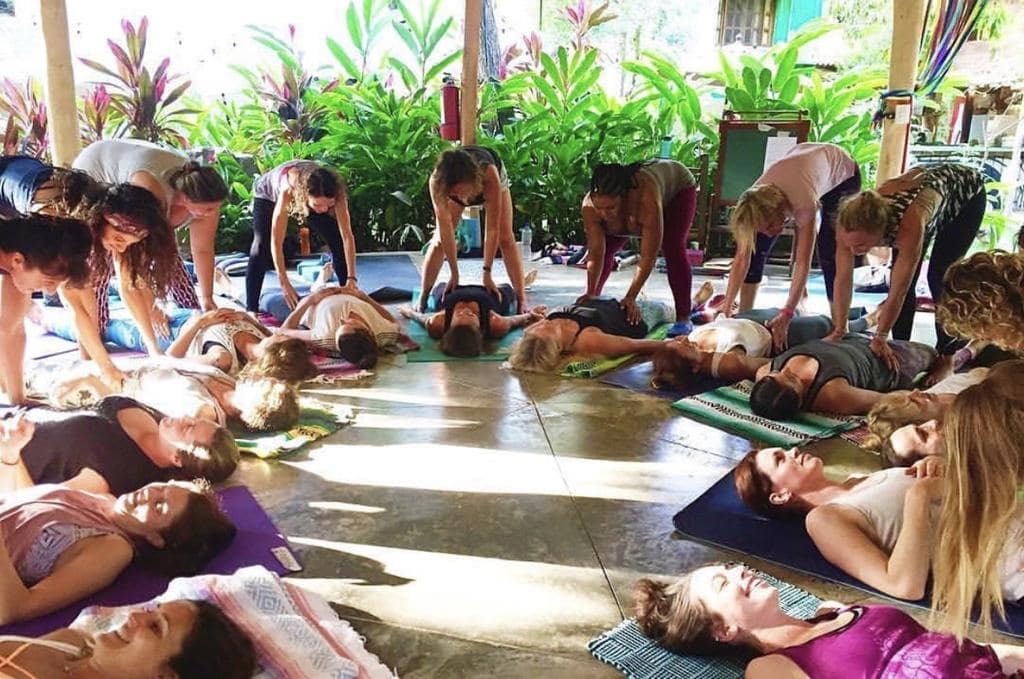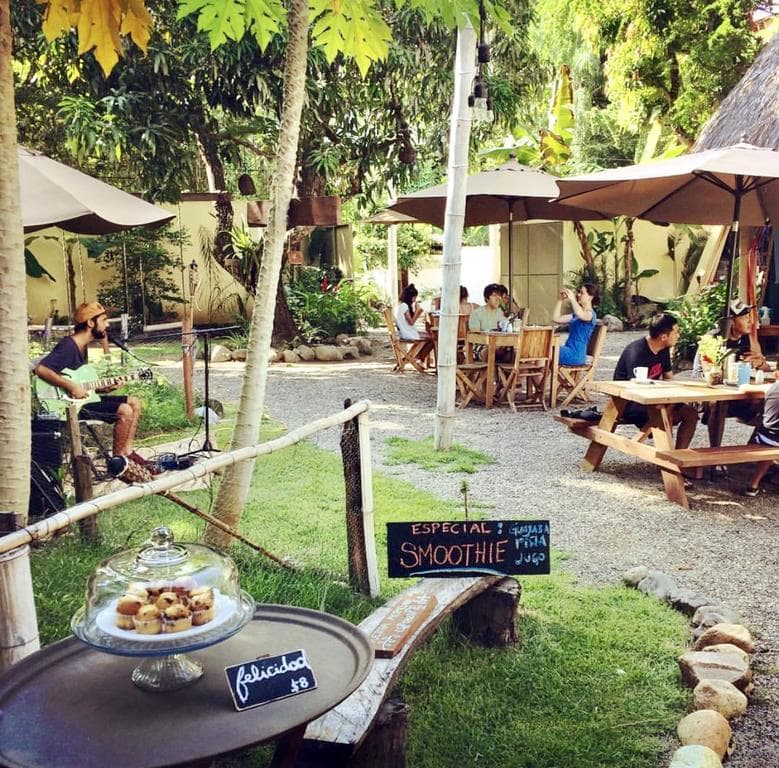 A wellness inspired retreat in Sayulita with a pool, a secret garden with orchards, vermiculture and some animals, a smoothie bar and a holistic wellness center offering massages, yoga, meditation, pilates and other practices.
This is one of the Sayulita hotels that's not as close to town as the rest but it is a great place to escape and reset. One of the best places to stay in Sayulita for a wellness getaway.
Rates start at $115.
Book your trip now on Booking.com | Agoda
Hotelito Los Sueños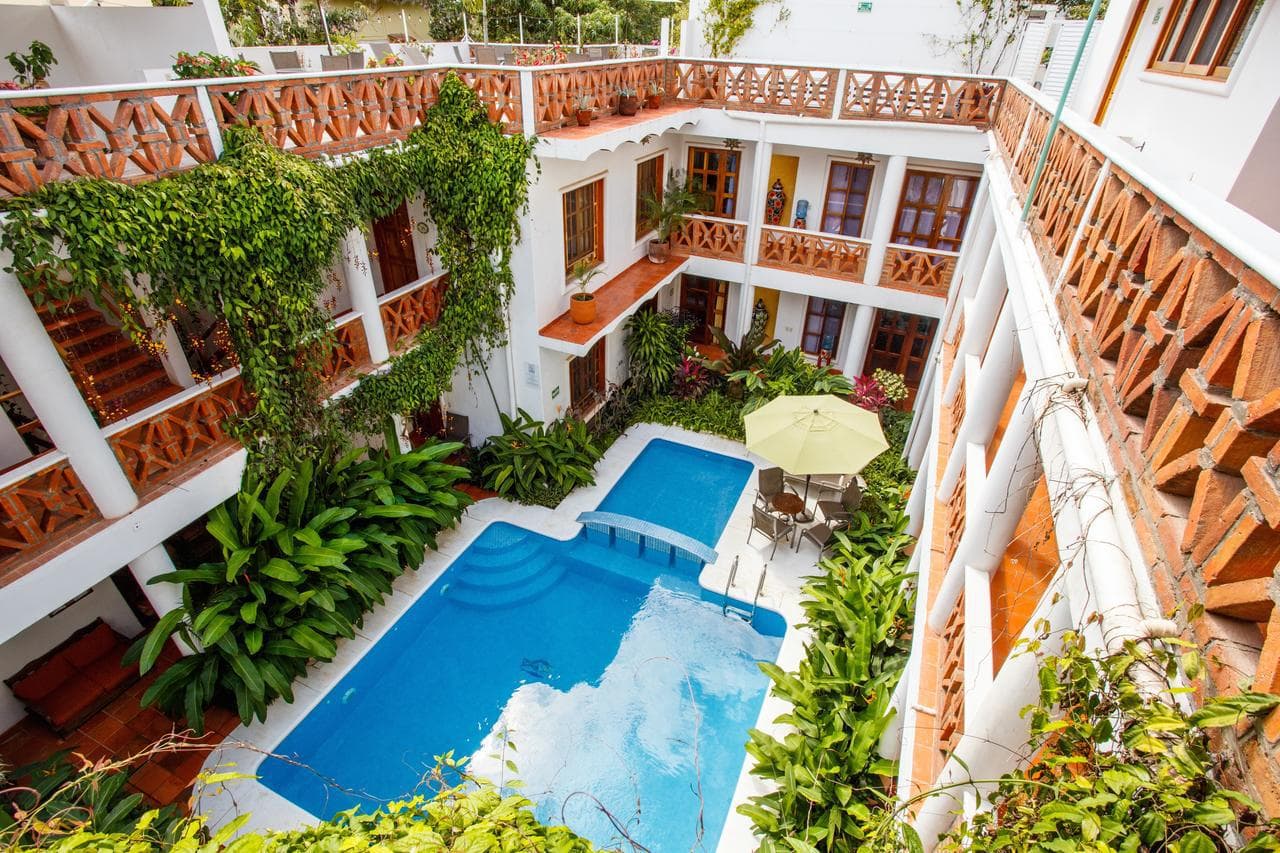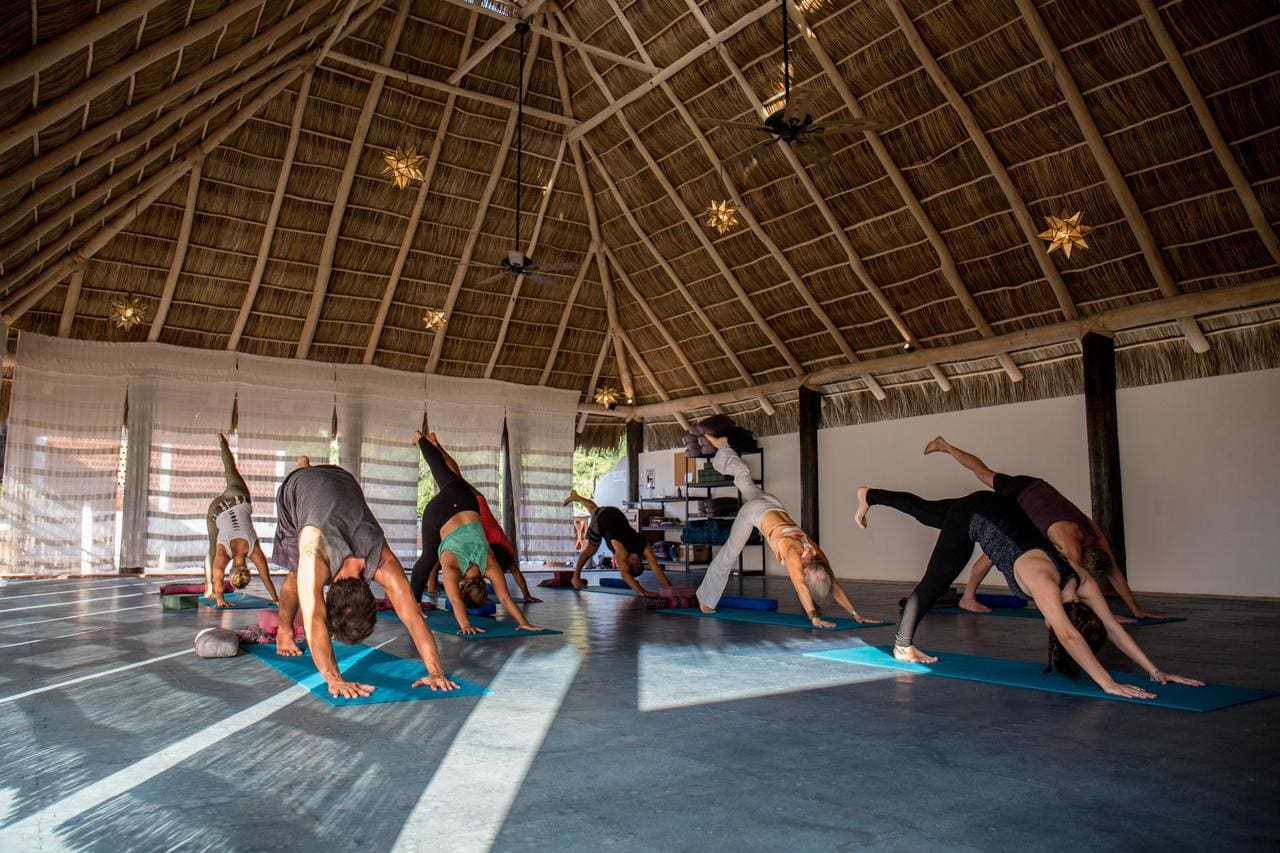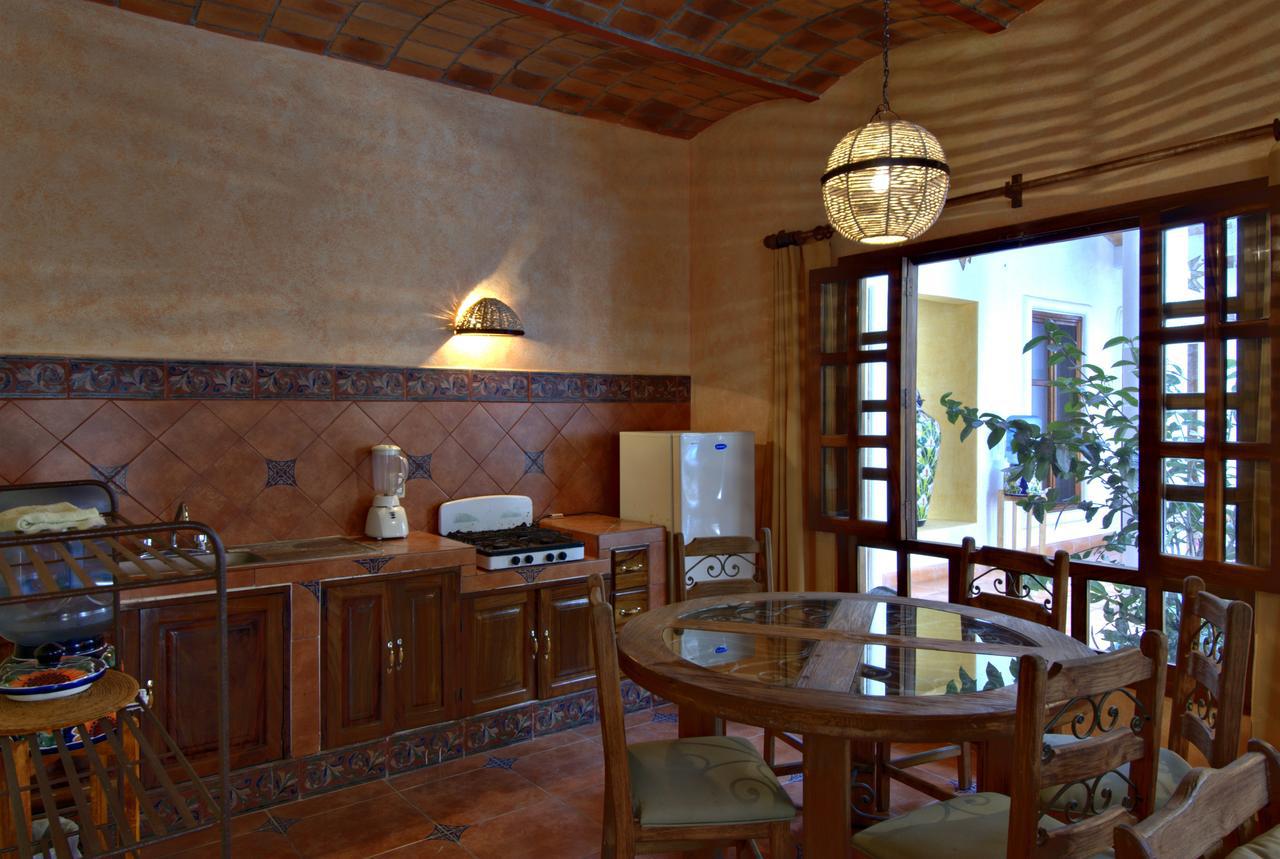 Translated as the "Little Hotel of Dreams" this gorgeous and recently refurbished accommodation sits right by the beach. Grab one of their surfboards available before hopping on one of the bikes and riding to the nearby beach. This is one of the Sayulita hotels that caters for vegan yogis as there is a full-on yoga studio and restaurant that serves wonderful vegetarian fare, along with a smoothie bar.
The outside area contains a fairly clean swimming pool for after ocean dips surrounded by leafy foliage. While the hotel is only around 200m from the beach, it is located more on the edge of town and can be a welcoming and refreshing stay after the busier centre.
Rates start at $80.
Book your trip now on Booking.com | Agoda
Amor Boutique Hotel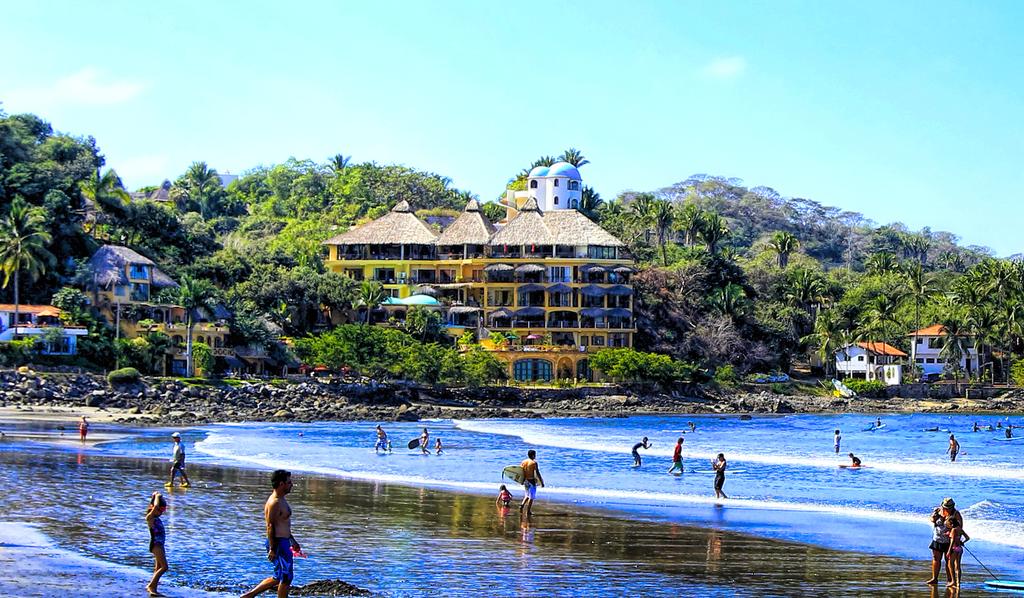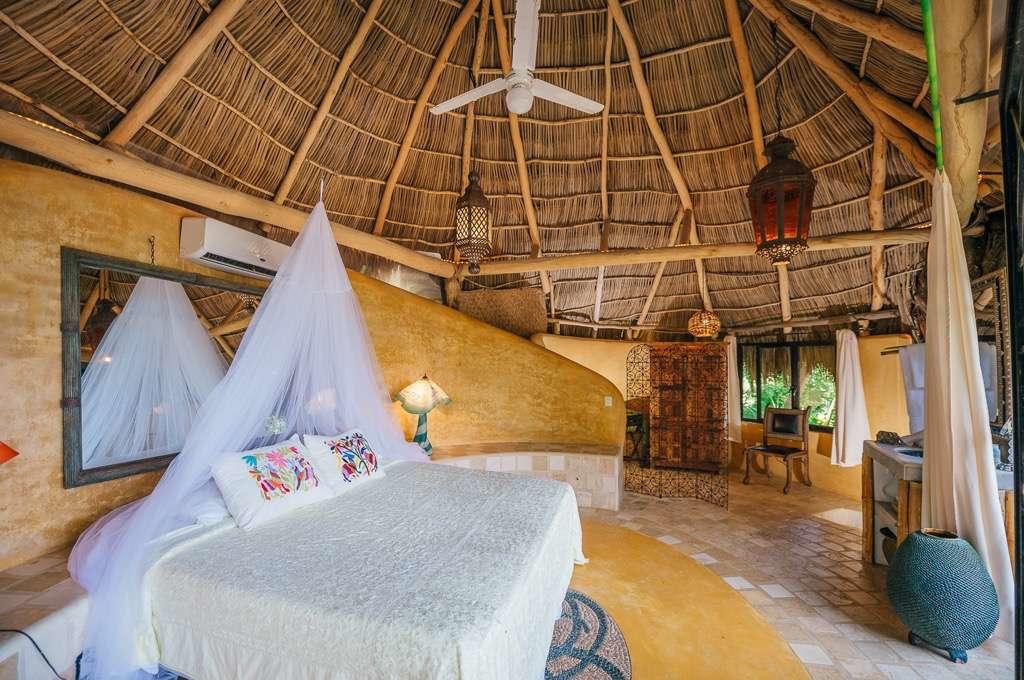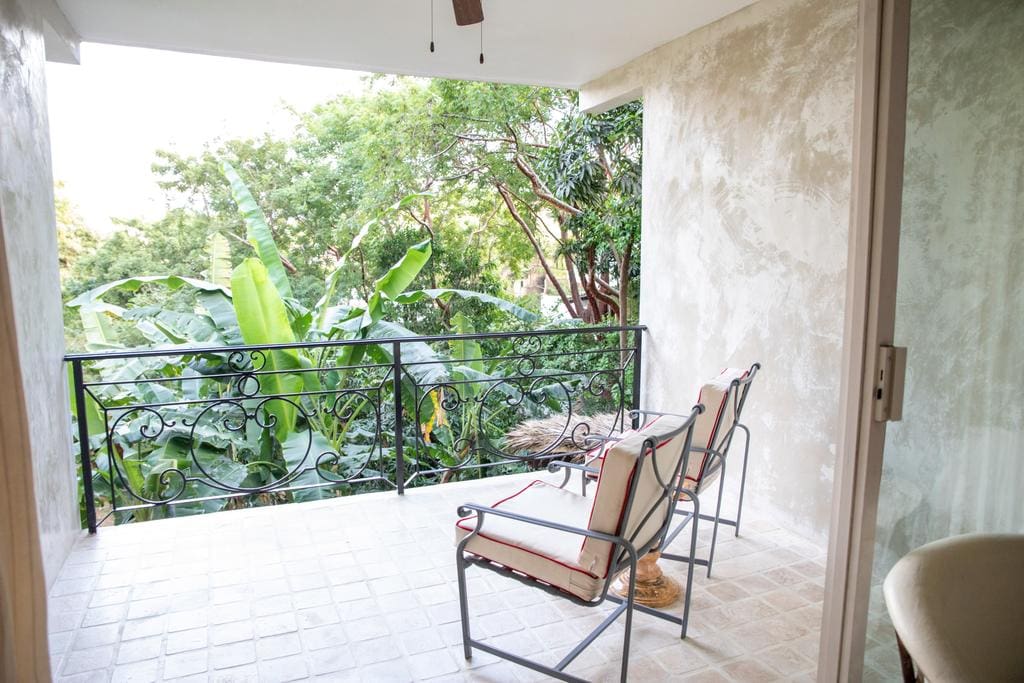 Another one of the Sayulita hotels made for romance, Amor Boutique Hotel has ocean views on a beach front location that is just far enough from the main bustling centre (5 min walk). It's also a good choice for active vacationers as there is complimentary surfboard and SUP use with daily yoga classes.
nature plays a large part in the construction of this hotel, similar to Templation in Siem Reap or in Capella Ubud Bali, where trees were left in tact and villa were built around the flora. Service is said to be top-notch.
Rates start at $160.
Book your trip now on Booking.com | Agoda
Casa Love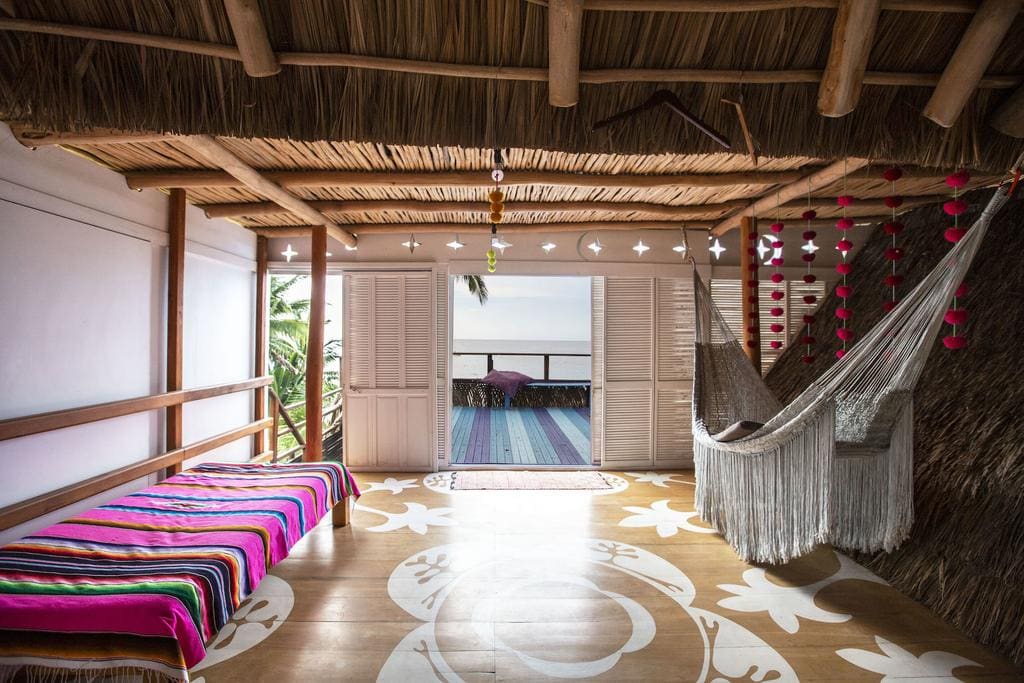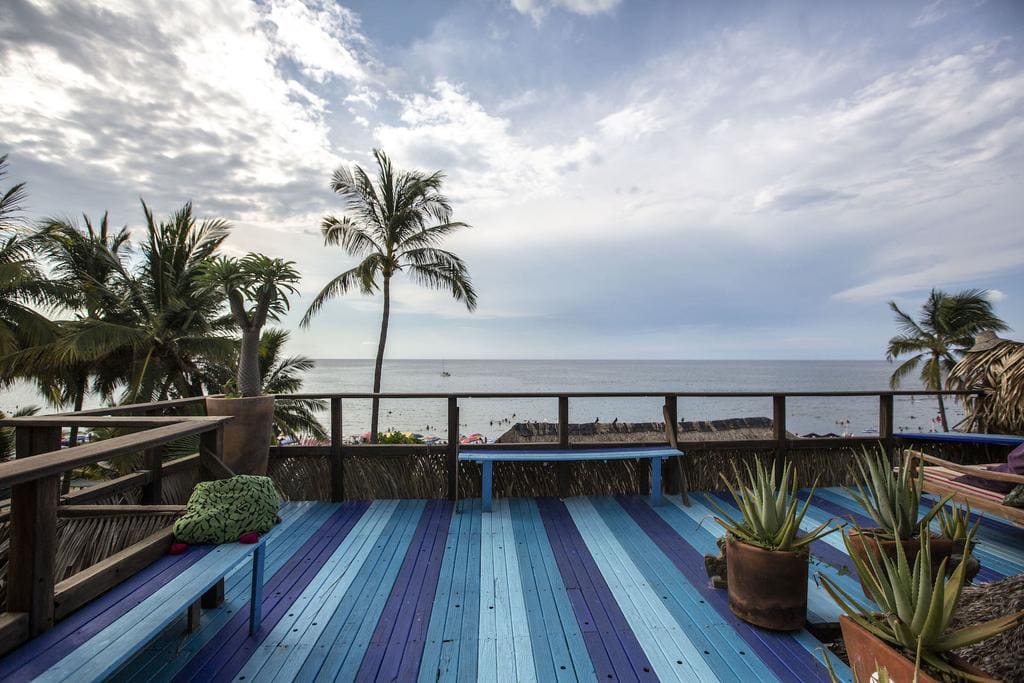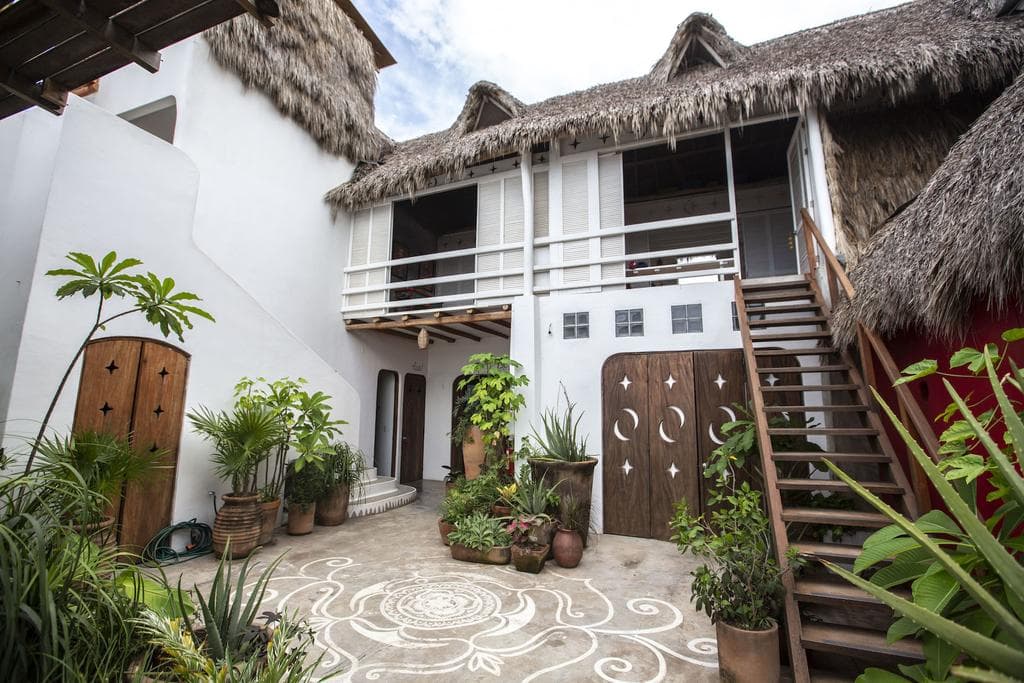 Casa Love is heaven for couples, beach-bums and surfers. It's so close to the water that you could probably hold your breathe from your room to the ocean. It's located on top of Pachamama Sayulita, so you can get your boho-chic beach wear before strolling on over to the sand.
This is a beautiful, if a little barebones, Sayulita hotel where couples come for a stay with ocean views. You can even check out the surf from the balcony. It is a fairly small hotel with only six rooms, but the location is amazing and the gypset style decor is IG-worthy and flows in from the shop below. Relax in a hammock and laze about as the waves lap over in the ocean below.
Rates start at $60.
Book your trip now on Booking.com | Agoda
Hotel Boutique Siete Lunas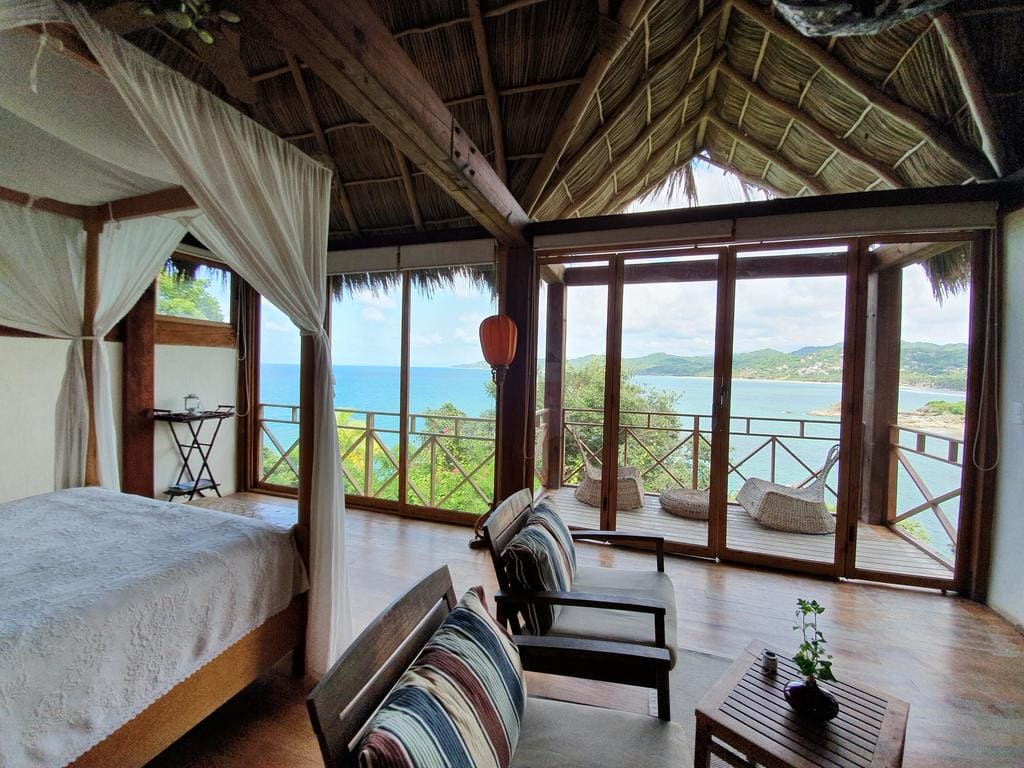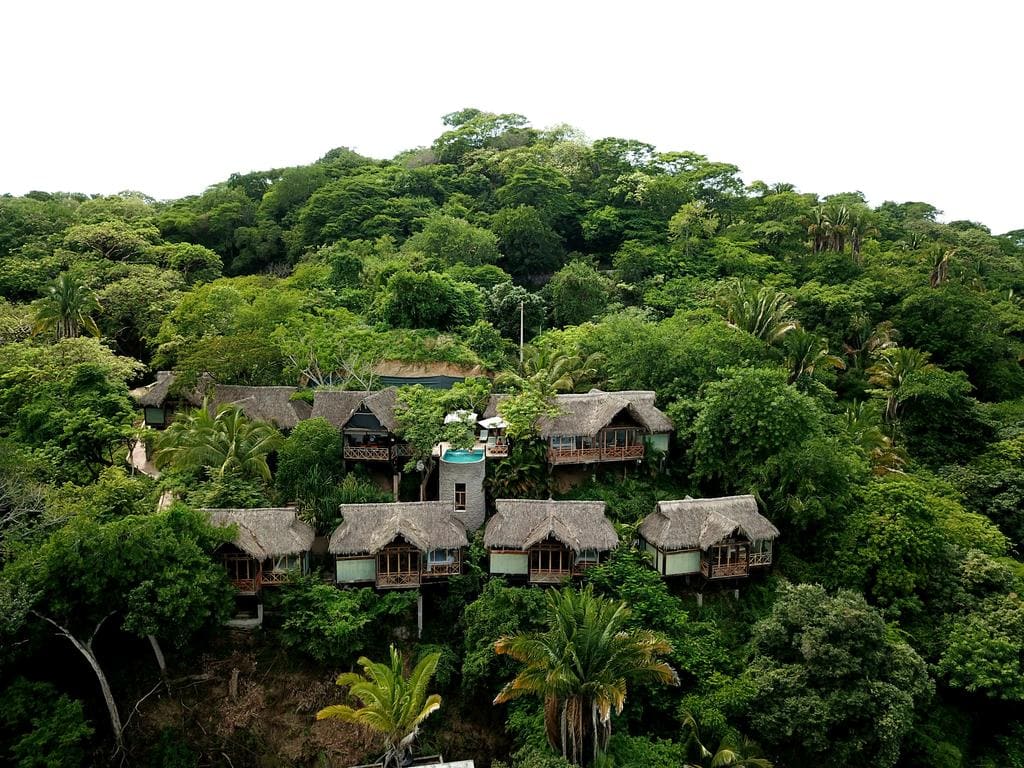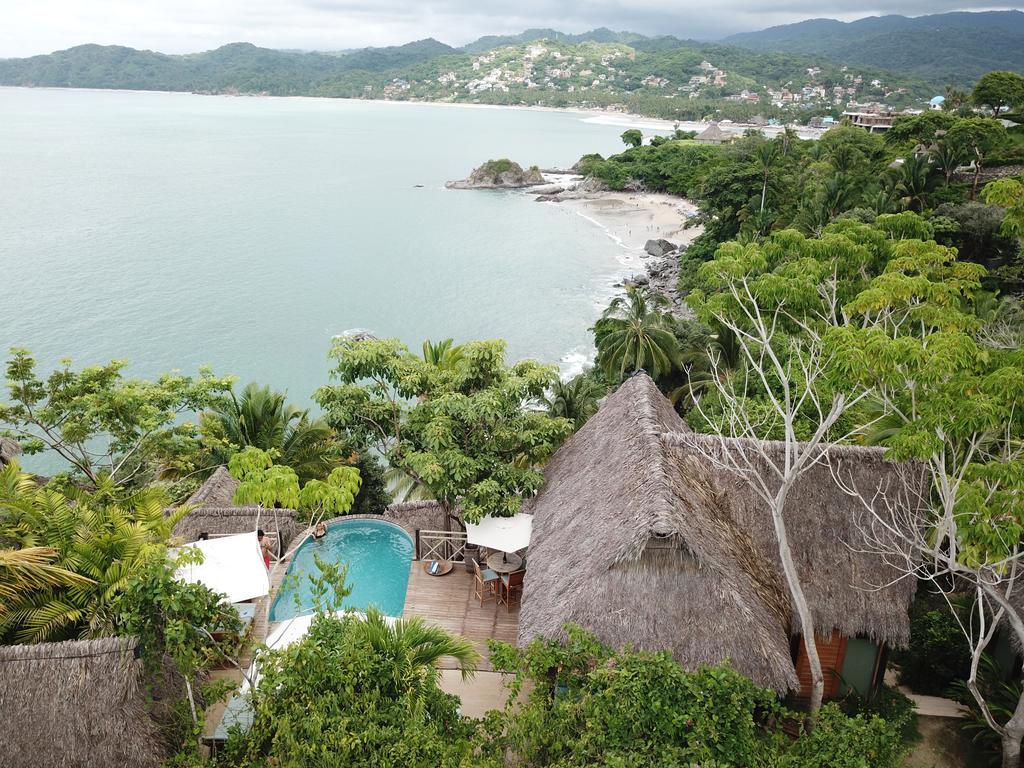 Hotel Boutique Siete Lunas offers thatched roofing, jungle scenes and oceanview rooms. Partake in the yoga classes, get a massage or plan an outdoor BBQ with some wine for a memorable evening under the stars.
This elegant hideaway is also located outside the main town centre and is a welcome slice of solitude with only seven villas. All rooms have sweeping views, but it's suggested that a palm tree may obscure your view in room 5. The heated pool is a nice addition.
Rates start at $230.
Book your trip now on Booking.com | Agoda
Here is a list of all the hotels with Tripadvisor scores: