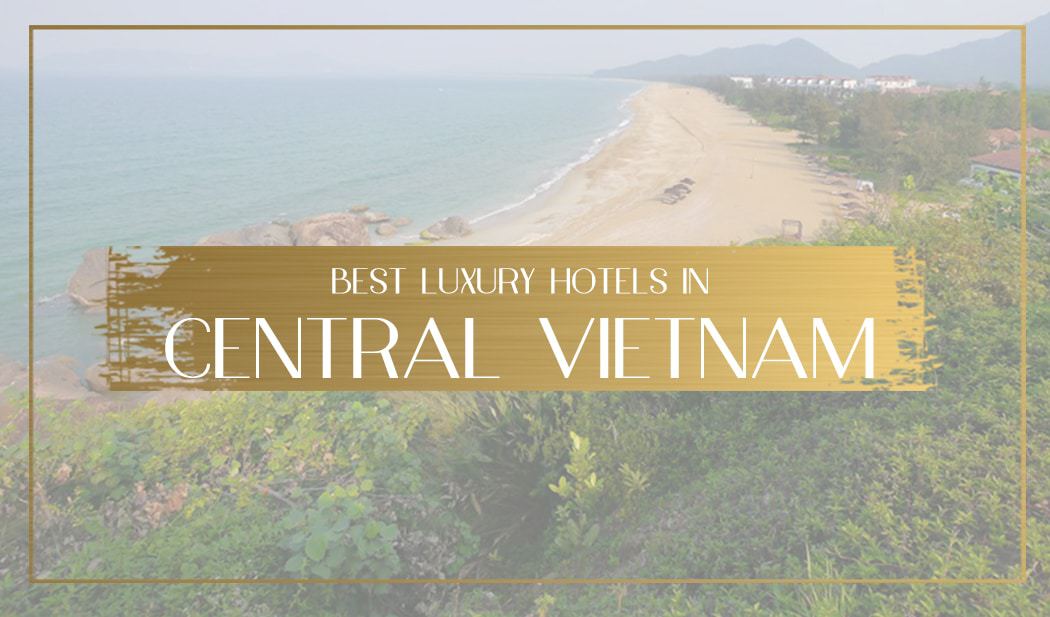 The area in Central Vietnam where Hoi An and Hue are is a very popular destination for a short getaway. It is linked to major international cities thanks to the international airport in Da Nang and offers a bit of everything, from three UNESCO World Heritage Sites to the beach and great food, and lots of accommodation options have sprung up recently.
Here's my guide to 4 days in Central Vietnam if you're going soon. This list contains all the best luxury hotels in Da Nang and surrounding areas to stay at.
Best luxury hotels in Da Nang
Firstly, you should decide where to stay in Da Nang and that should help with picking the best hotel.
1. Best luxury hotels in Da Nang – The Nam Hai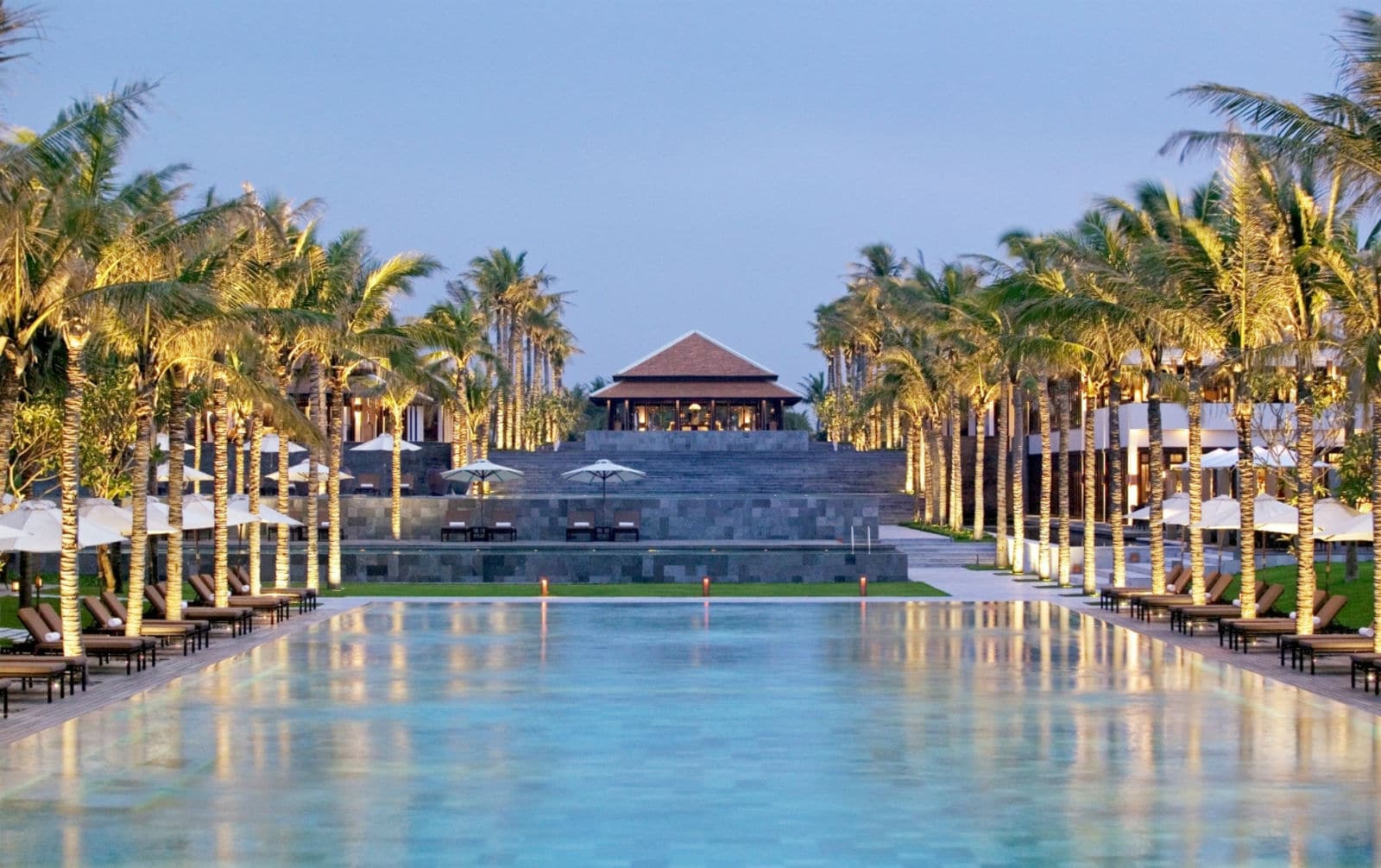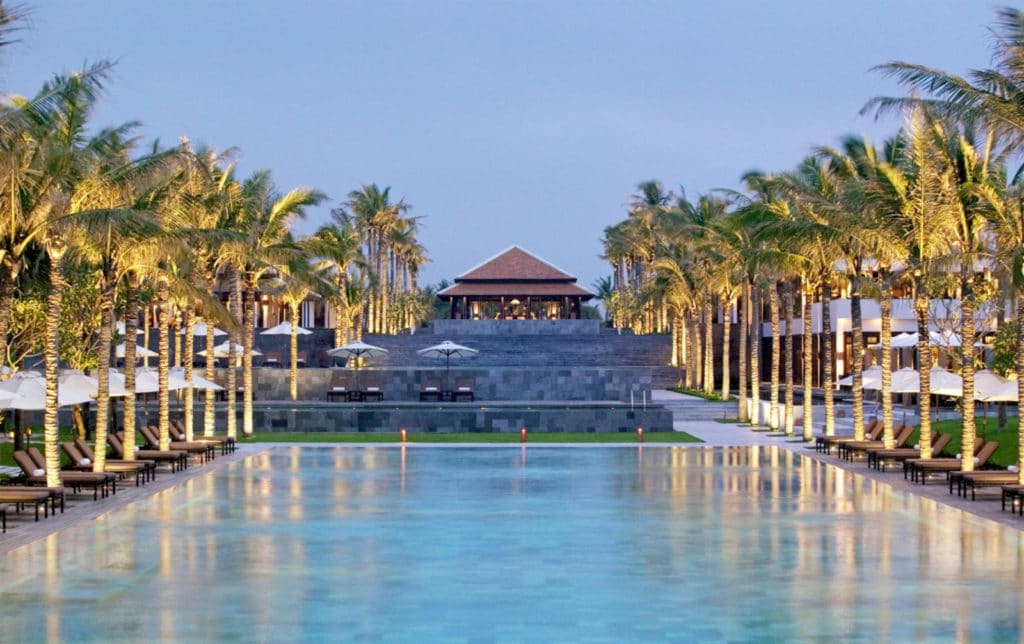 Fabulously expensive and private this beach facing resort is the new kid on the block in Da Nang's ever increasing popularity contest. Set not to far from Hoi An and accessible on the resort's free shuttle it is a great alternative to the farther away options in Da Nang.
It is secluded and there is nowhere to go walking distance, but you wouldn't want to leave either, except for maybe trips to the UNESCO sites of Hue, Hoi An and My Son.
Think huge split level beach villas with four poster beds, white washed interiors combining dark wood and high thread count linen and expansive views of the ocean. Indoor and outdoor rain showers, free standing large tubs and beautiful bathrooms. You will need some relaxing after a day out exploring the sites in the Vietnamese heat. There are also pool villas that can go as large as 5 bedrooms and come with their own pool. This is the luxury of space mixed with the imperial feel of this part of Vietnam. The Nam Hai has taken luxury to a new level in the midst of the cultural wealth of Central Vietnam.
Rates here match the luxury level of the hotel. Check latest prices and availability on Agoda
2. Best luxury hotels in Da Nang – Intercontinental Da Nang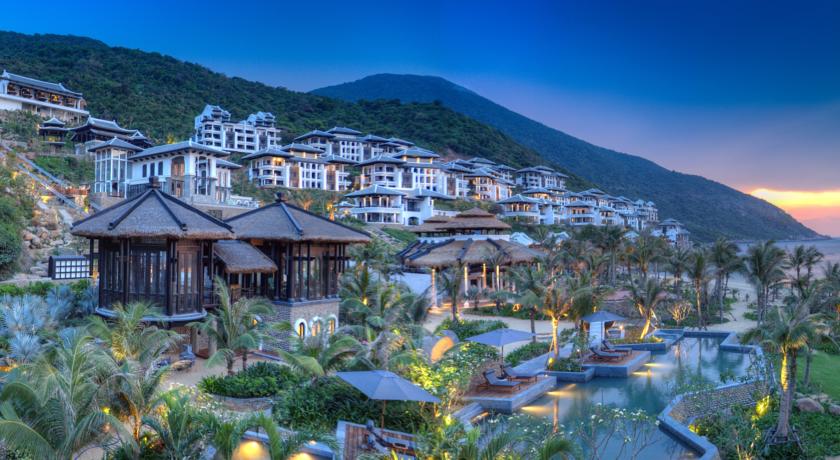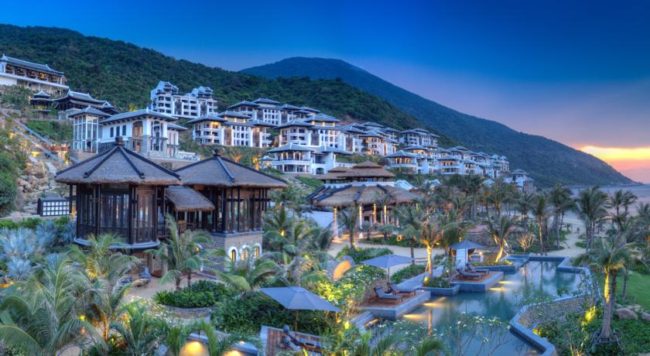 A beautiful hilltop perched set of private rooms with views over the South China Sea designed by Bill Bensley, who also helped with other treasures like the Four Seasons in Chiang Mai or the Oberoi Udaivillas, as well as Shinta Mani Wild and Shinta Mani Siem Reap.
The Intercontinental Da Nang is set on the Son Tra peninsula jetting into the sea about one and a half hours from Hoi An. It has a delightful spa, hilltop bar and restaurants and fabulous beach views. The suspended lap pool with its own jacuzzi may just be the place to spend your days.
The pool villas come with outdoor mosquito netted daybeds from where to enjoy the warm days and modern sophisticated designs. The food is great as is the private beach, all to yourself.
Check latest rates and availability on Agoda
3. Best luxury hotels in Da Nang – Fusion Maia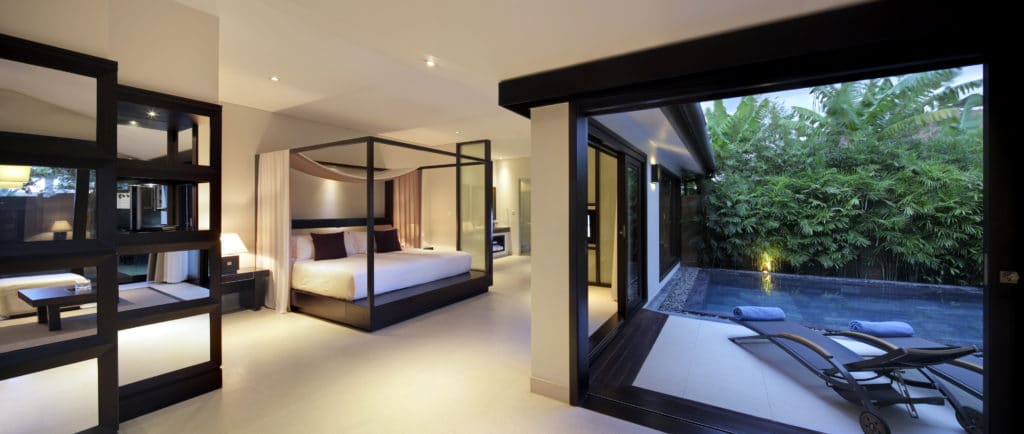 This is a wellness-cum-beach resort where massages and treatments are usually included in the room rate. Although it is peacefully located on the beach, the rooms are all secluded in their own private walled garden pools adjacent to each other. Nobody can look in but you may hear the neighbours. The decor is modern contemporary with Imperial Vietnamese scents of purple and pastel colours. Dark wood and usual high thread linen. The wellness component is woven into the concept so it is as much about the destination as it is about the pampering.
If you want to visit Hoi An, the hotel has a riverside cafe there where you can take your breakfast and free shuttle service to take you there. This is the place you come to get pampered and then fit in some culture.
Check latest rates and availability on Agoda
Other options around Da Nang include the Hyatt Regency Resort, Naman Retreat Resort, Son Tra Resort and Pulchra Resort.
Best luxury hotels in Hoi An, Hue and beyond
1. Best luxury hotels in Hoi An, Hue and beyond – Banyan Tree Lang Co
The beach and golf destination in Central Vietnam, Banyan Tree Lang Co is a luxury property of the highest standards. I stayed at one of their hilltop infinity pool villas and enjoyed magical views over the 3km private beach and the misty mountains. A treat and well connected to both Hue and Hoi An as well as My Son. The hotel offers free shuttle services to both and a plethora of activities for the whole family. Sister property Angsana Lang Co, adjacent to Banyan Tree, is another luxury option that is better suited for families. All of the pool villas, in the garden, the beach or the hilltop come with wonderful outdoor areas and beautifully appointed rooms with heritage wall paintings reminiscent of Vietnam's Imperial past plus Banyan Tree's touches. Check out my full review of this luxe hotel.
Check latest rates and availability on Agoda
2. Best luxury hotels in Hoi An – Anantara Hoi An
The only luxury hotel in town, Anantara Hoi An gives you the chance to sleep and wake up in the beautifully romantic city of Hoi An before the crowds arrive and after they leave. Most people come on day trips but, by staying inside the old town and in a privileged river location, you can get as much of the city as you want. Use their bicycles to explore the town and back in the colonial feel of an era gone by in their inside courtyards and verandas. Some of the rooms face the river whereas others give into the gardens and courtyards. All come with a relaxing vibe and a laid back atmosphere as well as imperial furniture of Chinese descend, from the time when the city was the center of trade. For that extra something, take one of the suites which come with a sunken bathtub. Relax and soak into the history and heritage of the place under slow fans and river views. There is also a pool to laze away the warmer midday sun.
Prices are lower than at other luxury properties. Check latest rates and availability on Agoda
3. Best luxury hotels in Hue – La Residence Hue Hotel & Spa
The only luxury hotel in Vietnam's Imperial City of Hue, La Residence Hotel & Spa was the former official residence of the French Governor. It was built in 1930 for that extra special Art Deco feel, but it did undergo serious renovations in 2005. Today, the veranda rooms and the tiled floors transport you to the times when Hue was the Capital of Vietnam. The hotel is a destination on itself for its rich past and a great place to while the last hours of the day with sunset river views and a drink. It is surrounded by gardens and peace but it is not too far from the Imperial Citadel which can be seen from the hotel. Food is also great here, as is in most parts of Hue. If you plan to base yourself in Hue, this is the best and only option you should consider.
For a hotel of this class and cache, the rooms are reasonably well-priced. Check latest rates and availability on Agoda.
Further reading: You could also read my article on the best overwater bungalows in Asia for more out-of-the-ordinary accommodation inspiration.