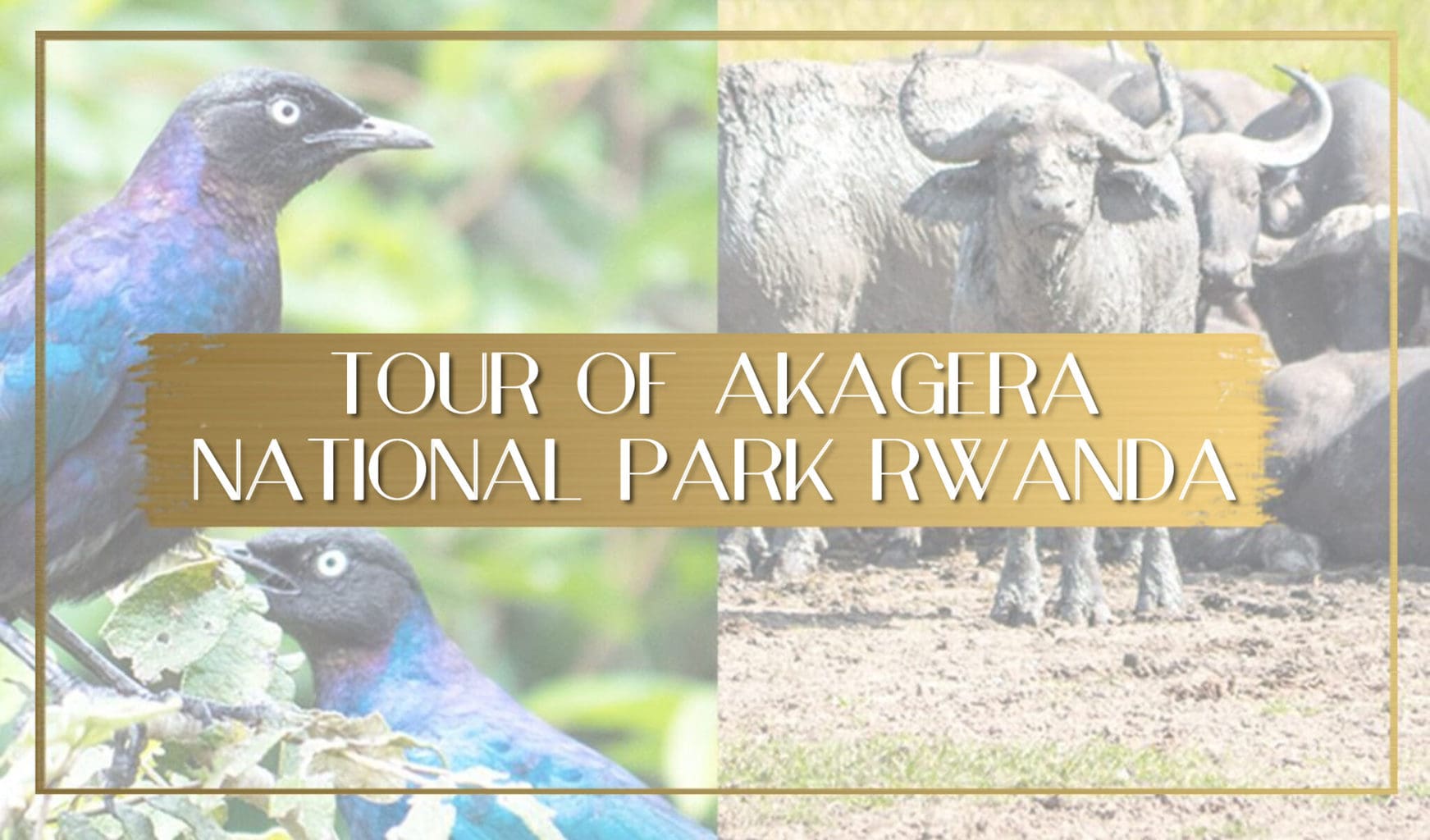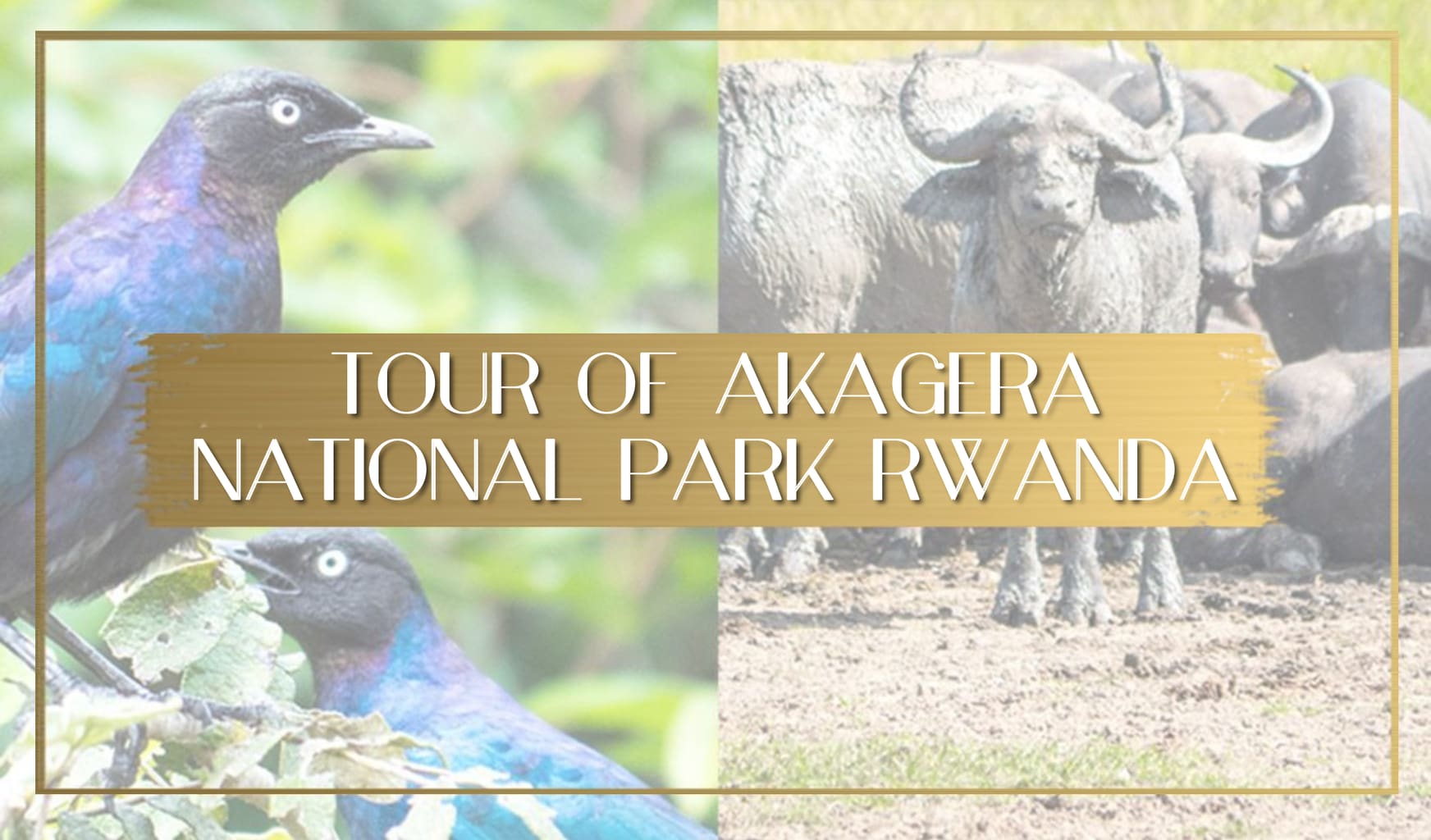 Akagera National Park is the only Big Five safari park in Rwanda and it is also one of the most unique national parks in Africa because of its varied and beautiful rolling hills, landscapes, lakes and swamps. In this article, I will not only tell you about the park but also give you tips and information to plan your visit to Akagera National Park.
The origins of Akagera National Park
Akagera was founded in 1934 and is Africa's largest protected wetland and covers 12,000 hectares of hills, swamps, lakes and savannah in the east of Rwanda, on the border with Tanzania which is delineated by the Akagera River which gives its name to the park.
The park is the go-to place for those coming to the country and wanting to add some safari flair to their Rwanda holiday and their gorilla trekking. Here's my personal gorilla trekking packing list if you choose to go.
Although 12,000 hectares is a relatively sizeable park, it used to be twice as big before the Genocide took its toll and the land was reassigned for agricultural use when refugees resettled in the area in 1997.
Akagera National Park is managed with the help of African Parks, an organisation focused on the preservation and conservation of wildlife and national parks across Africa funded by The Howard G. Buffett Foundation and with parks under management in several other countries like the DRC, Congo, South Africa, Zambia, Central African Republic, Chad, etc.
The efforts to build the park started in 2010 after the signature of a collaboration agreement between African Parks and the Rwanda Development Authority. Since then, law enforcement was strengthened, a fence was built along the park to protect wildlife from the rural communities living outside the fence and avoid encroachment and the first lodges opened up.
Since then, the park has started to flourish and is expected to continue improving and growing in terms of wildlife, recognition and visitors. A new luxury lodge managed by Wilderness Safaris is also expected to open at the end of 2018 bringing a new wave of premium accommodation.
The wildlife and Big Five safari animals in Akagera National Park
Akagera is home to more than 12,000 mammals and almost 500 bird species so it is considered one of the best birding destinations in the world.
The Big Five have been reintroduced in Akagera recently. Most notably, lions and black rhinos, which used to inhabit the country, have been brought back from South Africa in 2015 and 2017 respectively repopulating the wildlife that was lost.
Five lionesses were donated by andBeyond from Phinda Private Game Reserve and Tembe Elephant Park also in KwaZulu-Natal, donated two male lions. The population has expanded since with the birth of several calves.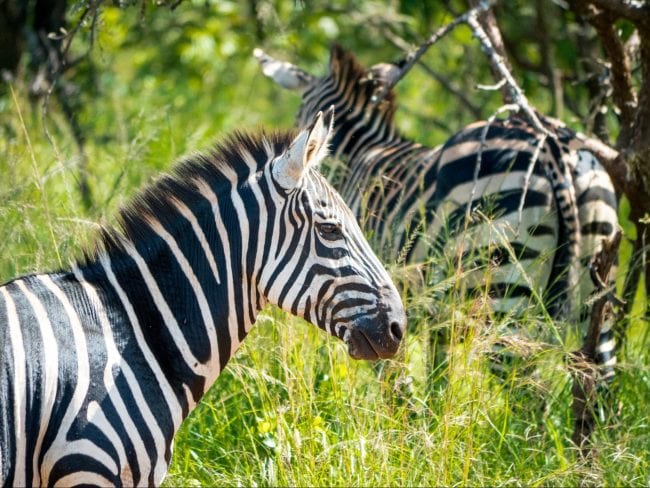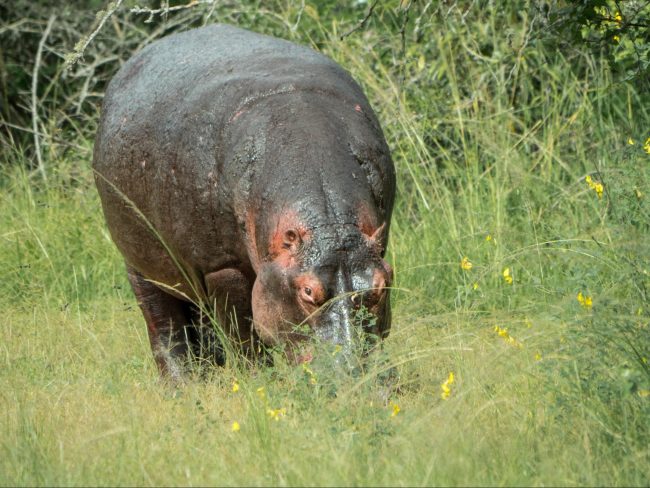 But the Big Five are not the only advantage to the park. You will be able to spot several antelope including topi, eland and waterbucks. Large herds of zebra are common and will come really close to the vehicles, not scared by its sound. Buffalo are also found in great quantities. The park also has 120 elephants split into two herds but they are not so easy to spot since they hide in the lush forest.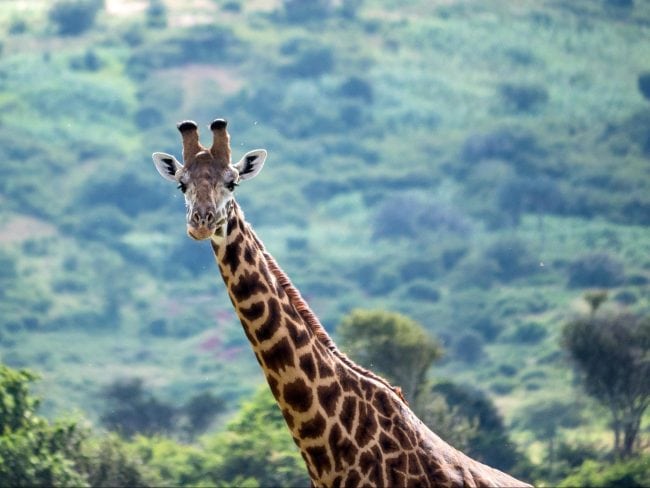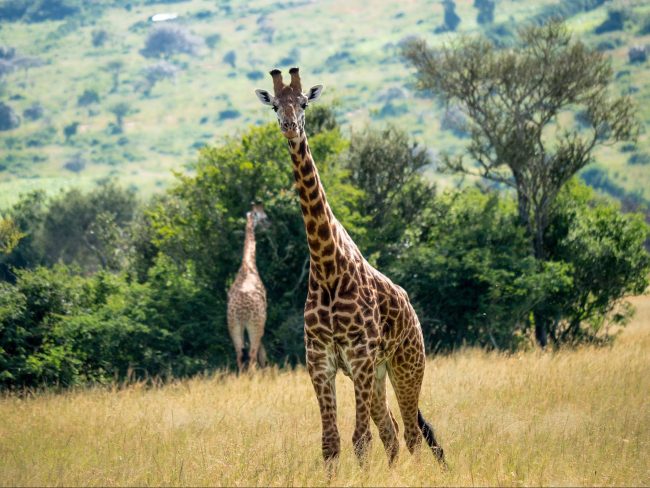 Akagera can be explored in your own vehicle and is a popular weekend trip for locals. You will need a 4×4 car but you are not forced to hire the services of a local ranger. However, they are very knowledgeable and can point at wildlife that you would have otherwise missed as they have sharp eyes and can detect changes in the landscape from very far.
Either way, Akagera has a few loops and roads crossing the park which take you to the various ecosystems. Since the entrance to the park is in the south and the exit in the north, you can also do a quick one day safari crossing the entire park in just a few hours.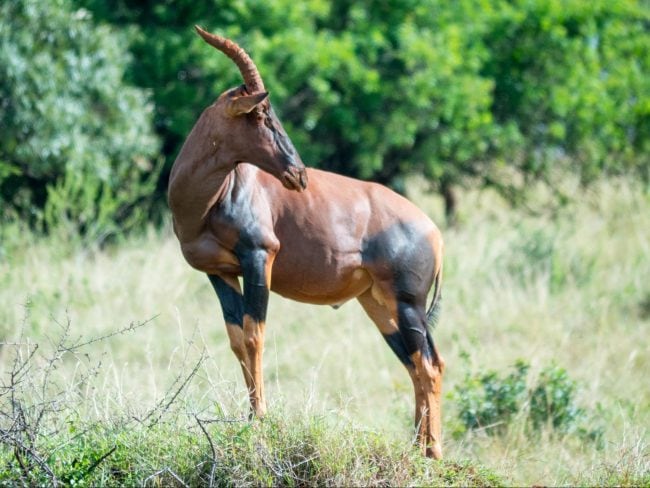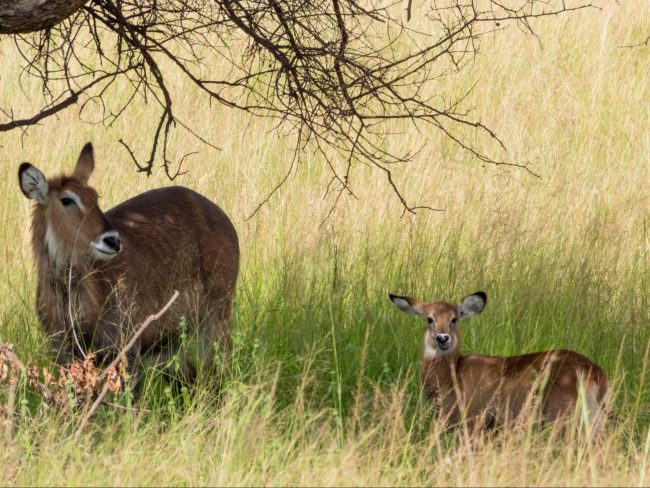 The park's map shows the few routes you can take on your game drives. Almost all of them will include lake views and hilltop lookouts from where you can enjoy a different perspective on the park and its unique landscape.
Having been to many of the African parks and on safari countless times I found Akagera incredibly peaceful. In fact, during the weekdays we were there we barely saw any other cars the entire day, not even the other guests staying at the lodge.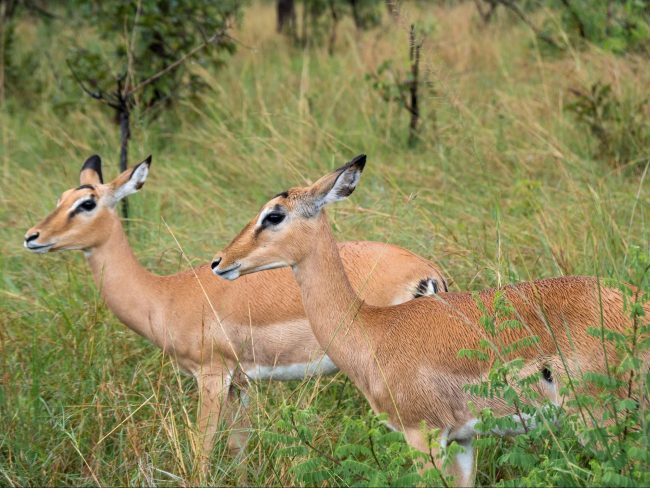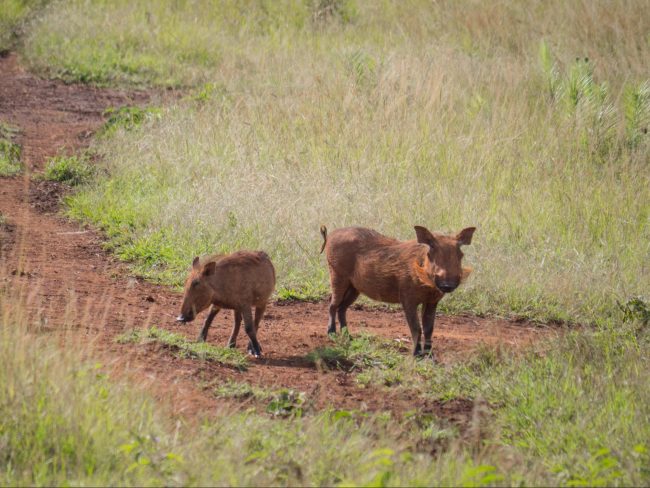 Other activities inside Akagera National Park beyond game drives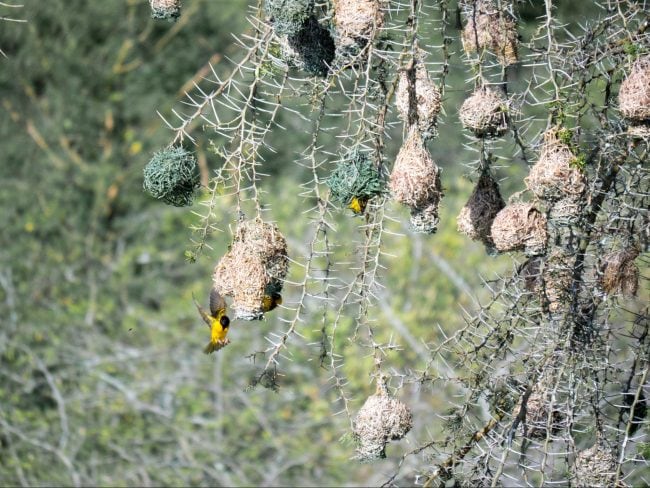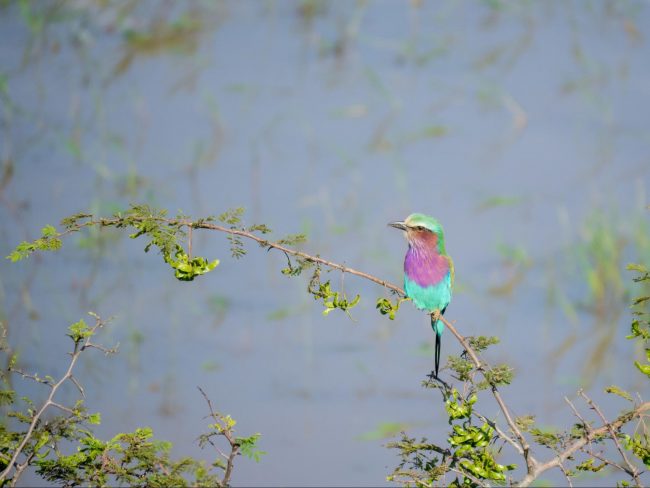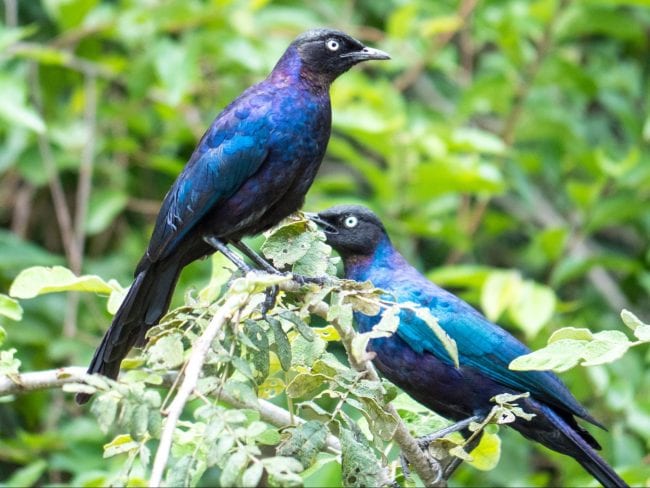 Aside from the popular game drives, Akagera also offers several other activities. One I would recommend is a boat ride on the lake near the park headquarters. This gives you the chance to see the many birds that live in the smaller islands inside the lake and also see the hippos from up close. The boat rides last for one hour and need to pay separately. They cost $35 for foreigners and depart both morning and evening. I can imagine how a sunset boat ride could be really nice.
If you are looking to get down and dirty, join one of the rangers on his walk along the fence every day. This will give you a better appreciation of the real risks to the park and the human-wildlife conflict Akagera is exposed to.
If you are keen to see the night life night game drives are also possible. They cost $40 per person for foreigners and last 2-3h in the park's vehicle (not your own). At night, the nocturnal wildlife will come out and you may have a higher chance of spotting elusive leopards and other animals.
Where to stay in Akagera National Park
While you can visit Akagera on a day trip from Kigali if you really want to, it would be a really long and tiring day and you would miss out on the stunning early morning and evening sounds and feeling of the park.
Although there are not a lot of accommodation options in the park, there are enough to provide a few choices.
Akagera Game Lodge
If you are looking for a permanent structure with more rooms, brick buildings and expansive views from the hilltop, Akagera Game Lodge is your best bet. The hotel has 60 rooms and its location gives it a great perspective on the park.
Ruzizi Tented Lodge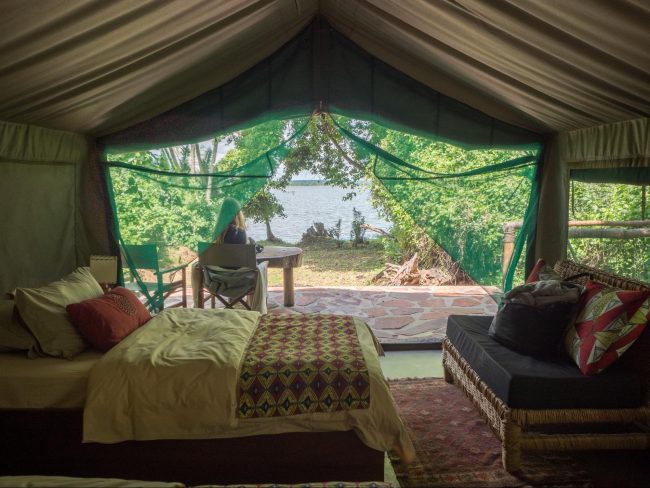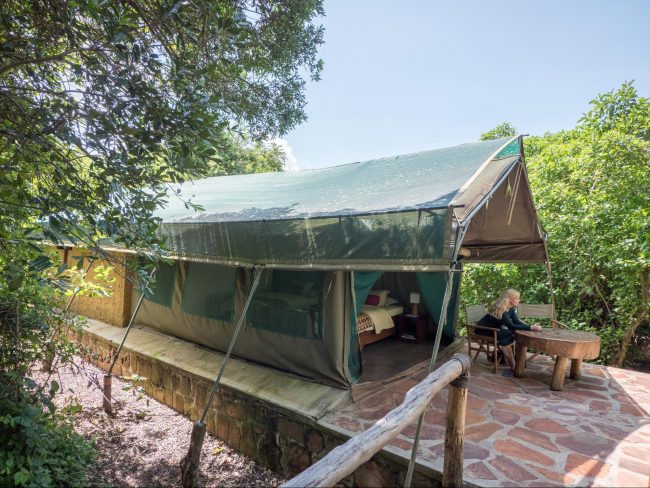 I stayed here and before Wilderness Safaris Magashi lodge opens in the north, this is the best place to stay in Akagera. This is a tented lodge so there are few permanent structures. The tents are elevated to protect from crocs and hippos and all are near the lake. The viewing platform where meals are served is surrounded by the sounds of hippos and birds and the food is fresh and tasty. This is definitively the most safari-like experience you can have in Rwanda and looks and feels like a safari lodge anywhere else.
Tented camps are not for everyone but this is comfortable and has everything a hotel room would, much closer to wildlife. The only downside is for those who do not like geckos as there are many in the rooms. I find them cute but I could not imagine how I would sleep if I were scared of them.
Magashi Lodge
This is the newest lodge by Wilderness Safaris to open in Rwanda at the end of 2018 and it will infuse much needed exclusivity and luxury to the park. While this is a notch above the Ruzizi tented Lodge, it follows the same philosophy of low impact and being one with nature. The tents and common areas are open to the surrounding area and the park.
The lodge will be located in the north of the park in an exclusive private game reserve where only guests of the lodge will be and so it will be very intimate without any crowding.
How to plan a trip to Akagera National Park
In this section you will find everything you need to know about the park including how to get there, where to stay and other facilities.
Getting to Akagera National Park
Akagera National park is located 2,5h from Kigali on a well paved road except for the last 30min which are on a red soil gravel road. This last stretch is still in pretty good shape as this part of the country is the driest and hottest and I did not spot many potholes.
Precautions and safety
Akagera is a national park and with that comes a set of insects, diseases and other hazards. It pays to be well prepared. Make sure to see a doctor before traveling and organise malaria tablets and Yellow Fever vaccinations.
The park is full of tsetse flies and while they are harmless, they make for an incredibly painful bite. As you will be driving with the car windows open, they will come into the vehicle and not leave, making your drive quite unpleasant. The only way to keep them away is to shower in repellent because they can still bite through your clothes, trust me, I have been bitten many times through trousers and long sleeve shirts. The park staff has laid out traps across the park to try to contain the numbers but you will not be able to escape them. Bring a strong repellent, at least 30% DEET.
Opening times and fees
The park opens its gates from 6am to 6pm every day and the daily park fees range from $6 for locals to $40 for foreigners. Vehicles also pay fees at around $10-$20 depending on the size.
Best time to visit Akagera National Park
Akagera is much drier than anywhere else in Rwanda but it still receives quite some rain during the rainy season between March and May and October and November.
The favourite travel months are the summer when rain is practically nonexistent and you will be able to spot animals more easily as they congregate around waterholes. However, temperatures can be really hot at that time and the dust makes game drives more unpleasant so make sure to check out my safari packing guide to find out what essentials to bring. Perhaps an ideal time would be December to February when it rains less and the park is still quite green.